Hello BLF,
Here's another driver I built for fun. I don't think anyone has built one quite like this before, so I thought I'll share it. This project is a little less polished than some of my other projects since I haven't really had much time to work on it, but here it goes!
Introducing the GXB100.
Note: This project is honestly pretty impractical; it's a mostly for-fun thing, so please don't take it too seriously. It works as designed, though.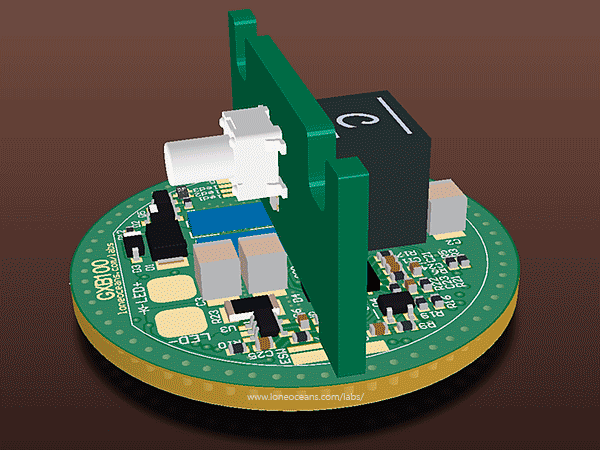 What is the GXB100?
The GXB100 is an experimental single-cell synchronous-boost LED driver using Gallium Nitride MOSFET technology and capable of 100W.
It uses a slightly different but similar architecture compared to my previous flashlight drivers such as my GXB172. It significantly increases power handling capability (by twice!) of the GXB172, and improves on it with the addition of an improved fuzzy-logic thermal regulation, and audio-sensing capabilities.
For this experimental project, I've chosen the SP33 V2 as a developmental platform. Here are some of the features of the GXB100:
100W power handling capability
Single-cell boost operation with extremely hi-drain cell (more on this later)
Gallium Nitride FET Synchronous Boost Topology 
True constant-current regulation on all modes, 10 bit precision
Ultra-low no-PWM firefly mode
E-Switch Support
Fuzzy Logic temperature control
Triple channel auxiliary LED support
On-board Microphone for sound-activated control, or music response

The candidate host is the SP33 V2, due to it's fairly large size, decent construction, E-Switch support, and low cost. Images above from Sofirn's Aliexpress website. 

The target LED is a single P2 XHP70.2 LED driven at 13A (~91W+ output), at 8160 lumens (from charts produced by Texas Ace from BLF and Kof3 from TLF), I don't have an integrating sphere unfortunately). LED images from Cree's website and Kof3 on the TLF forums. 
Battery used is not a 26650, but instead a 21700 Samsung 30T, one of the best cells on the market of any size at high current load. I considered using a A123 lithium phosphate cell but the lower V_batt meant higher currents required at 100W. There's more than enough space in tube to fit the slightly longer cell. Meanwhile, I'm looking forward to 26650 batteries improving, which would fit the SP33 better. If you know of a better cell, do let me know!
Design
Using the SP33 allows for some nice features to this system. The top of the post is how the board looks like populated.
At 100W, heat is a big issue. Aside from obviously the LED, the large inductor is expected to get quite warm. The interesting thing about the SP33 is that it uses two PCBs, one for the E-switch, so I decided to use this to my advantage.
The two boards are designed in such a way that the back of the switch PCB has an exposed copper pour, and will act as a heat-sink for the large inductor. With the inductor connected to the PCB via large pads and thick copper contacts, the inductor itself should act also as a thermal sink for the rest of the driver PCB (albeit not a terribly great one, but should help nonetheless). The chosen inductor has an I_sat over 35A, one of my favourite inductors for its size. 
Using Gallium Nitride FETs is overkill, but fun. Perhaps the first driver in the world using GaN FETs?
There are some benefits though, since these FETs have very low R_ds, very low gate charge, and essentially zero Q_rr. Total switching losses for the synchronous and main switch add up to just under 1.7W at expected maximum operating power (100W), compared to 4.3W for a regular Silicon solution (with some of the best FETs I could find), or 9.2W for a non-synchronous topology.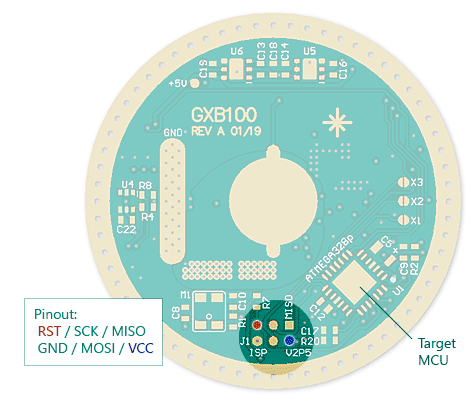 Programming as usual is conducted via the 6-pin header on board via my pogoProg. http://www.loneoceans.com/labs/pogoprog/.
In order to handle such high currents, instead of bypassing the spring, the entire battery tube is bypassed. This is done by soldering a wide copper foil to the long oblong pad on the bottom of the board, which sits beside the battery, and goes all the way to the bottom terminal. 
Like my GXF22 driver (http://budgetlightforum.com/node/67820), I've temporarily chosen the ATMega328p/pb for the target MCU. No main reason, only because it's the same IC used in Arduino all around the world and it's so easy to program with a lot of flash space. Could have gone for a Cortex M0 or M4, but not sure if it's really needed 
...
I did not make an aux-LED board, but instead, the E-switch button on the SP33 is translucent. An RGB LED is placed under the switch so it lights up with RGB control. Can be set to whatever effect you'd like. Right now I use it to display battery voltage from Blue to Green to Red.
Finally, ultra-low/firefly/moon modes are typically not too great on switching drivers, since even 0.1% brightness of even 1000 lumens is 1 lumen - too bright for most! This board has integrated circuitry to enable very low firefly modes, if that's what you want.
More to come soon.
Have a good day everyone!