There were some reviews posted before, so, i guess, you got the main idea what Nitecore P18 lookes like. Nevertheless, i believe that more info – is better for BLF community, so here is my review of Nitecore P18.
*you can buy Nitecore P18 at *
➤ Aliexpress
➤ Banggood
➤ AMAZON
p=. PACKAGE AND APPEARANCE
The design of the package is decent. The flashlight lies in a completely black box, which relates it to some top\limited edition Nitecore products. In terms of gift, here everything is fine.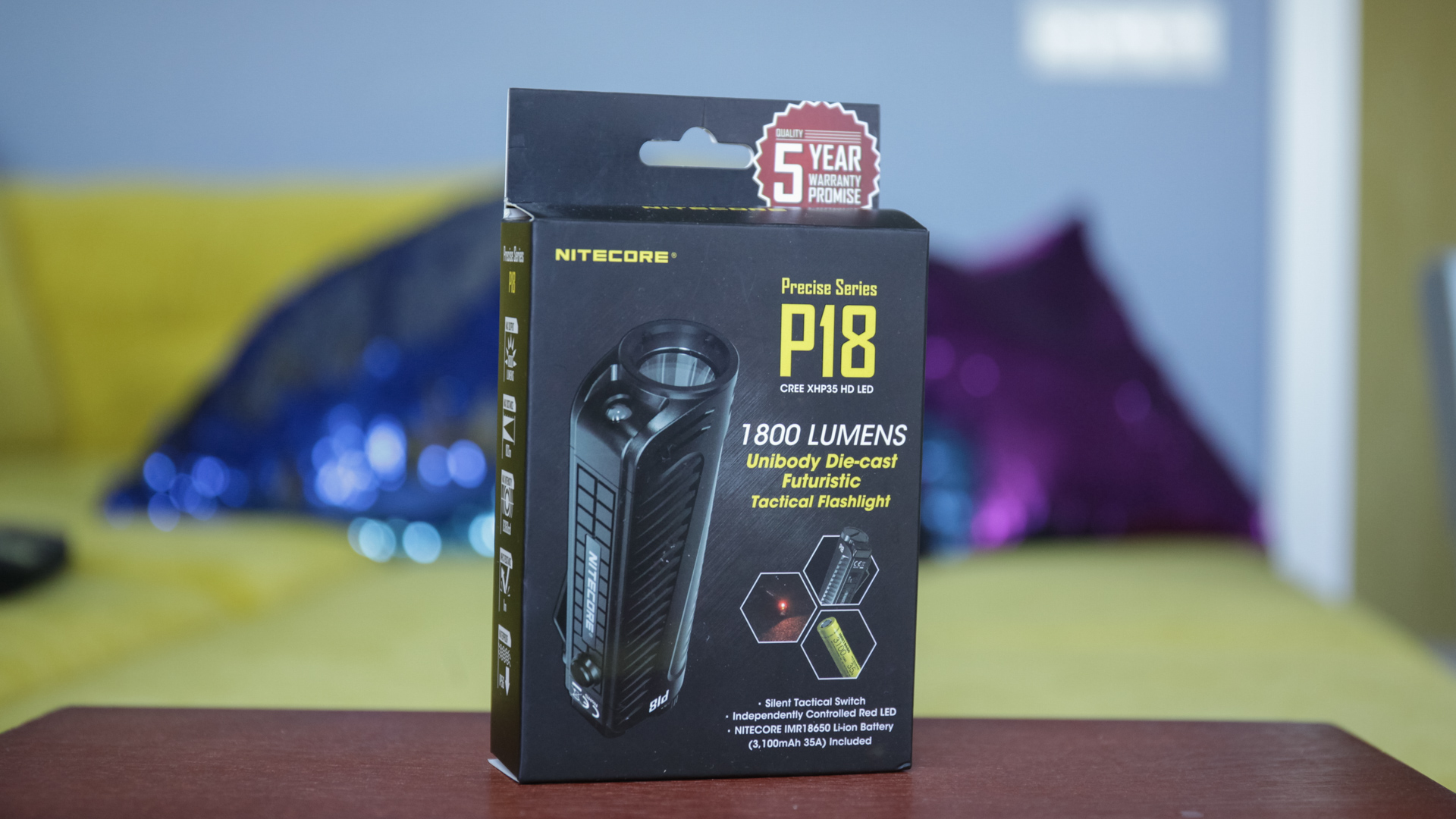 The package includes: a flashlight itself, holster, manual, lanyard, a 3100mah IMR battery and one sealing ring. Product page stated that you can purchase optional "toothy" bezel. I was surprised not to see lanyard here.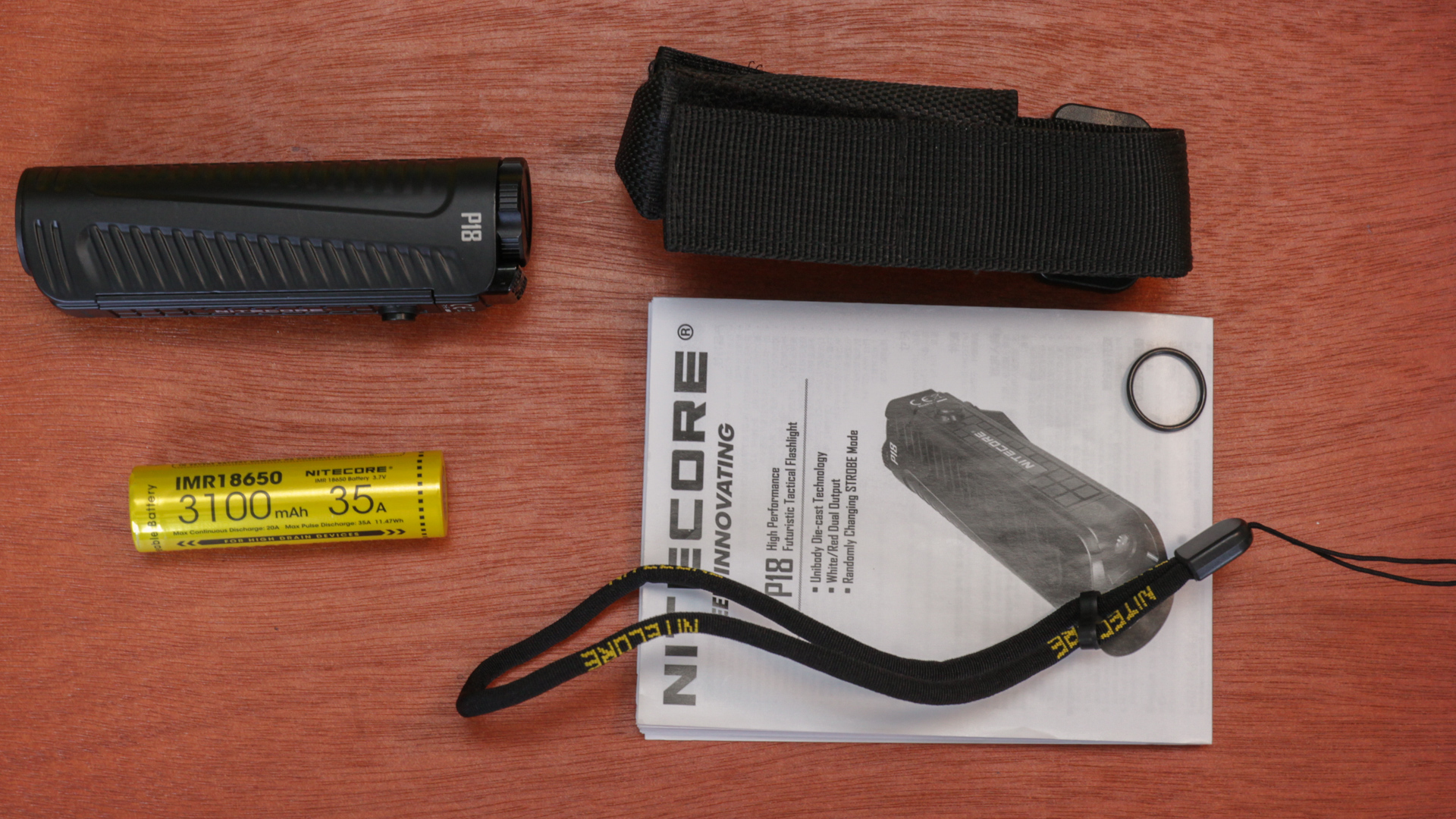 The holster is the most common. Well, in general, it makes no sense to expect anything new from such a thing. So just a good holster … I can't add anything to it.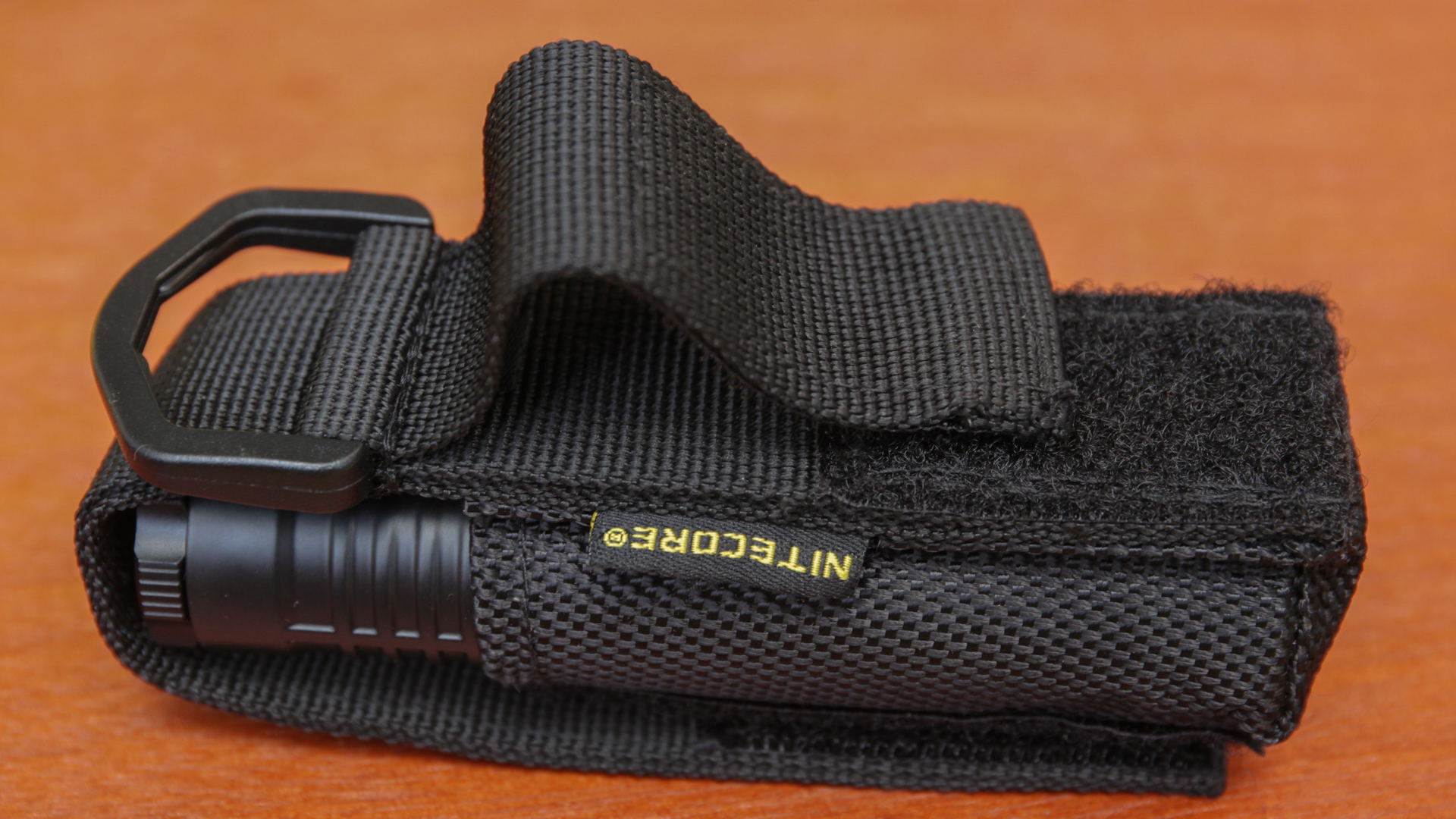 Well, here is the flashlight itself. It`s design is extremely unusual and, perhaps, it reminds me of a brutal version of the MT22a.
To be honest, it's even difficult for me to describe with words the appearance of this flashlight, I think that you don't see it yourself and understand everything. I note that unusual – does not mean bad. It seems to be that like a flashlight, P18 is definitely attractive. Taking into account the fact that due to the unusual spectacular design some already rare and old flashlights still appear in movies, we can expect that this model will light up in some kind of action movies or science fiction films. The design of the Nitecore P18 is very futuristic and spectacular.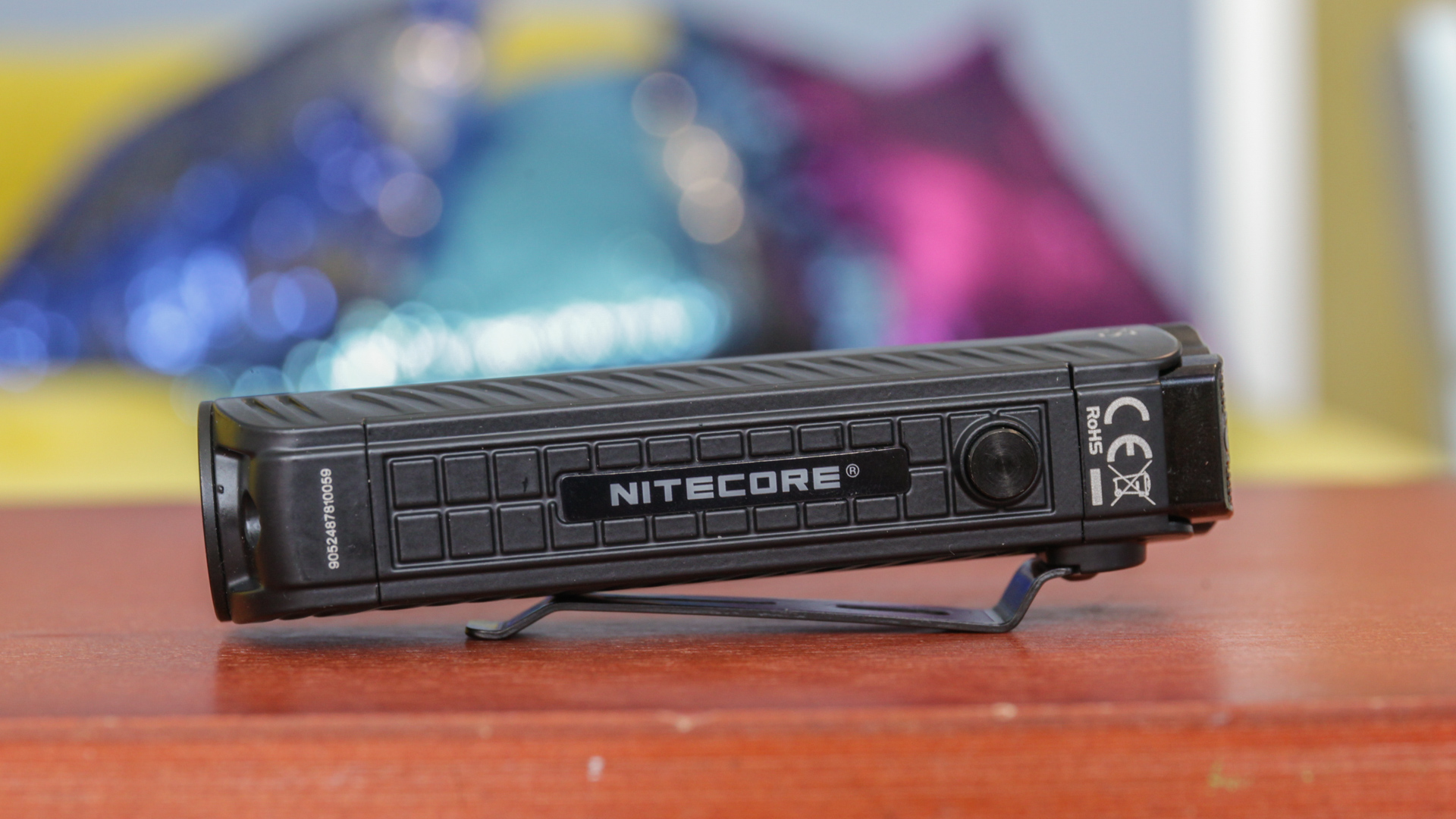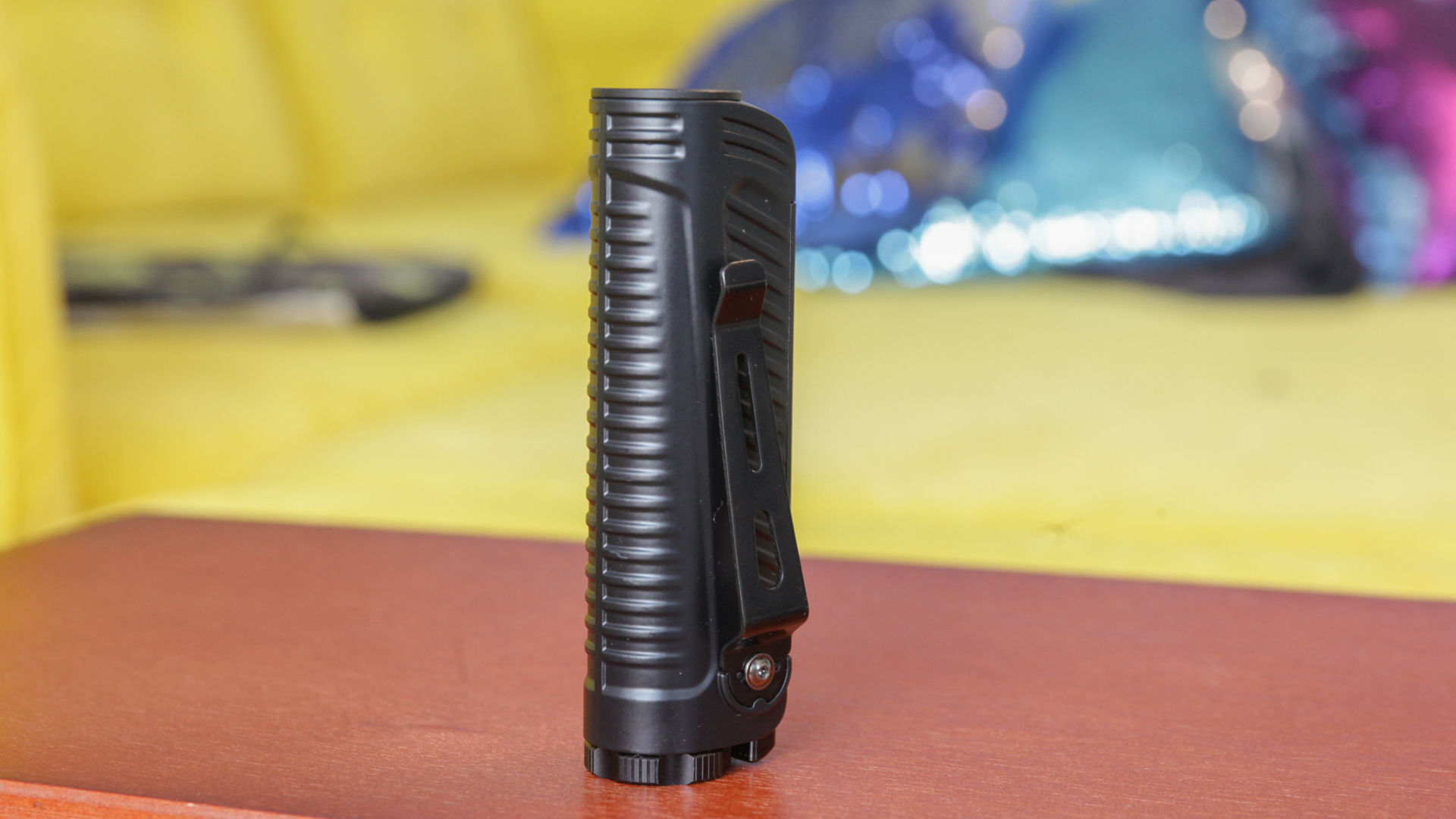 Review tactical flashlight Nitecore P18.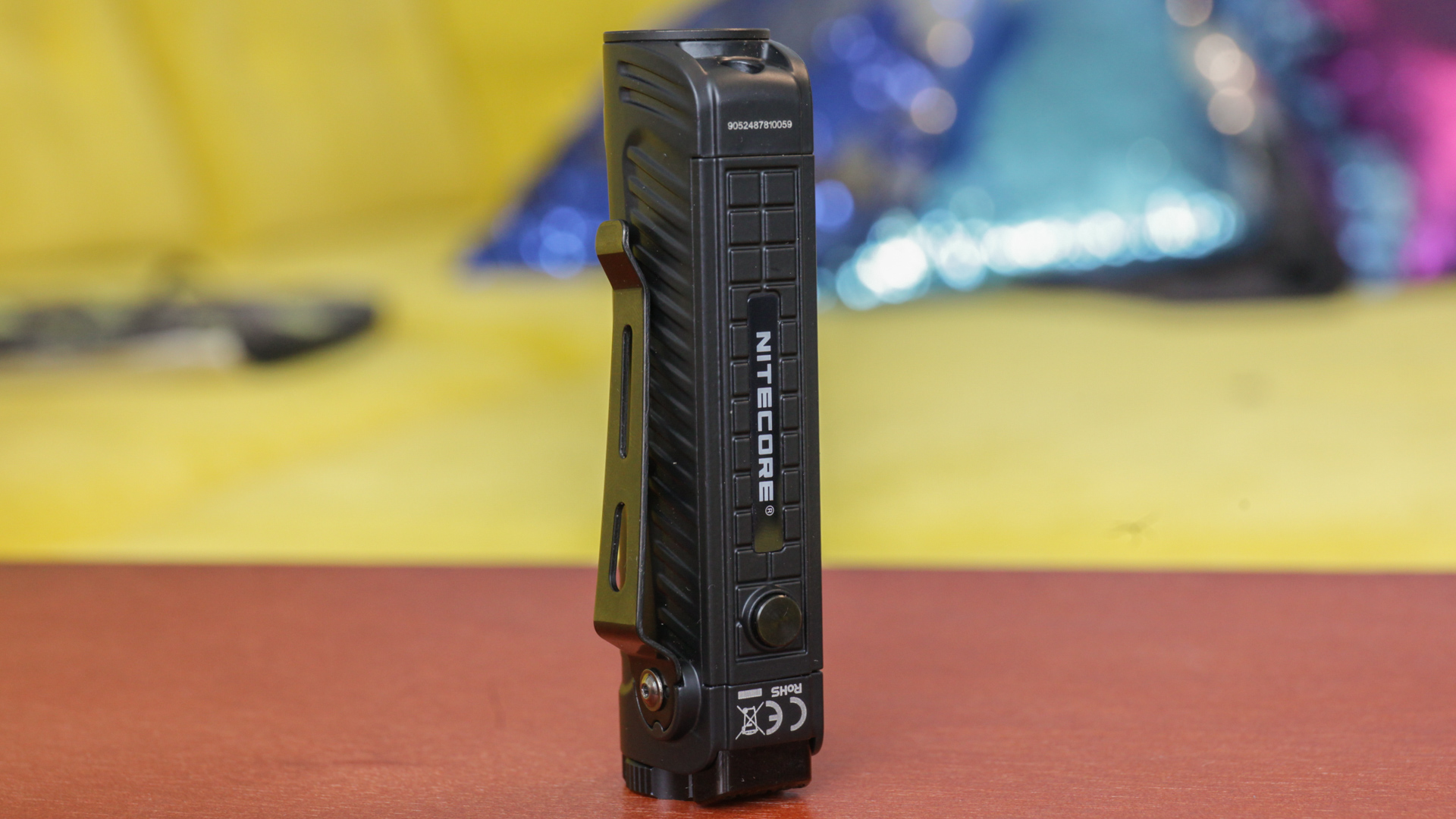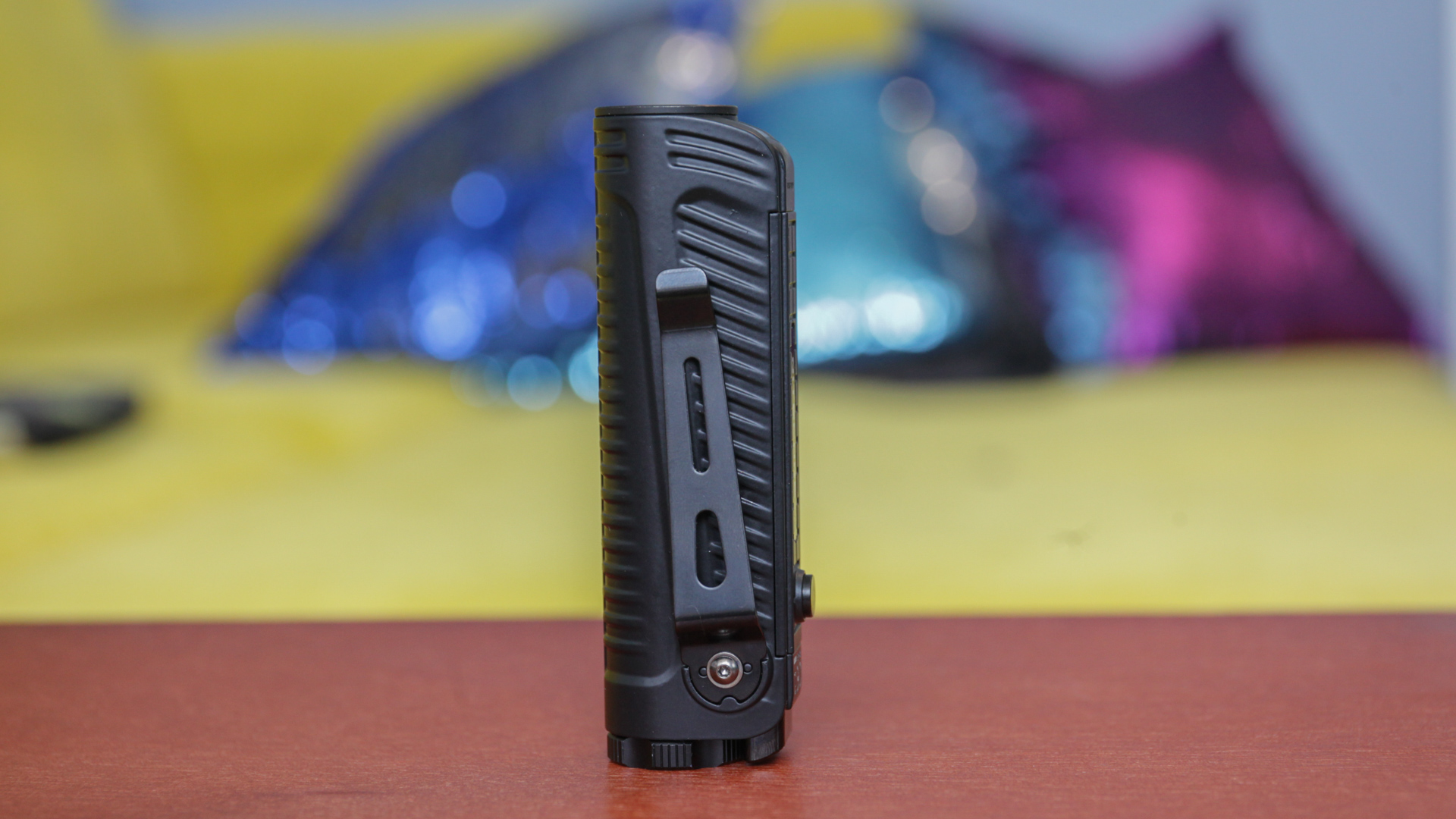 The dimensions of the flashlight are quite modest, 105×23 mm, and it fits the hand perfectly.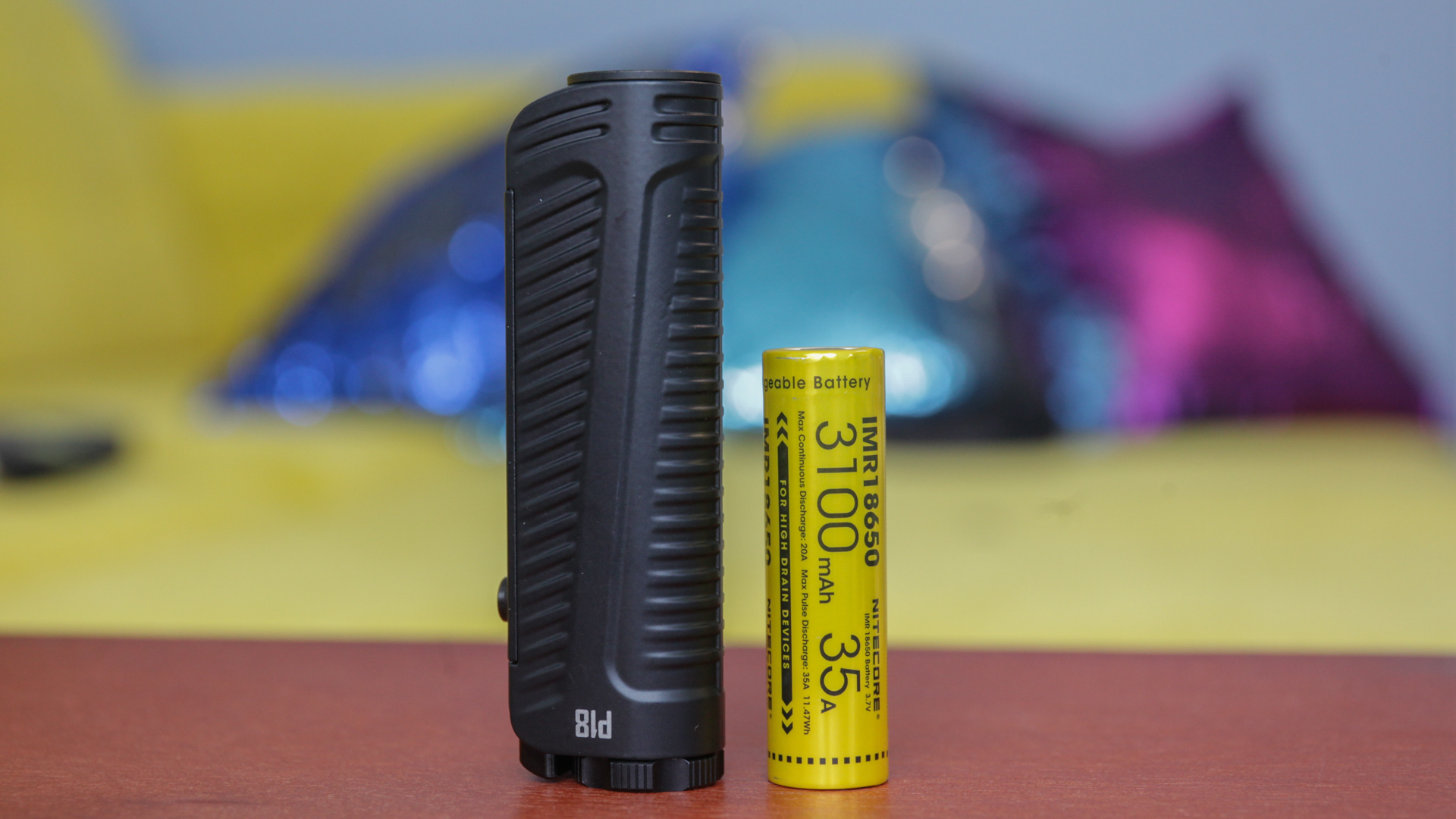 What about tailcap and UI button. Knurling at the cover is extremely tenacious, it can be twisted even with gloves. In any case, the manufacturer has even provided a slot that will help twist the tailcap with a knife. It seems to be a trifle, but in some situation it can make life much easier.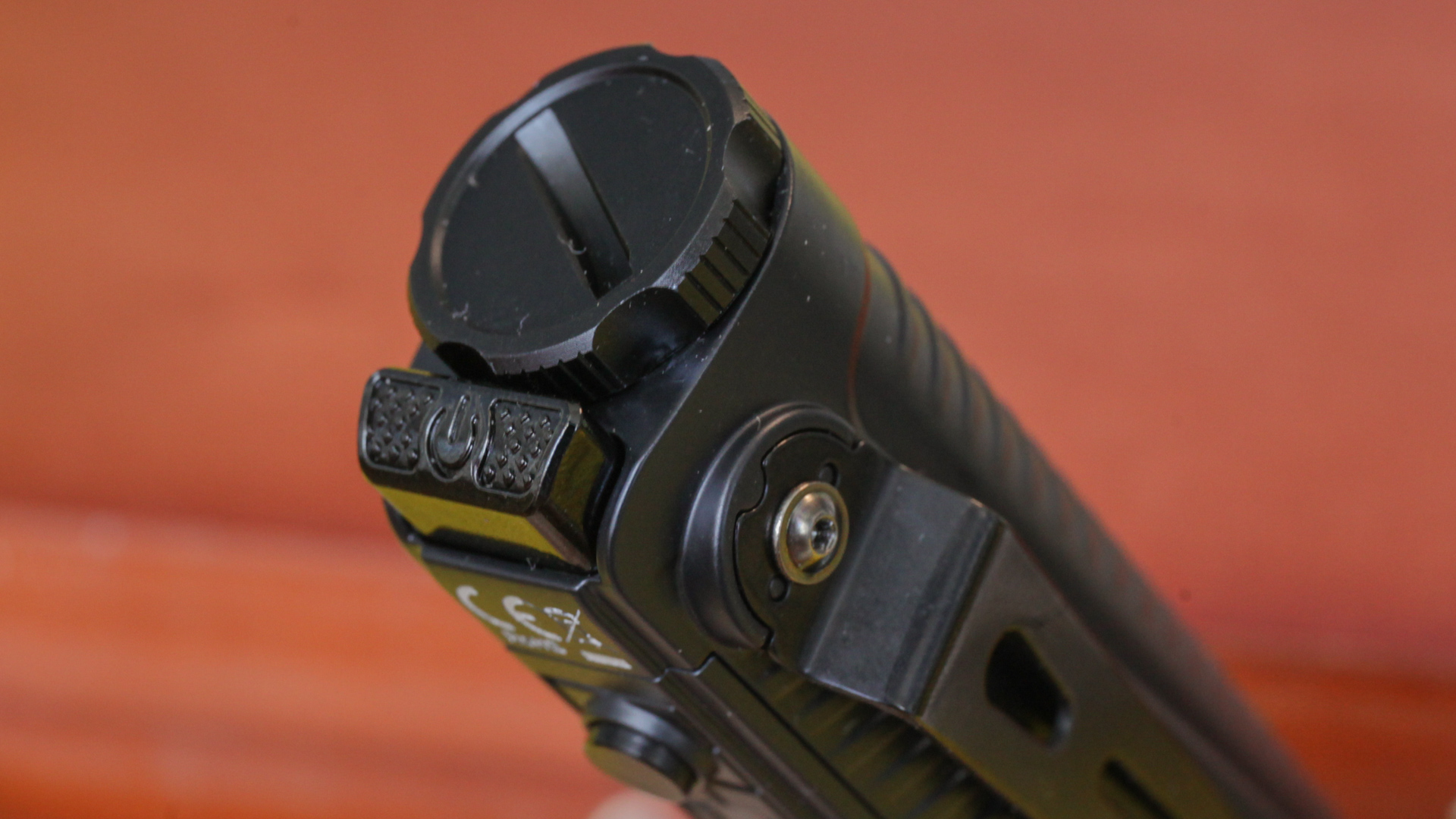 The threads at the cap are well lubricated. Unfortunately, at some point I dropped it and such non-photogenic hair stuck to the lubricant …. The nickle of the contact is spring-loaded.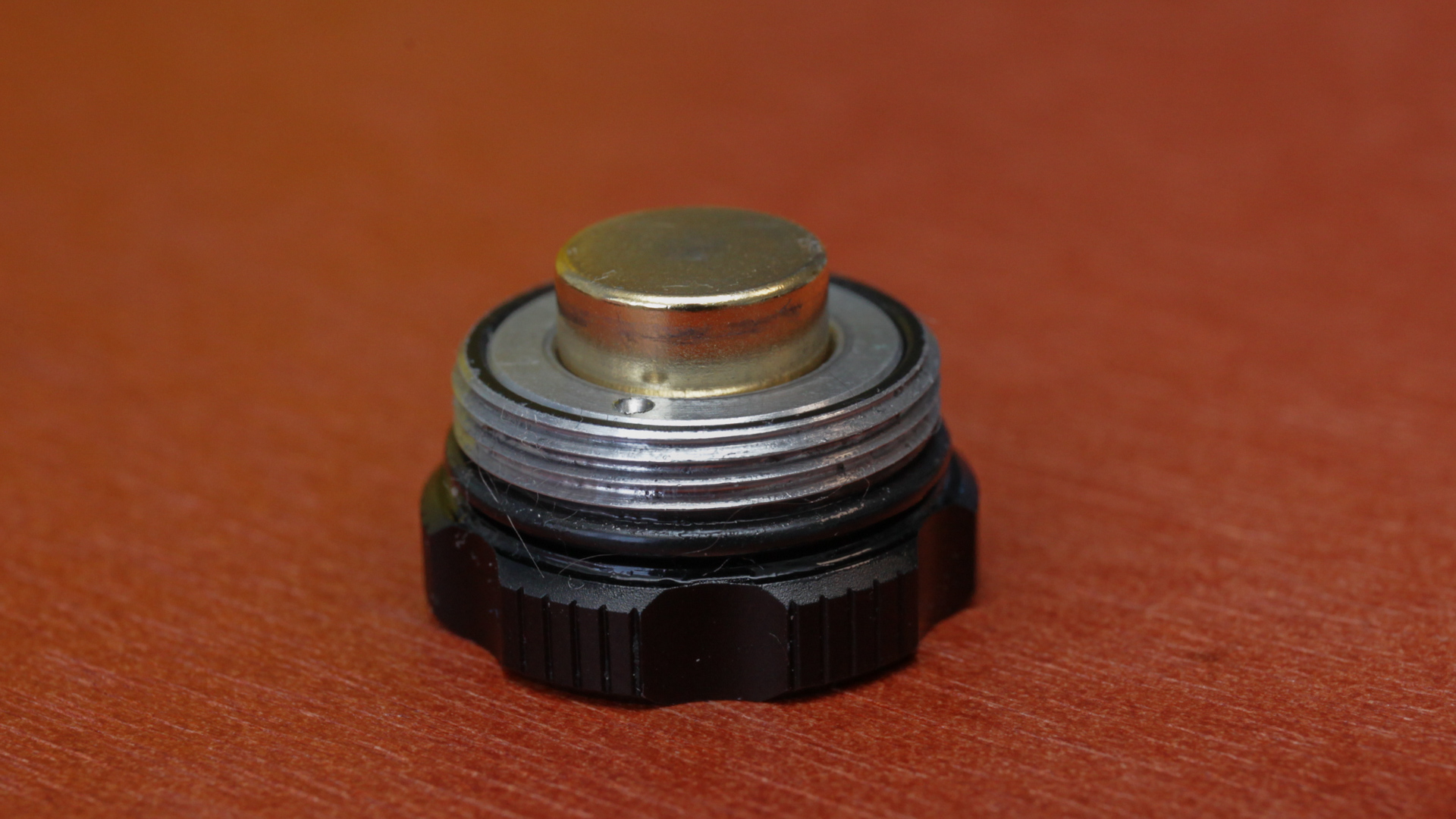 As a rule, the installation of a spring from the side of the head in tactical flashlights is associated with the prospect of using them gun mounted, to compensate for recoil. For example, in the EDC segment, you`re likely to see a simple contact pad that allows to minimize length – in this segment there is a desperate struggle for compactness. So, it is clear that Nitecore P18 cannot be tied to a weapon except with tape. But the spring here still put on the side of the head. It does not give any advantages, but it is definitely better than a contact pad with limiters for using flat-top batteries.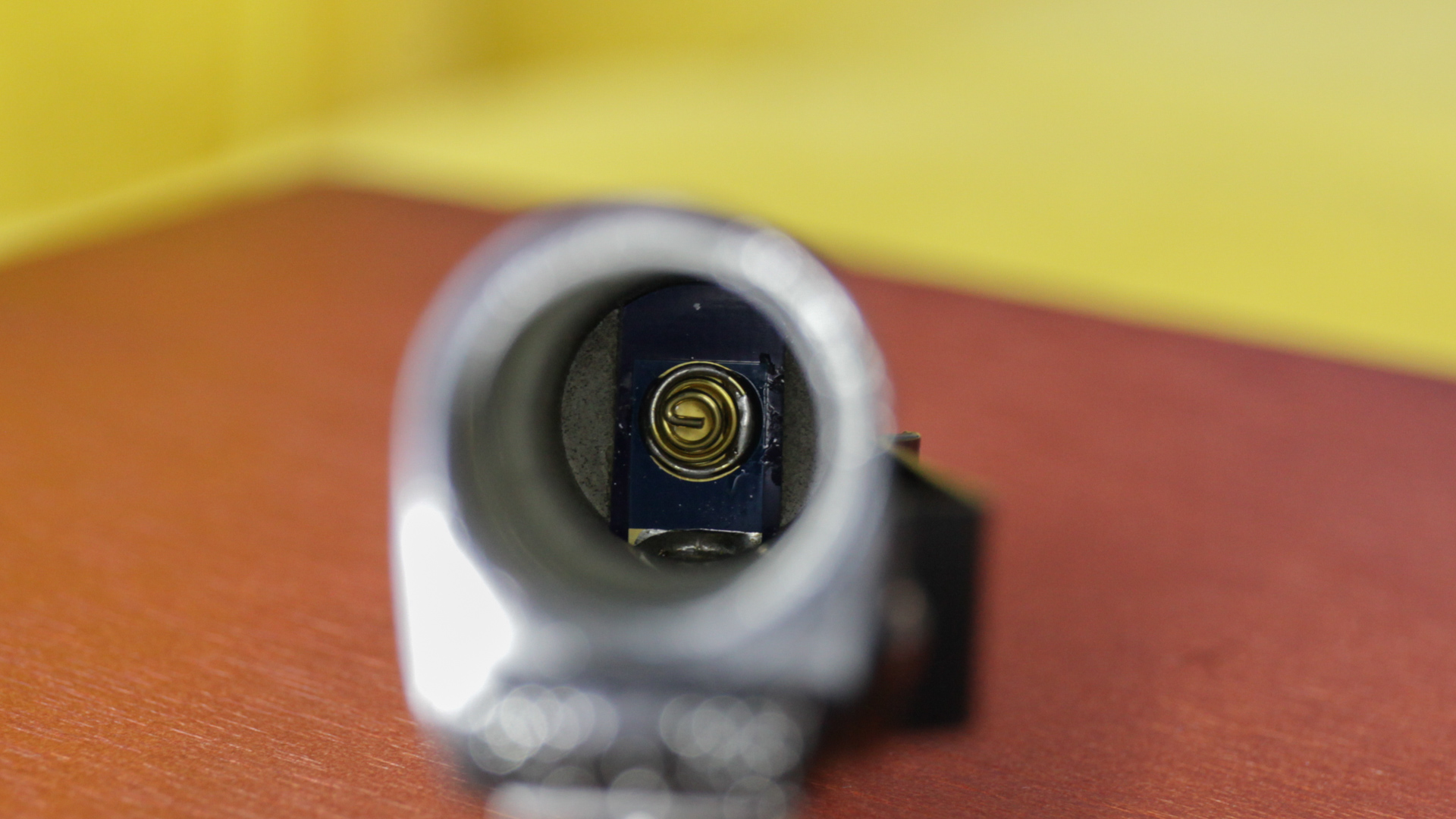 The button located next to the tailcap is intended for reverse grip. The side facing the finger is cut off, so everything is fine with ergonomics . And if I already mentioned it, in my hand the flashlight sits like a glove. Spring-loaded button moves gently and moderately tight. Just below it, on the side face is the second button responsible for turning on the red light.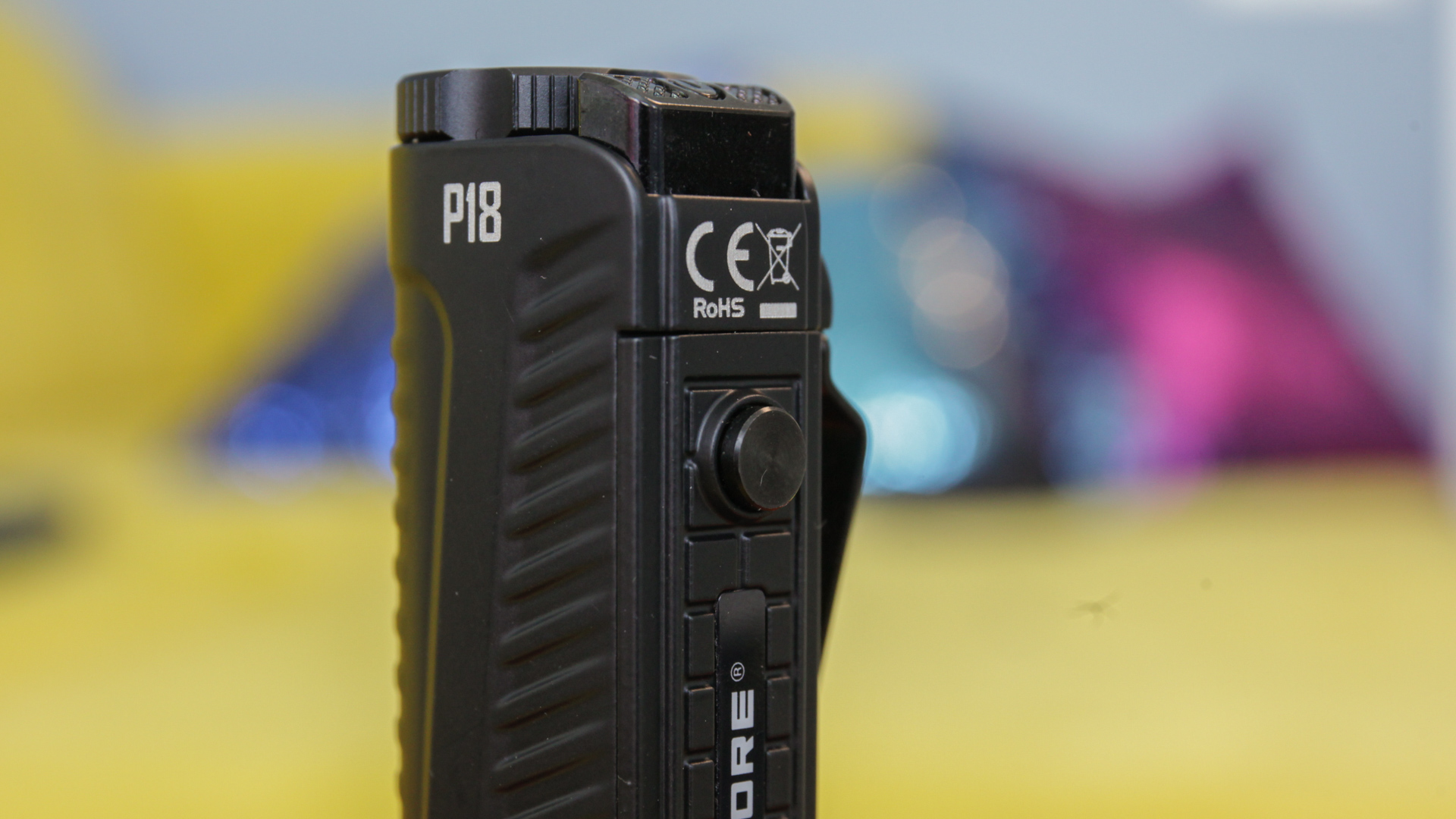 There is clip near. If desired, it can be unscrewed, but I do not see the point. It significantly affects the reliability of the grip.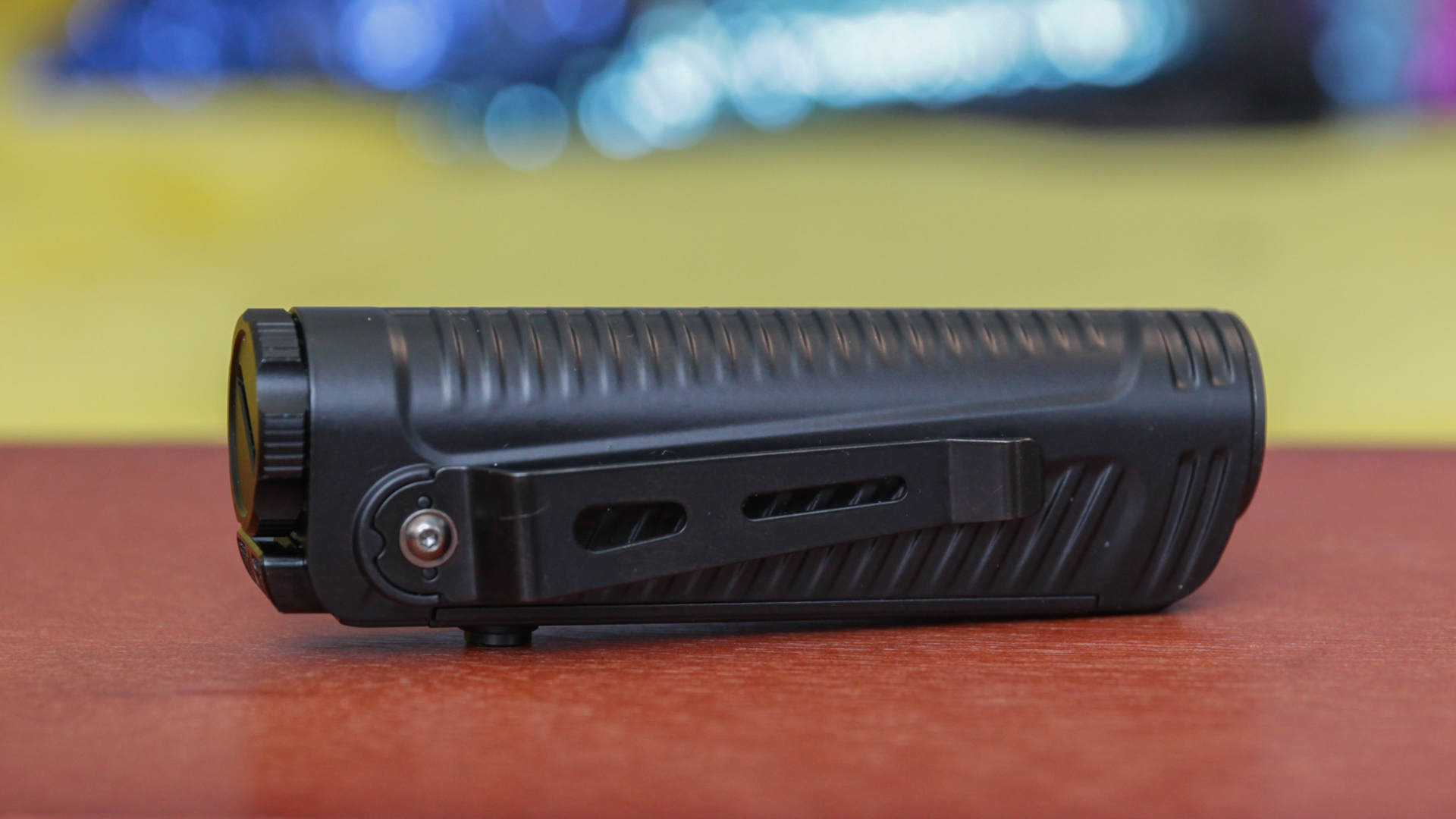 As for the latter, the UI shows that the flashlight is for the reverse grip use. However, with the direct grip, Nitecore P18 is great in the hand.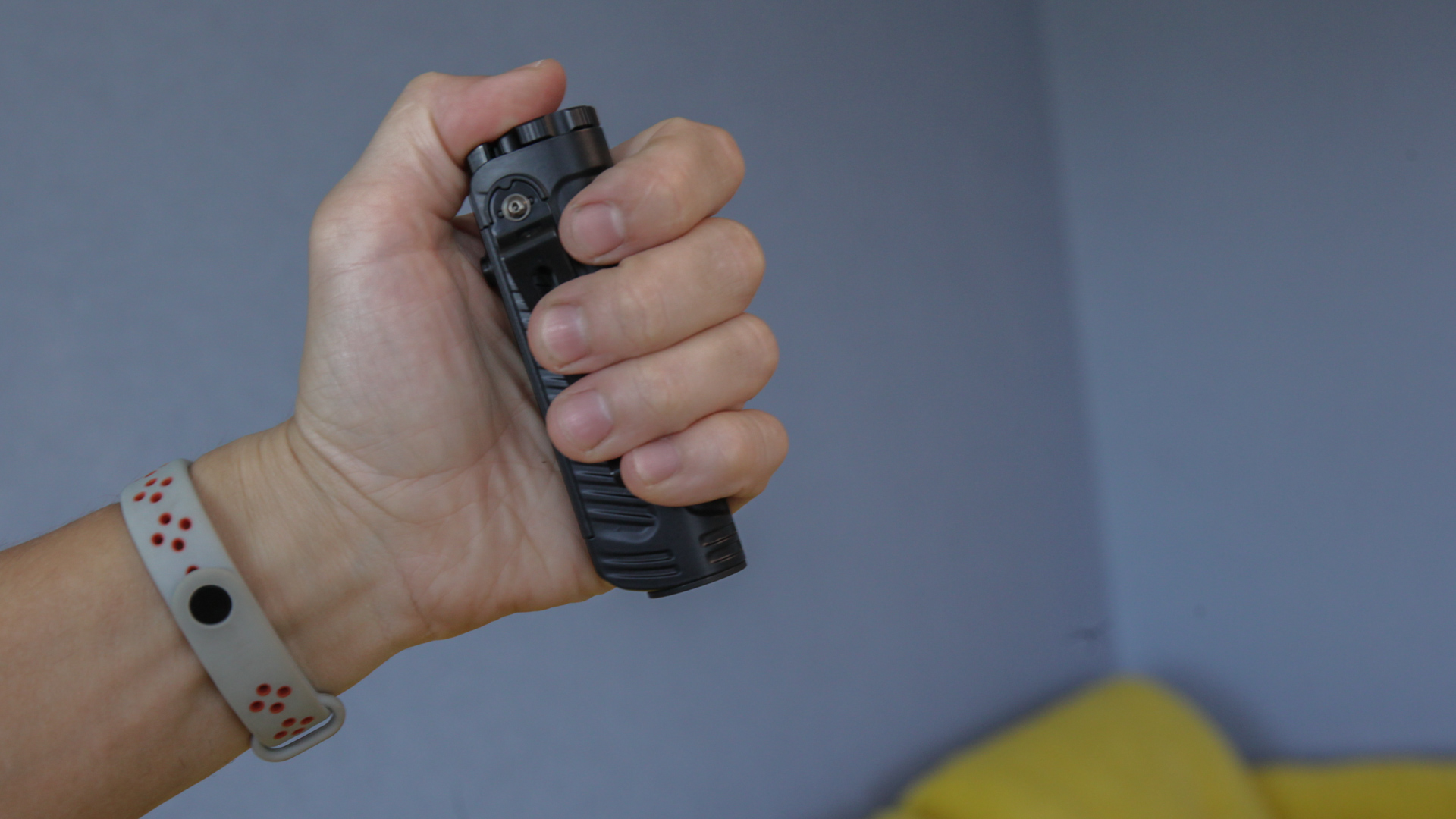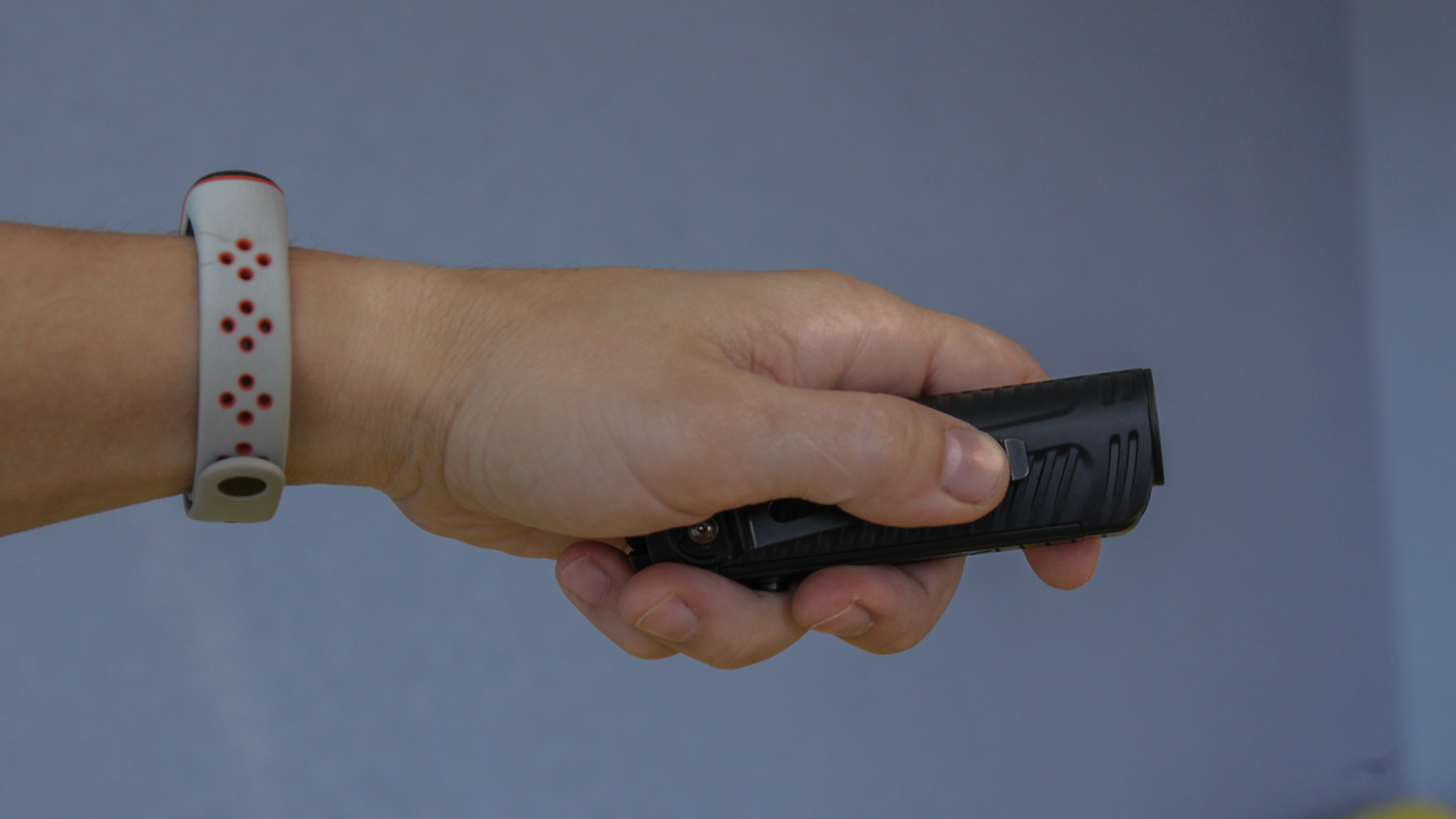 On the reverse side is the main source of light – XHP35 at the bottom of a shallow smooth reflector and a red light LED hidden in the recess.
Well, that's all. The design is unusual and impressive. The flashlight lies in hand comfortably. At this stage, I can't say more.
*UI *
It is very unusual. I will add one more time, very. This is definitely not the flashlight with which you can get used to in minutes without opening manual. The flashlight works with half-presses, this is not mentioned in manual, two-stage button, like camera shutter.
So. I definitely see logic of UI. But this does not make it easier and more accessible. You need to get used to it.
It took me a few nights and now I have no problem using the P18. But, I think, if you postpone it for a month, you will have to get used to it again. In general, I have never come across this type of interface. Not ready to say that it is bad or good, it is too unusual. from the postion of tactical light is has everything you need – shortcuts to turbo\strobe\ultralow.
From what deserves to be noted separately:
instant access to the turbo is only off
instant access to the strobe is only from ON
There is, however, a way to get around this – you can enter the strobe from OFF through the mode memory
There is no lock. In principle, I see that by chance you can only turn on the red light. The main button will accidentally be hard to press. so, that is minor problem.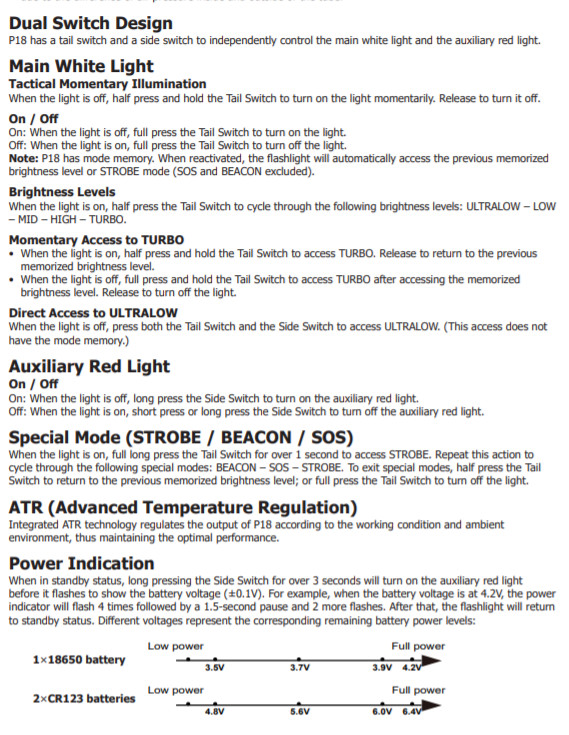 PERFORMANCE
Cold white light, something about 5500K. Definetely warmer than 6500K of S2+. Despite the small depth of the reflector, hotspot is visible. Not like the one of throwers, of course, but the light is definitely not floody.
Although, in general, it's quite possible near-range work – this will be clearly seen in the photos further.
There is no visible PWM blink in any mode.
It is expected that, with its dimensions, the flashlight heats up in the turbo quite quickly and it makes no sense to count on longe use of this mode. Yes, you`ll simply burn your hands trying to do this. Heat dissipation is excellent.
However, if you adequately perceive the turbo as a forced short-term mode with the inevitable decrease in brightness, then there are no problems with this. In any case, the turbo, albeit relatively short, is quite enough to illuminate everything around at a feasible flashlight distance of 100 meters. If, again, immediately activate turbo without cooling (mostly indoor use, there is any wind in the street), then the thermoregulation will quickly drop the brightness to a frankly low level. What i liked – there is no crazy saw-teeth, like in Klarus lights , the brightness does not jump in a zigzag.
Again, this is if you use the turbo to the fullest. If you turn on for 30-40 seconds to quickly illuminate everything around and then go to a normally stabilized mode below, then this will not happen. If your car can go 250km \ h, you will not drive all the time on this mode?
On the graph, the second peak is just the re-activation of the turbo. Then turn off the flashlight, cool it and turn it on again.
High and mid are normally stabilized and, frankly, 800-lum High is quite enough for almost all needs, it is clear that in this mode the flashlight shines brighter than the standard S2 + in its most popular budget version. Please note, that though flashlight body is die-cast, it is too compact to handle 800 lums temperature constantly and also steps down from this mode. with some cooling situation gets way better.
My thoughts about real-workd work. The modes spacing is quite convenient.
Ultralow is perfect when the eyes have become accustomed to the dark. 1 lumen seems to be a little bright, in fact, the photo shows that it is quite practical light for indoor use.
Low – in terms of brightness and runtme, it is perfect for working indoors, may not be enough outdoor.
*Mid *is also good for indoor use, is already quite consistent at street use. Light can be seen even at a 50m distance but it is rather a symbolic level of illumination. But the duration of the work is not bad, almost 5 hours from the complete 3100mah battery. Something capacious like 3500mah will probably count on an additional 20 minutes increase in this mode.
High – enough of the street, in the room type rooms may already be redundant. And some large basement or underground parking will enlighten through.
Turbo – great brightness, useful range somewhere around 100 meters with a small. With a reasonable approach to use, you will get an excellent margin of brightness.
Red light is very bright, 10 lumens of red light is quite good. You can see everything in the room, you even get some use of this mode at the street , 1-2 meters around you (but much depends on third-party parasitic light).
Well, a vivid illustration of all this in the photo below.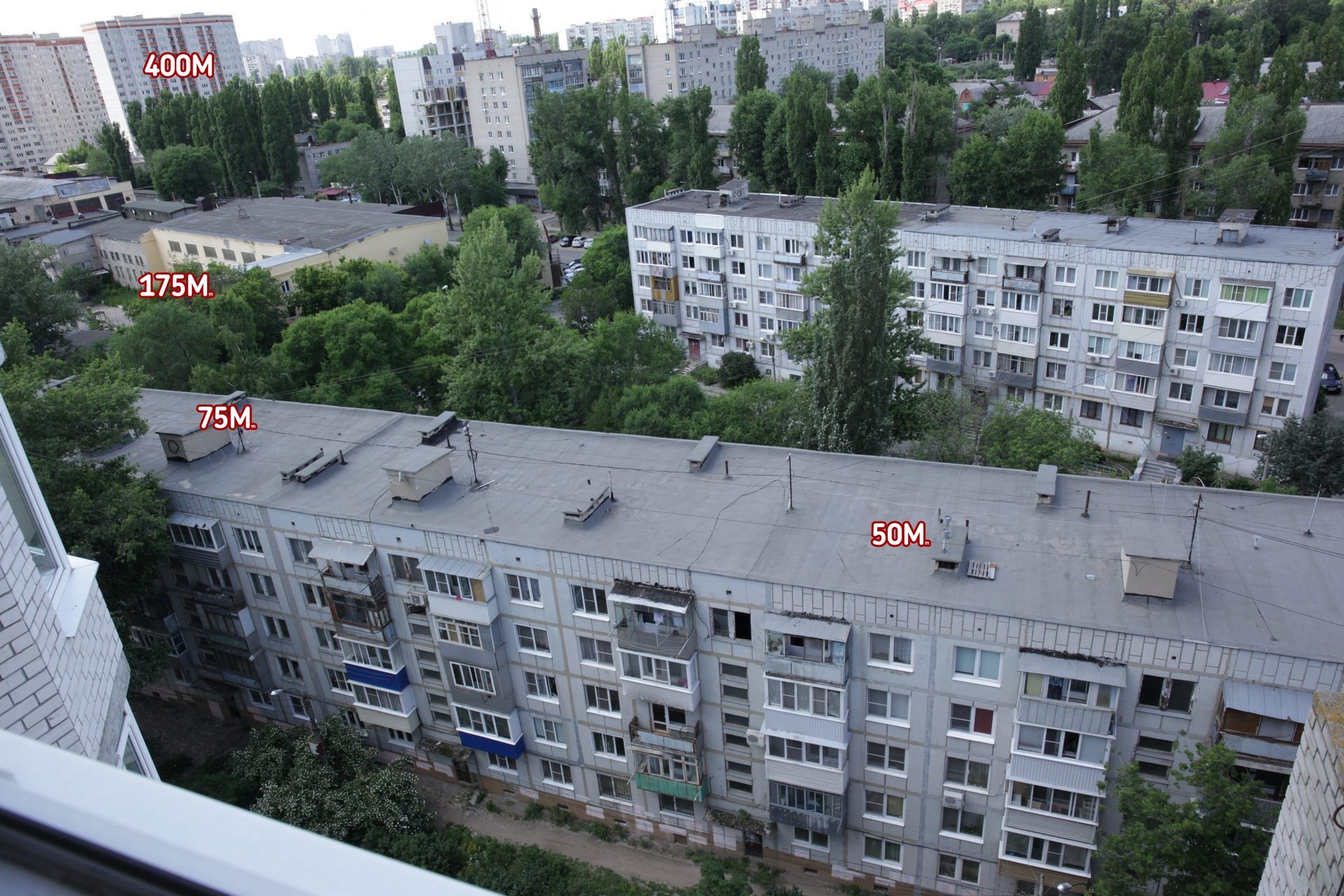 somewhere 6-7 meters to the corner.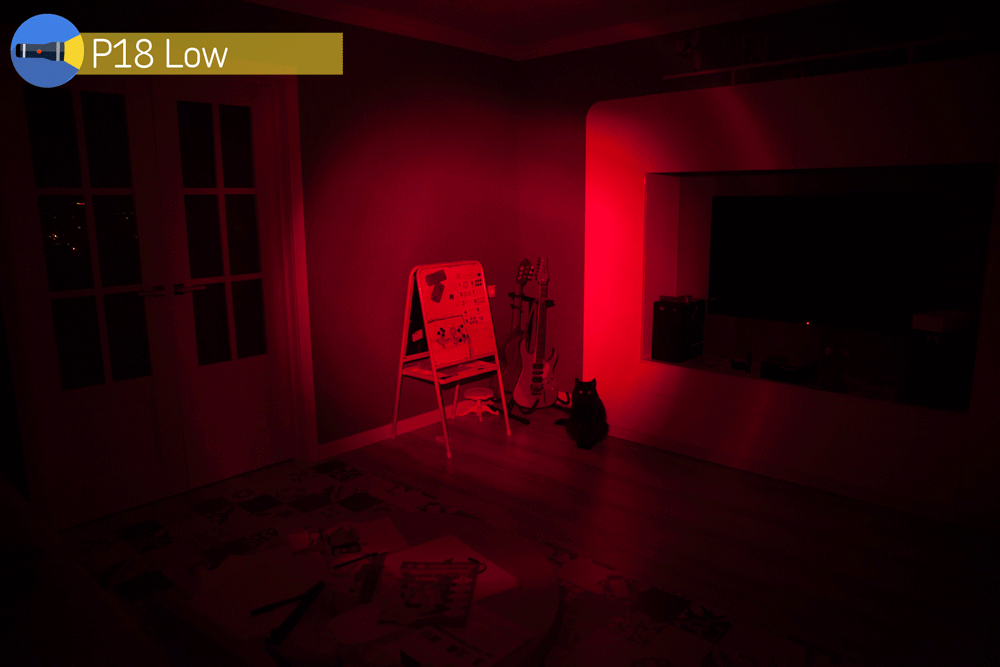 Pay attention to the length of my cat`s mustache, 17cm! gonna apply for Book of Record of Russia.
I didnt add turbo for the room, as pic will be overexposed.
As mentioned above, ultralow is invisible and useless outdoor.
50m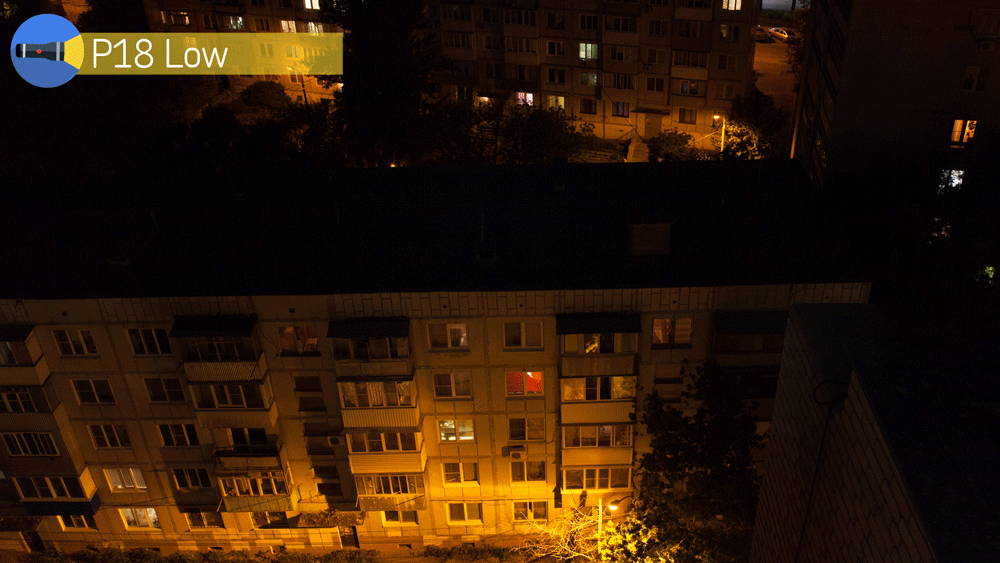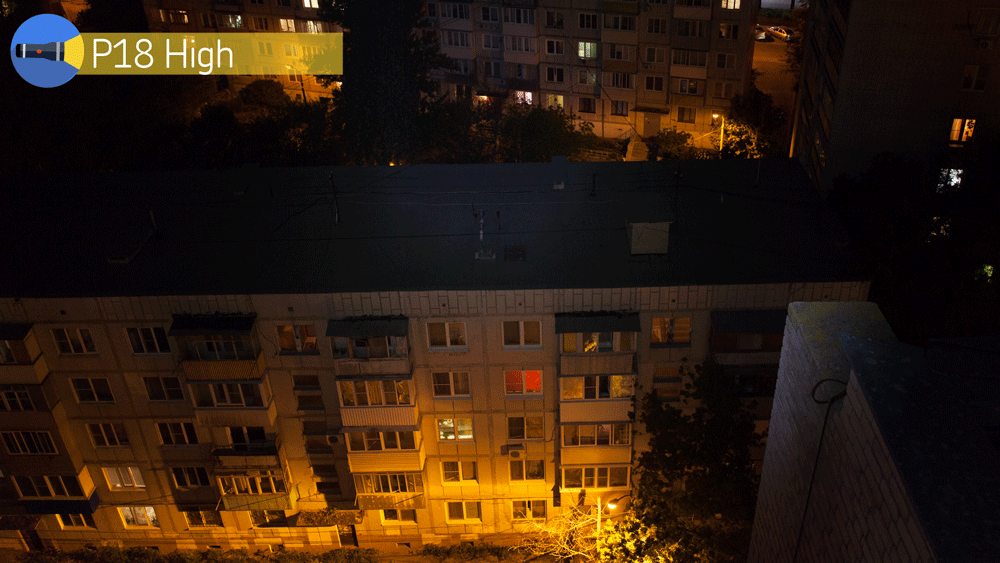 75m
In the end of video review version you can more clearly look at how this flashlight shines.
Overalll impressions 
Last year i tested all the Nitecore models, lots of them were seriously experimental. Nevertheless, all they left a positive impression, though in some cases i expected worse result. But P18 leaves a mixed aftertaste.
On the one hand, it is a compact, bright and comfortable flashlight with an attractive design.
On the other hand there is specific UI, to which one must get used, and this process will definitely not be simple.