Small device  with dual-channel charging of 18650 \ 20700 \ 21700 (!) Batteries, support of QC3 and PD3, and Type-C and USB in\outs.
If there are no jambs functionally, then this may be  really interesting device of this form factor.
Features
Type-C Dual-role Fast Charger and Power Bank
Portable Charger with Power Bank Function
QC3.0 + PD3.0 Fast Charging
Supports 18650 protected and 21700 unprotected
Precise digital display with more data
Type-C Dual-role fast charging, two port output simultaneously
High quality contacts for less resistance
Secure magnetic cover
Built-in ribbon for convenient battery removal 

Specifications:
Input: QC3.0 and PD3.0 (5v 2A / 9V 2A / 12V 1.5A)
Constant Current Charging 2A x 2 / 2A x 1 / 1A x 2
Charge Voltage: 4.20V +- 0.05V
Termination Current: <= 120mA
USB Output: QC3.0 and PD3.0 (5v 2A / 9V 2A / 12V 1.5A)
Operating Temperature: 0-40C
Compatible batteries: 18650 (protected and unprotected), 20700/21700 (unprotected)
you can buy Xtar PB2S at
PACKAGE AND APPEARNCE
The design is quite decent in white and blue cardboard packaging.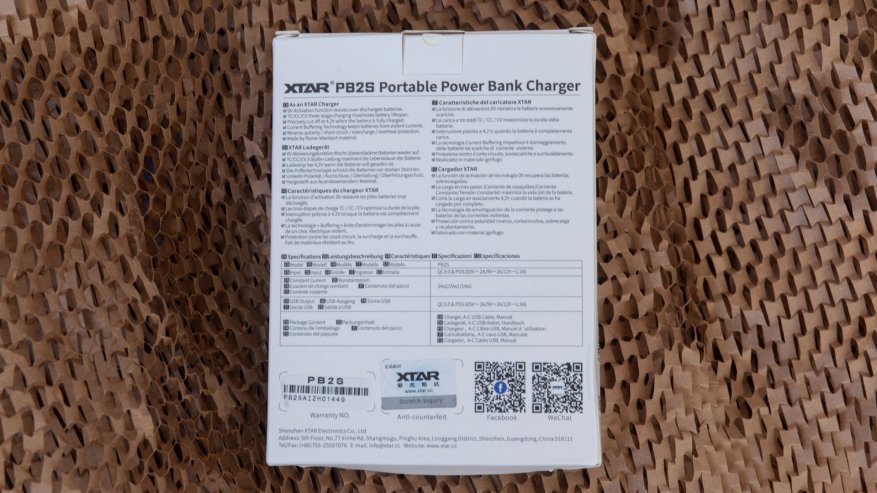 Inside: the device itself, type-c cable and manual.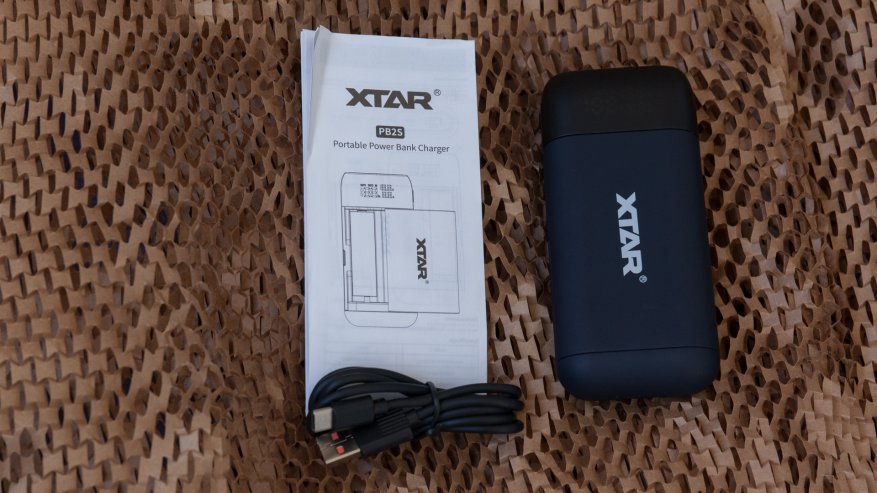 To my pleasant surprise,  I also received 21700 and 18650 batteries. The first could not be determined, judging by the characteristics of the latter, inside the usual VTC5A.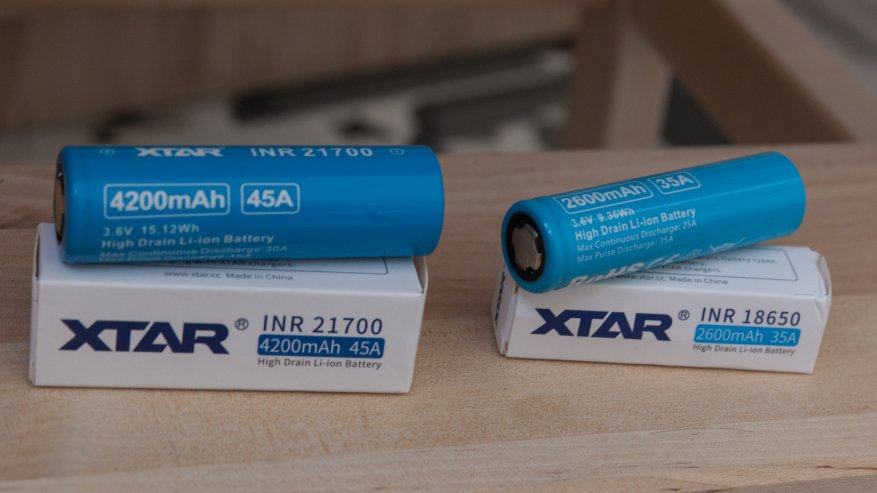 Another add-on was the QC charging unit. Well, not that I need him, but why not)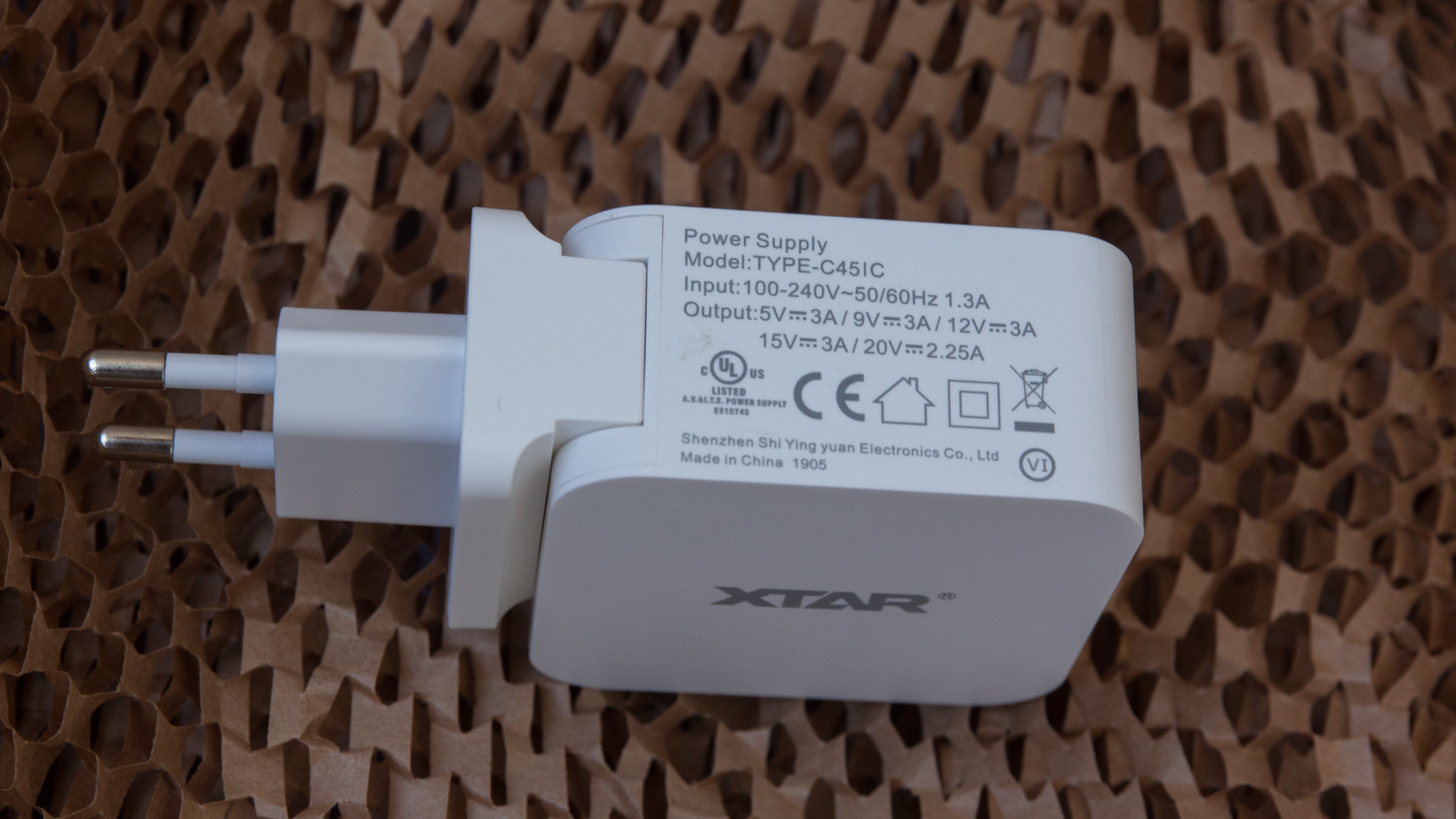 So, let's look at the device itself. Outwardly, it is a relatively compact blue-gray remnant with a soft-touch coating.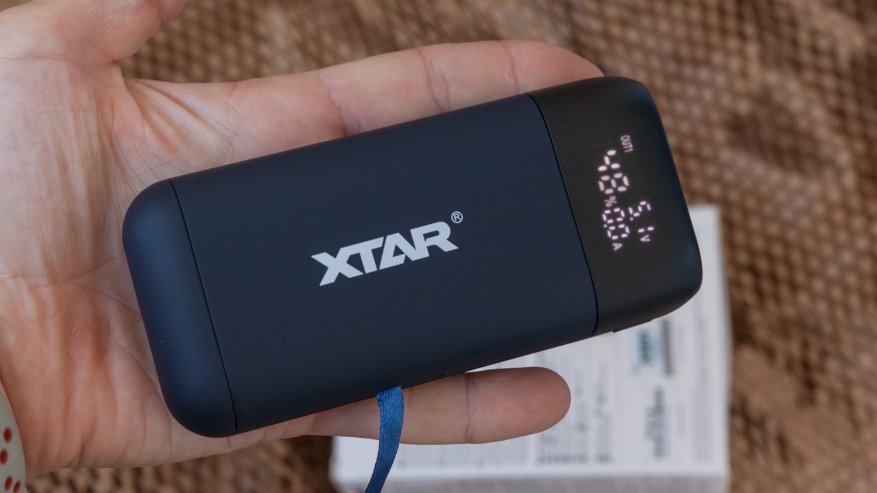 On the reverse side are all the basic technical data.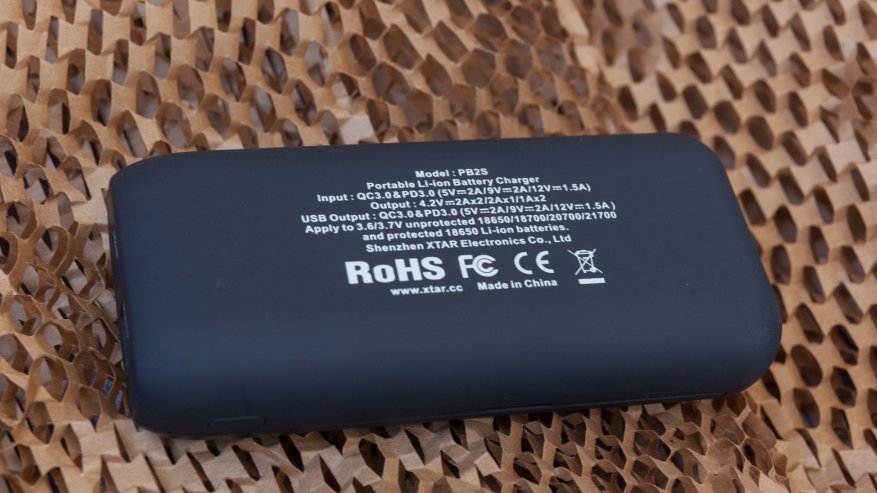 The battery cover rests on magnets and holds firmly. To remove the cover, pull the tail sticking out from the inside. Of course, if you wish, you can remove it and lift the lid without the tail, for this small grooves are visible.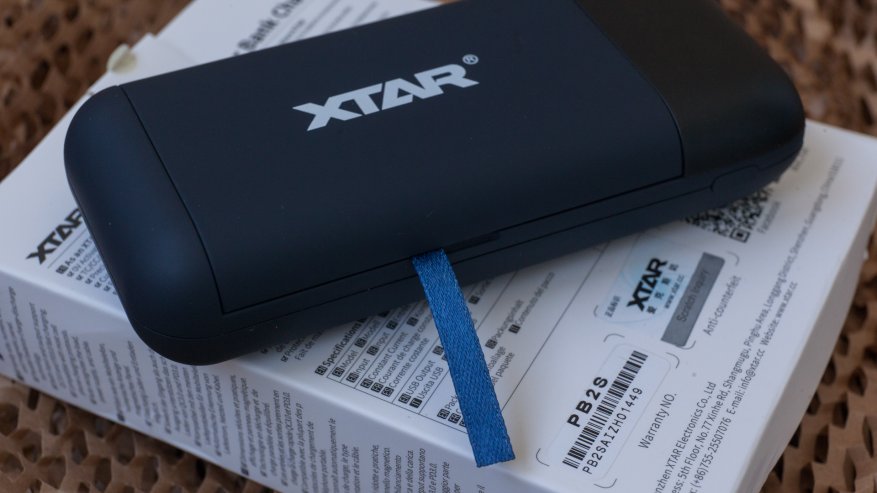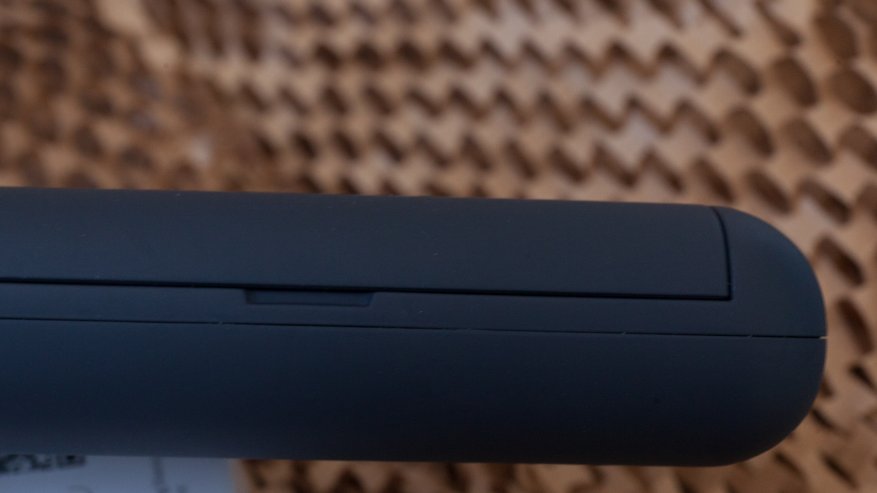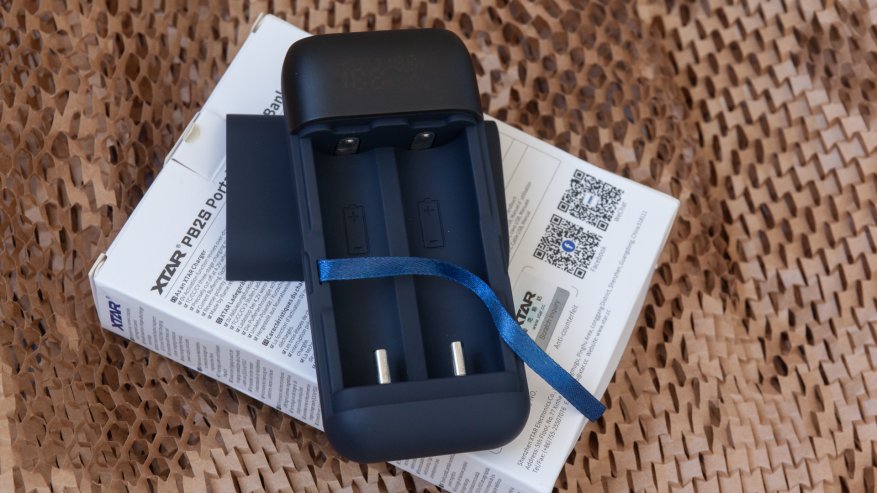 For a long time I use a device similar in functionality from soshine. That's just due to the presence of a spring-loaded contact rod Xtar PB2S supports two additional battery sizes in addition to the usual 18650: namely, almost never used 20700 -  in contrast to extremely promising and increasingly used 21700.
At the top of the power bank is a display. Judging by the read, there is also a limited version with red numbers, I have the usual one, where they are white. The numbers are large and bright, visible even in bright light.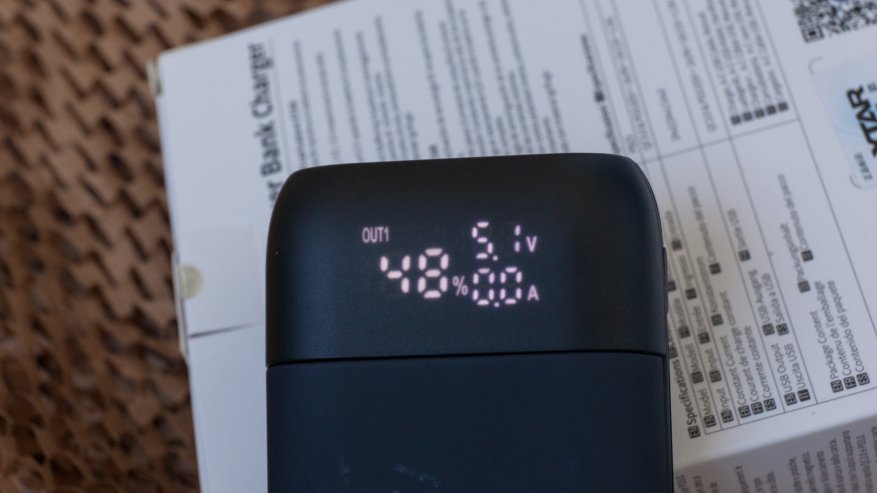 On the side of the screen is the power button.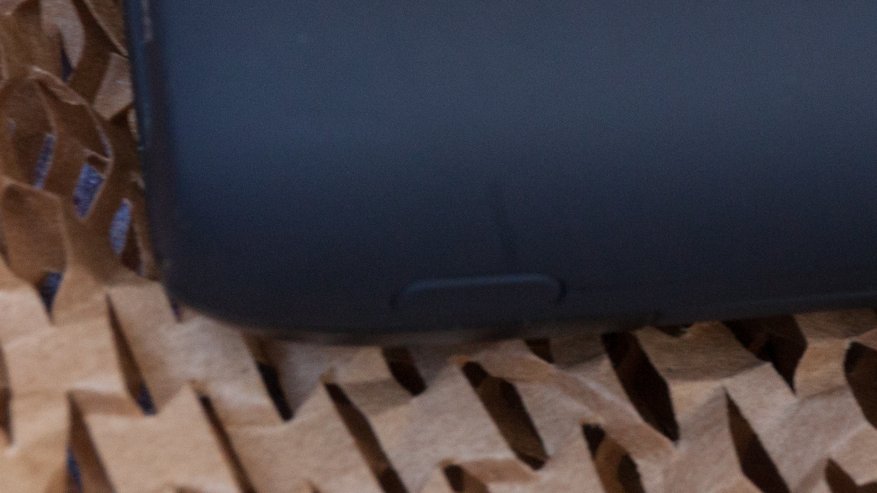 From the end above the display are two in \ out connectors: USB-A and Type-C.
That's all with regard to appearance. The design is attractive, there are no obvious manufacturing jambs (backlashes, gaps, defects in plastic molding). There is a question for the soft-touch, in the review at BLF here,  people complained that in the future such a coating will wear off to an unpleasant gloss over time. I don't look into such distant prospects, and even if this happens, then I will not openly give a damn until the charging functions as expected.
Functional
 
I'll start with the display. Charging is two-channel and by pressing the button you can see the data for each channel.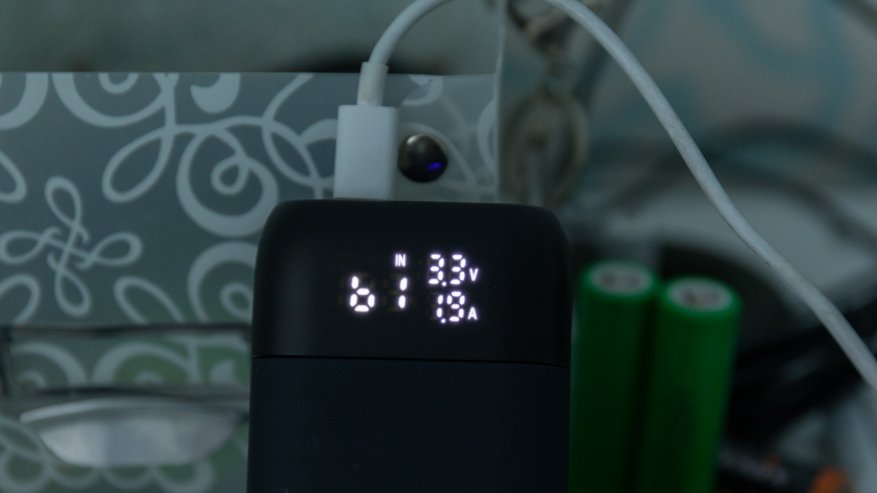 That's just ... that's just I would not trust these readings, they differ from the data on the screen of the USB tester. Fortunately, difference is minor. It would be unpleasant if the powerbank overstated the amperage, currrently it underestimates it. See for yourself.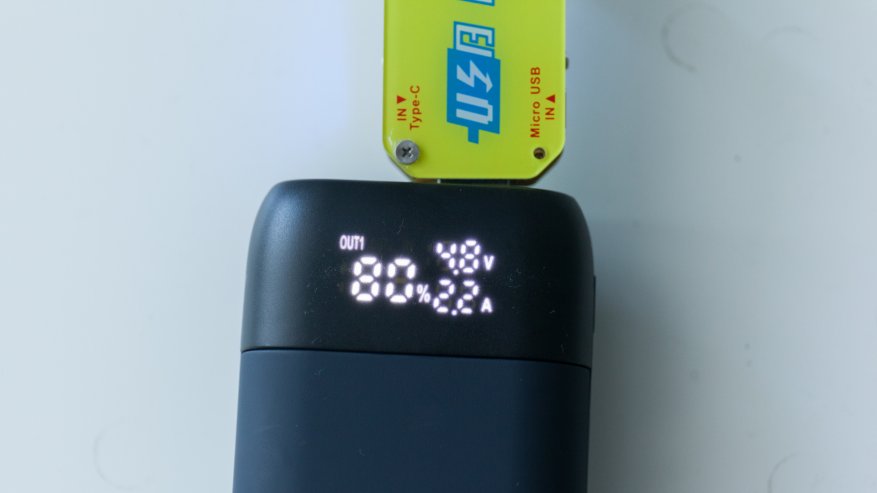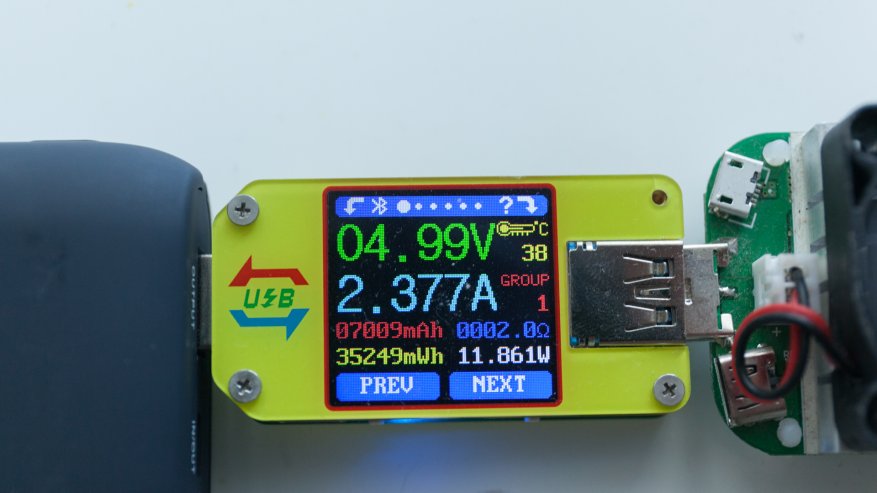 In fairness, an error within 0.1-0.2 volts and amperes will offend the perfectionists more likely. In real use, I do not care. I contacted a company representative, they said that I received one of the early samples, there is some variation.
Well, let's measure what we got.

Charge
I'll start with the fact that here they promise 3 stages of charging: drip at the beginning, then CV and in the final stage of CC
They also promise the possibility of activating deeply discharged bttteries . I have no such closes-to-zero one, as well as nieuther i have desire to drain the battery below 1v. But since this is a traditional working feature of Xtar chargers, there is no reason not to believe.
Charge 2x 18650 (Sony VTC6) QC3.0
incomprehensible drawdown in the middle of the chart.
For Li-Ion, a comfortable charging current lies within 0.5C, i.e. 1.5A for a 3000mah battery. In principle, it can be charged with QC. 21700, the bank will definitely be no harm. charging time is very good
. 

Single charge
For a mixed charge of 2600mah 18650 + 4200mah 21700, I used the batteries included in the package.
What immediately catches your eye is two steps in the middle of the graph. My symbolic knowledge in electrical engineering is not enough to identify them, I could reflect them on the graph - and that's good, I think that there are understanding people here.
The second point, I did not see the CV phase here, then the focus was on the same level.

And yes, there is still low-current charging, to activate which you need to hold down the button from the off state. You can charge fitness bracelets and bluetooth headphones. Well, here I can't add anything except yes, this function works.
Discharge
The specification indicates that on USB 5v you can expect 2A, but I got 2.5A without any problems.
From 2x Sony VTC6 i got 3545mah.
Adjusted for voltage conversion, it would have to be about 4200mah, received 84.5%. The difference is quite noticeable.
But, I am sure that when the voltage on the banks drops to such a level of the order of 3.2v, they simply do not draw this current. A discharge with some kind of symbolic current could and would turn out to see the removed capacitance close to theoretically possible. So I won't write down.

When discharged from one batery , the same 21,700 current is kept without drawdowns. The voltage at the end - 3.35v

Aha, here we have declared PD \ QC. Fortunately, I found an adapter, so you can test it, since my Knightcore charging for Canon batteries has a QC input.
 ups. But it doesn't work out. I don't have a two-way cable, the available type-c adapter - usb does not transmit current in any way.
Well, the same mixed test, let's see how it behaves when discharged from two different batteries. In general, this situation seems rather hypothetical to me, nevertheless, as a rule, if a person has two batteries, these are two identical batteries.
so, with 2600mah + 4200mah i got 3968 (expected 4840mah), those. 82% of the expected - actually as much as the last time.
voltage on two different batteries at discharge: 3.2v for the 2600mah 18650 and 3.15v for the 4200mah 21700. it will do. The current, as above, holds well, on the same level.

Overall impressions 
An interesting device , a sort of combo from a full-fledged dual-slot charging Li-Ion battery and a modern power bank with a bunch of up-to-date standards. The price tag is not a budget one, but it is slightly higher than some ordinary dual-slot charging with the same display array.
In principle, I believe that universalism here did not harm characteristics of the device both as charging and as a powerbank. The model is not bad, but not without flaws, since I do not consider those significant.
+ appearance
+ easy operation
+ bright and informative display
+ good charging and return current (QC and other modes). until I saw a single charge comparable in size that could charge as fast, for the 21700 this is a big plus.
+ normal balancing, you can work with fundamentally different capacity
+ There is low current charging.
+ availability of type-C outputs
- My copy showed 0.2 A and V below the actual readings.
- the price tag is still not budgetary, at least at the start of sales

Remarks:
1) In powerbank mode, it gives less than it could. But, I think that it is not reasonable to put this in a mine due to physical limitations on the current output of a battery that is discharged below a certain limit.
2) the steps on the chart are not clear
3) I could not test Type-C for output current.