Nightcore produces quite a lot of all sorts of different devices, and one of the relatively recent models in their lineup is this 5xUSB charger. In a situation where the number of devices exceeds the number of outlets, such a thing can be a real salvation.
➤
NITETORCH
    they generously offered 20% code  *HJK5KDNQ* valid for *all* the items in store, including other brands
for years i`ve been buying batteries at
Nkon.nl
:. sincerely recommend this store.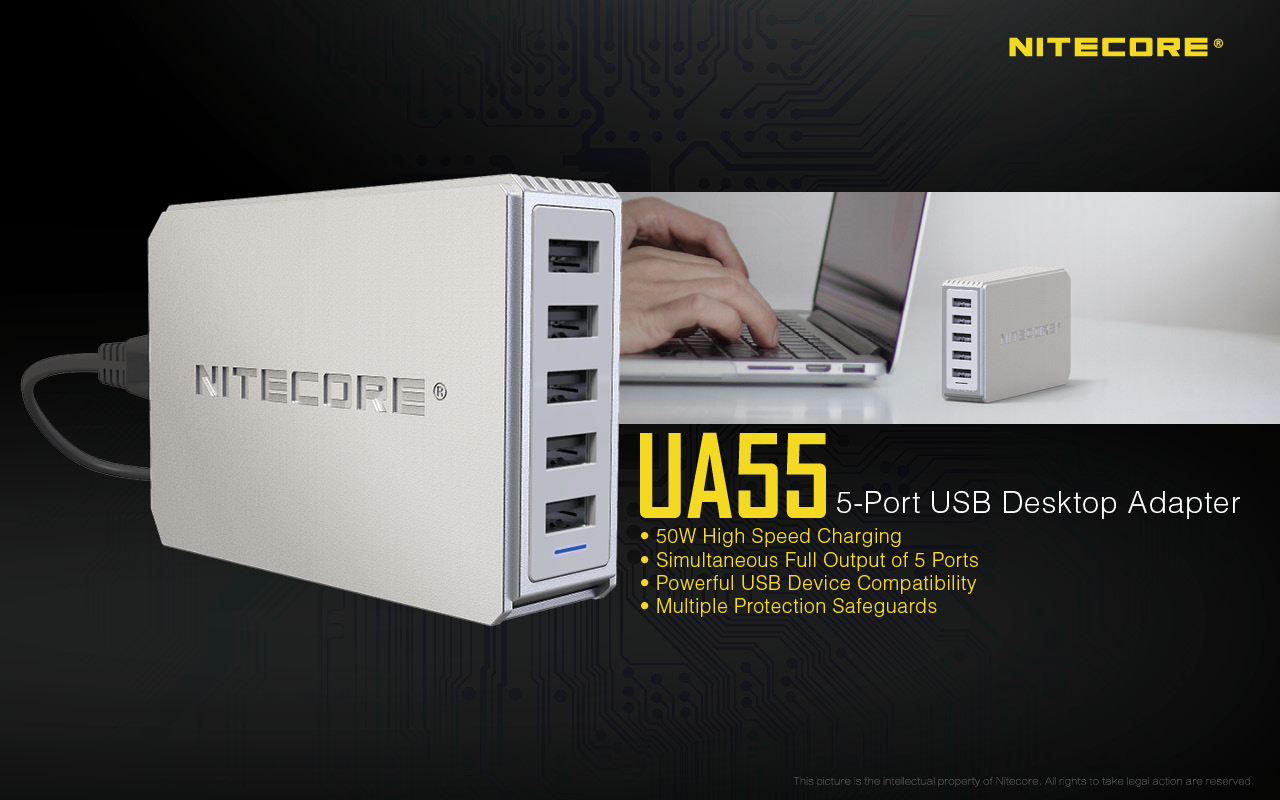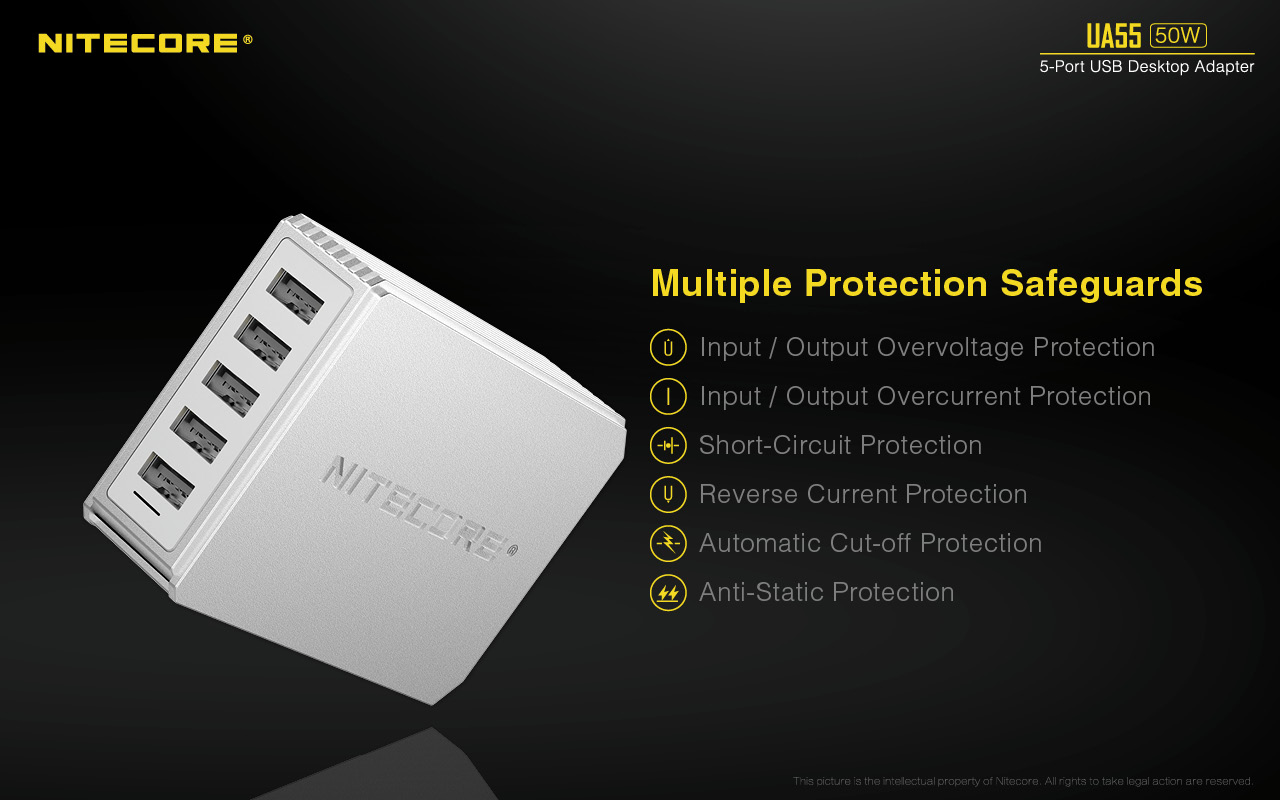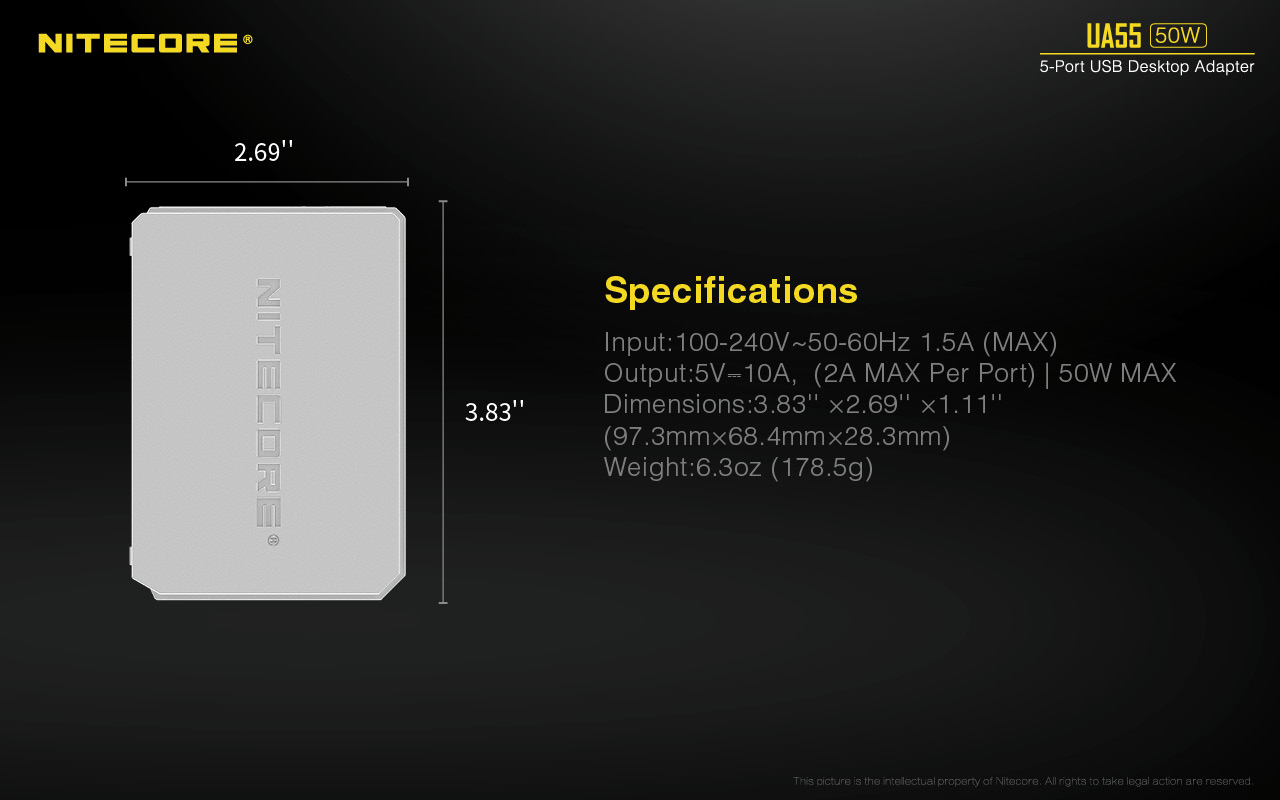 PACKAGE AND APPEARANCE
Surprisingly, the package for this charger is definitely from the premium line, it is sort of black thick-walled boxes that Nitecore uses for most expensive models. I think that the manufacturer had to do it abandon the usual for the middle segment black and yellow thin packaging for the safety of the contents. After all, it is one thing when the aluminum housing of the flashlight is inside, another when there is a plastic box. Is Mali whose foot will step on the package ...
Well,  from the standpoint of external attractiveness and preservation of the content, there is absolutely nothing to complain about.

The package bundle is extremely simple, but there is nothing to add to the unit itself, 220v cable and manual.
Similarly, the charging unit itself looks quite simple. Nevertheless, it looks good, without the slightest hint of noname stuff.
 
Initially, it has a kind of translucent cover. If desired, you can take it off , but i preer to keep UA55 in this cover, so that the charge retains its original appearance as long as possible. If it does not matter, then you can use charging without this cover.
In terms of design, there are no special tricks here. Just a small ribbed plastic block with a metallic finish. from a distance of about a meter, you can even decide that the device is actually metallic.
Otherwise, the device is really compact, both in size and weight.
The device is cannot be disasseble without structural destruction, so there will be no pics of inside.
 
along with basic spcecs, there are rubberized legs  for firm stand on the bottom  
On one side is the input for the power cable, on the other 5 USB ports. There might be Type-C for the most fast-charging devices, but the manufacturer decided that you can get by with QC in UA66Q.
 
However, these regular 5v 2A is quite good numbers and the lack of QC\PD does not bother me at all. Yes, and why hide it, when something like 9v 3a is supplied to the smartphone's battery at 4000mah, I see more damage to the battery's resource than pains from charging speed and I use the usual QC at home in rare cases of exceptional time pressure.
Ports have a dim blue backlight.
The power connector is the most common, if something happens with the complete cable, you can easily find a replacement.
That's all ... there is nothing more to say. The charging unit looks simple, but nice.
 
The most important thing from the position of the review, what is there about the current? Nitecore declared 2A maximum current output, but I was able to achieve significantly higher performance, 2.7A. With more load, the port turns off.
I currently have 1 adjustable USB load and 2 testers. I could not check all ports, but using all of them ,  the current seen allows us to judge that you can count on the numbers in the specification.
After the power text, the charge went to the cottage, where it performed best way, charging not only me and wife`s smartphones, but also bluetooth speaker, 18650 charger and new Nitecore LR50 camping light.
OVERALL IMPRESSION 
 
This Nitecore novelty seems to me to be reliable charger.  There is no display or support for the fastest charging protocols. But all 5 connectors work as they should and yet 2A  (about 2.7A  at least in 1xUSB mode) is a sufficient charging current. Many devices will not be able to choose even this level, staying within 1-1.5A
 
Now I do not have any complaints about the functionality. Charging looks good and works flawlessly within the stated limits. 
upd 2021.
i constantly use it since i got this charger. no problem at all.