Well, finally I saw a camping lamp, where you can adjust the direction of the light (3 options). Plus, the Nitecore LR50 works as a charger for 2x18650 and as a power bank. In short, announced combo was impressive. Let's see whether this novelty is so good or whether the manufacturer screwed up.
 
You can buy Nitecore LR50 at ALIEXPRESS  |  EBAY |  BANGGOOD | AMAZON |  NITETORCH    they generously offered 20% code  *HJK5KDNQ* valid for *all* the items in store, including other brands

official mode lage   |     manual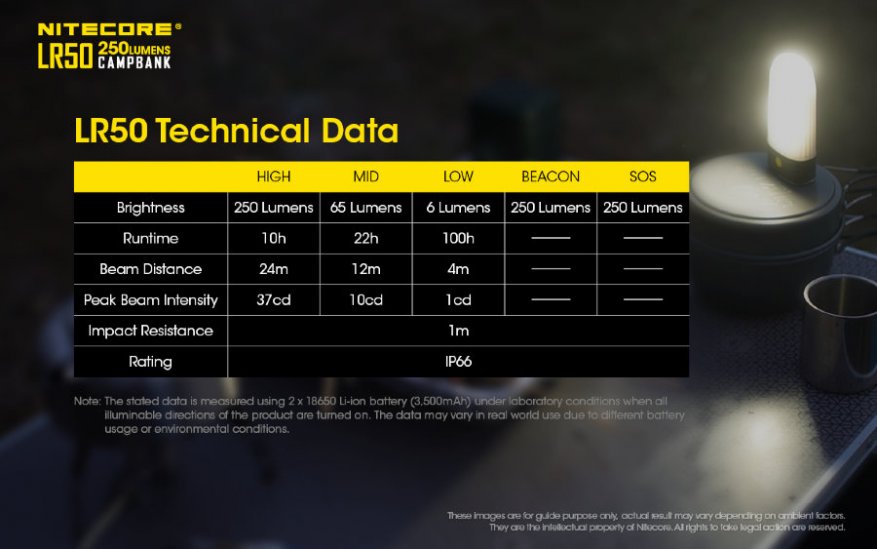 Package and appearance.
 

A completely ordinary yellow-black cardboard packaging, typical for all mid-market Nitecore products. But, generally, everything is good here.
Inside, in a plastic blister, there are LR50 itself, a manual and a charging cable.
Well, this is what this camping lamp looks like. It reminds me soapbar on a black base. No creaks, no backlash. Appearance of normal brand thing. Yeah, everything here is at the usual level for the Nitecore : I have 2 of their other camping flashlights, everything looks no worse .

And if height is more than rest of camping lamps I have seen, then depth it is only slightly more than the diameter of the battery, the dimensions are shown in the overview header. But numbers are numbers, but you`d better see all this alive.
Usually, construction of camping lamps is completely monolithic, with the exception of the battery compartment cover.
Here it's just the opposite, the Nitecore LR50 happily reveals its insides to the world. To open diffuser and get access to insides, you just need to press two latches.
To finish with the diffuser, I will say one thing - it is thick. And this is good. And no less good is that it is generally removable, if it somehow get cracked, then you can buy a new one or get it under warranty without any problems as it is really cheap.
Inside, there is a T-shaped construction covered with LEDs. There are battery compartments at sides . Just in case, again, batteries are not included in the kit.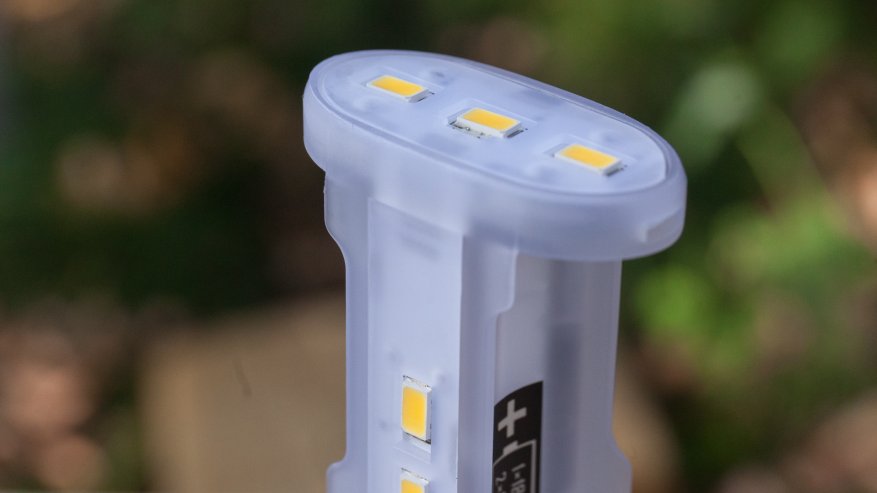 Be that as it may, the batteries are easy to put on and hold on securely. I definitely do not know what else can be said more about this.\

At the top, among the mass of the main LEDs, there is a lone blue dot indicator.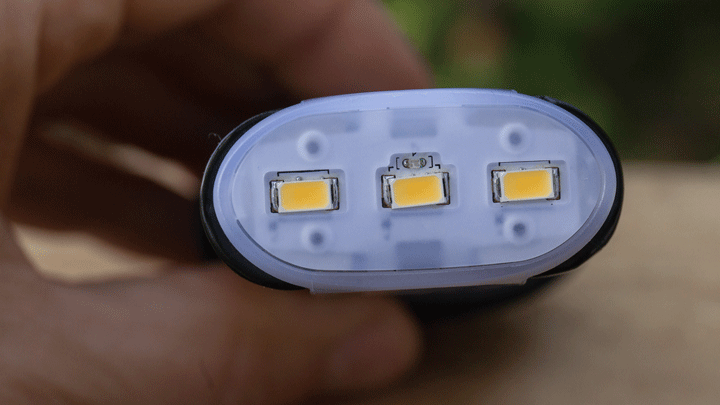 At the bottom -  the most common lace to hang LR50. 
And there is the strong magnet which firlmy keeps the fully equipped Nitecore LR50 in a horizontal position. It magnetizes not only to a flat surface, but to a round tube as on pic here. BUT! 2х18650 is too heavy to be kept in --- position, you have to move it like this \  . 1x18650 is not that heavy, LR50 keeps it horizonally

In the same place behind the thick and reliable (comes in tight, with a flop) yellow plug there are 2 connectors - Micro-USB input and standard USB output.

Well, there, at the base, soft orange round buttons at the opposide sides.
While there is nothing to complain about, everything is fine
UI
Extremely simple. In order to turn on\off the flashlight, you must simultaneously hold down both buttons, i.e. chances of accidentally turning on the lamp are zero. As for the rest, here is an excerpt from the manual.
There is mode memory - it always turns on in LOW, but there is a memory for the selected direction of light.
just press button to change brightness, keep 1 button pressed to change light direction. 



How the nitecore LR50 shines
Wonderful, wonderful, finally no cold light. There is something about 4500 (more about color temperature in my guide on how to choose a flashlight). Well, HiCRI, that is, a (high color rendering index). Suppose Nitecore might also release non-HI-CRI version with traditional more energy efficient CW LEDs,  like XP-G3 for example. for those who care about amount of light, not about its quality. So overall brightness might be 20-30% higher with the same heat. 
the charging current is excellent, there's nothing to complain about at all.
 in external battery mode, the current is no worse. Well, I couldnt make chart, as bluetooth connection between tester and laptop broke down each time and all the data zeroed. But, believe me, it was 2A from pair of 3500mah, which is quite expected taking into account the conversion of 3.7v to 5.2v.

The voltage is 4.17 on pic, but I launched the PB after the shutdown, it was barely enough to take a pic before it finally turned off. In reality, voltage is normal.
Stabilization and runtime
250 lumens of maximum brightness is really a lot for a simple plastic camp light body and I definitely expected the worse. Long experience in testing lots of other camping lamps showed that the maximum brightness in them is very time-limited.

it turned out that the brightness slowly drops by 10%, but during 40 minutes - quite a lot. Then another 1.5 hour at a level of 80%, i.e. about 200 lumens. And only then, after two hours, the light reaches half of the maximum. And this, again, is not a bad number.
I did not check the brightness for all modes, since it requires a very, very long time, which is simply not there and made two other basic measurements in the main and popular modes.
all  LEDs in MID mode - full stabilization and a whole day of non-stop operation, for 2-4 full nights (depending on what time of year) is enough for you.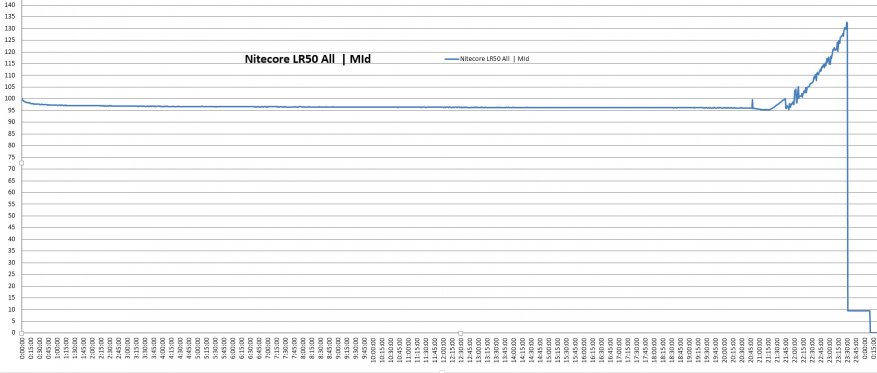 3 LEDs (in my case the top, but the side ones would give the same picture) in High mode.
As with High with all LEDs, the brightness drops after a while. I do not see any downsides in this, since it is really long + you can always start this mode with the initial brightness if you do not have enough light. And if you fell asleep and forgot to turn it off, then this will even help save battery power.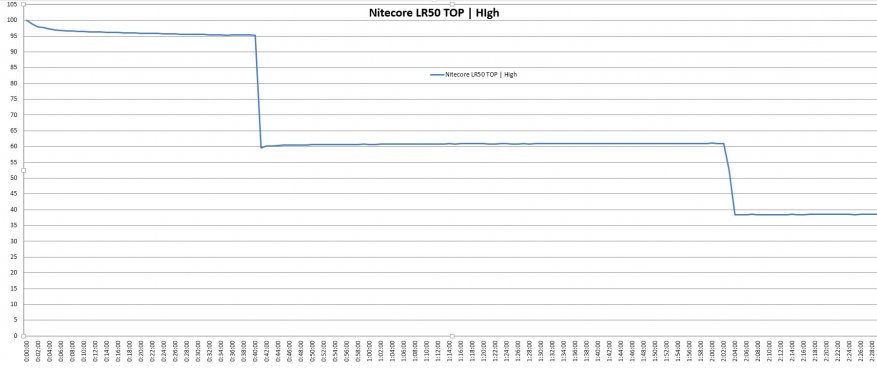 Despite measuring once a minute, the memory of the lightmeter clogged faster than the lamp turned off. So in reality, I ran three LEDs at maximum brightness about 5-6 times. And this does not take into account the fact that after the initial sterpdown the lamp shone for almost 20 hours.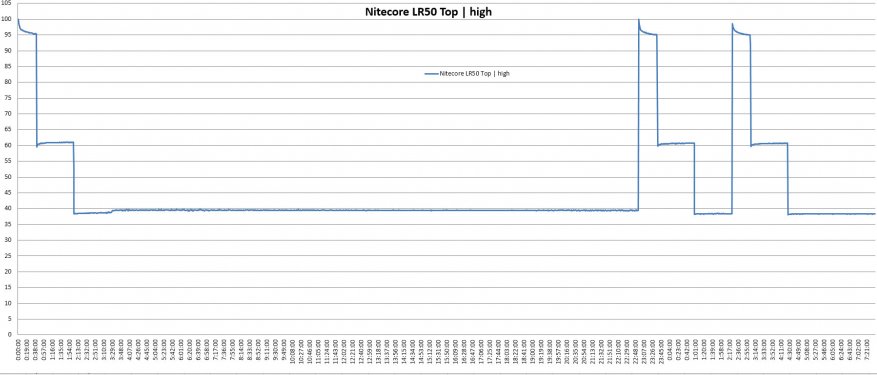 I decided to check if the NItecore LR50 works from USB, without batteries. Yes! works! If desired, you can give light from a powerbank or power supply. But, there is a jamb - really working only high modes for each of the directions of light, in the rest there is a serious blink. I will inform the manufacturer, MB will be fixed in the next version. The maximum current consumption is 1.5A at a voltage of 5V.
The bare numbers will not make it clear how the Nitecore LR50 shines. So, see the photos. Of course, indoor, light is perceived much, much brighter. For example, there will be photos with full light and light from the top, without a side, a yellow square in the upper left corner will make it clear what type of light is on.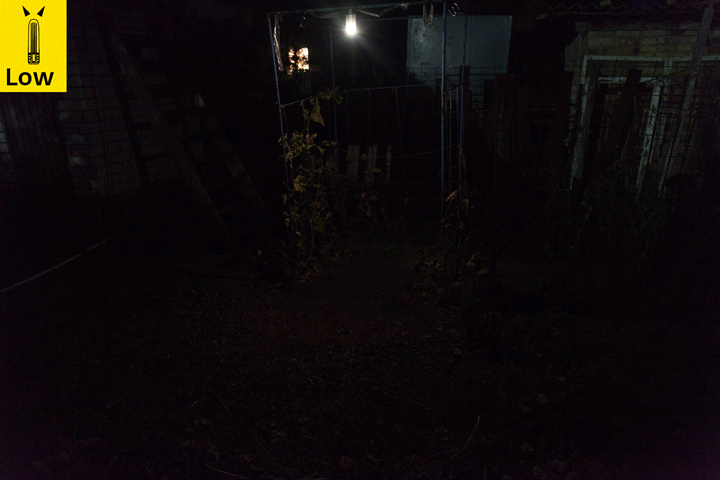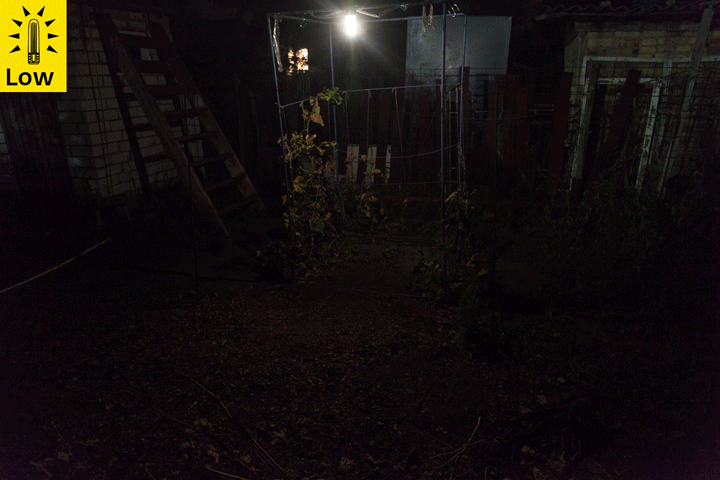 and here you can see clearly how the brightness modes are related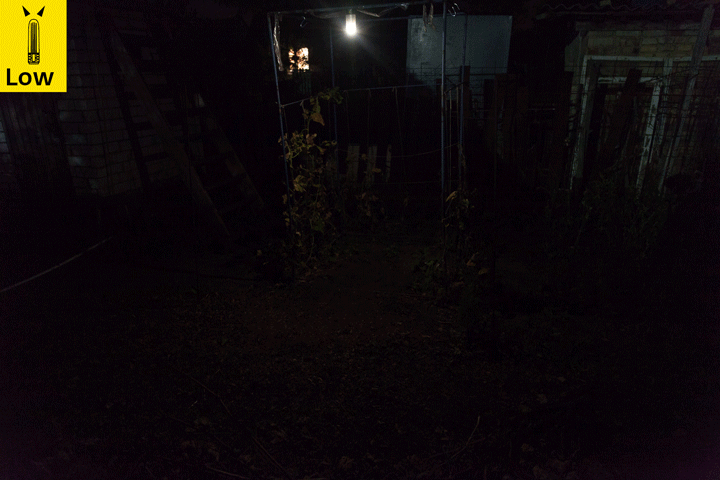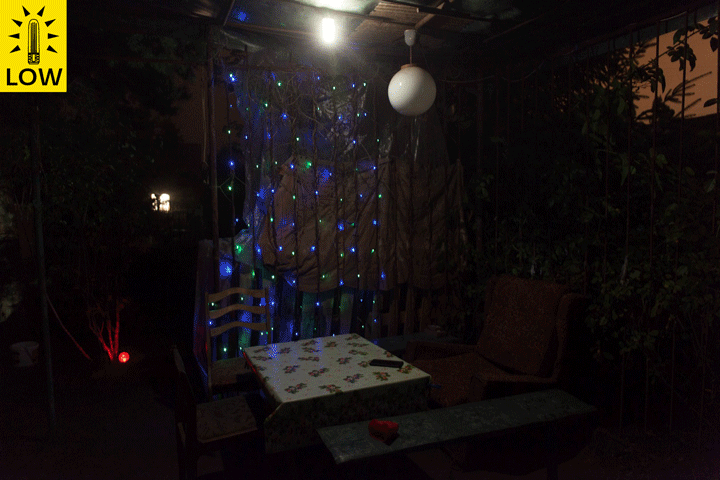 I think that according to the examples above, from the old garden shack it is clear that the maximum brightness even with 3 LEDs from the end is enough to illuminate the table well somewhere about a meter and a half from the LR50. Well, if you turn on the lamp at full brightness, then it is definitely enough to eat, play cards or read a book. By the way, for the first two needs, medium brightness is enough.
If we are talking about a smaller distance, then here is another example. Conditional situation - it is necessary to prepare dinner. High here is redundant for both directions of the world. In principle, LOW can be dispensed with, but MID will be more justified and most comfortable.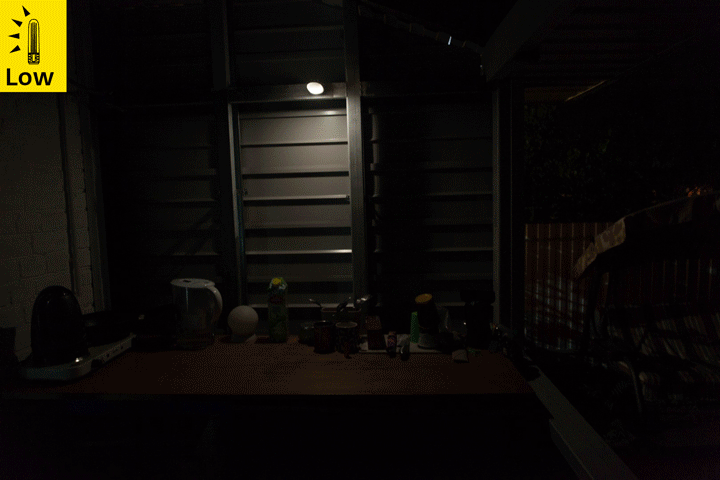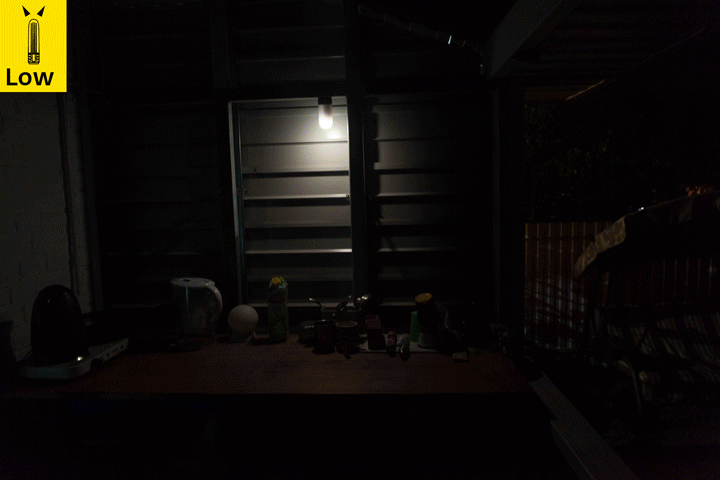 Well, of course, all this in the video version of the review.
Overal impressions

I am a big fan of camping lamps and I really liked the LR50. For a very long time I was waiting for the opportunity to choose the direction of the light, and here it appeared. For me, this is an extremely successful combination of charging, a powerbank and a traveling light source. The price tag is quite at the level of competitors' products, here the lamp does not cost more than some ordinary branded camping lamps. Yes, this is not some superbright chandelier (there is only one such chandelier on the market, and it is radically bigger in size and price tag), but given that there is enough light already and there are a lot of all kinds of advantages, I think that of all 2019 Nitecore novelties, this model is one of my favorites.
This is actually a comfortable and bright camping lamp.
+ HiCRI light
+ Ability to choose the direction of the light
+ Full charging functionality
+ Work in powerbank mode with good current
+ Good duration of maximum brightness and stabilization after stepdown from it
+ Magnet (corrected for the fact that it does not hold a full horizontal with two accs)

+ - Nitecore LR50 works with USB without batteries, but only at maximum brightness for each of the directions of the world.
Cons from the category of Wishlist rather than really constructive stocks.
- no red light
- Separately, nevertheless, each of the directions of the world may seems to be not that bright. but, that really depends on situation and how you place LR50.  
- It would be worth releasing a more energy-efficient non-HiCRI version for those who are willing to compromise on the quality of light for its quantity
- The mode is between 65 and 260 lumens (now it can be done by setting the maximum brightness to "1 side + 1 high light")
- The magnet does not hold horizontal with two batteries.
- do not work with flattop batteries . solved by magnetic spacer.