Another Fenix novelty, this time functionally (separate lights) close to decent models Fenix HP25R and Fenix HP30R
HM65R official website | manual
*you can buy Fenix HM65R at *
➤ Aliexpress
➤ Ebay
➤ AMAZON
➤ NITETORCH they generously offered 20% code HJK5KDNQ valid for all the items in store, including other brands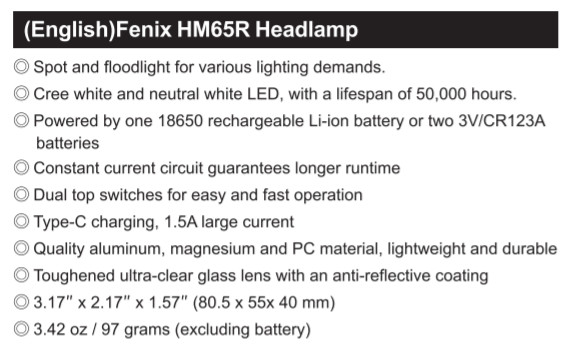 PACKAGE AND APPEARANCE
well designed plastic box. nothing to add, actually.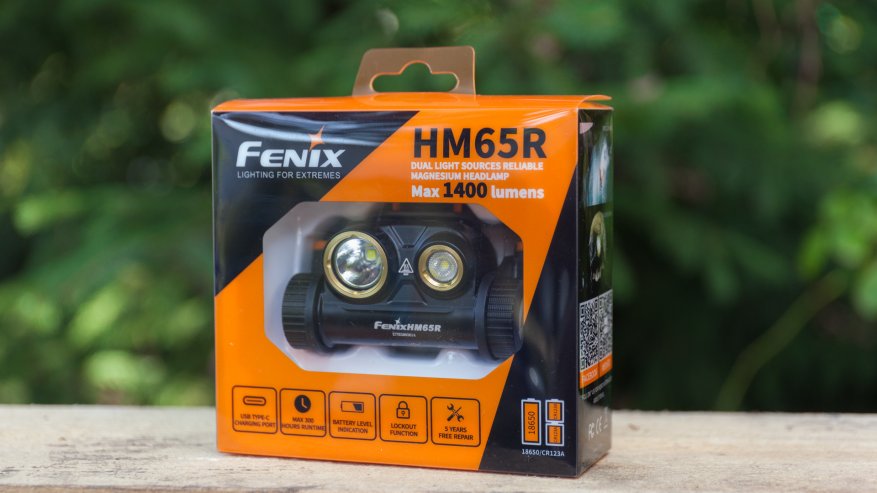 The kit includes: the Fenix HM65R with headband, a 3500mah battery (hooray, finally Fenix put battery with good capacity, not 2600mah one), type-C charging cable, instructions, and O-ring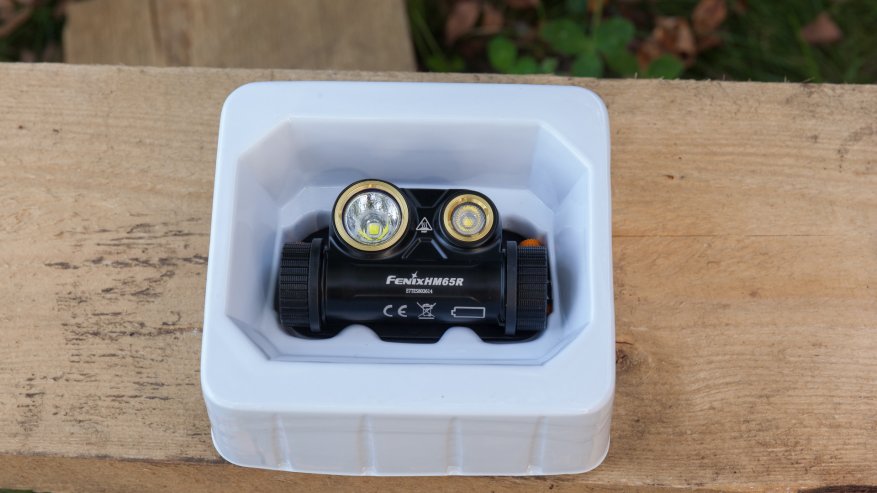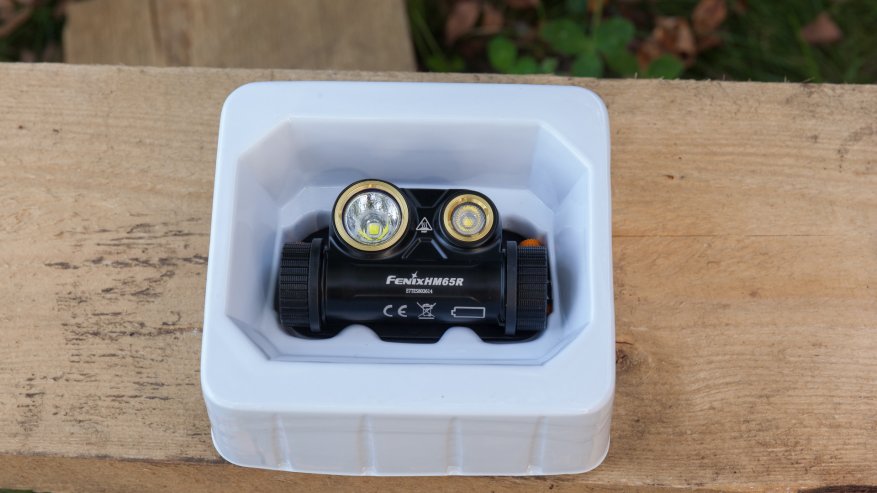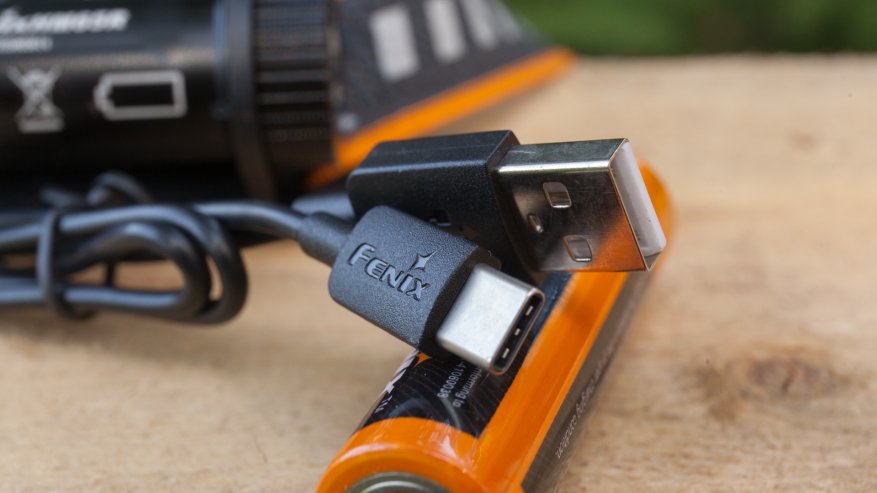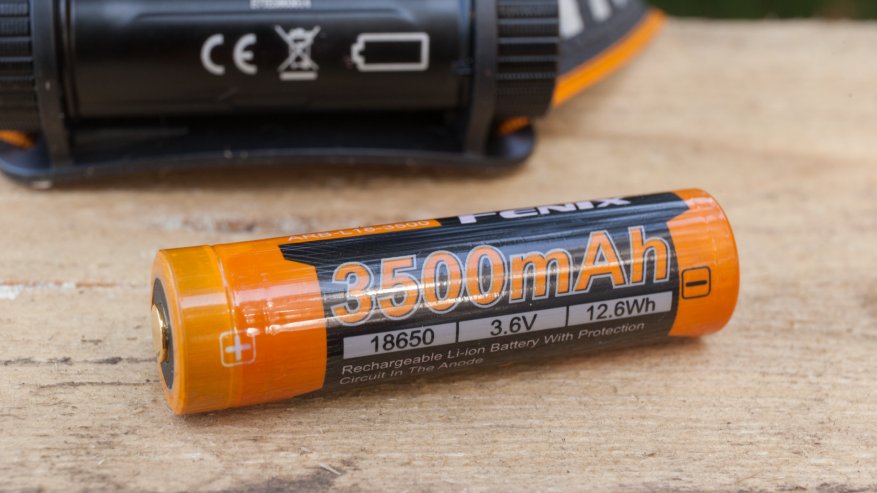 Well, here is the Fenix HM65R itself.
This is not the first Fenix model in this form-factor, I recall, before that they released the HP25R and HP30R – a significant difference between these models was an external battery compartment unit.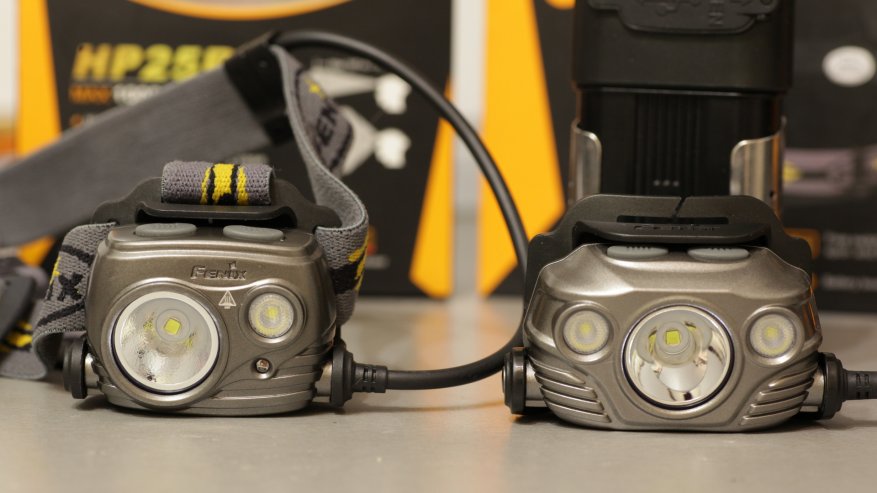 Here, the design is radically different. And as for me – it is frankly steampunk, reminiscent of either a narrowed look, or a face with a monocle. Appearance frankly old-style, warm. No hi-tech at all, a solid retro. What is missing is some kind of brightness adjustment vernier. Will be generally gorgeous to cosplay Fallout or any retrofuturistic games. Walk around, drink mutafruit juice , shine on the sides. I think that such a design is not for everybody (although who will choose a light source by design?), but I like it.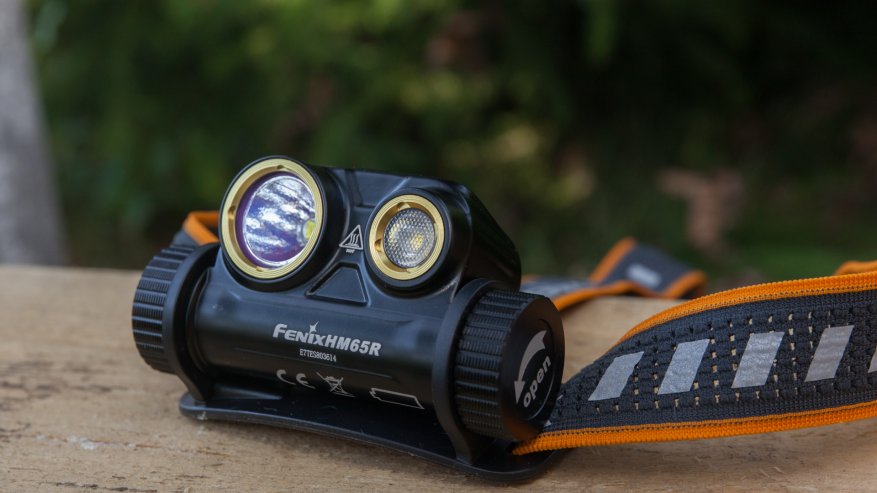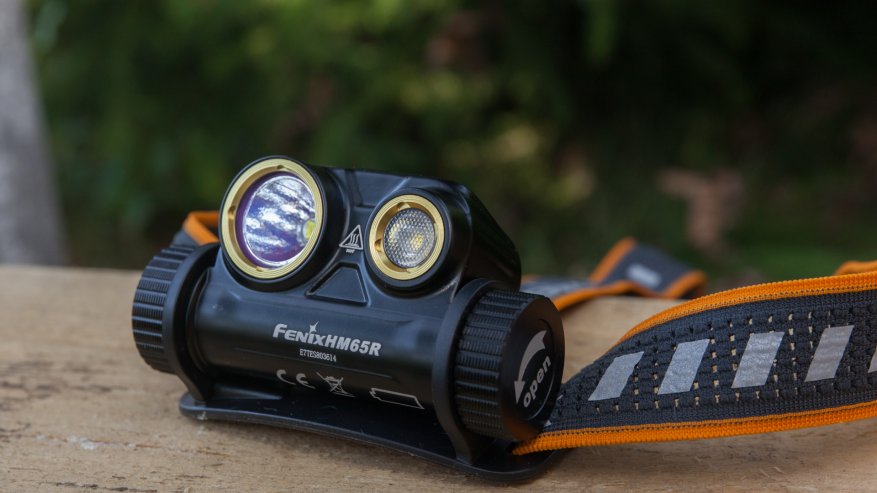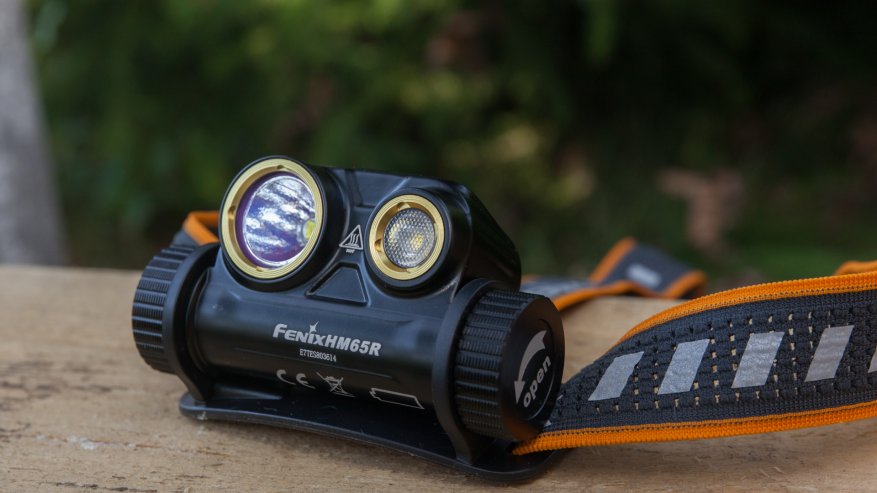 As for the dimensions, you can evaluate it yourself – Fenix HM65R is quite compact. On the one hand, it is shorter than the usual L-shaped headbands, on the other hand, it is higher due to the protruding parts with optics.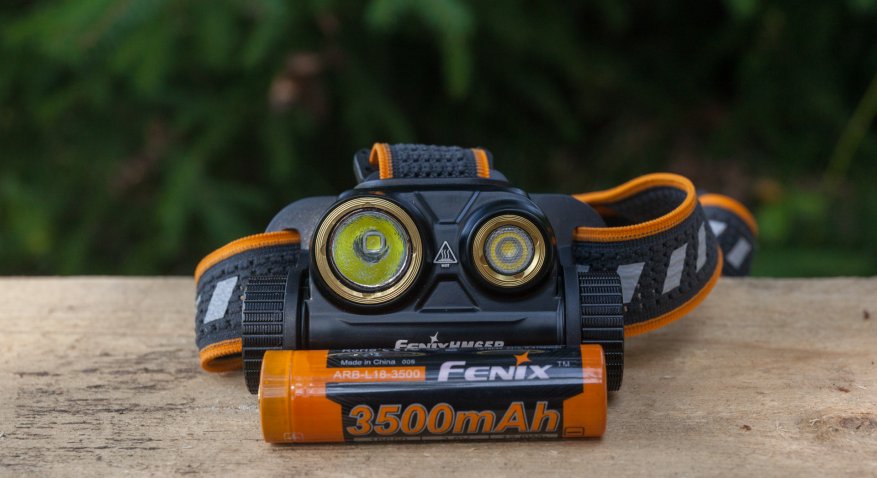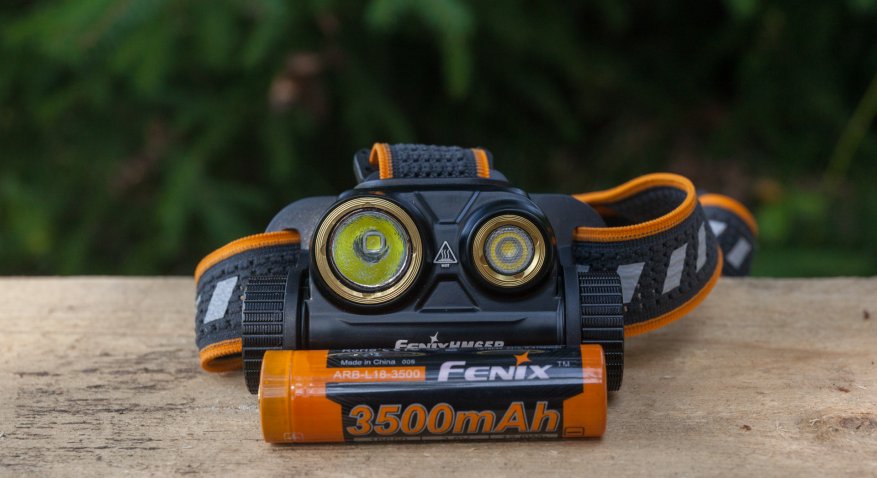 The headstrap is gorgeous here. At first impressions – the best of those seen. I don't remember seeing a perforated elastic band. This seems like a good idea to me, as my head is sweating definitely less. The rest is the same: sweat-inhibiting gel strip inside and reflective elements outside.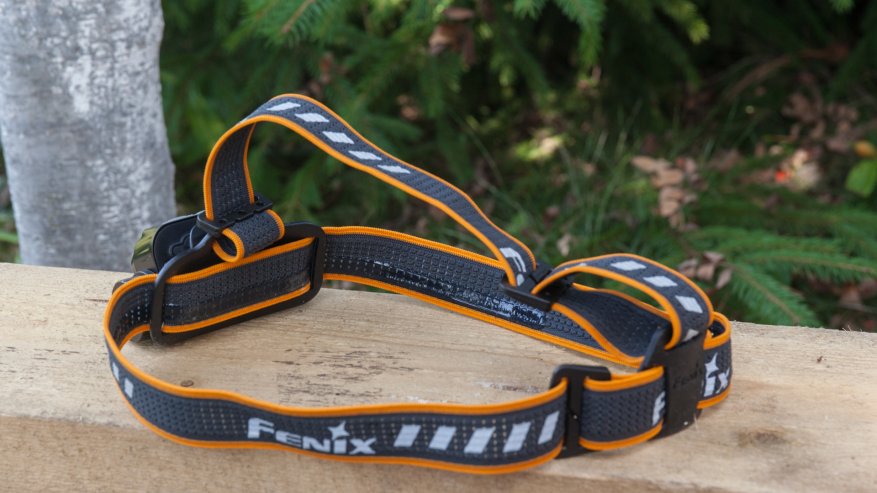 Well, now more about the appearance. The battery cover has arrow indicator for proper battery placement. Due to the wide notch, it is easily twisted, I think that there should be no problems to open it with gloves on even in winter.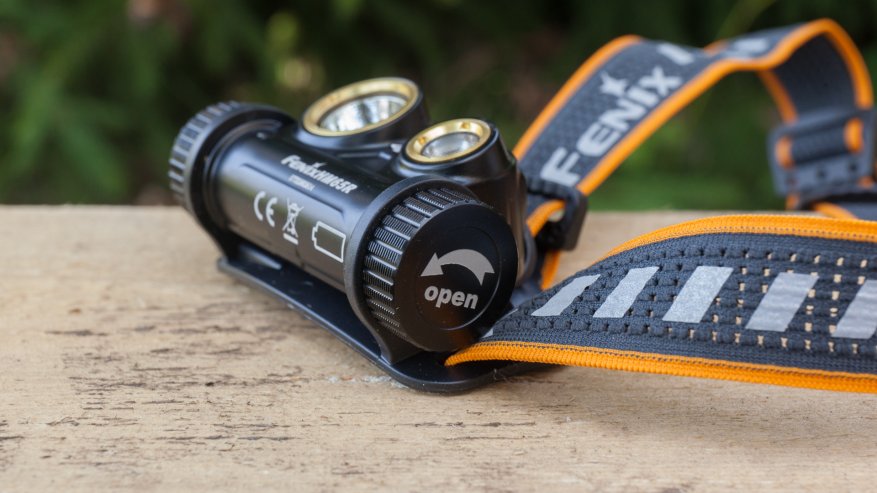 Threads are well lubricated.
HM65R body is made of aluminium-magnesium allow , so it is really lightweight. i cannot measure it as i cannot take it from plastic mount. but, believe – it is really, really lightweight.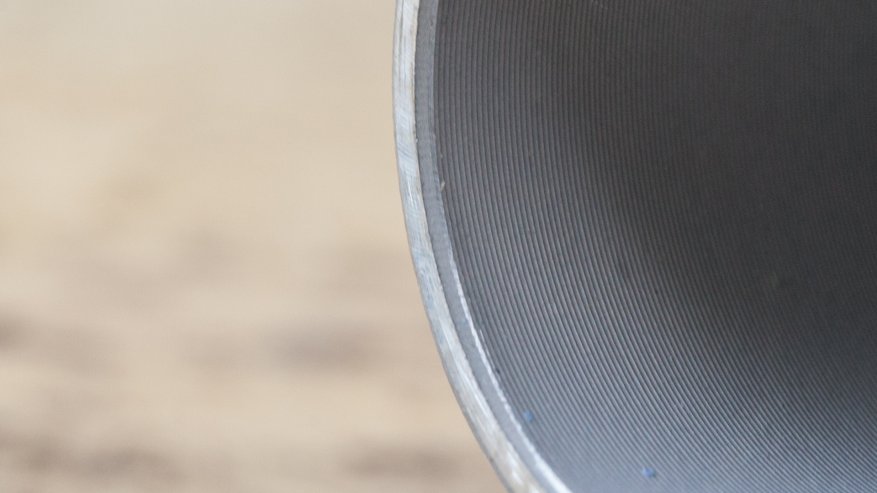 The spring on the cover is quite thick. But on the opposite side, Fenix put a contact plate with a limiter for using flat-top batteries. I have been and remain an opponent of such decisions.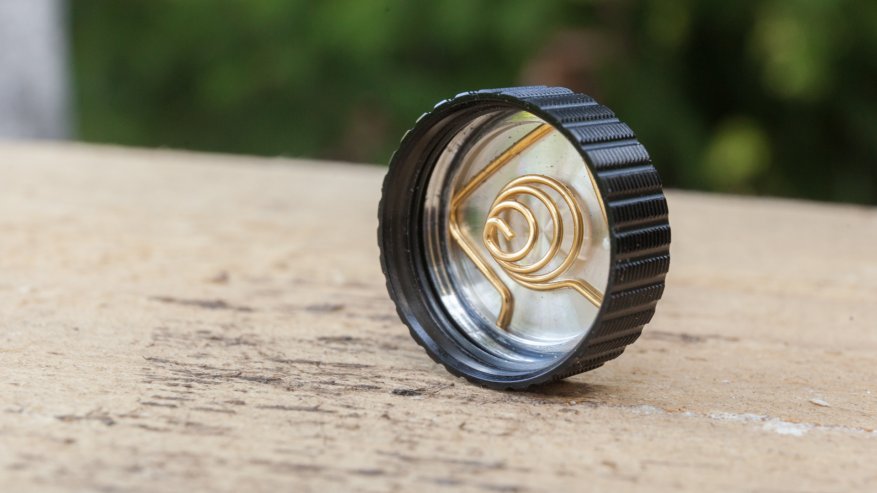 The angle of inclination is regulated by a ratchet (7 positions), which is locked by the strips below the headlamp mount. In the photo it is clearly visible. Yes, as i mentioned, it is not possible to separate HM65R and plastic mount It doesn't bother me, it's not an L-shaped forehead where hand-held use and magnetization are supposed. But this point is worth mentioning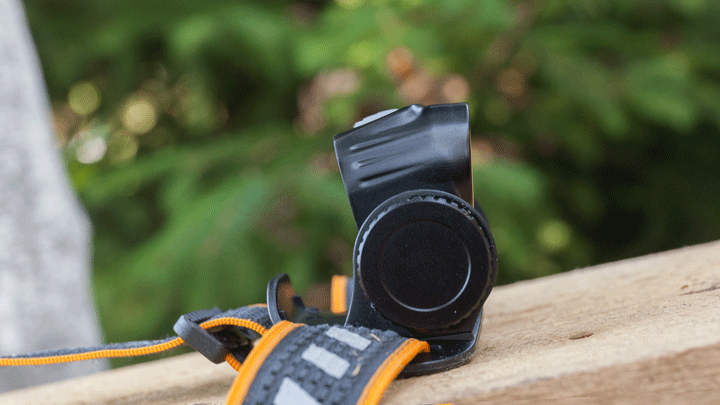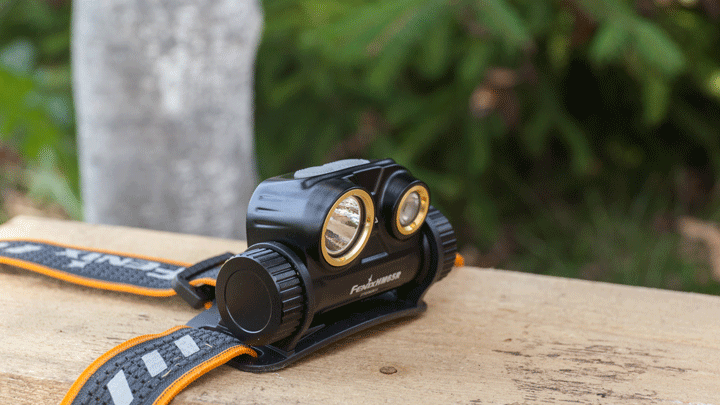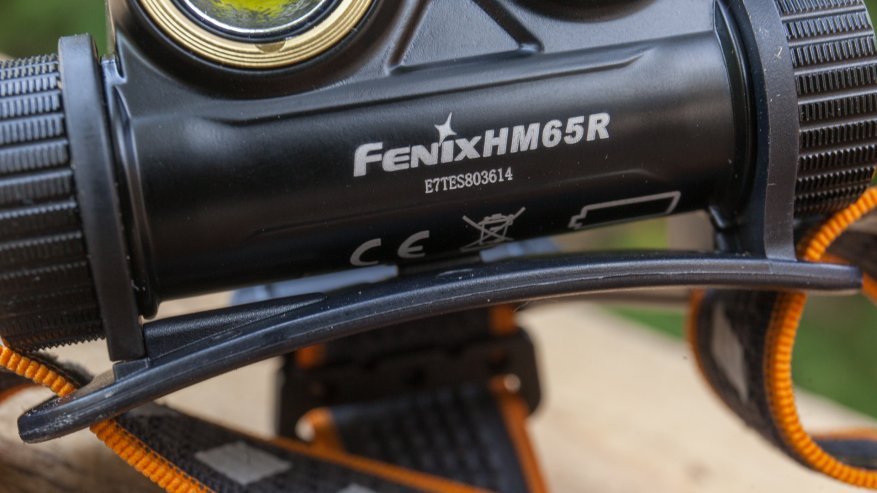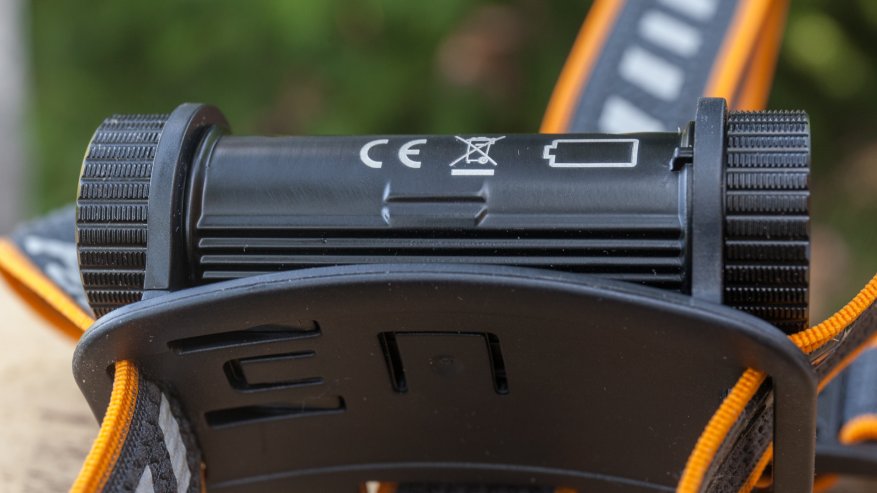 On the back there is a charging connector closed with a thick Type-C plug.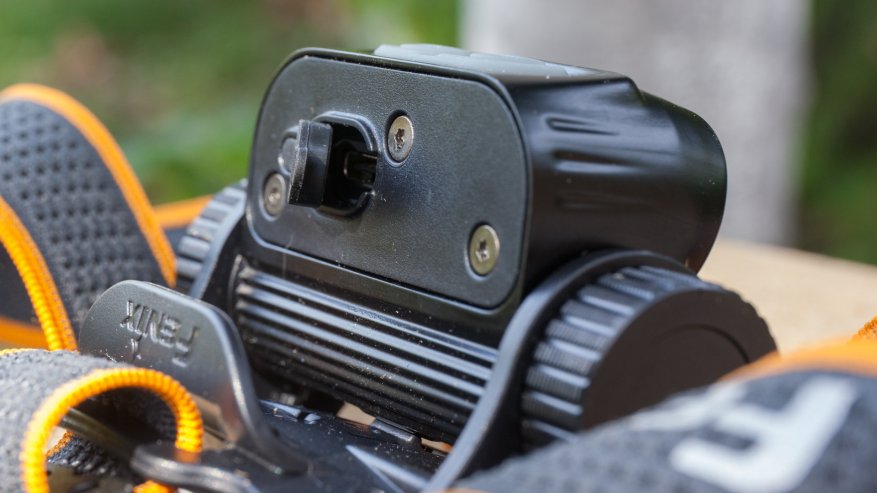 Do U wonder what is behind the cogs? Me too. And behind them everything is sealed. So that's all. Each type of light is controlled by its own button, between which there are 4 squares of the simplest indication of the remaining charge level and indication of the charging process. This pair of buttons is in a small recess. Traditionally, there is a "shelf" right there, which half-covers the buttons, protecting against accidental pressing.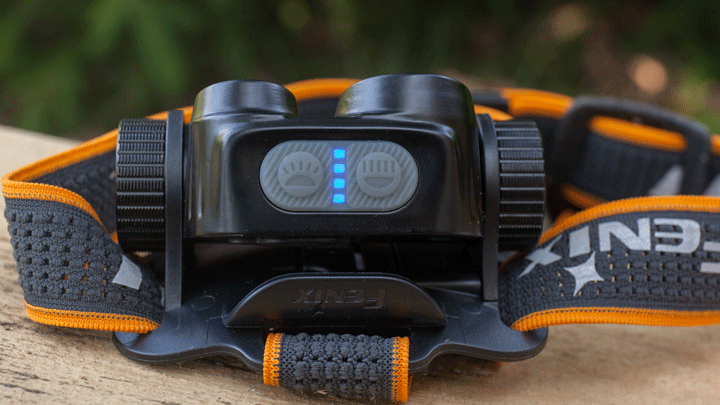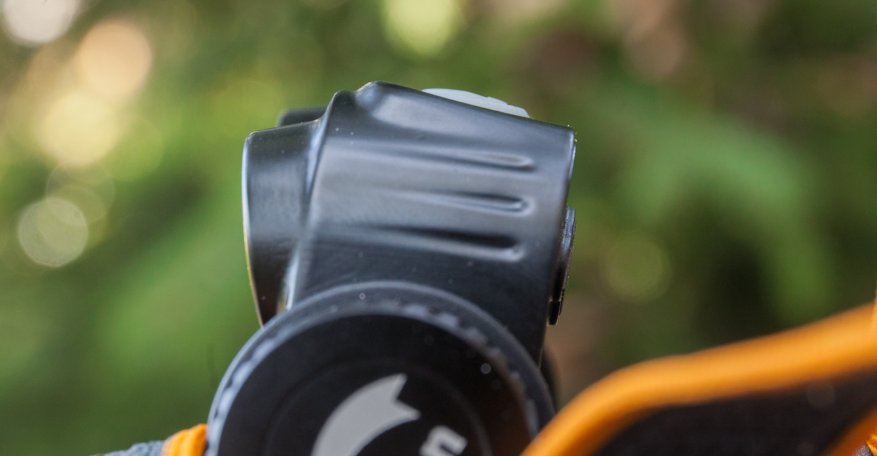 And finally – optics. Behind the brass ( suppose it is brass) bezels we have a quite expected set: a textured reflector with XM-L2 U2 and
TIR
optics with XP-G2 R5. It is quite common and time-tested pair. Fenix could placed XP-l HI + XP-G R3, as more modern . But a) Fenix R&D team denies modern technical decisions b) there would be no obvious difference with this pair.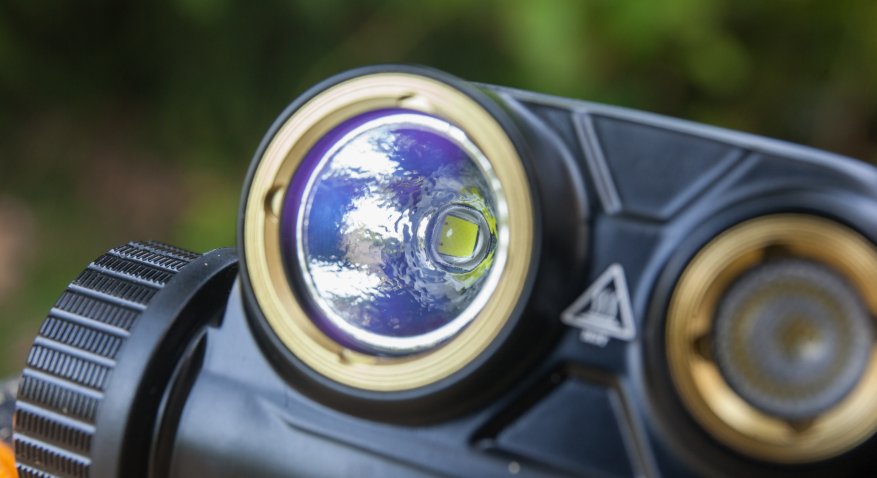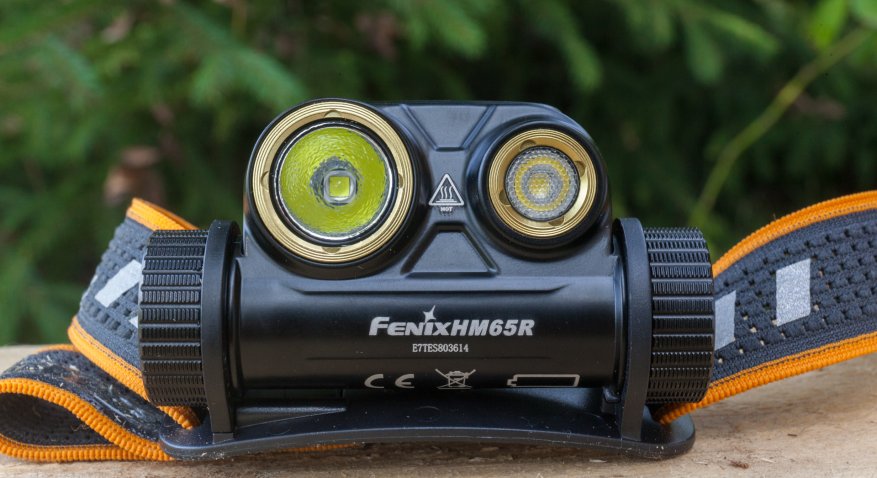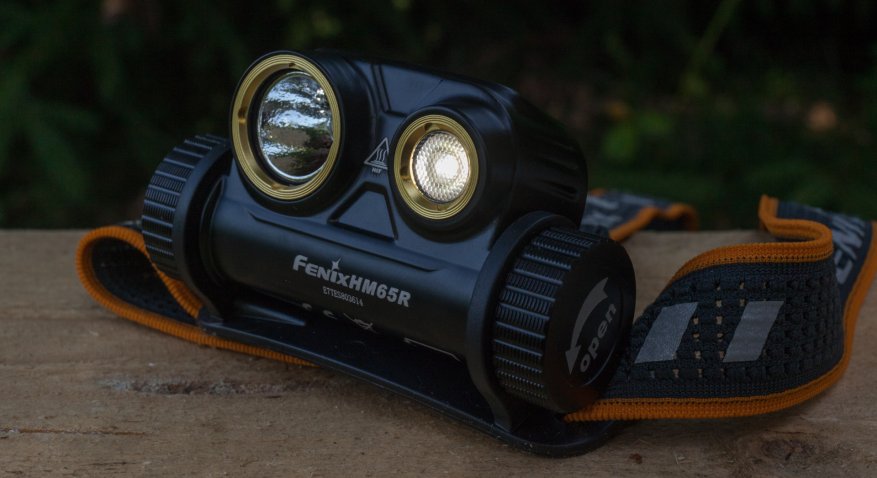 **
In the best (and for someone in the worst) traditions of Fenix. + Any user can understand this control right away. + Indication, albeit a primitive 4-segment indicator, but it starts easily, just a light "click" on any of the buttons in
OFF
. + there is a lock.
- there are no shortcuts for the minimum and maximum modes.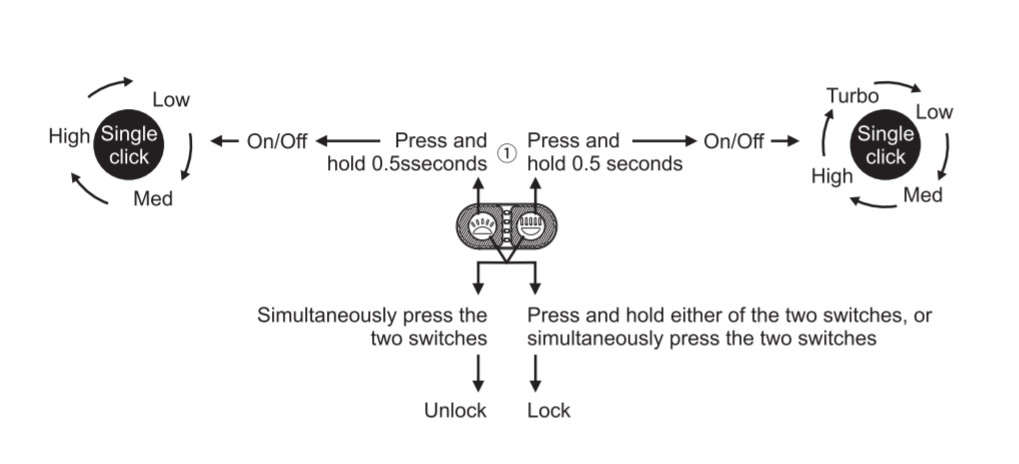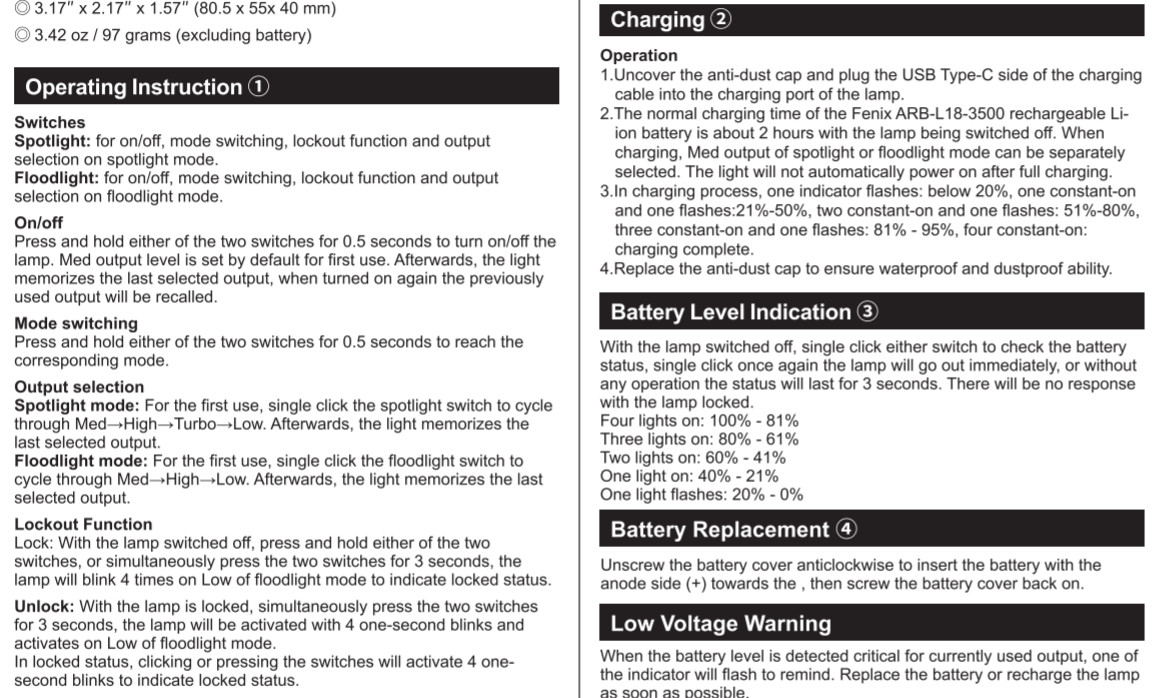 How the Fenix HM65R shines
Spotlight is cold, somewhere around 6000K. Good side light, quite decent (for the headlamp) throw and brightness in a turbo. Floodlight is significantly warmer. 5000K somewhere. Uniform light, quite a convenient thing for such purposes. Accordingly, Spot and Flood can be combined.
Here, the MID mode for each type of light manifests itself in a very balanced way, at a distance of about 7m, a good sidelight and a bright center. Immediately on the GIF you can estimate the difference in light distribution of both types of light.
There is no visible PWM flicker in any of the modes.
The charging current is very good.
Fenix HM65R has one serious thing that must be mentioned. Namely, there is stepdown in all modes. And if for Turbo-High this is completely logical and natural, then downer – it is surprising . For brightnesses like of 200-300 lumens it is logical to expect full stabilization. I don't like it, but I'm not ready to say right away that it's terribly bad – I see the logic of such a decision.
What I mean is that the human eye adapts, and in reality, the brightness of the HM65R, due to the slowness of this decline, is perceived as relatively as staying at the same level. Until some point, of course. And after this moment, you can rewind the modes again and turn them on at the same initial brightness.
+ Less battery drain when the brightness drops.
+ As I said, the brightness drops for a long time: 1 \ 2 hours for turbo \ high flood light and in many situations you turn off the light even before the brightness drops significantly. + If you wish, you can return to the same initial brightness when you feel that you still lack it. – after all, this is not full stabilization – since the eyes are already accustomed to a lower brightness, it can be uncomfortable for the eyes after "zeroing" and scrolling to the initial brightness. here, as I said – the brightness in a high spot falls for an hour. You can return to the same brightness 4 times.
High Flood gives a similar picture, the difference is only in runtime – here the drop is 2 hours.
Well, now how does it all look live. For various reasons, I did a review longer than usual, but this allowed me to take a maximum of photographs to illustrate the review.
In the video version of the review, of course, there are more clear examples of how the Fenix HM65R shines
p=. Overall impression
The Fenix HM65R is a rather controversial flashlight. Fenix implemented in it several good features like light selection and quick charging, the manufacturer added a controversial stepdown to this in all modes.
And here, as a person who used this flashlight for several days putdoor, I will answer two basic questions. Do I like this stepdown? No. Does it interfere with real use? No.
Of course, the maximum brightness here has more marketing roots – I can't imagine the situation when you simultaneously need a fairly long-range (by the standards of the headlamp) light with a wide and bright side light. But the combination of bright hotspot and sidelight in the lower modes is very practical and convenient. In fact, stepdown is the only one controversial feature. I repeat, the logic of such a technical solution is also present, and lin real use this drop in brightness is significantly compensated by adaptation of night vision. With a high probability, at some point you simply will not see this stepdown. In all other, the flashlight is not bad, there are actually a lot of Cons in it. + Fenix quality + two separate lights + the ability to combine them + fast charge + light weight + capacious battery
- + simple UI
- -+ stepdown