Baseus Car Charger QC 30W BS-C15Q


Official specifications:


30W Output from either

USB

Port alone,

Supporting

PPS

and QC4.0 protocols, backward compatible with Smasung

AFC

, Huawei

SCP

,

OPPO

quick charge, OnePlus Dash etc.

Multiple Safety protection: over-charge, over current, over voltage, over power, short circuit, over-discharge and temperature protection

When charging 2 devices at the same time, the output voltage will reduce to 5V on both ports, with total output max out at 5V5A.

Output

USB

-A (max 30W): 4.5V/5A, 5V/4.5A, 9V/3A, 12V/2.5A.

I got it from Amazon.com.au
The charger was in a plastic bag.
Measurements


Power consumption when idle is 4mA from 12V or 24V


USB

outputs is auto coding with Apple 2.4A, Samsung,

DCP

, QC3, Samsung-

AFC

, Huawei-

FCP

, Huawei-

SCP



Minimum QC3 voltage is 3.7V

When both outputs are uses the QC functions are disabled, i.e. only 5V output.

Both outputs can be turned on/off from the charger.

The charger has a blue led that is visible in the connectors

Weight: 19.4g

Length: 46mm

Largest diameter: 26mm

A single output can deliver nearly 3.5A, this is at the limit for
USB
-A connectors.
The current is the same at 9V and 12V, as usually the charger cannot increase input voltage and the 12V will be slightly low when the input is low.
The 5V output works down to 6V input.
The 12V output needs about 13V input at 3A load.
The internal switching between outputs turns on/off when charger is unloaded.
I did this test at 5A and because I used both output it had to be at 5V. The charger could deliver 5A for one hour.
The temperature photos below are taken between 30 minutes and 60 minutes into the one hour test.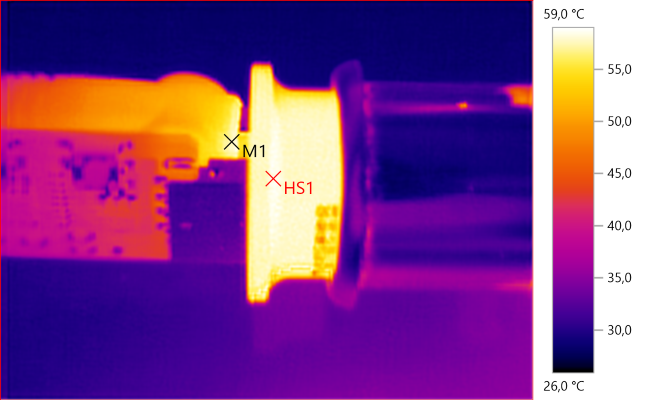 M1: 57.7°C, HS1: 59.0°C
HS1: 61.3°C
Noise at 0.5A output is 4mV rms and 75mVpp
Noise at 1A output is 7mV rms and 84mVpp
Noise at 2.5A output is 9mV rms and 78mVpp
Noise at 0.9A output is 18mV rms and 168mVpp
Noise at 1.2A output is 2mV rms and 52mVpp
Tear down
To open the charger I could unscrew the tail, it was in two parts and the rearmost unscrewed first.
On this side is the fuse (F1) and the main inductor (L1). Because the charger can only output a single voltage, it only needs one inductor.
Below the capacitor is a dual transistor for enabling the two outputs.
Seen from this side the shield covering the other side can be seen and both the input and output capacitors are visible.
This side is mostly covered by the shield.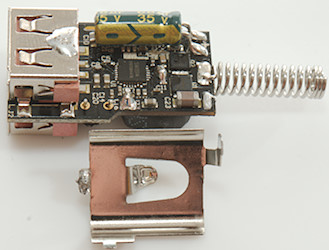 A bit of soldering and I could remove the shield.
On this side is the combined switcher and charge controller with two external mos transistors.
Conclusion
The charger has a lot of power, can handle lots of fast charge protocols, has low noise, is very compact, the only disadvantage is that it can only handle one QC device at a time, for dump
USB
devices it can handle two.
This makes it a good charger for two standard
USB
devices, also devices that uses a lot of current, but only one QC device.
Notes
I got this charger from reader "Mostly Melbourne"
Read more about how I test

USB

power supplies/charger
Compare car chargers and other DC supplied chargers