Pair of new powerful 21700 powered long throw flashlights from Convoy. I suppose lot of you waited for this affordable and powerfuls throwers. Recently i posted review of Convoy M21A SST40, their younger brogher.
I decided not to make separate review of them and make the comparative one instead.
\
You can buy L21a at
➤ AMAZON
➤ ALIEXPRESS SST40 | ALIEXPRESS SST40
➤ BANGGOOD
for years i`ve been buying batteries at Nkon.nl. sincerely recommend this store.
As usually specs are simple )
PACKAGE AND APPEARANCE
Package is the same thick-walled beige cardboard box. Inside – nothing but a flashlight. Nothing at all, not even a lanyard or o-rings. It is clear that Convoy is committed to helping you save money on your purchase. But the price of lanyard or o-rings is close to zero, in contrast to the benefits of these things.
It is expected that the appearance of the Convoy L21A (both versions look the same, so I don't specify which one) is quite simple. I am sure the target audience of the Convoy is those who first of all want to buy an inexpensive, but still good flashlight at aliexpress, and all sorts of designer tricks will inevitably make the price higher. I completely agree with this policy. Want more flexible UI or different precise high design knurling? Be ready to open your wallet..
BTW, among Convoy users, there is quite many people who are new in choosing flashlights. I made special FAQ "How to choose flashlights" and if you are one of them, hope it`ll help you to pick proper flashlight.
 
Flashlight body is the same goode olde Convoy L2 (short tube version). Quite large, heavy. Nothing new – the same flashlight that lookes more like a tool.
18cm and almost 600g (with battery) is a good for heat dissipation, but it will most likely be uncomfortable to carry such thing in a jacket pocket.
If you are looking for something more compact, but still powerfull with SST – take a look at M21A SST40 which stays in the centre.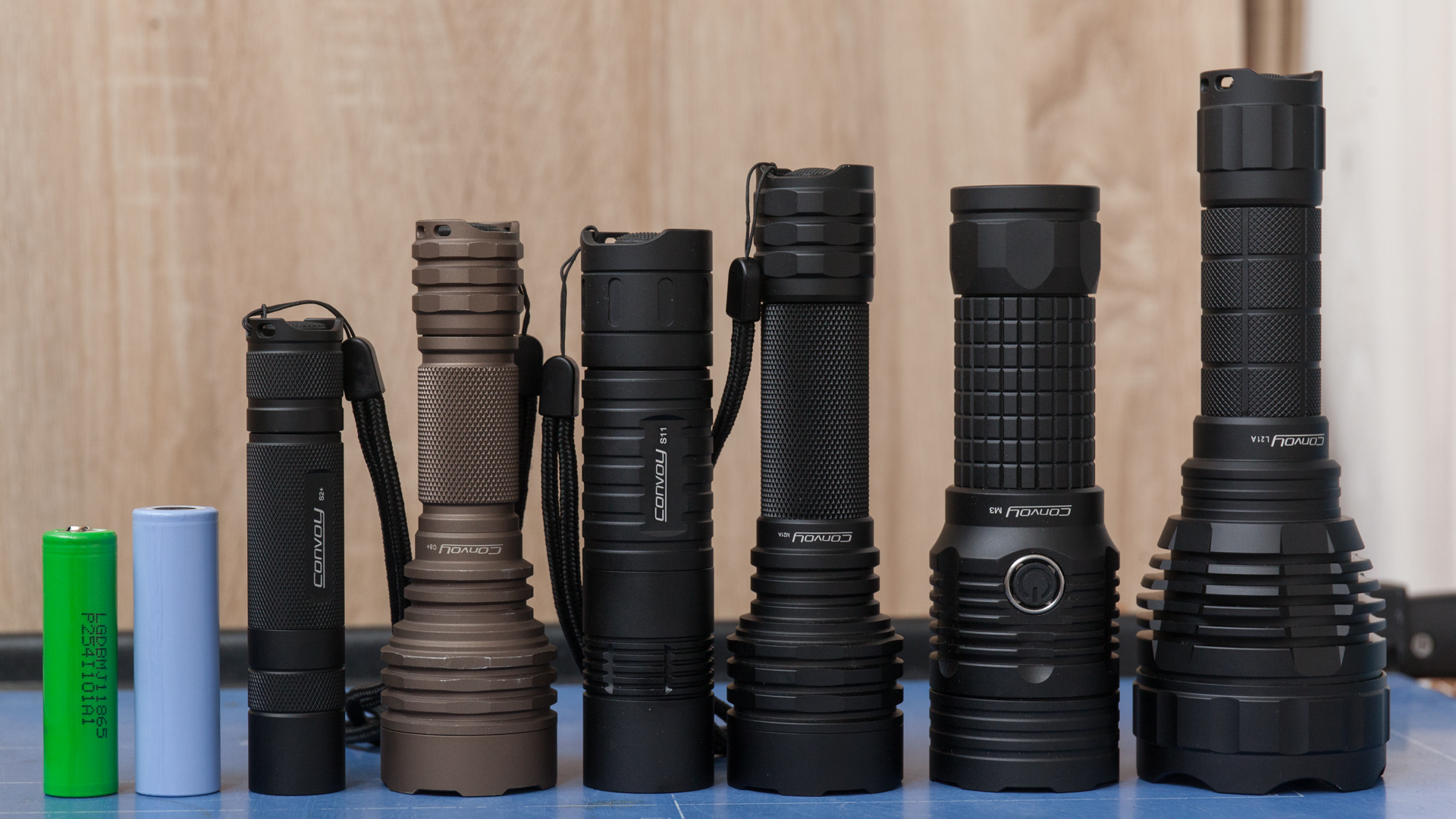 The tailbutton is still the same. Nothing new. The spring is shunted.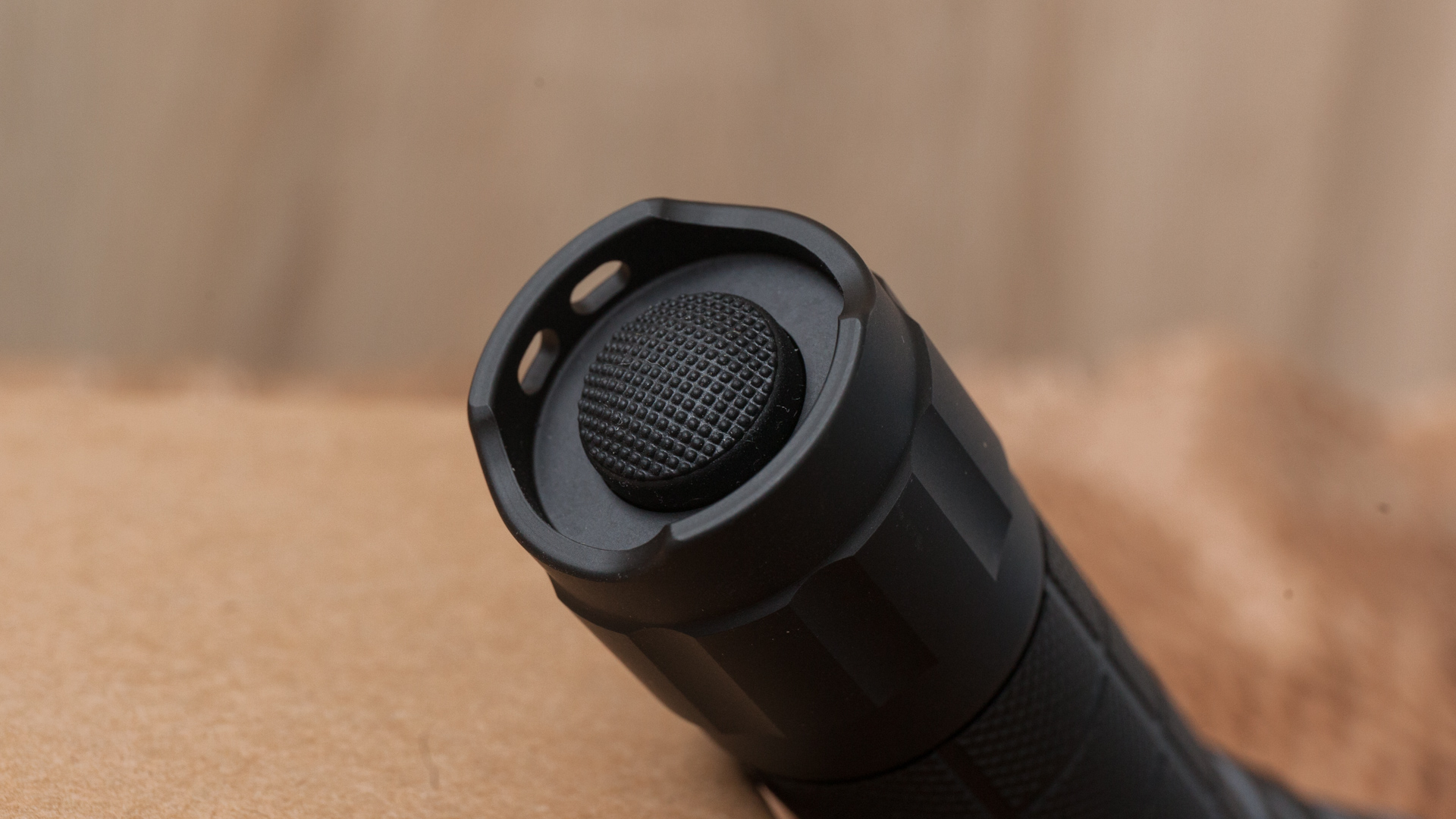 But spring at the head side is different. The same shunt on the SST40 version and the double spring on the XHP35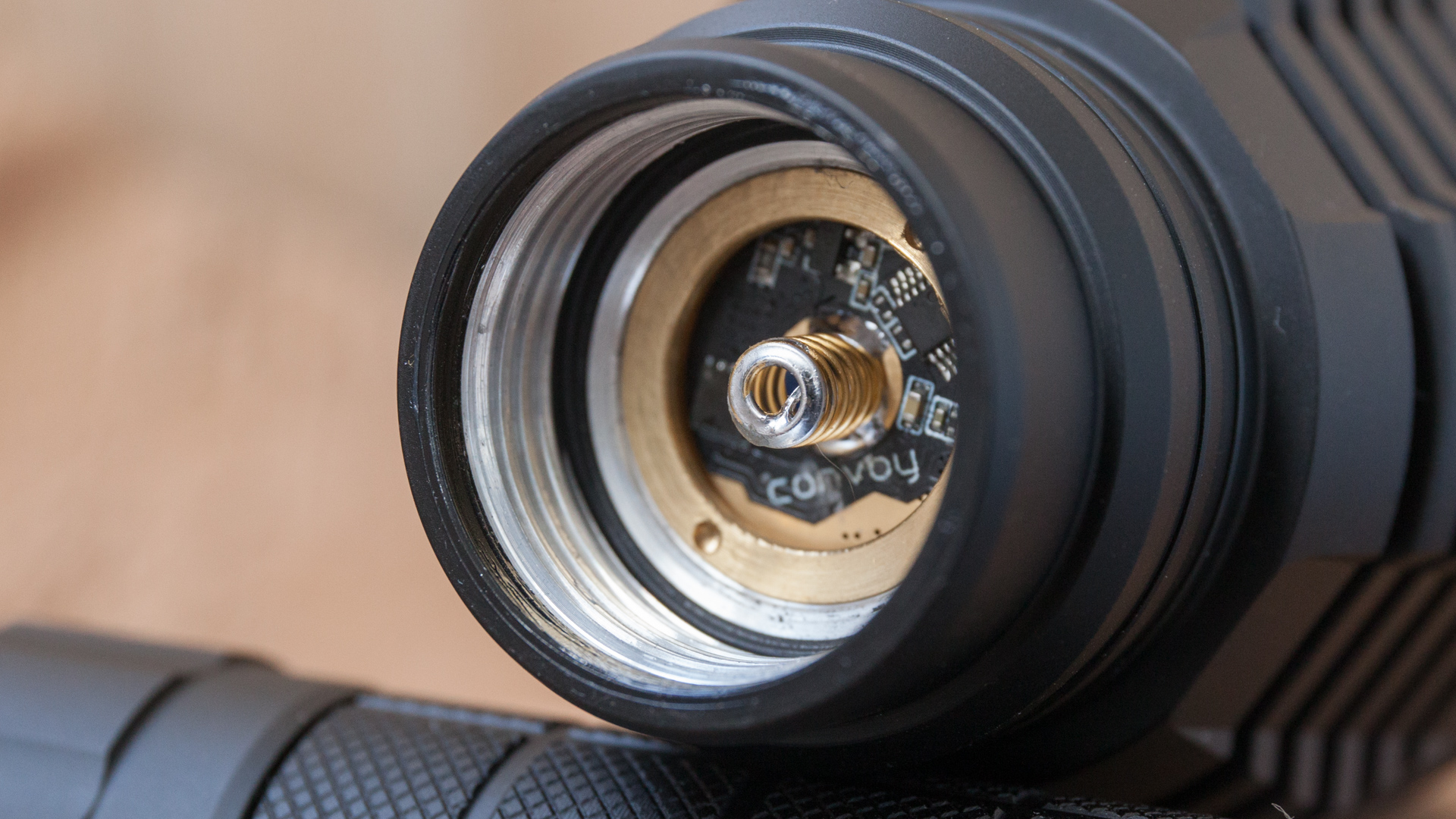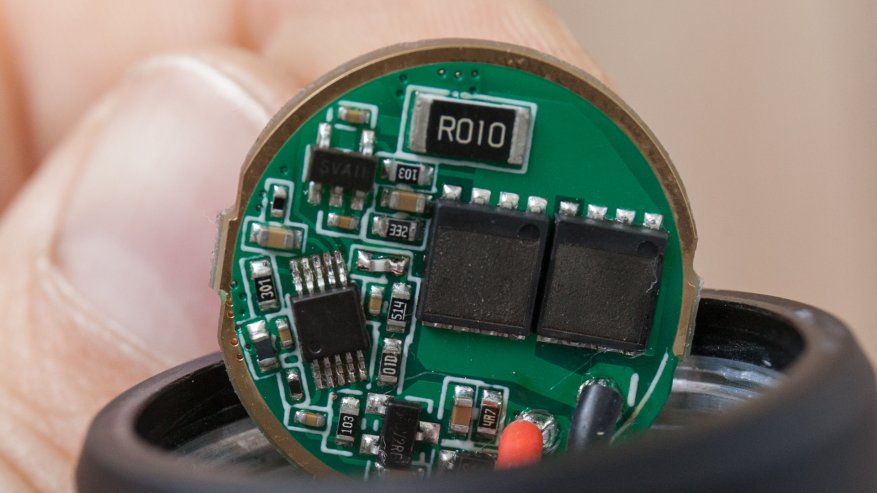 Threads are well lubricated. Btw, XHP35 version had o-ring torn apart. Exactly as i said, o-ring would be reall help. Of course i have spare ones, but someone may not have.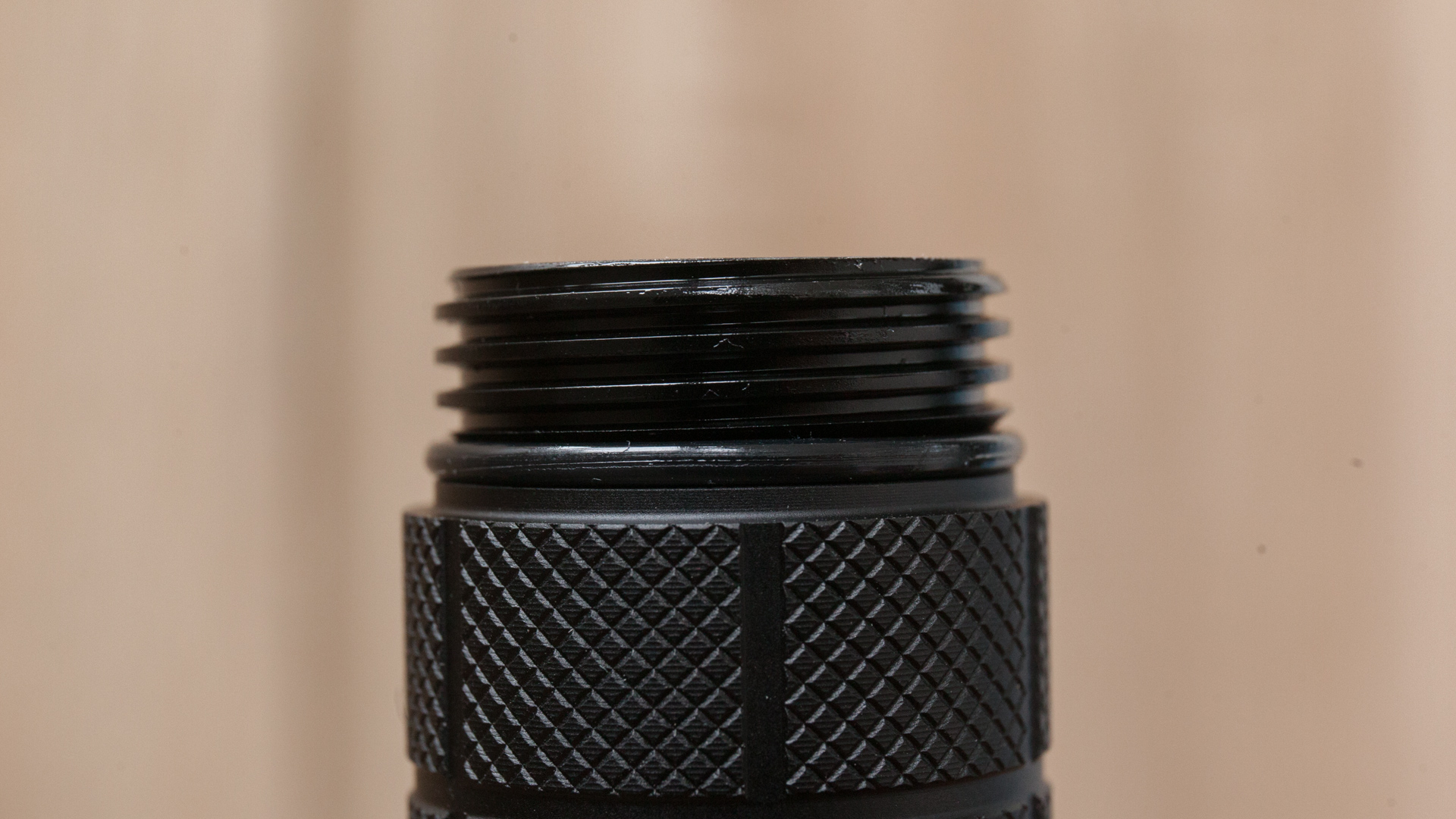 Large squares of knurling are pretty tenacious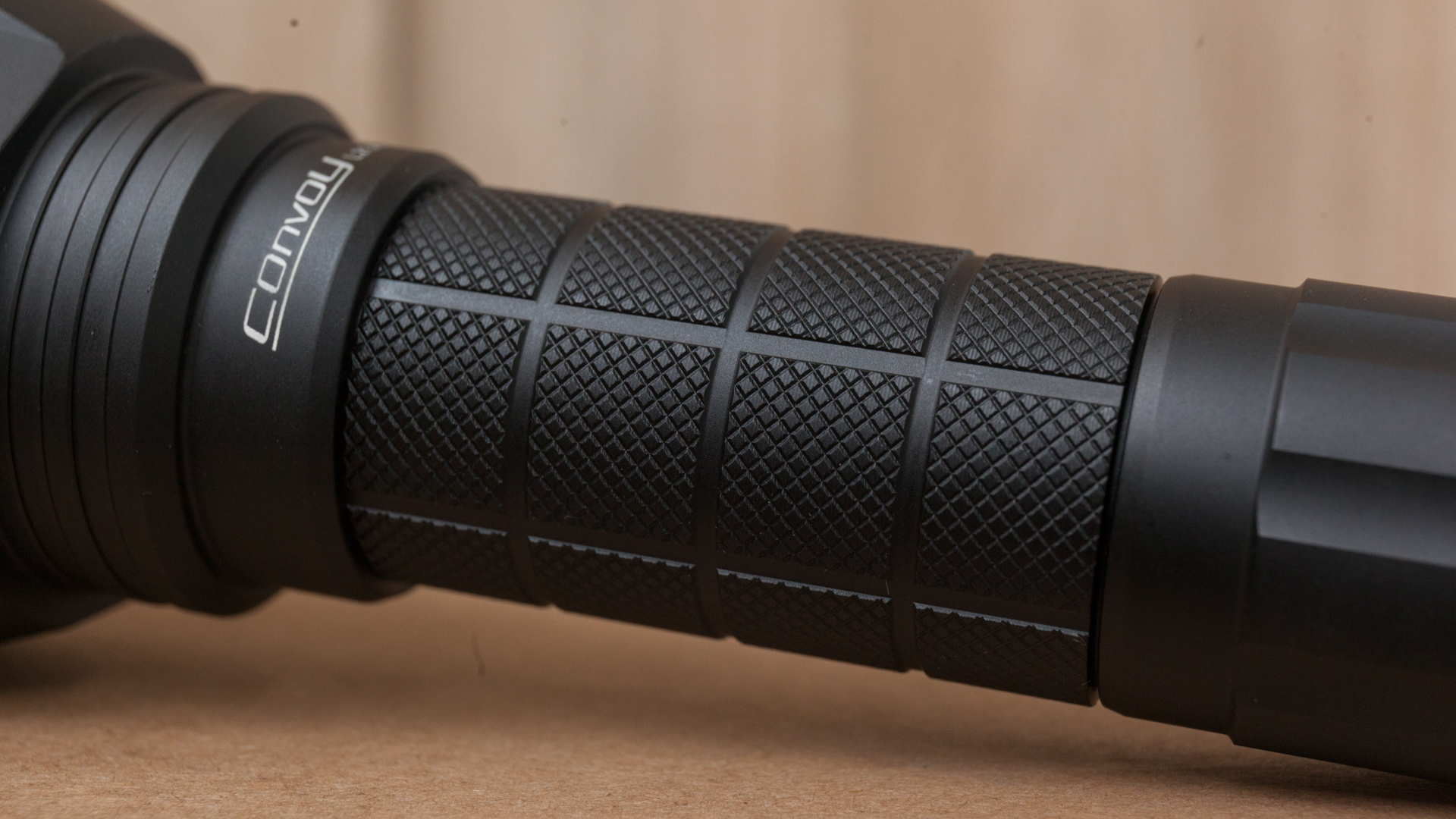 Weight balance is normal, comfortable to hold. And here, by virtue of dimensions and weight, a lanyard would be extremely useful. When i made video and shone from the balcony, holding flashlight with a reverse grip,i was nervous, as though how not to drop L21A.
The head is quite large, with excellent deep finning. Considering the brightness of each of the models, all this is a definite plus.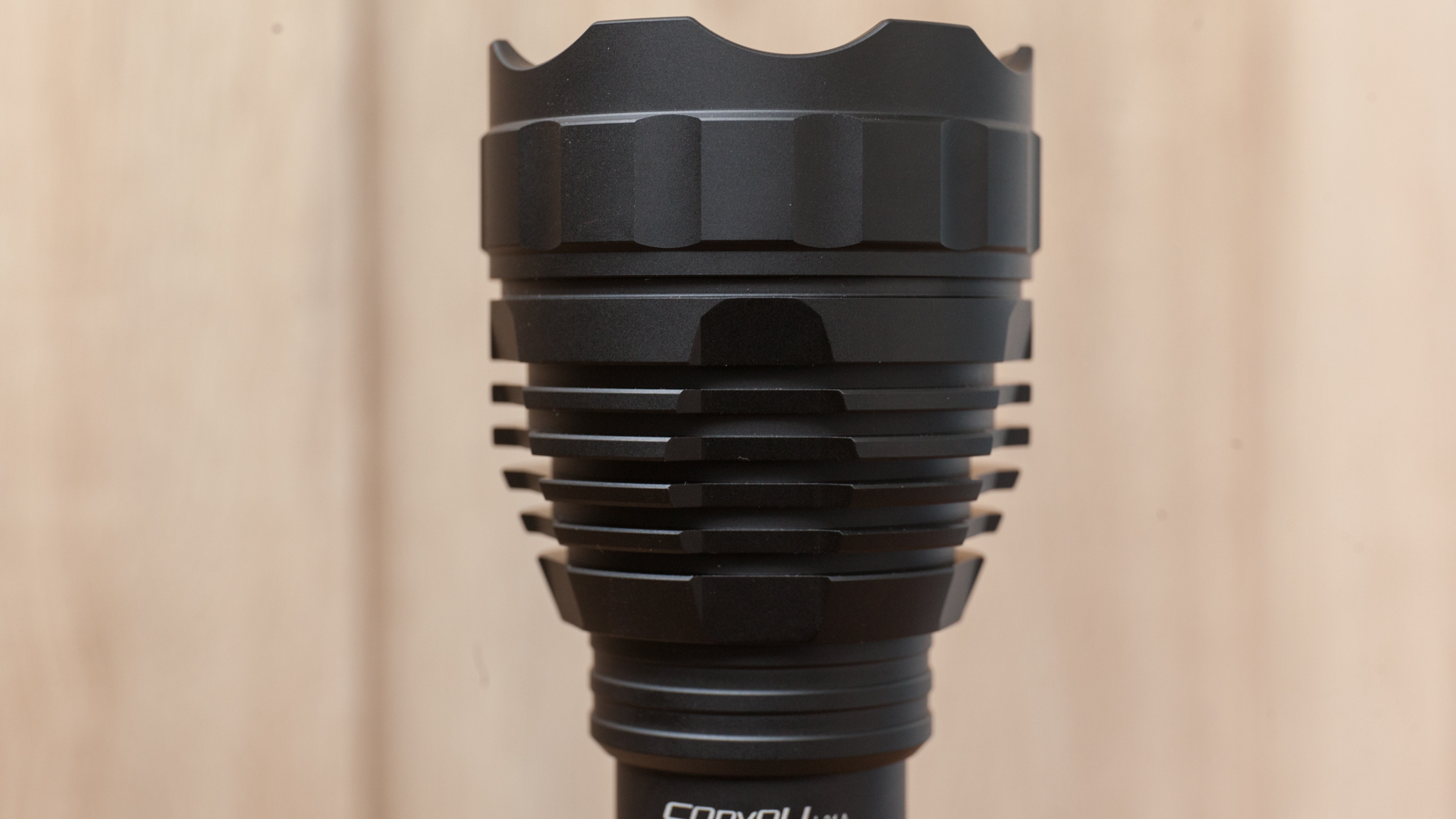 The wide and deep bezel can be twisted easily. As usual, there is no difficulty in getting to any part of the flashlight. Something to fix or cunstomize.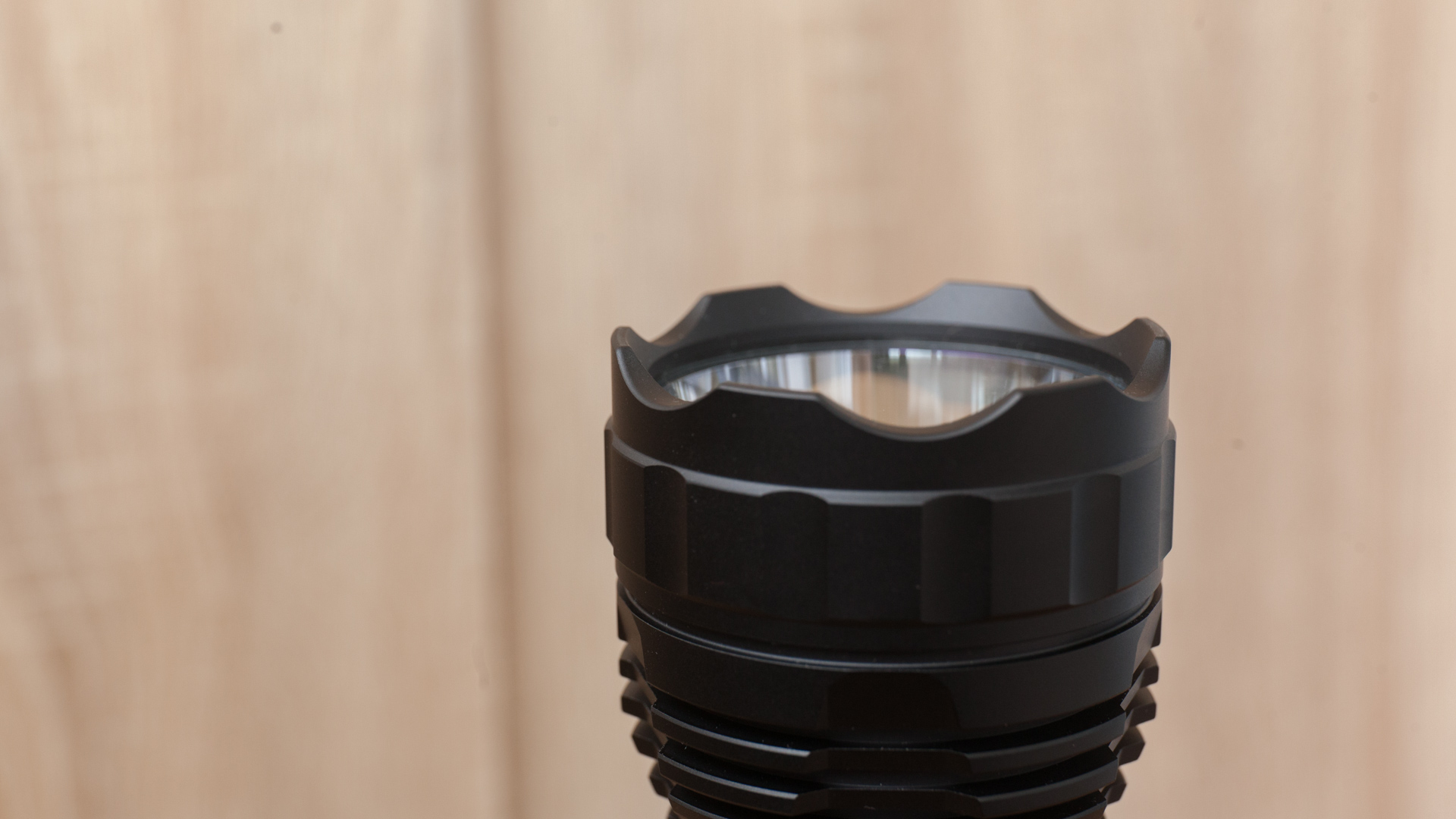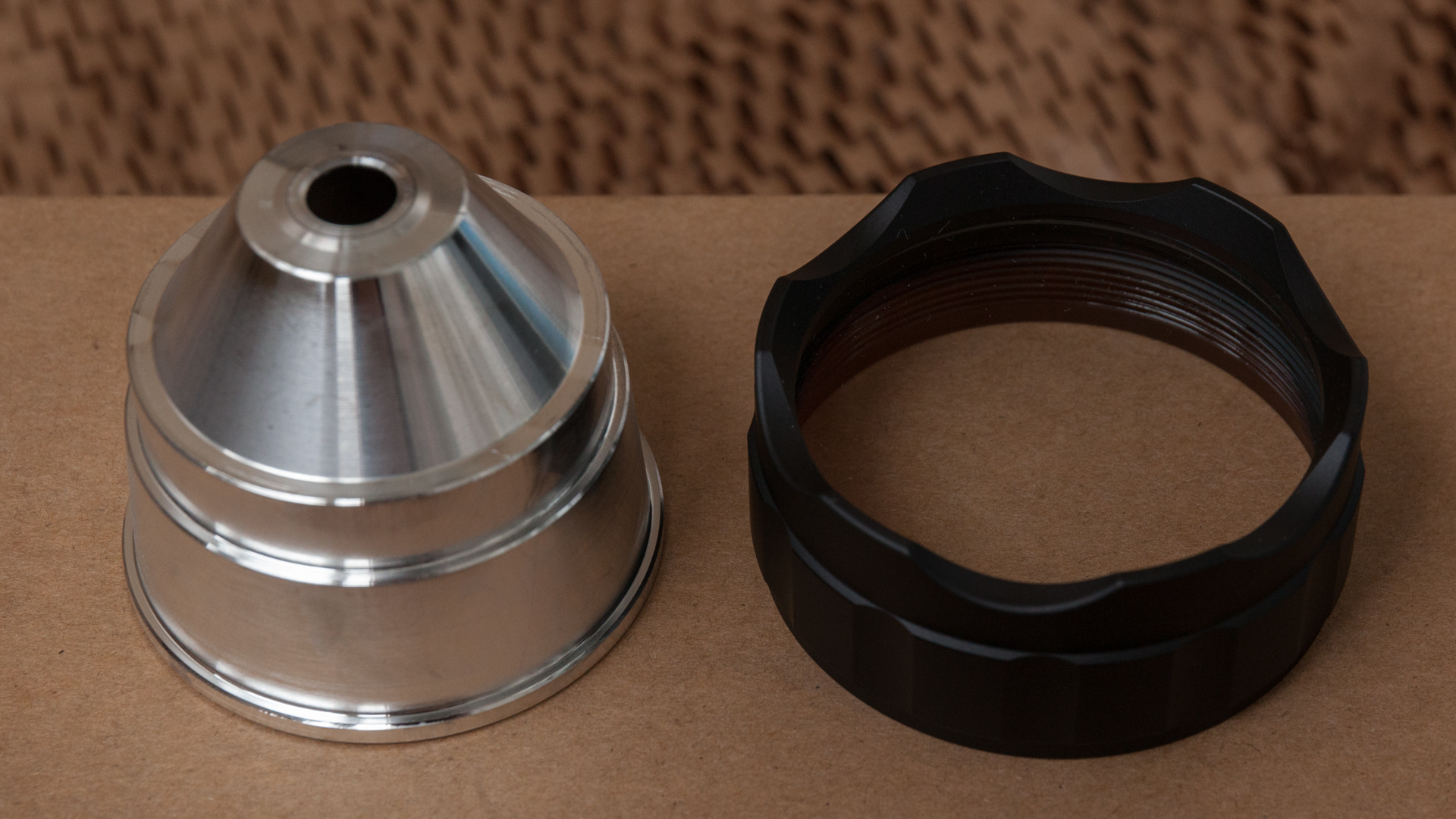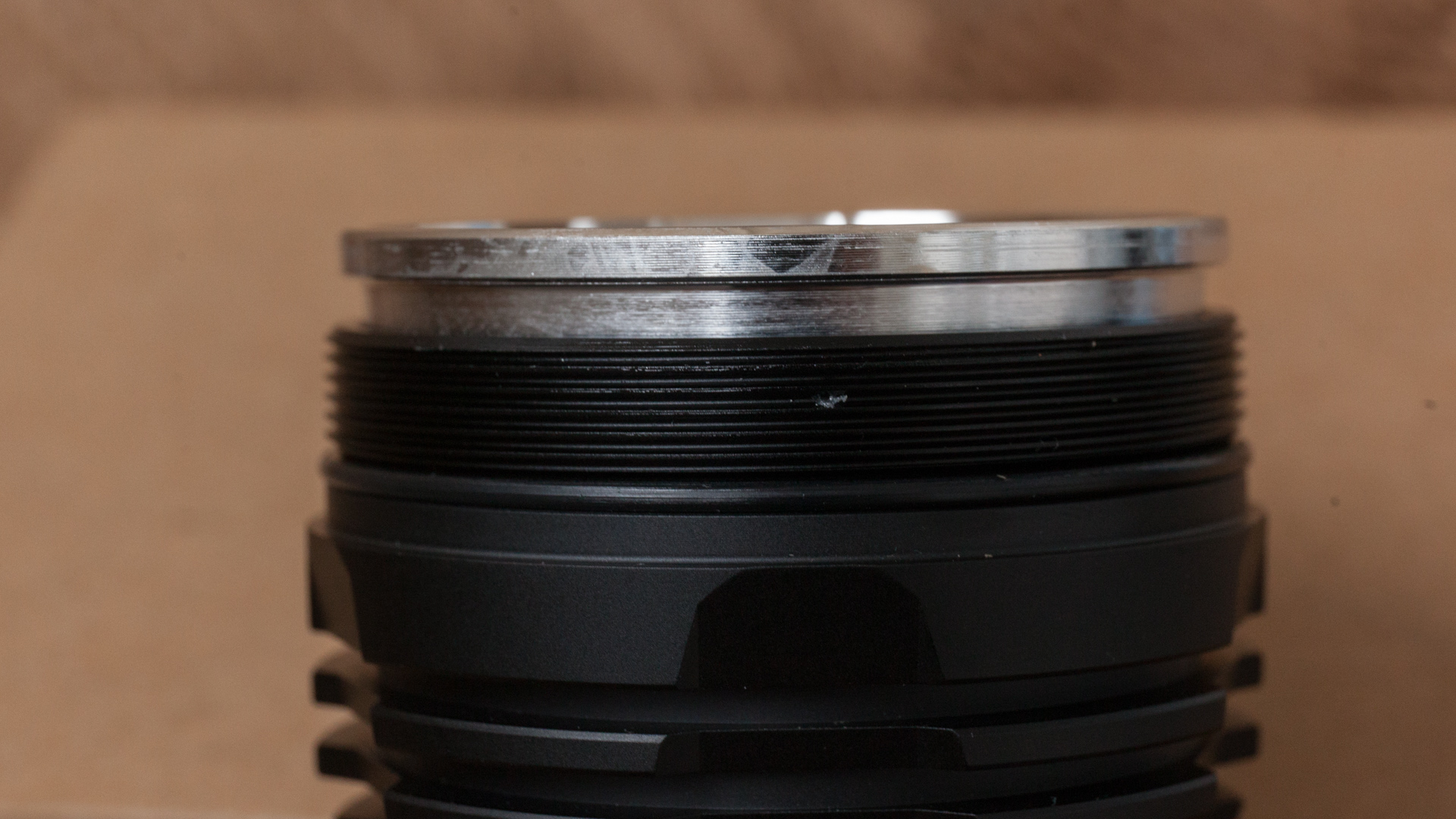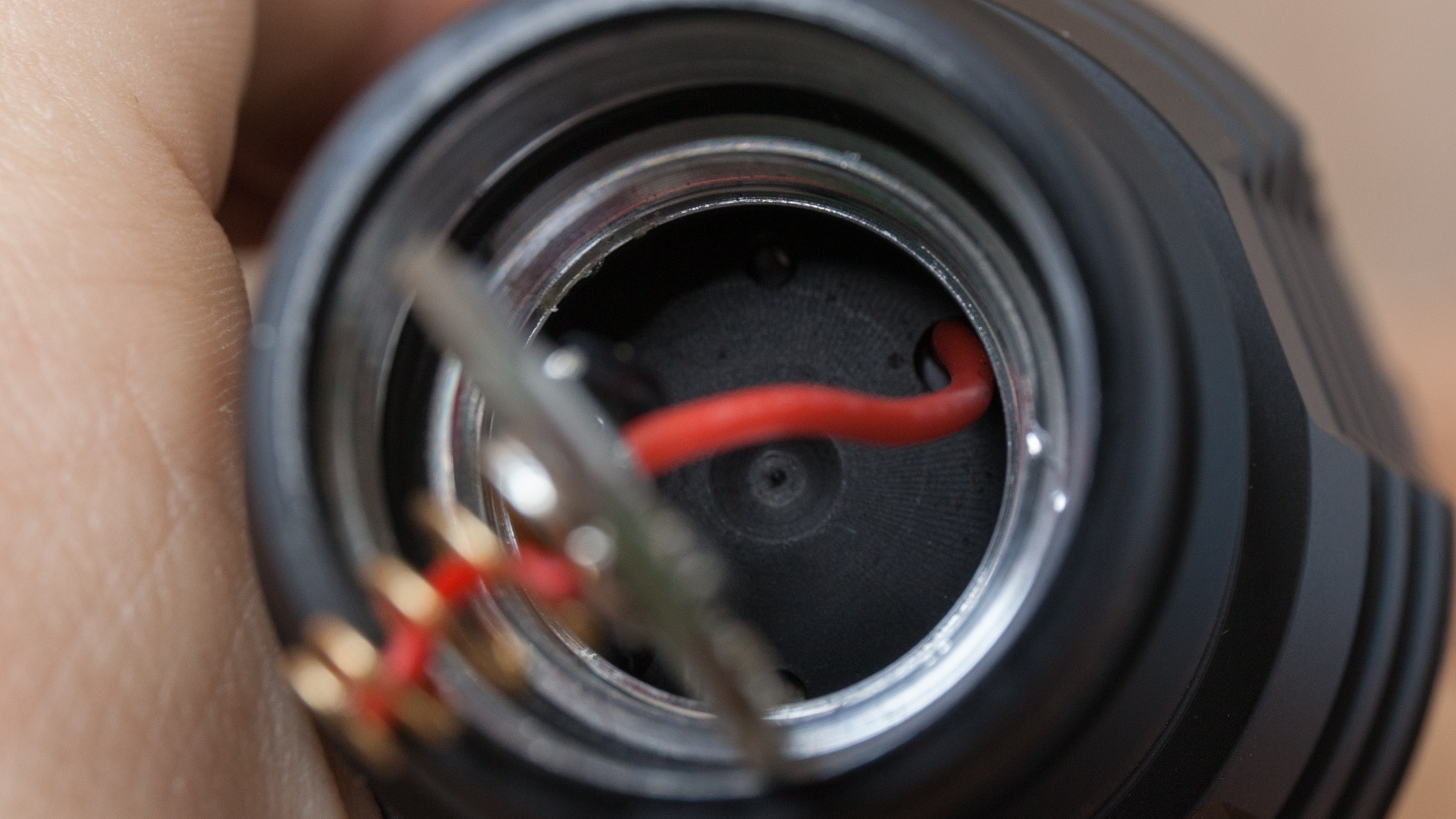 Glass with anti-glare coating, reflector, of course, smooth.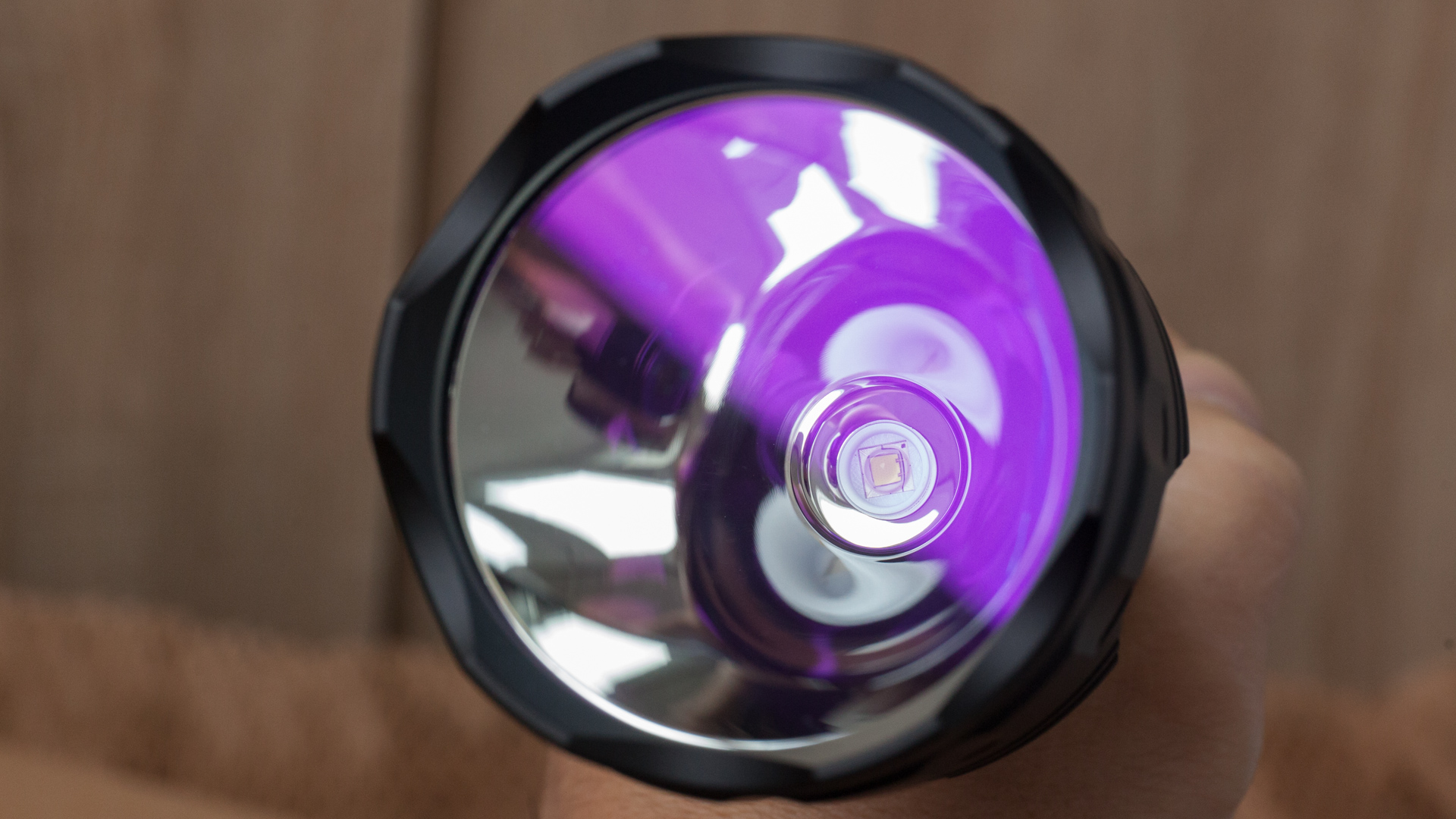 At the bottom there is a choice of SST40 HD (i.e. with a silicone dome) or XHP35 HI ( without a dome)
That's all for appearance. There is absolutely nothing new here, all design (except the fact flashlight now fits 21700 battery) migrated from Convoy L2 XML-2.
As for the quality of workmanship, then it is the same as it was. With the maximum probability it will be quite normal, but in my case the o-ring was torn. However, that is 1st time for all the LOT of Convoy lights that i bought or got for review.
 
UI
all the same. Extremely simple.
Cycle through modes with half-clicks or quick clicks
Luckily there is no Strobe or SOS.
How the Convoy L21A shines 
The light here is completely different, and everyone can choose for themselves. The typical XHP35 "piercer" is dimmer in general, and sidelight is dimmer – but hotspot is really bright and it is possible to choose a NW version . And with the same brightness, the candela (i.e., breakdown force) will be greater.
Convoy L21A SST40 has a significantly brighter sidelight. Such overall brightness compensates worse throw comparing to XHP35 and they are equal in throw at maximum modes. Celing bounce test showed that the SST40 version is somewhere 20% brighter than the XHP35.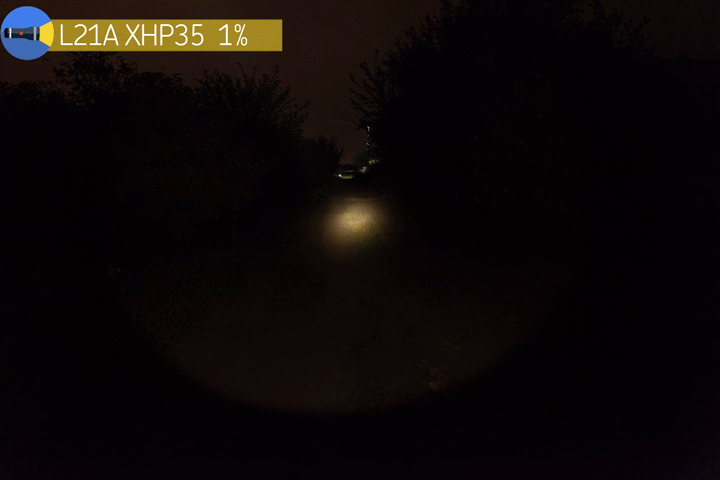 Both flashlights have good stabilization. In cold and / or windy weather, a thermal control set to 55 degrees will allow working at almost maximum level for almost an hour. Carrying along spare batteries, this makes it possible to shine exceptionally far for quite long time.
And since I think that it is extremely rare to shine at a distance of more than 500m, it is quite possible to do the same previous mode and get a fully stabilized brightness for an hour and a half and more, regarding to LED version.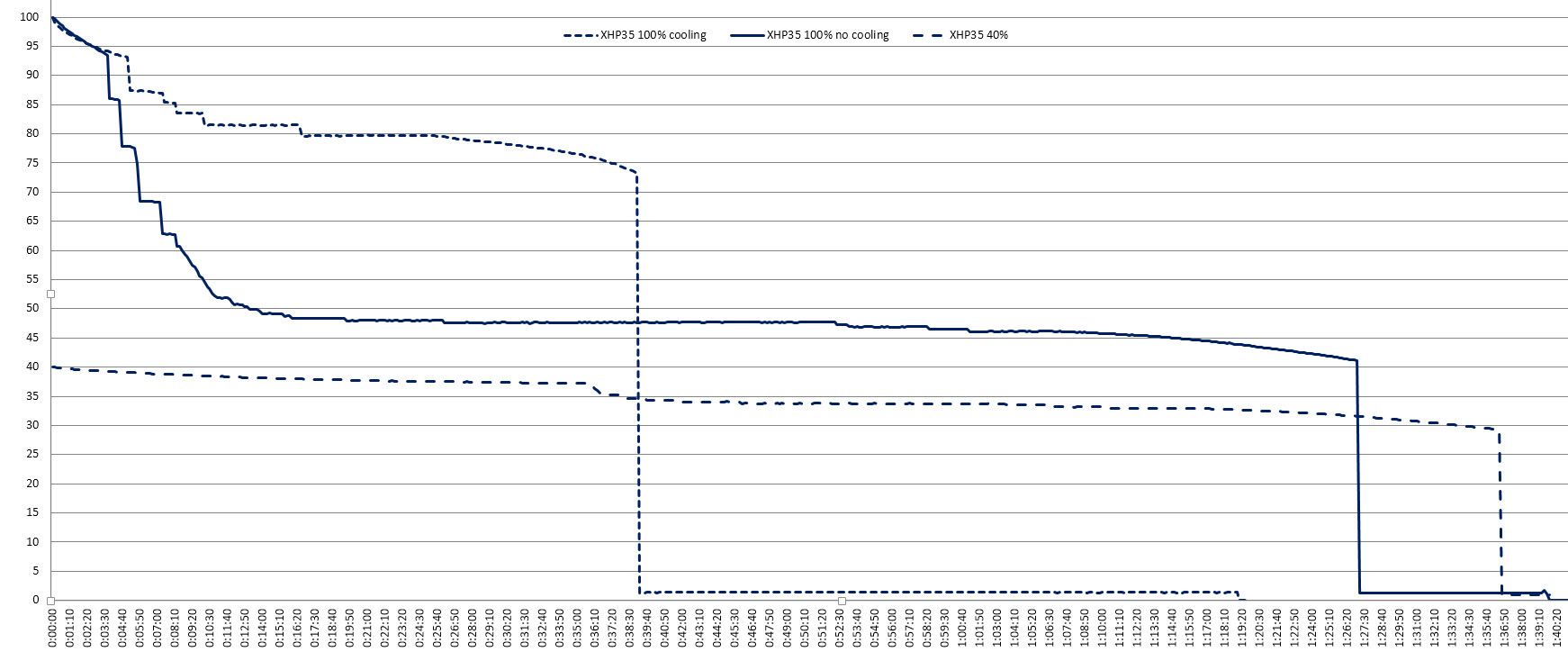 the claimed 30% in the STT version in reality turn around 40% according to my measurements. This is exactly what I will call this mode in the graphs.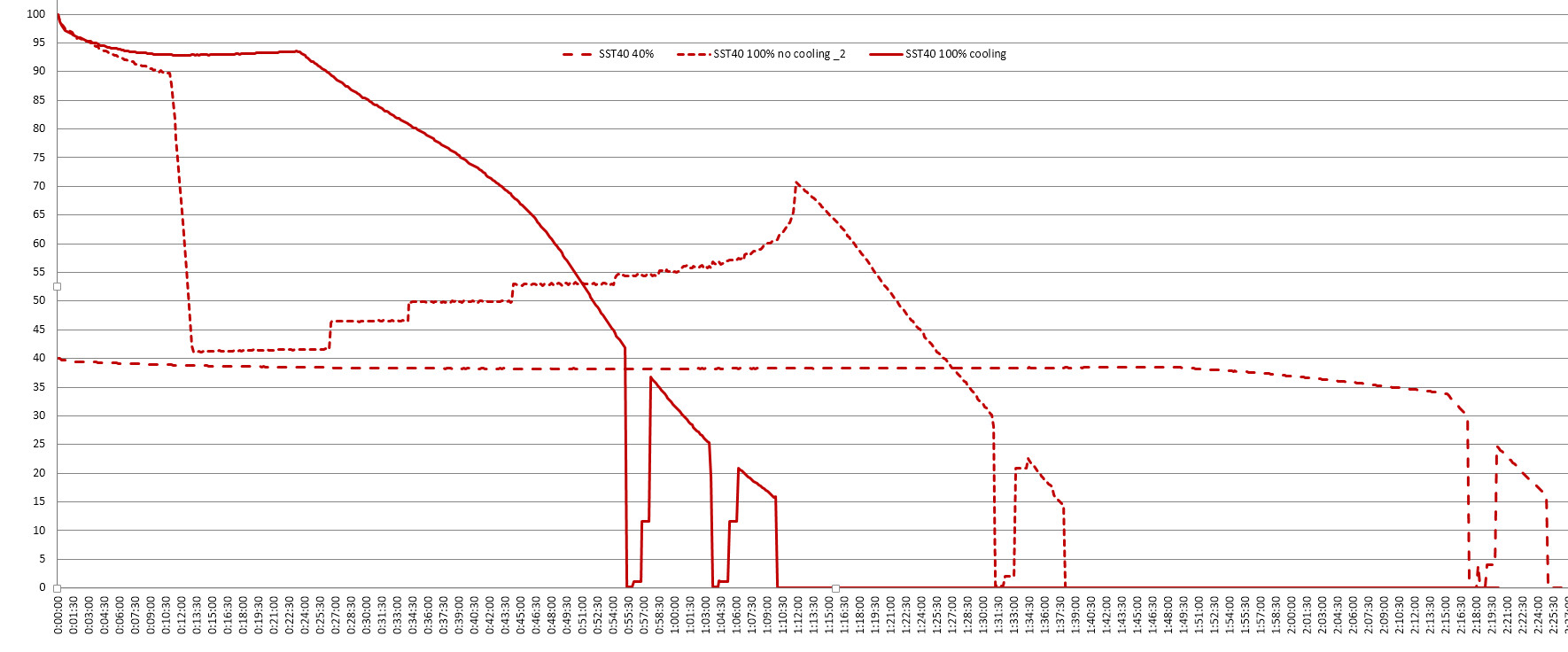 cutoff is around 2.9 for lower mode and like 3v for higher more (you can get 1% even after L21A tutns off from 2 higher modes)
Well, let's see how both flashlights shine alive
I think that such models will be interesting first of all to those who want to buy a powerful long-range flashlight, which means that they are supposed to be used in higher modes. And here 0.1% of the SST40 version seemed to me practically useless , unlike the 1% of the XHP35, where this mode gave clearly visible light at a distance of 75m!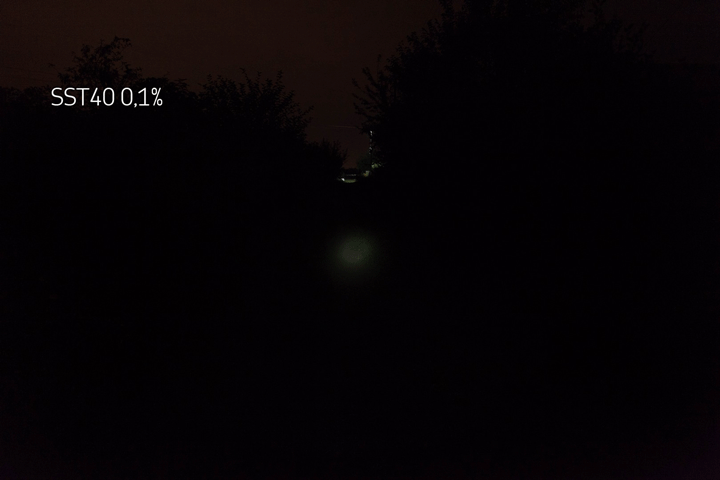 50m
definitely a to short distance for maximum brightness, even a 3% mode for each of the flashlights will fit here, especially the XHP35.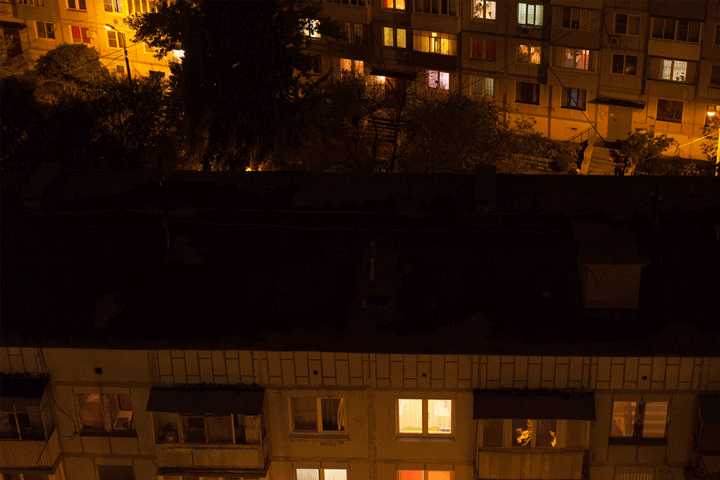 75m
a much more reasonable distance for this kind of flashlight. I think that guards or hunters often need light for this kind of distance. And both models here give a remarkable detail light of 40%, and I still consider 100% mode too bright here. Just at this distance, a brighter side light of the SST40 can be cleary seen .
Here, by the way, it is clear that even 1% gives visible light in the XHP35 version.
175m
In fact, all EDC flashlights performse really bad at this distance due to the fact that pocket size reflector simply will not give a sufficiently focused beam. And the optics of just bright flashlights with XHP50.2 \ XHP 70.2 (not to mention models with 3-4 LEDs) often give more floodlight to ensure constant working at this distance, thermal regulation will seriously limit time of use here.
Of course, even a pocket long-range flashlight like the same Convoy C8 + will quite normally enlighten this distance. The question is that it will be more likely a 100% mode that will not last long (although something like 30-50% will somehow fit as well). And both L21A show best here. The SST version performes better as it has brighter sidelight. But personally, I like the light from XHP more.
400m
The C8 + mentioned above shines here at the limit of its forces. Of course, I mean brightness, which has some practical sense. Both L21A give here much more detailed light. 40% of the modes here are perhaps only slightly dimmer than 100% of the C8 +.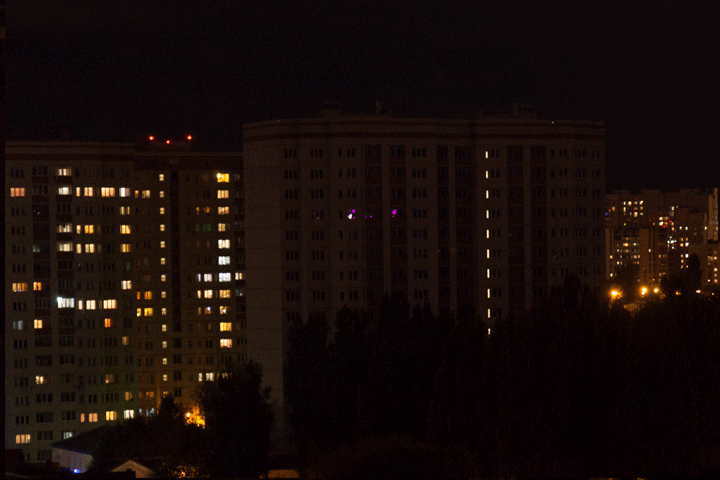 800 (!) meters
it's hard for me to imagine a situation when someone needs light at such a distance, because with the naked eye it will be difficult to even distinguish Humvee from a "Smart". Nevertheless, if the C8 + is expected to give light only at the level of "something glistens in the windows", then both L21As hit at a level that I had previously seen only in radically more expensive models of top brands. Work at such a distance is what you expect from $100-200 models: Olight Javelot Pro, Acebeam K65 \ 75 \ T30, Thrunite TN42 and a couple of other models similar in size and size. And here the $ 40 flashlight hits unless a little worse.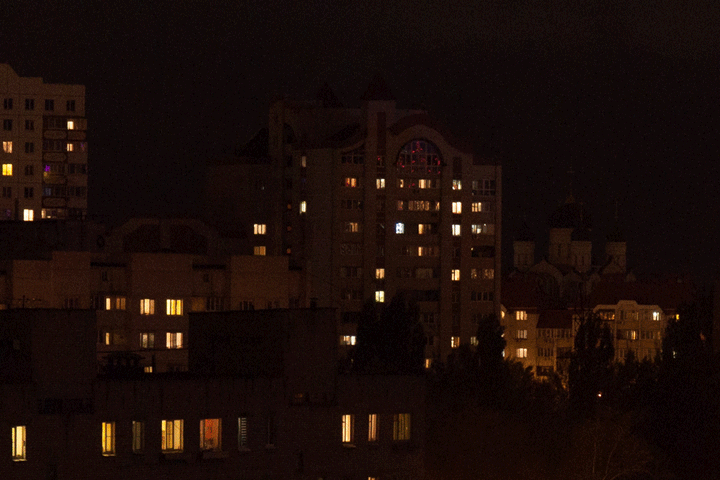 Of course, in the video review there is a bit and live video with examples of how both of these flashlights shine. i will add english subtitles tomorrow, but you you dont have to understand Russian to see how both models shine.

Overall impression
Not everyone needs light with such throw.
But! Prior to the Convoy L21A, a buyer who wanted to buy a powerful long-throw flashlight, had to spend a way more money. It is clear that more flexible UI, much modes, in general, beautiful appearance are also part of brand and expensive models. Convoy L21A lacks all this. All that both model have is a small price tag and excellent throw, which you will no longer find in such a price category. And yet there is a choice not only between the XHP35 and SST40 versions, but also color temperature. And I think this is quite enough.
In short, if you need good throw and comparative compactness, you should look at the Convoy M21A SST40. Convoy M3 will be significantly brighter and slightly larger, but it is mid-range flashlight, it will highlight 400m at maximum, not that good and for a short time.
 If the size does not bother you, the L21A will not disappoint you – both models are exceptionally long-range ones.
What to choose, Convoy L21A XHP35 or Convoy L21A SST4? Exclusively a matter of taste. In the case of the first, you get less side light, but there is neutral light option and good 1-3% lower modes. The second has 0.1% , mostly useless, and the light is no warmer than 5000K, but the side light and overall birghtness are very good.