I am reaching a point where I have flashlights, but have no money. Being a student sucks. 
***I WILL ENTERTAIN OFFERS FOR SOMETHING LIKE THE FOLLOWING:***
-zebralight sc600 or SC80
-something by sunwayman
-has to be AA or 18650 
-I like something sideswitch or variable output
So I am putting up some of my favorite lights (and I think these are favorites of many people here). I want to get rid of them all at once preferably as a bundle. So here is what I have to sell:
Shadow TC6: I LOVE this light. It screams quality, durability and attention to detail. The ano is gorgeous and so is the knurling. I have put batteries in once and tested it. Never been carried. It is in absolute mint shape. 
http://www.intl-outdoor.com/new-version-shadow-tc6-flashlight-pics-heavy...
Ultrafire UF-980L: Another of my favorite lights. What a tiny beast this thing is. I've only put about 10 minutes of use on it and the only minute blemishes are the ones that it came with from factory. 
http://www.manafont.com/product_info.php/ultrafire-uf980l-980lumen-t6-me...
Ultrafire M5: An awesome and tiny twisty AAA with an R5. It has a nice pocket clip and is a monster on 10440 (does well on alkalines etc. too). I honestly bought this, tried it once and put it on my shelf. Just found my maratac to be all I needed. 
http://www.manafont.com/product_info.php/ultrafire-m5-r5-led-flashlight-...
The following lights will be added for pretty much free:
Yezl Z1: R5 with a TIR optic. TIR gives a pretty gross beam but I will throw the reflector in with the package. 
http://www.cnqualitygoods.com/goods.php?id=1004
SkyRay SR-5: has a glass optic and an R2 drop in for an pocket thrower combo. The switch has been finicky but I haven't had a problem in a while now with it. I will throw in the glass lense as well for normal usage. Body shows minor anno wear. I just never use it so its free with the package. 
To sweeten the pot, I have a Sanrenmu 962 I will throw in as well! It has been used basically never as far as I remember. It is sharp like the dickens and I hear these are hard to come by. 
I am wanting $112 shipped (in Canada and USA) for everything! By my calculations there is over $160 worth of fun here.
I want it gone as a package because I do not have time to continuously run to the post office to get shipping quotes and send items out. I know chances of selling it as one are slim, but I figured I'd put it out there. I have to clean my closet of these things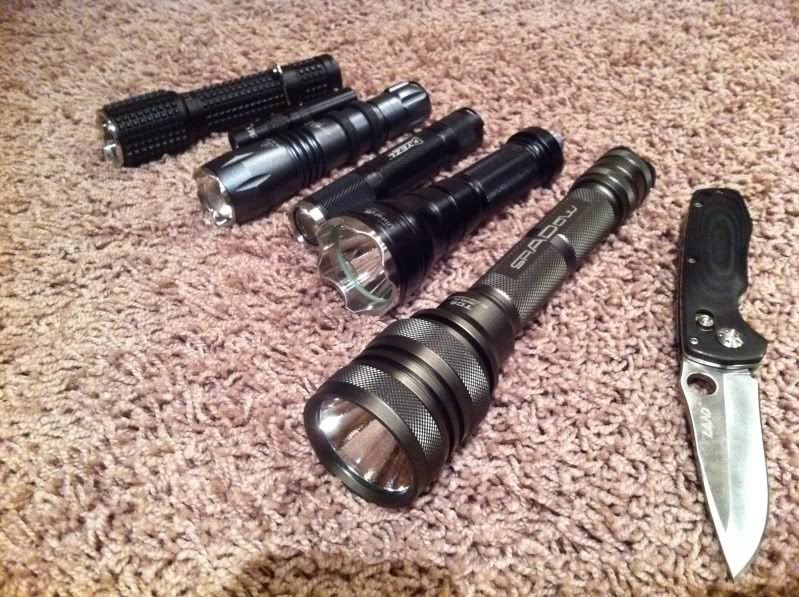 The L2x can be swapped for the shadow or the 980L if someone prefers.