I got this flashlight for review from Nealsgadget, you can buy Nightwatch NI40 there
There is wide choice of LEDs that can be installed there, mine is SST40 NW DD version

as for the price, even without an 8% discount (the code is shown on the screenshot) it is really available.
you can get a high-current Shokli acc for $ 8, but in my review i used radically cheaper liitokala one. .
Specification:
Brand: NIGHTWATCH
Model: NI40
LED: CREE XHP50.2 Dedomed 3800lm,
Luminus SST40 CW 2400lm,
Luminus SST40 NW Dedomed 2000lm
Max output: 3800lm (XHP50.2)
Battery: 26650 (not include)
Bezel: stainless steel
Lens: Glass with anti-re?ective coating
Body: Aluminum with Type III hard-coat anodizing
Switch: 20mm,10A reverse switch
Ingress rating: IP68, underwater 2 meters
Weight: 254g without cells
Dimensions: 53 mm head x153mm length
Function: Reverse polarity protection Temperature control, 50°C will step down
low voltage warning
Modes: L-M-H double click to strobe
PACKAGE AND APPEARANCE
The simplest packaging imaginable.

The kit includes everything you need – even the spare glass that I see for the first time. If desired, you can add a 26650 battery to the kit. There is another lanyard on photo, which I put on to shoot the light, accidentally i forgot to take it off.

I can not say that the flashlights have some kind of exquisite design. The design here is really simple. Similarly, you can not say that the flashlight has some kind of high design. The design here is really simple. Do not expect any refinement, everything is brutal, simple and all about functionality.

The length is 153 mm and the diameter is 53 mm – mid size for 1×26650 battery flashlight. In this regard, the Stalker almost plays in the same league as this summer's hit, wonderful mid-range Convoy M3, so another bestseller – Convoy C8+ is significantly compact.
Stalker has a massive tail button. Button below the round sides. Pluses of this – you can put flashlight in candle mode , and there are less chances of accidental switching on, minuses – it's not so convenient to press, you have to bend your finger over this side. I see more drawbacks than advantages here. But if you dont plan to use like click-click-clicl, there is no problem. The move is deep, with a noticeable click.

Body is designed for 26650 batteries. Judging by how much the insecure LIITOKALA 26650 bulges out (and I don't buy the other 26650, I don't see the point), the protected button top can cause problems.
The springs are quite thick; there are both from the side of the head and from the side of the tail.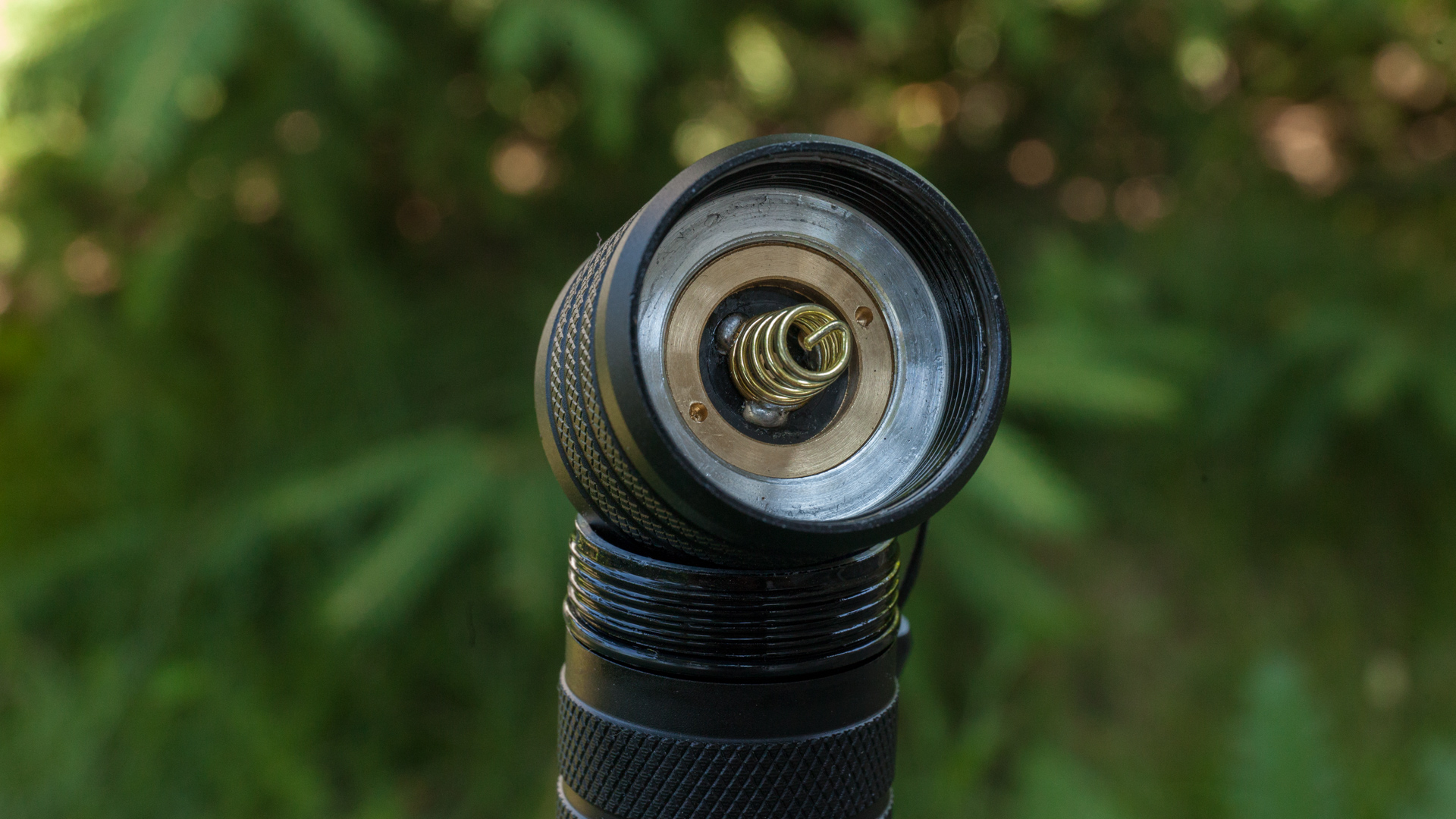 Mid sized threads are well lubricated at tail side and dry from the side of the head.

The knurling is quite simple, but thanks to the relatively deep concentric grooves, it is quite tenacious.

Weight distribution is normal, the flashlight is quite comfortable to grip. But due to the overall dimensions, I recommend not to forget about the lanyard.

The head is massive. Finning is exceptionally good. Just in the photo above you can clearly see how numerous and deep the cooling fins are. This is definetely good, given the fact that the flashlight may even come with a 60wt OSRAM S2WP, with 4500 maximum declared brightness. There will be a lot of heat to dissipate!

I don't know how justified this is in terms of functionality, but there is a rather specific constructive solution here. See the small grooves at the base of the head? If you look closely, you can see that sort of tonnels comes through cooling ribs.

The bezel with large teeth get twisted off easily, as well as there are no problems to get to the driver from the side of the spring. Any repair and customization (you can order only host ) will not cause effort.

The glass is quite thick, with anti-glare, although comparied with c8 + you may think that the glass is not AR coated.

The reflector, of course, is deep, SMO.

And if spare glass and the ability to easily get to the insides is good. So the generous smears of thermal paste under the reflector did not please me.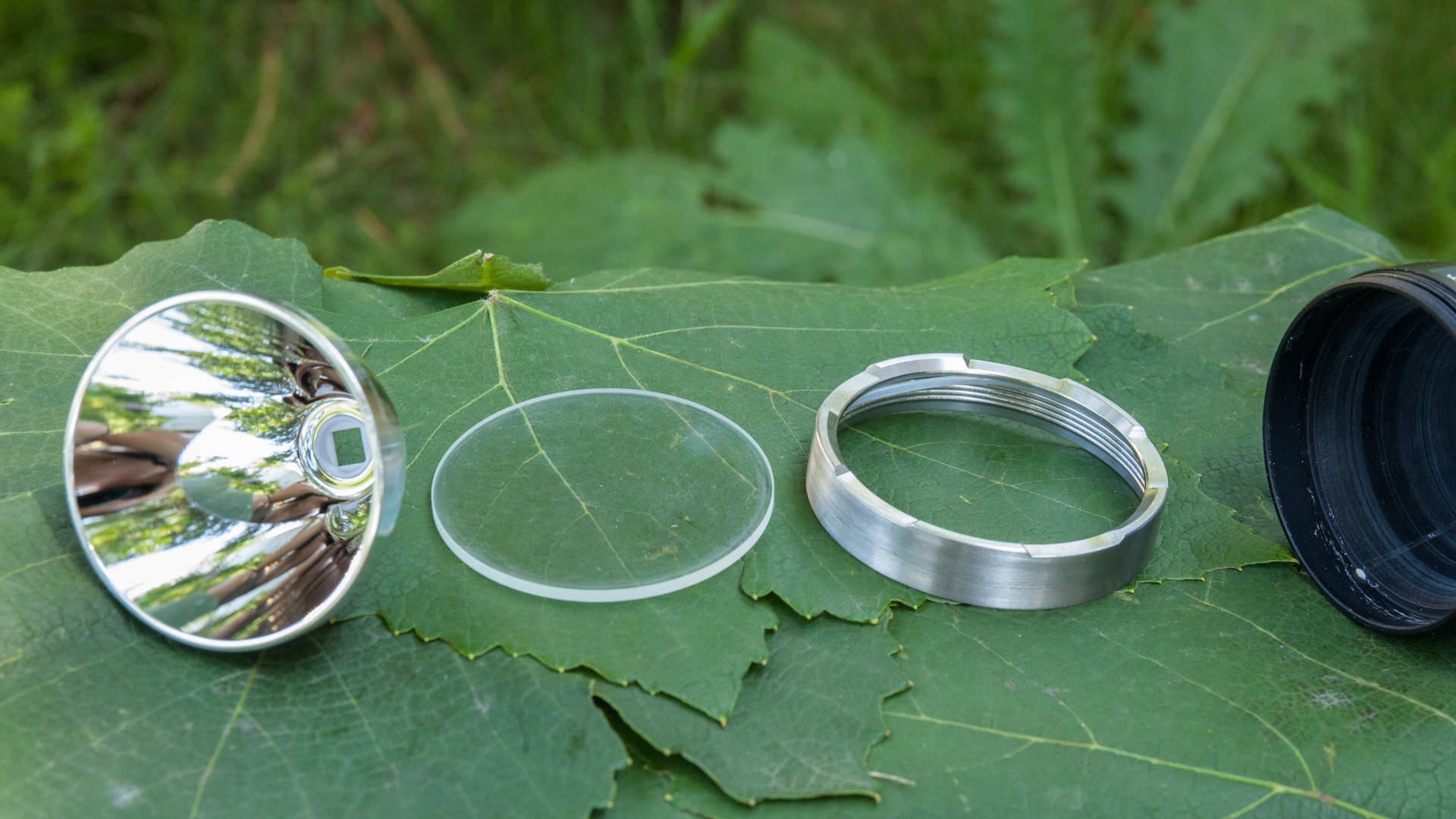 At the bottom of the reflector, in my case, there was a dedomed SST40 NW. I remind you that other options are available. For example, the symbolically brighter SST40 HD CW , or some versions like the radically overclocked XHP50 (from it, actually MCPB for the SST40 here on my pics). However, you must understand that for a higher brightness you will have to pay with significant heating.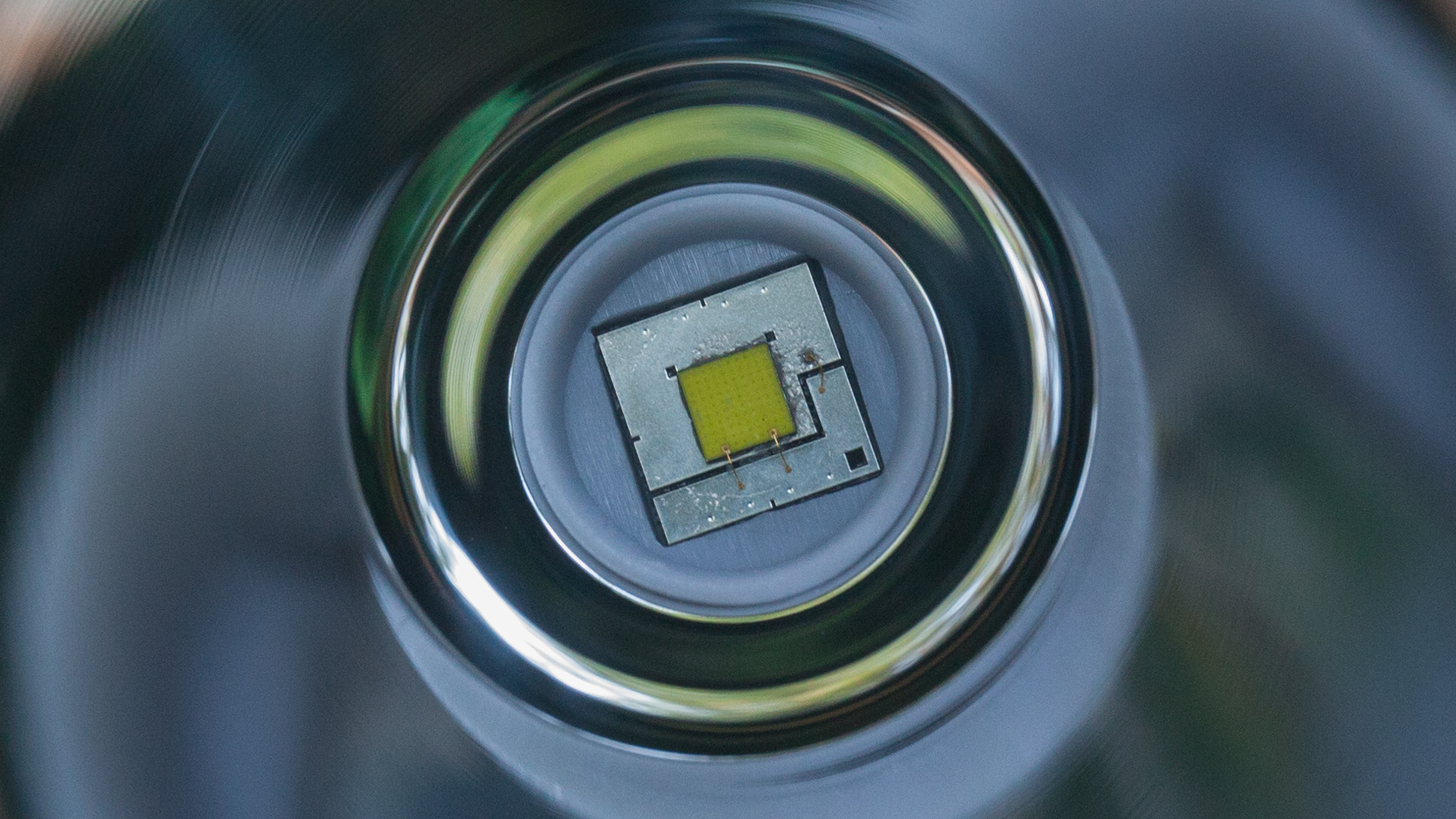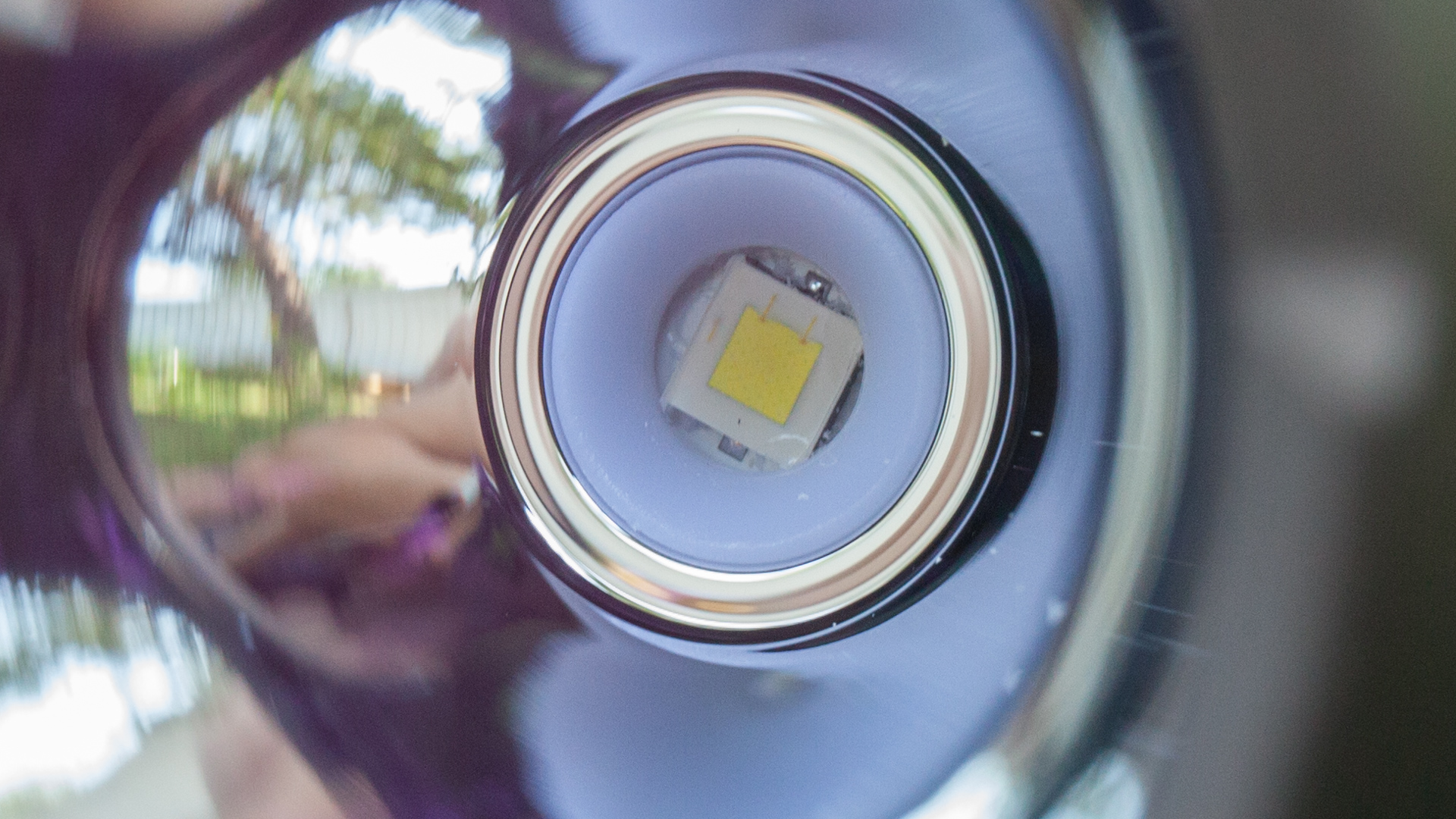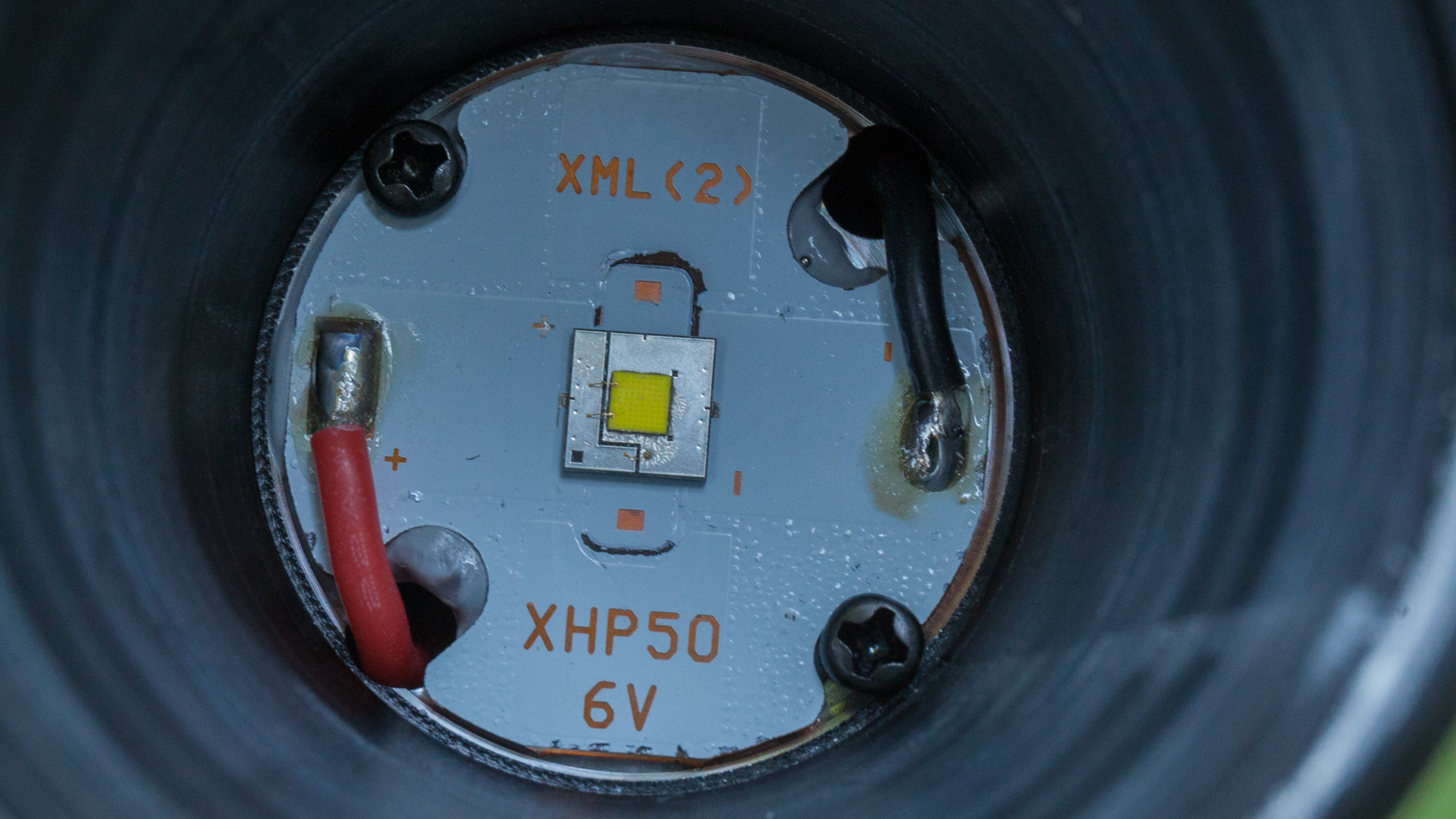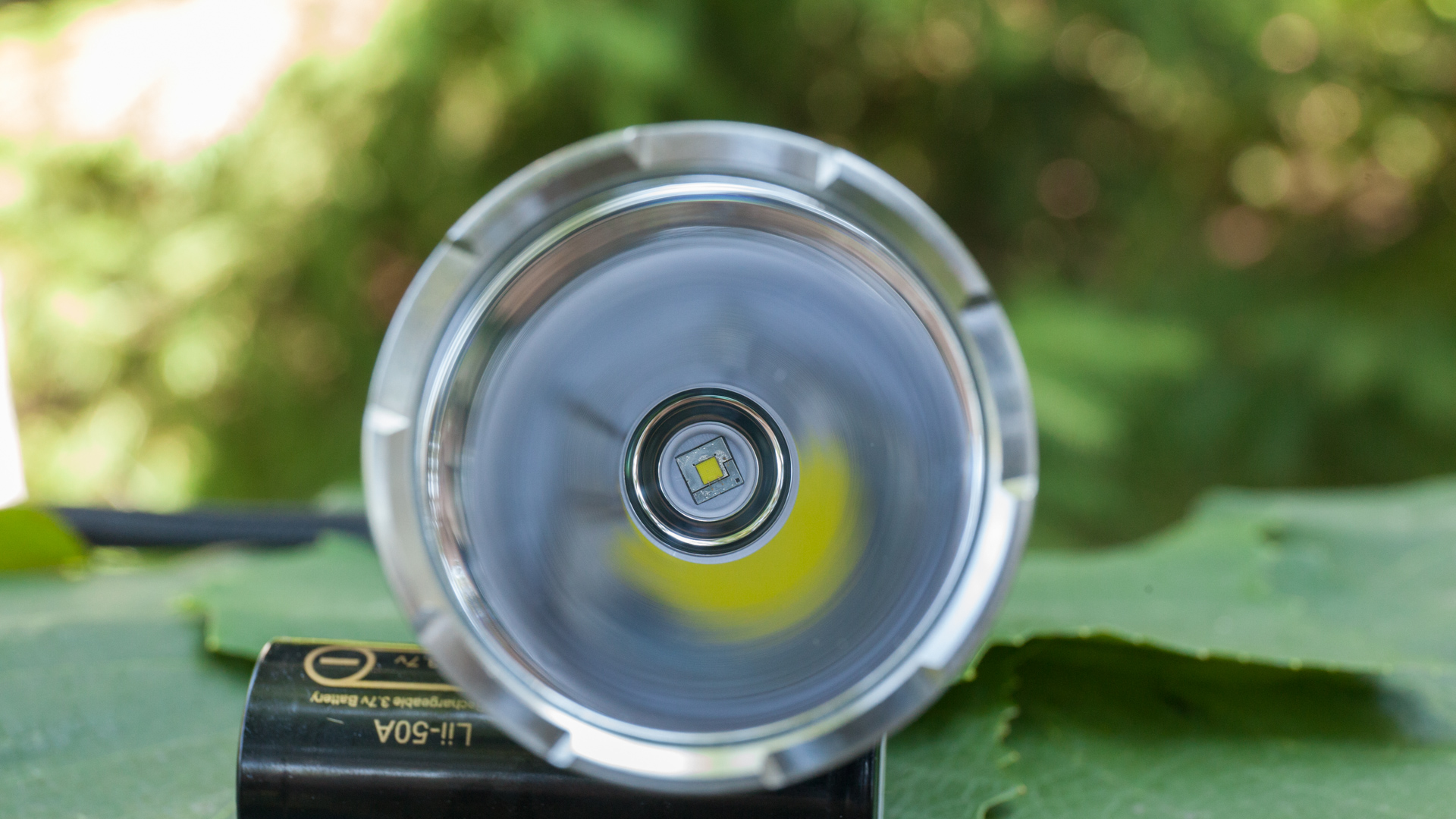 The head is whole, no pill. In general, probably now you will not find pill in flashlights more expensive than 15-20 bucks.
That's all. Appearance is quite simple. The design is original, simple and brutal. It is quite a match such sort of a flashlight. Structurally, the flashlight is really , again, simple, the design is at the level of the same Convoy. I see this rather as a plus. There are no complaints about the buid quality of besides the fact that there is some thermal grees under reflector.
UI
Different from stated on product page.So, in fact I got an extremely simple version of a UI typical of a tail button lights. Switching modes Low-Mid-High with semi(clicks).
there is also 2x click Turbo. i didnt noticed that , so i had to reshoot a loot of pics ((
There is a mode memory. For some moments, this will be a PRO, for some – CON. On the one hand, you can always expect that you turn on the flashlight at maximum, on the other hand, starting in LOW would be justified from the standpoint of maintaining night vision.
How the Nightwatch Stalker shines
I remind you, in my case it was a dedomed SST40 in a neutral light (looks definetely like 5000K from specs, not 4000K like written on box). And, heh, HiCRI! Tnx SST for this. Not that is crucial for me (and for thrower), but once you get it, why not.
So, in terms of light distribution, I got a clear "piercer" pic with bright small hotspot and dim sidelight.
1900 lumens for this size is not a lot, but neither a little. An appropriate brightness without serious overheating. The heat sink is good, MID can be used without problems, but HIGH somewhere in 5-7 minutes heats the body to a rather uncomfortable temperature.
There is declared thermoregulation when it reaches 50 degrees, but this, I suspect, applies to XHP50 \ S2WP, as charts in HIGH mode for SST40 are completely flat.
Stabilization is perfect.
Somewhere at 3 volts, the flashlight starts flashing and turnes off at 2.94. I used liitokala 26650 battery.
As for the light, the flashlight does exactly what it should. It shines brightly and cuts into the distance. Being slightly large (in reality, not at pic) than the Convoy C8 + Xpl-Hi , it looks uniquely stronger in terms of both stabilization and range.
Low here, having a small brightness, gives clearly visible light at a distance of up to 75m meters.
The MID mode of the NI40 seemed to me very similar to the maximum for the Convoy C8 +. And this, see for yourself – almost 4 hours!
Actually, this mode will be enough for you in most cases, you will have to switch to high somewhere around 300-400 meters. And even in this case, you will have almost 2 hours of stable brightness. Impressive
Of course, at close distance, that is not an approproate flashlight.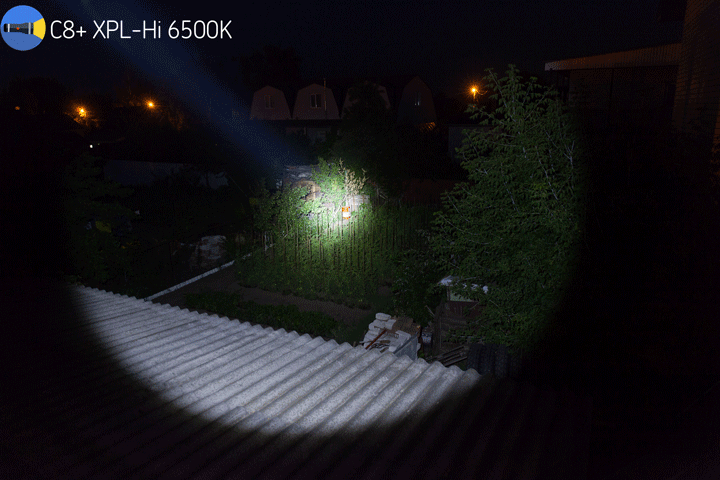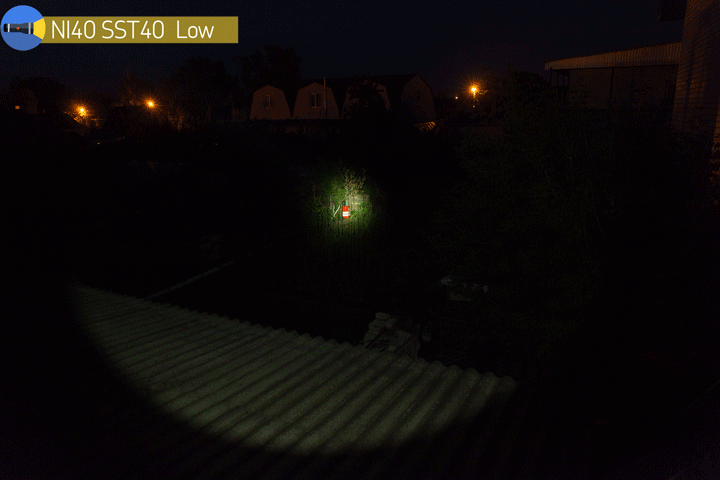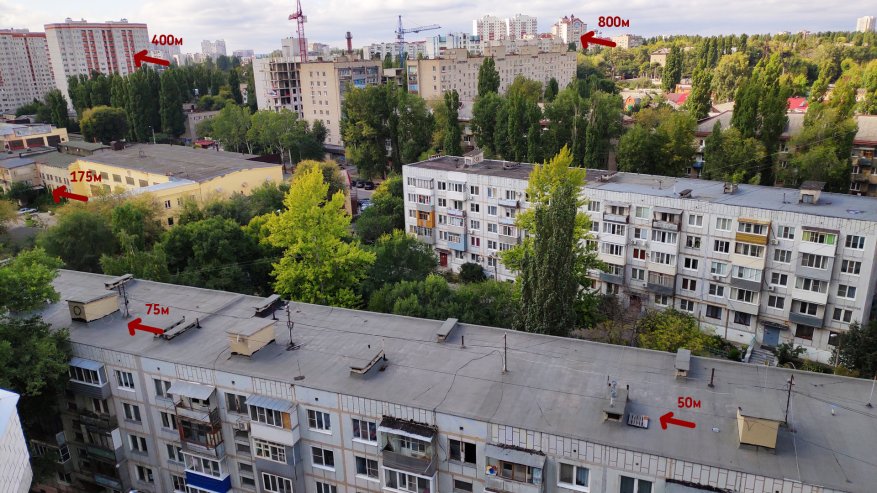 175m No problem. Even Low can be seen here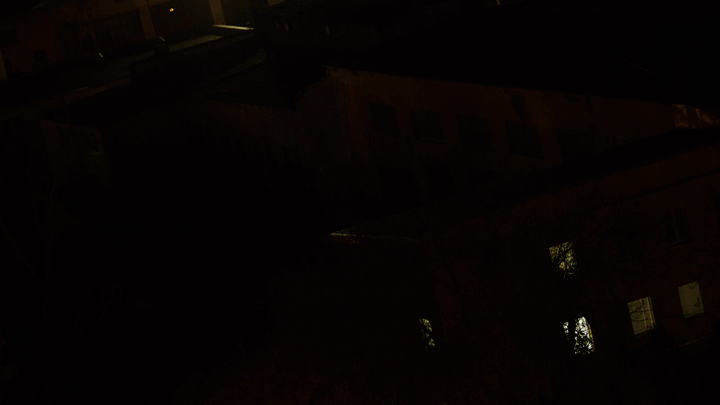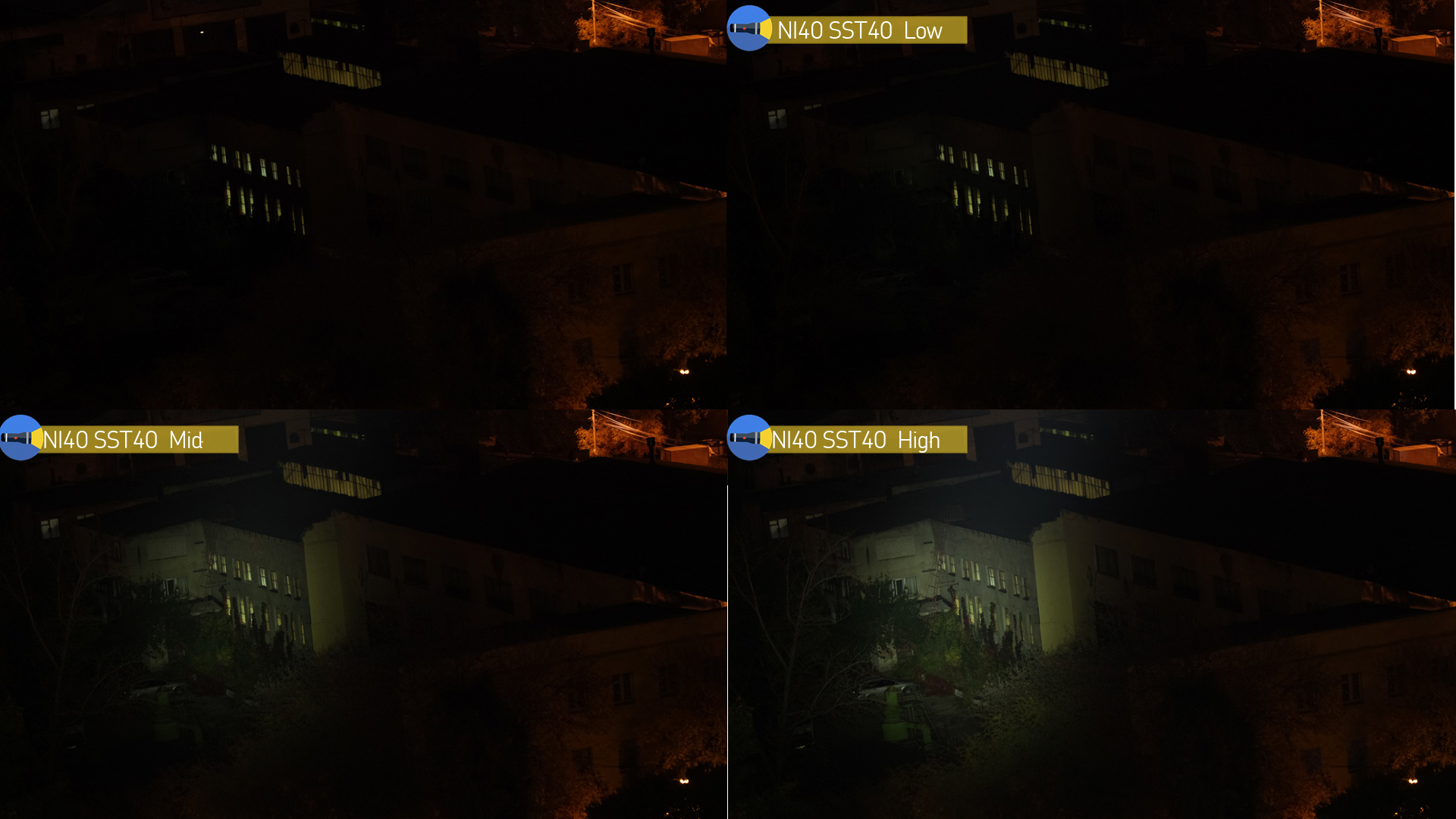 As the pinnacle of it all, 800 meters. The distance at which only a few flashlights work confidently. Nightwatch NI40 Stalker shows good results here. Only some of the most powerful modern solutions will be better. And the price tag will be a way higher.
I do english subtitles now, pls subscribe my channel, there are more live examples in my utube reviews
Overall impressions.
for its low price, Nightwatch Stalker NI40 SST40 seems to me a pretty good choice. Now he has a direct competitor in the form of CONVOY L21A SST40, i cannot recall anything else of this ratio of price-size-range. And, in general, I liked Stalker more. Convoy L21A is larger and has worse stabilization. In bonuses – the usual option for everyone to buy on aliexpress.
.
If you need a good powerful inexpensive thrower, you may try this one. For me, that is one more simple thing that you can rely on.
+ price
+ color temperature
+ throw
+ easy access to insides
+ stabilization
+ good appearance
+ the ability to choose some other LED (however, we must understand that there will be a radically different light and stabilization)
+ thermal stabilization
+ – mode memory
- no packaging (i dont care)