Pocket-size, bright and really throwy flashlight with the extremely rare OSRAM CSLNM1.TG LED.
If you are interested in something in the same C8+ \ C8G format, but with way better throw, I suggest considering this one.
You can buy at NEALSGADGET
As for other Nightwatch models, there are versions with other LEDs available. they will definitely give a different light both in brightness and light distribution, and rintime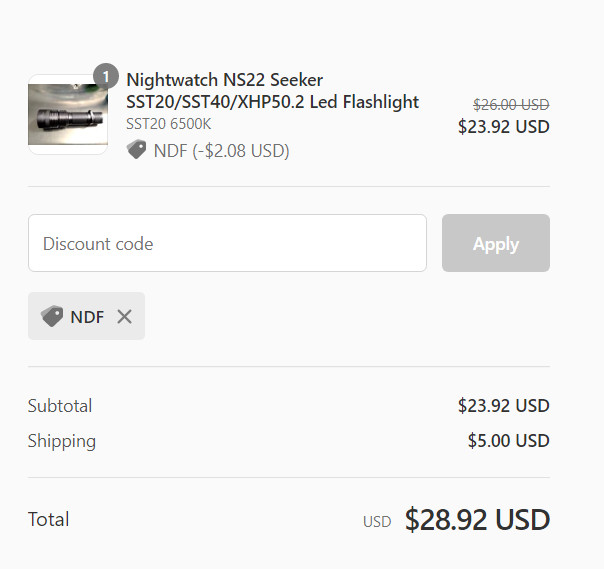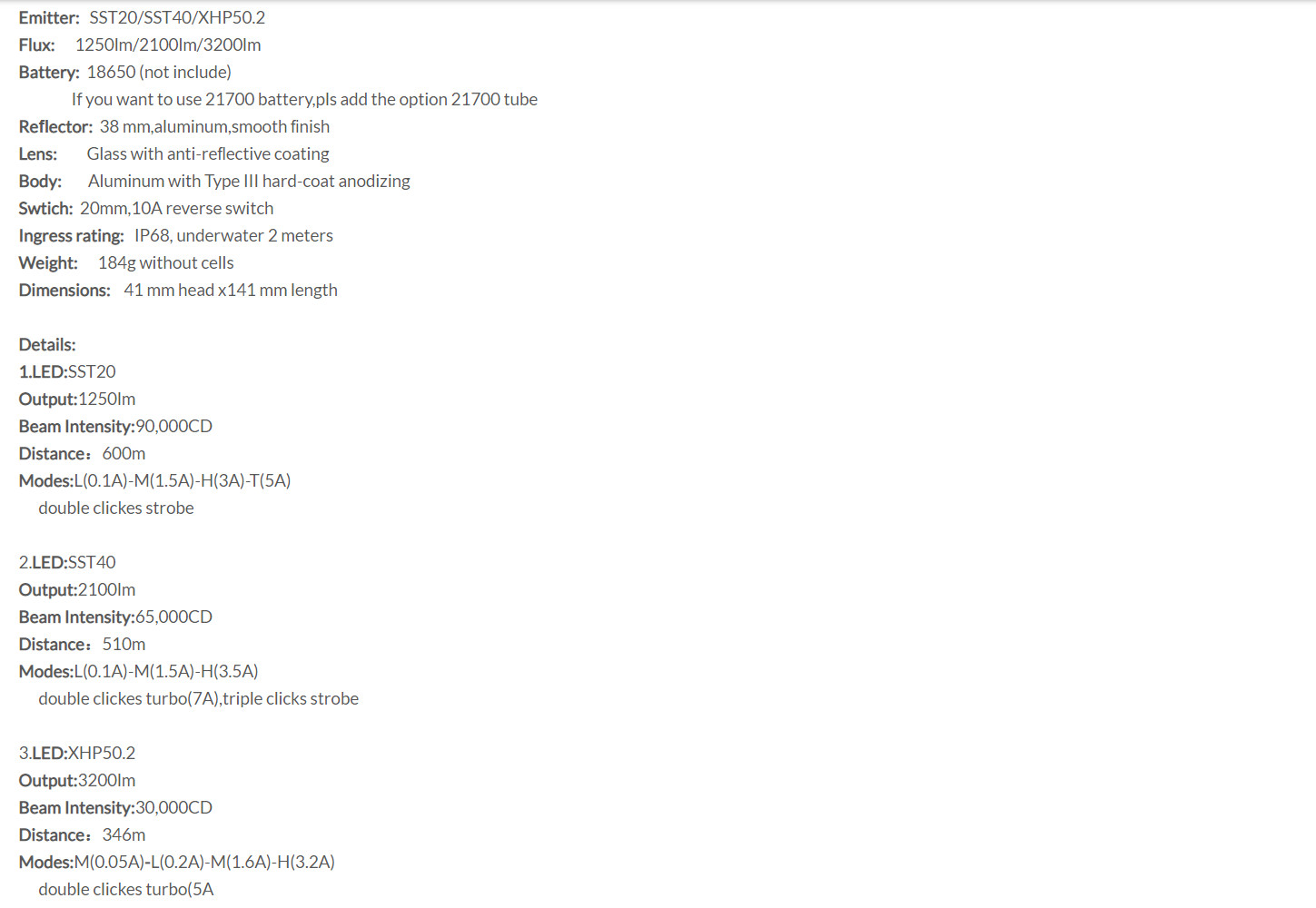 however, judging by the fact that I got the same currents in the first three modes (I can't measure the turbo), we can safely assume that it will be the same as in the NI 01L
IRA
, for which there is data. and they are:
OSRAM
version: M (0.2A) -L (1.5A) -H (3.5A) -T (7A) and 1400 lumens.
PACKAGE AND APPEARANCE
Extremely simple packaging. It does not claim to be anything more than the difference "no packaging" and "there is packaging."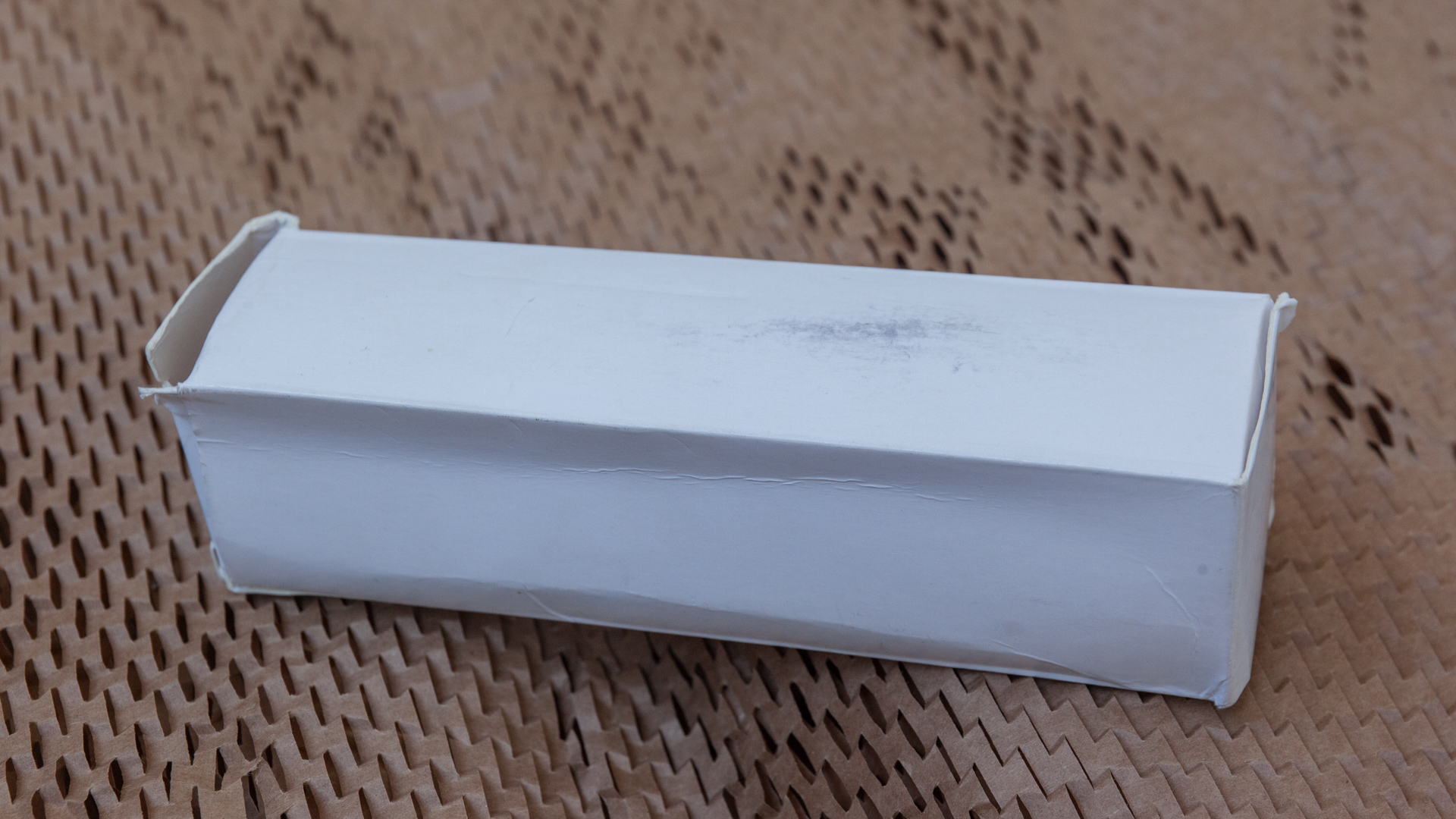 The kit, however, includes everything you need: a flashlight, a thick and decent lanyard, a large and two smaller o-rings, and even a spare glass. Fine.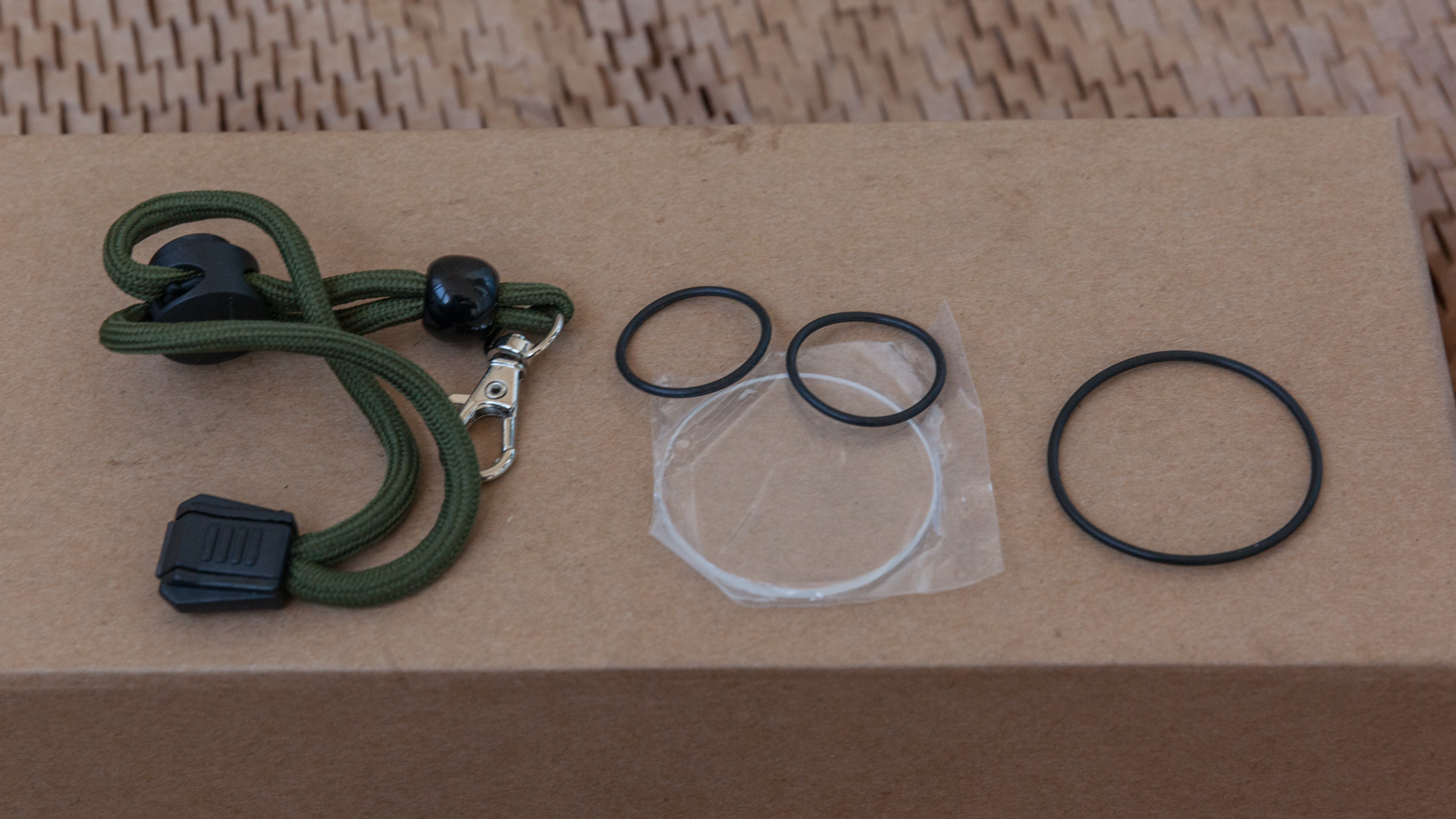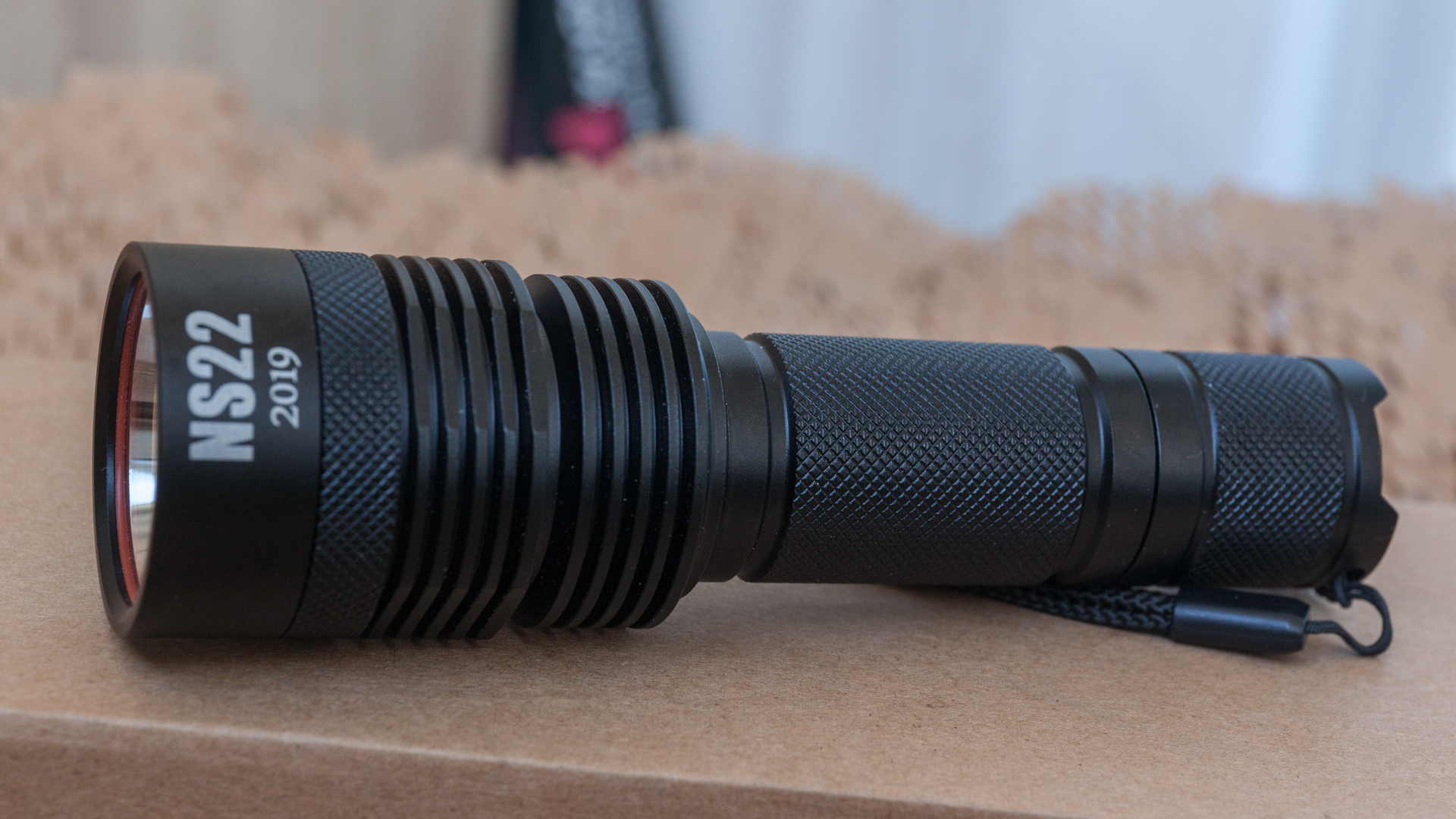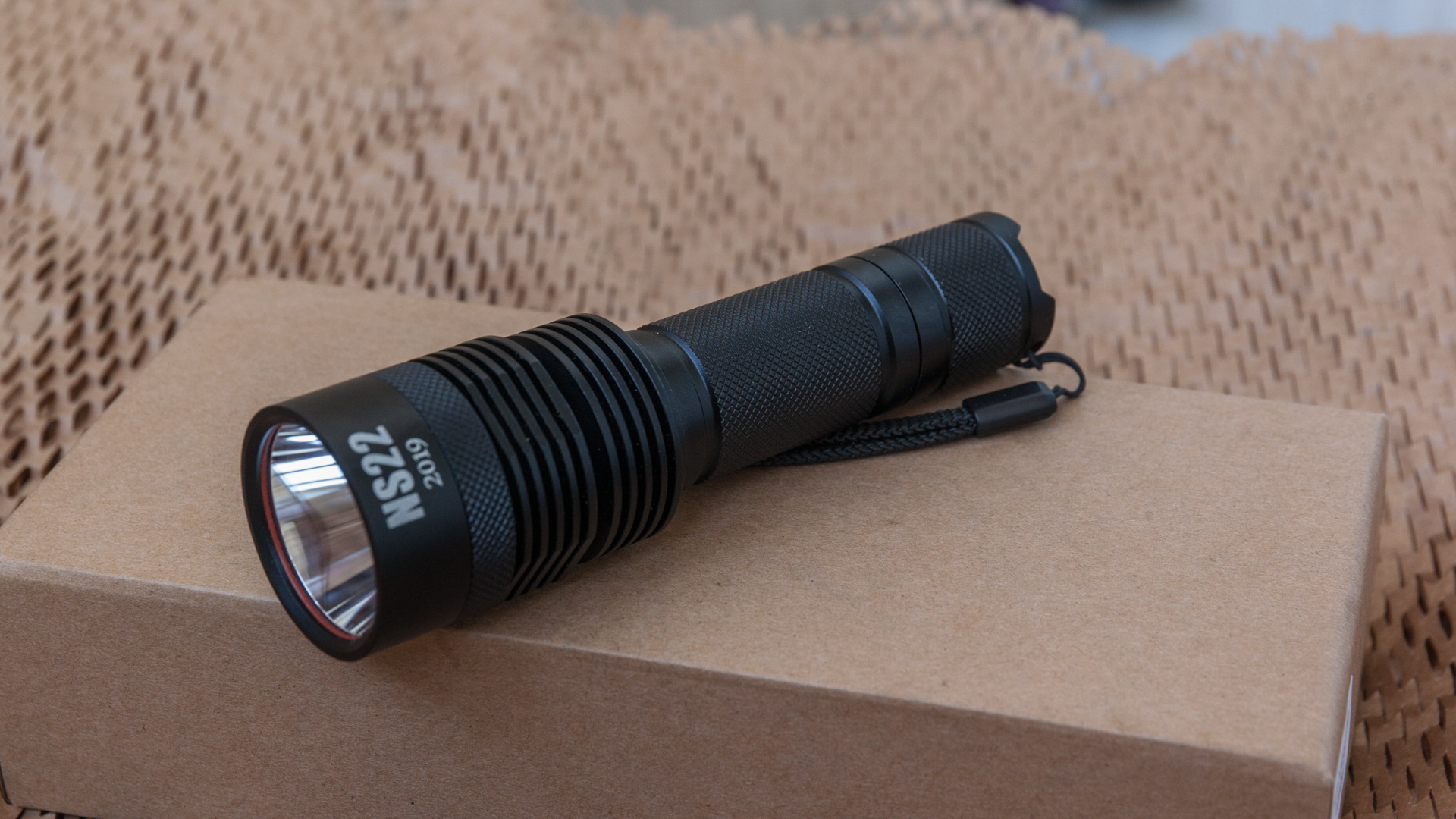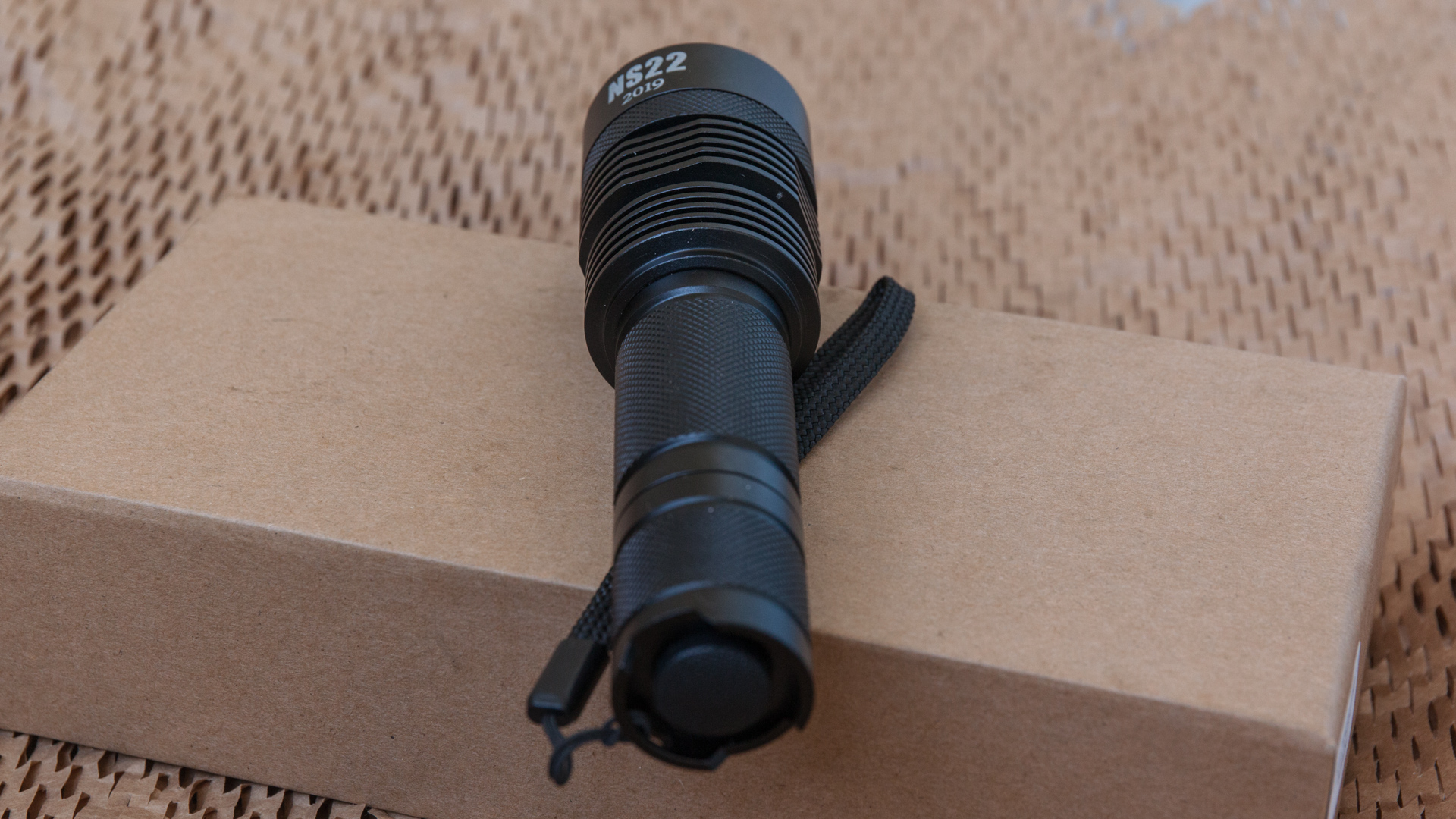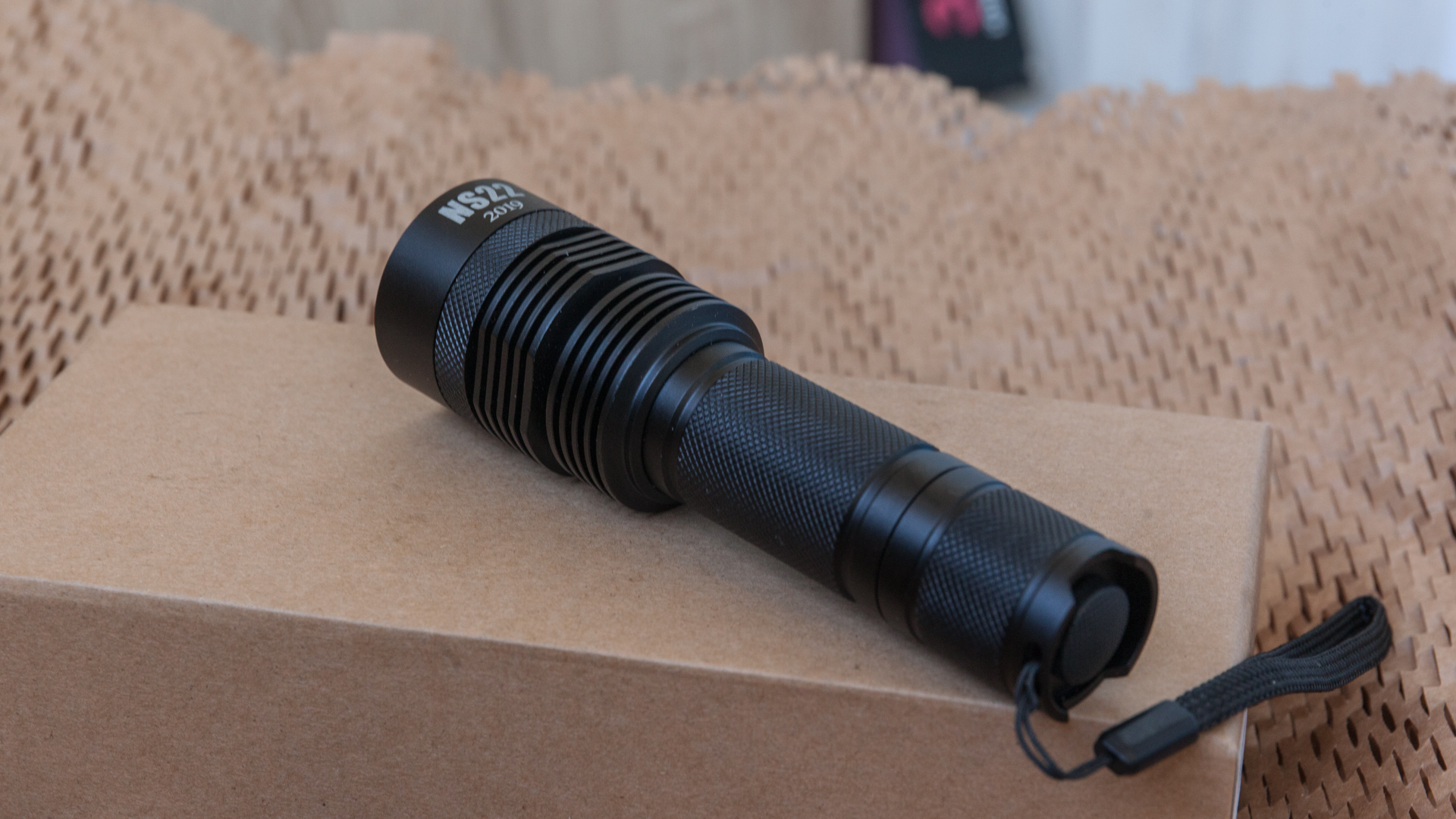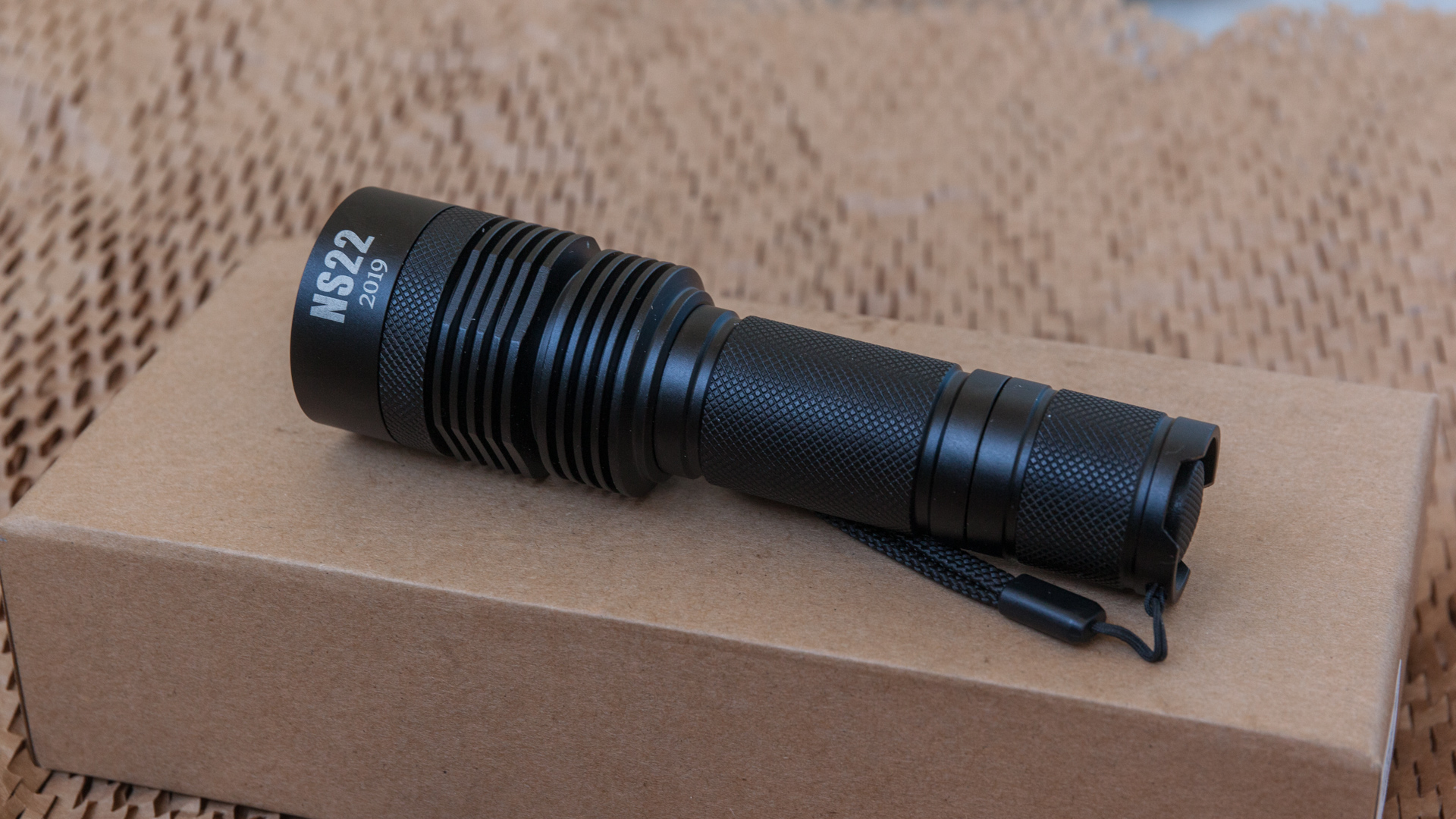 The flashlight looks exceptionally simple. In design, it went not far from the level of some sh*tfire. As in the Nightwatch NI40, everything is laid on the altar of functionality low price tag. From the point of view of this and the simplicity of package, there is no gift potential. You need to give it away somewhere outdoor the street and immediately turn on the turbo, so people immideately forgot about wretched package.
 
The size is exactly like the C8 +. The head is symbolically smaller in diameter than C8 + (41mm versus 44.5), but the length is just the same longer (145mm versus 142.5mm). And Sofirn C8G is only symbolically bigger.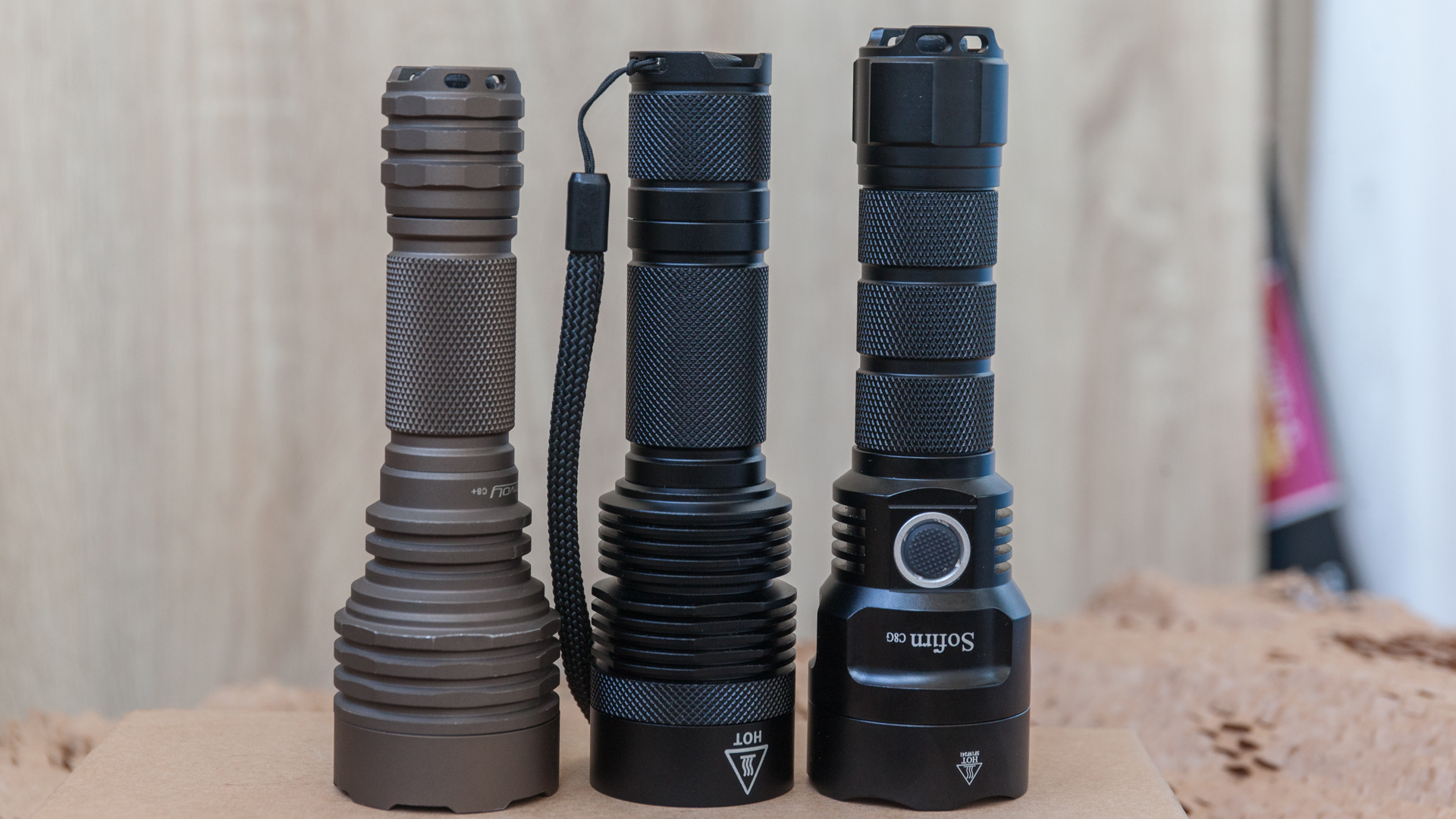 The spring in the tail is thick, not centered. Exactly the same spring is located on the side of the head. The head is glued.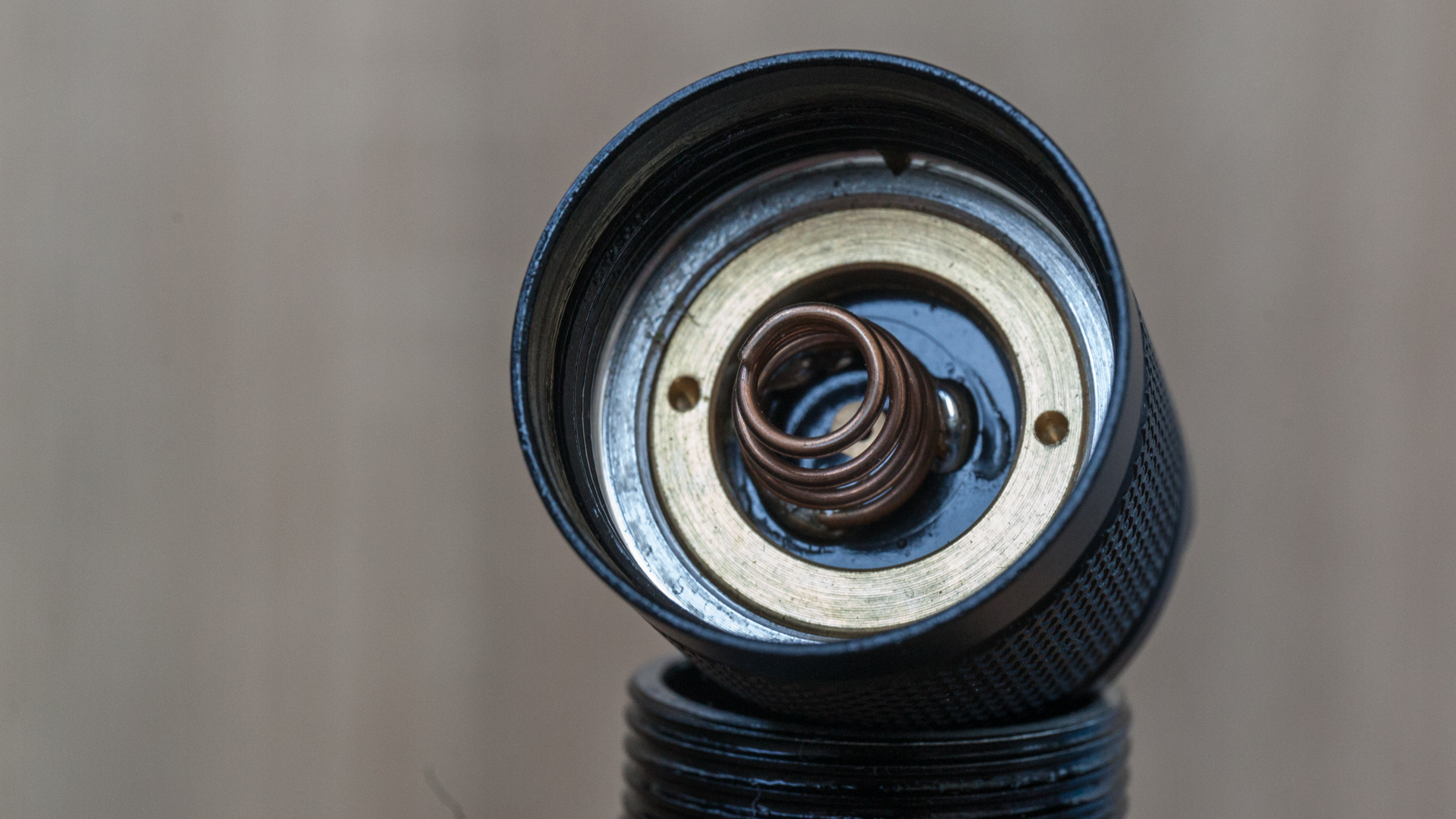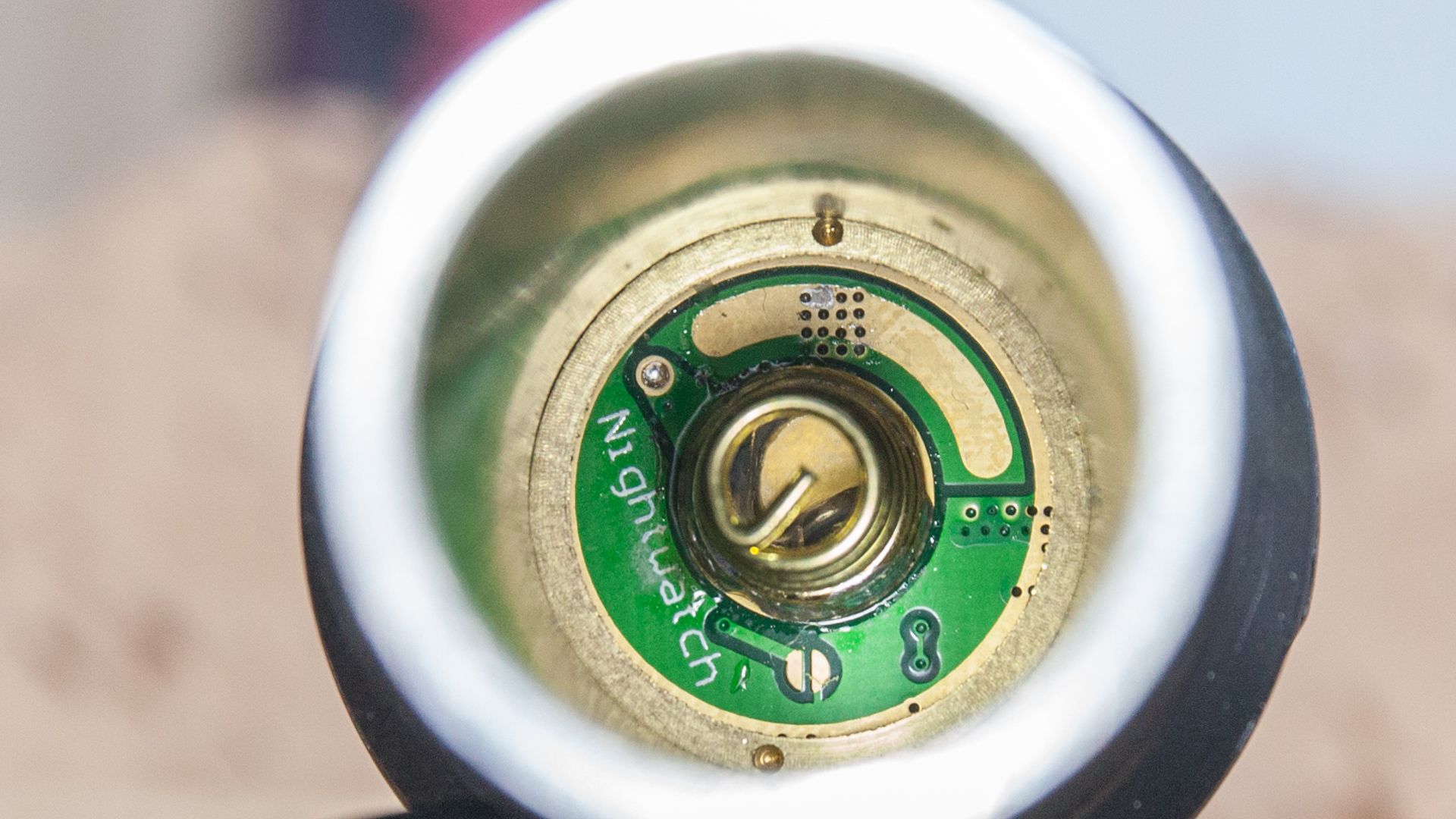 Threads are well lubricated, there are two (!) O-rings.

Knurling is the most primitive, small rhombuses. Not very tenacious.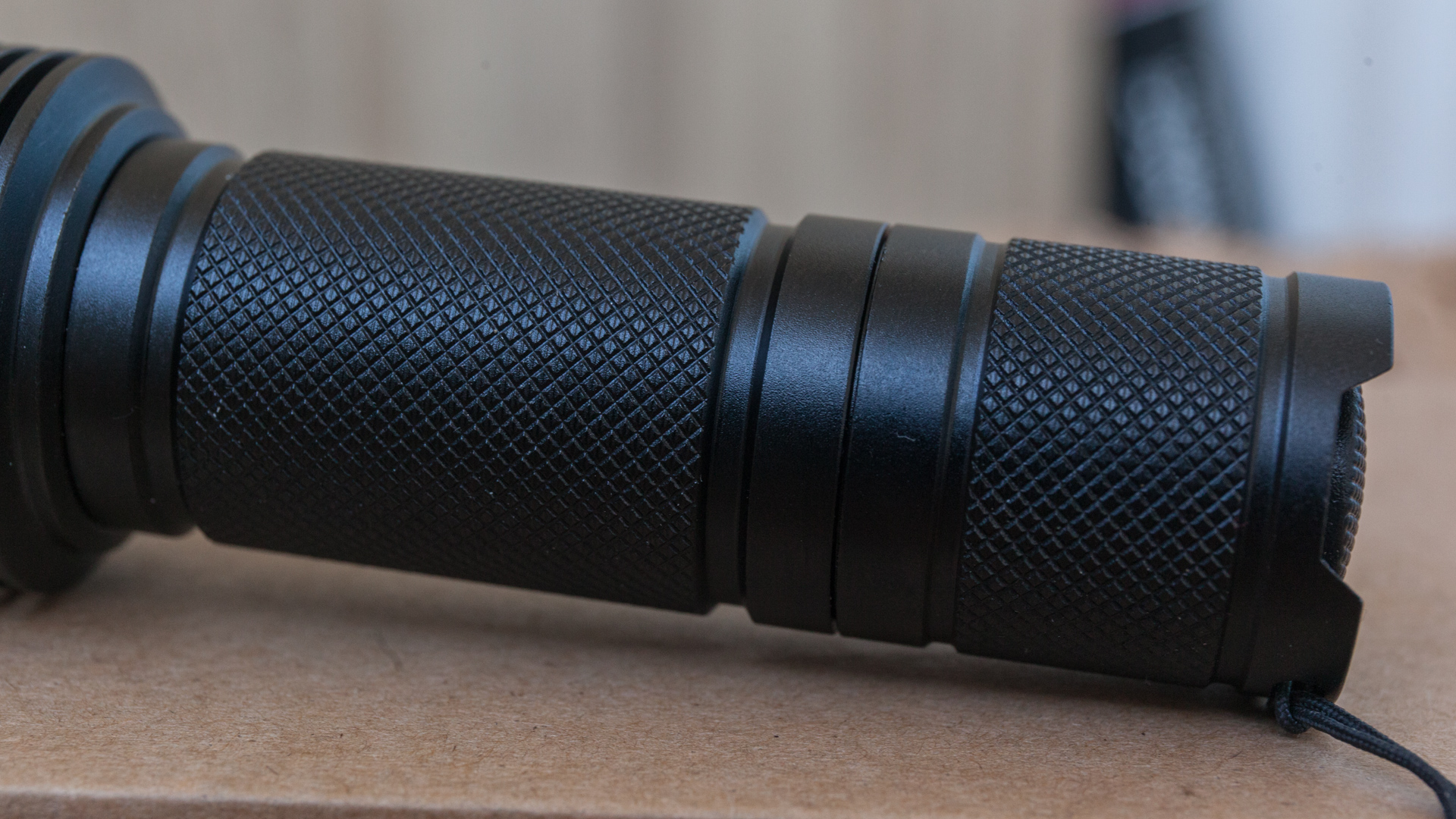 Yes, the grip is quite convenient due to its compactness and lightness . But, again, not the most tenacious knurling, the absence of a clip and the same diameter of tail and the middle of the body (i.e. there is no saddle) make the use of a lanyard extremely desirable.
There are a bunch of cooling ribs,deep and numerous, unlike Sofin C8G.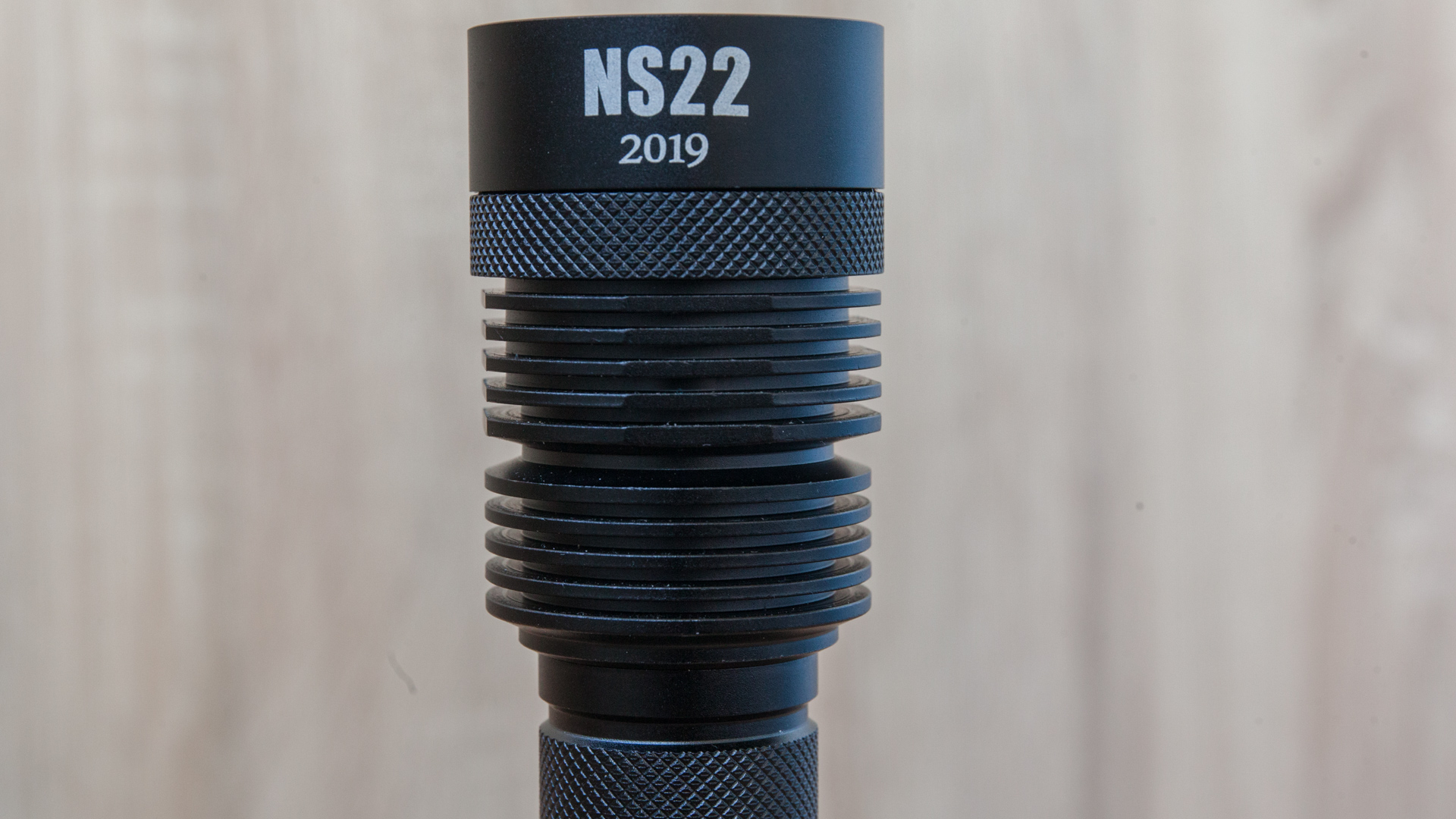 The wide flat bezel can be twisted off easily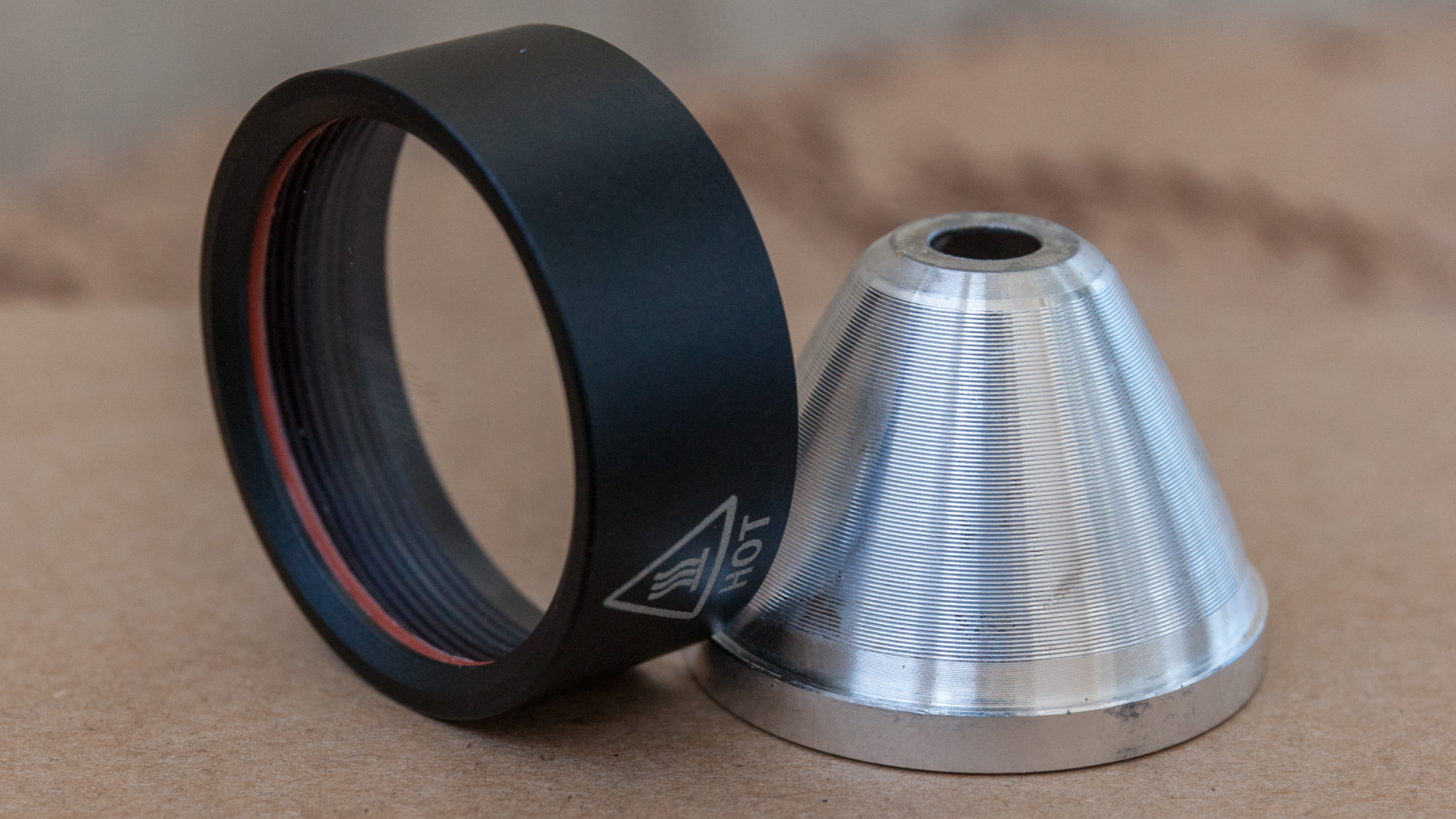 The reflector is SMO, of course. Let me remind you that different versions of LEDs are available. This one, Osram, is really tiny, just 1×2mm. It is clear that with such dimensions and declared brightness, it should give light with a remarkable throw. Everything is neat insides.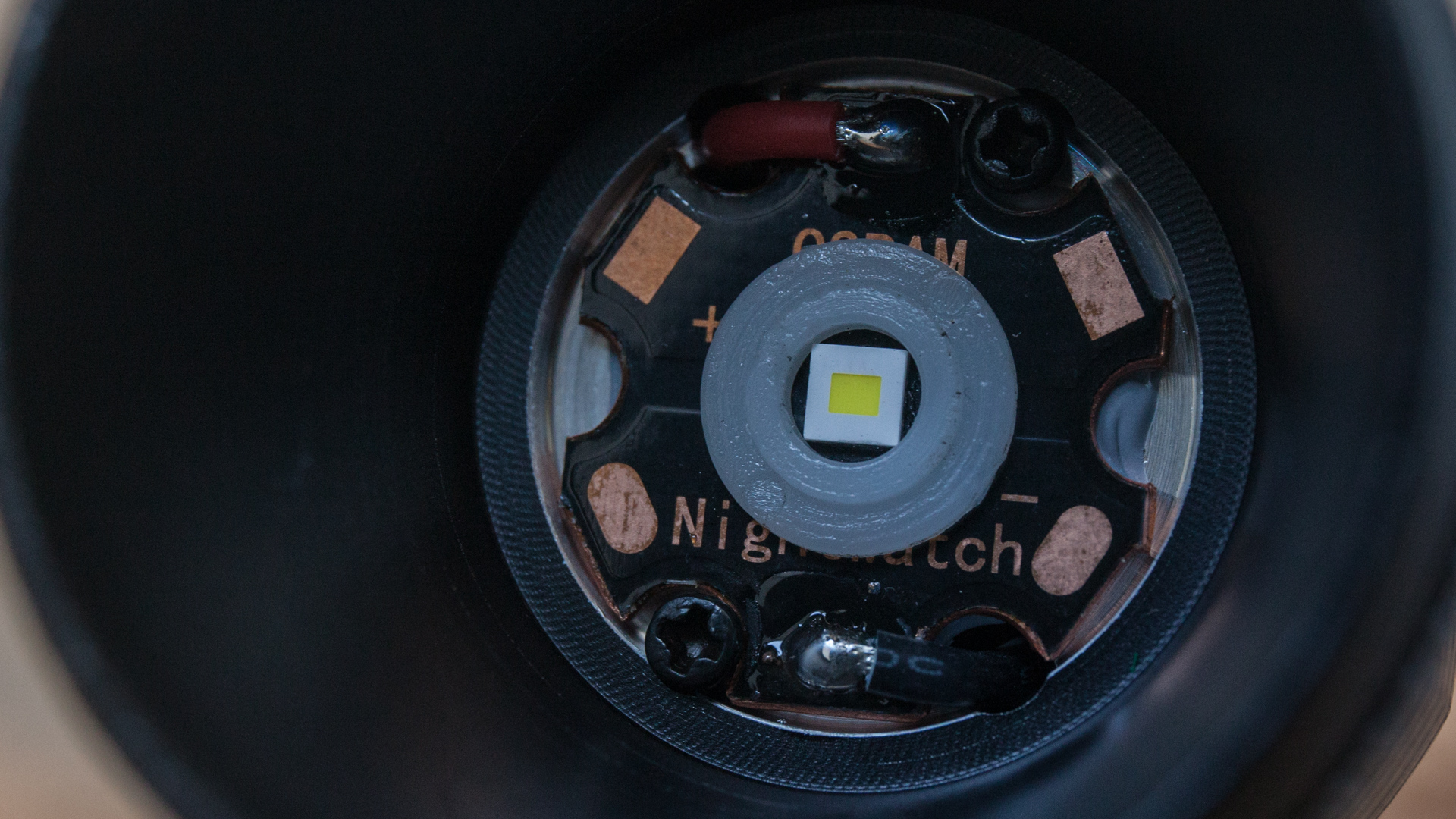 AR coating here is kind of strange, it can not be seen as the one of C8+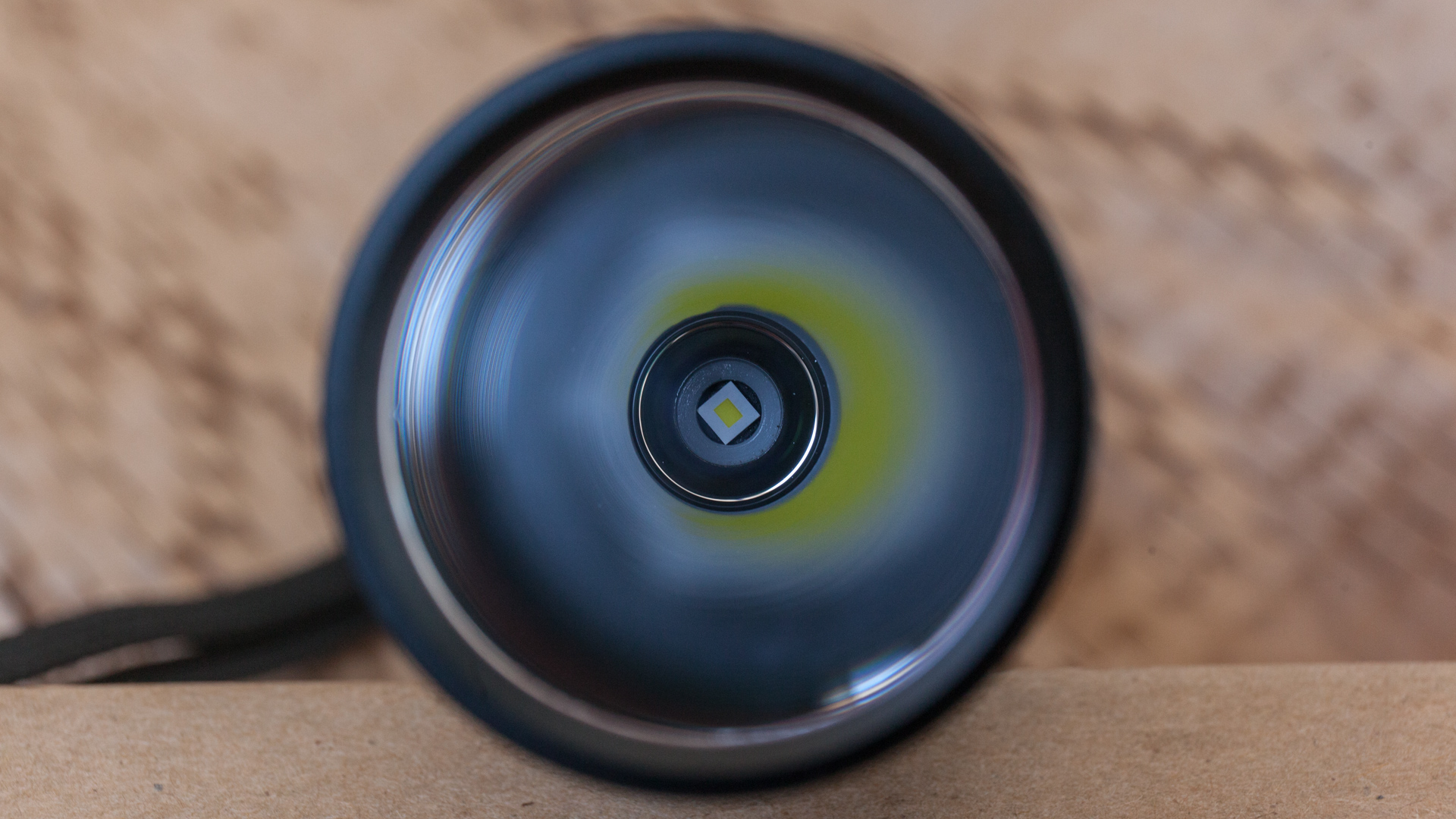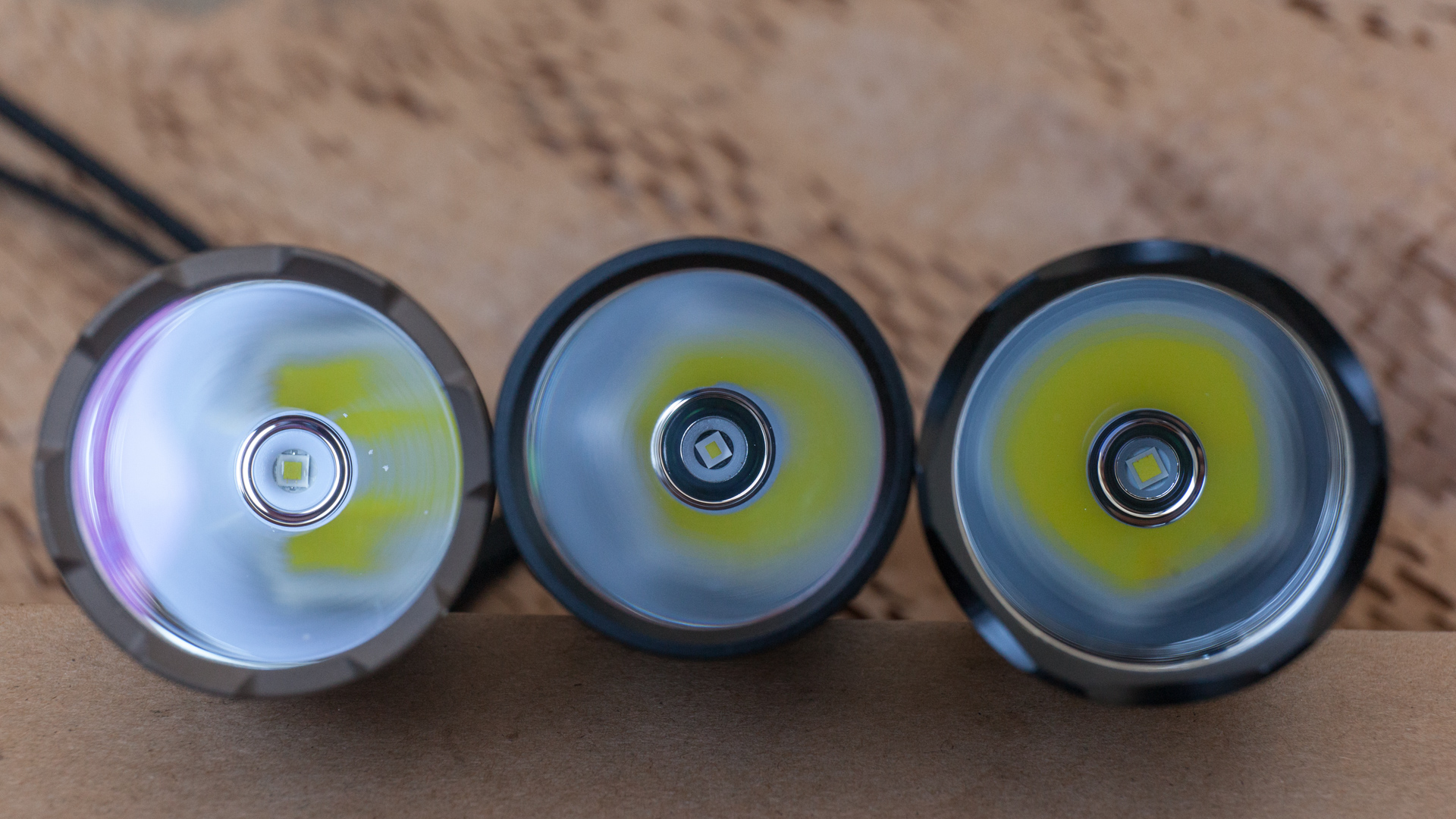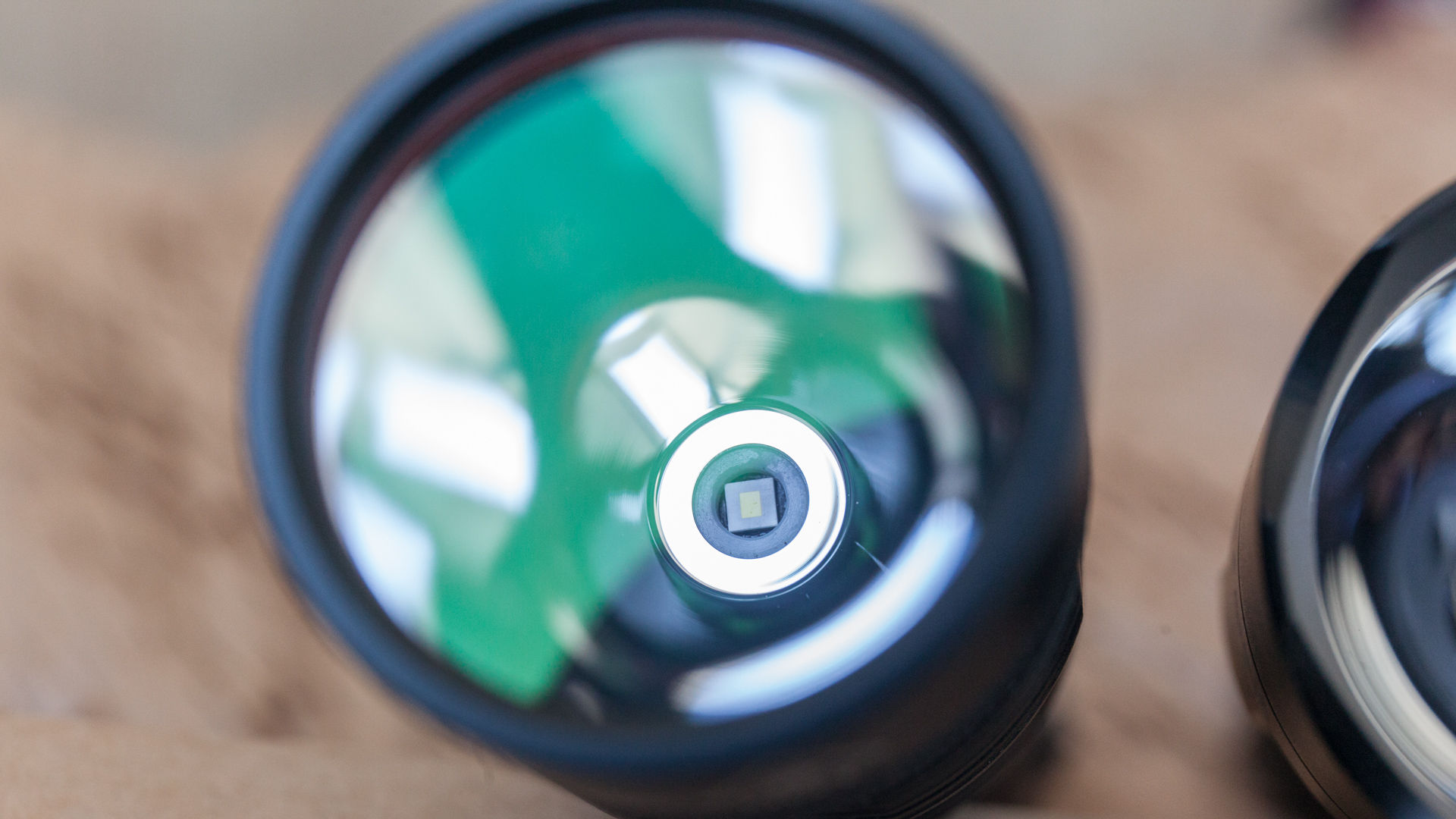 overall impressions: primitive design and outwardly good build quality with the exception of a out-of-center spring in the tail. I repeat, everything has been done here in order to give you the opportunity to shine as far as possible at the lowest price.
*UI *
exceptionally simple.
there is a modes memory.
Switching modes by (half)clicks
2x clicks – turbo, 3x clicks – strobe.
 
How the Nightwatch NS22 shines
Cold white light, typical "piercer" in light distribution. Dim sidelight.
There is no visible PWM shimmering.
Here and further, for comparison, CONVOY C8 + XPL-HI will be used as the most popular inexpensive long-range flashlight, the light of which is known to everyone and SOFIRN C8G as similar in size, battery and functionality.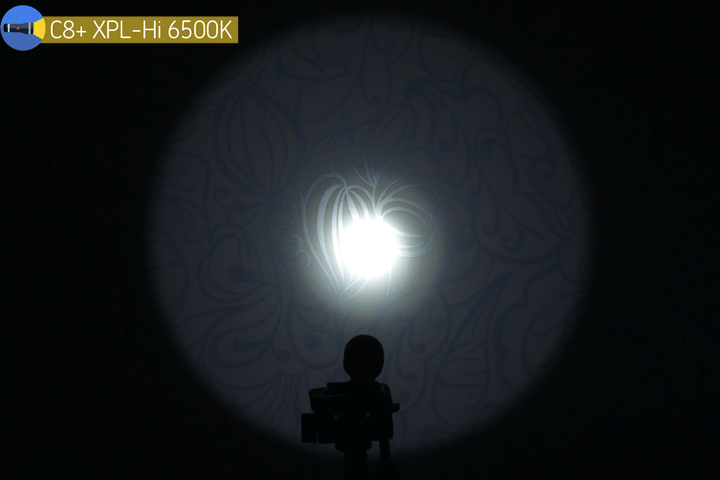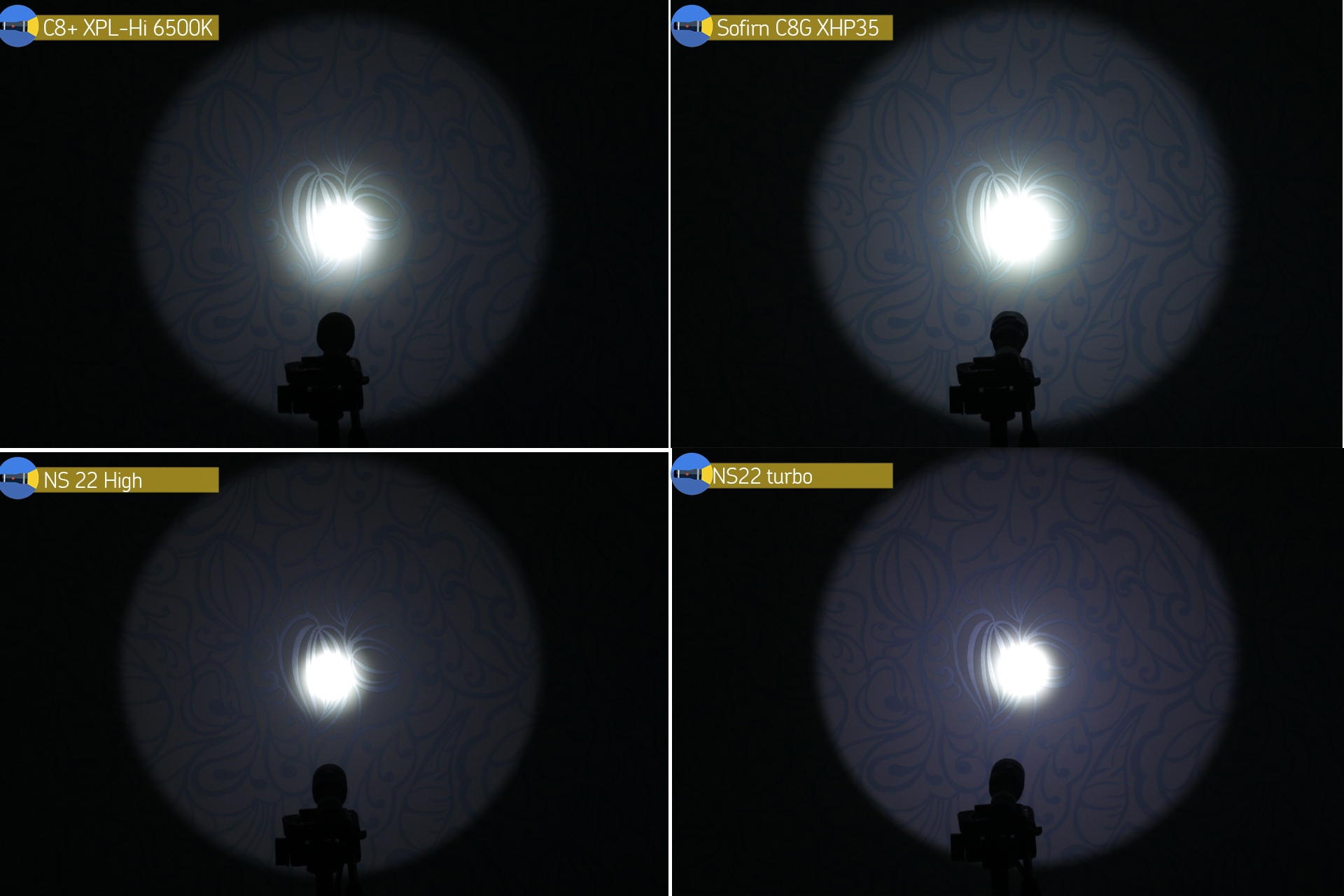 For the review, I used not the most capacious (but cheapest, instead) Liitokala batteries at 4200mah. The most capacious ones at 4800-5000MAH (they can be bought there from the Neal) will give significantly better results.
The stabilization is complete, and taking into account the fact that even MID is more than enough, runtime is quite pleasing. In High, the flashlight will work for almost an hour and a half and without significantly drawdown it will work in the mode that is maximum for the Convoy C8 +.
With cooling, you get a little less than forty minutes, but the range of the flashlight will be at the level of some 26650 throwers with XHP35, such as the same Lumintop ODL20C
Thermal stepdown works fine. However, if you are counting on continued use in turbo, you should take care of the gloves.
There is a discharge indication by flashing once every 5 seconds and overdischarge protection.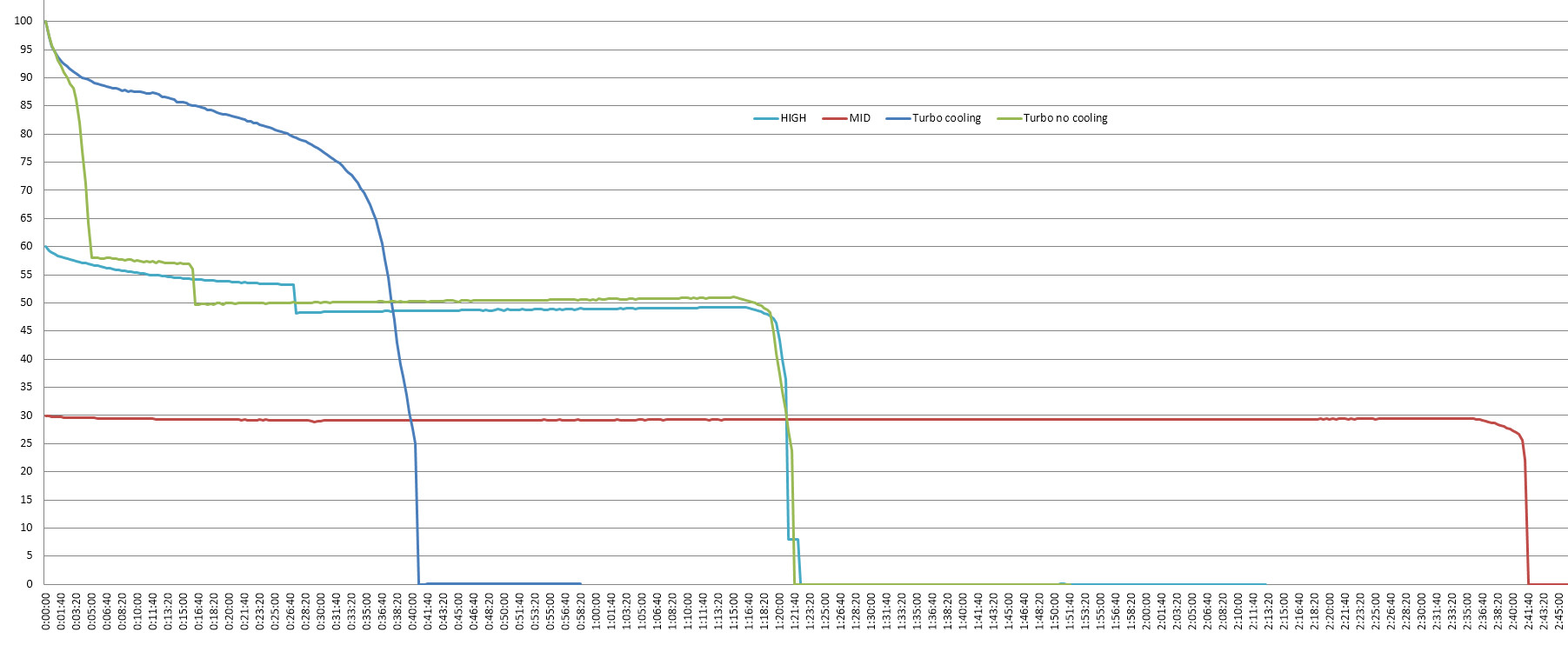 800m is a reall challenge for most of long-throwers and you dont expect that such compact flashlight will perform that good here.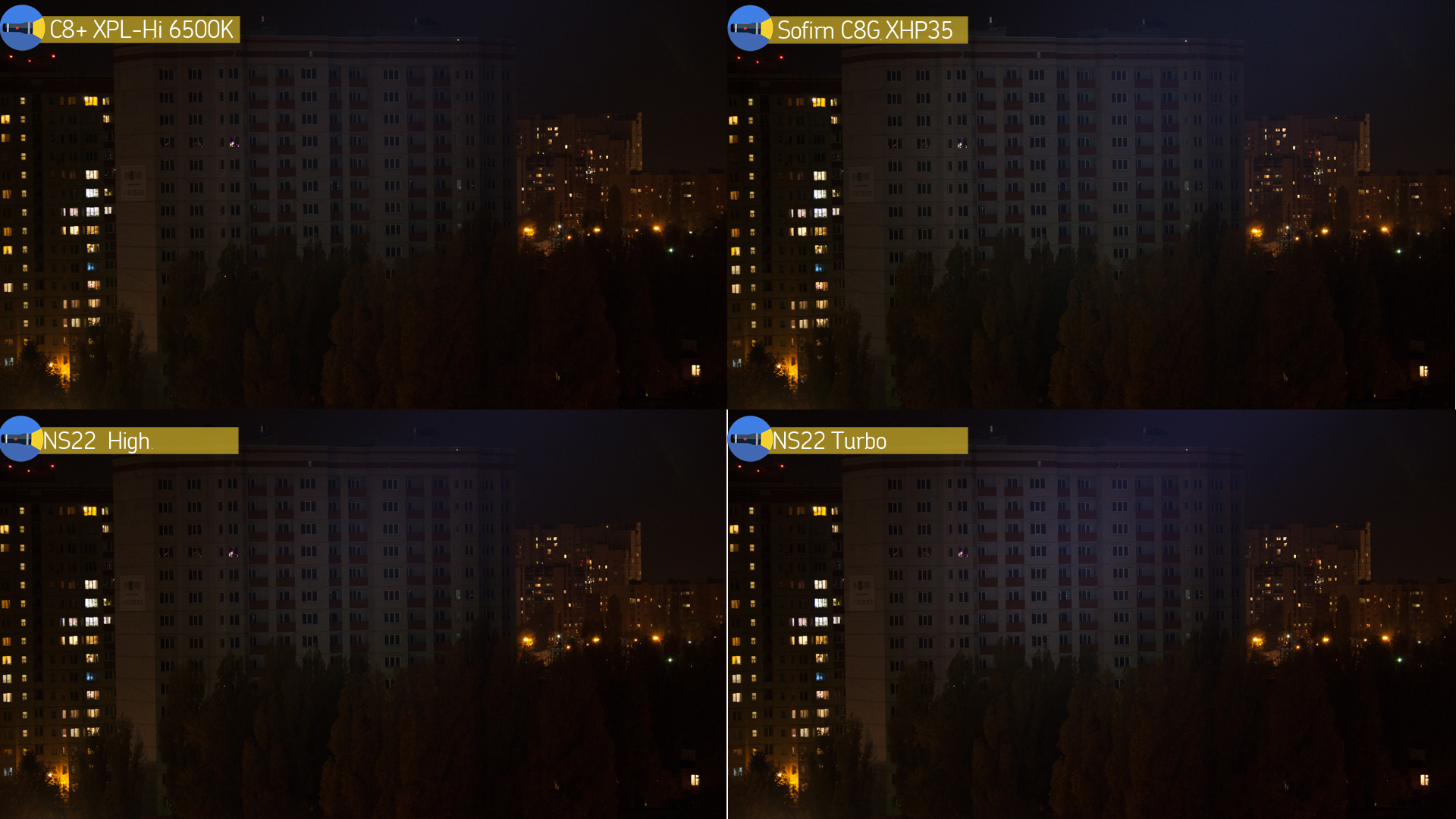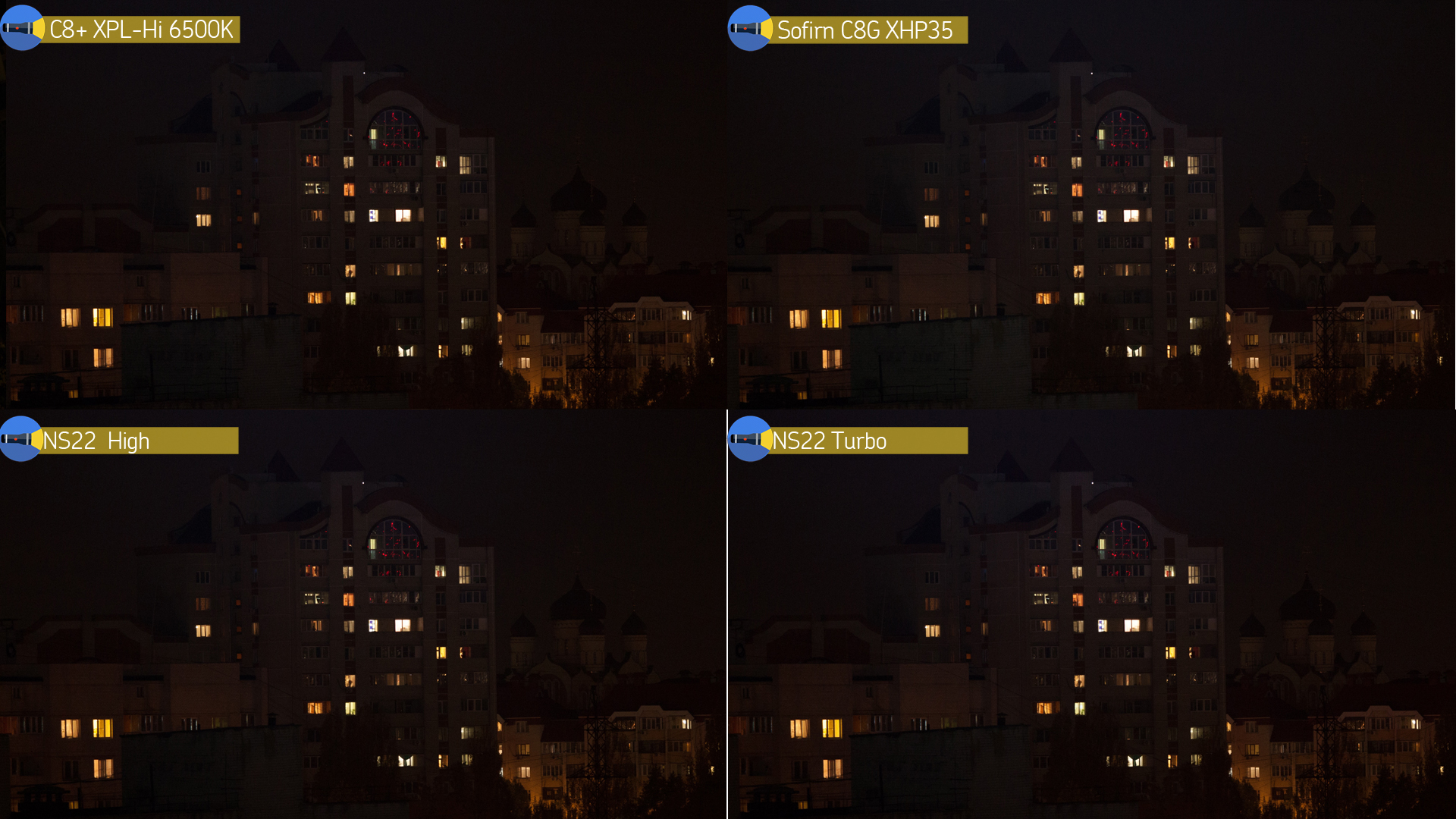 of course, video review contains lots more alive examples of work.
OVERALL IMPRESSION
Despite its exceptionally simple appearance, the Nightwatch NS22 demonstrates a clear superiority over the C8 + in terms of runtime, stabilization and throw.
So, frankly, it is an extremely long-throw flashlight for its size. However, the Convoy C8 + XPL-Hi has its advantages – it is somewhere around $ 8 cheaper, has a lot of preset modes and you can choose the color temperature. And here you decide what is priority for you.
 
Now, for its low price, the Nightwatch NS22 is a pretty good choice for those who need a long-range pocket flashlight with 21,700 power. Once again I underline – when choosing another LED, the light will be radically different, what you saw above is valid only for the Osram LED. And, of course, that is definetely not the best light to use withing range of 50m (unless are not interested in endless runtime of working in low mode here, which will give you enough light for this distance).
It is clear that the competitors mentioned in the review also have their advantage.
+ reasonable price
+ stabilization
+ thermoregulation
+ range
+ simple operation with a separate tab for the turbo and strobe + 21700 power -> duration
- exceptionally simple appearance
- symbolic packaging.