This is the WowTac A6 , a very compact , USB rechargeable 18650 EDC light. (2 year warranty on the lights from WowTac.)
The A6 was sent to me from WowTac for review NO other compensation other than keeping the light.
Light can be found on Amazon ….. https://www.amazon.com/gp/product/B07Z8283VN?pf_rd_p=ab873d20-a0ca-439b-...
or on the main WowTac site ….. http://wowtac.com/wowtac-a6-1460-lumens/
For those with Facebook here is the link for their page … https://www.facebook.com/wowtacflashlights (ALL links are NON affiliated)
The A6 came well packed in a larger Amazon box with large bubble wrap inside and the WowTac box inside that.
The contents included the Light itself , the clip , 2 extra O-rings , 1 extra USB port cover , USB charging cord , owners manual and the wowtac branded 2600mAh cell.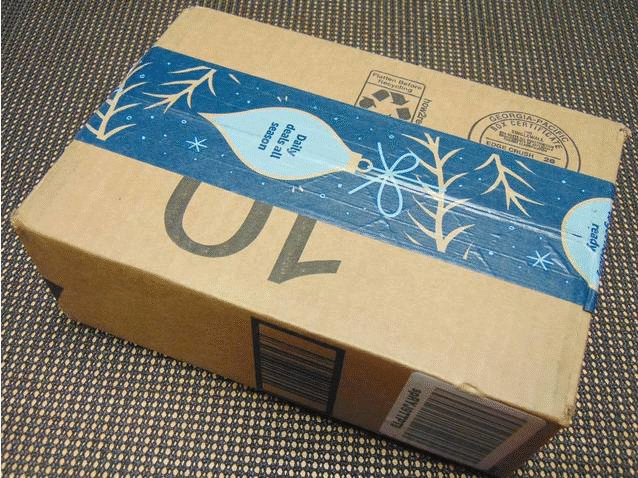 ***NOTE: This light does work fine with other protected cells and will work with button top high drain , but a solid bump on the tail end can make the light go off or flicker with shorter unprotected cells. I found that it does not make a difference however on the output no matter what cell I used in the light , it keeps about the same lumen output.
As mentioned already this is a very compact 18650 light , as shown here beside the BLF A6 (left) and the Thorfire TG06 (right) and the light alone.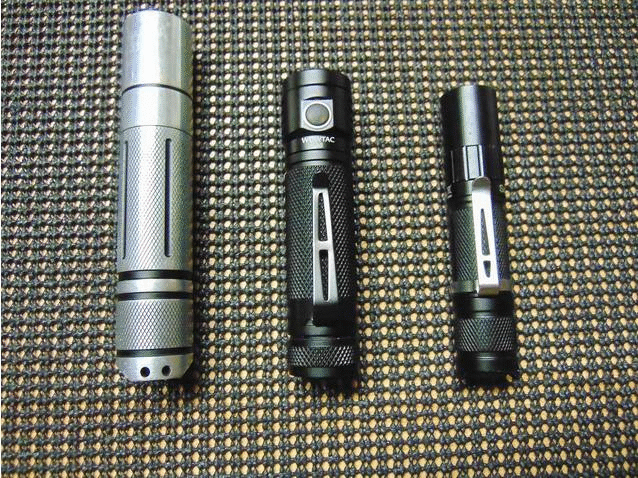 A sturdy clip that holds well in jeans and cargo pants (have not tried slacks)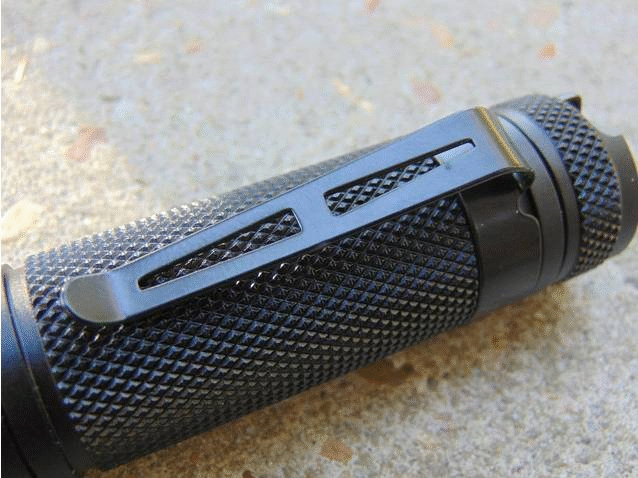 The A6 has an Orange peel reflector for a broad beam with smooth transition from the hotspot and a smooth bezel on it. The LED is perfectly centered and it does have AR coated lens. It is also easy to open and get to the LED , so probably a good candidate if you wanted to mod this light.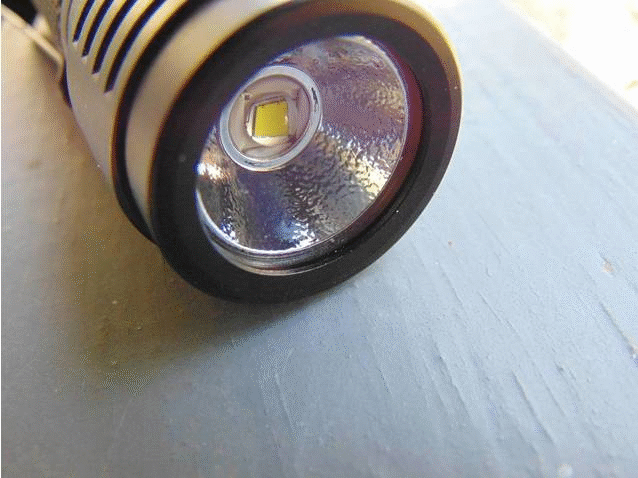 All of the anodizing looked great out of the box and I found NO thin or bare spots , pinpricks , or anything of that nature. The threads are all well cut square threads and are very smooth on my sample.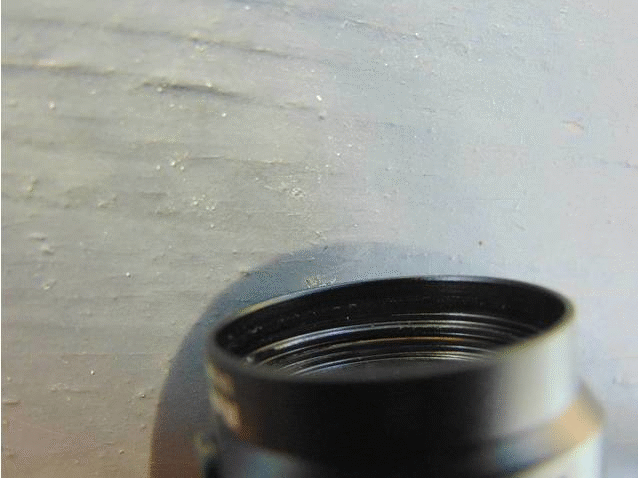 All the knurling is well made and grippy.
The tailcap is flat , so it tail stands well and there is a lanyard eyelet that will not interfere with the tail standing , if you wish to add a lanyard.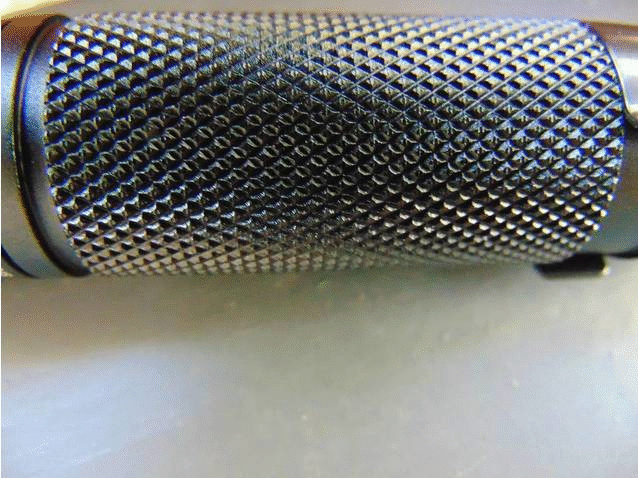 The branding or etching is well done and the switch and USB ports are laid into the light nicely.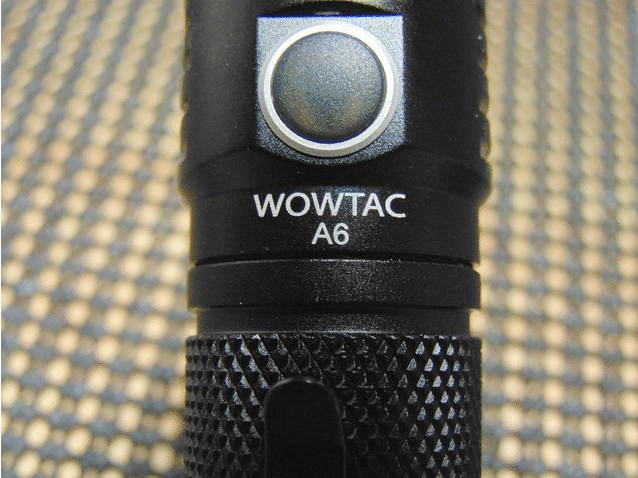 The switch also has a power / Low Voltage indicator , with Blue showing power on (except moon mode) and Red showing when the voltage is low. This same indicator also shows Red when charging from USB and then Blue when the cell is fully charged. The cell can be taken out of the light and charged externally also , if you prefer NOT to charge the cell inside the light.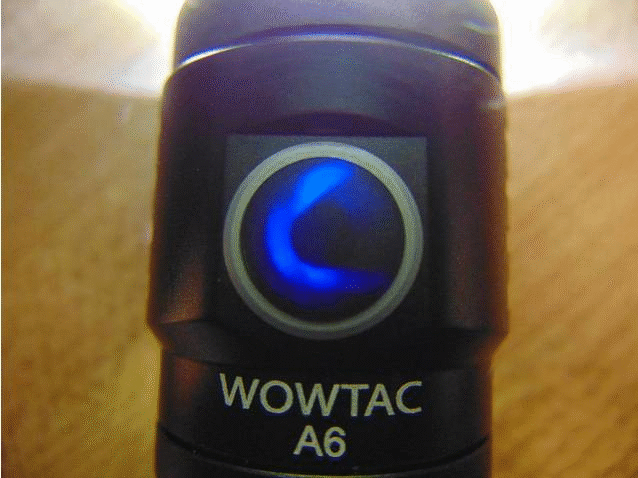 The UI is a very simple one…….Press and hold (about 1 1/2 second) for Moon mode….a quick click to turn light on ….. press and hold to cycle Low/Medium/High….. A quick double click for the Turbo Mode (from any mode including off) and 3 quick clicks gets you to the hidden strobe (from any mode including off). Also there is mode memory for the Low / Medium and High Modes. Simply turn the light off in any of those 3 modes and when you turn it back on it will remember the last used mode.
Overall a very well built little light and as mentioned it is very compact and can be charged from a computer , wall wart , power bank , in the car , or a regular external charger can be used if you would rather remove the cell and do that. It gets a thumbs up in my book even if the Turbo lumens on my sample are a little lower than listed.
***Note***…. *Wowtac requested that I do the drop testing and water testing on this light (as they have with the last few) which surprises me really , because most companies do not ask that of a reviewer. Also I emailed them telling them that the A6 was not making the 1460 lumens that is listed for this light , but in fact only making 1251 lumens at start from my sample. They have referred the problem over to the tech department for further analysis , but I was informed the lights being tested at the factory are in fact making at , or close to the listed specs. They told me to carry on with my review because it is my actual test results and an honest review………….so Kudos to them for being open and honest about
ALL
the products and
NOT
just the ones that get good reviews or praise.*
*Here are my charts from the Lumens , tail amperage and run time test that I did……….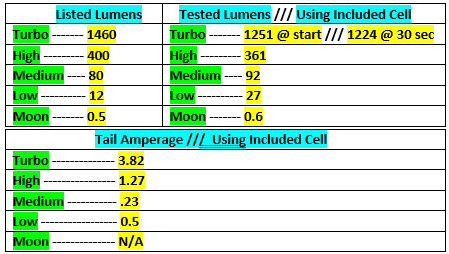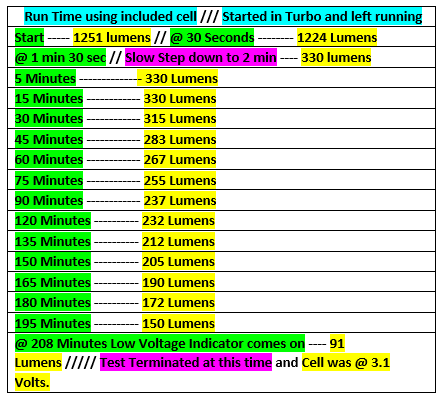 The Beamshots……..
3 feet / white garage door / Low Mode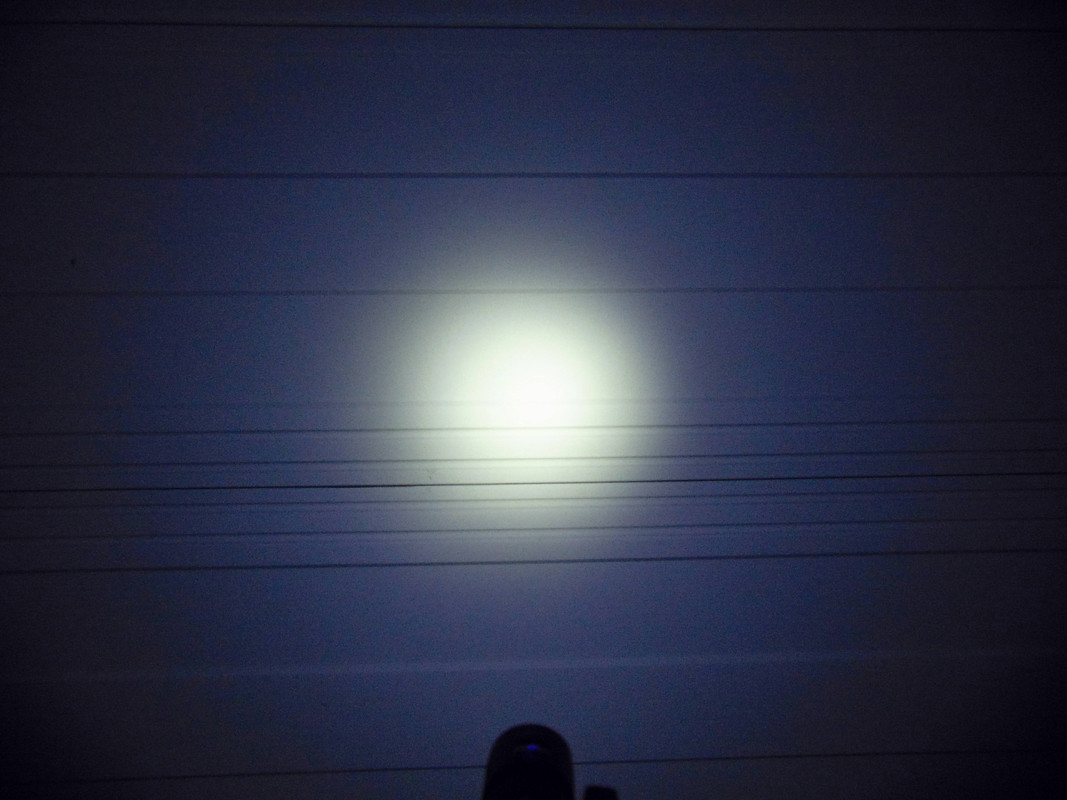 10 yards … L / M / H / Turbo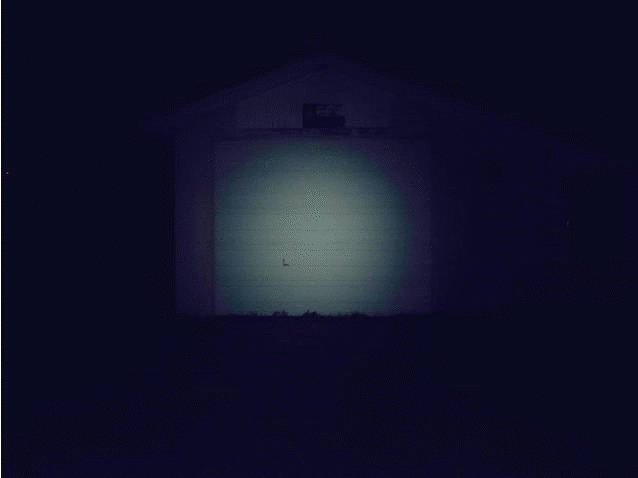 Gate 50 yards …. High / Turbo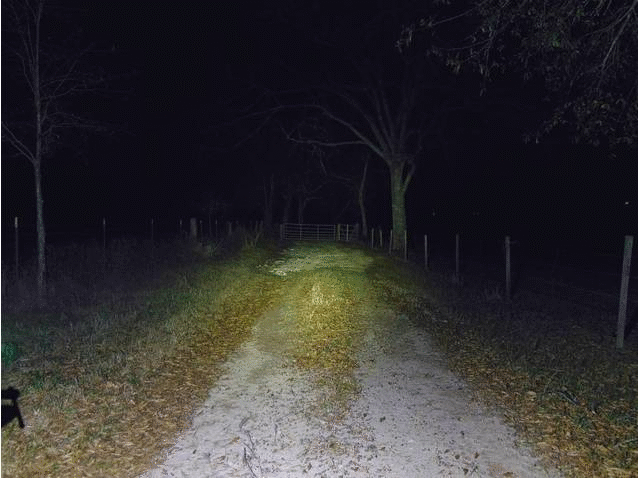 Gate 75 yards …. High / Turbo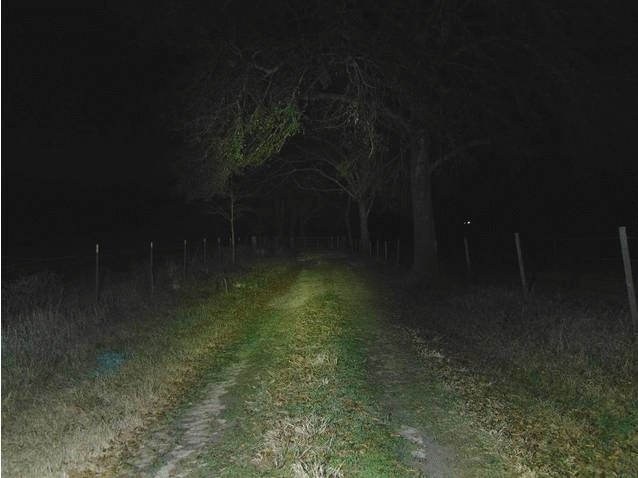 Garage 70 yards … High / Turbo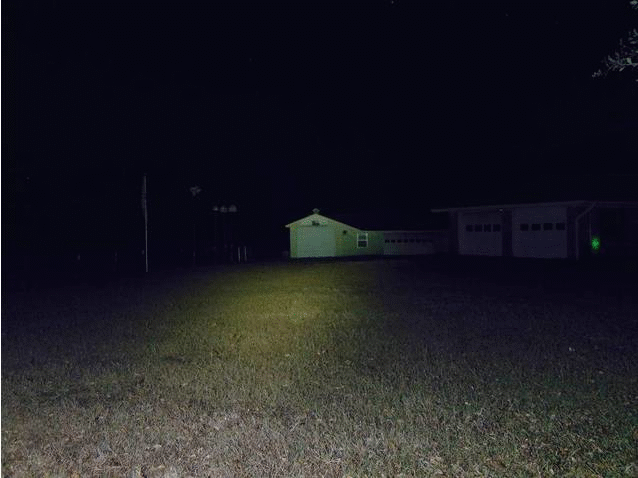 If you do not want to see the whole video , but maybe interested in seeing the WATER TESTING (starts at 13:32 of video timeline) , DROP TESTING (starts at 15:53 in video timeline) , or the live outdoor footage comparing the BLF A6 and the Olight M2T warrior with the Wowtac A6……that footage starts at 17:34 of the timeline.
Video followed by listed specs………..

FEATURES
LED:SST40 with a lifespan of 20 years of run time*
1Max Output:1460 LumenPowered By:1*18650 Battery (Included)Weight:96g (excluding battery).
Dimension:98.5mm*26.5mm*23.5mm
•Runs on: Wowtac li-ion 18650 battery (3.7V/2600mAh).
•Super Bright: Max 1460 lumens LED flashlight producing an intense beam of bright light up to 571 feet.
•Quality & Reliable: Premium AL T6061-T6 made, waterproof to IPX-8 for all weather condition, 1.5 meters impact resistance tested.
•Versatile Modes: Intelligent Low / Medium / High / Turbo / Strobe / Firefly light modes, makes A6 the perfect handhold tactical flashlight for hunting, camping, fishing, indoor and outdoor activities.
•Favorable Design: 1-inch diameter design for any tactical devices, pocket-size shape suitable for tool use and handheld, anti-slip knurling on flashlight body, memory function and low voltage indication available.
•Dimension: 98.5mm*26.5mm*23.5mm.
•30 days worry-free money back; 2 years limited warranty for flashlight; 1 year limited warranty for battery.
ACCESSORIES
•Spare O-rings x 2
•Customized USB rechargeable 2600mAh 18650 battery x 1
•USB charge Cable x 1
•Instruction Manual x 1
•Pocket
—
Click any link to see MY REVIEWS:
Maxtoch M24 Sniper / Maxtoch 2X Shooter (2016 factory dedomed) , 2X - XHP 70.2 / Maxtoch Xsword / M1 Archer *** ### ThruNite // Archer 2A V3 / Ti4T / TN4A HI / TH10 / TH20 / C2 Mini / TC12 V2 / T01 /  , neutron 2C V3 , TC20 / Catapult V6 / TC15 / TC15 CE *** ###  Olight // H2R Nova , S10R III / S30R III / H1 Nova / H1 R Nova / X7 Marauder , PL Mini ,  M2R warrior //// Orca T11 / Nitecore EC20 / BLF A6 / Custom Convoy C8 / Lixada Triple 3800LM / Lixada 1000LM / LuxStone X30 / Manker E02 / Manker E14 II /  ### Thorfire /// PF03 , PF04 , Upgraded PF04 , C8 , S-50 ,  VG-10 , VG25 , C8s , BL30 , TK4A  , S1 , VG15 S  , TK 18 //// ##WowTac// A4 , A1 (original) , A2 headlamp , A3 //// Acebeam L16 /// Massdrop (Lumintop) Brass EDC