Skilhunt H03 was (and for many still remains) peoples-choice headlamp. In my opinion, this is the only model (besides Lumintop Tool \ Worm and Nitecore Tube), from a well-known brand that has been produced for several years as people keep on buying it.
Of course, sooner or later Skilhunt had to release a new model. And since the Skilhunt H03 turned out to be exceptionally successful, I was curious what engineers can do in this situation. Yes, they tried - a models with charging, a TIR-curtain, with color LEDs. But judging by the comments, all this was far from the popularity of the basic, classic model.
And now, perhaps after about 3 years after the release,  manufacturer released the Skilhunt H04 and offered it for review. I suspected that this would be so, so long before the announcement I bought and stored H03 solely to compare them in review.
Skilhunt H04 MODEL PAGE| MANUAL
you can buy it at:
ALIEXPRESS
BANGGOOD
AMAZON
 Specification:
Light Source: Cree XM-L2
Max Output: ANSI 1000 Lumens / 1200 LED Lumens
Range of a light beam: 123m.
Reflector: TIR lens, 30 °
Working voltage: 2.7V-8.4V
Power supply: 18650 battery or CR123A batteries 2pcs.
Charge level indication: When the battery is discharged, the button flashes
Water Resistance: IPX-8
Case Material: Aviation Aluminum
Enclosure: Anodized Premium Type III with anti-abrasion coating
Dimensions: 100mm (length) x 24mm (head) x 22mm (body)
Weight: 46g.
What's in the box: Flashlight, head mount, steel clip, spare O-rings, wrist strap, user manual
Main characteristics:
XM-L2 LED, maximum 1200 lumens, high performance, high efficiency and energy saving
reflector UDOC
Side switch button to transmit mode, convenient interface for setting output
Two group modes plus editable brightness, more use cases to choose
Wide input range for wider battery selection
Highly efficient driver circuitry, without visible PWM flicker in any mode
automatic memory function
Remember the last parameter used, and it can be pre-configured for a specific output mode for instant access.
Intelligent temperature control technology for a stable and safe flashlight
Reverse polarity protection to protect against improper battery installation
When turning off, hold down the button to activate the lock function, avoid turning on the light unexpectedly
During the lock, the button flashes, which makes it easier to find.
Magnet in the tail.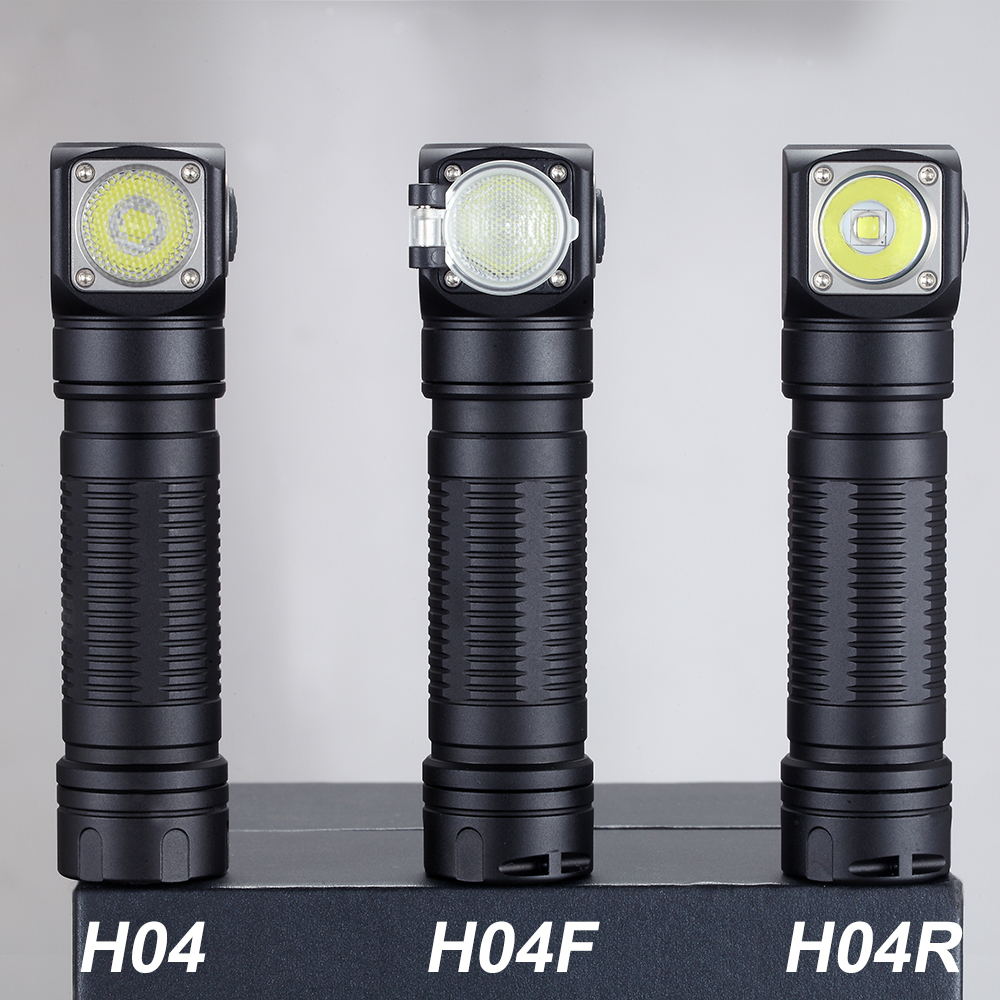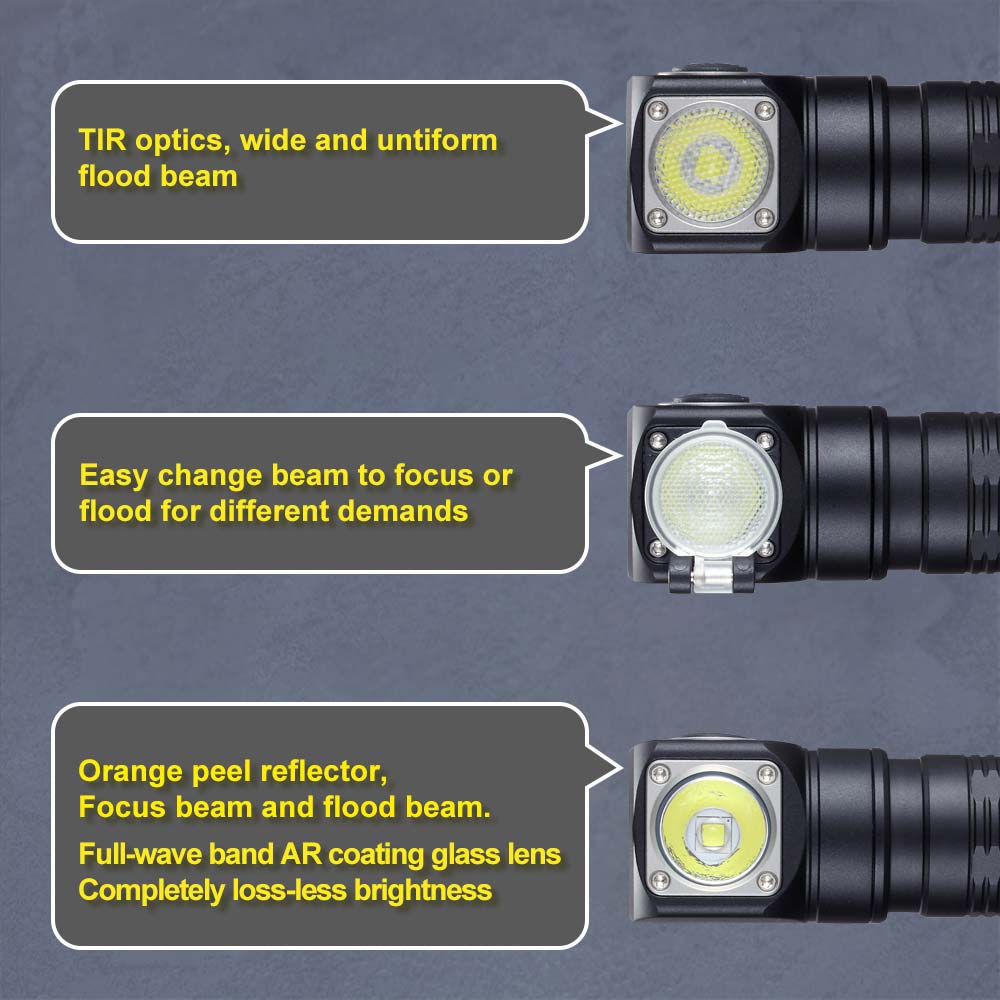 Skilhunt H03 vs Skilhunt H04 review
Package and appearance
The yellow cardboard box was replaced by a gray one. It looks quite average, it is immediately clear that this is not some kind of luxury model. But there is not the slightest hint of cheapness either. In general, I prefer yellow one.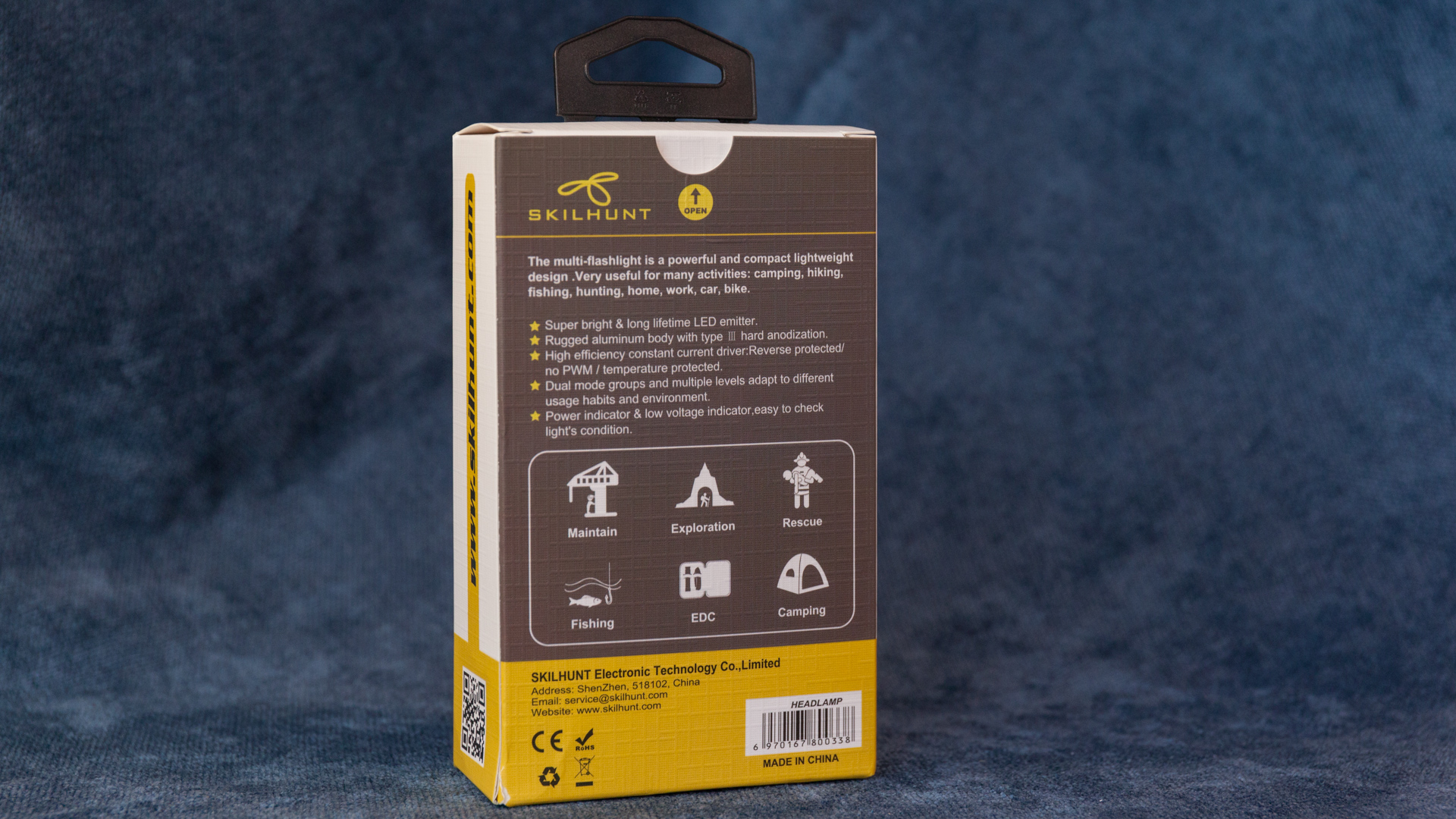 Inside :  a plastic blister with kit that remains unchanged: a H04, a headband, a clip, a rubber plug to replace a magnet, a lanyard, a manual.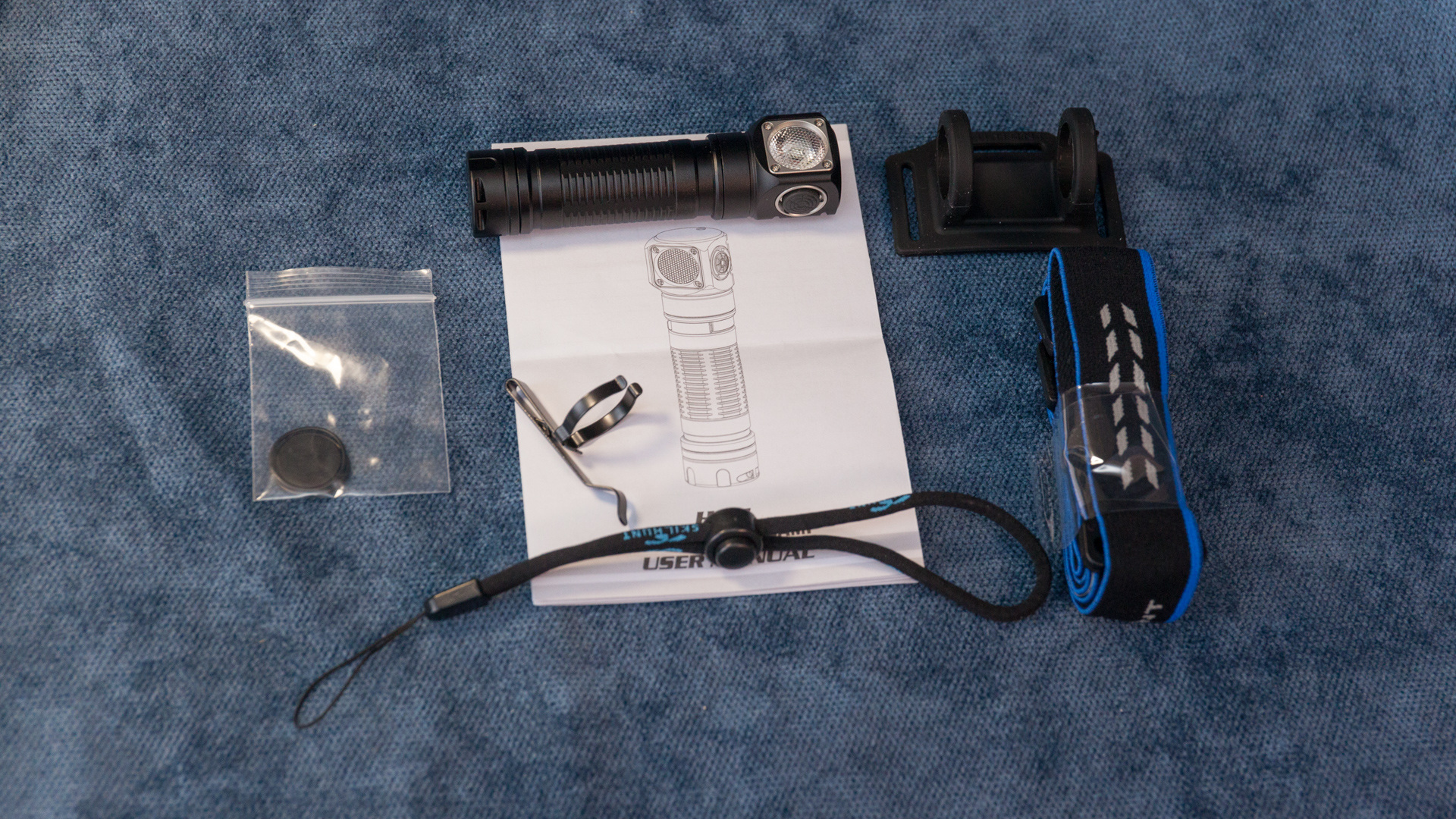 But headstrap was improved.  Light reflective arrows were added (there was only one reflective element on the back) . Soft comfortable fabric itself remained unchanged.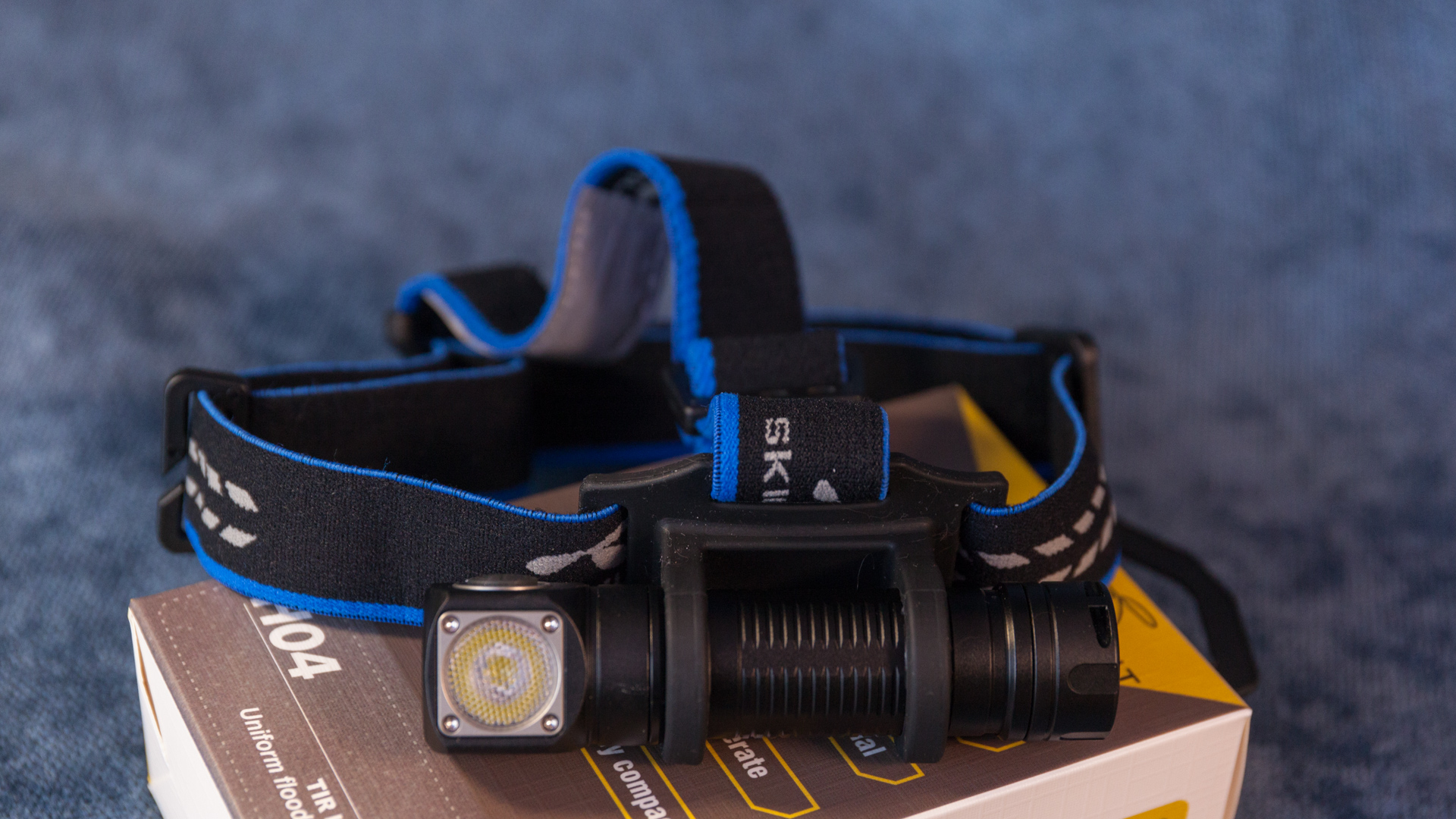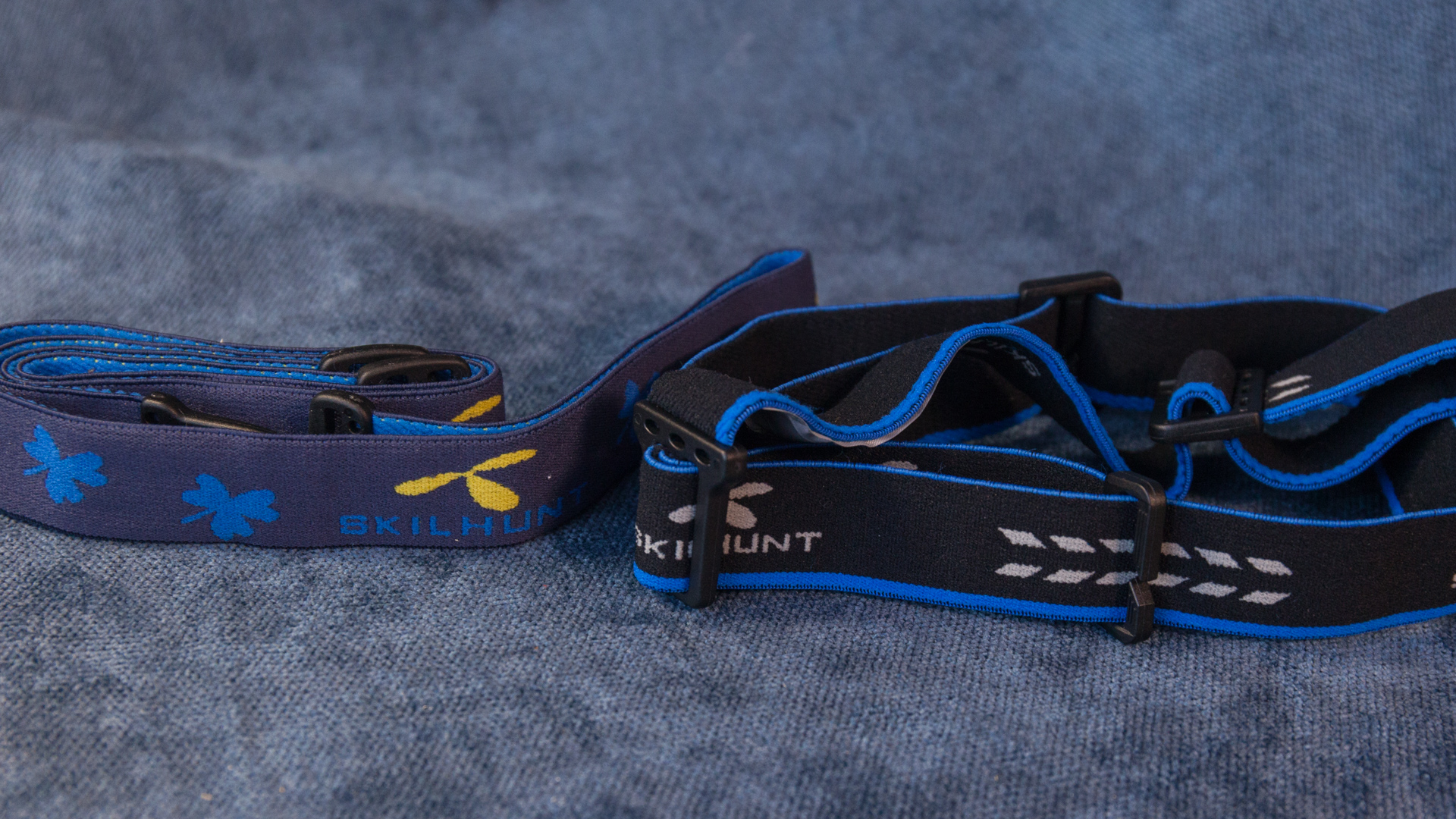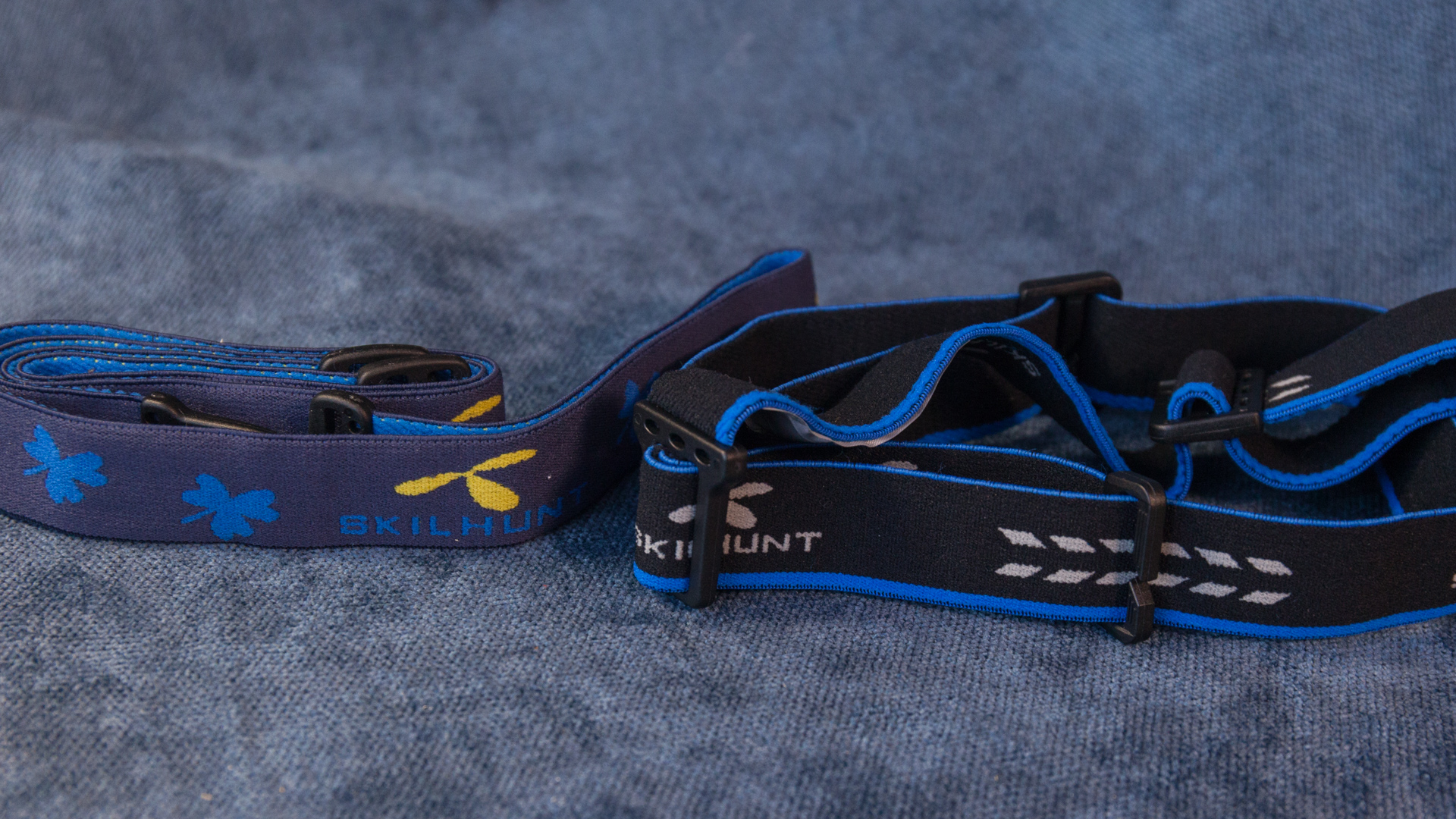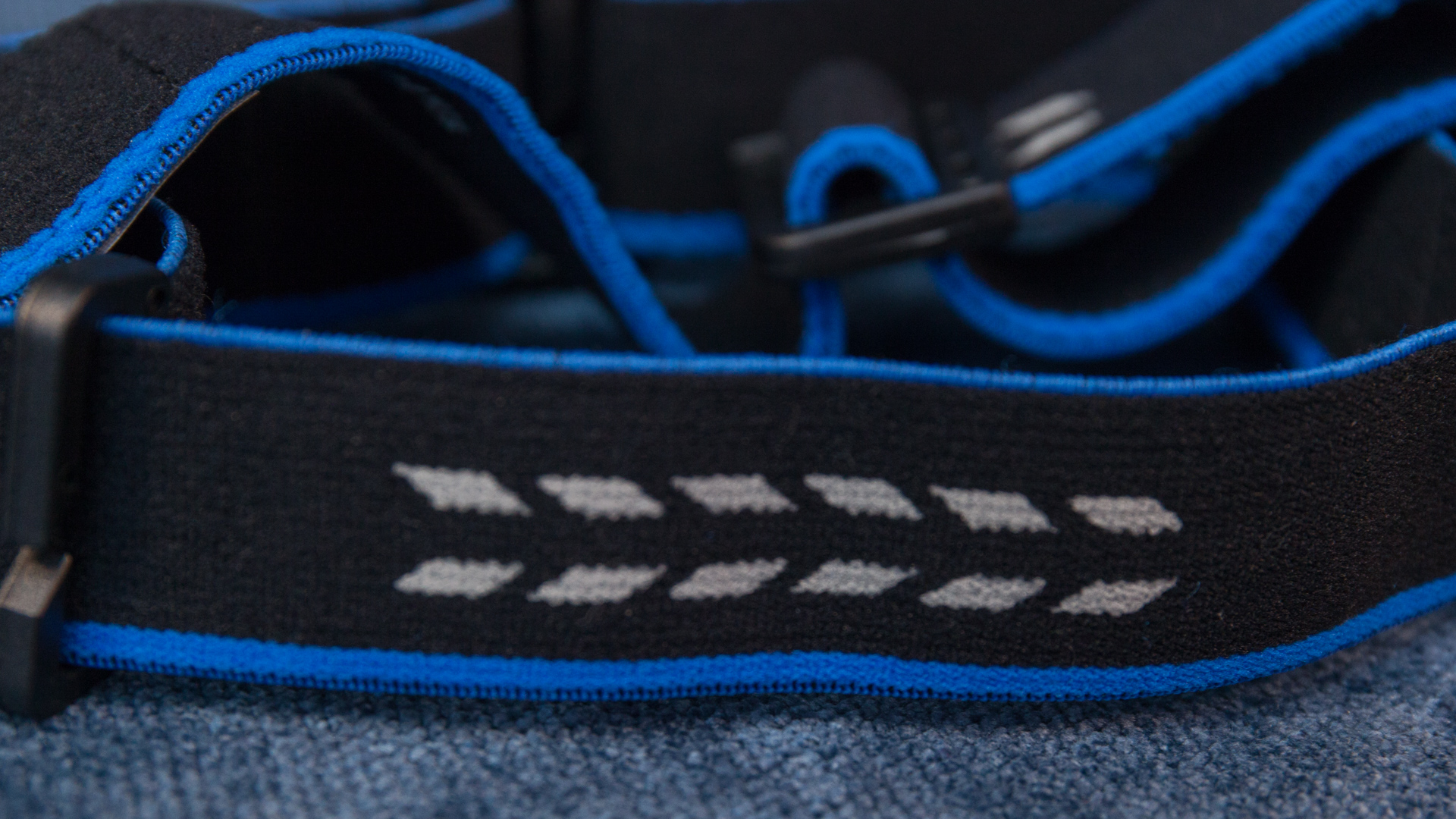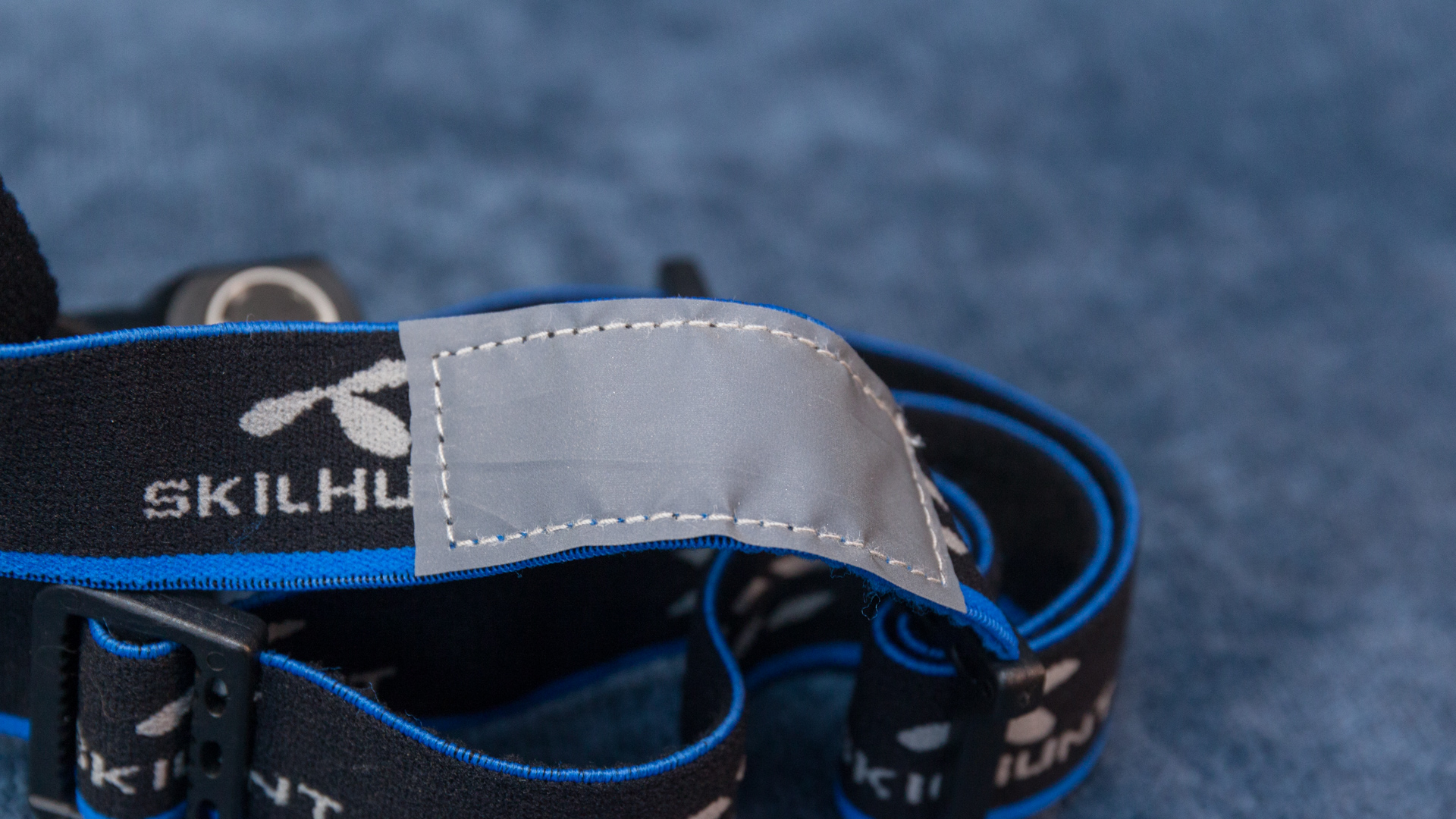 It is clear that it was impossible to release the 4th version with the 3rd appearance. Solution is simple –to change knurling.  It made it possible to definitely update the appearance of the Skilhunt H04 , keeping it in the same size and weight as Skilhunt H03. In general, it seems to me that the knurling of the previous version looks better and is more reliable in grip.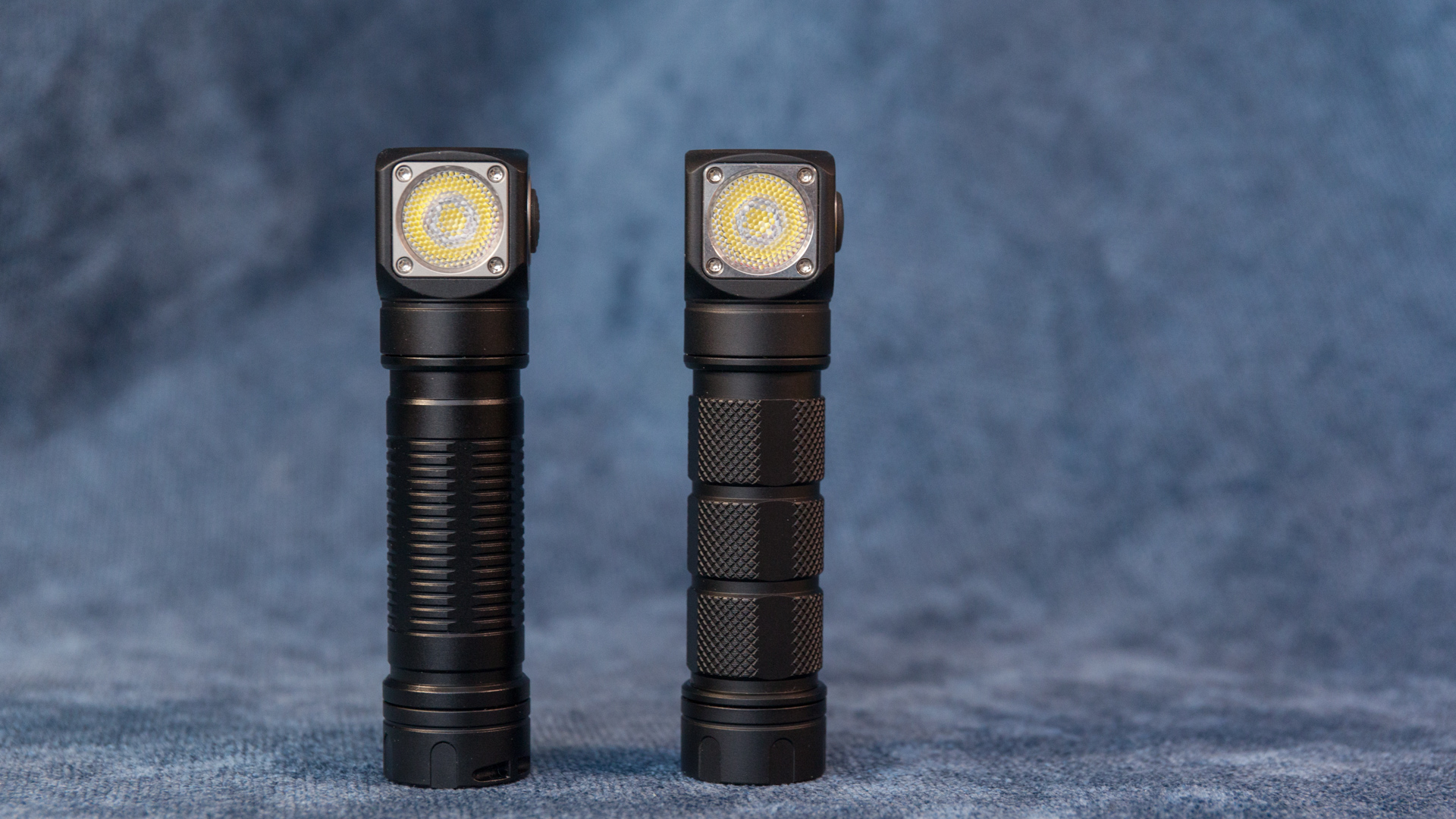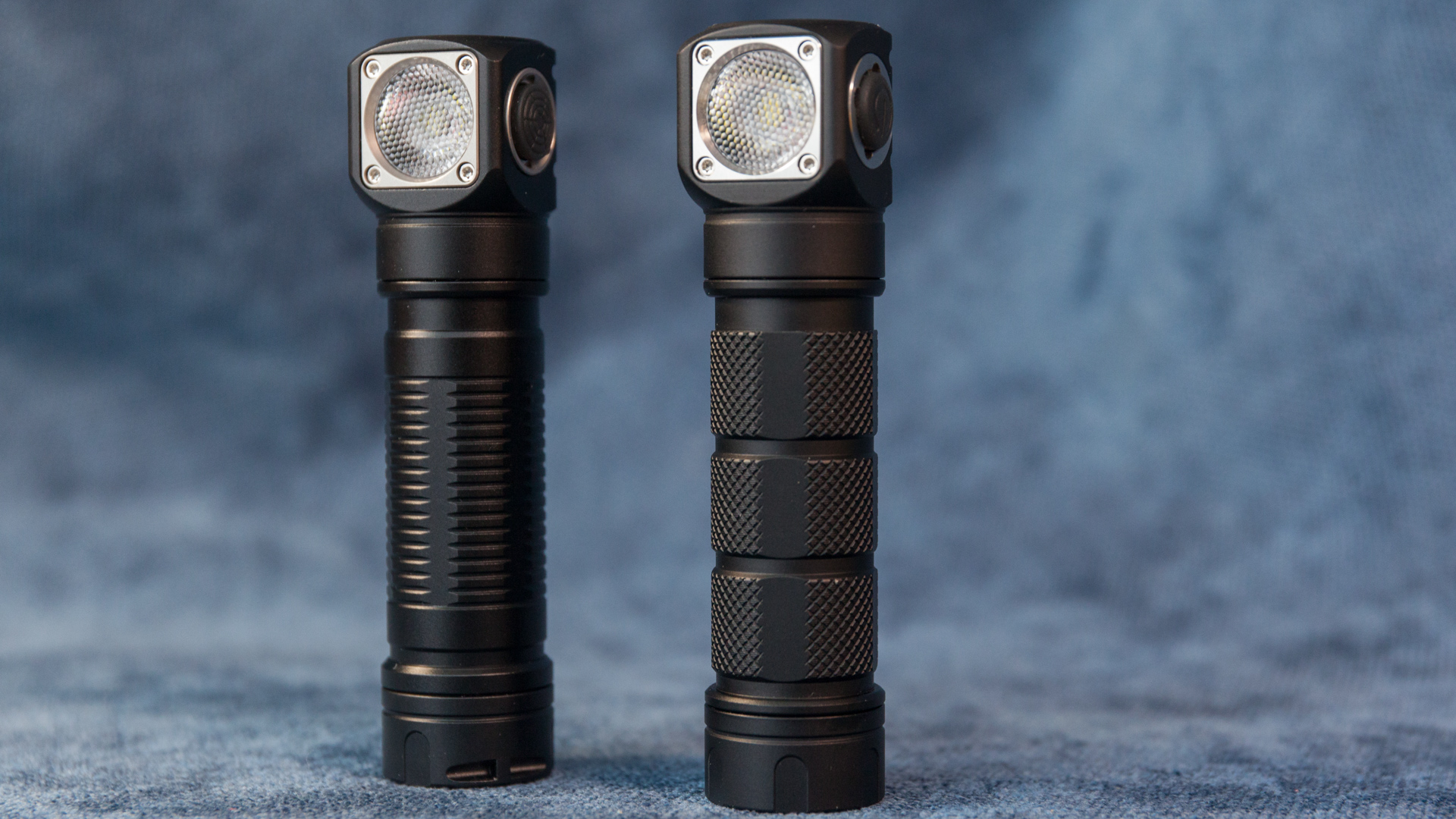 The rest is the same compact L-shaped headlamp.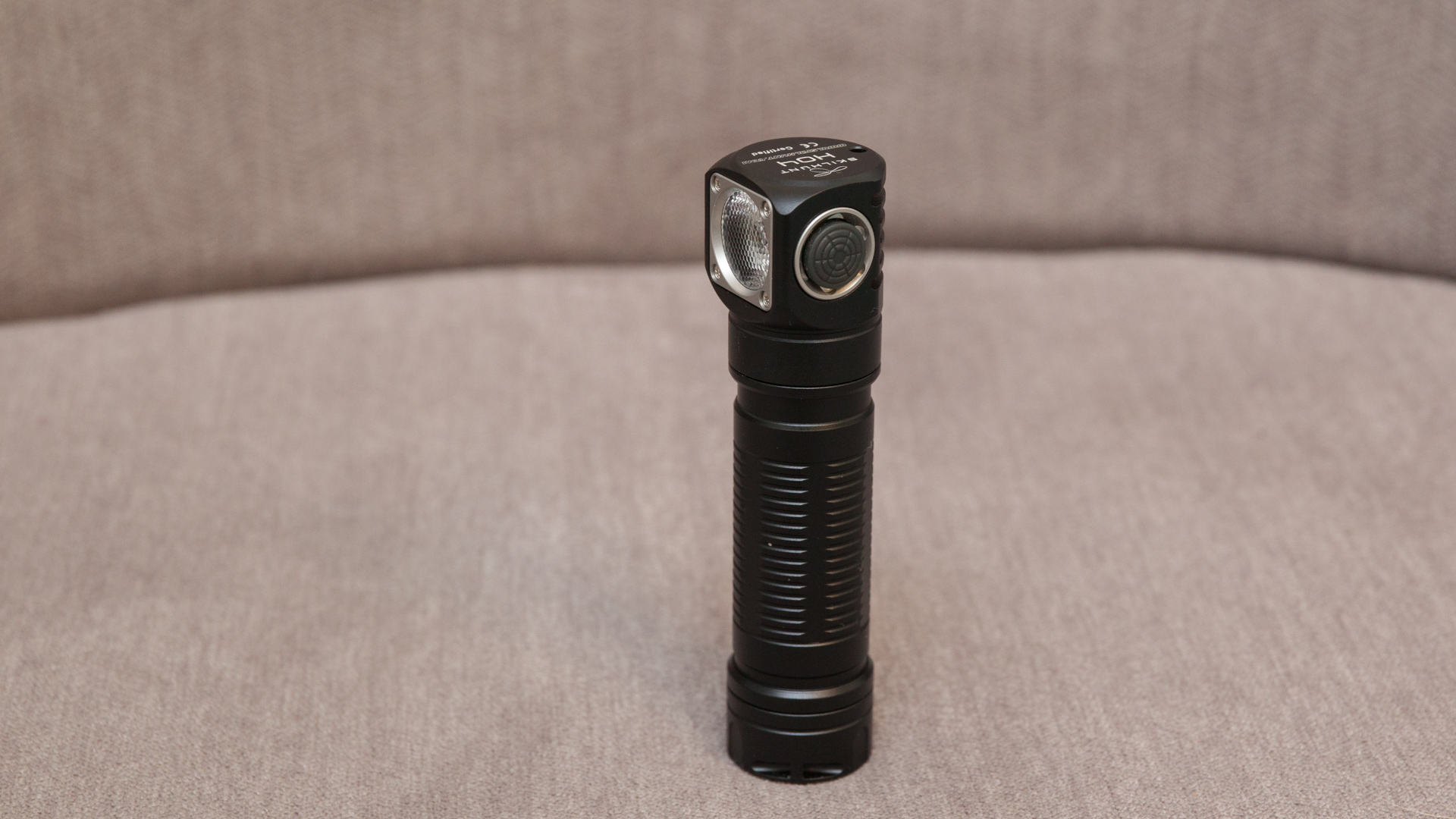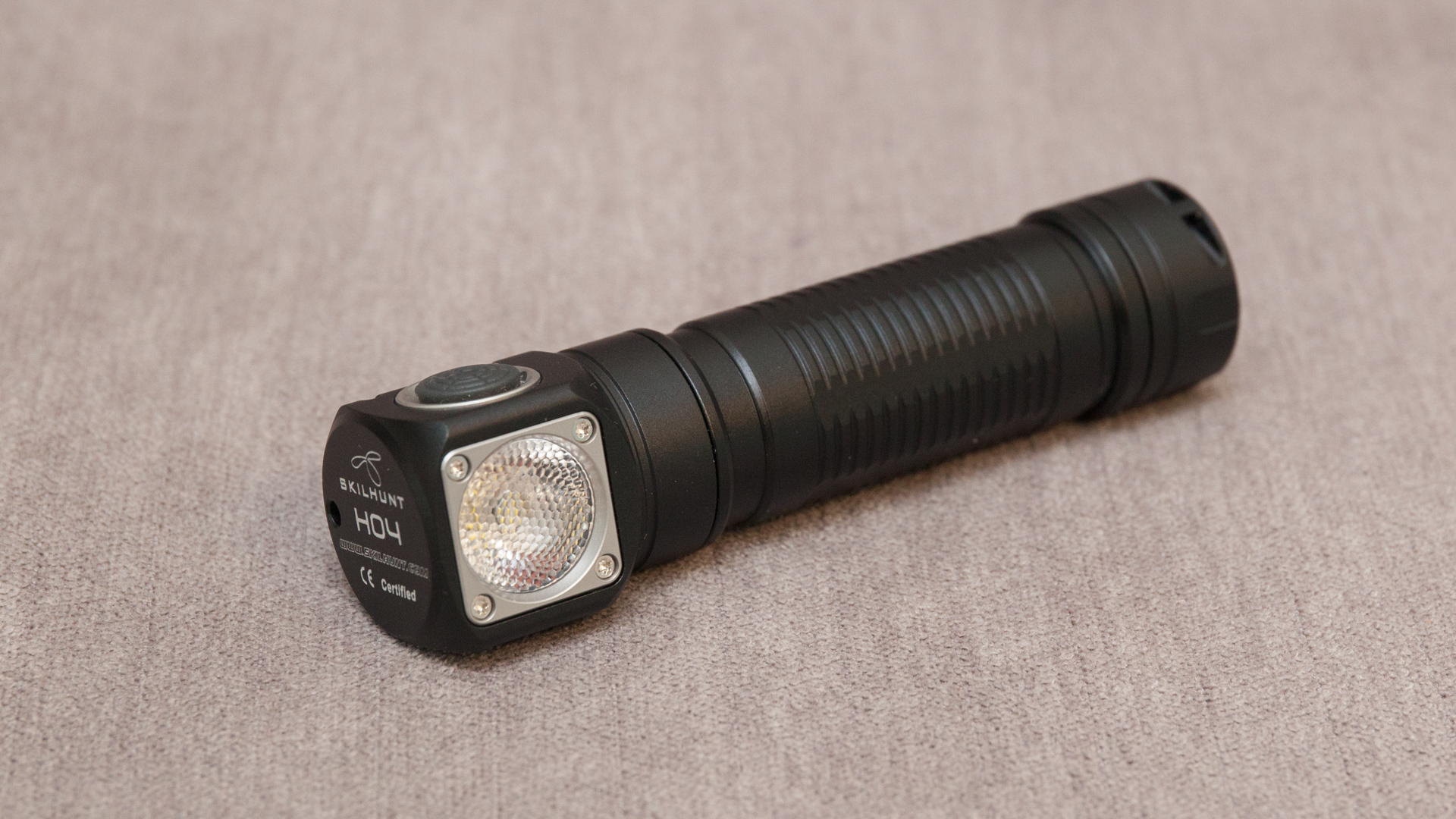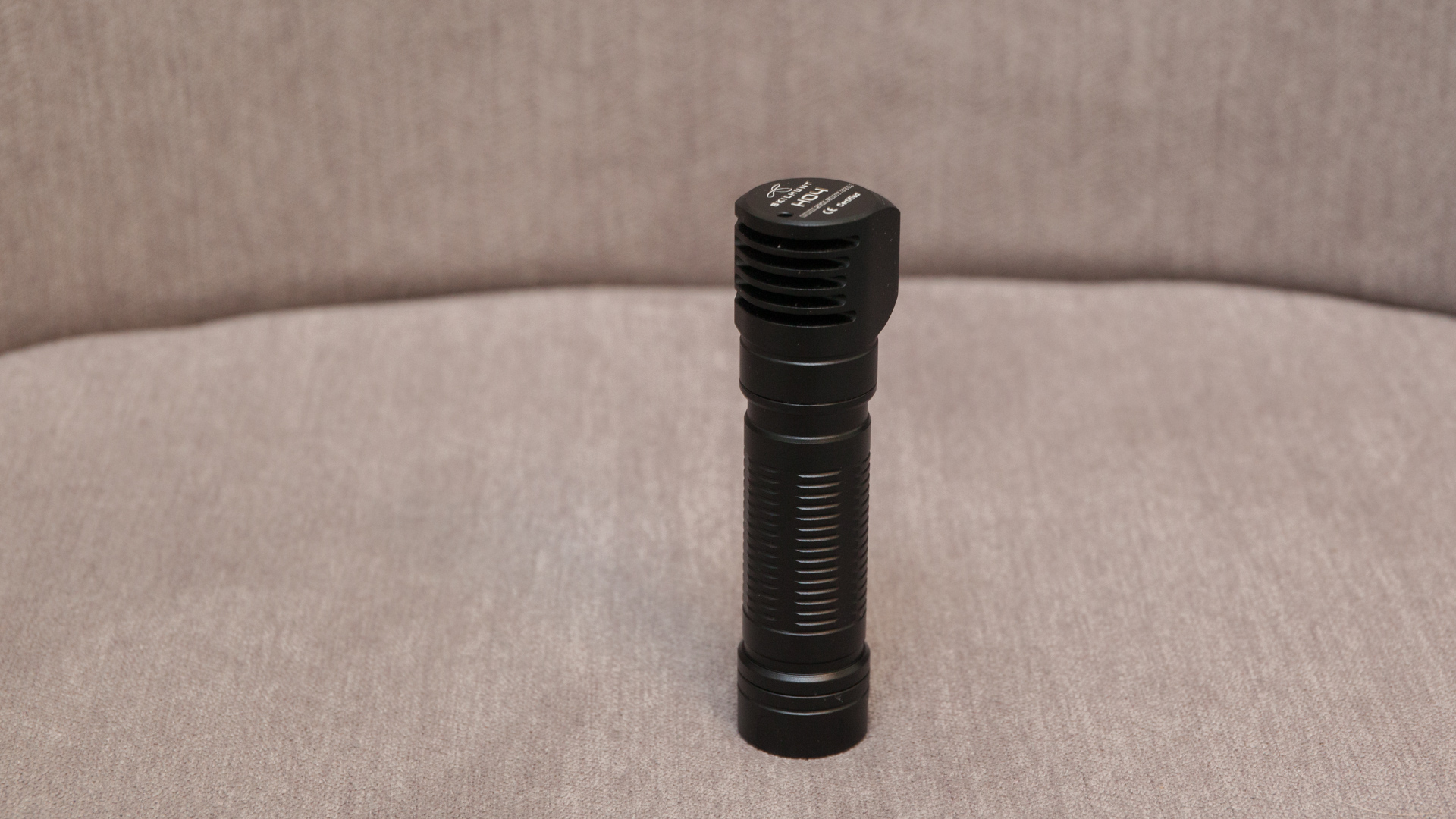 Just to compare sizes - here is one more headlamp bestseller - Sofirn SP40. Here you can see the difference both in the type of optics and in size. SP40 is also far from being large, but I really don't remember a single L-shaped headlamp smaller than Skilhunt H03 \ H04.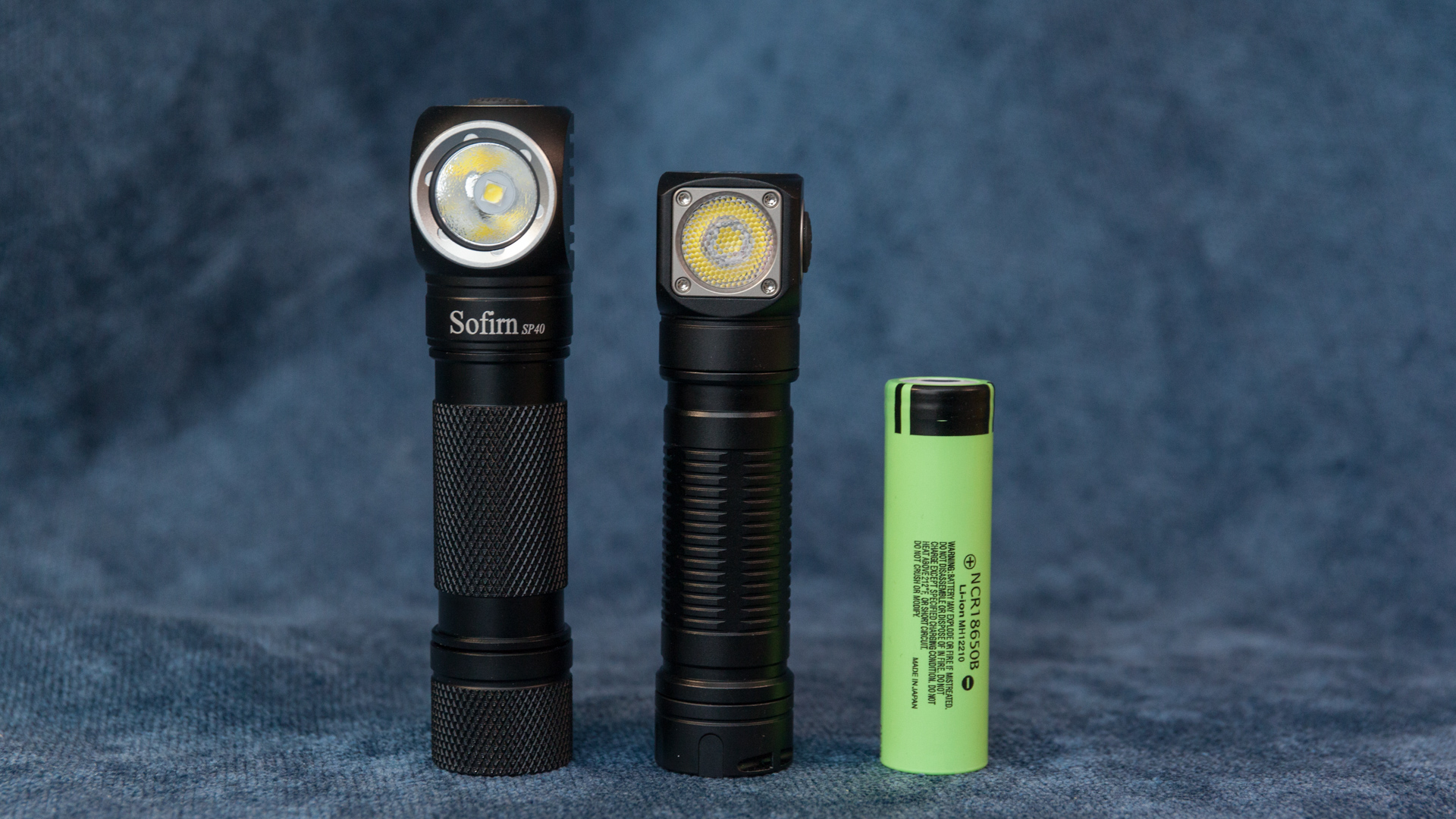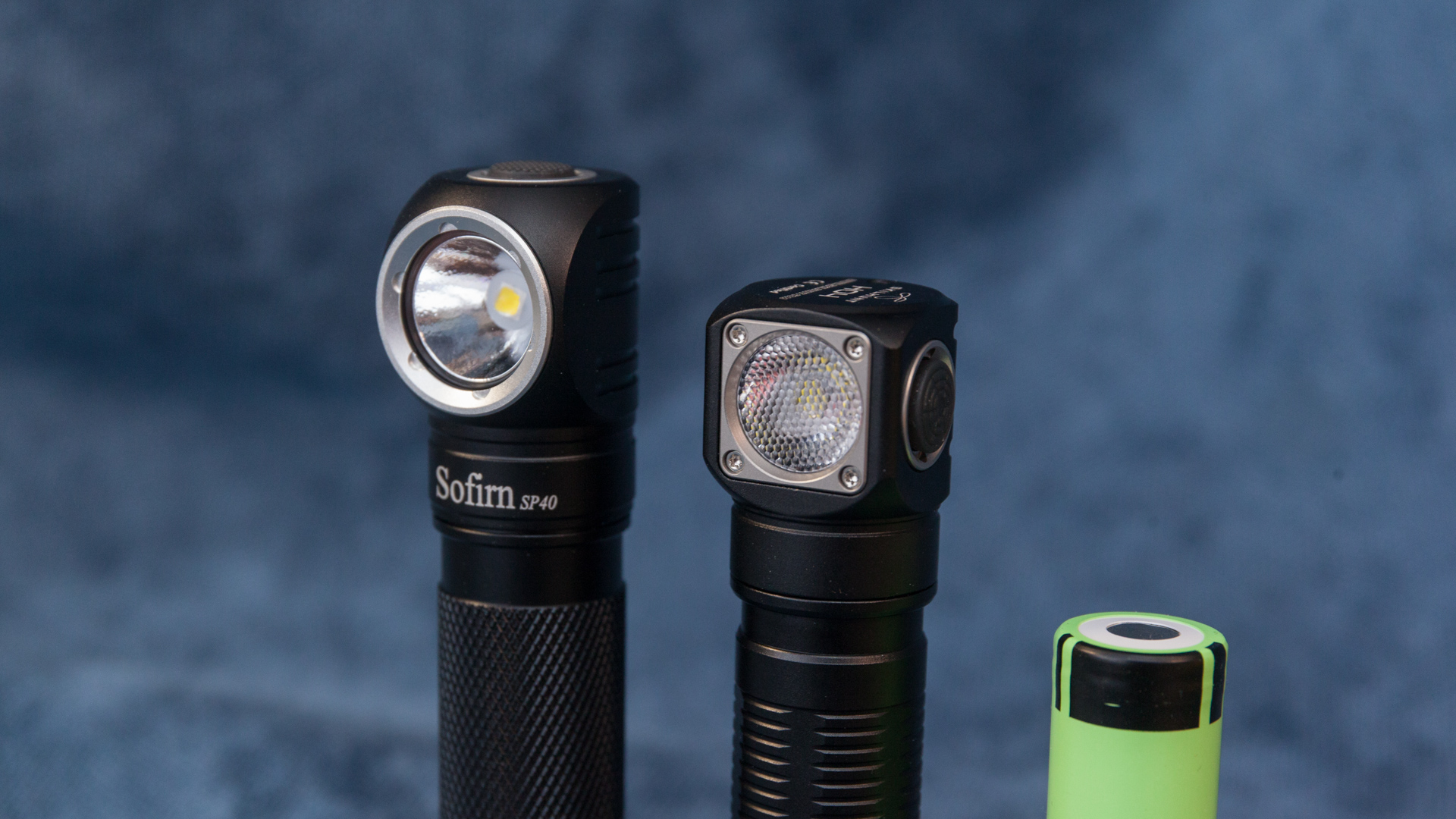 Head remained generally unchanged. The only difference is minor -  model line number and modified button design. Button, by the way, has red backlight indication.
There is version with charging. If nothing has changed there, it should have the same contact pad on the head and 2-3 mm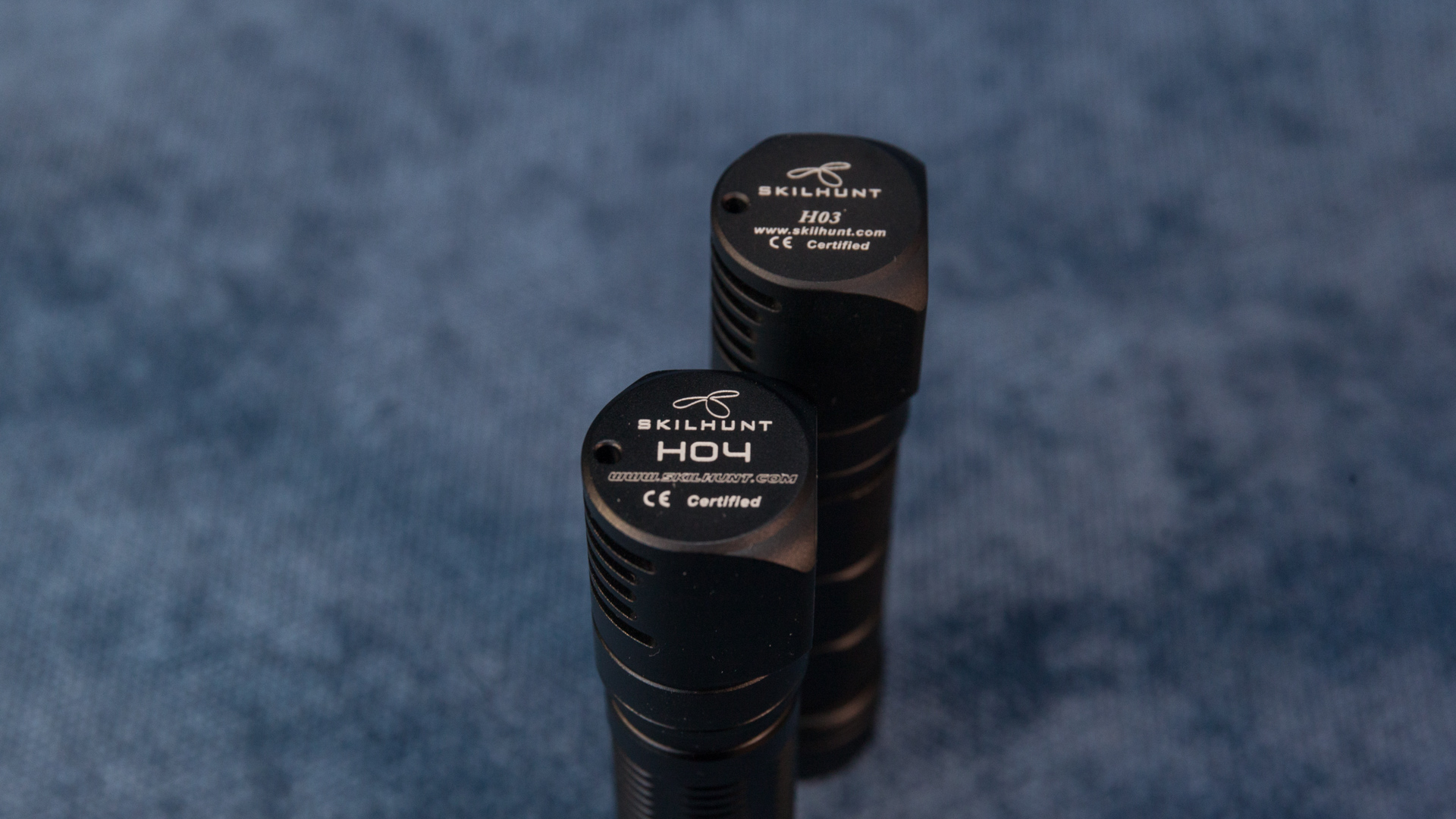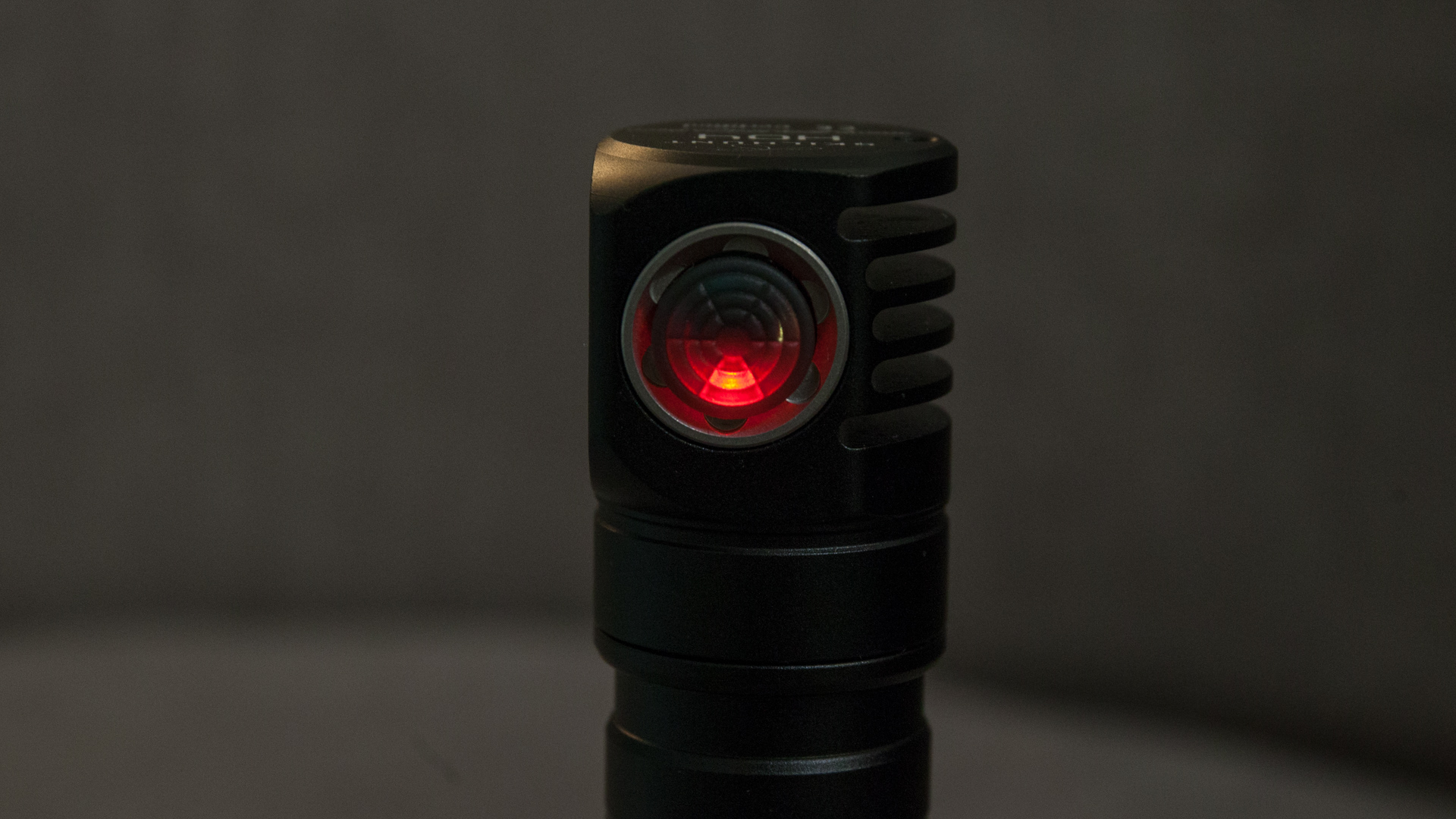 Here, neither the optics nor the LED has changed - everything is exactly the same. Models with a reflector and a TIR-curtain turned out to be much less popular in comparison with the canonical H03 with TIR optics.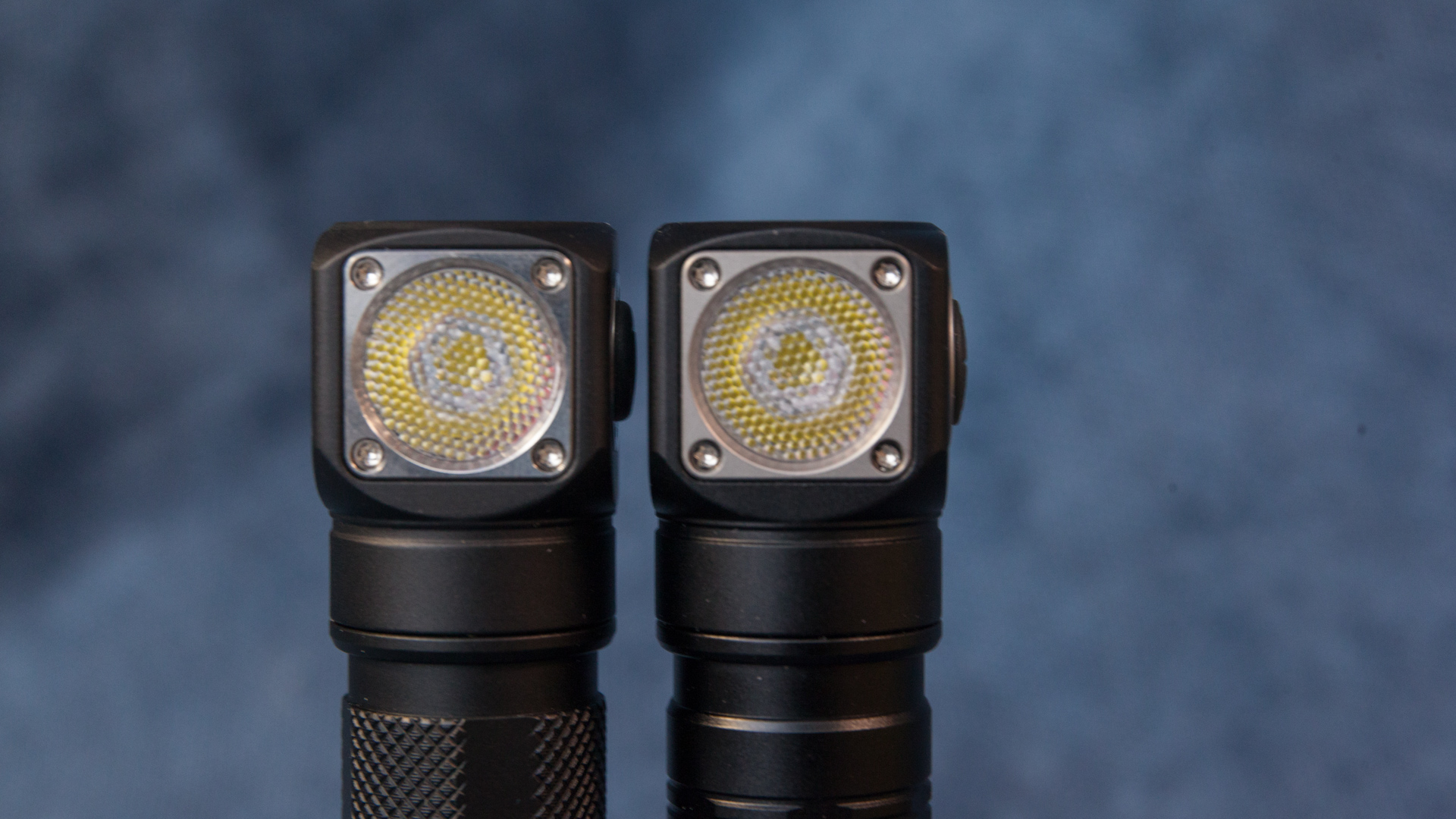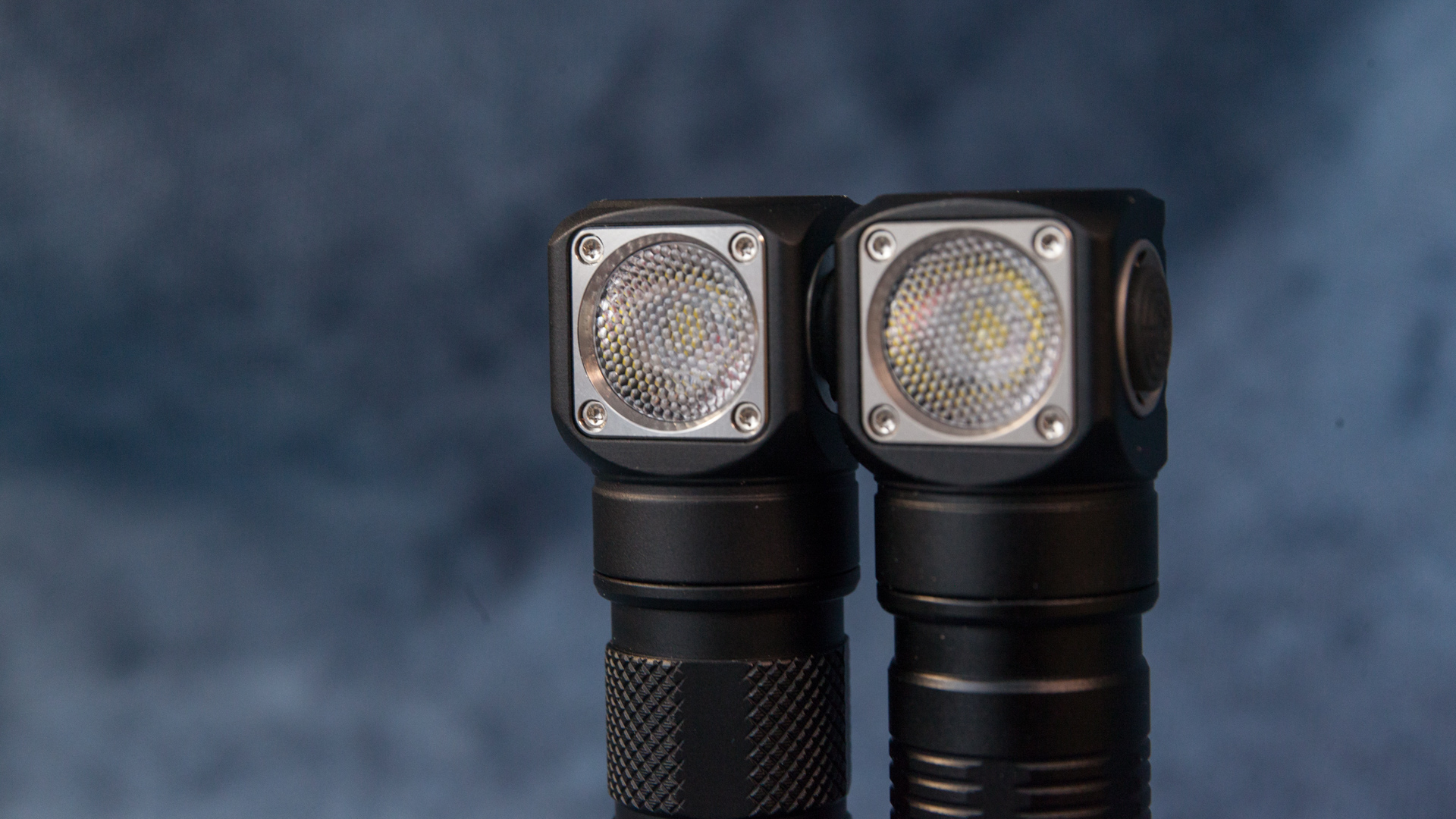 Magnet in the tail can be removed, there is a spare rubber plug in the kit. In general, magnet is normal strength and holds horizontally with no problem. But SP40 has stronger one. Again, nothing prevents you from buying another magnet on Ali and adding it under the spring to the primary one.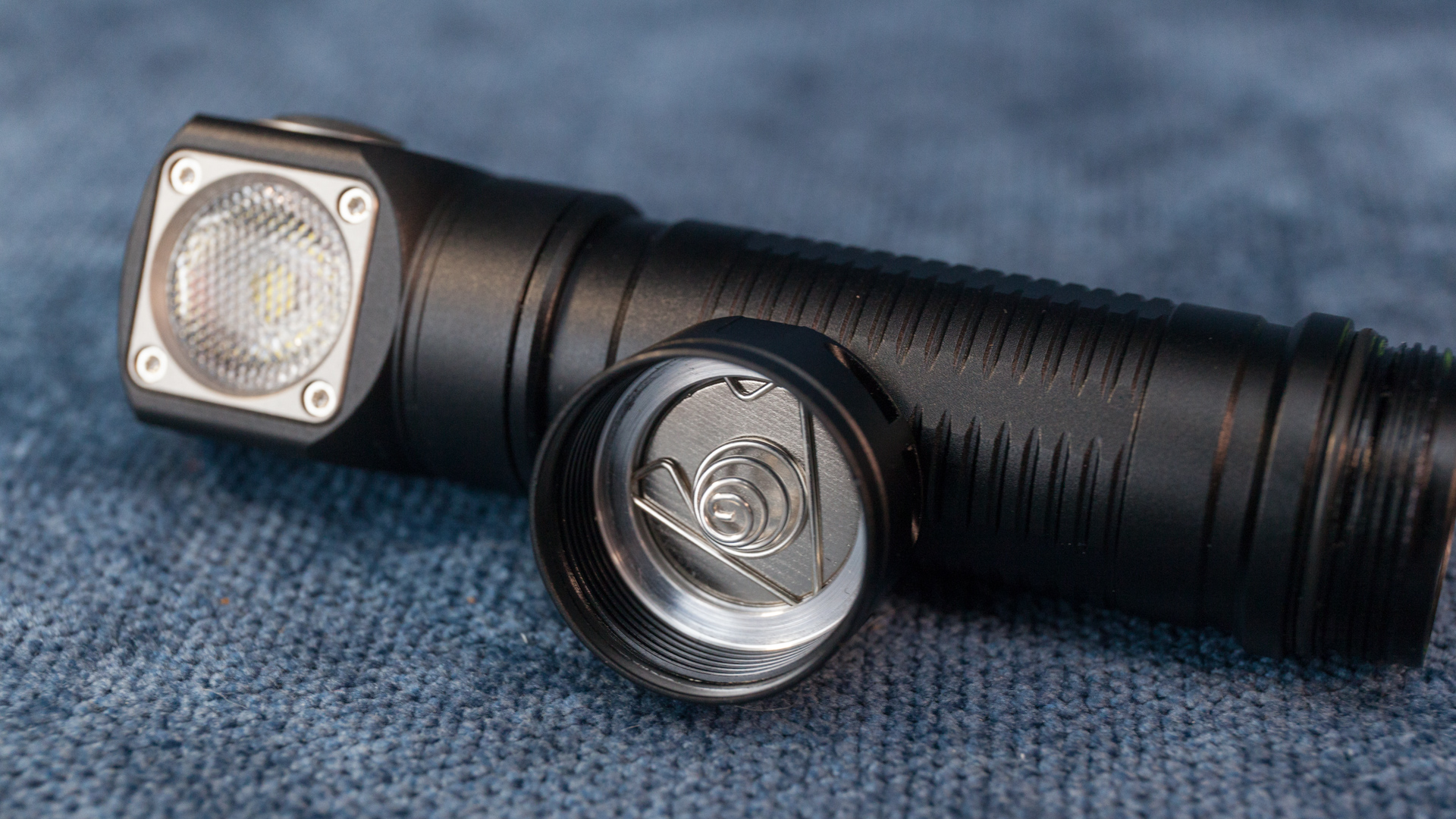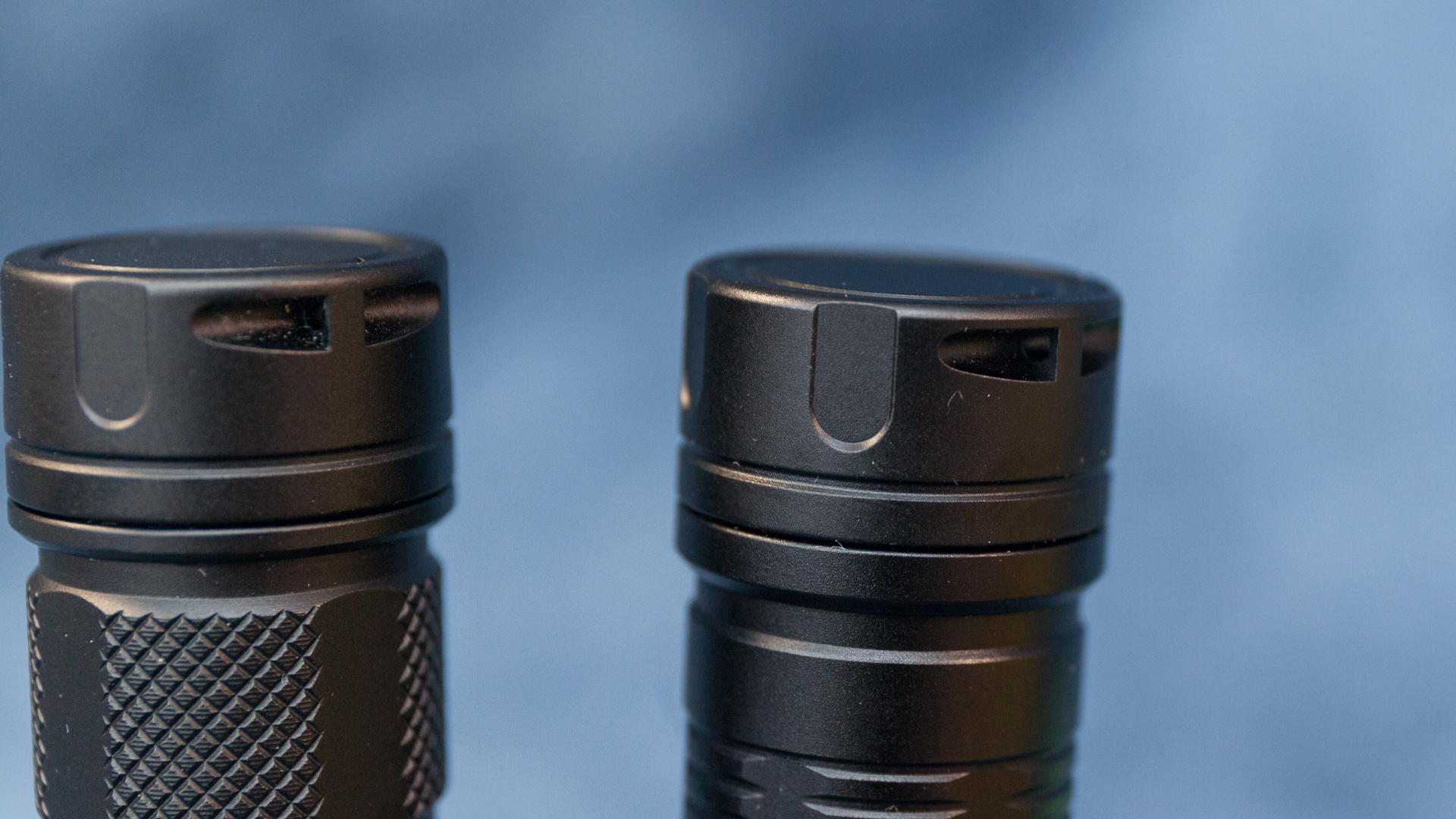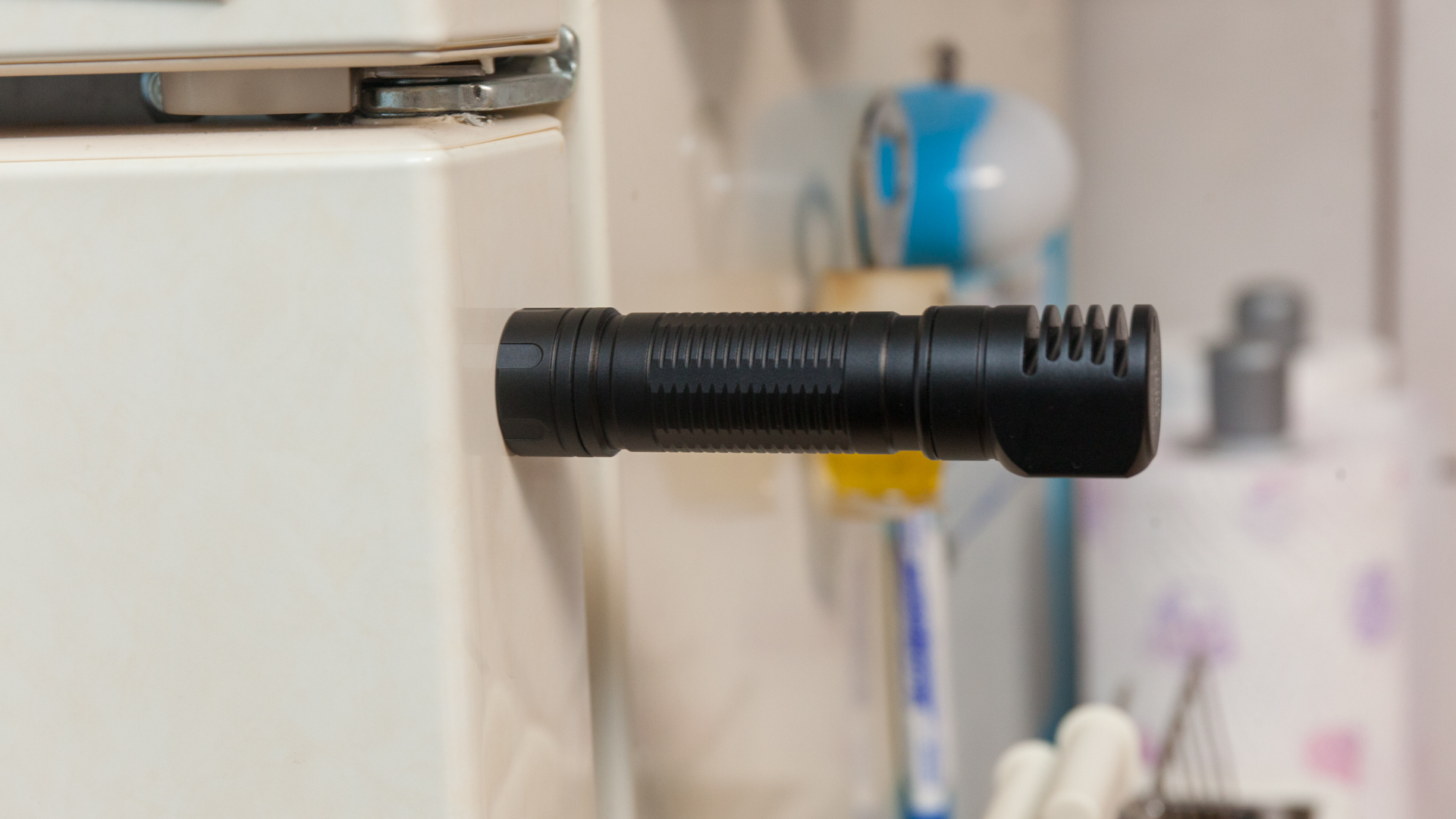 The thread in both models is the same, well lubricated. Head is glued, only tail-cap can be twisted off. There is a hole for the lanyard both in head and in tail.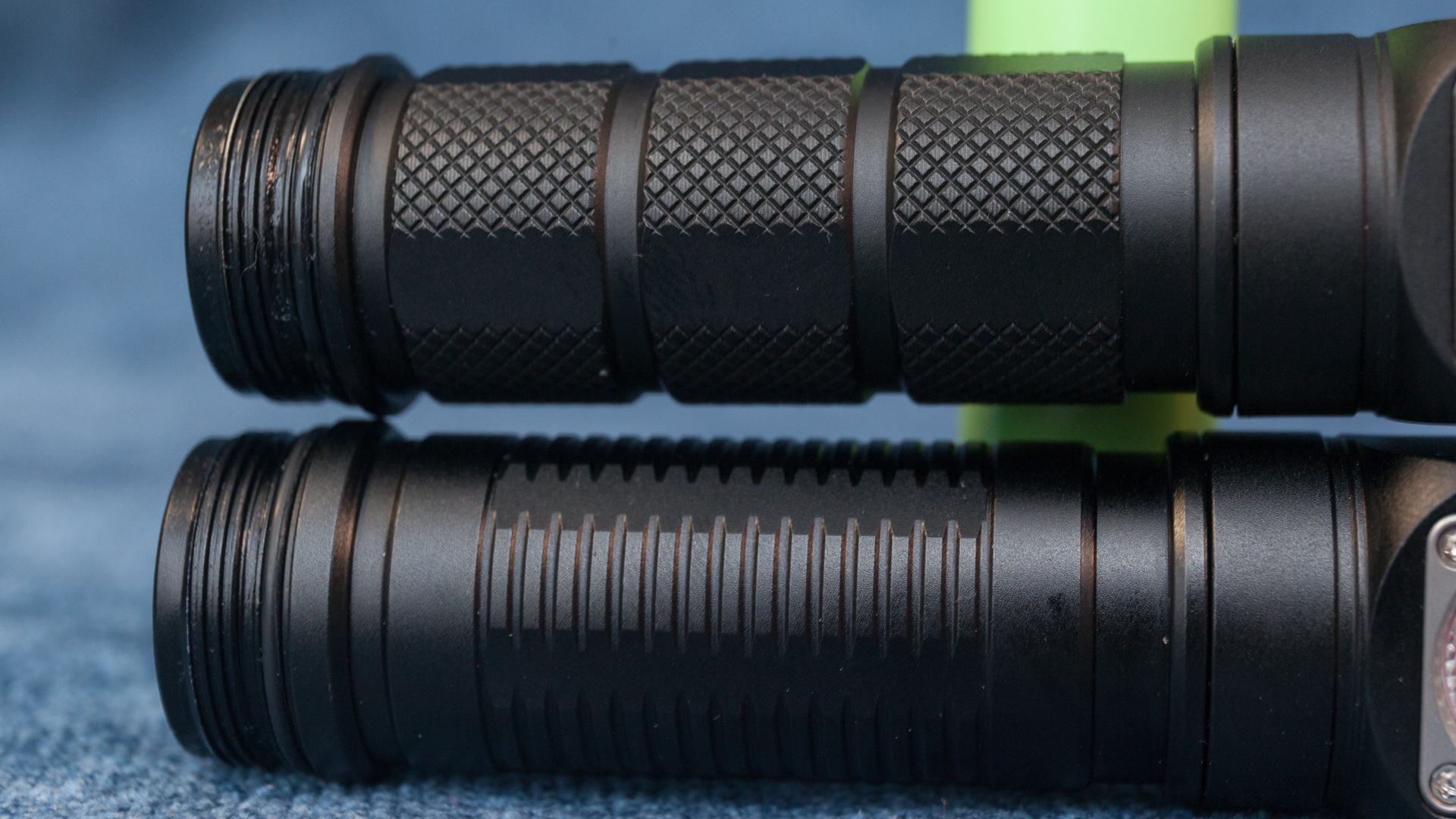 Machinery is neat. The new version has a sticker-tip , showing how to properly insert the battery.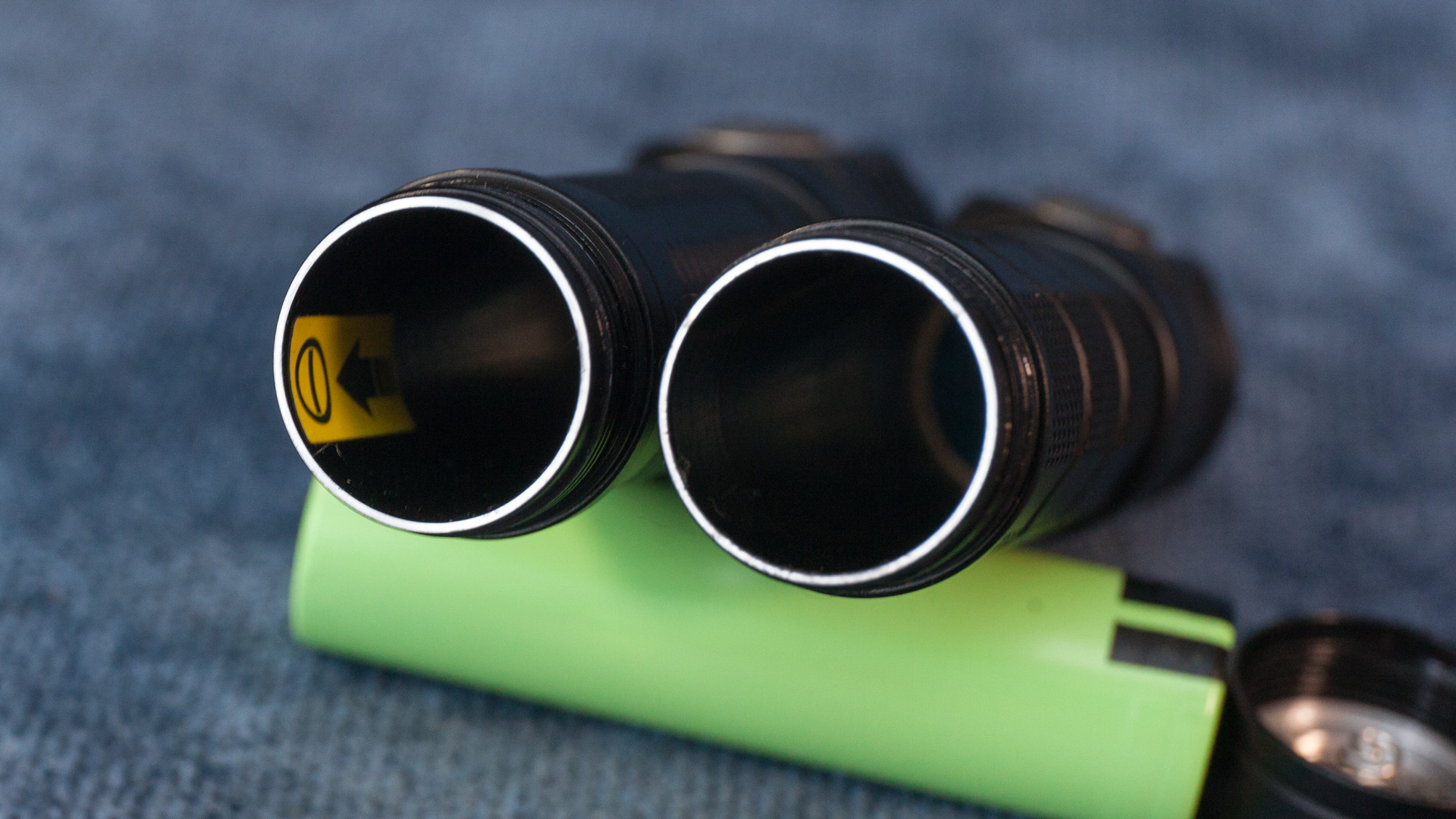 Separately, I note that with such compactness, Skilhunt install contact pad at head, but (thanx!) chose spring and thereby didn't complicate life of those who use flat-top batteries.
Cooling fins are maximum possible for a head of this size. I saw radically smaller ones in larger headlamps.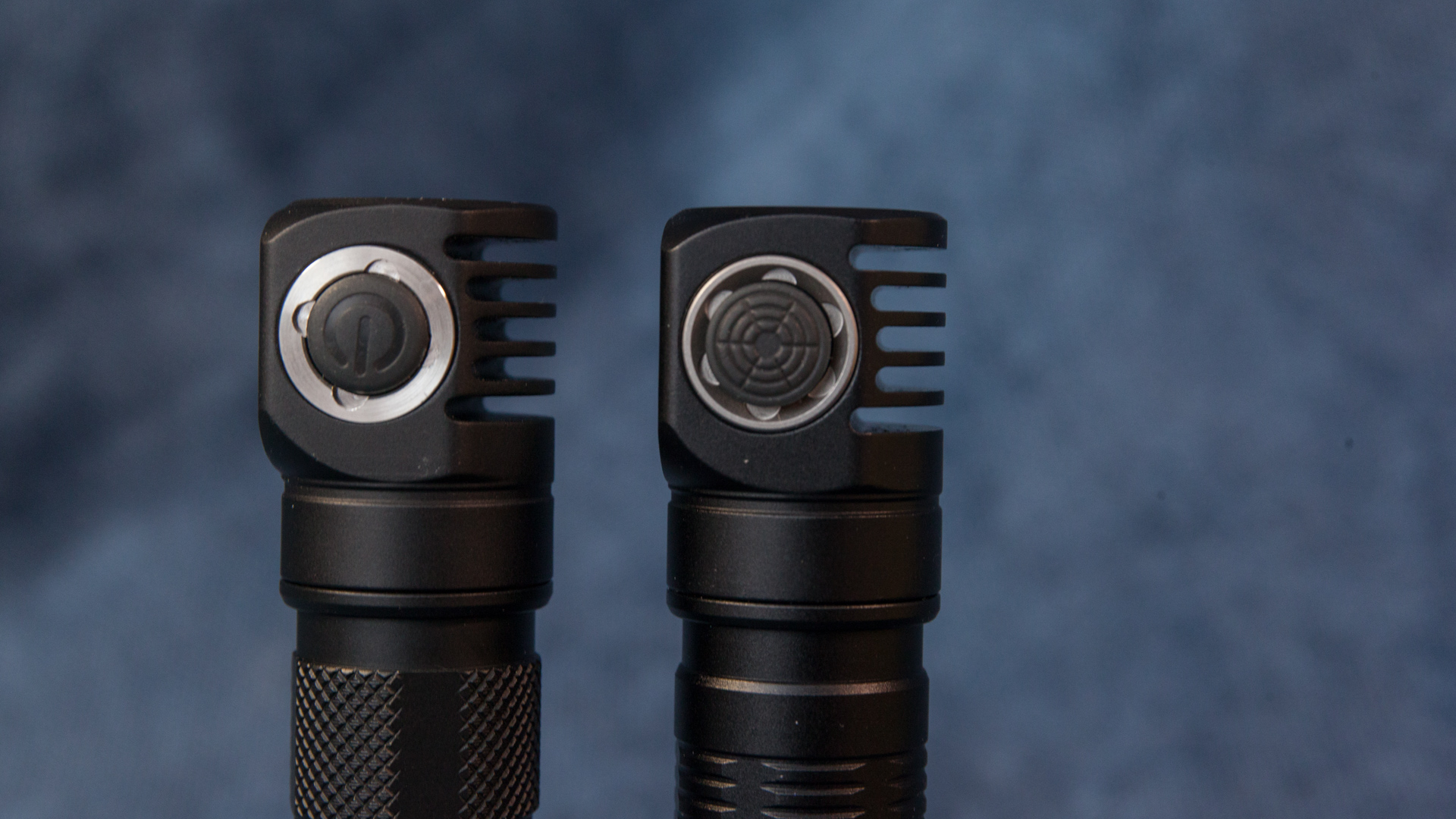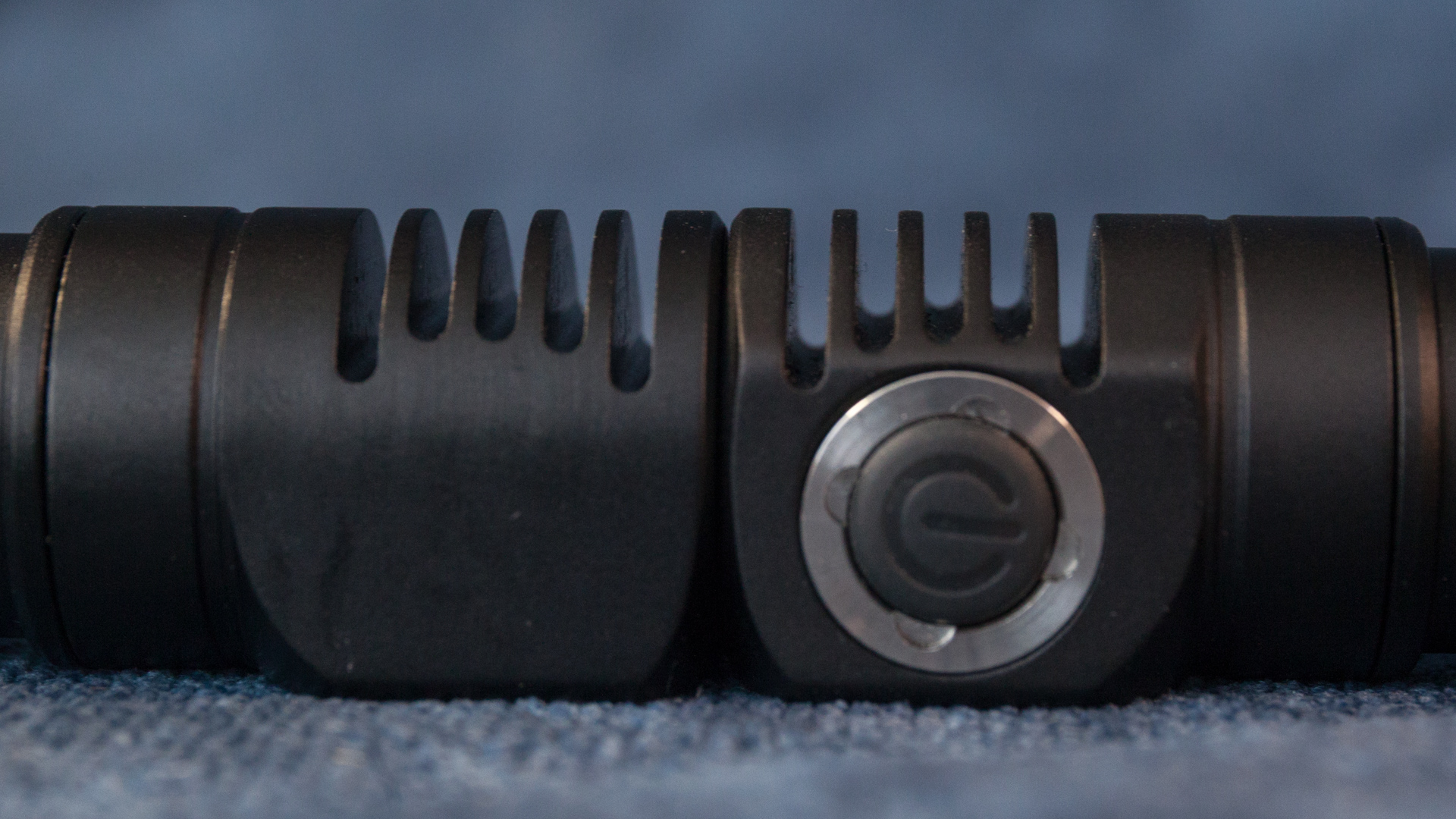 That's all. At the level of appearance, changes affected only the knurling and did not affect neither the functionality nor light at all.
UI
Here lies the most significant change. In addition to the familiar, there is a customizable interface with sort of Olight-Thrunite UI.  Don't be afraid of scheme, both UI (old and new ones) are REALLY simple.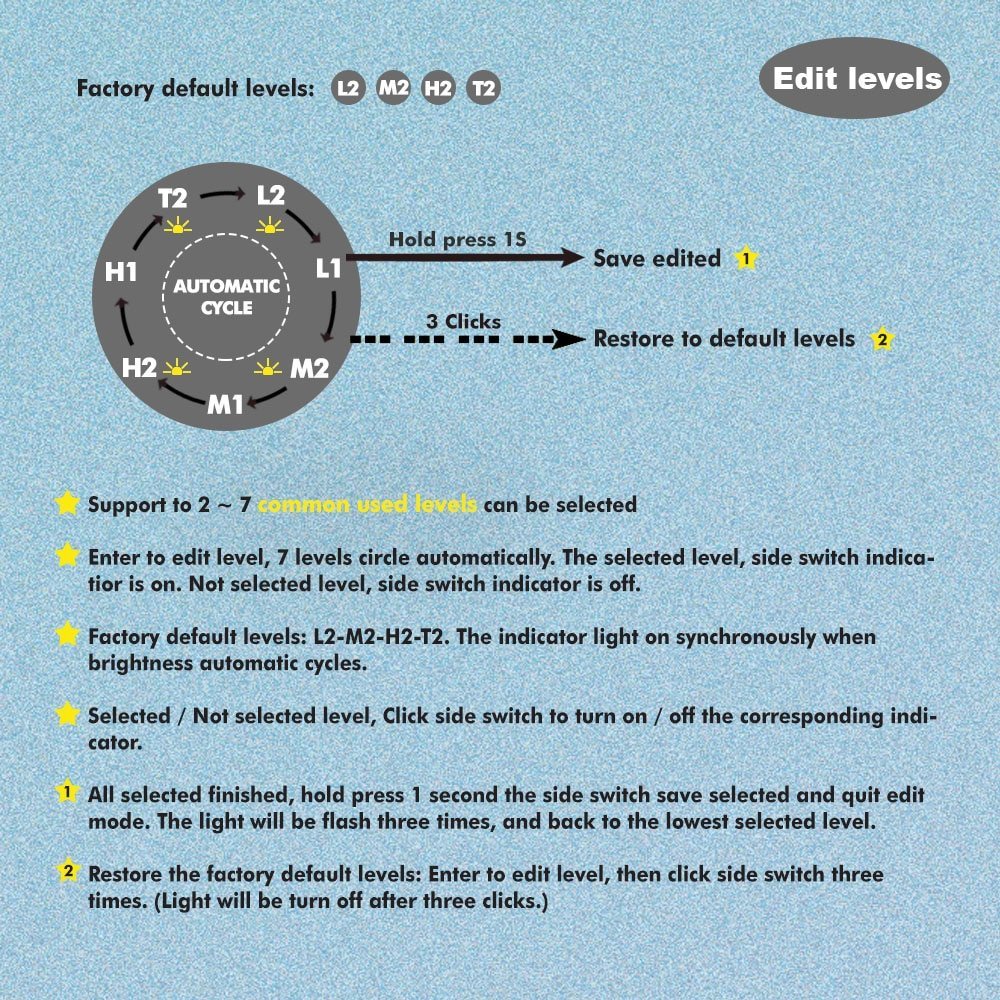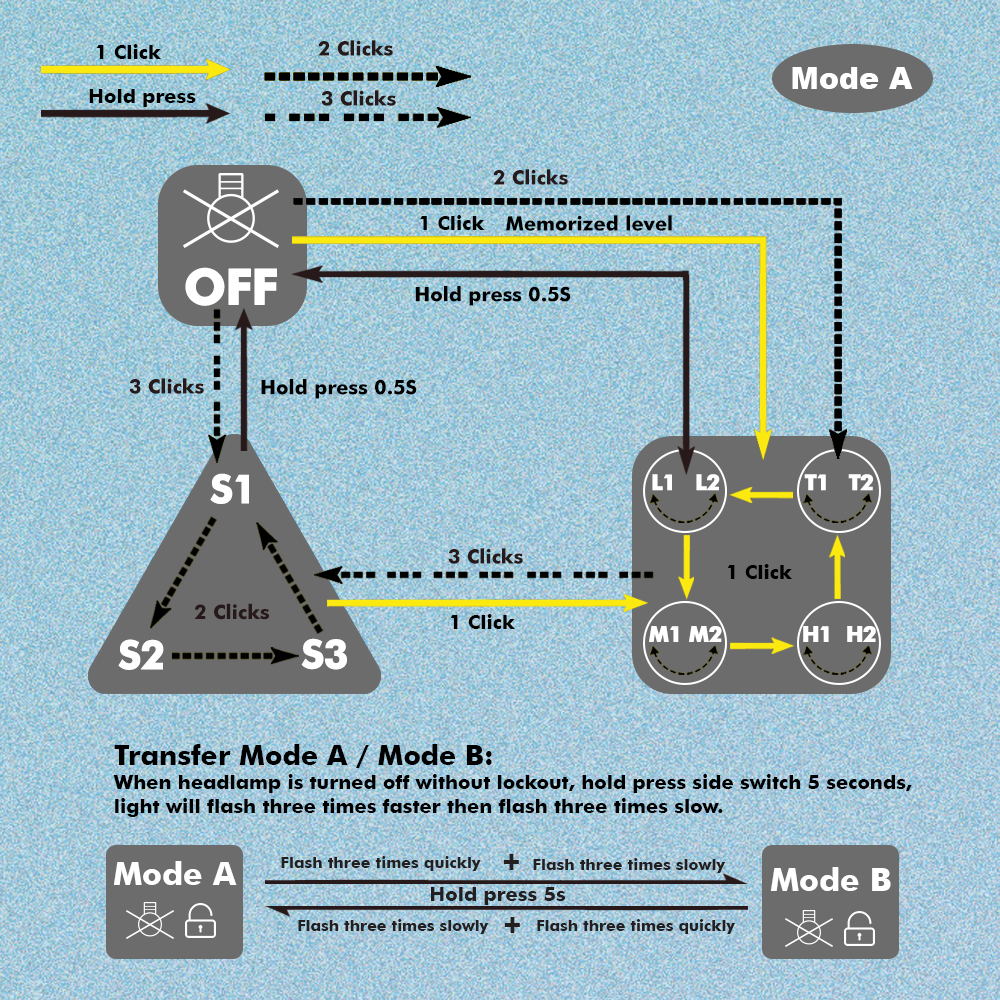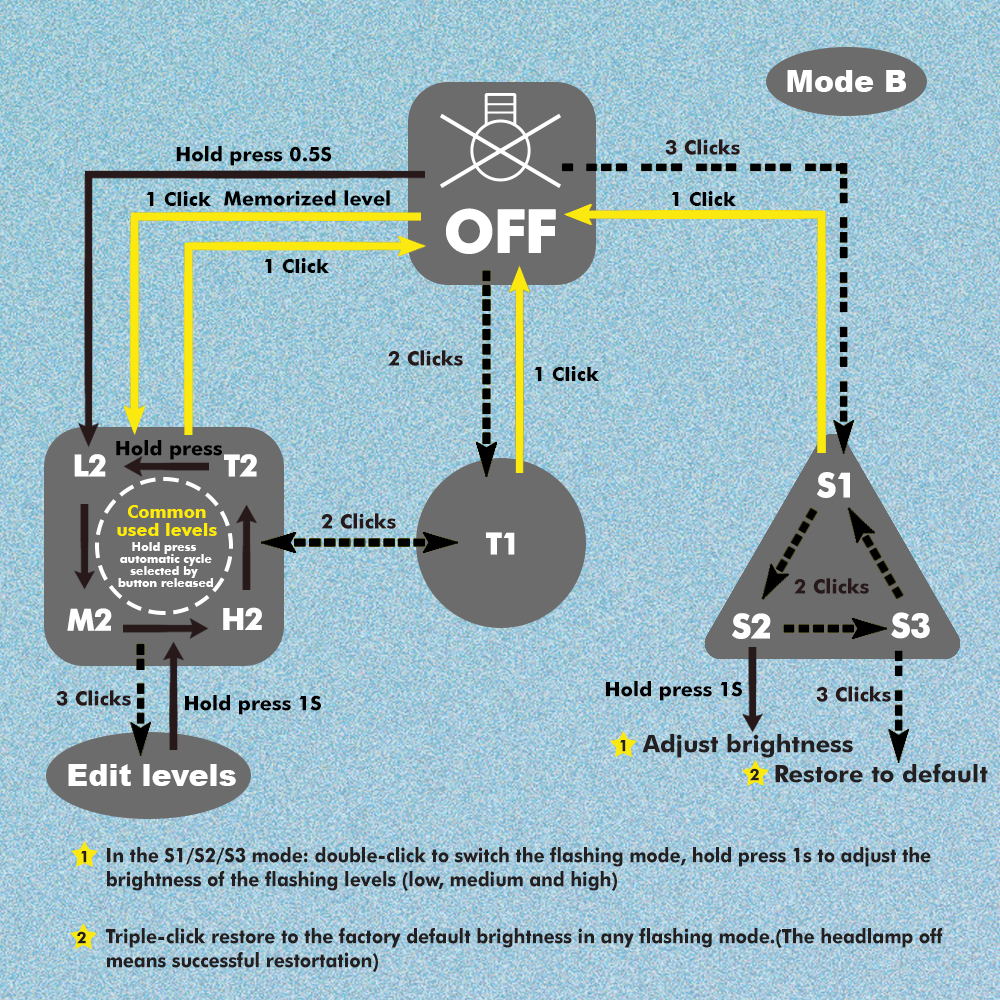 Shine
100% the same as it was. No change at all. The most diffused wide neutral light. Extremely convenient for working at extremely close distances - soldering, for example. Sofirn SP40 with its reflector will definitely be less practical here.
I have an example of H03R  (=H04) light relative to other types of light, suppose it will not be uninteresting. Light is warm enough, comfortable. Now I prefer 5000K and the light of this headlamp is too yellow for me. A couple of years ago it was vice versa. In short – matter of taste.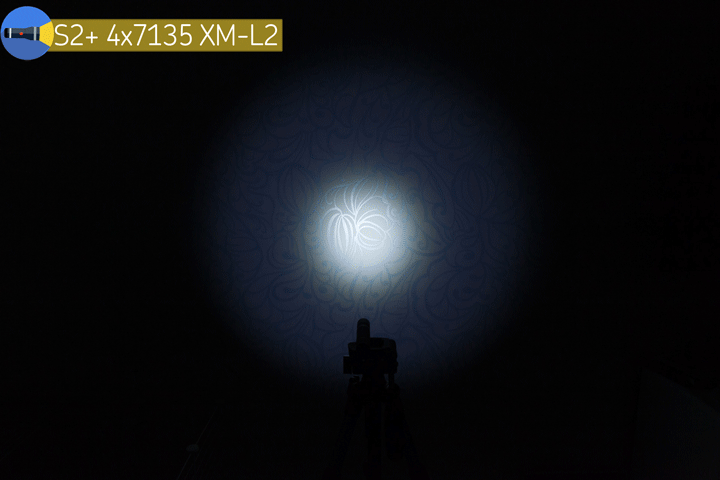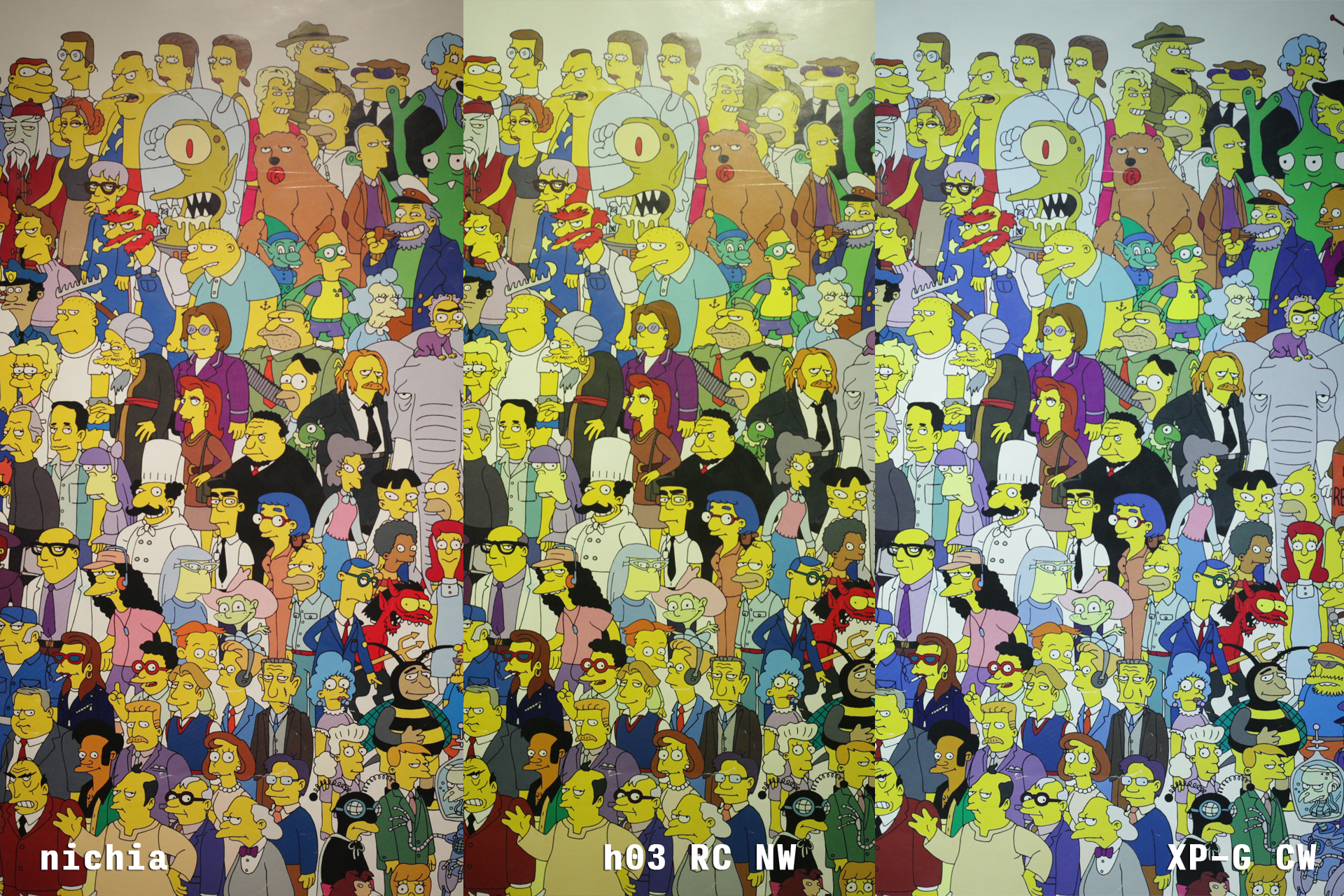 Of course, you should not rely on the ability of any headlamp with such size to keep maximum brightness.
To my surprise, I didn't see neither thermal regulation nor thermal stepdown here, but timed stepdown instead. When I turned on T1 over and over again, this maximum mode was the same in brightness and in quite good 2 minutes runtime.
What does it give? In case of urgent need T1 can be turned on over and over again (though the giblets can boil. And if the LEDs and the driver withstand, then this will be very harmful for the battery). In real cold conditions this can be a nice advantage.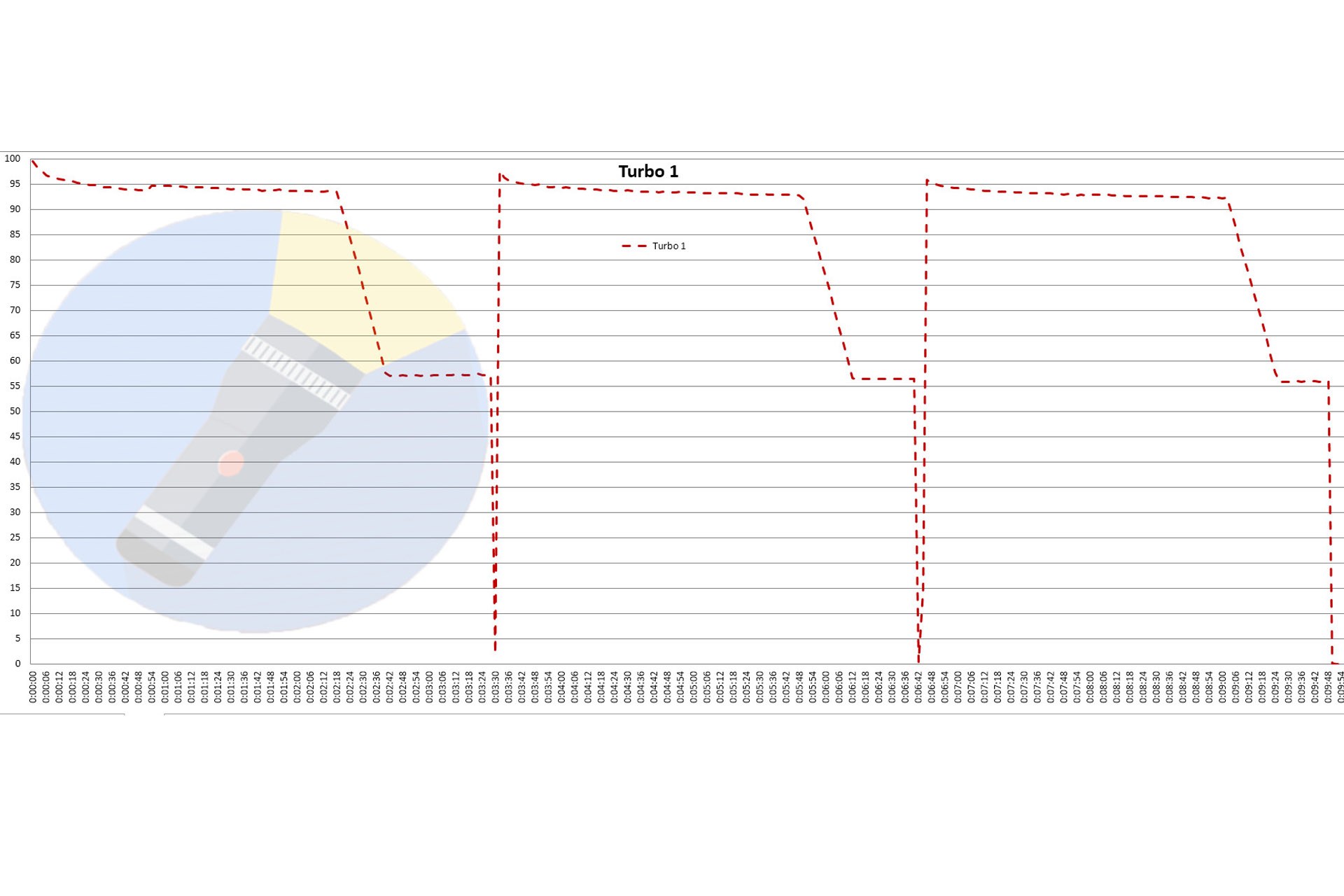 And all that Skilhunt H03 \ H04 can do is to keep brightness of about 500 lumens without stepdown, fully stabilized. That is 100% ok, because both headlamp and such a floodlight suggest working in near range.  Where even such brightness will often be excessive. Many, of course, chase lumens and manufacturers indulge them.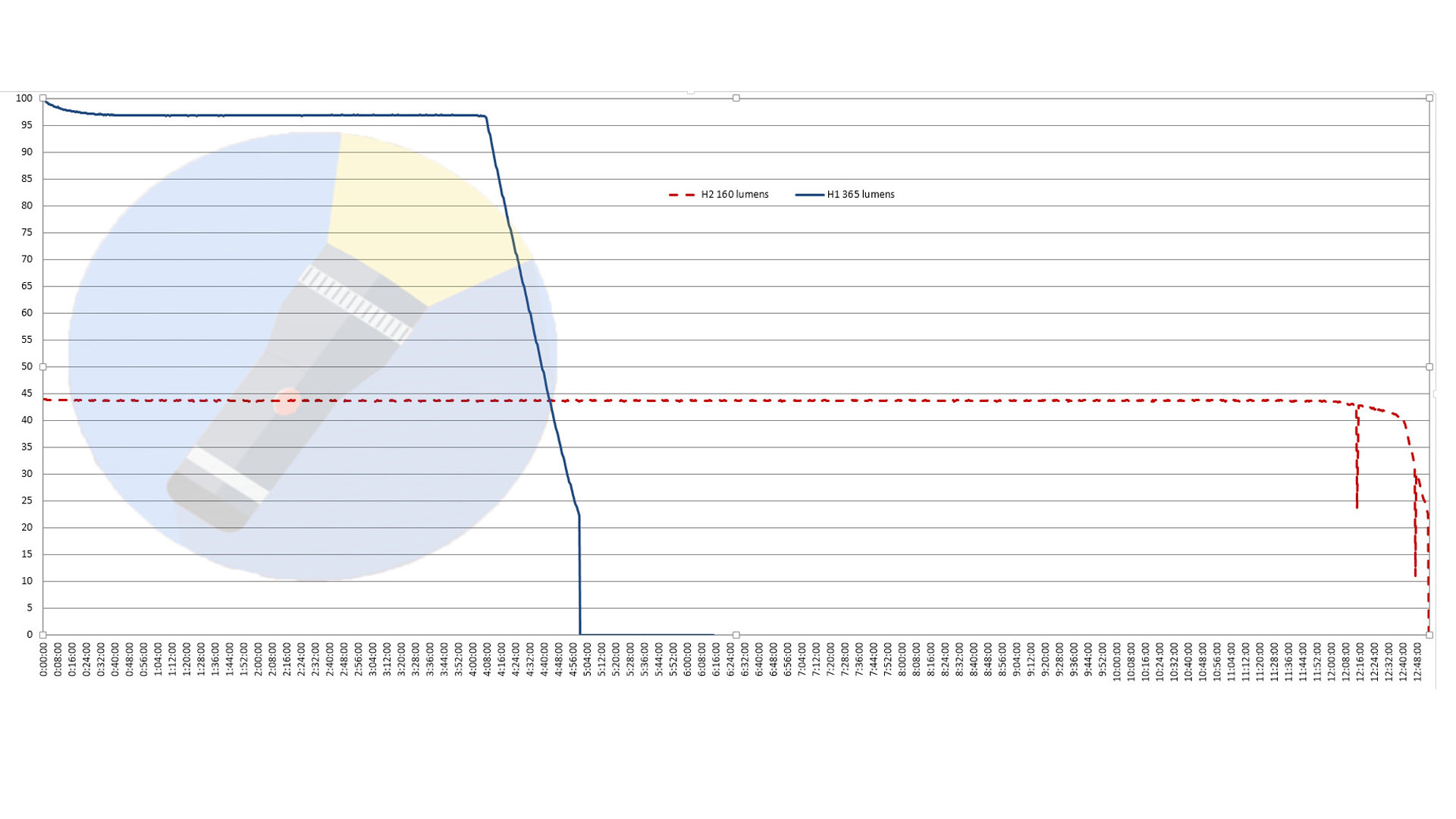 3-4 hours at such brightness is an excellent rutime. I repeat, for work such as digging in car engine \electrical, not to mention soldering, you generally use extremely longlasting 160 lumens from H2.
In short. There is full stabilization, unlike SP40. Headlamp works for a long time at small and most used levels. Runtime charts are given for the most popular cheap (flat-top w\o protection board ) LIITOKALA-PANASONIC NCR18650B, I don't see any sense in using anything more expensive here.
The flashlight turns off somewhere at 2.8v.
As for the light itself, nothing, absolutely nothing new. This is the same wide, yellowish floodlight known from tons of reviews. It's clear that I can't leave mine one without photos. So… watch.
 Being extremely far from being long-range, Skilhunt H04 at maximum brightness quite confidently and completely illuminates the garden. In a situation of need you can light everything around at a distance of about 30-40 meters in the open air.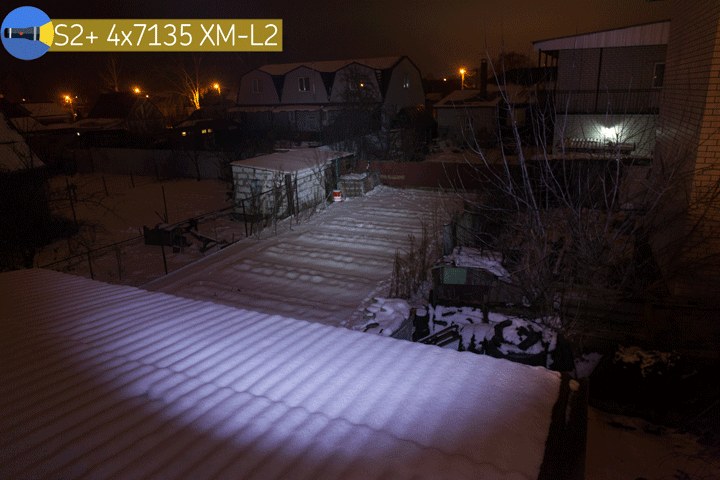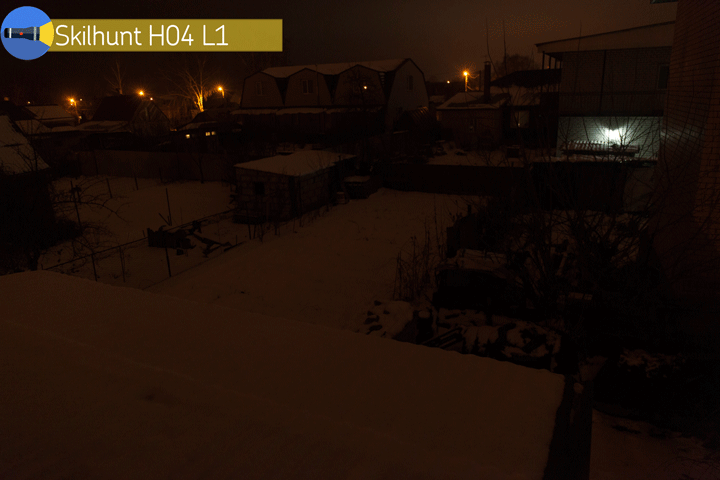 Maximum brightness is even excessive for indoor use.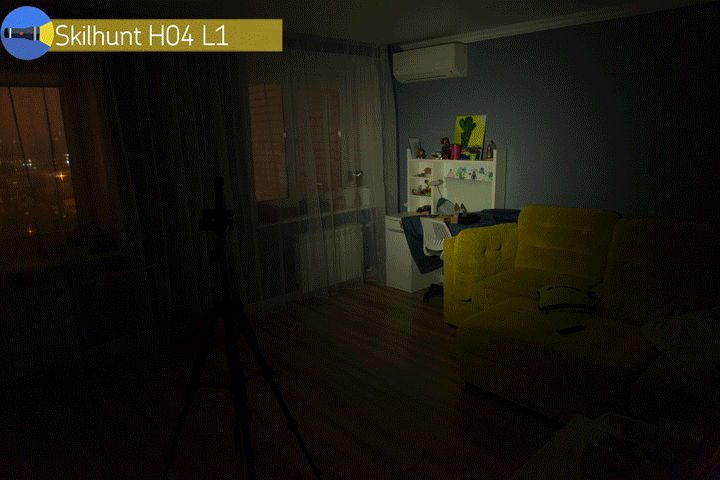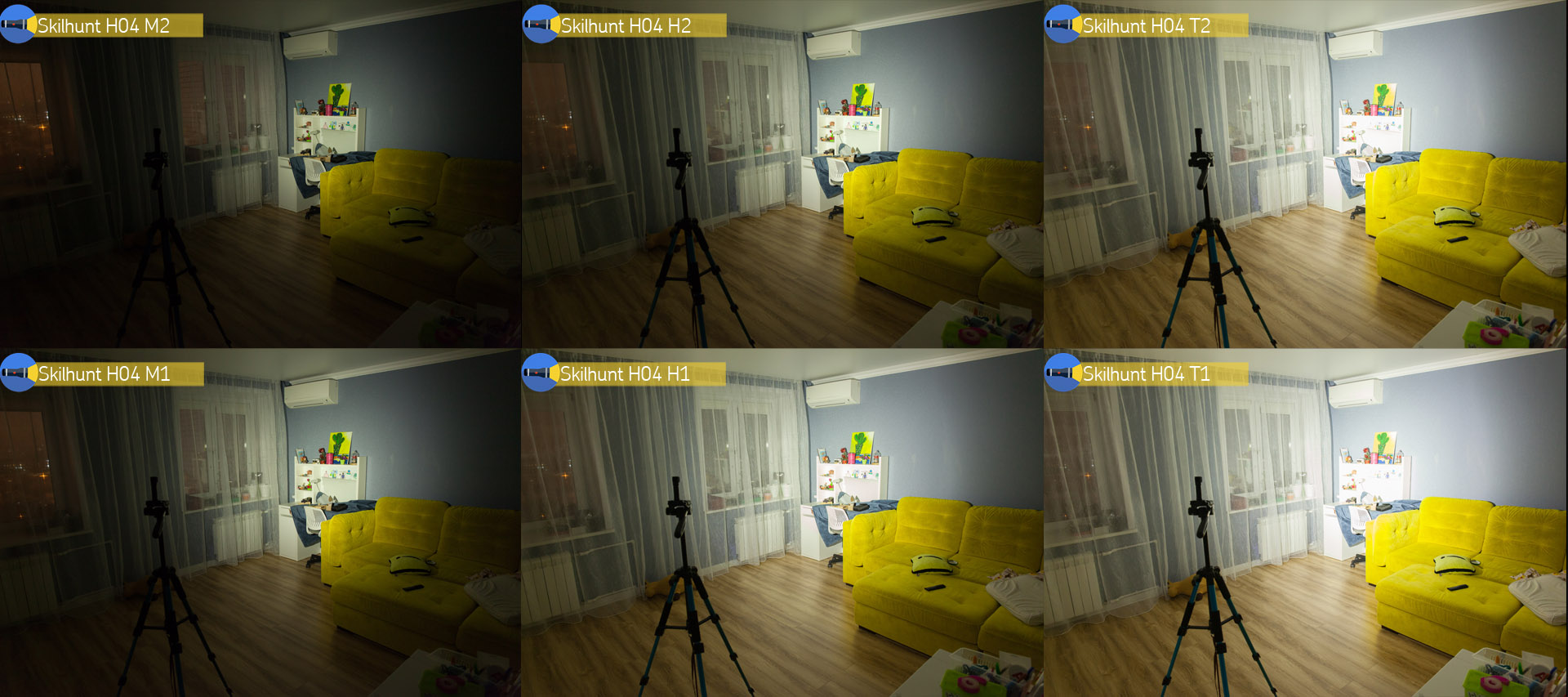 L1-L2-M1 are quite enough for working at arm's length.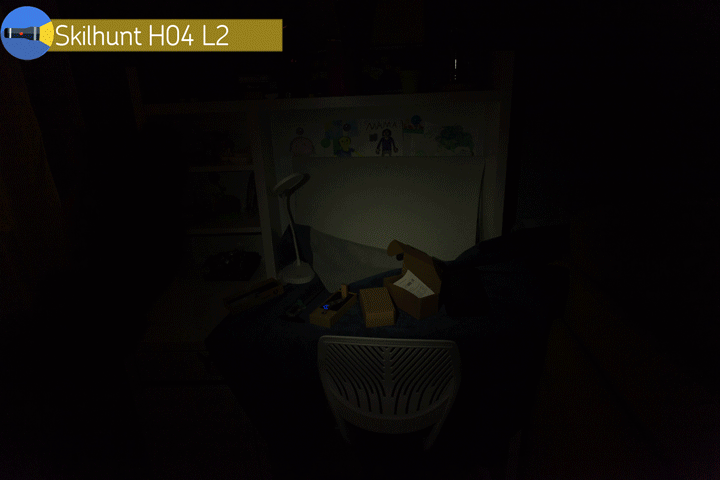 In the video review, you can also see how the Skilhunt H04 shines. dont forget to turn english subtitles on.
 Overall  impressions
For several years, Skilhunt H03 has been a bestseller on sales. For 30$, user received decent build quality and convenient light with flexible UI. Namely: 4 levels of brightness with instant access to the two extreme ones from the OFF state. There was only one disadvantage – you might get to next sub-leve instead of the next level (L2-M1, for example) when click too fast. And there were no shortcut to Turbo from ON.
 Now, an additional and fundamentally different, similar to Thrunite-Olight, group B in UI deprives the user of fast (including erroneous) access to sub-modes, but allows you to configure the main ones for yourself, while maintaining the full functionality of instant access to minimum-maximum brightness. And it will be more familiar and more convenient for fans of mode swithching by hold and on / off by click.
In general, I do not see any obvious minuses in this experiment. That's just, in my opinion, one additional group of UI and additional reflective elements on the headstrap are clearly not enough to change name from 03 to 04
 It is clear that in such sizes it is pointless to expect greater brightness, and manufacturer has already tried everything  with H03R \ H03RC \ H03F. Skilhunt drove themselves into a corner by developing model too good to be able to dramatically improve it without creating something completely new. And here they did not create it at all. So here H03.2 seems to be a suitable name rather than H04.
But, regardless to naming, user gets the same popular Skilhunt H03 with even more flexible UI.
The itself light remained unchanged, extremely convenient at close range with the ability to illuminate everything around outdoors in a radius of about 20-30 meters - only the version H04 with a reflector can compete with Sofirn SP40. Body  is actually the same.
 in fact, those who are aware of what the past model was like, did not see anything new. I think that the manufacturer will simply stop selling H03, keeping only H04 on market. The main thing for the user is that, as no matter how manufacturer name the new model, there is movement and this is movement forward.