Several days ago i posted review of flashlight with quite similar UI, Nitecore TM9K. In comparison with it, today's review hero is only half powerful, but this is the case when less is better than more. From the perspective of tactical use, Nitecore I4000R is definitely much more practical.
OFFICIAL PAGE | MANUAL
You can buy Nitecore I4000R at ALIEXPRESS | AMAZON | BANGGOOD | NITETORCH they generously offered 20% code HJK5KDNQ valid for all the items in store, including other brands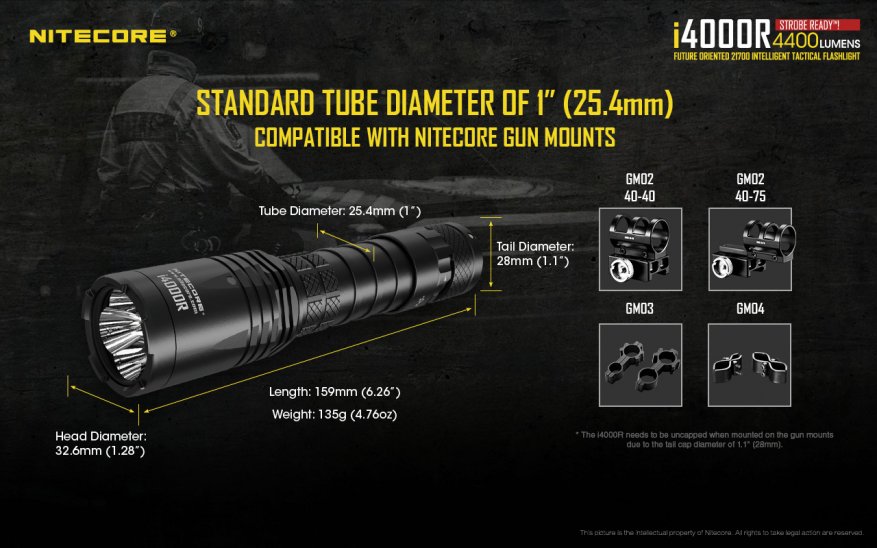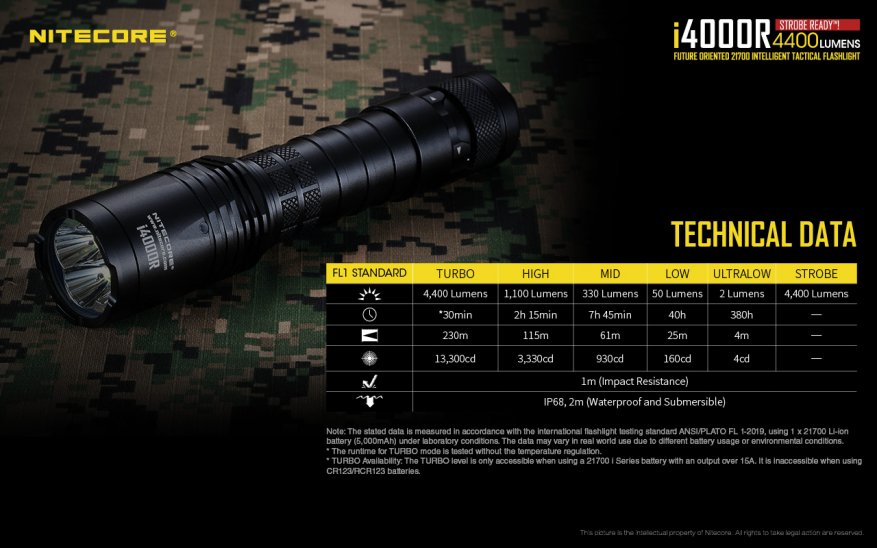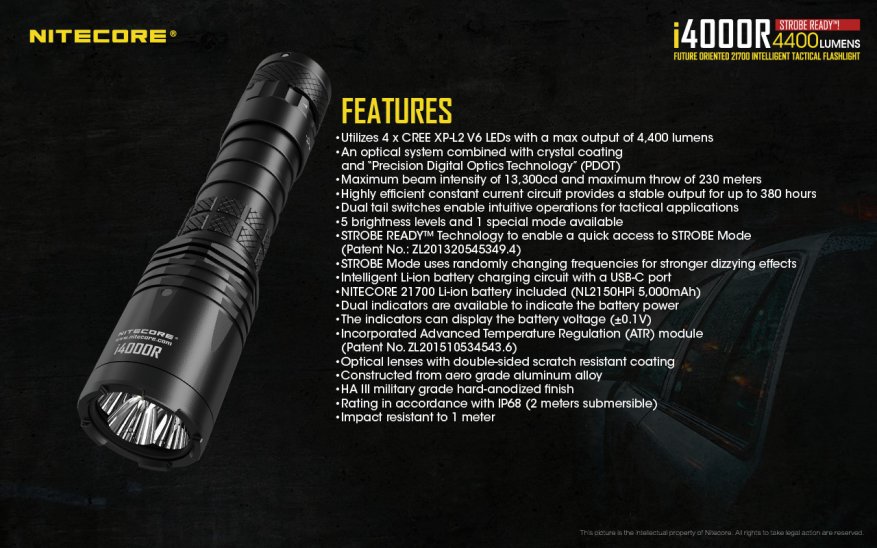 Package and appearance
The usual well known black and yellow carboad box, nothing new.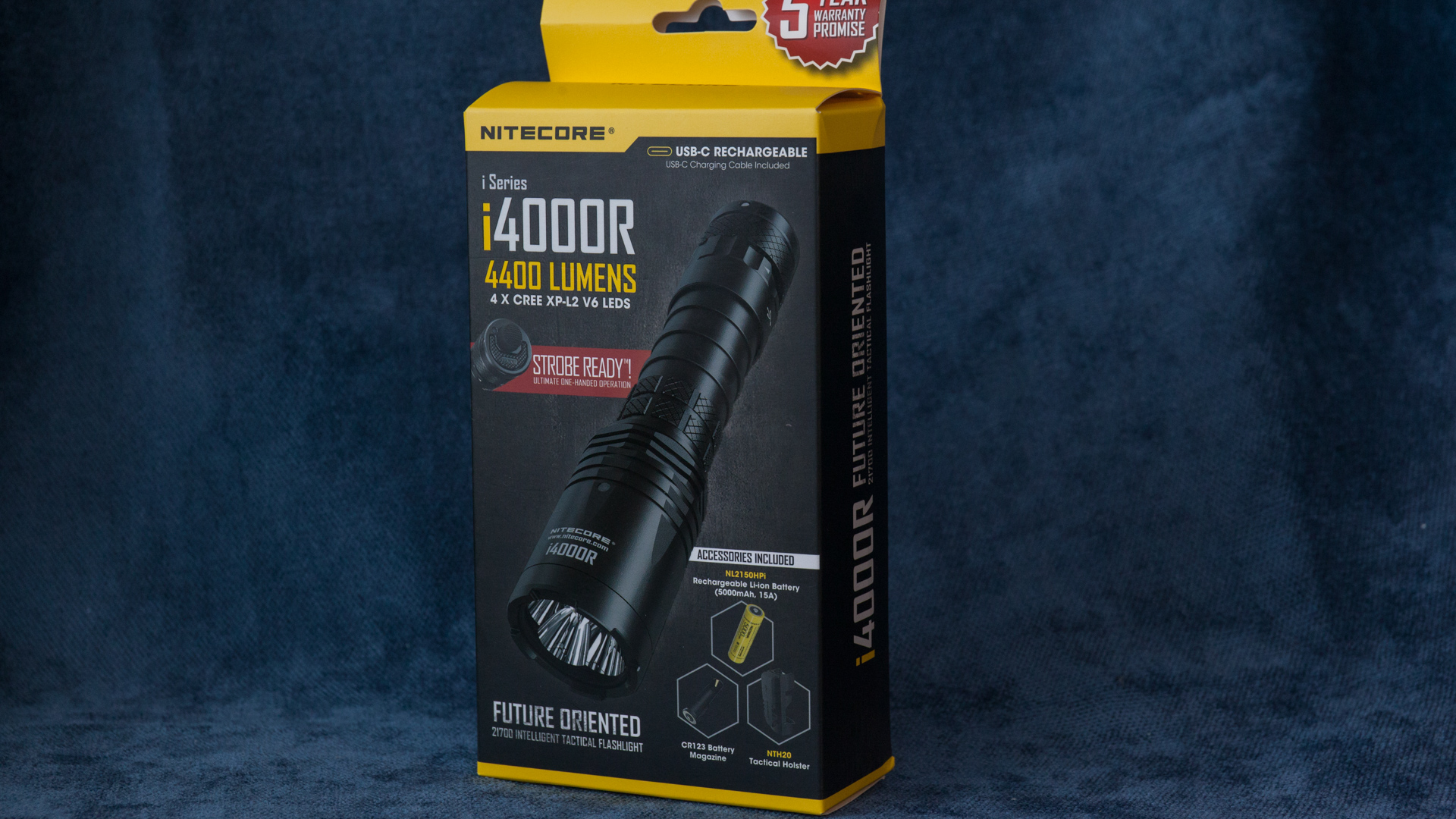 It includes nicely arranged set: the flashlight itself, 21700 battery, plastic tactical (of course) holster, type-c charging cable, 2xCR123-> 21700 conversion tube, manual.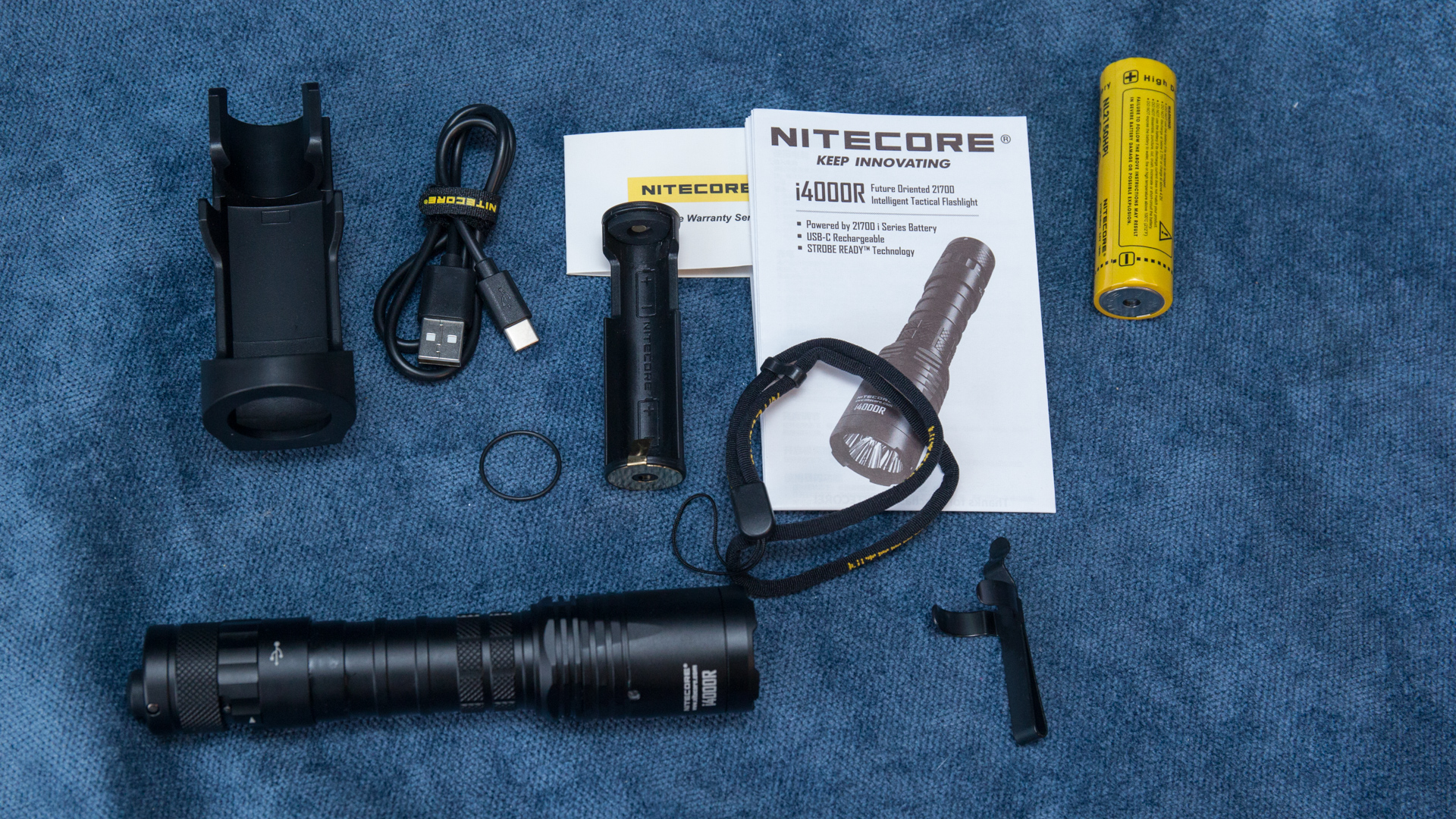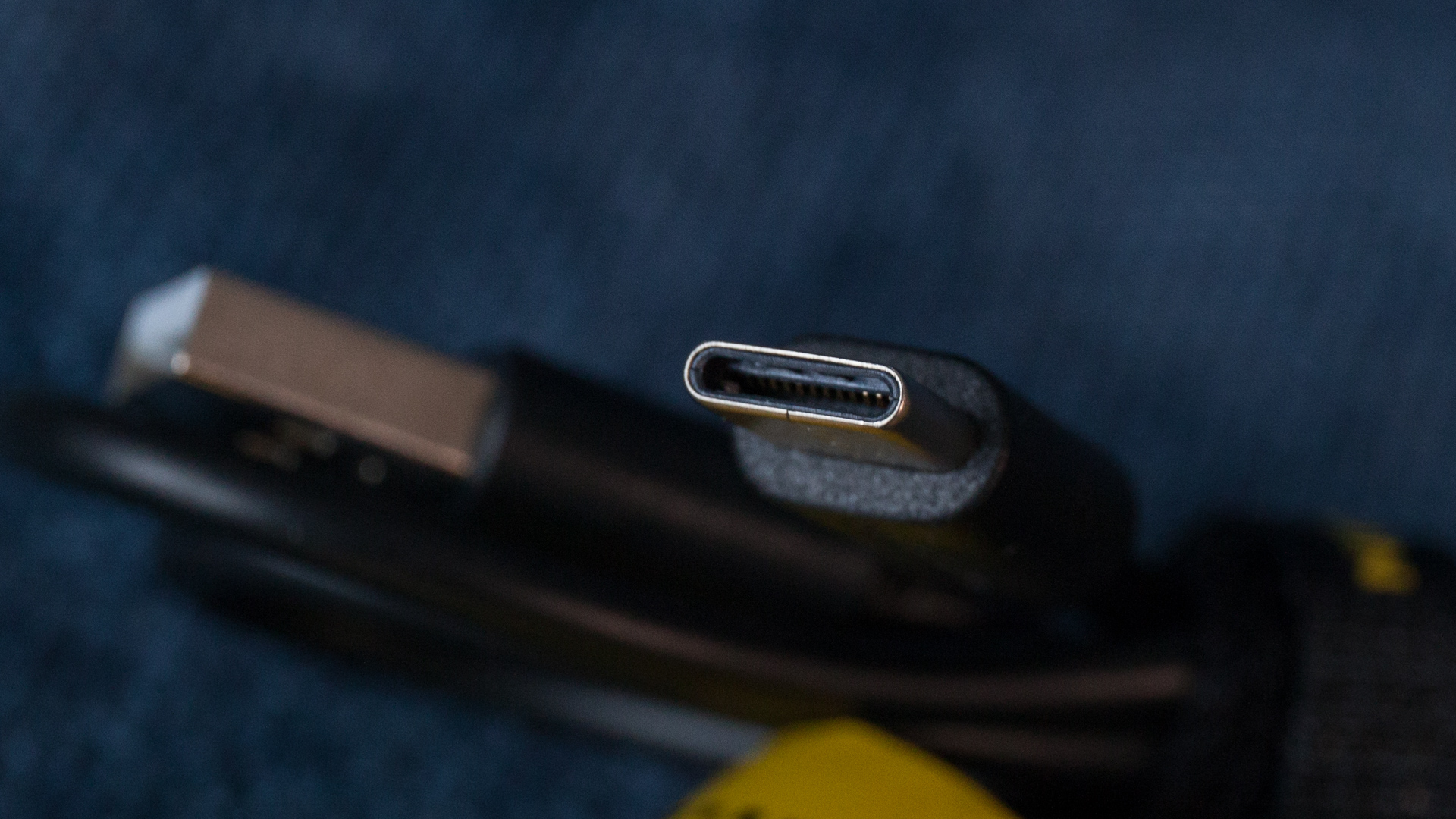 Lets take closer look at Nitecore NTH 20 holster. It`s main goal is to enabble user to pull out flashlight momentary, and copes with this goal with a bang. A peculiar thing, but I did not find a reason to complain about its functionality. It seems that there is optional set without NTH20. For home situation regular nylon holster will be more convenient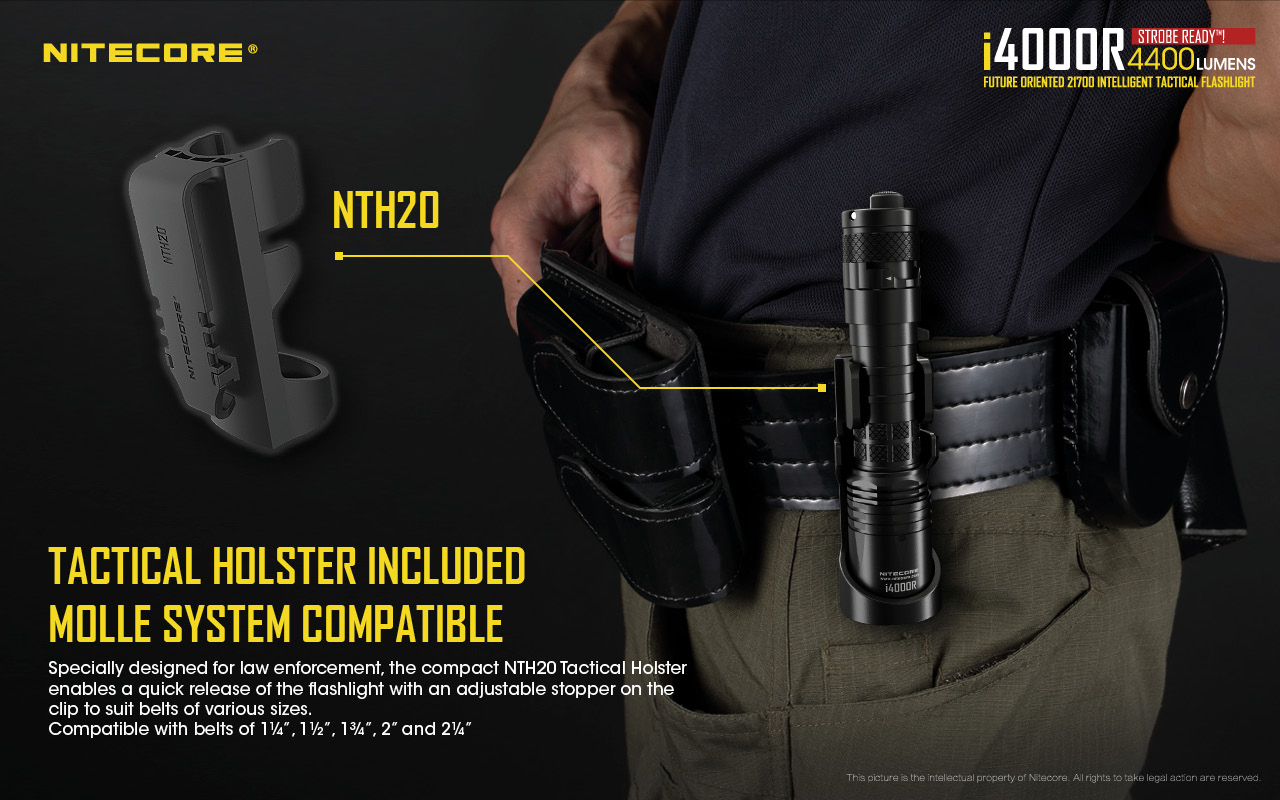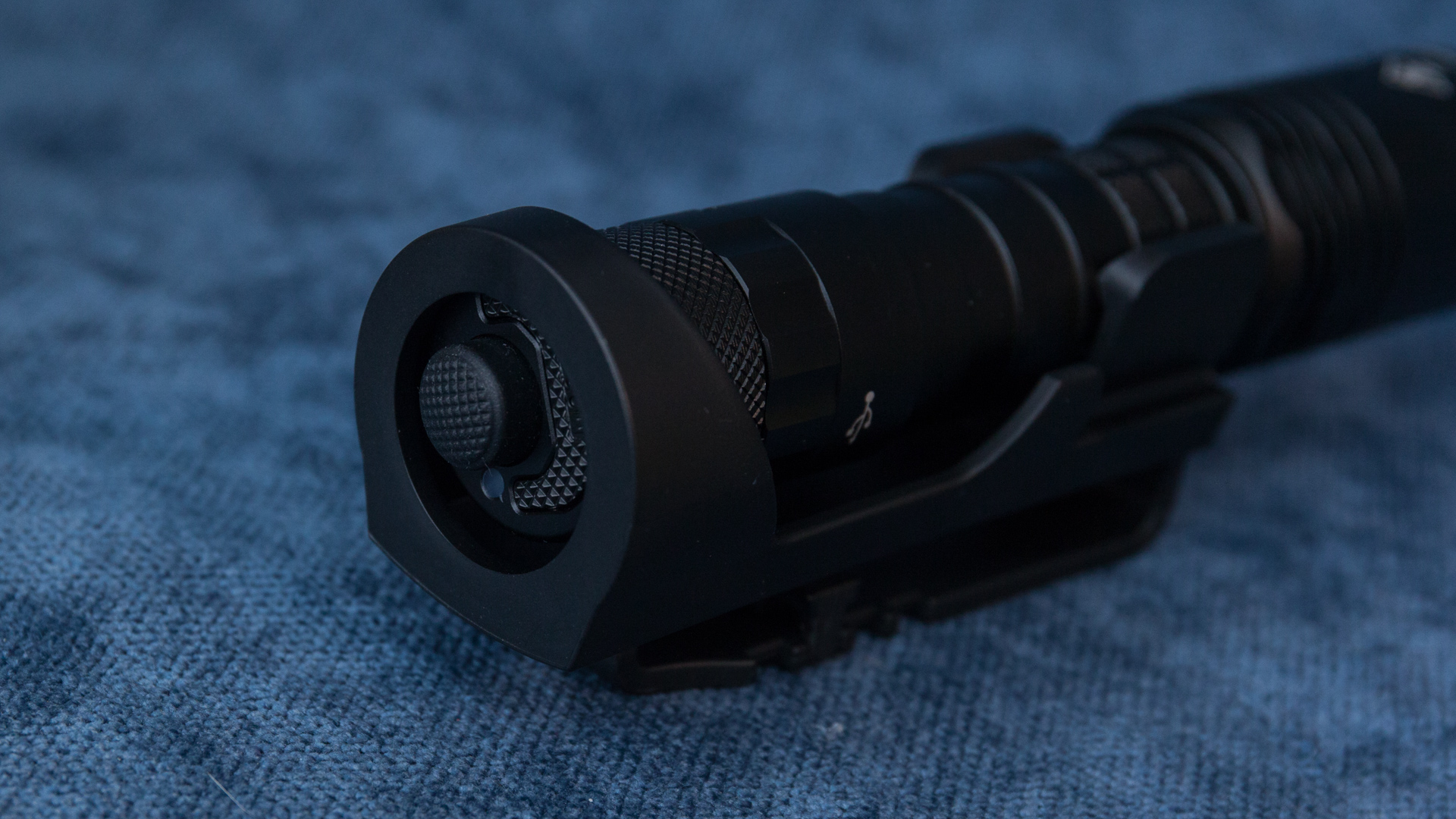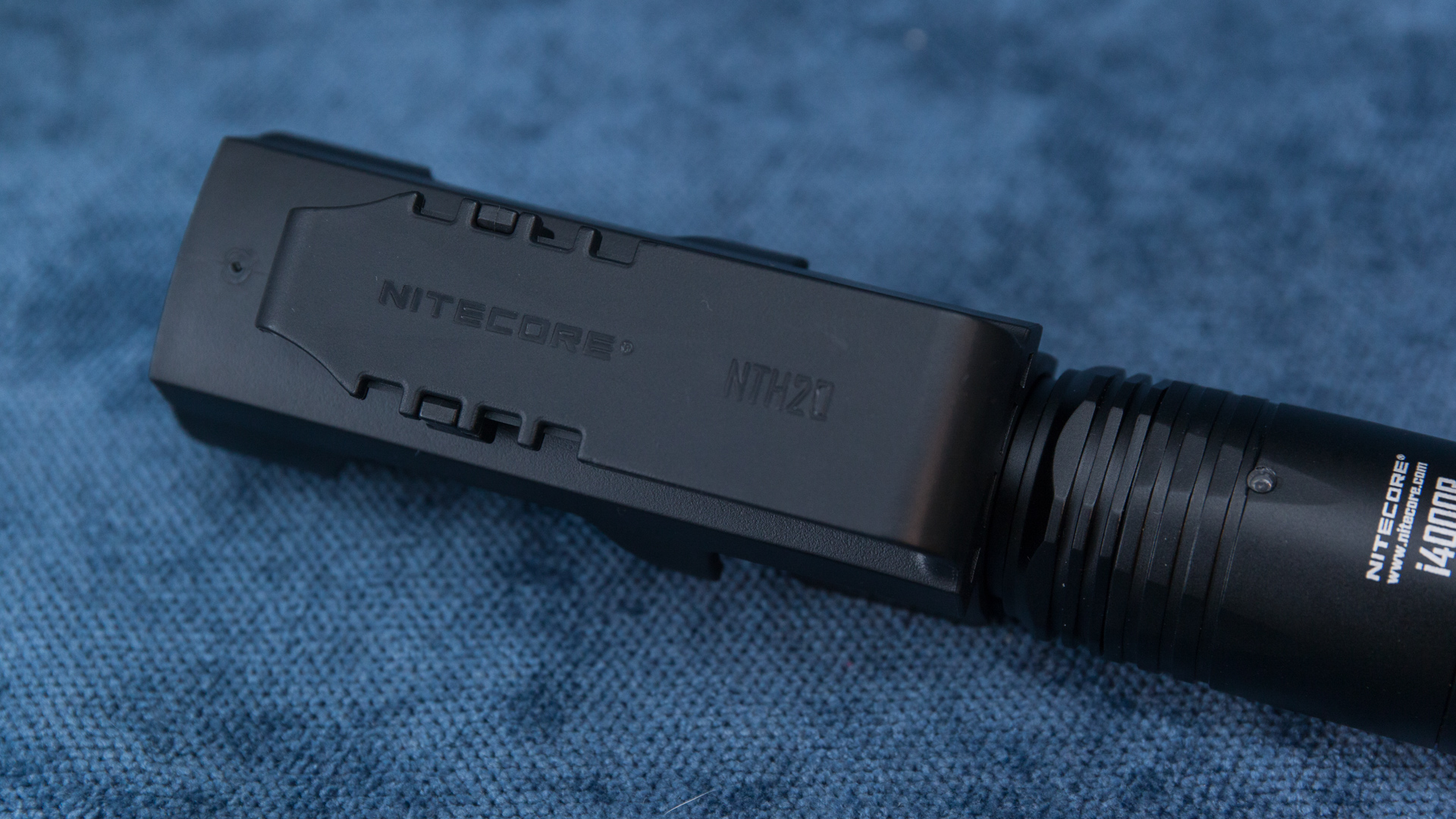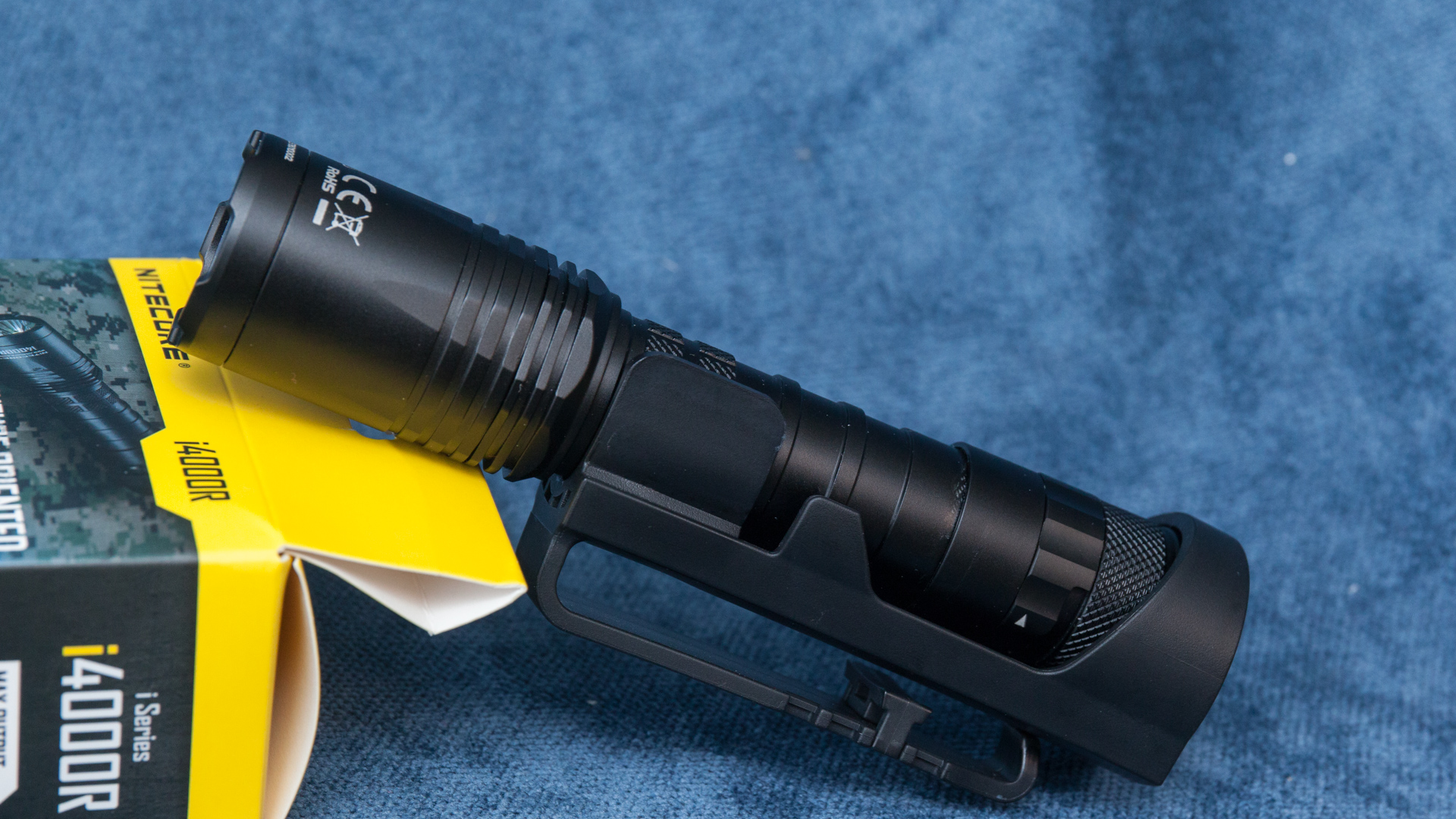 Nitecore i4000R looks exactly the same as the rest of Nitecore tactical flashlight Nightcore. It is difficult to put it in words, as for me, all them have similar look (besides P18). Of course, this is not about some facelessness, but about clearly traceable family traits.
So I4000R looks good, but nothing more. It can be seen that this is not EDC flashlight, nor is long-thrower.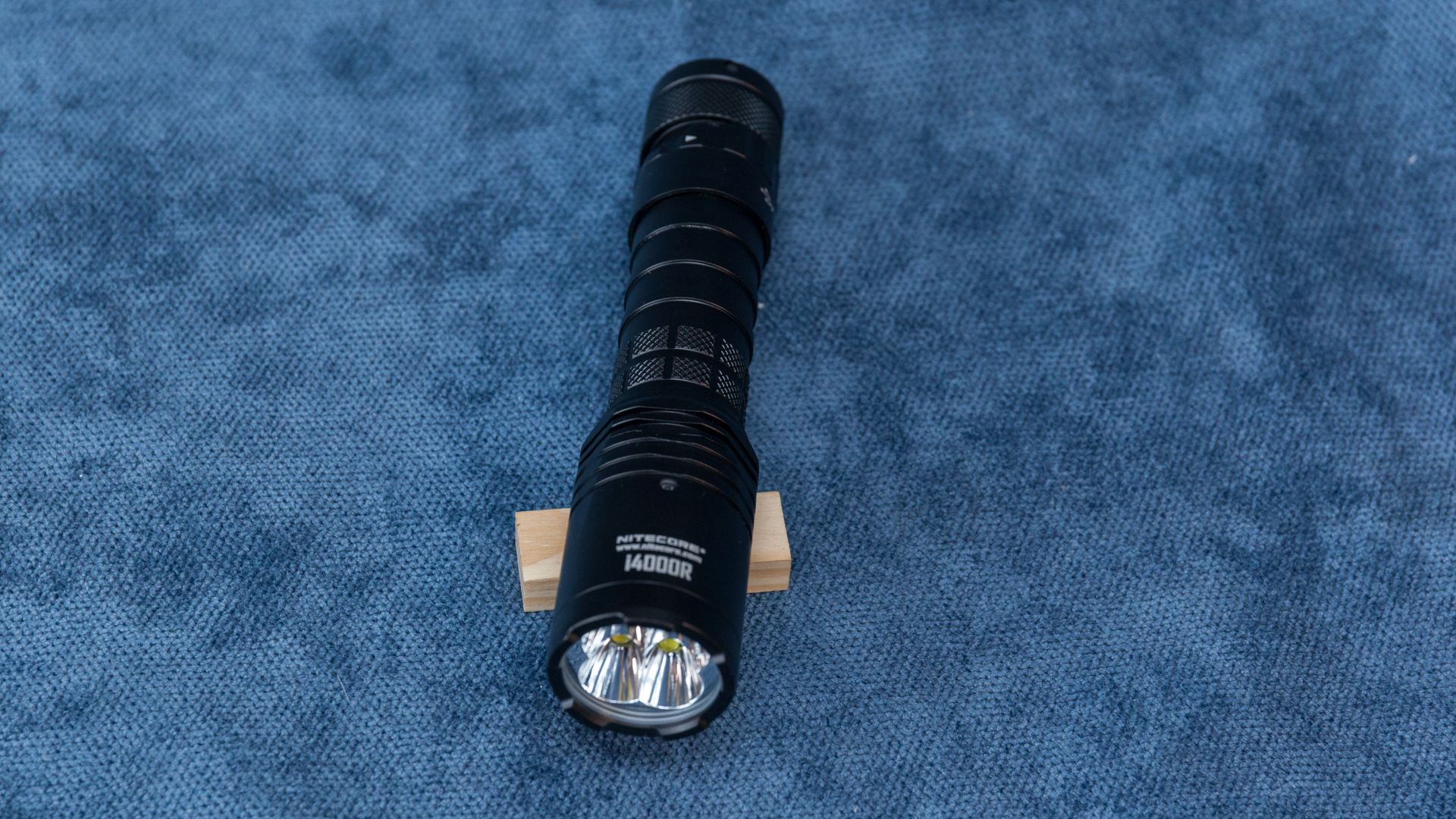 Of all other Nitecore tactical lights that I saw, controls consisted of buttons at tail and head. I4000R (as well as TM9K), manufacturer turned to classic combination of a tail button and a rocker mode switch. But last one does not stick out as usual.
Unusual, I will tell you. But, to my surprise, I did not feel that it was inconvenient. Unless you only use a flashlight without a clip and cannot position it correctly in the palm of your hand, then quickly finding such a recessed button will definitely be difficult. There is also one of the LED indicators here, in this case charge indicator.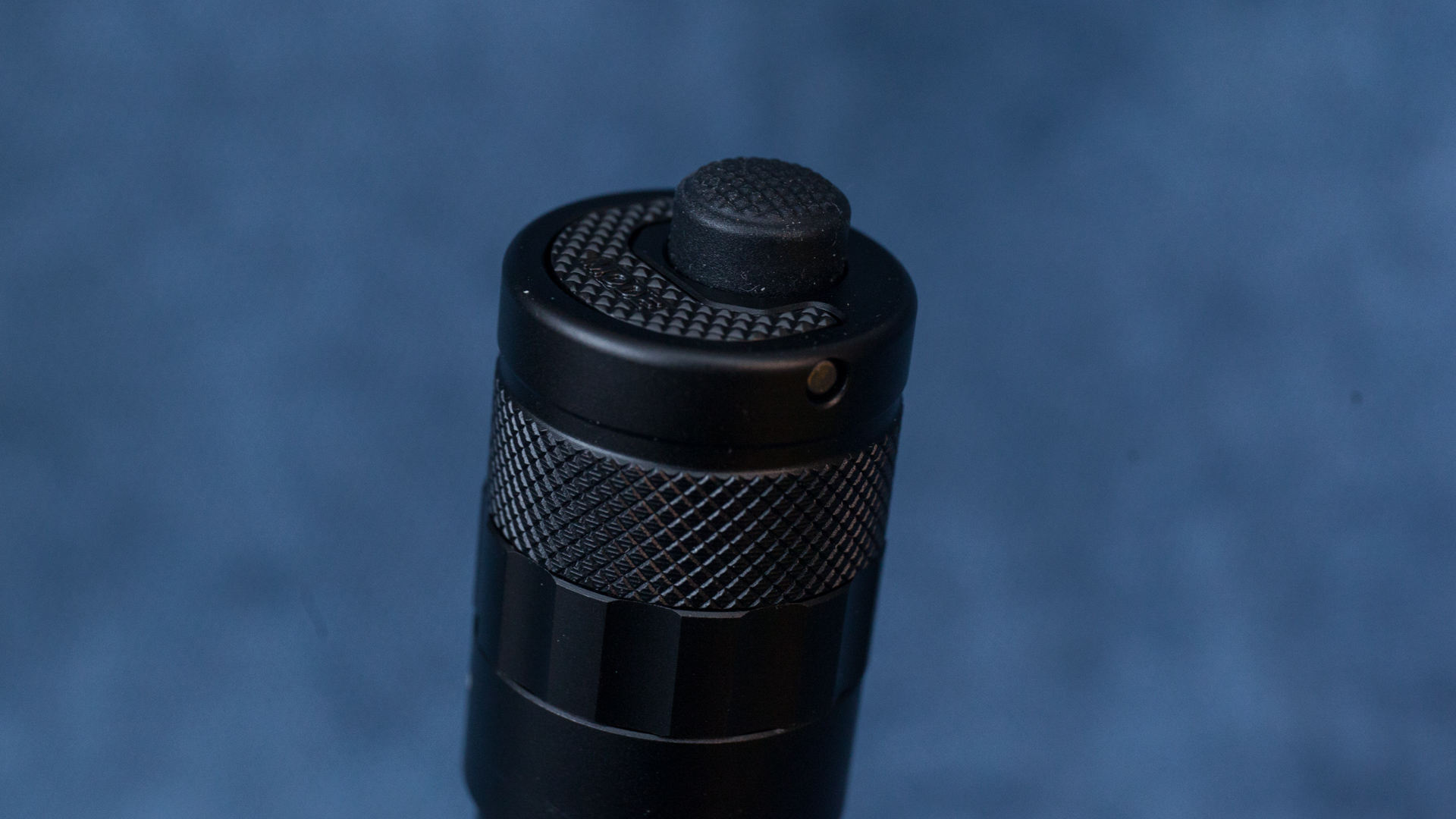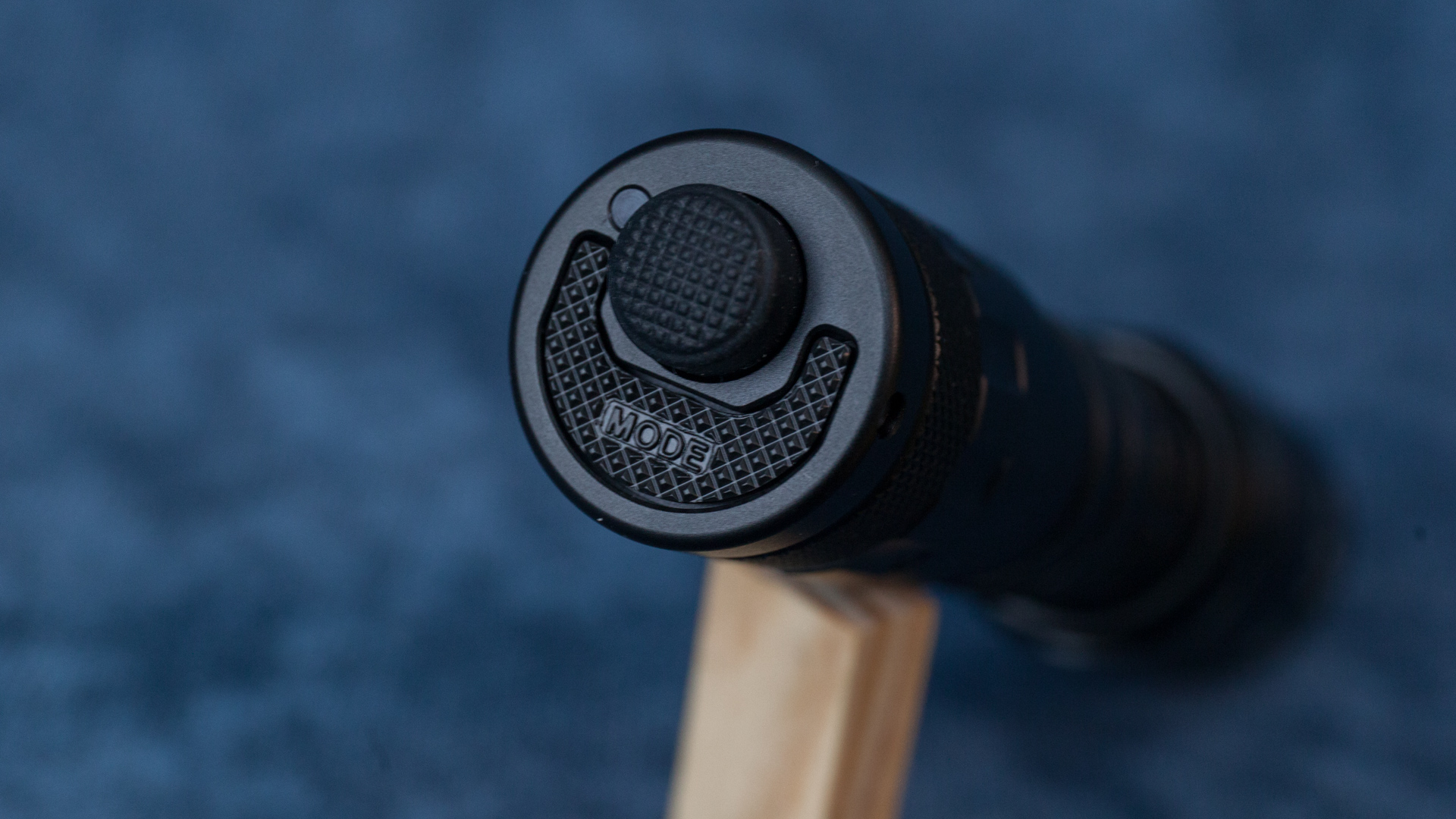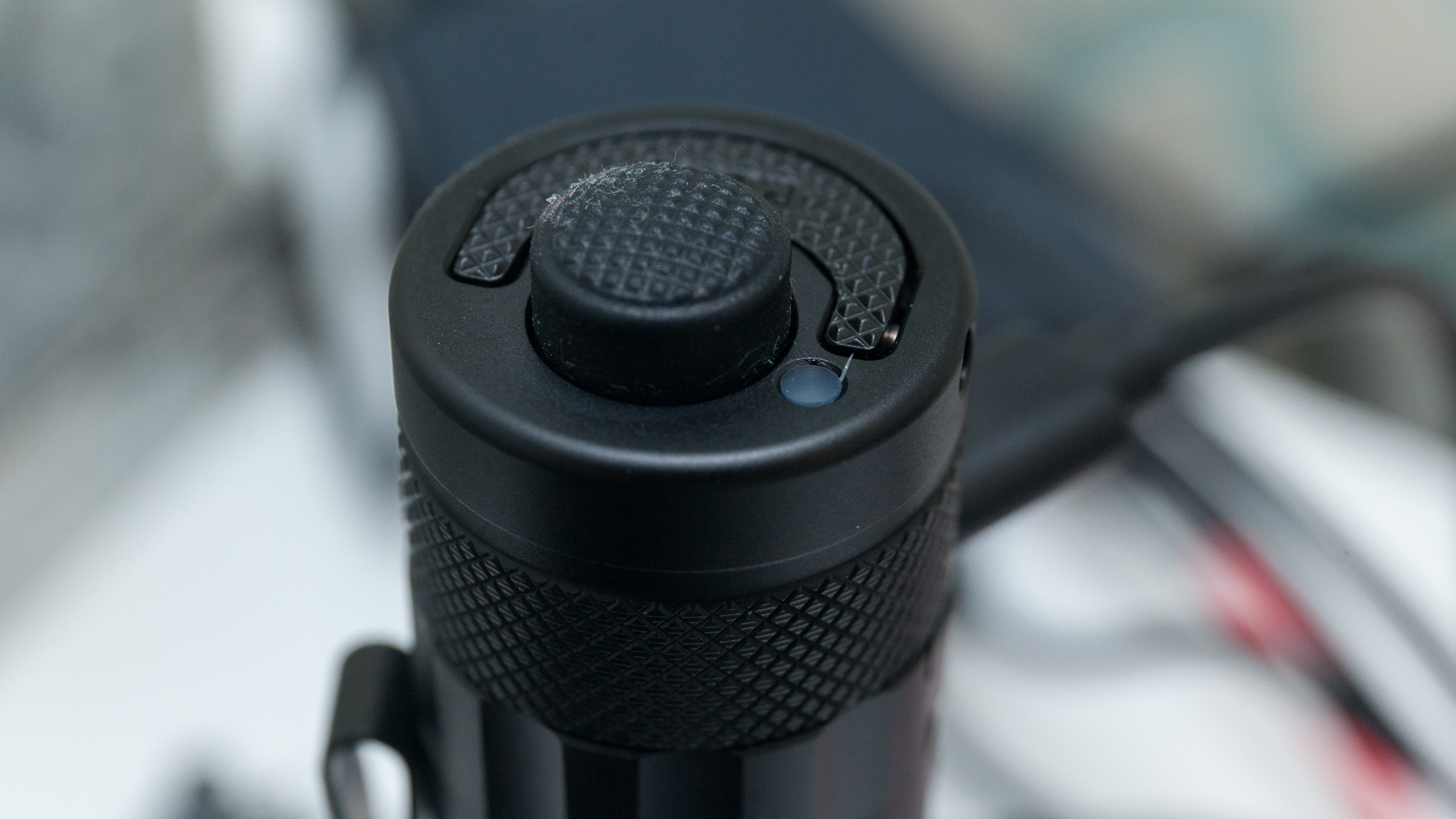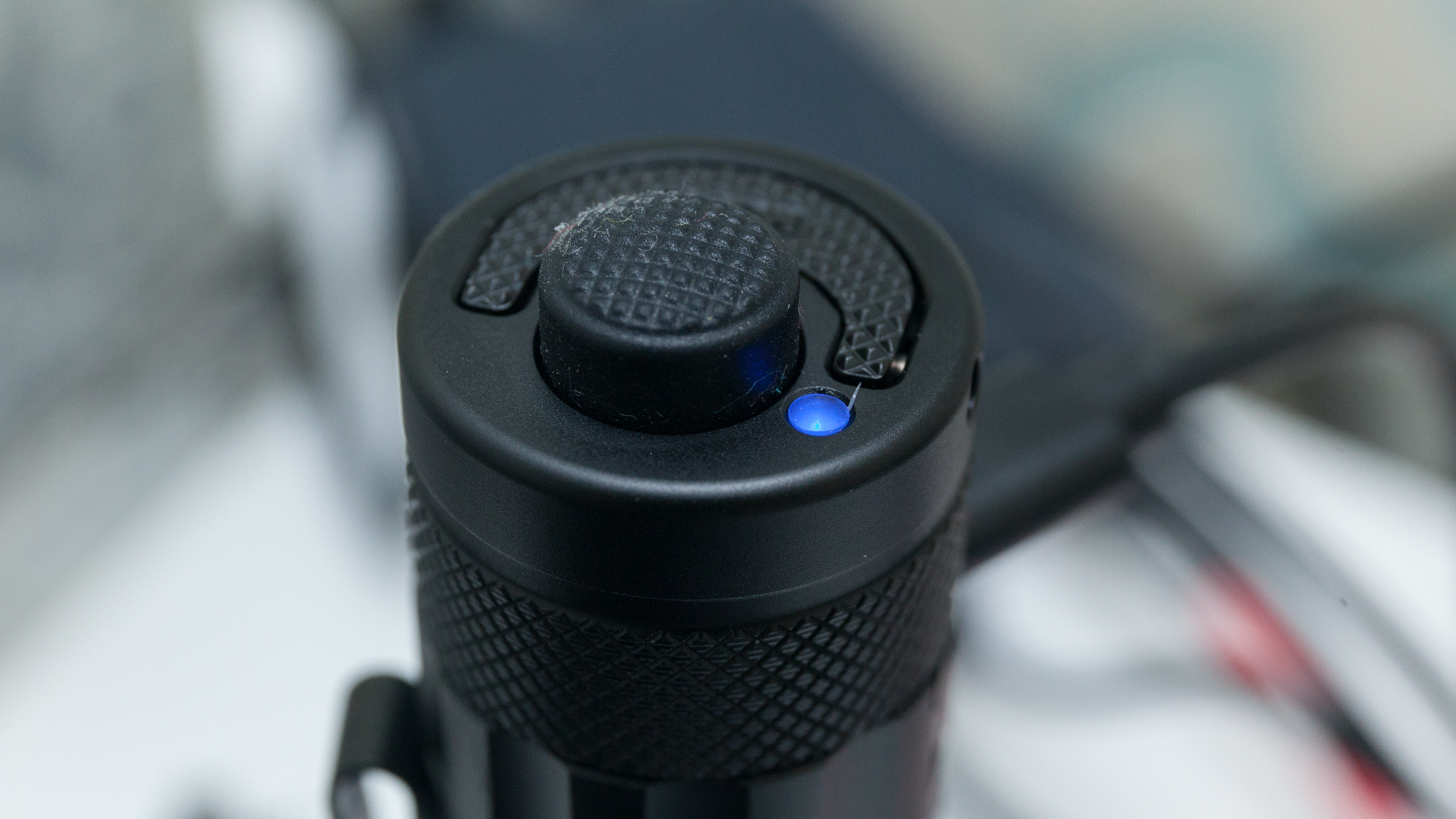 As for the clip, this is a standard double-sided thing, you can position it any way you want. There is almost no knurling right here, but in the absence of a clip this does not worsen the grip – the central part is smaller in diameter than the tail and head.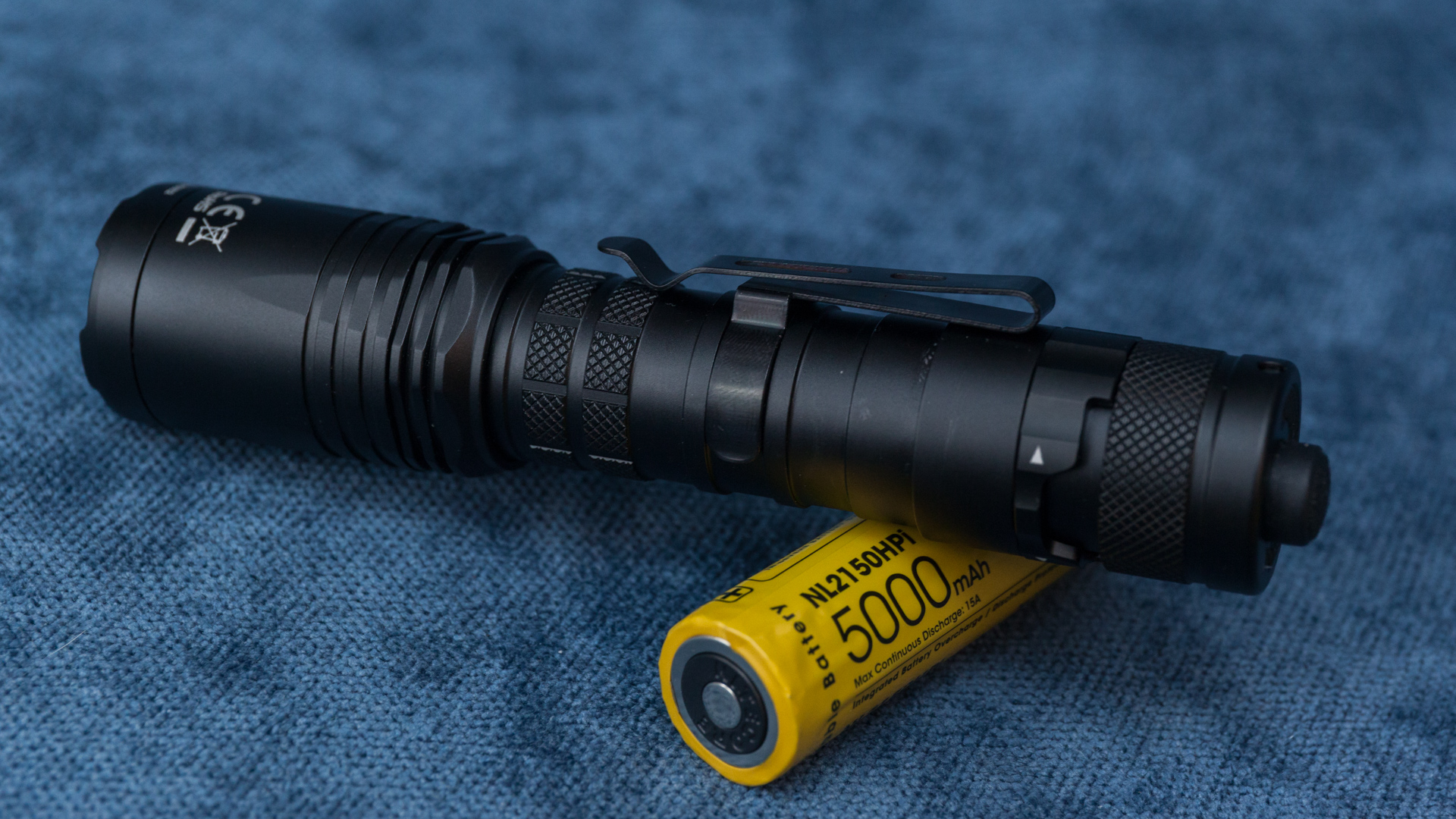 Type-C charge port is also located in the tail. And then Nitecore decided to abandon the usual rubber plug in favor of a spinning ring, which in one of the positions opens up access to the type-C charging connector. It looks impressive, but i feel you can spin it occasionally and open up charge port. I have to test it longer in real use, so i cannot precisely tell you about about its reliability right now.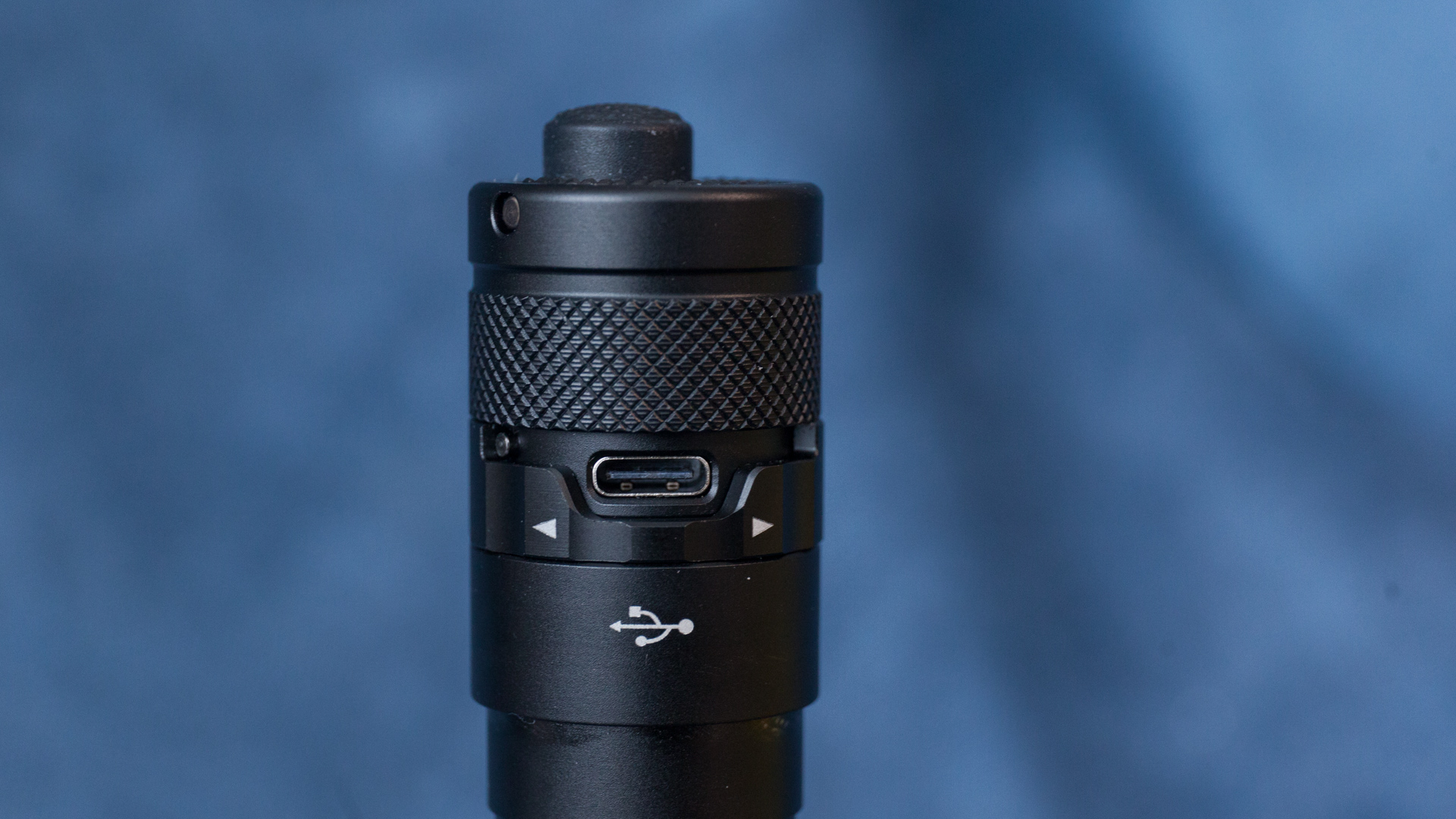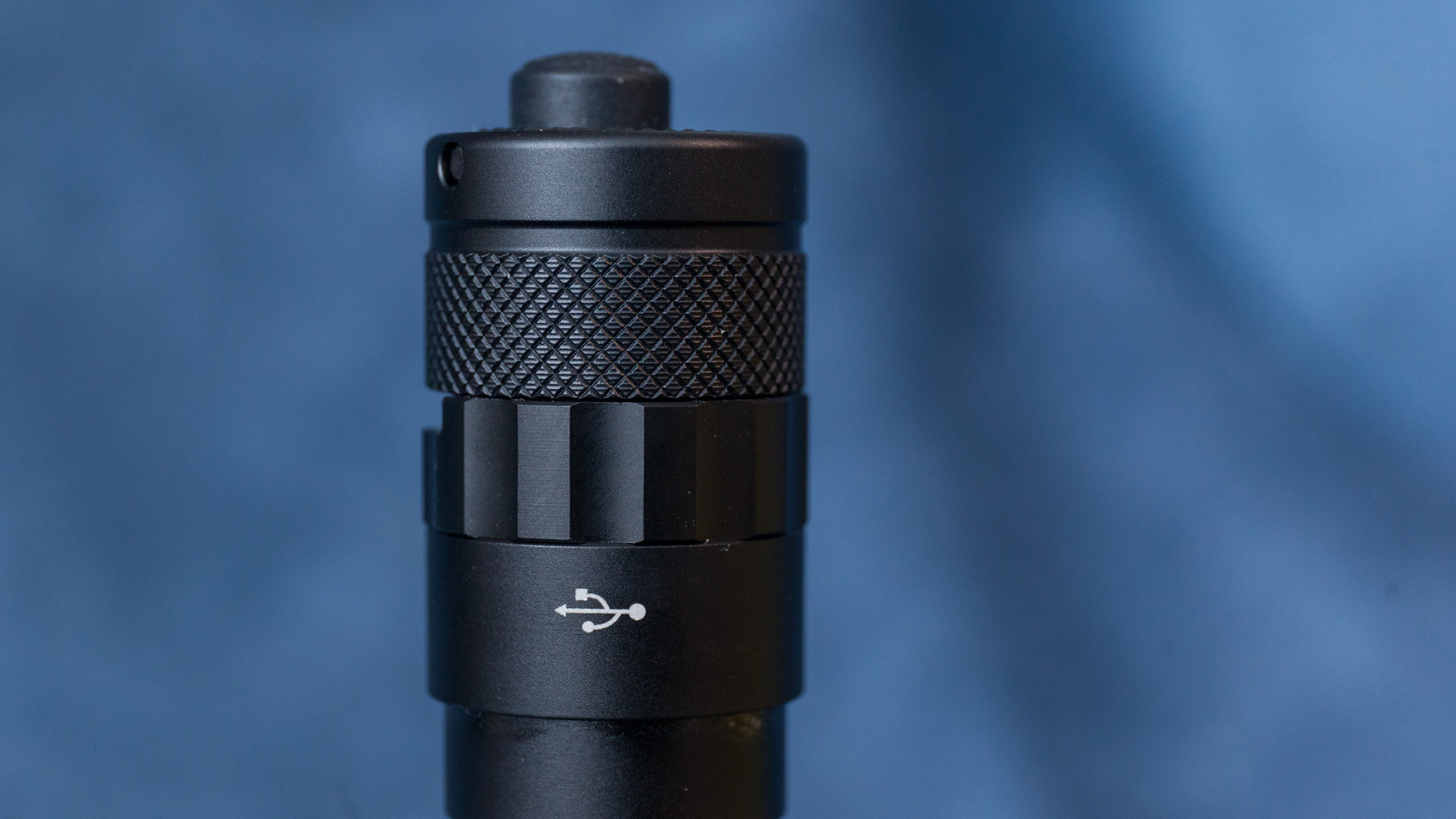 Surprises do not end there. Nitecore decided to follow the path that Olight has been stubbornly following, and which seems to have been taken by Klarus recently. So, normally, when it is needed to transfer signal from both buttons at tailcap, one smaller tube is pressed into primary one. so each tube transfer it`s own signal. like this, for example.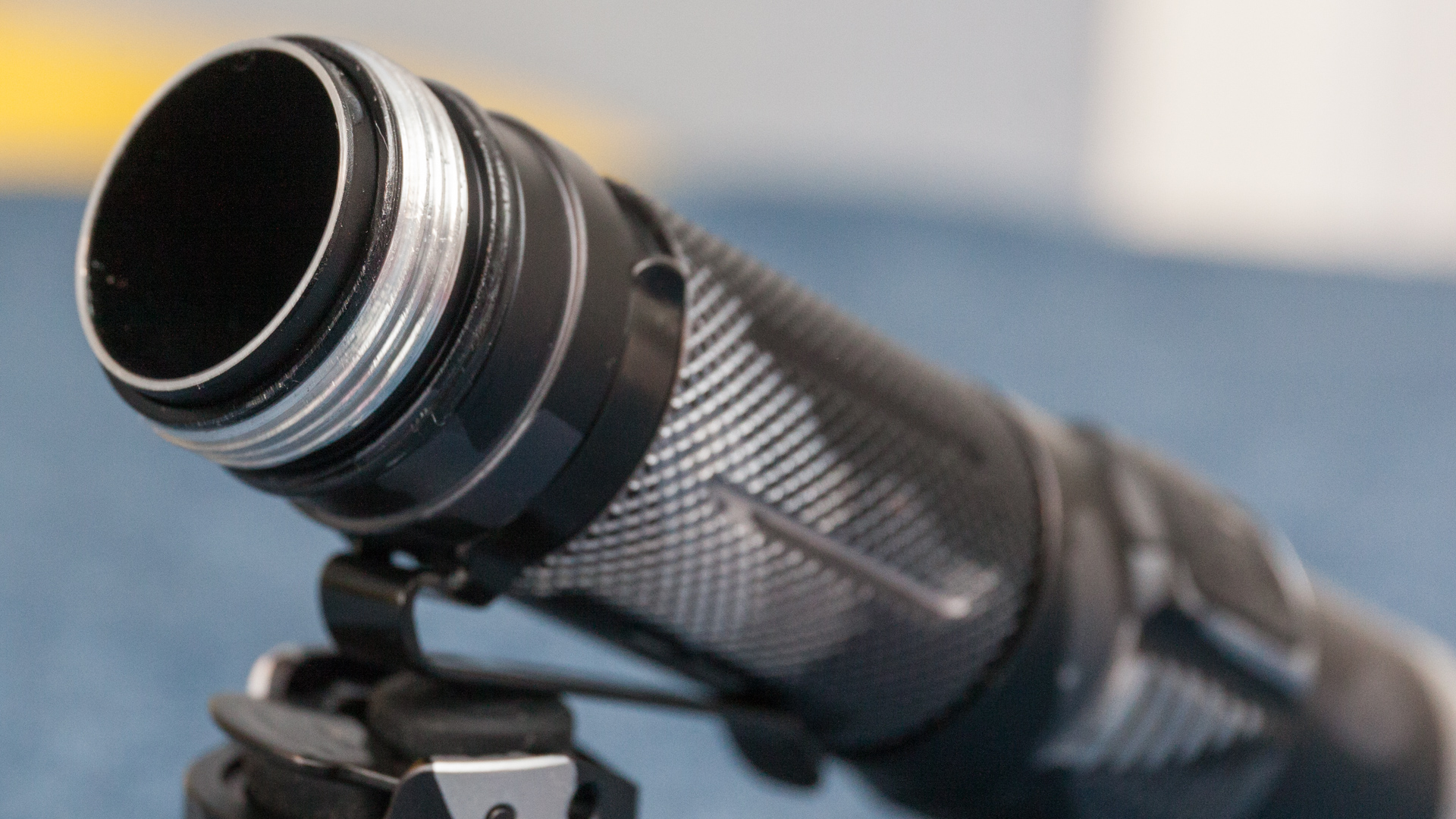 Such construction allows to use any sort of batteries. In case of Olight, you supposed to use their specific batteries to use built-in charge. But you still can use flashlight with regular ones, with no built-it charge support. Nitecore expanded this idea to further point. So, look at the contact from the side of the tail.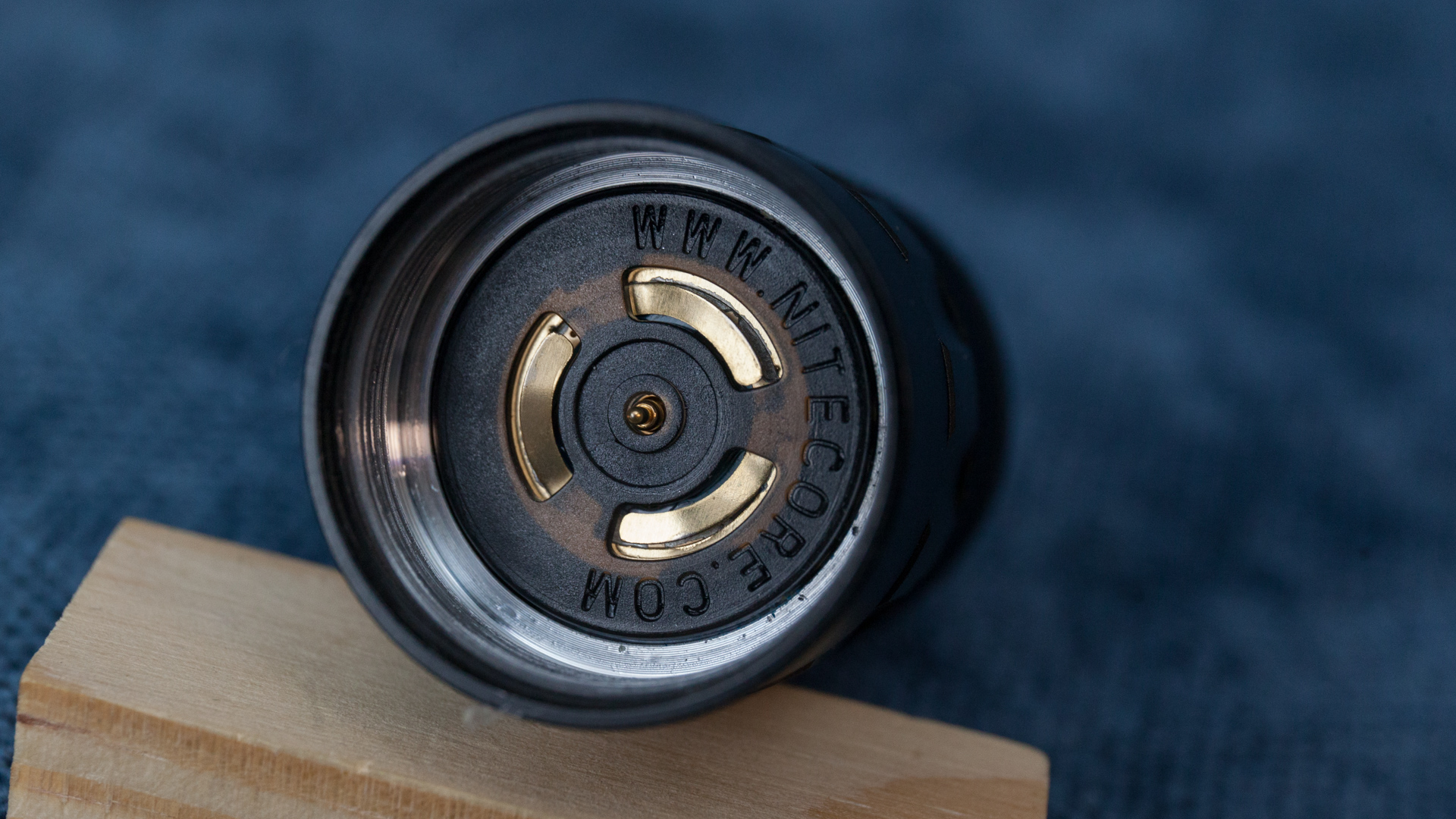 And here is this branded battery.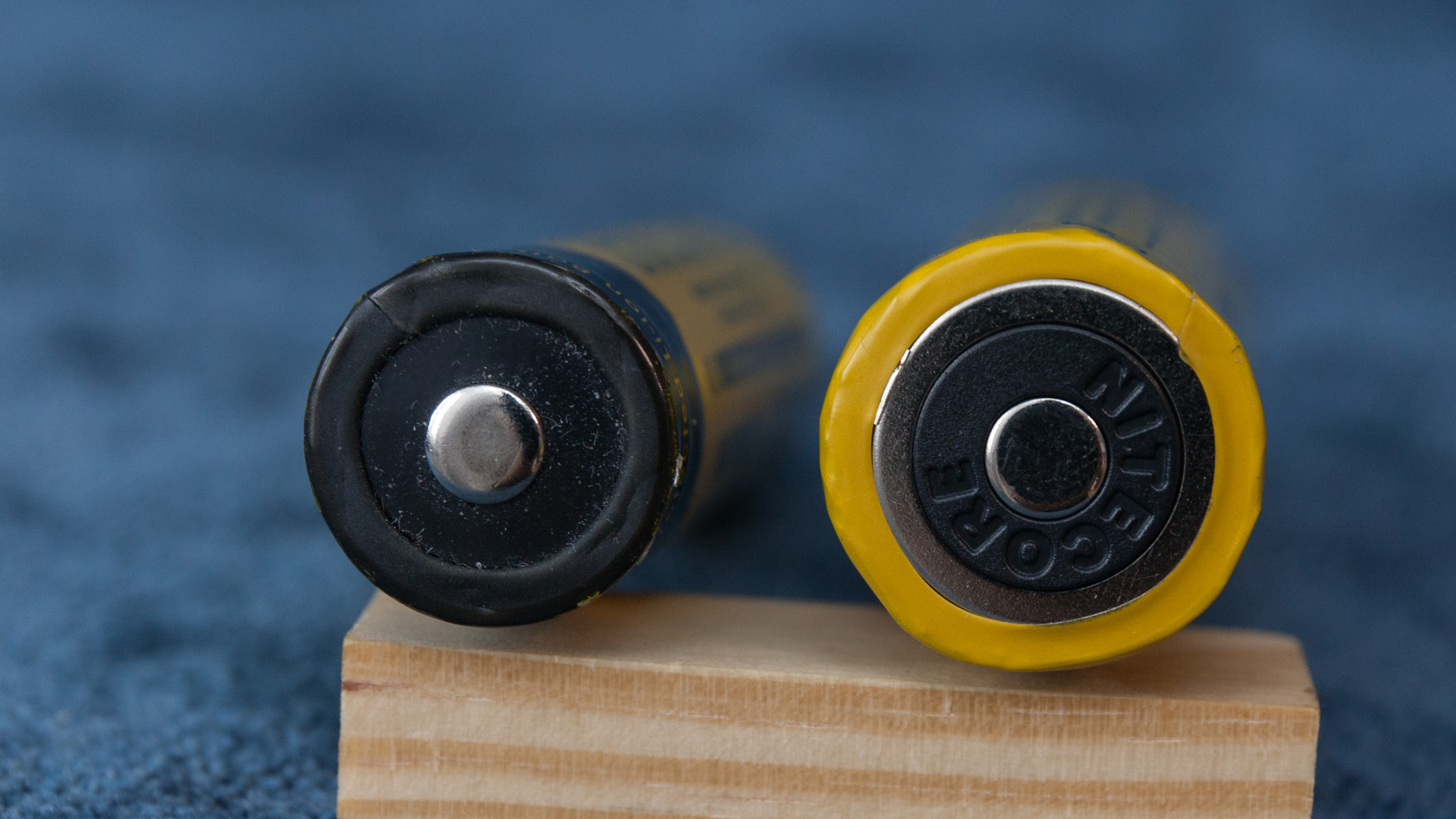 it has both contacts on each side. Nearby, for understanding, is a regular 18650 battery. Nitecore state that such construction minimizes the loss of power due to internal resistance to give the more stable high-out performance for i4000R.,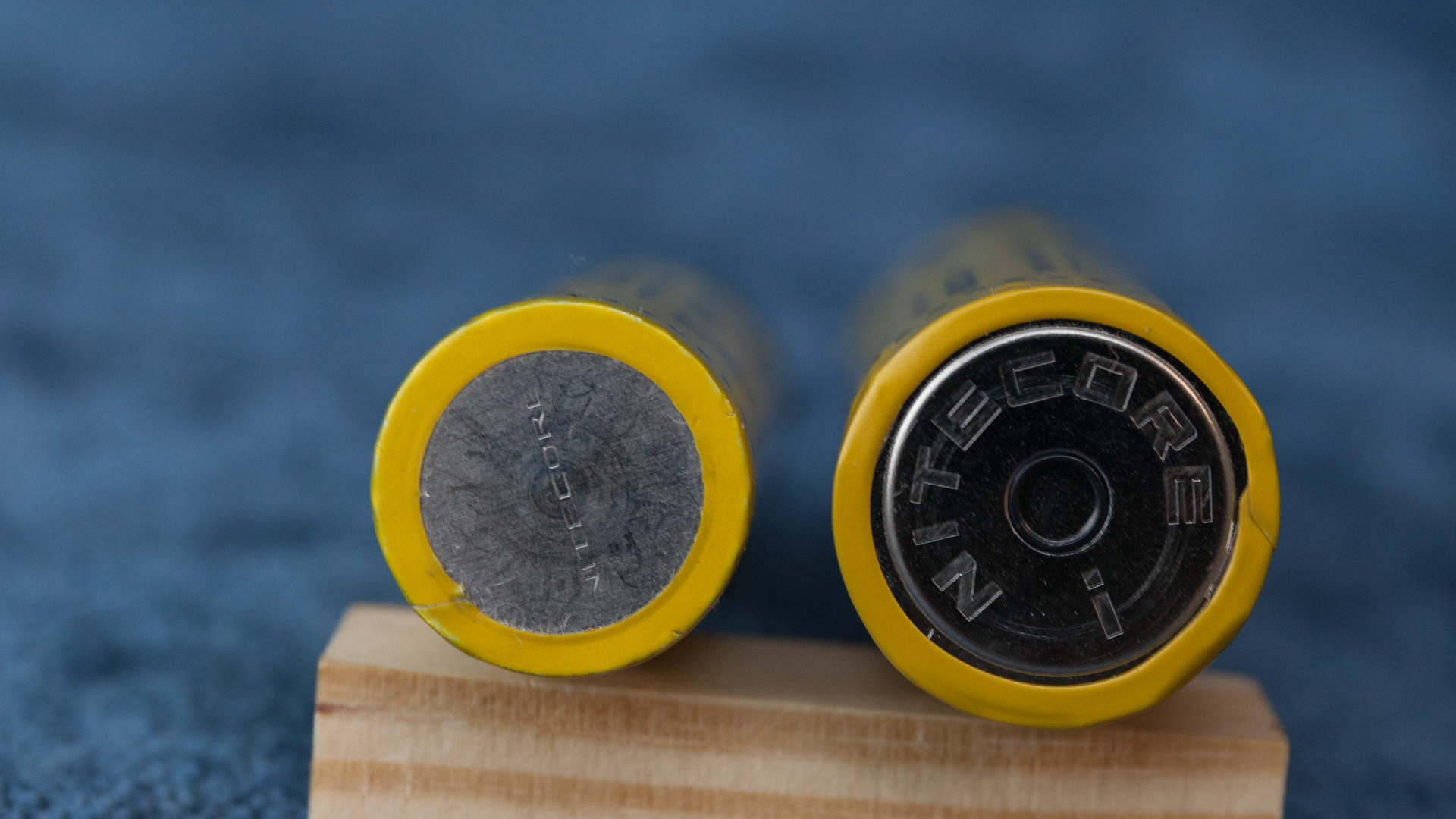 Currently, this is the only battery that can be used for I4000R.
Judging by CR123-21700 the adapter, the model is tailored specifically for North America market where people often use CR123.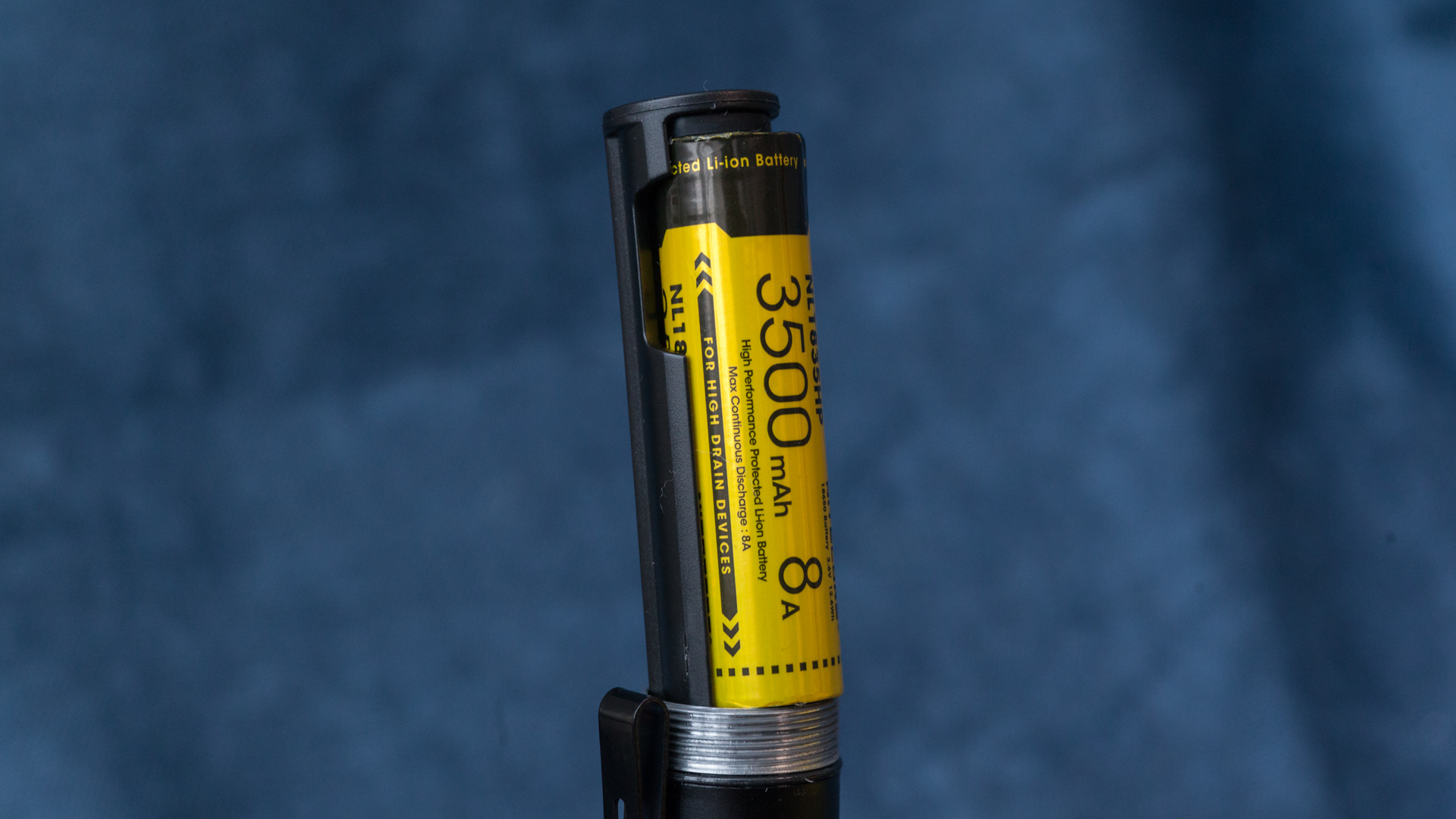 Thread is normally lubricated.

In contrast to the TM9K, where you get only 6cm is for grip, here in a 16cm flashlight with completely comfortable grip, that does not limit you in instant access to the tail buttons like TM9K does.

Head of medium diameter, rather long. The cooling fins are very modest for the maximum declared power. But in High mode it can cope can with a bang (see the graph at the end of the review) with heat dissipation. There is also a blue indicator that lights up during operation and winks off voltage when installing the battery. I dont get idea of two similar indicators, actually, as there is one at the tail.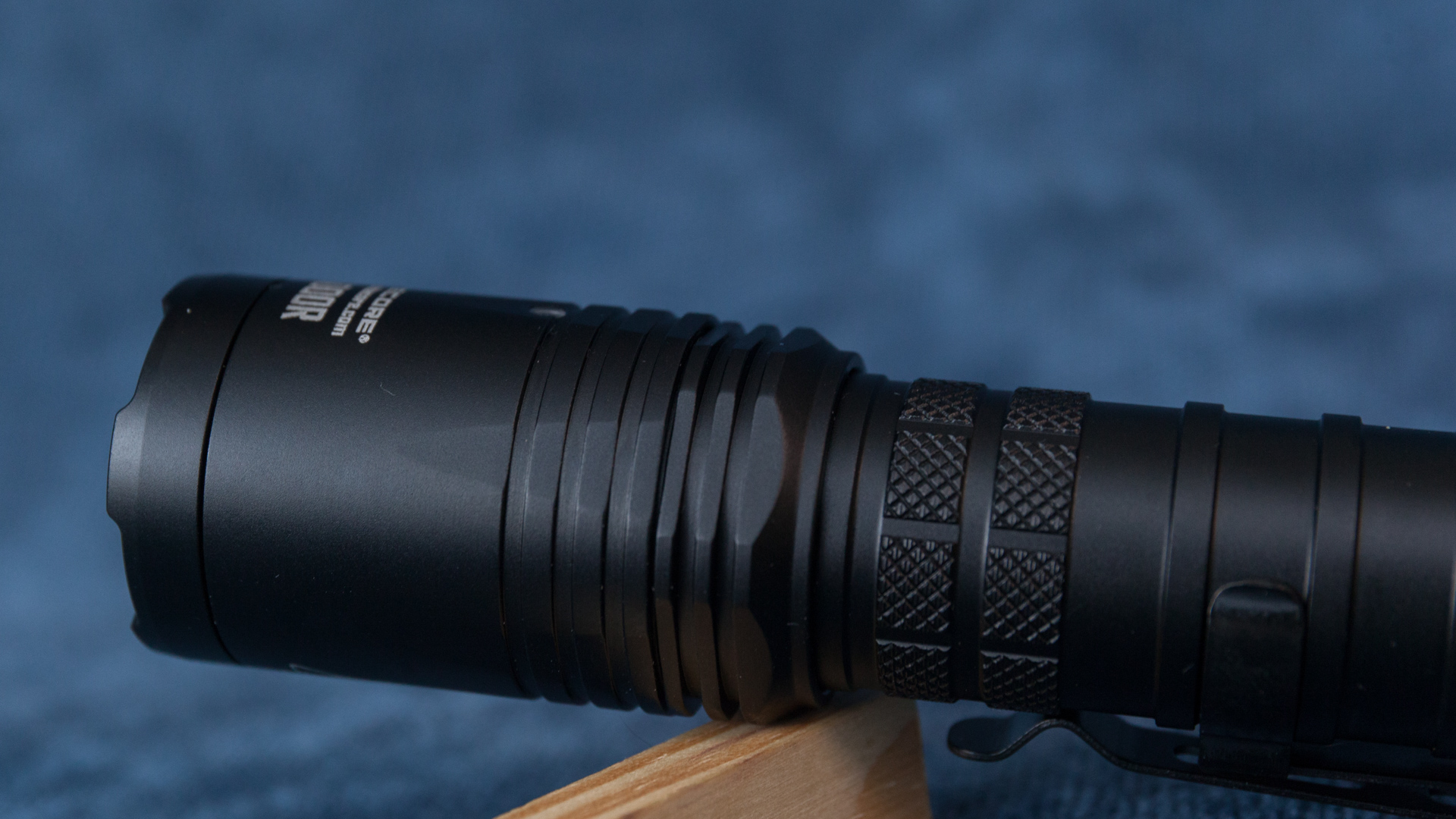 The bezel's teeth are frankly small, more typical for EDC than for tactical flashlight.

4 XPL-HD LEDs are responsible for the light, each at the bottom of a tiny reflector. This combination of optics and LEDs immediately says that there will be no throw at all – i4000r`s light will be bright and floody.

Appearance is good, thoroughbred. But I have serious complaints about construction. Not in terms of quality, it's still reliable Nitecore, but in terms of practicality.
 
UI
definitely, different teams worked on TM9K and i4000r. Both them have absolutely identical controls, but i like TM9K more.
a) in TM9K there is access to access the strobe \ turbo from any state. The I4000r does not have access to turbo from OFF.
b) in TM9K there is a reliable and convenient button lock. I4000R supports physical unlock, which is also ok…usually. But now you have to seriously turn tailcap off, so at least 3 turns of thread will be opened to collect dust, sand and whatever small crap your pocket or backpack contains at the bottom. Lubrication will also get erased.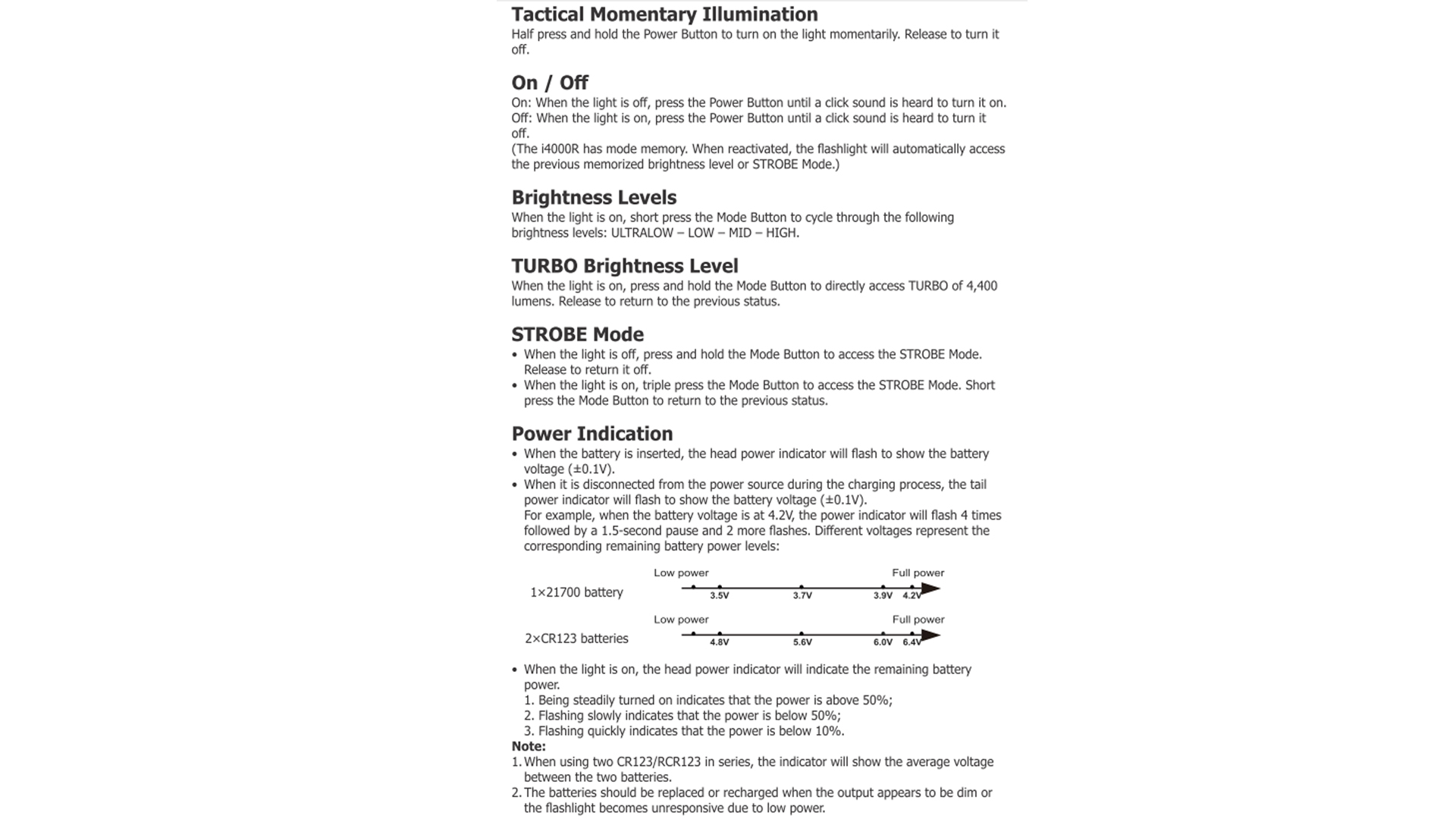 Shine
Something around 6000K. What is frankly unusual for a tactical flashlight is the light – so floody and very bright. And without PWM flicker unpleasantly surprised in TM9K. Before that, I had seen such brightness in 2-3 tactical flashlight with the XHP70.2.
And what does such brightness end up in?
 400 lumens mid – quite a decent brightness in order to simply illuminate your own path and for working indoors, and here you can count on 8 hours – an excellent indicator.

 1100 lumens in High, although unimpressive vs turbo, but in fact a decent level, which is enough for most situations. And the flashlight digests such power easily, some influence of thermoregulation begins only after almost 20 minutes. I am sure that on the street, with the slightest breeze you will not see any stepdown.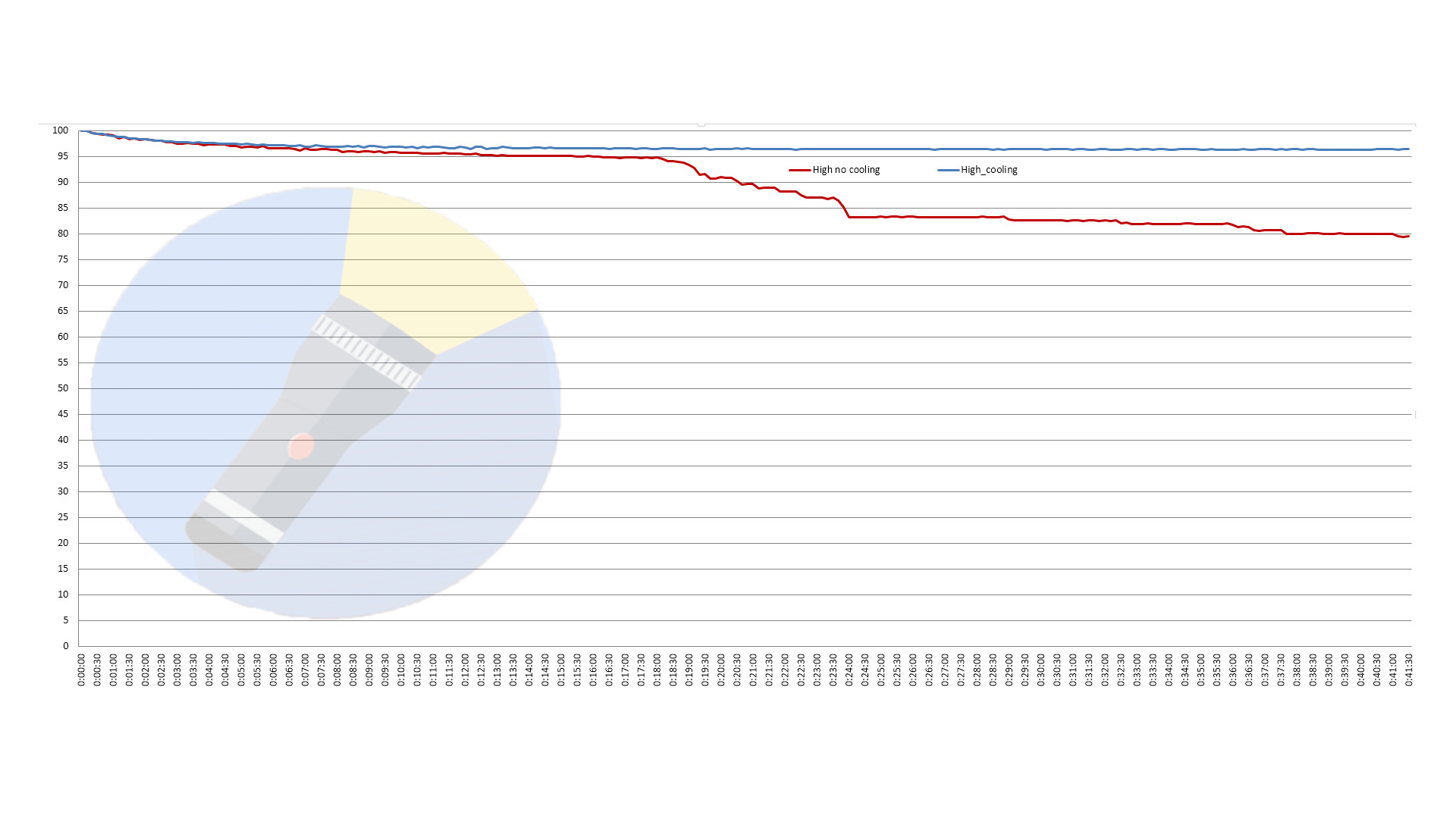 In general, everything is fine at this level. Full stabilization and normal thermal control.
 
As for turbo..again – no thermal stepdown, but timed. That is good as you can turn it over and over again. And bad for risk to damage insides by overheating.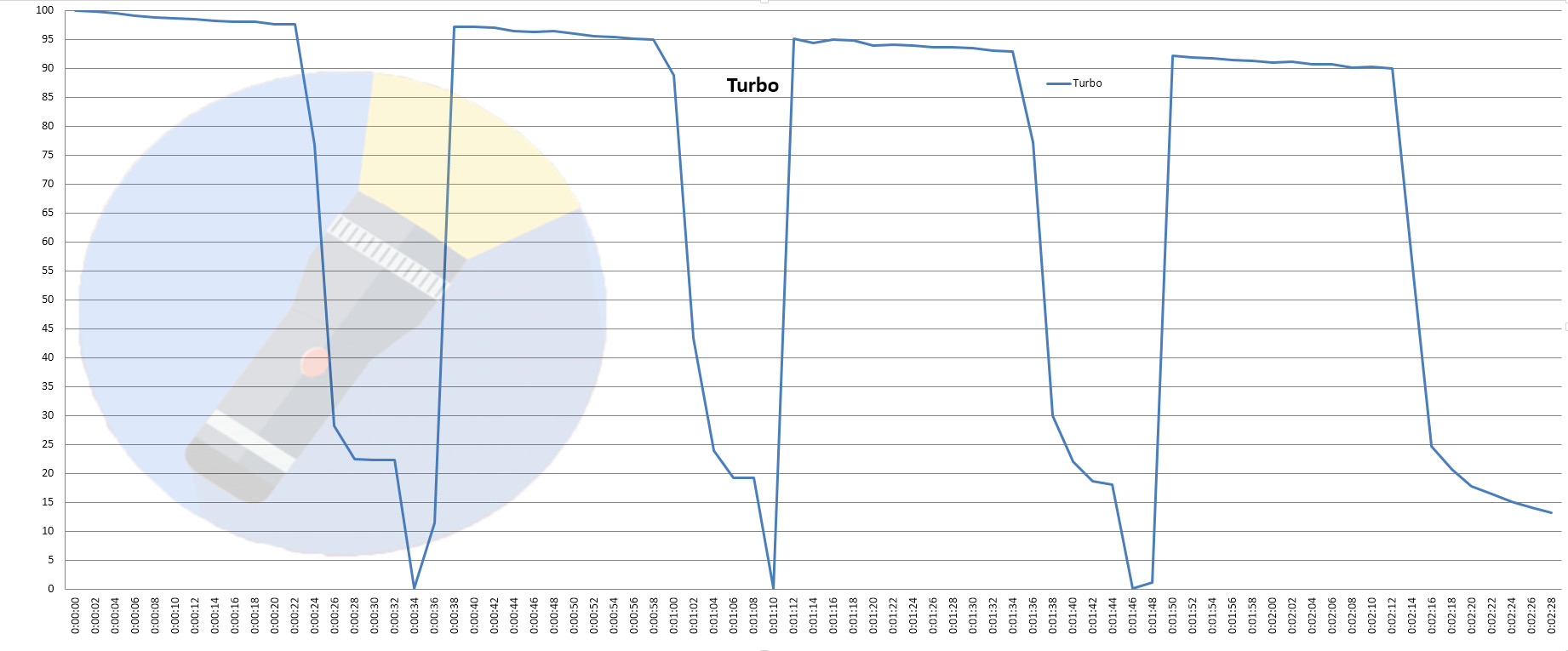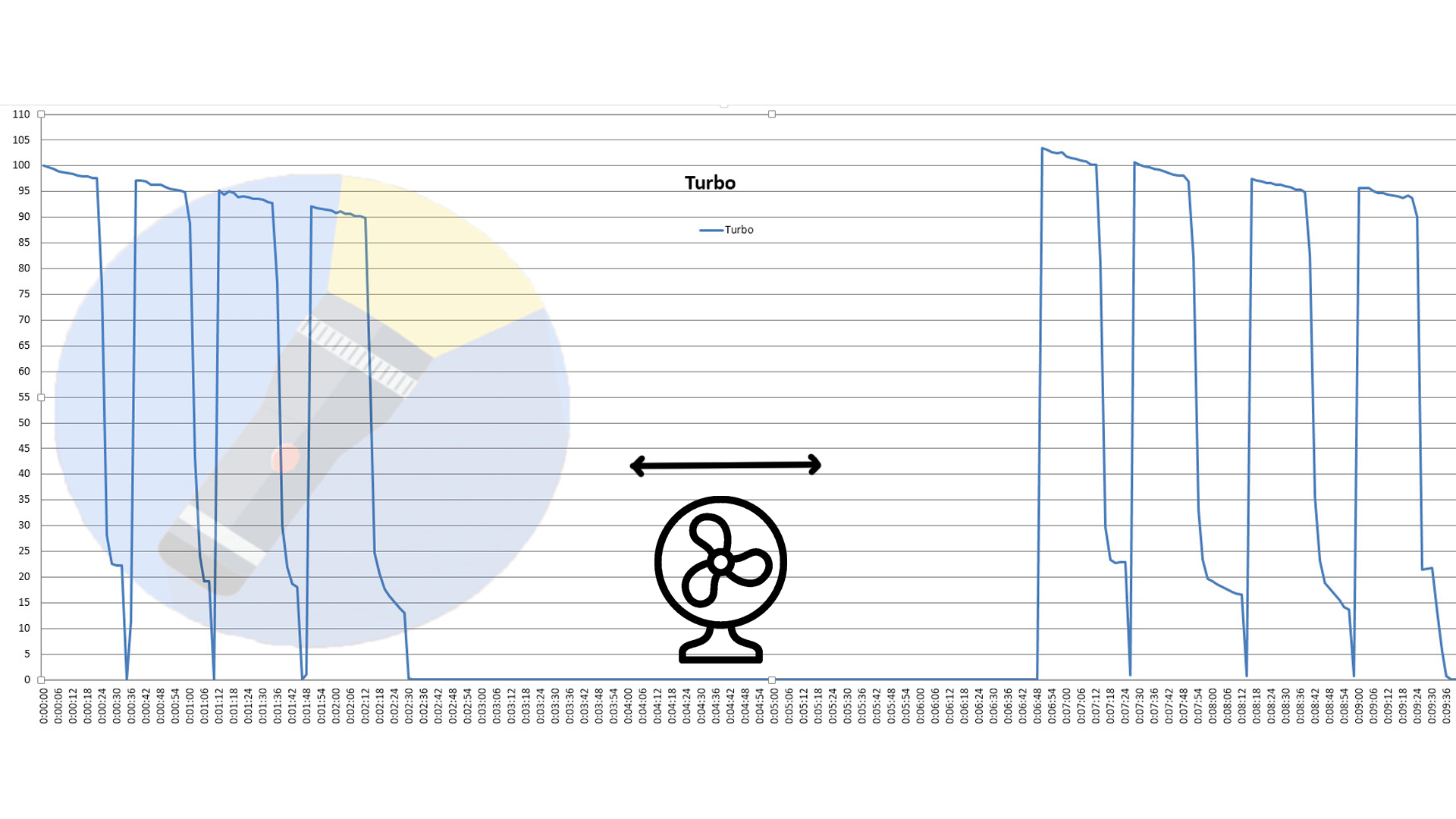 Well, let's look at the light itself. I remind you that it's not worth waiting for some range – the flashlight works in areas and will be definitely more comfortable near the usual long-range tactical flashlight. In some situations, this is a plus, in some minus.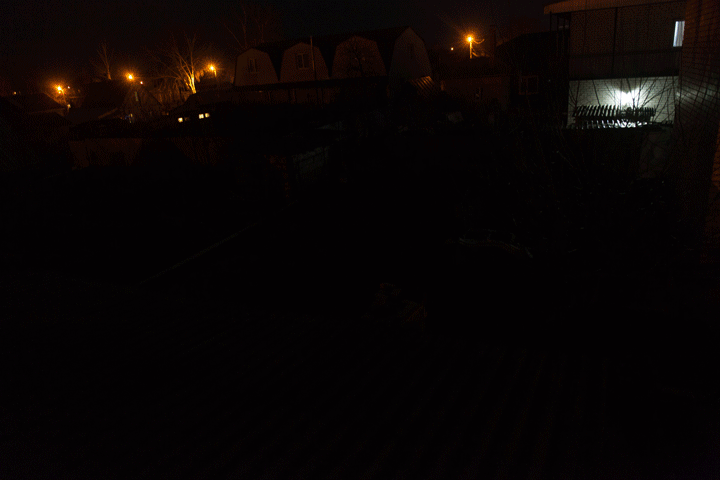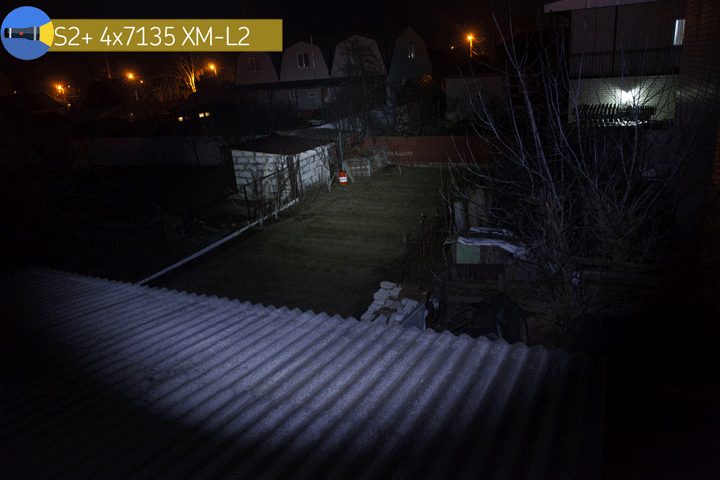 50meters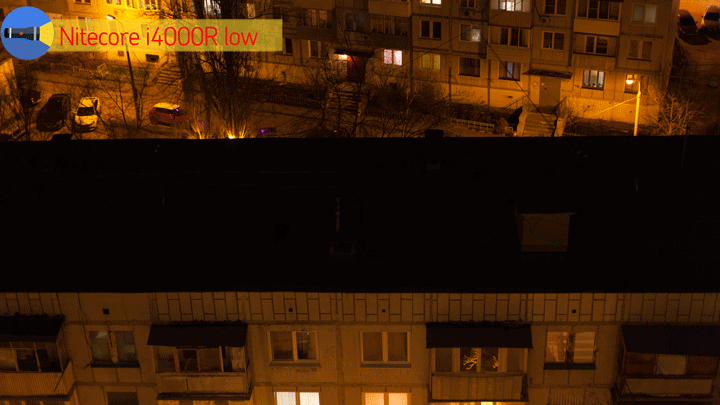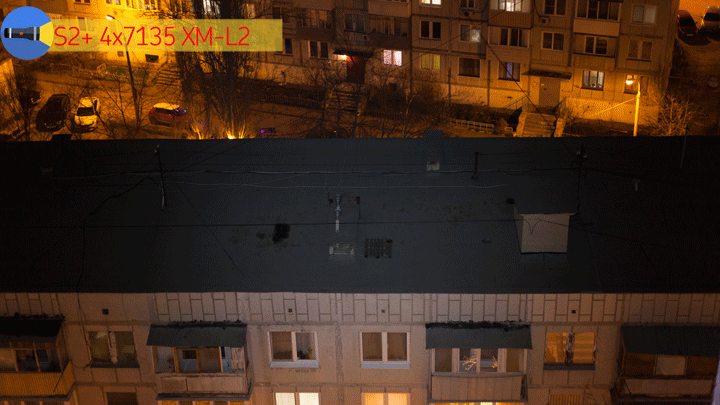 75 meters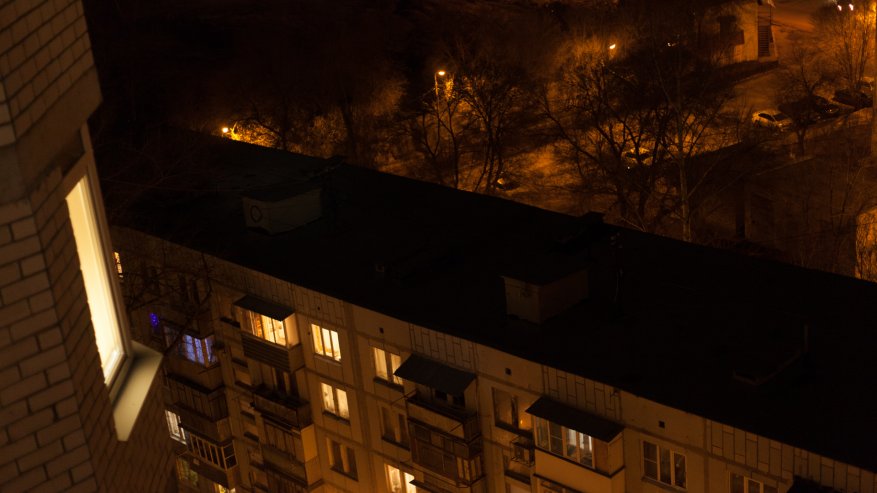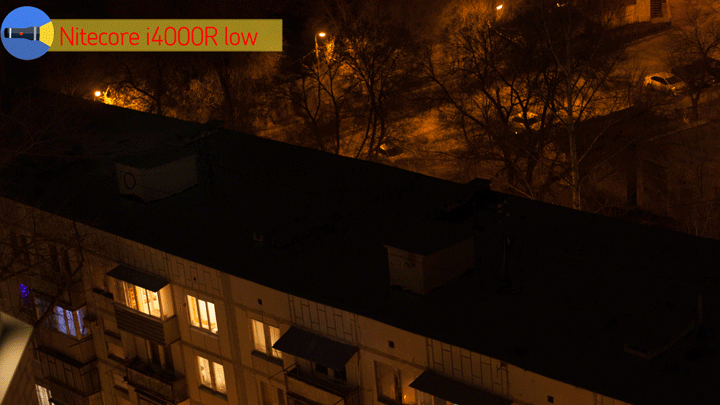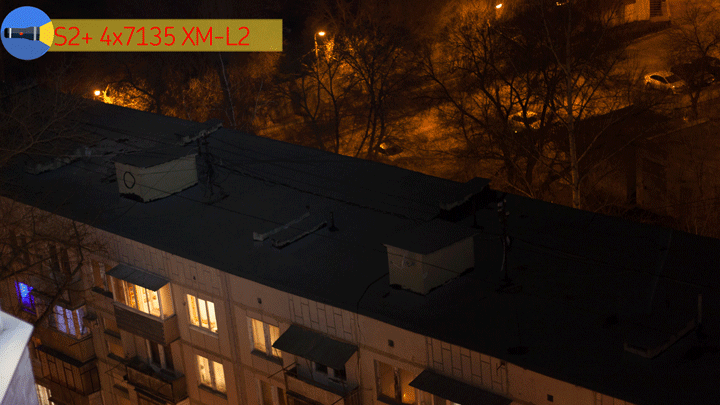 *250meteres. alsmost no use. *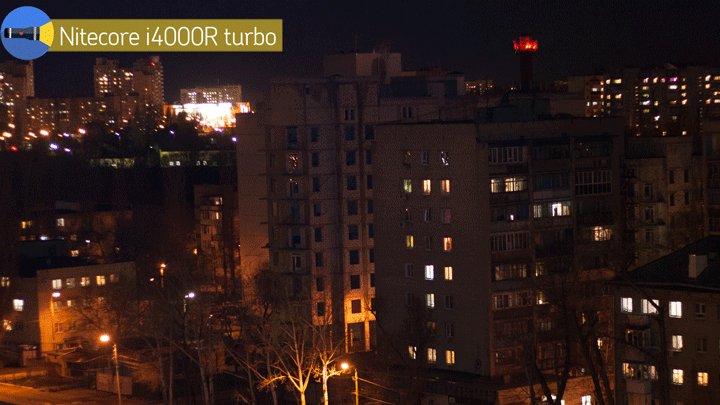 and check video review of Nitecore i4000R.

OVERALL IMPRESSIONS
Nitecore I4000R leaves a lot of controversal impressions. Model had great potential in the complete absence of other tactical flashlights with 21700 power and very bright floodlight.
But then start strange things. Manufacturer limited users only to a branded expensive battery. This minus is not functional, but rather marketing.
There is a type-C connector in the flashlight, but 1A charging current instead of appropriate for 21700 2A. And what's more, the cover design of this charge plug is doubtfull, at least at this point of review. Nevertheless, in usual use, i wouldn worry about it.
With such serious brightness, I4000R definitely needs to have lock mode, to prevent burning pocket or backpack. And it is not a problem to make, which TM9K successfully proves. It's not like you cannot lock flashlight, but in order to break the contact by old-way tail-cap twist, you almost uscrew the whole tailcap.
And I actually rarely see such a list of cons in an expensive branded flashlight.
If we talk about the advantages, then, as I mentioned, excellent maximum brightness and floodlight, both so rare for a tactical flashlights. Convenient size for use. The light is fully stabilized even in High mode and will allow you to expect somewhere for 2 and a half hours of excellent brightness.
In short, there are pluses here, but no fewer minuses. So if you need just this type of light (long-lasting bright and floodlight), you do not plan to drop the flashlight in the stream and buying a spare battery will not punch holes in your budget, then it is quite possible that this new nitecore i4000r LED tactical flashlight will please you. And if not, then no). I don't see much point in taking it as an everyday flashlight – there are much more interesting models here, of which I have a lot in the reviews. The Nitecore I4000R is a tactical things, though quite specific in terms of light.