Xtar, well-known manufacturer of battery chargers released one more new model.
I will not fill up the scope of the review with various empty arguments in order to indicate the preface (the zombie base in Lego will not assemble itself), and I will go straight to the point.
buy at ALIEXPRESS (recommend this store for lots of good charger) BANGGOOD GEARBEST
Specs
Two independent channels allow you to simultaneously charge Li-ion and Ni-MH / Ni-Cd batteries
Automatically detect the type of rechargeable battery and use the appropriate charge algorithm
Charging method for Li-ion batteries: DC charge (CC) and constant voltage (CV), this charging method saves battery life and does not reduce their capacity over time
Automatic detection of the end of charge process by voltage drop (-dV) for Ni-Cd / Ni-Mh batteries
Display with switchable backlight and display of percentage of charge, voltage, charge current, accumulated capacity and type of rechargeable battery
Accumulated capacity measurement in charging mode
Charge Current 2A * 1 / 1A * 2 / 0.5A * 2
Activation of highly discharged Li-ion batteries with a small charging current
Intelligent recognition of damaged batteries
Ability to select the device's power source, two inputs: 220V and 5V
Automatic change of charging current depending on the power source
The soft start function at the beginning of the charging process avoids damage to a discharged battery by a large charging current
Protection against short circuit and reverse polarity in case of improper battery installation.
Overcharge protection. The charger will automatically stop charging when the Li-

ION

battery reaches 4.2V
To save energy, it is possible to turn off the display (hold the button for more than 2 seconds.)
The body is made of non-combustible

ABS

plastic
RoHS & CE Certification
Technical specifications:
Input: 100-240V or 5V 2.1A
Output Current: 2A * 1 / 1A * 2 / 0.5A * 2
Final charge voltage: 4.2V / 1.45V
Compatible with:
Li-Ion / IMR: 21700, 20700, 26650, 22650, 18650, 17670, 18490, 17500, 18350, 16340, 14500, 10440
Ni-Mh / Ni-Cd: AAA / AA / C
Dimensions: 135mm × 75mm × 38mm
Weight: 150g (without power cord)
Set includes:
Charger
Power cable from a network 100-240V
Instructions
Warranty Card
Of course, if we are talking about batteries and chargers, I can not skip mentioning largest and most trusted NKON store, where you can buy almost any type of battery without the risk of running into the next vtc6 for varicore and similar slag. Only today I took another package from them, everything came quickly and was packed securely. In general, I recommend. Yes, you can also buy a reviewed charge from Nkon.
 
Package and appearance
decent cardboard box with a good design.
Kit is simple, you `ve got all needed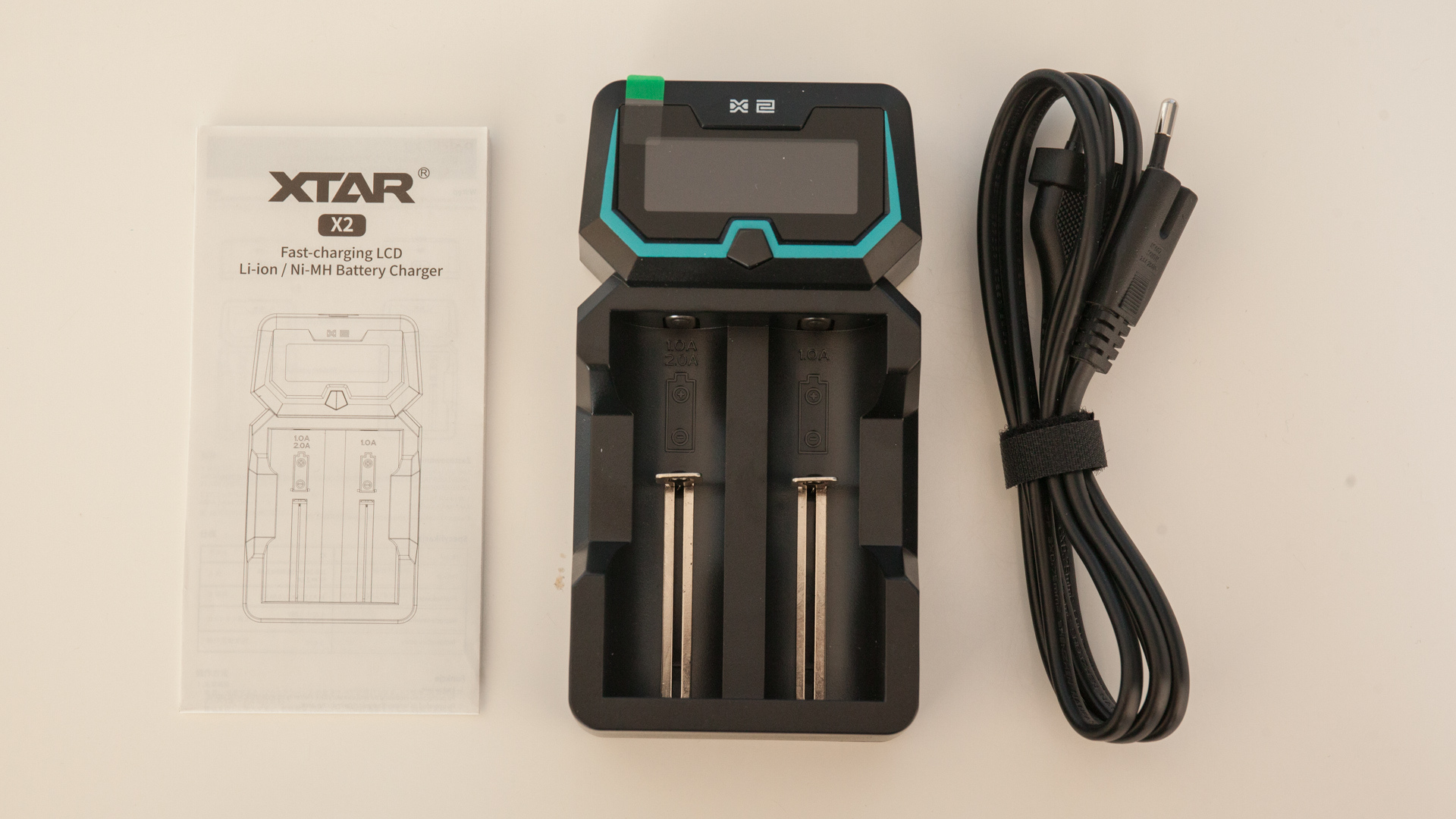 The appearance of the device is decnt as well. I don't know if the designers deliberately or not decided to add some toyish outlook to such a serious device as charger, but the upper, display part of the Xtar X2 clearly resembles the head of either an owlet or a penguin.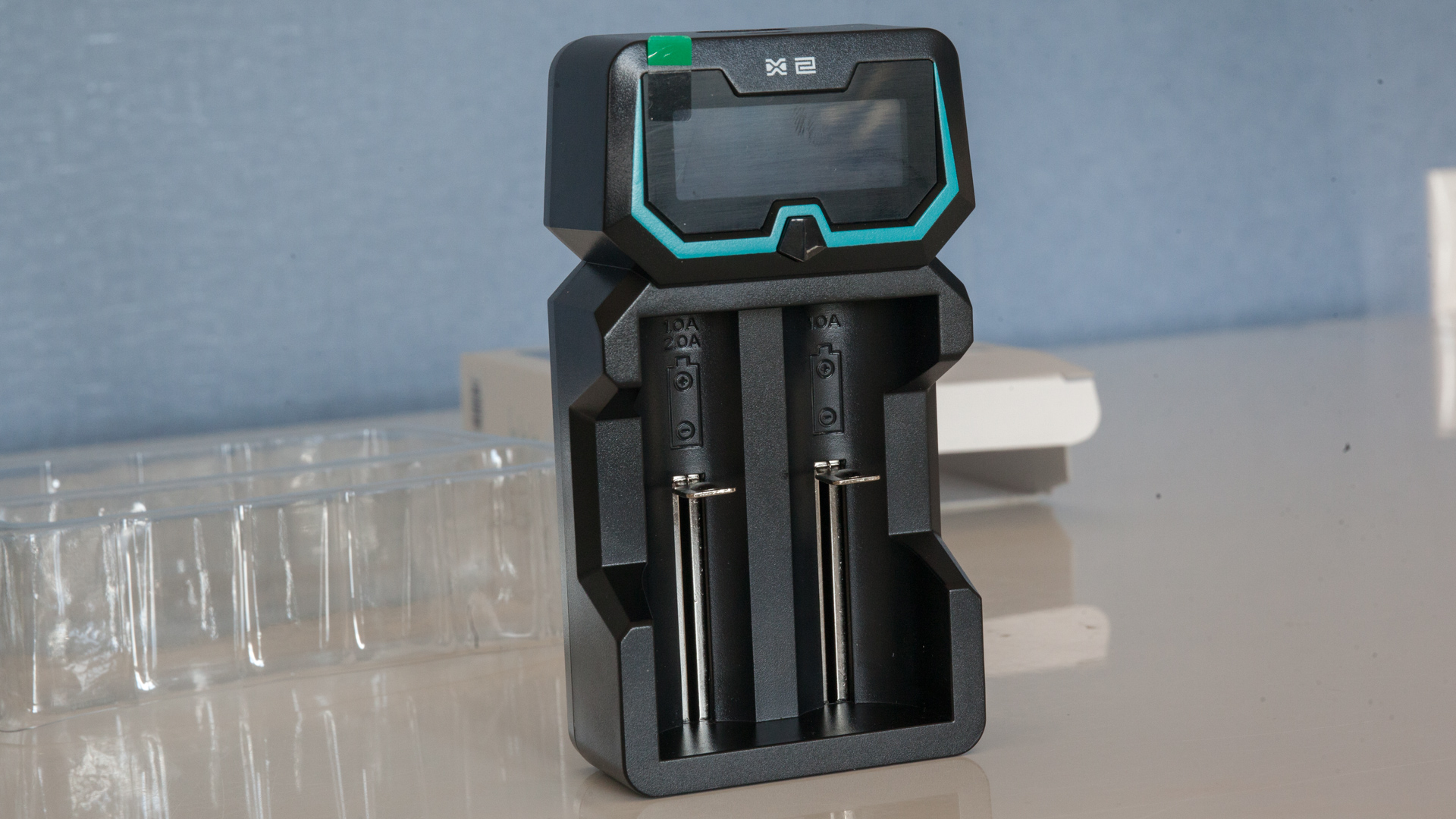 And the recess in the middle clearly forms some rudimentary limbs above and below.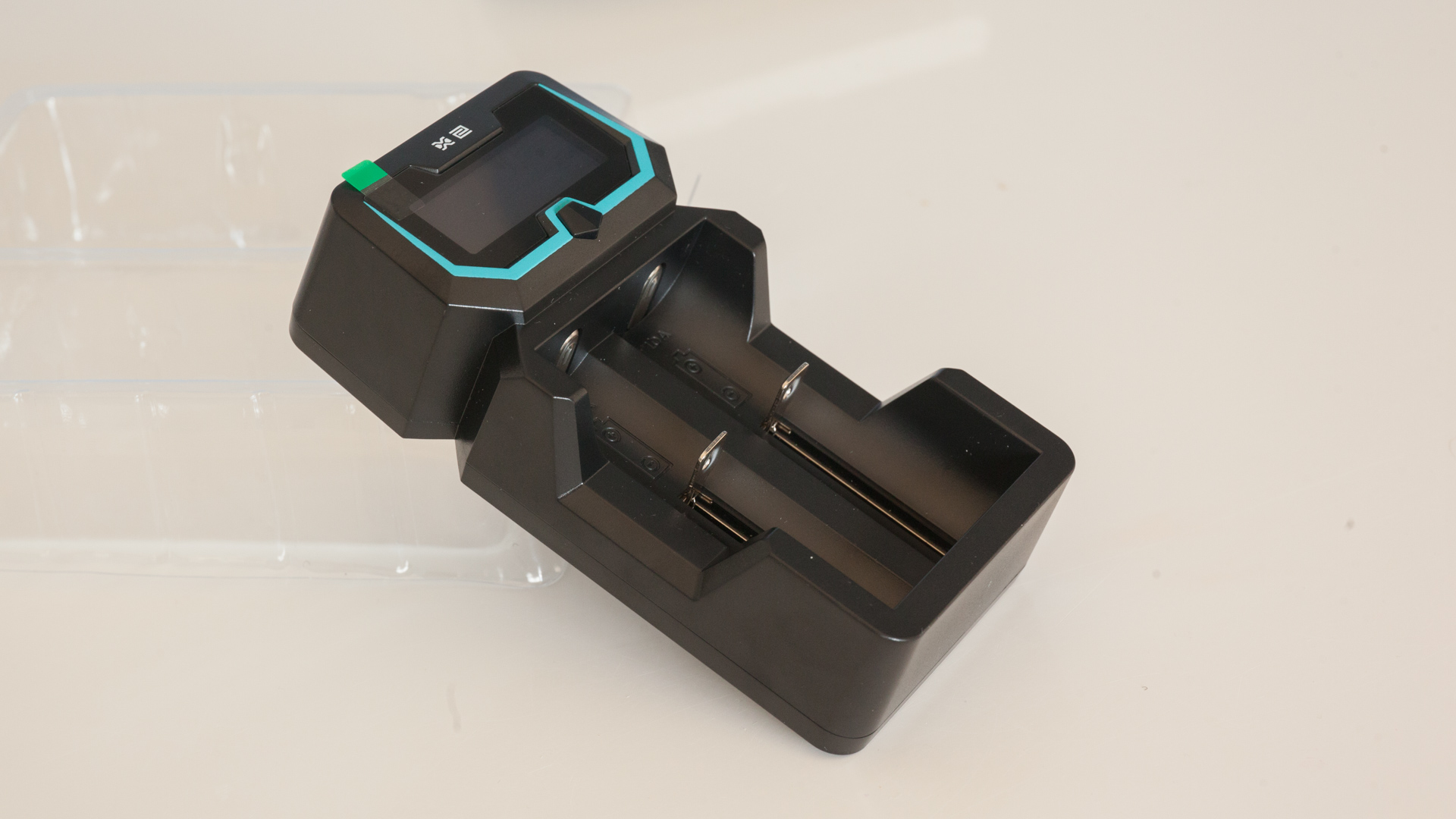 Personally, I like this design. The manufacturer stopped exactly at the place where the design is still pleasant and funny, but not yet childishly frank.
The plastic is thick. High-quality casting, without any defects.
As mentioned at the beginning, you can connect the charging with both a network and a Micro-USB cable. That is great, as normally you get either one or another, not both.
!https://www.ixbt.com/live/uploads/images/original/04/96/13/2020/03/19/a2...

On the back there are 6 small rubber legs, which traditionally hide screws. Since I met situation when spring on the contact rods breaks, I like that i have easy access to insides, ulike chargers when halves are ultasonically welded..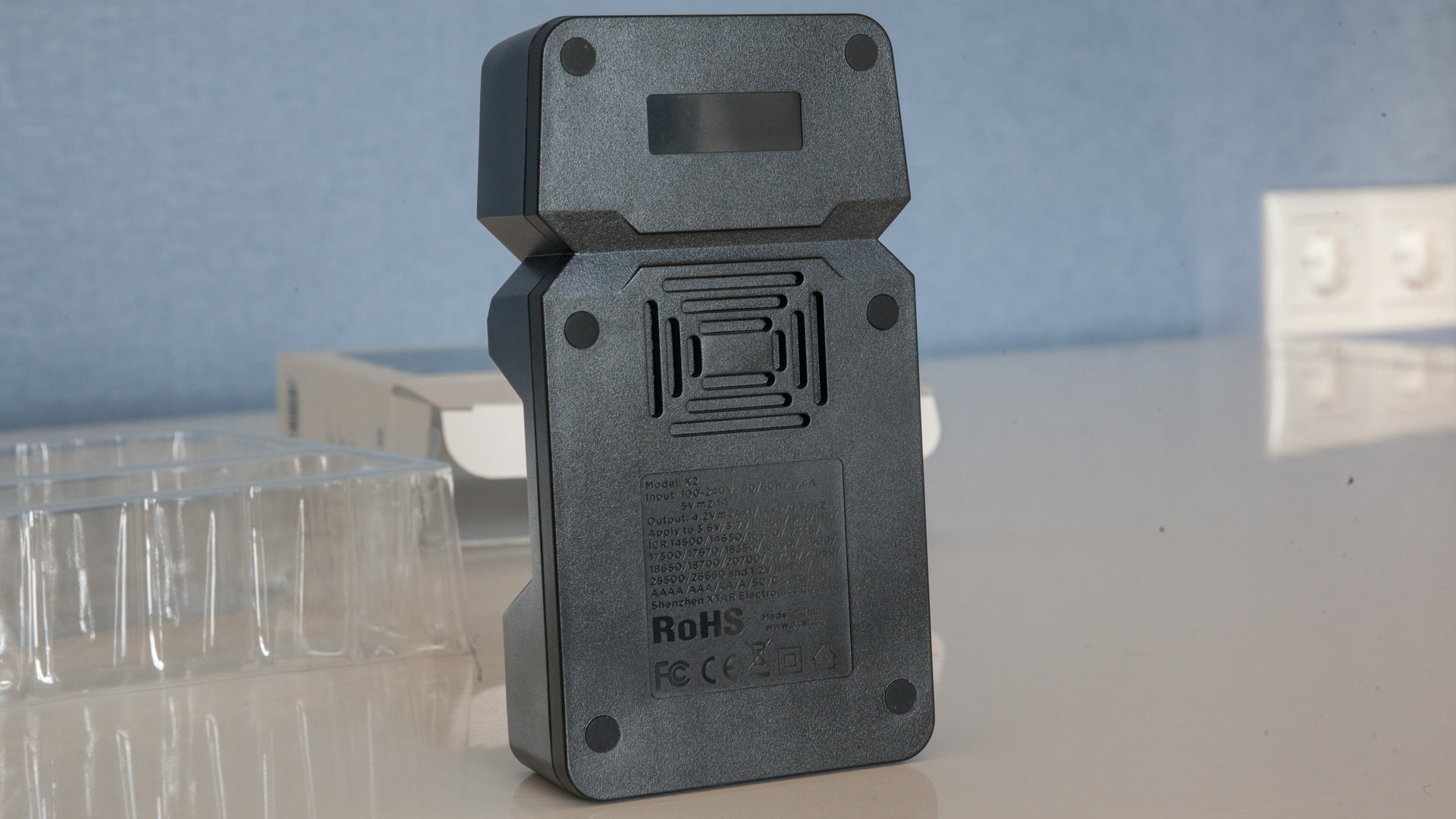 Getting to the insides to change spring or fix or mode, whatever, will be much, much easier. Here they are, in fact. Everything is neat.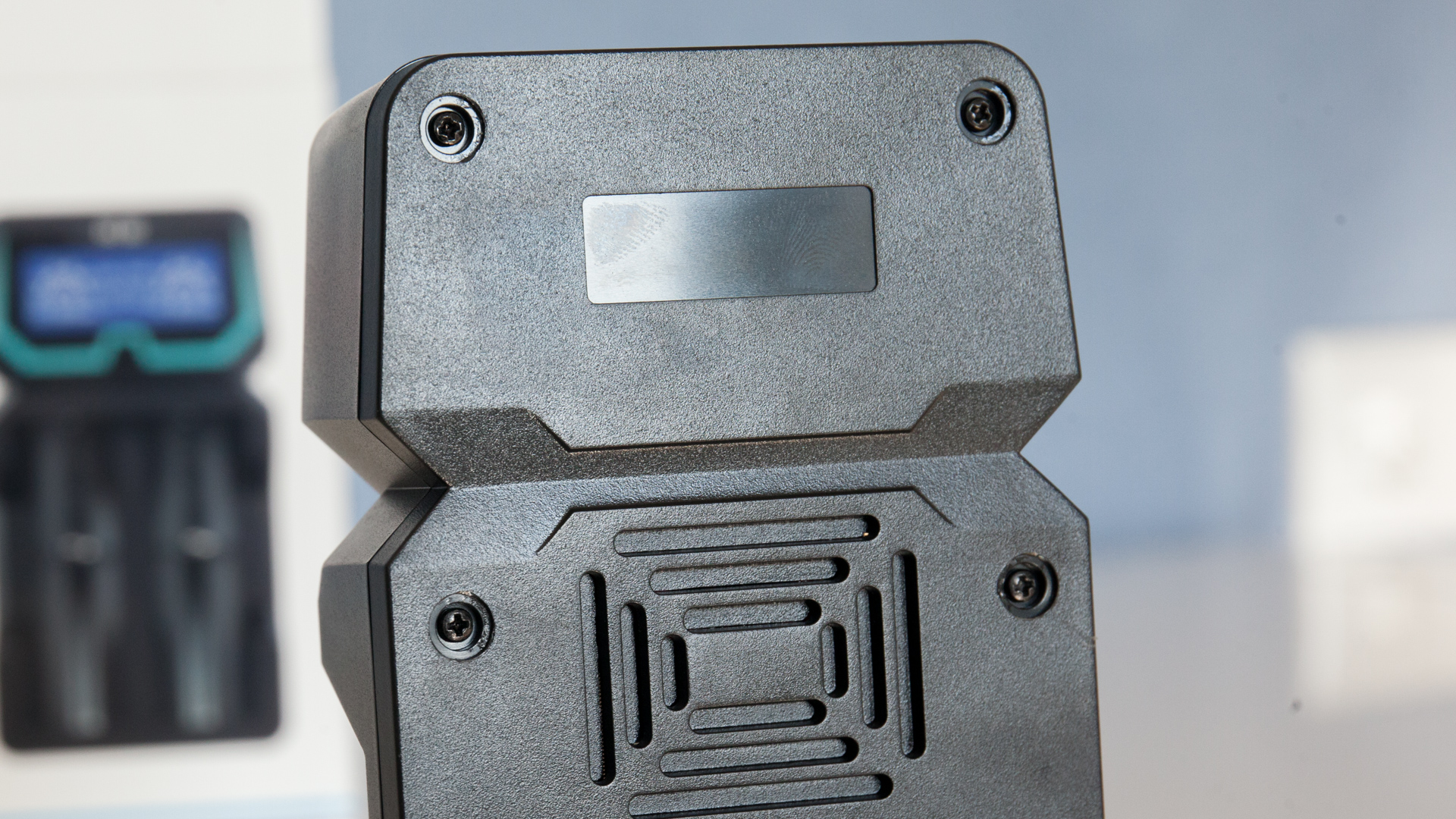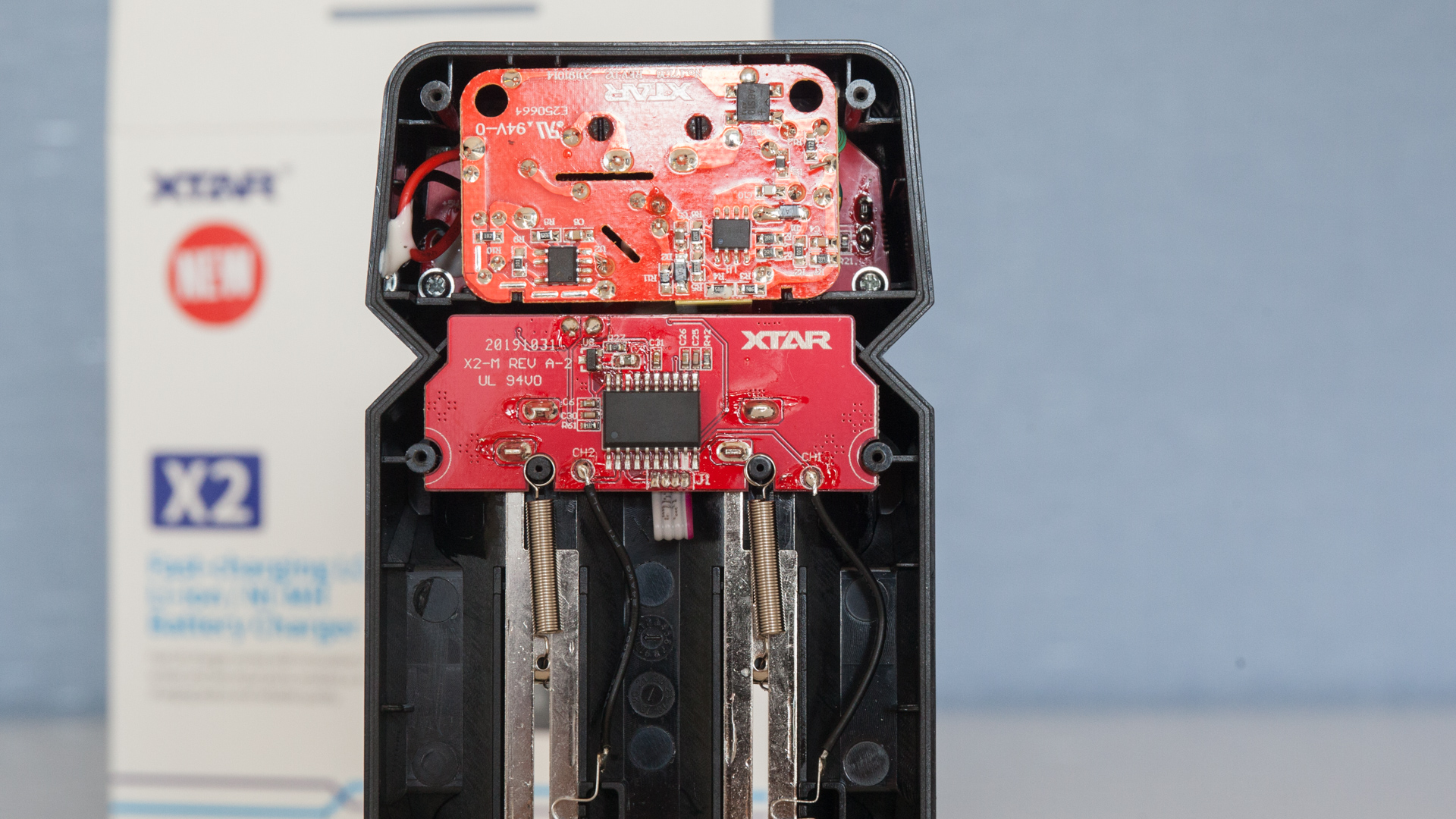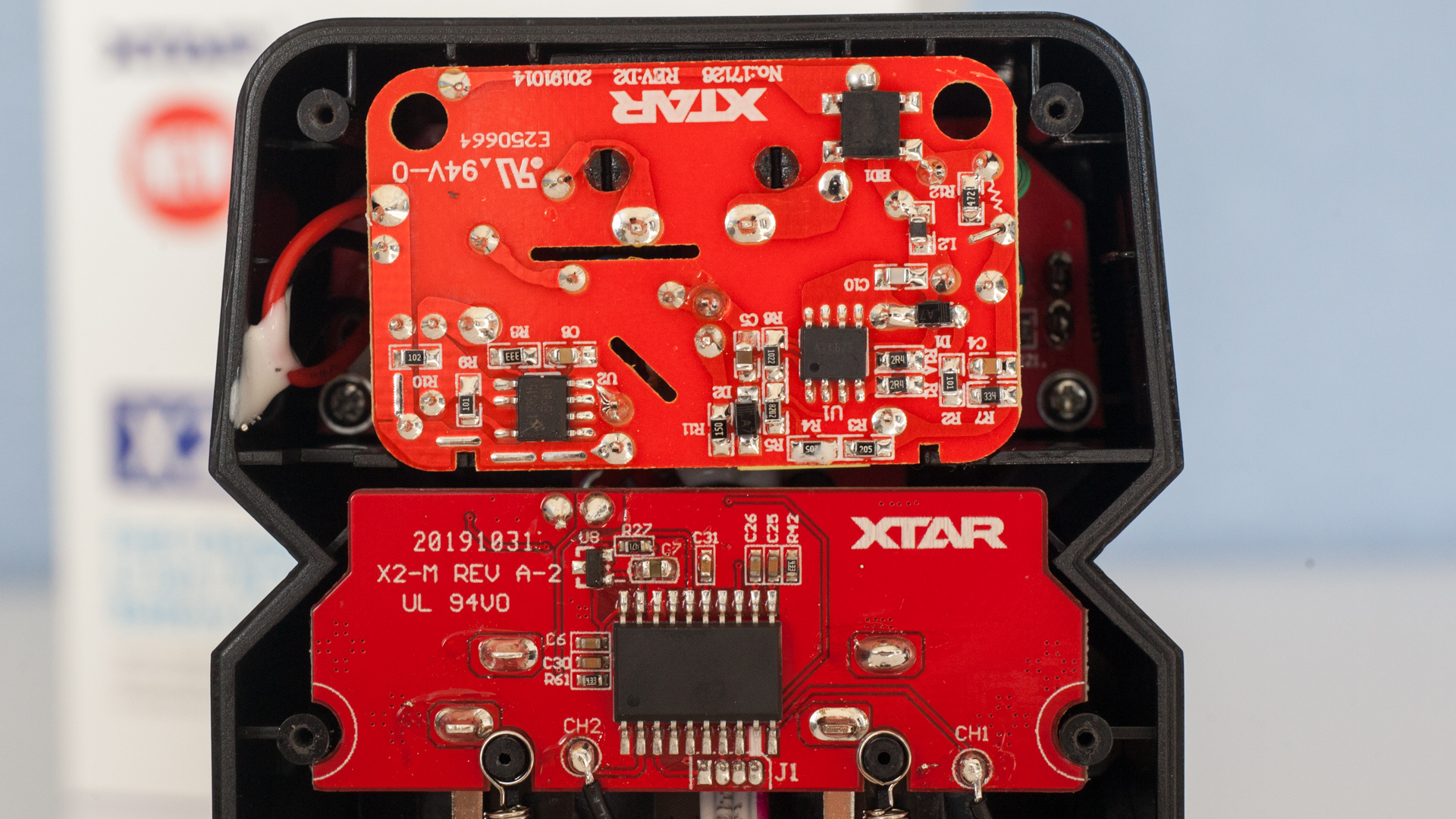 I was pleased with the capacity of the compartments. Not so long ago, in a review of the bright tactical flashlight Nitecore i4000R, I came across surprisingly long branded 21700 battery. None of the charges (except fresh Nitecore's, of course) could fit such a long battery. So, Xtar X2 was able and, moreover, there still remained some extra millimeters. Great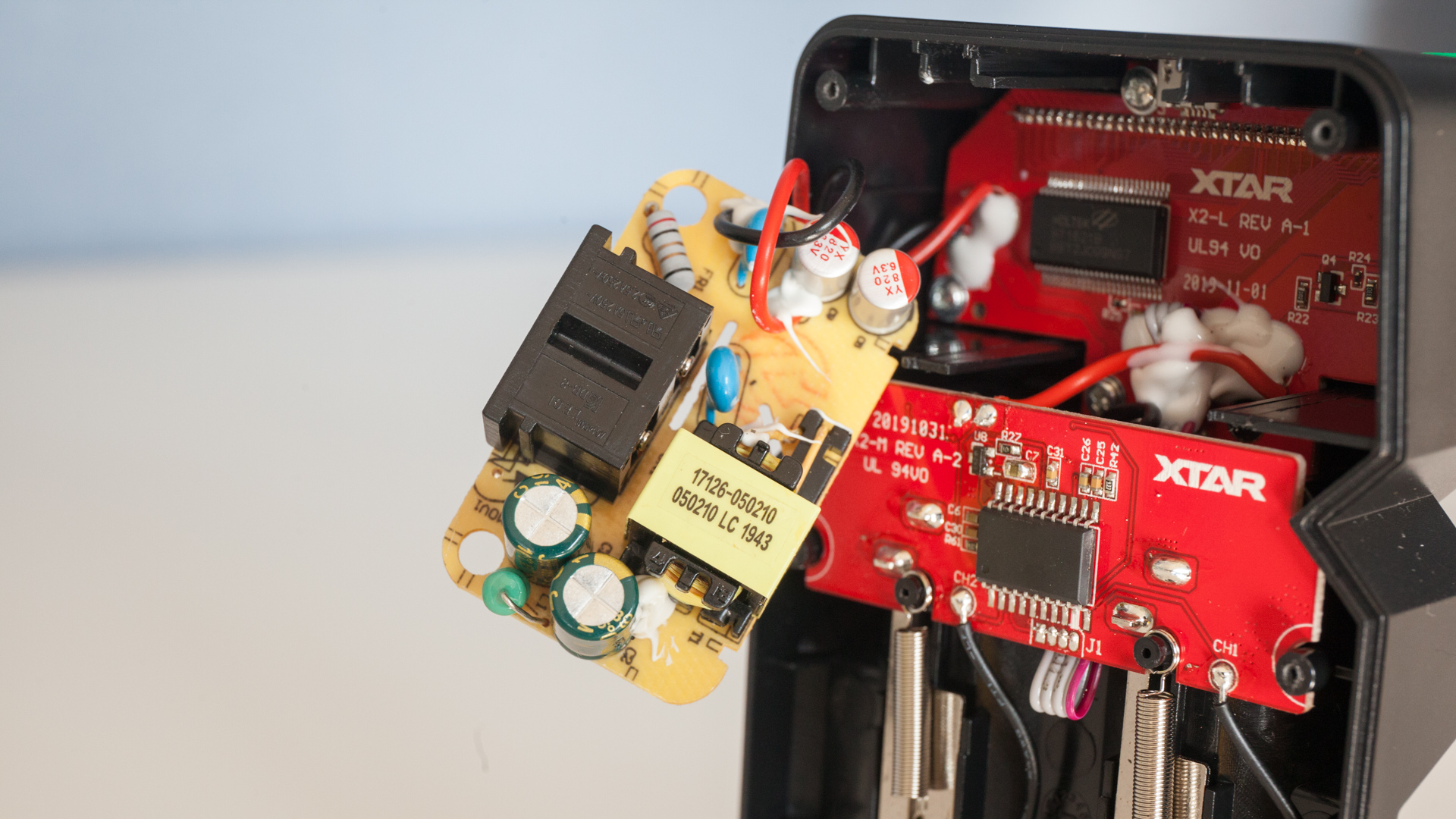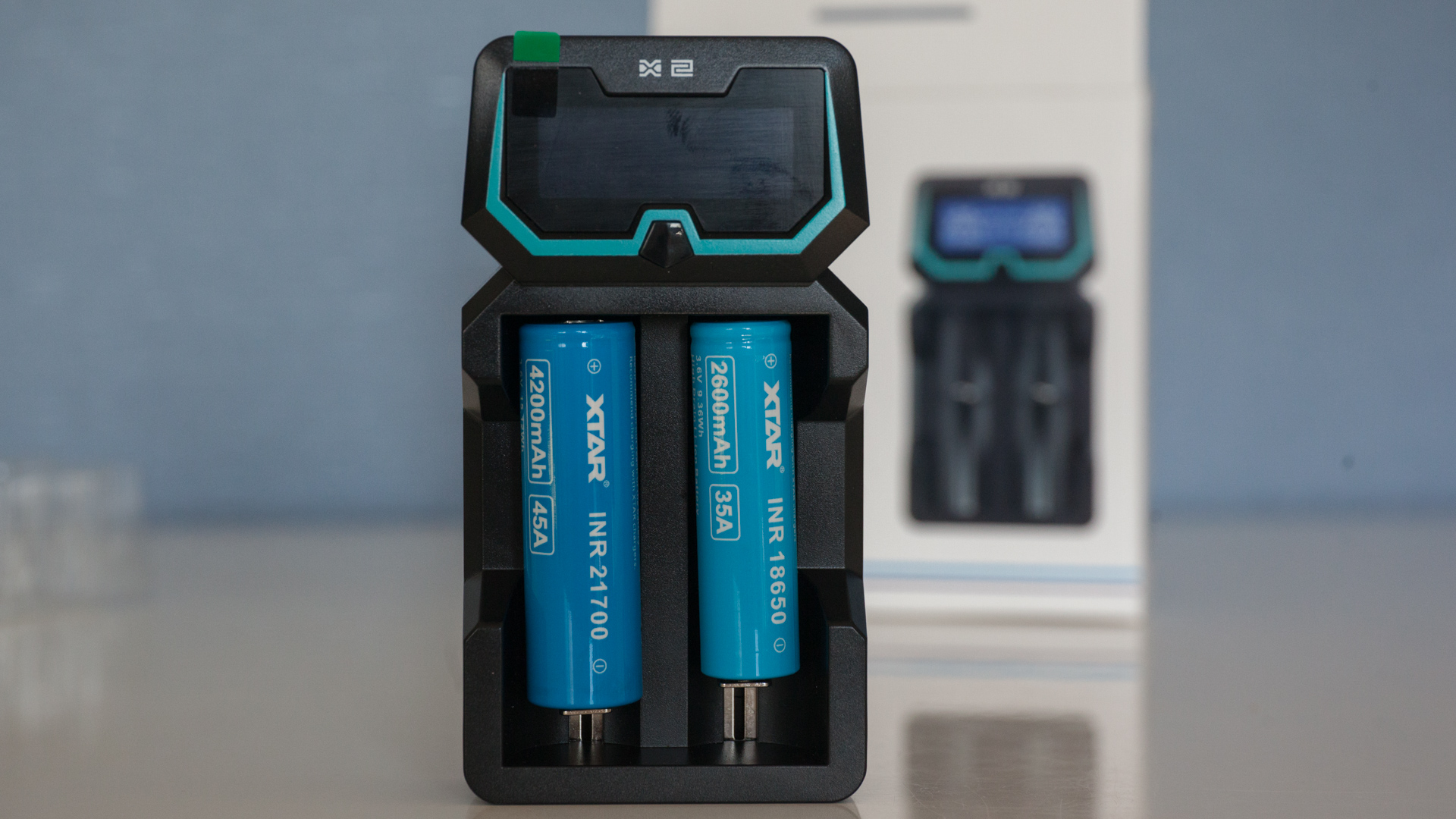 As for the compartments themselves, then one is reserved for 2A, the second for 1A. Well, of course, you can put the batteries in both compartments, then the charging current will be 1A per channel. This is the only way to somehow choose the charging current. And, those who know things already understand that the minimum 1A makes it charging all the sort of small batteries (like 16340, 14500 etc up to 18650) more likely marketing. Personally, it would never occur to me to charge the 700mah 16340 \ 14450 with a current of 1A. Here it would be nice to have an option to switch to 0.5A, that`ll fit small capacity batterie.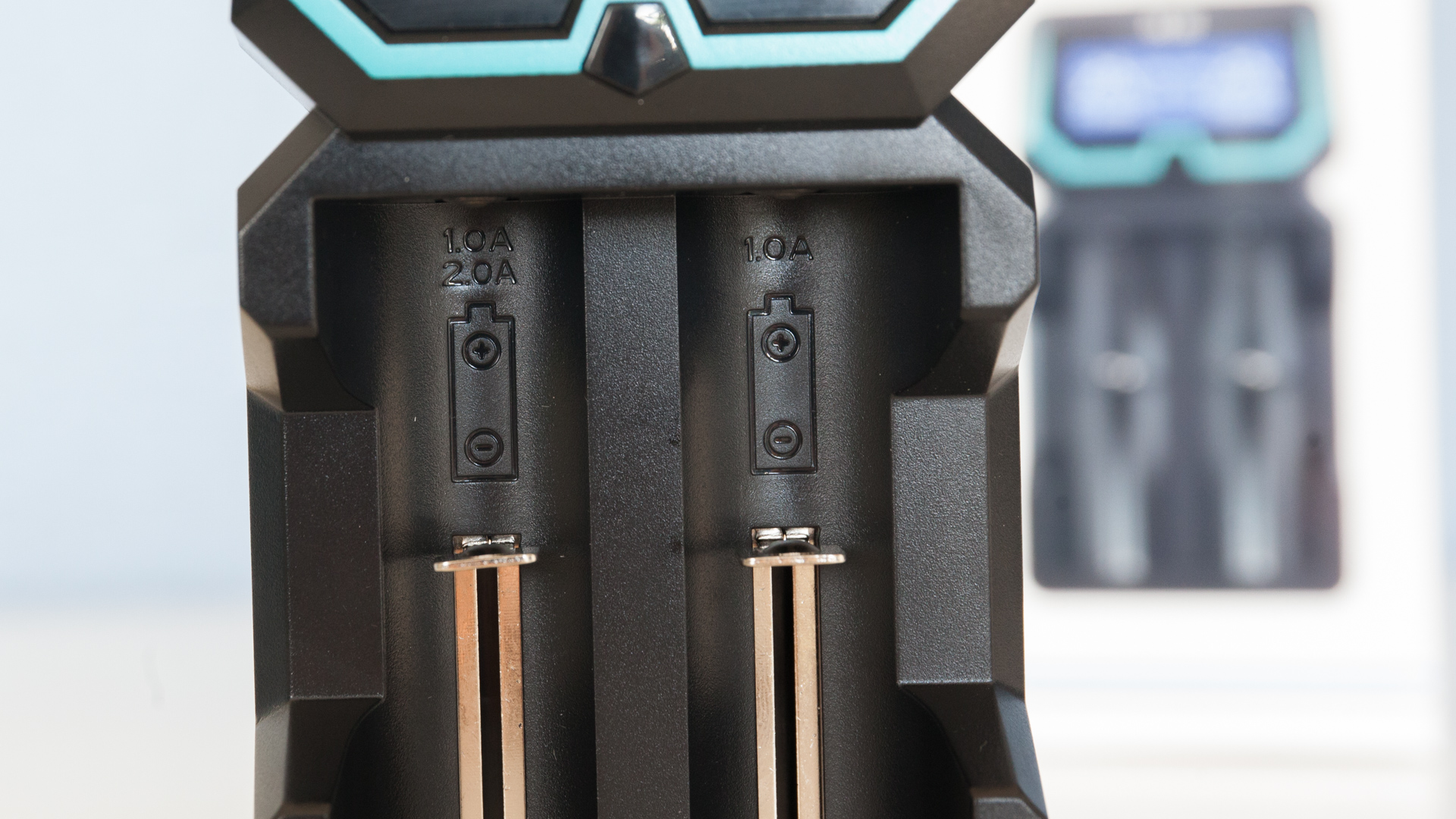 Again, I'll clarify: the optimum charging current is 0.5C, or half of the capacity. Those. the battery must be at least 2a \ h so that 1A can be digested without harm.
Such are the things. Still, it would be worthwhile by pressing the "beak" not to turn off the display backlight, but to apply a reduction factor to the charging current. For example, half, so that charging becomes 1A and 0.5A (and 0.5 + 0.5A together, respectively). That would be a much more practical step.
The display is bright and intuitive.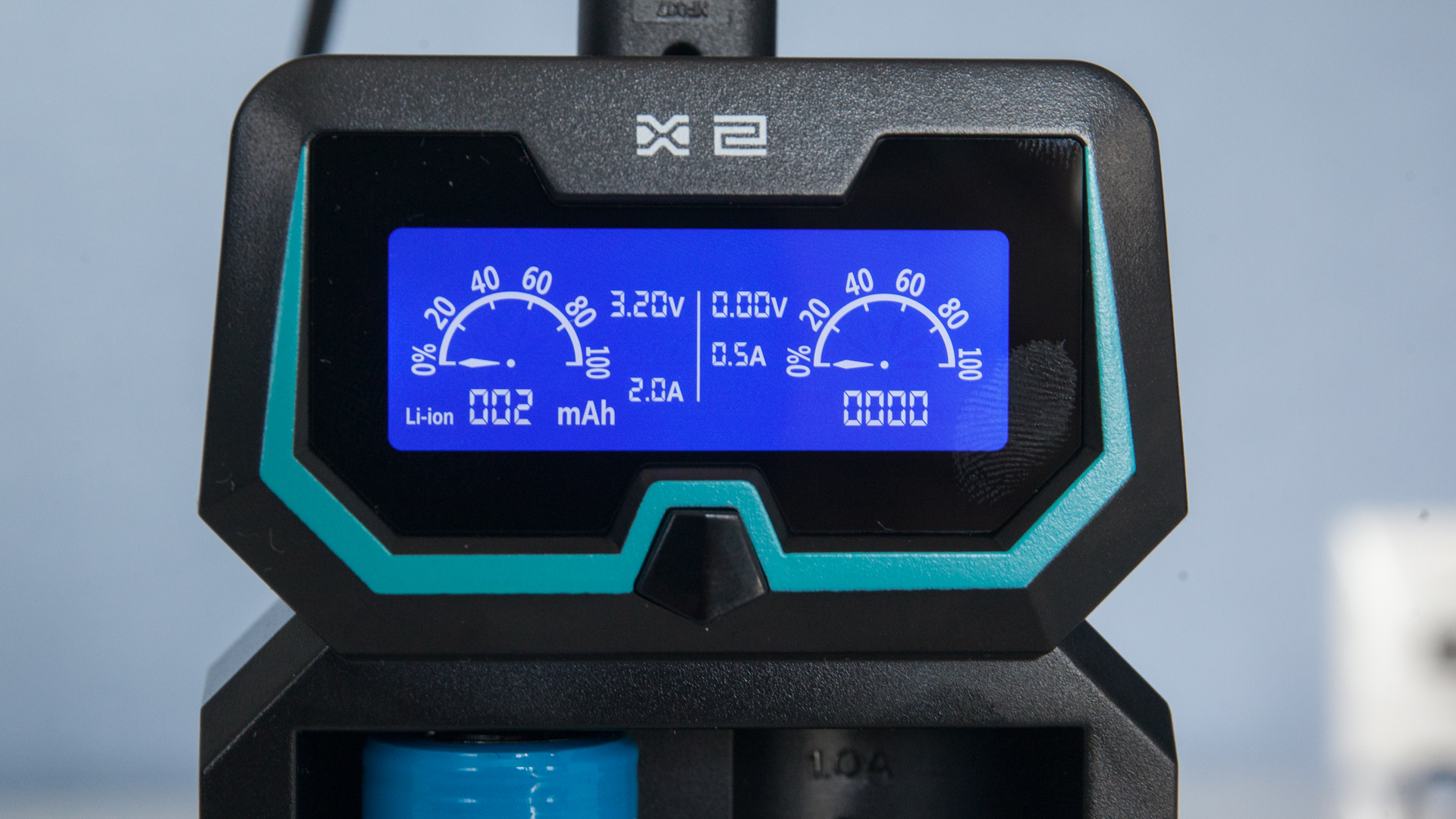 As for the charging process itself, then everything is pretty banal and good. and what else to you need?
1A 2 * 21700 4200mah battery


2A 1 * 21700 4200mah battery


I like.
There is no overcharging, the voltage after the end of charging (as measured by a multimeter) is 4.17-4.18v, this undercharging is symbolic which is clearly better than any most symbolic overcharging.
overall impression
Xtar did a good charge. Not super, it's good, quite good for its price. In a situation where there is nothing to choose from, it would be a losing step to limit user with a minimum charging current of 2A . But the choce of Xtar chargers is really wide, and if you need to charge some small batteries and / or there is no need for fast charging of large and capacious ones, then you can look at the XTAR VC2.
Not to mention the mass of significantly more affordable models with the simplest indication. I think that the lack of possiblilty to switch the charging current was caused in order not to hit sells of VC series.
In the meantime, if you need to quickly charge 18650 \ 21700 \ 26650, then X2 will do it pretty well.
The second positive point is the support of both classic 220v power supply and USB. I do not remember any other charge that would be so omnivorous.
 Of the simple models mentioned above, (if I raised the topic of a wide assortment of Xtar), I want to note MC1 \ MC2 for charging with a current of 0.5 \ 1A and SC1 \ SC2 for fast charging with a current of 2A. You can check them at stores, where all the links above leads to. SC models are extremely relevant for a current situation when capacious 21700s are becoming more and more popular, and charging them with a current of 0.5A will be extremely long. Without supporting Ni-Mh, Xtar MC1 \ MC2 can beat Liitokala only in size. But SC1 \ SC2 with 2A current are a very good option for 21700 users. Personally, I already ordered 5 pieces of them. A link to the store is at the beginning of the review. In other words, now Xtar releases charging in general for any budget and need, and this is great.