Fenix released the most techically breakthrough model that i`ve ever seen of them! There are: Type-C, 2×21700 batteries, 10 000 lumens from 6? SST40 LEDs 5500K (!) light. And, you will not believe, Fenix gave us both full stabilization and button lock!
Just 3 years ago, such release would have become the event as bright as Fenix LR35R itself. Now it is just really interesting, not sort of "WHAT? AAA!". So, lets take a look at what Fenix LR35R really looks like.
you can buy Fenix E20 v2.0 from: official German or US dealers
➤ Aliexpress
➤ Banggood
➤ Amazon
➤ NITETORCH they generously offered 20% code HJK5KDNQ valid for all the items in store, including other brands
if you look for reliable 21700 (and others) batteries, i recommend store, there`ve been buying for years – Nkon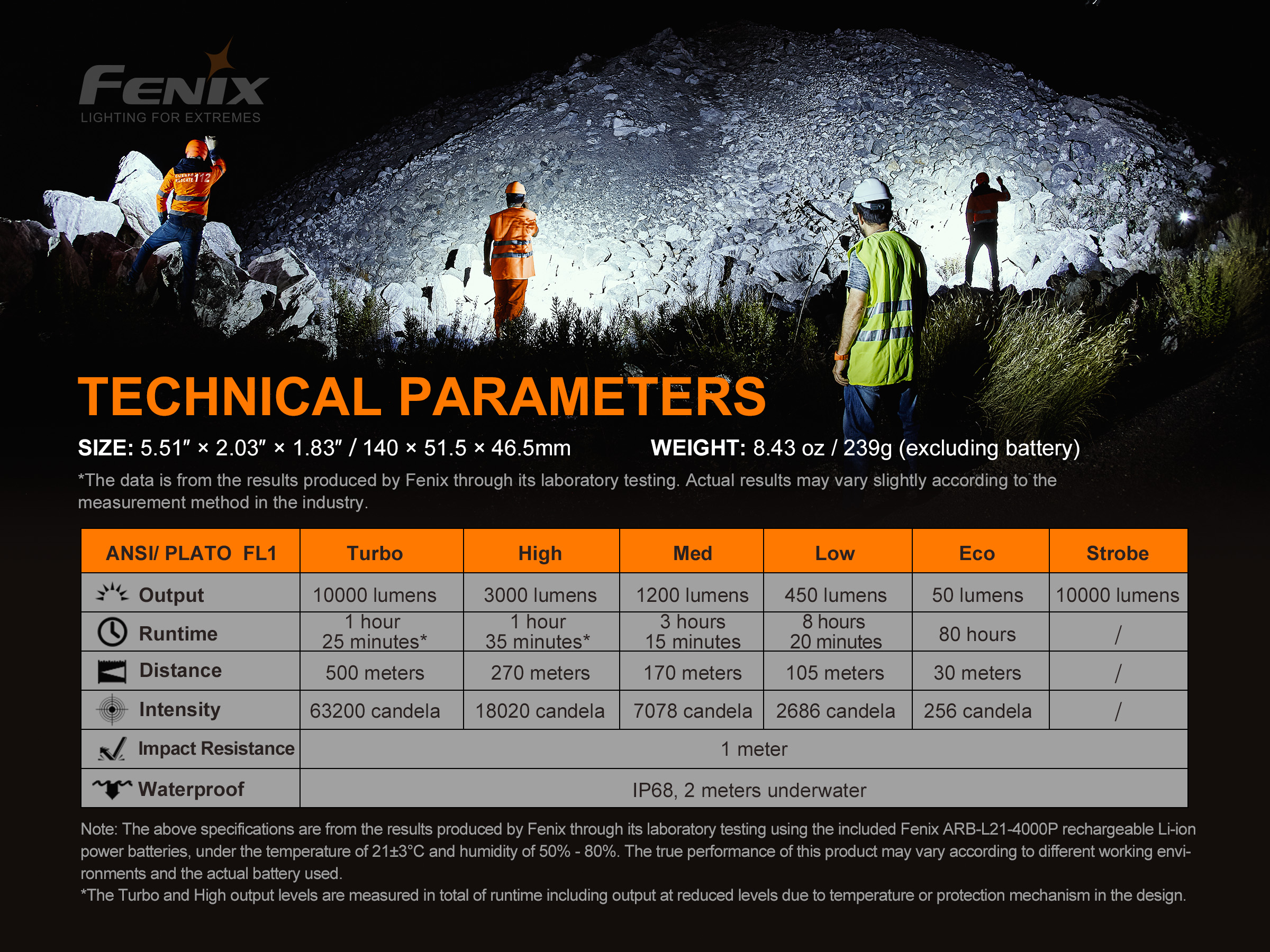 PACKAGE AND APPERANCE
Fenix LR35R is packed in the same black and yellow cardboard box that Fenix`ve used for years. Everything is decent.
Unfortunately, Fenix LR35R was sent to me for review before box was ready, so I will only refer to the promo photo.
Kit includes everything you need: Fenix LR35R with pair of 21700 batteries, type-c charging cable, O-ring, lanyard, holster, manual.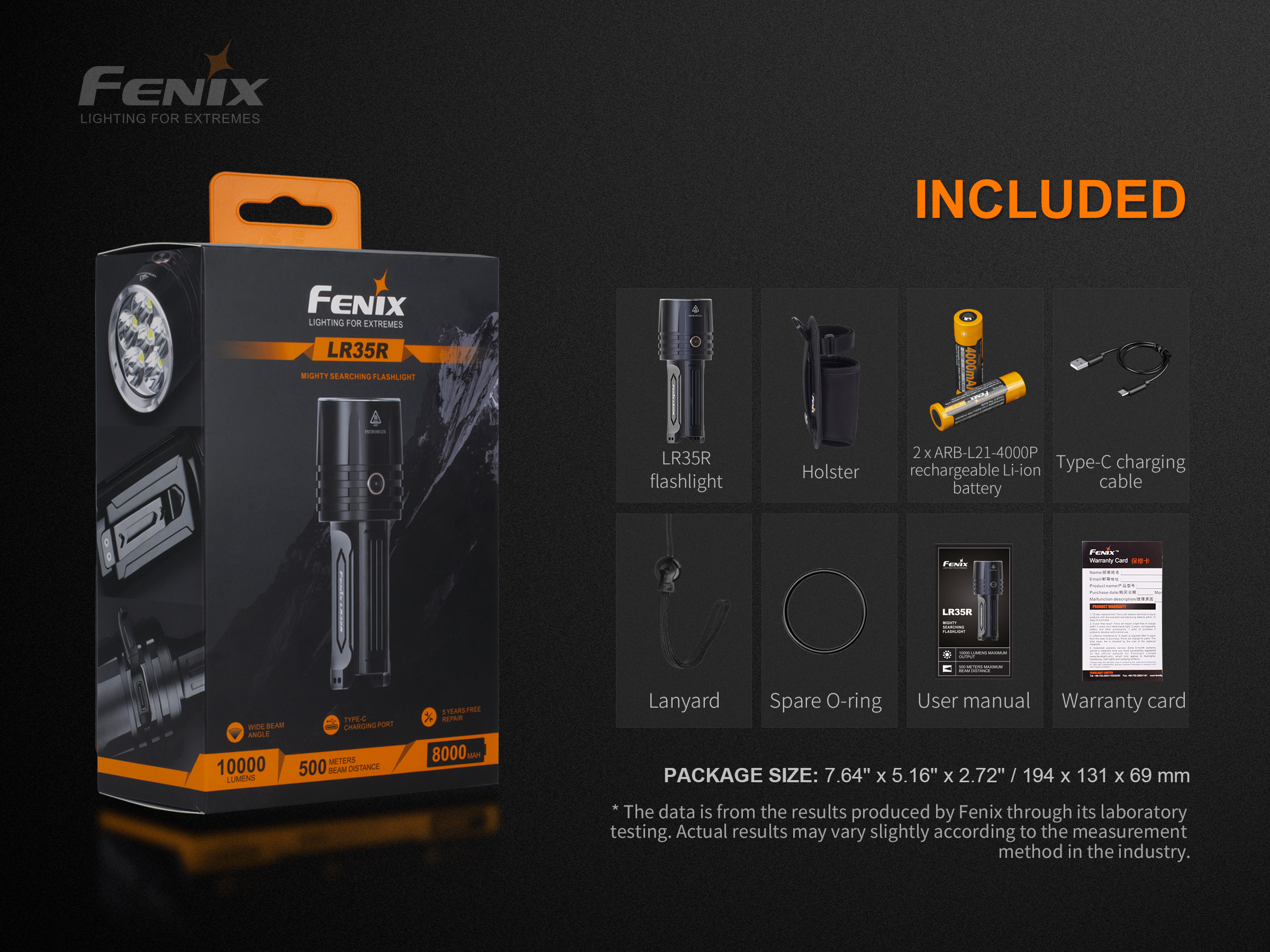 The form factor of the flashlight is not new for Fenix, they ??have already released TK35, UC52 and an antique WT20R with a similar parallel arrangement of batteries.
Nevertheless, flashlight looks pretty good. There is not any high-design solutions, but you can definetely see that is a brand model.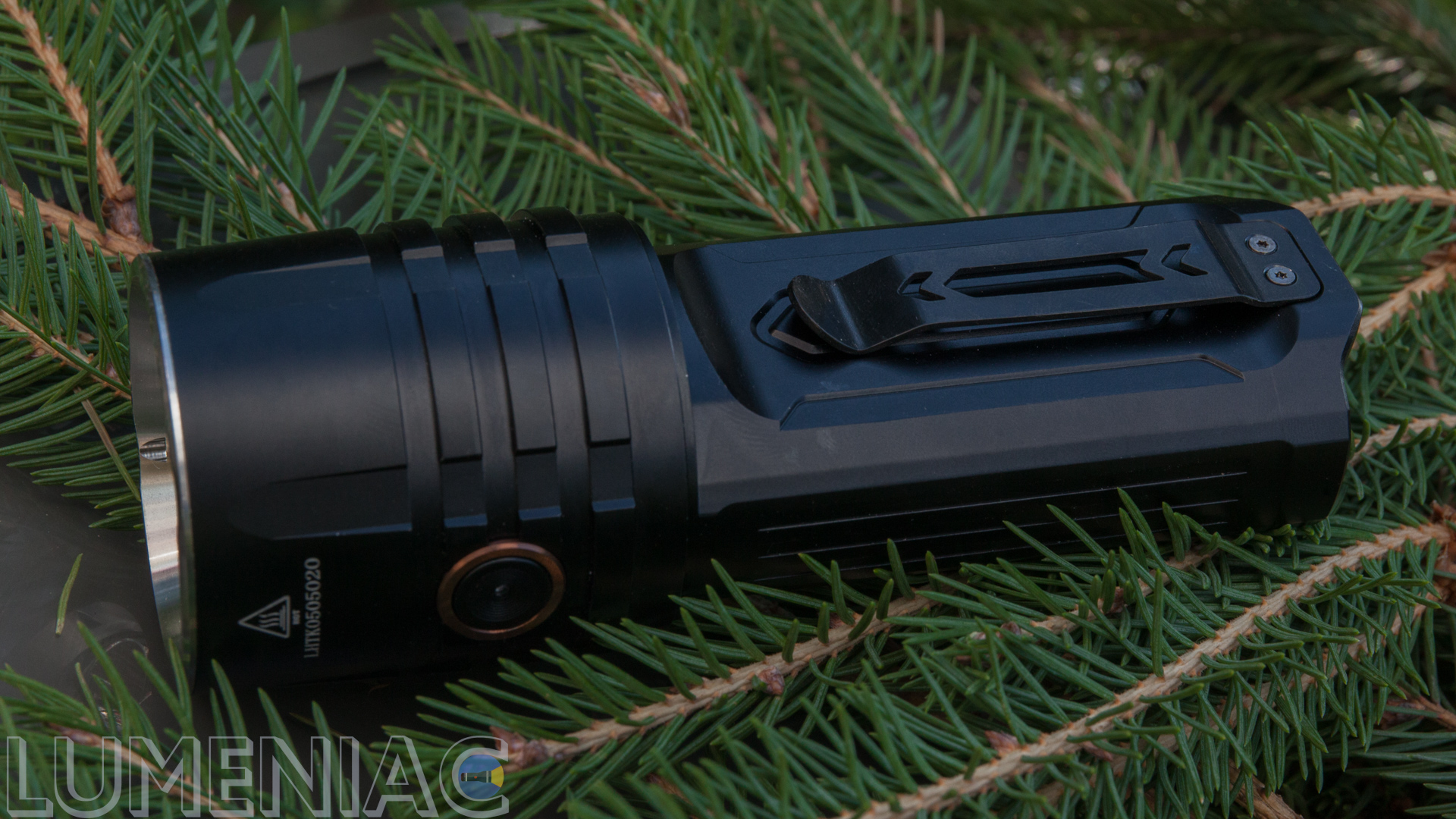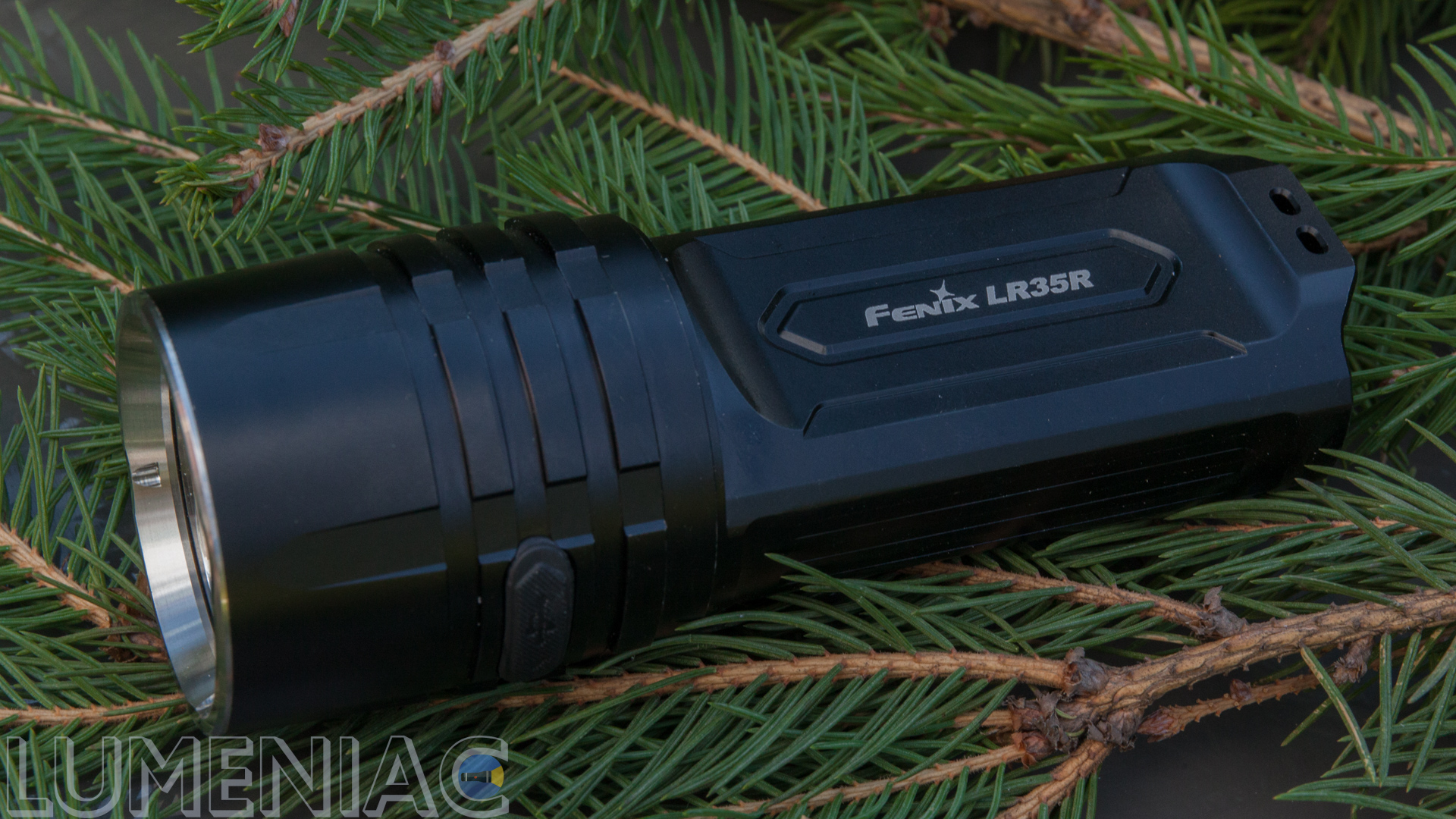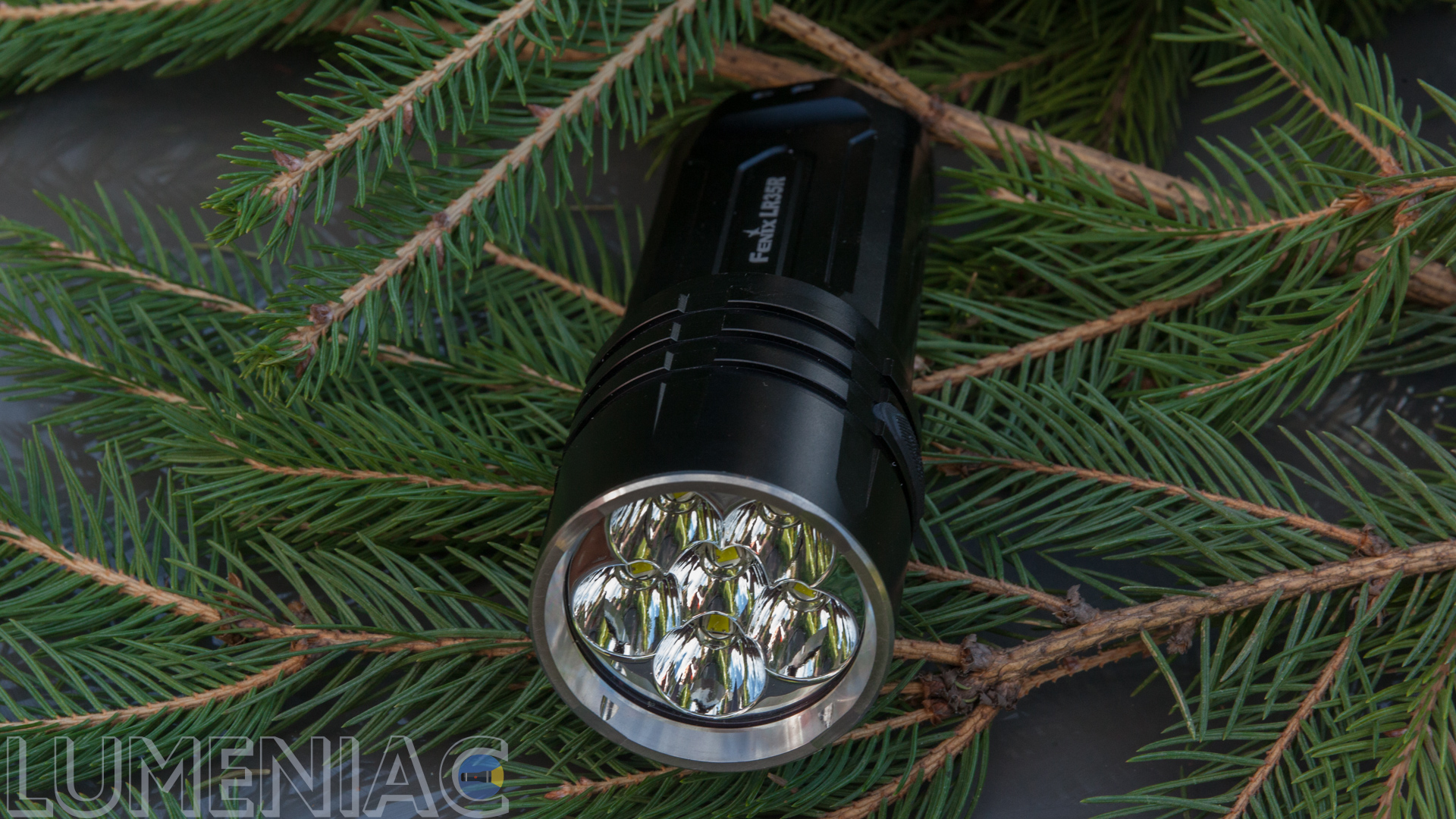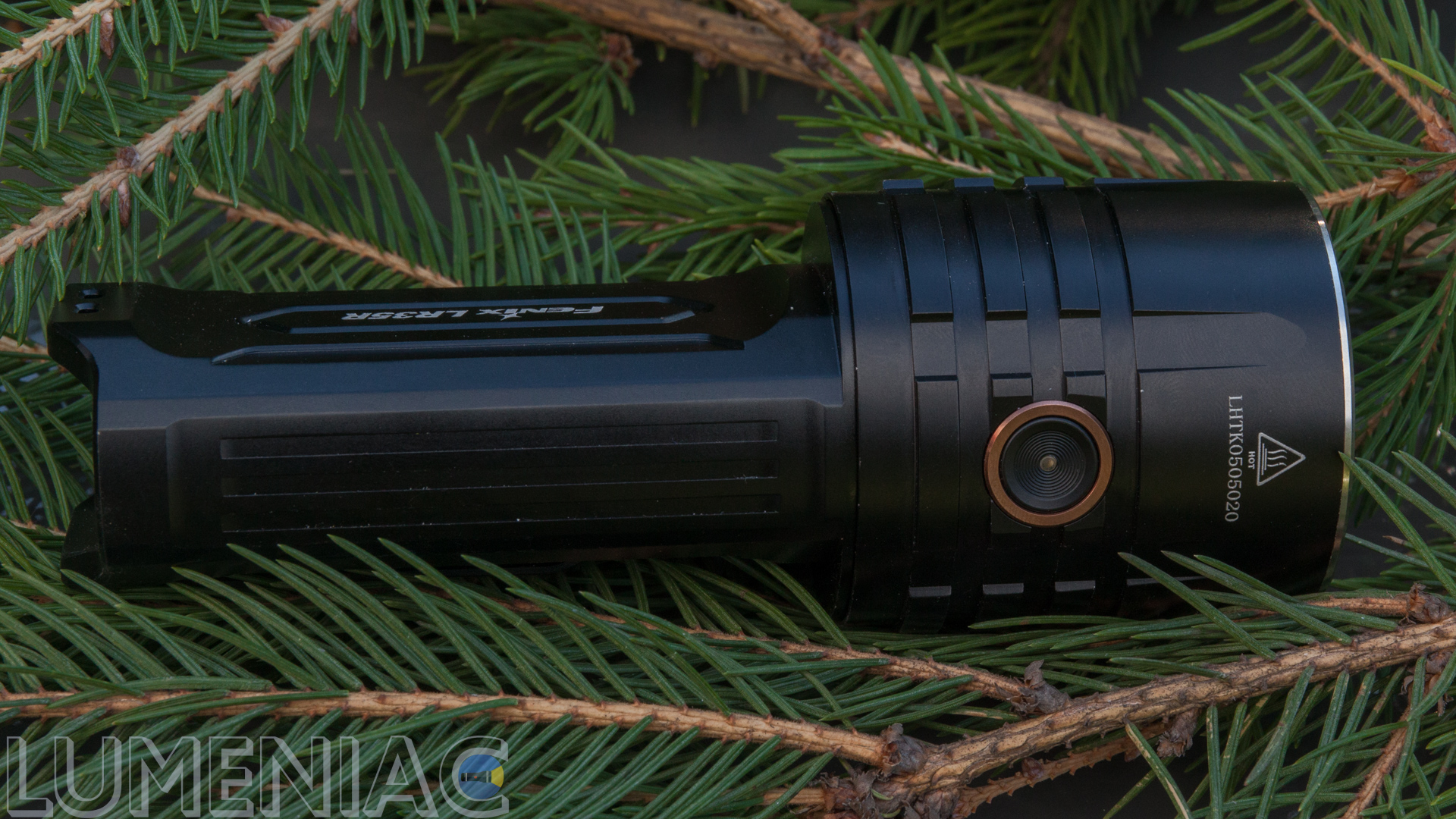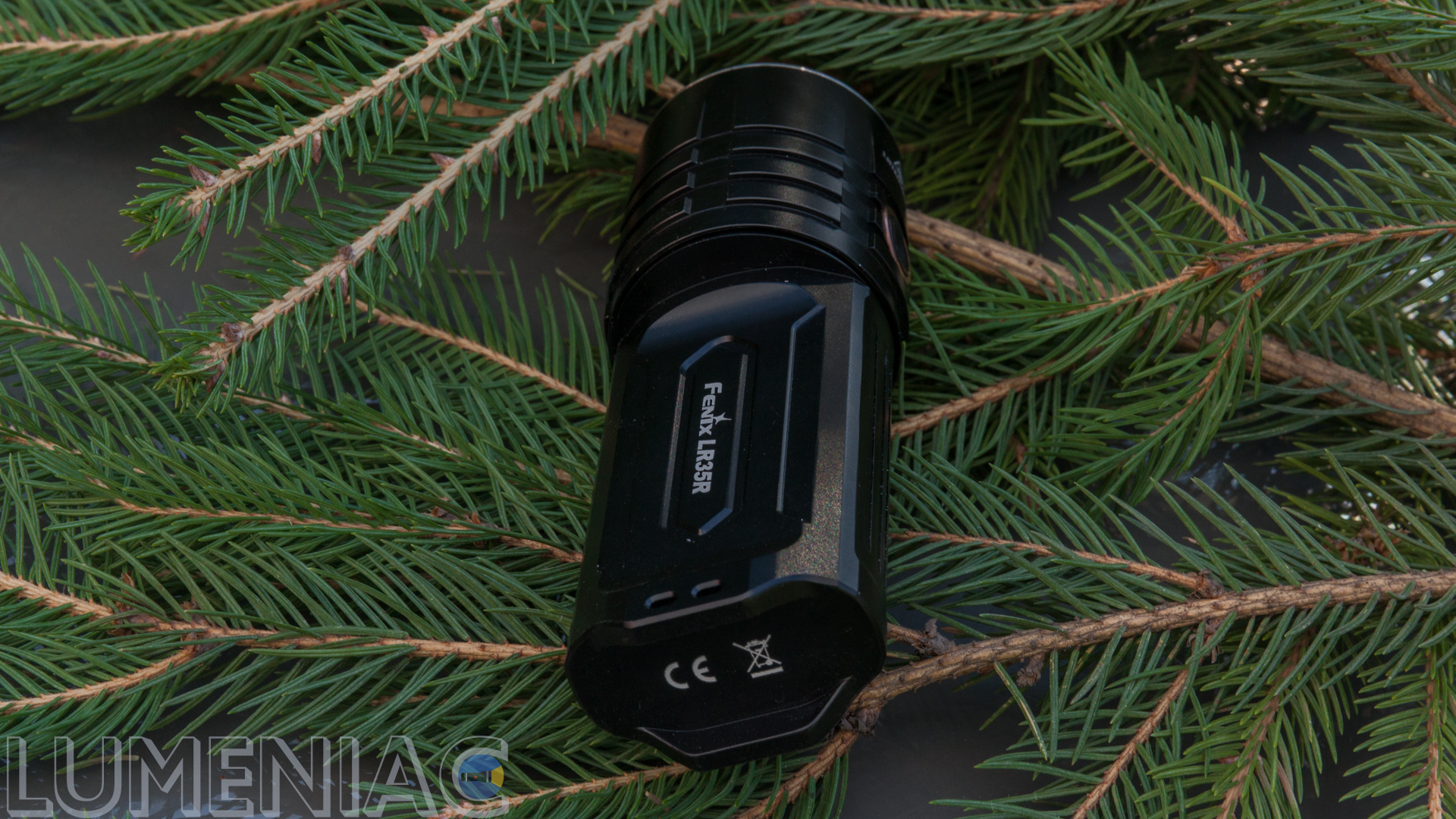 The flashlight is relatively compact for its high brightness. And this, obviously, is both a PRO and CON. I can note that although LR35R is clearly not an EDC-sized thing, it cannot be called bulky either. Everything is fine here. Well, if it does not fit into the pocket of shorts or pants, then you can use holster.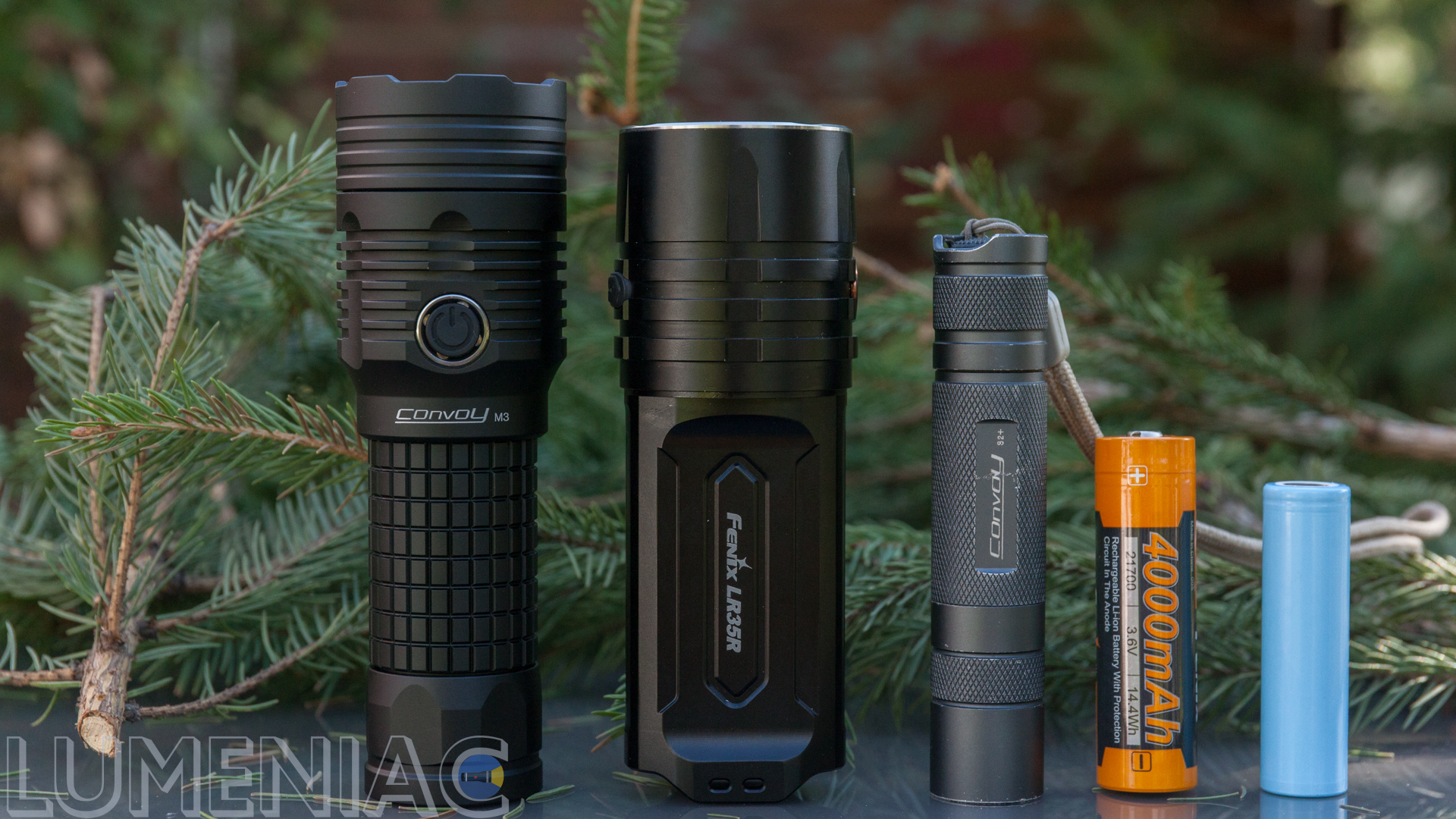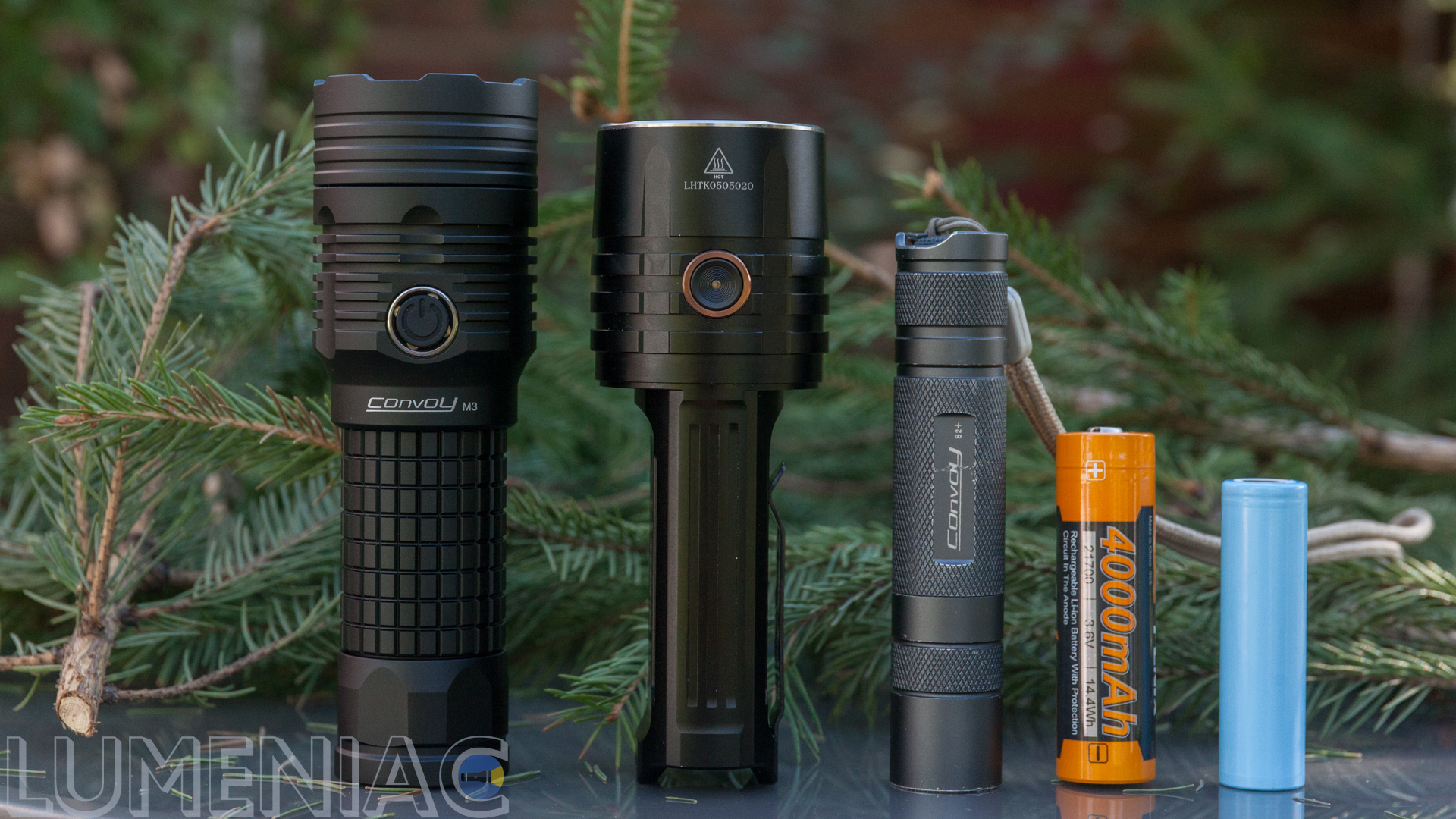 The flat battery compartment fits perfectly in the hand. Everything is good here from the standpoint of convenience and grip reliability.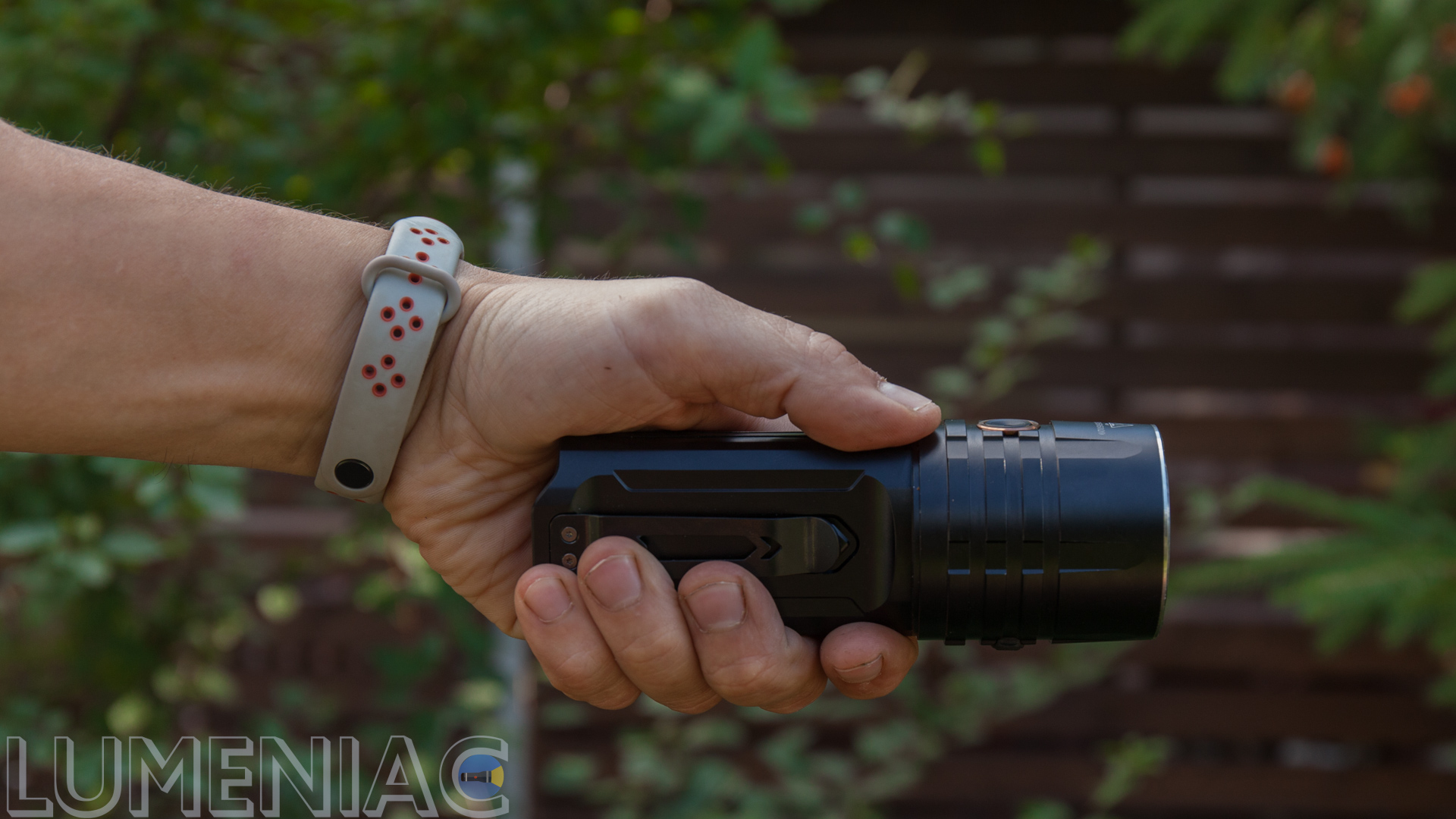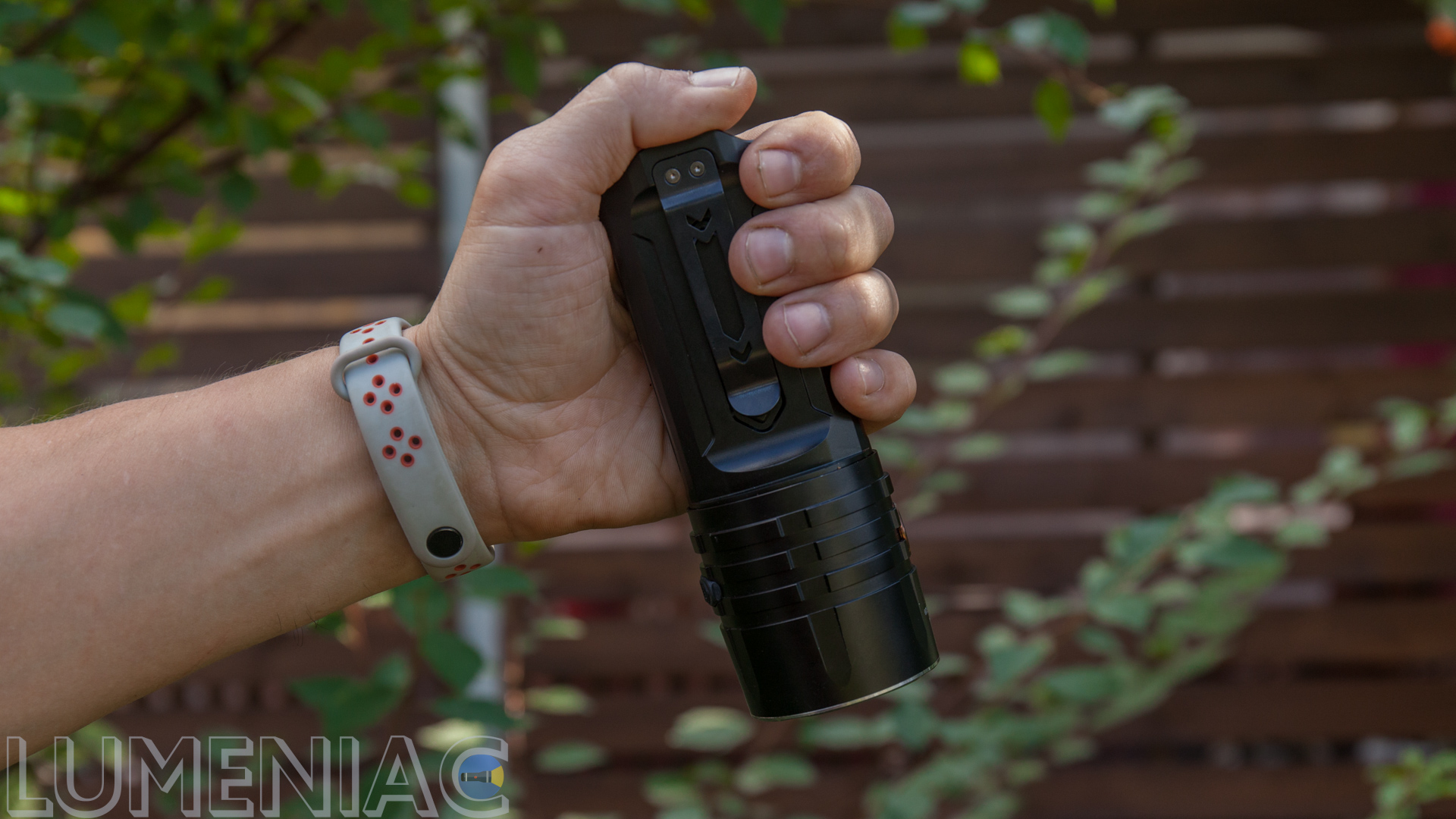 I find it odd to add length with lanyard eyelets. Personally, I would make a hole in the corner of the body and save a centimeter on it.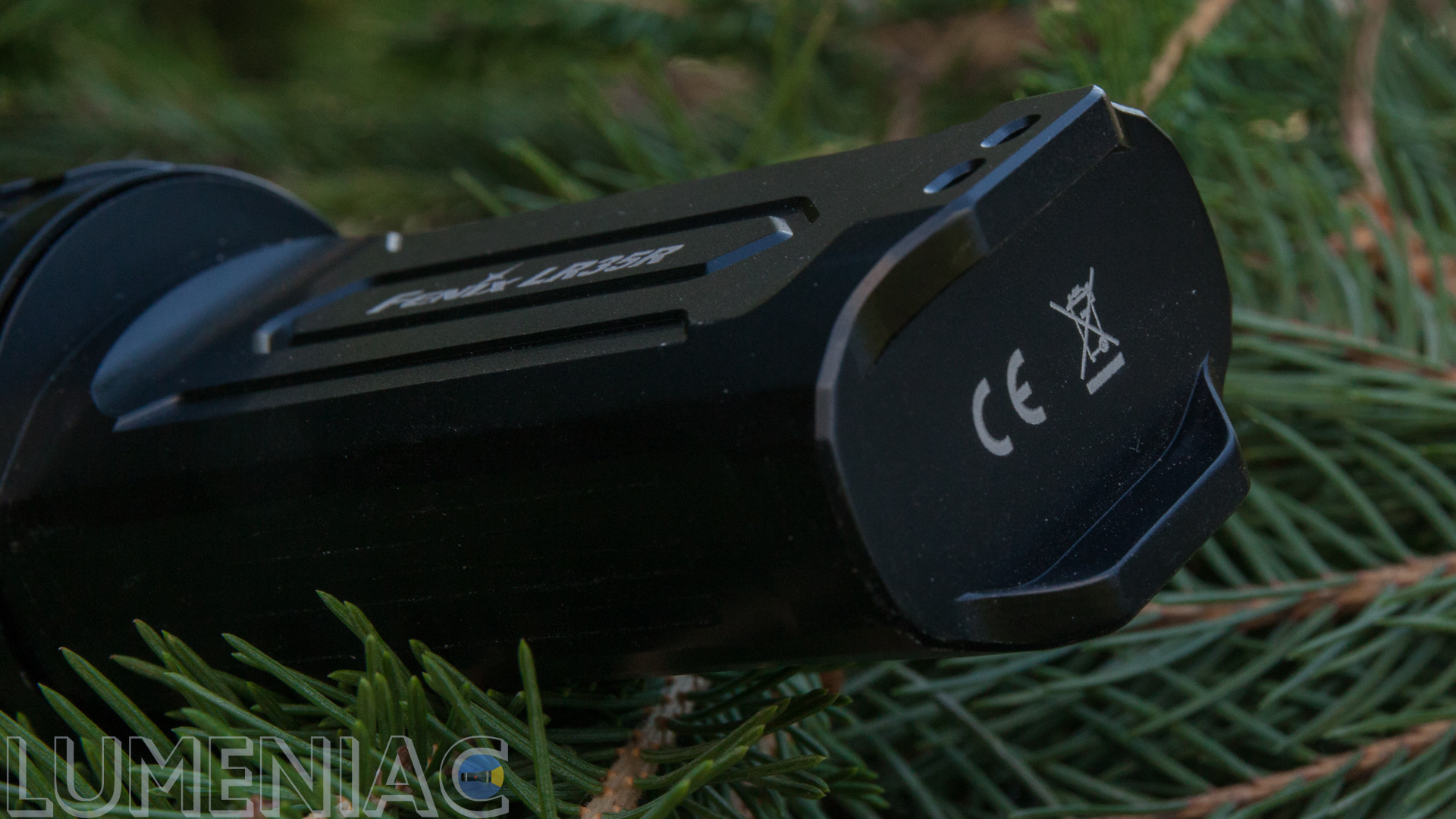 The knurling is simple, but does not look cheap. Although it would be great to make the outline of the same Fenix bird there.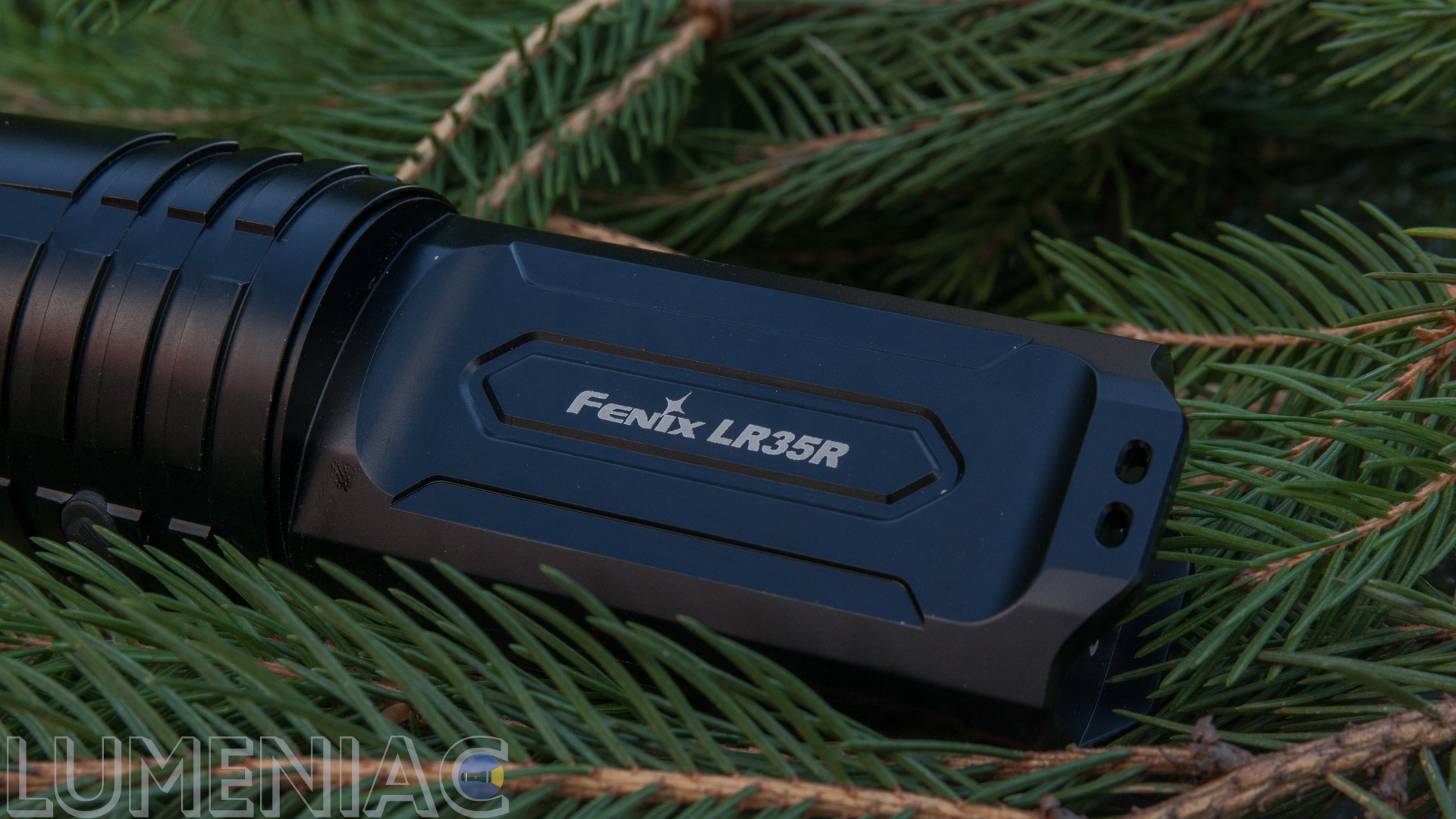 The flashlight is powered by 2×21700 4000mah batteries.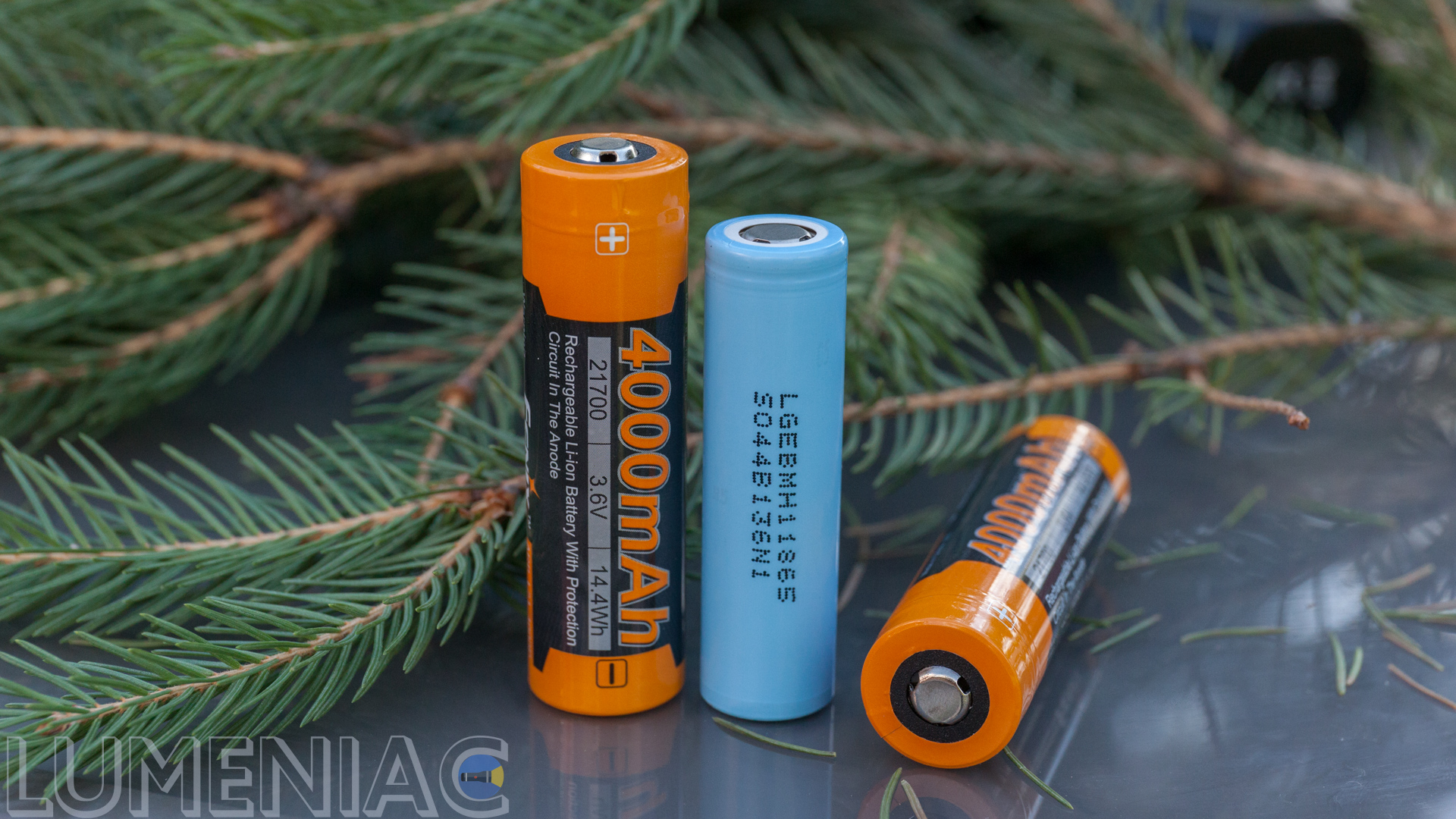 The springs on the tail side are very thick, good for power of LR35R.

And there are two contact pads at head side.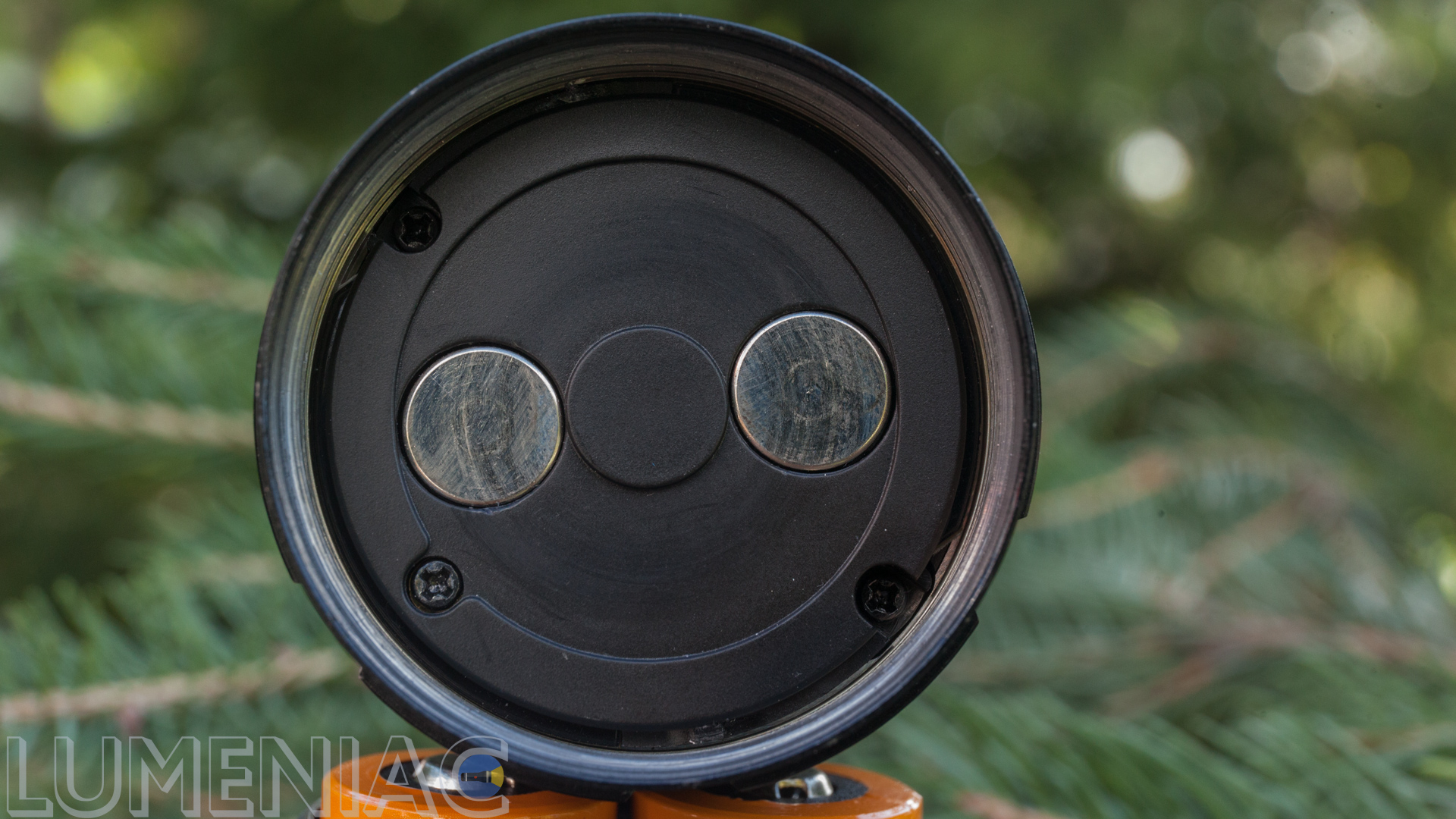 How do they match? The solution is quite simple. See where this rectangular well-oiled coarse thread ends? This part rests against the corresponding protrusion in the head and the batteries are positioned exactly opposite the contacts.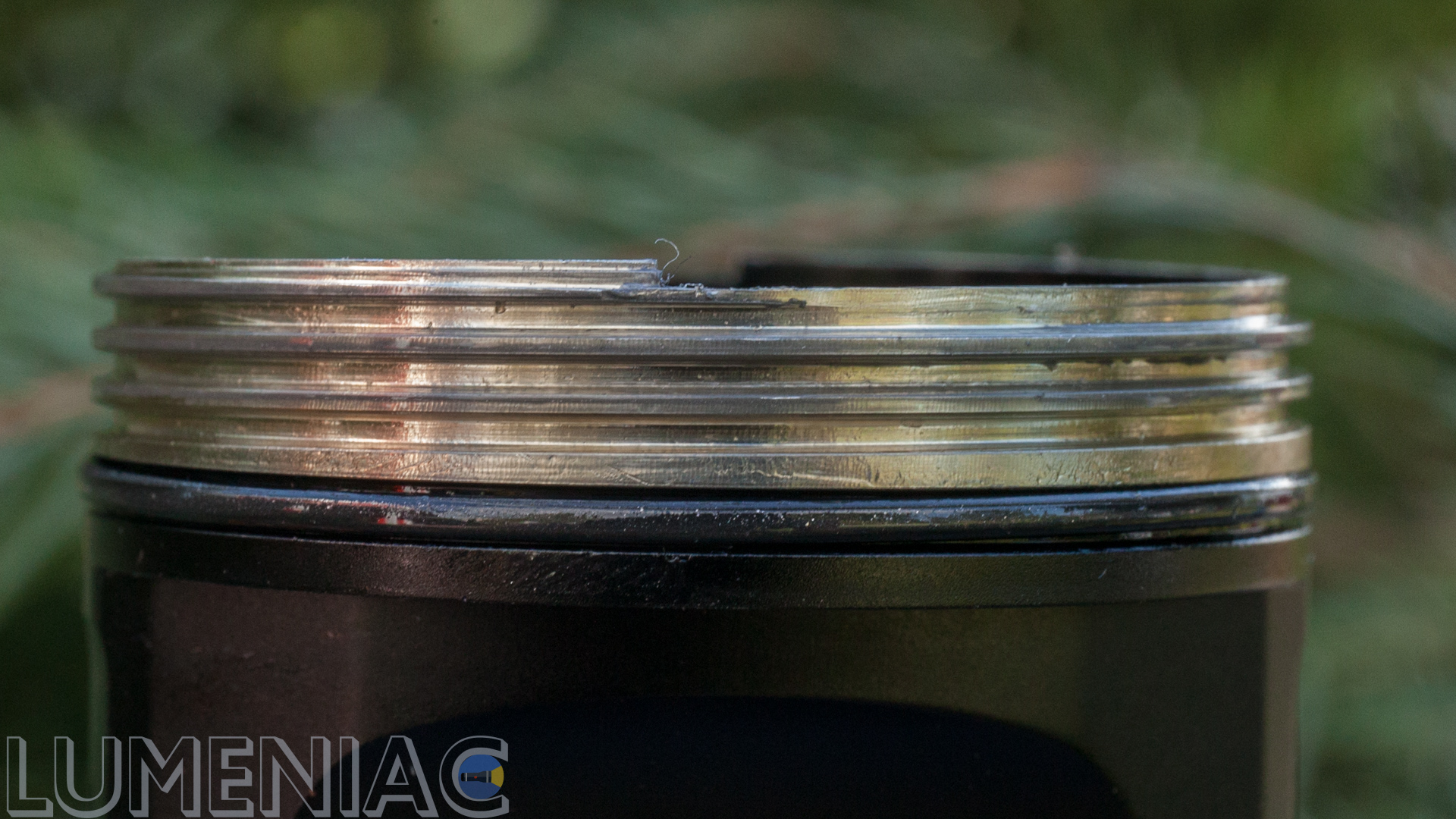 The head is quite large. Such size with such brightness really pleases me, it is reasonable from the standpoint of the heat sink. The cooling fins are wide and not numerous.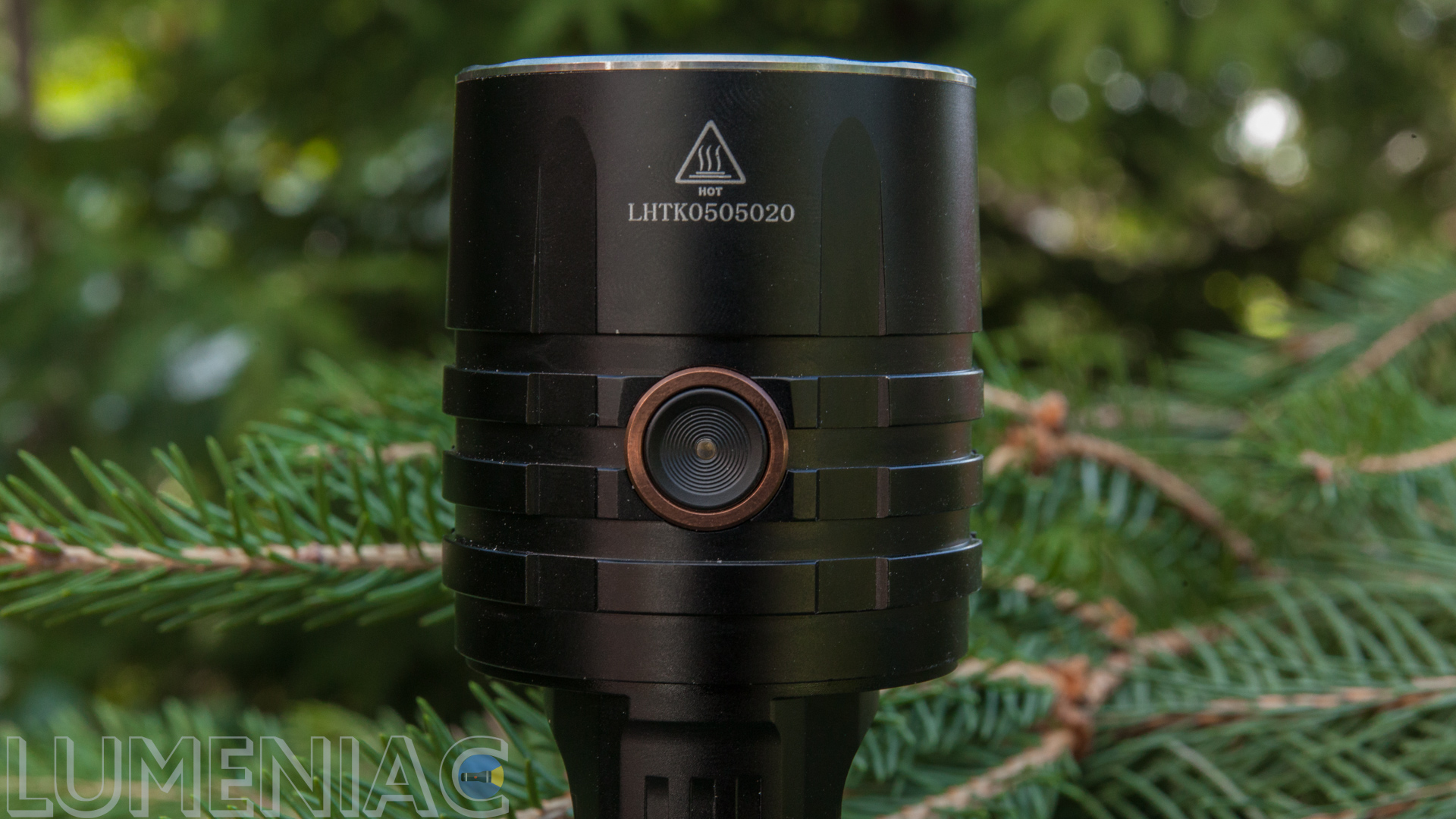 I also liked the button. The chances of accidentally pressing a concave button are much less than the usual convex one, while I did not feel any inconvenience for my finger. The button has a simple charge indication. One quick click from off and you see: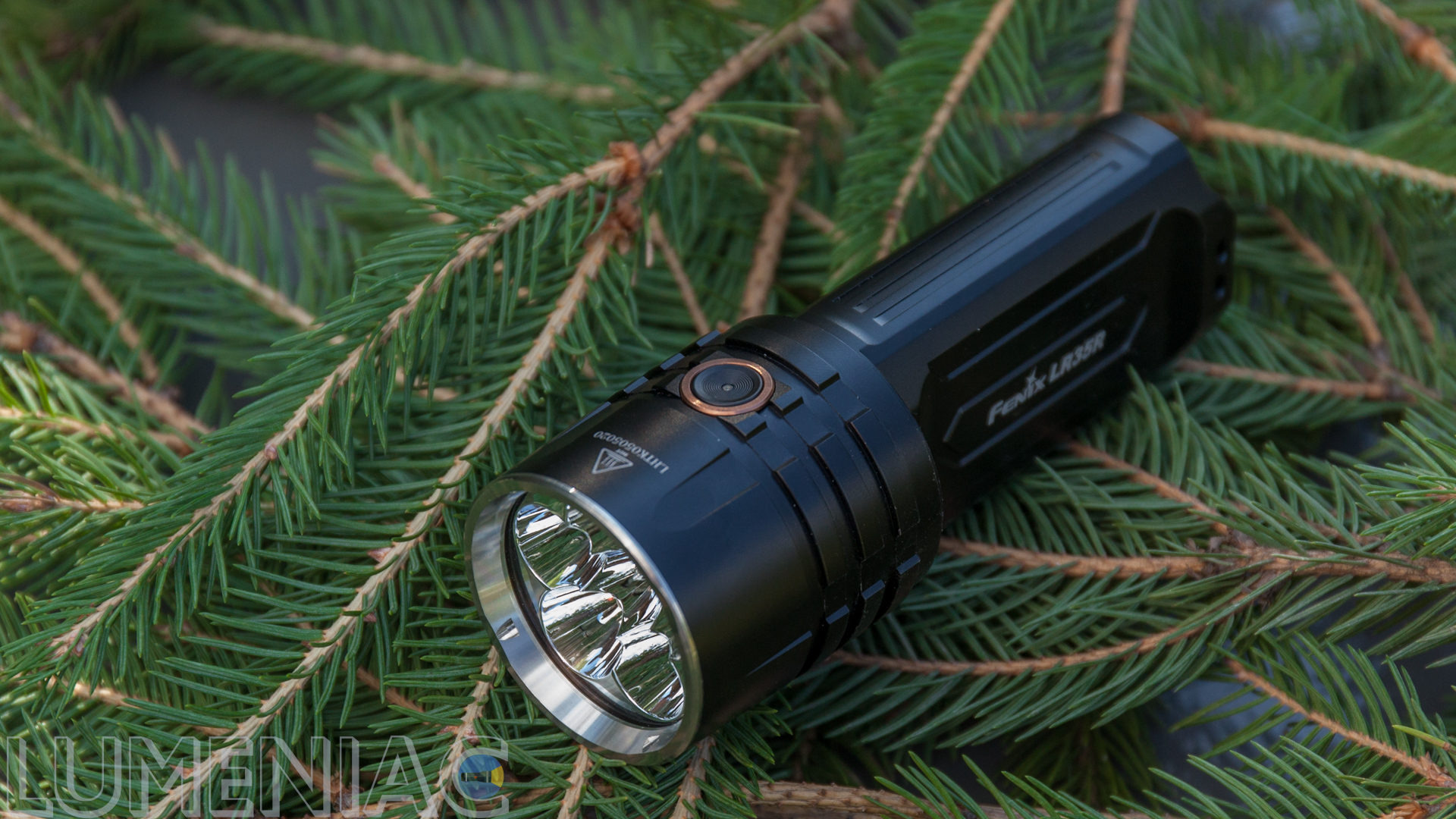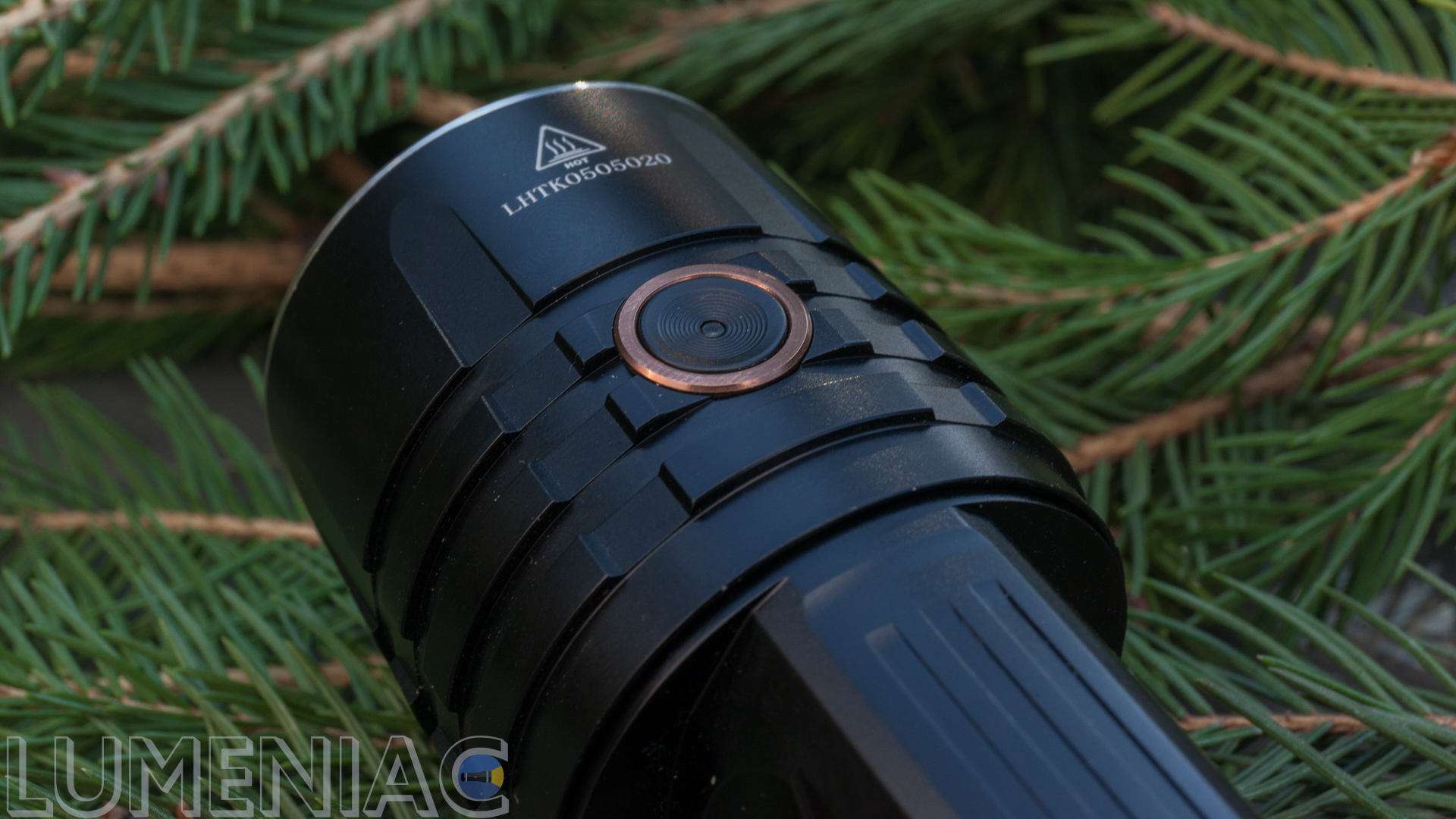 - permanent green: 85-100%
- flashing green 50-85%
- permanent red 25-50%
- flashing red 1-25%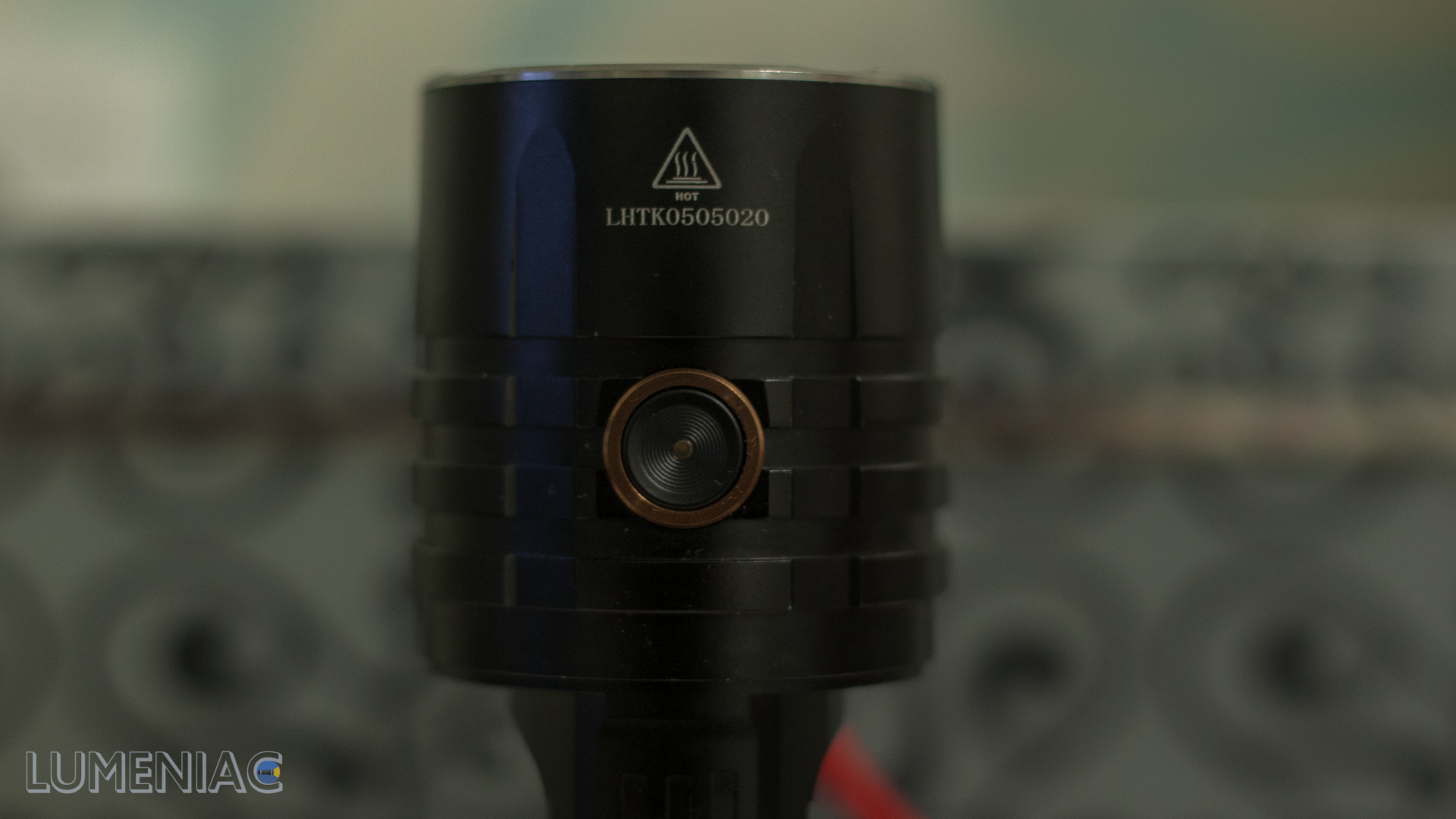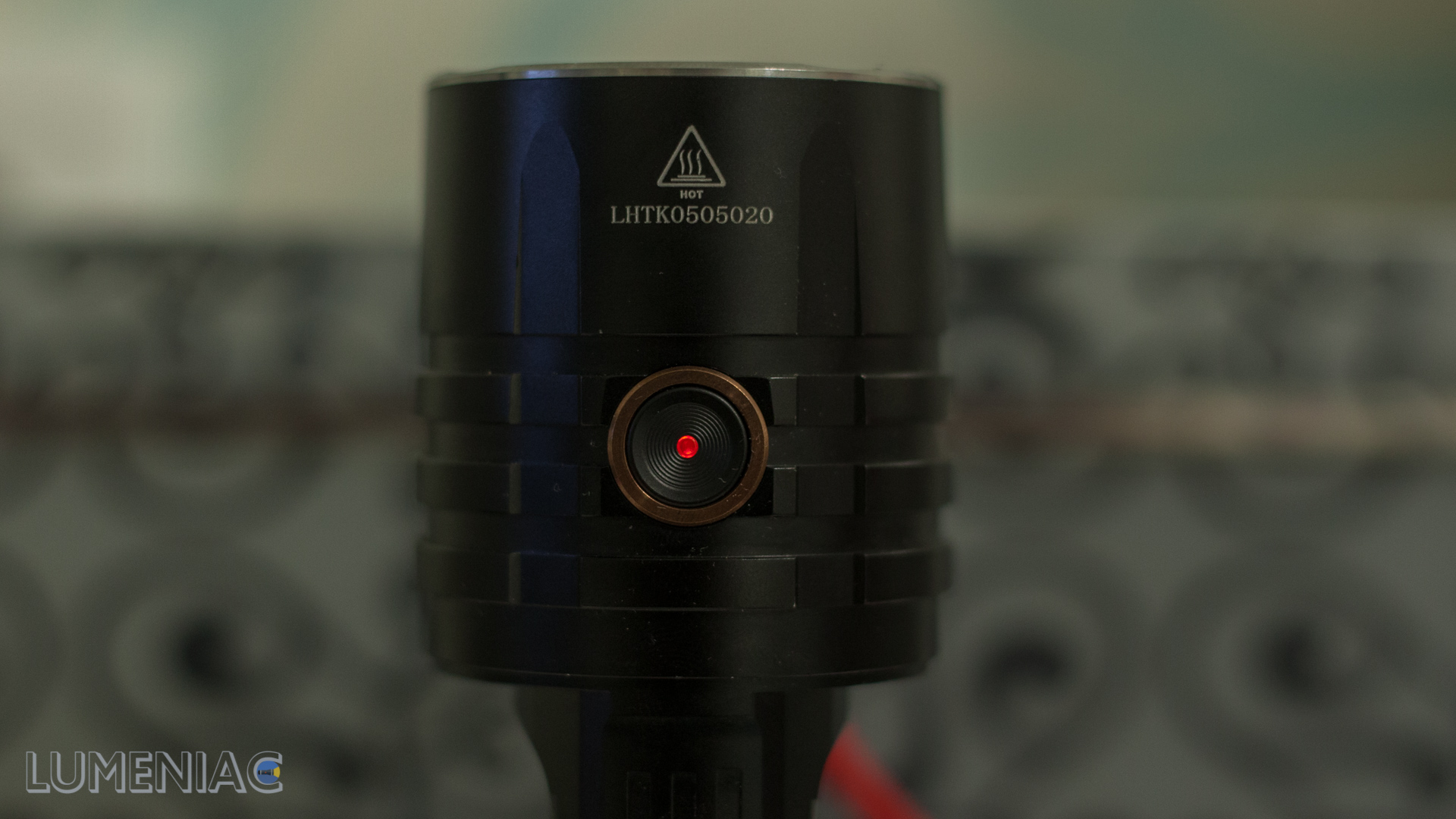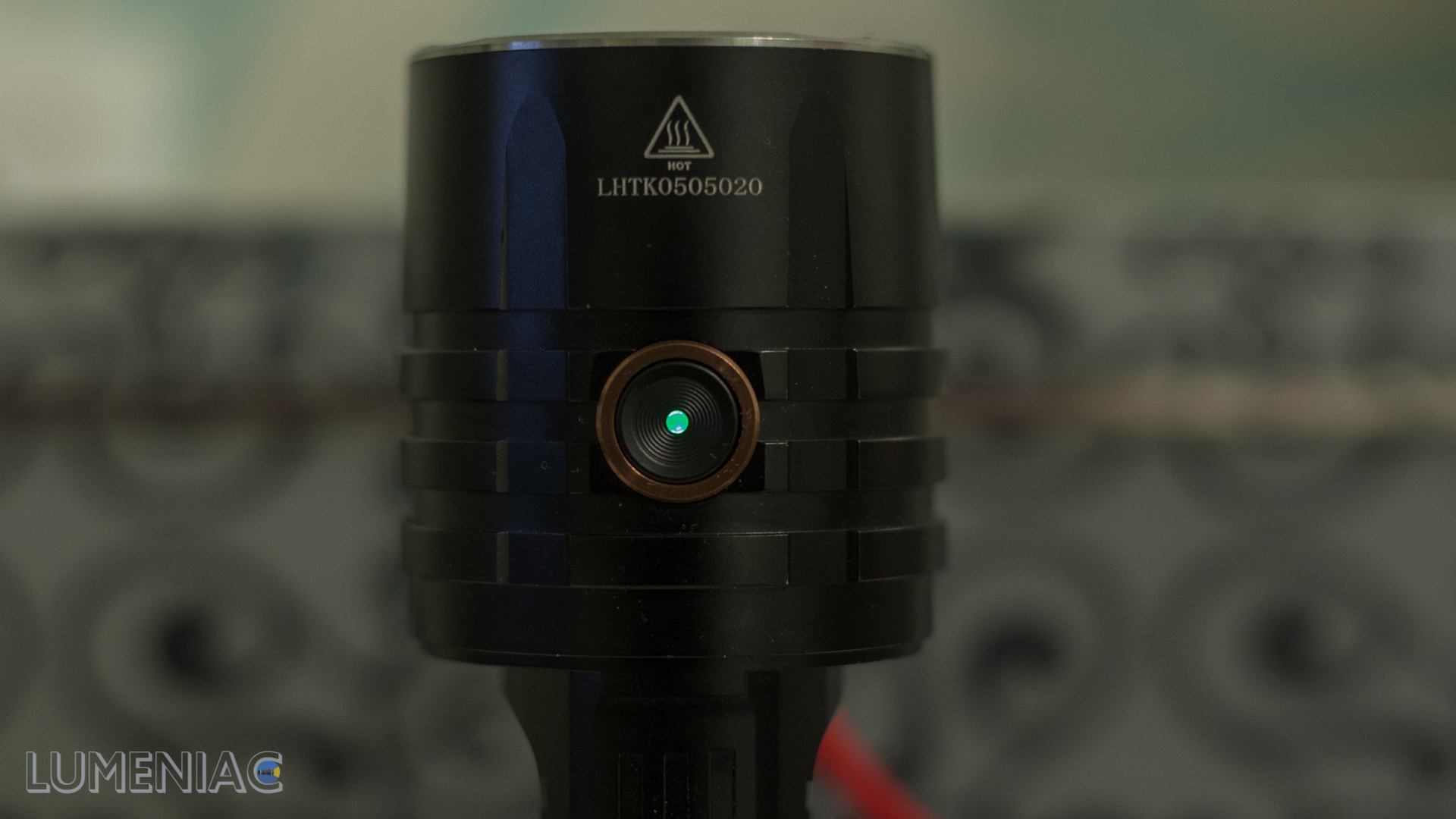 There is Type-C charge port on the opposite side from button. The plug is thick and tight. Everything is good here.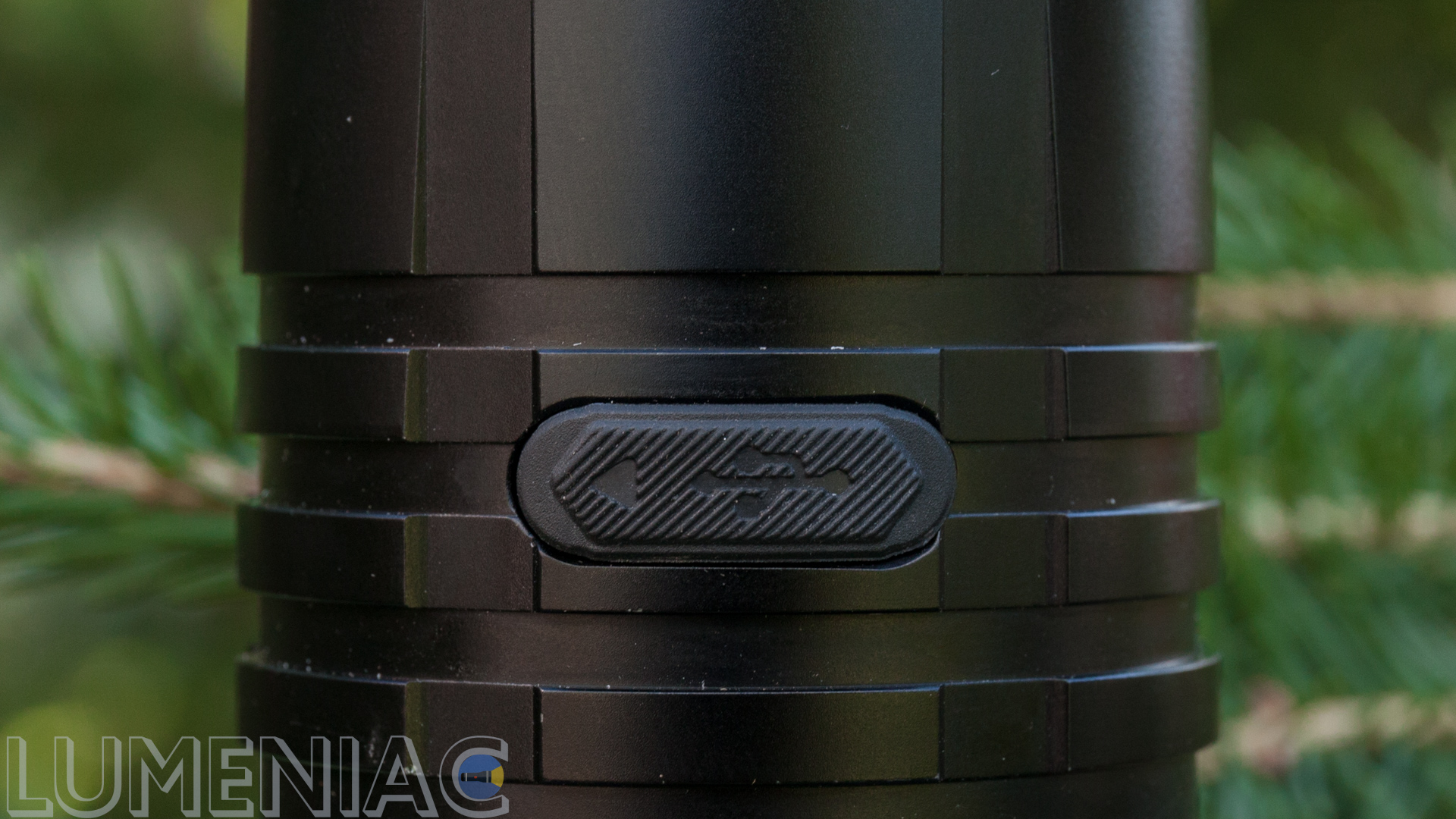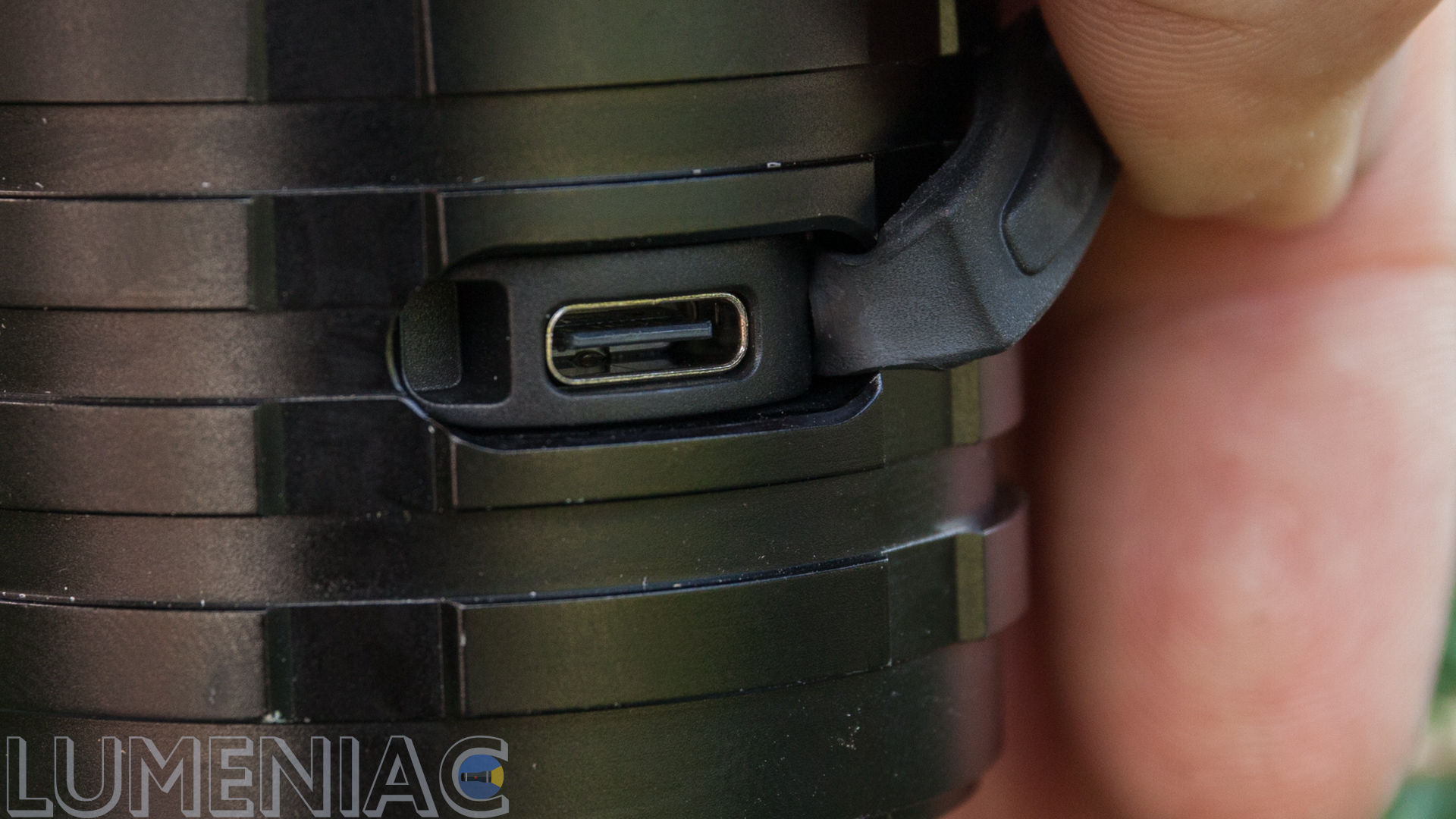 The charging current is decent, 3A! If you have a power supply unit with an appropriate current output, you can fully charge both batteries in about 3 hours. This is perhaps the fastest charger I've ever seen in flashlights. Well done, well done!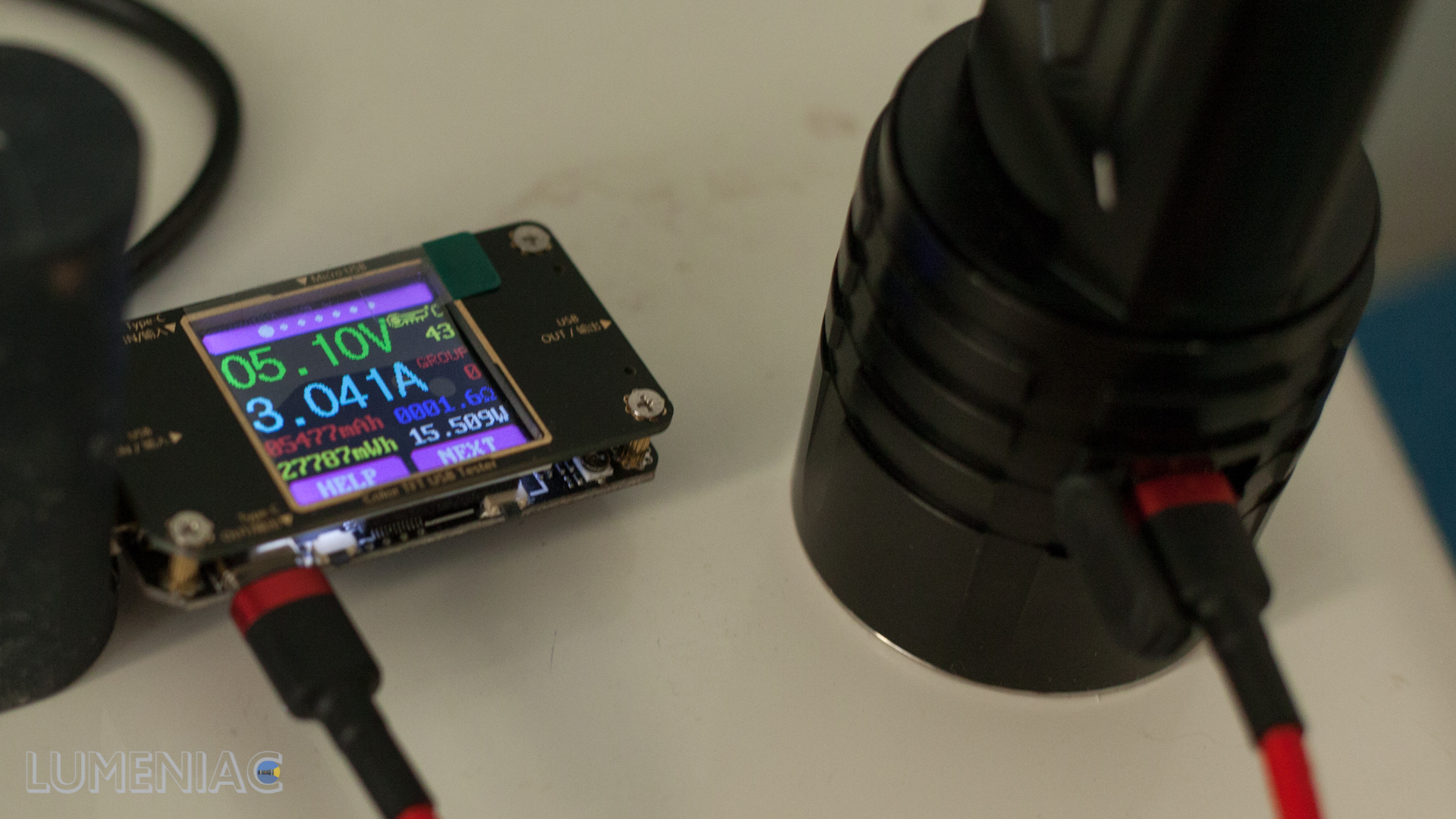 6x Luminus SST40 5500K are responsible for the light . They are located at the bottom of small smooth reflectors.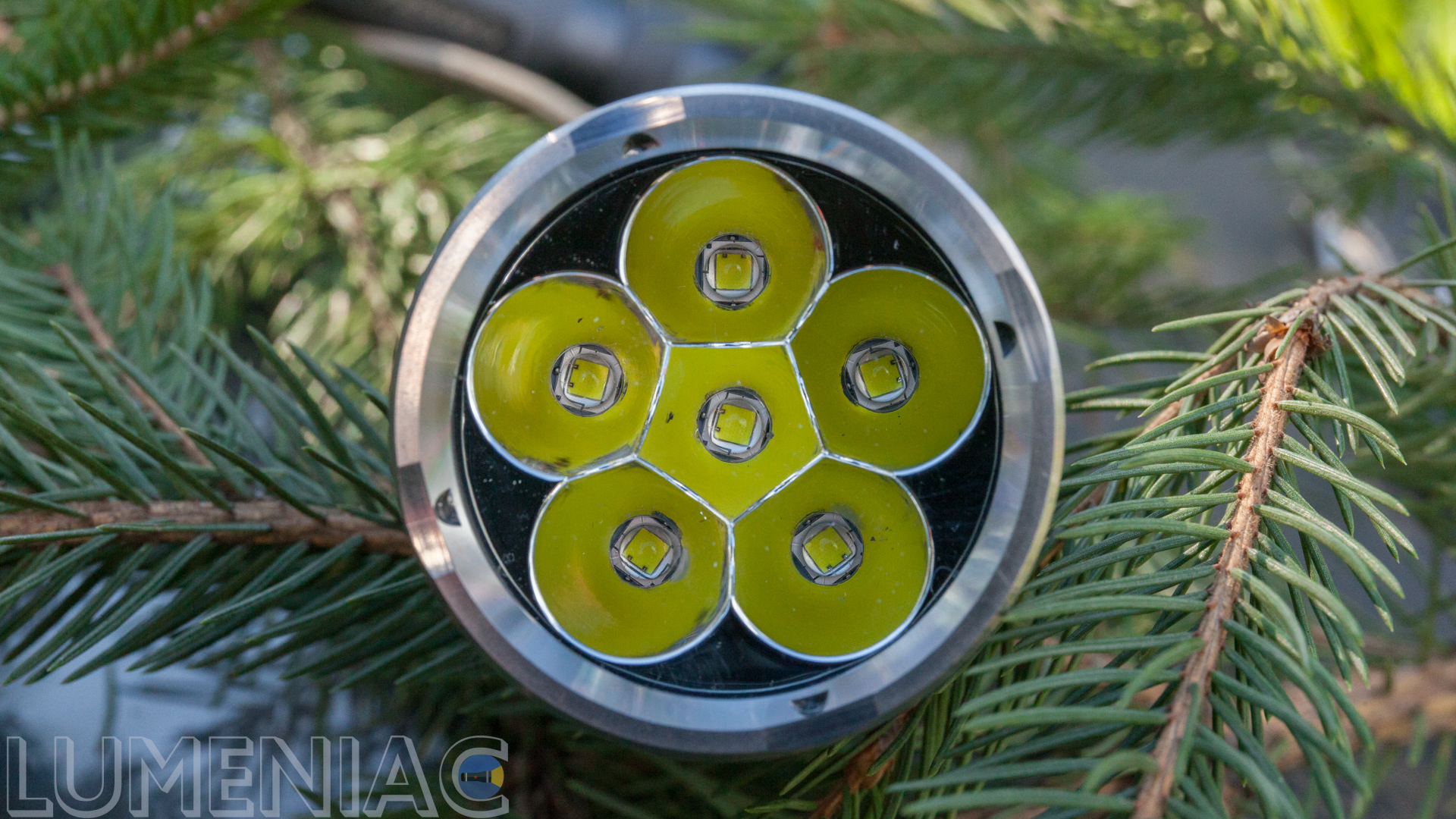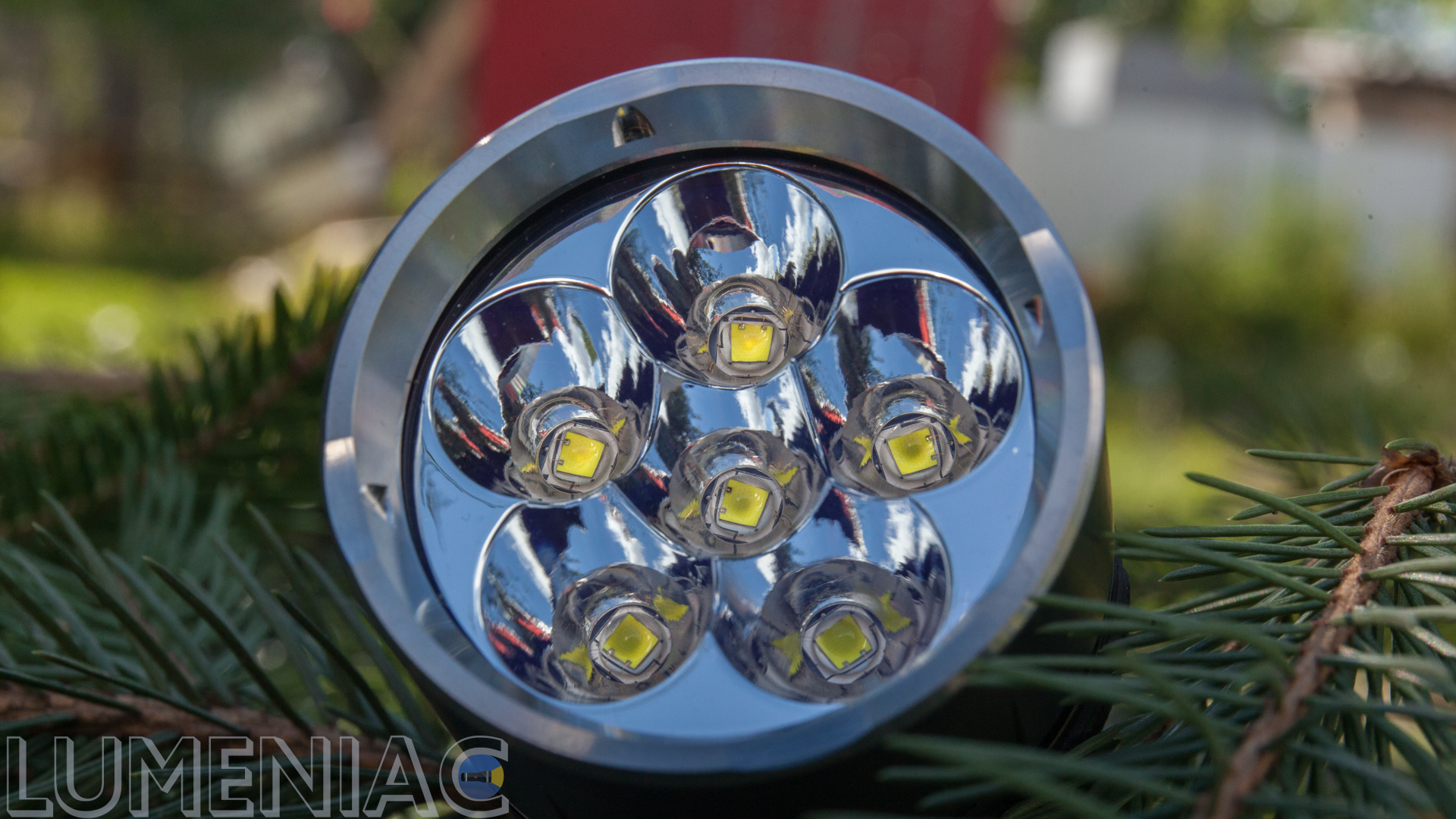 Glass is AR coated.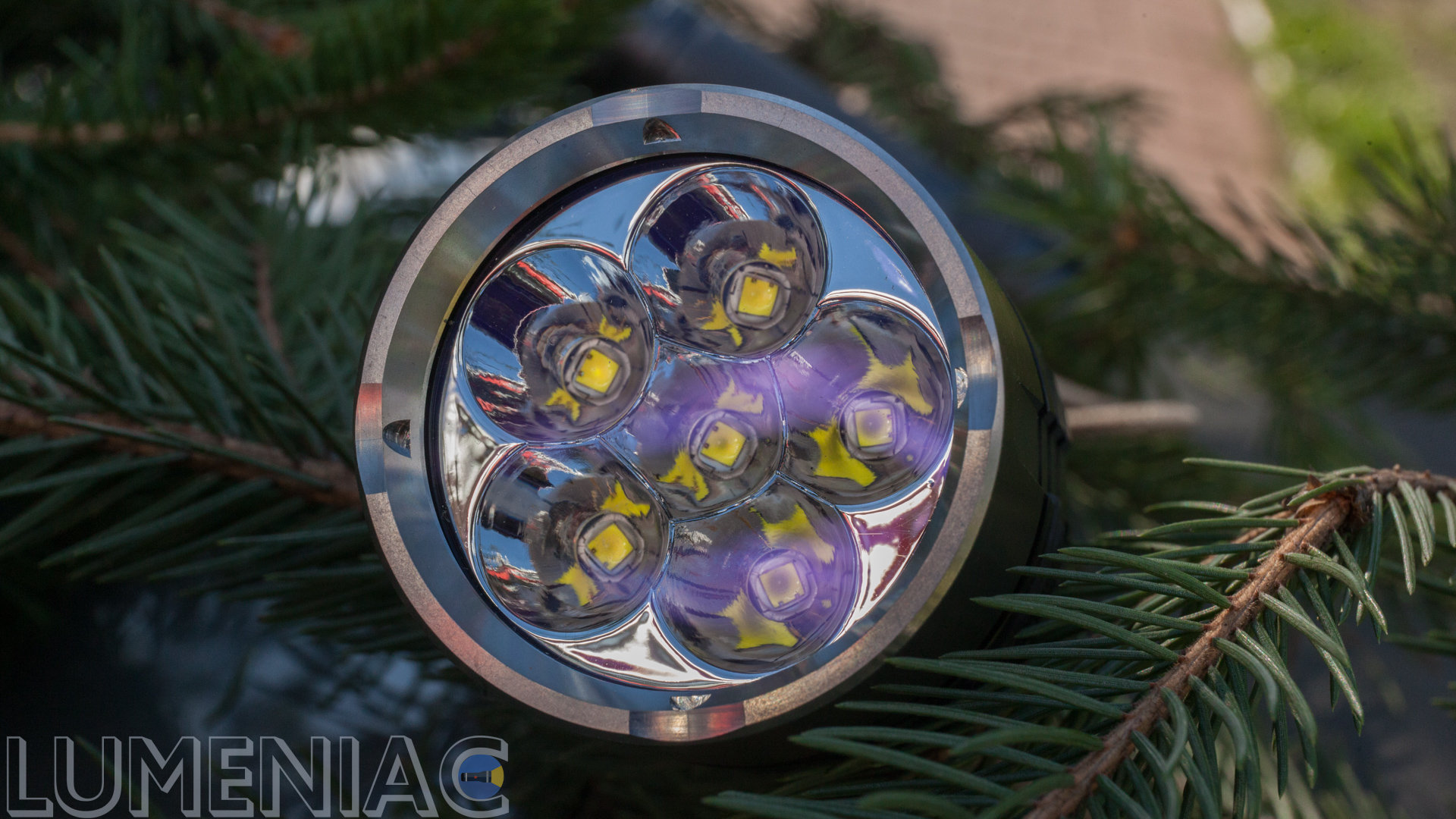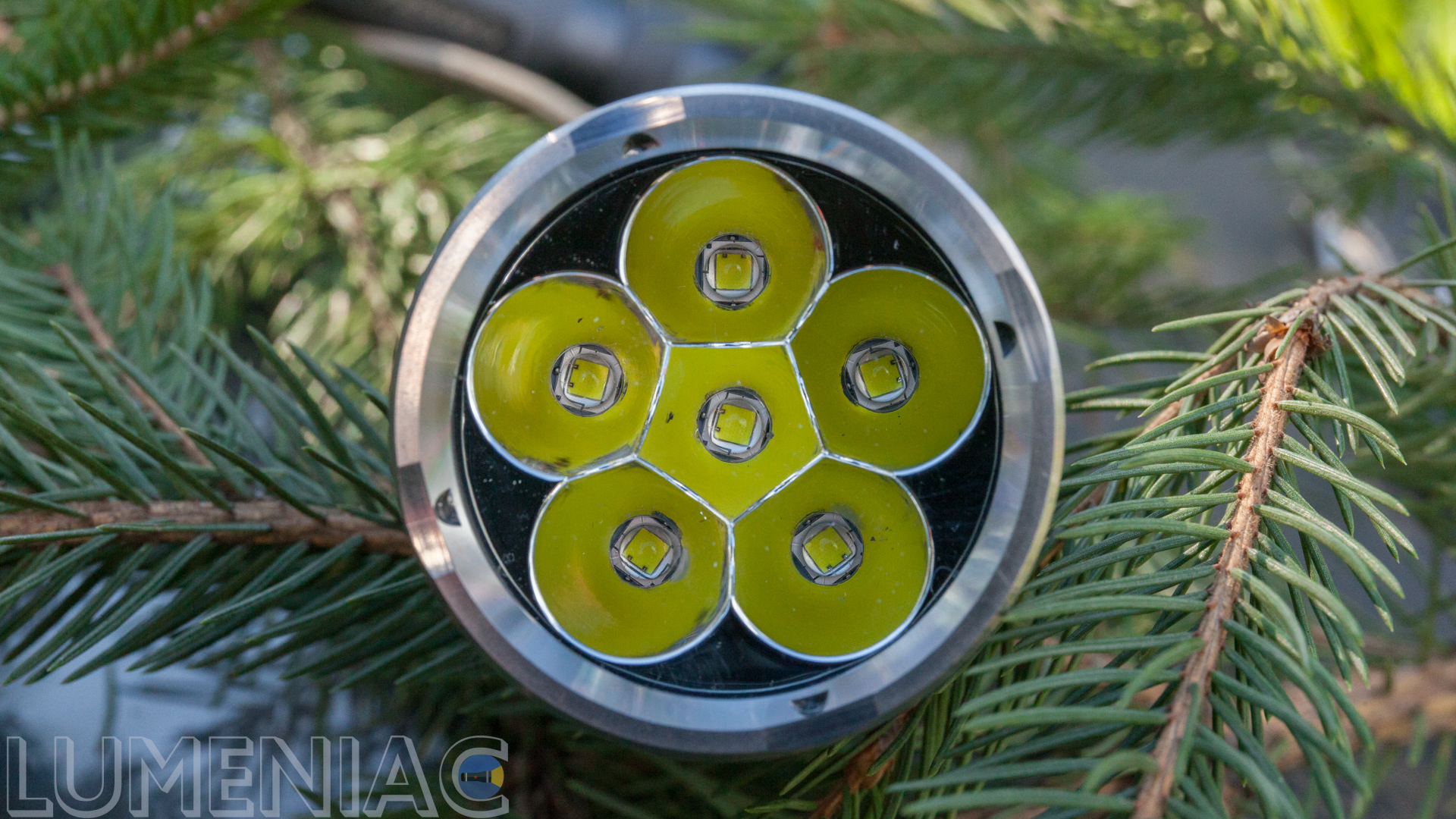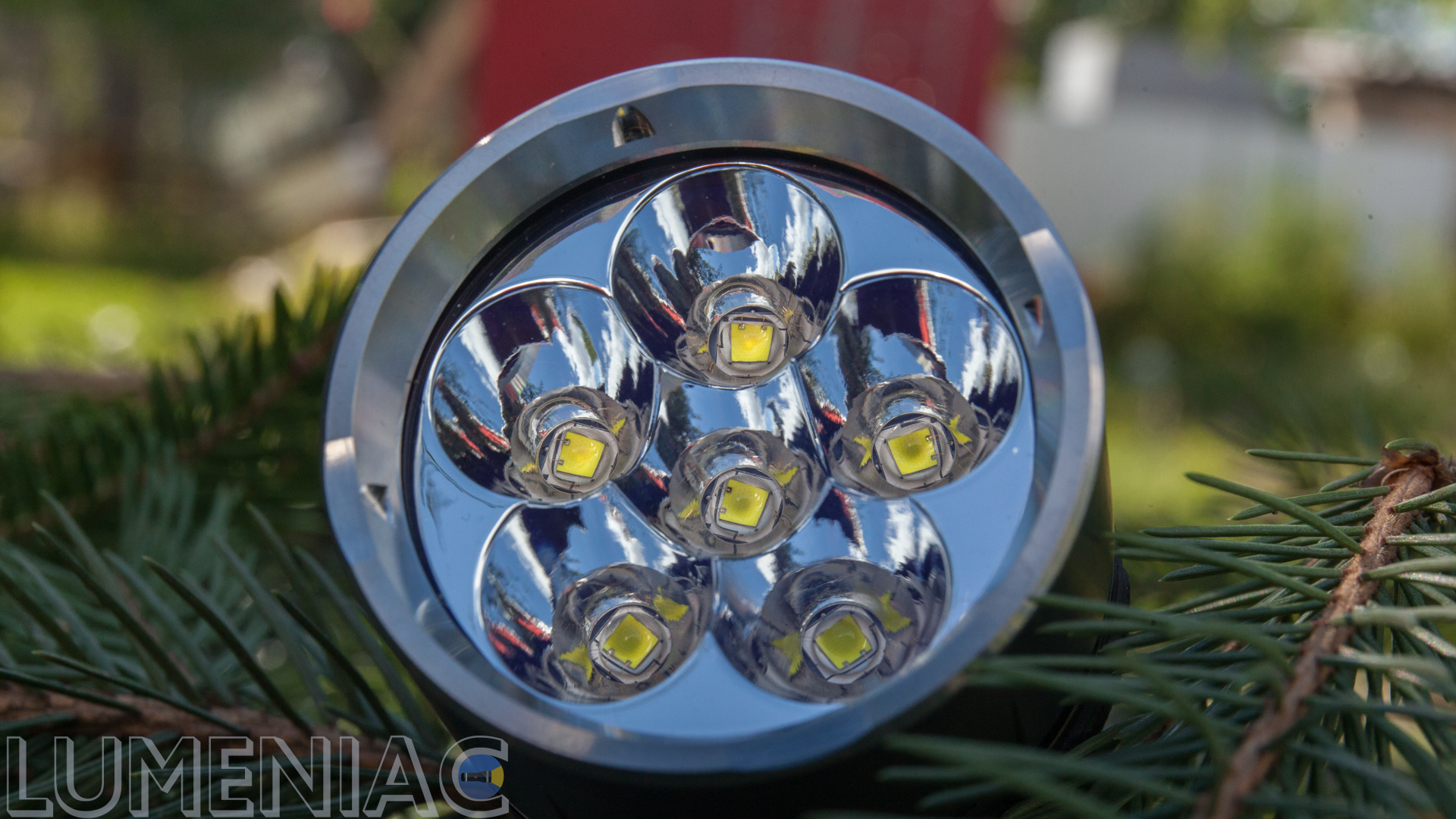 General impressions are positive. The flashlight looks quite nice. And at this stage of the review, I can only find fault with the excessively long lanyard lugs.
UI
Alas, as always, Fenix ??sticks to its cave age UI, that, in my opinion, significantly limits the efficiency of UI.
On / Off: Press and hold the button for 0.5.
Output selection: Eco-Low-Mid-High-Turbo by pressing the button.
Stroboscope: Press and hold the switch for 1.2 seconds
Lock / Unlock: 2x clicks from off.
There is no access to Turbo \ Eco, which is usual for almost all modern modls. But there is a shortcut for a completely excess strobe.
Well, there is only one thing to remember – always turn LR35R off in Low or Mid, otherwise you will go blind when turn it on in high modes.
How Fenix ??LR35R shines
I like the light itself, both color temperature and disctribution.
5500K lies in the upper limit of the my personally choice of 4500-5500K. It is neither yellowish or blueish.
Light is something between a flooder and an average mid-range model. . In general, this is light convenient for everyday purposes. Here I have absolutely no reason to complain.
I don't remember full stabilization in any of Fenix models, even in those that I like and which I use.
Seeing the news of LR335R release LR35, I gloatedly expected that they screwed up again with stabiliztion. But no, I was sincerely and pleasantly surprised to see full stabilization!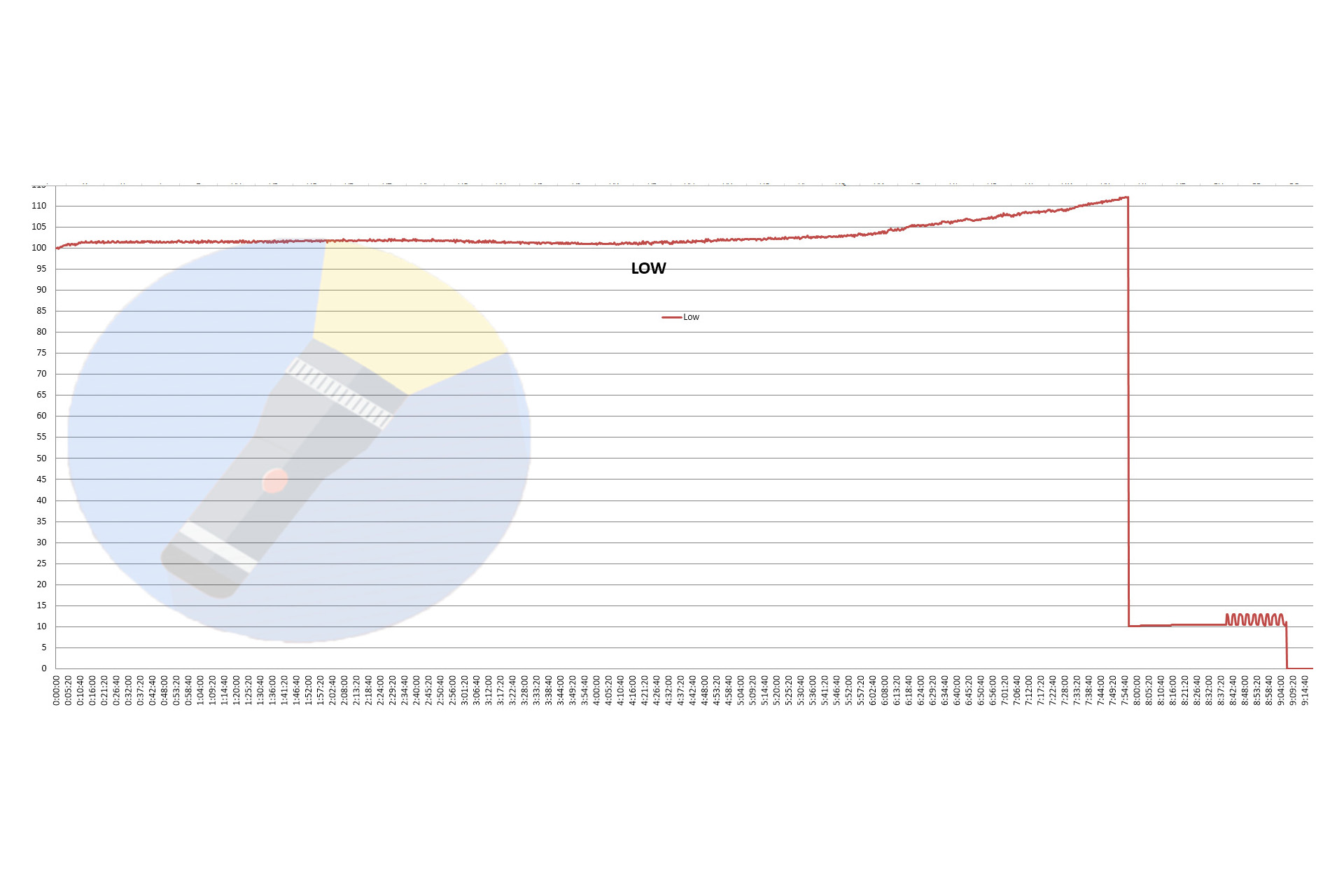 The driver slightly raises the current on discharged batteries, here brightness rises insignificantly. I don't see the slightest problem in this.
Zigzags at the end of the graph reflect the drop in brightness to some minimum mode and a slight ripple in it parallels to the red blinking of the LED on the button. all this is discharge indication.
As for the maximum brightness, then, often, in compact flashlights, its duration is reduced to a marketing flash. And again, a pleasant surprise – the Fenix ??LR35R has a reasonable runtime in turbo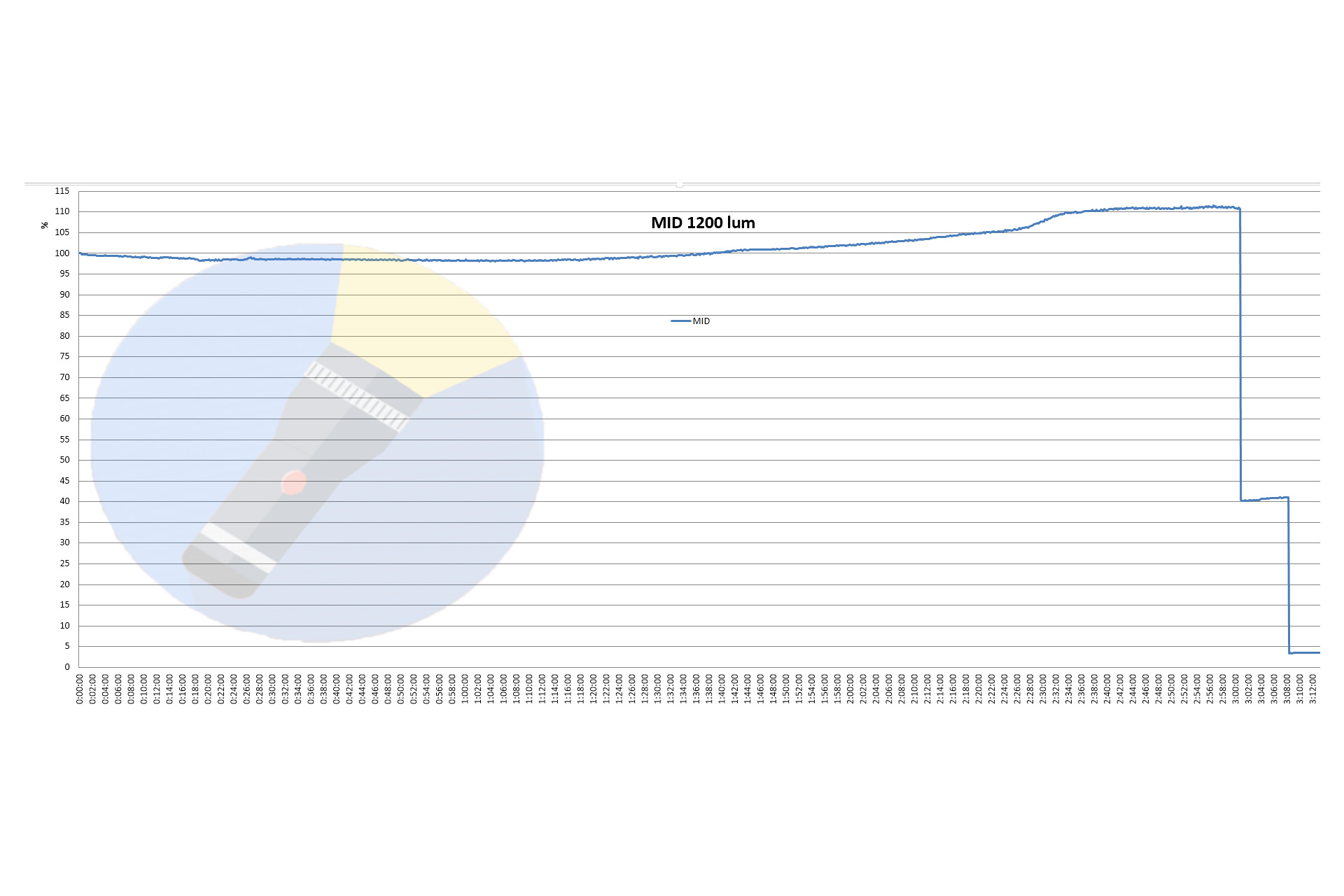 Ther is temperature cut-off at 65 degrees.
With cooling on, high modes does not stepdown at all! suddenly! And without cooling, it still have quite good runtime

Frankly speaking, you can work for a really long time in high mode only with a gloves on or in cold weather. Lr35R warms up, though not like a hellish stove (as sofirn sp36) but quite noticeably. 3000 lumens, that is no surprise, generates LOT of heat.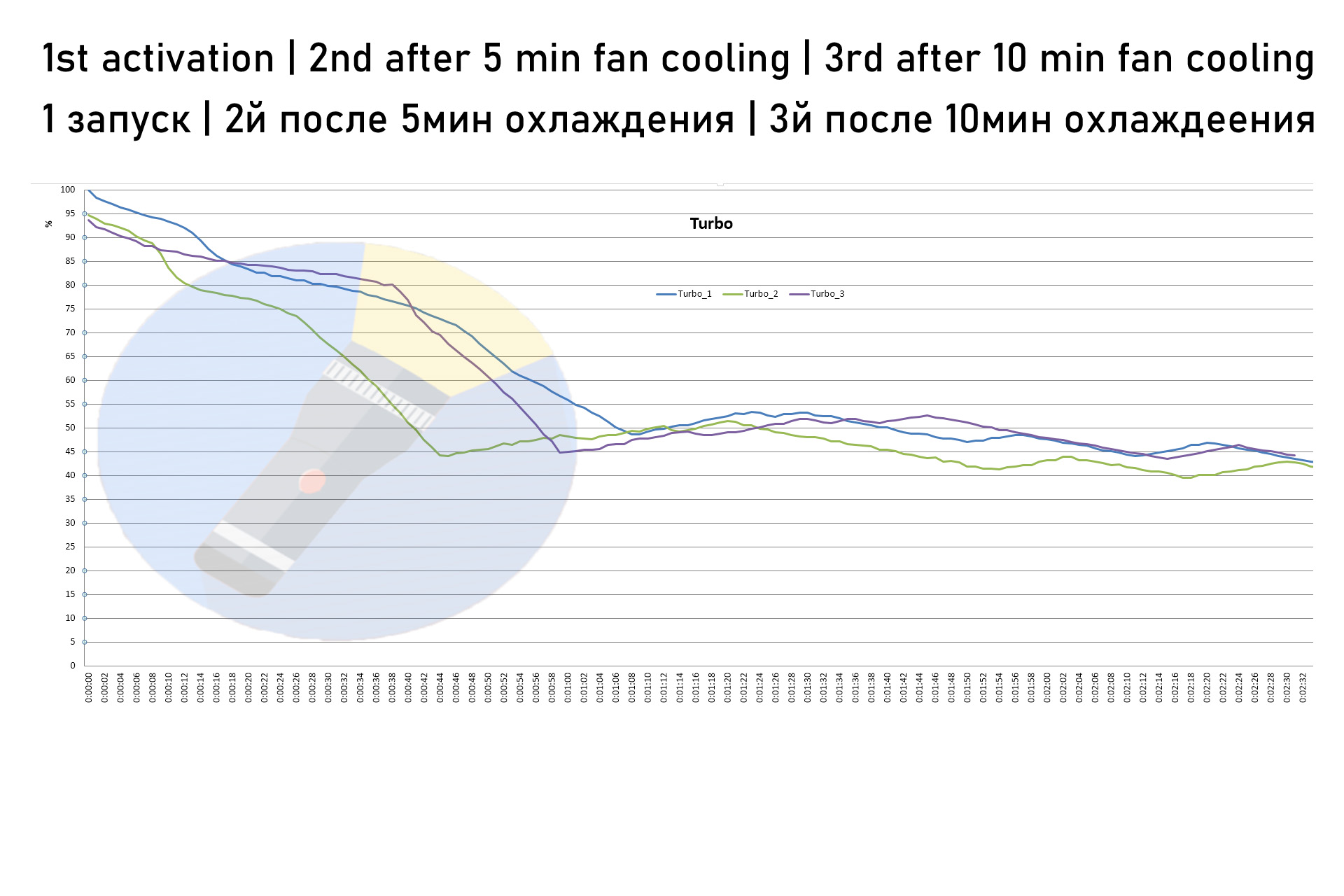 How does the Fenix ??LR35R shine? It shines brightly, what can we say, more than bright for its size. And this is with the normal rutime at High and Turbo.
eco is quite a good indoor mode. It badly lacks instant access. Alas.
low is a perfectly decent walking light. The road ahead will be visible at a distance of 10 meters for sure, somehow you can light up the bushes around. And its rutime will be enough for the whole night. Calling 450 lumens a low mode is justified only in relation to really bright modes like 3000 and 10000 of LR35R. For many 1×18650 EDC flashlights, that brightness precedes the turbo!
mid with its 1200 lumens corresponds to the mentioned maximum brightness for most EDC models. And here it is a full-fledged working mode, in which the flashlight shines for 3 hours and a quarter. More than enough for any walk in terms of runtime brightness.
high 3000 lumens will allow you to fully fry in the areas around and highlight something at a distance of a hundred or one and a half meters. Really bright, and more importantly, with a decent duration. So 1200 lum is enough for you, high is needed here to illuminate something in the distance and in breadth – and for this purpose the flashlight copes with a bang.
turbo … let's face it, there is a LOT of light in this mode. REAALLY lot. No one can even expect SO much light of flashlight with such moderate size. In general, it's hard for me to imagine a situation when High is not enough for you, but if there is a need to illuminate, say, a football field, then yes, Fenix LR35R can handle with it.
I am sure that both those who want to buy the Fenix ??LR35R and those who are simply interested to see what a modern bright flashlight is capable of, will want to see it in the maximum of different situations and distances. So, catch it.
For comparison, I take the most common and cheapest version of the Convoy S2 + with 4×7135 and 6500k light.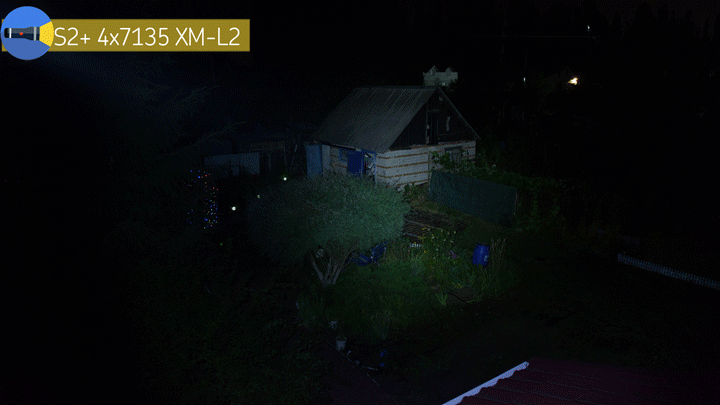 Of course, the Fenix LR35R video review contains many more examples of how this flashlight shines.
OVERALL IMPRESSIONS
Speaking language of all-positive advertising reviews, Fenix LR35R pleasantly surprised me. Fenix has collected all modern features in this model, with the exception, perhaps, of a stepless brightness adjustment. But the latter would force a complete change of UI, the excessive simplicity of which became the only sore point of LR35R.
In all other aspects, I really liked this light. Its main trump card is its enormous brightness for such relatively compact size. And it is not a useless marketing bait, as turbo mode here, though expectedly has stepdown, is still very practical both in terms of brightness and rutime. And by itself, a bright high mode holds also works good.
This flashlight has the fastest charge I have ever seen, a near-mid-range light distribution, pleasant color temperature. If necessary, you can penetrate a couple of hundred meters ahead due to its huge brightness.
Of course, the price tag makes this model very niche. Not everyone is ready to pay $ 20 for a flashlight, but this one costs exactly 10 times more, which can cause barbaric anger simply by the very fact that such flashlight existencs. But this is the expected price tag for a new top model, and if you can afford such a purchase and you are cool with UI, then I have no feeling that Fenix LR35R will disappoint you. Time has shown that the main disadvantage of Fenix, this primitive UI, does not bother many users. So here, for a week of tests, I got used to turning off Fenix ??LR35R in the Eco\Low mode and after that it was not inconvenient to use it.