I reviewed my first Acebeam 4 years ago and since then I don't remember being disappointed by any their model that had chance to review. In terms of the number of experiments and the implementation of any innovative solutions, only Nitecore can surpass them. But Acebeam's trump card is not the number itsel, but final convenience of use and product logic.
I have already dealt with two Acebeam long-throwers – T21 in the classic 2×18650 form and the monstrous Acebeam K75. Each of them stepped over 1 km throw, which is crazy.
Acebeam L17 model does not reach a kilometer, but no one who see L17 will imagine that such a compact model can give such a penetrating light.
The model was created not for a wide audience, but for hunters and special forces. If you belong to one (or both) of these categories, I hope you find this review helpful.
Powered by 1×18650 Li-ion battery and 2xCR123A batteries are compatibility
Acebeam Micro-USB rechargeable 18650 Li-ion battery can be optional
Pocket tactical flashlight- compact, lightweight and portable convenience
Strobe setting can disorient an attacker or serve as a distress signal
One-handed, one-button for easy and fast operation
Highly efficient constant current circuit design (Non-PWM)
All circuitry contact points are gold-plated, providing better conductivity and superior durability
Intelligent temperature controller is used to adjust brightness and prevent overheating
Lockout mode prevents accidental activation
Carclo TIR Lens: product highly efficient optics with a hug variety of beam shapes
Stainless steel strike bezel design for use in emergency situations
Durable Electronic Soft-Touch Tailcap Switch for easy and fast operation
Sturdy aerospace-grade aluminum body with military grade type III hard-anodized finish
Size: 140.5mm (Length) x 40mm (Head Diameter) x 25.4mm (Tube Diameter)
Weight: 150g(5.3oz.) w/o battery; 199g(7oz.) w/ battery
Impact resistance to 1 meter
IP68 waterproof (5 meters submersible)
you can buy Acebeam L17 at:
➤ Acebeam official website
➤ AMAZON
PACKAGE AND APPEARANCE
Black box with only green and white versions mentioned, it lacks red one.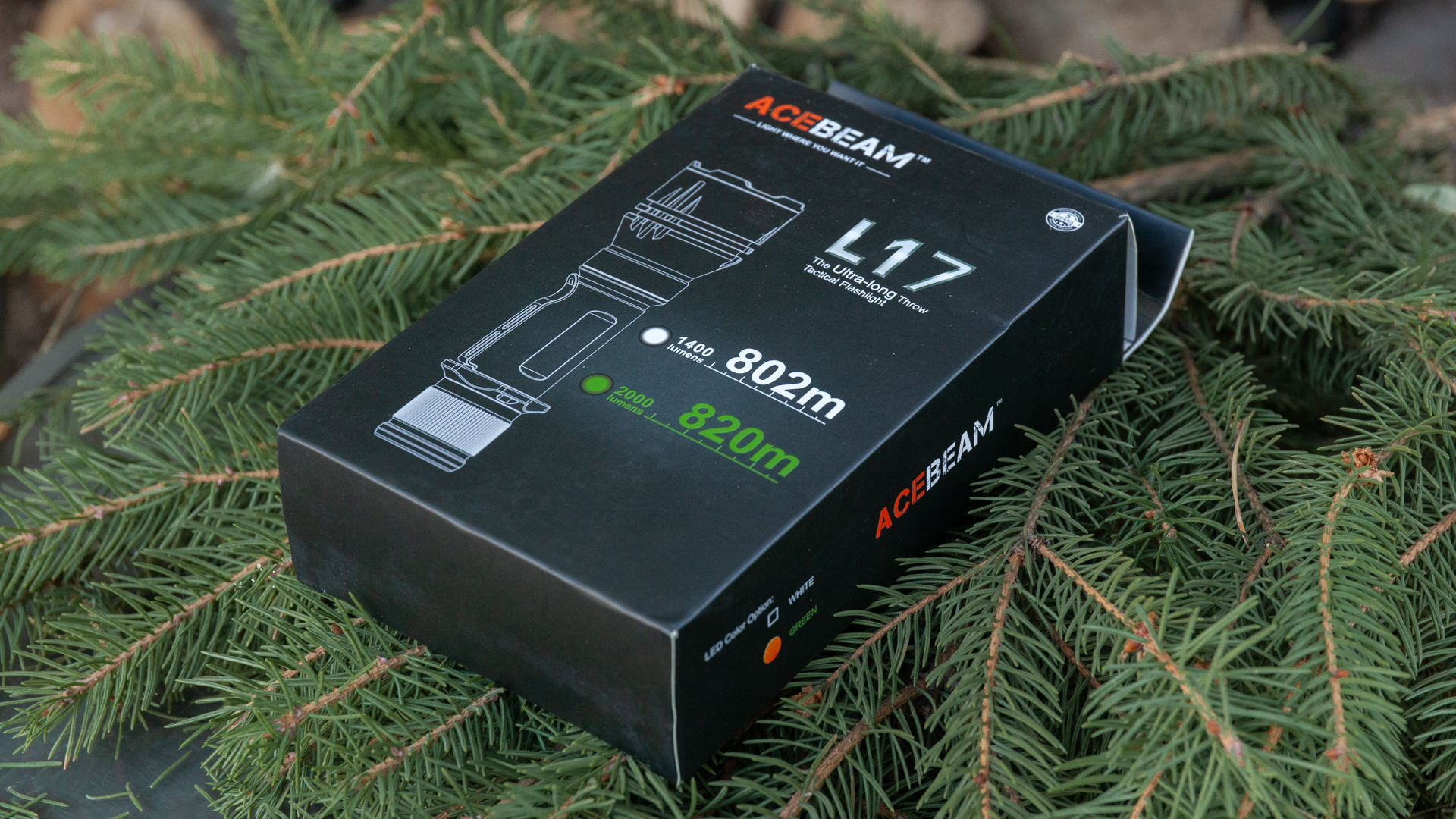 There is a pad with everything you need inside it. Set includes: Acebeam L17 flashlight, tiny packet with a lanyard and O-rings, nice holster, manual and warranty card. The battery (+ charging cable) and the remote button are sold separately.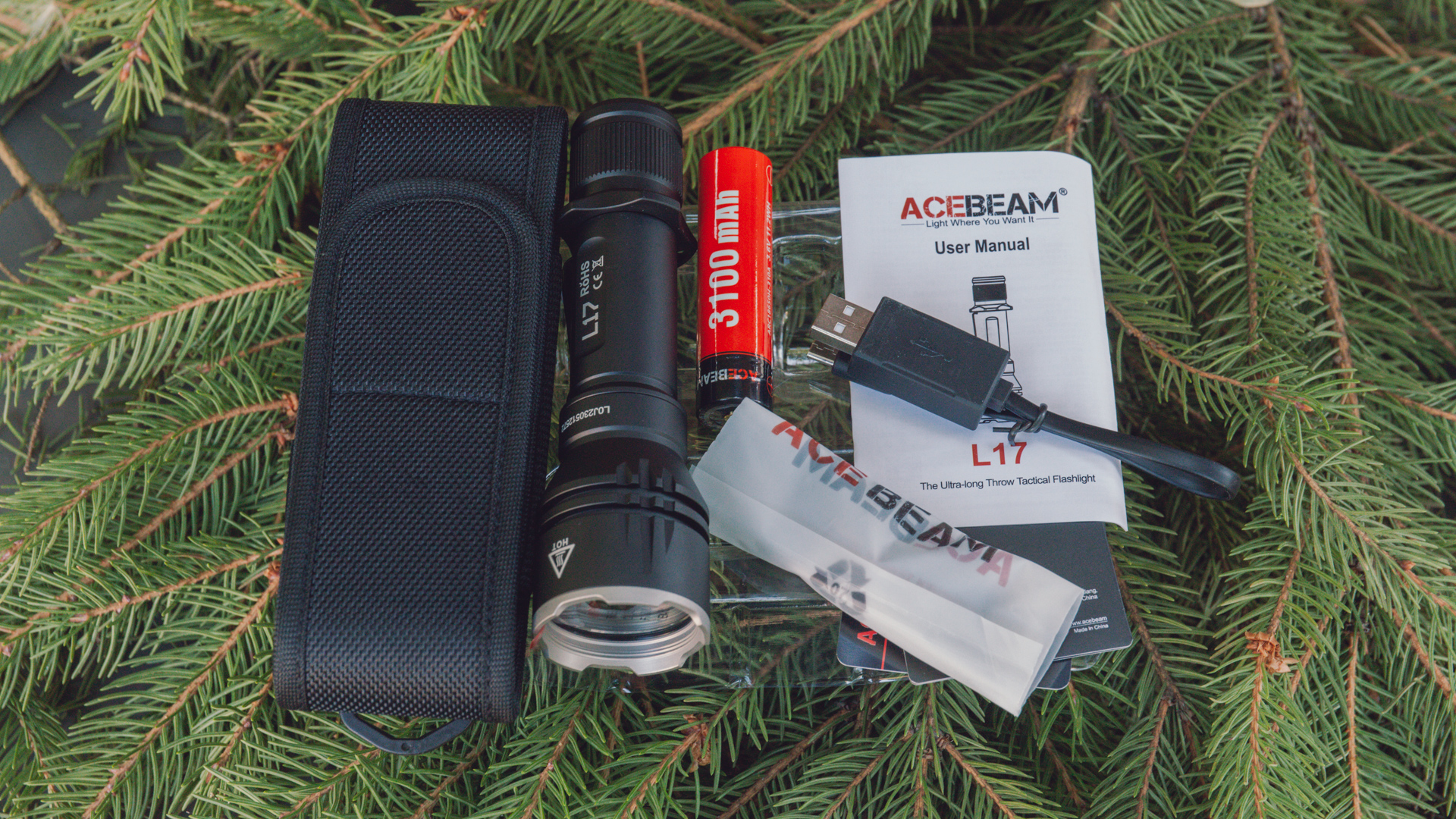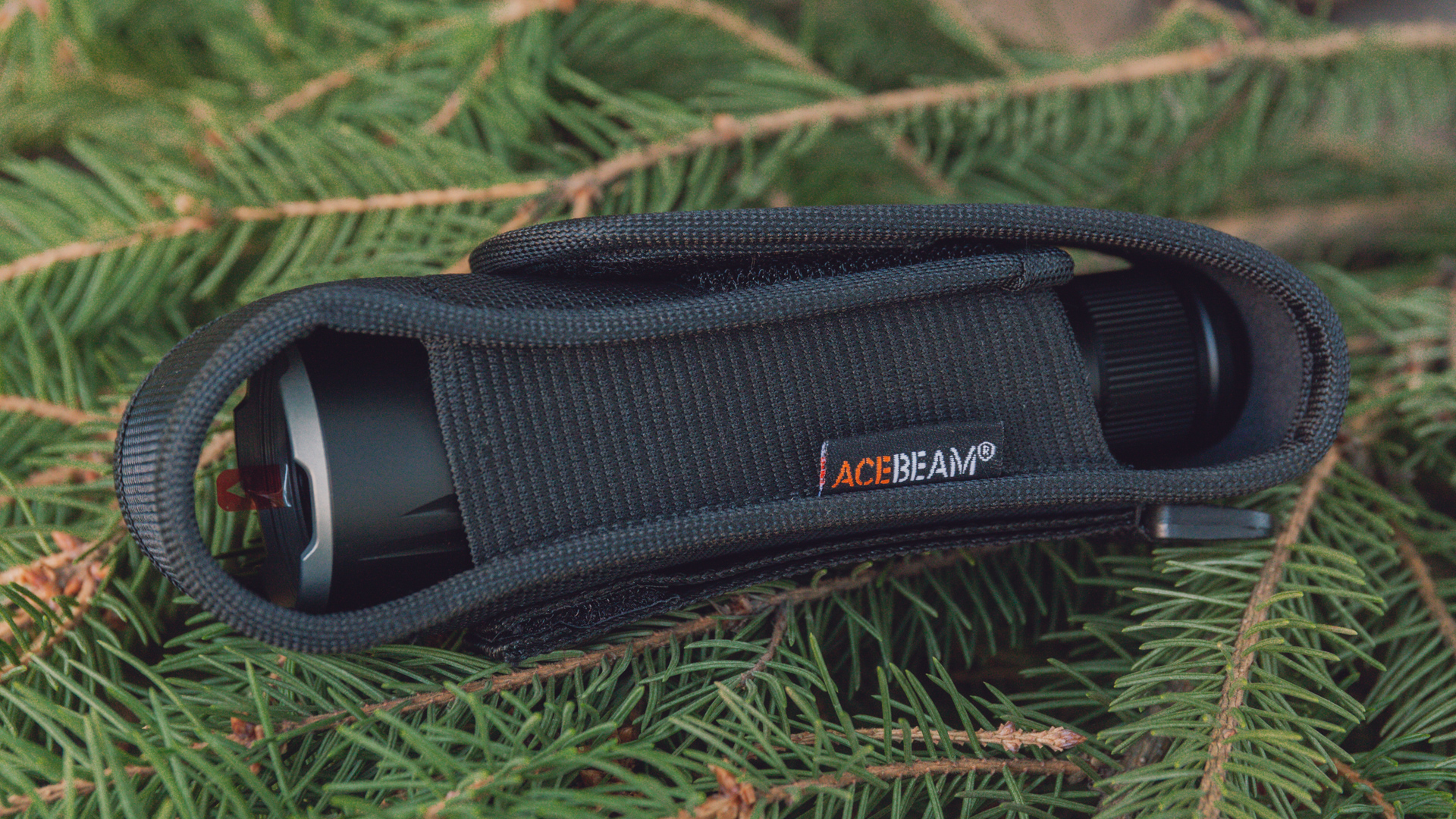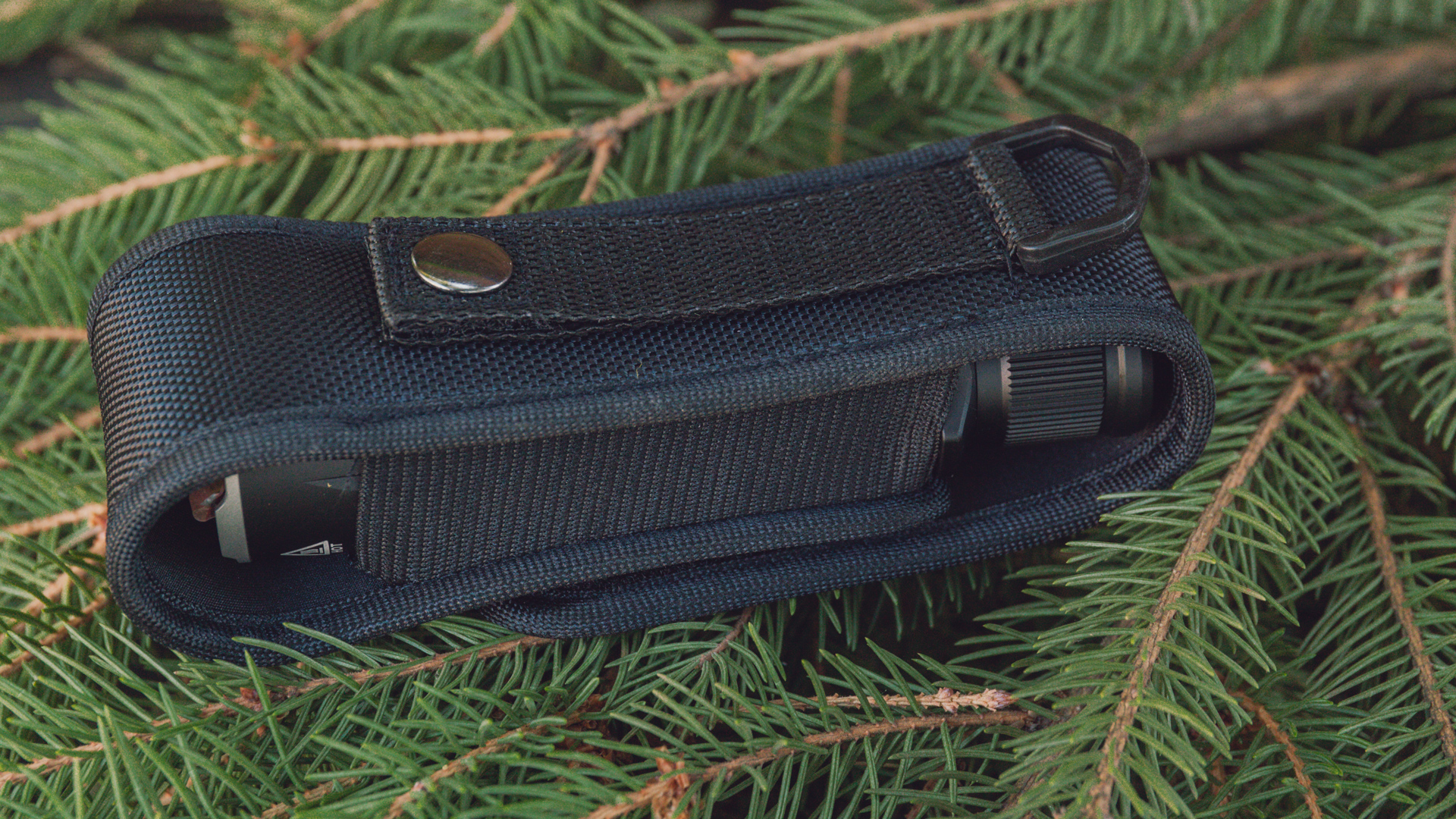 This flashlight is far from being high-design. Well, that is normal for tactical models. The design is quite simple and doesnt look that agressive as lots of tactical models do.
Nevertheless, it is immediately clear that it is a branded model, not some noname or budget model. The matte anodizing is just what you need for a sleek case. It is a pity that they do not do the carbon texture, it would look and feel super.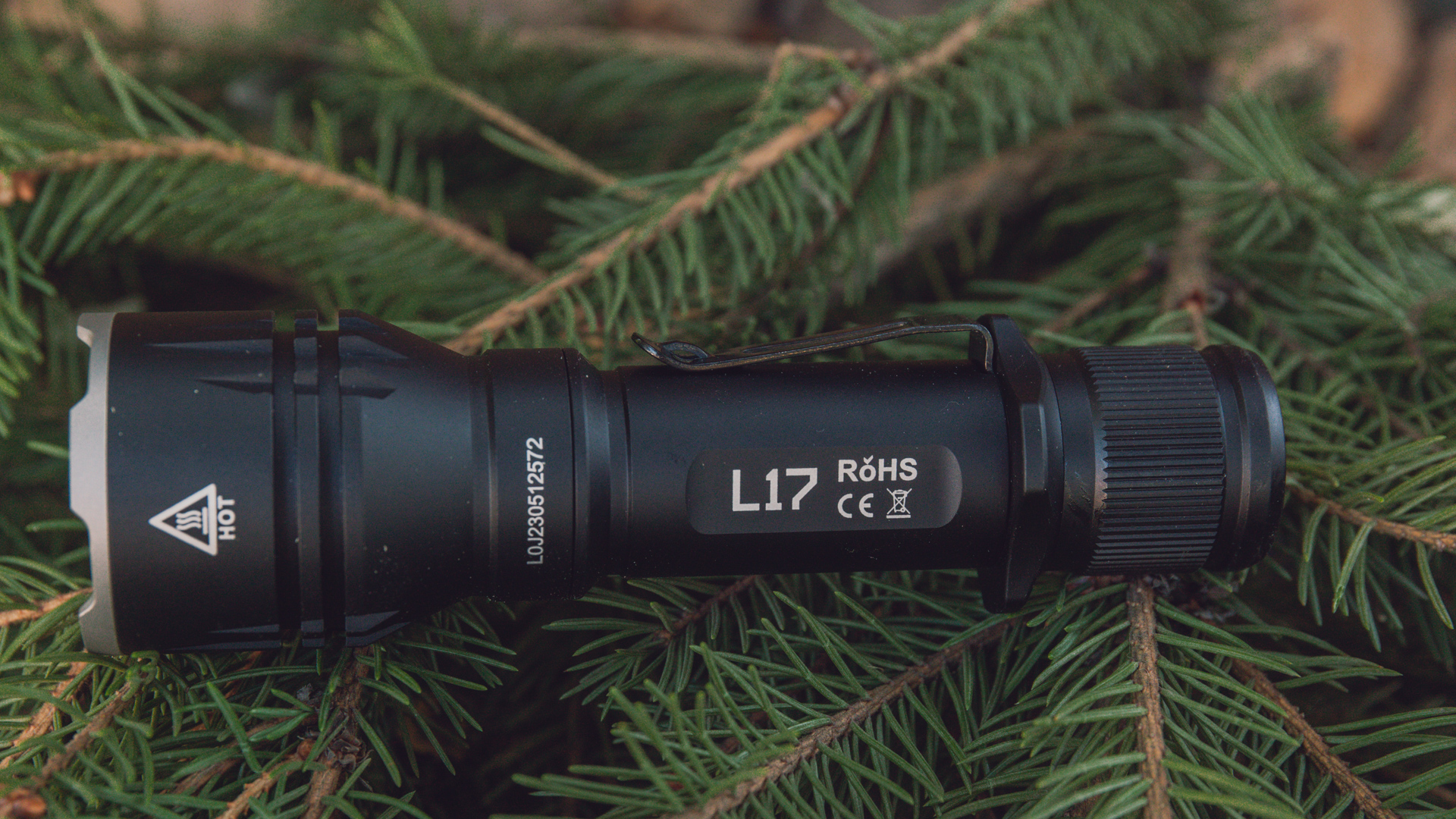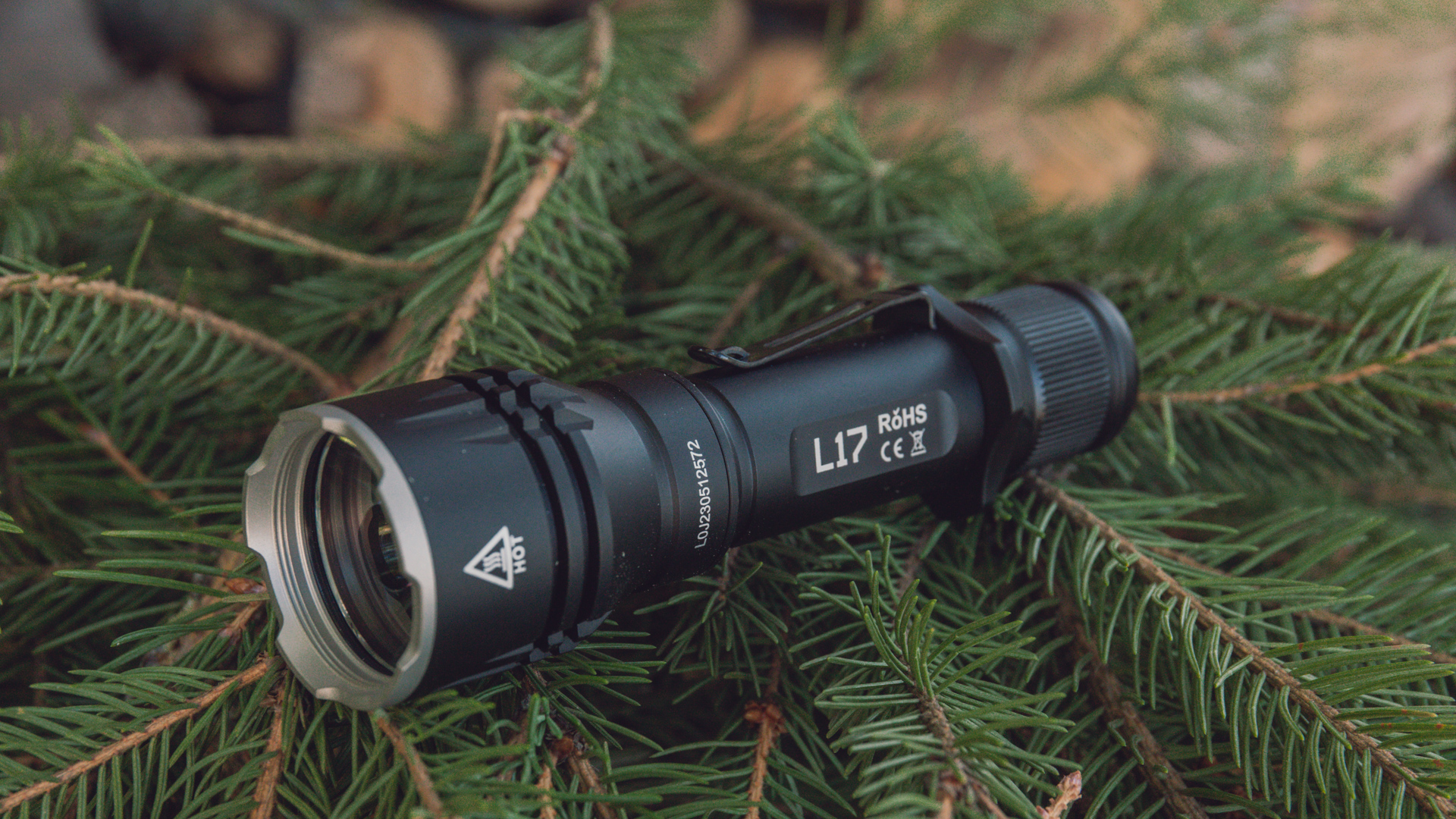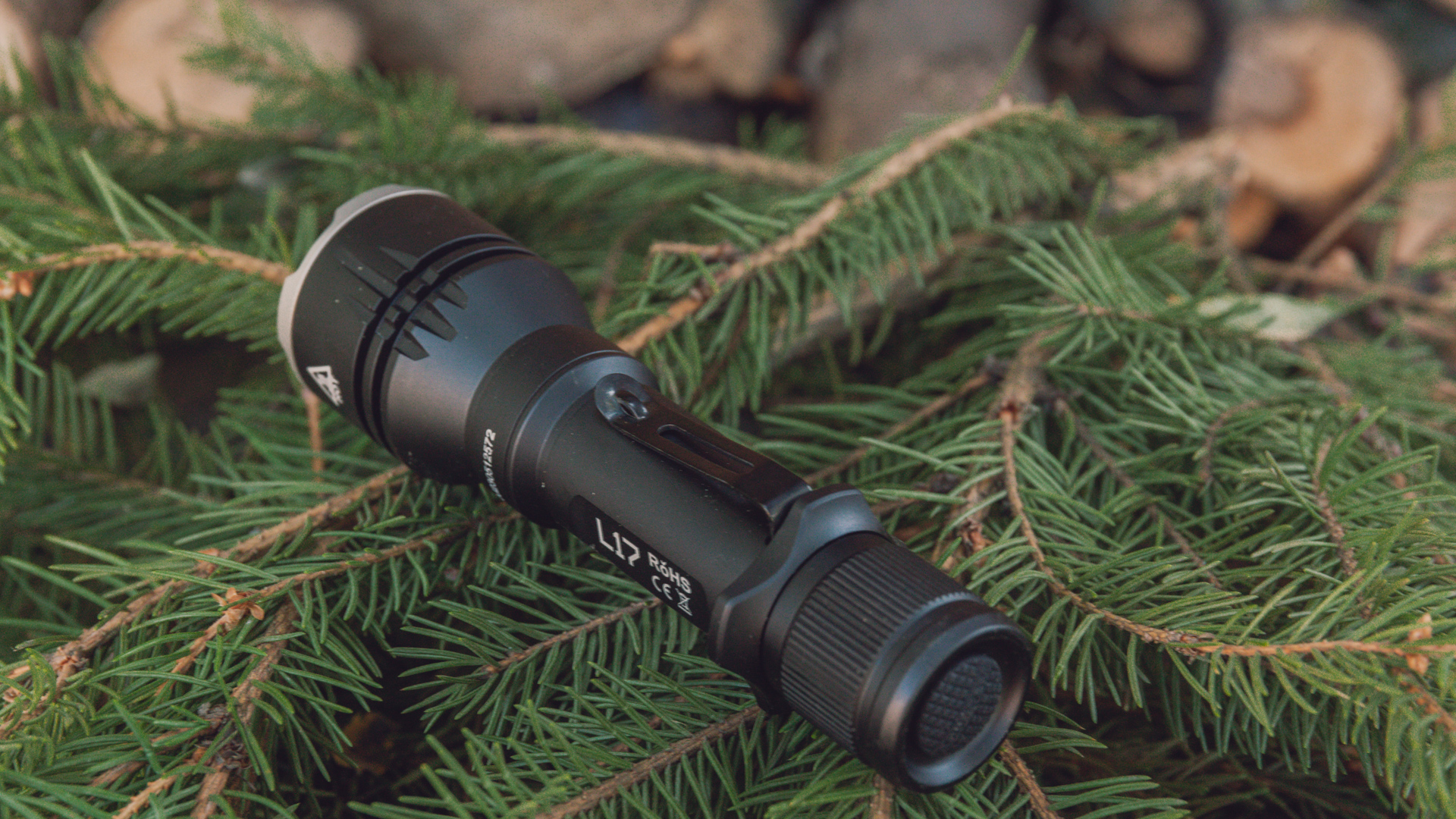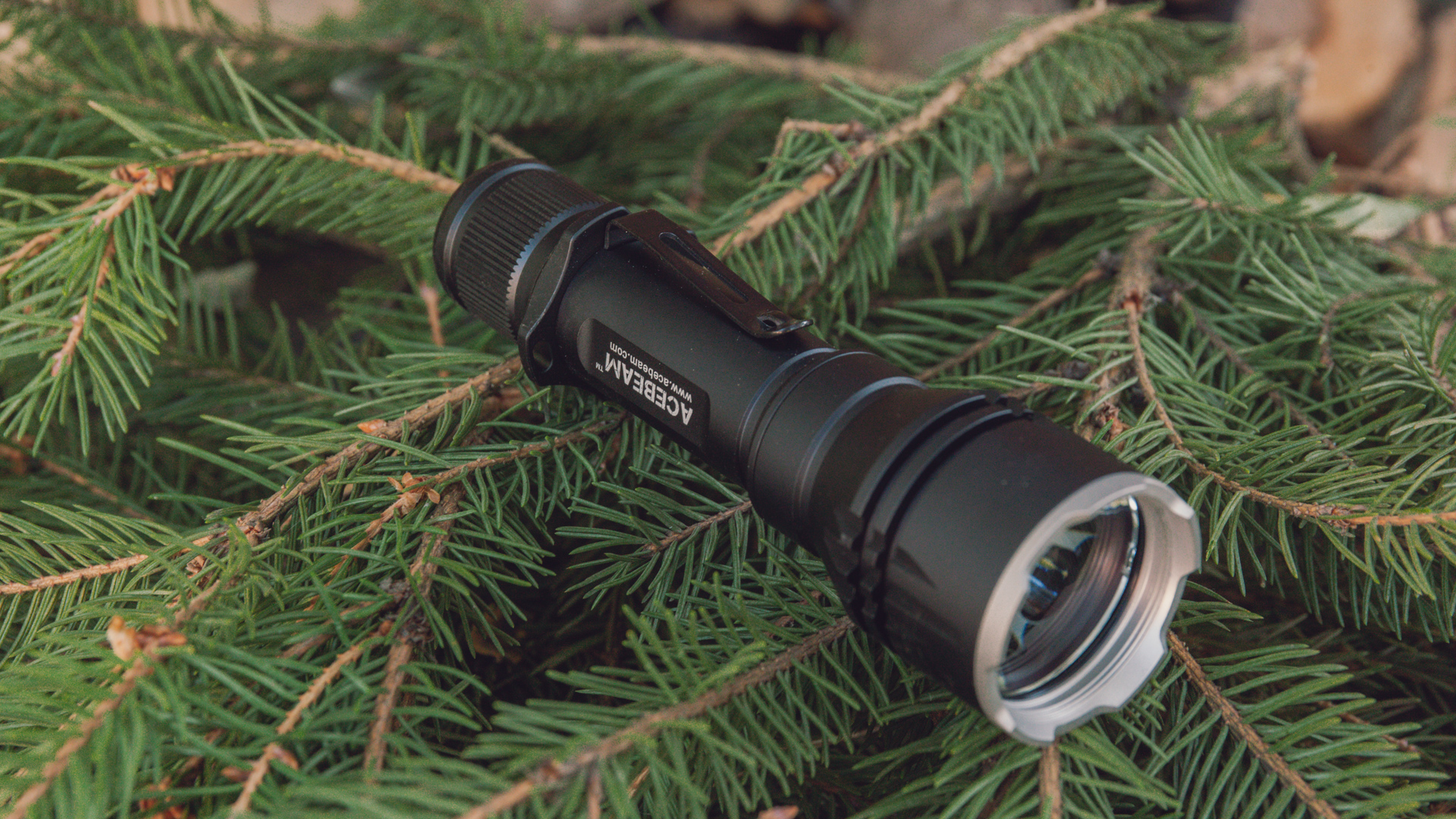 L17 is smaller than its popular budget rival, Sofirn C8G which has 250m less throw being like 30% brighter.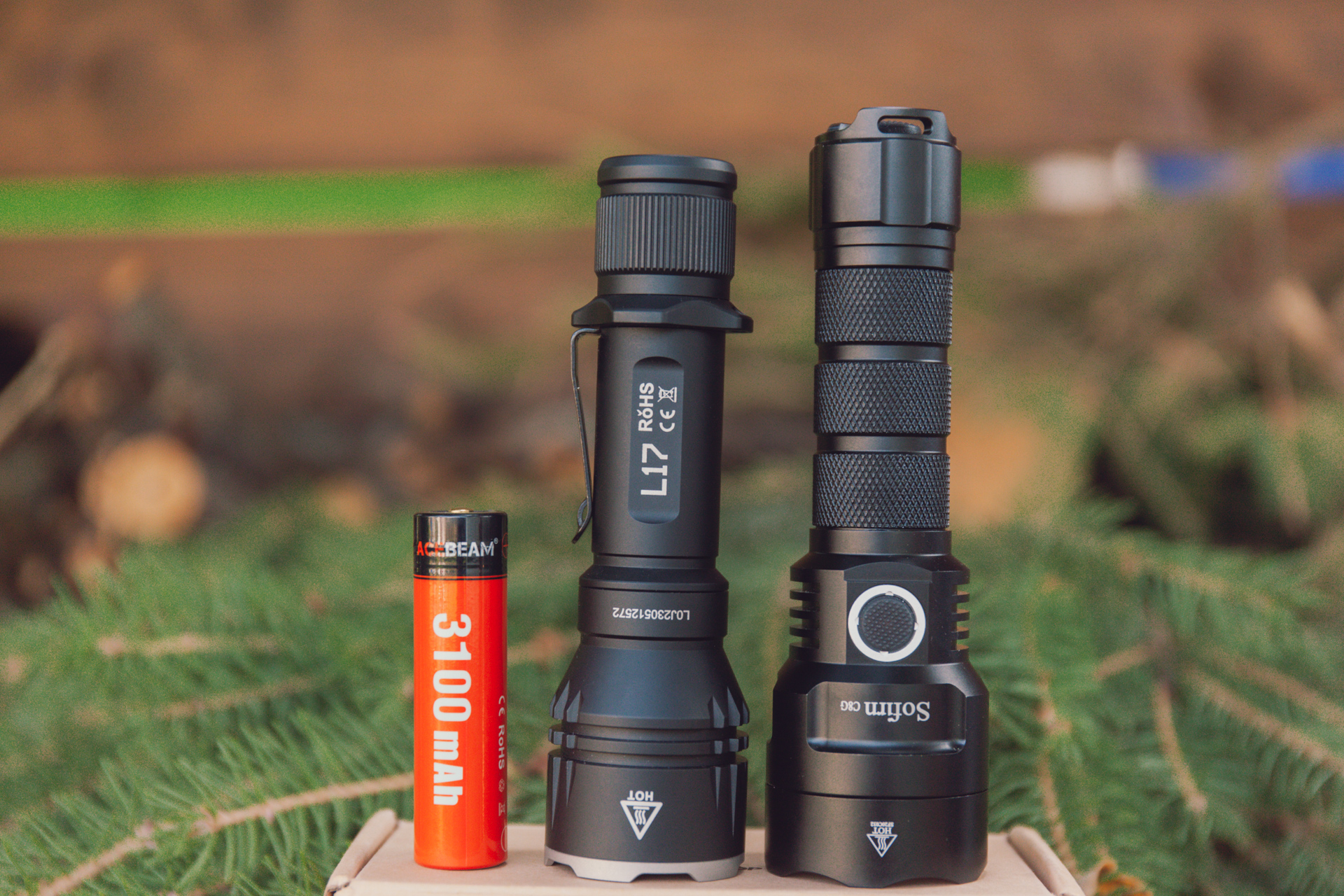 Unlike the previous version, L17 has only tailbutton. It moves softly and completely silently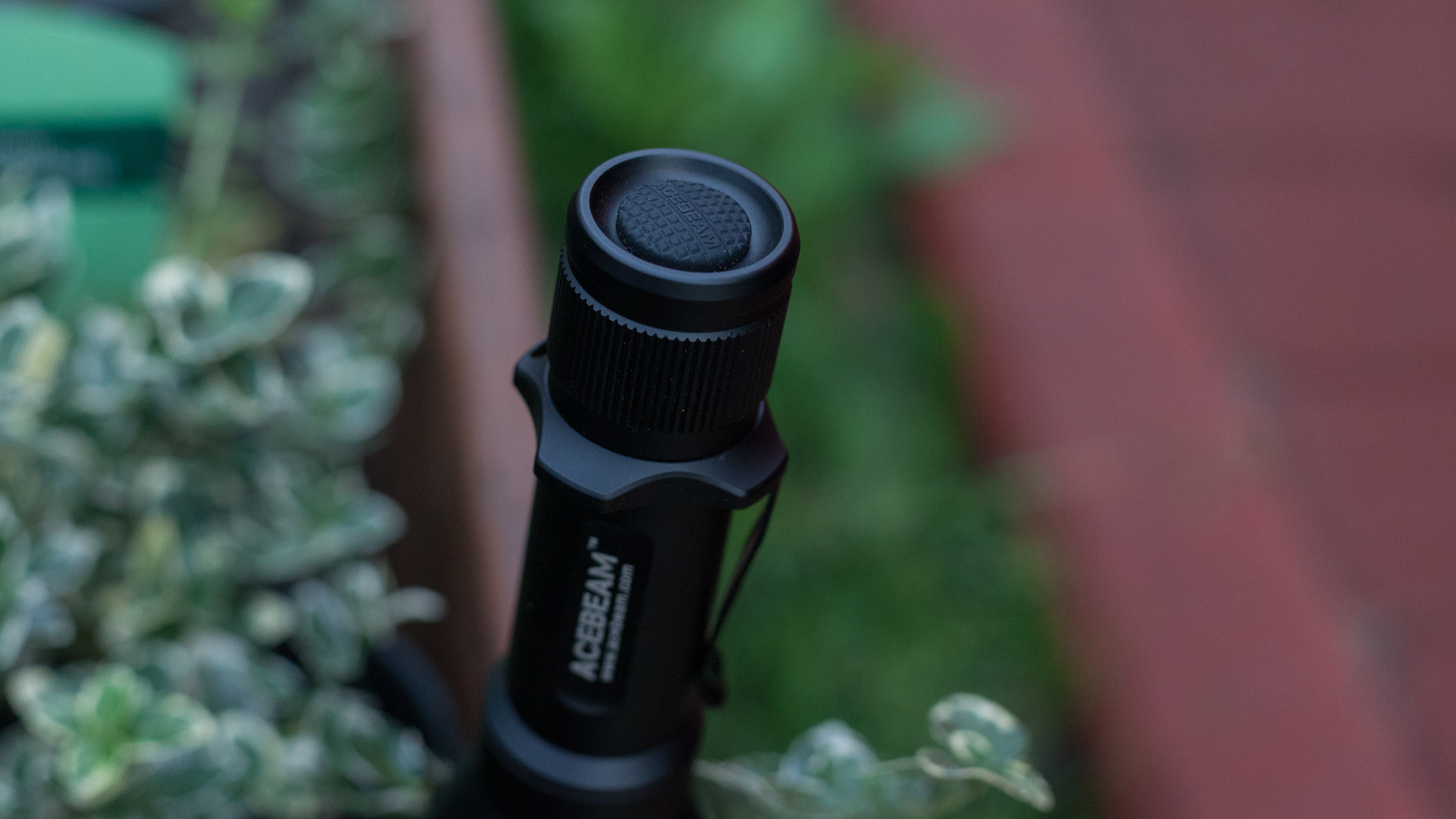 There are, of course, two springs at the side of the head and at the side of the tail.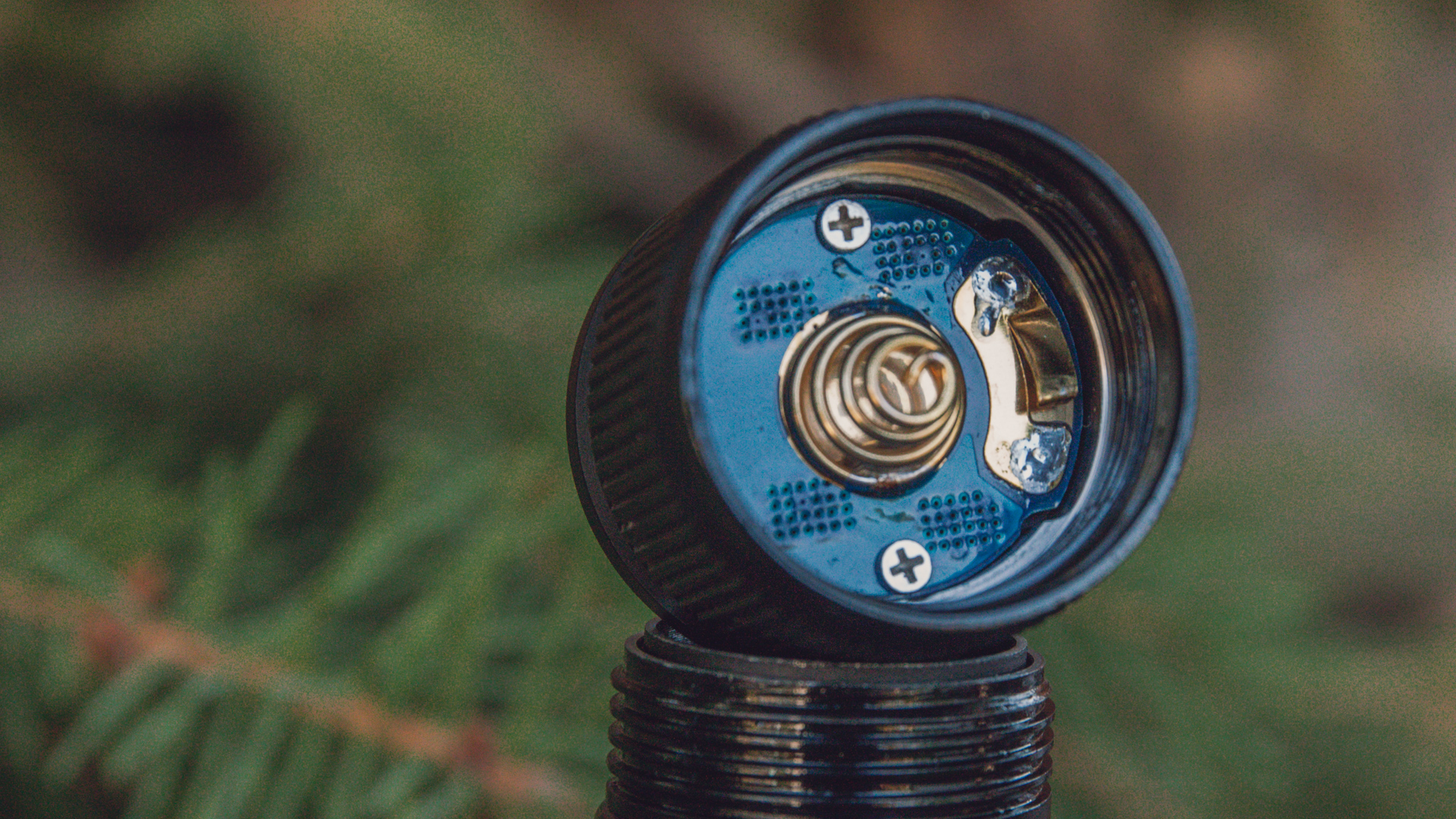 The thread is perfectly lubricated with two O-rings.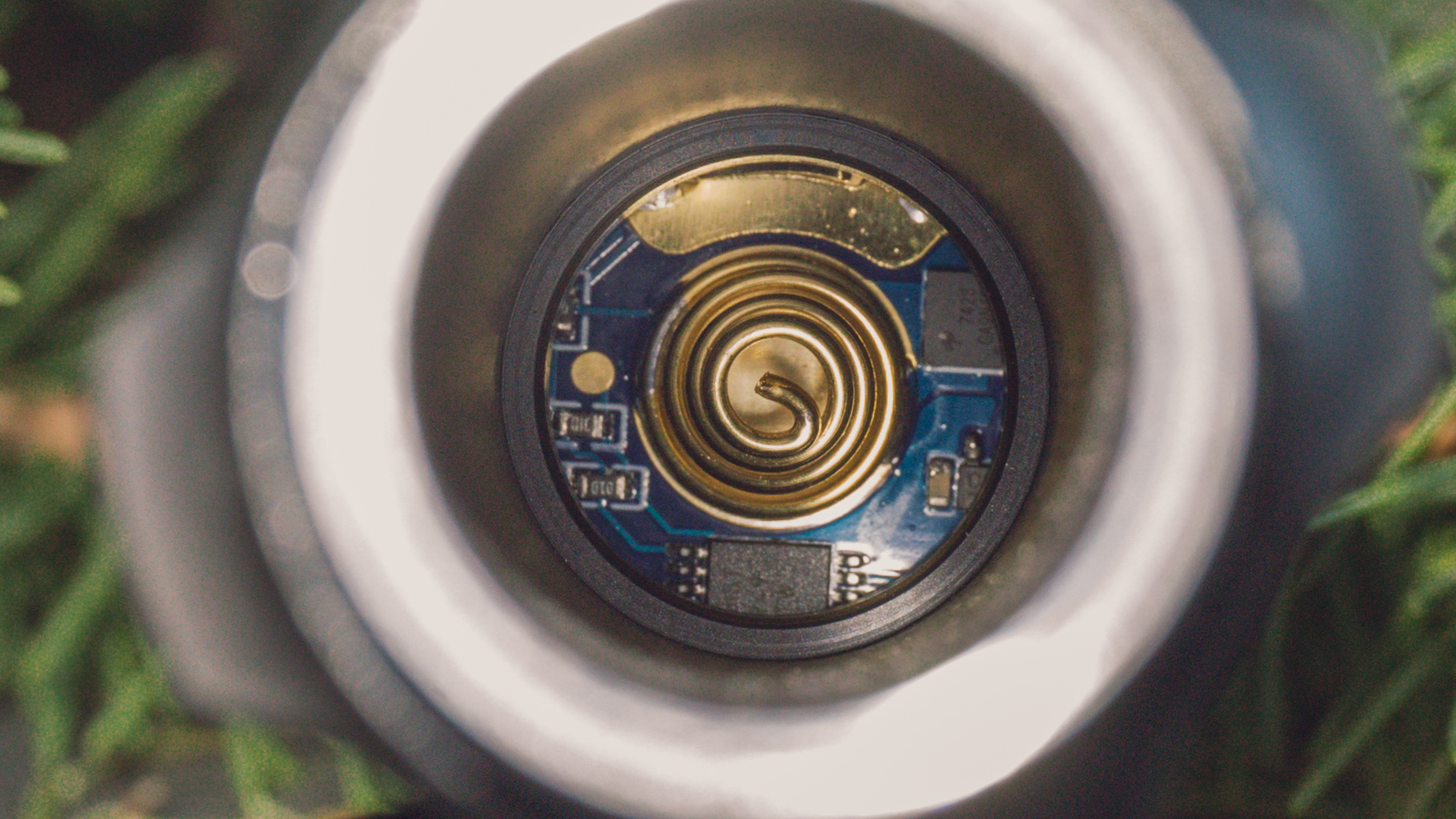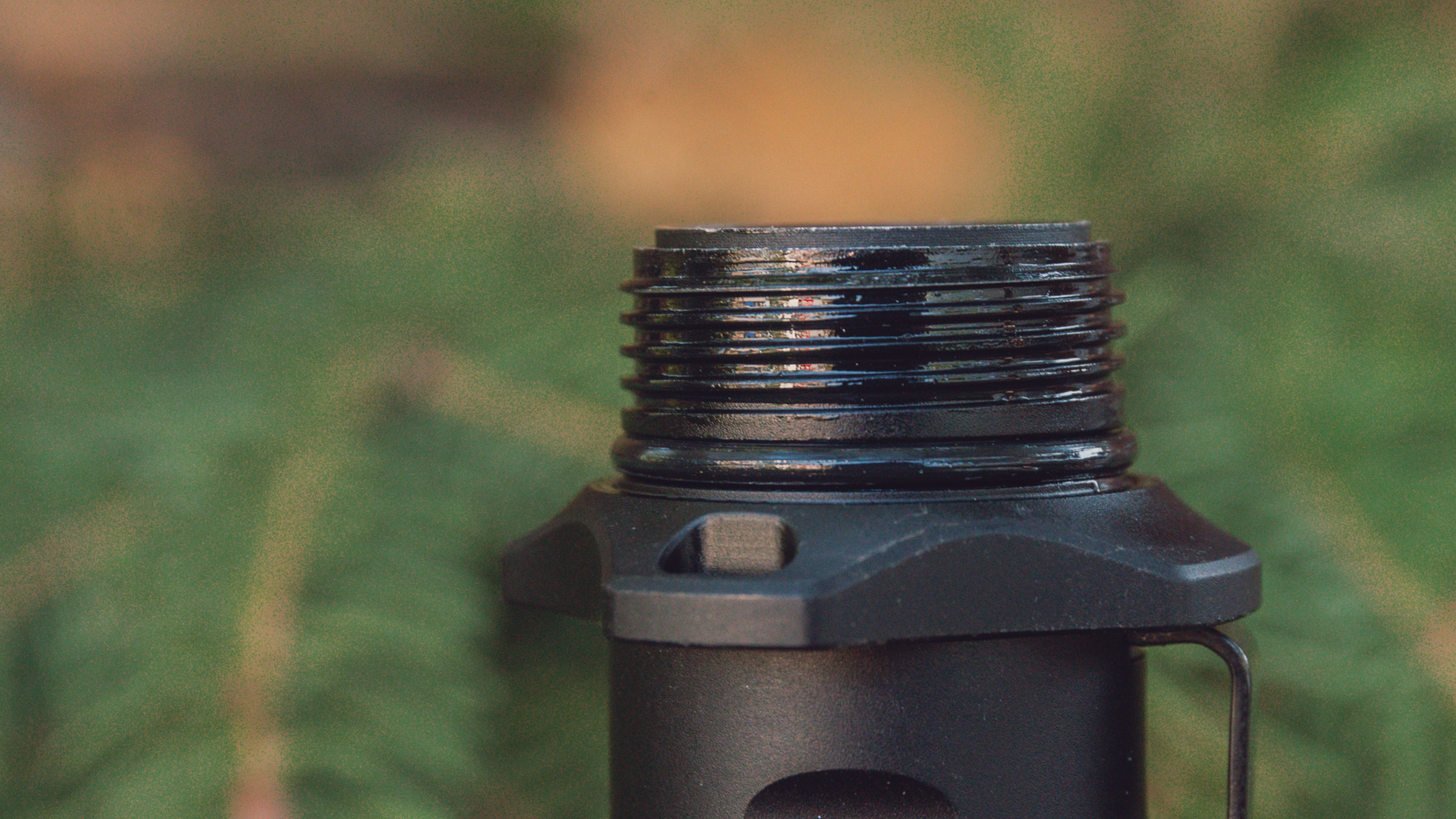 An additional sleeve is pressed into the primary flashlight body, to transmit a signal from the tail button.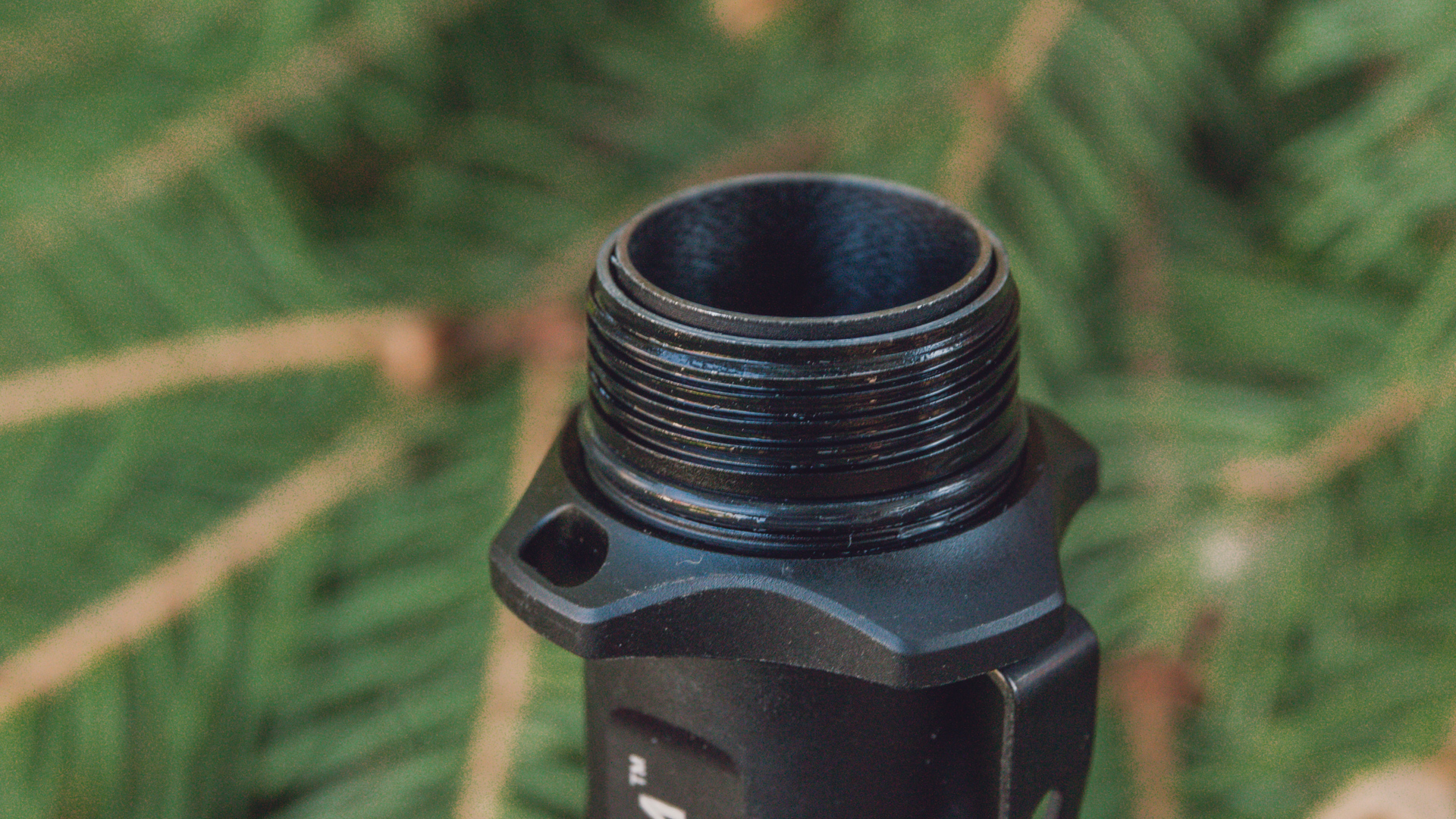 flat-top battteries need a magnet spacer to be used with Acebeam L17. And if you take into account the recoil from the gun, then I would recommend avoiding them. It is better to take button top batttery.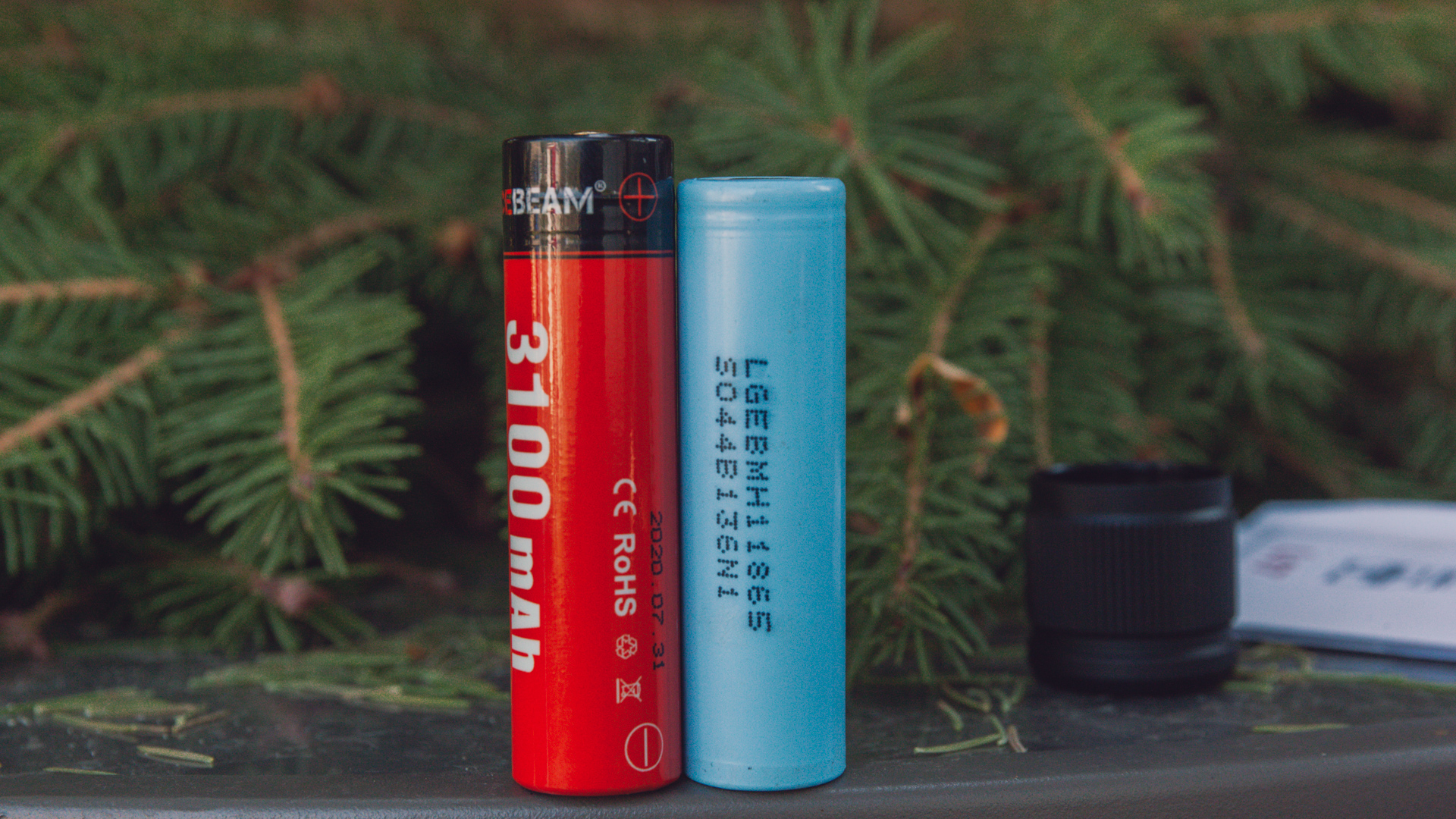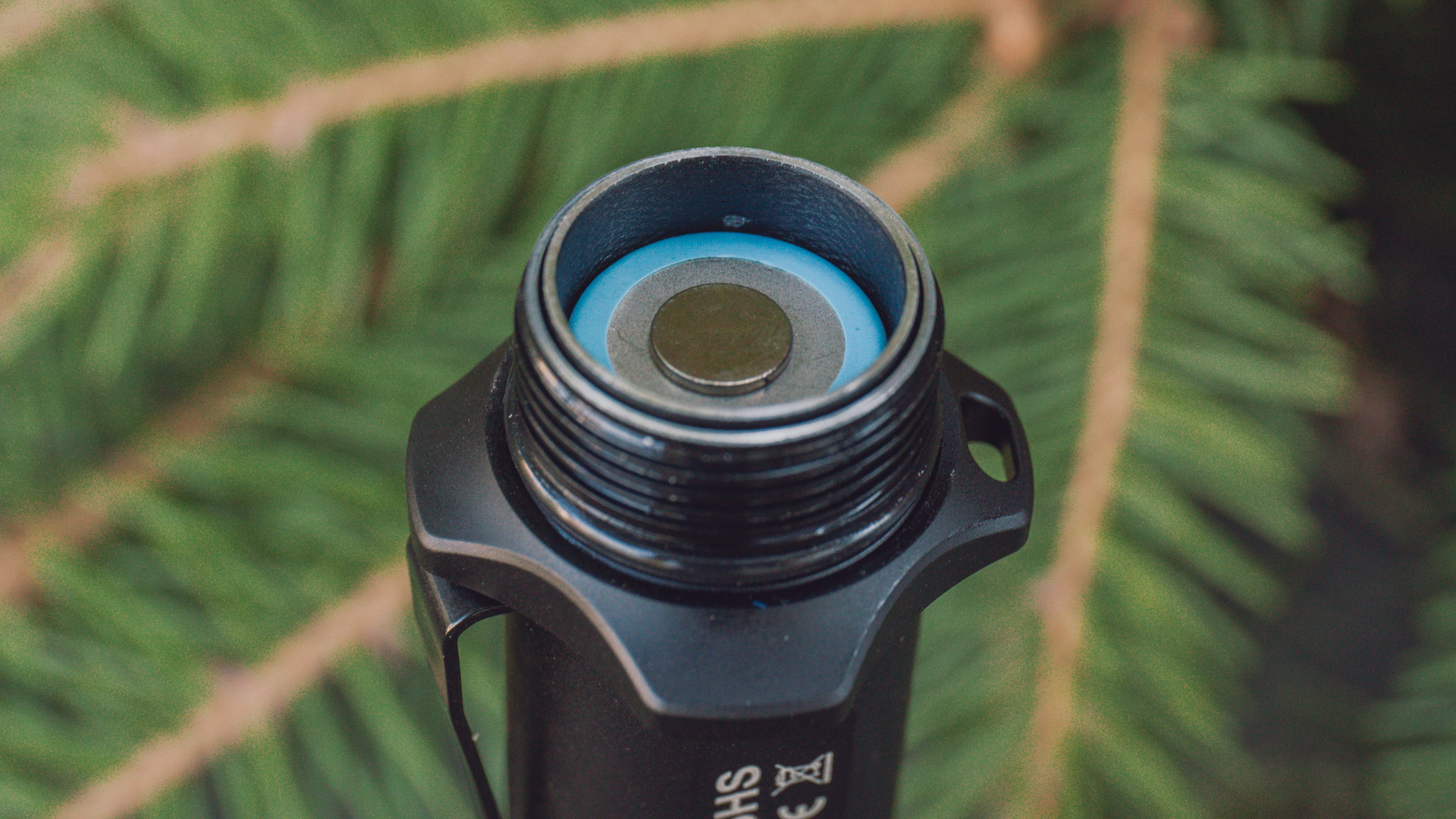 The battery, by the way, is not cheap and simple – it has a built-in charge! The charging current is good, 1A.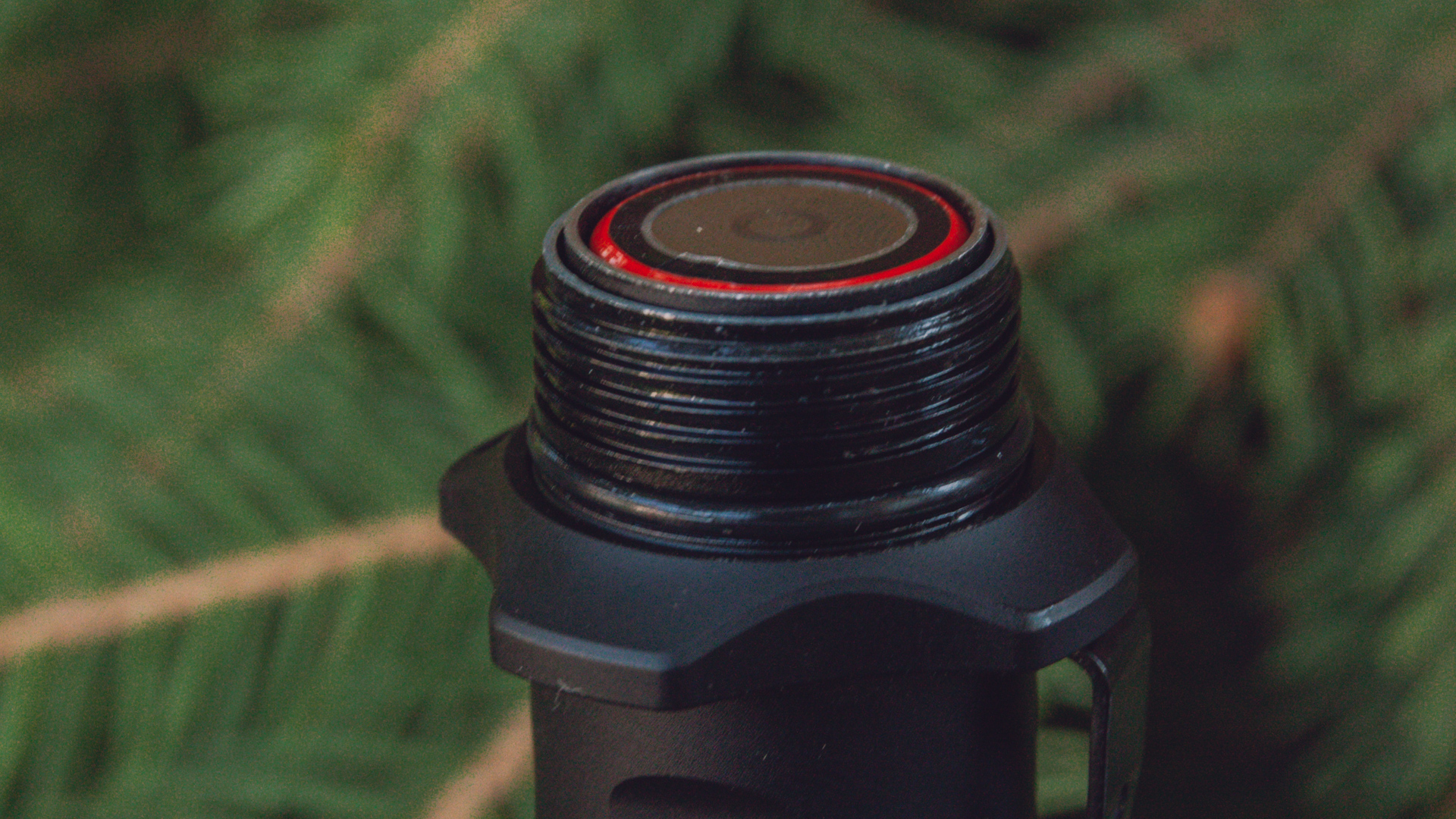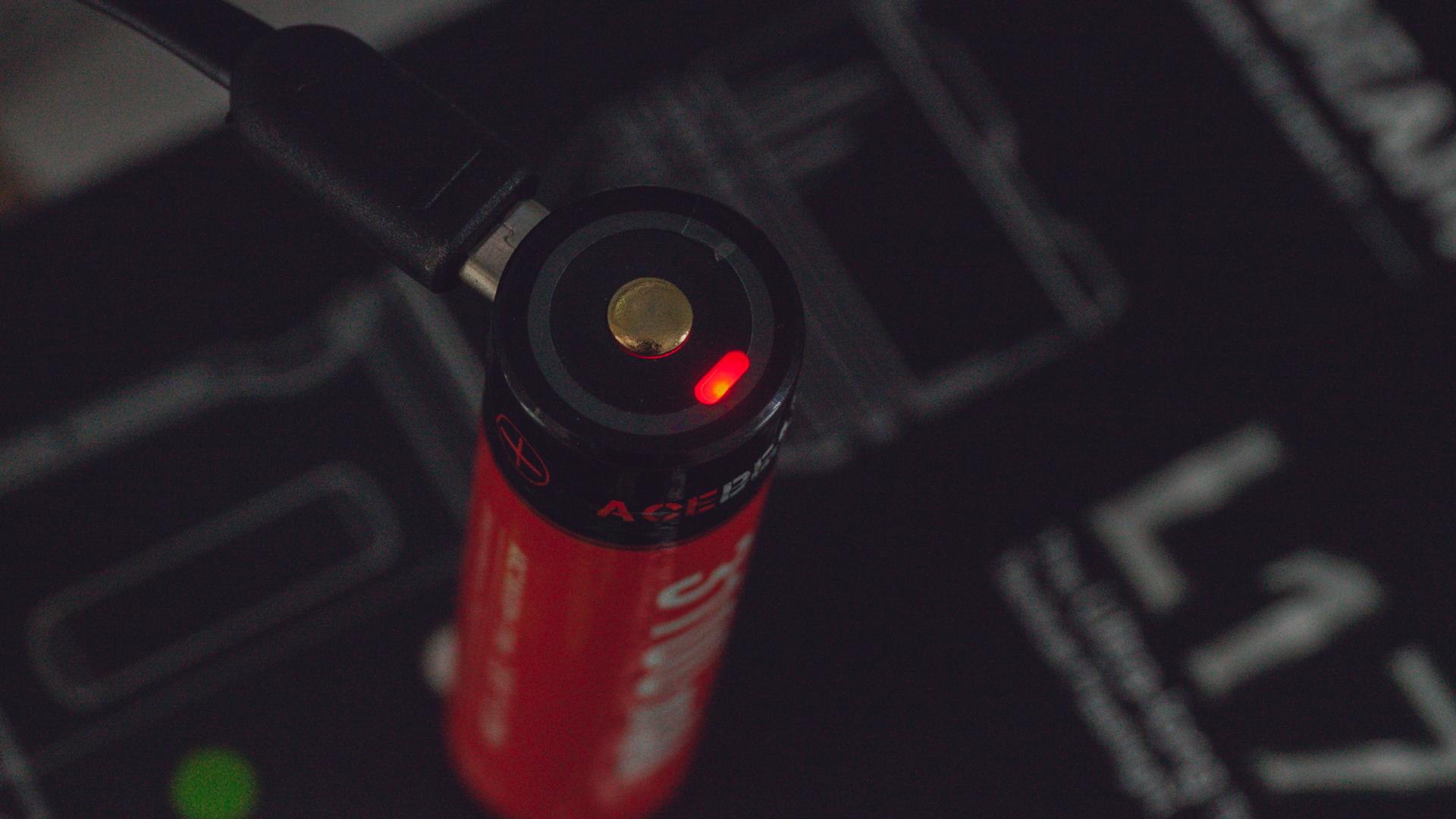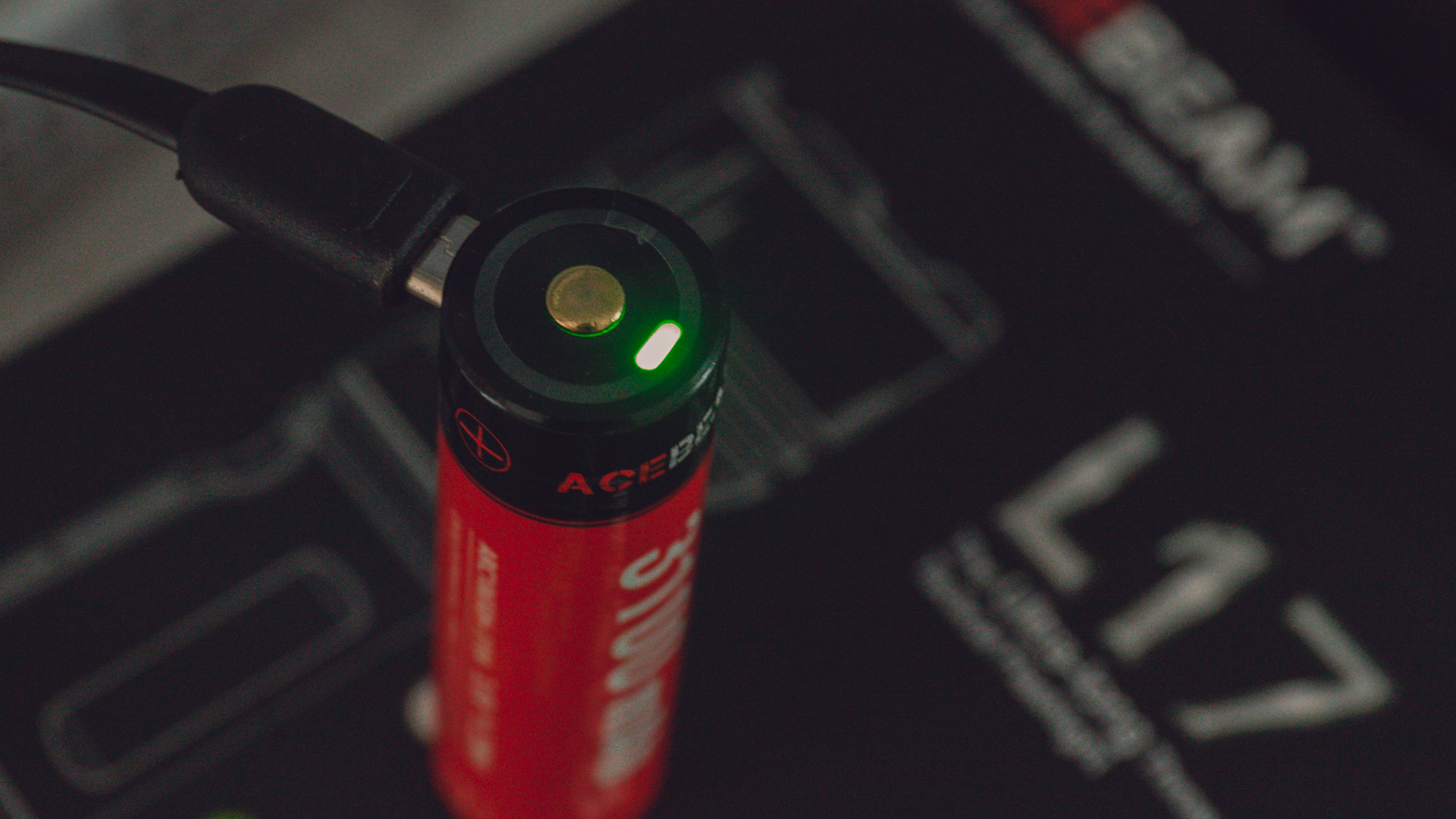 The tactical stop ring and clip can be removed, but the flashlight looks like naked without them.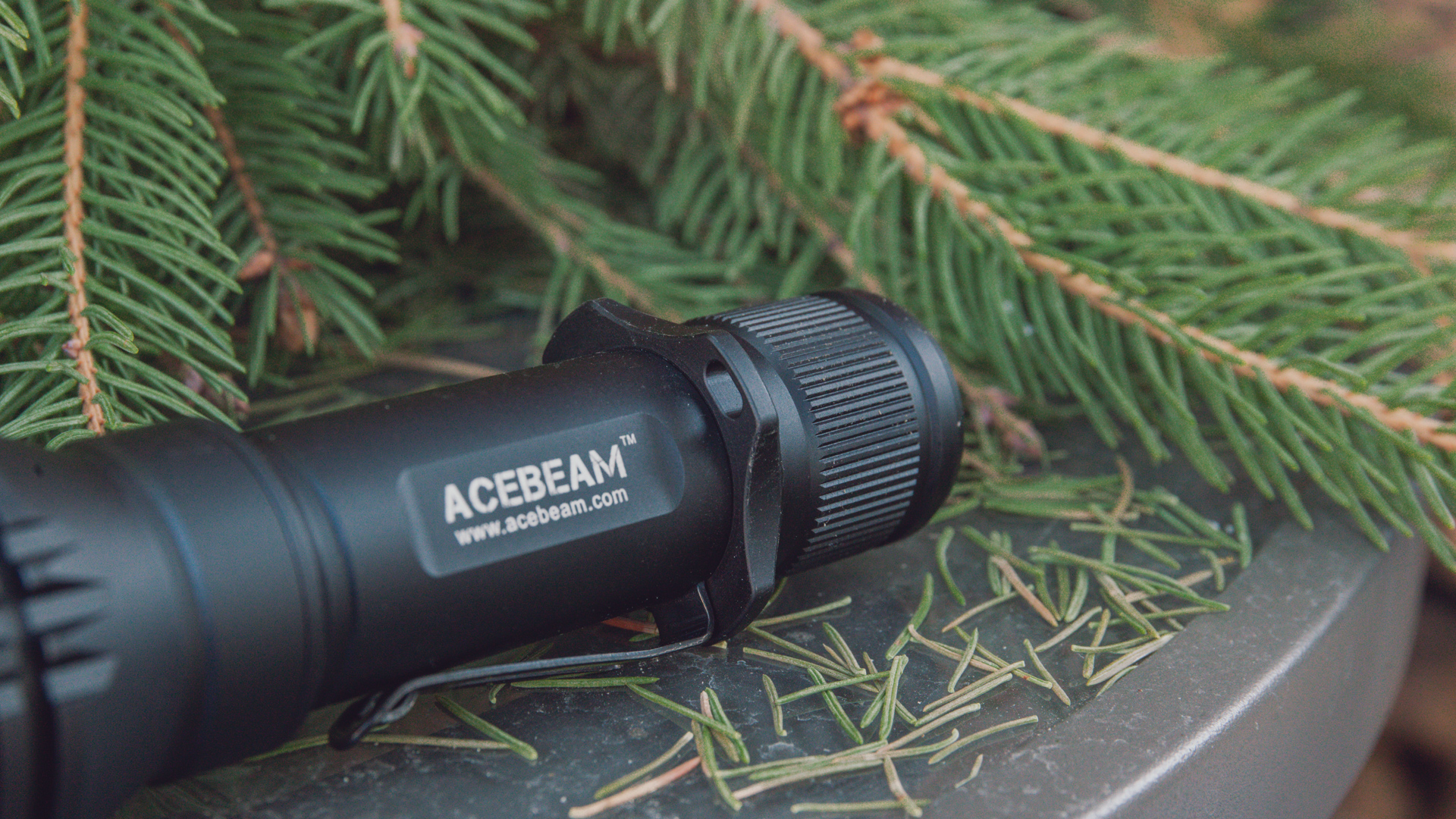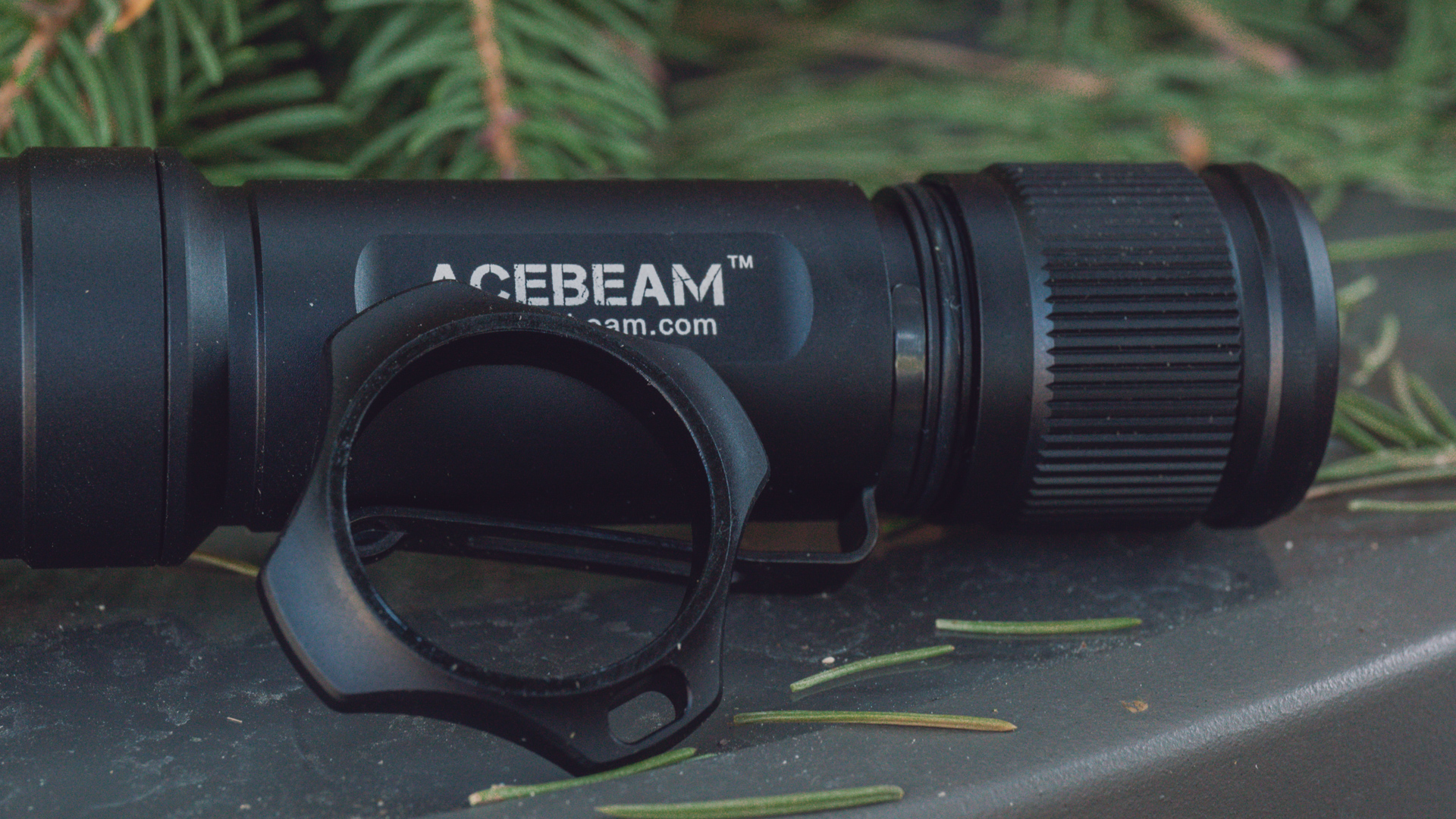 As I mentioned, there is no usual knurling. The body is smooth and is decorated with only 2 cheeks with the model name.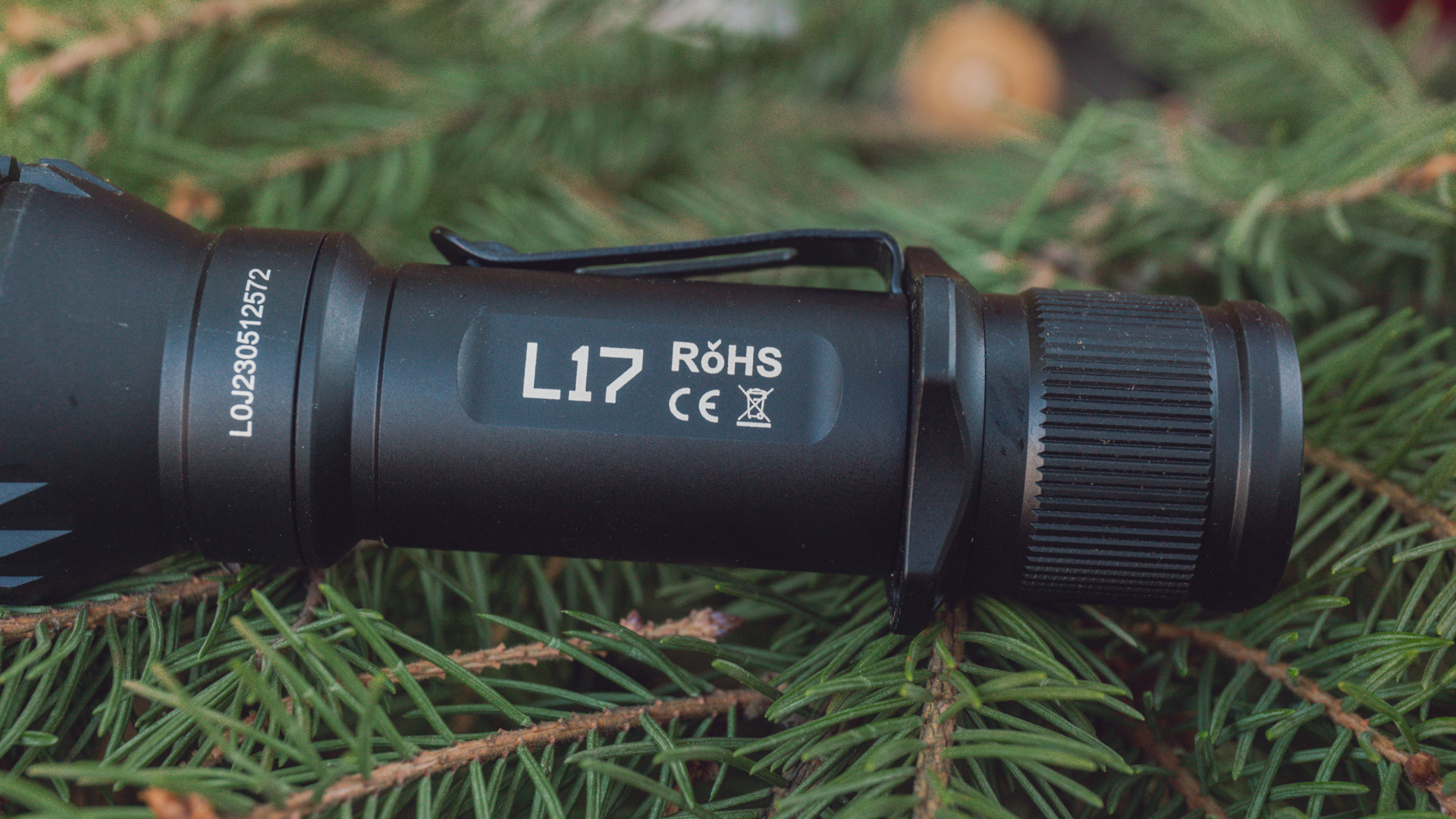 Nevertheless, due to the clip and the stop ring, the grip is quite good.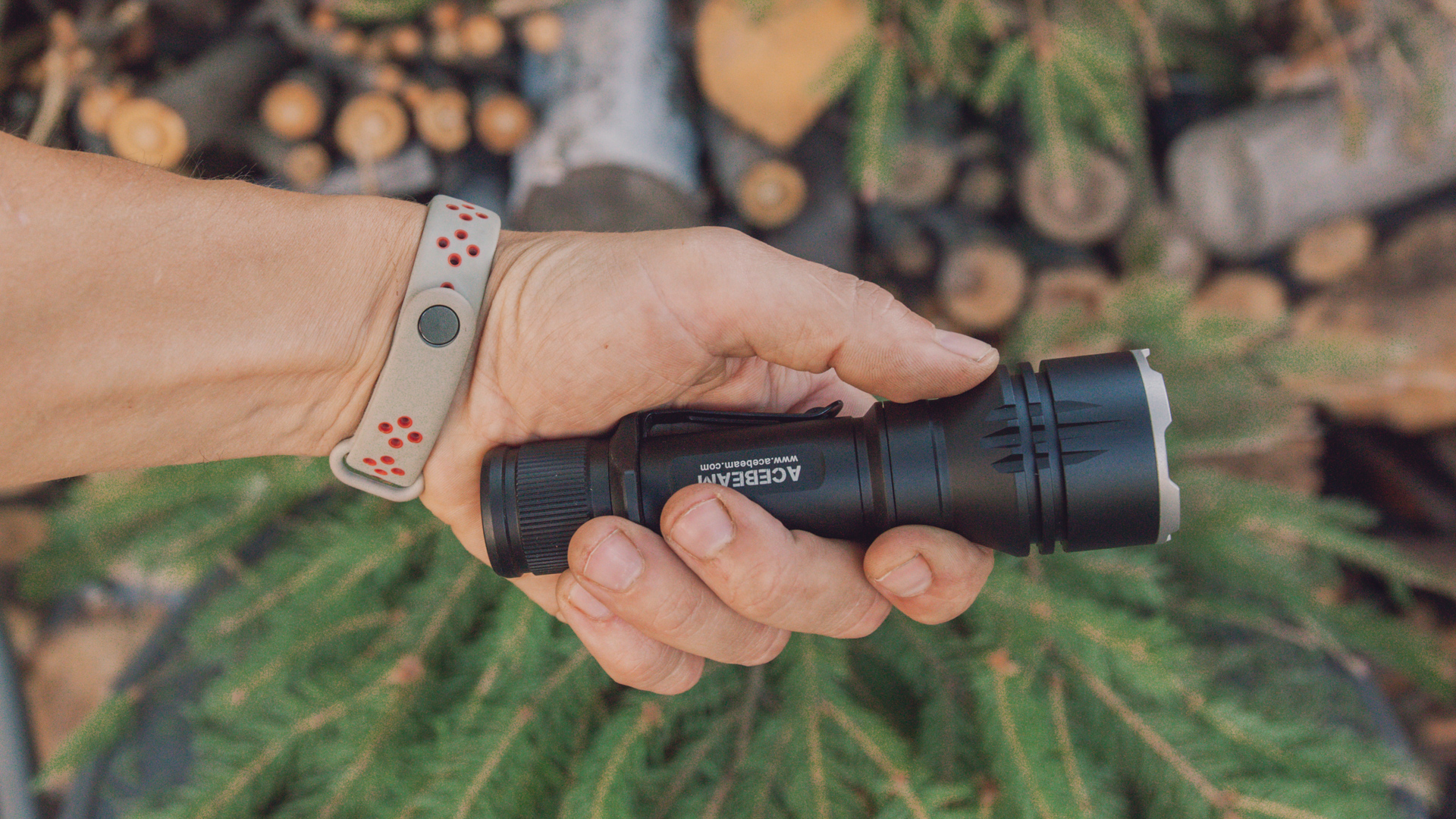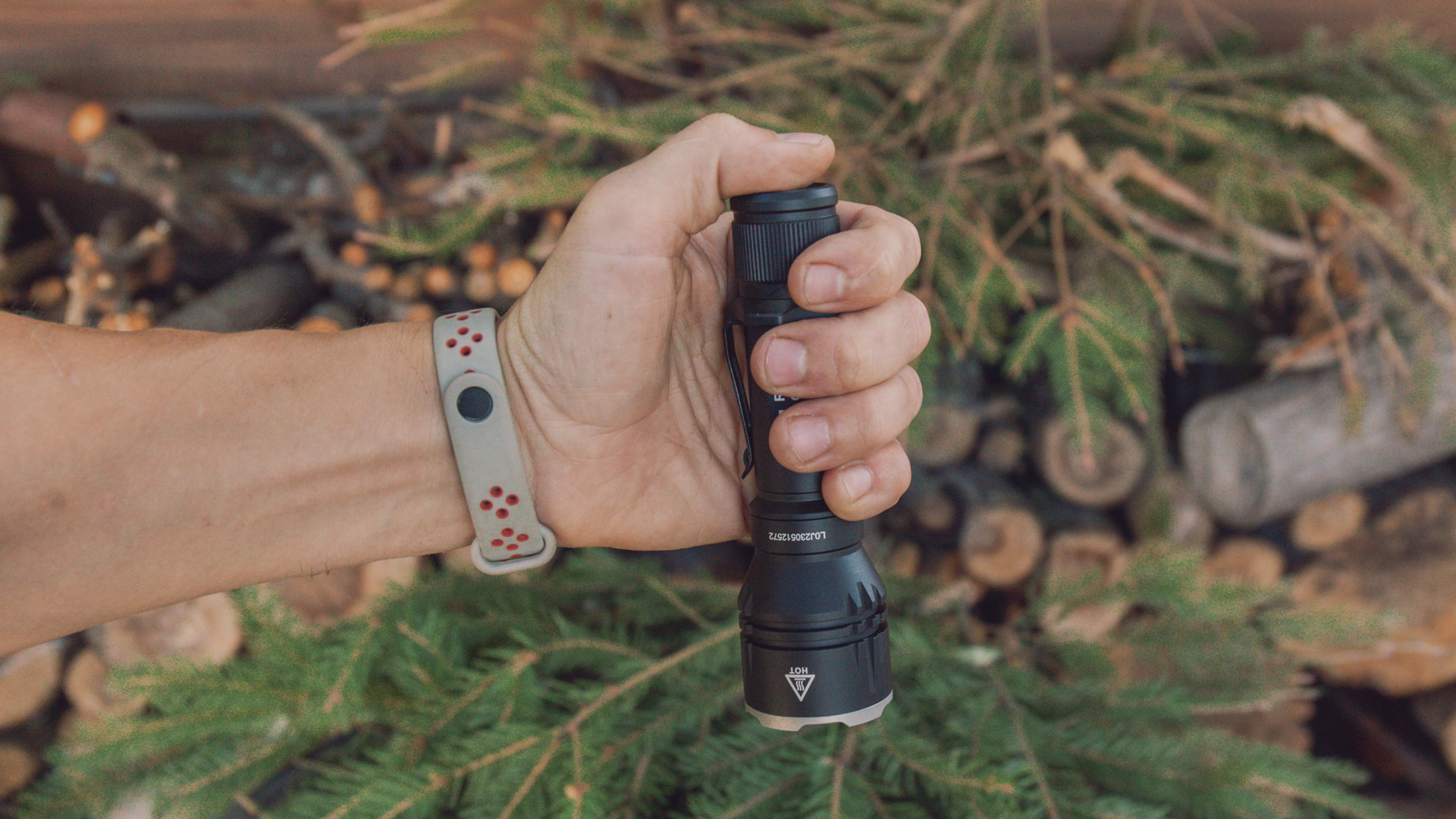 The head is medium in size. Cooling fins are deep, but not numerous.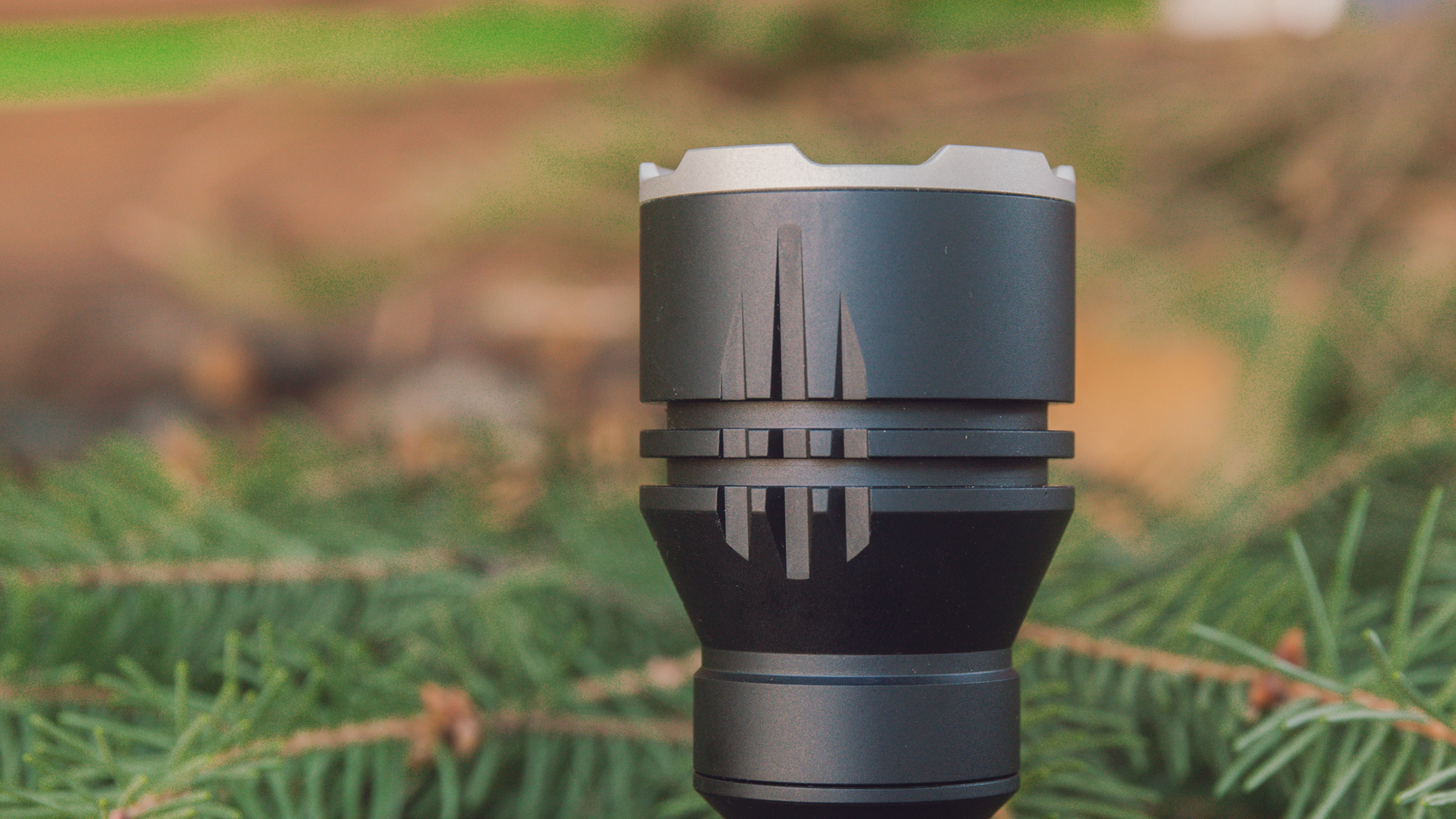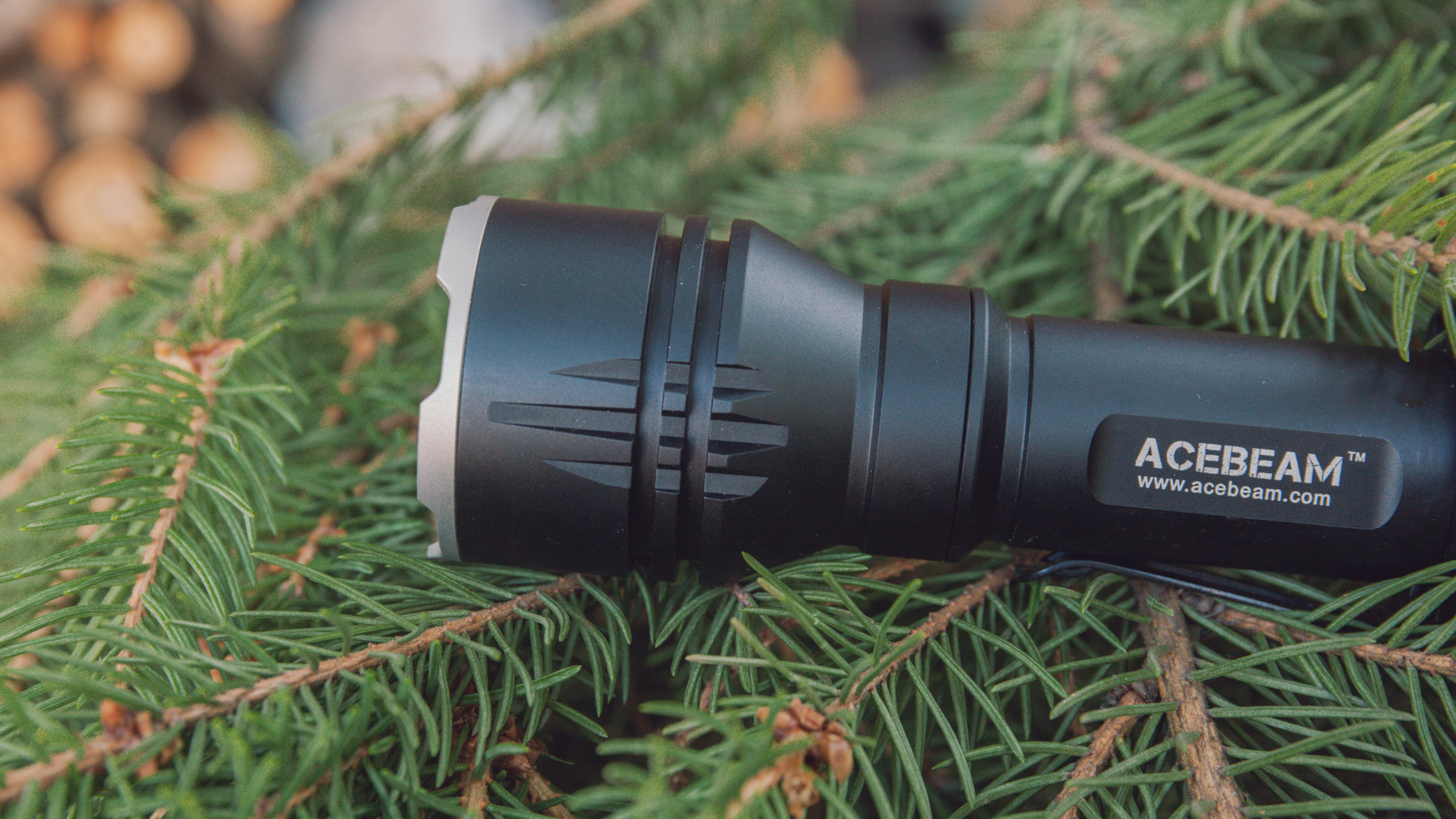 The bezel is the usual sort for tactical flashlights. there is a thread for the filter inside. Taking into account that L17 has also green and red light, and this model that requires no filter, i assume that this bezel is taken from any previous model.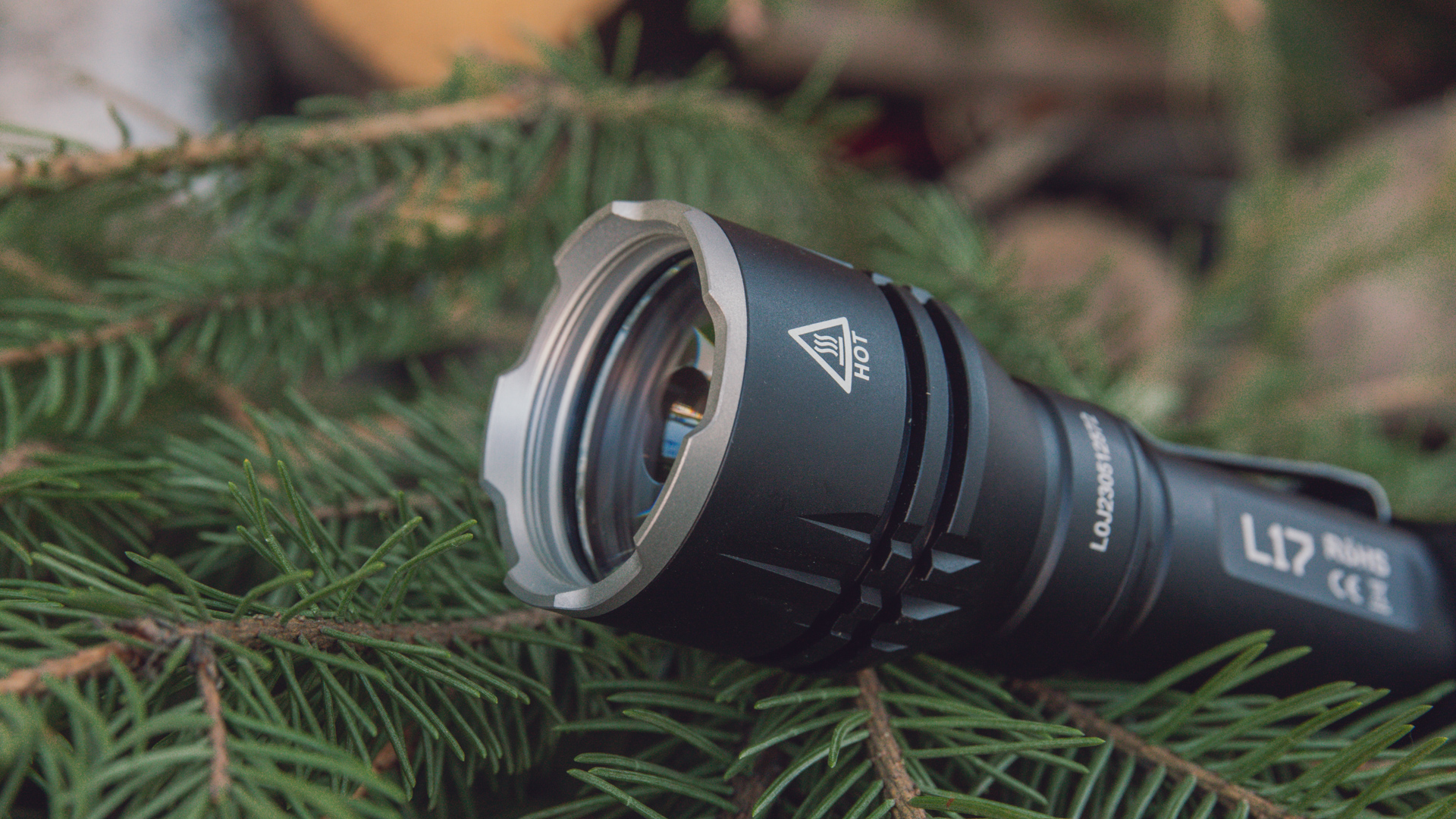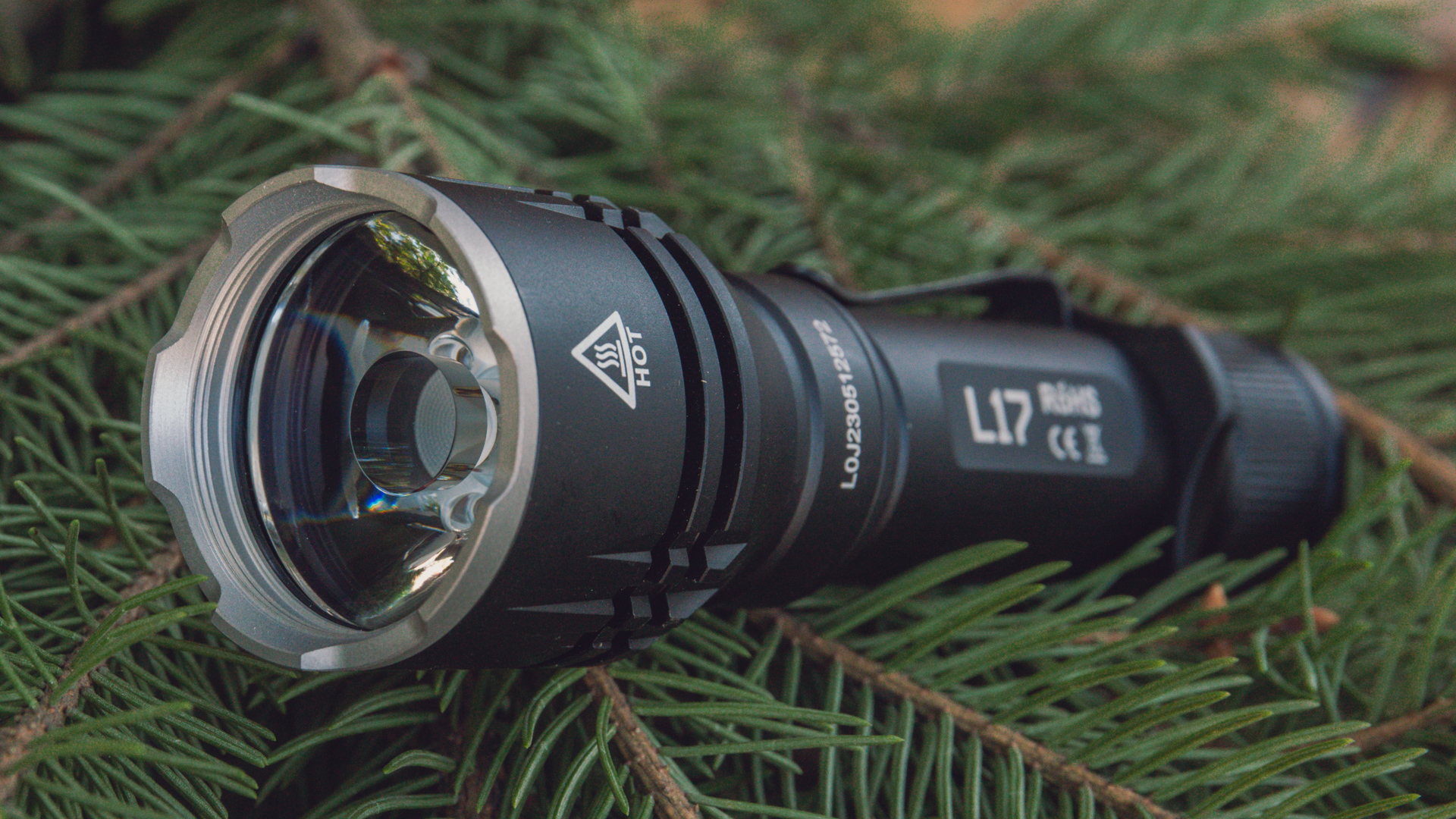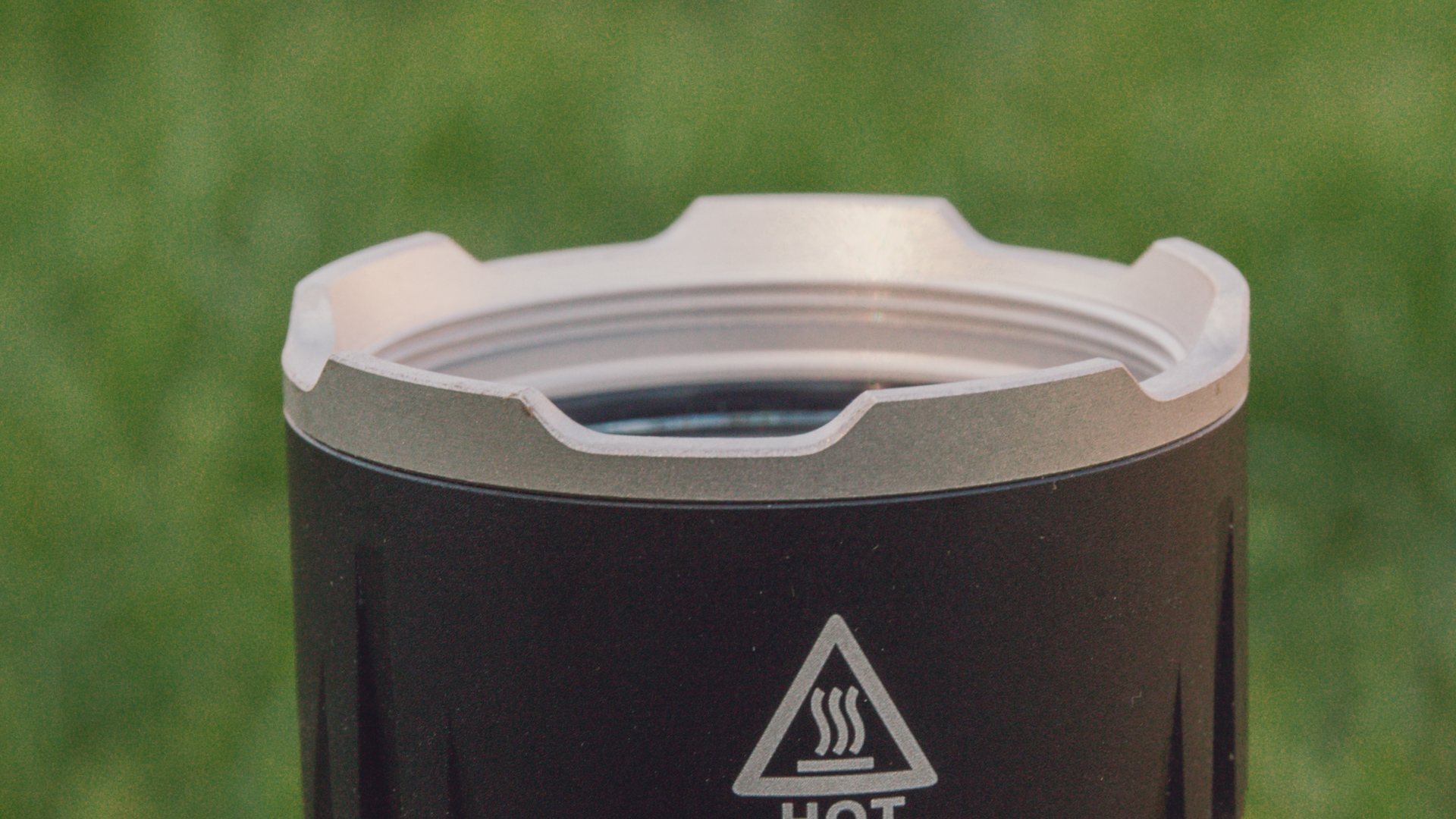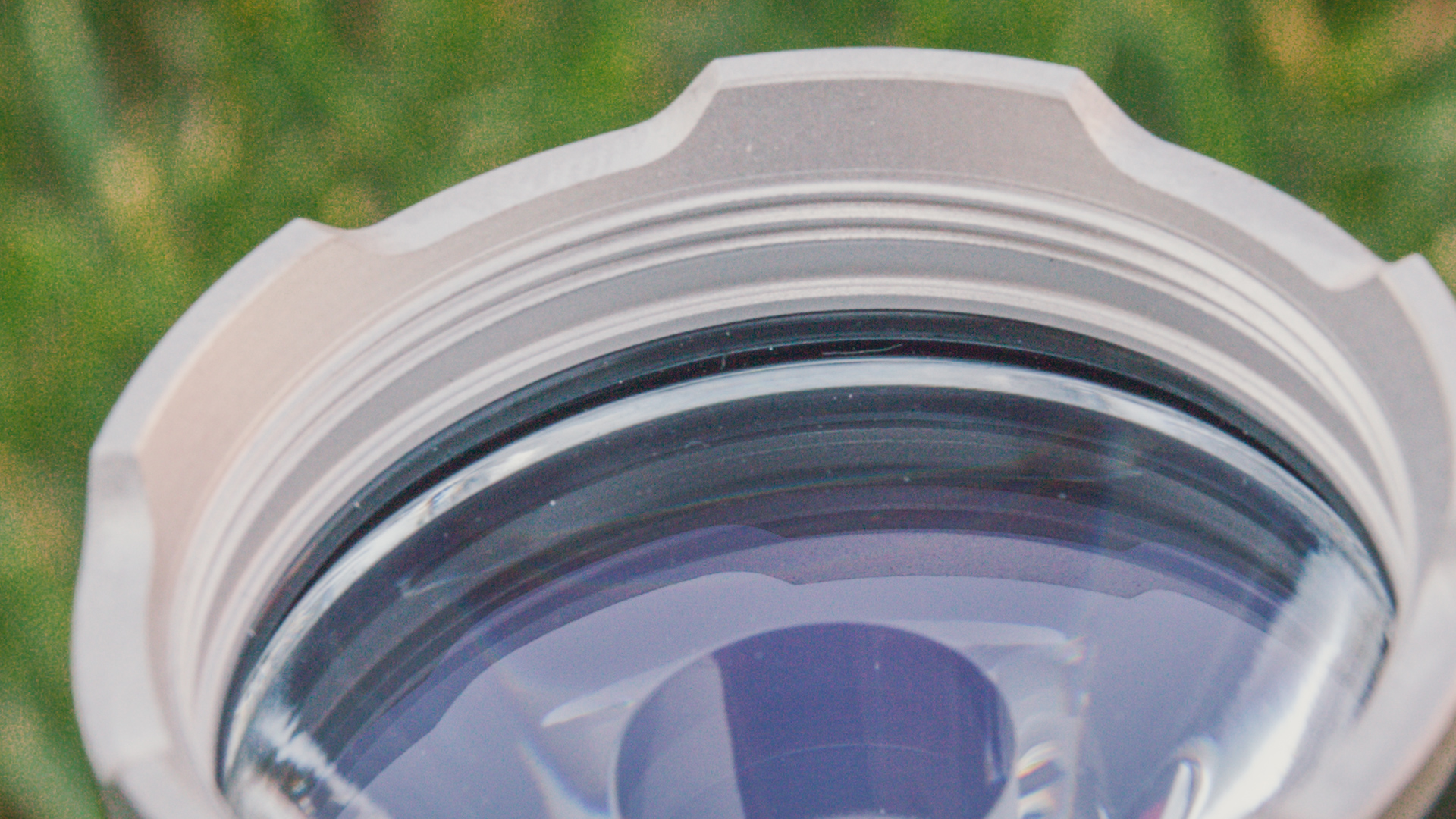 Bezel is glued, so it was not possible to look inside the head. It's a pity, there is the most interesting Carclo optics, which I have not seen anywhere else at all and which I would love to look at closer.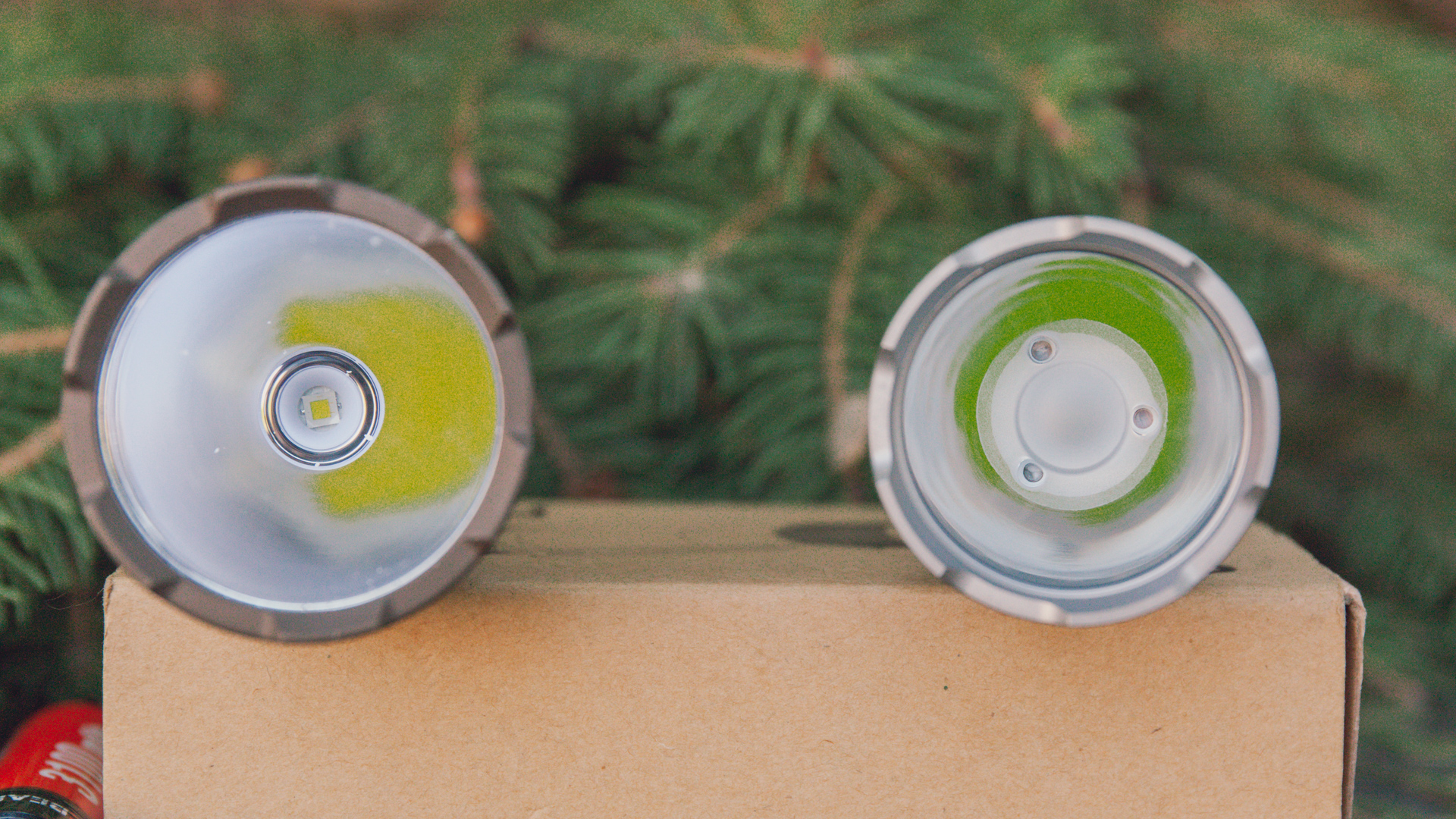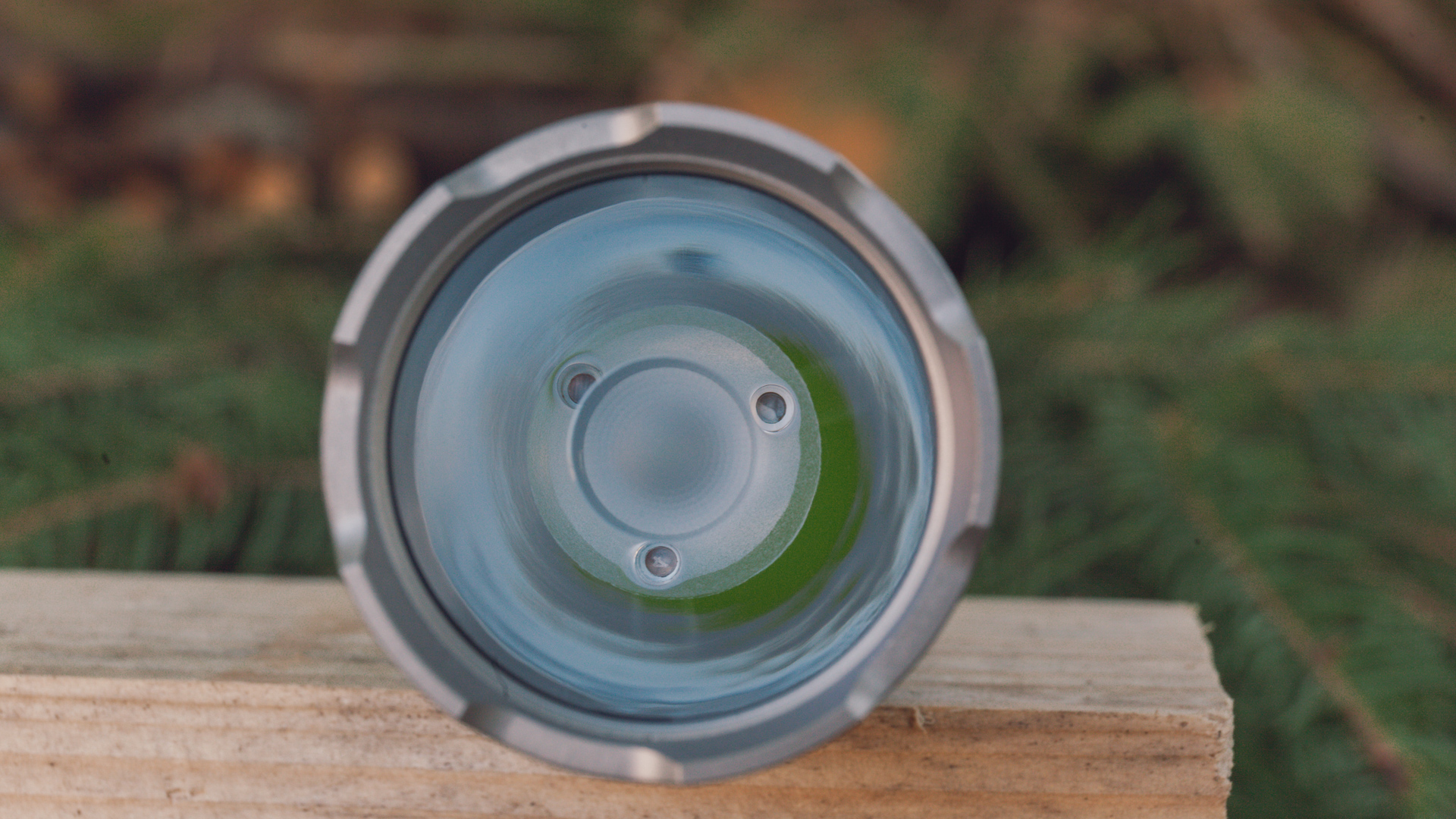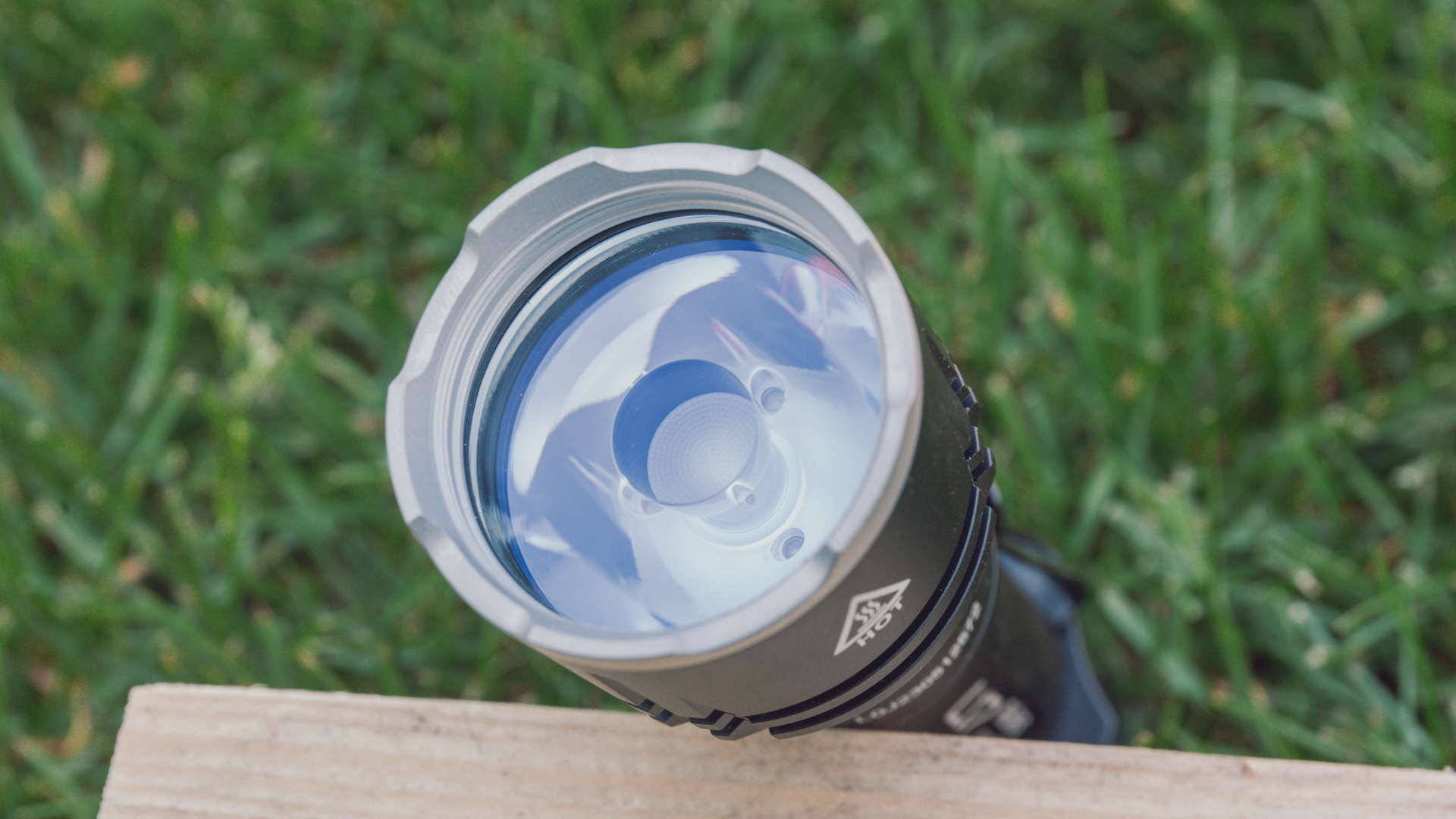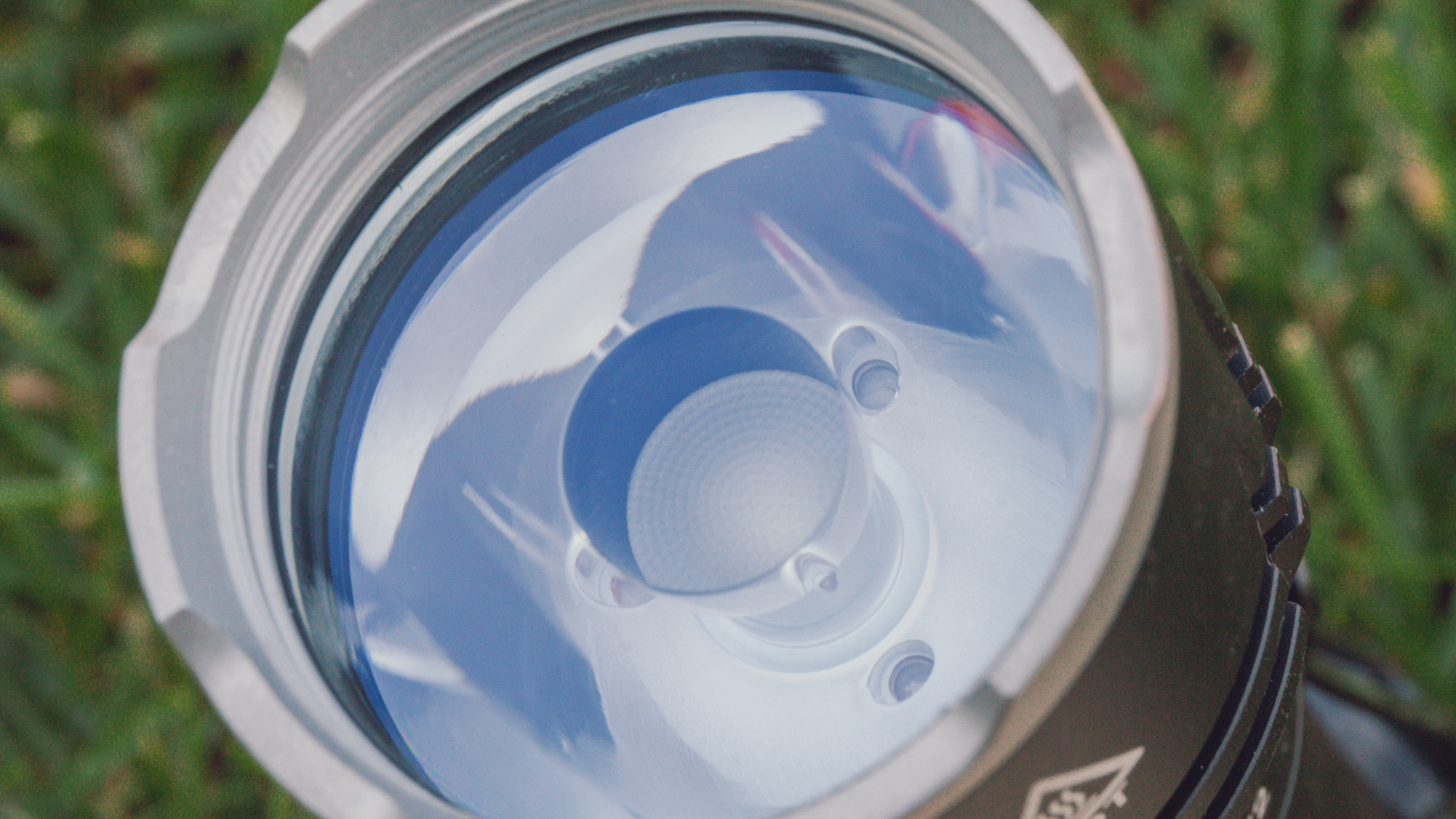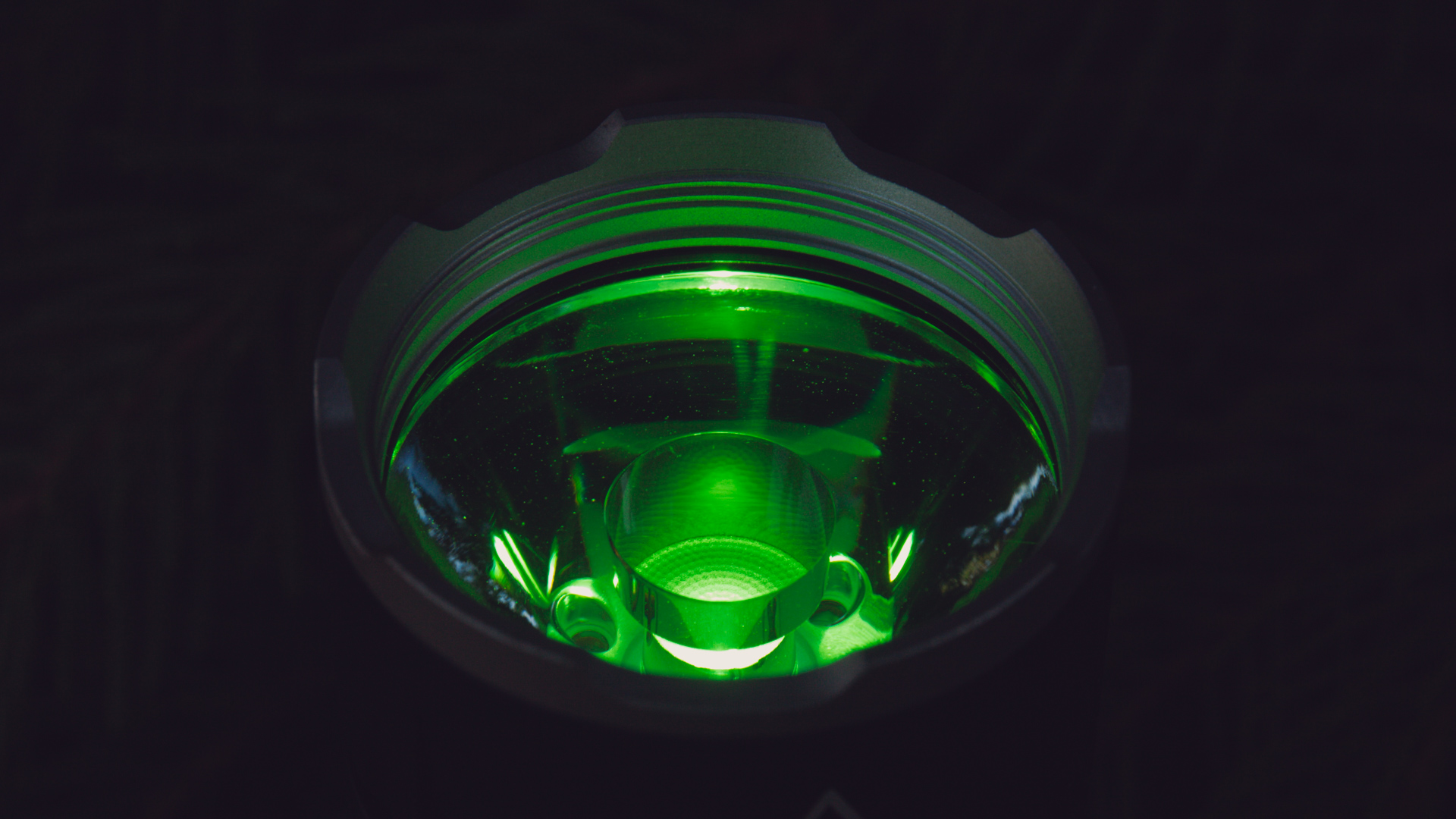 That's all. Good looking flashlight with no visible manufacturing flaws. However, I wouldn't expect them from Acebeam at all.
UI
I`m not sure that that with such a UI Acebeam L17 will be convenient when gun mounted without remote button. The combination of a side button and a rear one would definitely be better for hunting.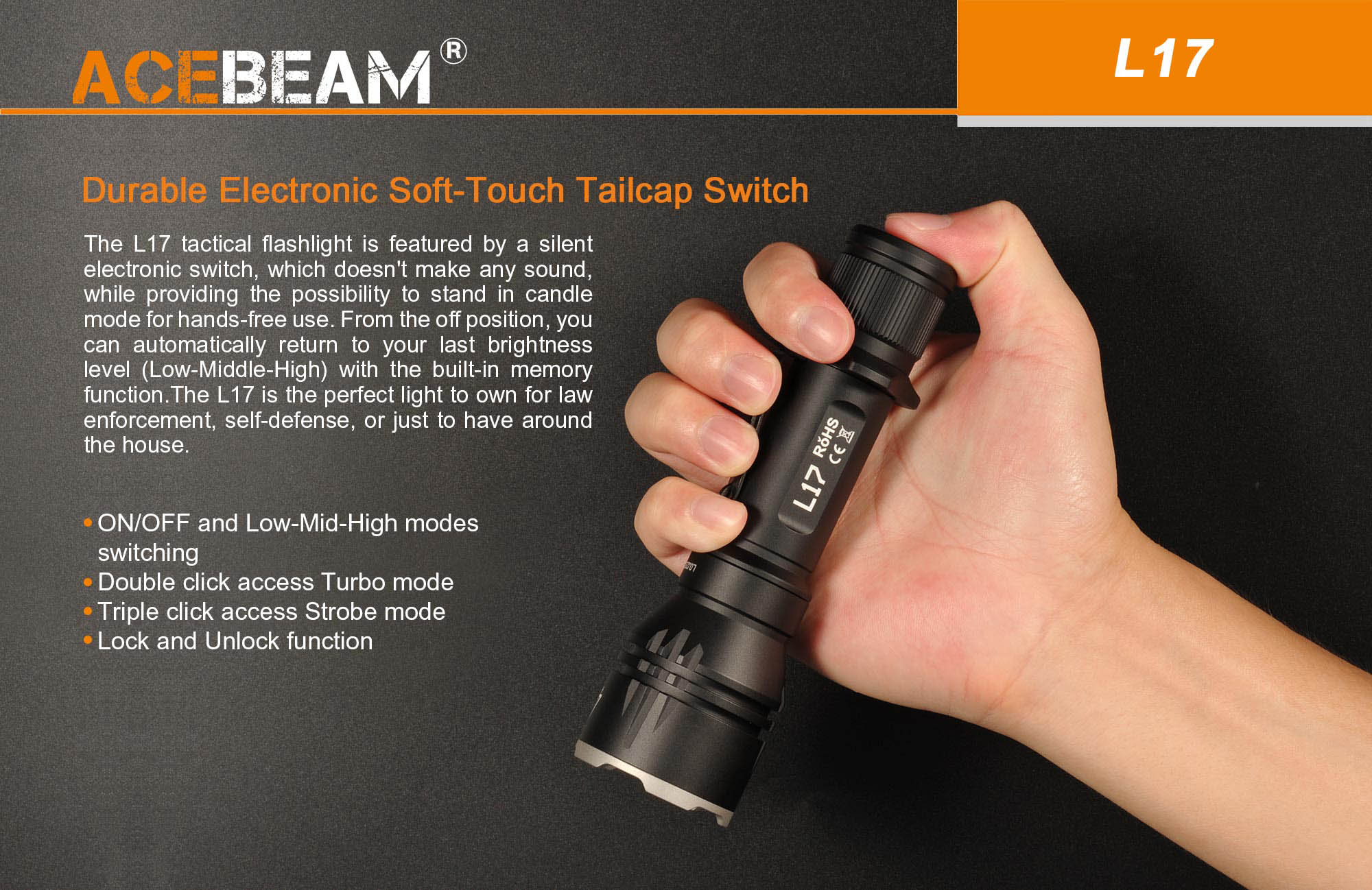 How Acebeam L17 Illuminates
All three color options are different in brightness (at least red one from green and white), then the light distribution here is exactly the same – no side fill with the brightest center.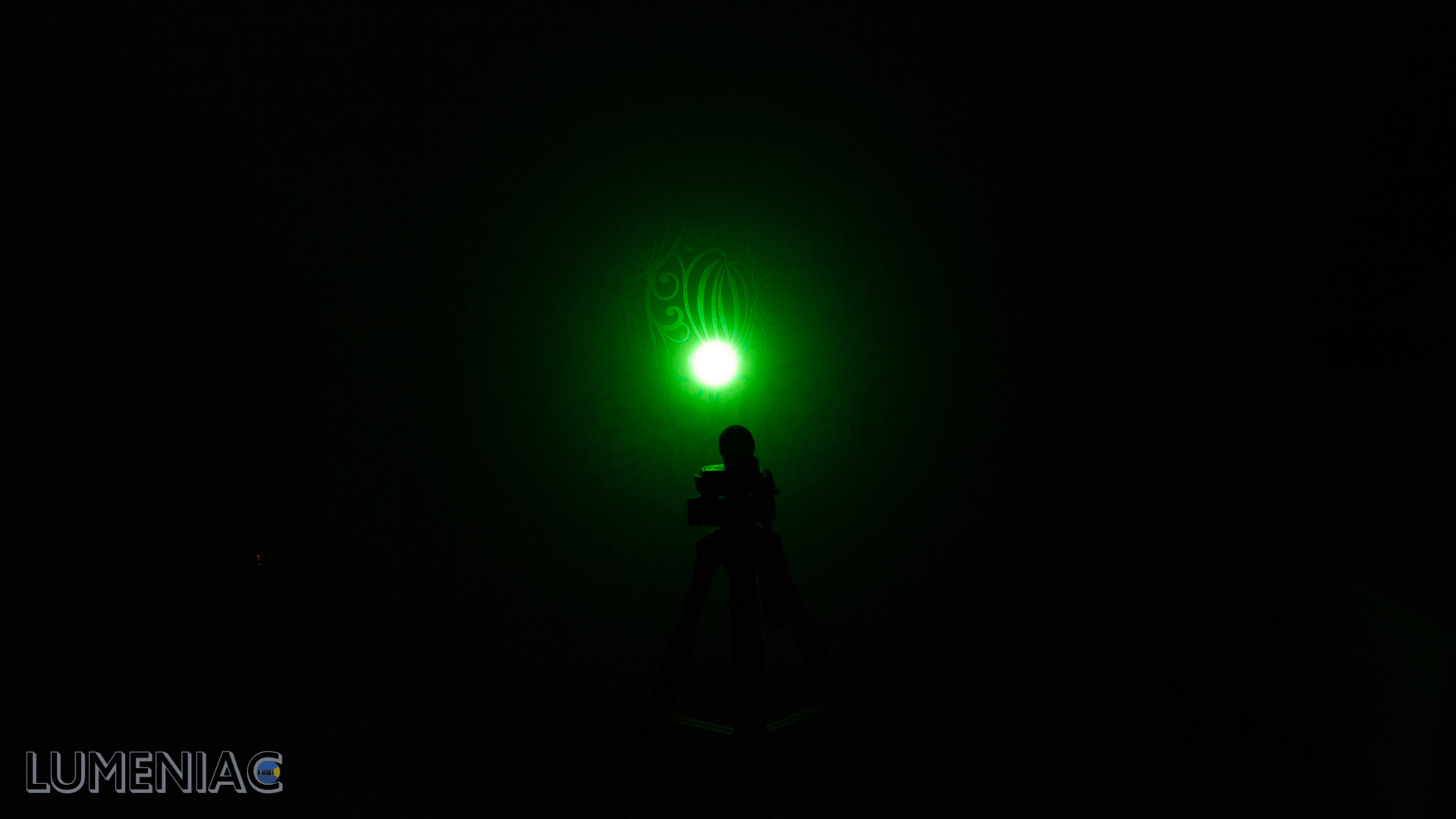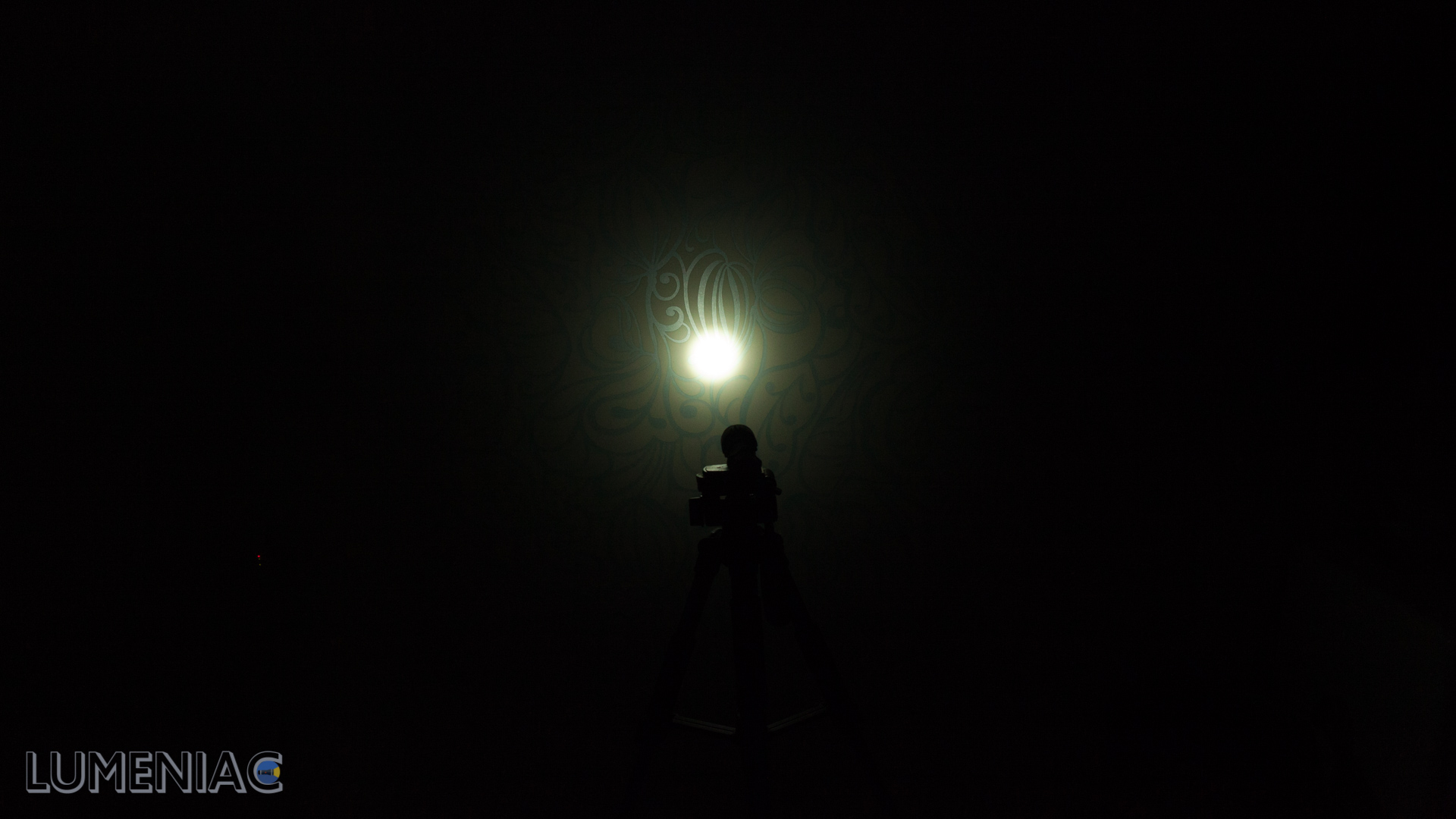 The promo picture promises full stabilization, and yes, Acebeam L17 has it. The runtime is quite decent. However, I would prefer L17 to store 21700 battery.
Flashlight get really hot in turbo mode, after couple of minutes you simply cannot hold it barehand.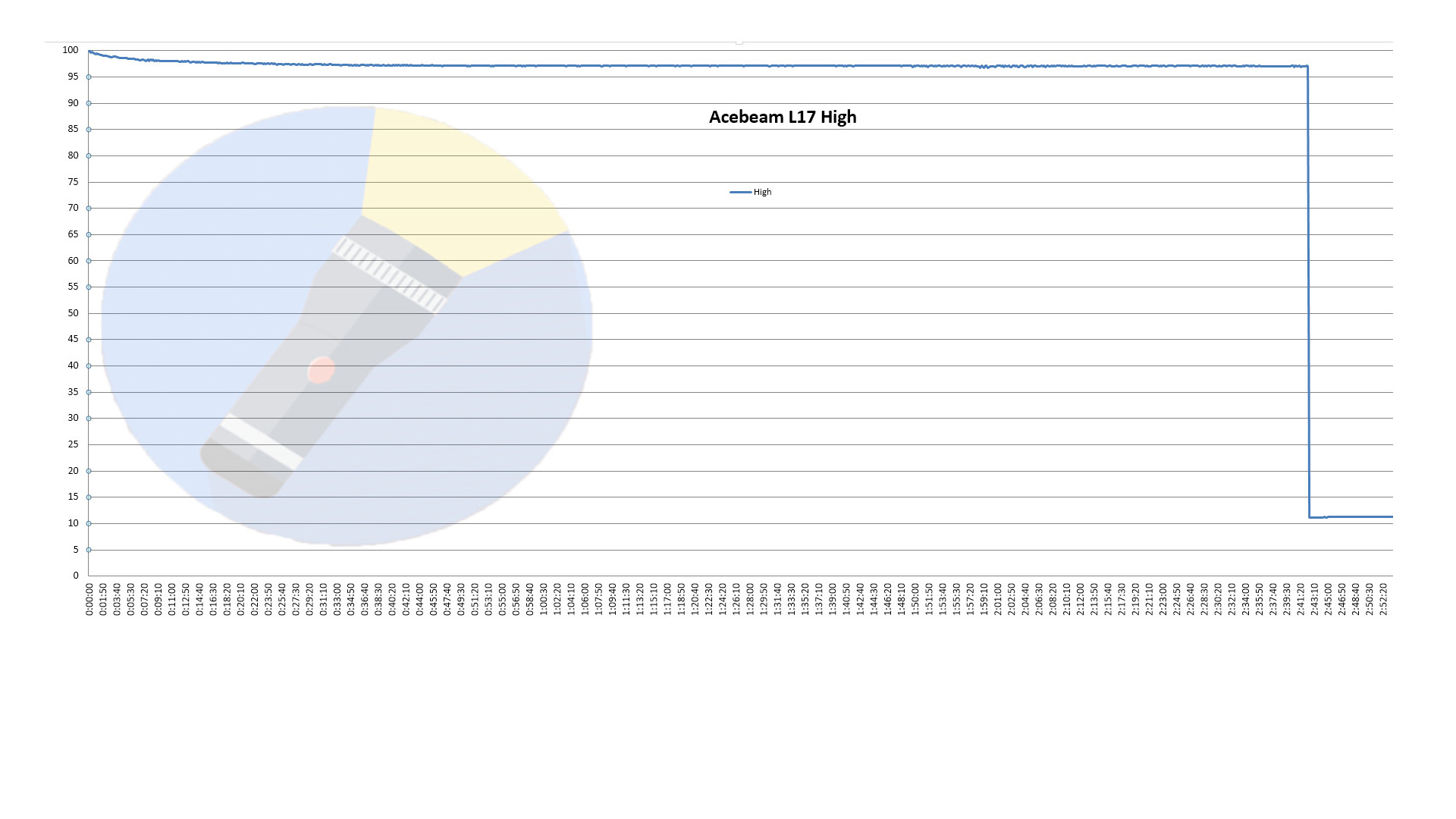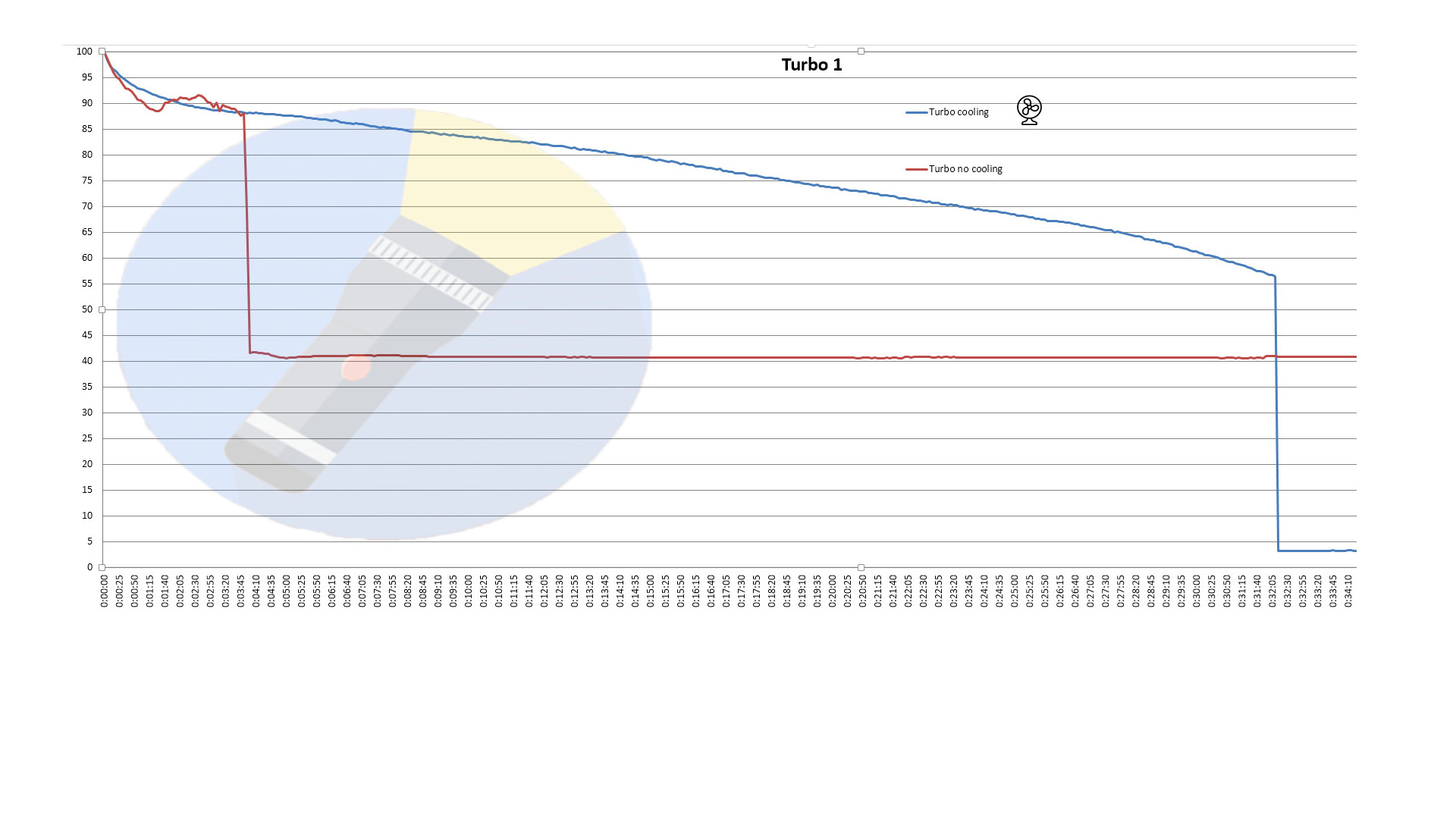 As for the light itself, everything is super. If you turn on the flashlight in dusty air, then from the side it will look like you are holding a real Jedi sword or laser gun. L17 has astonishing penetrating power.
Flashlight penetrates 100 meters without any problems even even in Low mode. Of course, due to optics that cut off all the sidelight, review of Acebeam L17 shows that it is likely to be pretty useless in everyday life and in many situation when you need work between 50 and 100 meters. But if u need you need to illuminate as far as possible, without some crazy brightness – this is what you need. There are models with better throw, but they are definitely larger. And those that are smaller are closer are damn expensive and are closer to laser.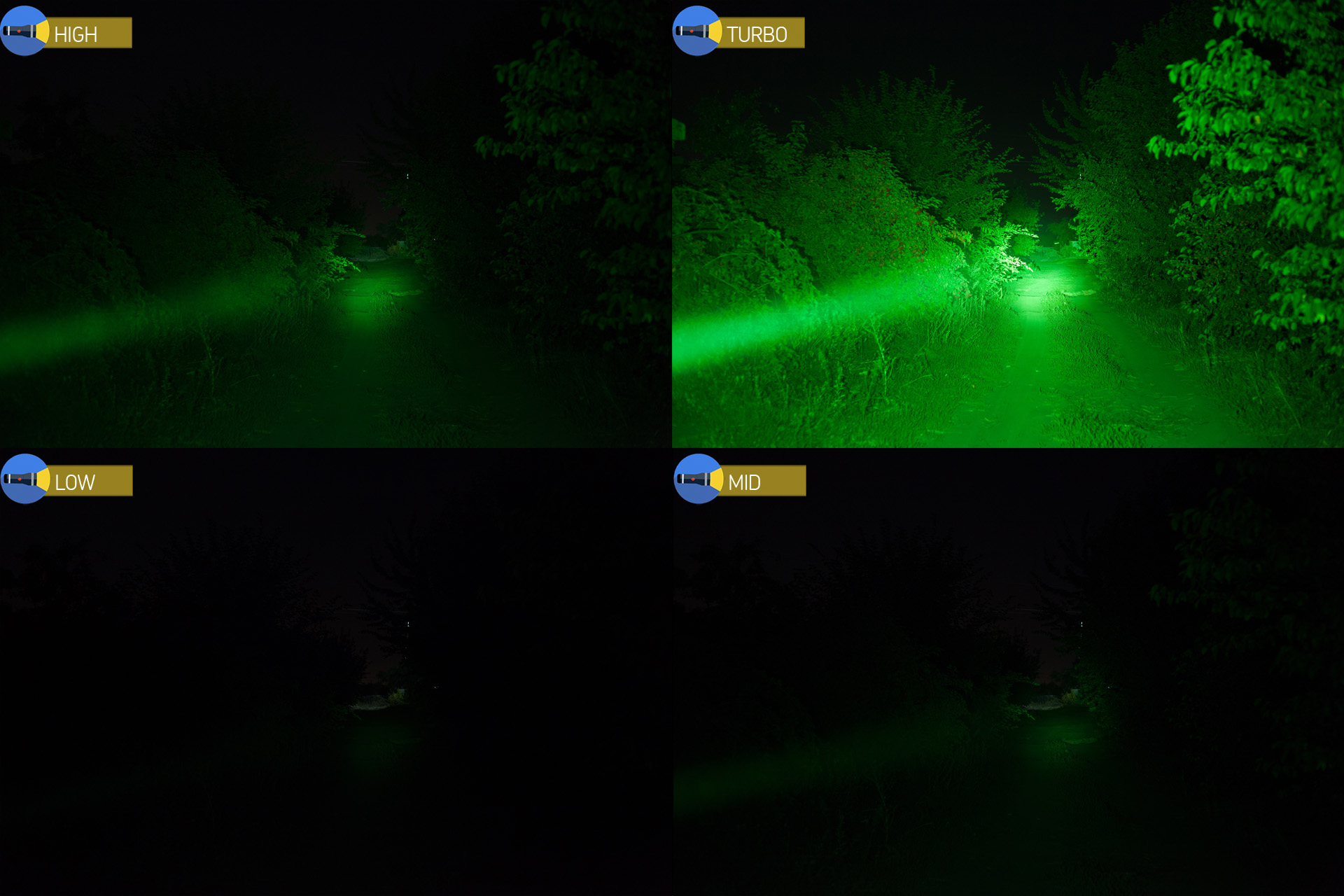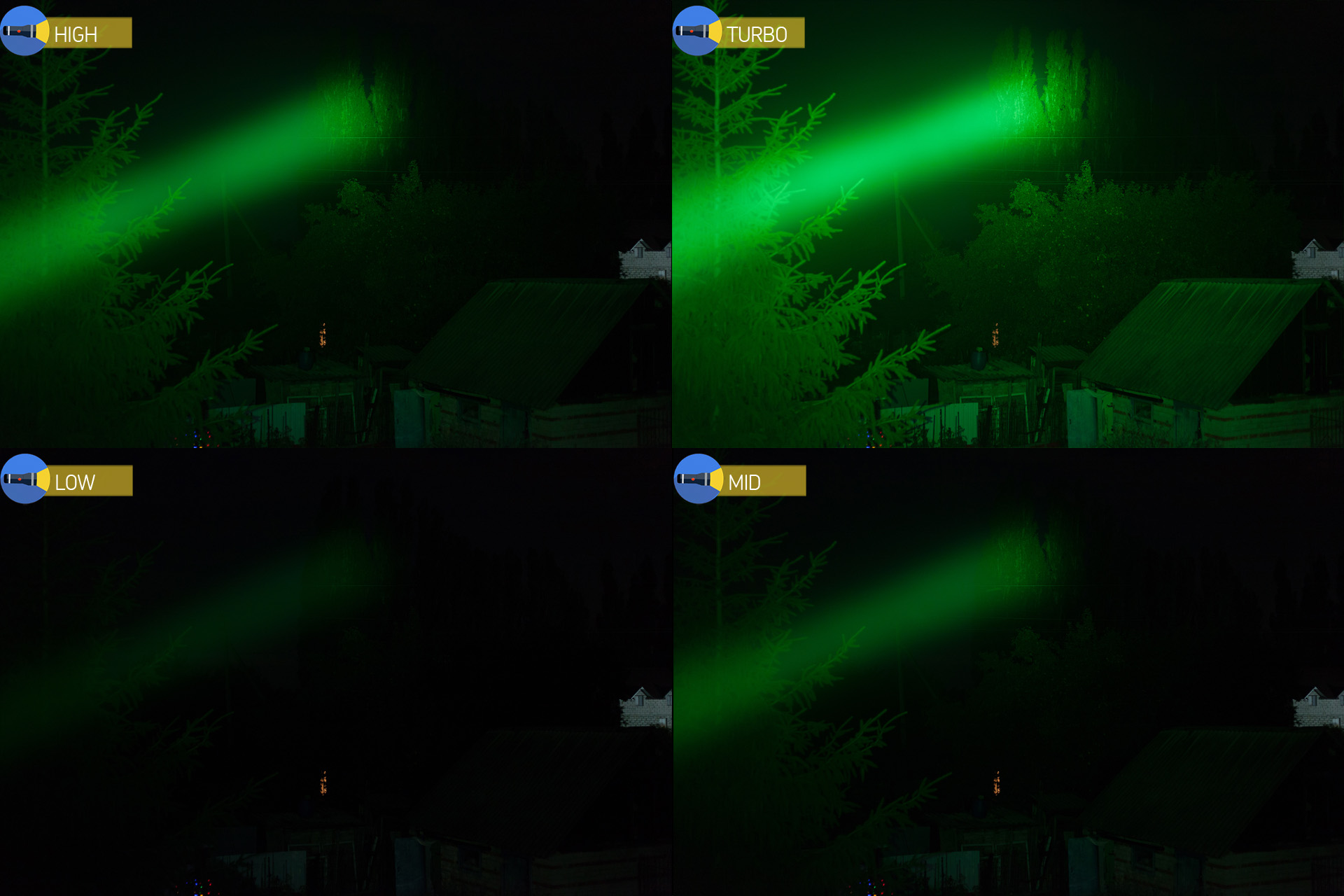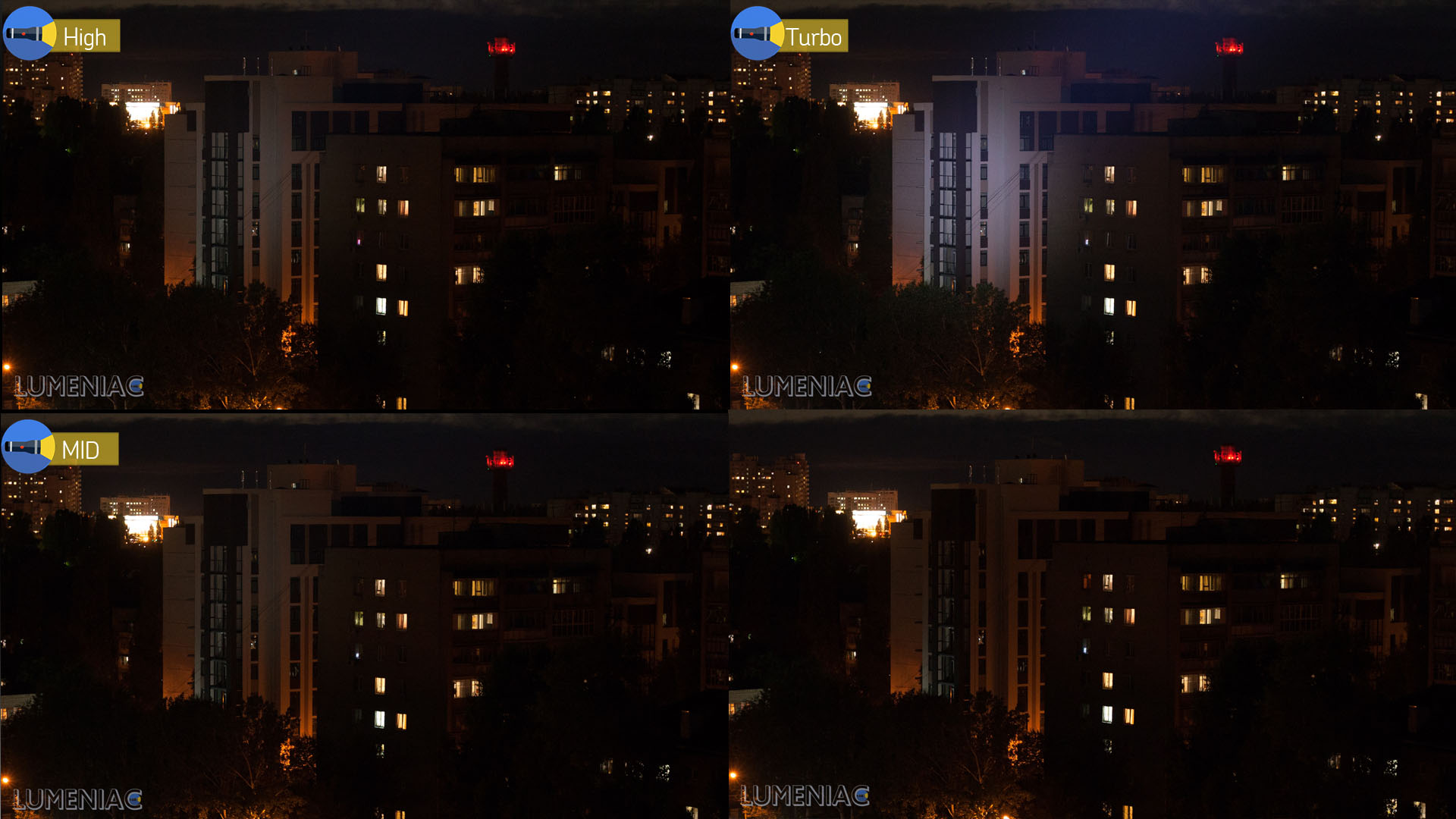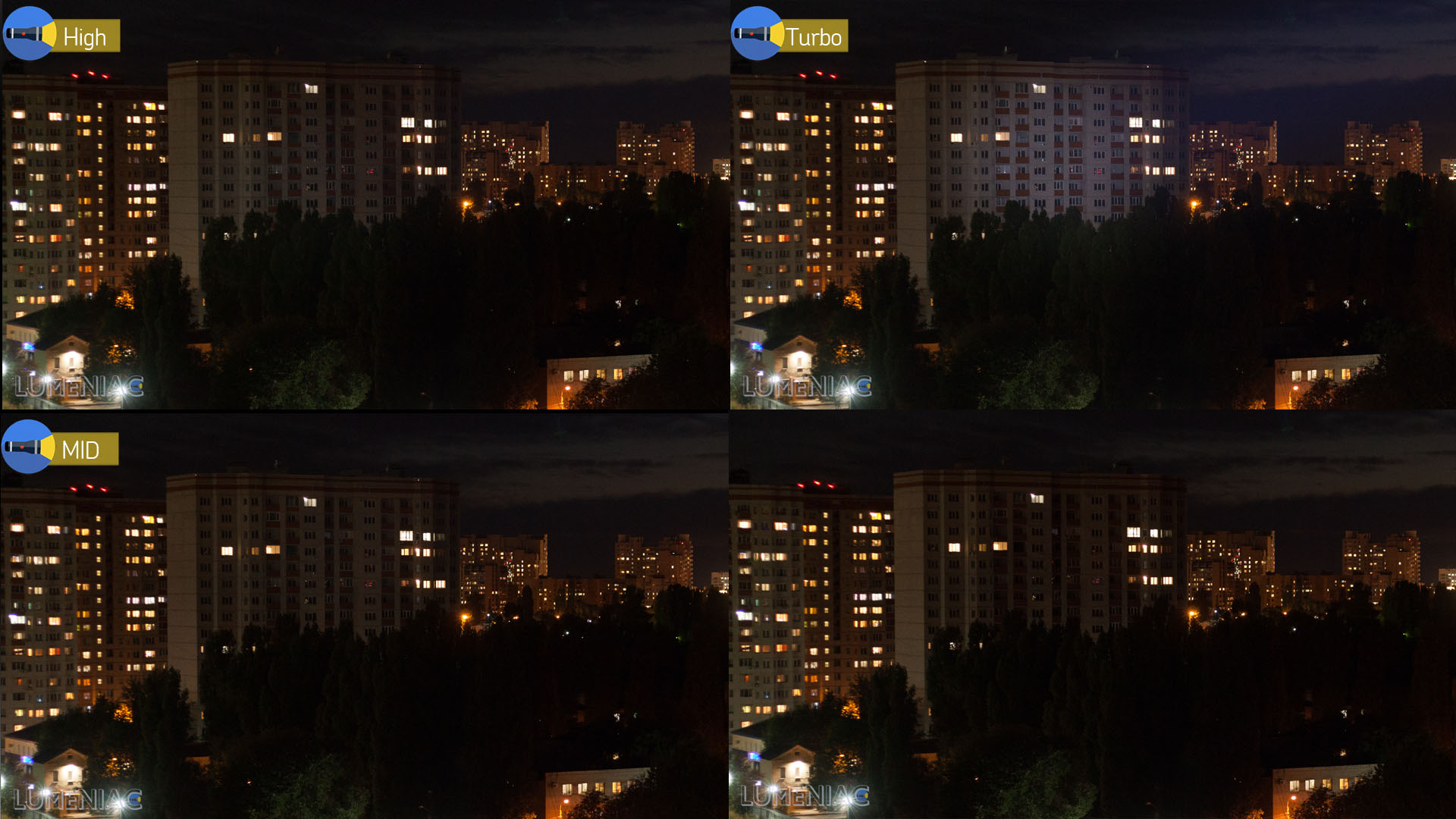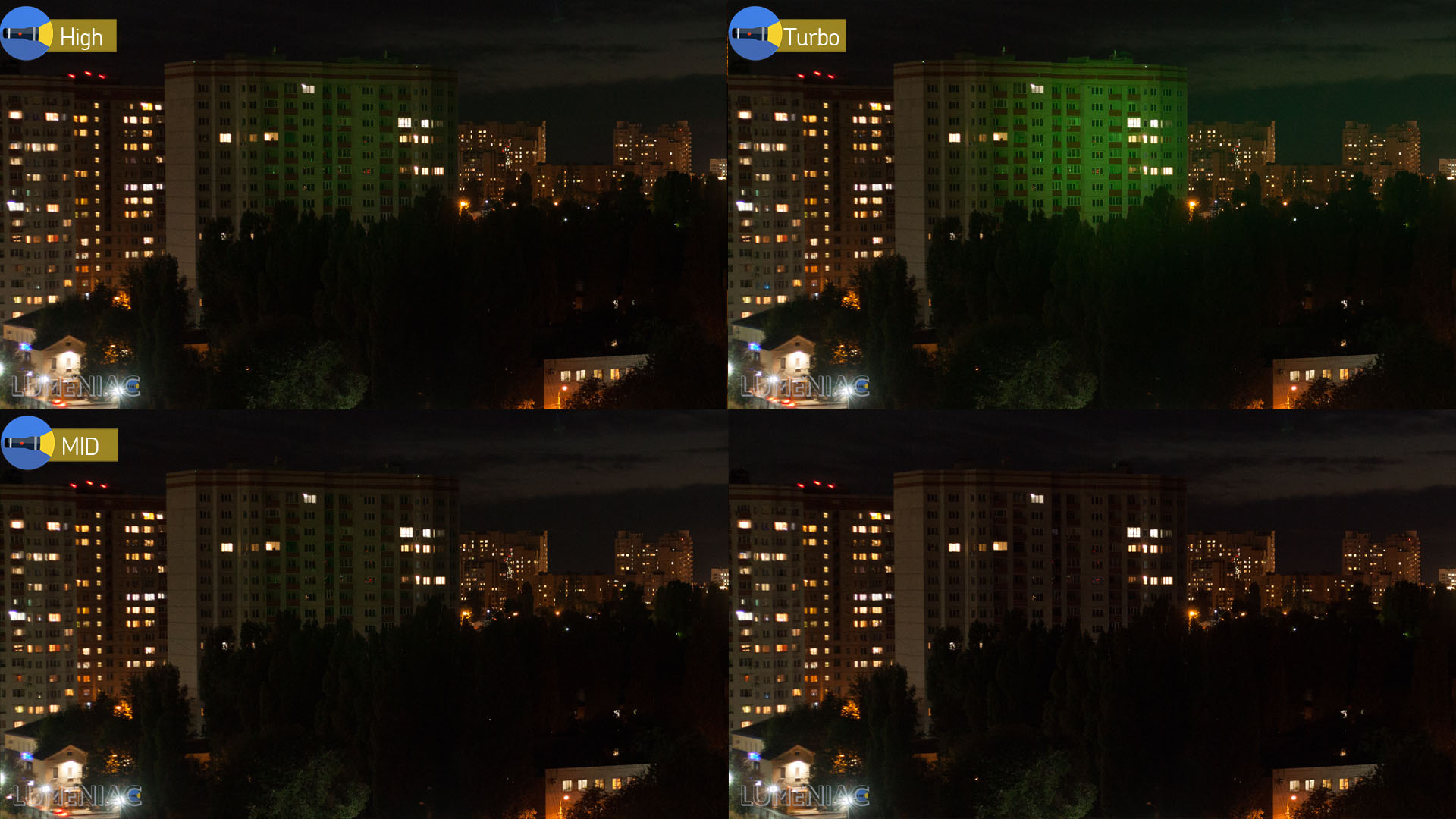 And here is full video review of Acebeam L17 as well. I appreciate if you subscribe my channel, i just created it and need really need more subscribers
Overall impressions
I`m not hunter, so i will not evaluate how good is L17 for hunting. (here my experience is limited to duck hunt in dendy). But apart from this, after making review, Acebeam L17,overall, is a nice model. It is quite compact and surprisingly affordable. It might cost way for as the new model if had another brand name.
And with its moderate size, it has a throw that would require a significantly larger head size and / or significantly greater brightness. Any classical reflector\XHP35-XPL-Hi model with the same brightness and size have so much less throw.
Overall, this flashlight is specific, but it does what it supposed to to – to shine extremely far.
+ beam color choice
+ appearance
+ high quality Acebeam workmanship
+ convenient (not the fact that for hunting) one-button UI
+ full stabilization
+ price
at the moment, no CONs come to mind. May be side button as of L16 would be better, and 21700 would definitely be better rather than 18650 . But i dont have any problems with Acebeam L17 as is.