This flashlight review is focused on: Sofirn SP33v3 (Amazon link)


The Sofirn SP33v3 is a CREE based single cell hand sized search flashlight capable of hosting 2 battery sizes: 26650 (default) and 18650 (using adapter). This has model has enjoyed enough of a success that Sofirn has now released version 3, sporting an XHP50.2 LED emitter. NOTE: The SP33v3 can also support an unprotected 21700 cell based on the manual, although Sofirn hasn't indicated this on their website product page. Only 26650 batteries can be recharged inside it.
[PLEASE NOTE: Photos provided below may be clicked on for larger views]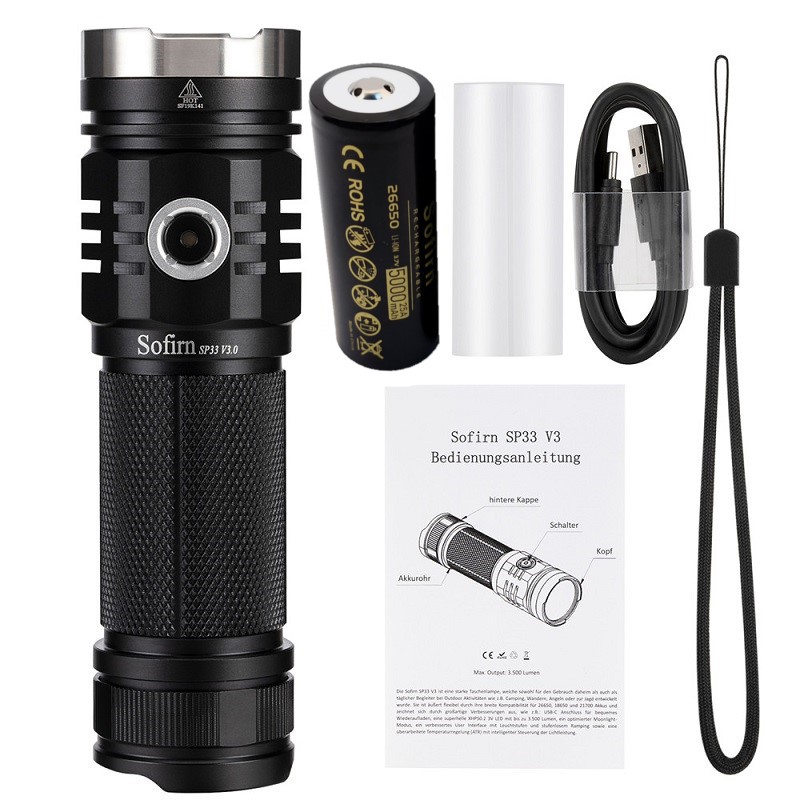 Version 3 improvements:

XHP50.2 (original was XP-L)
3V

LED

FET

driver, replacing previous 6V

LED

with boost driver
Built-in

USB

-C charging, replacing

USB

-Micro
Simplified charging/status indicators (Blue/Red, vs. Green/Orange/Red)
Power on shows battery charge status for 5 seconds (Blue—good, Red—poor, Red-flash—critical).

LVP

– low voltage protection
Improved temperature regulation
Improved UI
Thicker stainless steel bezel
Limited unprotected 21700 battery support (there may be a risk of short circuit, depending on the cell)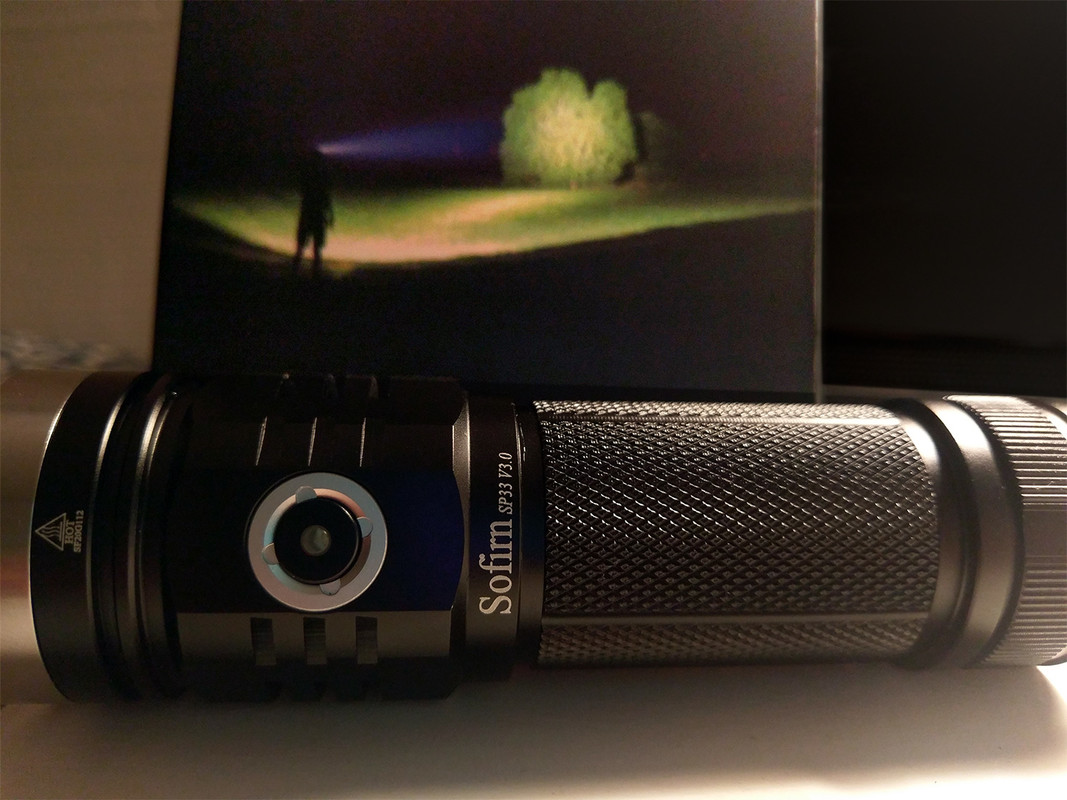 On the technical side, this flashlight uses a FET based driver (Field Effect Transistor) allowing maximum utilization of the LED emitter capabilities, tempered with PWM (pulse width modulation). The design is well done so there is no visible PWM (flicker). However, note that a FET driver design means brightness decreases with lowering battery voltage instead of maintaining constant brightness selected. Each driver type has its uses (buck, boost, FET, 7135, linear, etc.). I'm particularly fond of the FET type for my uses.
| | | | | | | |
| --- | --- | --- | --- | --- | --- | --- |
| | Moon | Low | Medium | High | Turbo | Strobe |
| Lumens | 1(2) | 150 | 450 | 1600 | 3500 | 3500 |
| Runtime | 31d | 26.5h | 9.4h | 2.4h | 1.5h | - |
| Distance (M) | 3 | 34 | 119 | 178 | 269 | - |
| Intensity (cd) | 2 | 1025 | 3775 | 8750 | 18666 | - |
Body Design:
This has a rather iconic shape for a hand sized thrower—head, body, and tail cap components. The head has a beveled shape to it that helps a bit with anti-roll, and adorned with a nice thick stainless steel bezel (not crenelated, but has some gaps for heat venting if head standing). The body has diamond type knurling that provides excellent grip. The tail cap is seamlessly mated to the body and features slots for a lanyard or ring, plus perfectly flat edging for easy tail standing. It has a good quality spring for solid battery contact. No surface hot spots (sharp edges) that I could find anywhere. All components are mated using square threading that is lubricated. Mated tube edging is smooth & nicely rounded.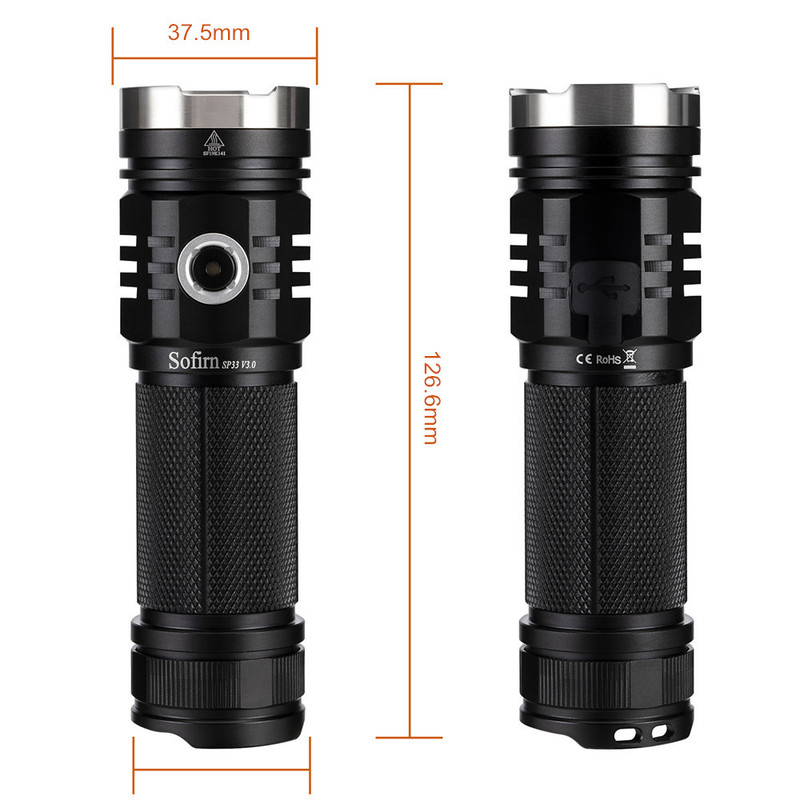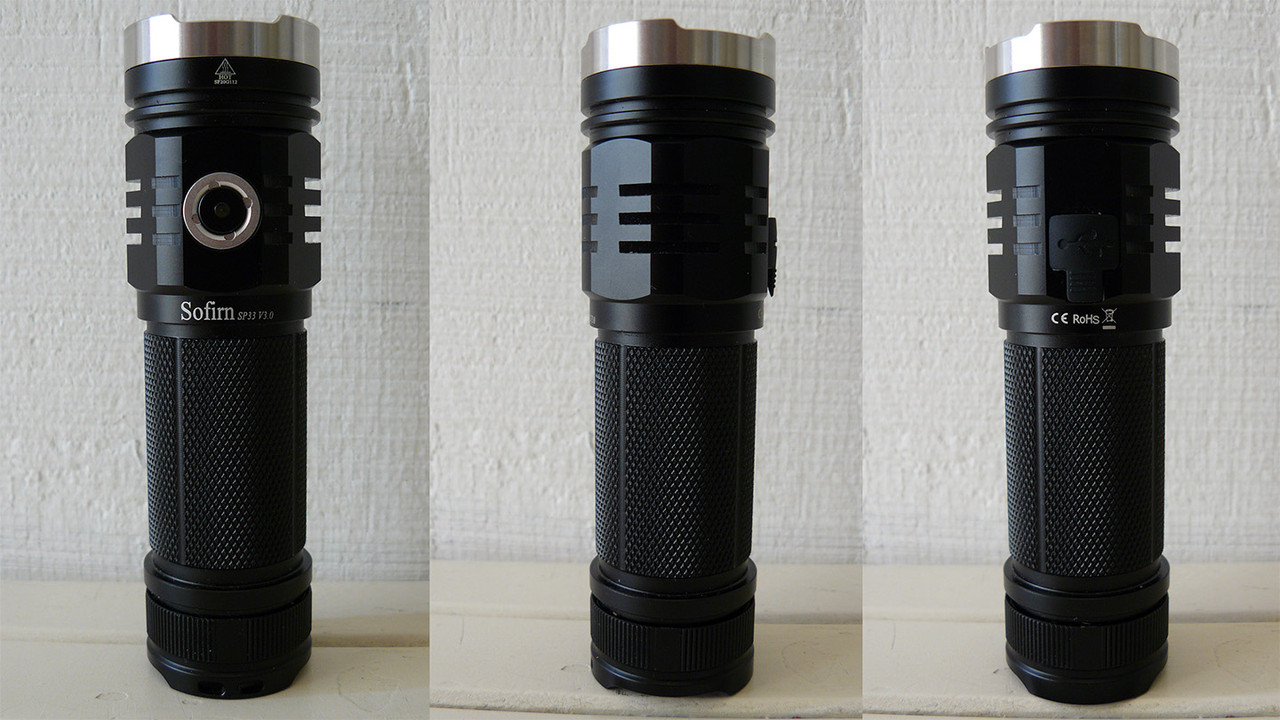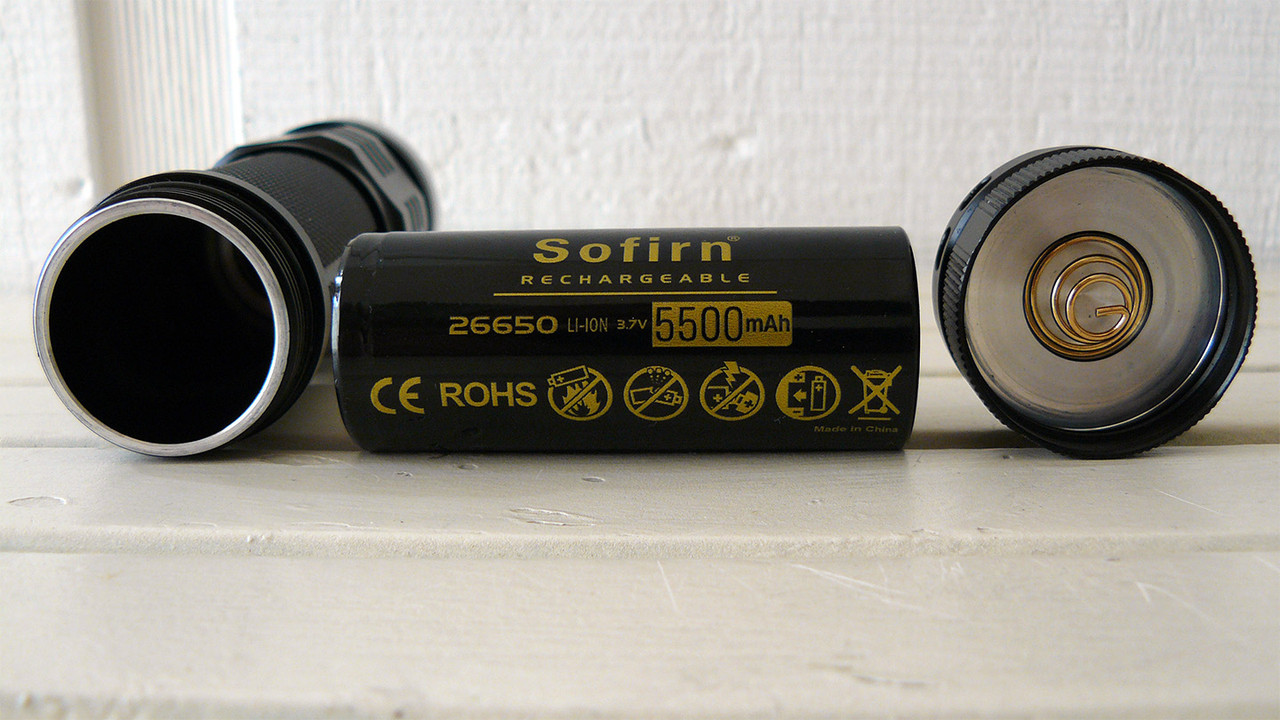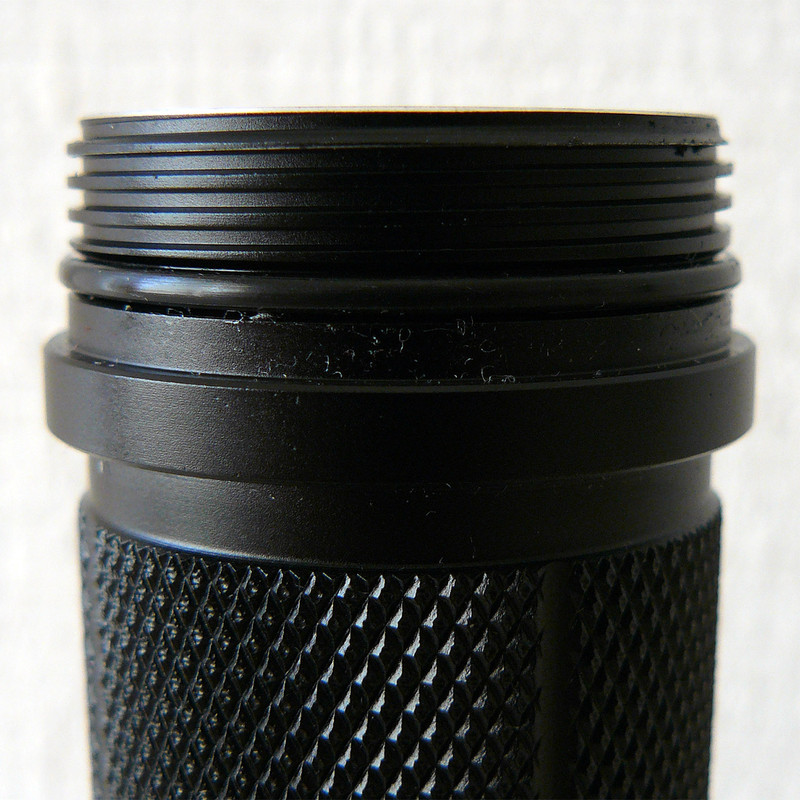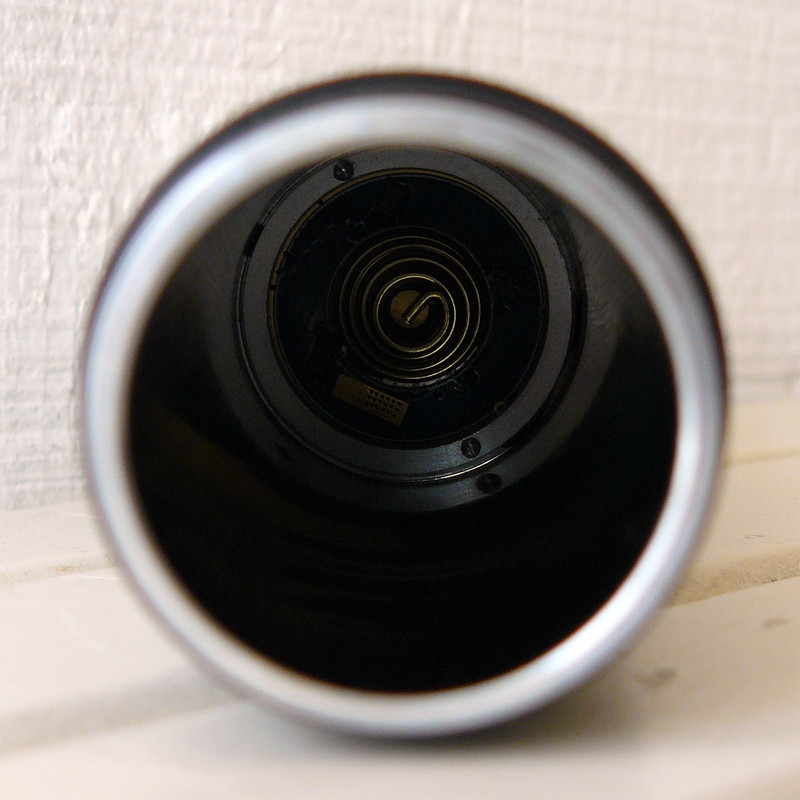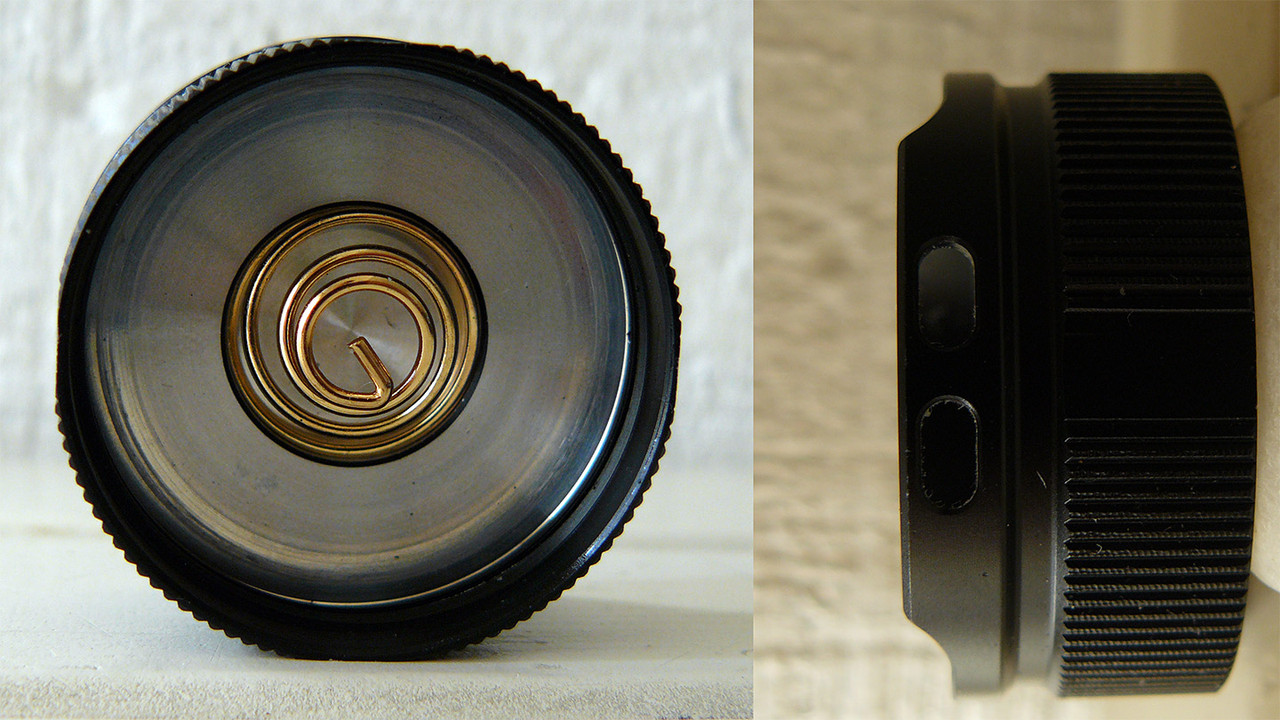 User Interface:
These days a lot of attention is being paid to the UI of LED flashlights, going well beyond simple ON/OFF and brightness control. Probably the most highly regarded UI's today are the Anduril and NarsilM UI's, which afford a significant amount of programmable flexibility. But not everybody needs this level of control. Sometimes simple is preferred. Sofirn developed their own UI that permits both stepped and progressive ramping modes, plus several mode shortcuts. It's really nicely done.
On/Off is accessed by a single click, as opposed to double-clicks or press-hold on many other flashlights with rich UI settings.
Stepped mode has 5 levels including moonlight. Modes go from low to turbo, the

PROPER

progression (as opposed to starting from high to low).
Mode memory is provided, remembering the last mode used prior to off (except for Turbo, so you don't accidentally blind yourself).
Press-hold from off turns on moonlight mode, which is also a reasonable low that is eye safe.
Double-click from off engages turbo.
Triple-click engages strobe (which is a varying oscillation type).
Electronic lockout is toggled with four clicks. While in lockout, momentary low mode is provided.
Physical lockout is possible with a slight turn of the tail cap or head.
Charging:
The 26650 cell charges reasonably fast from nearly flat, on DC5V 2A. While charging, the LED flashes red, then changes to solid blue when done. If there is a battery contact problem, it will flash red erratically a few times, then blue, then red again, so it's easy to notice (it'll happen if you forget to take out the battery contact blocker). The LED is a reasonable brightness so you can see it in moderate light, but it won't light up the room at night. Importantly, the circuitry protects the battery from overcharging, and there is LVP (low voltage protection).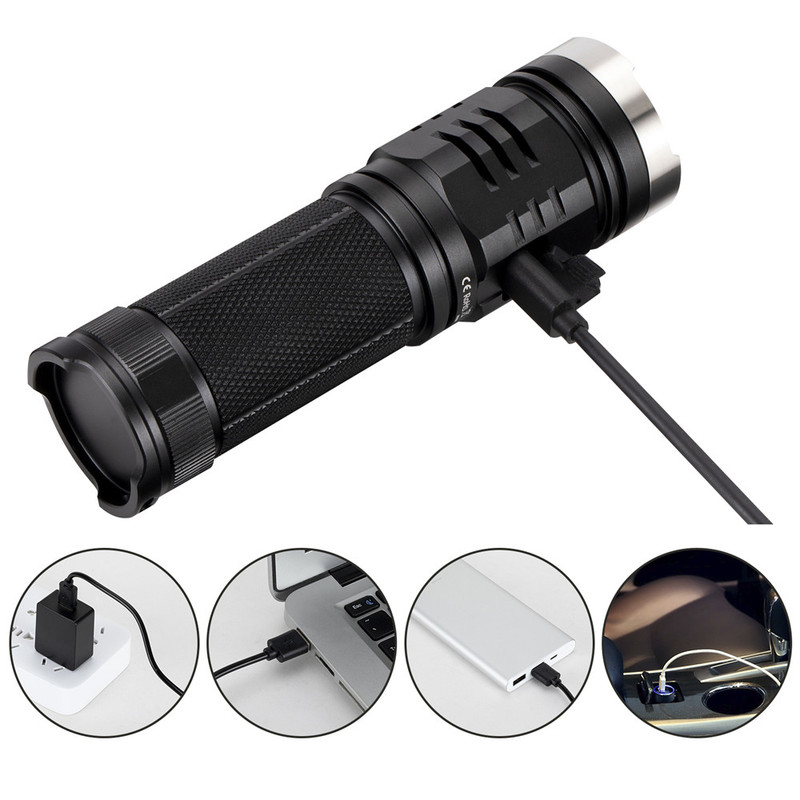 Electronic Switch:
It's a very good quality metal covered plastic switch that is fairly flush to the body, accompanied with a nice machined bezel. It can be a little tricky to find just from feel, but the rubber charging port cover is on the exact opposite side, which helps with orientation. The click sound is soft and not annoying in any way, with a good tactile sensation.
Comparison:
For comparison purposes, I decided to choose my old Nitecore EA4 Pioneer flashlight, because of a relatively similar size & form factor. Both feature electronic switches, a similar diameter reflector, and similar throw distance. The EA4 is running a CREE XM-L U2, and 4xAA cells. Nitecore has upgraded the EA4 with the EA41 (XM-L2 U2).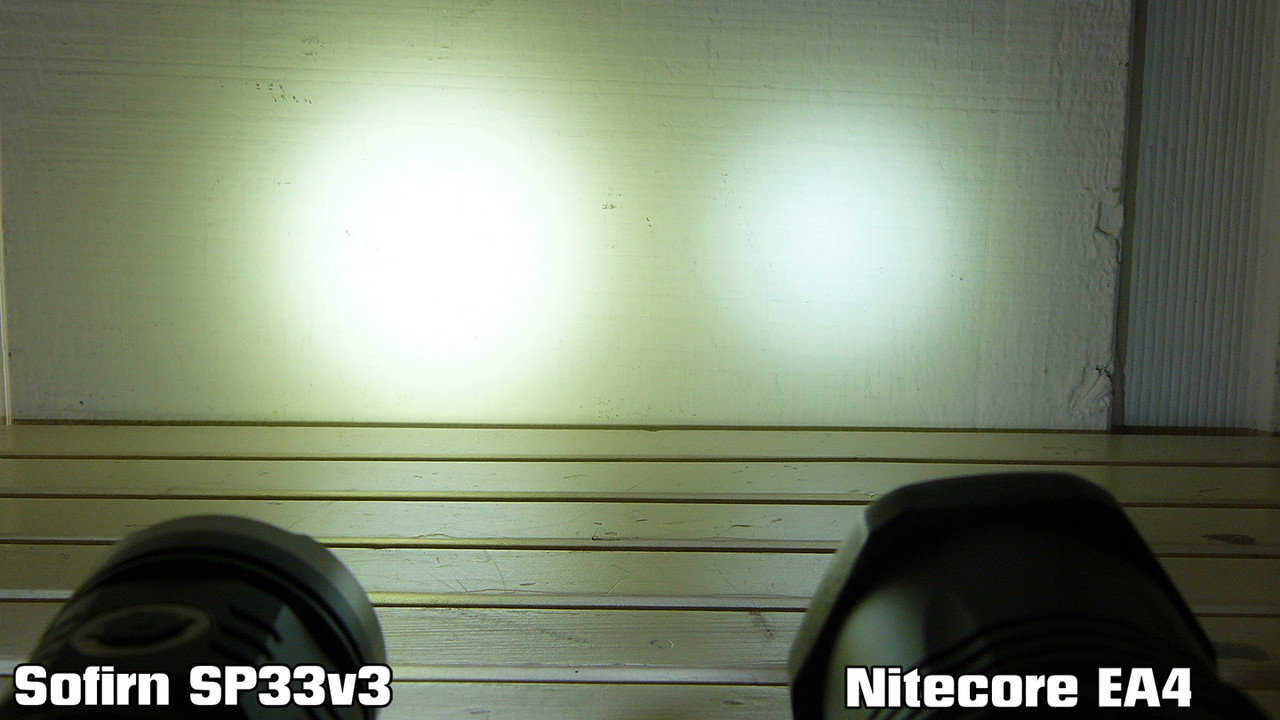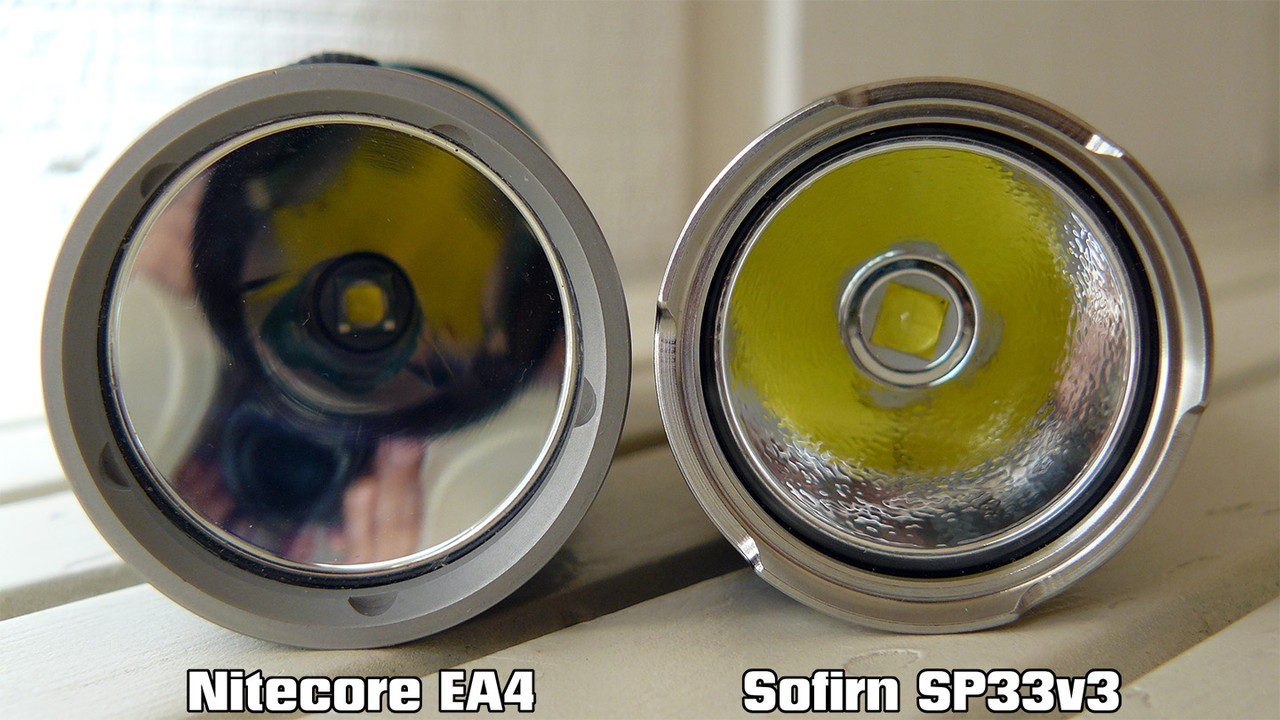 At this point I have to say the winner is clearly the Sofirn SP33v3. While it's just a little taller than the EA4 (EA41), it has a better grip, switch, and UI. Plus… the gobs of 3500lm is astounding. The EA41 is spec'ed to reach 335M while the SP33v3 goes to 269M, but the copious spill of the SP33v3 makes it seem to go further. Plus runtime on turbo is pretty much the same. The EA41 has one advantage in moonlight, being lower (at 1 lumen) and longer (400h).
Heat management:
Heat management on the SP33v3 is OK. It still can get rather hot to the touch, but it's a gradual progression that's longer than some similar pocket-rocket flashlights such as the Lumintop FW3A and FW21 Pro. It features something called ATR (Advanced Temperature Regulation). The light will step down to prevent overheating, but thermal regulation isn't very steady. It's not shockingly visible to the naked eye, but graphs from other people's tests show dramatic swings. But, this is in tests with the light running continuously for a long period.
Beam / Output:
Beam profile is quite good. There is a noticeable corona with tint shift on lower settings, which you'll only notice if doing close-range "white wall" use (it washes out as beam intensity is ramps up). Since this flashlight is designed for mostly mid to high power use, it's a non-issue. The hotspot is well defined without a sharp delineation, accompanied by a generous spill. The tint is cool at 6000k, but something about the XHP50.2 makes it lean more towards neutral than ice blue. I prefer the XHP50.2 tint over the XM-L2 U2. Moonlight is rated at 1lm, but it appears to be ever so slightly brighter (2lm). Still easy on the eyes.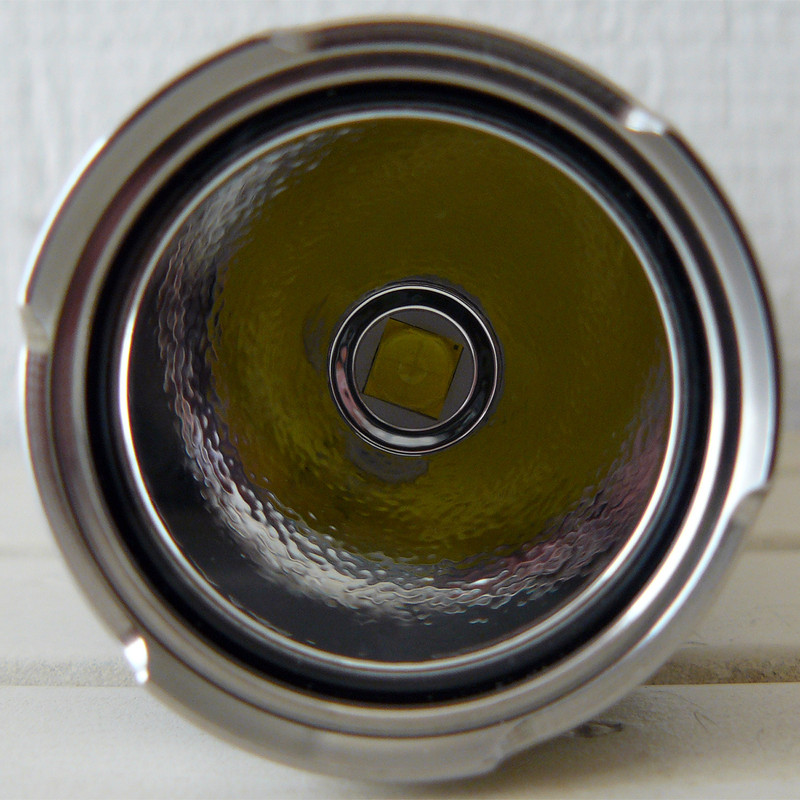 Conclusion:
I wasn't really in the market to get a new search style flashlight, but I had the opportunity to buy this at a discount and thought it would be worthwhile to at least try it. Overall, I think it is an excellent value for the price. I do wish thermal regulation was more stable, which comes into play with long periods of use on higher output levels. Sofirn has clearly demonstrated that it has definitely joined the mainstream producers of respectable quality LED flashlights. Their other models are also worth looking at. I'm particularly taken with the tremendous throw/value proposition of the SP70.