Some of you may remember my review of the monstrous 2kg 50000 lumens Imalent MS12 flashlight.
Some even red review of Imalent DX80
You can buy Imalent MS06 at
➤IMALENT STORE with 10% off code LUMENIAC941
➤ AMAZON
➤ BANGGOOD
➤ALIEXPRESS
➤ Nkon.nl – i`ve bought batteries here since 2015. Recommend.
if you look for reliable 21700 (and others) batteries, i recommend store, there`ve been buying for years – Nkon
Since then, Imalent has not changed their approach to releasing new models: to get as many lumens as possible from flashlight as small as possible and season it with a good portion of marketing in specs. The rest of the important for the user characteristics are outside the brackets of this simple formula. Practicality and convenience, most often. So, i`m trying to say that Imalent is not of my fave brand and i was quite sceptical about MS06. Was. Until reviewing it. Nevertheless, i do my best to be objective here in review and hightlight all the PROs and CONs.
There were just couple of Imalent models, that i liked – DX80 and RT35. But the characteristics of the MS06 seemed impressive enough to me and I decided to take a chance. Let's see what came out of Imalent's quest to make one more WOW-flashlight!
The very first promotional picture excites the buyer's wallet with the well-known combination "tiny monster" and calls the flashlight no less than tactical!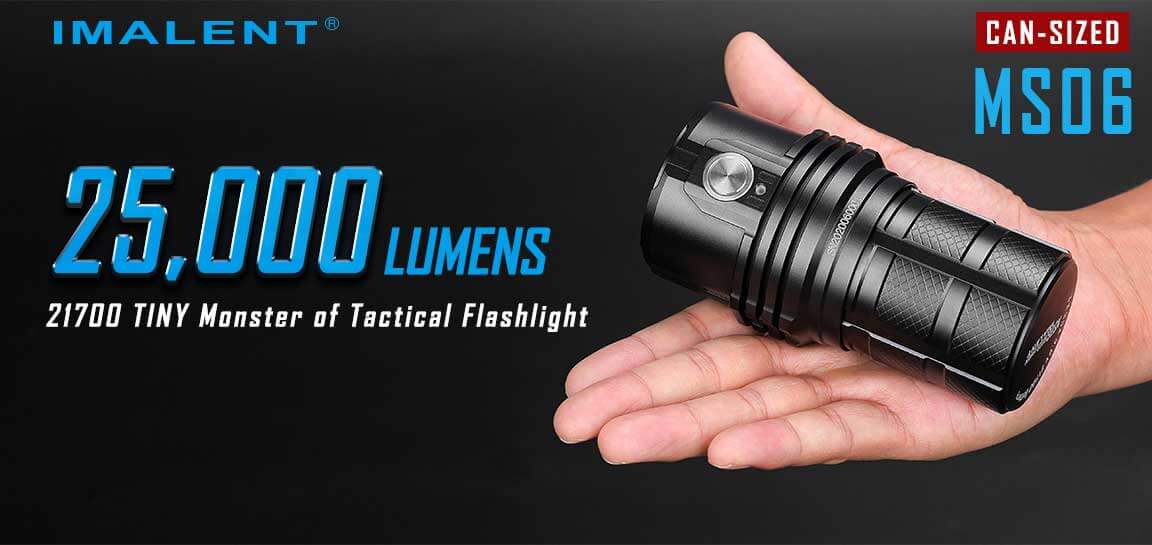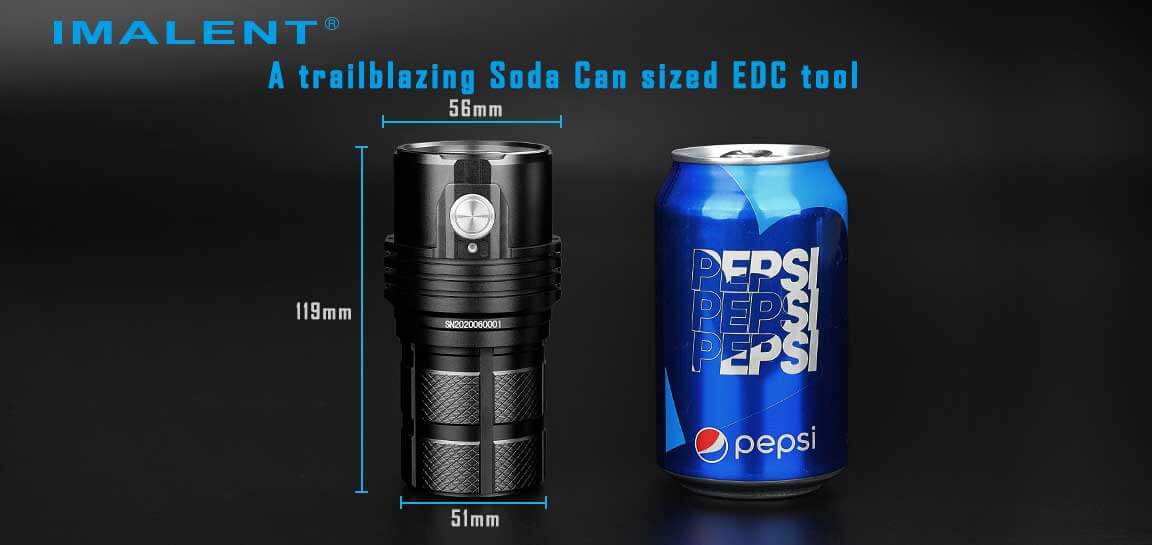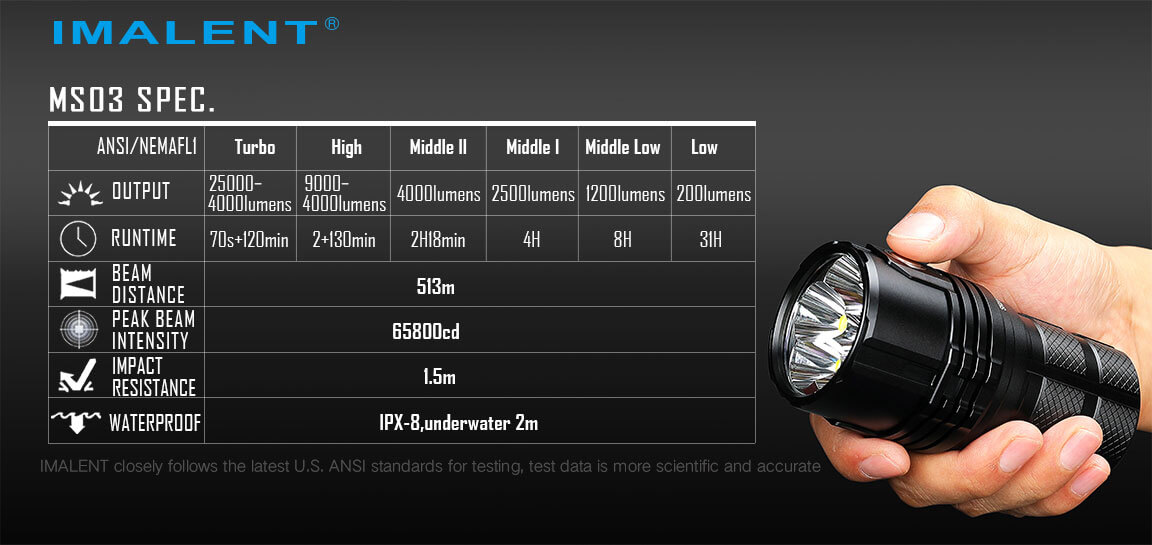 Manufacturer Specification:
Brand IMALENT
Product Code MS06
LED Type 6 pieces of American CREE XHP70 2nd LEDs
Batteries Required 3 x rechargeable 4000mAh 21700 Li-ion batteries
Luminous Flux Up To 25000 Lumens
Run Time Up To 31h
Intensity 65800cd (Max.)
Distance 513m (Max.)
Operating Modes
Turbo / High / Middle II / Middle I / Middle Low / Low /
Output and Runtime
Turbo (25000 – 4000 Lumens / 70s + 120min)
High (9000 – 4000 Lumens / 2 + 130min)
Middle II (4000 Lumens / 2h18min)
Middle I (2500 Lumens / 4h)
Middle Low (1200 Lumens / 8h)
Low (200 Lumens / 31h)
Measurements
56(head diameter)*51(body diameter)*119(length)mm
Weight
572g (battery included)
Impact Resistance 1.5m
Waterproof IPX-8 standard waterproof ( 2 meters submersible)
Accessories
Holster, USB Charging Cable, Lanyard, 4000mAh 21700 Li-ion Battery, O-rings
Kit includes
Imalent MS06
3x Imalent 4000mAh 21700 batteries
Lanyard
Case
Proprietary charging cable.
2 o-rings
Manual
PACKAGE AND APPEARANCE
The flashlight costs 200$ now and for that amount you get a wonderful gift package that pays off every cent you paid for MS06. If bought as a gift, it will look expensive and rich. No complaints at all.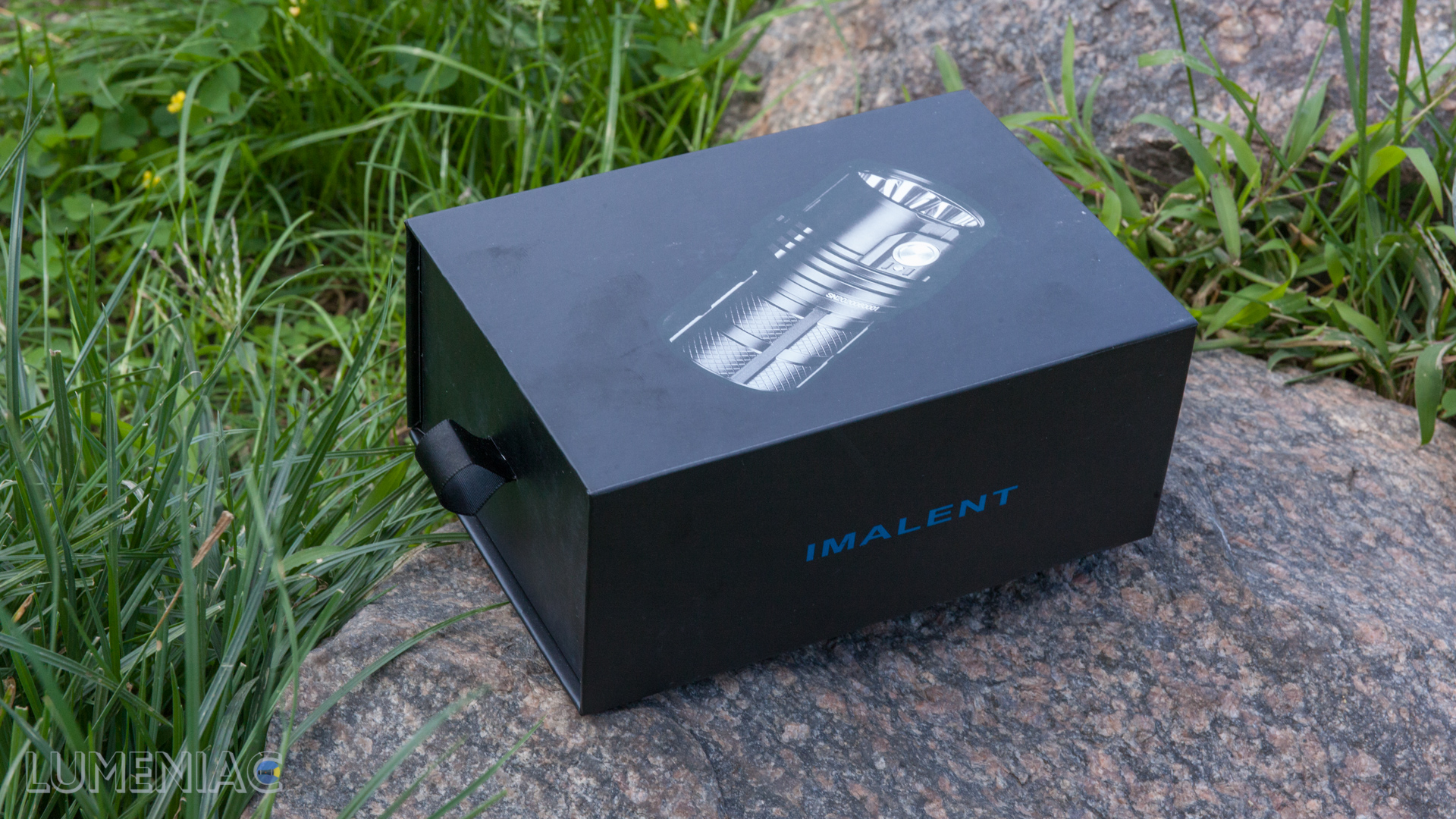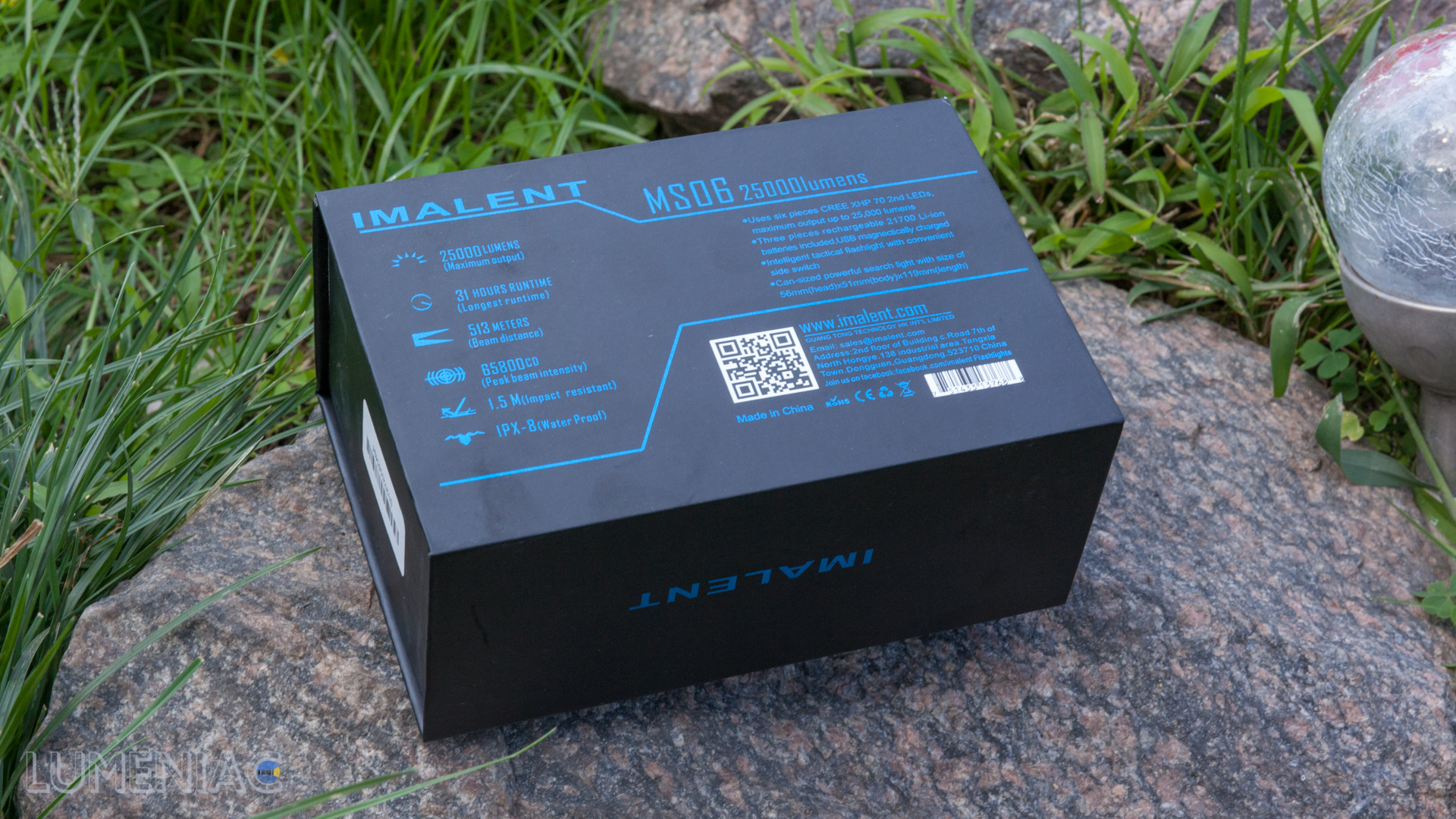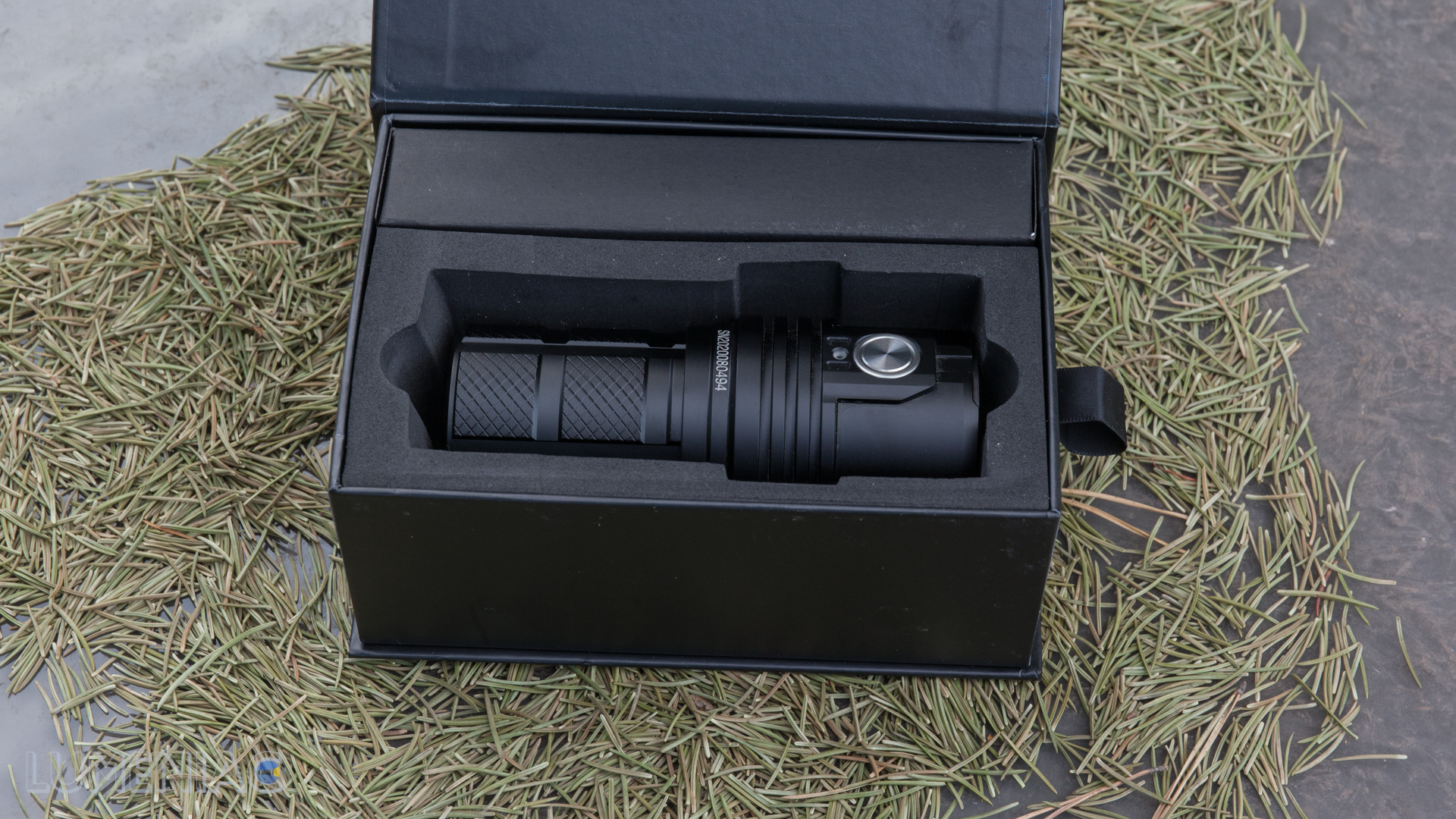 There is a flat velvety cardboard box below flashlight. It contains the rest of kit: charging cable, manual, O-rings, lanyard, holster.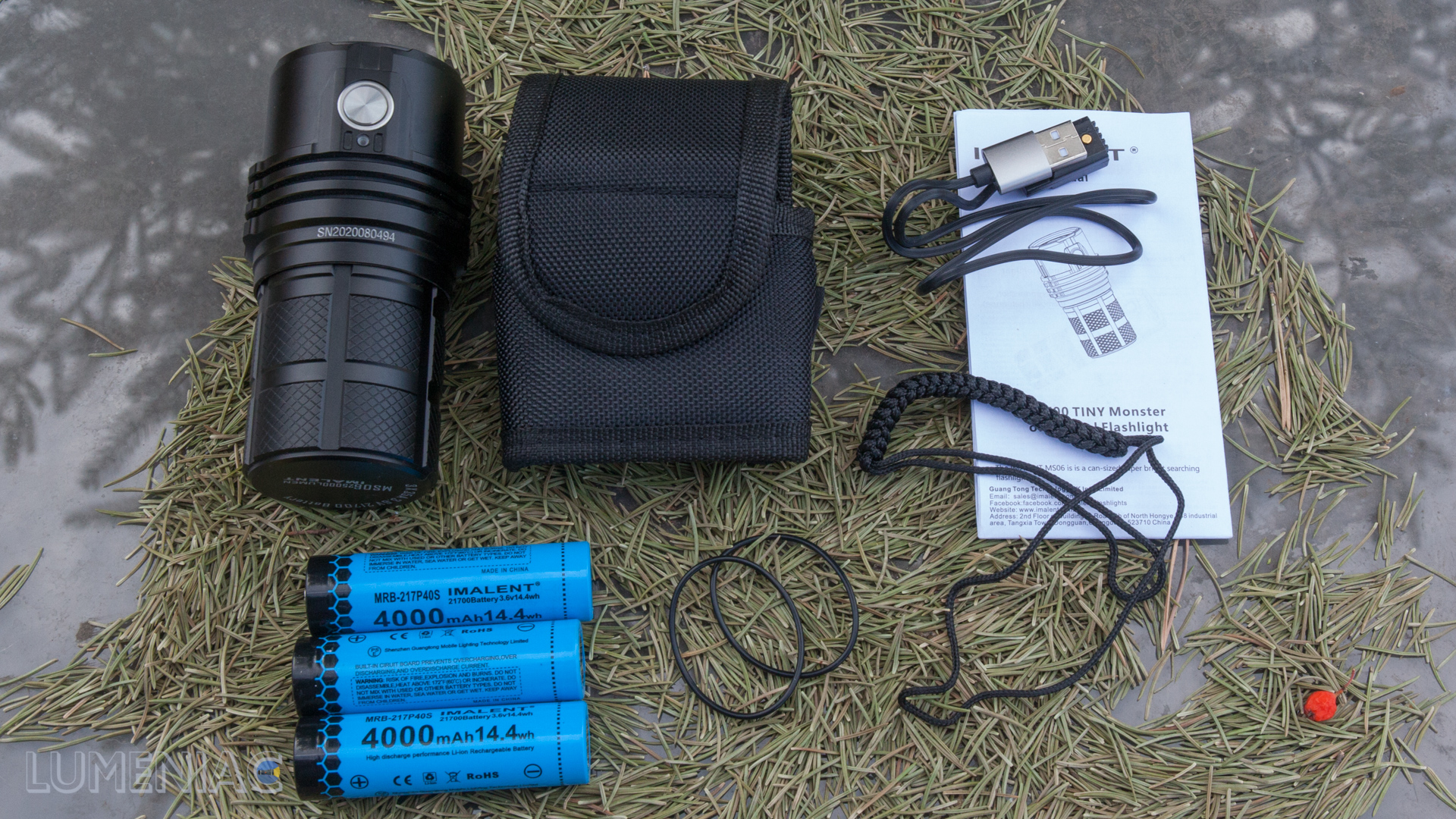 Holster covers only the top part of flashlight. Overall, holster is quite good.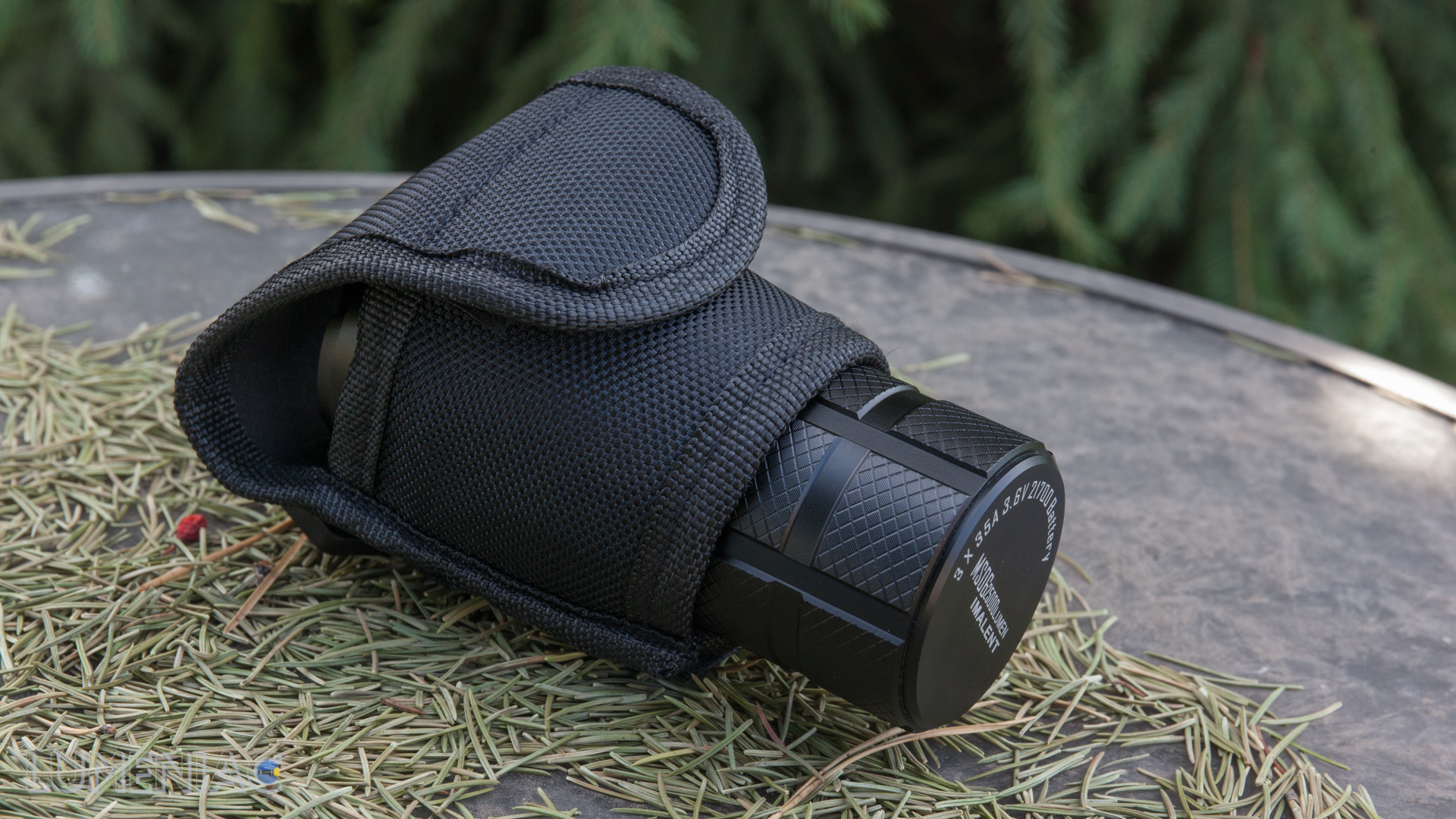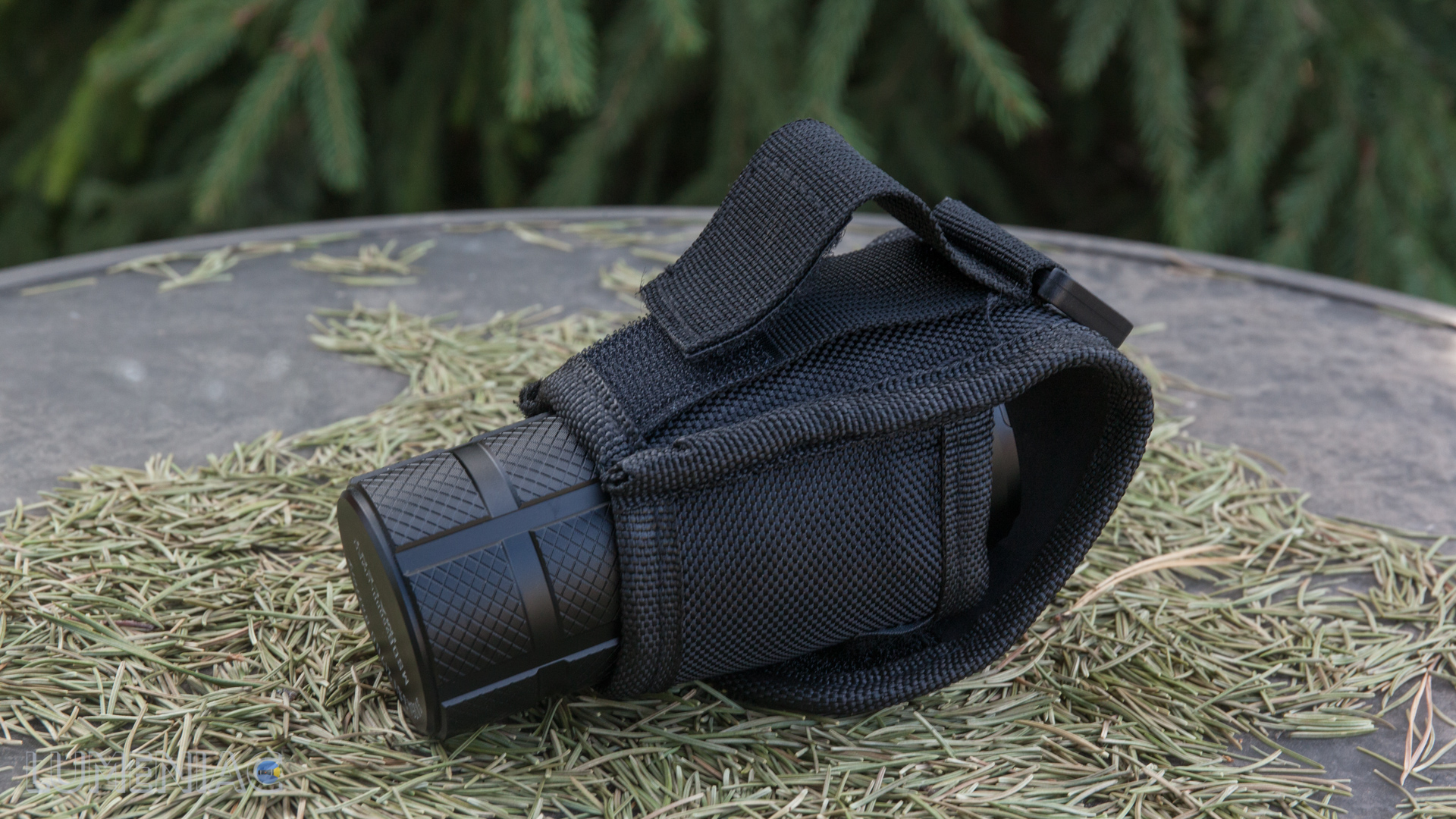 The flashlight is not that compact at all, but is very compact for the declared brightness. Here you get a sort of pocket supernova. Of course promo pics focuse on only this, obvious to everyone feature. While, experienced user already understands what such size and brightness ratio leads to. I mean lightning-fast heating that will trigger thermal cut-off. i`ll tell about this later.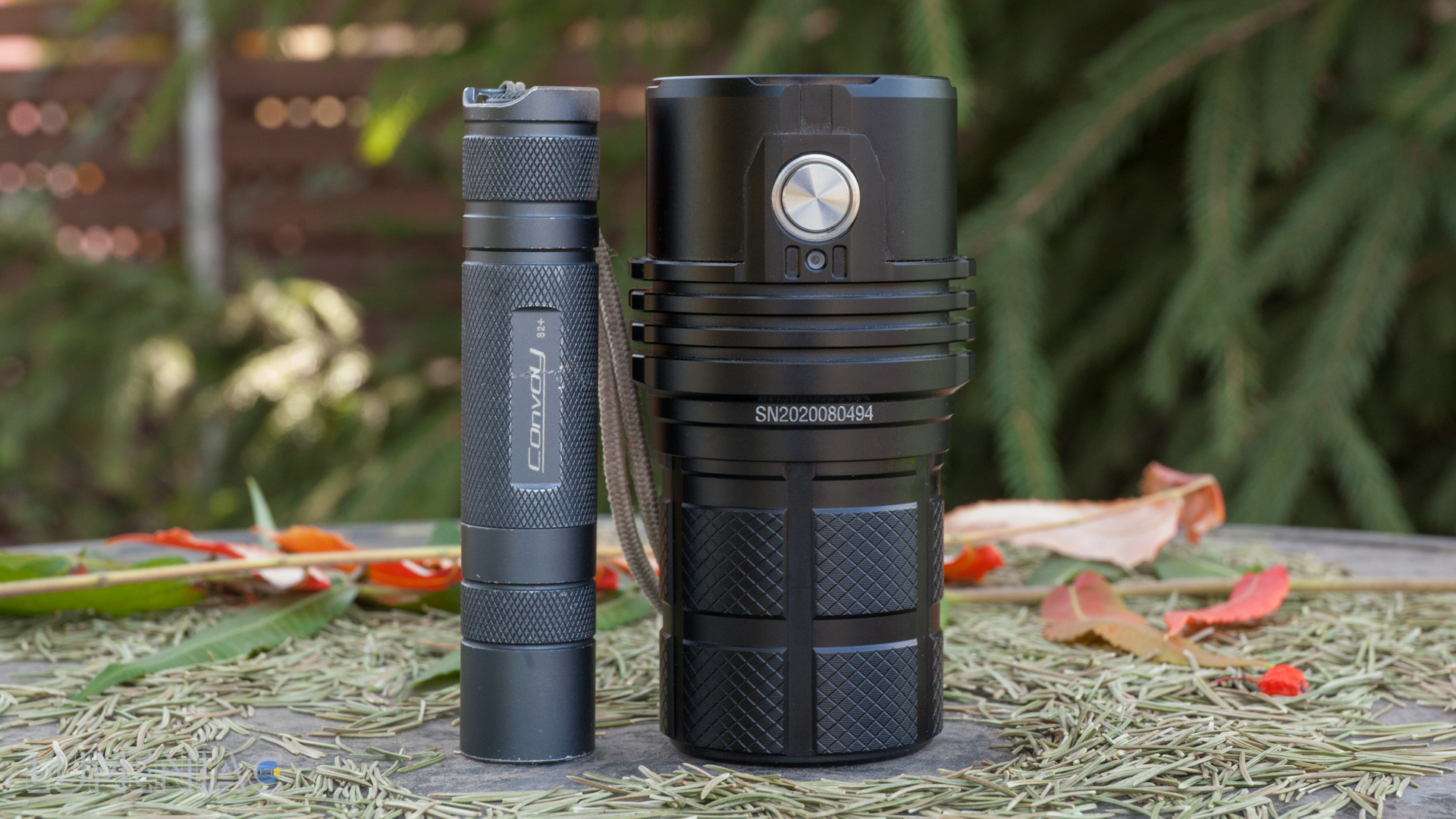 In terms of appearance, the flashlight is an 11cm black cylinder. Weighty enough, with a good design. Taking it in hand, you immediately feel that this is not a toy. In this regard, I absolutely have nothing to complain about, the lights look good and feel like solid thing as well, not like some toy.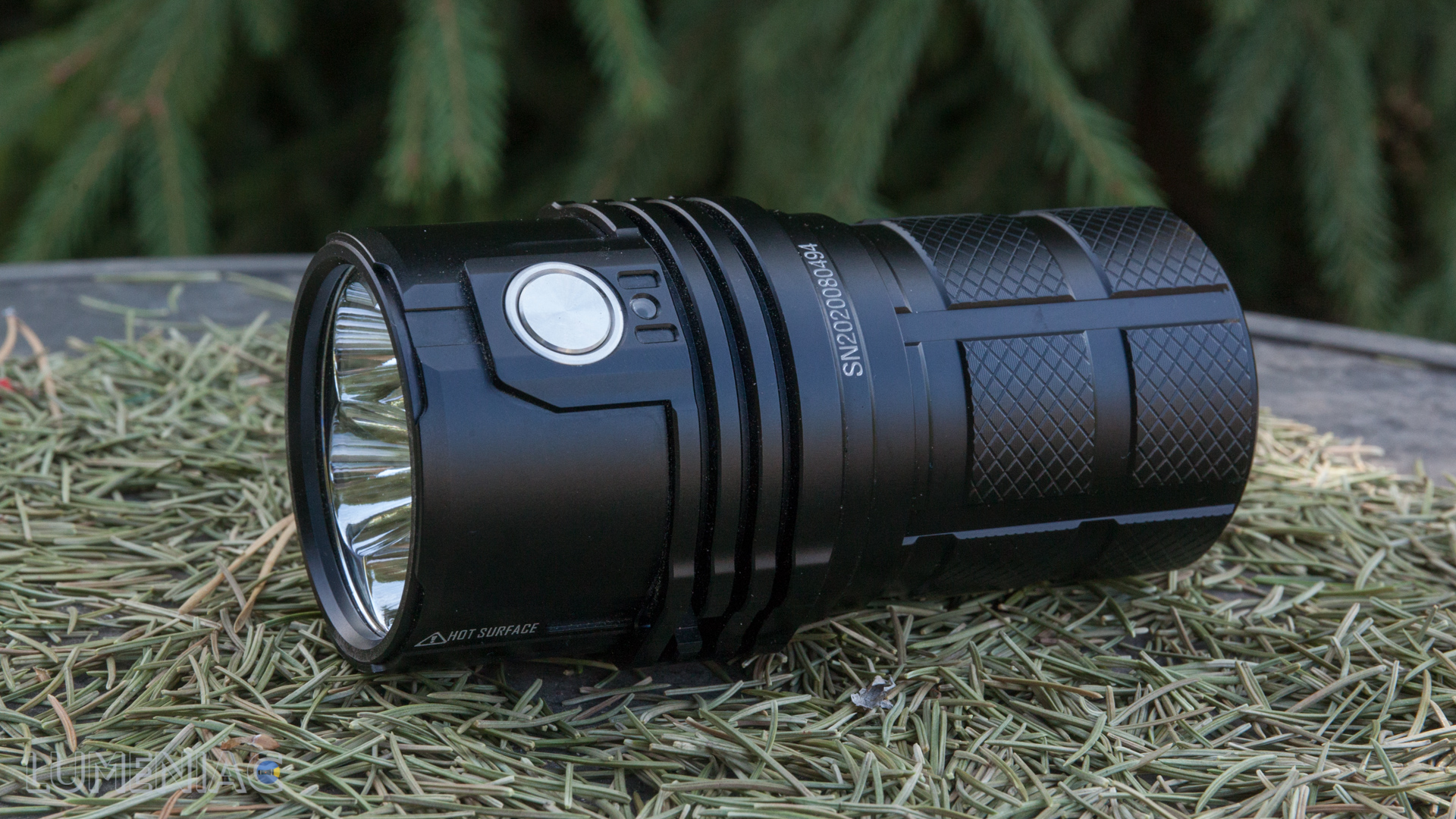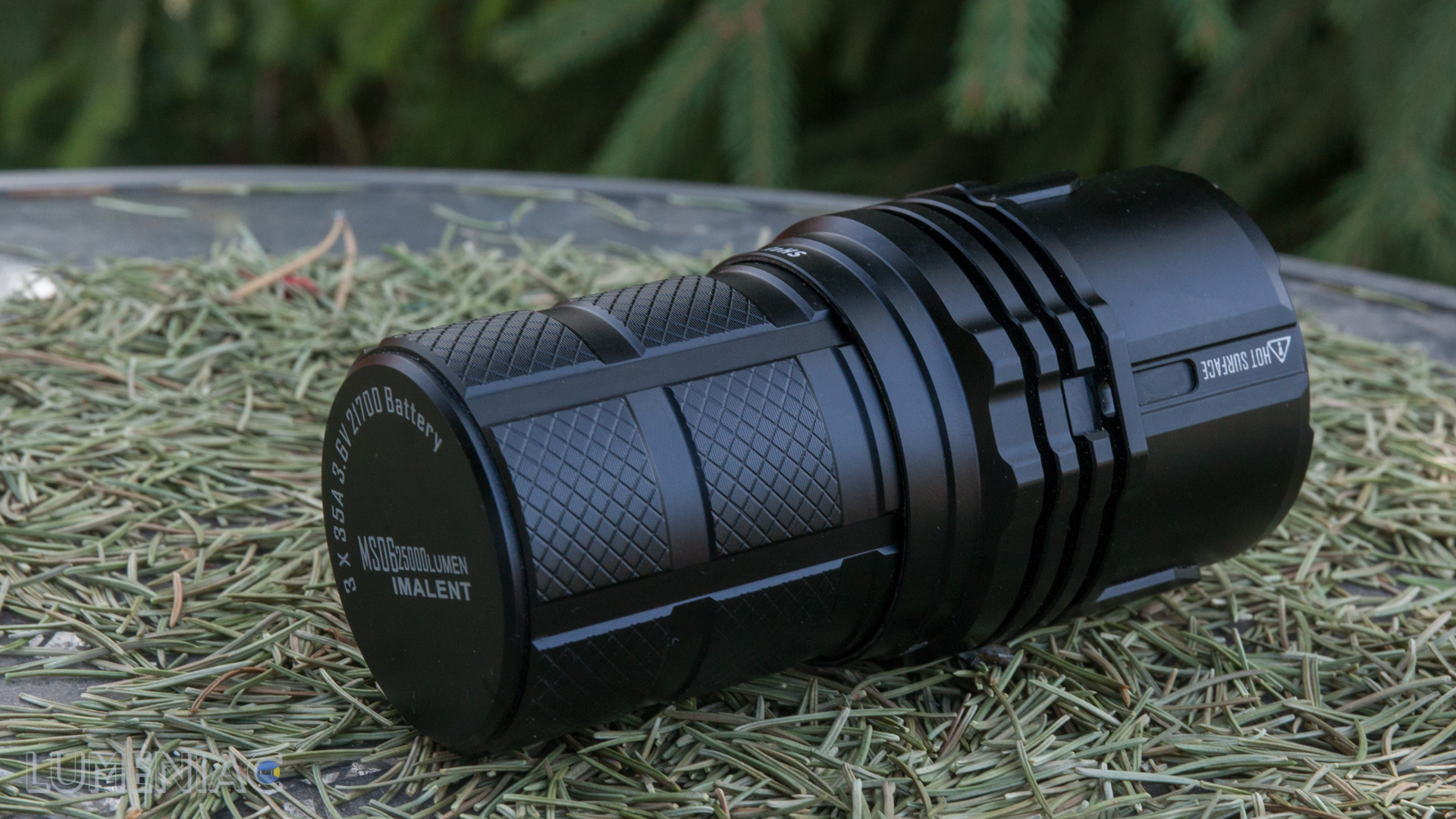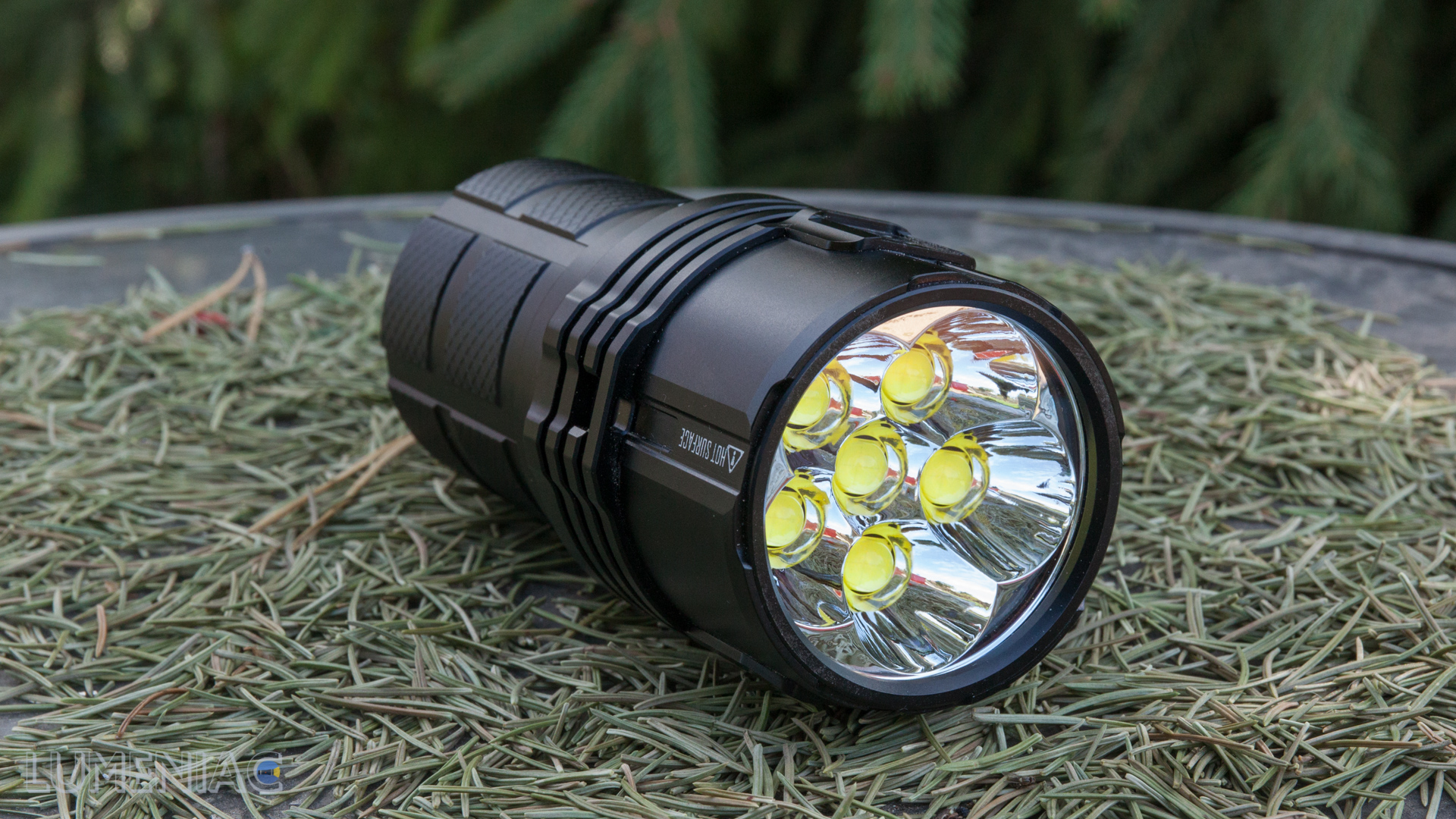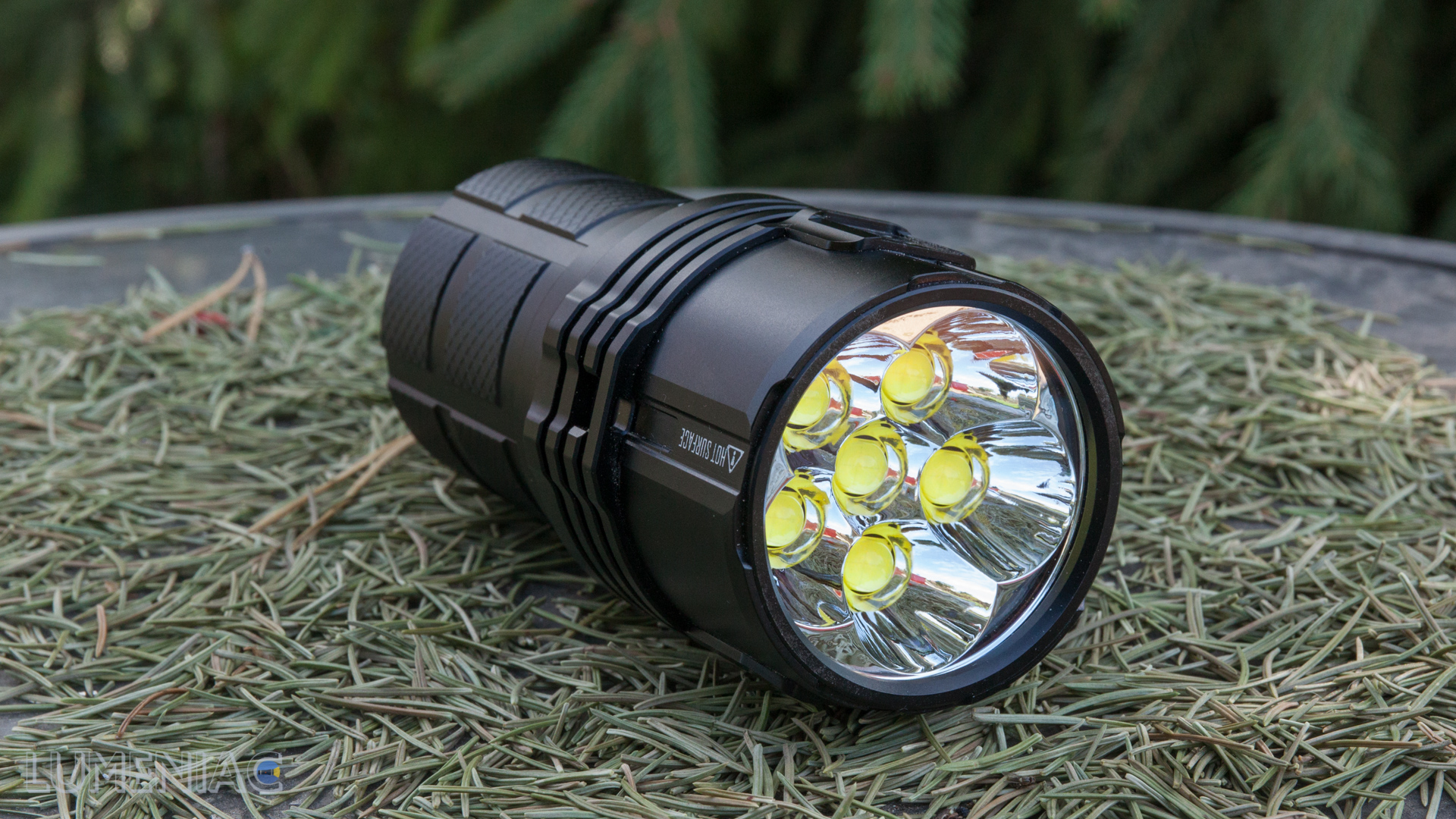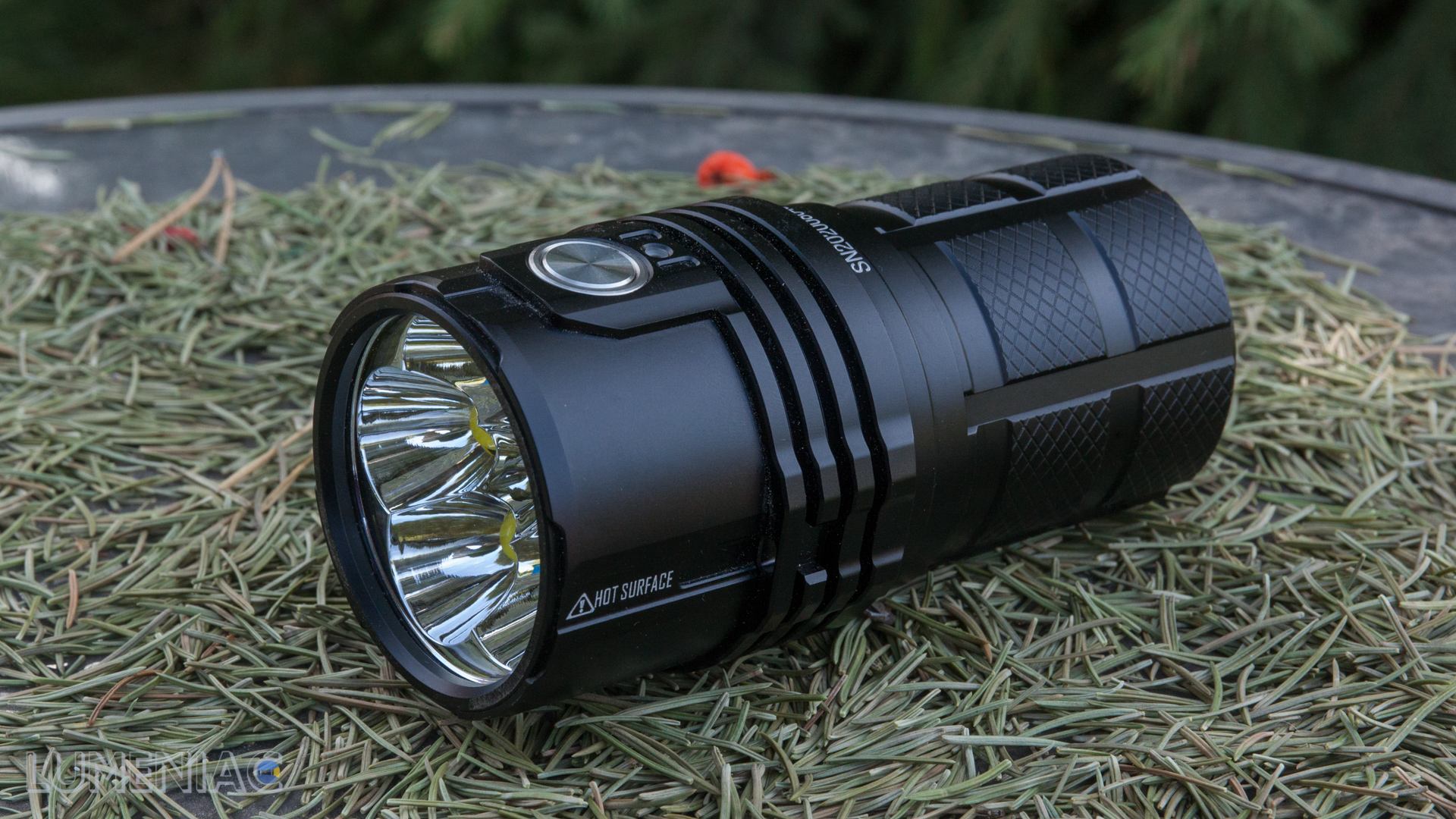 You can find all the model information on the tail, as usually with Imalent.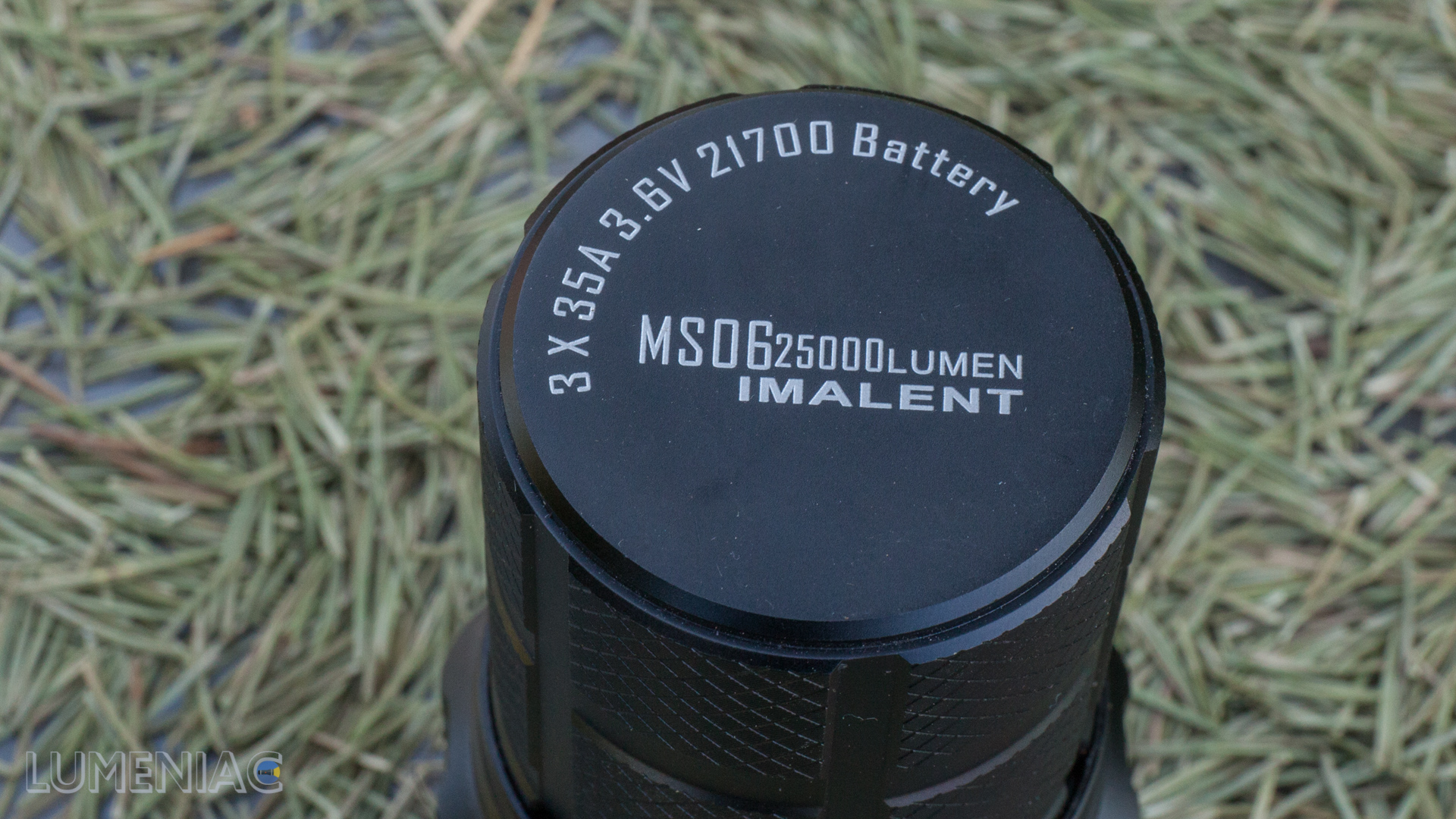 As you can already understand, the flashlight has really good tailstand. If you have or make diffuser, or direct it at the ceiling, you get a very bright camping light. Of course, LT1 will be much more practical as camp lamp, but this is a specialized solution versus a simple "oh, not bad, not bad!"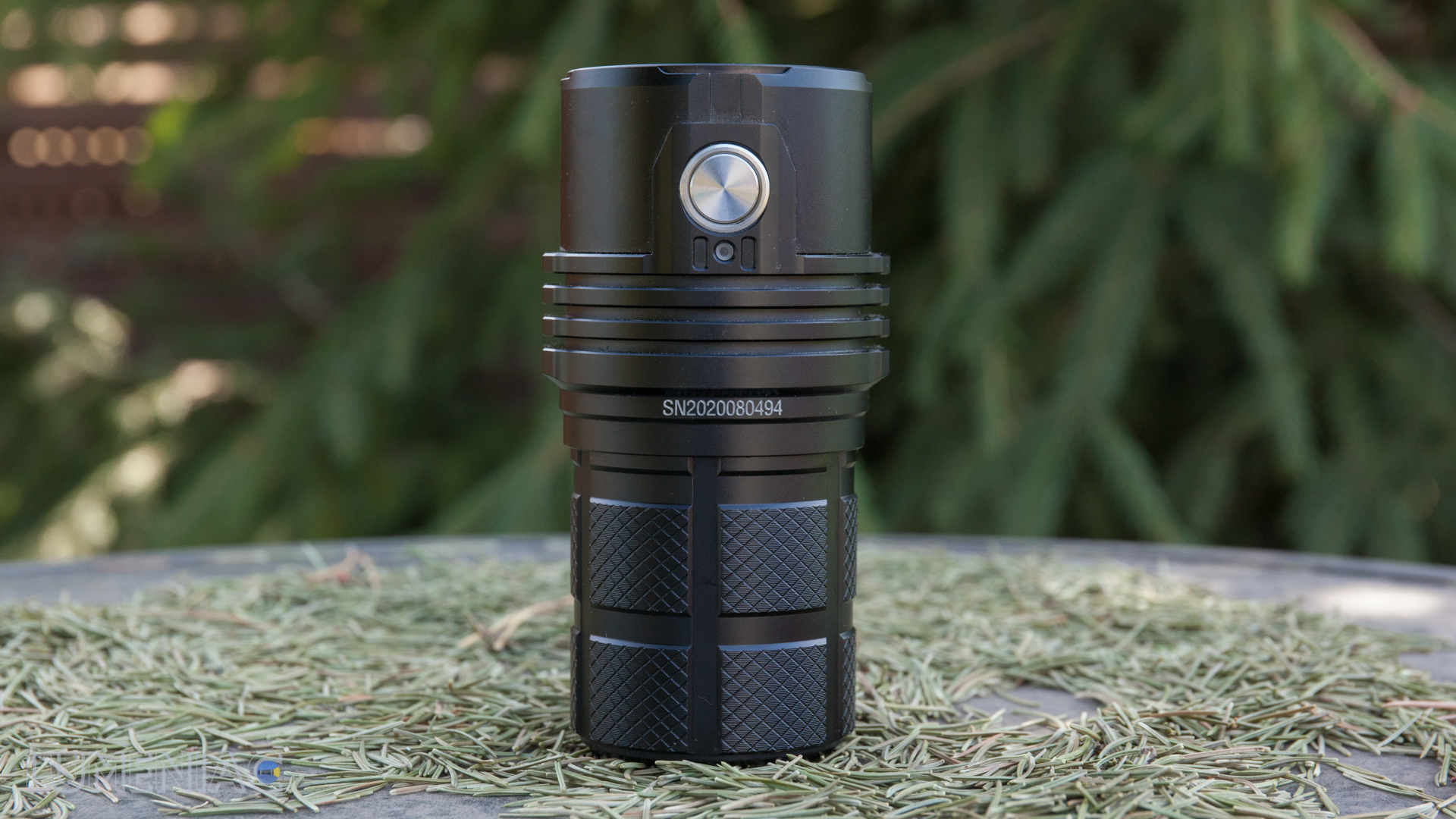 Unlike the non-separable huge flashlights such as DX80 and MS12 \ 18, this one can be disassembled into two parts and makes it possible to replace the batteries. This is a huge advantage.
Body stores 3*4000mh 21700 batteries. They work in parallel, so MS06 can for even with 1 battery in. However, due to the current consumption in the two higher modes, I would not climb above 4000lumen in this configuration.
The springs at the bottom of the "cup" are quite thick. There is no spring at head, but contact ring plate.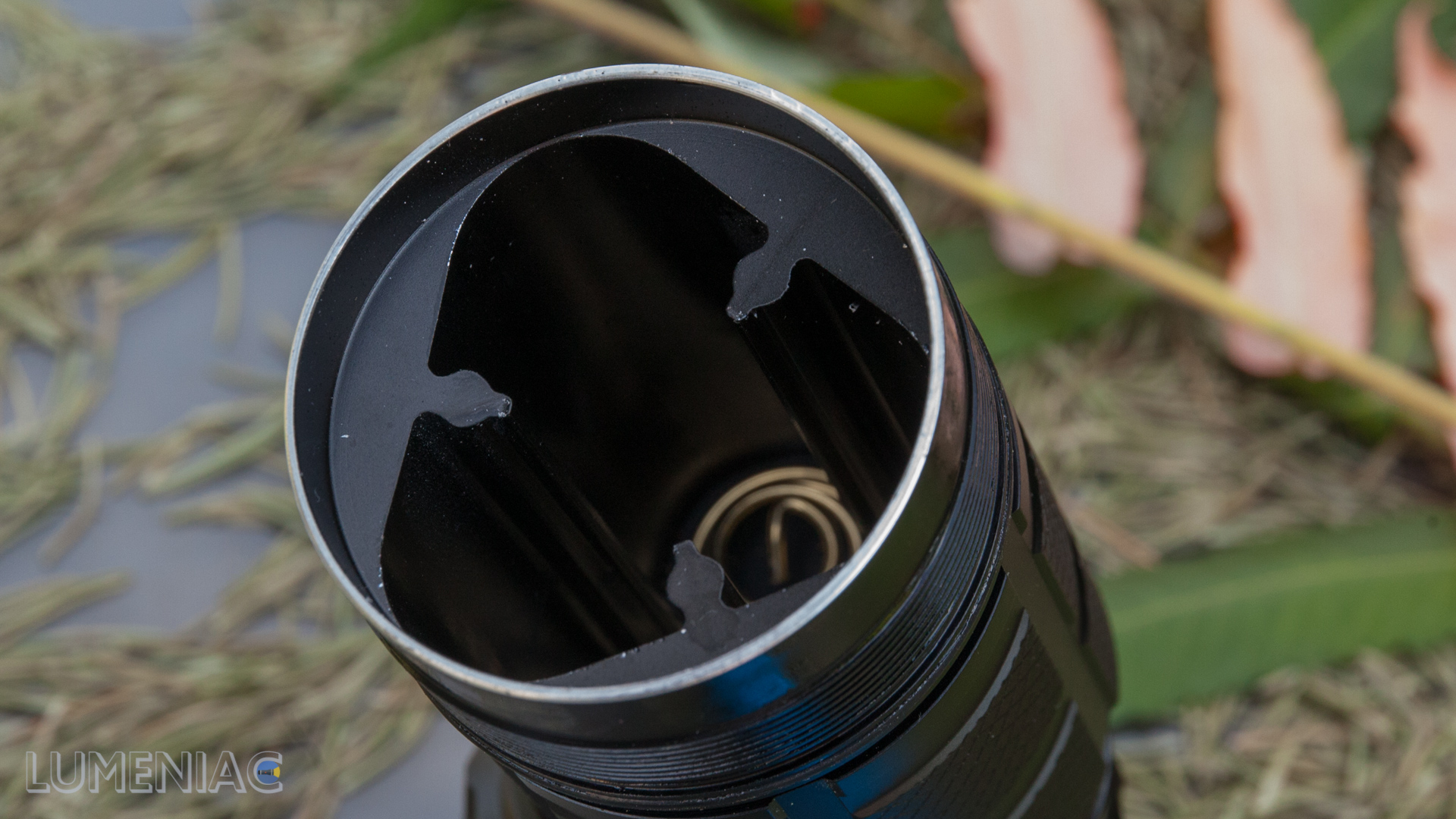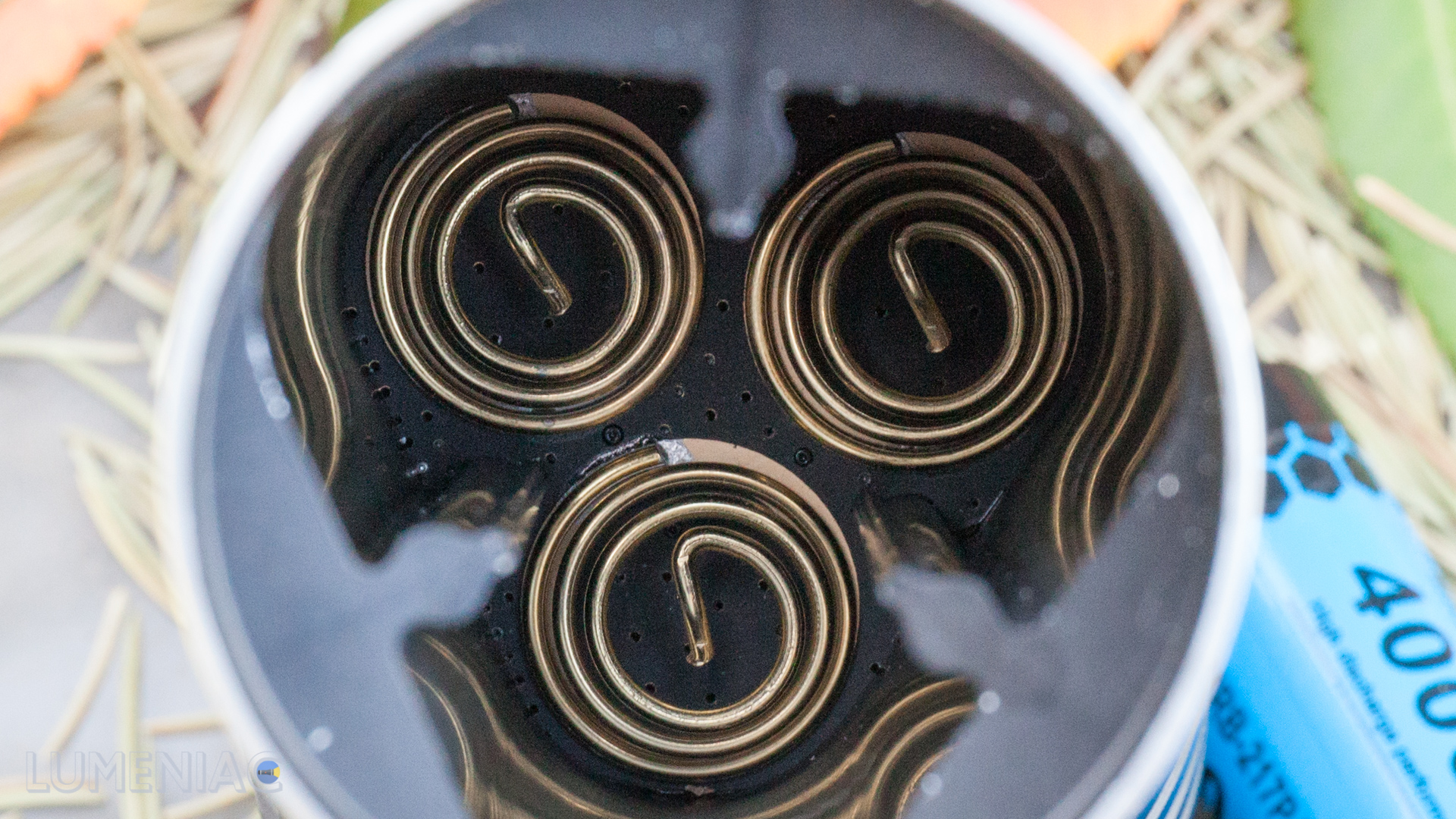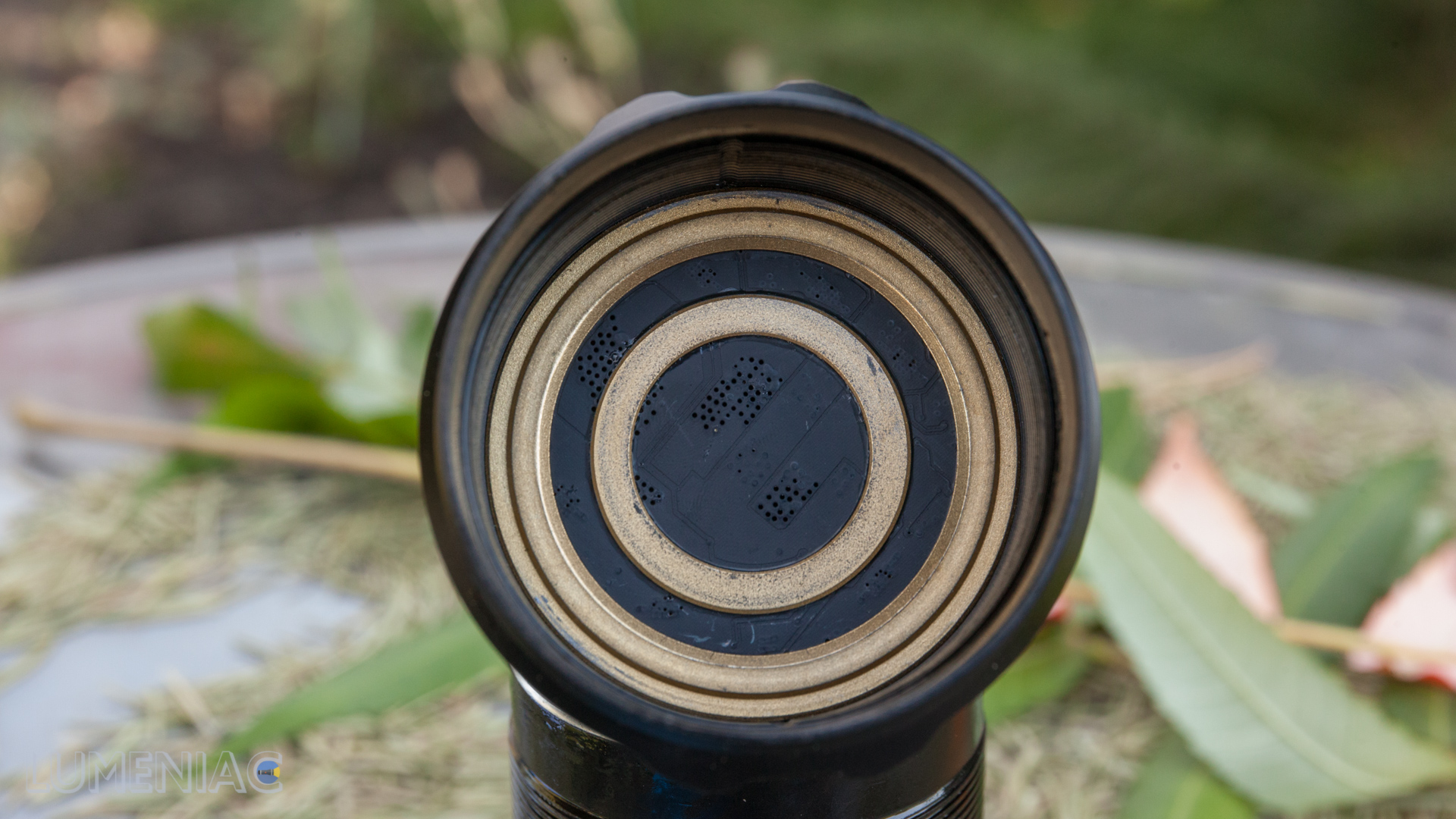 Batteries are high-drain protected button-top ones with a 4000mah capacity. And only a few chargers can store and charge them.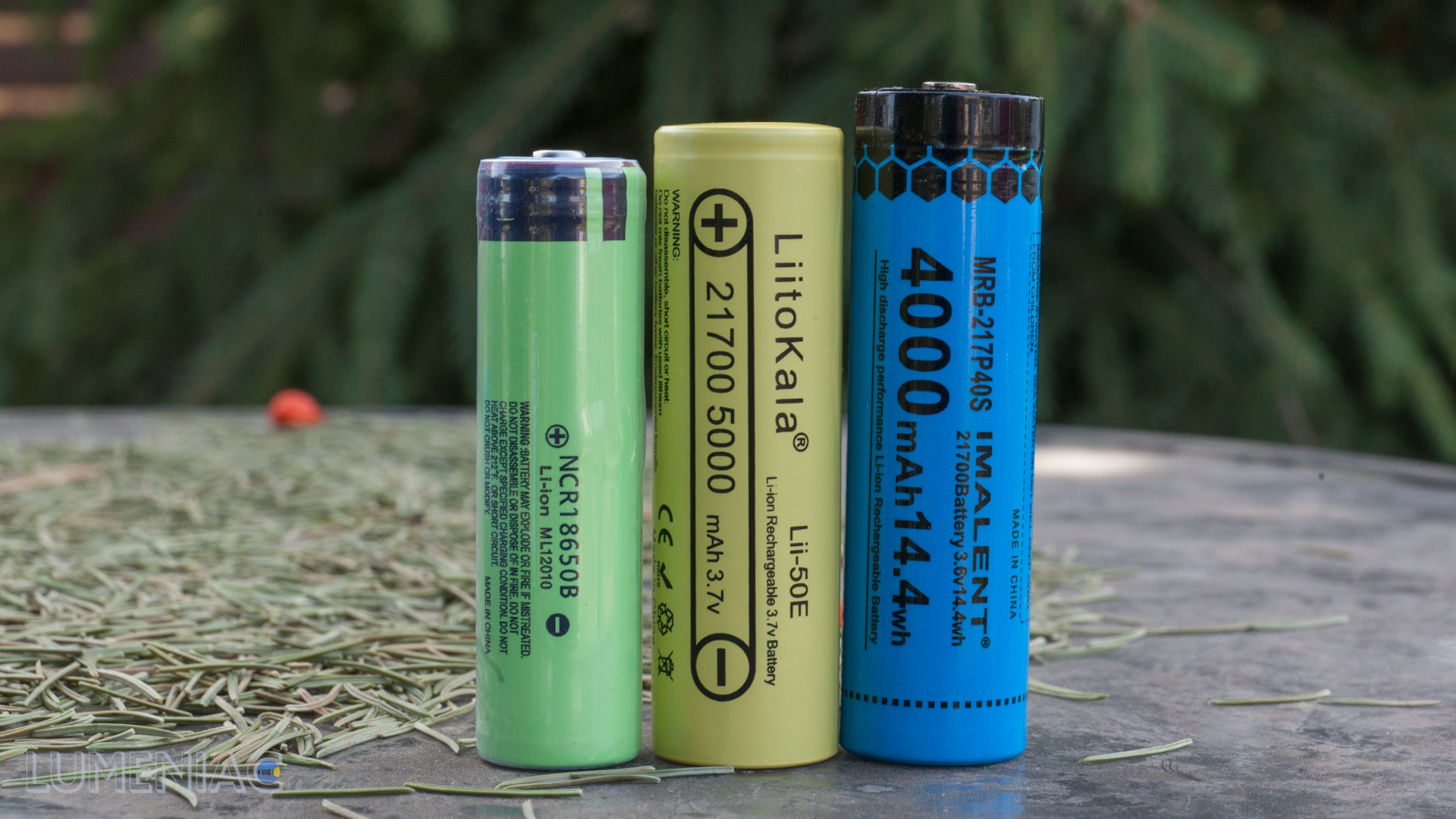 The thread in imalent MS06 is peferctly lubricated and the longest I've seen. It is takes 7(!) turns until full contact.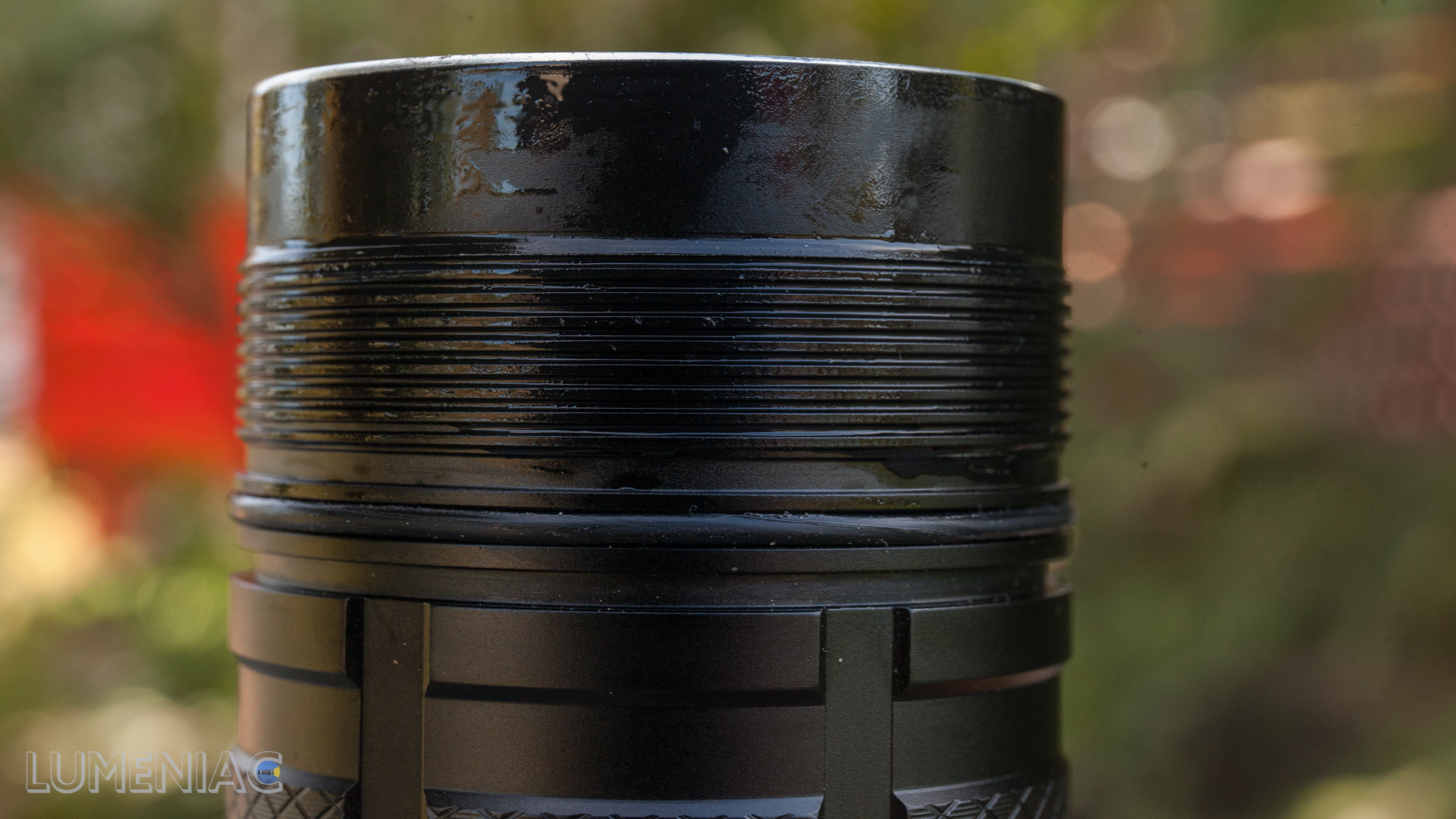 There is even an excess of lubrication which may badly affects the contact. I strongly recommend wiping the corresponding end that touches contact plate. with batteries.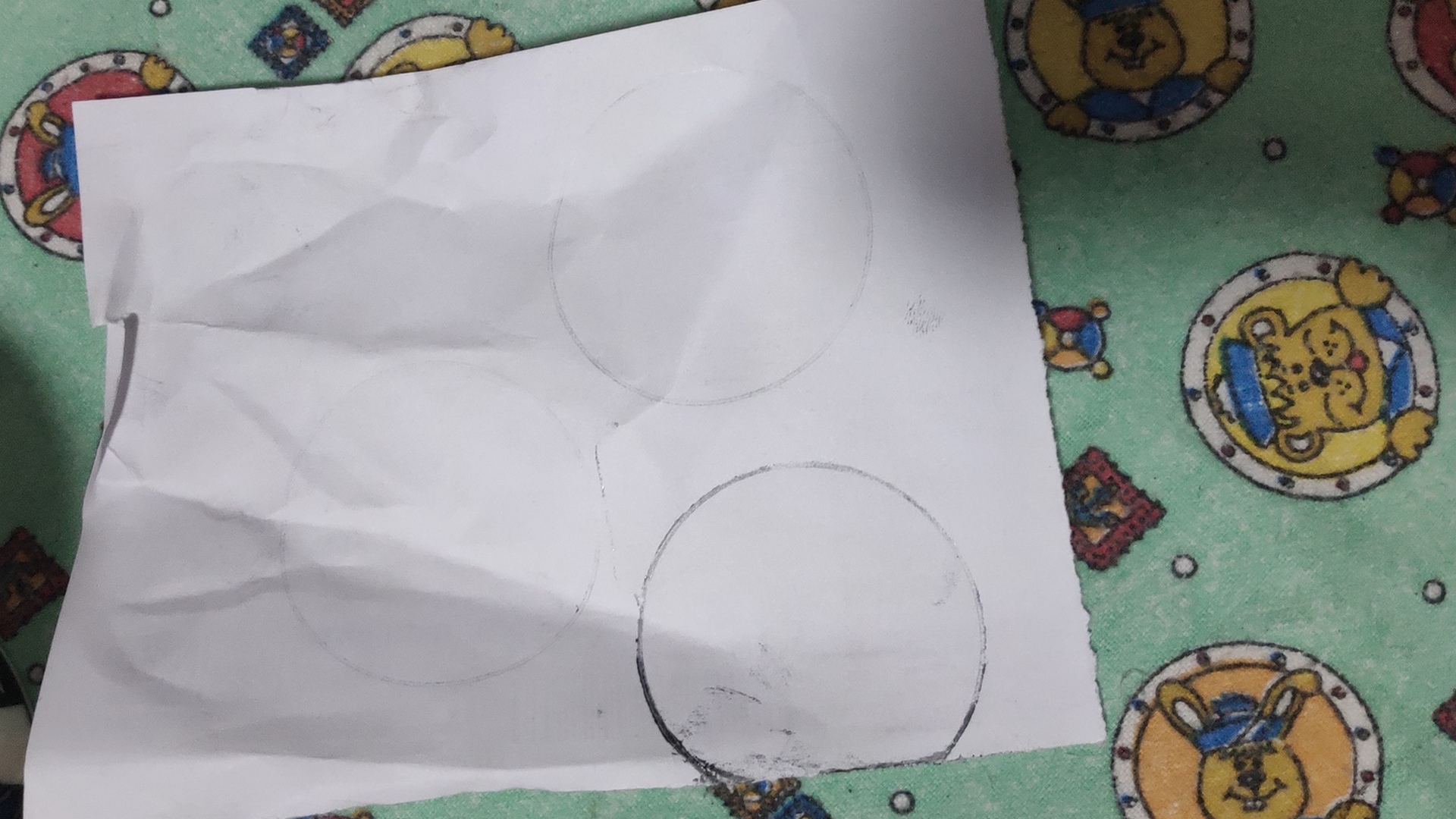 The knurling is deep enough and definitely reliable.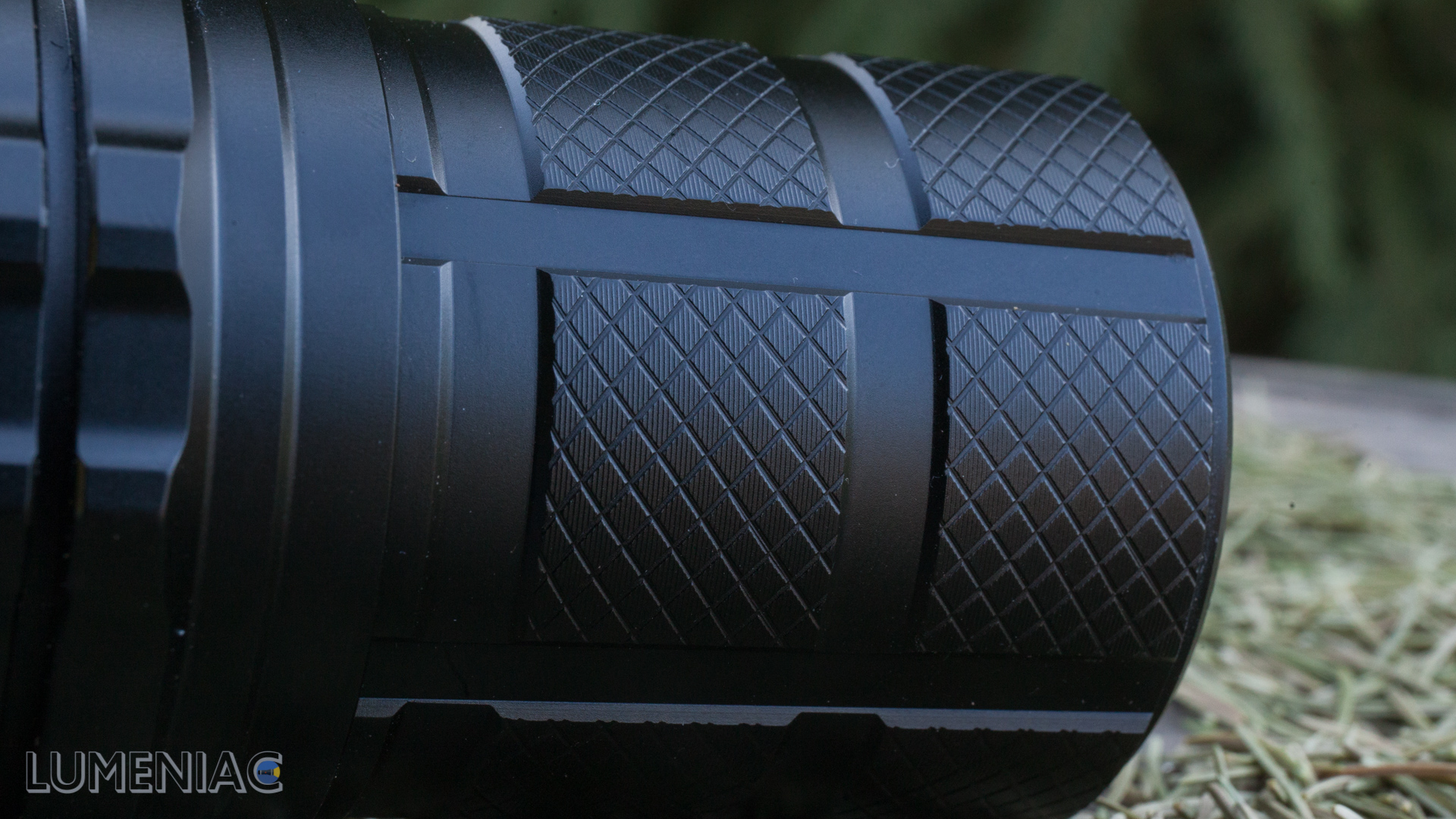 I don't have large palm, but even so, I did not feel the discomfort of the grip. For people with large paws, the flashlight will generally fall like a glove. Of course, with this weight, you should not ignore the lanyard.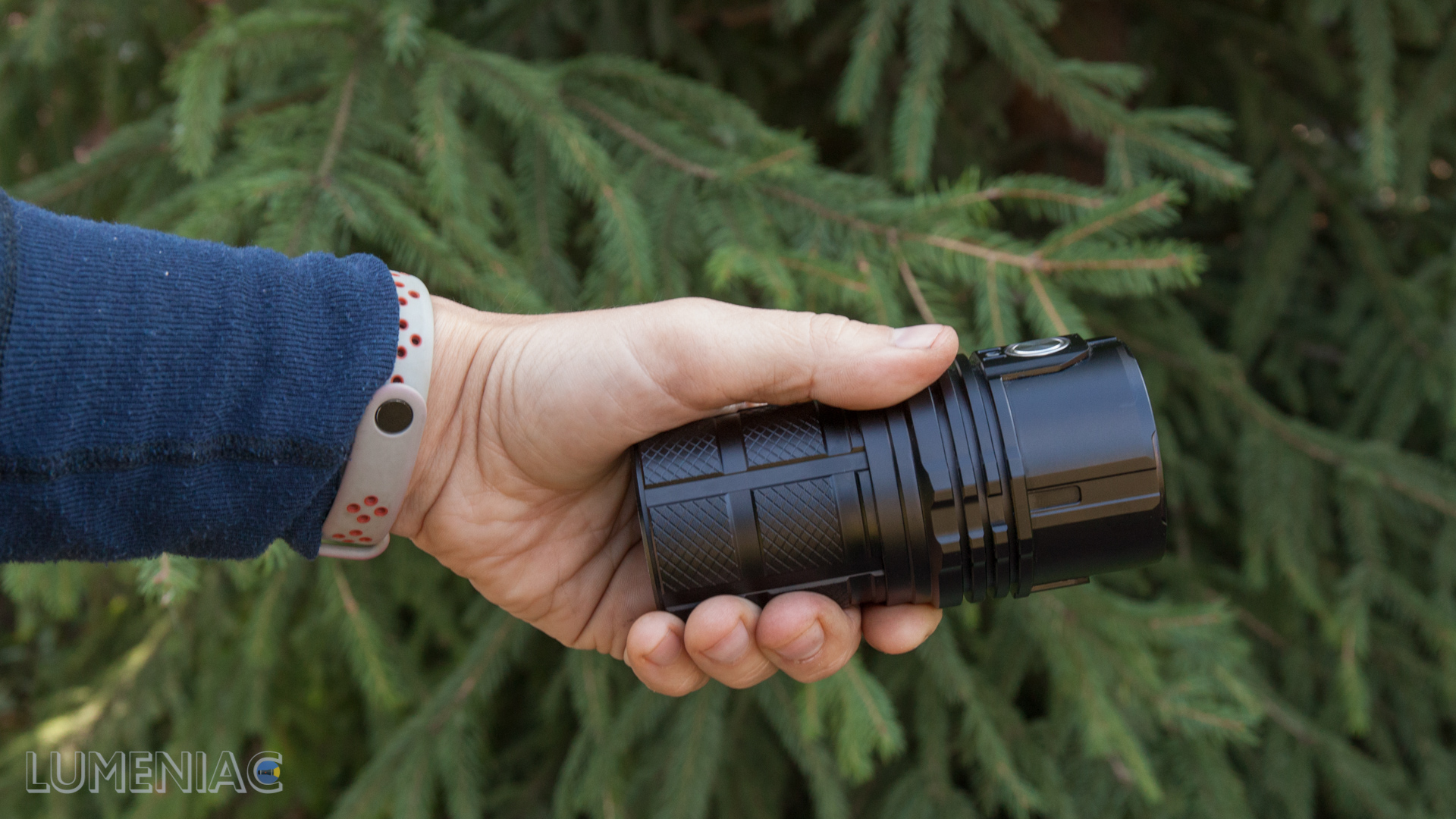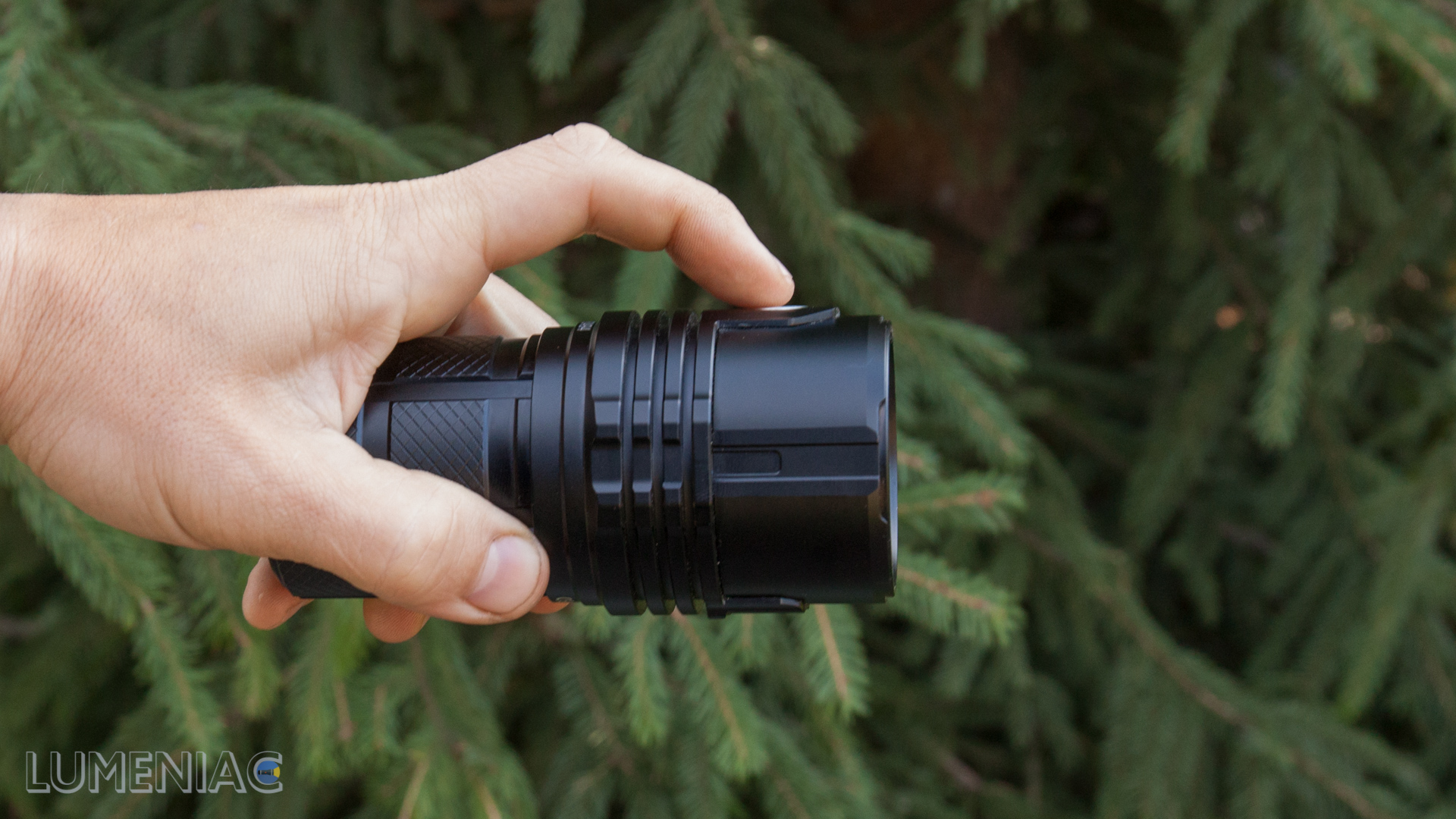 The head is, in fact, half the size of flashlight, but it cannot be called massive.
The cooling fins are deep enough, but dont overestimate their effect. In order to effectively dissipate heat in maximum mode only with coooling fins, flashlight should be the size 8*18650 powered models, no less. But in lower modes, they should definitely help.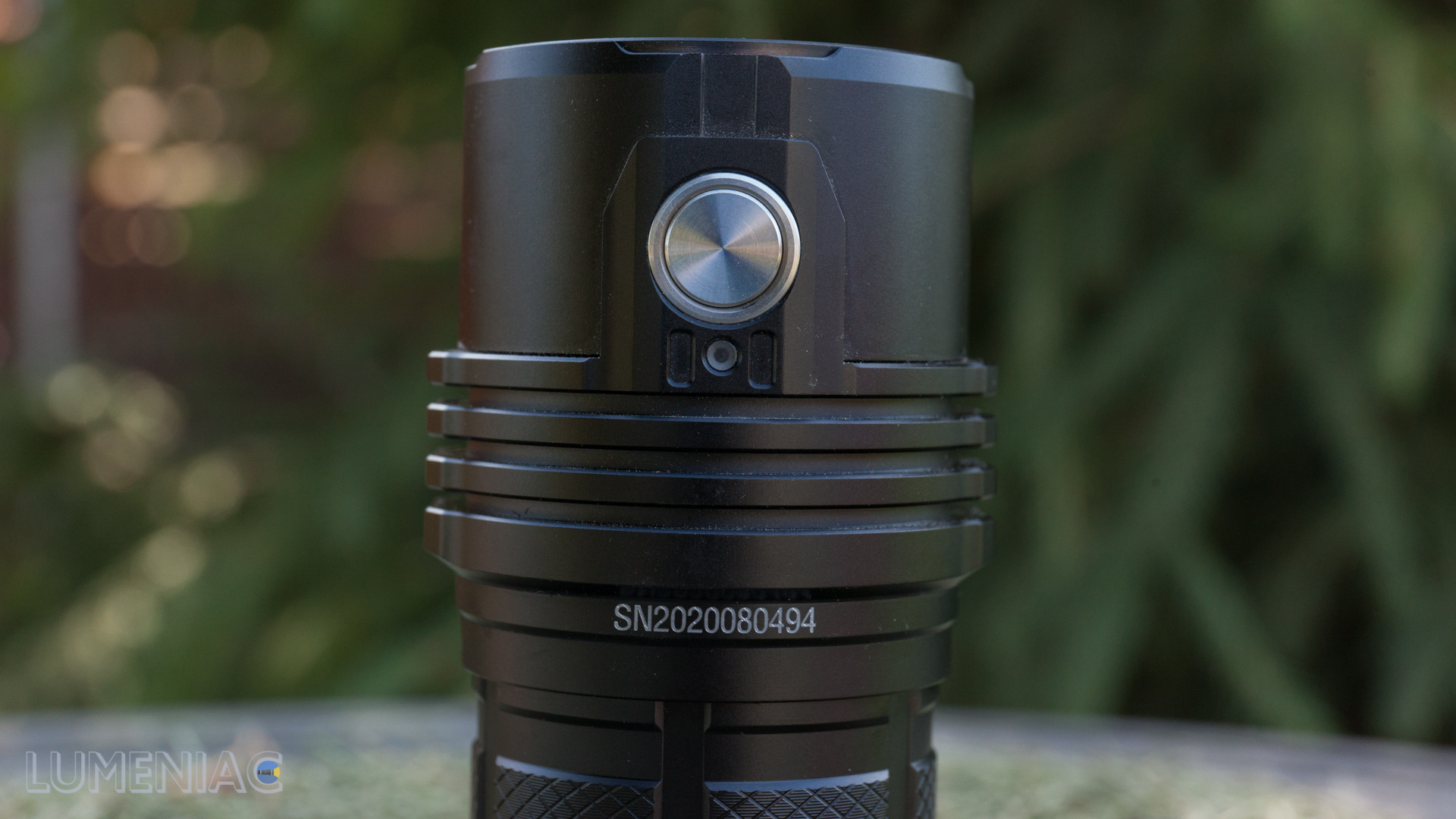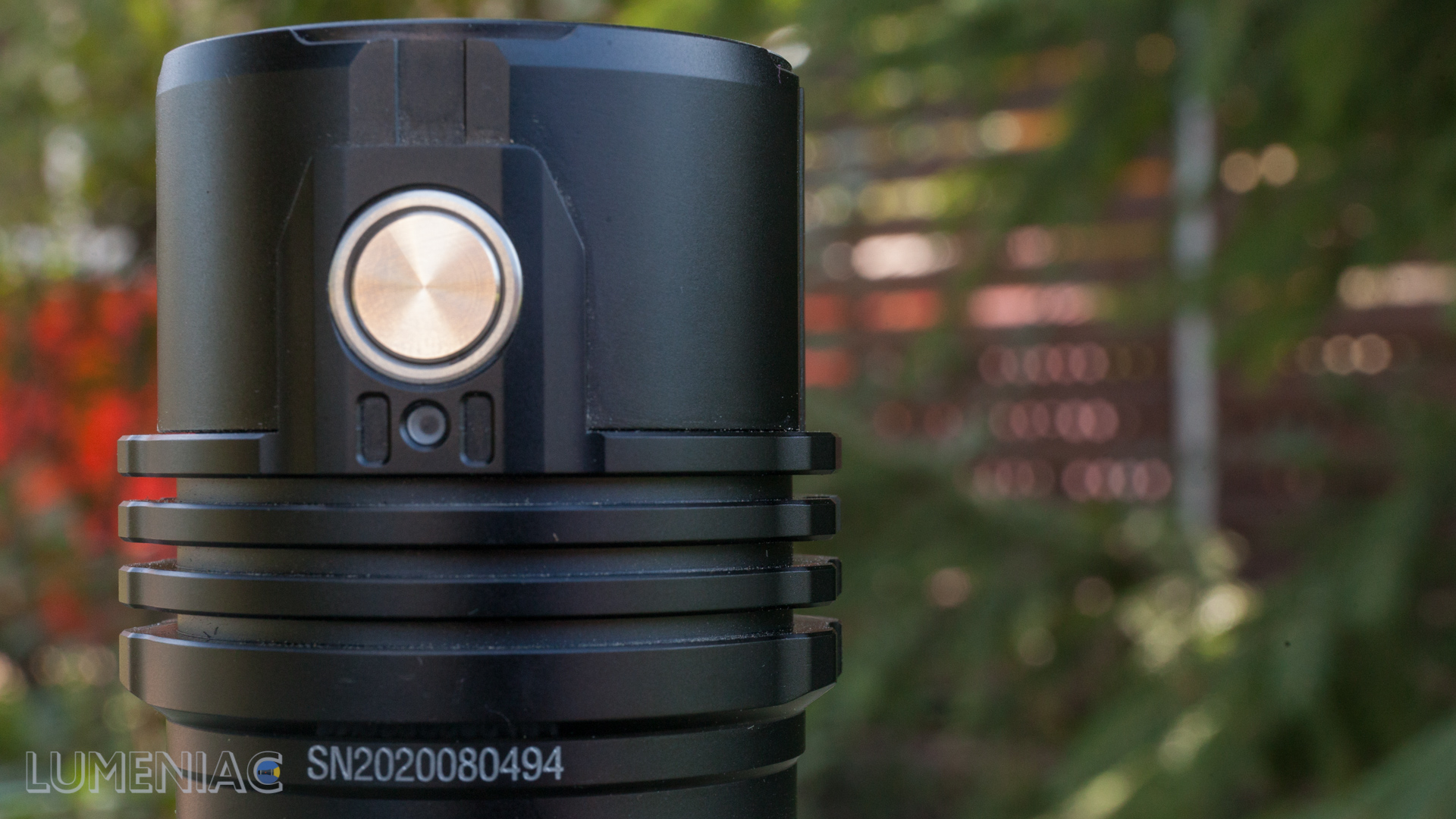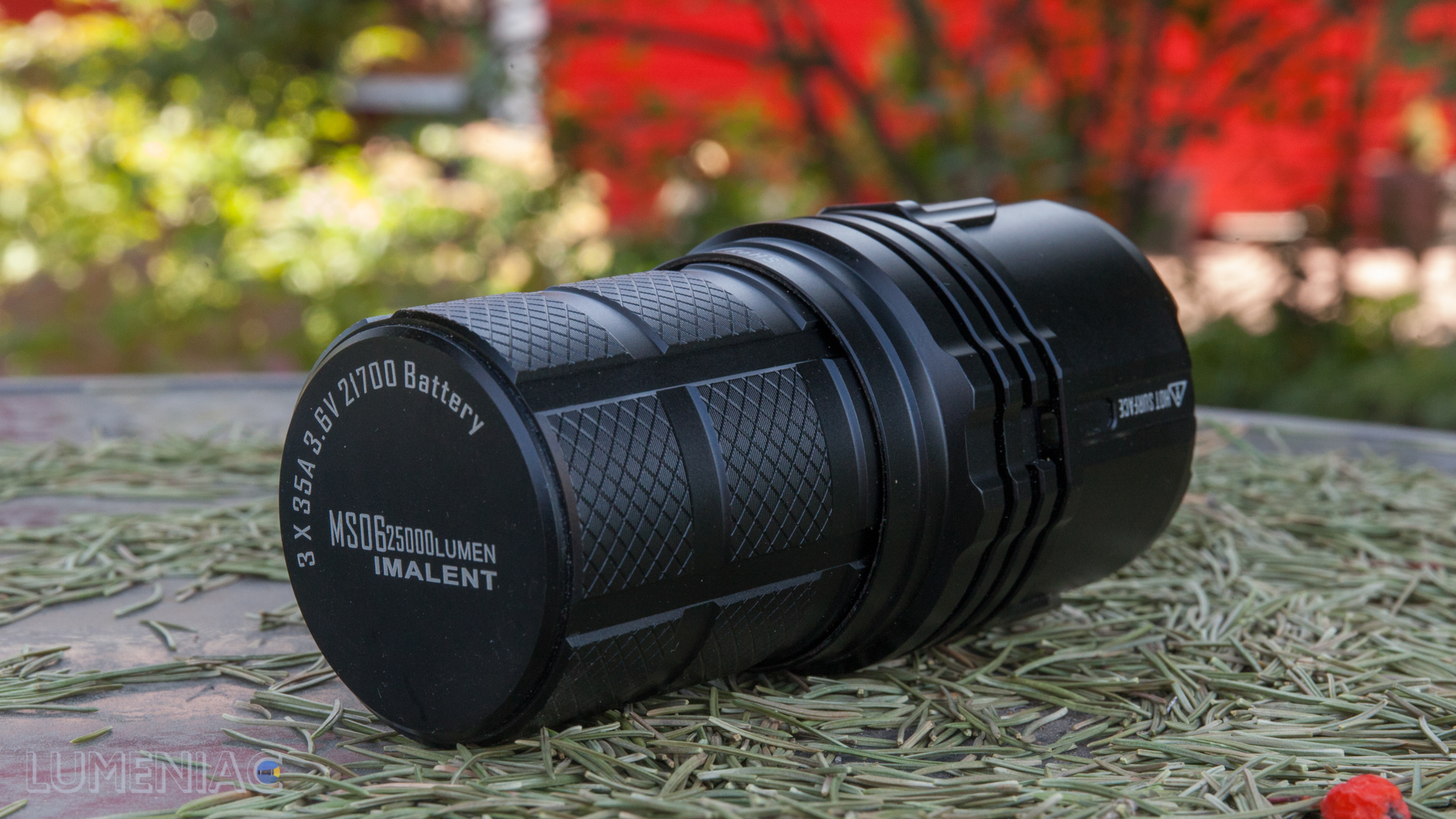 There is also a lanyard hole.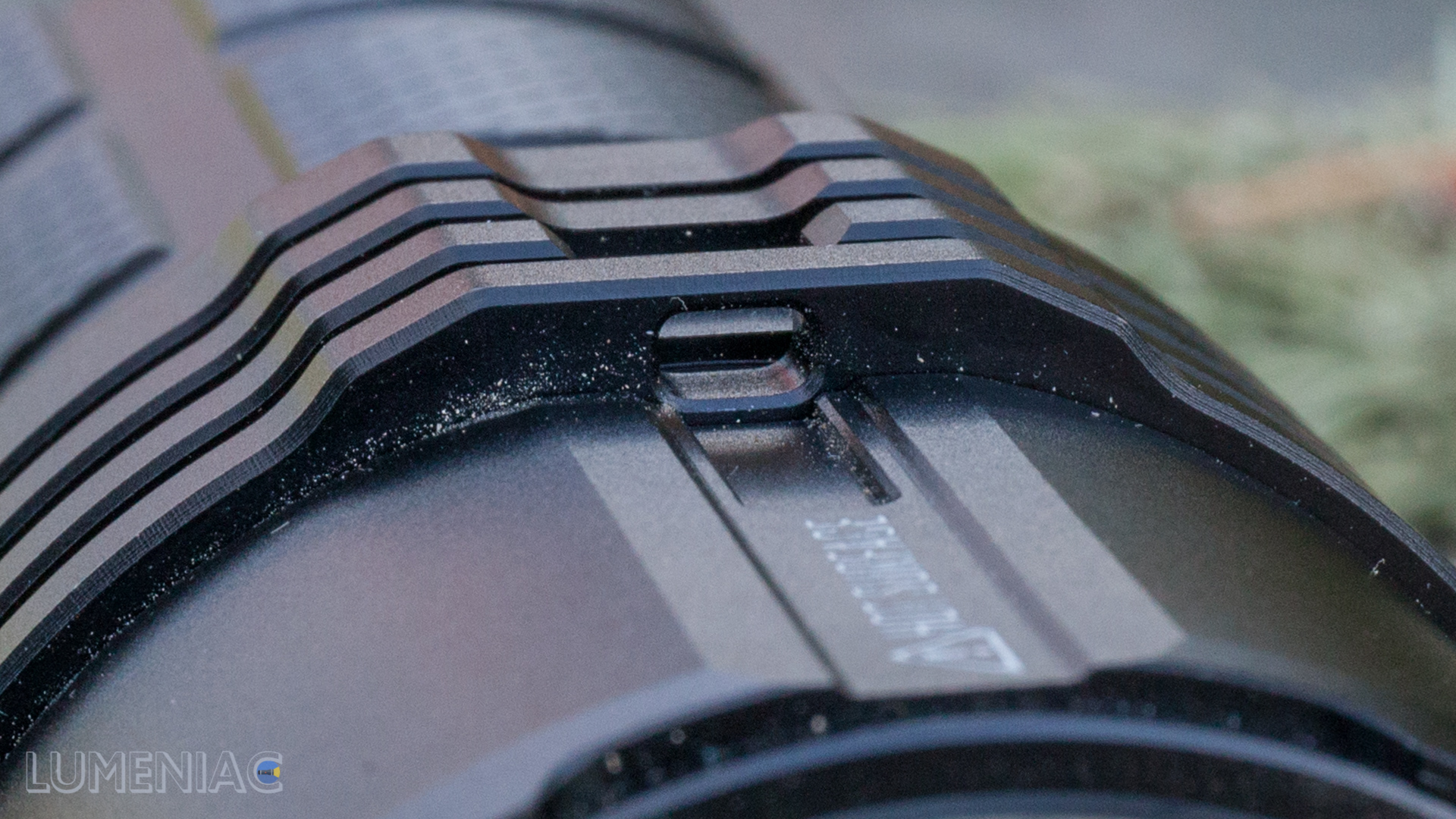 The button does not stand out in any way from the body, therefore, personally, it is rather inconvenient for me to search button blindly. Fortunately, there is a switchable indicator right below it, you can navigate by it. It also word as simple charge indicatior..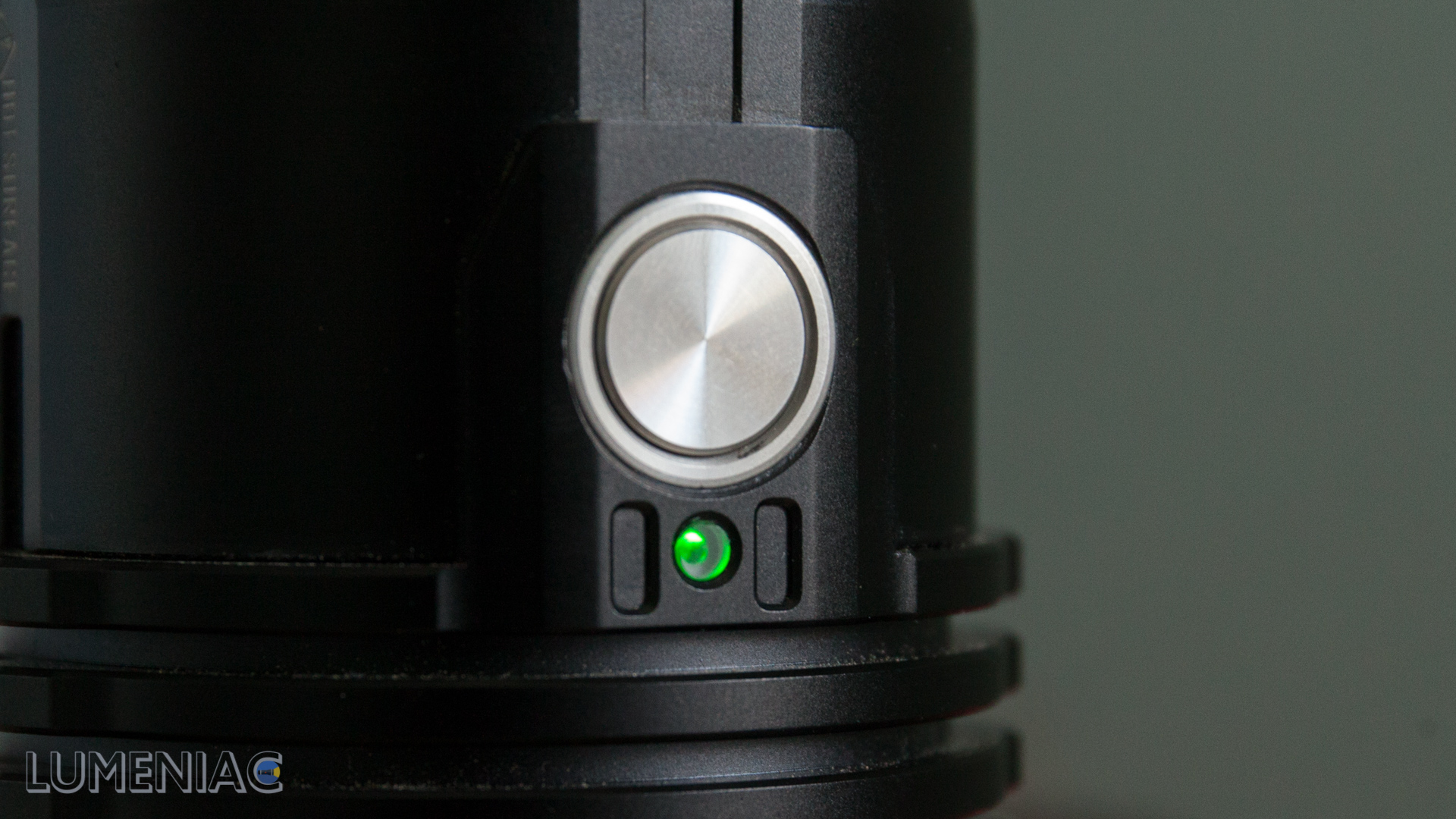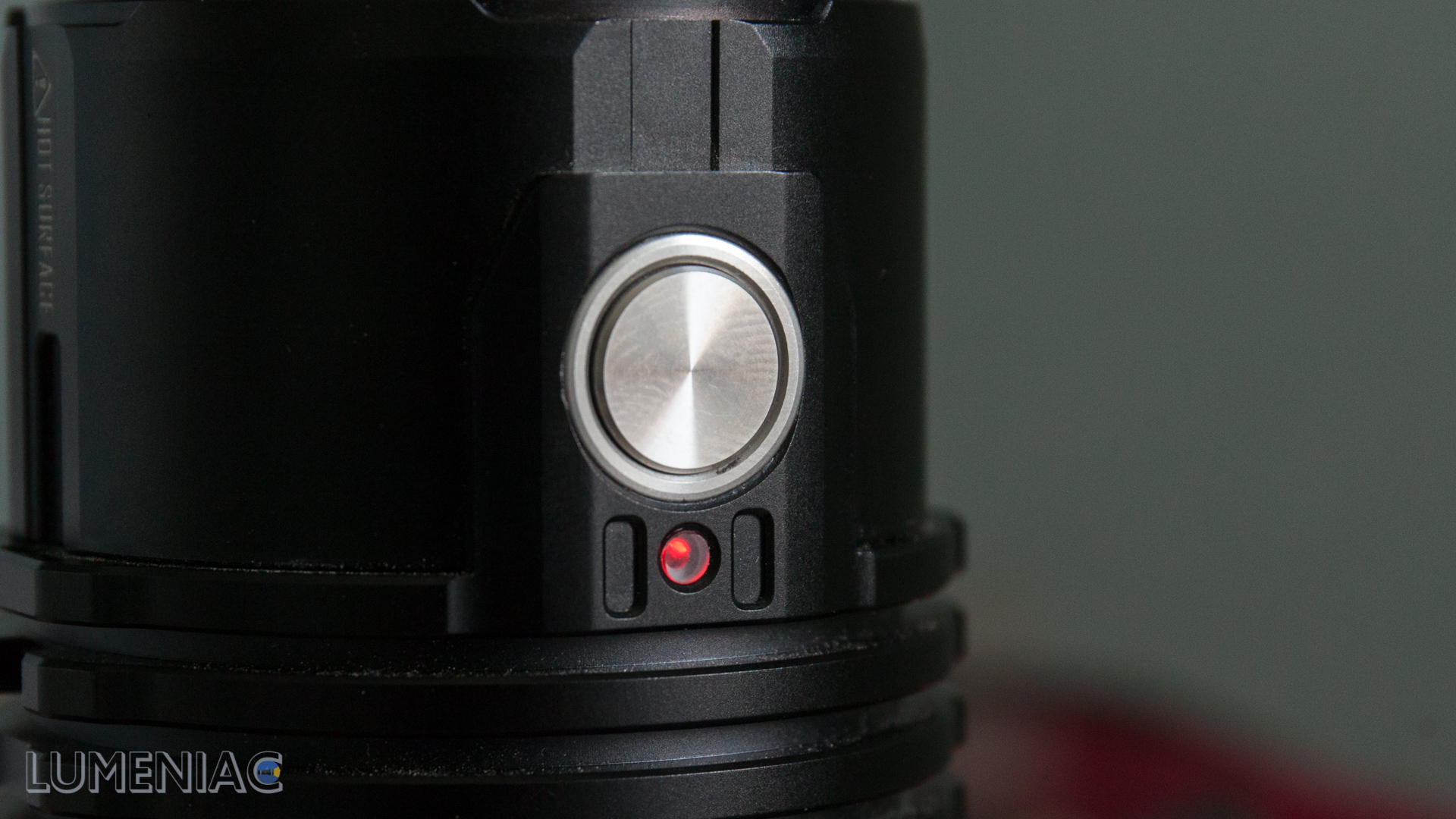 Charge connector is Imalent proprietary one and, as usually, is located on the side opposite to the button. Charge current of 2A. A full charge takes about 6 hours. It does not provide any advantages over Type-C other than space saving. I would have preferred the much more versatile latter, and the charging current could be raised to 3A.
The native contact block is designed in such a way that it can only be attached in the correct position. If turned upside down, then it will not touch both contacts. Well done.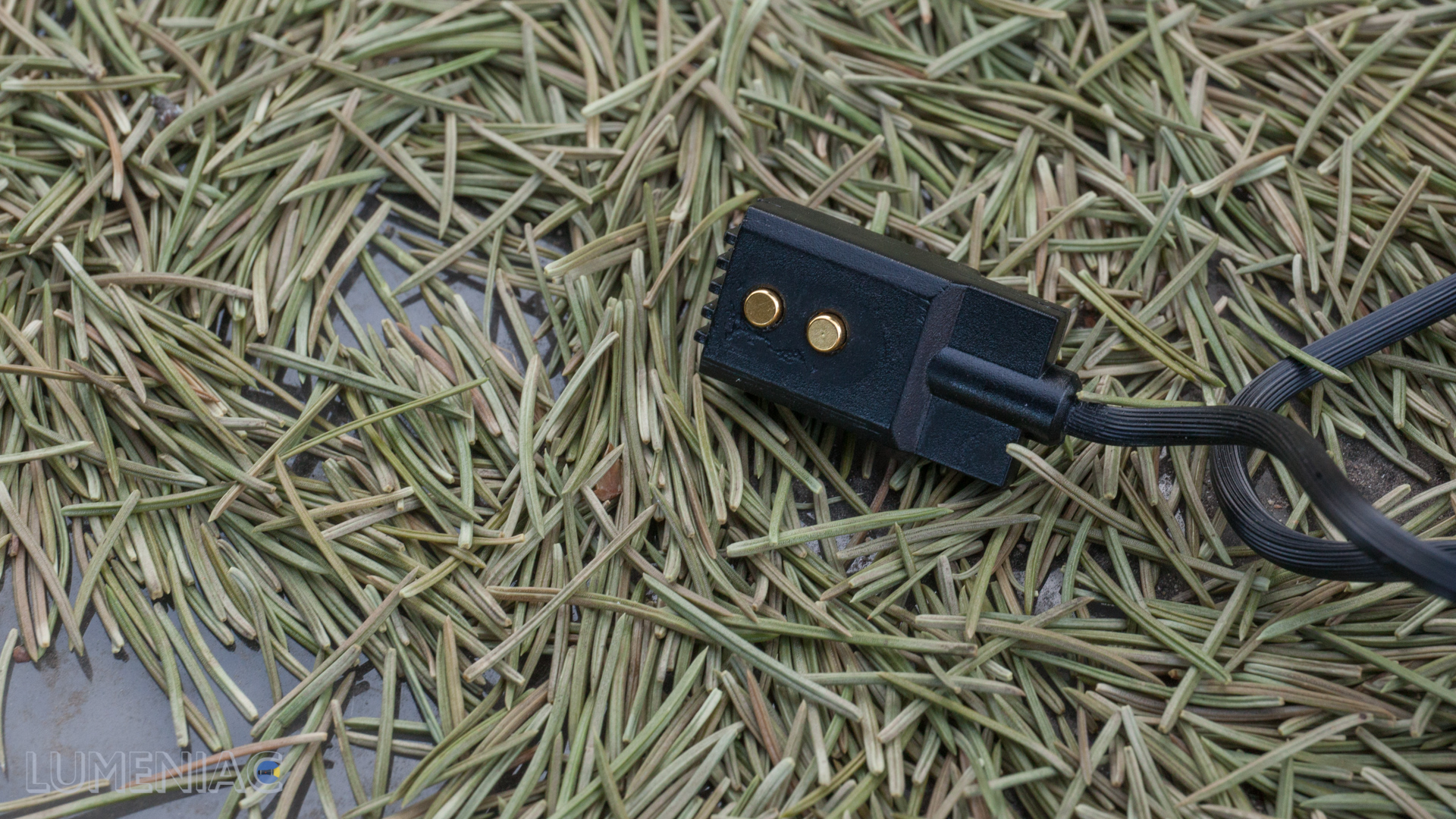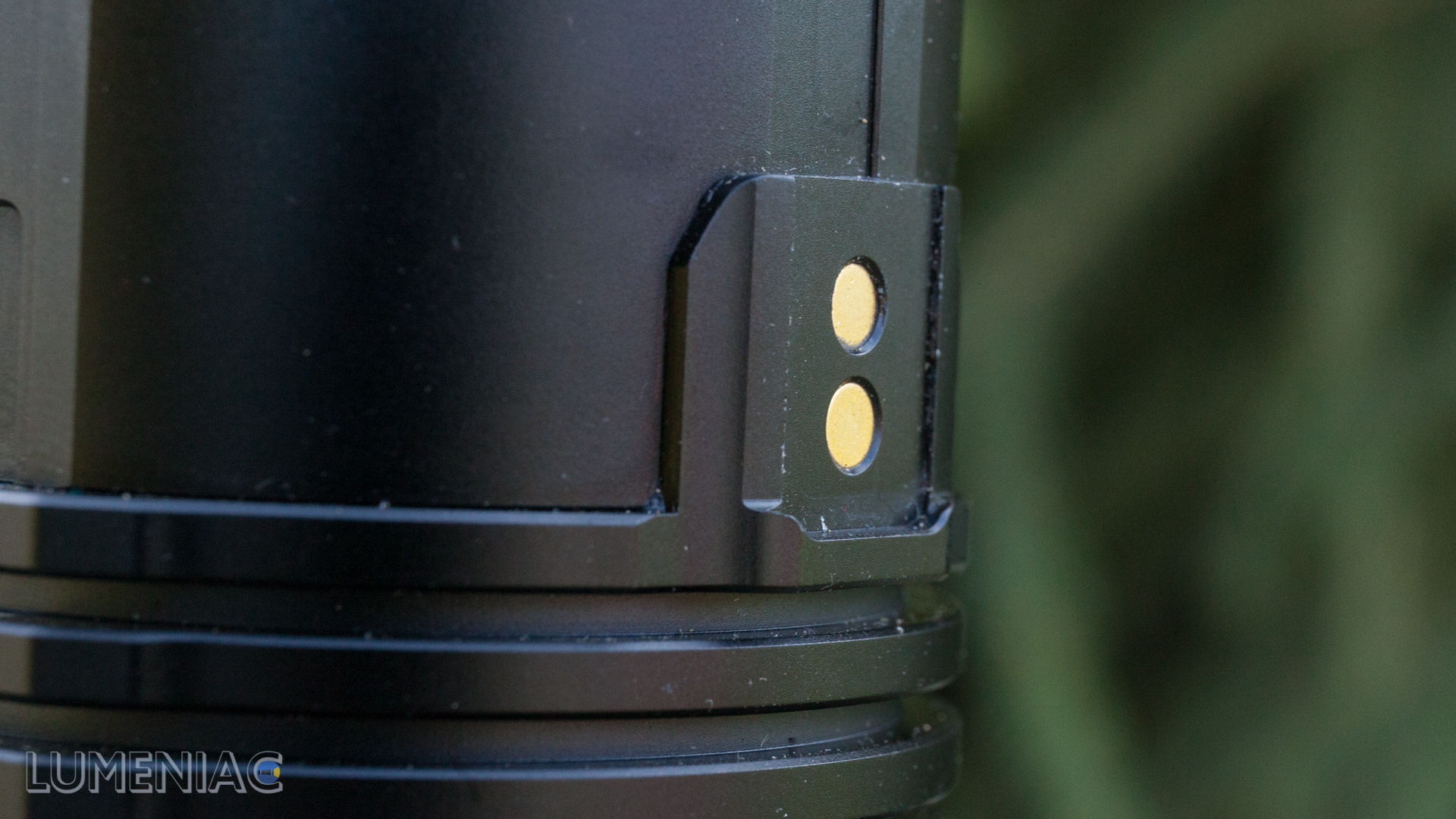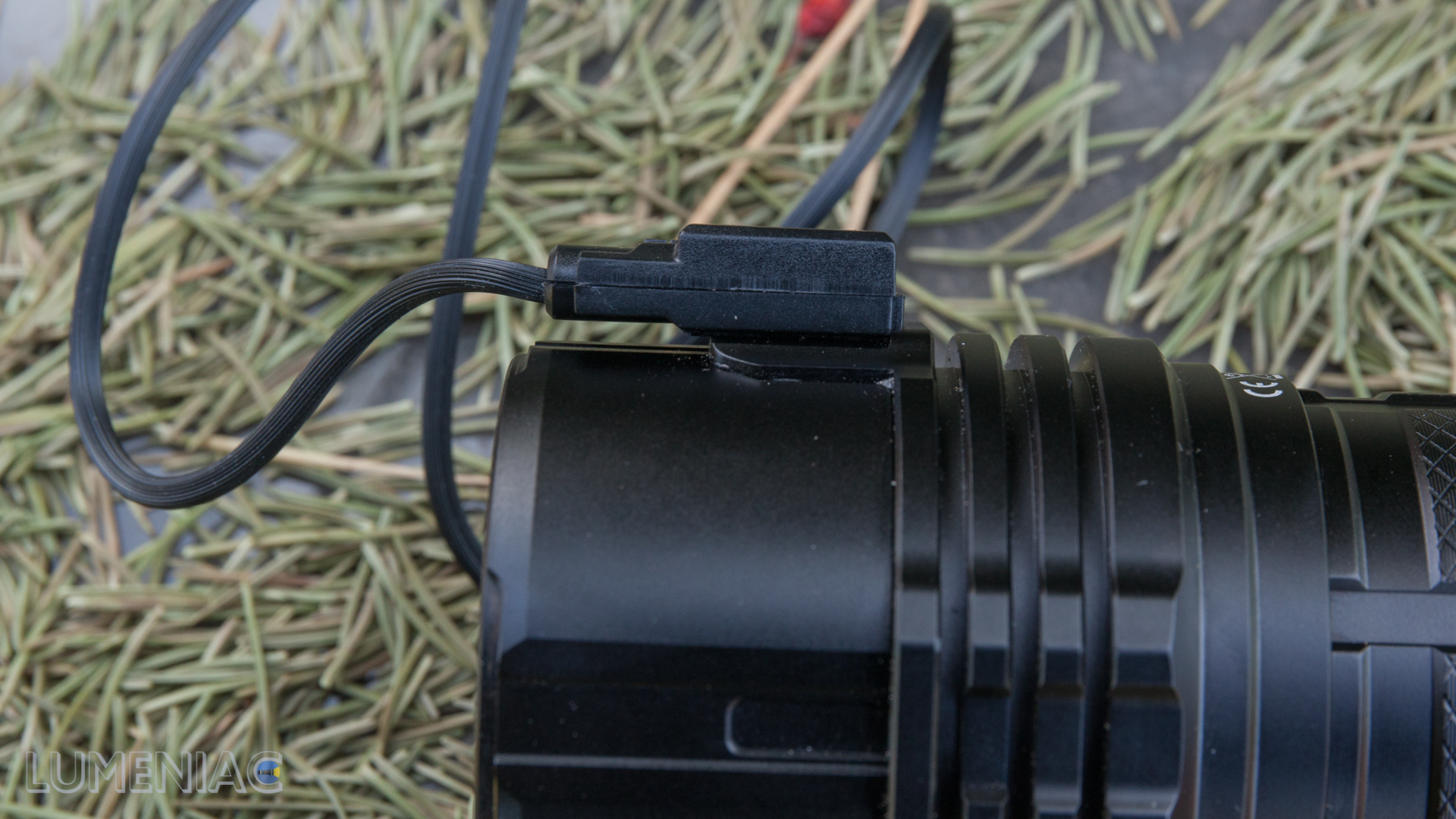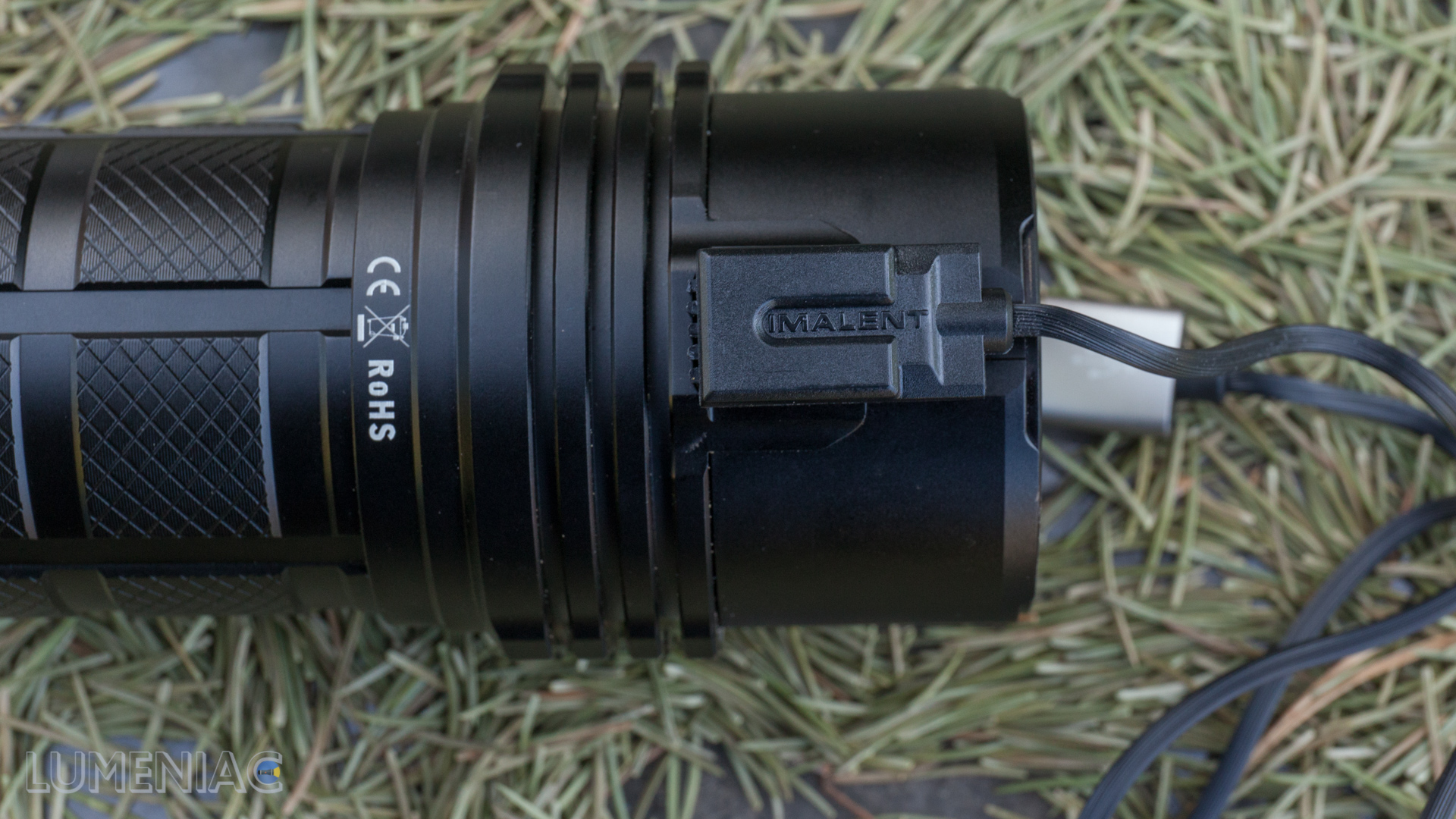 There are 6 XHP70.2 LEDs located at the bottom of the shallow deep reflectors. Glass is antireflection coated.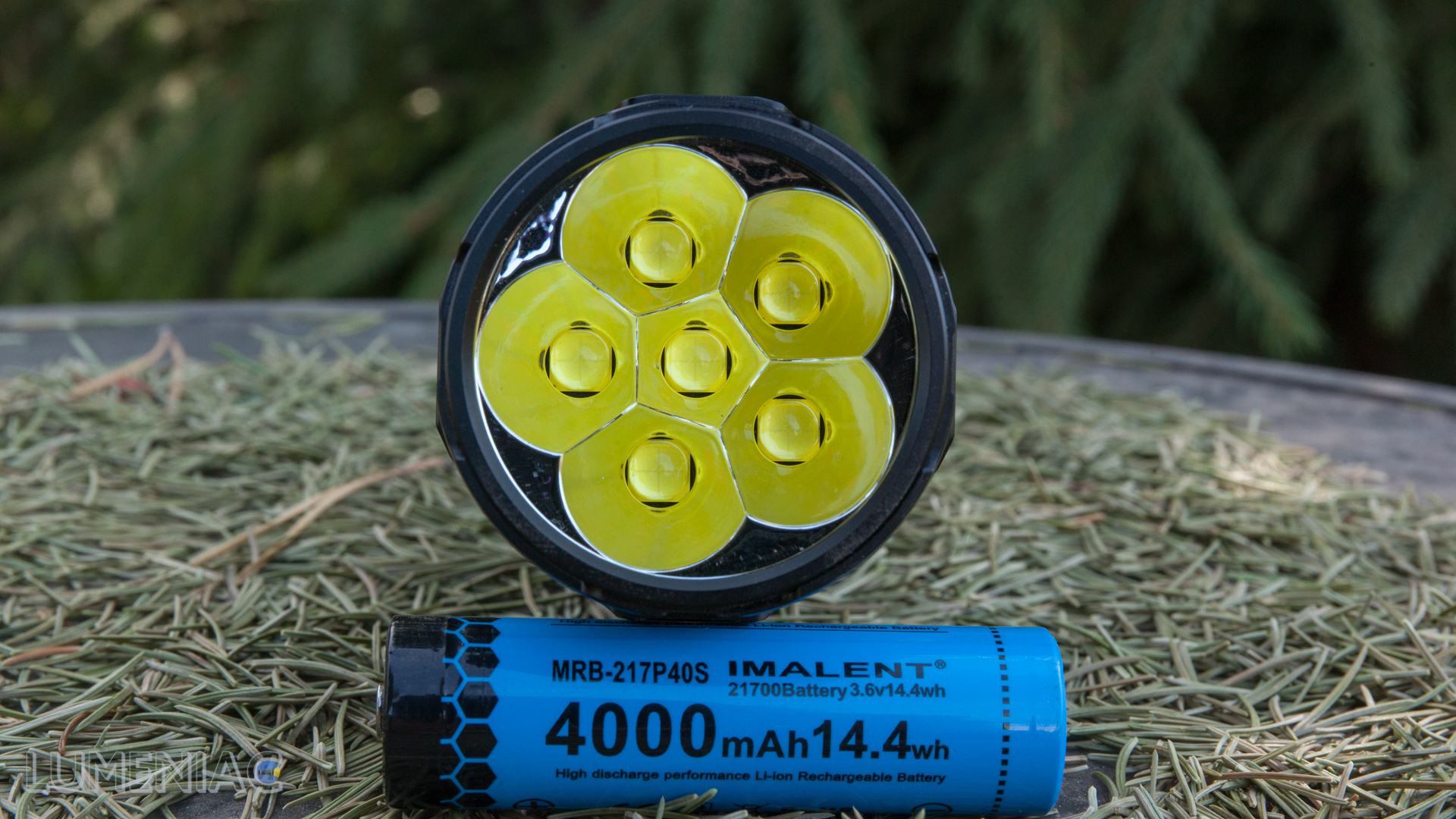 Let me remind you that promo pictures say that this is a tactical flashlight. Well, there is no teeth at all. Sort of strange for tactical flashlight, ain`t it? May be just because it hase form and weight of hand grenade?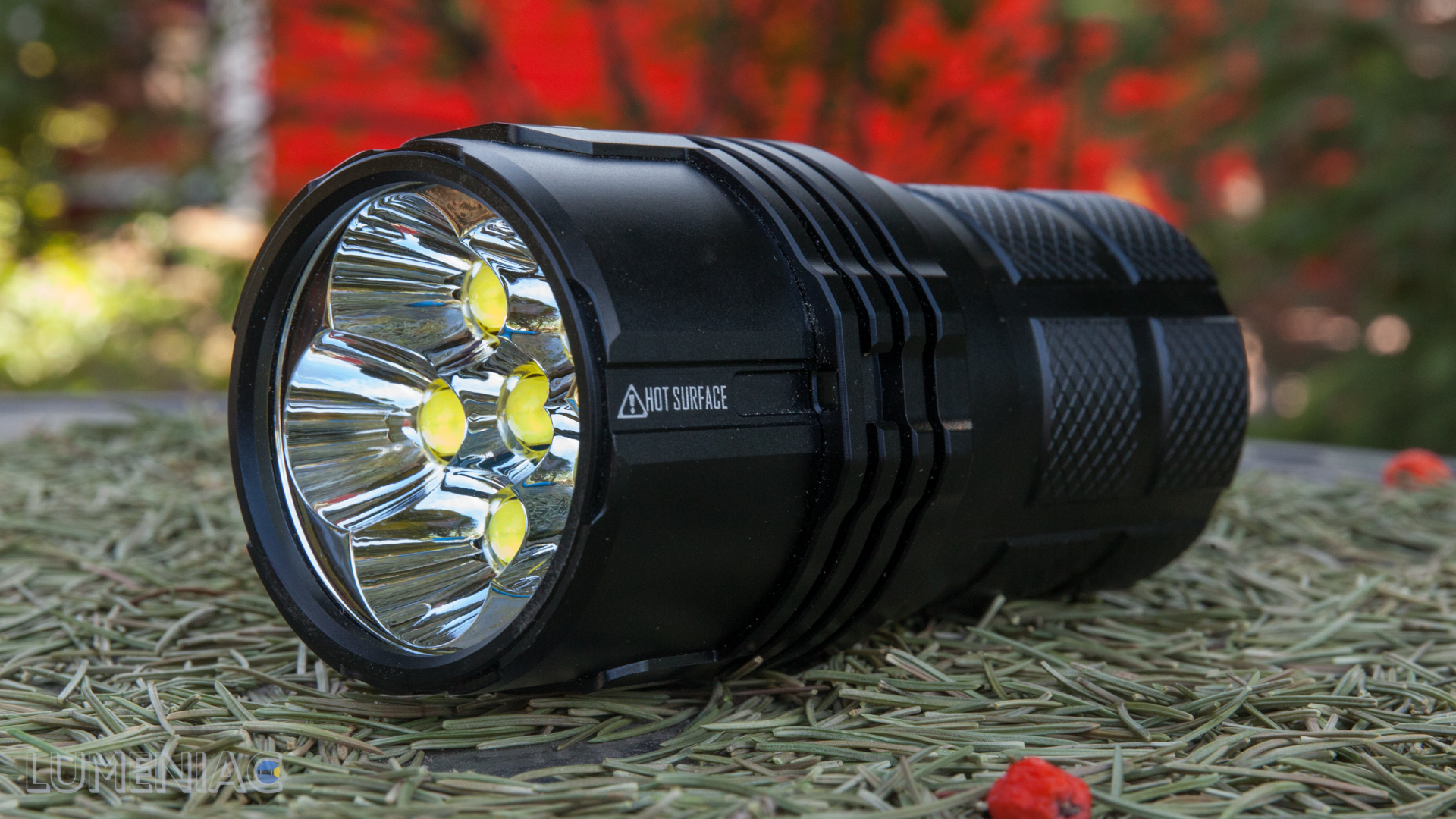 Overall, the flashlight looks good. I did not see any obvious flows in the manufacture. I would only improve the button, make it more embossed, concave, with the indicator in the center. And, of course, I changed the proprietary charging cable to type-C.
UI
From OFF:
Press and hold to:
3 seconds: turn on / off the indicator under the button
One click: ON in the last used mode (except for turbo strobe)
2x clicks: Turbo
3x clicks: LOW
4x clicks: (un) -lock
FROM ON:
Press and hold: switch modes L0W-> HIGH
1x click: OFF
2x clicks: Turbo
3 clicks: LOW
Low voltage warning:
When the battery level is below 3V, the indicator will flash twice a second.
Strobe
You can activate the strobe by entering Turbo mode (double click) and double clicking again. Press the button once to exit strobe mode.
Lock mode:
When clicked four times from the off state, the indicator will blink three times and then enter lock mode. In this mode, the indicator light
Lights up when the button is pressed. To unlock the light, click again four times, or disconnect and reconnect the battery.
In general, much better than expected. There is generally everything you need, I personally do not know what else to add. I`m sure, will please even BLF audience.
How Imalent MS06 illuminates.
Cold white light, of course. A warmer and more pleasing to the eye light would harm the main trump card – brightness.
Even if by some miracle I managed measure consumed current, I still would not be able to get normal numbers higher than 4A. So I will refer to the 1lumen
review
. He had did great job on this.
Low: 439mA \ Middle Low: 1.66A \ Middle I: 4.06A \ Middle II: 7.44A \ High: 10A \ Turbo: 60A
But I was able to measure rintime. And in some ways they are good, while are not in others.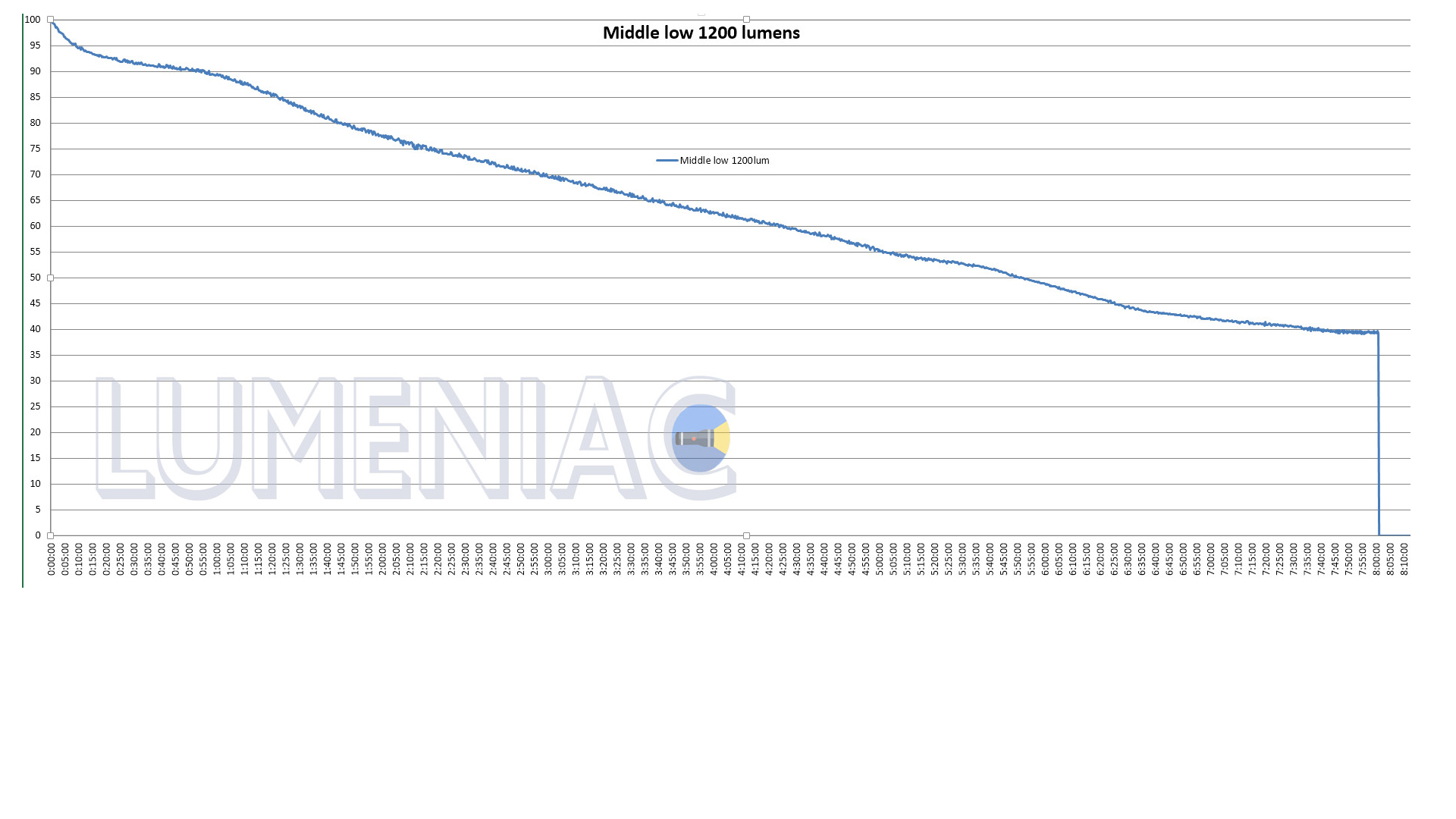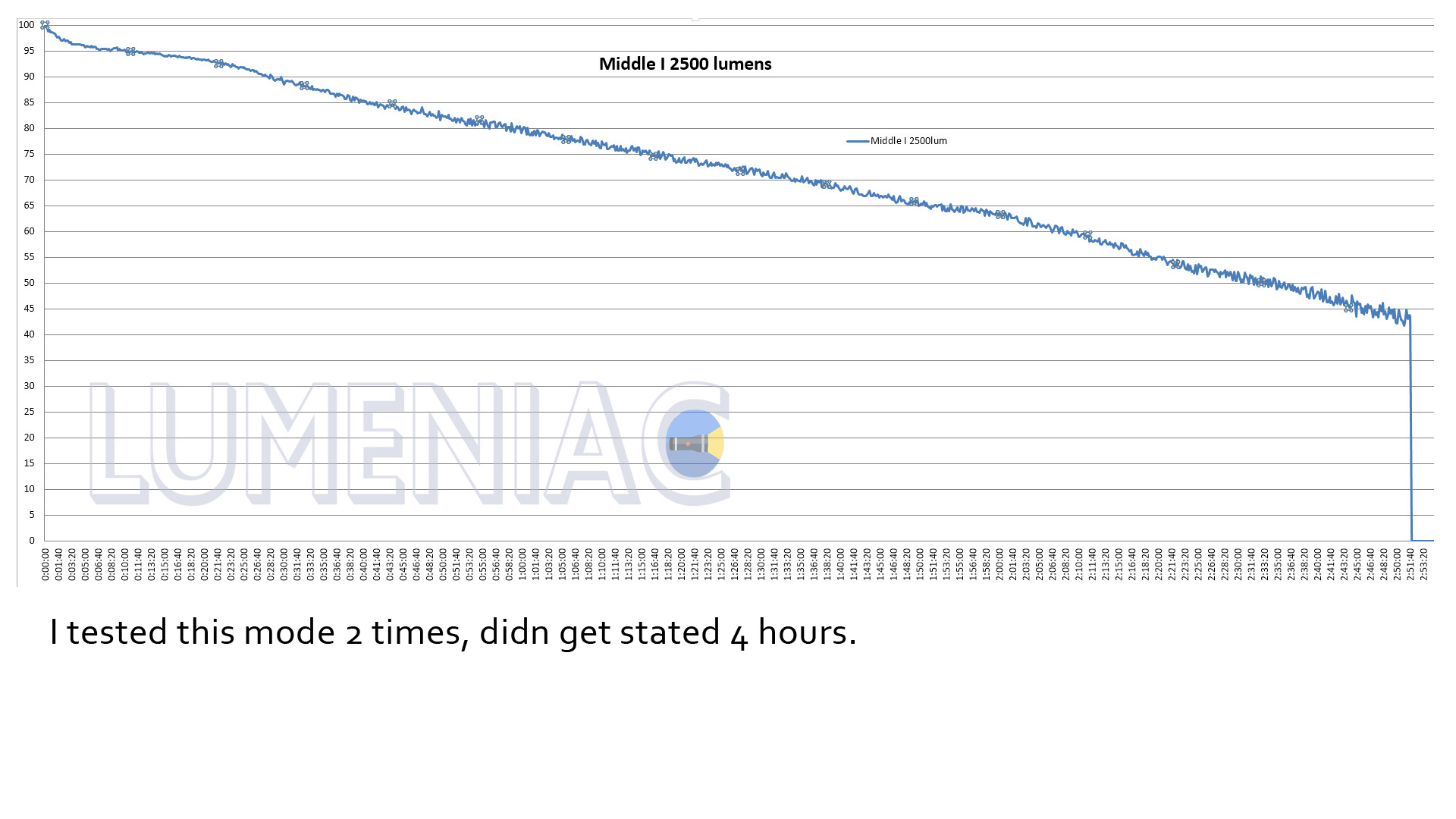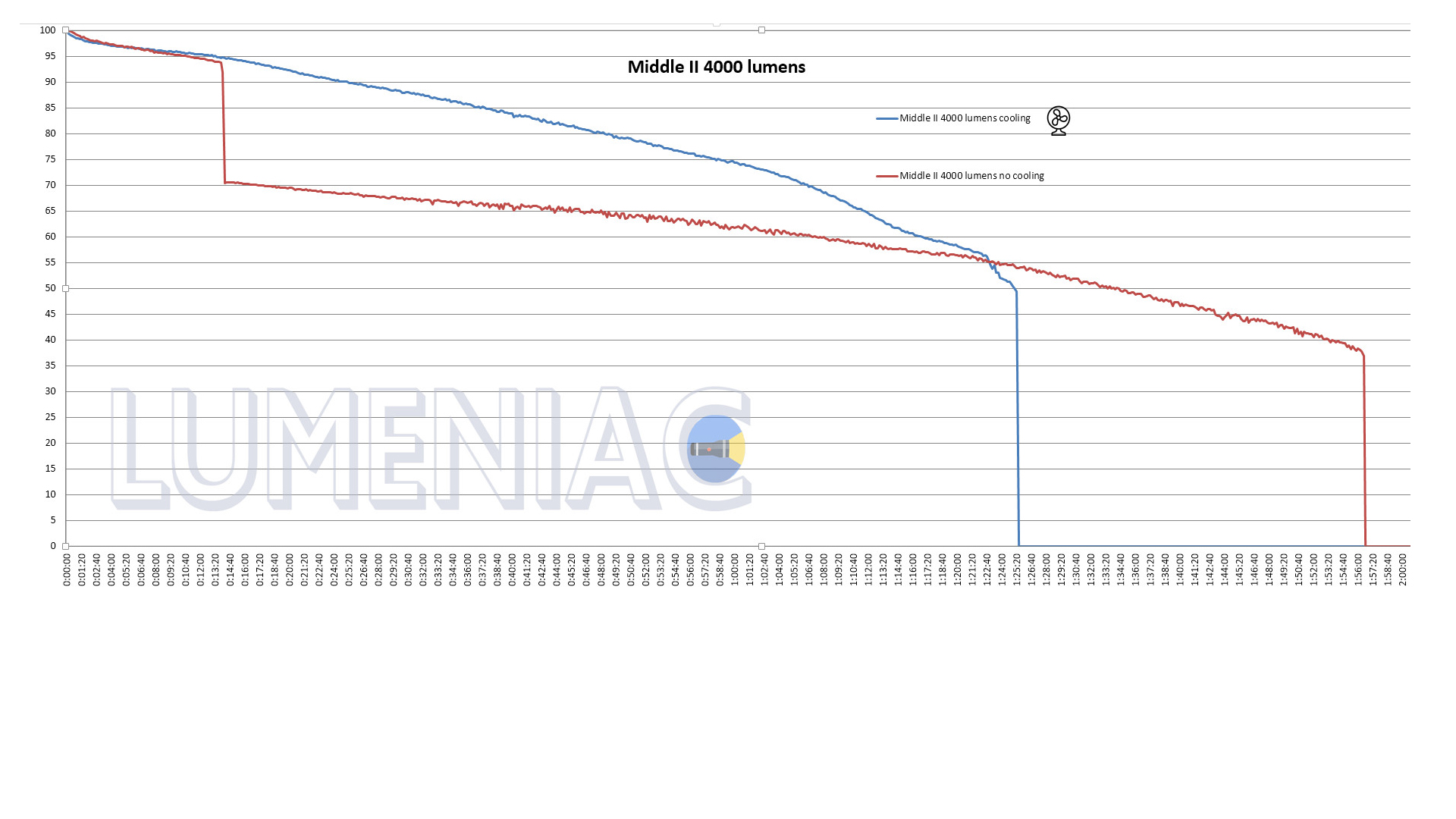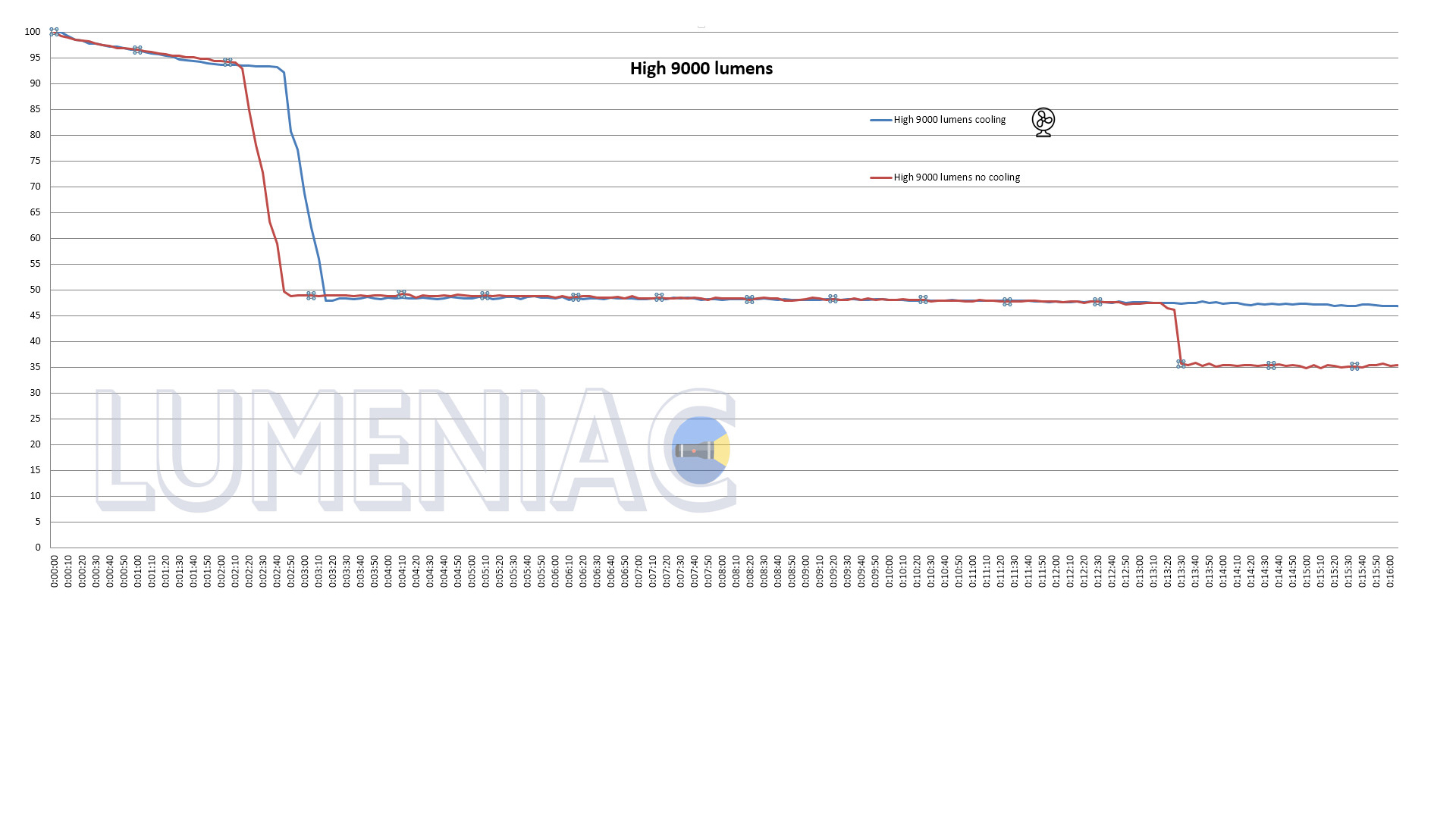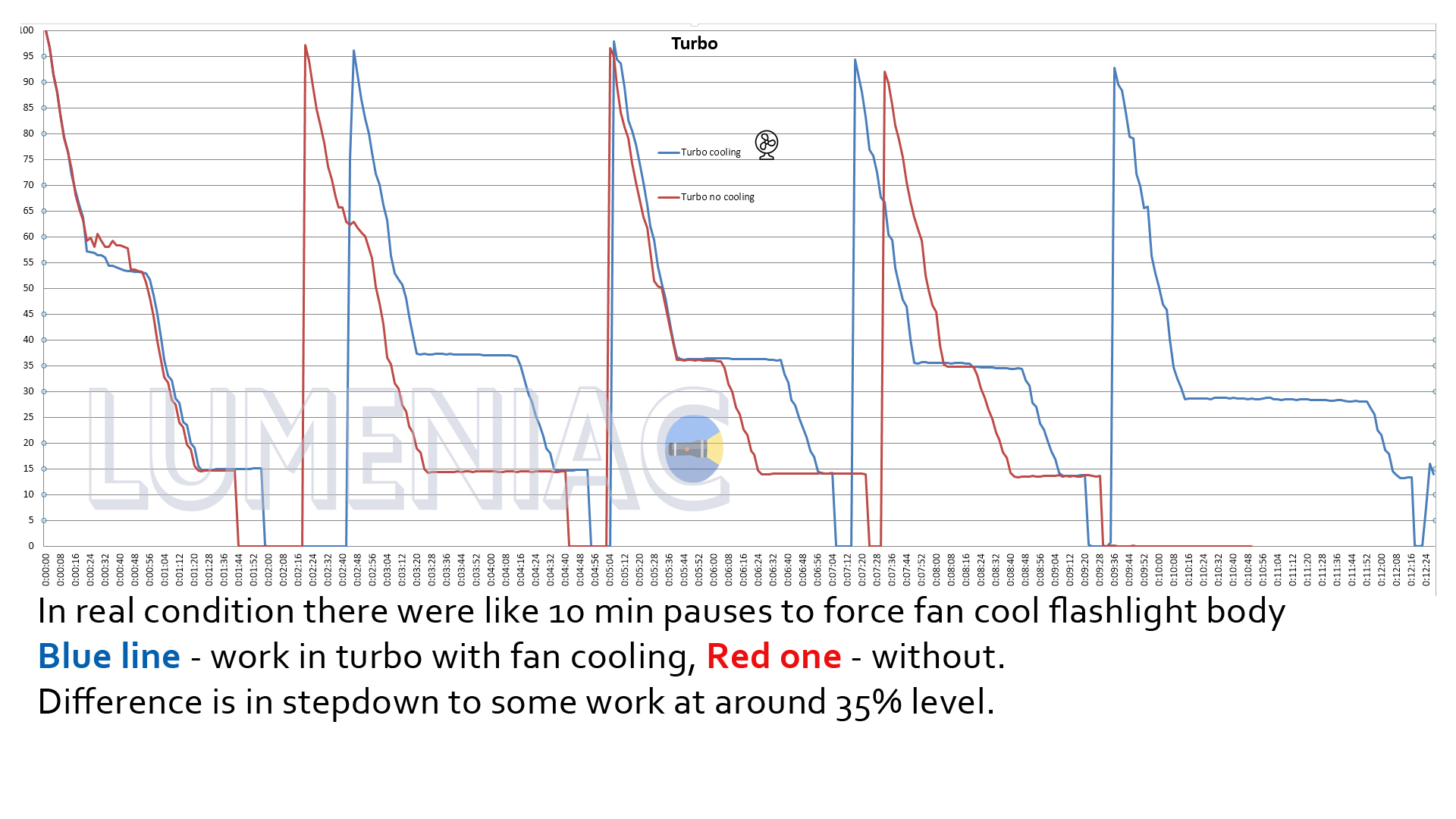 Technically, all of them, except for MID I, correspond to the declared runtime. well, I'm ready to forgive the sharp drop in brightness in Turbo – it's clear that the heating there is lightning fast. But why there is no full stabilization? This was not a problem for DX80, but the next bright models Imalent MS12 and MS18 showed the same cheap stabilization as here.
Well, then the good things:
a) In all modes except for turbo, eyes, of course, will not notice such a drop in brightness, especially in modes below MIDII. The drop in brightness will be sooooo smooth and the eye will adapt to it. And, frankly, the turbo also turned out to be visually surprisingly even in brightness before dropping to some very low level.
b) I expected the turbo to run at maximum brightness only once with fully charged batteries. But no, I achieved this brightness at least 4 times! (there was certain problem with 1st batch of MS06 with re-activating turbo, now problem is fixed)
c) Fan cooling gave a result. Clear seen in HIGH mode, where it added 30 seconds to the maximum brightness for this mode, and then after a drop in brightness it worked without stepddown at all, while the brightness later dropped by another 10% without cooling.
And less obvious in the turbo, where the brightness dropped at the same rate (by 40% in 15 seconds). But then it slowed down at the level of about 35% and worked in it for some time.
The last two points.
a) Despite the significantly lower brightness, High with its 2.5 minutes is much more dangerous in terms of burns than Turbo, which dives at the bottom for a minute. The flashlight really heats up, and, if you decide to play with HIGH mode, then holding the flashlight with your bare hands will be frankly uncomfortable. There is nothing surprising here.
b) I cannot but note that the same Zeroair measured 16 kilolumens instead of 25, and 7 instead of 9. And this gap between the real and the declared brightness did not surprise me at all – peoples mesured the same for MS12 and MS18. On the other hand, 60A in a turbo from 1lumen gives 10A per XHP702.LED, which seems to be quite consistent with the declared figures. In short, in the absence of an expensive integrating sphere, I can only guess about the real numbers. But the main thing is that the flashlight is exceptionally bright in general, and just crazy bright for its size.
Well, okay, let's look at the most interesting. Light.
How does the Imalent MS06 shine?
There is no throw, in general, which is not surprising. At maximum brightness, the flashlight effectivly penetrates a couple of hundred meters. But the flood light is very good. Of course, it can be wider. But personally, I like what it is. The side light is more than enough to see everything from the sides. At maximum brightness, the flashlight allows you to highlight everything in detail at a distance of about 200m in front and 30m from each side, literally everything. And you almost dont need to move your beam )) But at further distance brightness starts to rapidly falls. These numbers change because the brightness, as you can see in the graph, drops extremely sharply.
200 lumens in LOW are ok to illuminate path ahead of you, for working indoors, it will last for almost two days of continuous work. The rest modes will be good by themselves in the open air.
For more or less continuous use, you will have to limit yourself to MIDI. In MID II, the flashlight heats up to the point "ah,% * &, where are my gloves!" after 8-10 minutes. Not to mention HIGH. But MID I is more than sufficient in brightness for most situations at close to medium range.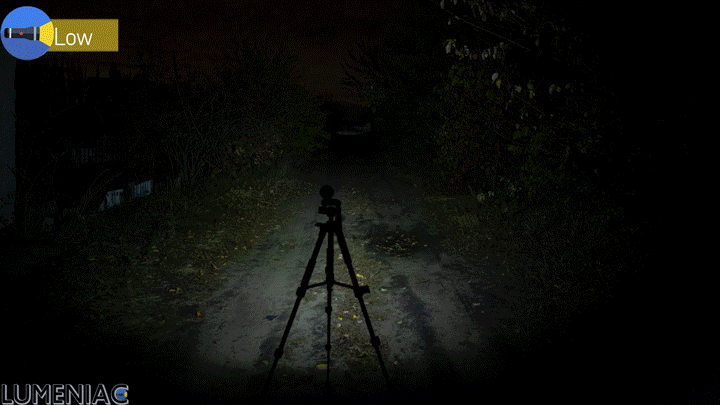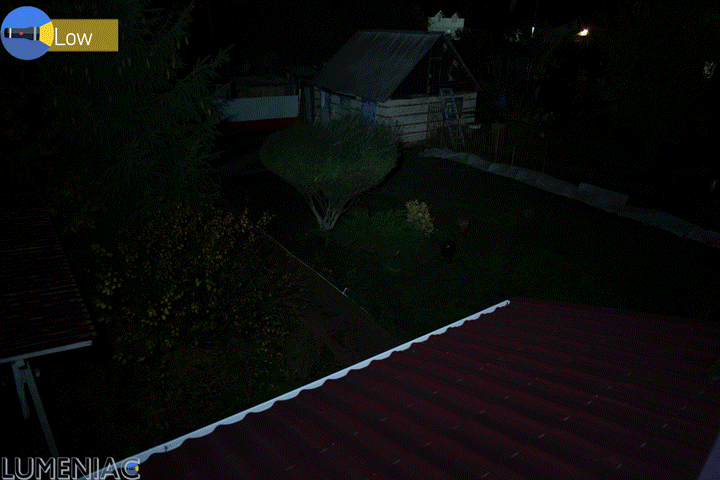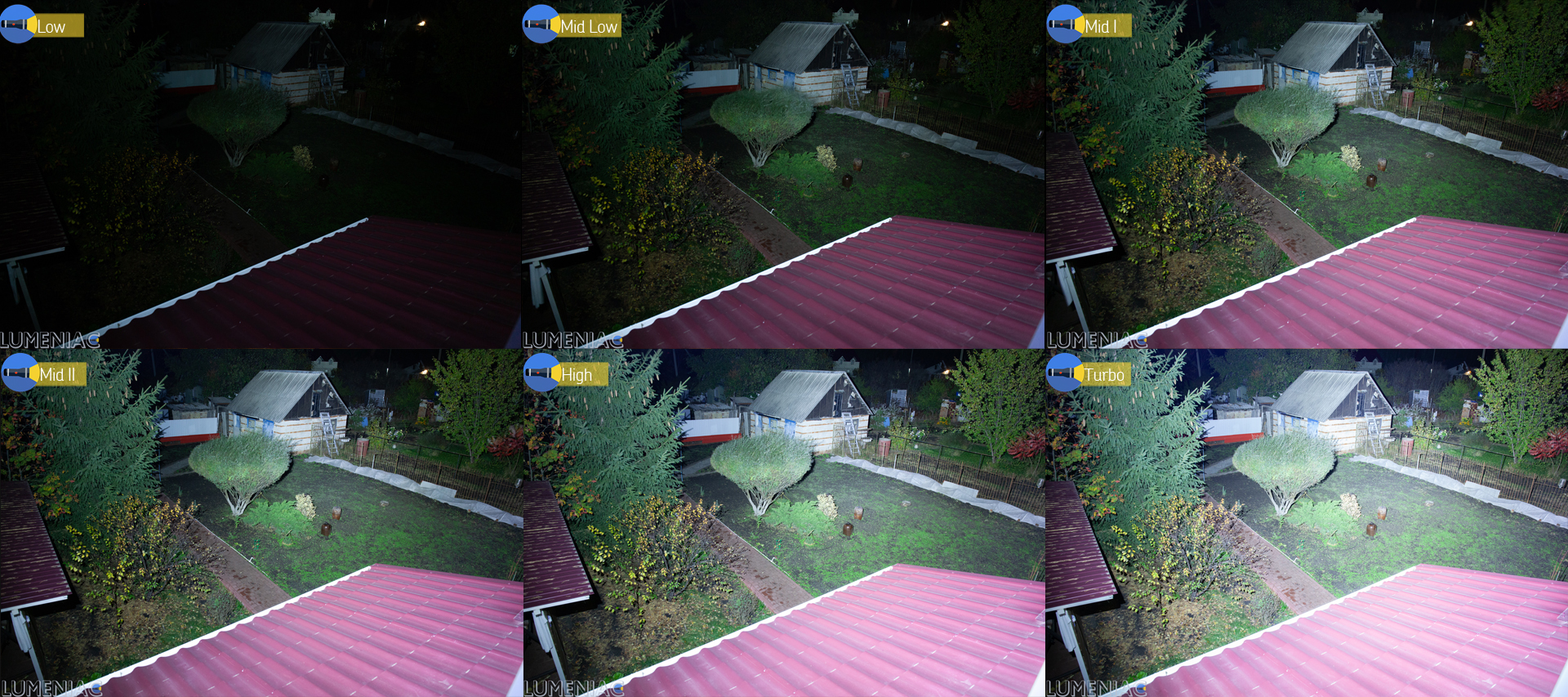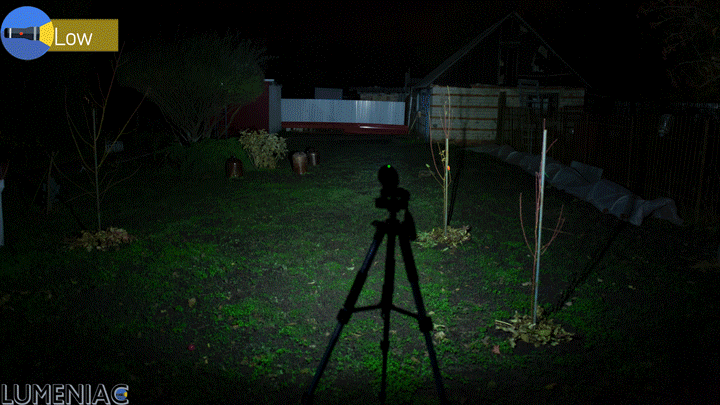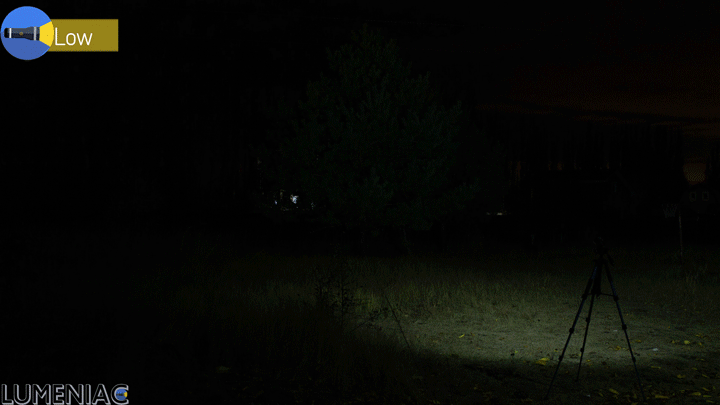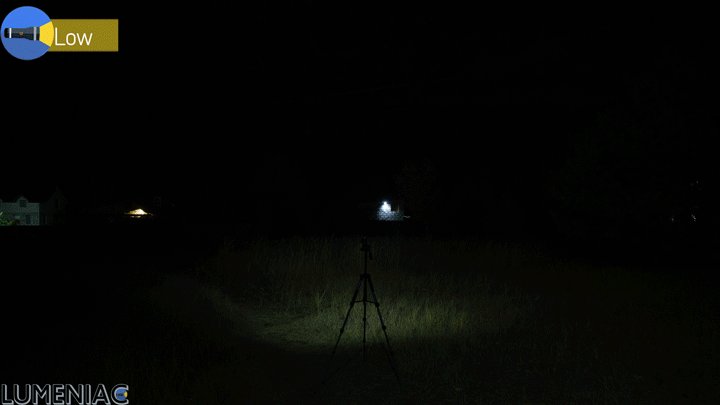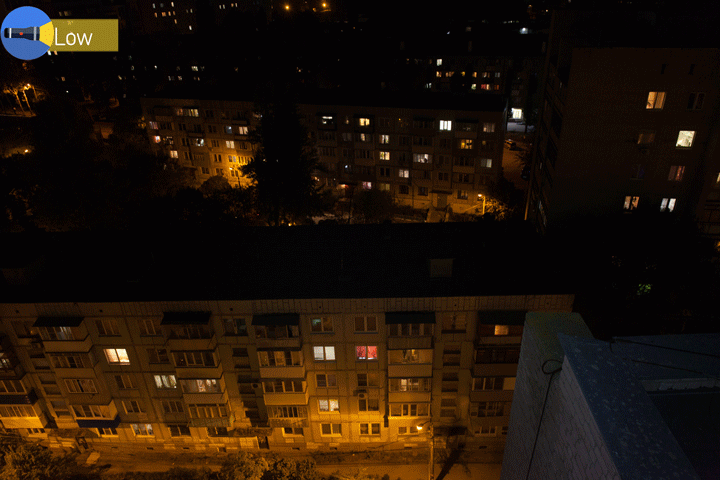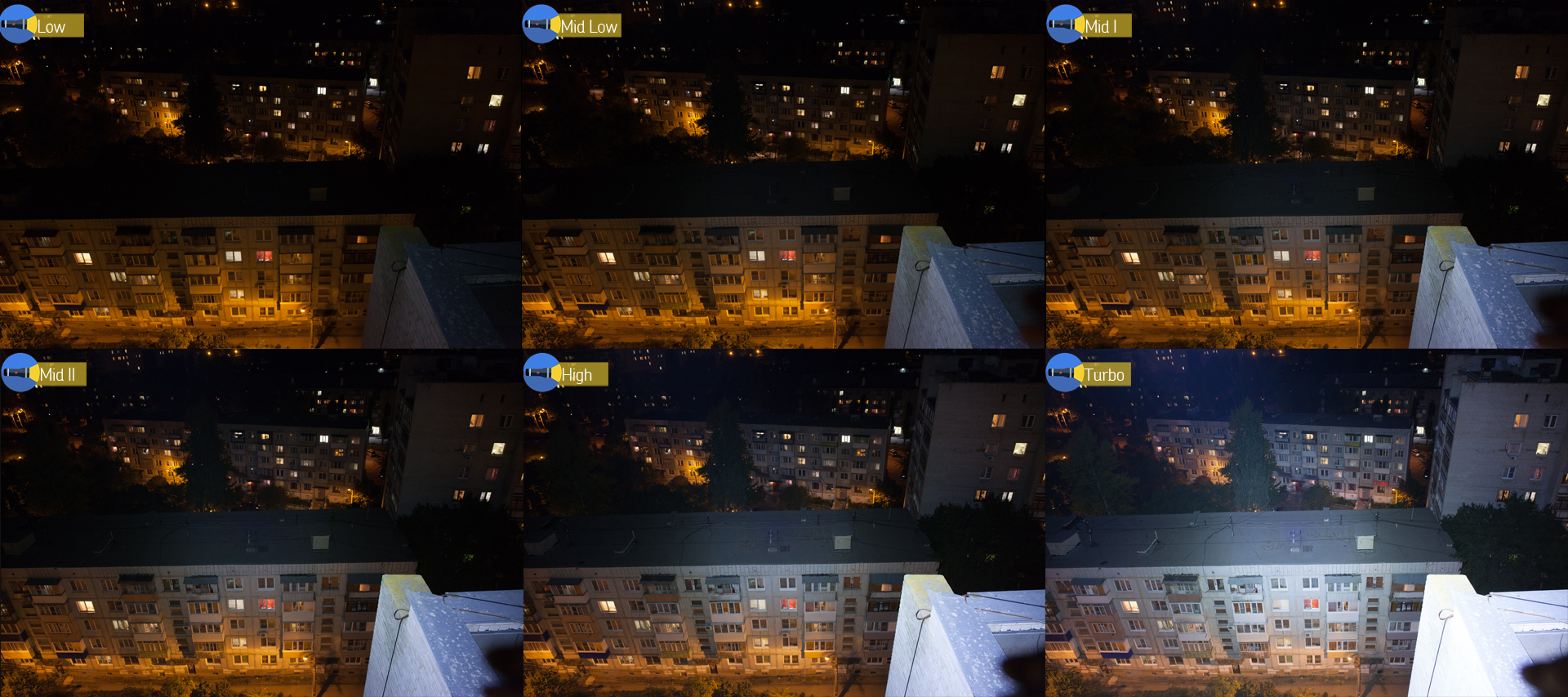 I advise you to watch the video review (I hope you will support my work and will not rewind directly to the examples of light), there is a piece where I launch *TWO *Imalent MS06 at once. I think this is interesting enough). Of course, i appreciate susbscriptions )
OVERALL IMPRESSIONS.
I consider Imalent primarily as a WOW models manufacturer. They do their best to make something very large, very throwy and / or very bright. At the same time, sacrificing some logic and usability. Because of this, I am, how to say it mildly, usually quite sceptical about results of this approach and like just pair of their models – Imalent DX80 \ Imalent RT35 to be precise. Now I'm ready to add MS06 to this list.
The category of can-sized (i.e. the size of a can of soda) flashlights is quite popular and has plenty of models. And Imalent MS06 is undoubtedly one of the brightest of them all.
The manufacturer wanted to make the most bright flashlight in a size that allows you to call it pocketable (in the sense that it will still fit into your pocket). And I think this is the best thing Imalent could do given what can be expected of them.
The flashlight is incredibly bright, and it is not a decorative turbo puff. High shines for a really long time at a brightness that would have caused a shock 3 years ago. And Turbo mode, albeit quickly falling, but this fall is expected – otherwise it simply could not have been.
Of course, I am sure that the enormous brightness solely will not be enough to make this model interesting for experienced flashaholics, who will be more interested in the most flexible UI and quality of light, rather than its quantity. Here Meteor`s reign has been lasting for years. And, by the way, it is not a fact that, with all its undoubted advantages of UI and CRI, it can outbeat MS06 in rutime in higher modes.
But Anduril\Narsil for average user? Ah, that`ll be last what i advice. So an ordinary inexperienced user may find MS06 just what he needs.
What does an ordinary user need? Long runtime? Yes, MS06 will work for a long time, 3 * 21700 batteries have capacity of 4 * 18650, but with a smaller body diameter. There will is no stabilization, alas. Well, the average user doesn't even know about it. Yes, and at those brightness levels with which it will be possible to work for a long time, the drop in brightness will be so flat that the eye will not physically catch it.
Convenient UI? As for the UI here, I`m sure experienced users will have no complaints either. It's not anduril \ narsil, of course, but not some stone age (you know the brand) sort ​​either. UI is quite at the top level of conveniece, with all the necessary shortcuts and lock mode. I really have nothing to complain about.
Brightness. Definitely more than enough. Most likely, a flashlight with such a margin of brightness is not bought for a perspective of real use at maximum, but to impresss friends and neighbours. Everyone will see the light, even those for ont want. And this is not a one-time exhaust on a full battery. When I played enough to sell both the DX80 and MS12, both buyers merely wanted to buy the brightest flashlight that was on market at that time. I think that MS06 is designed for just such an audience.
However, I can't help but note that the question of real brightness remains open. The experience of past bright models allows us to expect that there are less then 25 000 lumens here. But even as is, there are more, more than enough of them. And being brighter is not that good (take overheating into account).
Price. Now you can buy a bright flashlight Imalent MS06 for $200 (180$ with discount code above). And this is, no doubts, quite at the level of other top-end super-bright brand compacts. Or may be even cheap. Lumens\Dollar ratio is really good, IMO.
The price tag is definitely not budgetary. But if you want to step over the threshold of 10,000 lumens, then there is no reason to expect anything else.
In short, the model is not perfect. But it`s drawbacks are not that serious and i like this model. I definetely can say that Imalent didnt screw up with it. Good rival for most of super-bright compact model on the market. U can definetely consider it when want to buy something really bright and compact.
+
monstrously high brightness
21700 batteries
UI
dimensions
runtime in high modes
price (for this kind of flashlight)
no visible PWM flicker
gorgeous packaging
good appearance
u can power it with less than 4 batteries in case of urgent need
good selection of modes (with note)
–
no full stabilization
cold light
proprietary charging
no brightness below LOW