Olight already produced powerful and bright flashlight Olight Javelot PRO and another tactical model Olight Warrior X PRO, which has less throw is also quite compact. And i`ll present you review of model, that combines advantages of both of them. Being almost the same compact as Warrior X pro, Warrior X turbo has throw similar to Javelot Pro. Currently, there is no tactical flashight with the same throw. And if you would like to know that Warrior X turbo is capabable of, check my review.
Long thrower flashlight itself is a specific thing, and not everyone needs it. Fewer people need to flashlight to use gun mounted. And a very small number of people need gun-mounted flashlight with maximum possible throw and almost no sidelight, sort of "piercera". I've already told you about a couple of other great (and Olight rarely have them) long-range flashlights:
Olight have some such models like long and bright Olight Javelot Pro and relatively compact, with the same UI and mode set tactial flashlight – Olight Warrior X
And now it's time to talk about the most top-end, flagship model among tactical Olight models.
For those who want to buy a powerful long-range flashlight, it would be useful to spend some time on reading my guide for choosing flashlights, where in simple words I explained many things that are not obvious to a simple buyer.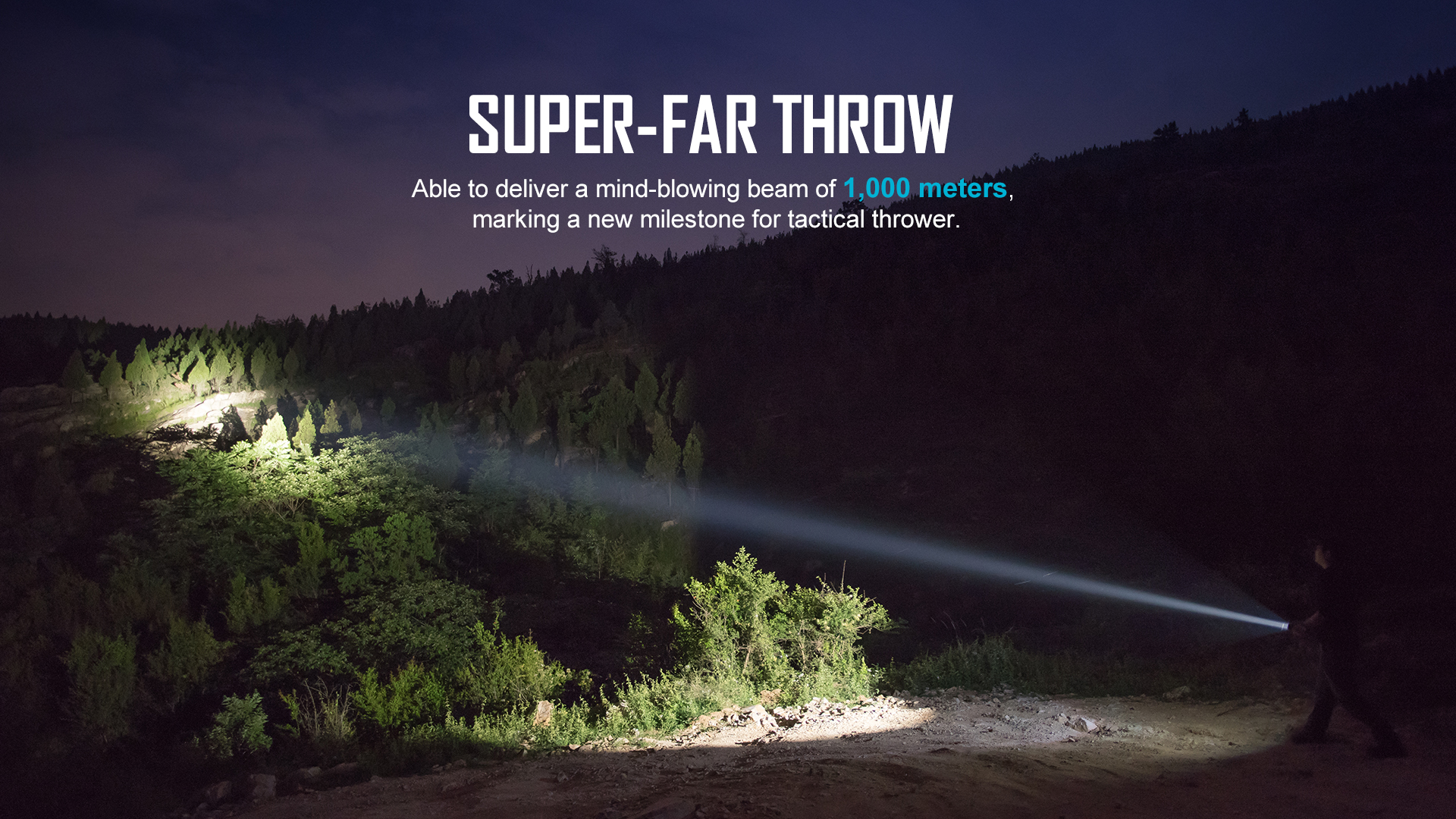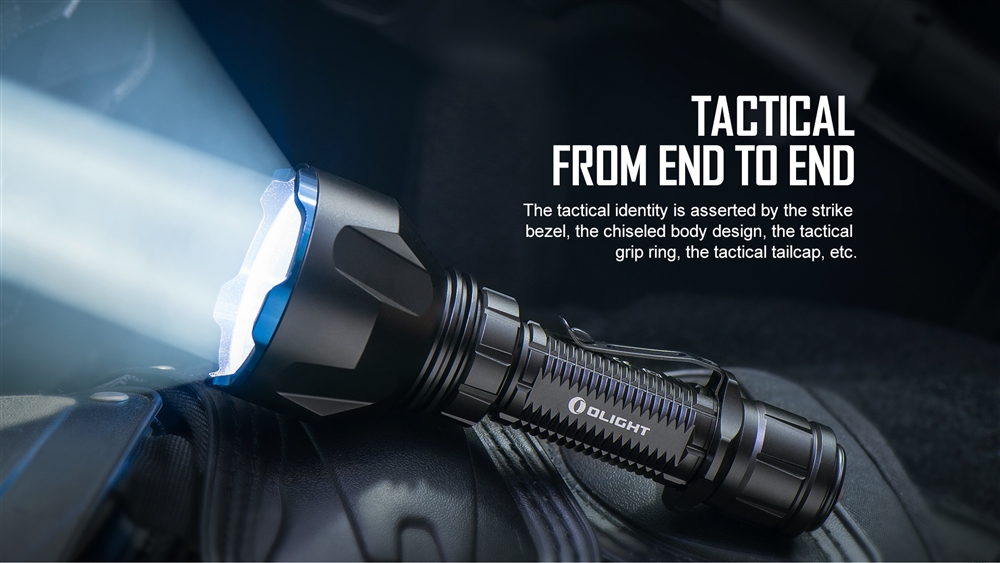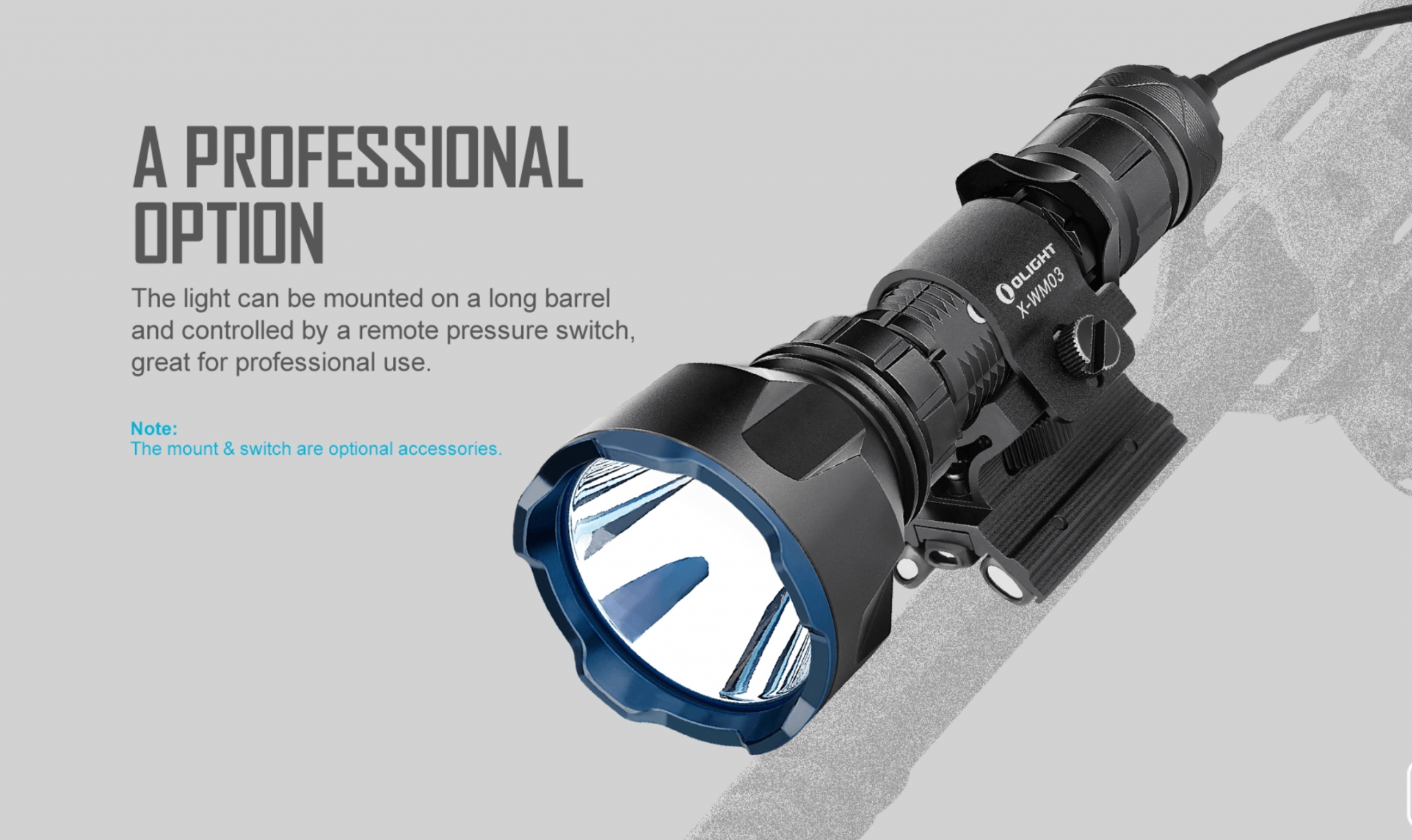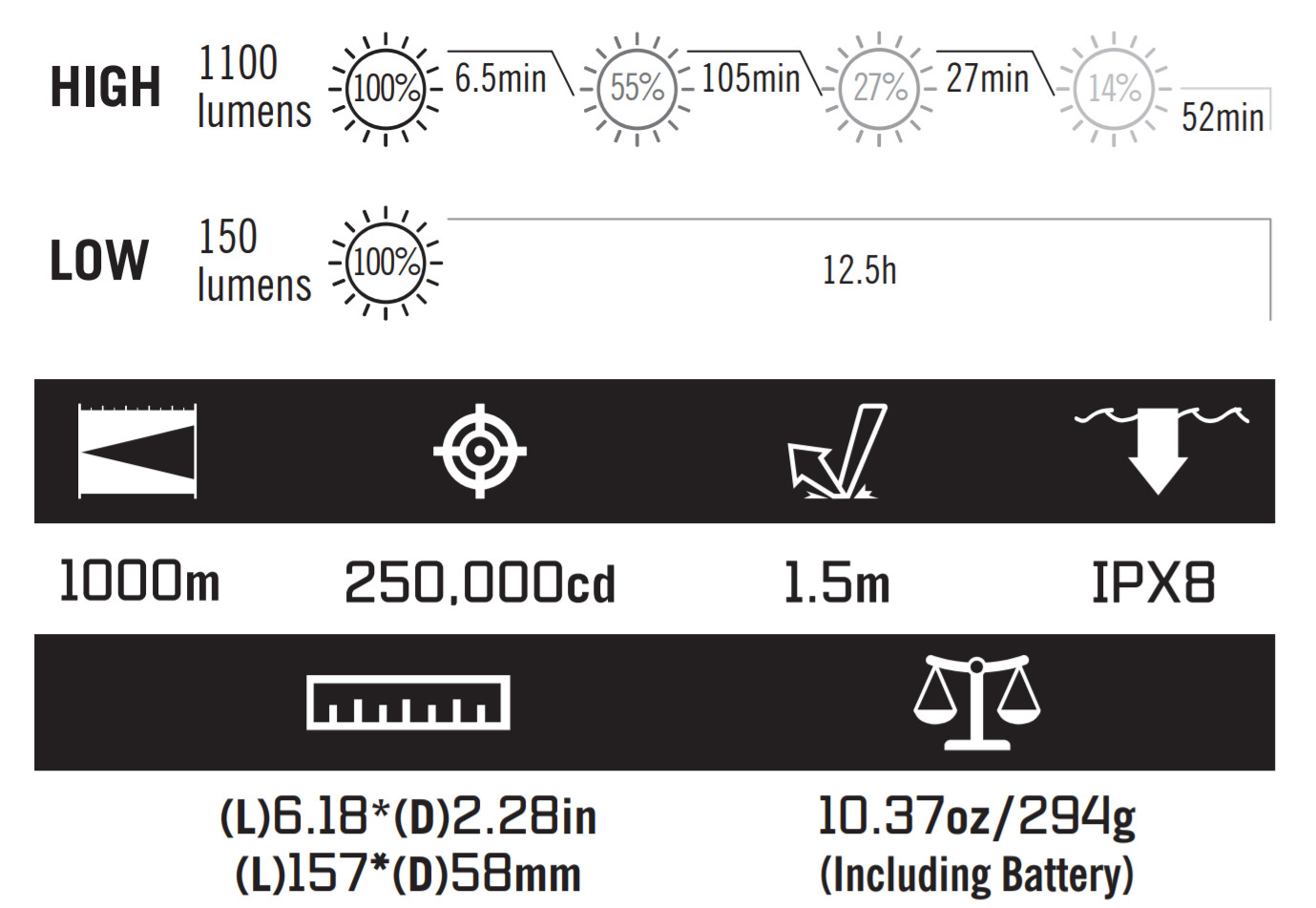 you can buy Olight Warrior turbo from:
► NKON
► AMAZON
SPECIFICATION
LED: Osram KP CSLPM1.F1 CW (cold white light);
Brightness: up to 1100 ANSI lumens;
Reflector: Smooth;
Range: up to 1000 meters;
Power supply: 1 × Olight ORB-217C50 5000 mAh, power supply from CR123A batteries FORBIDDEN, (the package includes a magnetic charger from USB, Olight MMC3 Magnetic);
Working time: 1100 ~ 600 ~ 300 ~ 150 lumens – 6.5 + 105 + 27 + 52 minutes / 150 lumens – 12.5 hours;
The flashlight can be charged without removing the batteries from the case;
The battery discharge indication informs the user by vibration of the flashlight;
Tempered glass: anti-reflective coating;
Waterproof housing of IPX-8 standard (immersion up to 30 minutes, at a depth of no more than 2 meters);
Impact bezel, made of stainless steel with blue PVD coating, protects the lamp glass from damage;
The body is made of aviation, anodized black according to the III (highest) degree of hardness, waterproof to the IPX-8 standard (withstands immersion up to 30 minutes, at a depth of no more than 2 meters);
Lantern dimensions: length – 157 mm, head Ø 58 mm, body Ø – 26.2 mm. Weight: 294 gr. (with a battery);
PACKAGE AND APPEARANCE
A thick-walled white cardboard box with a good design and a picture of a flashlight on the coveer. It immediately makes it clear that there is a serious thing inside. If you take it as a gift, the gift will look solid.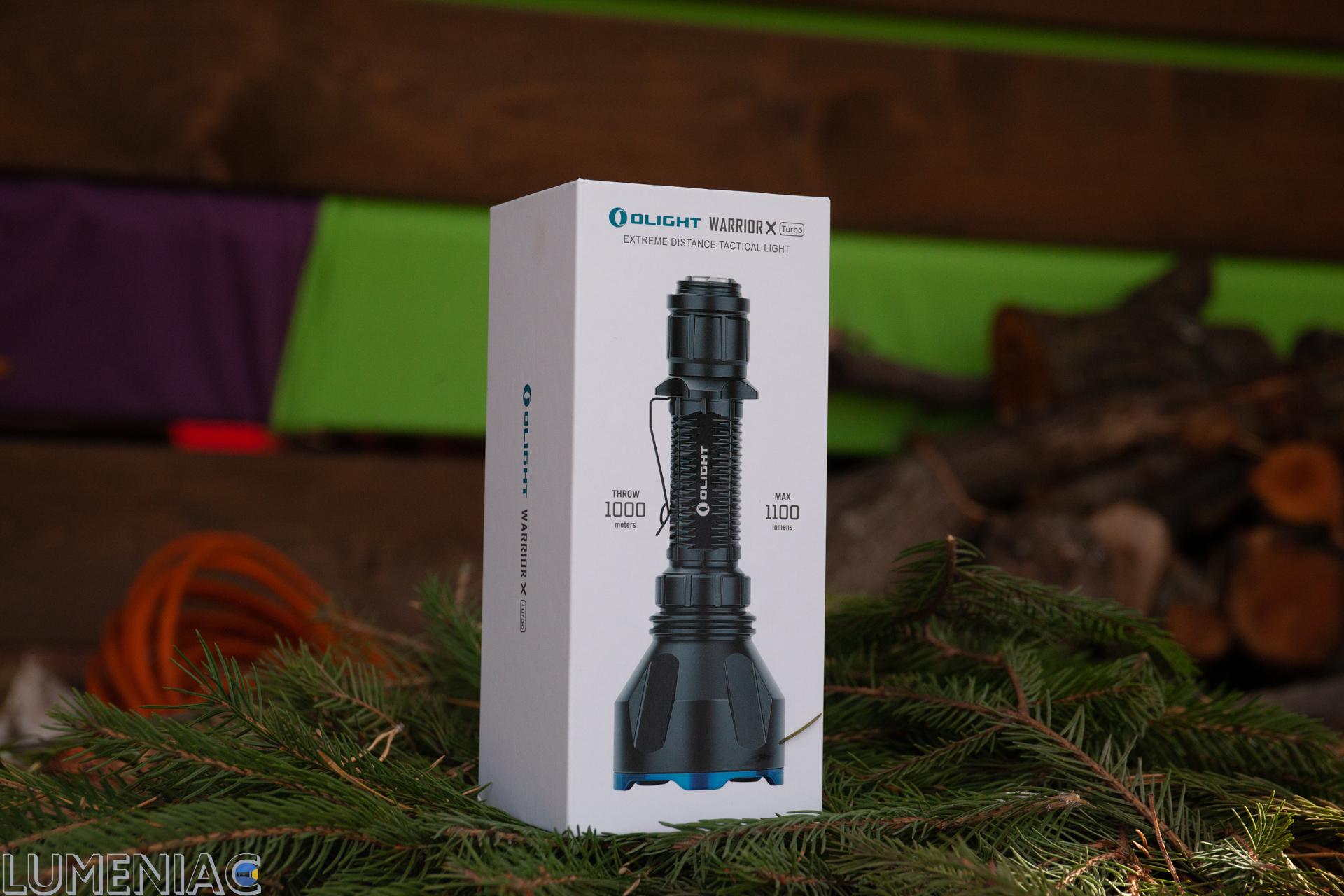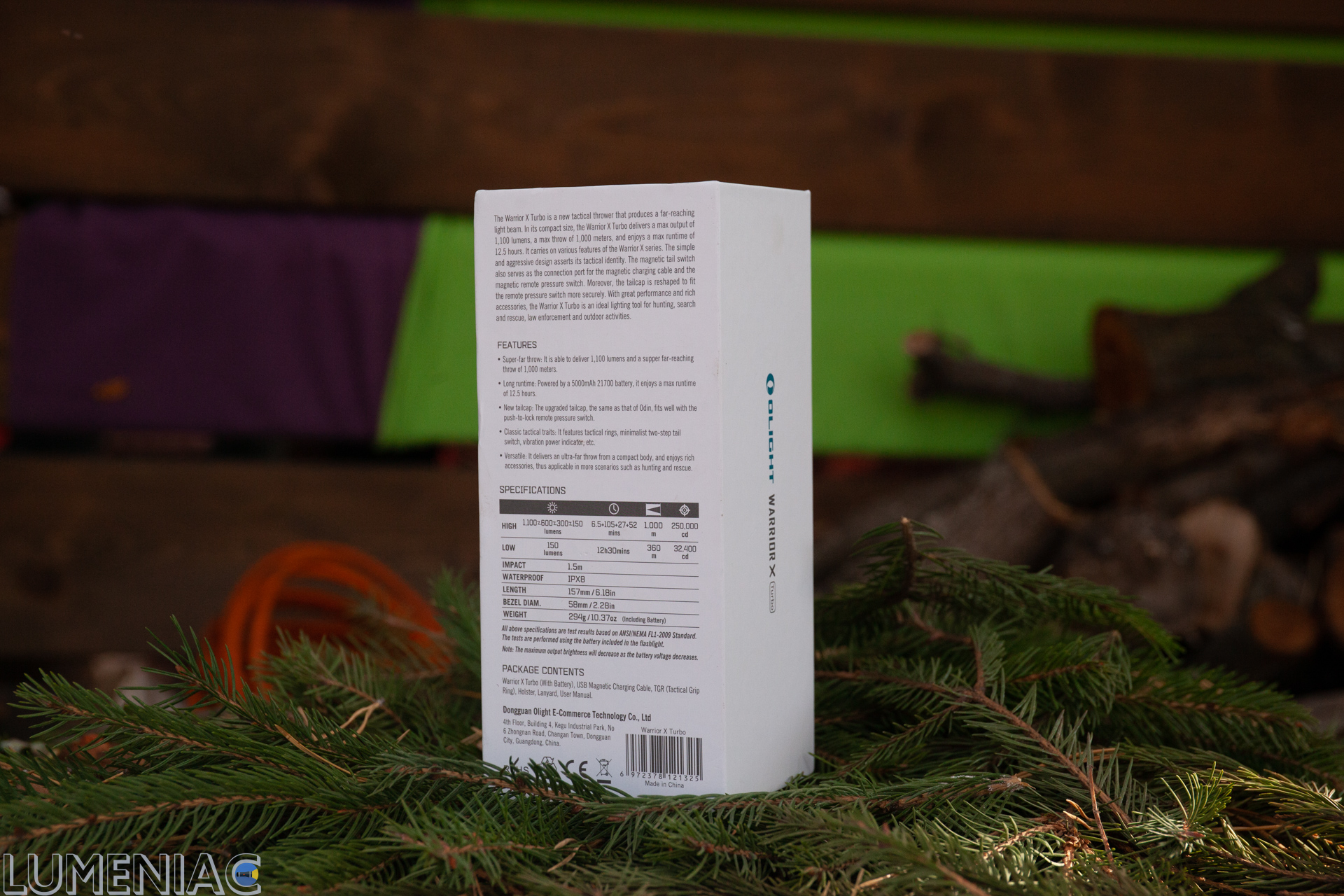 Inside – everything you need: a holster with a flashlight (inside the last one is 21700 5000mah battery) and a small flat box, which contains a lanyard, a replaceable stop ring, a charging cable and a manual.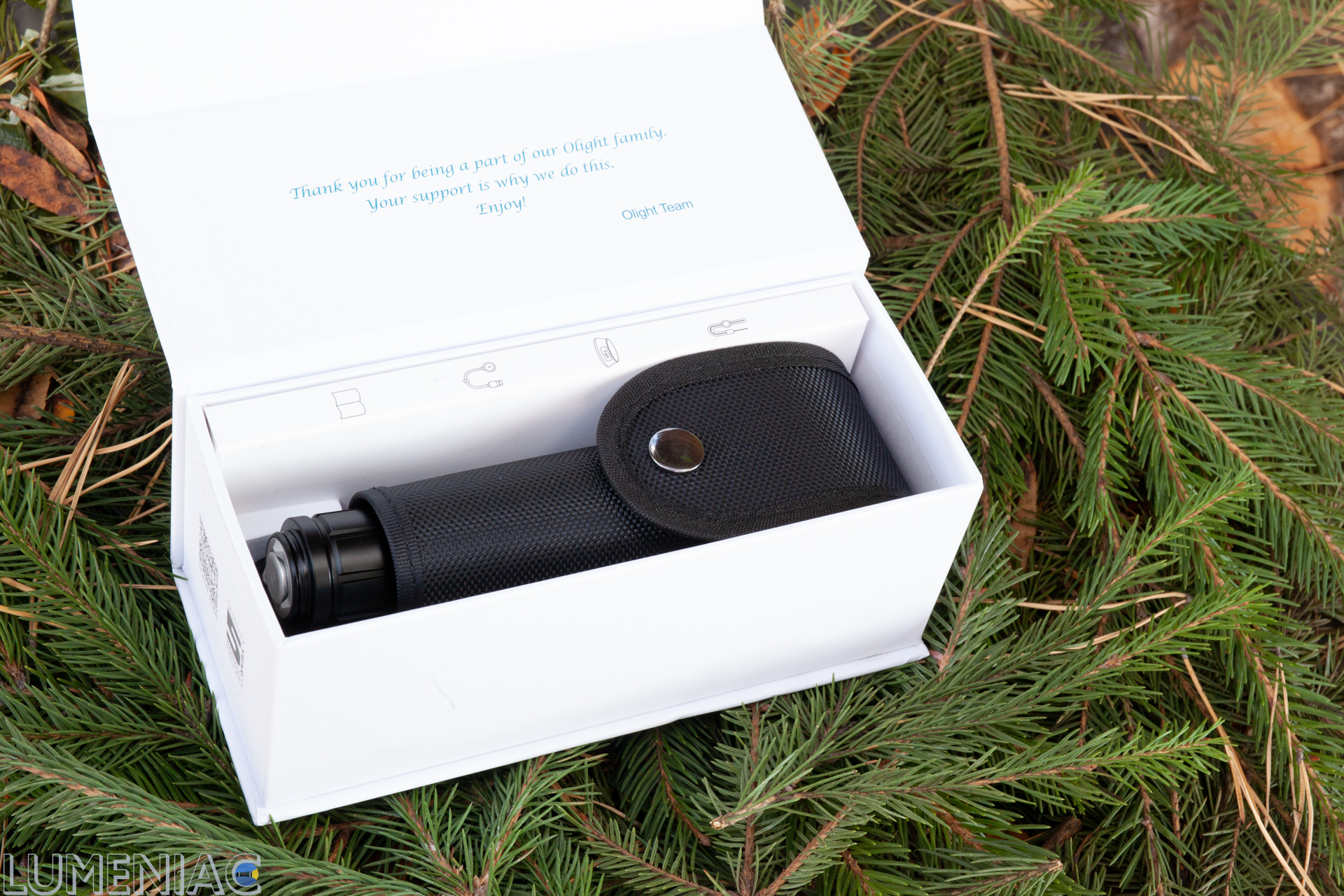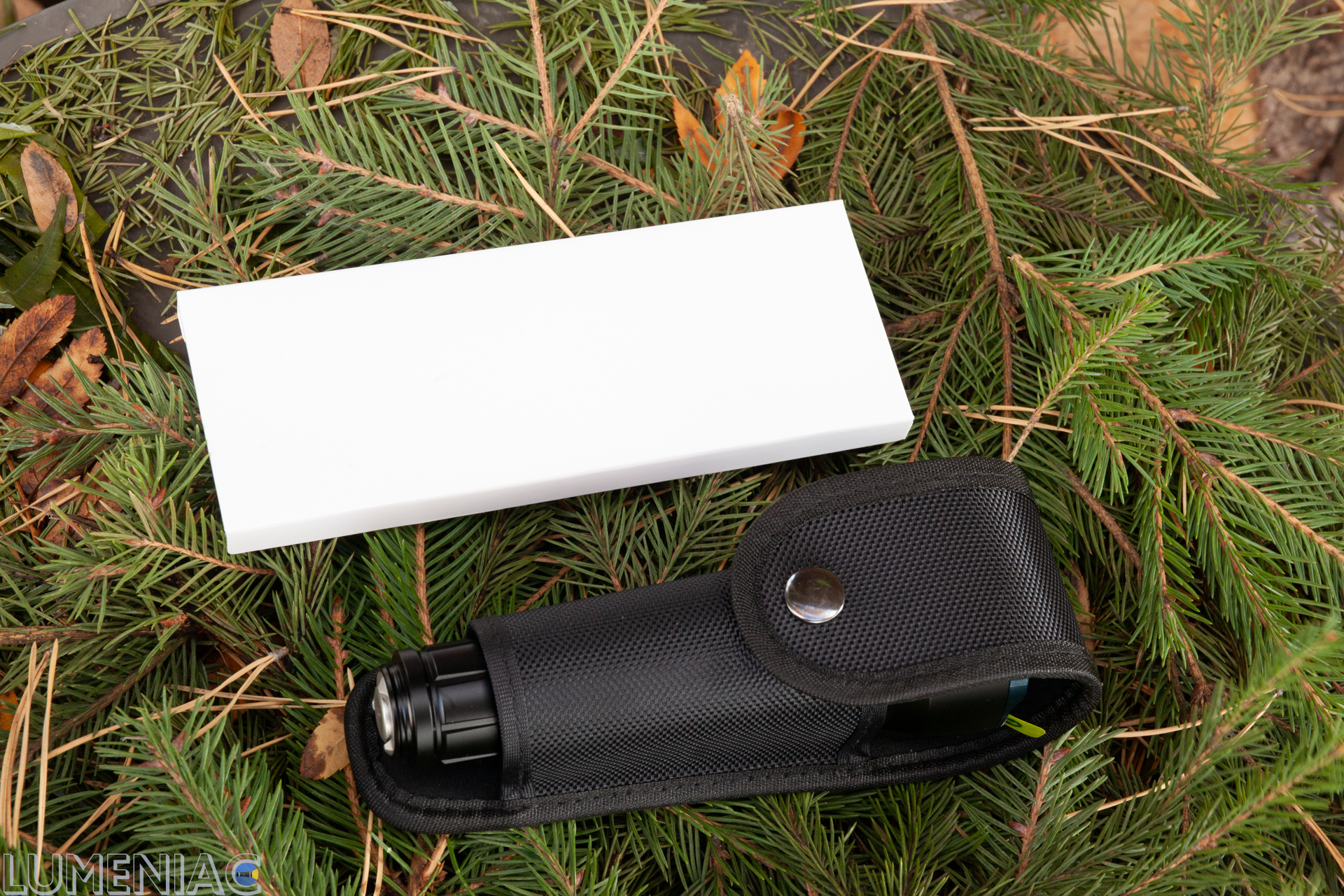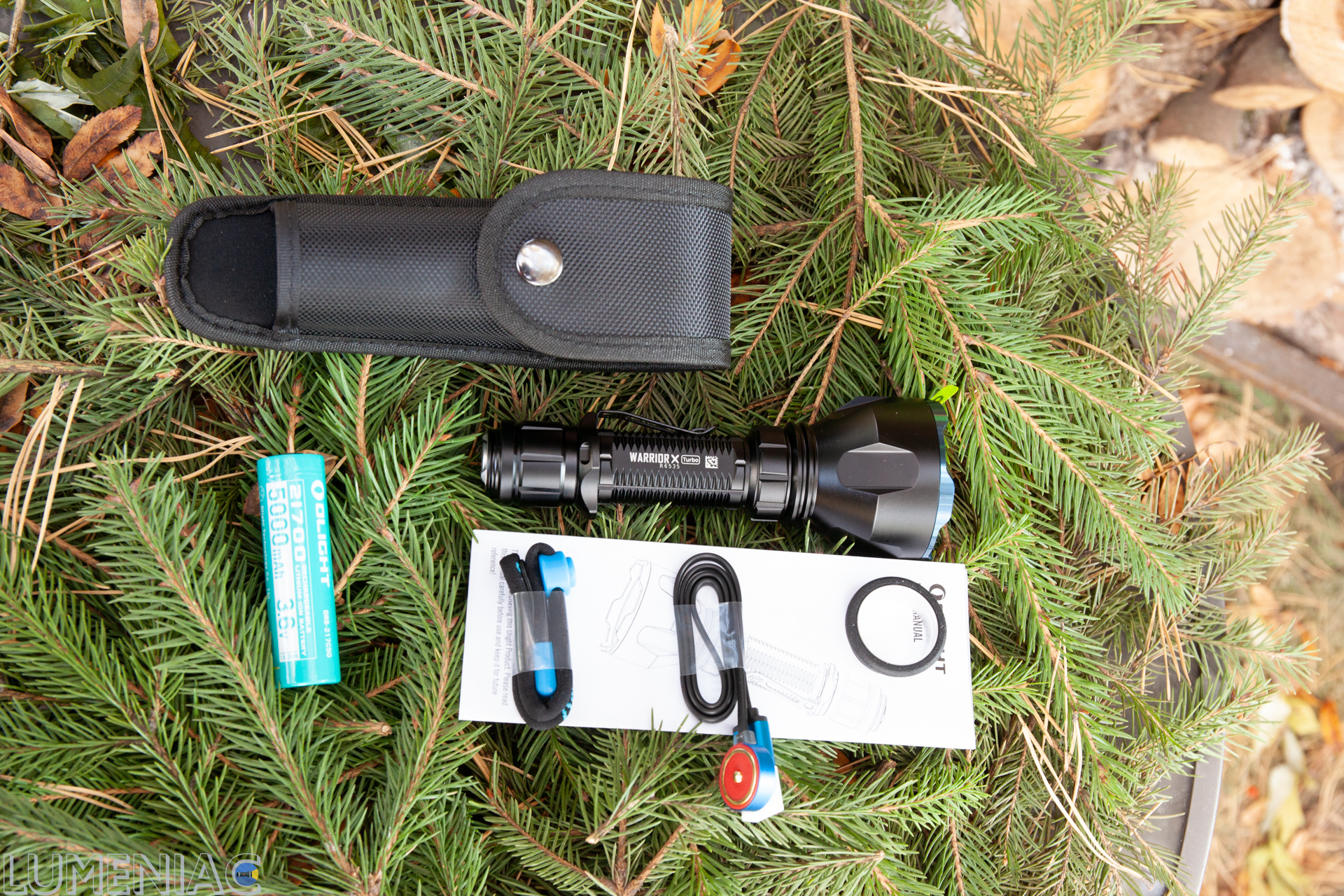 I would prefer holster of Warrior X PRO , it was more practical. It covered the whole flashlight, and there was a hole in the center to prevent the flashlight from burning through the cover. Not that this is critical, but I would choose the previous option.
This is how it was in Warrior X Pro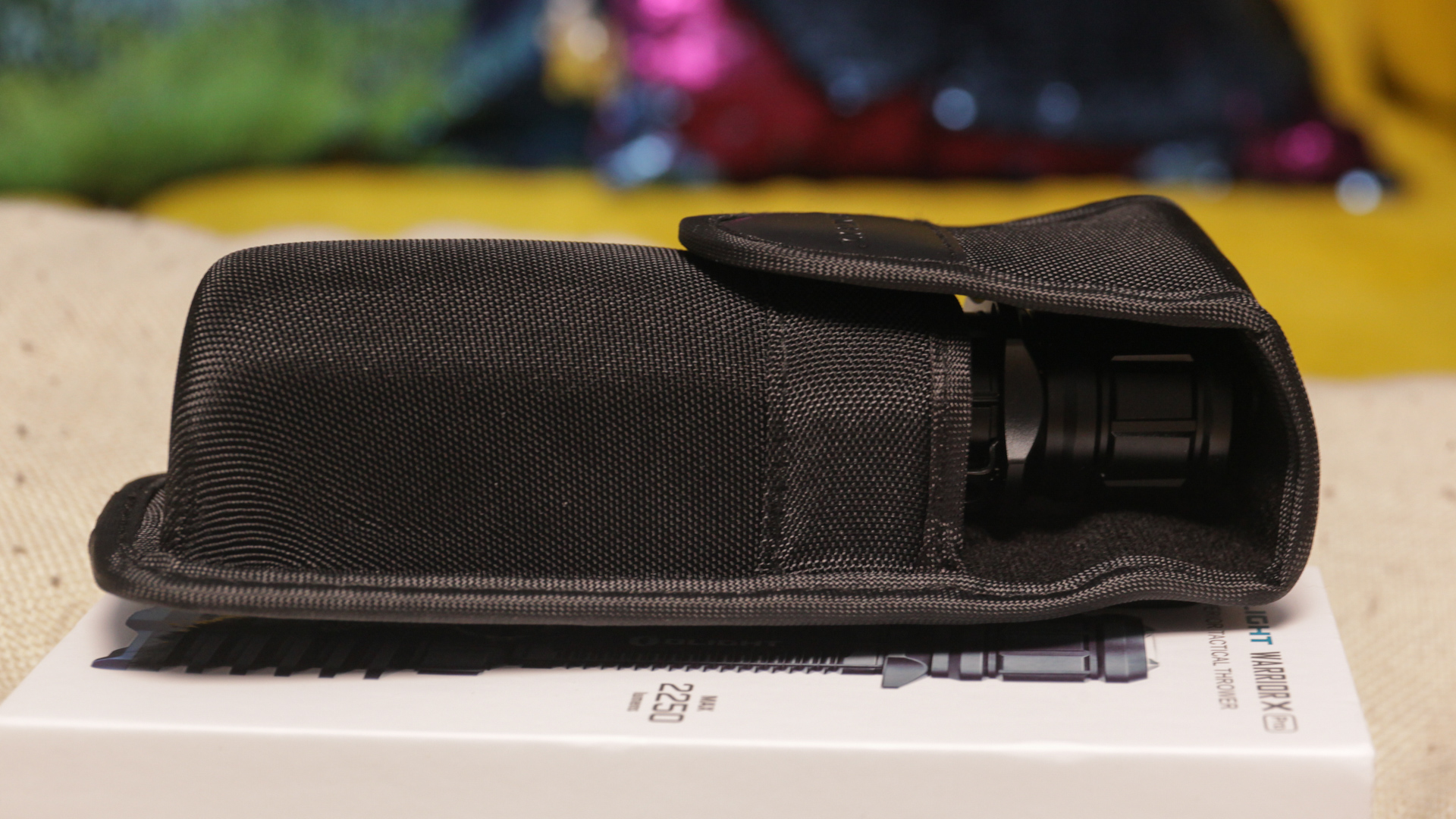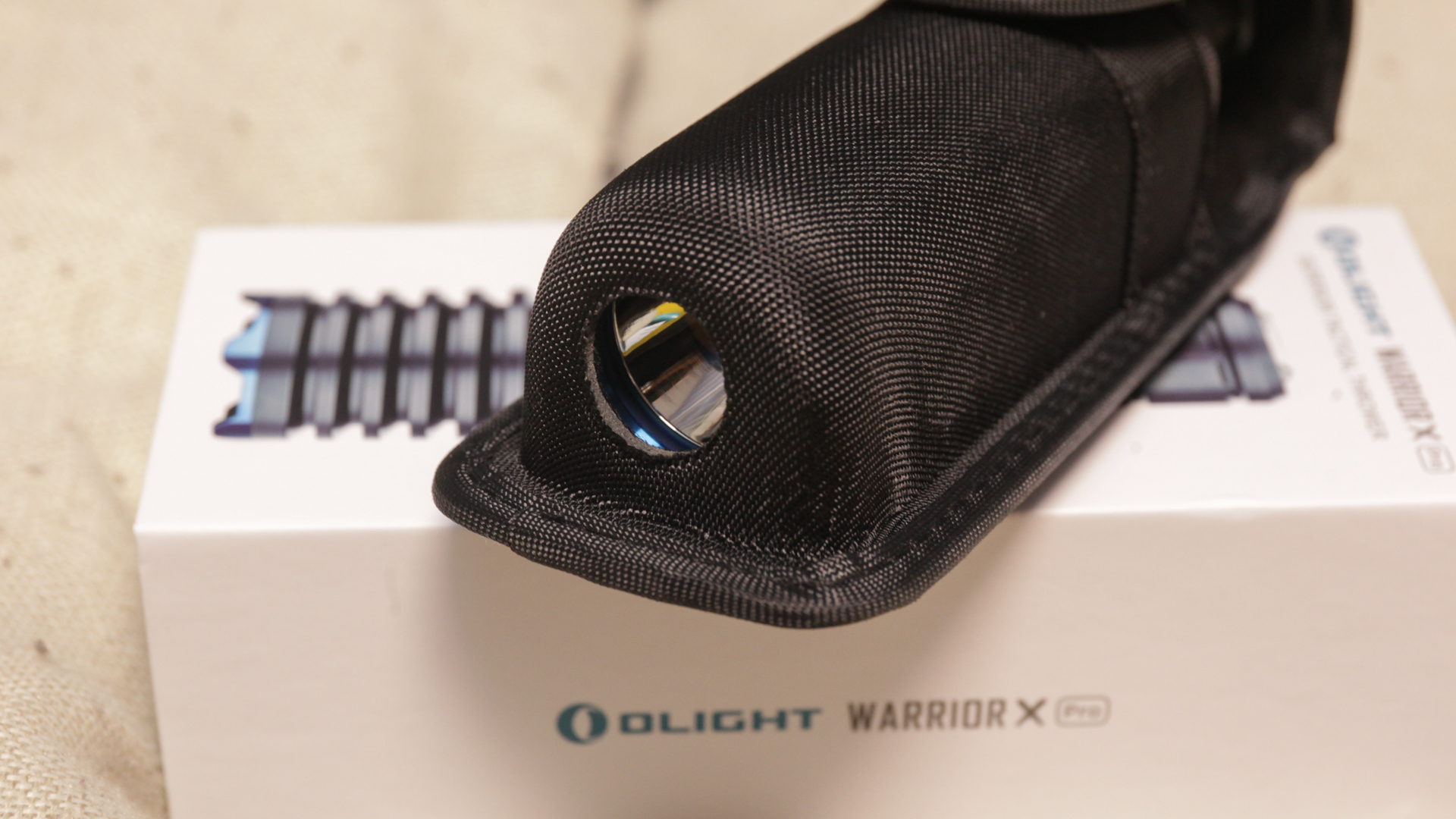 And this is how it is in Warrior X Turbo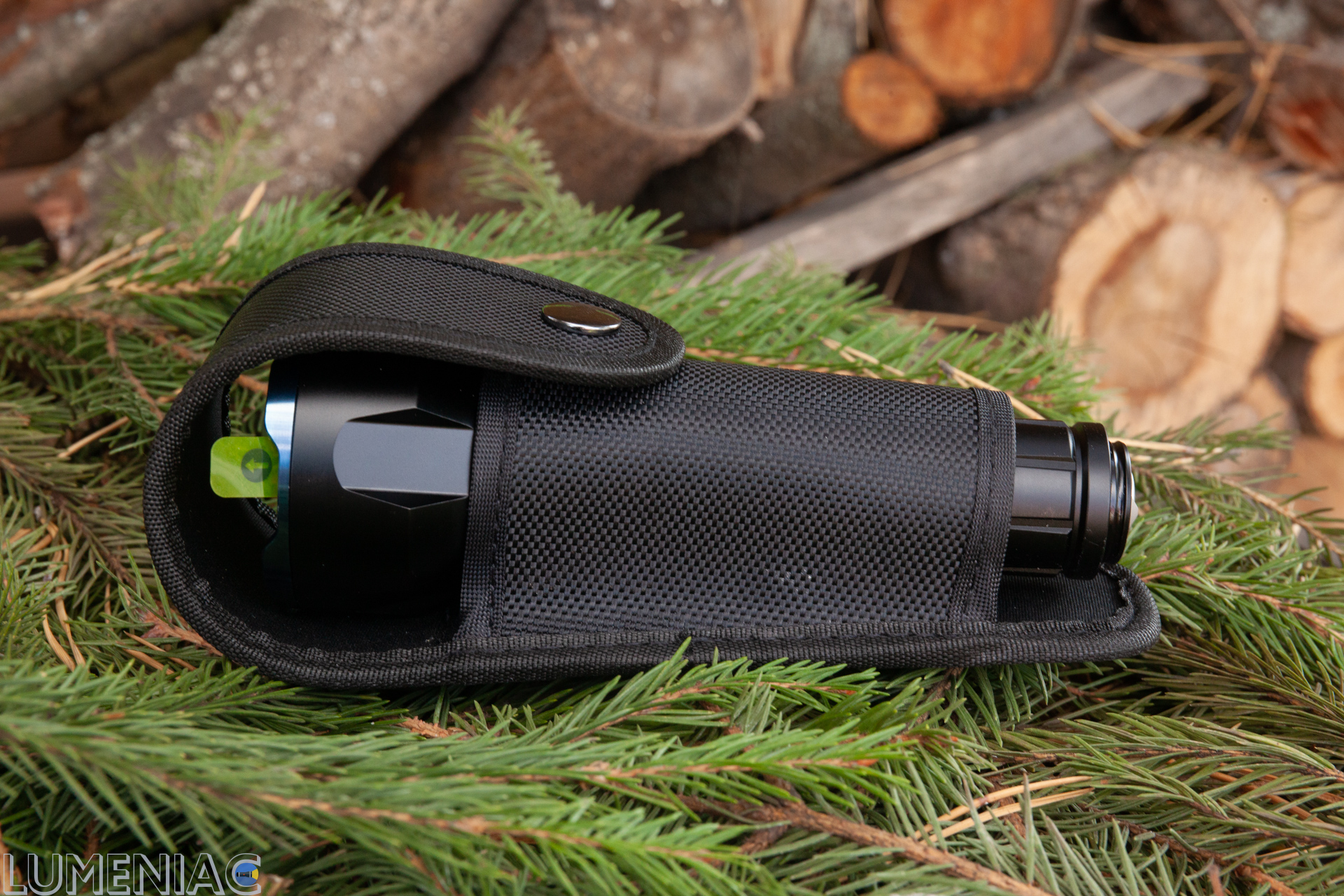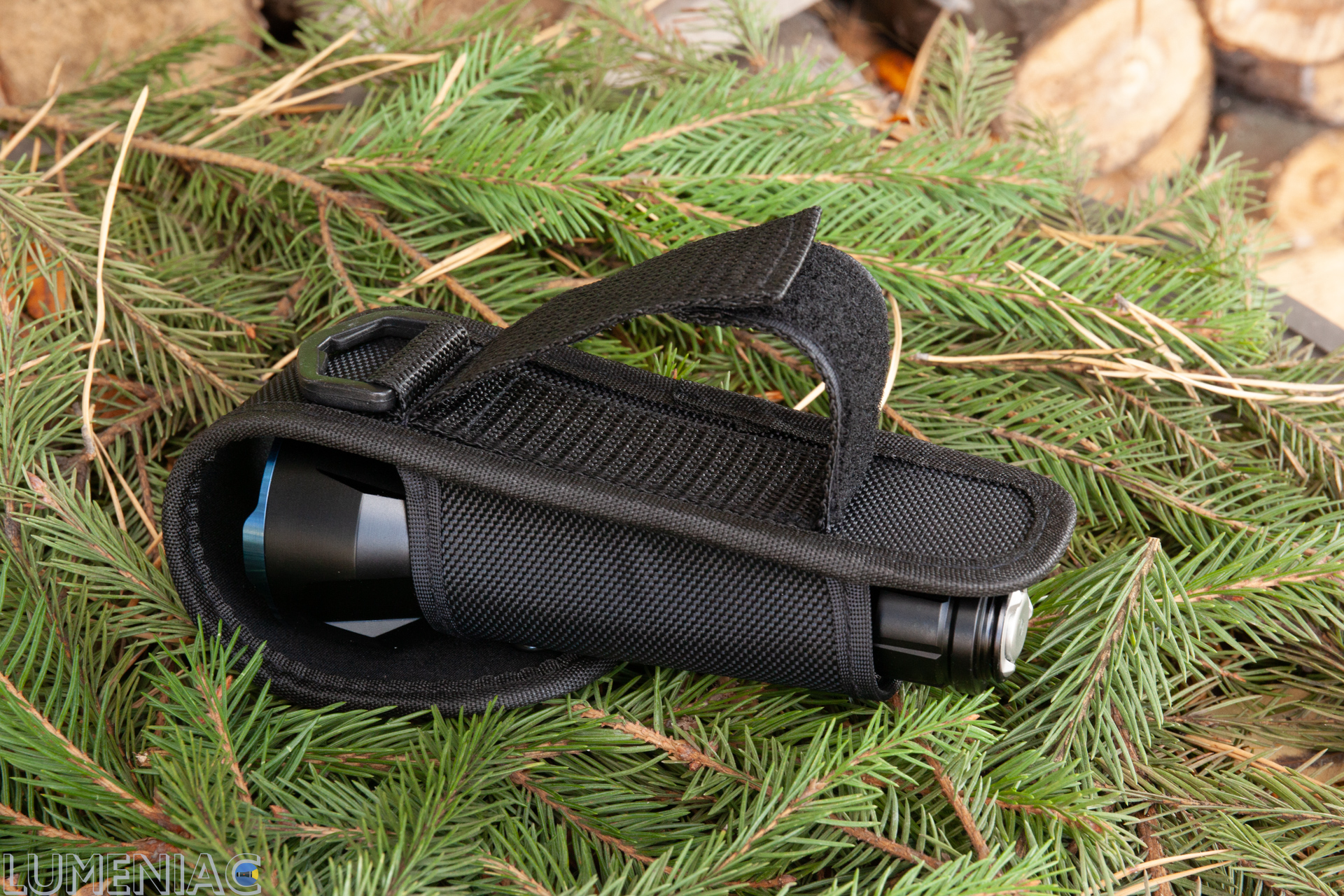 The flashlight is definitely not from the category of compact throwers, but not some kind of monster like 4×18650 powered models . It has a quite normal length, the only difference is in the head diameter.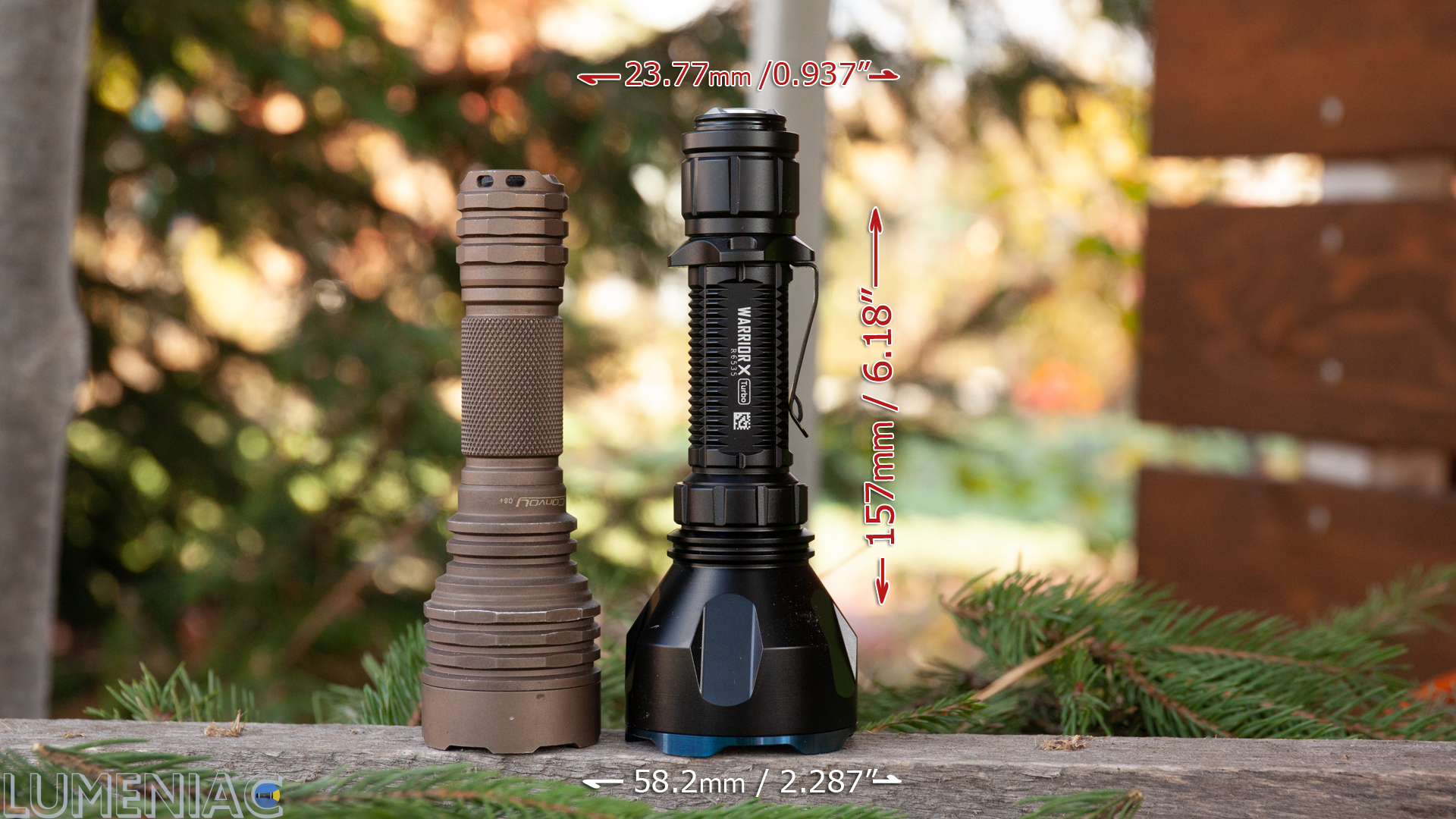 The exterior of the Olight Warrior X Turbo is amazing. This is a really brutal, purely masculine flashlight. Black (there is gun gray version as well), with a massive head with pronounced edges.
It is immediately clear that this is not some kind of pocket elegant EDC thing. A lot of tactical flashlights are quite alike, then this model definitely stands out with it`s Olight azure bezel and an unusual tail button.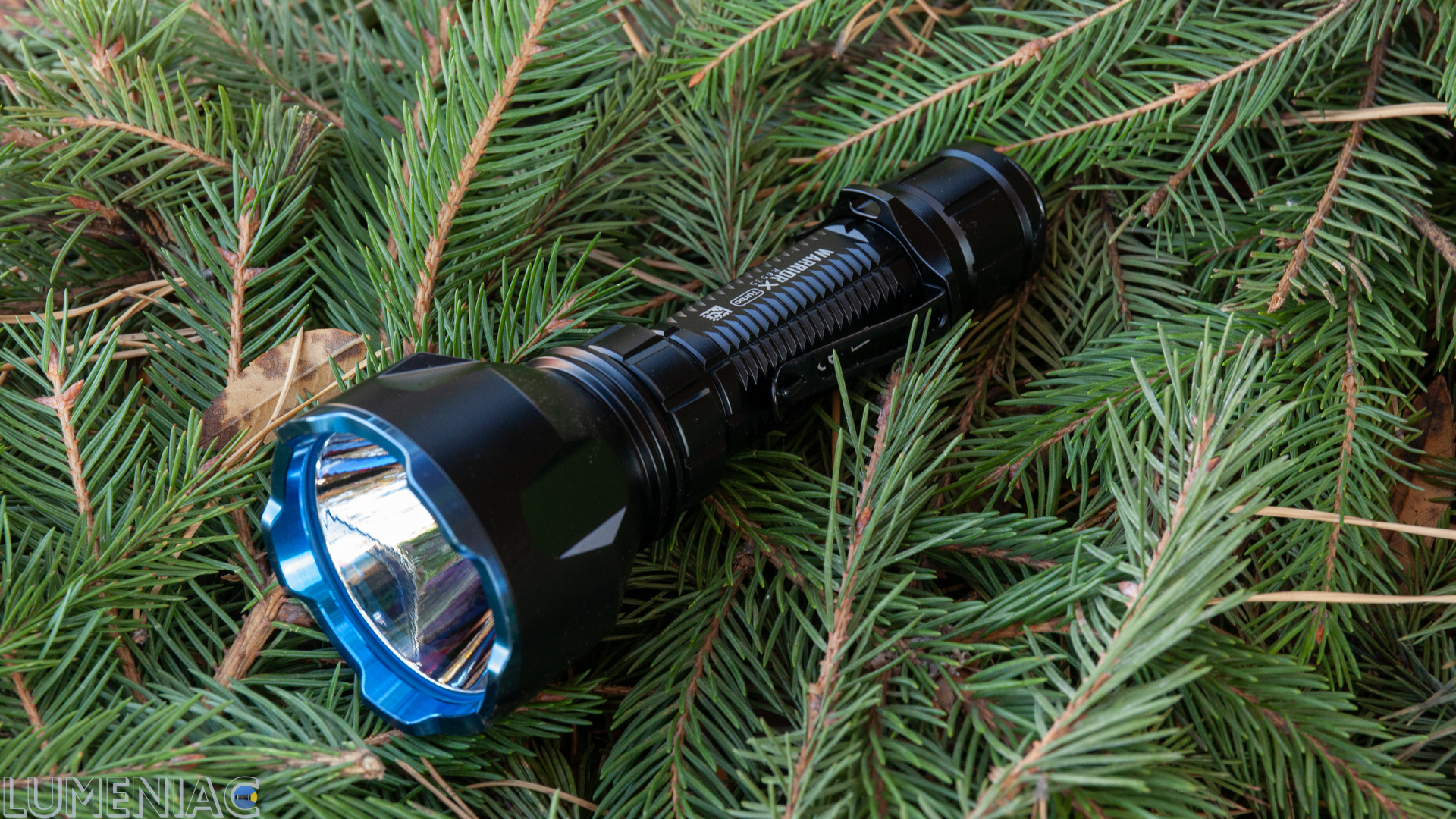 Actually, the design of the tail button is the strong point of this model in particular, and Olight as a manufacturer in general.
Firstly, the button is 2-level one and, depending on the depth of pressing, it ativates one of 2 available brightness levels.
2ndly, it works like a magnetic charging contact. Of course, Olight charge system. If you lost or broke this wire, you will need an external charger. And there are FEW ones which can store such a long battery. Basically you are limited to Xtar (my choice) or Nitecore chargers.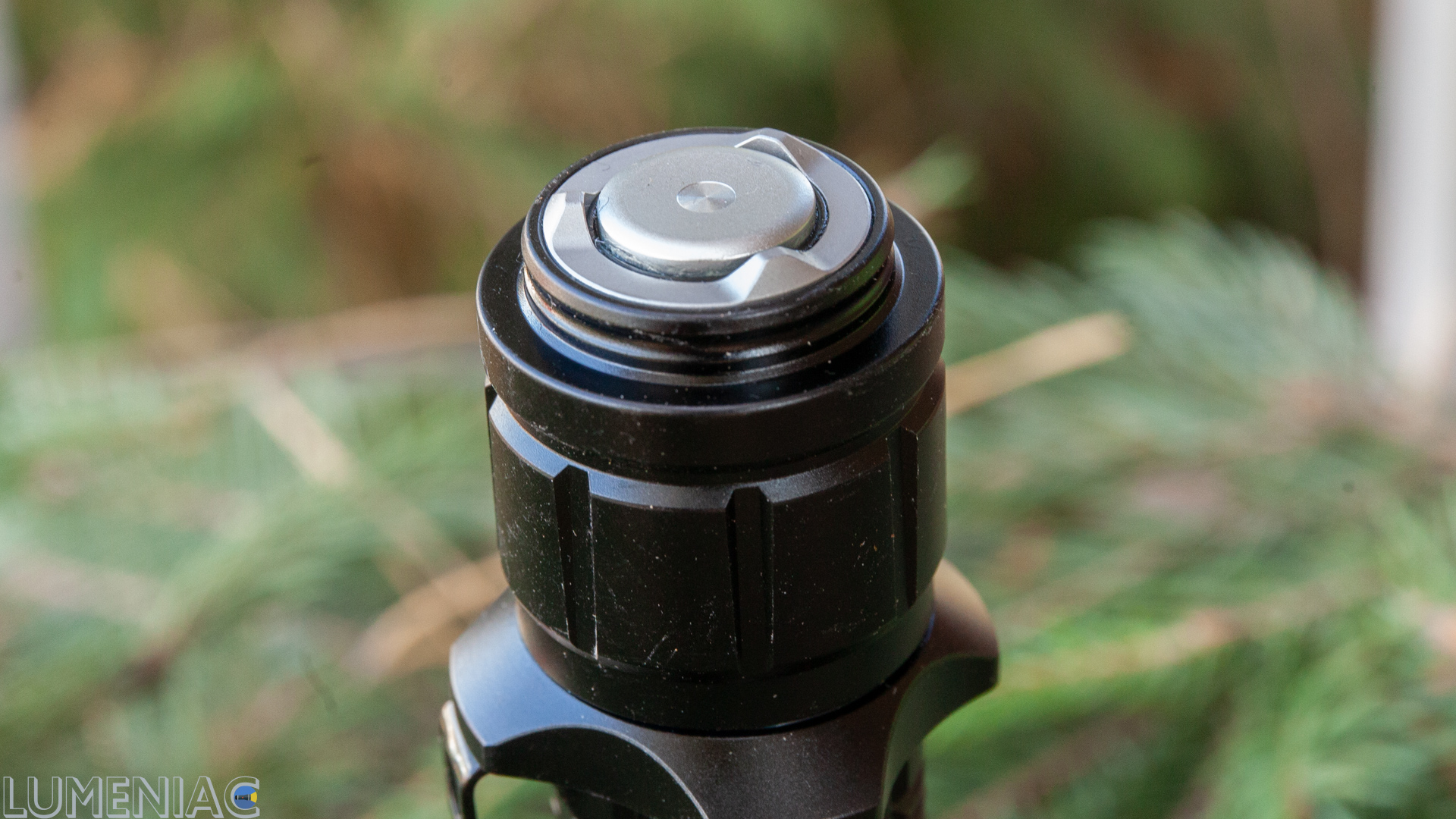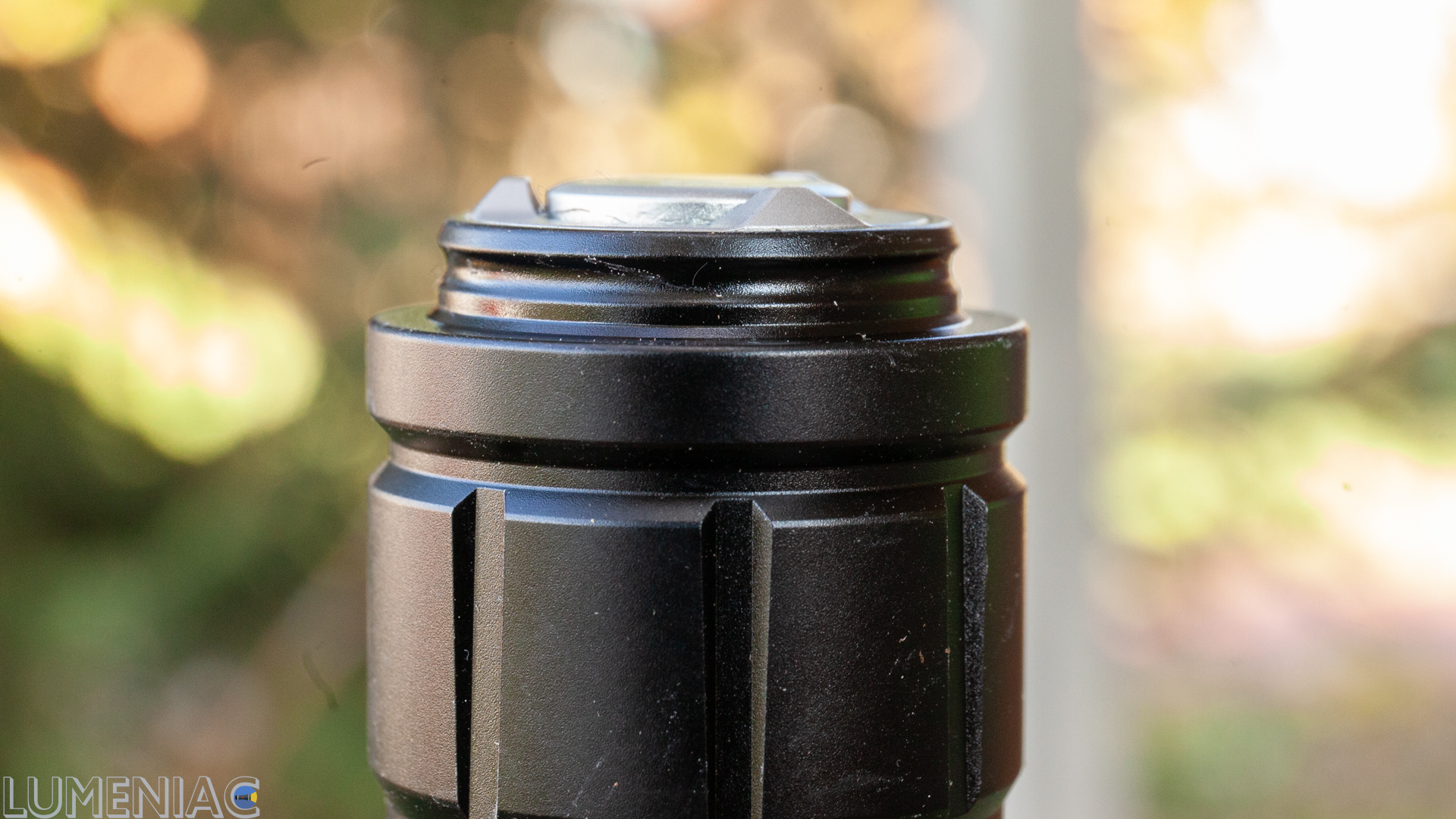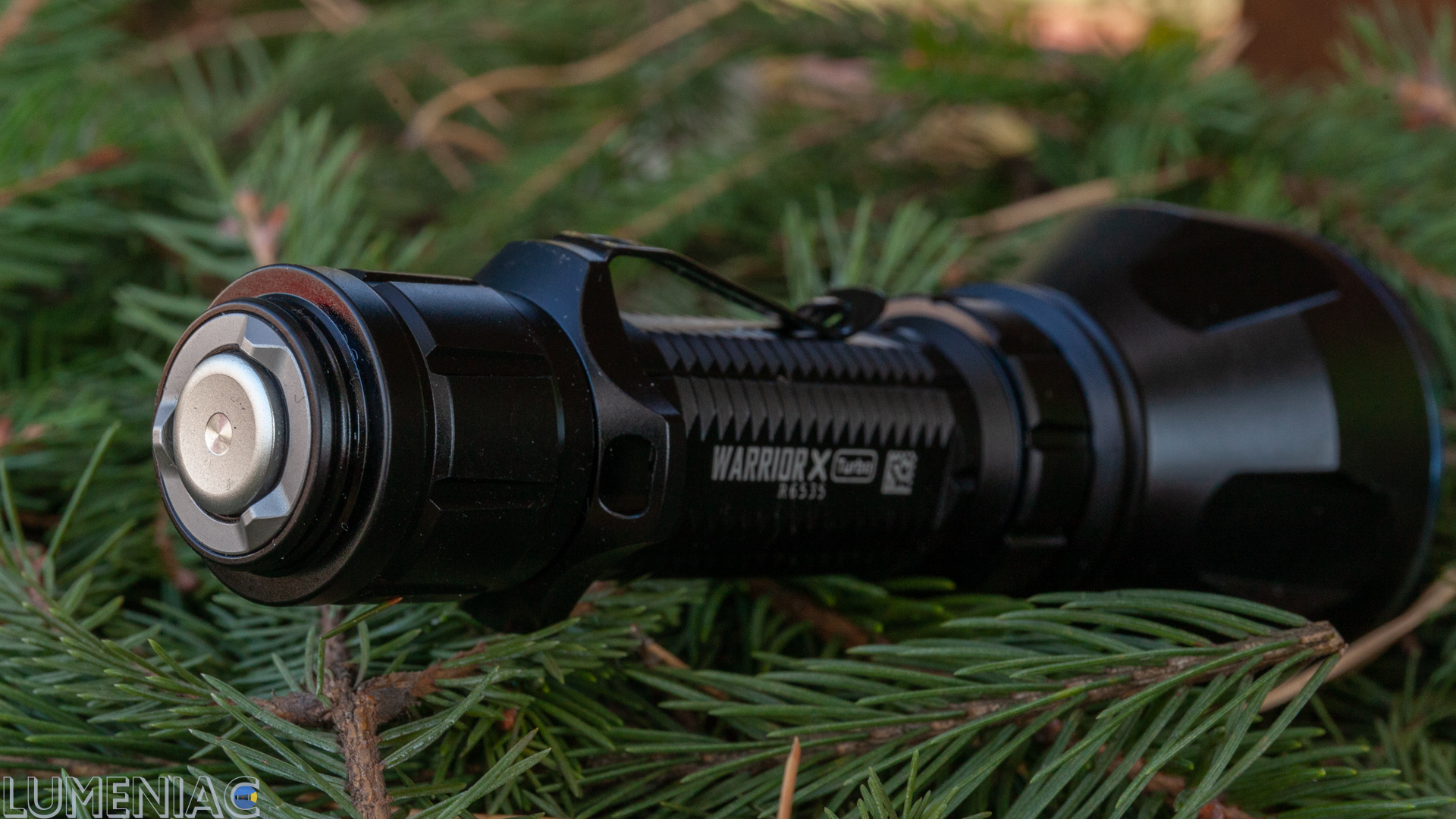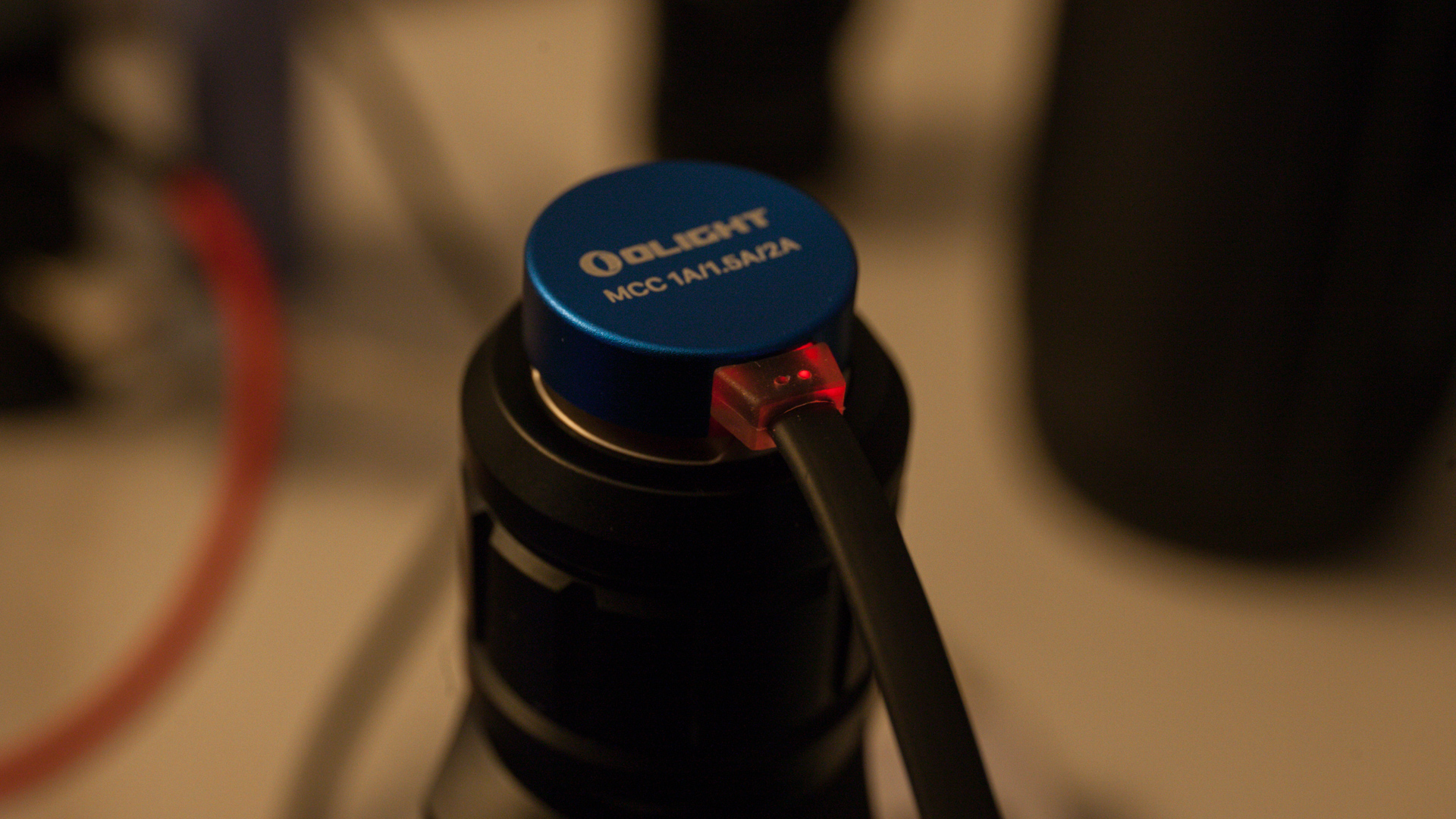 And here is the second advantage. A gun-mounted flashlight is used in most cases with a remote button. And, again, in most cases, it is screwed onto the tail instead of the tail cap. But not with the Olight Warrior X Turbo. Here it is quick-detachable, which in the presence of a quick-detachable magnetic gun mount makes it possible to quickly remove the flashlight from the gun barrel and use it in hand right away.
If desired, the button can be inserted into the rubber housing to be mount to Picatinny rail.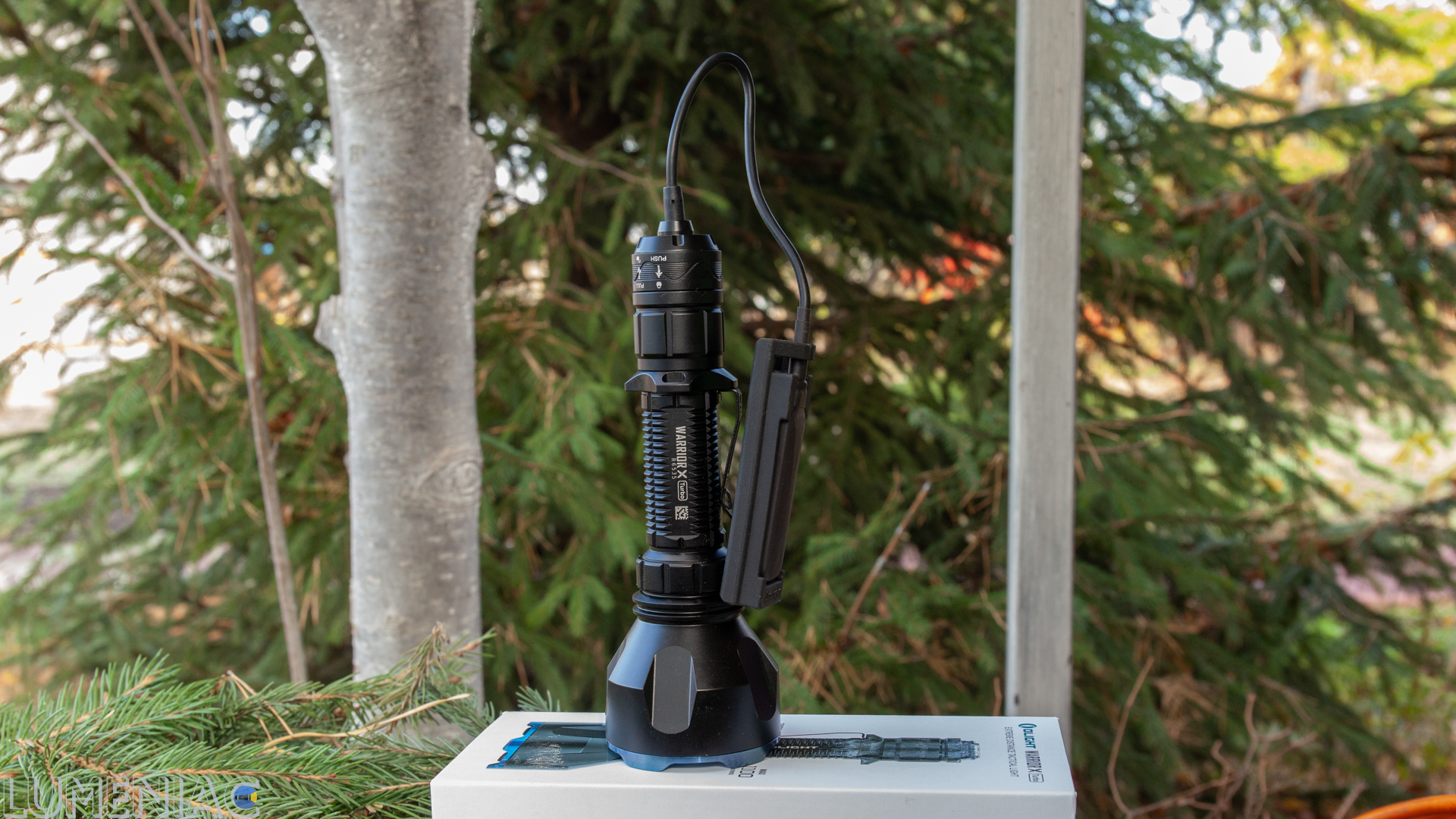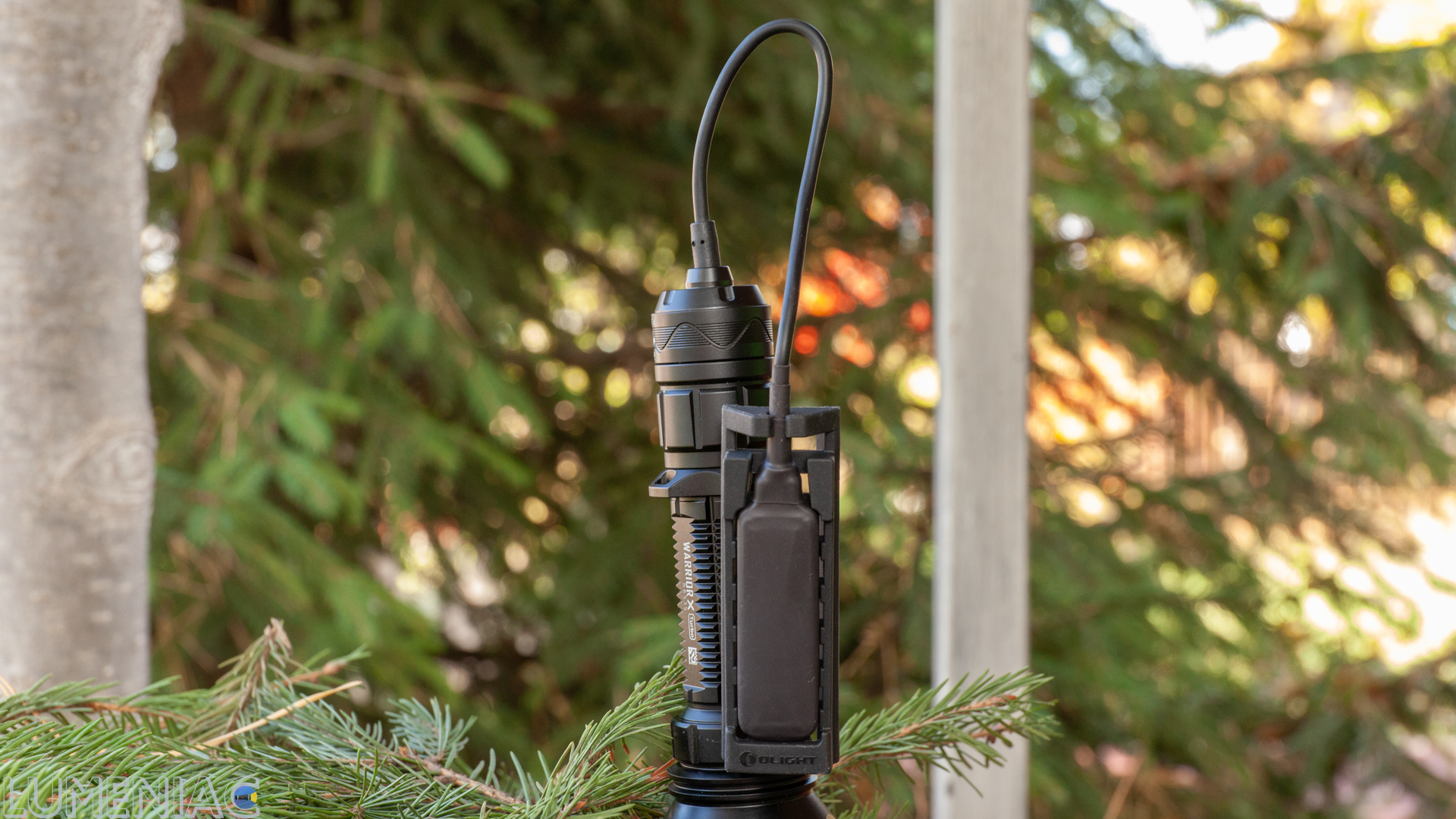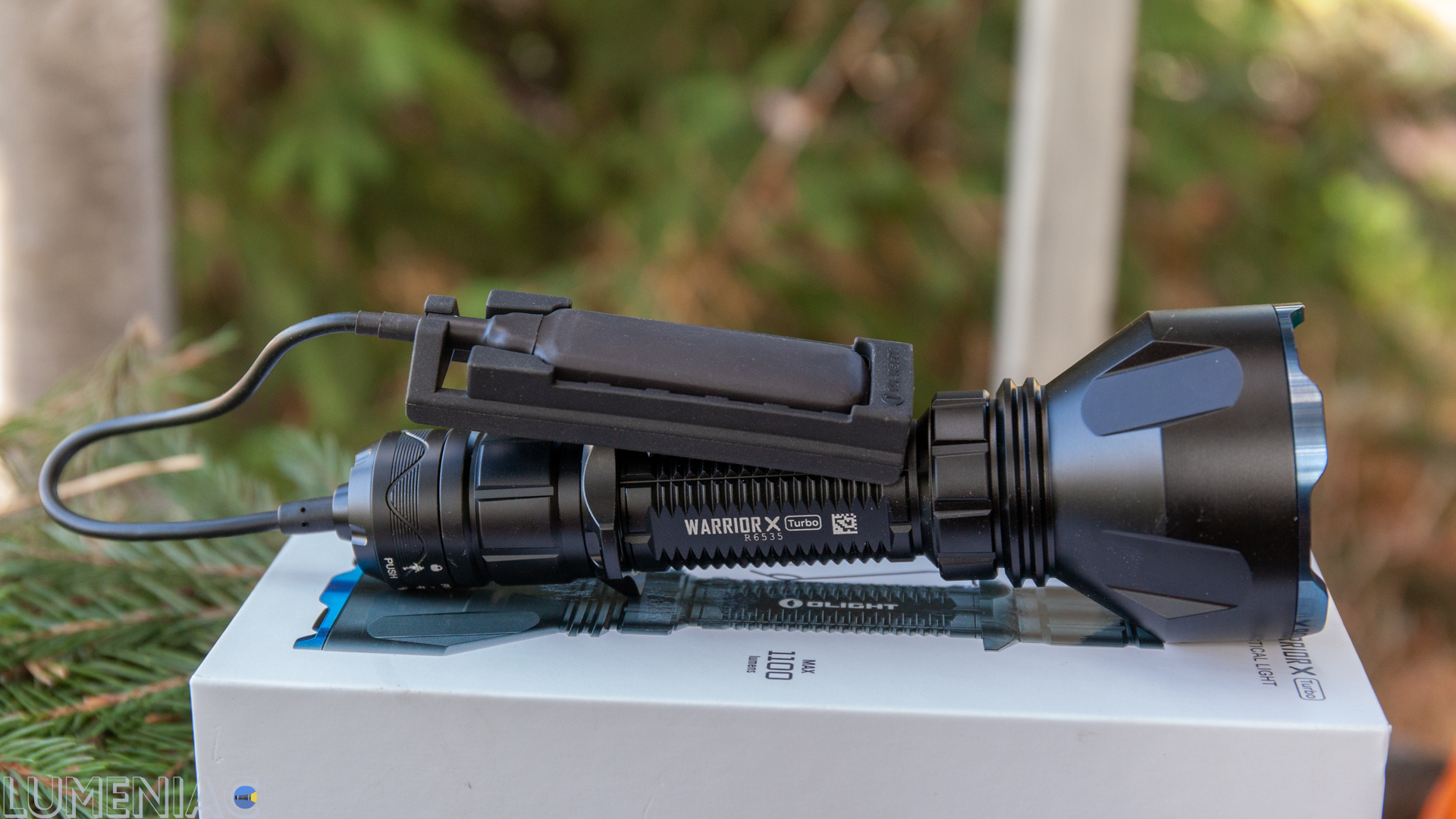 Warrior X also had magnetic contact of remote button, but now the contact is more reliable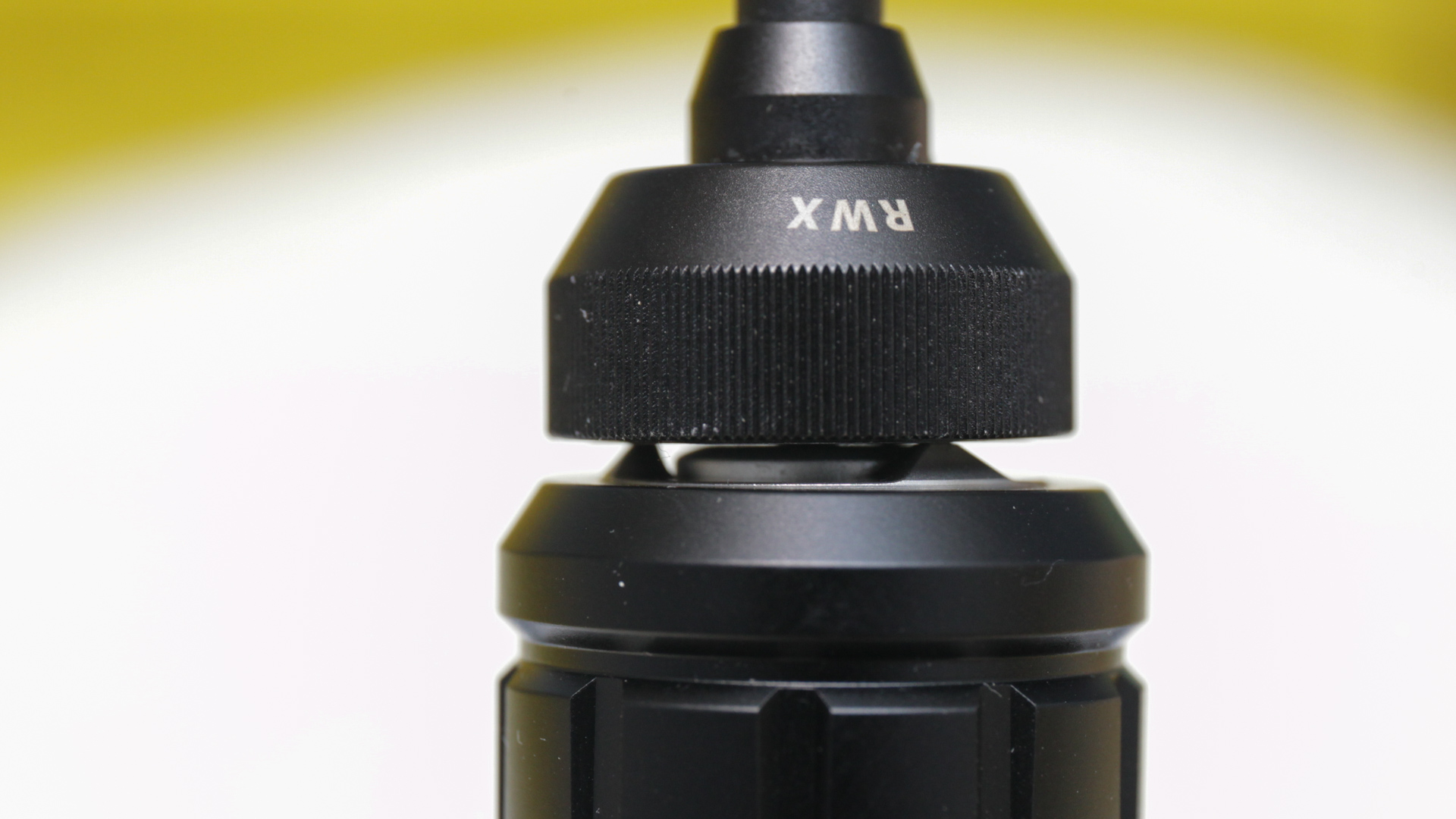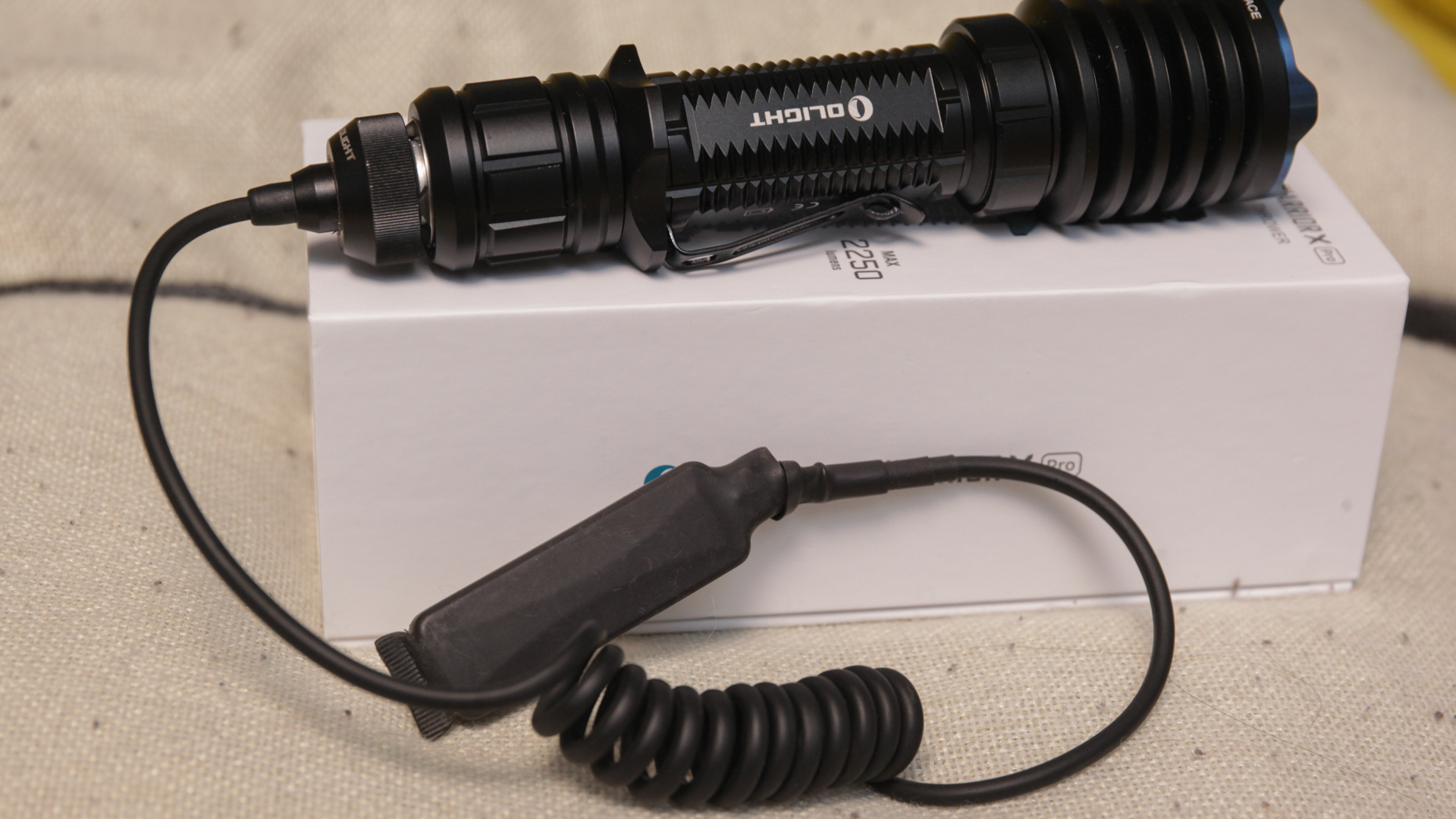 The maximum charging current of 1.8A drops quickly, so charging takes 5 hours, like if it was 1A…that is normal for promo pics to feed you with crap.
Ah, as you might expeect – third-party batteries will not work, Olight more and more stubbornly limits user only with brand expensive batteries. No 18650-21700 converter!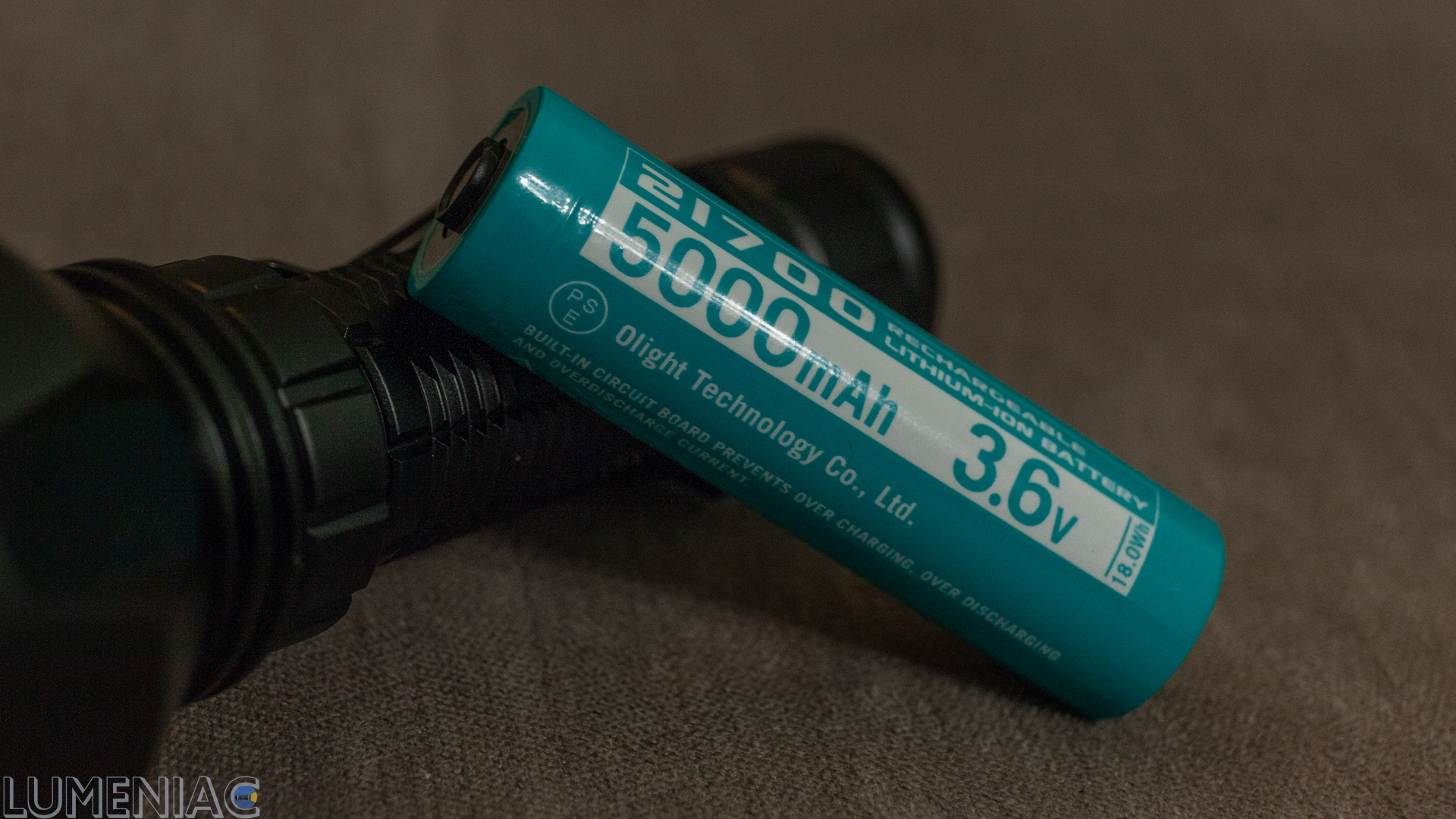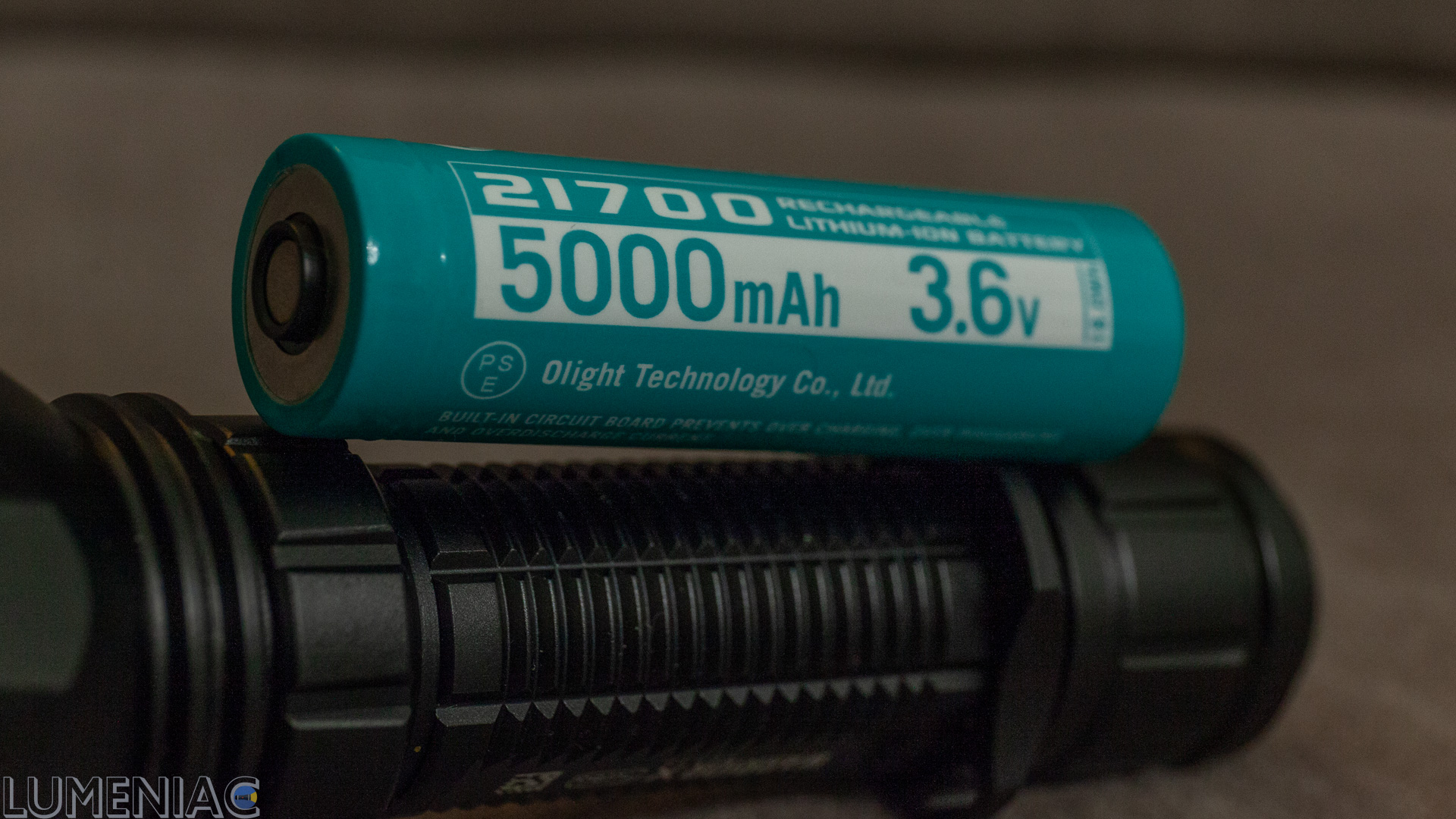 Though, I think that if you found money for such a frankly expensive flashlight as the Olight Warrior X Turbo, then buying a spare battery should not be a financial challenge. I understand why company does it (moneymoneymoney), but I definitely do not support it. If you need something significantly less long-range, but much more affordable – check out my Sofirn C8G review. In MOST of situation C8g will suit your needs for 1\5 of Warrior X turbo price.
Since the flashlight is gun-gounted, then, of course, there are springs both at tail (in the form of a spring-loaded contact pad) and from the head side.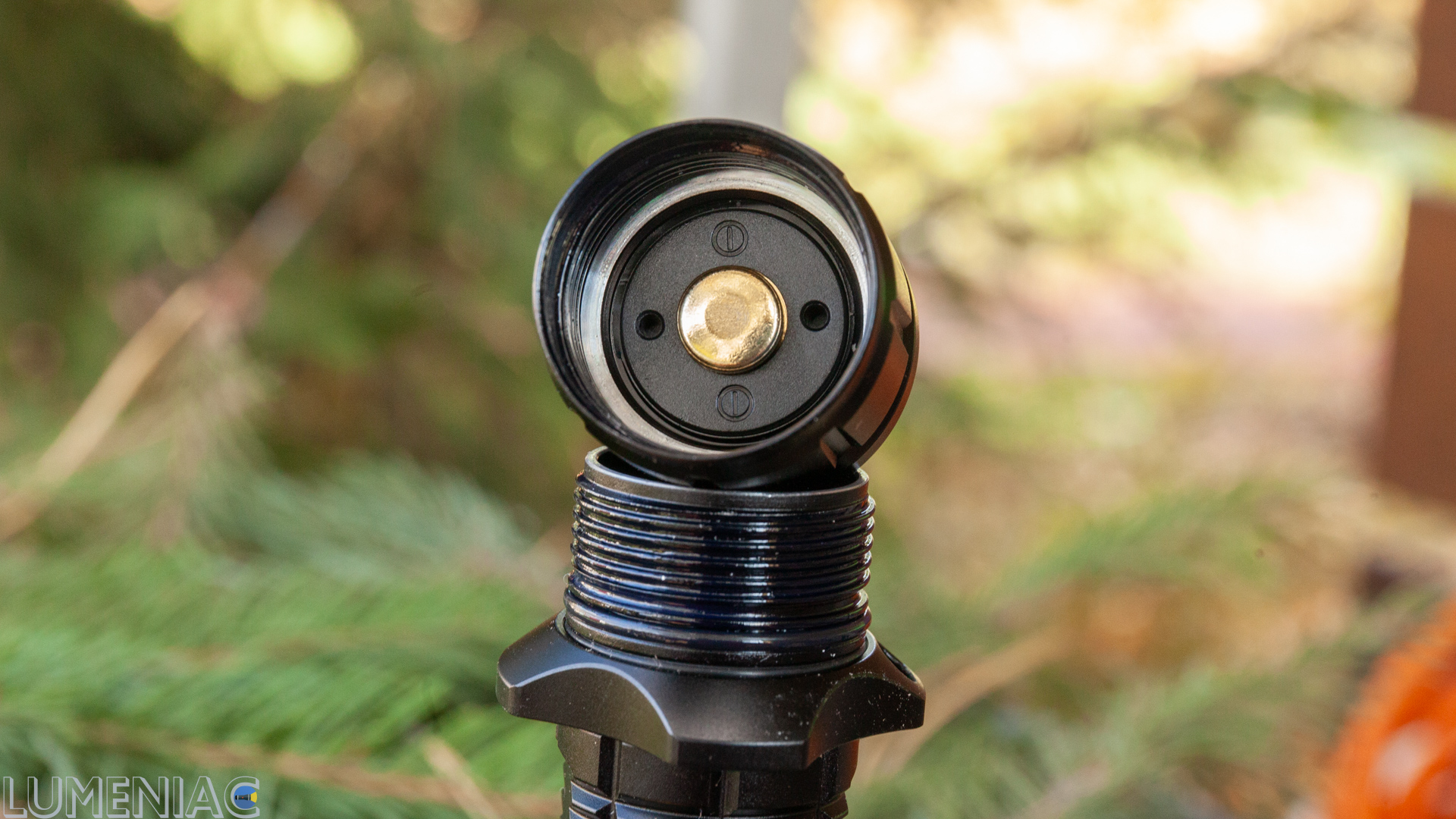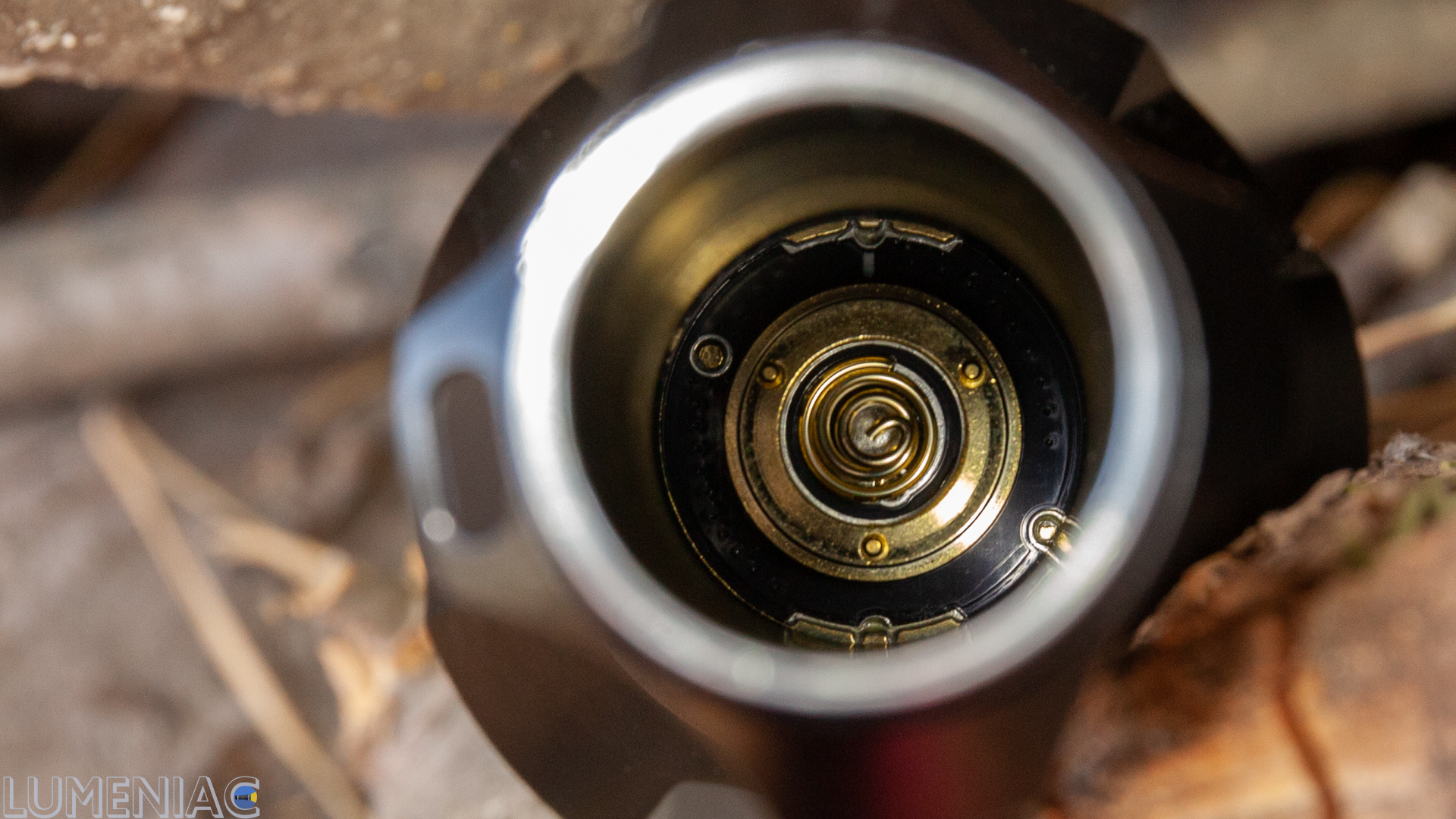 Machining, of course, at the highest level. The threads are well lubricated.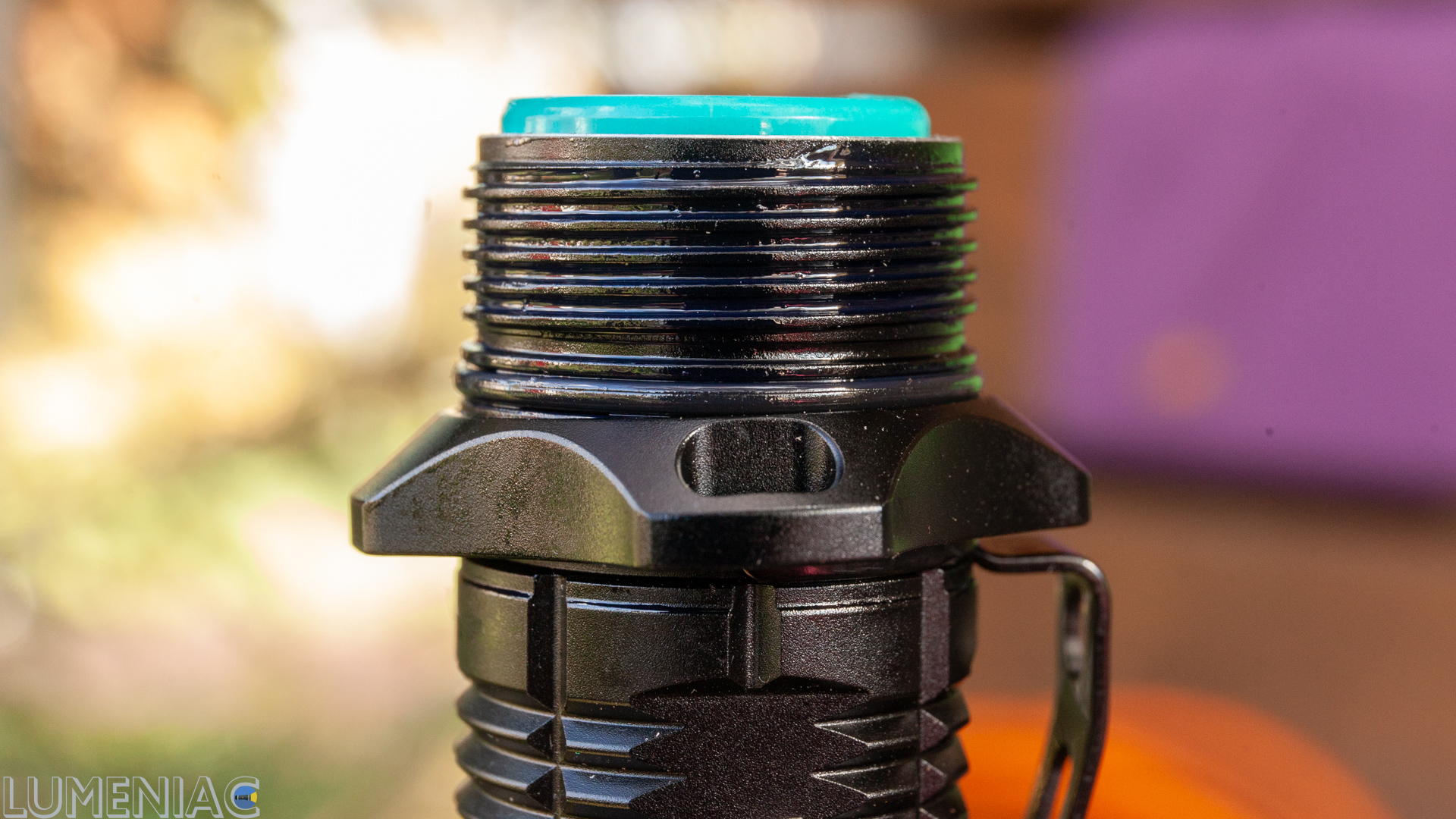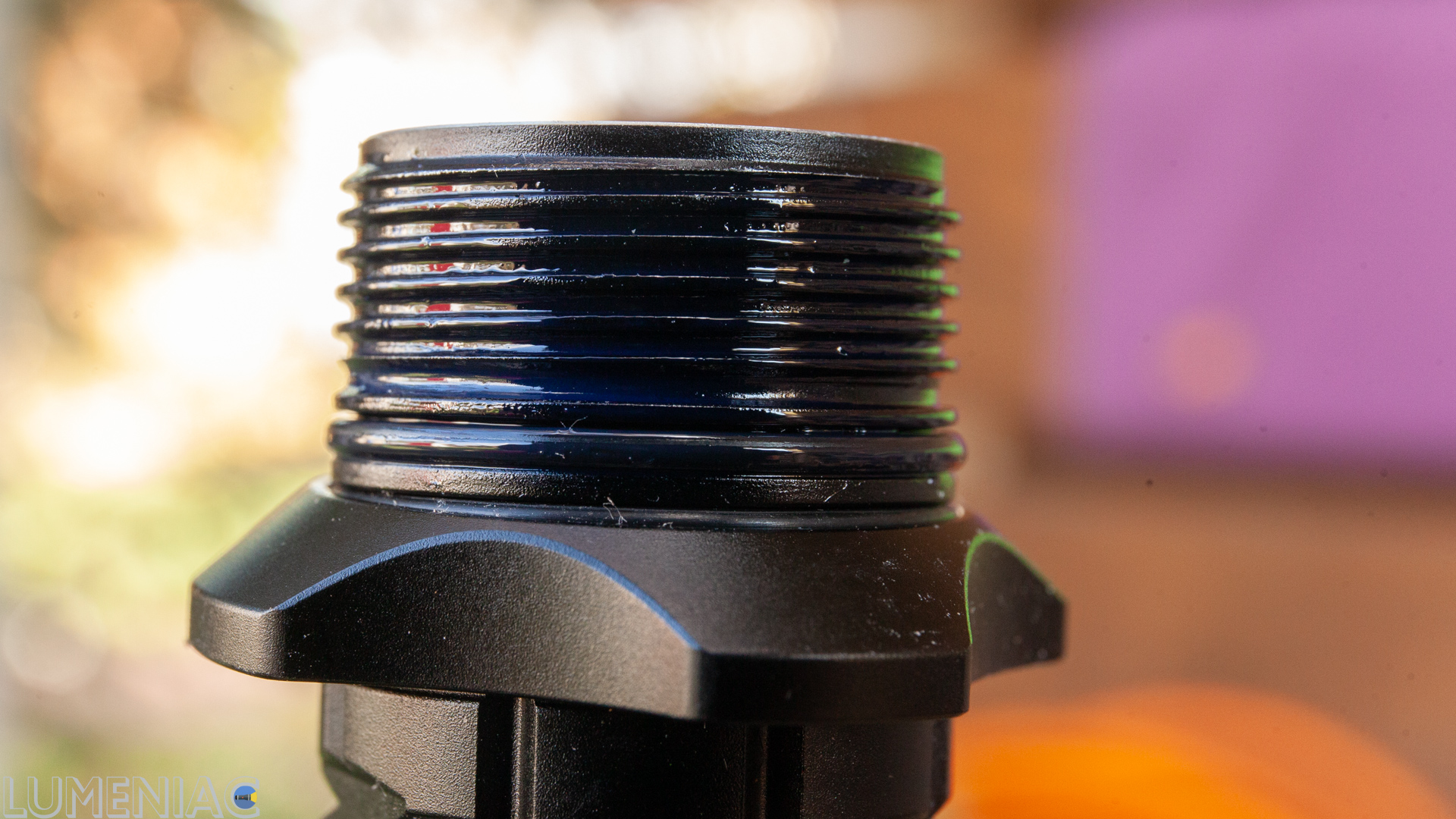 In addition to the default metal grip ring , there is a replaceable soft ring.
You cannot attach both clip and this soft ring.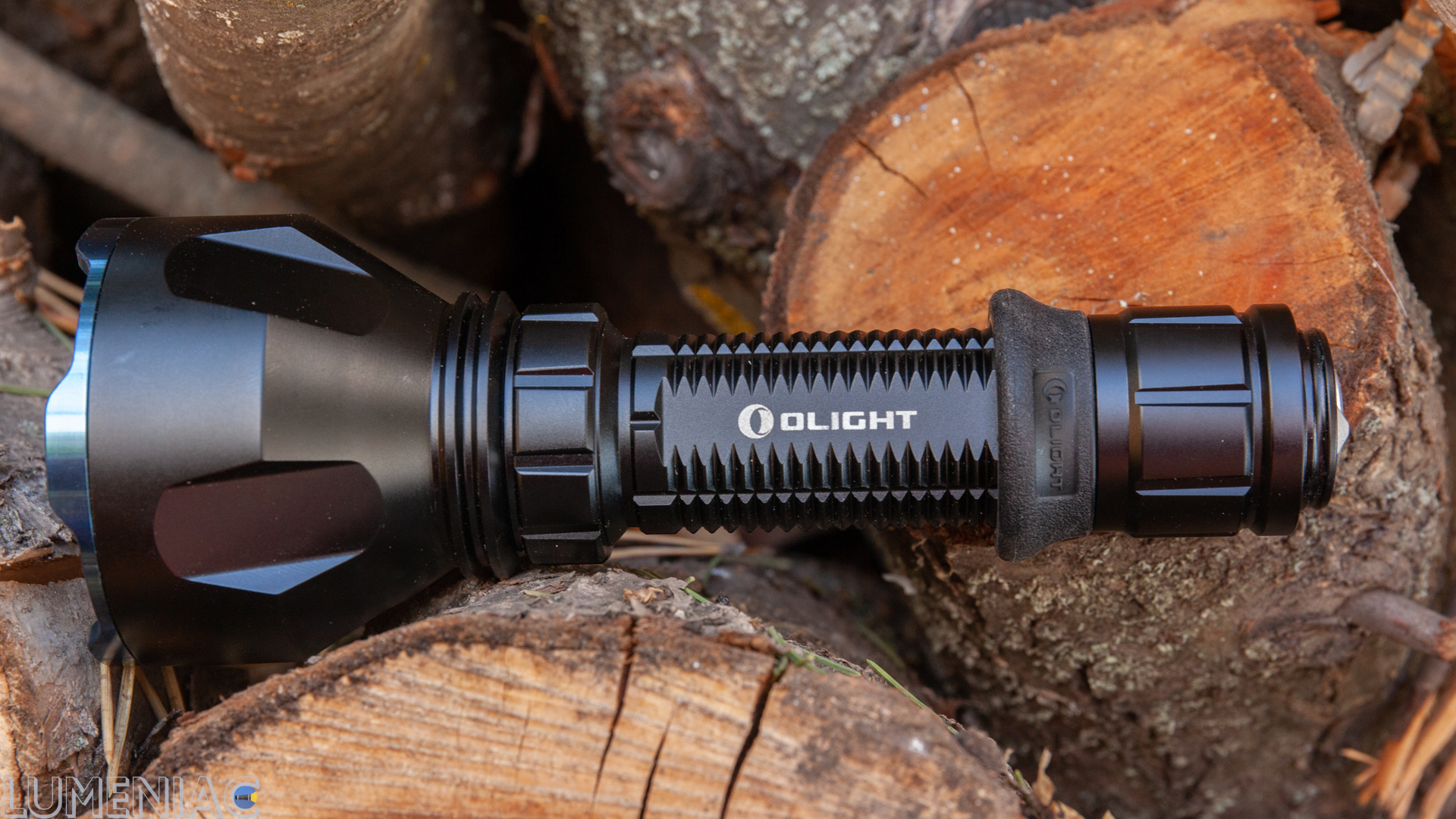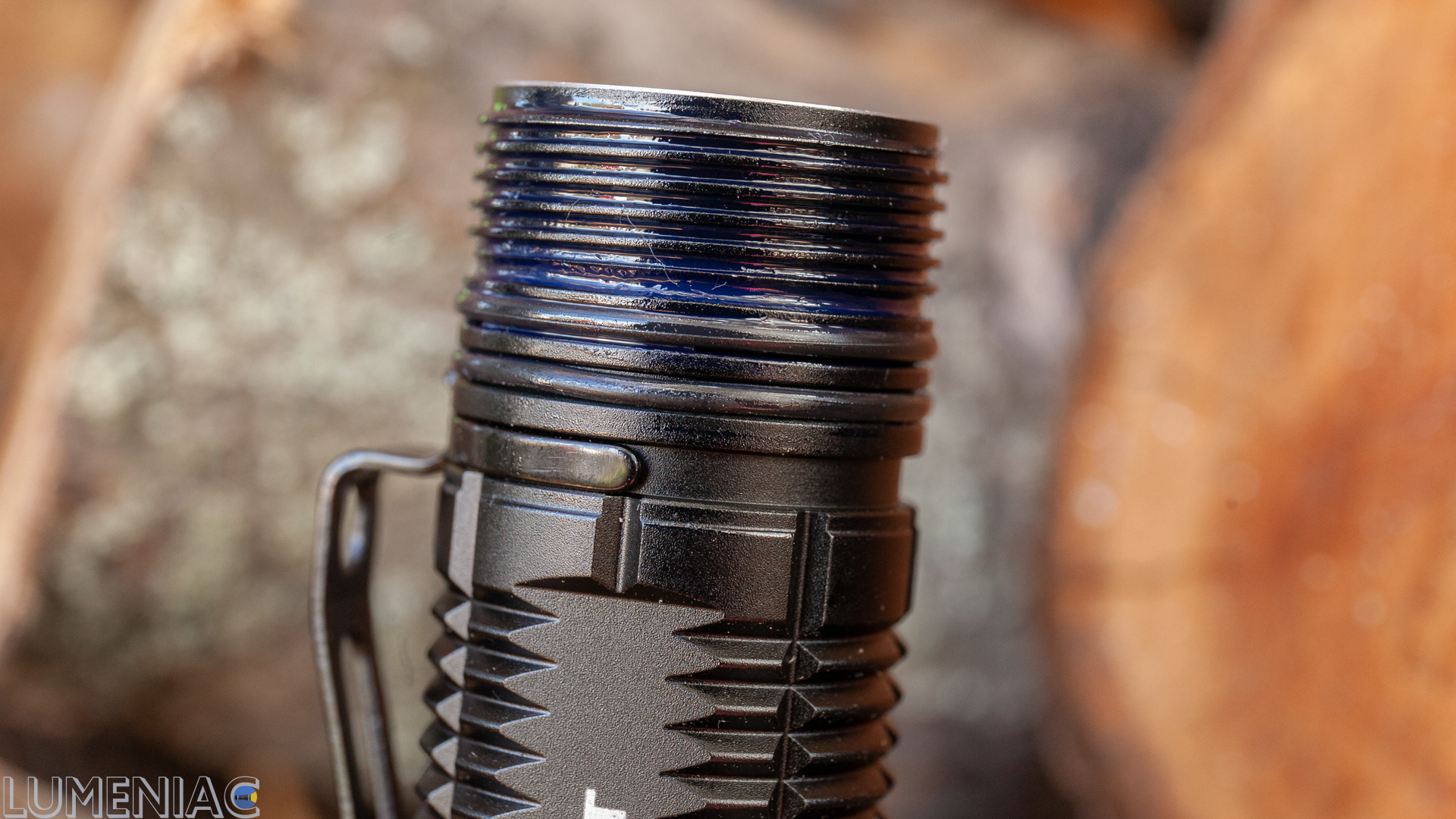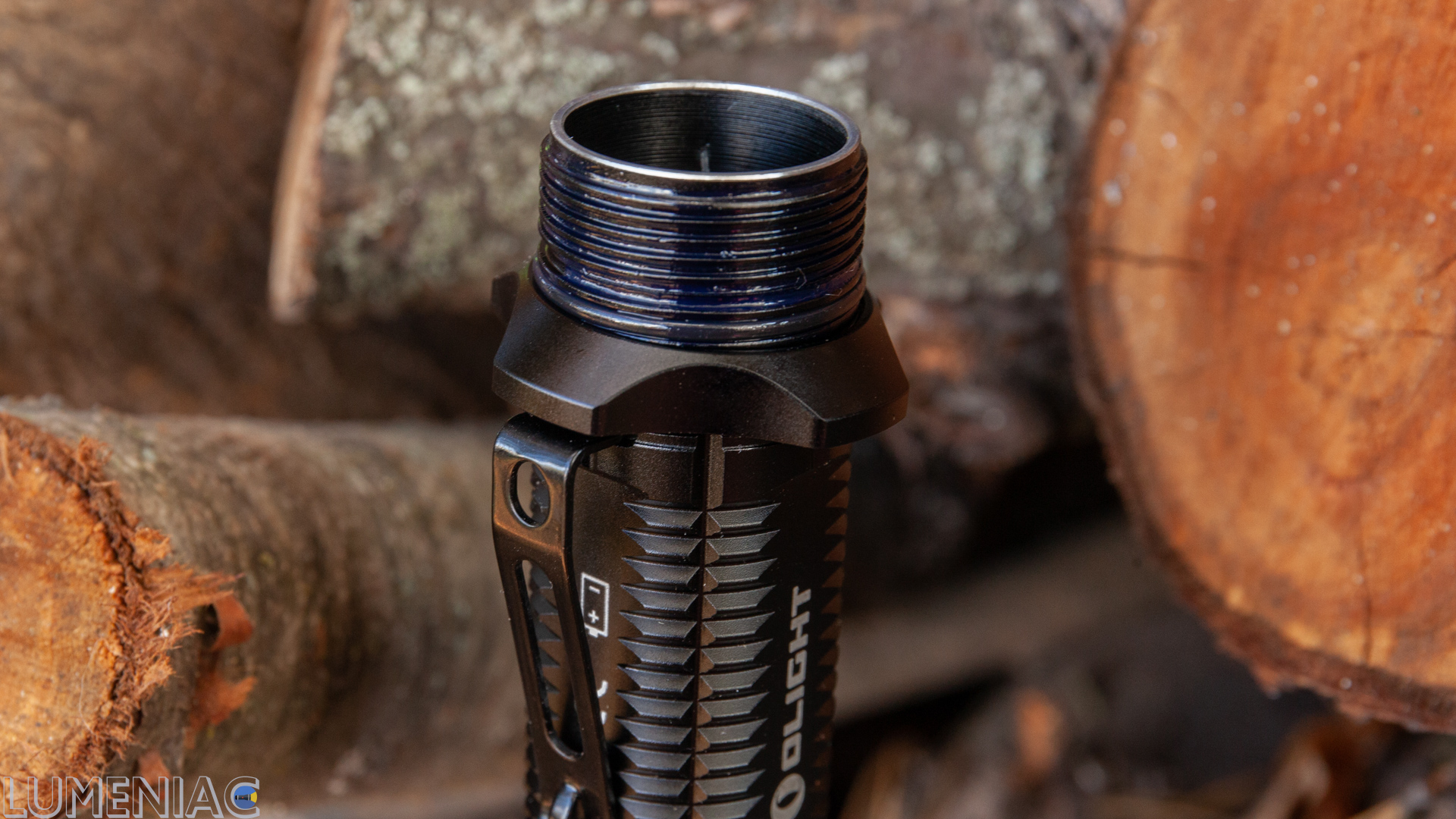 The knurling is large, tenacious, with two flat cheeks.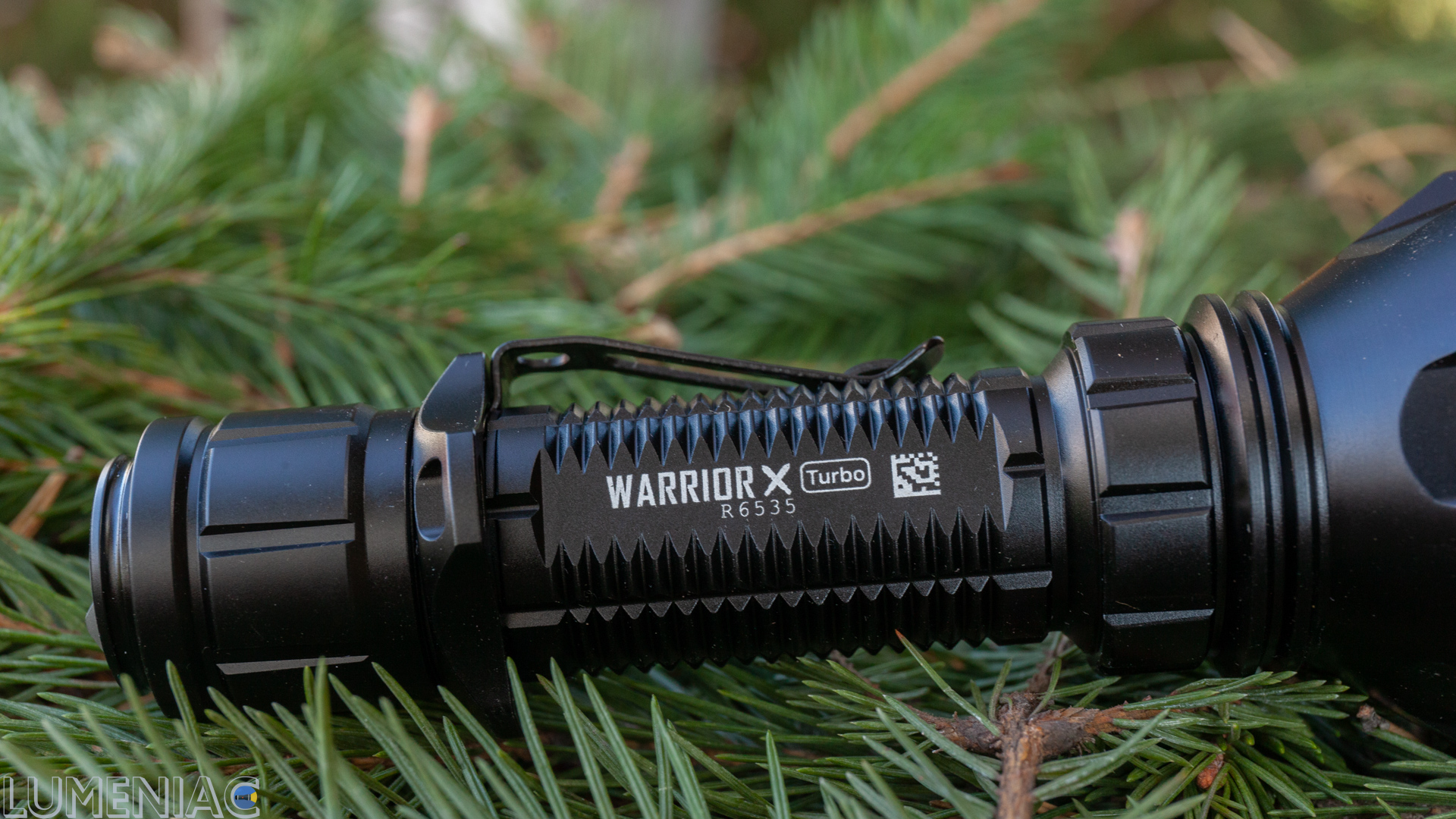 The grip is firm , the flashlight fits perfectly in the hand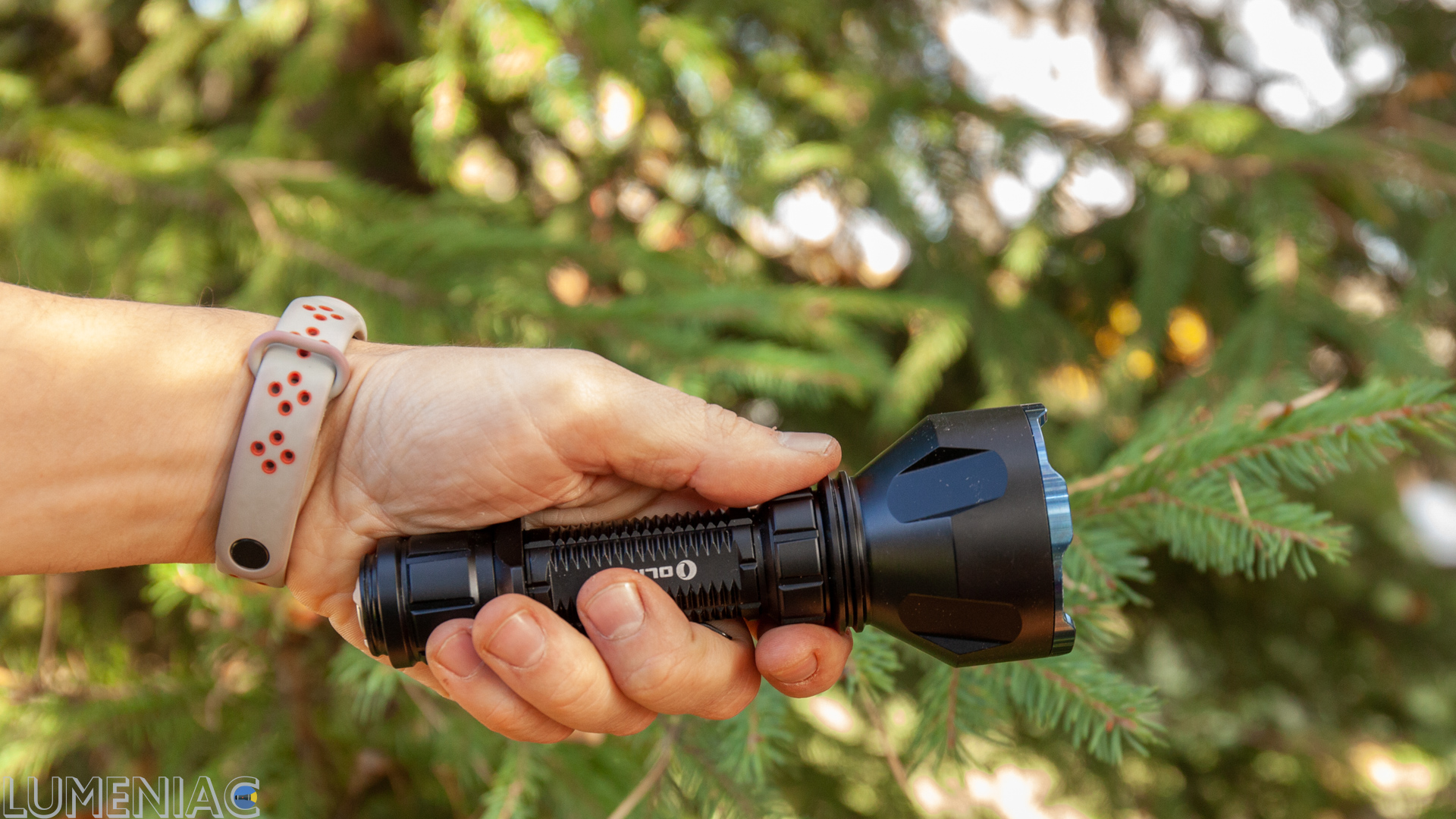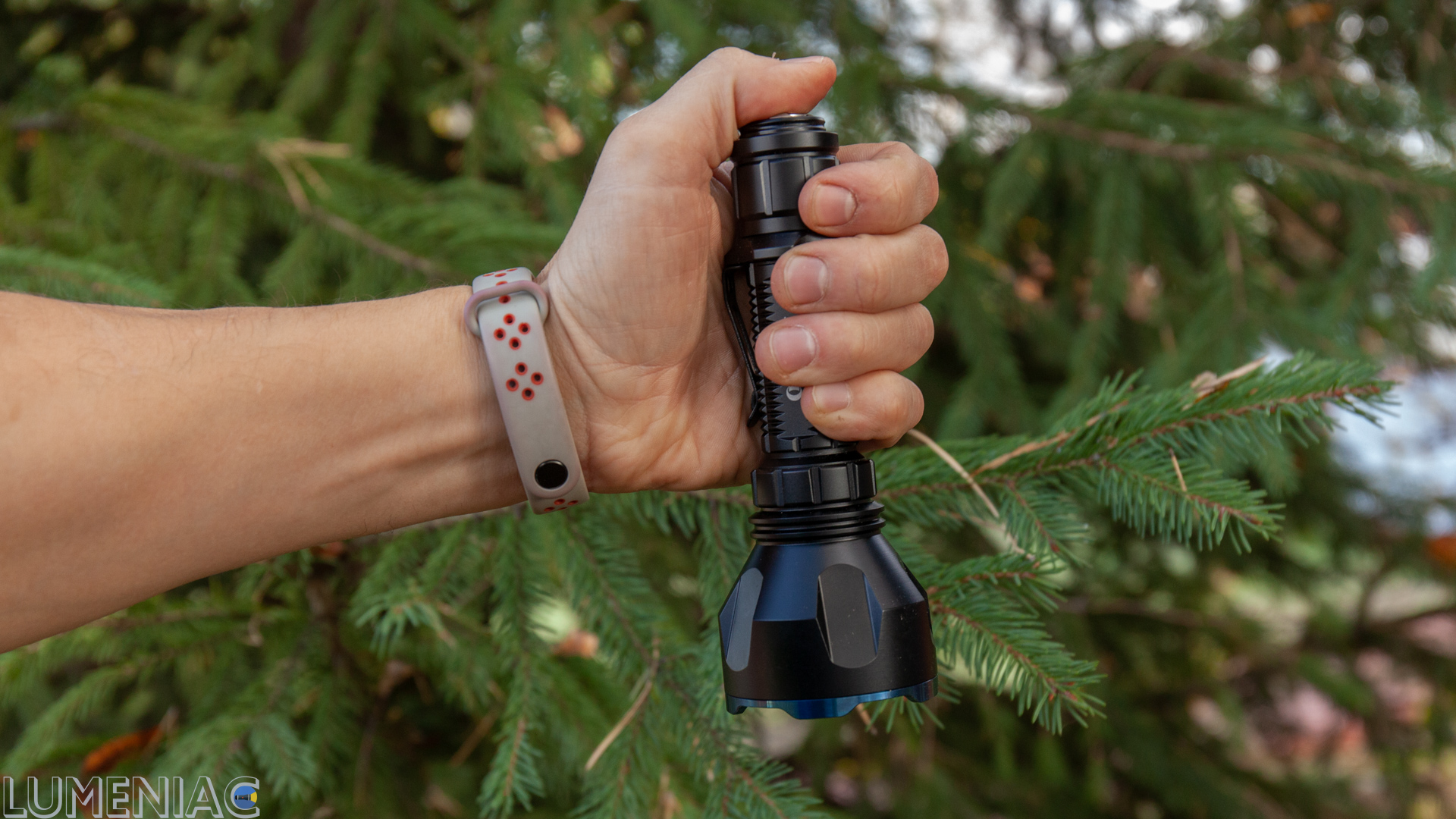 Compared to the Olight Warrior X Pro, the cooling fins are symbolic here.
This is how it was, I`ve seeen only a few models comparable in finning.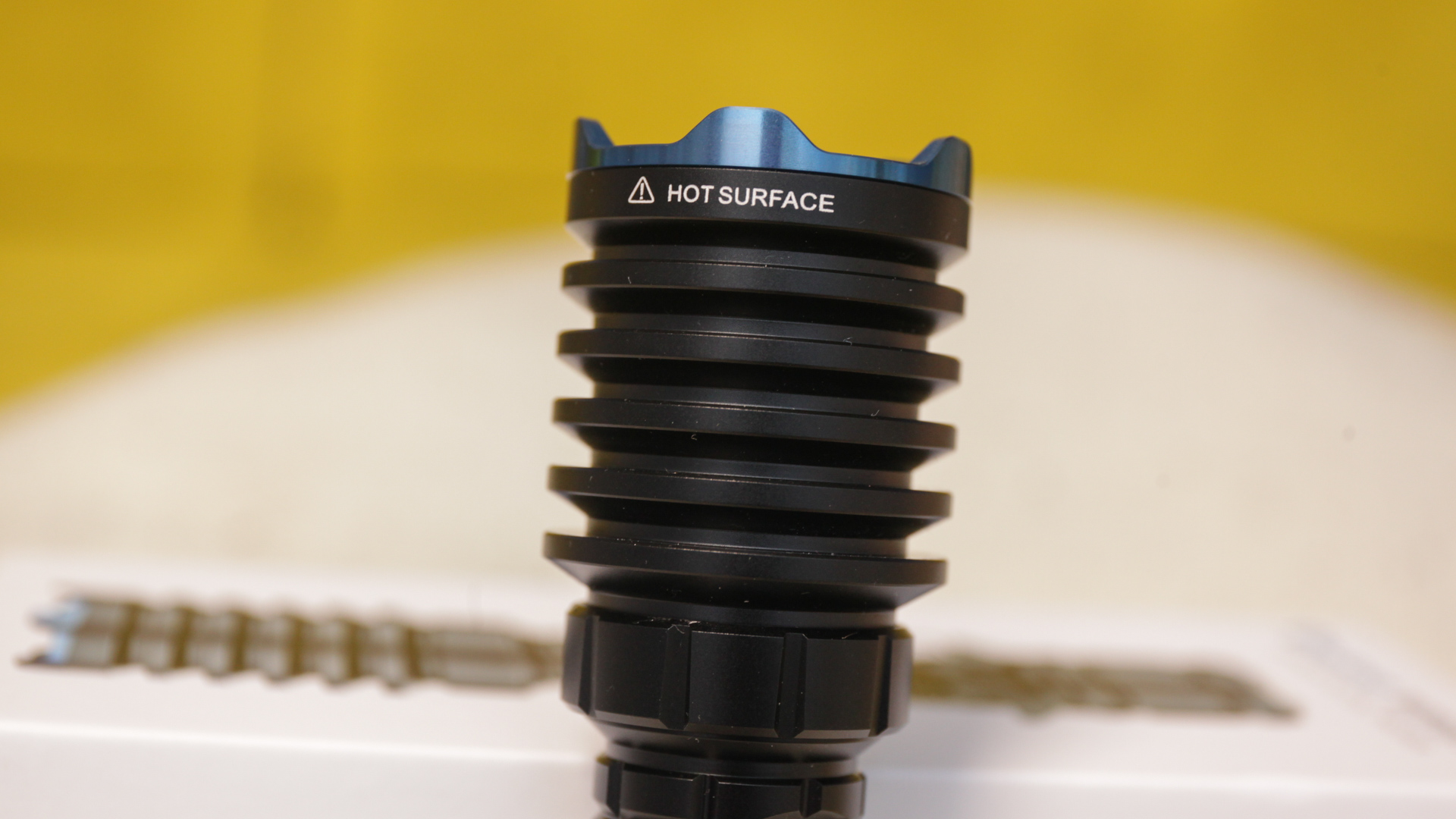 With quite massive head you Warrior X Turbo handles with heat dissipation even without cooling ribs.
Teeth are in the best traditions of tactical flashlights. I mean that they are long.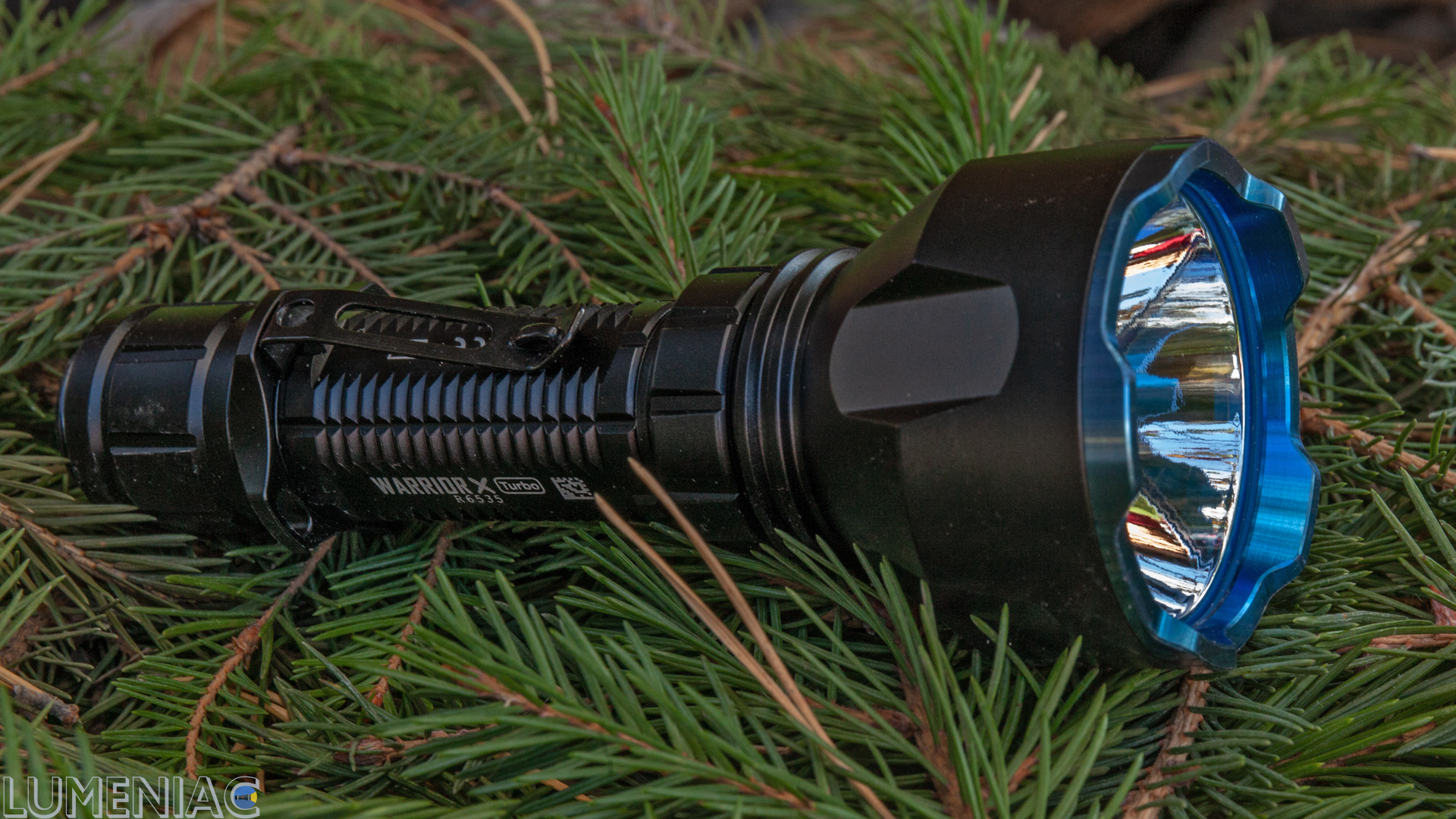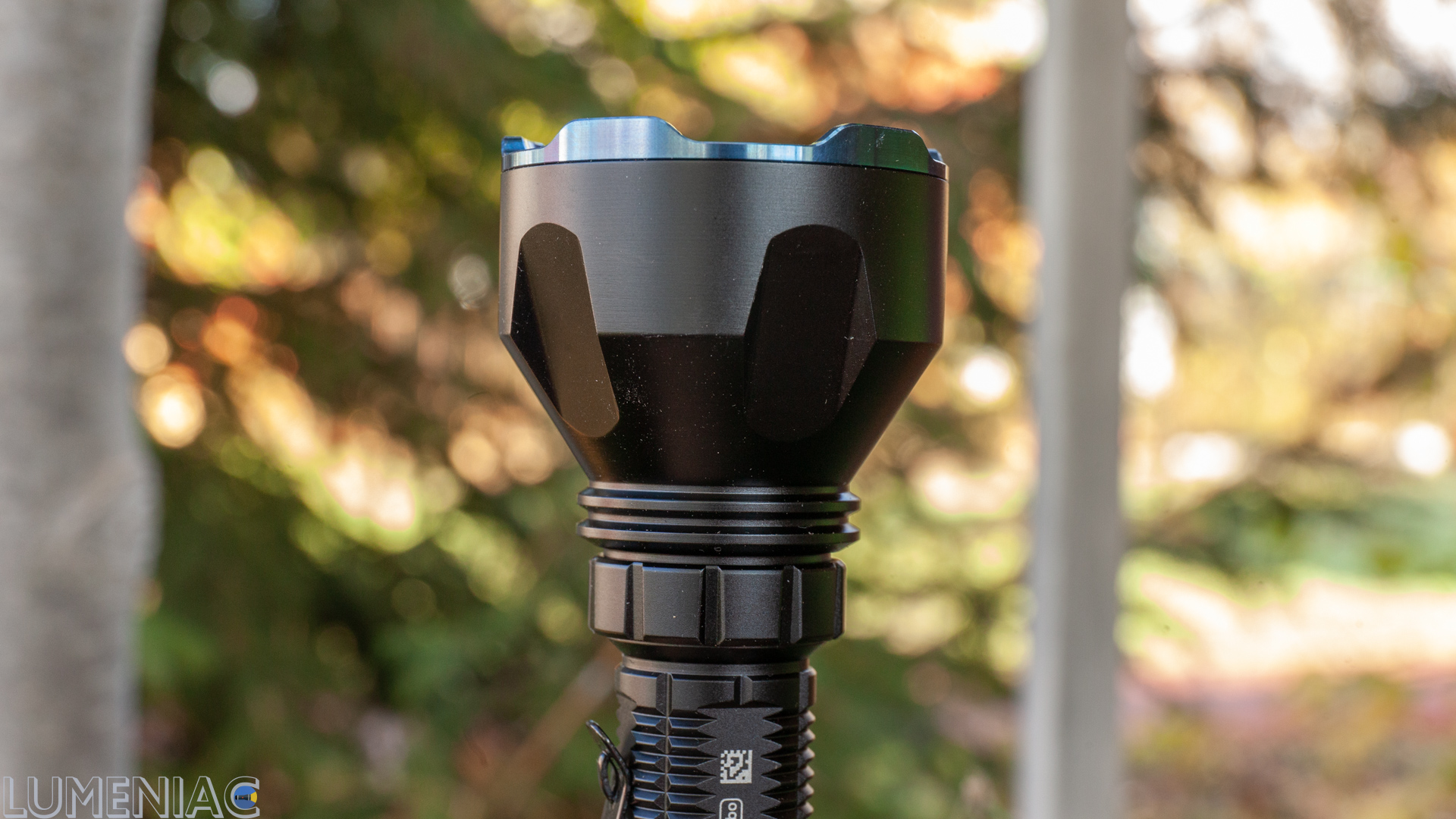 glass is anti-reflective. Initially covered with a protective sticker.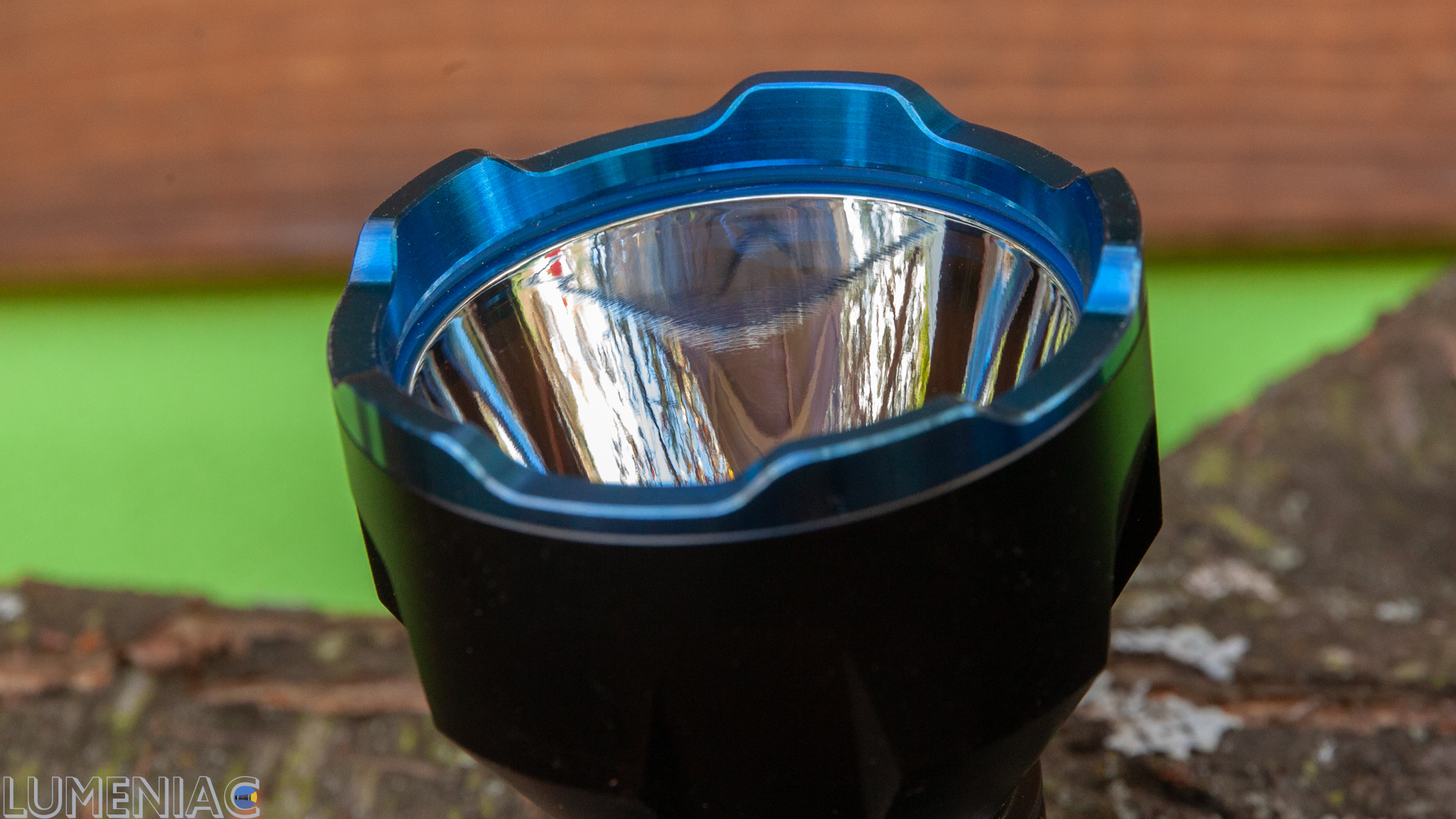 there is a deep smooth reflector under it . And there is a tiny LED Osram KP CSLPM1.F1 CW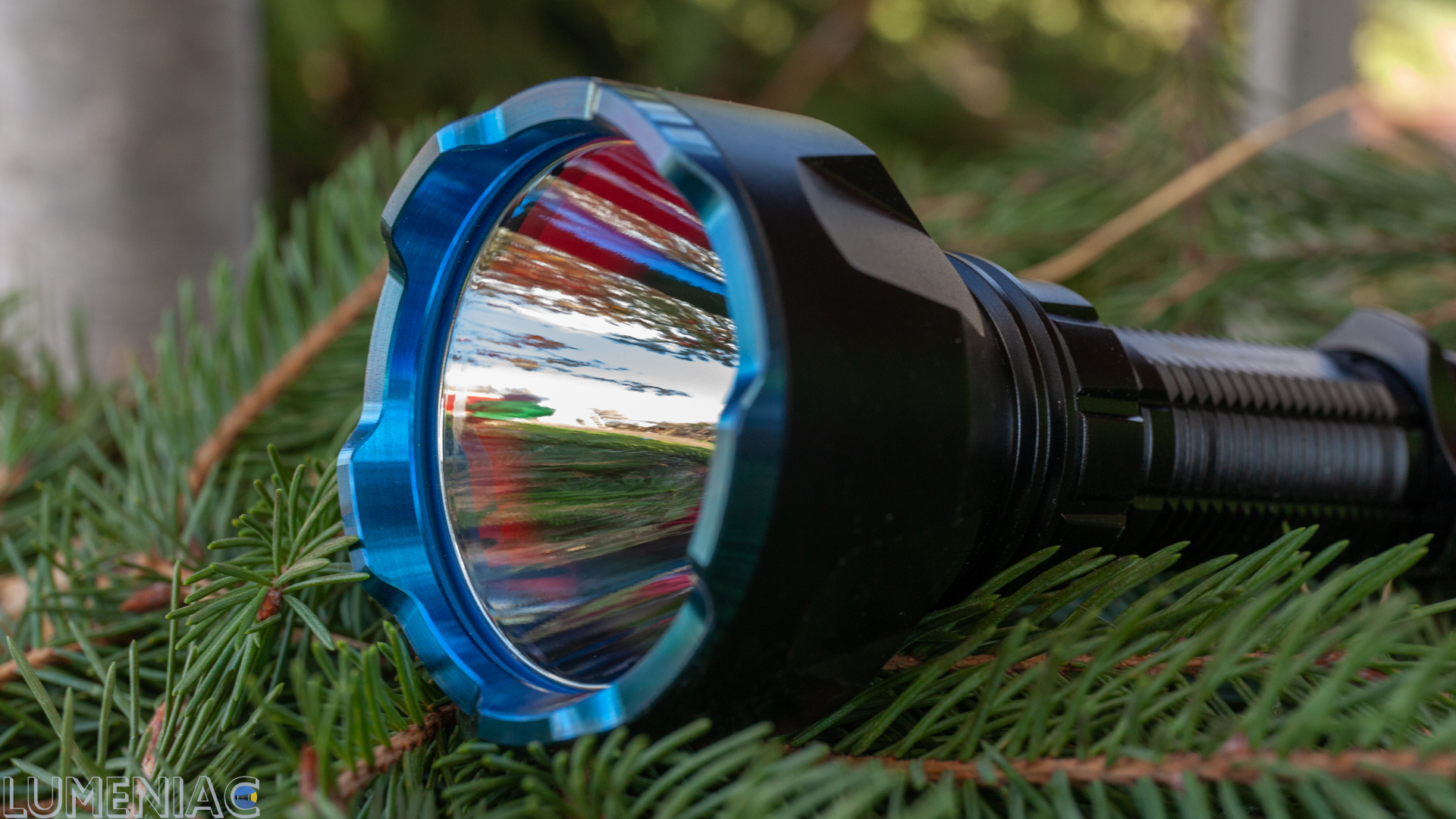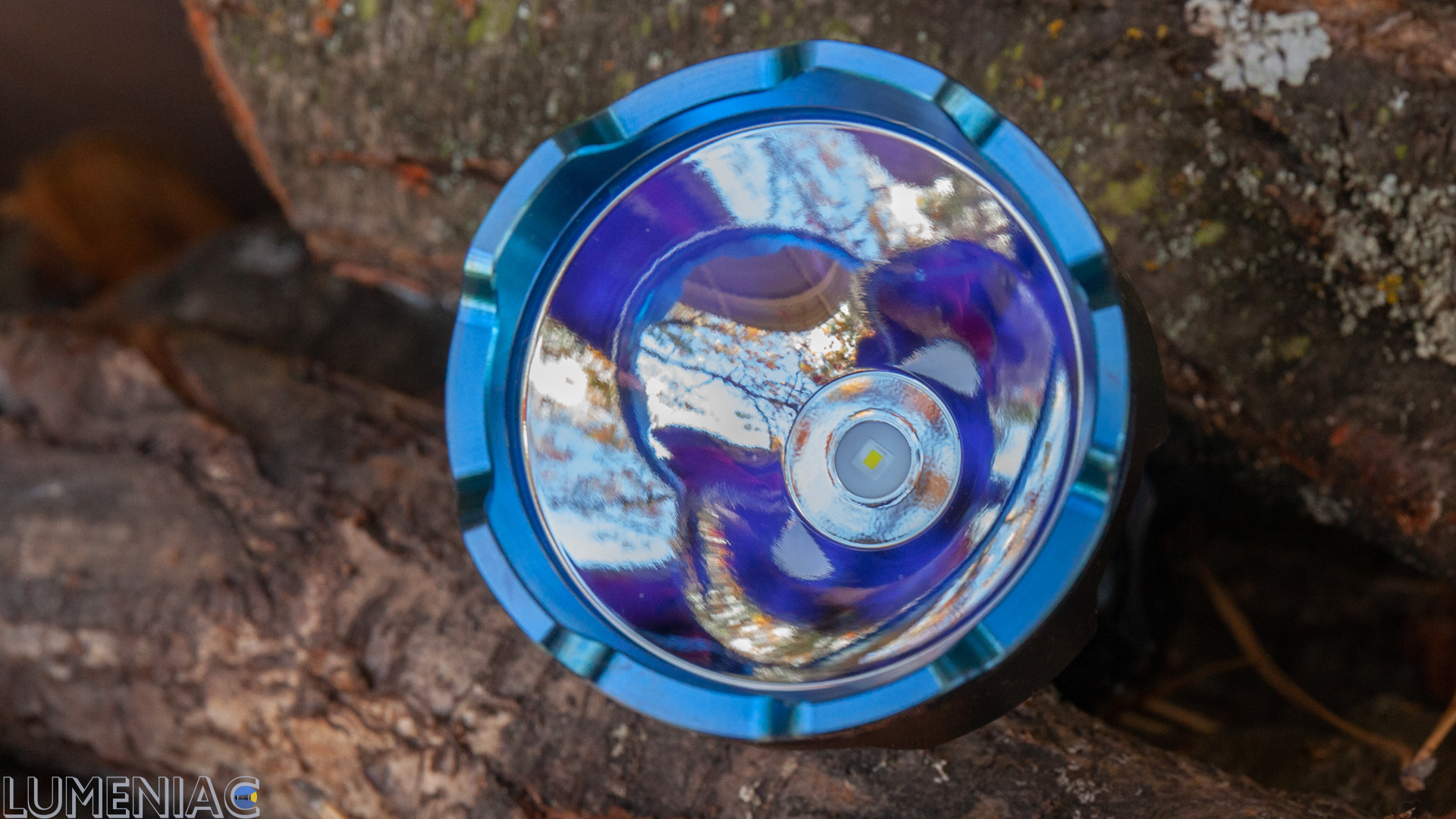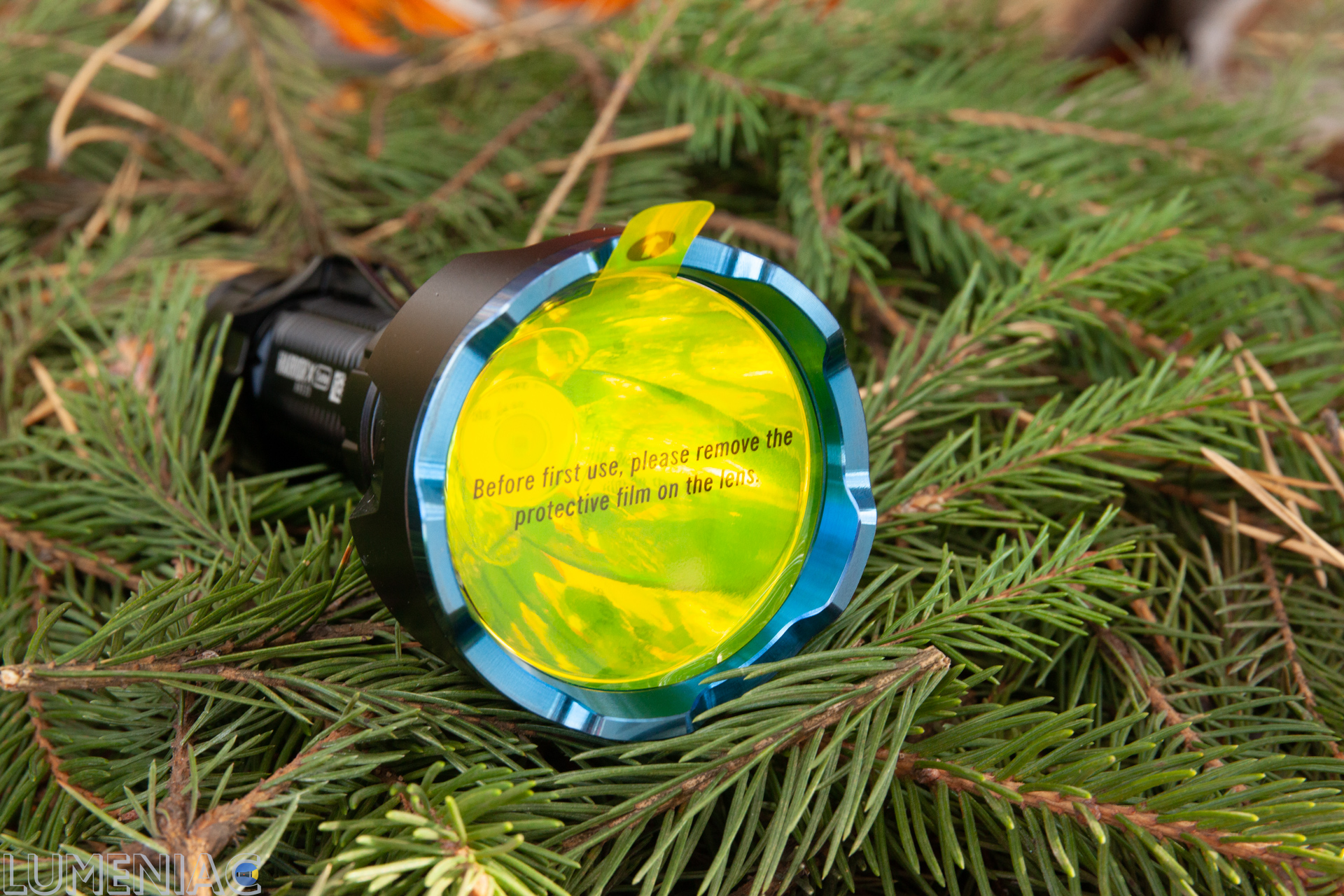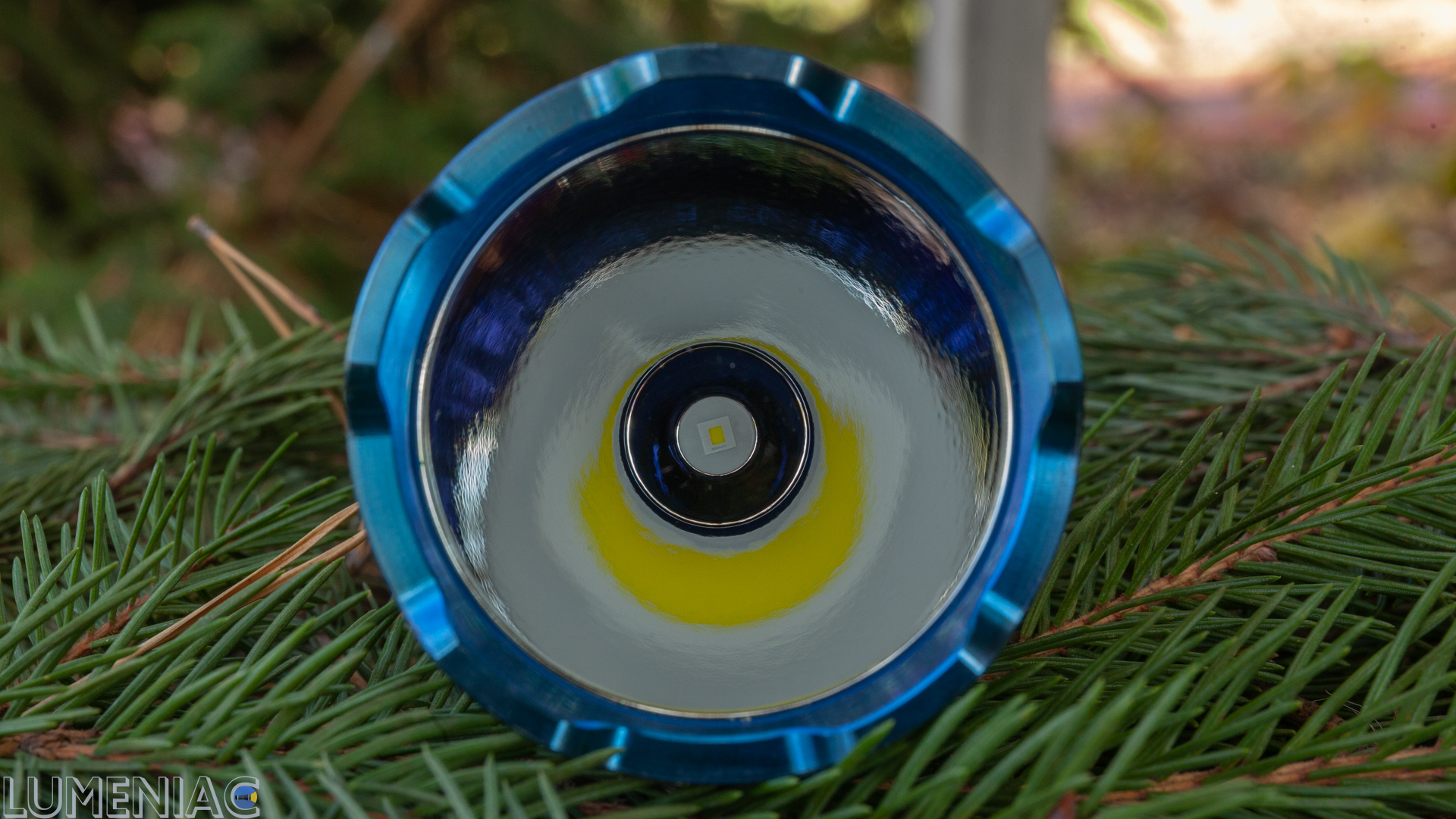 That's all. Traditionally for Olight, the flashlight looks amazing, you should expect excellent workmanship. Also traditionally, forget about third-party batteries.
UI
Let me remind you that the button is 2-positional, the move has two positions. Let's call this a light press (LN) and a full press (PN)
LN – Low (with a short press, the mode is fixed, if you hold it down – it will light on hold)
PN – Turbo (same as above)
It is worth noting that there is a kind of discharge indication by vibration of the flashlight
<20% = every 5min \ <10% = every minute \ <5% = every 10 seconds
How Olight Warrior X Turbo illuminates
Cold white light. Side illumination is just symbolic, all light goes to the center.
If you REALLY need, you can use it like walk arount light, of course. I used it this way several times while walking around countryside to the spot i make pics. And the minimum 150 lumens is more than enough to see where to go, and you can freely illuminate the road in an exceptionally large radius. But, of course, any ordinary EDC flashlight will be much more convenient here. What to hide, even the cheapest long thrower like though good olde C8 with domed XML-l2.
!
https://s2.gifyu.com/images/720_road.gif
!
https://s2.gifyu.com/images/720_road.gif
Brightness is fully stabilized and works at the low mode in about 12 hours. You will not be left without light, the flashlight does not turn off completely. Light will gradually smolder after an initial stepdown, until it turns off at the cutoff around 2.8v
!https://s2.gifyu.com/images/720_road.gif
Besided the fact that runtime in high itself is remarkable, this mode is no sorynot one-time; if you wish, you can restart it. Somewhere at 3.6v, the flashlight could no longer pull it out. Taking into account the fact that, in theory, you need HIGH mode only for really short time, to activate it right before you shoot, so these 6-10 minutes HIGH be enough with a huge excess.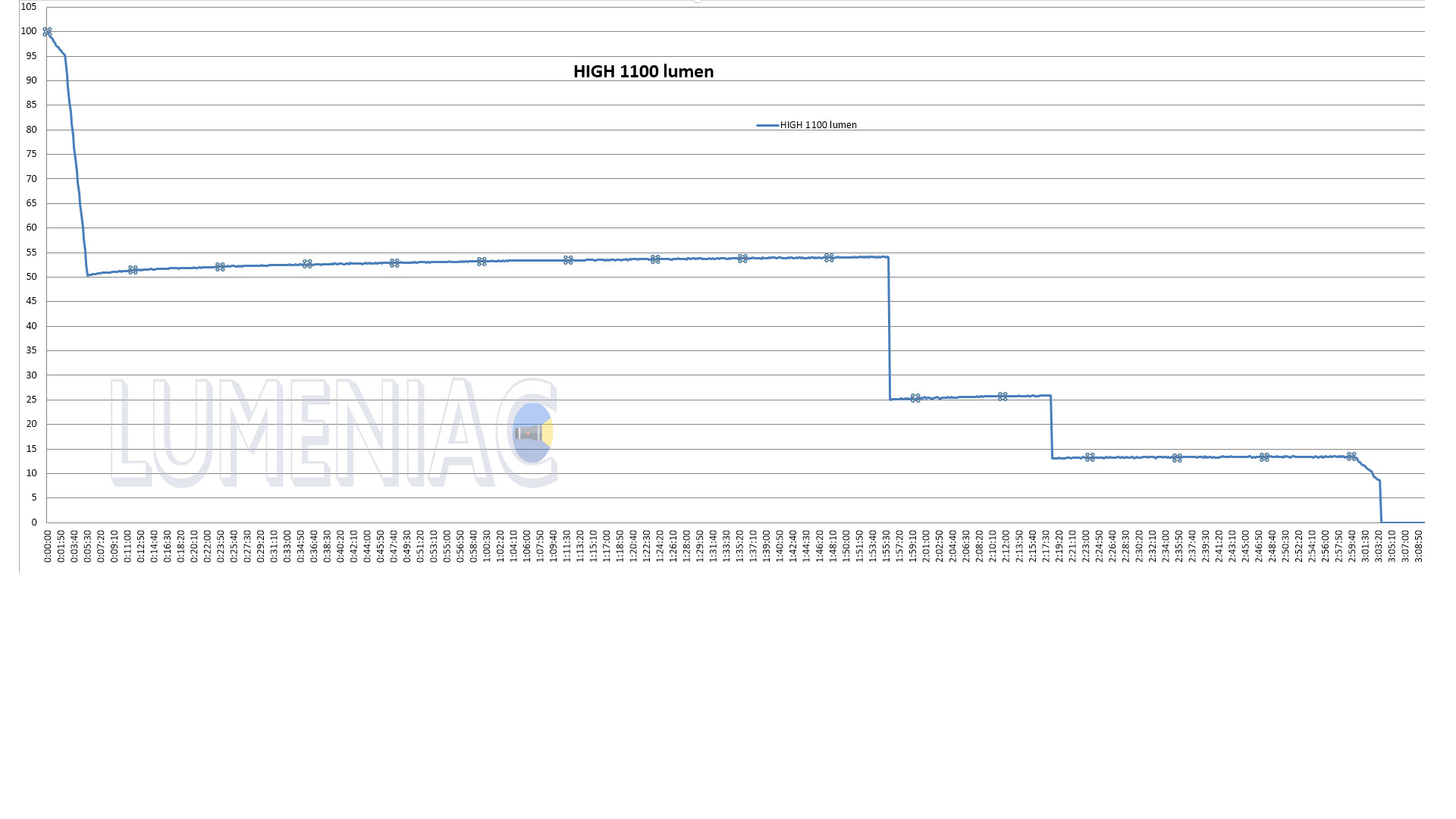 The light is focused to a point as much as possible. This is the reason why with almost half the brightness comparing to Warrior X, Warrior Turbo gives the declared throw of 1 km against 600 m. You can expect something more focused only from LEP-flashlights, which are rather laser pointers when flashlights at all. Like Acebeam W30, which, I hope, will also be able to tell in one of next reviews.
Due to this, even at minimum brightness, with negligible 150 lumens, Olight Warrior X Turbo is absolutely reliable in range of 100m.
And this is not an exaggeration, see for yourself.
50m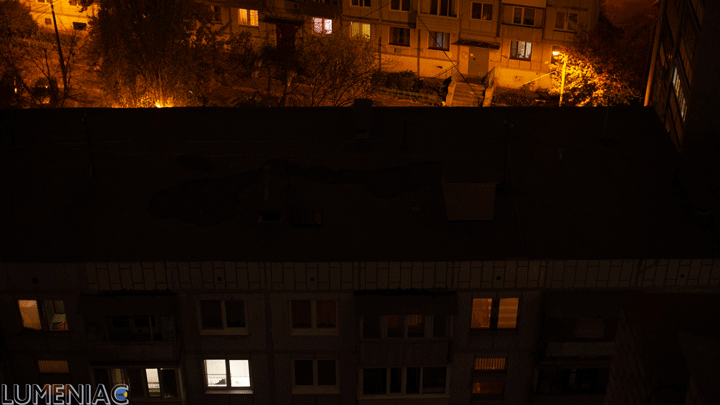 75m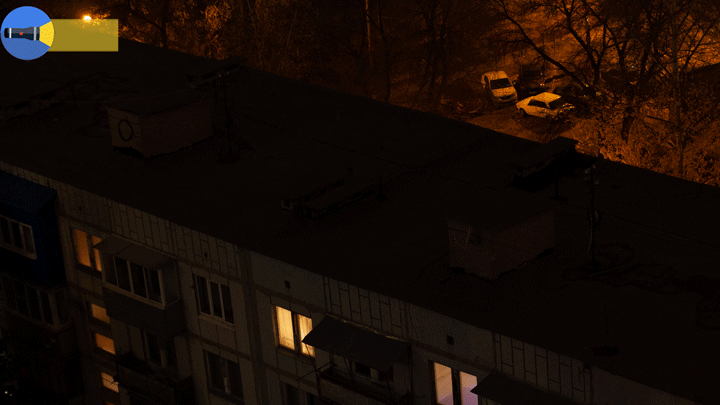 Goggle map shows 100m to these trees, if you consider that the beam goes up, you can add 15-20 meters.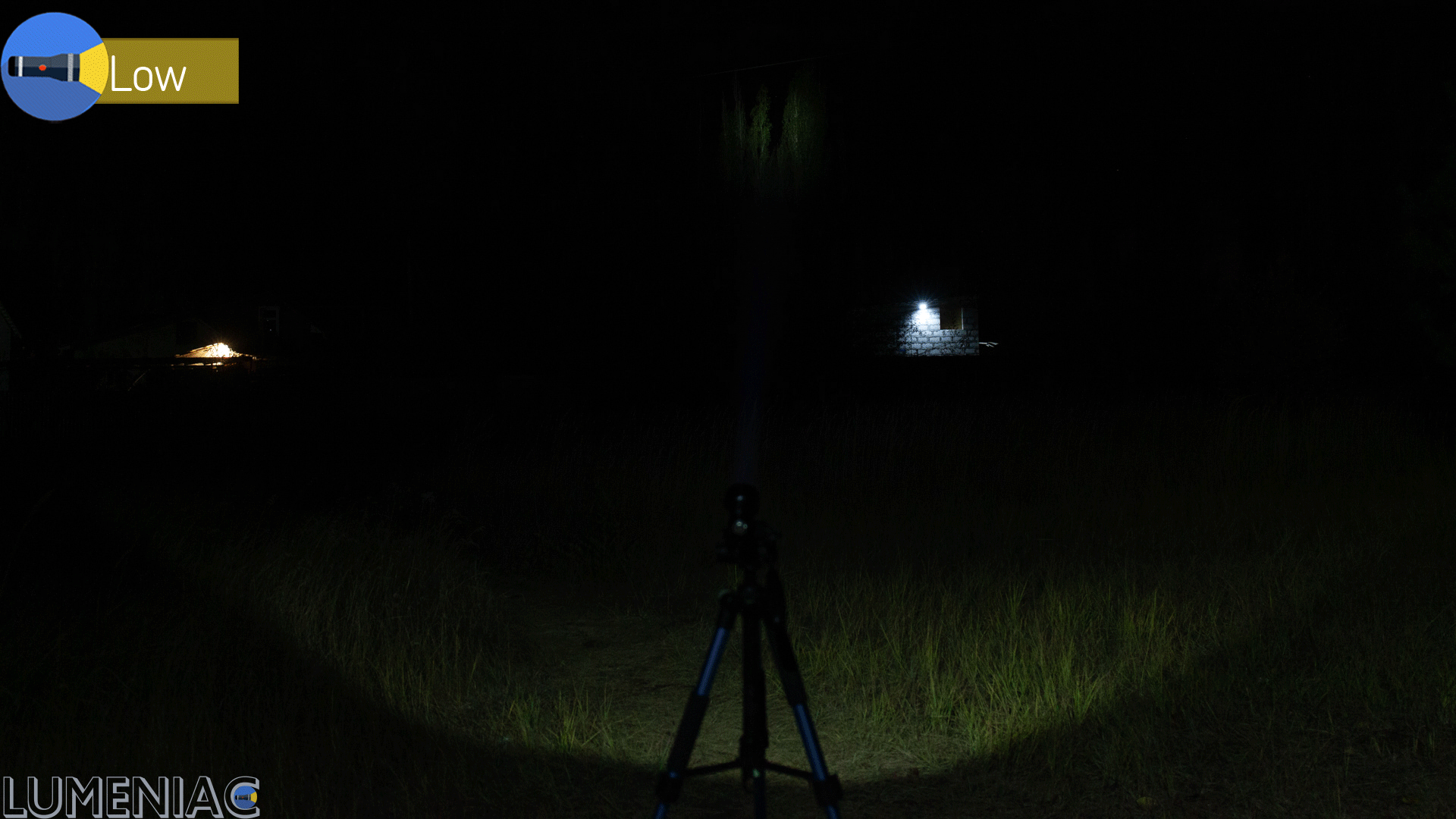 And now, zoom it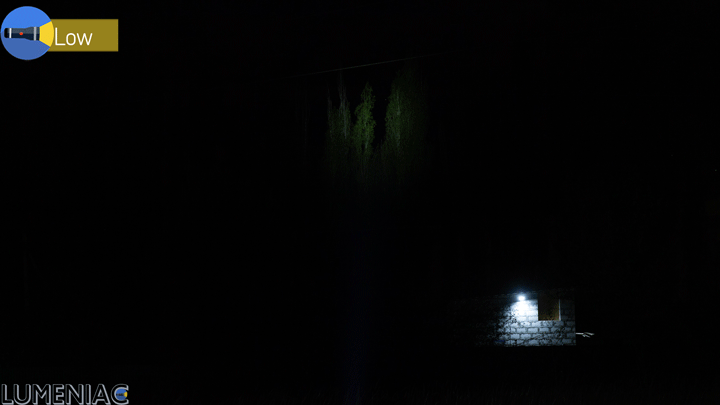 250m
Low is of some use even at this distance good, see for yourself. it would be even more noticeable In total darkness .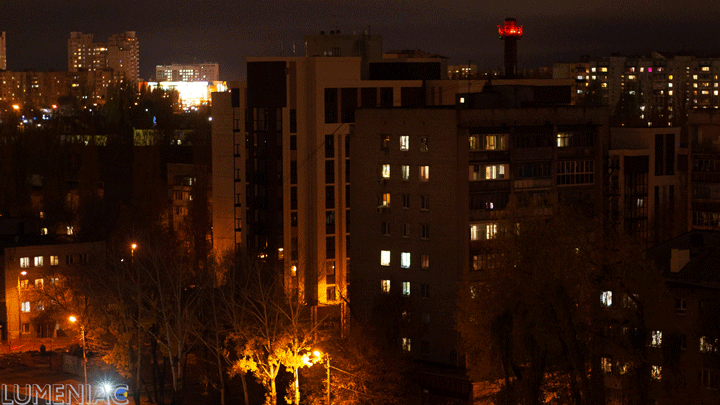 400m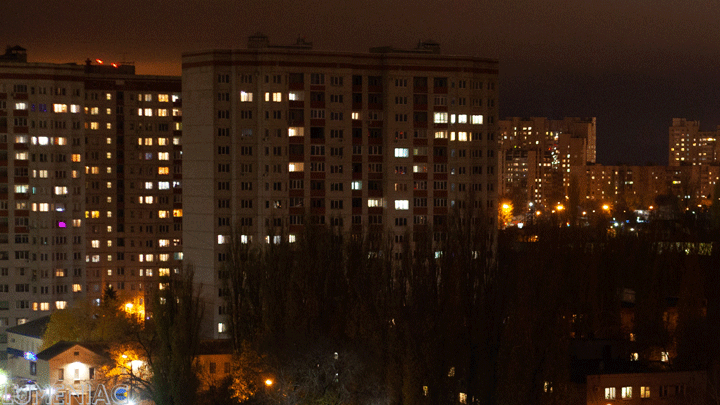 450
even here you can see some symbolic shine from low, but this mode is frankly useless.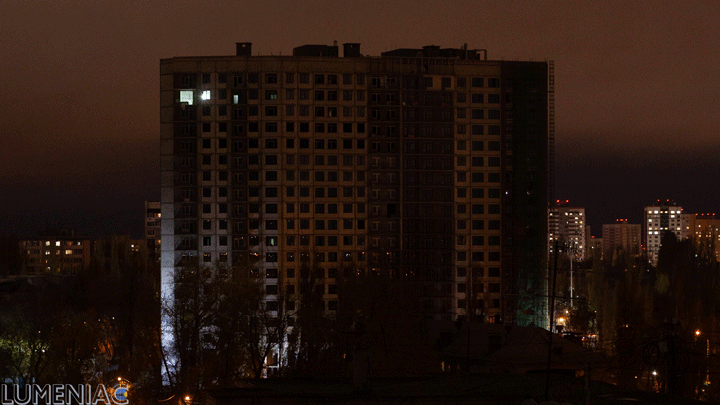 OVERALL IMPRESSIONS
The Olight Warrior X Turbo is a very specific, but interesting alternative to another remarkable and similar in throw model – Olight Javelot Pro. Having similar head size, it is 2 times bightner, that`s how Javelot PRO reaches such a throw. So, at the same brightness level, Javelot Pro will definitely lose out to the Warrior X Turbo.
Though, light temperature, by the way, is nicelelly neutral, unlike the Warrior X Turbo, which is clearly better for a long-range flashlight. Yes, and you can also gu mount it if need. There are some intermediate modes as well. But this is a 2×18650 model, which is significantly longer than the Warrior X Turbo. And it costs a third more, it is also worth noting.
If you can uses Javelot PRO for some non tactical and hunting needs, review here, is a 100% rifle-type flashlight due to just 2 modes and UI.
So, I remind you that this is a specific flashlight, it makes no sense to buy for some regular
EDC
-like needs.
And if:
a) You need flashlight that, though having extremely capacious battery, fits in your pocket. Flashlight with a crazy throw , with maximum beam focusing and penetrating power. Light that lasts for 13 hours in mode which reaches above 100meters.
b) you will be satisfied that you have, albeit extremely convenient and quick access, but only to two modes. A flashlight that works only with an expensive proprietary battery which lenght makes it compatible just few external charges.
c) there are no financial problems in buying one of the top brand new products.
With all these variables in mind, the Olight Warrior X Turbo will be a flashlight that will surely make you happy and impress everyone around you. No one around would expect that a flashlight with the dimensions of a regular tactical one will be able to produce such a beam. It perfectly does what he was created for – to simply pounds madly at the maximum possible distance where the naked eye will not see anything less then schoolbus. If you need something compact and at the same time long-lasting and far-hitting to mount under barrel of your gun – take a closer look at the Olight Warrior X Turbo.
I`m not hunter and cannot say if you really such a throw for hunting. In contrast , i heard that normally your flashlight should cover like 100-150m, you simply dont need longer throw, your aim usually lies within this range. so, please comment if you hunt.
You will certainly fork out to own such a flashlight, but this is a top-end novelty from Olight and there is no reason to expect anything else. If your budget is limited by a drastically lower amount, Sofirn C8G is worth a look – i got really positive feedback from people who hunt with it.
That's probably all.