AW IMR 18650 1600mAh (Red)




Official specifications:
Nominal Voltage : 3.7V
Capacity : 1600mAH
Lowest Discharge Voltage : 2.50V
Standard Charge : CC/CV ( max. charging rate 4.5A )
Cycle Life : > 500 cycles
Max. continuous discharge rate : 15C
Operating Discharge Temperature : -10 - 60 Degree Celsius


This cell is designed for high current and can handle up to 24A according to the specifications.




The batteries are shippend in a small plastic box.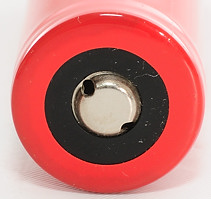 I have tested with discharge currents up to 20A and the battery handles it without problems.




The battery might be useable up to 24A, but do not expect a long runtime, it is less than 5 minutes at 20A.




With the low capacity they are fast to charge and I could have charged them much faster if I had used the maximal charge rate.



Conclusion

The battery is good battery, but with the low capacity it is mostly for special high current applications.



Notes and links

How is the test done and how to read the charts
How is a protected LiIon battery constructed
More about button top and flat top batteries