That is not the 1st review of Astrolux FT03, but i hope, mine one will be most illustrated one and you`ll understand what to expect from light and runtime for each version: SST40 and XHP50.2. I will compare these both versions back to back, and also add Sofirn c8G to this comparison.
The assortment of the store is not limited to these two models only. There is a short version FT03mini, a tactical impact bezel, a spare glass and even a copper body. Go here for a complete list of everything related to this model, see HERE
You can buy Astrolux F03 at Banggood here (they released good discount codes for review) :
SST40 – 29.69$ with BGSYT07 code
XHP50 31,99$ with BGSYT09 code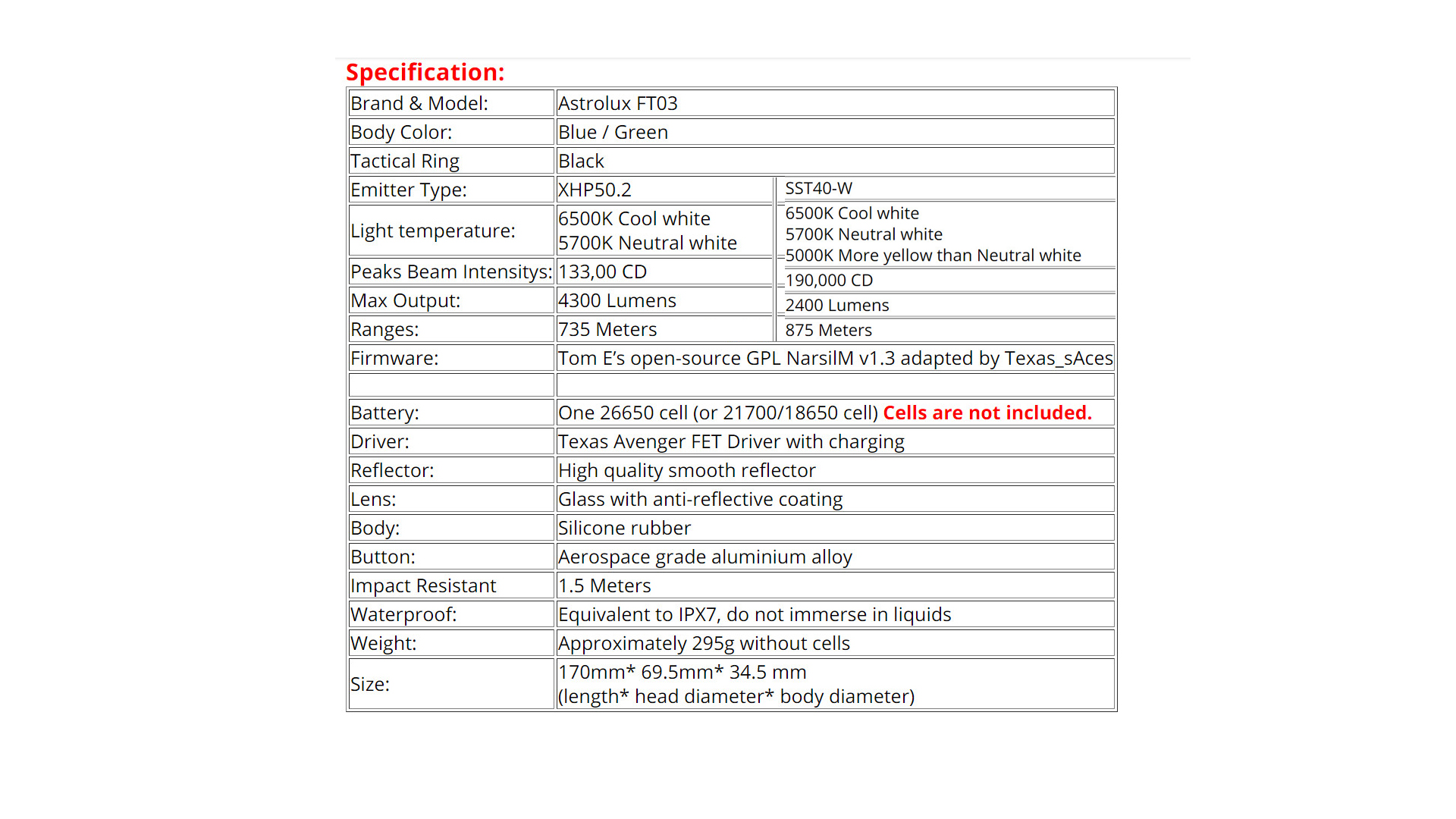 PACKAGE AND APPEARANCE
The package is exactly the same as in the other big model from Astrolux\Mateminco that i`ve already reviewed, MT70\MF02S. Namely, a white thick cardboard box with the outline of a flashlight.
This is far from the top of the design, but not a noname model either. And since I am sincerely sure that Astrolux buyers are still people who know what they are buying and know the difference between HD and HI LED, this modesty should not scare anyone away. BLFers are not sort of people who can buy be cheated by nice package design )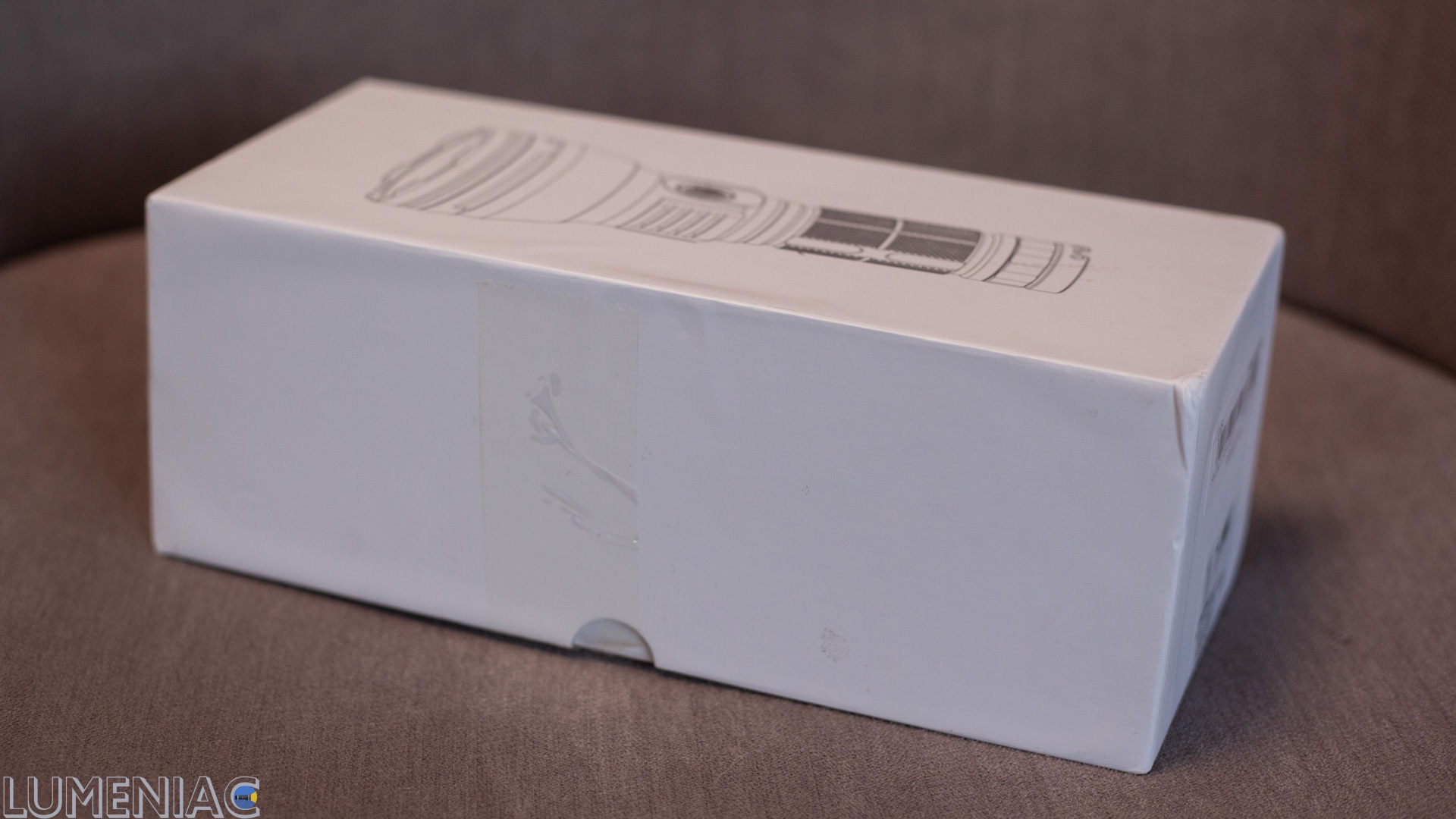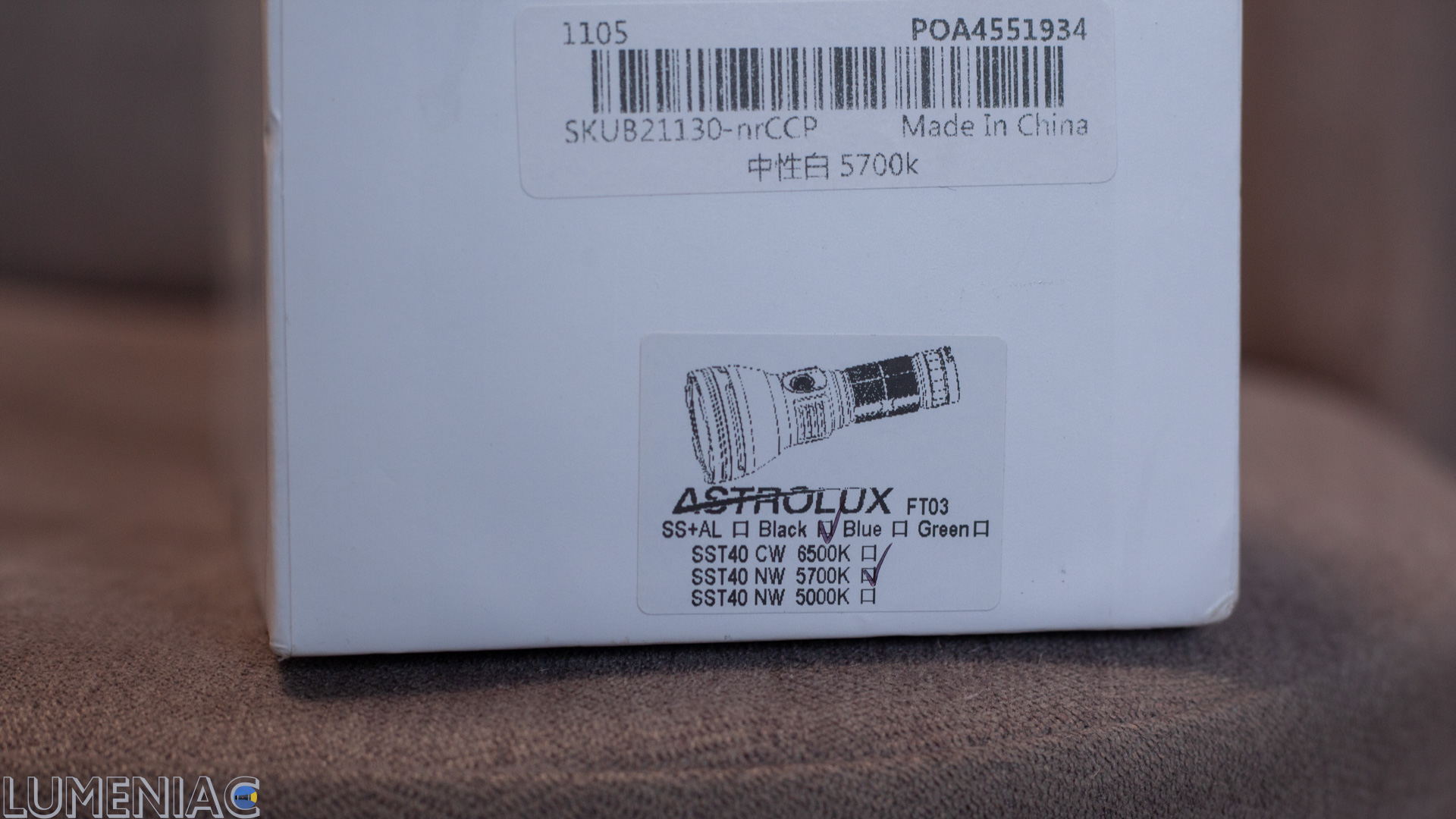 Inside, in thick foam rubber, there is a modest set of the flashlight itself, a tiny bag with a lanyard and an O-ring, an adapter 18650-26650.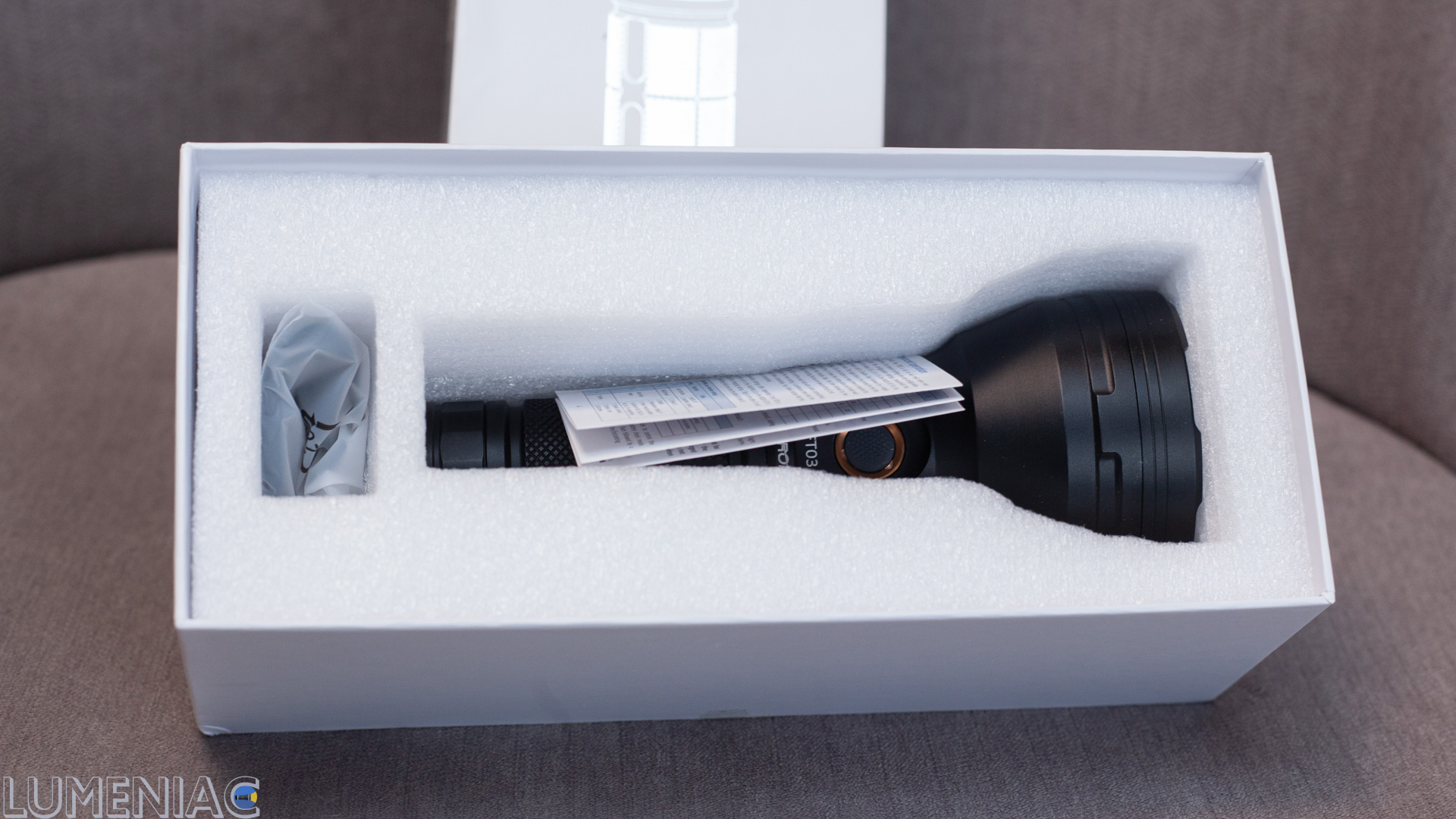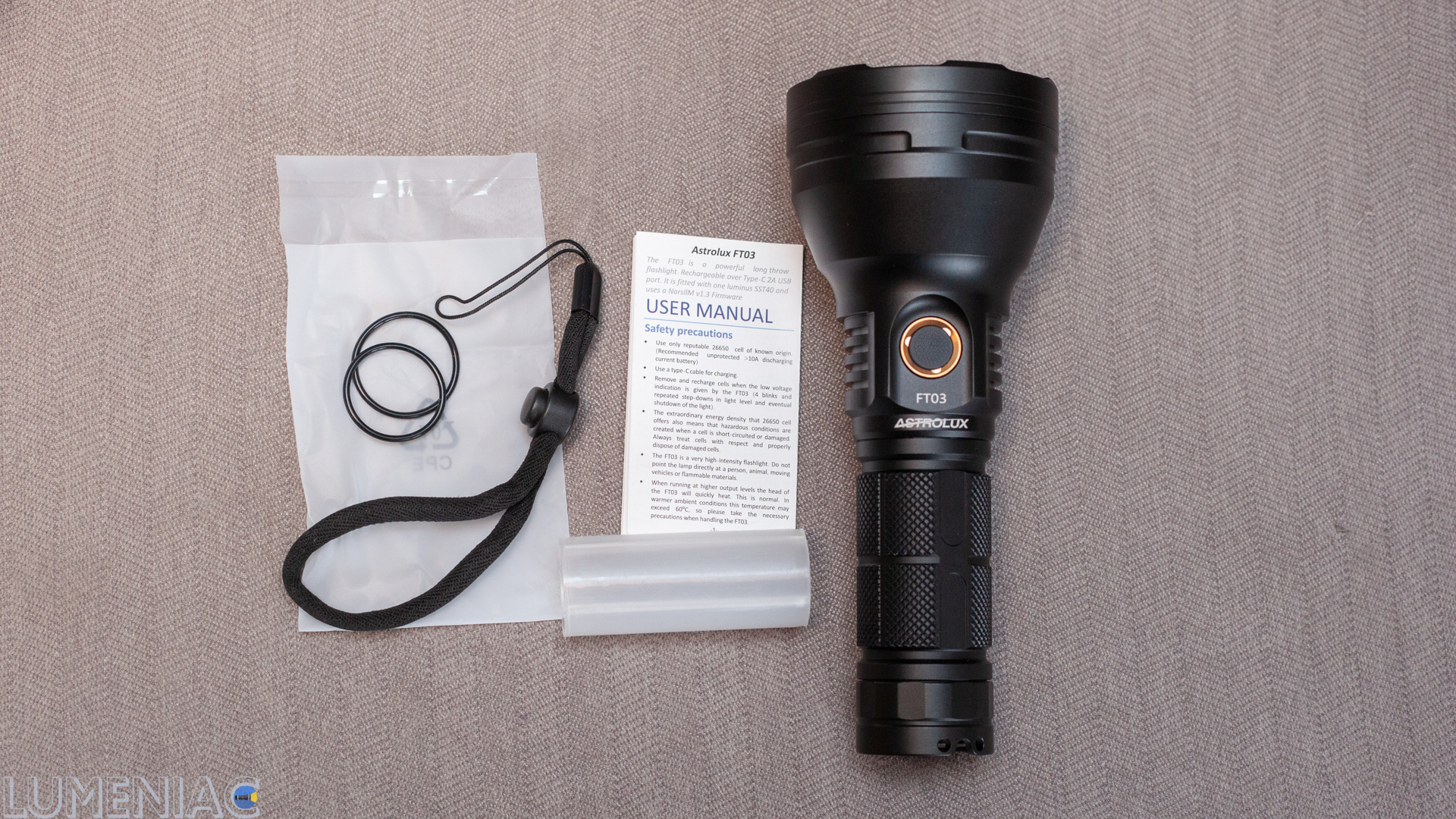 So, well, here's the flashlight itself. It is significantly larger than one of the most popular budget long-throw flashlights from Aliexpress, namely Sofirn C8G. The difference in size, of course, will manifest itself in the light distribution and throw (there will be a comparison in the review).
If the first fits into your pocket without any problems, then FT03, should be caried in holster. It's not about the length, but the diameter of the head. 400g is a pretty solid weight, there will be some metal to transfer excessive heat to. At the same time, the flashlight is still far from some really larger models like Convoy 4×18A \ Thrunite TN42 and others.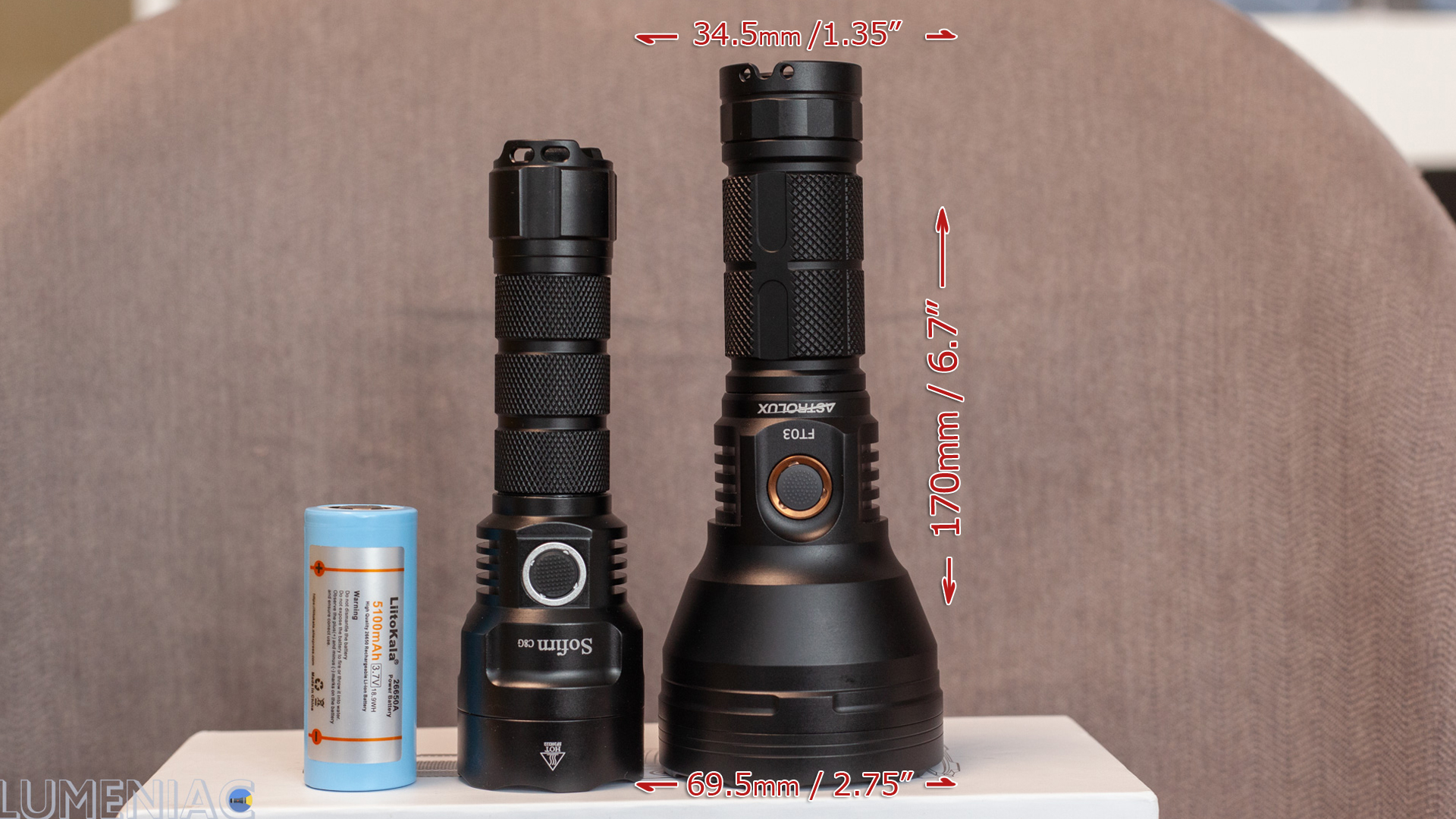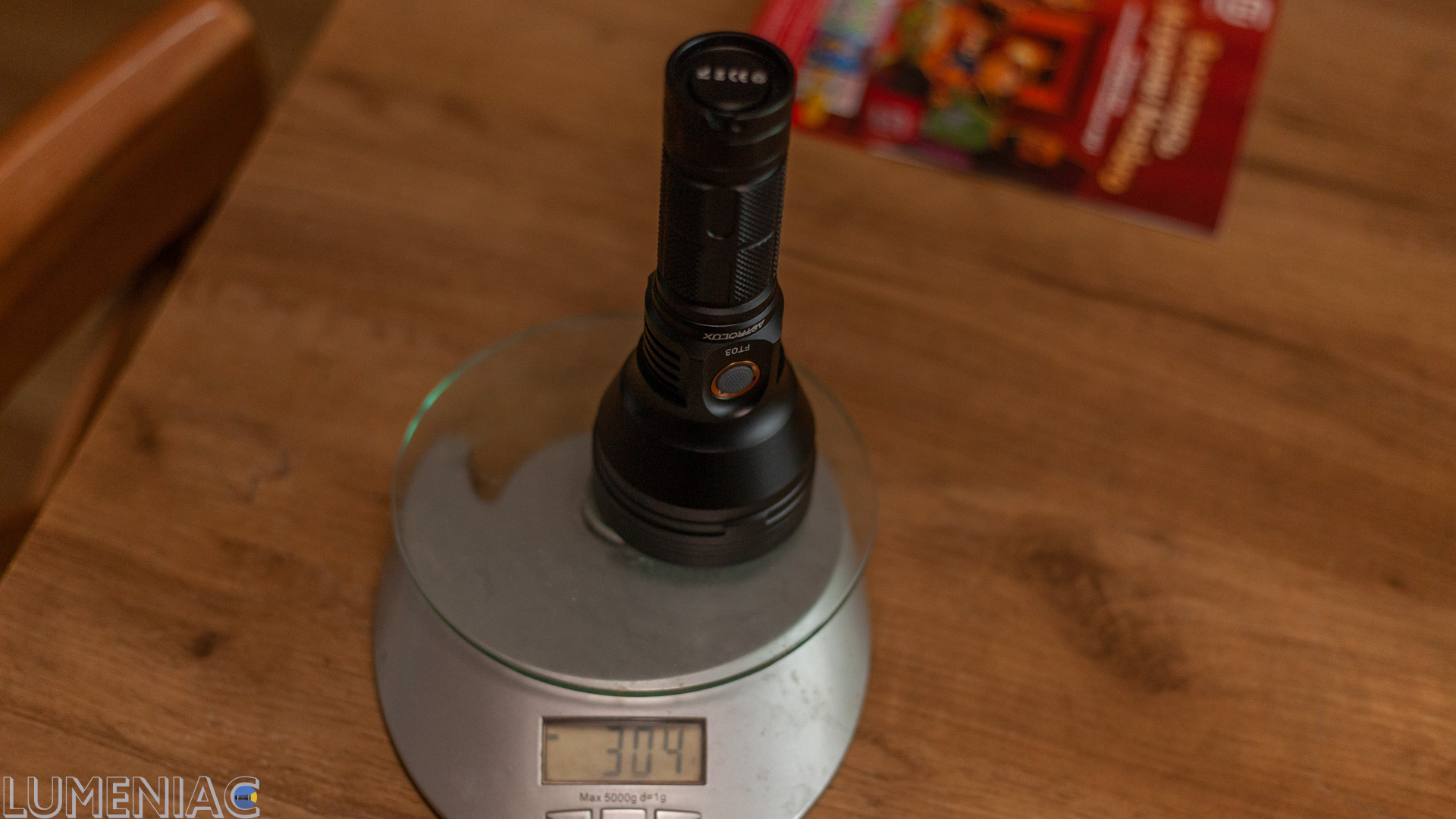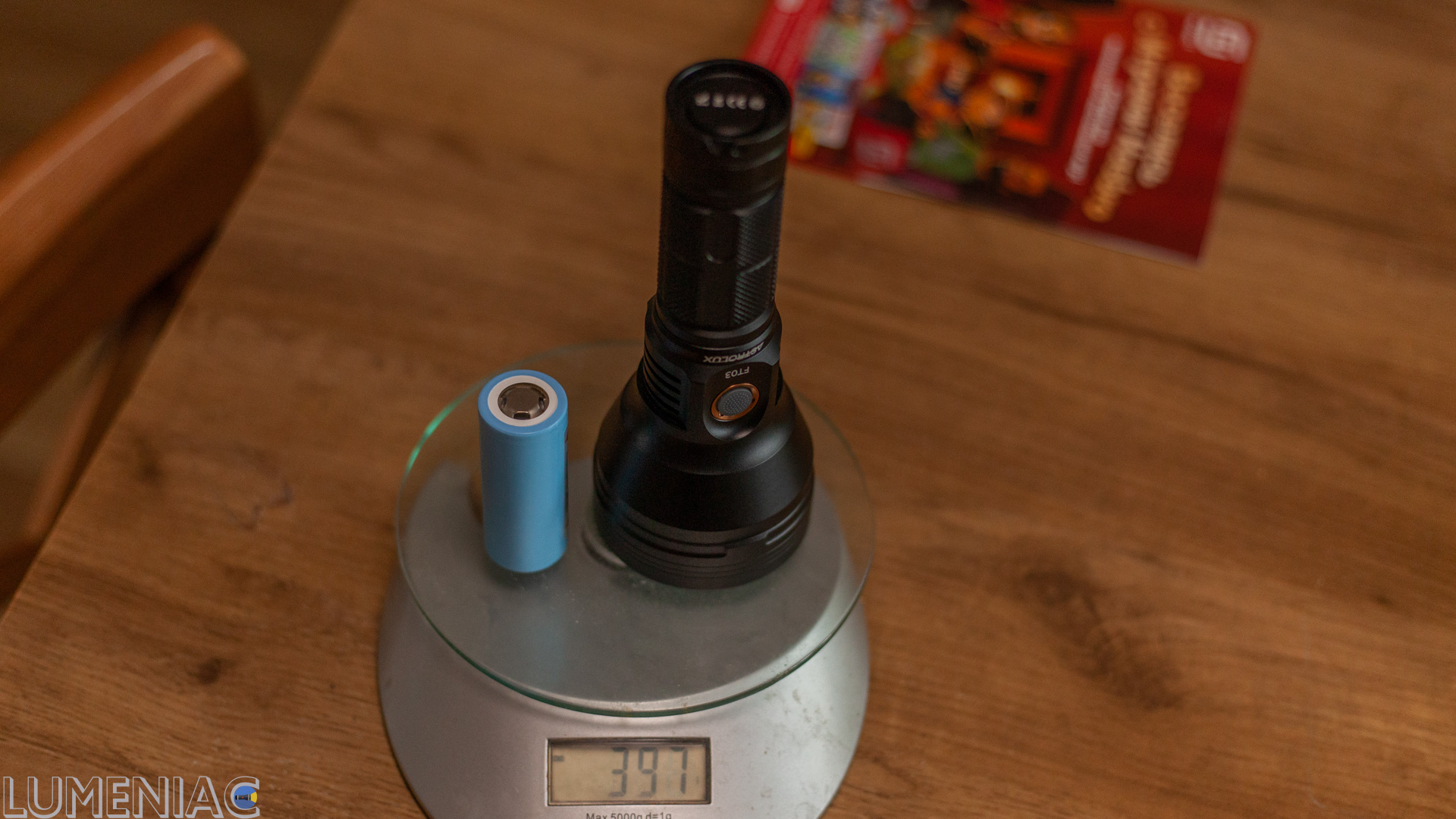 I don't see any design delights here, but the FT03 still looks pretty decent to itself, obviously not like some kind of super-budget crap. If desired, it can be bought in other colors.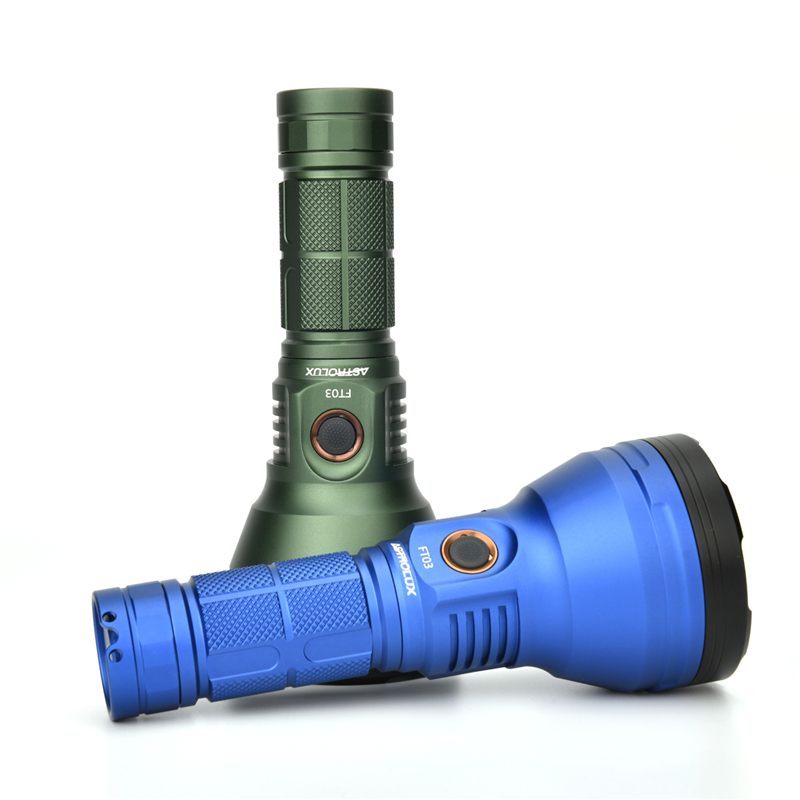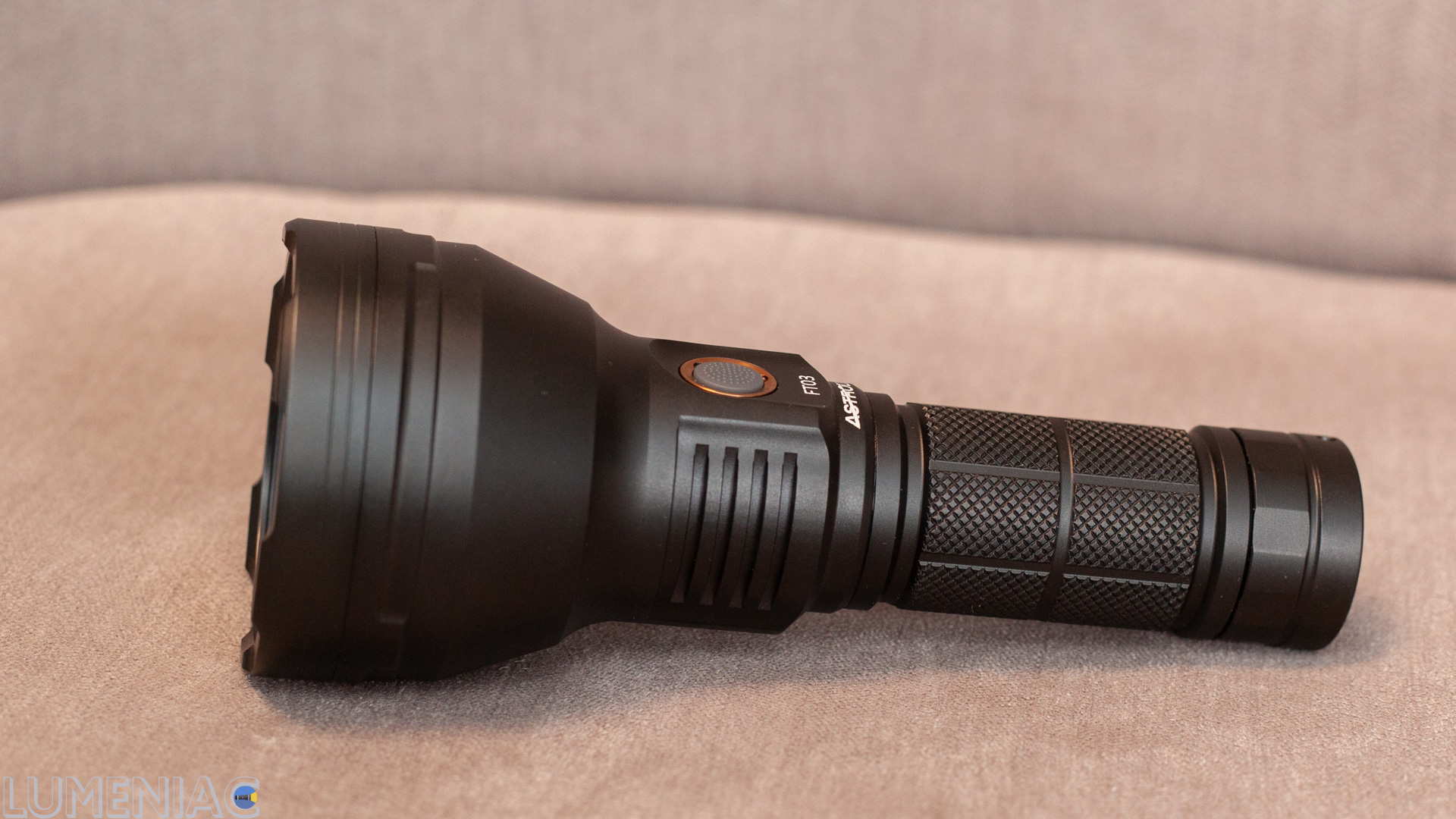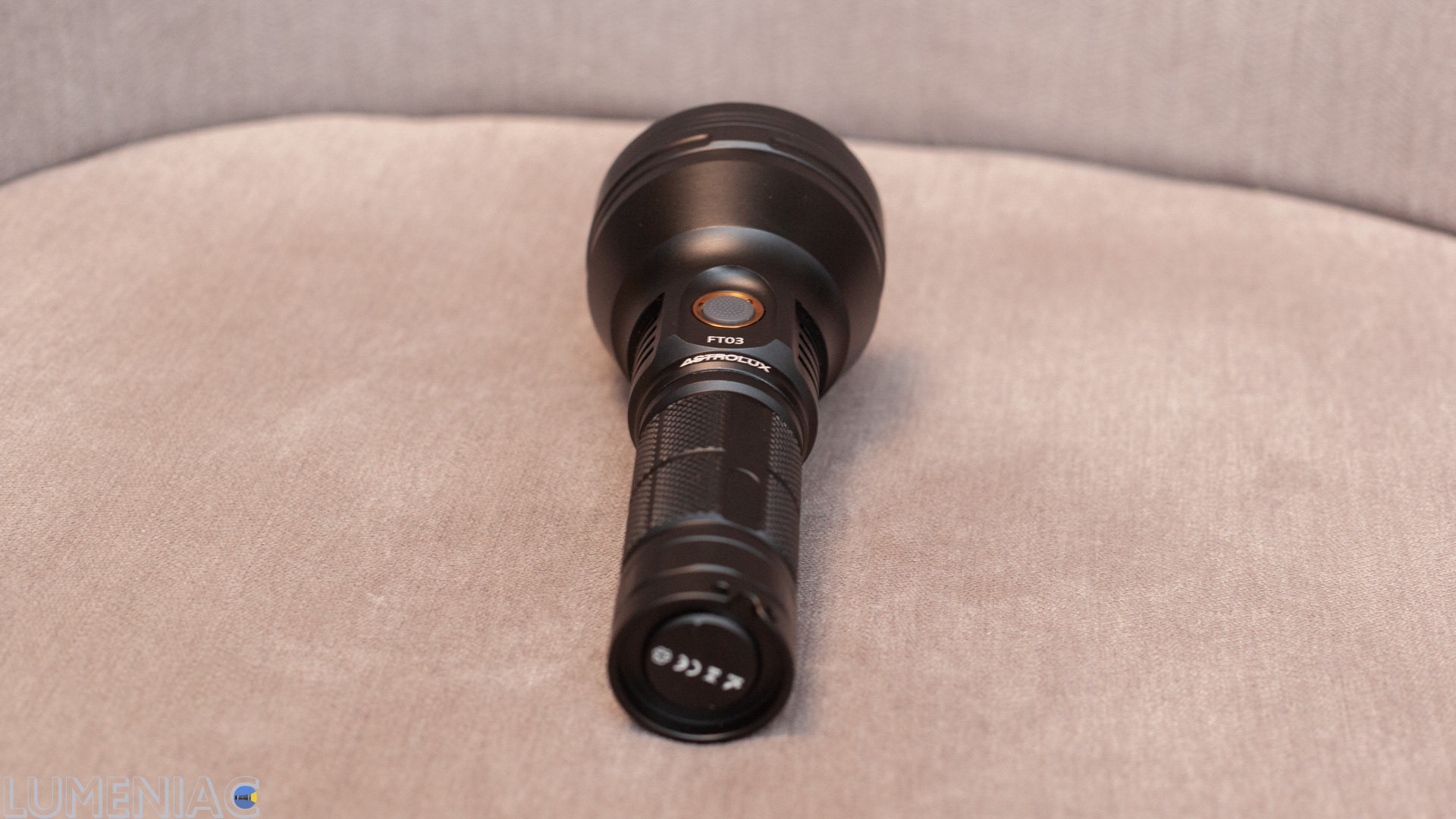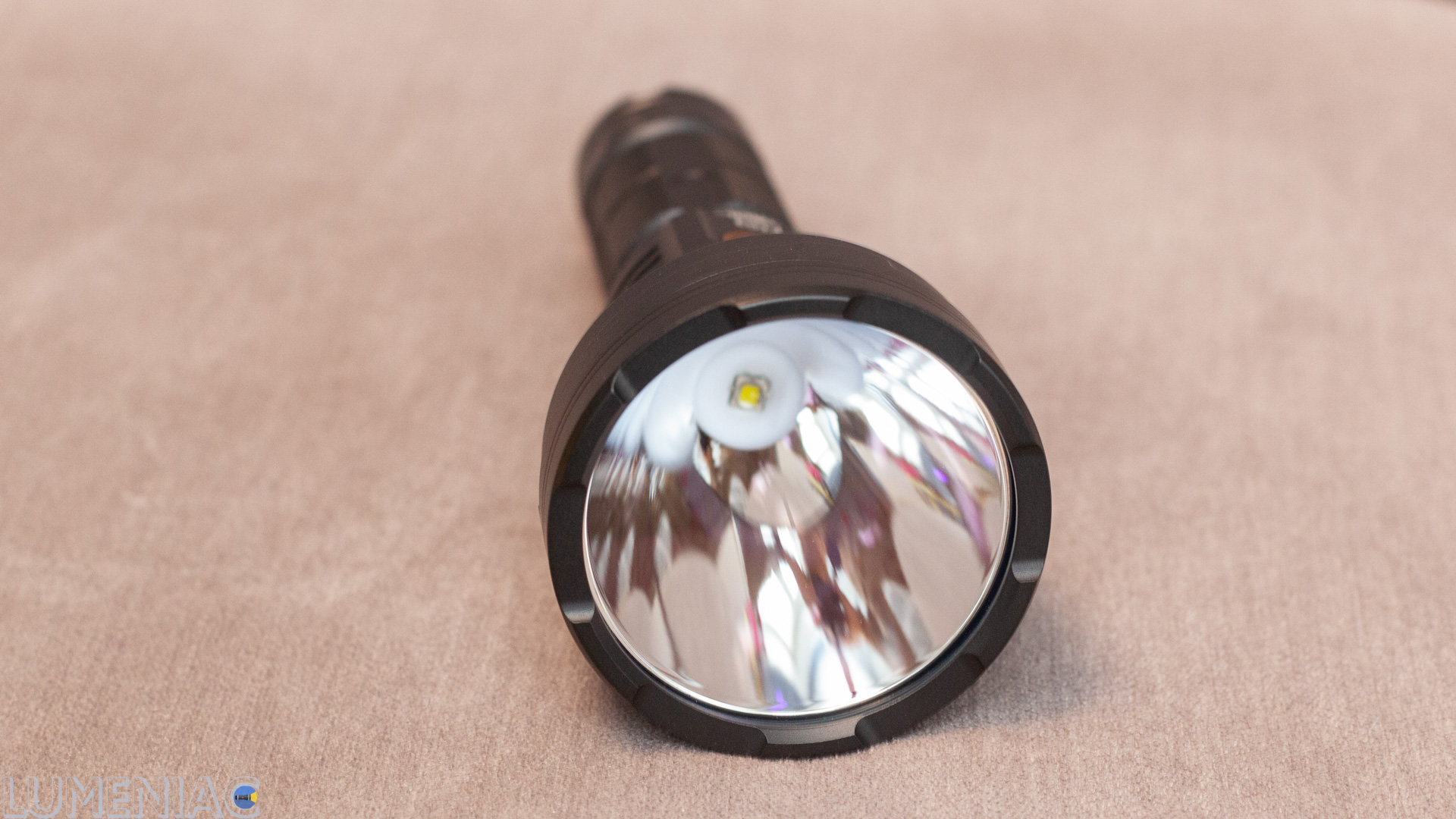 The tail is flat – in case of urgent need, flashlight can tailstand. If you wish, I remind you that you can buy a diffuser.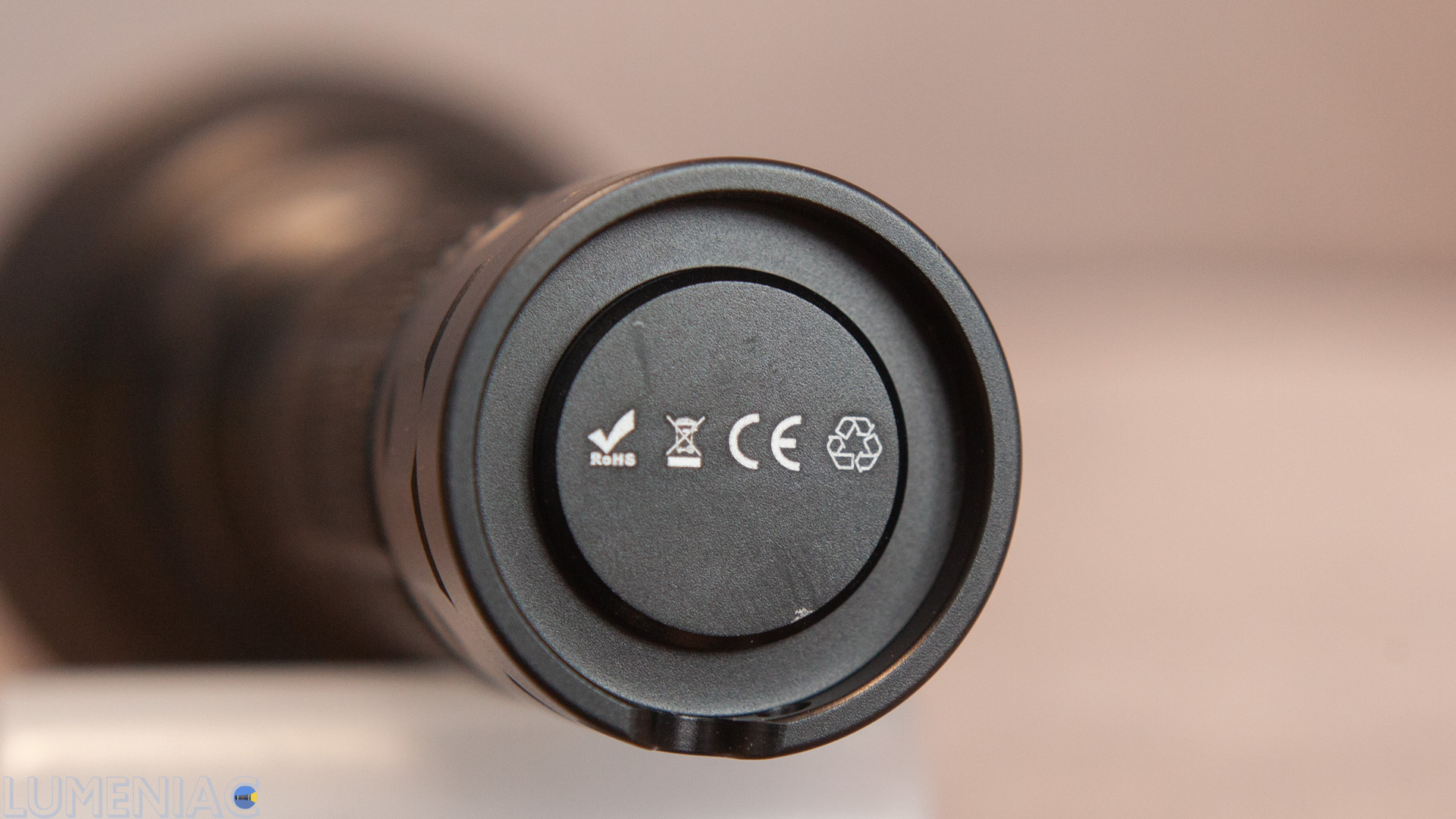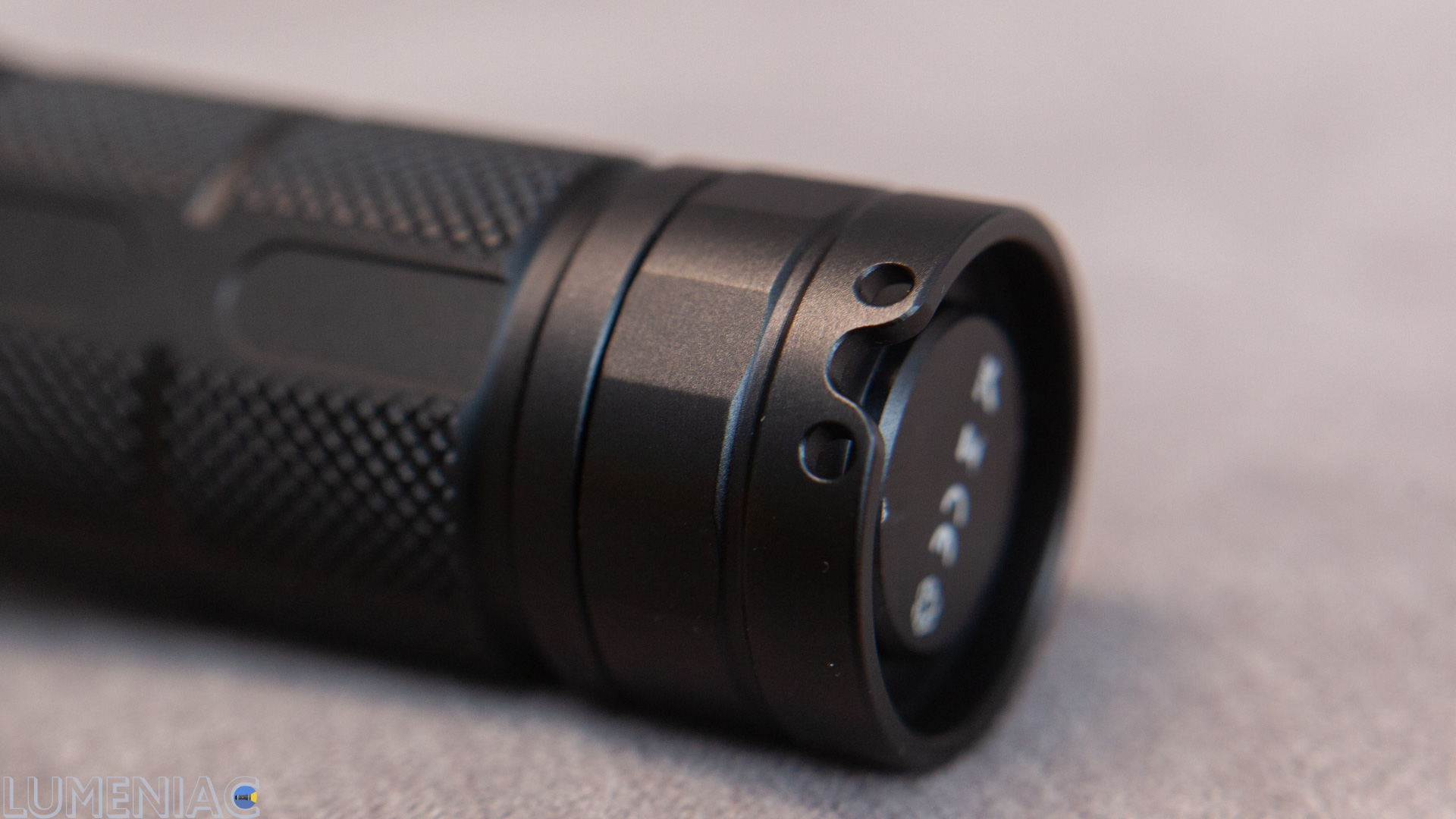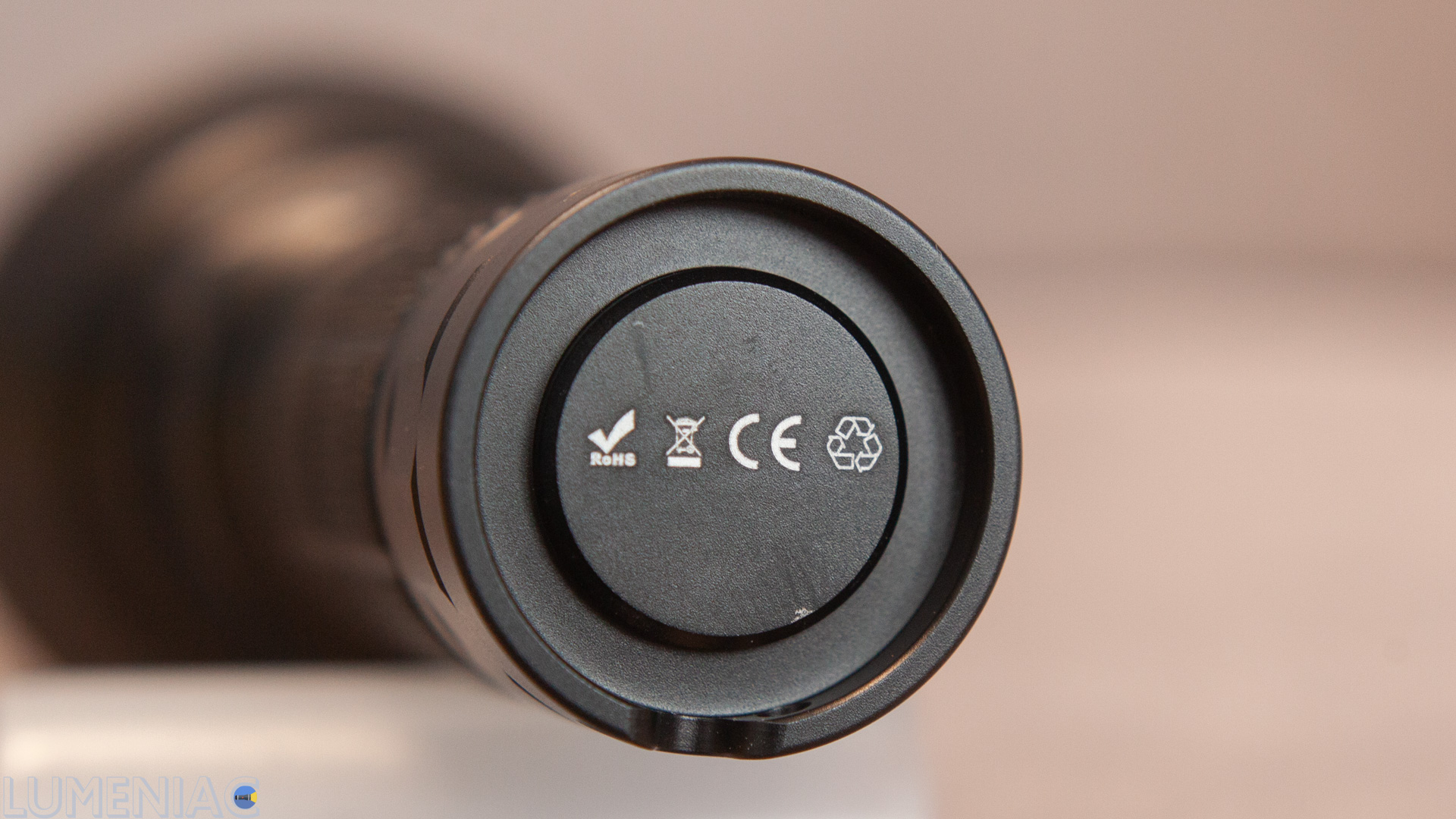 The springs at both the head and the tail are double and very thick.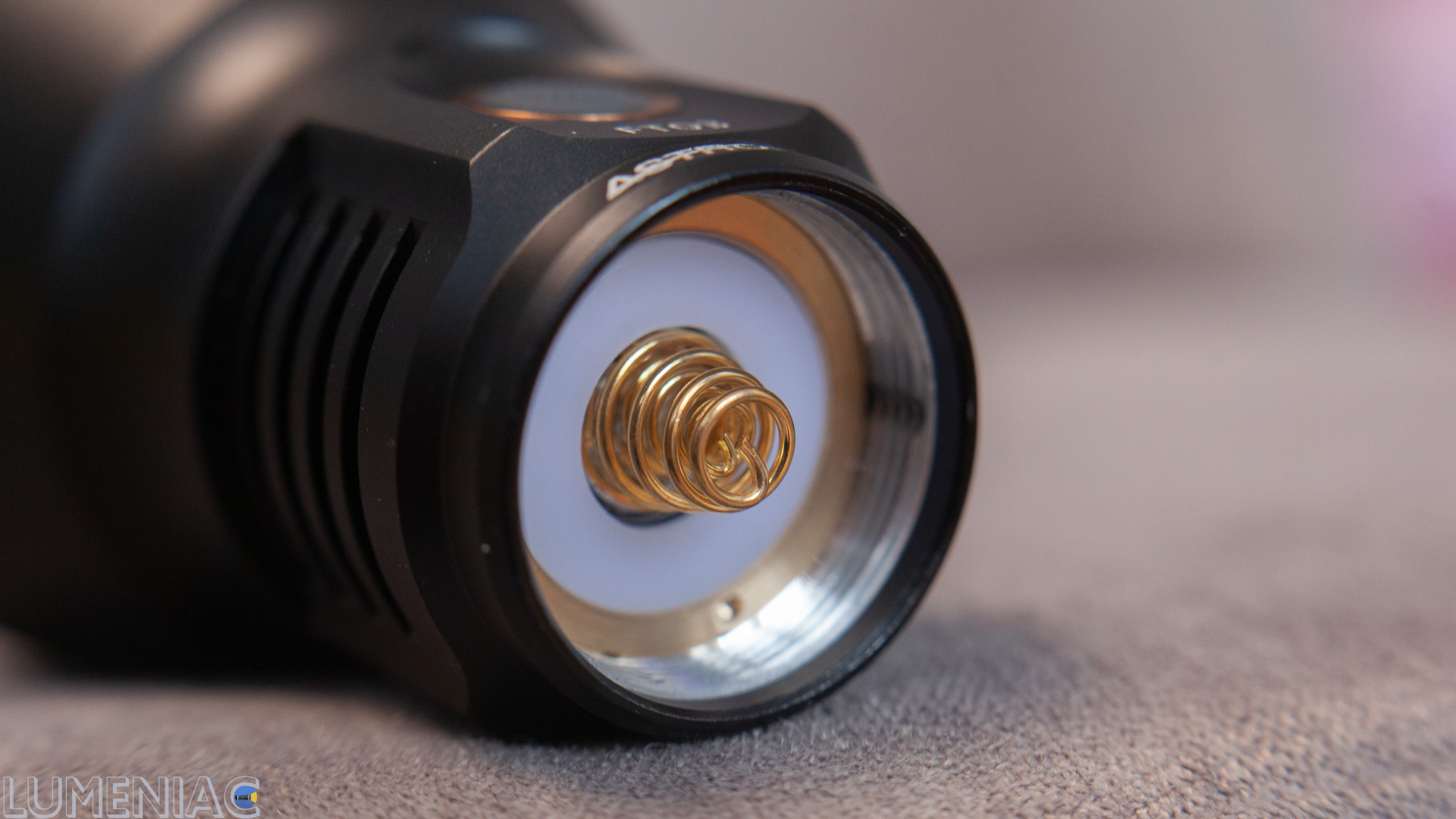 you can easily access to driver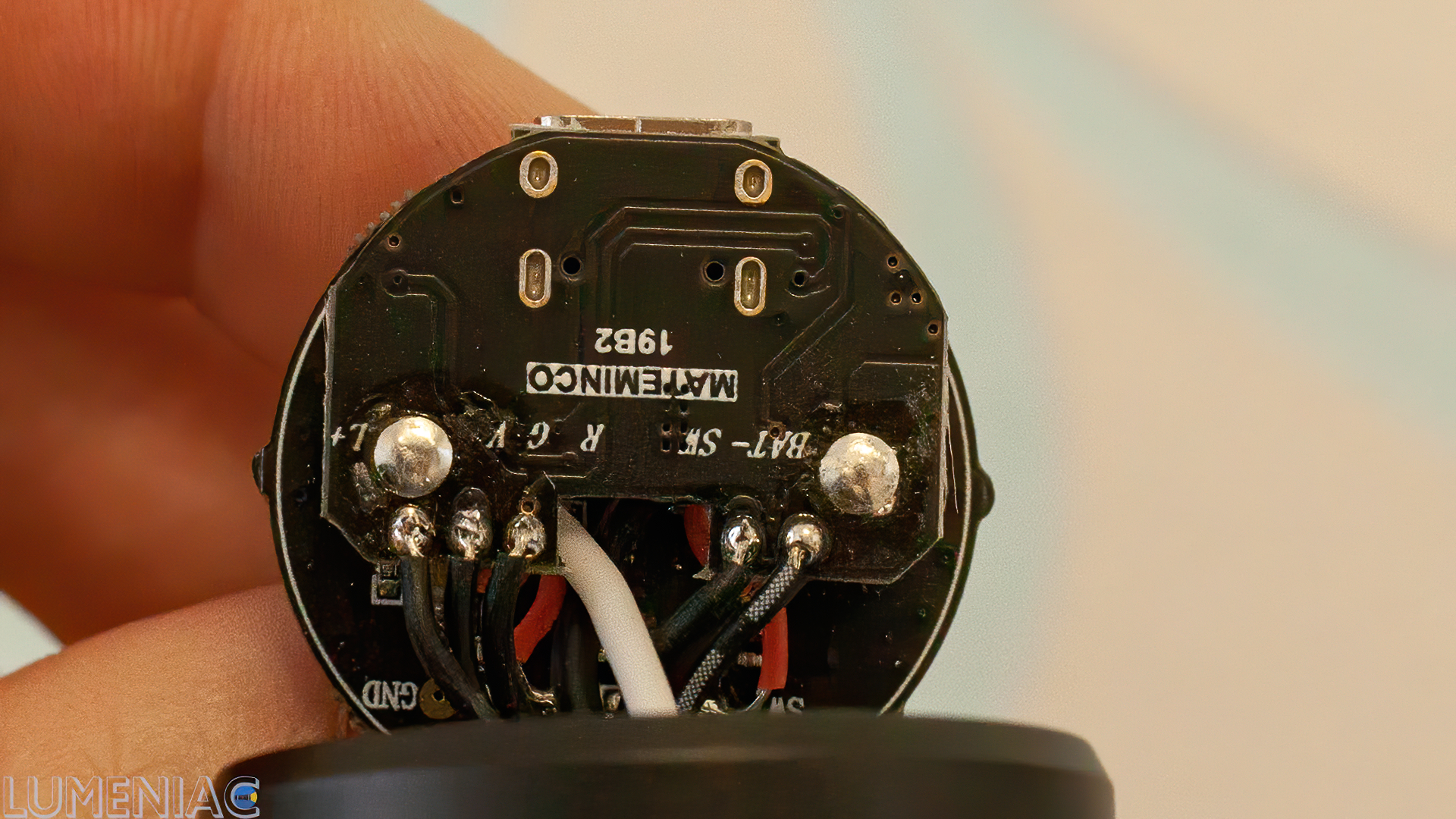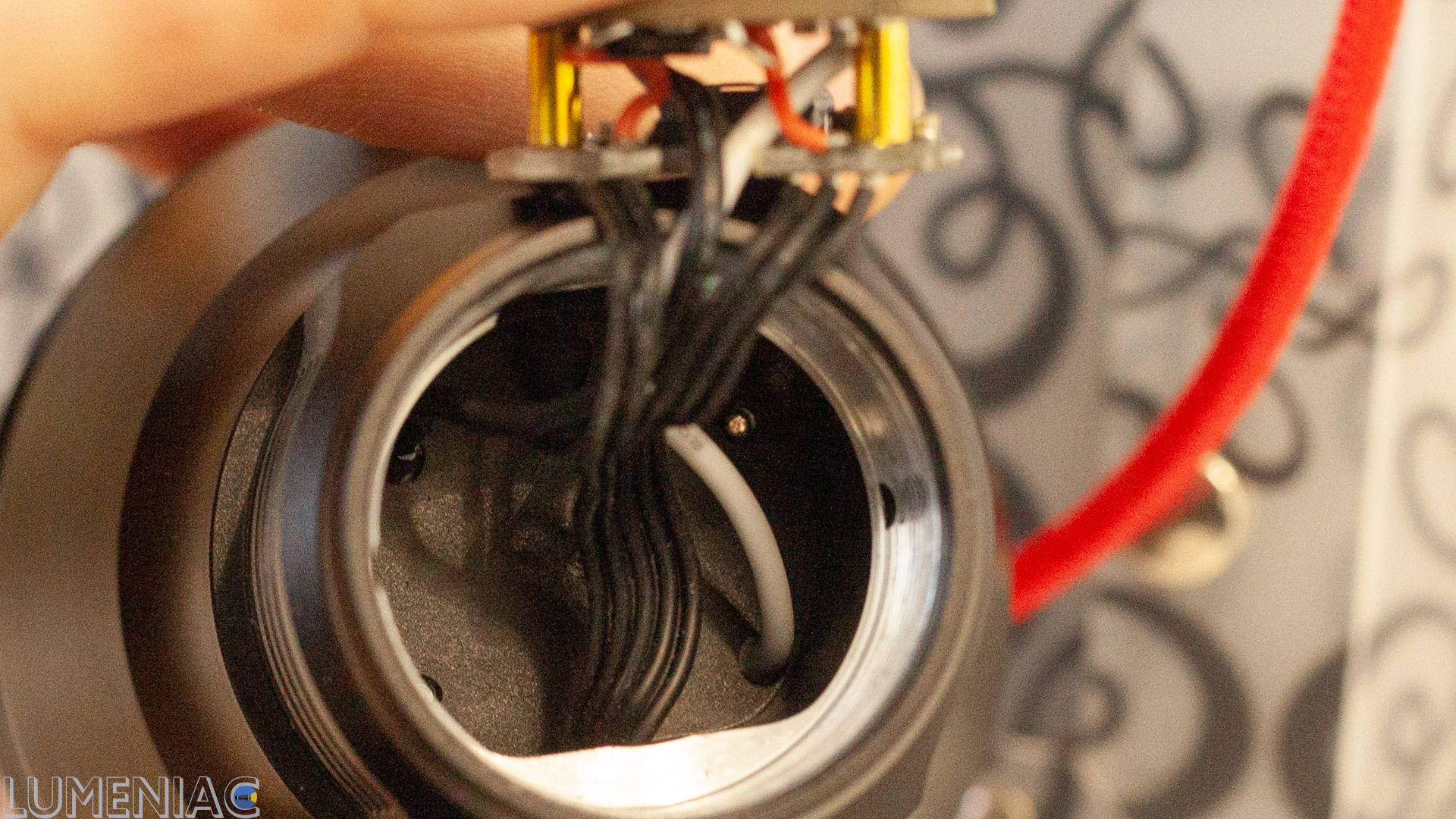 SST40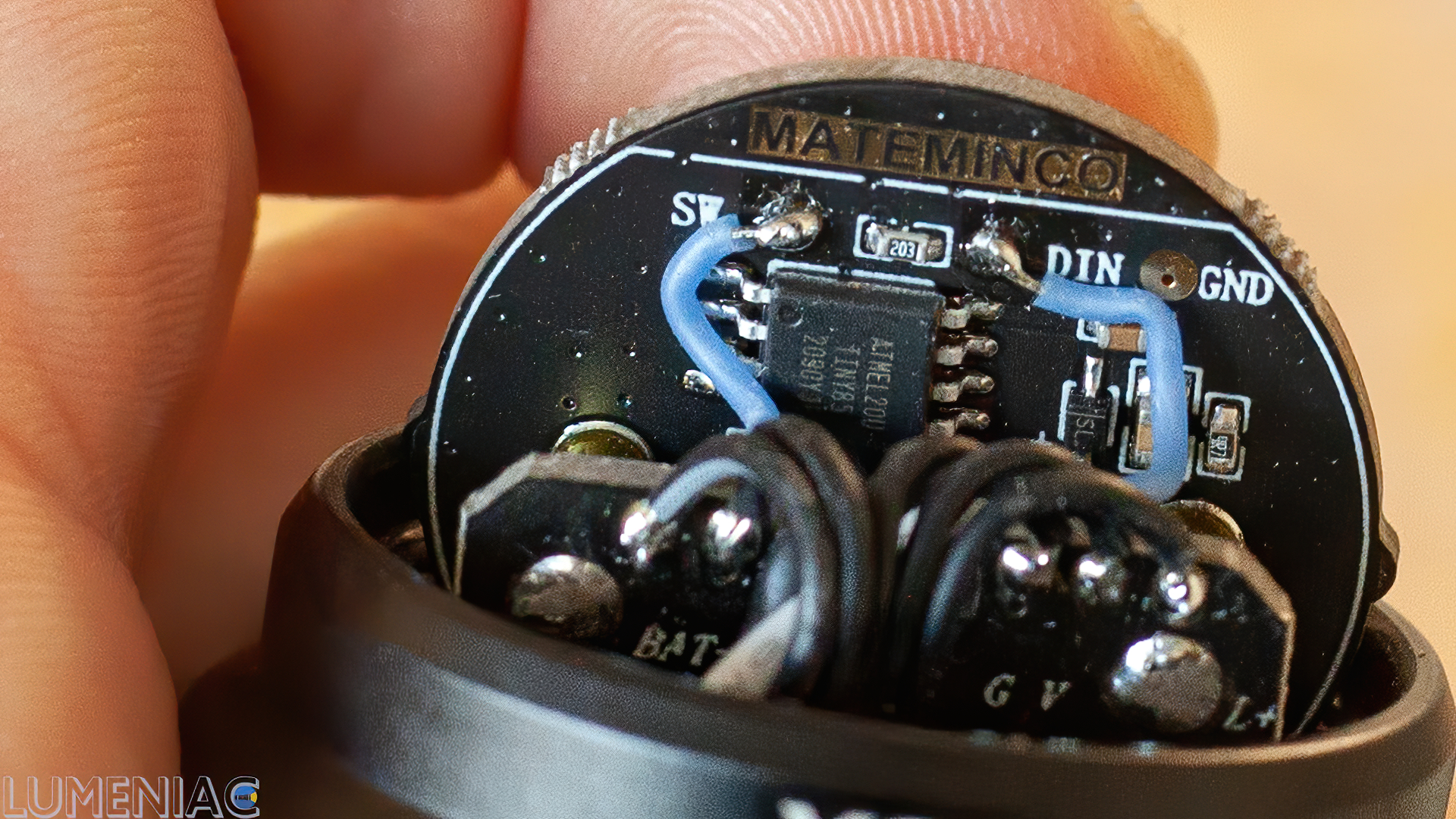 XHP50.2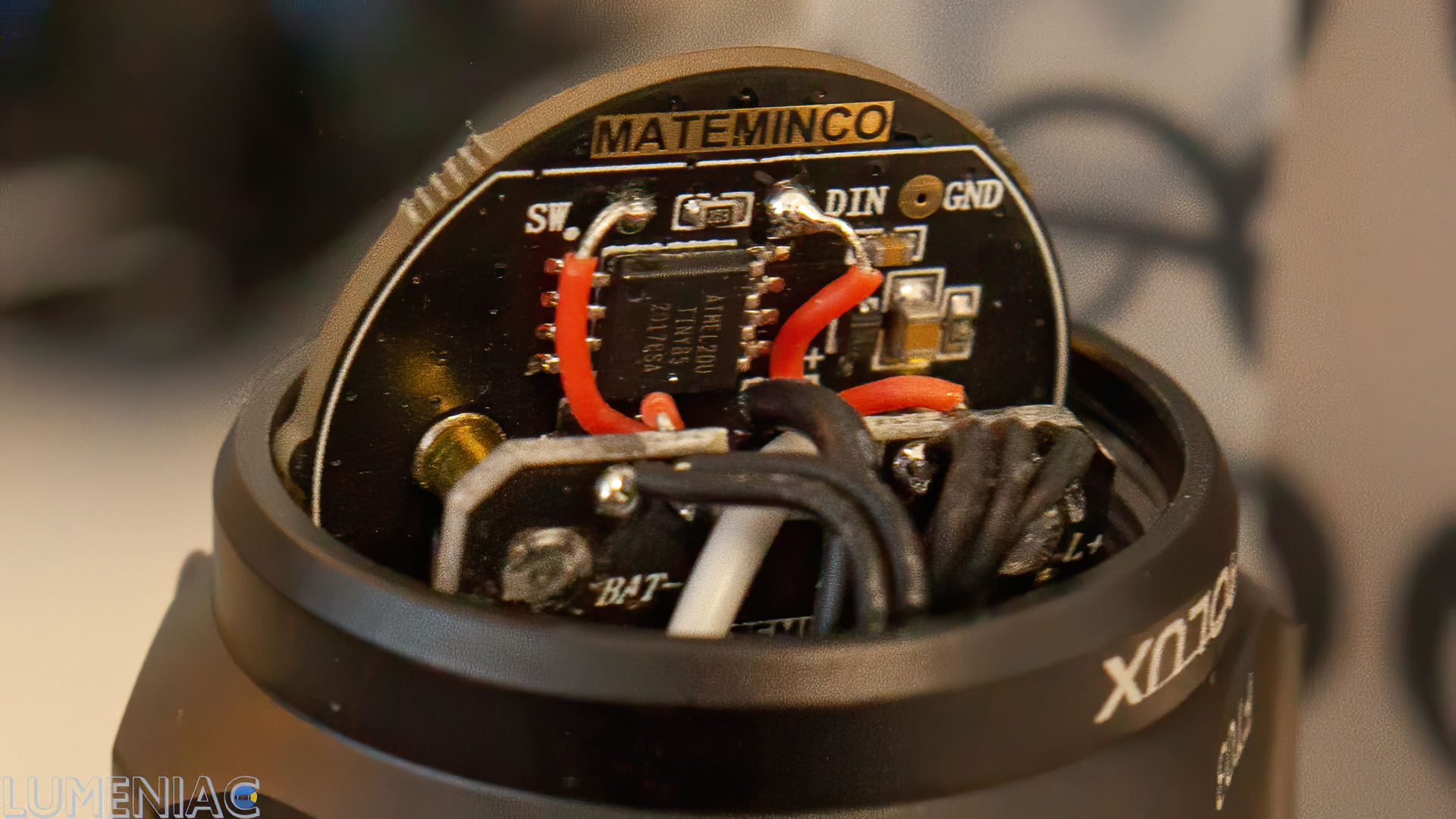 There are no complaints about machining, everything is neat. The thread is large enough, well lubricated, everything turns easily. flashlight can be disassembled into 3 parts. About photo…Middle part is located with the anodized side to the head, it must be on the contrary, I did not pay attention when I took the photo.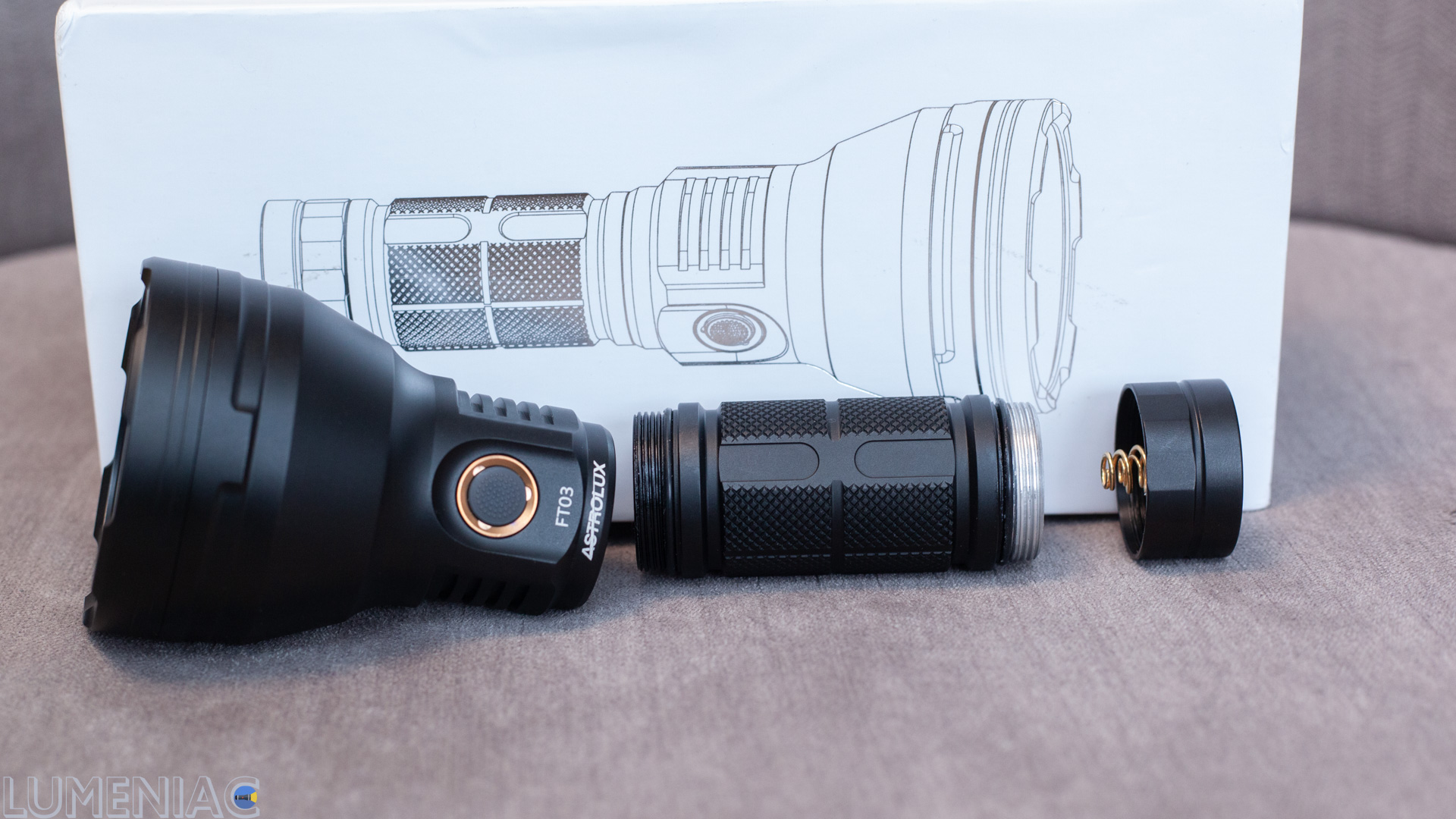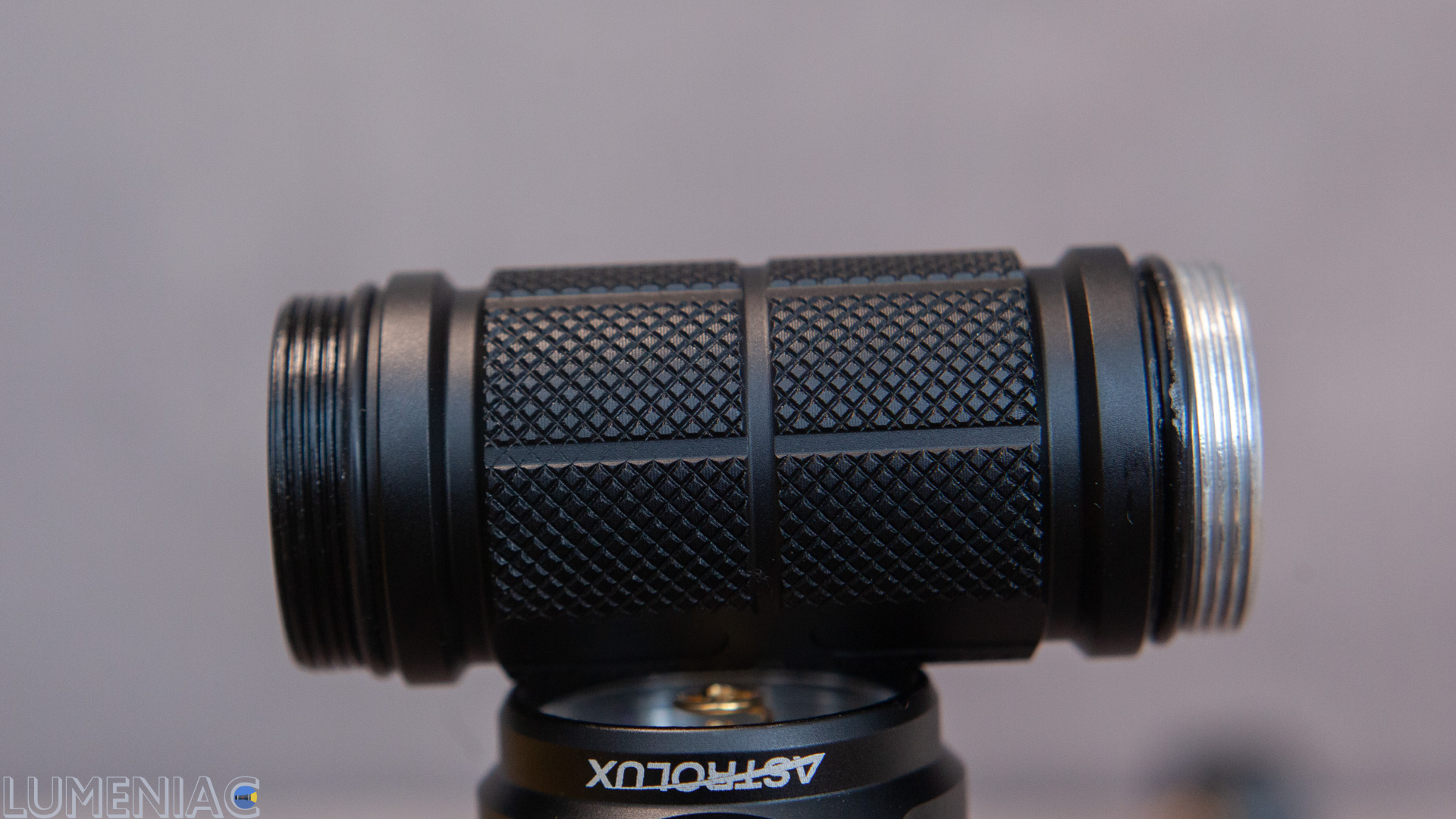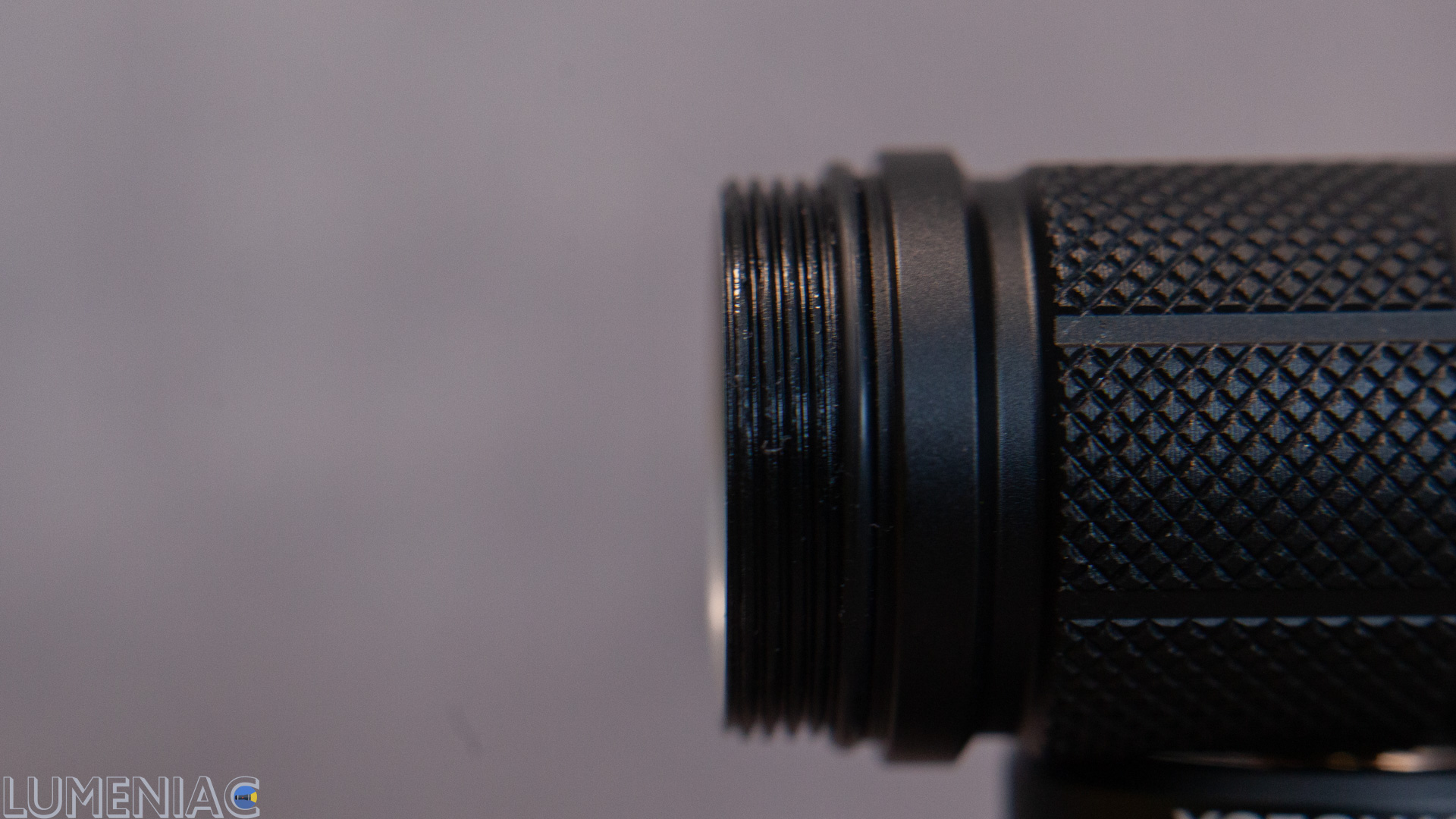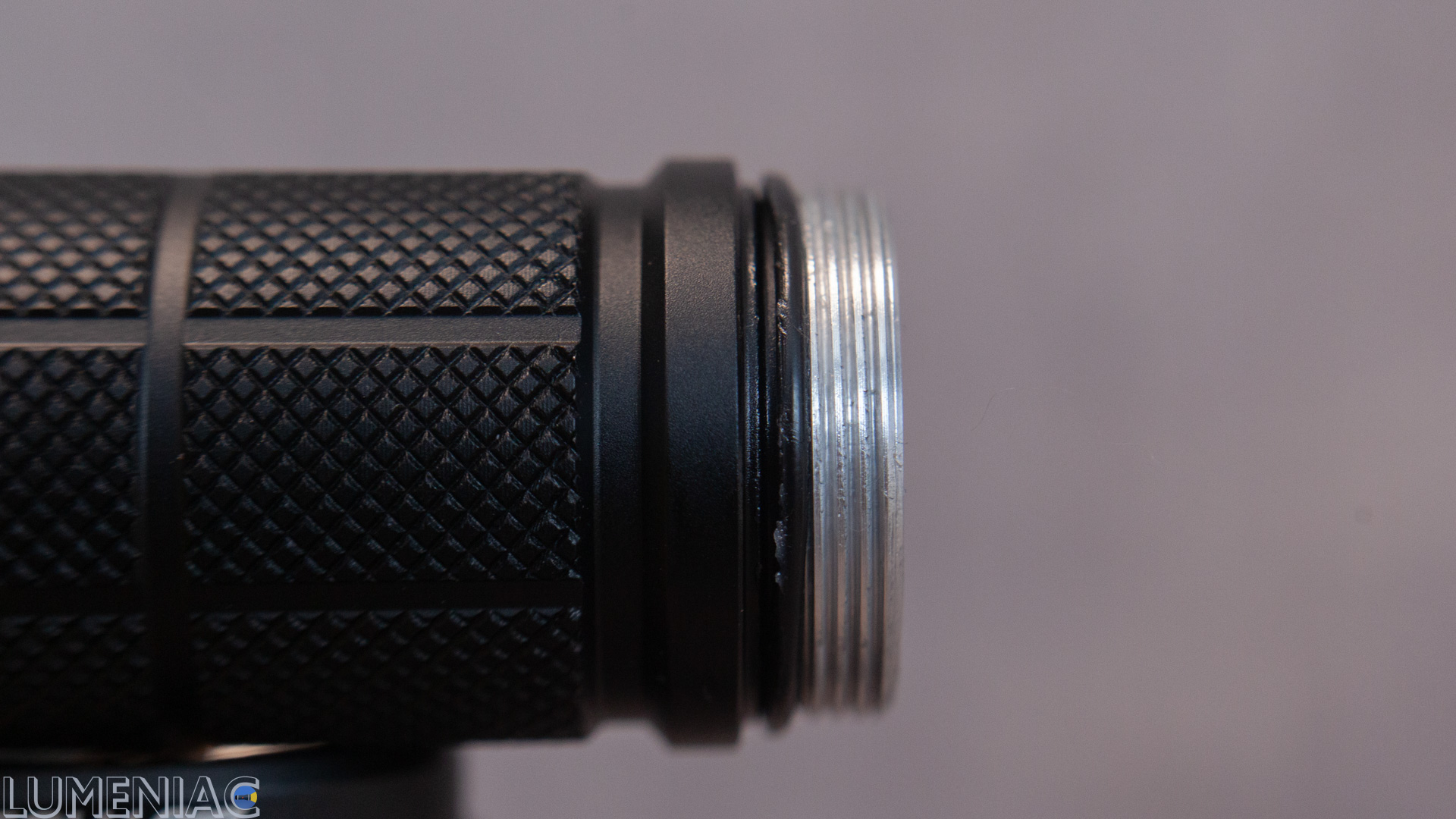 The knurling is simple, but quite tenacious. Due to the diameter of the body, there is no clip. The grip is quite comfortable without it. The weight distribution is comfortable.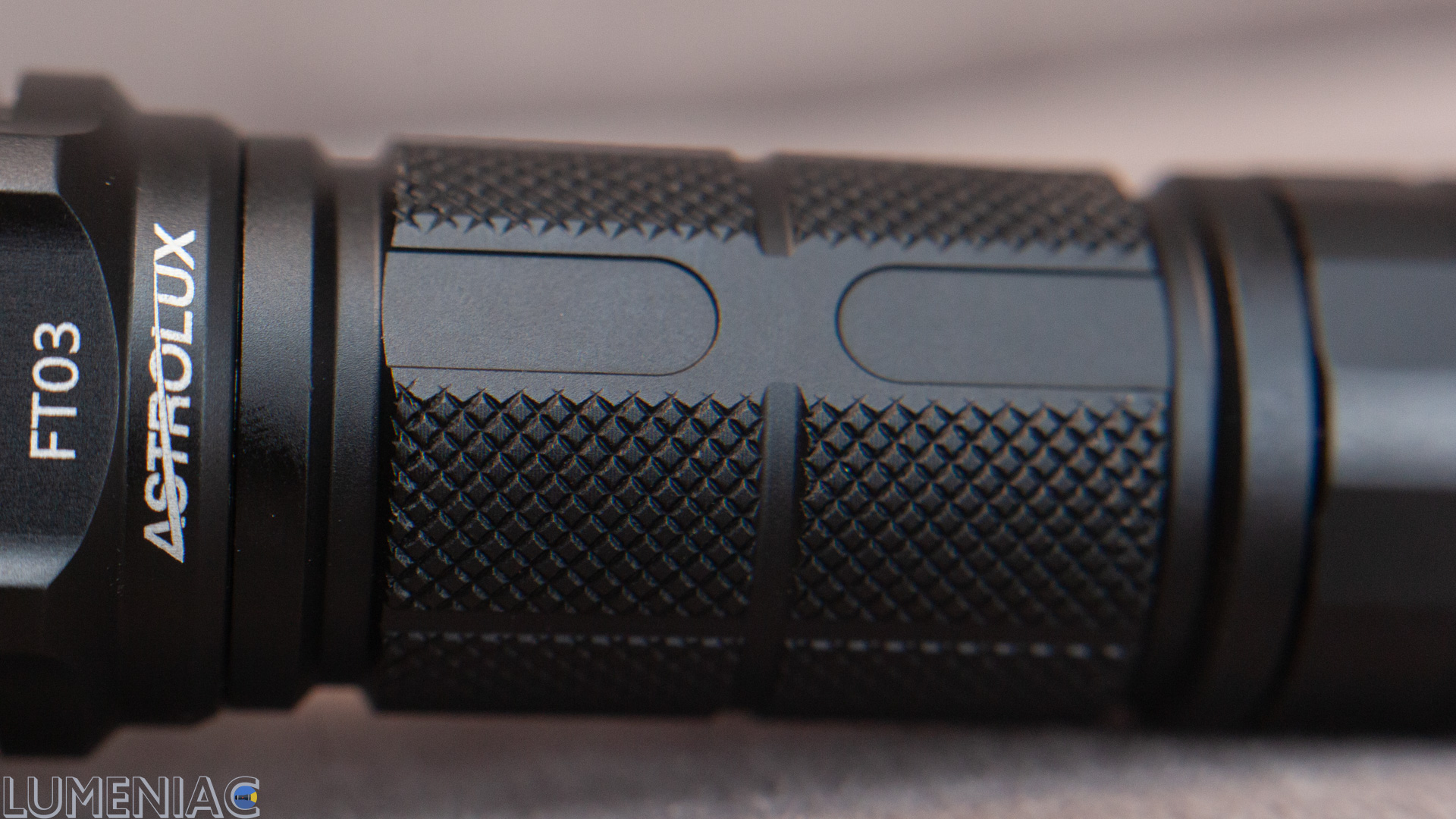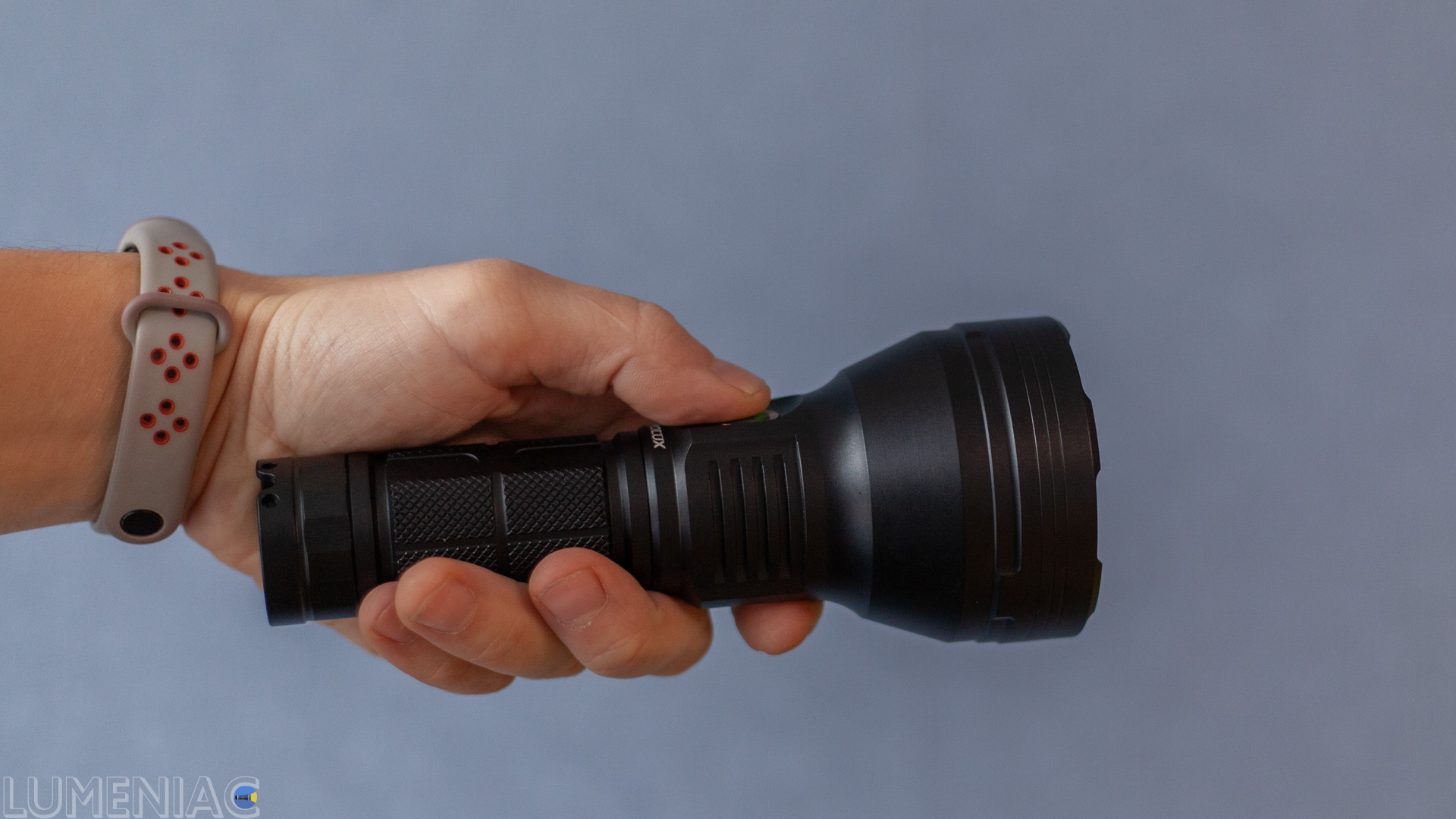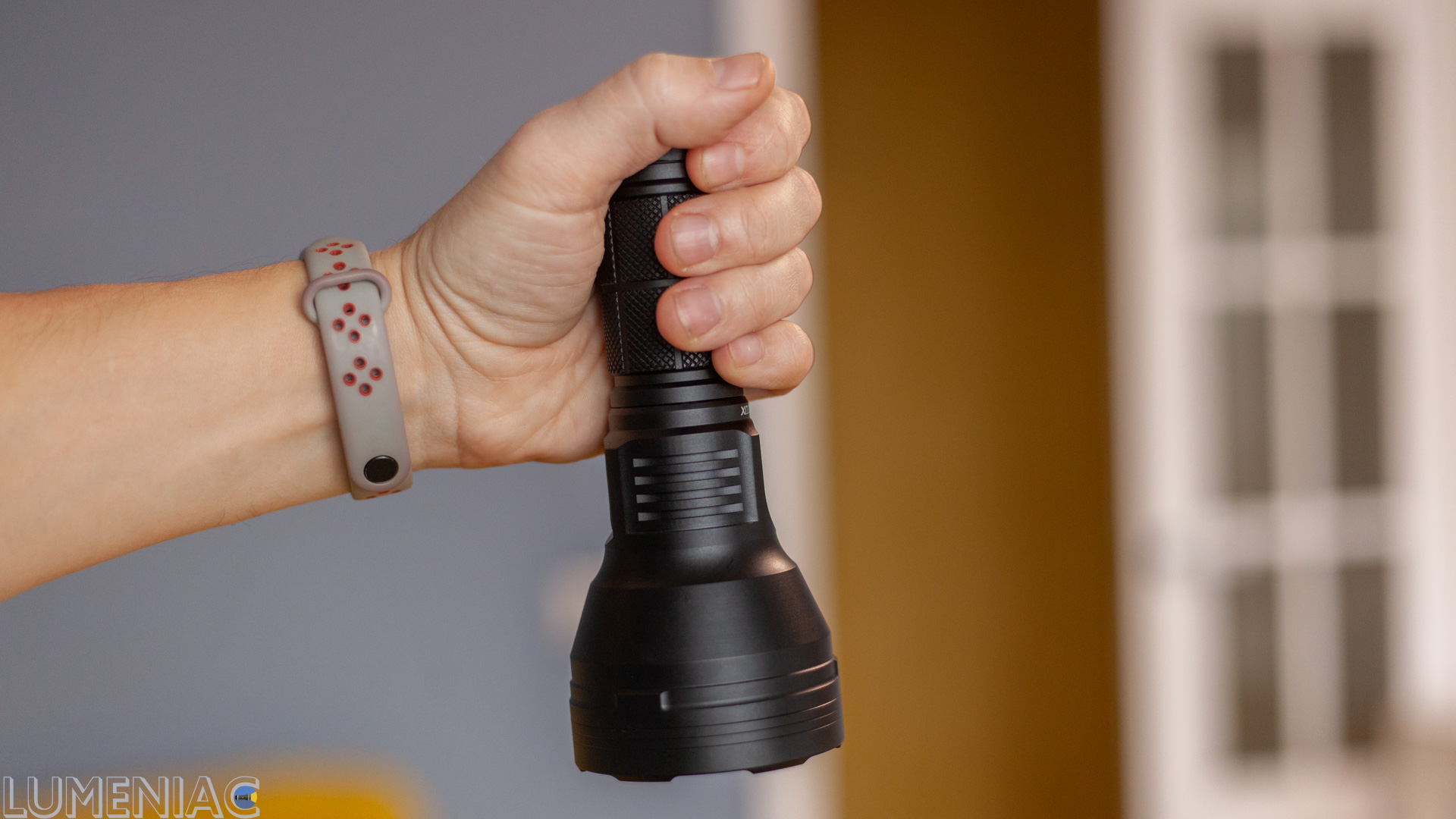 The head is quite massive but not bulky.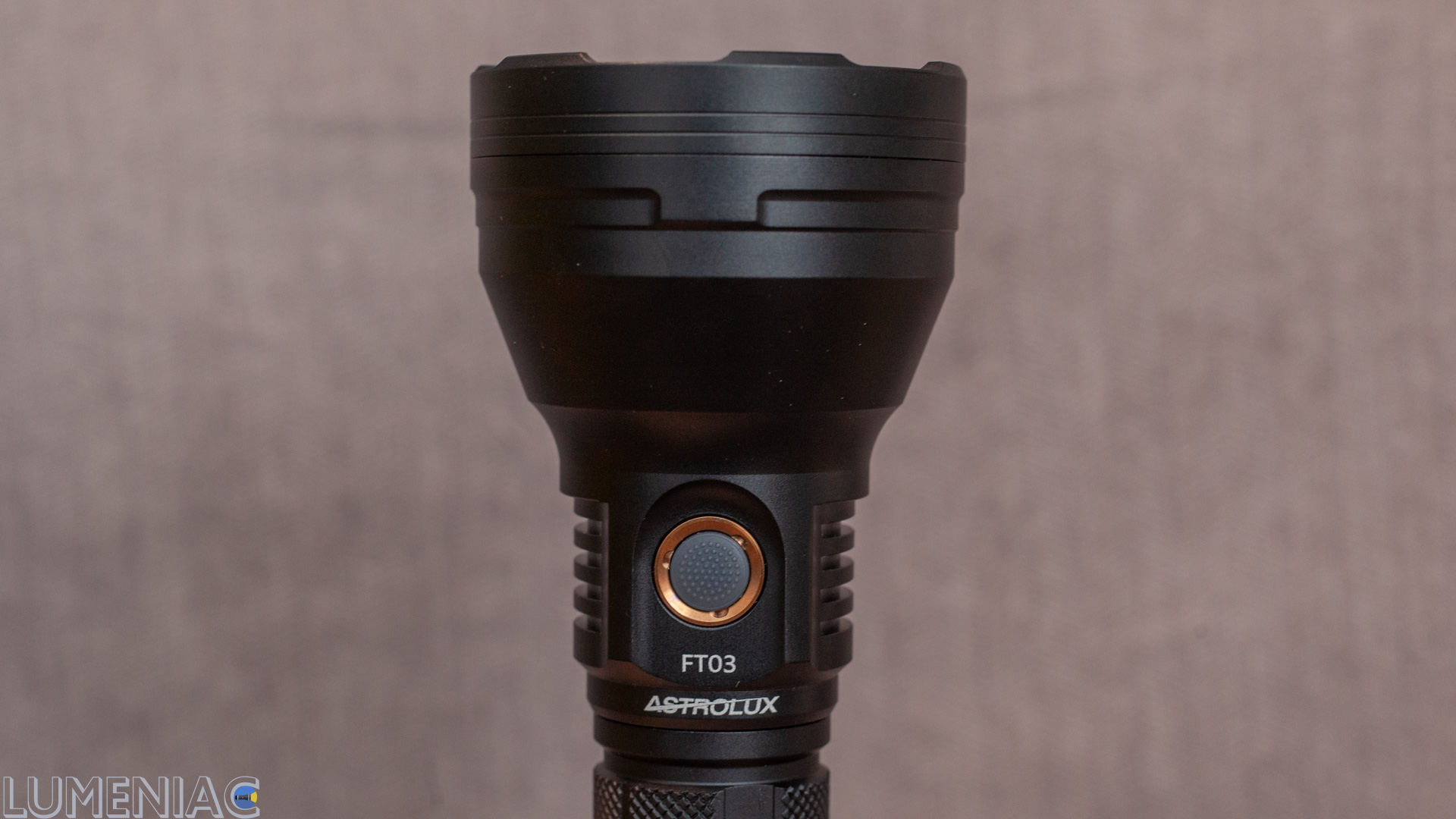 The button is medium size, button move is medium in depth with a noticeable click. I like its location in the groove, which is carved exactly to the size of the thumb, which instantly hits the button. Traditionally, there is a discharge / charging indication. You can turn on / off the backlight. The button protrudes little bit beyond the surface of this hollow, but I tried to press the flashlight to a flat surface – no accidental clicks occur. One of most comfortable buttons i`ve clicked at.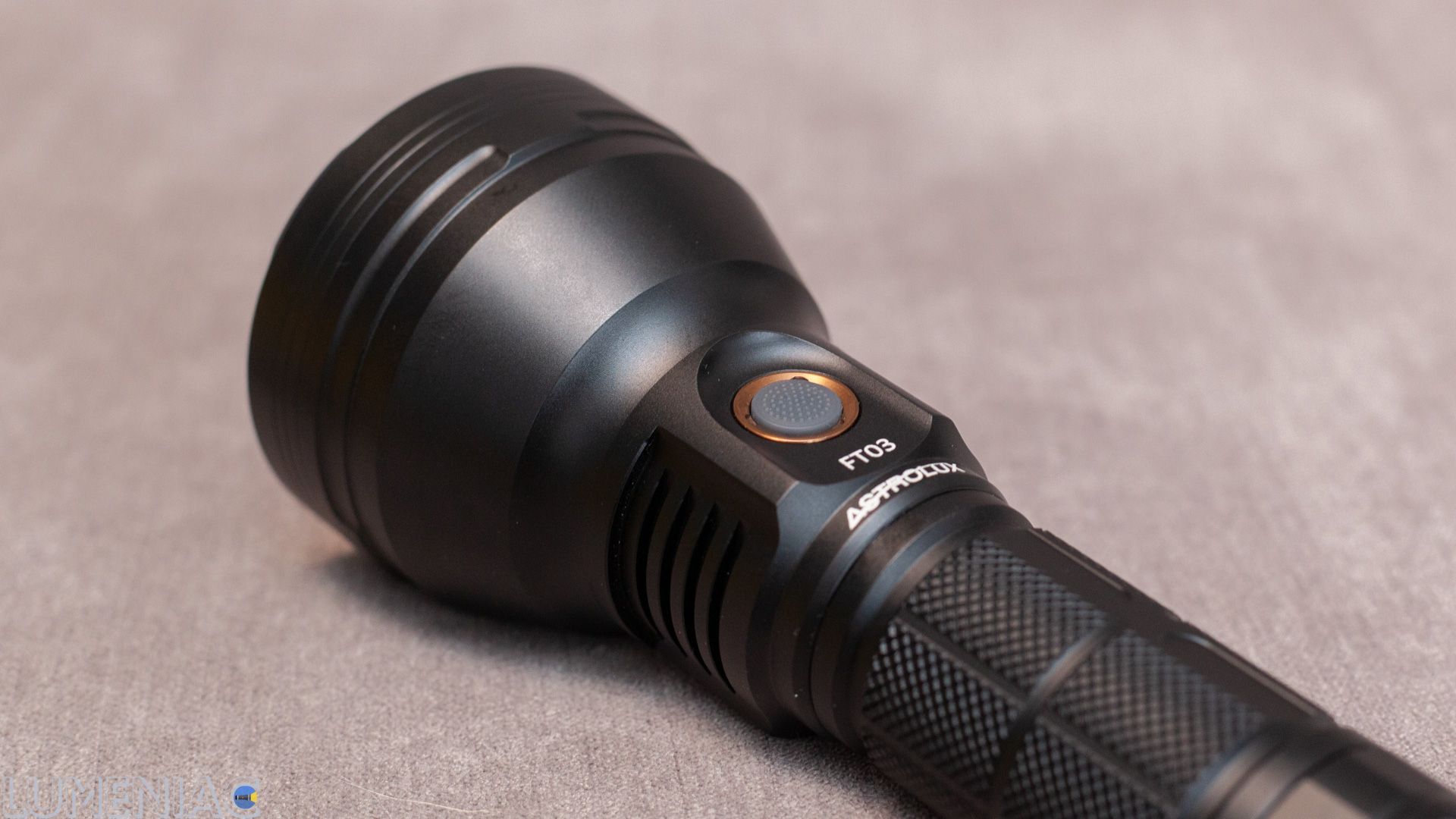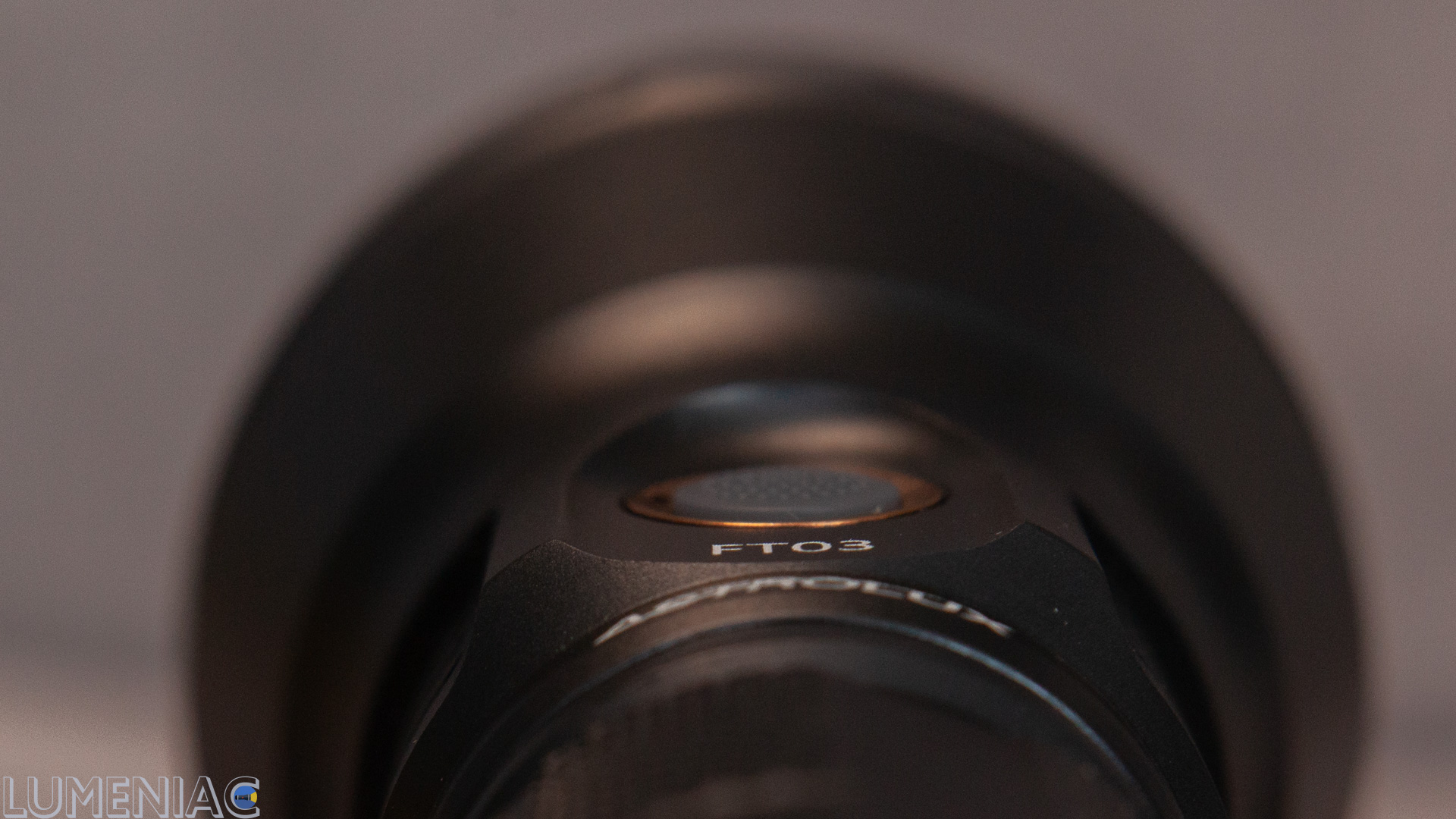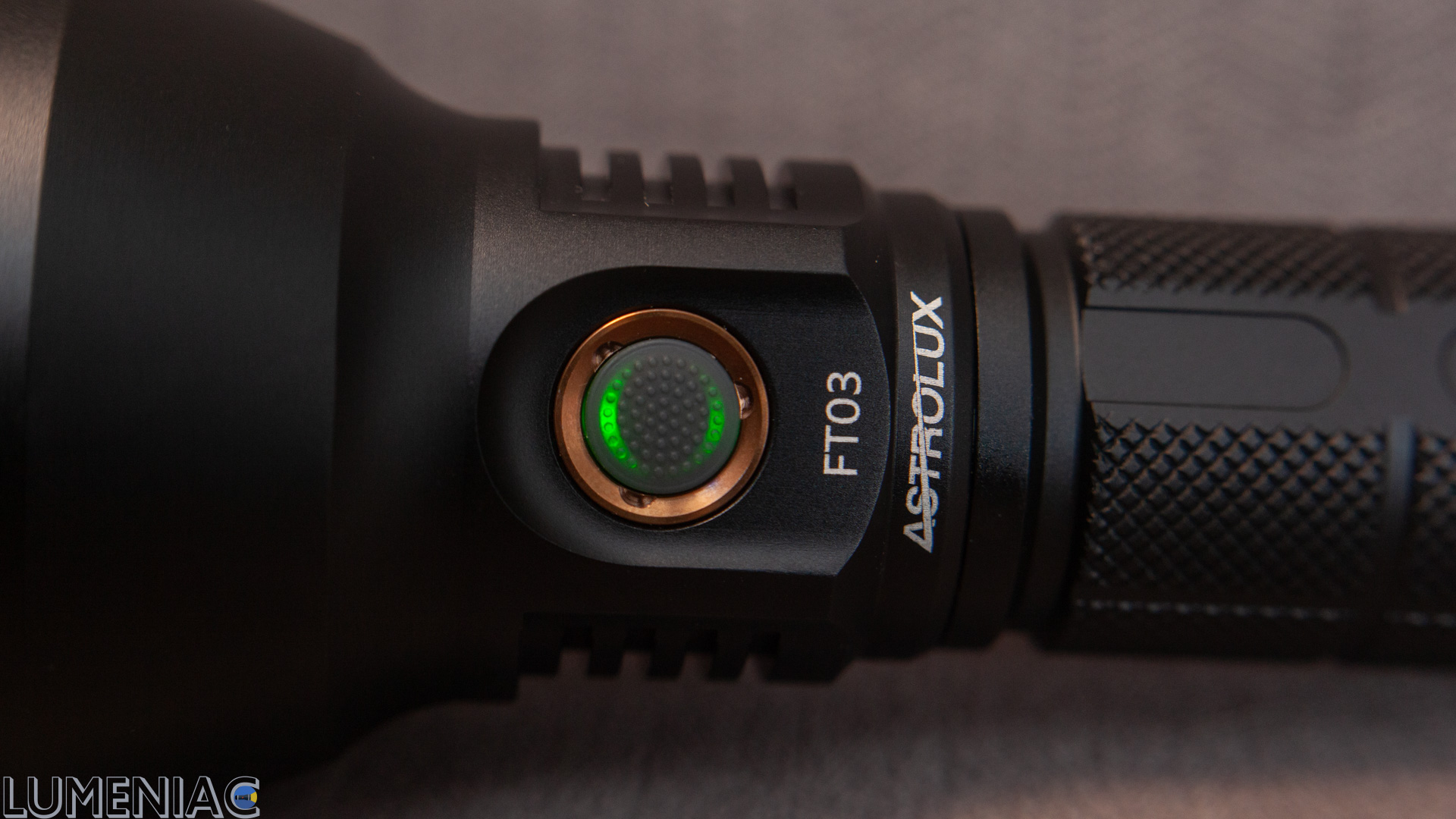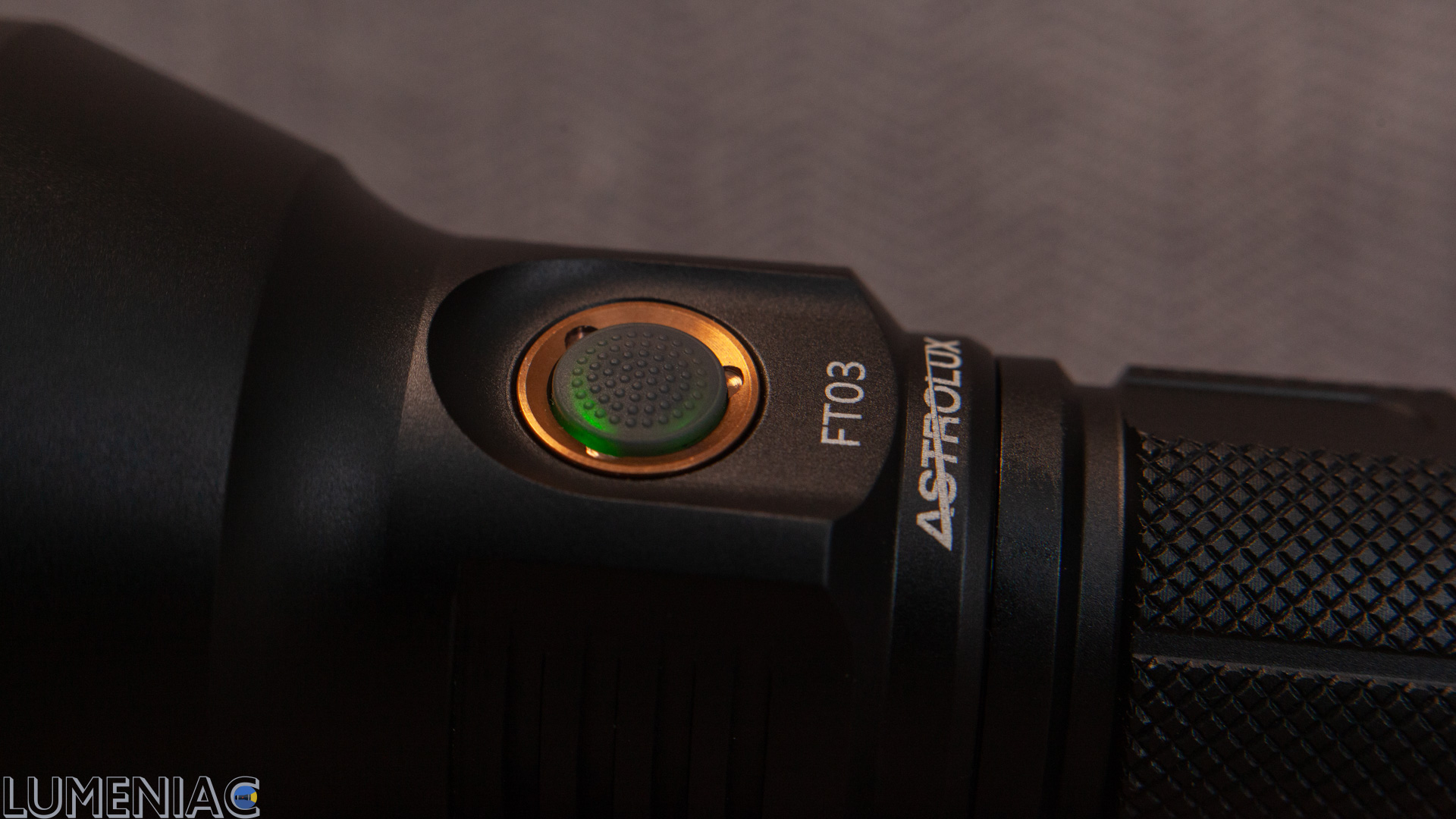 Traditionally and as expected, a charging connector is located on the opposite side. It's nice to see that Type-C has replaced micro-USB from initial version of this model (the one with XHP35). The cover is very thick, fits tight, everything is really good here. Charge current is good, about 2A. WARNING! built-in charger will not work if battery is above 4v. Discharge it below this level or use external charger.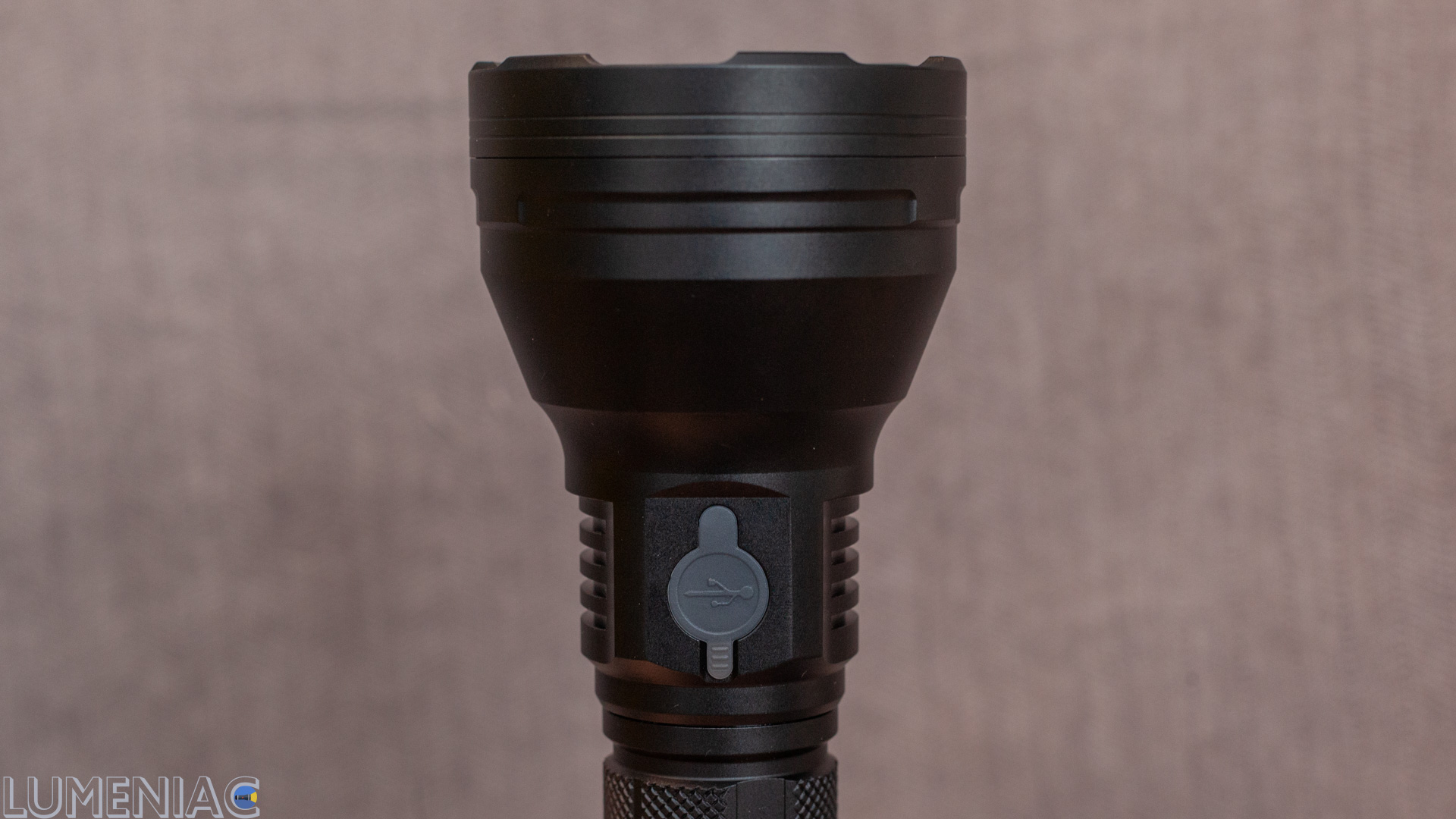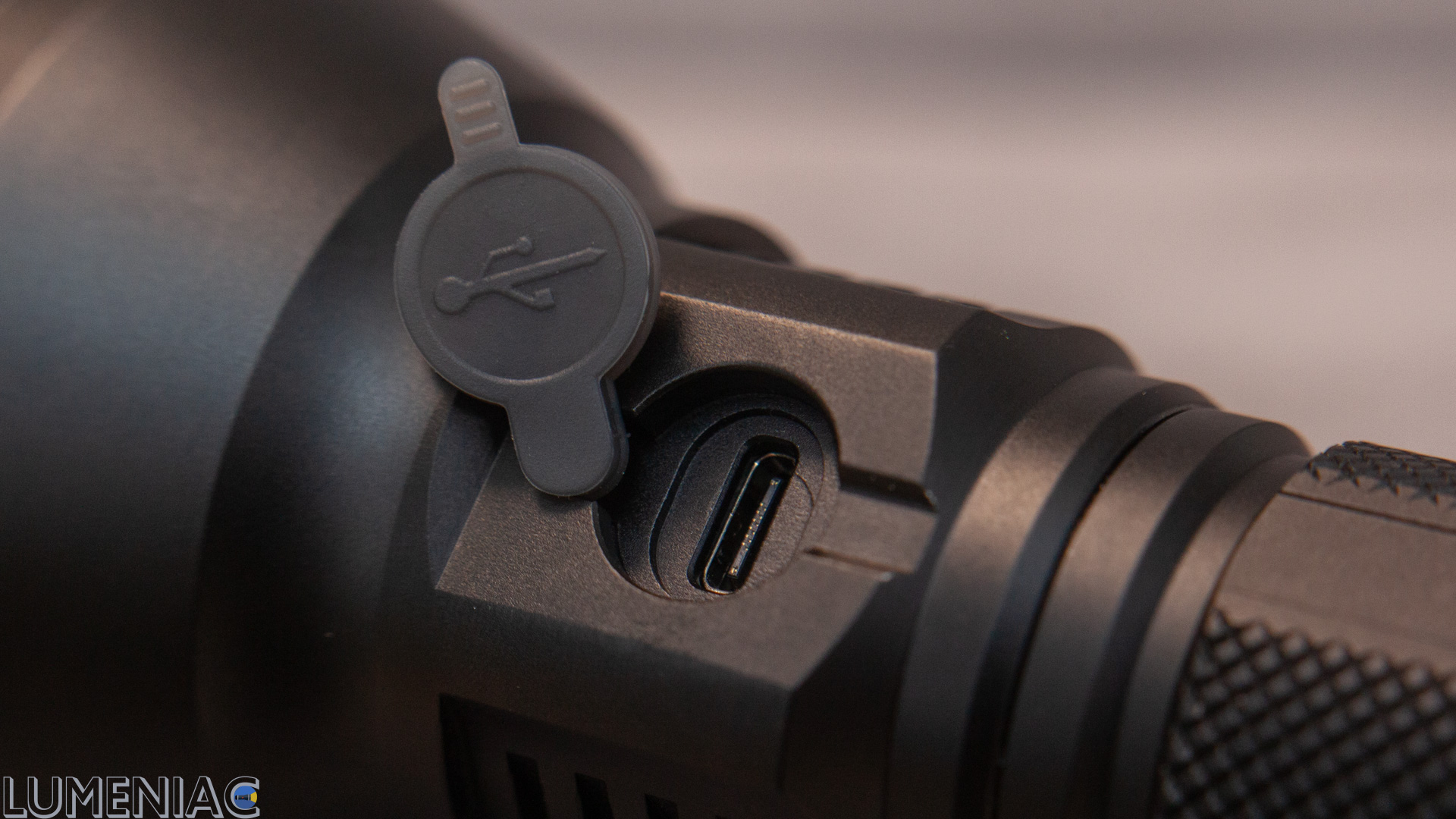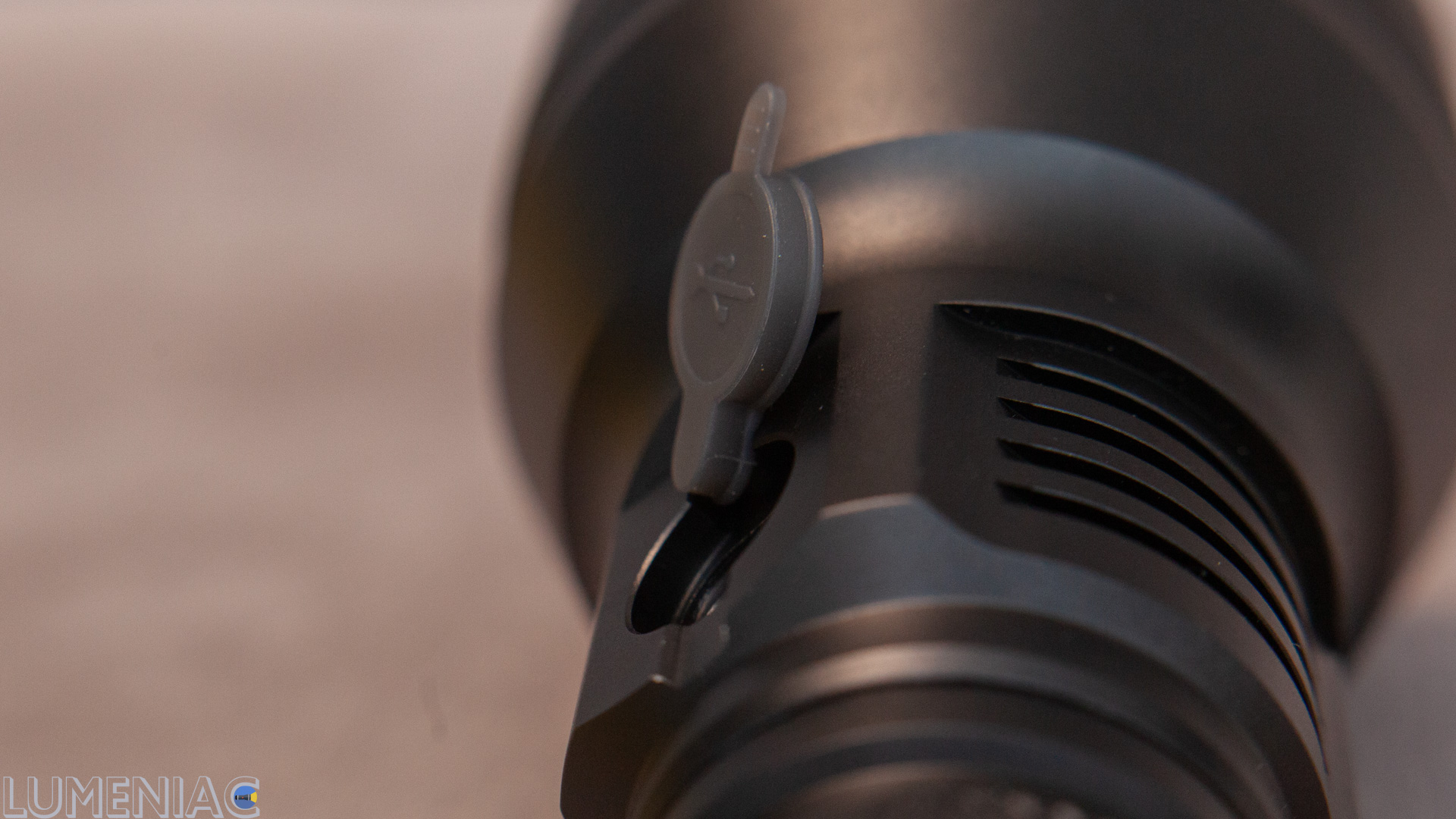 Cooling fins are quite decent both in number and in depth for this size of head. I`ve seen better finning, of course, but in single models.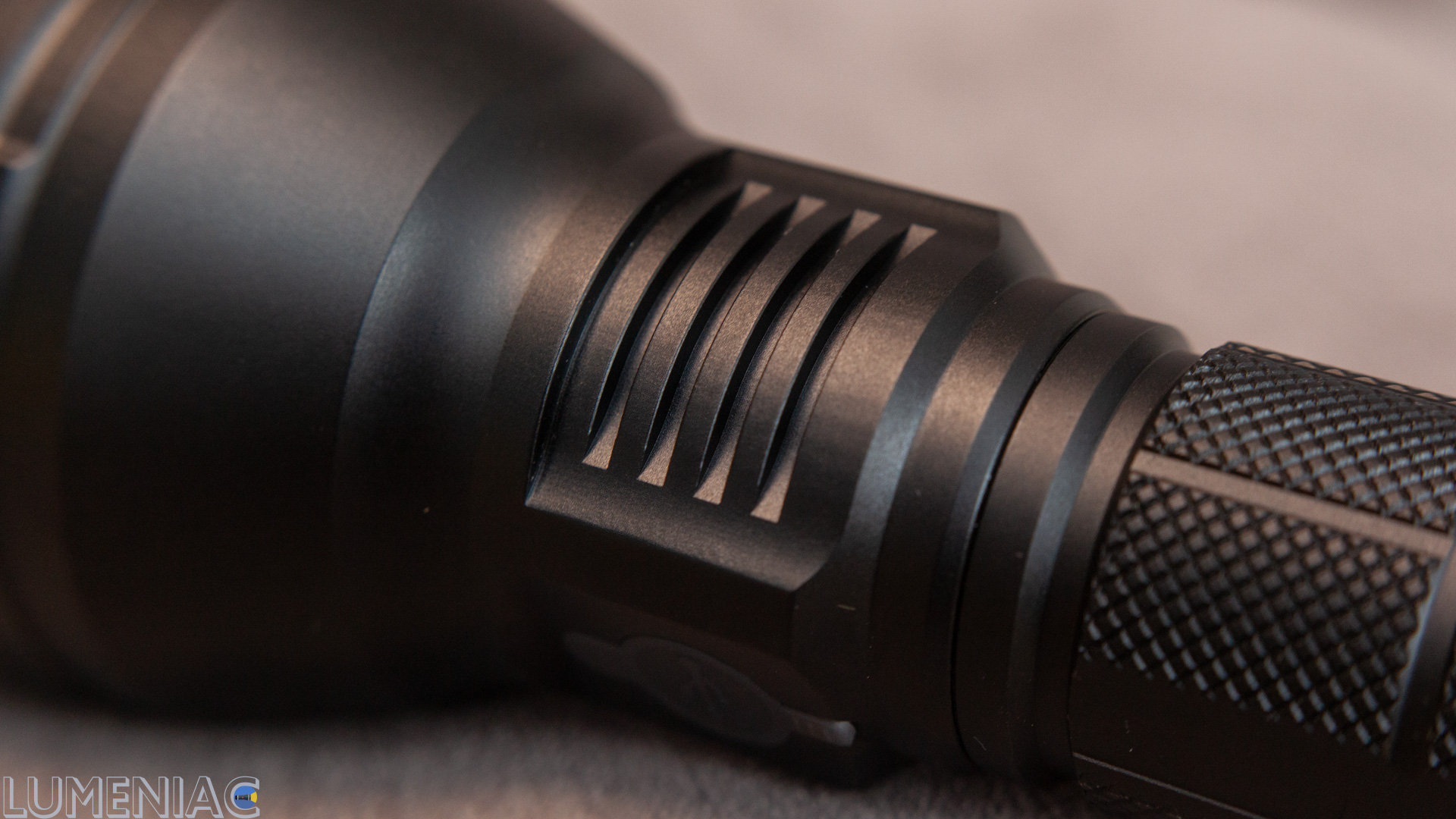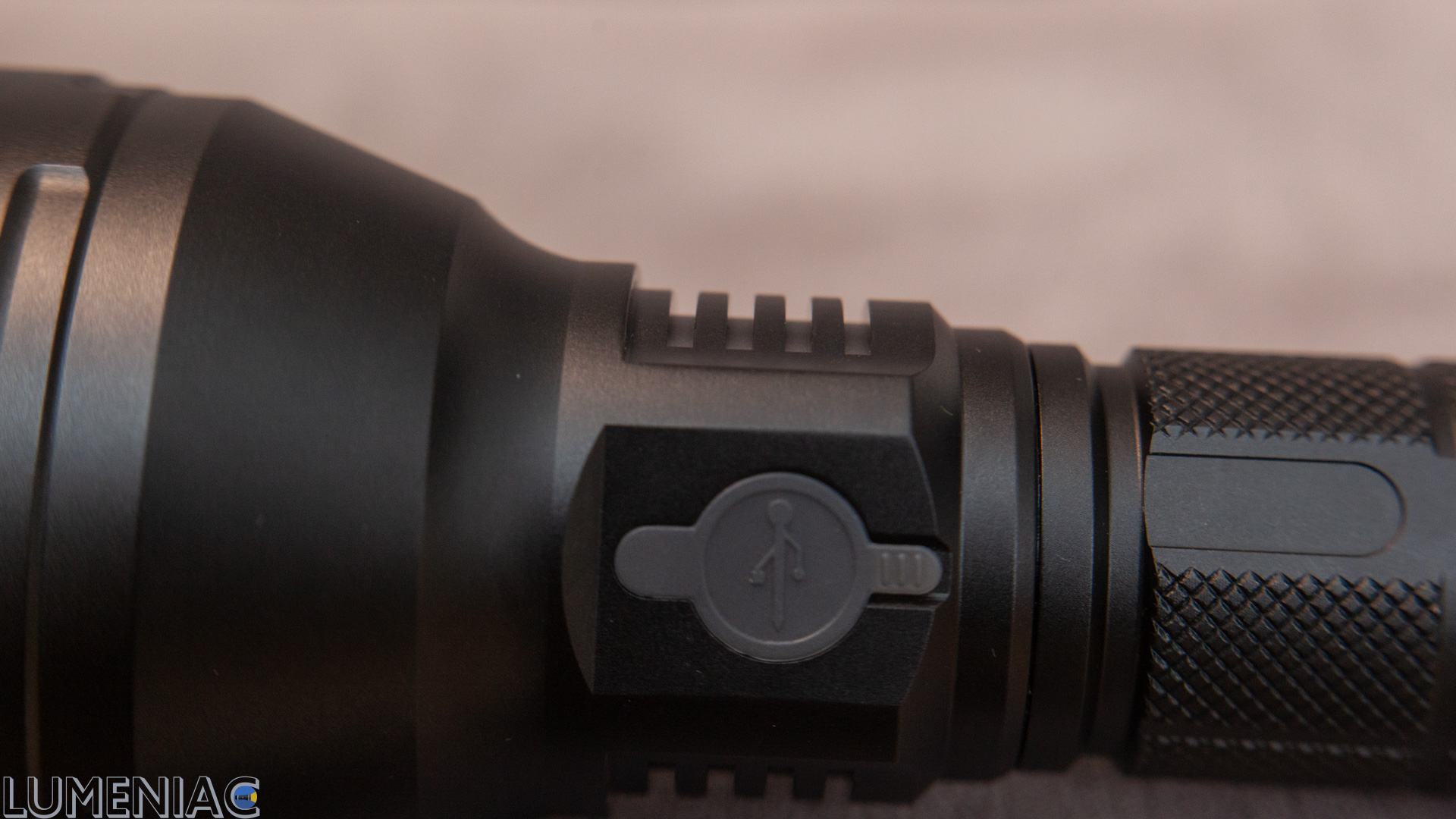 Glass, as usually, with antireflection. The reflector is, of course, smooth and deep.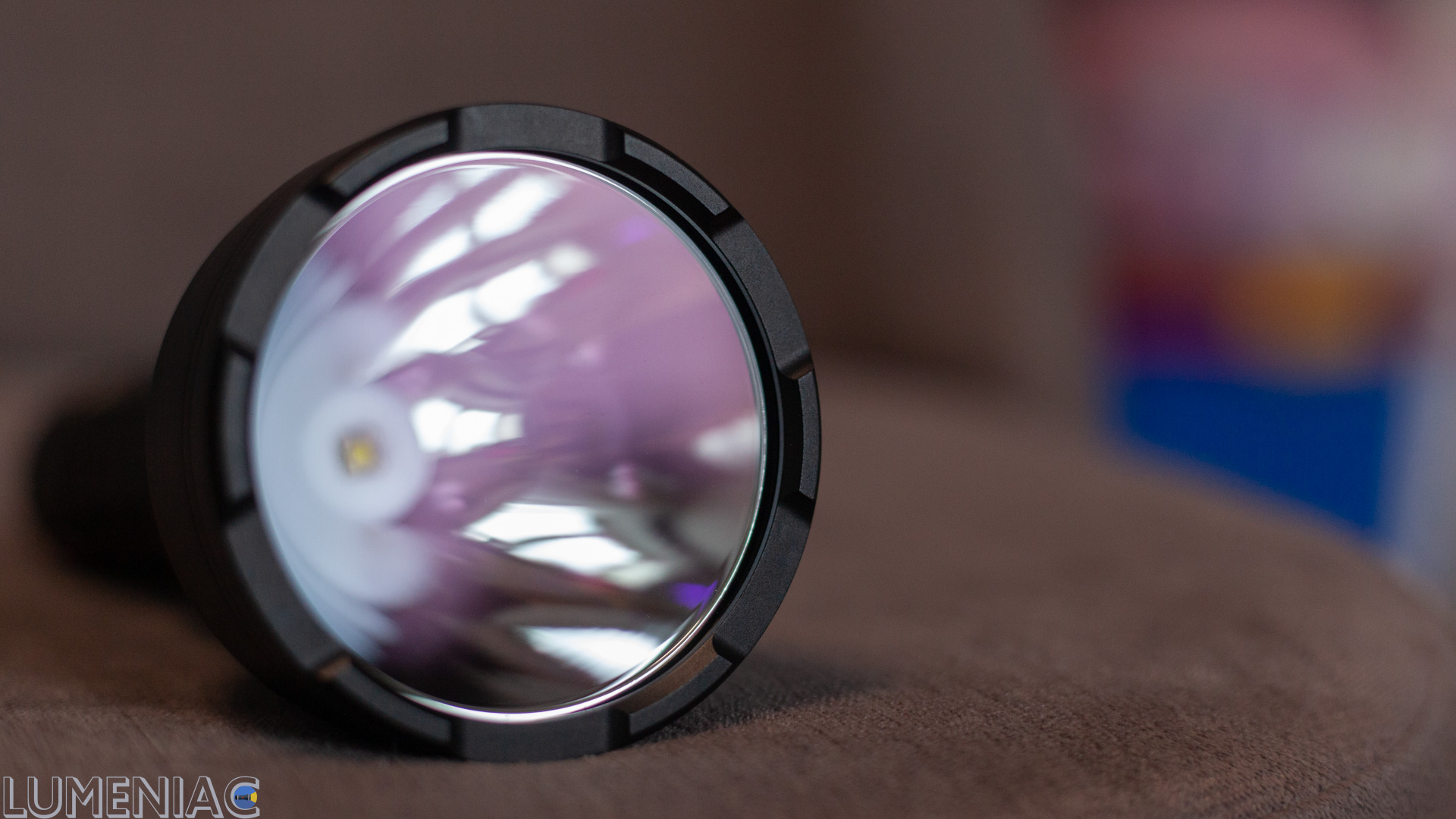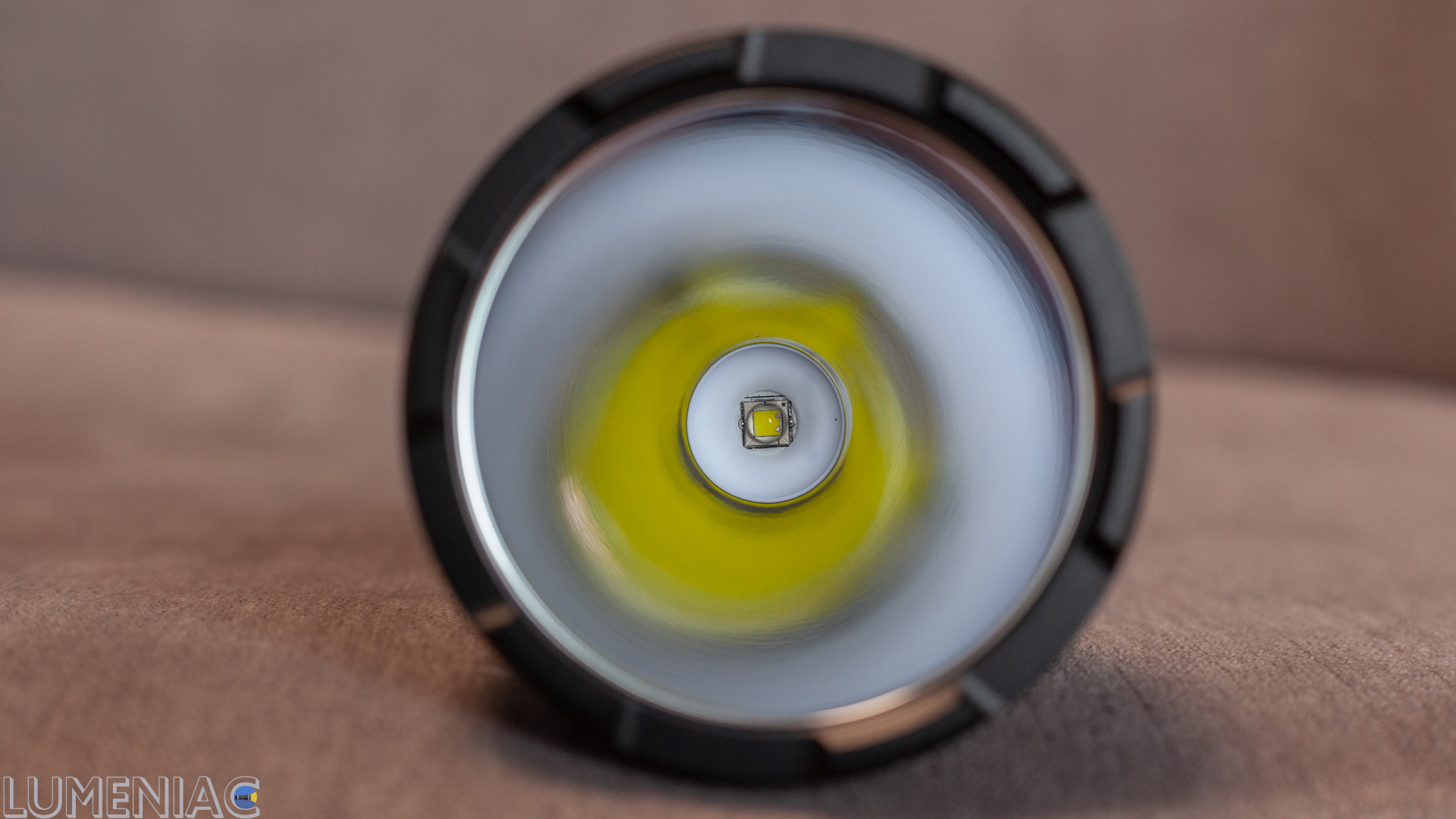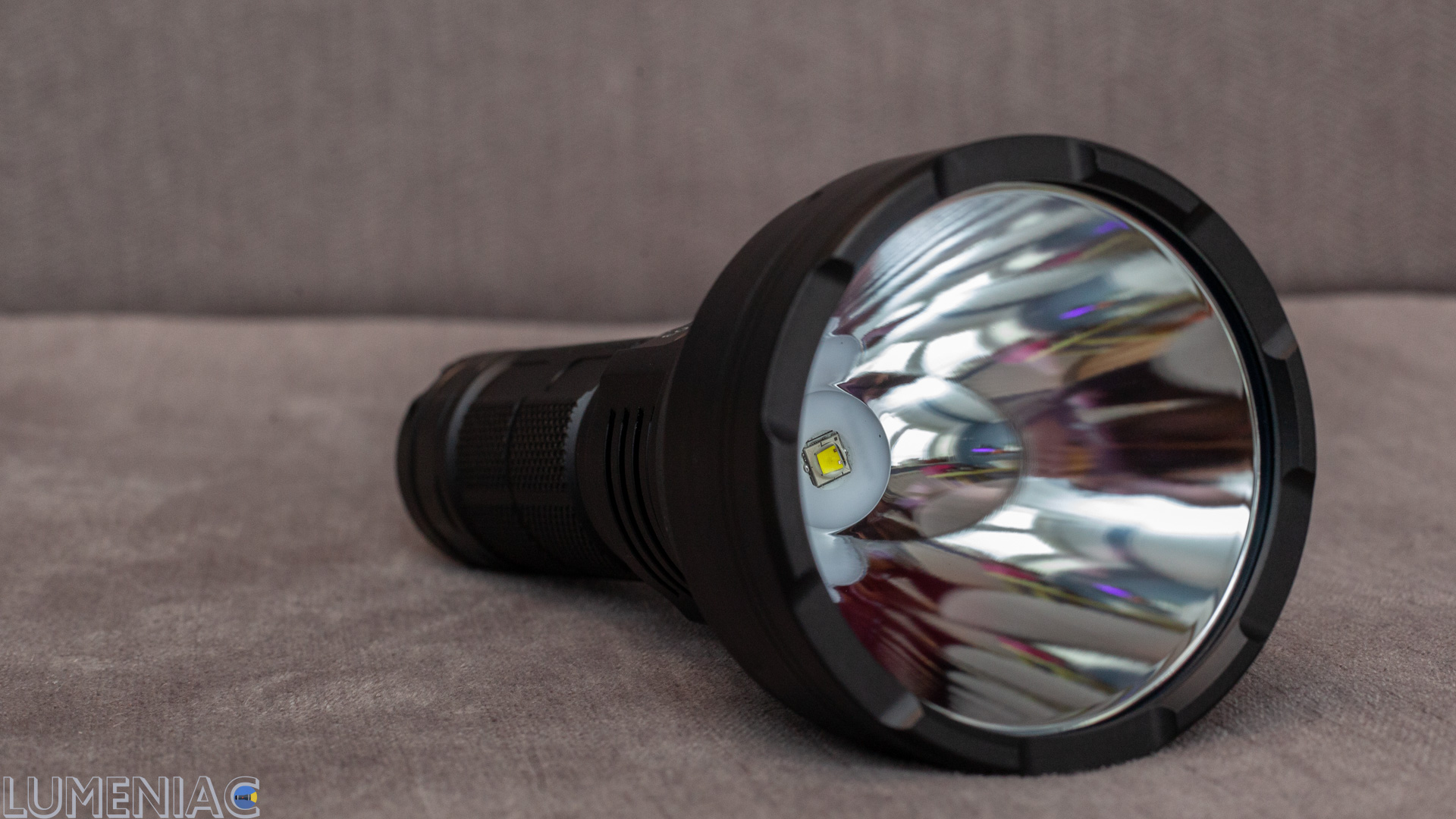 The bezel can be easily unscrewed .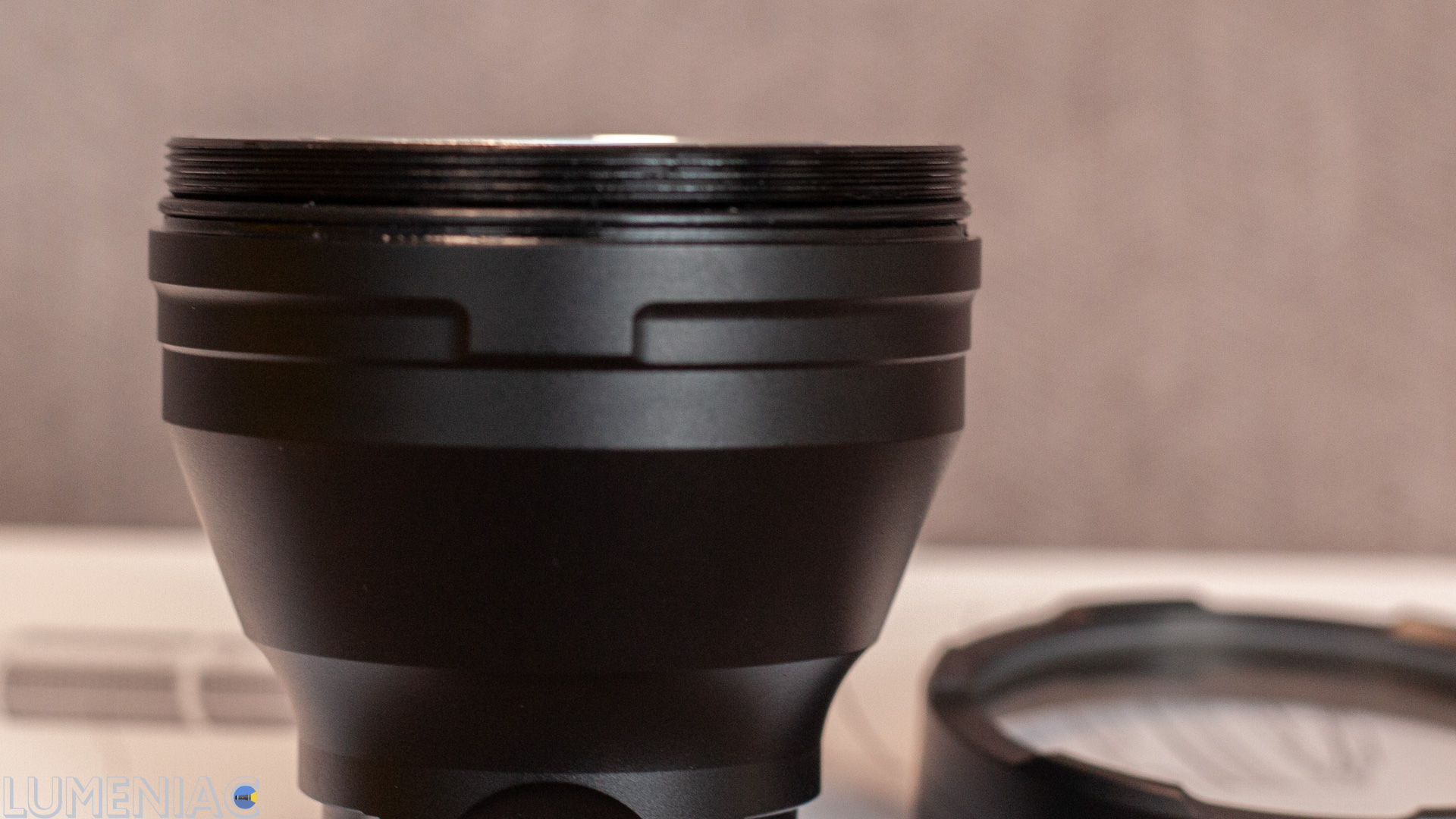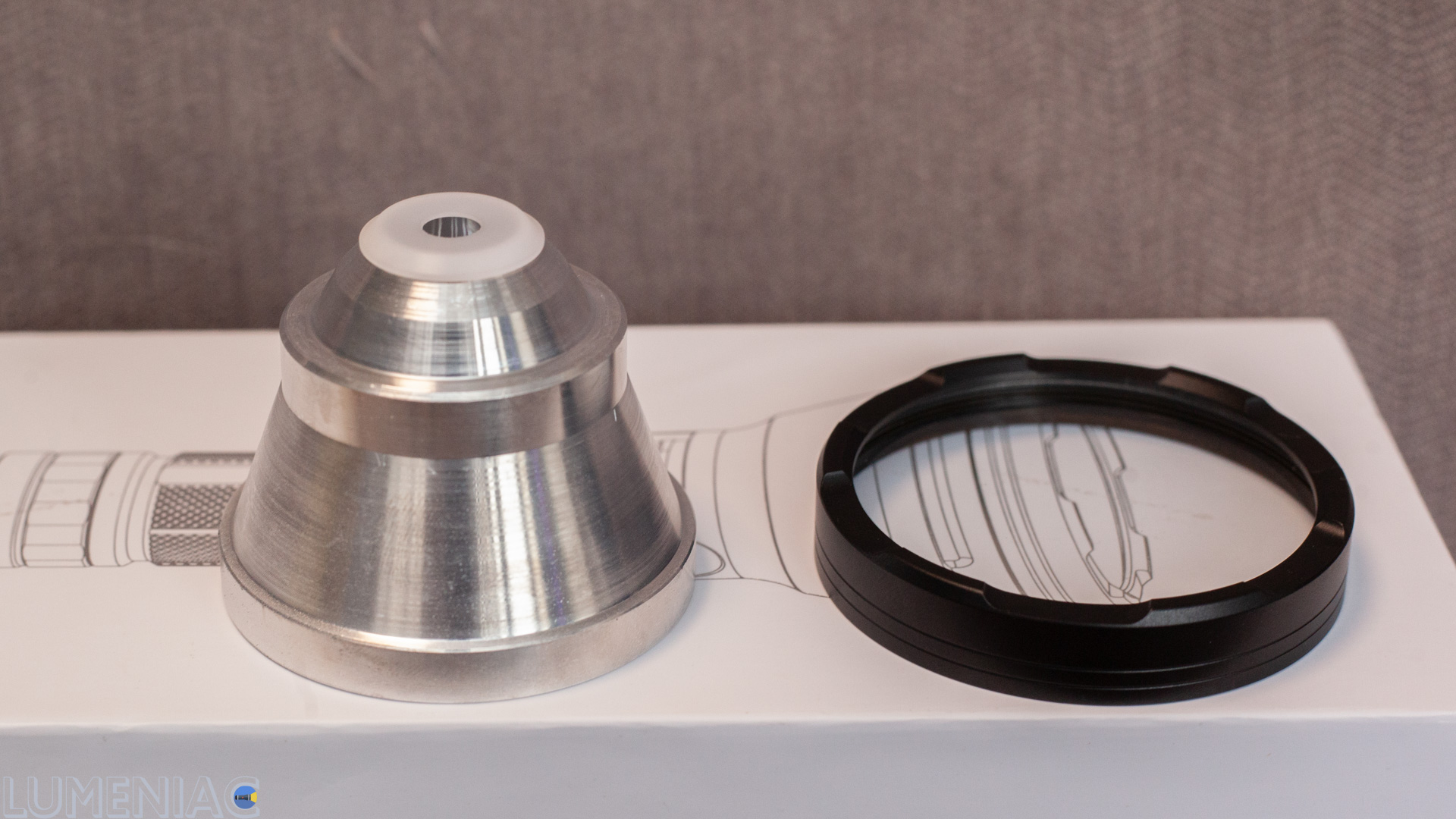 The generic Mateminko sign is clearly visible on the MCPB. You see, it doesn't smell of any Astrolux. Mateminco is the origin of all the models, which is no secret to anyone here at BLF. And such situation does not affect the end consumer in any way.
SST40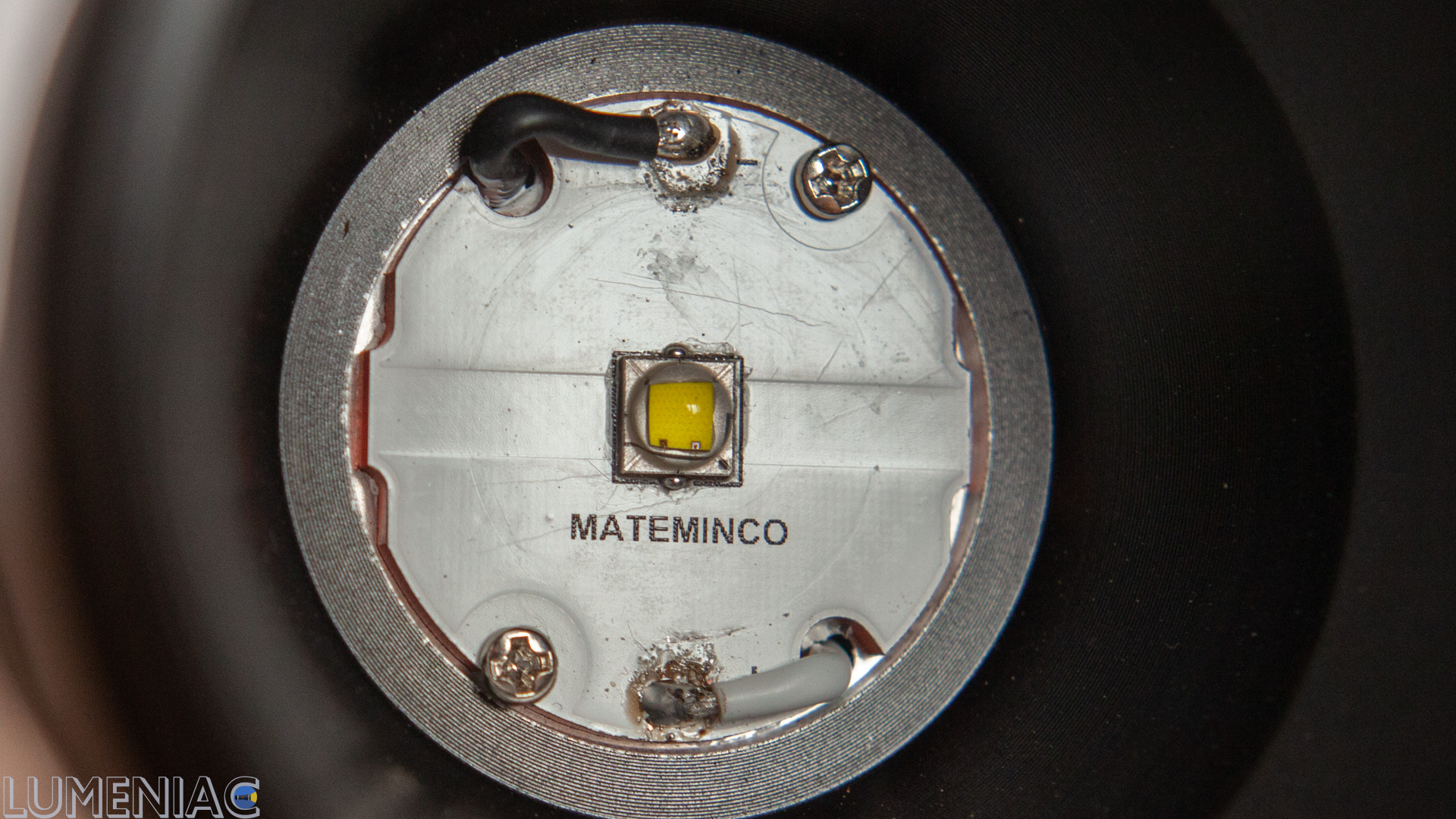 XHP50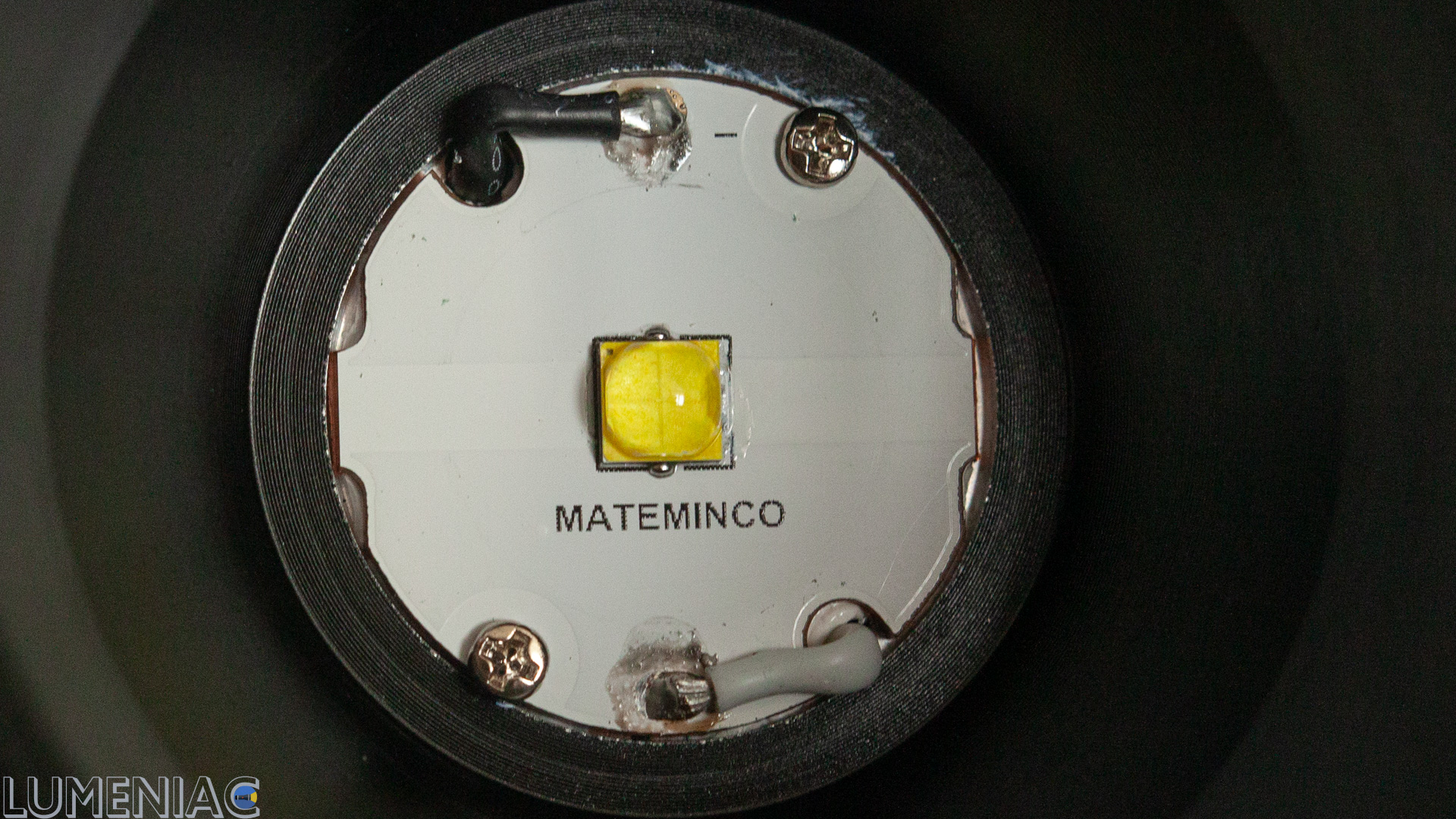 Let me remind you that in the original version there was a XHP35 LED, which was remarkably suitable for a long-throw flashlight. It is a pity that this version is not available at banggood now. 2 models presented in the review, of course, increase throw and, partly, side light due to higher brightness. But that also adds extra heating and higher battery consumption too.
XHP35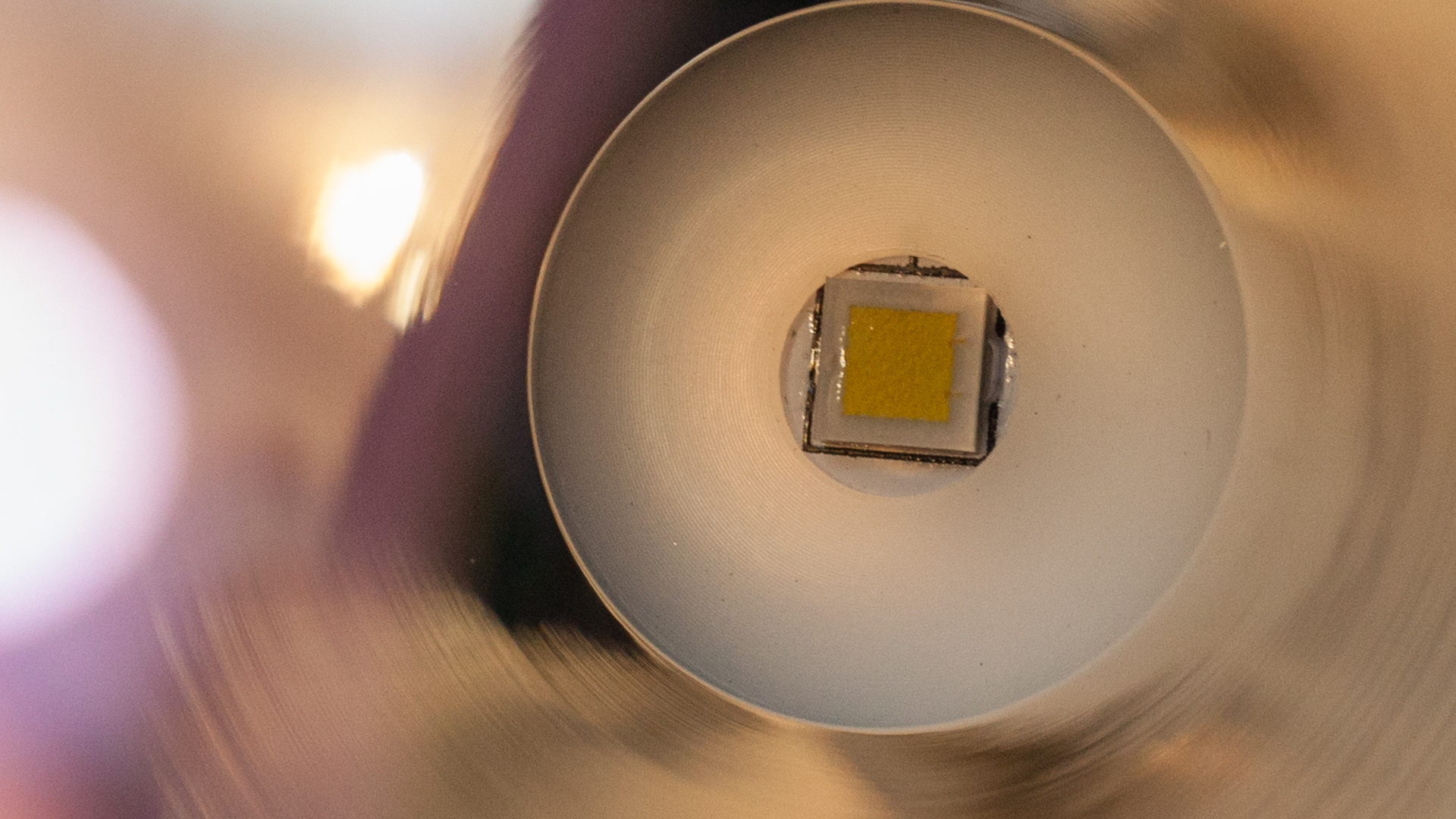 The flashlight has a good appearance, but no more. It is neat, with a modest but pleasant design. I really liked the practical idea of putting button in the reccess. Replacing micro-USB with type-C is also a definite plus.
UI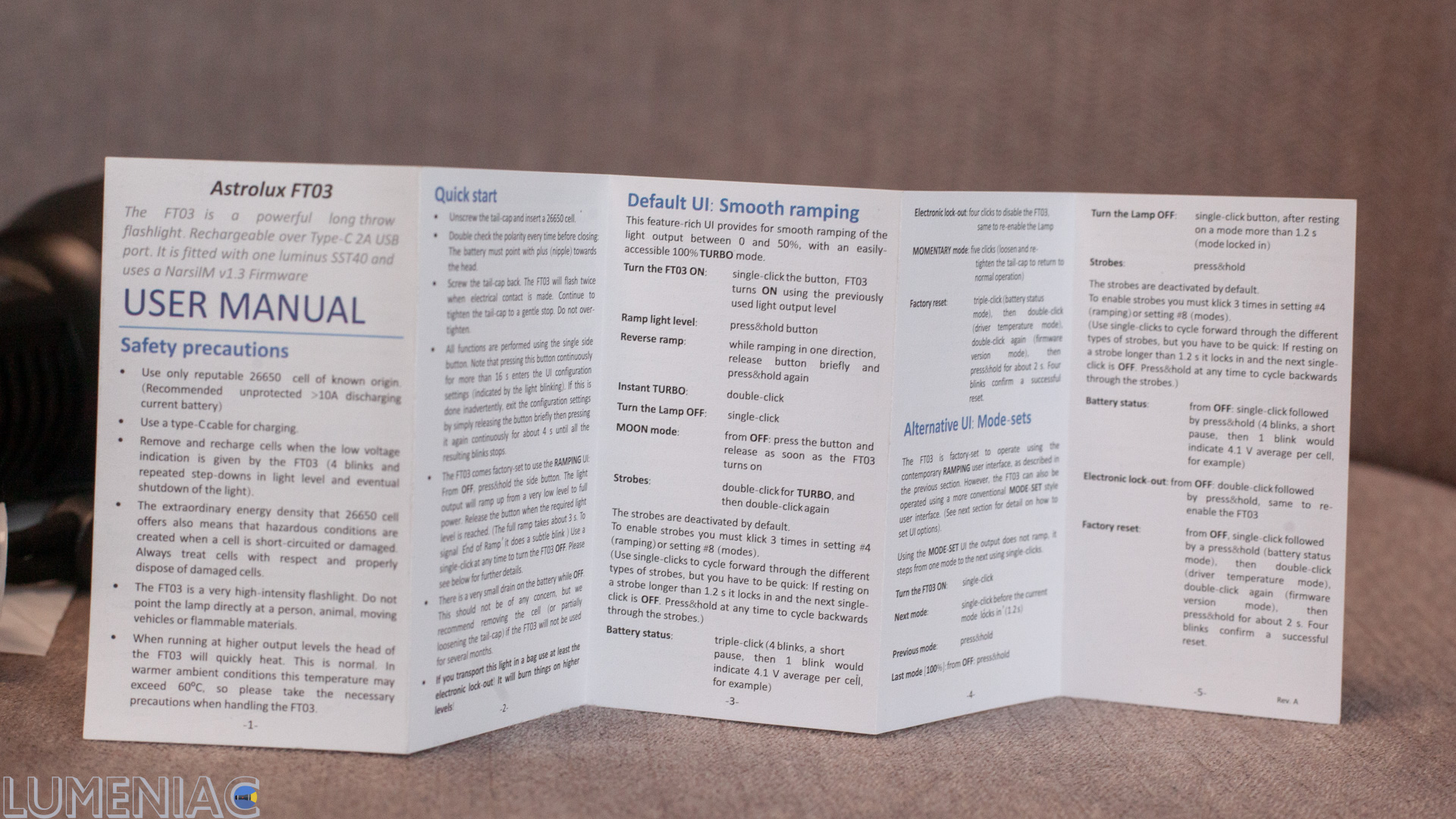 Exactly the same as a number of other flashlights, such as the colossal super-powerful and ultra-long-range Lumintop BLF GT70
Namely the Narsil interface. Unlike the super-flexible Anduril interface, it is closer to the average user. It remains possible to switch from stepless brightness control to modes, as well as to choose a convenient set of modes there. Well, you can turn off the button illumination.
Nuances and tips
➤ After the tail cap is screwed on (do not overtighten) the flashlight will flash twice to confirm contact.
➤ All functions are performed using the side button.
➤ Advanced operations: to enter the configuration settings, press and hold the button for about 16 seconds (3 in MODE-SET) until it flashes twice, followed by one blink. This blinking is a prompt for the first setup. After the blinking corresponding to the menu item, press the button as long as necessary for this parameter, or leave the setting and wait for another double flash, this time it is followed by two blinks, indicating that we are now in setting No. 2, etc.
UI confirms the selection with a click followed by a blink. Press and hold the button to advance to the next setting. Long press -> exit the setup menu. Four flashes mean -> setup complete.
In the settings, you can get to the temperature stepdown settings menu. It is configured as follows. You hold the flashlight and when you feel that the temperature is already uncomfortable, press the button. This temperature is set as the thermal cutoff threshold.
If you entered there by accident, exit the settings by simply releasing the button and then holding it for about 4 seconds until the flashing stops.
Infinitely variable brightness control (ramping)
By default, the flashlight is configured with RAMPING UI (smooth increase / decrease in brightness):
Off-On on click (mode memory is disabled / enabled)
From OFF, press and hold the side button. The brightness will rise from a minimum to 50%.
When the desired brightness is reached, release the button.
If, while increasing the brightness, you release the button and hold it down again, the brightness will begin to decrease.
Instant TURBO – 2 clicks
MOONlight: from OFF quick click and release the button
STROBES: 2x clicks into turbo, then 2x clicks again. By default, gates are disabled. There are several strobes here, moving along them is a quick click. But here you have to be fast, if you keep the strobe on for longer than 1.2 seconds, then it is blocked and the next click will turn off the flashlight.
Charge check: 3x clicks from OFF (e.g. 3 flashes, pause, 7 flashes = 3.7)
Lock and unlock: 4 clicks.
MOMENTARY (turbo while holding the button): five clicks (loosen and tighten the tailcap to exit this mode)
Reset to default settings: 3 clicks -> 2 clicks -> 2 clicks -> press and hold the button for about 2 seconds until you see four flashes to confirm successful reset.
Mode with brightness levels (Mode set)
- On / Off on click
- Next mode: one click before the current mode "closes" (1.2 sec)
- Previous mode (from ON): press + hold button
– instant turbo (from off) press and hold the button
- Charge indicator: from OFF one click, then press and hold (3 flashes, short pause, then 3 flashes = 3.3V per battery)
– Lock and unlock (from
OFF
): 2x clicks -> press and hold – Factory reset: from
OFF
one click -> then press and hold -> double click -> double click again -> then press and hold for about 2 seconds. Four flashes confirm successful reset.
Personally, I find the Ramp UI much more user-friendly, with its access to the minimum and maximum brightness.
In general, the control is flexible, but if there is a need for something other than the default settings, you will have to spend time. Having mastered it once, then there will be no problems, here, indeed, everything is logical.
HOW ASTROLUX FT03 ILLUMINATES

Store offers choice of both LEDs and color temperature. As for the latter, it is logical to choose 4000K for long-throw model. 5000K is also quite acceptable. Well, the colder the light, the more it will reflect all dust and moisture scattered in the air. And with FT03, alas, there is not many to choose from, for the same XHP50 you will not get warmer than 5700K …
Strangely, this photo of the SST40 shows a terrible purple tint like in cheapest zoomies. It is not even close to this pic alive. And XHP50 is quite greenish.
Otherwise, SST40 has a clear, light distribution of long-thrower model. Bright center and dim side light. XHP50.2, due to the size of the LED, will give a larger center and better sidelight.
Accordingly, it has less throw. This is not a disadvantage- if you do not need get most possible throw, then this option can just come up due to the bonus in the form of side light.
Keep in mind that the bonus will also increase heating and battery consumption.
What about runtime?
So, high mode is 50% of the turbo, that is quite close to the default 38% mode when switching to the modes set.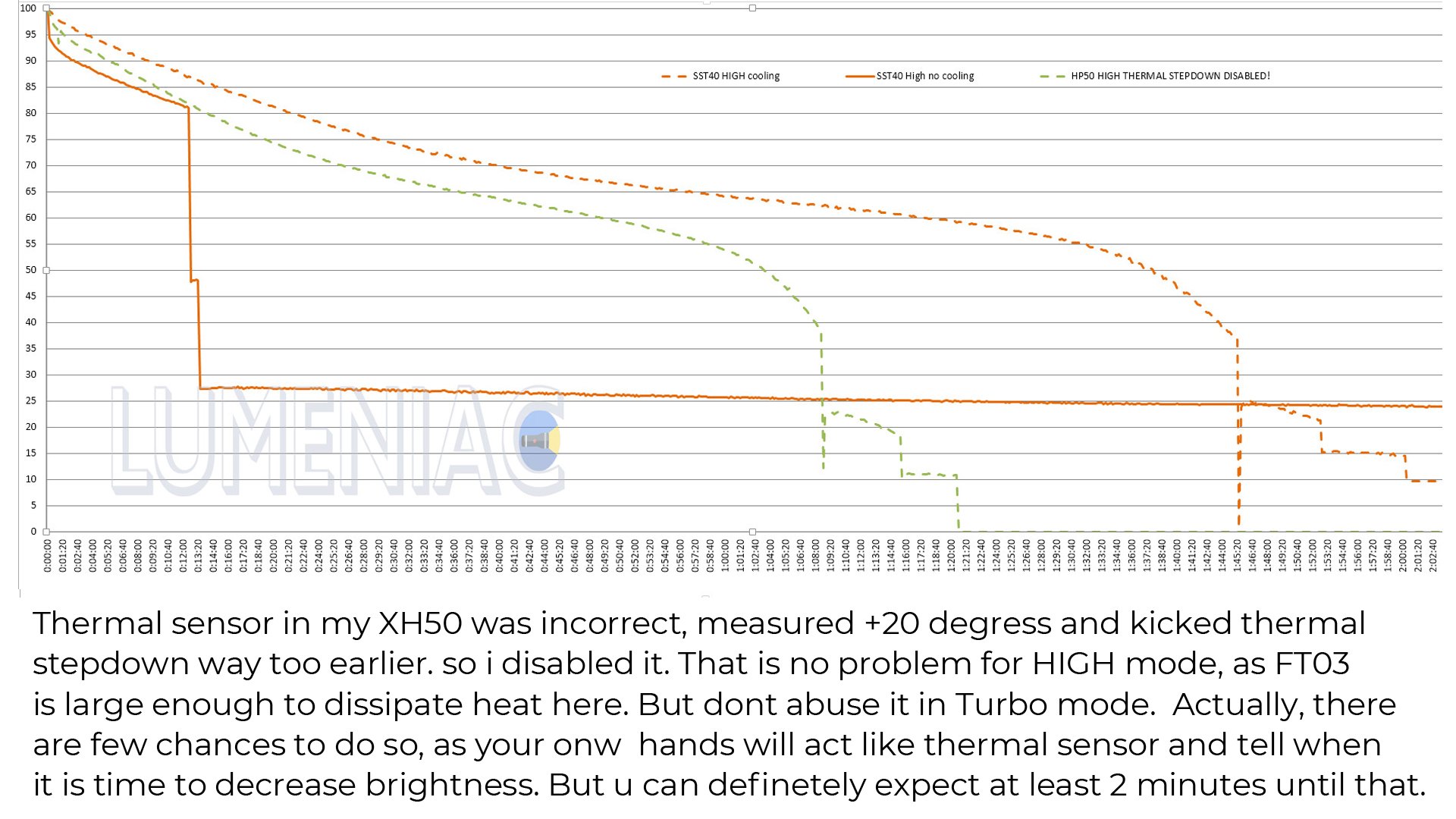 Alas, there will be no stabilization at higher brightness. There is FET which means that as the discharge progresses, the brightness will drop.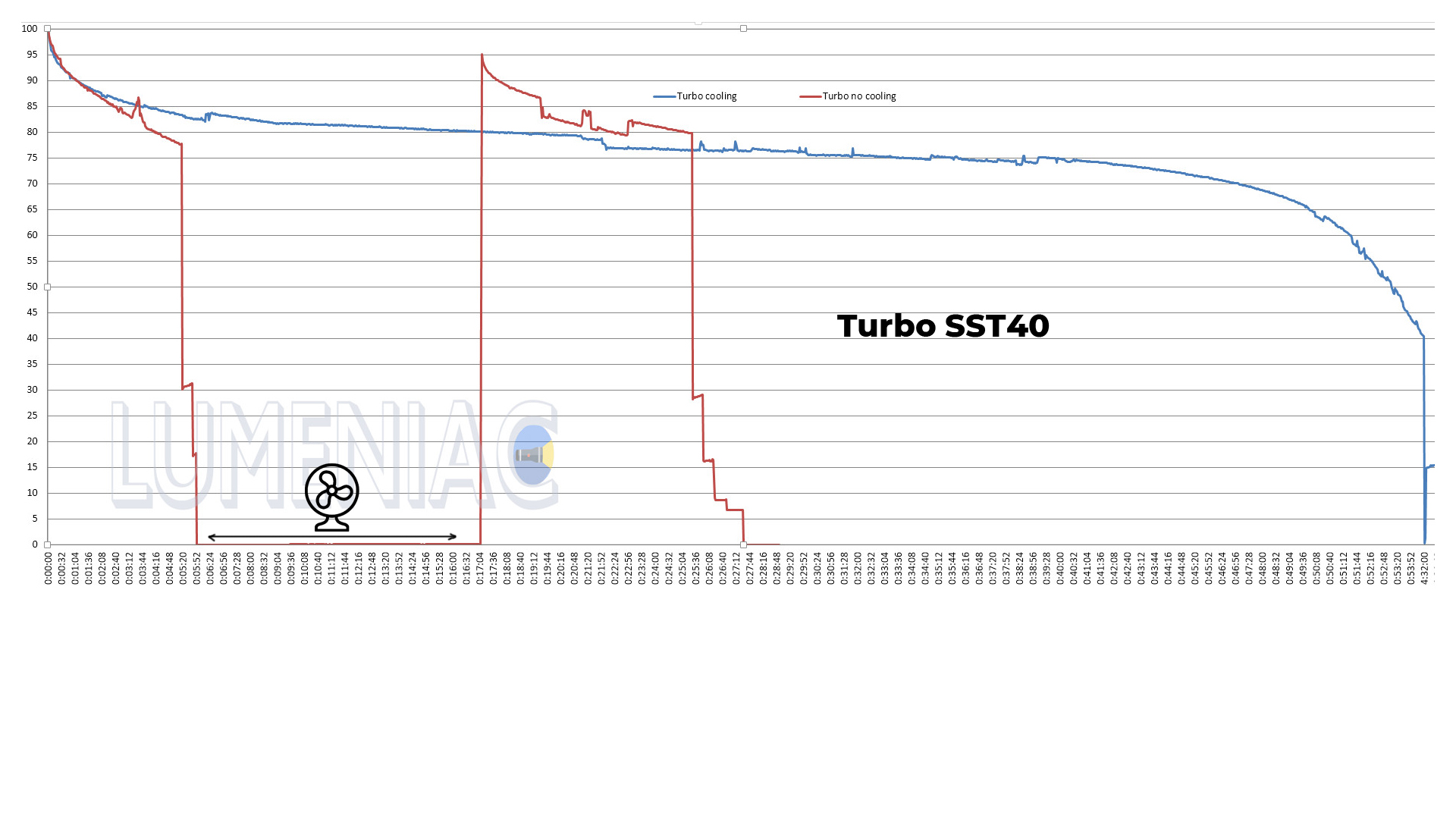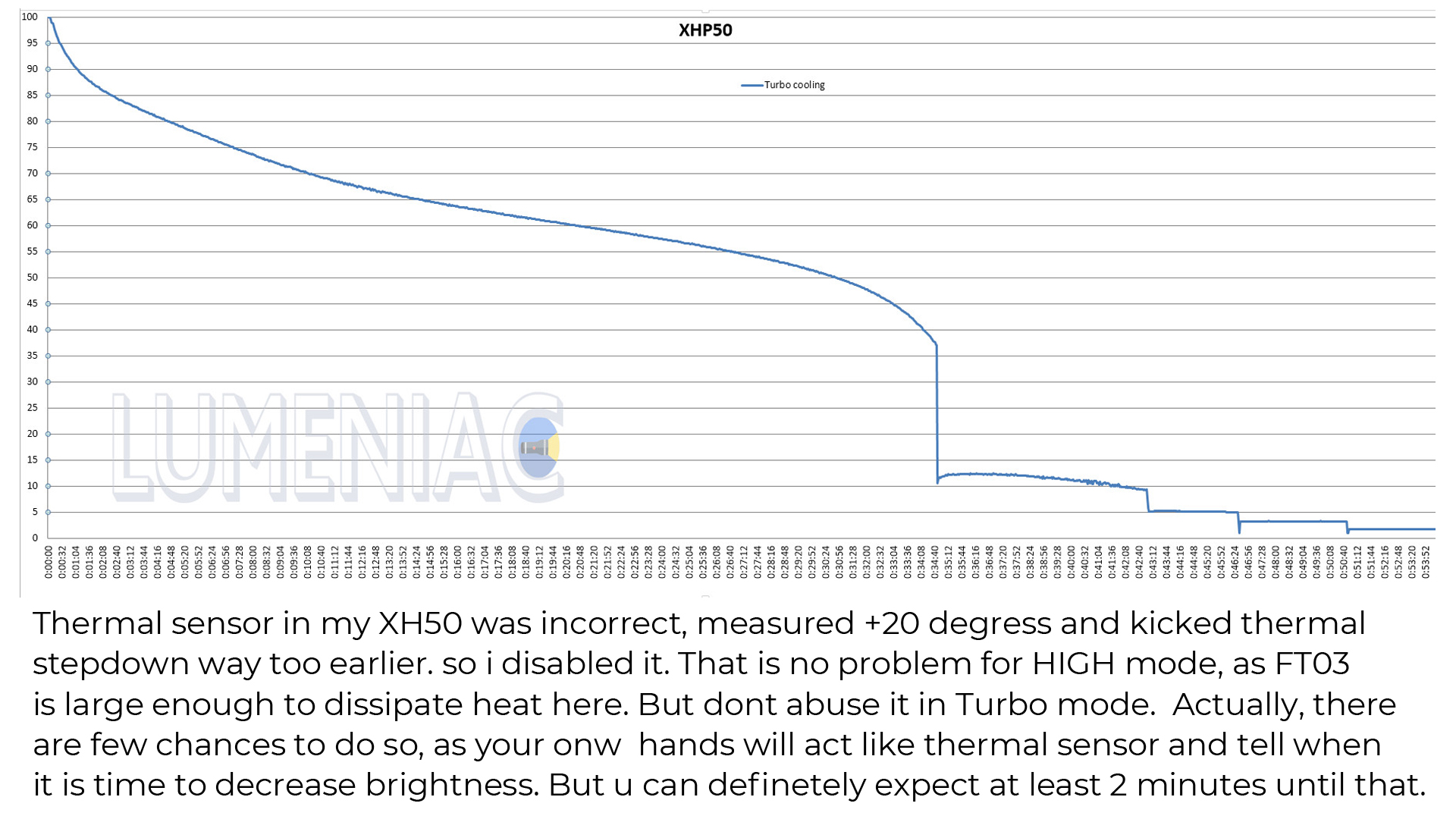 Cooling has visible effect, that is good. WARNING! Thermal sensor in review example shows +20C degress, so thermal stepdown drops birghtness down REALLY quickly. I had to disable it to make runtime chart. Your own hand will act as thermal sensor. XHP50.2 version can handle High mode. But since Turbo is too hot, you likely to decrease brightness from this mode after couple of minutes.
IMPORTANT! you can set the thermal cutoff treshold at any other temperature, set it on time or turn it off – runtime will change accordingly
To summarize , XHP50 version turns out to be a kind of compact search flashlight, with good side light and beam convenientfor work at an average distance. If you wish, you can give a good light up to 400m. And within a 200m range you will get a real headlight in your hands. I would personally prefer this one.
With a decrease in brightness, SST40 will give you greater throw and in cold or windy weather you get maximum possible from this version. If not in turbo mode, then from the half bright High mode at least. In this version, the flashlight will obviously have a longer throw than Sofirn C8G.
And then personal preferences come into play and the user himself determines what is more important for him: to sacrifice sidelight and brightness to get better runtime and throw or be able to comfortably work in range from like 10m, and to hightlight everything in range of 400m.
50m
75m
250m
450
Astrolux FT03 video review contains many examples of how this flashlight shines. So if you are interested in comparing them alive – you are welcome. I would be grateful if you support the work on creating the review, just by not rewinding the video to live filming
OVERALL IMPRESSIONS
The flashlight in both versions turned out to have few CONs and lots of PROs.
Personally, I dont like FET driver with it`s lake of stabilization. But, can i use it as i ? Yes. And in some models, the same $ 5 camping lamp, this drop does not bother me at all. So in many ways this attitude is a consequence of the fact that in the first version there was stabilization, but then it disappeared.
The second disadvantage is that you cannot get anything warmer 5000 for SST40 and 5700 for XHP50.2 Well, 5000K is fine, but the long throw flashlight would do much better with the 4000K version.
And, what i personally dont like is calibration of thermal sensor, which was FAR from precise in my review example.
By and large, these are the two main disadvantages of the model.
And now there is a long list of advantages…
Convenient and flexible, but not overcomplicated UI
Backlit button with easy access
Type-C built-in charging with good current
Work from a capacious 26650 battery
Nice appearance
Exceptionally affordable price that allows you to close your eyes to all the disadvantages
Excellent brightness and range
The ability to choose a model convenient for your needs
Choice of body color and even material (there are versions in copper)
The result is a undoubtly interesting model. Any of big brands would have ask around 80-100$ for such functionality, and simplify UI while Banggood ask about just 30$…I would pick XHP50.2 version, because it will act quite good from aroud 10m, and withing range of like 150m you have really good wide and bright beam. You can equally highlight path ahead of you and check what`s going on in couple of hundreds meters ahead. And there is no need to move beam here and there, as it is quite wide. Some people, of course, would pick classical thrower model with SST40. And if you want something not so powerfull, but way more portable, you can also take a look at Sofirn C8G
As that model is not that new, there are LOTS of order feedbacks at product page, so you can read real user impressions there. I really like this model, that is damn good deal for it`s price even without promocode.