Hi all,
I could really use some help from some flashaholic with some graphic design capability. Let me start by saying I am happy to PAY you for your assistance.
.
.
I need to make instruction sheets for some of my products and the things I am trying to explain require the use of some imagery and I cannot make the pictures. I also don't understand anything about how this type of thing needs to be formatted etc if that matters.
Here is an example of the type of images I need, basically looks like an ink pen sketch.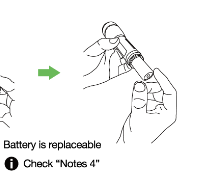 .
.
I want to create a set of installation instructions that are easy to understand to a total novice for my Magcharger bulb ( and a couple other products). Sometimes installing the LED upgrade requires that you take the old bi-pin bulb and twist the socket to the pins line up correctly etc.
.
.
If this is something you can do for me please let me know..
—
In Him (Jesus Christ) was life; and the life was the light of men. And the light shineth in darkness; and the darkness comprehended it not.
http://asflashlights.com/ Everyday Carry Flashlights, plus Upgrades for Maglite.