There are bunch of 10000mah powerbanks, as they are most affordable and compact. And having experience of using and reviewing some of them , i`m sure Romoss Sense4 is definetely one of best in size\functionality\price ratio. Hope you`ll agree with me after reading this review.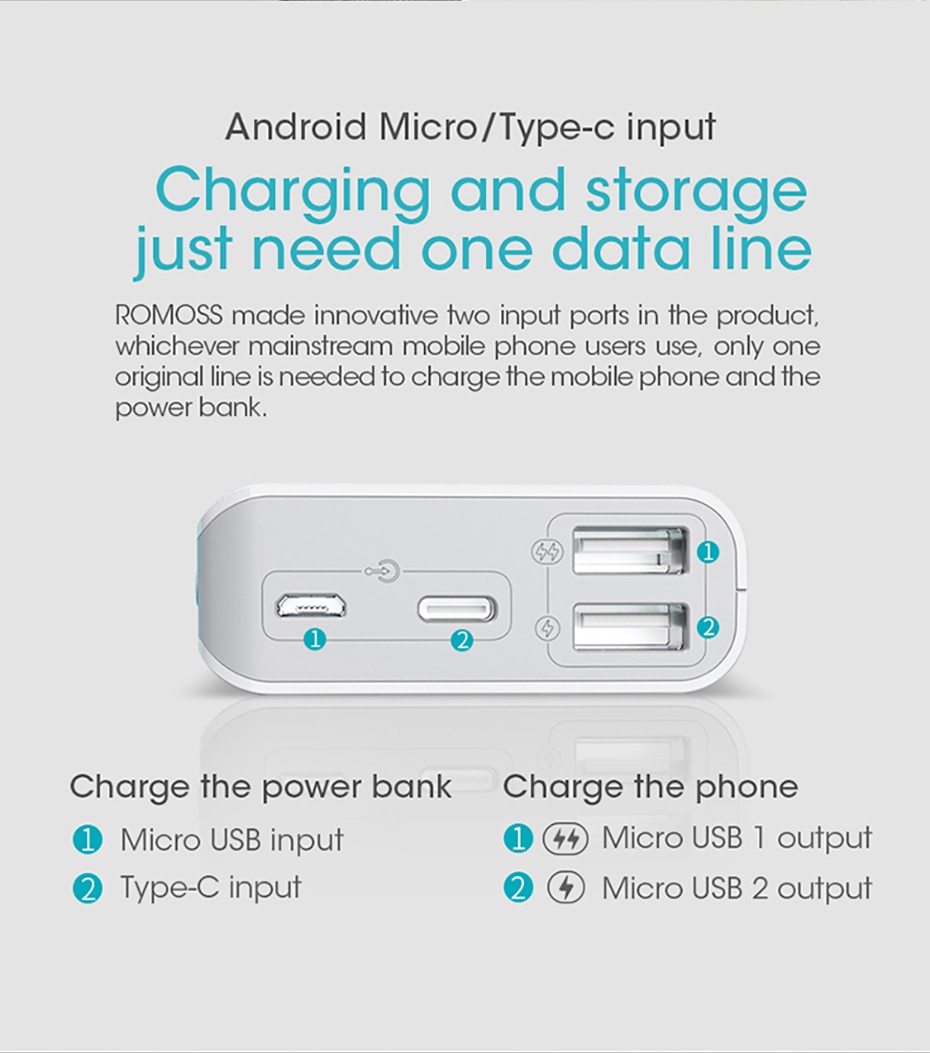 Specifications:
Outputs: USB 1: DC5V 2.1A + USB 2: DC5V 1A
Inputs: Micro USB: DV5V 2.1A + Type- C: 5V / 2.1A
Size: 91 * 62.4 * 22.8mm 202g \ 0.9 * 3.6 * 2.4 inch, 7.23 oz
Capacity: 10000mAh (37Watt*h)
Romoss official store at:
Aliexpress
Amazon
Package and appearance
A neat little thin cardboard box. Modest yet neat design. Perfect for an inexpensive gift.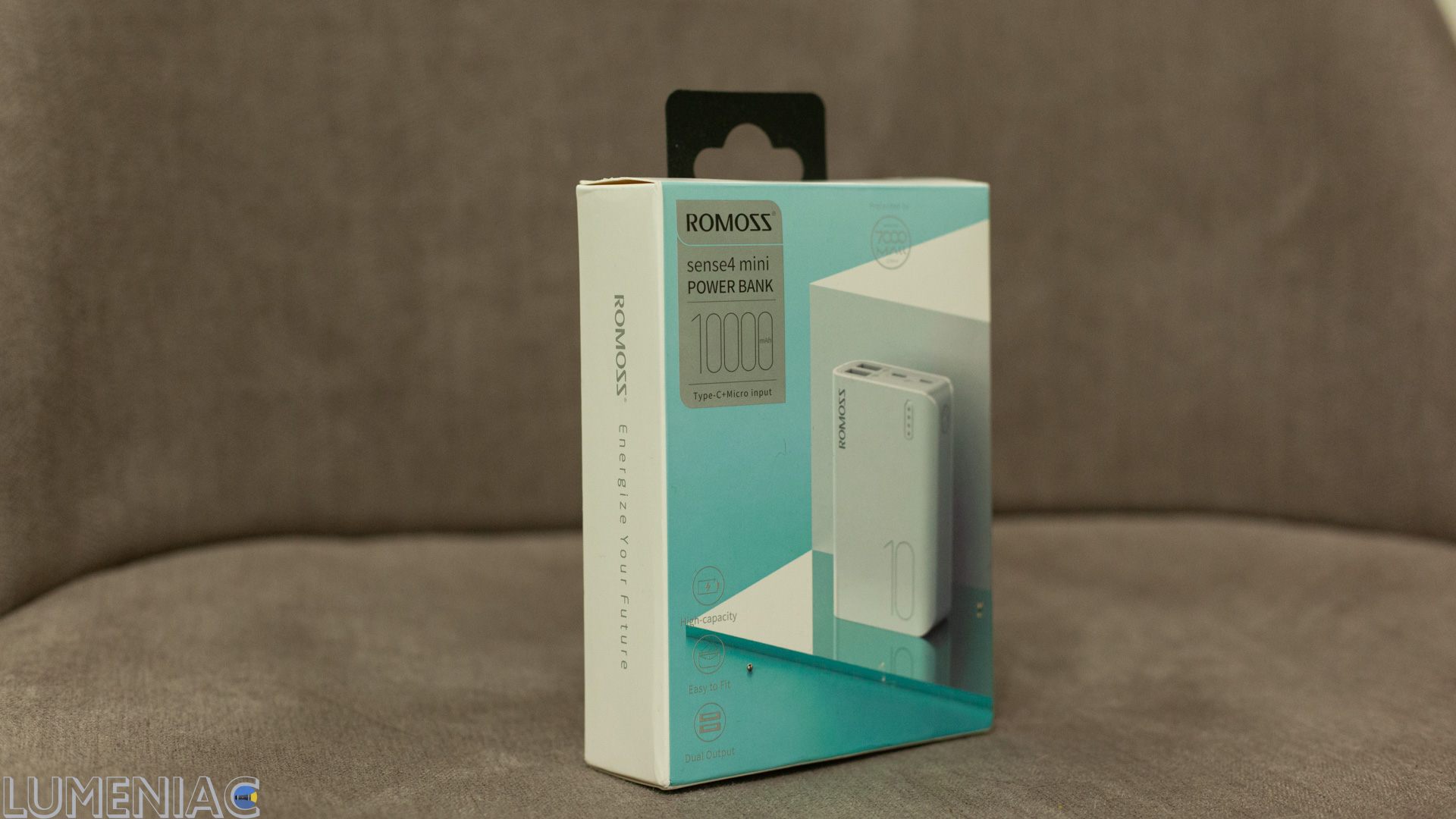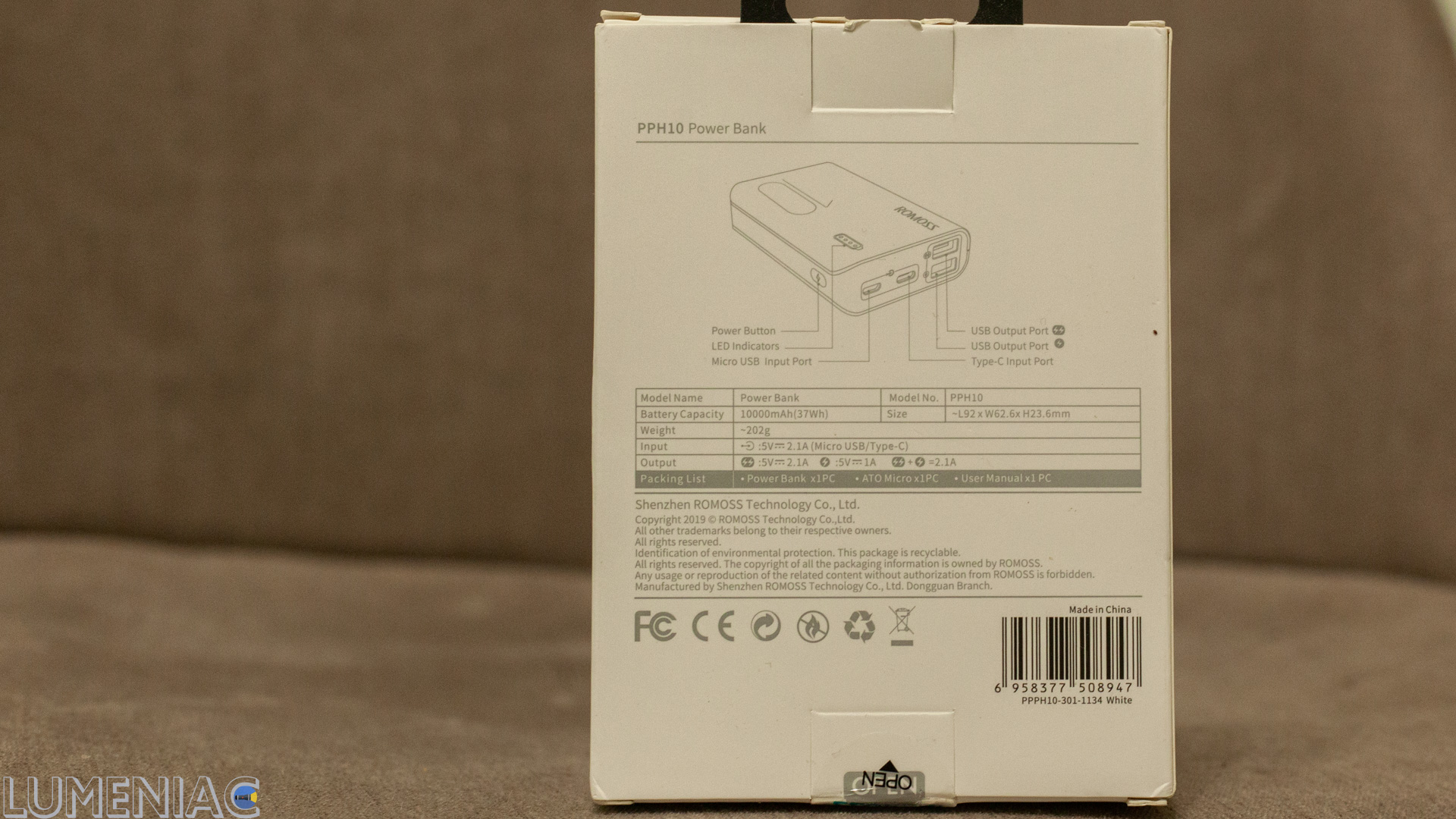 inside a standard set of power bank and charging cable. useless tiny leadership comes as a makeweight.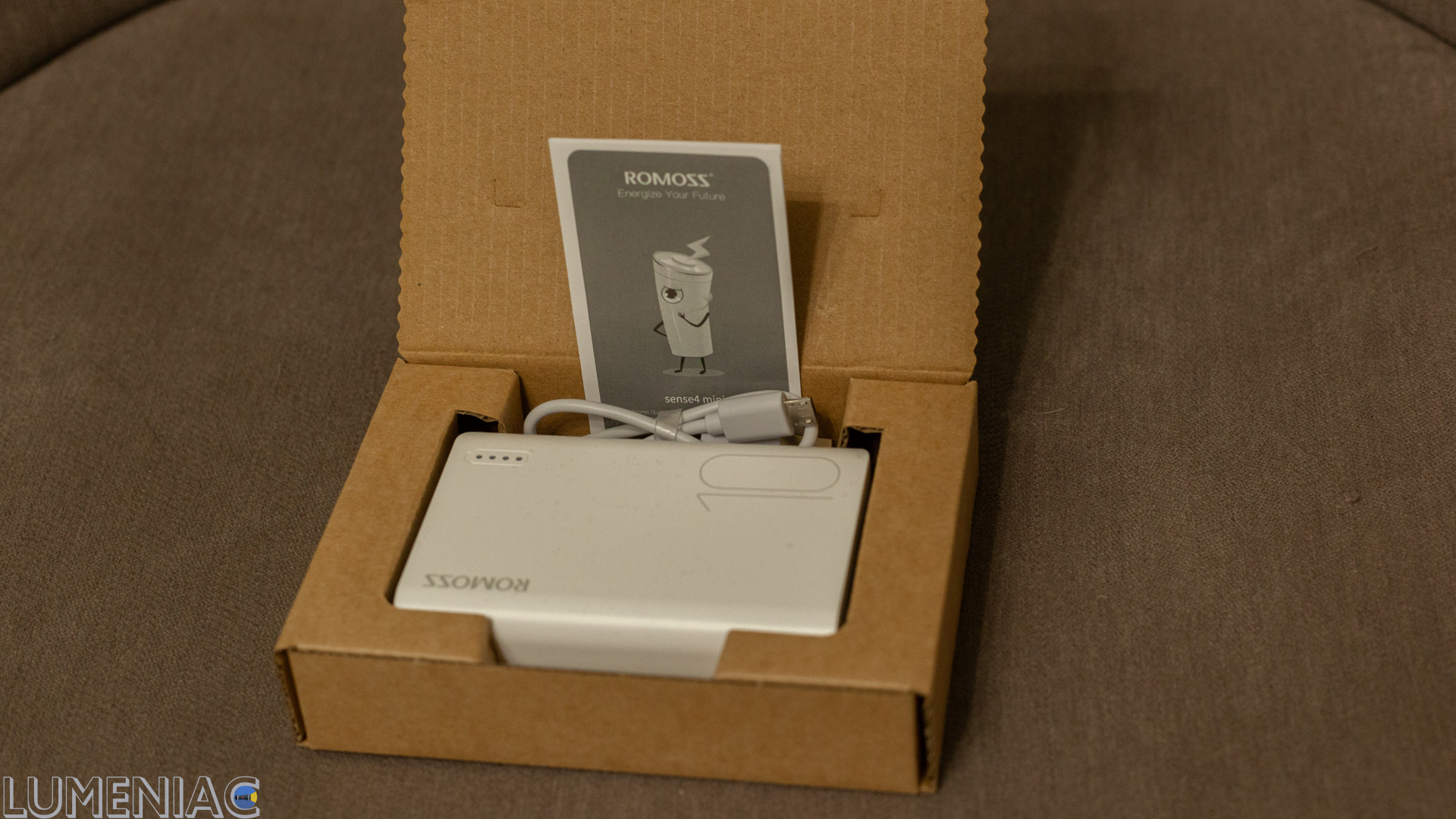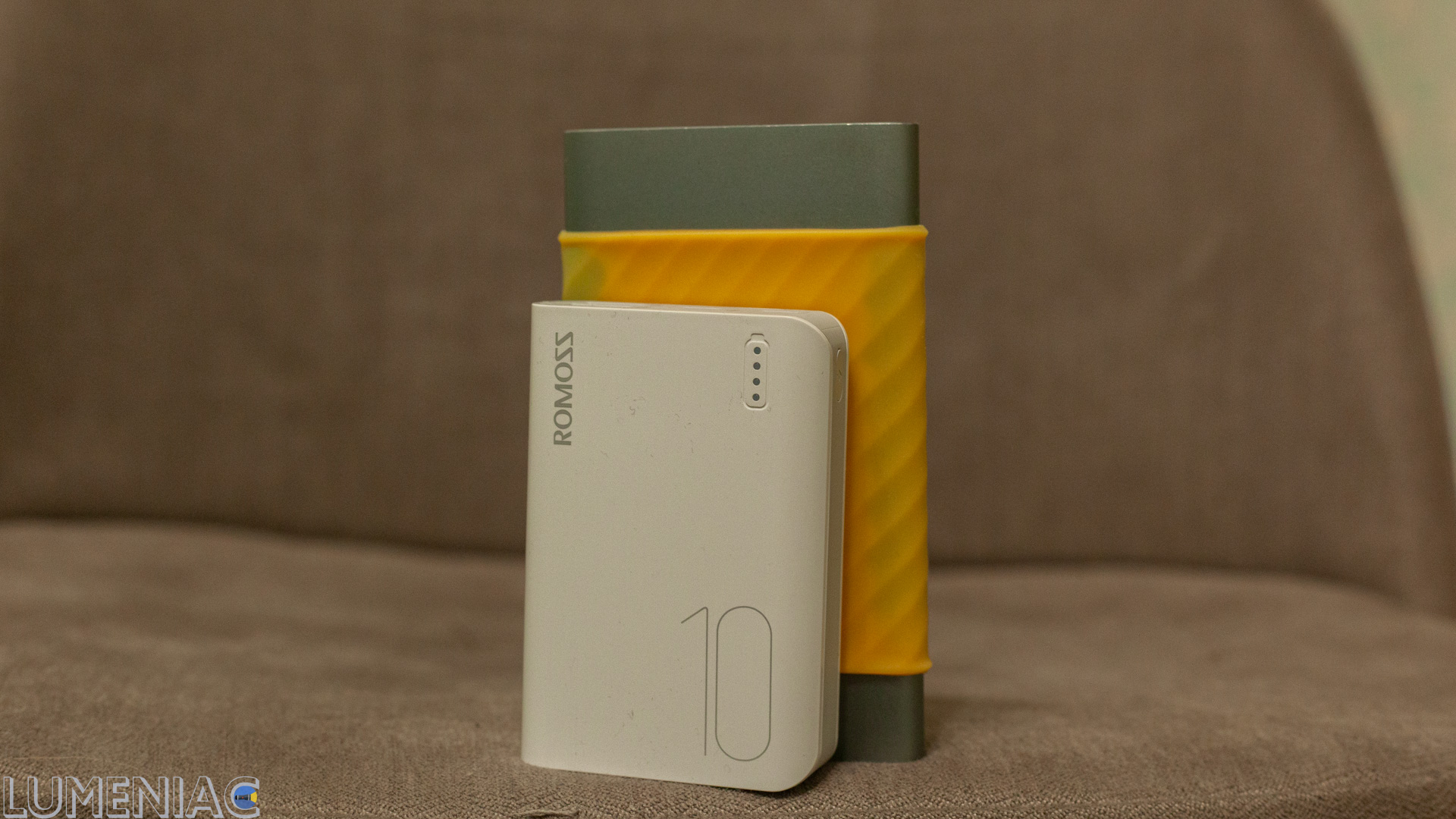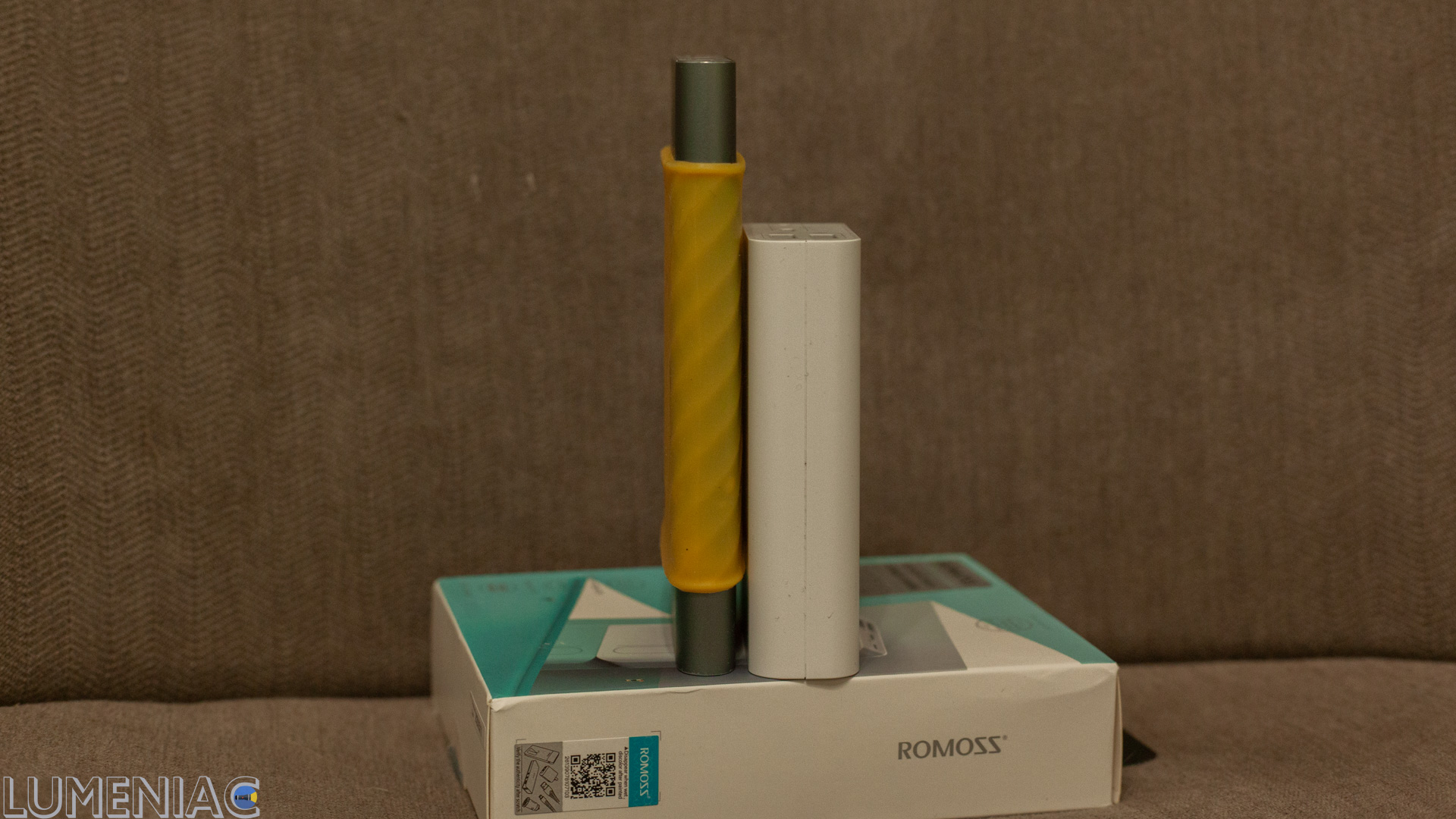 The power bank itself is really very compact, promo pics don`t lie here. As expected, they dont mention that the decrease of length and width has led to the fact that this external battery turned out to be expectedly thicker than the classic 10000mah models.
In the end, we get a strong knocked down small rectangle made of white matte plastic with gray accents. There is nothing supernatural in the design, well, power banks are not at all the category of devices from which you expect some kind of elegance. Against the background of the mass of frankly outwardly poor models, Romoss Sence 4 looks quite winning.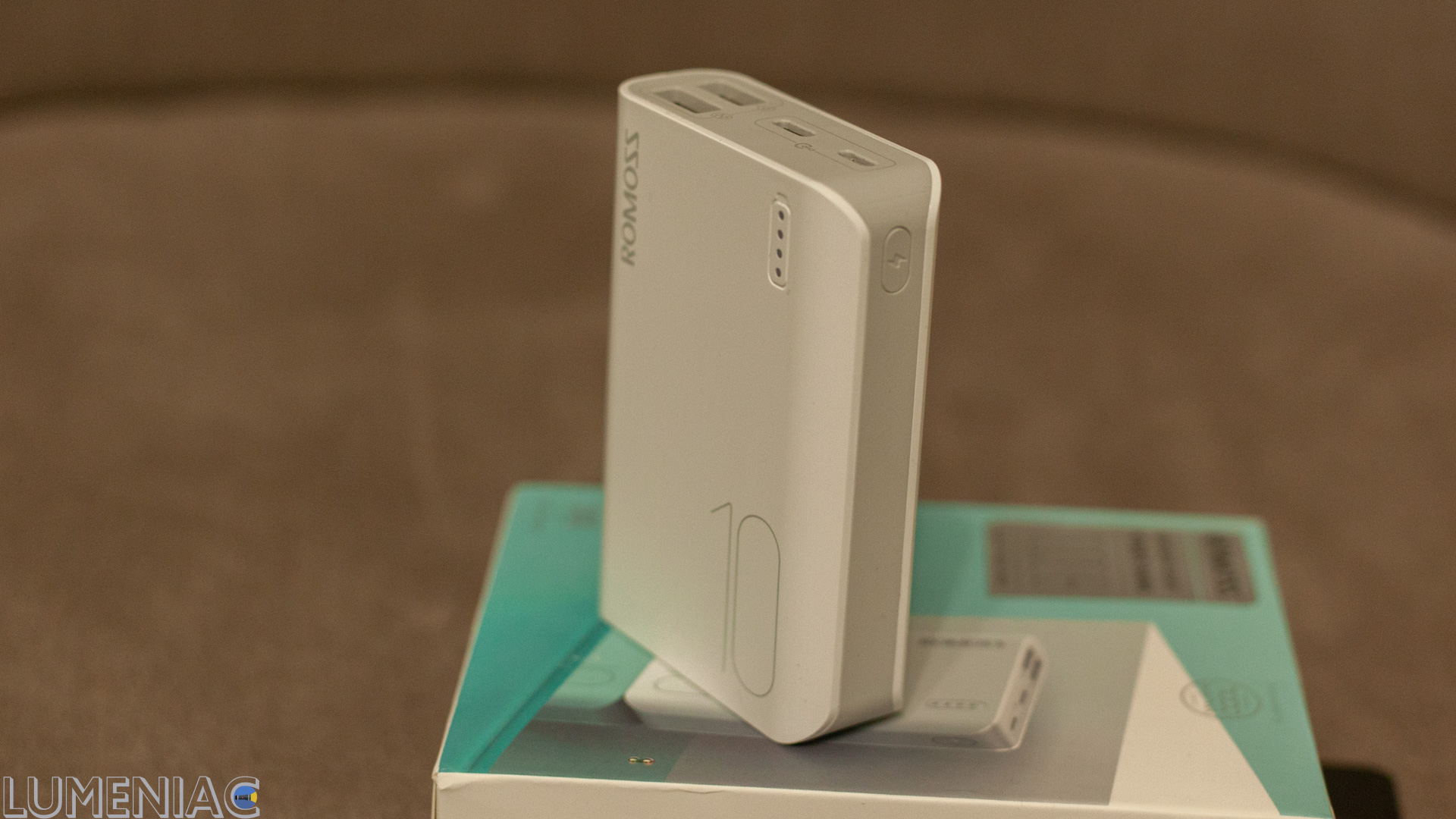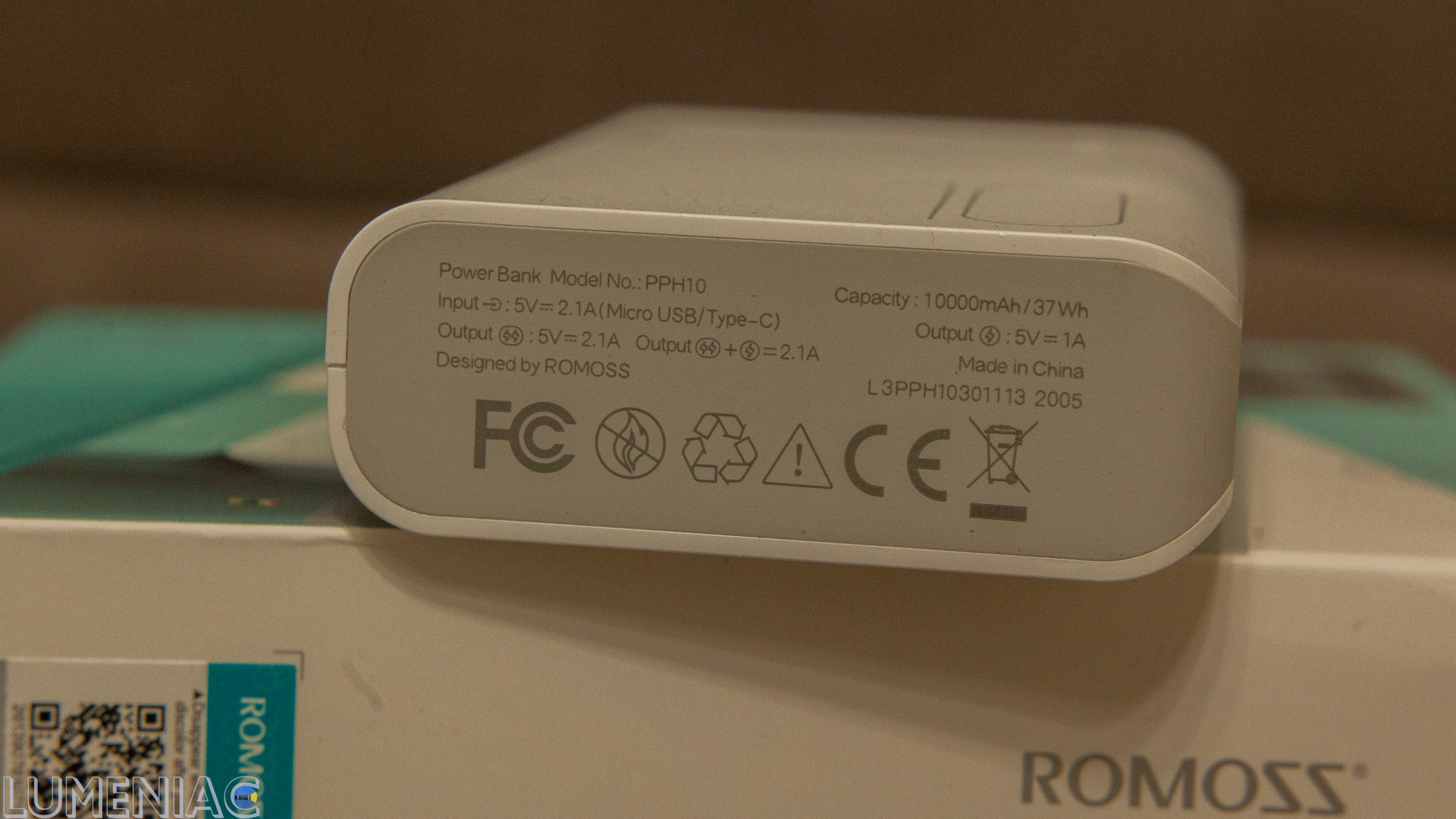 The plastic does not stink, there are no creaks or gaps, it can withstand compression. Good build quality expected from Romoss.
The charge level indication is the simplest, four-segment.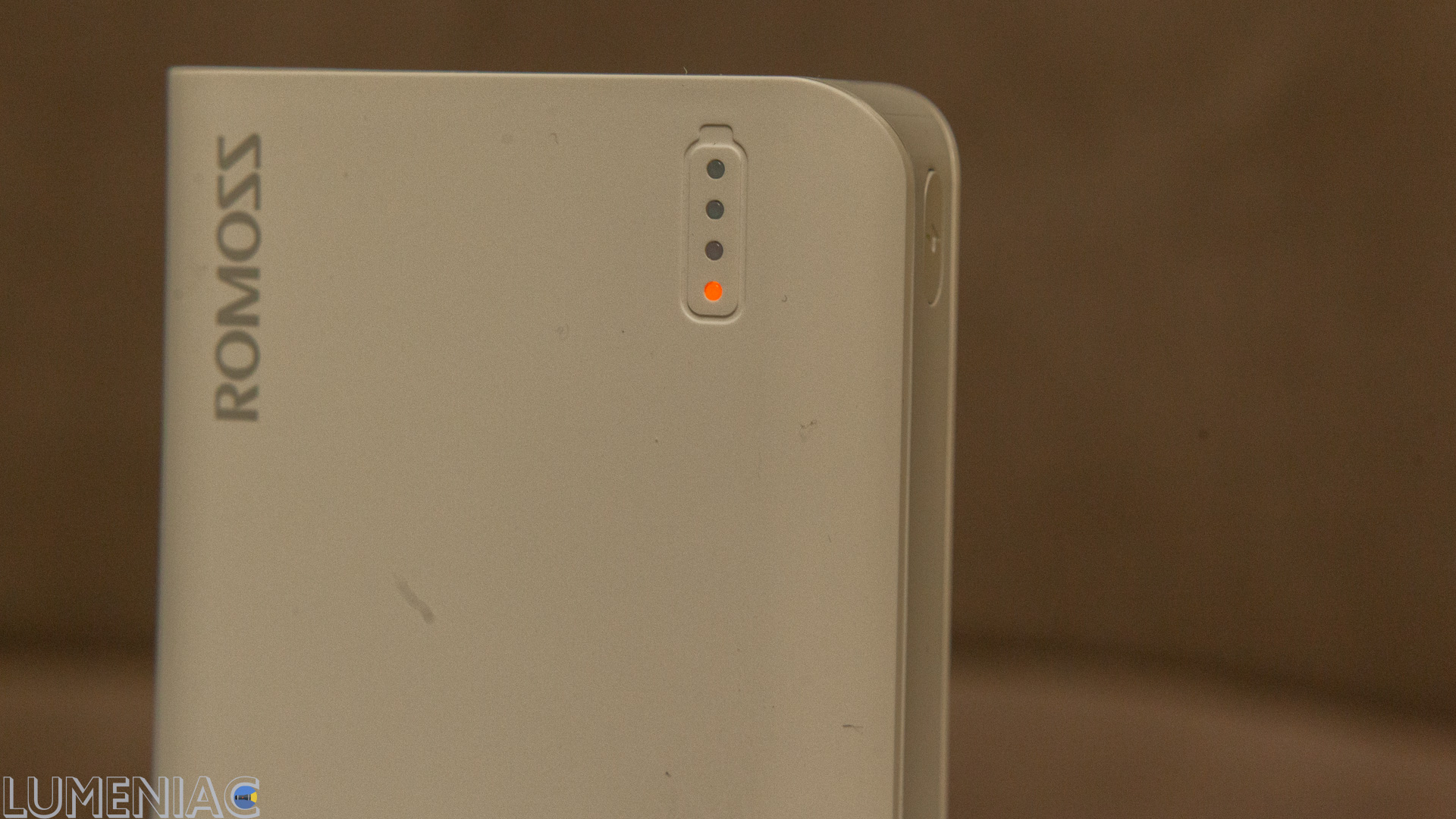 Unfortunately, type-C is input only. I see no reason not to make it dualway, albeit with a current limitation of only 2A.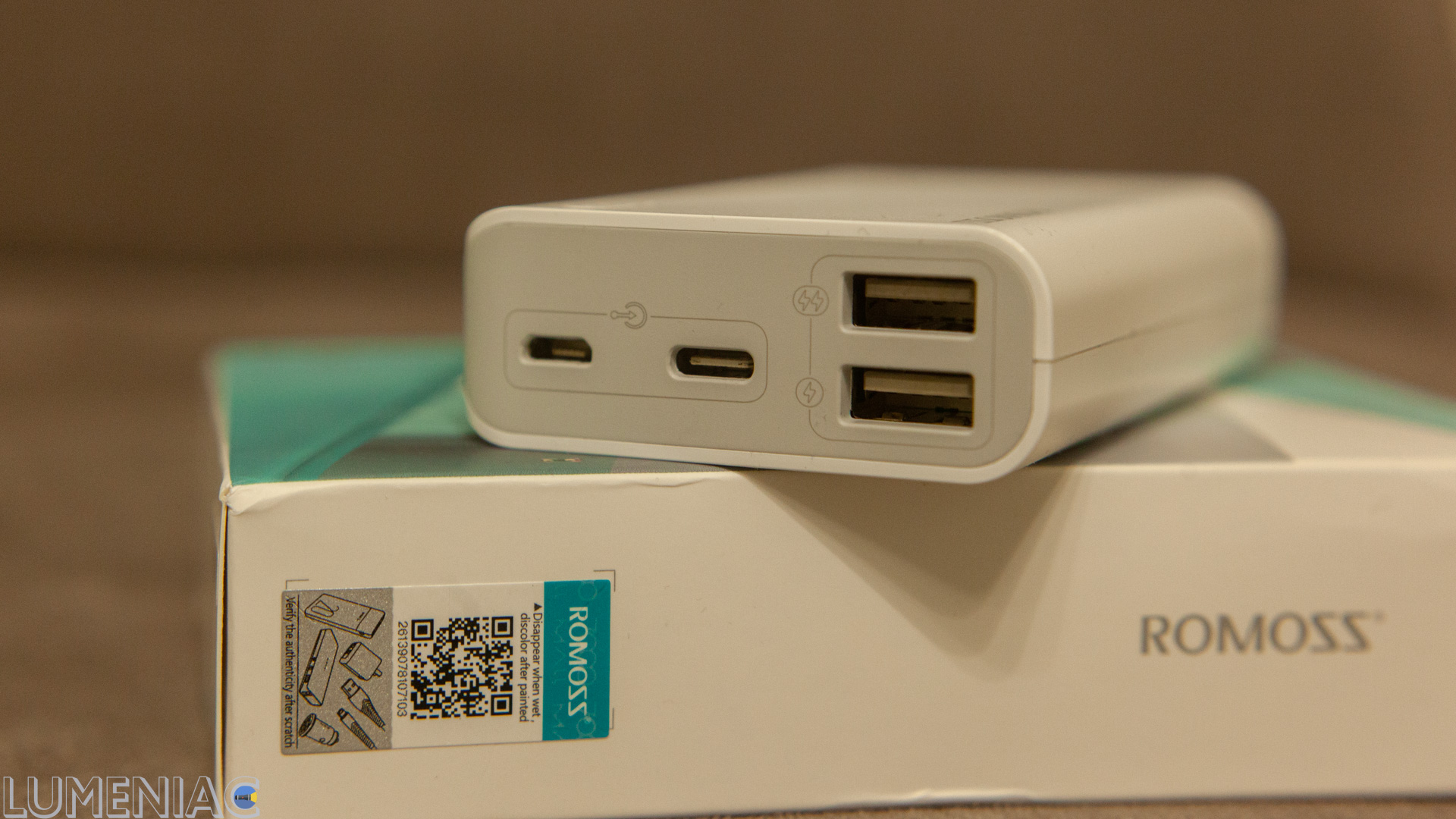 Here, in fact, everything. It would be worthwhile to disassemble it, but if this is a part of New Year gift for my nephew and the capacity test answers many questions about the giblets, then the review of the Romoss Sence 4 external battery will do without it.
Capacity test. Charge and discharge
At first glance, less than expected and this is bad. At a second glance, we look at the fact that 49 watt * hours got into it.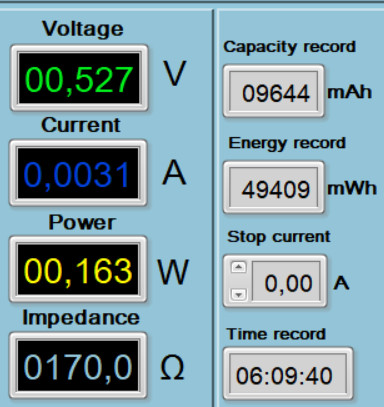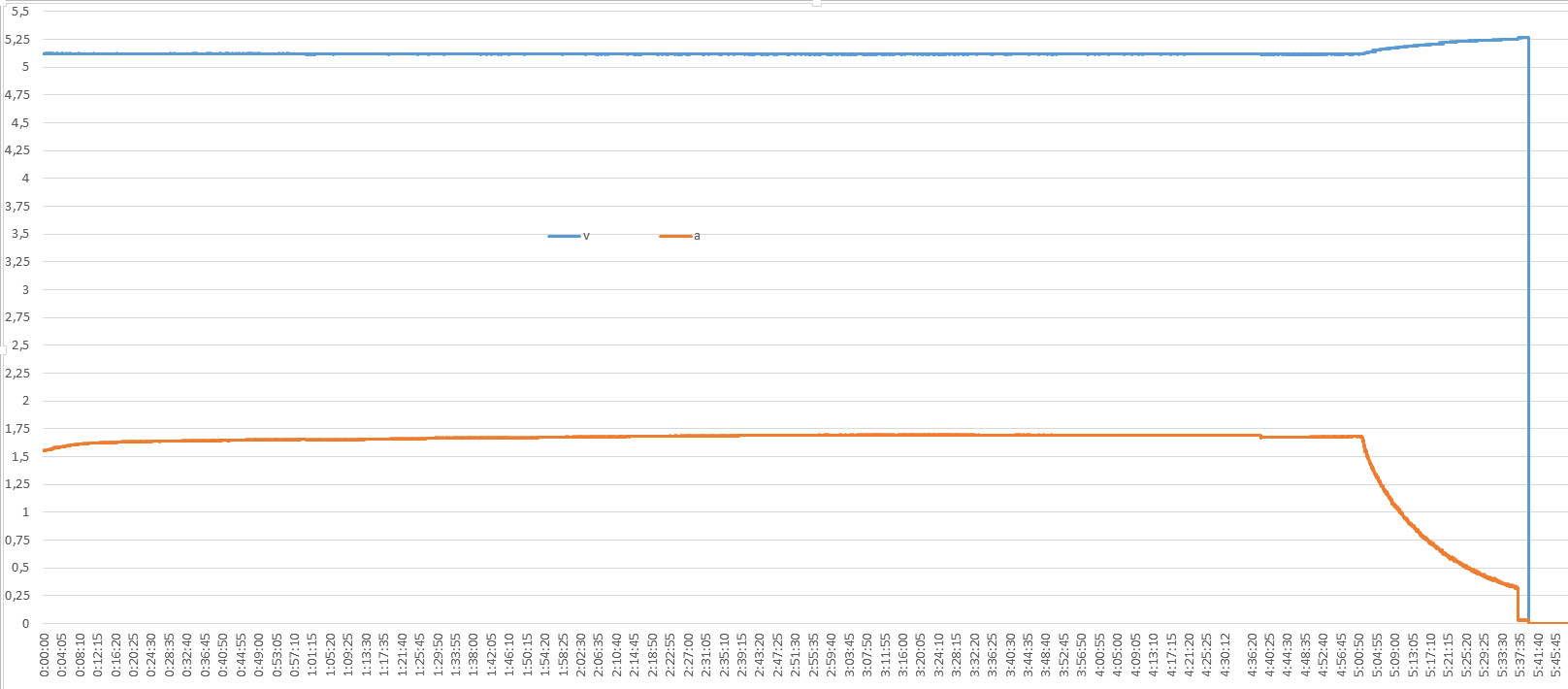 1 A discharge
In fact, a little less then stated. But read below
Important! For those who say "7048 Mah! Not enough!" let me remind you. 10,000mah in the specification is given for a voltage of 3.7v. The power bank is already giving 5v, and with this amendment it comes out just 7400mah. Therefore, it is most correct to look at the capacity indicated in the specification in watt * hours. There are 37 watts*hour. In the photo below, you see 35.7 watts * h. And this is really surprisingly close to the declared one, I did not expect such a coincidence – after all, the loss of conversion would also eat up some part of the nominal capacity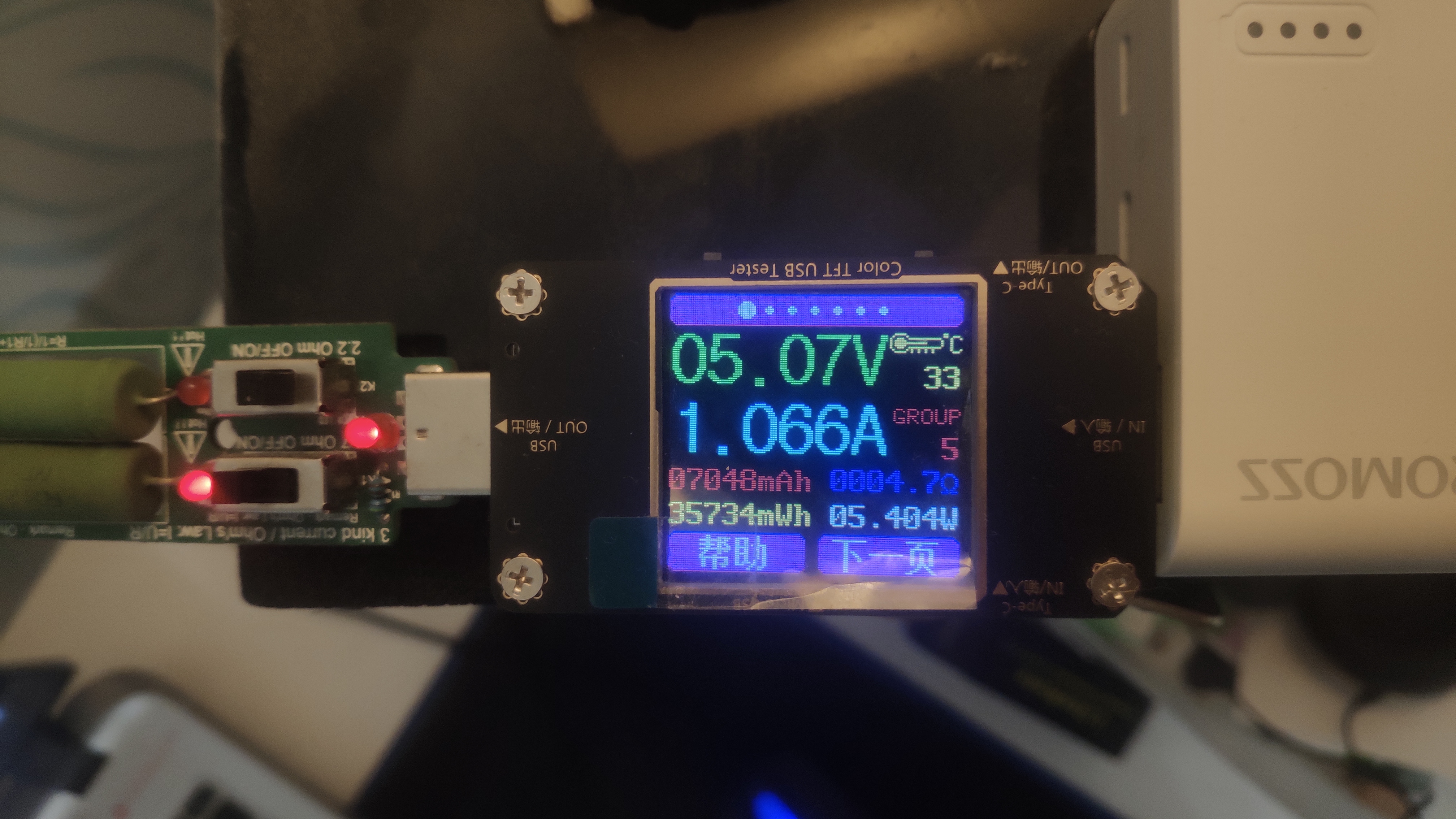 2A discharge.
There is already less capacity. It is worth clarifying that with an increase in the output power, one should expect a decrease in the given watt*hours. If the power bank supported some kind of PD / QC standard, the figure would be even more modest. This point, I am sure, is not at all obvious to the average buyer. As well as reducing the resource of the charged battery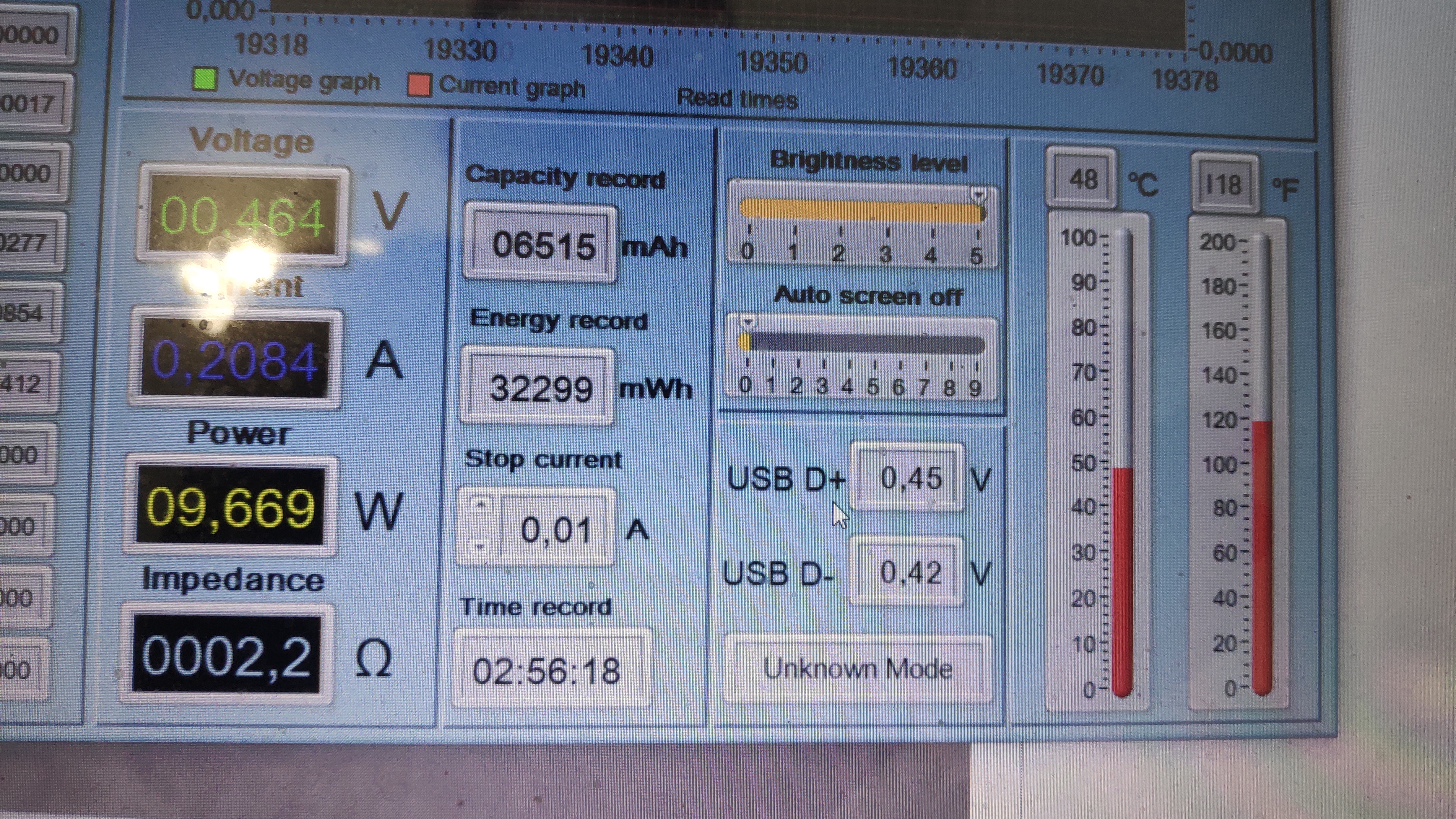 OVERALL IMPRESSIONS
A good inexpensive power bank. I have no complaints at all. With a 1A discharge the efficiency turns out to be extremely high, insignificantly differing from the promised 37 watt*h. Other power banks that i had chance to test could not achieve such an efficiency in any way. But their price tag was the same as 10000mah models, in general, play in one extremely small price segment. BTW, i haven`t seen such a close specs\reality ratio in other powerbanks with larger capacity.
As a result, this review of the Romoss Sense 4 power bank for me personally put this model in one of 1st places in list of reliable inexpensive external batteries Sense 4 has lots of advantages: ffordable price, extremely compact size, remarkable efficiency at 1A discharge current.
10000Mah seems to be a not impressive capacity nowadays, but you can charge most smartphones 2 times or some really capacious models with a battery of about 6000mah 1 time.
Well, yes, it will not be fast charging, which is what it is. But I would not wait for it for $ 9-12 … Technically, if you have coupons and luck, you can grab a 20000mah close-to-noname model for the same price. But not everyone will be interested in carrying a power bank of this size and weight. And Romoss Sense 4 is actually a portable and compact power bank, which will fit everywhere (in a jeans pocket, I confess, it will be inconvenient because of its thickness) and will not burden you with weight. As well as not burdening the wallet.