I`ve been using Zippo hand warmer since i bought it in 2014. That`s an awesome little thing that helped me out in struggle with cold a lot of times. Recently, i`ve started to look for something as portable and with similar ability to heat, but without the need for refueling. Purely battery-powered thing with simple recharging. There was no obvious need for it, just mere interes. And during a recent sale, i found this hand warmer from a well-known and reliable brand, with thousands of orders. Seems this is the most popular hand warmer at Aliexpress.
I decided that such a thing would be perfect as a New Year's gift for a my mother who spends a lot of time outdoors at work, I placed an order.
Along the way, remembering how chilly were October evenings, i was unable to resist, and ordered a male version – larger, noname and ugly but with a more capacious battery. I'll tell you about it when receive parcel.
➤ You can buy Baseus heater in OFFICIAL BASEUS STORE at Aliexpress
➤ Zippo hand warmer at Amazon
➤ Baseus official store at Amazon, in case this model will appear there later
PACKAGE AND APPEARANCE
The package is quite decent in design and overall performance. The printing is good too. Baseus is far from an ordinary brand, so they managed to bungle a decent gift box.
It will do quite well for a gift, , there is no feeling of cheapness. Neither it looks luxury. Well, that is good package, but that is 20$ item package.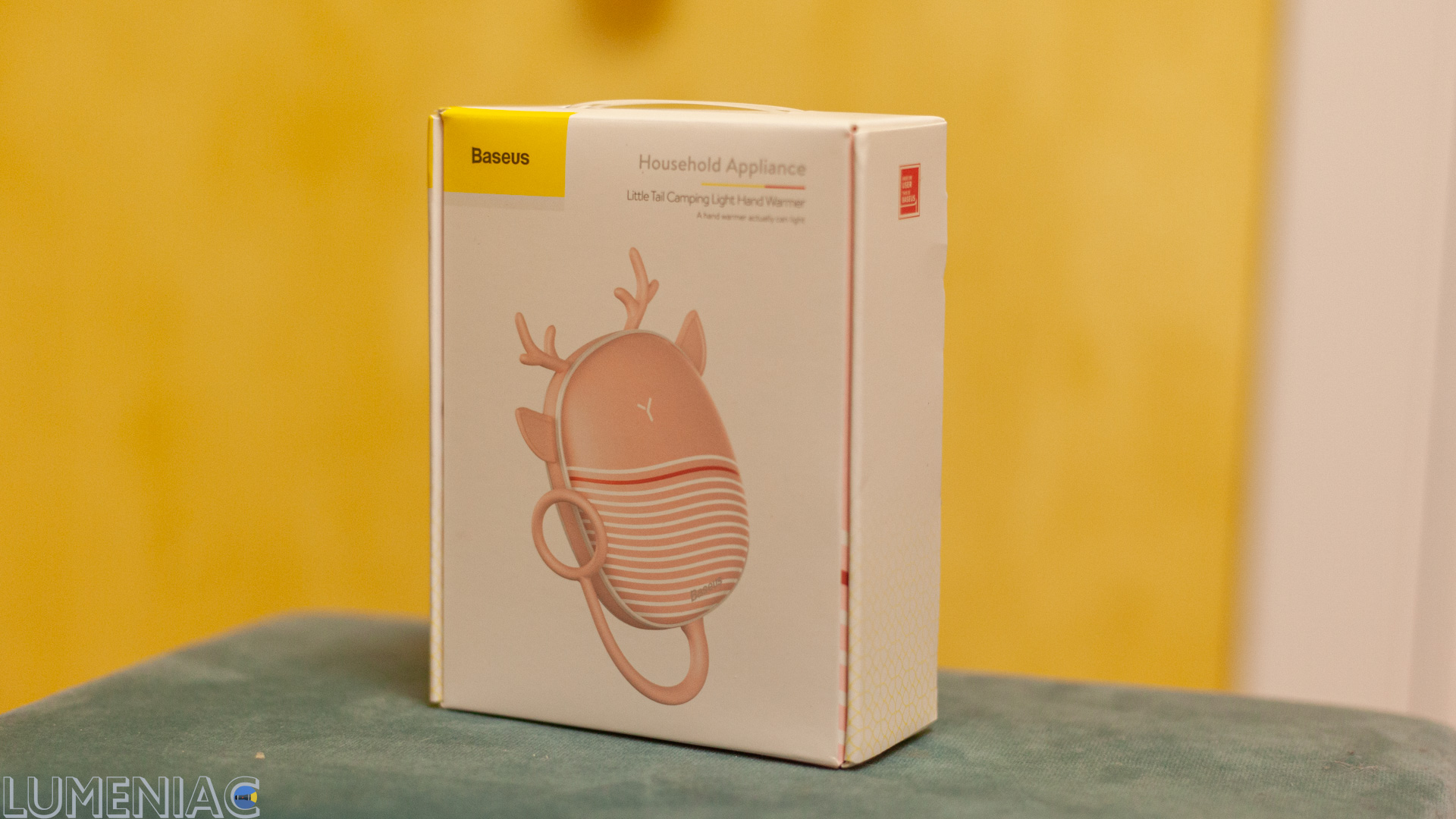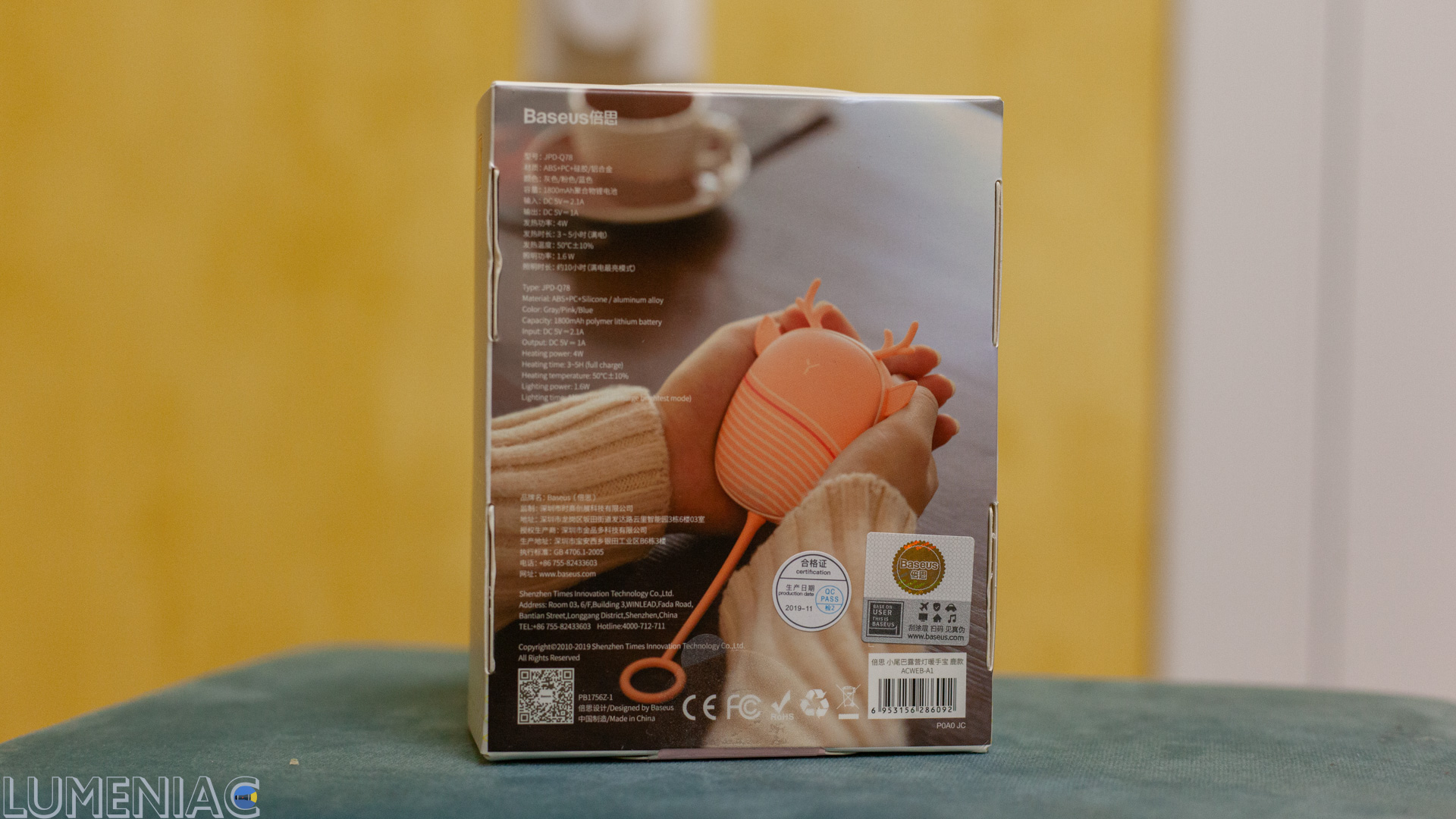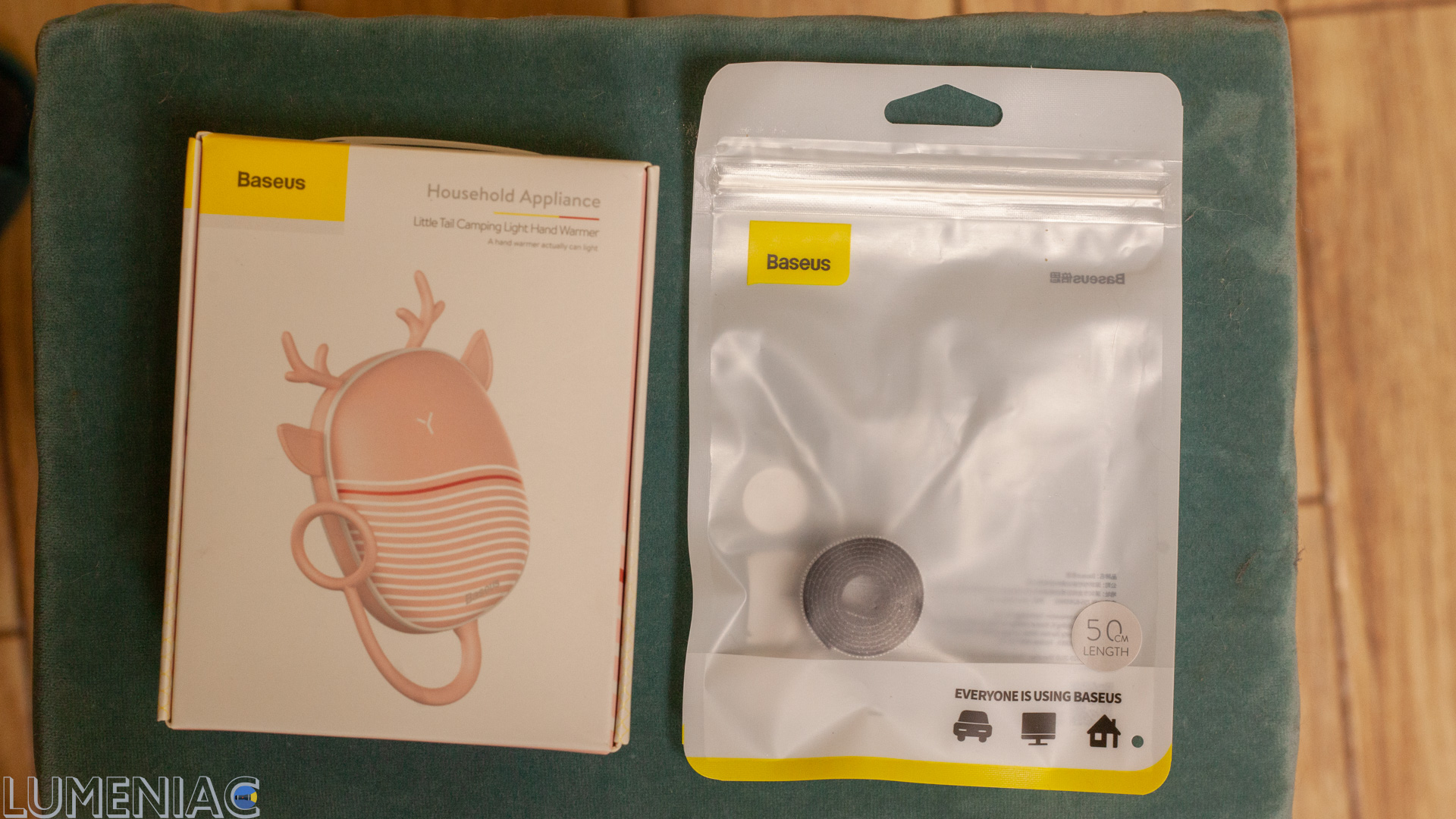 By the way, they added a roll of Velcro. I did not see any connection with the use of a usb-hand warmer, but I am still happy with such an add-on.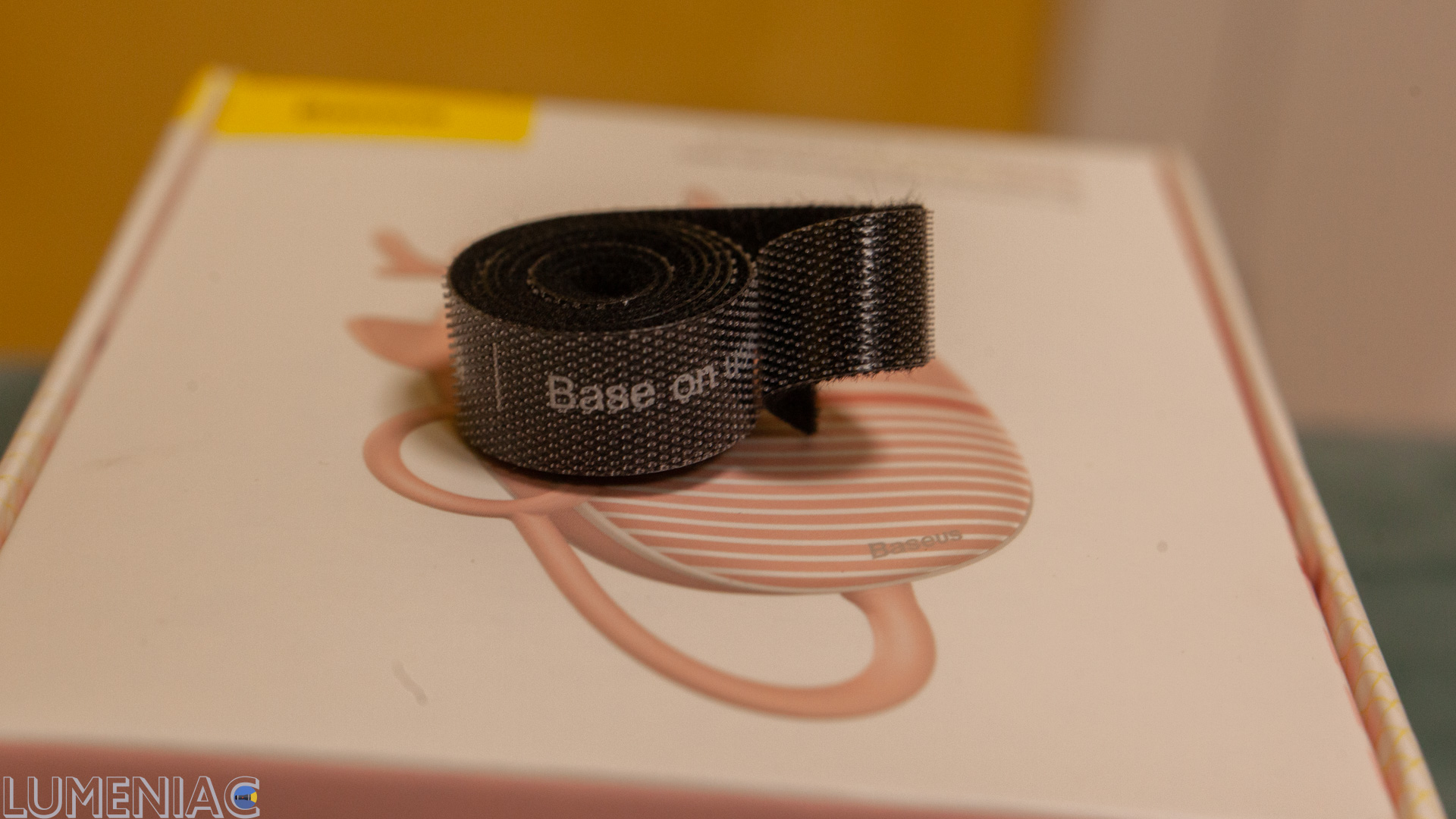 Inside there is a foam-rubber pad, with a hole to nest a heater. The heating pad itself, and a pink envelope with promo papers to waste. Oh yes. A short flat micro-usb along with all this.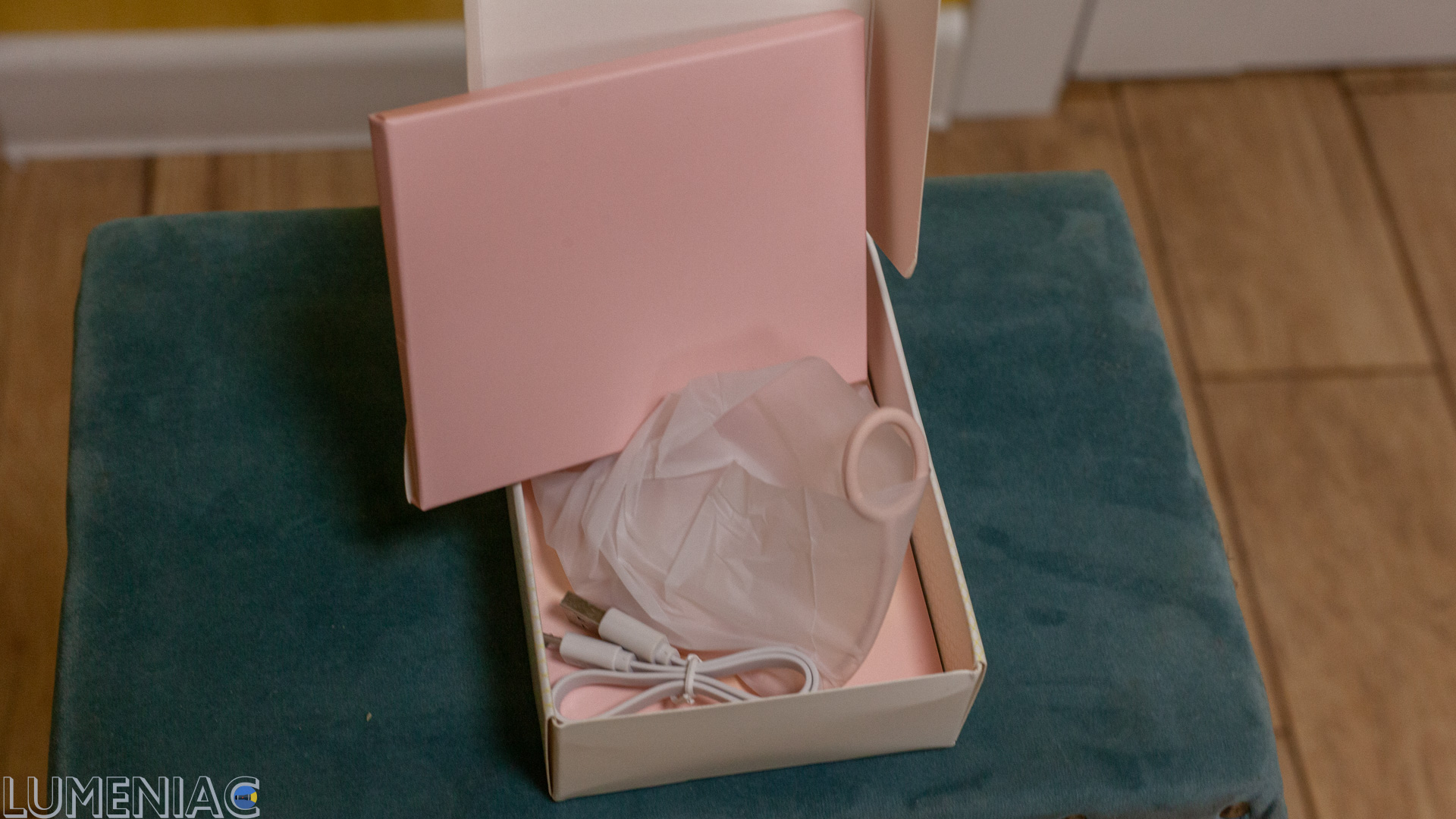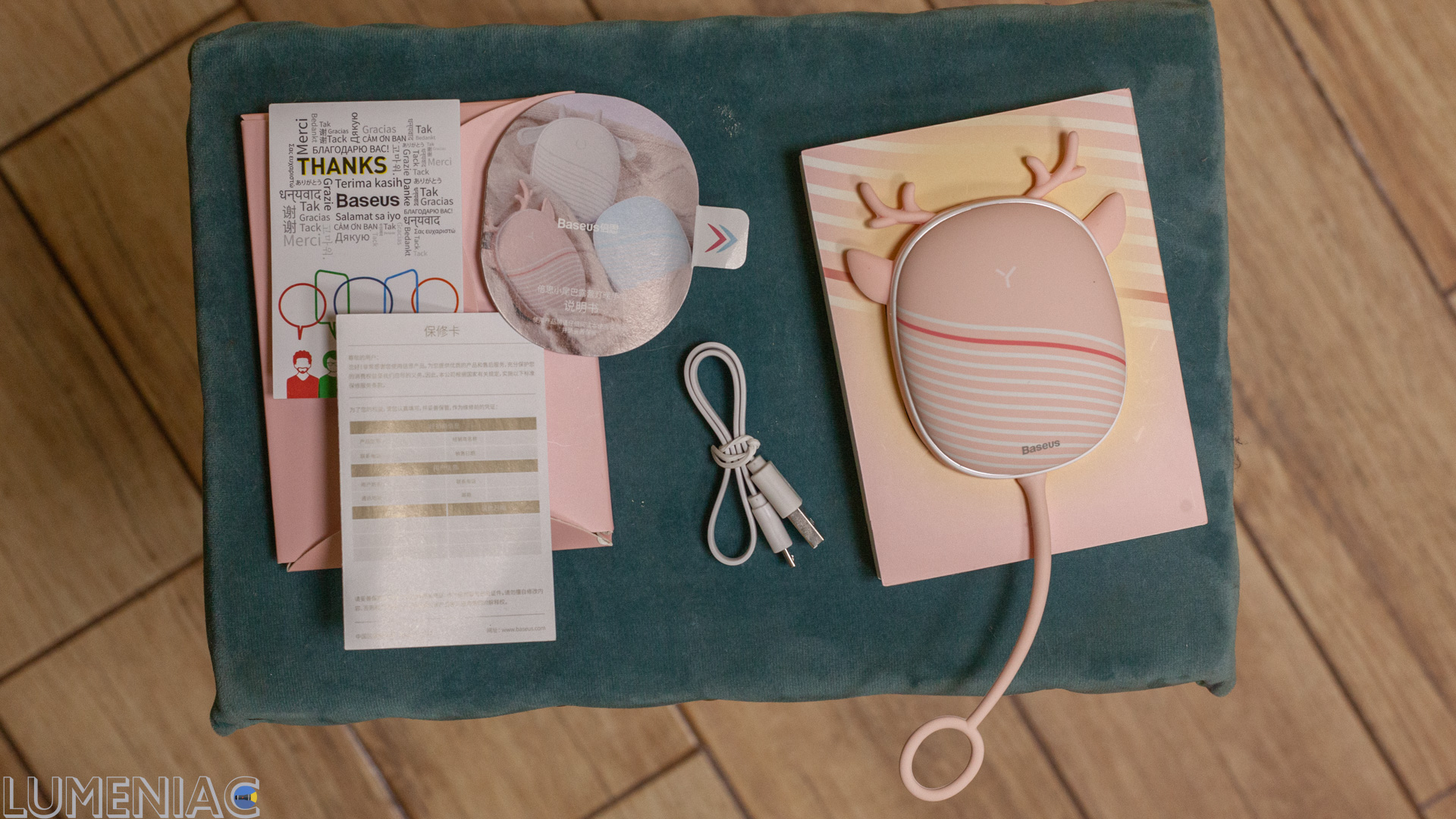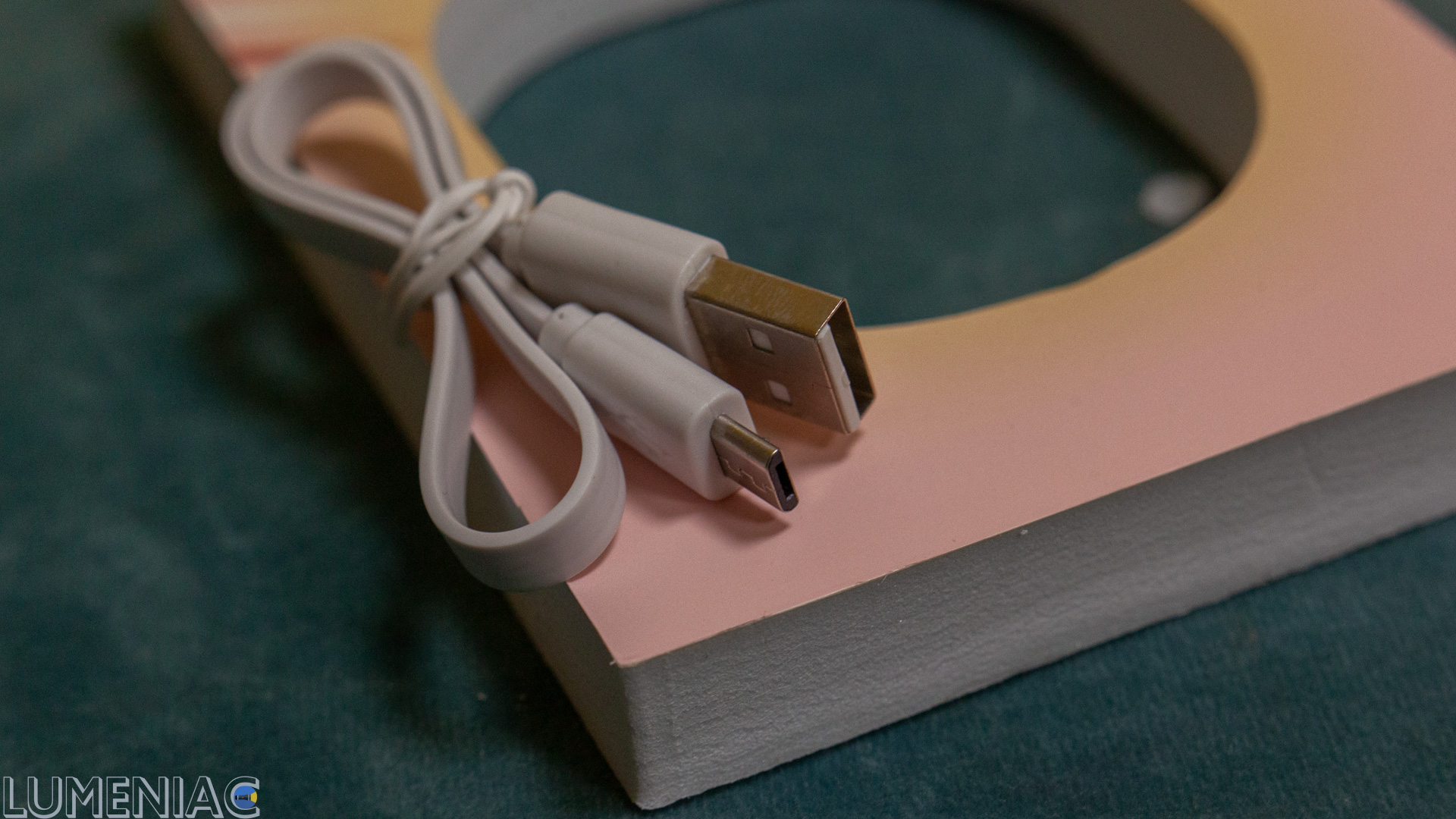 This rechargeable heater itself would look no better than the mass of other outbred breeds. Someone from Baseus designer team came up with a smart move – to trim it around the perimeter with a silicone bumper. Last one is styled like sort of deer, with horns stick out on one side, and on the other a tail with an eyelet for a finger. And such a tiny appendage completely transformed the outlook of heating pad.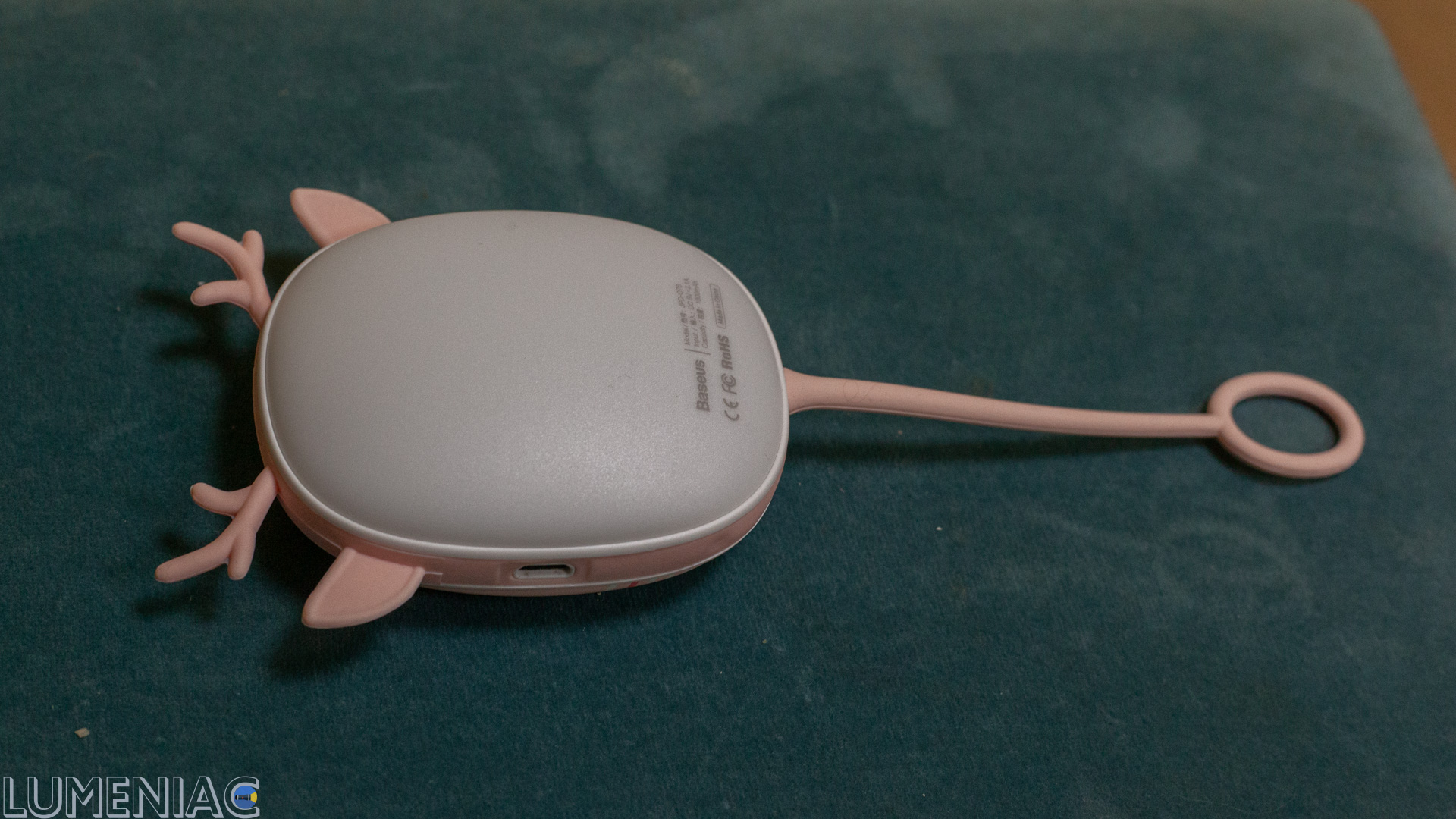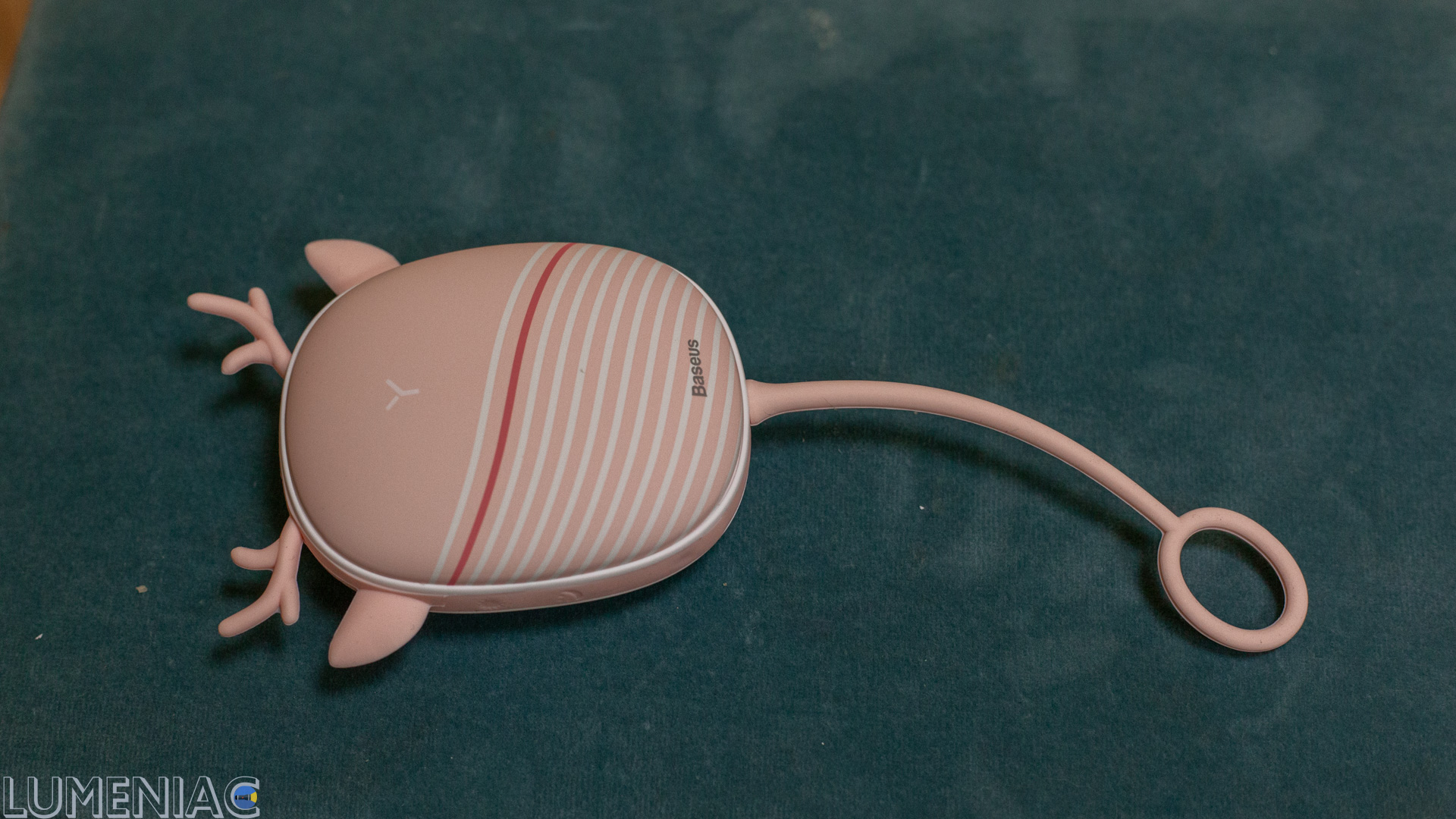 One side of body is entirely occupied by a translucent panel, covering 16 LEDs for the camping light mode and blue\red indicator LEDs.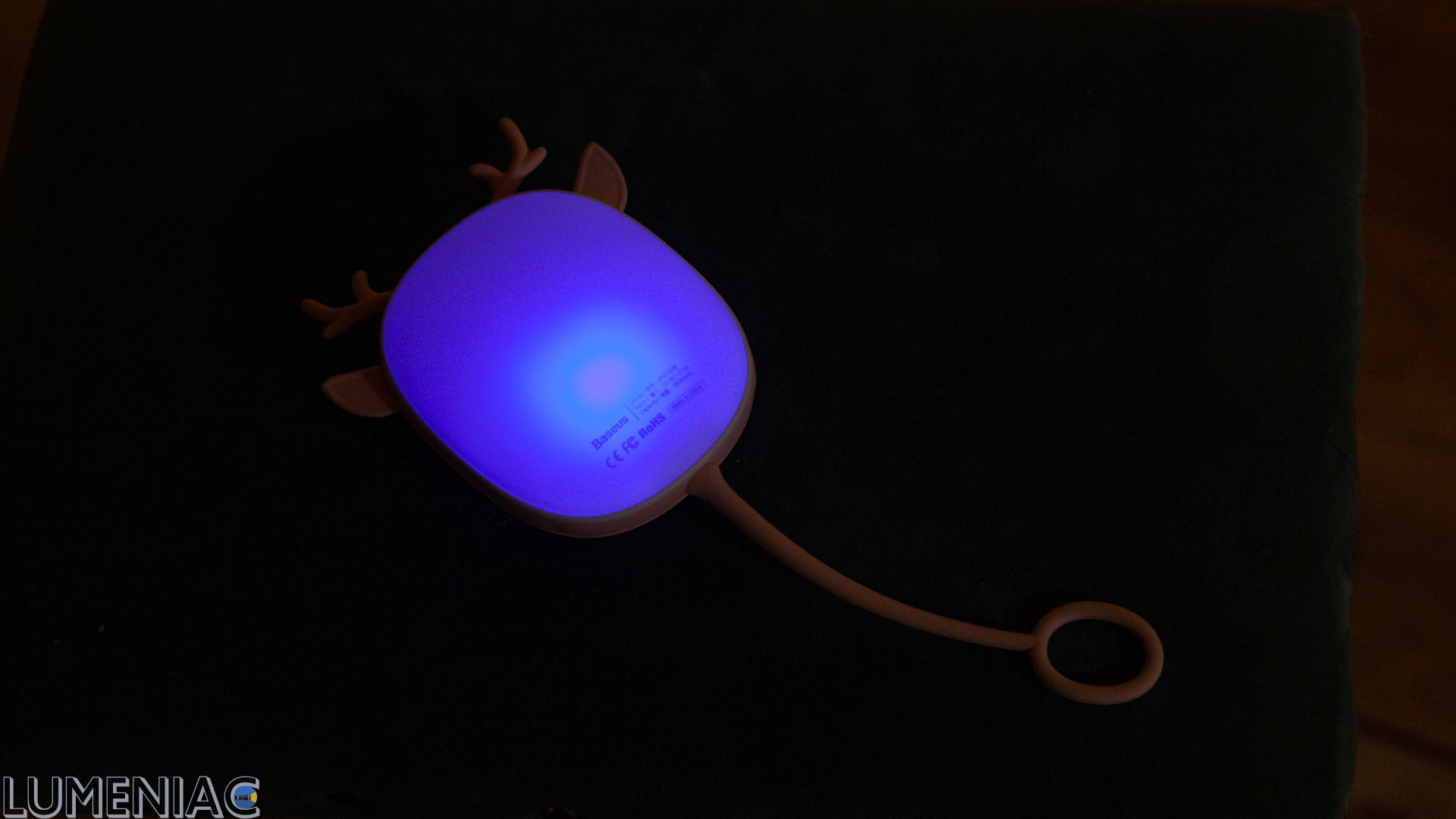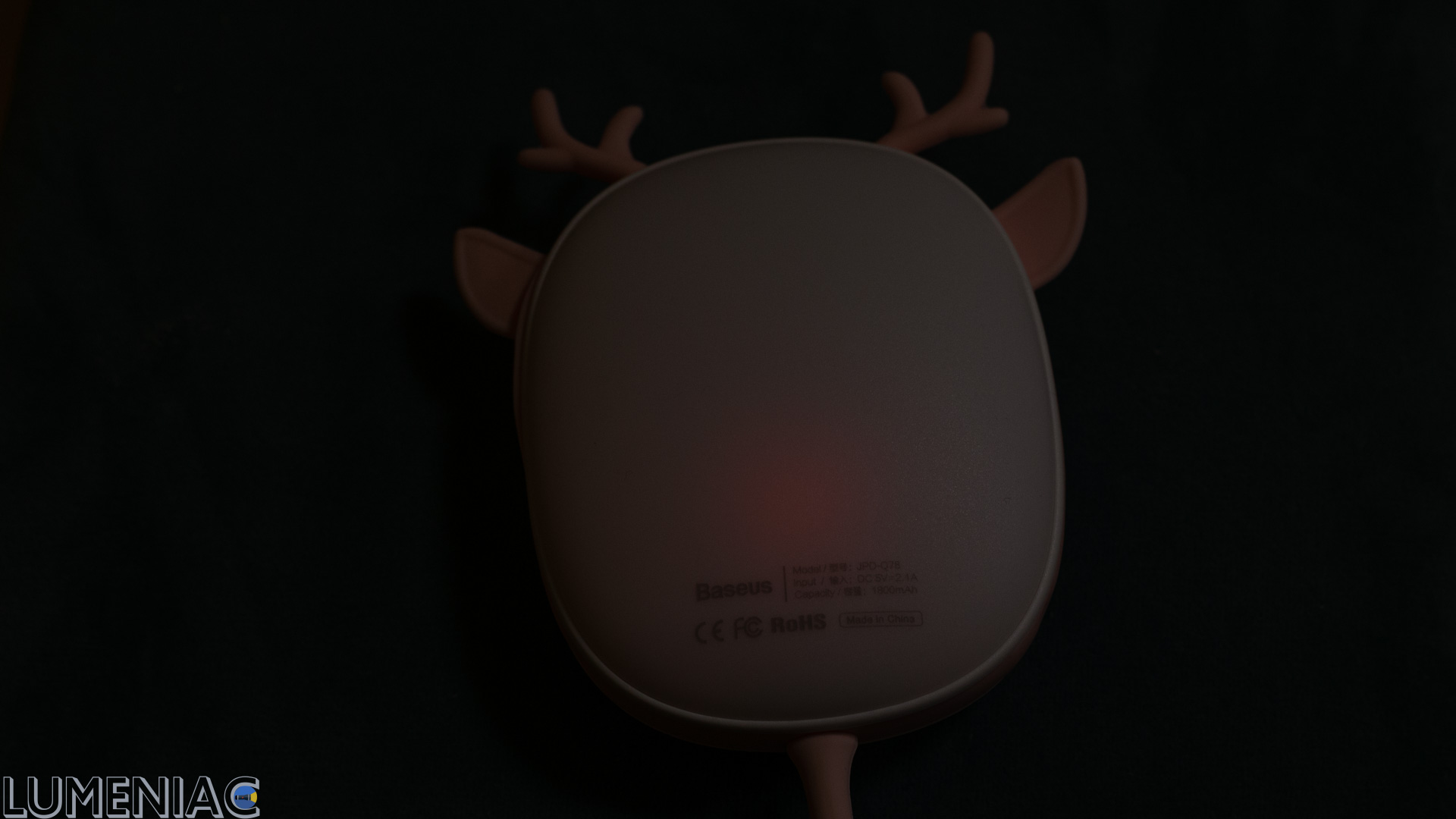 There is a heating element under the opposite side of this "elk".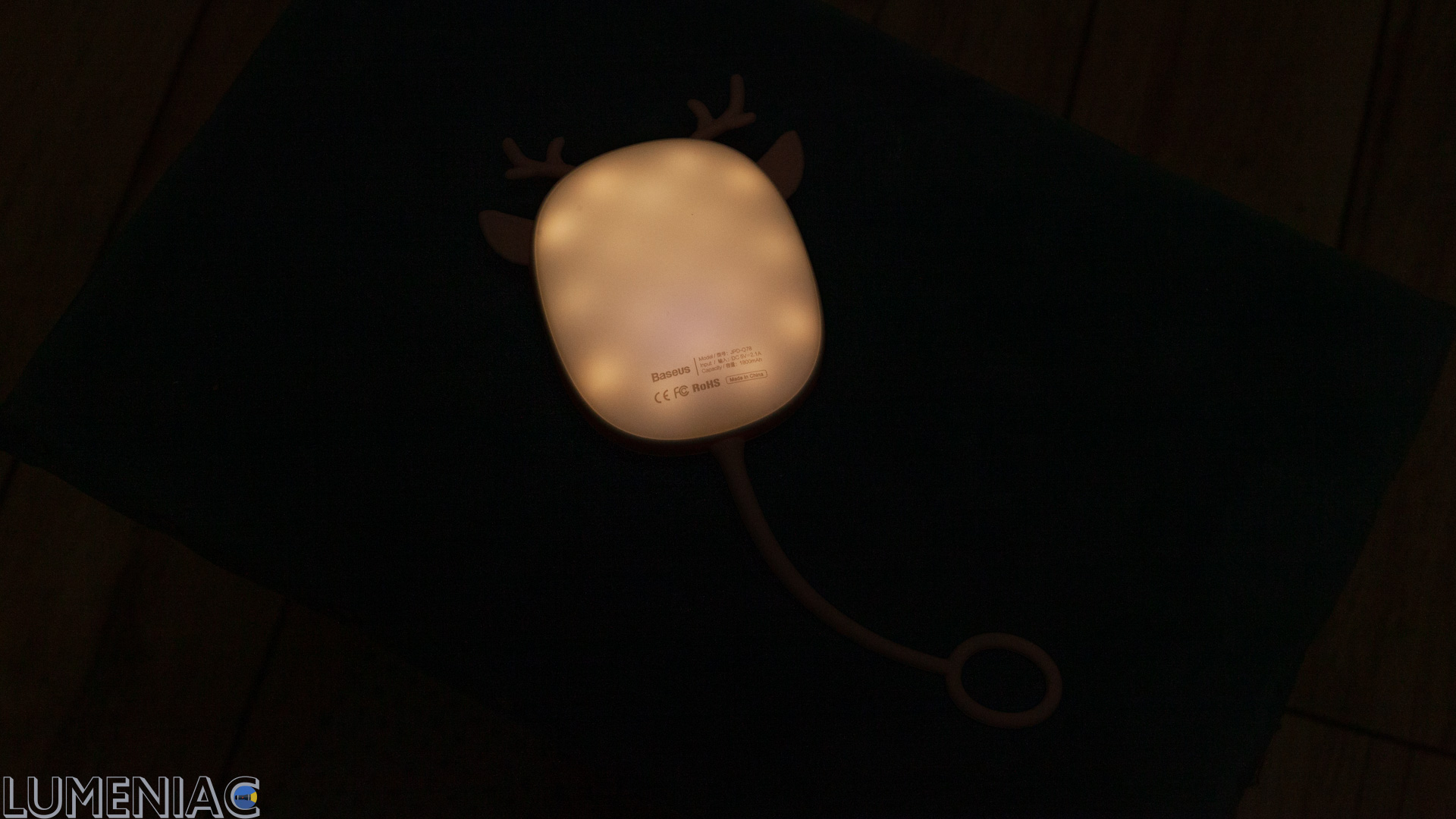 Charging connector from one side. Not covered by anything and this is totally uncool for waterproofness.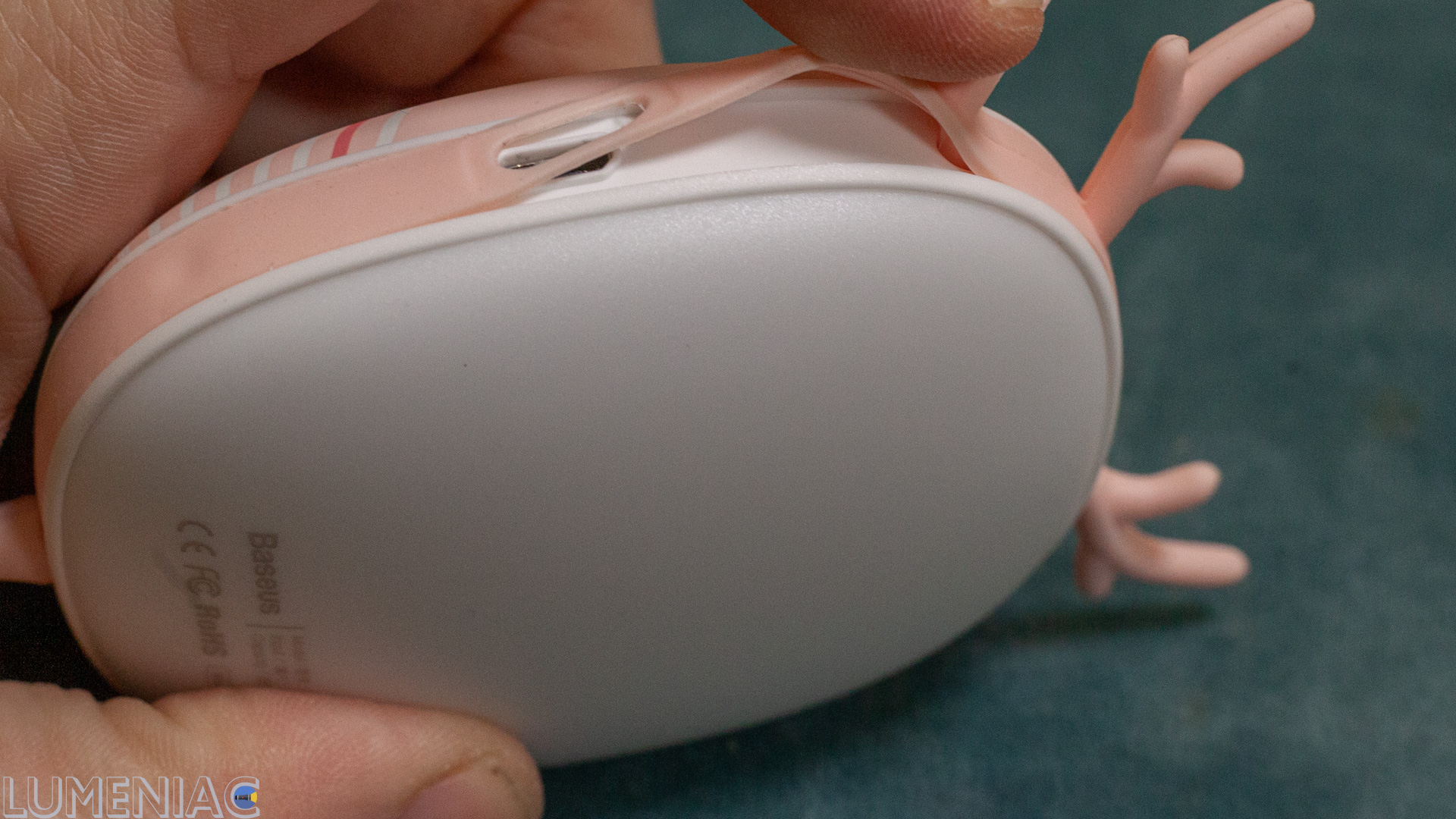 But the charging current is unexpectedly beyond praise, 1.7A and a full charge will take 1.5 hours, that is unexpectably good
And there 2 control buttons on the other. UI is extremely simple.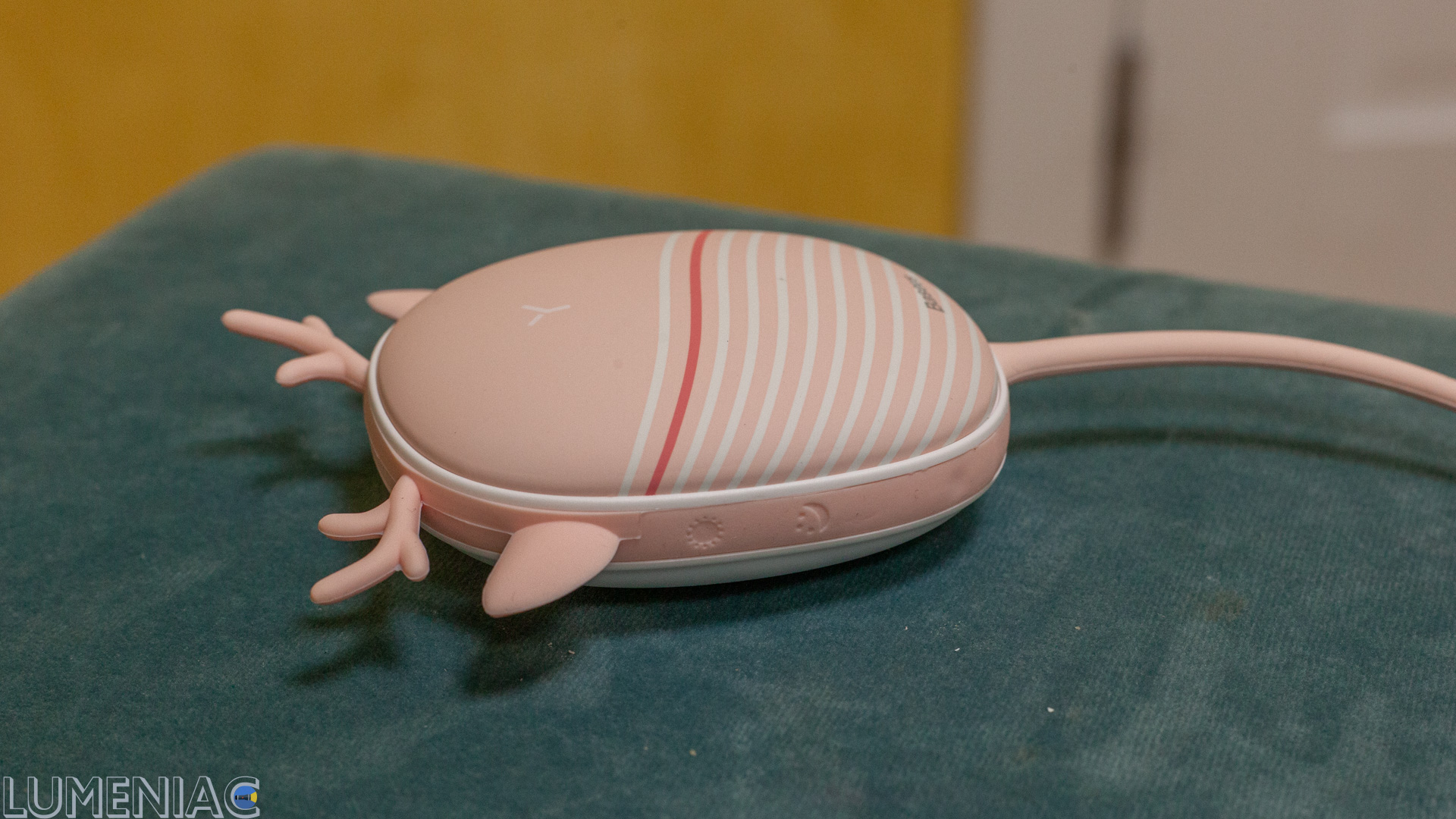 Long press on the button with the sun turns on / off the heating.
A short press on the moon button turns on / off the lamp mode, a long press activates a stepless brightness adjustment. I found this part of the functionality unexpected and pleasant.
That's all. There are no creaks, backlashes and gaps, the body keeps pushing at the side of the heater and, with some effort, pushes from the side of the camping light (which is more likely a plus – it will not crack when dropped).
Here is runtime at maximum brightness. I did not measure the minimum, here, it seems to be really long lasting. And so, the brightness drops by 20% in two hours – it's pretty good.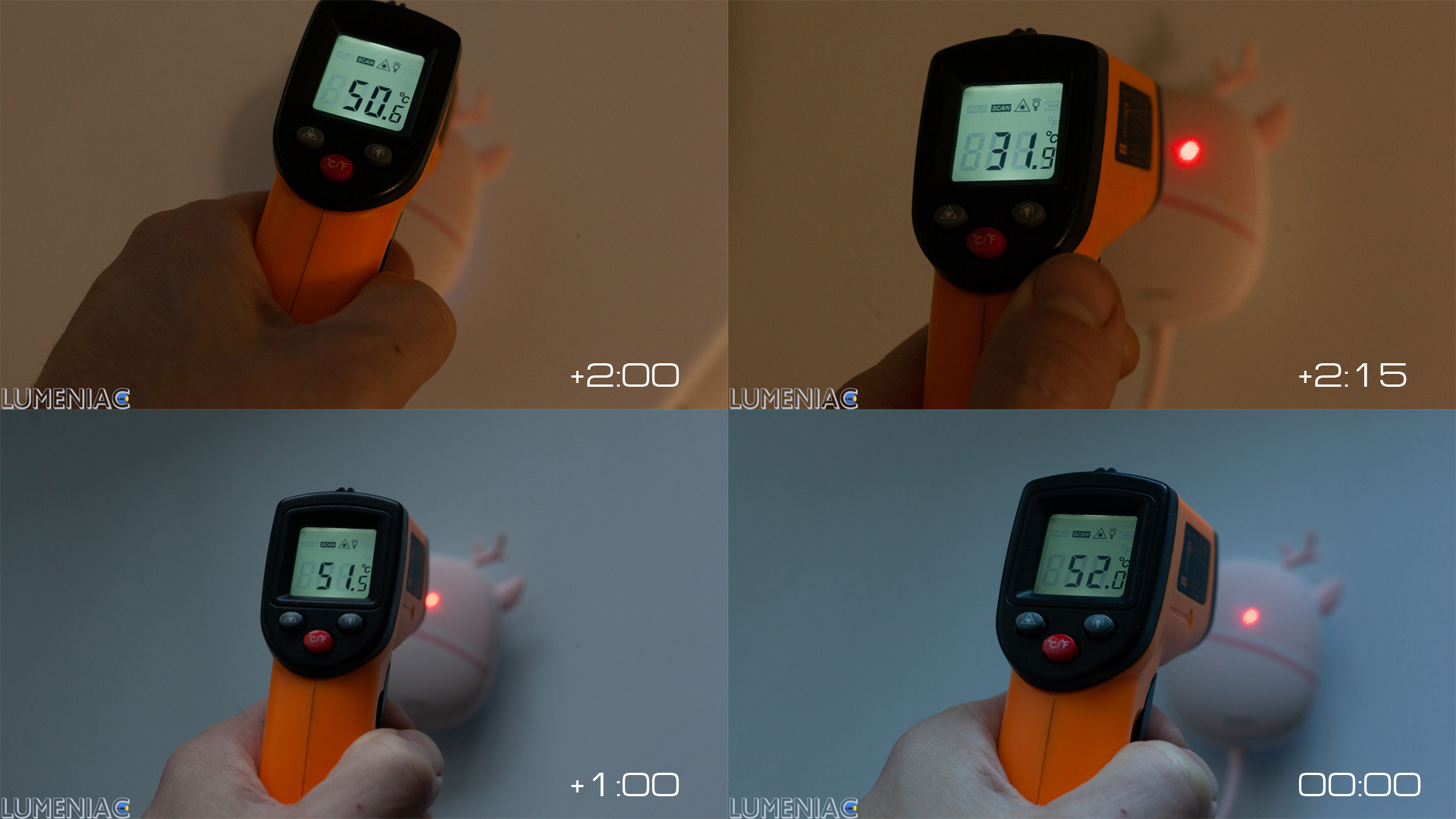 If you highlight something like a gazebo, then it will be too dim for playing cards, but you get a cozy twilight, suitable for evening gatherings. Well, the level of illumination will be simply adjusted by moving the lamp near and far.
How the usb heater heats up.
The capacity is frankly ridiculous, only 1800mah. But charging takes a little time. In more capacious models, by the way, the power bank function is also implemented.
 
Heating is promised at 50 degrees celsius and specs do not lie. I even measured 2 degrees more. And, I will tell you as it is – it heats very well, you really feel all these 52 degrees! It reaches the nominal temperature from room 25 degrees in about 3-4 minutes. The temperature is just right. A higher one would hit the comfort and runtime time. And 50 degrees can be safely held with bare hands. In large models, by the way, there is usually a temperature control in the form of a simple choice of three levels. And this usb heater gives a full 2 hours of continuous work. This, in theory, is quite enough for some kind of long evening walk, you can warm your hands non-stop.
There is still some use from the device even after it is no longer able to produce sufficient current for heating. It is enough to start a camping lamp. Since the brightness is not stabilized, then, of course, already at some far from the maximum level.
Well, since I really love camping lights (by the way, if you are looking for something of them – here is cheap and OK, and here is expensive but best you can get), then this part of the functionality is also very interesting to me. True, in this case, the interest is rather theoretical, if the heating pad is sent to the mother.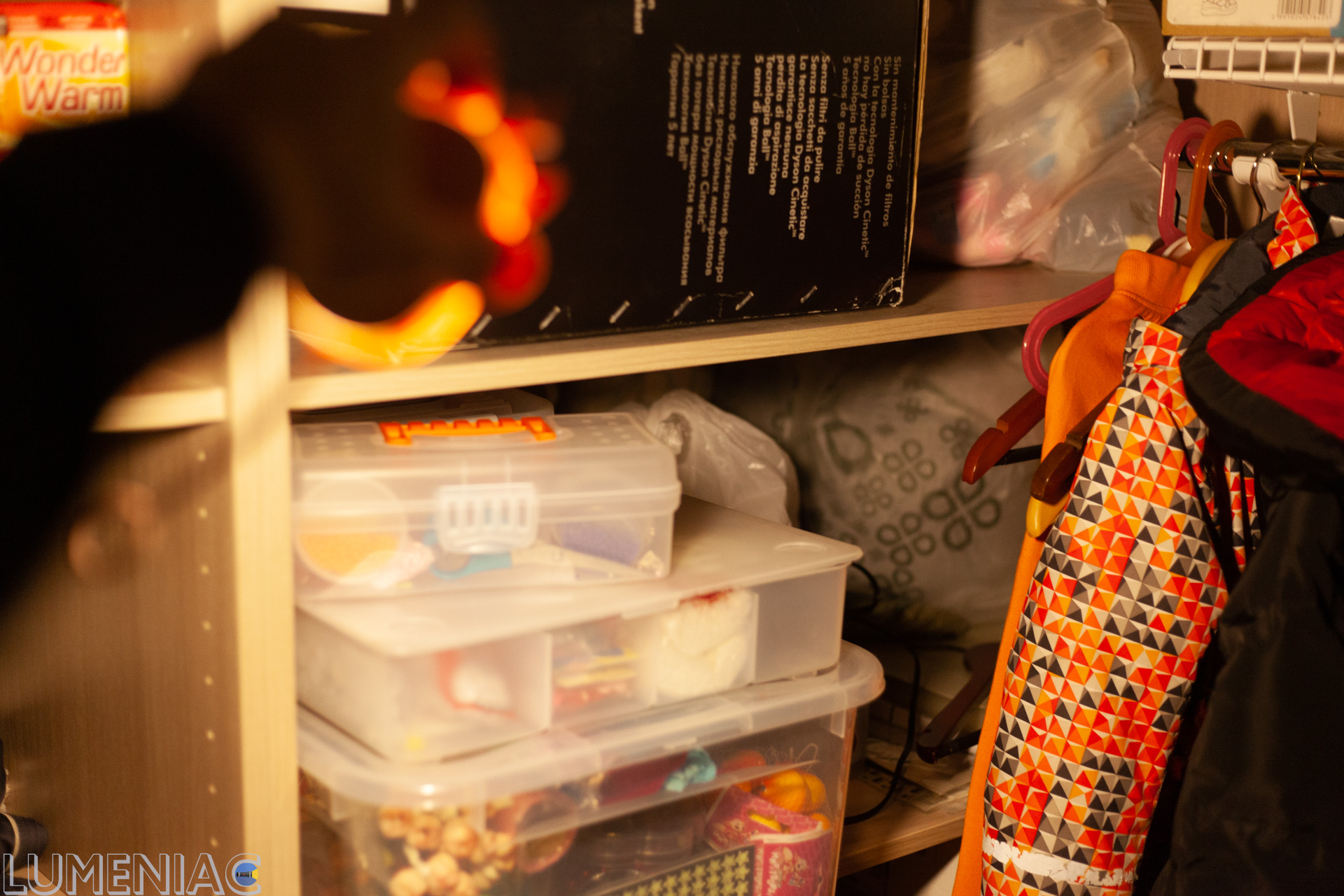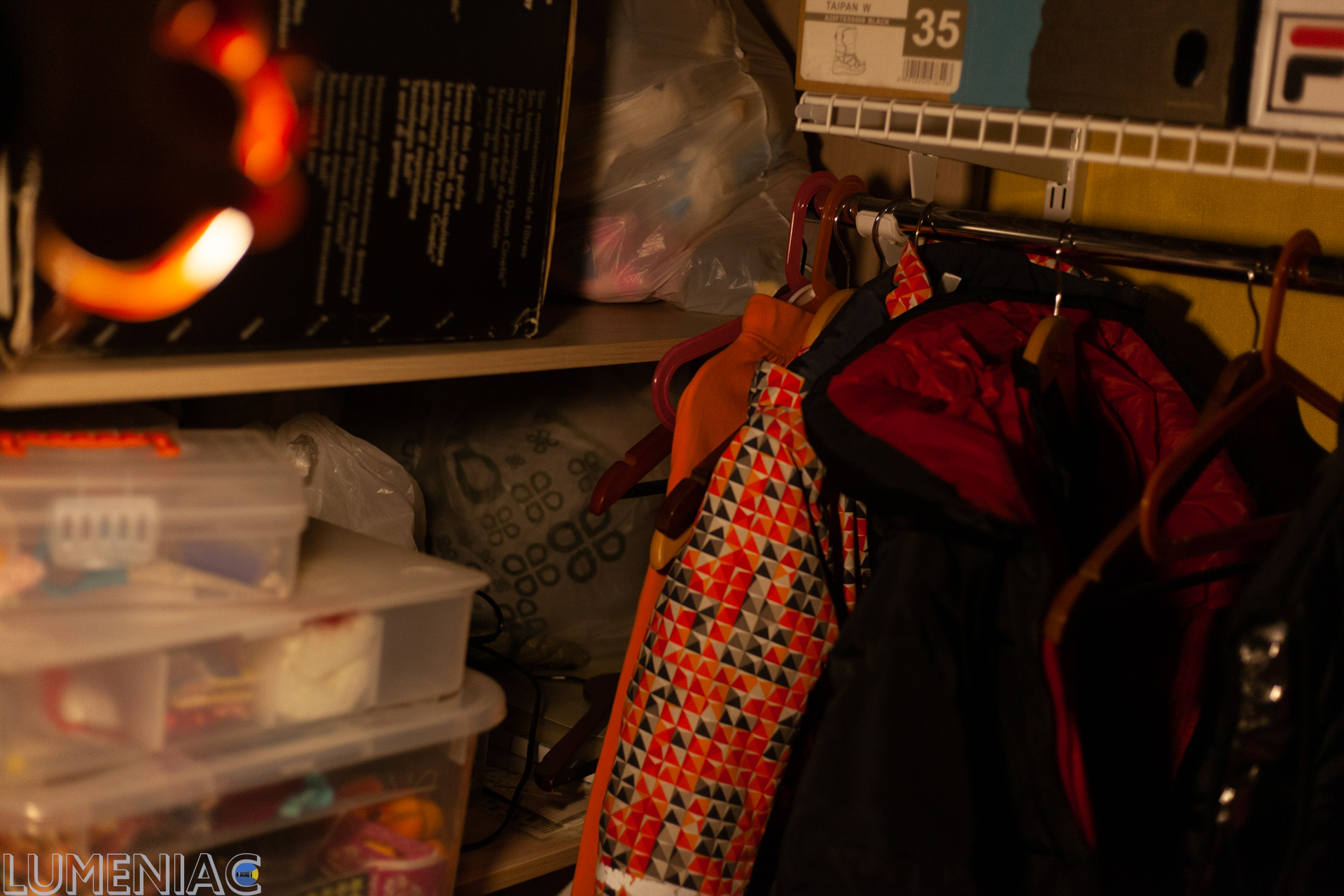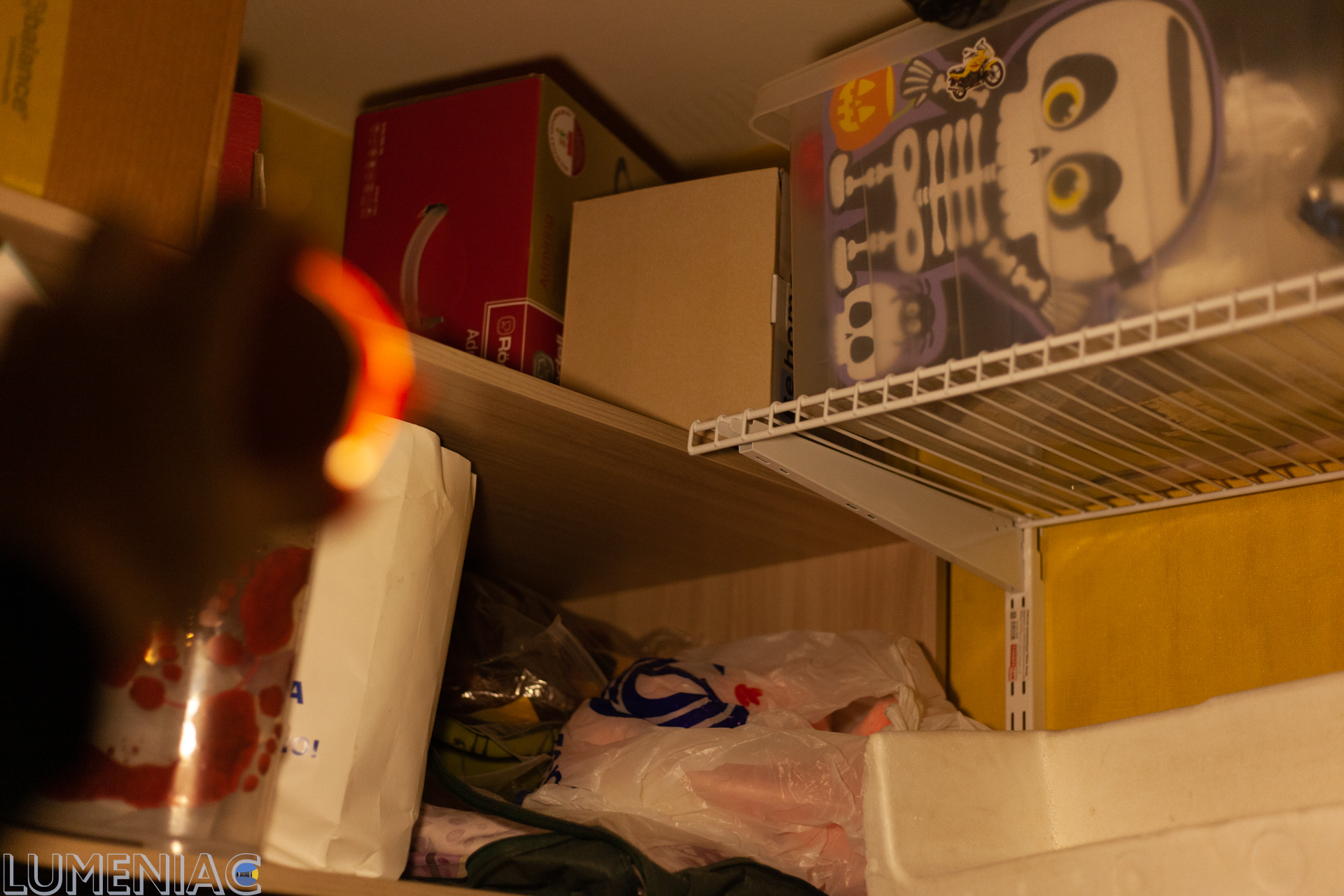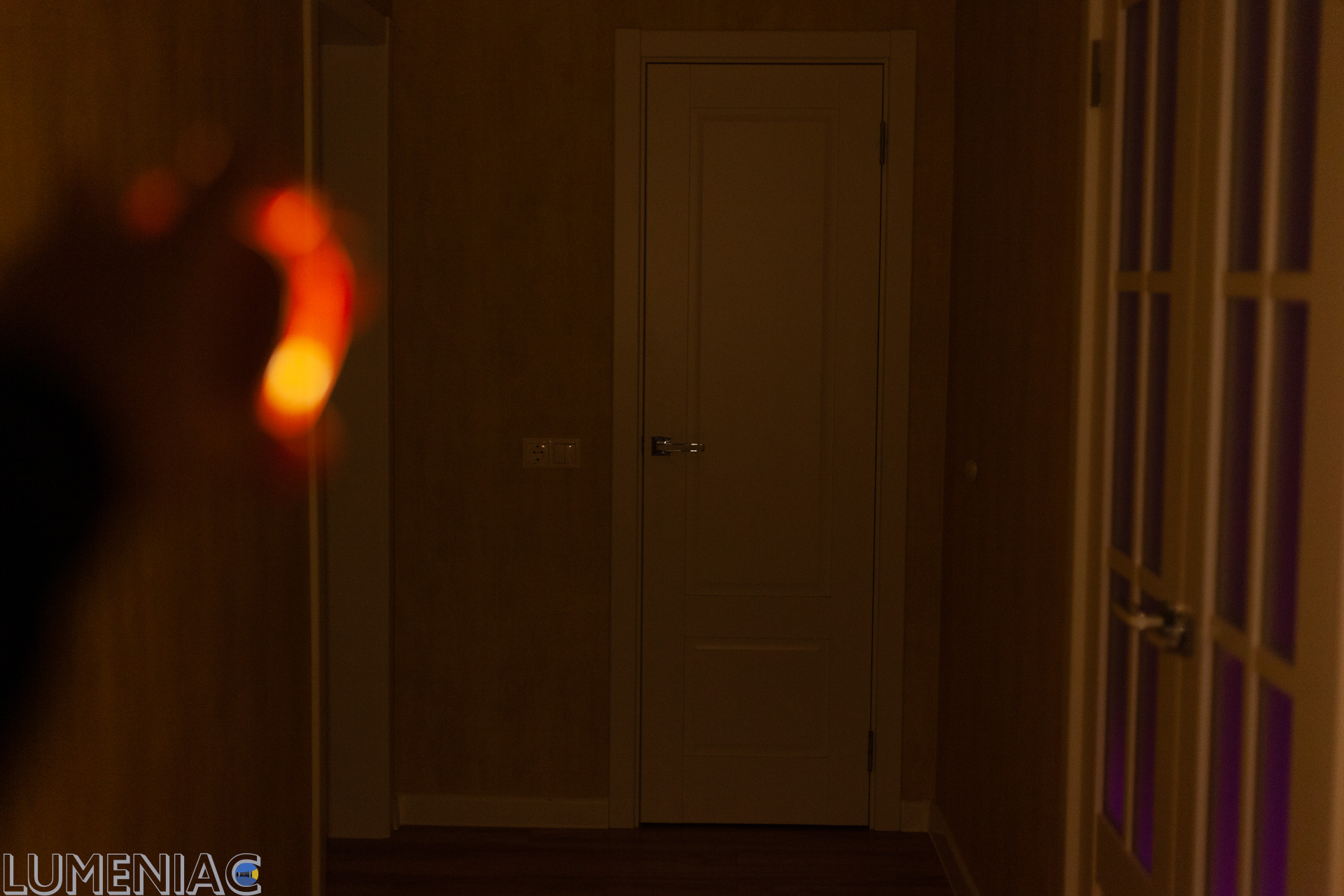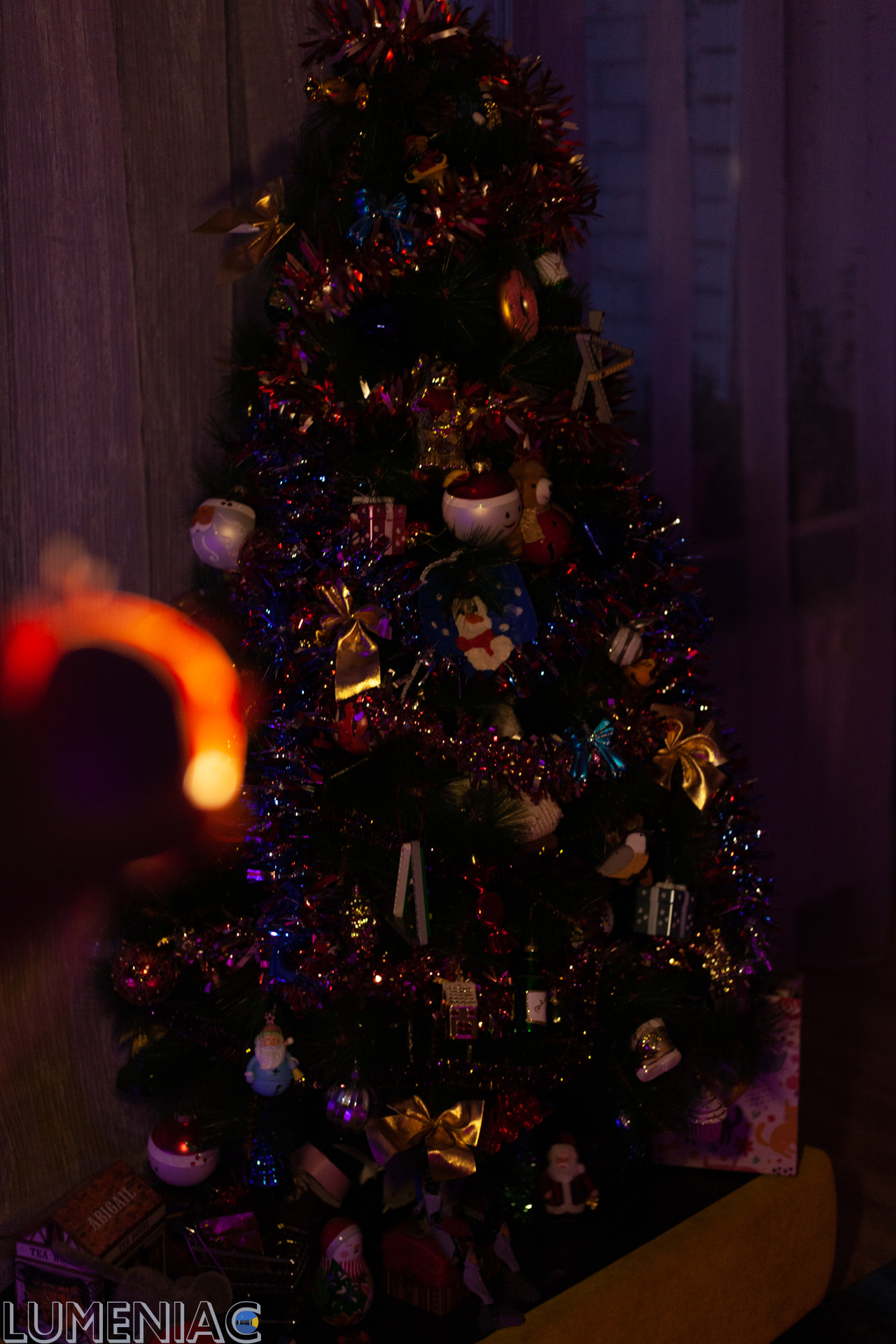 charge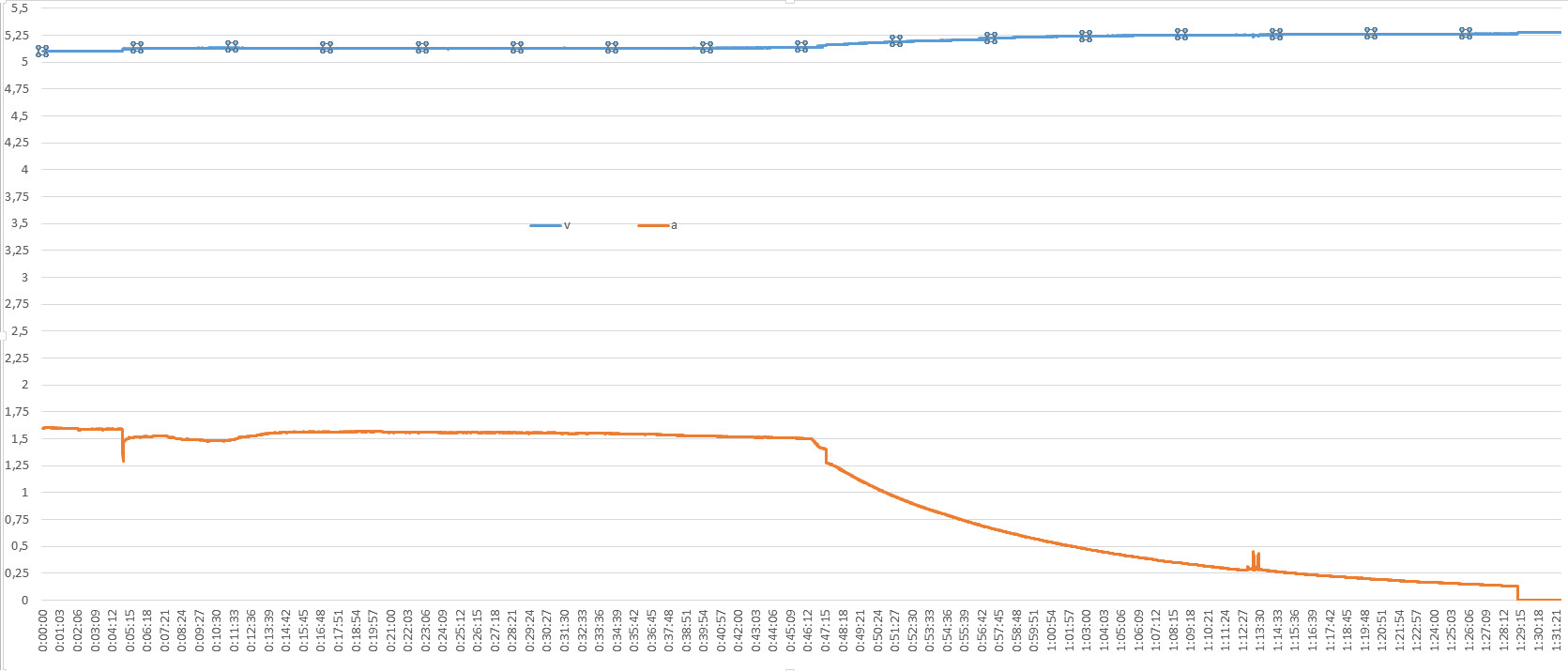 runtime at max brightness. surprisingly good, like from linear driver. it takes 8 hours for 1\3 drop and 15 hours to get to 50% level! I did not measure the minimum, here it seems to last forever.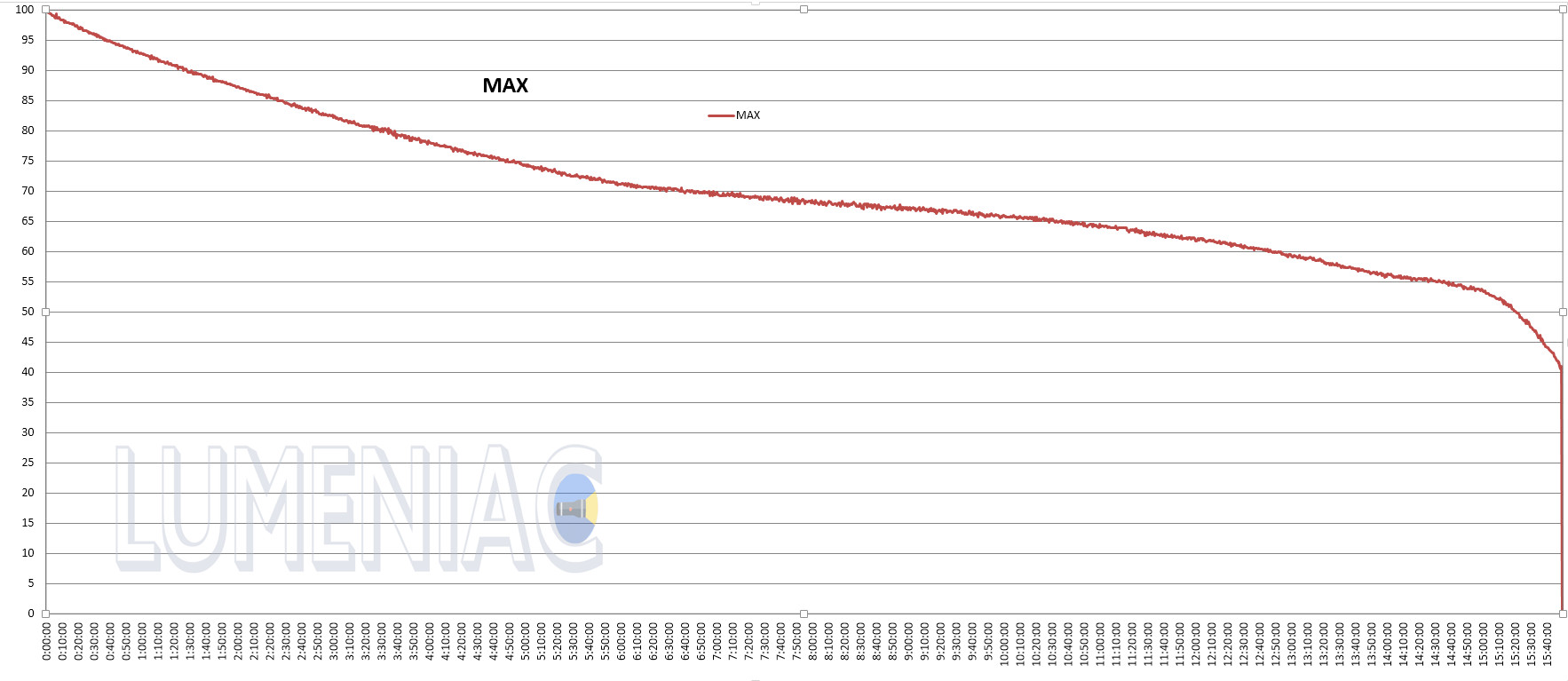 Howbeit.
The light can be as dim as a night light, or bright enough for full use as a camping lamp. Let me remind you that there is a smooth brightness adjustment which is really cool!
The color temperature is unexpectedly cozy and warm, looks like 3500-4000K. And this is a very, very rare case. If we take this heater specifically with the aim of working in the lamp mode, then I would cut off all the silicone knobs, glued the magnet to the side opposite to the lamp, and made a simple suspension over it (a piece of cable and a couple of drops of glue).
OVERALL IMPRESSION
The test of this rechargeble hand warmer shows that as model created for female target audience it is wealthy in everything. It has an attractive and cute design, compactness, excellent heating temperature, fast charging with high current and an optional, but pleasant and functional side light.
The price tag is also quite affordable, which, coupled with a good appearance, makes this heating pad an inexpensive and practical gift. Which it is in my case.
The only drawback for me is the rather small battery capacity. Yes, this is partially offset by fast charging, but for very long-term outdoor use this will be the most practical option. And even so, this lantern performs damn good+ (NW-WW, runtime, stepless brightness adjustment)+ for light is not a primary feature, but addition to main fuctionality – hand warming. It`ll take you a little efforts to transform this USB heater to compact camping lantern.
However, if we are talking about periodically turning on when hands freeze, then I do not foresee any problems. The heating pad heats up quickly enough and in five minutes from turning on the hand can be warmed up. If you use the heater for 10 minutes ON after 20 minutes OFF, the charge will last for 6 hours. Well, or as an option, on the contrary – 20 minutes of heating after 10 shutdowns. This will add an extra hour. And if there is an opportunity to go somewhere to warm up and put the heater on charge, then this generally removes the issues of autonomy.
Yes, alas – neither the heater nor the camping lamp mode suppor external power.
In general, the thing is good. Technically, if you strip off all the pink tinsel, it will work for a man as well. But here I would choose just a version in a different light or a completely faceless but significantly more capacious noname model, so that it would be enough, conditionally, for a full work shift in the cold.
If you know some females who spend time in cold weather, this device would be a useful and affordable gift. And you can also use it as camping lantern after some simple modifications.