Hi all,
I have a H501R (red emitter) which worked fine so far.
Suddenly it stopped working : did not light up at all. It has not fallen down, no shock, no water, nothing special.
So I cleaned the contacts, and put it a fully charged NiMH : worked again sometimes, but with an erratic behaviour.
Tried a fresh primary Alkaline : again erratic behaviour. Same with a fresh primary Lithium.
What I call "erratic behaviour" is:
Sometimes after the battery change I see the very short and bright usual flash when tightening the tailcap, and then it works normally.
On other battery changes the LED will turn on permanently but very faint. Any action on the switch (either short or long click) does not turn out the LED, I need to unscrew the tailcap to make it go off.
Sometimes on battery change the LED glows dim for a fraction of a second, then turns off. One click will turn it on again for a few seconds (very dim) then out.
Sometimes it will not turn on at all, I don't even see the initial brief flash.
I then tore the switch boot off, and sprayed the switch contacts with contact cleaner. It seemed to solve the issue, but this worked only temporarily: it works most of the times, but sometimes doesn't light up. So I'm afraid I have to replace the switch with a new one, hence the following questions:
Do you confirm I have to de-solder the four legs of the switch (see picture below)?
Where can I find such a switch (it is 5.8 x 6.3mm)? I assume AE and other Chinese vendors sell such switches, but how to find the correct one?
Thanks in advance for your help.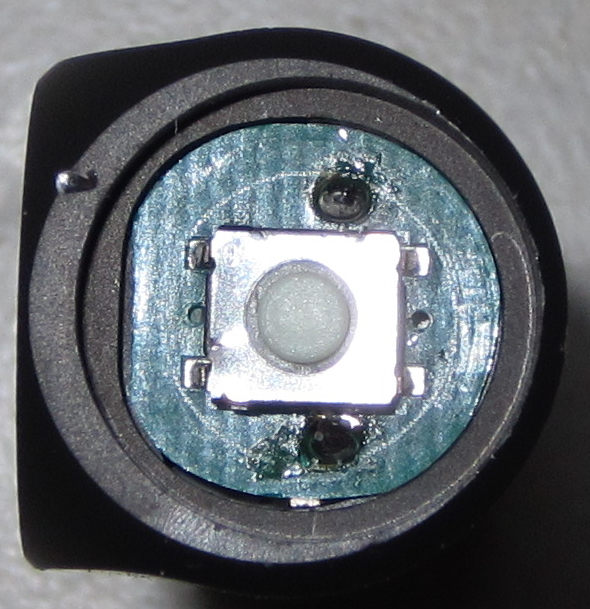 —
Ultrafire C3 2AA / Akoray K-106 / Nitecore LR10 / Manker E03H / Fenix HL10 / Zebralight H501R + H51W + H53c / DQG Hobi / Astrolux M01 / CooYoo Quantum Ti (lost) / BlackWater Kite Al / Emisar D4v2 (Nichia E21A) / Sofirn C01S / Skilhunt E3A