There are two categories of reviews that are easy to do. 1ts are negative, abusive ones and everything is clear here: everyone is ready to talk about the disadvantages.
And, as expected, on the contrary: totally positive reviews. It's actually even easy to talk about a good thing and I had no problems with reviews of Acebeam flashlights.
In a couple of worst cases, models that I got in my hands on were just good.
I`m convinced that Acebeam have the most reasonable ratio of marketing and practicality on the market. We are talking about the mass-market, of course (all zebralights \ fireflies and other meteors are specific sort of flashlights).
So, Acebeam L18, I will say in advance, is an excellent flashlight and it is a worthy upgrade of the previous long-range model Acebeam L17, which I`ve already talked about. This review of Acebeam L18 includes direct comparison of both them.
Let's take a closer look at L18
You can buy ACEBEAM L18 at:
➤ AMAZON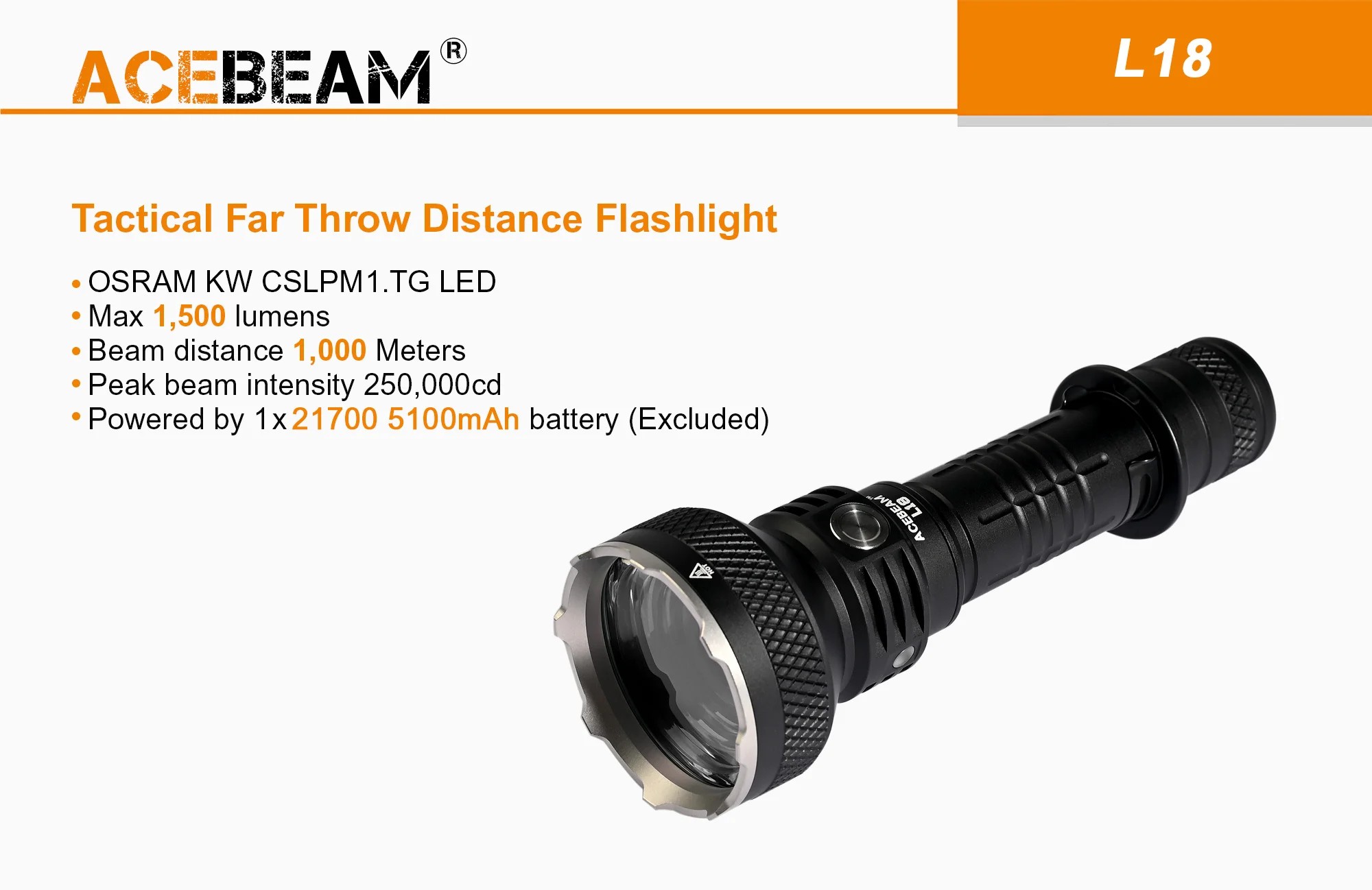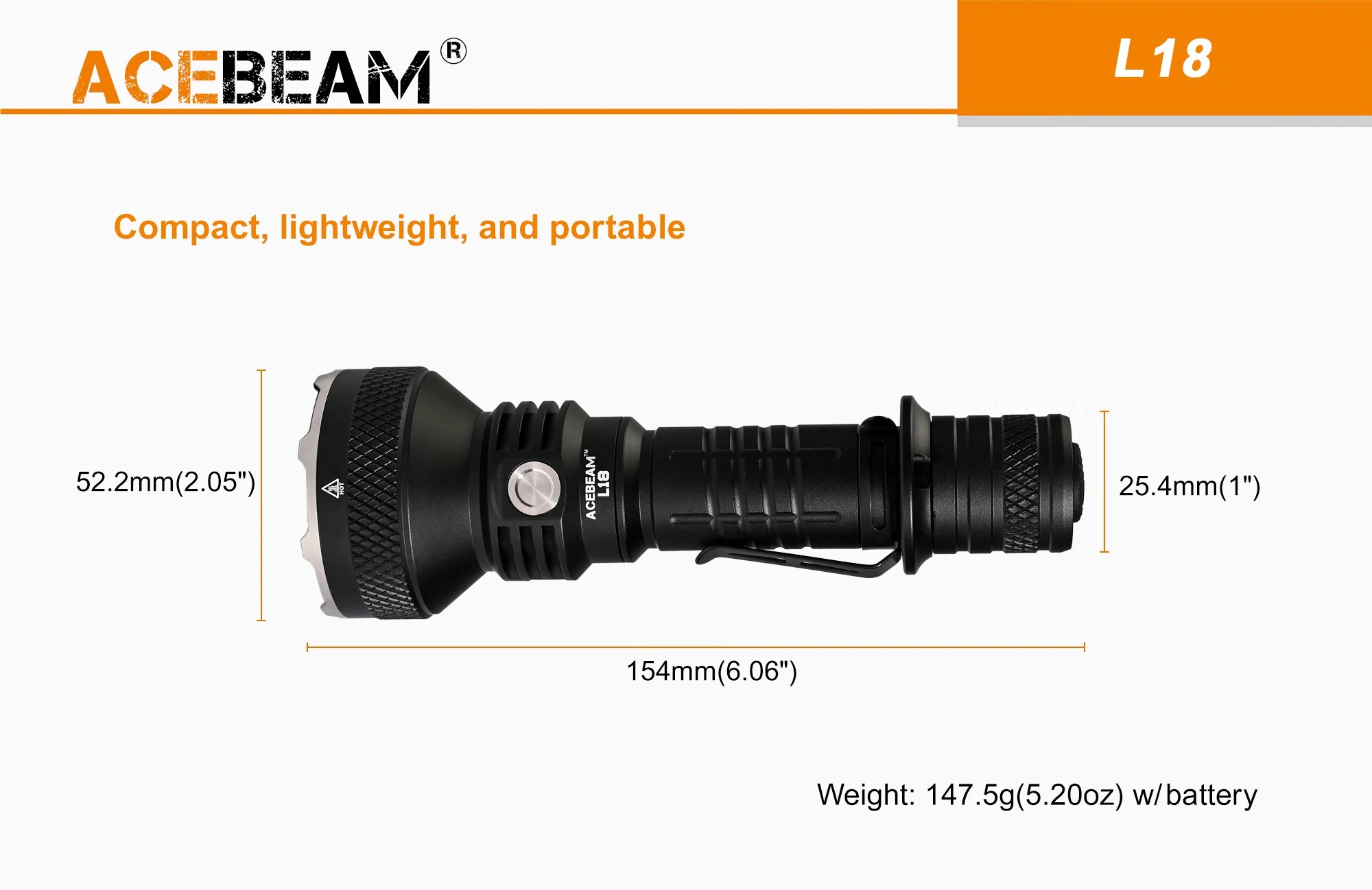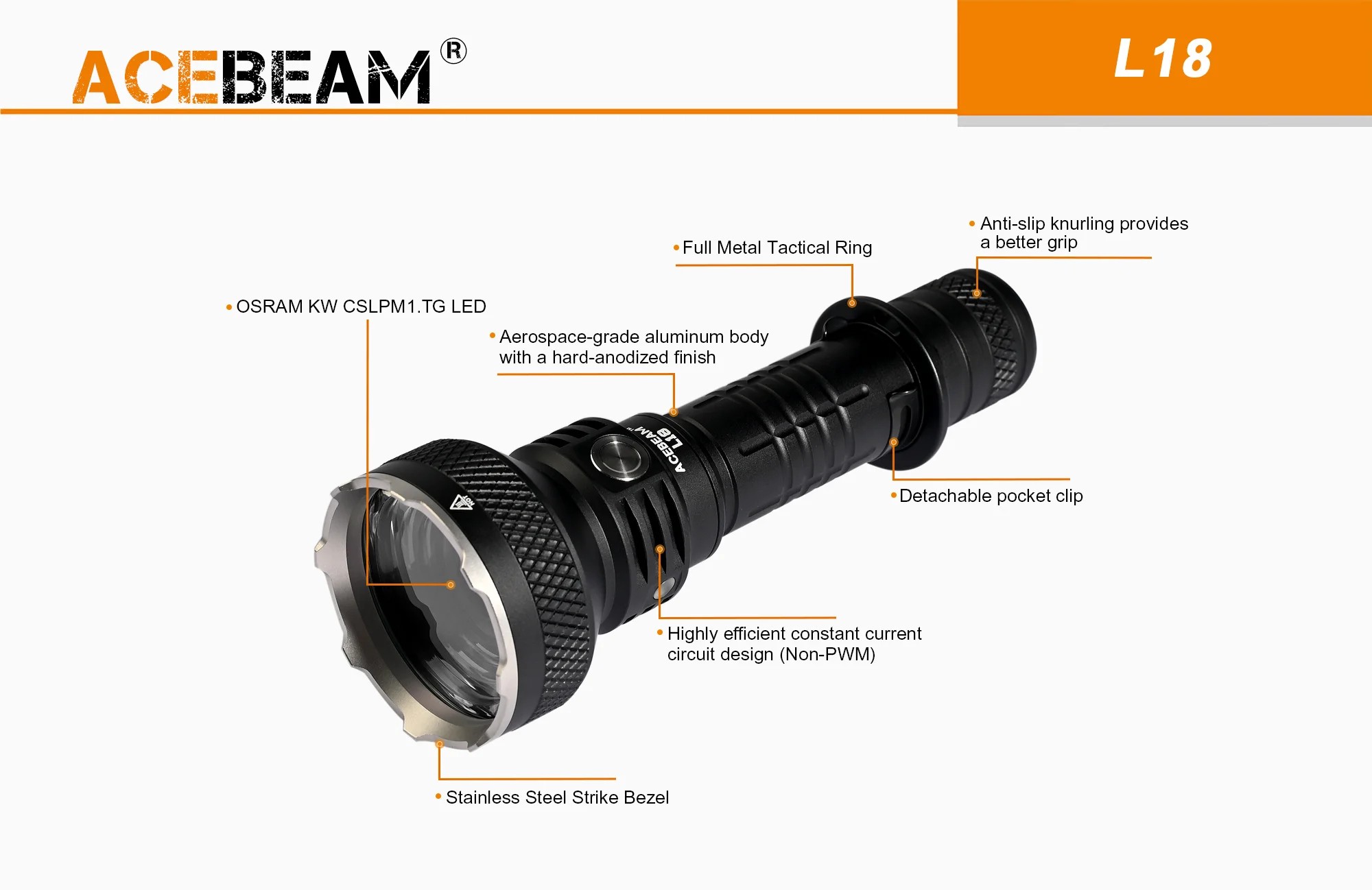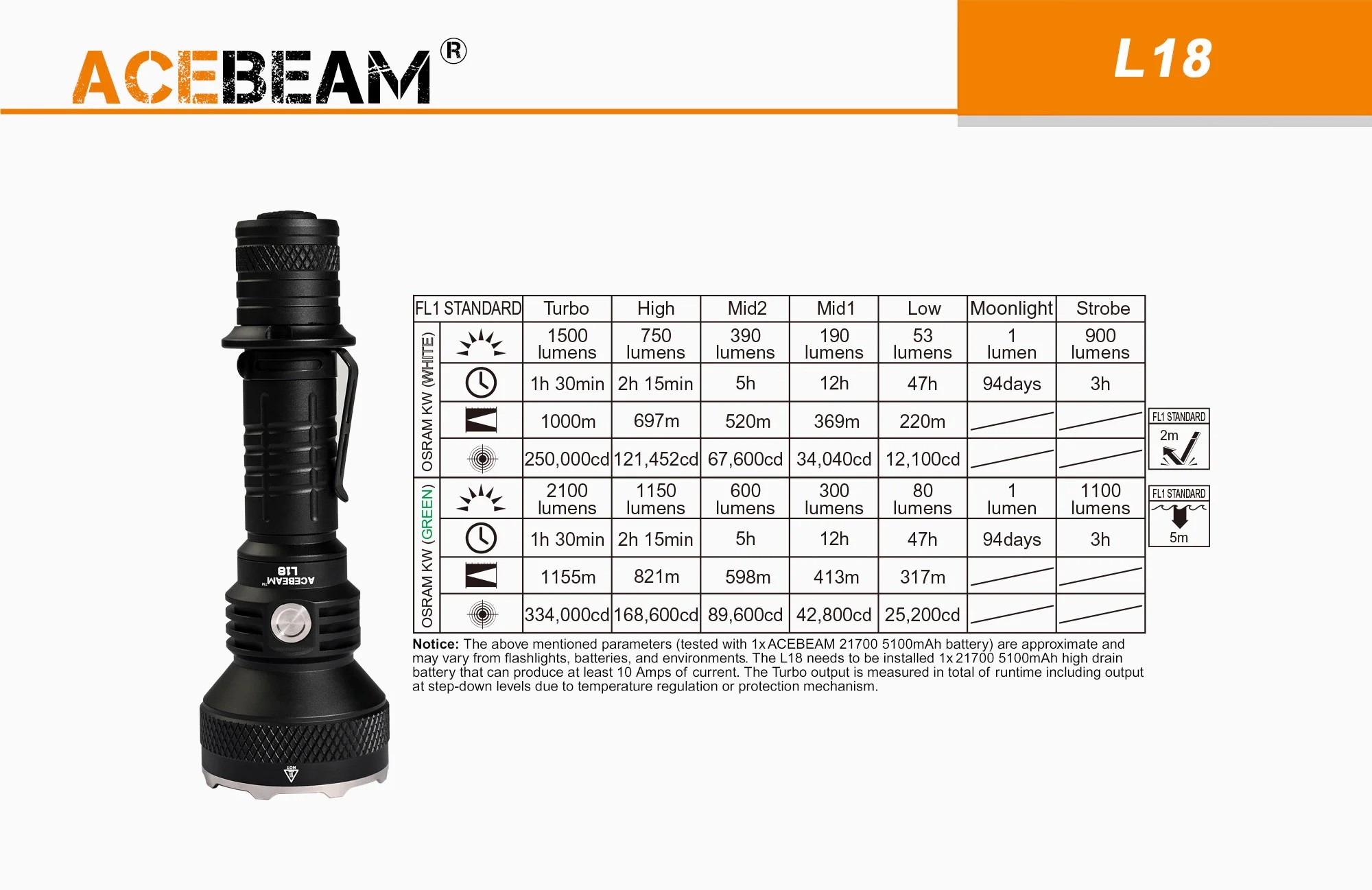 As usual, excellent package with good printing. If you buy a flashlight as a gift, you will not be ashamed.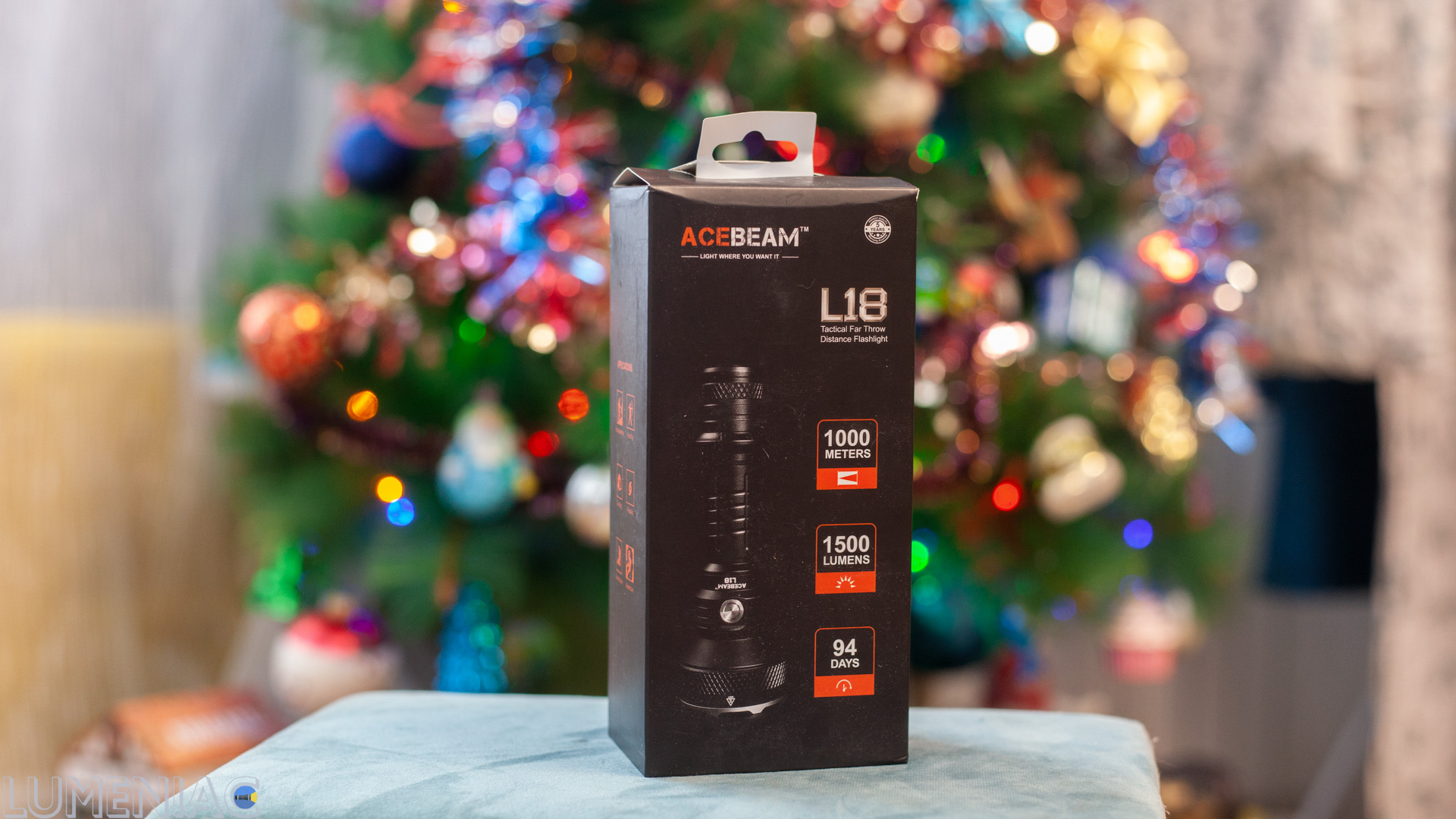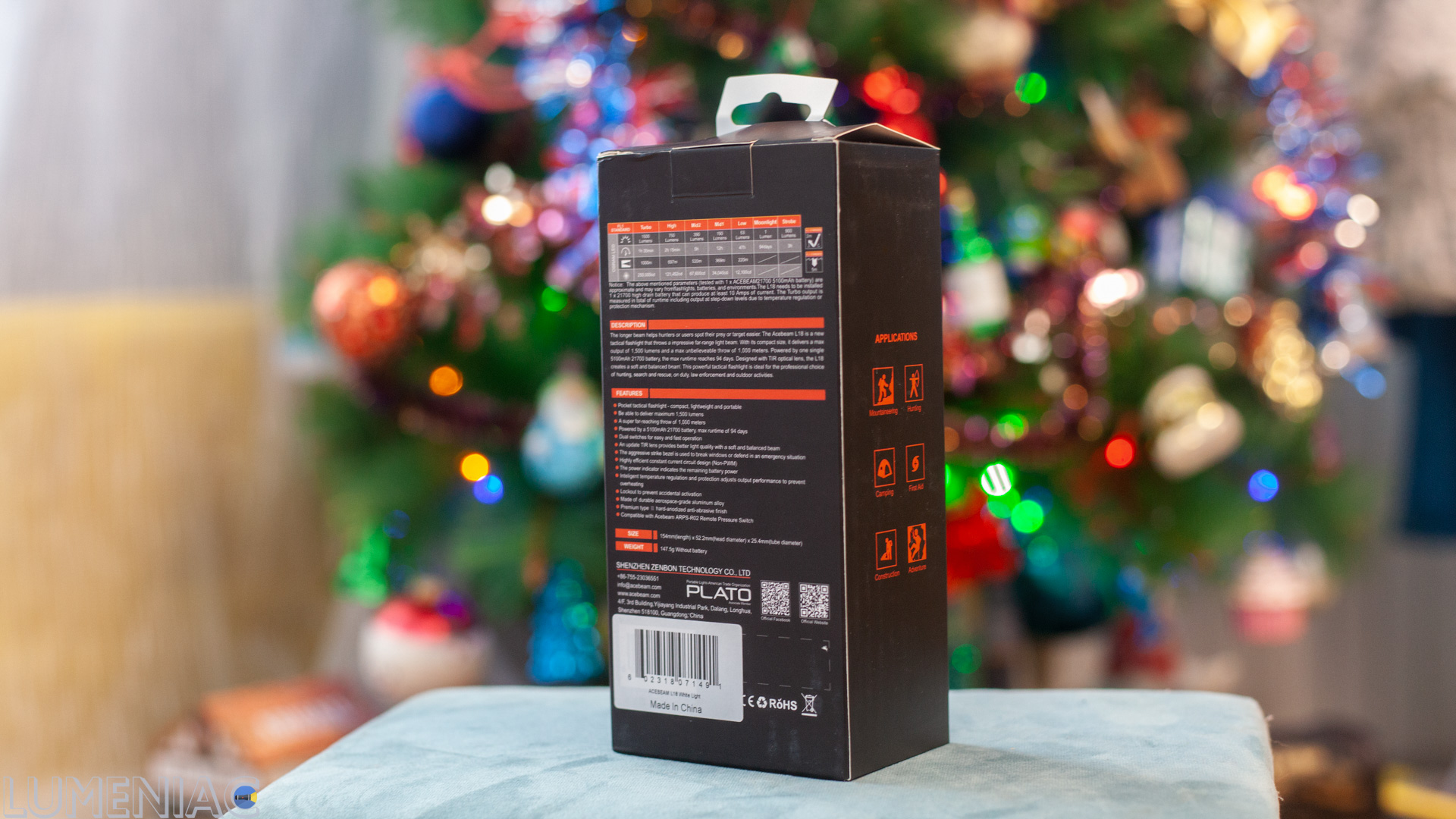 The kit includes: the flashlight itself, a charging cable, a case, a lanyard, a spare button and O-rings.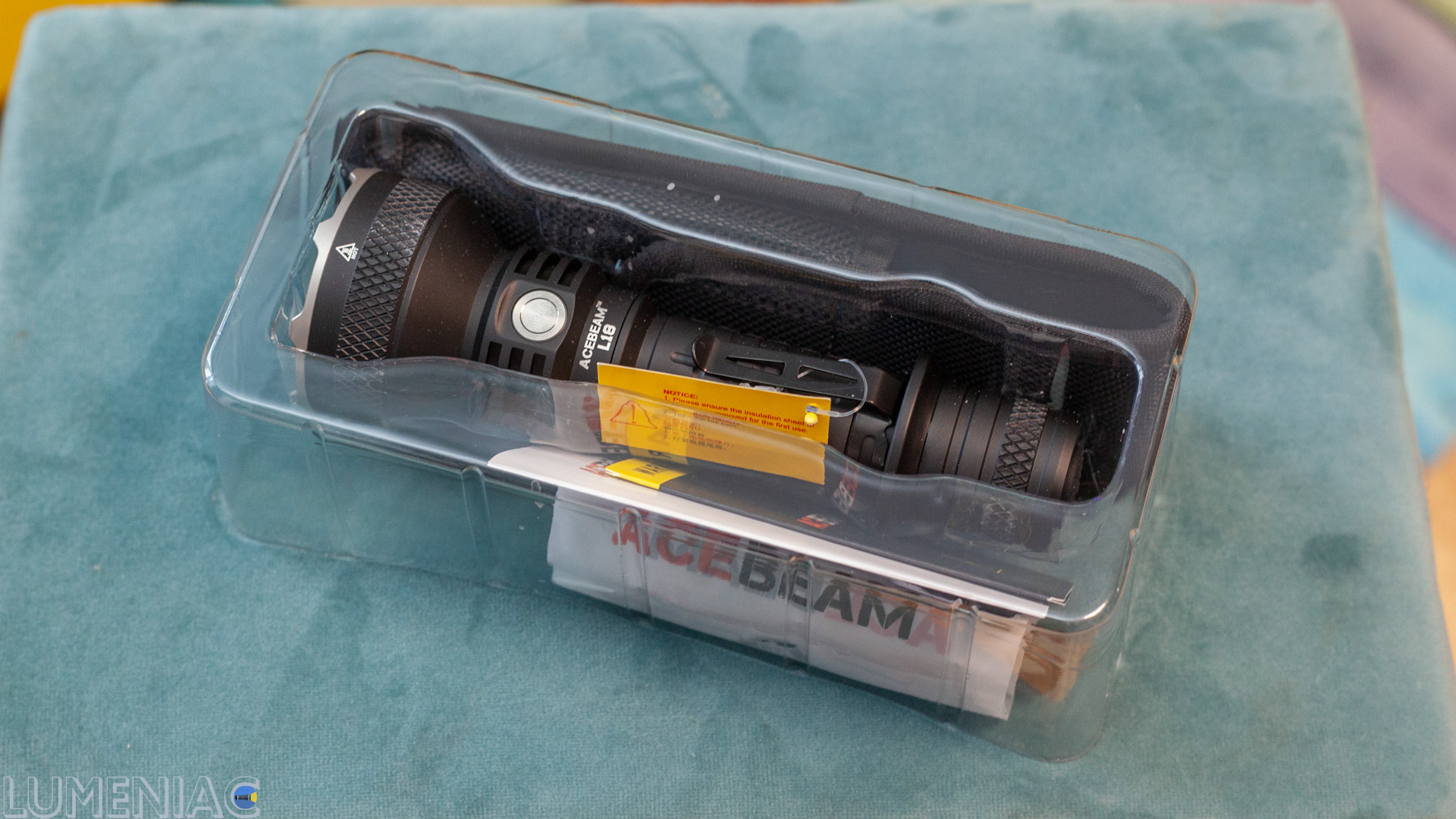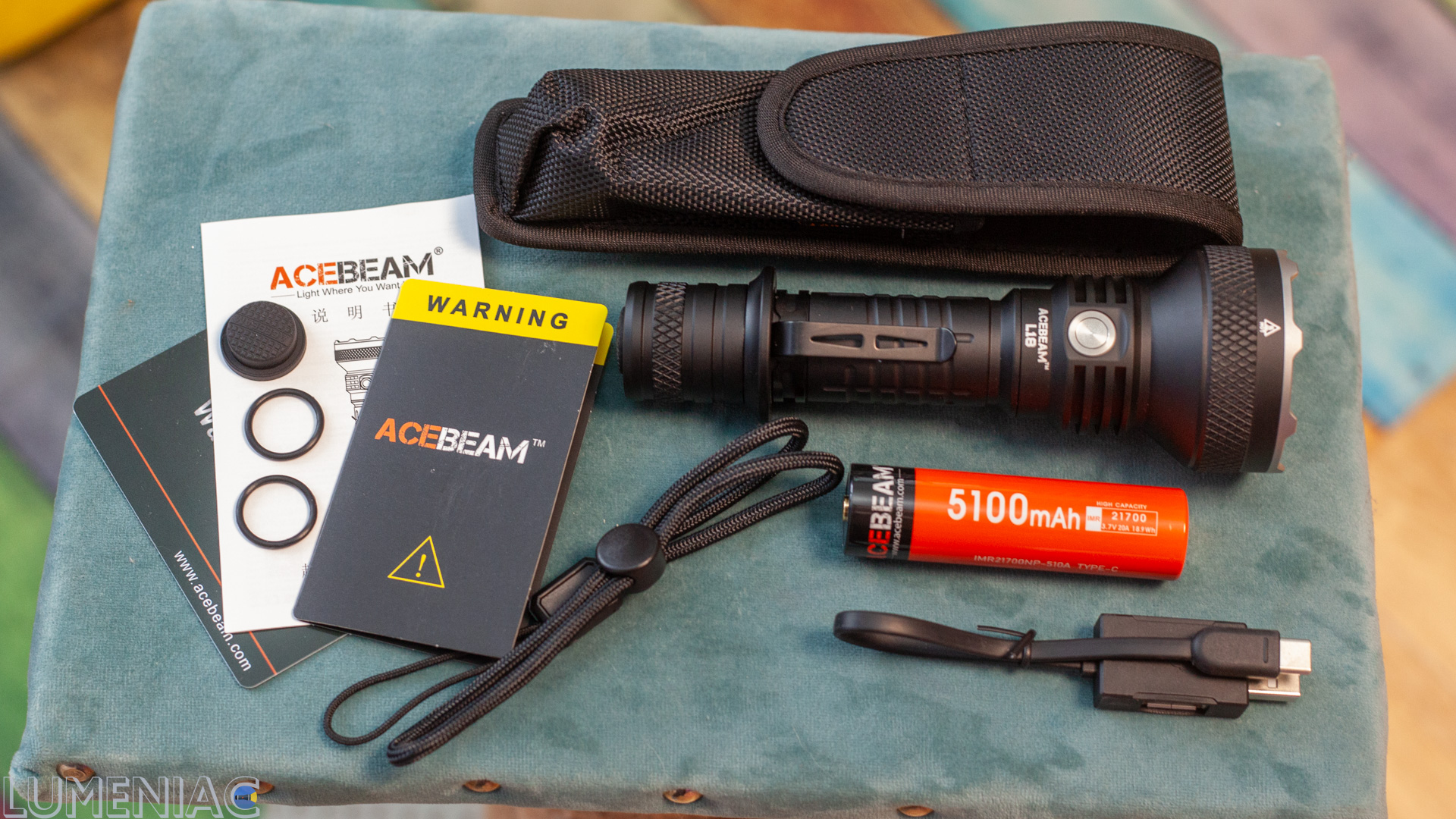 Important! Kit doesnt include Acebeam 5000mah 21700 battery with charging connector. You can buy it separately. But for it`s price you can take 4-5 pieces of ordinary Liitokala 21700 – their current is quite enough. But they will be shorter than the Acebeam battery and a little rattling. However, during normal use, even with strong shaking, the contact does not break. But so that the recoil from the shot does not break the contact, you can partially compensate for the difference in length with a pair of magnets on both poles, or completely with a couple of drops of solder (do not forget that Li-Ion is very afraid of overheating).
There is no 18650-21700 adapter either, which is strange. However, with the price of Liitokala 21700, I would not be soared.
The holster is good. In general, Acebeam always has good holsters. Like almost any othere thing they produce.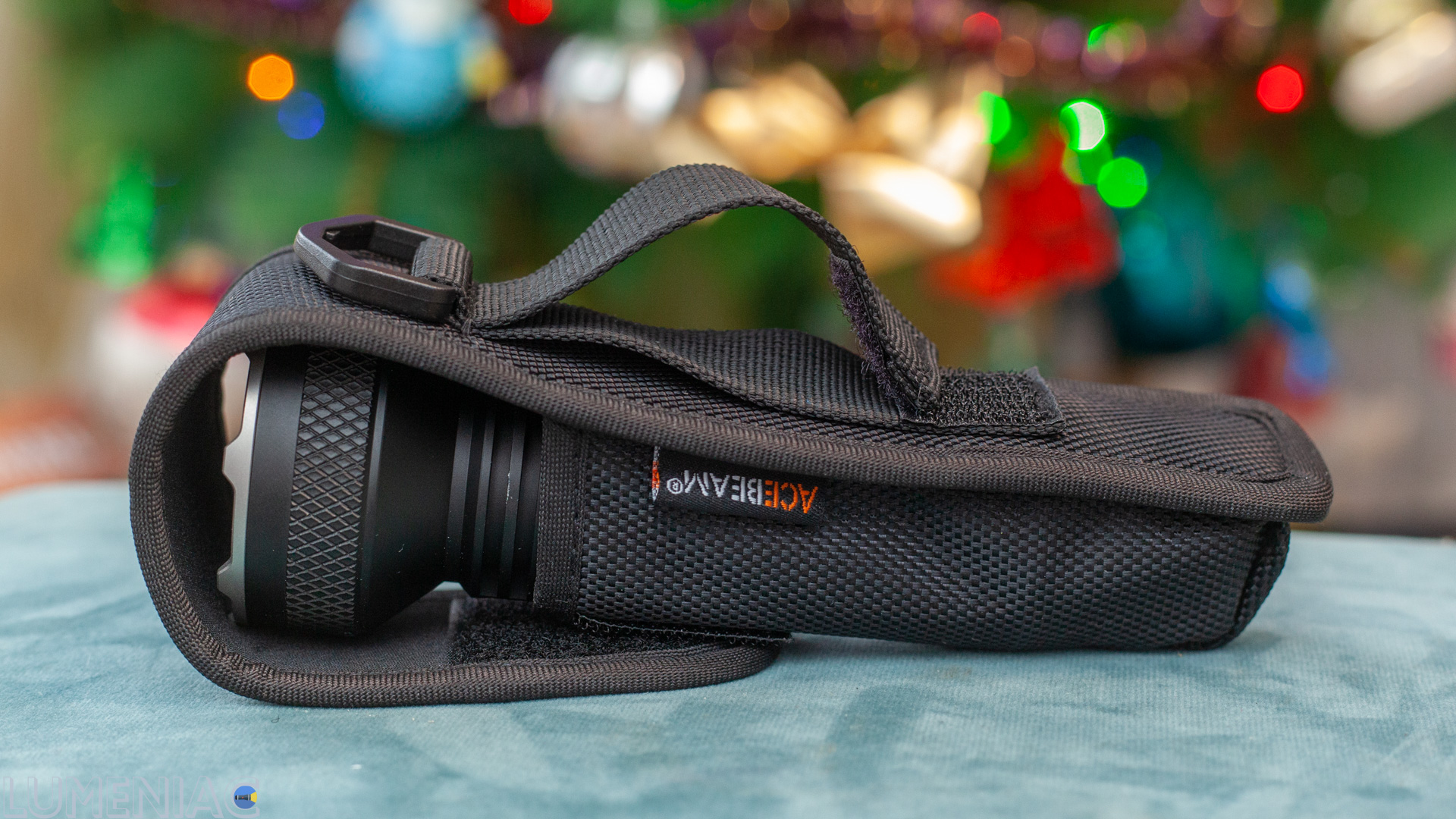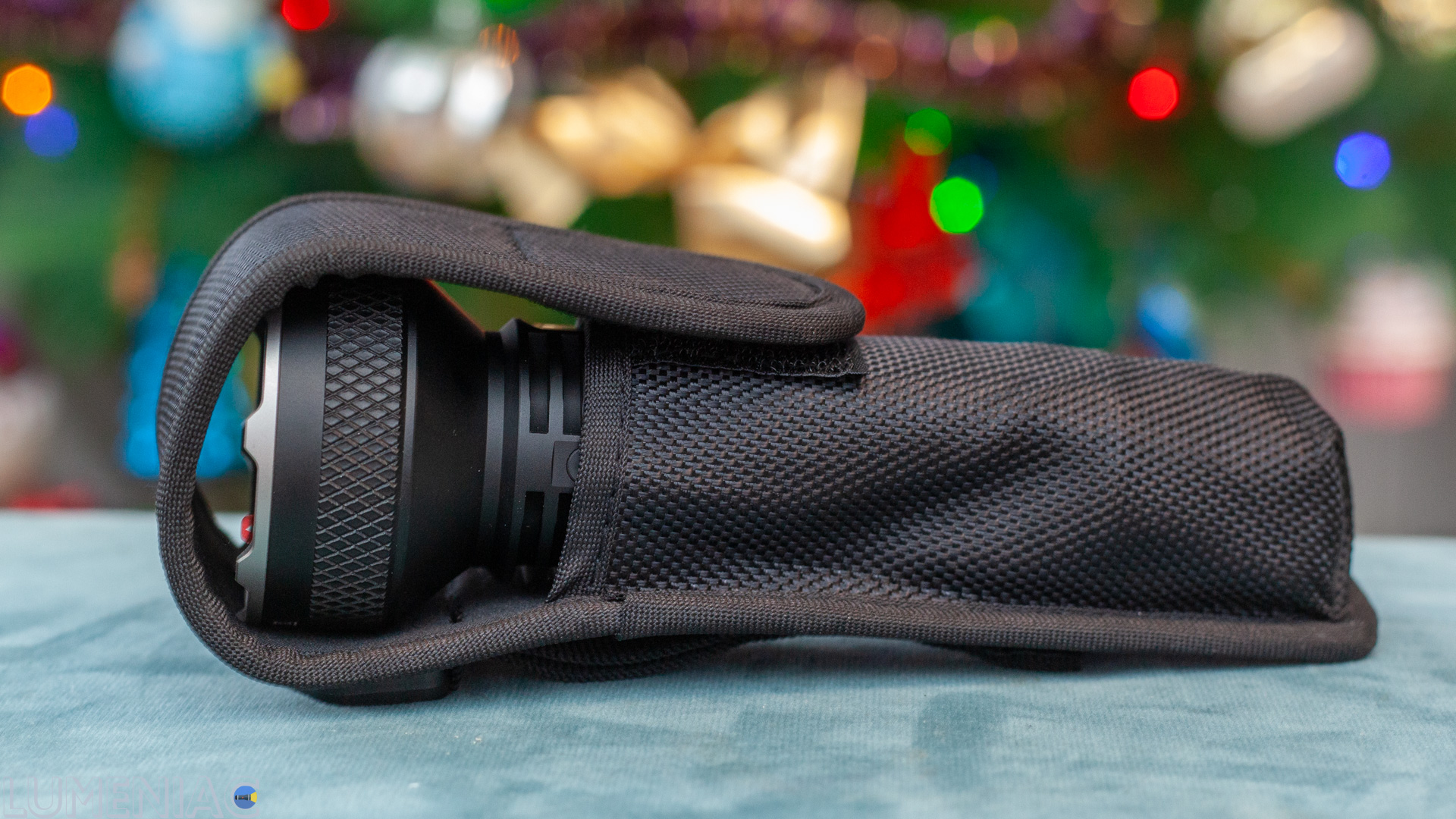 And here is the flashlight itself. With its 154mm length, it fits well into the dimensions of a relatively compact long-range flashlight. There are, of course, shorter models, but there are also way larger ones.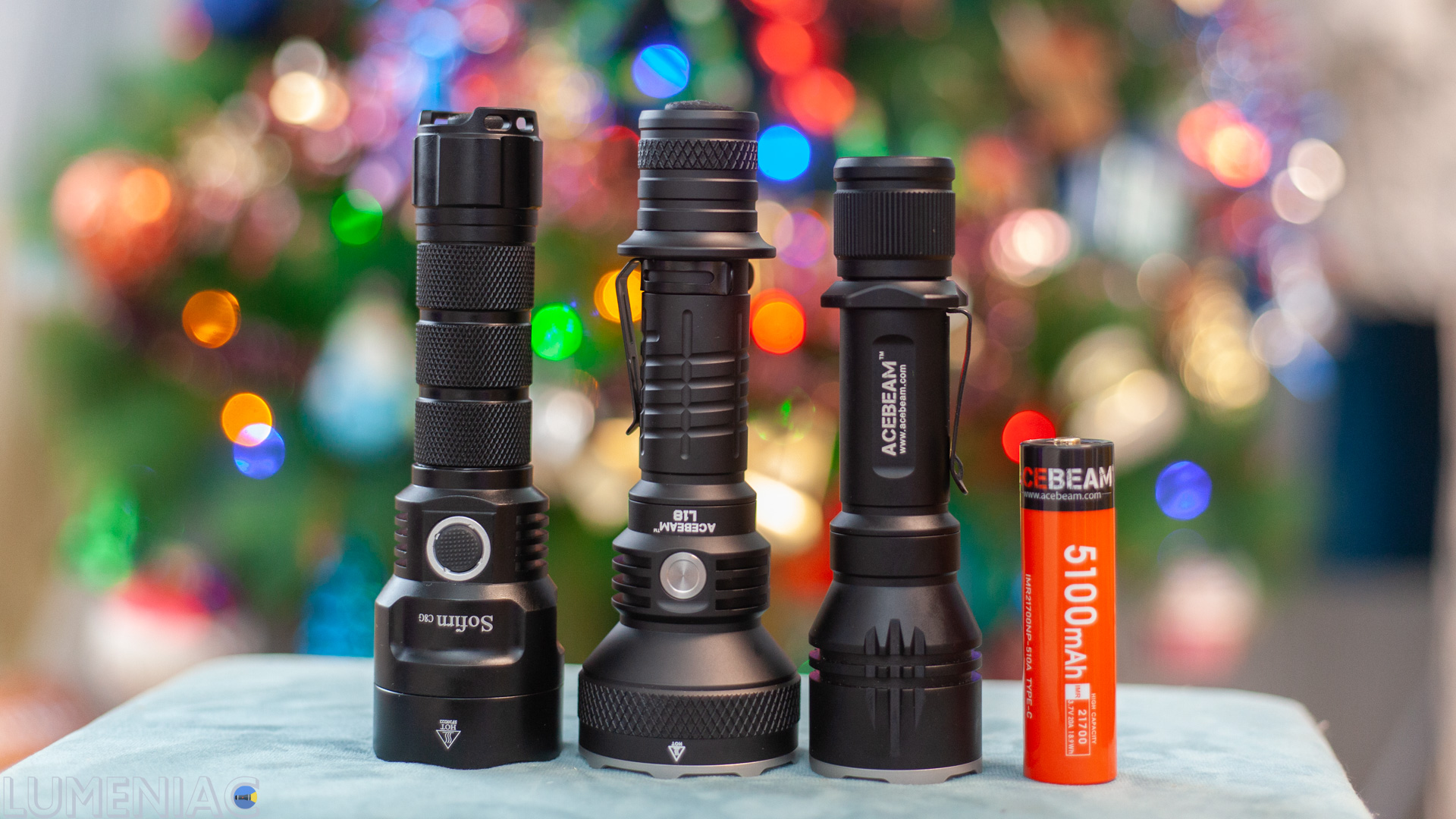 In terms of design, for my taste, the L18 looks much more interesting than the previous L17. I like that the manufacturer moved away from the usual knurling and made a specific spiral-shaped one, which allowed the flashlight to acquire an immediately recognizable appearance. And the aforementioned familiar rhombus knurling went to the head. It does not play any role other than decorative, but the flashlight looks and feels really attractive.
However, Acebeam is able to give a flashlight a good look even without knurling – L17 is a confirmation of this.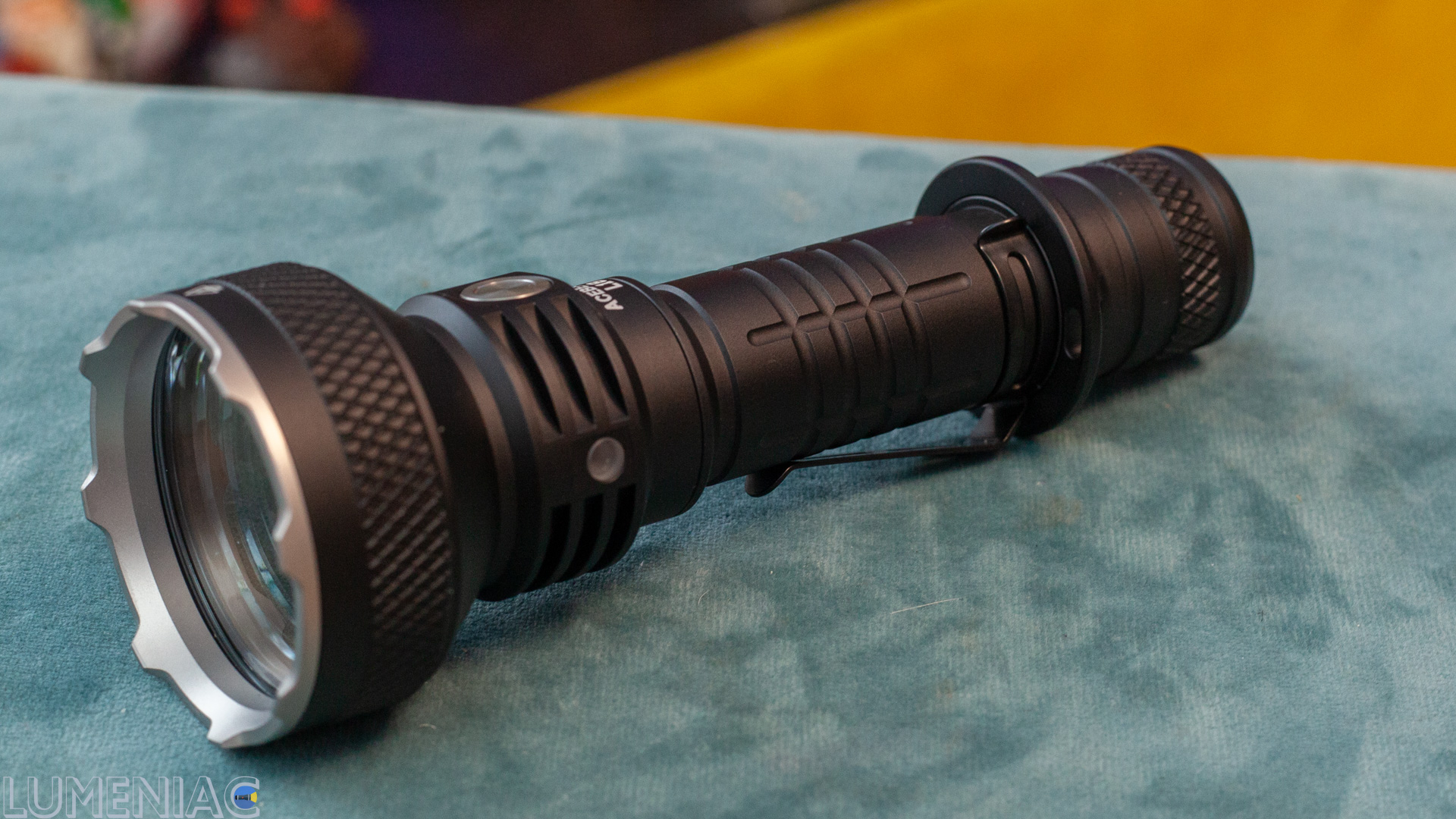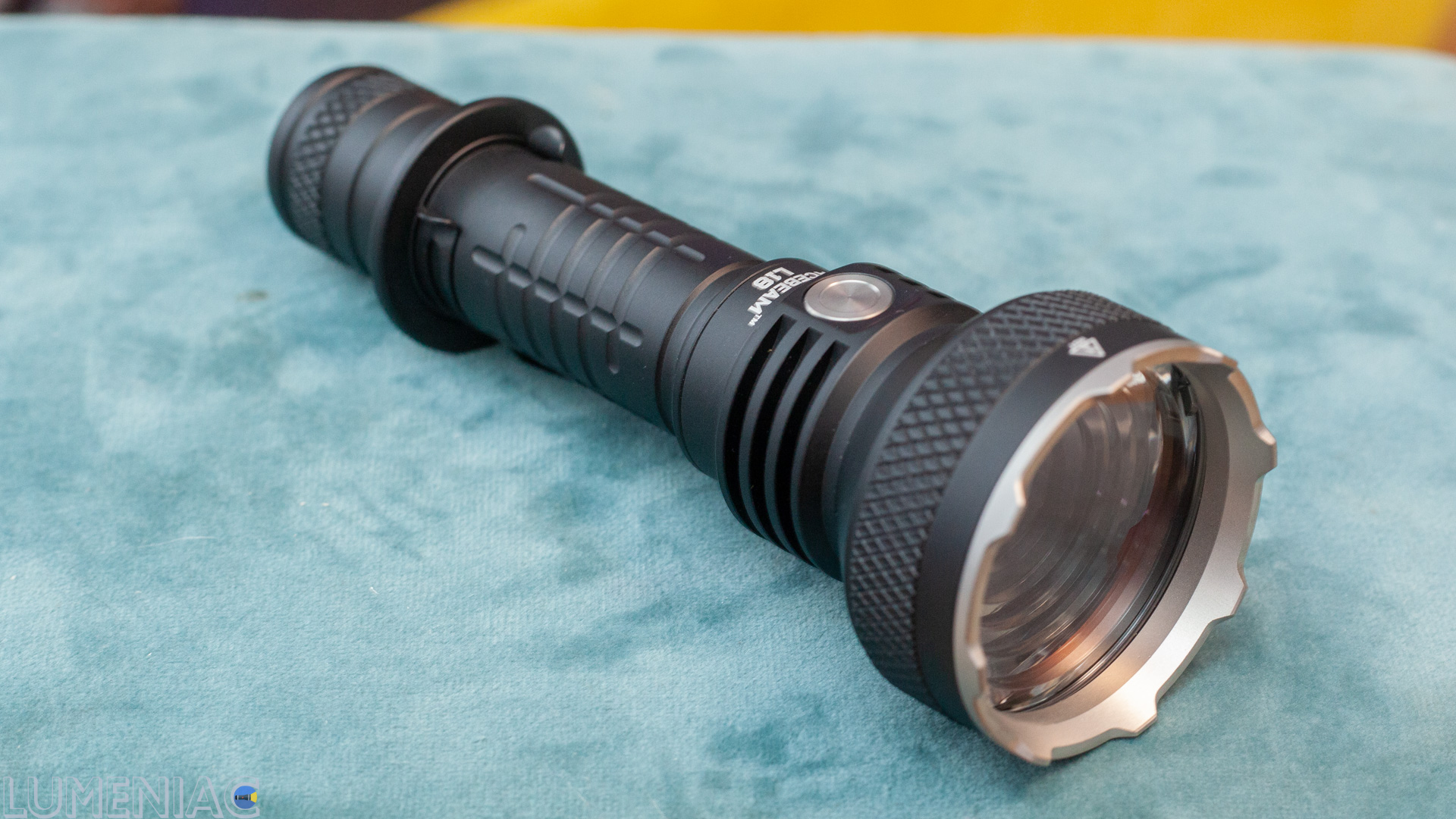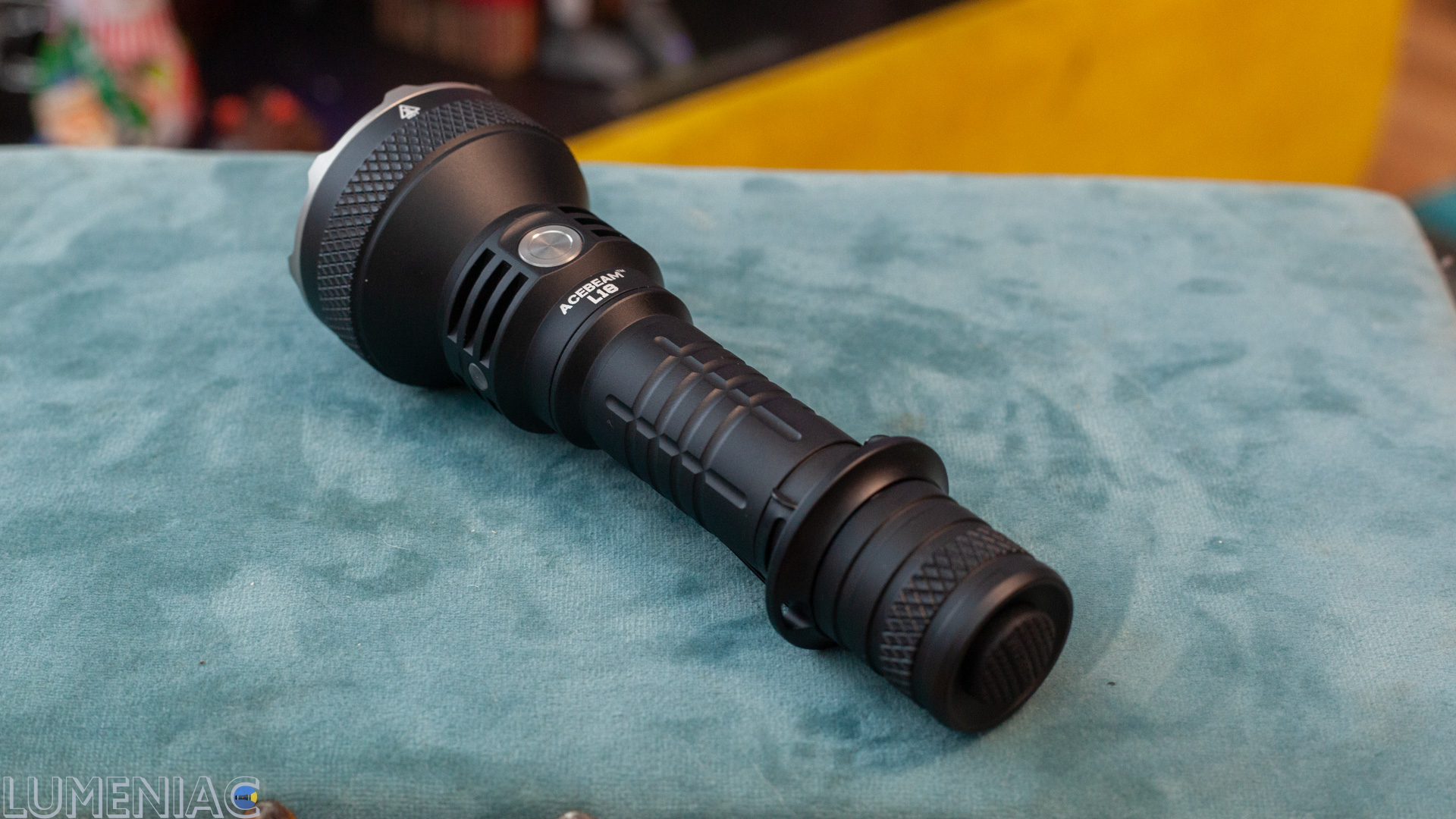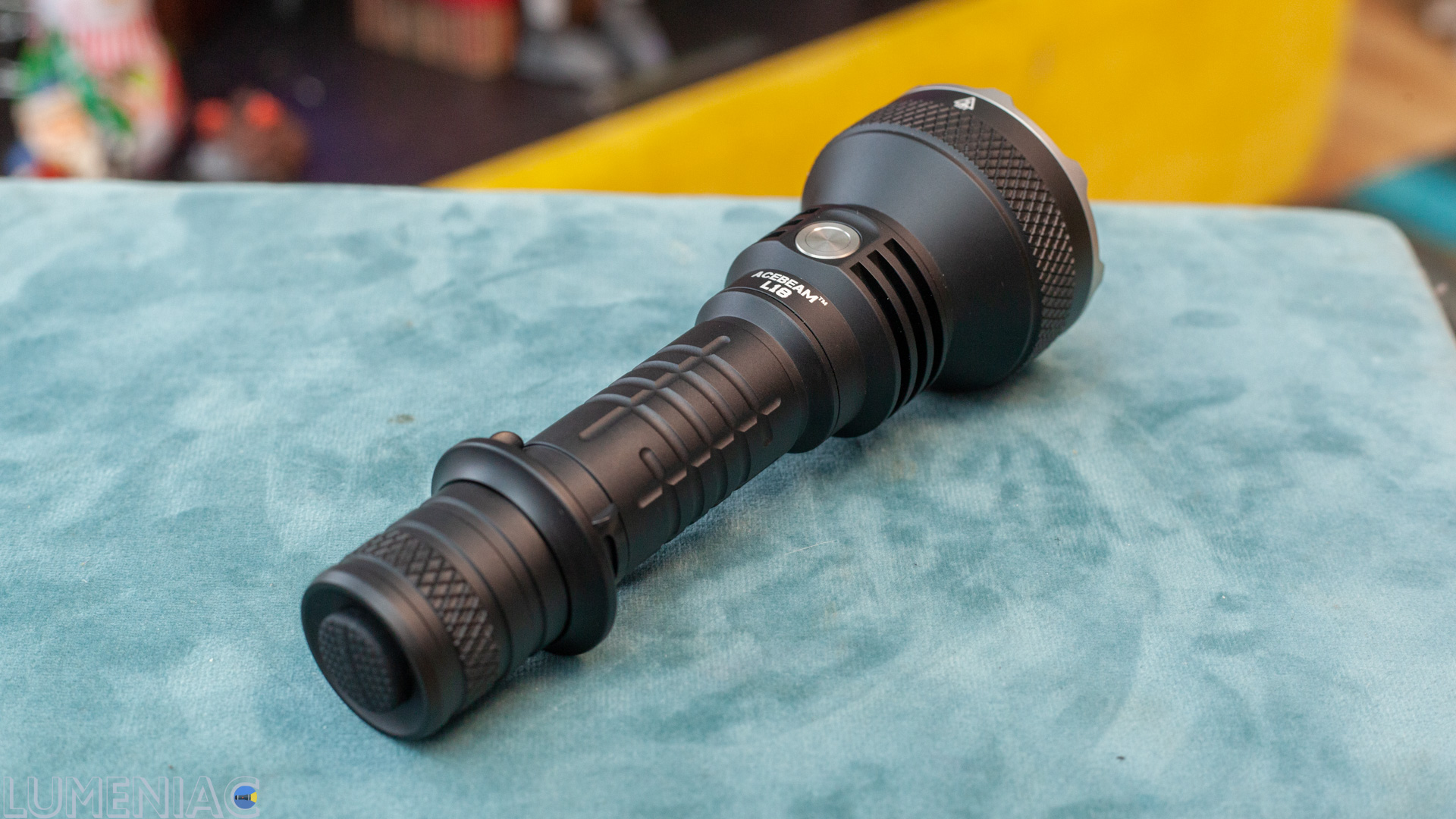 As in the case of the L17, though the tailbutton is in a sort or deepening here. And as it still sticks out, I don't see any practical sense in deepening. Nevetheless, it does not interfere. The button move is short, tight, with a noticeable click. Direct click.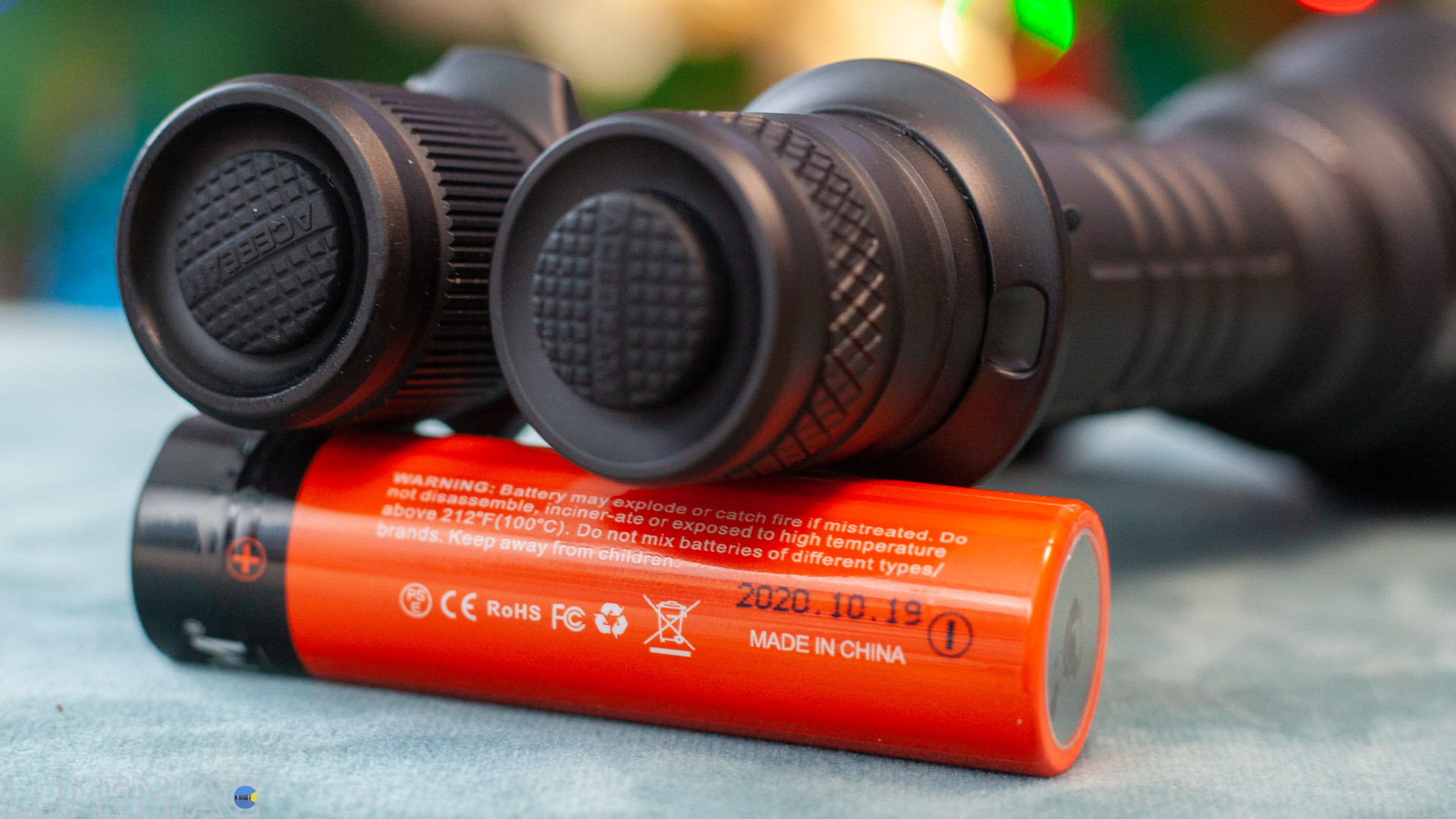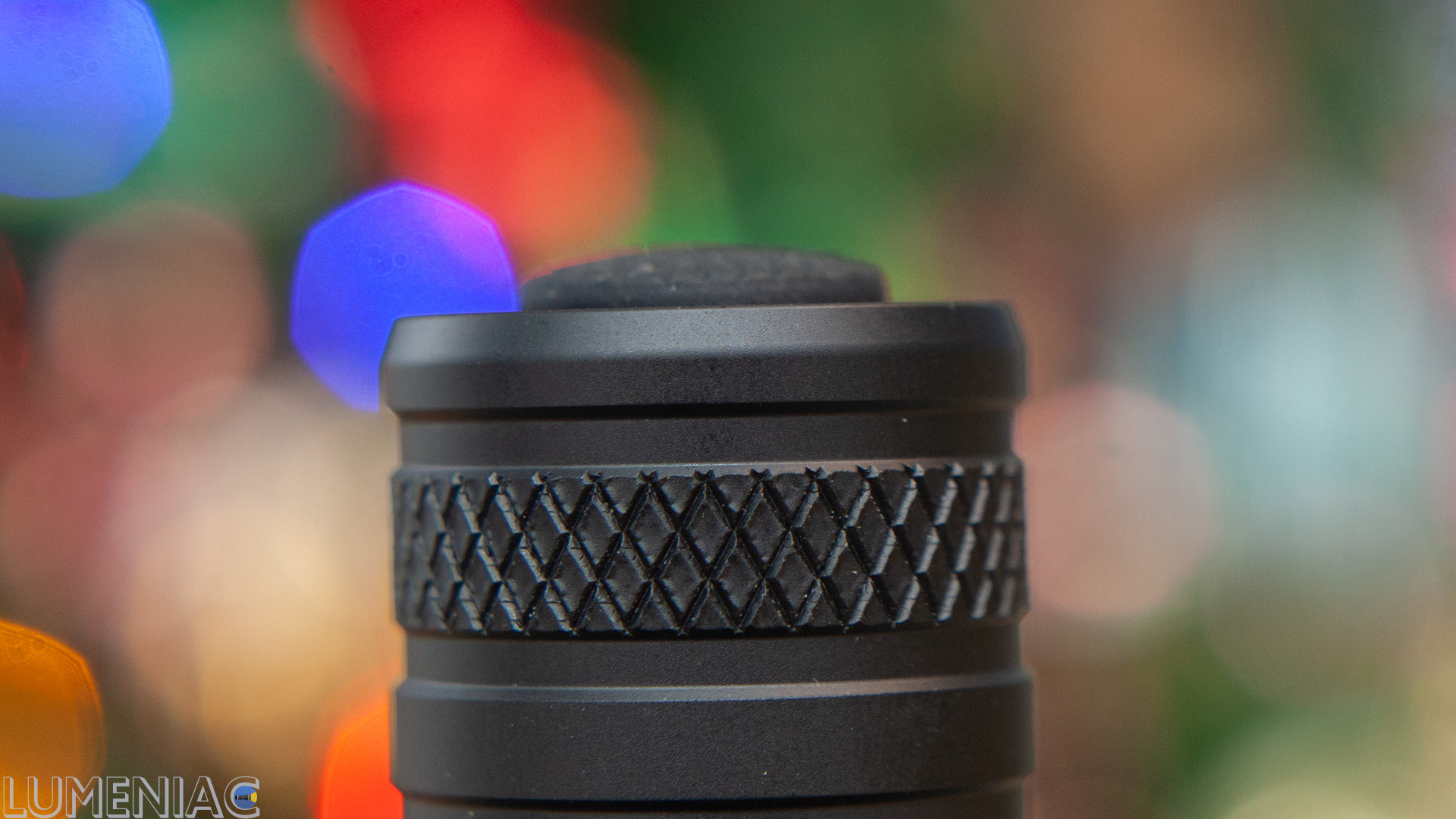 If desired, you can install a remote button with instant access to both the turbo and the last used brightness. And to the strobe too! So you have fullest access to all the UI.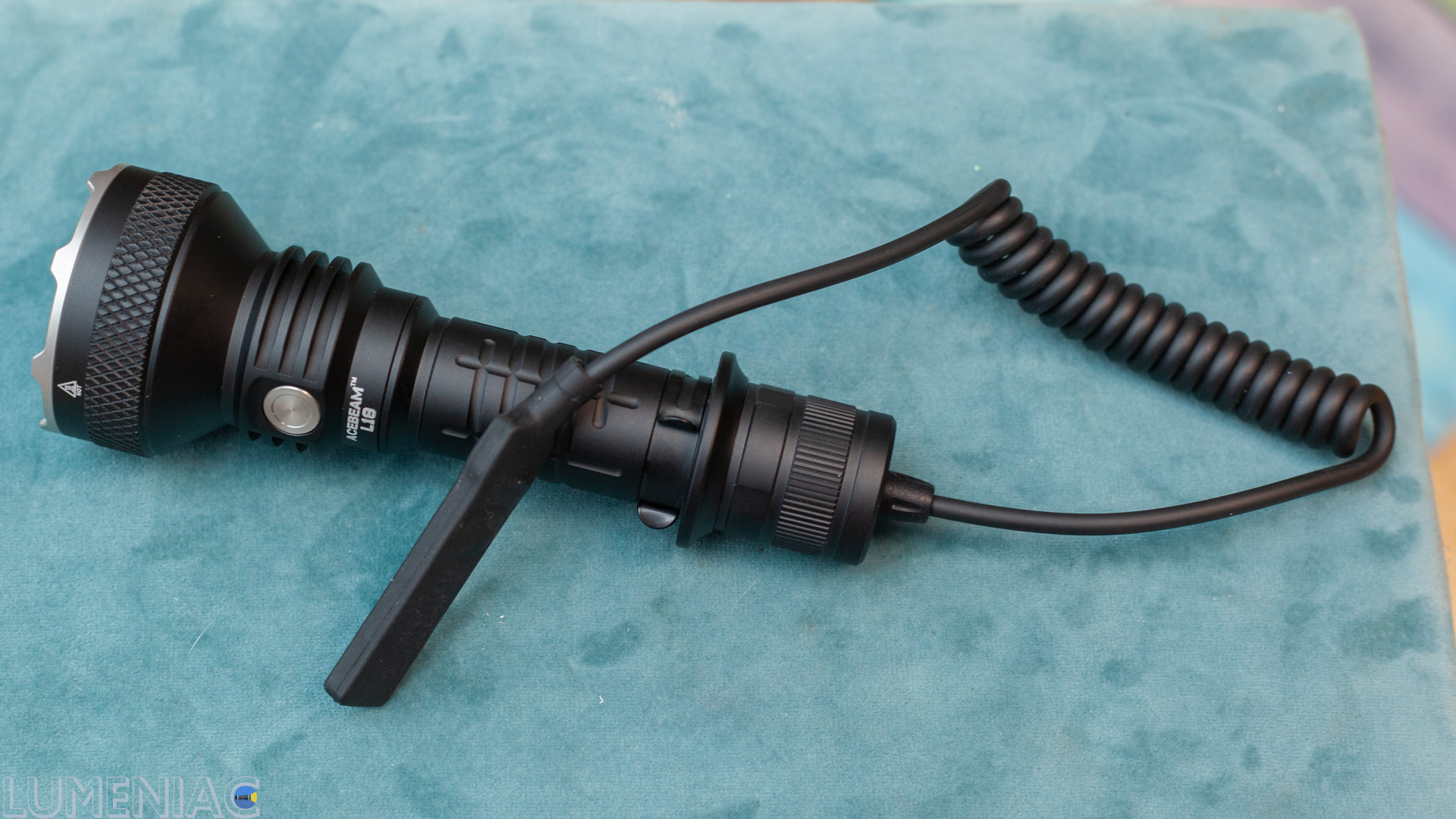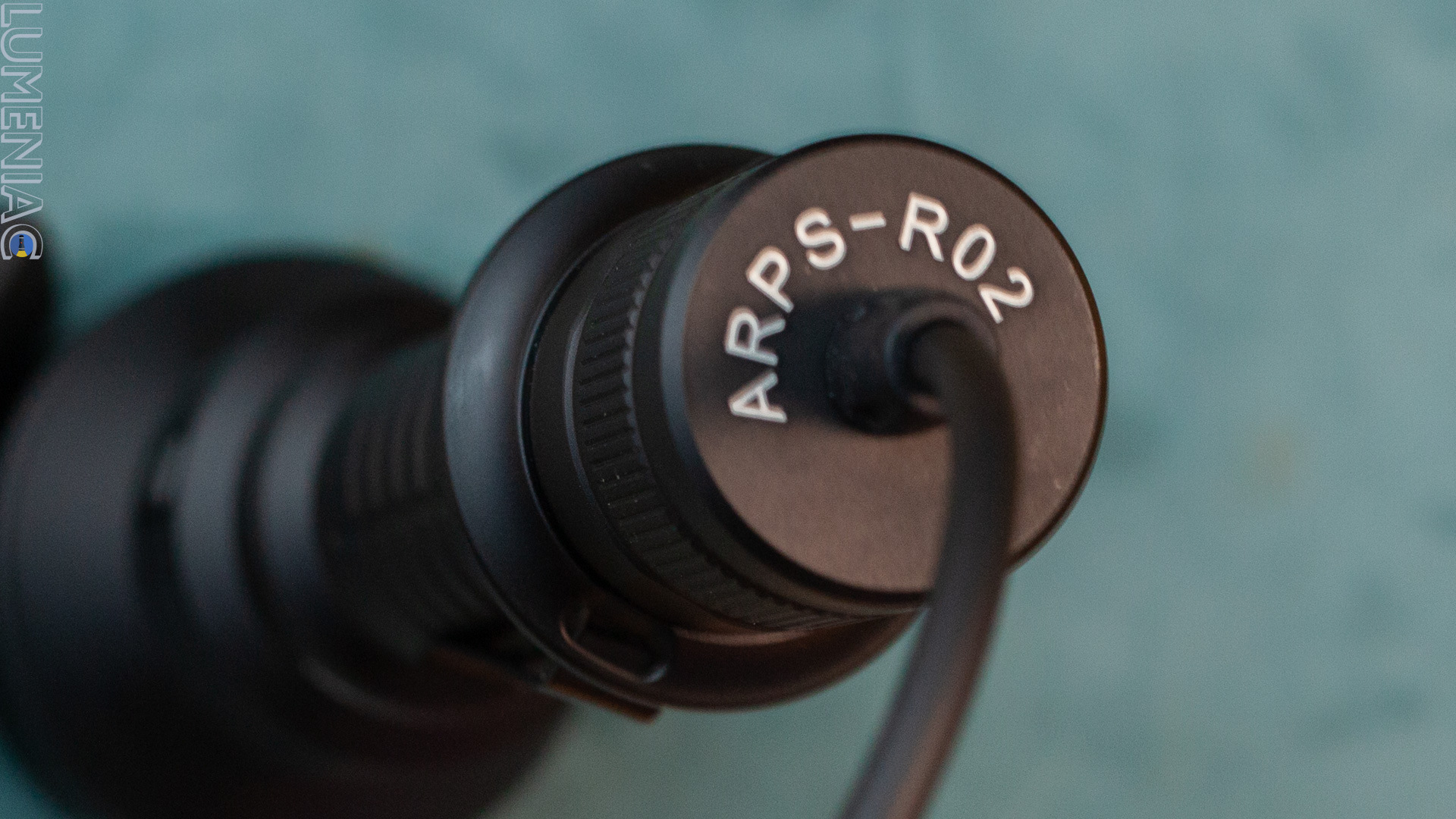 The spring in the tail cap is thick. So is spring at head.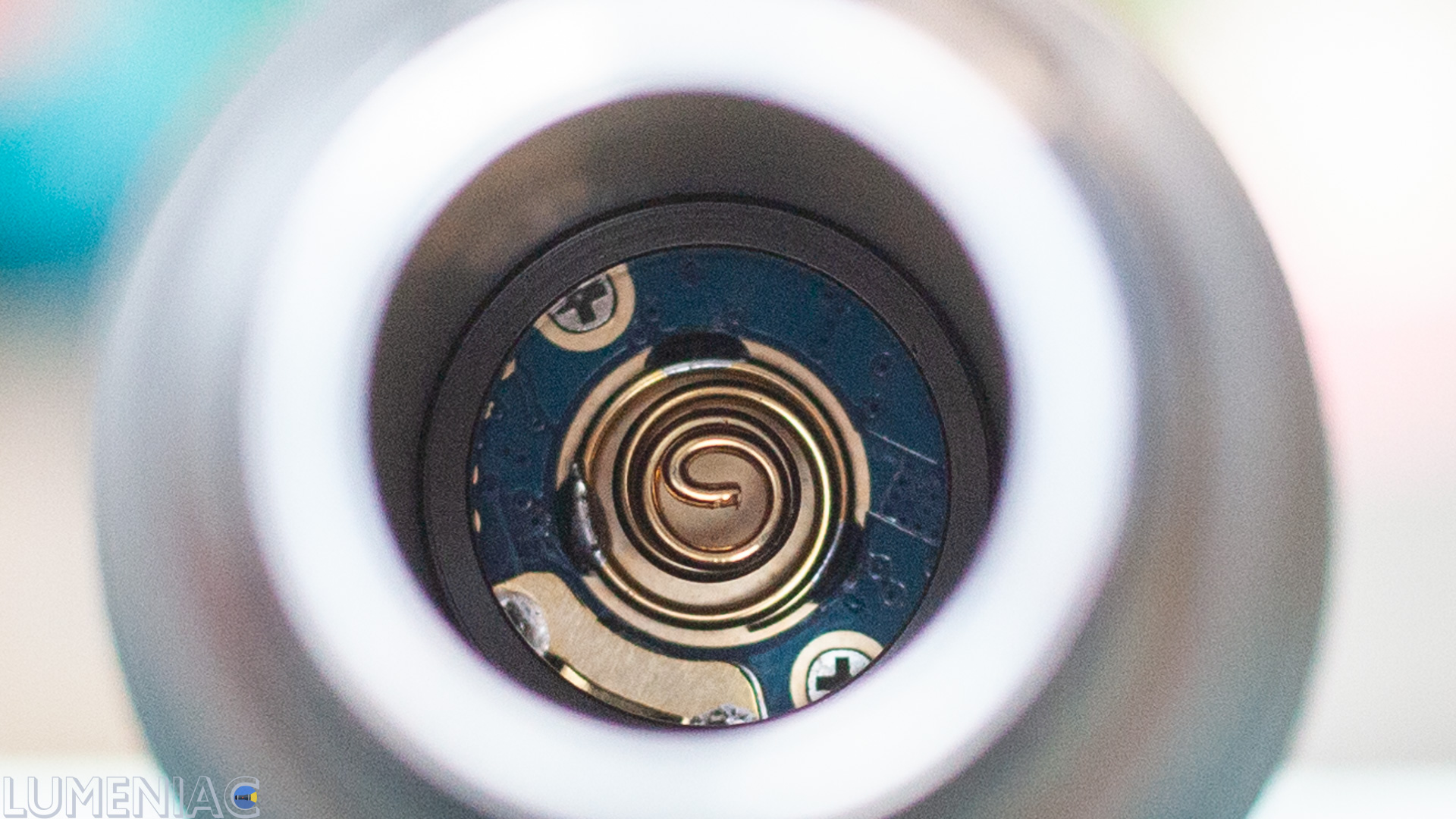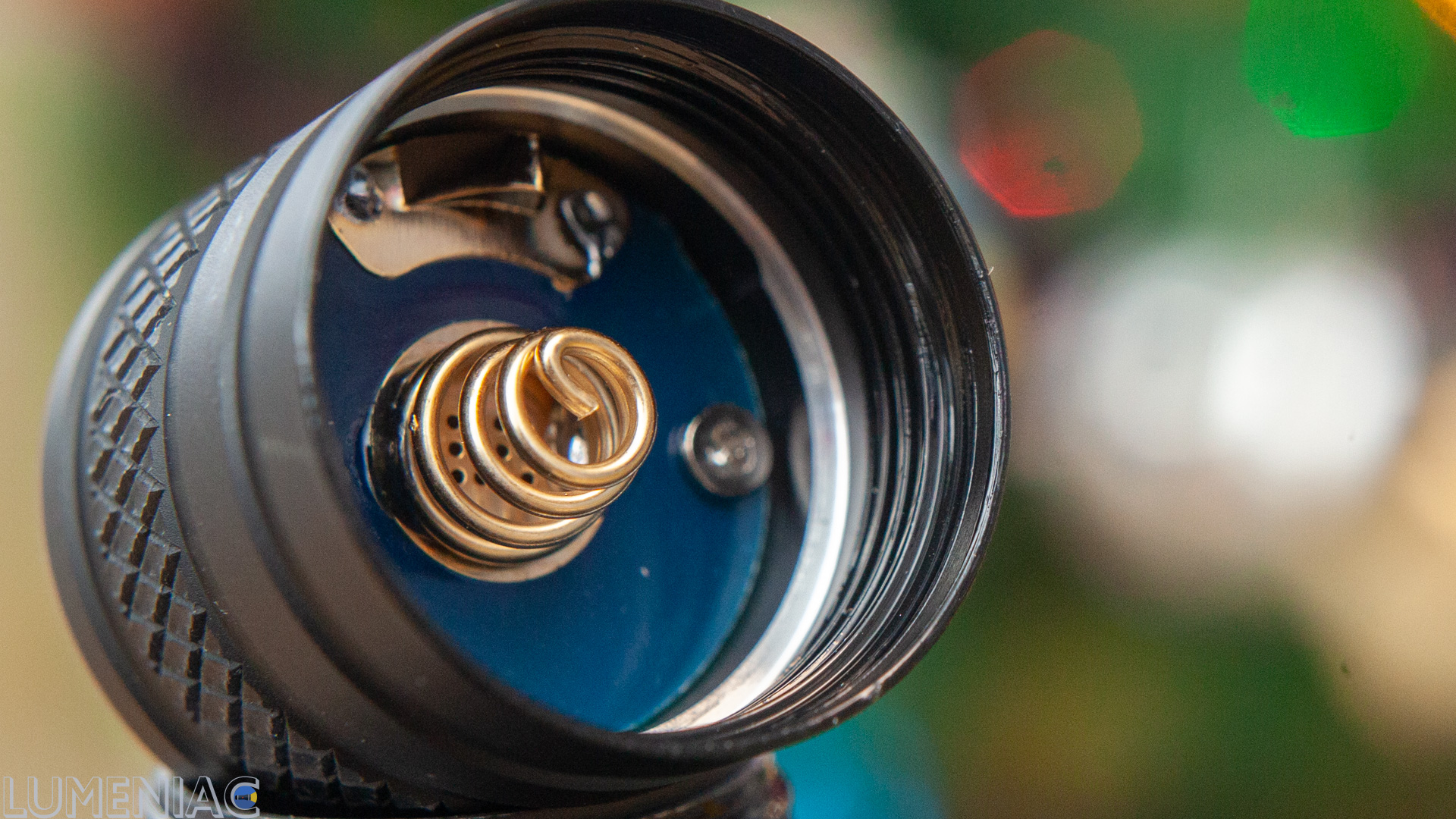 An additional sleeve is pressed into the main body, which serves as a signal conductor.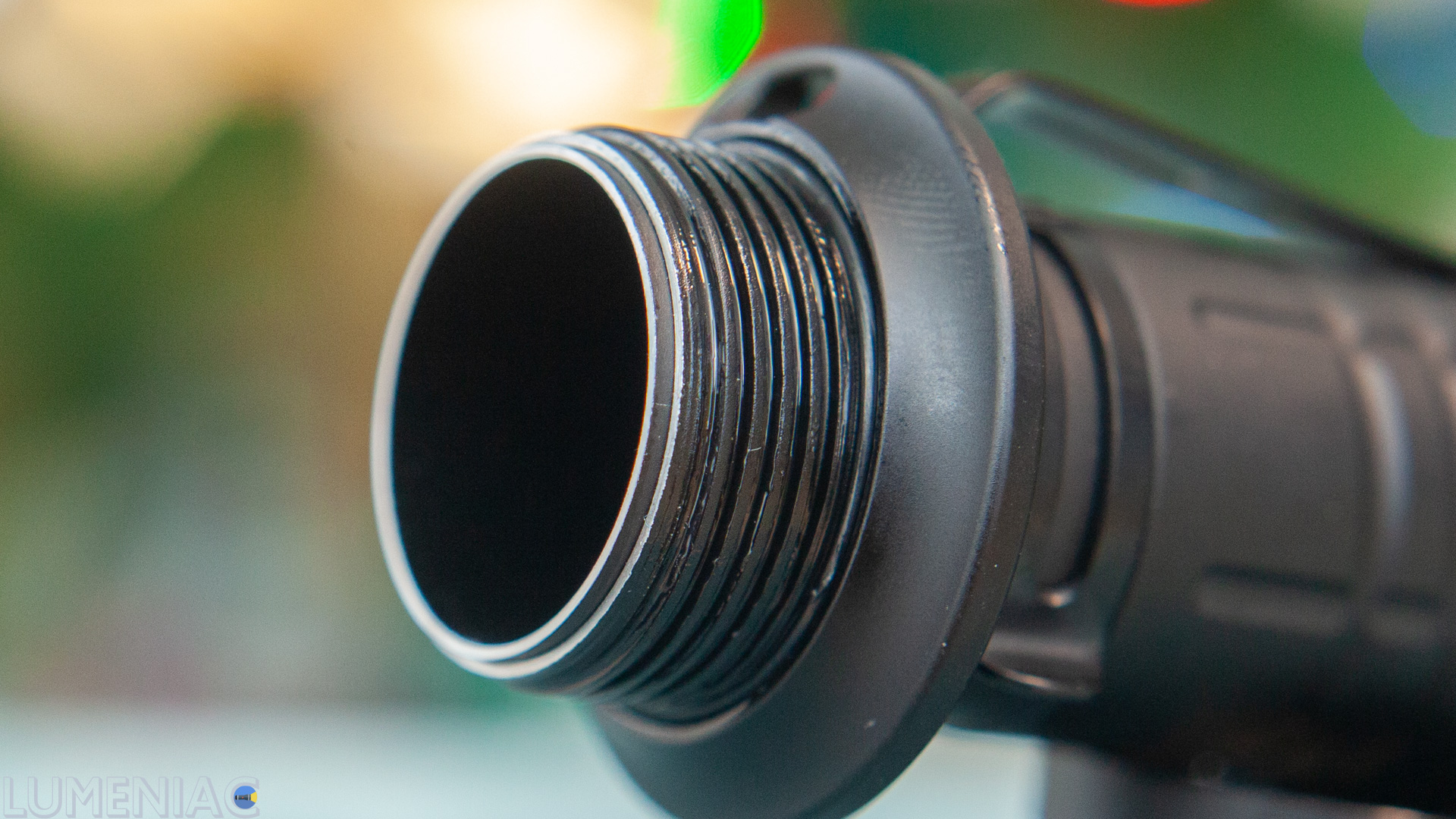 Thread is medium, rectangular, well lubricated.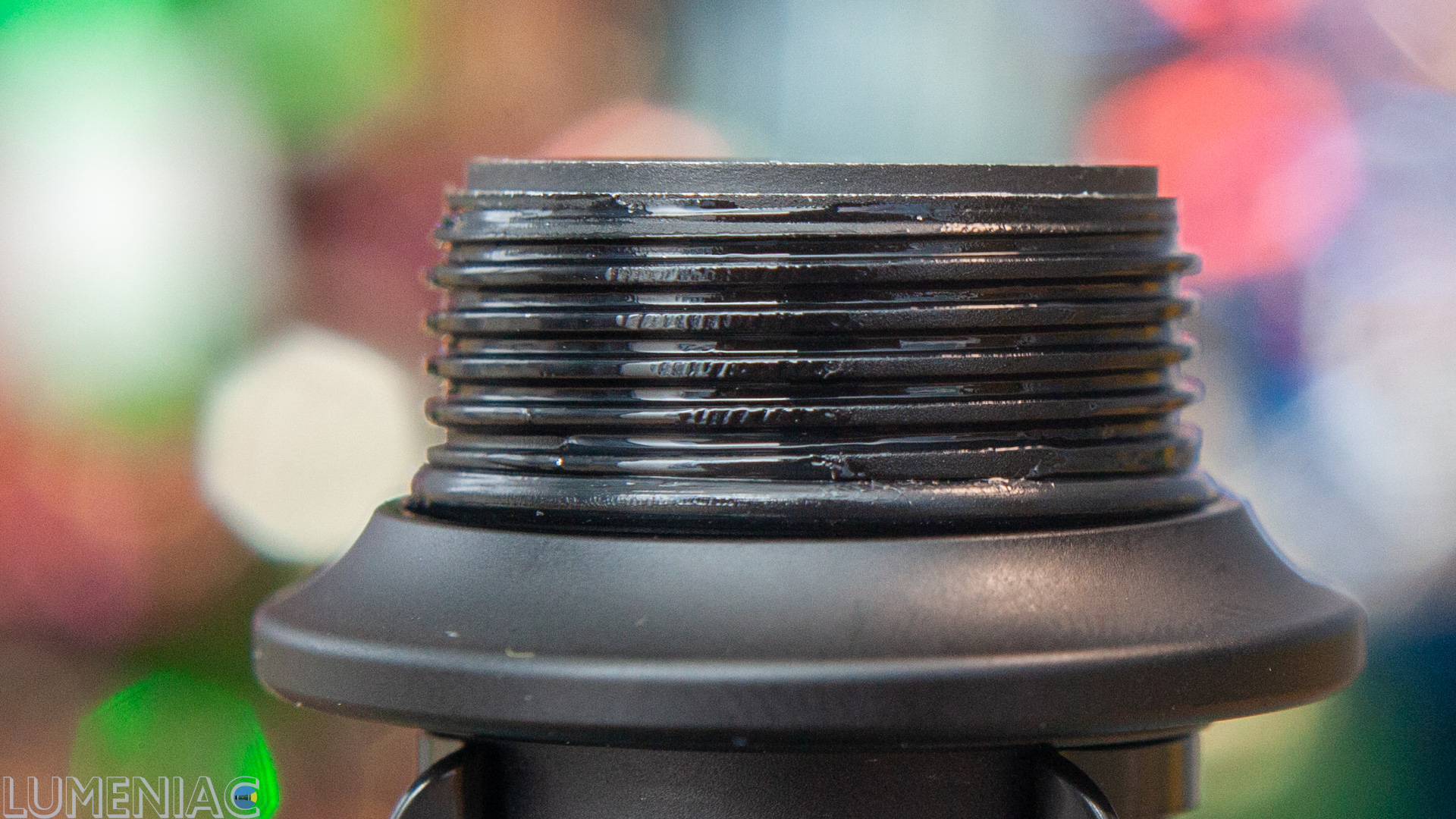 The clip could be better, dual-way one.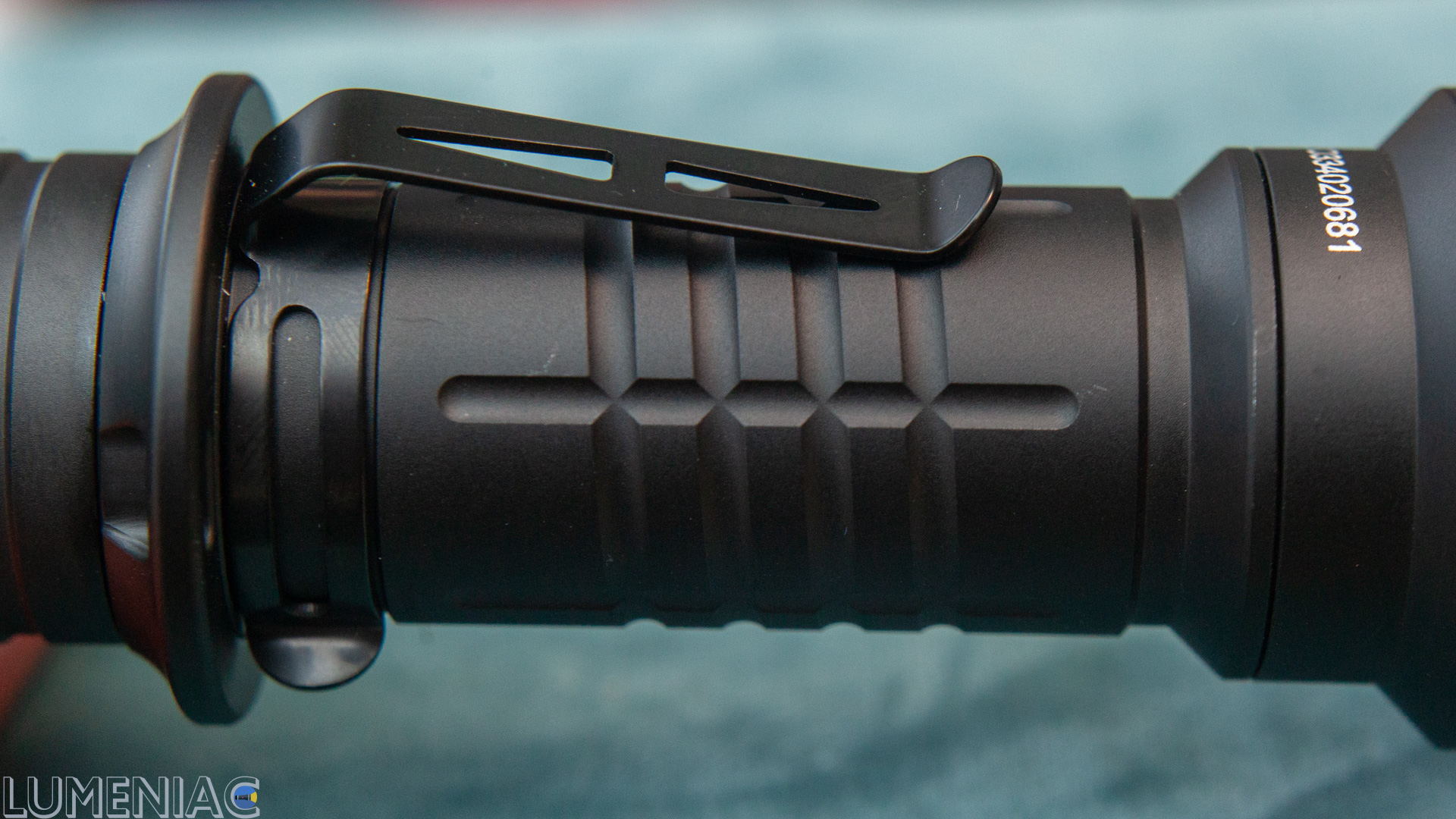 As mentioned, the knurling has changed a lot in regard to L17. More precisely, there IS knurling now. Unusual, spiral and quite grippy. To be fair, the grip is quite normal and strong without knurling as there are clip and the stop ring. The latter one could have some angles so the flashlight would not roll as it does now.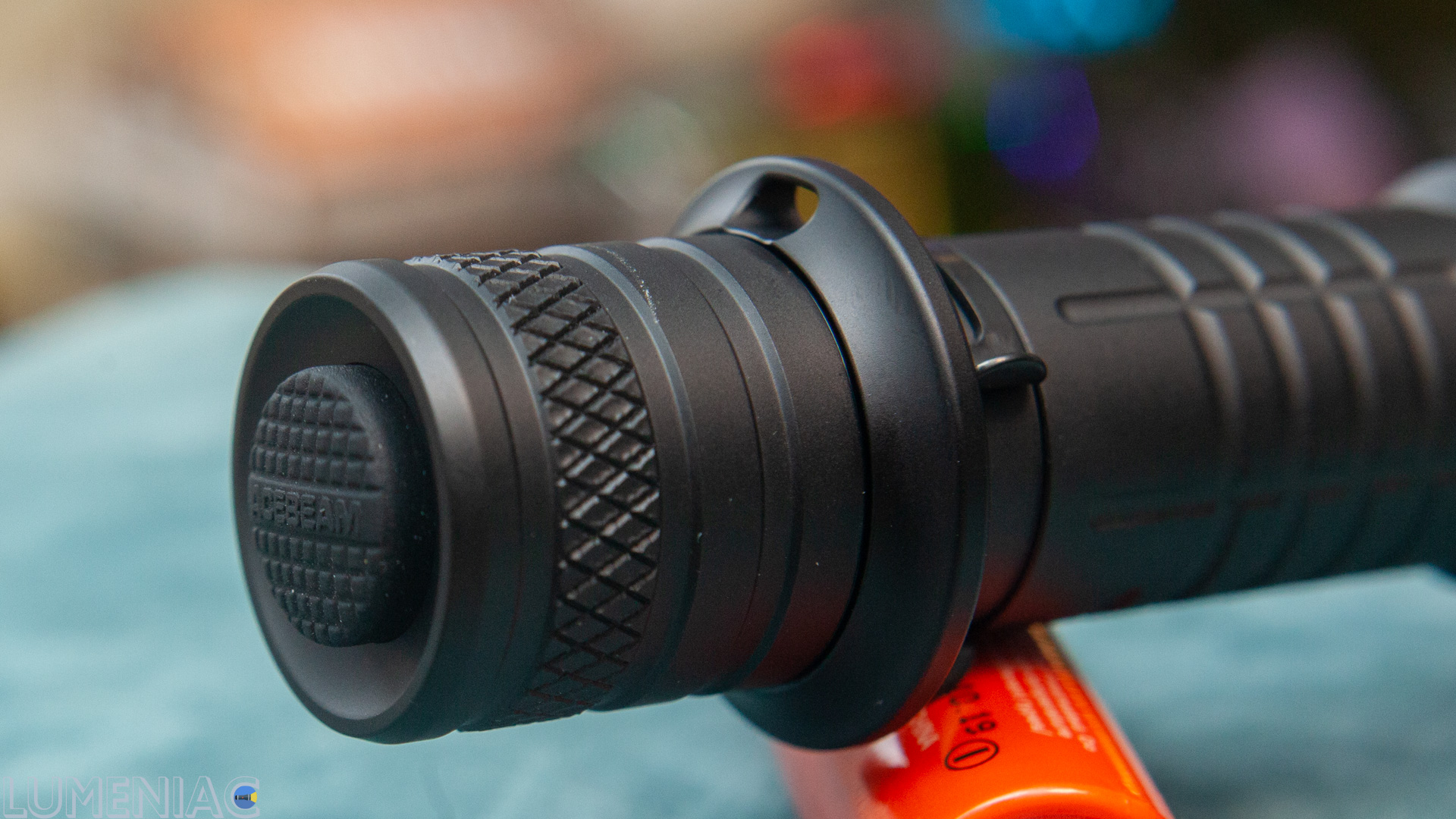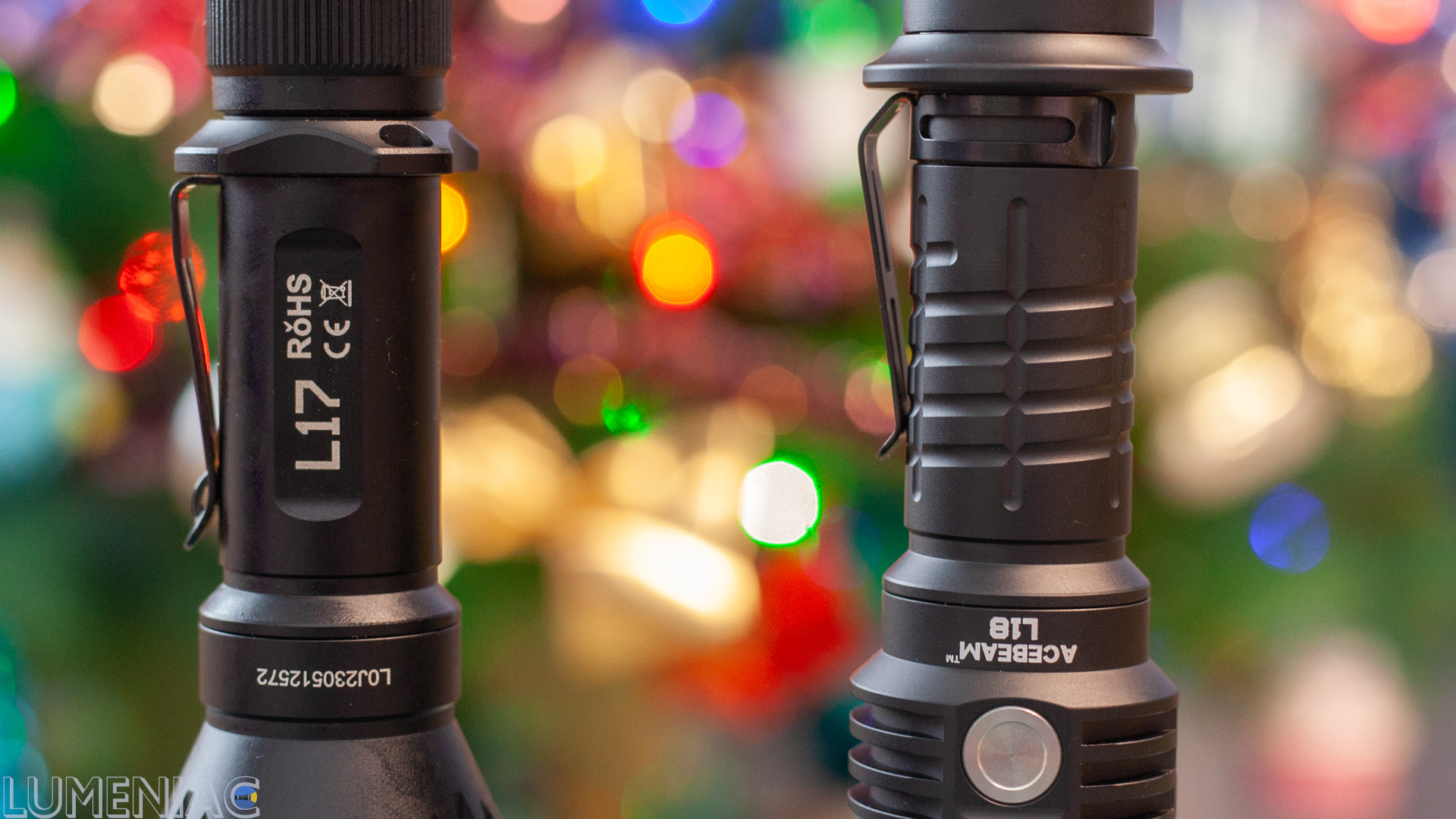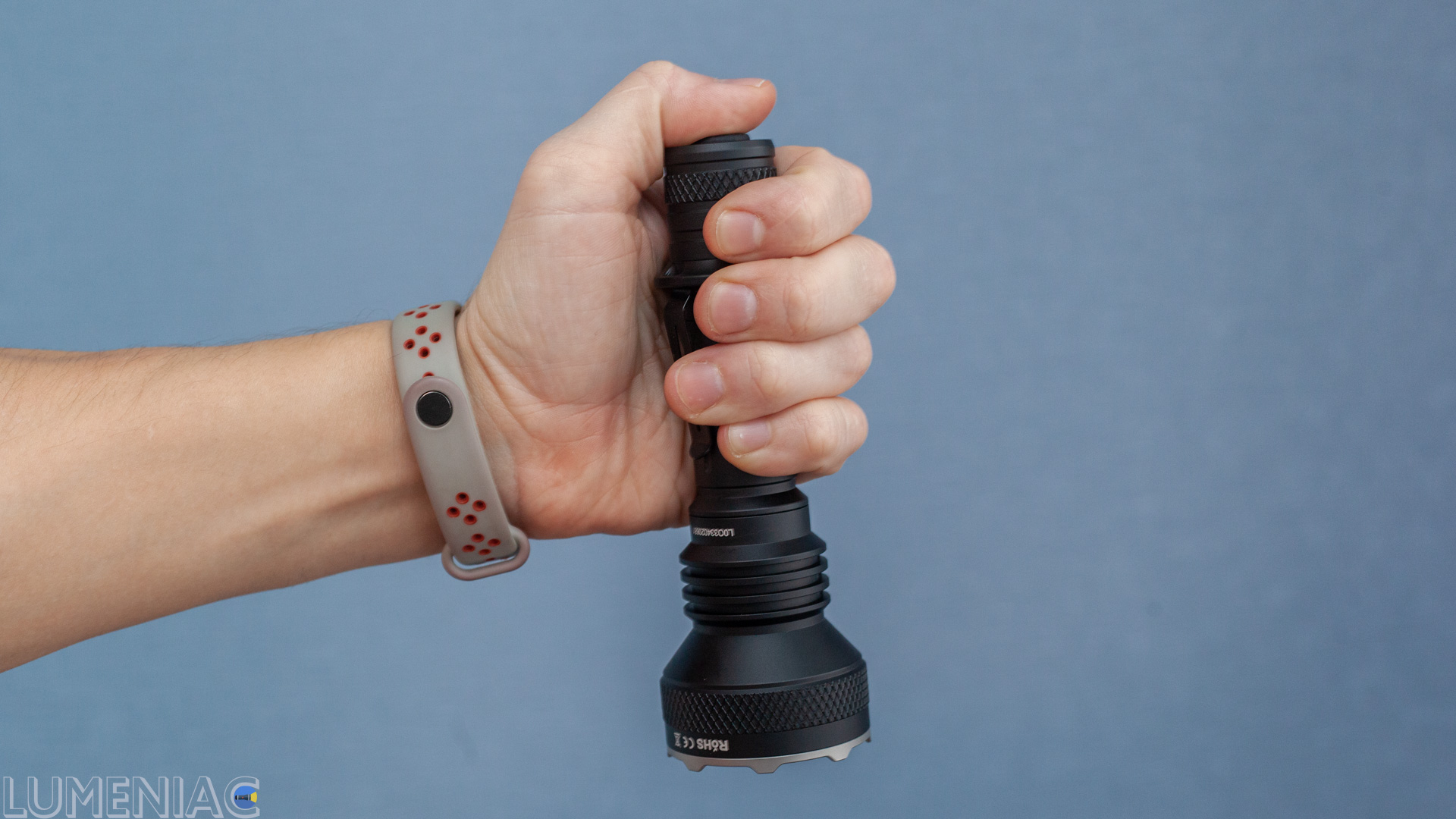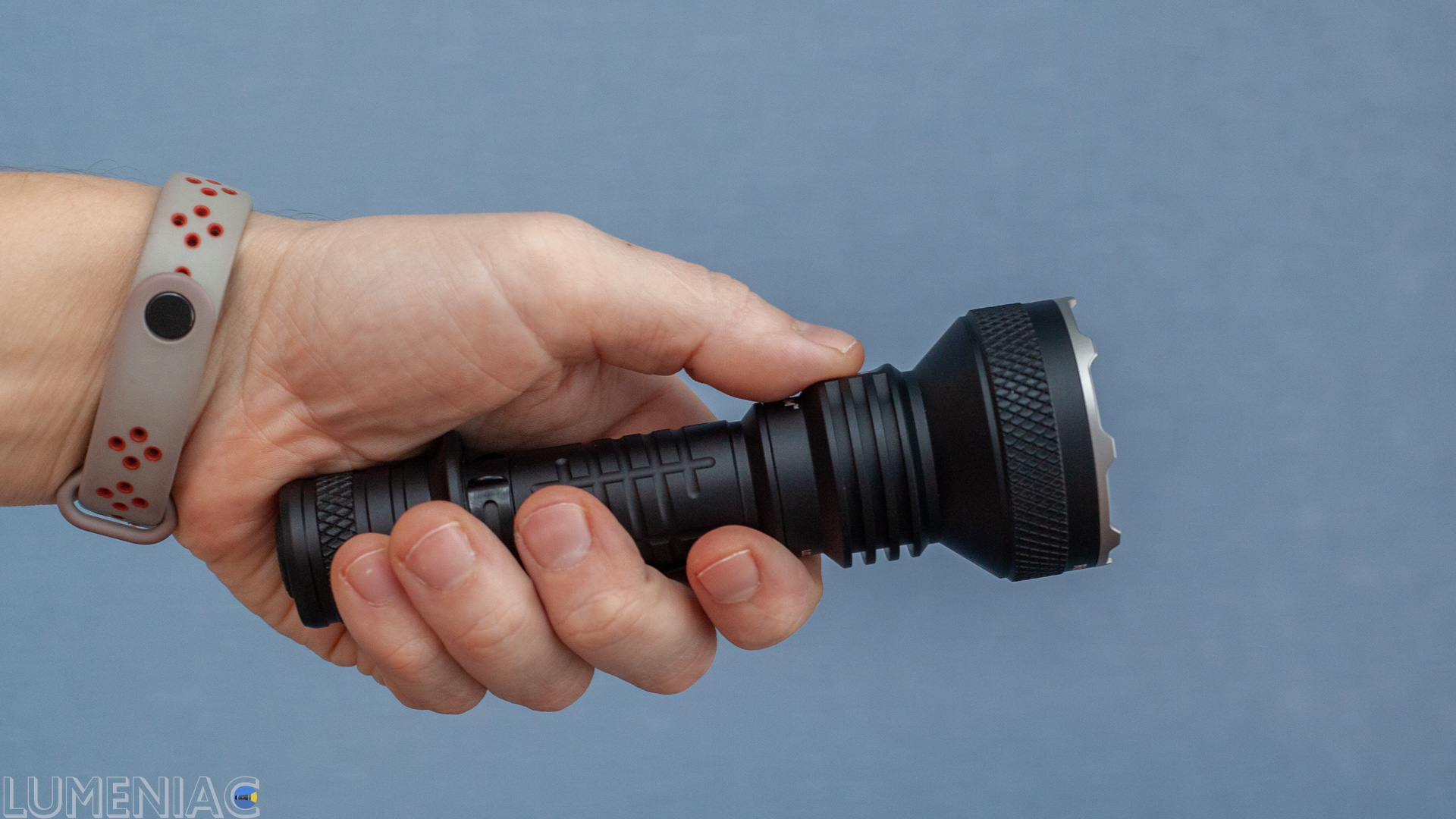 The aforementioned sleeve makes it possible to turn on the flashlight using the side button even when it is turned off via the tail button. The button is small and flat. The stroke is shallow with a slight click. I would prefer it to be in the recess. But due to the fact that it is on the flat part of the case, it is not difficult to find it.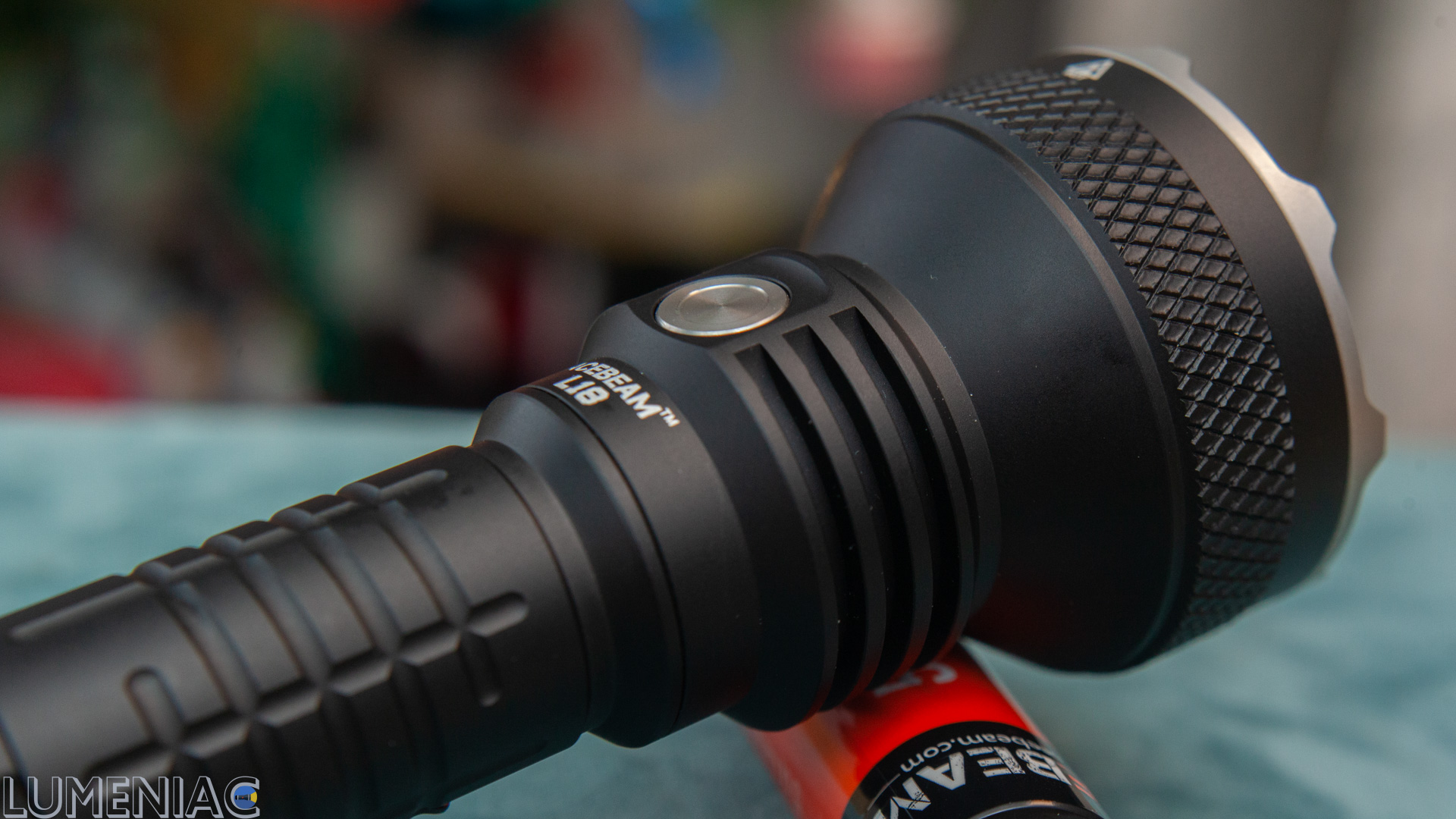 There is a small indicator eye on the side of the body.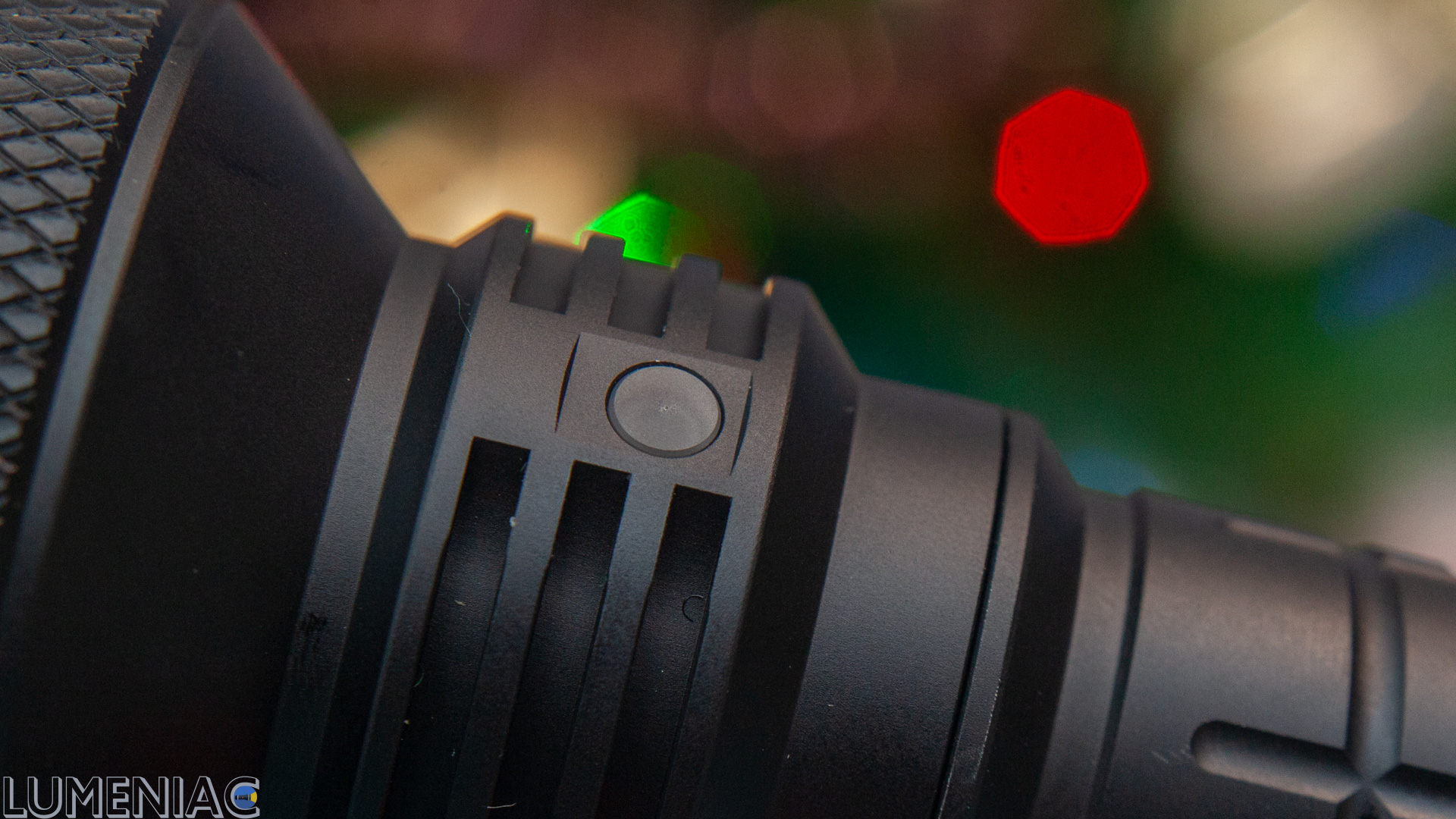 Green – more than 30% charge
Red – charge 30% – 10%
Red blinking – charge less than 10%
It should be noted that the complete 21700 battery has a built-in Type-C charging connector with a simple red-green indication of the charging process. By the way, Olight \ Nitecore prefer to do without a sleeve and force user to buy expensive branded batteries. Acebeam L18 works well with any third-party 21700. And this is a huge, huge advantages! One more sign that Acebeam is user-friendly company.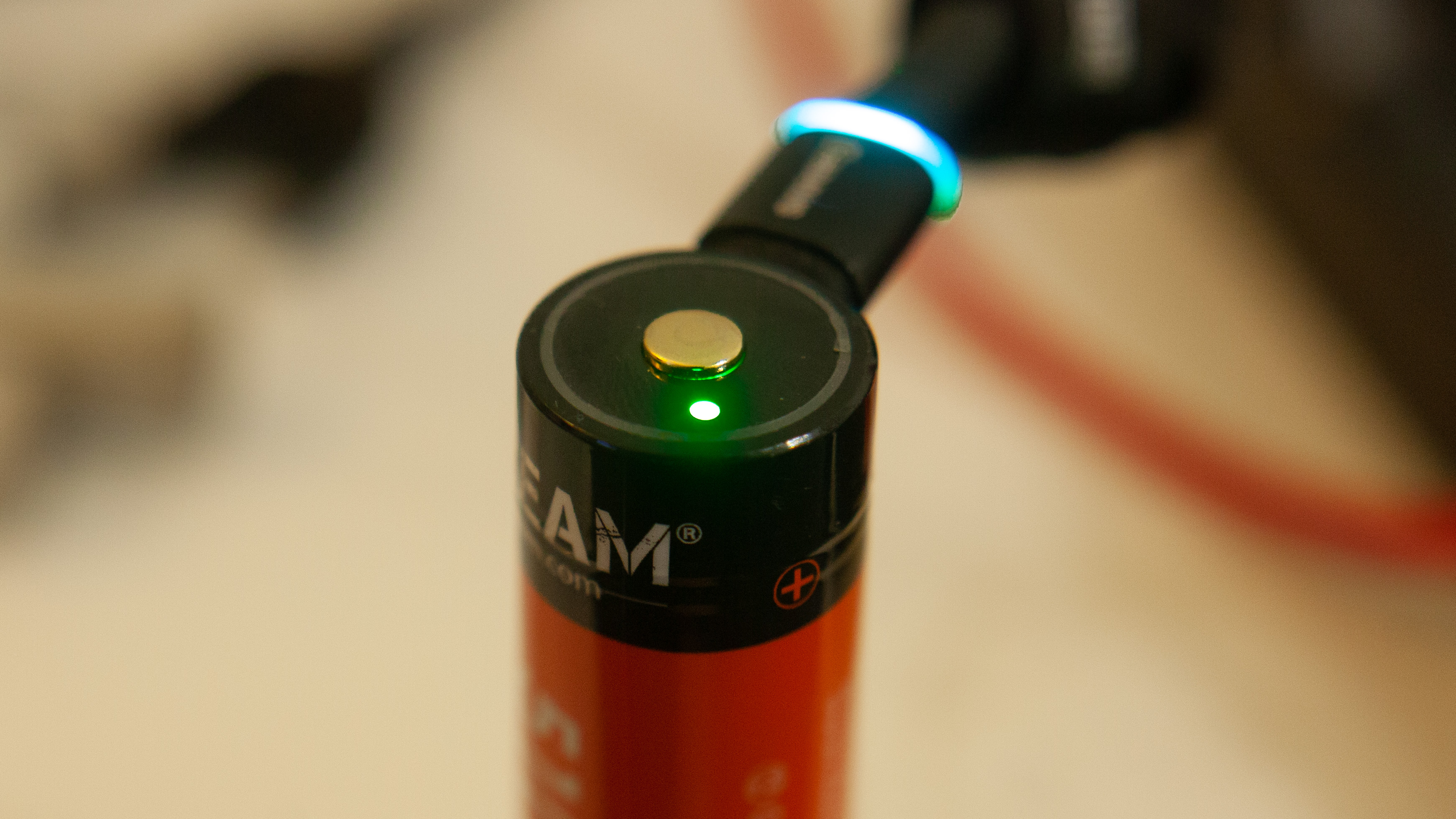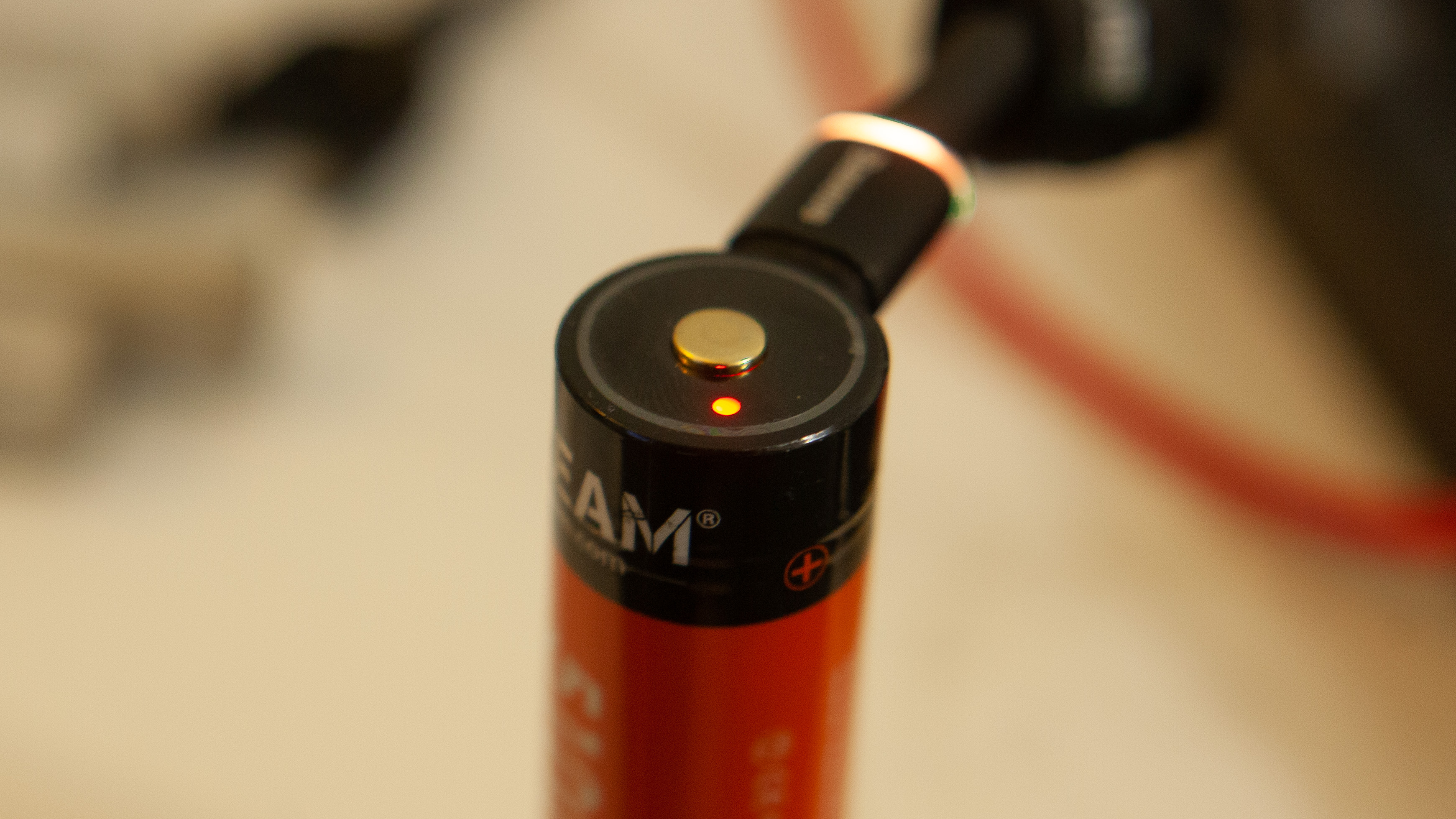 The head is large enough. But it is by no means bulky: for all its width, it is rather short.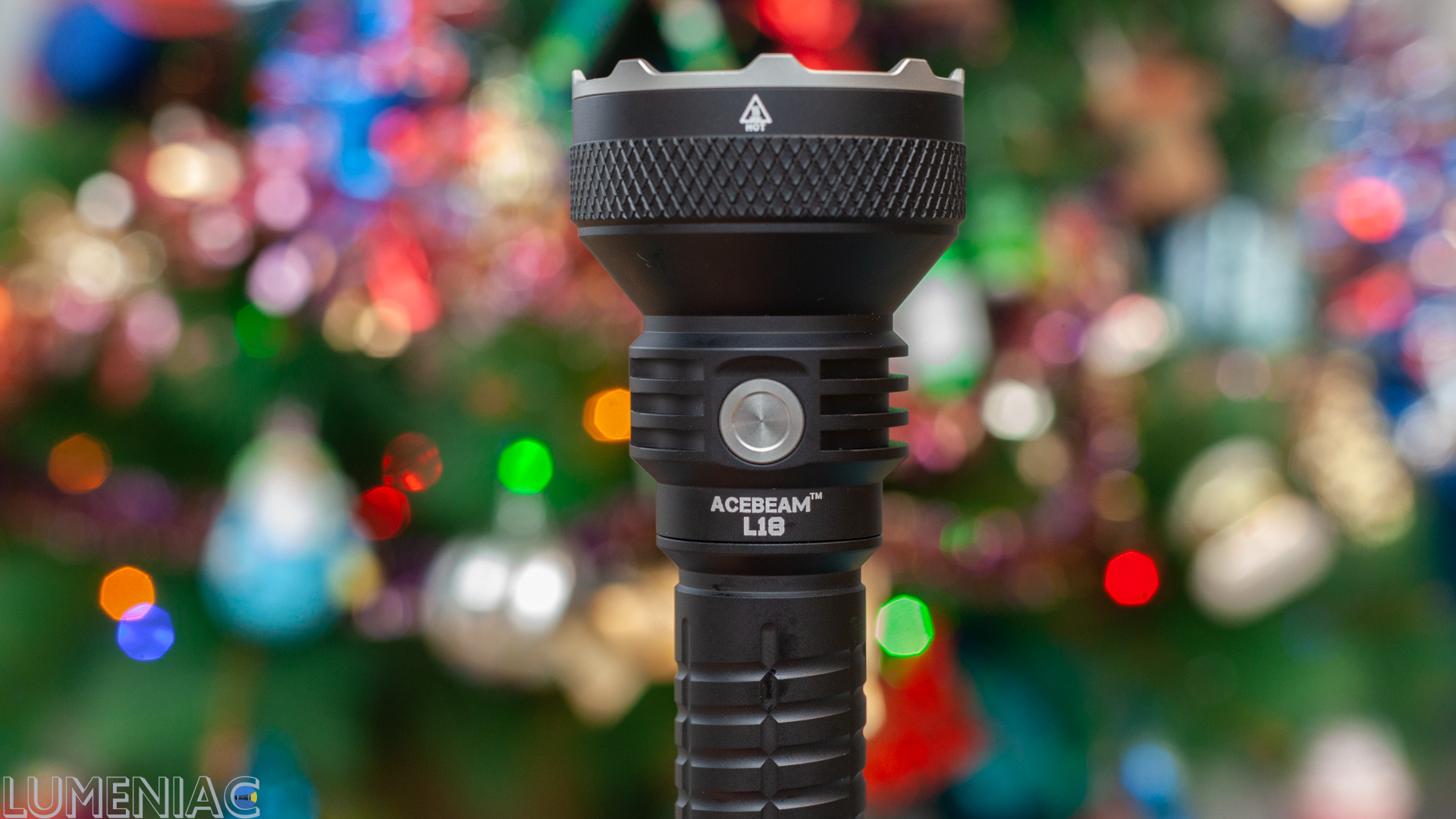 Cooling fins are quite deep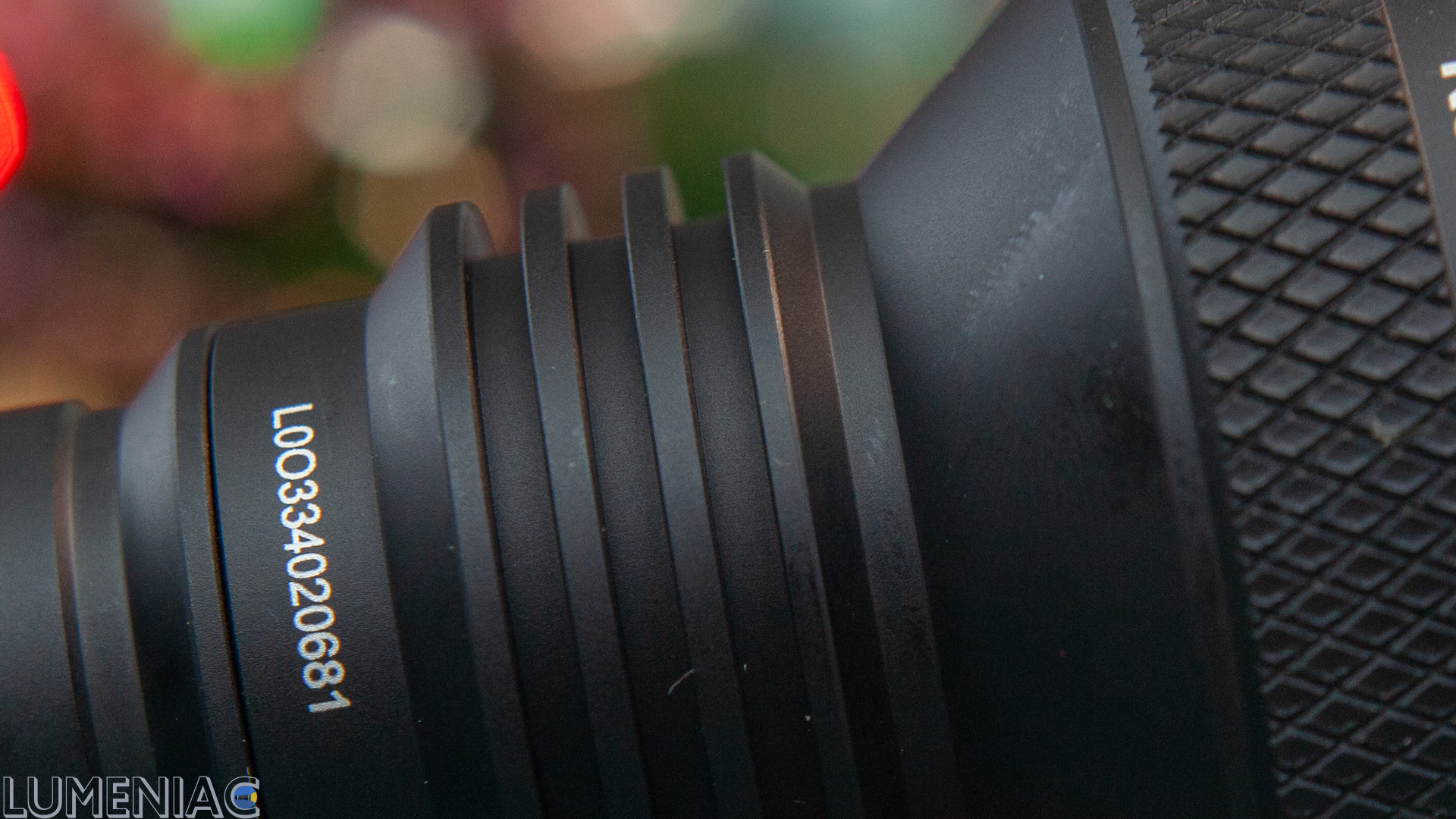 As mentioned, there is a purely decorative wide knurling with classic rhombuses on the head. Despite the fact that the flashlight is not positioned as a tactical one, its teeth are quite long, like what you may expect from pure tactical model.

Instead of a reflector, the
REALLY
unsual
TIR
-lens is installed here, which made it possible to shorten the length of the head. It looks damn good when see it alive!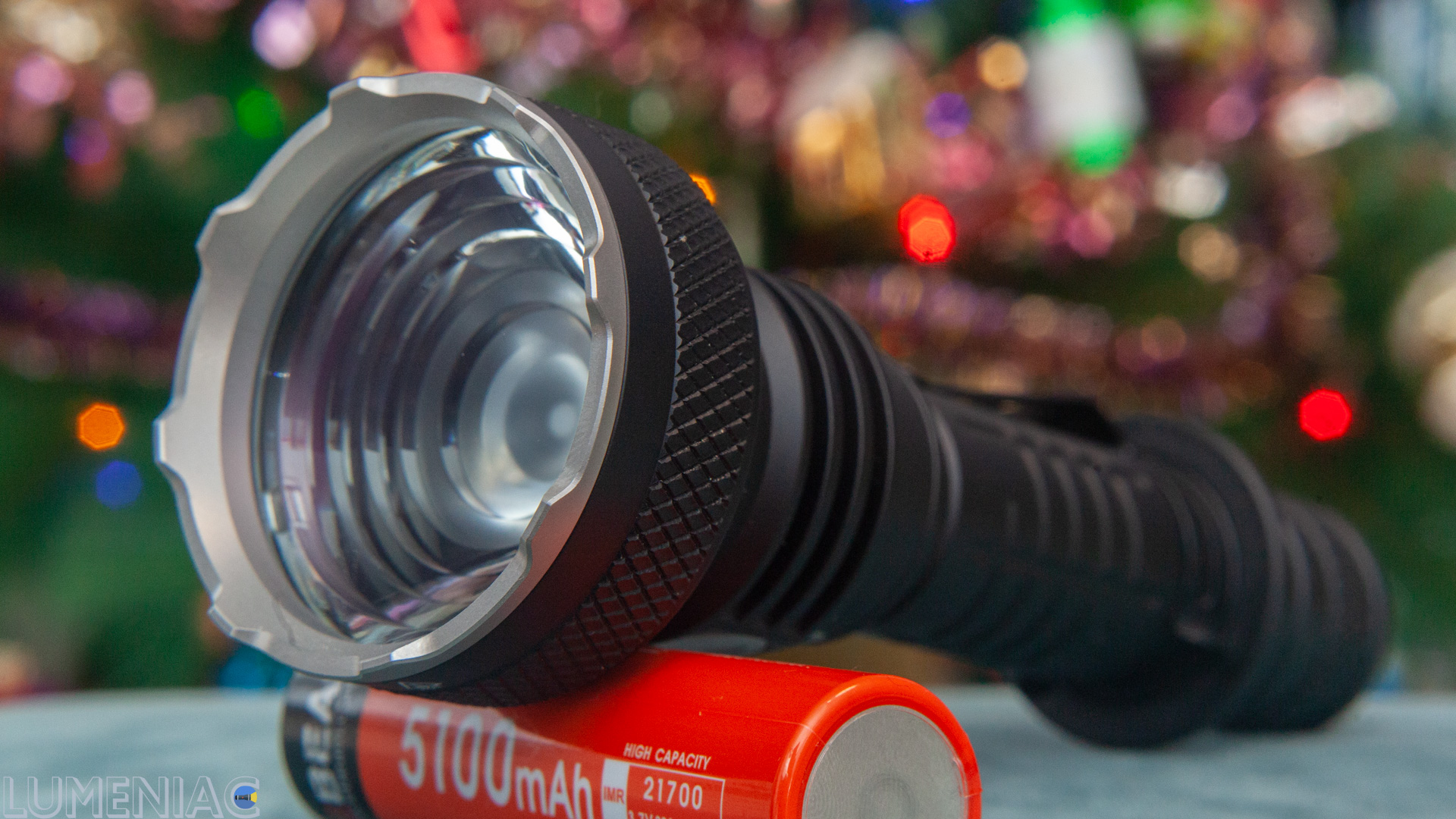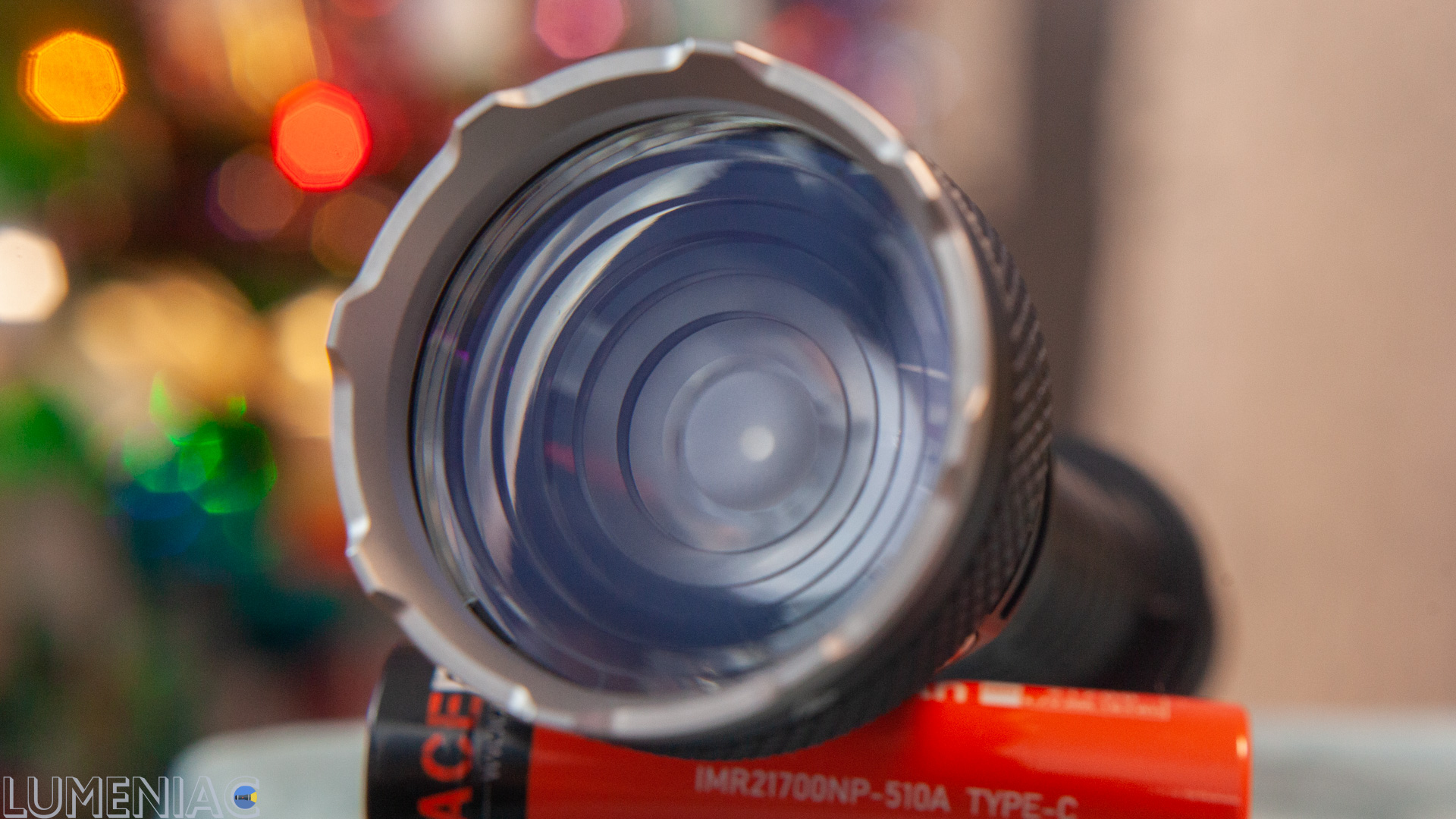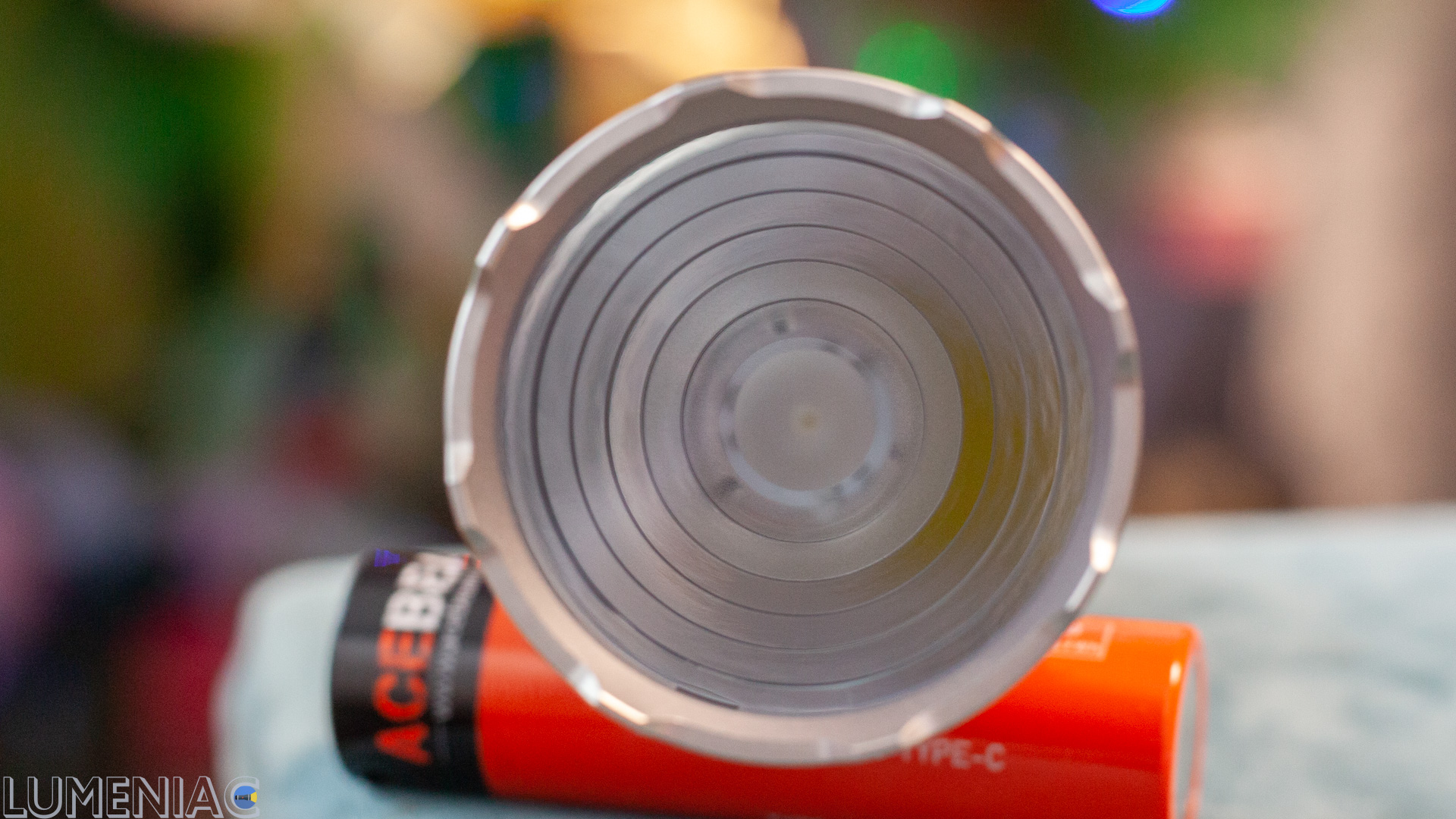 And, it seems, Acebeam L18 is the first Acebeam flashlight that I got into my hands, in which you can easily disassemble the head. So catch an excursion into the world of giblets)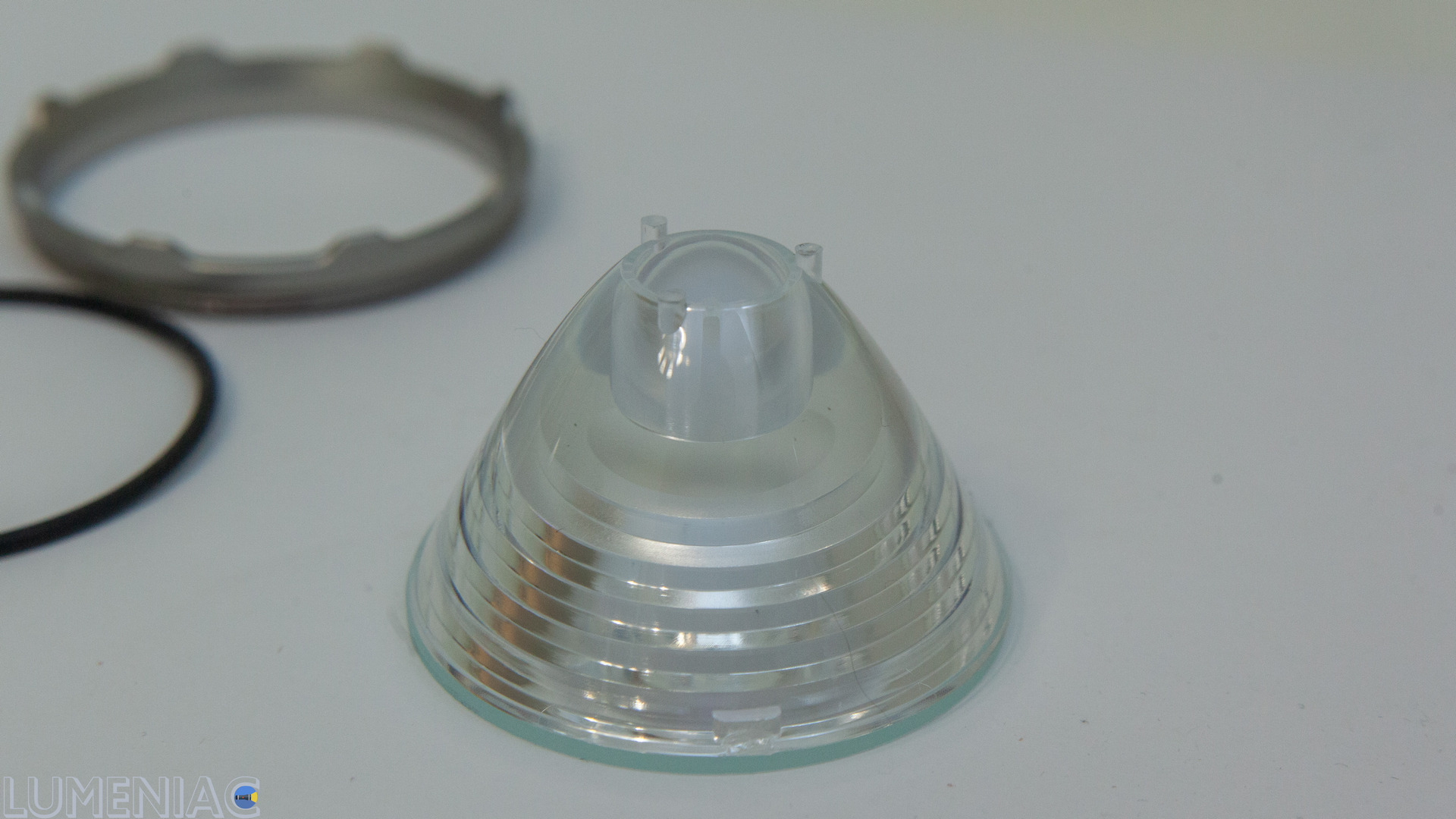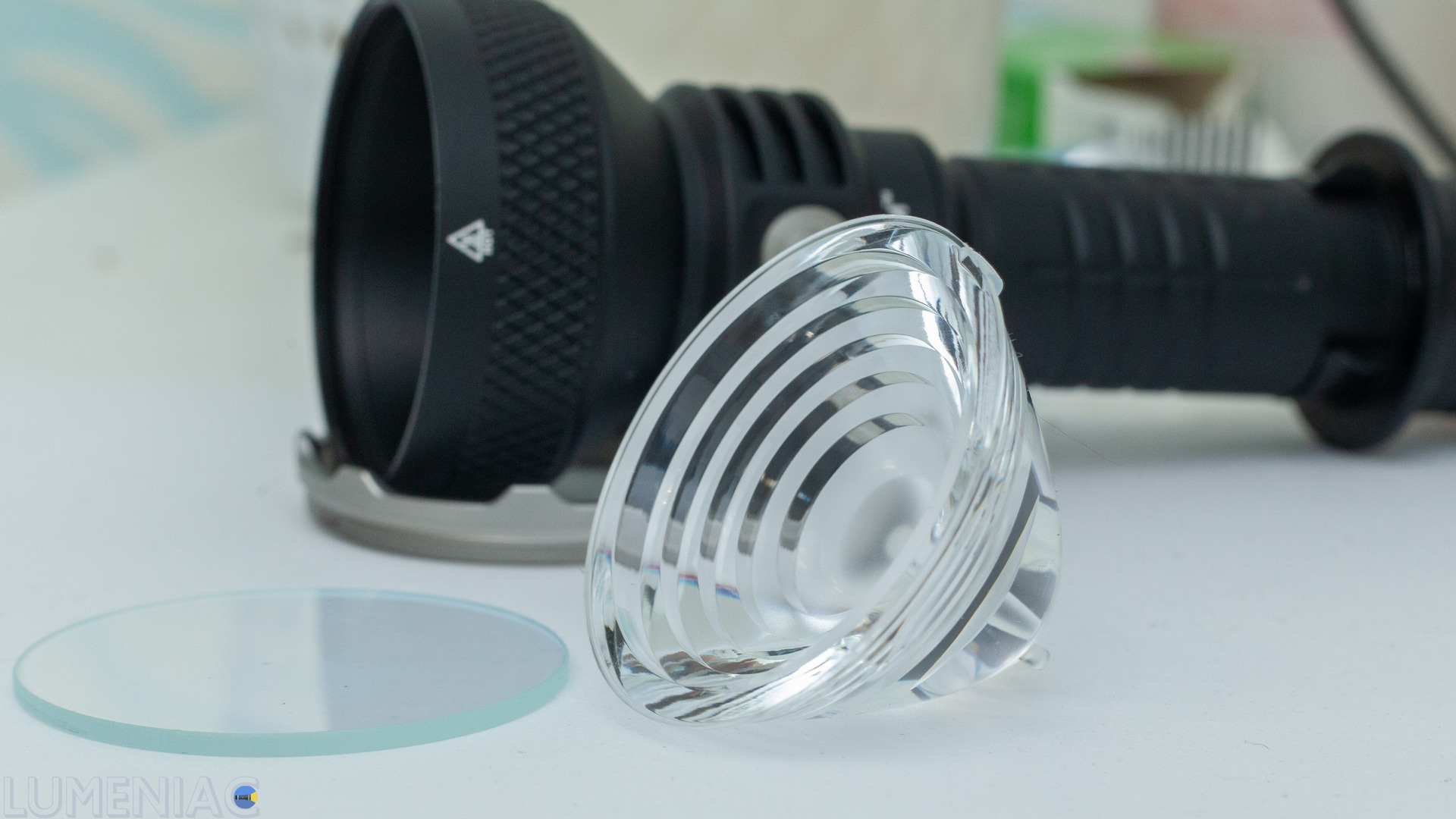 The lens is covered with AR-coated glass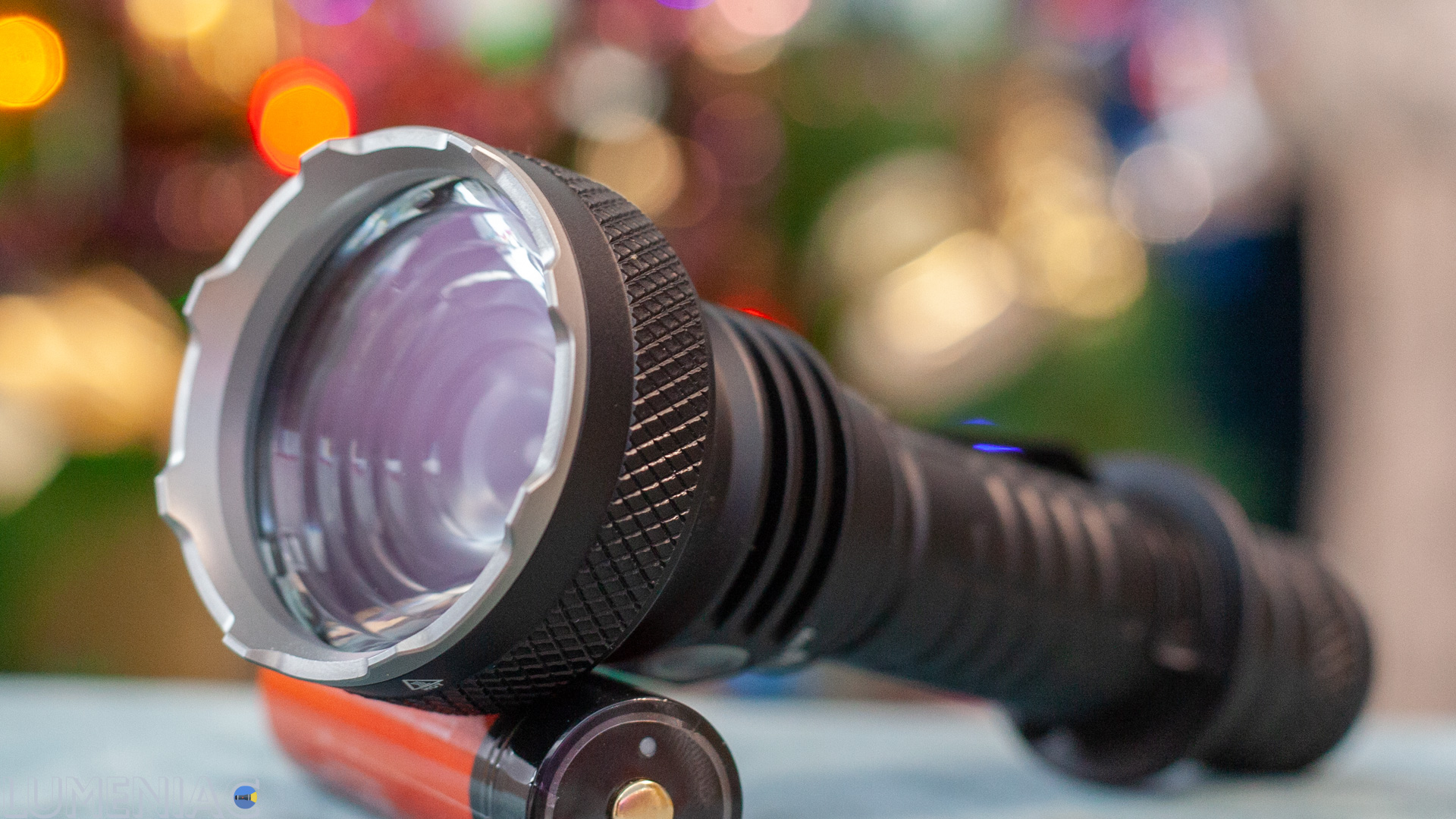 Behind it is the undisputed hit of the season, an exceptionally long-range LED – Osram CSLPM1.TG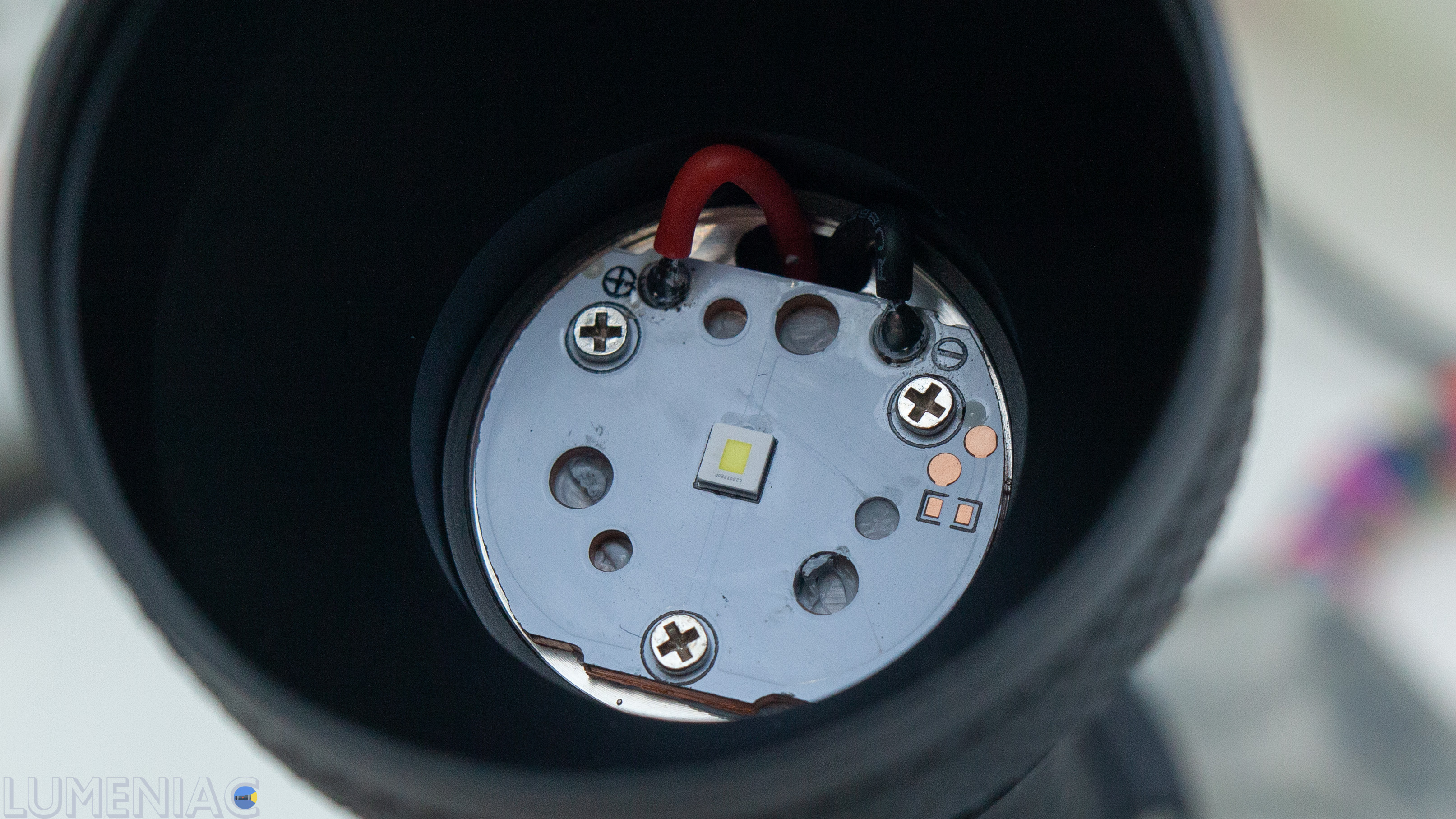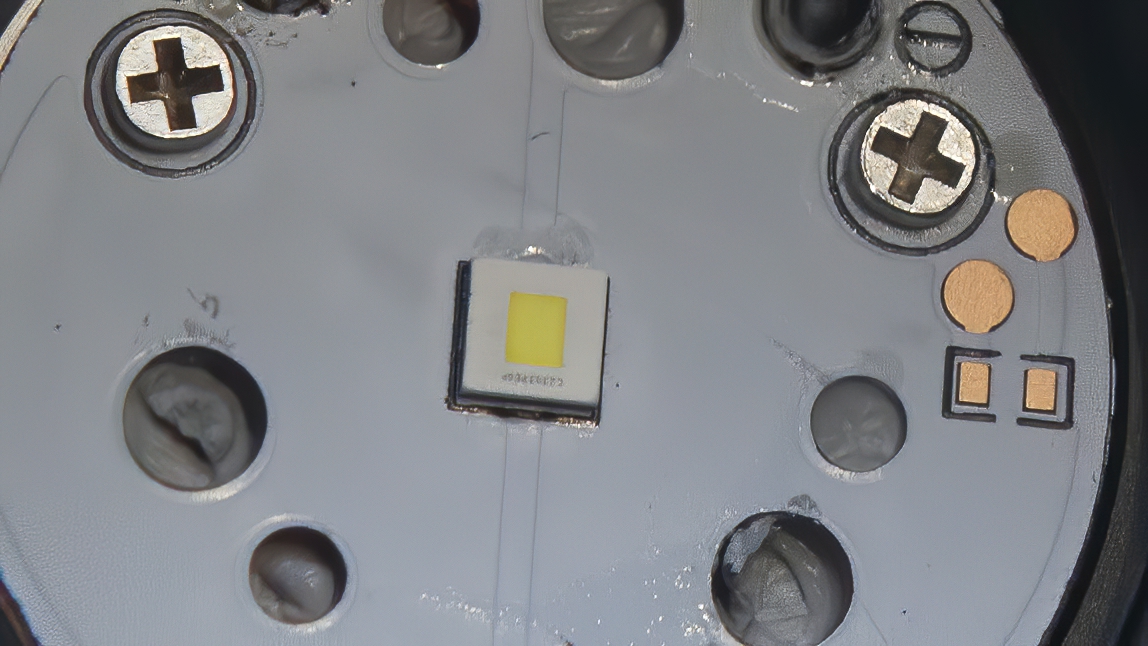 That's all, actually. As usual for Acebeam – both the design and the visible workmanship are at the highest level.
UI
Really pleasant and convenient control. As is the case in most cases with Acebeam. I say a lot of good words about Acebeam, as i really like what they make, and how they make.
There are both electronical and old-way mechanical lock-mode.
The tail button only works for starting the turbo. It supports half-clicks, of course.
Side button:
From OFF
Hold:
3 seconds – moonlight. 5 seconds – electronic blocking.
One click: switches to last memorized mode
2x clicks: Turbo
3x clicks: strobe
FROM ON:
Press and hold: toggle brightness levels from last saved mode Low-> High.
1 click: off
2 clicks: Turbo
3 clicks: strobe
HOW ACEBEAM L18 ILLUMINATES
Brightness is ideally stabilized at lower levels and only symbolically decreases in High mode.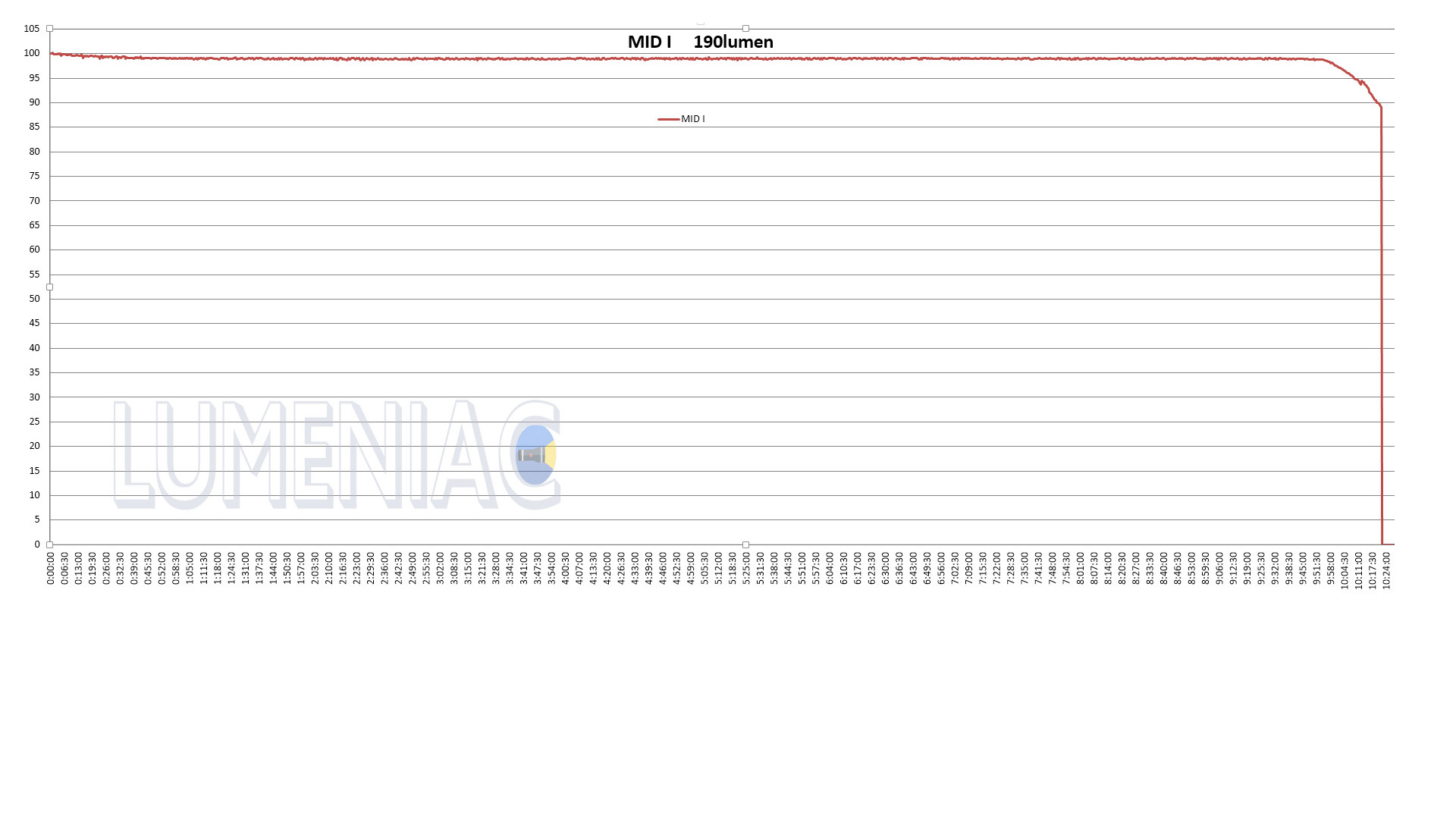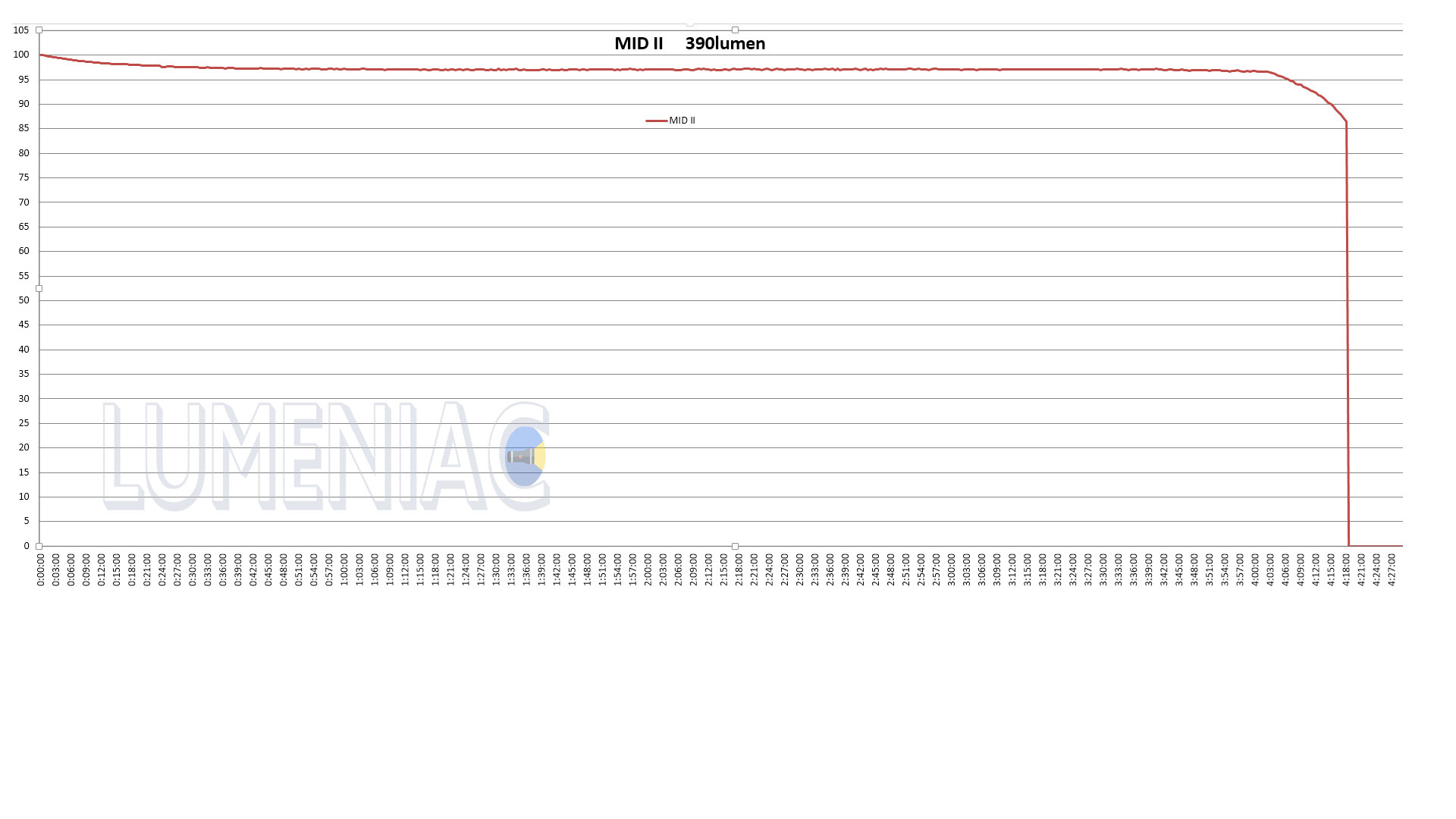 The mentioned $4 21700 Liitokala battery proved to be no worse than the branded one for $20.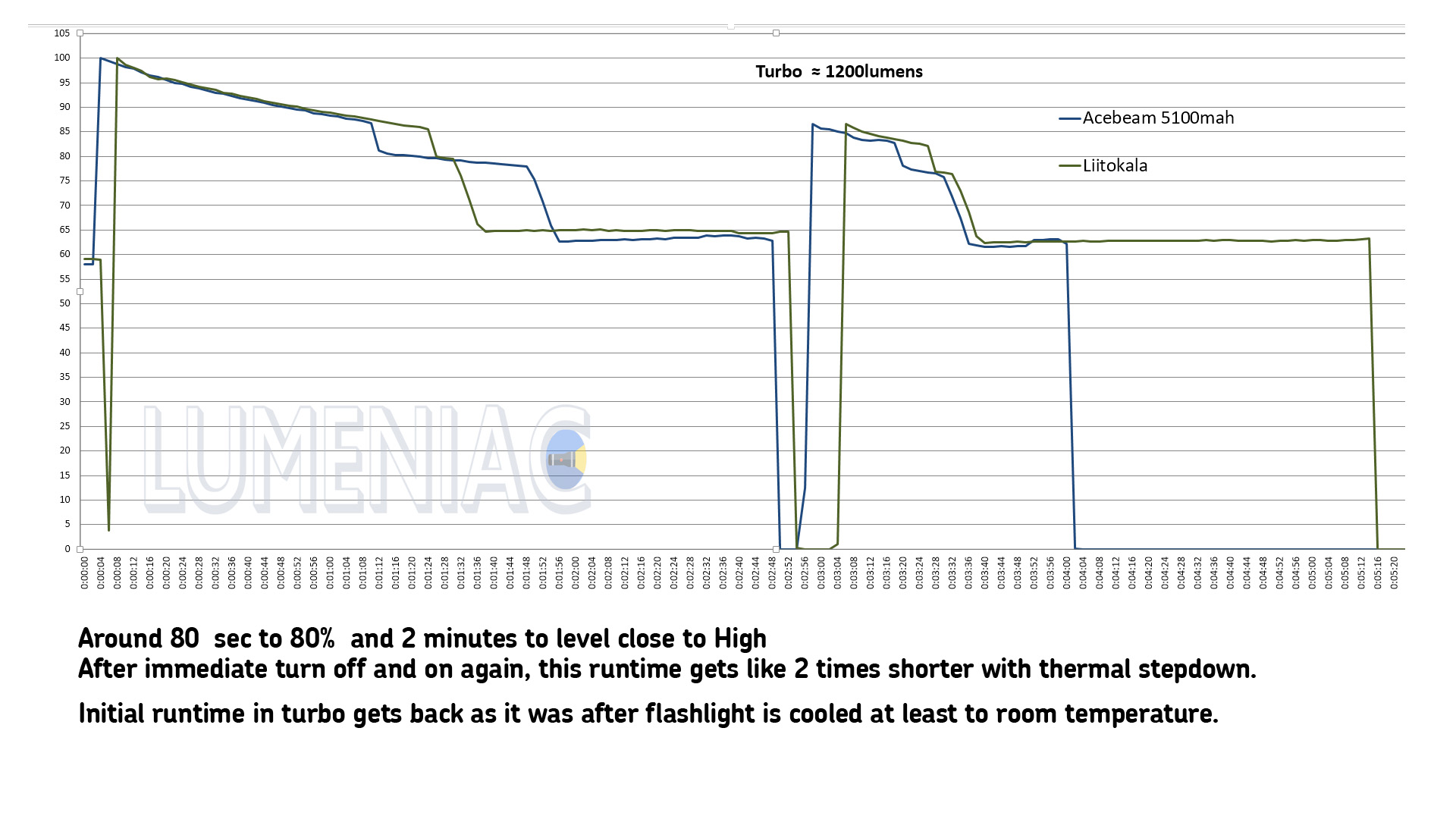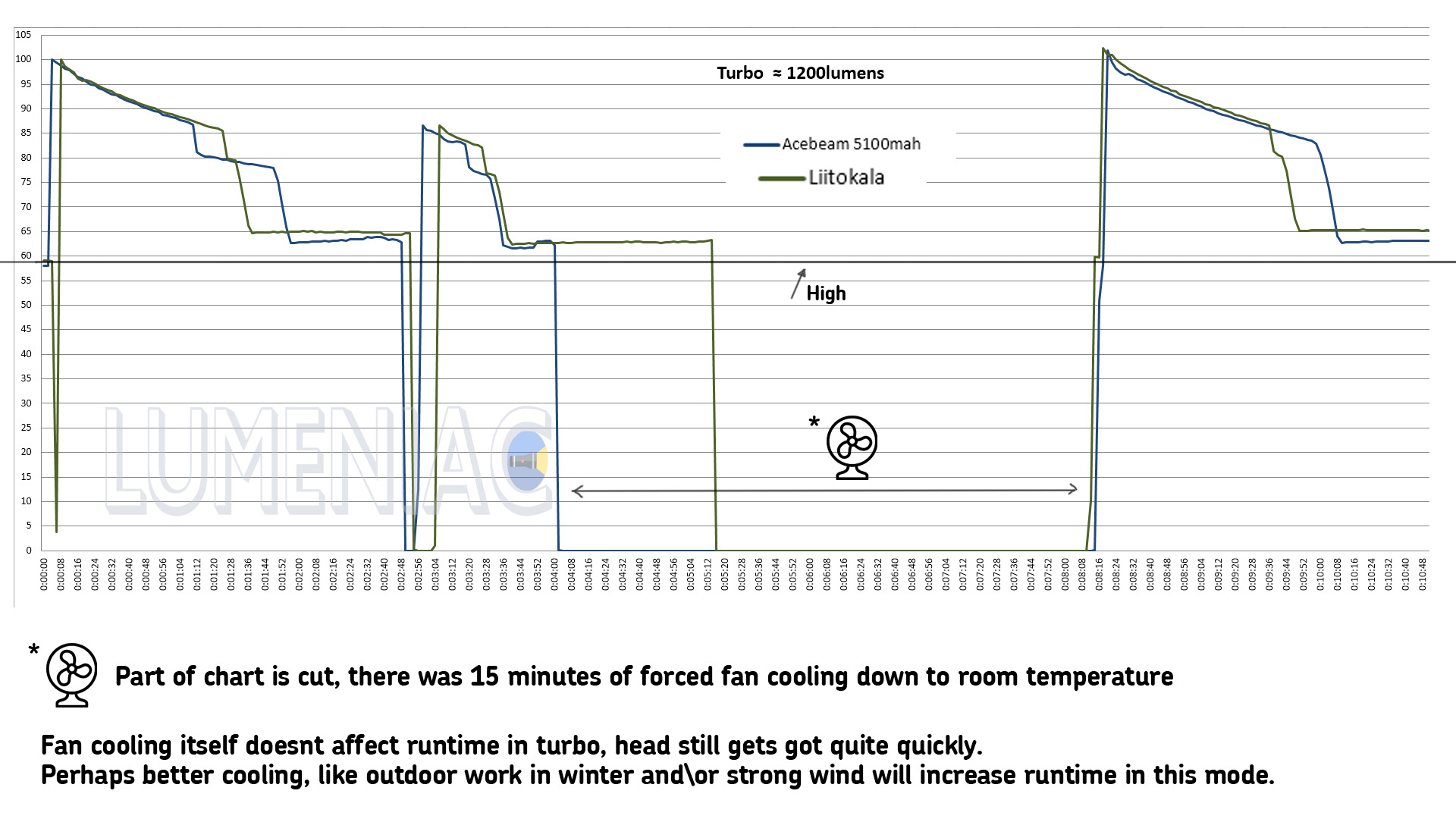 Yes, the runtime is definitely different from the stated one. And, an important point. The turbo should be 2x brighter than the high (1500 and 750 lumens). In reality, my luxmeter shows that the turbo is about one and a half times brighte. That is, the brightness is about 1200lum. But, as you will see below, even with such a brightness, the flashlight gives an amazing throw, comparable to what could be obtained from an overclocked XHP35 in a much larger reflector.
The flashlight turns off completely at about 2.8v. Despite the fact that the graph shows that the flashlight turns off immediately, without switching to the lower mode, you have the opportunity to turn it on again for a while, you will not be left without light at all.
Cold white light, here Osram CSLPM1.TG, alas, will not give the option of neutral light with its best penetration of dust and fog. There is no green and red version like the L17 here either.
Sidelight is just what you expect from such a long-range "piercer" – excellent focusing in the center with dim side light. The difference with the previous model L17 is also clear. As well as with the classic Convoy C8 + XPL-hi. It would be more reasonable to compare it to the Sofirn C8G, but since the wonderful XHP35 version is changed to less throwy SST40 one, this comparasion makes no practical sense for many potential buyers.
In short, the throw is great. The MID I with its 10 hours of rutime will give you a clearly visible light at a distance of 200m.
50m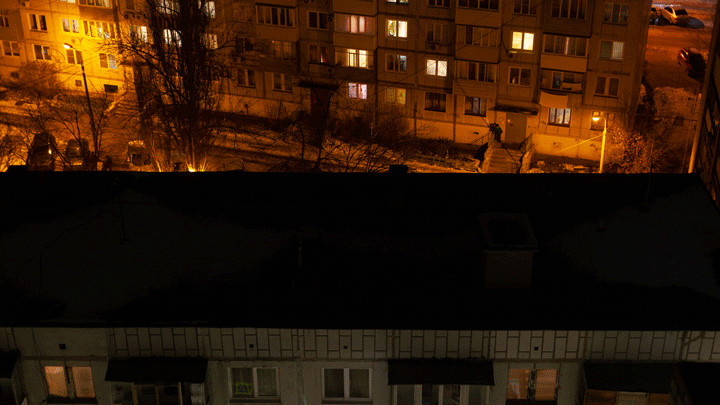 200m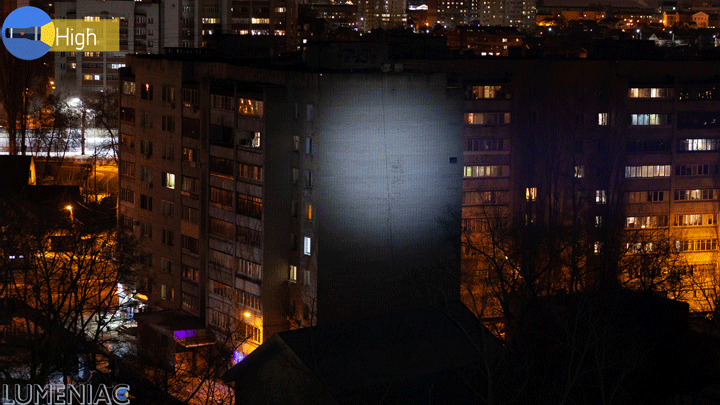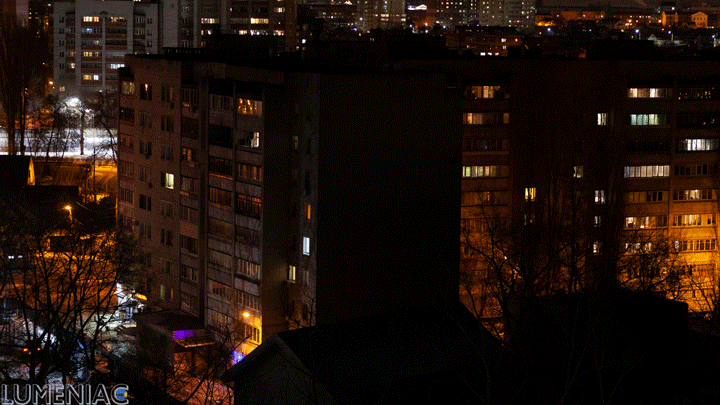 250m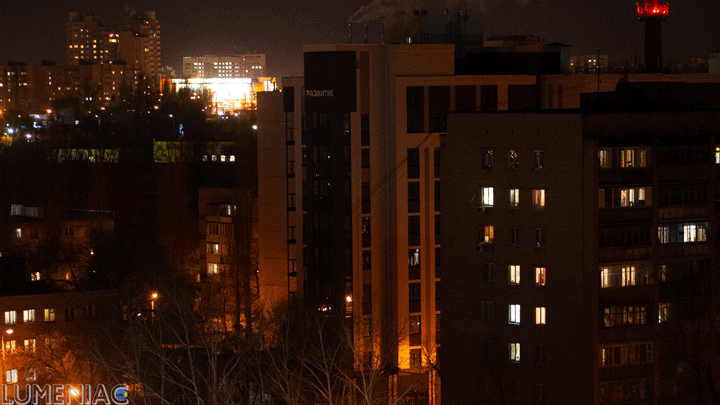 450m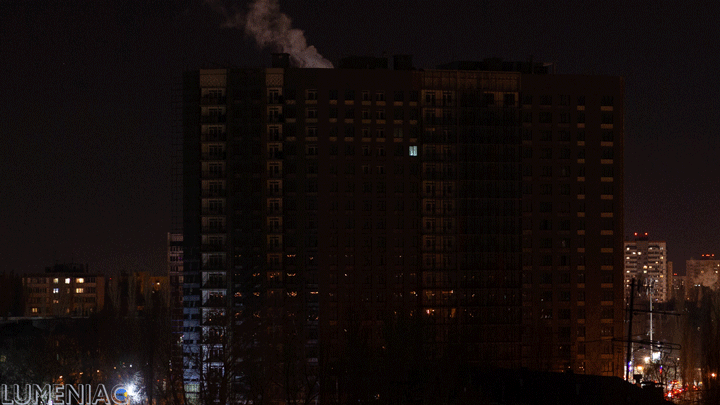 750m (!)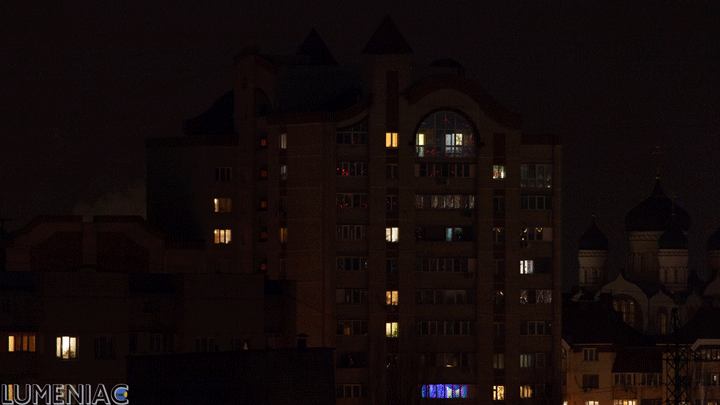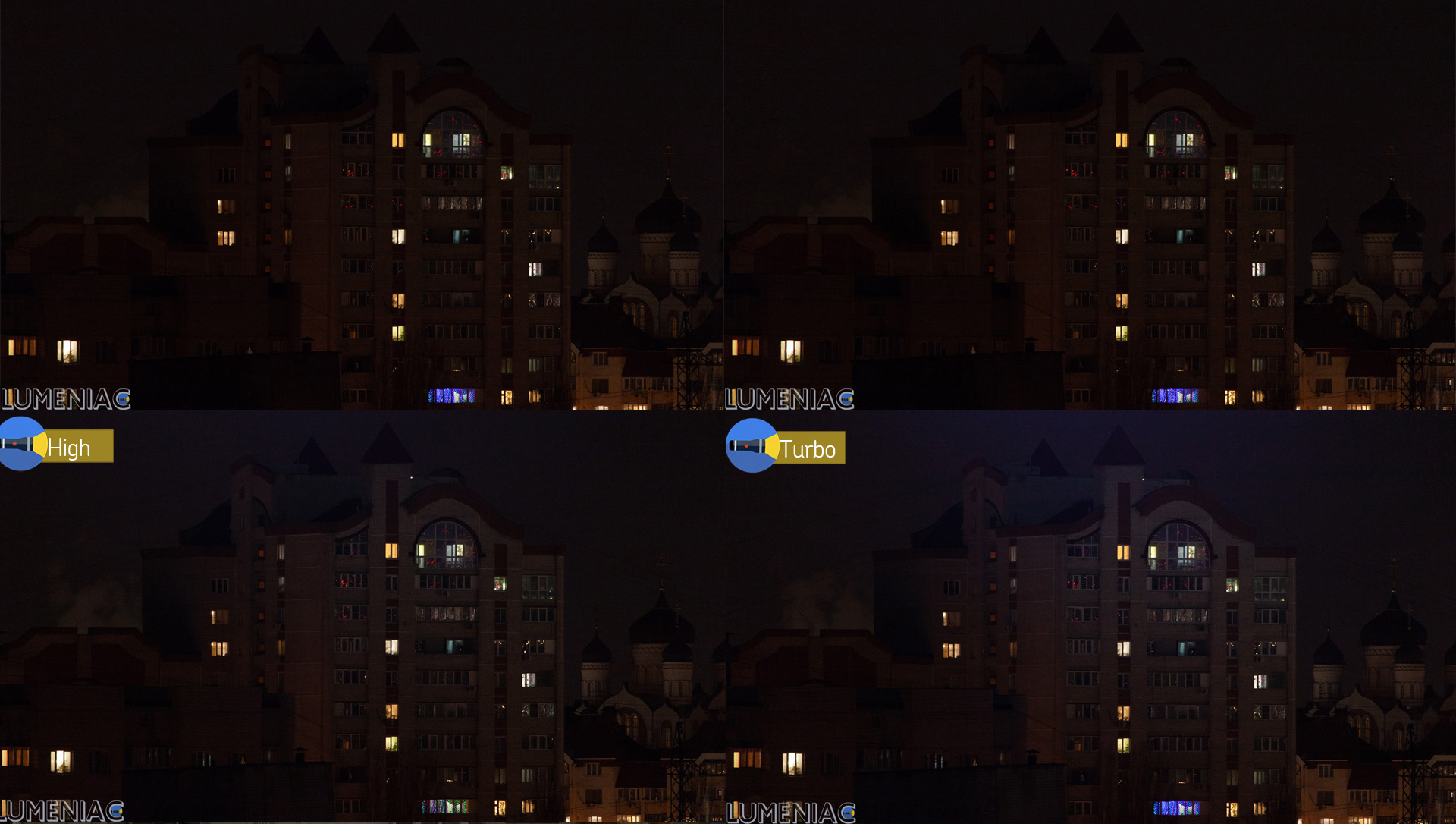 As usual, the video review of Acebeam L18 contains many more examples of how this modern long-range flashlight shines.

OVERALL
IMPRESSION
Acebeam L18 is a logical step forward from the L17. Due to an insignificant increase in size, the flashlight received a radically more capacious battery. UI has become much, much more convenient, retaining all the necessary shortcuts to the turbo and moonlight.
For those who looking for a powerful long-range gun-mounted flashlight, Acebeam made a 3-buttons remote button , which gives full access to everything.
Aebeam did not follow the curve path of Nitecore \ Olight and did not tie the user to some of their super-expensive batteries. If you want, you can buy a branded Acebeam battery, if you don`t want – take way cheaper Liitokala one, if you don't mind that it will shake due to the difference in length. There are simple solutions for this too.
Well, and, of course, the brightness has increased (although, according to my measurements, not as much as they promise), as well as throw.
And the Acebeam L18 has an excellent throw, especially for its size. You would not expect it from a flashlight of this size (just like in the case of the smallest long-range flashlight in the world, which I talked about in the last review).
The manufacturer calls 1000m and i can proove it has such throw (of course you shouldnt expect ANY useful light at such distance).
In general, in the overwhelming majority of cases you will not have any need even in High mode, medium modes will cope with a bang at a distance of 200-300 meters.
What else is good? There is full brightness stabilization. This, however, may be disadvantages in some situations – the flashlight pulls out the brightness to the last and does not go to a lower mode, but simply turns off, leaving you a very short time to turn on the low mode again
So I definitely recommend taking a spare battery.
Well, the last advantage, so desired by the majority. L18, like L17, have a price that is frankly affordable for a brand novelty. It is clear that even so this is not a budget long-range flashlight, it is not a Sofirn or a Convoy. But taking into account what you get in terms of appearance, convenience and functionality, Acebeam L18 will cost you significantly less than what the main brand competitors would have bought from you.
If even this price does not fit into your budget, and you still want to buy a two-button long-range flashlight, take a look at the Sofirn C8G. After replacing the XHP35 with the SST40, it lost its throw (though increased the sidelight, which is more convenient near), but has the same capacious battery and flexible UI.
The Acebeam L18 also has disadvantages:
a) Real runtime as shorter than stated one. Doing review of Acebeam L18 i made several tests in each mode, and each time runtime was shorter.
b) in my case direct measurement with a luxmeter shows that the maximum brightness is lower than the declared one.
c) It would be nice to make the clip double-sided, and add flat sides to the stop ring, so that the flashlight does not roll.