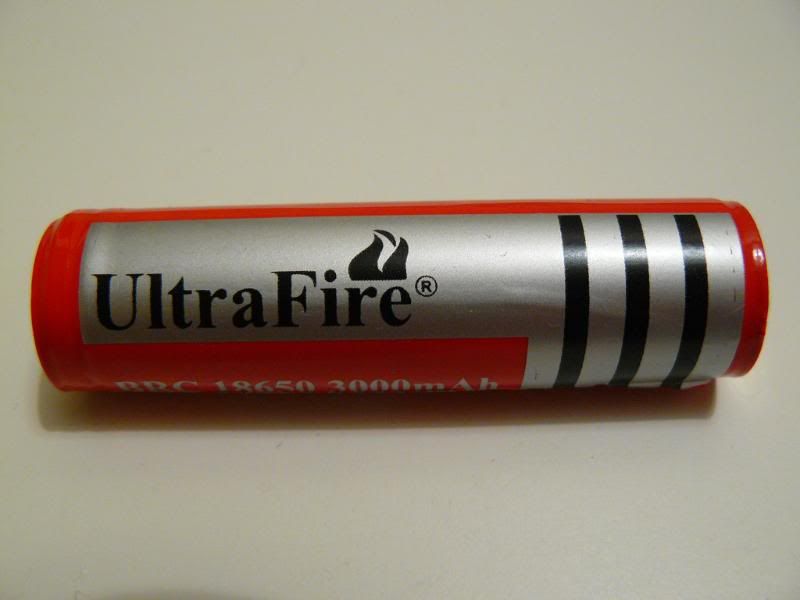 This is another quick review of a single cell, giving just the bare facts of the cell I am testing, without concern as to whether multiple examples of the same type of cell would match or not. Just a test of the cell's overall capacity, as measured with a 0.2C discharge, and then seeing how capacity alters as discharge rates increase – is capacity maintained well, or does the voltage sag and lead to the cell not delivering it's stored energy before the minimum discharge voltage is reached.
This cell was supplied for testing by UK ebay member big_f_d_d.
There is no financial advantage to big_f_d_d for supplying this cell for testing – he does not currently have these cells listed for sale, and so a good review isn't going to increase his sales any.
Likewise, I gain nothing from these tests other than not having had to buy this battery, and so have no intention to 'massage' the results to make them look better. The results I achieve will be the results I publish. There have been occasions where a battery has performed worse than expected, and I have then tried to find a reason for this, and if I find an error in my testing, I'll repeat the tests to see if there is an improvement. On the other hand, if a battery under-performs simply because it is a bad battery, I'm going to tell you.
Anyone who who doesn't believe that my results are 'as is', delivered with impartiality, might be a bit surprised by this review…..
Bit of Background
I actually purchased a couple of these cells shortly after they started appearing on Ebay, and at the various Chinese/Hong Kong electronics dealers. At that time, I hadn't become cautious of all things Ultrafire, didn't know how unlikely it was that these would actually be 3000mAh cells, and my 'go to' charger was a Trustfire TR-001. I didn't have a better charger at the time, and frankly didn't know any better.
Since then of course, I've learnt more about the cells, more about the chargers, have bought better cradle chargers, and a small selection of hobby chargers. Finally armed with a way to check the capacity, I checked my Ultrafire 3000mAh cells, and found them to peak at 1200mAh. While I knew enough at that point to know that these cells were never going to have had 3000mAh, I did wonder if my old CC only chargers may have been hard on the batteries and reduced their capacity.
So, I was quite interested to see that Jim (I can't keep calling him big_f_d_d – it takes too long to write) had sent me a new Ultrafire 3000mAh, so I could now see how one performed before it had been used on a cheap charger.
Oh Dear…..
That is when things started to go a little awry.
I know that the cell is new, as it still had half the clear wrapping around it, having been removed from the pack of two that these cells are generally delivered in. The cell's wrap was split pretty much down the full length of one side. I reported this back to Jim, and asked if he had opened the pack with a knife. He stated that he only ever opened the outer packing with his thumbnail. So, short of his having the sharpest thumbnail out there(!), it appears that the wrap was cut at some point in production/distribution, and then the cell was wrapped up and sold. Not great quality control.
In fact, if I were going to skip straight to a conclusion, I think, "Oh dear" would be a pretty good start.
Testing Equipment
As I have stated in all my reviews, I try to carry out all my charging on one charger, an iCharger 106B+, and carry out the discharges and internal resistance tests on a second charger – an iCharger 208B. The idea is to be charging one battery while discharging another, in order to speed up the workflow, but to always use the same charger for the same steps, to ensure that results are directly comparable.
Problem here was that the 208B seems more sensitive to problem cells, and the vast majority of the IR measurements just resulted in error messages. The few readings that were taken were pretty random. I tried a few things to lower IR – my magnets, crocodile clip attached to the positive button and the split ring through the vent holes. No great improvement. I even tried a paperclip through the vent holes, attaching the crocodile clip to the paperclip, and then sliding the croc-clip up the paper clip until it was touching the button, but still no good. All in all, this wasn't looking good.
I switched to using the iCharger 106B+, which seems more tolerant, and got some more consistent readings, and was able to get measurement each time.
So, having got that sorted, on with the testing.
Results at a glance
Ultrafire 18650 3000mAh protected
Provided for testing by Ebay UK member 'big_f_d_d'
Big_f_d_d does not currently have this cell listed on his ebay page, so I cannot comment on pricing, but it is freely available from other ebay dealers, or the common China/HK electronics retailers – for instance, KD, DX, DD, BIO, BOB, Manafont, et al are likely to stock these
| | |
| --- | --- |
|   | Cell 1 (1) |
| Initial voltage on receipt | 3.93V |
| Measured length | 69.30mm |
| Measured width (max) | 18.44mm |
| Weight | 46.38grams |
| Internal resistance at initial voltage | 248mOhm |
| Capacity from storage down to 3.00V @ 0.6A | 473mAh |
| Internal resistance after storage charge | 288mAh |
| Capacity from 4.2V down to 3V @ 0.6A | 589mAh |
| Capacity from 4.2V down to 3V @ 1.0A | 302mAh |
| Capacity from 4.2V down to 3V @ 3.0A | N/A (2) |
| Capacity from 4.2V down to 3V @ 5.0A | N/A (2) |
(1) This is a single cell provided to me for testing, rather than a purchase that I have made – these cells are normally supplied in pairs.
(2) With such a low capacity at 0.6A and 1A, I saw no point in continuing on to a 3A or 5A discharge – indeed, it could have been positively dangerous to do so. This cell is quite obviously faulty or worn out. This despite being new out of the packet.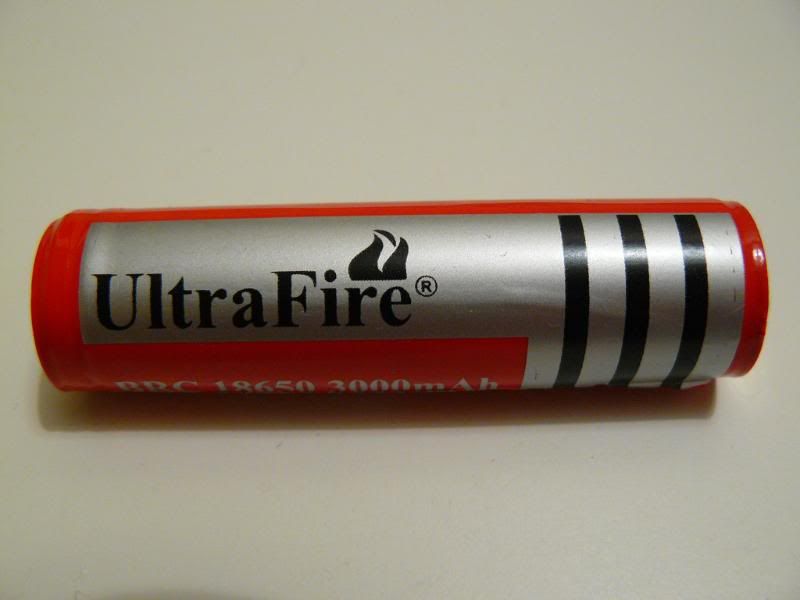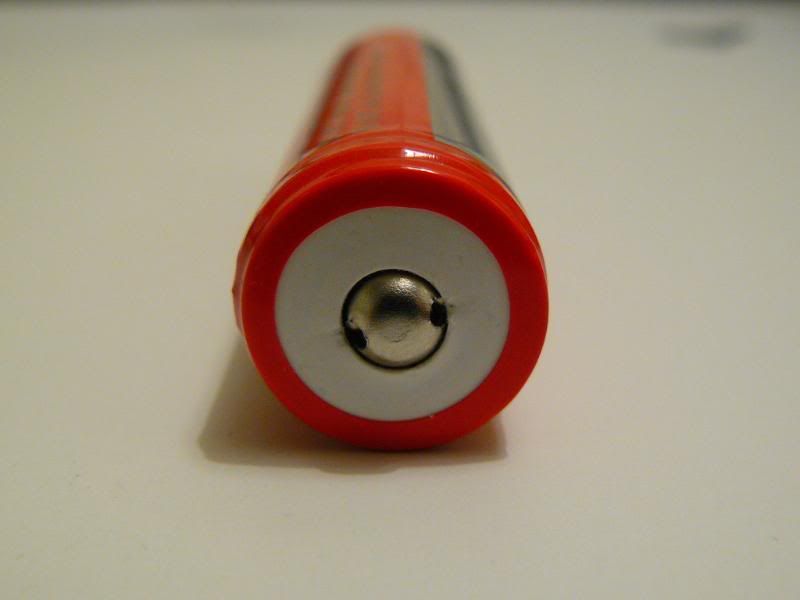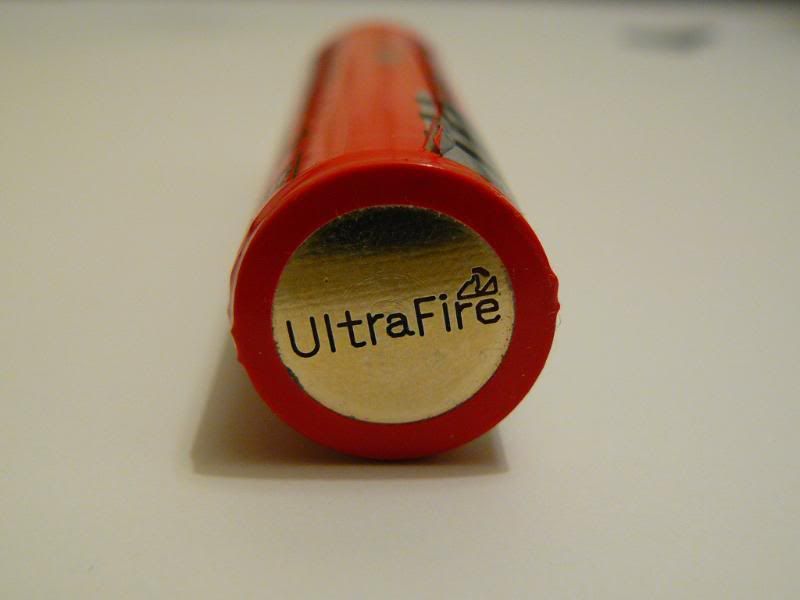 Construction
The cell has a medium sized button, but with a pronounced dome. I'm not entirely certain if the button is steel or aluminium. I believe steel. However, due to the dome shape, a magnetic charging cable won't hold on to the button well, as the magnet will tend to tip and attach to the shoulder of the battery.
The wrap is relatively thin, but not excessively brittle. However, the cut on the wrap of this example makes that a moot point.
You have a foil style base, which is more likely to experience wear and tear than a solid metal base. As with many newer Ultrafire cells, the foil has the brand name printed on it. This inscription can act as an insulator – for instance, if you had the needle point of a multi-meter in direct contact with the text. However, with the width of a coil spring or sprung plunger in the tail of a light, you should be able to make good contact.
Light compatibility
Light

Characteristics

Fits

Functions

Olight M20

Wide tube, spring at head, sprung plunger at tail cap

Yes

Yes

SWM T20CS

Short tube, dual springs

Yes

Yes

Jet IIIM

Wide tube, tail spring only

Yes

Yes

Fenix TK15

Two-piece tube – narrow at head

Short tube, short spring at head

Yes

Yes

Fenix TK11

Narrow tube, tail spring only

Yes

Yes

Eagletac G25C2

Wide tube, sprung plunger at head and tail (minimal travel at the head end), physical reverse polarity protection

Yes

Yes

Nitecore IFE2

Narrow tube, physical reverse

Polarity protection

Yes

Yes
Charger compatibility
| | | |
| --- | --- | --- |
| Charger | Fits | Functions |
| 4Sevens single bay | Yes | Yes |
| Trustfire TR-001 | Yes - just | Yes |
| Ultrafire WF-139 | No (3) | Yes (3) |
| Ultrafire WF-188 | Yes | Yes |
| HXY-042V2000A | Yes | Yes |
| XTAR WP2 II | Yes - snug | Yes |
| Pila IBC | Yes - snug | Yes |
| Jetbeam/Sysmax Intellicharge i4 | Yes - Just | Yes |
(3) While the cell is too long to sit all the way down in the cradle of the WF-139 charger, with the cell sat in the bay at an angle, the positive button on the cell makes contact with the charger's positive terminal, and charging will commence.
Internal resistance 
| | | |
| --- | --- | --- |
| Cell | Voltage | Internal resistance |
| Ultrafire 3000mAh | 3.93V (as received) | 248mOhm |
| Ultrafire 3000mAh | 3.74V (storage charge) | 288mOhm |
| Trustfire 3000mAh | 4.00V (as received) | 123mOhm |
| Trustfire 3000mAh | 3.74V (storage charge) | 135mOhm |
| Ridbatt 2600mAh #1 | 3.74V (storage charge) | 129mOhm |
| Ridbatt 2600mAh #1 | 3.74V after initial capacity test (storage charge) | 135mOhm |
| Ridbatt 2600mAh #1 | 3.74V after all testing complete (storage charge) | 117mOhm |
| Xtar 2600mAh #1 | 3.85V (as received) | 139mOhm |
| Xtar 2600mAh #2 | 3.79V (as received) | 136mOhm |
| Keeppower 2600mAh #1 | 3.78V (as received) | 123mOhm |
| Keeppower 2600mAh #2 | 3.78V (as received) | 119mOhm |
| Hi-Max 2600mAh #1 | 3.79V (as received) | 153mOhm |
| Hi-Max 2600mAh #2 | 3.80V (as received) | 163mOhm |
I have compared the Ultrafire 3000mAh with the only other cell I have listed as having a capacity of 3000mAh. As with the Trustfire 3000mAh cell, I have bulked out the rest of the internal resistance table with cells listed as having a capacity of 2600mAh, which seems more in line with the true capacity of the Trustfire. We'll see how the Ultrafire compares to both these and the Trustfire.
Conclusion
There is really not a whole lot to say here. If there is even the slightest risk of getting a cell like this straight out of the packet, I just cannot recommend this cell. This one will be going for recycling. I've probably got 16340 cells with more capacity than this. I've now had three of these cells, and all have been bad - this particular one is atrocious.
In my recent review of a Trustfire 3000mAh cell, I said I was a little disappointed that they felt the need to claim it had a 3000mAh capacity when it didn't. I also said that if you considered it as being a 2600mAh cell, there were probably better 2600mAh cells available for little more cost. I stand by those comments. That's not to say that the Trustfire didn't perform well, just that there are cells that I believe would perform better.
However, comparing the Trustfire to the Ultrafire 3000mAh puts a whole different complexion on things. The Trustfire is infinitely better than this Ultrafire. I have tested one, and HKJ two, and all three were fine - the polar opposite of my experience with these Ultrafire cells.
If you are looking for a budget cell, and looking at the (poor pun alert) 'firebrands', it's obvious - buy the Trustfire 3000mAh cells, and run a mile from the Ultrafires.