Hi, guys.
I bet all of you know about this candela beast that has world farthest throw, There are some other reviews, but, hope, my review will add some new information for you and encourage to buy this flashlight.
Forget all the lights you've seen before this Astrolux MF05 review! Monstrous in size, price and throw, this flashlight astonished me at the time of its release and continues to cause disbelief a month after i took it in my hands.
This is the first time when the novelty of impressions has not lost its sharpness even after such a time. Frankly, this flashligh has been on the bedside table as a reminder to complete review. And Mateminco MT90 Plus is the very 1st thing that I see every morning when wake up. And every, every time something freezes inside me. The last time something impressed me for so long was in my childhood, I even remember very well what it was – an album with Mortal Combat stickers.
I already reviewed some you incredible flashlight.
Imalent MS12 as the brightest, Lumintop GT90 as the largest and Lumintop GT Nano GT Nano as the smallest long thrower. Different models that once surprized me. But none of them made me as impressed as the Astrolux MS05S (aka Mateminco MT90 plus). So catch review of the world's most powerful long-range flashlight in 2021. Hope you`ll like both flashlight and review!
You can buy Astrolux MS05 SBT90.2 \ Mateminco MT Plus at:
➤ALIEXPRESS 5% off with MATEMINCO promocode
➤BANGGOOD with BGBD10 promocode
Important! There are 2 different model names, but they belong to the same model from the same manufacturer. Many Mateminco models are sold specifically for Banggood under the Astrolux brand. The only difference is just logo and model name. To optimize the search, below I will use both names.
➤ MIBOXER C8 charger for 8*18650 batteries
➤ so-called SONY VTC6 with a lot of good order feedback. But if you already found money for such an expensive flashlight, then, in my opinion, there is no point in poisoning it with fake VTC from Ali (though they have good feedback and may be ok for some other needs), it's better to buy originals. Like Samsung 30Q mentioned in specification. I recommend nkon.nl. I have been buying 18650 batteries in this store for many years and there were no misfires, in fact I am ready to recommend. Or, of course, if you buy Astrolux MF05 from Banggood, you may buy batteries from this store as well.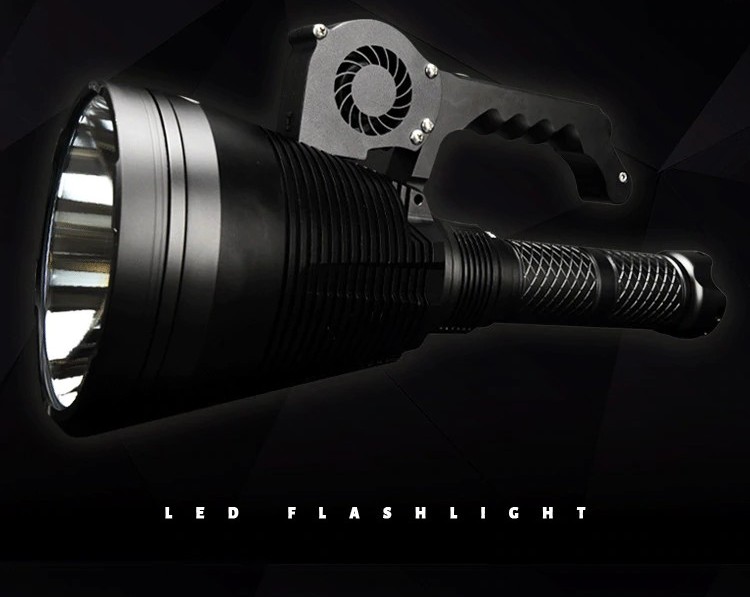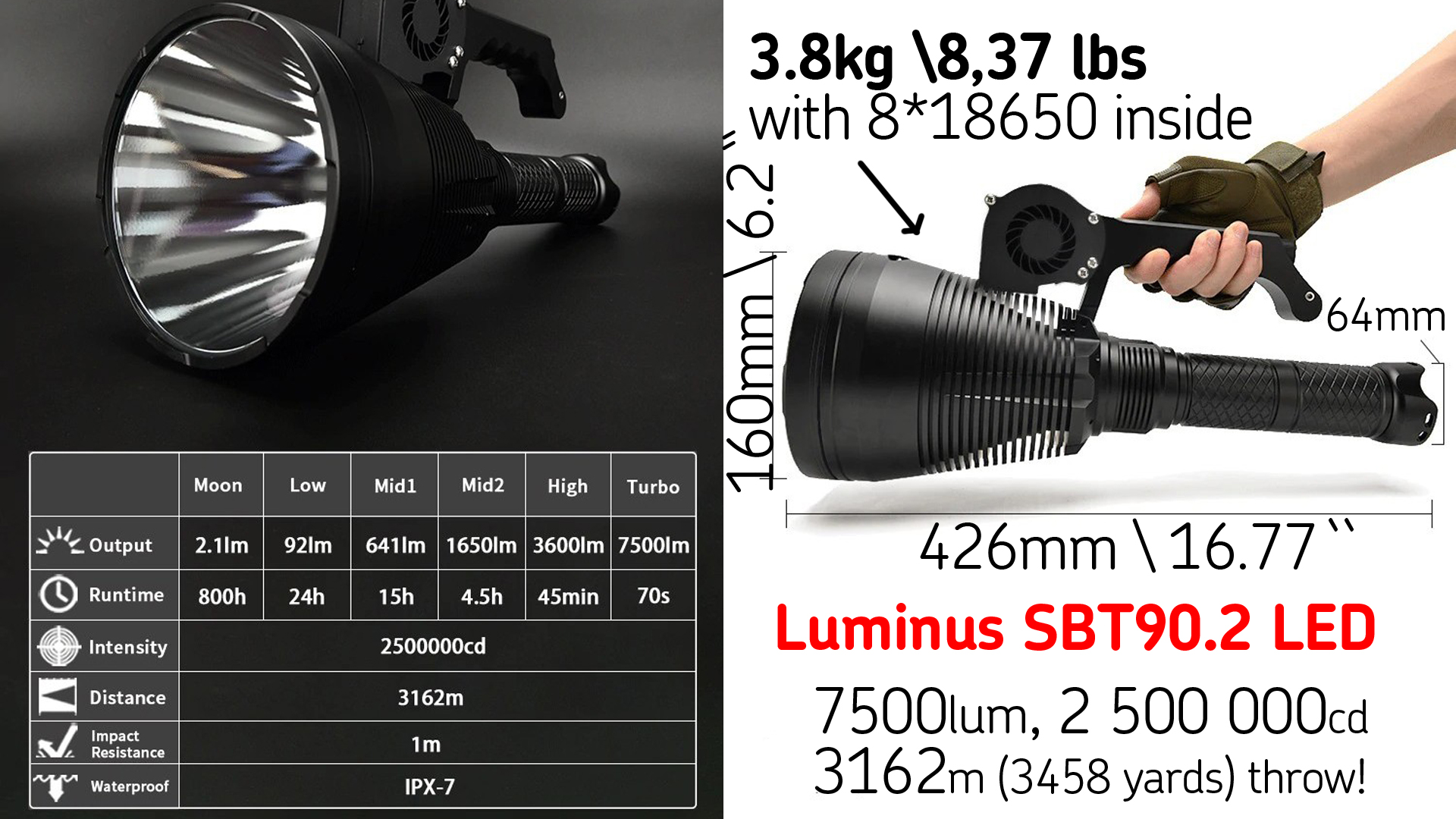 PACKAGE AND APPEARANCE
The considerable price tag also includes lightning-fast courier delivery, which took just a week to ship flashlight from China right to my door.
I was ready that the box would be big. But, damn it, it turned out to be just huge!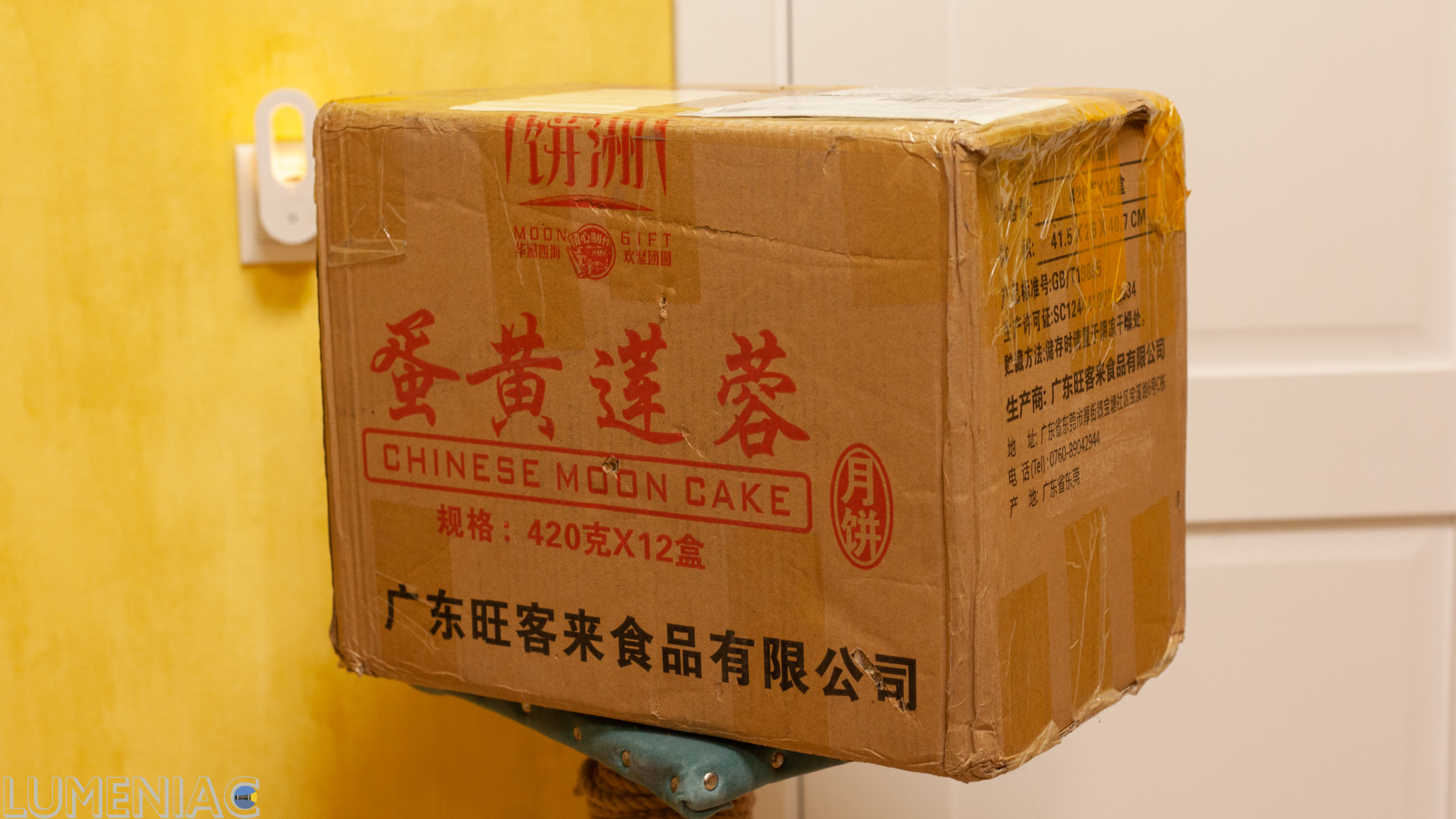 There was one smaller branded box inside the main larger one. And this smaller box contained a bad with the FLASHLIGHT ITSELF.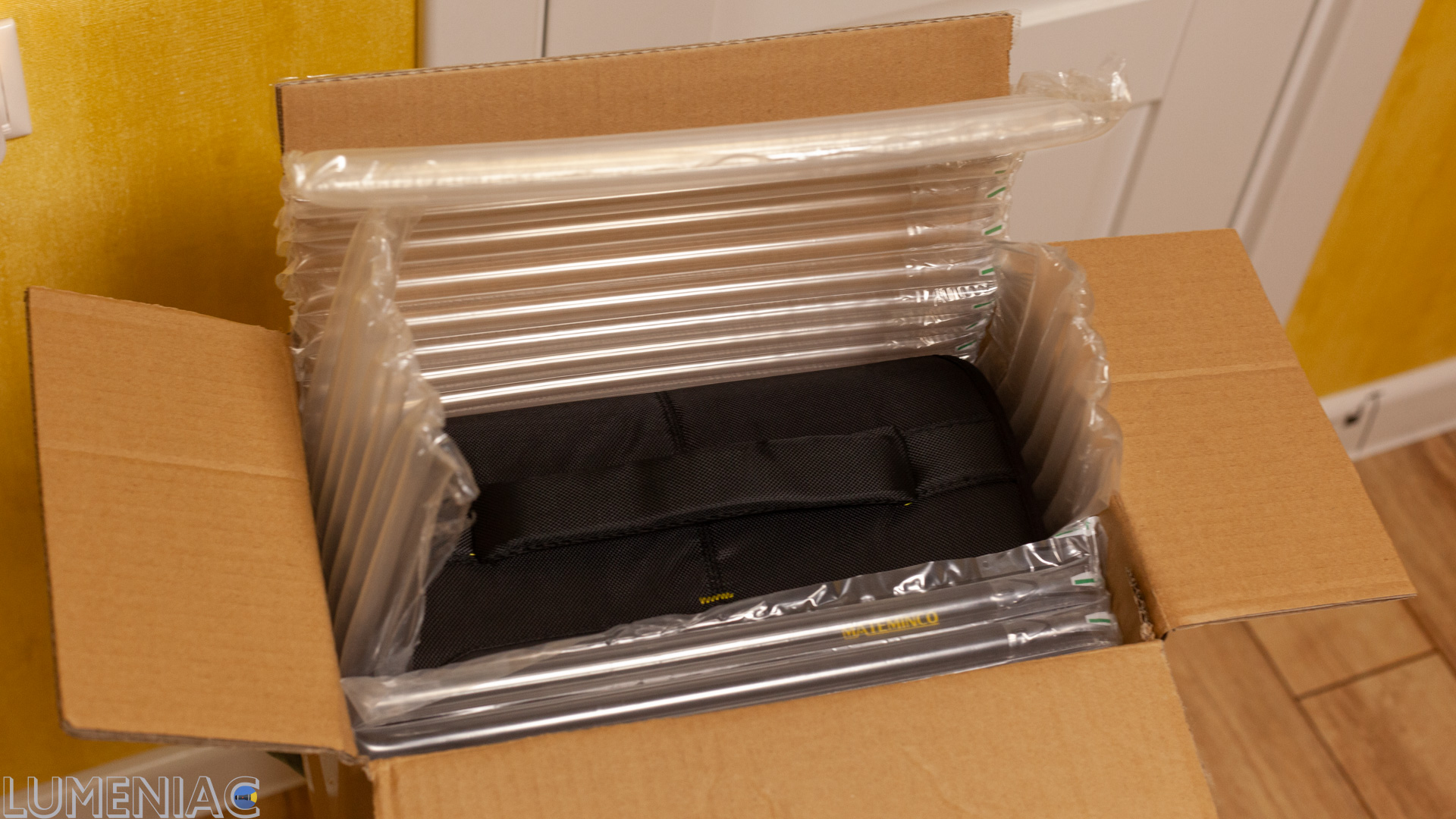 The bag is well made and bear Mateminco logo; it is far from being some kind of low-budget thing. And carrying a disassembled flashlight in a bag is much, much more practical and convenient. If not that is the only comfortable way…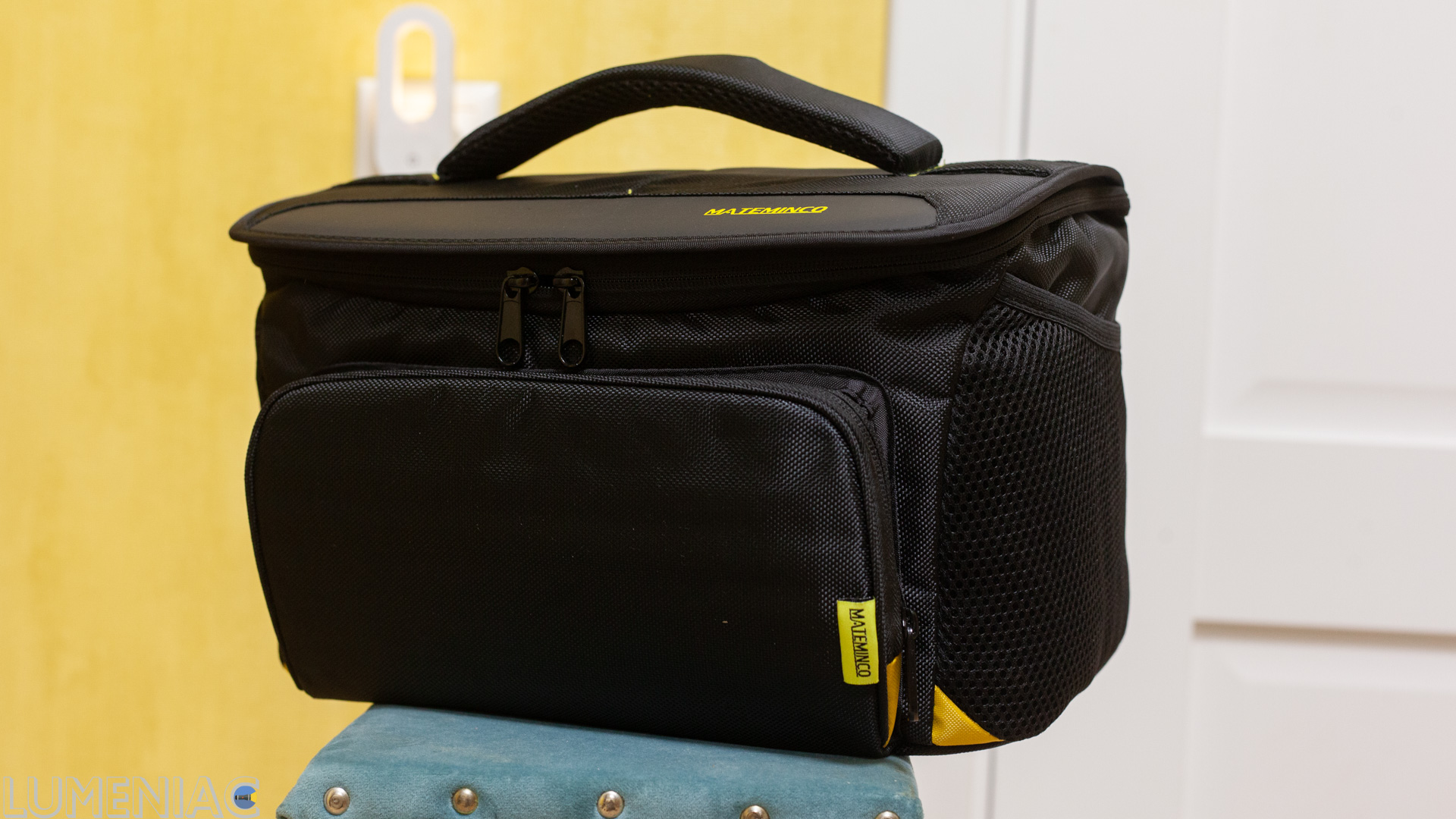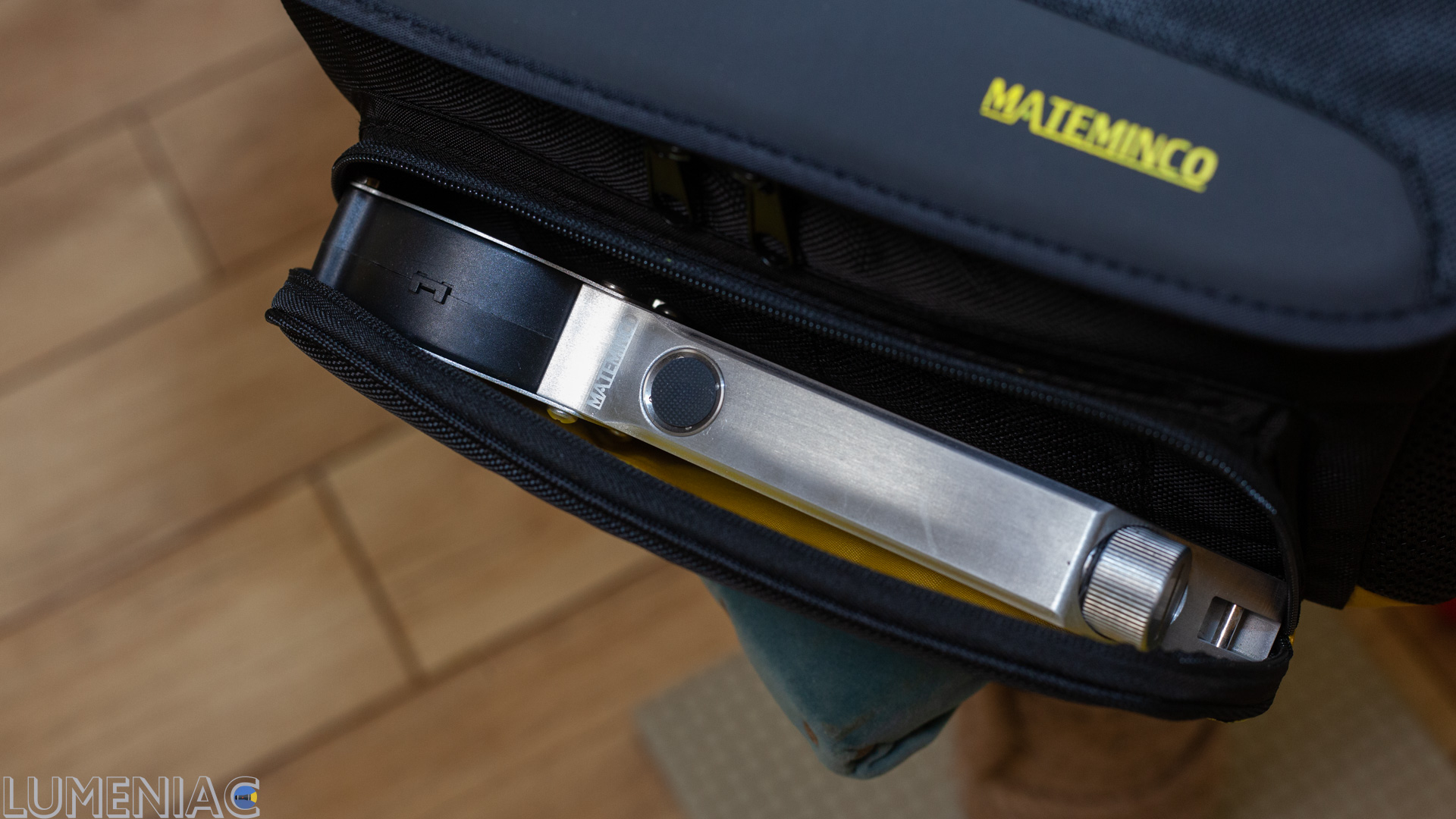 It seems that the bag was specially made for a flashlight – everything is in size, there are all the necessary compartments to each part of Astrolux MF05.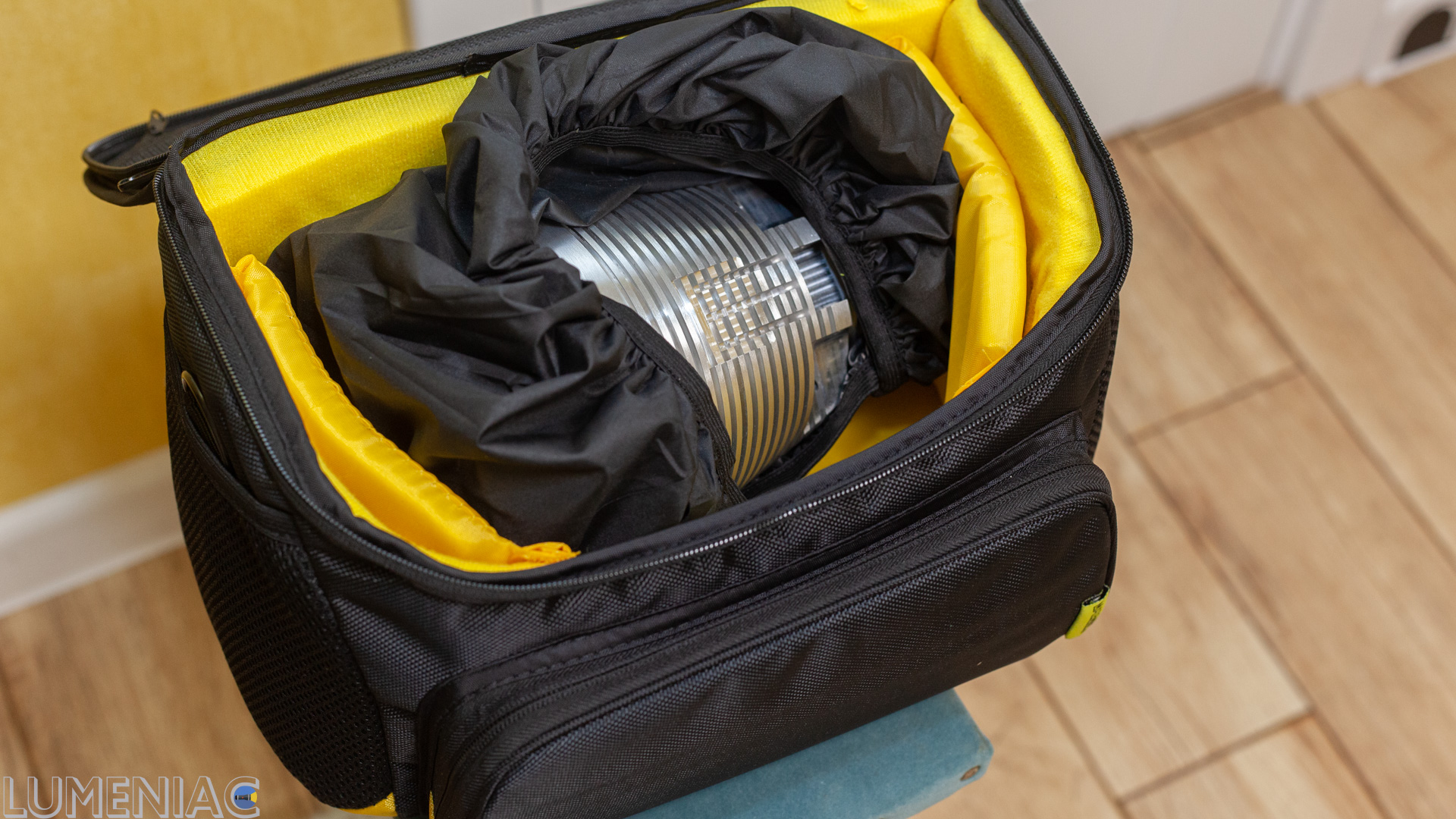 So here's the kit itself. It consists of a flashlight (head + handle with two cassettes inside), a shoulder strap, a handle with a fan (!), 2 screws to attach it, 1 tripod adaptor ``1\4 to ``3\8 thread, a manual, an o-ring.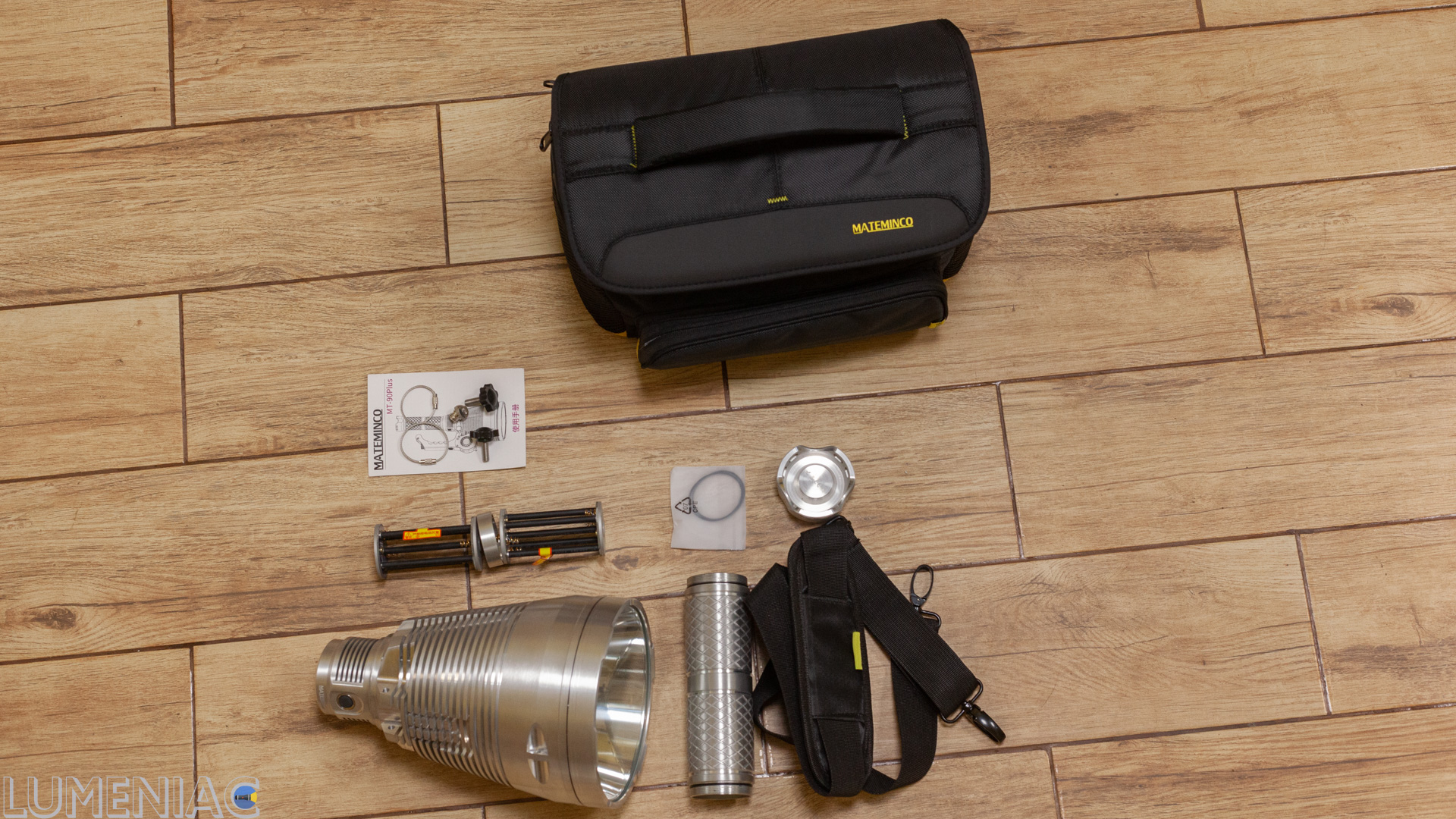 Traditionally, after the story about the kit, each my flashlight review begins with a "here is size" part.
Well, i was sure that after reviewing Lumintop GT70 and Imalent MS12 i was prepared for the size of Mateminco MT90. Yeah, Acebeam K75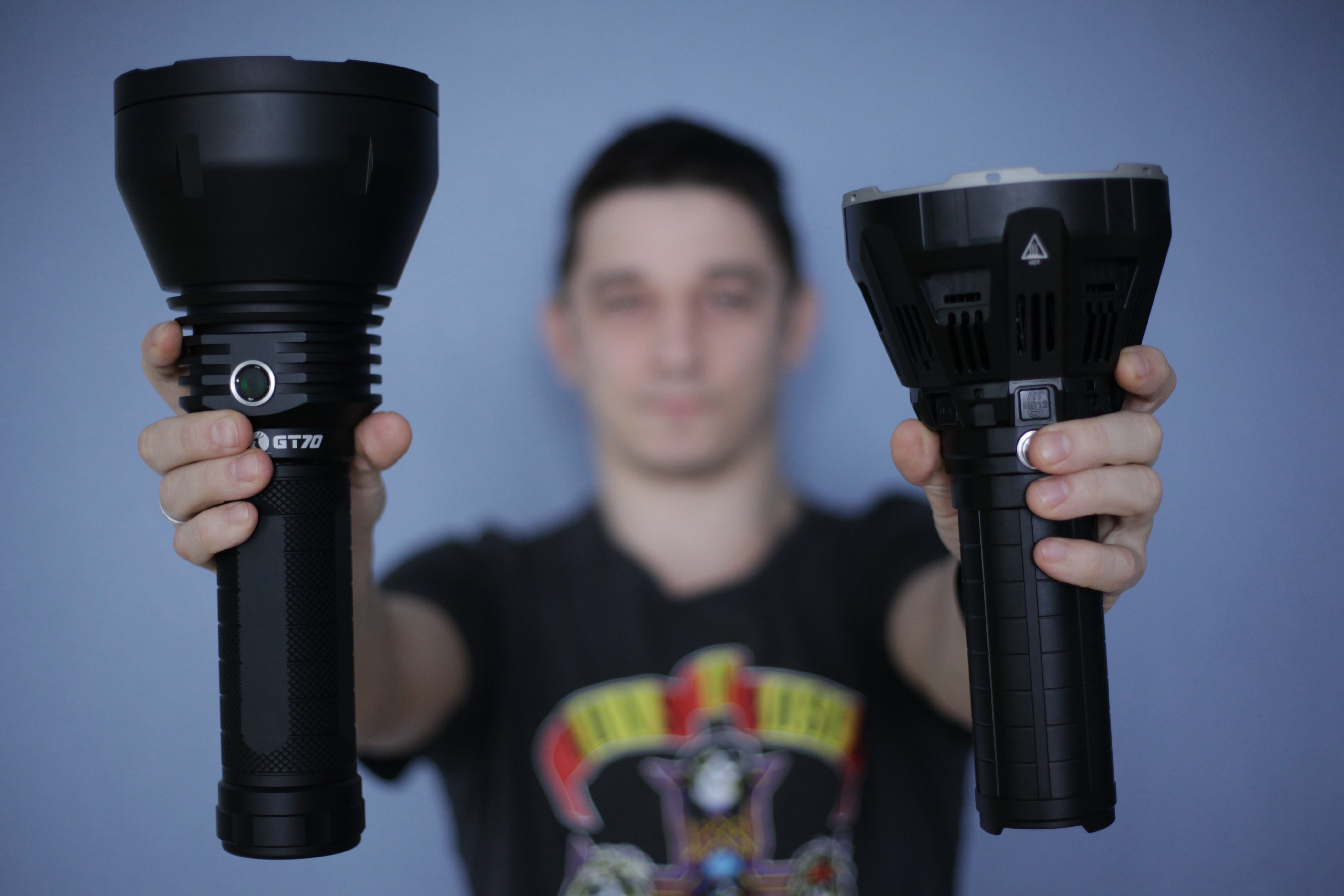 In short, I thought that nothing would get me through.
It was enough to get Astrolux MF05`s head out of the bag to start laughing nervously. Just to explain you, it is impossible to achieve significant throw with small reflector (-> head). I`m not talking about LEP, of course, And since 3 km throw is declared here, the head of the flashlght is the size of a mid-sized melon.
In general, for comparison, here's how this super-long-range flashlight looks against the background of both the usual pocket ones and those large ones that I now have in stock.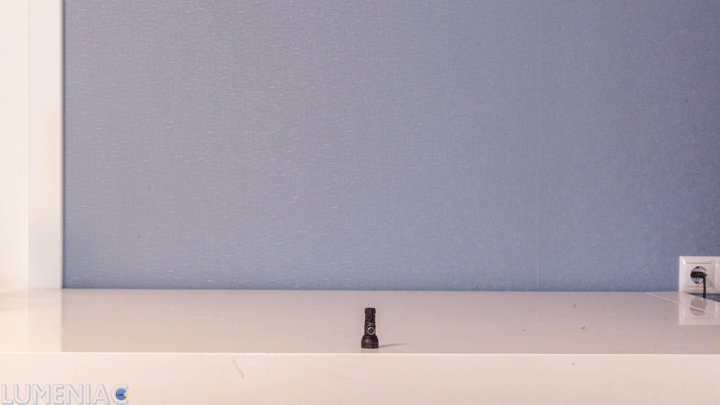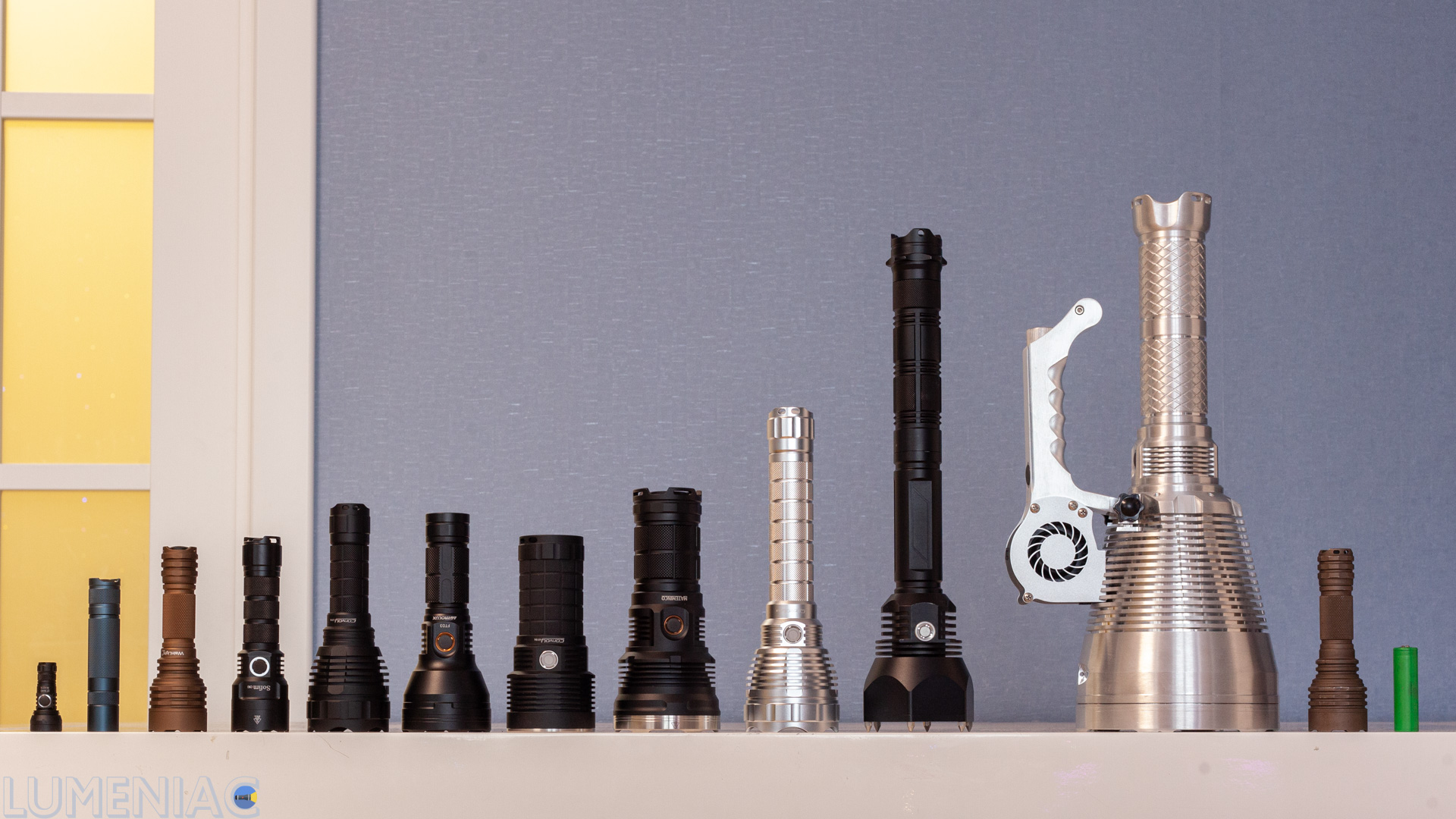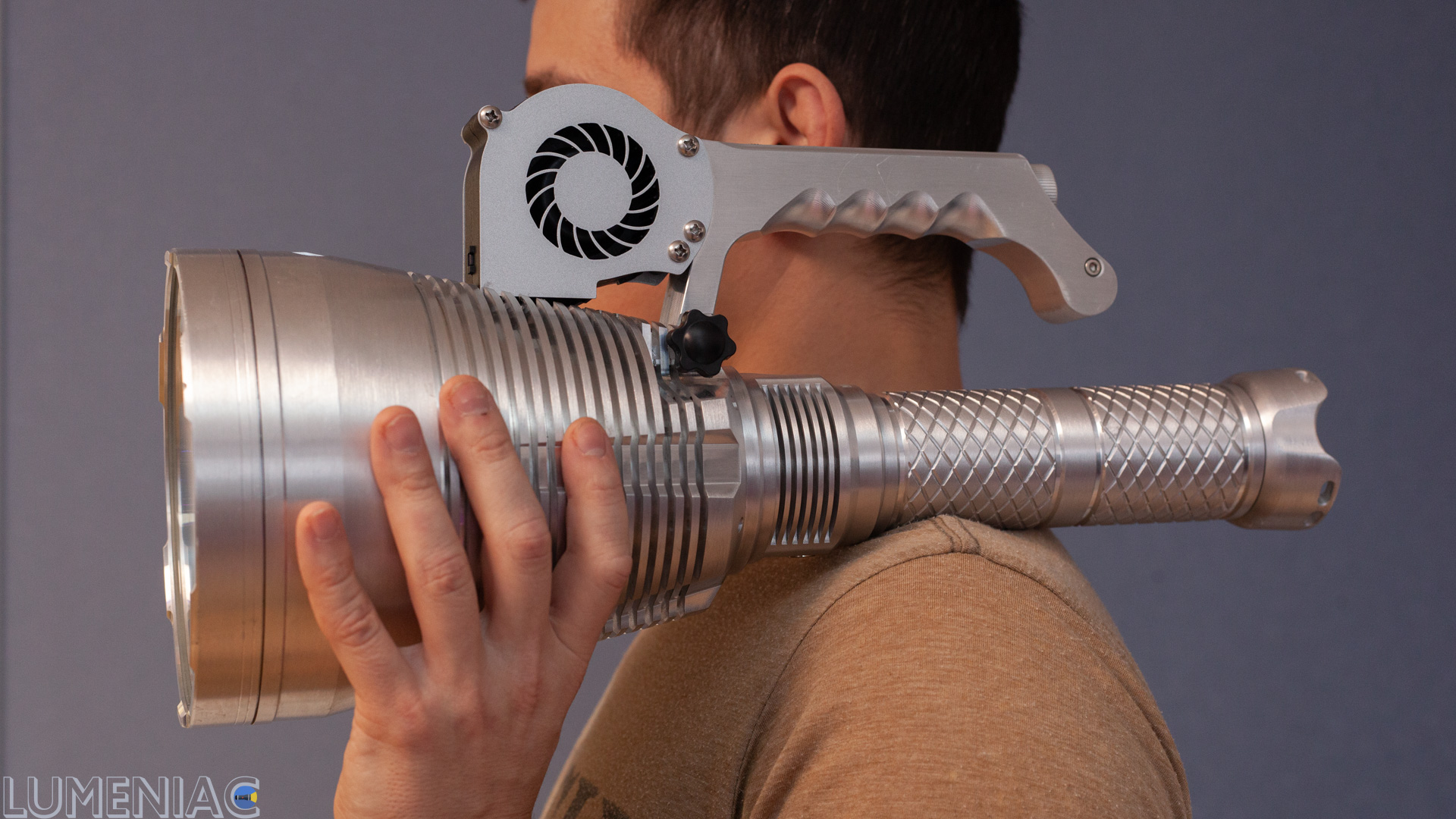 And, of course, a solo cosplay of the "Titanic" scene with the Lumintop GT Nano in the title role. The world's smallest long-range flashlight versus the largest one.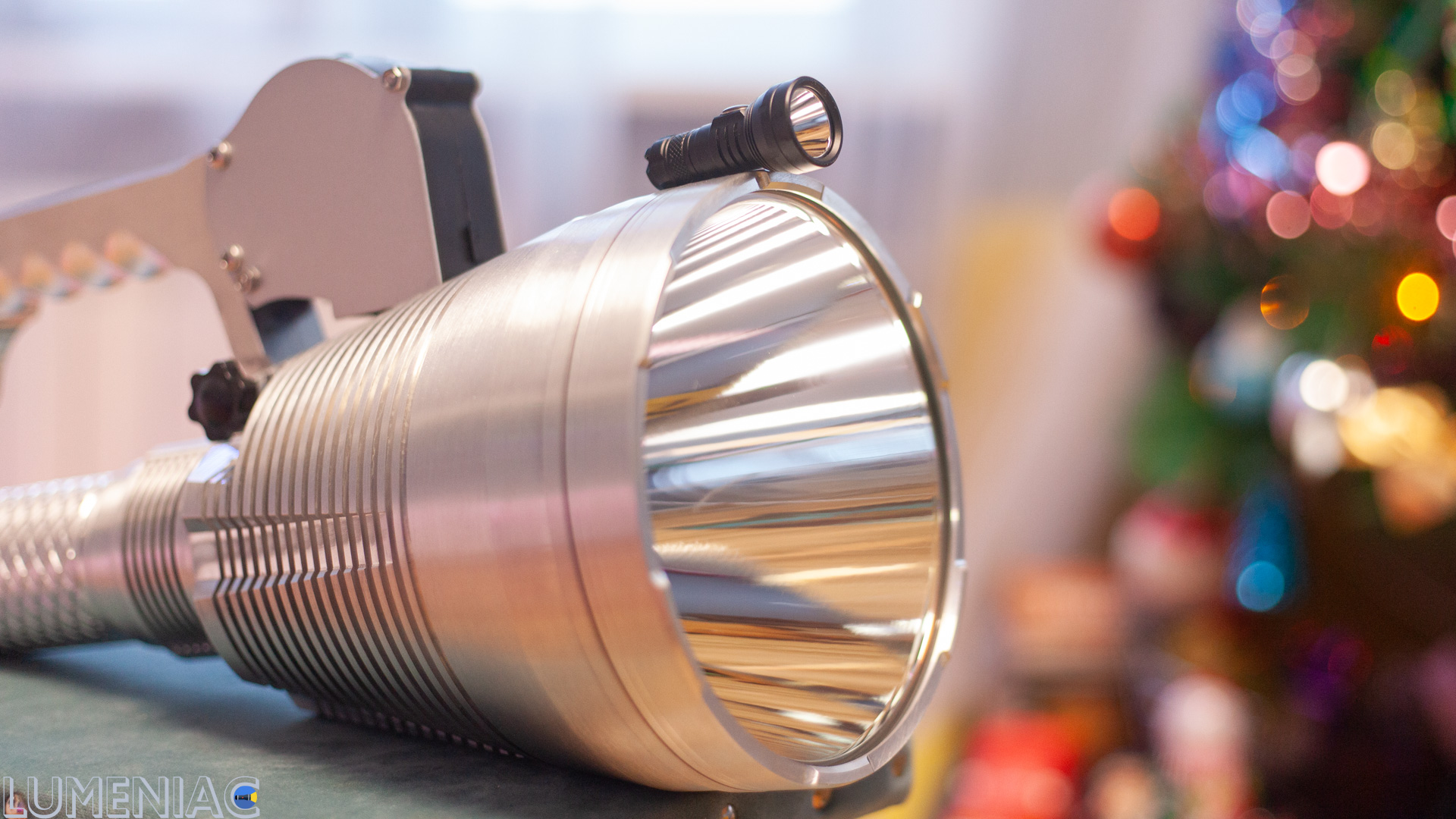 What about weight?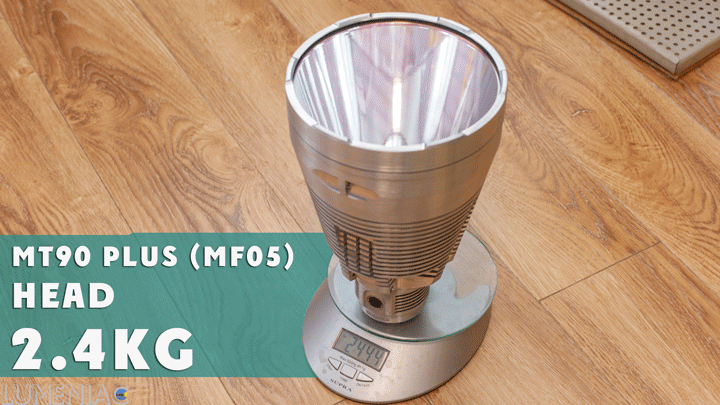 The design of the flashlight is quite simple. If this flashlight was usual size, the design would probably seem ordinary. However, in a limited non-anodized version, Mateminco MT90 Plus reminds me of a tool. No elegance, just the crinkle of the knurled diamonds and the metallic sheen of the bunch of cooling fins on the huge head.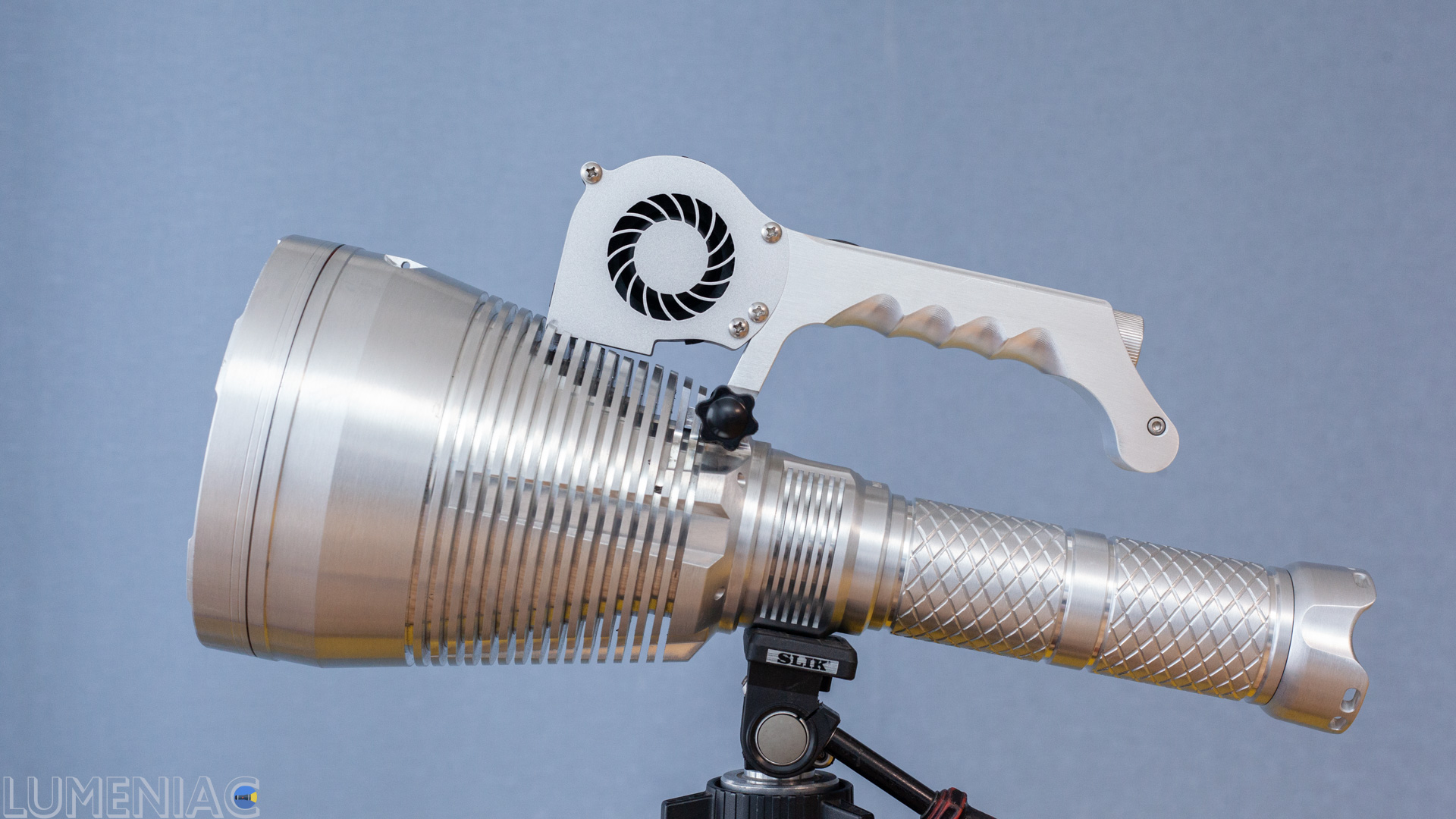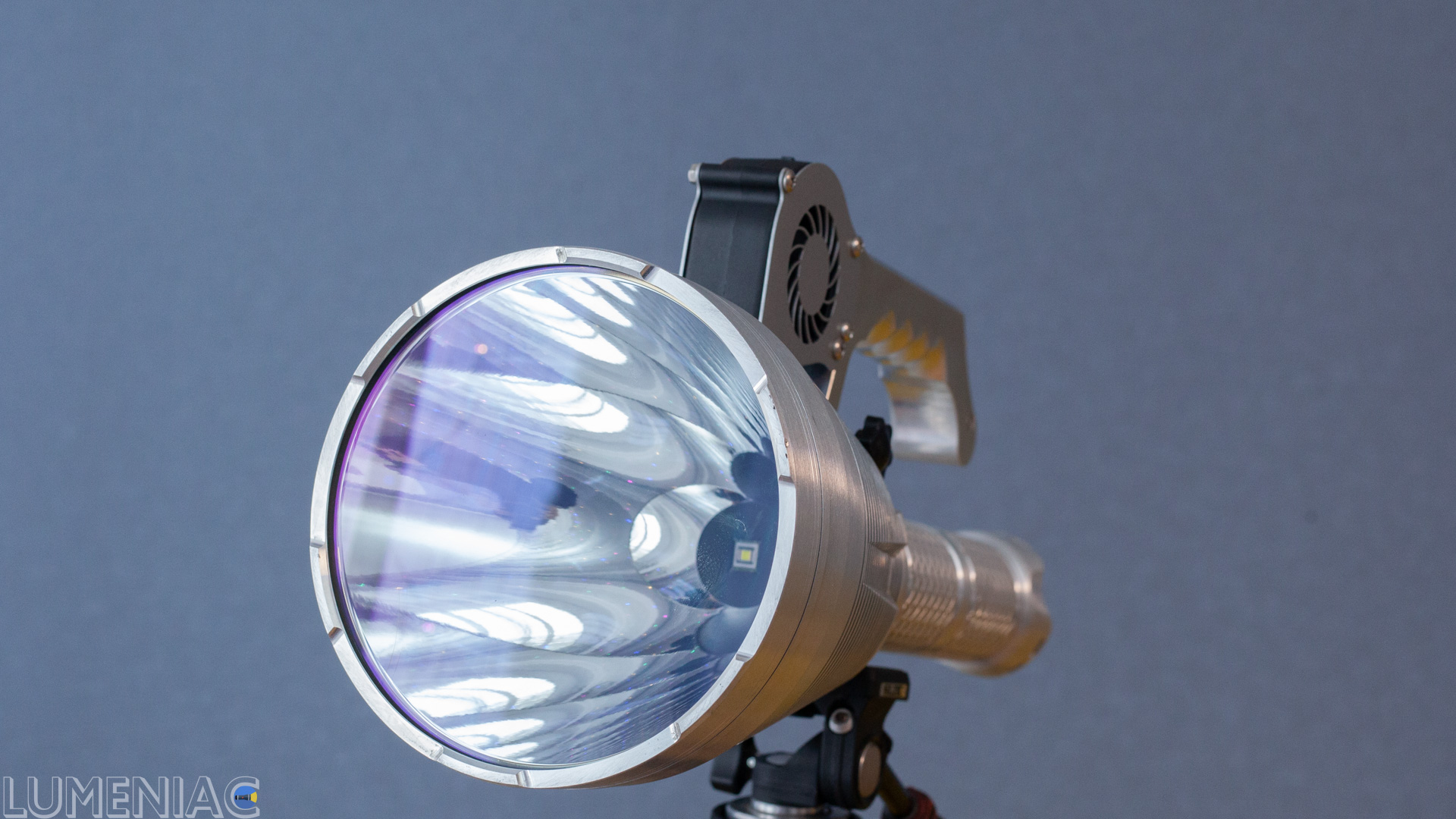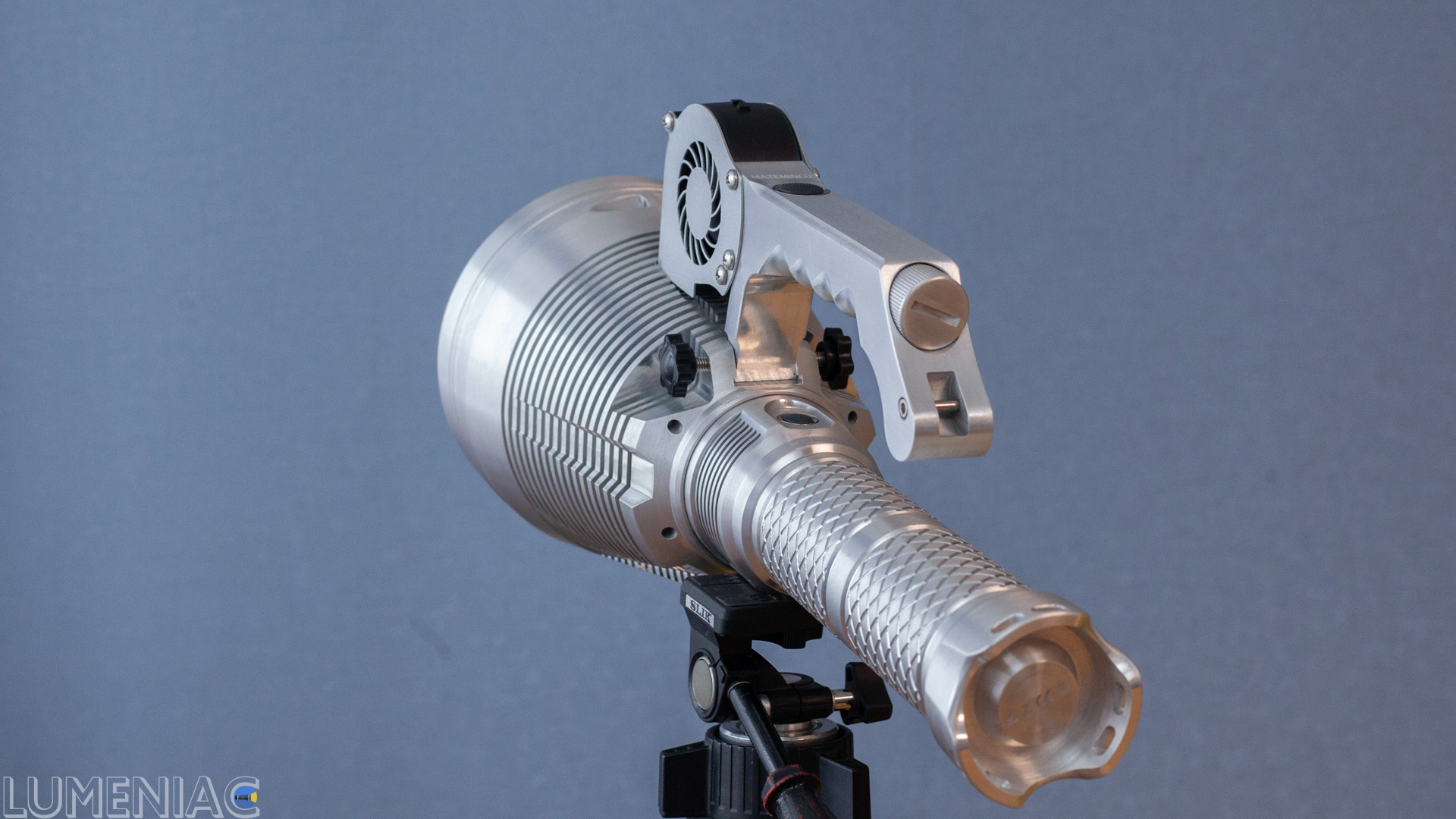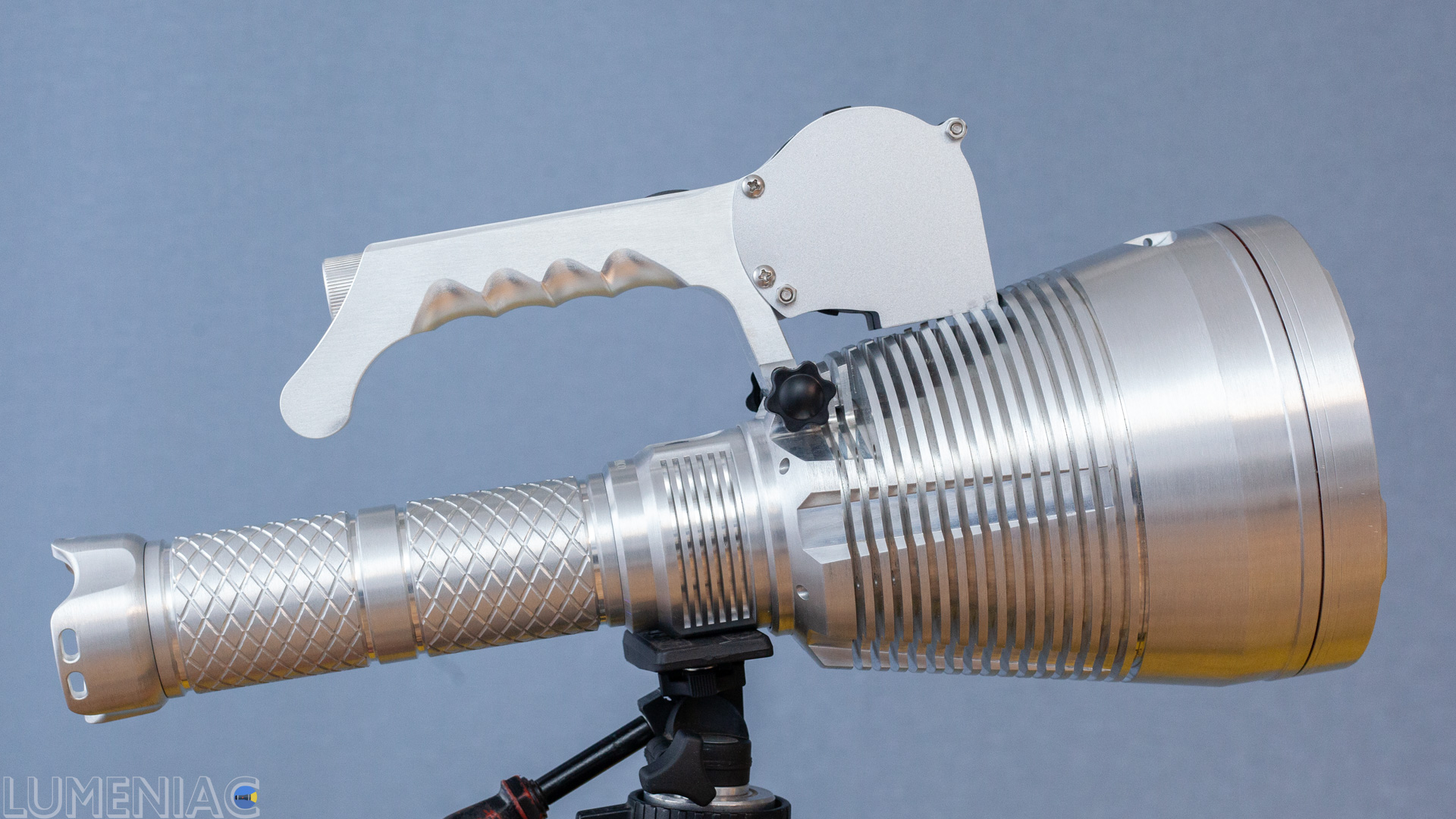 There is also some ritual of use, which attracts you no less then thing itself. You take the bag, open it, connect all the part. Well, like in films, when a rather ordinary moment is shown in a special close-up: a criminal opens a case with a sniper rifle and begins to assemble it from its component parts. I bet , for most of male audience, this is sort of scene touches something inside your heart.
And like many other rituals (with the exception of frankly obscurant occult practices), this one is also pleasantly mesmerizing.
In short, design is simple, but giant size makes Atrolux MF05 look quite brutal. And, consequently, definetely pleasant for male`s eyes.
The flashlight is powered by 8 accumulators placed in two cassettes. The contacts of the cassettes of BLF GT fit into each other.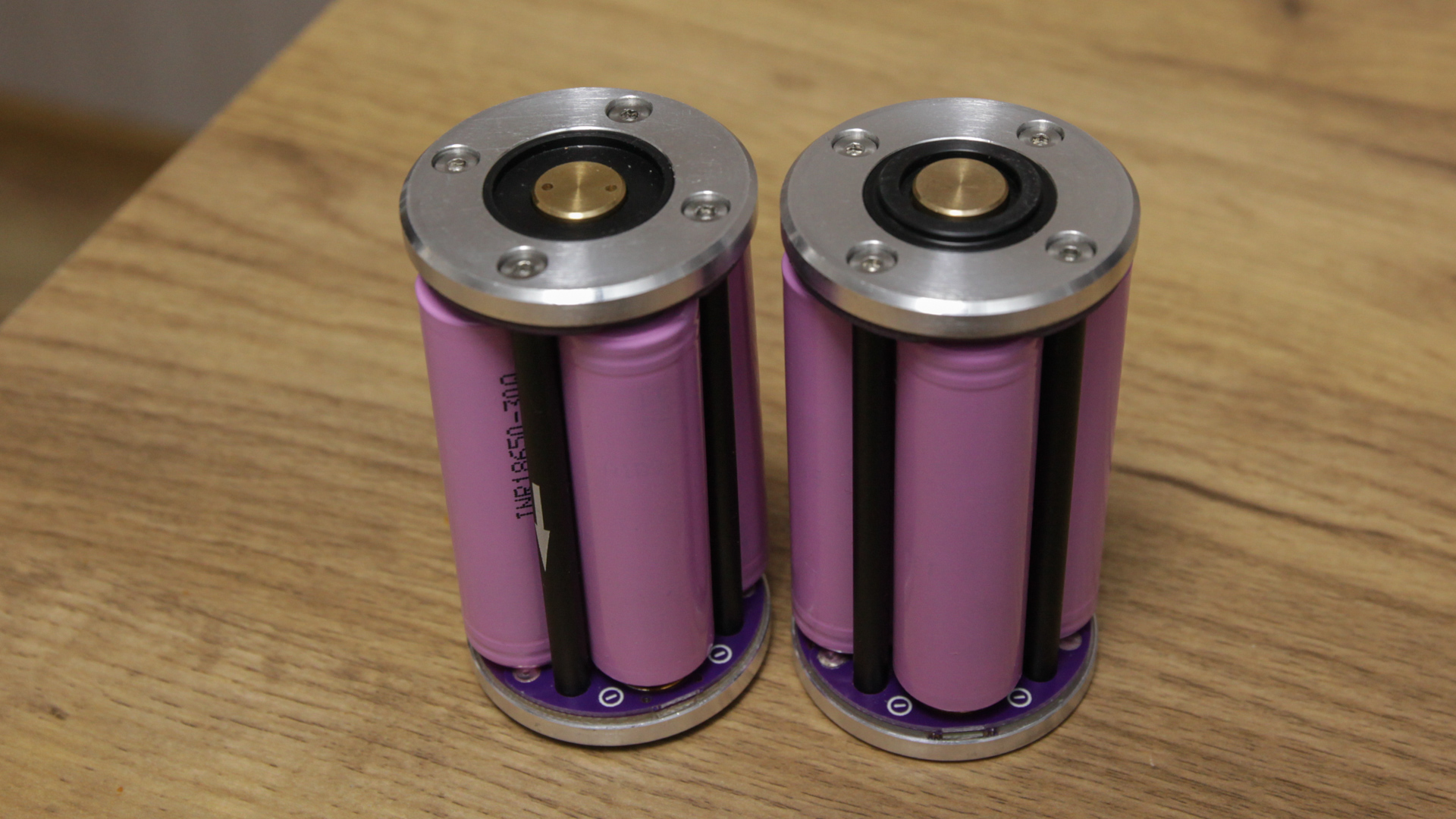 In the Mateminco MT90 Plus, they are connected by a kind of shock-absorbing spring-loaded tablet that moves softly in the body like a piston.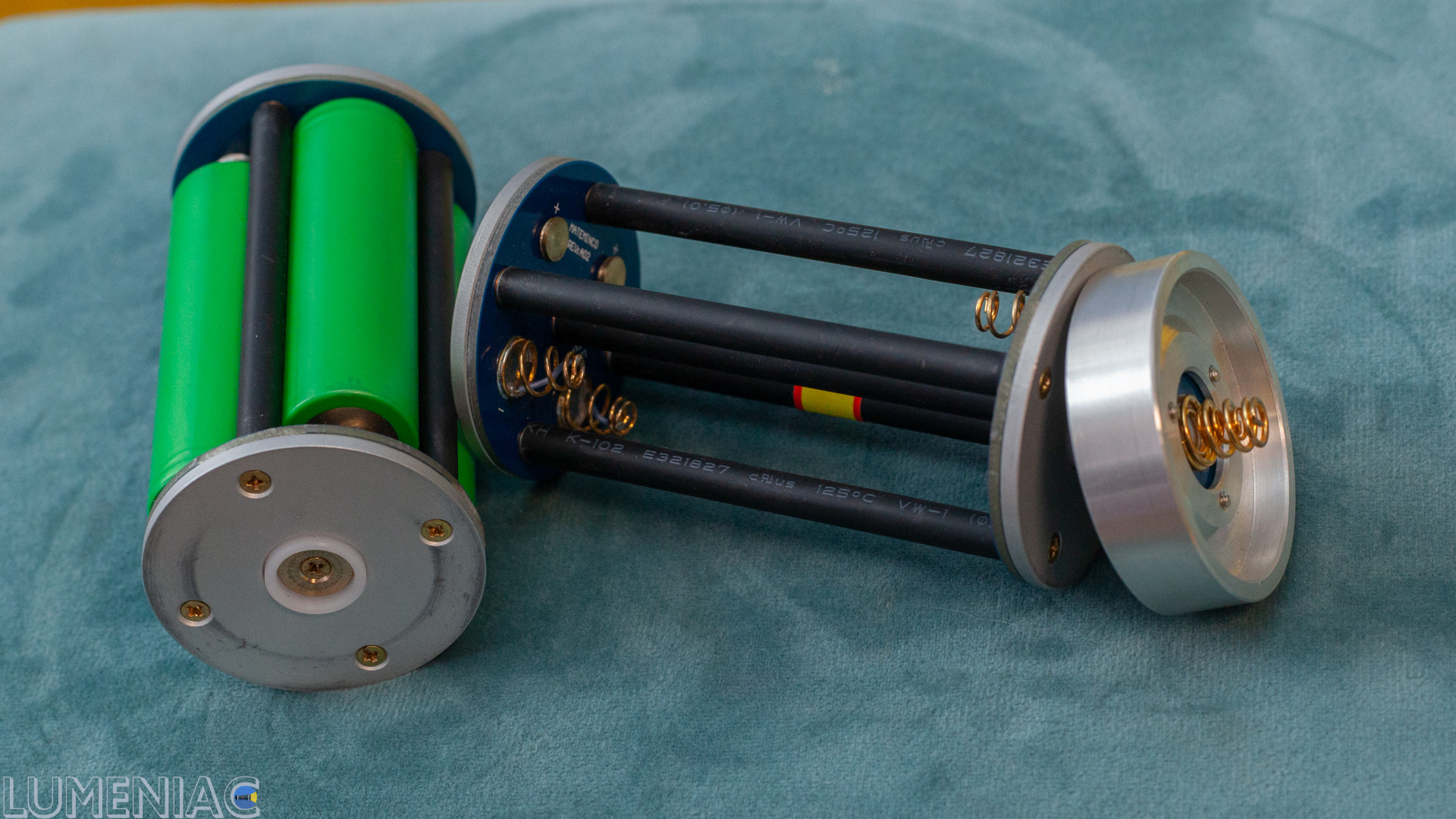 And the big advantage is that this construction of battery carrier fully support flat-top batteries.
Look, in BLF GT70, the contacts were deepened.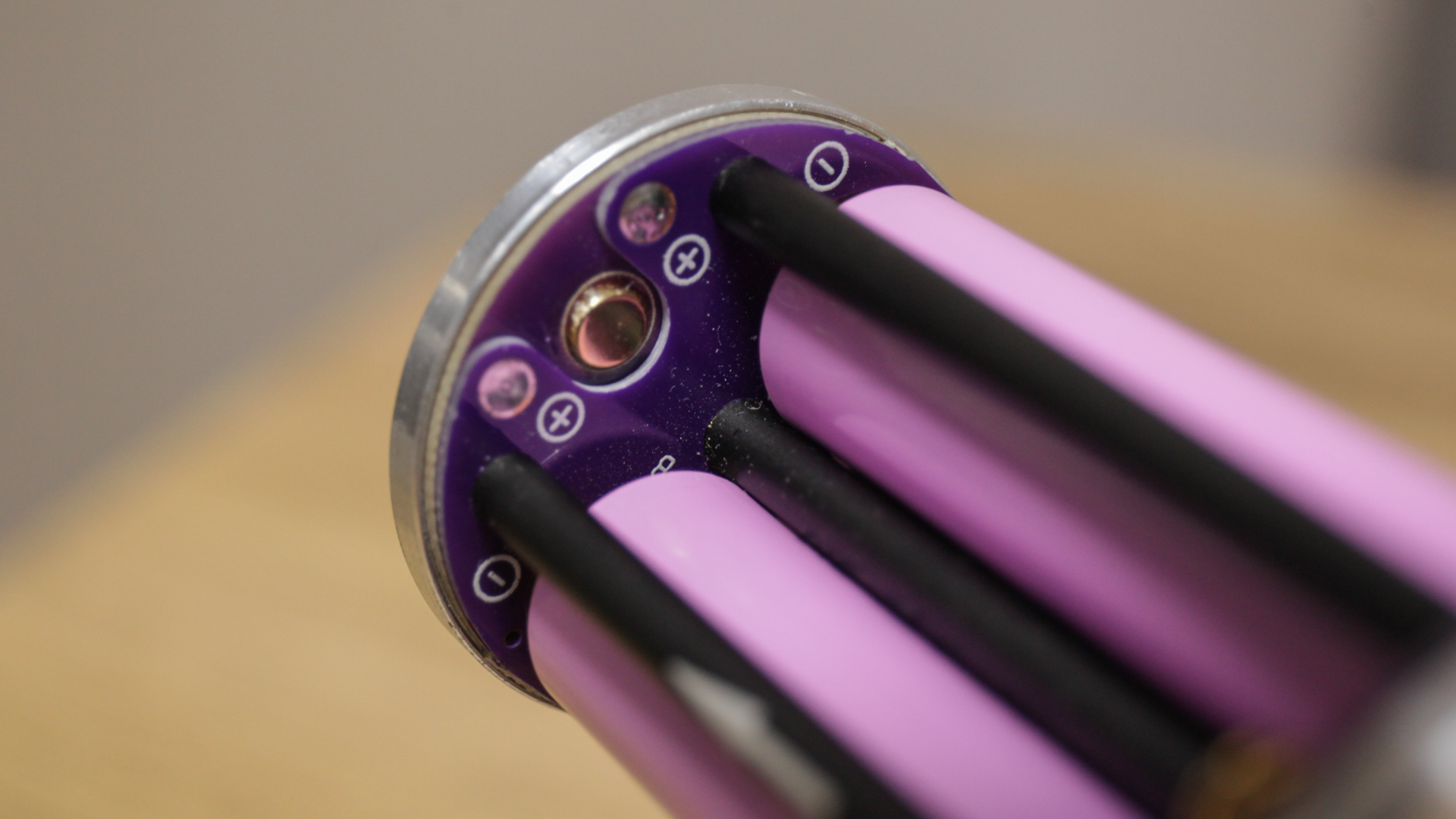 And the ones of MF05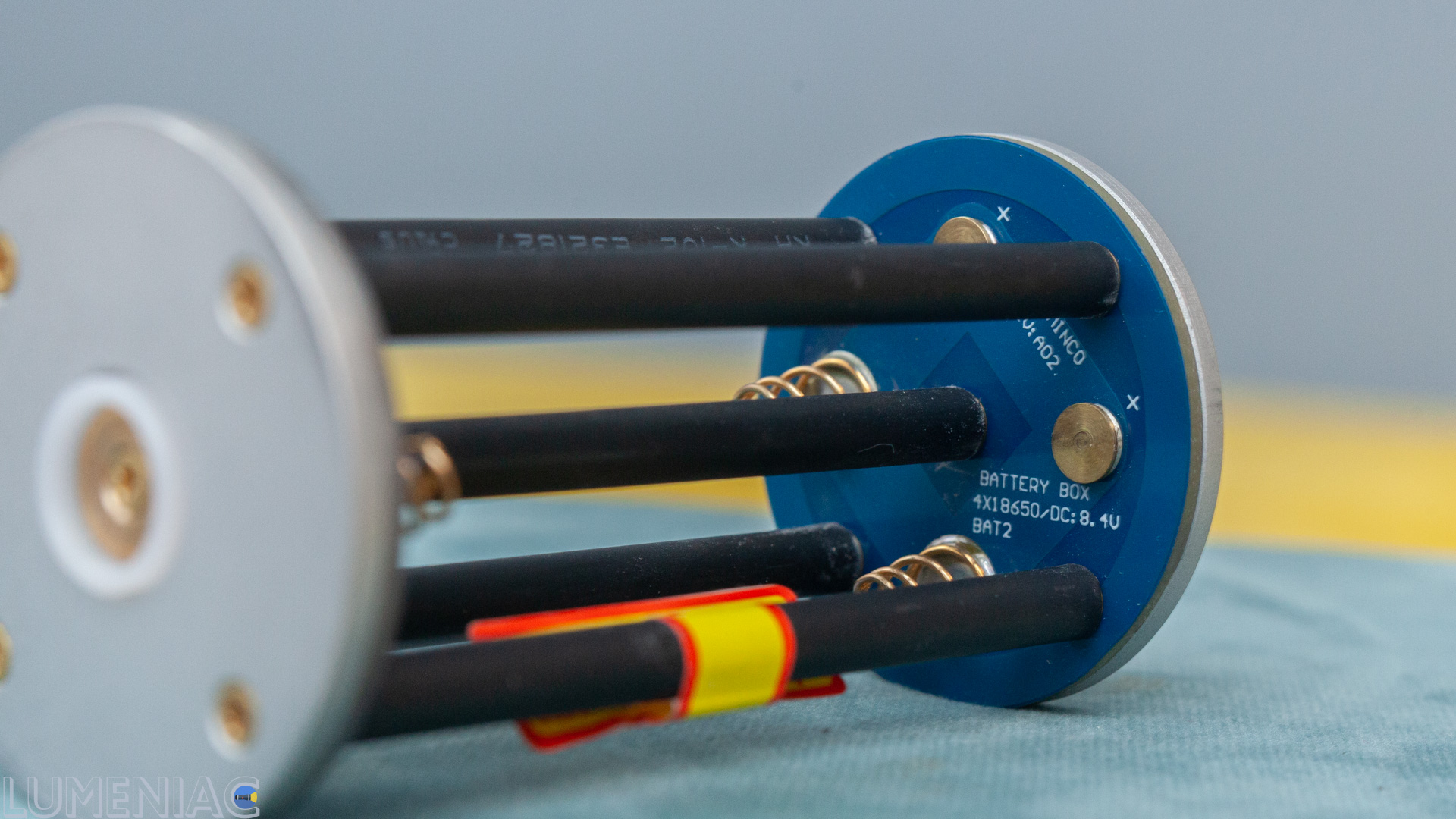 The cassettes themselves, in fact, are of good quality.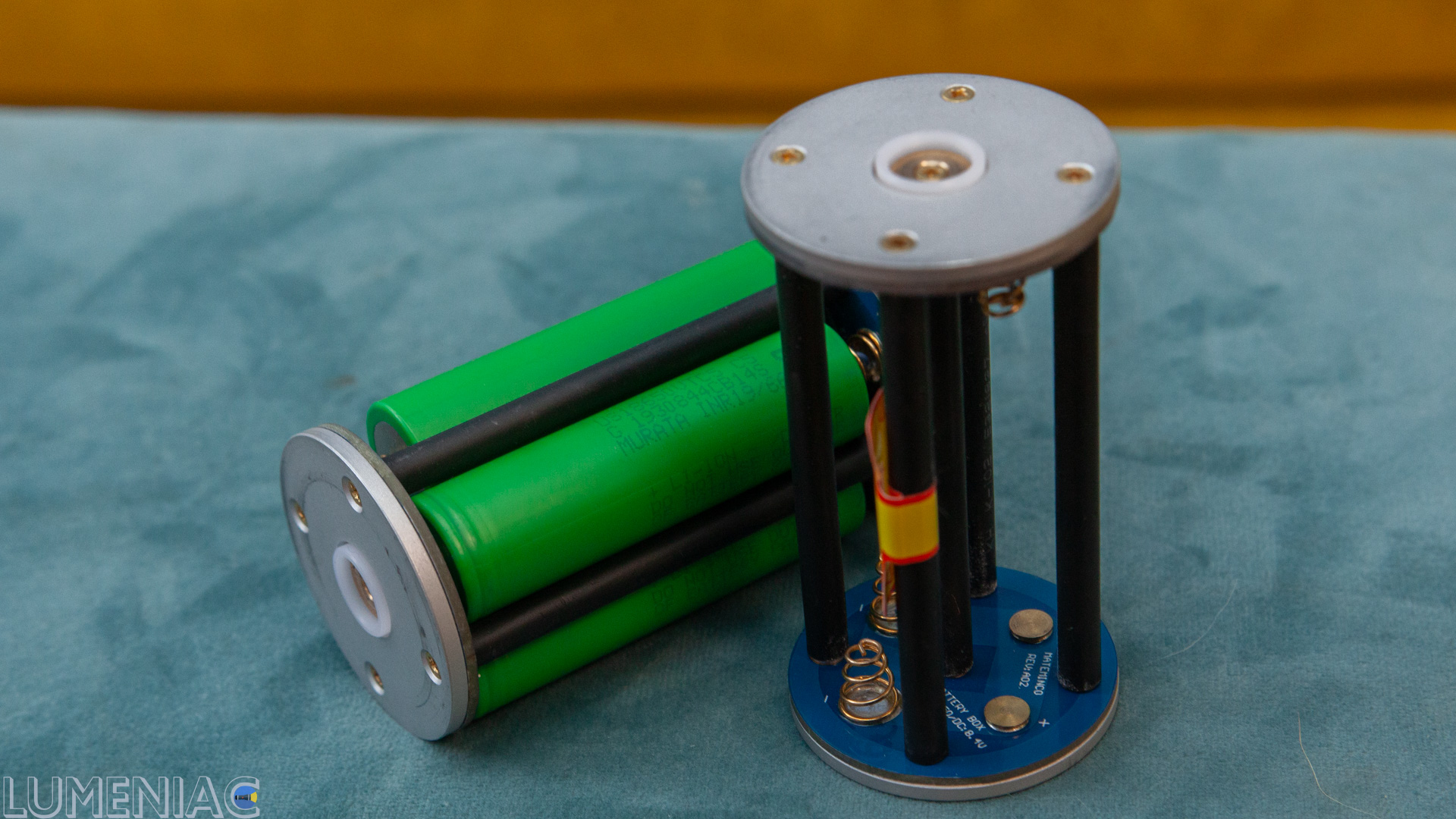 The tail is huge. It stores 25ml of liquid, so you can celebrate purchase with some shots from tailcap. If you are not embarrassed by the presence of lubrication on the threads.

There is no spring at tailcap, only at head.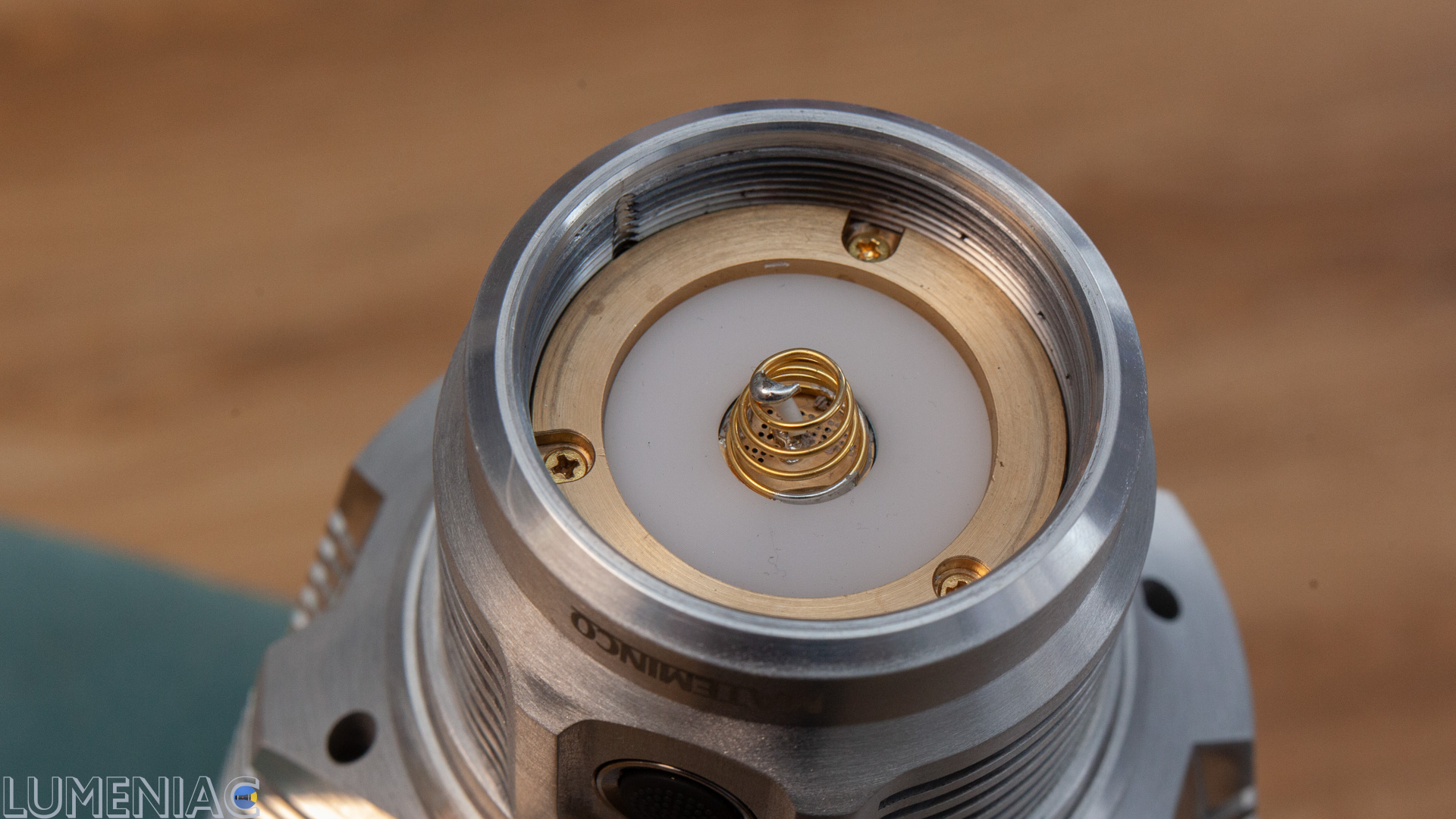 The thread, by the way, is of a completely regular size. Quite well lubricated.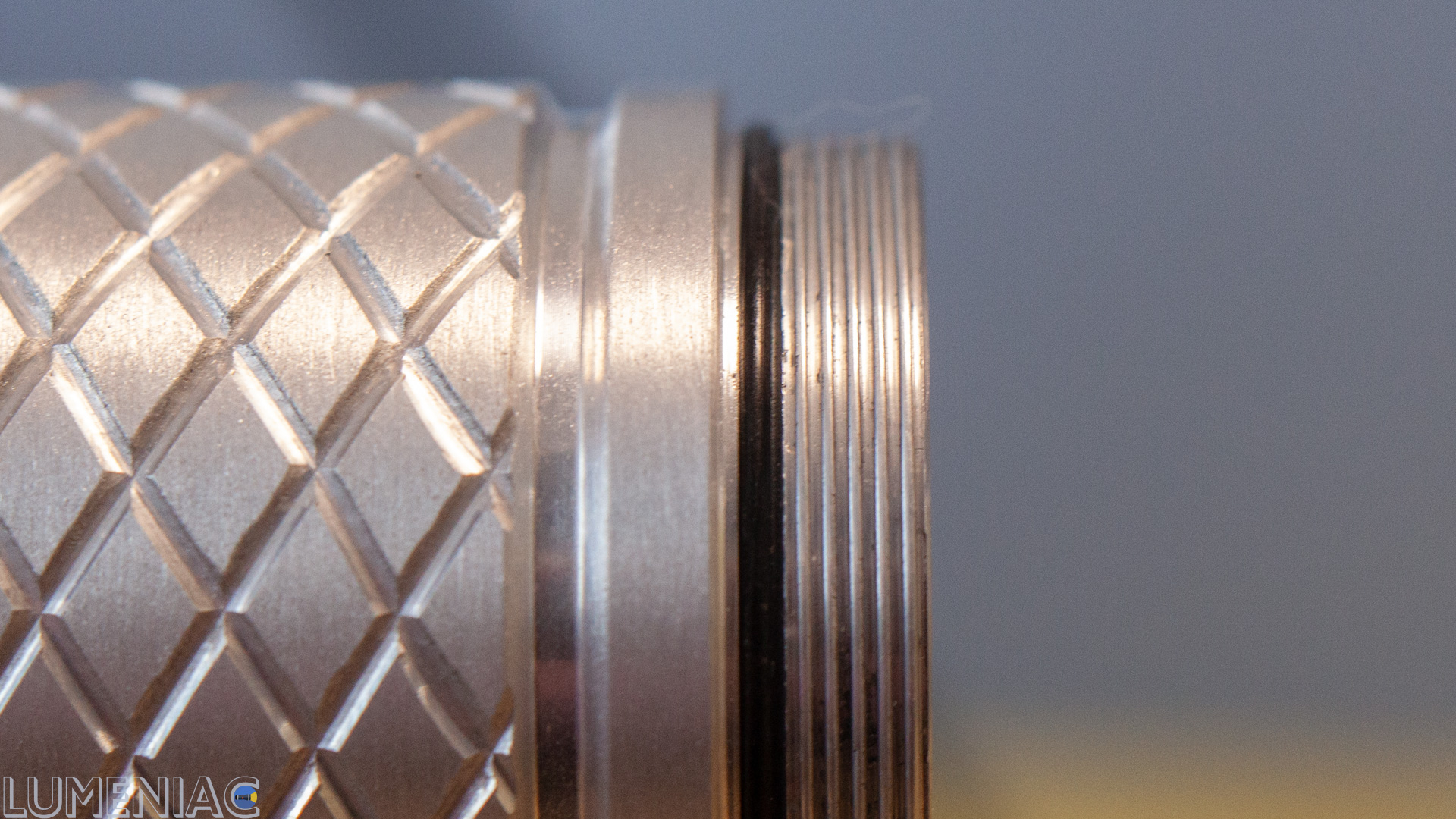 And it is perfectly symmetrical, so you can twist the handle on either side.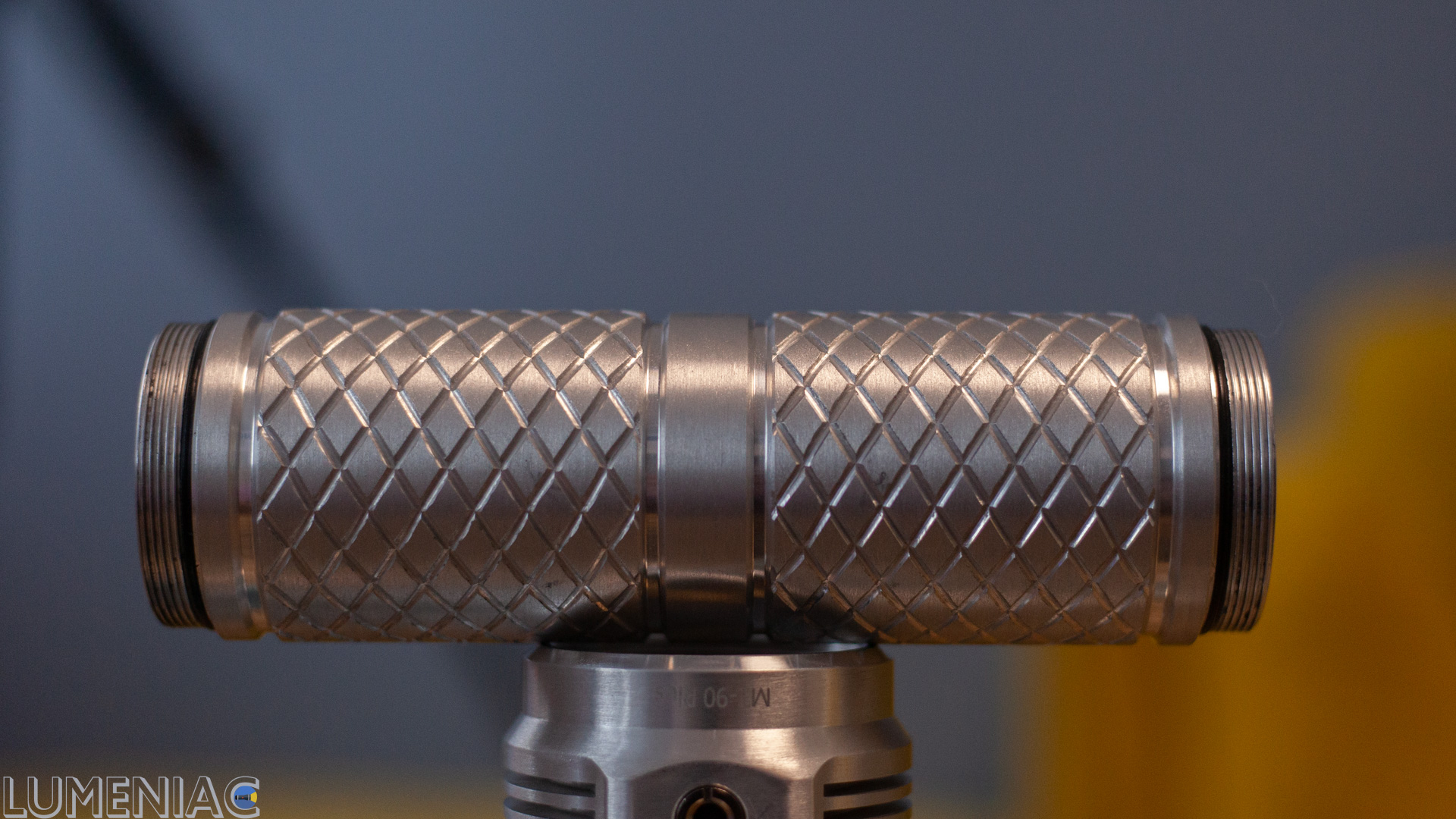 The knurling on the handle is the simplest, ordinary "pineapple". To match the overall size, it is huge. Very deep and tenacious.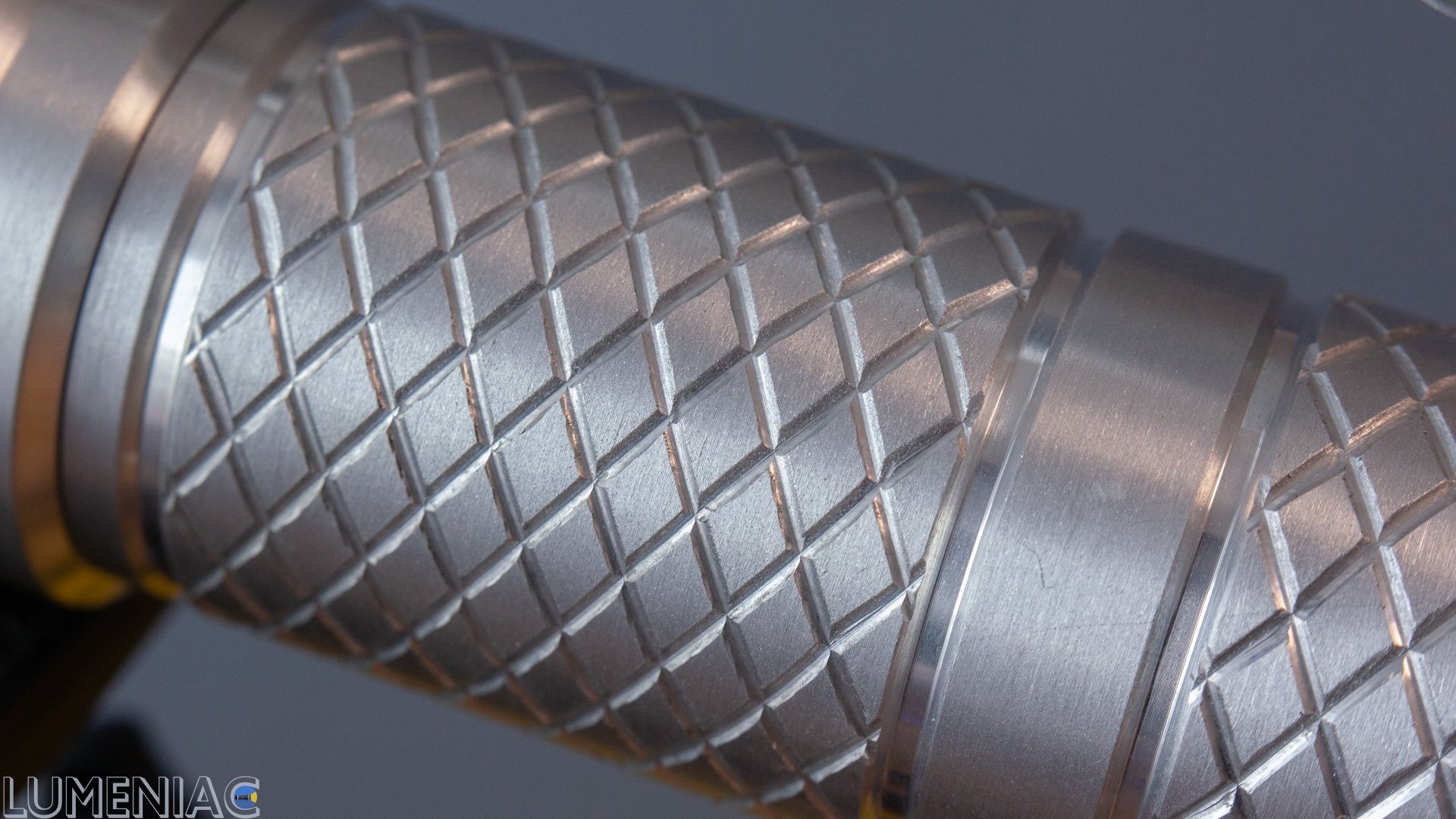 But if you do not have the dimensions of a super-heavy wrestler or powerlifter, then you cannot do without a sholder strap or handle. Without them your wrist will ask for mercy in just a couple of minutes.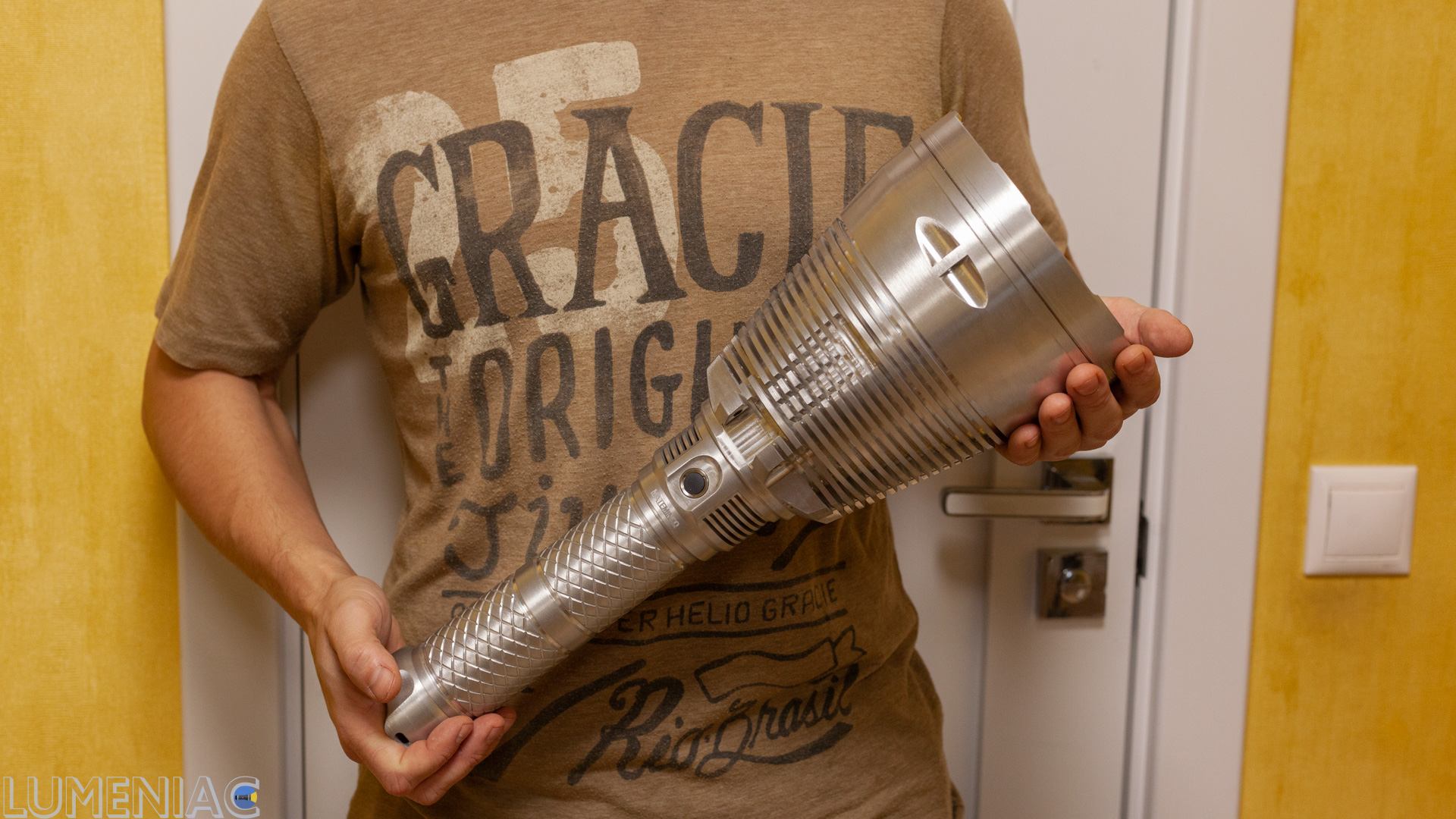 The handle fits into the corresponding groove on the head and is secured with a pair of bolts. It is fastened more than reliably, but there is a small play that does not affect the use.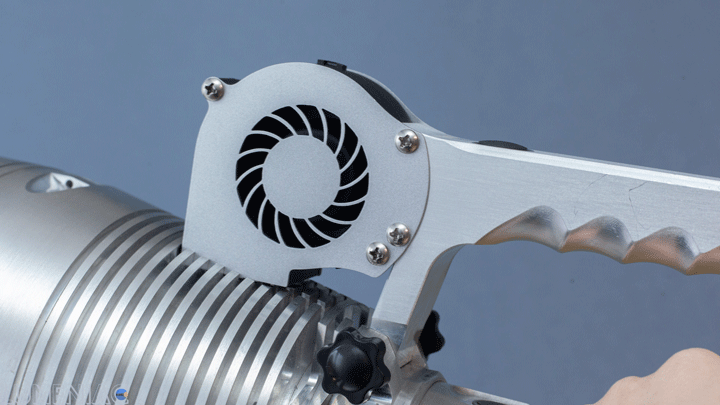 The fan is powered by a 21700 battery which consumes 1.5A , so it`ll last only for one constand turbo mode use. Luckily, you dont need to turn fan on even in HIGH. Only in Turbo. Plastic cover, btw, is definetely not a good idea from the staindpoint of waterproofness.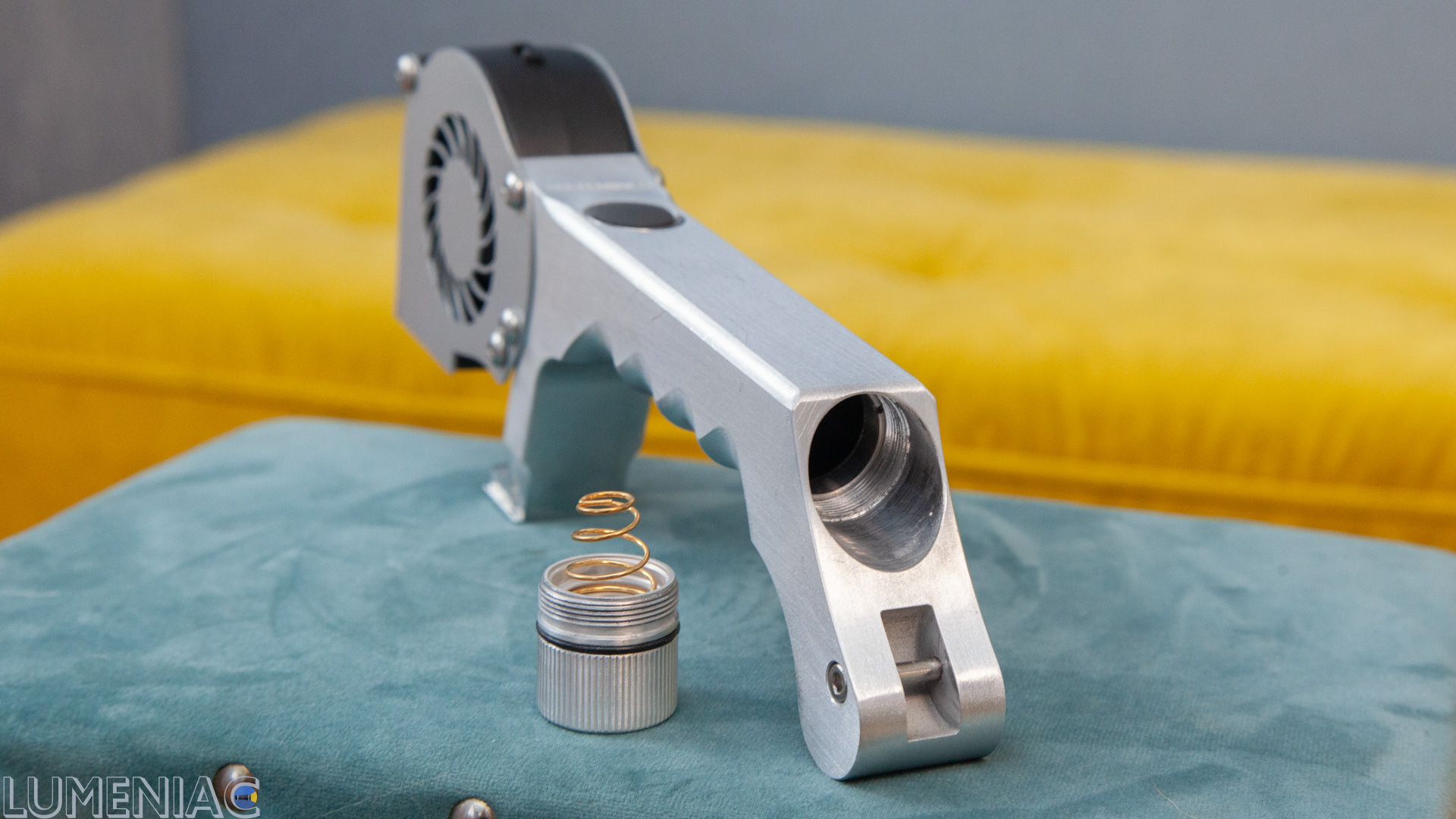 The handle is very comfortable, with neatly cut, ergonomic places for fingers.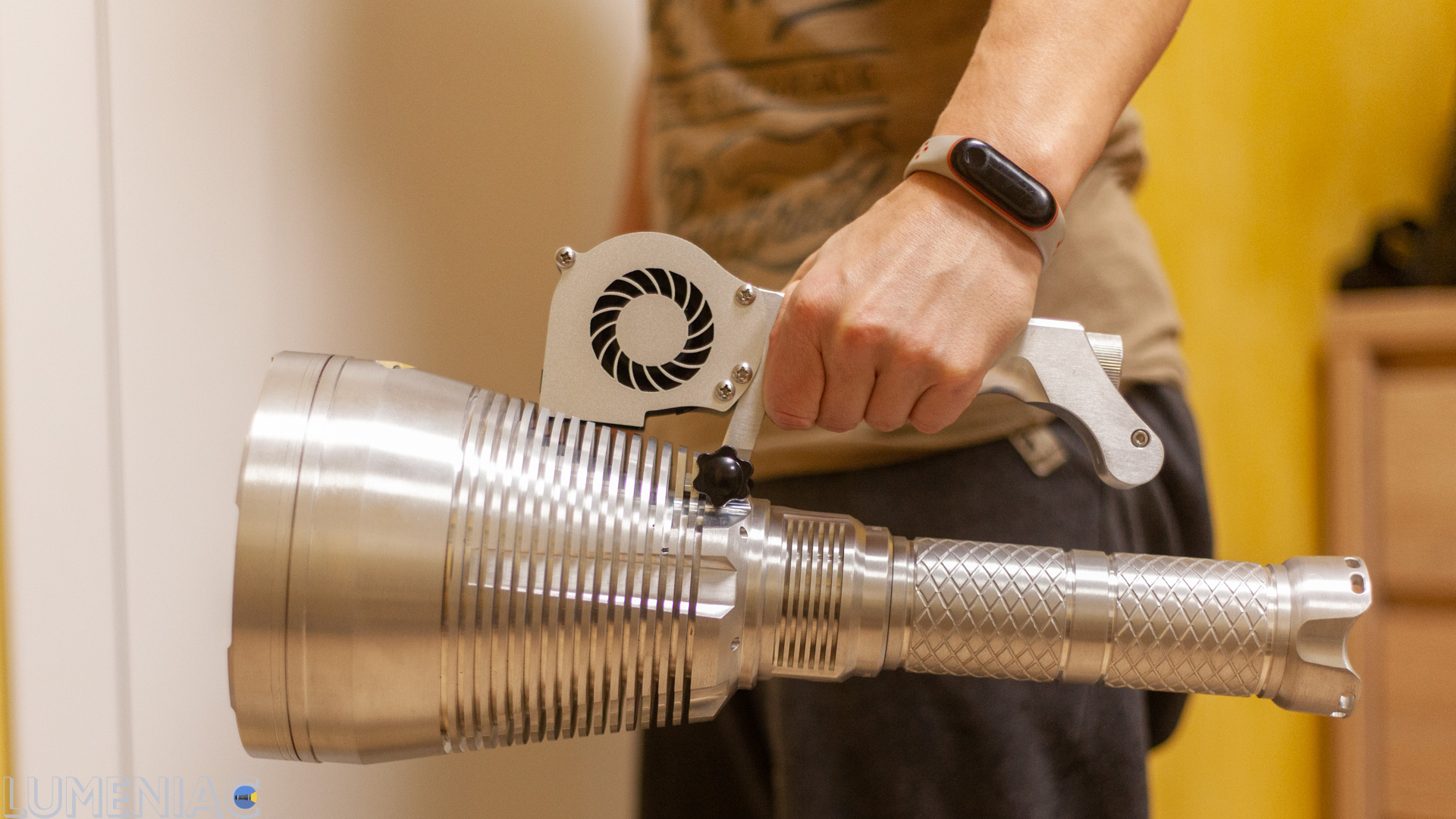 However, even with a handle, you will feel the full 4kg of the flashlight relatively quickly. The shoulder strap in this regard will be much, much more comfortable.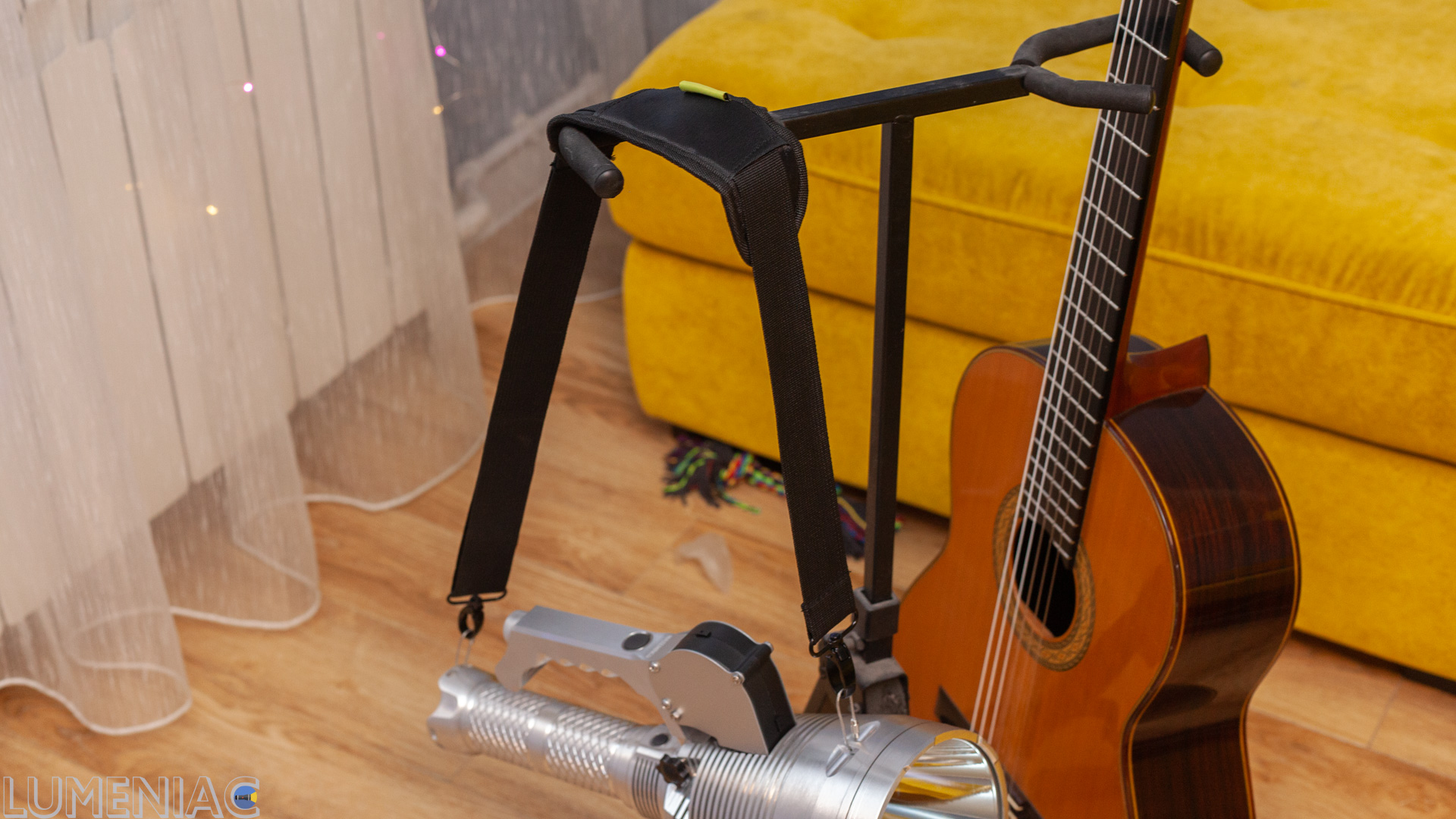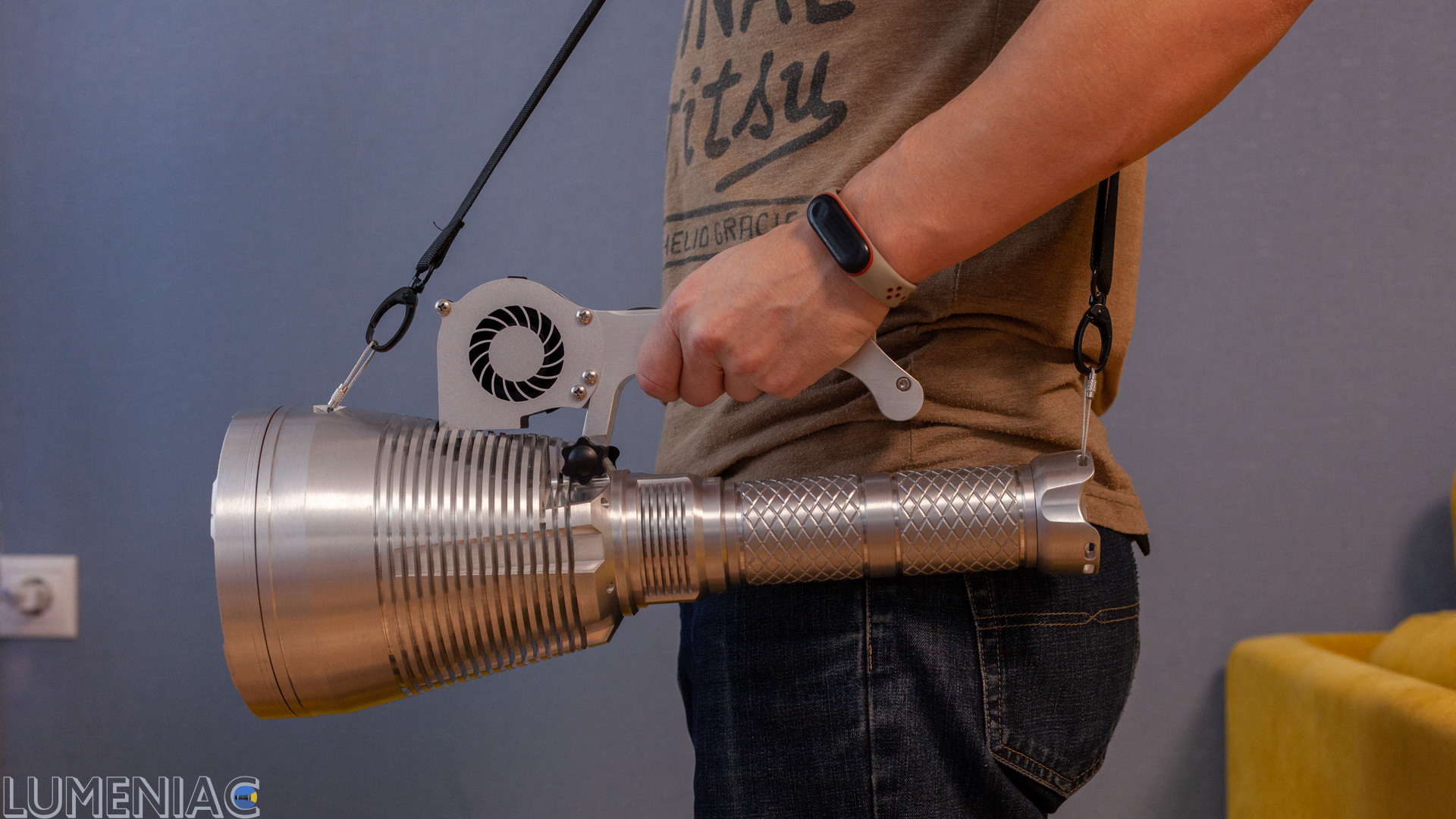 Astrolux MS05 is operated by a single backlight button. It is medium in size, lays in deepening and the finger finds button easily. The move is shallow, with a noticeable click.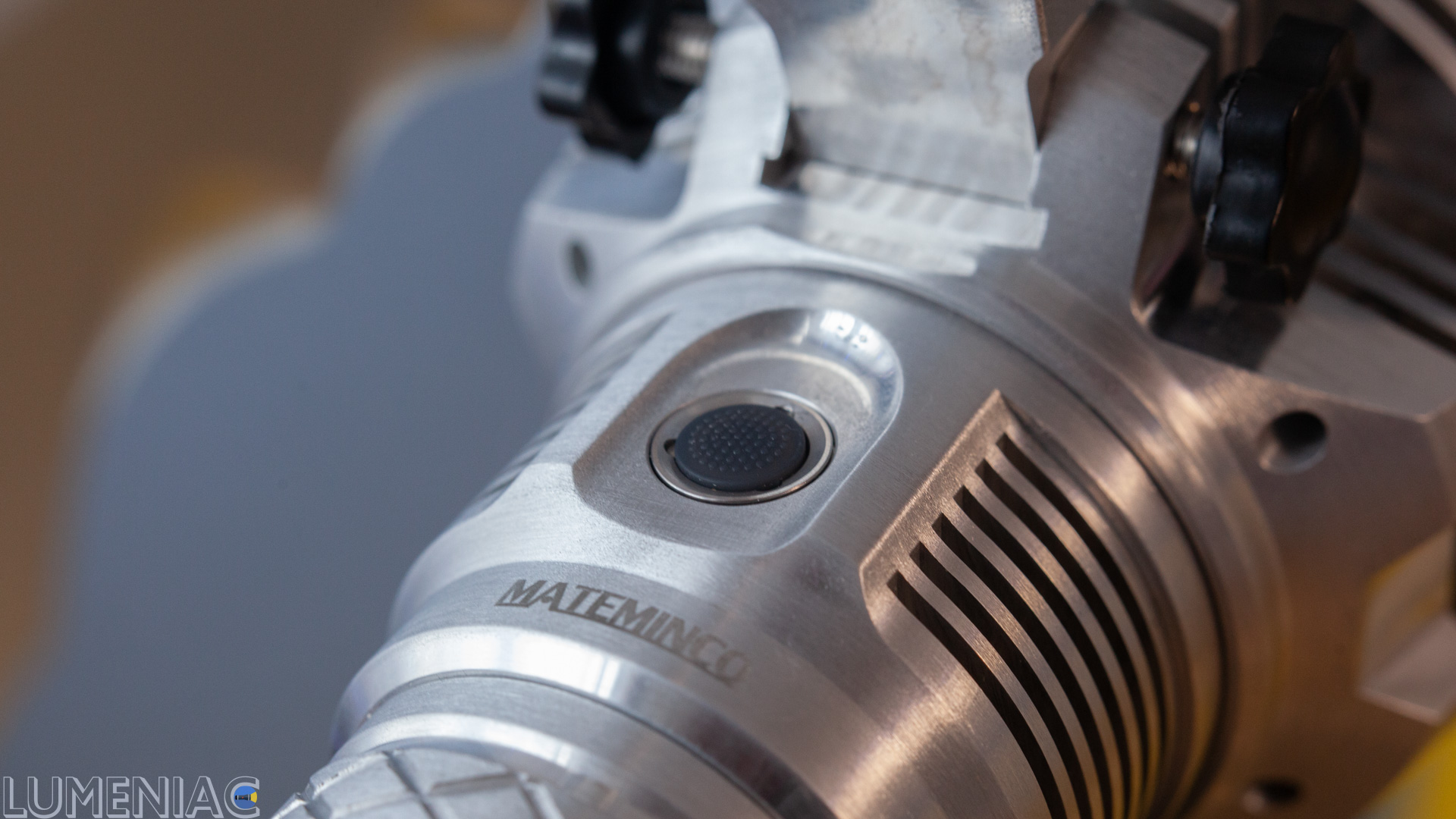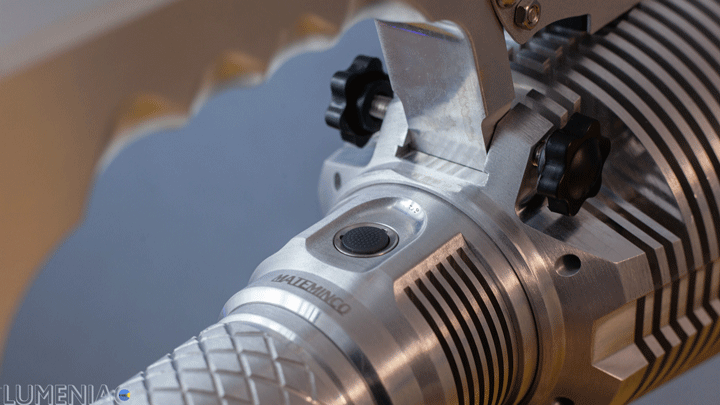 There is a standard ``1 \4 thread on the opposide size. But kit includes adaptor for most used ``3\8` threads.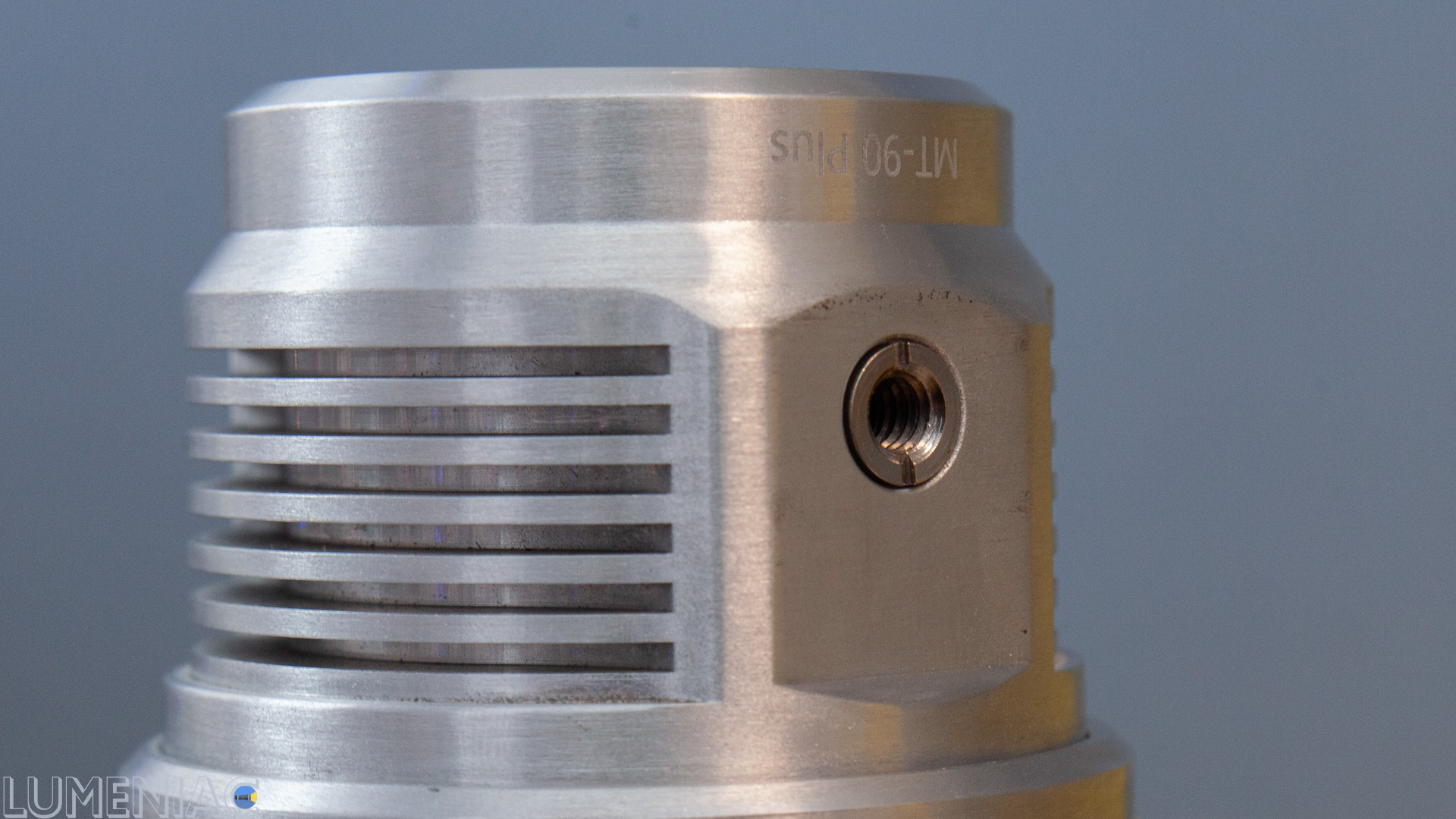 Well, here's the head itself. And it is, again, DAMN huge and long. With 15 big and 5 smaller (!) deep cooling ribs it looks like a sort of engine.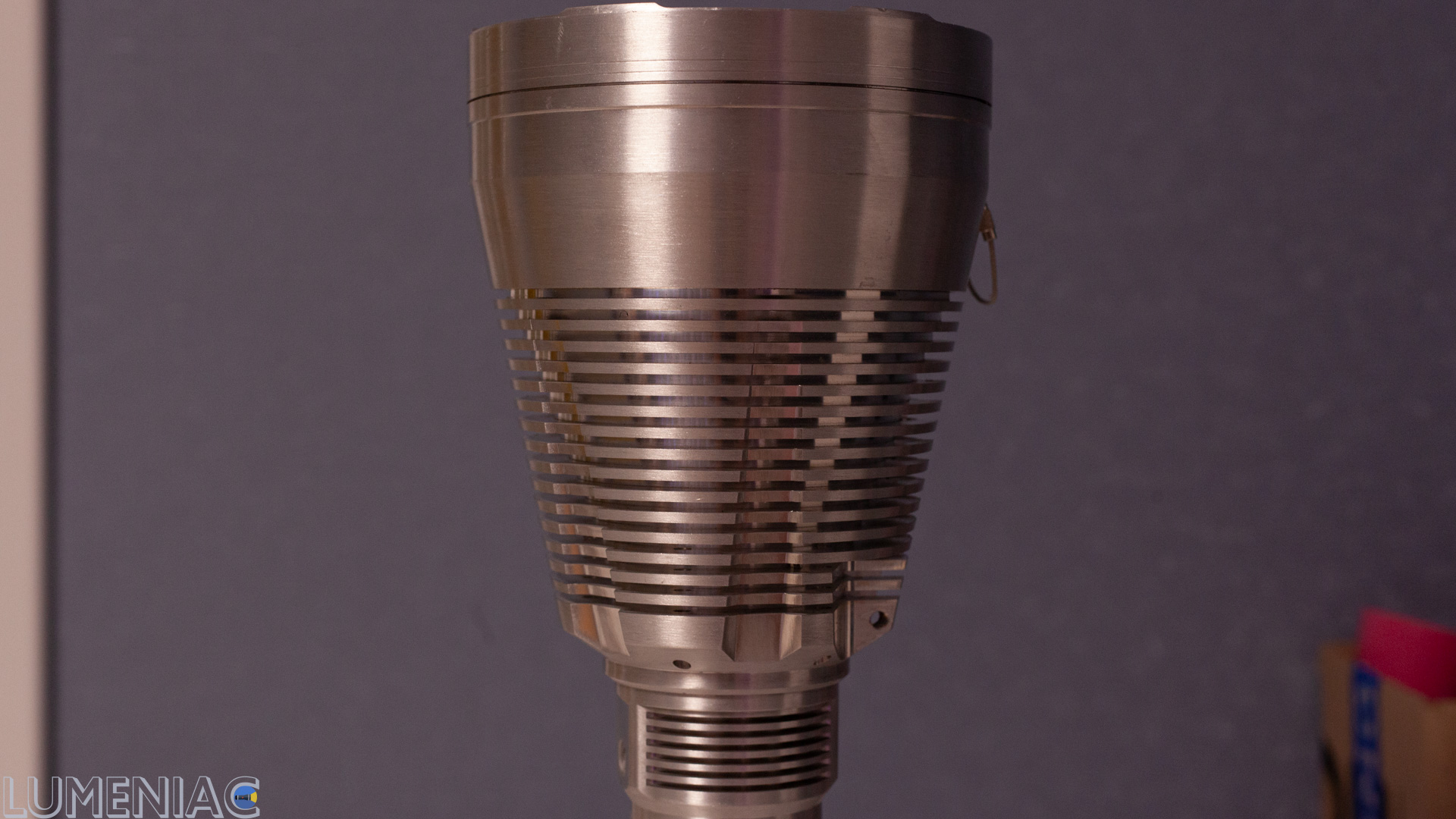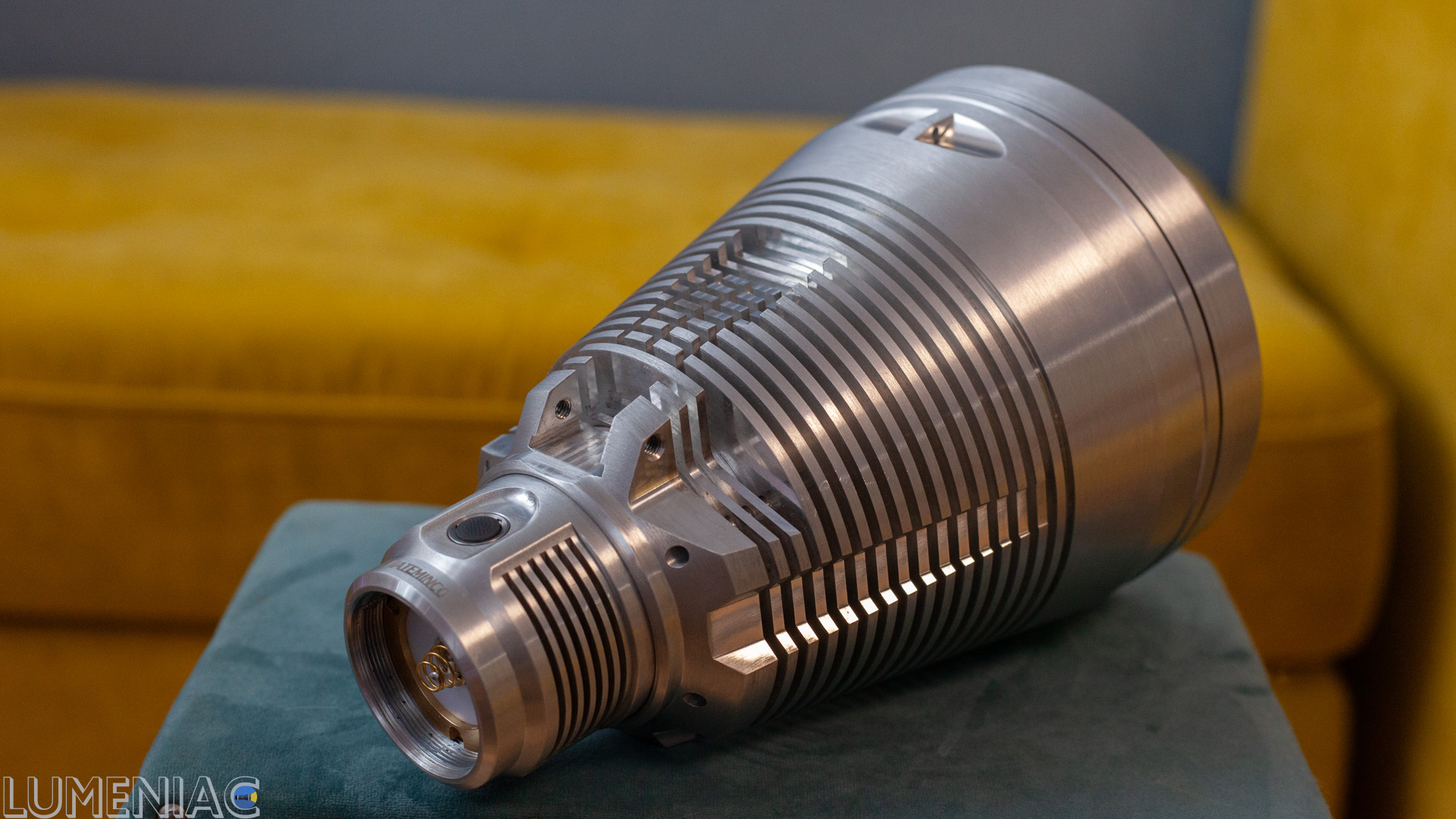 Usually head and tail of pocket size long-range flashlights relates to each other like this.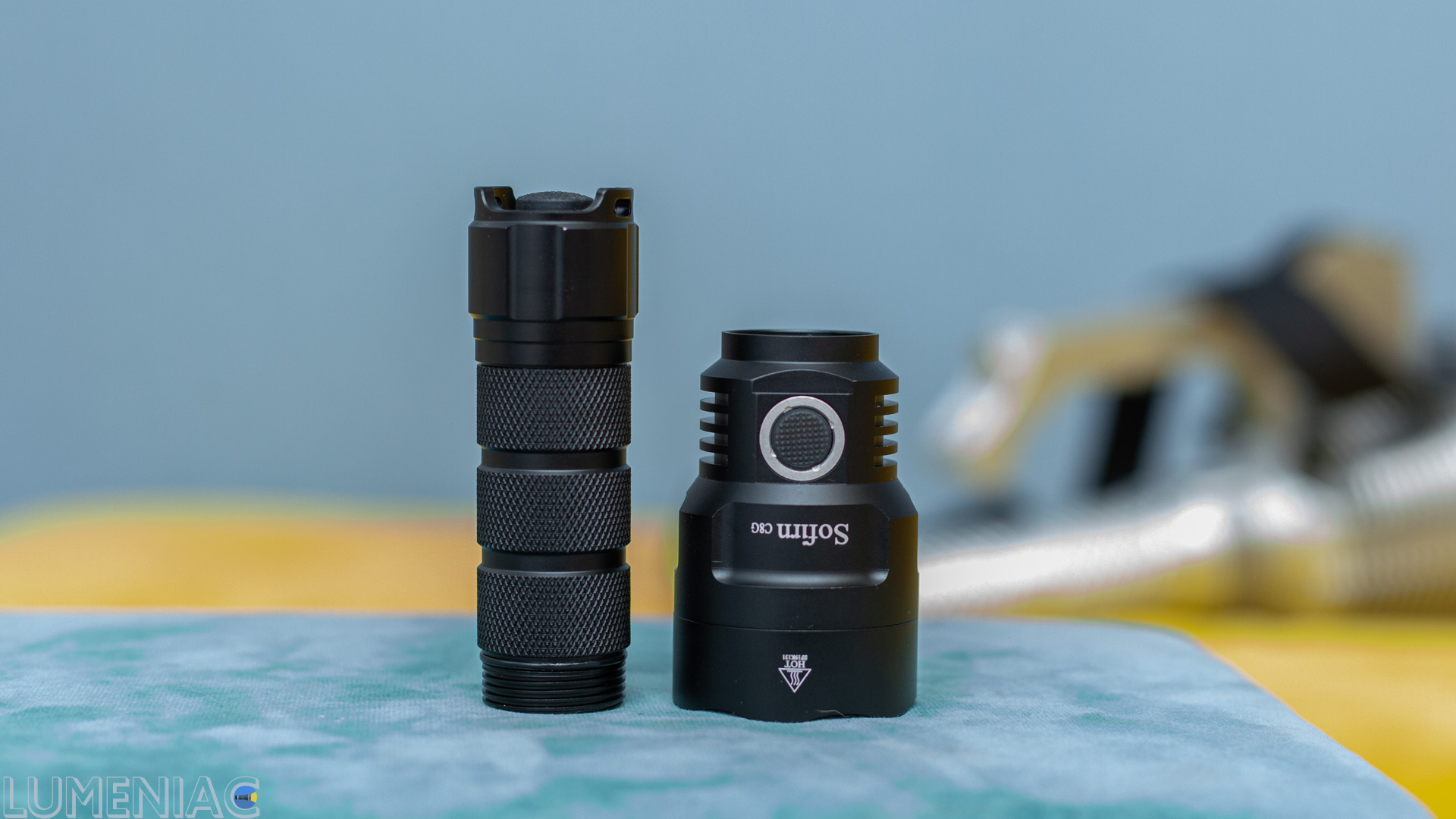 In the case of the Astrolux MS05, the head and body are the same length.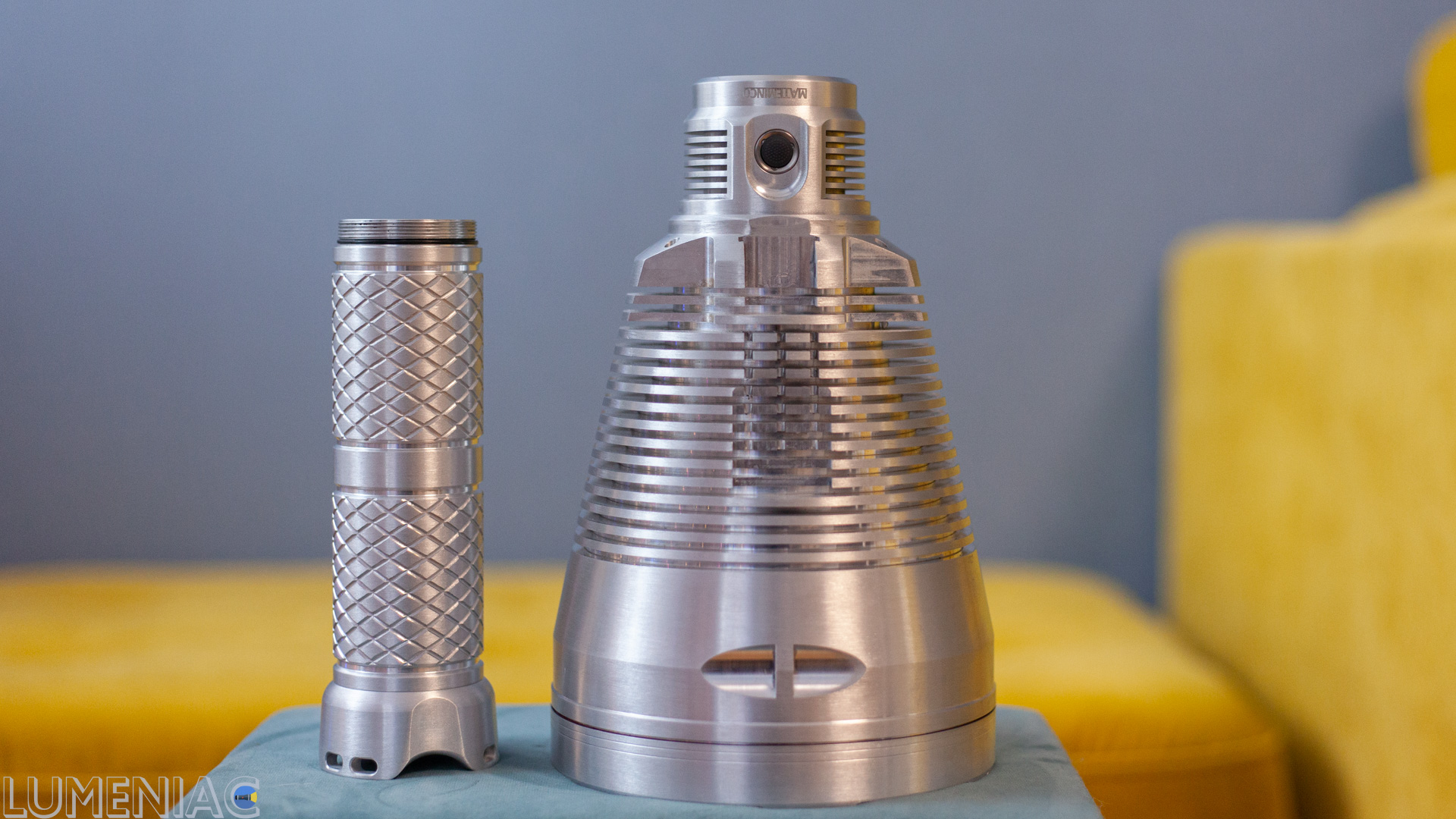 There is no surprise here, flashlight require the largest deep reflector for focusing the beam to the maximum long-range .
And since, according to the manufacturer's assurances,the driver takes 32A at 8.4V in turbo mode, can you imagine how much the head heats up at max brightness?
The bezel is wide, with symbolic teeth. It is probably glue-set, as i couldnt twist it off. I didnt really tried, to be honest )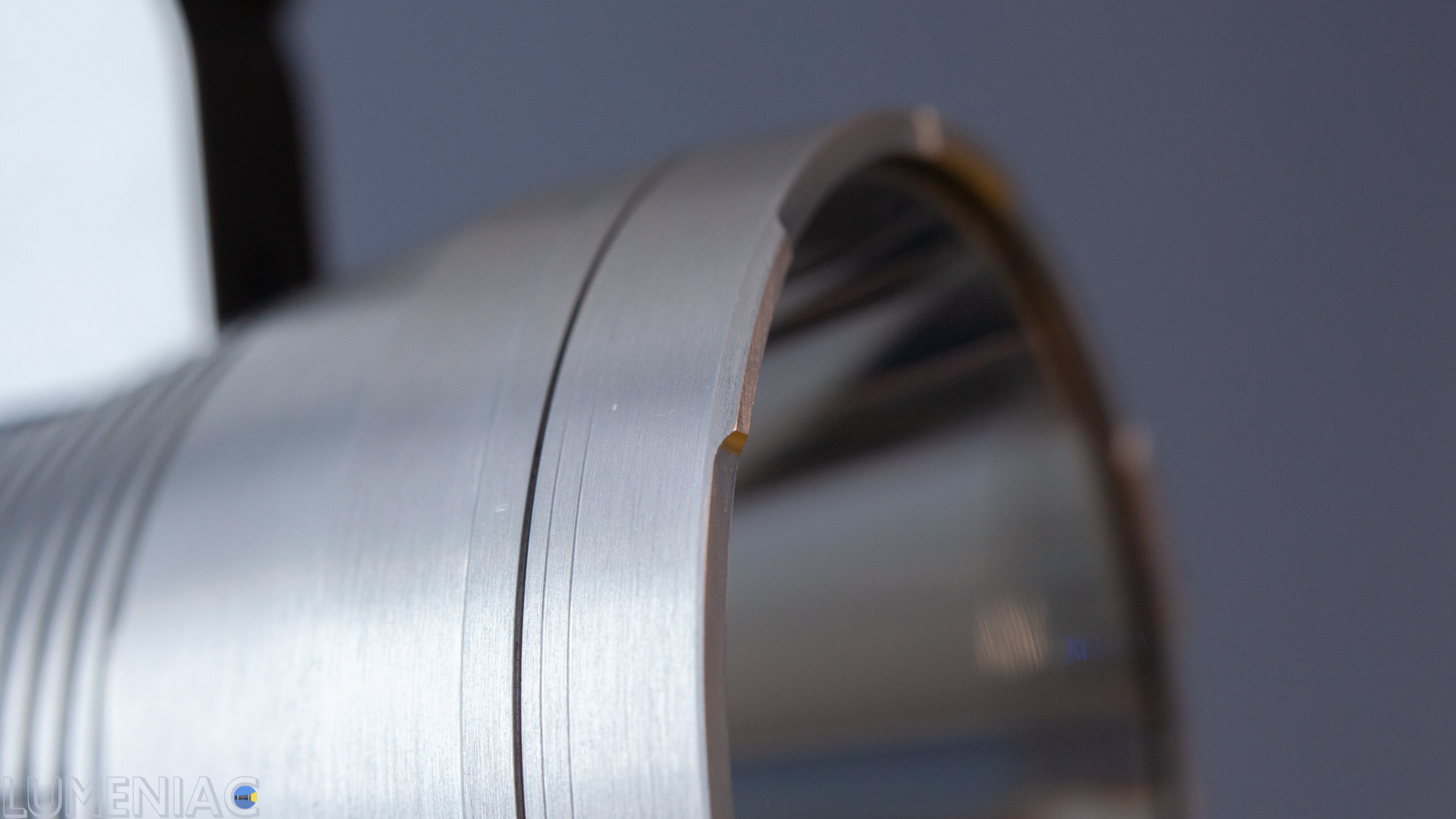 Ther is is a giant bell of a smooth reflector inside , at the bottom of which you can find the most powerful and long-range LED for flashlight at the moment – Luminus SBT90.2. In conjunction with the appropriate optics, it is really capable of miracles, but it is capable of impressive throw even in a fairly small size, as you may see in my Lumintop X9L review. As Mateminco MT70, this is one more alternative to MT90 Plus. Not 100% replace, but it`ll give you a lot of fun and you can store it just in almost any pocket.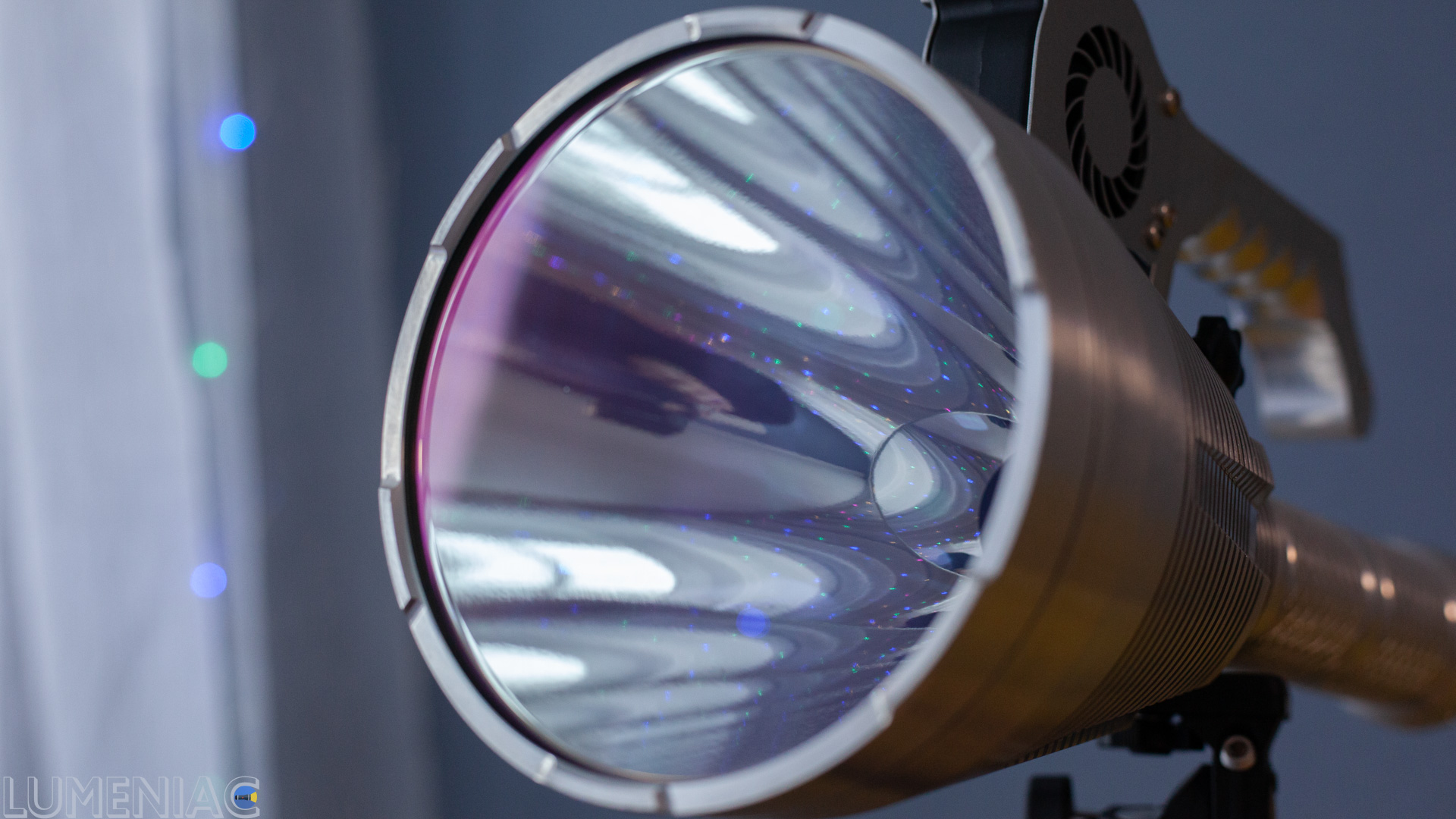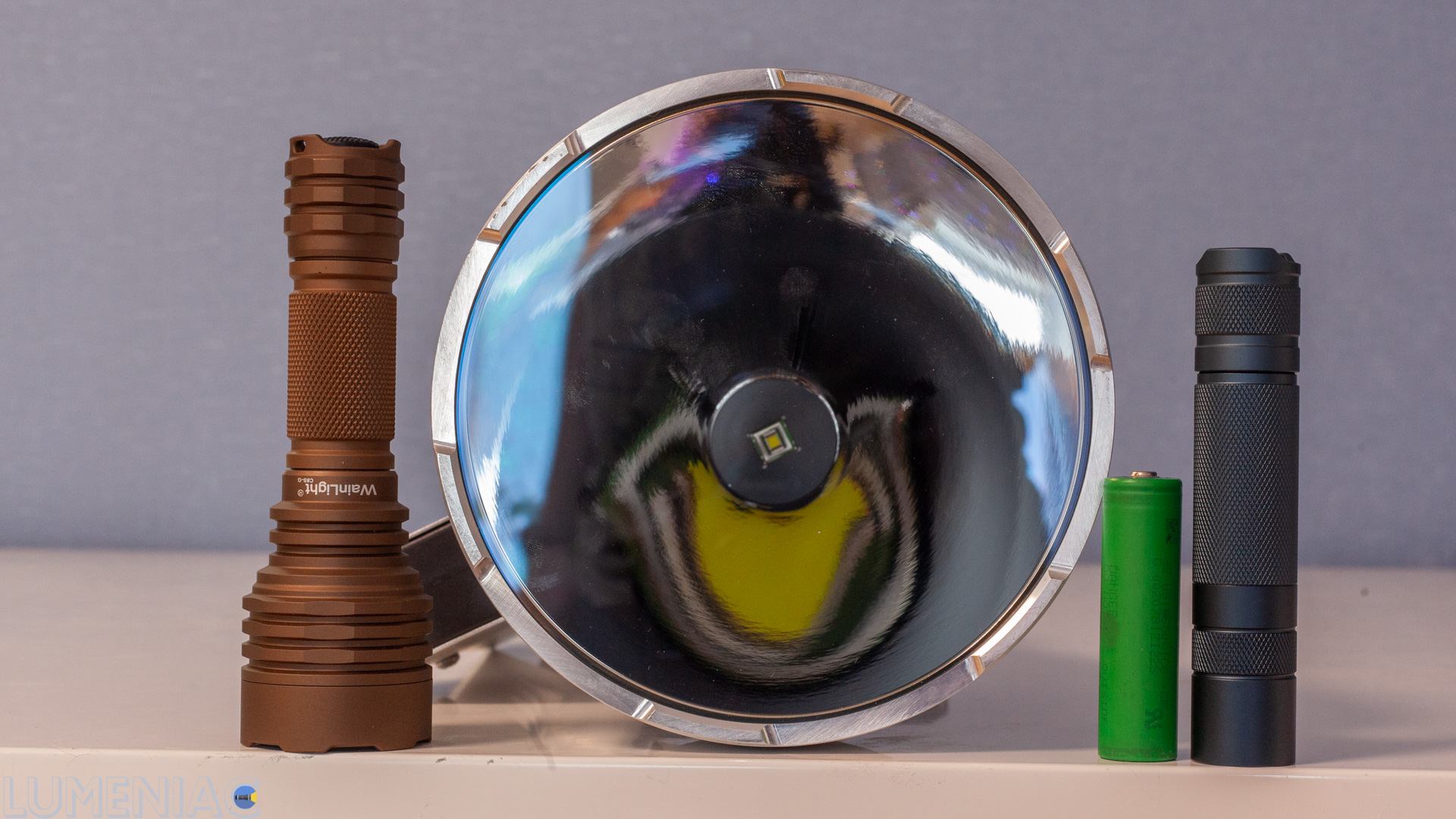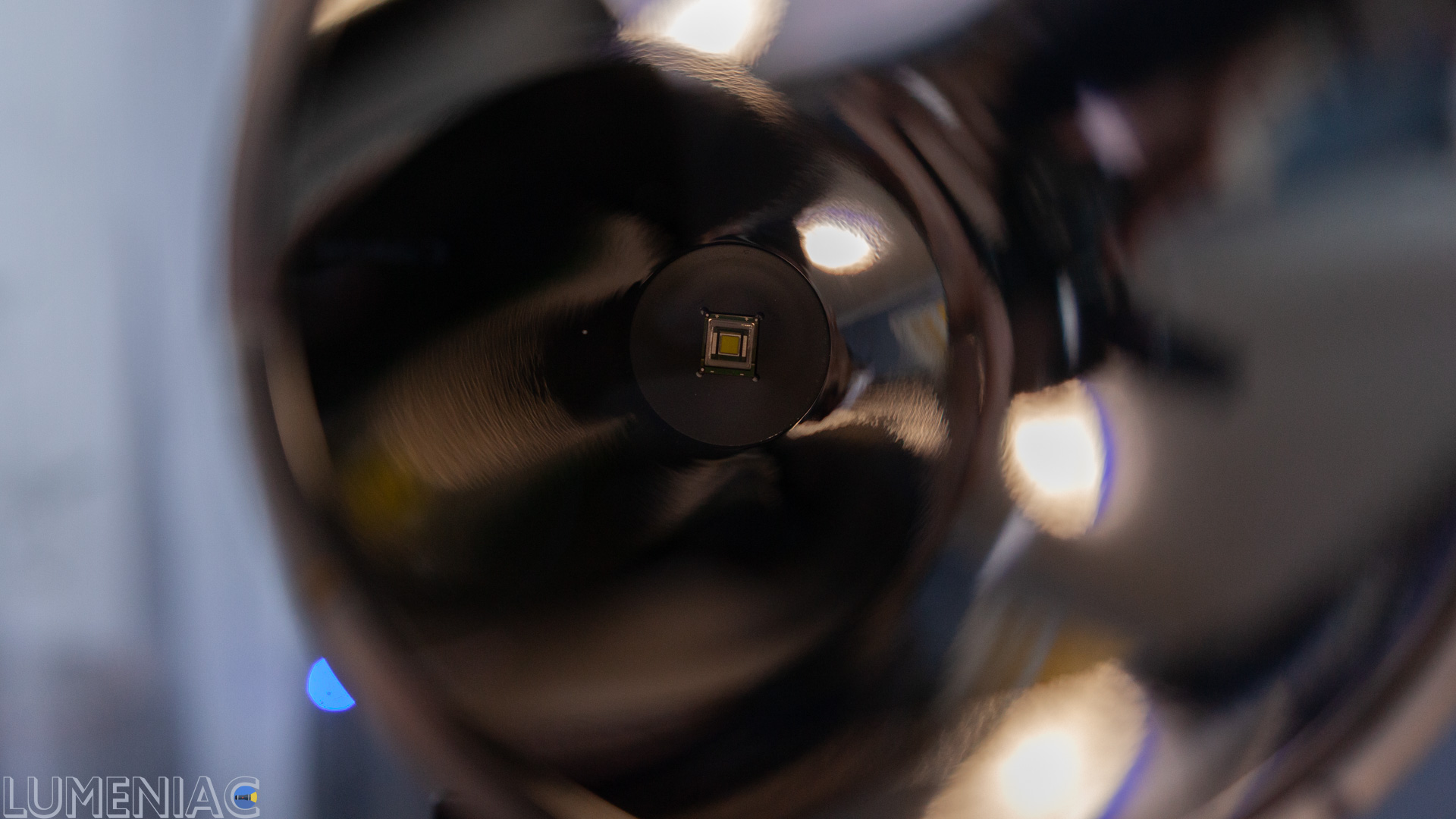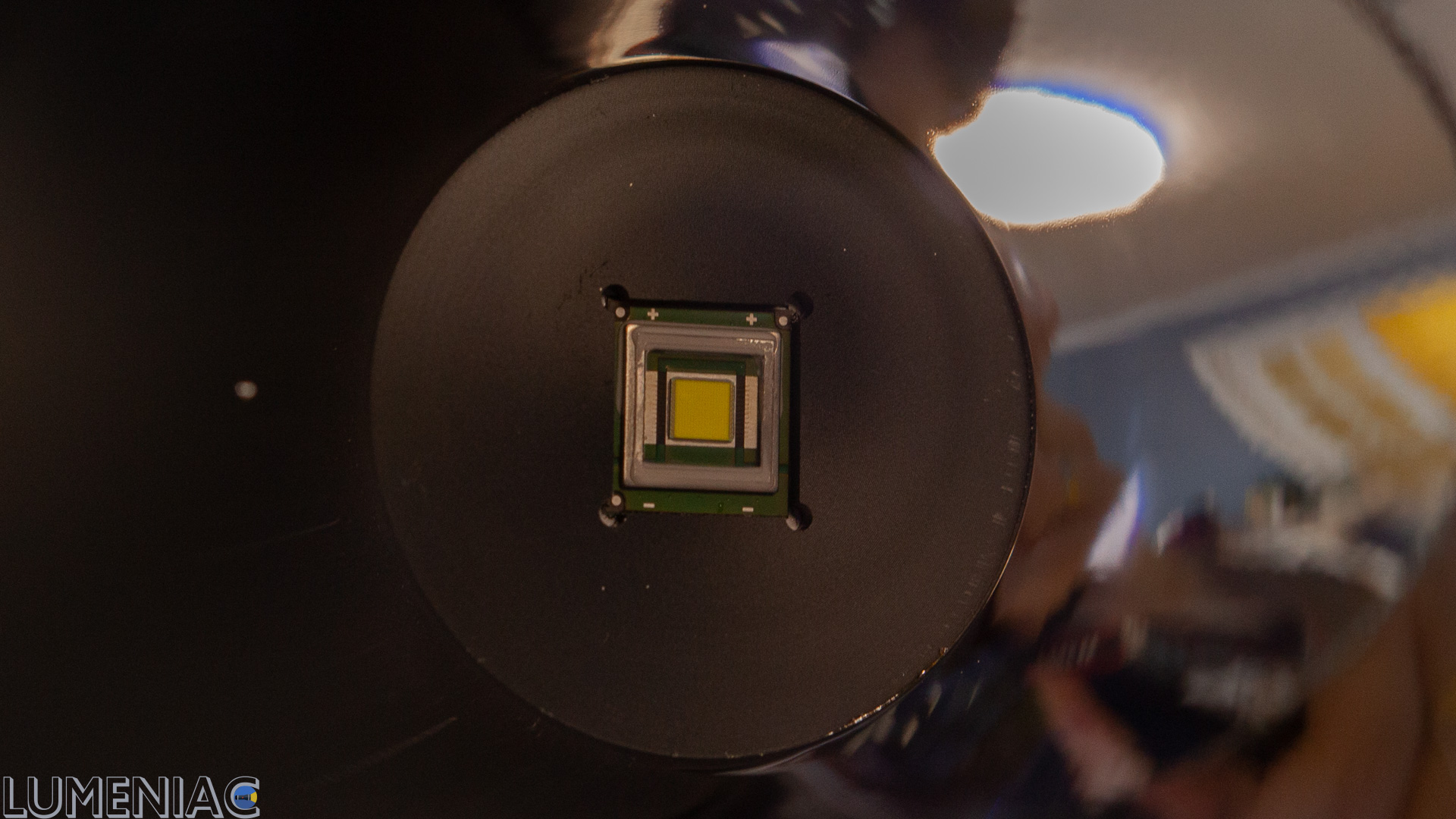 In a completely pocket-size, this flashlight made it possible to give out the throw of a way larger search light without significant loss of side lide. For those interested, I have a review of another powerful long-range flashlight with Luminus SBT90.2, namely Acebeam K75.
The downside of such impressive characteristics is, unsurprisingly, a fair amount of energy for higher modes.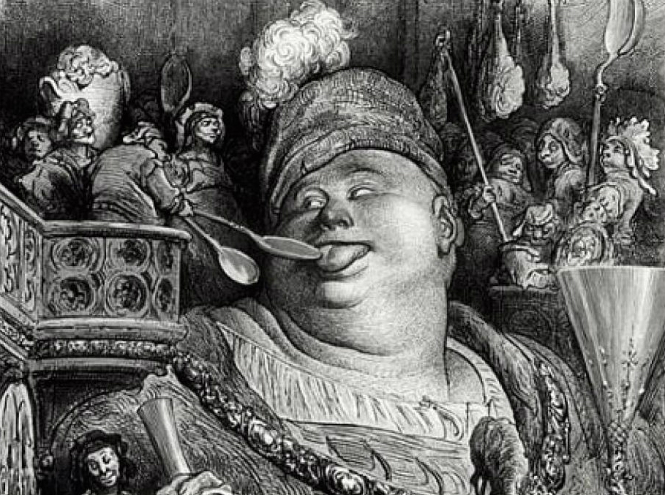 That's all, actually. The flashlight has exceptional size that strikes imagination. Design is simple, but goood. Bag is great and a kits includes all you need. Unless someone needs an adapter for a thread, but, if desired, you can buy it for a frank penny in any photo store.
UI
In general, quite comfortable. Since the flashlght is mostly of interest to a specific category of people, it would be worth to expext some kind of flexible interface like Narsil \ Anduril.
In reality, however, you get yourself quite laconic and but not simple UI. Although, it is not that specific, but combines features of both popular Olight \ Acebeam \ Thrunite` and stone-age Fenix approach to UI.
For Olight \ Acebeam \ Thrunite users this UI will be a small step down. A fan of Fenix ​​will discover the delights of access to moonlight, lock-mode, and battery check which are well known to everyone else.
Find yourself what came from whom here:
Click to ON
OFF – hold battery
Mode change – click in ON
Instant access:
Moonlight from OFF – hold button
Turbo from any state – 2x clicks.
Permanent access to turbo mode (the flashlight will turn on only in turbo mode, to exit you need to break the contact) – 6 clicks.
Strobe – 3 clicks
Voltage check – 4 clicks (from off). The button will blink the voltage. 8 and 3 flashes = 8.3v /
(Un)Lock – 5 clicks. Only button lock, no old-way mechanical one.
In short, quite suitable
HOW ASTROLUX MT90 PLUS ILLUMINATES
Runtime, measured by me is somewhat less then the stated one, since I used not Samsung 30Q mentioned specification, but less capacious and significantly higher-drain Sony VTC5. The original ones, again, from Nkon.nl (I've been taking it myself for many years, and I recommend it to you).
Full brightness stabilization. The handle with the fan gives a clear effect and is only needed for the turbo. In high mode the head doesnt warms up to point when thermal cut-off activates.
And, as you will see later, this mode will be excessive for you in most cases and you can safely rely on the modest MID1 for half a day of uninterrupted operation.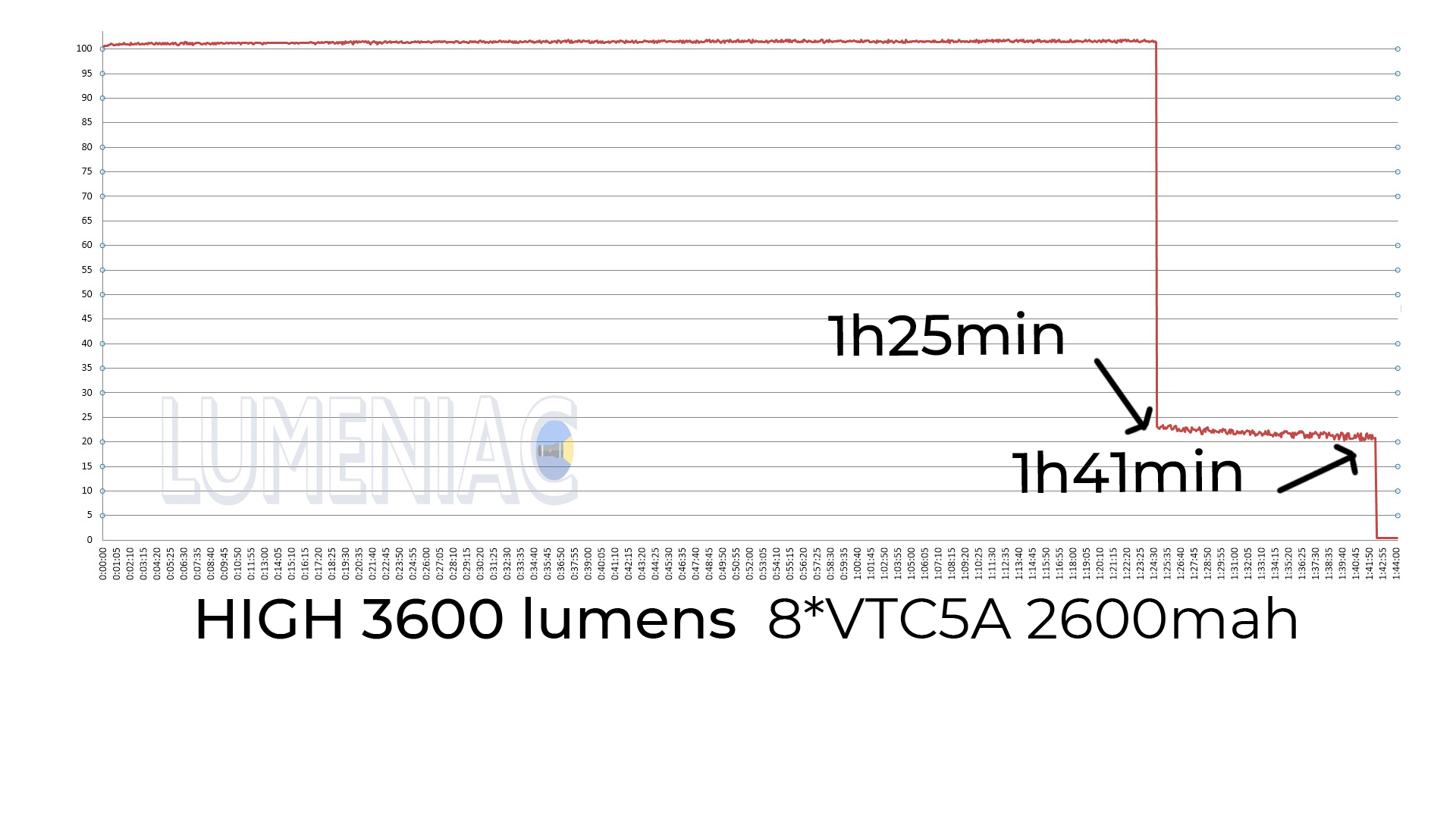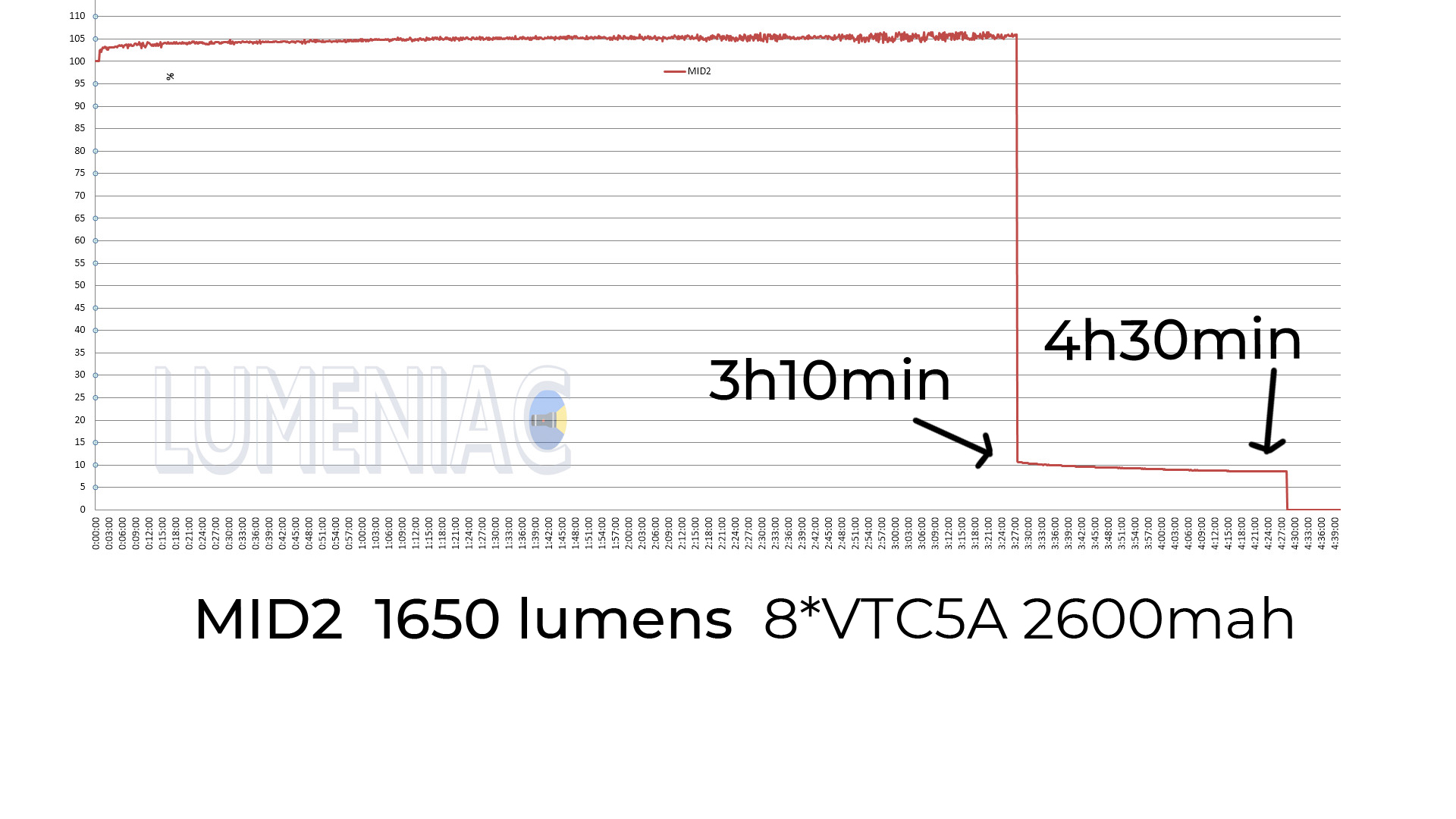 Well, and the most interesting (although the video review will be much more interesting). How does this monster flashlight illuminates?
Let me remind you that with 7500 lumens is a figure quite ordinary by today's standards, Mateminco MT90 Plus has an incredible, simply fantastic 2 500 000 candelas! And when it is about the through, only these last figures should be taken into acccunt.
Just for example. 250,000 candelas, 10 times less – this is the number for a very good long-range flashlight, like the Acebeam L18. 1,000,000 is already something outstanding, extremely long-range. And 2.5 million candelas is a frankly fantastic figure, unseen before.
Here is some other long-throw flashlights to compare. BTW, i really recommend Mateminco MT70 as good searchlight.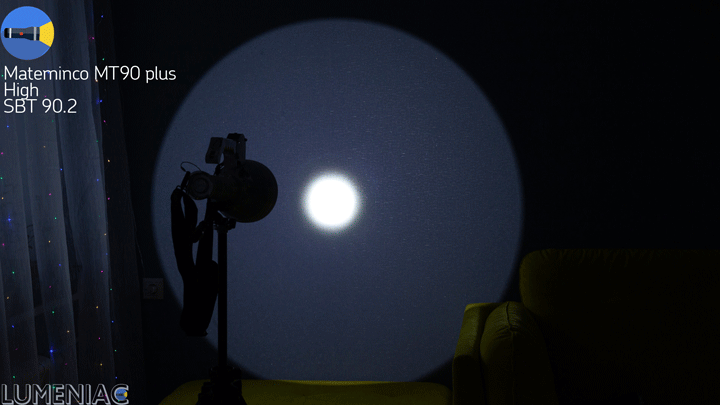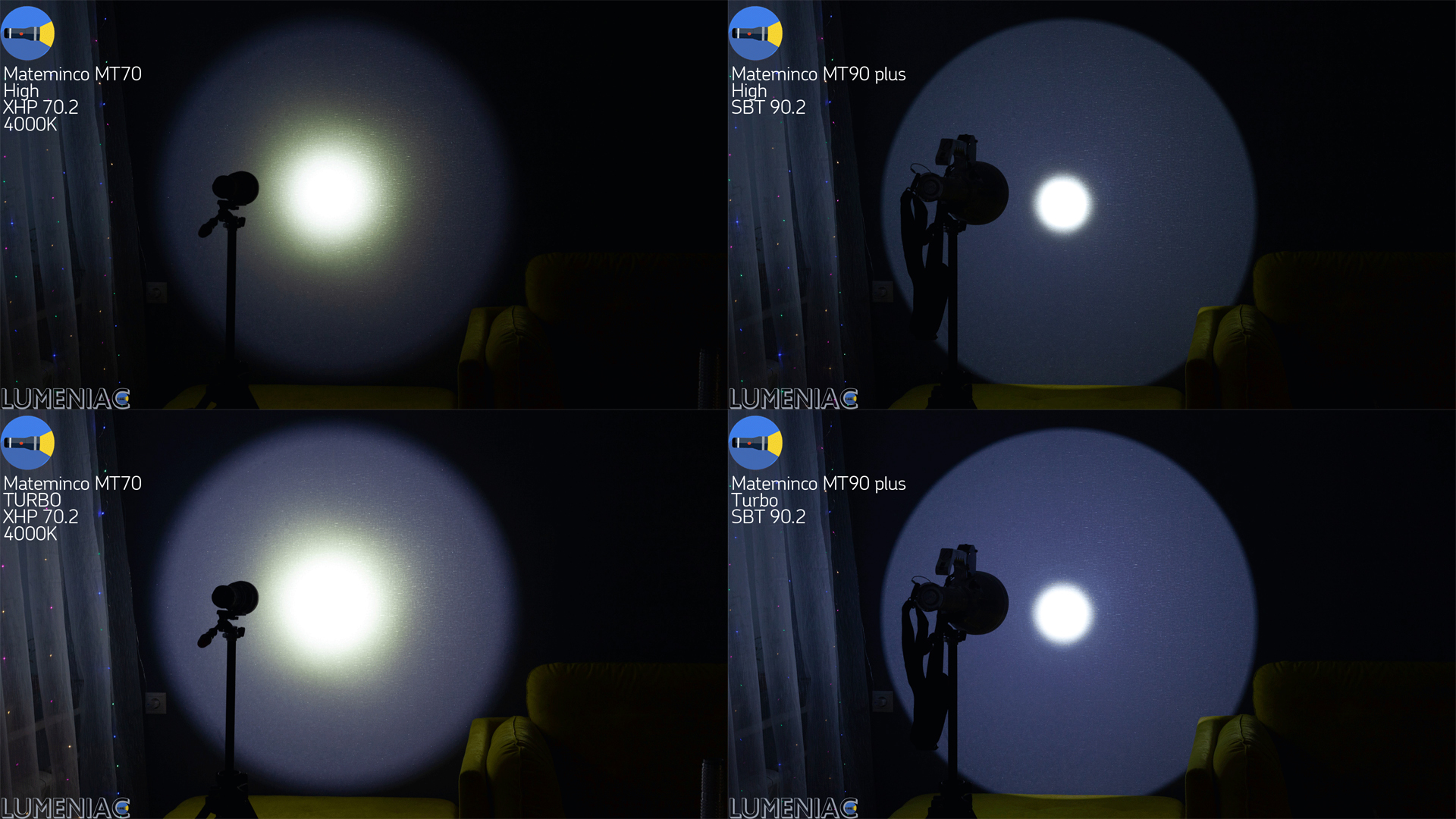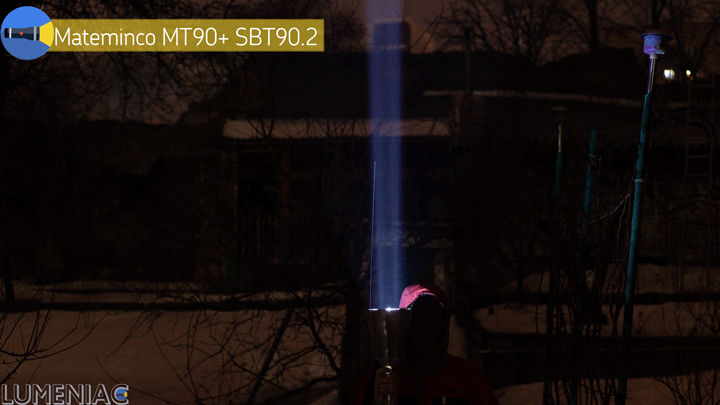 I usually start my test of flashlights throw at 50m. It makes no sense for Astrolux MF05 review, this flashlight will be blinding here. So I'd rather show you how the world's longest-range flashlight Mateminco MT90 Plus shines, starting from a distance of 200m.
It is clearly seen that even LOW, the minimum brightness gives a clearly distinguishable light here. And this is a whole day of work at such a distance. For those who assume that the exposure is simply raised in the higher modes – see the rest of the pic, everything is absolutely the same, no overexposed parts.
For the eye, of course, there will be no such incredible overexposure to the state of a solid white spot in the hotspot. This is where the difference between the work of the human eye and the camera sensor comes into play.
BTW. NEVER point this flashlight to eye. My wife told me that it felt like if a red-hot drill was screwing into her brain.
200m
This is how it looks to the eye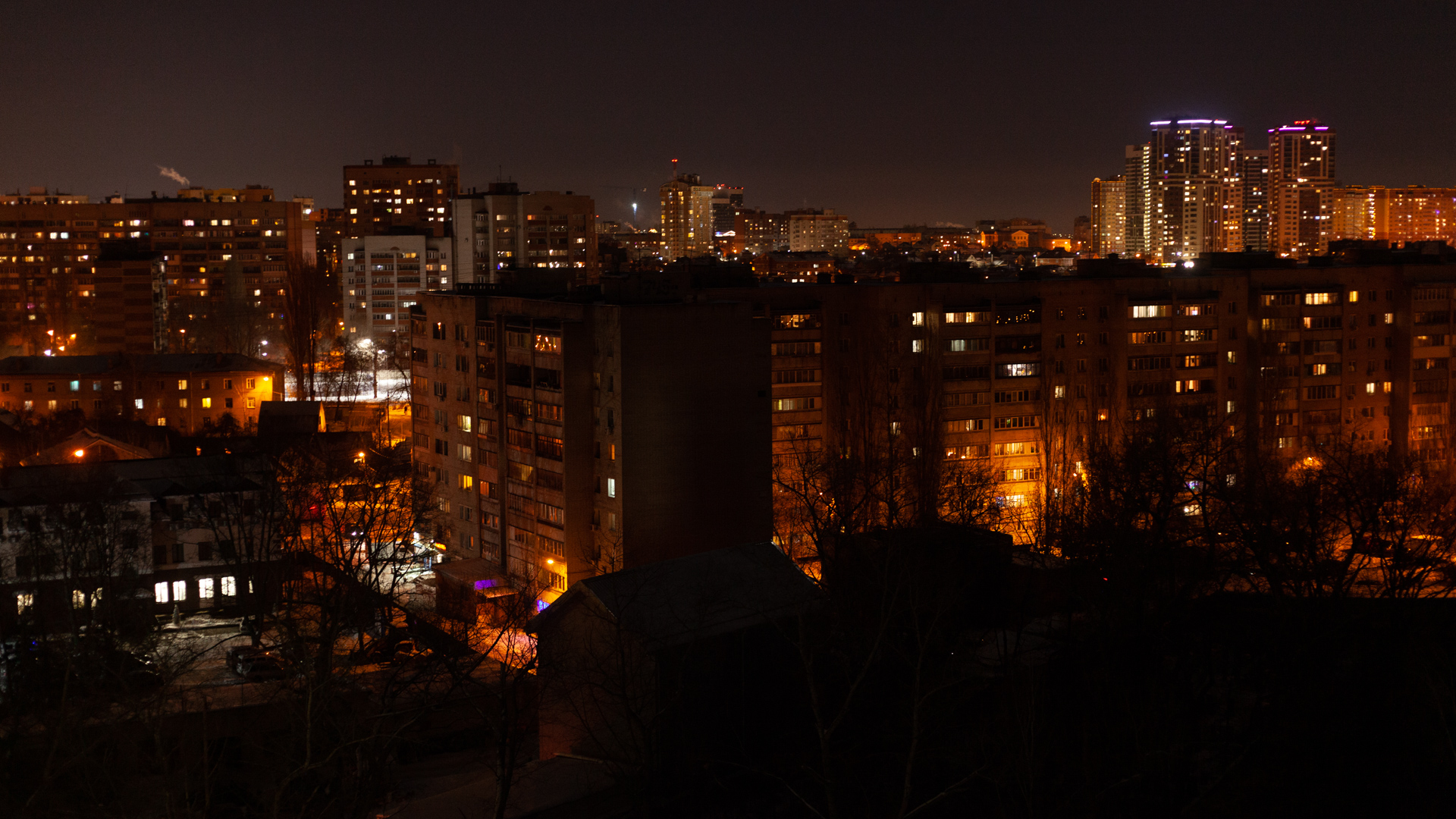 And here is the pic cropping for better visibility.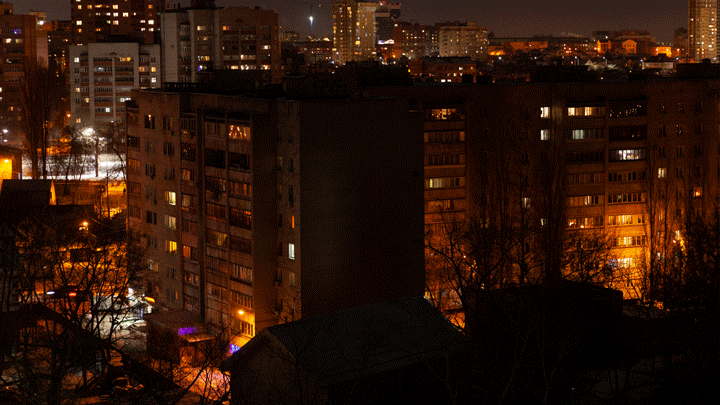 Let's move a little farther.
350m
live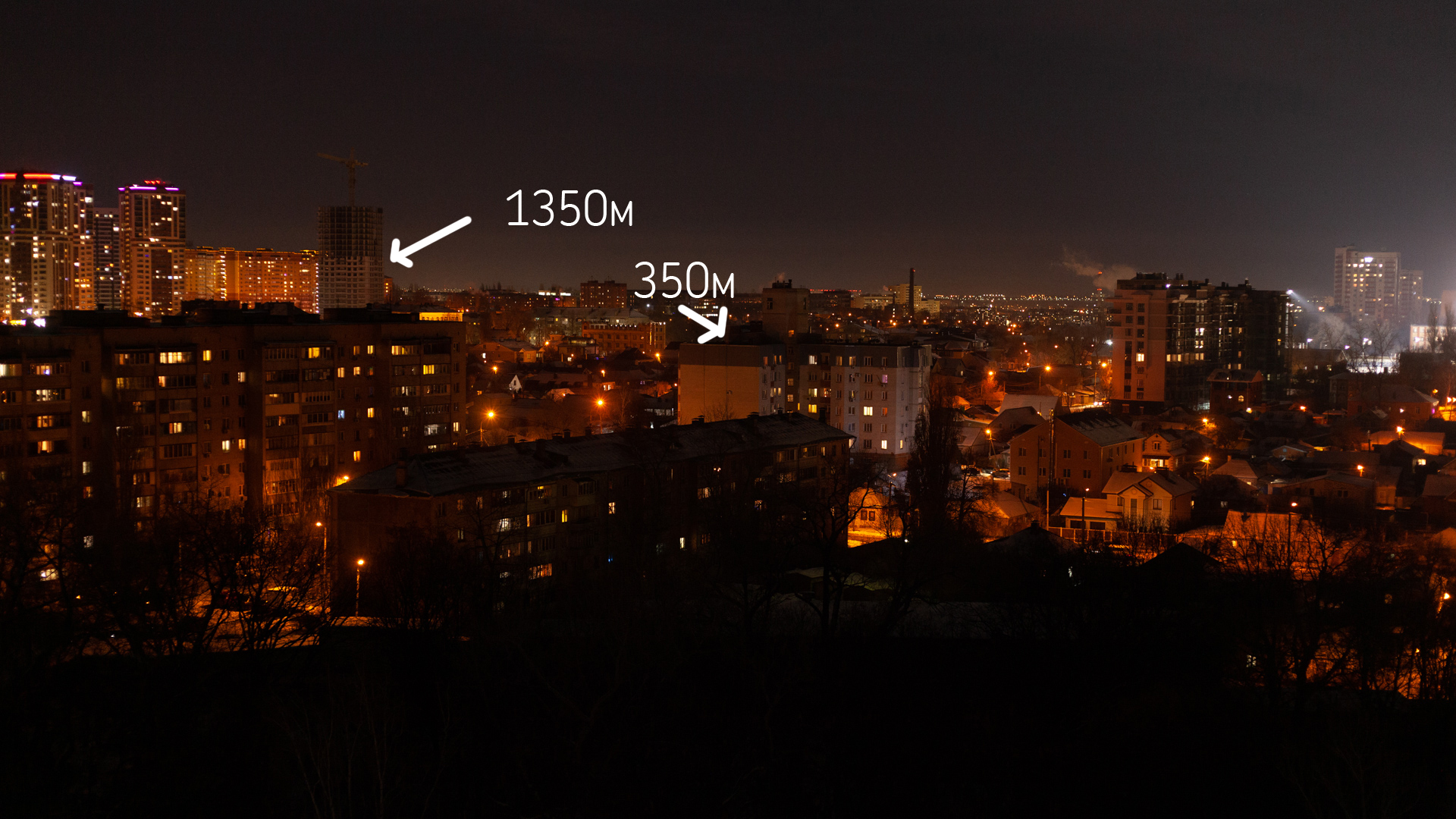 Low is already worse visible, but still distinguishable. MID I \ MID II are the most practical modes here.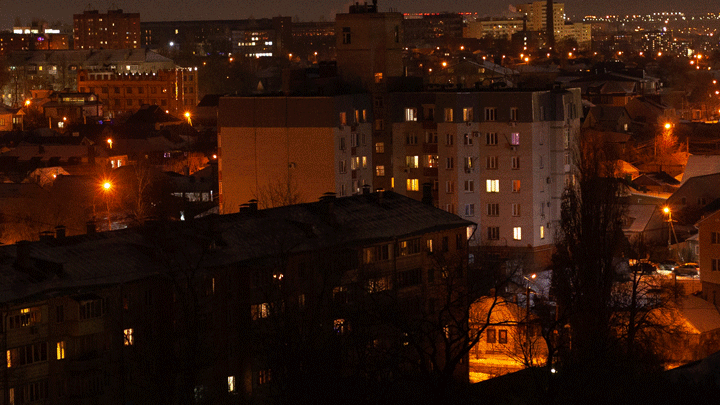 Lets walk away another 100m. Here, at the same time, on the scale of the building, you can estimate the angle of divergence of the beam at this distance.
450m.
live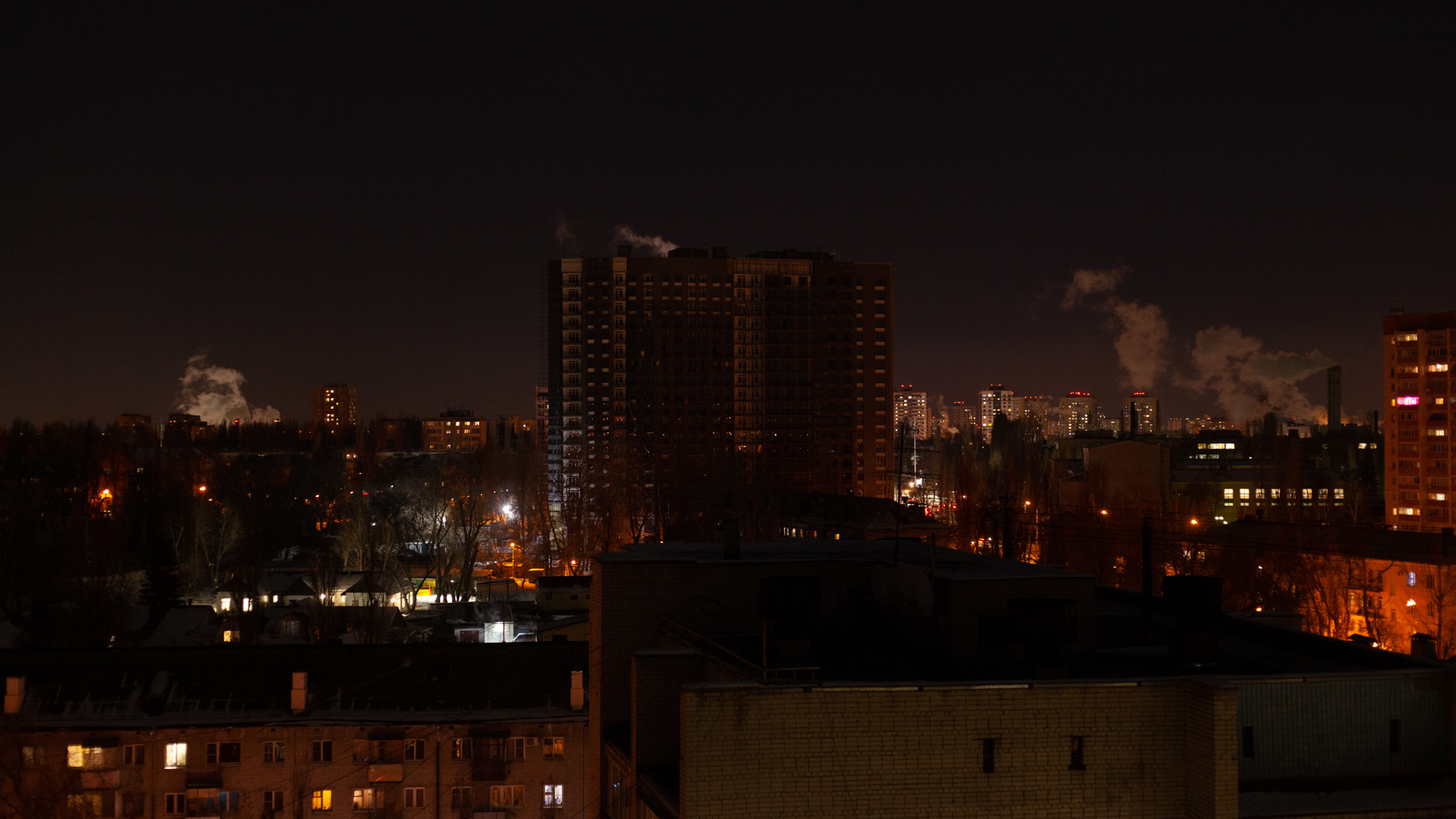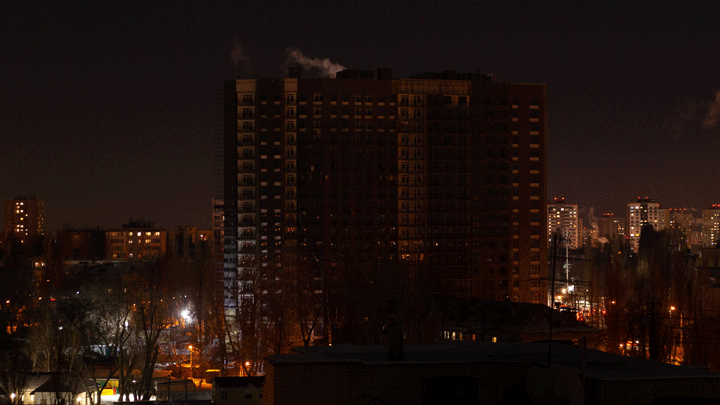 750m
The naked eye sees almost nothing at such a distance. You`ll unlikely to distinguish a school bus from a truck. And the flashlight stubbornly demonstrates its fantastic throw.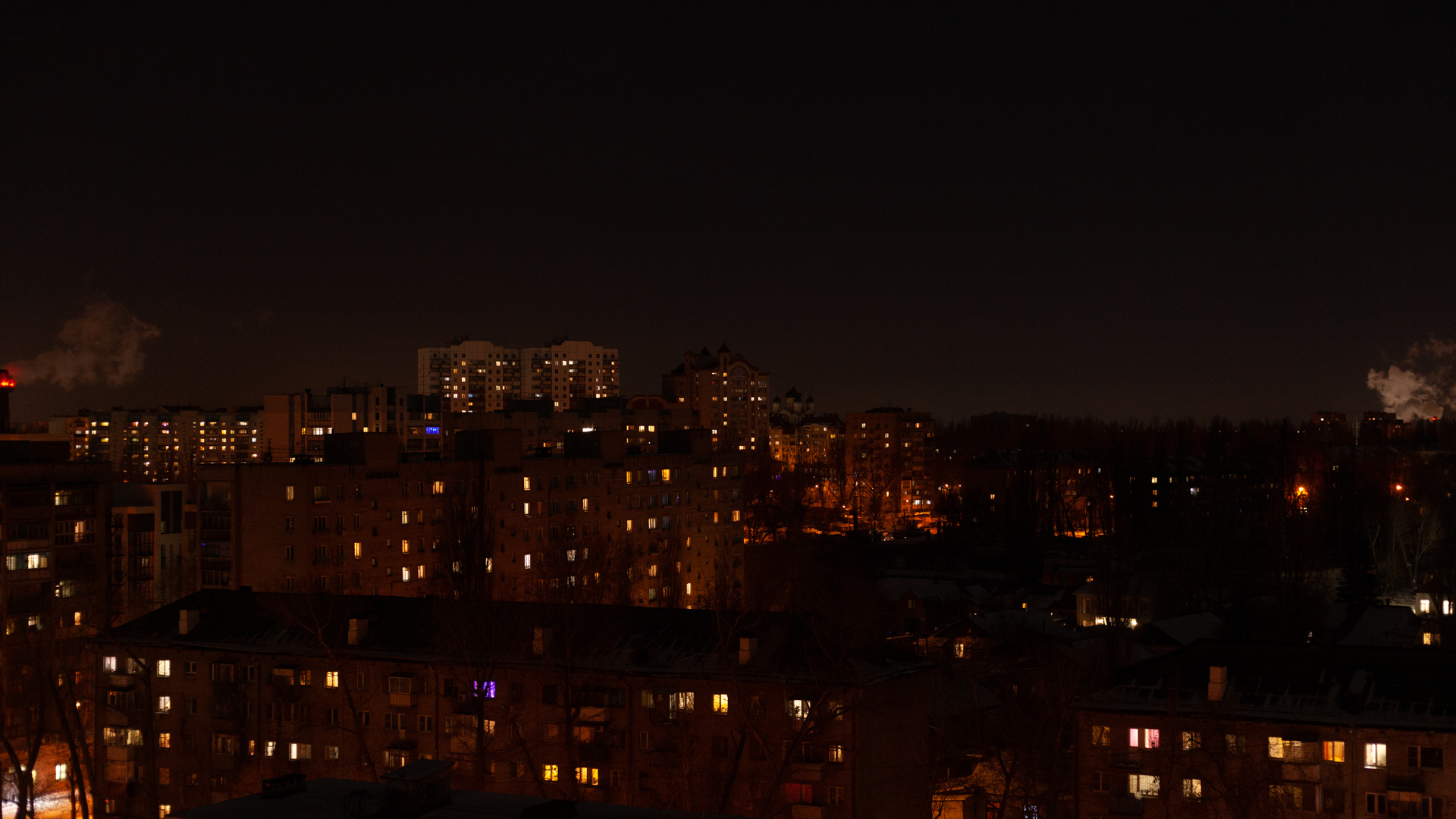 It took the help of a 100-400mm super telephoto lens to make pic at such a distance. I also had to point flashlight at the windows, which I usually avoid in every possible way. However, at 6 pm in the middle of the week, you should not expect that 15 seconds of light will bother someone.
Just think, MID I still gives quite distinguishable light!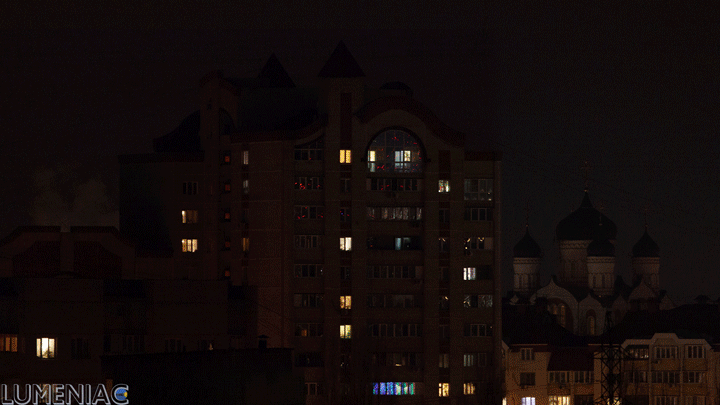 1.350m
Almost one and a half kilometer!
Let me remind you how it looks live, to the naked eye. Something just looms there in the distance and you see nothing more.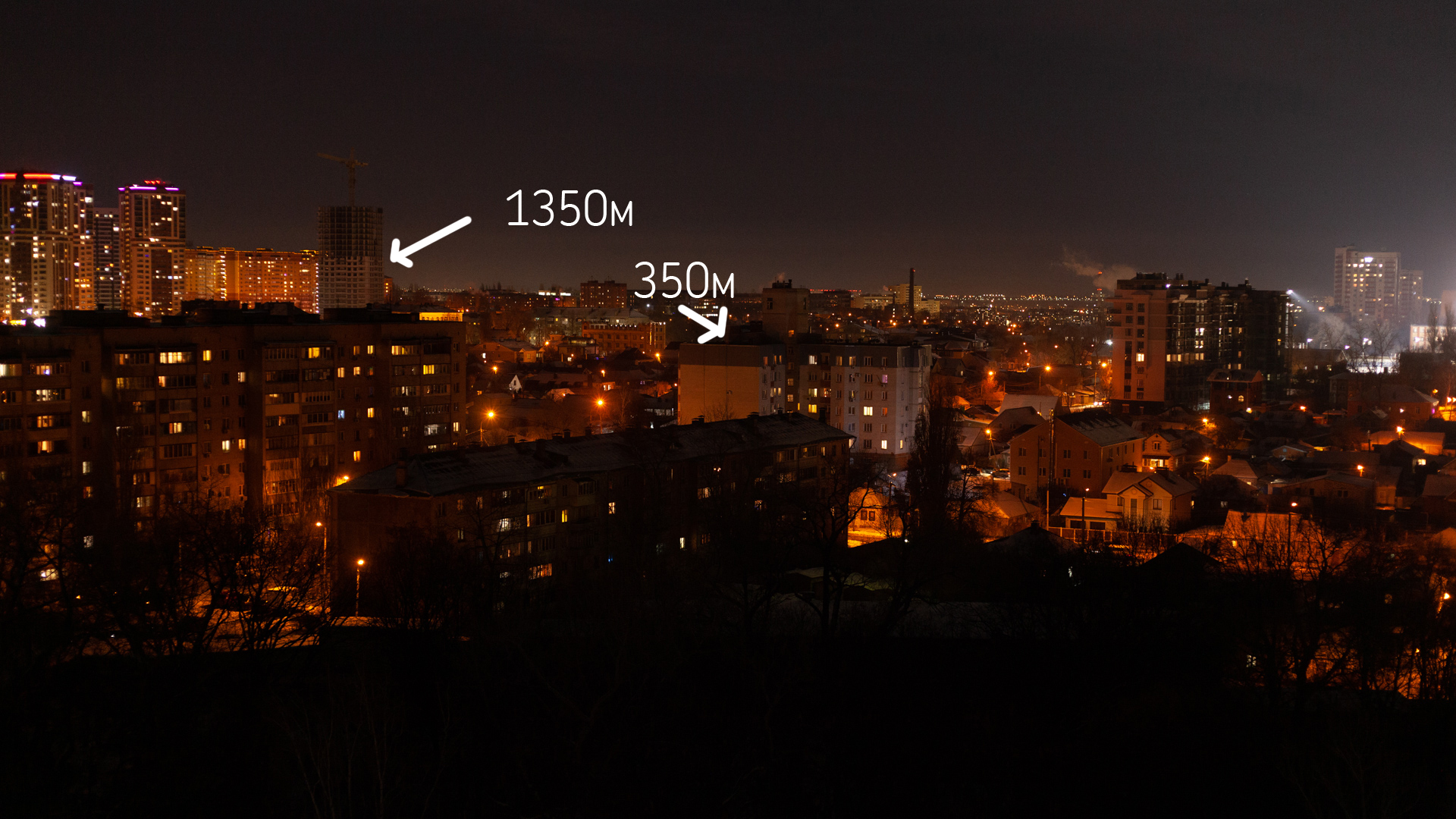 It's hard for me to say why anyone would even need light at such a distance. But if you need to highlight something, then you will successfully do it.


Unfortunately, it was not possible to check the work at a distance of 2 km and beyond. Firstly, dense urban development, and secondly, for the month that the lantern was in my hands at the time of writing the review, there were only two evenings when the shooting was not interfered with by fog, snow or the reflection of city light from low clouds. And the terrain does not allow finding something suitable spots outside the city. If there were some hills or the mountains, yes, it would be way better , I'm sure the lantern would reveal itself in all its glory.
Of course, the video contains many more examples of how this super flashlight shines, the colossal and ultra-long-range monster Astrolux MF05 SBT90.2.

OVERALL IMPRESSION
There is so much to say about this unique flashlight…
If we talk about functionality, then this flashlight successfully does what it was created for: it gives out a beam that is just SO CRAZY in terms of throw, which allows you to work even at low brightness at distances that are limiting for other long-range models. And i mean long runtime without any stepdown. In fact, you have a whole night to fully operate within a kilometer radius.
And if the flashlight lasts all night, then the user`s power, due to the fact that this flashlight is not only the longest-range in the world, but also the largest and heaviest, will most likely only last a few hours.
That is why, due to its size, purely from the standpoint of everyday use, Astrolux MF05 is just as useful and in demand as some kind of heavy hammer drill or manual hydraulic shears.
Another justification for his purchase. Mateminco MT90 Plus \ Astrolux MF05 is a flashlight exceptional in all its characteristics: size, throw, brightness and price. All this makes it a thing from the category of frankly male desires. The soul asks for the most, most outstanding thing that is possible on the market, so that no other flashlight can compare in range or size. So that the soul itself sings, every time the turbo is turned on, and so that all your buddies and strangers dropp jaw. And believe me, people really freaked out when I showed them this flashlight without even turning it on. Literally each of them took selfies with flashlight and swore admiringly.
And if you can afford it, then why not? Yes, $ 400 is a lot by the standards of flashlights, although this is just the level of the most top models of famous brands. Mateminco MT90 Plus cost 100$ less than exactly like twice less long-range Nitecore TM 39. Not to mention the Polarion stuff that somehow still find their customers. Anyway, to make your sciatic nerve soar with the fire of proletarian anger, here are the price tags of awesome Lux RC Lab creations.
Damn, you can't even buy a good new guitar, or a DSLR camera for 400 bucks, for example, ! This is a big, but not sky-level astronomical price tag, it is affordable for even an ordinary user in western world, if there is a strong interest. And if you are from Dubai, you can buy dozen of them to play bowling…
Actually, the size, throw and price make this mega-flashlight, a monster-flashlight a good addition to other men's joys – a good SUV, or a good boat. For those things, that means spending time outdoor, where you can fully enjoy the crazy throw of this super flashlight. And, by the way, the owner of them, most likely, have some money and it is hard to impress him, he can afford most of all his wants. And in such a situation Astrolux MF05 will be a good choice as a gift that will be use, remembered and will undoubtedly boast of. Not just another wooden box with a trendy single malt, or a barrel of Cognac.
If we reduce the Astrolux MF05 review to one phrase, then it will be "giant flashlight with super throw.". It is superb in everything, besides brightness. Do you want to be the owner of the throwiest and largest flashlight? Or look for a 100% outstanding man's gift for your friend – Mateminco MT90 Plus is about you.
And, yeah, I'll tell you frankly. Probably purely because of its size, there will be less practical use from it rather than entertainment. But if you have a strong back and need to illuminate even to cloud level if necessary, then Astrolux MF05 will not let you down.
Having bought it, I regret only one thing, what one famous russian singer sang, "there is only one thing, better than mountains – mountains where you have not been before." When i didnt own it, flashlight beckoned me with it`s unknown potential. Now, knowing what it is capable of, I am unlikely to be impressed by any other, albeit really powerful, long-range or search flashlight. That definetely discourages me.
I am sure that only 1 out of a hundreds here, who have read this review, will be really interested in purchase. But, I hope, purely in terms of entertainment and education, the review of this world largest and long-range flashlight interesting to you.
BTW, i have question for those native English-speakers. is the phrase "World Farthest Throw Flashlight ever " correct and sounds goood? may be i have to pick something more appropriate for review header?