Imalent have always created flashlights with the highest wow-potential and have squeezed all the possible out of the XHP70.2. So, such an exceptionally bright and long-throw LED like Luminus SBT90.2 is sure to be a lifesaver for the company. Obviously, the second savior will be another modern hit – super-throw LEDs by Osram LEDs, unimaginably tiny and with astonishing long-range.
You can buy Imalent UT90 Predator here:
➤IMALENT STORE with 10% off code LUMENIAC
➤ALIEXPRESS
➤BANGGOOD
➤AMAZON
Specification
Model UT90
Luminus SBT-90.2nd LED
Power Battery pack with 2 * 4000mAh 21700 Li-ion batteries
Brightness up to 4800 lumens
Working time up to 100h
Light intensity 427980cd max
Range 1308m max
Time in each mode Turbo: 4800-1500lum (1 + 105min)
High: 3000-1500lum (1 + 115 min)
Medium: 1500lum (2h5min)
Low: 30lum (100h)
Dimensions
66mm (length) * 25.4mm (head diameter) * 245.5mm (body diameter)
Weight
418g with battery pack
Shock protection 1m
Waterproof IPX-8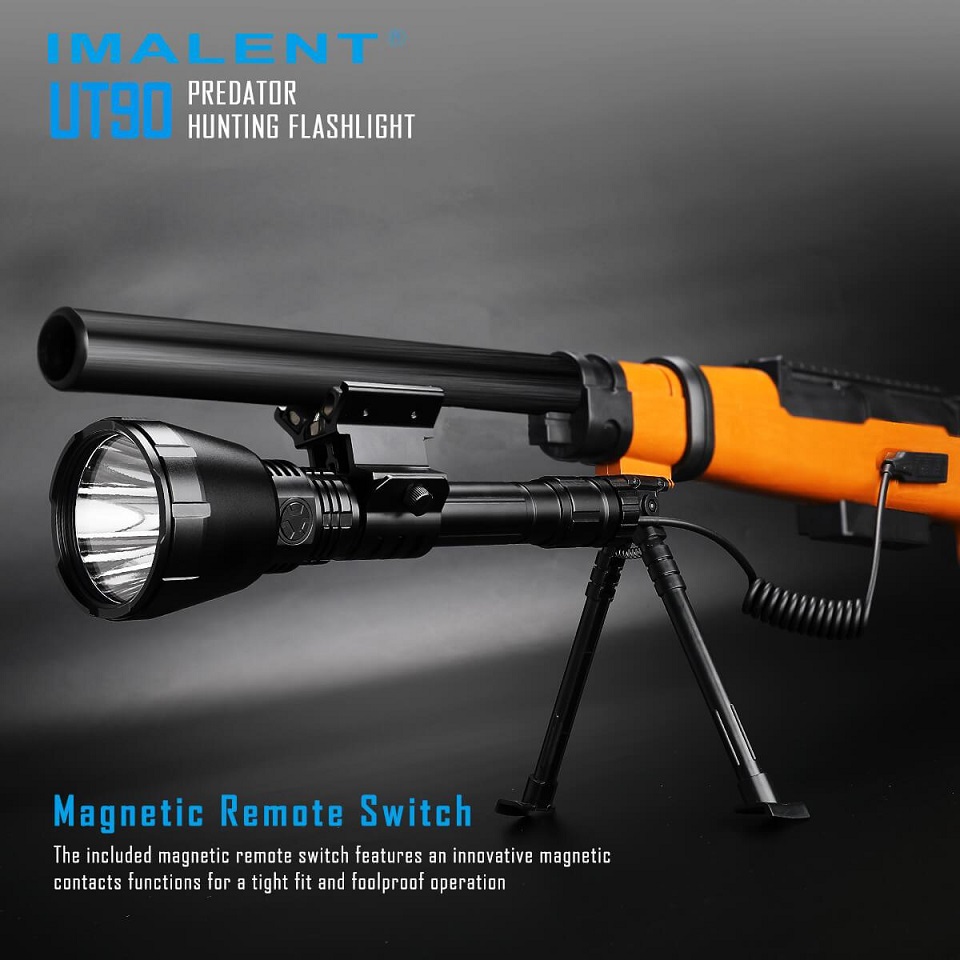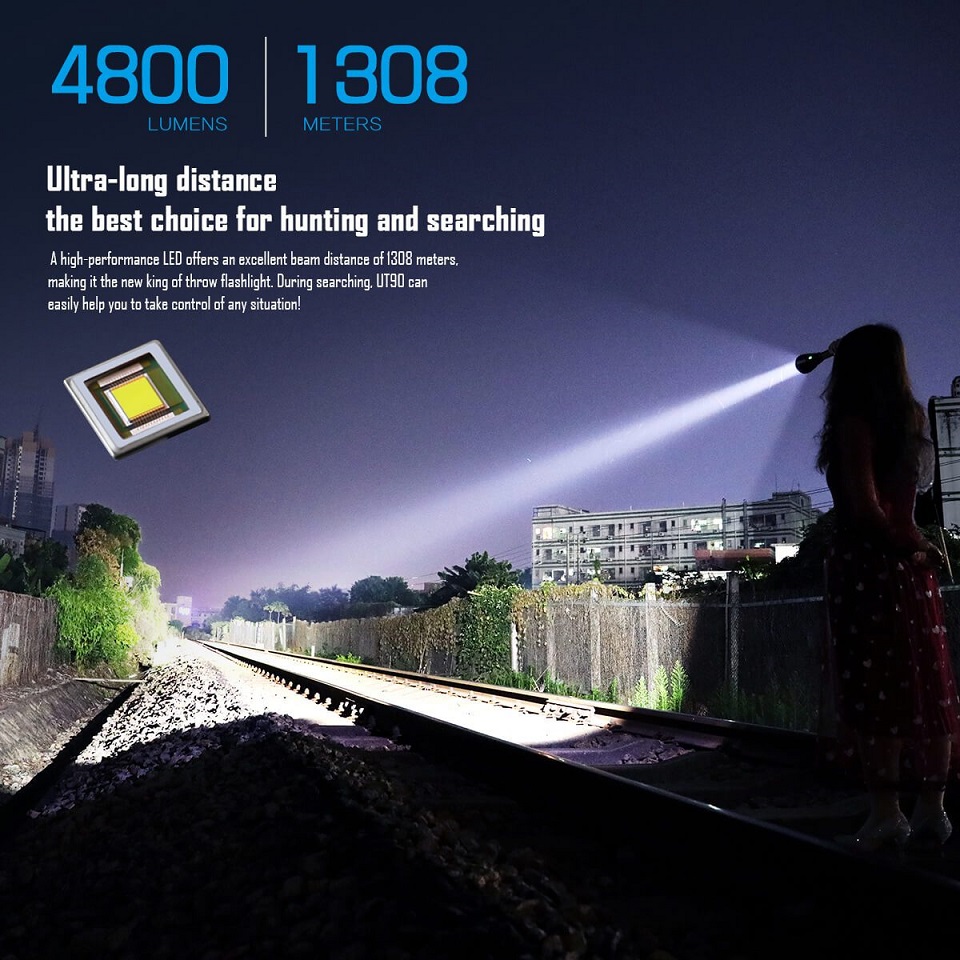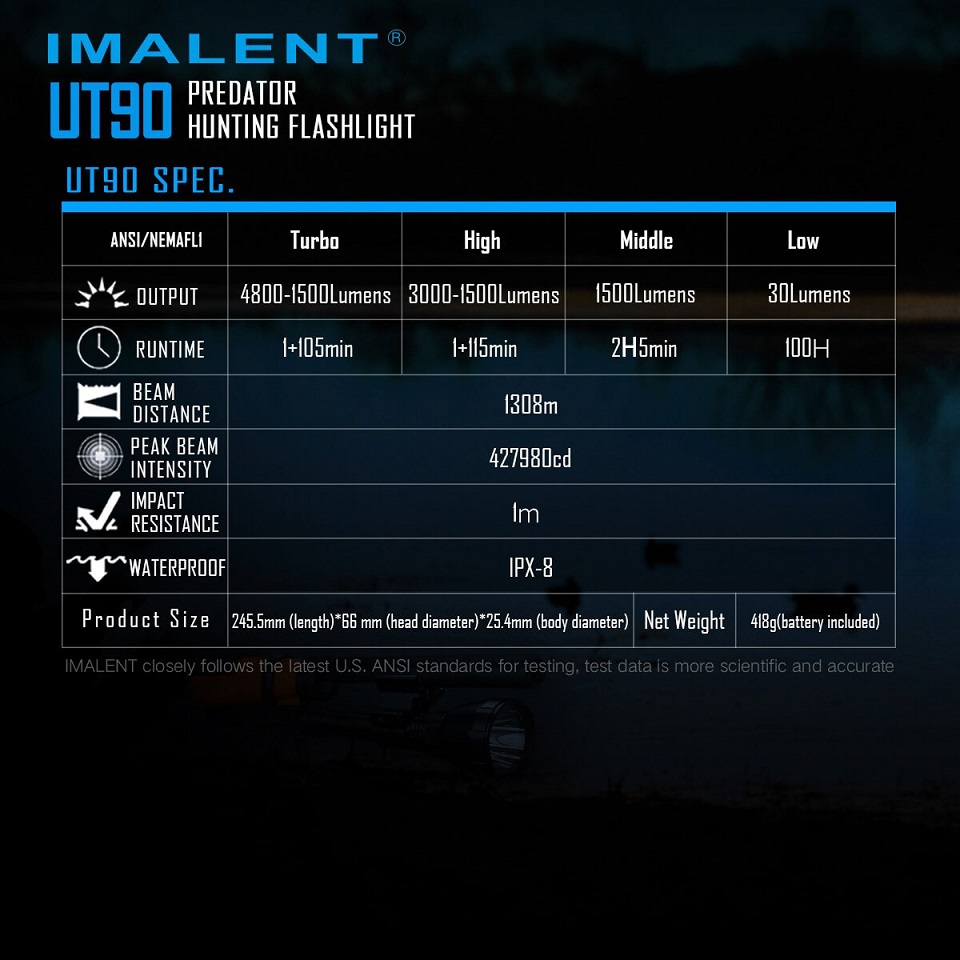 PACKAGE AND APPEARANCE
The package is just gorgeous. Plastic suitIcase, comfortable and good looking. Super as a gift. And such a case is way more convenient than a cardboard box.
Kit includes everything you need. Since it is assumed that the lights will be gun mounted, there is no holster and lanyard.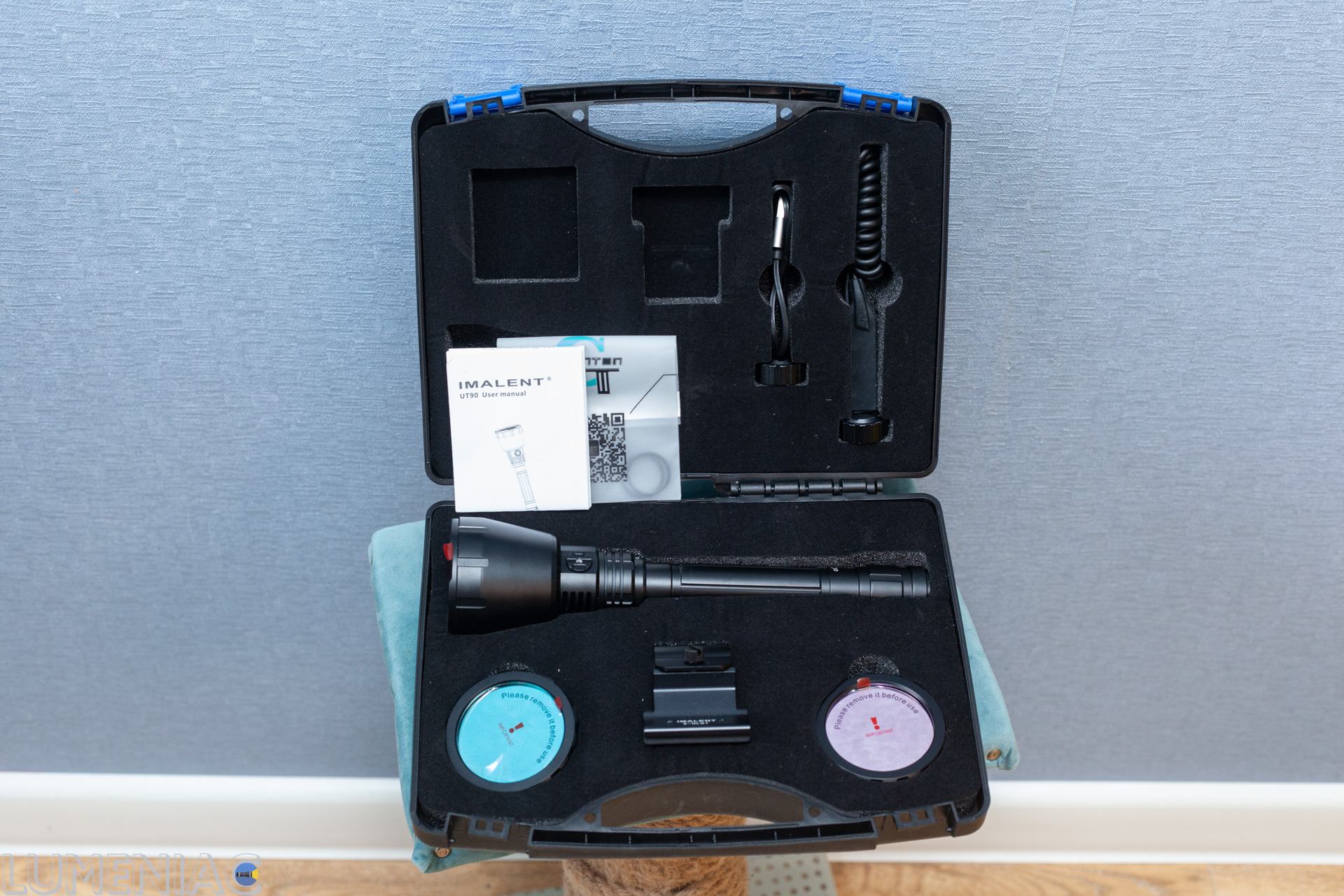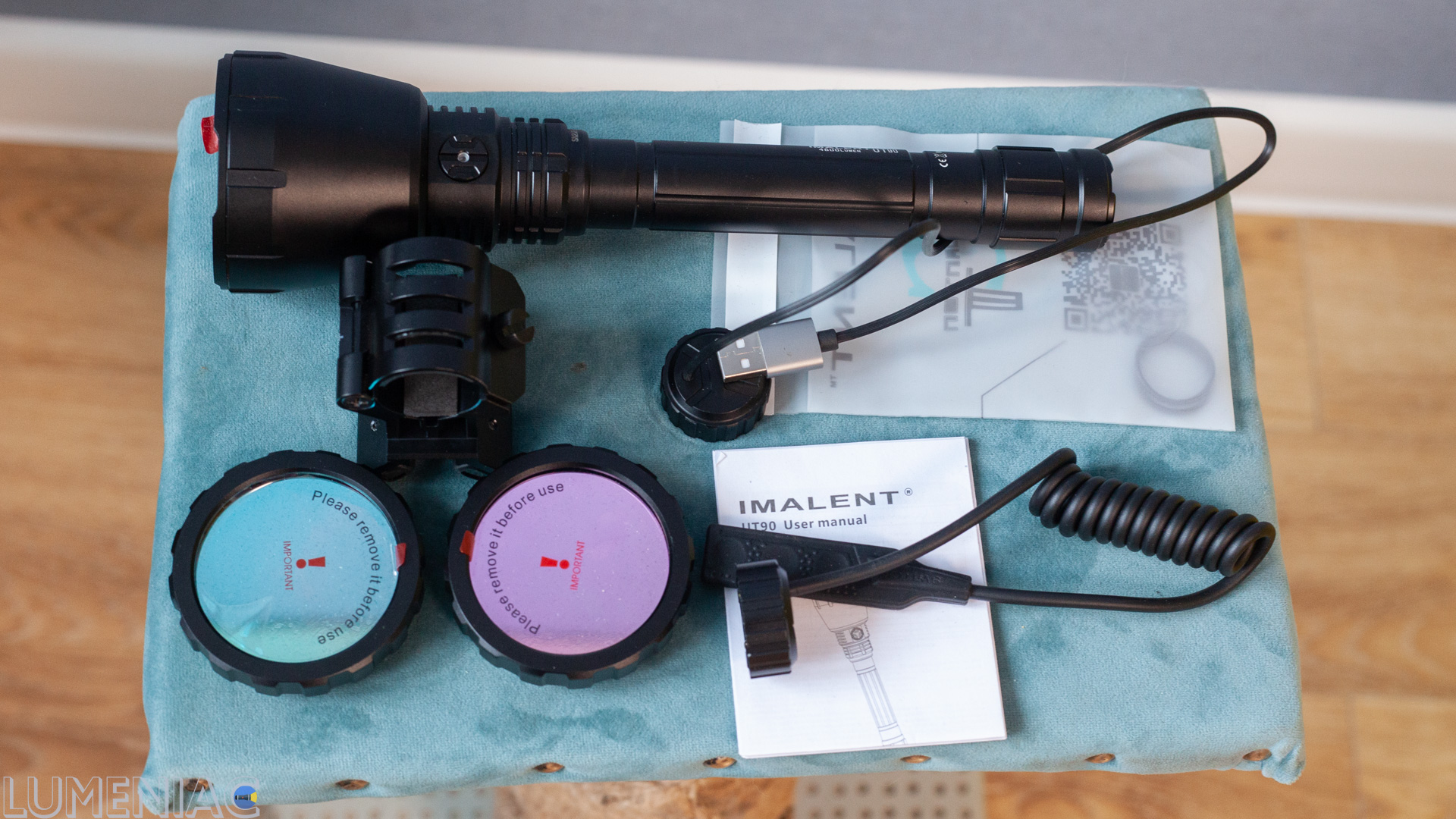 And here is the flashlight itself. In terms of size, this is the same classic 2x battery power long thrower. Despite the clear superiority in size to the popular budget Sofirn C8G, Imalent UT90 does not feel cumbersome or uncomfortable when hold it. Again, in terms of size, this is a completely ordinary representative of its class of long-range flashlights.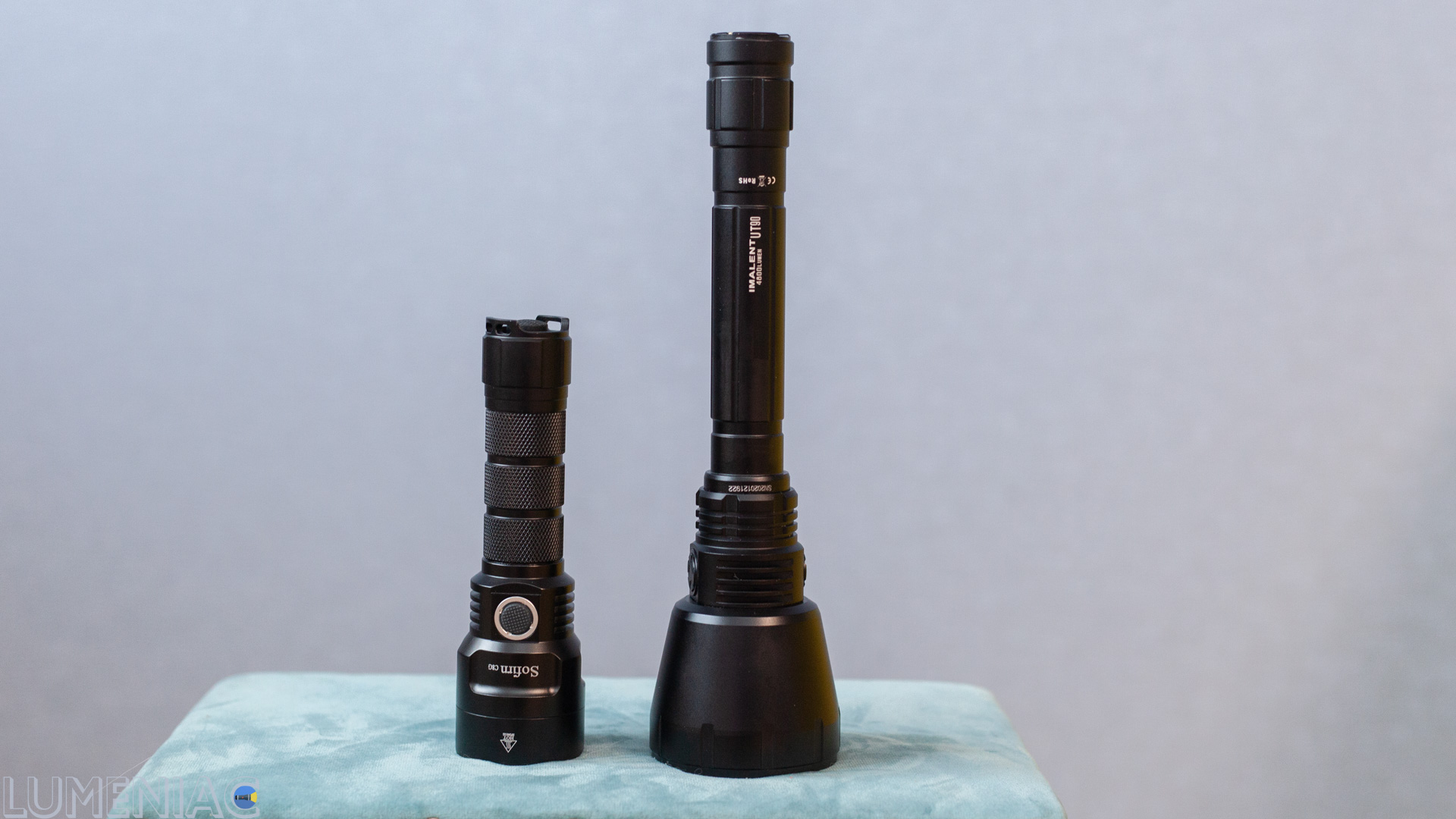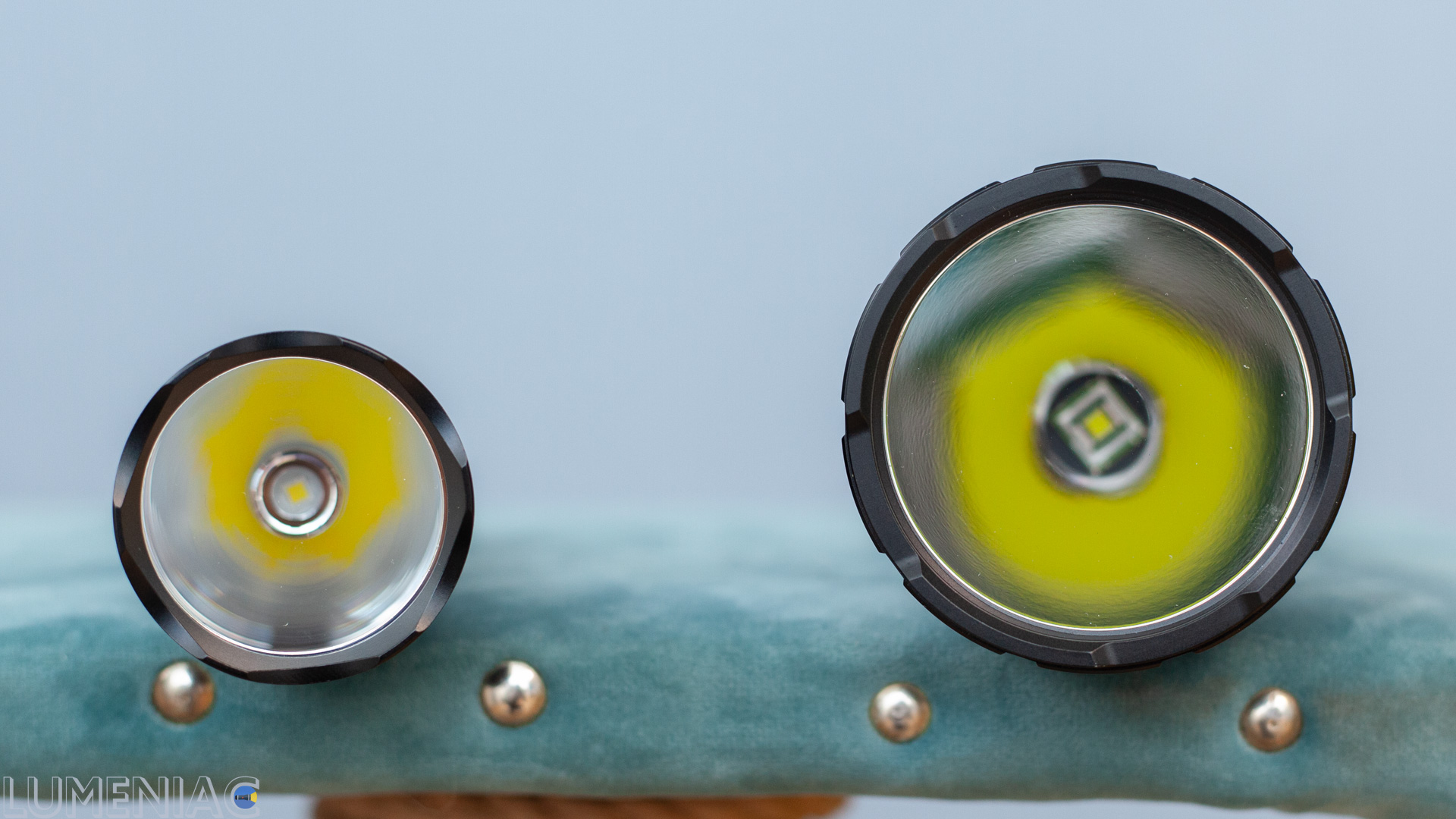 The design simple, but it still shows that it is a branded item. Overal, good design. Throwers or tactical lights are not sort of models where you expect any high design.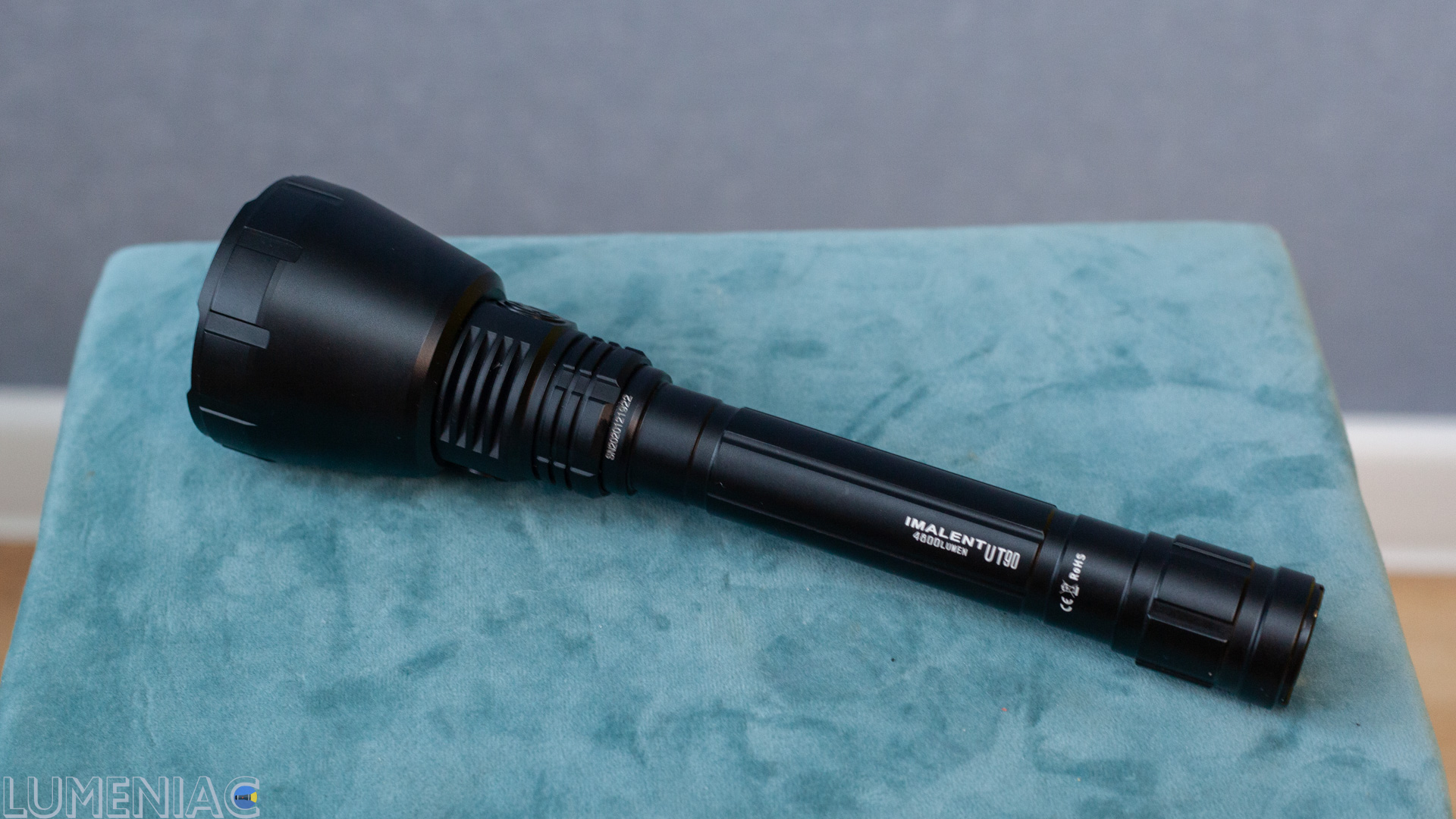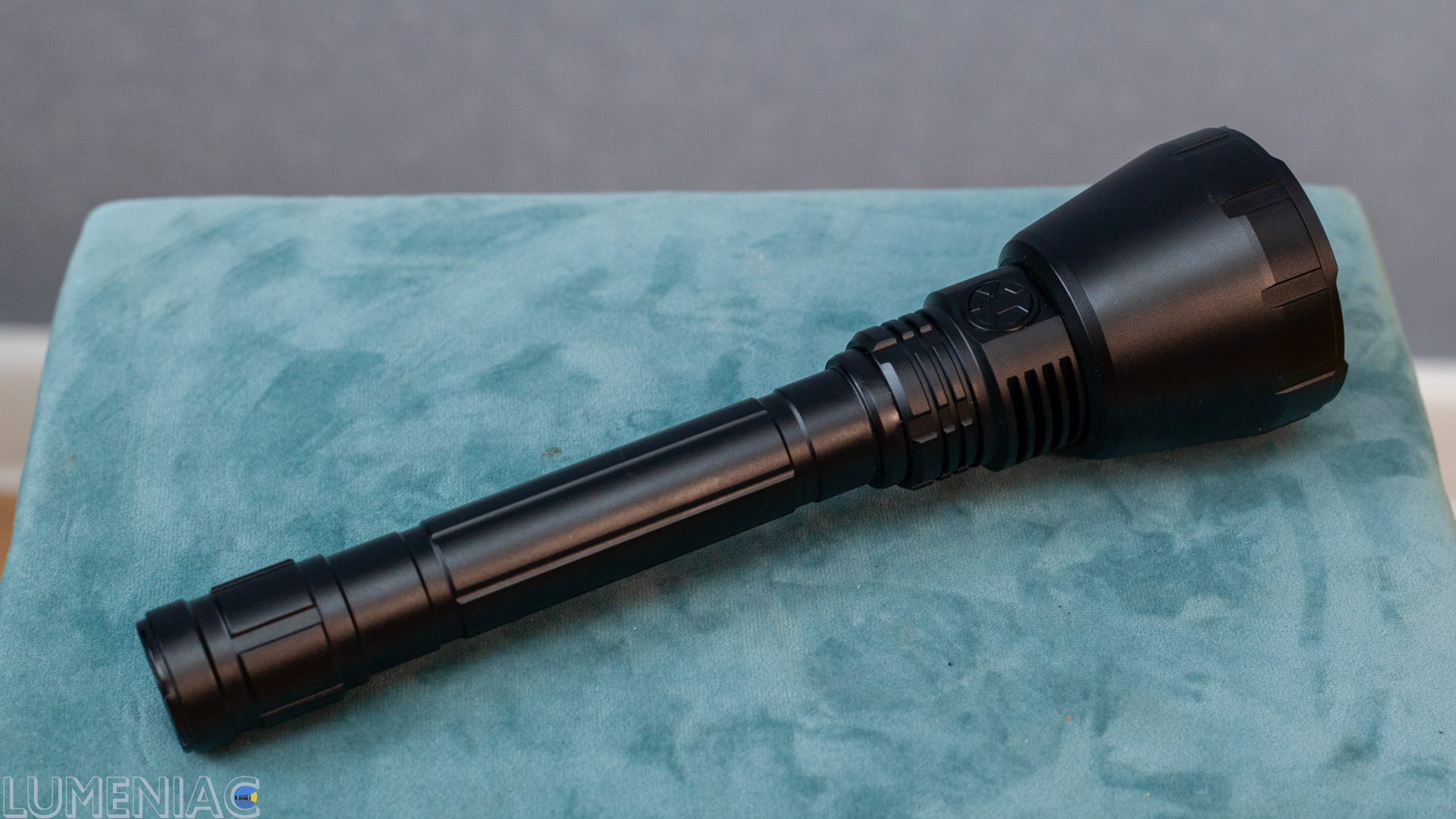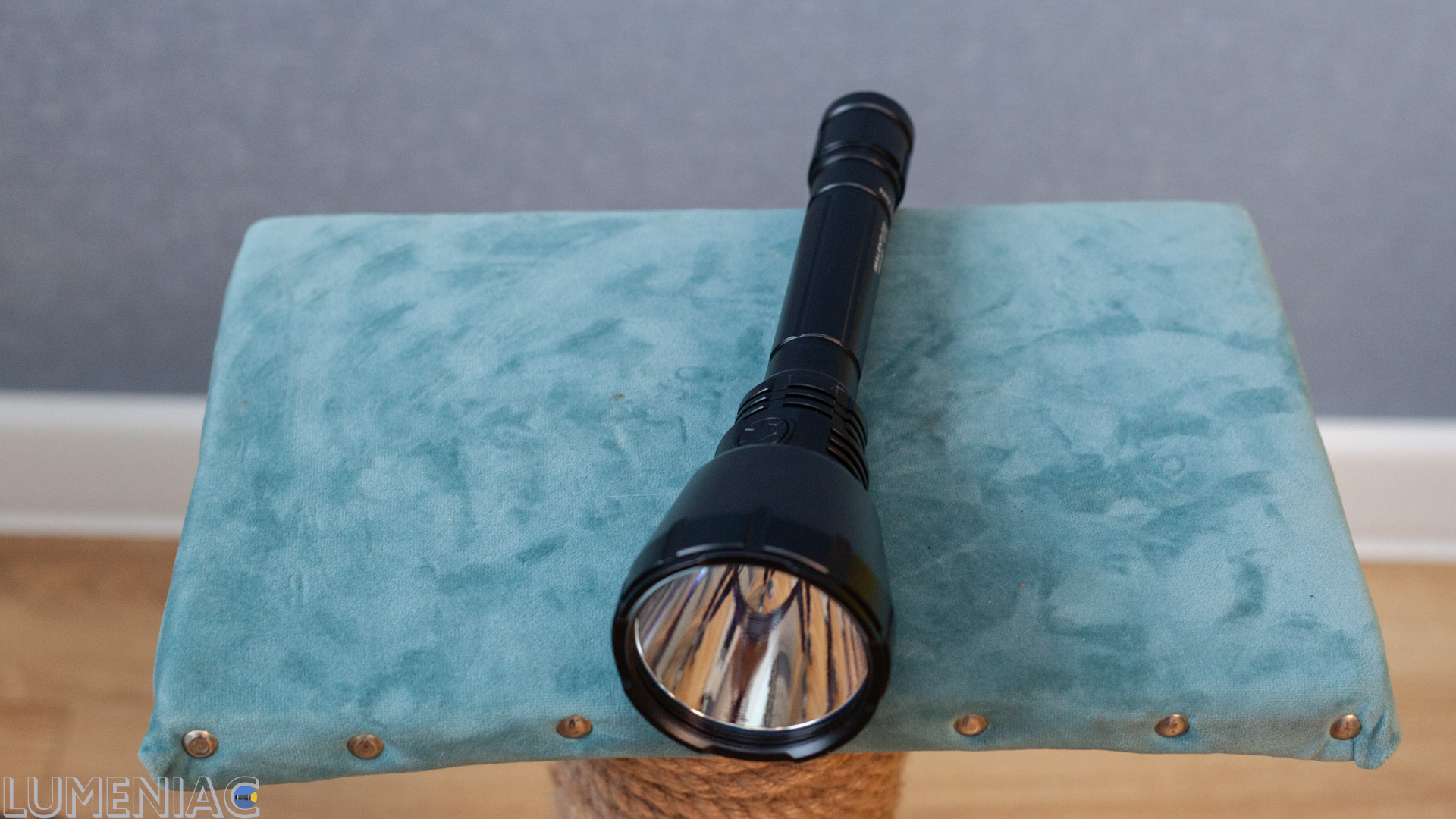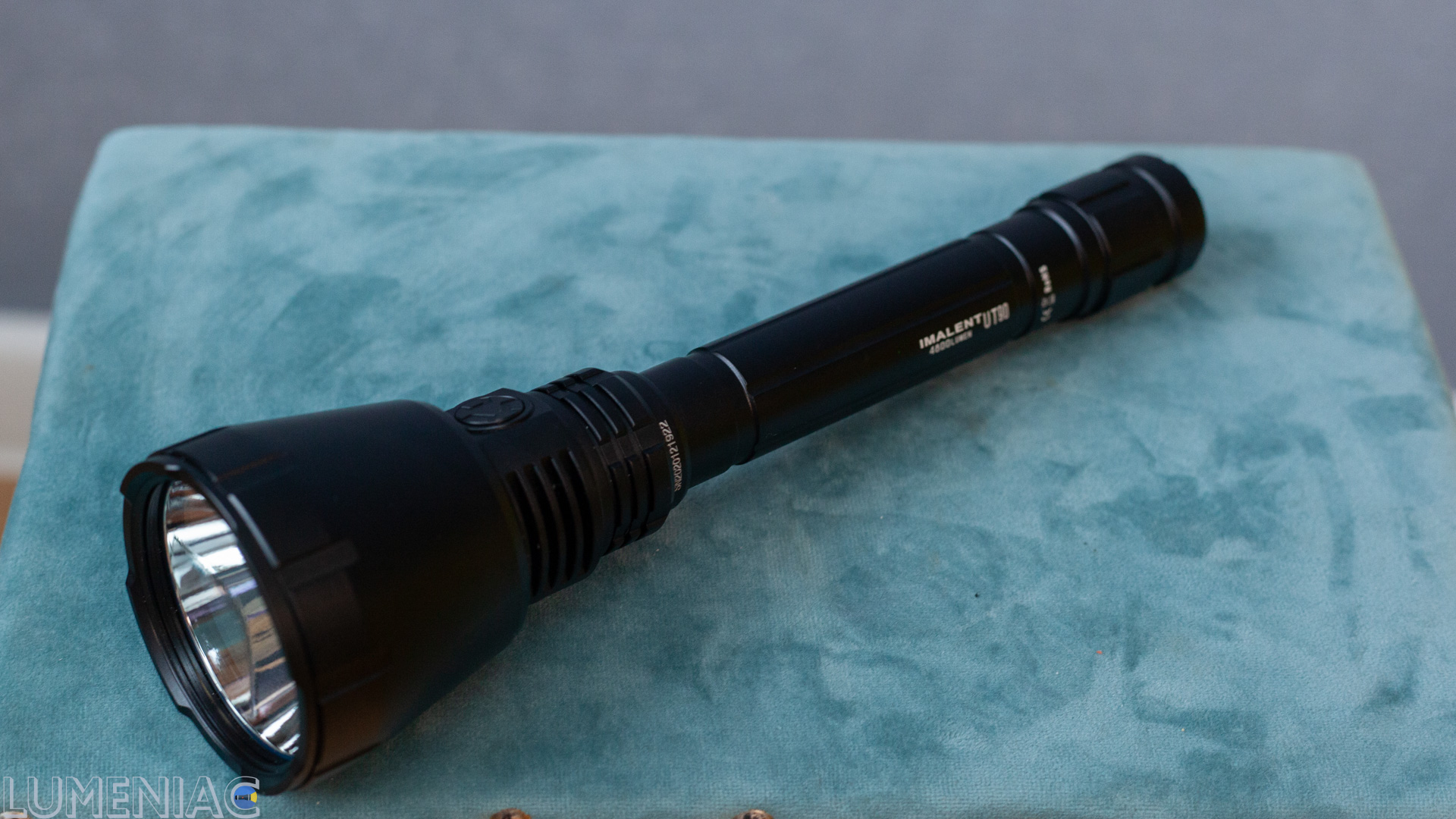 The flashlight comes with a magnetic gun mount. I have nothing to do with hunting. So I asked subscribers, opinions are different. One of them mentioned that the ease of fastening leads to the fact that the flashlight crawls over the gun and can even fly off if you wade through dense bushes. But there was also a comment about the positive experience of use. I will assume that in each case it all depends on the holding force of the attacount and the size of the flashlight. So I will not judge in advance.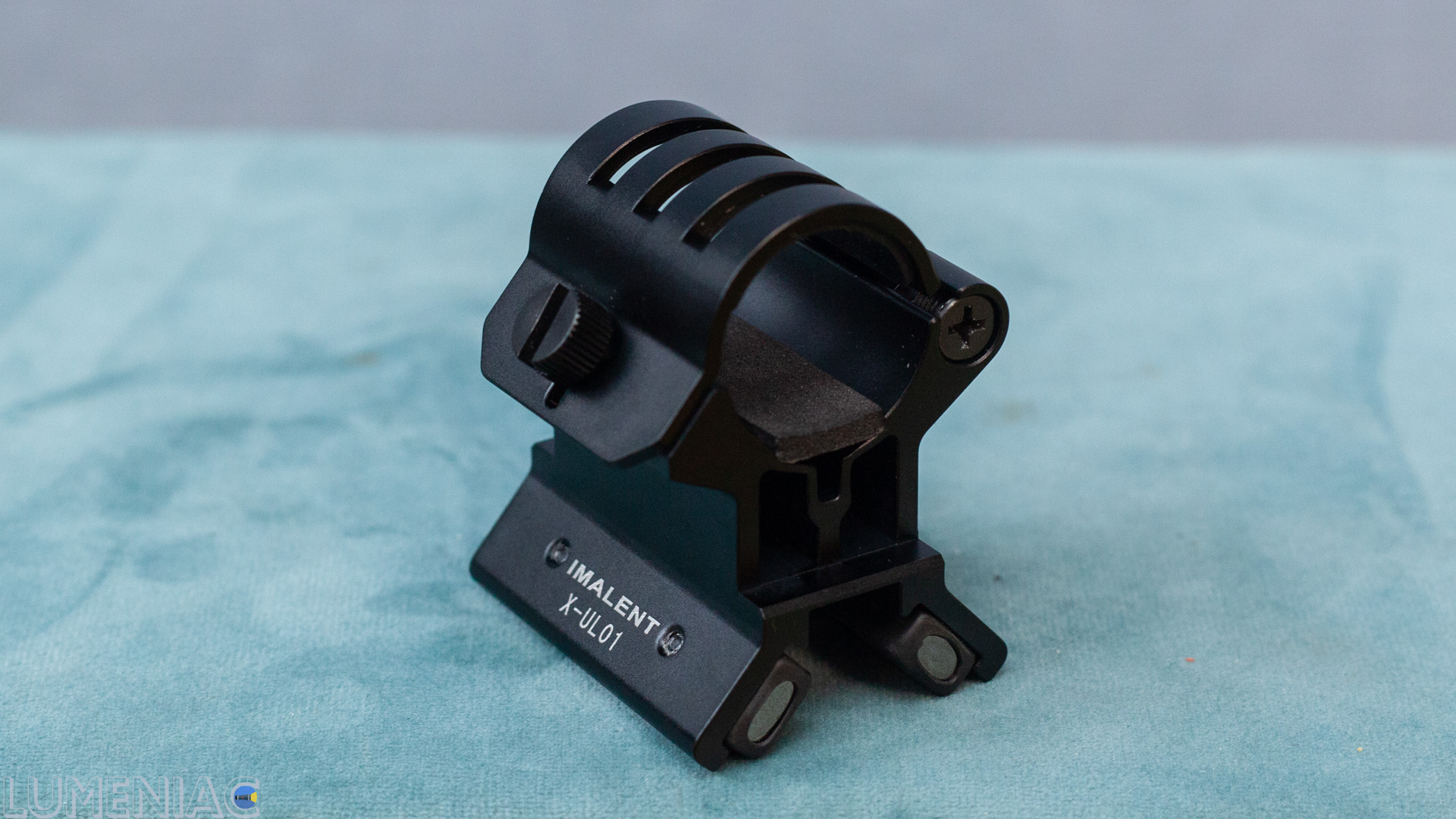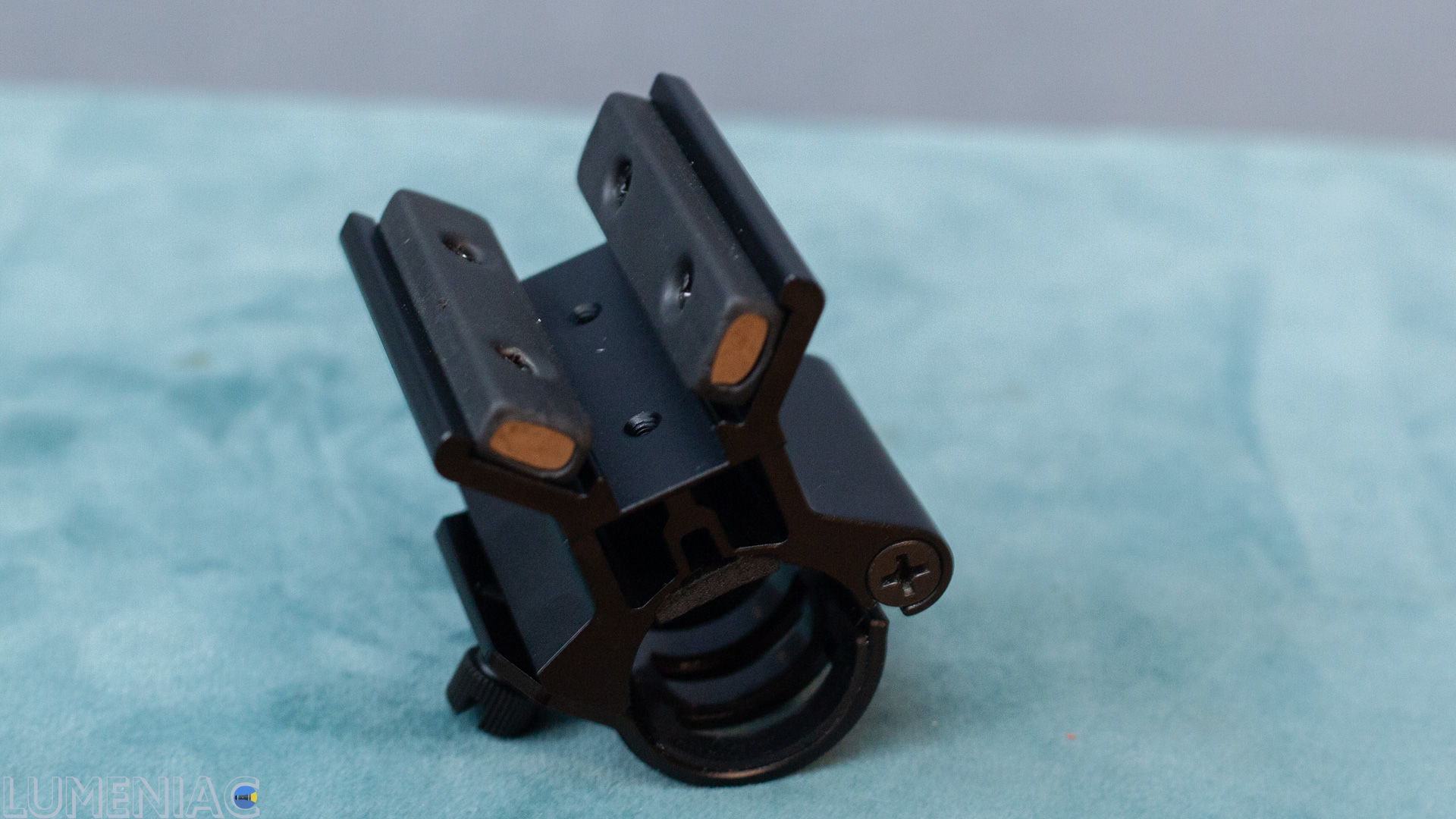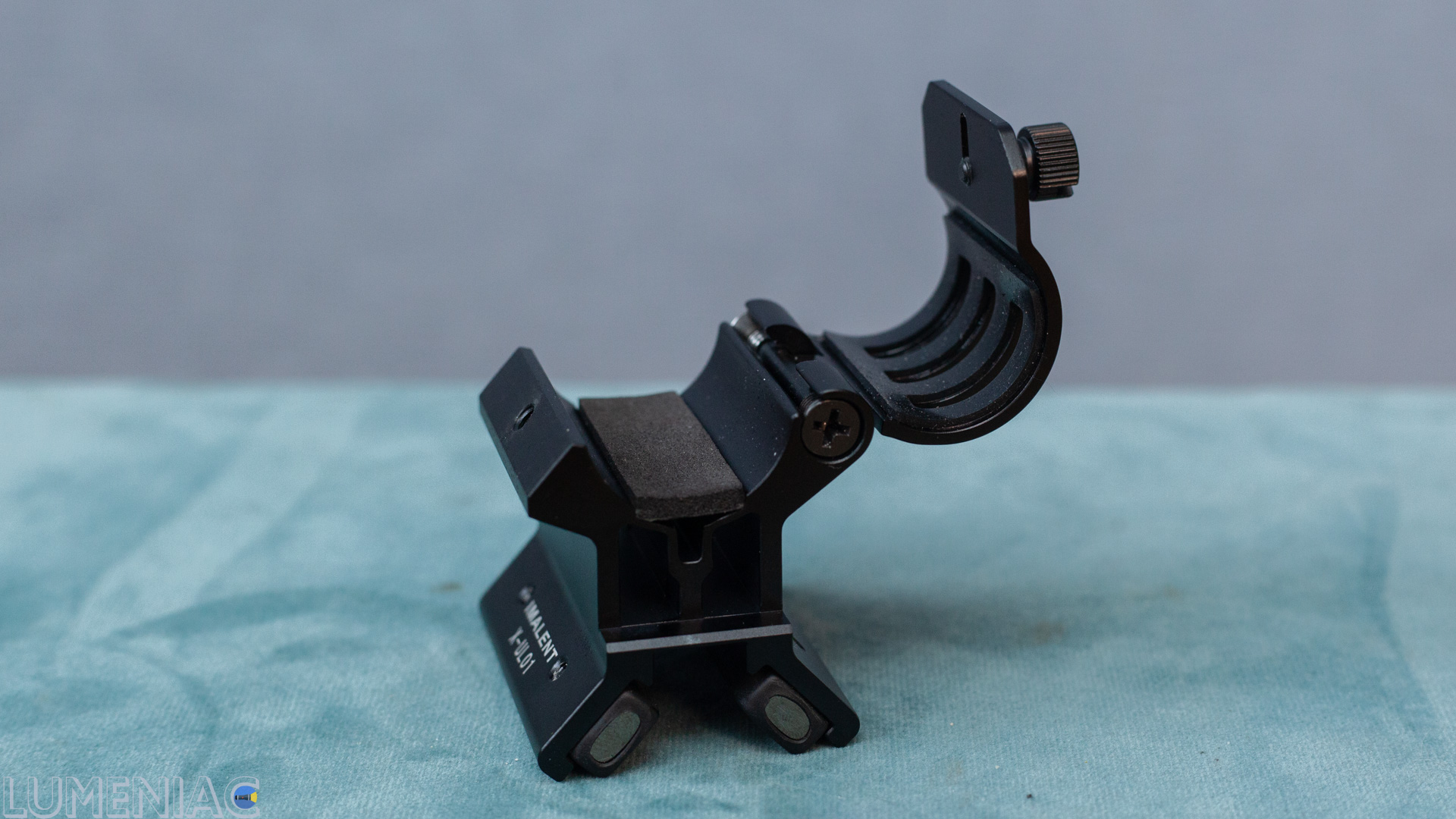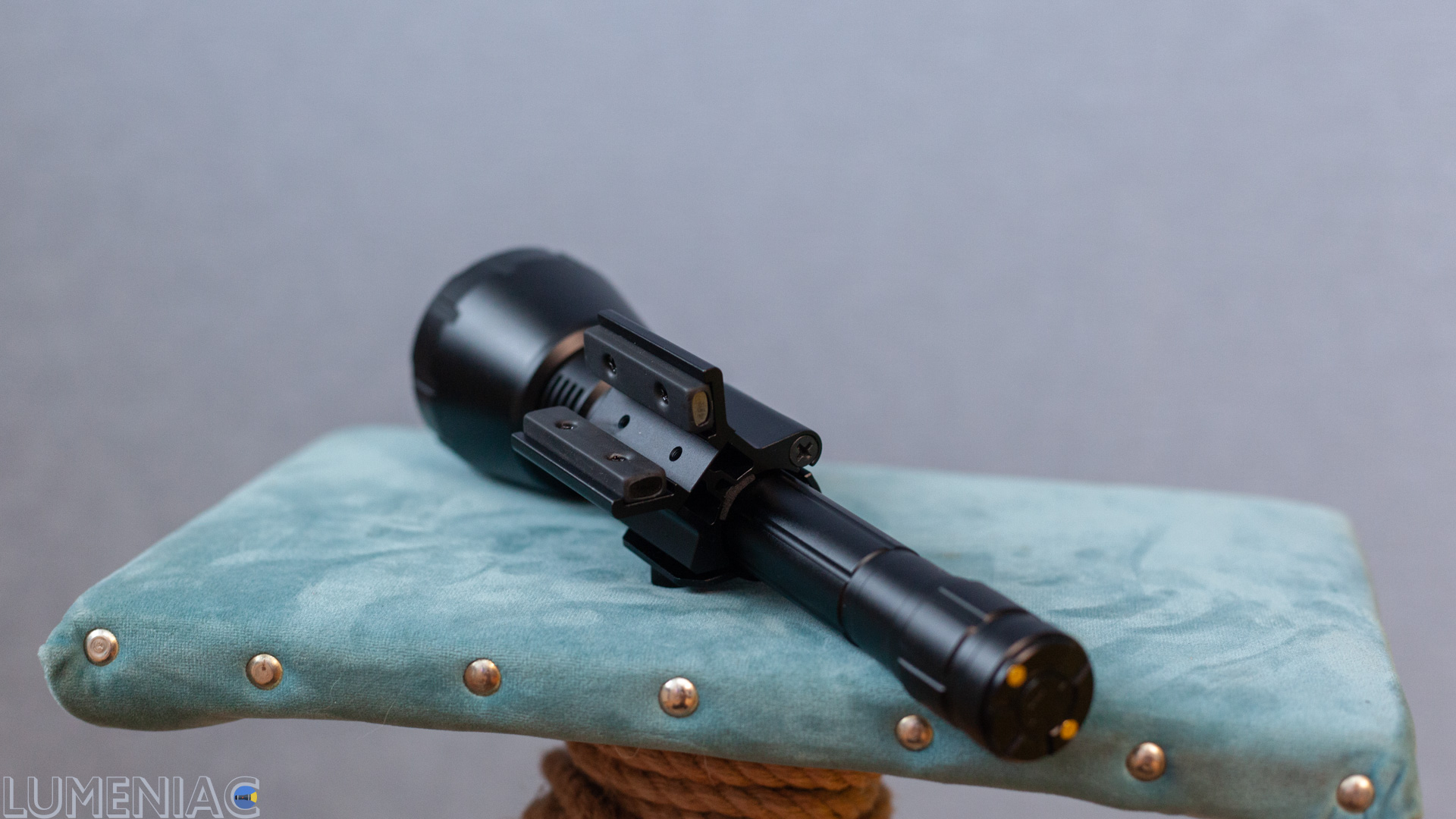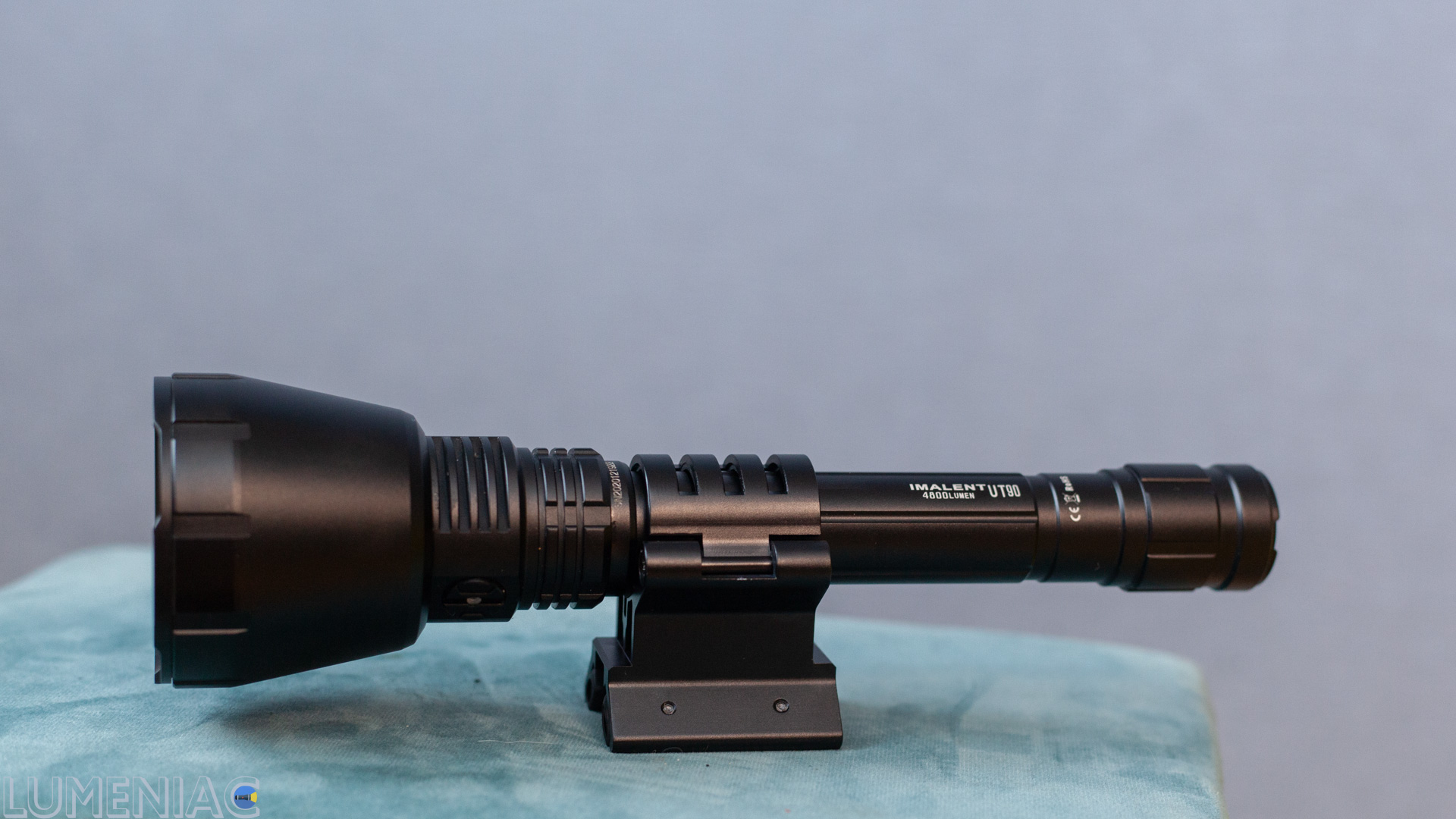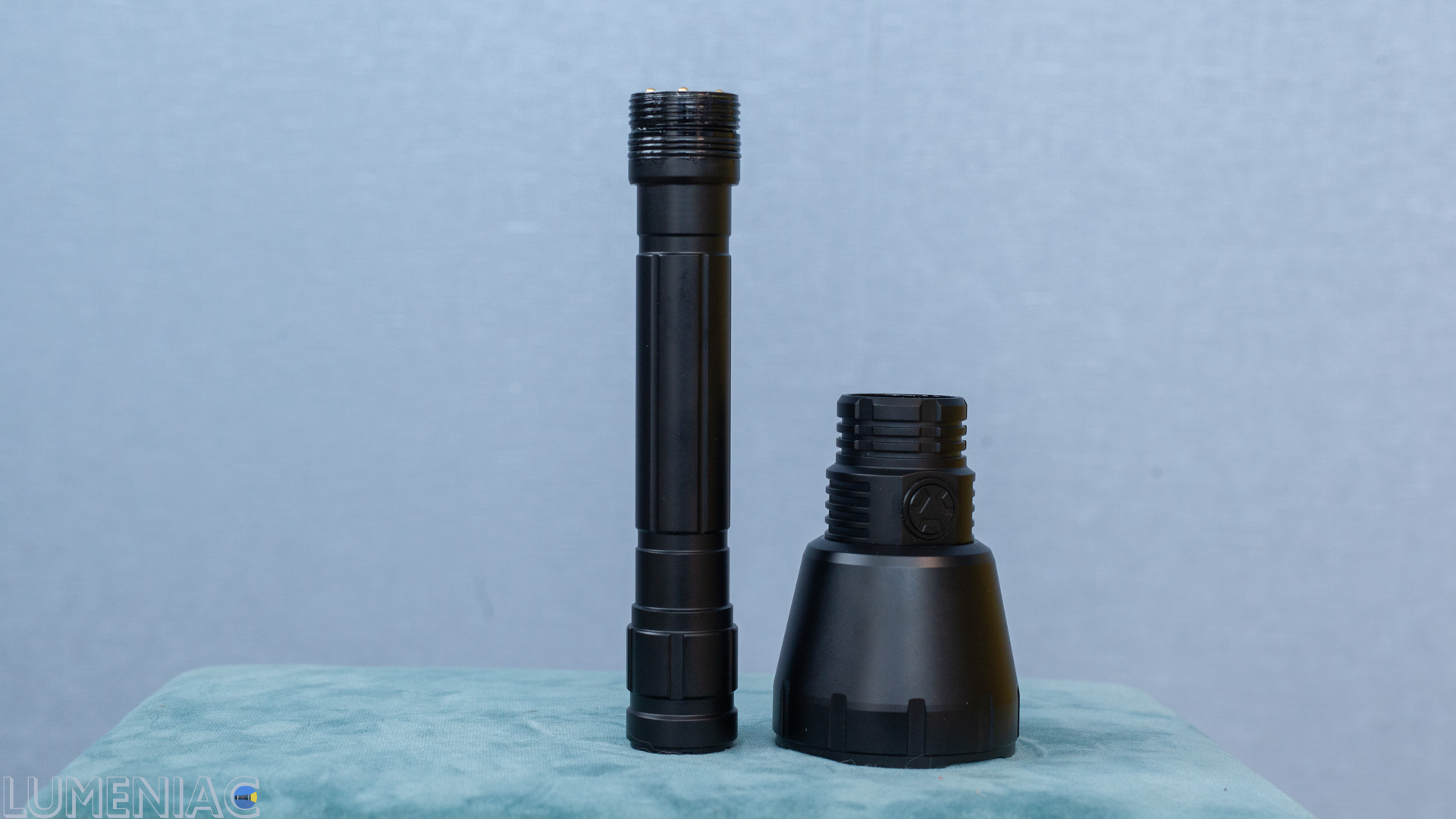 A little about the charging going through the contact on the tail-cap:
a) you have to position magnet I charger plate correctly or charging will not start.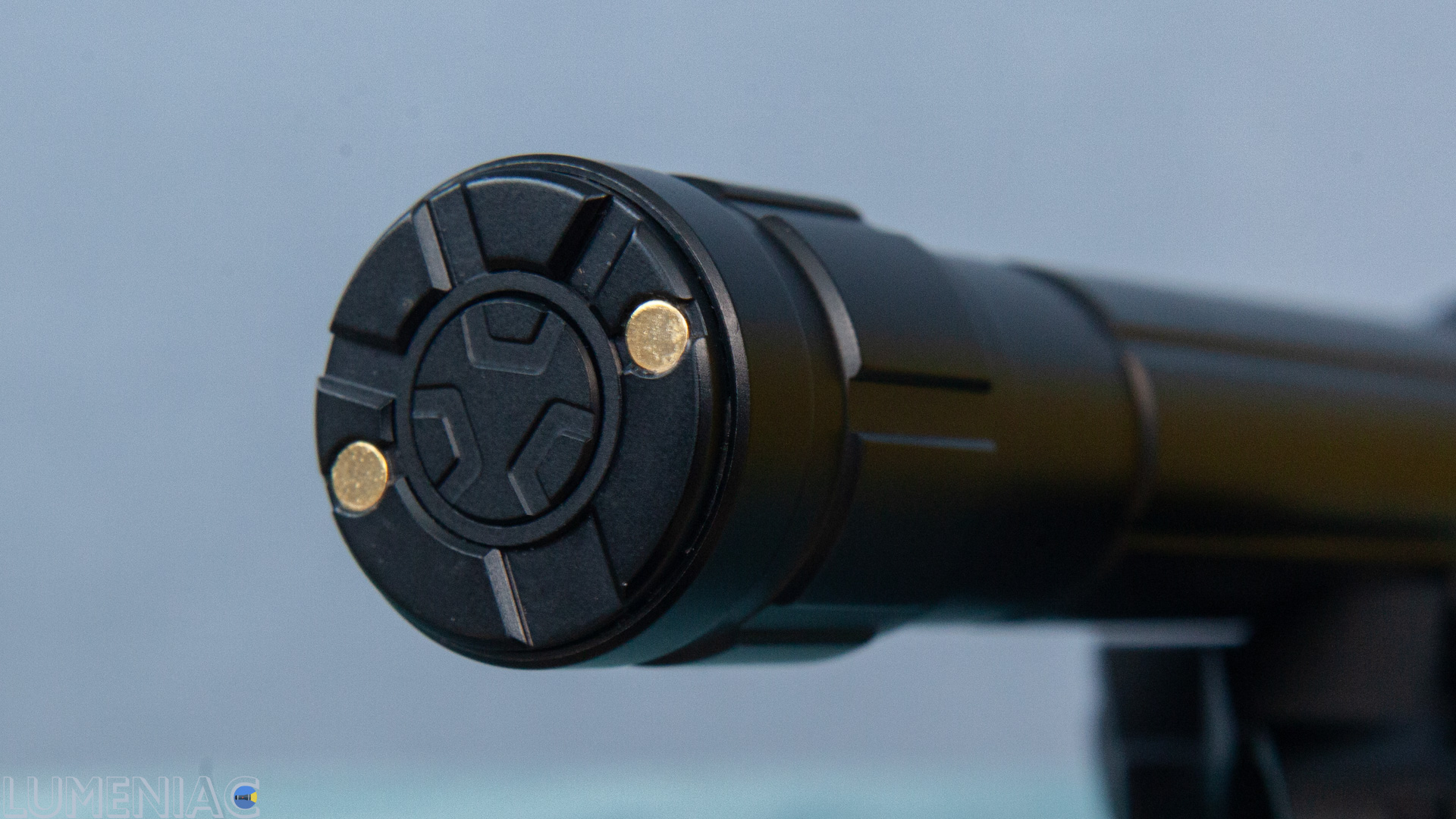 b) Taken separately, the built-in battery and the native branded magnetic charging are just whan i dont like in hand flashlights (i`m ok with built in batteries in camping lights and headlamps). Just because you cannot replace a discharged battery with a fresh one, and if the cable is lost / broken / unavailable, it complicates charging. But when they are combined in one – it's just ay-ay. If there is no cable, then that's it, consider that you cannot use a flashlight.
If the magnetic charging is the same for all models (as is the case with the Olight), it simplifies things. But the UT90 has ITS OWN (WHY?)charge. And you cannnot, by the way, charge the battery separately from the flashlight. Therefore, it will not be possible to buy a spare battery and use it while the discharged one is charging
c) 1.4A charging current is quite low current in the case of 2*21700 batteries. It is possible to increase the charging power with support of 18W PD charging standard. And for the built-in battery, fast recharging is essential.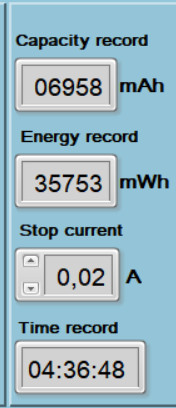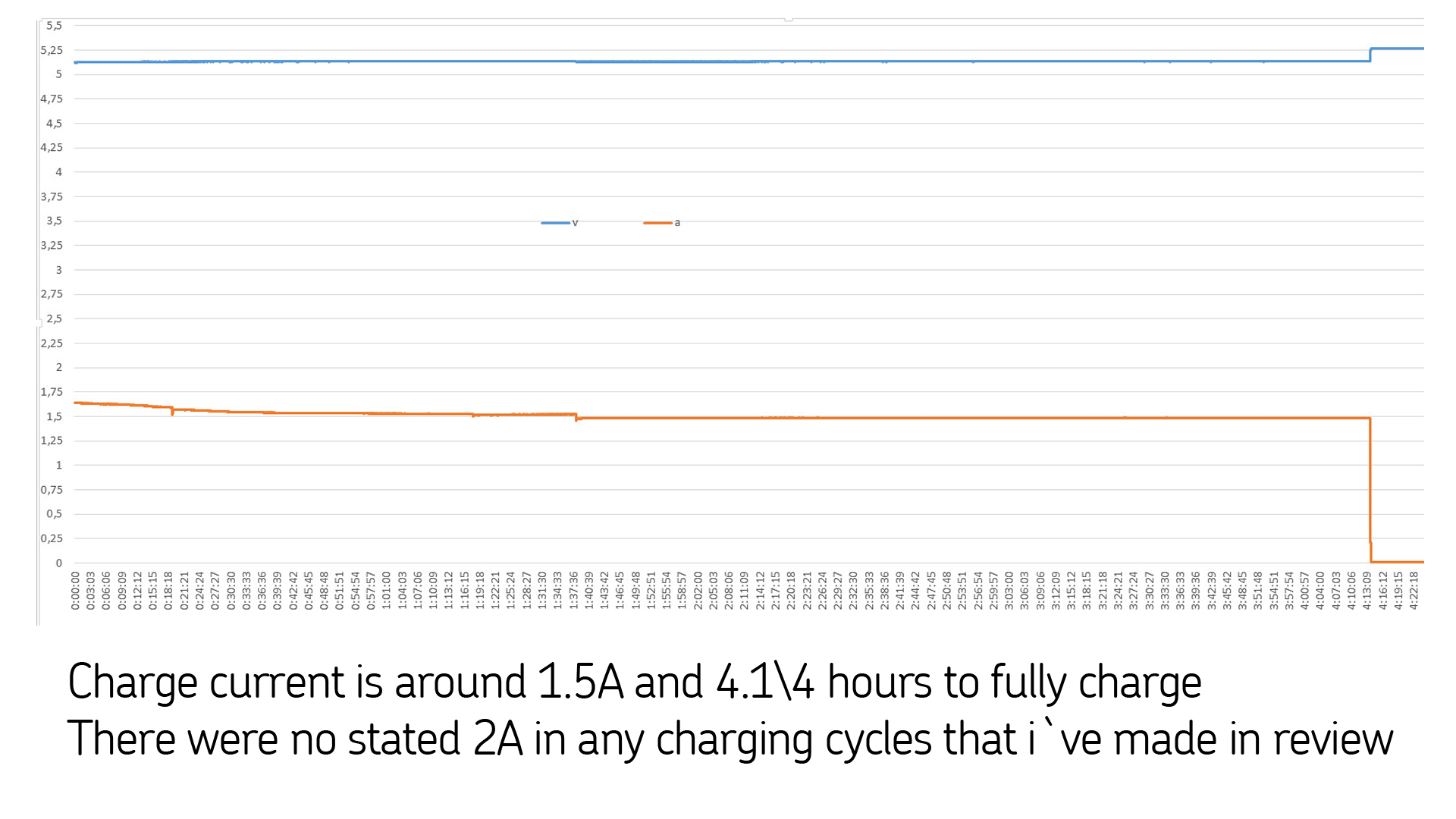 Of course, magnetic charging has its plus: waterpooffnes and ease of connection.
All numerous threads are perfectly lubricated. There are two o-rings.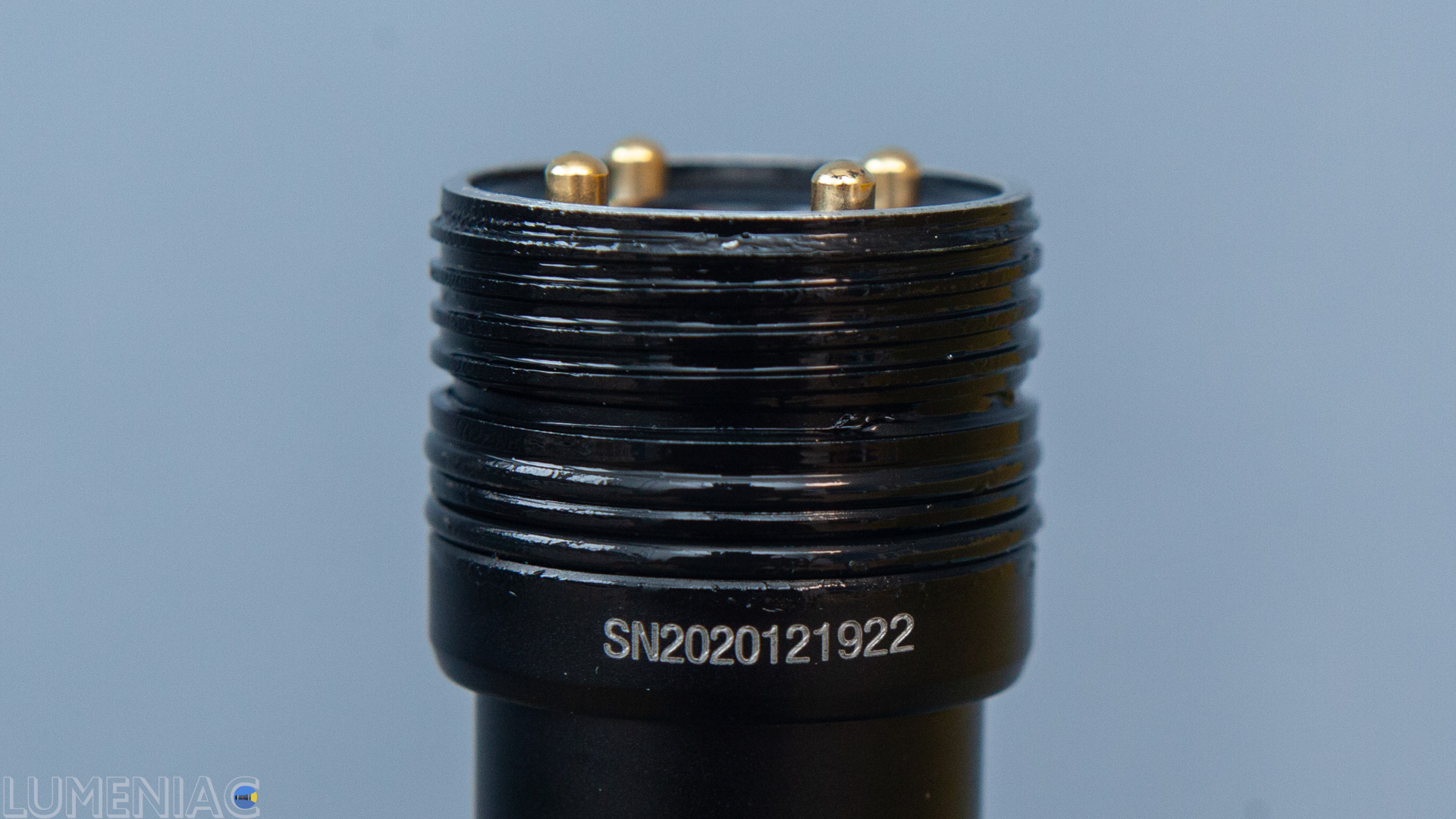 The spring on the side of the head is quite thin for a flashlight with such a powerful LED. I sincerely hope that spring is used to conduct the signal from the tail button and the main current goes through 4 spring-loaded contacts and the end of the battery pack.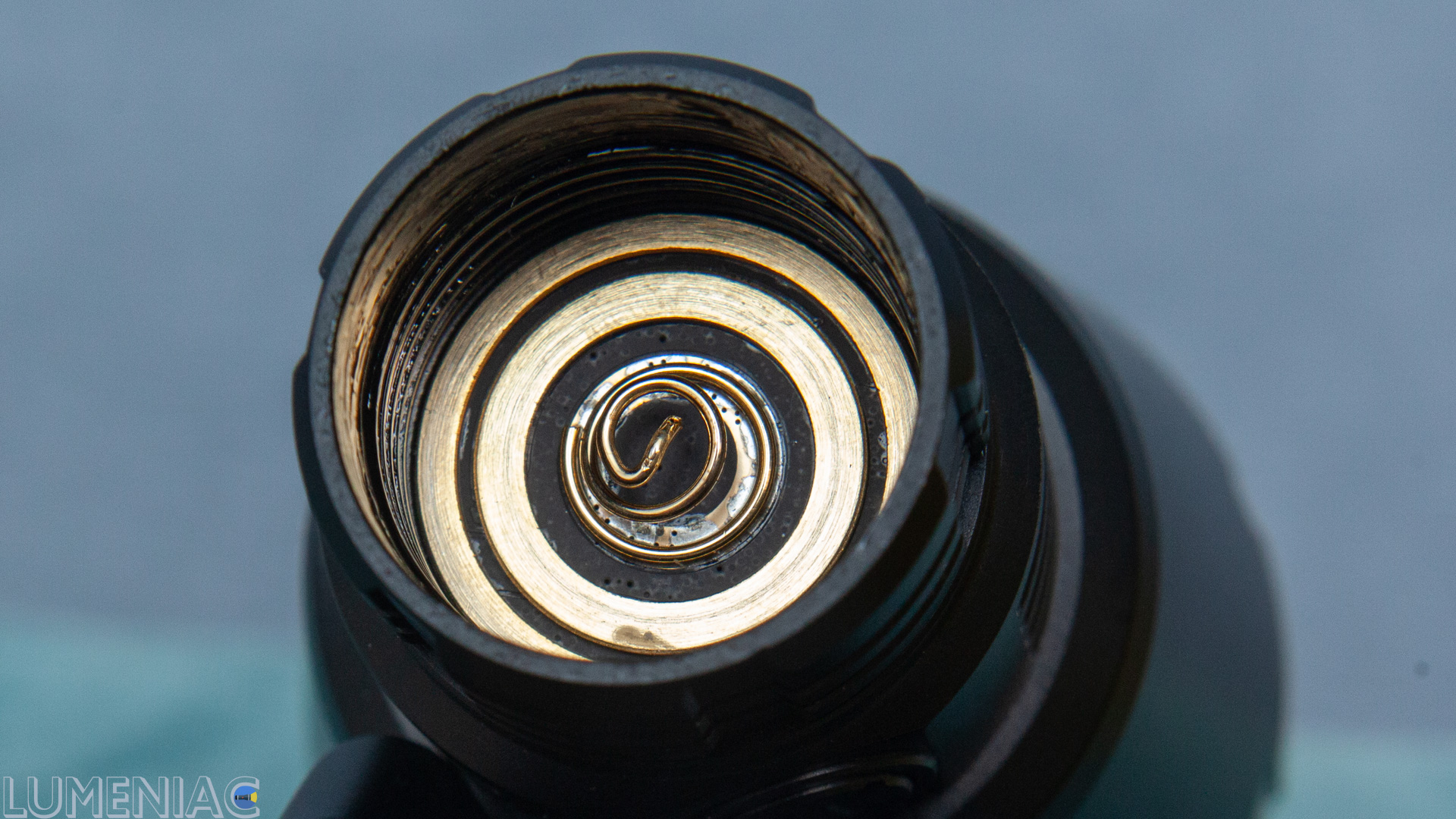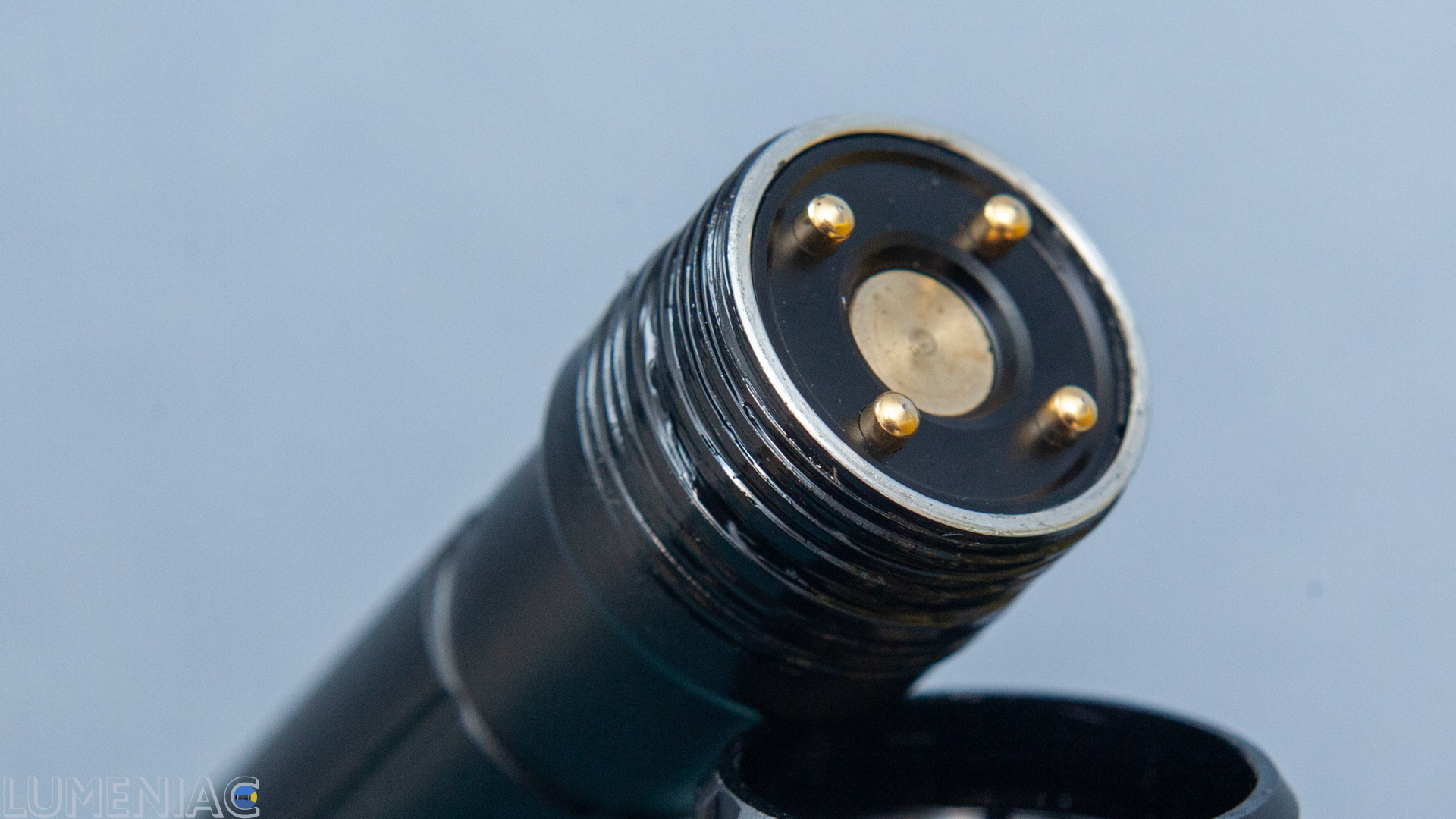 The head is very large for a 1*battery long-range flashlight and quite common for a long model. So, size is usual.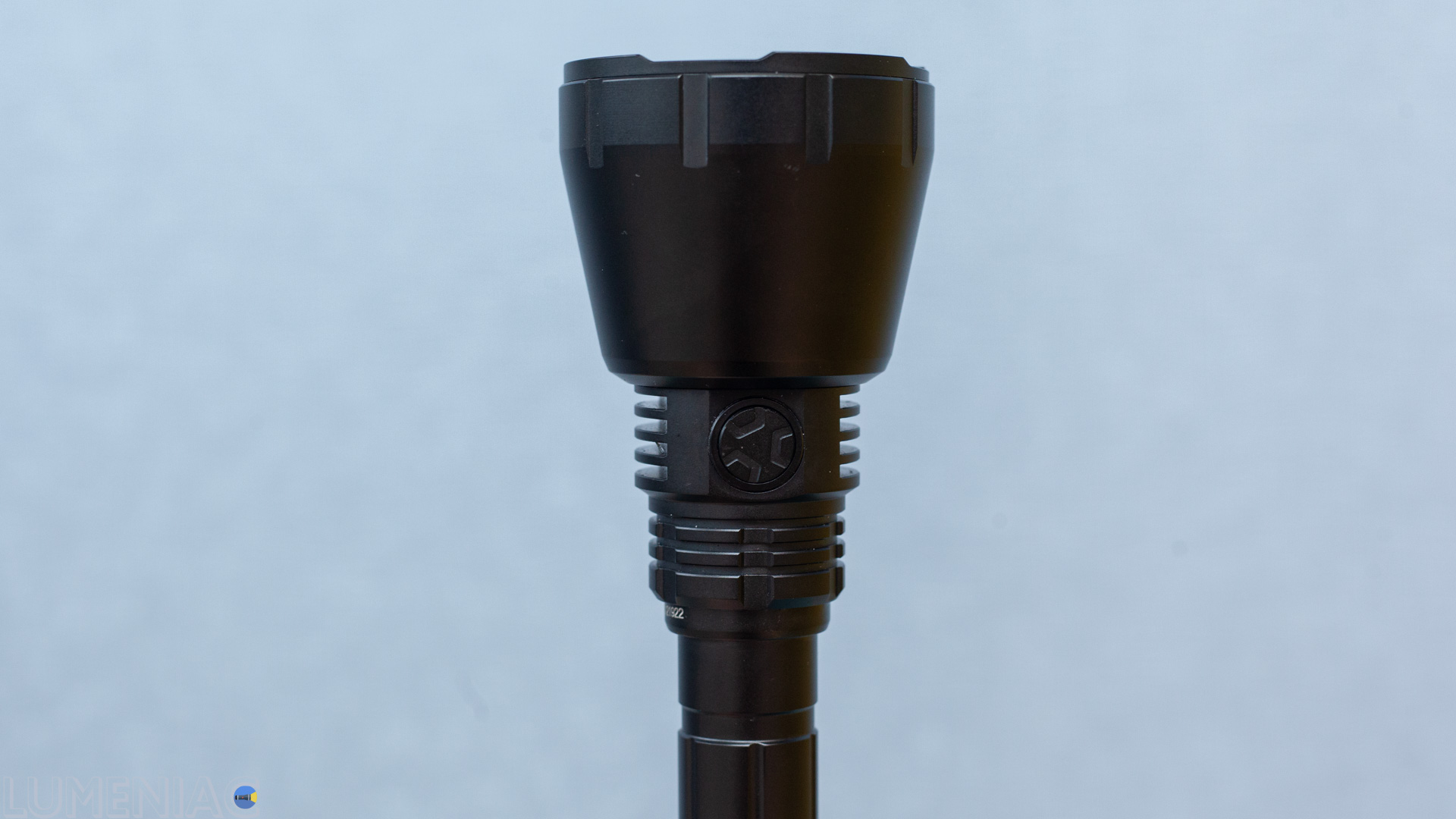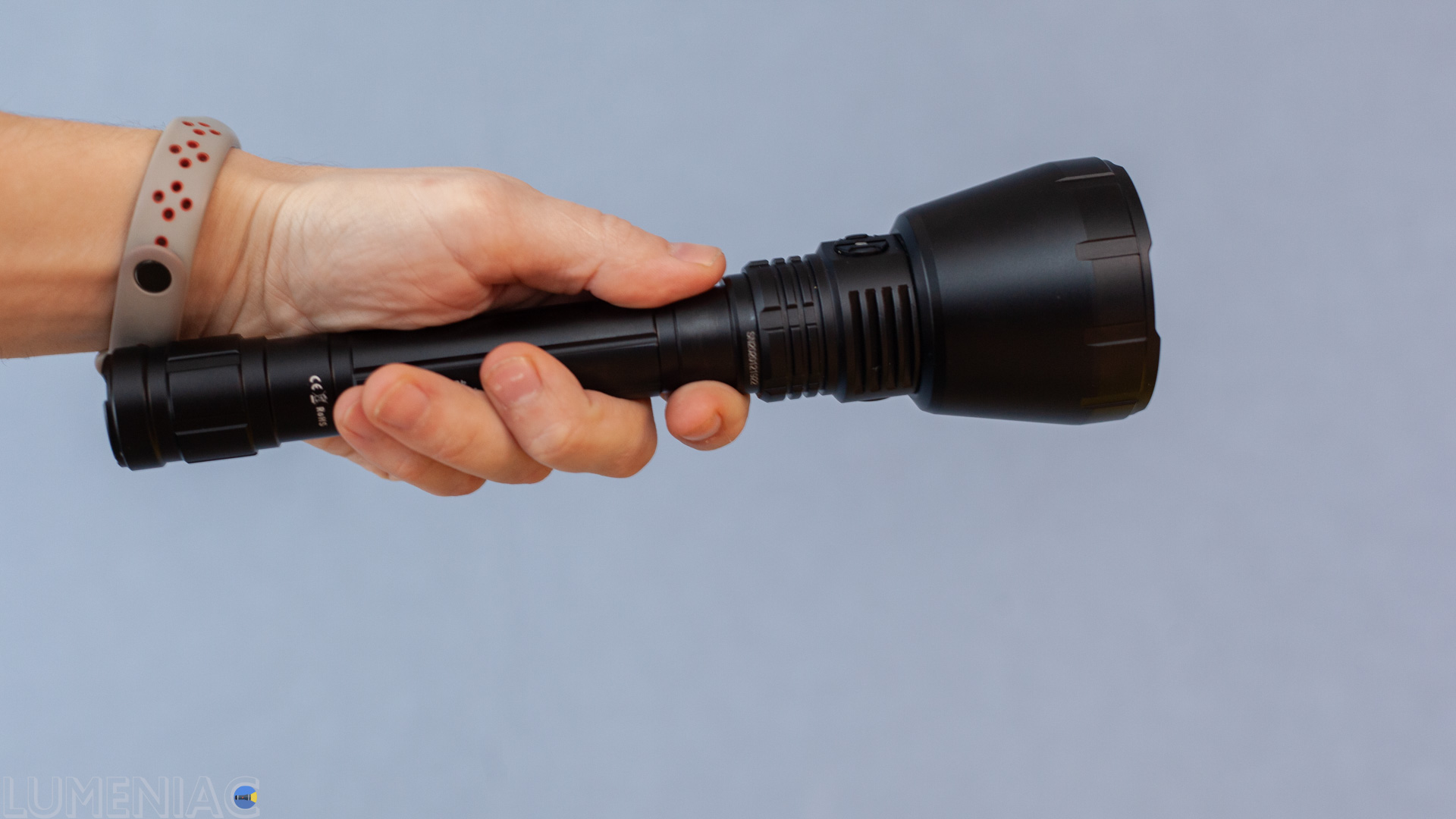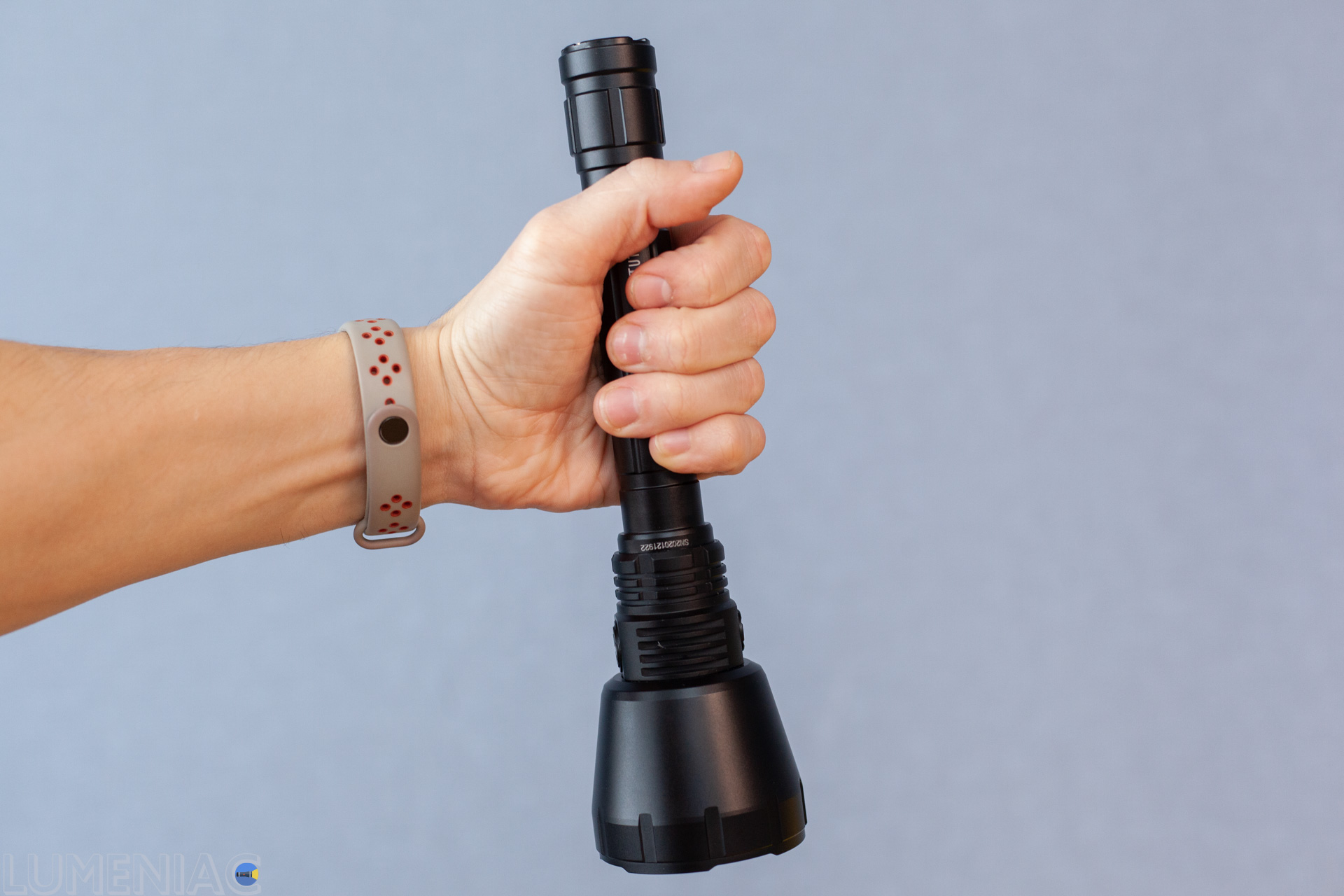 The cooling fins are rather shallow. They, of course, could be made deeper, but I don't think that this would have any real effect when cooling such a "hot" LED as SBT90.2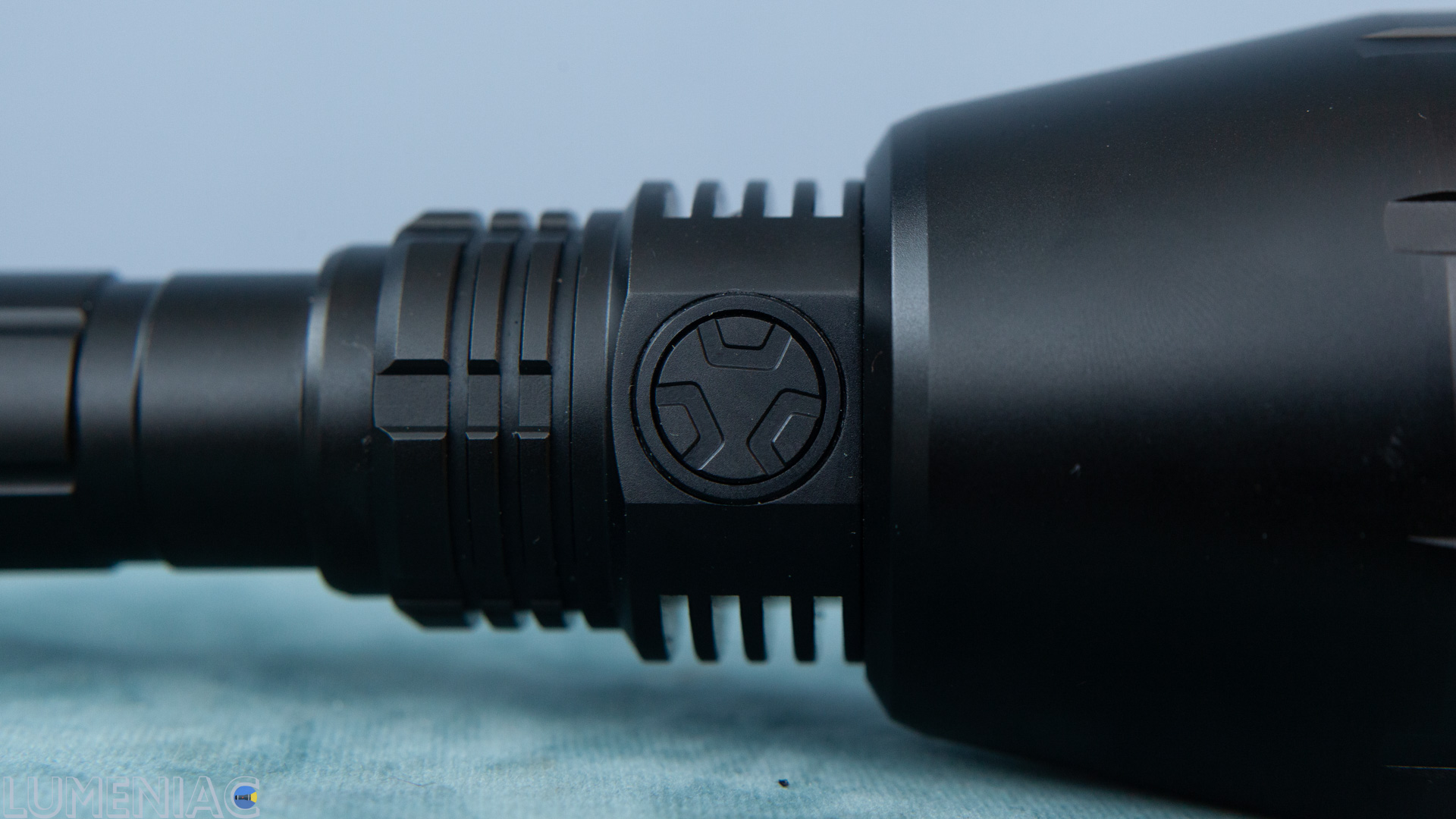 The button and indicator are located on opposite sides. The indicator is convex and raised, and the button is flat and flush. The solution is strange, since it is definitely more difficult to find a flat button. However, grip is such, that one way or another, you still place fingers both on indicator or button. You just need to press with both fingers at the same time. So, that is not that good, but that is not that bad as well.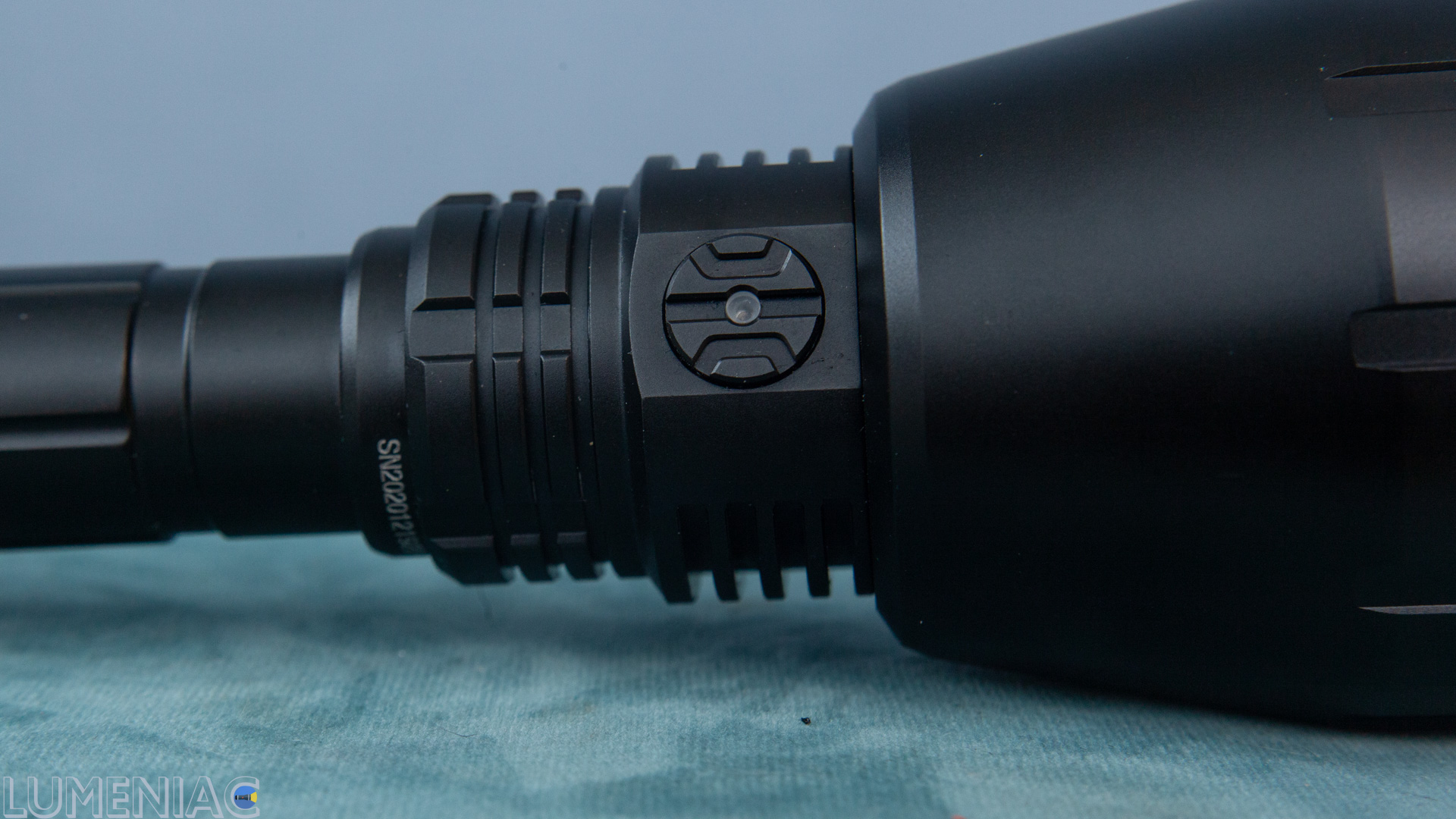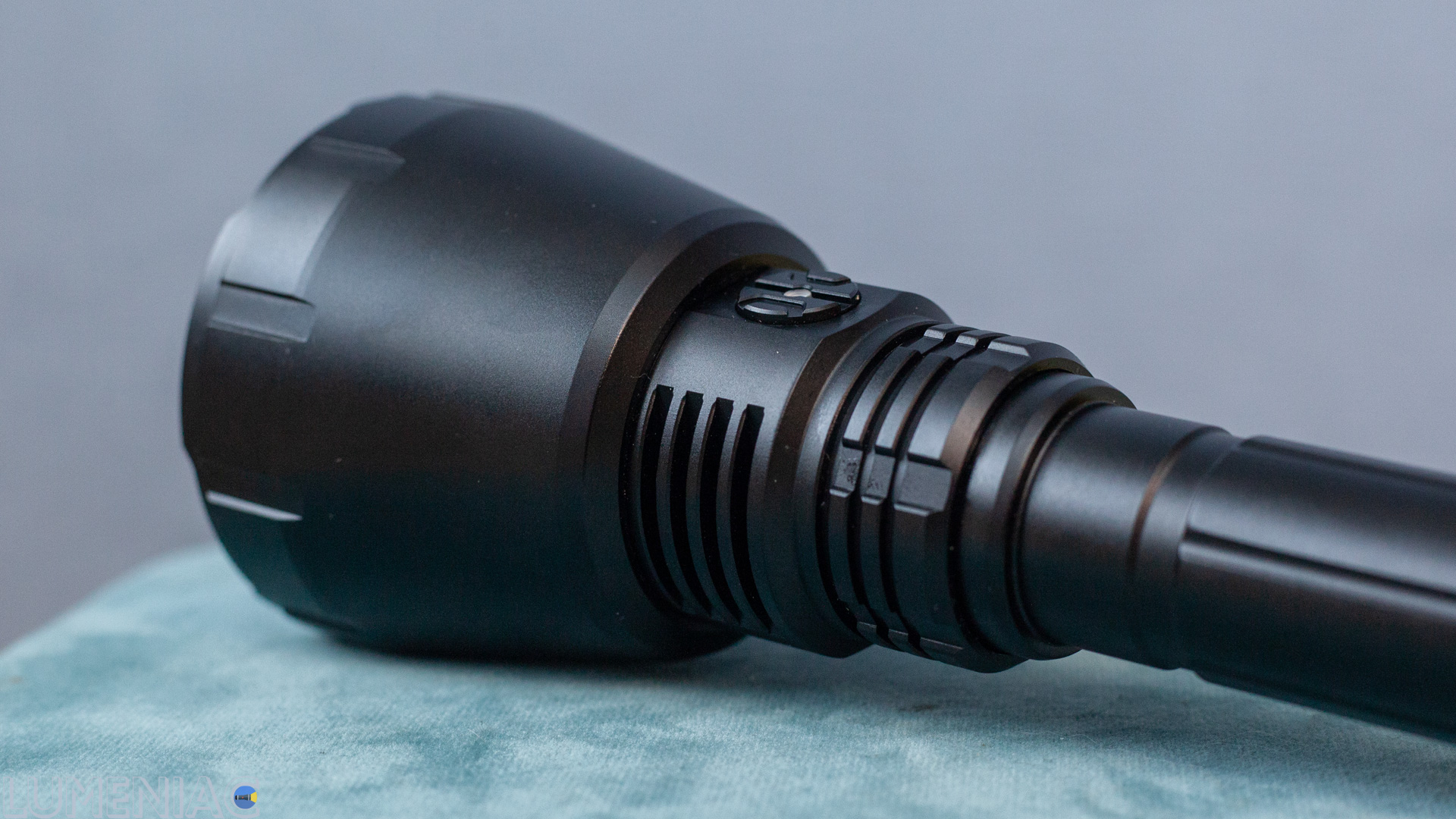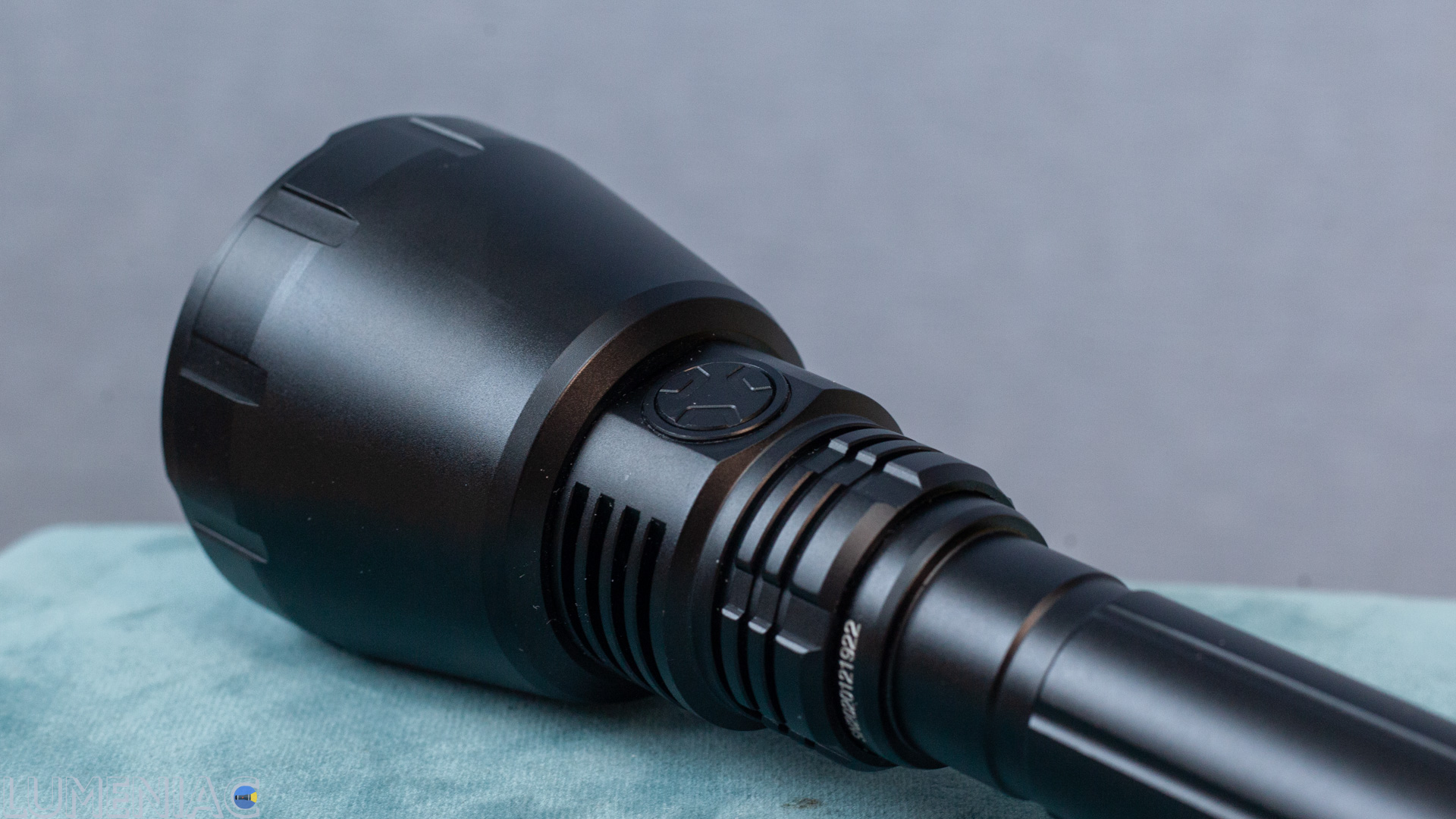 The bezel is relatively deep, with threads for the included filters, green and red.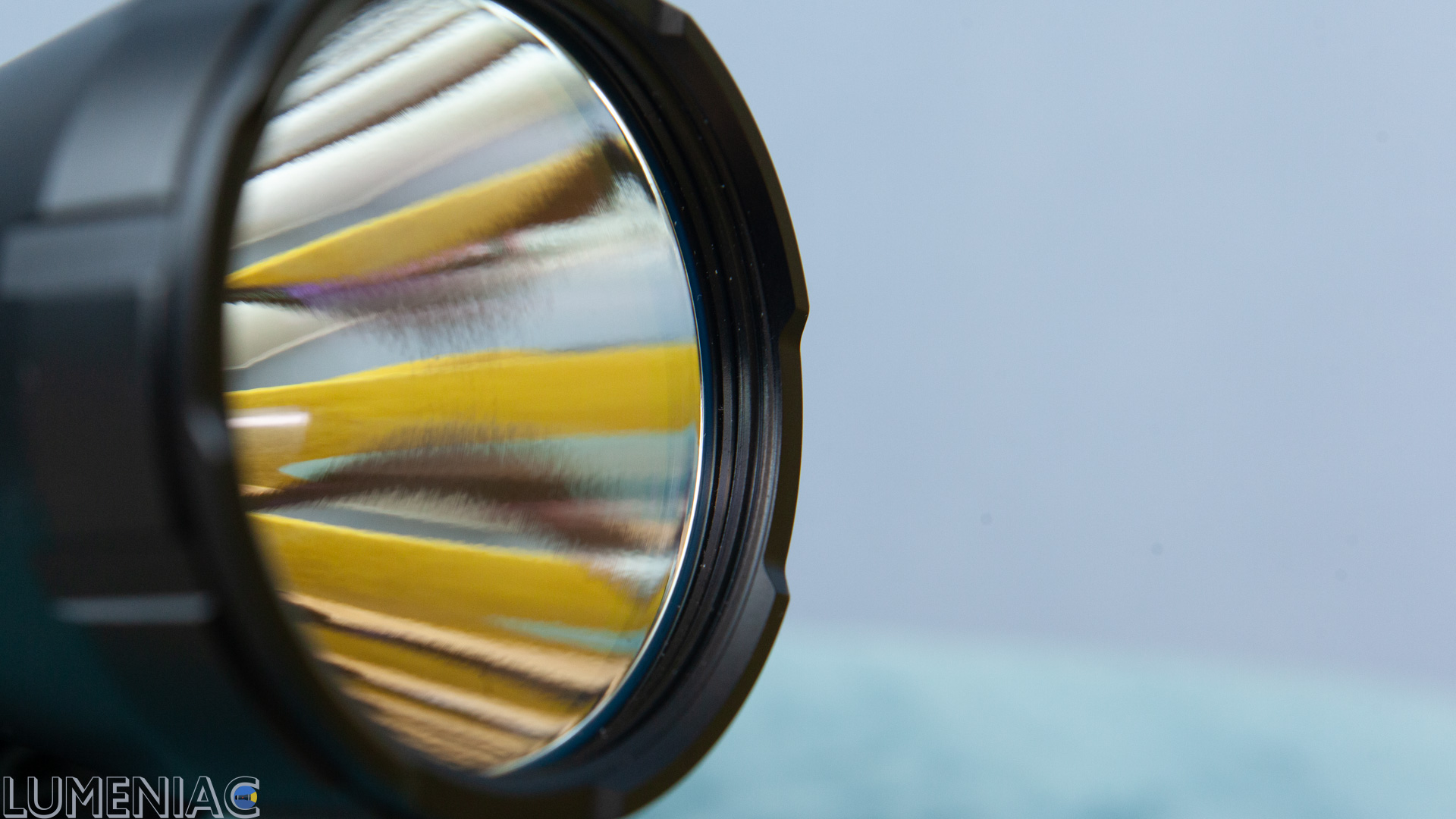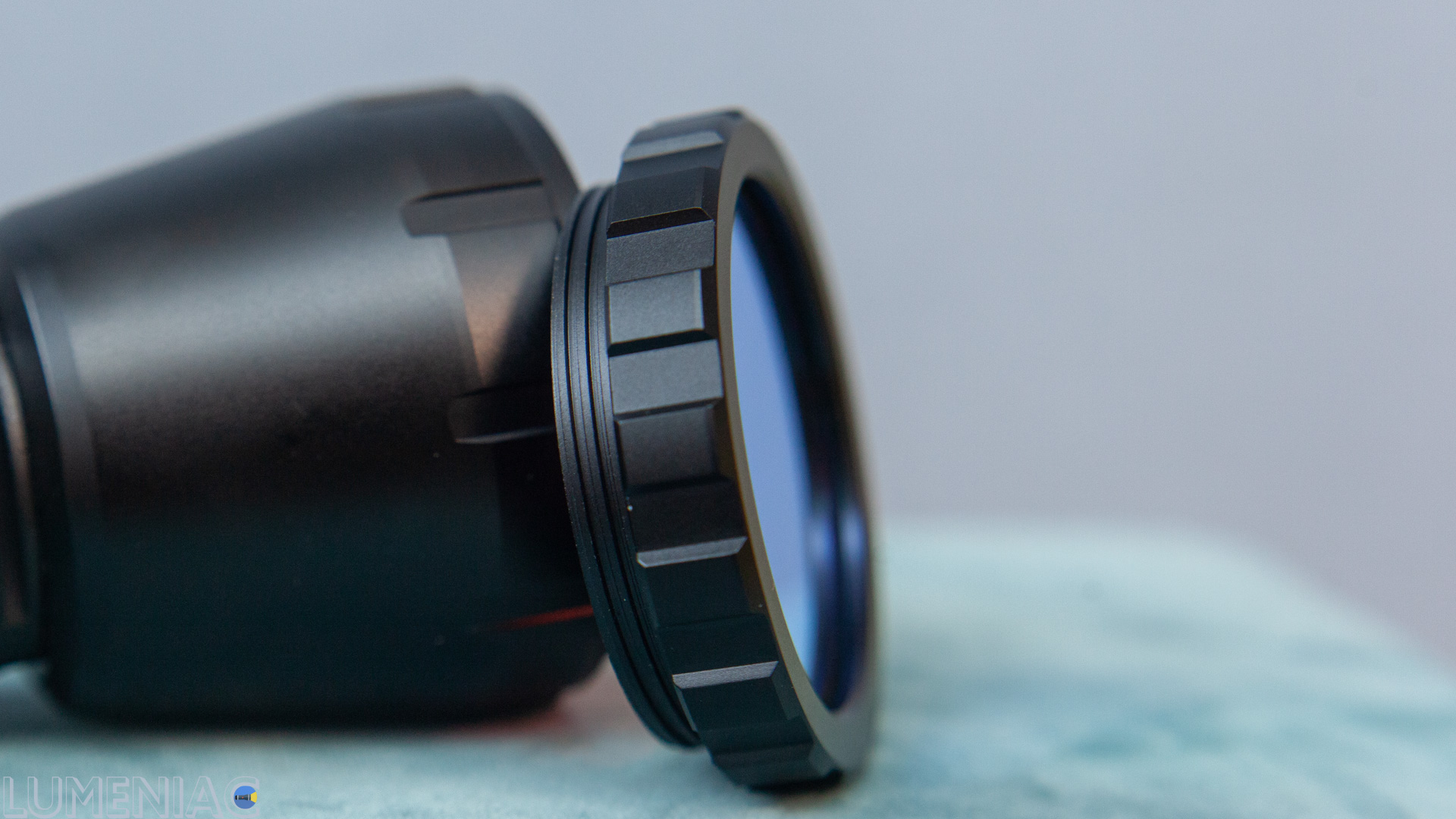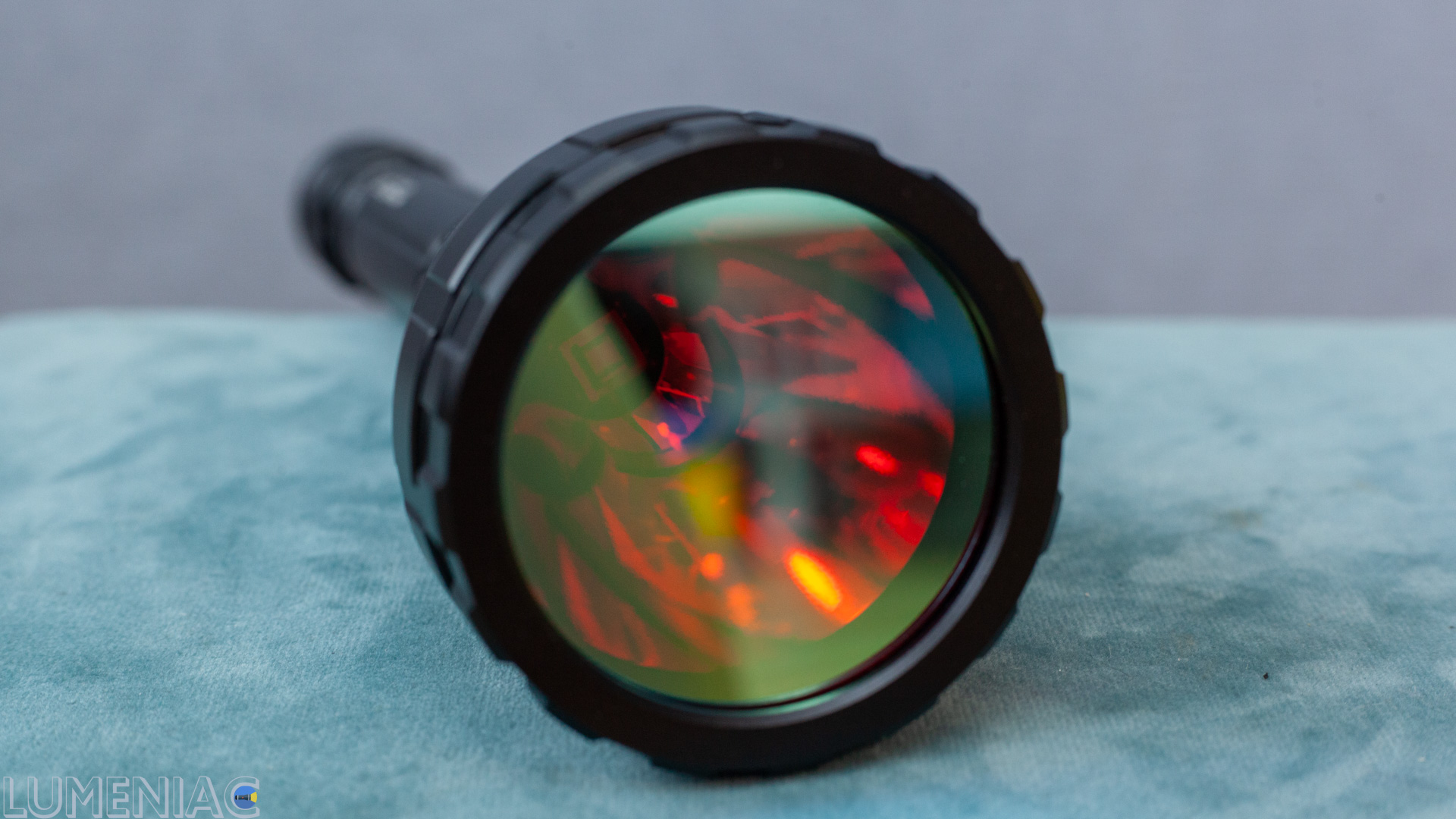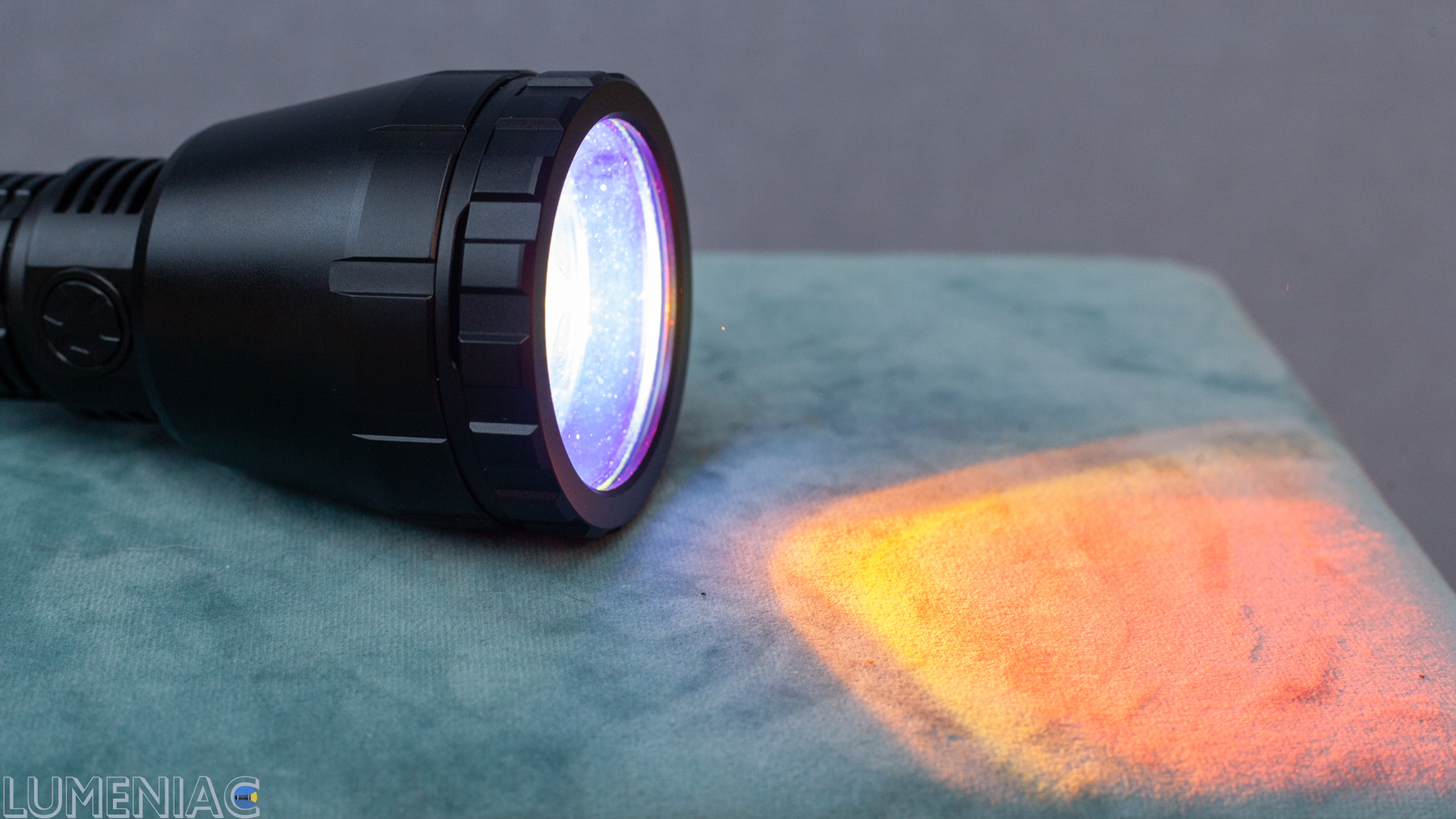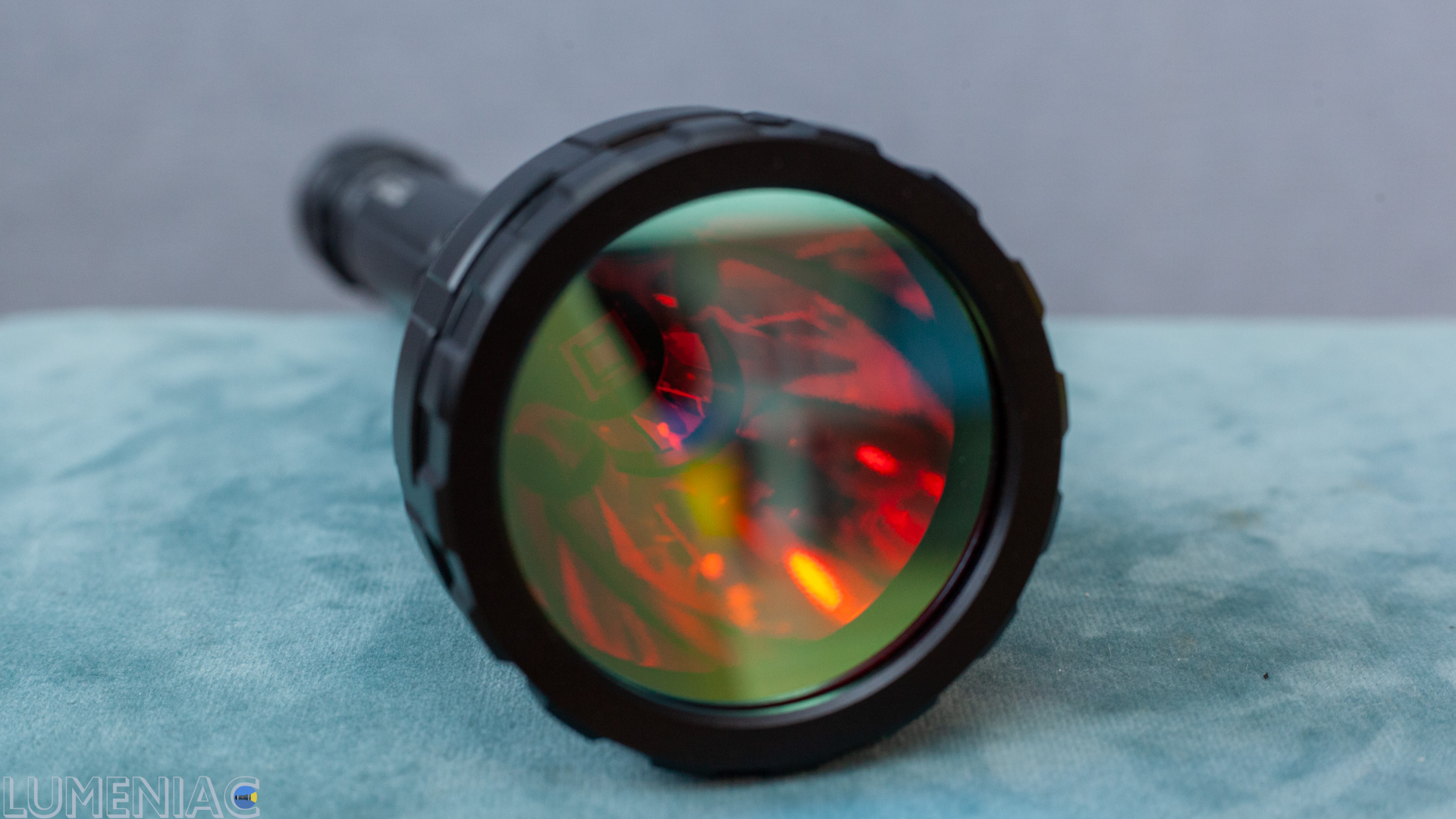 The reflector is what you may expect – smooth and deep aforementioned SBT90.2 at the bottom.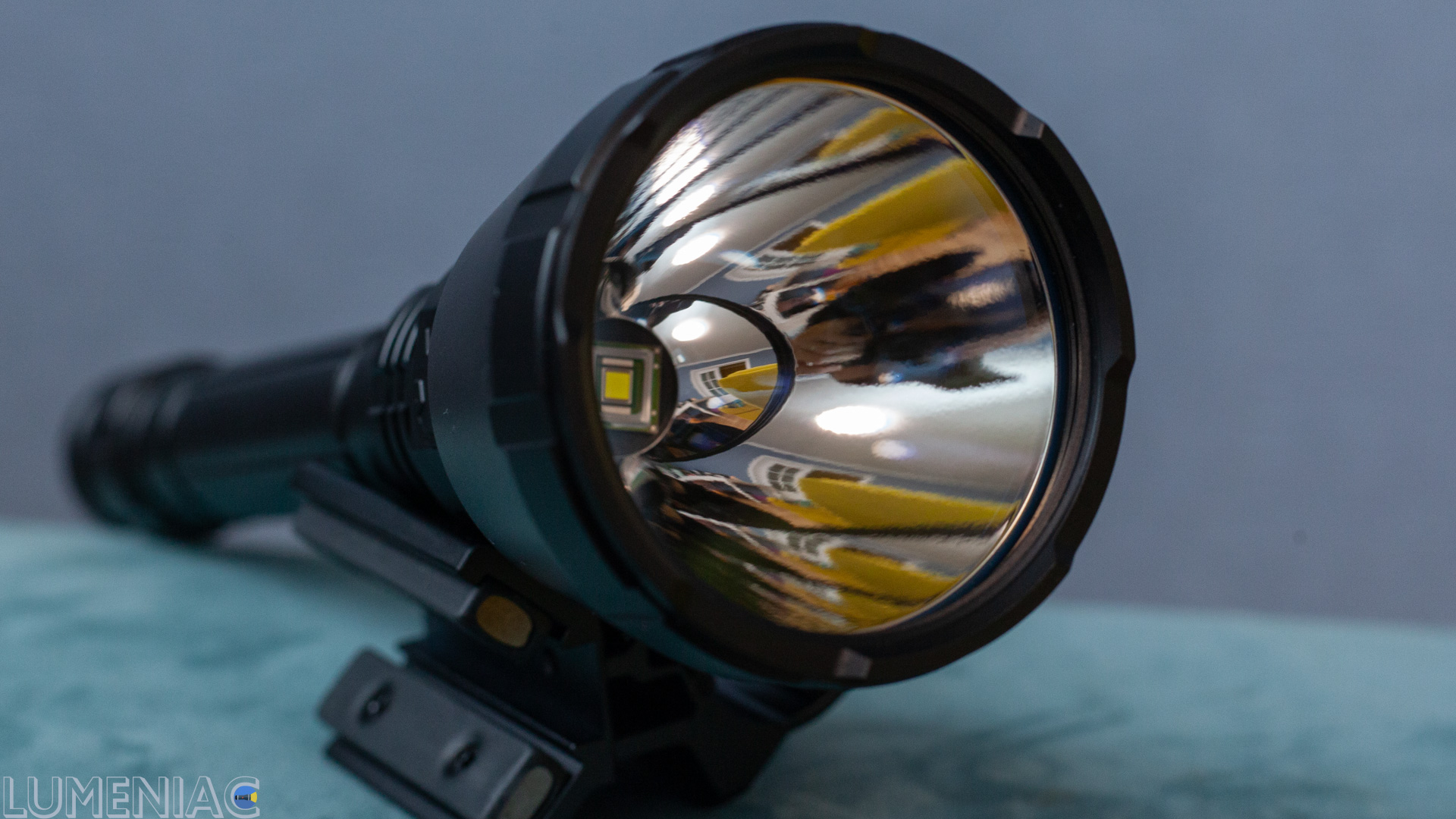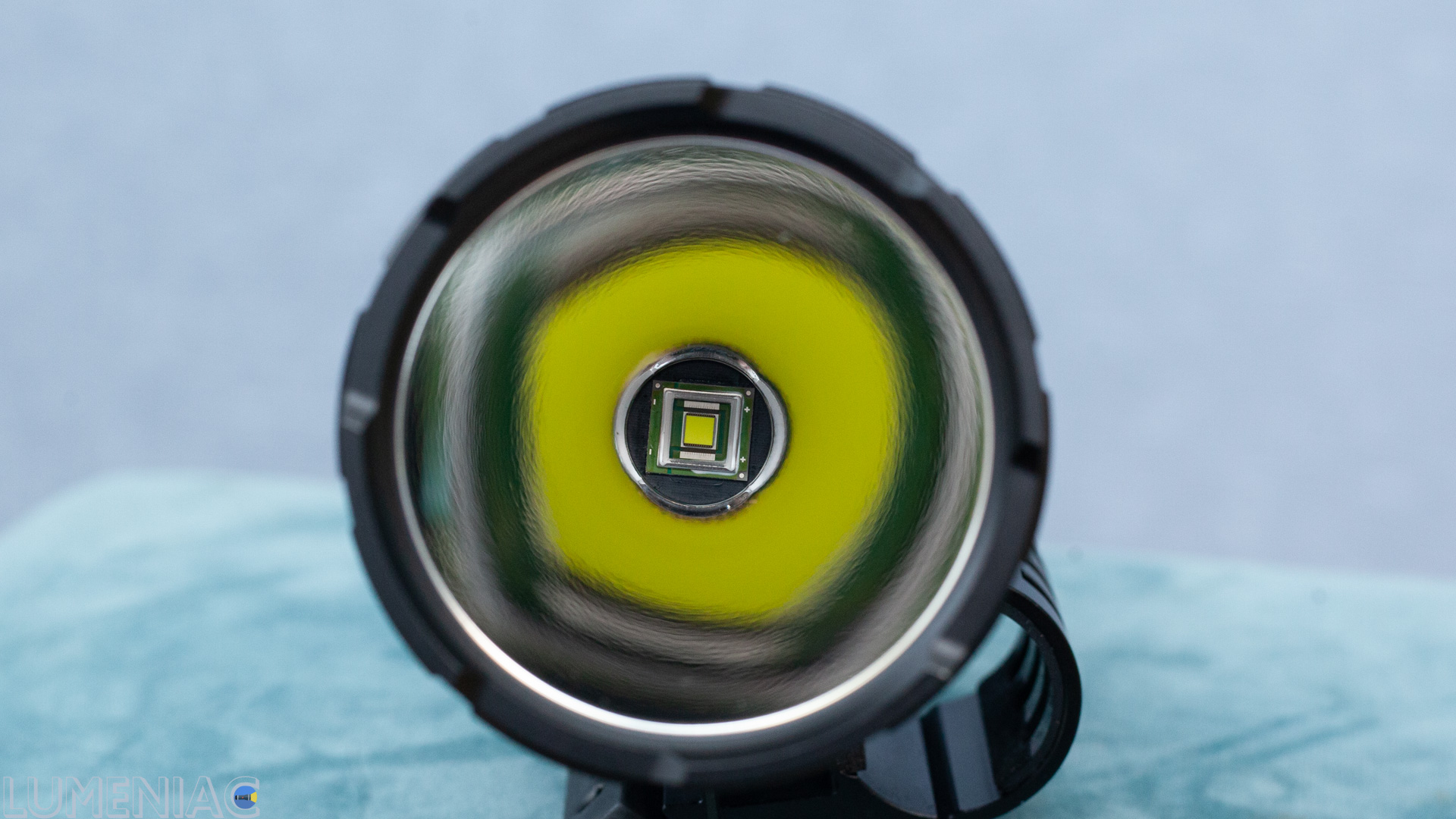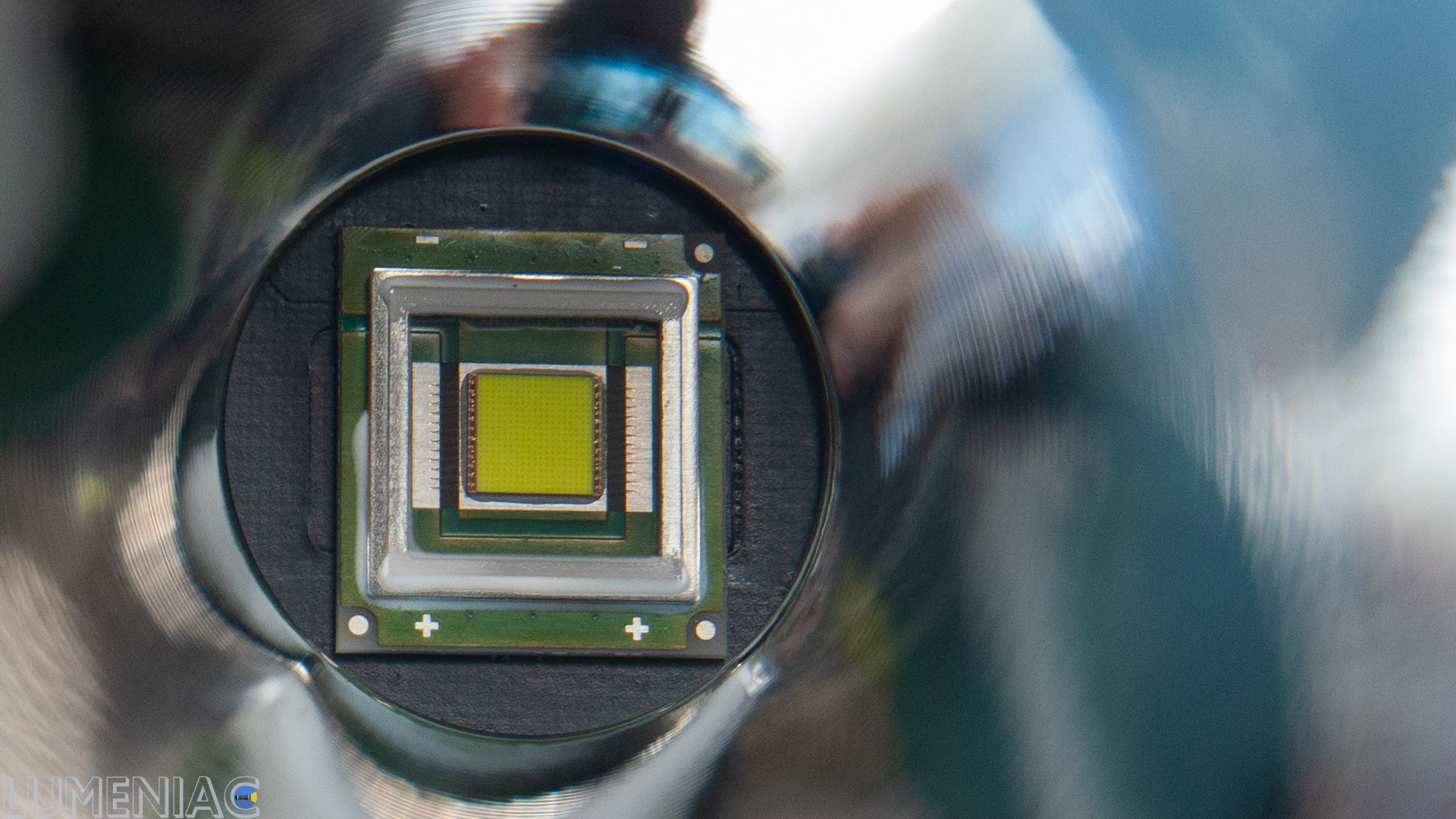 Here, actually that's all. The appearance is good. I like the kit, the look, the combination of the side and tail buttons, but I strongly dislike the combination of the built-in battery and the native, specific charging cable.
UI
Quite decent UI, I like it.
There is instant access to everything you need. I'm used to a different interface, but I`m sure you can do with this once and will get used to it quickly.
TB – tail button \ SB – side button \ RB – remote button
OFF-ON – click RB, SB, TB (turns on in the last used mode)
Changing modes – holding SB
Instant turbo – 2x clicks of SB or TB, holding TB from OFF, holding RB
Instant LOW – 3 clicks TB or SB
HOW IMALENT UT90 ILLUMINATES
As mentioned above, SBT90.2 is a very hot LED. Accordingly, you should not expect long rutime in the turbo with such a LED (otherwise it requires flashlight with size of Astrolux MF05 \ Mateminco MT90) and the 1 minute that the Imalent UT90 gives you is definetely a good time. This, incidentally, is a decent time for a turbo at all, regardless of model and LED.
Judging by what the hunters told me, even such a minute runtime in the turbo is excessive, you turn the light for a very short time on hunting, around 15 seconds. This, by the way, removes the runtime limitations that the built-in battery imposes. Two hours in this situation should be enough with a margin. But when using as constant working light (conventionally, some kind of search and security activity), this can seriously limit the use.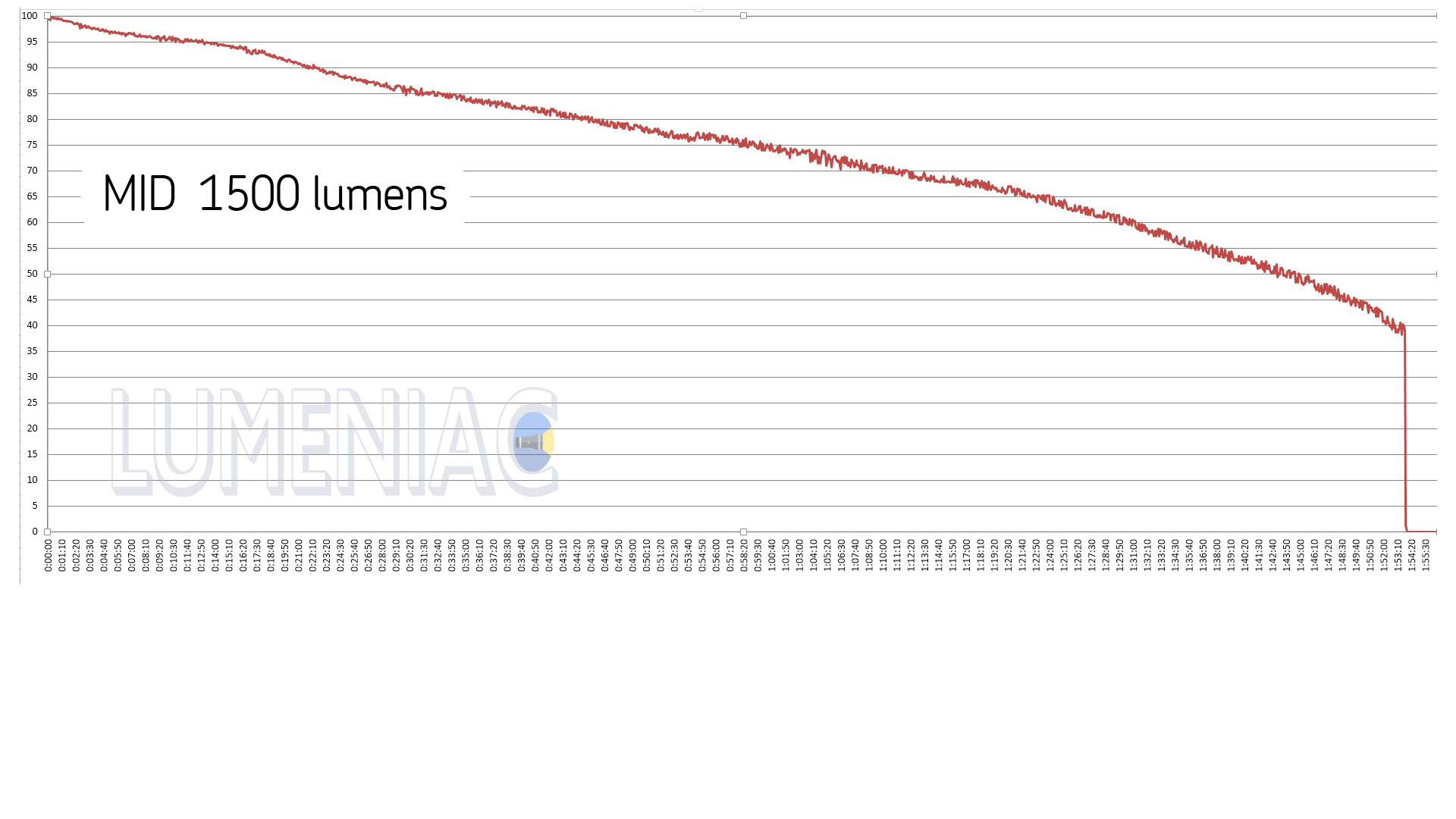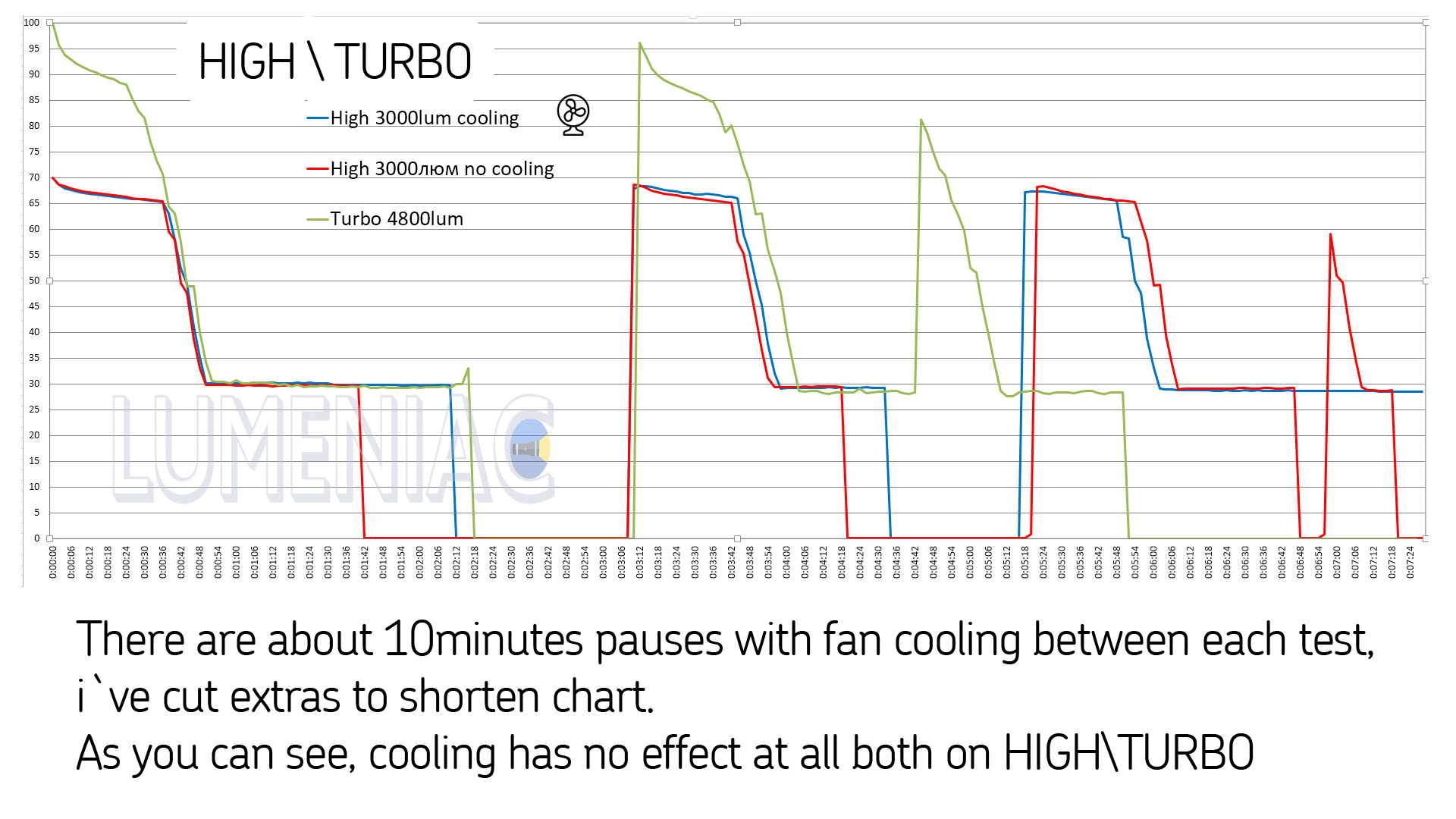 The light temperature, fortunately, is not frankly cold. It is something relatively decent, around 5700K.
I should mention that, judging by other models, LED temperature can still vary. On the whole, in terms of light as such (regardless of color temperature), Imalent UT90 performs perfectly. It has outstanding combination of throw and brightness.
There are, of course, models with similar dimensions and throw. But due to the fact that they almost all are (at least for 2021) with XHP35, the difference in light distribution will be noticeable. In general, it will be the same bright center with dim side flare. Only SBT90.2 will give a brighter, and in my opinion more comfortable near light with wide sidelight. Not frankly convenient, that is not that LED, but more convenient. Of course, when other things are equal – optics and brightness.
And here, in general, I really have nothing to add to visual photographs.
LOW will make it possible to somehow shine within 20m range. Mid is stable somewhere up to half a kilometer, then High and Turbo steps in.
200m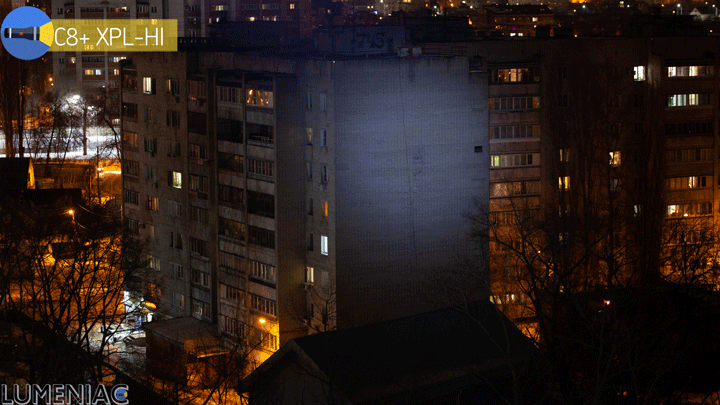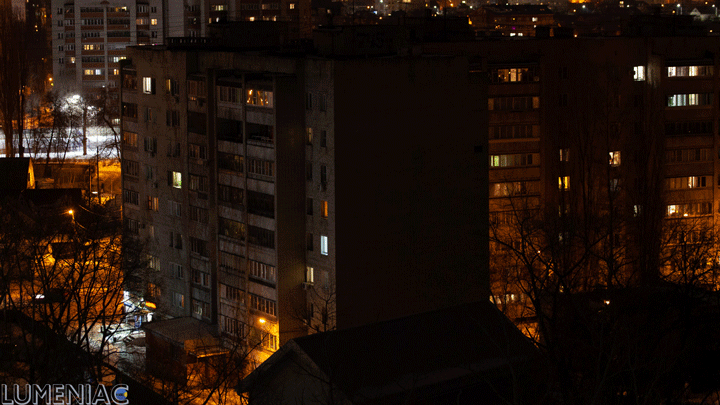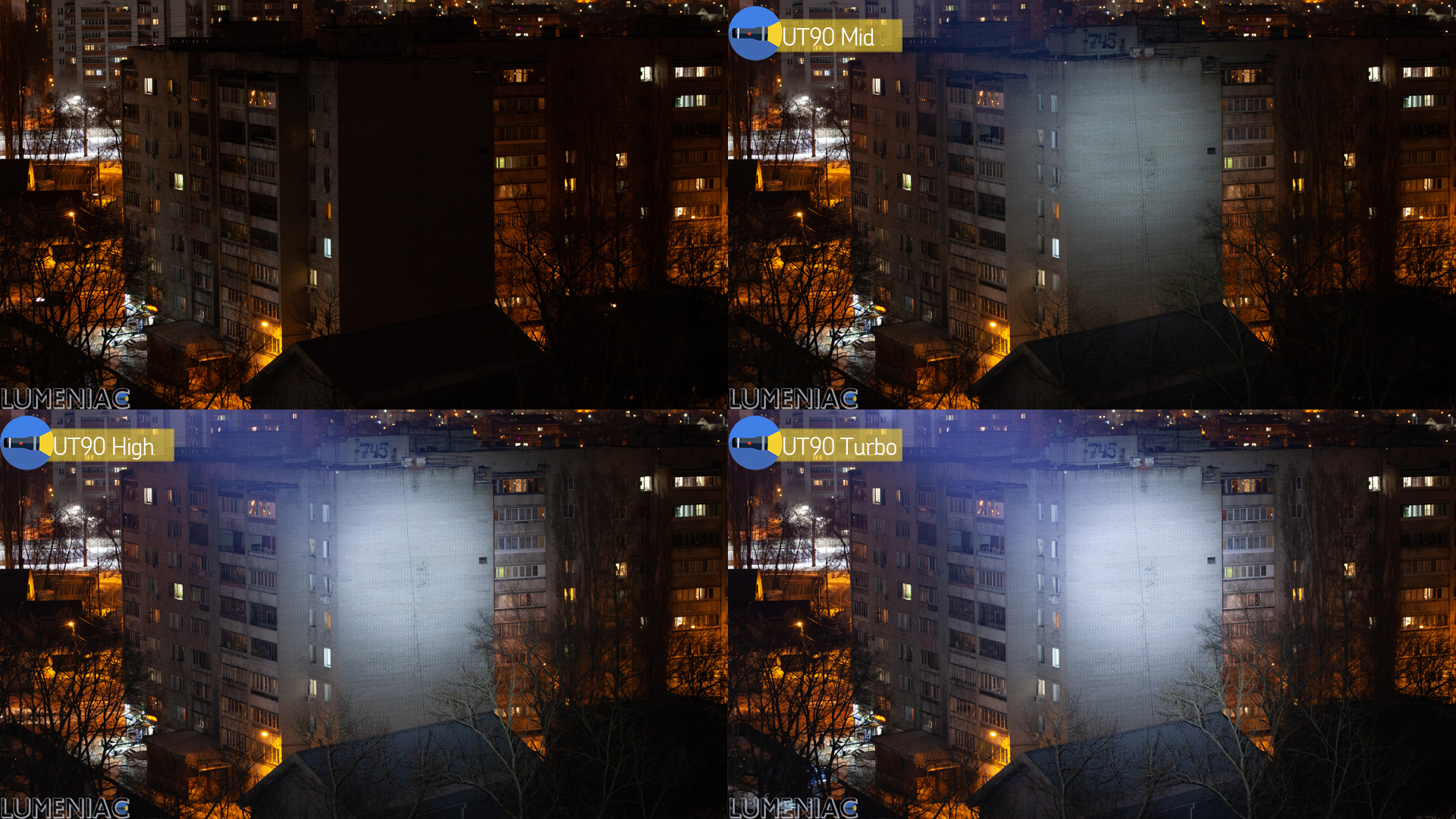 250m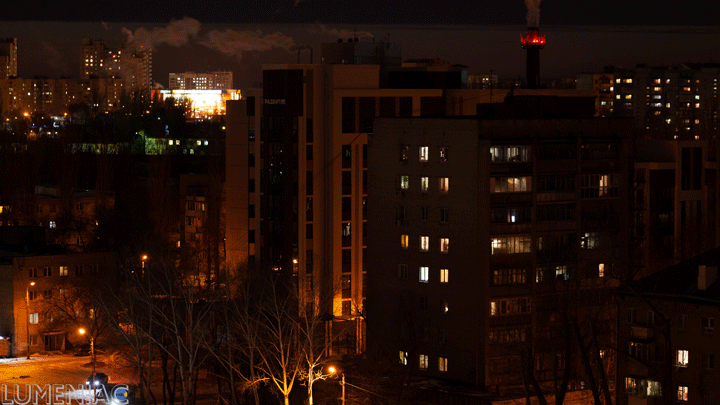 https://s2.gifyu.com/images/UT90_720_250_rg.gif!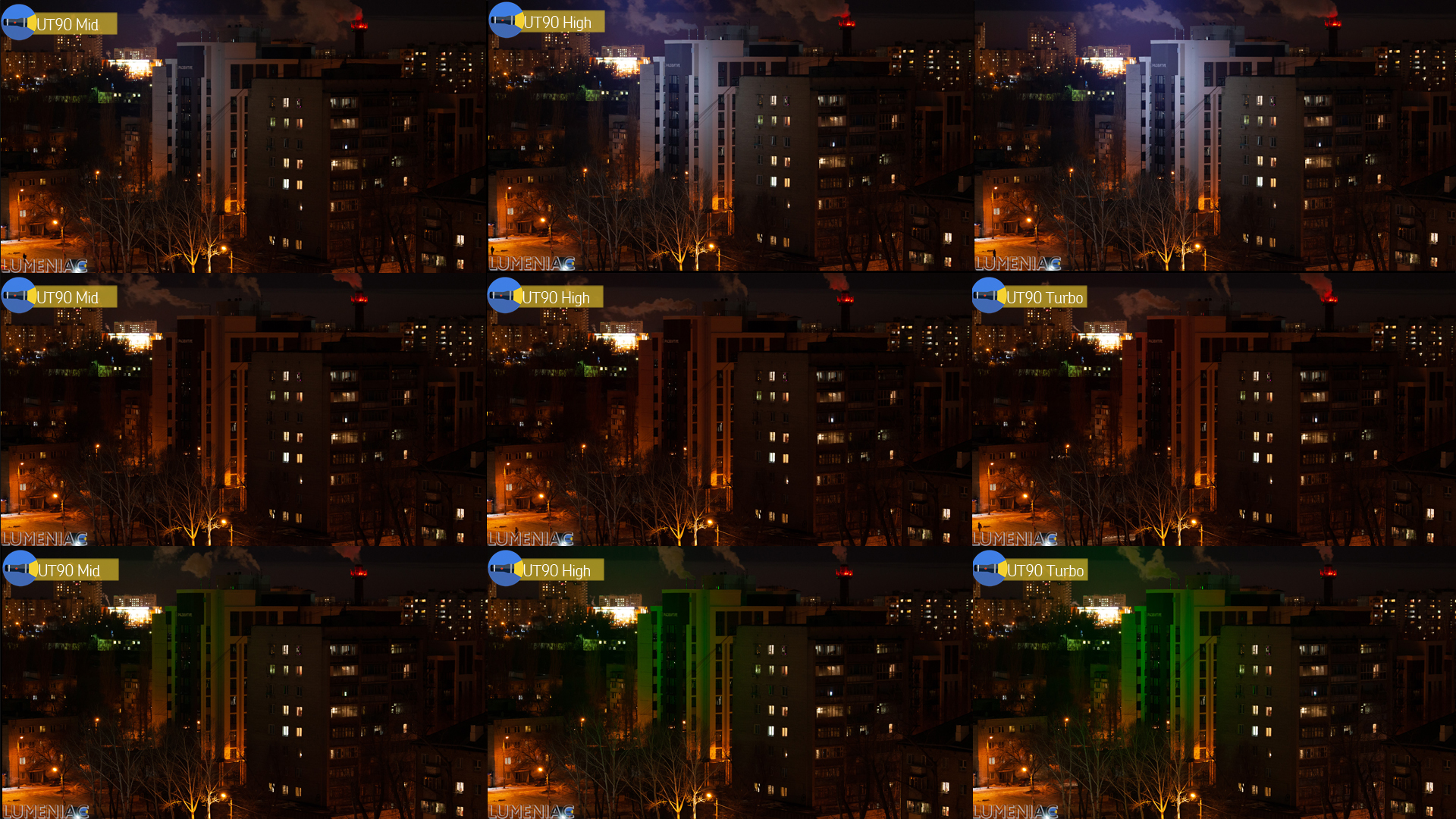 450m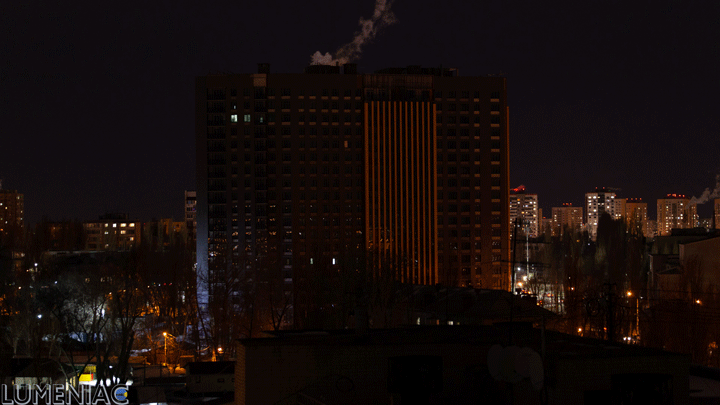 650m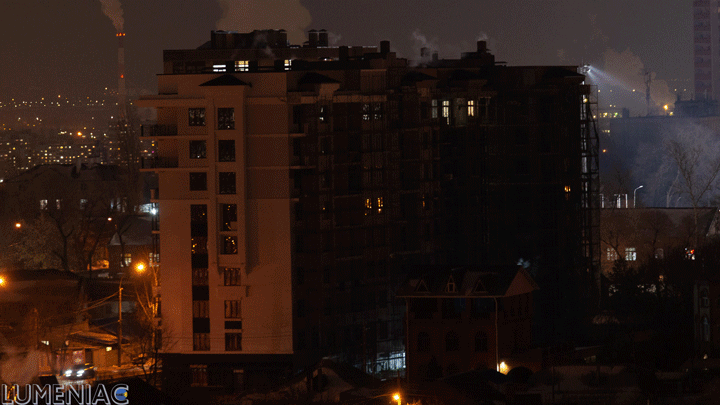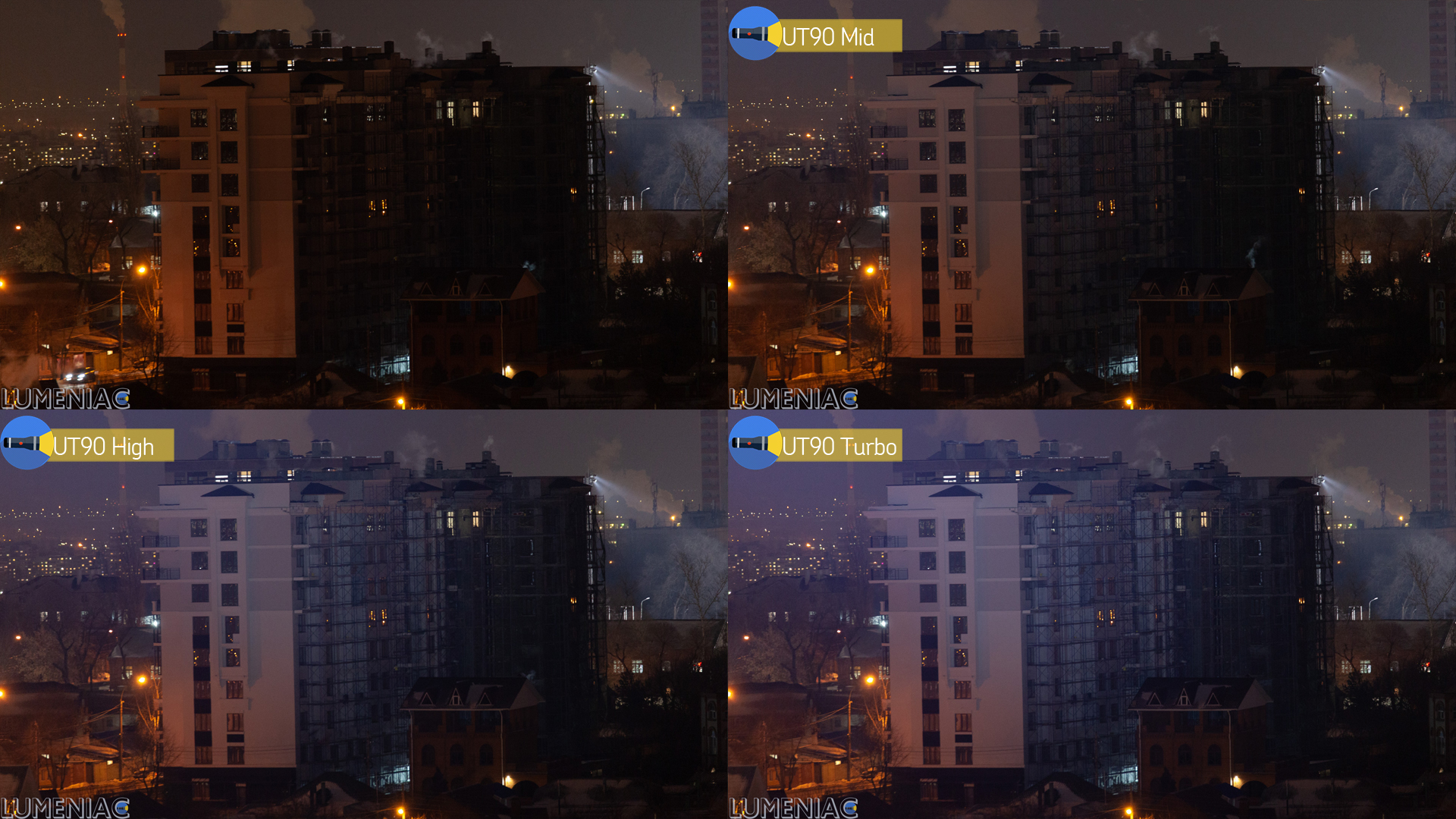 1.3km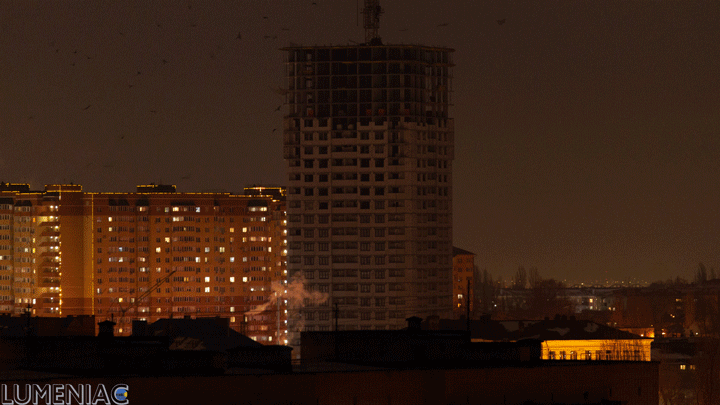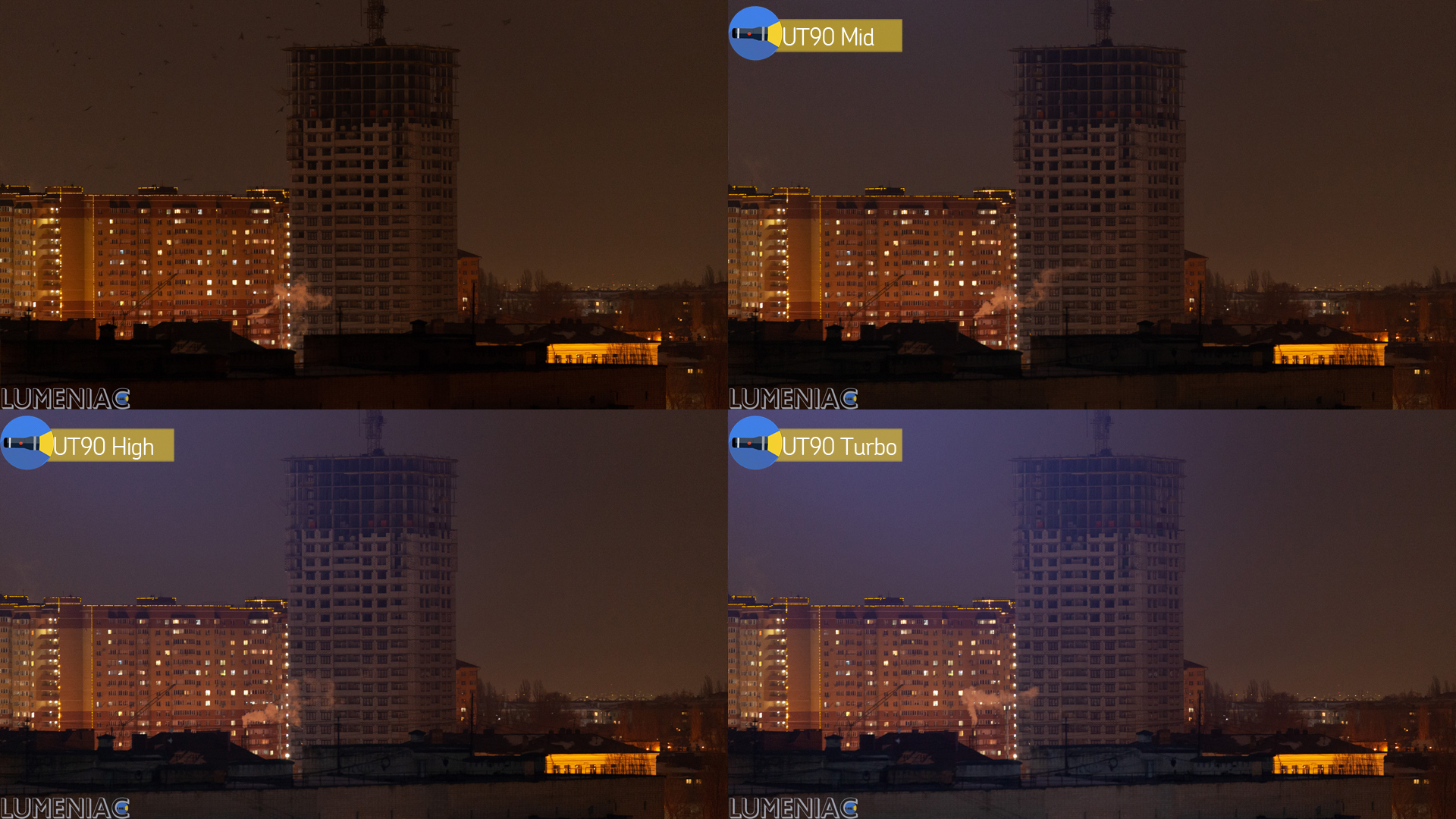 and here is Imalent UT90 video review

OVERALL IMPRESSIONS
Probably this is the 4th edition of general impressions. It was initially difficult for me to treat this flashlight exactly as a specific, gun-mounted model, without trying to evaluate it as an ordinary and usually for me nand-held long-range one. This gave the three previous editions of "general impressions" a fair amount of subjectivity. Finally, after some time of real using UT90, situation got clear for me and removed a significant portion of the original negative attitude.
As a manufacturer, Imalent have always focused on the "wow" component of their flashlights and made quite distinctive models. Imalent UT90 PREDATOR is no exception. See for yourself: 2 batteries powered format of a search flashlight, with the brightest and most long-range LED at the moment. And at the same time, this is a purely gun mounted flashlight, because usual manual use for non-hunting needs is undoubtly limited by the combination of the built-in battery and the huge gap between LOW / MID. And absence of holster and lanyard as well.
It would be easier for me to understand manufacturer if the flashlight had only two modes, like Acebeam L17 \ Olight Warrior X Turbo do. But Imalent added two more modes here between LOW\TURBO, they did good UI with instant access to both these modes, then why not take one more step and add a really useful mode of 300-400 lumens , which will not complicate UI in any way, but will dramatically increase runtime.
Because as it is now, the built-in battery limits you to 2 hours of work. That should be OK for hunting, where you can turn light on for 10 seconds and then keep it off for half an hour. So a minute of turbo from a cold start will be more than sufficient, and I guess 15 seconds in hot start mode, too.
I'm talking about an ambush, of course, where the light is turned on in fits and starts. However, all further considerations about the practicality of the UT90 as an underbarrel flashlight for hunting will be left to the comments of the hunters reading this review, since i`m not a hunter.
By the way, here, magnetic charging and magnetic gun mount can perform well. If there is at least some free time, then you can instantly remove the flashlight and connect the charging coming from the power bank to it and then do the reverse operation. All this does not negate the fact that I do not like the built-in battery and more than do not like the proprietary and unique charging plate.
The abovementioned is about the relationship between modes and runtime. If we talk about modes and throw, light as such and work at different distances, then initially I was negative toward UT90, expected that the MID 1500 would be excessively bright at medium distances. However, in real use, the situation turned out to be quite surprising: MID is not exactly comfortable, but quite bearable at a distance even at 50m, without giving a blinding overexposure in the center. And at a distance of 100-250 meters, it works at best, here it fully, with details, illuminates a 5-floors building without any need for HIGH-TURBO at all. So if you shoot at this distance, you don't have to move barrel here and there.
Well, and, of course, HIGH\TURBO modes just give the user everything that you expect from the Luminus SBT90.2, there are no questions here – namely, they shine very brightly and at the same time very far. To put it bluntly, I don't even know if anyone really needs such light at a distance of over half a kilometer for hunting.
Nevertheless, I will repeat once again that I would very much like to see a 300-400 lumen mode for work within 20-50 meters radius too. It is this mode, together with the lanyard eyelet and the complete holster, that would make the flashlight interesting as a hand-held one. And not just for those who want to buy a truly powerful and truly long-range gun-mounted flashlight. As far as I understand, there are no other similar long range flashlights with SBT90.2 on the market right now, so holster, lanyard, intermediate mode and standart magnetic charging would make the Imalent UT90 Predaror definitely a much more salable and popular flashlight. All this is, in fact, a symbolic and structurally elementary refinement. And if you also make the battery not built-in …
Now, being gun-mounted model, Imalent UT90 is currently practical in a very narrow application, keeping it`s potential as a hand-held model unrevealed. Though, of course, if i evaluate it exactly as an weapon-mounted flashlight, then it showed itself from the best side, at least in terms of light, kit and runtime in high modes. However, I did not test it directly in the hunt – this is also worth considering.
+
kit includes literally everything for hunting, besides holster and lanyard
plastic case
Flashlight design
UI
SBT90.2
Brightness
Throw
Decent 1 minute runtime in high and turbo
21700 batteries
built-in charging
–
built-in battery
native and unique charging connector
lack of stabilization
huge gap between low 30lum and high 1500lum
price
High \ Turbo have a good duration only when starting from OFF, when body is not heated.
it is impossible to find side button when hold with reverse grip.