It took Sofirn too long to finally combine capacious 21700 battery and the most ultra-long-range LED from Osram. Bit when they did it, resul was not usual one. The flashlight is powered by 2(!)* 21700 batteries and became the first flashlight of this kind on the market. LED has the most possible throw, UI is flexible with both EDC and tactical modes. So Sofirn SFT47T looks undoubtly promising model. And i hope my review will help you to decide is worth buying or not.
The attentive reader will point to my recent review of the Imalent UT90 with the same 2*21700. But Sofirn developed thier model earlier, it just got to me unexpectedly late. And the LED here, although is less powerfull (only 25w) has the same throw.
You can buy Sofirn SF47T at: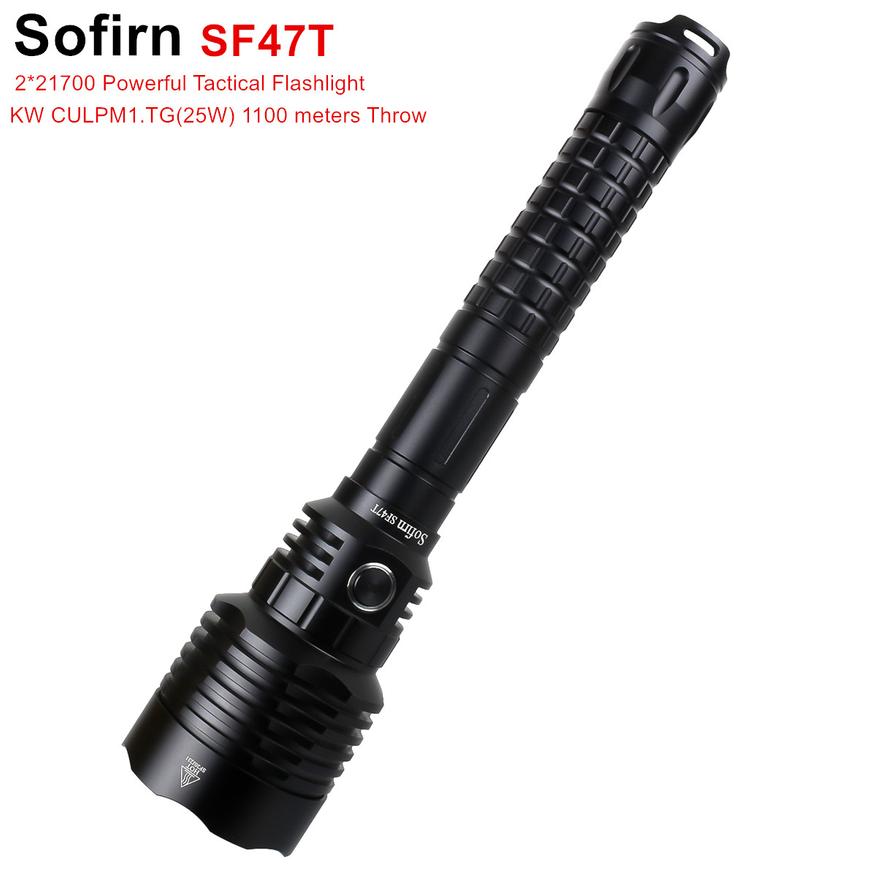 p=.PACKAGE AND APPEARANCE
The same thick cardboard box, this time with logo.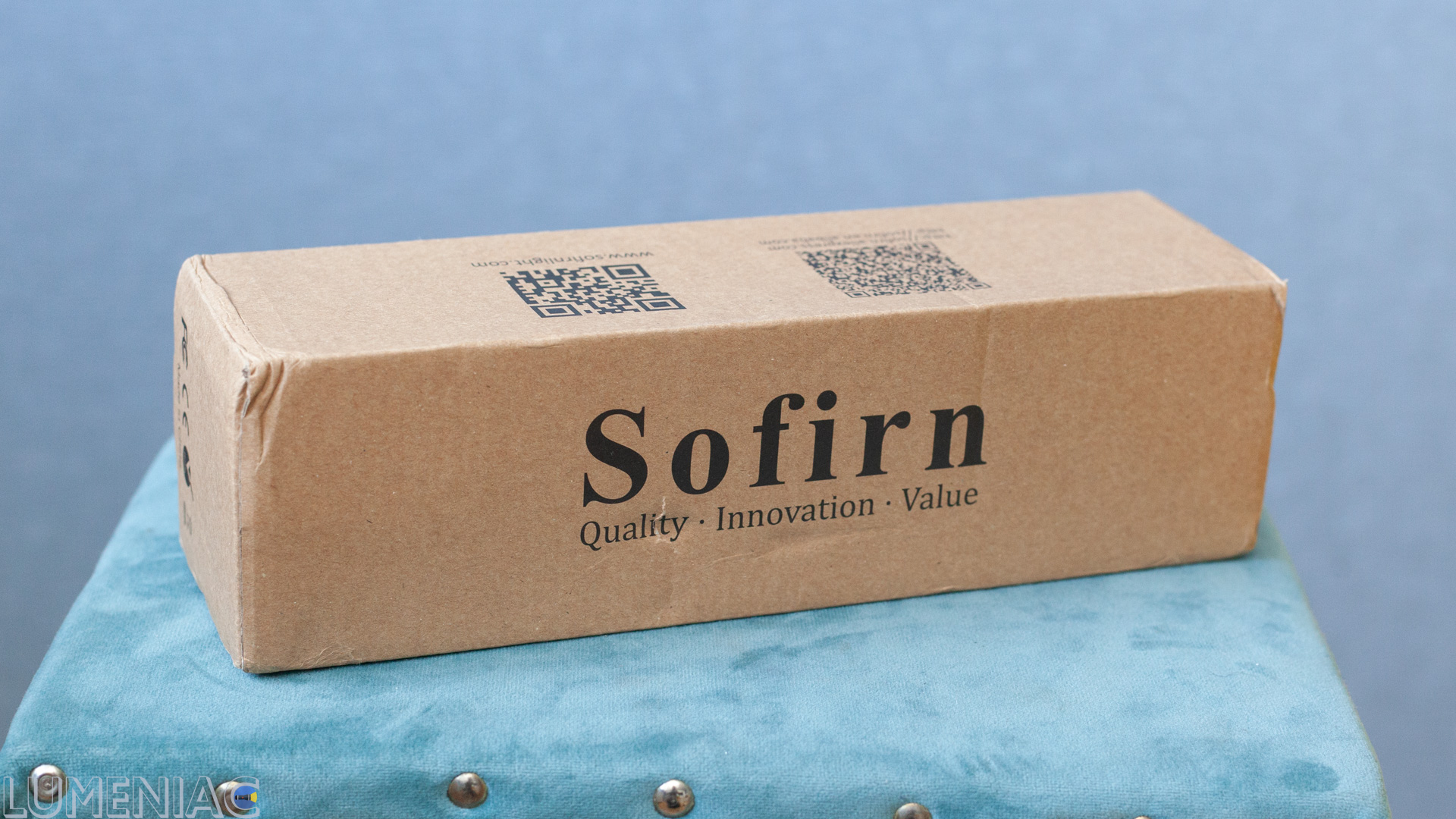 Kit includes: flashlight, lanyard, o-ring, manual. You can buy both a version with pair of 4000mah batteries.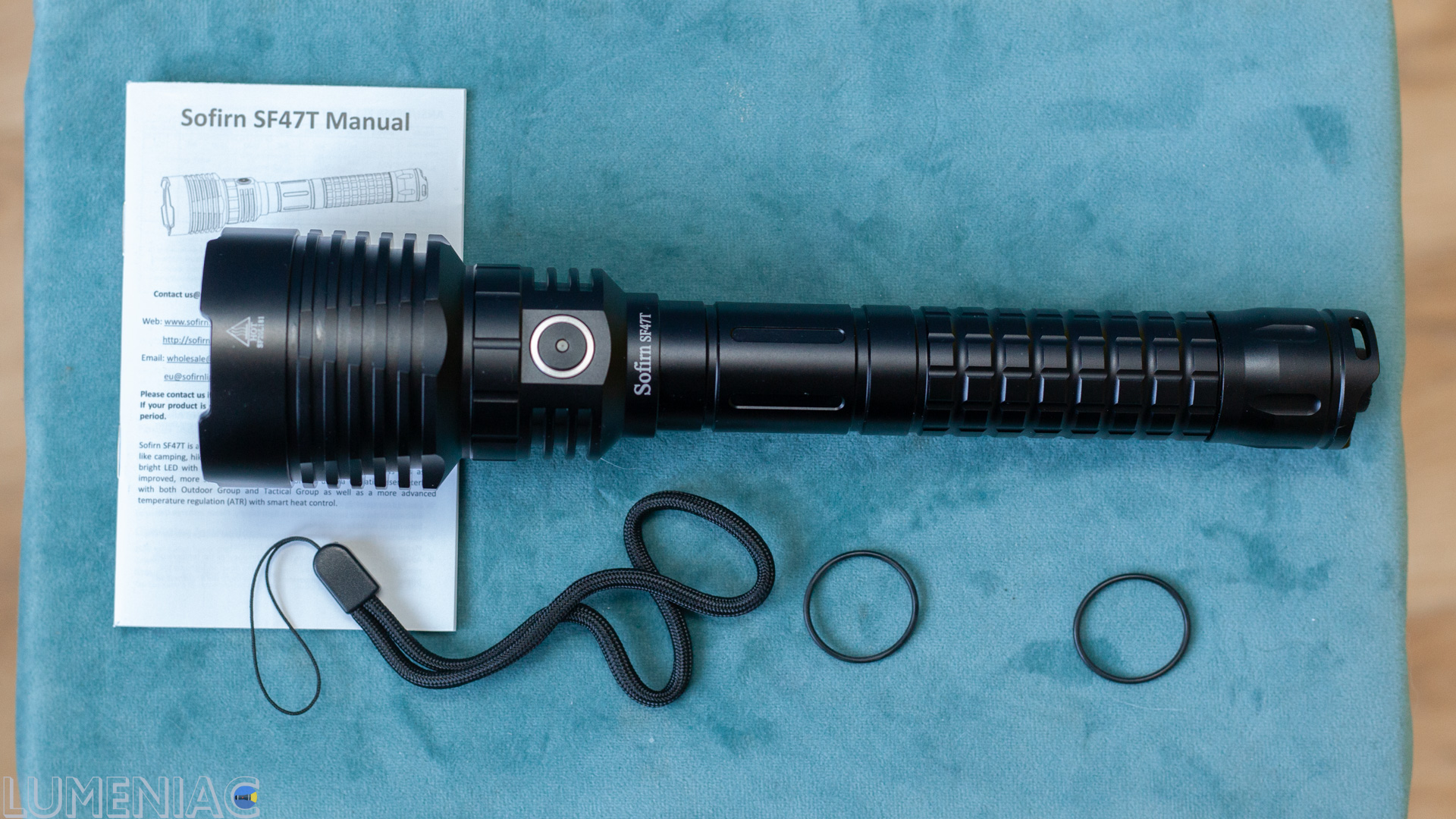 The flashlight has an now almost forgotten 2* batteries long design. This is not some kind of bulky flashlight like Convoy L6, Sofirn SP70 or even more monstrous SF22, no – the flashlight is quite elegant. In fact, this is just an ordinary long-range flashlight with an elongated body. 25cm length and 5.5cm head diameter.
The design is well known Sofirn-style, which means it is frankly primitive. The flashlight isn't ugly, no. But there is absolutely nothing in it that attracts the eye. Just a flashlight. To be honest, i dont really care as long as flashlight works as supposed.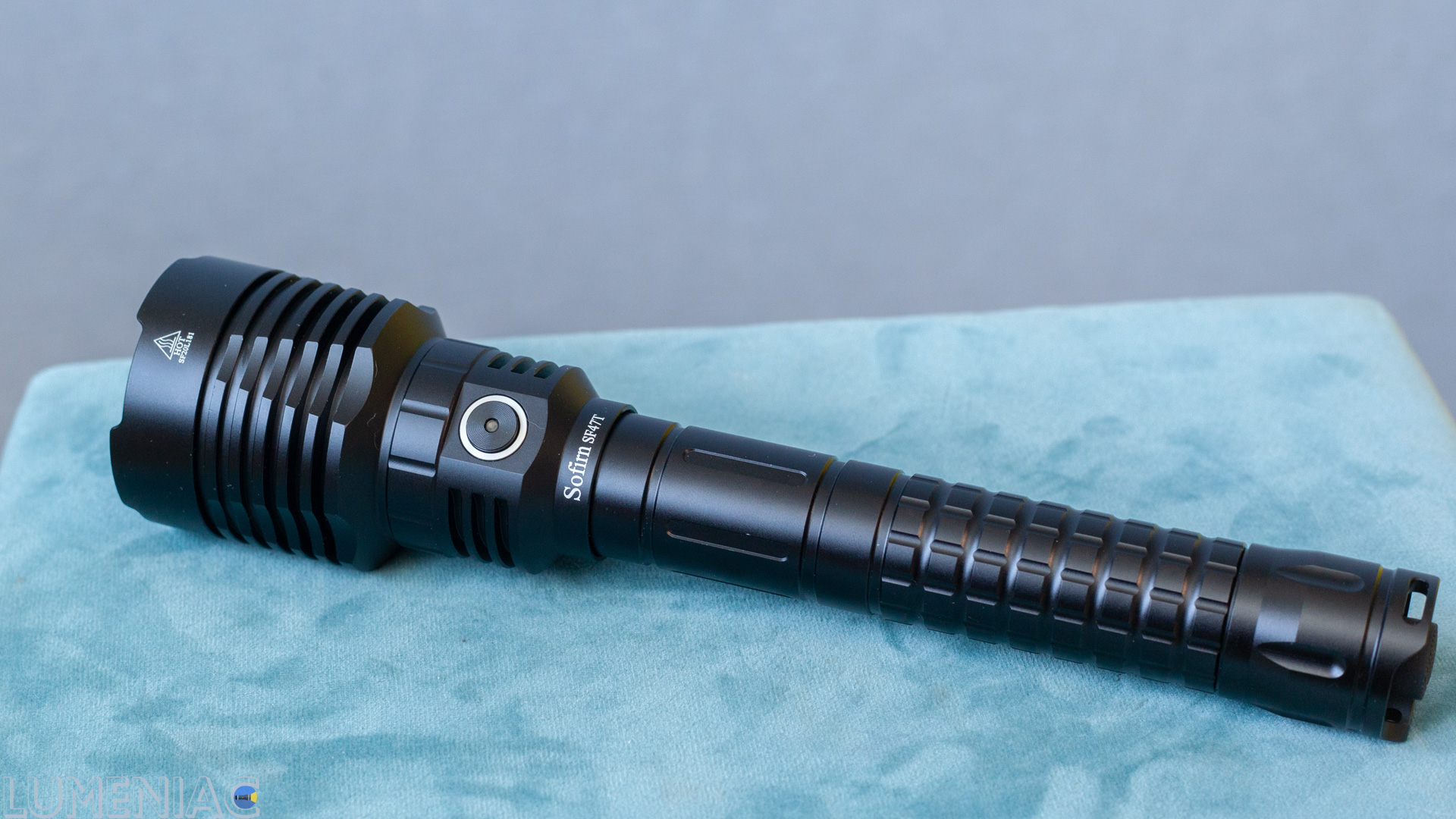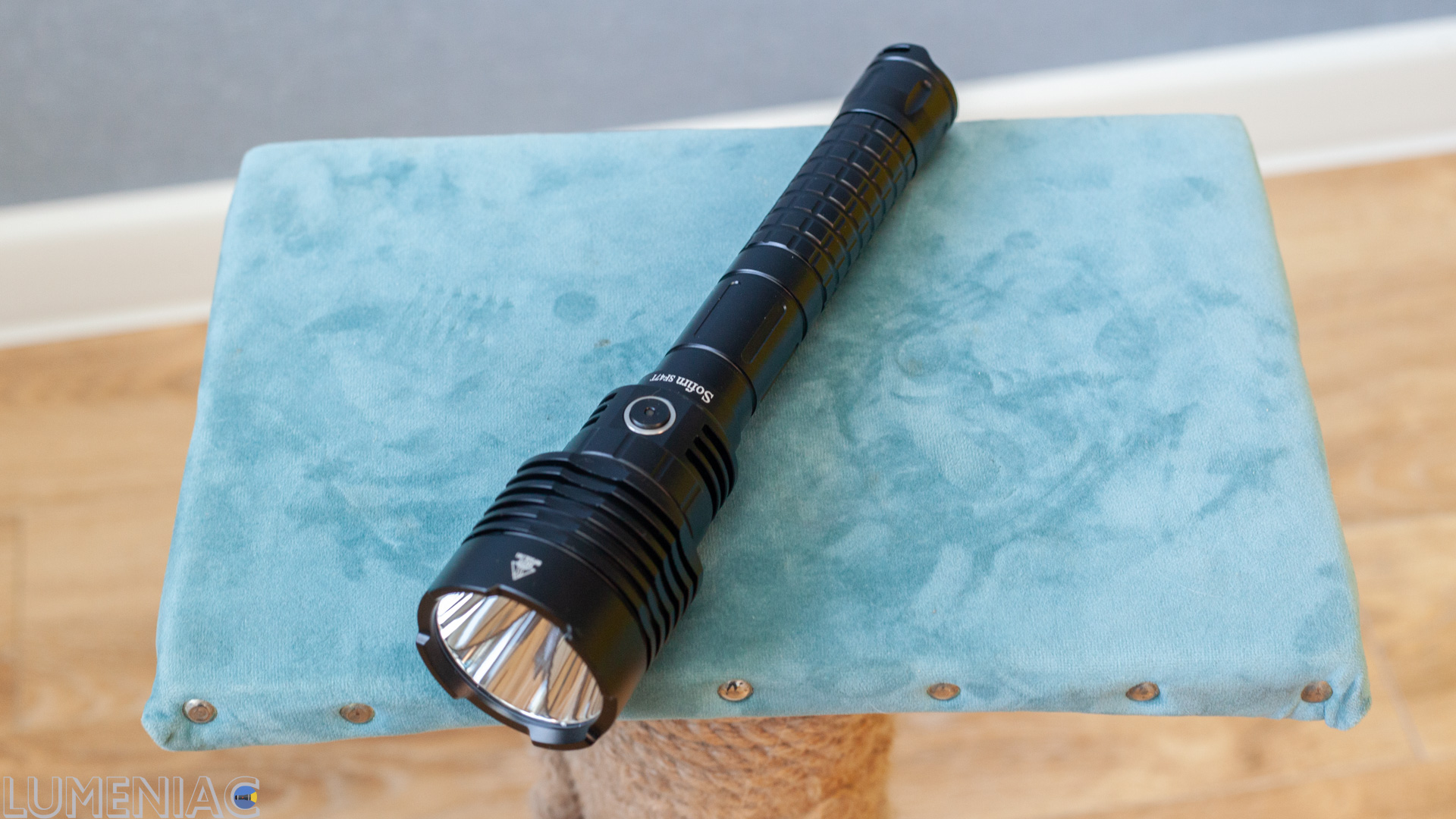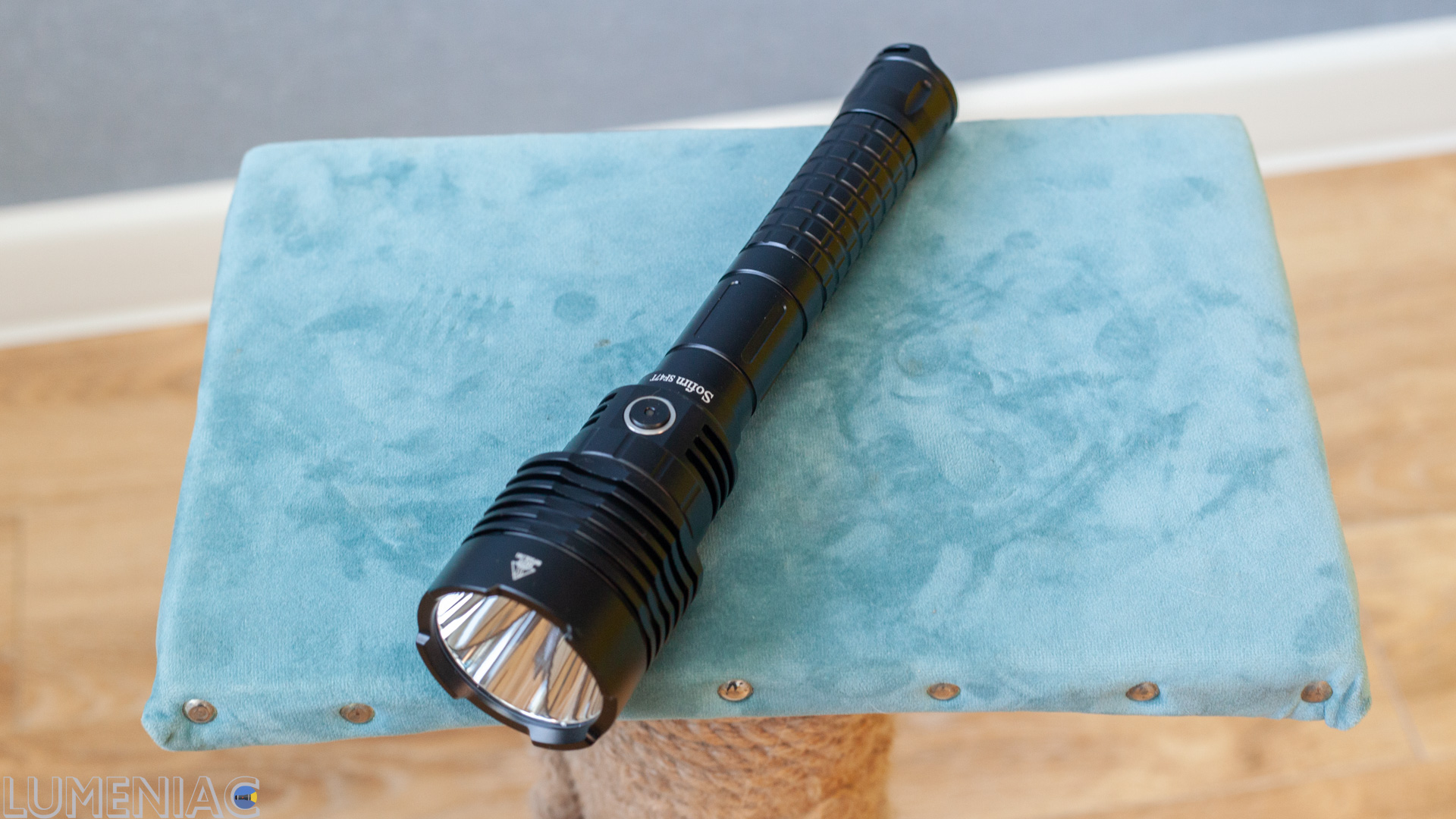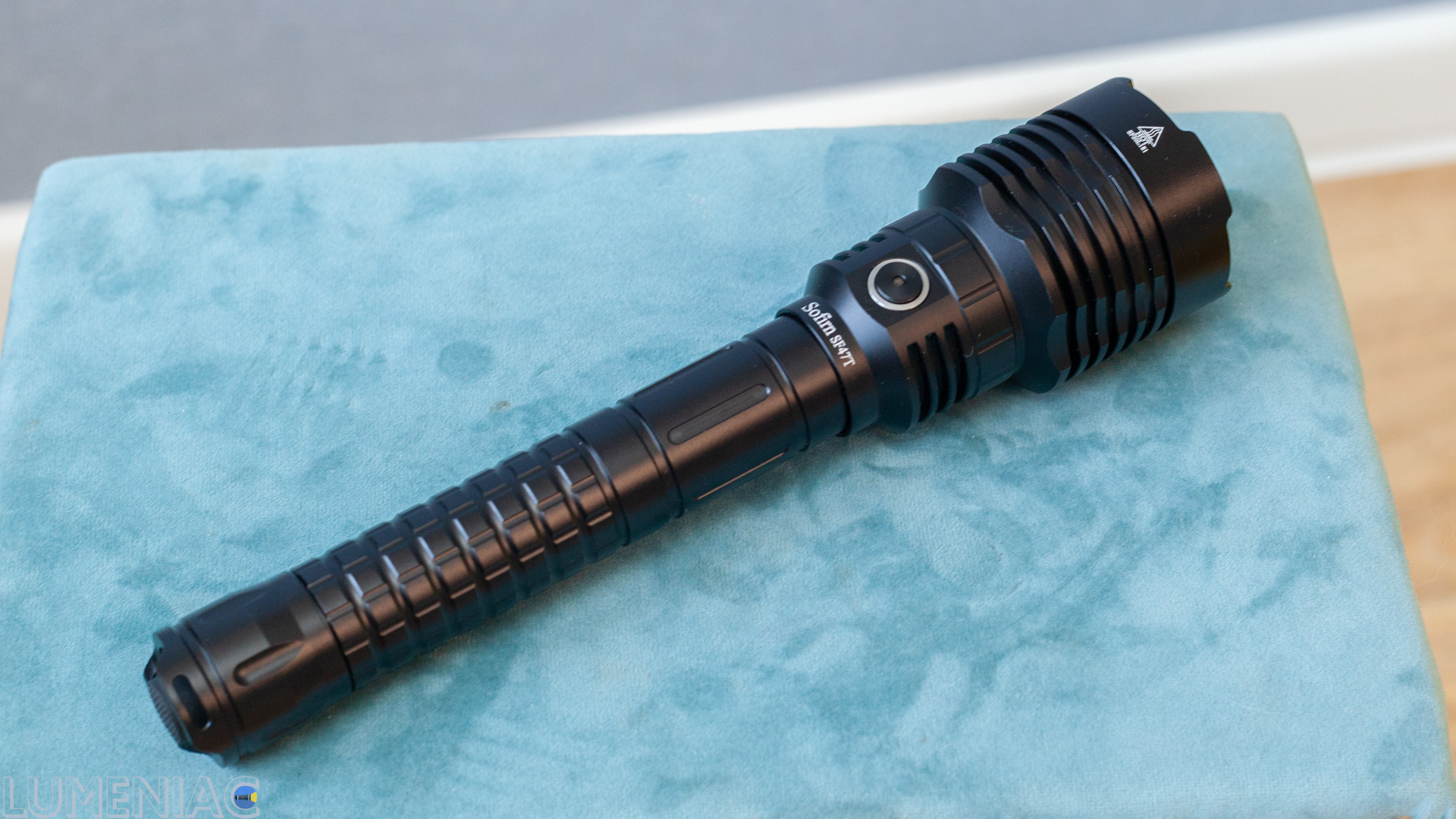 Sofirn SF47T can be disassembled into three parts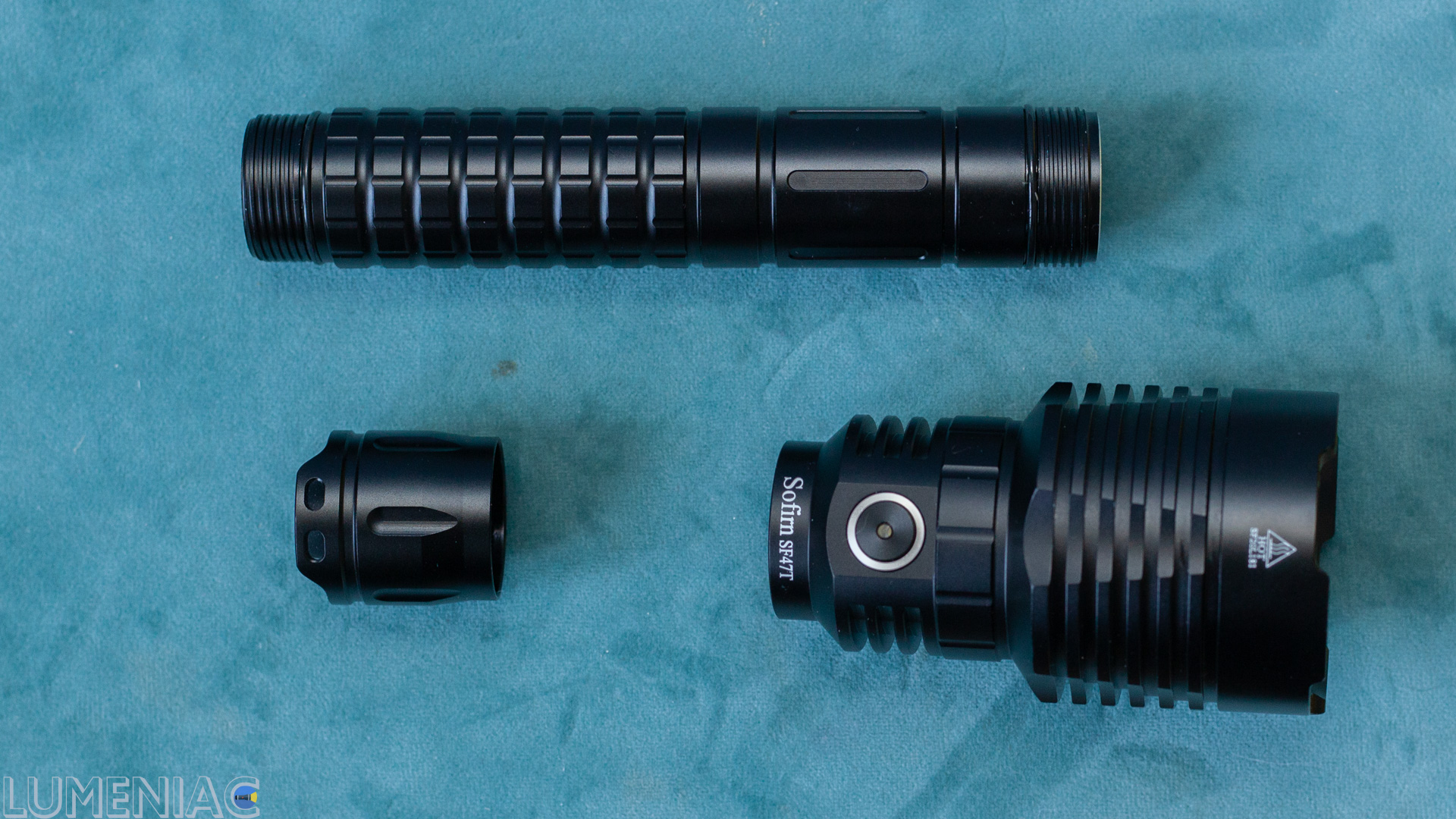 The flashlight is run by tail and side buttons. The tail button is the most common one.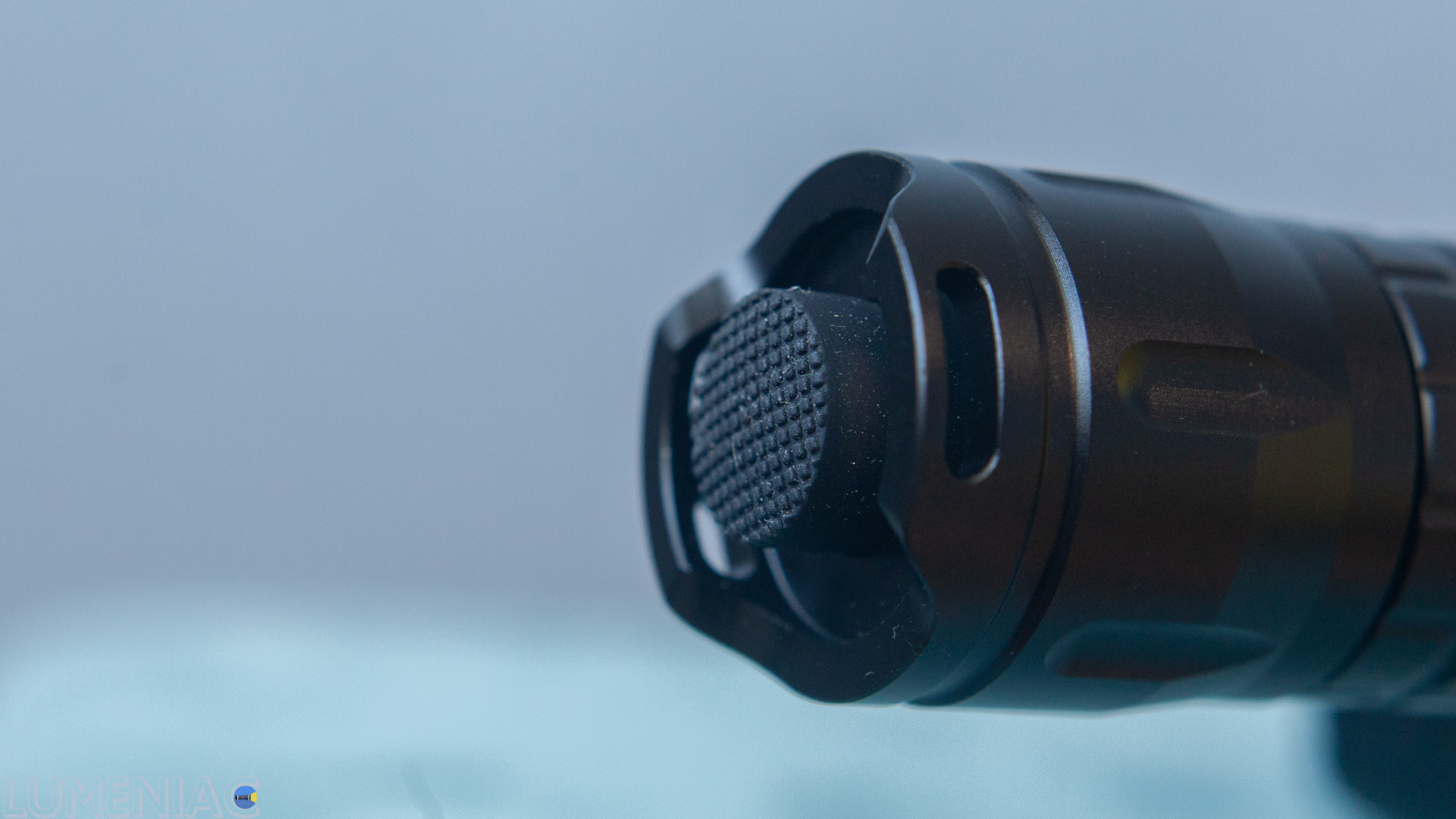 The spring is good and thick. Though currents here is not that high , Sofirn installed a double spring.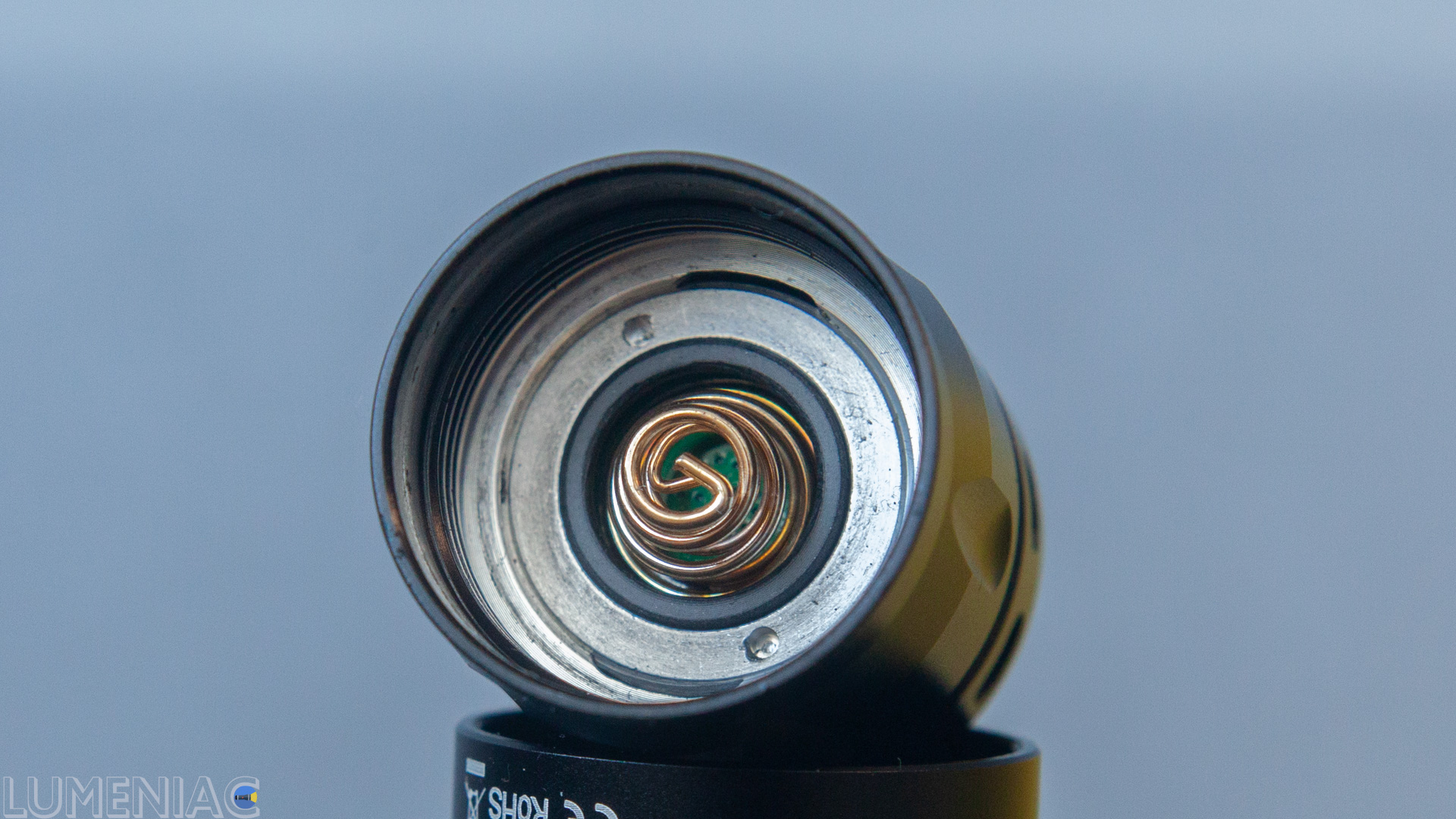 There is another spring at the side of the head.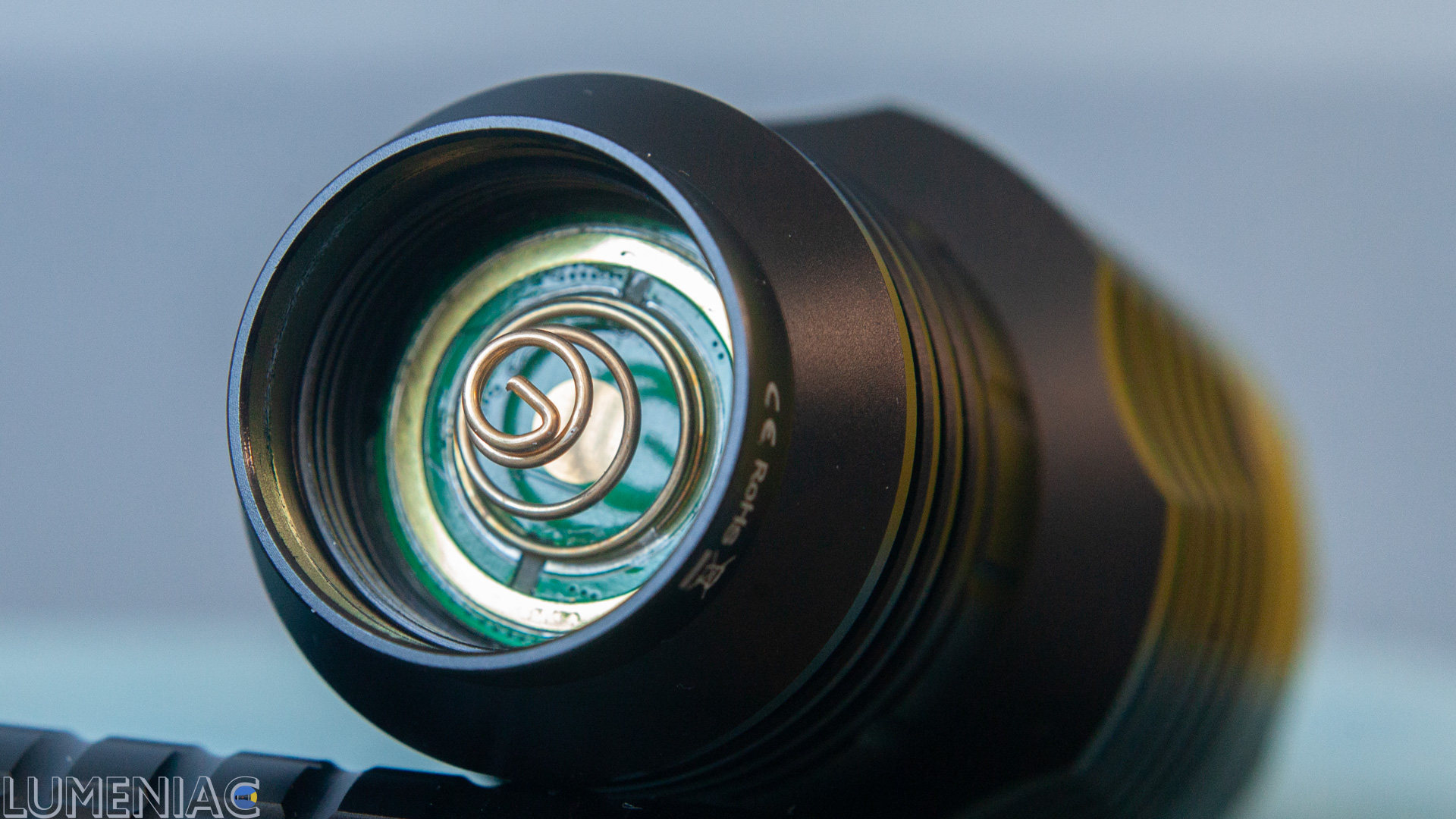 The thread is completely dry.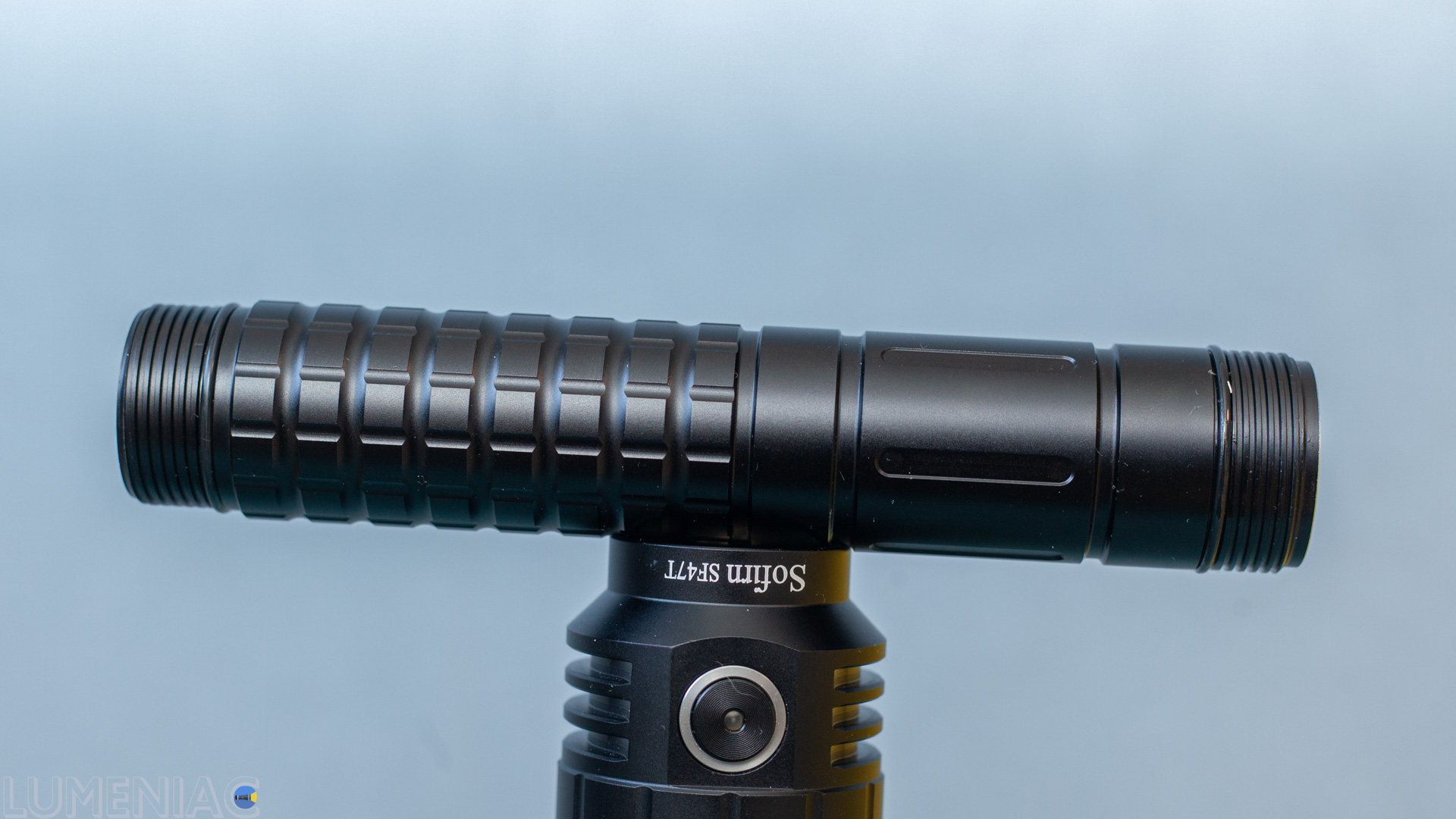 The knurling is simple, but quite tenacious. Sofirn SF47T has a good weight distribution, grip is good, flashlight is well balanced.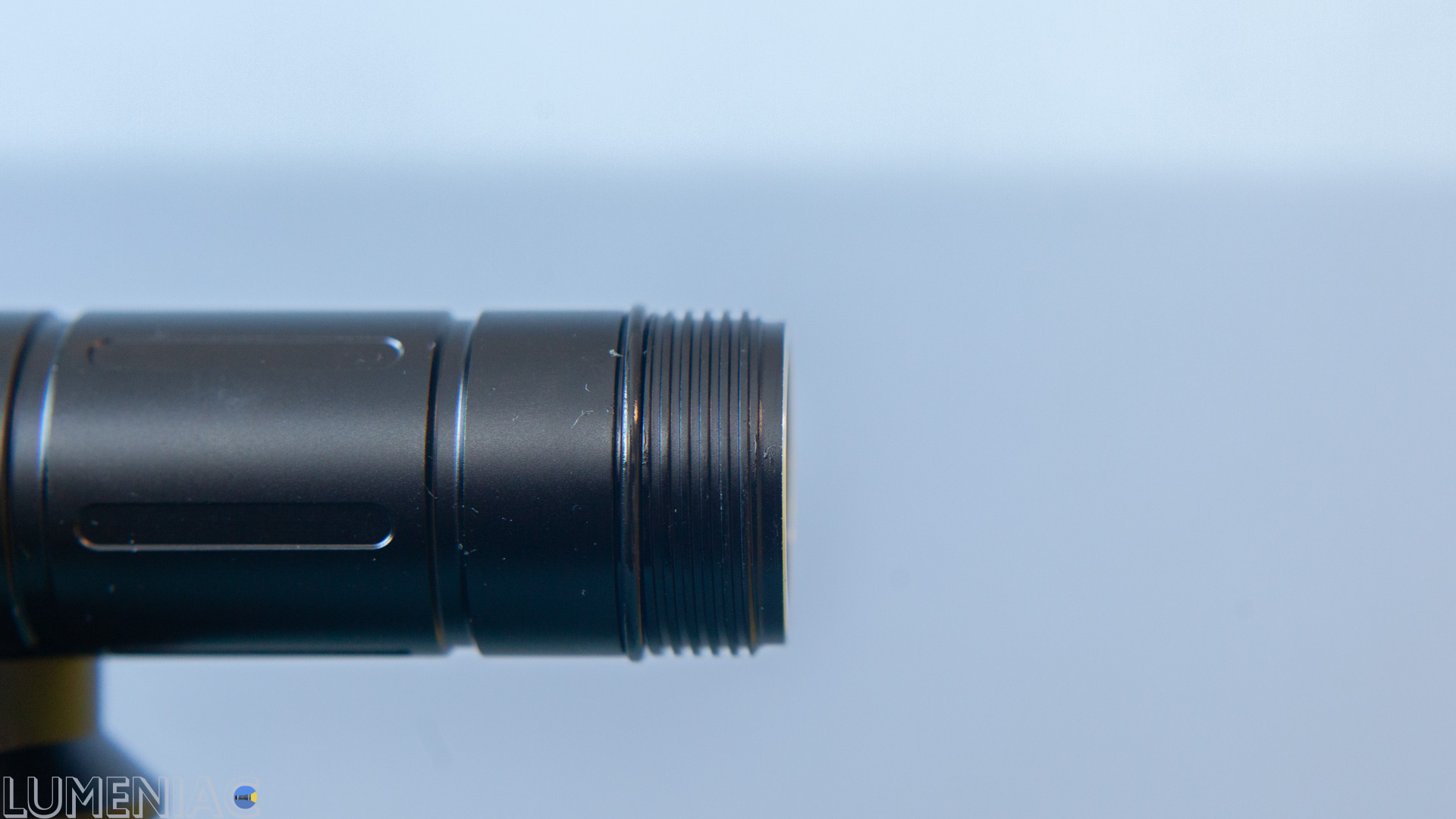 The head is not that big, it is quite the usual size for this kind of long-range flashlights.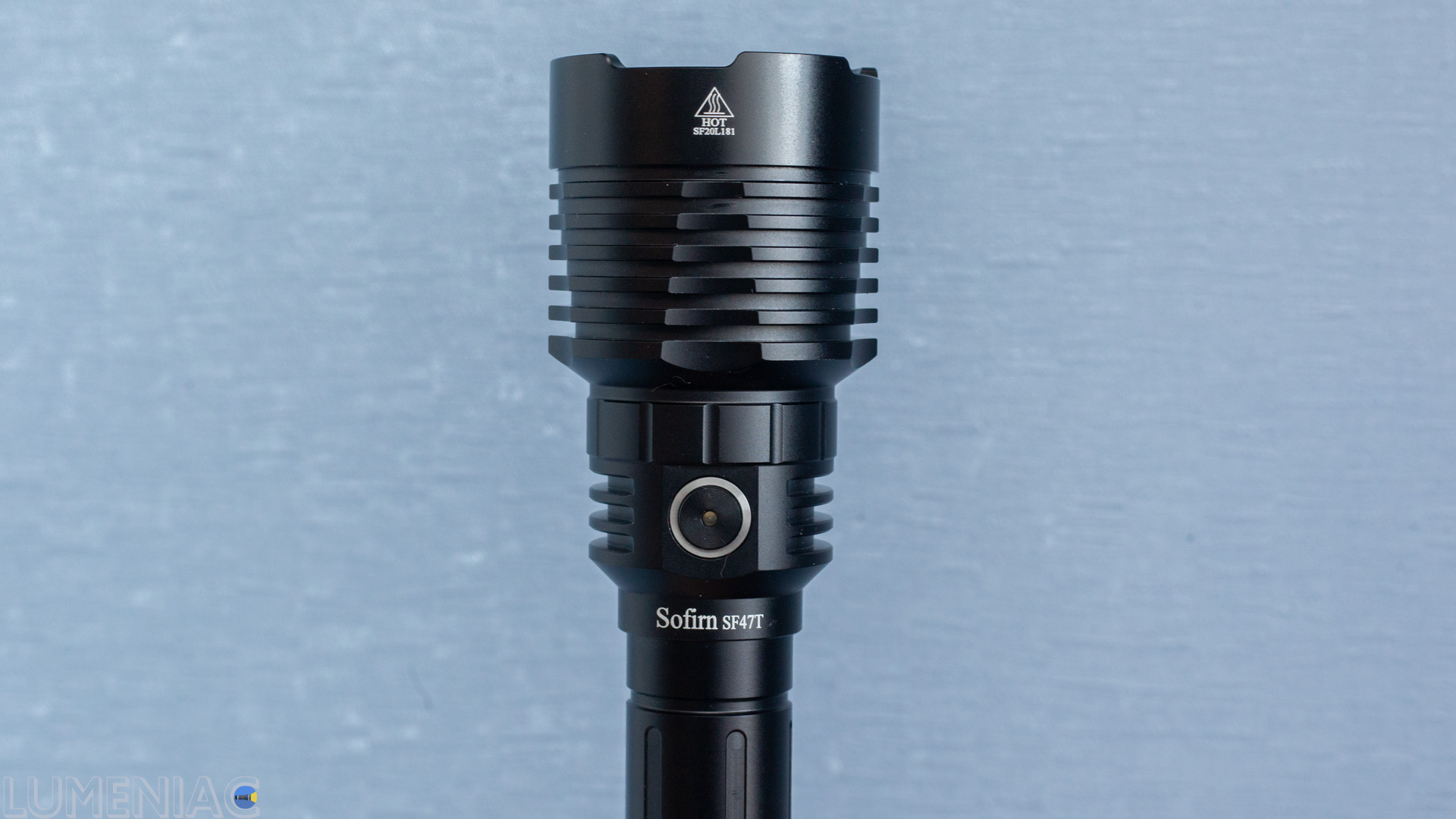 The button is a simple protruding cylinder with a small dot of LED indicator. The button sticks out far enough and you can feel it blindly without the slightest effort.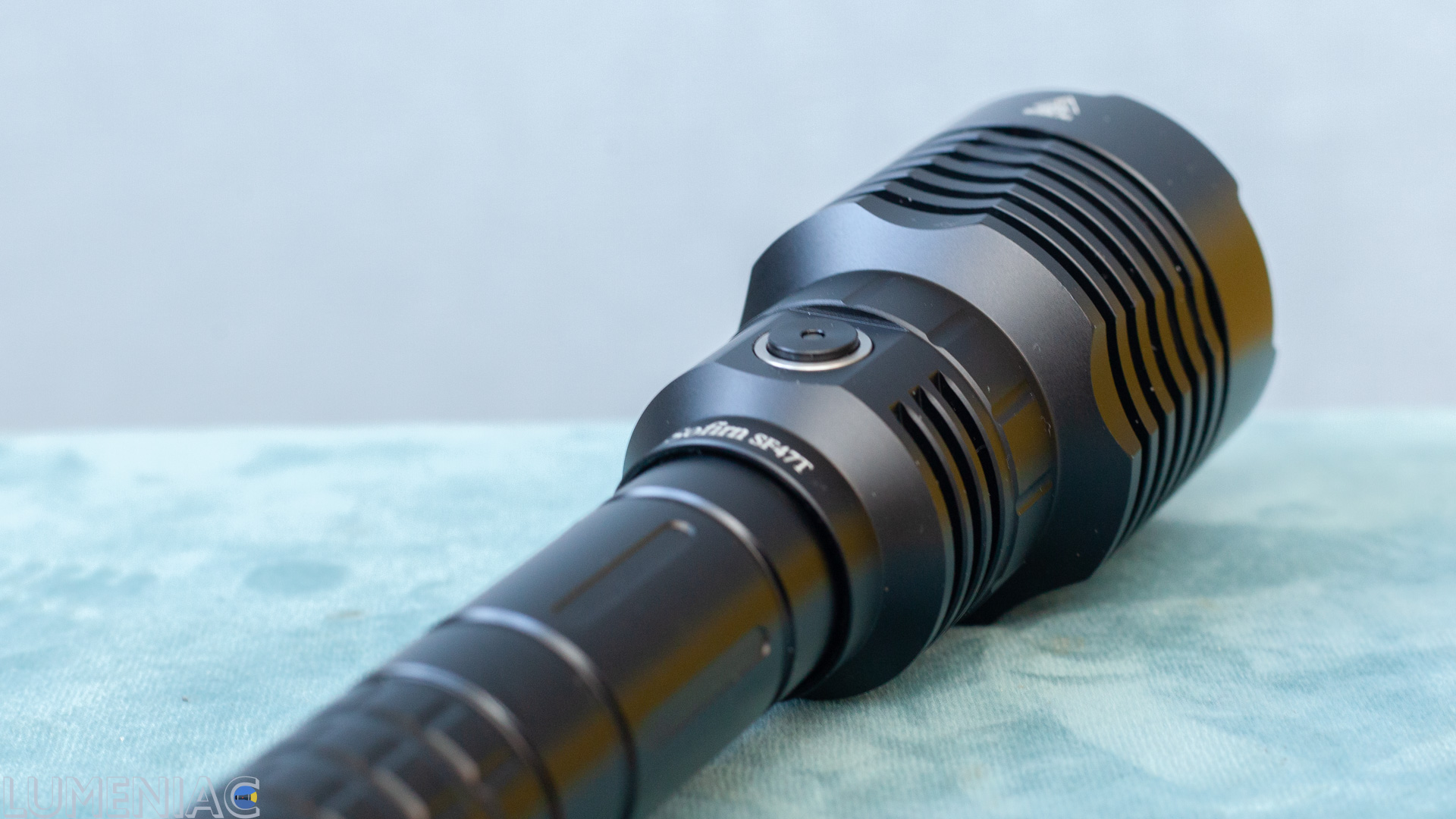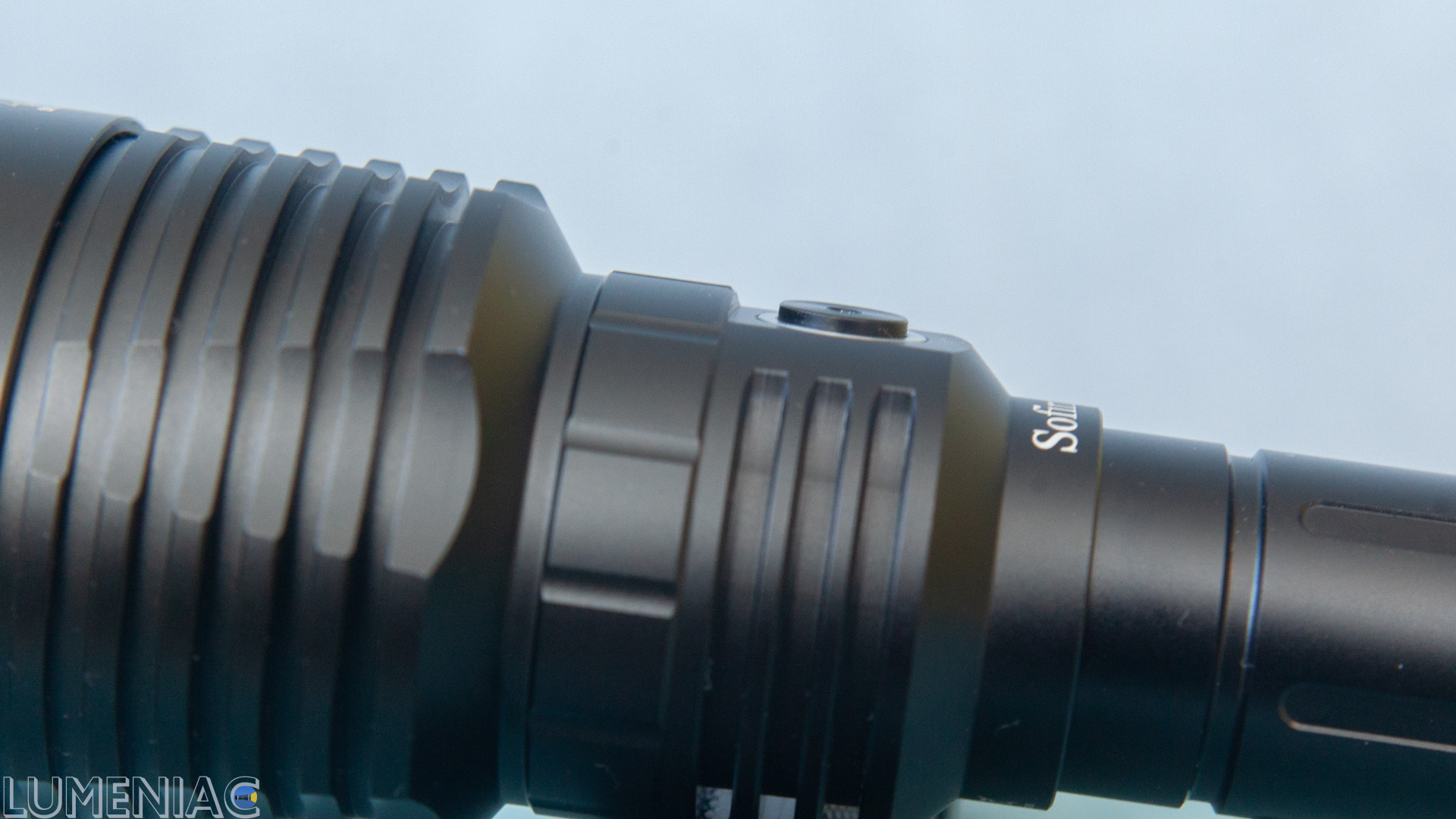 There are many cooling fins, everything is fine here. Taking into account the fact that the Osram LED used here is not really powerful ones, we can expect for a long runtime without stepdown in higher modes.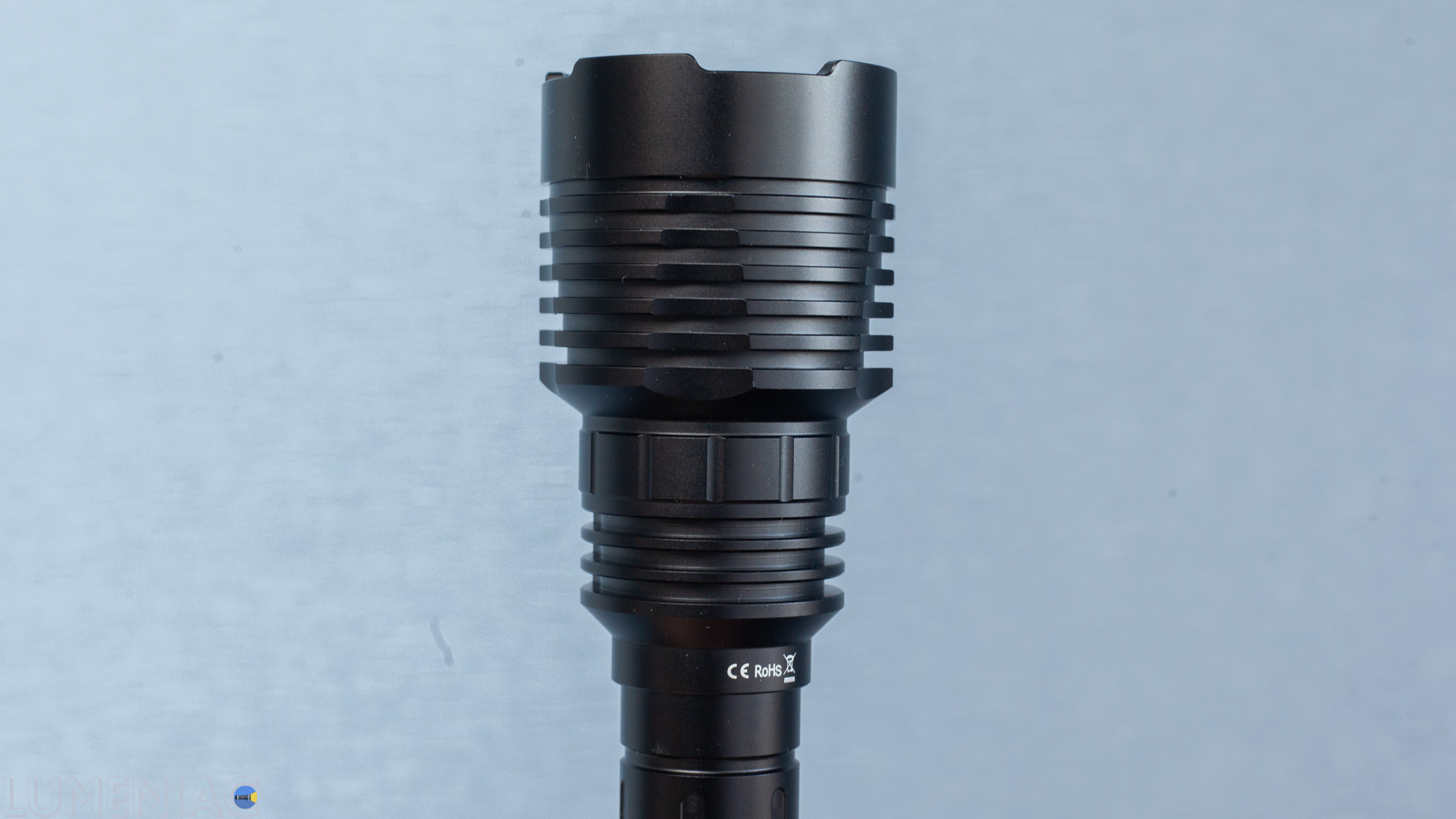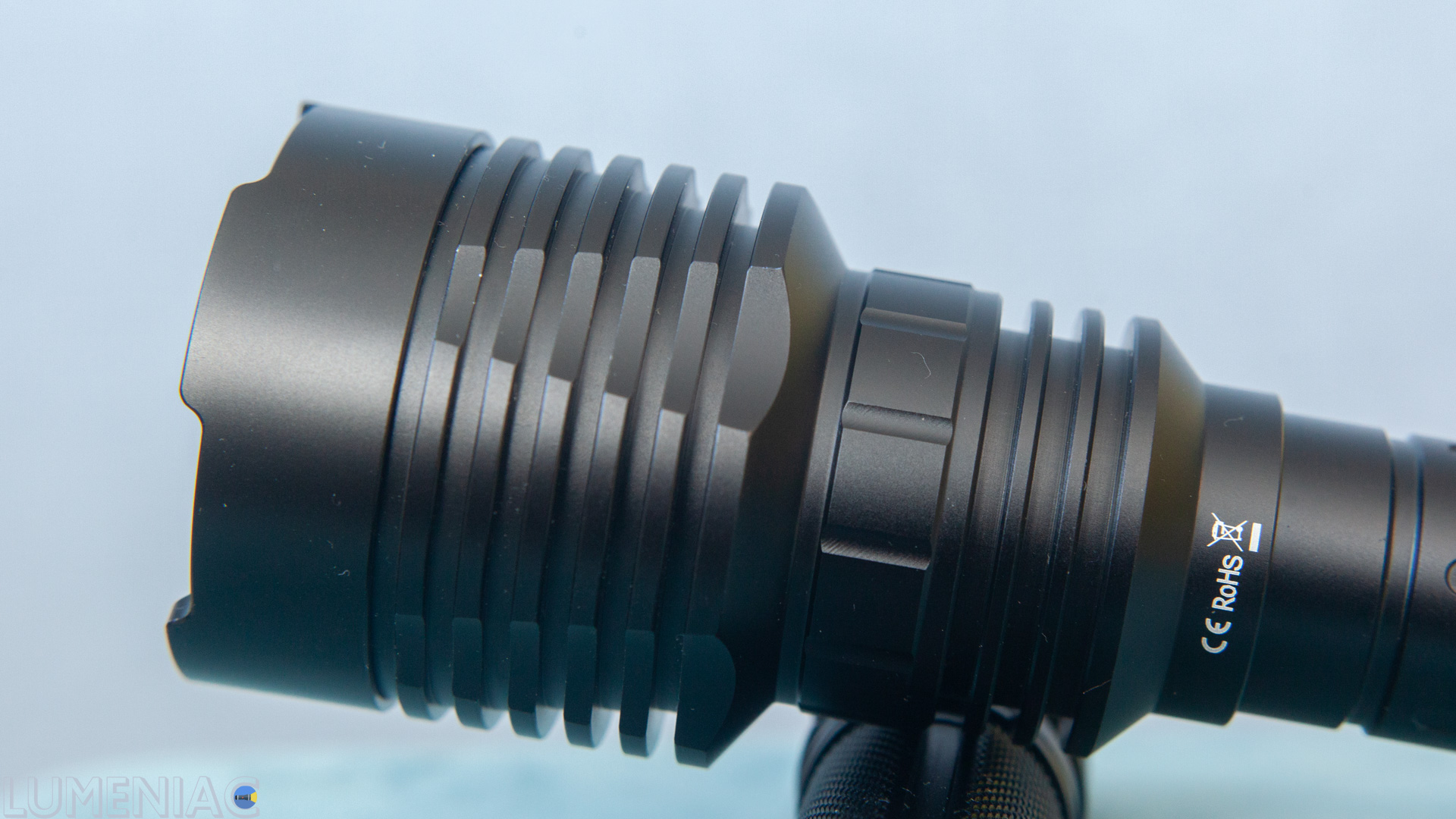 The reflector is smooth and quite deep. There is the abovementioned tiny Osram CULPM1.TG LED at the bottom. The idea is simple here , with equal brightness (and other variables), a smaller LED will have a longer throw. And this LED is extremely small.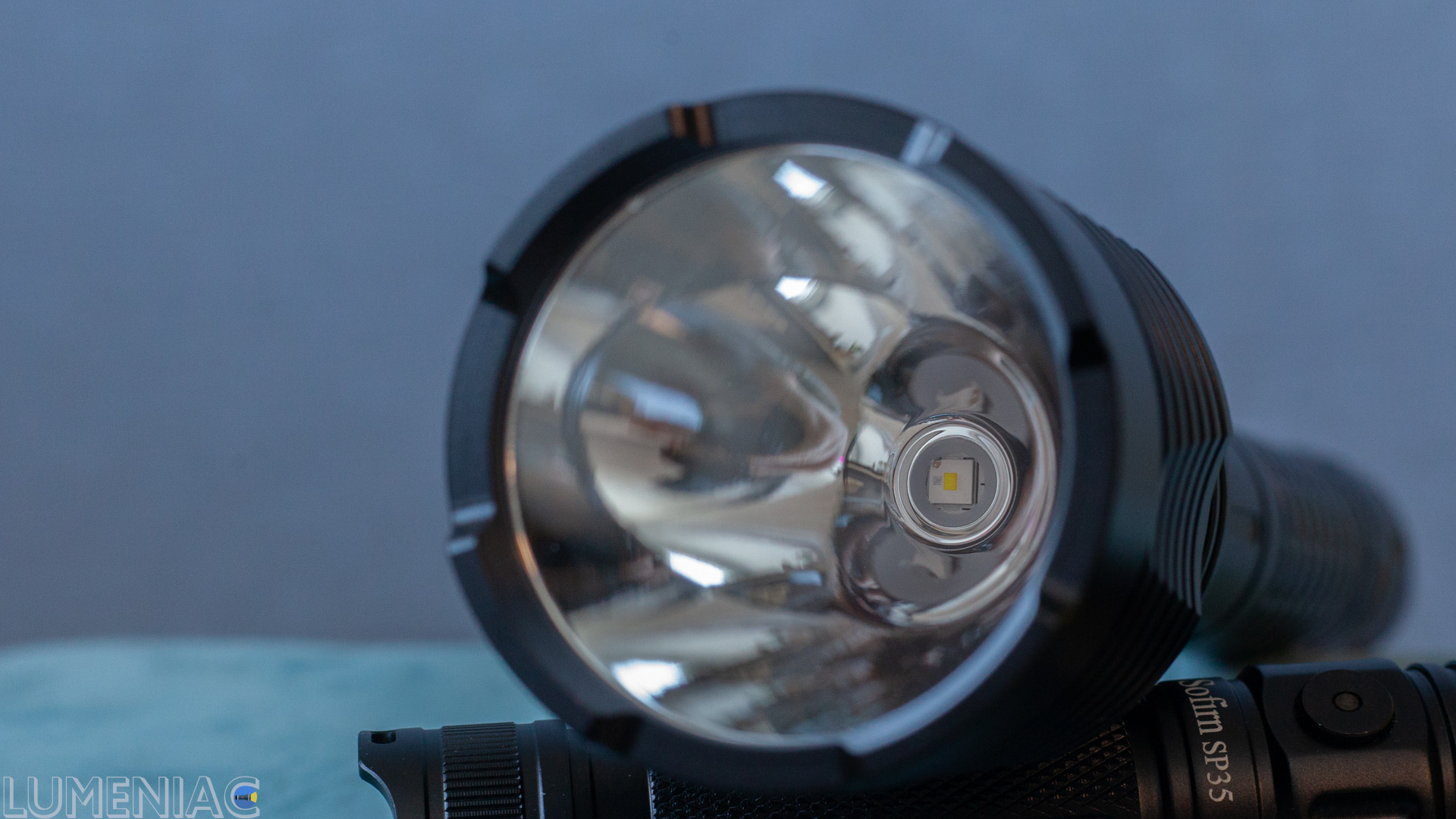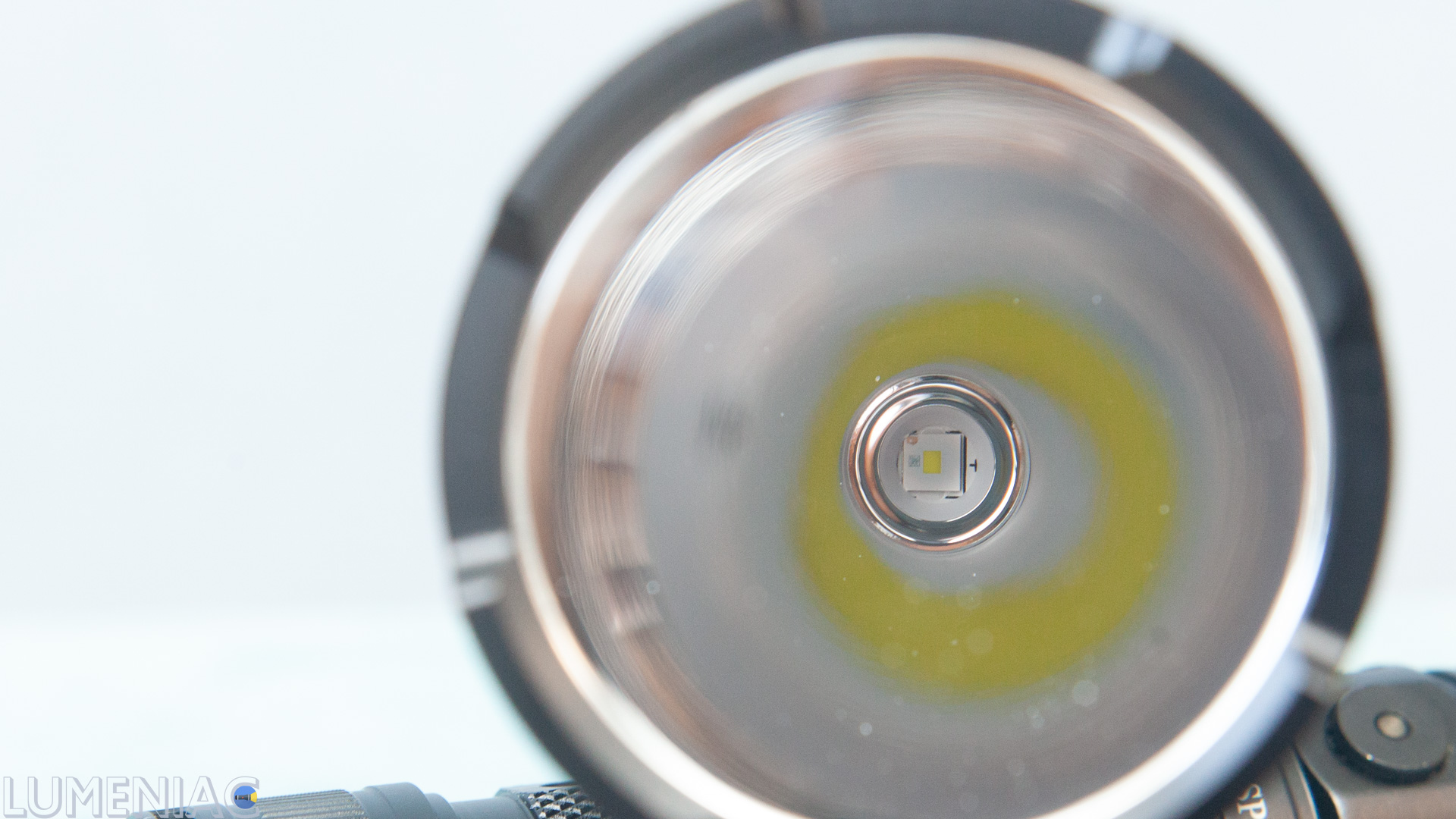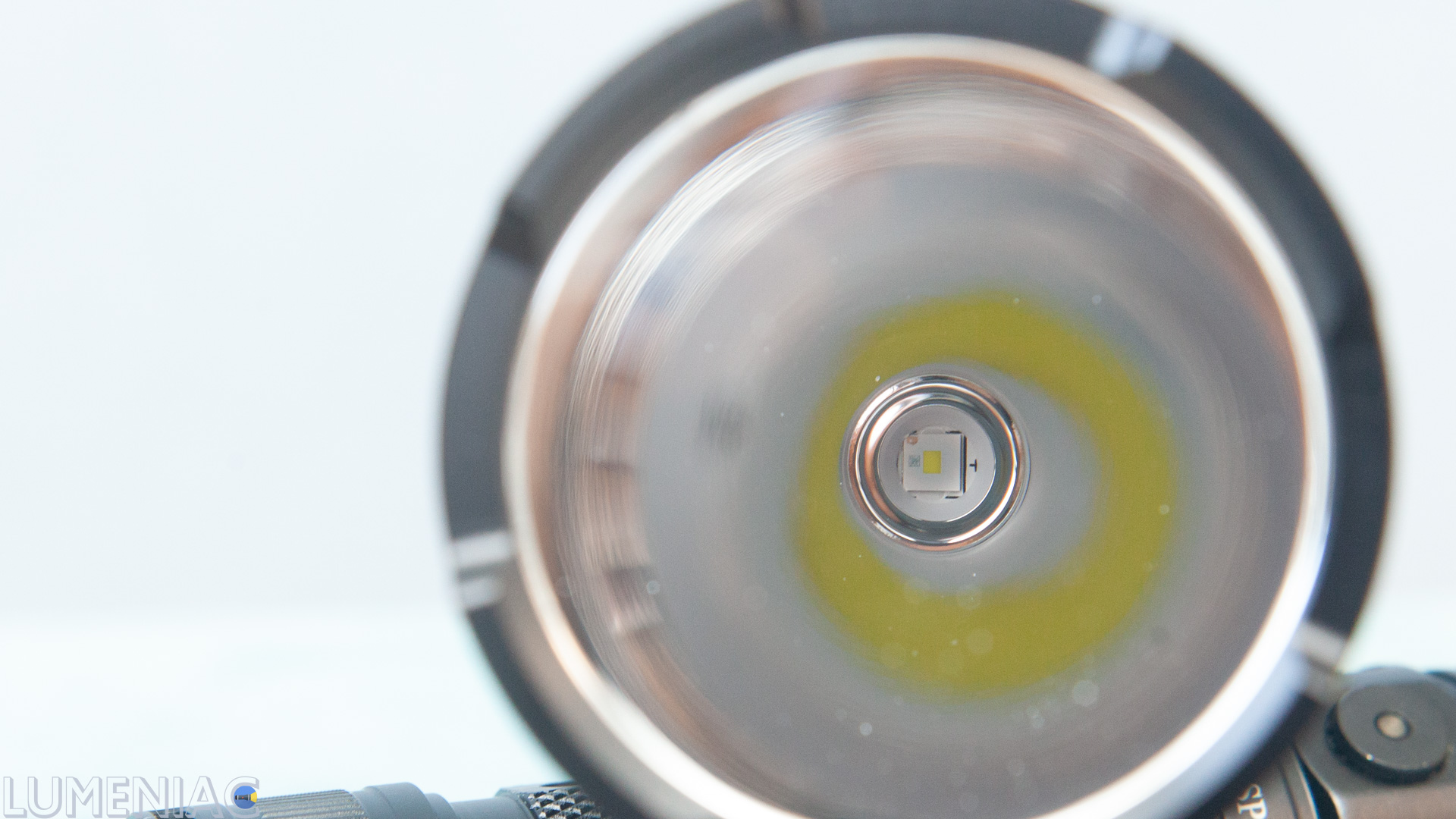 That's all. The flashlight has an exceptionally simple appearance, but I have no complaints about the build quality.
UI
In general, that is good flexible UI, which is better than many other tactical flashlights have.
But, I repeat, Sofirn C8G UI seems to me more interesting as it has ramping mode.
Though, i must admit, SF47T UI makes it possible to turn on turbo and strobe with the tail button.
There are two modes, EDC and tactical. Switching : 3 sec holding side button from ON.
EDC mode
OFF-ON – click the tail button (support half-press), there is mode memory)
2x tail button – Turbo
Simultaneous pressing both buttons from OFF – moonlight
1 click side button from ON – switching the brightness L0W-MID-HIGH
2x side button – TURBO
3x clicks side button – strobe (2x clicks inside this mode lead you through "strobe-sos-beacon" mode)
TACTICAL mode
SF47T is always turned on in TURBO from OFF with the tail button click.
2x clicks tail button from OFF – strobe
From ON, the side button toggles LOW-TURBO
Simultaneous pressing of both buttons from OFF – moonlight
HOW SOFIRN SF47T ILLUMINATES
The brightness is fully stabilized in all modes, including turbo, and the runtime is simply amazing, especially considering how much throwy you get at these modes , unimpressive in terms of brightness according to modern standarts.
Sofirn SF47T is the second flashlight ever that does not drop its maximum brightness when cooled. And without cooling, you get an unprecedented 15 minutes of constant runtime turbo!
Another one is Convoy L6, but after 10 minutes you can no longer hold it in your hands, it is hot as hell`s owen. But Sofirn SF47T is much less powerful and does not create such a problem. So in cool weather or / or in the presence of wind, you can squeeze everything you can out of the flashlight, without any of the usual restrictions. And the flashlight has something to show, be sure.
Important! I tested with 5000mah batteries, thought 4000mah ones are included in kit.
As you will see below, the MID is quite sufficient for working at a distance of a couple of hundred meters and you have half a day of work in this mode.
As for the range, then everything is definitely perfect. Even the 50 lumen mode gives quite clearly visible hotspot at a distance of a couple of hundred meters, not to mention the starting distance for my reviews, which is *50 meter*s. Here the throw of the flashlight is frankly excessive.
200m
here you can clearly see the difference with the classic model – Convoy C8 + XPL-Hi 6500k. At the same time, it is clear that Sofirn is better than Convoy not only in terms of throw, but also in color temperature, which is quite comfortable here. Of course 4000k would be much, much better for a long-range flashlight , but these (visually) 5500-5700K looks more than acceptable.
250m
Low is still symbolically visible, but it is useless.
350m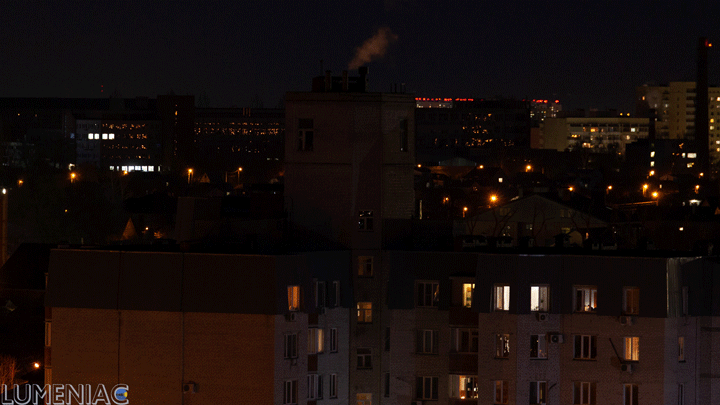 450m
650m
The limit of real usability for the vast majority of long-range flashlight.
750m
The naked eye does not see anything here at all. The flashlight is completely working at this distance and you can rely even on high mode,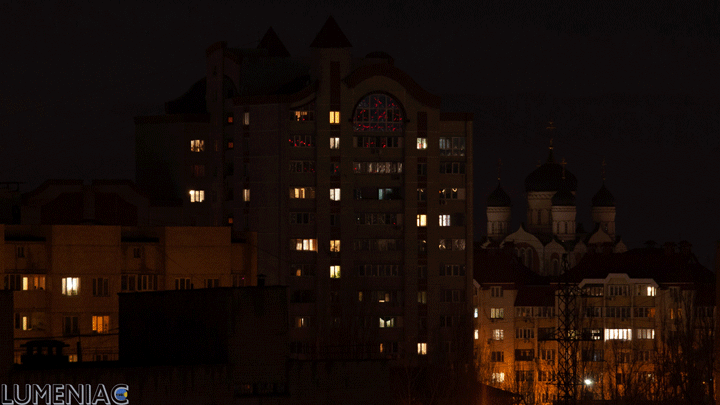 This is significantly more than the declared range. Not to say that the flashlight actually shines brightly at such a distance (here you need something with a colossal range, such as ACEBEAM K75 \ MATEMINCO MT90 PLUS)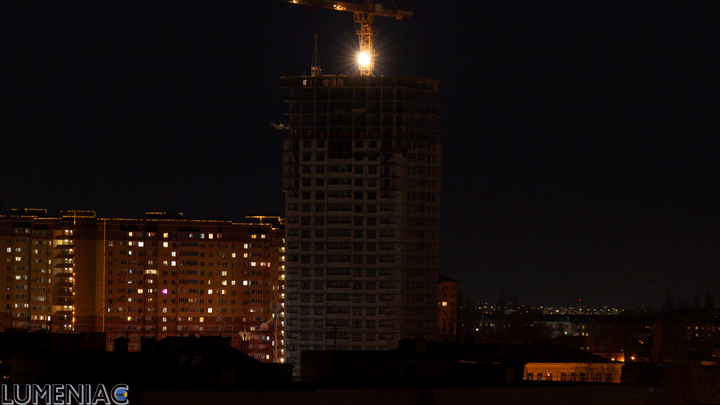 The video review contains other examples of how the sofirn SF47T long-range lamp shines. This one is russian, but you can just skip beginning where i tell the same that wrote above here.
OVERALL IMPRESSION
Well, after doing review of Sofirn SF47T I left with totally positive impression. Sofirn`ve chosen wrong direction in pair of models, but not this time. I really like the flashlight. It impress me not with its throw of 1 km and – this is a distance that many modern flashlights can cover. Though throw is great, of course.
Personally, this long-range flashlight captivates me with others, namely, with a colossal runtime. Almost comparable to some much larger 4×18650 model. At the same time, Sofirn SF47T has fairly common dimensions, from which you would not expect such a range or such a runtime
Due to the trendy Osram LED, the flashlight gives a huge throw without reaching the level of brightness that would warm up the flashlight body to the point the thermal cut-off drops the brightness down from turbo mode, which would be expected from some model on the XHP35 LED.
And I see the main trump card of this flashight in this – the rest of the long-range models, not only are more expensive , but also have a limited rutime in turbo mode. But Sofirn SF47T allows you to work in this mode as in any other usual mode.
The second advantage is UI. The flashlight has two well-implemented modes: EDC and tactical. Both UI are quite convenient and I have nothing to complain about at all. Unless I'd rather get a complete copy of the Sofirn C8G UI. But as it is, everything is fine.
In fact, I don't see any functional disadvantages. I have not only complaints, but rather a question. The flashlight is positioned as tactical one. And I have certain doubts about how comfortable such a long flashlight will be for tactical needs. The review showed that Sofirn SF47T performs exceptionally well as long-thrower. But I don't presume to judge whether it will be convenient as a tactical one.
Yes, due to the classic size and UI, I think that the flashlight can prove itself quite well as an gun mount. Or maybe not – again, I'm not hunter. so I will leave the answer to this question to the readers.
The main thing is that the attempt to add tactical functionality to a purely long-range flashlight did not result in something incomprehensible and intermediate. Sofirn didn't neither sub-tactical nor sub long-range flashlight. They produced a reliable, good long-range flashlight with additional tactical UI. To use it or not is the – that`s the matter of choice. tacticoolness does not interfere with the main functionality of thrower, and that's good.
Well, it is worth noting separately an important characteristic for many potential buyers – the price. The flashlight is not frankly budgetary as other Sofirn products. It costs twice as much as the C8G and I think this is too much for the 7cm difference in the extra length of the battery compartment. Not that $60 was a lot (any major brand would ask for at least a hundred bucks for the same functionality), but for this price you can already choose some good long-range flashlight with 1 * 21700 battery. Like ACEBEAM L18, which is good as much as possible, believe me. Of course, in case there is good discount. And such a flashlight, due to its size, will be much more practical in terms of carrying it along as it can fit into any pocket. And in terms of throw, it will be comparable. So all hope is for a discount – a purchase with a promotional code is definitely more justified.
So if you need to choose a good long-range flashlight and you are thinking about the Sofirn SF47T, then ask yourself how critical it is for you to get most possible runtime in general, and most possible in turbo in particular. If this is important for you – feel free to take it, SF47T has a colossal runtime. And, of course, if this length of flashlight body is ok for you.
As for the rest, I repeat, I have no complaints about the functionality, I really like this model.