Inexpensive bright flashlight with built-in charging, flexible UI and full brightness stabilization. Looks like the perfect budget EDC, isn`t it?
Sofirn's past attempt to do something like that turned out to be a ditch (I'm talking about Sofirn SP33 v3.0). Let`s check if Sofirn managed to take into account past mistakes this time to and release a flashlight that will become the same EDC bestseller as Sofirn C8G in long-range flashlights.
Buy Sofirn SP35 21700 at:
➤ ALIEXPRESS (there are also code + coupon at the product page)
➤ BANGGOOD
➤ AMAZON
PACKAGE AND APPEARANCE
Unexpectedly, sofirn tried to give some design to package! This one is still a way cheaper than any branded flashlight box, but is no longer a regular facceless cardboard one. It looks cheap, however)
Kit includes the flashlight itself, a nice reversible clip, lanyard, cable, o-rings and a manual. Nothing new, in general. Optionally, you can order a kit with a battery. Now, when buying at aliexpress, stores also adds a holster as a gift.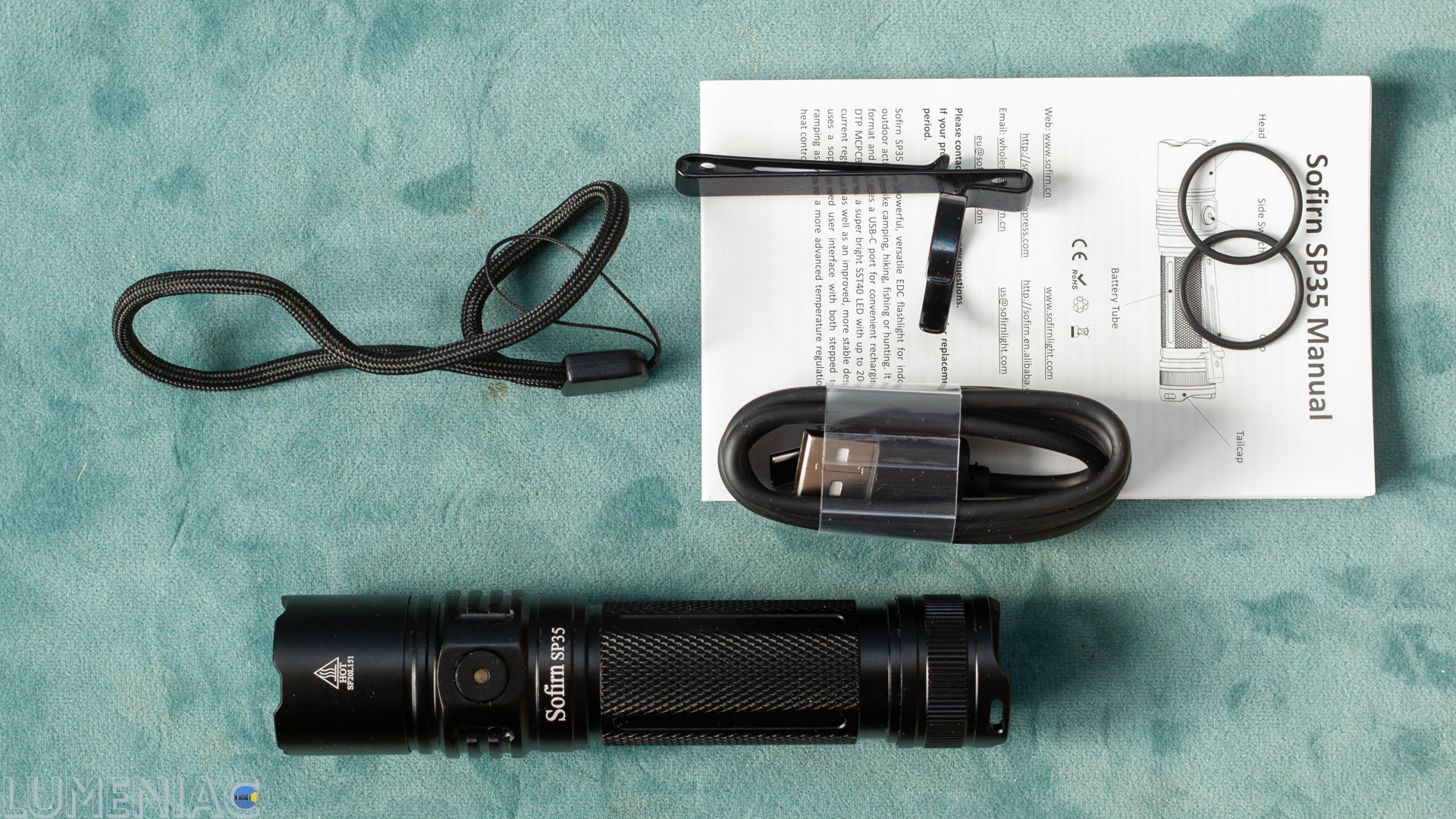 The flashlight is only slightly longer and wider than some regular 18650 flashlight. It could have been made a centimeter shorter by replacing the reflector with a TIR lens, but it is ok as it is now. The flashlight is defintetely not compactn one, but, in general, it will fit in almost any pocket. And the race for ultimate compactness can result in purely decorative runtime in high modes.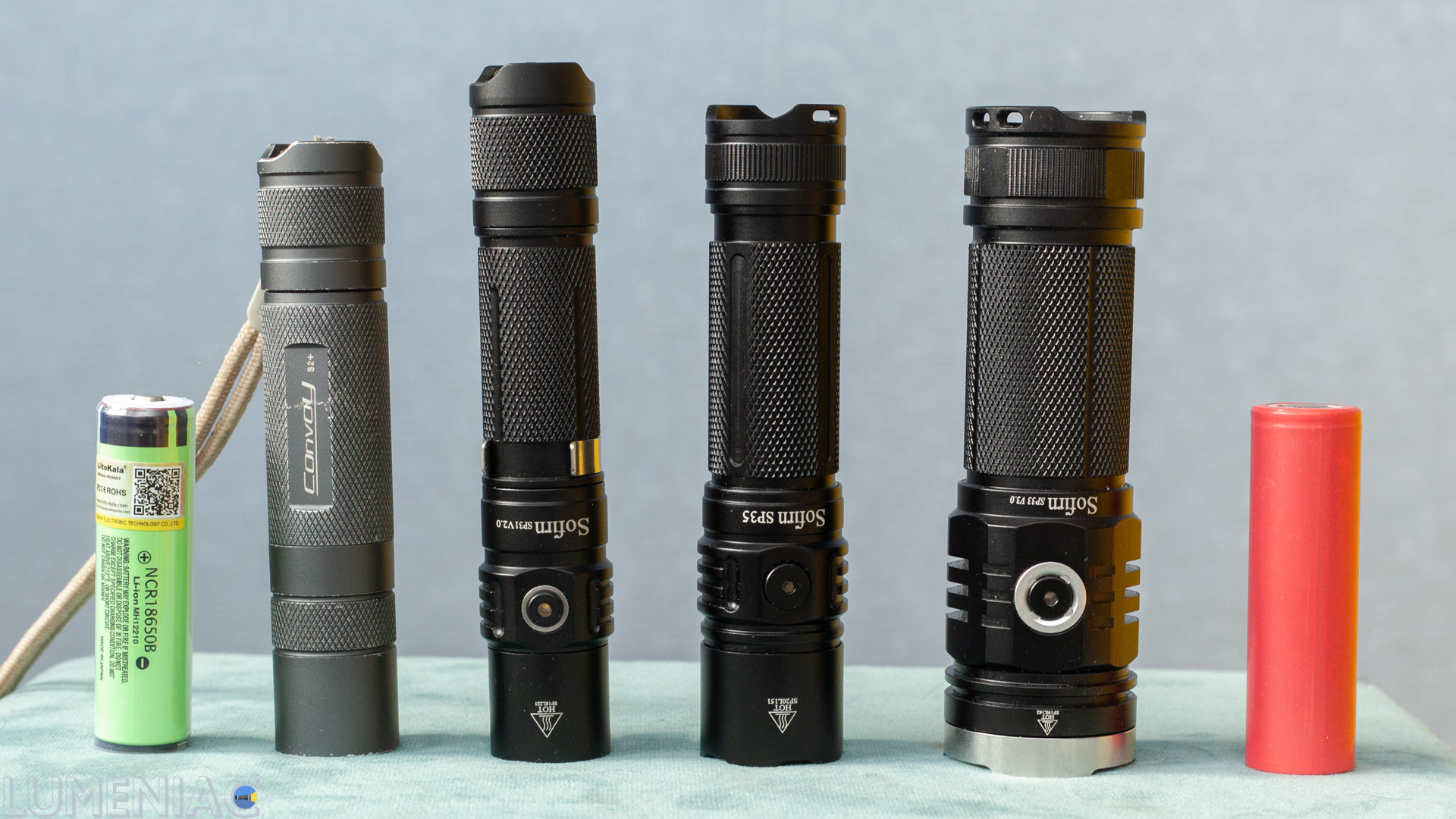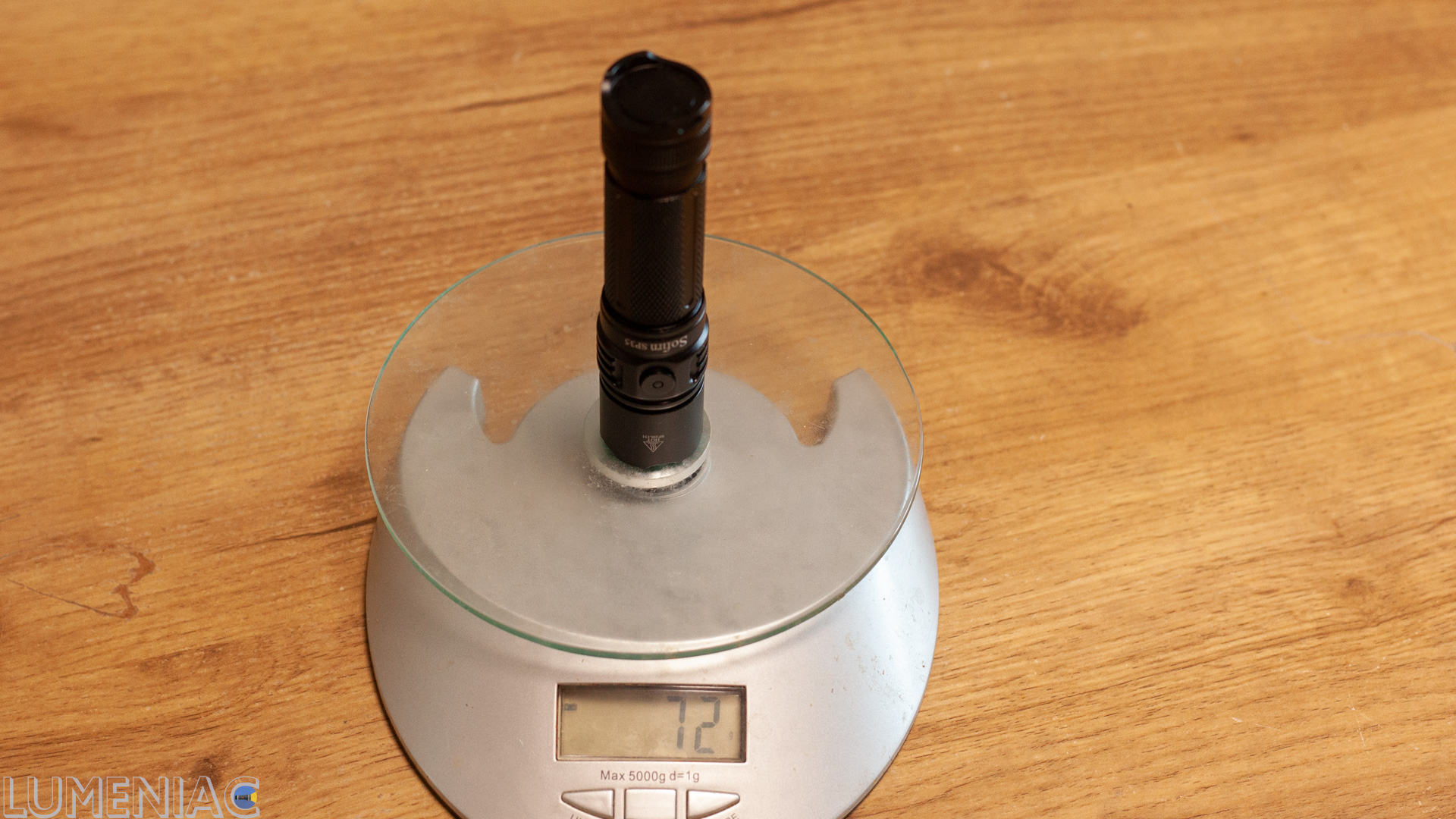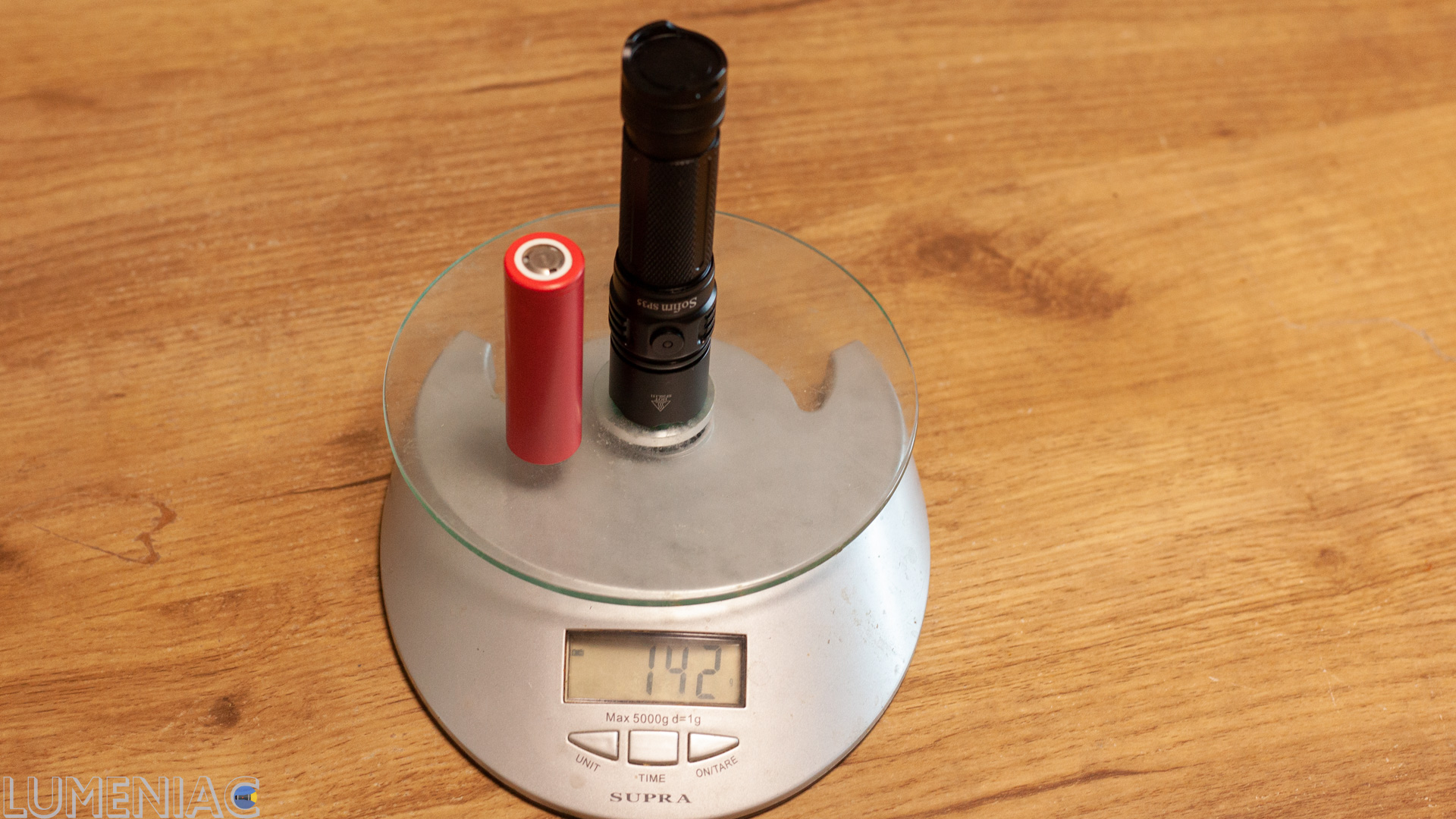 The design is simple.Only Convoy S2 + looks simpler. In general, externally Sofirn SP35 is a slightly enlarged SP32A v.2 or a slightly reduced SP33.v2. Sofirn went easiest way, so SP35 turned out to be completely faceless. However, a poorly designed flashlight that works well is better good design and poorly working one. We'll look at how good the new Sofirn SP35 is.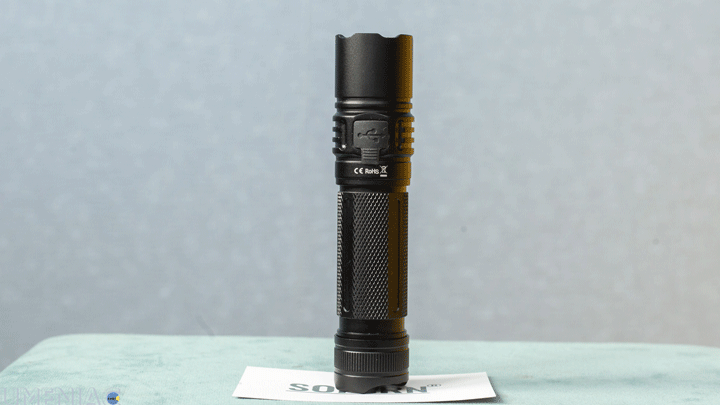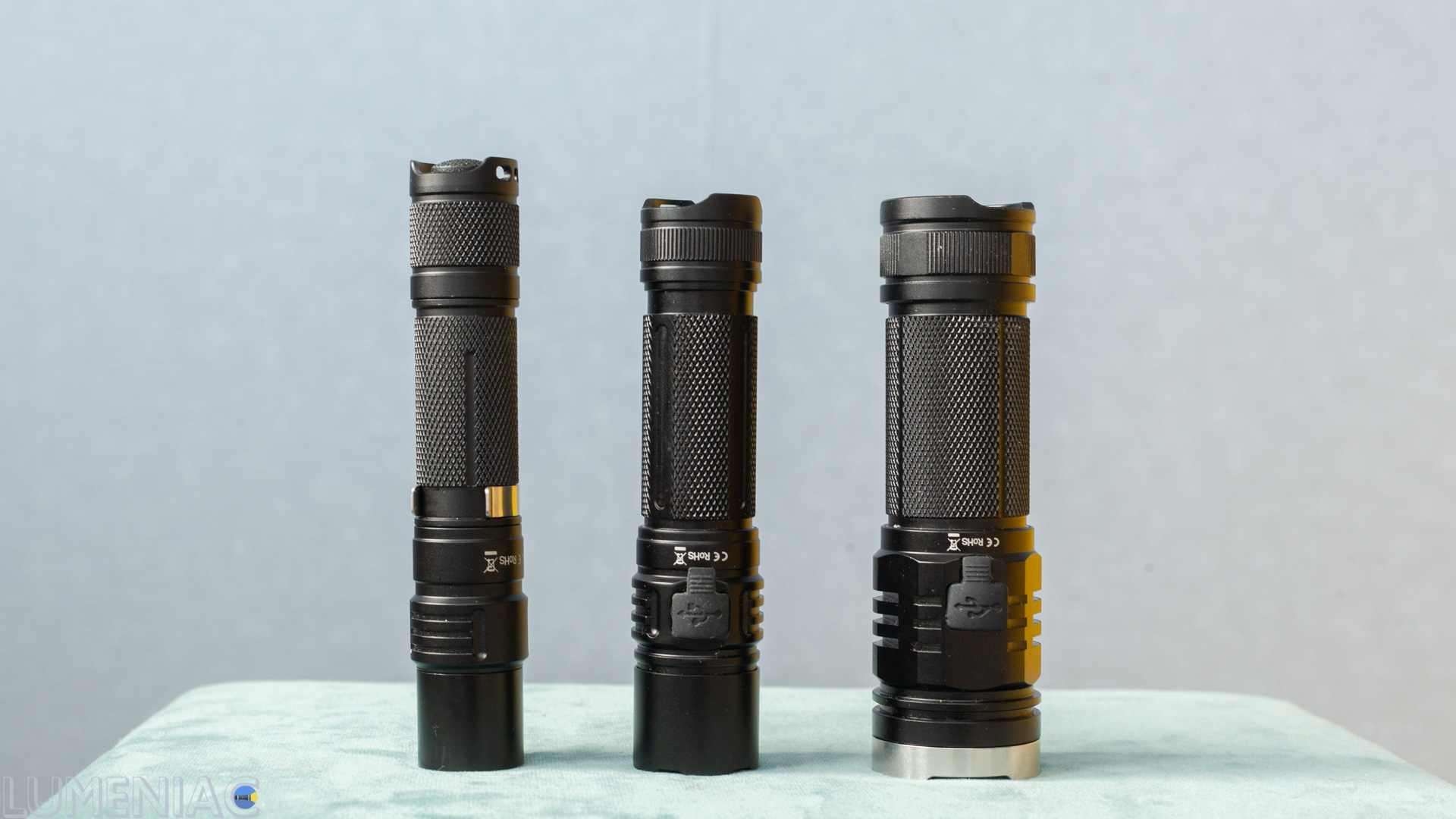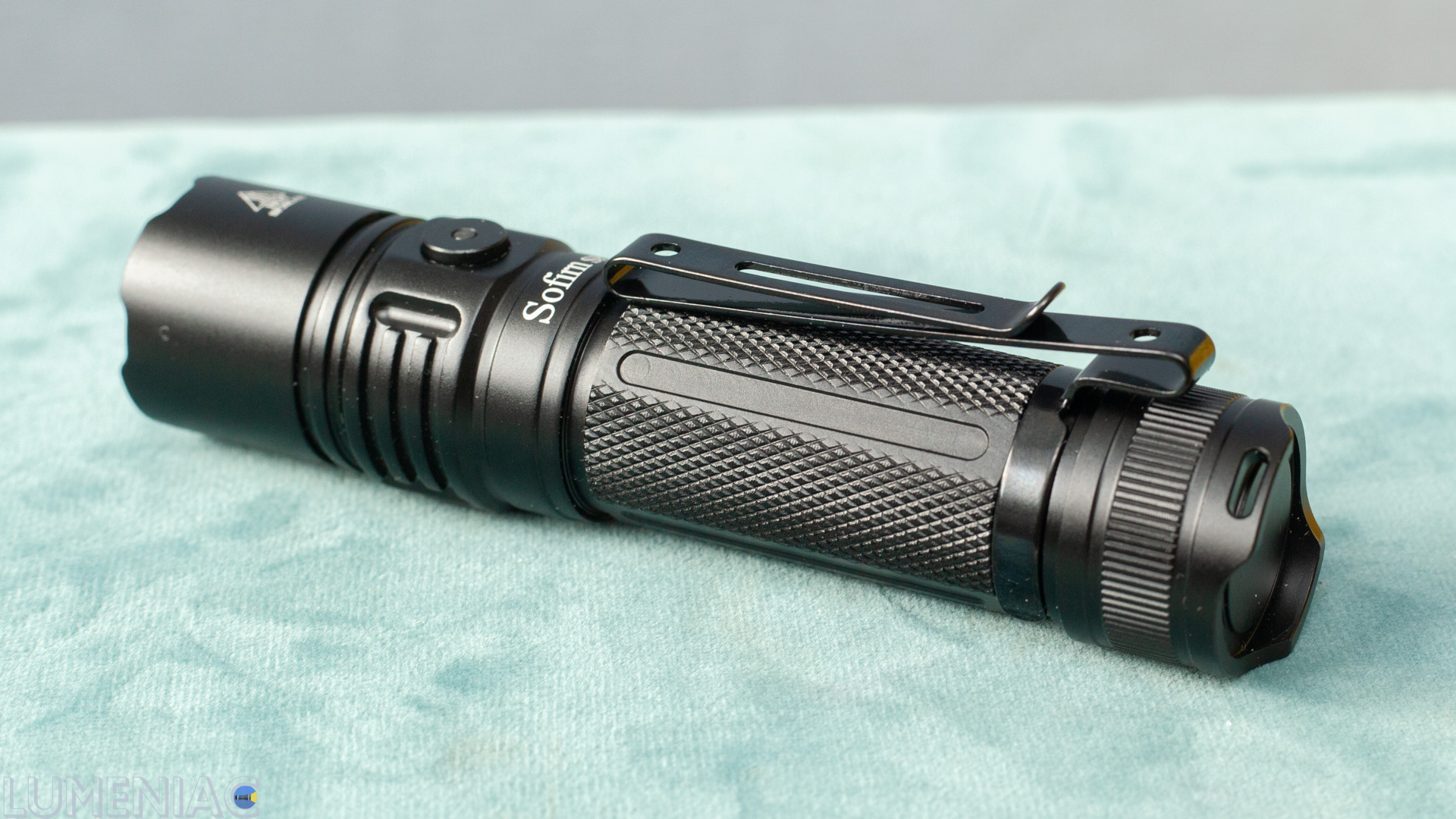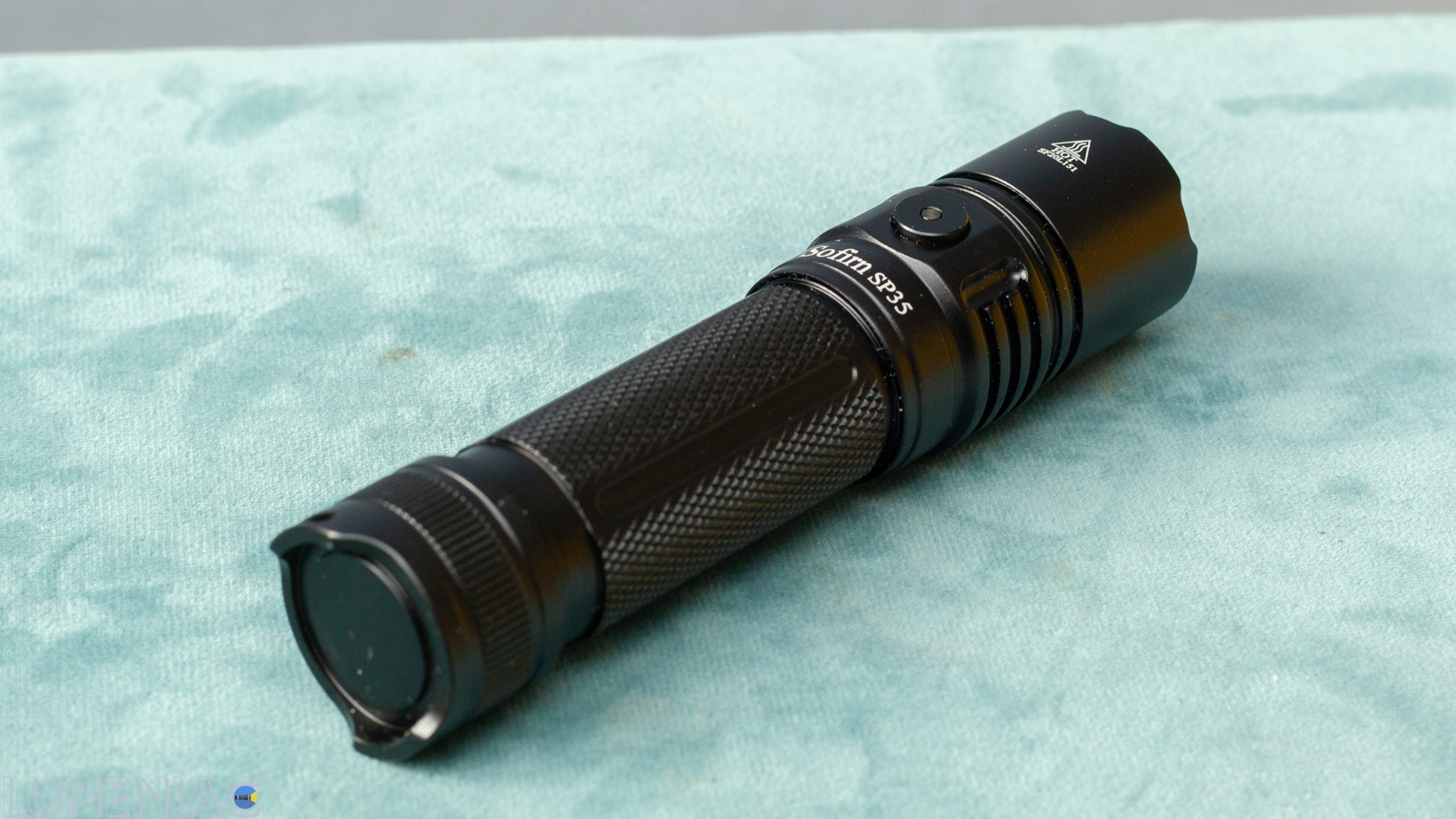 there is a double spring in the tailcap , quite thick one. There is a small contact pad at the head side. I do not consider this to be as a disadvantage for an EDC flashlight. Although this makes the use of flat-top 18650 batteries problematic.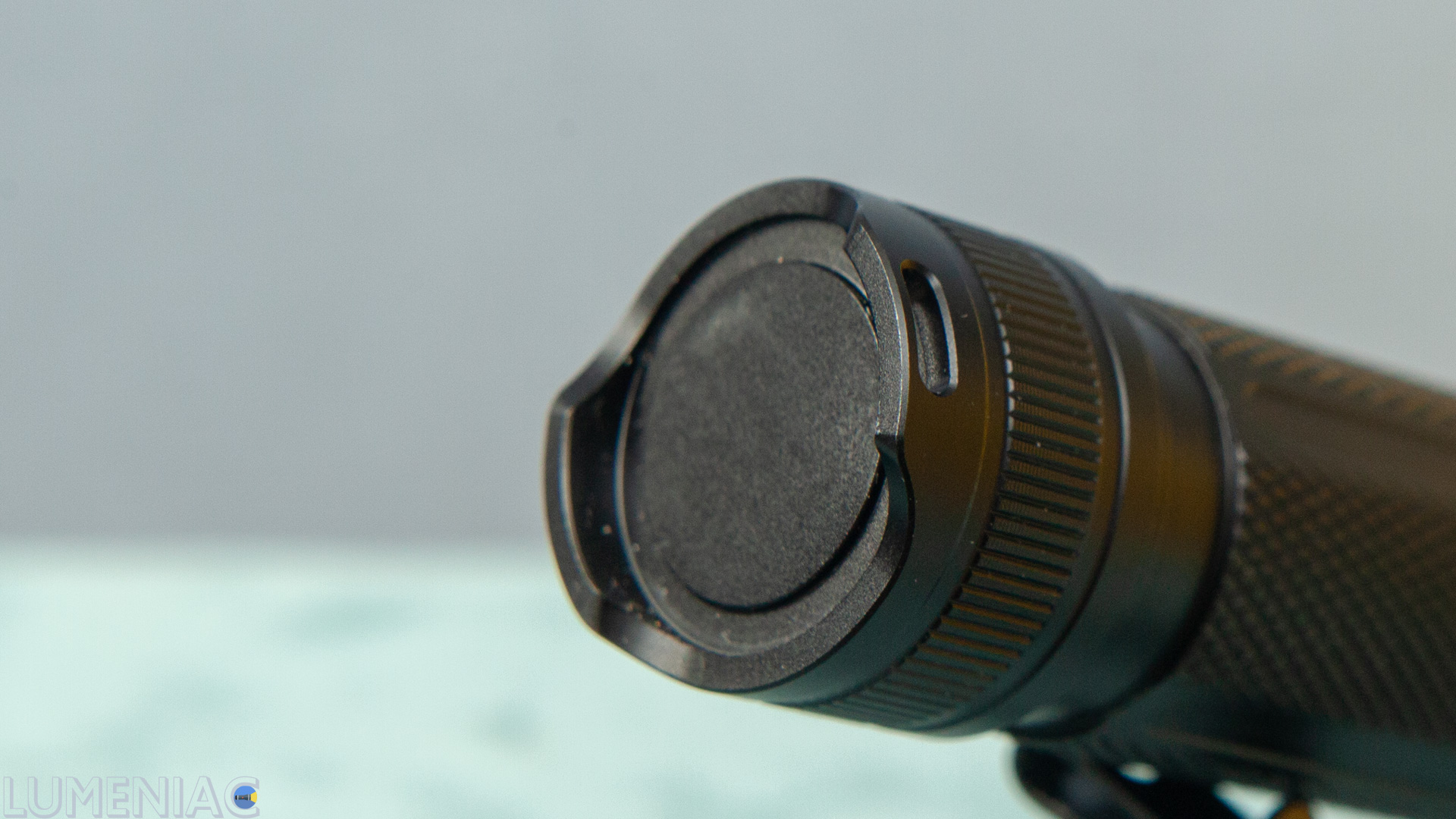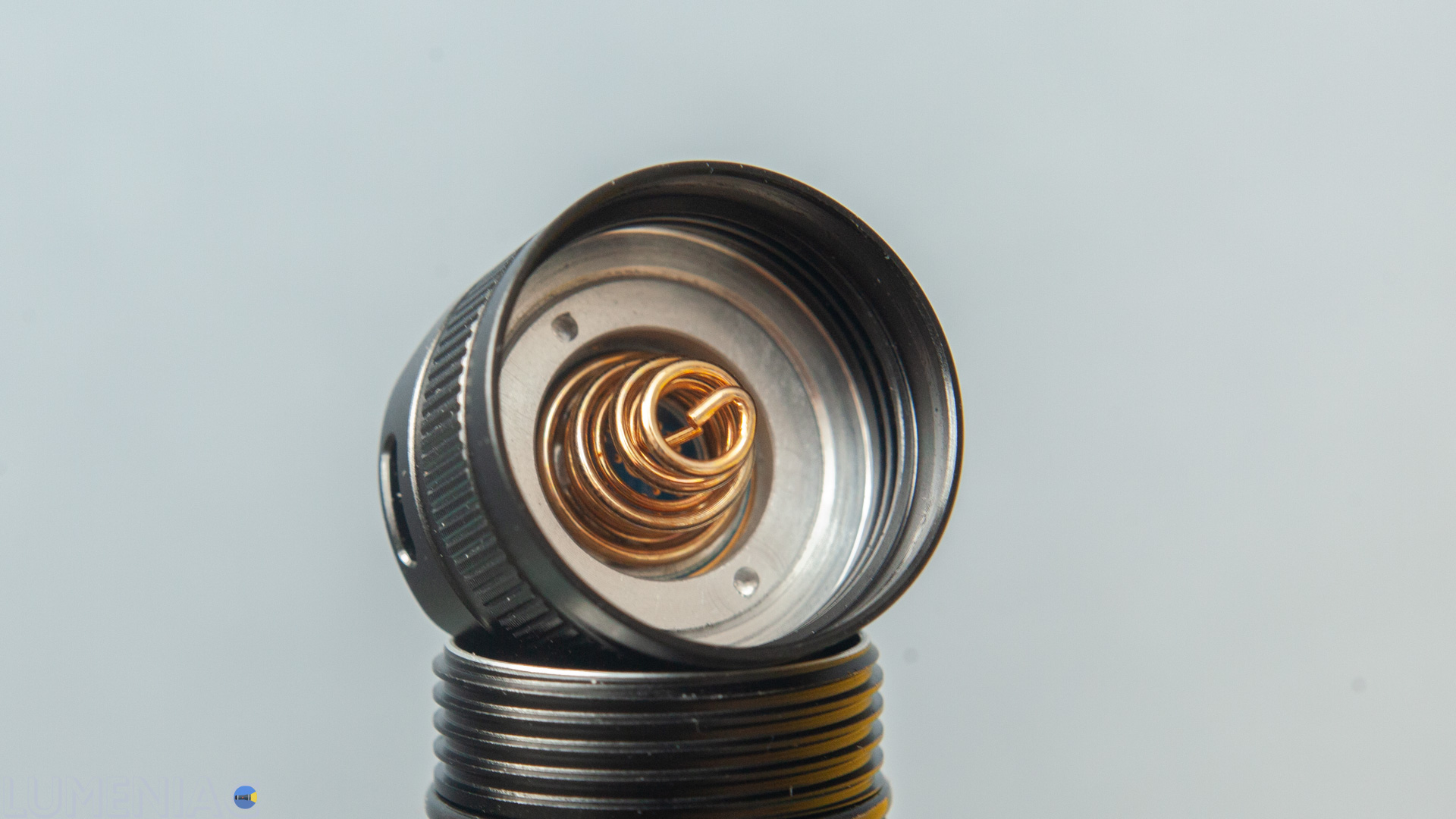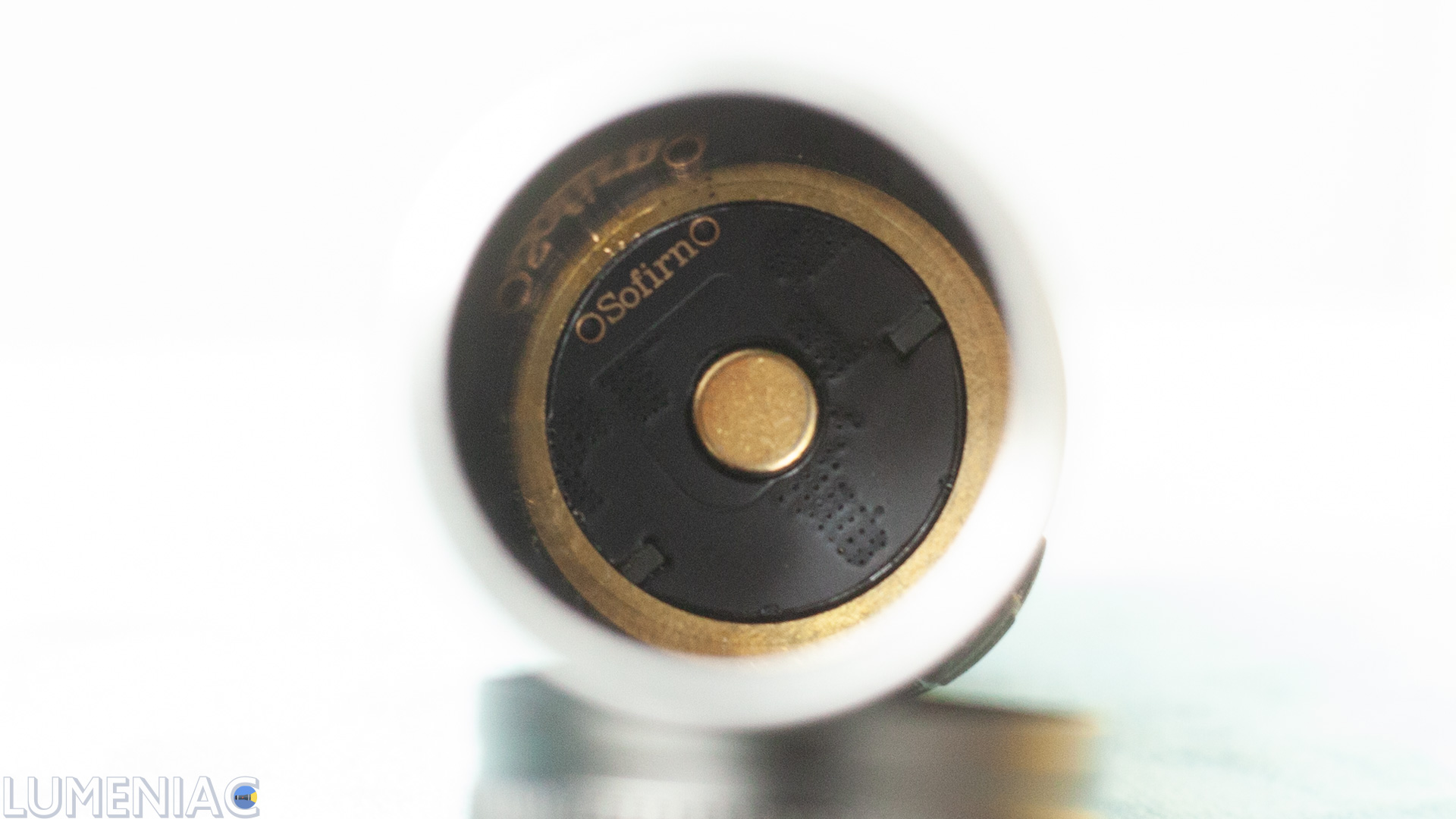 The thread is completely dry.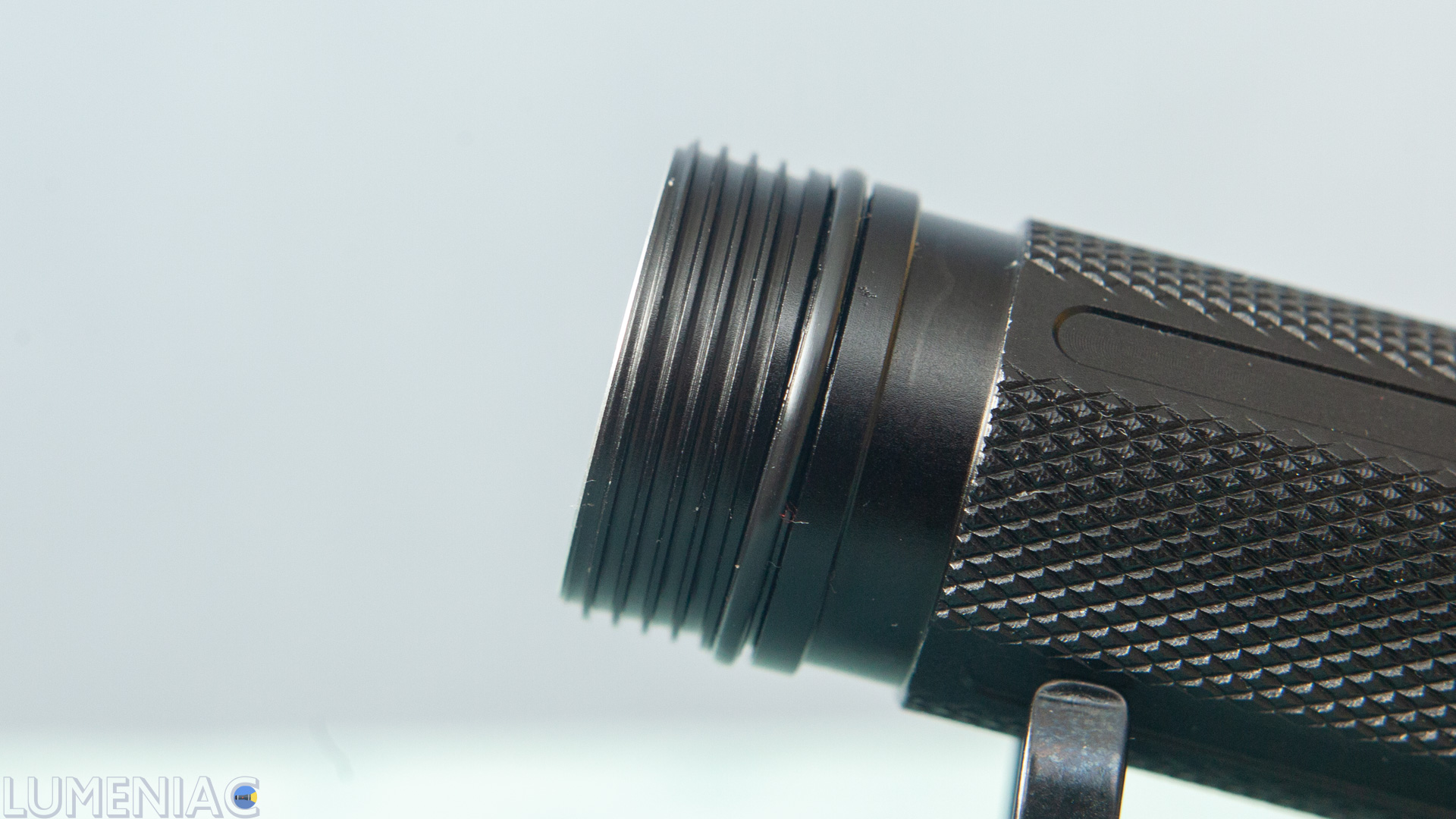 Due to the deep longitudinal grooves, the grip is quite strong. Due to the length of the body, it is more convenient, in my opinion, than most of 18650 EDC flashlights has.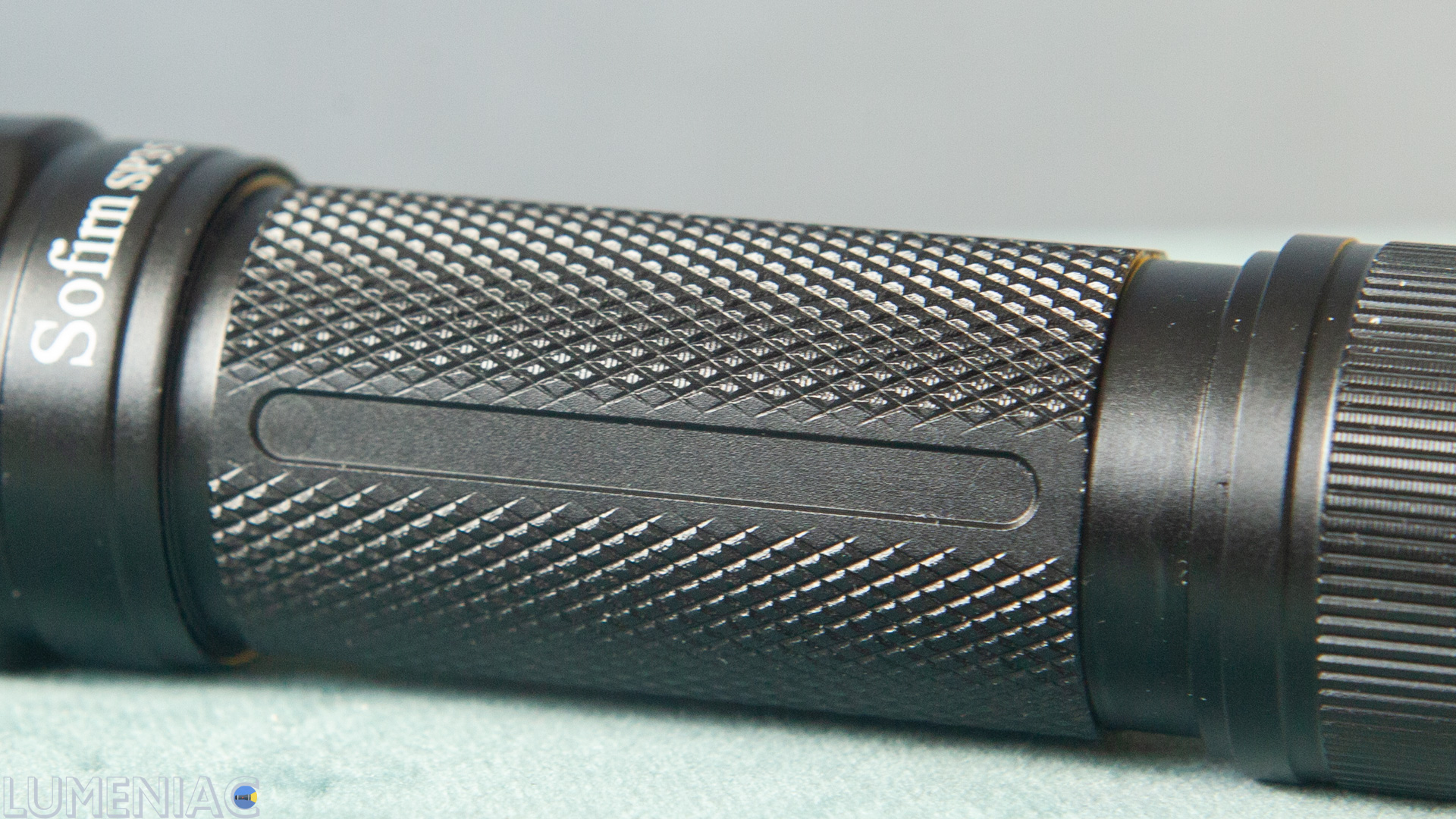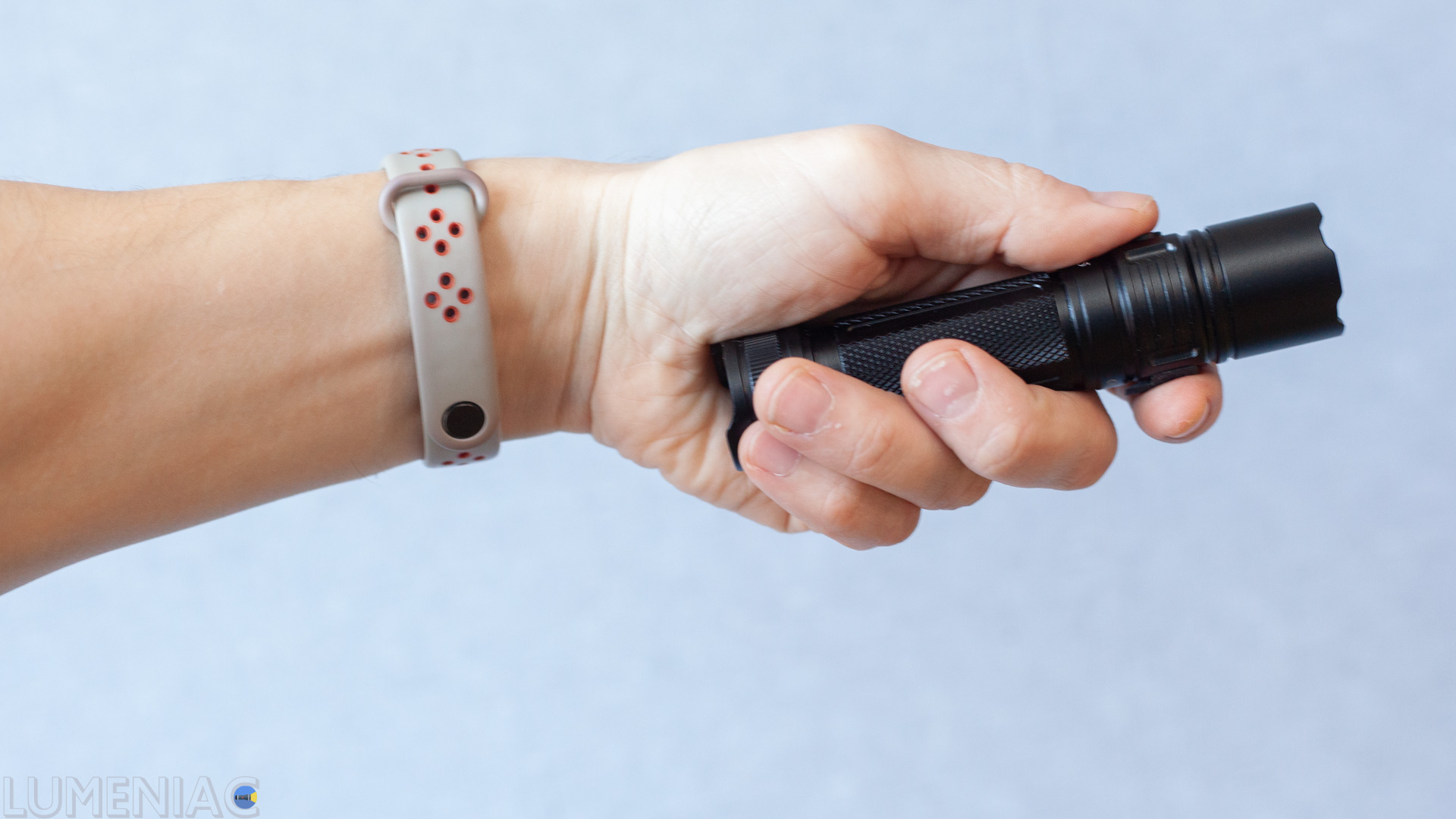 The head is sealed. Emm…was sealed until 1st turbo mode test -) The button is small, protruding and backlit, and looks pretty cheap. But on the other hand, it is definitely not the slightest difficulty to find it blindly. Of course, it will be pressed in your pocket at every opportunity, so it's good UI has a lock mode.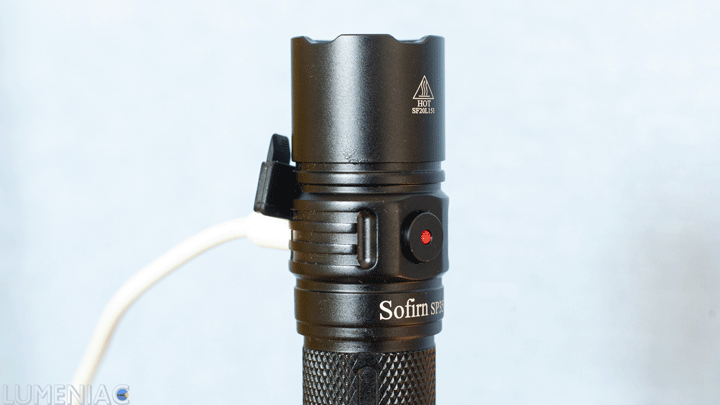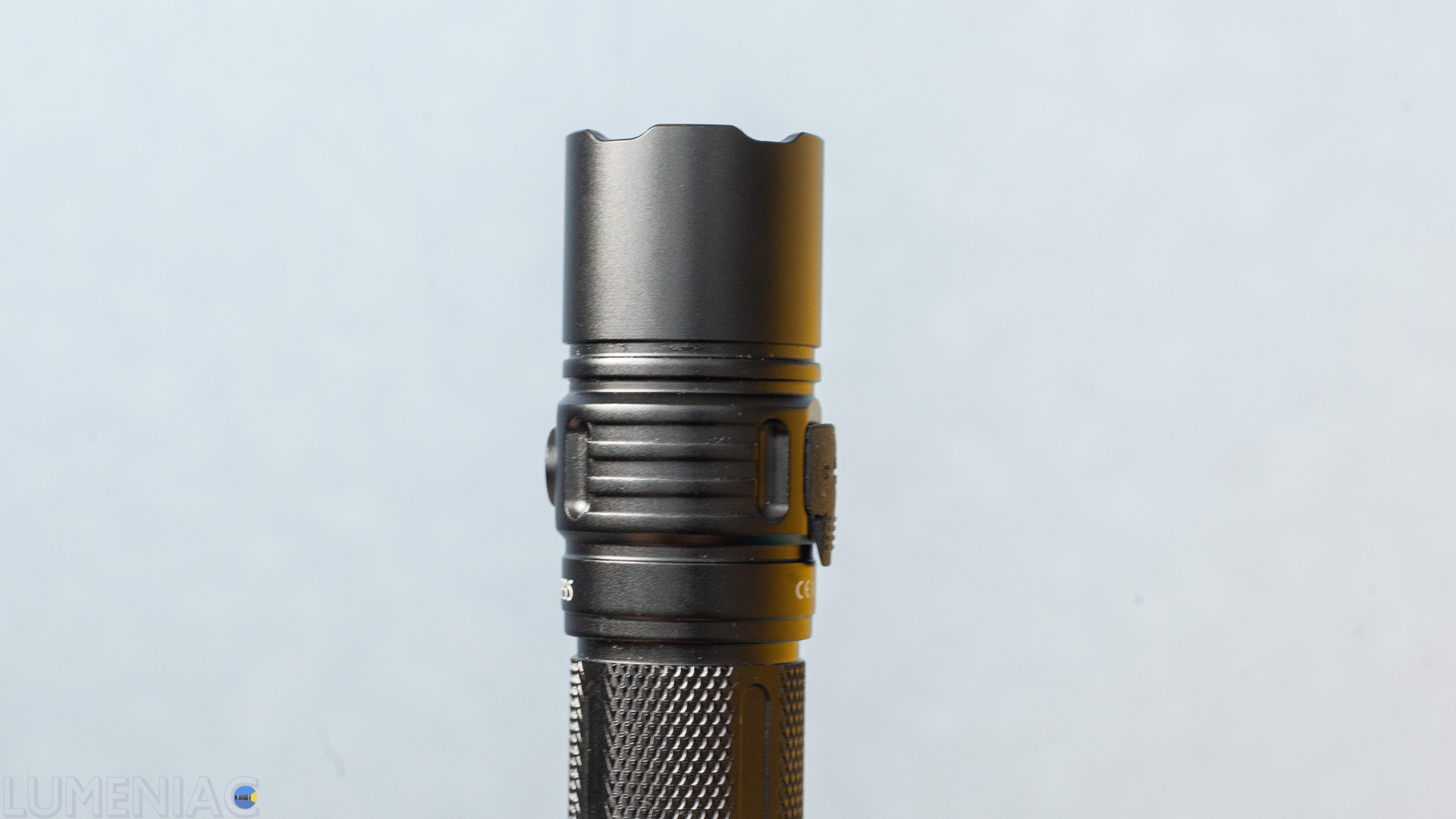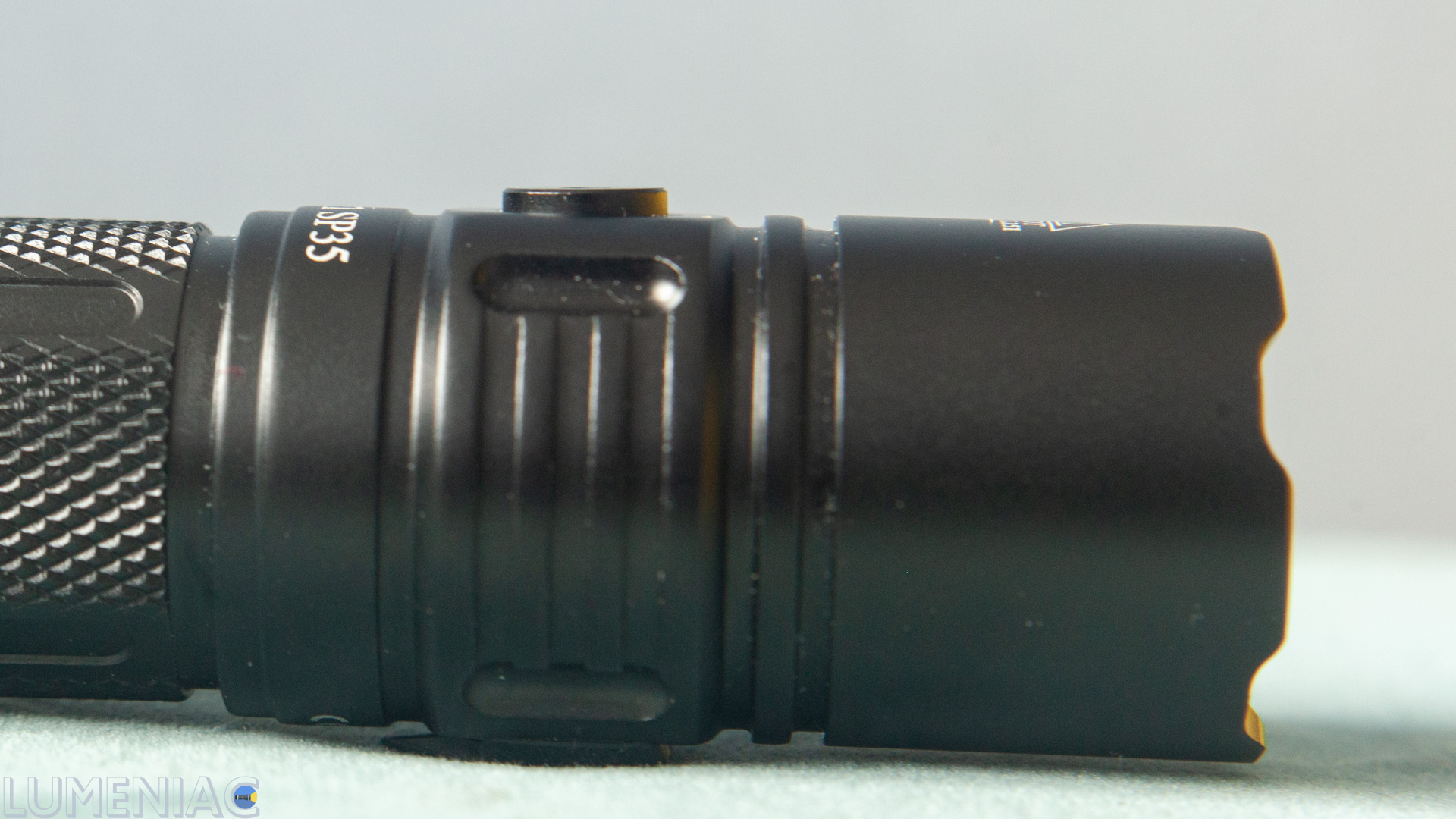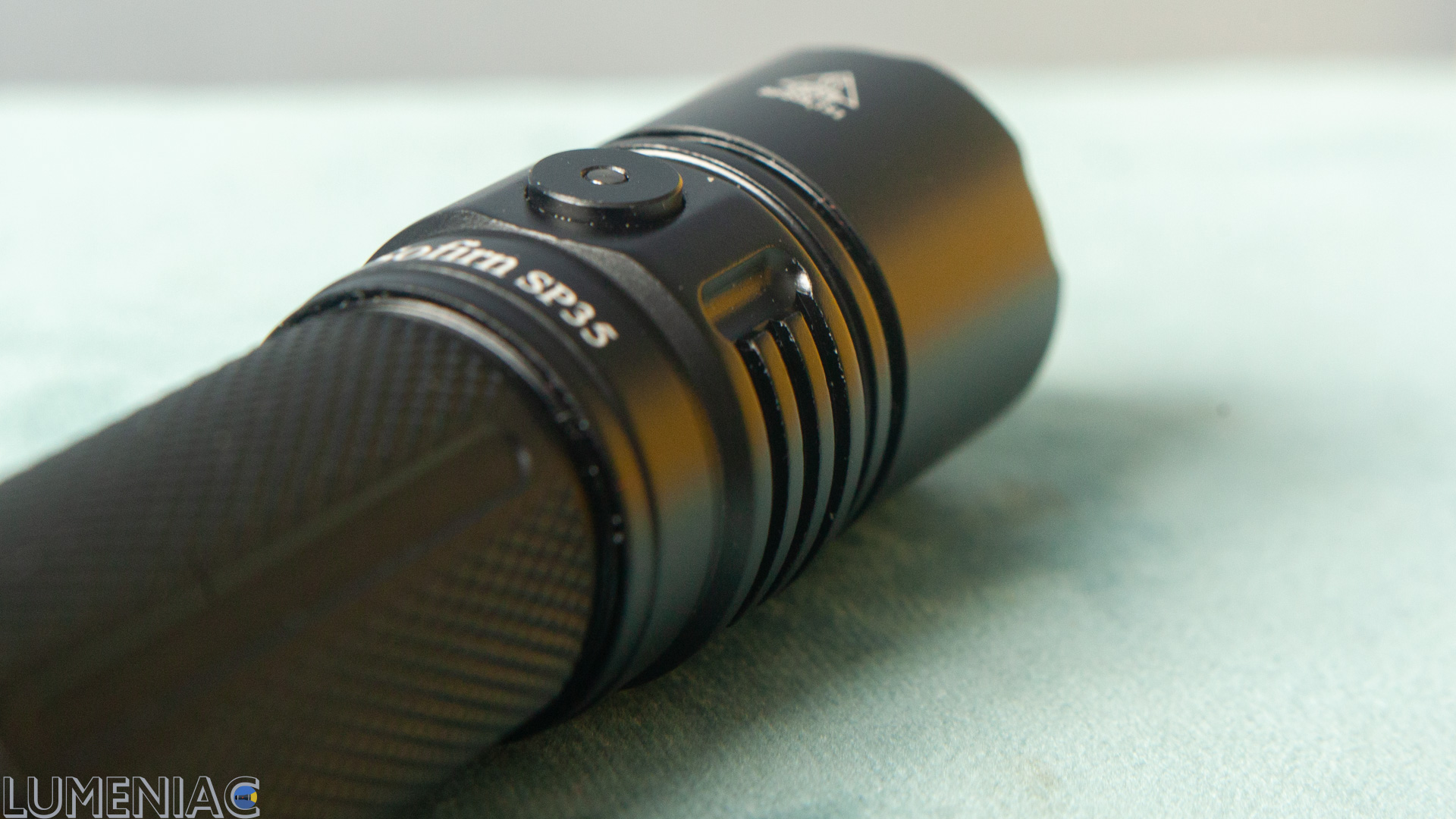 There is Type-C charging connector on the opposite side of it. The plug is thick. Initially, I suspected that it would accidentally open due to a protruding ponytail, but this has not happened during couple of weeks when I`ve beem making review of Sofirn SP35.

Charge amperage is damn good, 1.5A will fully charge most capacious 21700 battery in 3 hours. I`d vote for 2A, though. But 1.5 is also really, really good.

Cooling fins are symbolic. However, with a head of this size and being that bright, their influence should not be overestimated.
Bezel has symbolic teeth and was sealed until 1st runtime test, after which glue melted.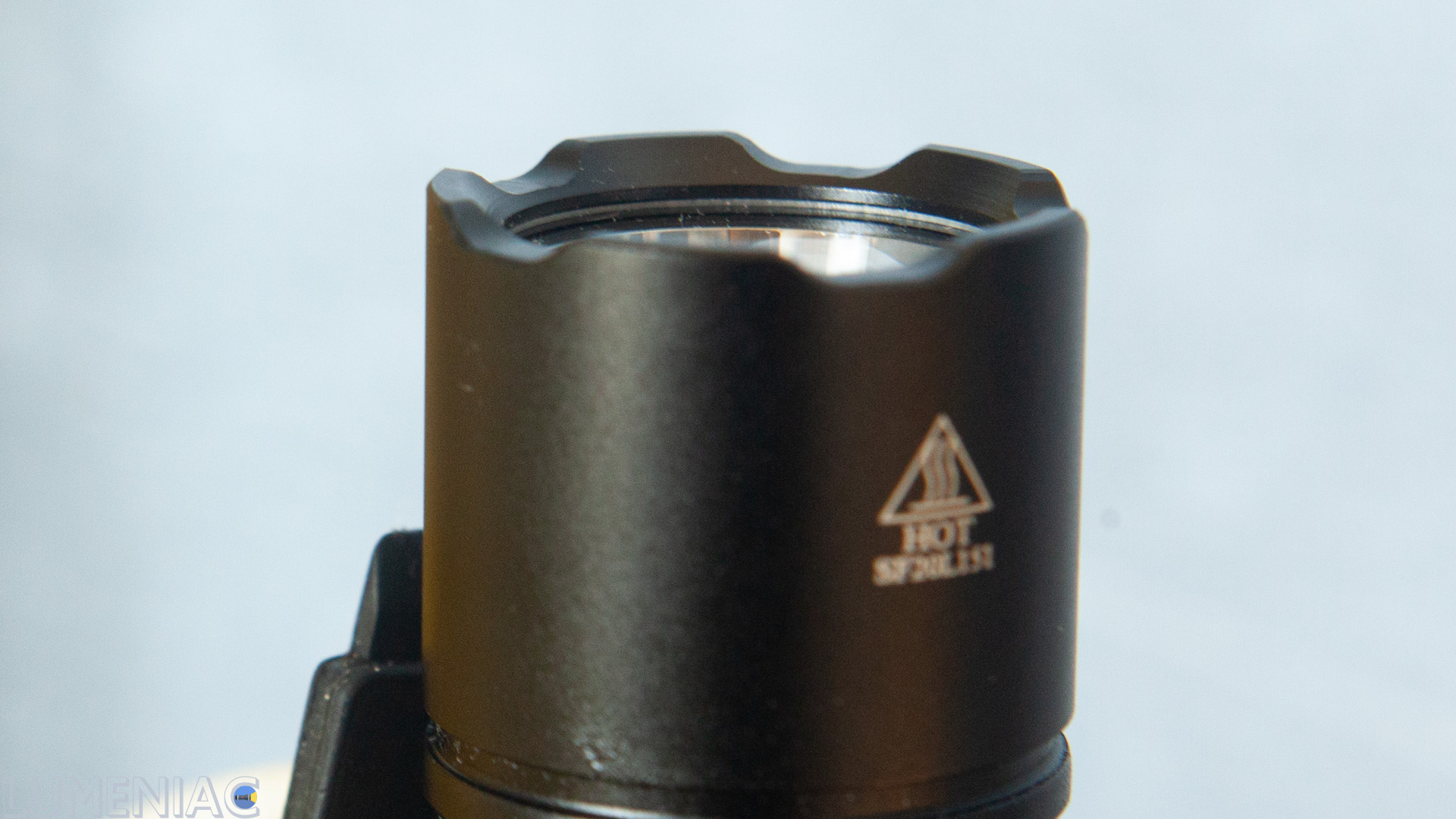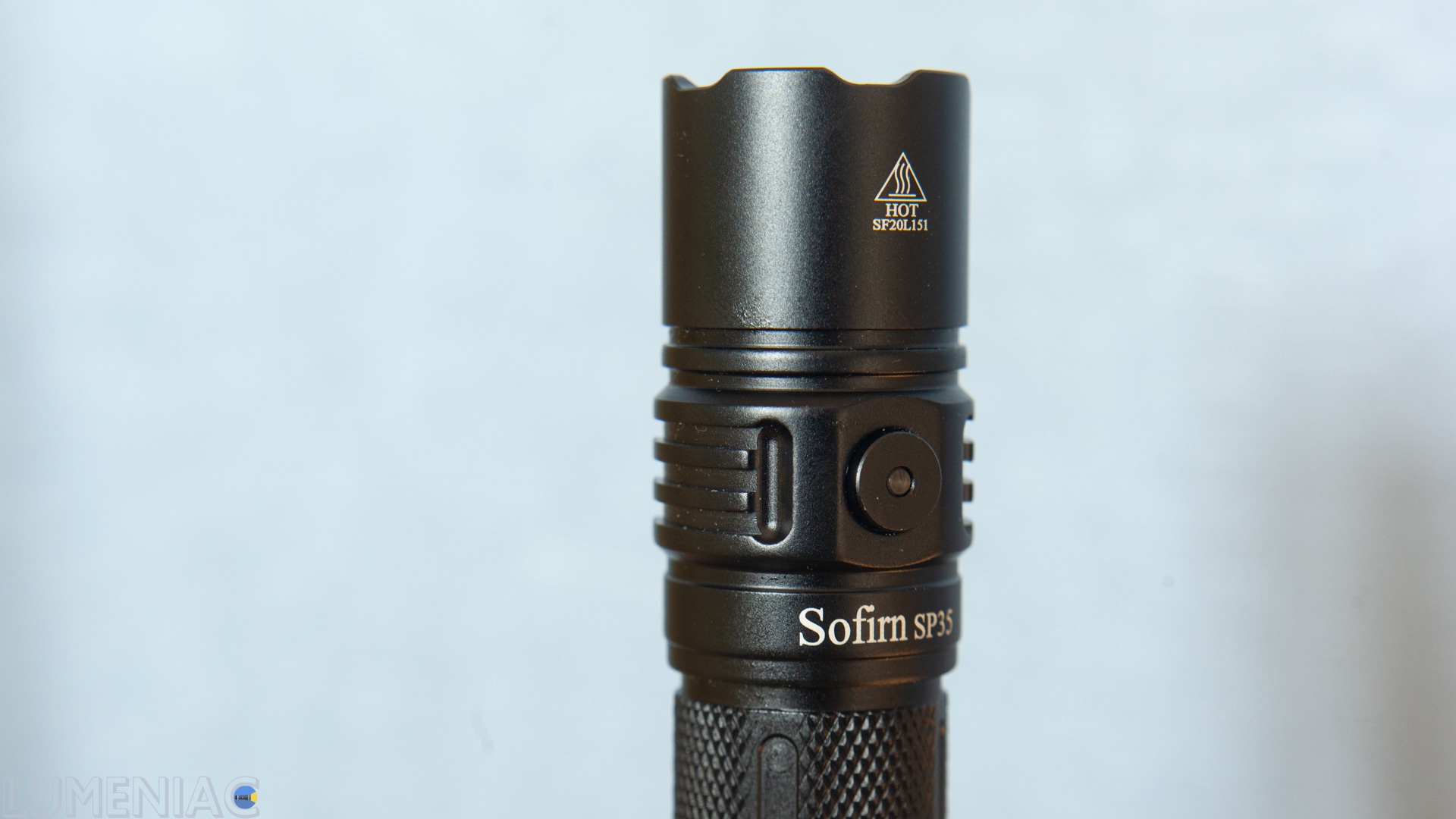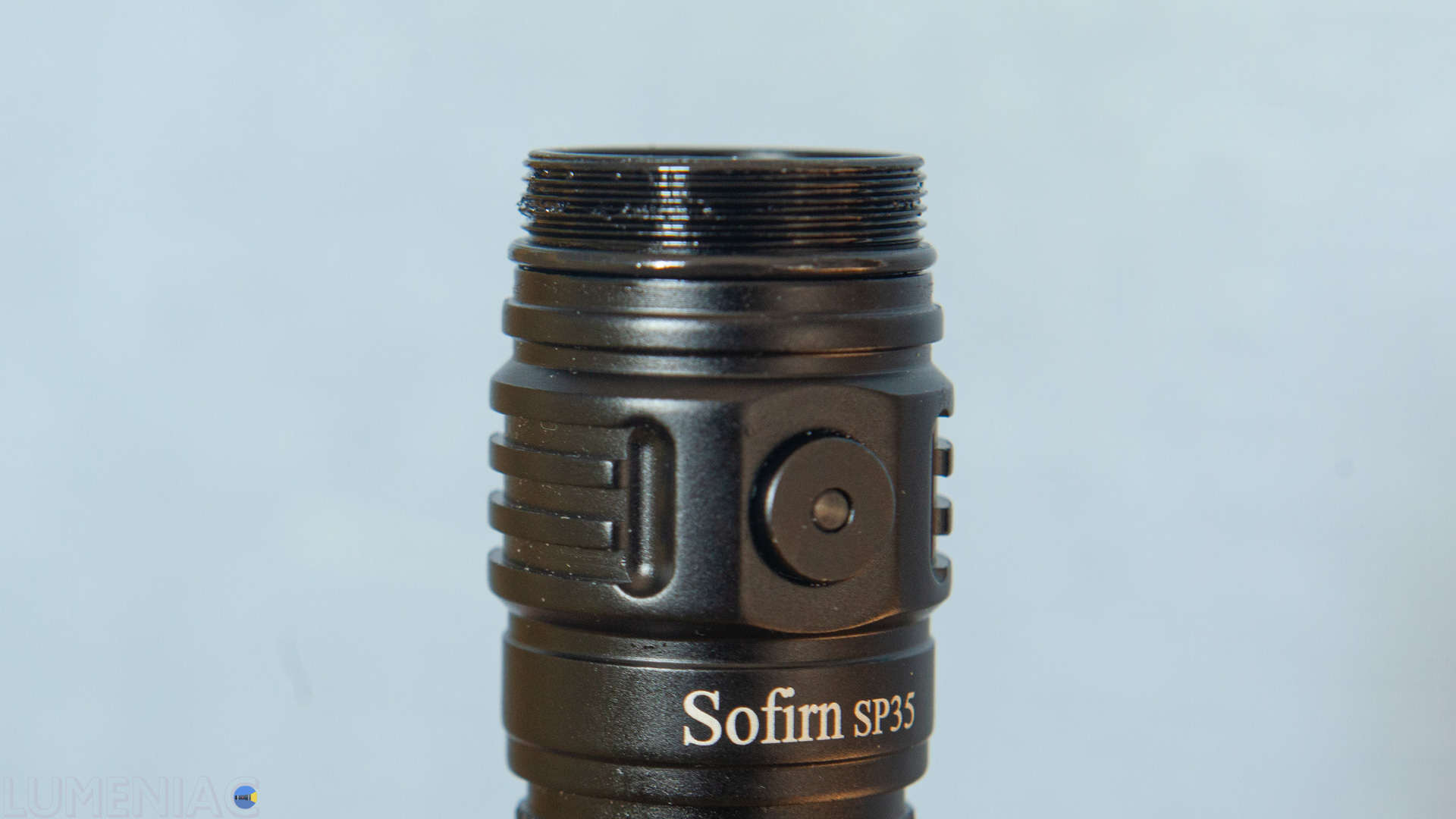 For some strange reasons Sofirn opted for smooth reflector, which is not the most reasonable choice for an EDC flashlight. It is clear that someone will be comfortable with the resulting light, but usually you need more near-range light from an EDC flashlight. That`s why a textured reflector or TIR lense whould be a better choice. Or just SMO and OP version of SP35 to precisely pick the flashlight that suits your needs best.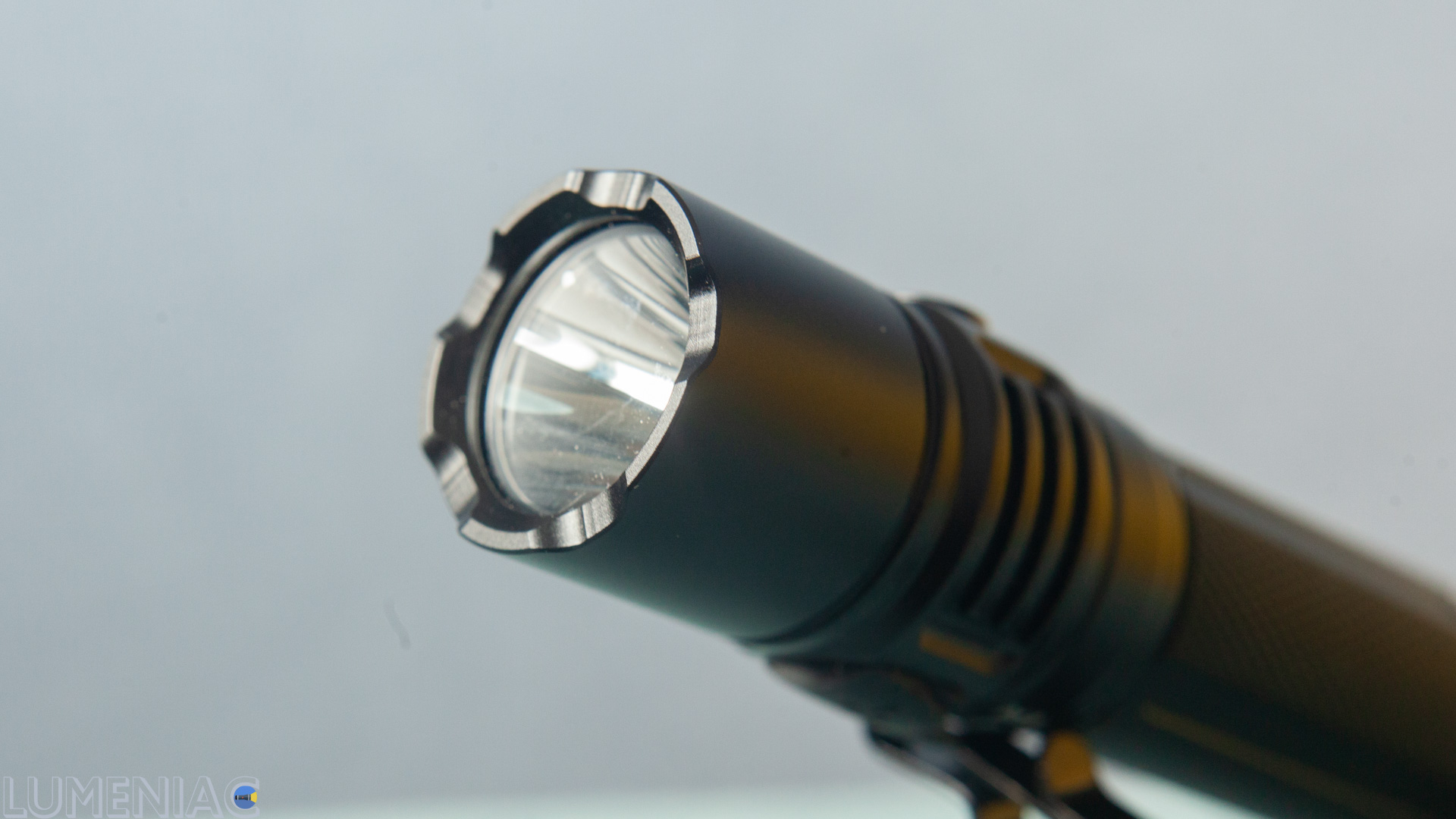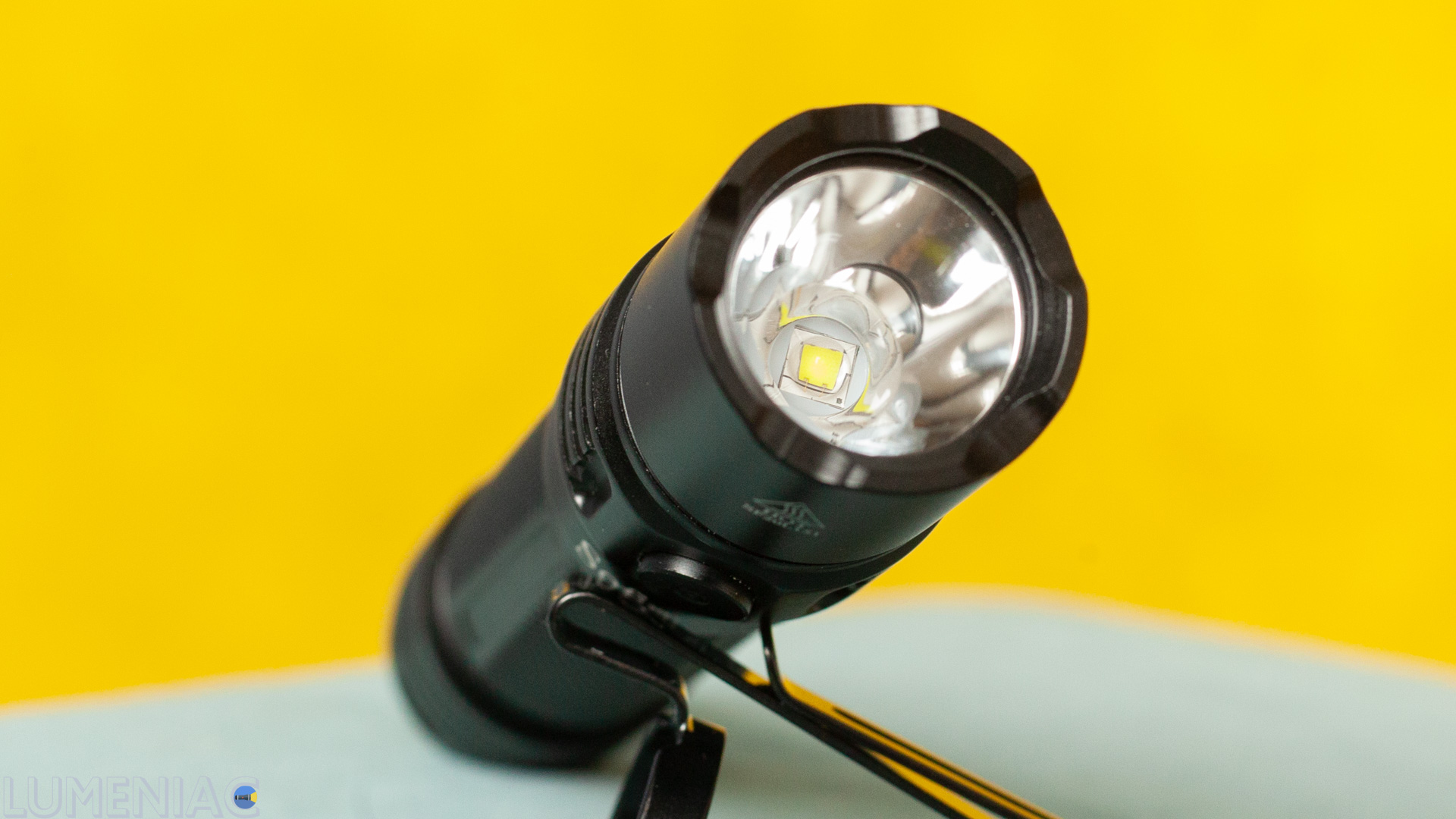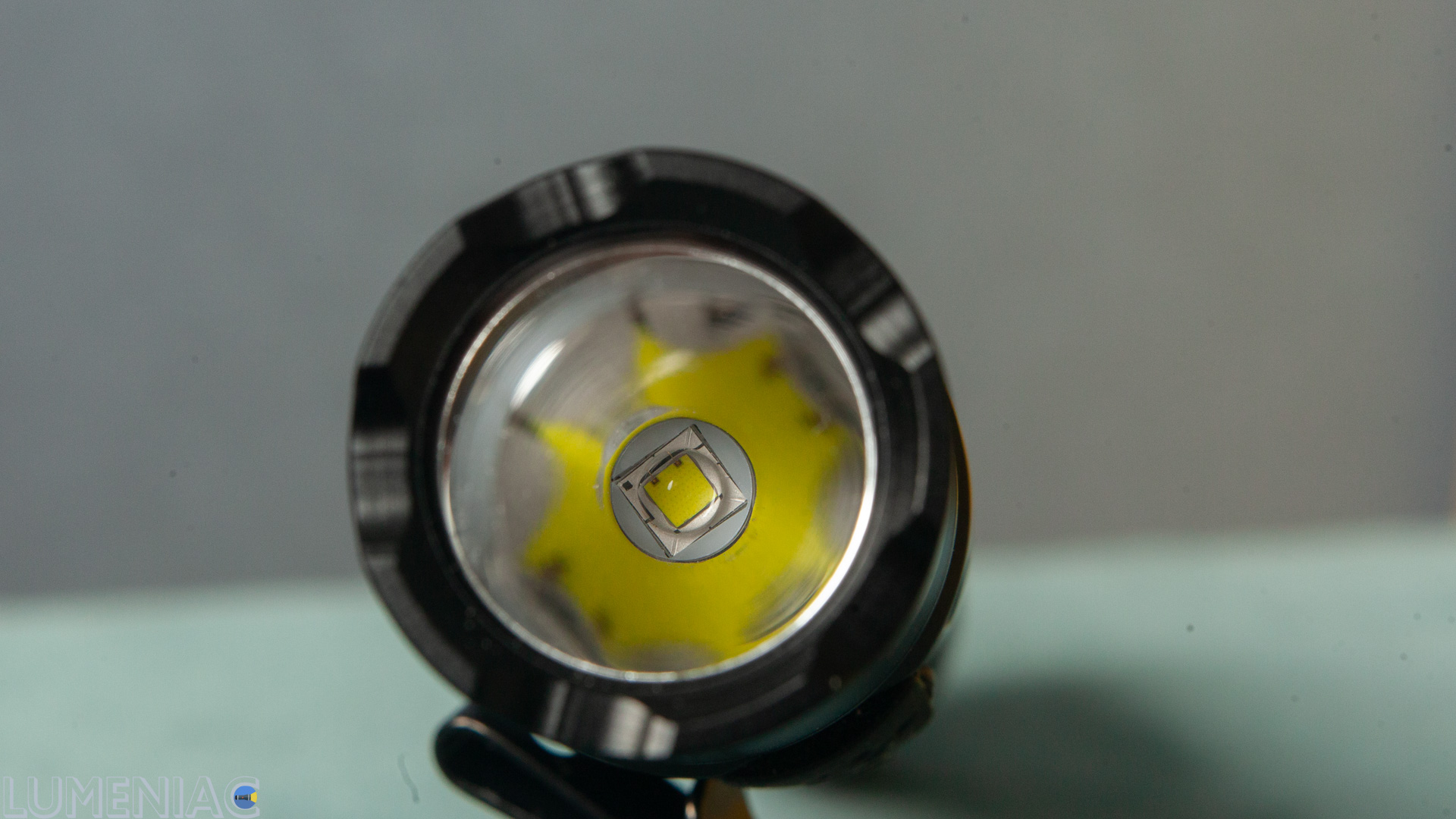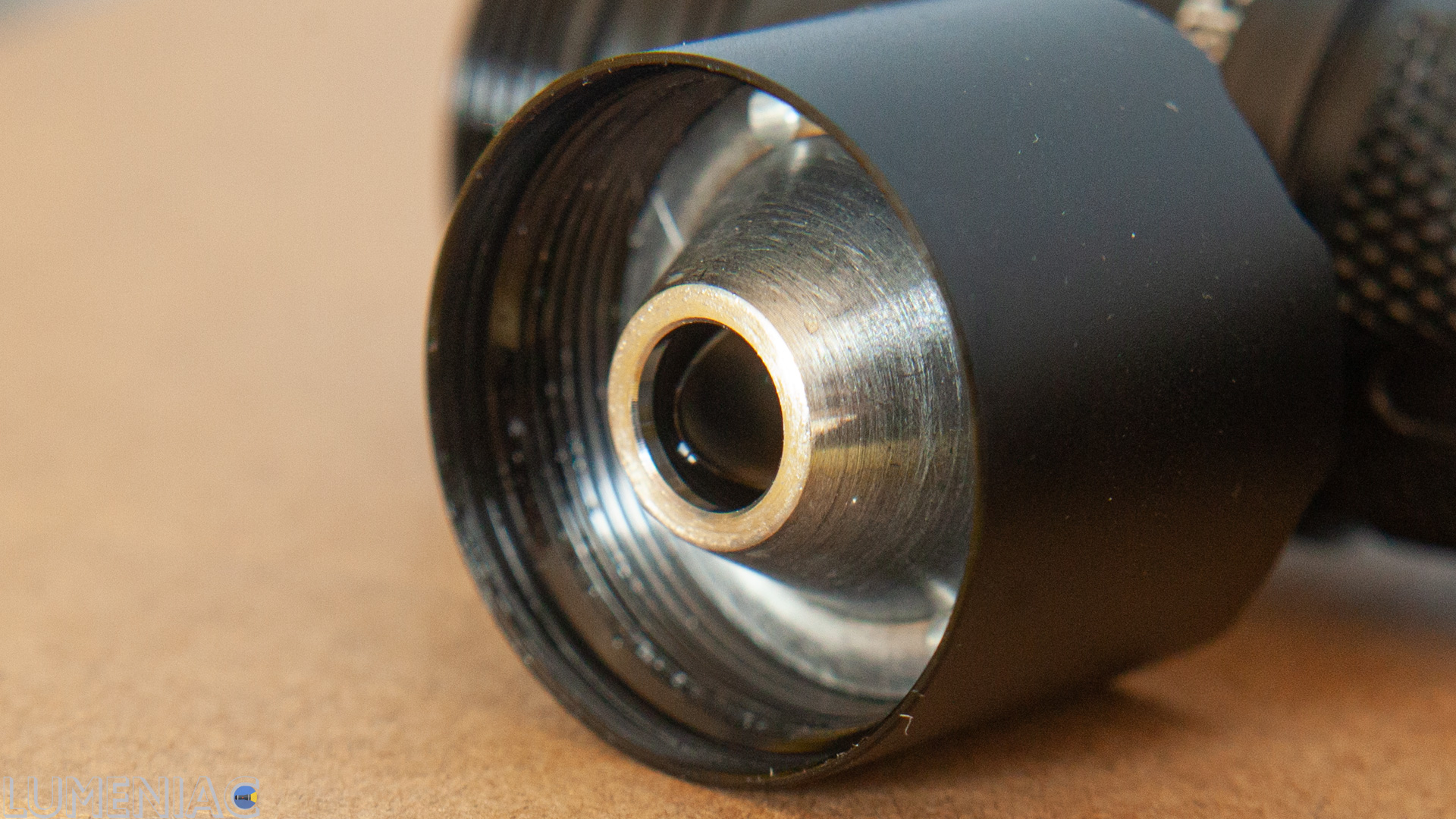 There is SST40 LED at the bottom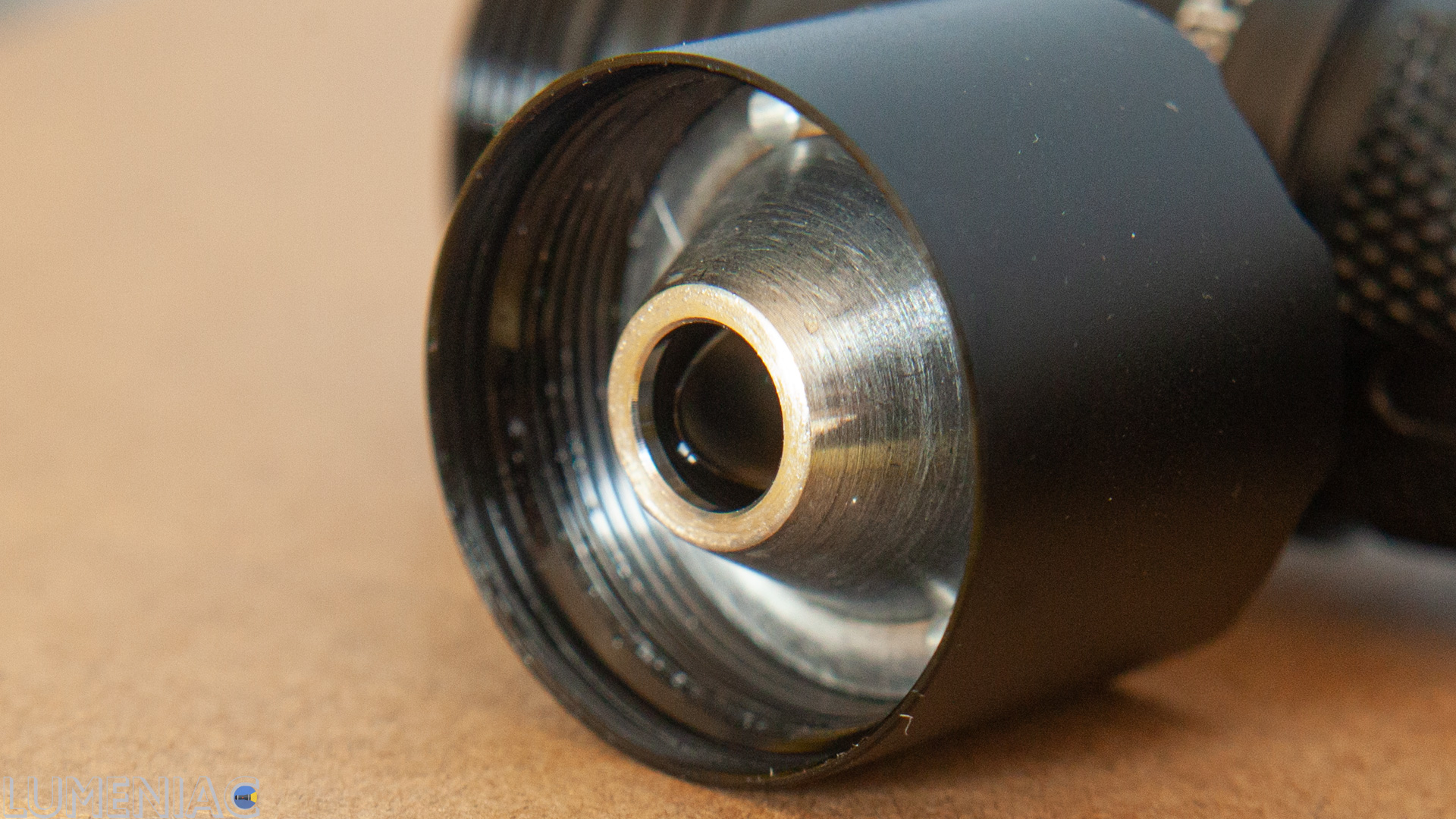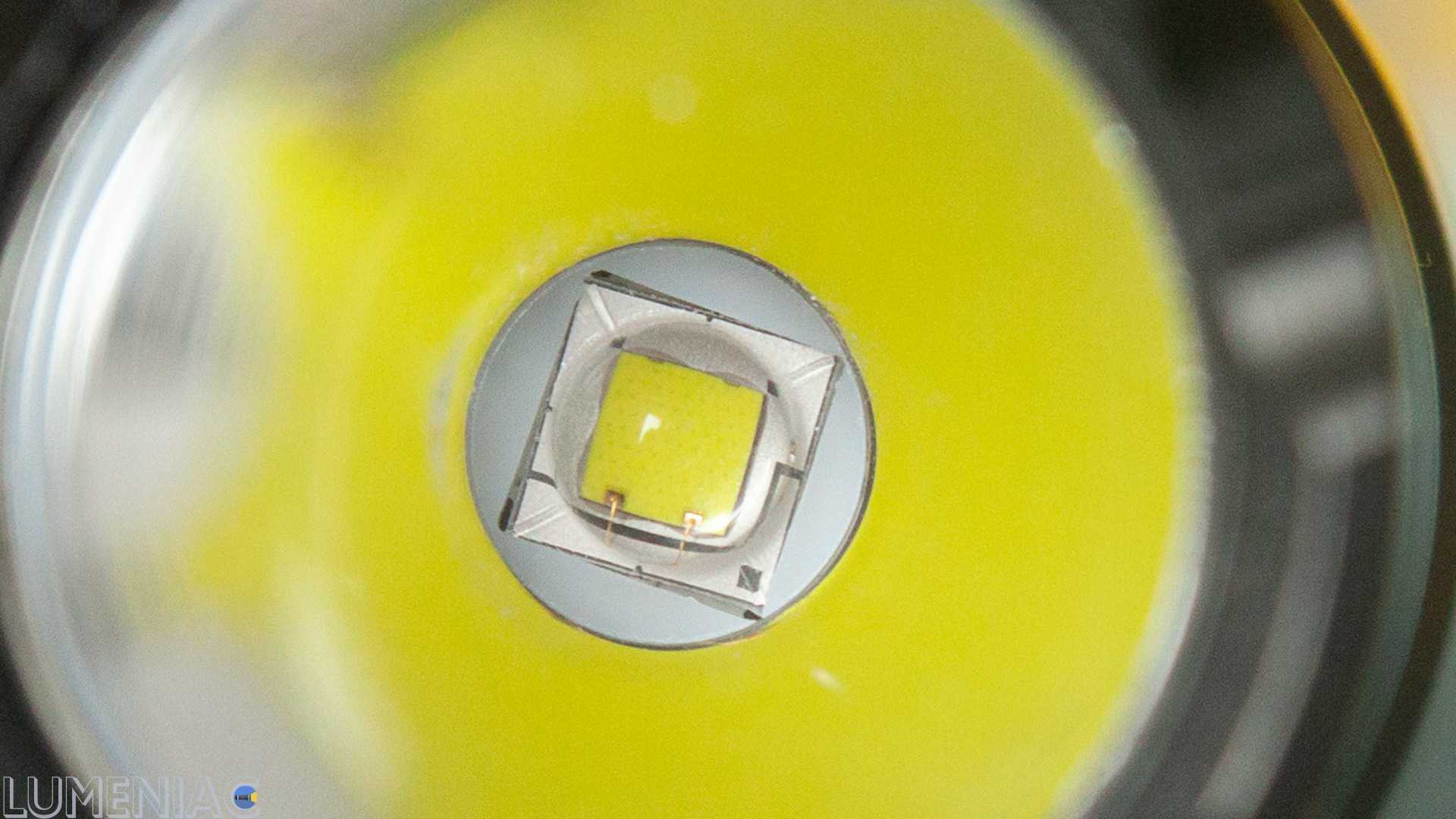 That, in fact, is all. The flashlight looks quite budget one and outwardly repeats all its predecessors from the EDC segment.
UI
That`s what i like so much.
Here, the budget flashlight stands head and shoulders above the more expensive pocket flashlights from non-budget brands.
In fact, this is the well-known Olight \ Thrunite\ Acebeam interface with the addition of a ramping mode
Group 1: stepped mode group (default)
OFF-ON on click
Rewind mode (ECO – low – medium – high) on hold
2x clicks – Turbo (2 cheeks from turbo – transition to moonlight), double click again to activate the moonlight mode.
Hold out OFF – moonlight
Group 2: Ramping Group
OFF-ON – On Click
Increase-decrease brightness on hold
2x cheeks – TURBO (2 cheeks from turbo – moonlight)
Hold out OFF – moonlight
Strobe – 3 cheeks (2 cheeks cycle through the SOS-beacon-strobe)
(times) Lock – 4 clicks from ON. By holding down the button in the locked state, moonlight is launched
Switch between mode 1 and 2 – 4 clicks from ON.
HOW SOFIRN SP35 ILLUMINATES
As said above, the decision to install a smooth reflector is frankly controversial for everyday needs, where you often need good near-range light. Now I am discussing with the manufacturer options for installing a textured reflector and / or TIR optics. To be fair, that mid-range light distribuution that Sofirn SP35 has now will be best for someony. After all, at a distance of somewhere from 10 meters, the flashlight turns out to be very convenient.
Now, color artifacts are likely to repell experienced users (or force them to change the LED to a warmer one). The light distribution shifts the convenience and practicality of this model beyond the 7-10m distance.
Visually, the light is of the around 5700K and this is from the category of "tolerable". I would definitely prefer 5000K, it would be exactly what you need.
The flashlight is about a meter away from the wall. Of course, in real use, you will use it at a different distance, and the eye definitely sees everything differently than the camera sensor does.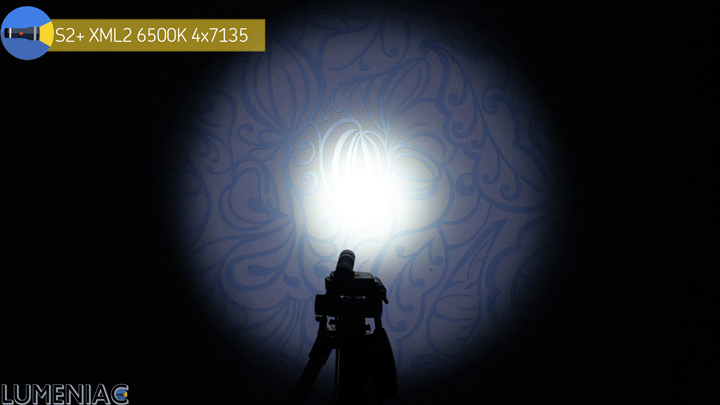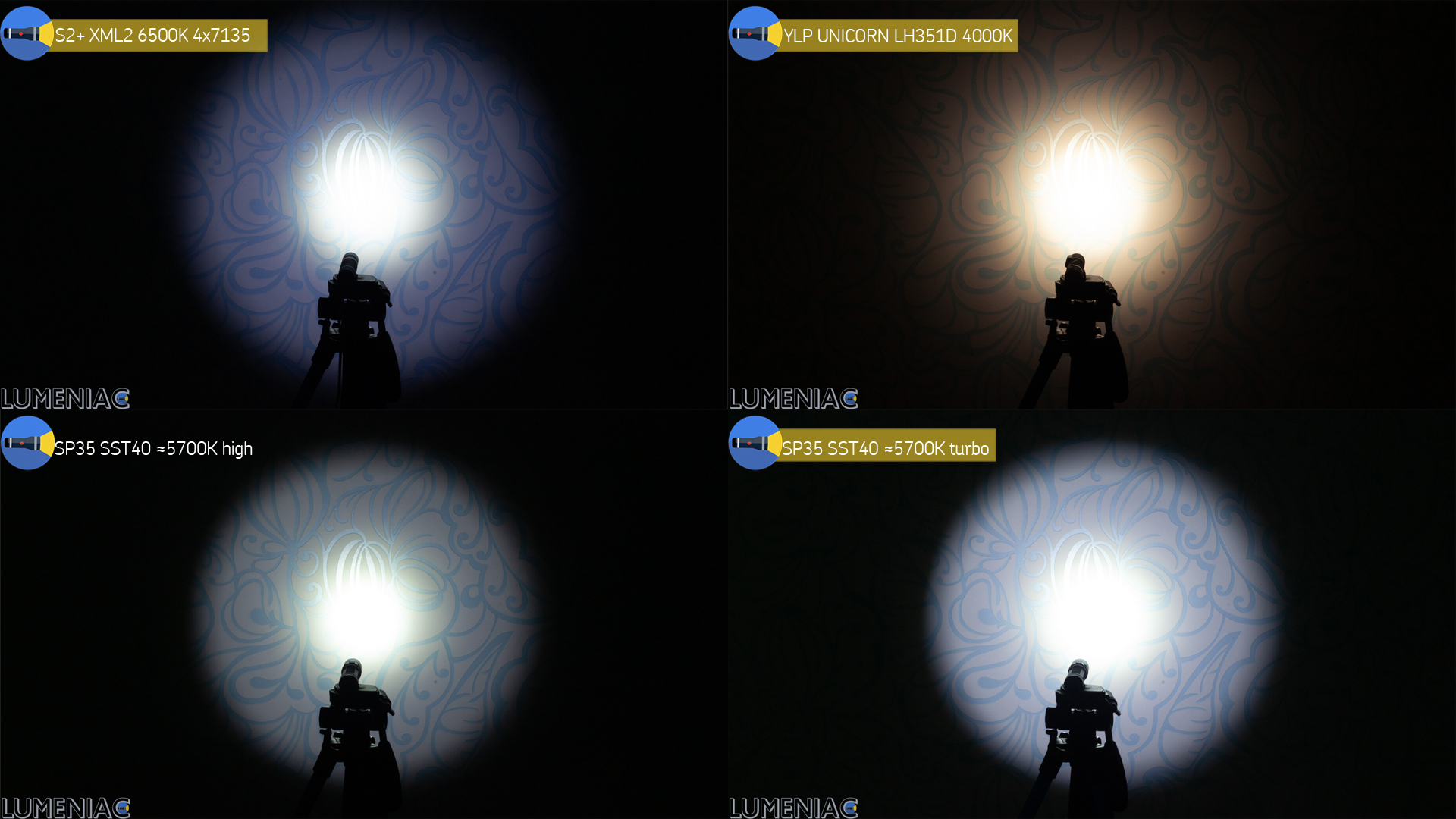 And then comes the important part.
The flashlight that I got differs in thermoregulation from what Sofirn plans to sell in the future. When I get my hands on this updated version, I'll add new graphs.
Now thermoregulation is rather nominal and is manifested only in the turbo at a drop of about 15%. High and other modes are fully stabilized.
With a reasonable approach to use, this is rather an advantage for me. And here is the reason. Yes, it takes like 1.5 mins to get the flashlight very hot and sustaining this mode is not good for the insides. But in real use, your hand acts as a thermal sensor and tells you when it`s time to steps down to lower modes from turbo. But during outdoor winter use, for example, you can generally feel free to use such a feature of constant turbo and squeeze all the possible from this mode without overheating flashlight. Once again, I repeat, this feature becomes an advantage when you understand the consequences of abusing it. Hands, however, will not allow the user do it. And the lock mode will prevent accidental activation.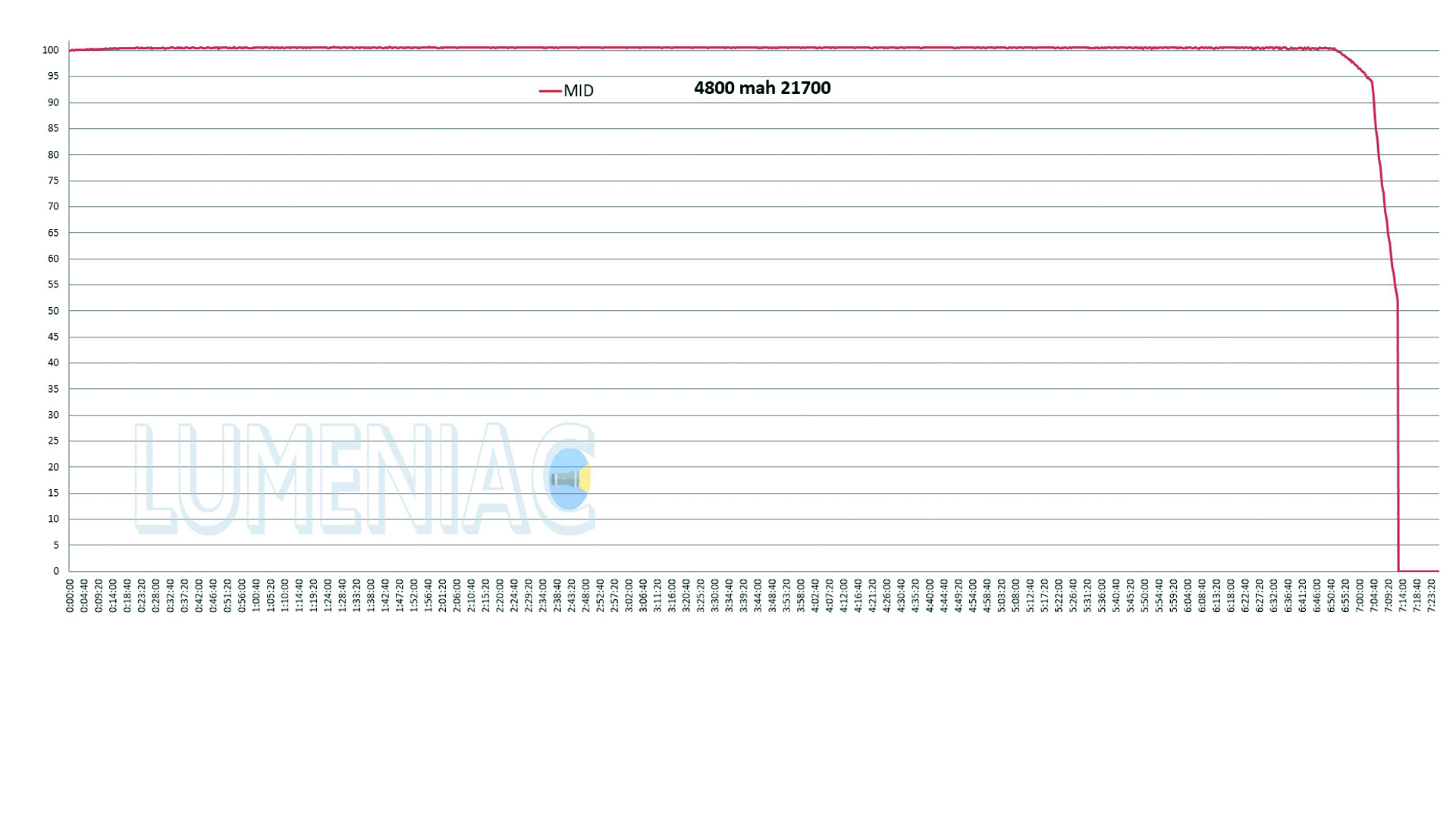 UPD
here are charts of new version with ATR.
Though i dont like this zigzag , that`s ok for me as long as Sofirn SP35 can sustain high mode when there is some cooling ( normally, any outdoor use)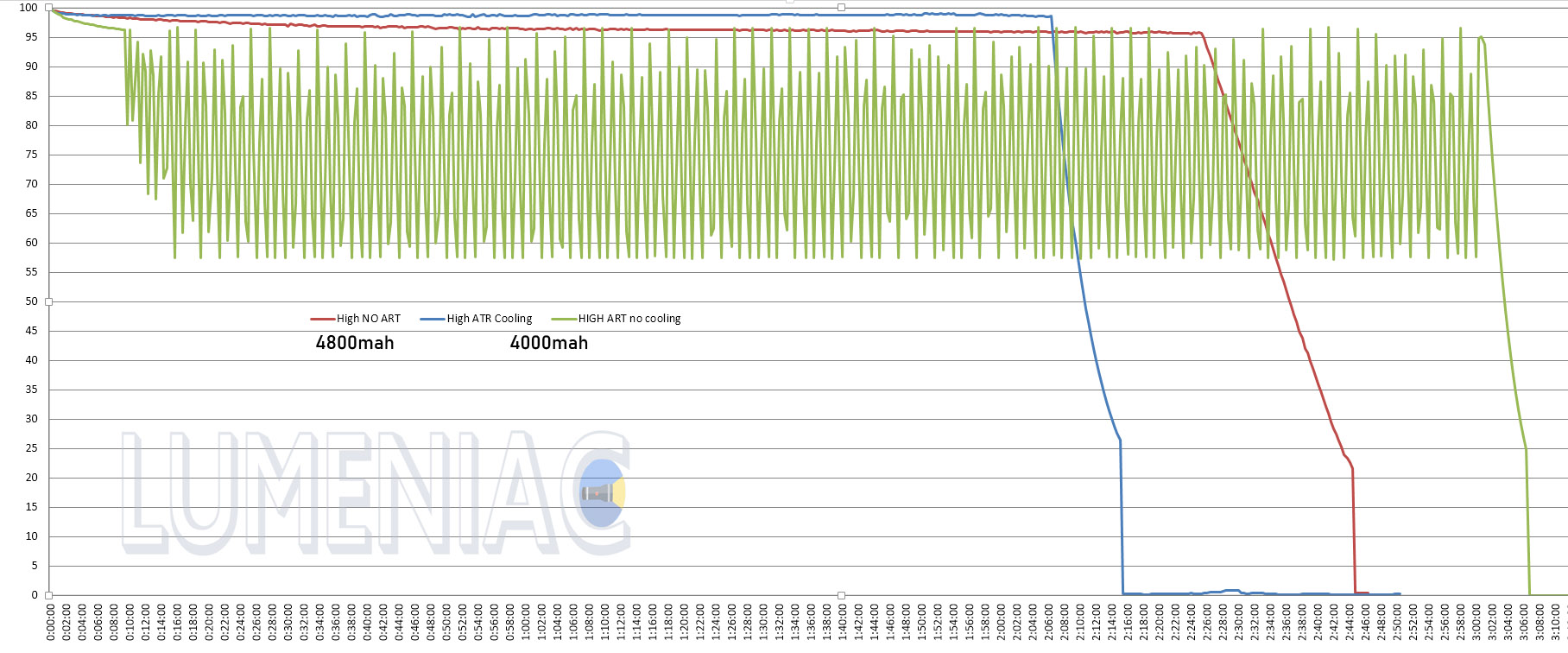 turbo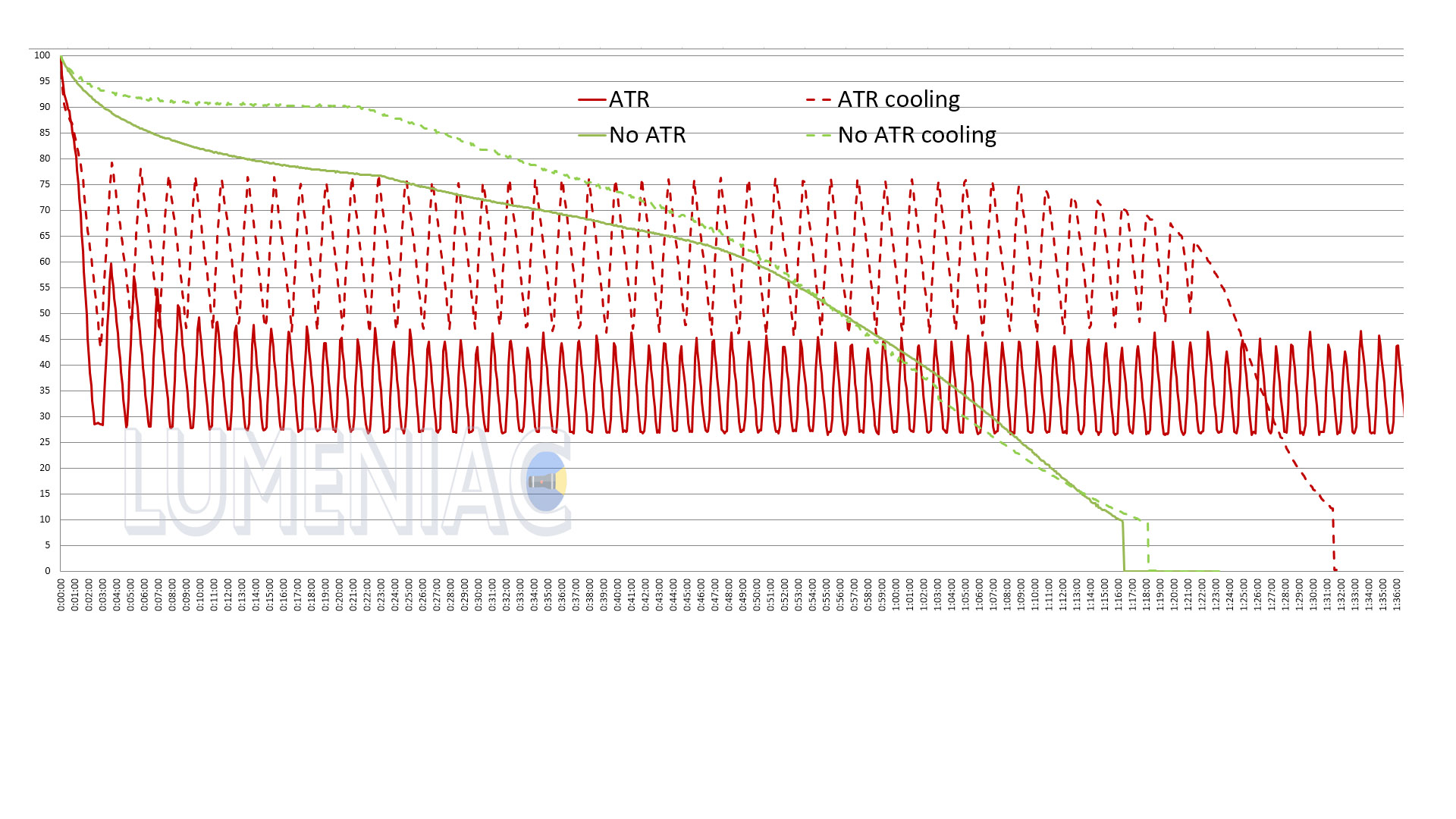 i`ll add more outdoor shots when weather gets better.
and here sofirn SP35 (21700 version), to illustrate how Sofirn SP35 21700 works
OVERALL IMPRESSION
With Sofirn model that came to my review, manufacturered stopped one step away from making a very good flashlight, just exceptionally good in terms of price and functionality. I suppose that the original idea was to make a modern (SST40, type-C, 21700) pocket flashlight for everyday needs. But these needs often imply work within a radius of about 10m. In fact – illuminate a shelf or path under your feet. And the diffused light is definitely more important than high brightness for such tasks.
As for Sofirn SP35 217000, it turns out differently. The smooth reflector installed here gives you a truly comfortable light only outside this everyday distance. The flashlight will show it`s best within the range of somewhere 10-100 meters. So, in fact, Sofirn SP35 turns out to be a mid-range flashlight. In fairness, it is, of course, foolish to consider the flashlight's disadvantage that it works well at one distance and worse at another.
And personally, I really like medium-range flashlights because they allow you to work both close (albeit with less convenience, but allow), and yet give some throw. If you are walking with a dog, or you need a flashlight to shine both under your feet and in the surrounding bushes – this is just about the mid-tange model. Well, or super-bright flooders. In the dense urban development, this may be excessive, but ability to work at 100m as good as at 10mm is really good for countryside.
The question here is that I would definitely like to see 5000K and I do my best to convince the manufacturer of the logic of this step. This would make the light more pleasing to the eye, remove the qiestion of color artifacts and expand the audience to those advanced users who do not mind going into the budget segment. After all, the rest of features are unbelievably good.
Lets count`em:
The UI in Sofirn SP35 are way better that lots of other flashight have: with all shortcuts, lock mode, with ramping and stepped modes.
A capacious 21700 battery allows you to reach 7 (!) hours in the most used mode of 400 lumens. You will have a real chandelier for the whole night with a diffuser, .
Fast 1.5 Type-C charging that will charge the capacious 4800mah battery in less then 3 hours!
Brightness stabilization.
The maximum brightness is 2000lums (well, I cannot check it, so it may be like 200 lumens less, that is still a lot).
Yeah, the turbo stands alone here. And that may cuts deal for some people as well as be huge advantage for other potential buuyers. So, you have super runtime and brightness in case of emergence. With no stepdown from turbo the convenience of the grip will be the only limitation. In winter, in the open air the flashlight will reveal it`s best in this mode. The main thing, I repeat, is to approach this feature sensibly understanding all its pros and cons. Again, when the usual thermal stepdown appears, everything will return to its usual form.
*Price! *30 bucks for full package is an extremely interesting price tag. And if you are satisfied with the current color temperature and light distribution, and a prolonged turbo is an advantage for you, then I can safely recommend it.
In terms of color temperature, optics and thermoregulation in the turbo, I intensively communicate with the manufacturer. Sofirn SP35 will be updated, and i`ll add extra outdoor pics when snow melts and i can get to my countryhouse.
Sofirn SP35 is a very promising model, which i believe to be a real bestseller with change of LED tint and smooth reflector to textured one (or, choice of them which is even better). But even as it is I consider it to be really good deal for price, especially if you look for mid-range flashlight and can spend some time on changing LED to 5000k one.