disclaimer! this is the preliminary review. i`ll add more outdoor pics when snow finally melt. I planned to post this review several weeks ago, but weather here doesnt let me. So post what i`ve already got and keep on adding photos.
Suppose that lot of BLFer were curious what to expect from the freshest Astrolux model: moderately compact, extremely bright, with type-C charging, a capacious 26650 battery and ultra-flexible Anduril UI.
Astrolux FT0S (as lots of other Astrolux models) can also be found as Mateminco TK04. Just because Mateminco produce this model originally.
Buy Astrolux FT02S at:
BANGGOOD there is discount code BGSYT20 20% off (Same for 2 models)
ALIEXPRESS
As flashlight consumes a lot of energy, i recommend to skip Littokala 26650 this time and pick BASEN or another really high drain model.
PACKAGE AND APPEARANCE
Cardboard box with brand logo and sticker with model name. Very weak gift potential, but packed securely.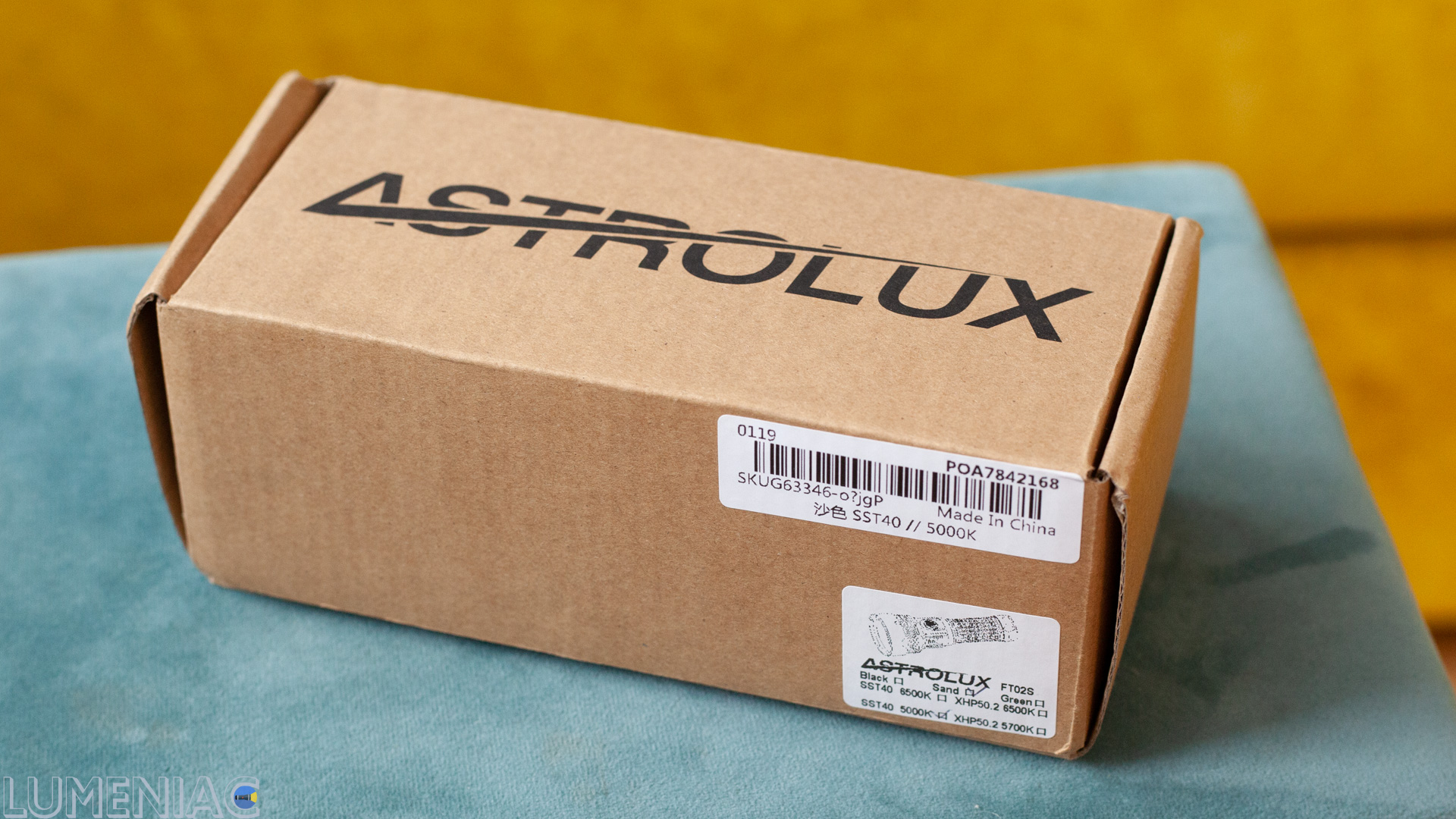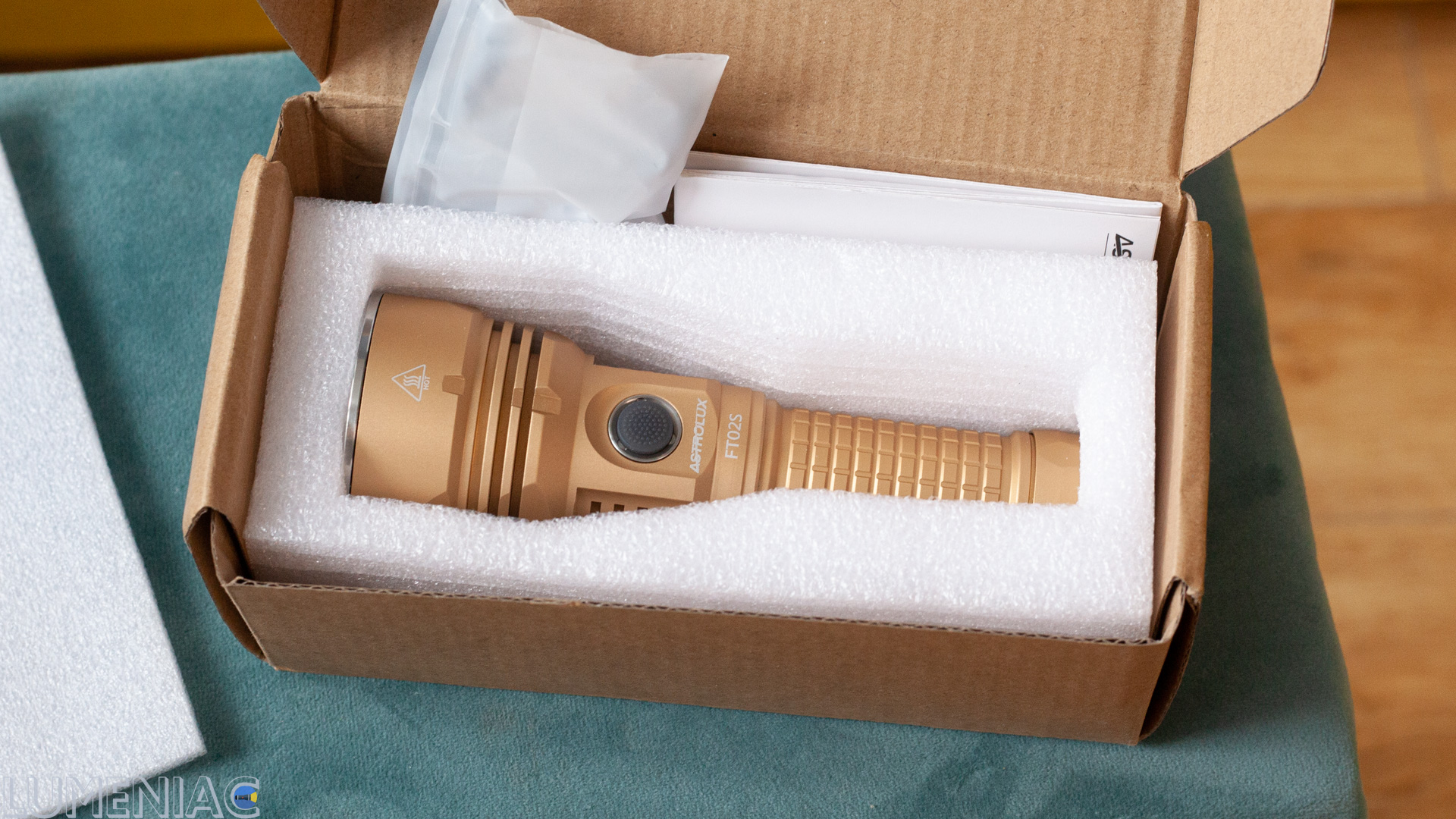 The kit includes the flashlight itself, an adapter for 21700 \ 18650, a manual, O-rings. Well, and a lanyard, of course.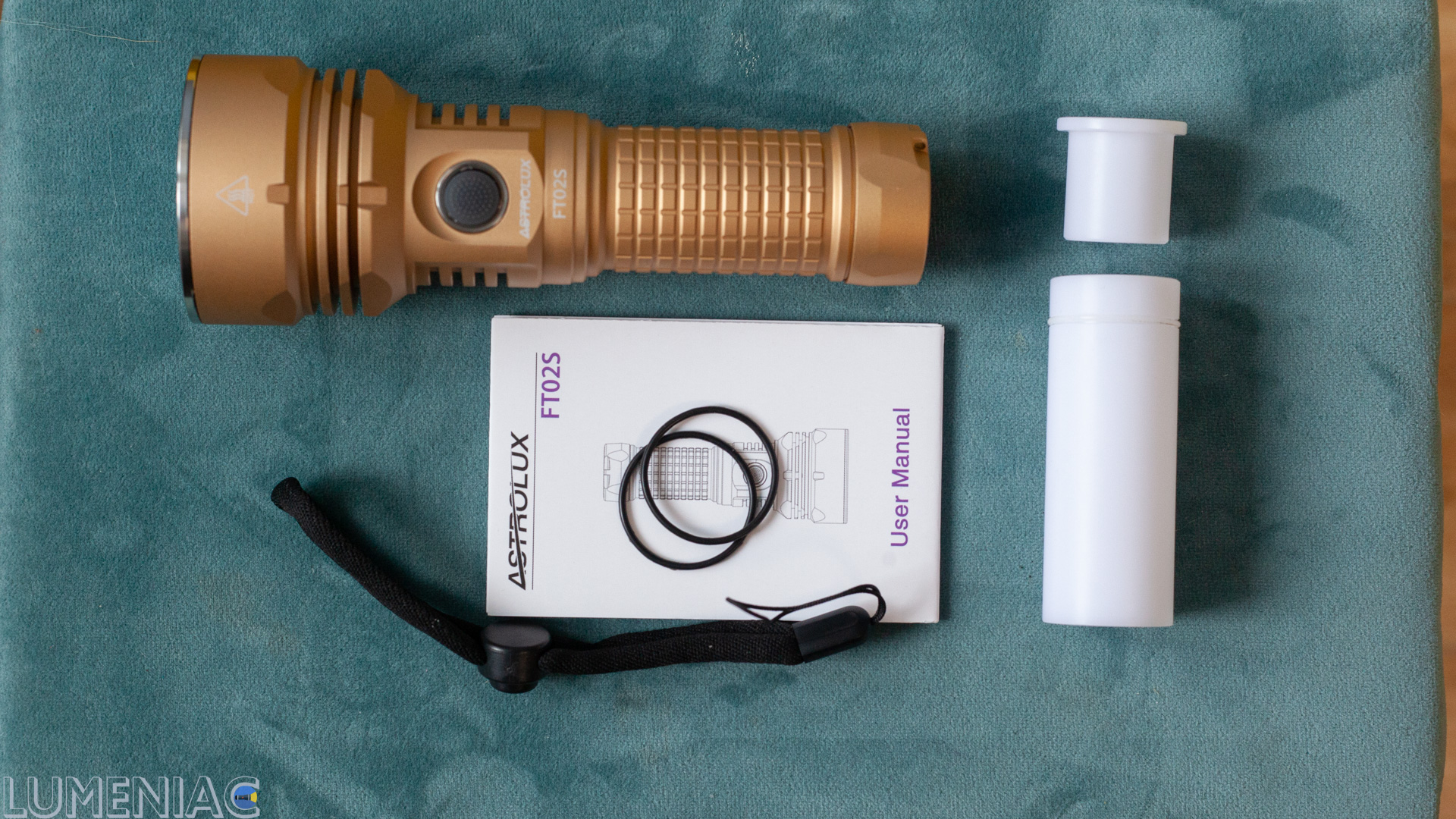 The flashlight is, no surpise way larger EDC size. 147mm length and 55mm head diameter – you can carry this flashlight in a jacket pocket, but not in shorts or jeans. But it cannot be called cumbersome either, it is only slightly larger than the same C8 +.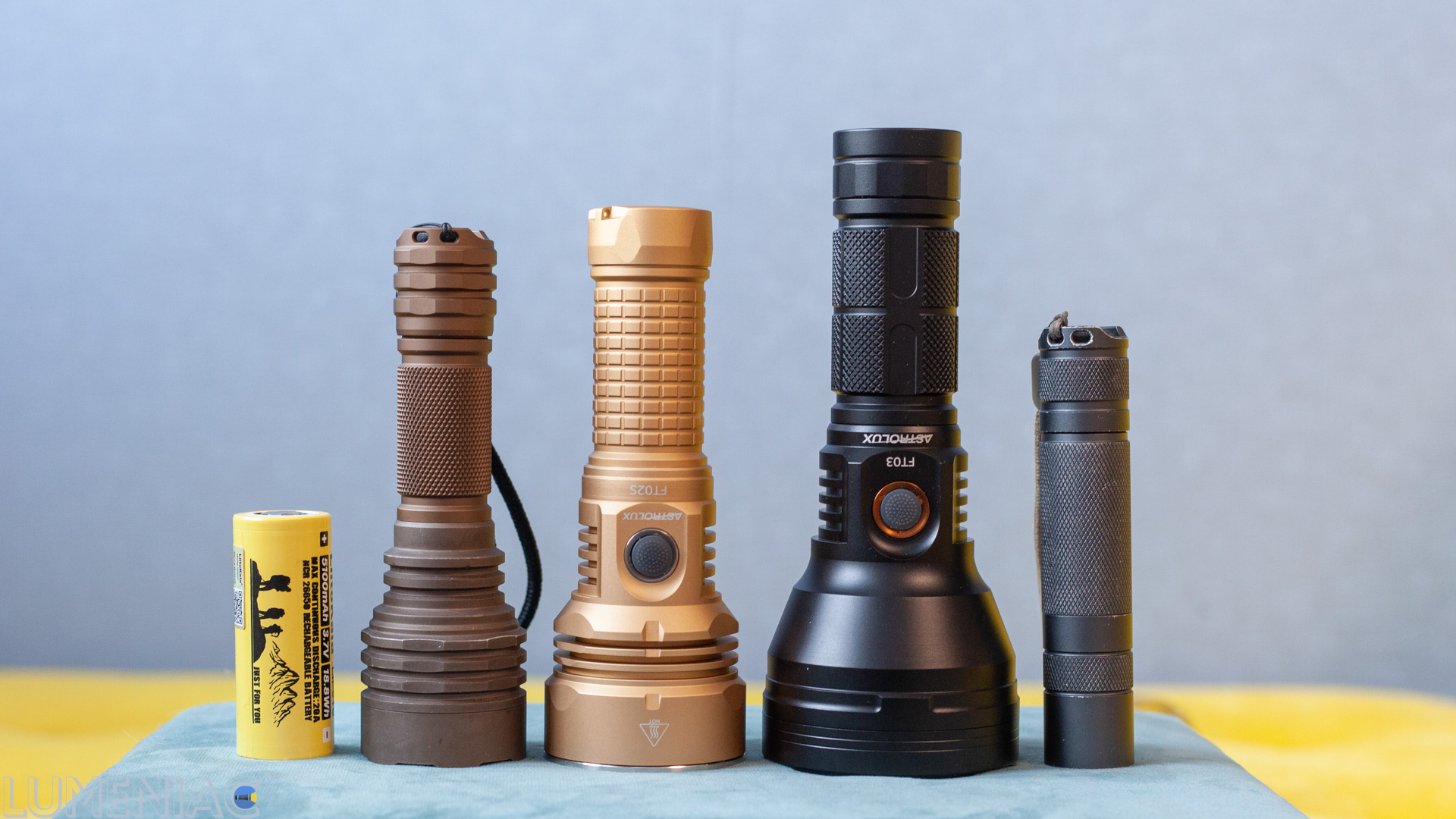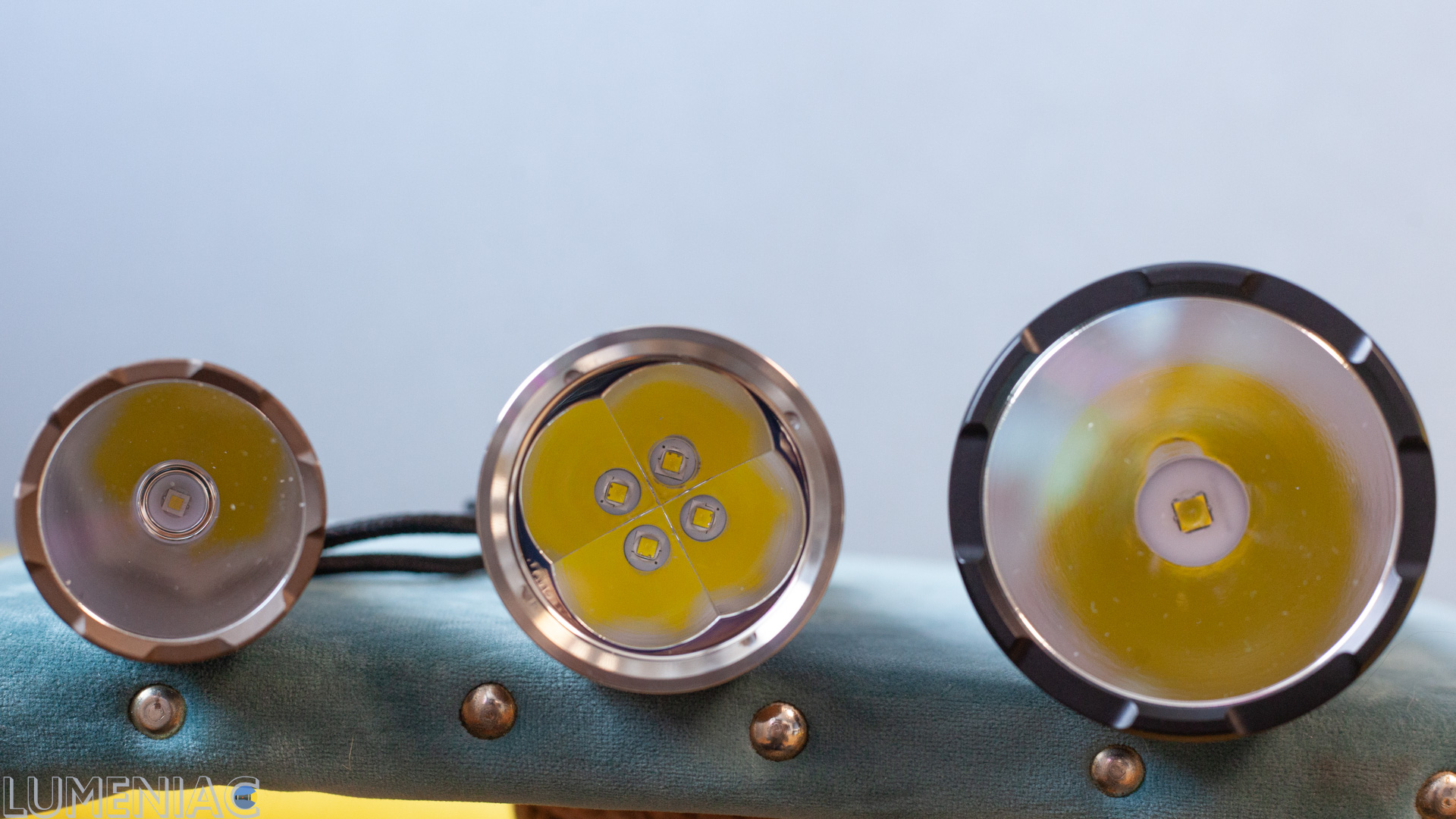 There are several color options for the case, I got a kind of "khaki-sand".
The design is quite pleasant. It is neither agressive nor sweeeet one, nor primitive. Just a good simple design.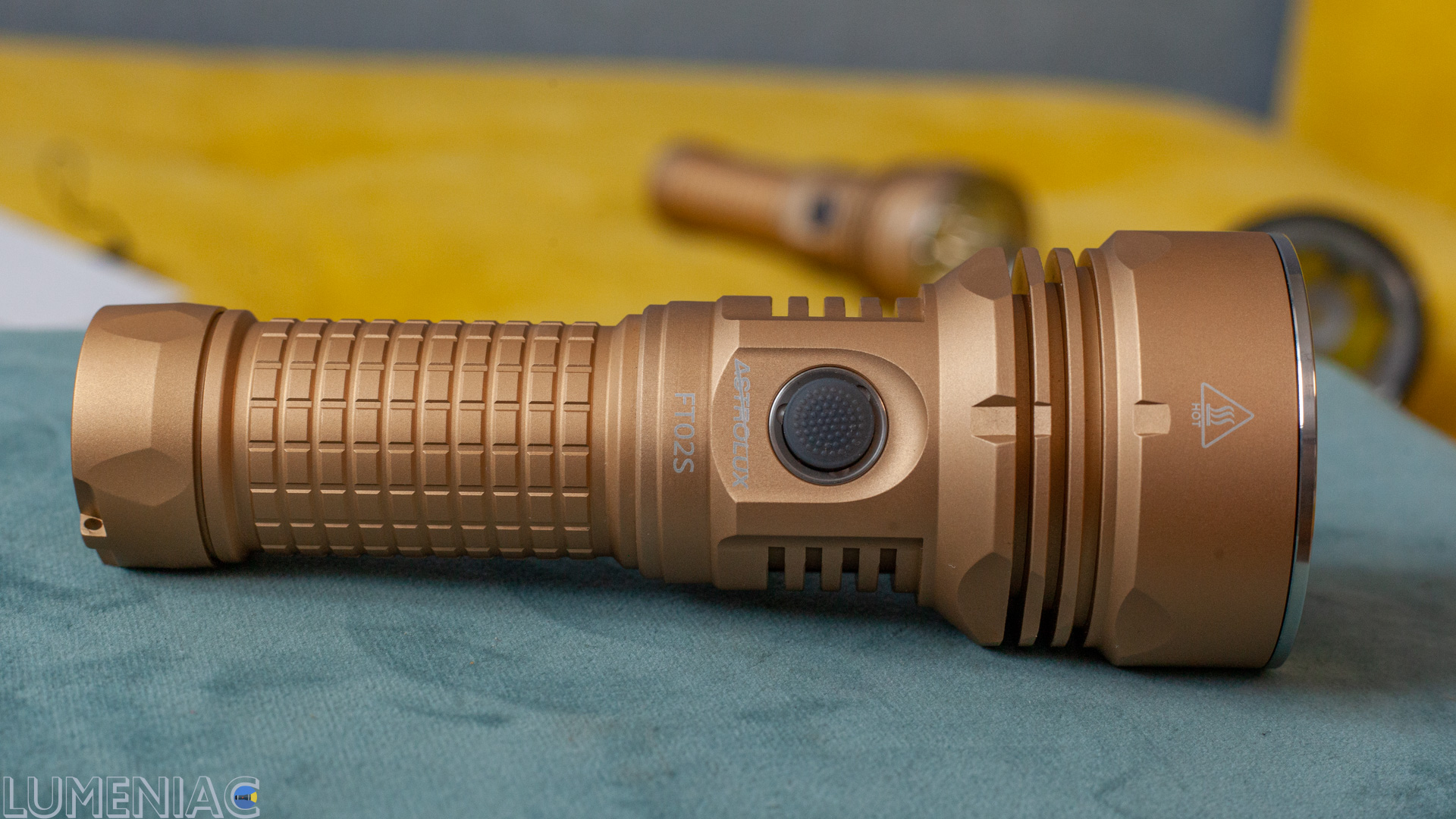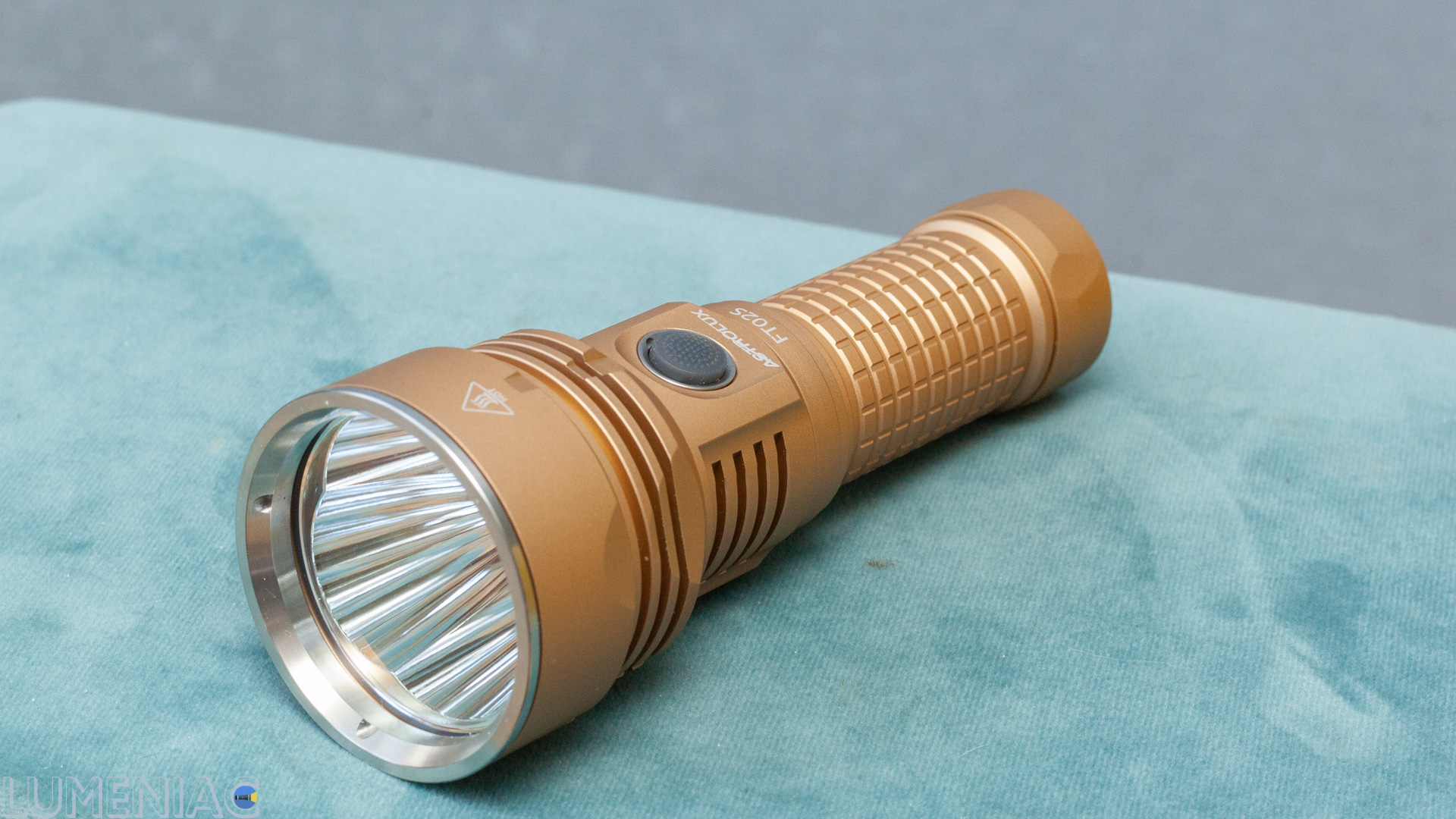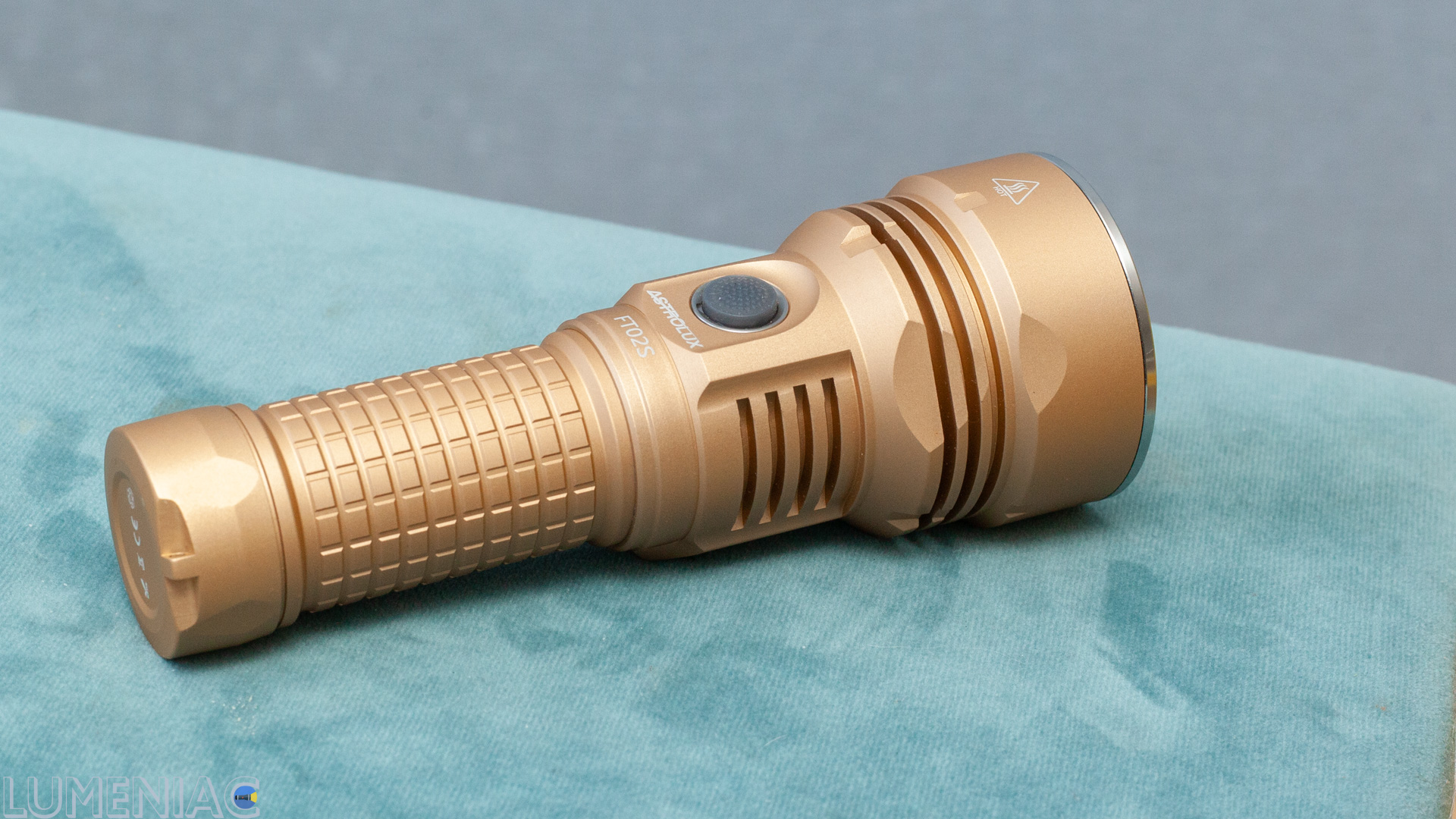 As usual, the flashlight can be disassembled into 3 parts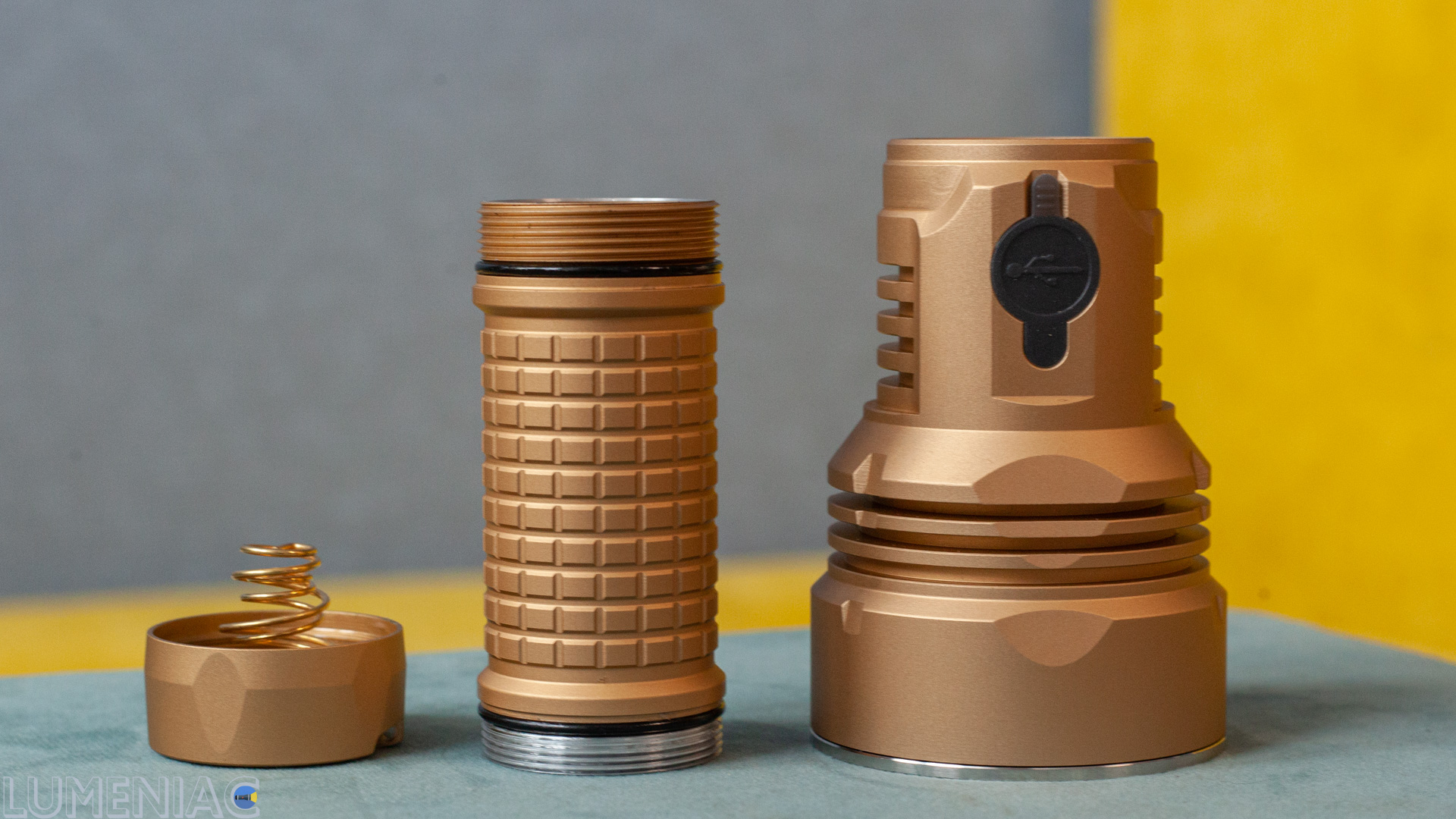 The thread is well lubricated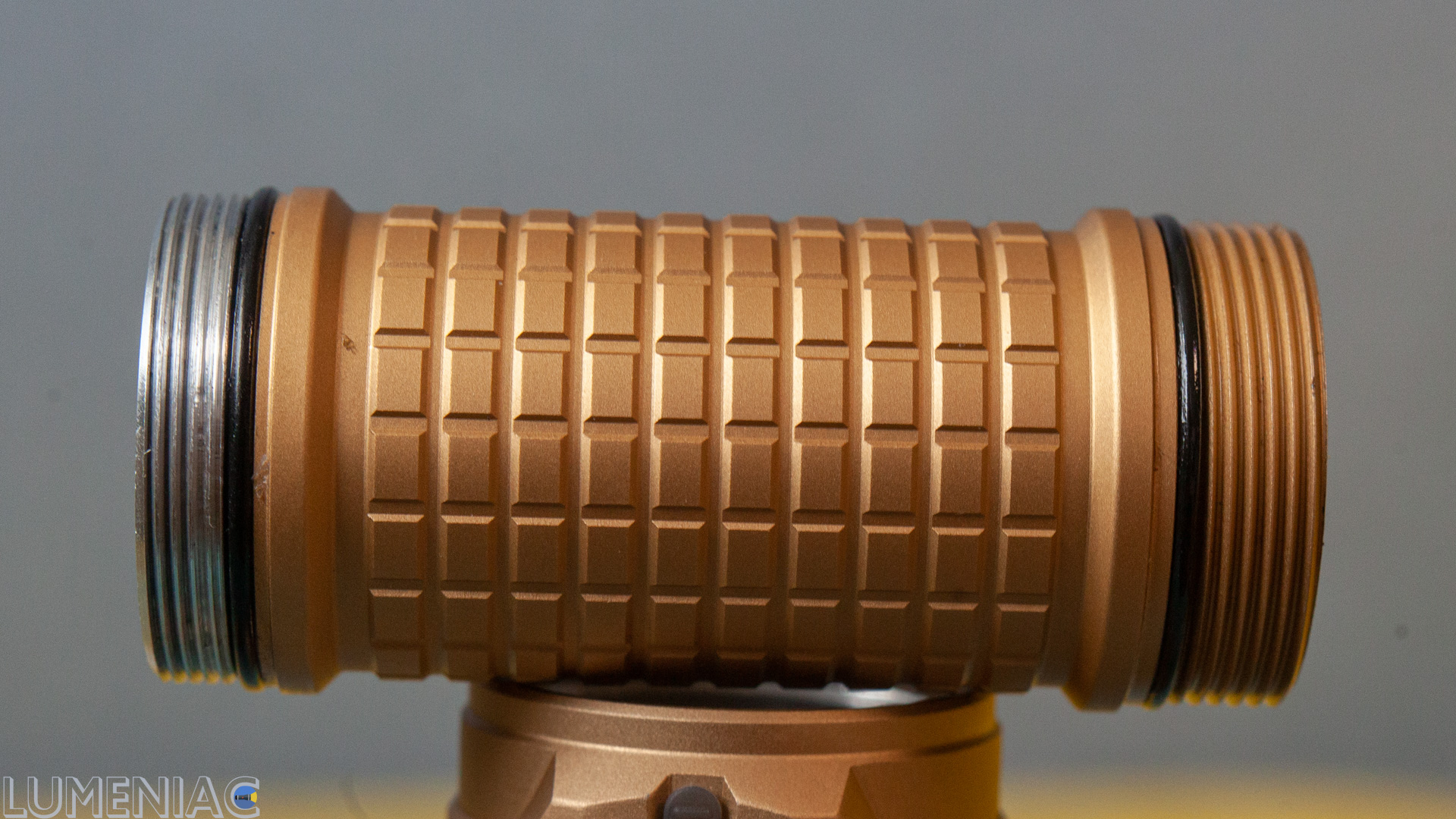 The tail-capis wide, if necessary, the flashlight has firm tail-stand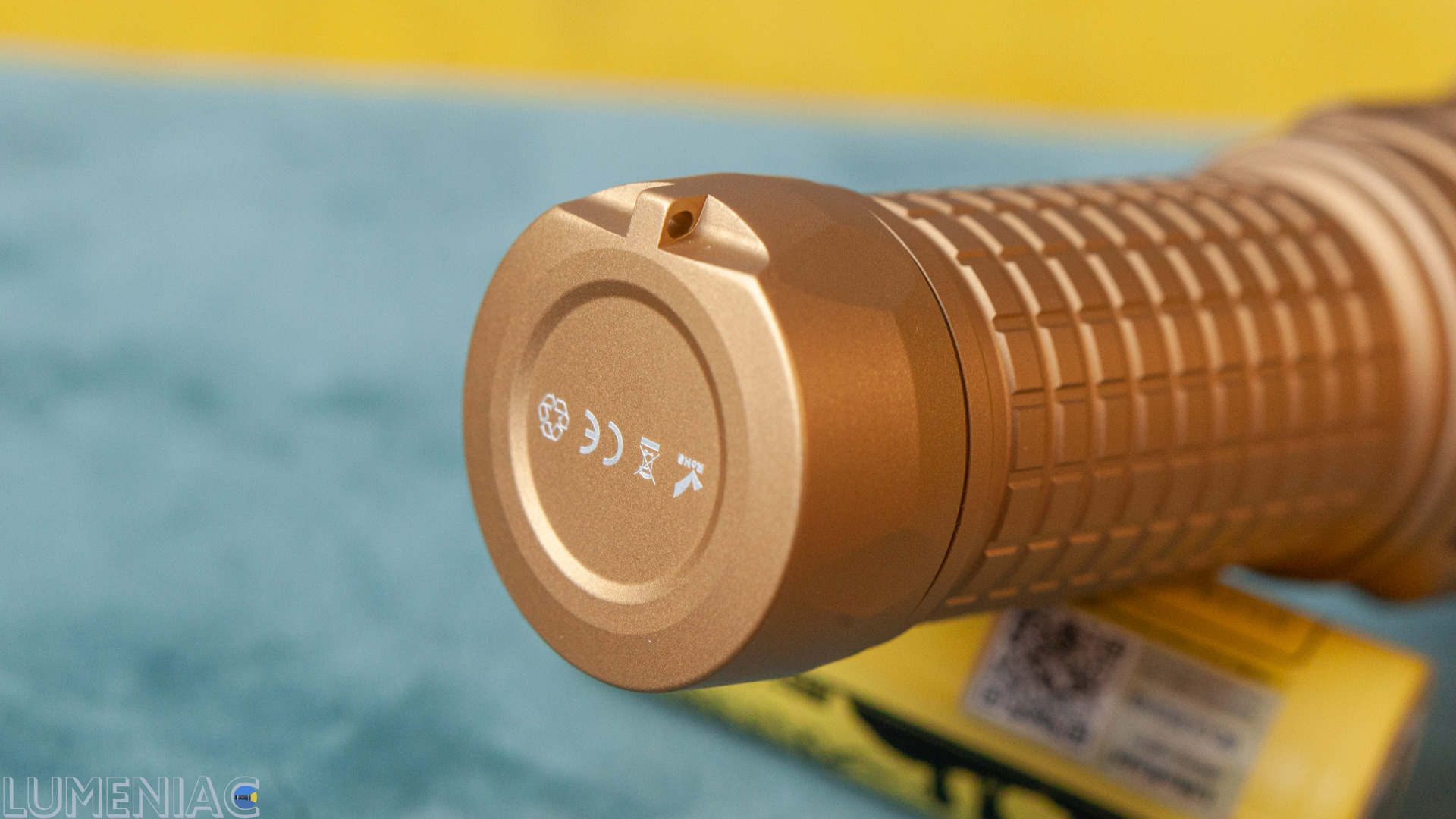 The spring is thick, which is good, and double, which is generally great from the point of view of current consumption in turbo mode.

There is no spring on the side of the head, there is a slightly protruding wide contact pad

Knurling is the simplest possible. But it is extremely embossed and tenacious.

The head is only slightly larger than that of the usual compact long-range, the same C8G . So, in general, the flashlight is quite pocket one. The main thing is to understand what kind of pocket we are talking about. -)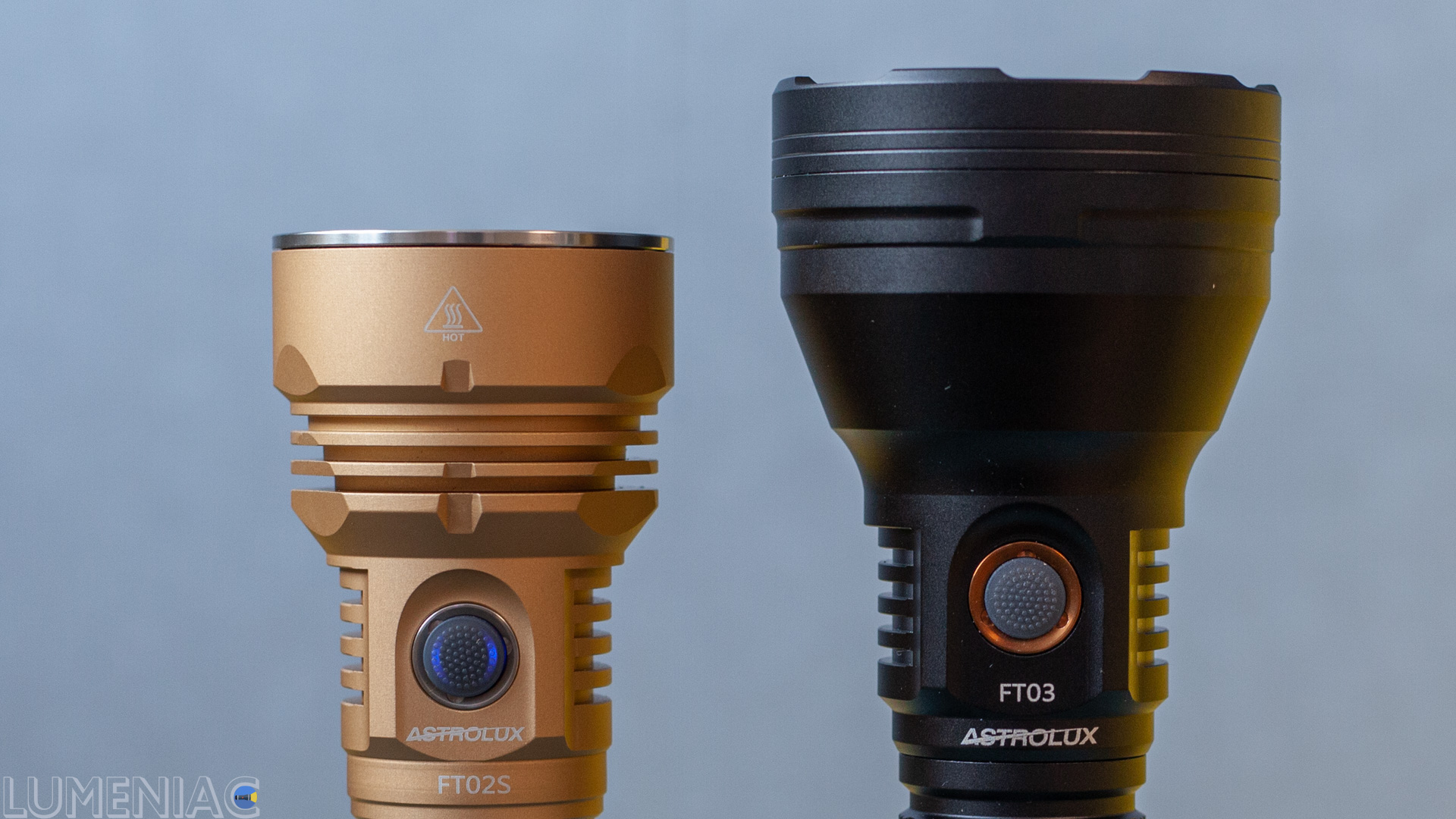 I am very impressed by the ergonomics of the flashlight: the thumb instantly lies on the button itself, and the index finger on a flat platform with a charging port. Frankly speaking, the flashlight is extremely comfortable in terms of grip. You will not have to either climb your fingers on the cooling fins, which could be with a shorter case (this is how Nitecore screwed up with TM9K), and waste time looking for a button. The latter, by the way, has switchable backlighting, so the search question is actually simplified. The idea of ​​placing the button in such a depression turned out to be extremely practical.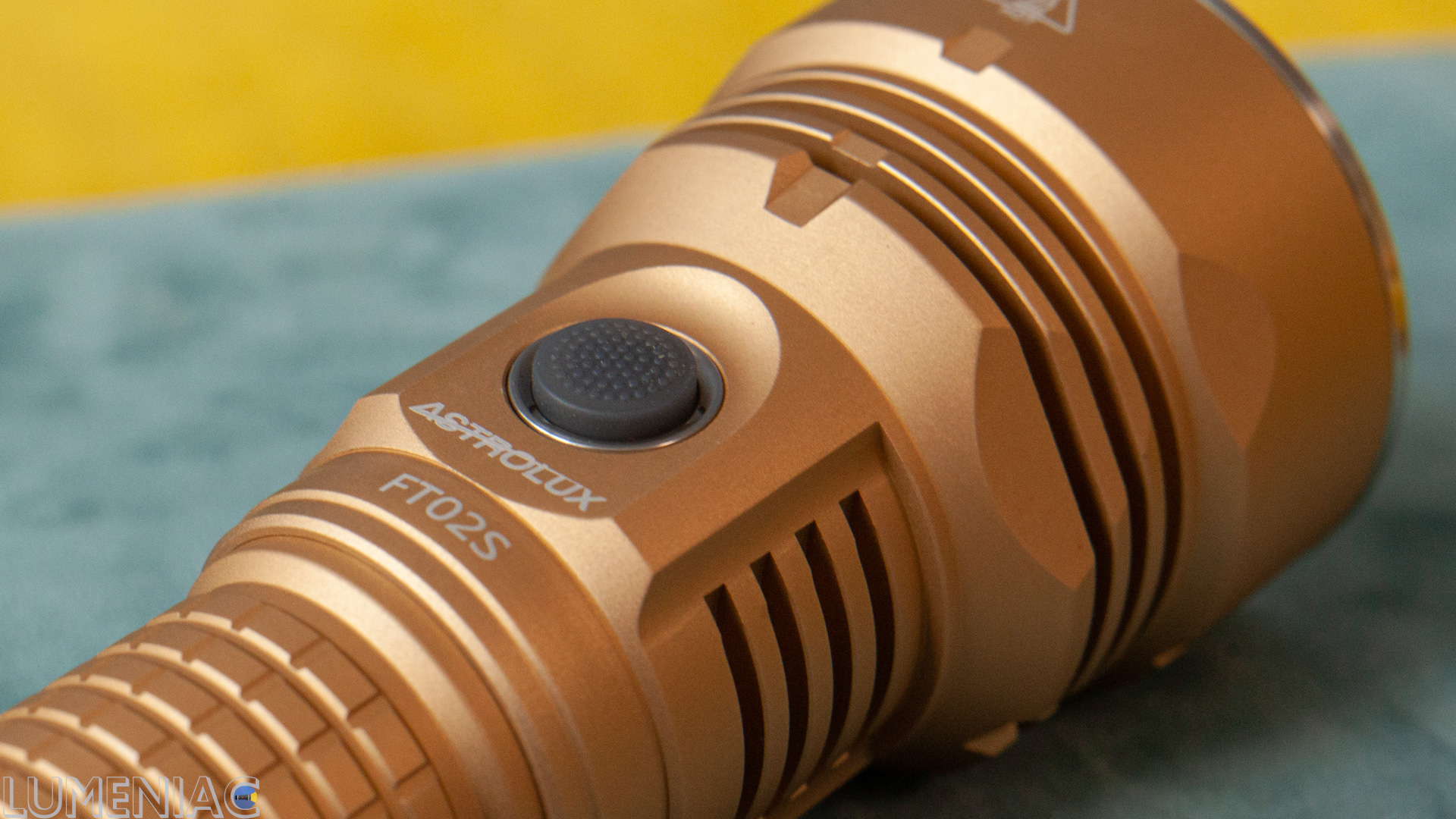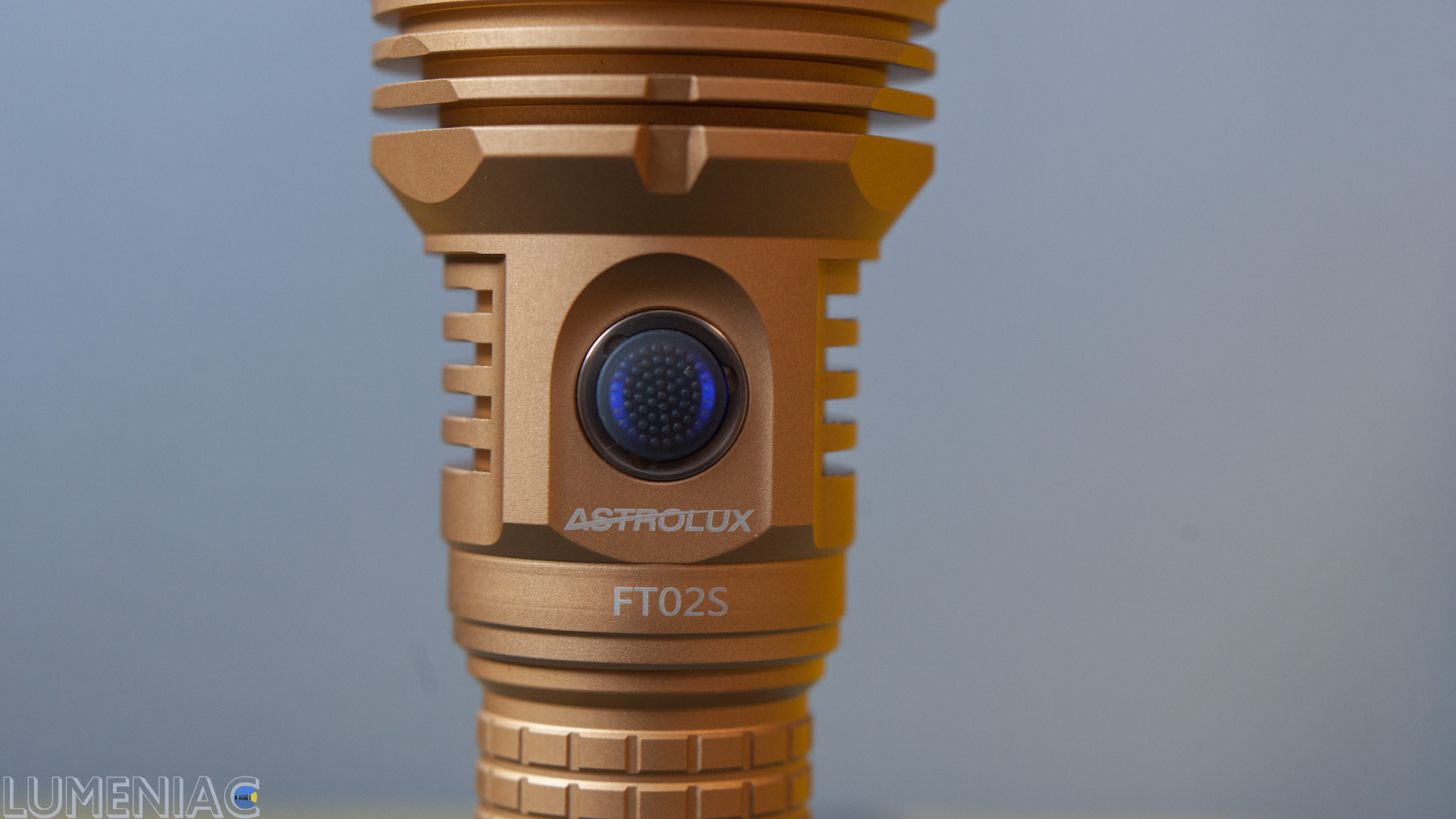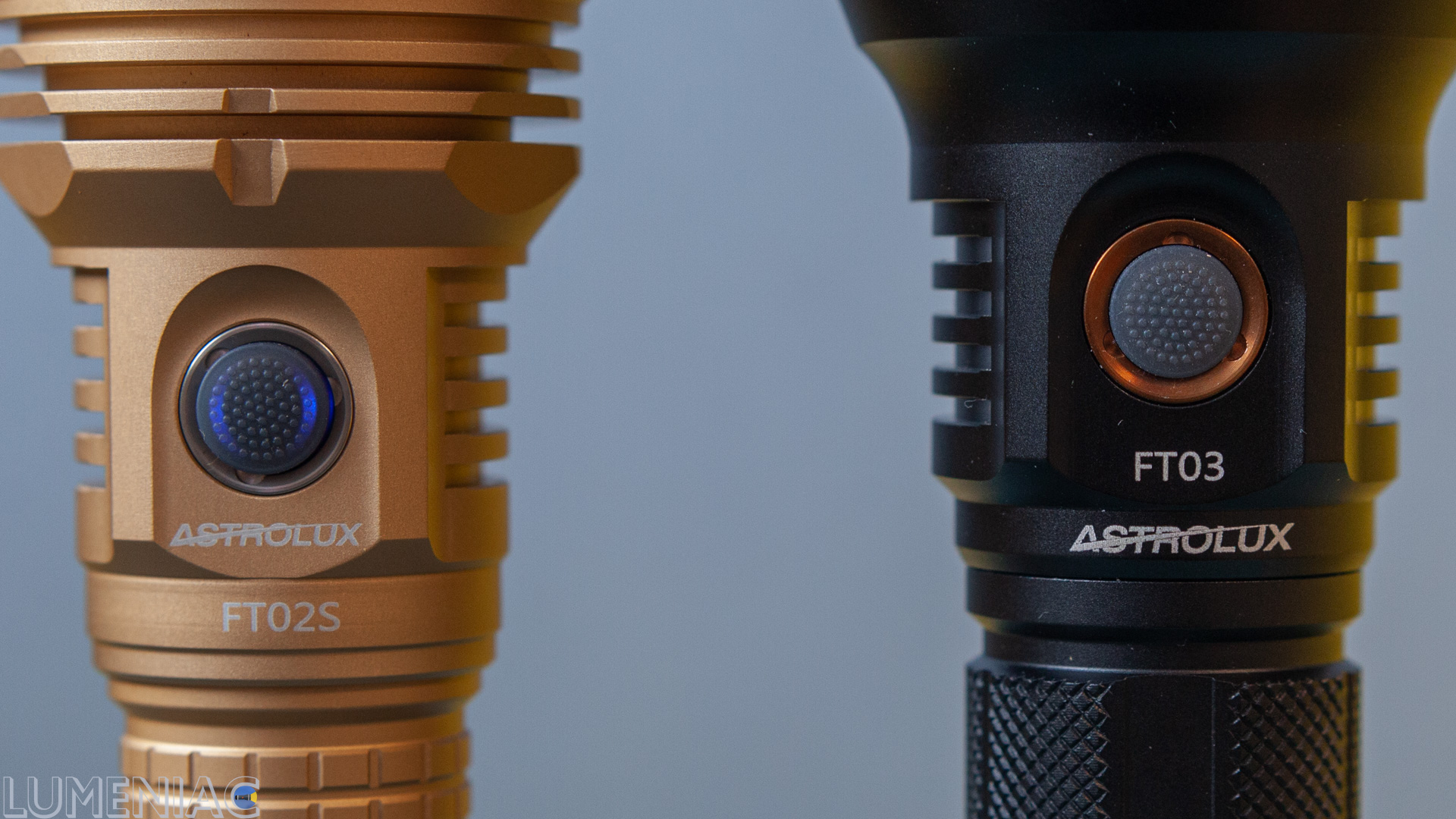 The charging port cover is very thick. Closes tightly, opens easily. Do not be afraid of accidental switching on, everything is fine here. The charging current is decent, the flashlight charges quickly.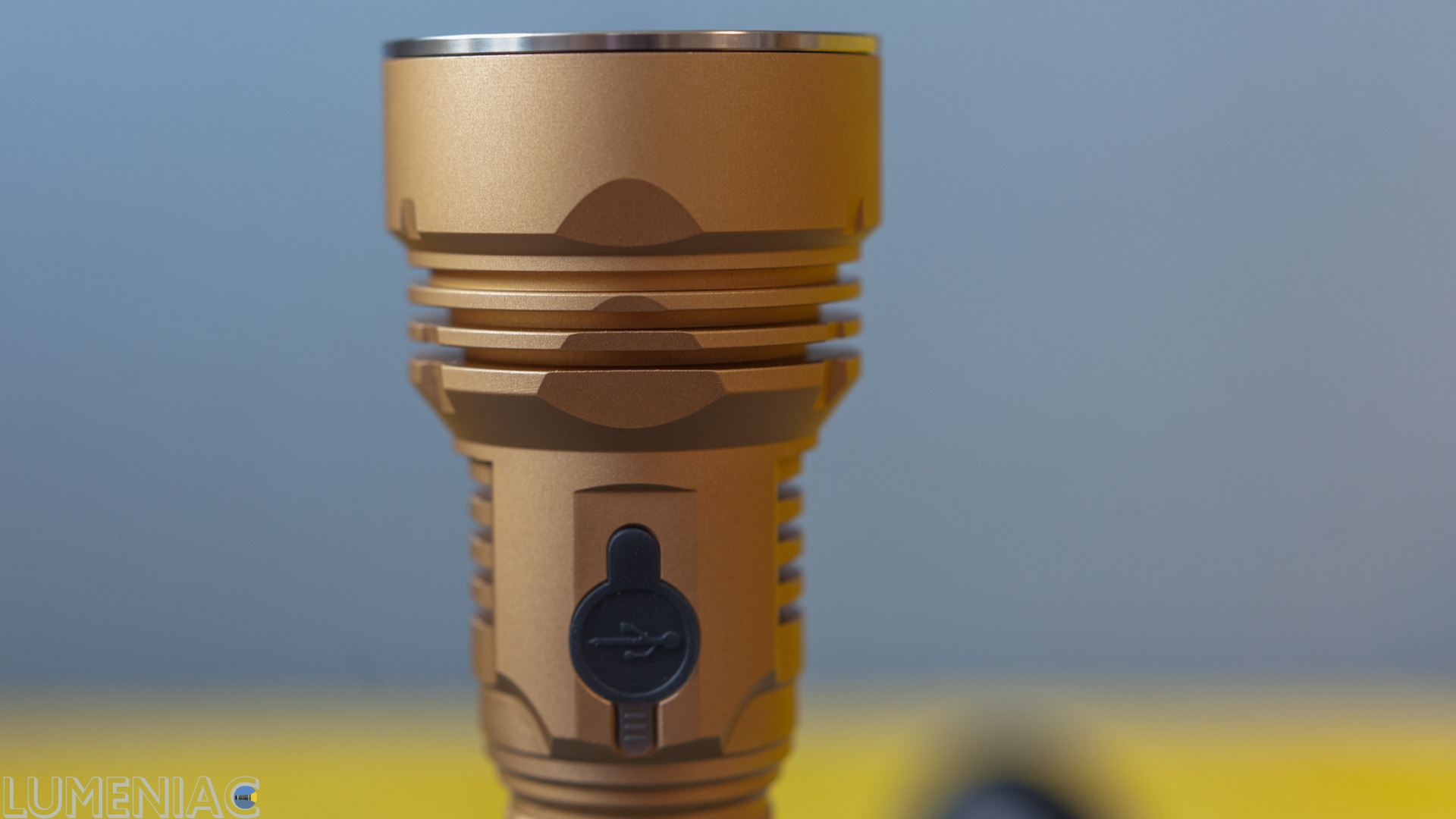 Deep cooling fins are cut wherever possible. However, one should not expect any significant effect from them at higher brightness.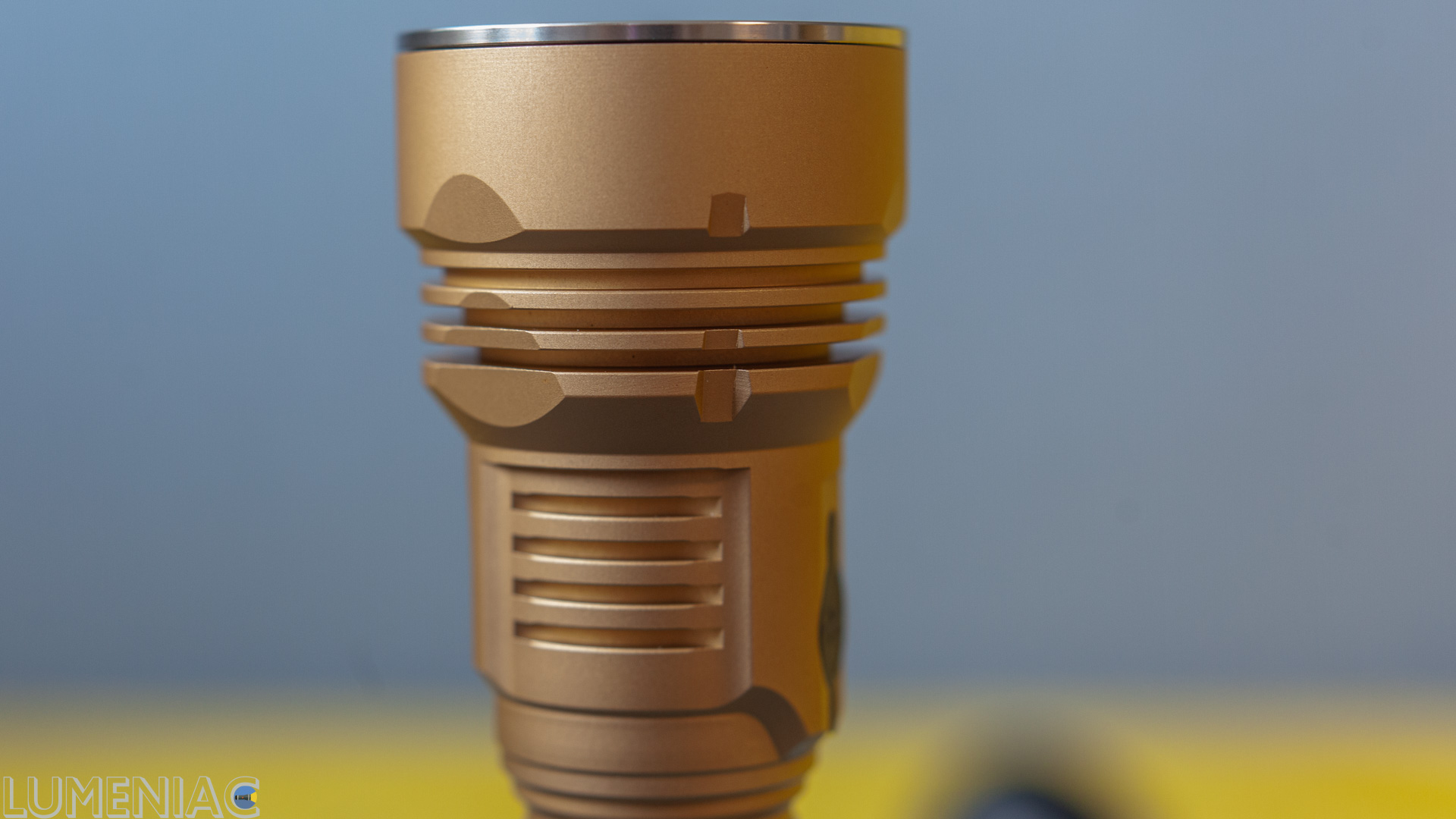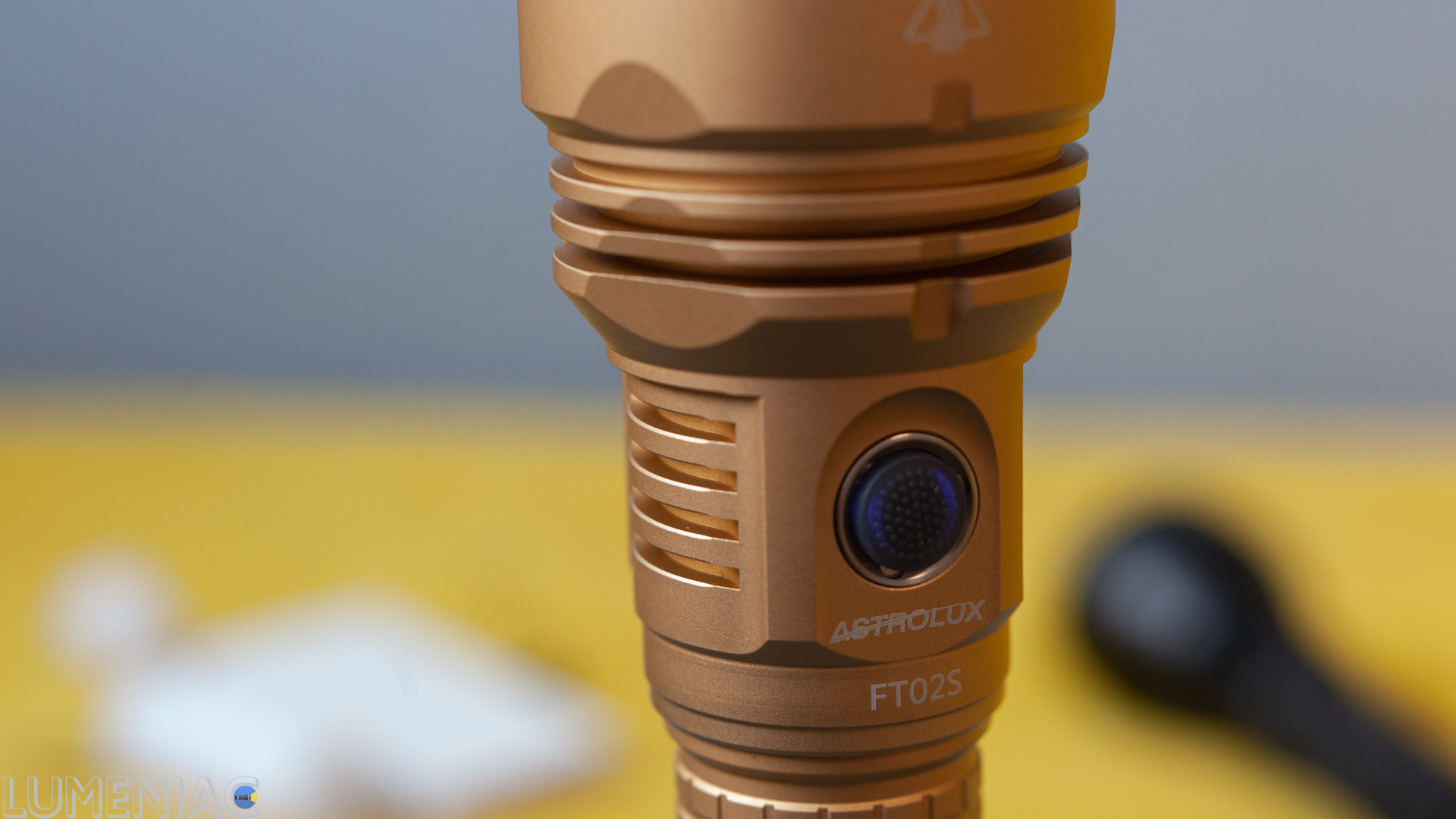 The bezel is deep. If you wish, you can replace it with a toothy one.

Glass with antireflection. Behind it is a relatively deep 4-segment reflector, at the bottom of which is a quartet of four SST40 or XHP50 LEDs.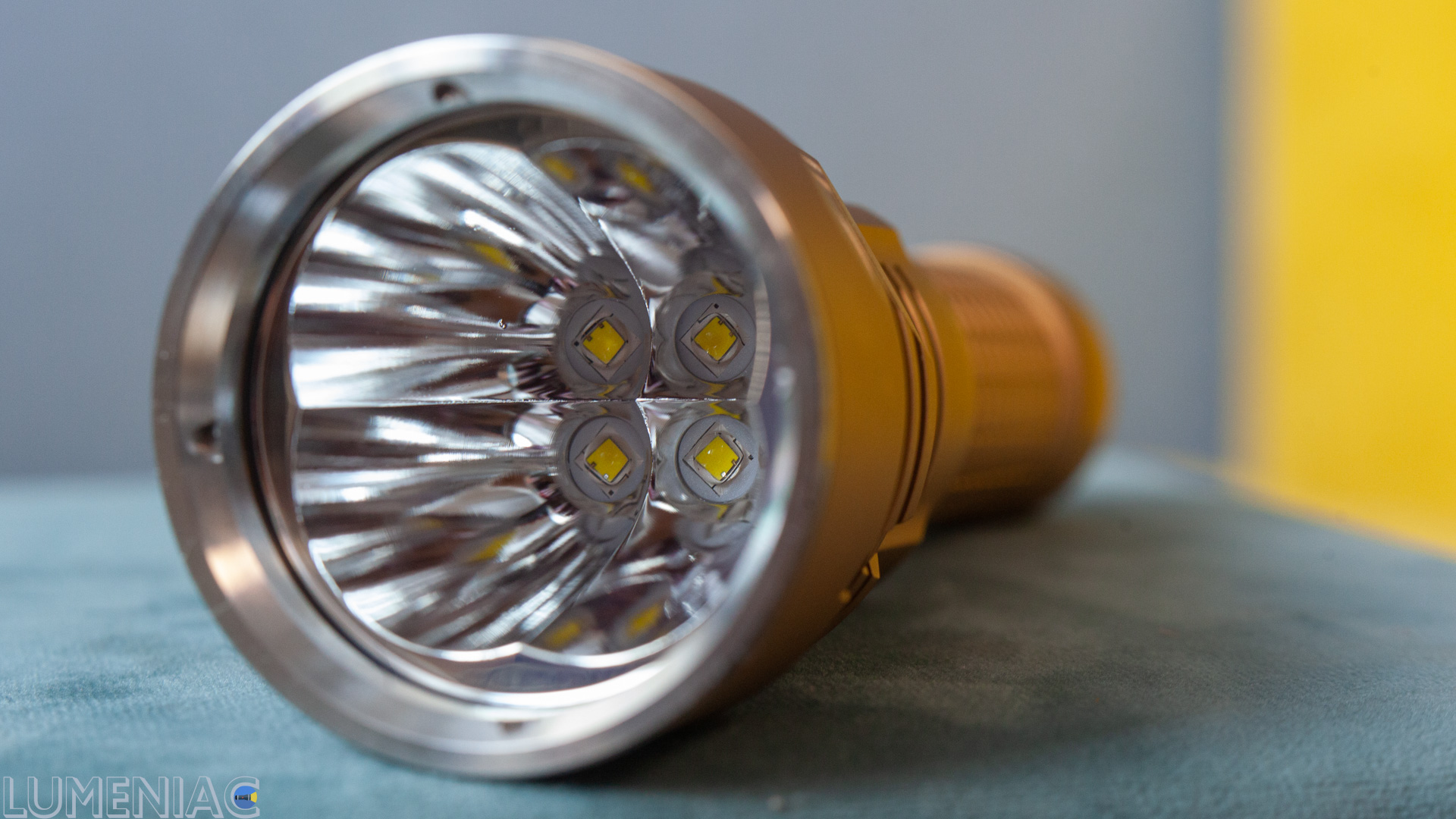 SST40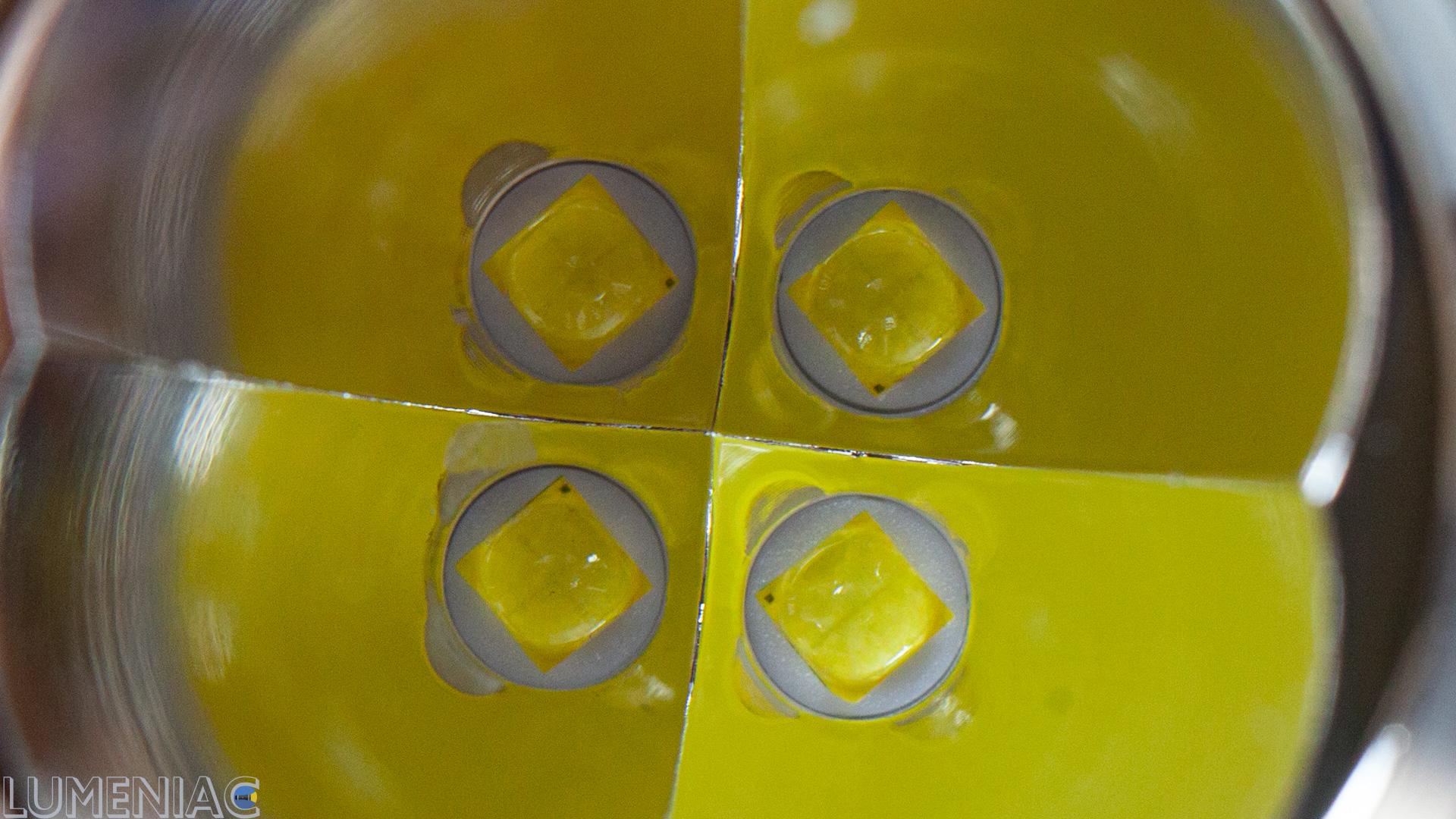 XHP50.2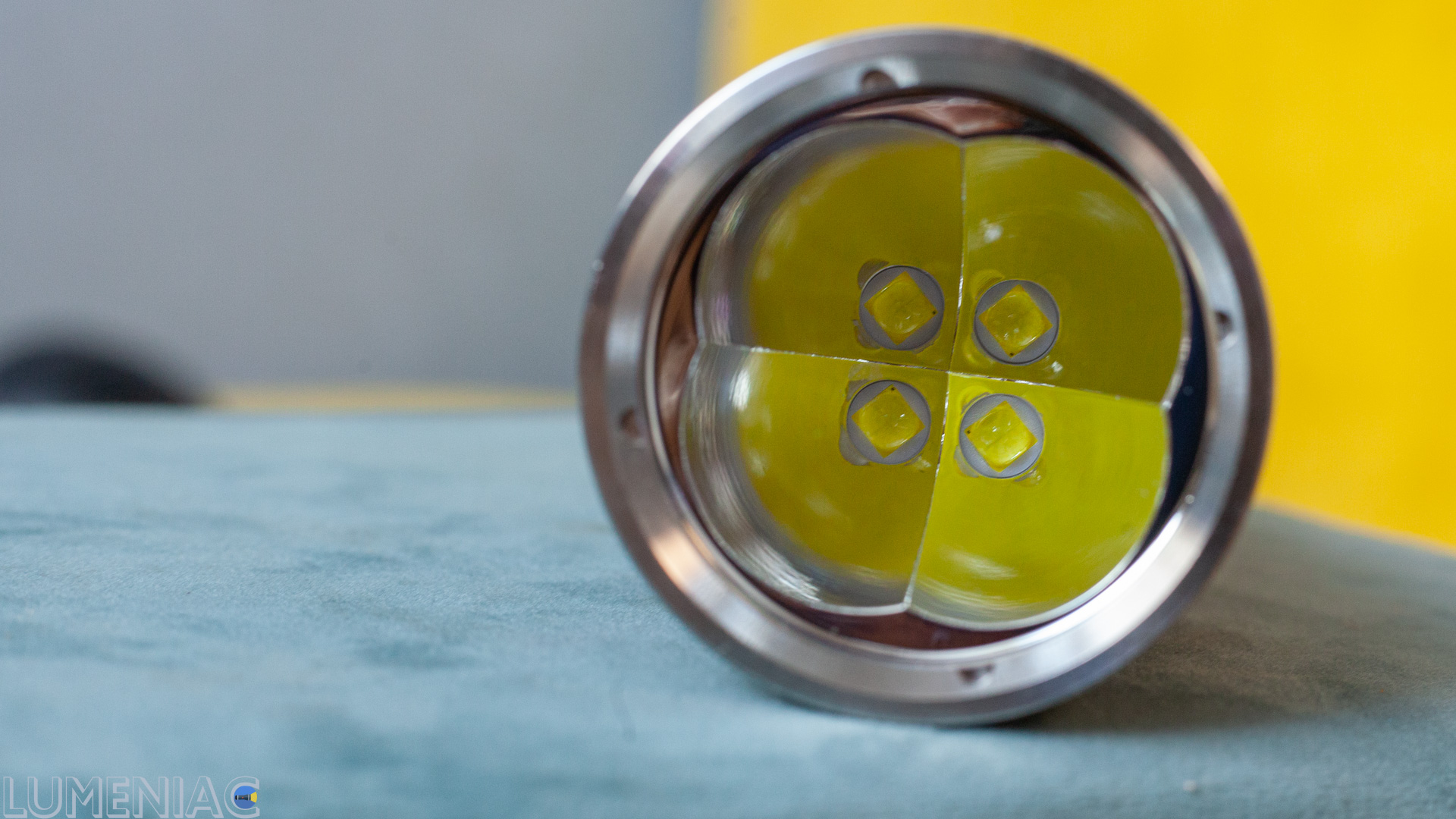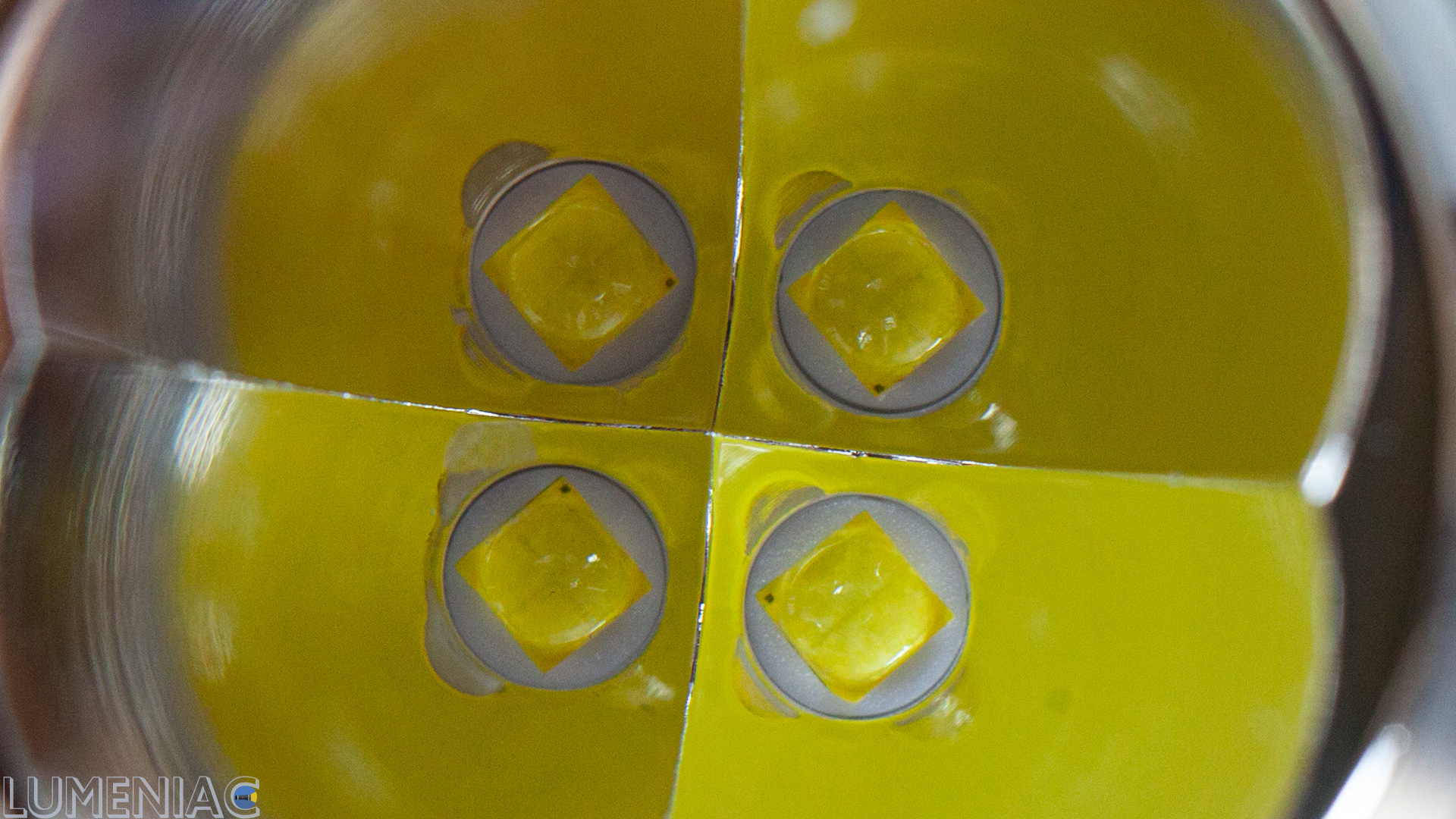 and not alive pics. i`ll update Astrolux FT02S review asap weather get better.
In general, that's all. The flashlight looks good,but no more. But it fits exceptionally comfortably in the hand and you definitely do not have to look for the button blindly. And you can be sure that the charging plug cover will not accidentally open and come off.
There is nothing new about design, packaging or build quality here – everything is at the same level as you would expect from Astrolux.
UI
An extremely flexible Anduril interface. There are lot of manuals about Anduril, so i`ll not extend Astrolux FT02S review for what you can find in a special thread.
There is only one thing worth mentioning separately – be sure to check and, if necessary, calibrate the thermal sensor. In one of the two flashlight that i got for review sensor showed 10 degrees more.
HOW ASTROLUX FT02S ILLUMINATES
Despite the smooth reflector, both versions have light that is quite convenient for close range work. OF course, due to the high brightness Astrolux FT02 in both versions will be also more then sufficient for working at medium distances (from 6\7 and up to turbo). You can get some throw in turbo mode, but dont expect that much.
There is no stabilization, alas. There is it will gradual stedpdown with fan cooling. Without cooling, user should not expect long runtime even at fairly mediocre brightness levels. However, they can be excessive indoors, but outside, as a rule, there is some kind of wind even in the warm season. So count on relative line in chart.
SST4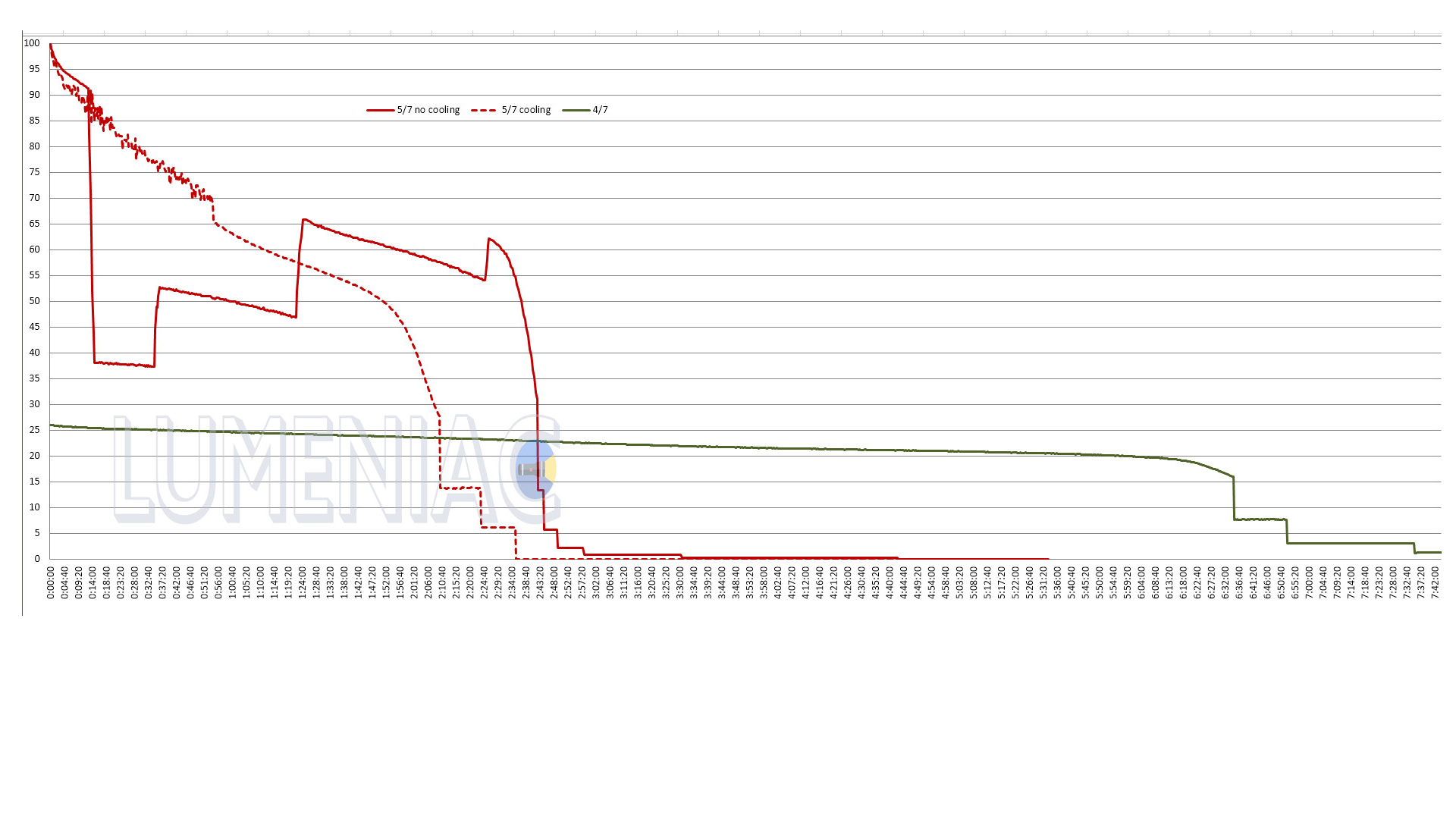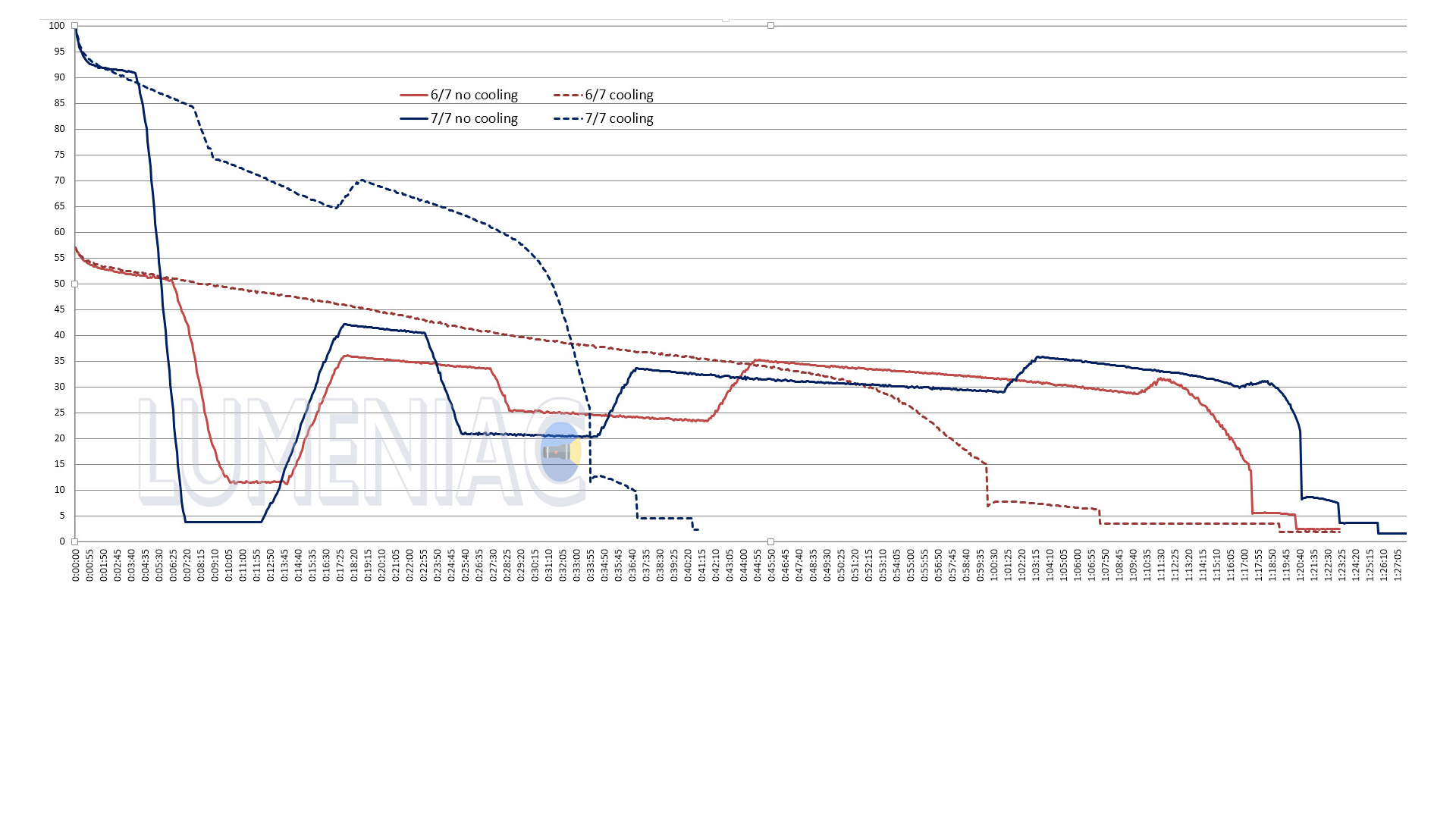 XHP50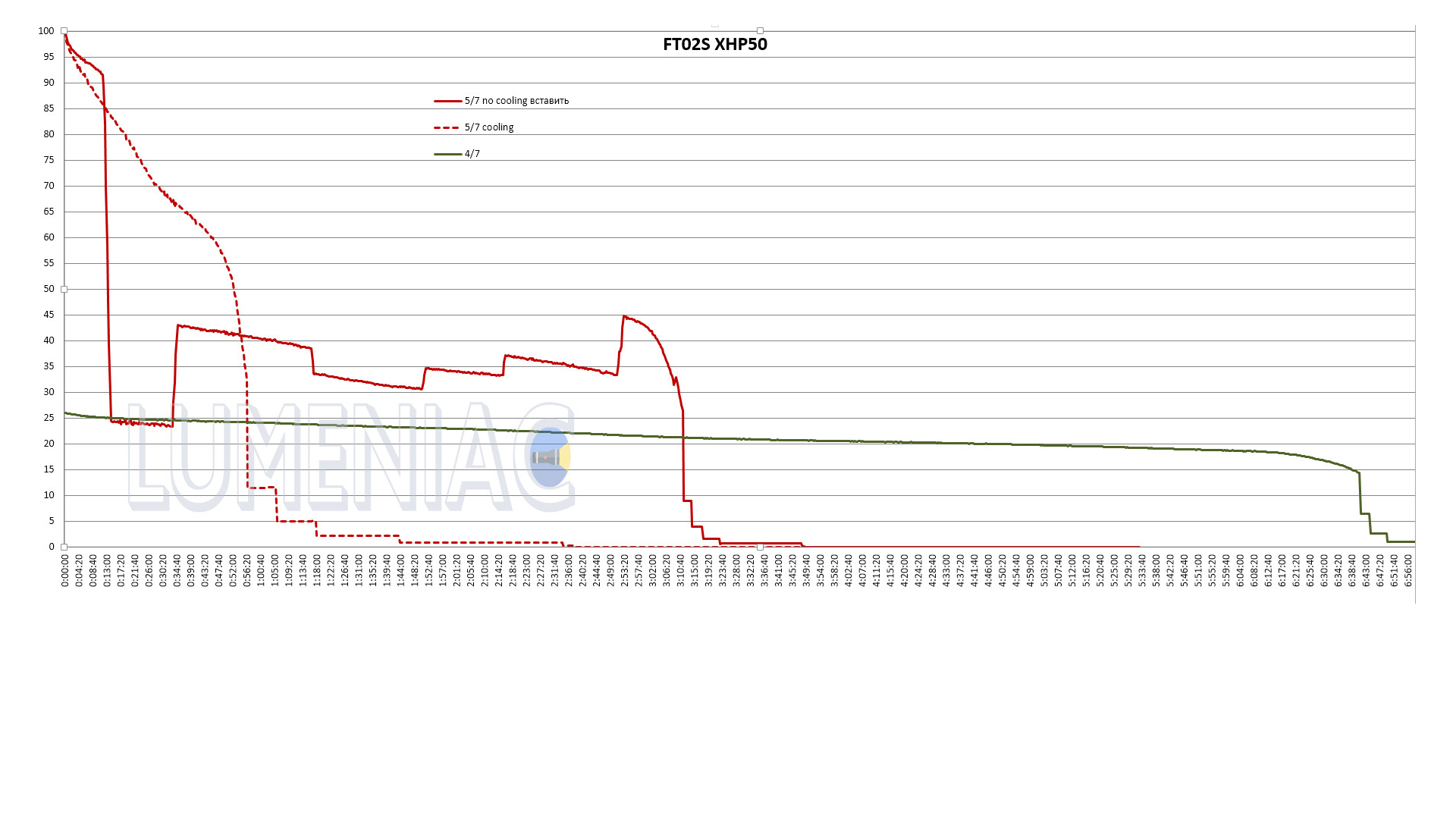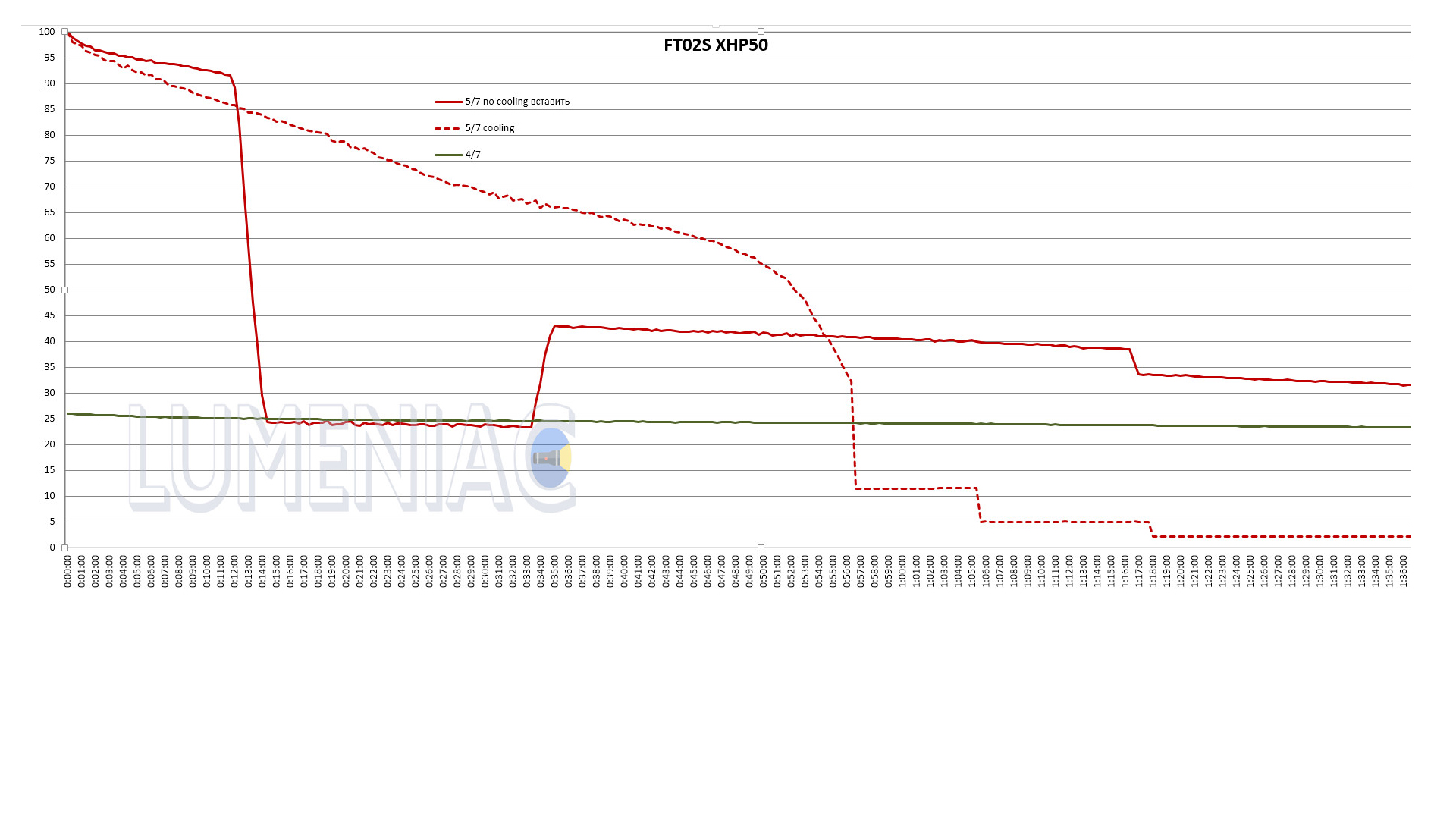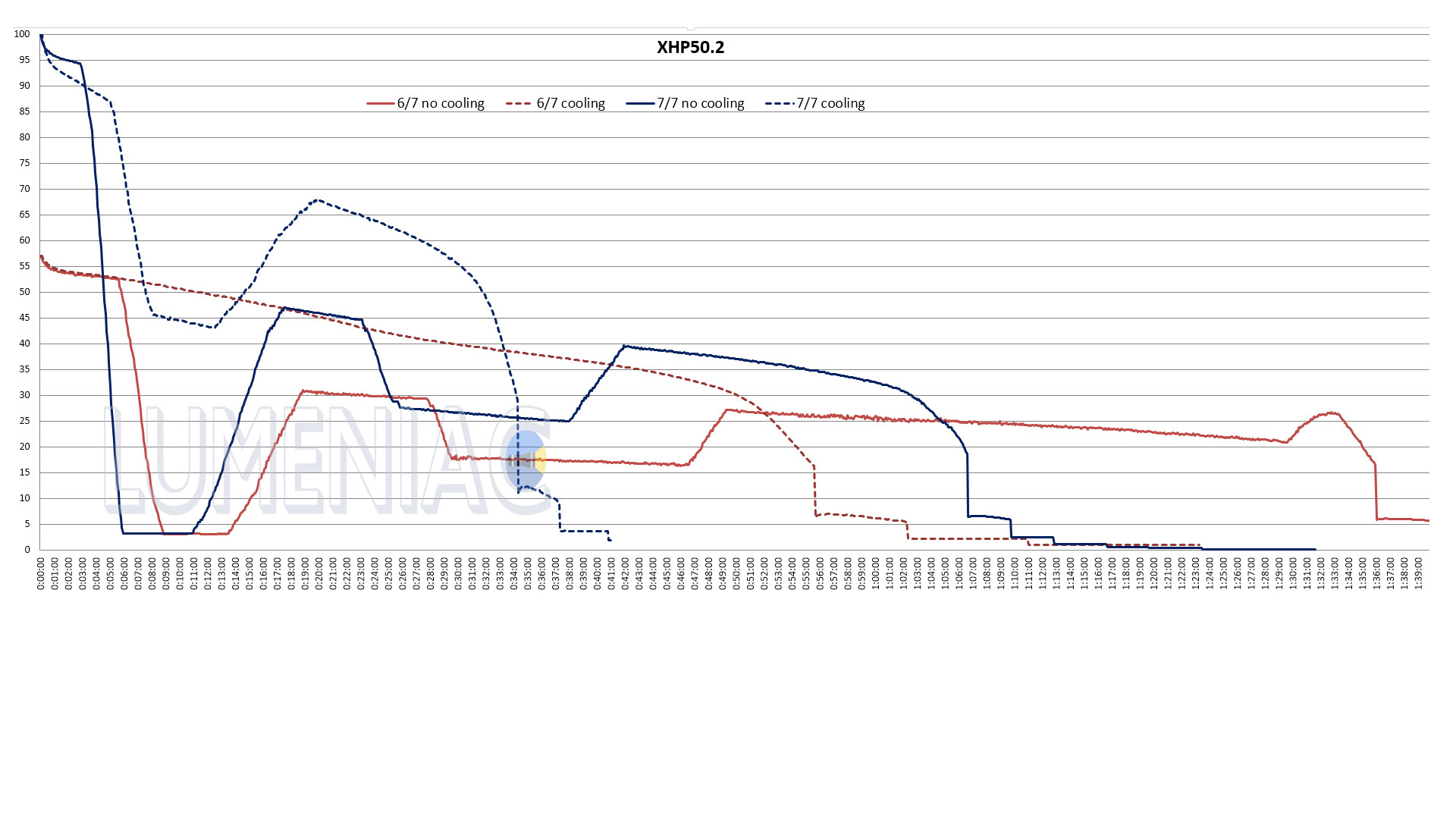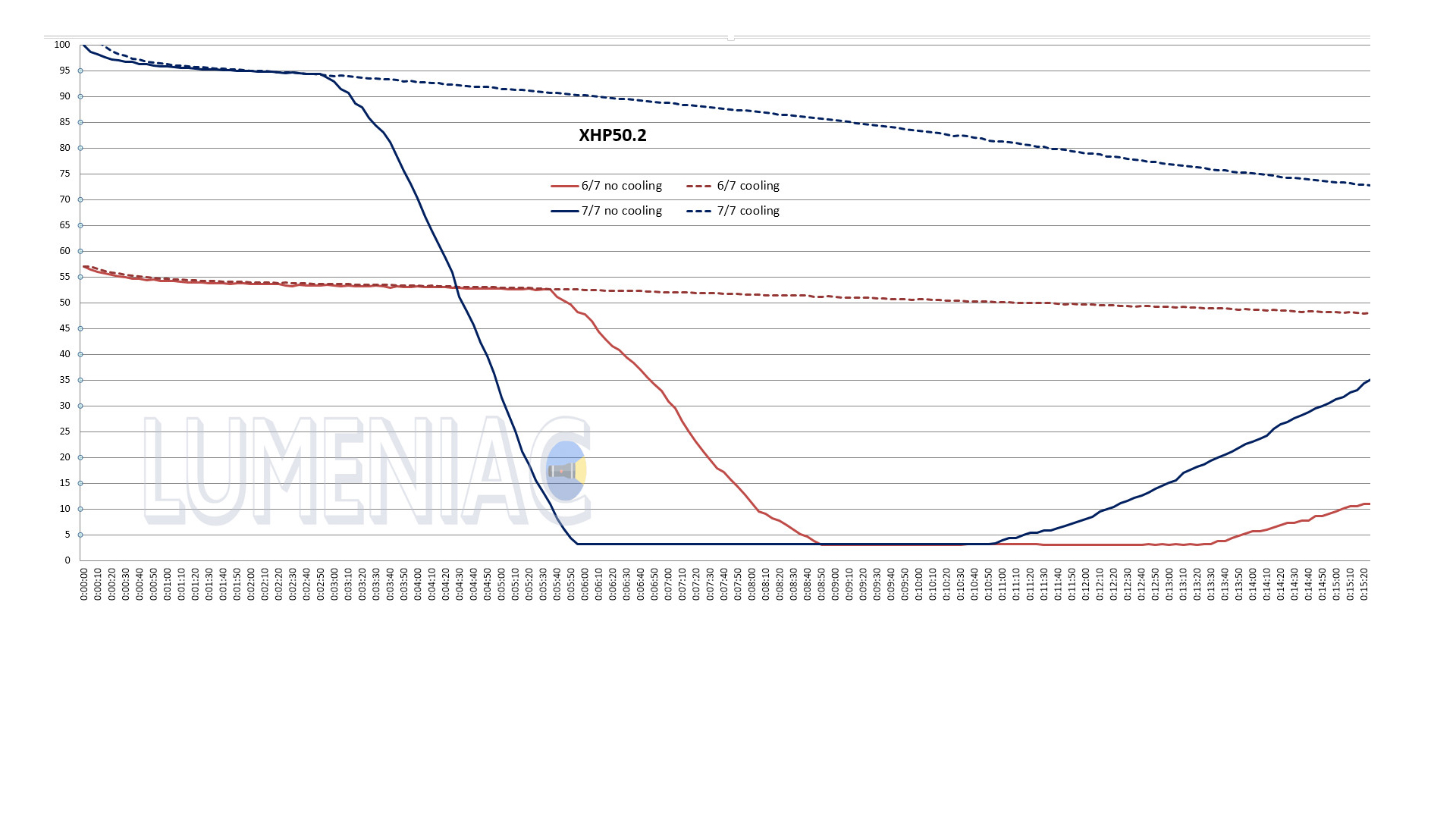 Turbo surprised me. I expected that at such a colossal level of brightness, the thermal cut-off would reduce the turbo to the level of a marketing flash. But no – the brightness lasts about 3-4 minutes (+ another minute of falling) and in this regard the mode is quite functional. But the battery is consumed at a monstrous pace and you will actually have no more than 3 full turbo activations before the battery stops somewhere at 3.1-3.2v.
So if you want to buy Astrolux FT02S for the sake of its colossal turbo – keep in mind that you will have it, but in total, somewhere within 10-15 minutes. So a spare battery is frankly needed here. And not anyhow, I highly recommend Basen or Shockli. Usually I don't mind Liitokala, but not this time.
sst40 is definetely more throwy comparing to XHP50.2. But it is not real throw, so you can comfortably use this version for close range needs,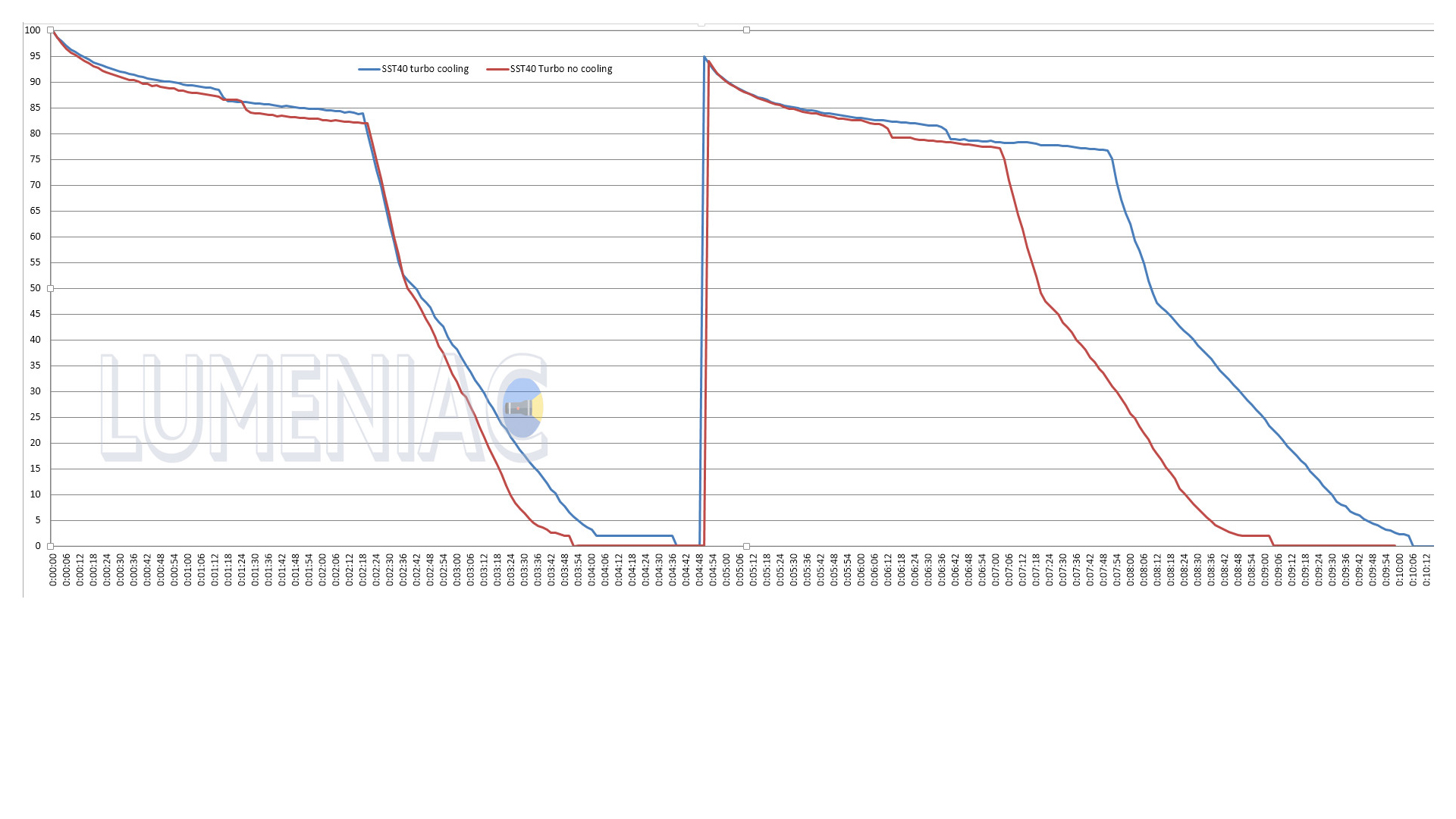 xhp50.2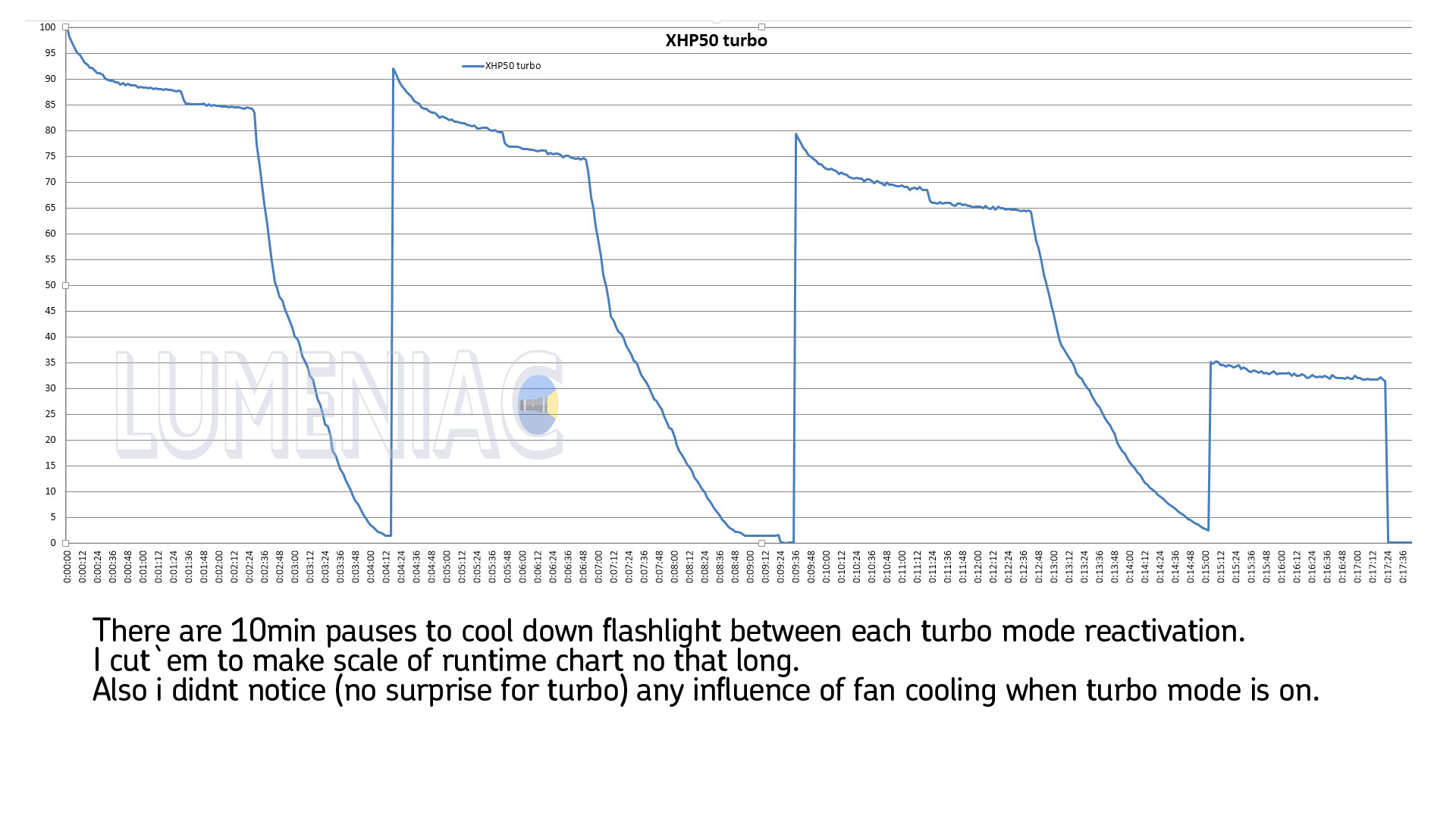 OVERALL IMPRESSIONS
Astrolux FT02 is the flashlight, in general, that is not bad and in terms of light it gives you exactly what you expect from it. Namely, colossal brightness at fairly normal size and for affordable price. Really winning combo, aint`it?
You can expect some throw only in a turbo, which rapidly empties battery. And so the flashlight is much, much more comfortable for work in the near-medium distance.
I believe that this Astrolux flashlight, like the others under this brand, is a model for advanced users. The model is quite specific. I think that this flashlight is not suitable for everyone and choosing it stupidly starting from "I want to choose the brightest flashlight" is wrong. You may not get what you hoped for.
What do you get?
There will be UI flexibility, which is so important for advanced users. There will be excellent built-in charging. But most (read "relatively") stable and not triggering thermal cut-off mode will be really usual in terms of brightness. Good to illuminate under your feet and surrounding bushes. But 100% regular brightness.
The whole paradox of this model is that a flashlight that works well at such aforementioned brightness costs like 1/3 of the cost of Astrolux FT02S, getting full stabilization as a bonus as well as usual pocket size. If you aim at the main functional trump card of Astrolux FT02S, namely enormous brightness, then, yes, you will get it. And this mode will be surprisingly long lasting. But the battery will need to be changed to a new one after 2-3 such starts .
As a result, the question arises: is such brightness needed in a body of this size ? Once again, the brightness threshold, which does not yet activate the thermal cutoff, is at a level that is completely normal for almost any EDC flashlight.
So it turns out in the end that all these huge lumens seem to present, but there seems to be no special practical sense in them. After 2-3 turbo starts, you will be left with a completely discharged battery. That is more reserve that a really working mode you can rely on. I mean not runtime in this mose (it is great), but number of times you can activate this mode.
Understand, it's not that I didn't like the flashlight – it's actually good, and you shouldn't expect that it will not heat up with such power, or for the turbo to be much longer or consume less. Physics imposes its own limitations and they cannot be bypassed until the flashlight can remotely release heat or receive energy.
Personally, I would be ready to do all this flexibility for the sake of better stabilization (I would be 100% satisfied with the classic Olight \ Acebeam interface). Yes, and that way a turbo of 3000lum would suit me too. This is really good brightness and won't drain the battery in a couple of starts.
In the end, who might be interested in Astrolux FT02S? Probably an advanced user who is looking for an acceptable-sized flashlight for working at near-medium dista nce and with a huge margin of brightness in case of urgent need.Flashlight with convenient UI and built-in charging.
The average user buys flashlights, often being tempted by the impressive brightness in specs. Exactly what Astrolux FT02S seduces with, comparing its price to other super bright models. This flashlight is exceptionally bright in its long lasting turbo mode. Due to the latter, it is probably unpleasant for an ordinary user to make sure that this tempting opportunity in a turbo will result in a rapid depletion of the battery. Such a flashlight will be of little practicality without spare batteries . However, in real use, no one force you to climb higher even than 5/7 – this mode is quite enough for work within 15-20 meters.
I'm not a fan of Anduril models (I prefer stabilized brightness to it), but I liked the Astrolux FT02S. i woulnd use it as EDC just because ot size. But if i really needed super-bright turbo mode, this flashlight will give it to you without puttng you on cup noodles diet for next moth.
In general, that's all. The flashlight is specific and you should buy it, clearly understanding everything + – of this model. I repeat, this model has a lot of nuances. And I hope my review helped you figure them out in order to decide which bright flashight to choose and buy.