Lumintop finally remembered ordninary flashlight users and decided to turn away from releasing one more version in FW line. So, company released a compact and funny budgetary long-range flashlight with simple UI, a capacious 21700 battery, a fast built-in charger and – damn affordable price. I propose to see what came of this. I`d say in advance that i like the result.
You can buy at
➤ ALIEXPRESS
➤ Banggood with code BGLMD2
➤ AMAZON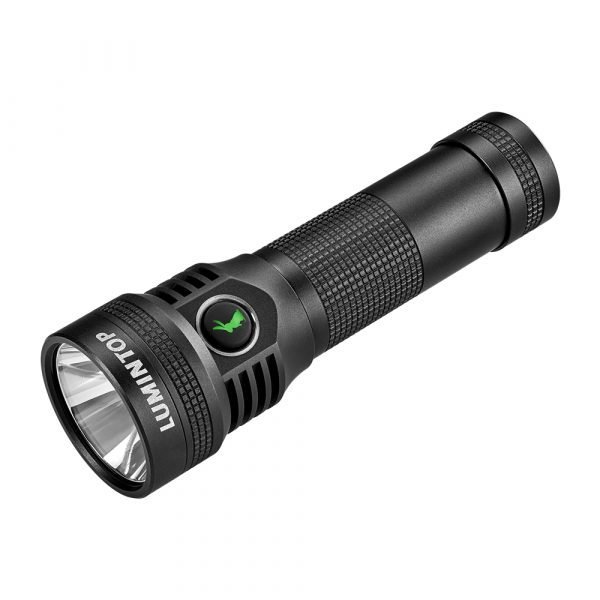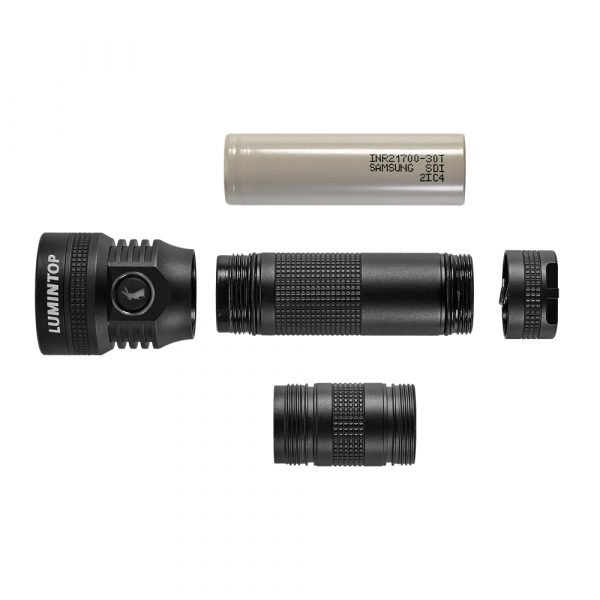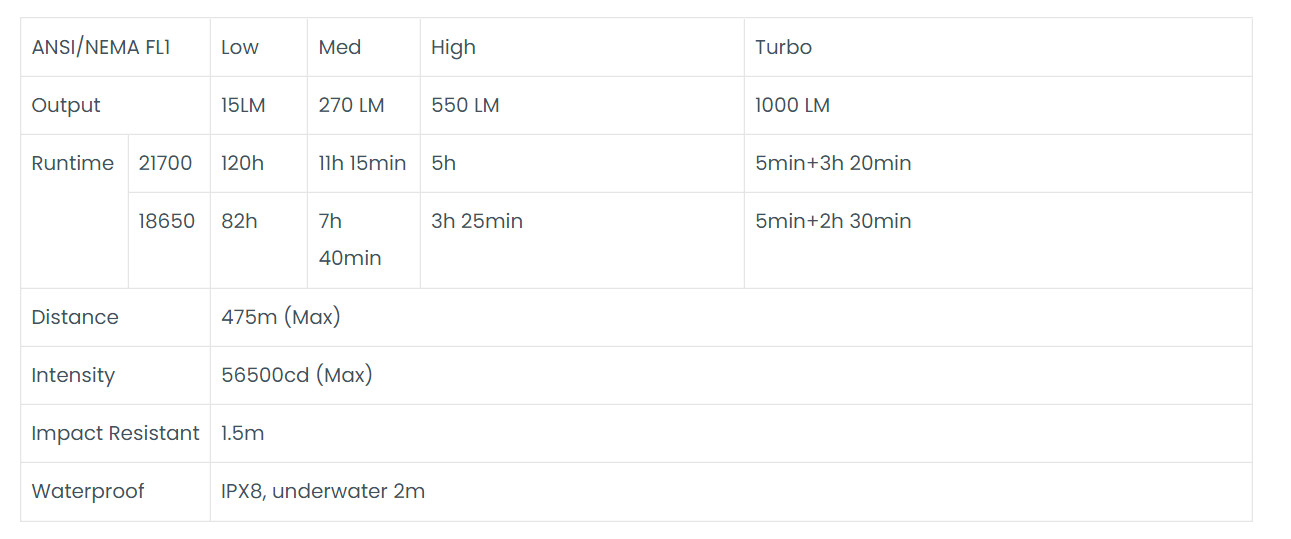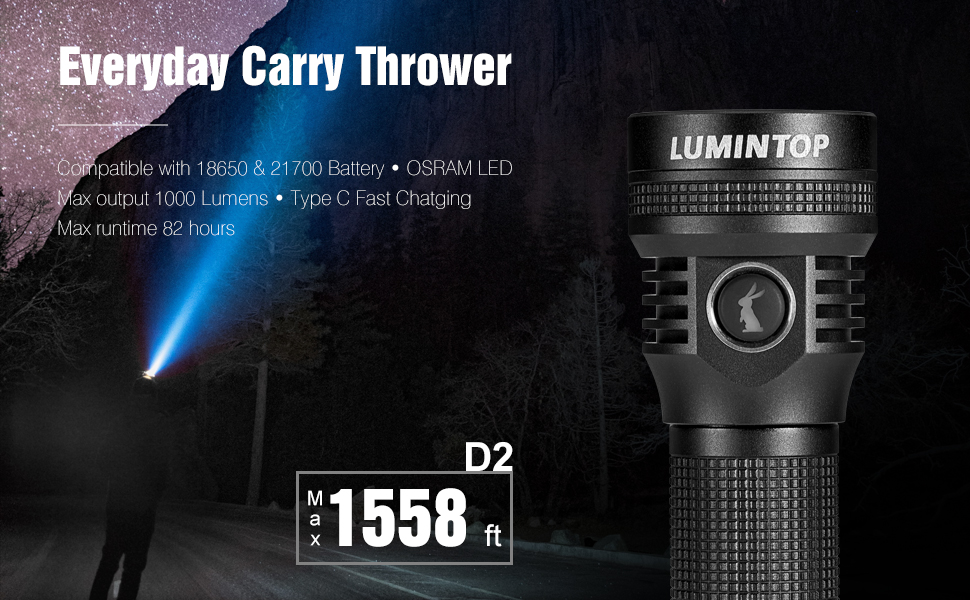 Specification
LED: OSRAM GW.PUSRA1 PM LED
Brightness: ~ 1000 lm
Luminous intensity: ~ 56,500 cd
Maximum range according to ANSI – 475 m
Optics: aluminum, smooth
Anti-reflective glass
Modes: four modes plus strobe and SOS
Power: One 21700/18650 or 18350 Li-ion battery via short tube (not included)
Body: Type III hard anodized aluminum
Switch: electronic side switch
Dust and moisture protection: IPX8
Weight: about 85g without battery
Size: 37 * 115.5 * 25.4mm
PACKAGE AND APPEARANCE
Lumintops have made another change to the package. Here's what was before (by the way, the funniest thing – the smallest long-range flashlight in the world, here's my review)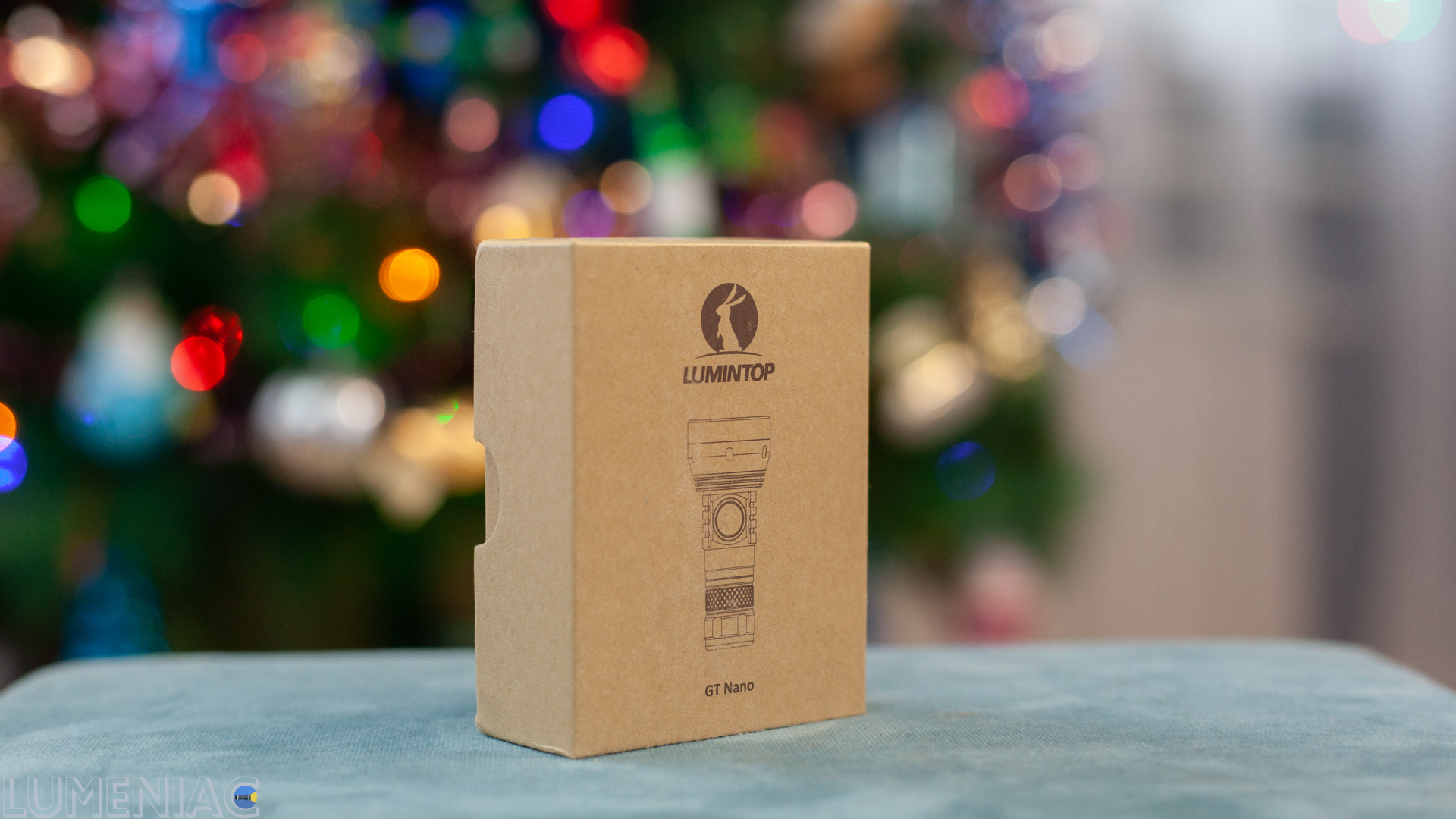 And that's what is now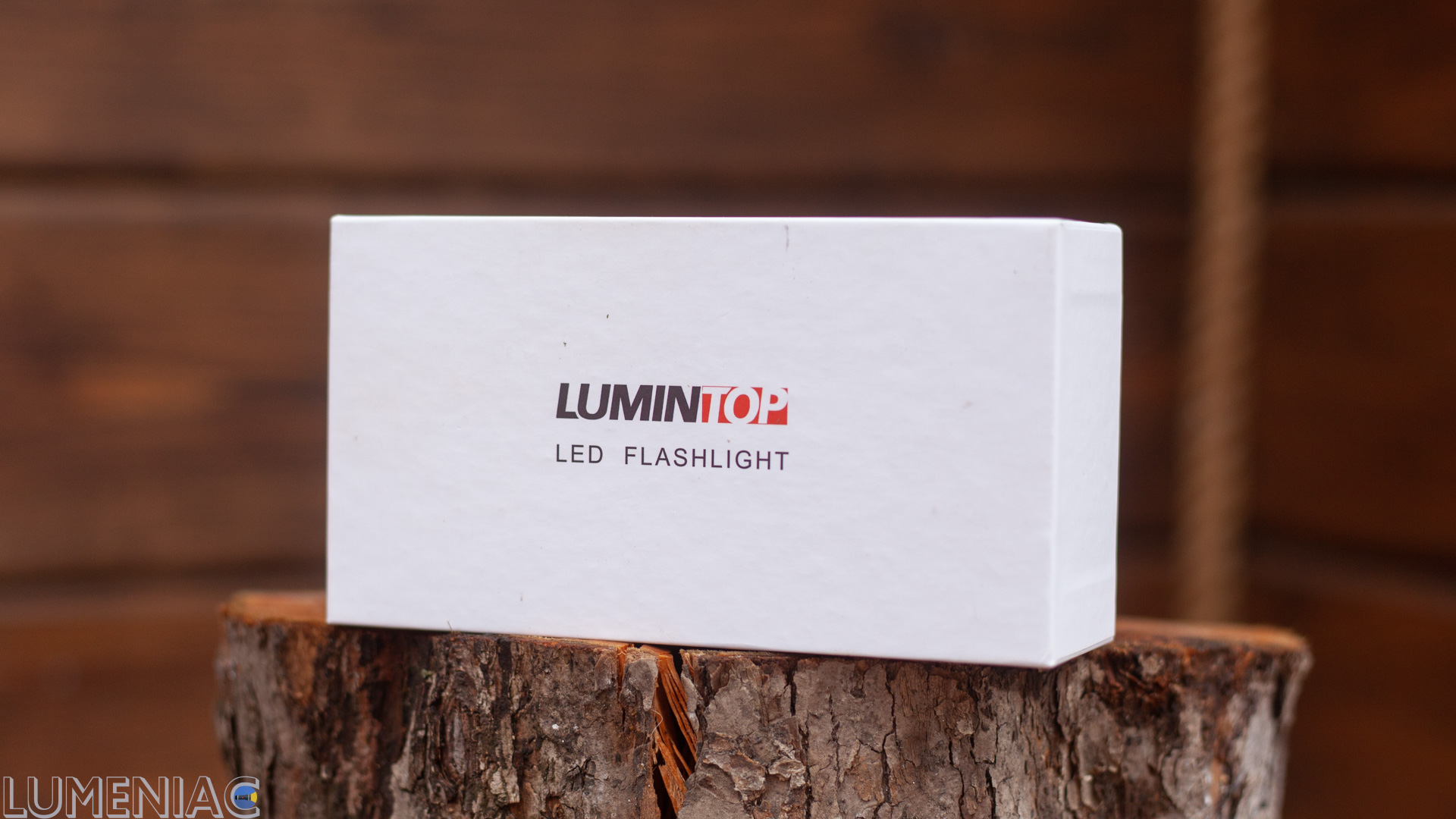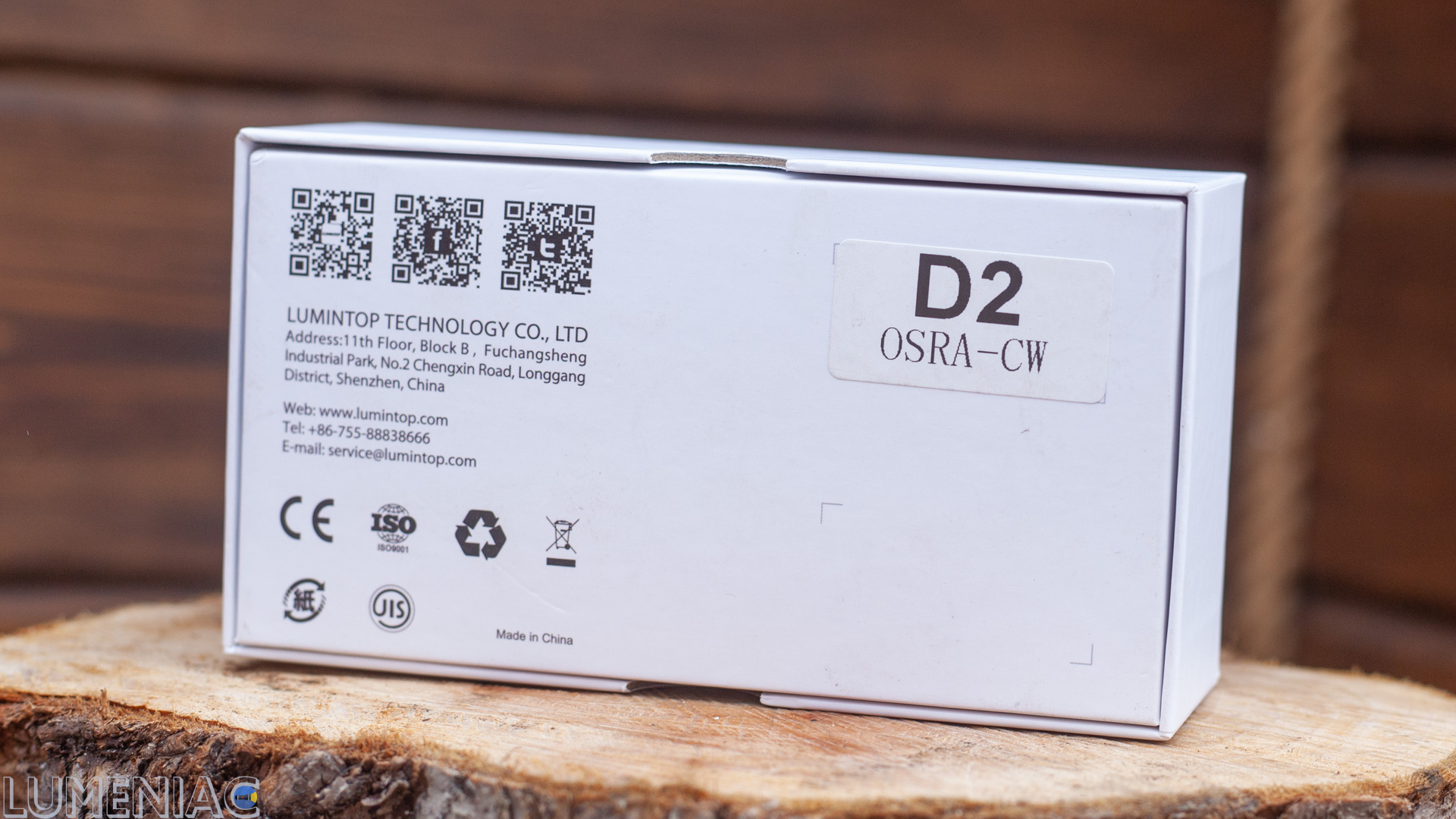 The kit contains everything you need: the flashlight itself with an 18650 battery (a 2600 mAh low capacity one) with 21700 adaptor, a charging cable, a lanyard, and O-rings. No holster -(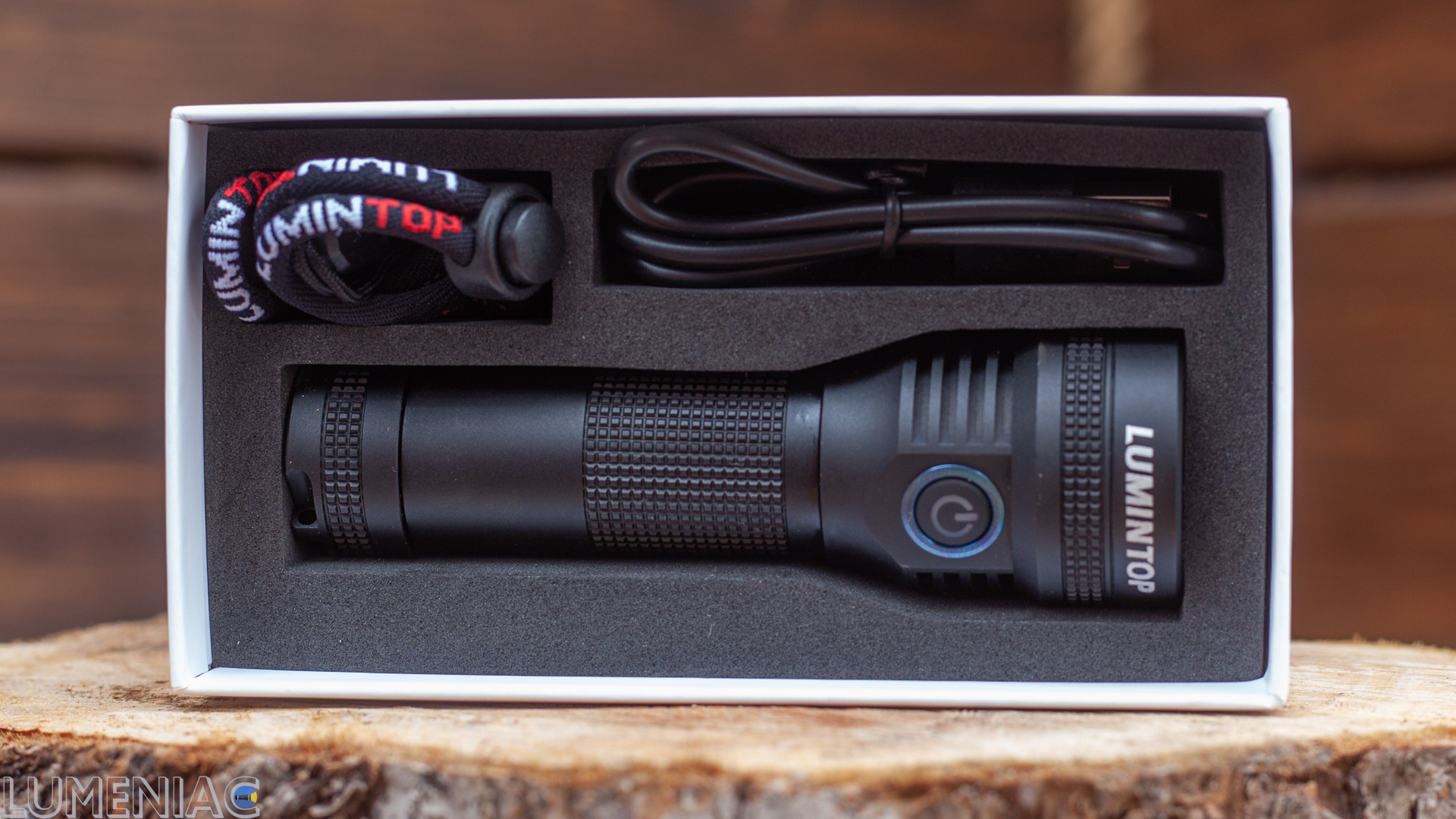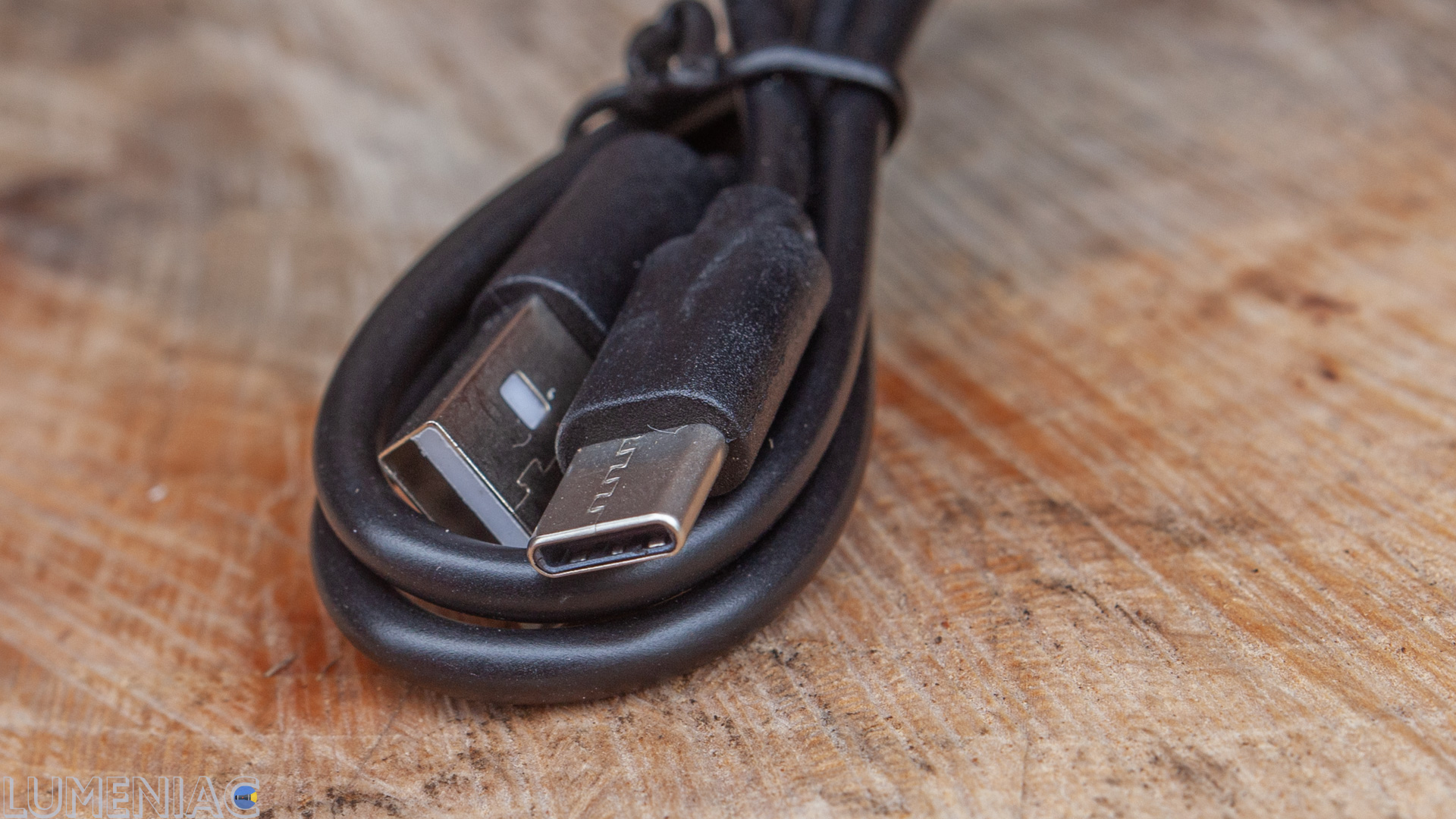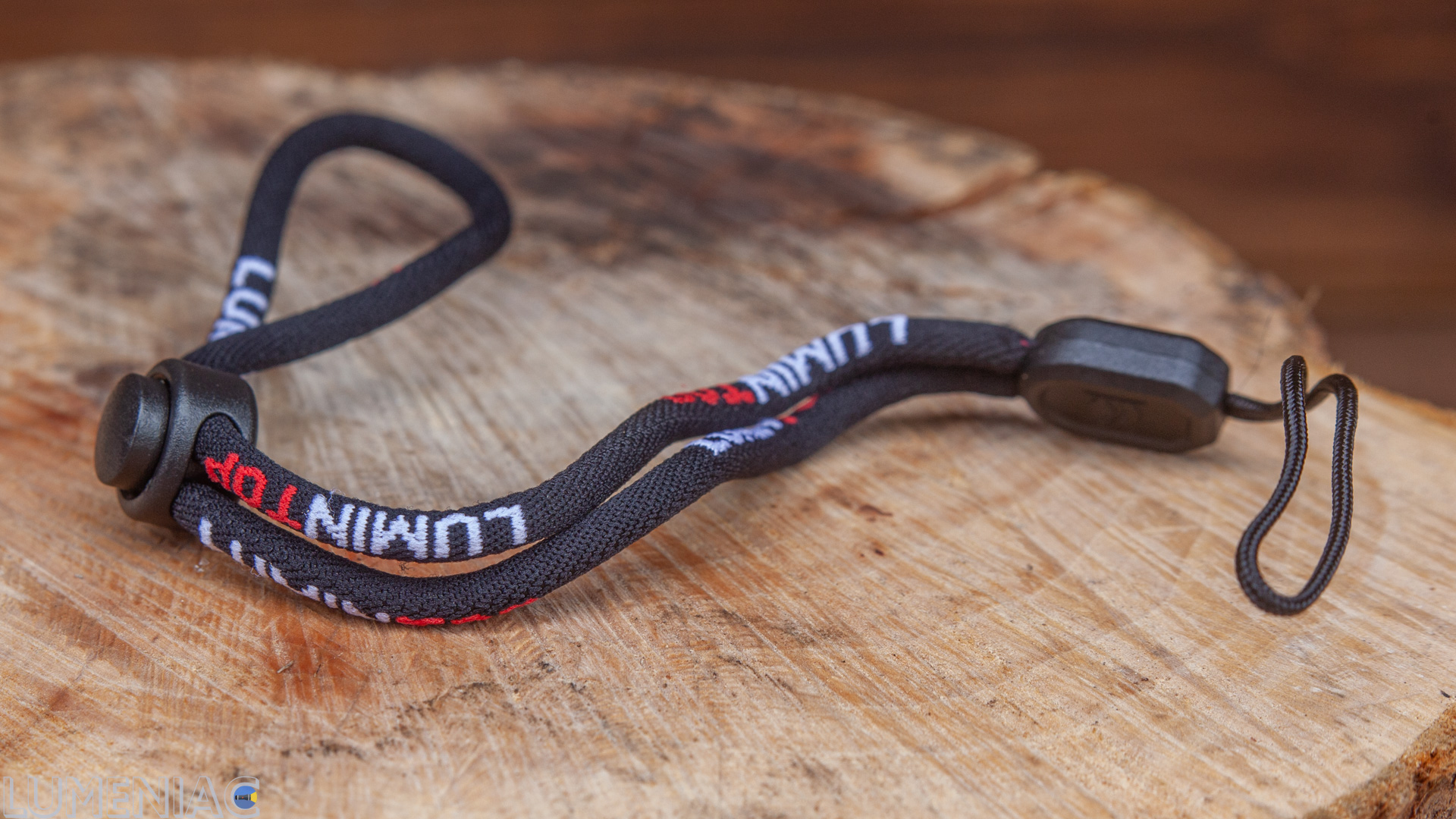 11.5 cm – not that short by EDC flashlights standarts, but an intriguingly small length for a long-range flashlight, which are about ~15 cm. And 11.5 looks more tempting when you remember that this is length of a 21700 flashlight!
And if we are talking about compact long-range shooters, then even the 18650 Lumintop GT Mini is a couple of centimeters longer.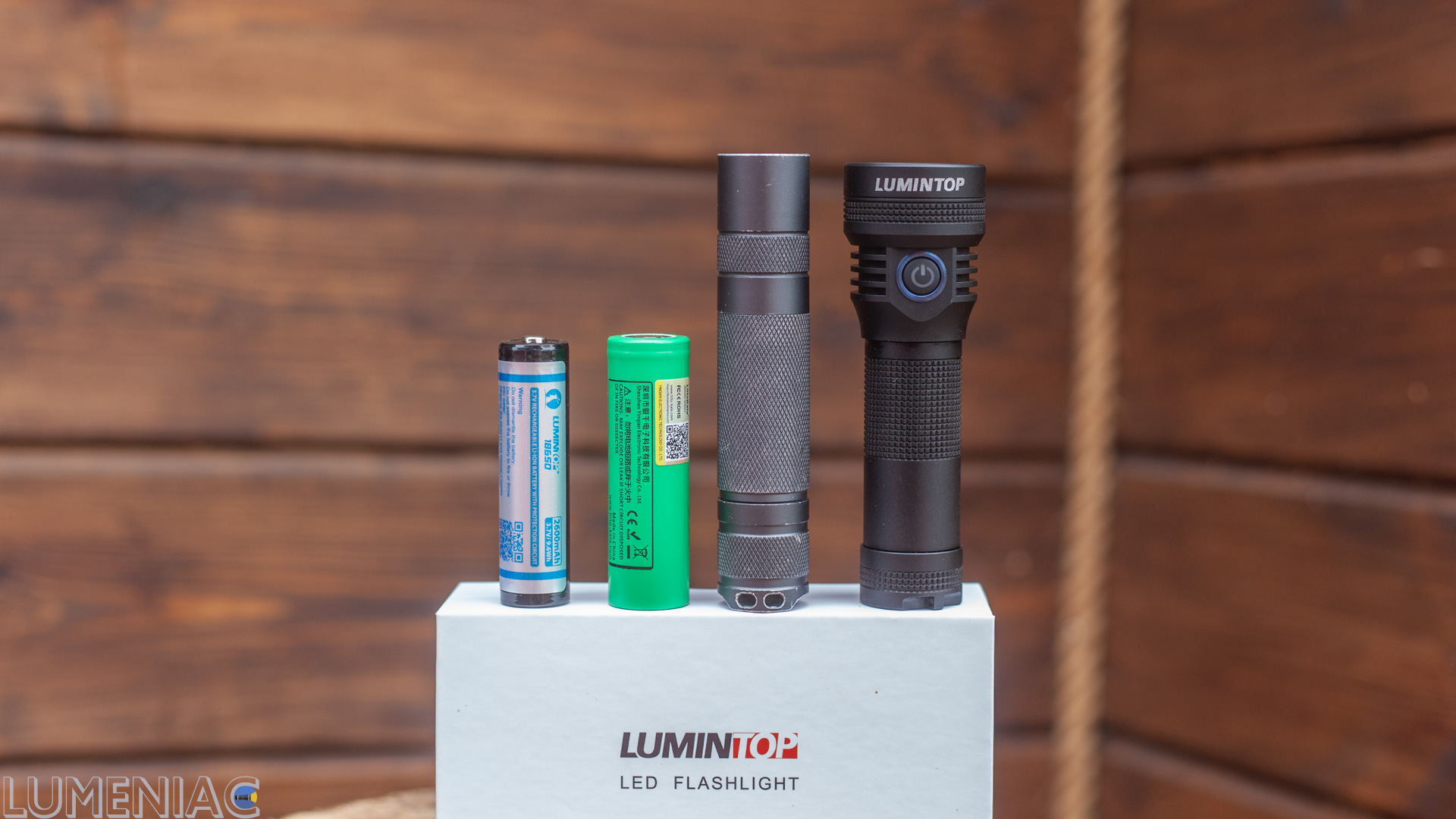 Nevertheless, despite its compactness, the Lumintop D2 has a comfortable grip.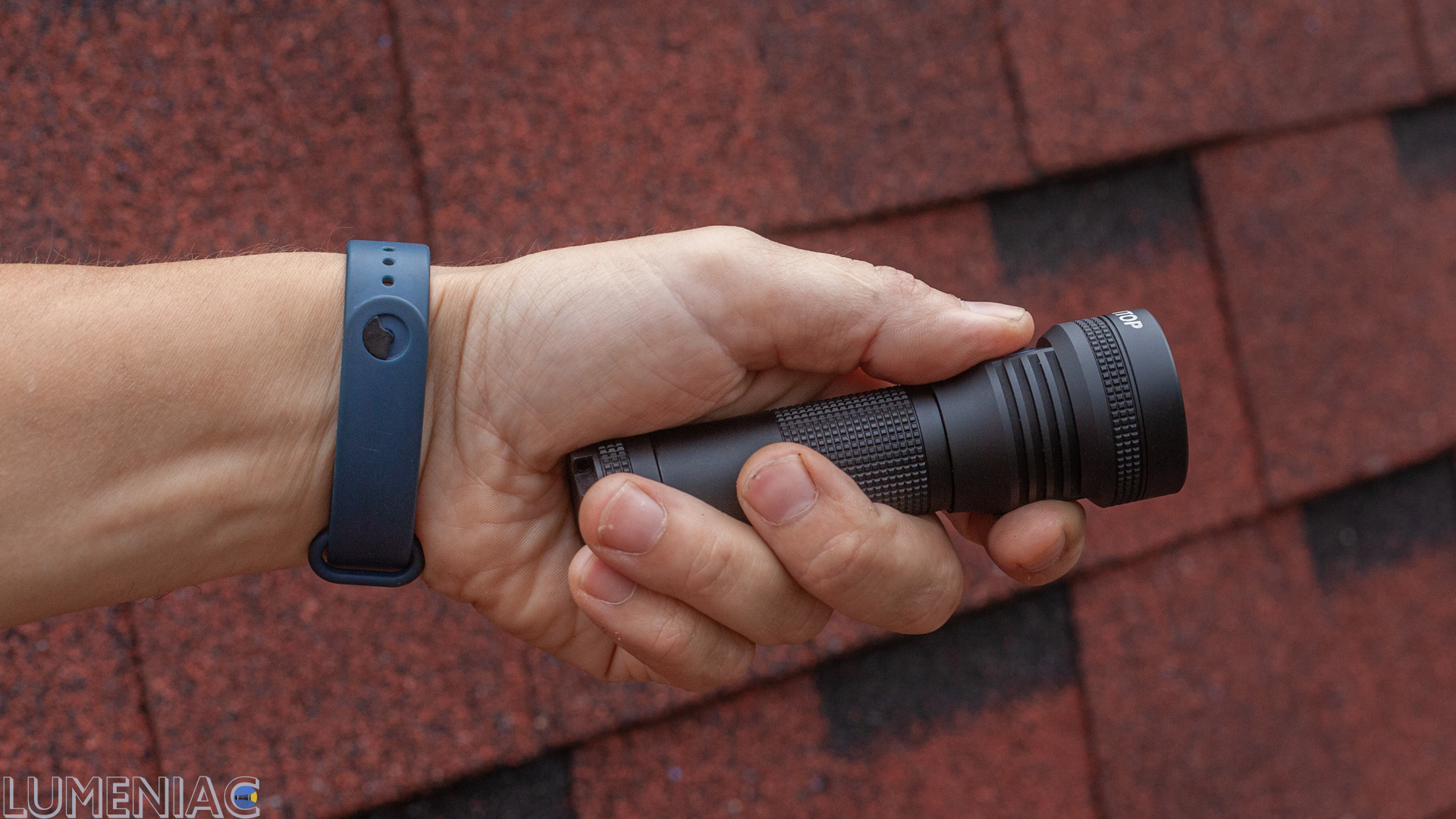 Lumintop D2 looks quite simple. But it doesnt looks as "oh, one more flashlight".
Ah, I remembered what it reminds me of. The manufacturers decided to do with a ready-made blank and cut the D2 according to the patterns of the excellent Lumintop B1 bicycle light.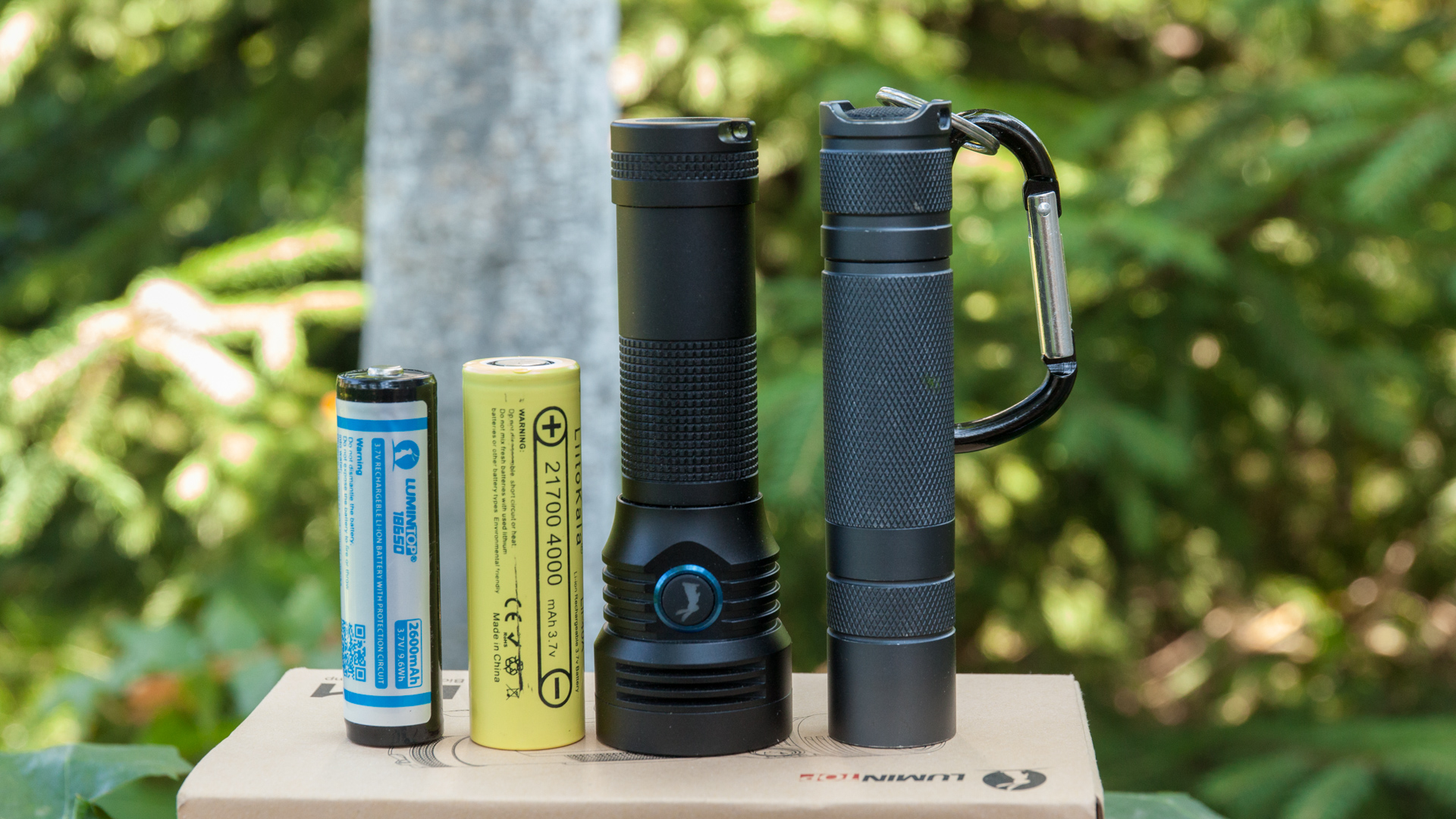 Well, will you find the differences from the photo above? In addition to the appeared knurling and the logo on the bezel, there are none.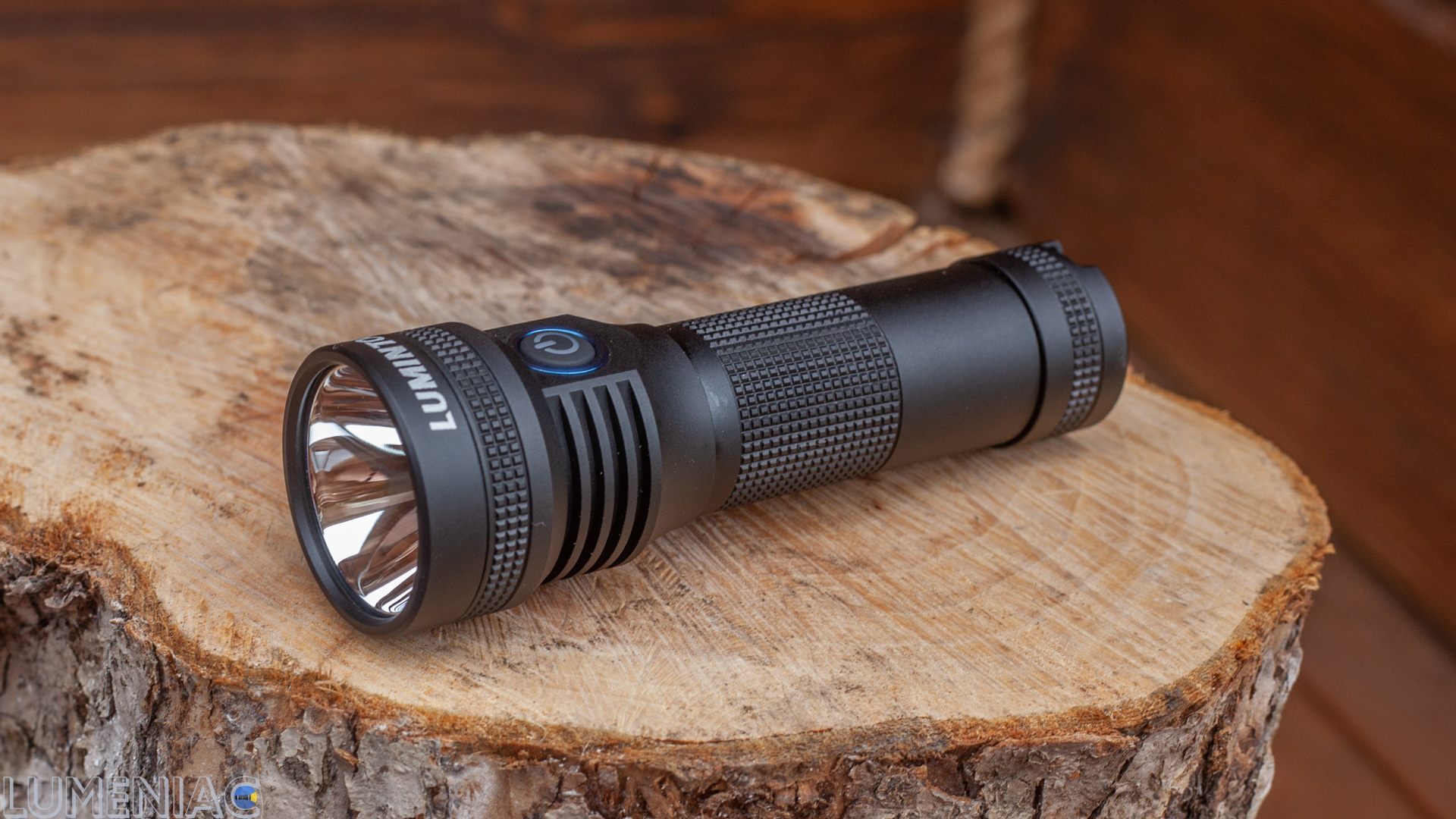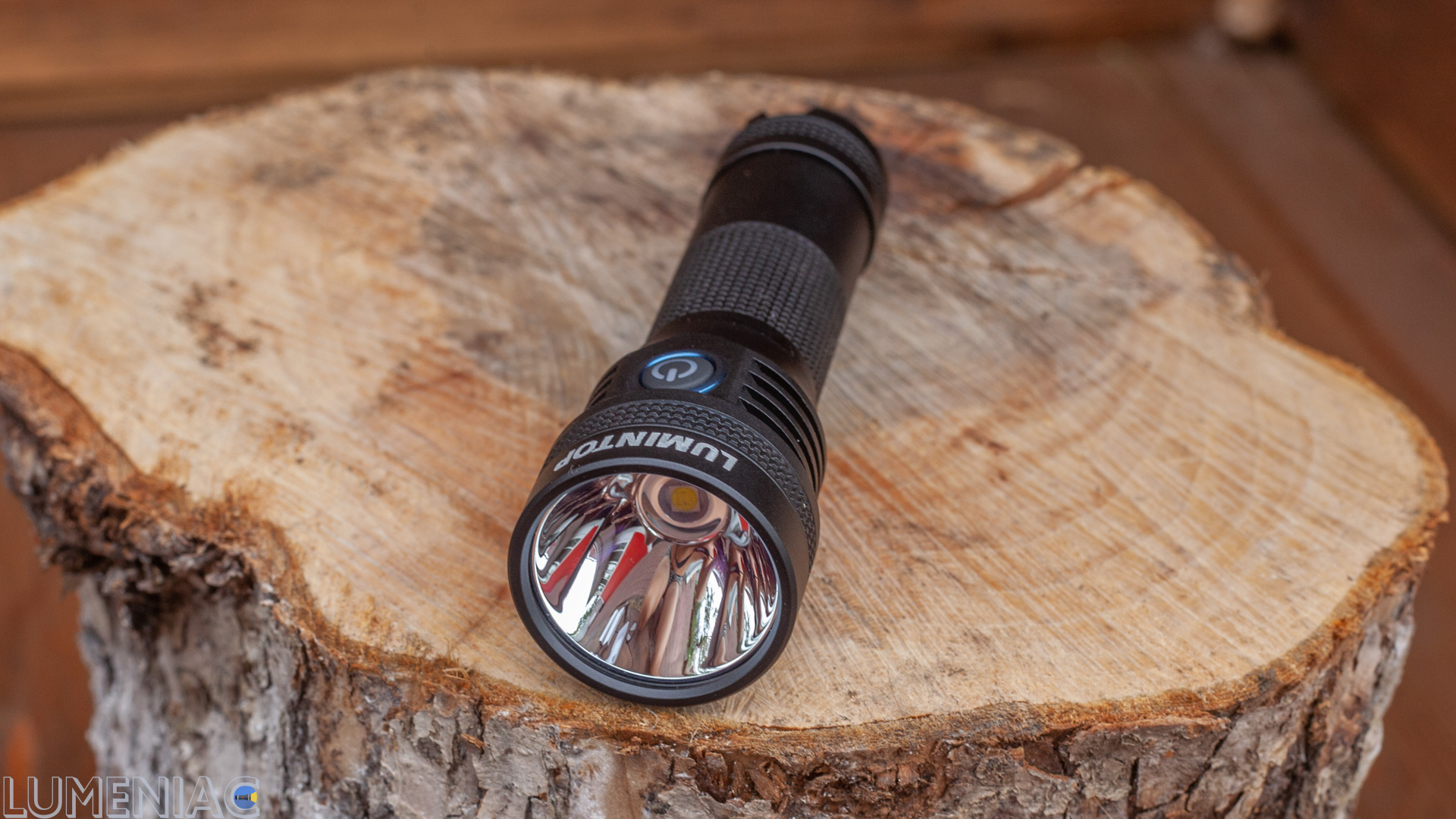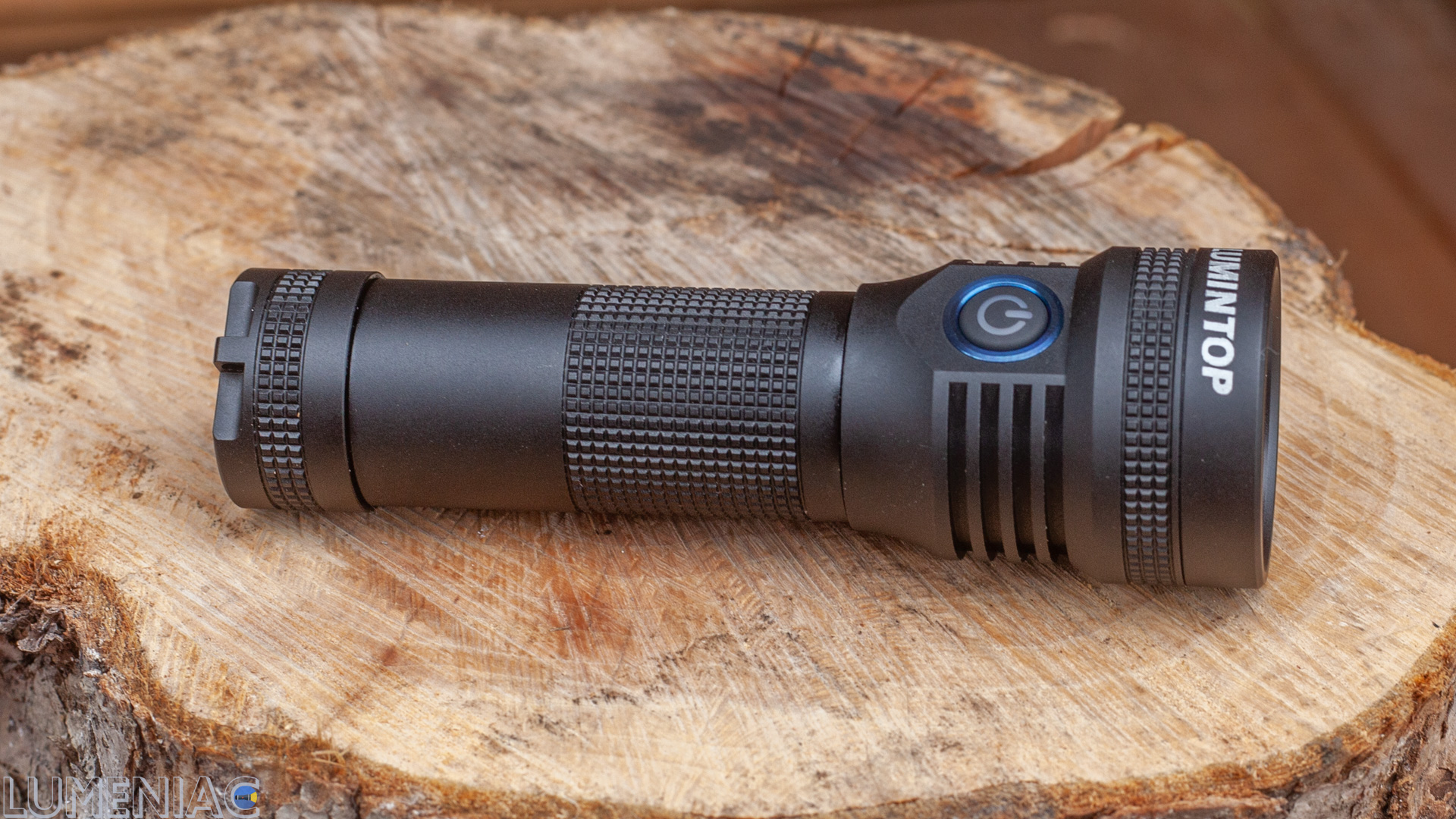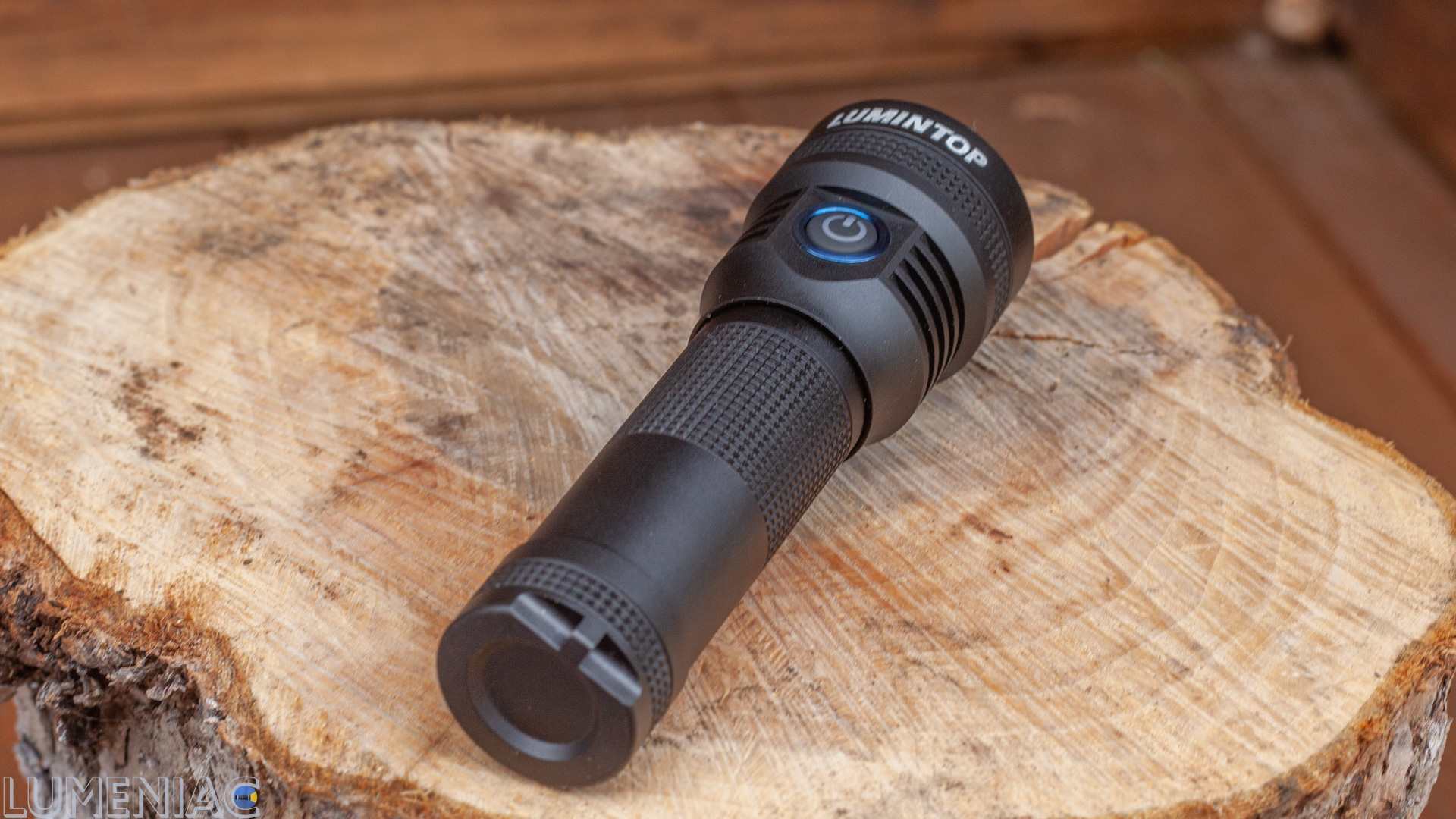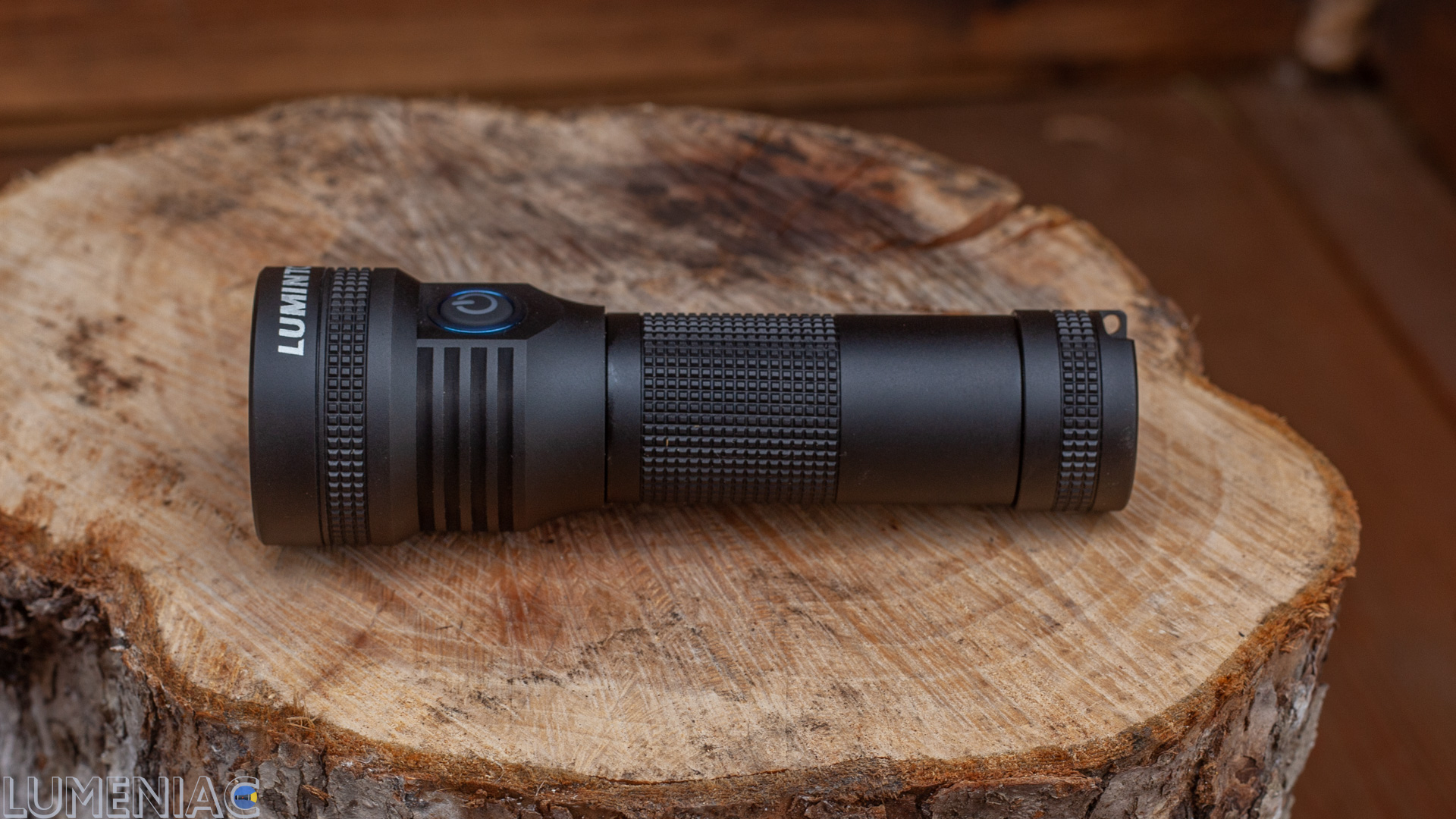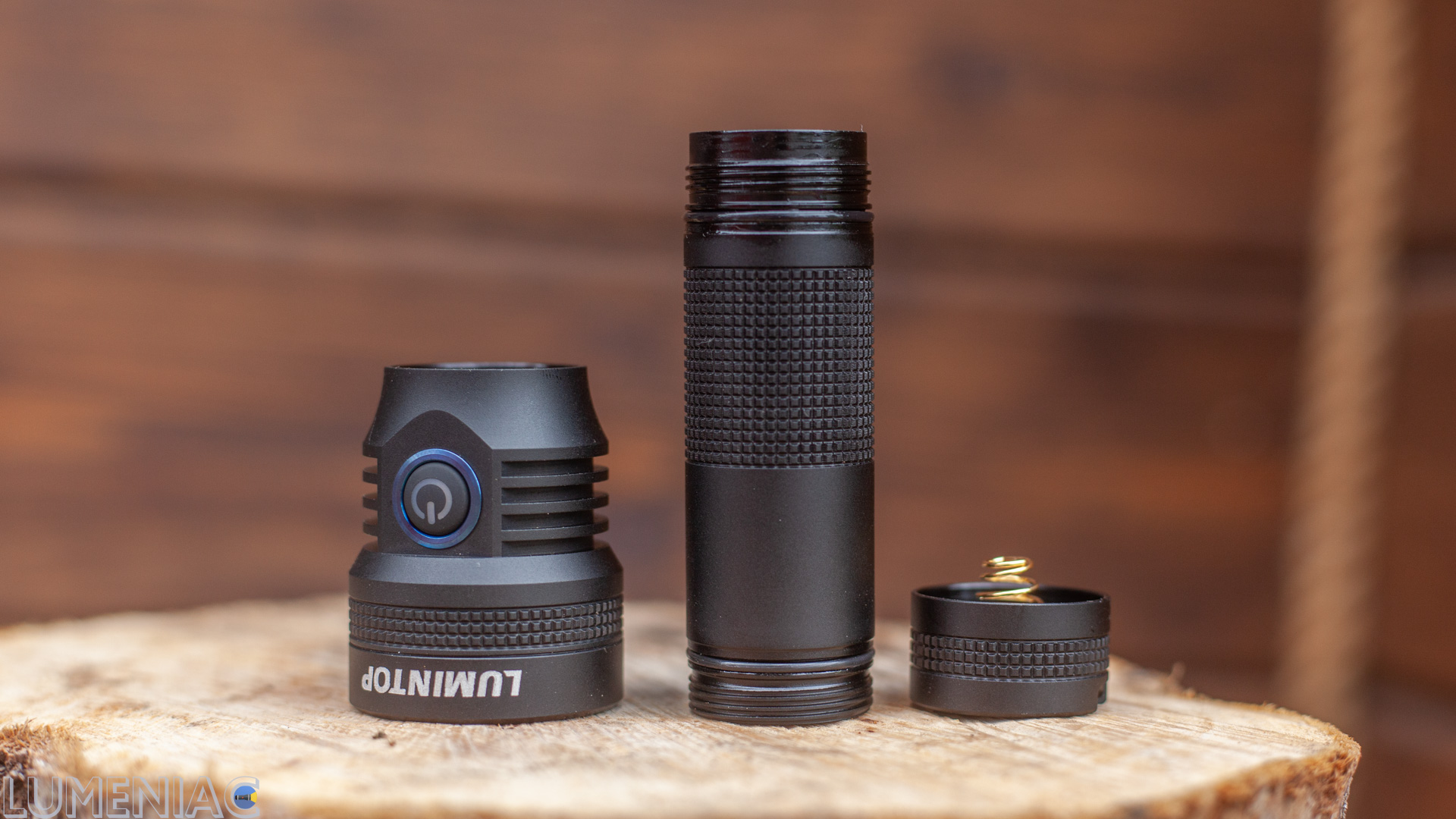 In short, the design is simple, but quite nice.
The flashlight can be disassembled into 3 parts, the knurling is neat.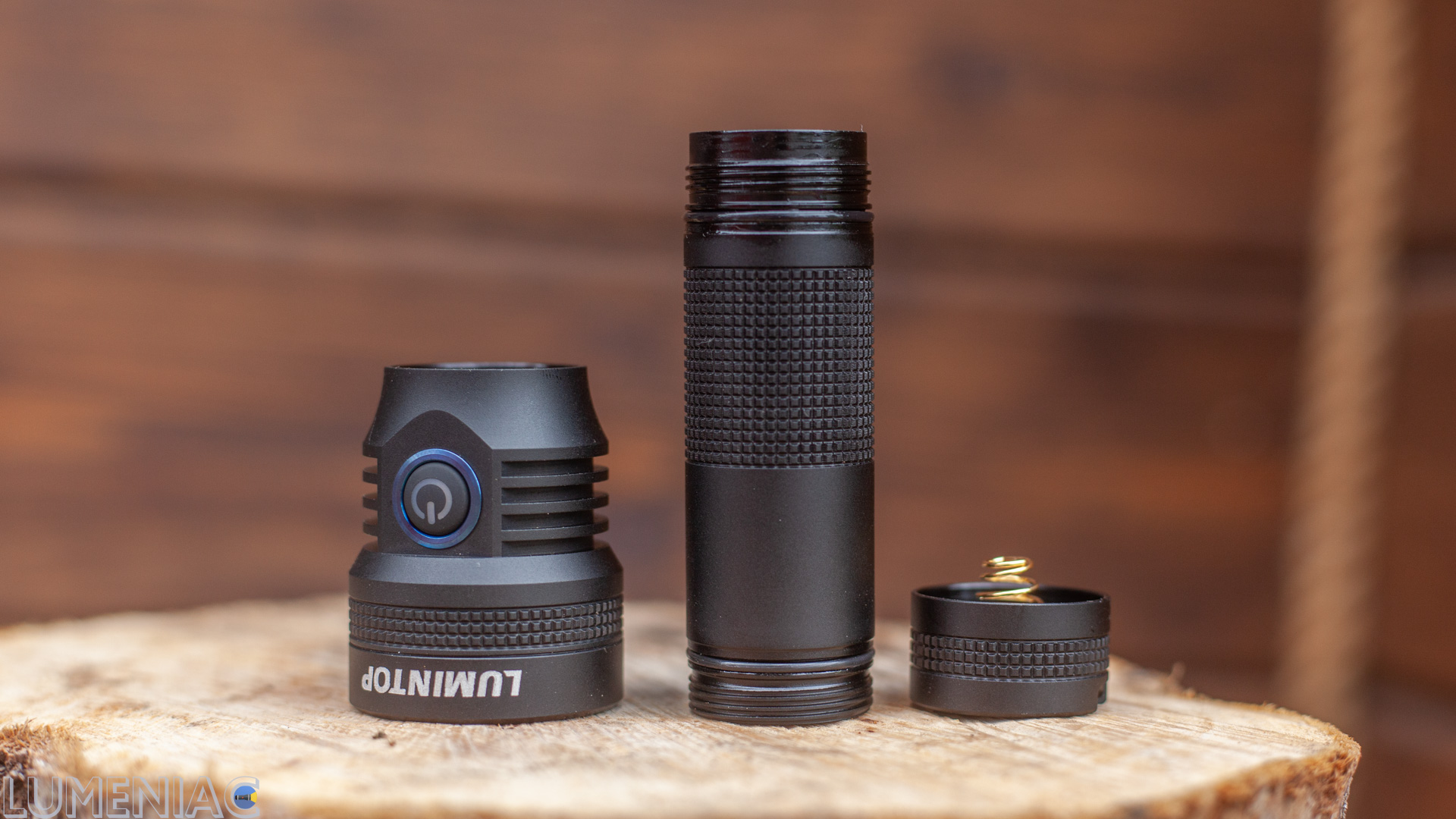 There are springs both at side of the head and at the side of the tail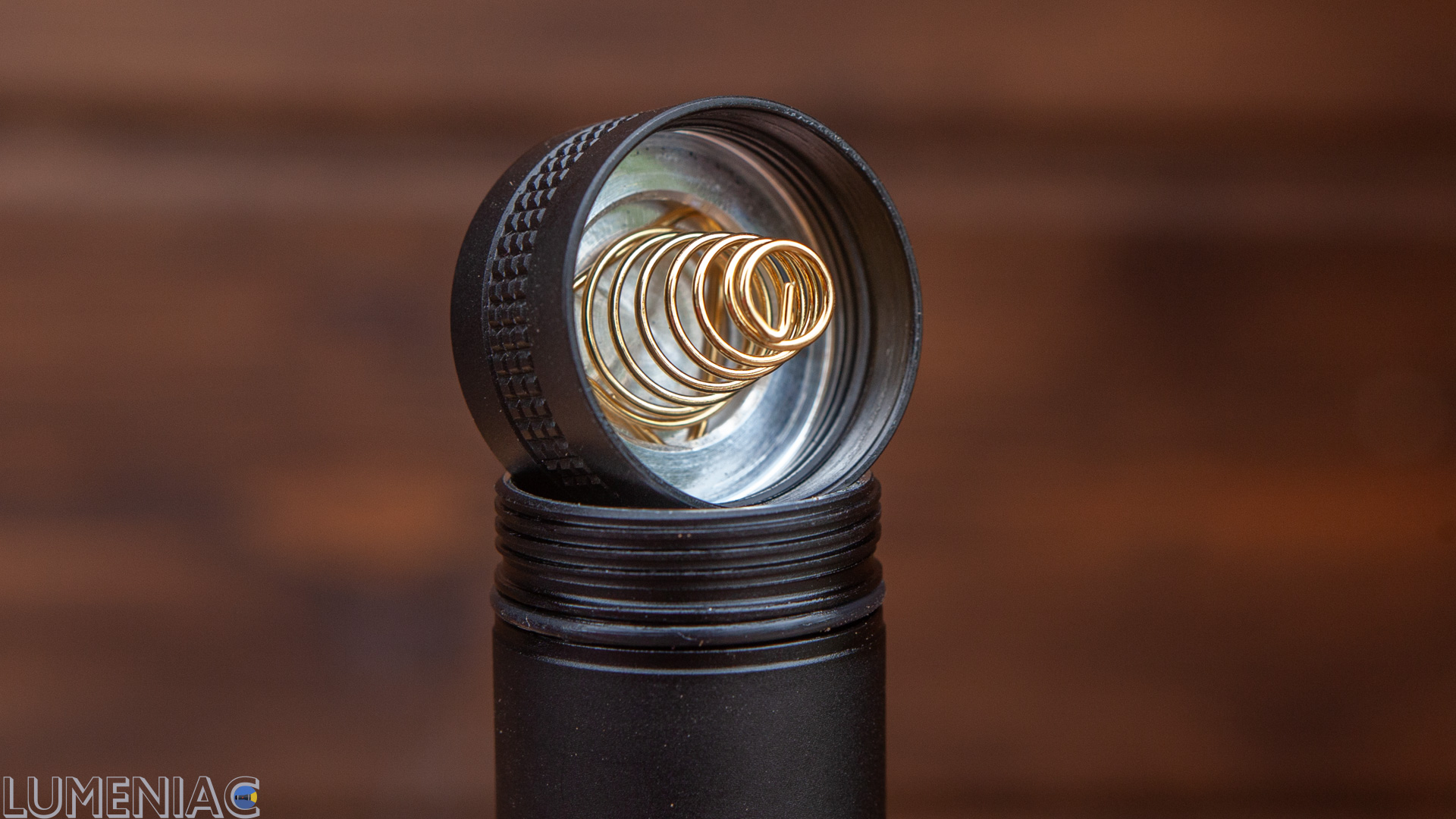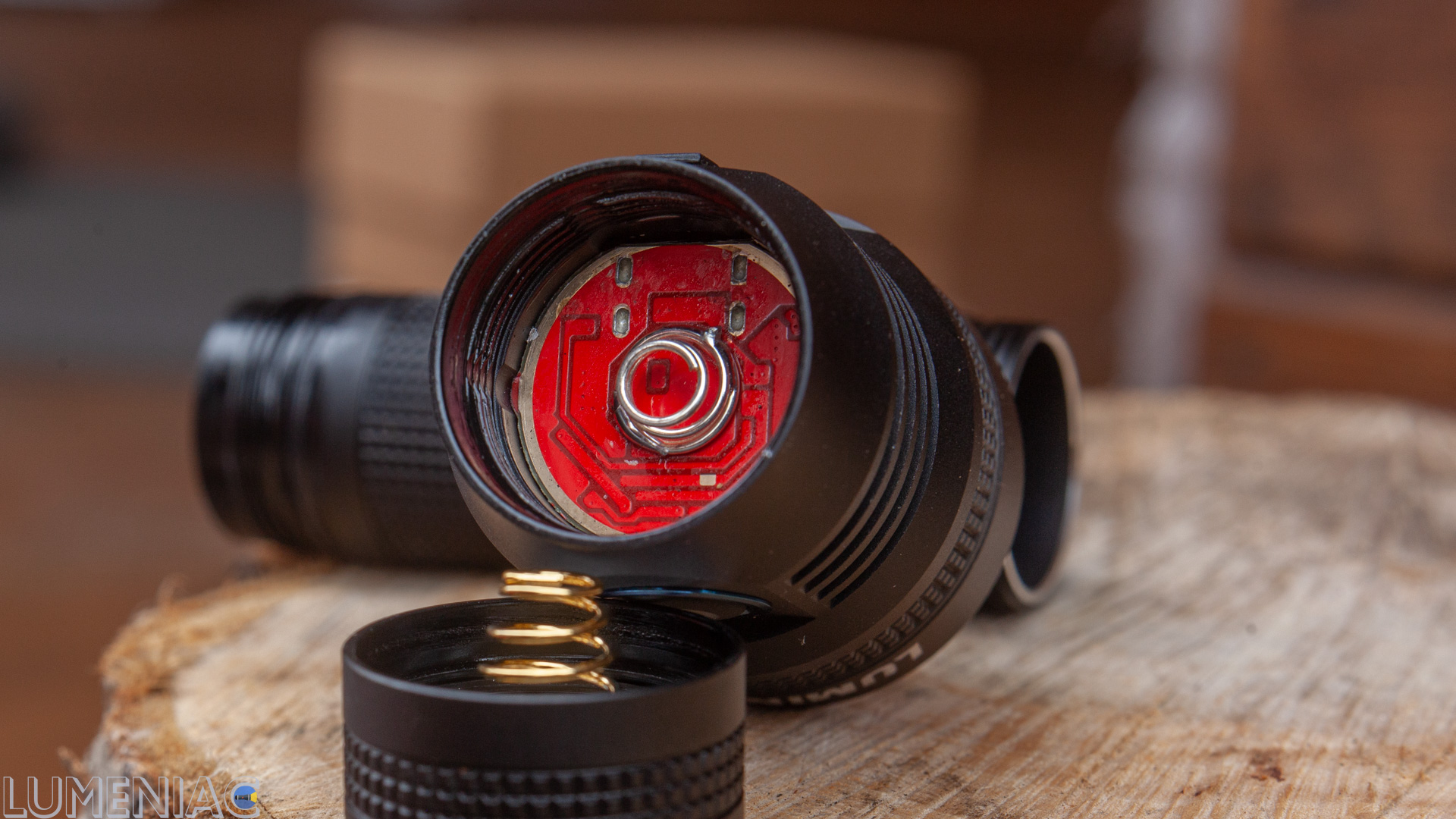 The head of the flashlight is undoublty compact regarding to throw and 21700 battery used. The cooling fins are quite deep.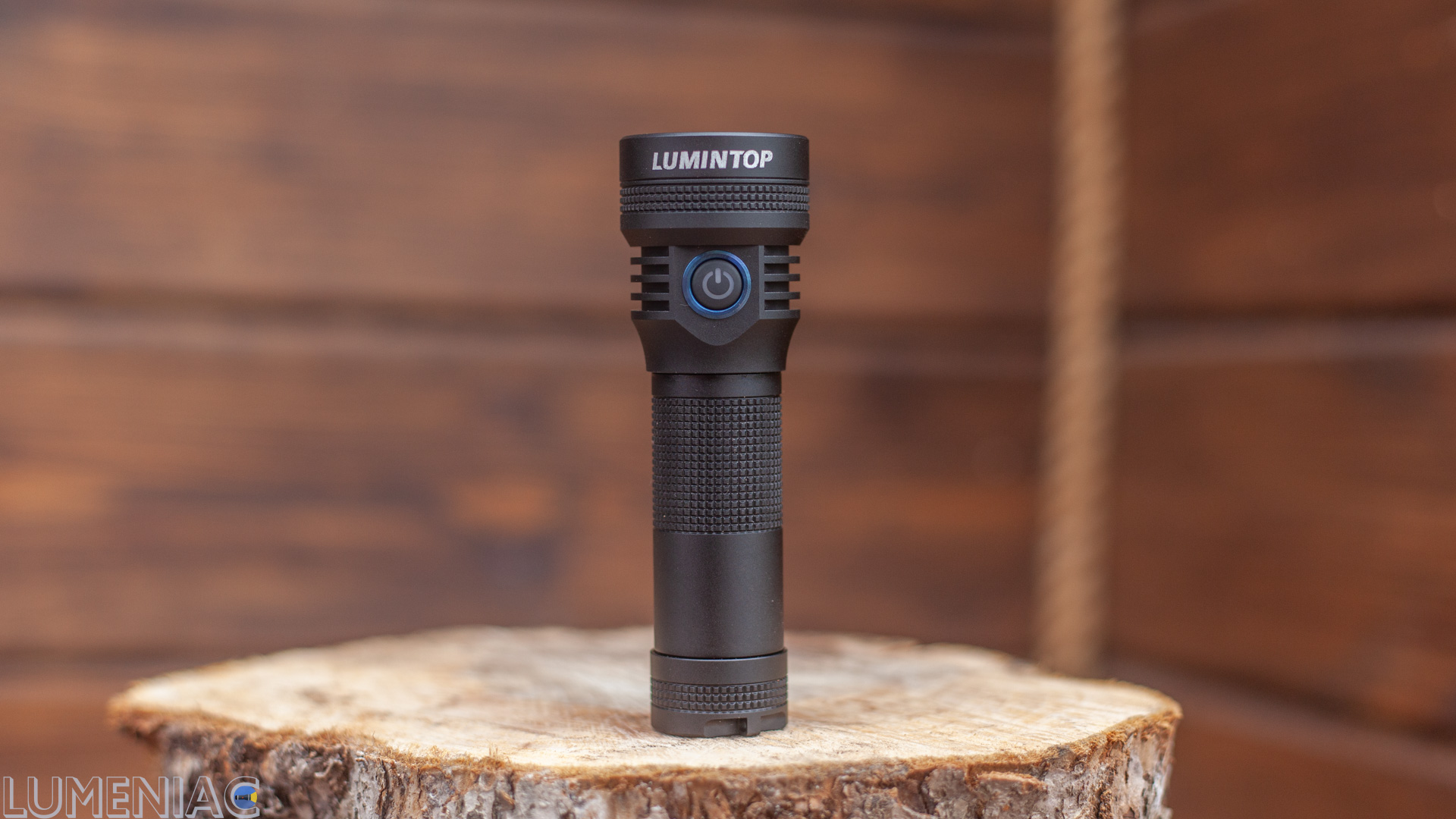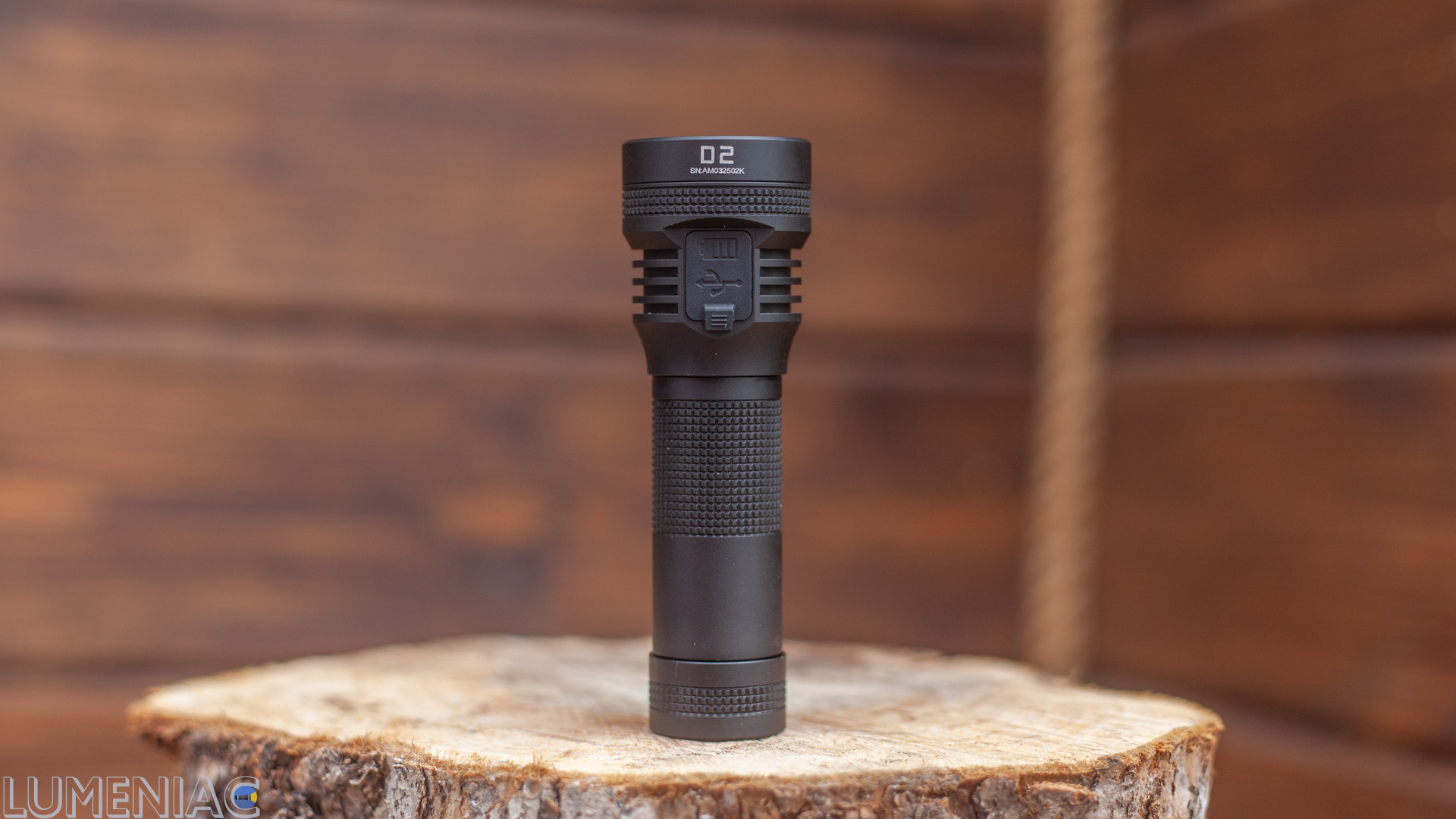 The button is medium-sized, easy to find, convex and generally pleasant in appearance (the Olait bezel went around it obviously for the future) and to the touch. There is a non-switchable dim backlight. The button glows much brighter during charging.

Actually, charging here is Type-C and it is very useful, especially when you need to charge the 18650. 2A – damn good!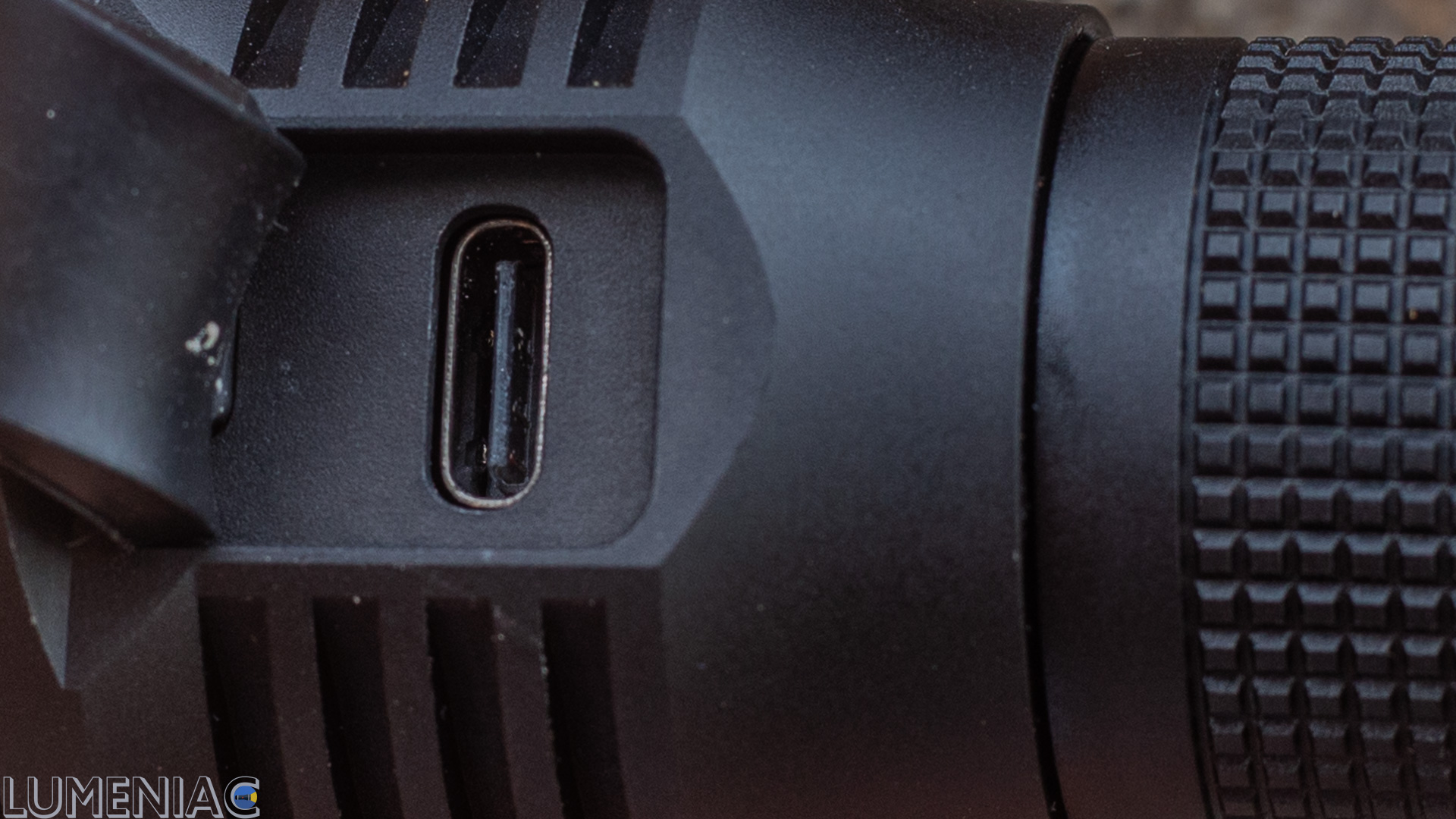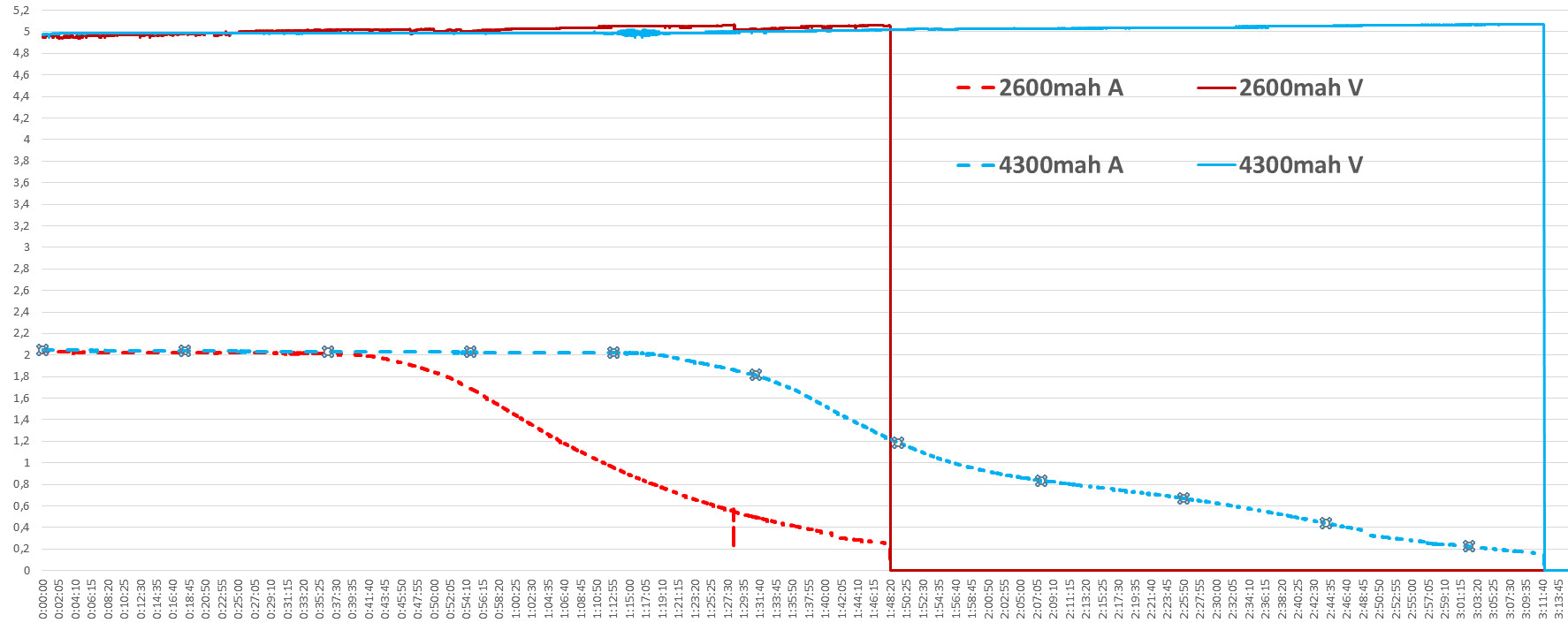 There is nothing new in optics: glass with antireflection coating covers a shallow smooth reflector with an OSRAM GW.PUSRA1 PM LED on the bottom.
There are also longer-range LEDs in the Osram line (example). In the mass of situations, manufacturers use any opportunity to increase the numbers in the specification. They simply use that most ordinary users are not aware of relations between throw and convenience of working at close range. So I can only welcome Lumintop's decision to stick to some reasonable middle ground.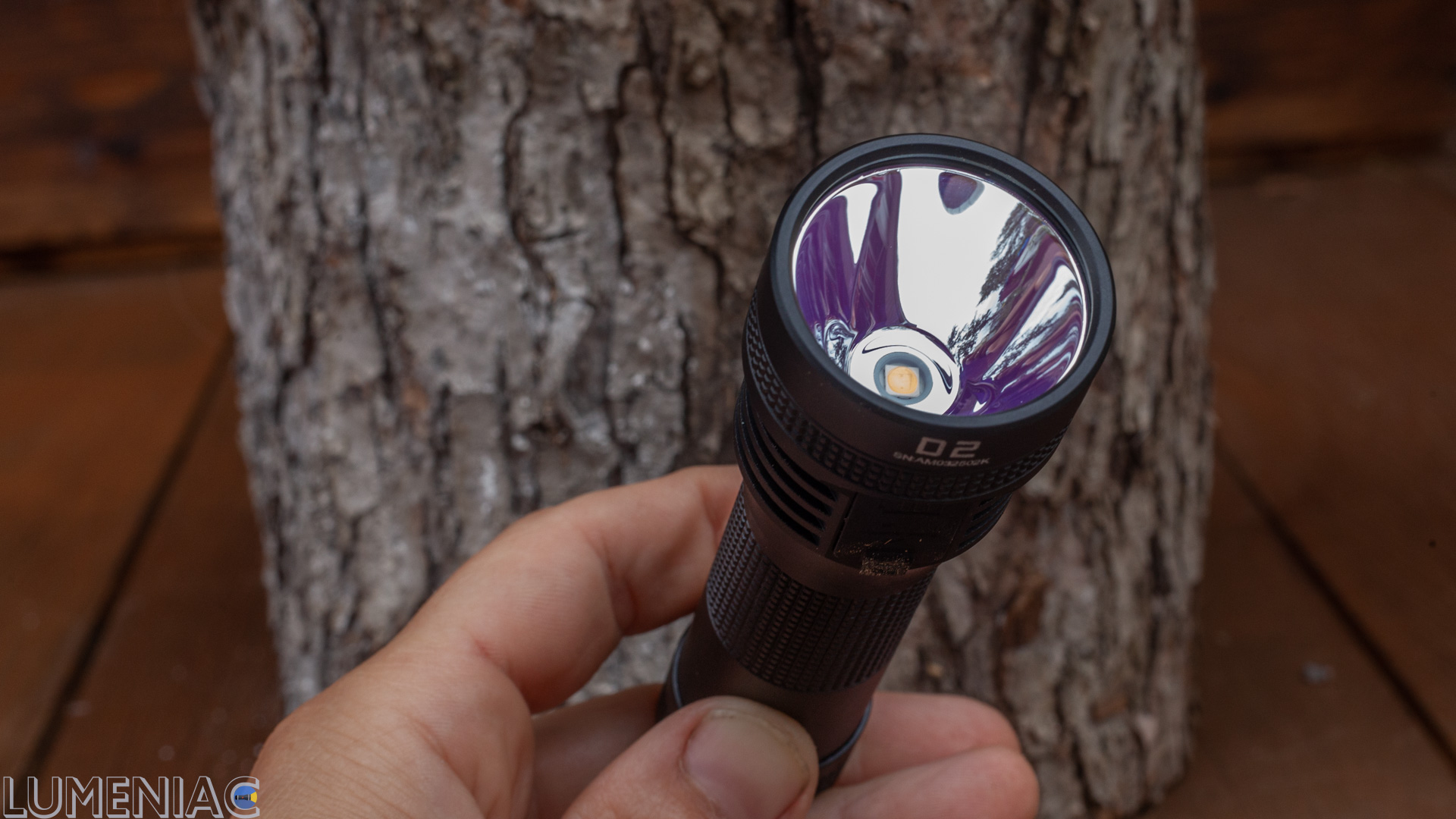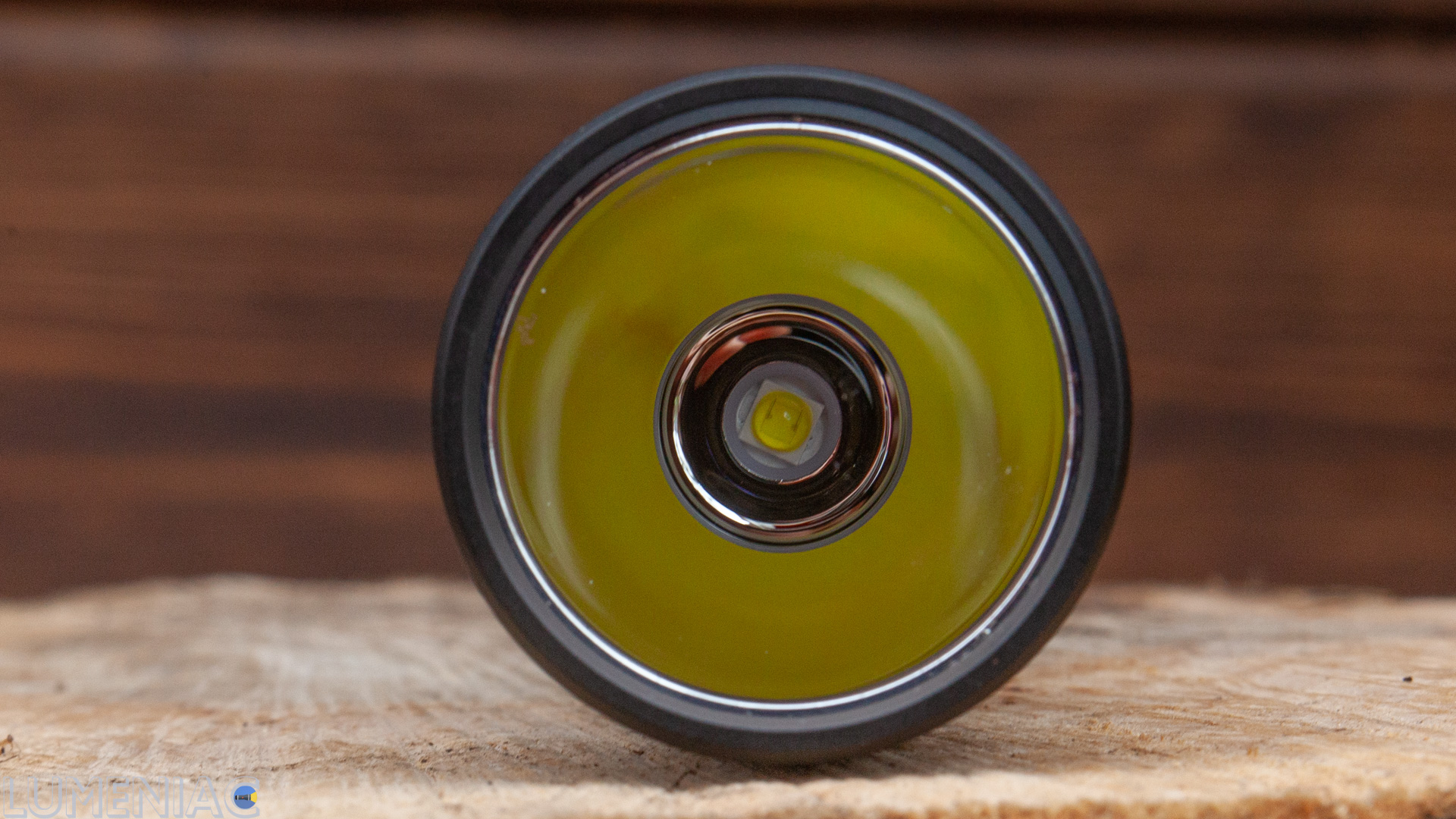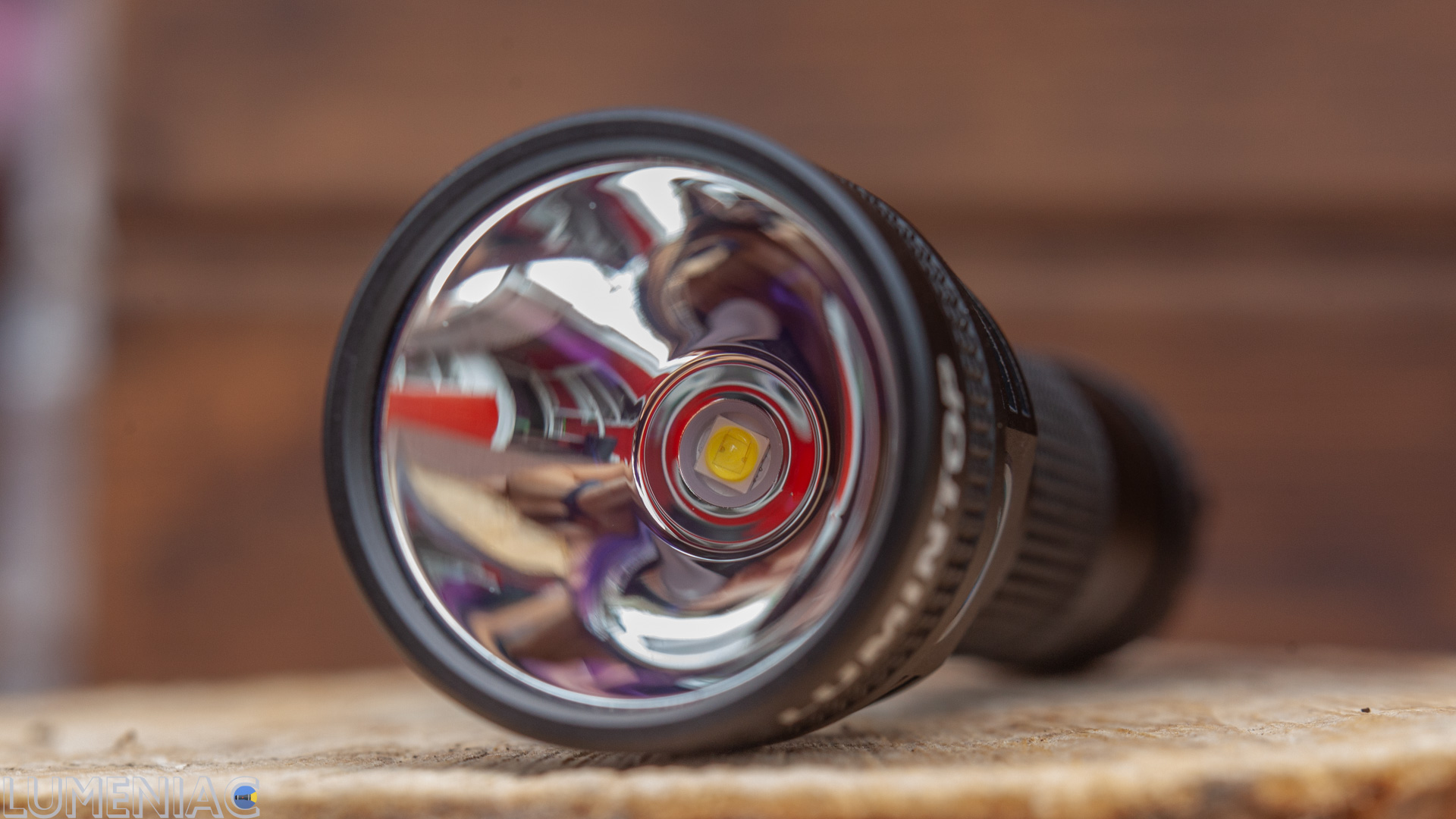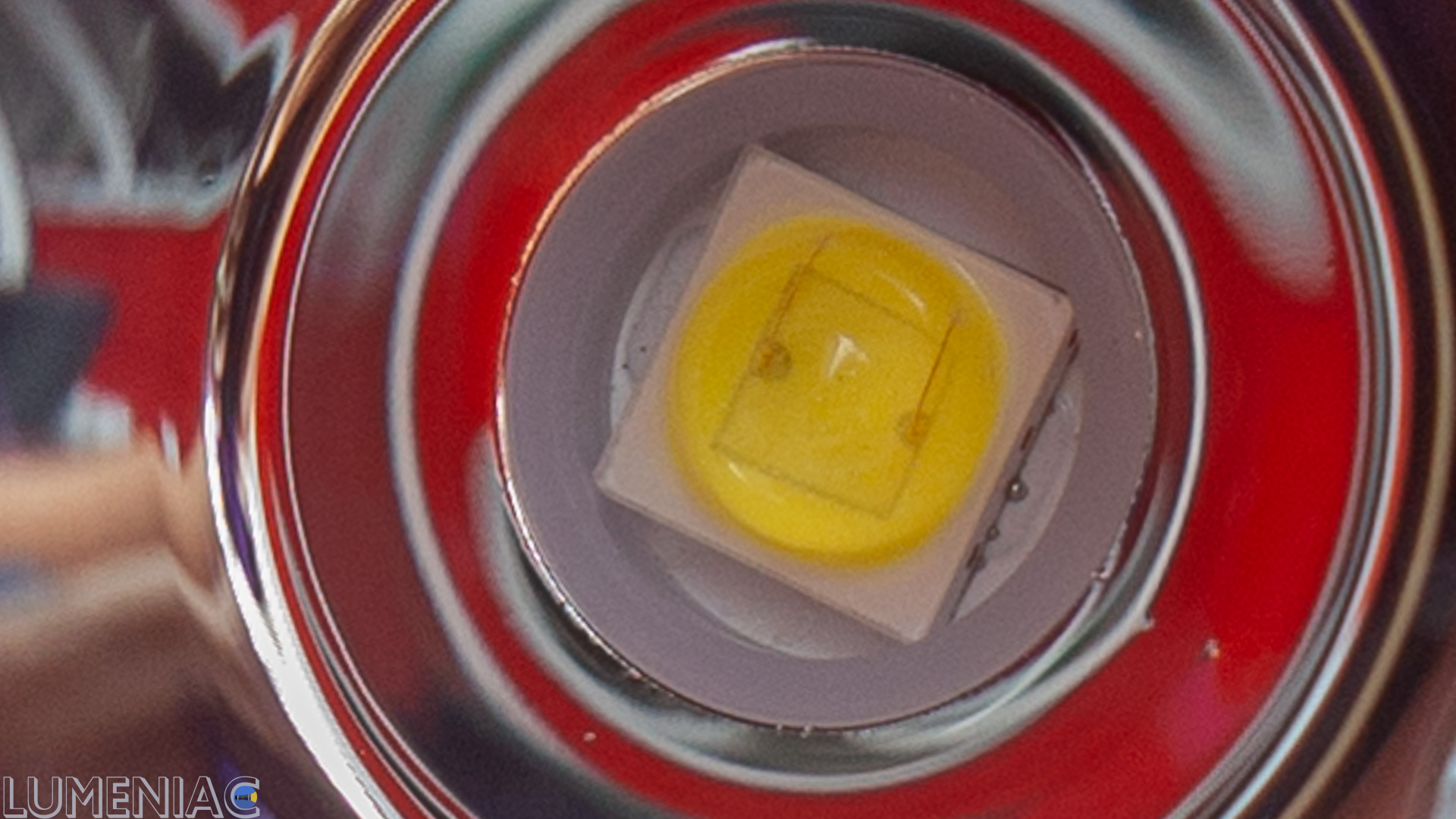 In general, the design is from the category of "okay, it will do." The size is small, but doesnt badly affect grip. Button and charging speed are great.
UI
Here Lumintop remembered their roots (they used to release quite dull models several year ago) and used simplest classic Fenix-style UI.
I don't like it, but it works junt right for the widest masses of ordinary users. I think that a "2 second hold from off" strobe is not as practical as a firefly mode. Or at least D2 can start from firefly after being ulocked.
In general, of course, UI is a very subjective thing.
HOW LUMINTOP D2 ILLUMINATES
The flashlight has fully stabilized brightness in all modes and excellent turbo runtime. It is worth clarifying that battery from kit performs as you may expect – i mean quite poor. I used green Liitokalal 21700 with real 4300 mAh ( declared 4800 ). A good capacious Samsung would have shown itself even better.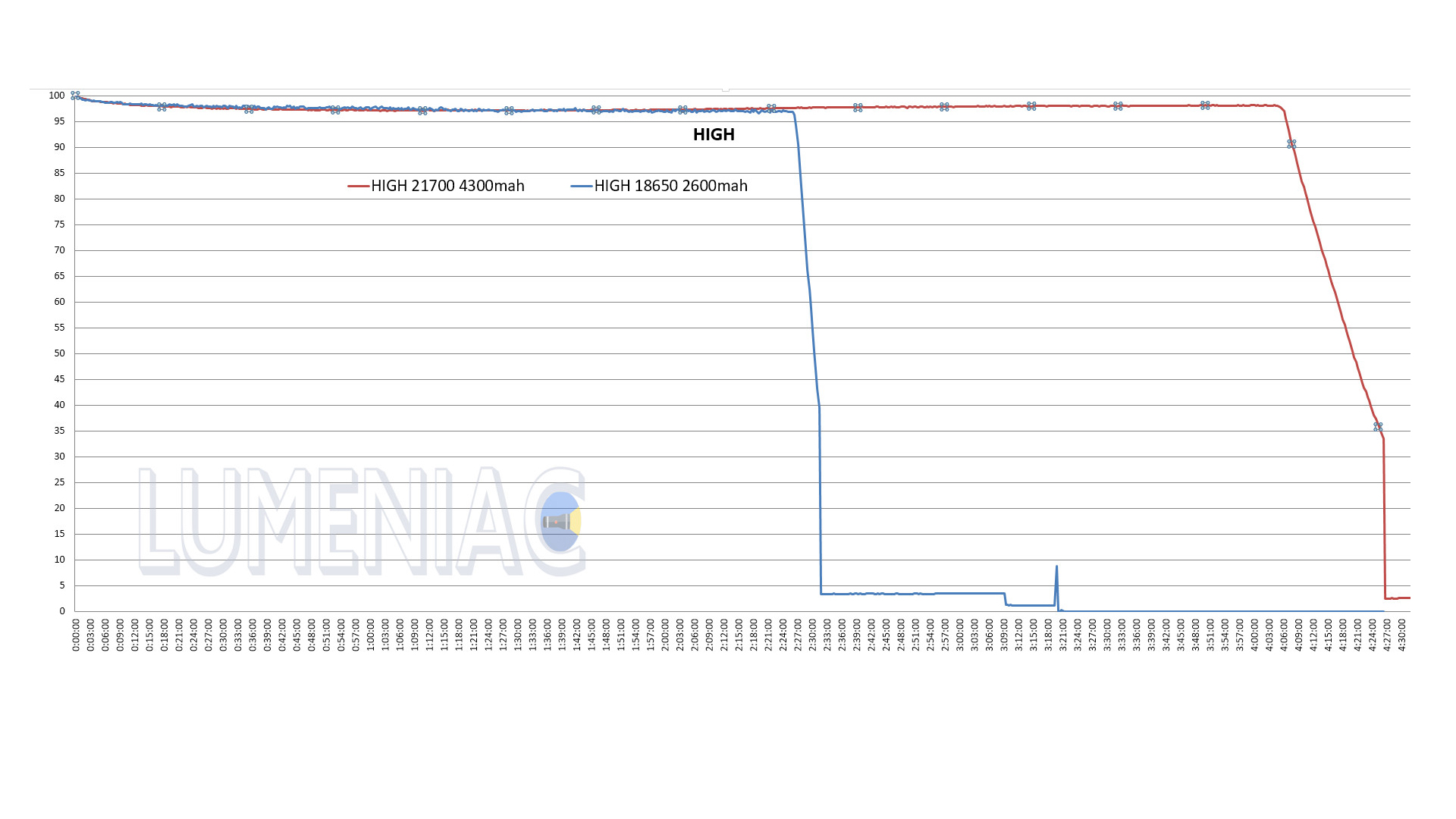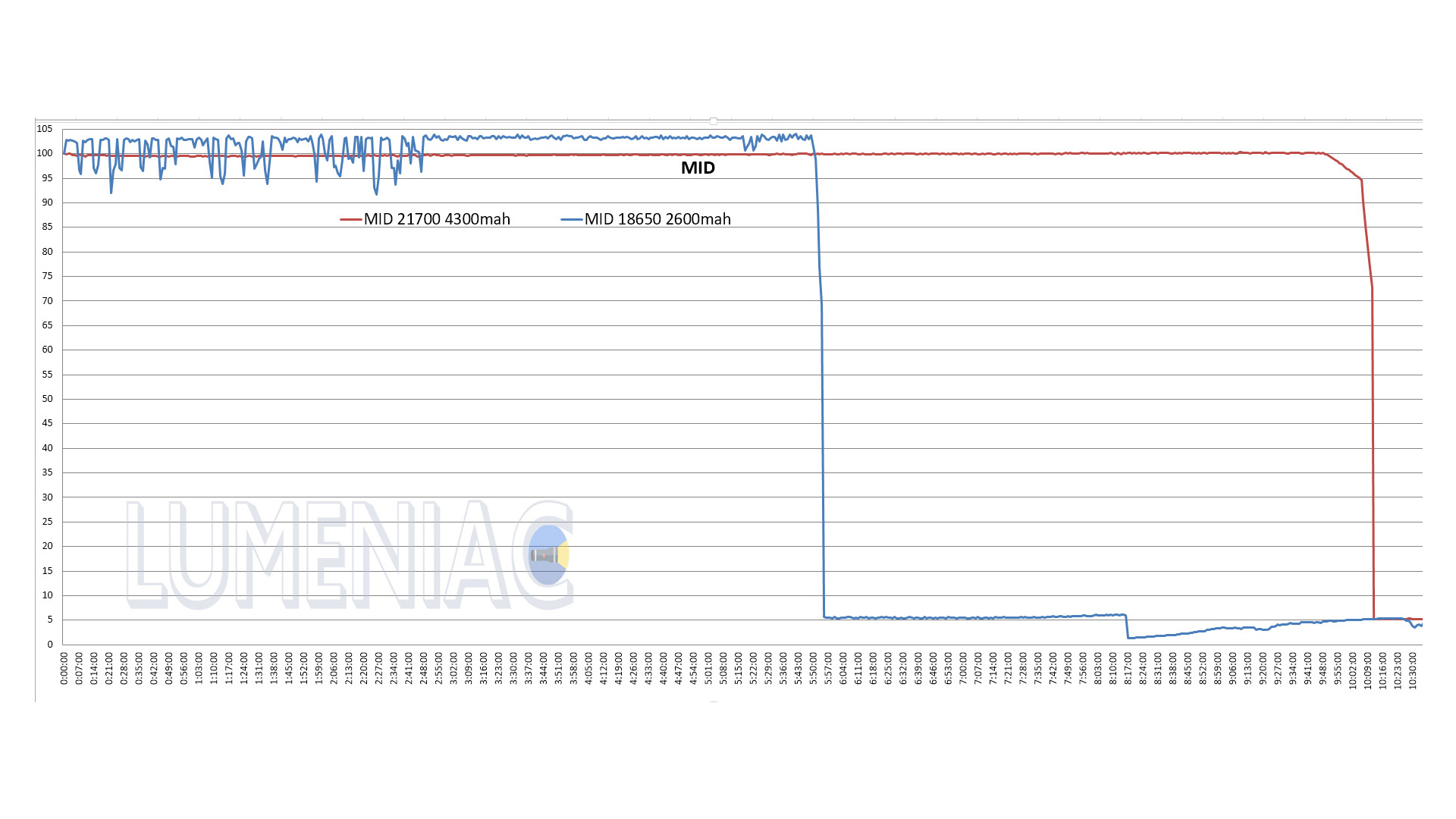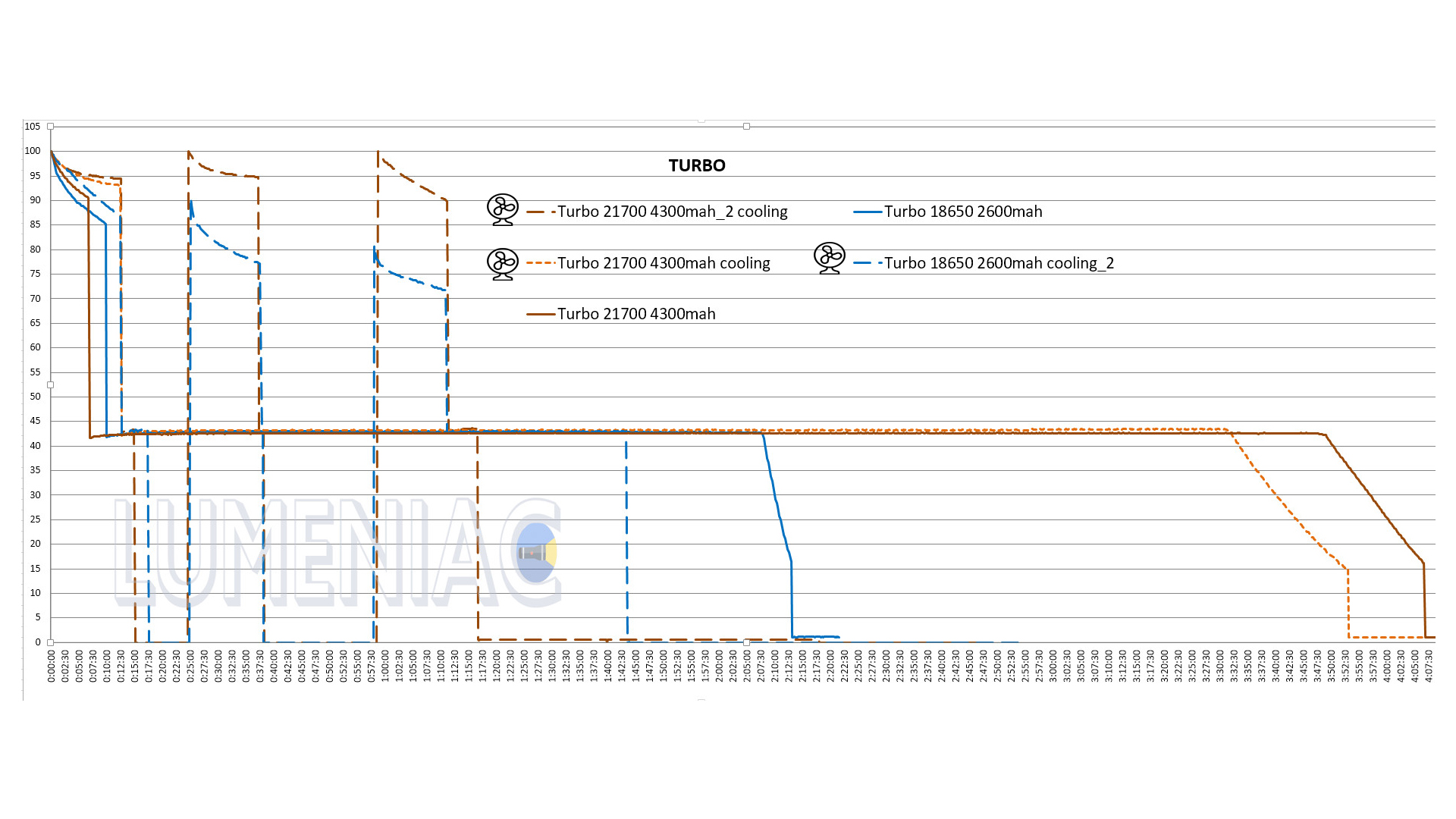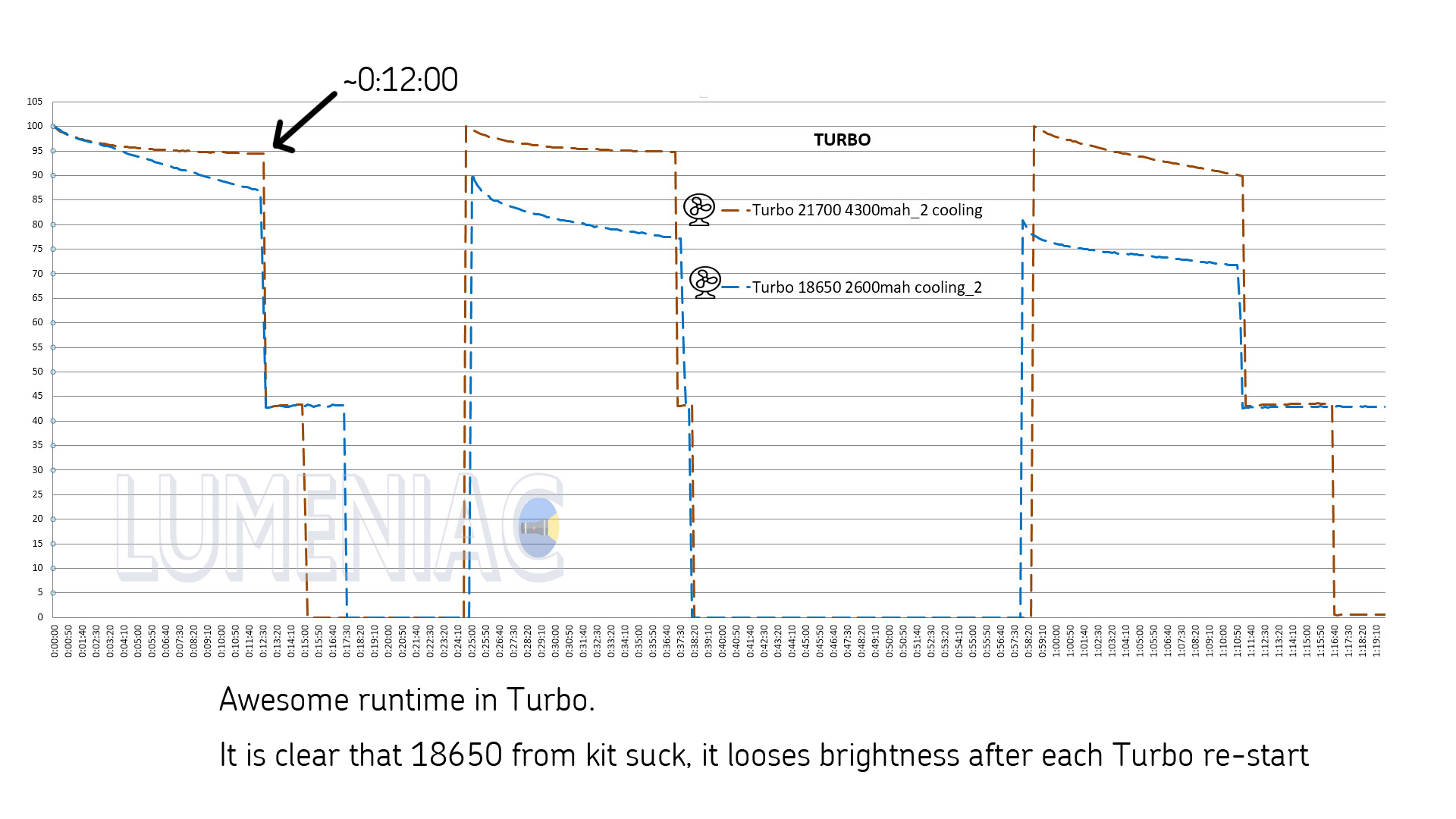 The light distribution (and the throw too) of the flashlight resembles some old C8 XML-2. The hotspot is pronounced, but there is some dim sidelight too. D2 can repell forum gourmets with it`s simple UI and cold light with green tint and sort of purple halo. They may like Nichia 212C 4000k version. This halo, however, is visible only in a small number of cases, resembling the notorious Schrödinger cat.
As mentioned above, the main trump card of D2 is its throw. Again, it is really good, especially considering overall and optic sizes. And, again, as I said above, it's good that the manufacturer didn't make some kind of "piercer". You still get an undeniably impressive size-throw ratio, but the distance at which the flashlight starts to be comfortable to operate from (which is 7-10 meters) remains seductive enough to carry D2 along with you as a walk-around EDC model.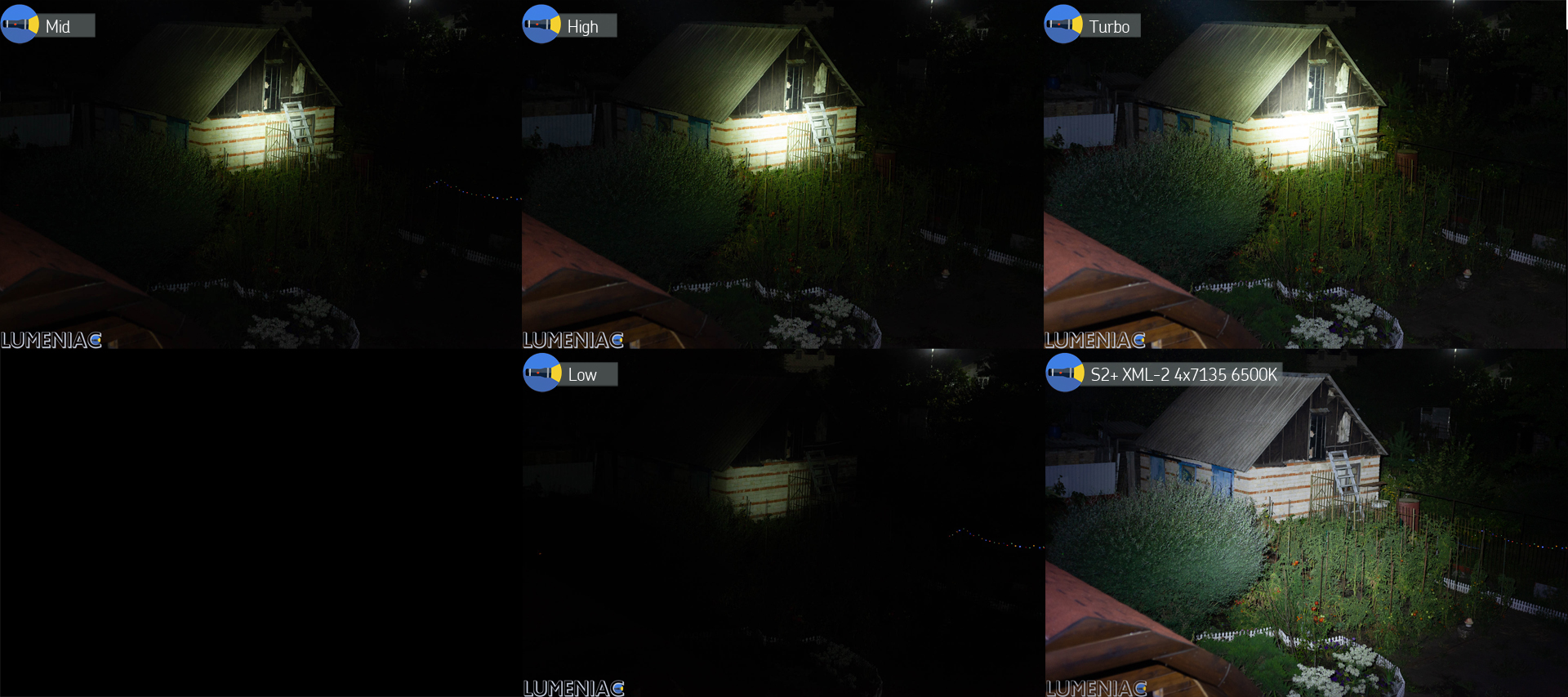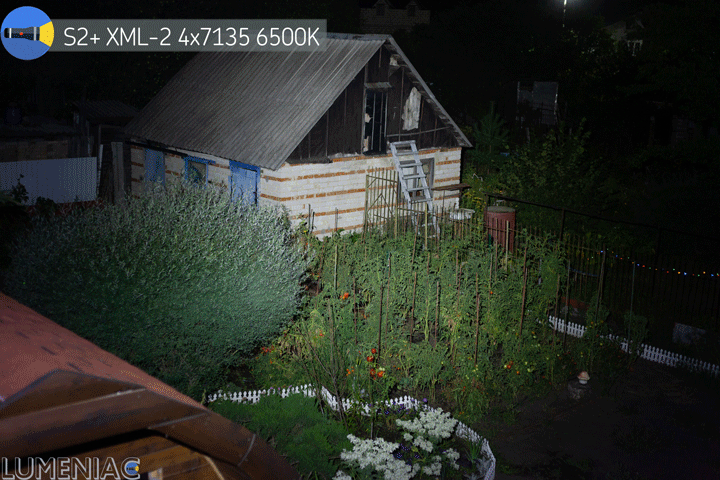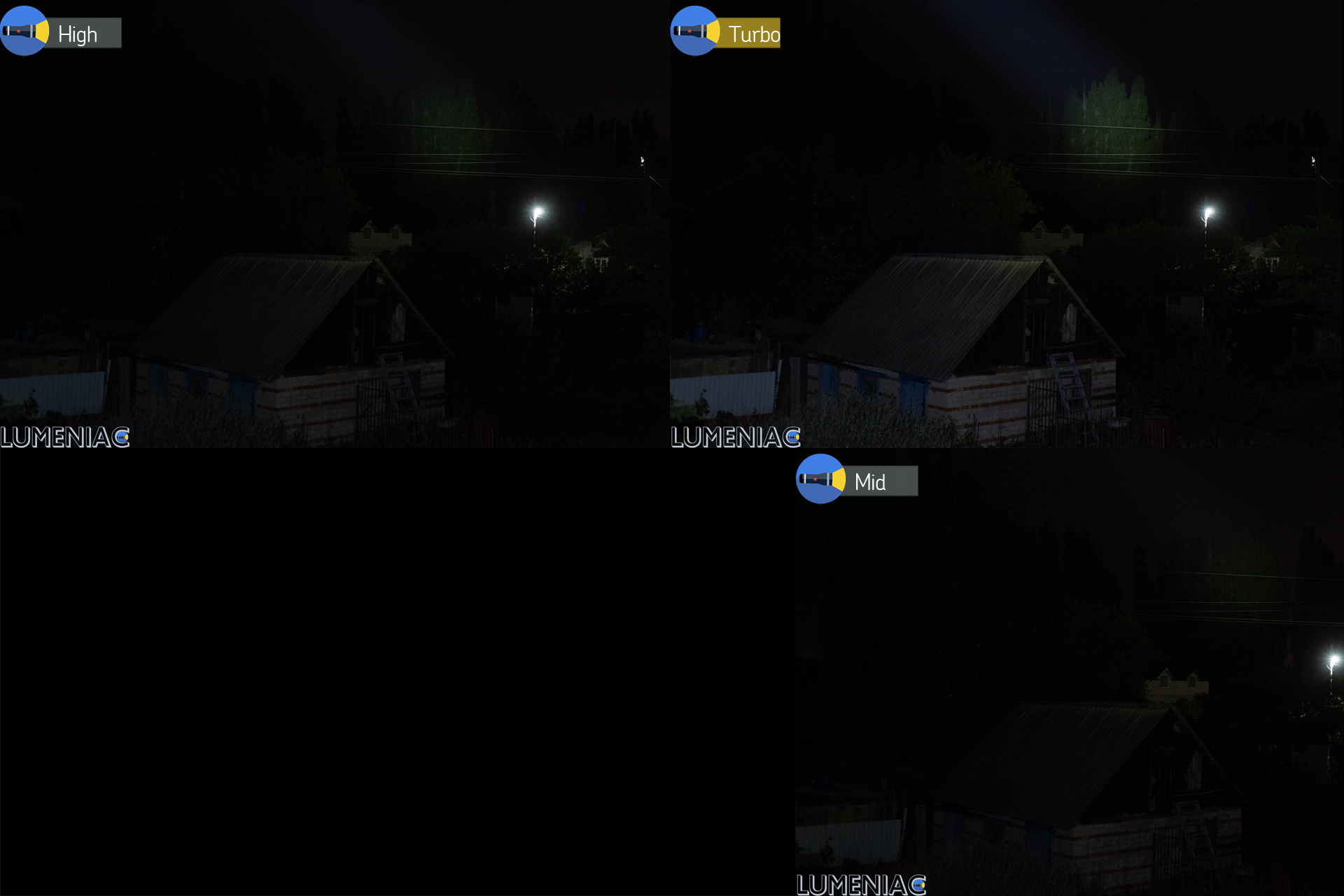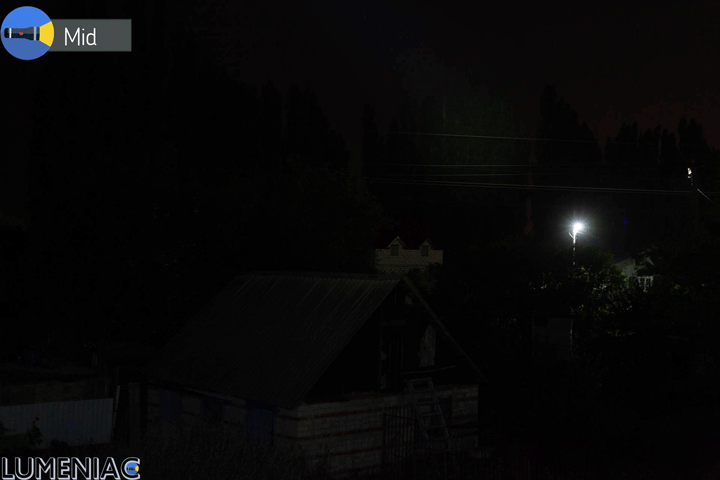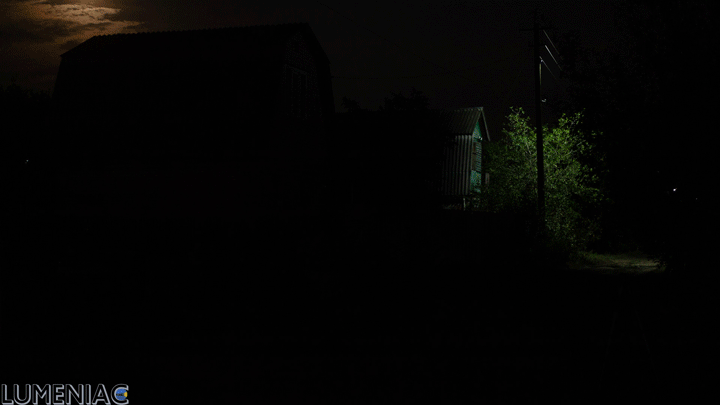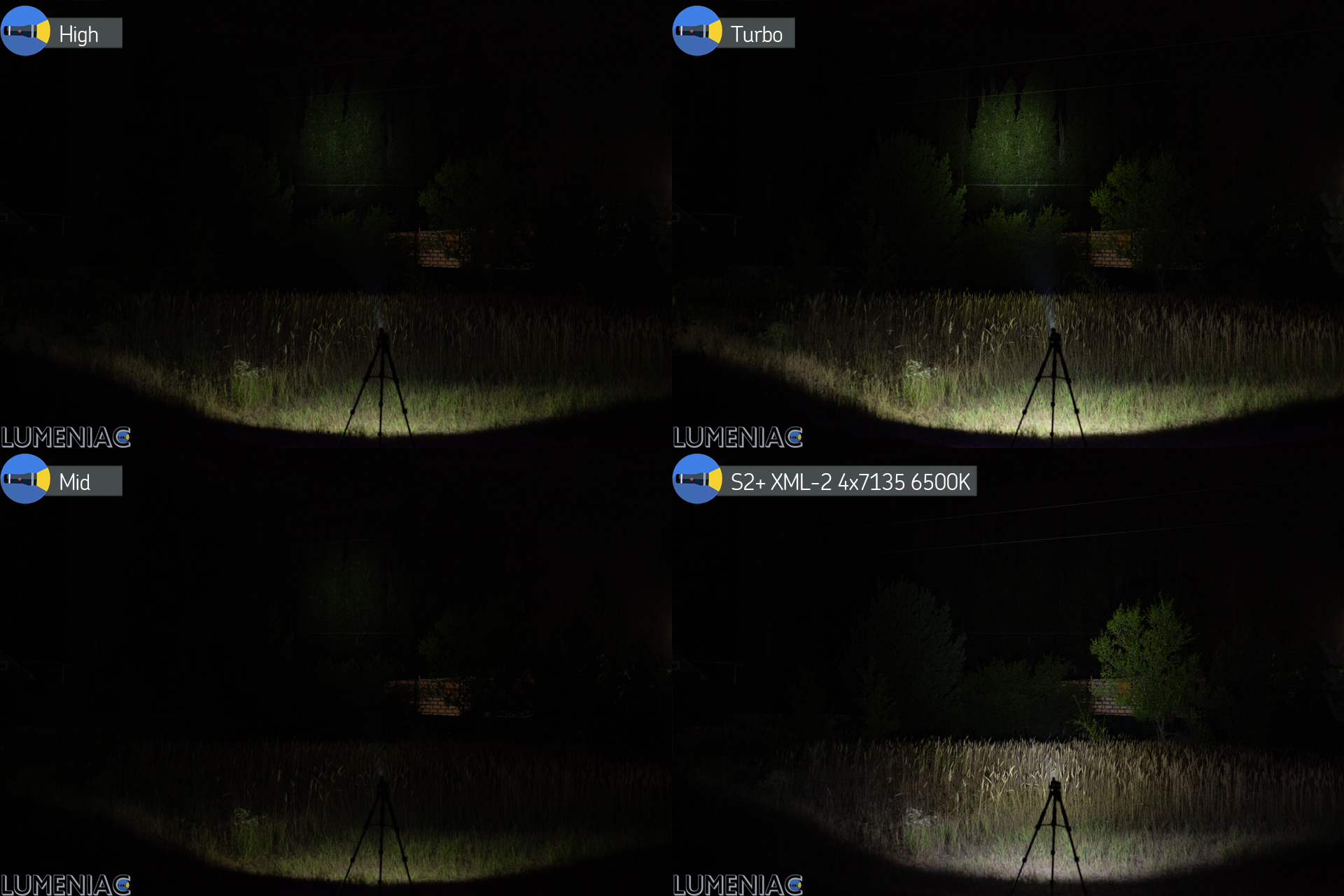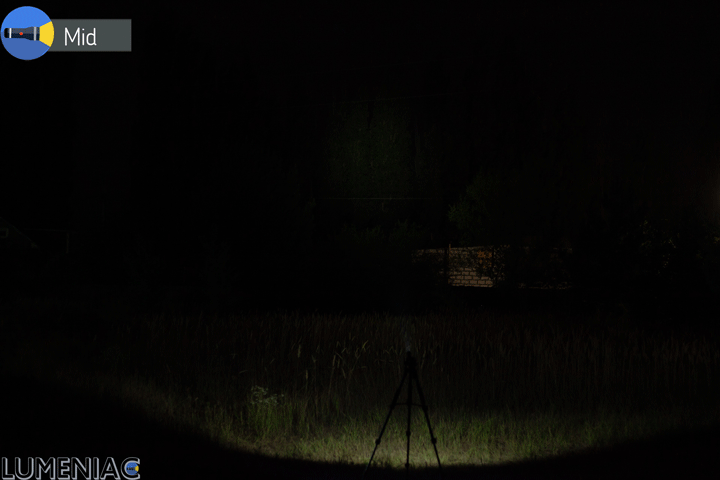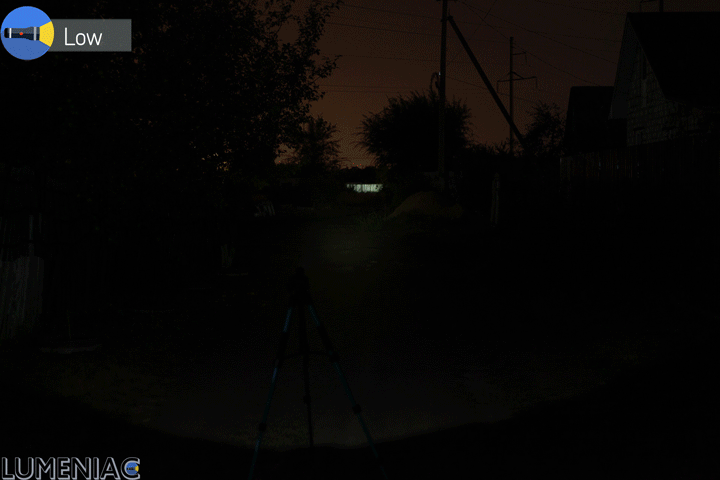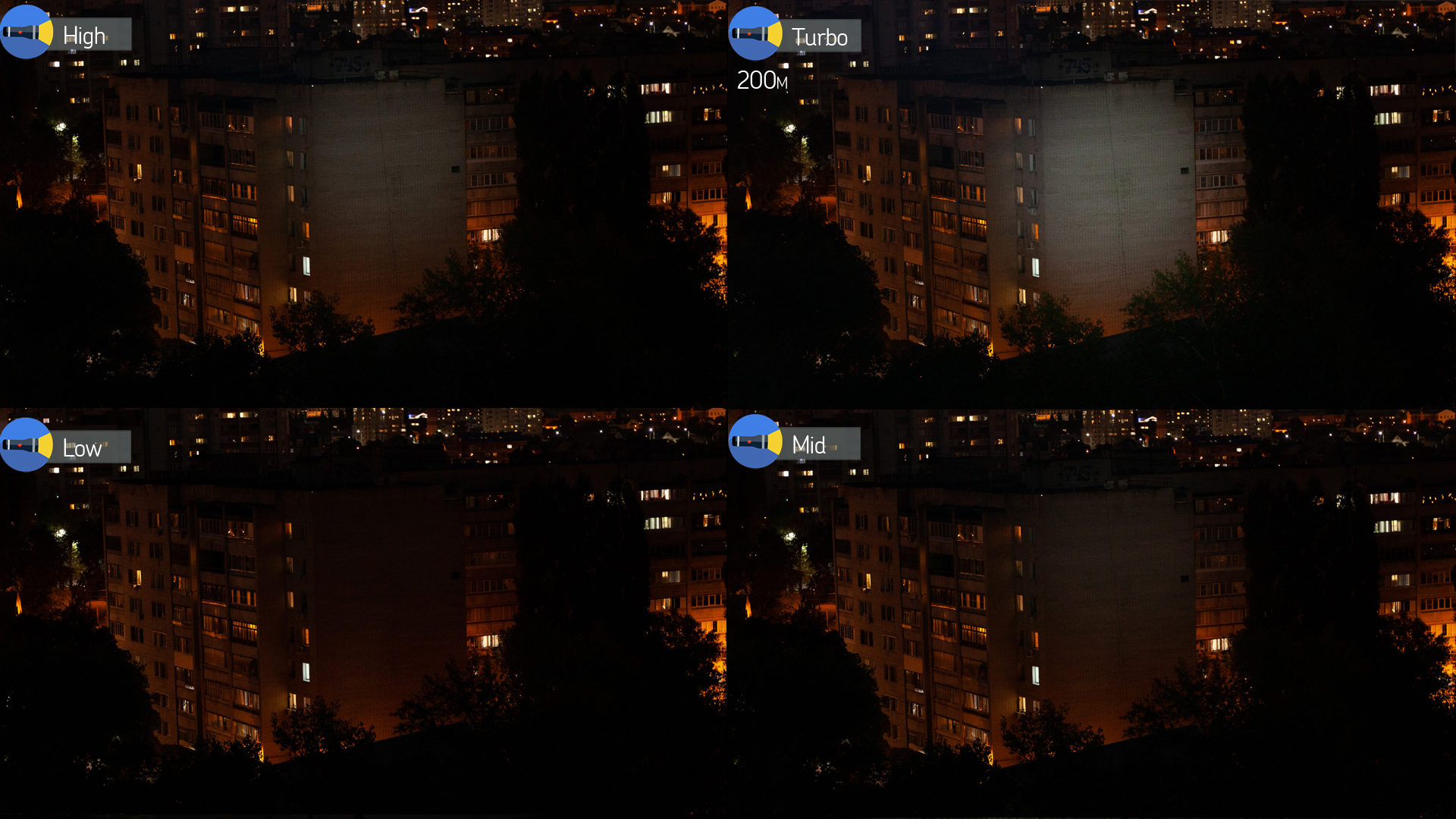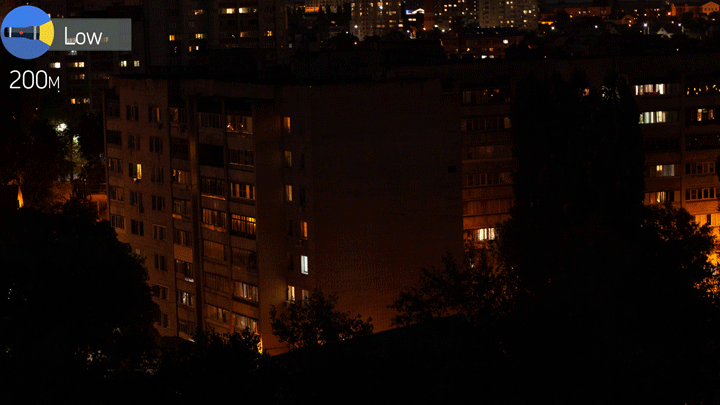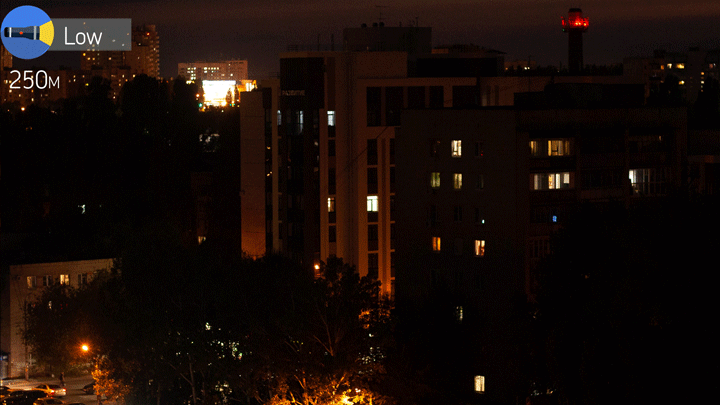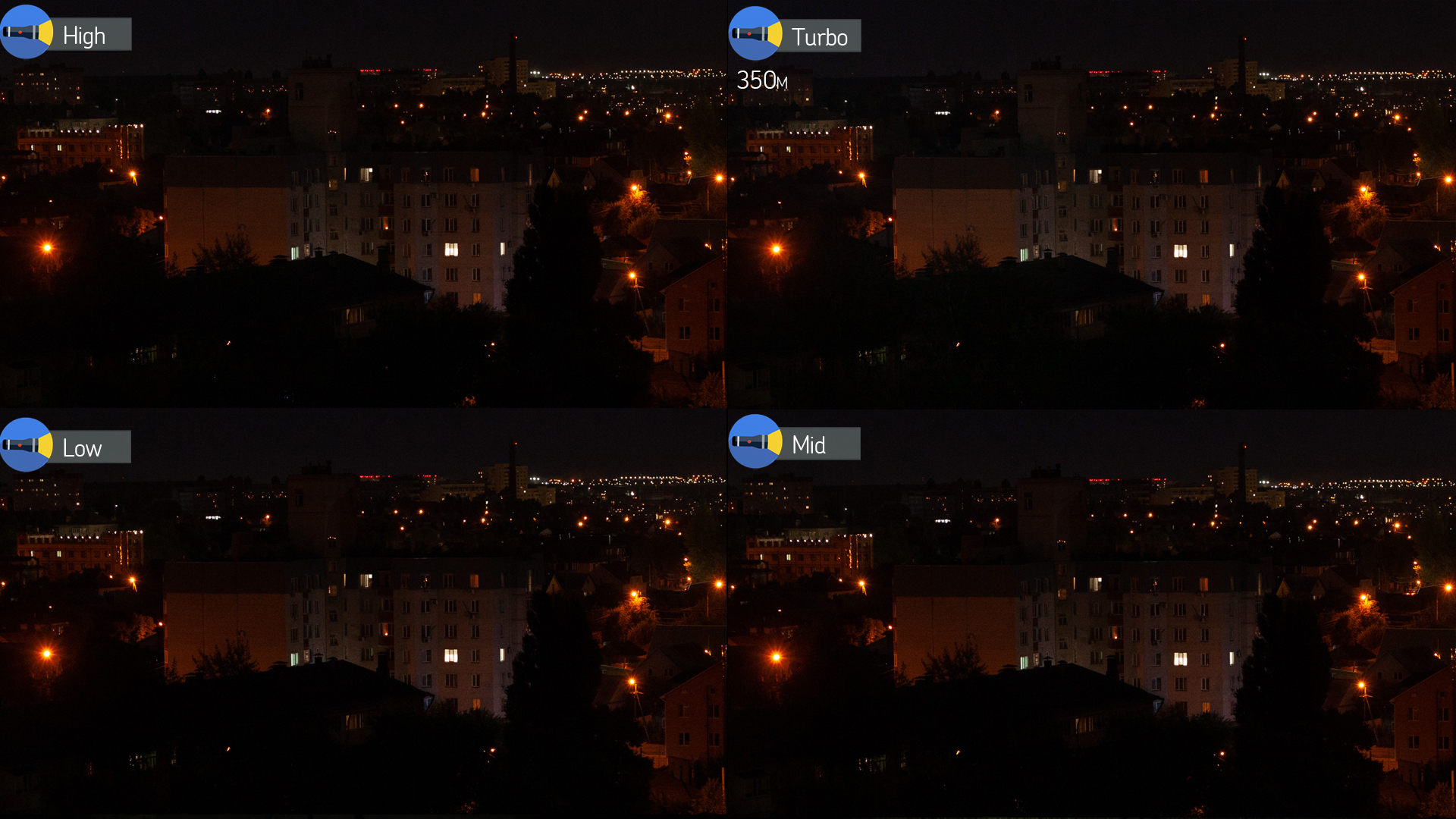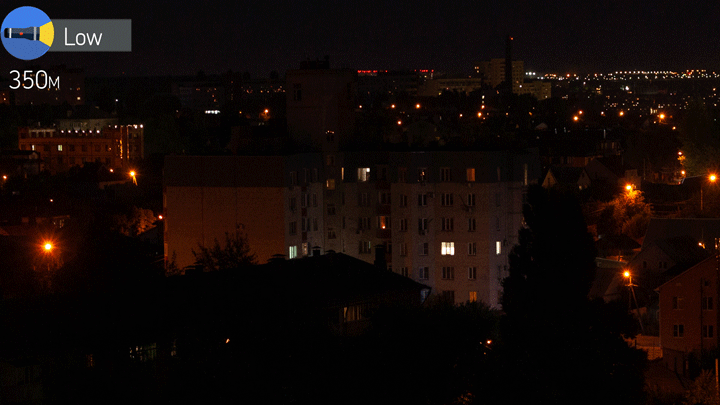 My impression is that you will most likely not need to get into the turbo. High mode turns out to be enough to cover 100m, and this covers all everyday needs. Turbo will allow the beam to reach more than a couple of hundred meters.
check my Lumintop D2 video review as well
OVERALL IMPRESSIONS
I was surprised…but, guys, i like this flashlight!
Normally, such combination of cold long-range light with green tint and primitive UI, which I usually criticise, would force me to write again something like "a flashlight for an ordinary undemanding user."
But, suprisingly, I liked D2. Yes, it has a cold light that is impractical for long-range work (if you didn't know, cold light, unlike warm-neutral light, strongly reflects dust and moisture scattered in the air) and UI that is too straightforward to my taste. But what is on the back of the scales? There are fast 2A charging, support of capacious 21700 batteries, short length and a very impressive range relative to this compact body size, full brightness stabilization with excellent runtime in turbo. And, what is really important, an unexpectedly low price at the level of Sofirn-Convoy (ok, price with promocode), Lumintop D2 somehow unexpectedly sunk into my heart. With price tag of 50+ USD i would be more sceptical. But for 30$ – that`s damn good deal!
I will not say that this is an absolute bestseller and a great flashlight with a crazy range. But with this set of advantages, I'm honestly ready to recommend it. It will become a pleasant addition to any flashaholic`s collection and a convenient helper for an ordinary user.
This combination of size and range will certainly impress your friends. Few would expect that such a relatively compact flashlight (once again, compact for long-range – especially 21700 long-range. D2 is quite ordinary in size by EDC standards ) will have such a great throw. That is a rare situation when promising throw is real. And that is not sort of inpractical short-lasting turbo, like the same ultra-compact GT Nano has (Nevertheless, Nano is damn funny thing).
In short, it's a cool flashlight and I`m glad to review Lumintop D2 and tell you about this new long-range flashlight. Hope that my review made you feel the same.