There are few AA camping lanterns nowadays. And i dont remember any 14500 powered ones. So it`s cool that Lumintop released flashlight for those, who prefer these batteries. Let`s take a closer look at Lumintop CL2.
You can buy Lumintop CL2 at
➤ ALIEXPRESS with a $ 12 discount code KZXF7J9XYF4S
➤ BANGGOOD with a code BG5114
➤ AMAZON
Traditionally, some promotional pictures.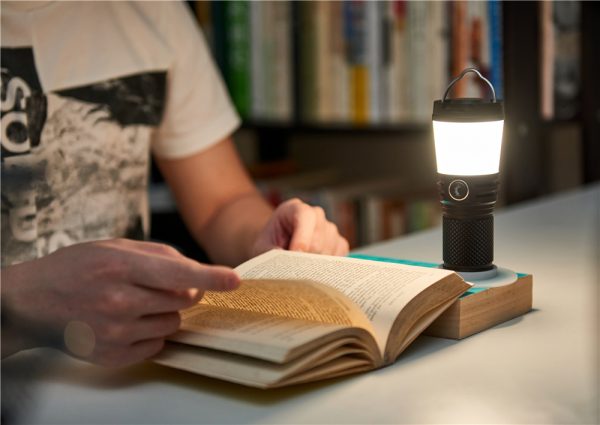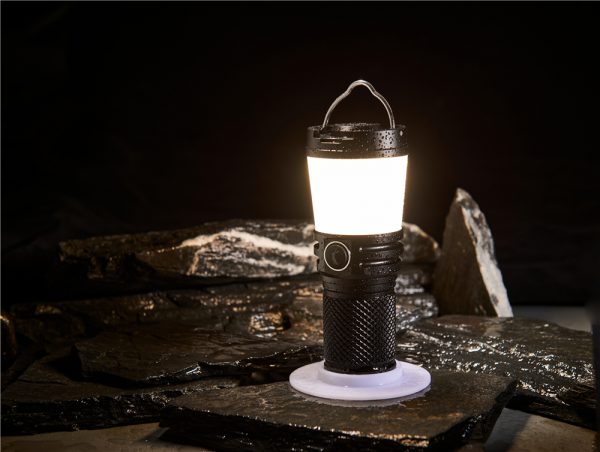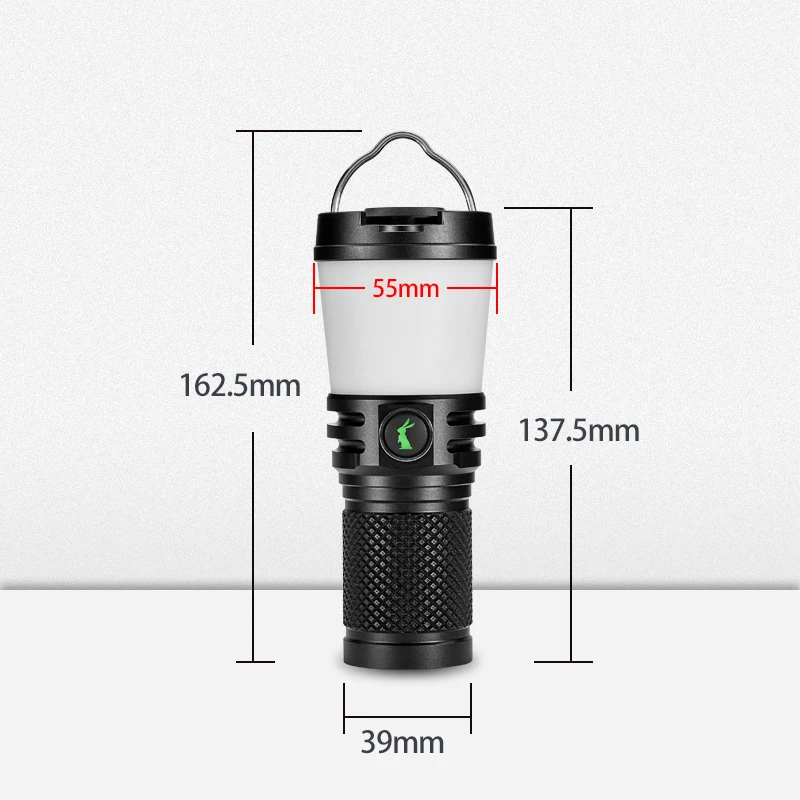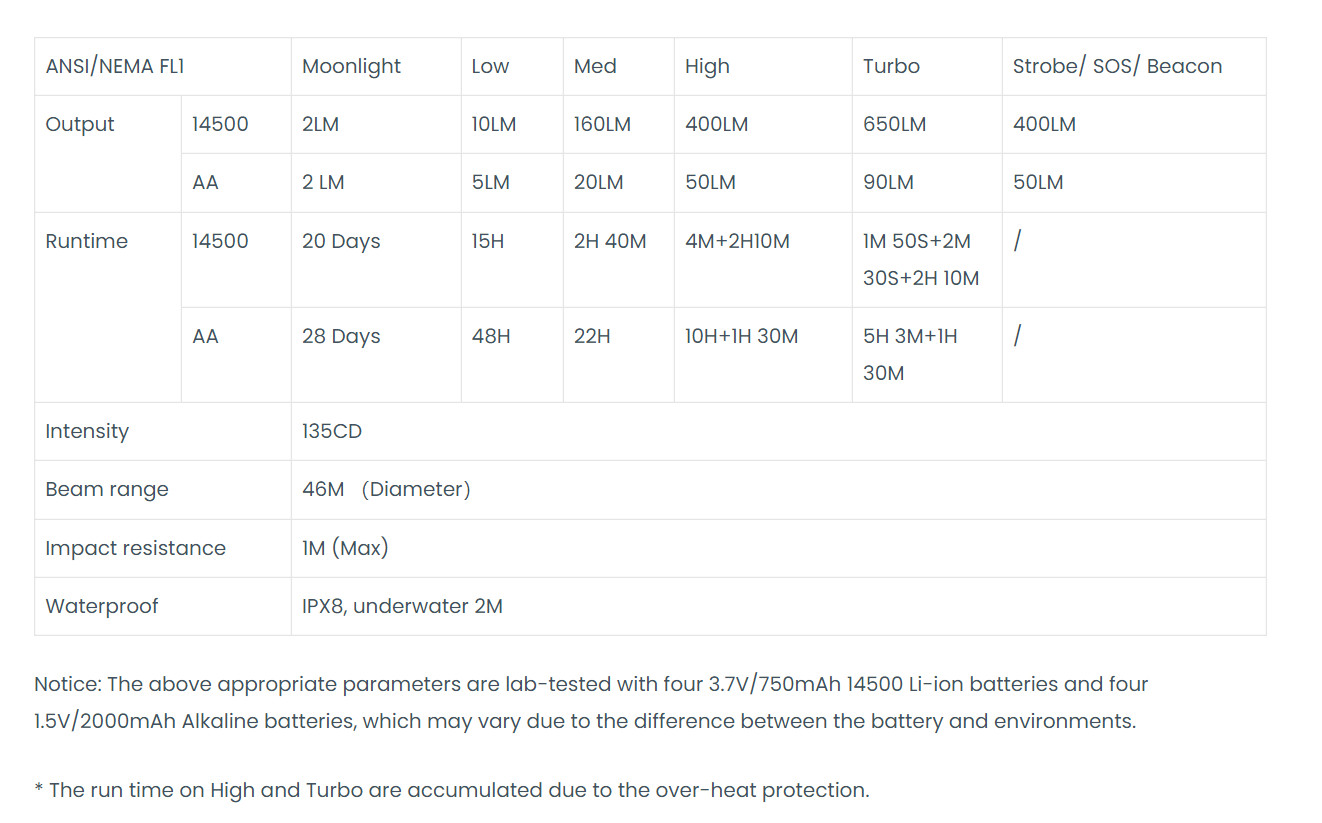 Specifications
- 4 LEDs Luminus SST20.
- Maximum brightness 650 lumens and up to 28 days of battery life.
- 5 brightness levels plus flashing, SOS, beacon function.
- Compatible with 1-4 14500 Li-Ion or AA batteries.
- USB Type-C charging function, 2A charging current, built-in charging indicator and overcharge protection.
- Side switch for quick and easy one-touch control.
- Lock function to prevent accidental activation
- Built-in low battery warning and mode memory function
- Standard tripod mount and carrying handle.
Package and appearance
Quite a nice thick-walled white cardboard box, which contains the whole simple kit, consisting of the flashlight itself, the charging cable and the manual. And 4*14500 if your wallet is that thick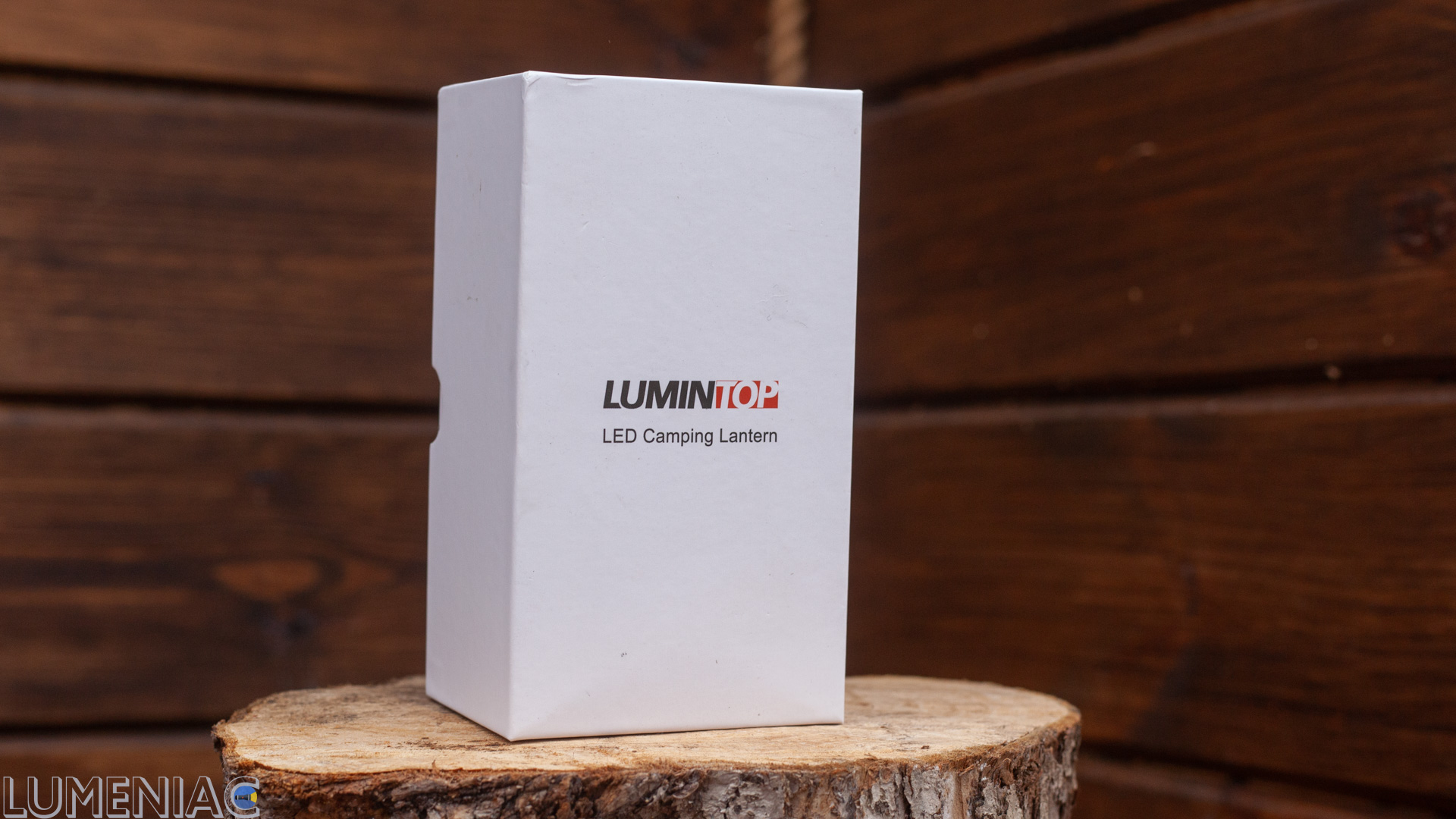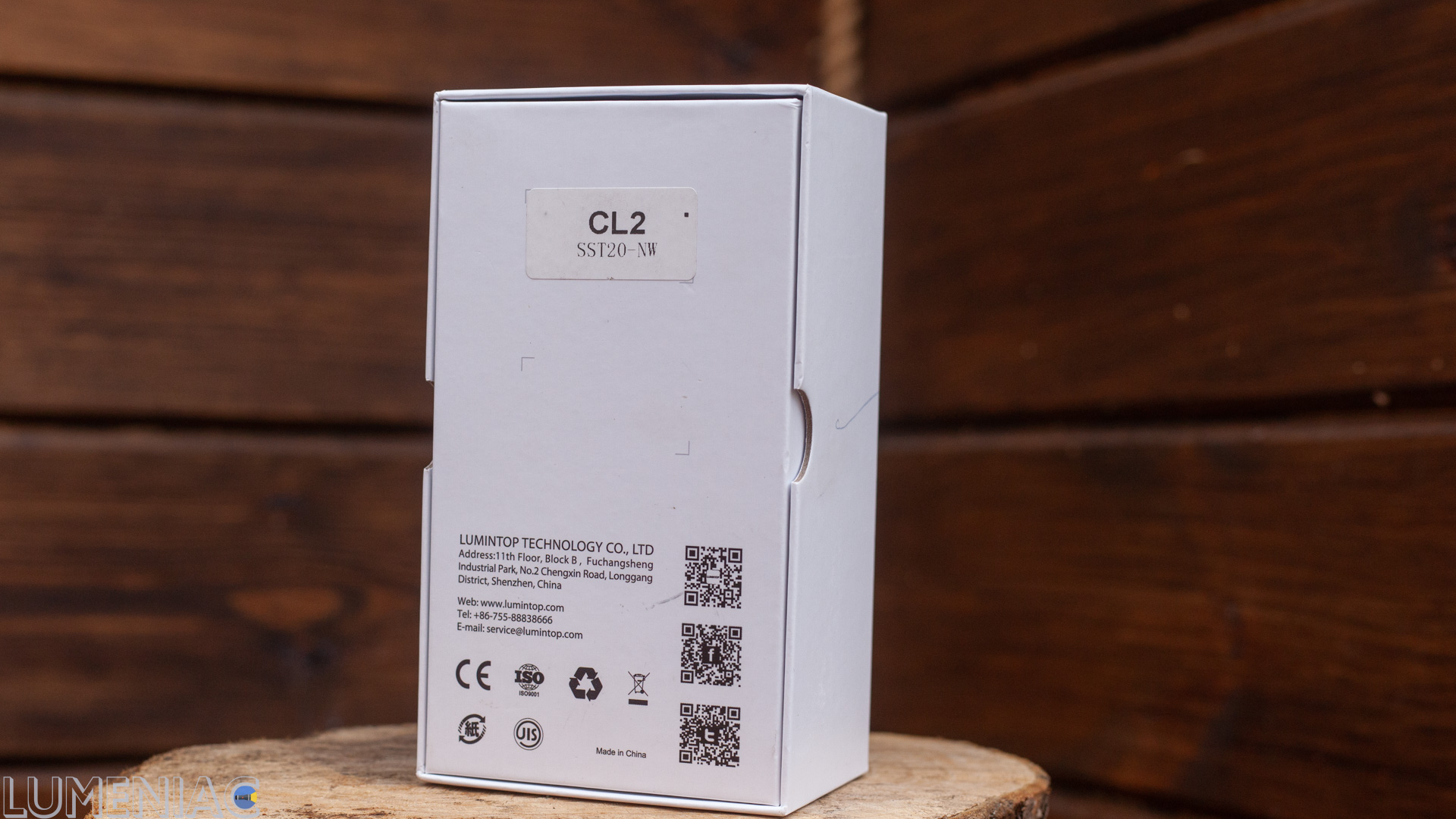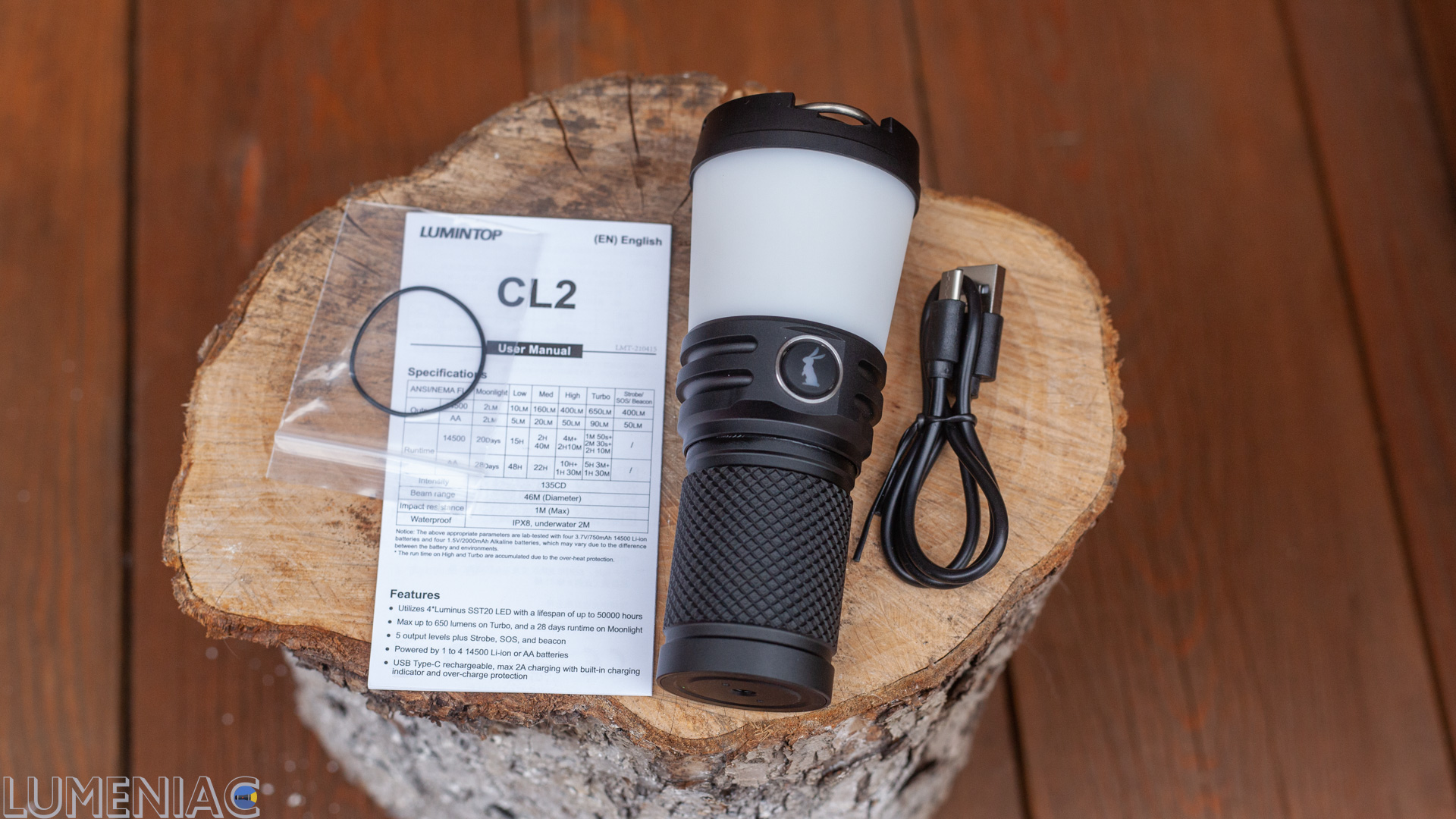 Well, have you understood where the legs of CL2 are growing from? Everything is obvious here – externally, the Lumintop CL1 is a down-scaled clone of the well known Sofirn LT1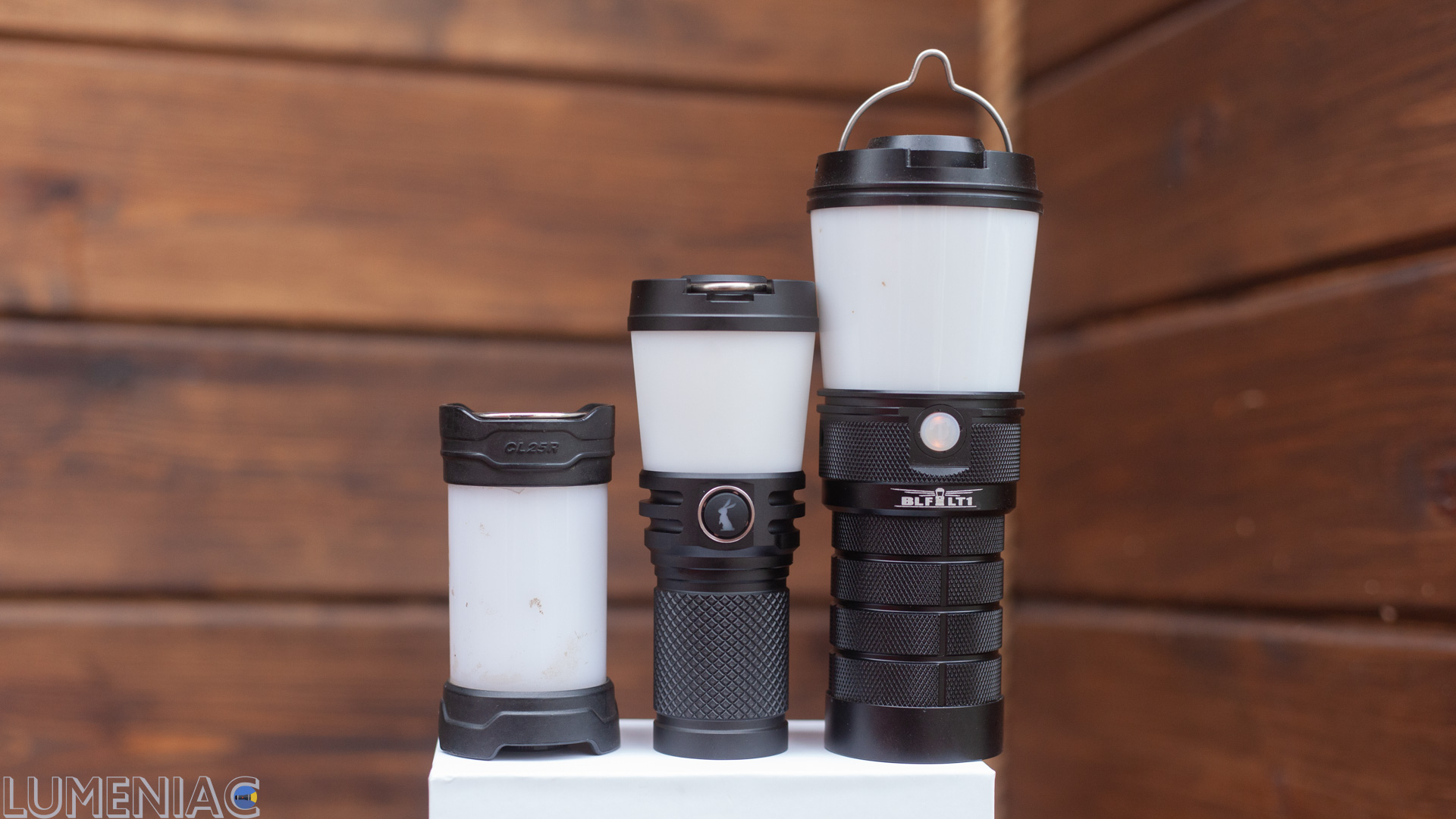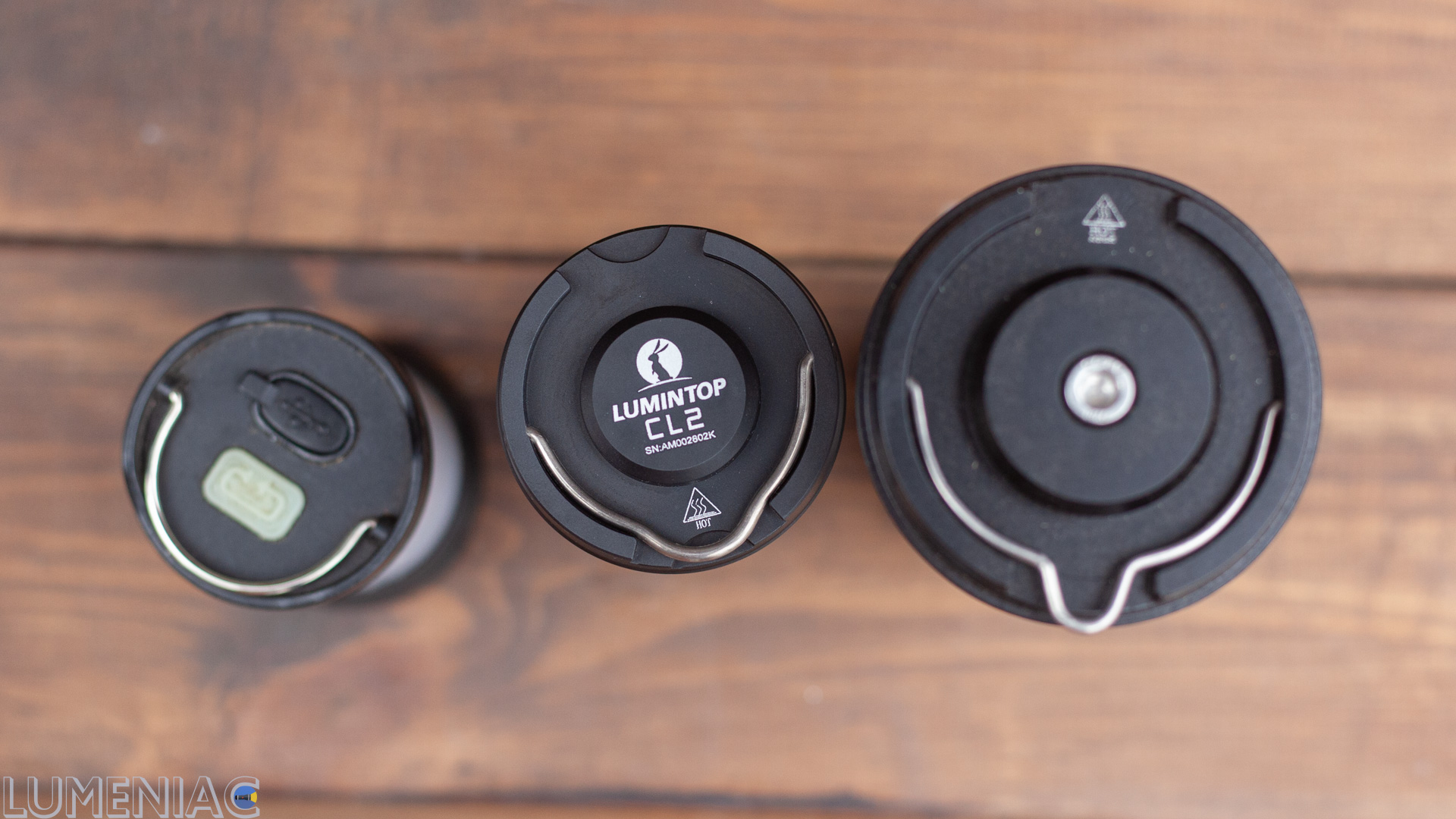 In principle, there is nothing surprising here. Place the batteries at the bottom, there will be an inevitably reference to the LT1, place 4 batteries inside and the result will be very reminiscent of the Fenix ​​CL30R. The form factor itself imposes inevitable restrictions and makes the flashlight look like either one or another model. So there is simply not much to choose from and I would not blame Lumintop for blindly copying a popular model.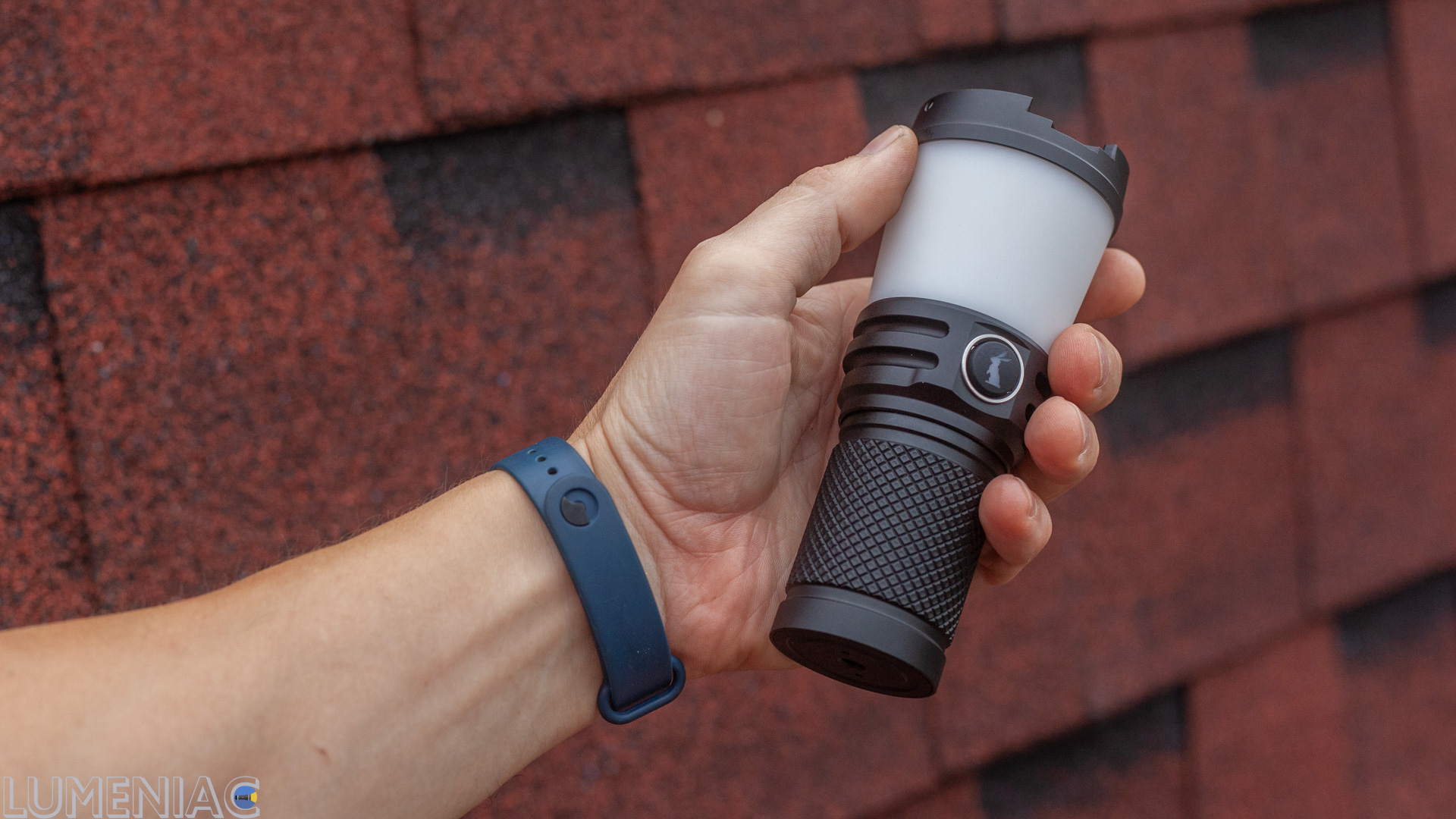 The far left for size comparison is my old trusty Fenix ​​CL25R at 1×18650. CL2 length 137m, head and body diameter 55 \ 39mm. 220 and 315g empty and fully loaded.
So this camping flashlight is quite compact. It has quite expected dimensions for 4 * AA \ 14500.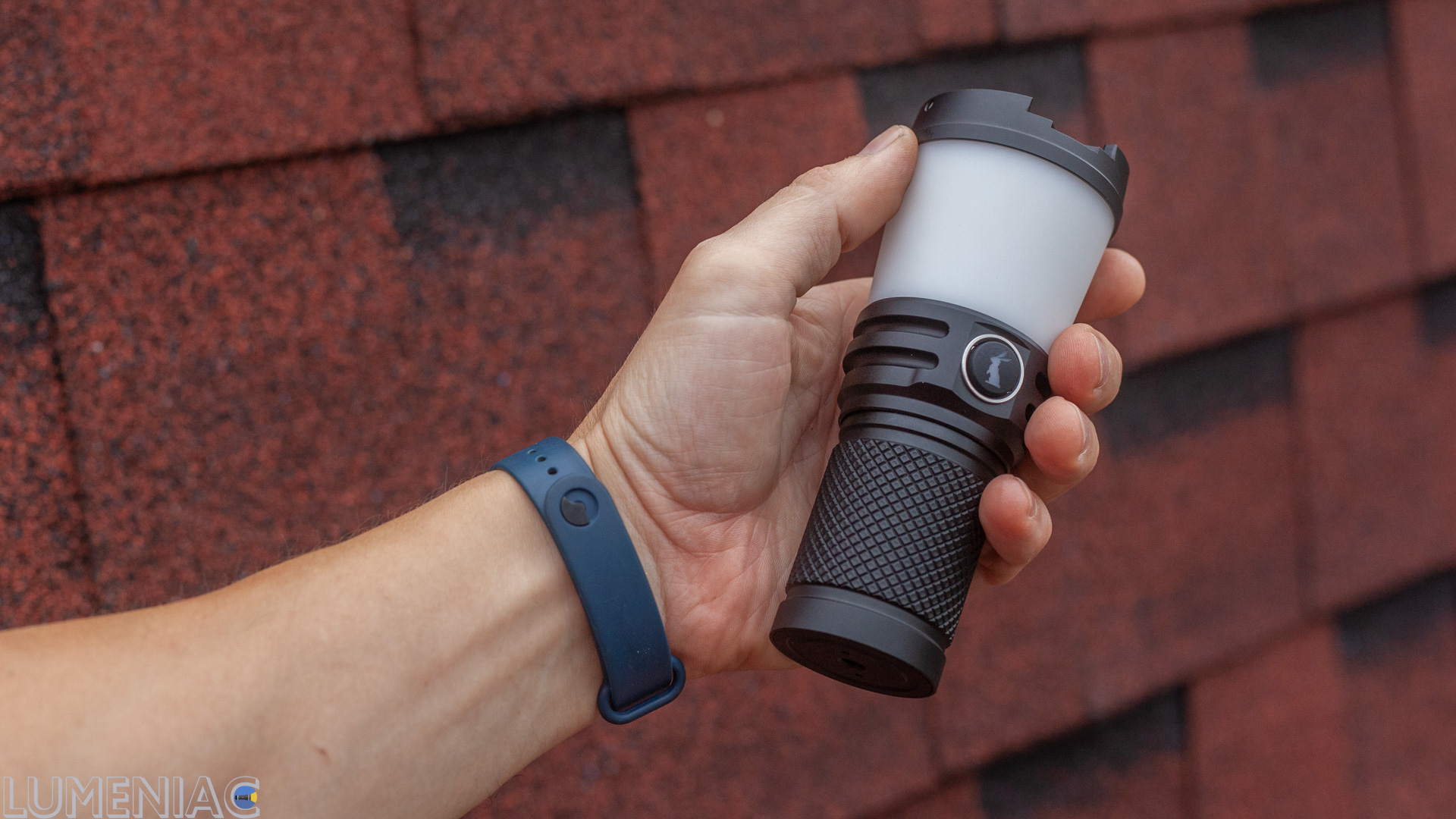 There is nothing more special to add. A neat and well-knit body with a matte diffuser cone at the top. There is absolutely nothing to add, everything is self-evident here.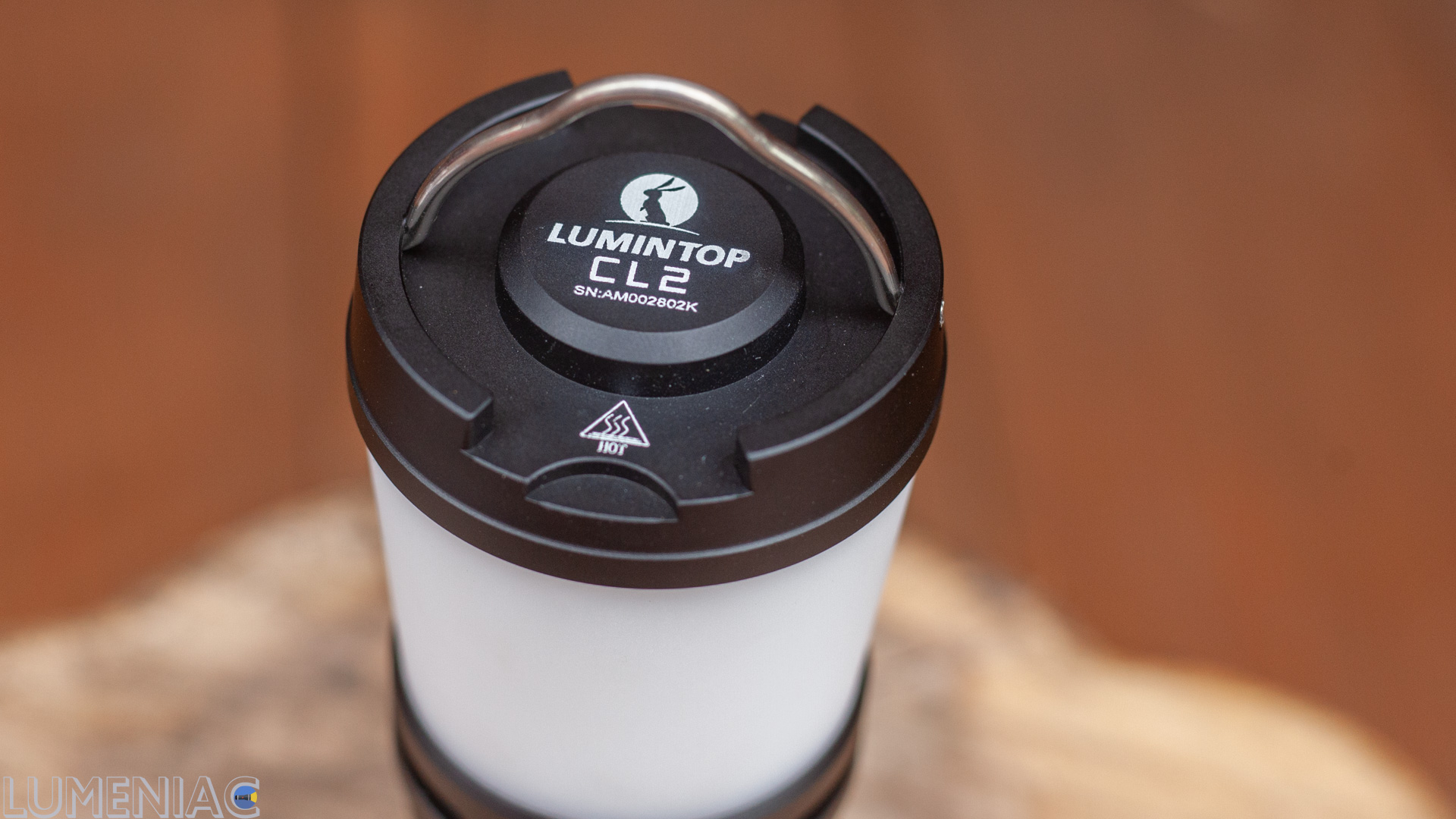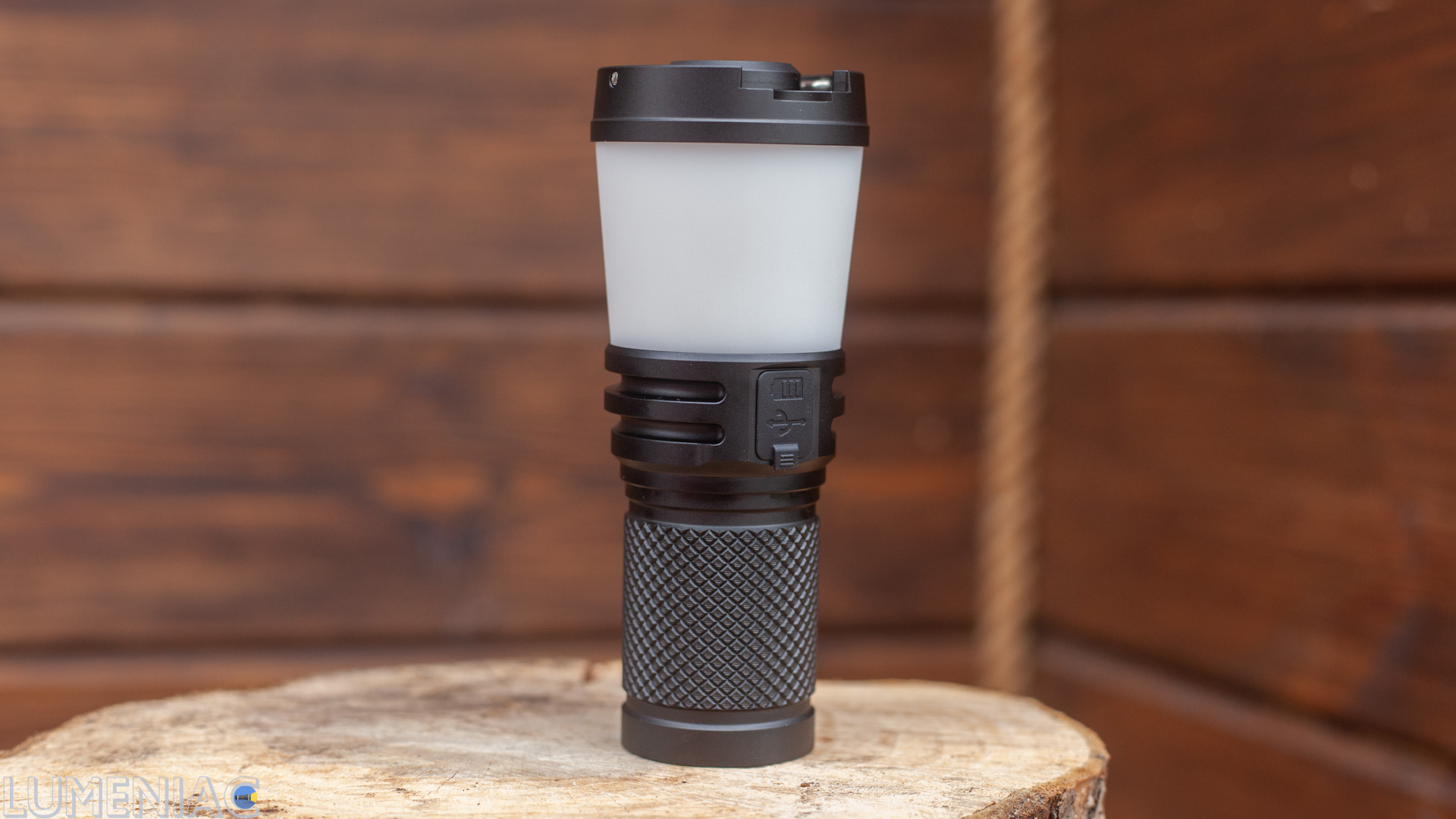 There is a suspension on top and a thread for a tripod at the bottom. LT1, by the way, also has a side tripod mount.
4 * SST20 LEDs are hidden inside this matte cone.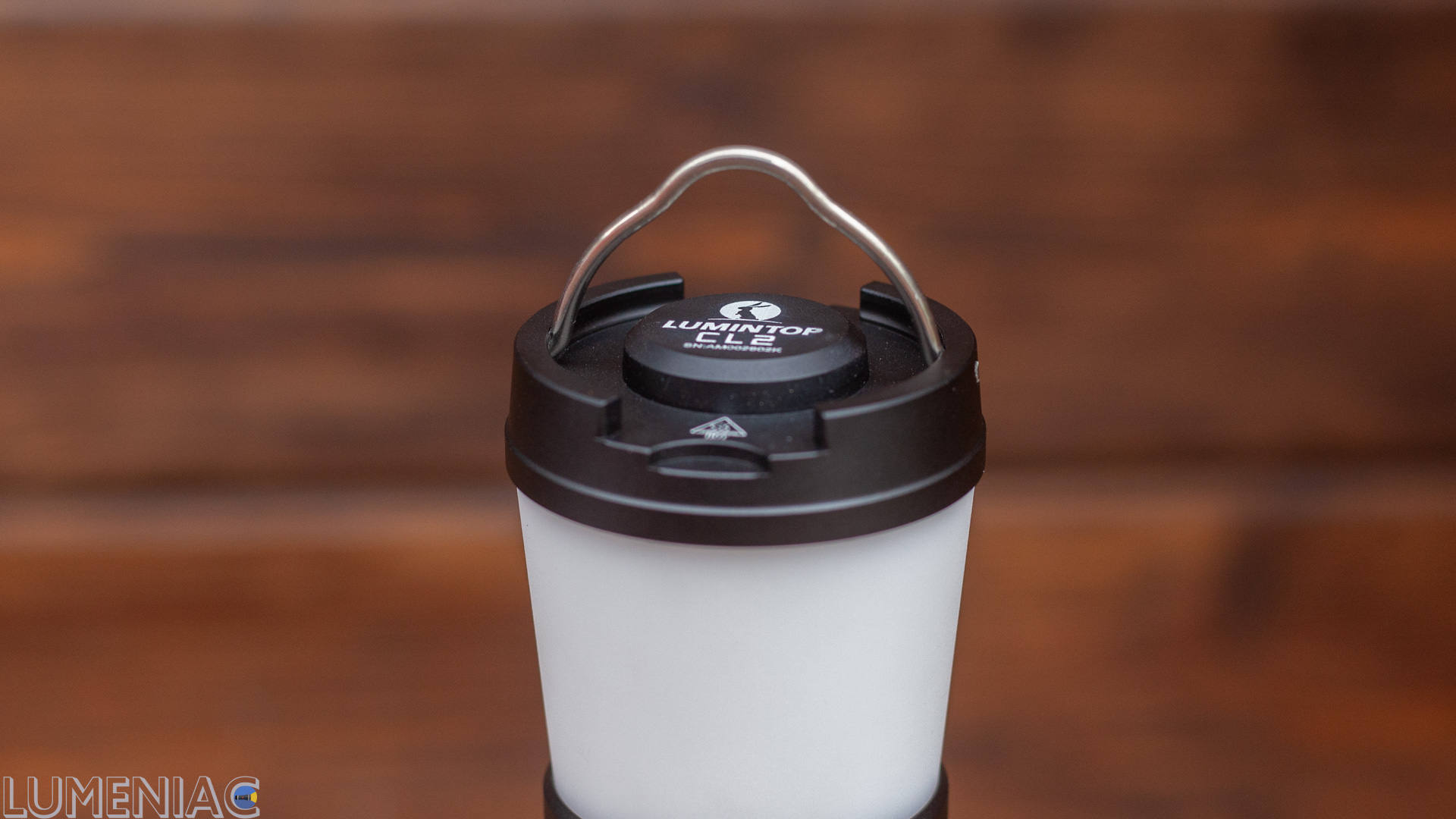 As expected, there are spring at the bottom and the contact pad on top. So you cannot use flat-tops 14500…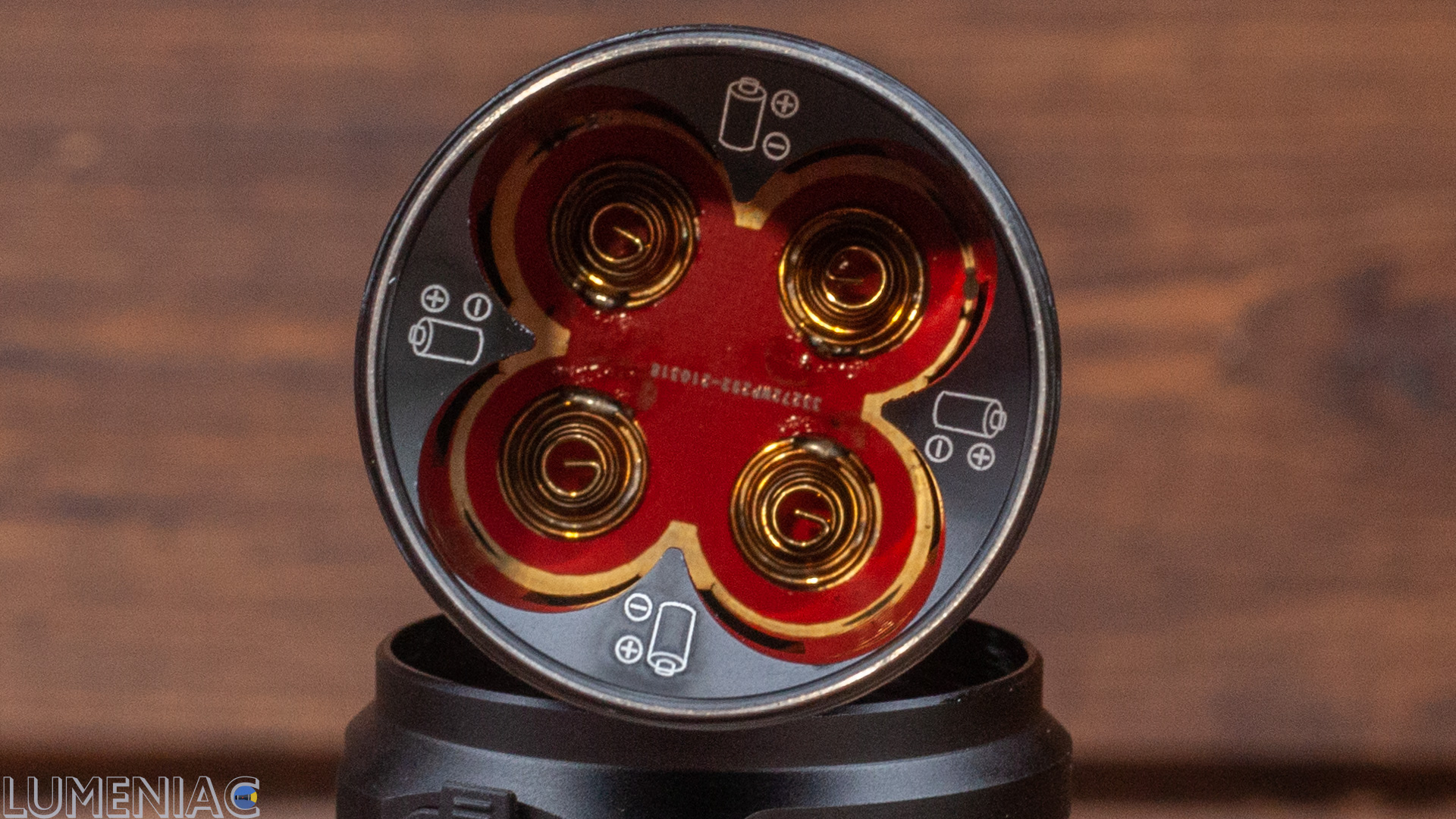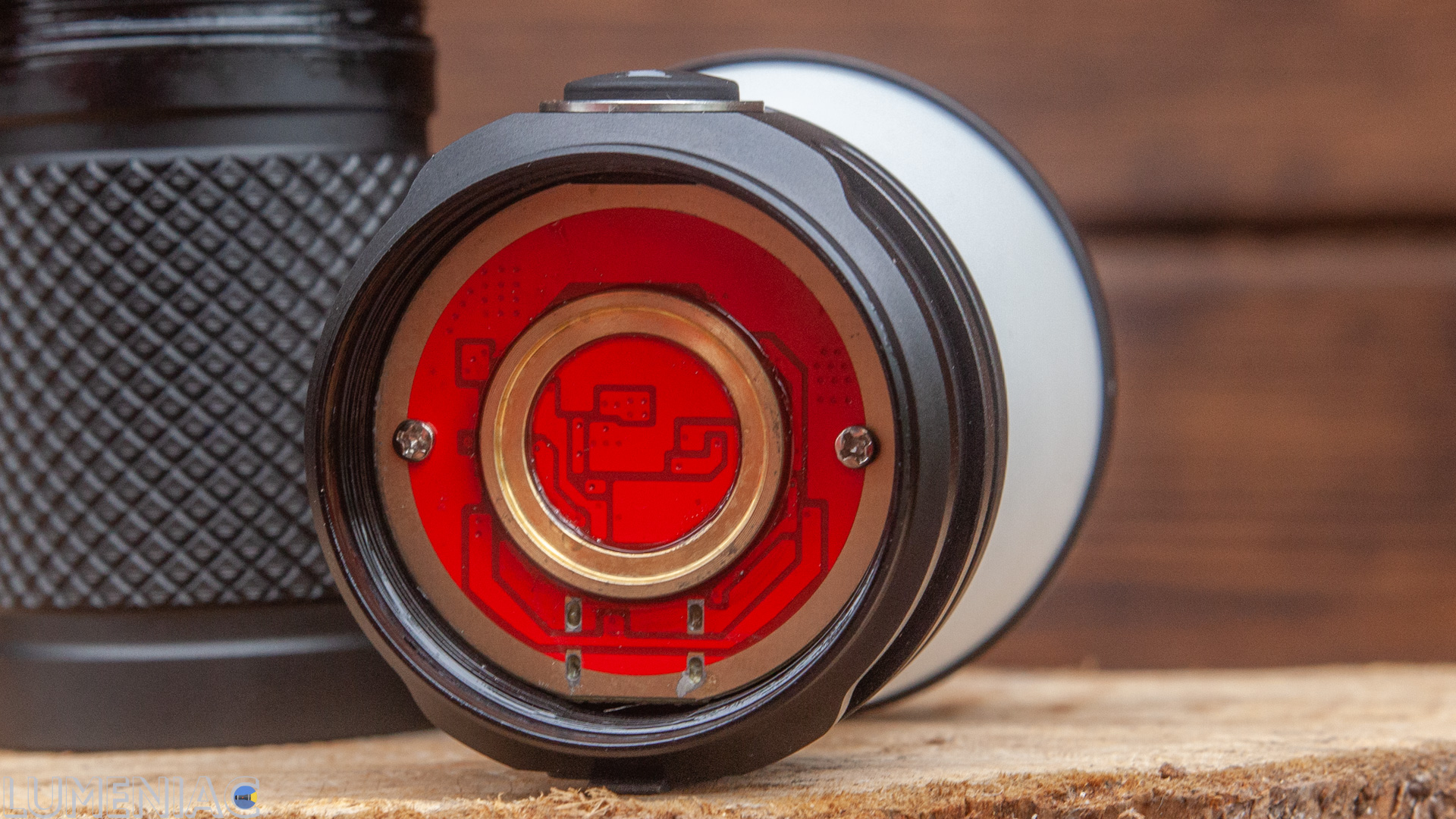 The knurling is flawless, everything is perfect outwardly .
The button is the same convex button with the Lumintop logo as in other models, with a red-green backlight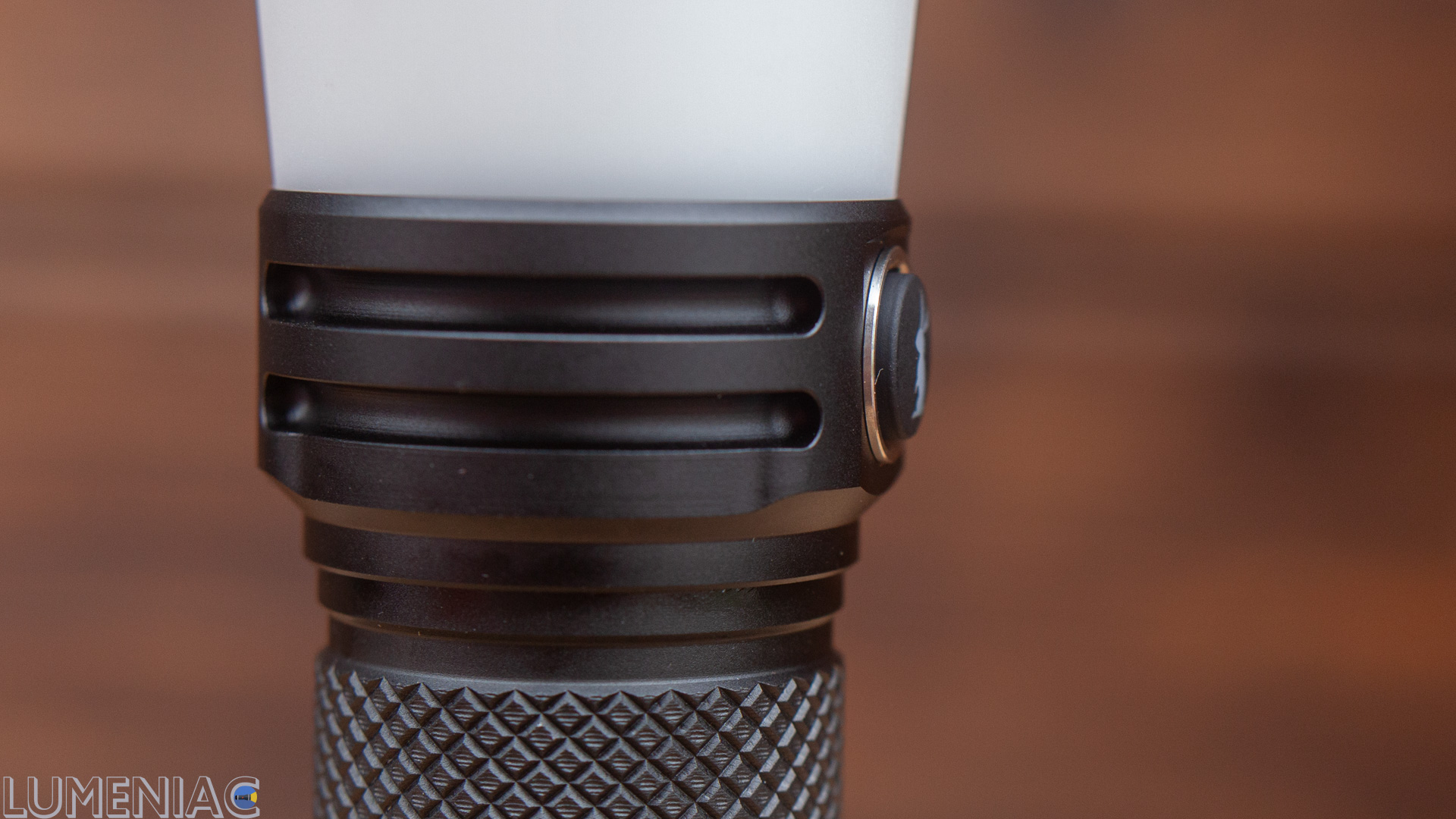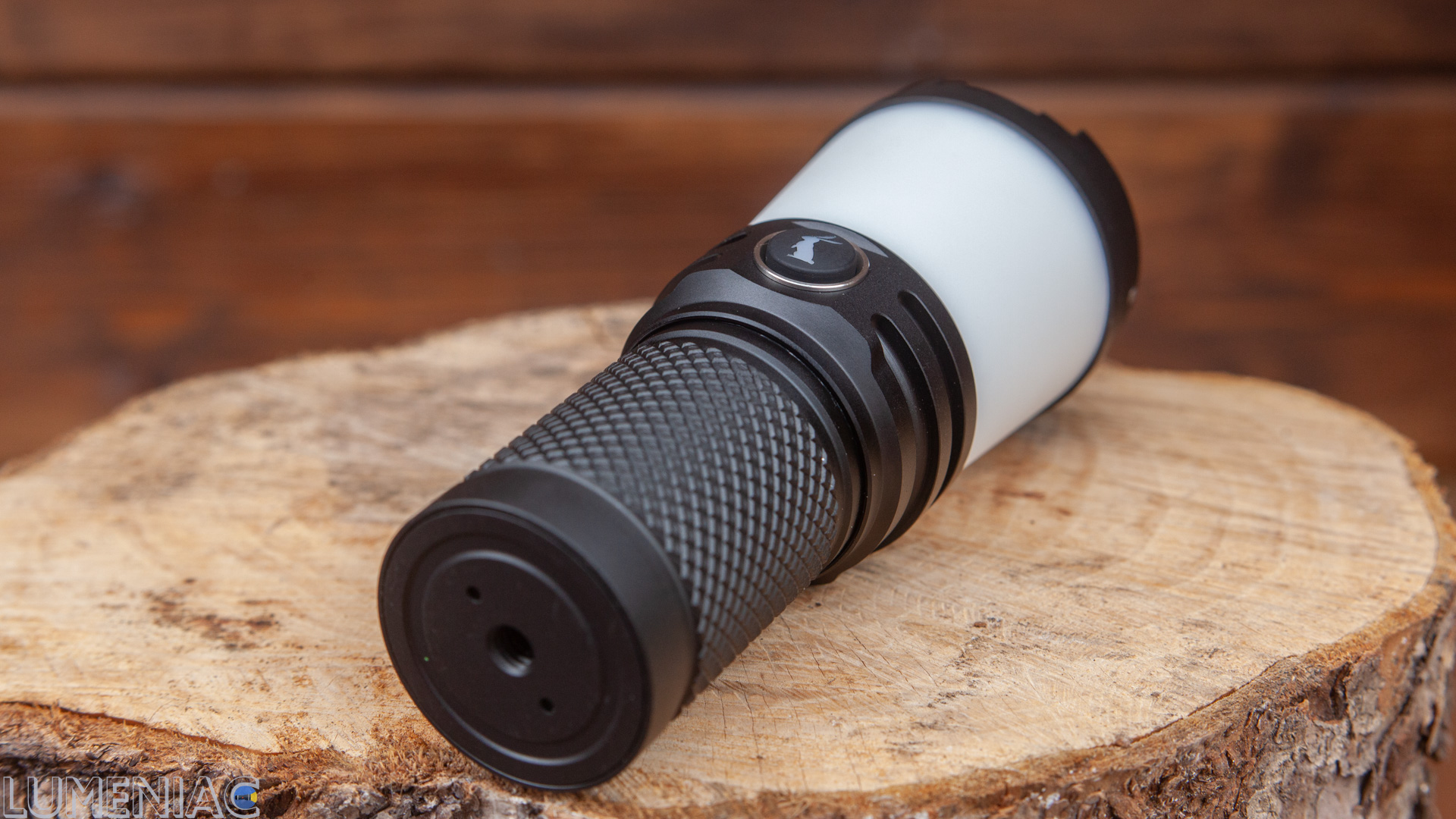 On opposide side from the button is a type-C port. Alas, I do not have 4 * 14500 batteries to test charging, it doesnt support Ni-MH.
Third-party measurements show an awesome charging current of 2A, which will allow you to charge a full set of 4 * 14500 batteries in about a couple of hours.
Type-C – Type-C is not supported.
UI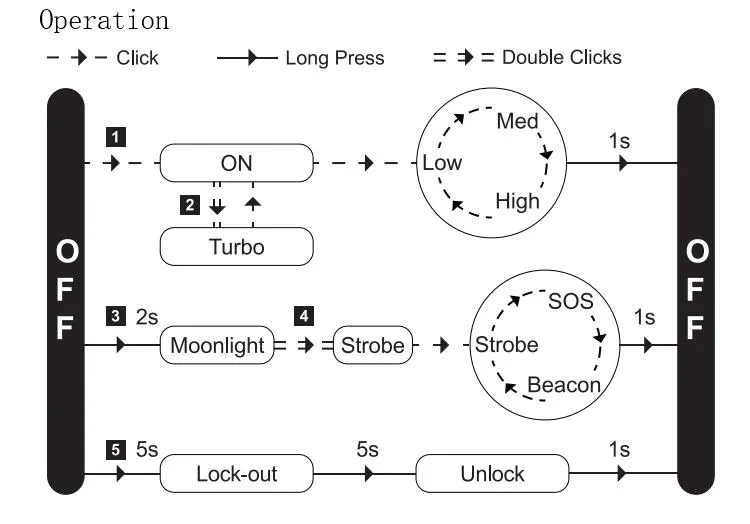 Oh, well, here LT1 is much more interesting. However, the CL2 UI is quite, quite suitable as it is and way better then total majority of other camping lanterns.
Normal mode: LOW – MID – HIGH with mode memory
Hidden mode: moonlight (hold from OFF) \ turbo (2 clicks). 2 clicks from moonlight throw you into a hidden line of flashing lights: strobe, sos, beacon.
Click to turn on / off
and switching brightness levels by pressing
5 sec hold – (un)locking. You can do this in the old fashioned way with a slight turn of the head.
Everything is quite intuitive and convenient.
How the Lumintop CL2 shines
Color temperature is ~ 5000K. This is my fave color temperature for headlamps and hand flashlights. But, speaking about camping lanterns, I would definitely give up the brightness a little bit to get a more cozy warm light.
It is worth clarifying again that the flashlight supports both AA and 14500. And it works with a different number of them. It goes without saying that mixing nickel and lithium is a BAD idea.
The manufacturer made a wise decision not to overload me with work and sent the flashlight without 14500 batteries. And since I simply dont have 4*14500, my review of Lumintop Cl2 simply will not illustrate all it is capable of. I can only show you light of a radically less bright AA batteries.
AA mode is great both in runtime and stabilization. I used very inexpensive Enelongs and got full stabilization even in turbo (ok, that is not a surprising fact for the declared 90 lumen max brightness of turbo).
I met measurements with higher results for 14500 in high \ turbo. Nevertheless, both these modes are short-lasting and therefore, IMO, mostly useless for camping needs, where more often you need constant light, and not "2 minutes, but bright!".
CL2 is fully stabilized at 160 lumens MID mode, which is also good. After all it is almost twice as bright as the maximum brightness of AA power. Basically, +- this is such a stabilized brightness that one would expect from other camping lamps with the exception of the aforementioned giant LT1 and Fenix ​​CL30R.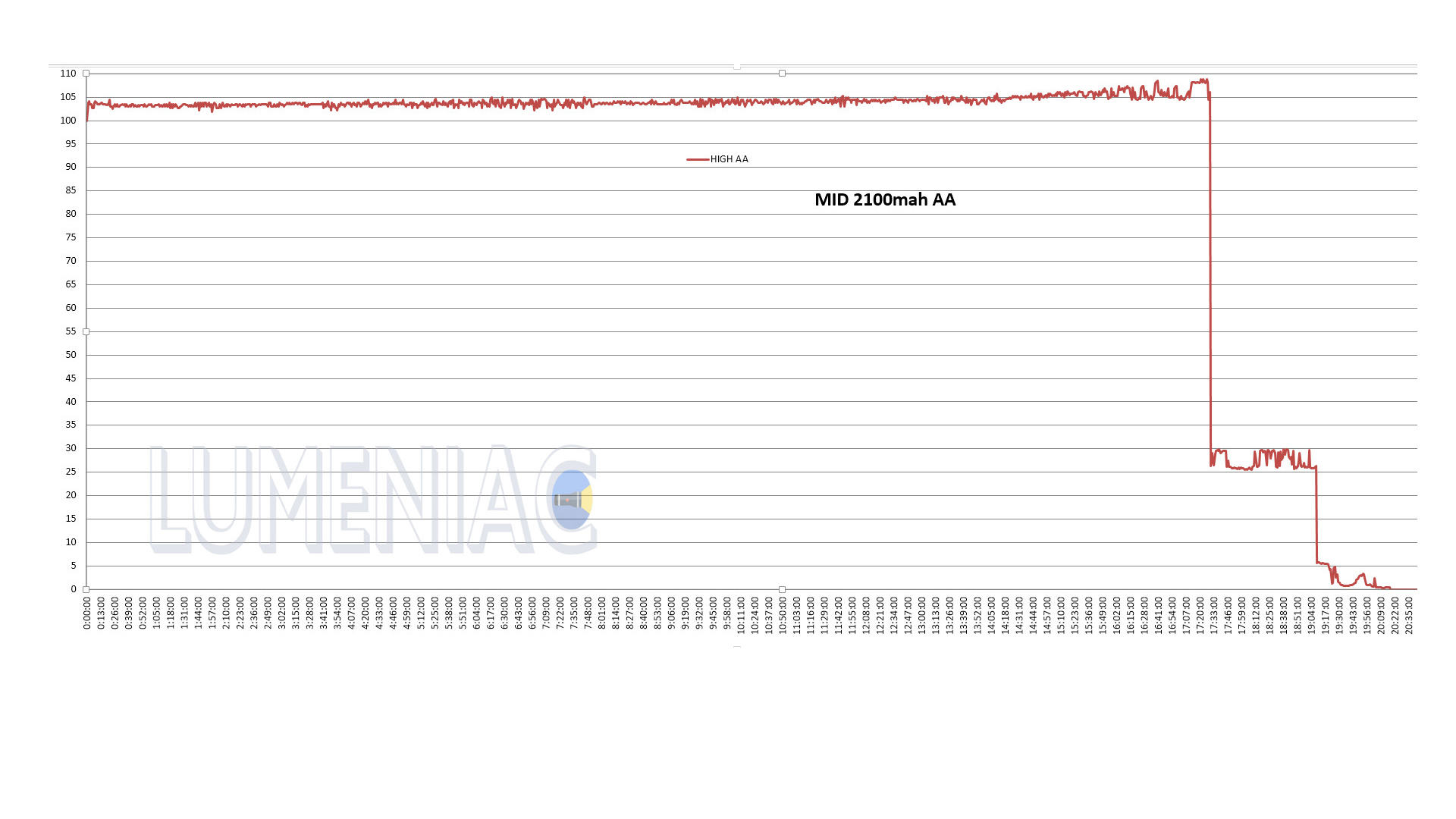 !https://ixbt.online/live/images/original/04/96/13/2021/08/30/c1224d1a85.jpg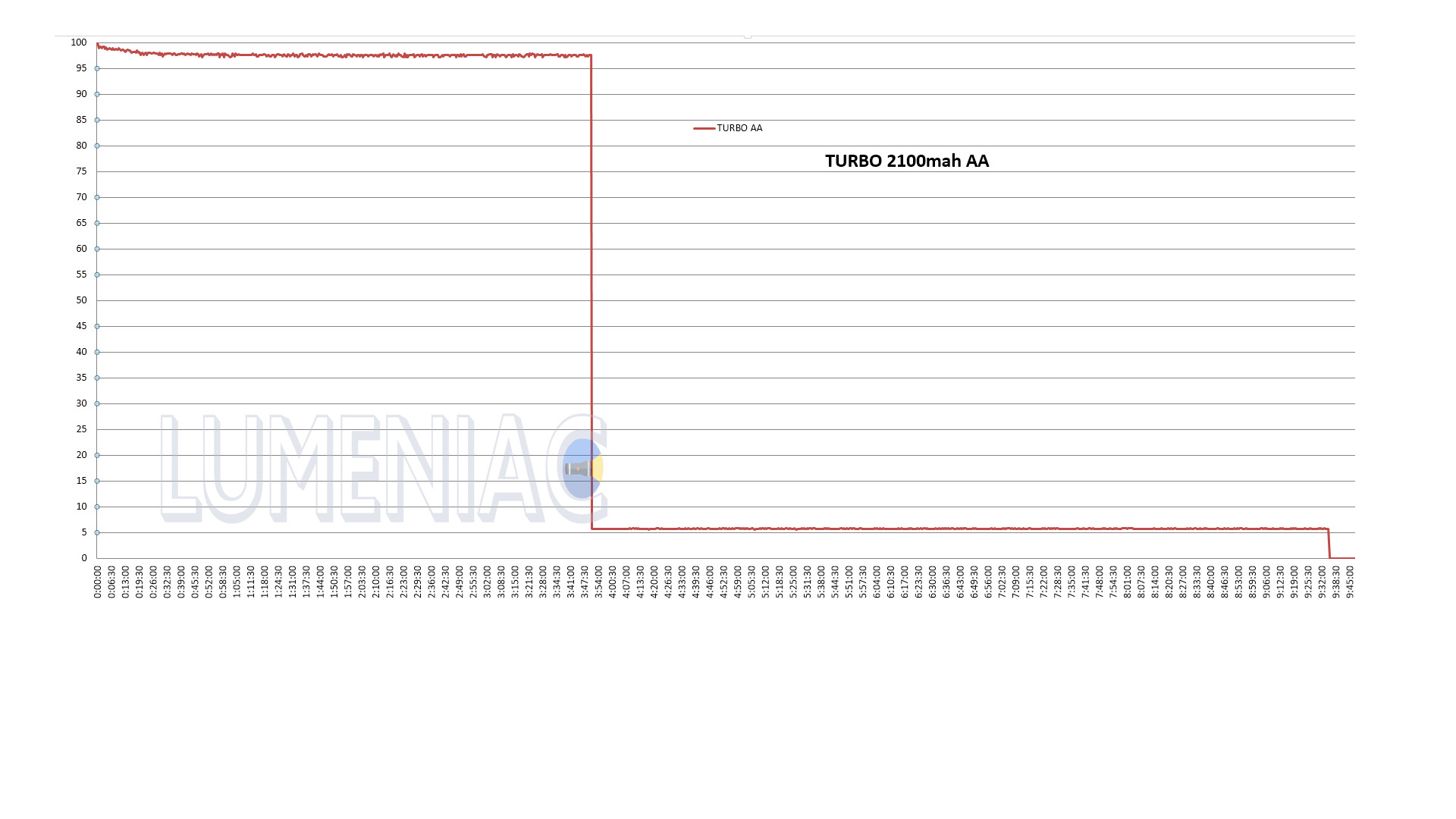 Here it is worth reminding about the cool feature of this flashlight – it works without type-C batteries.
Current consumption in this case: moonlight 5v * 0.068A \ low 5v * 0.218v \ mid5v0.9A \ high 5v * 1.58A (turbo is not supported)
As for light, it woth mentioning camping lanterns usually have one of 2 forms: UFO (i.e., a radiating surface on one side) or the well known kerosene lantern (a cylinder with light on the sides). The resulting light also differs according to this form. The saucers are excellent in suspension, giving a good uniform downward light there. Cylinders are good in table stand and when side light is needed. They have a blind zone under bottom, so perform not that good when suspended or tripod mounted. What else…side light blinds and goes to waste often. Here's an example of what it looks like with the Lumintop CL2 camping lamp.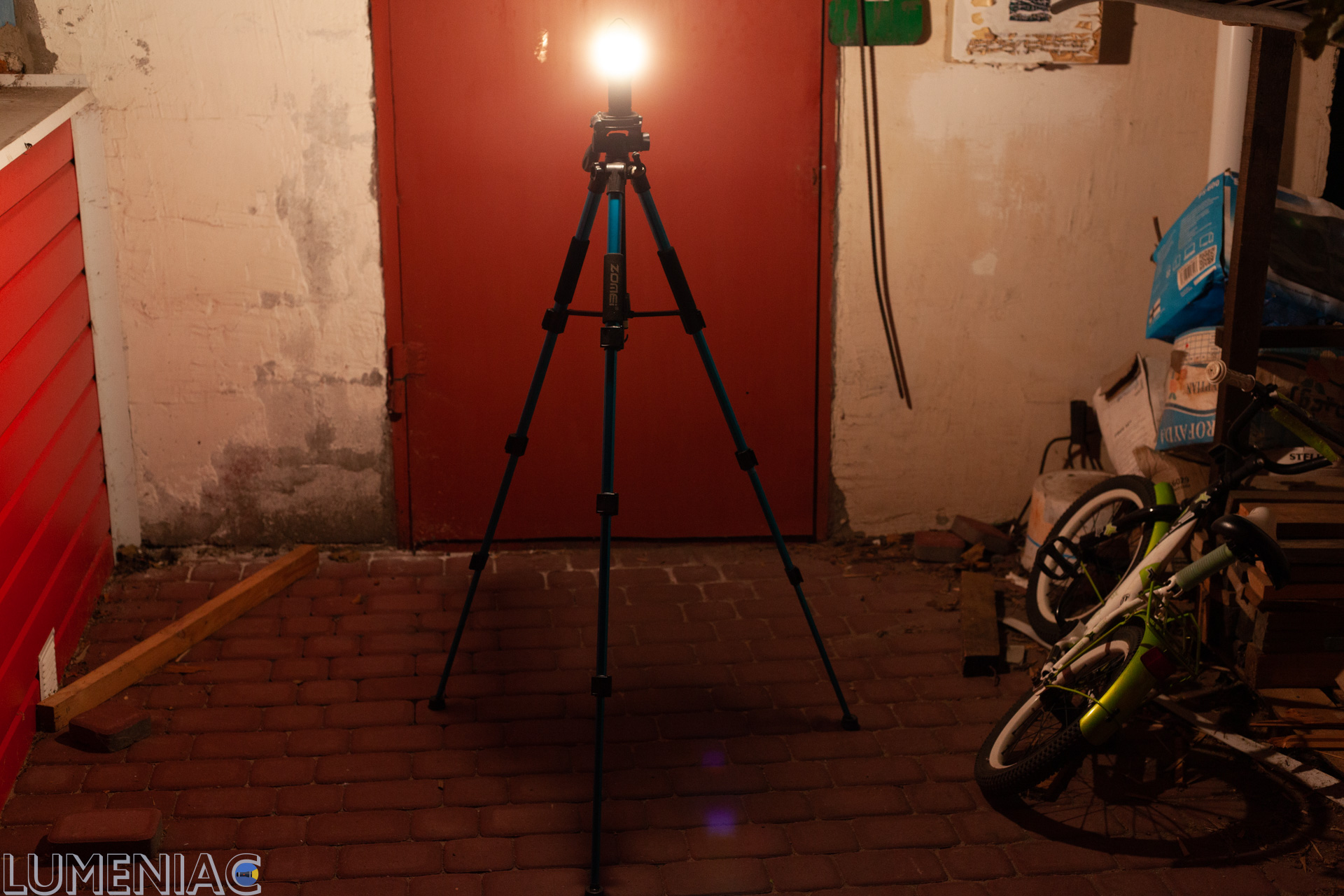 Actually, we get the expected.
The lantern demonstrates itself well in closed rooms such as a gazebo or a bath, where the side light does not go into the void, but is reflected from the walls.
A couple of third-party measurements show the brightness slightly higher than the declared one.
In the suspension, on the scale of a gazebo of 3×4m, with AA elements, the maximum brightness is sufficient for cozy gatherings around the table. But reading or playing cards would require these 160 lumens of 14500 (and i`m not sure even this`ll be enough for such an area). What else can you expect from the 90 lumens radiating all over the sides?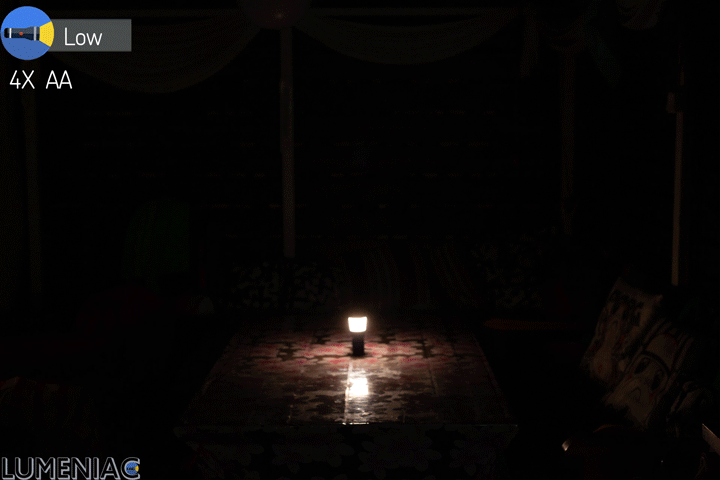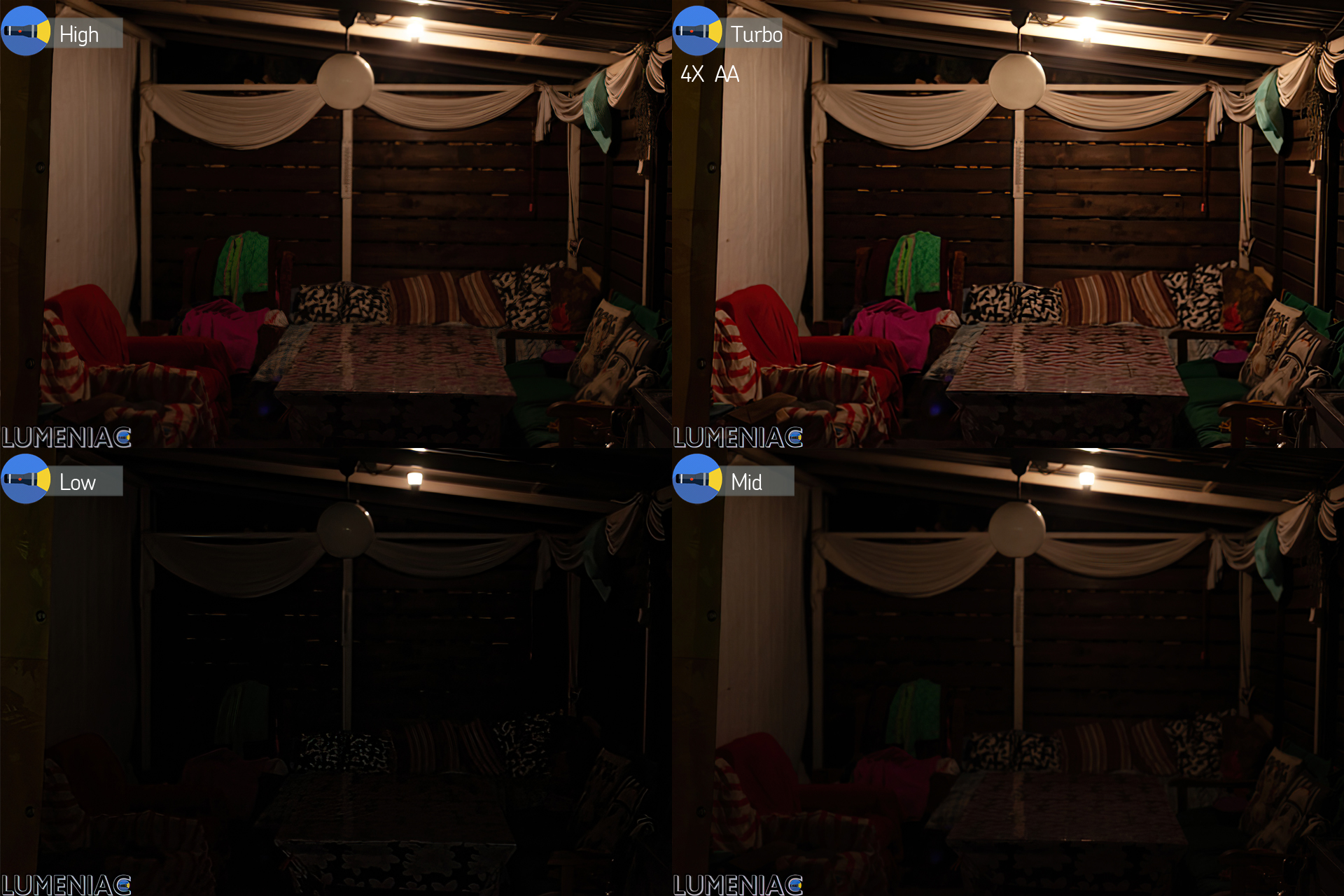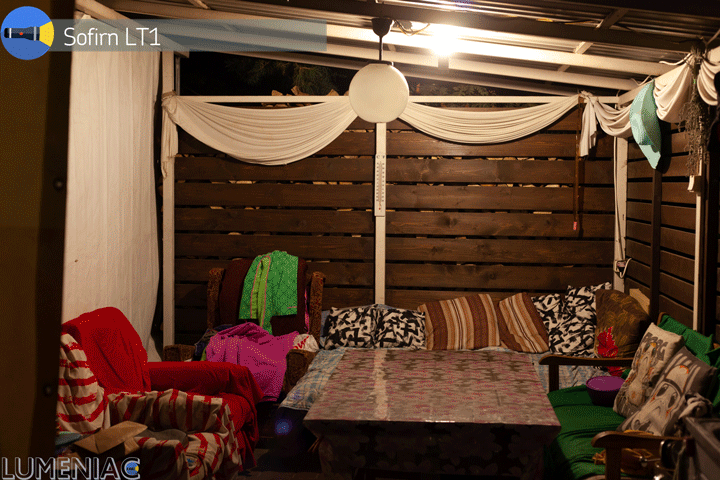 By the way, LT1 is turbo mode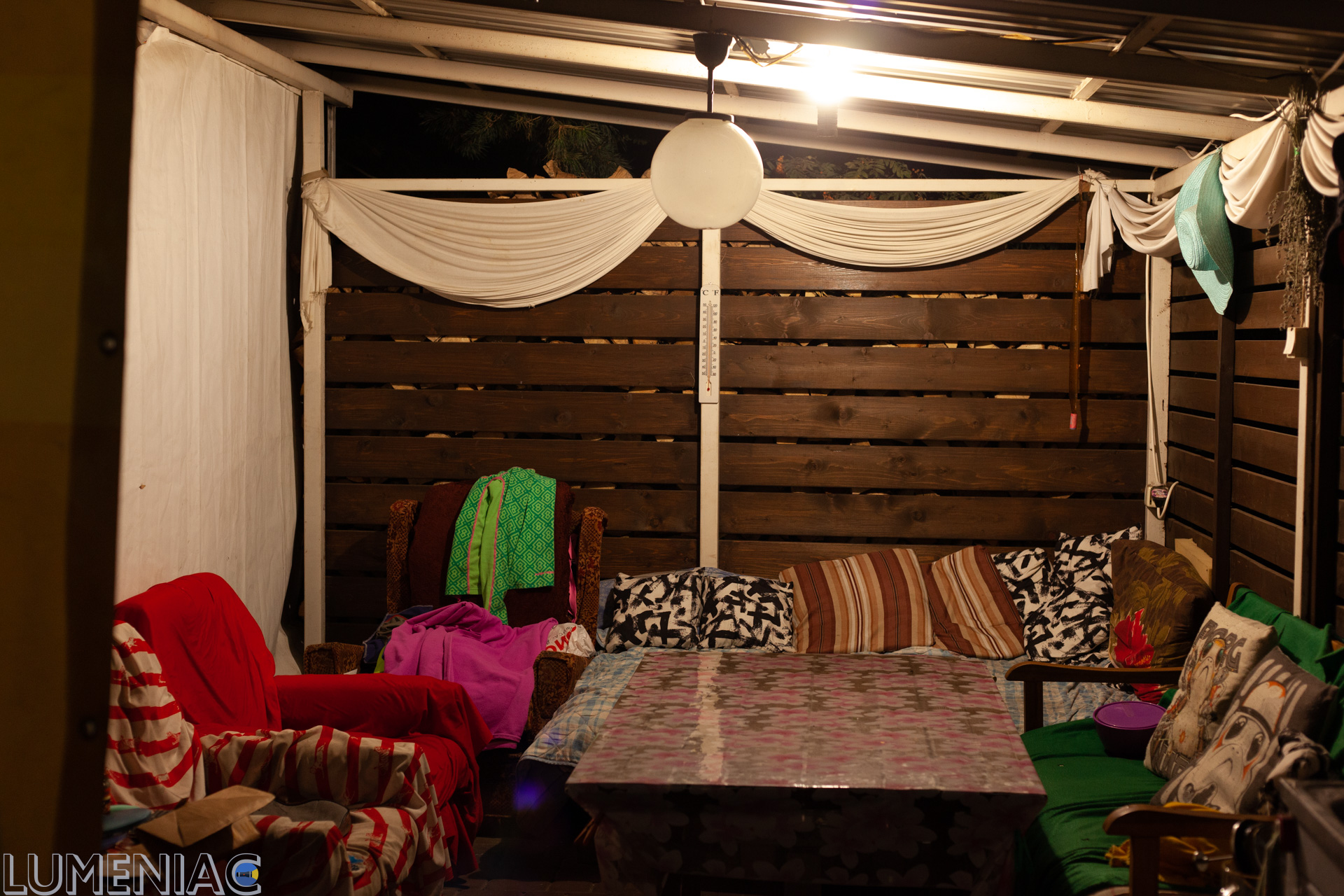 CL2 AA Turbo.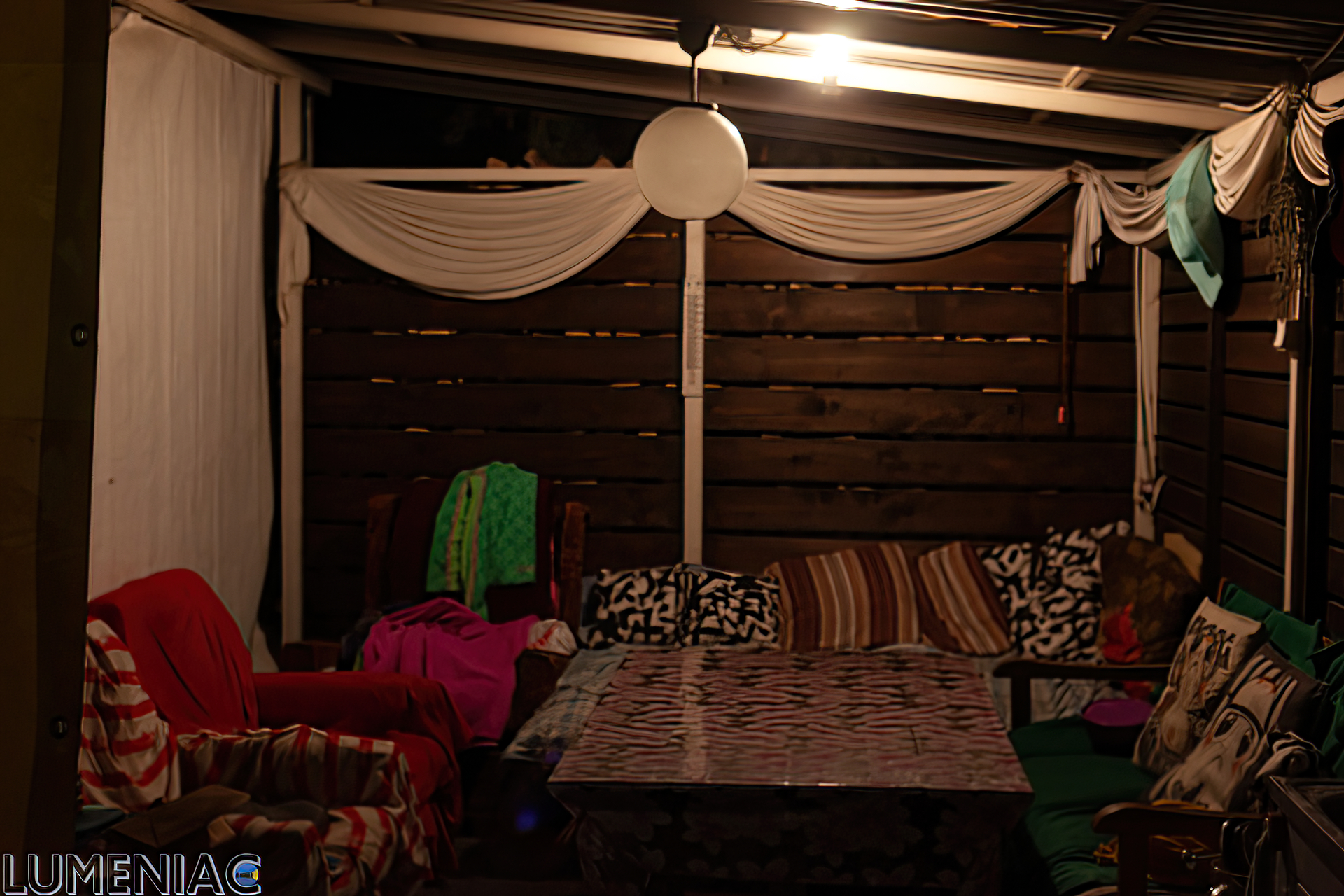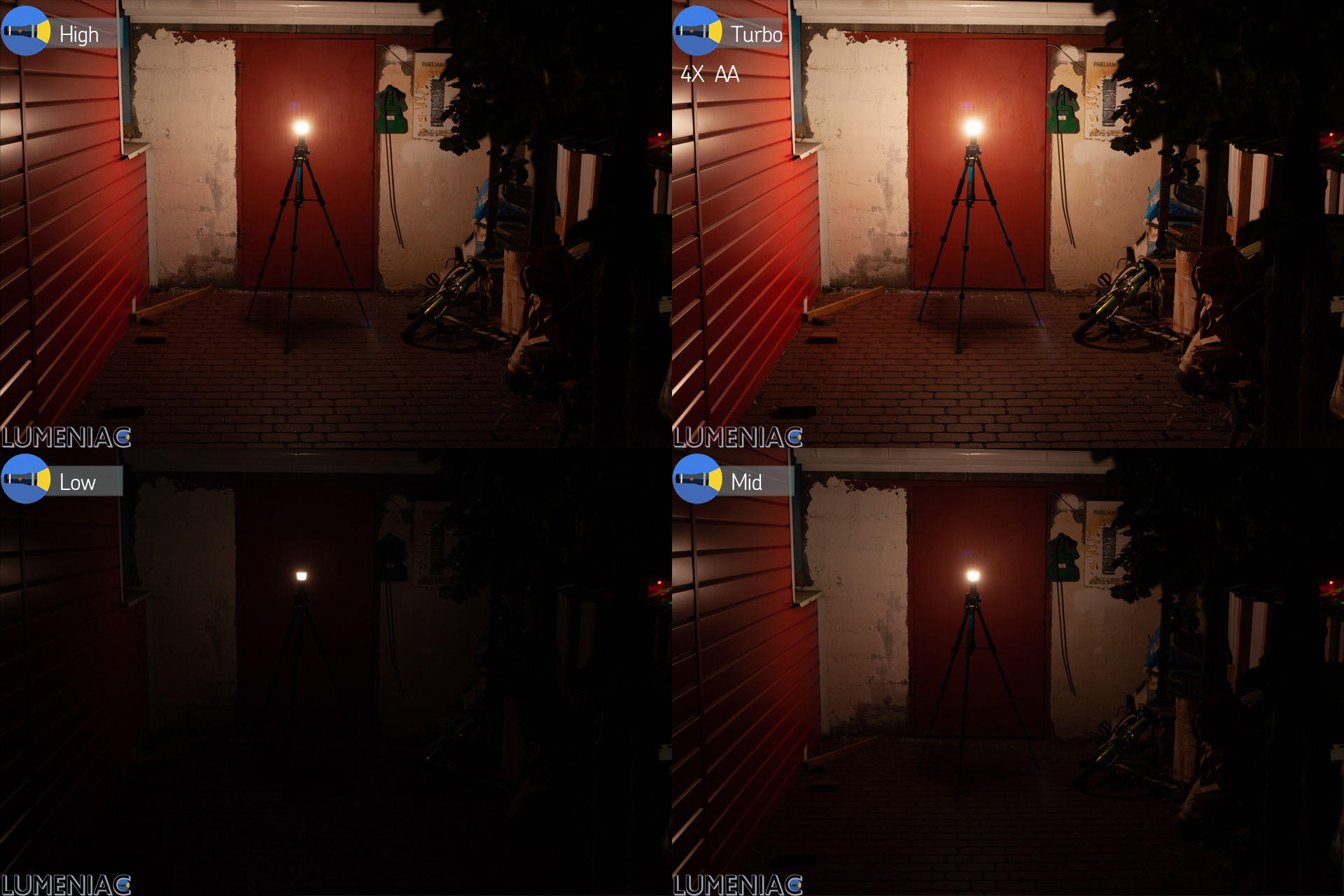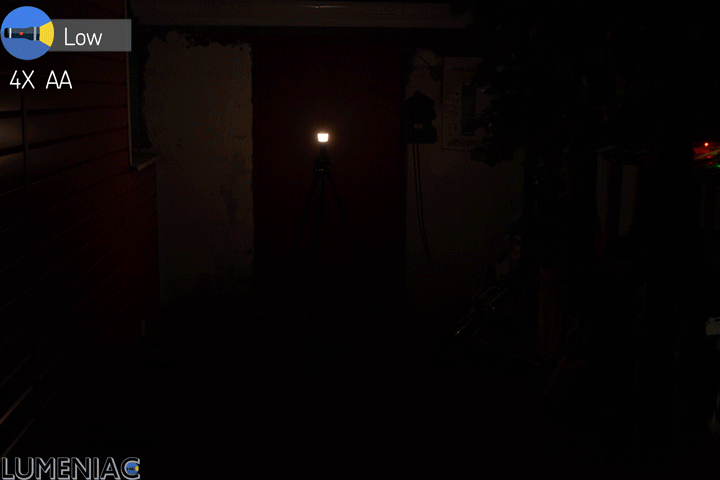 Thanks to the presence of an instant firefly, Lumintop CL2 is quite pleasant as a night light. Higher modes will already start blinding when table stand, i prefer to suspend CL2. Though UFO saurcers would perform way better this way.
OVERALL IMPRESSIONS
Okay, I really love camping lights and I like Lumintop CL2.
I like the neat appearance, good UI, omnivorousness (and the support of charge cable only), quite good brightness and color temperature.
It can be hung, placed on a table or on a tripod. Immediately turned as night light in order not to blind you in the middle of the night – almost any other camping light lacks this obviously convenient feature.
But for me personally, all its PROs are balanced with one "but". As I see it, results are following:
I dont see Lumintop CL2 as a choice of light source for a real tourist who struggles for every gram. Here the flashlight weighs as much as a couple of models of rivals: Fenix ​​CL \ Nitecore LA line (not to mention a simple bundle of flashlight + diffuser that Lumintop offers).
Accordingly, this is a flashlight for situations where weight and size are not important. For summer cottages, fishing, hunting, weekend outdoor walkaround, and camping itself. Ah, as a reserve for blackout.
And in this situation, the flashlight, with a price at the level of LT1\CL30R with their 4 * 18650, is no longer so attractive due to the radically lower brightness and runtime. After all, significantly smaller sizes no longer become an obvious trump card, as you will not carry this lantern on your back in these situation.
As a result, I simlply cannot figure out the target audience of CL2. This is probably some kind of fat and bearded camouflage fairies, a sofa-survivalists who write at the forums "you can buy AA ANYWAHERE" and forget that carrying 1*18650 model and pair of spare batteries is way more convenient than carrying a CL2 with a stock of AA (14500 are not sort of batteryes that you can get that easy), and you cannot re-charge AA batteries.
In short, my question is not so much whether this is a good camping lantern – it's good, honestly. It is that I do not really understand it`s target audience. It seems like it now entirely consists of those who firmly believe in the convenience and practicality of AA \ 14500 elements relative to classic Li-Ion. And don't think there are many such people.
However, if you need just such a light distribtion, relatively compact and seemingly indestructible lanternt, with light that goes sideward, no downward. So then you may well consider buying Lumintop CL2.
In short, the flashlight is usable, but specific. I belive that Lumintop might construct CL2 with support of 1*26650. I do not see any difficulty in making there an ordinary empty cup for 26650 and a cassette for 4 batteries. This would give a colossal increase in runtime and a significant bonus to brightness. And in this form, the flashlight would become much, much more interesting for me.