I'll bet a lot of us have junk drawers or boxes. Places where all sorts of miscellaneous things are placed for possible future use. I'm guilty of having a few, plus some boxes. And there are items inside that have traveled with me from place to place as I've moved. When you're younger, it's easy to remember a lot things. But as you get older… it's easy to become forgetful, especially if it's something you've not looked at for 20 years or so!
So what's an item you've found in your junk drawer/box and wasn't able to figure out for the longest time, but eventually did? Or, what's something you've got that you still can't figure out? Maybe fresh eyes on it can help. Knowing how flashlights can come with all sorts of accessories or spare parts, if they're tucked in an unmarked ziplock bag, it can become anyone's guess as to what it is. But who knows, if you post here, maybe someone can identify it.
So this isn't flashlight related, but I'd found this little ziplock bag with a red rubber "thingy" in it. I was totally stumped. The only clue was that there was a part number on the bag. Nothing about the brand, though. So I ran it… and at first nothing came up. But then I added "red" to the criteria. And identity found.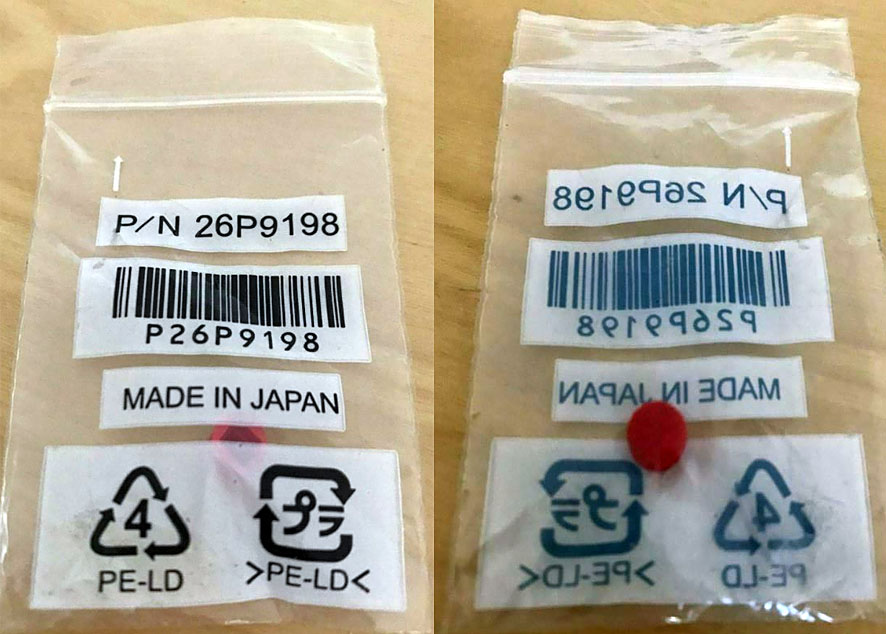 At one point in time I worked for IBM. And I had a work laptop, a Thinkpad. This particular laptop has a "trackpointer" in the center of the keyboard, which can work like a pseudo mouse. It's kind of cumbersome to use. The only real purpose is when you're typing and you want to nudge the pointer over a little—the red nubbed pointer is easier to use than taking your hand off the keyboard and using the mouse. Of course nowadays 99% of laptops/notebooks come with a touchpad, eliminating the need for this trackpointer. Anyway, a spare rubber trackpointer cover was included in the box, and I'd tossed it in with a few other miscellaneous items in a drawer. I don't know how, but it managed to follow me for over 15 years!