As soon i`ve seen news about 4×18a release with SBT90.2 i decided that i have to review it and compare with classic XHP70.2 version. Done!
Here initial Convoy 4×18a XHP70.2 review if you would like to take a closer look at flashlight body.
You can buy Convoy 4×18A XHP70.2 at:
➤ ALIEXPRESS
➤ BANGGOOD with code BGXY37
➤ AMAZON
You can buy Convoy 4×18A SBT90.2 at:
➤ ALIEXPRESS
➤ BANGGOOD with code BGXY36
➤ AMAZON
SPECS
sbt90.2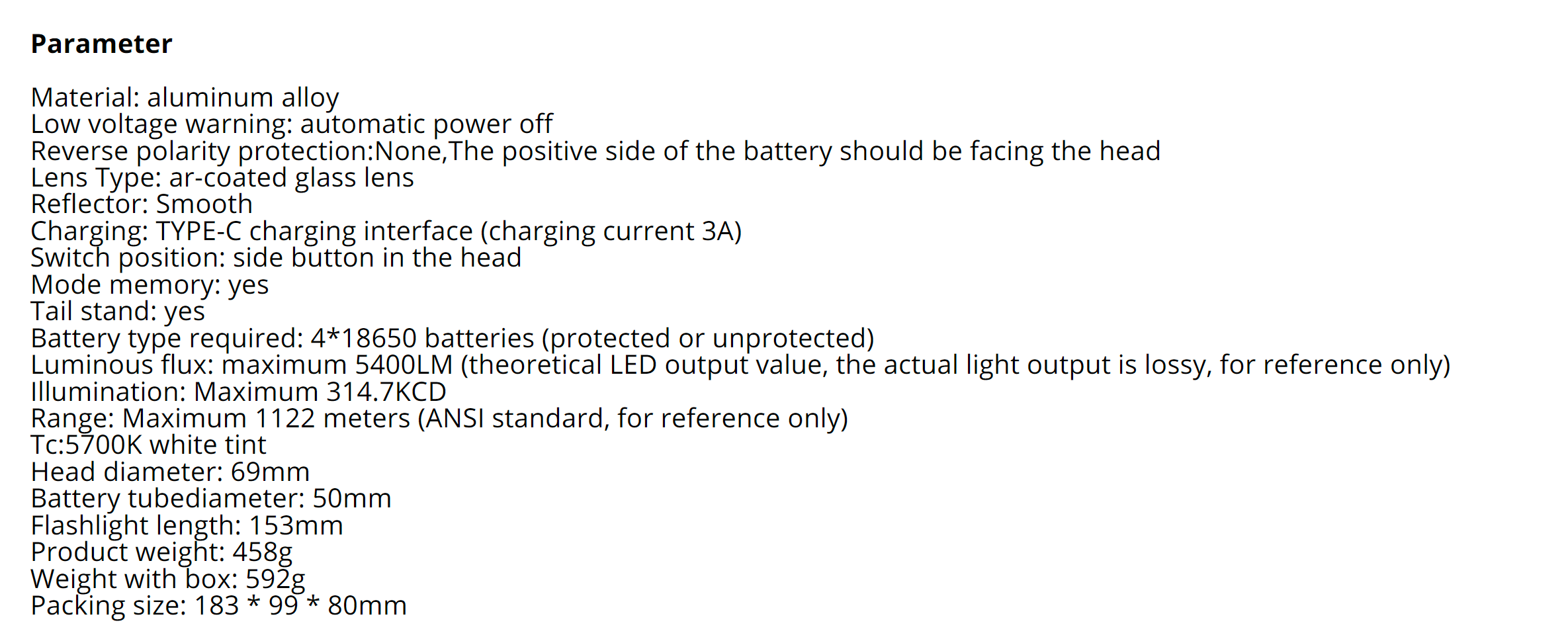 xhp70.2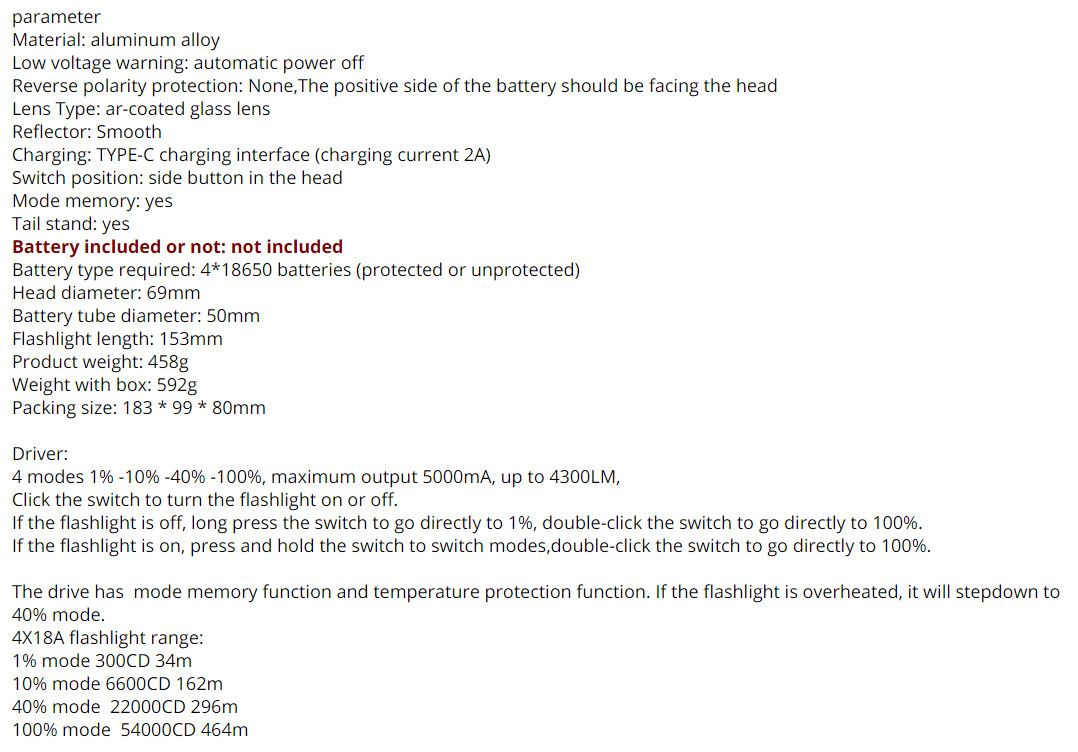 PACKAGE
It has remained unchanged, it is the same thick-walled beige box with a sticker with the model name.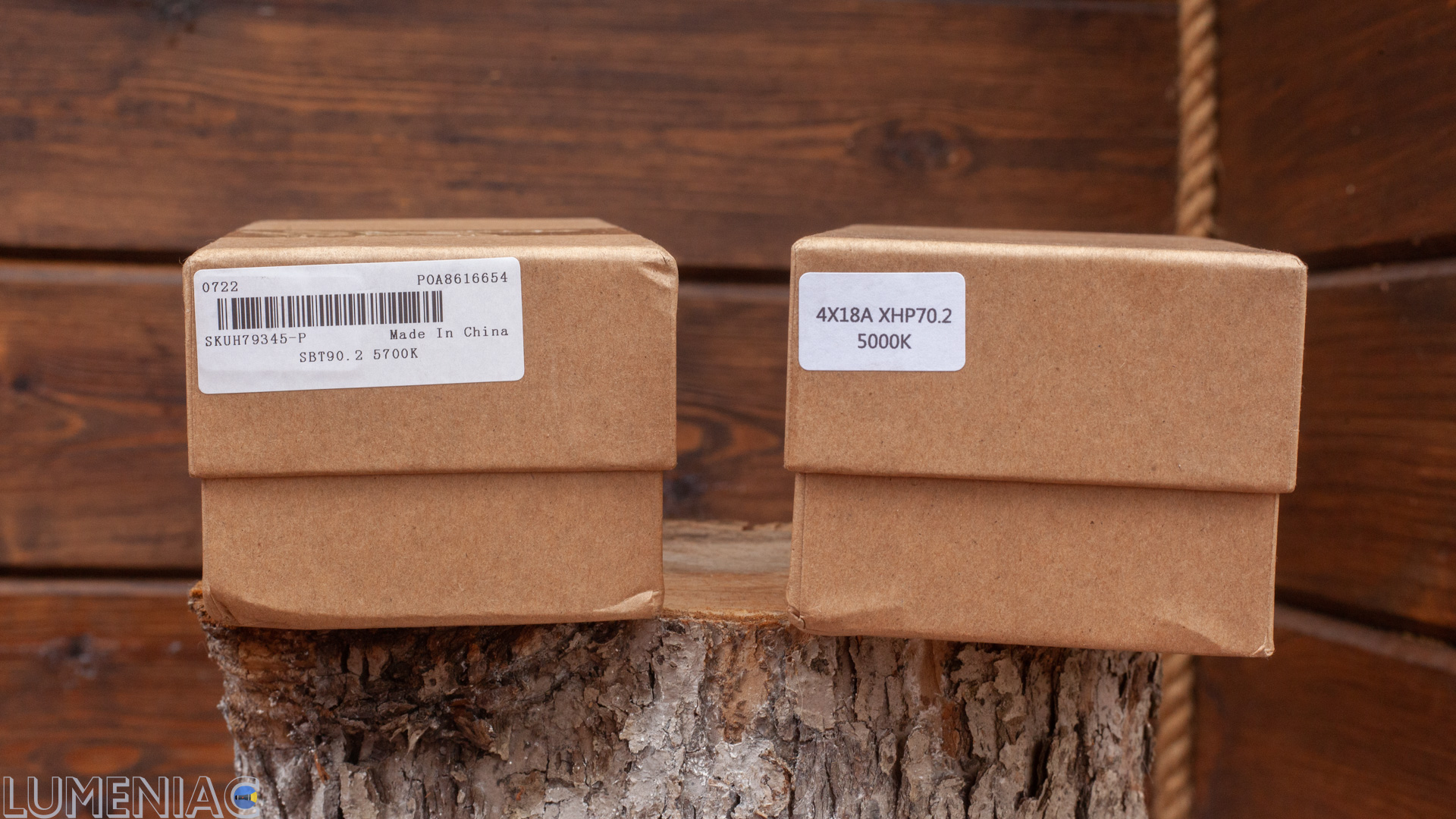 It contains only the flashlight itself. Nothing more.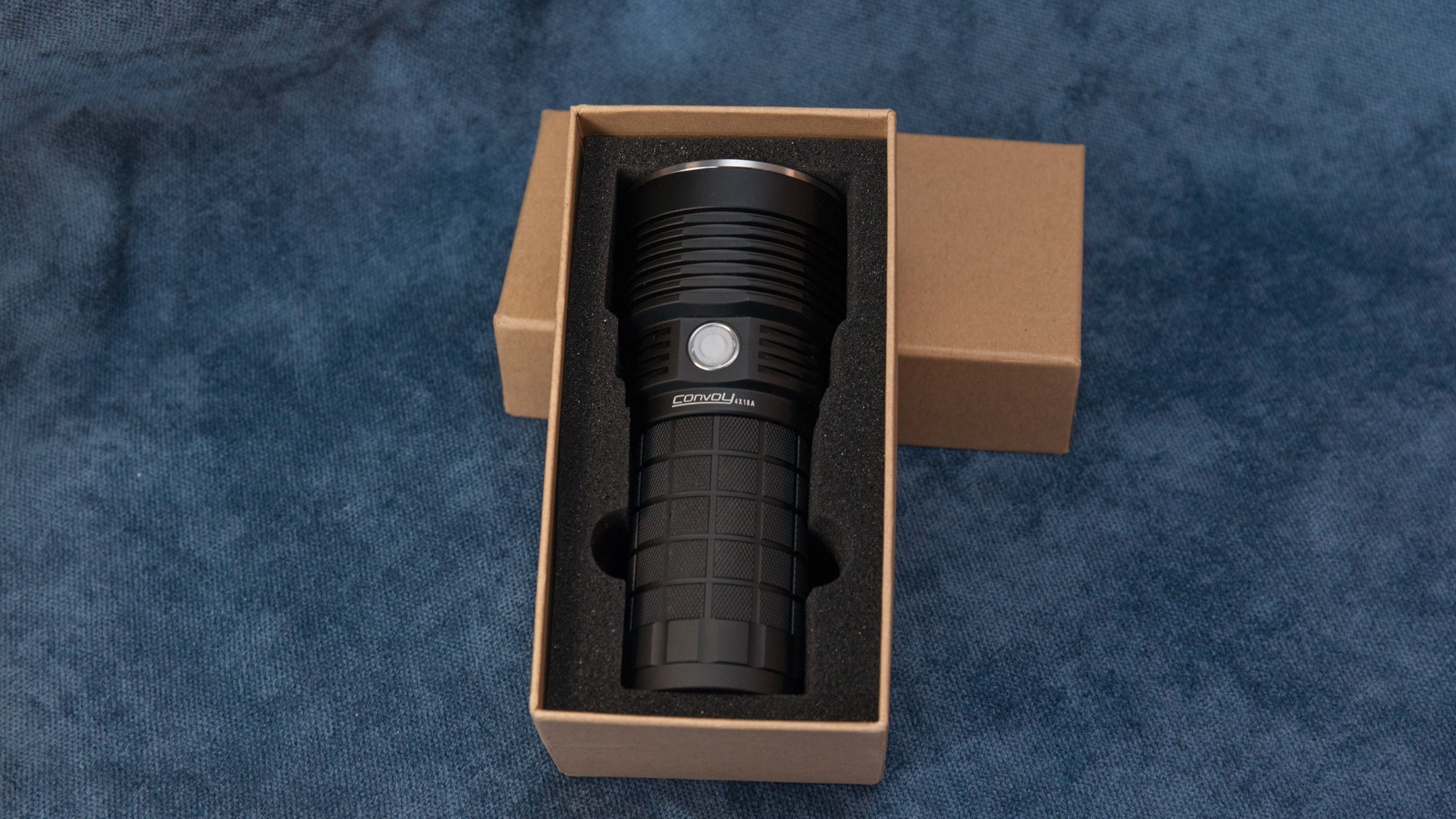 Nothing more but an extremely useful addition – a flat tops to button top battery adapter. This a really useful piece of plastic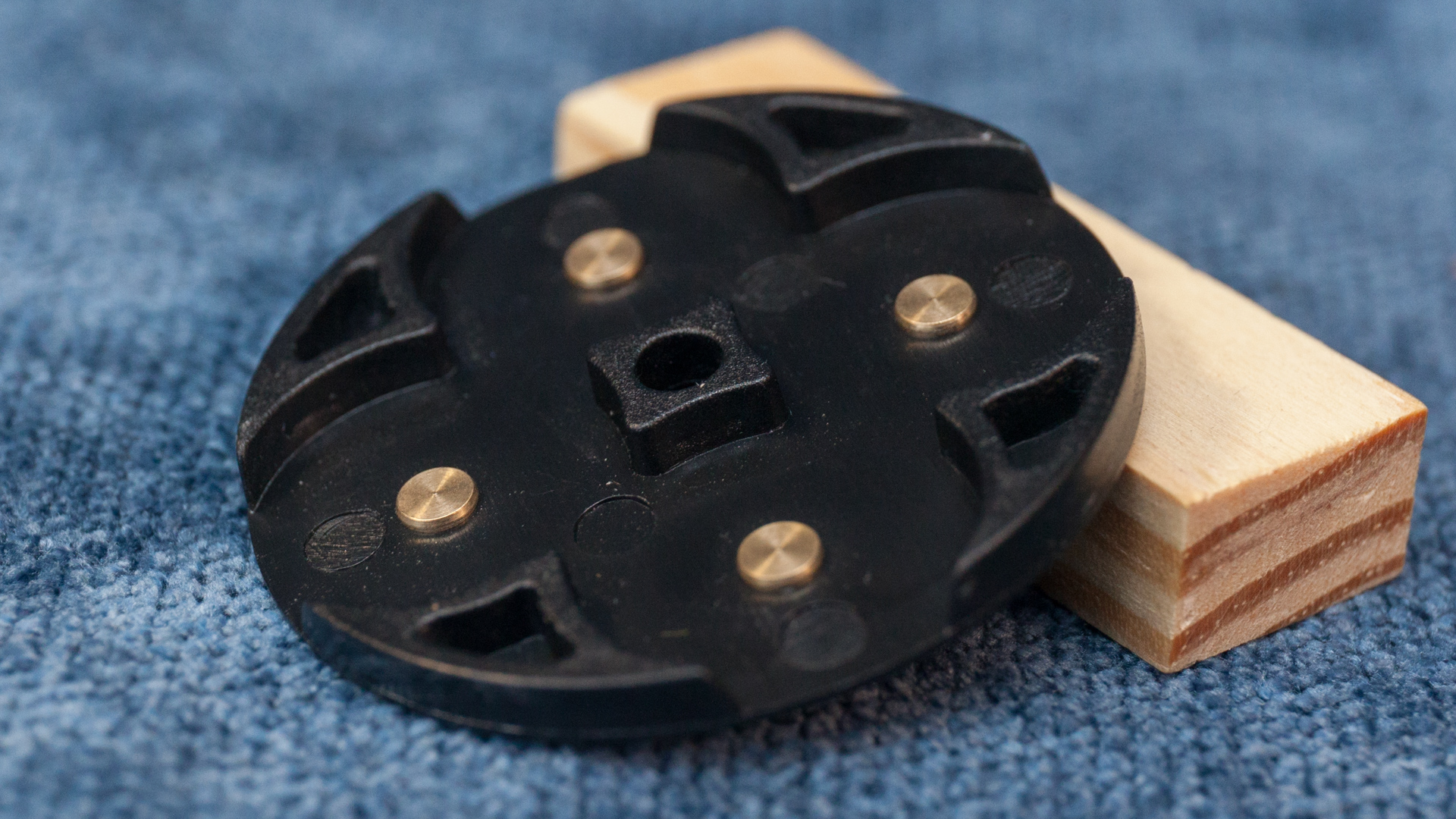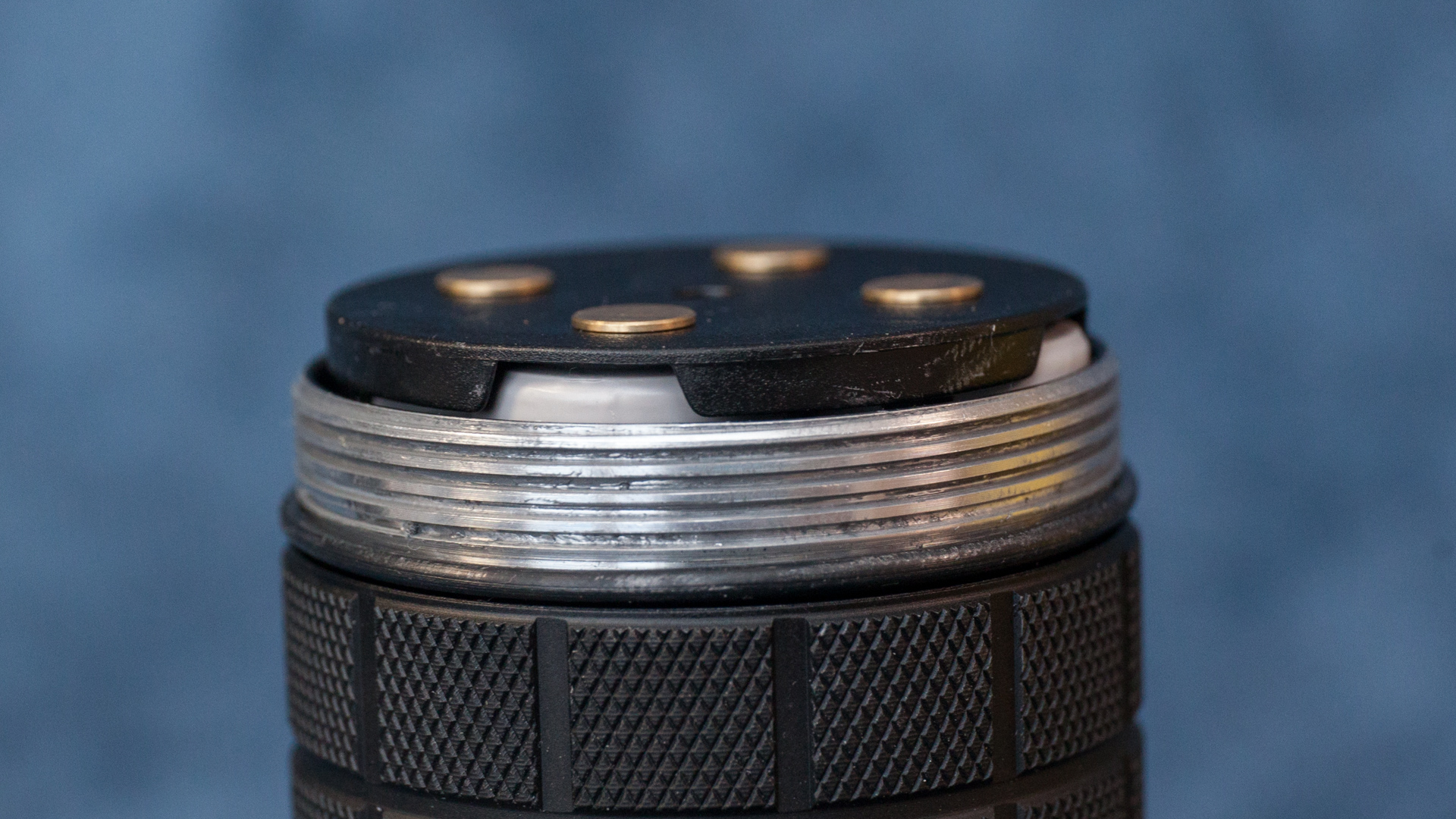 The rest is the same. You get a large piece of metal in your hands. Simple design, 4 batteries inside and a large head.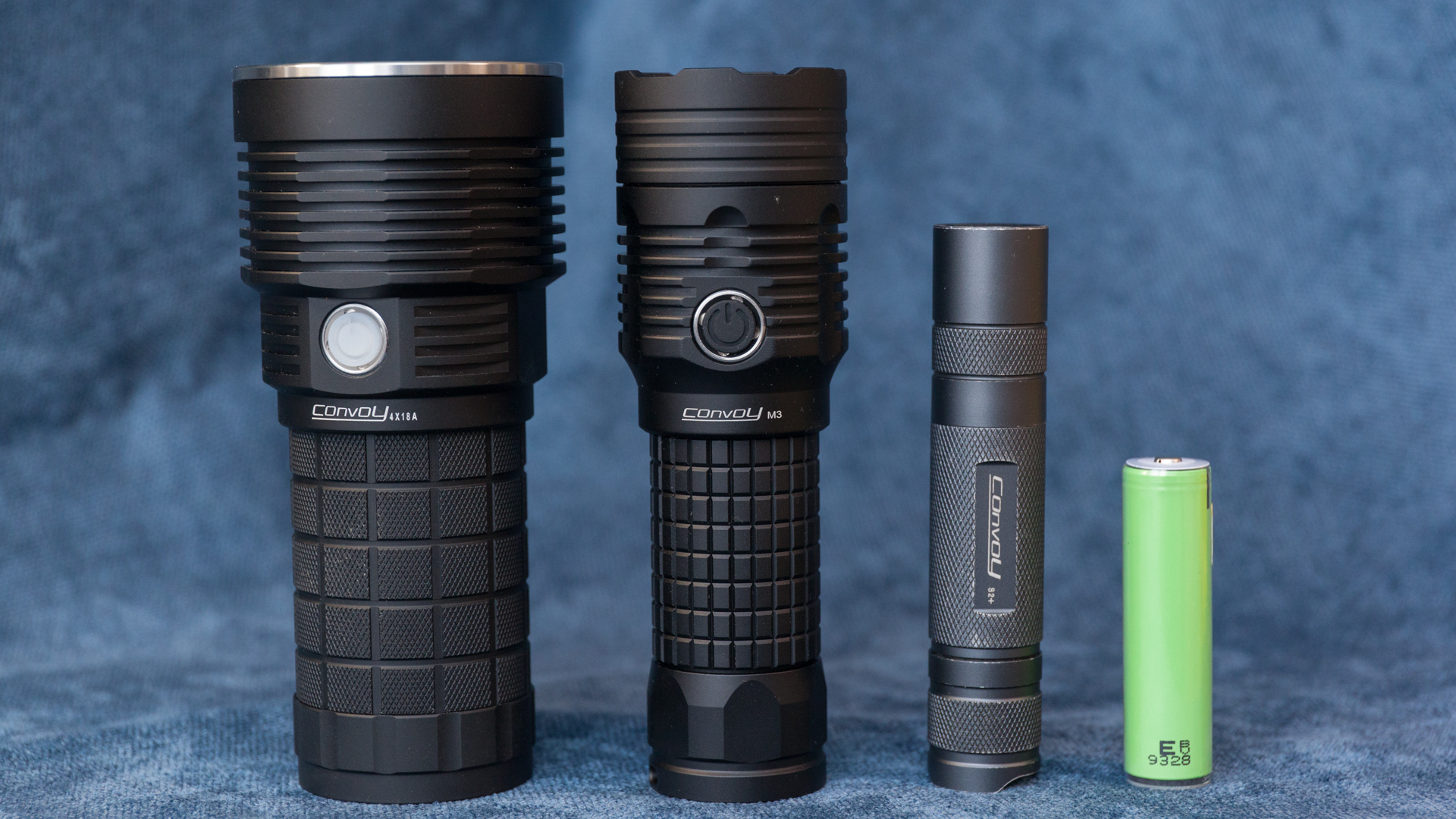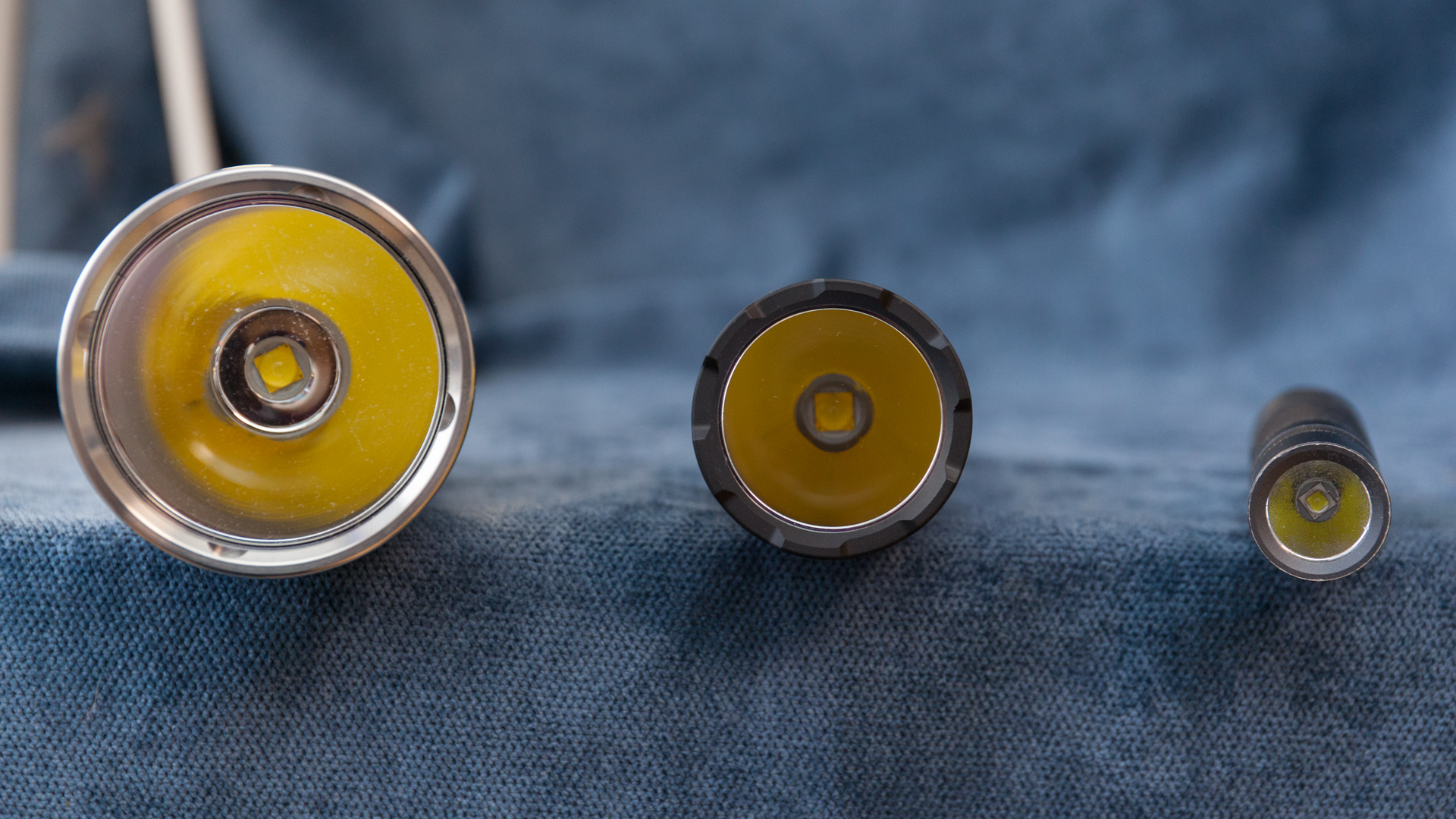 To be fair, there are way larger 4×18650 \ SBT90.2 models. For example – an astonishing Acebeam K75 (check review) https://budgetlightforum.com/node/74619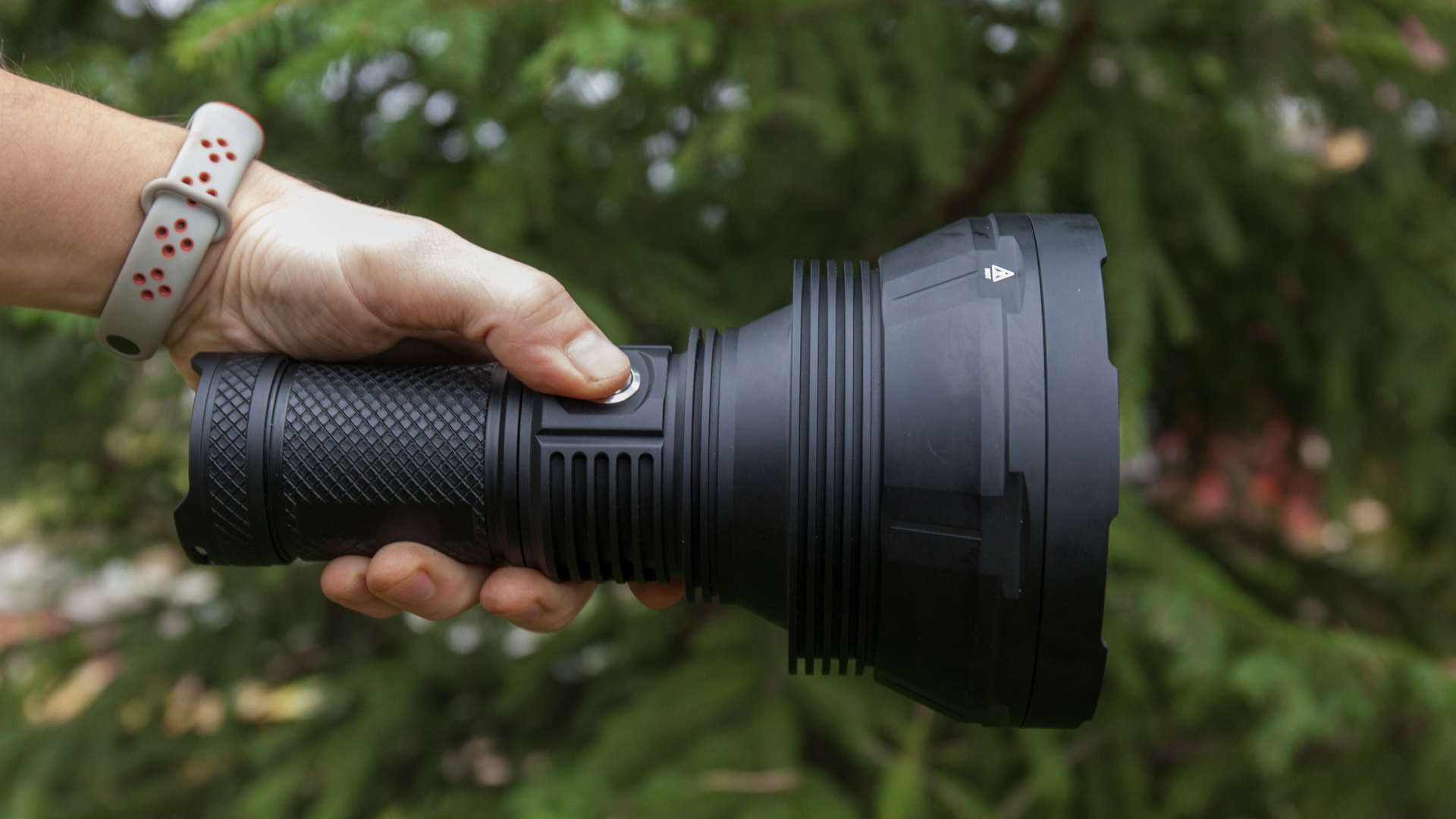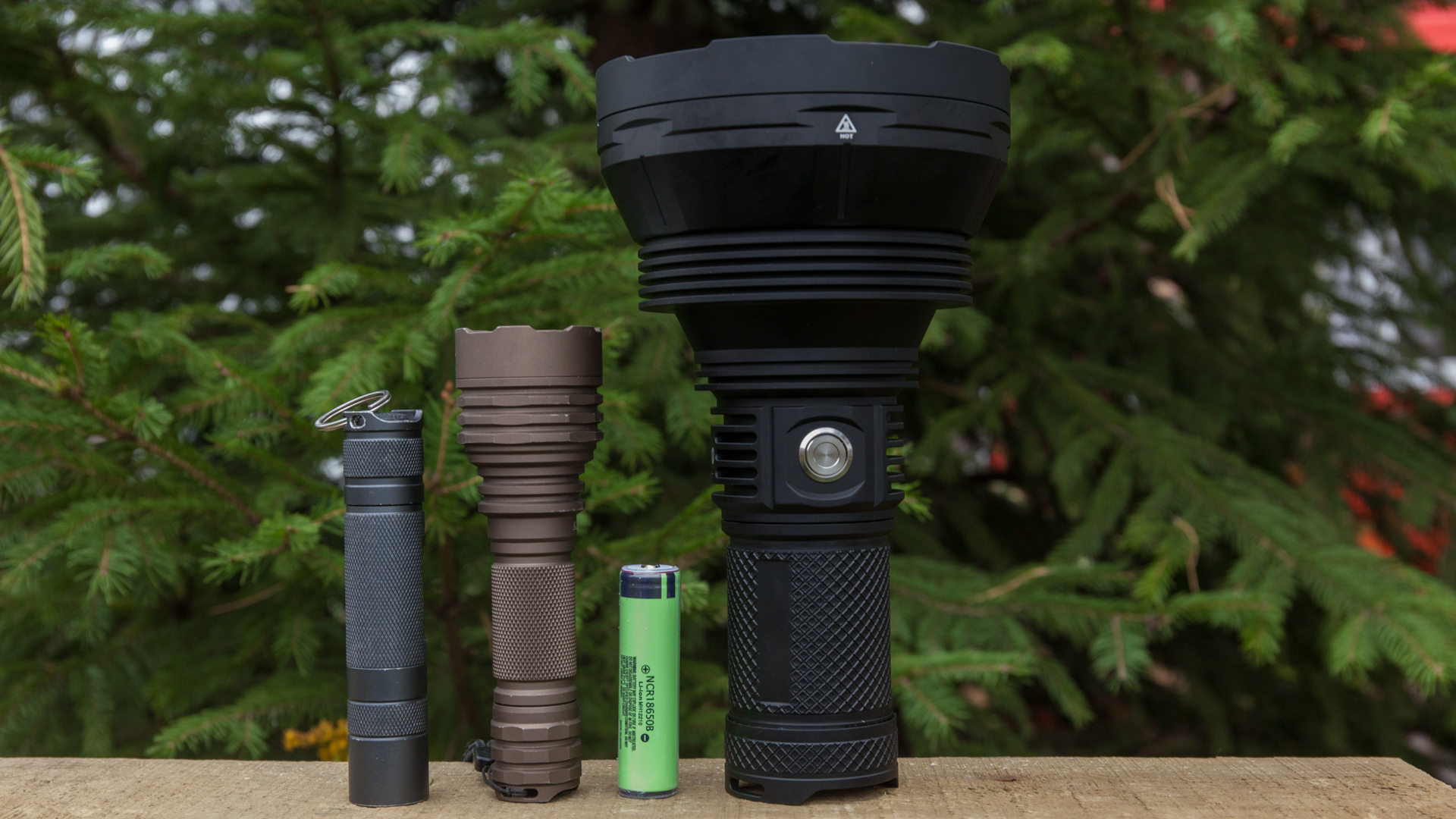 Neither the button nor the charging connector has changed.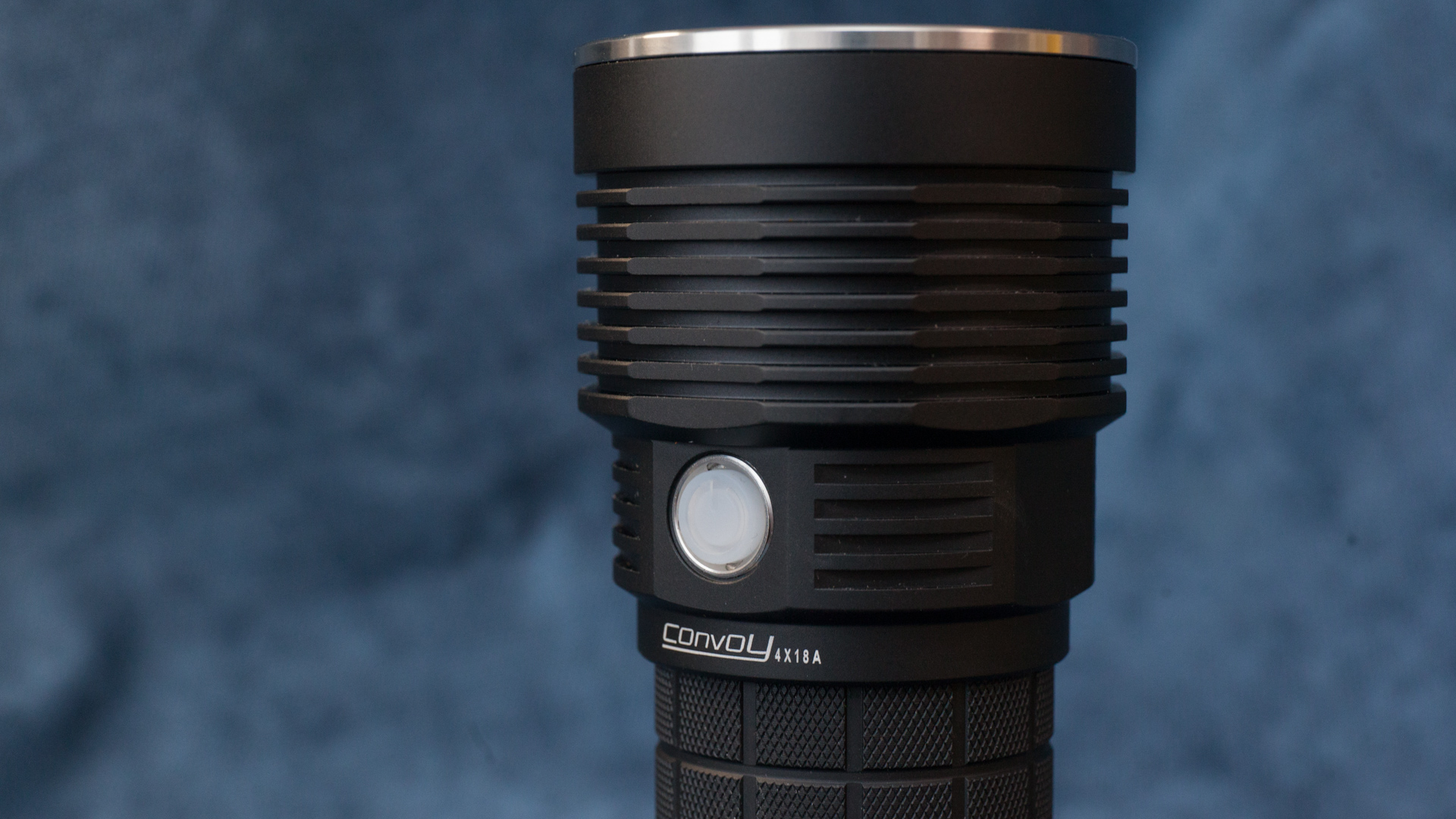 All the external differences from the original Cree XHP70.2 version is only the
LED
. But, as you will see, that is
real
difference.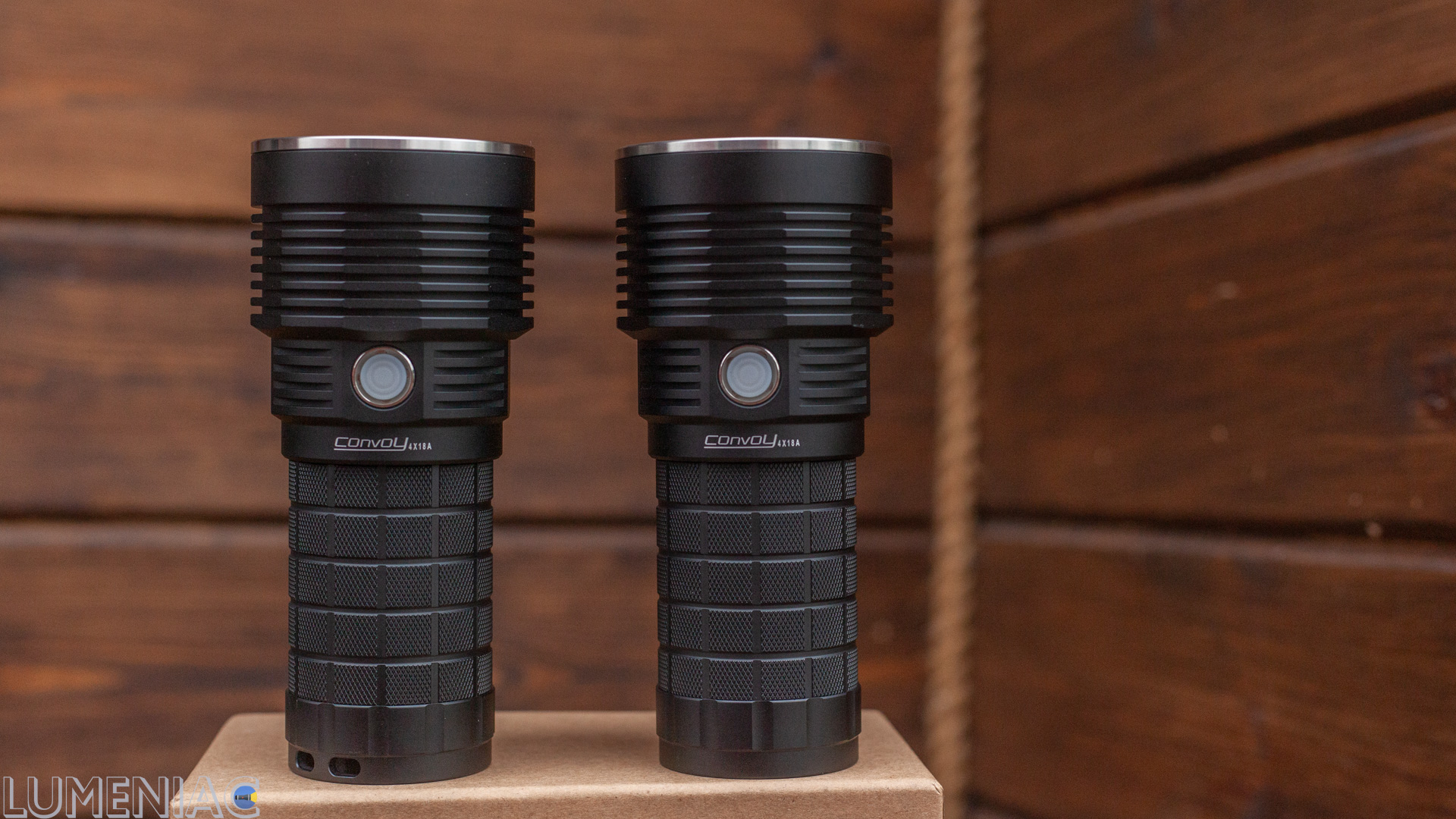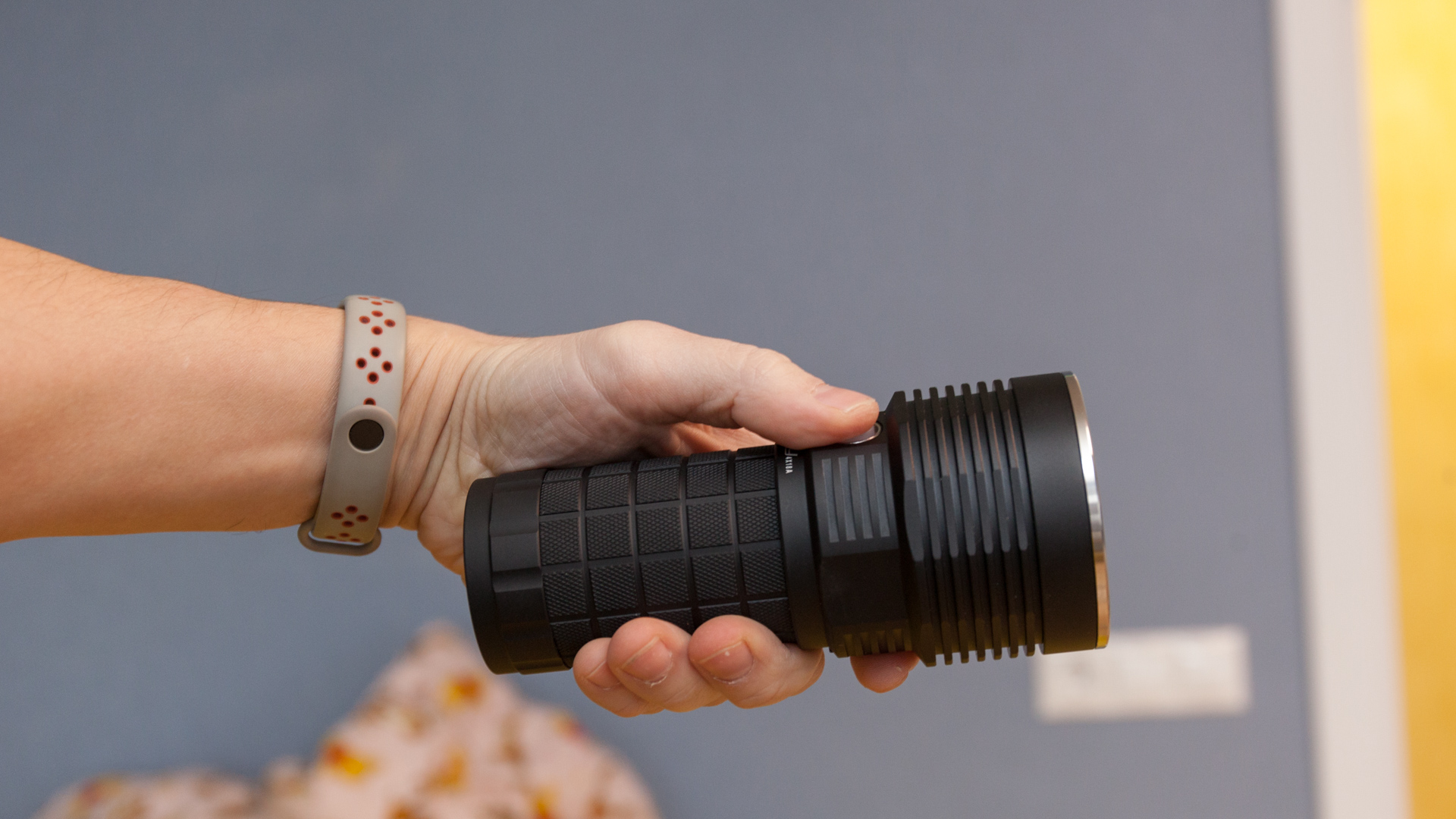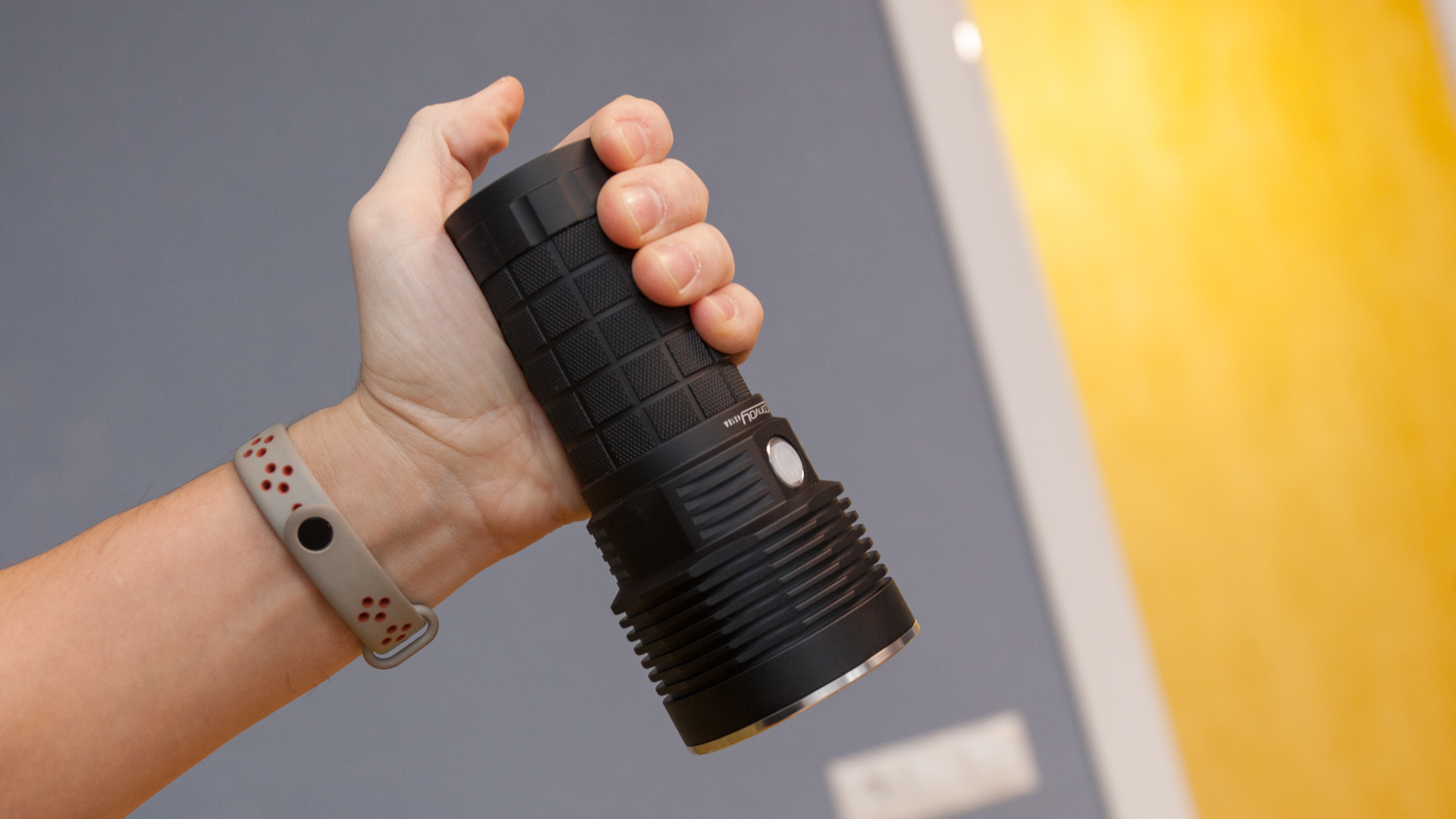 If even a compact Lumintop X9L (review ) could handle the power of SBT90.2 and was a really interesting flashlight, then it was a predictable and logical decision to instal this LED in Convoy 4×18a. This LED seems to be created for such a body, sufficient both in power supply and heat dissipation. Okay, relatively sufficient – SBT90.2 requires a fan even for the giant Astrolux MF05 \ Mateminco MT90 plus (review).
So this is how it was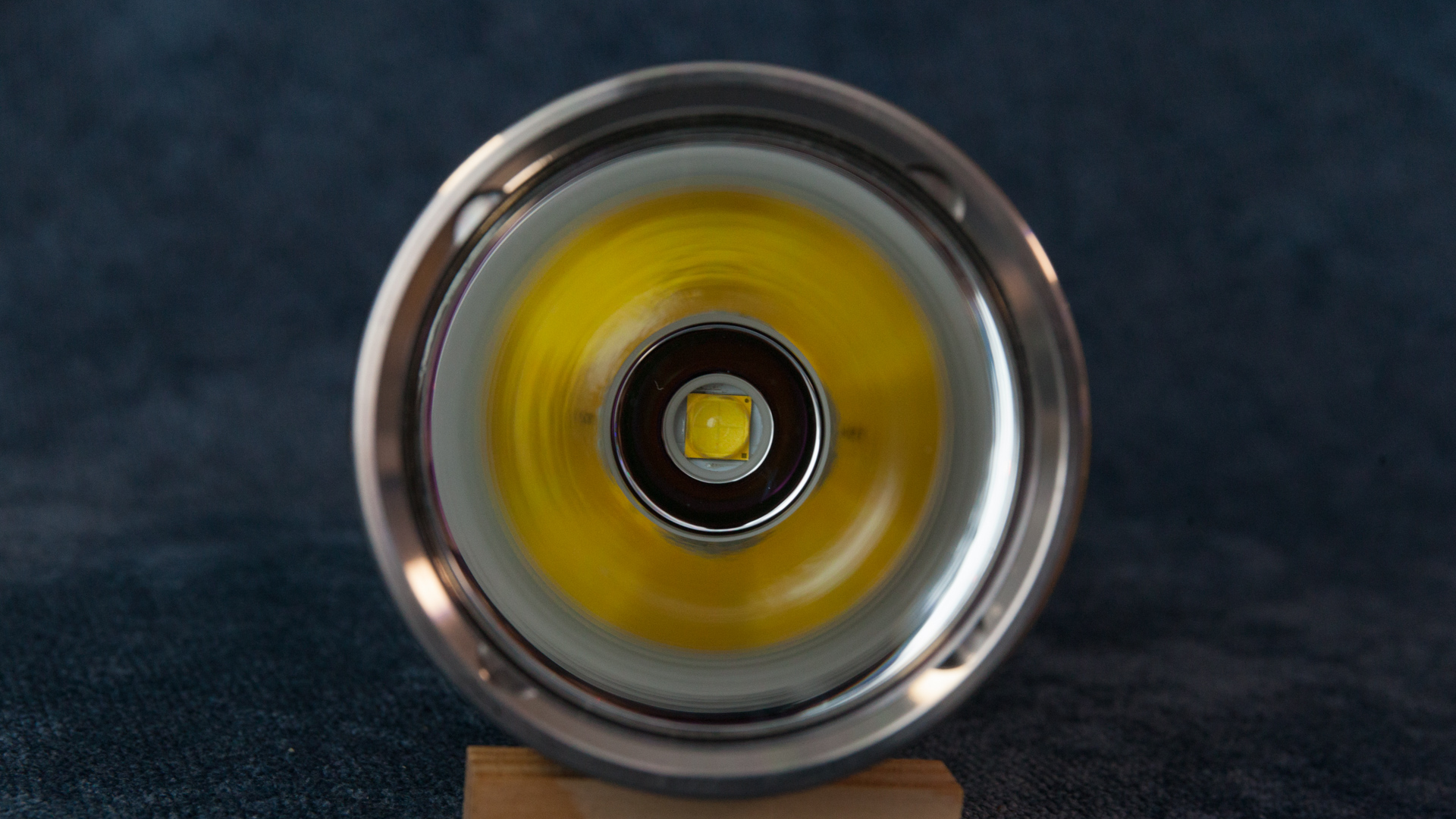 And that's what happened.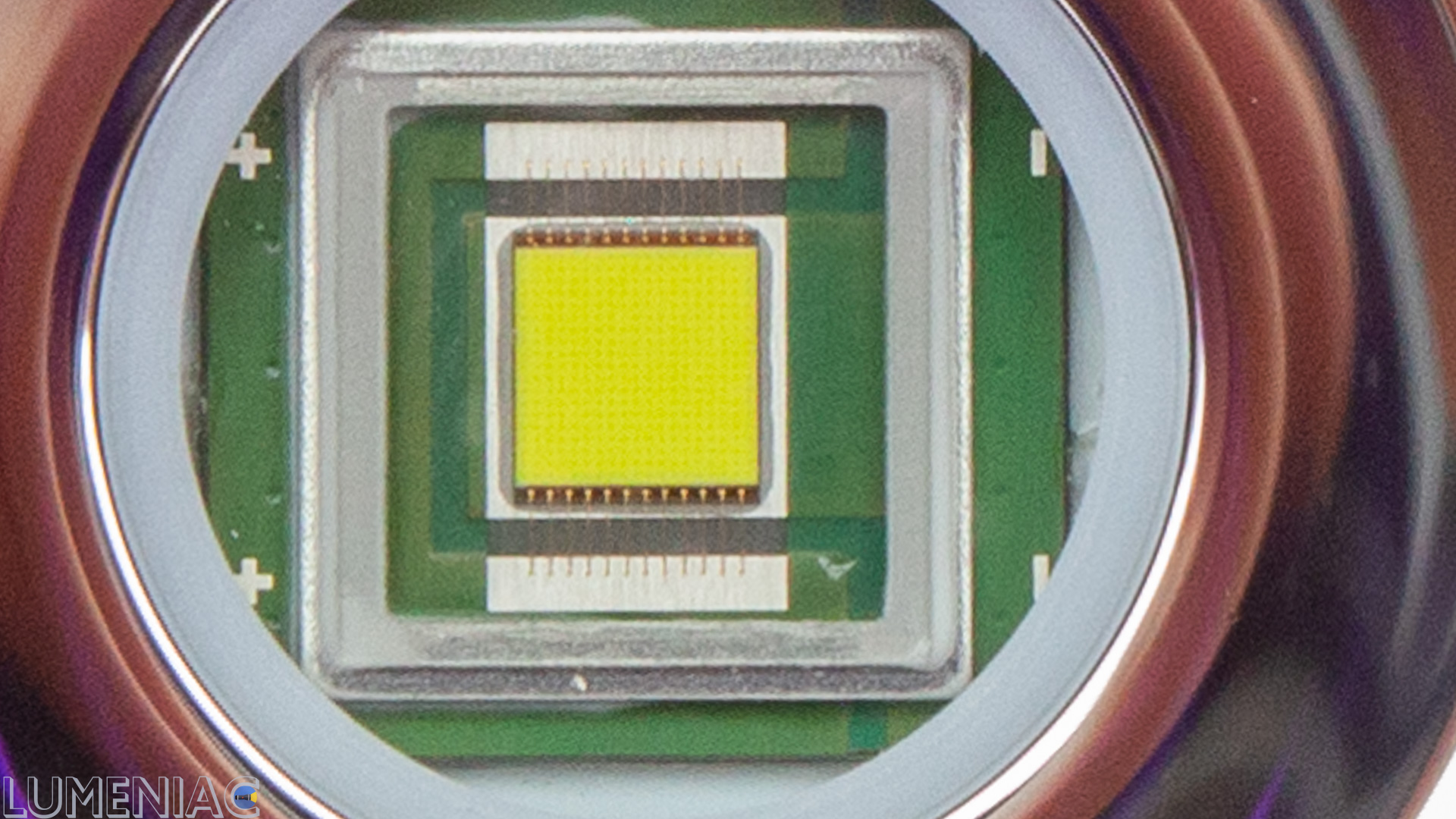 On this, let me take my leave and move on to the most interesting part of the review. Let me remind you that if you are interested in the rest of the details about the case, charging, UI then the review https://budgetlightforum.com/node/71217 of the Convoy 4×18a XHP70.2 will help you with that, I don't see the need to duplicate it`s content here.
UI
As far as I remember, it was simpler in the first version. Now there are:
tactical mode with access to 100% only (4 clicks)
battery voltage flashing (5 clicks)
smooth brightness control (off-on by 6 clicks)
lock (10 clicks)
The rest is the same: off-off about a click, firefly to hold from OFF, select modes by holding the button.
It is quite convenient and not bad.
HOW CONVOY 4×18a ILLUMINATES
Even the less bright XHP70.2 version has decent 3 and a half minutes at maximum brightness, which allows you to illuminate a hefty sector in a radius of the order of meters very well.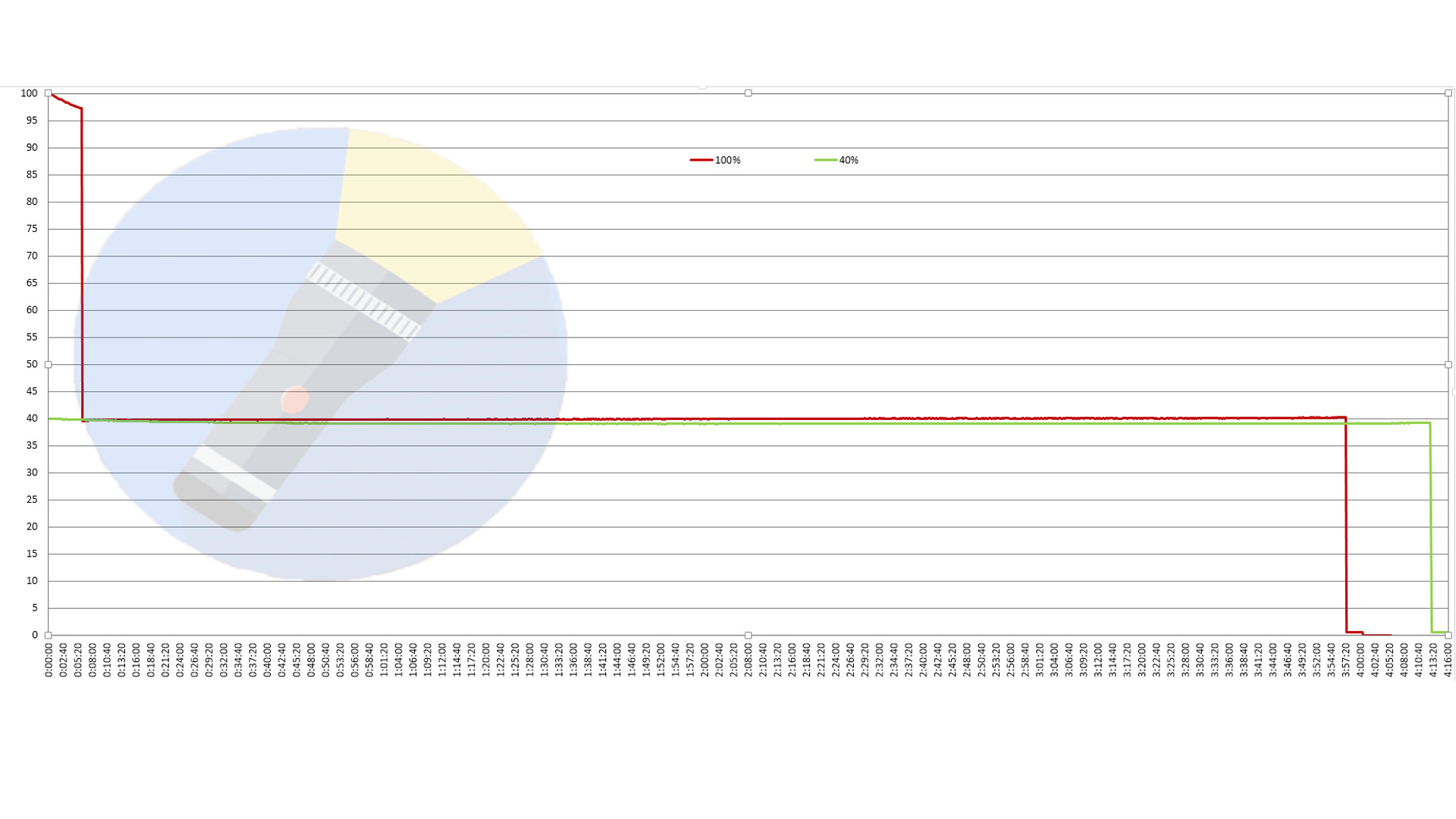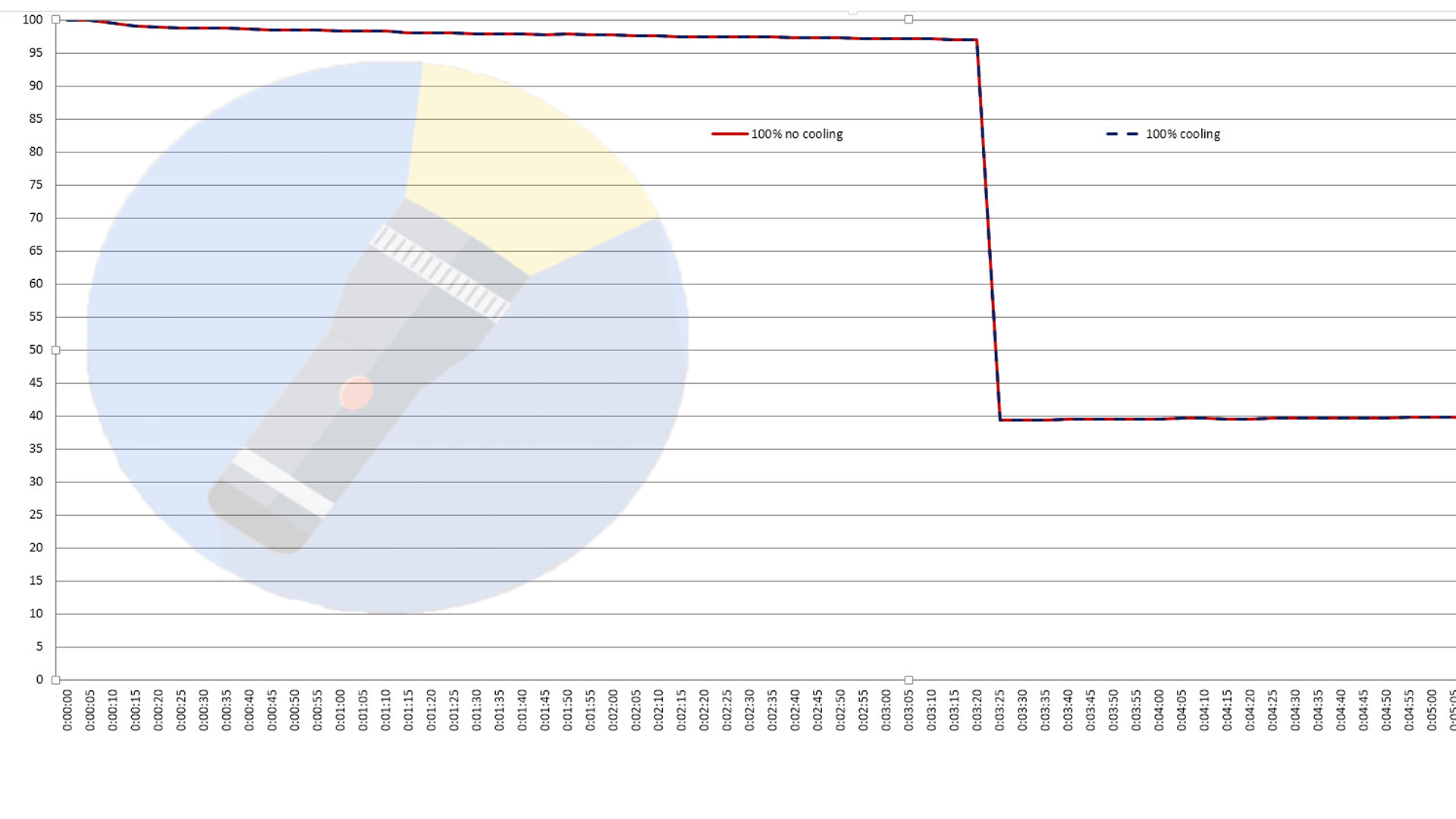 And it was possibe to re-activate 100% , not only when the blashlight body was cooled down.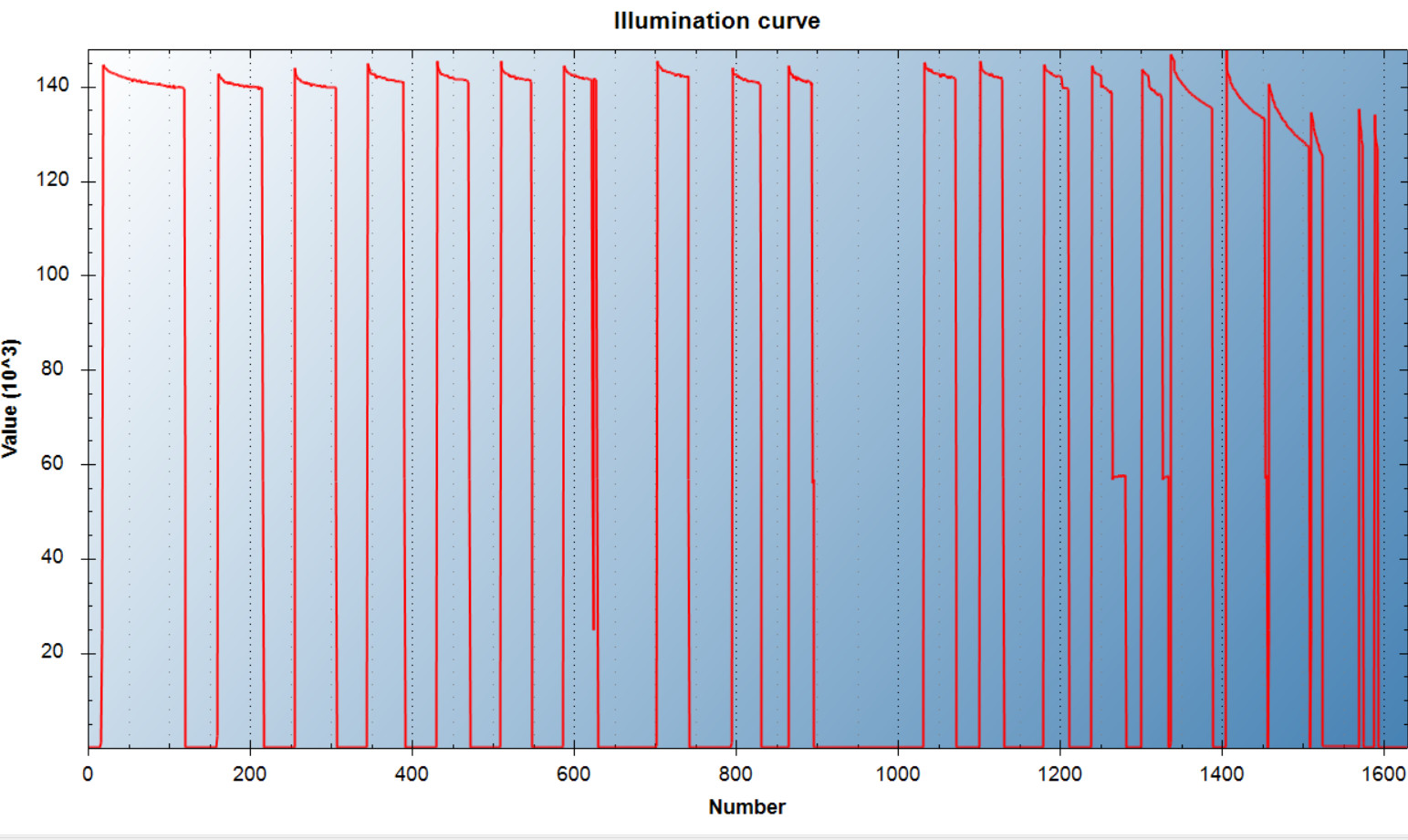 SBT90.2 version is much hotter and 100% mode here is limited to two minutes from a cold start. If you run 100% again immediately, then you should not be surprised that runtime will be shorter. Though 2 minuts is still a very good runtime.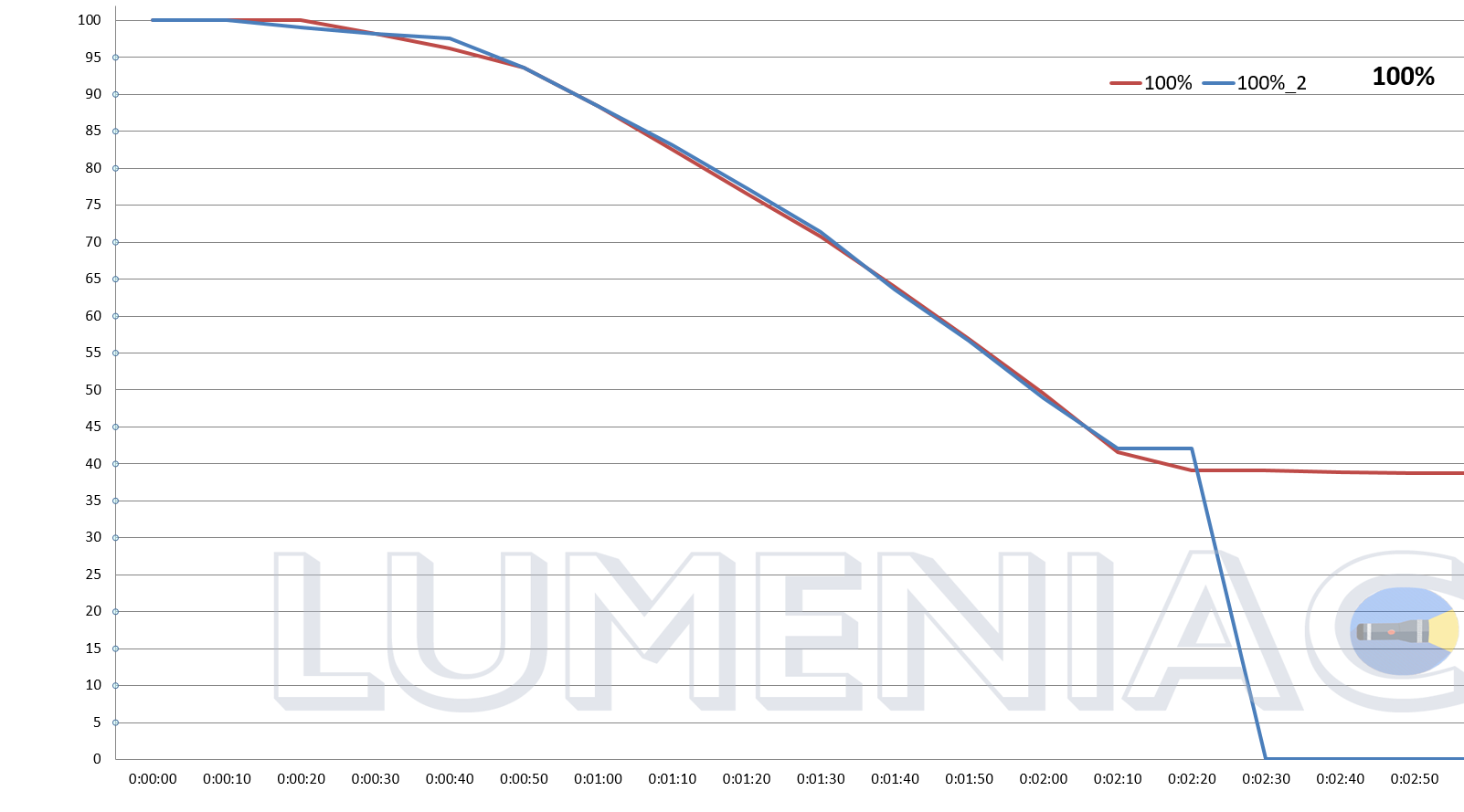 But 40% here is already completely stabilized mode and will give you 2 hours of runtime ( i used 4x Samsung 30Q for tests) with light, which completely effortlessly penetrates 400m and is by no means useless at a distance of 600-800m. Once again, you will hold a full-fledged searchlight in your hands for 2 hours. Well, the 10% mode (work within a radius of 250 meters) will last 5 hours with a hook. Also a lot, agree.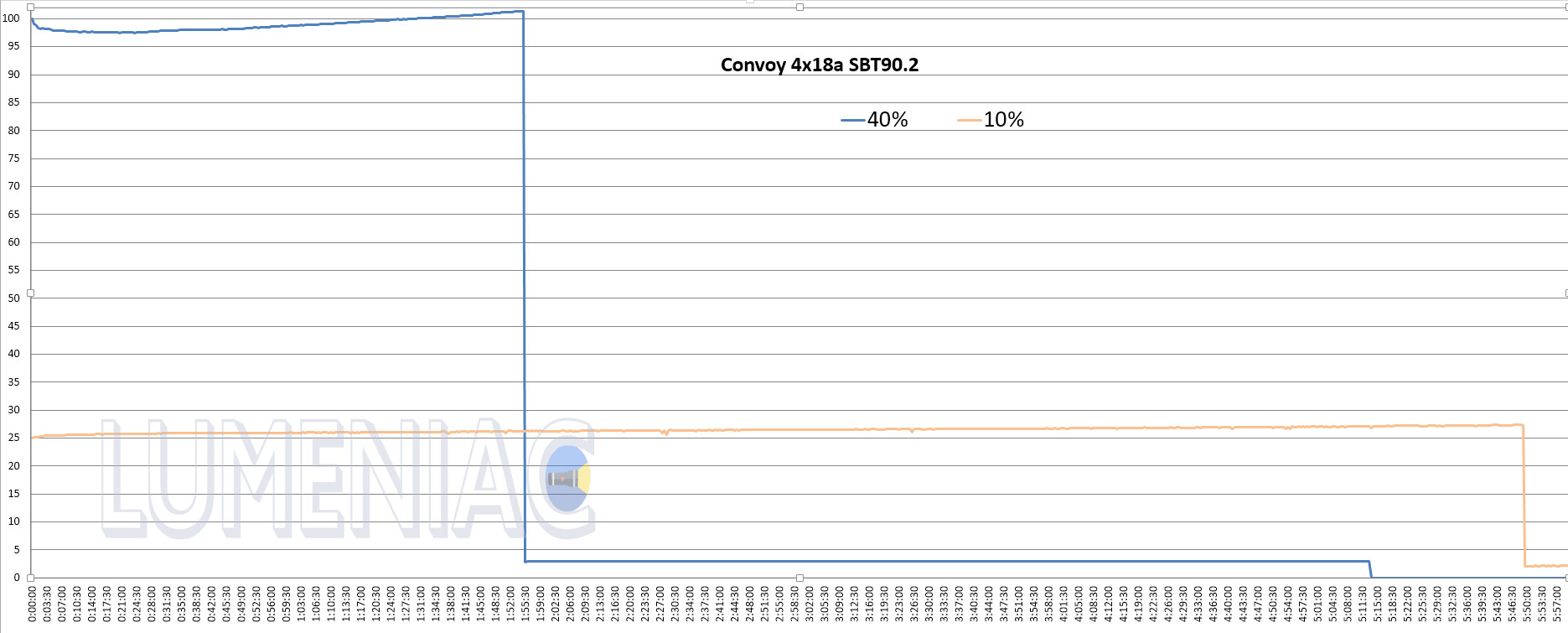 The SBT90.2 version has two drawbacks. One obvious one – the color temperature here is around 6000K, which is not the best option for working at a long distance.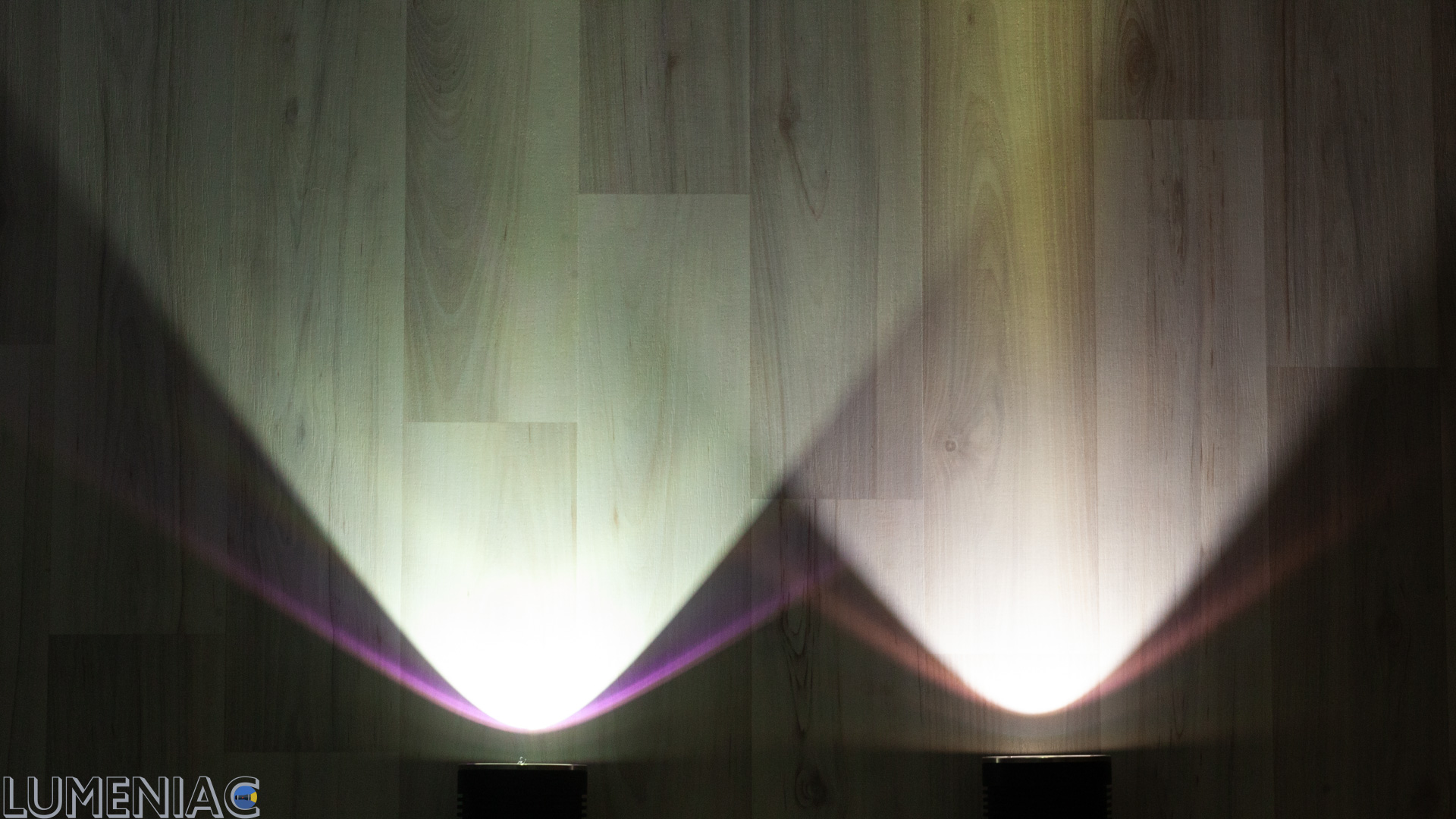 The second is a violet halo, clearly visible at close range. However, it is no longer visible at mid range. This halo will not bother you in any way in real use.
all this is perfectly visible in the photo. The color temperature of the XHP70.2 on the right is 5000K
The photo does not come close to reflecting how these photos differ in their live light. Let's take a look at this.
Well, let's move on to the most interesting, what can we expect of light?
And what you get is the following – the XHP70.2 is very pleasant when working at near-medium (especially at medium) distance with the ability to reach up to 300-350m with the beam in case of urgent need.
SBT90.2 unfolds somewhere from 20 meters to the point where there is generally some benefit from light. It is very confident, with excellent brightness, penetrates 750m at 100%. And the constant 40% mode will give you an unambiguous working level of illumination at a distance of 350-400m.
And now – sweetest part.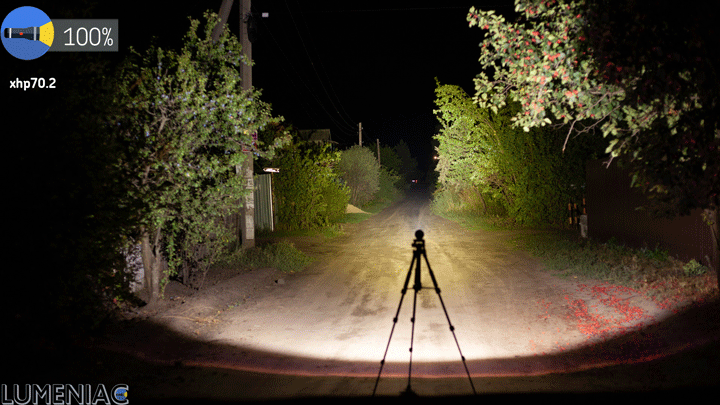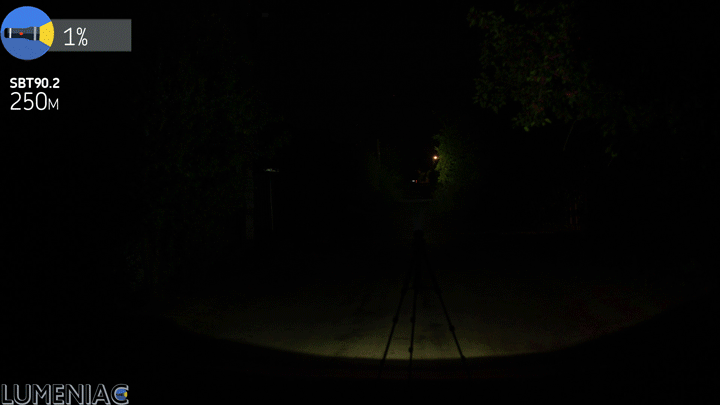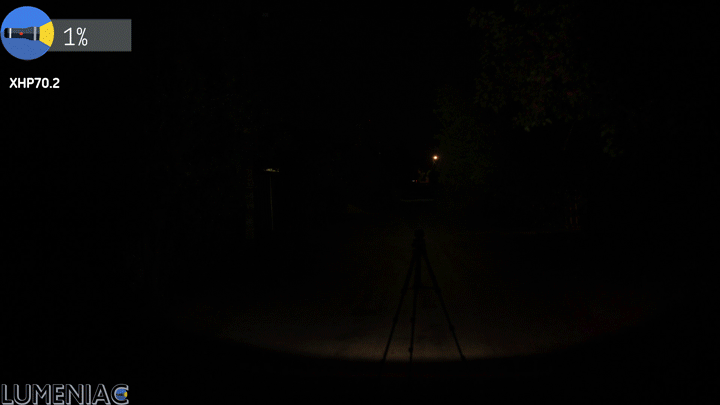 The picture is still the same at a distance of 50-75m. The SBT90.2 is already quite pleasant, but XHP70.2 is still more interesting due to it`s better sidelight
But here's what should be noted here – more energy consuming 40% of XHP70.2 will be visually equal in terms of brightness at hotspot to 10% of SBT90.2. This means that you get longer runtime with it as well.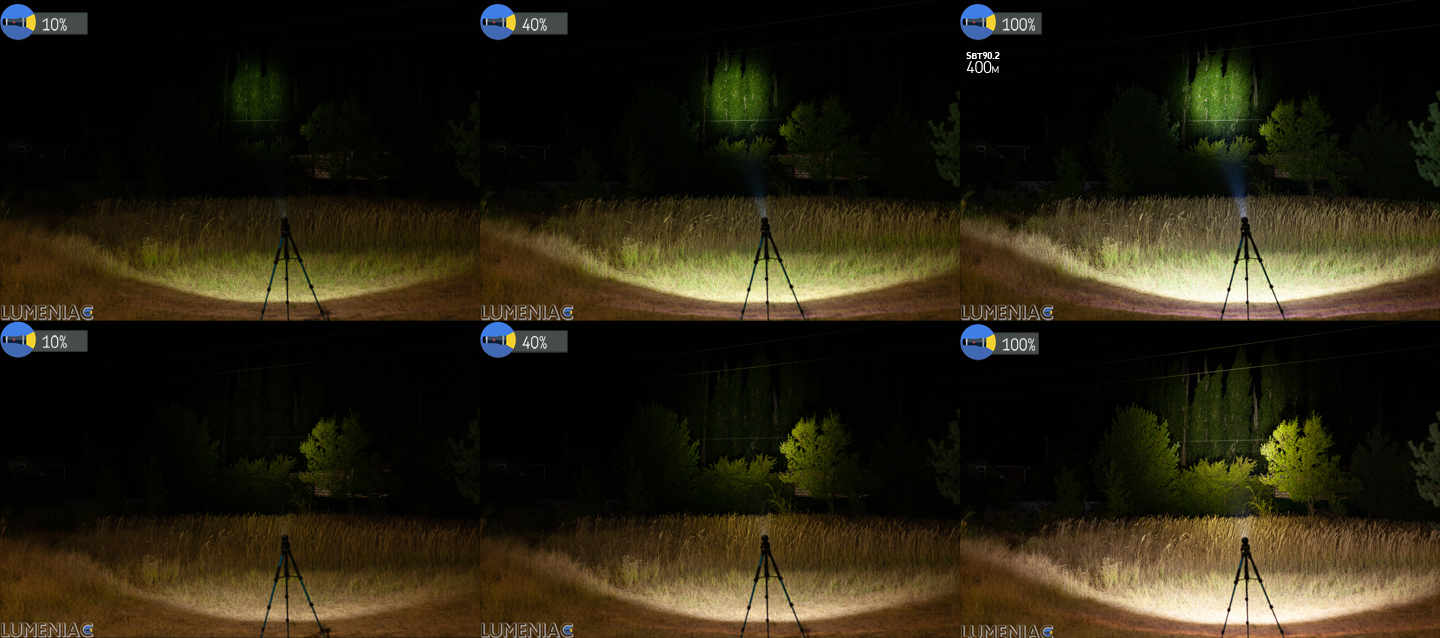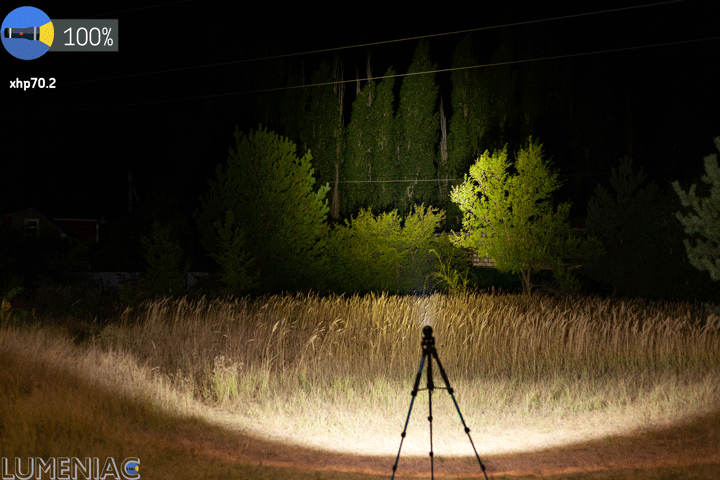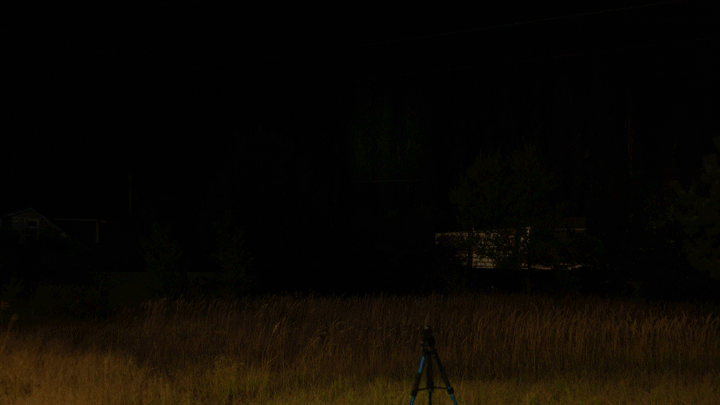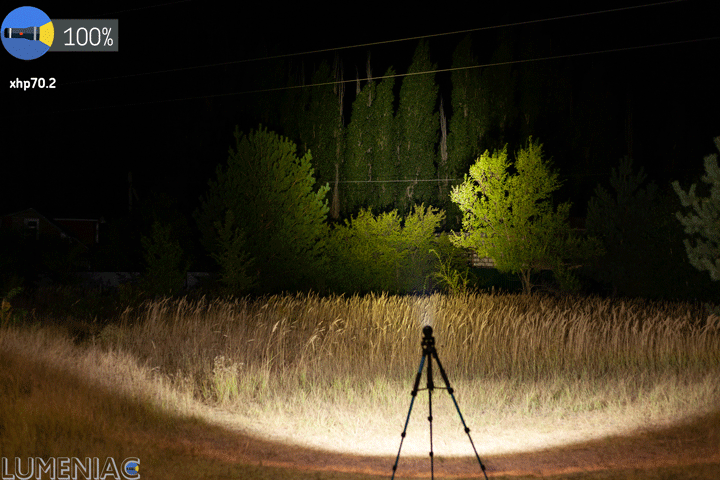 200m
XHP70.2 still can handle with such a distance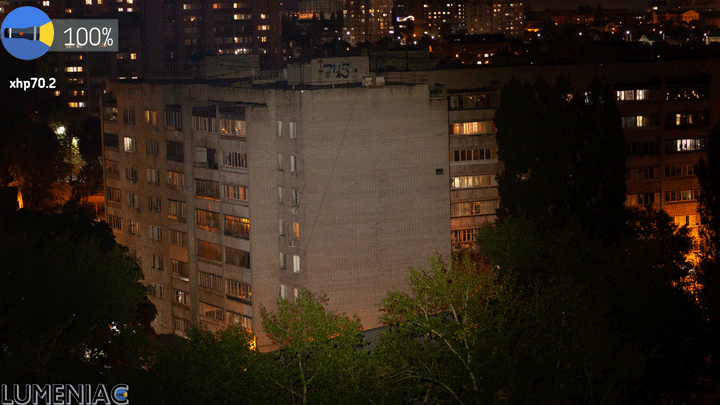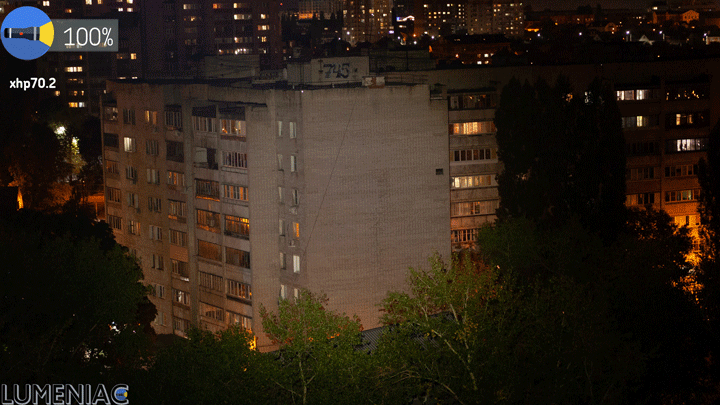 250m
XHP70.2 begins to loose power. However, if it was dedomed version, XHP70. would perform well here.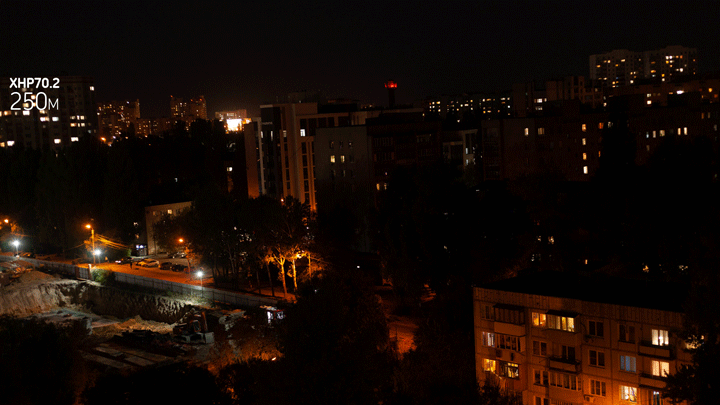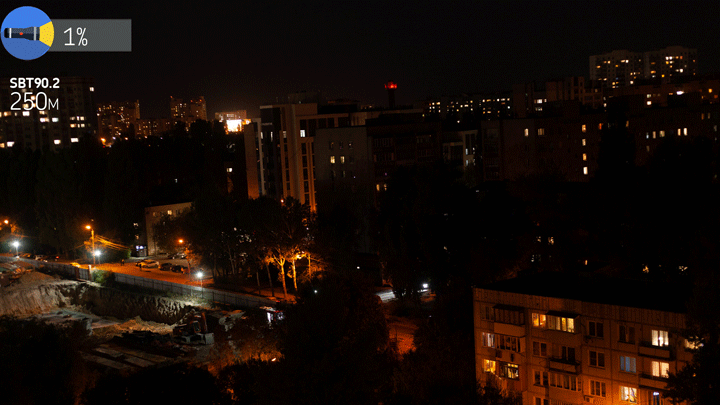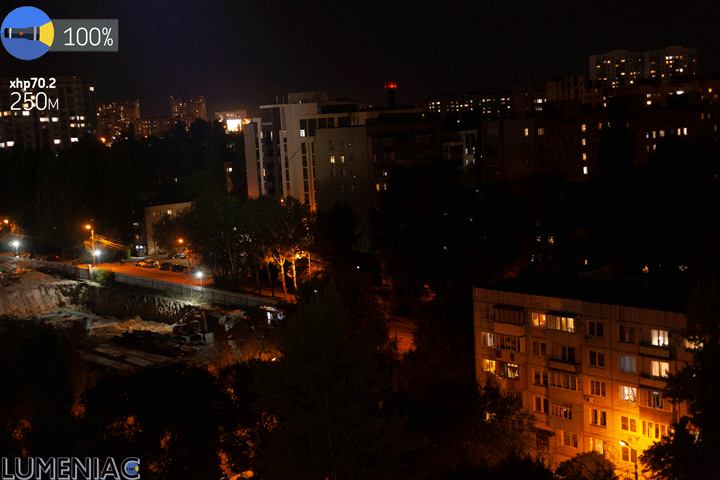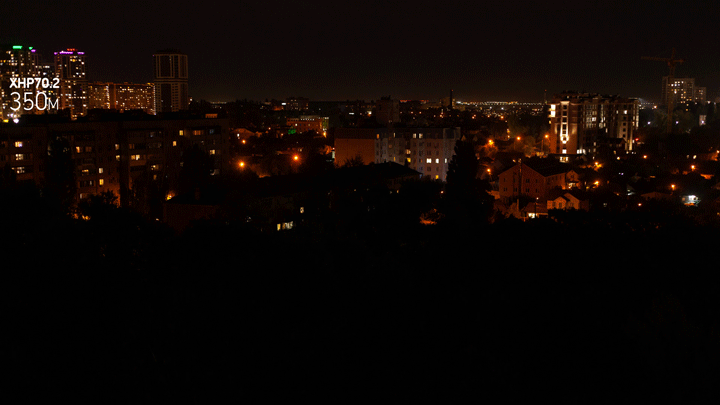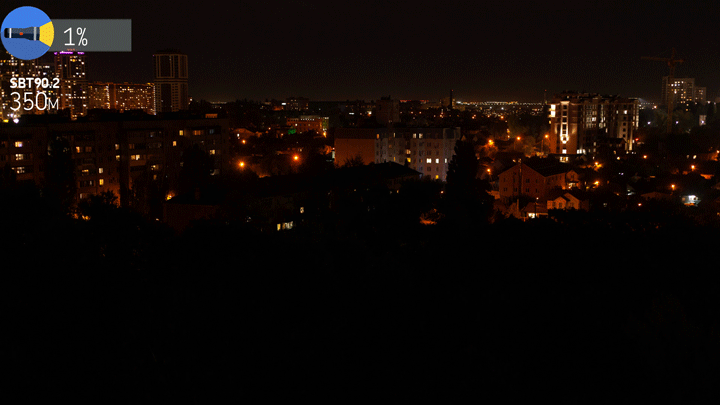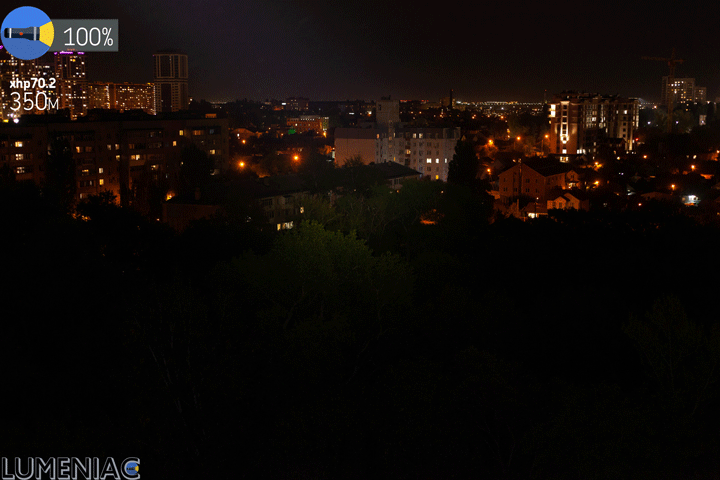 400m
Here XHP70.2 is usable at 100% only.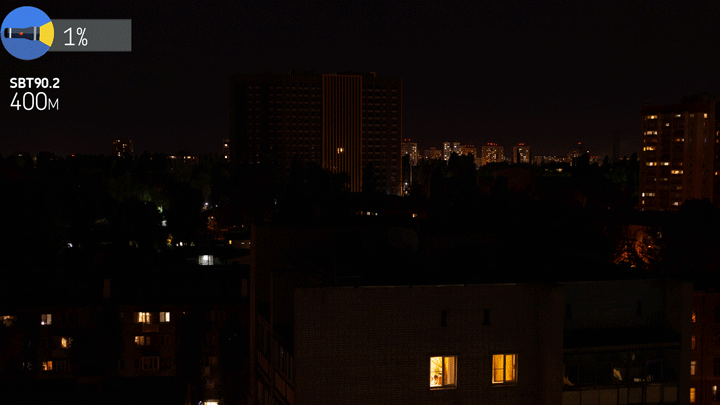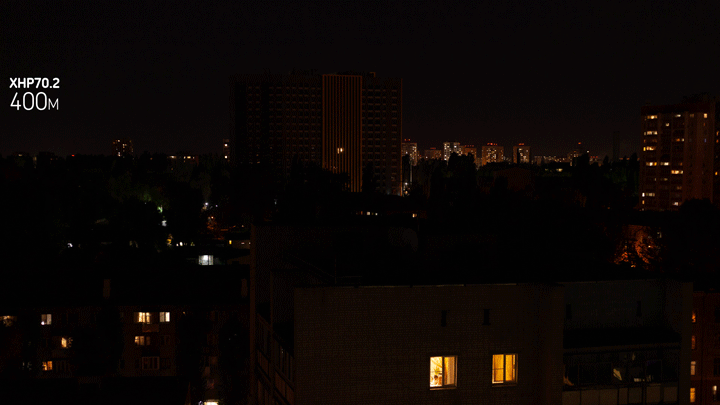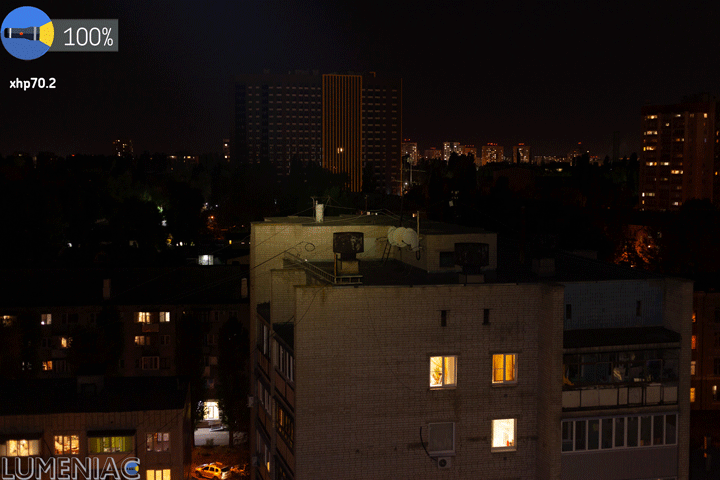 750m
There is no use of XHP70.2 version at this range. Again, if this LED was dedomed – it could perform well, as you can see in my review of wonderful search flashlight Mateminco review">MT79. In its current domed form, there is no point at all to expect any good from it at a really long distance. But SBT90.2 proves itself amazingly, even 40% turns out to be a mode you can rely on. BTW, Mateminco also has MT90 version with SBT90.2…
And 750m with such a bright illumination, by the way, is too tough for many long-range flashlights.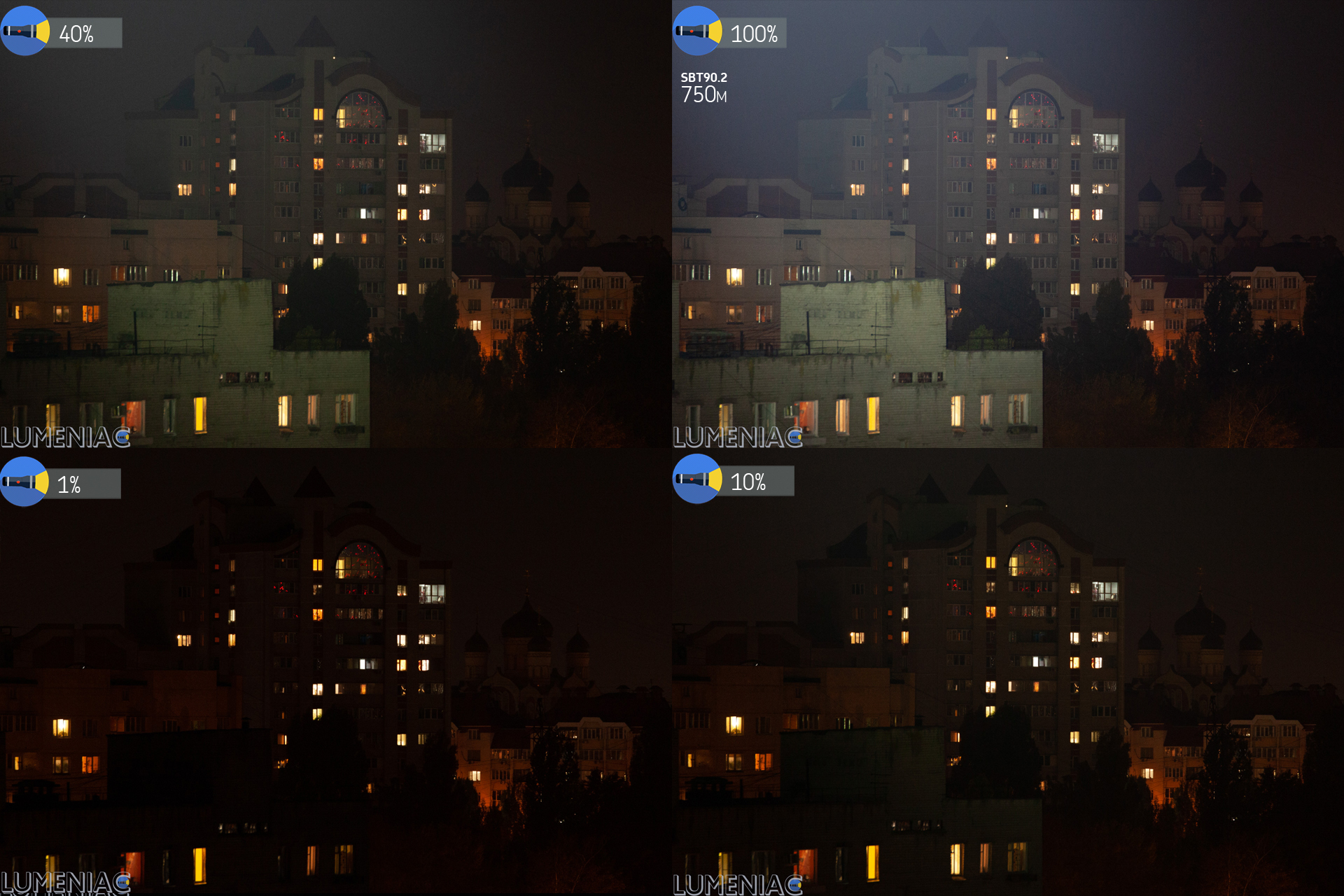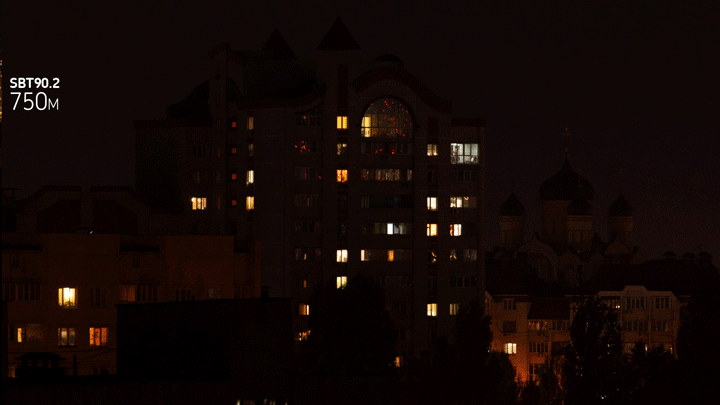 and here is Convoy 4×18a SBT90.2 vs XHP70.2 video review. there is more stuff to see…

OVERALL IMPRESSIONS
As in the case of the XHP70.2 version, review of Convoy 4×18A SBT90.2 left me with impression that each of them is an undoubtly interesting flashlight for itself, and more over, sort of flashaholic mustbuy for it`s affordable price. I mean not that you should open wallet and buy it right now, of course, not. I mean that if you would like to try what SBT90.2 is capable of – then Convoy 4×18a SBT90.2 seems to be the very 1st choice.
Thanks to 4x batteries, both version have long runtime. They both have quite sane UI. Dont know if latest batches of XHP70.2 version have the same UI as of SBT90.2.
Built-in Type-C charging is a good feature, in general, although the fact that all 4 batteries are charged simultaniously should be taken into account. There is a chance of overcharging, you need to carefully monitor the condition of the batteries. I would use the built-in charger only if the external one is not available.
Each of the flashlights fully reveals all the charm of the installed LED. Cree XHP70.2 version shines brightly and relatively wide, giving a comfortable and long-lasting light for working at near and medium distances. Runtime in maximum brightness will give you , in case of need, quite a lot of time to highlight everything around. The choice of color temperature is also a good feature that SBT90.2 version definetely lacks.
But the latter has a colossal advantage in throw. It is simply astonishing flashlight. It easily burns out a real tunnel in the darkness. You can confidently work at 700m distance even 40%! And the flashlight covers a 1000m at 100%. And all this with a some sidelight as well, unlike what sort of Osram-based piercer have. There is only one disadvantage here, and it is typical for this LED. i mean relatively cold color temperature which is not that practical in fog / smoke / dust as 4000K light. However, this can be offset by a colossal penetrating power.
A modern powerful and truly long-range flashlight with a fashionable Osram LED (review one and two) amazingly focuses the light into one bright hotspot. This increases the range, but forces you to move the beam to reveal what u dont see due to mostly absent sidelight. SBT90.2 does not have this drawback, its illuminated area is much wider and without damage to range. In fairness, the flip side of this is a significantly greater body heating and battery consumption.
Be that as it may, if you want a flashlight that will have a colossal range and at the same time tolerable side illumination, i.e. not an ultra-long-range "percer" but a search flashlight, then Convoy 4×18A SBT90.2 seems to me to be a very, very interesting choice for it`s affordable price. Big brands would ask WAY more for something similar in light (and perhaps what they offer will even has worse UI and LED bin). I also consider Mateminco MT70 with dedomed XHP70.2 as a good alternative. It has a shorter range and no built-in charging, but a good color temperature.
In short, I definitely like the Convoy 4×18a in both versions. If you are not embarrassed to carry around an almost 700k piece of metal, then for far less then 100USD you will get exactly what you were looking for: either excellent brightness at near-medium distance, or the ability to turn on a real light gun for working at a distance. I wish Sofirn replied with sort of similar model. This might be really interesting battle.
p.s. If anyone here already has Convoy 4×18a SBT90.2, i appreciate your feedback.