I've got an SP10 V3 from Sofirn for review – here are my thoughts about this light.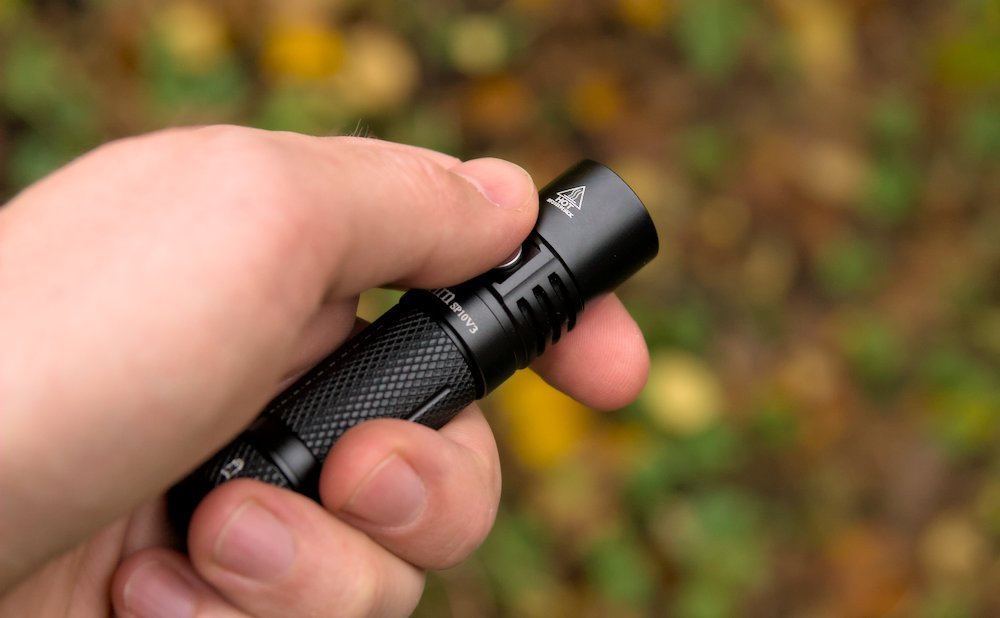 Update:
Got some codes from Sofirn:
https://sofirnlight.com/
5% OFF
Code: HLA8O6C4
Amazon US:
SP10 V3 Kit: 35% OFF
Code: 20VRI7U9
SP10 V3 alone: 40% OFF
Limited offer, leave your comment down below and Barry from Sofirn will message you the code if one is available.

You'll get (in the kit version):
Flashlight
Two-way clip
Lanyard with little carabiner
2x replacement o-ring
Micro-

USB

cable
Single cell charger (Xtar MC1 style)
14500 Li-Ion battery with 900 mAh
Dimensions:
Length: 88 mm
Diameter: 22 mm
Weight (without battery): 39 g
UI:
1C: on/off
1H from on: change brightness (low → med → high)
1H from off: moon mode
2C: turbo; 1C back to previous level or off
3C: strobe; 1H to change to

SOS

and beacon
4C: lockout with momentary mode; 4C to exit and return to previous brightness
Power supply:
This is a multi-chemistry flashlight supporting various batteries:
14500 Li-Ion (2.8 – 4.2 V)
AA rechargeable and non-rechargeable (0.9 – 1.5 V)
AA lithium primary (0.9 – 1.5 V)
The 14500 li-ion results in highest output up to 1000 lm (not measured), but only for a short time and the output is not regulated, i.e. the brightness depends on the battery voltage. Also the quiescent current is relatively high with 143 µA.
Much better with a NiMH rechargeable battery: Only up to 300 lm, but regulated, stable output. Not as hot, but still a stepdown after 90 seconds. Quiescent current only 33 µA!
Alkaline batteries are supported, but might not deliver the same performance and are not good for our environment.
If you don't use it often, but want it for a backup light in the car with low temperatures: Use AA lithium primary batteries with 1.5 V.
There's a spring in the tailcap and a brass contact with mechanical reverse voltage protection in the head. Thus only button-top batteries are supported.
Driver:
Weird stepdown behavior starting after 90 seconds
Levels are regulated with 30 kHz

PWM

(except moon and turbo)
Boost regulator seems to run at about 333 kHz
There were some reports of damaged drivers in the first batch, but Sofirn said it was resolved
Beam and usability:
First the usability: The sideswitch is very smooth and flat, thus hard to find by feel, but also less likely to actuate in the pocket. Some grip tape might help.
The tail has two holes for a lanyard. Sadly there are also big cutouts which make tailstand less stable.
The rest is the usual Sofirn style and quality, no complaints.
The beam is very nice. Floody with a touch of spot. Very good for indoor as well as close range outdoor. Samsung LH351D with 5000 K and CRI 90. Slightly green, of course, but acceptable.
Positive:
Multi-chemistry, good AA light (still waiting for the Anduril version – that will be awesome!)
Not ultra compact, but still small.
Good runtime on NiMH

LSD

(e.g. Eneloop)
Good compromise between efficiency and output with the LH351D
Negative:
Weird stepdown behavior
NiMH has unnecessary stepdown after 90 seconds
Tailstand unstable
Clip could be stronger
Conclusion:
IMHO this light has its strengths in the AA NiMH support – li-ion just to get the high numbers. Nice beam, good CRI, simple UI. The version with Anduril will be awesome, but this will be a very good alternative for people who prefer a simple UI.