And another flashlight review: This time it's the Sofirn SC31T that I got from Sofirn for this review.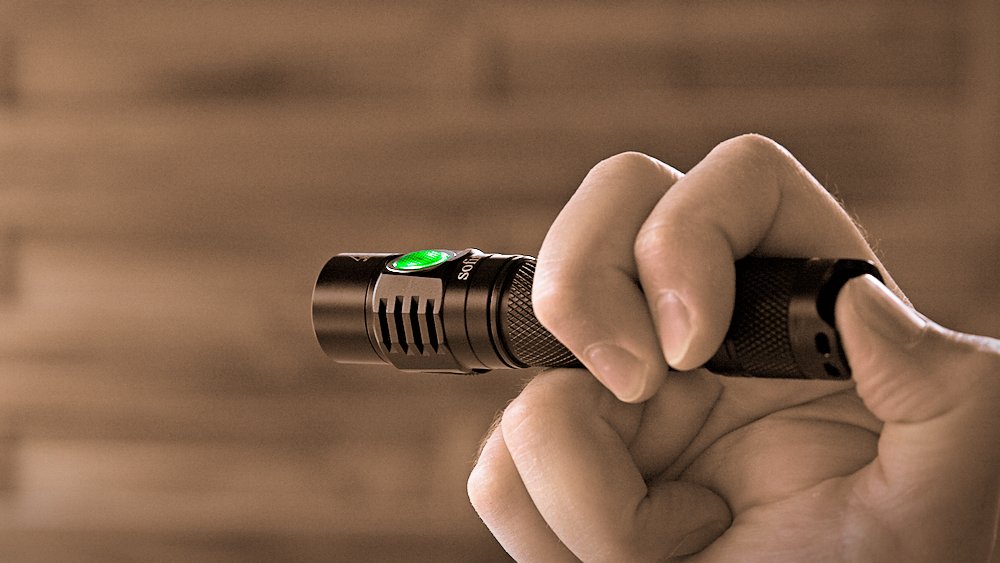 What you'll get:
Flashlight
Clip
Lanyard
2x replacement o-ring

USB

A-C cable
18650 Li-Ion battery with 3000 mAh
Dimensions:
Length: 125 mm
Diameter: 25 mm
Weight (without battery): 64 g
This is 7 mm longer than the SC31 Pro, but 10 mm shorter than the very similar Wurkkos FC12.
UI:
Tail switch to turn the light on/off. Everything else is controlled with the side switch:
1C (stepped mode): eco → low → med → high
1H (smooth ramping): brightness up/down from eco to turbo
2C: turbo; 1C to return to previous brightness
3C: strobe; 2C to change to

SOS

and beacon; 1C to return to previous brightness
4C: switch between stepped mode and smooth ramping
holding the side switch while turning the light on: moon mode
The tail switch is a forward clicky, thus it supports momentary light if half pressed. Brightness except moon and turbo is memorized. Holding the side switch during power on is a very reliable way to enter moon mode.
If you want to go directly into turbo on power on you have to use smooth ramping and ramp all the way up.
This driver has still the old ramping curve with linear duty cycle, not linear perceived brightness. Thus low levels are very fast while there's only little change in higher levels. Wurkkos FC12 has a better implementation. Stepped levels are well spaced, though.
Driver:
Direct drive

FET

driver with 31 kHz

PWM

for regulation (except moon and turbo).
Thus the brightness is not constant and will drop with the battery voltage.
Well known oscillations from Sofirn's "

ATR

" temperature regulation in turbo mode.
In order to support charging while the light is switched off there are two diodes in parallel in the tail cap. They have a small leakage current of up to 45 µA with a full 18650 which is similar to the quiescent current of an e-switch light.
Supports 18650 and 18350 with the optional short tube (95 mm length total) available from Sofirn. Protected batteries might fit as well.
Battery level indicator in the switch which lights up for five seconds after power on: green: ok; red: below 30%, blinking red: empty
At about 3.00 V it drops to moon level, but you can increase the output manually for a short time. At 2.70 V the light shuts off.
Integrated charging with

USB

-C (protected by a silicone cover). Just about 1 A, so fully charging a 18650 might take up to 4 hours.
Beam and usability:
The SC31T uses a Luminus SST-40 6500 K with CRI 70. It is white and doesn't appear green. Sofirn says it produces up to 2000 lm, which might be true for a second with full battery.
The spot is slightly larger as the one from the SC31 Pro, although their heads appear to be identical. Also there is a slight donut hole visible. Maybe the reflector was changed or doesn't sit properly.
I kind of prefer the larger spot. Together with the bright spill it is very good for up to 50 m outside.
There are two holes next to each other in the tailcap to attach a lanyard. The huge cutouts make tailstanding very unstable. Additionally the silicone switch cap touches the surface and might make tailstanding even worse when it bulges out (happened on my FC12). The clip is simple unidirectional, but the battery tube can be reversed. No deep carry.
Positive:
SC31 series light with tail switch!
Very simple and functional UI. Good alternative if you don't like Anduril.
Integrated charging.
Negative:
Still Sofirn's oscillating

ATR

and simple (but inexpensive)

FET

driver.
Conclusion:
Good light if you like the SC31 Pro, but want something simpler with a tail switch.
Modding potential:
Anduril already supports tail switch lights with the compile time option "START_AT_MEMORIZED_LEVEL". It also includes the shortcut to moon when the side switch is pressed during power on. The tailcap with switch is available from Sofirn on its own. It is also possible to update the firmware on a SC31 Pro.