I like bright flashlights… and who doesn't?
And compact ones are also sort of things i like, as i`m not one of those who need huge models with their with nightlong runtime.
Making both compact and bright is a real challenge as here physics steps in with it`s limitations. And Nitecore TM9K Tac is exactly a sort of such combinations. Let`s take a closer look at what to expect from this flashlight
You can buy Nitecore TM9K TAC at:
➤ AMAZON
➤ BANGGOOD
➤ ALIEXPRESS
➤ Nkon.nl – i`ve bought batteries here since 2015. Recommend.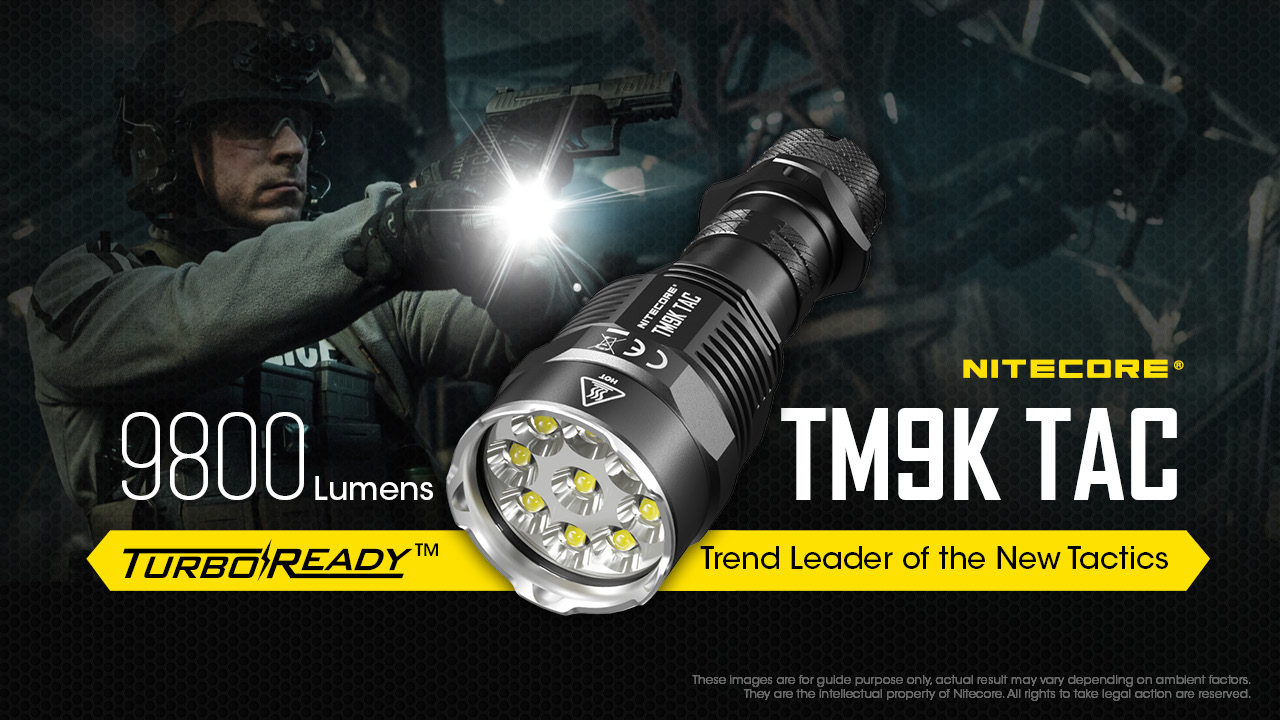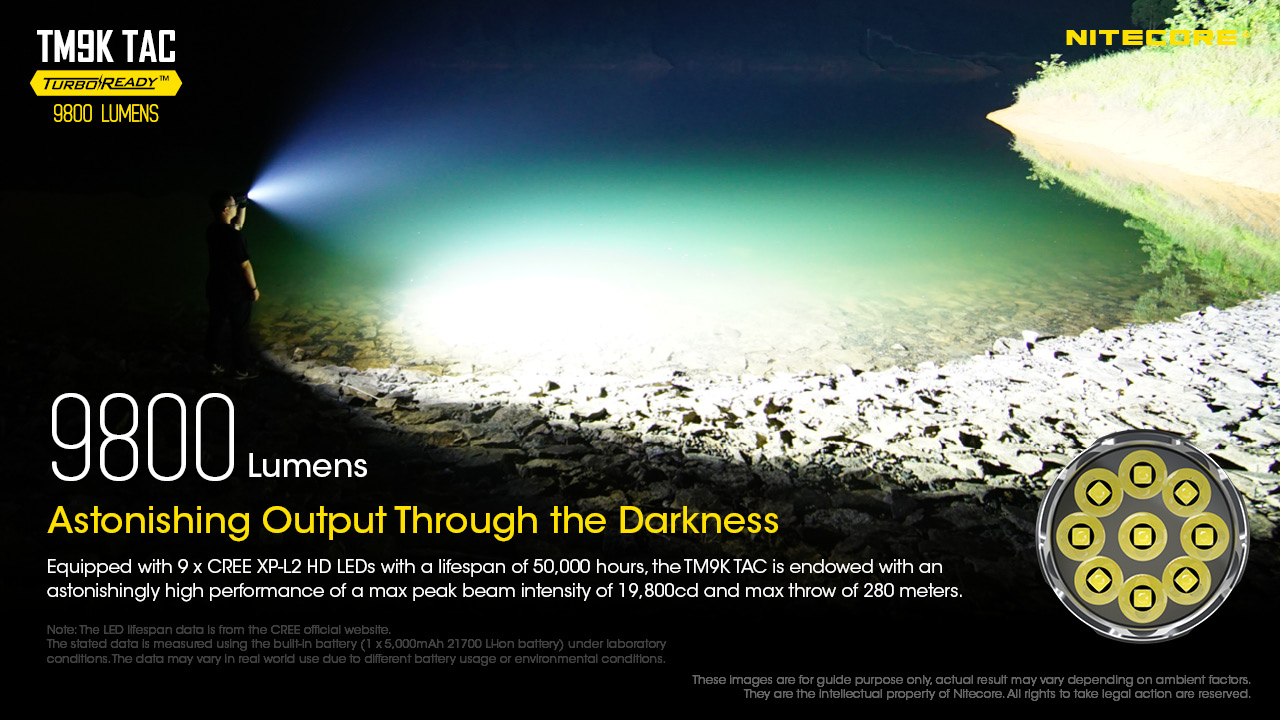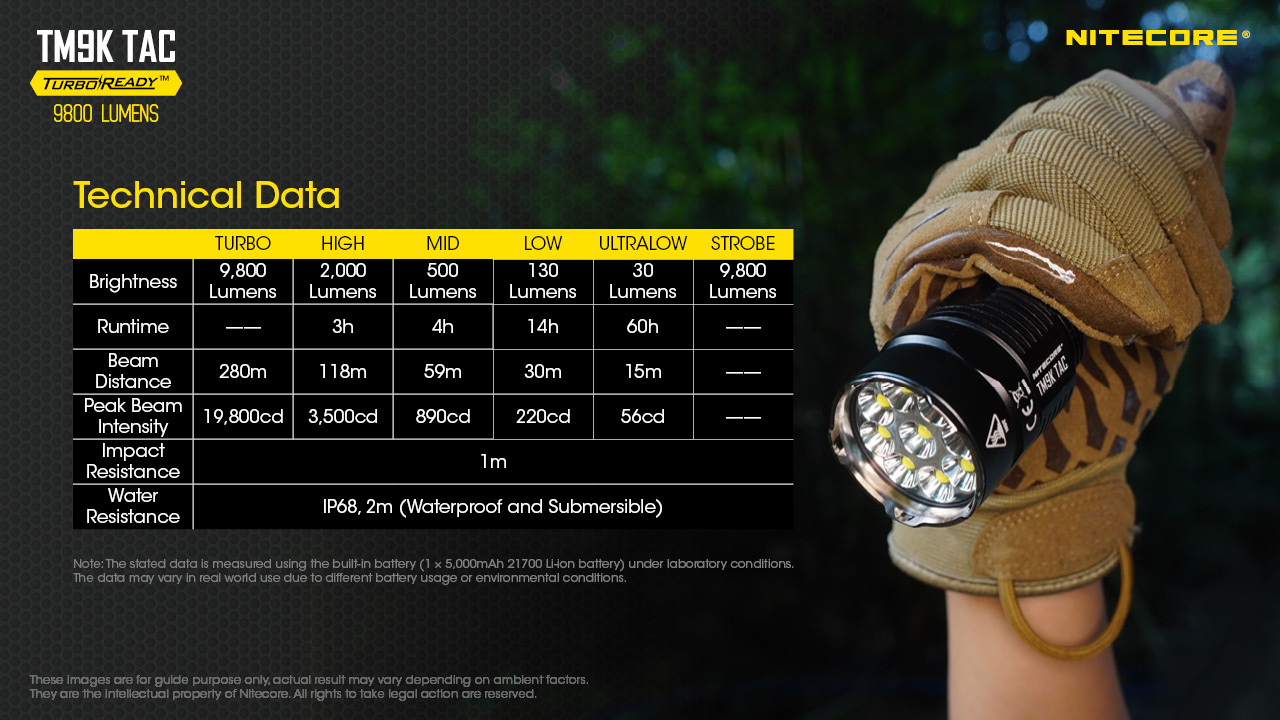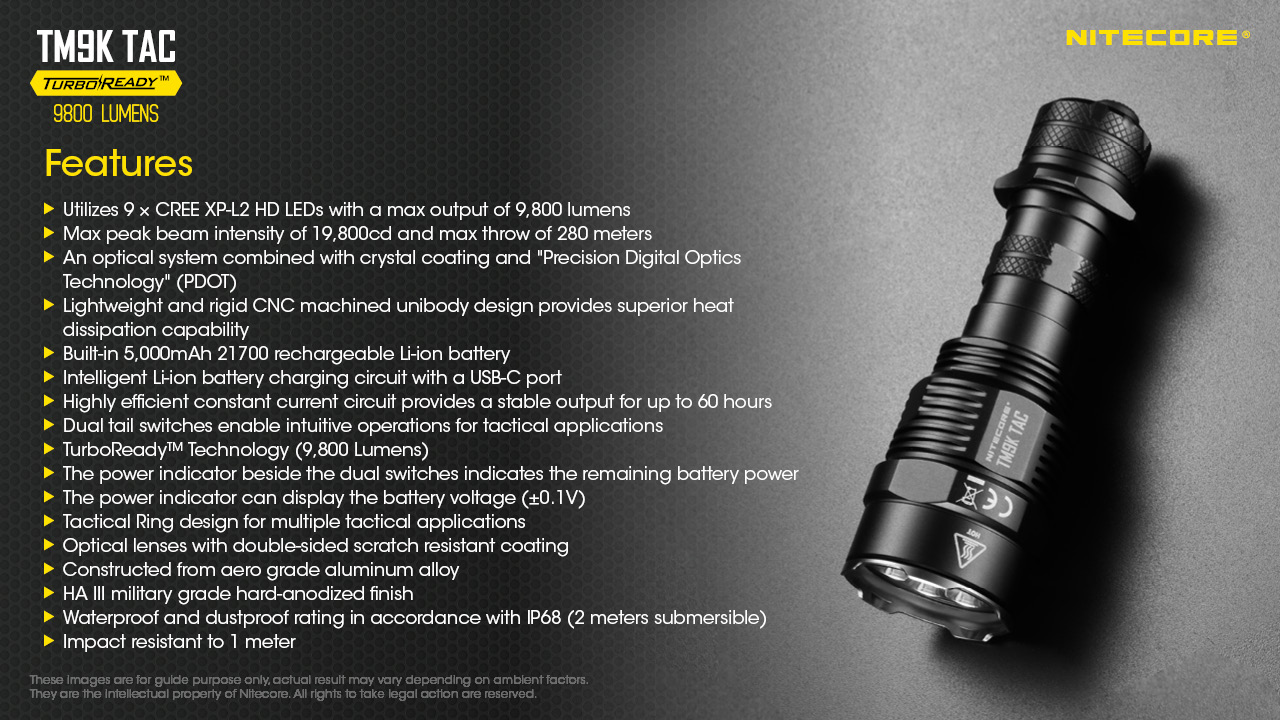 Declared characteristics
LED: 9x Cree XP-L2
Maximum brightness: 9800 lumens
Luminous intensity: 19800 cd
Battery configuration: 1*21700 (built-in)
Built-in Charging: Type-C
Body Material: Aluminum
Modes 5
Reflector: smooth
IP68 waterproof
Length: 125mm;
Diameter of head \ body \ handle: 40 \ 26 \ 28 mm
PACKAGE AND APPEARANCE
TM series is the most powerful and expensive that Nitecore offer. Of course, the package is at the highest possible level. An excellent thick black cardboard box, with an impeccable design and printing. In terms of a gift, it will look right and expensive.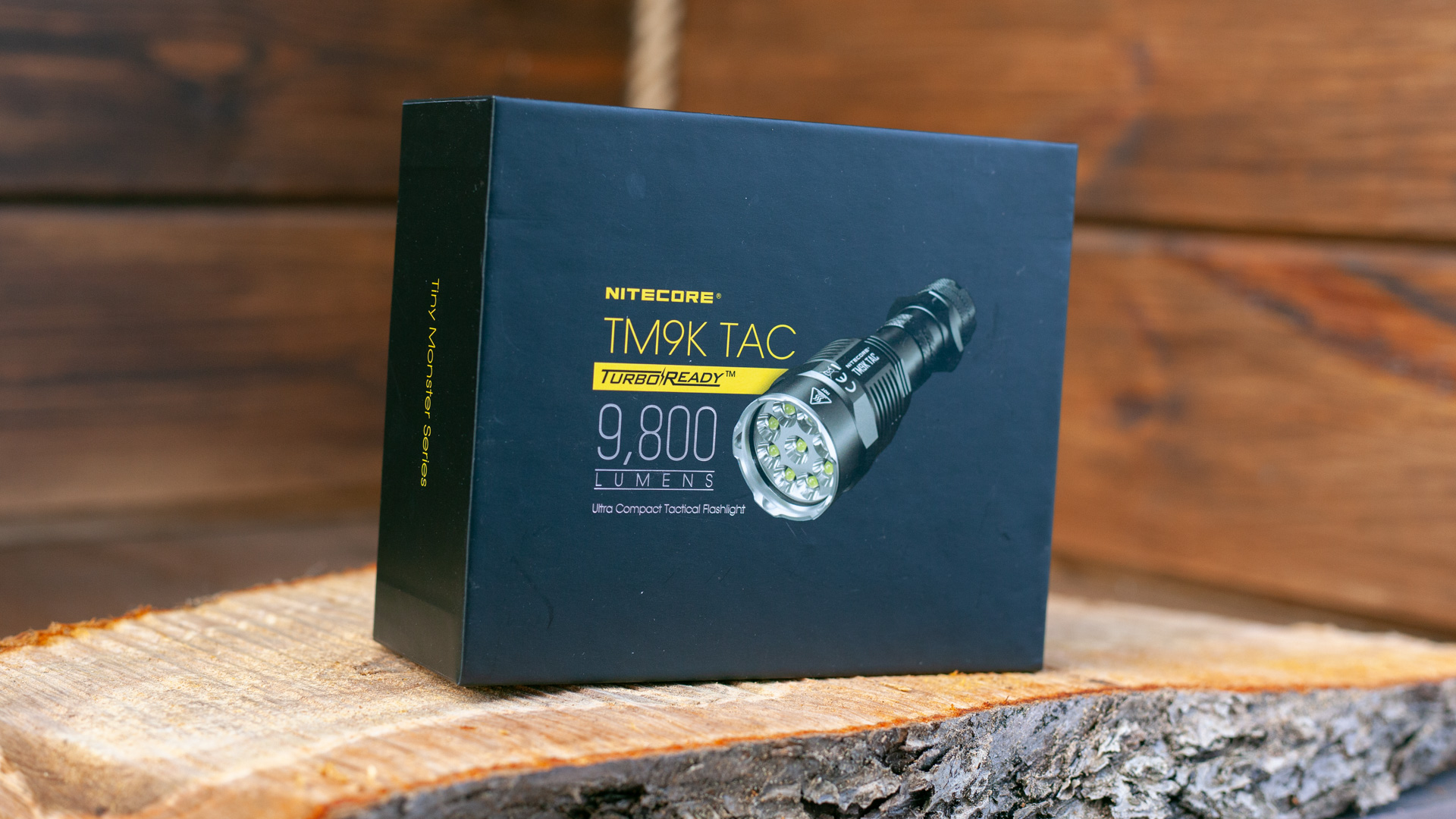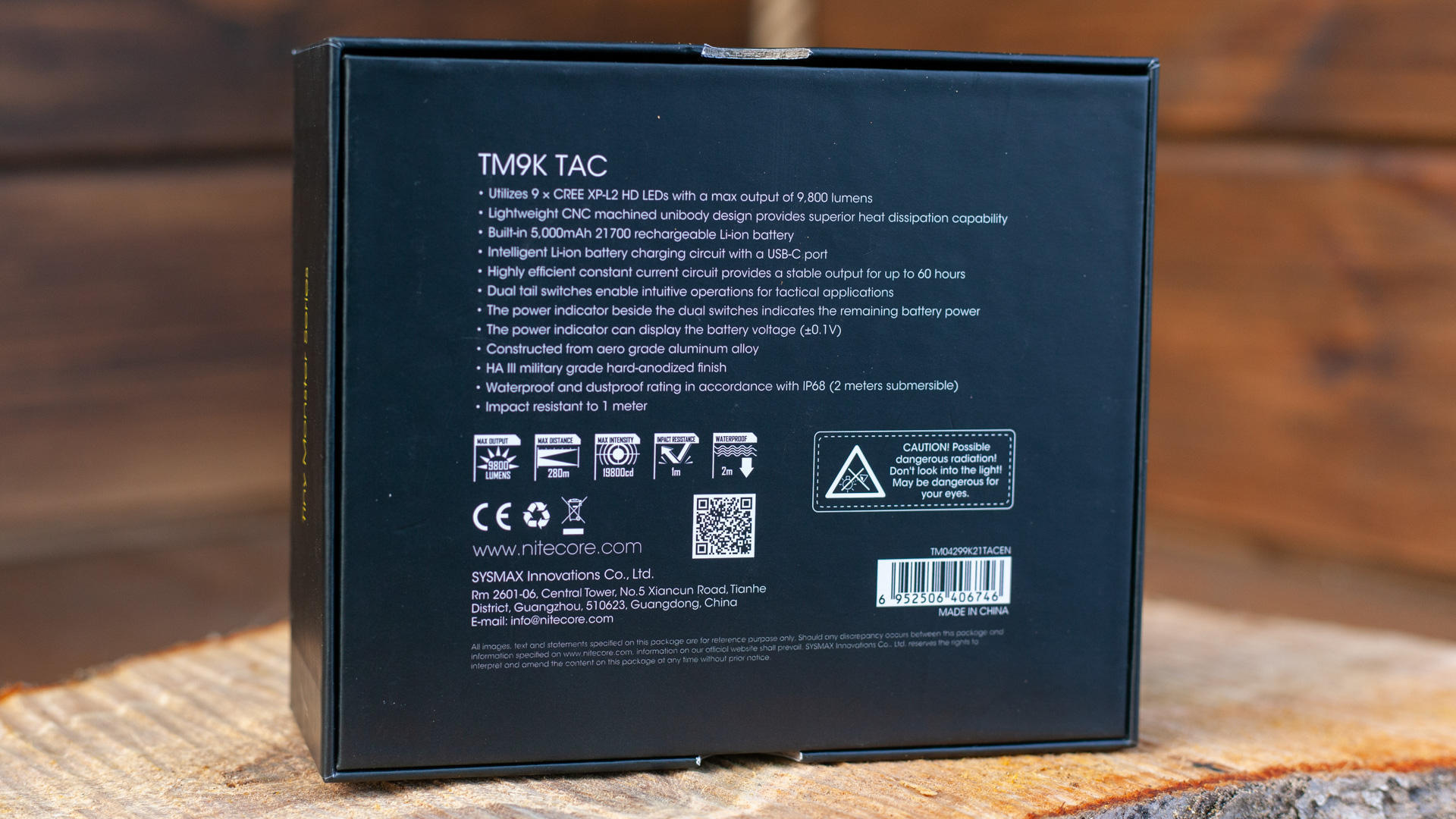 There is a foam pad with a kit that includes everything you need: the flashlight itself, lanyard, charging cable, clip, case, manual and warranty. Everything looks good.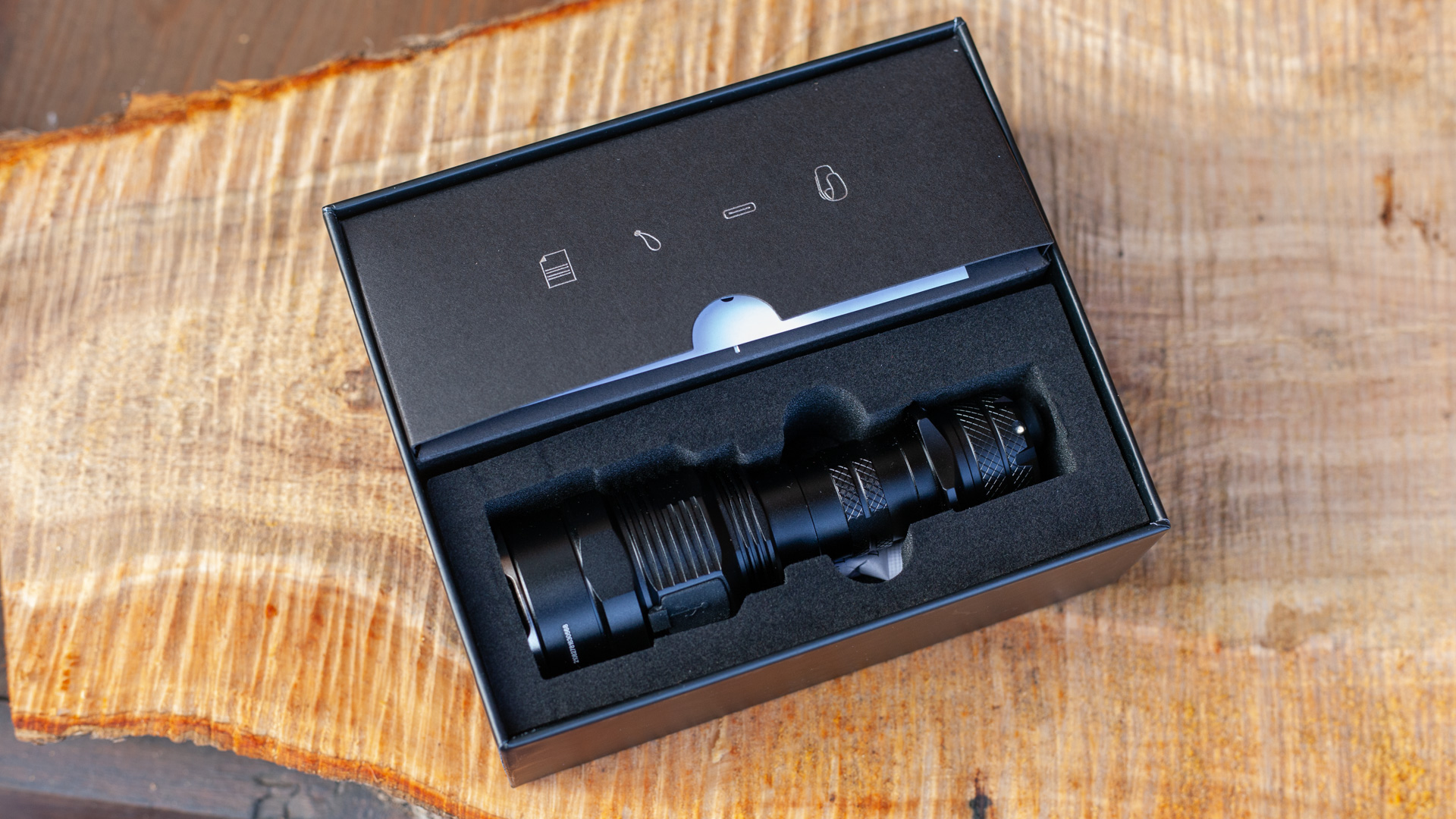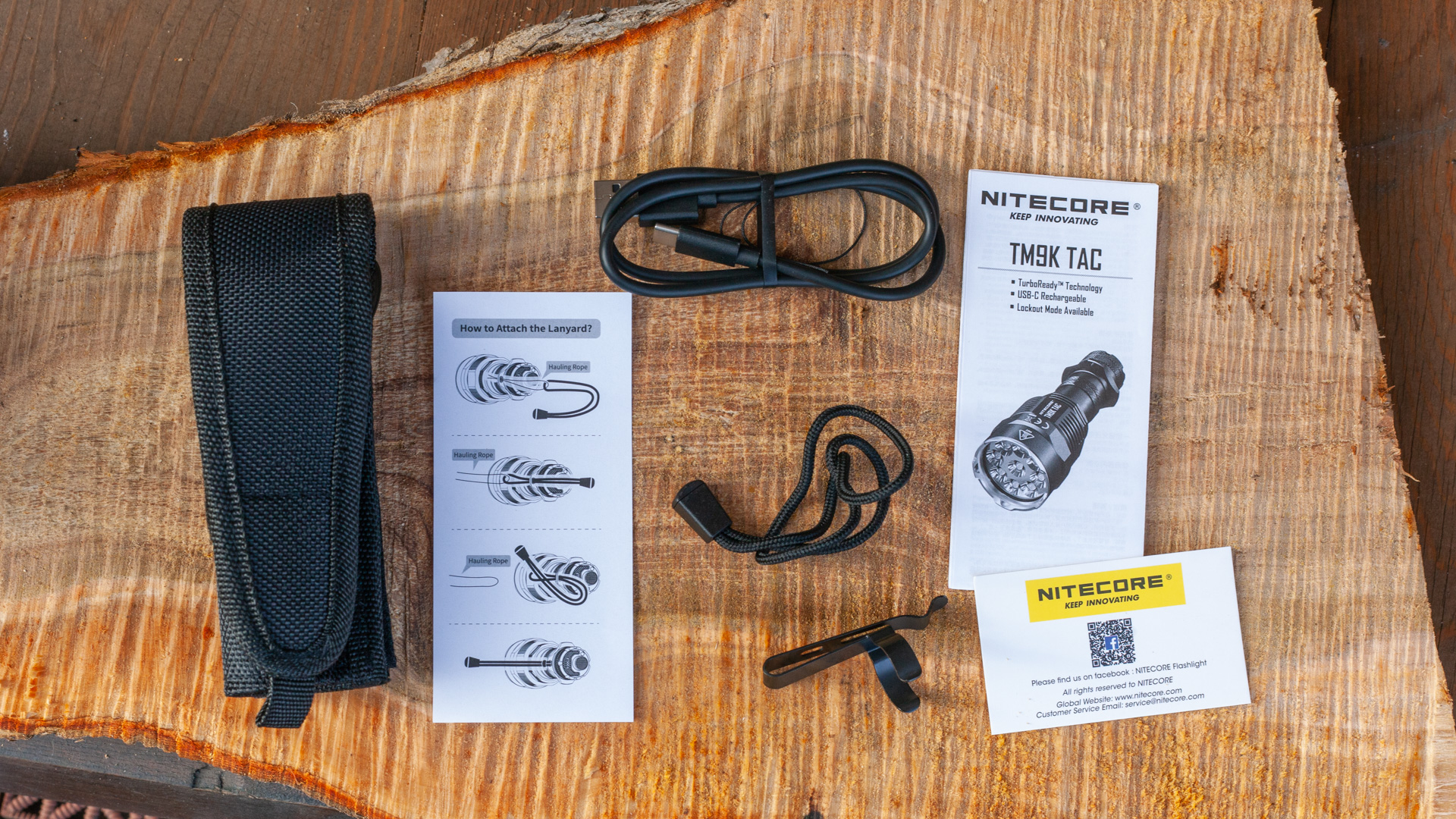 The holster is nice, thick and convenient – it matches the high price of this flashlight.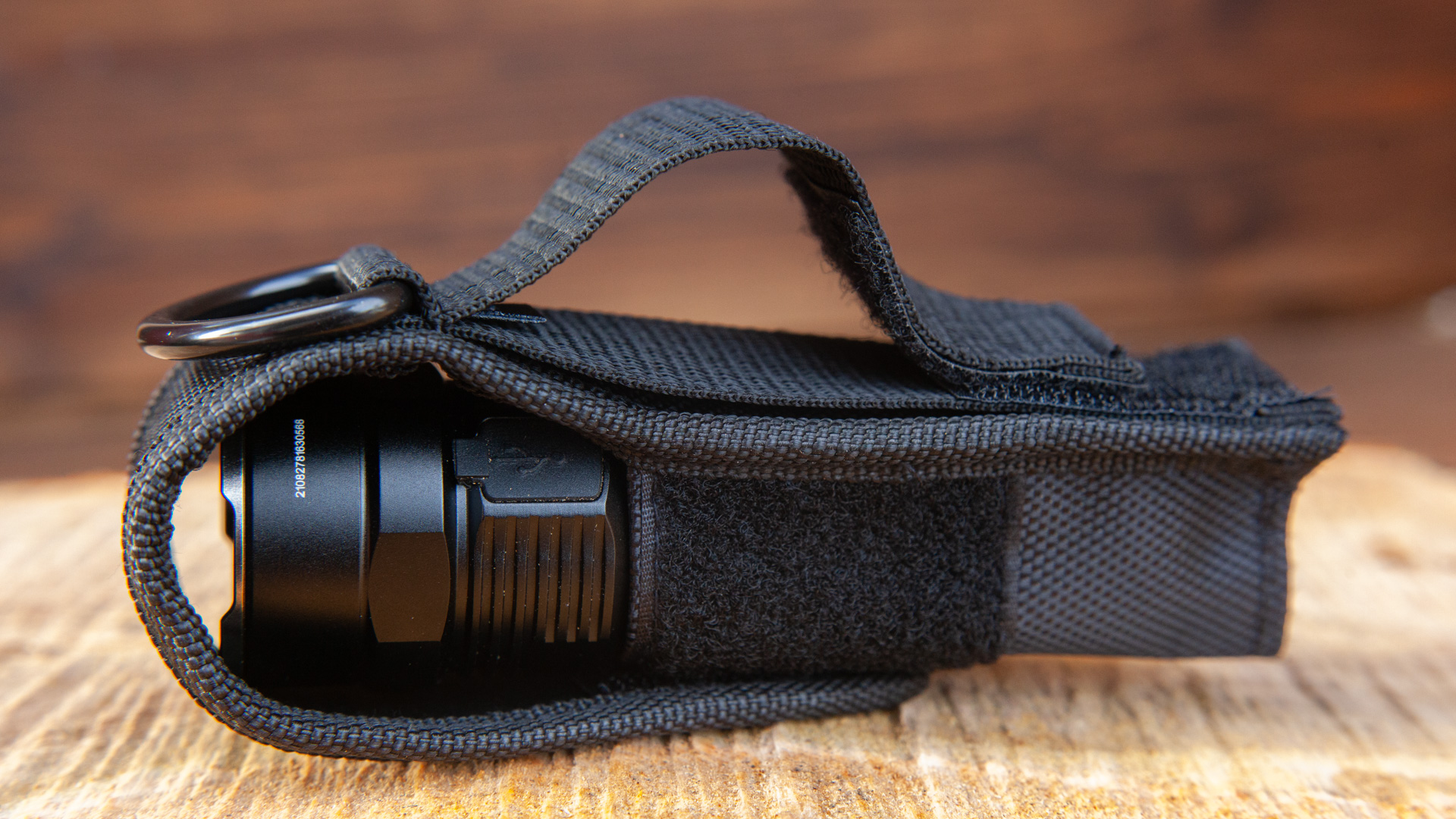 The flashlight itself has quite the usual dimensions for the 21700 model. And regarding to such a colossal brightness, 125mm is quite a short length. Only some super compacts like Wurkkos TS21 would be shorter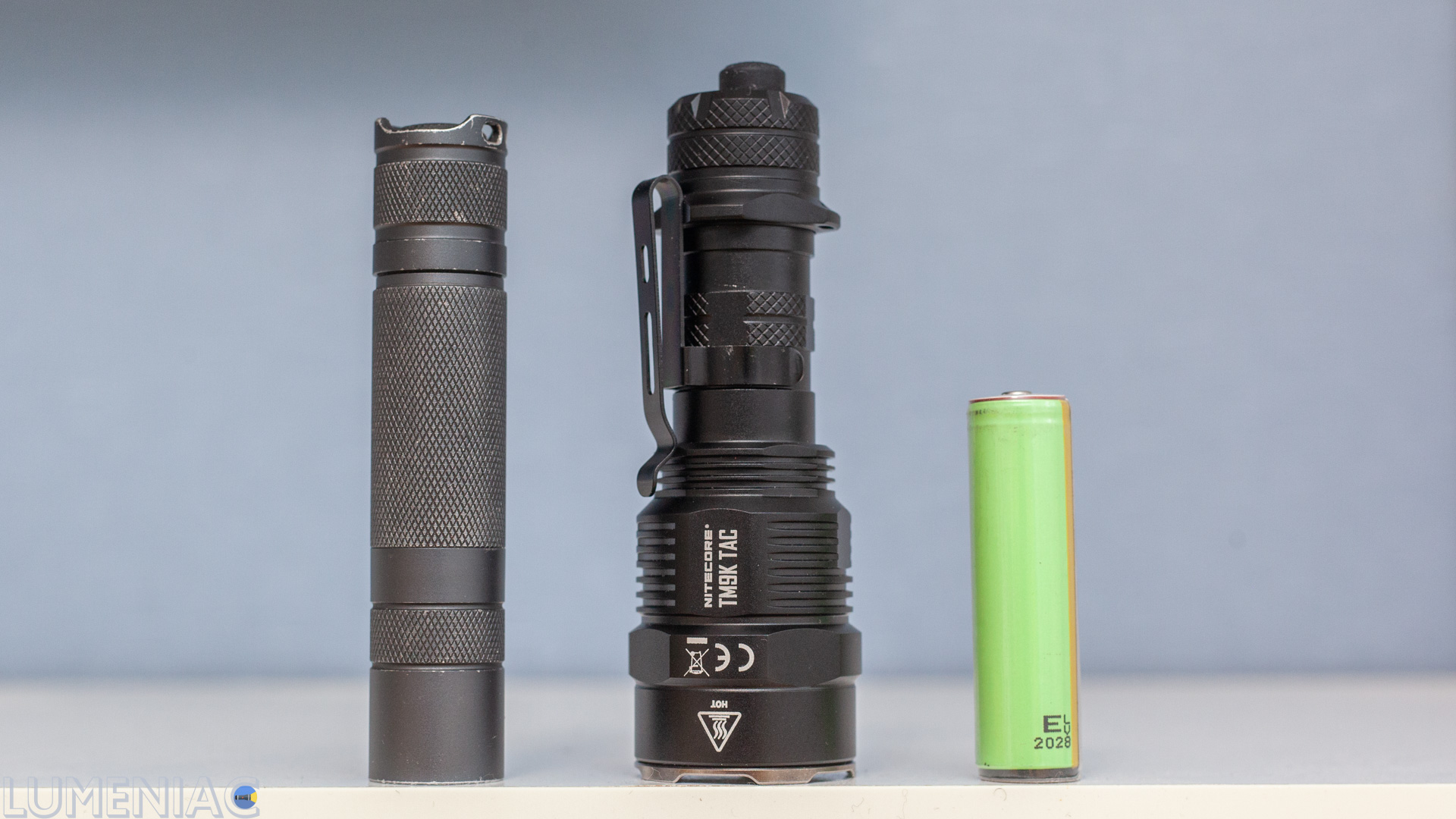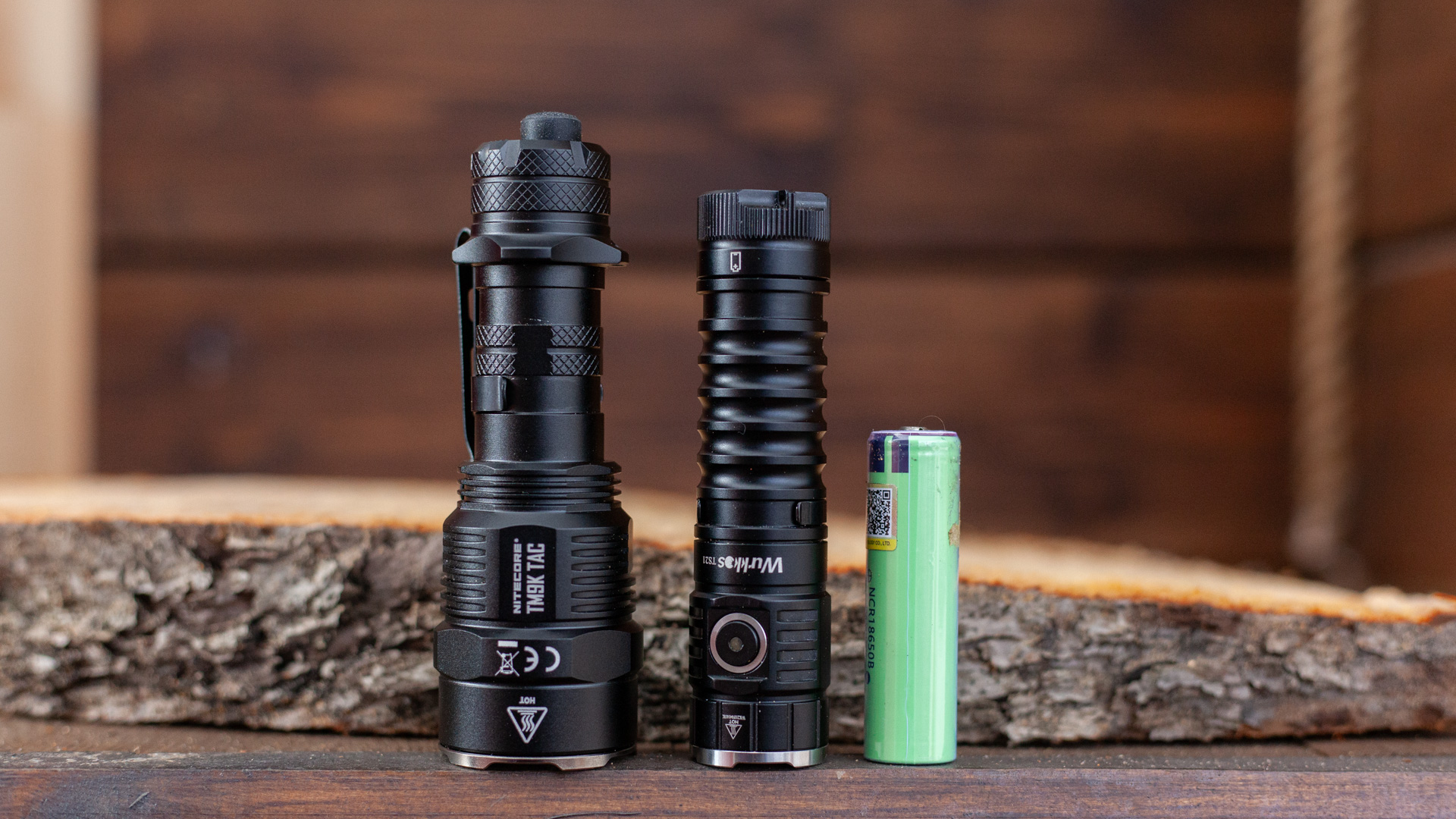 But! Take a look – head is half this length and there is not very much left for the fingers to grip the flashlight. With a reverse grip, you will have to climb your fingers on a potentially hot head, which is clearly visible in the photo below. If you do not do this, then you simply will not reach the button with your fingers. I believe that is the reason Nitecore added stop ring here: for the reliability of the cigar and direct grip. Well, this ring adds quite a lot to convenience and confidence of grip, i cannot deny this.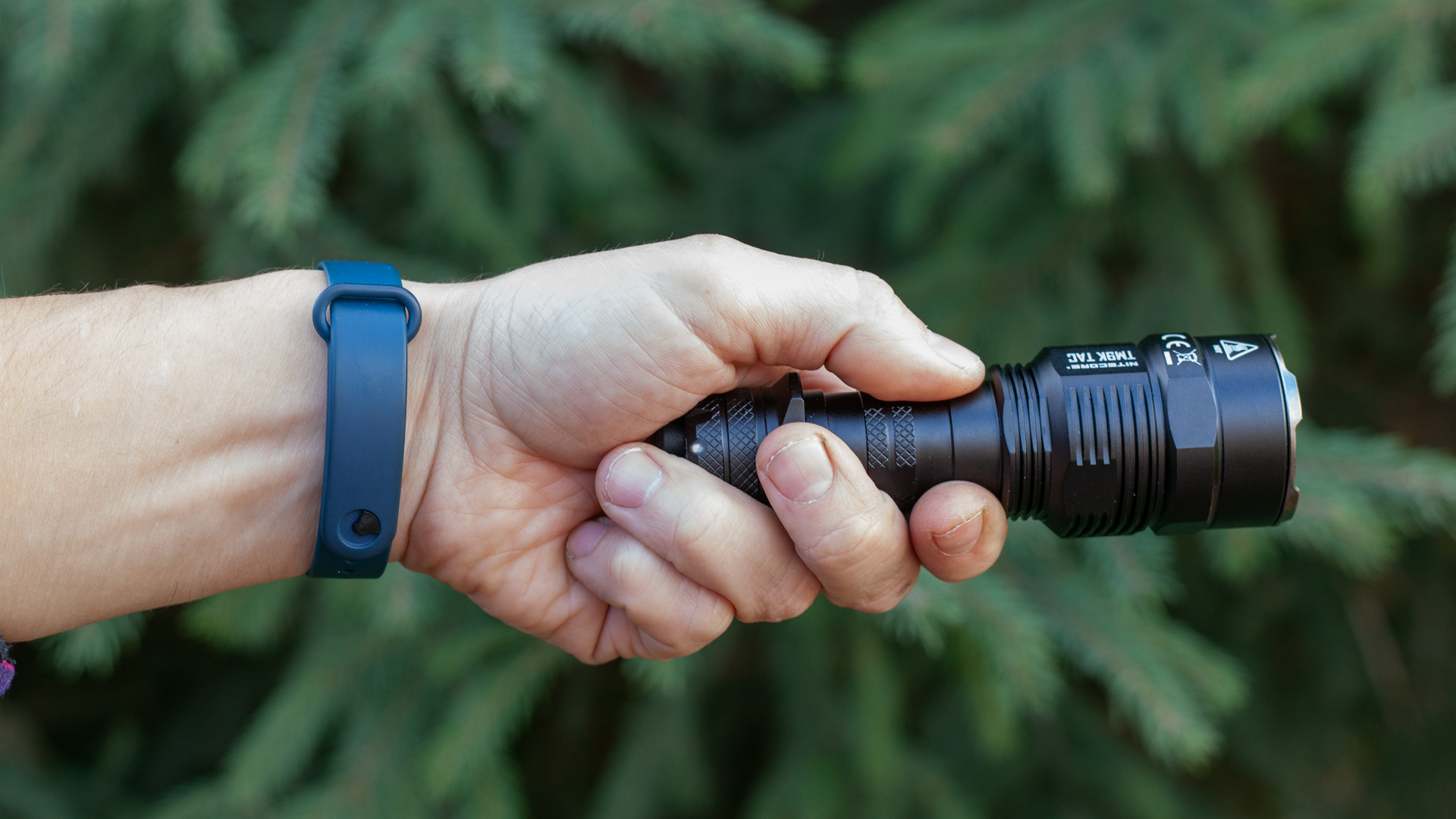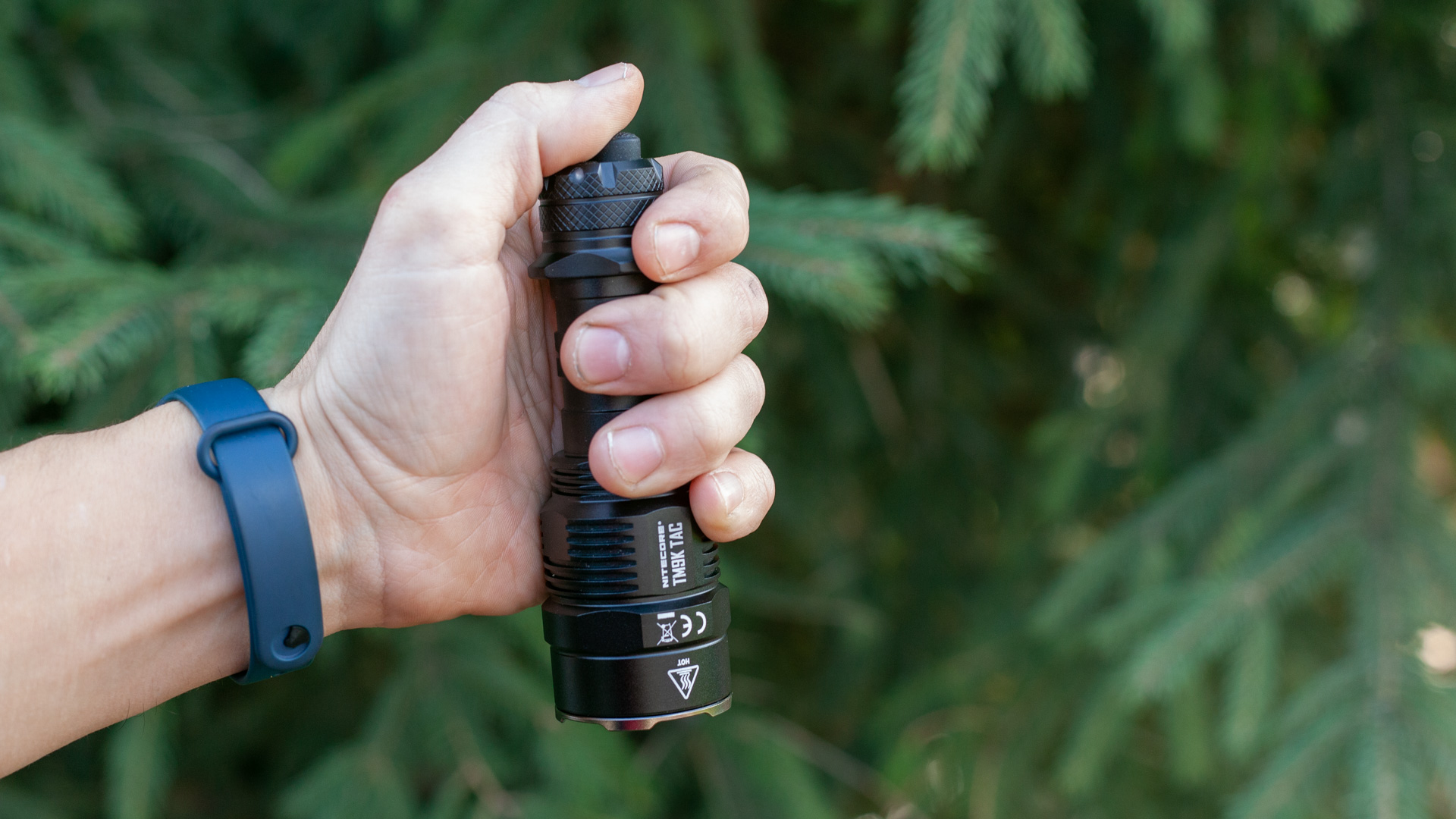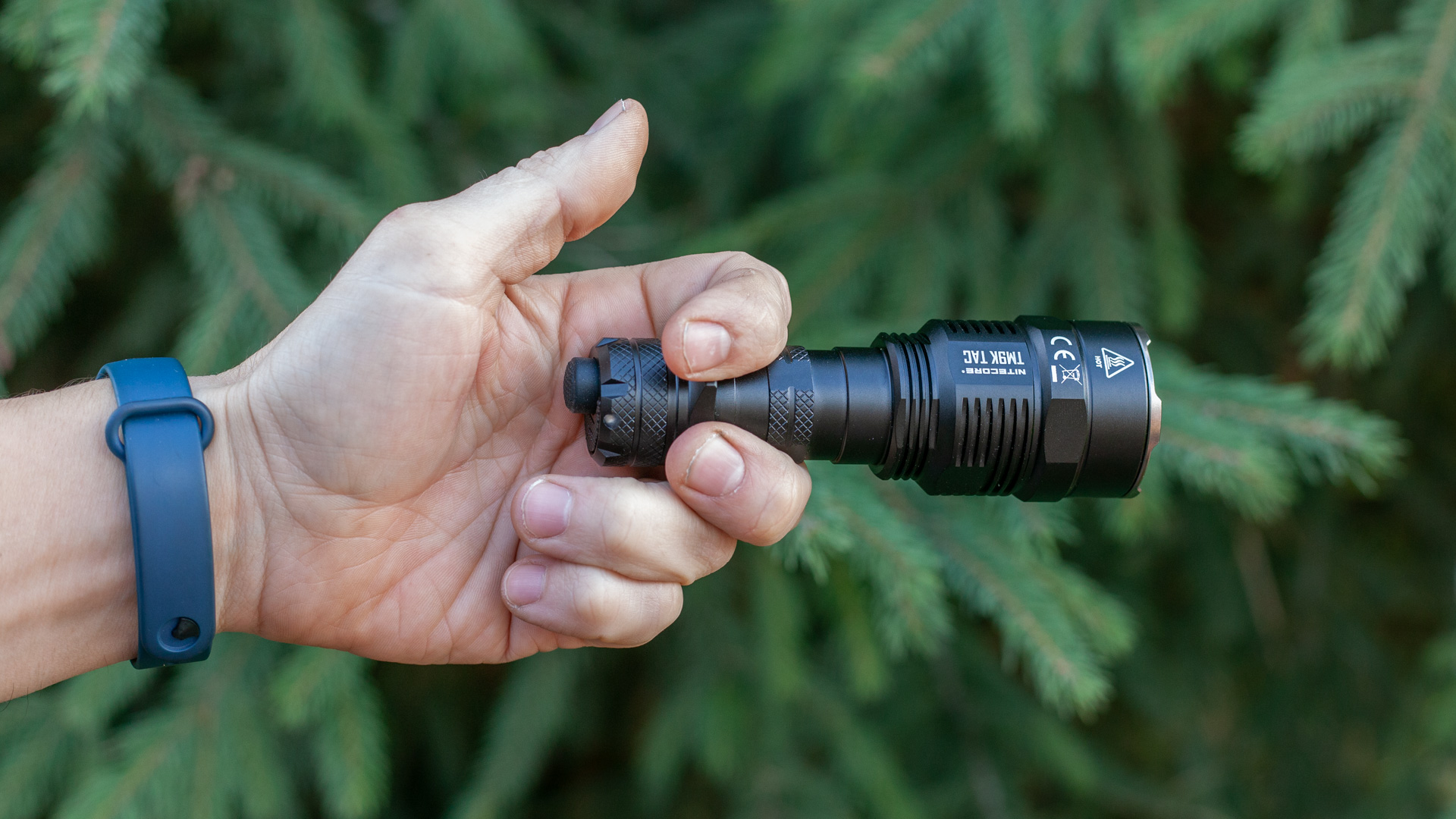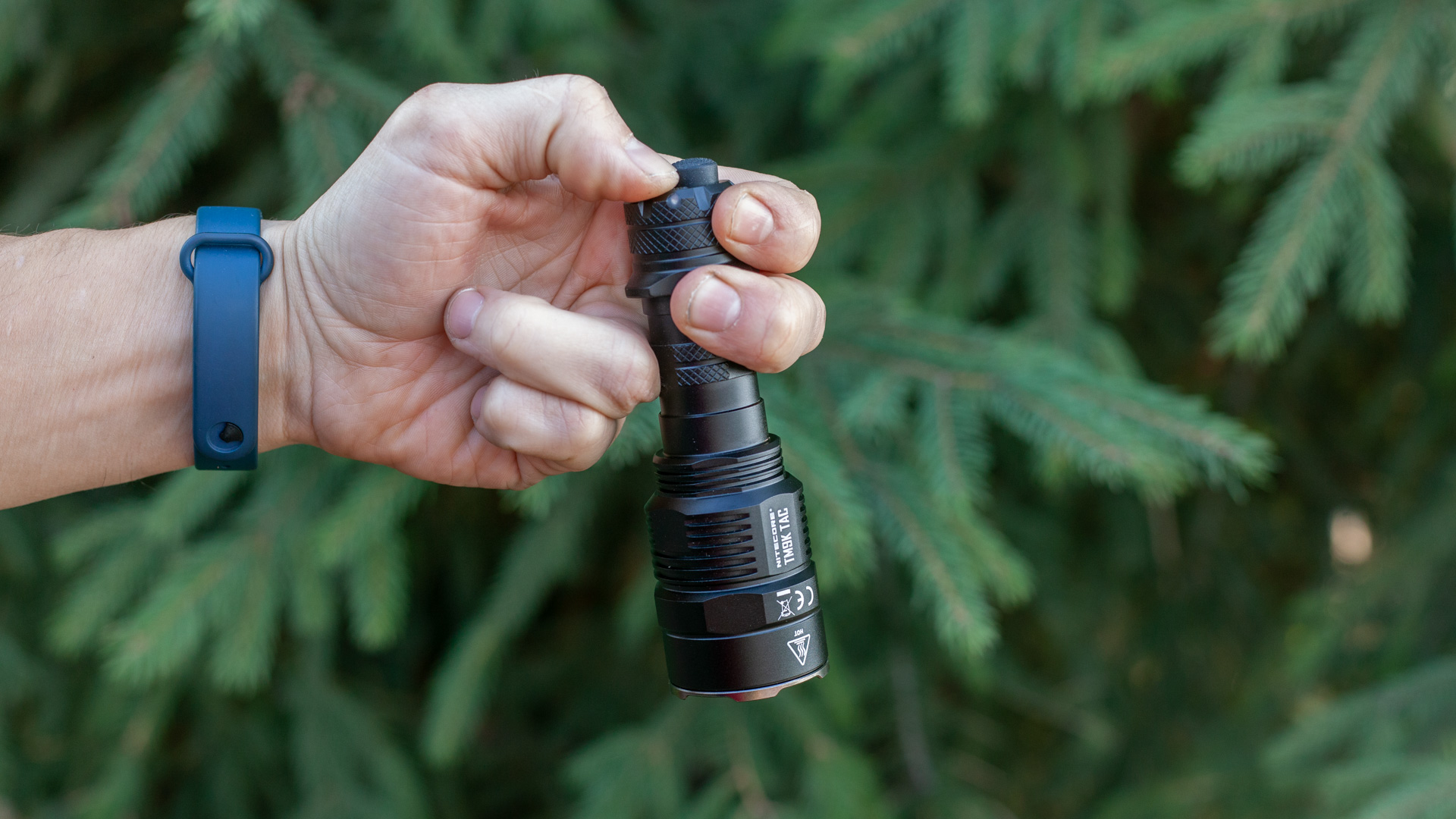 This is the only visible change. There rest is the same as original version of TM9K looks like, here it is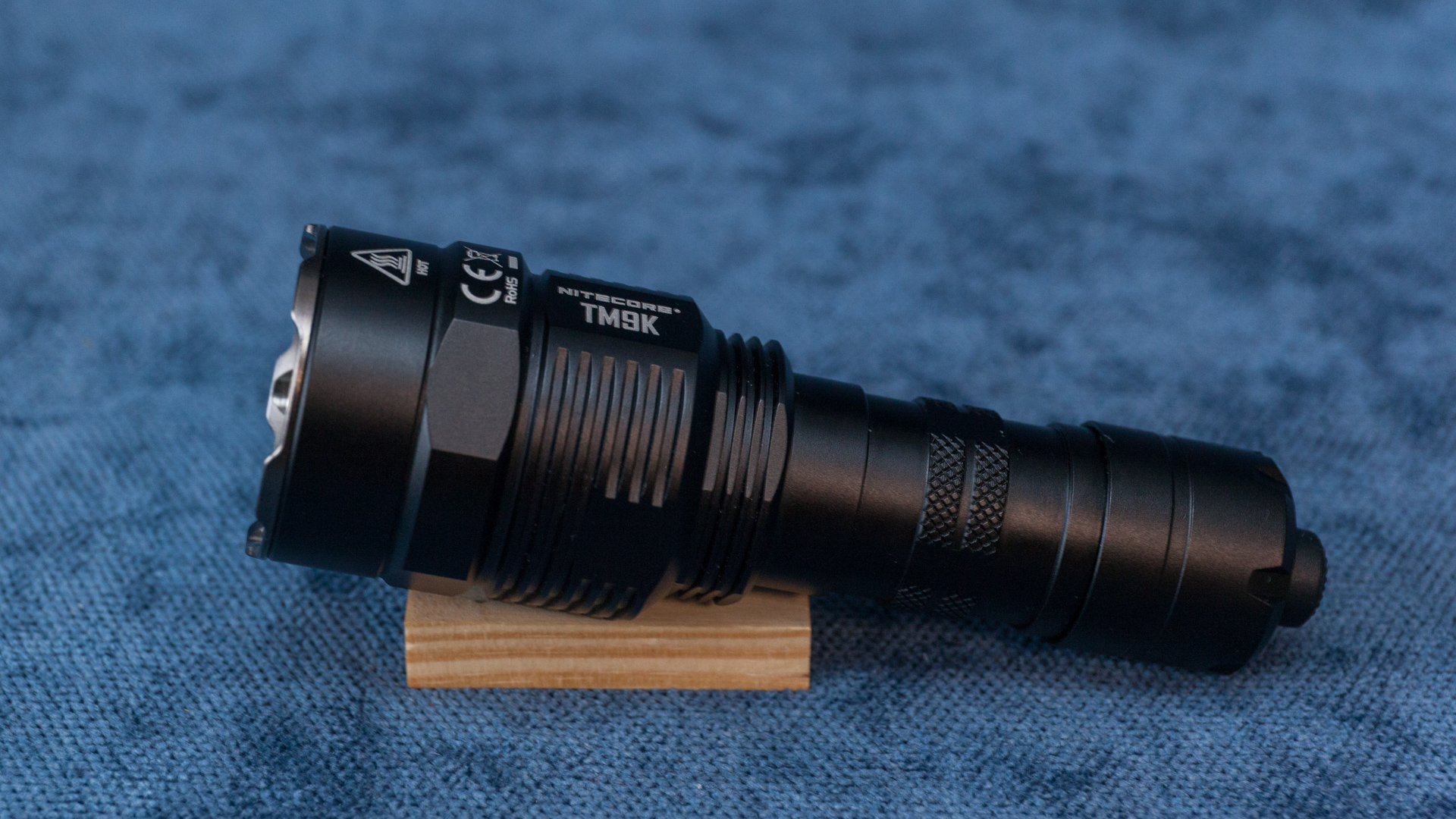 The design is recognizable, aggressive and impressive. Again, I repeat – an additional one and a half centimeters of the body length would significantly improve the grip and access to the button.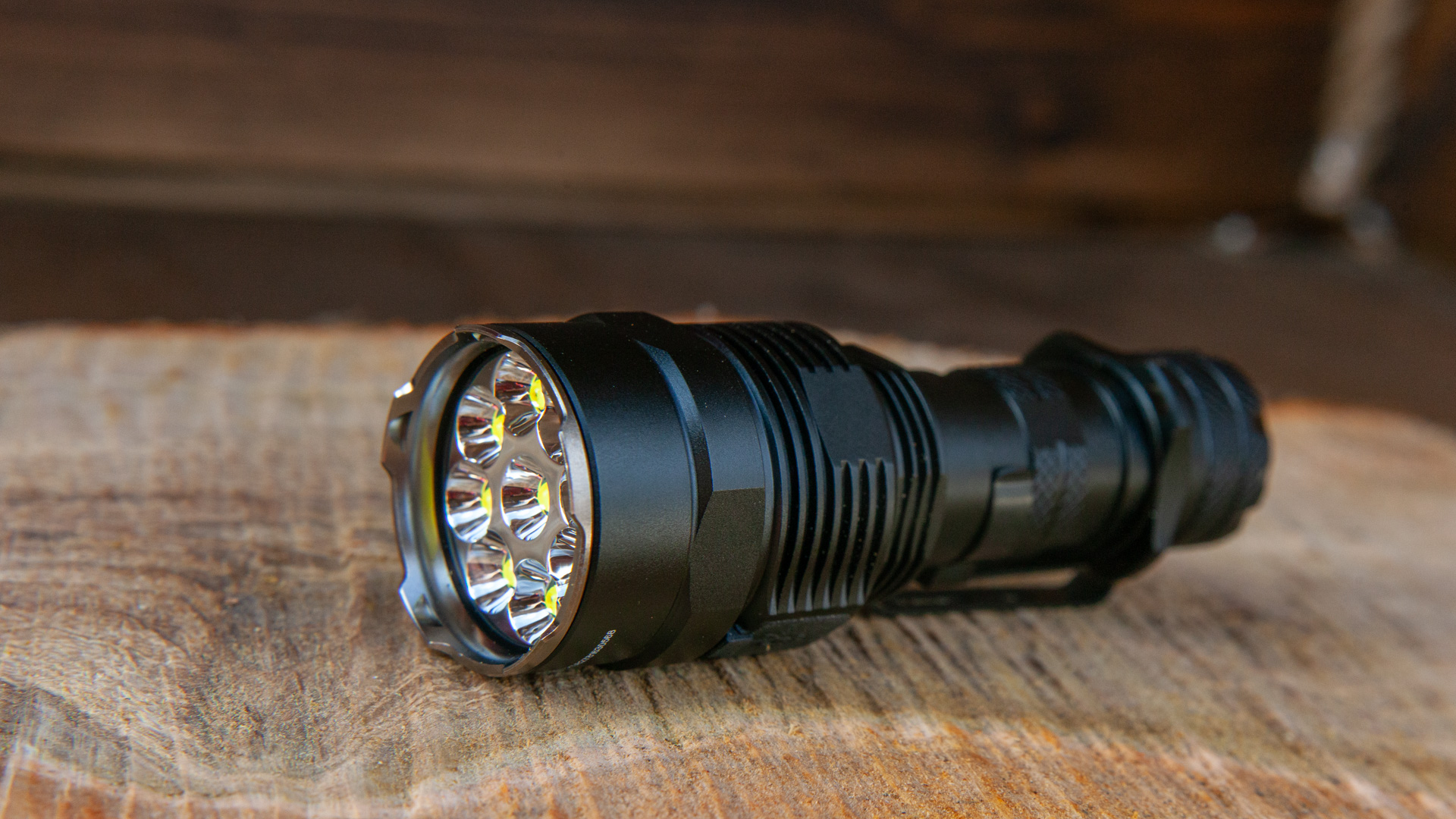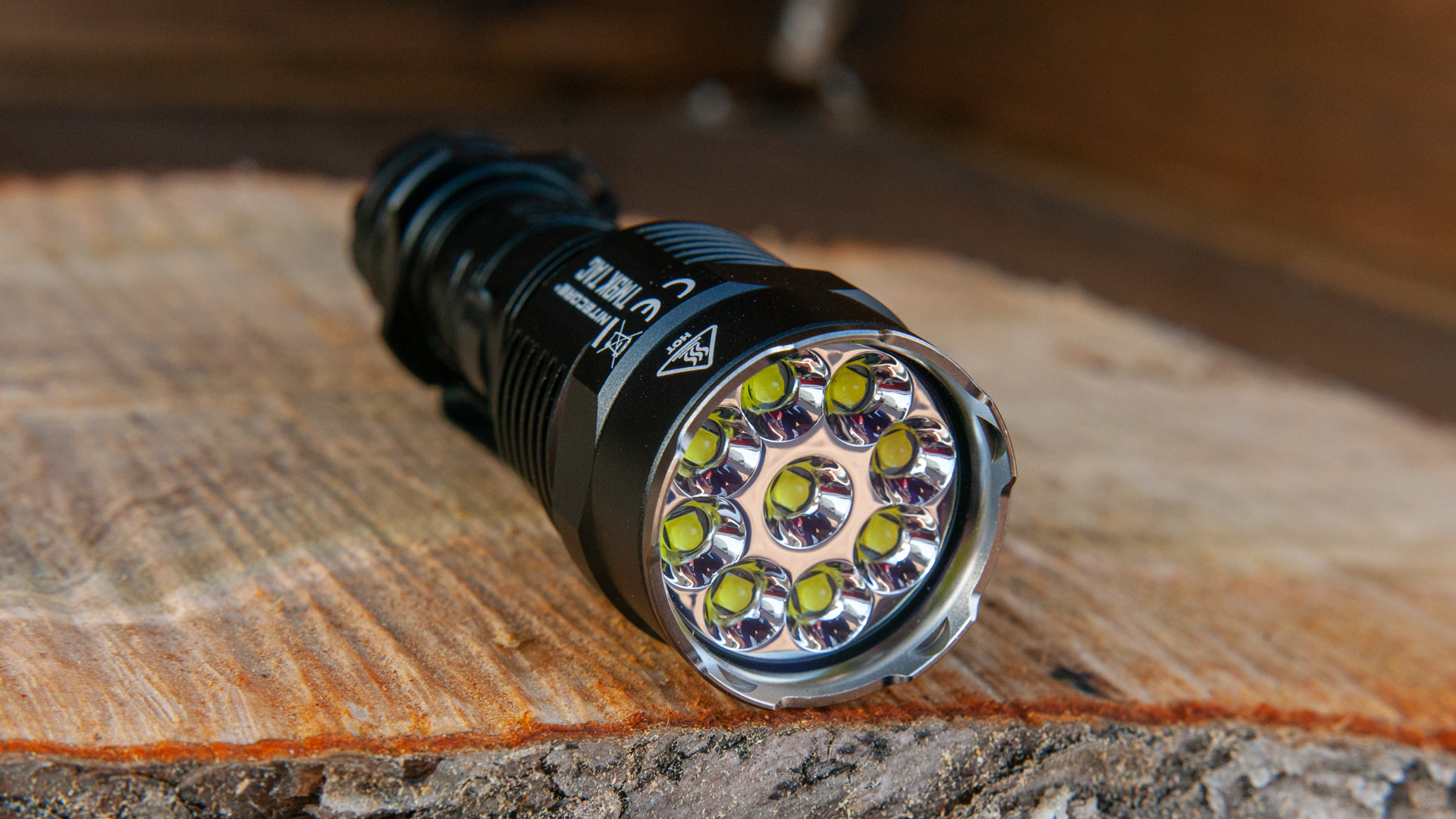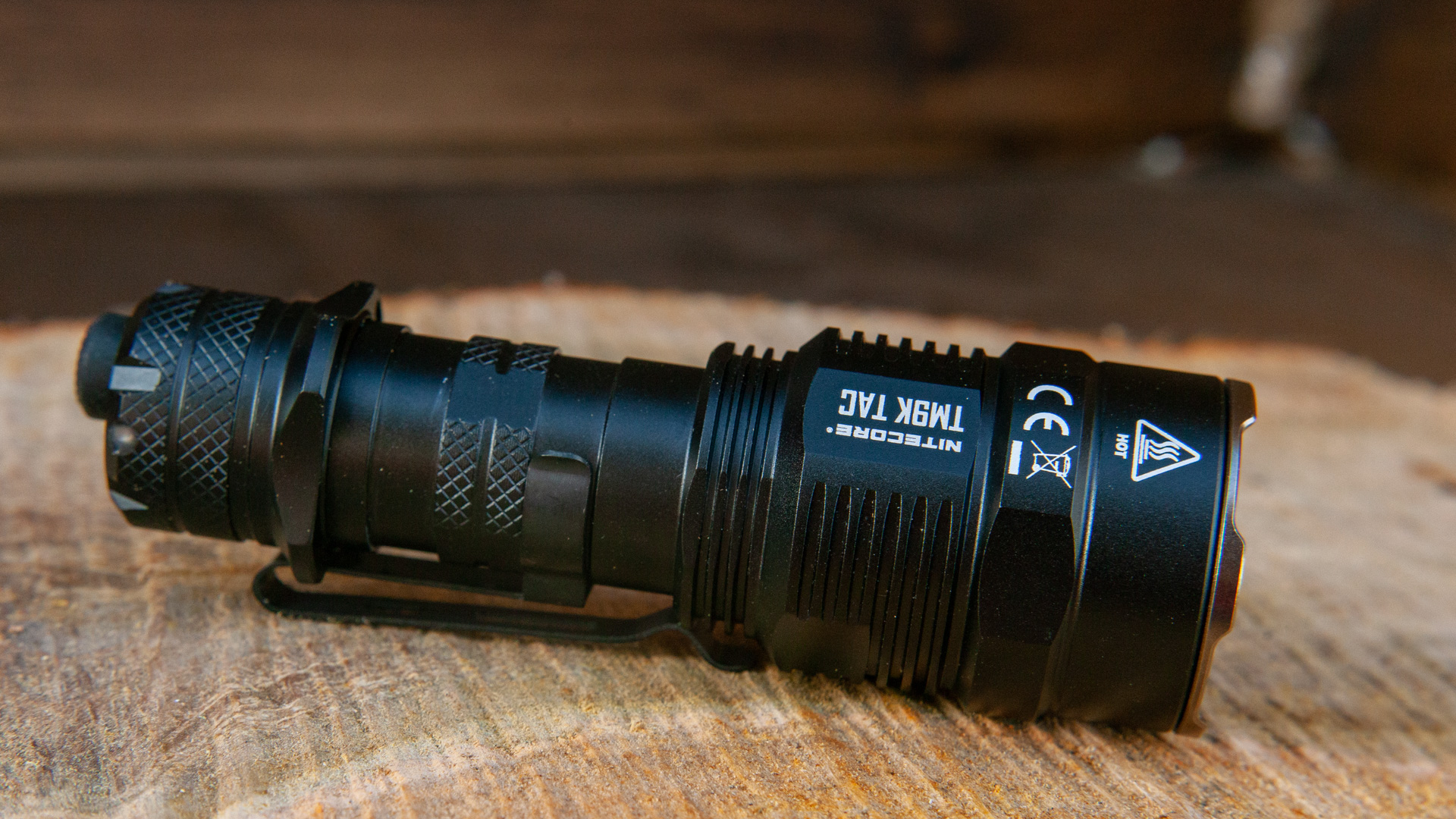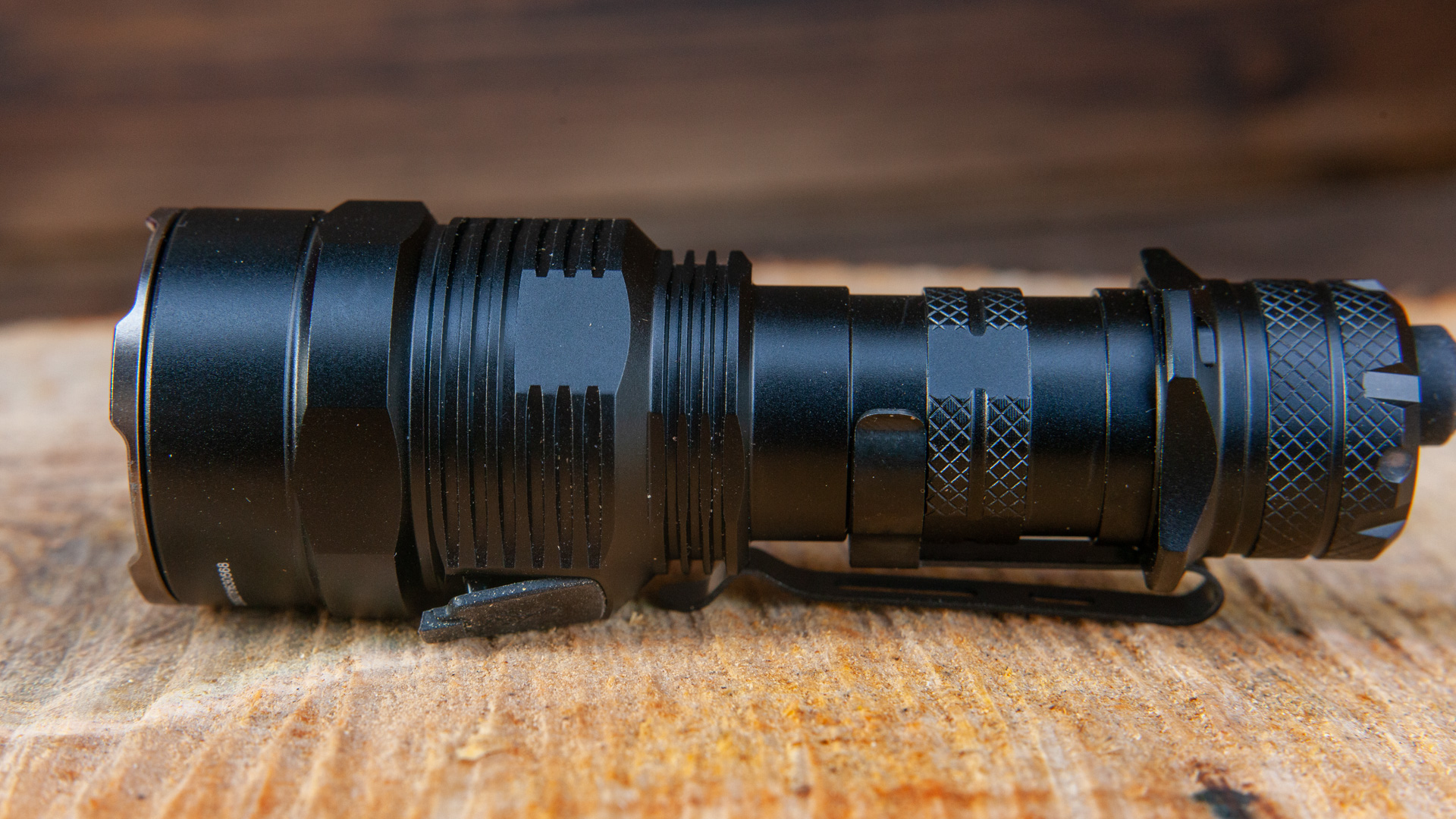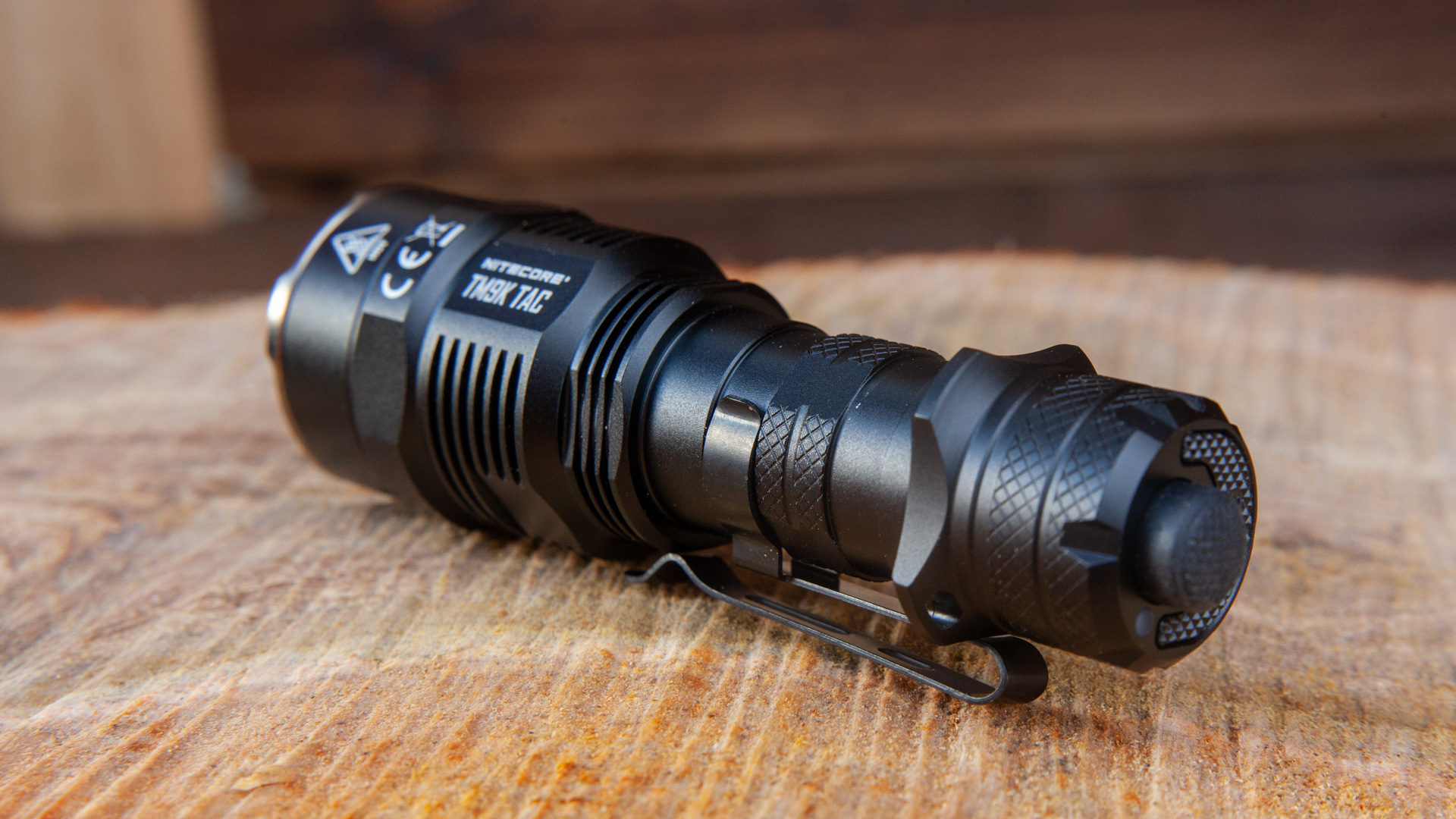 This stop ring is clearly visible here. Usually, you can unscrew tailcap and remove this ring. But Nitecore TM9 tac has a built-in battery, so you simply cannot unscrew tailcap. And this ring is one piece with the body.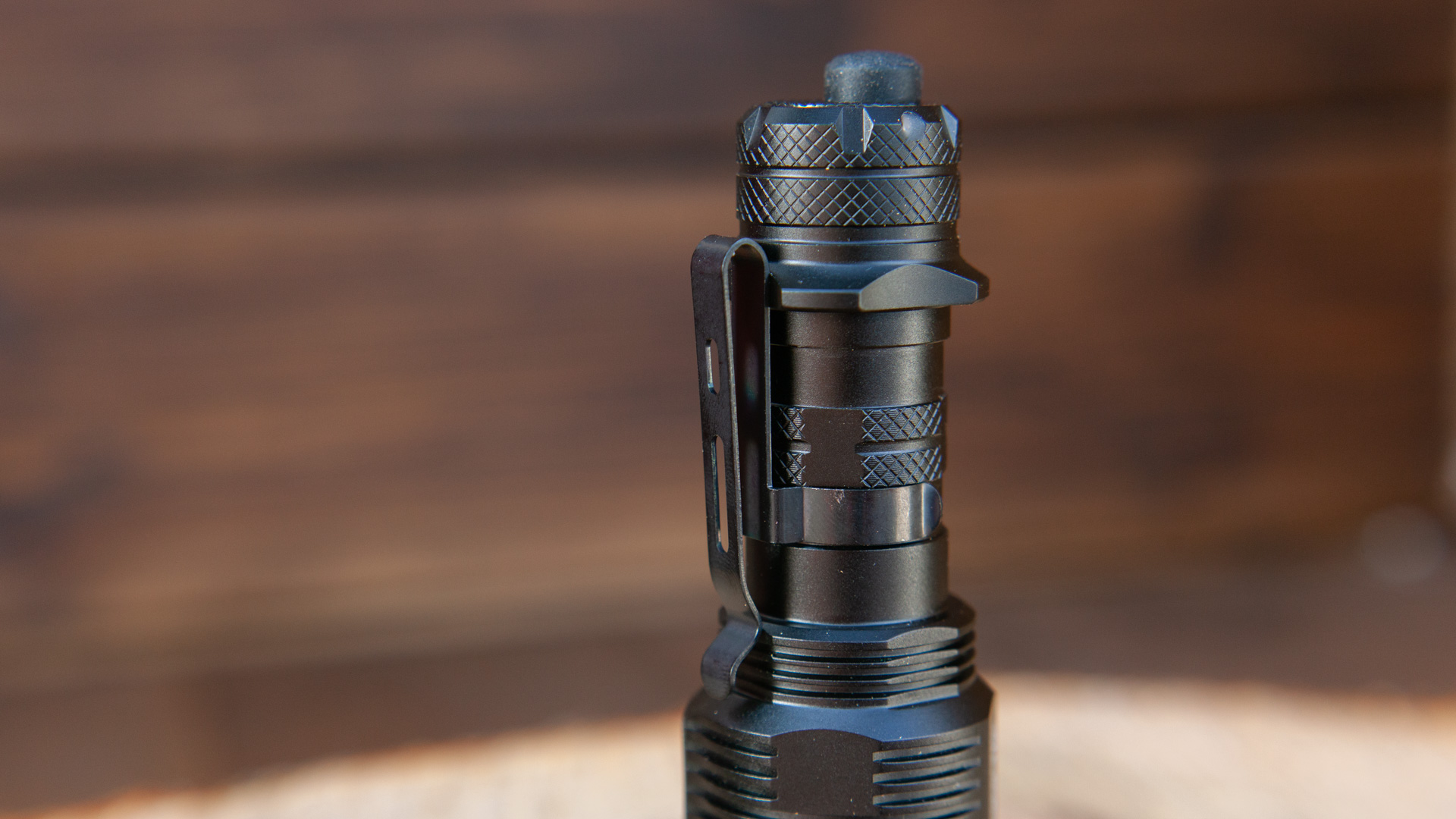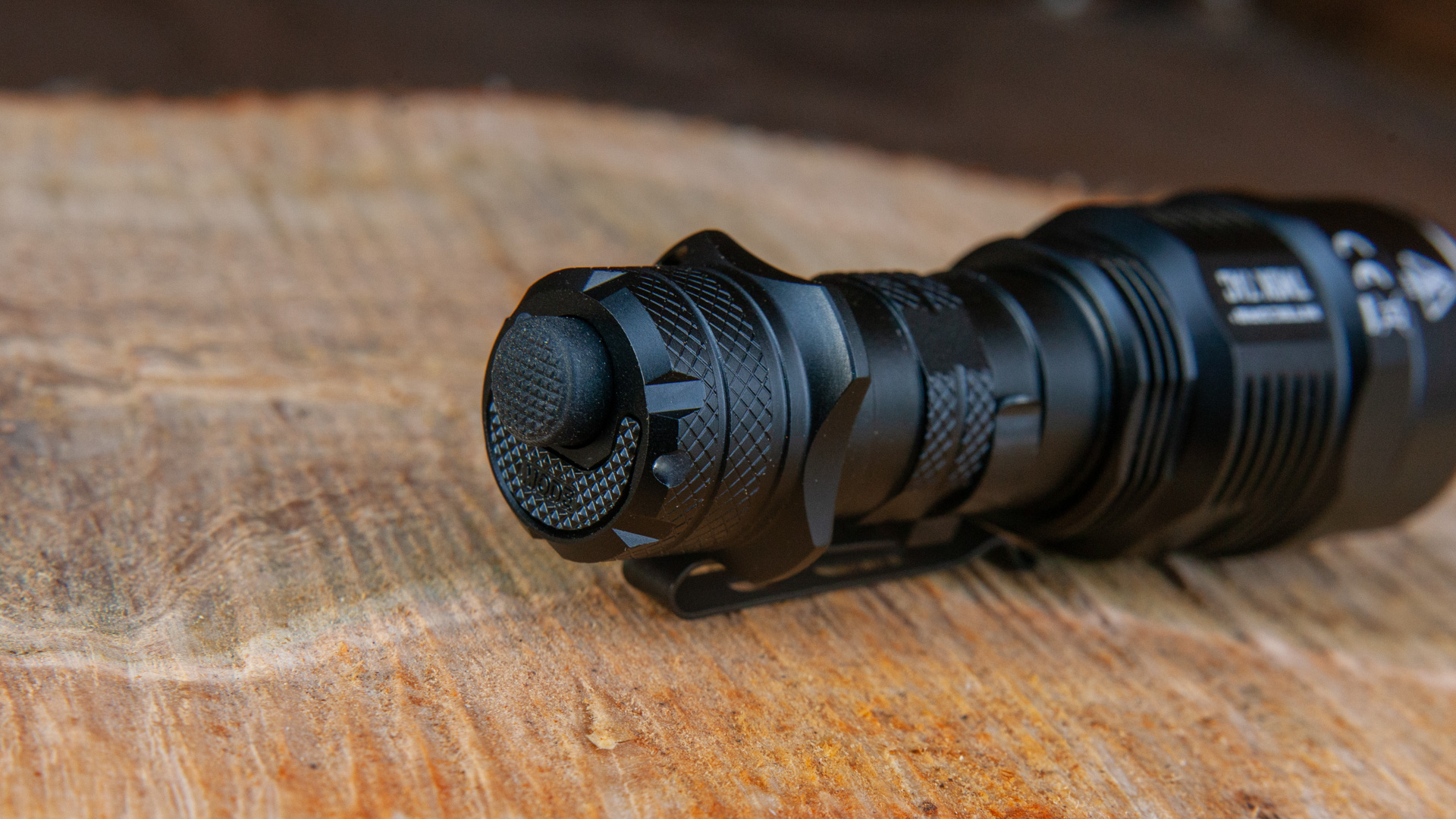 There is a usual for tactical flashlights combination of power buttons and mode switch. The last one is really flush. I find old-style higher rocker switch more convenient. However, I think it's a matter of taste. I cannot judge how practical such a flush button is, I am by no means a representative of the target audience for which this model is created.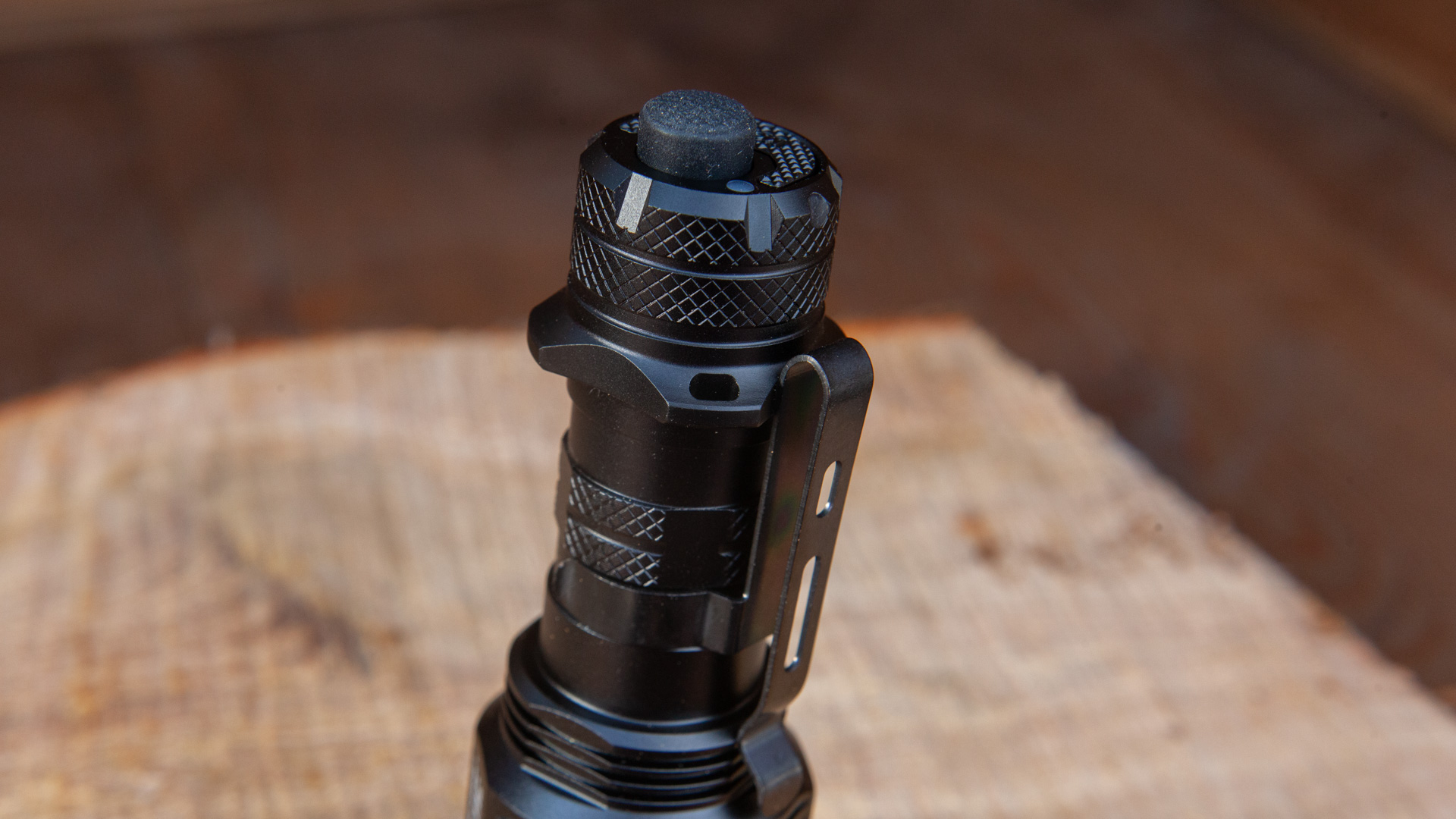 The button has a traditional Nitecore built-in voltage indicator,cool stuff that i find really useful.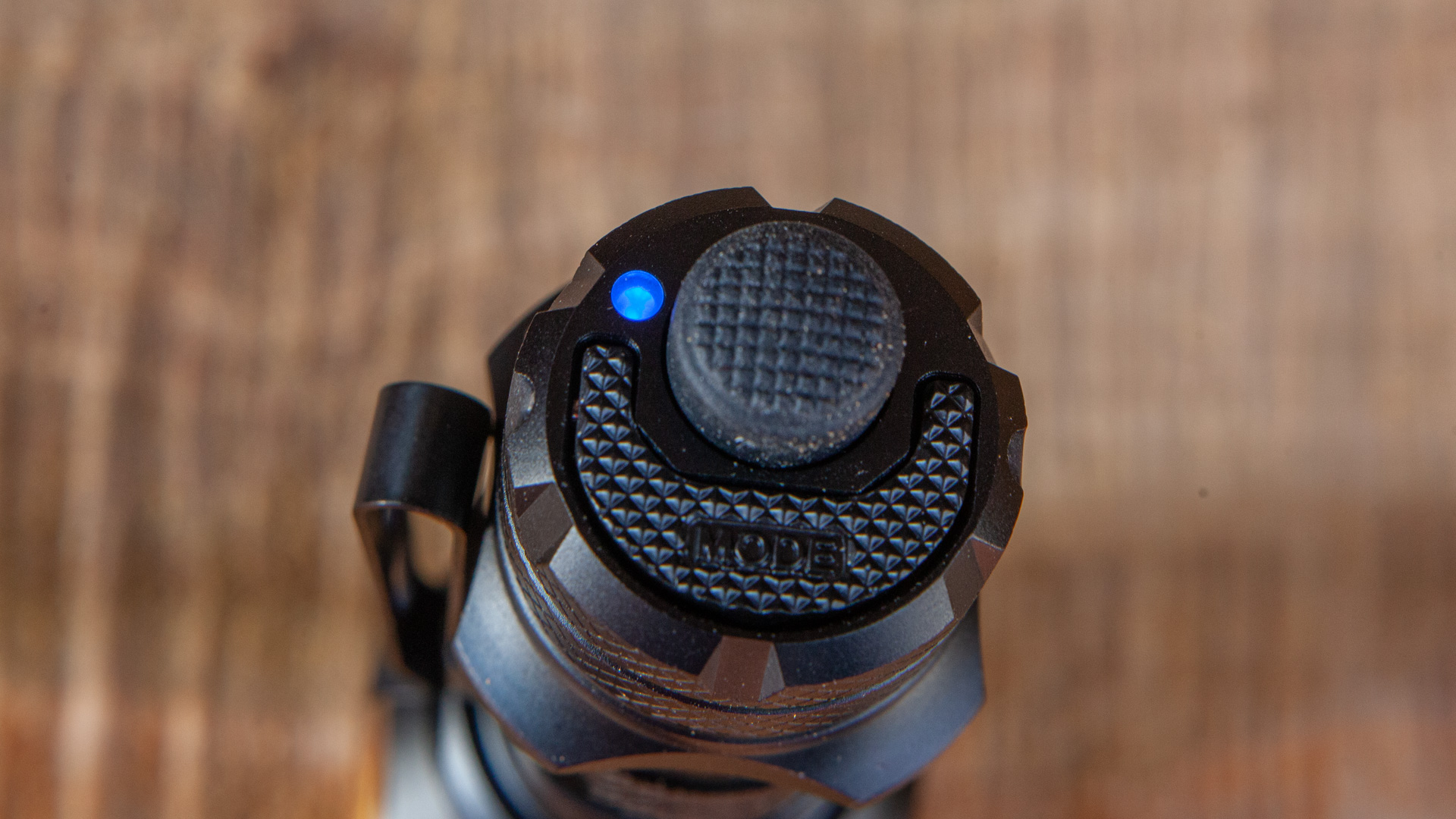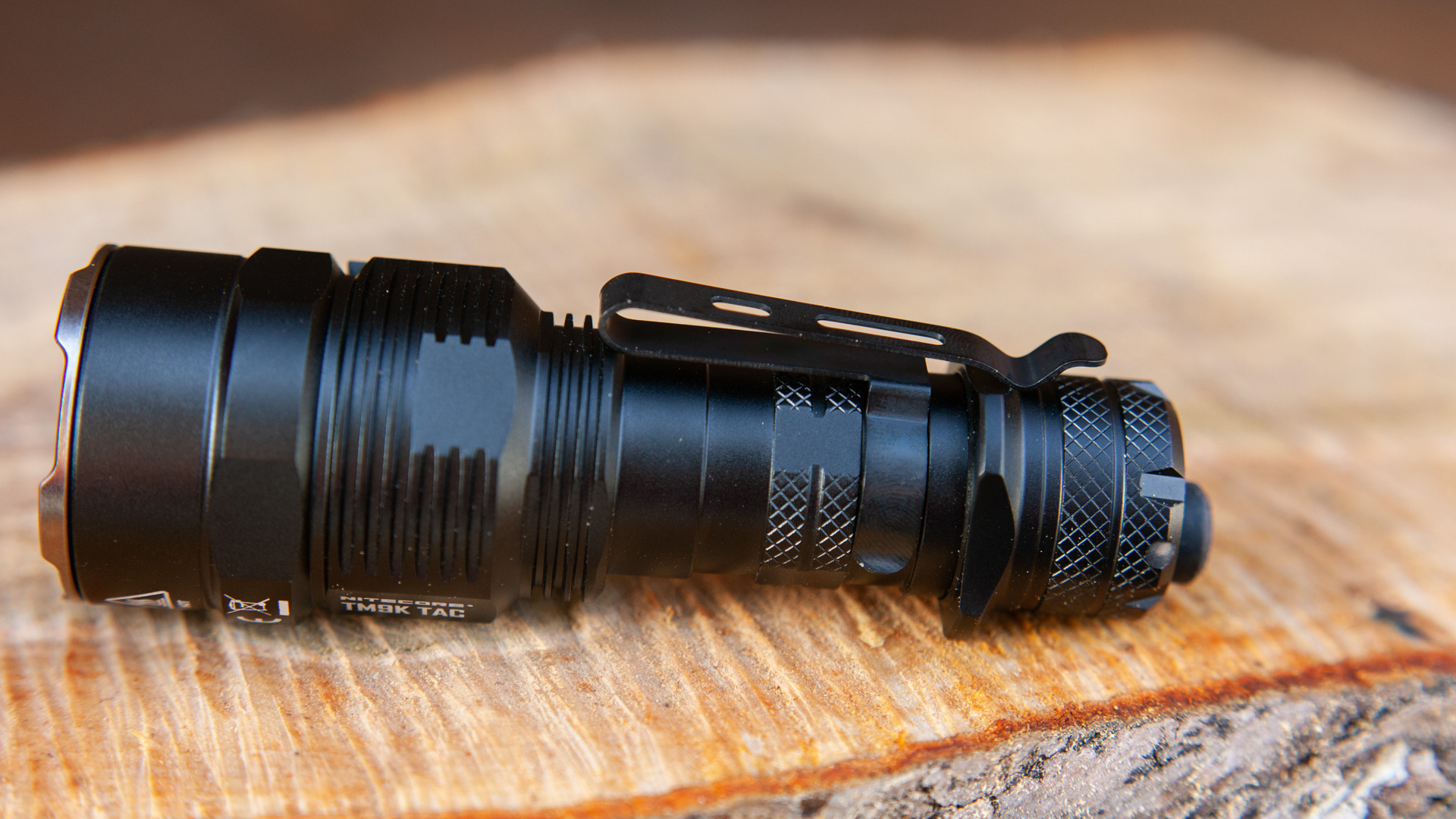 The head, as you can see for yourself, is quite large. However, with such giant turbo, all these cooling ribs seem to be more decoration than something really functional.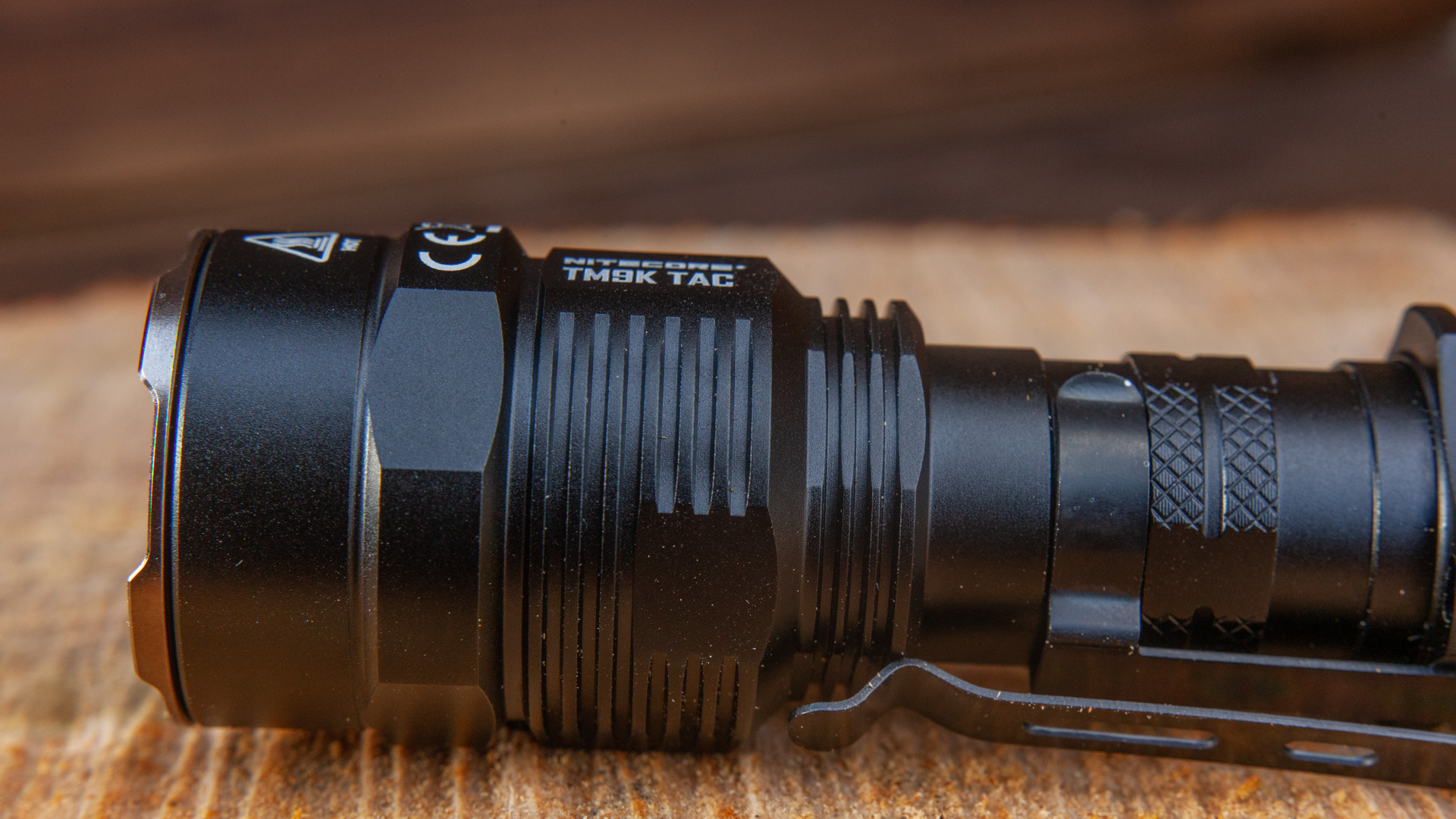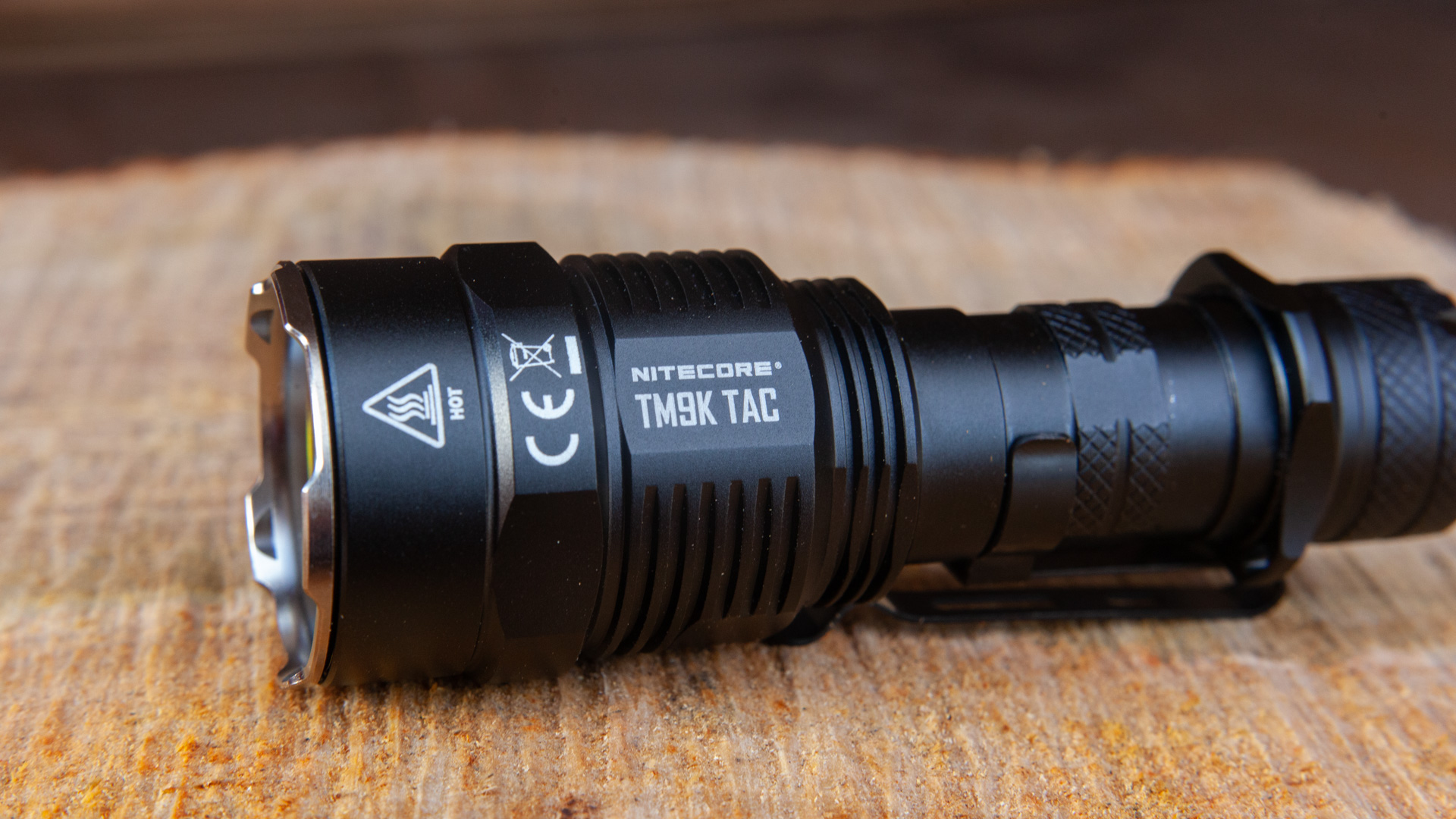 The charging connector cover is not really thick. But it is designed and located so well that I see no reason to believe that it will accidentally open.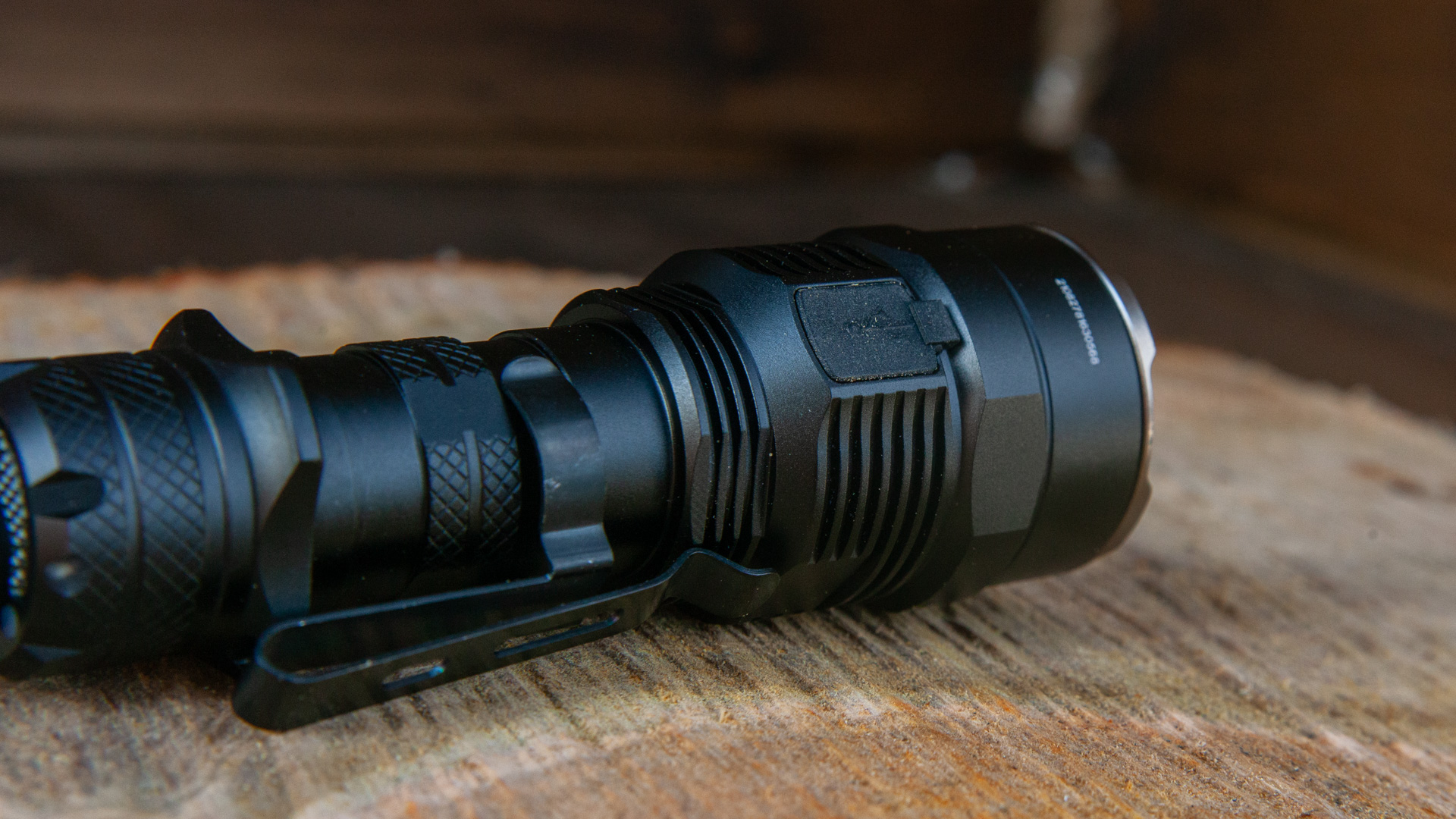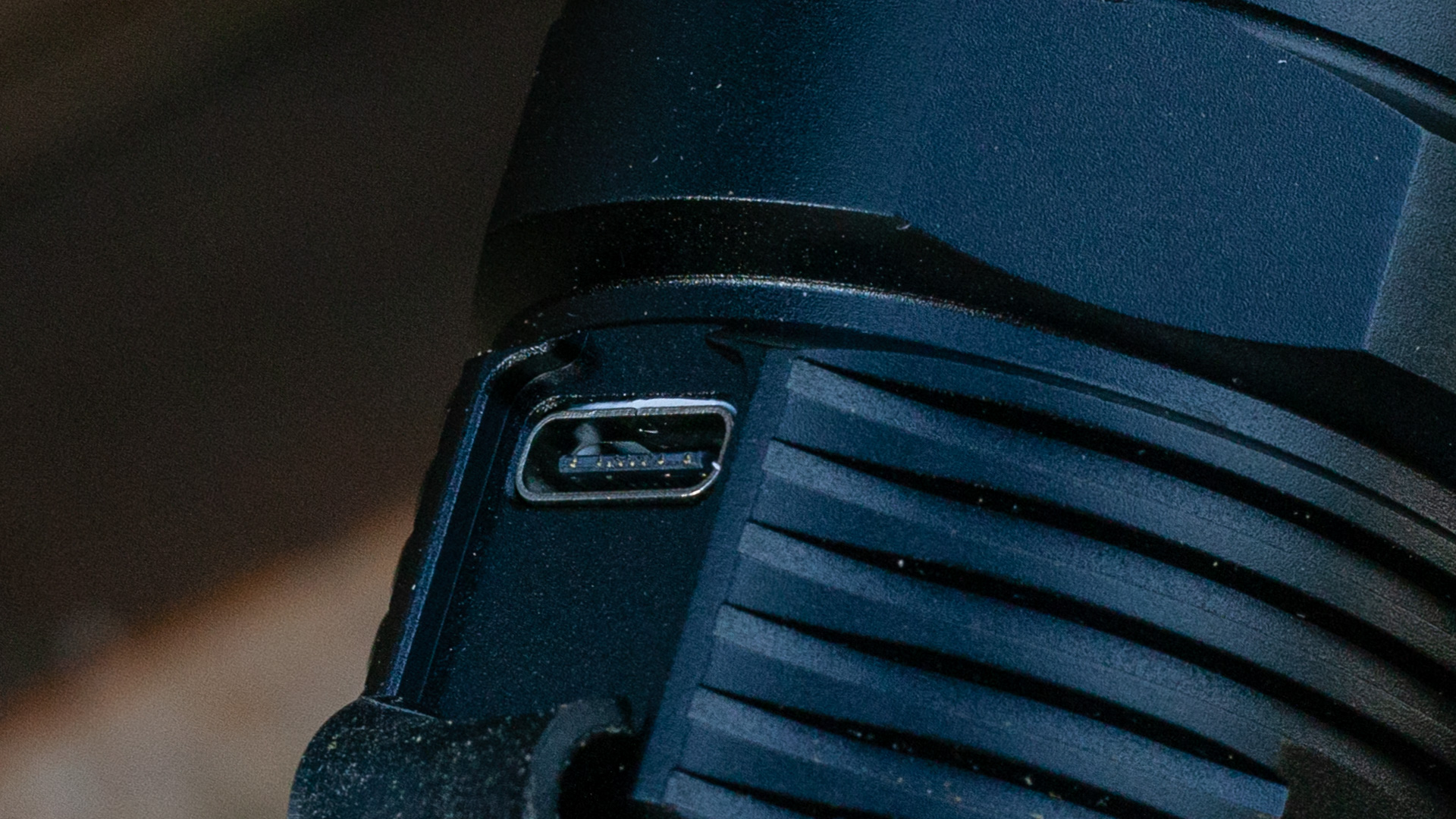 The charging power is excellent. 12V * 1.5A! So if will not take much time to fully 5000mah battery installed here. Yes, this power is higher than the recommended level. But I believe that for the user of this flashlight, lightning-fast charging will be more important than a potential decrease in battery life. If the latter is more priority for you, nothing prevents you from charging from a conventional 5v * 2A unit.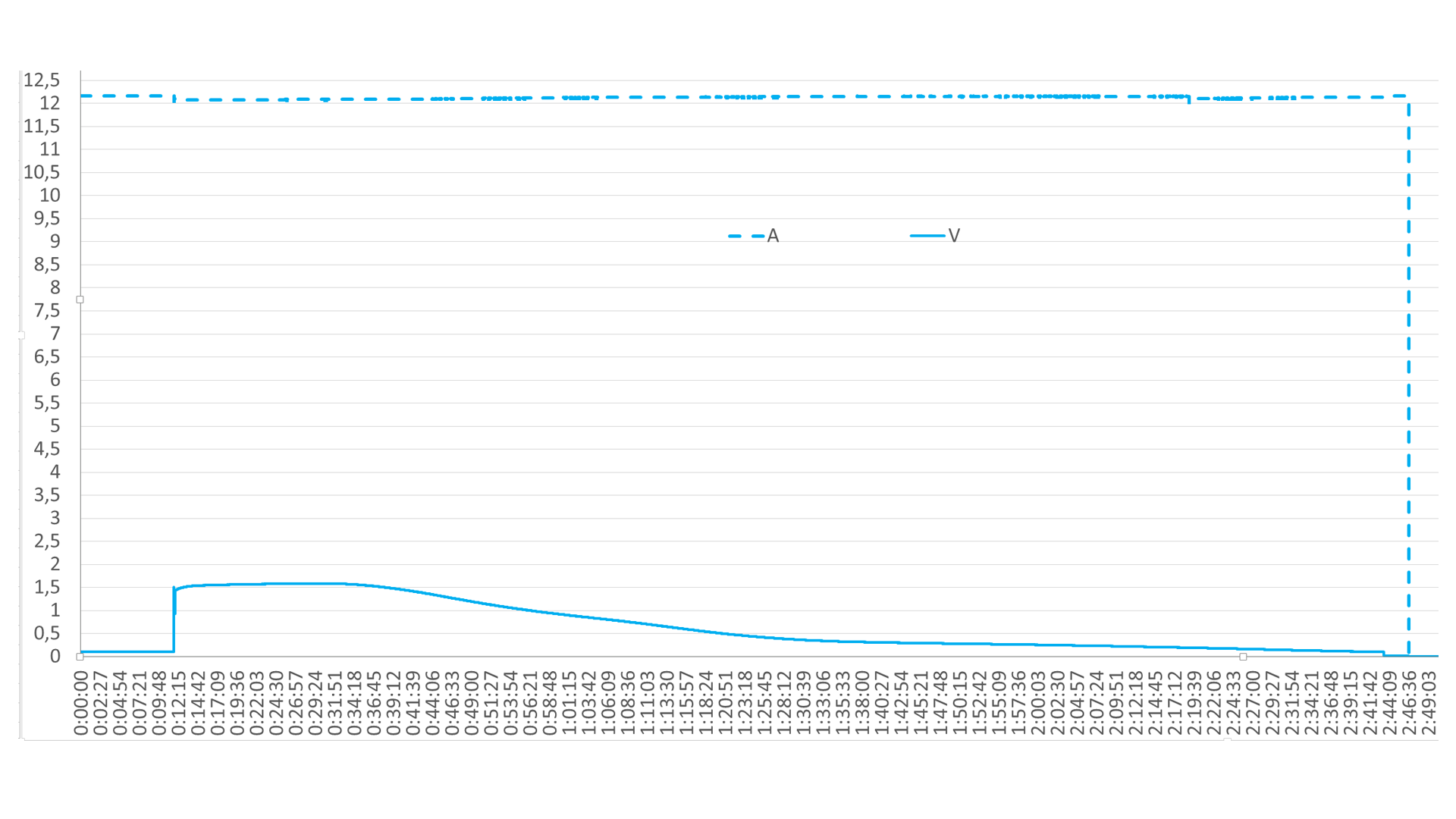 The teeth here are quite small, by the standards of a tactical flashlight, just to see if the flashlight is on or not, if you put it on it`s head.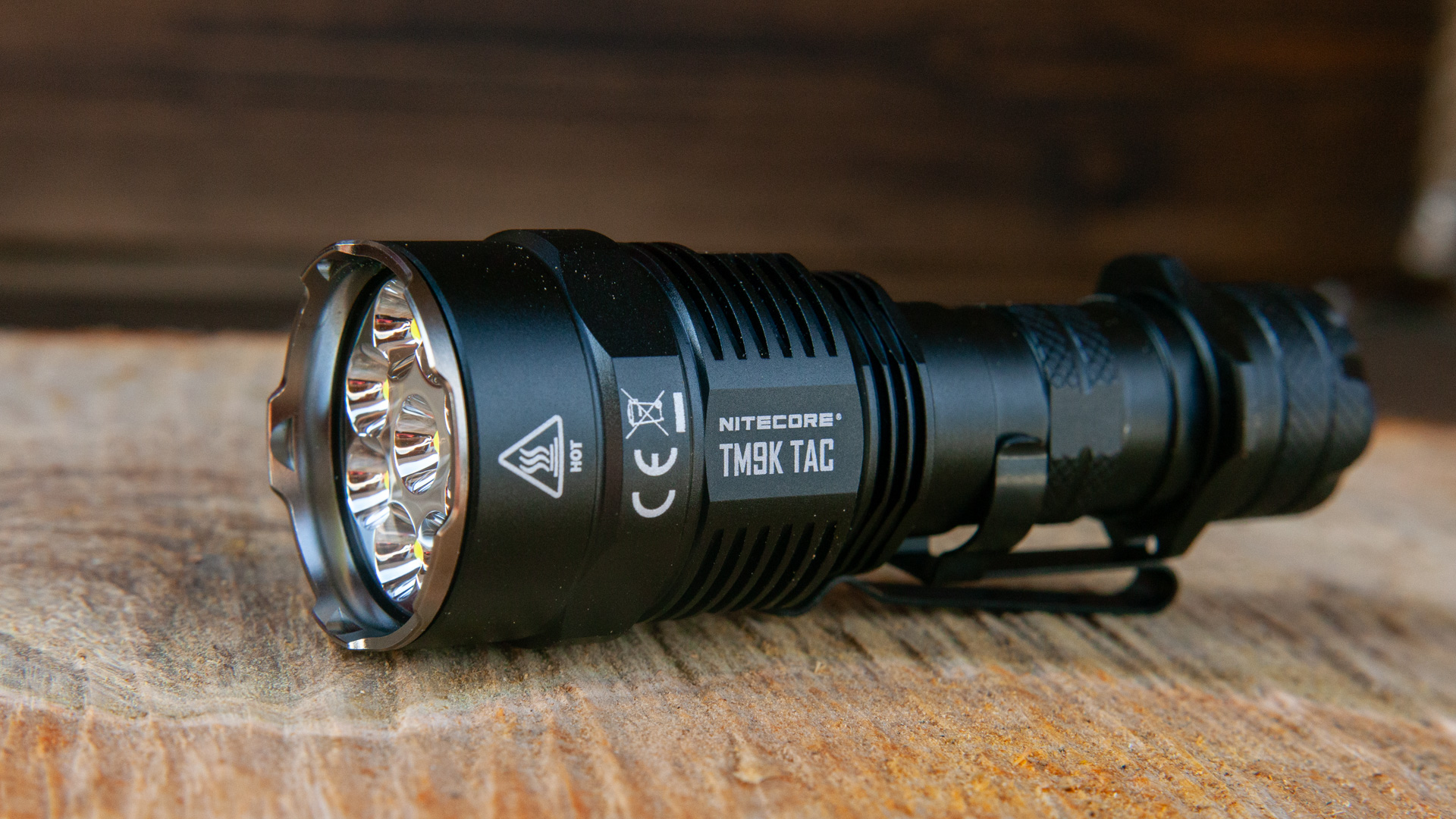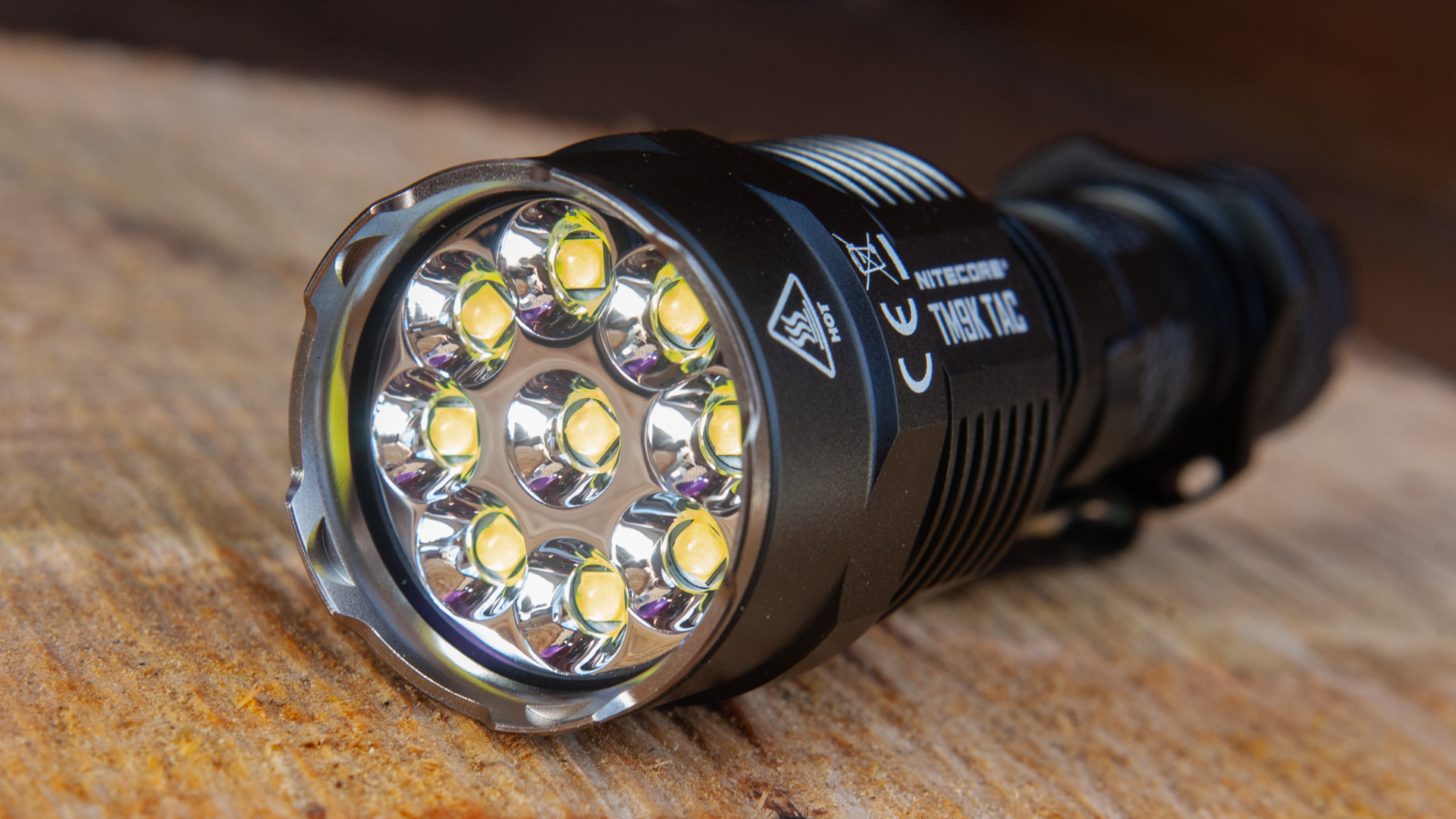 Behind a tempered glass with antireflection coating you can see 9* XPL2 HD V6 LEDs. An unexpected decision, now everyone is trying to cram SST20 \ SST40 and I was sure that the update would also affect the LEDs. Btw, none of this is centered, but that is not a problem at all for a flooder flashlight.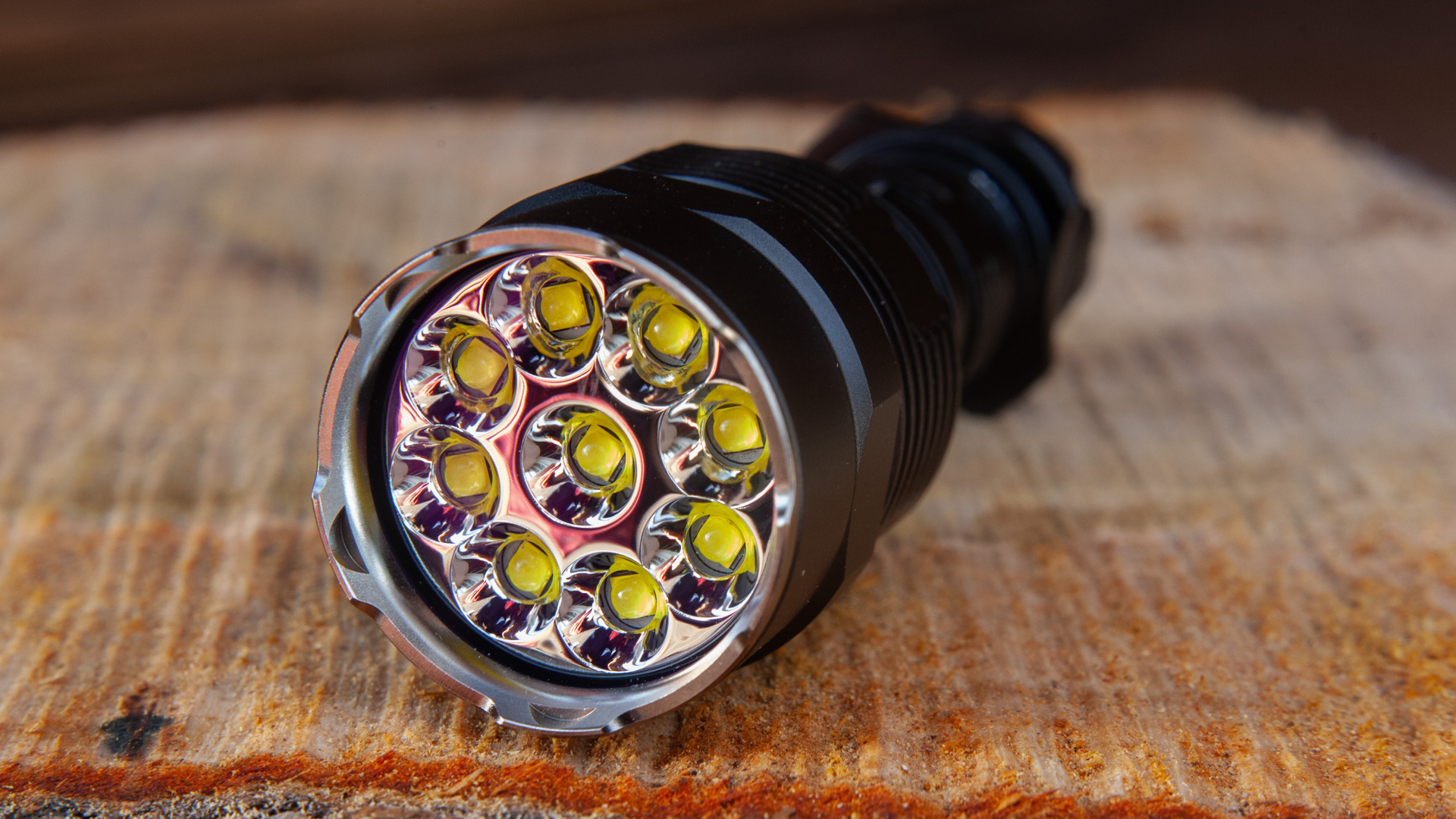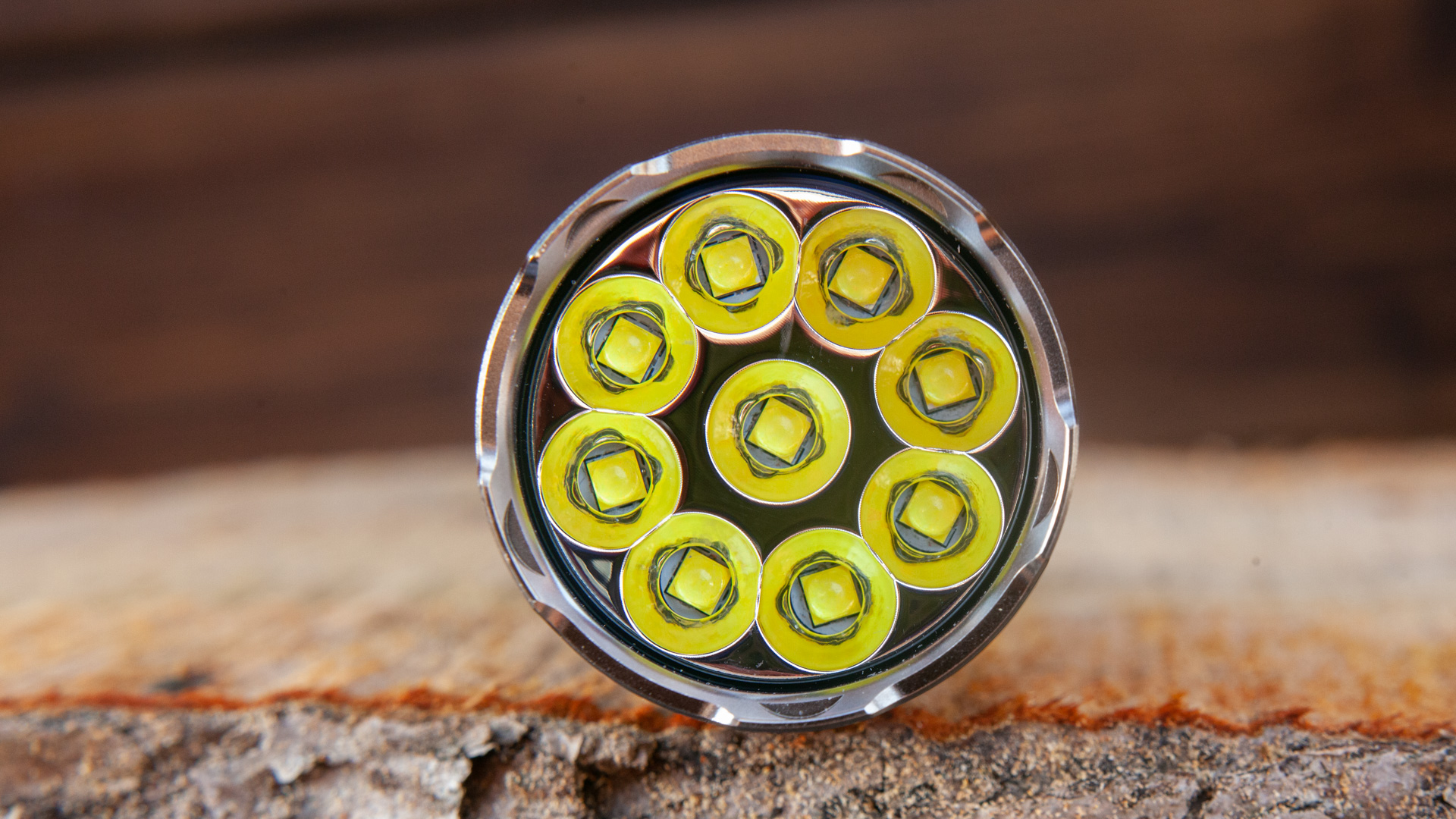 At this stage, everything looks the same as in previous model, besides added grip ring. Great packaging and design. I would prefer little bit longer body. The charging power has increased dramatically. LEDs are off center.
UI
Completely unchanged. Well, this UI seems to be quite good one.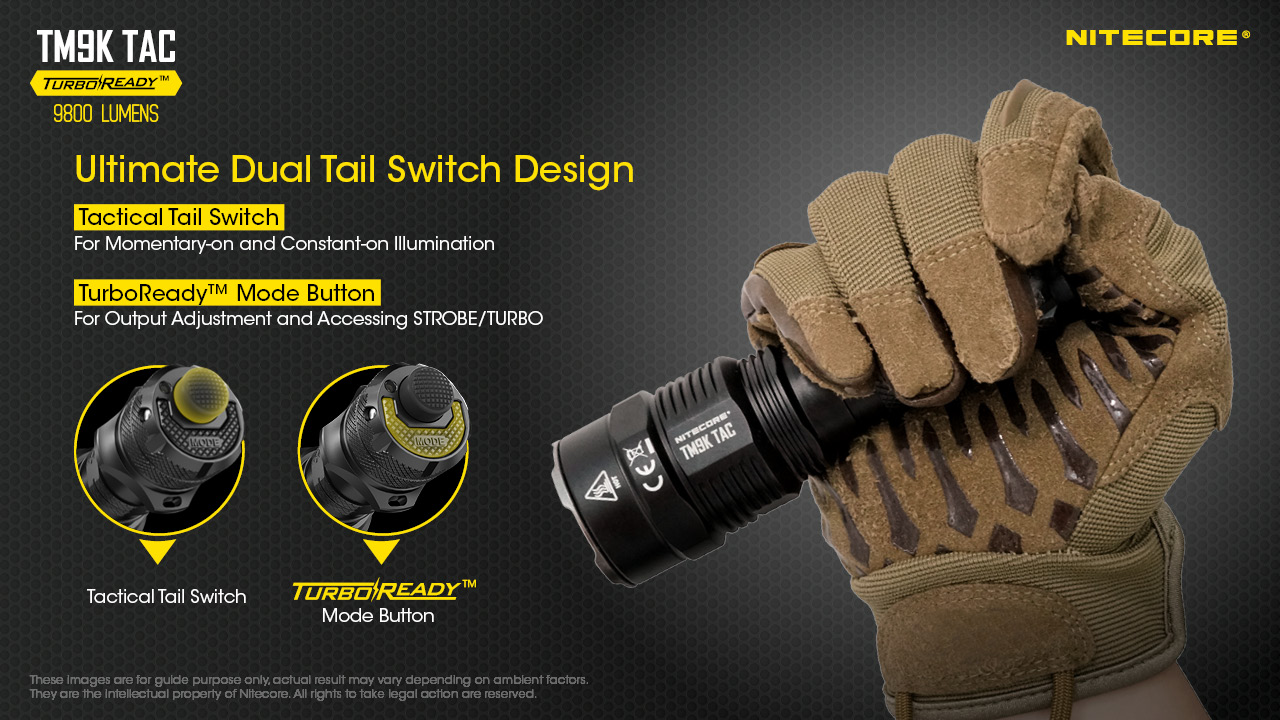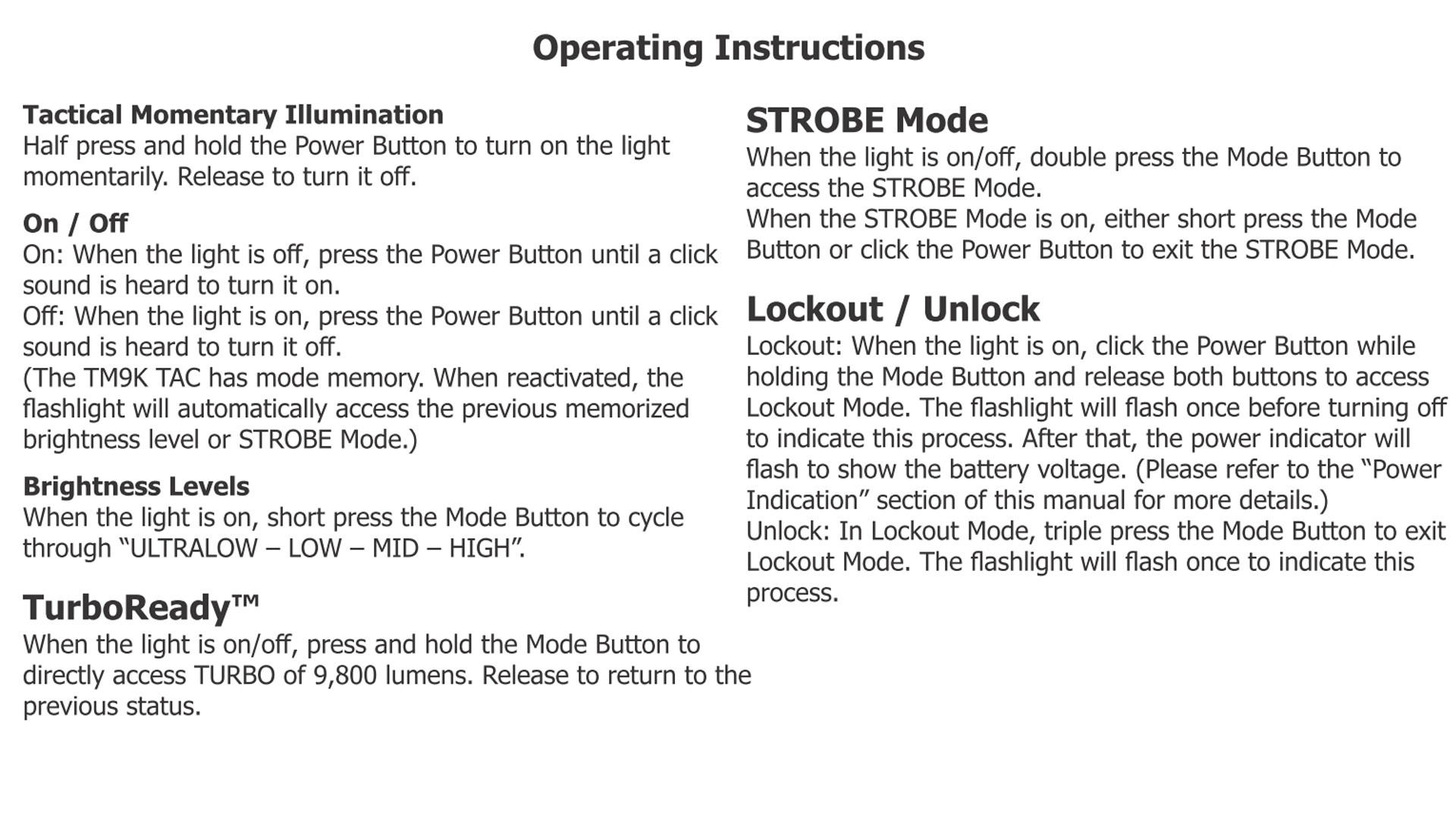 How Nitecore TM9 Tac illuminates
So, the previous version had not perfect, but decent brighness stabilization. Well, i cannot say the same about T9Tac
LOW and MID show surprising increase in brightness. This is not what you normally expect, but i think this is better for end user then decrease.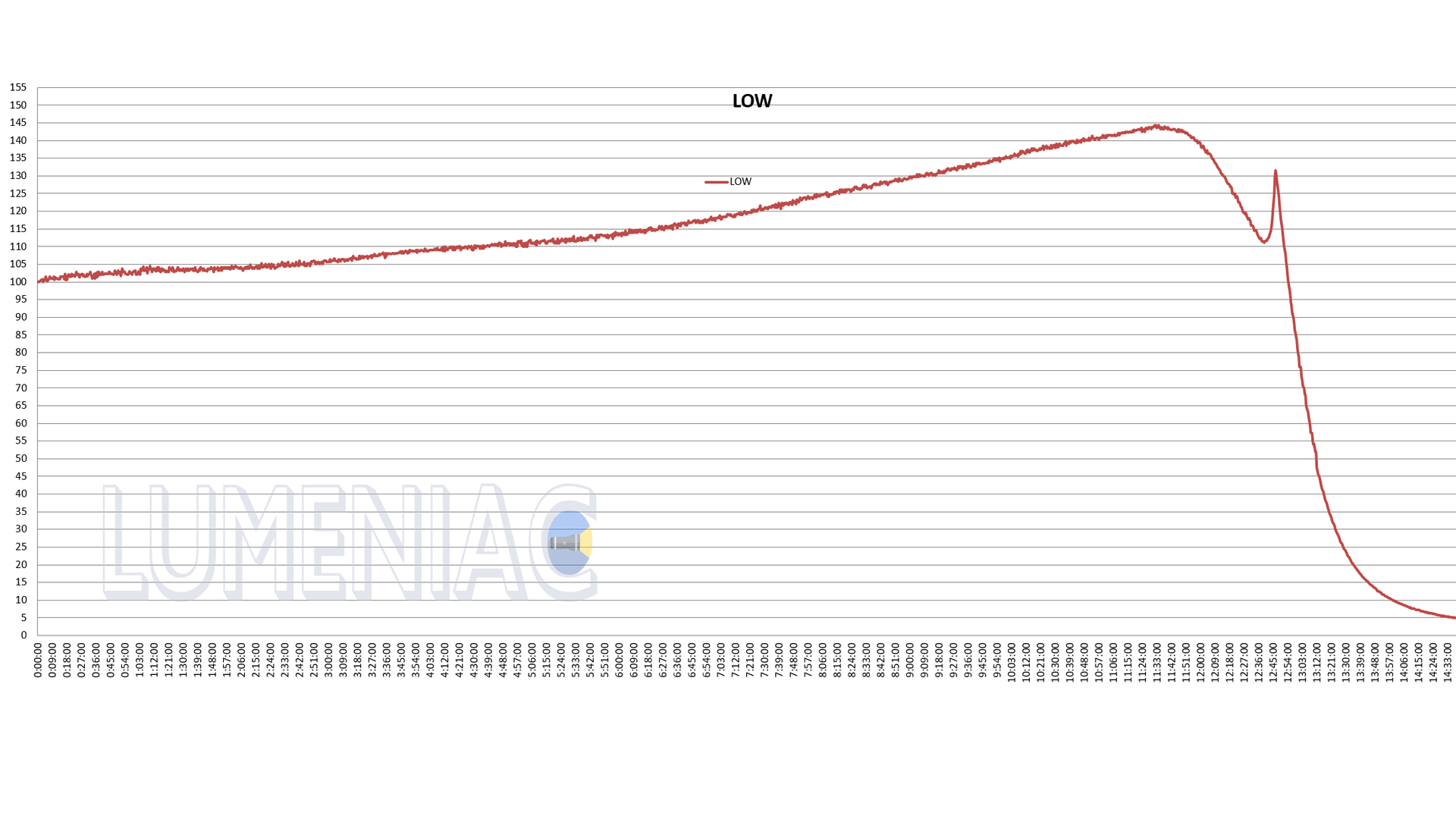 HIGH mode is quite good itself. 7 minutes is more than a decent amount of time for this brightness. If we are talking about working outdoors, in the cold, with some wind cooling, you will have quite a good brightness for like an hour of work. The question is that because of the built-in battery, you dont have any light after this hour as there is no way to replace the battery and you have to charge flashlight.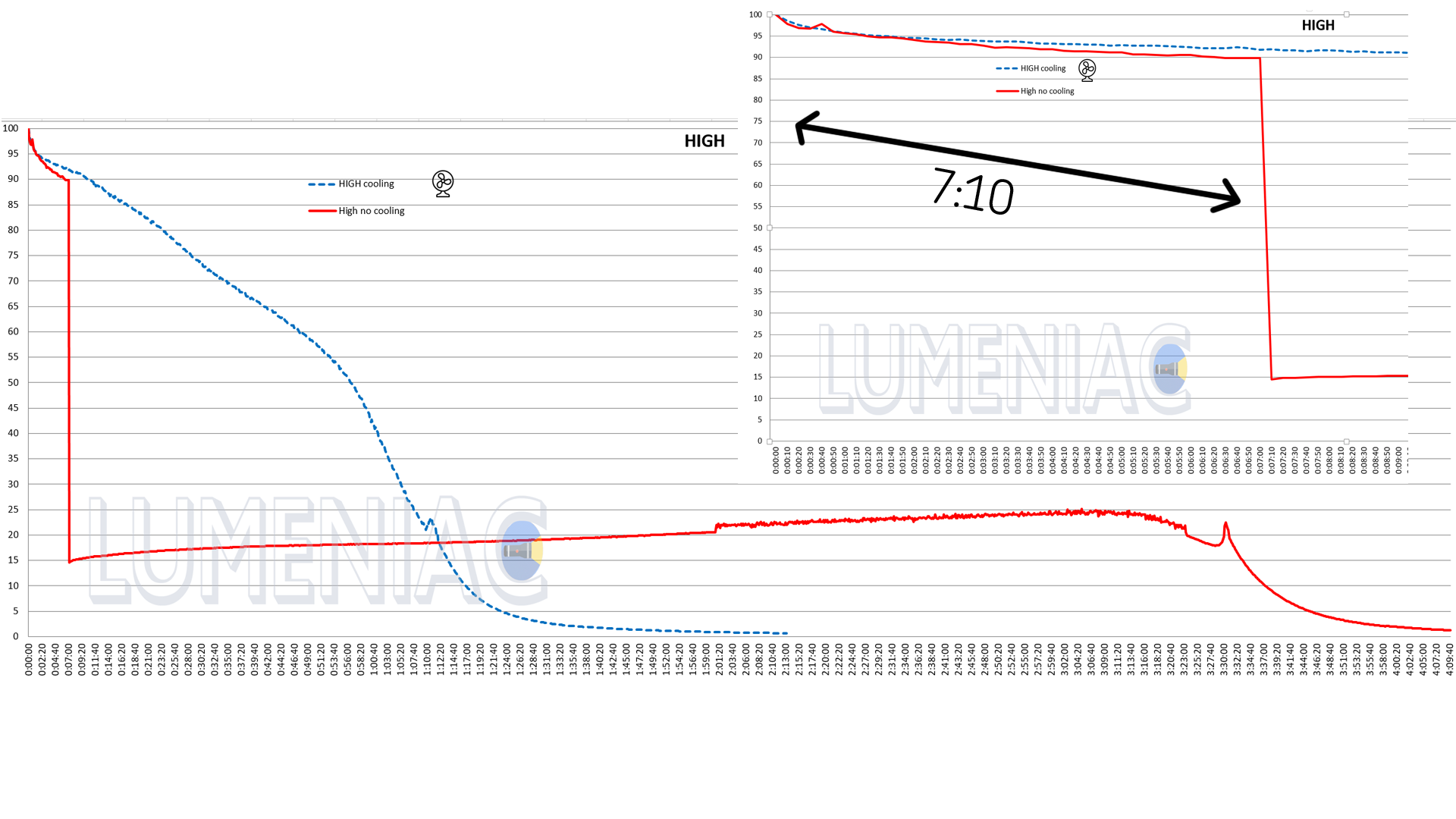 Turbo. The same 7 seconds as it was in previous version. Not that much, but nothing prevents you from running it three times in a row – then the total time will be definetely enough to look around far and wide, and this is what crazy brightness of TM9K Tac can give you.
And now the light.
The manufacturer, as always, declares cold light, 5700-6300K color temperature. I`d always prefer 5000k. However, due to the significant greenish tint, light even doesnt seem to be cold if you use TM9K TAC outdoor, where are green grass and trees around. Really, there are few chances to notice this tint when use it outdor most part of year.
But once you point flashlight at something white (like brigh or paper) or compare to clear CW model (as on the photo below) – everything falls into place.
So, you get close-range flashlight with extremely floody light. A more or less stable MID mode of 500 lumens will be convenient for indoor use or as a pedestal light in the open air. High mode, also quite accepatable in terms of runtime, will allow you to completely illuminate your own and neighboring yards, or is perfect to illuminate some large indoor spaces like an assembly hall or a large warehouse.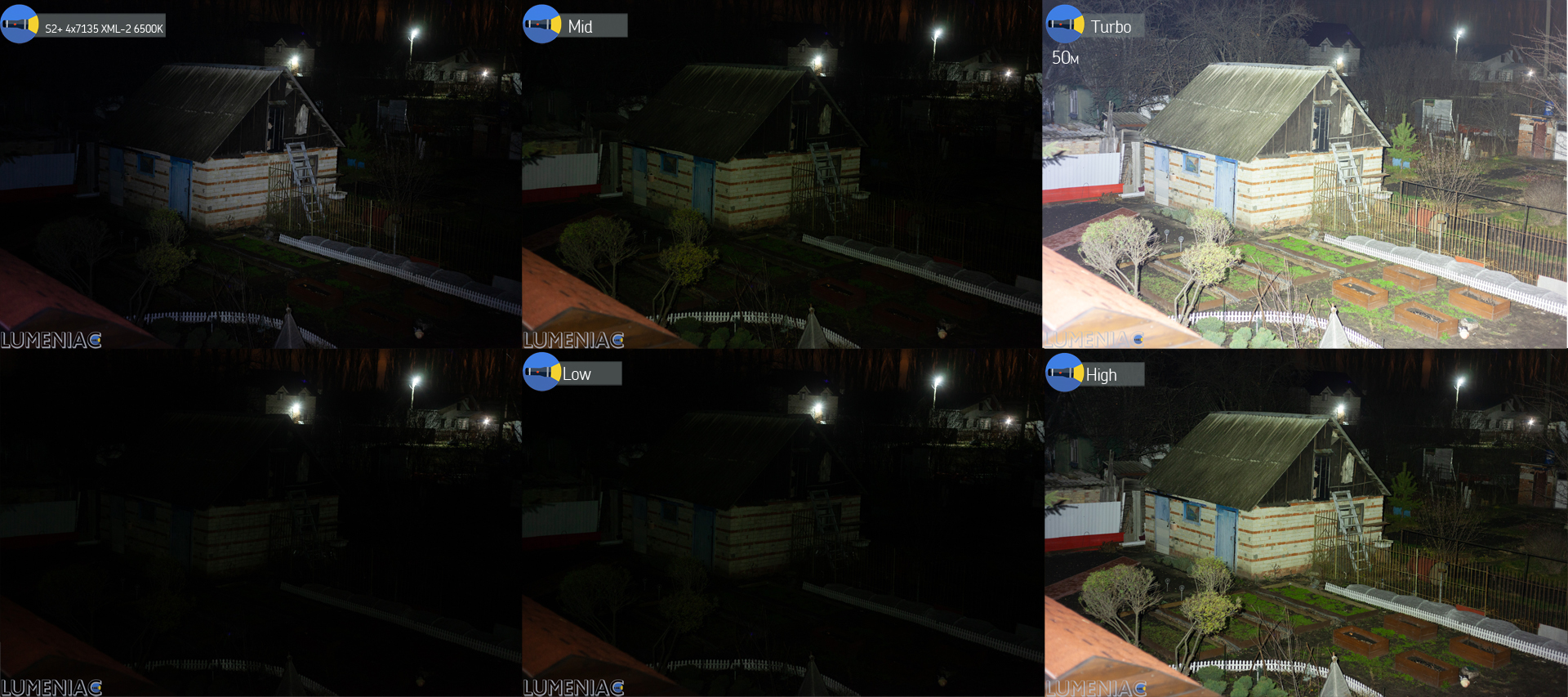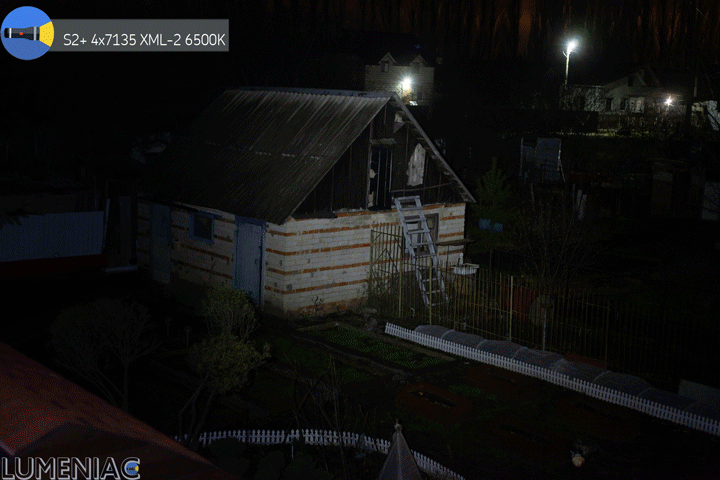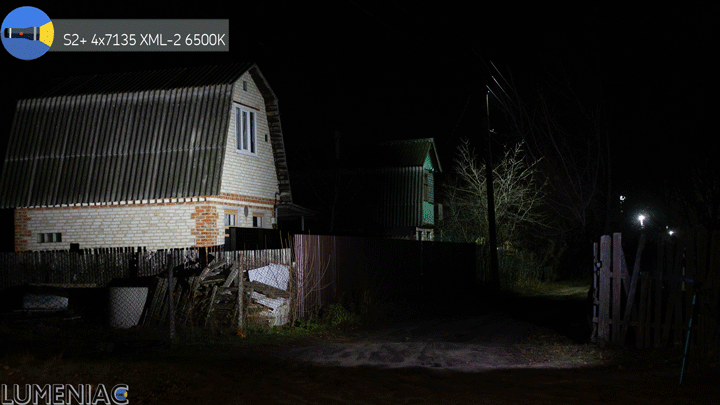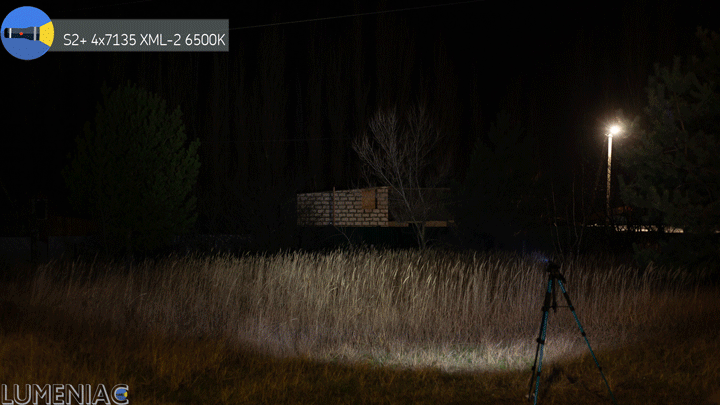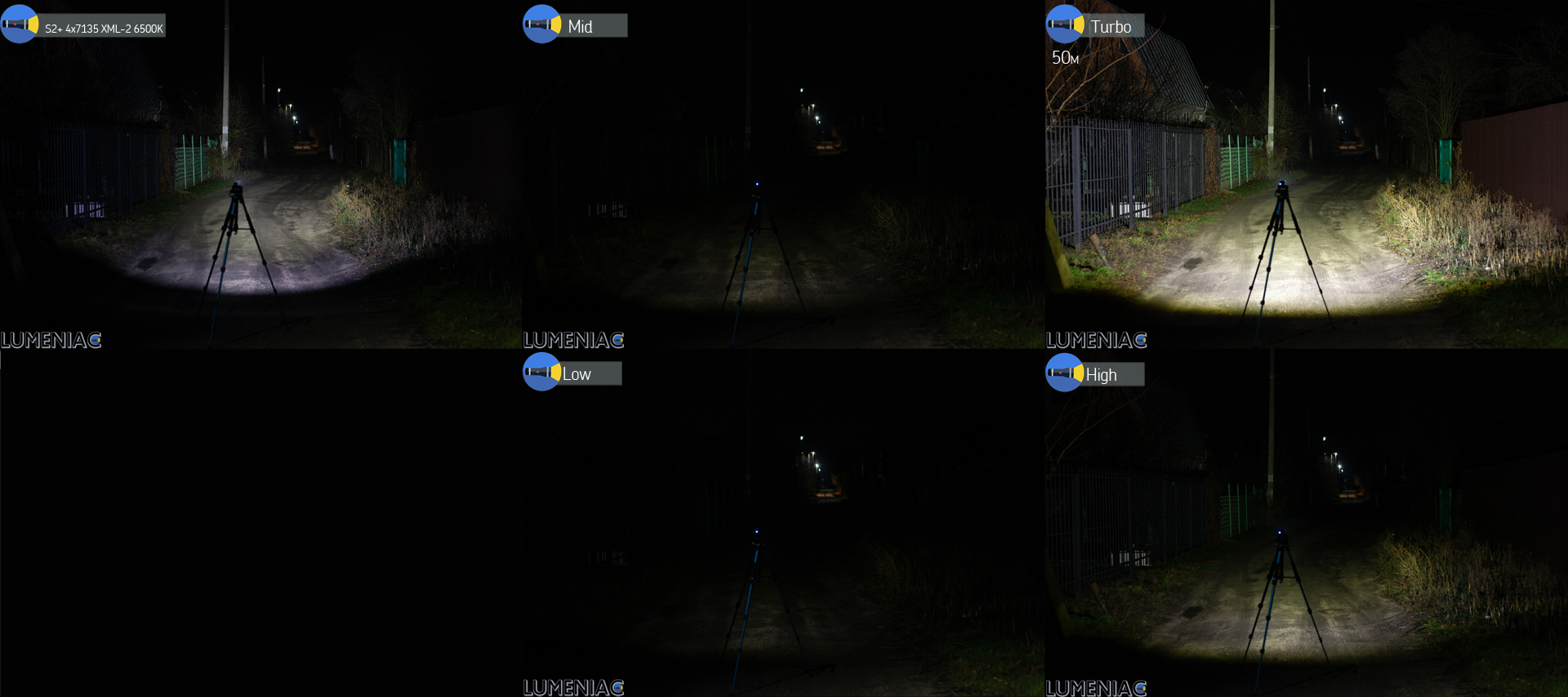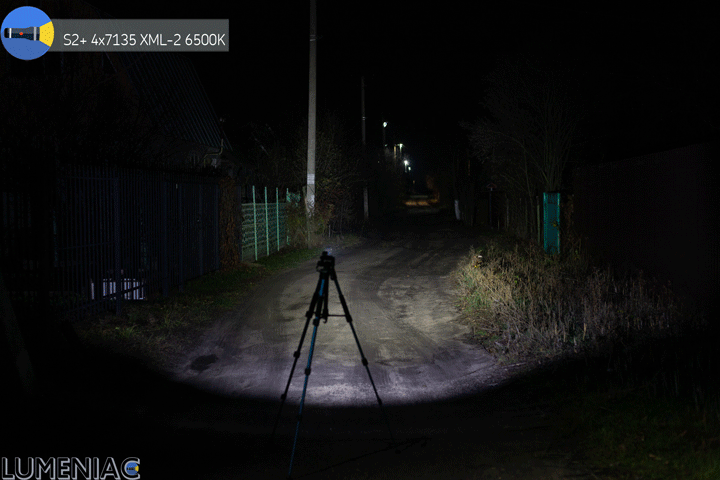 As you can see, despite the impressive brightness of 2000 lumens – being that floody, the light only somehow penetrates 50m.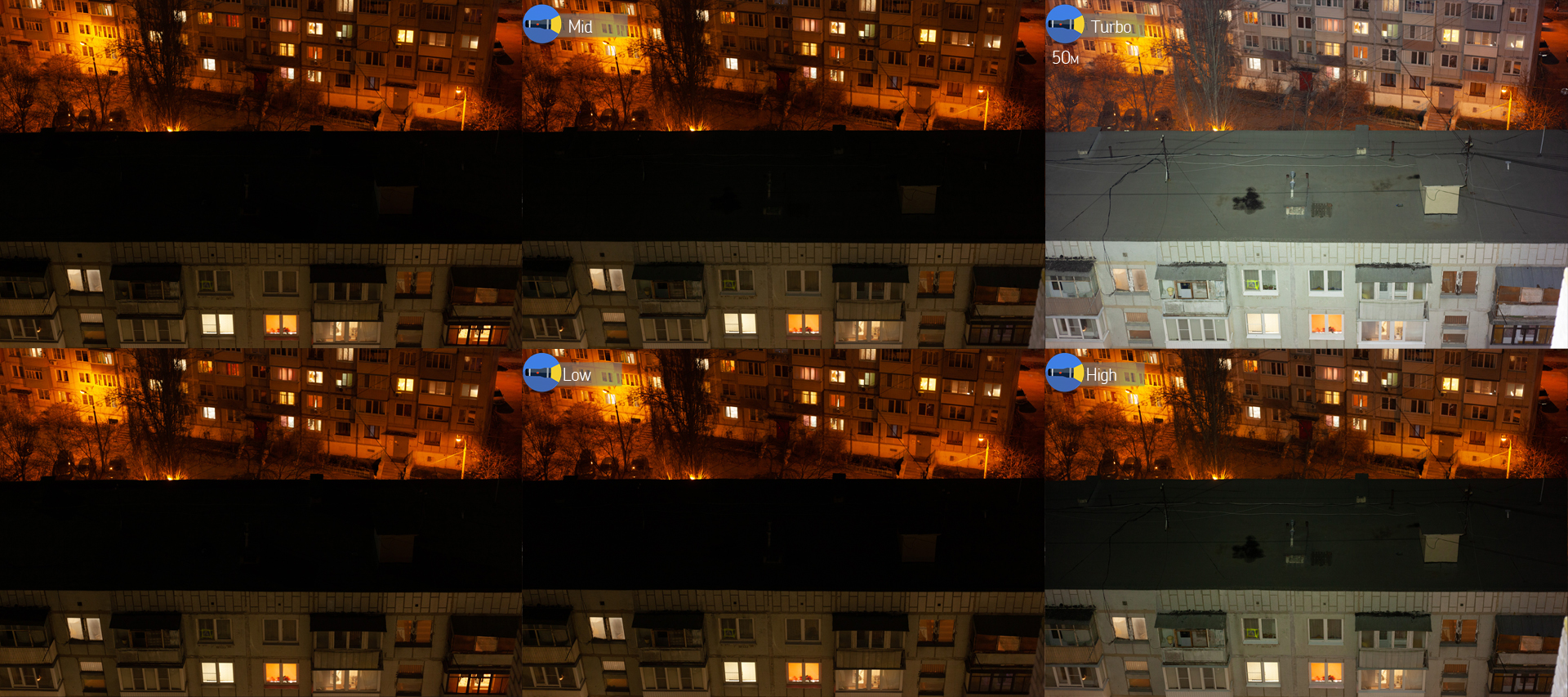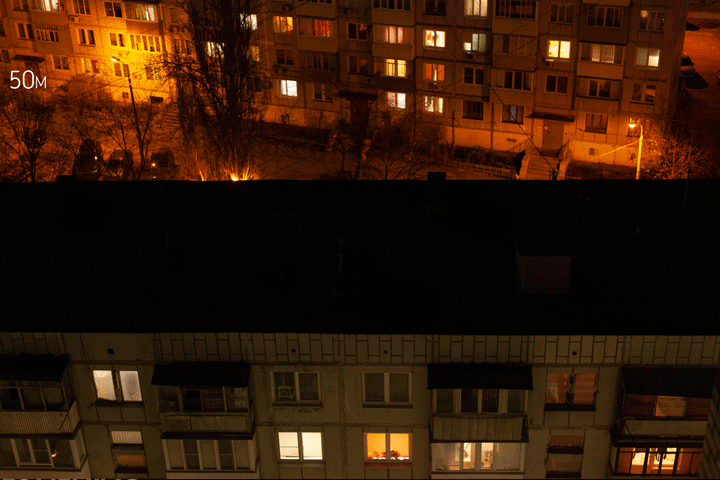 The only mode which gives you least some range is the turbo mode. A colossal, blinding wall of light, which for its 7 seconds is able to illuminate everything around within a radius of a couple of hundred meters. Activate it 2-3 times in a row and that is mostly enough to see thing around even without pointing flashlight at them.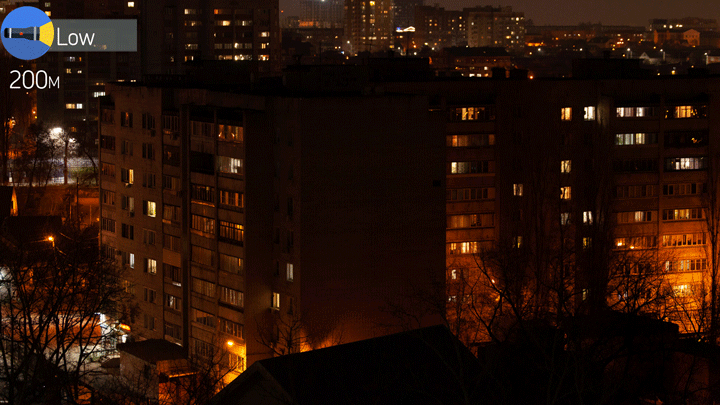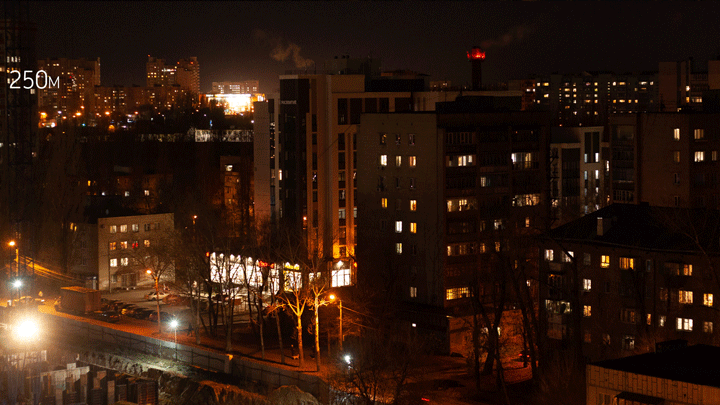 Overal impressions
Manufacturer finally re-designed TM9K to the version it suits best.
UI and super-bright (but short-timed turbo), the grip ring – all this clearly says that the TM9K performs best as a tactical flashlight and nothing else. Moreover, a flashlight of a specific type, with a super-bright flood light, because total majority of tactical flashlights have a much more focused light.
This super-bright turbo will certainly blind everyone without the need to carefully aim a flashlight. If we take the analogy – it's like a shotgun loaded with buckshot against an assault rifle. You are not aiming, you can shoot several enemies at once…but you are shooting only at close range and that may be friendly fire as well. It is the same here. Each of these guns are good for their own purposes. So does tactical flashlights , i guess. I don't even come close to judging whether there are such tactical targets for such a flashlight-shotgun with a wide light flooding everything around. I`ve only used strobe couple of times to repell dogs in my neighborhood and hope i will not need it in future.
My task was to show what it Nitecore TM9K tac is like and what to expect from it in terms of brightness and runtime. I hope that my review let you understood what to expect from this flaslight.
Yes, I am not happy to see a certain green shade of light, but i`m objectively believe that that for their specific purposes a potential users of such a flashlight will not be interested in how clear is this cold white light at all. They only need reliable tactical flashlight with super-brightness.
In general, the main and only thing that I really don't like is the built-in battery. They are ok for me when insalled in headlamps or camping lanterns. Yes, battery in TM9K TAC charges unbelievably quickly and it is used for best and lowest internal circuit to support the powerful performance in such tiny compact size. But replacing the battery with a fresh one is faster.
All in all, the Nitecore TM9K tac is a specific flashlight for specific scenarious of use. And I hope there will be those people among readers, for whom the whole set of TM9K TAC`s functional characteristics will be exactly what they are looking for. I do not belong to them at all, so, again, my evaluation is far from being precise.