A capacious 21700 battery, type-C with power bank mode, choice of light direction (!), stepped and stepless color temperature and brightness adjustment, stabilization of brightness – Sofirn managed to make so damn good and relatively compact camping lanter. If full-sized Sofirn BLF LT1 is too bulky for you, then the new product may be just what you are looking for. Or maybe not – I'm sure that the Sofirn LT1S review will put everything in its place.
SPECIFICATIONS
LED: 2700K*18 CSP1919, 6500K*18 CSP1919, 4*Lattice Power Red Light
Battery: 1*21700
Size: 97mm (length) × 68mm (head diameter)
Weight: 257\334g (without\with battery)
Flashlight body: aluminum, scratch-resistant anodized
Mode memory: yes, including turbo
Reverse polarity protection
Low Voltage Warning: When the battery voltage is too low, the LED indicator in the side switch will flash rapidly.
Charging: type-C with power bank mode

You can buy Sofirn LT1S at:
➤ Aliexpress (there is RE2YQV4TJCHT code in addition to the store coupon. if code doesnt work pls let me know)
➤ AMAZON
my Sofirn LT1 review
You can save on purchases with coupons and promotional codes from the discount channel in telegram, see the link to it below in the "about the author" block.
Package and appearance
The most common cardboard box. Reliable and unpresentable.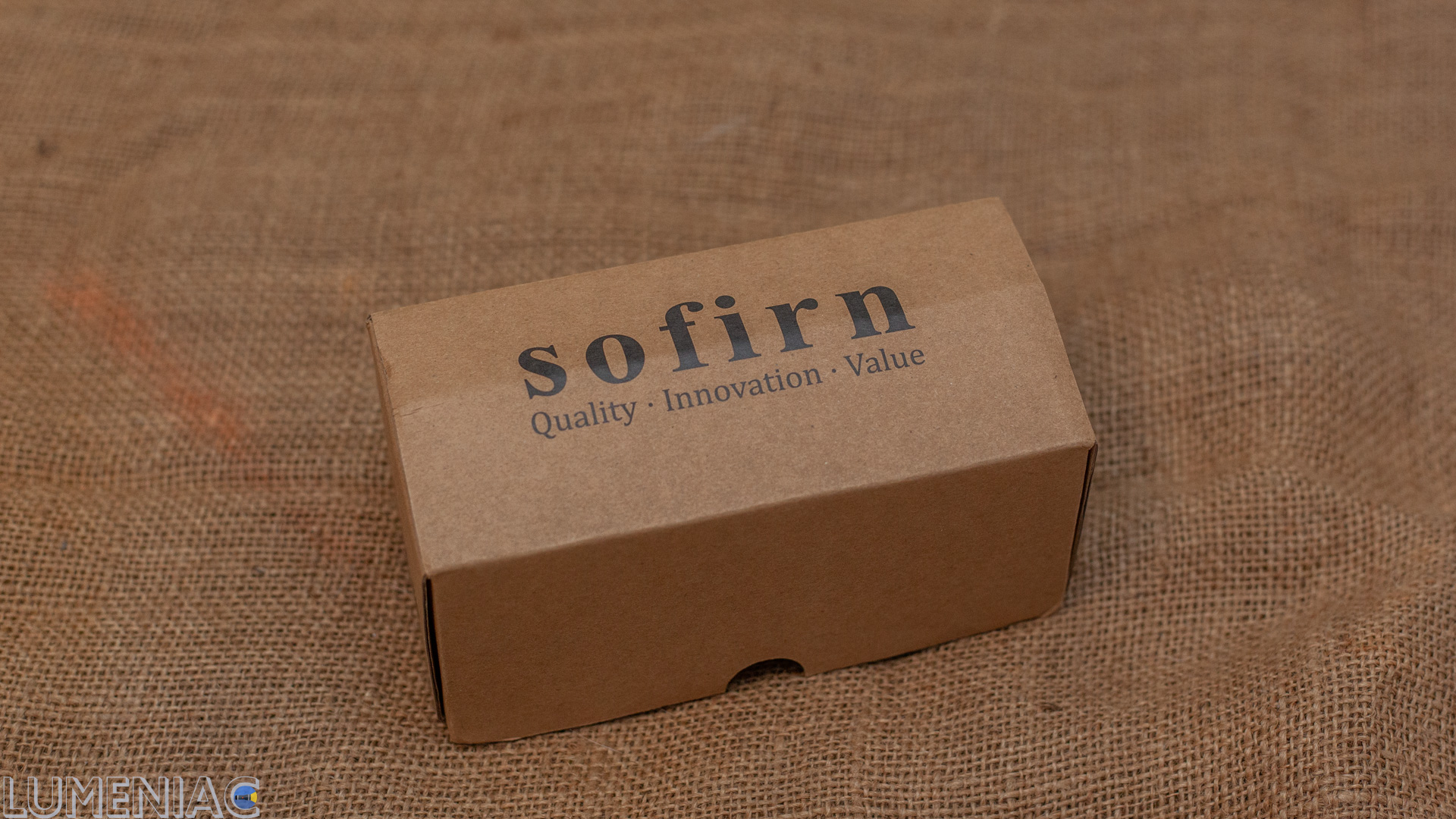 Kit includes everything you need : LT1S itself, 21700 5000mah battery, Type-C charging cable, manual, o-rings. You can also buy a no battery version.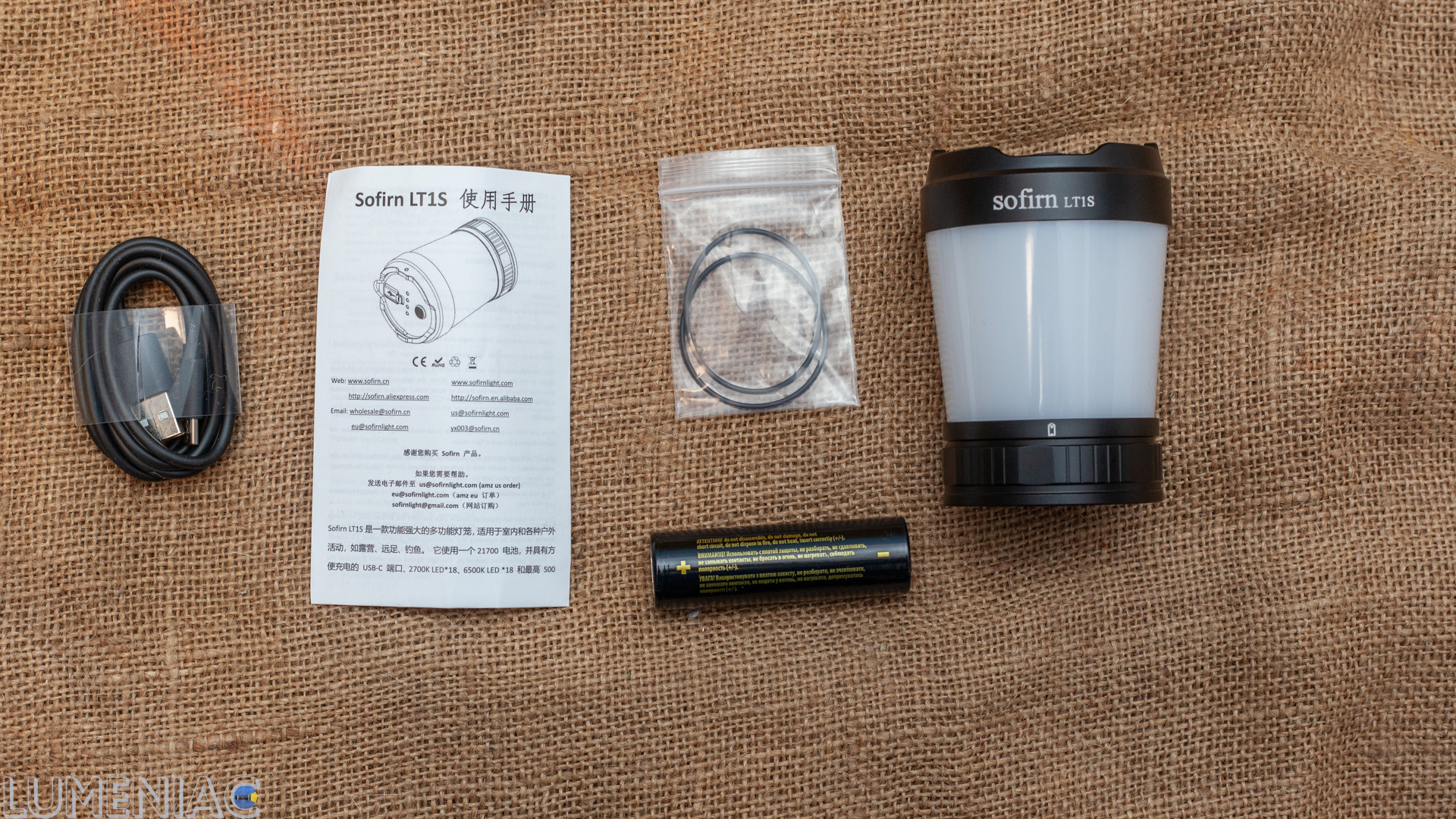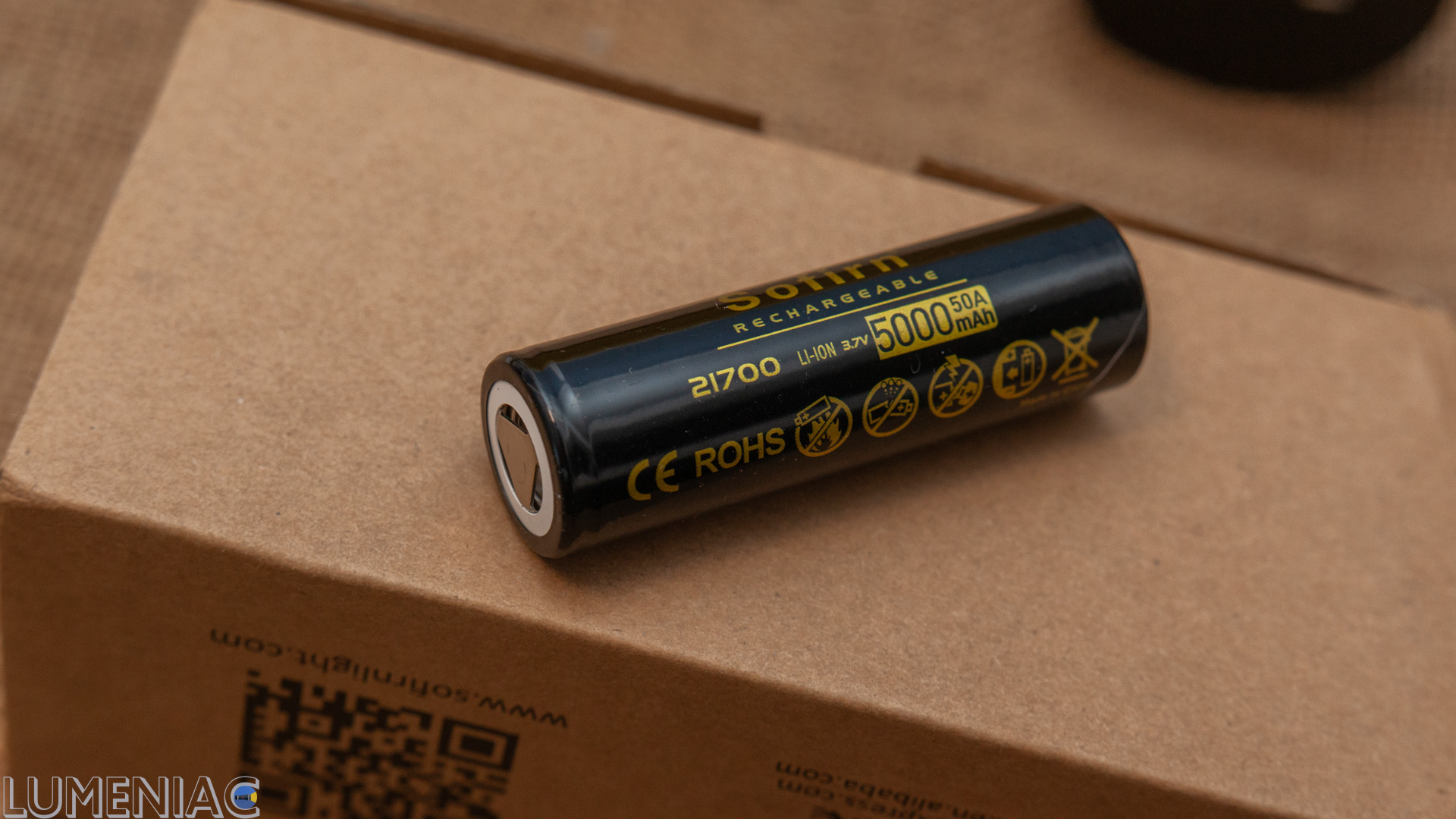 The camping lantern itself is made in the form of a pot-bellied truncated cone. We can say that this is the same BLF LT1, only without the "leg" of the battery compartment.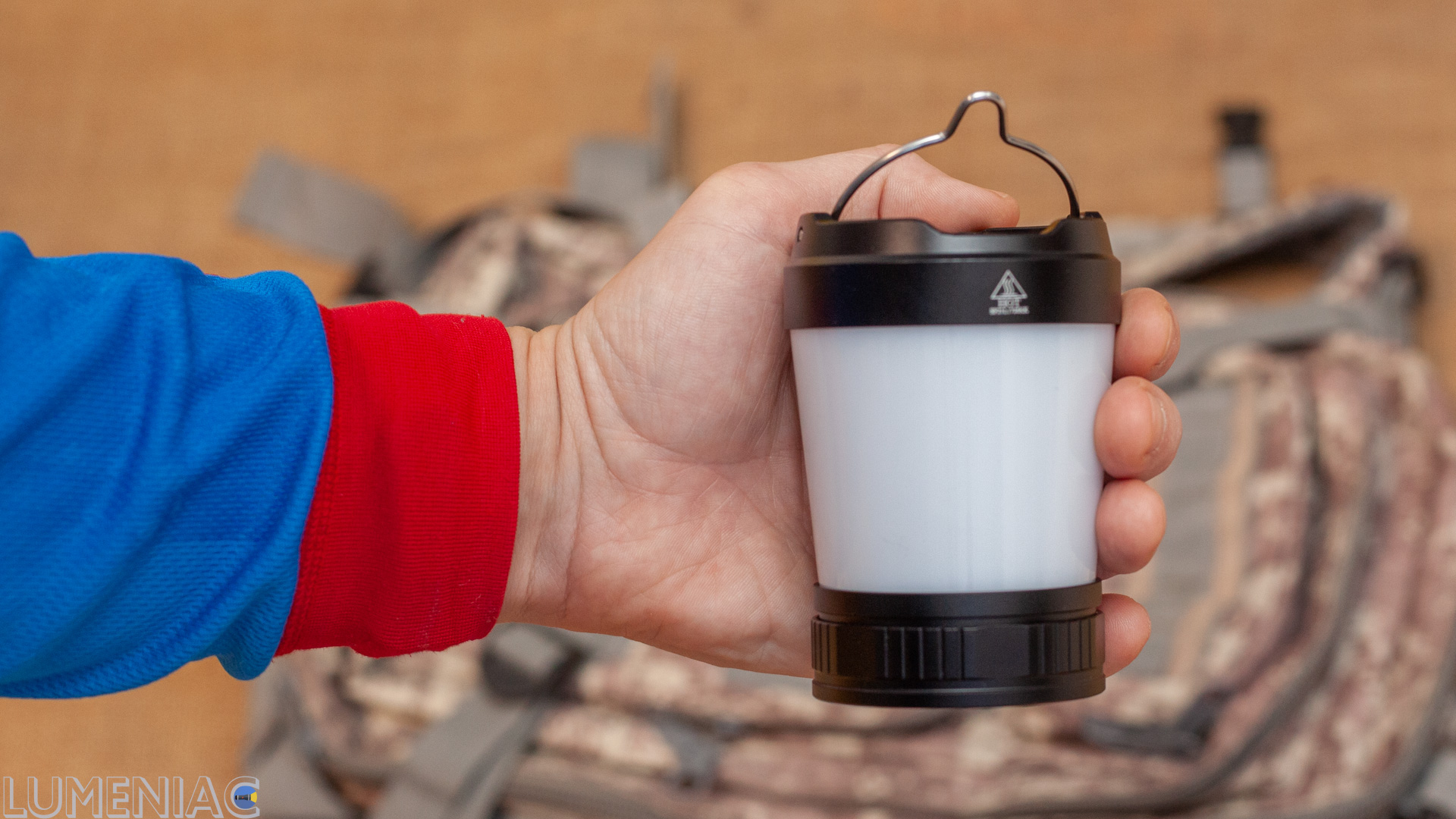 To make it clear, here you can compare the size of Sofirn LT1S with some of other flashlights and camping lanterns i own. LT1S, of course, is larger than the same Fenix ​​CL25\26R. But still much more compact than the Sofirn BLF LT1.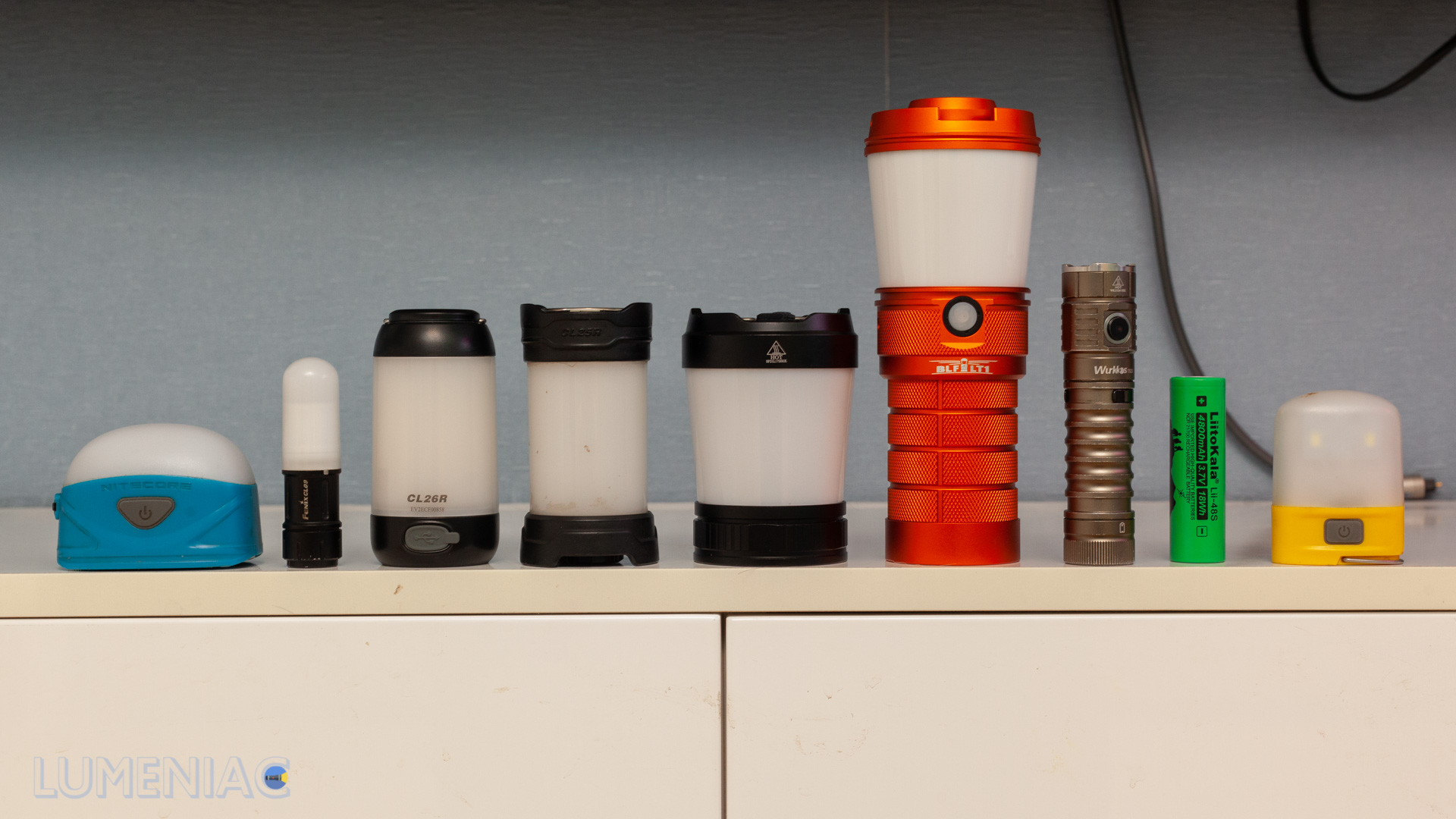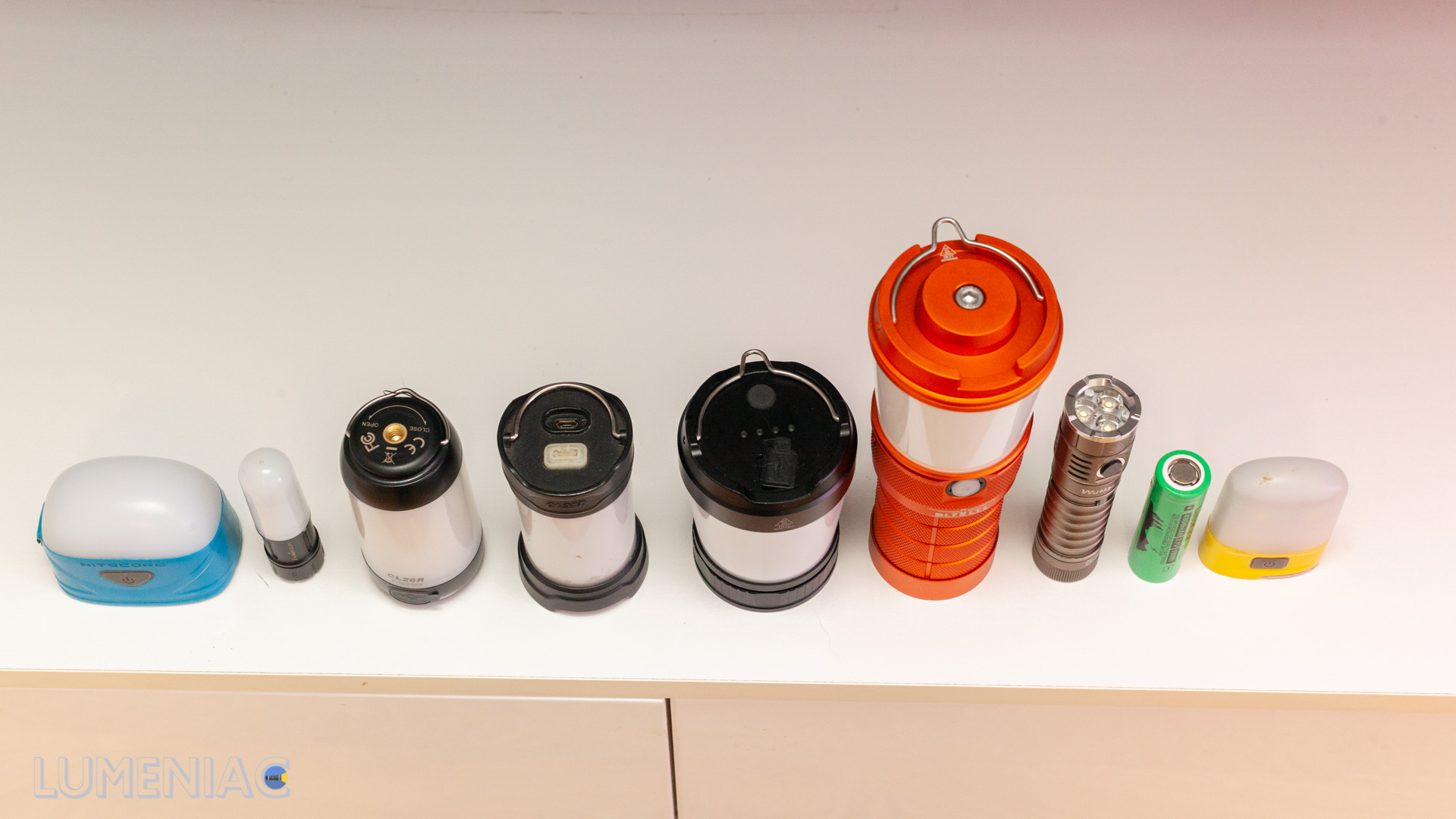 This form factor is well known and has both pluses and minuses. Namely: the flashlight gives good sidelight, but has a blind spot right below. The cone form of Sofirn LT1S is designed to make this area illuminated better.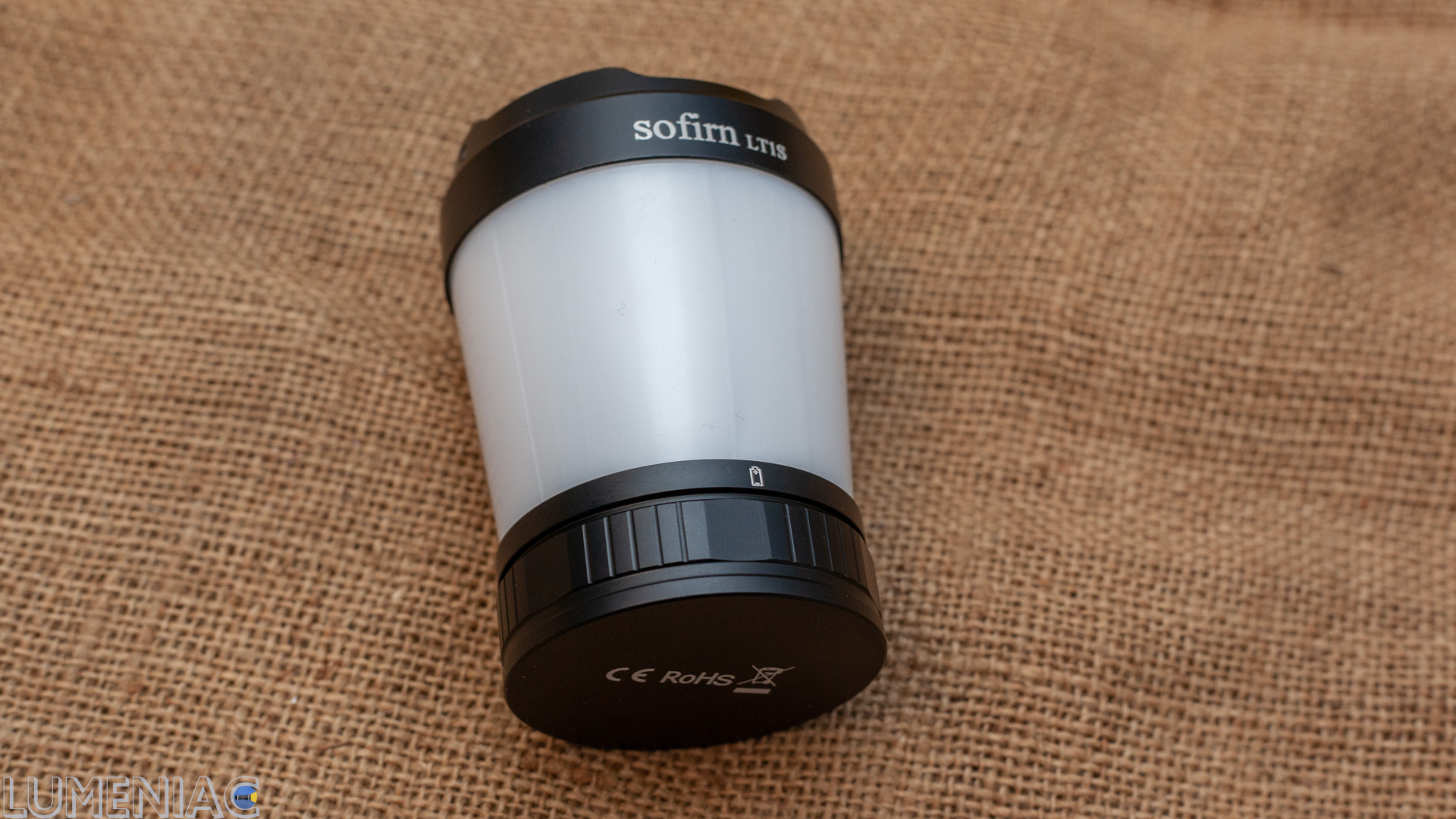 The second popular design of camping lanterns, the "saucer" shines downward perfectly with no blind spot. But, as understant, it has no sidelight.
The base of Sofirn LT1S is wide, it stands securely. In principle, with such dimensions, several magnets can be glued inside. If the flashlight can only shine in one direction, then it can be magnetized so that it shines exactly down, which is actually convenient.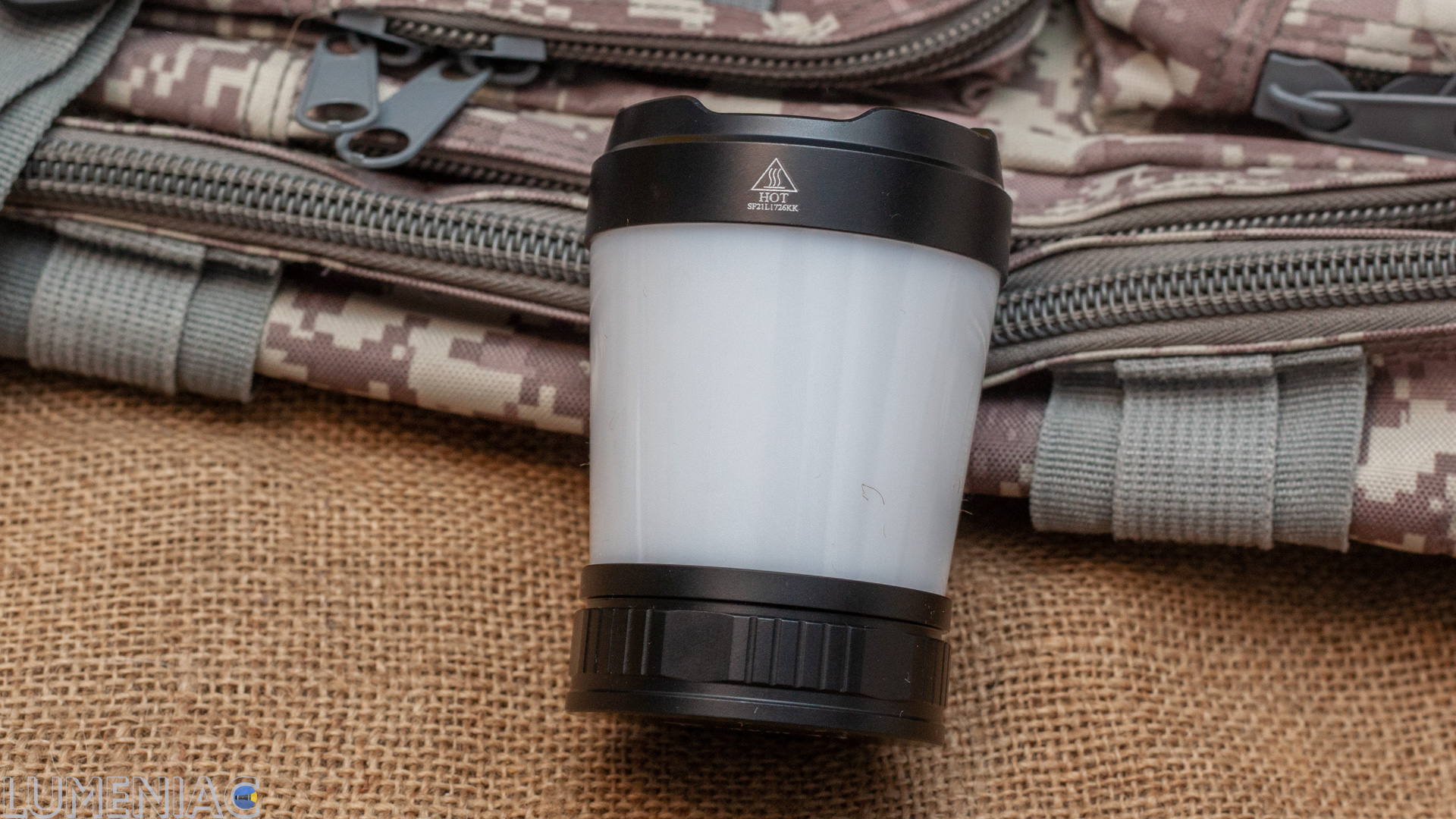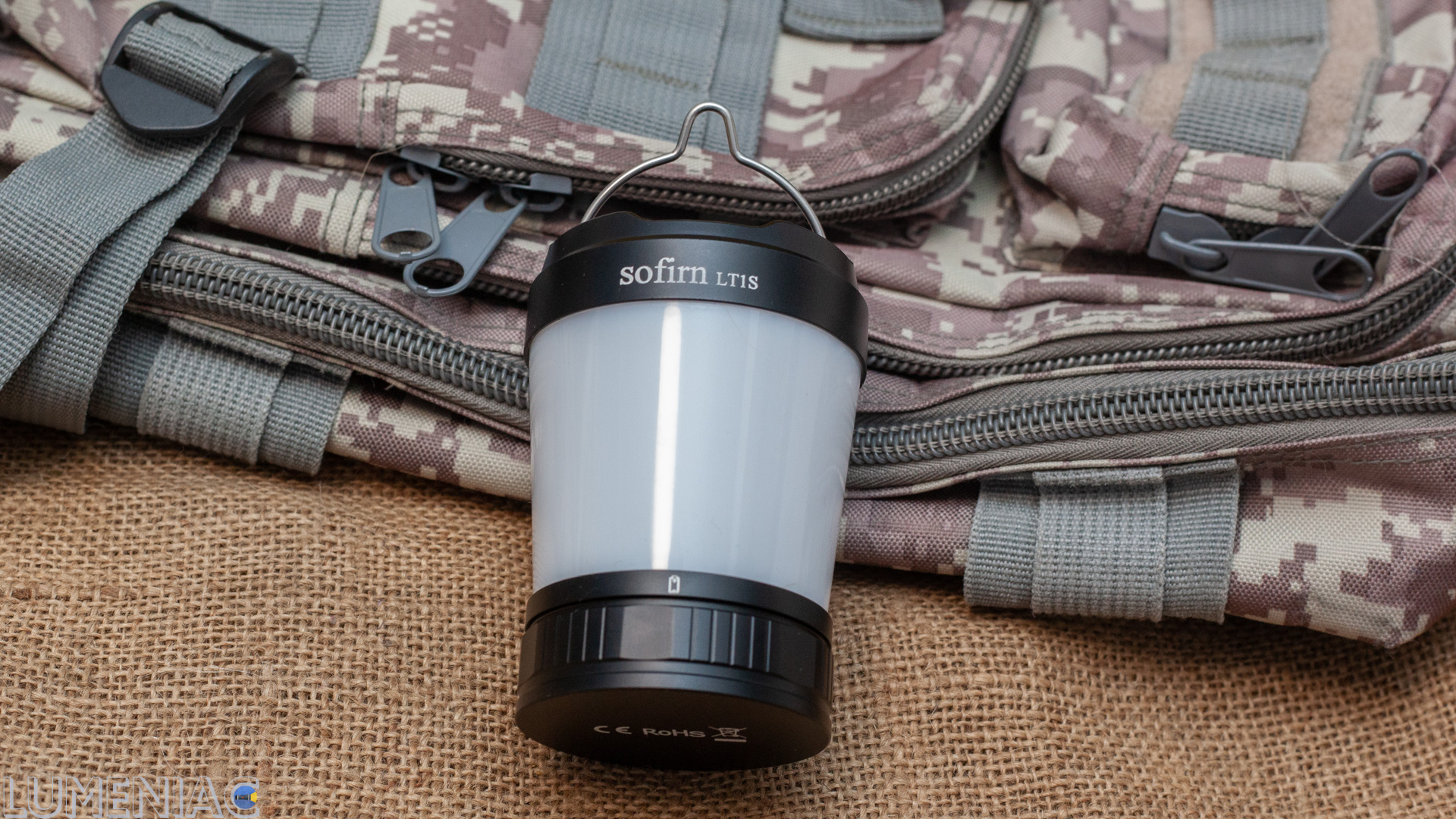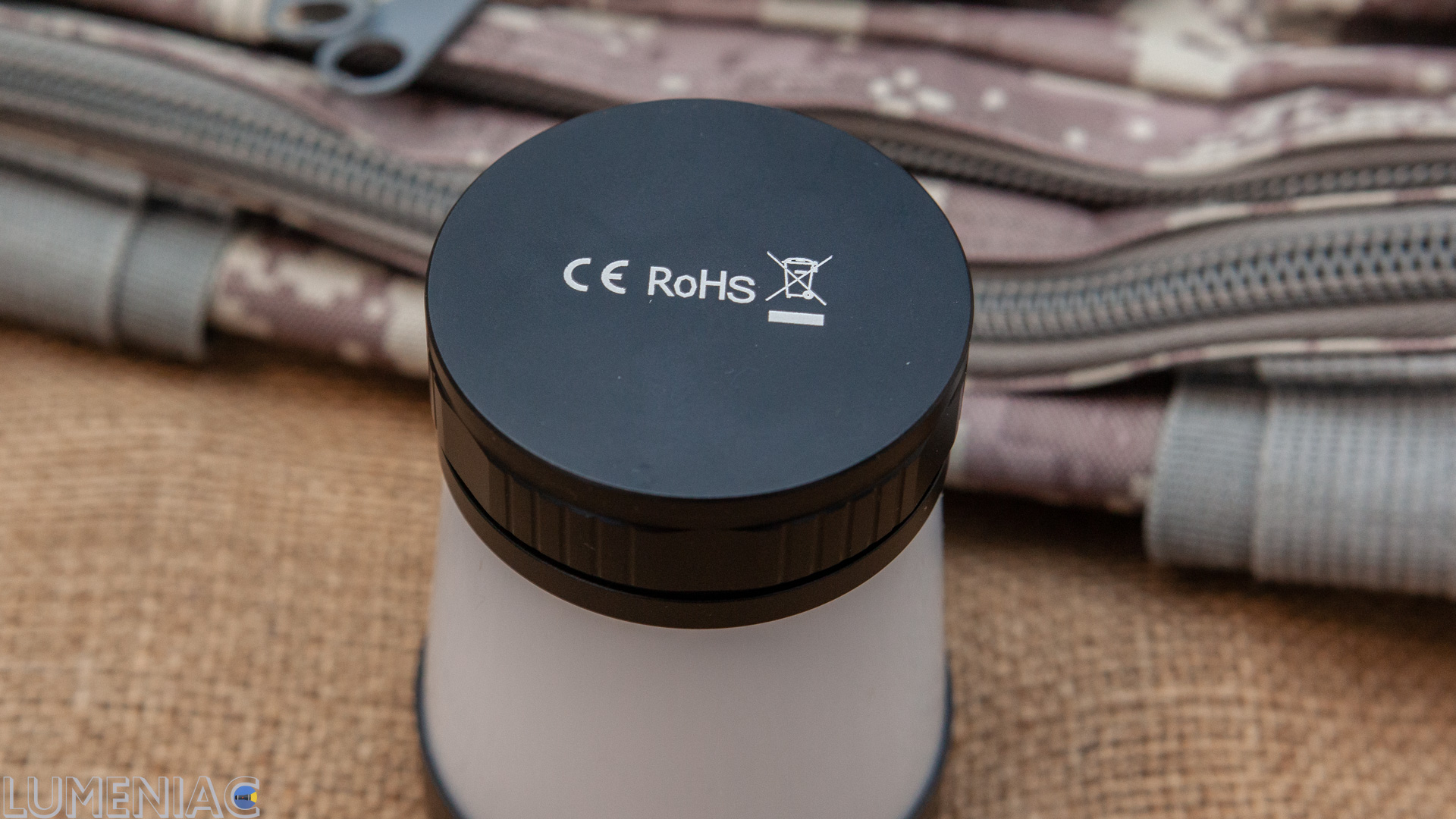 Springs are at both sides, great!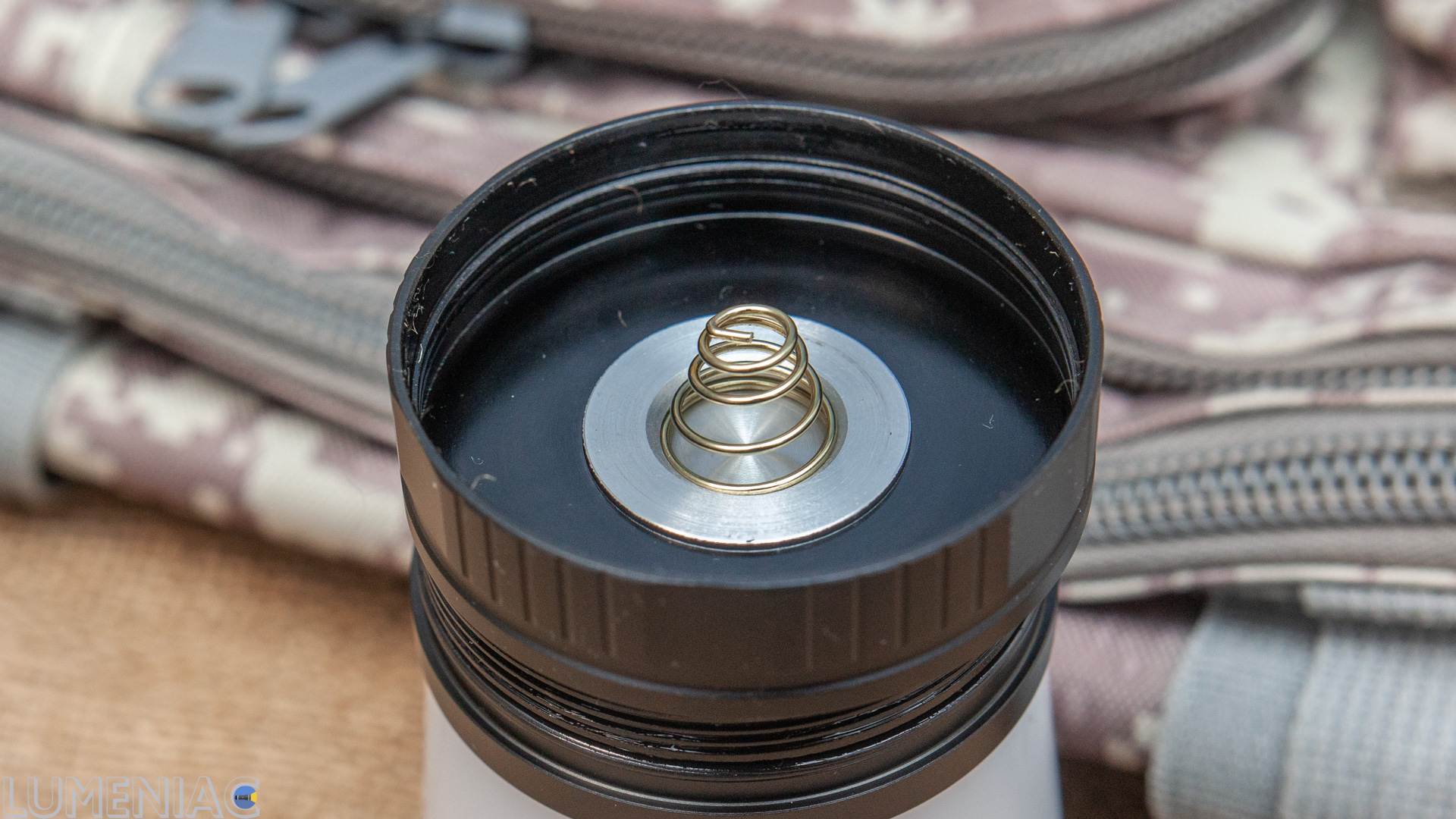 Open tailcap, and see the tube of the battery compartment. Sofirn LT1S is designed support only flat top 21700. Not long 21700 with PCB. Of course, you can also use 18650.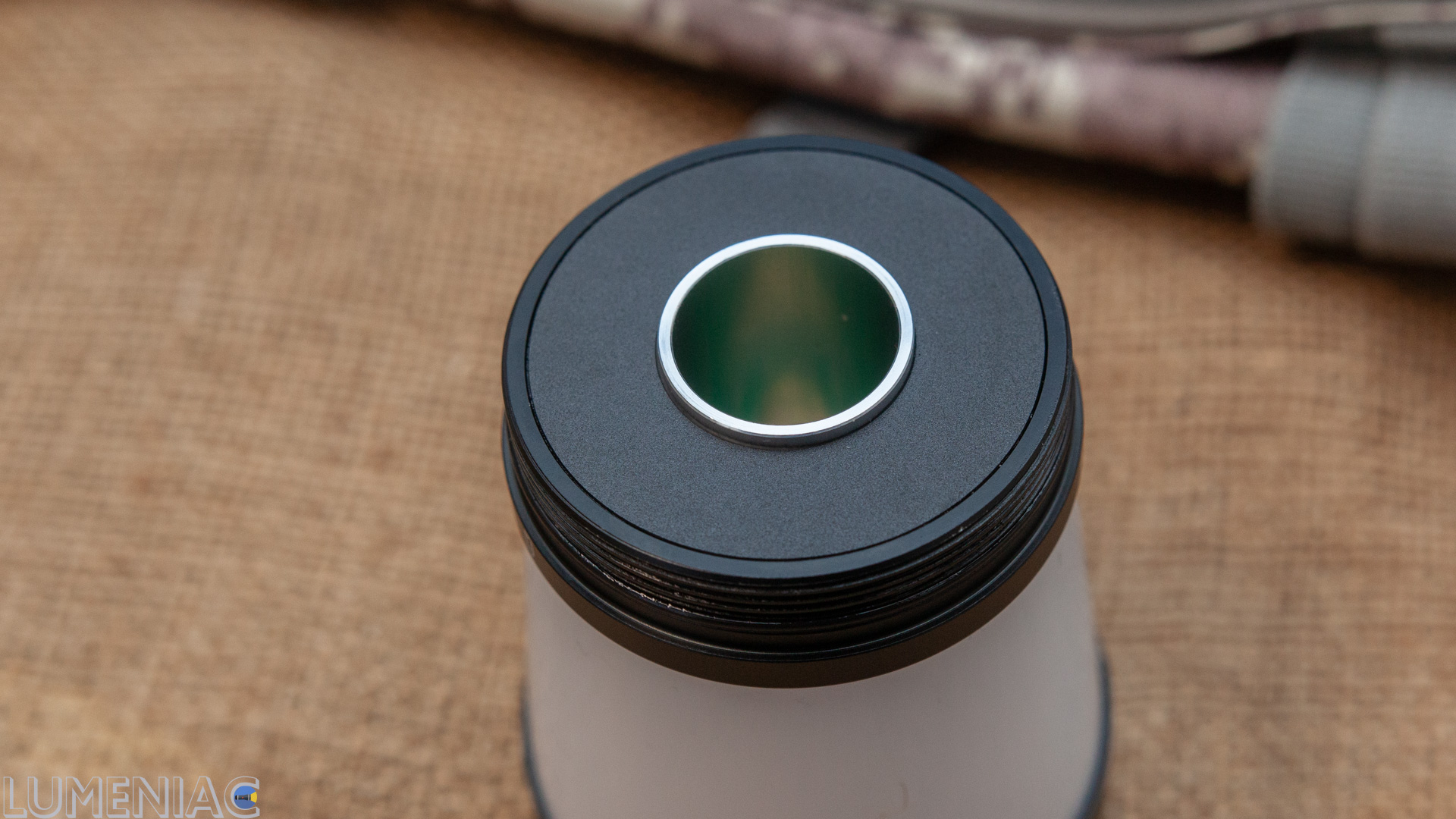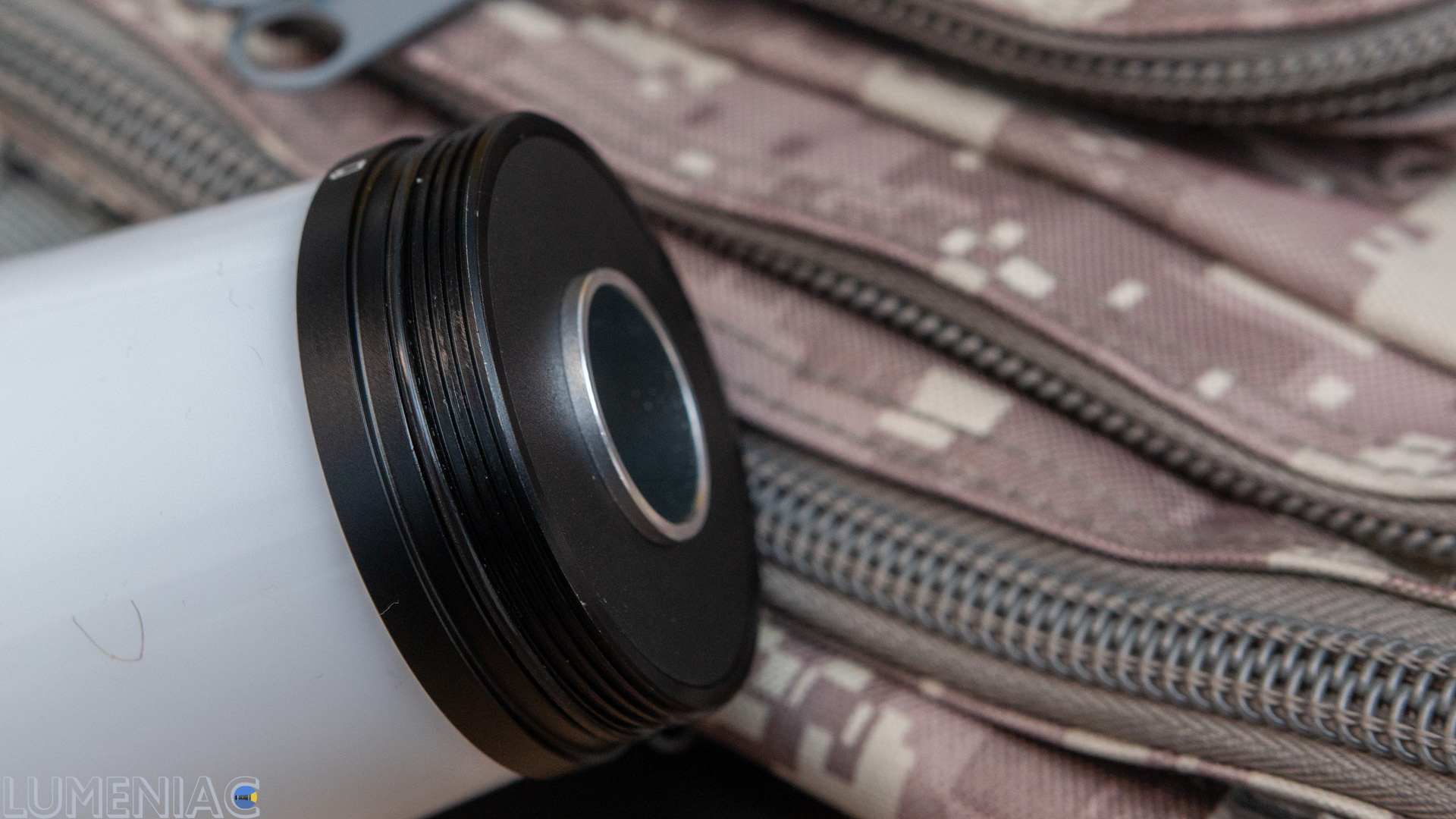 Remove the trim around the battery compartment and unscrew the locking ring, to get disassemble lantern. Let's take this exciting journey.
I do not presume to comment on the circuitry, I will only show what is.
Ah, again, here are LEDs used here: 2700K*18 CSP1919, 6500K *18 CSP1919, 4*Lattice Power красного света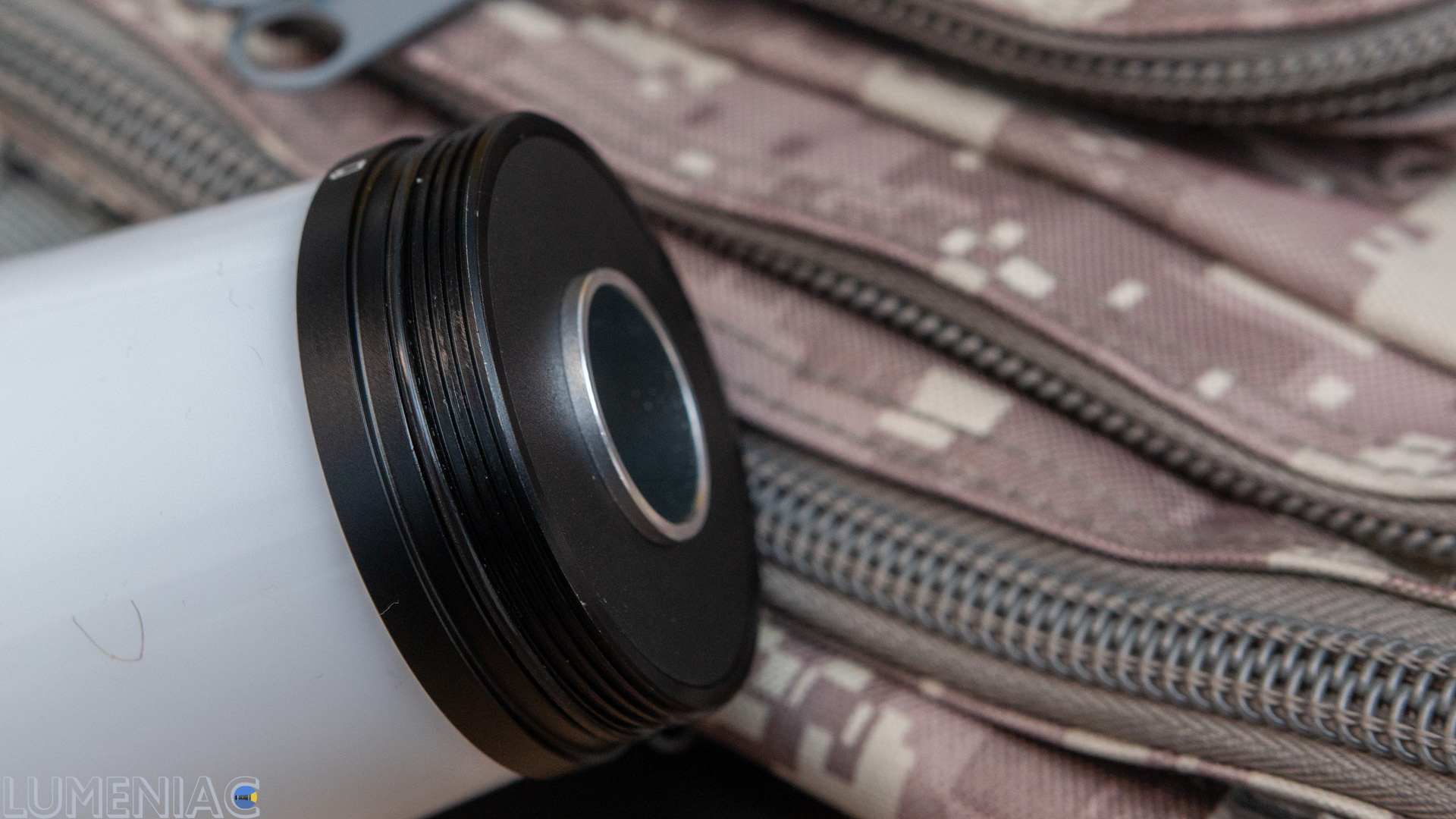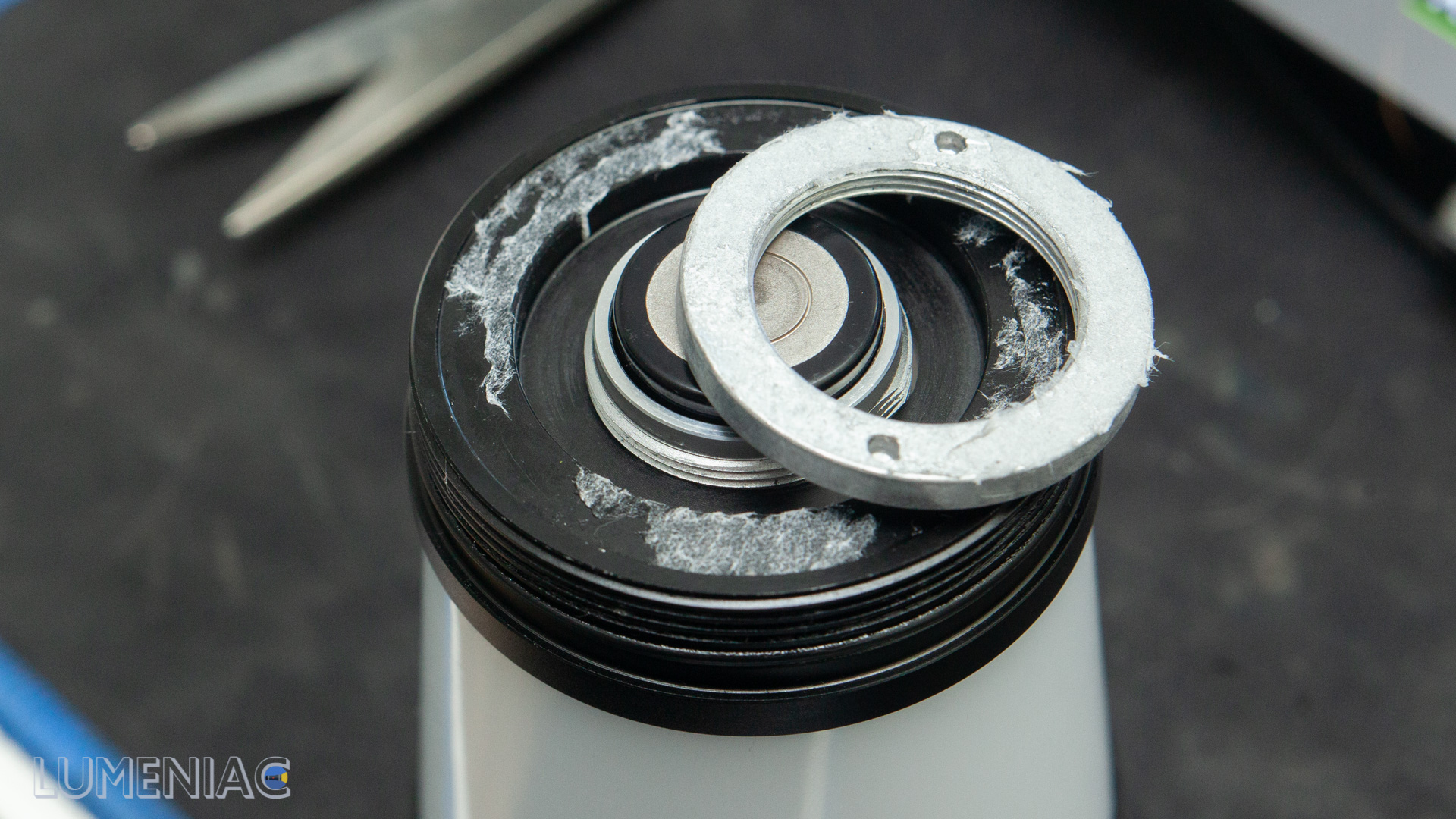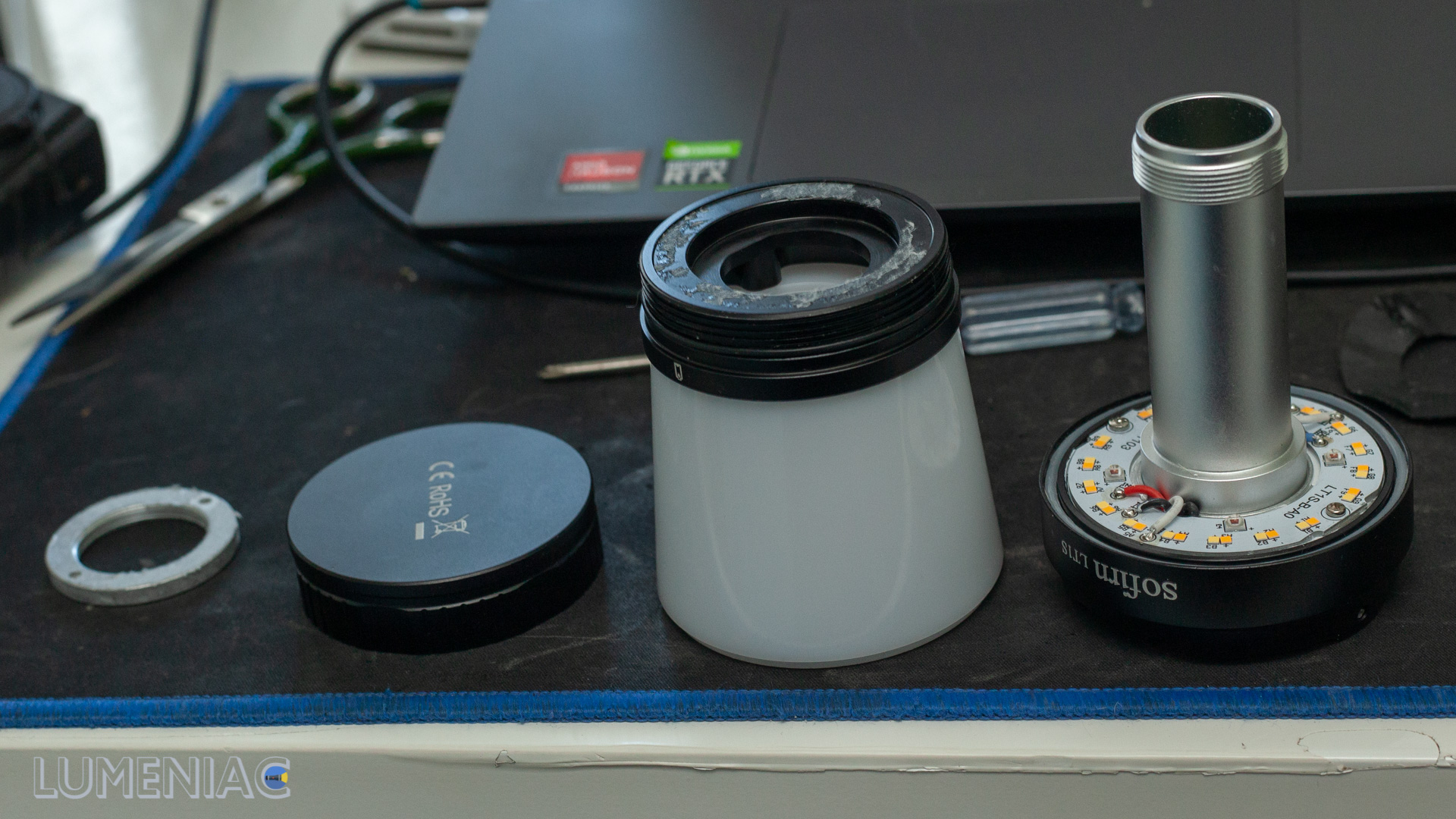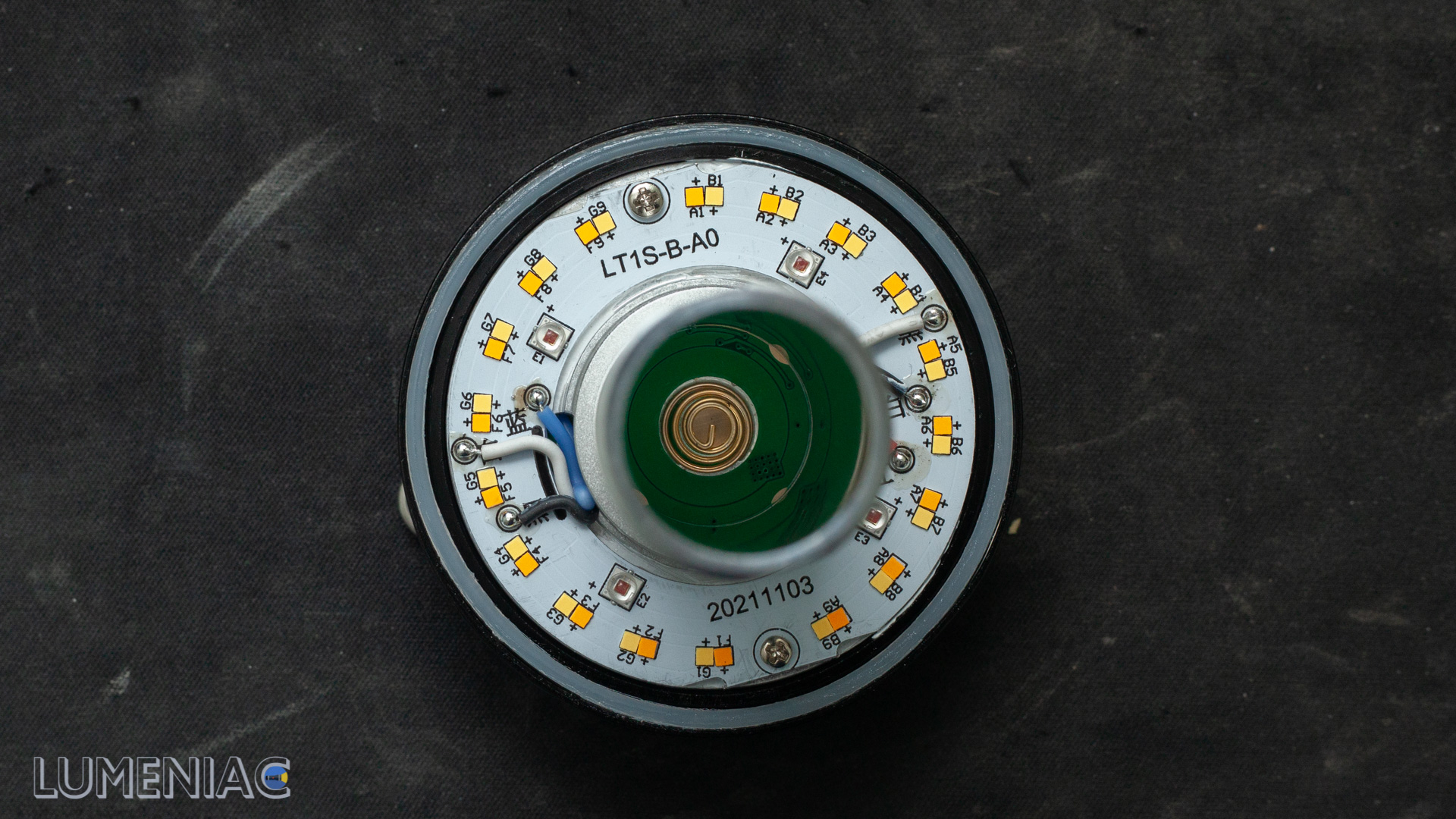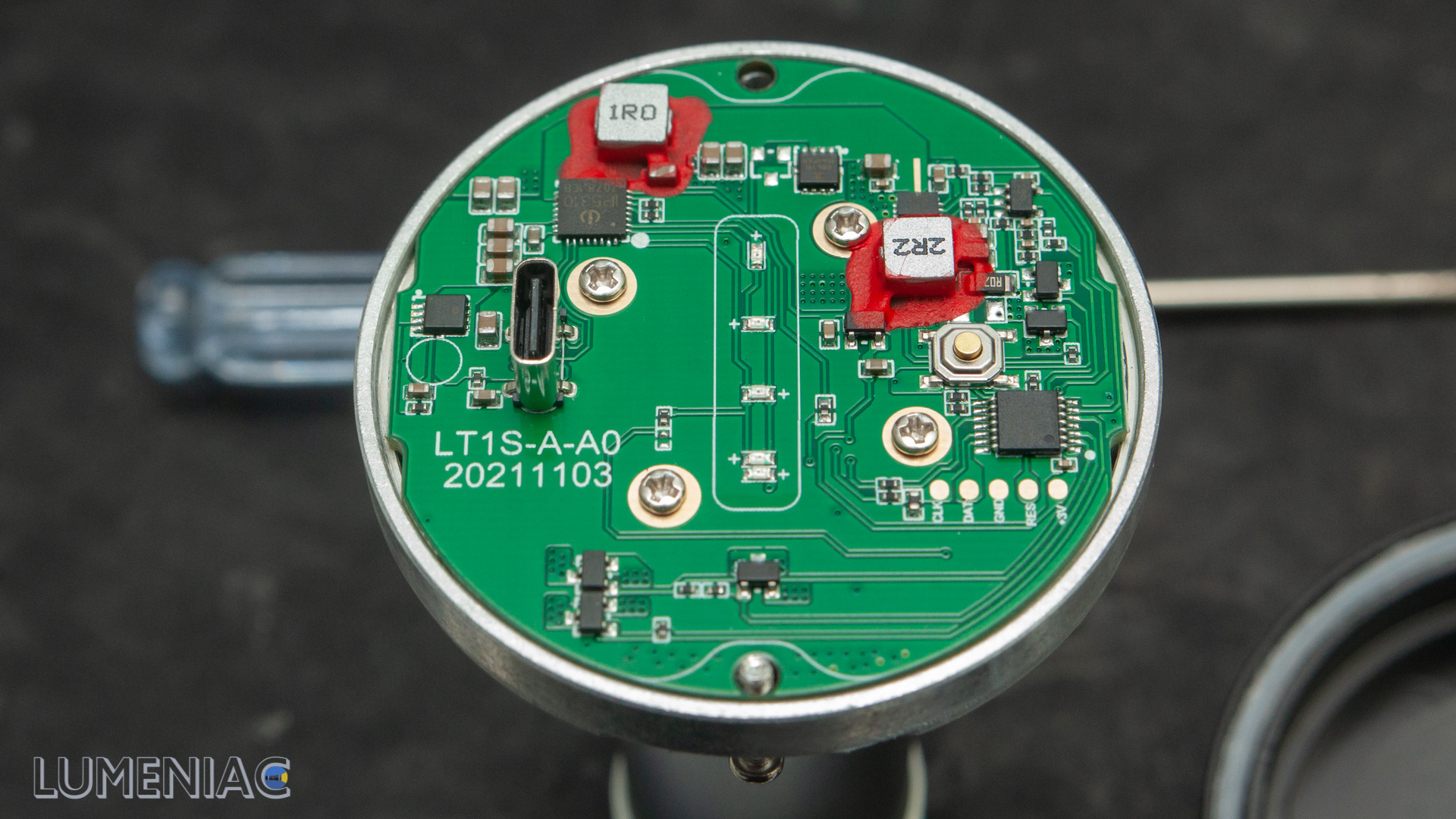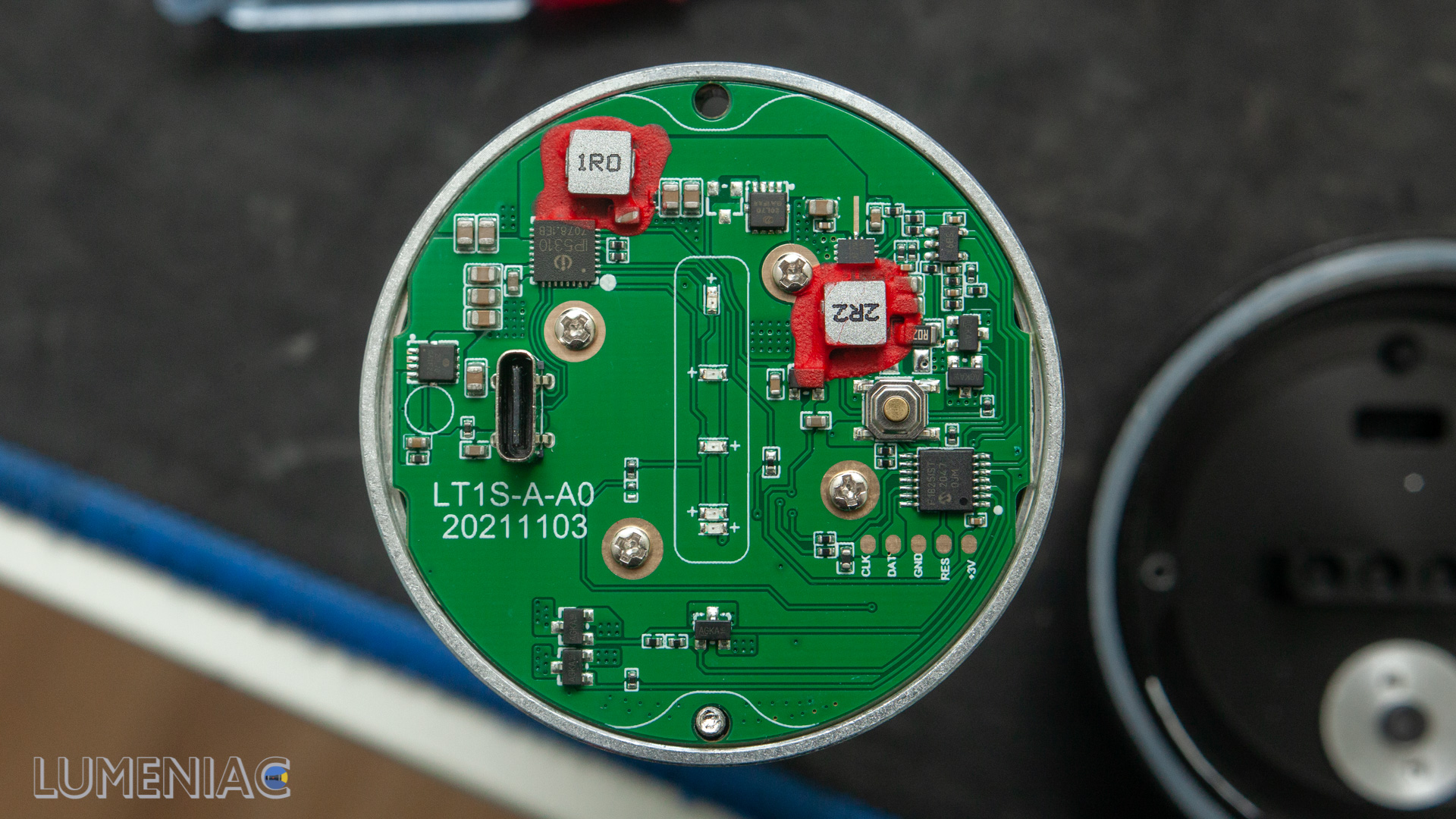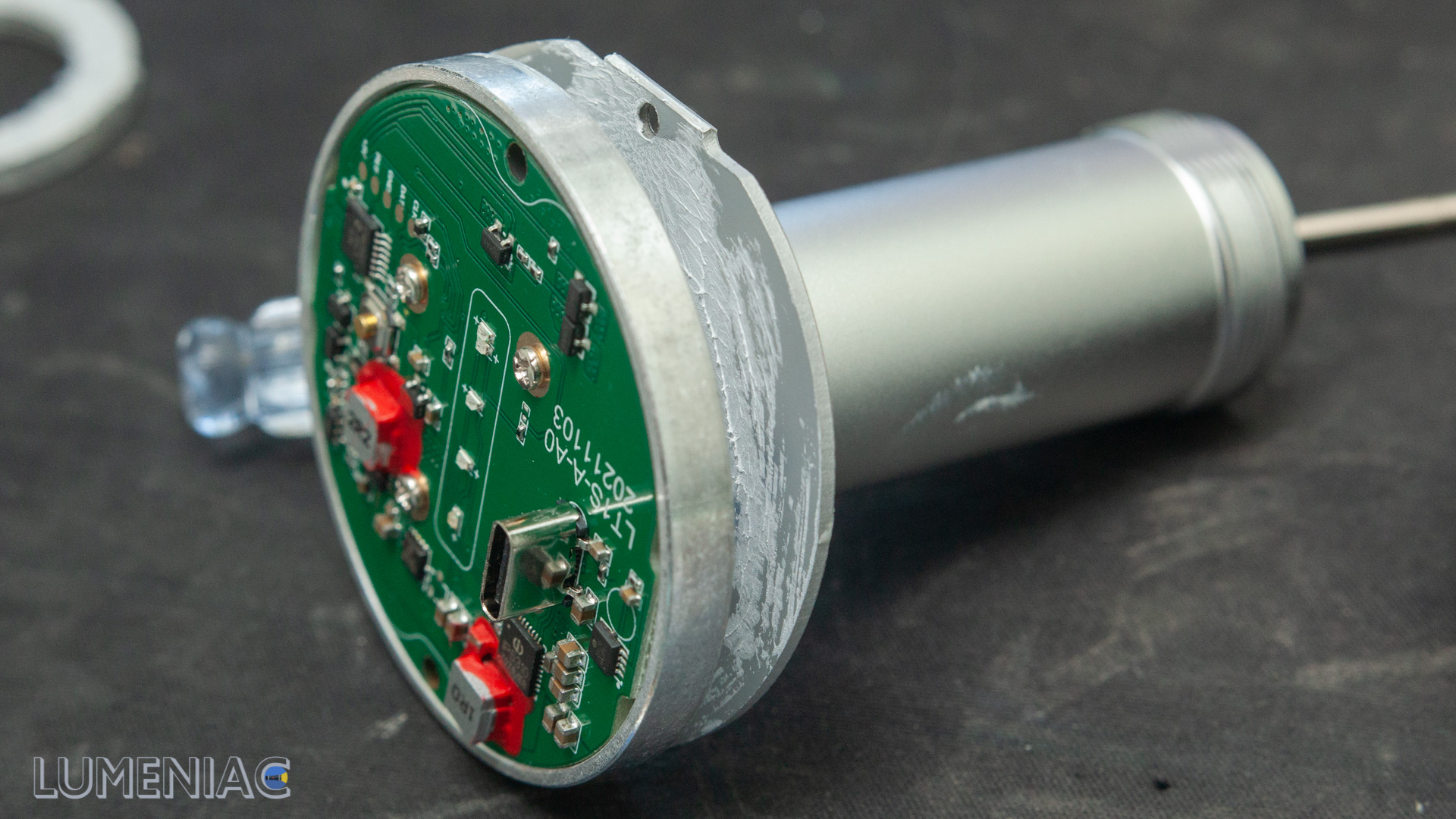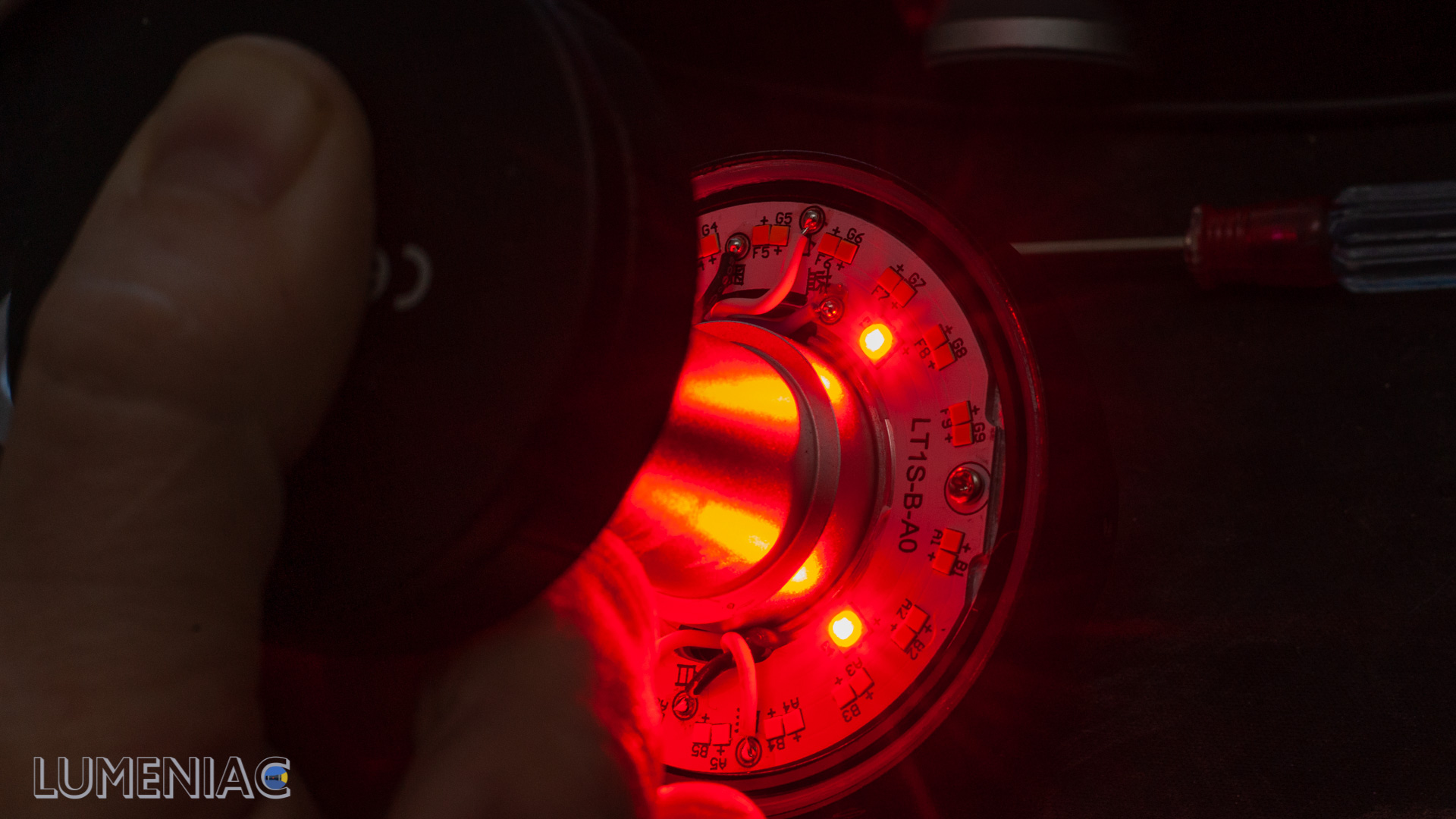 It is worth noting that when adjusting the color to any of the extreme positions (warm-cold), third-party light is still mixed to it a little. However, I did not feel that this had any effect on the final real use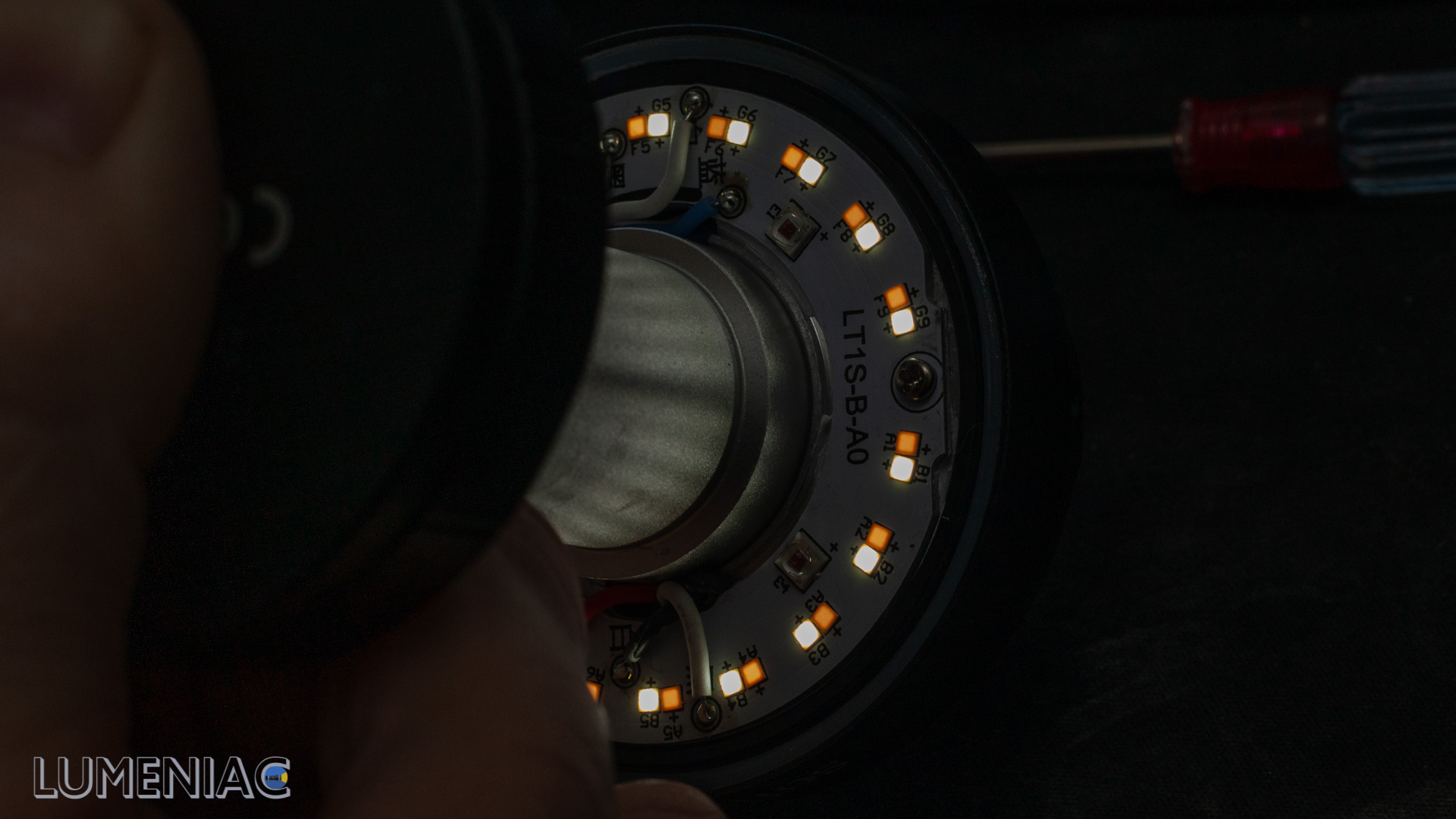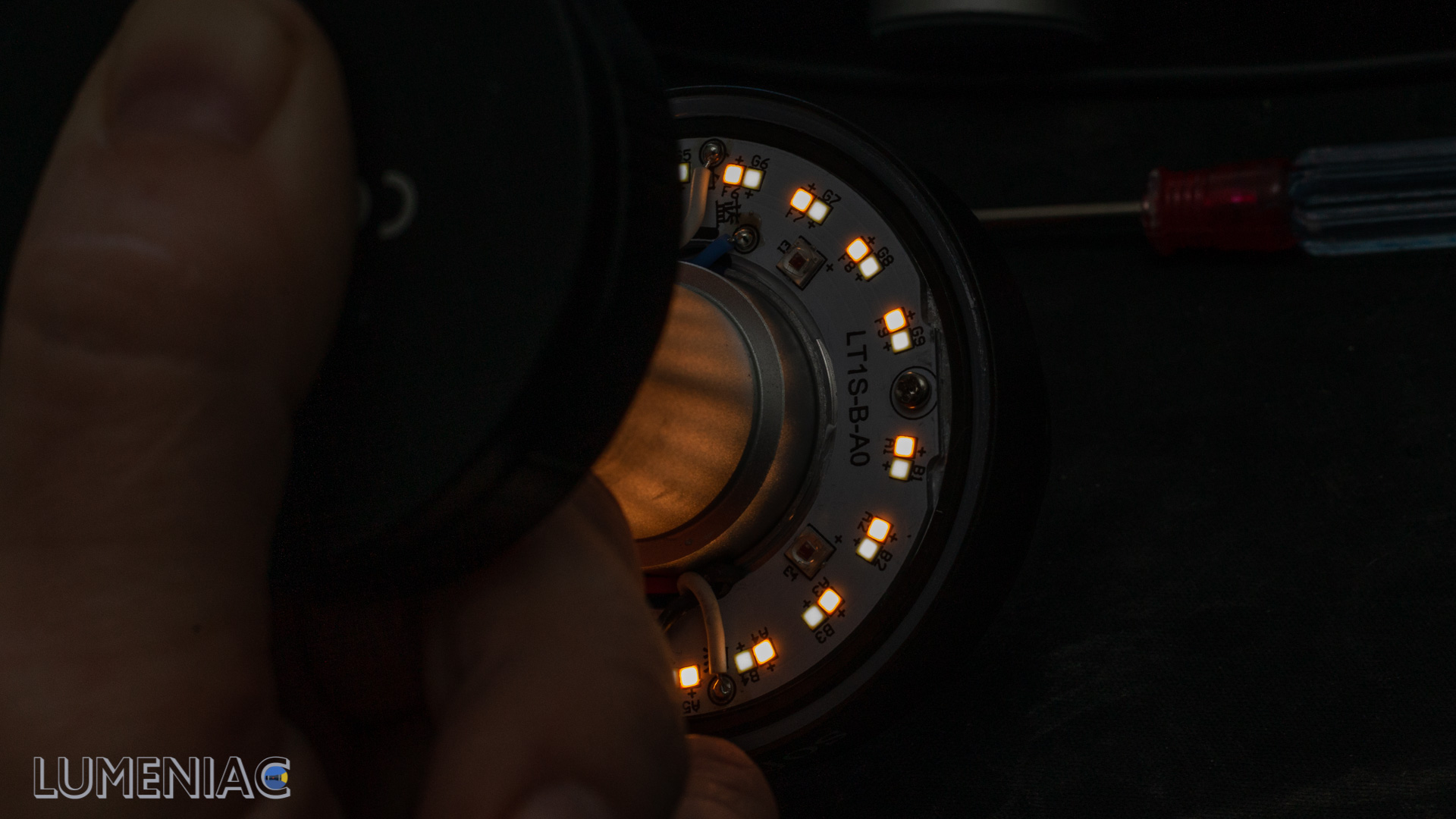 there is an o-ring.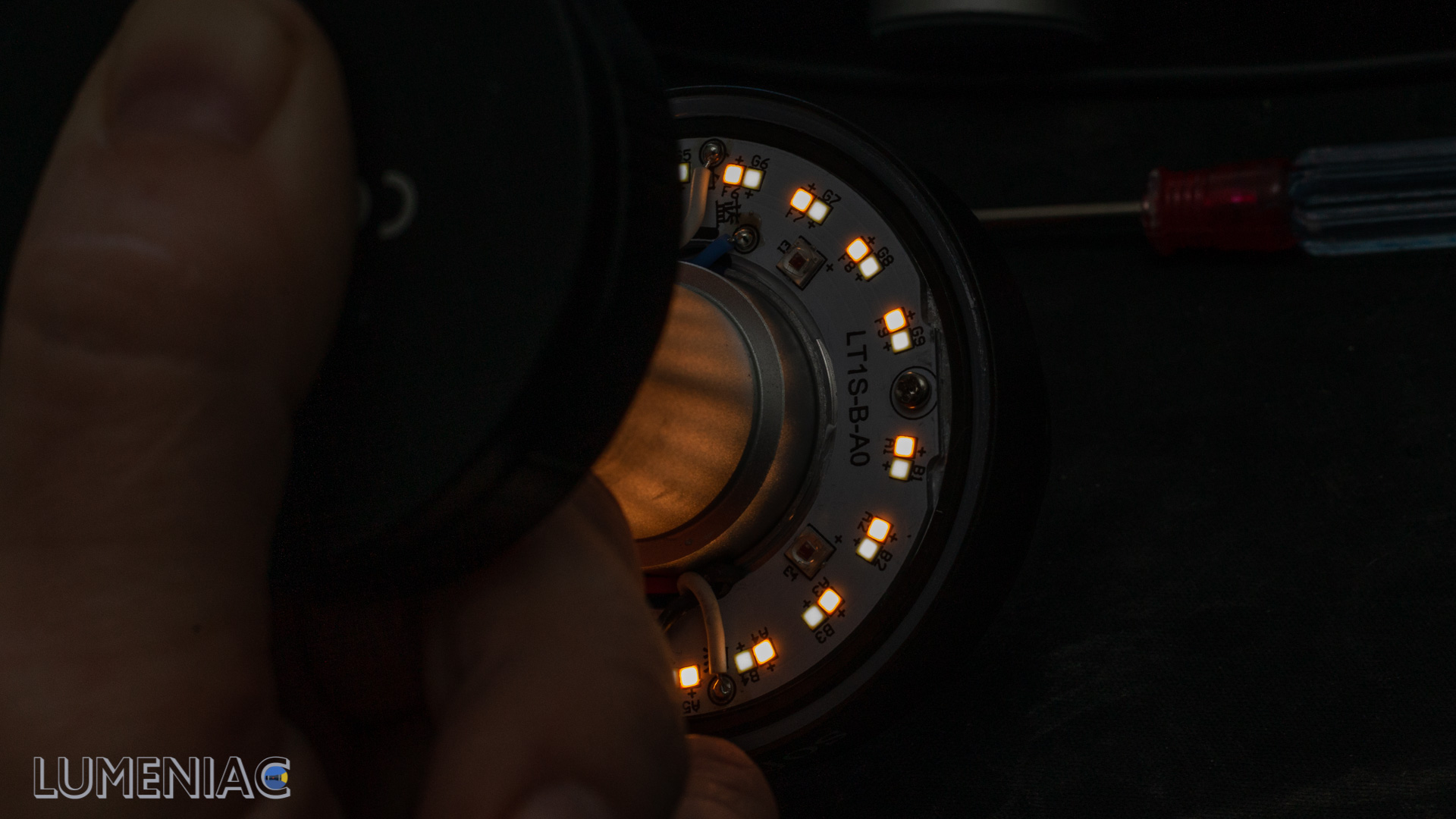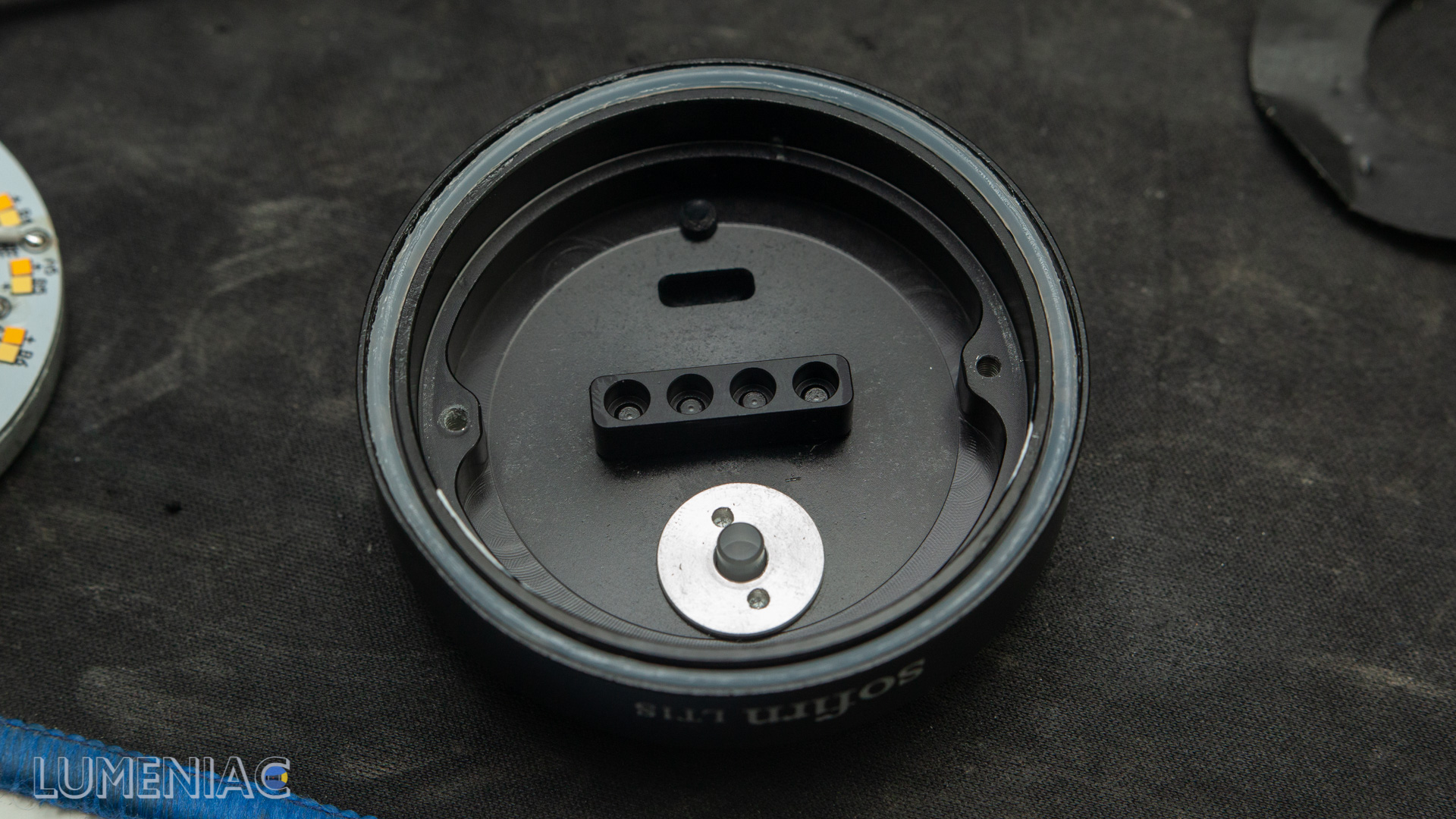 As any other camping lantern, Sofirn LT1S has suspension hook.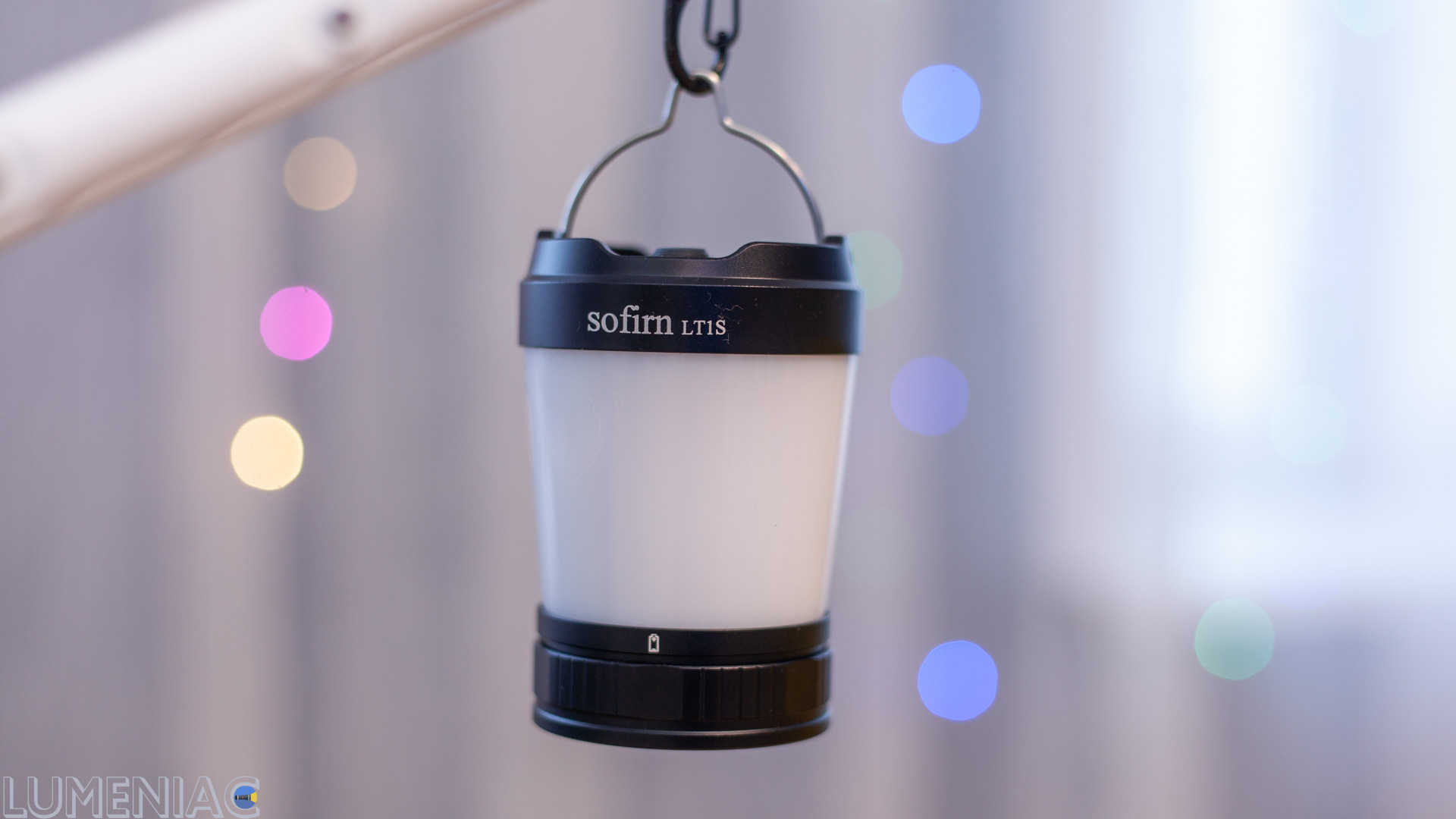 Also there are:
Control button. Round, soft, quite comfortable for blind find.
Simple 4-segment battery level indicator
Type-C charging connector. The plug is thick and seemingly reliable, it enters with a bang.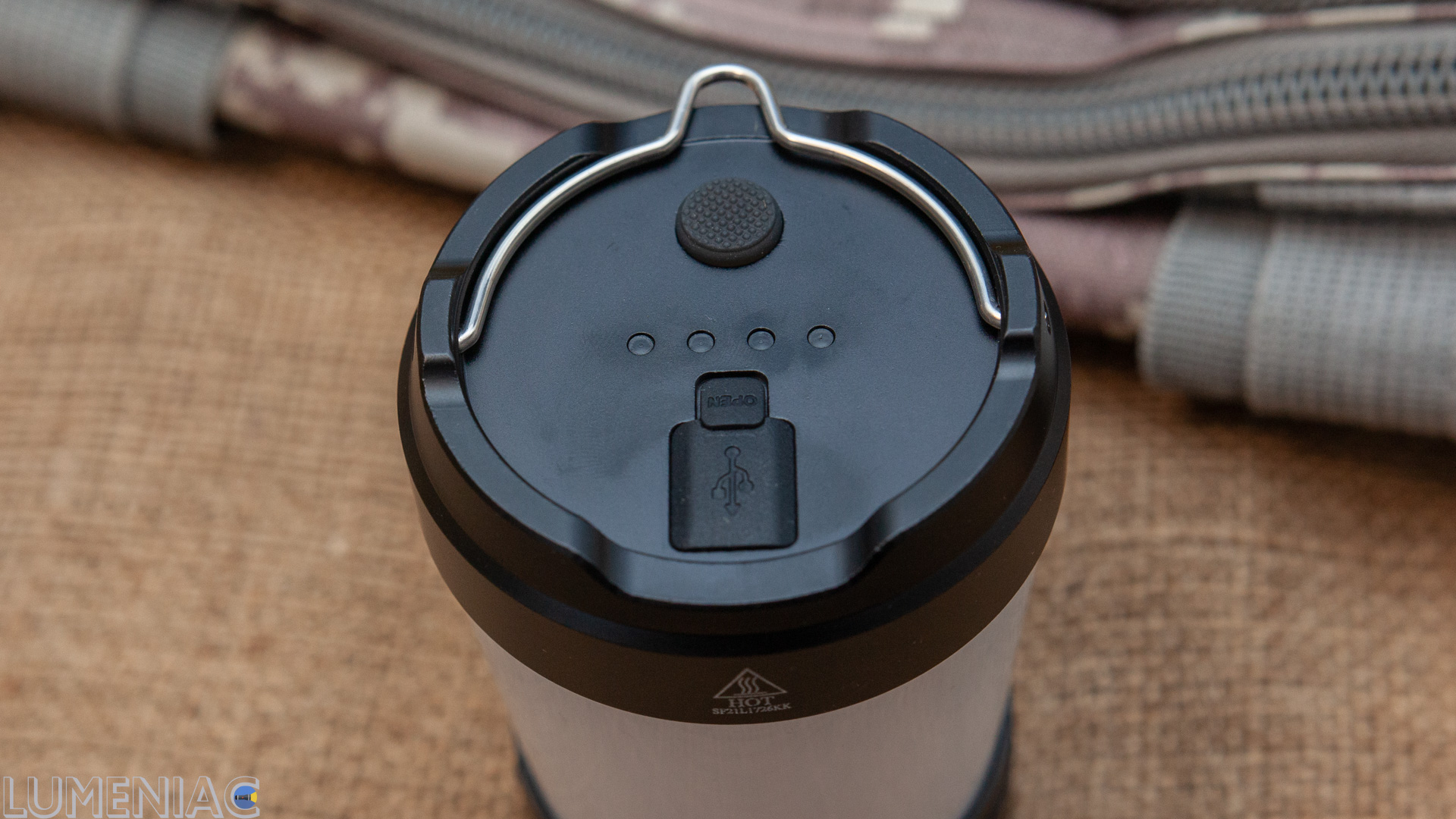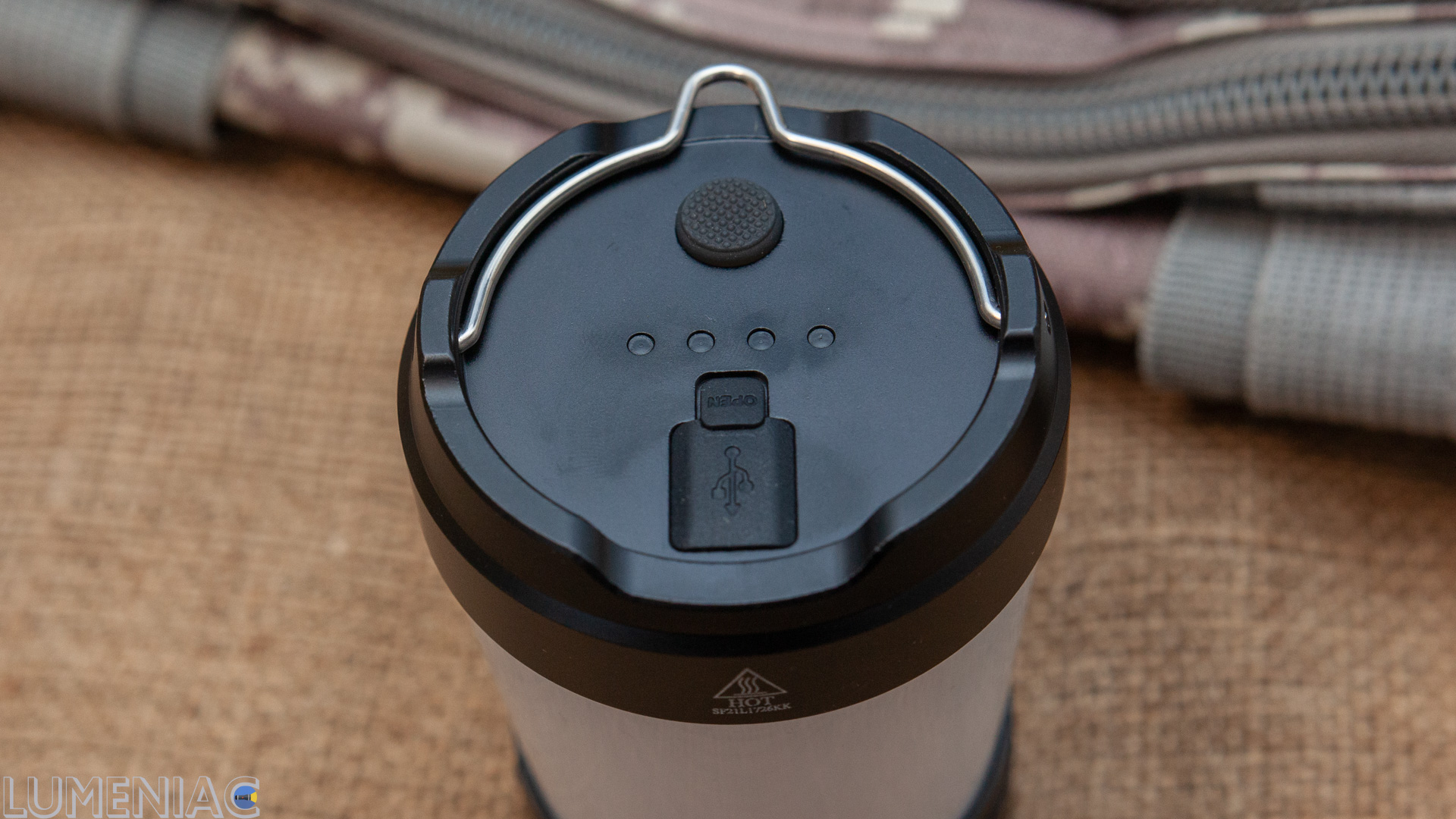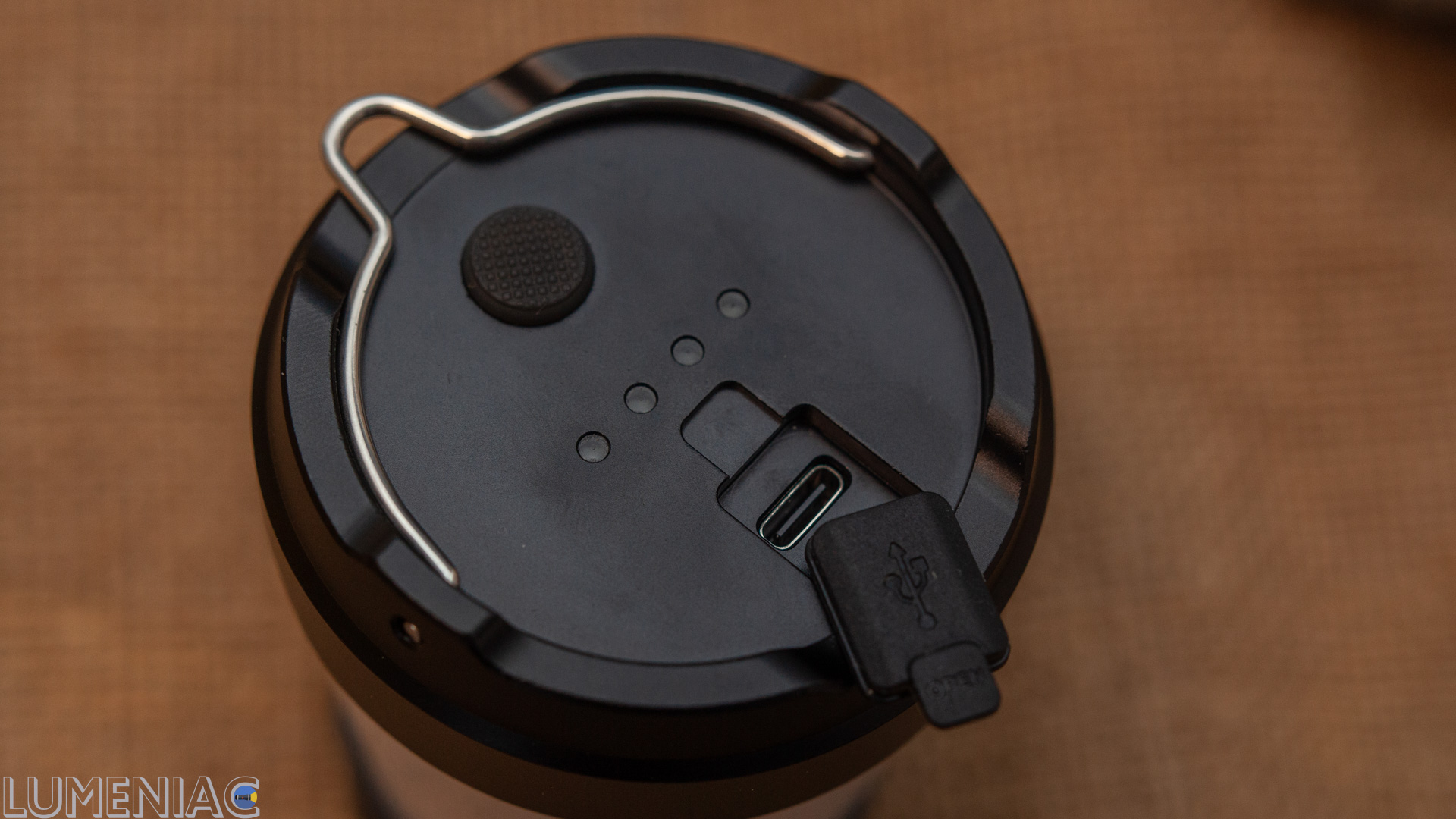 Charging is just amazingly fast, at some point it reaches 3A. It takes just 2 hours to fully charge 5000mah battery! For example, my goode olde Fenix ​​CL25R has a charging current of only 0.5A, while the modern CL26R already has 1A.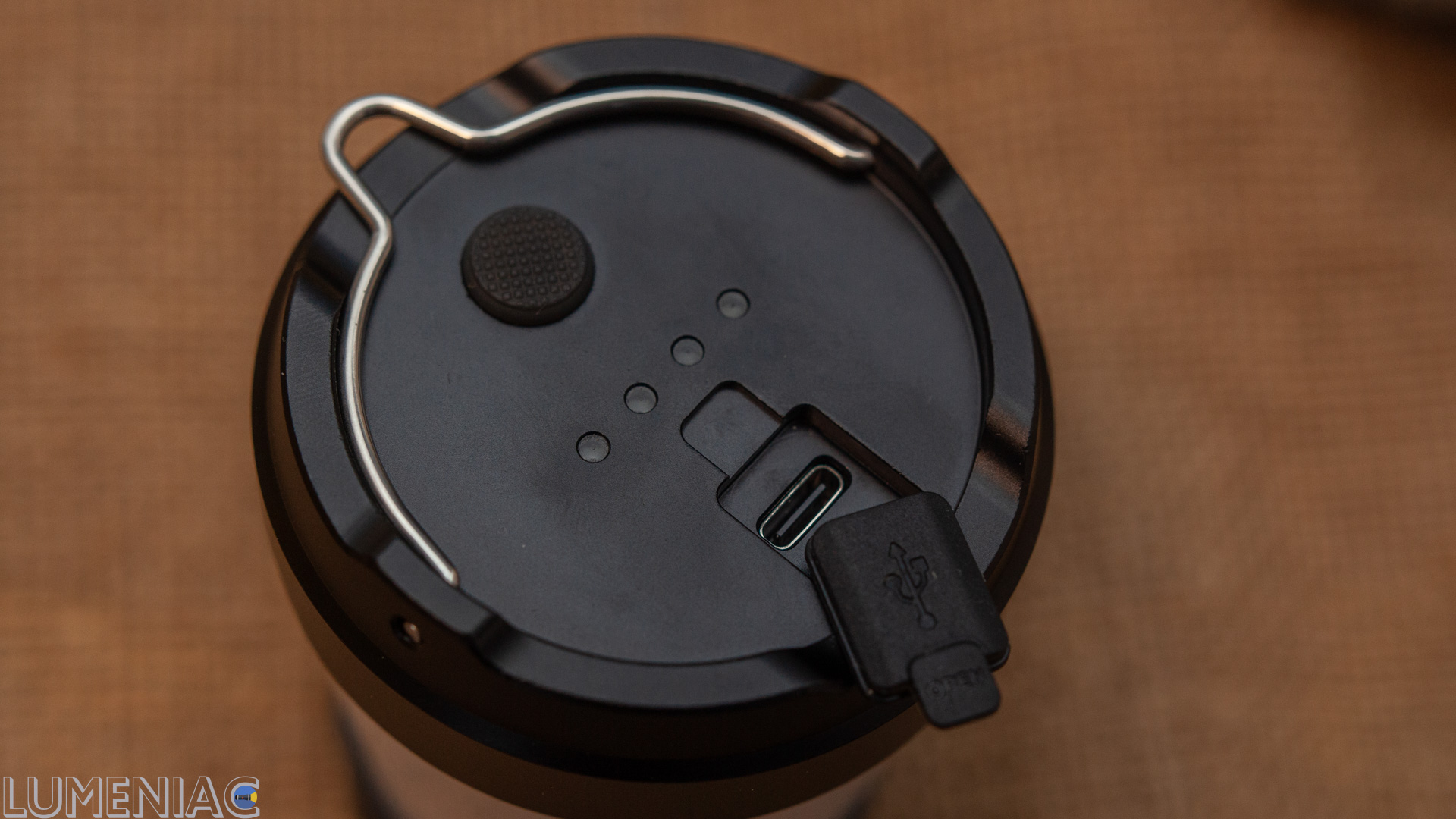 The current output in the power bank mode is also very good, 3A is really damn good and can help out a lot in a number of situations.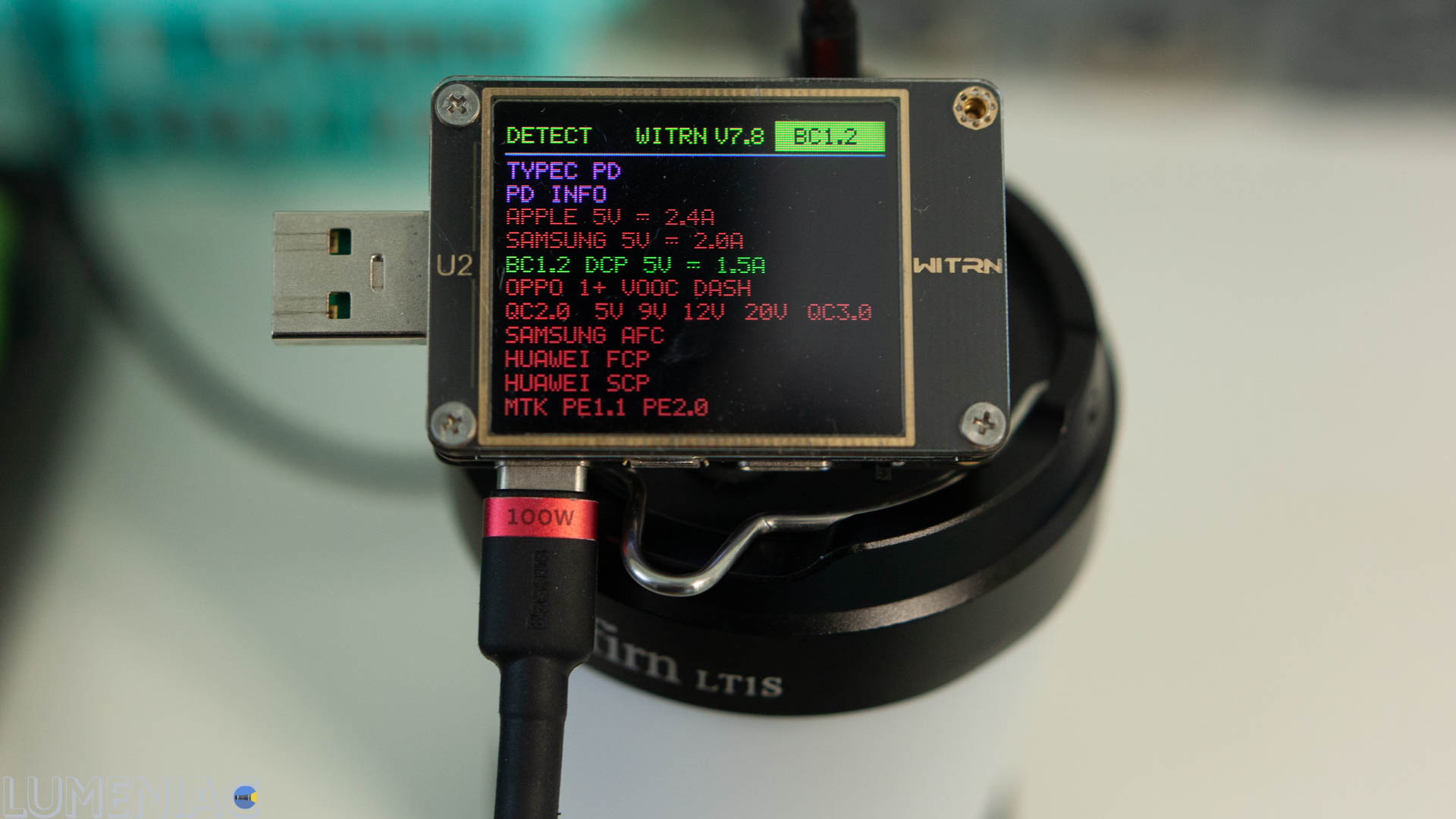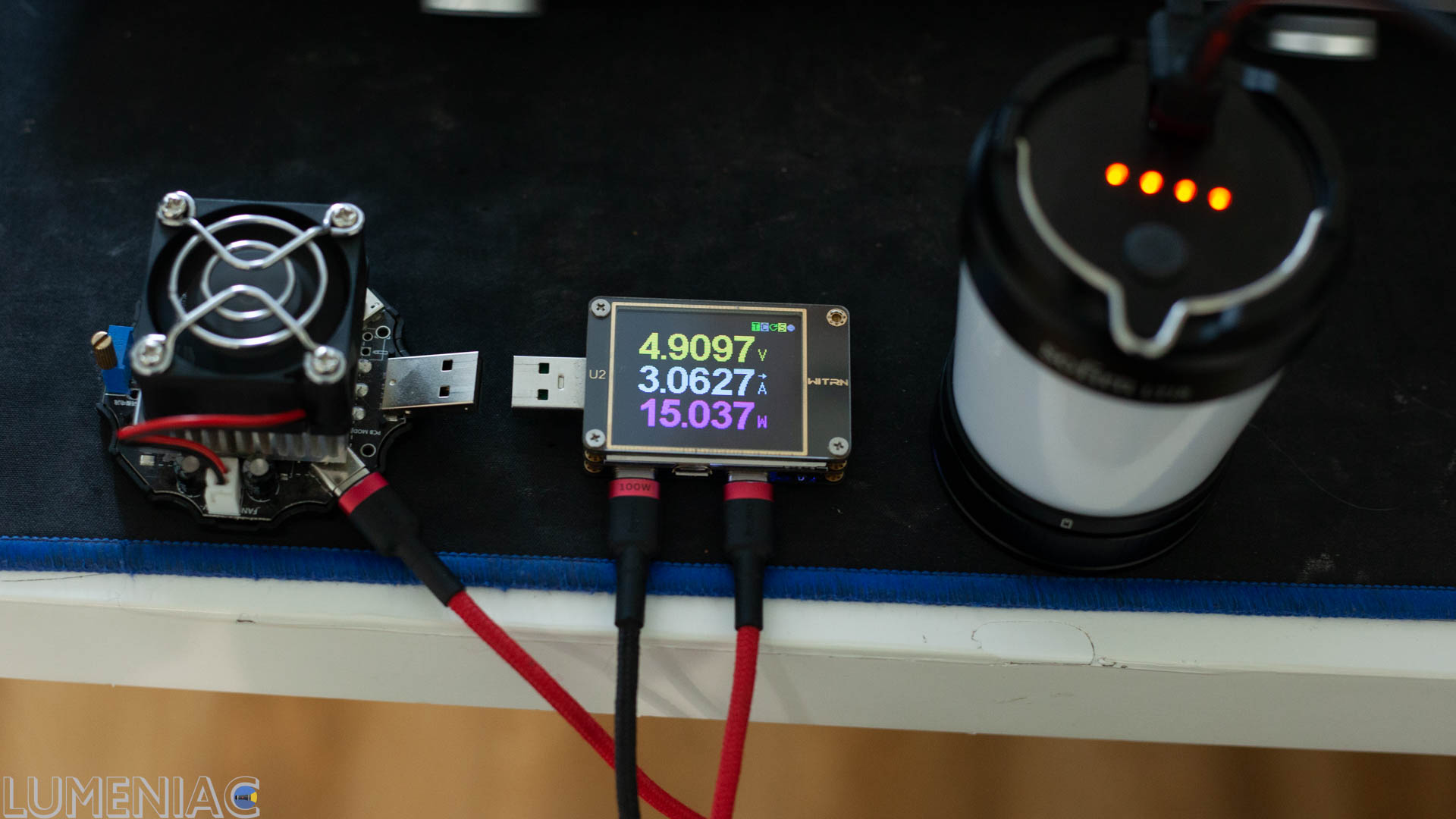 You have seen them exposed, now that how thes 8+8 LEDs for cold and warm light + 4 LEDs for red light looks like from outside.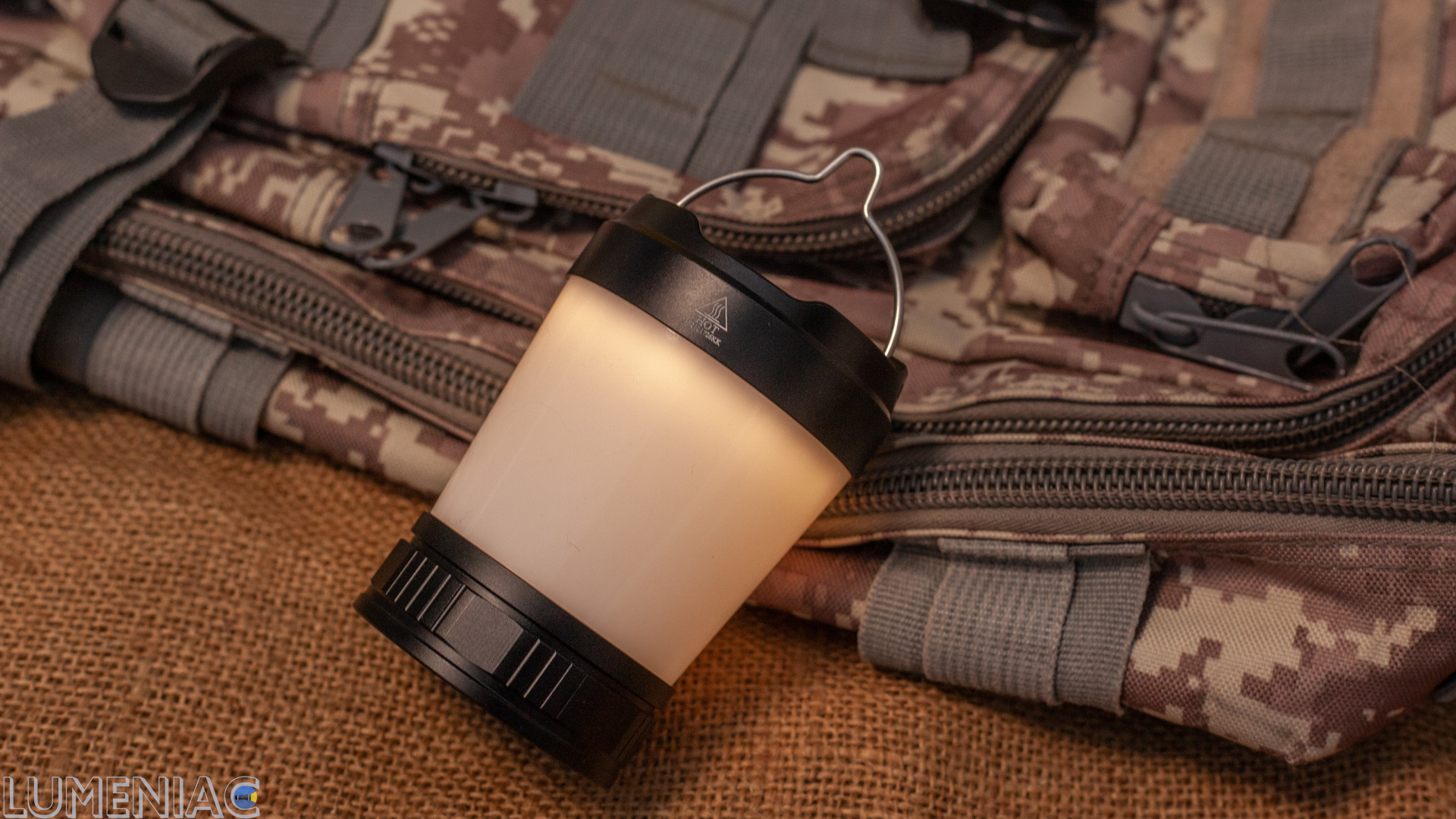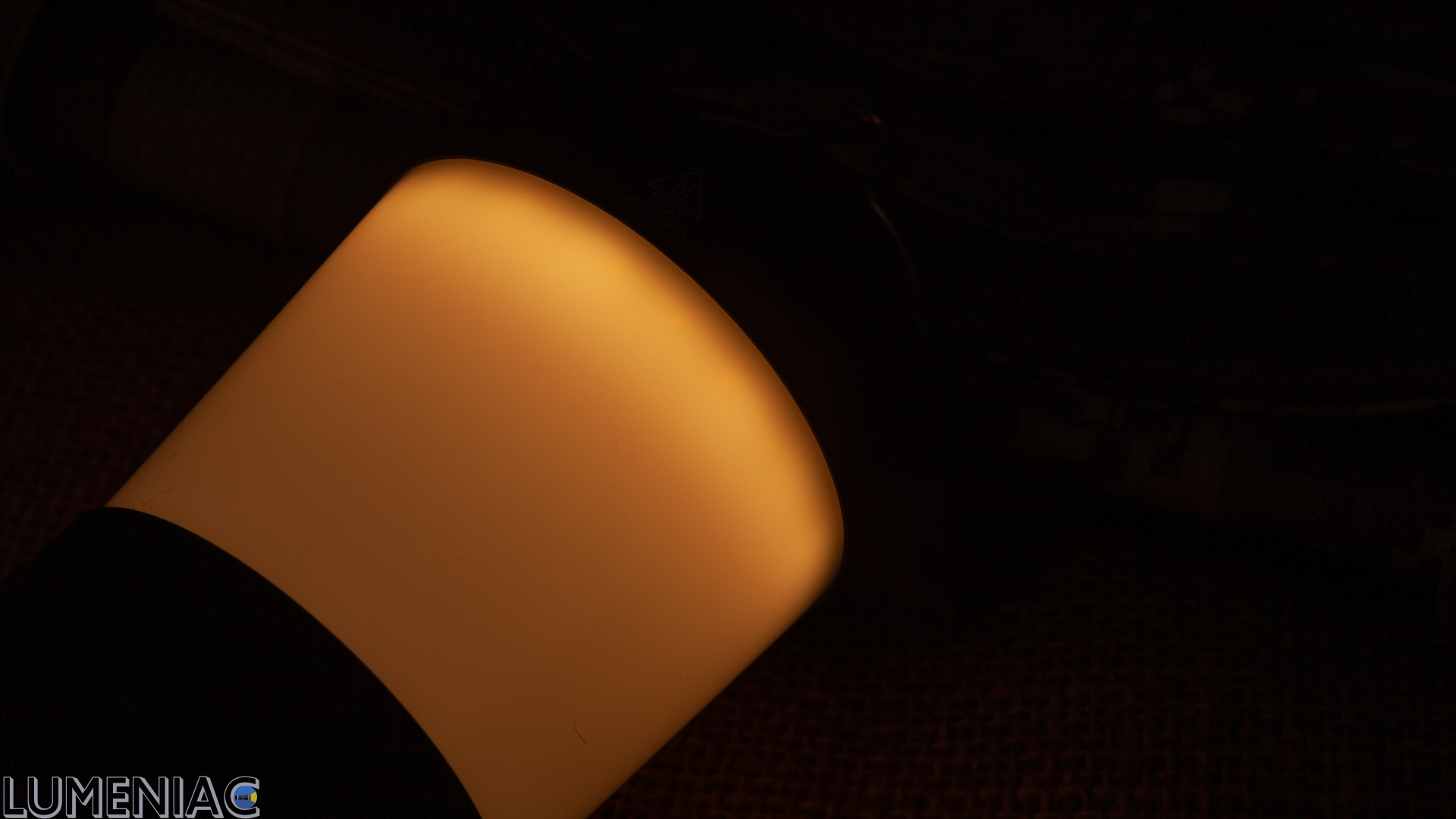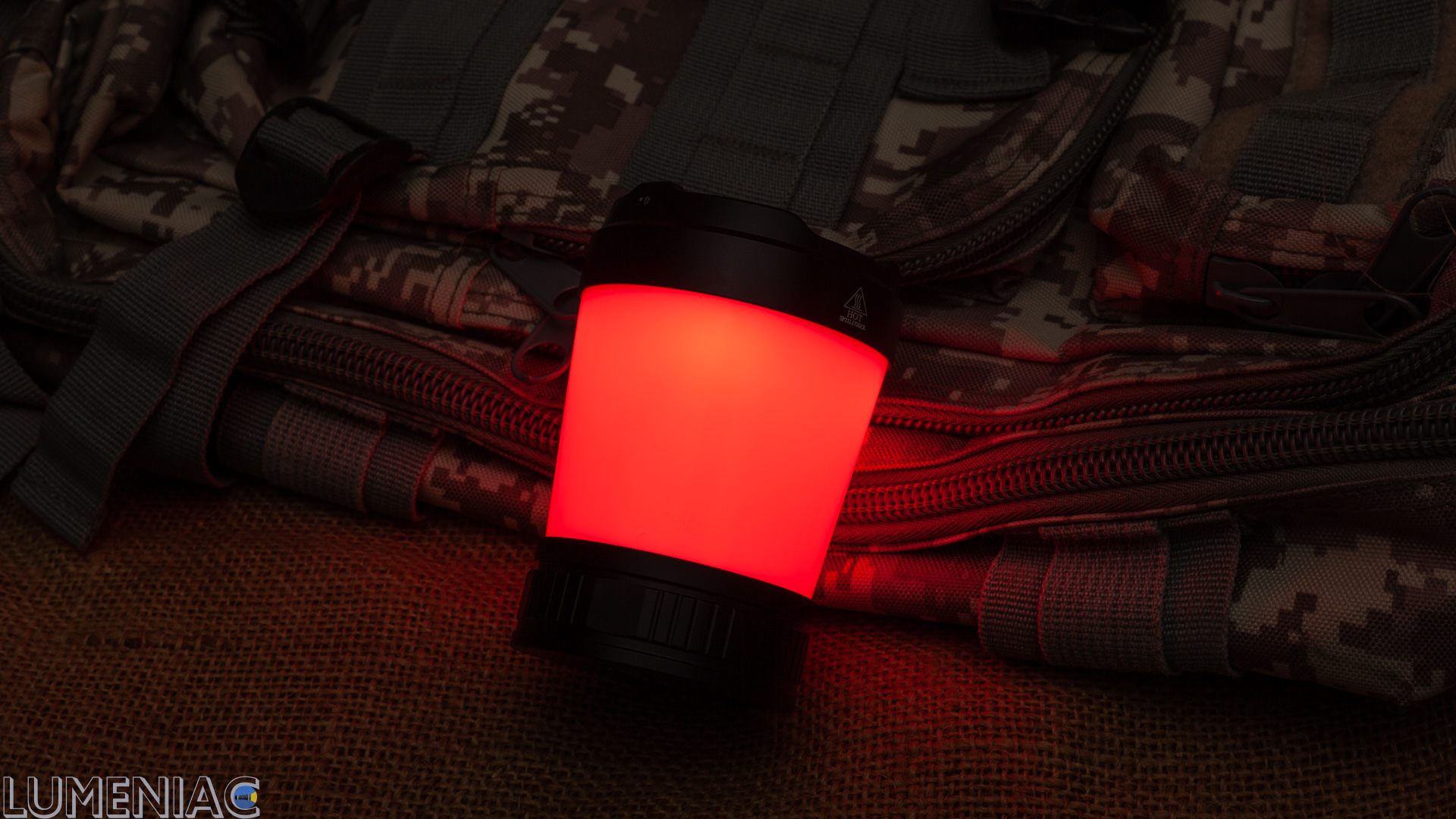 UI
BLF LT1 is controlled by Anduril – a flexible, but quite sophisticated interface for many many combinations to remember. Sofirn LT1S has an interface that strikes a good balance of flexibility and simplicity.
The LT1S is much easier to handle.
Hold from ON – change brightness (including 3 red modes), from OFF – firefly
1 click – OFF \ ON
1 click + hold from ON – color temperature adjustment
2 clicks from OFF – turbo, from ON – selection of light direction (left, right, full), from red (strobe \ SOS)
3 clicks – red light
4 clicks from ON – switching between smooth and step brightness adjustment, from OFF – button lock
I don't remember any Fenix ​​\ Nitecore model that would have access to a firefly and other goodies.
Best i`ve seen is that Nitecore LR50 \ 60R have the ability to switch the direction of light.
How Sofirn LT1S shines + real runtimes
Here the flashlight, which costs as a basic plastic model with a built-in battery by the same Fenix ​​\ Nitecore, shows itself in all its glory.
The flashlight has a stabilized light that does not sag in brightness even in turbo light with good CRI and no PWM flicker.
In real use, TURBO will rather blind you, it can be excessive for a illuminating tent. HIGH mode will be more better here, i think.
But in a room such as a gazebo, or in a house when the lights are turned off, Sofirn LT1S, with a couple of spare batteries, will allow you to get excellent brightness from for hours. And even more if you just use Type-C cable…
Runtime charts here are measured for 6500K, in a pantry at room temperature.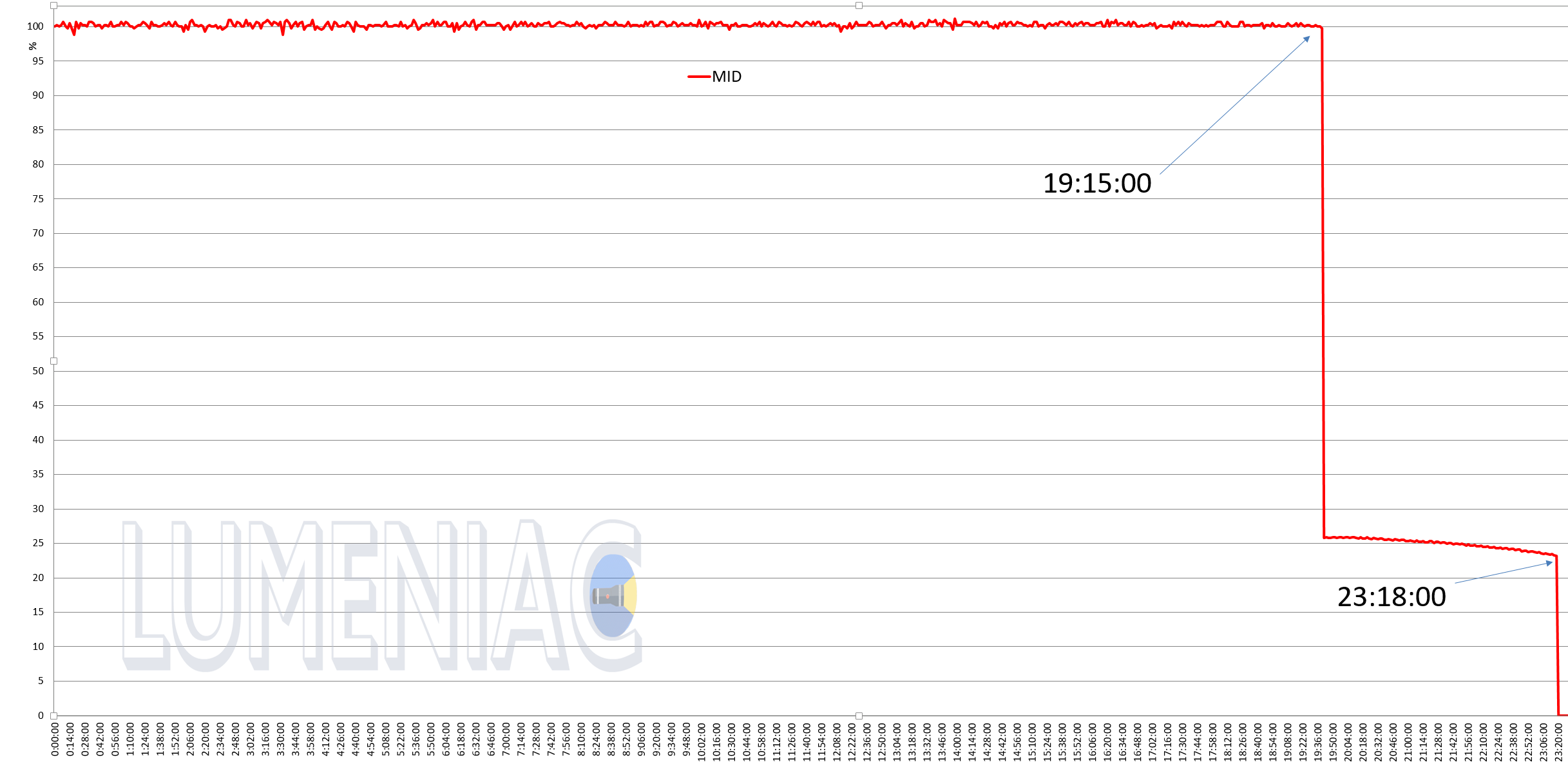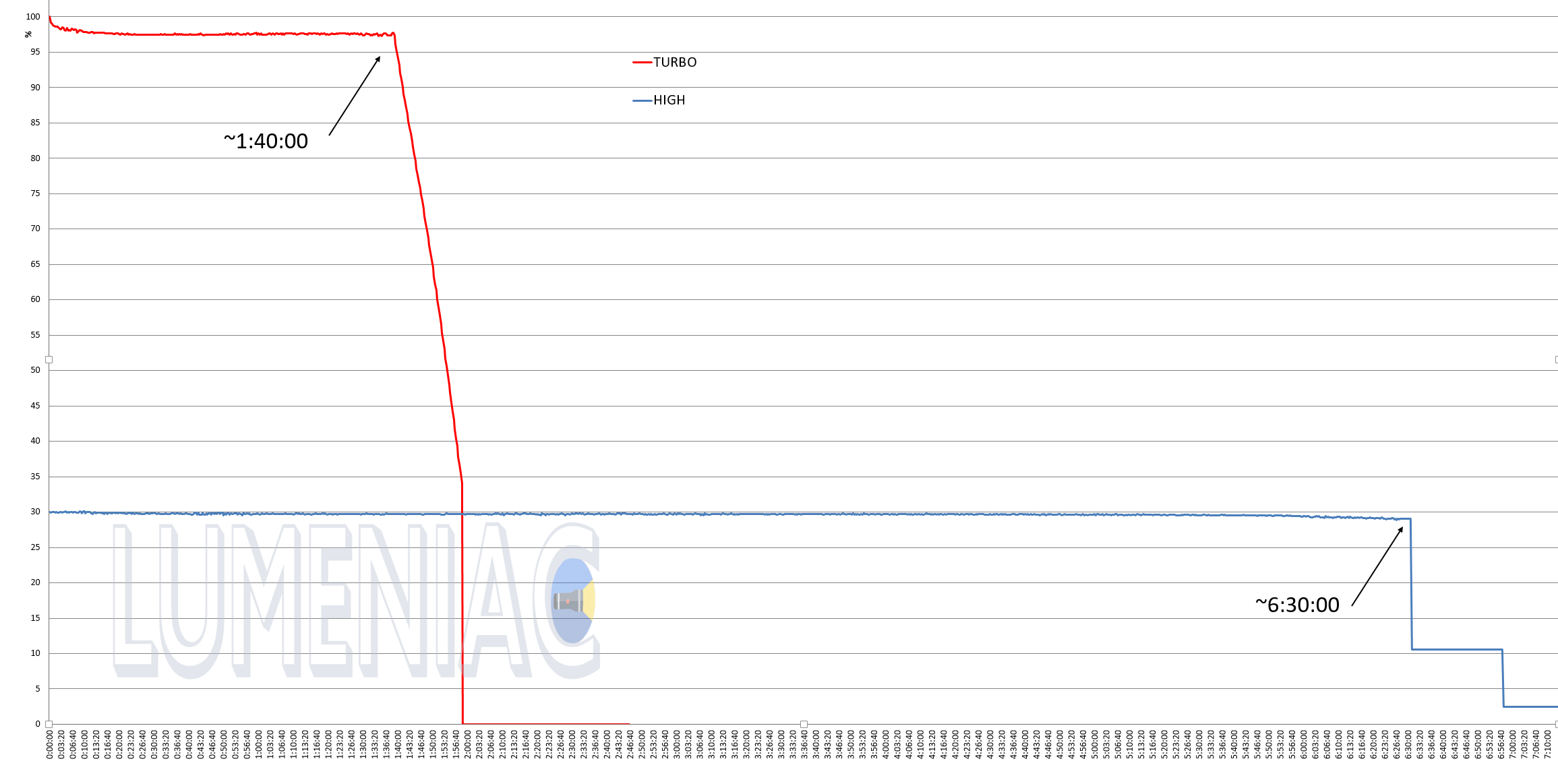 Accordingly, to understand runtime when you turn light on only at one side of lantern, you can simply double the runtime from these graphs.
Another nice advantage – Safire LT1S can work without a battery, purely from external power. But there is a nuance here. Turbo only works if 2700 or 6500K chosen. If you set an intermediate color temperature, then turbo will not start. So if you have a power bank or a wall power supply with USB-A or Type-C, you may well not waste battery power. A regular inexpensive 30000mah power bank will give you almost 12 hours of use at maximum brightness!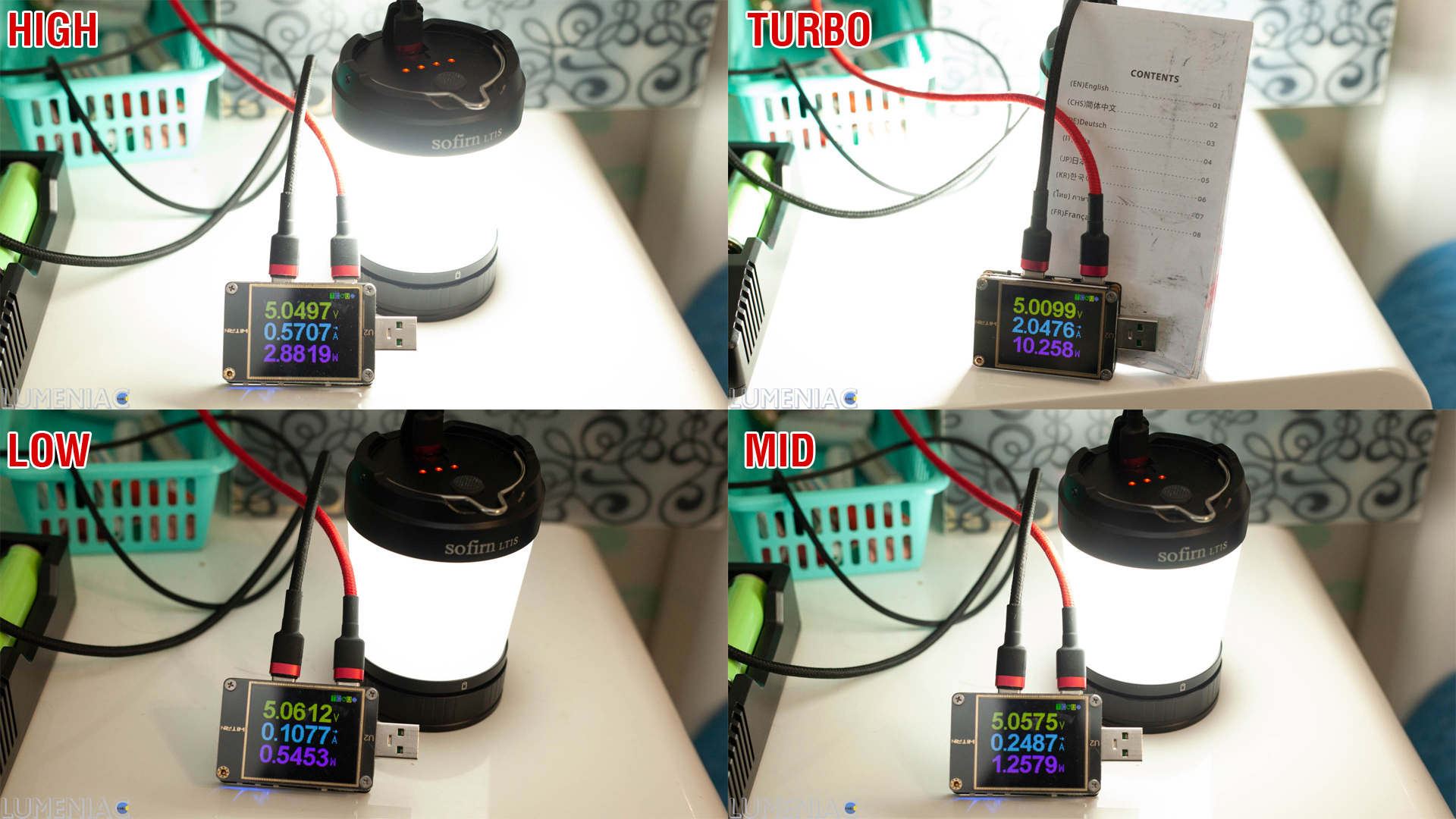 The flashlight has an excellent red light mode. In addition to the fact that it retains night vision, it also (according to reviews) does not attract any midges so much. I will clarify, not mosquitoes, they aim at you by body heat and CO exhaled, i mean midges.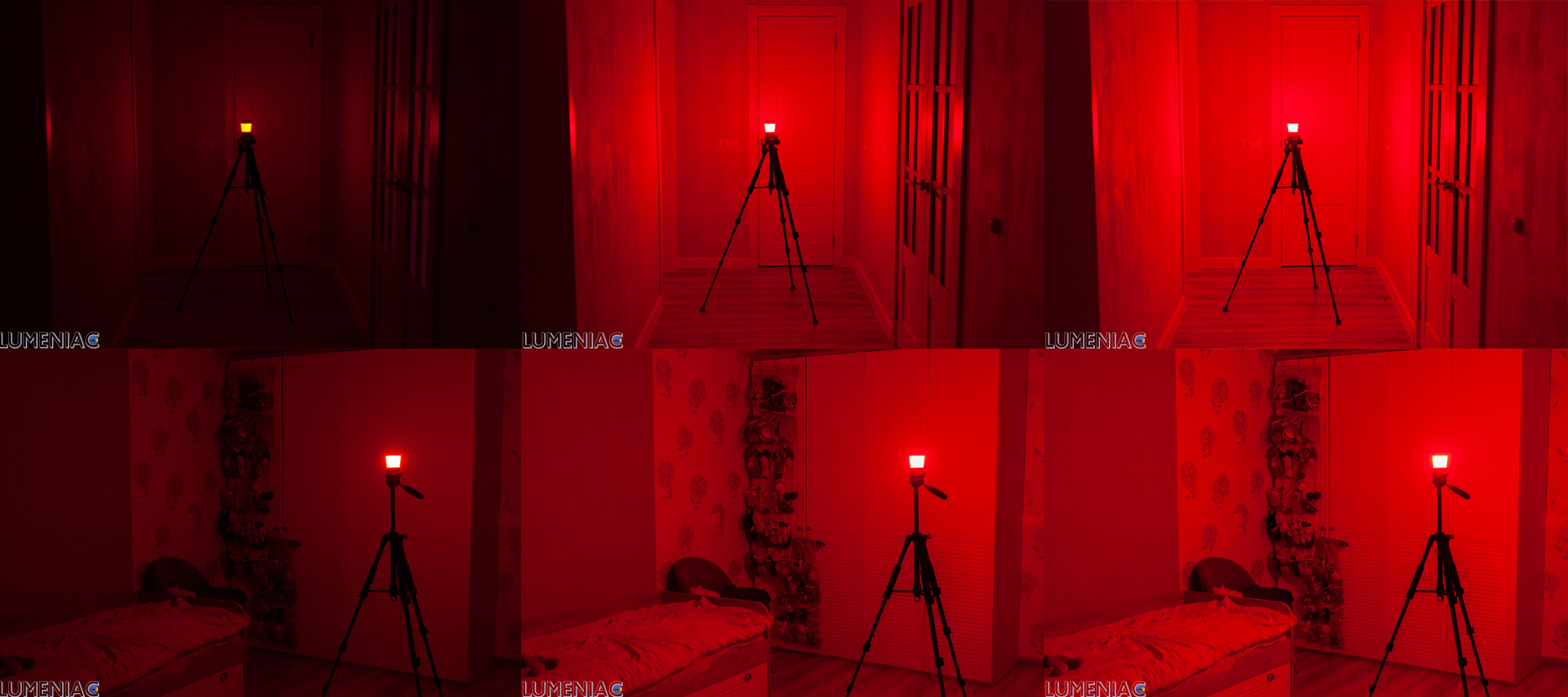 The red light is excessively bright even in the lower mode, some red firefly mode would be good to add, I will inform Sofirn about this, it is quite possible that the next batch will include this feature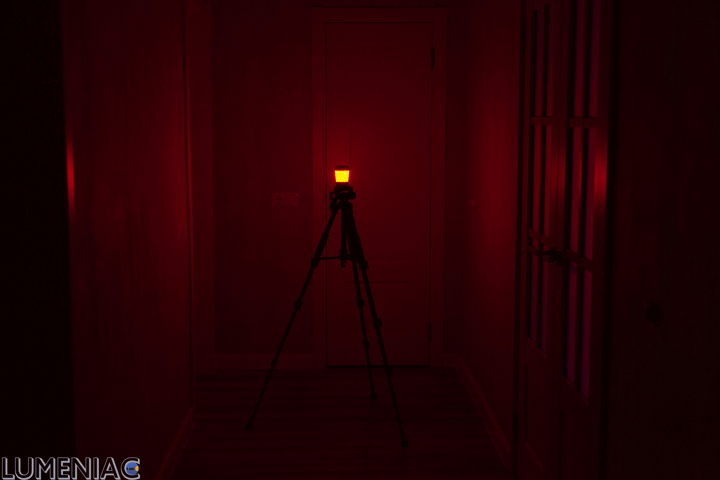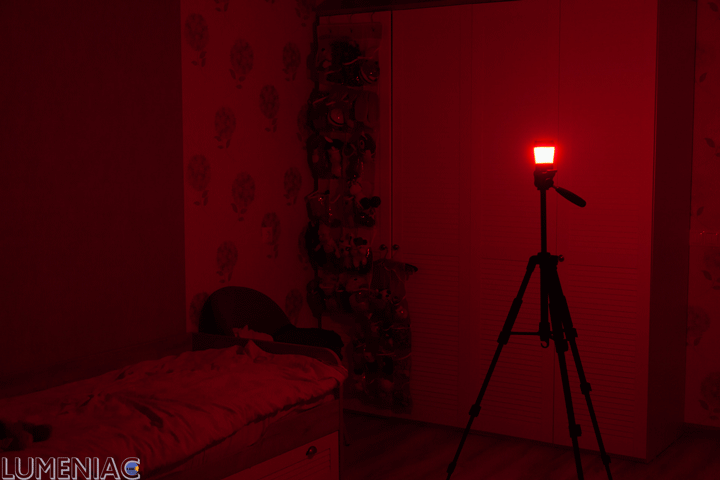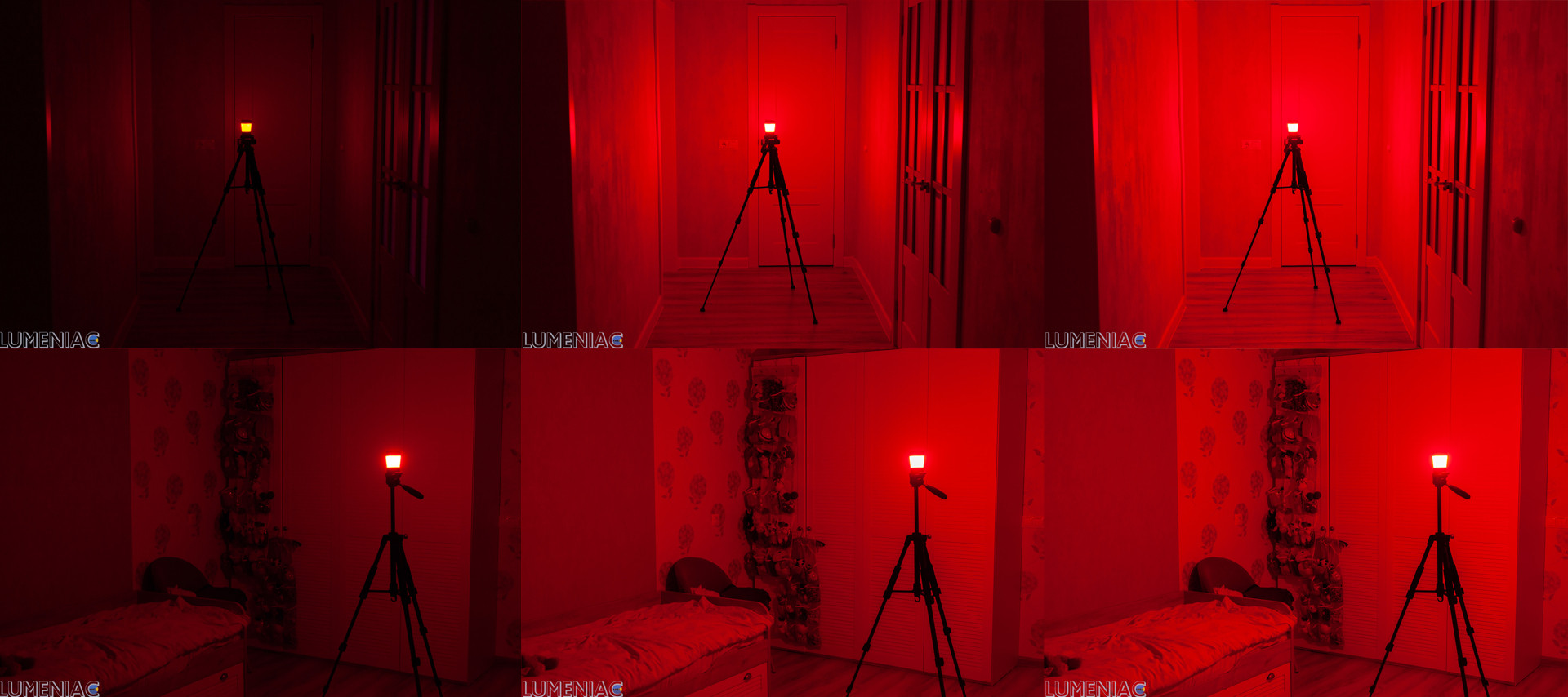 If you put or hang LT1S, you can turn on the direction of the light that will not blind you. For example, at home, you can turn on a firefly, direct light to the wall – this will be extremely convenient. The brightness of the firefly here is lower than that of Sofirn LT1, I think this is an advantage.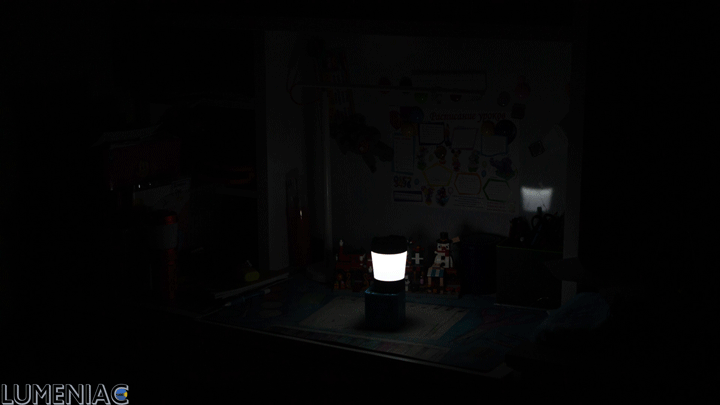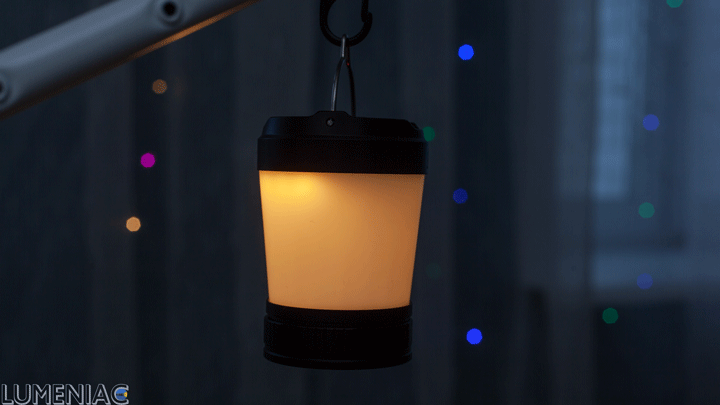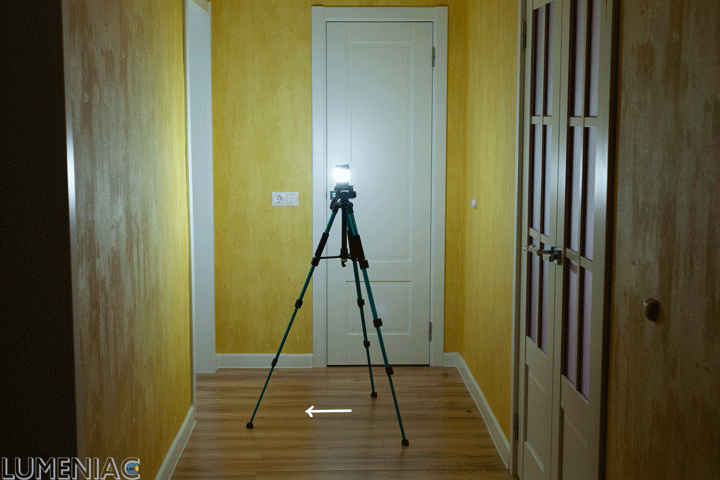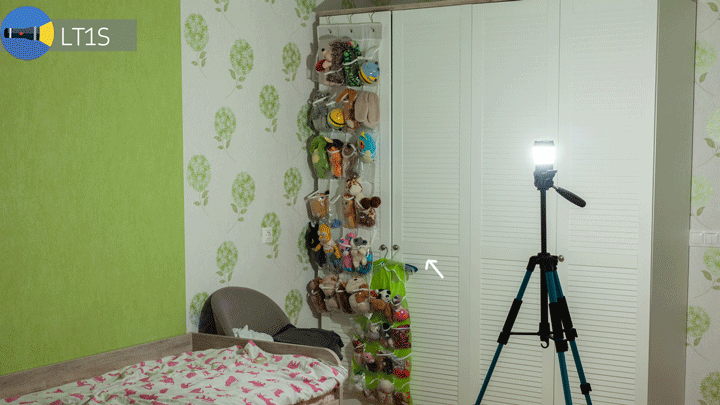 Yes, if we are talking about a firefly, there is no visible PWM at the lowest brightness.
If you wish, you can make some kind of suspension option, for example, just wrap it around the tail side and hang it like the same saucer. When I get to my countryhouse to drink moonshine and play balalaika, I test how lantern works when suspended horizontally and add photos.
Well, see for yourself. 500 lumens is really a lot. Actually. The LT1 is a bit brighter here, but it's also a lot bigger.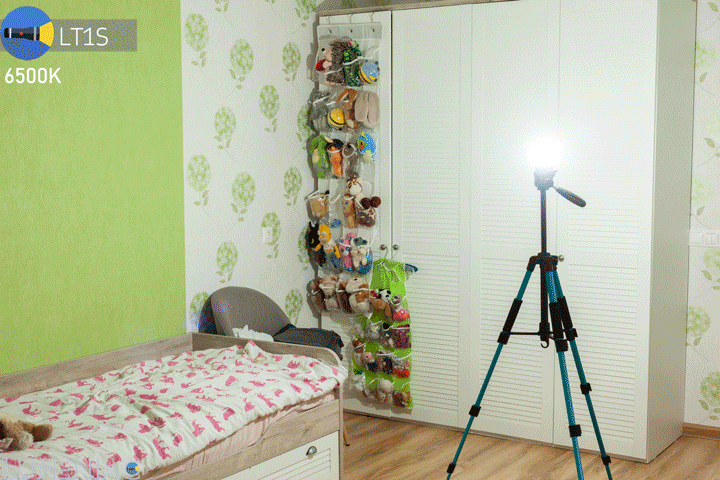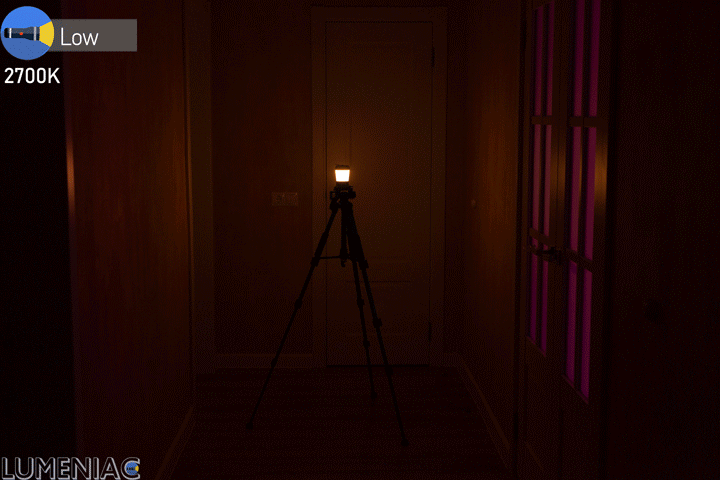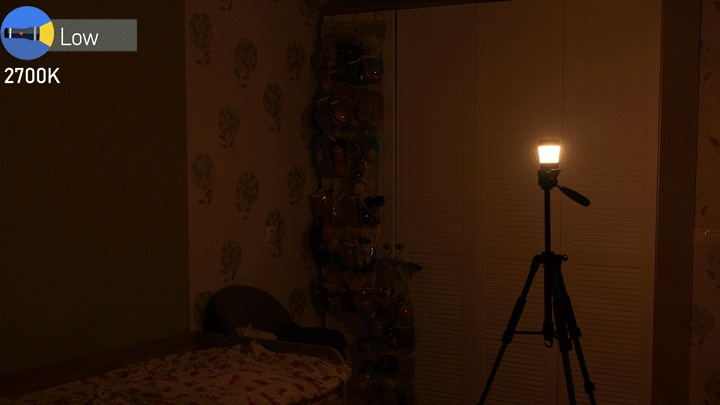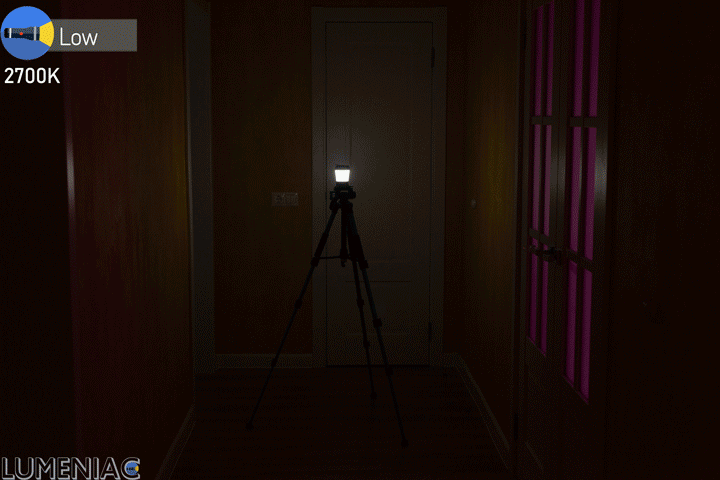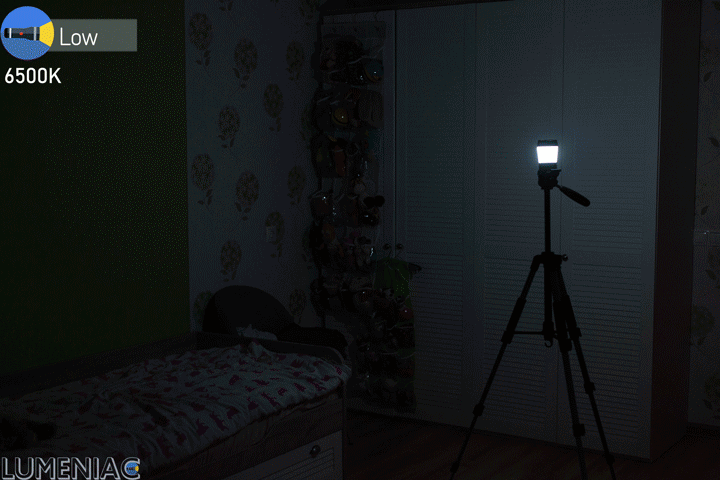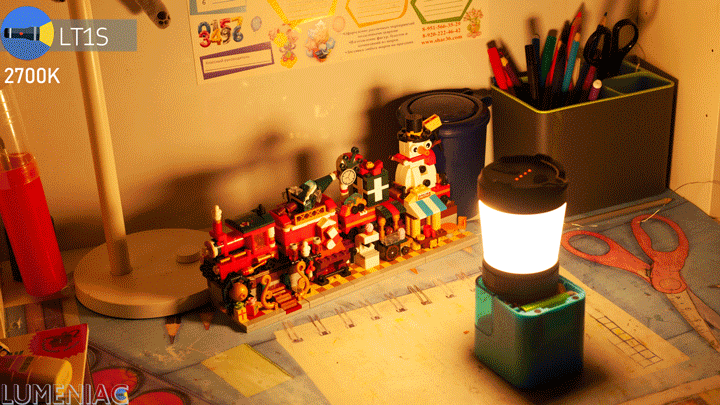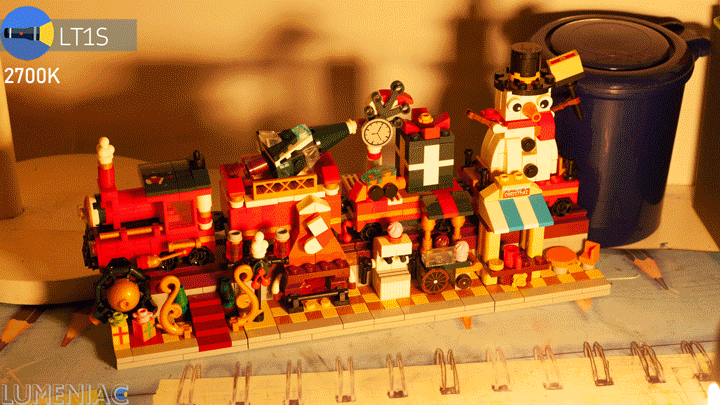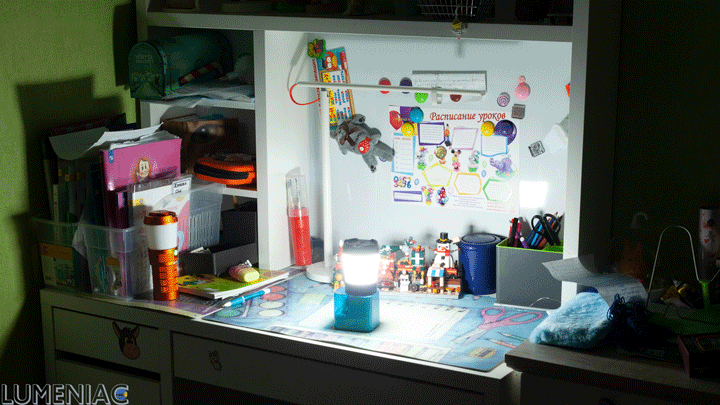 What I like about the LT1 is that 5000K is the coldest light for it. Personally, I don't have much interest in the 6500K. However, LT1S allows you to easily set these 5000K…
General impressions
I find Sofirn LT1S to be a very functional camping lantern. Even though it's clearly smaller and lighter than the BLF LT1, it's still big and heavy enough that I don't consider it a camping lantern for serious professional tourism. These people are struggling for every gram of backpack and tourists are more likely to sacrifice brightness for the sake of compactness and less weight.
But Sofirn LT1S is just perfect for ordinary weekend trips, for fishing, hunting, camping, not to mention the cottage or city apartment
Yes, Sofirn BLF LT1 with its 4*1650 has longer runtime and is little bit brighter. But 21700 battery is also very capacious and in situations of use you will certainly have the opportunity to replace the battery with a fresh one. And, let me remind you, this camping lantern works great by external power source.
The gain in size is no longer so important in these situations – anyway, you will not be dragging the LT1S on your back. Though the price advantage is already definitely tangible.
But my favorite Sofirn LT1S feature is the ability to choose the direction of lighting. This makes it possible to place a flashlight in the horizontal suspension and just turn off the light that would go upward. So this light will not get wasted, neither blind you.
And this feature will also be convenient for home, for indoor use. Sofirn LT1S showed itself perfectly as a night light. I set the minimum brightness and directed the light to the wall. With the same CL25R, CL09 or LT1. I had to close the front side – otherwise even the minimum brightness was noticeable when i wake up for night run to fridge.
In the case of Sofirn LT1S, the minimum light directed at the wall allows you to navigate in room and does not get blinded, it does not interfere with night vision. This is where the red light at minimum brightness could be so damn good if red light also had "only one side" feature and firefly mode.
In general, for me personally, the latter is the only drawback of the flashlight. Not real drawback, actually. It just might be better.
In short, I am happy with Sofirn LT1S and ready to recommend it. Sofirn managed to screw up several times. But not this time. Yeah, some improvements could be made, but Sofirn LT1S is damn good camping lantern as is. Really great deal for a buck. And i hope my review proves it.
Actually, when i sent Sofirn my ideas of camping lanterns, i offered them OEM this 3*18650 powered saucer with UI improved and light stabilized. But I`m happy with result as well.
For me it is more interesting than BLF LT1 in terms of functionality, price and size. I think that LT1 wins only due to the colossal total capacity of the batteries and, accordingly, runtime. Of course, Sofirn BLF LT1 is still great. But now it has real rival -)
As i shoot more photos, I'll add them. Although, I'm sure it's clear how bright this camping flashlight is.