Two months ago Lumeniac already did an amazing review of the Sofirn SP33S, go check it out! (And then please come back and read mine
) In this review I will focus on the differences to the SP33 V3.0 and if it is worth to upgrade.
About one and a half years ago I got a Sofirn SP33 V3.0 and recently got upgraded to the new Sofirn SP33S – thank you, Sofirn, for sending me one for free for this review! Still I try to not letting a free light influence my opinion.
If you understand German or want to use a translator, you can also find the review on my website.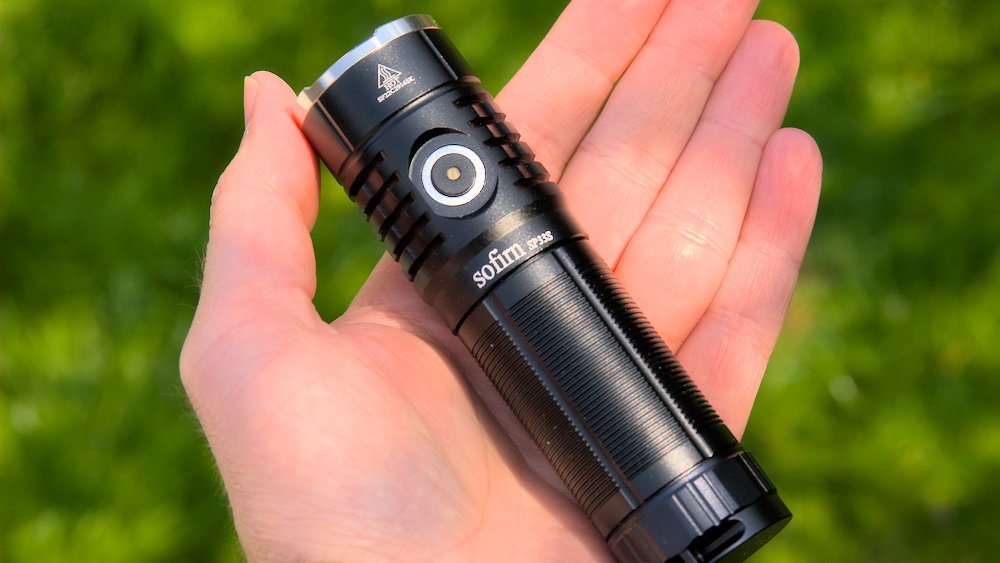 What you will get
Sofirn 26650 Li-ion battery with 5500 mAh (3.8 V on delivery)
2 replacement o-rings
Lanyard

USB

A-C cable
Manual (EN, FR, ES, IT, JP, RU, DE, CN)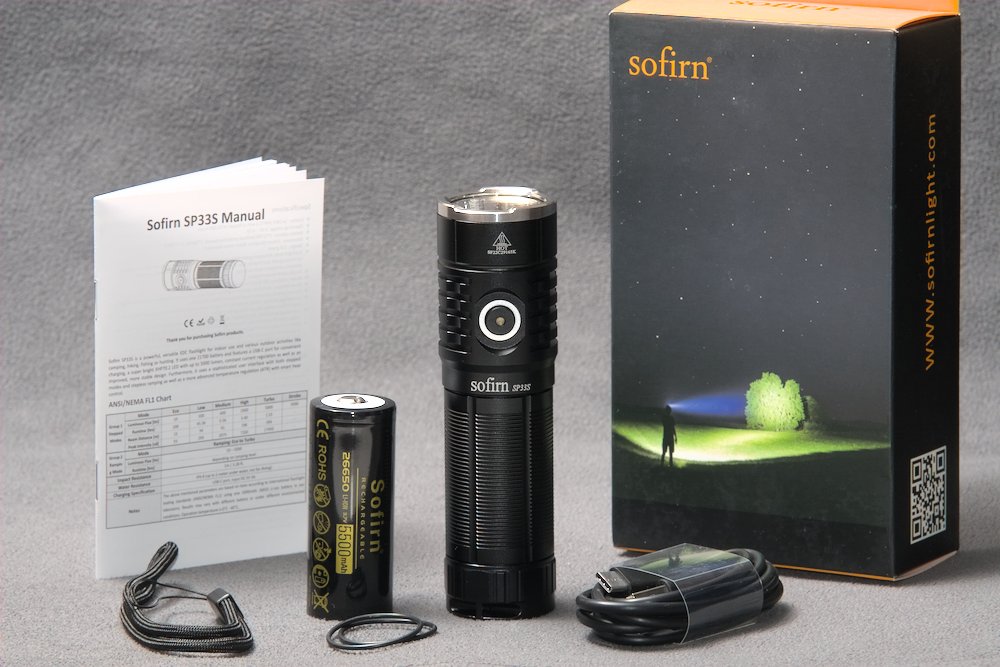 Hardware
Here you can see the difference between the SP33 V3.0 (with my switch modification to prevent accidental activation) and the SP33S.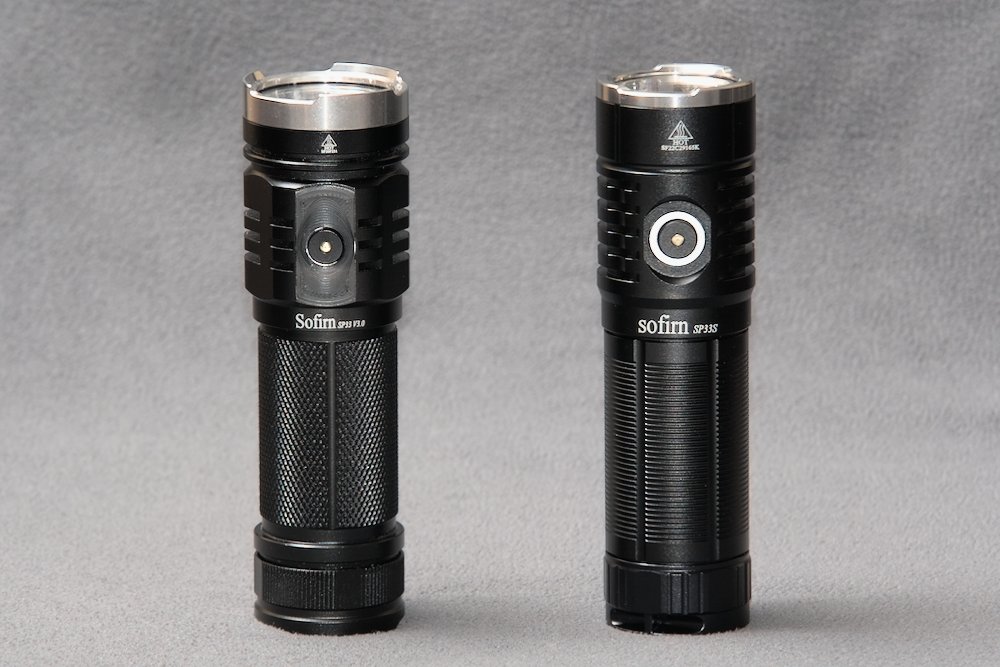 Size and weight are almost identical:
| | | |
| --- | --- | --- |
| | SP33 V3.0 | SP33S |
| Diameter | 37.5 mm | 36 mm |
| Length | 126 mm | 126 mm |
| Weight (without battery) | 140 g | 150 g |
I really like the new tailcap which is now completely flat and allows a very secure tailstand. A big improvement compared to the SP33 V3.0. The ring for the lanyard is nicely hidden and chamfered! I think this is the best lanyard hole that I've seen from Sofirn so far.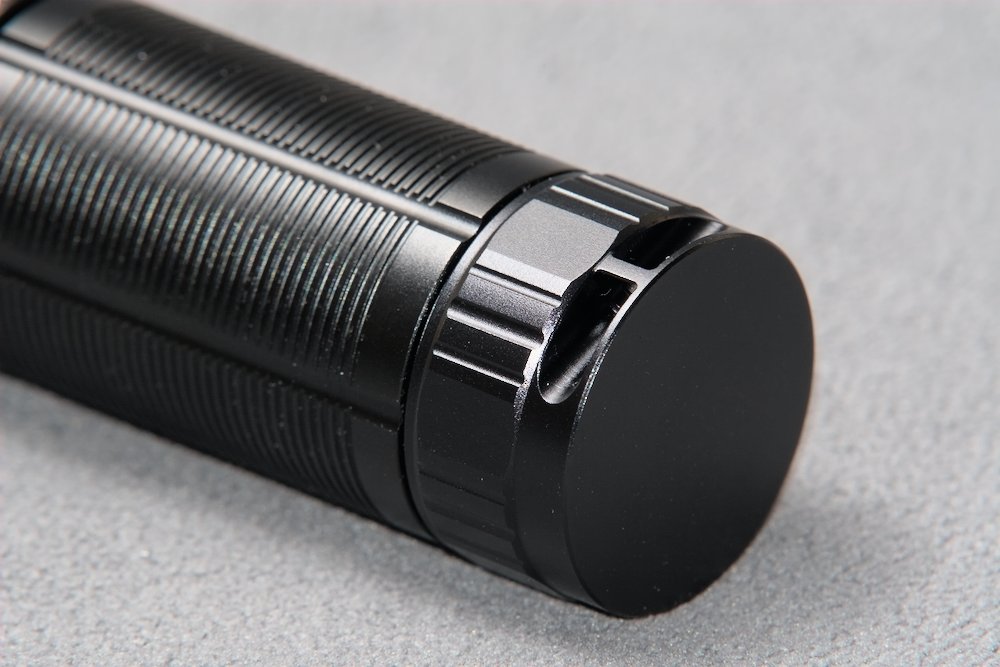 No clip, no magnet, no holster. Without a lanyard the SP33S likes to roll away easily.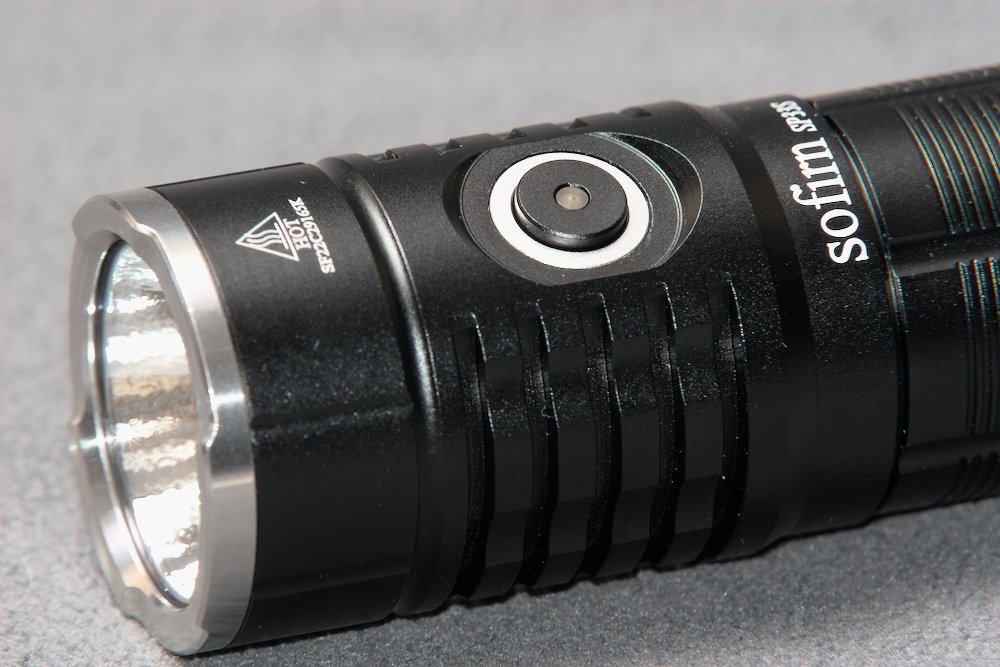 The battery can be charged internally via USB-C. The charging current was 2.3 A in my case (maybe limited by the power supply?) and stopped at 4.22 V. Also you can use the SP33S as a powerbank. The flashlight works at all time.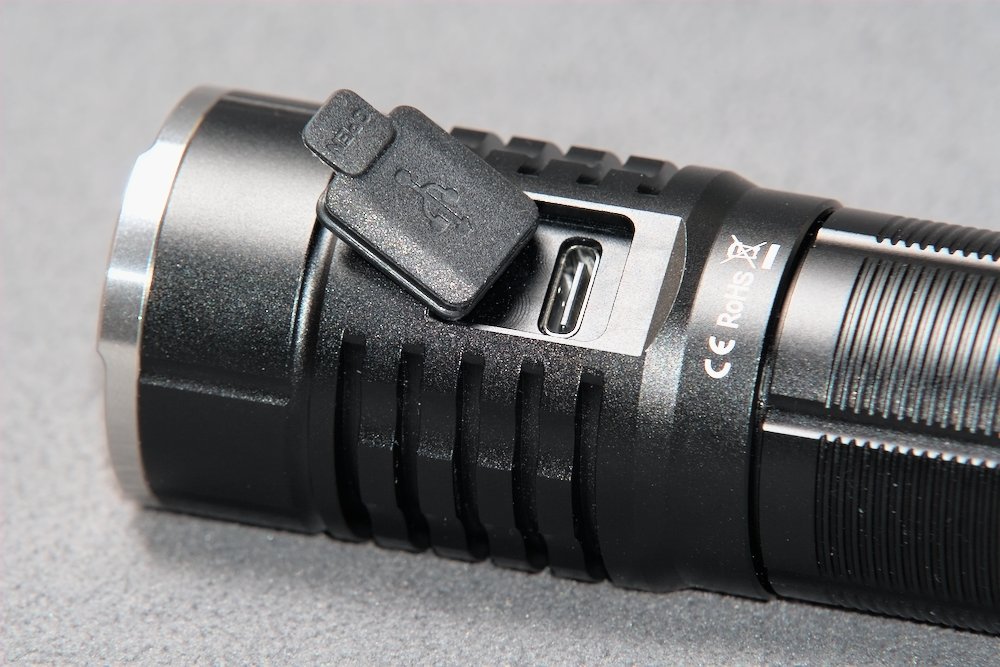 The silicone cover was improved compared to the SP33 V3.0 and is now completely flat and doesn't open by accident as it happened with the SP33 V3.0.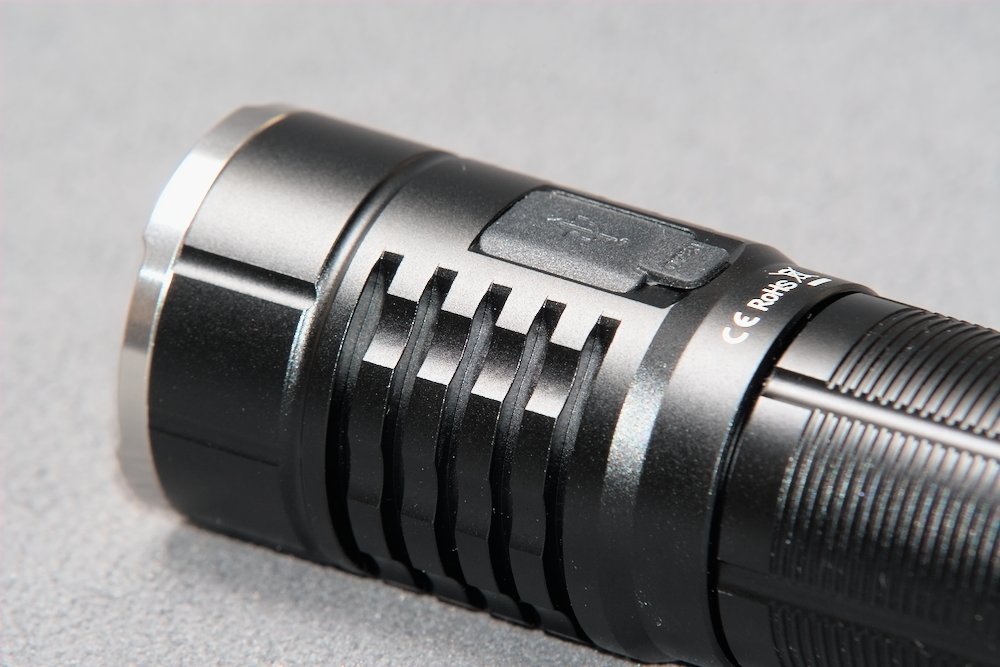 Instead of diamond knurling the SP33S got a fine ribbing. Feels nice and doesn't slip.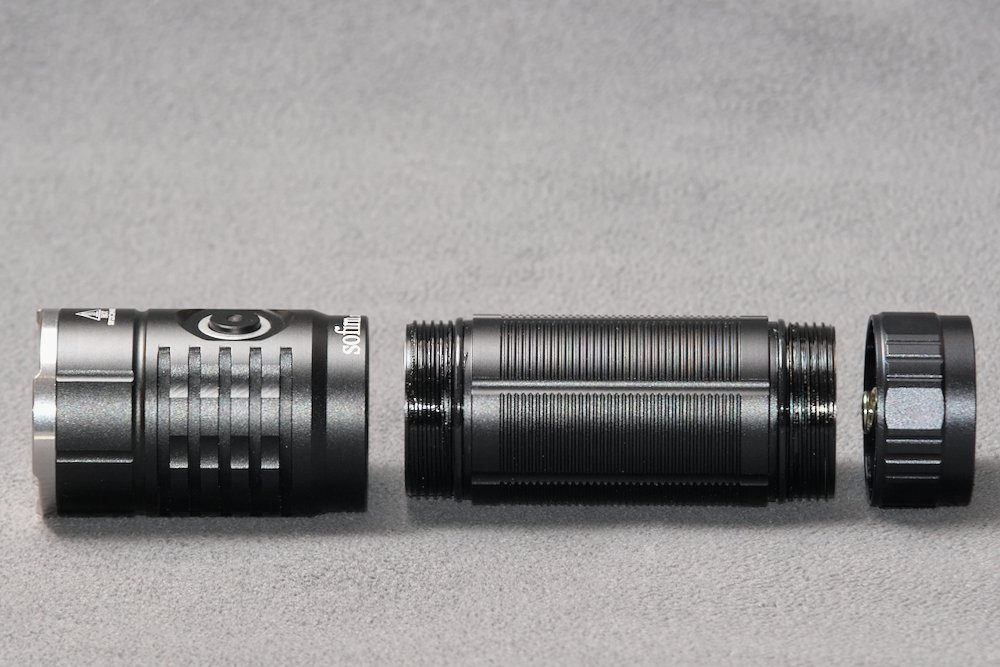 The battery tube is symmetrical.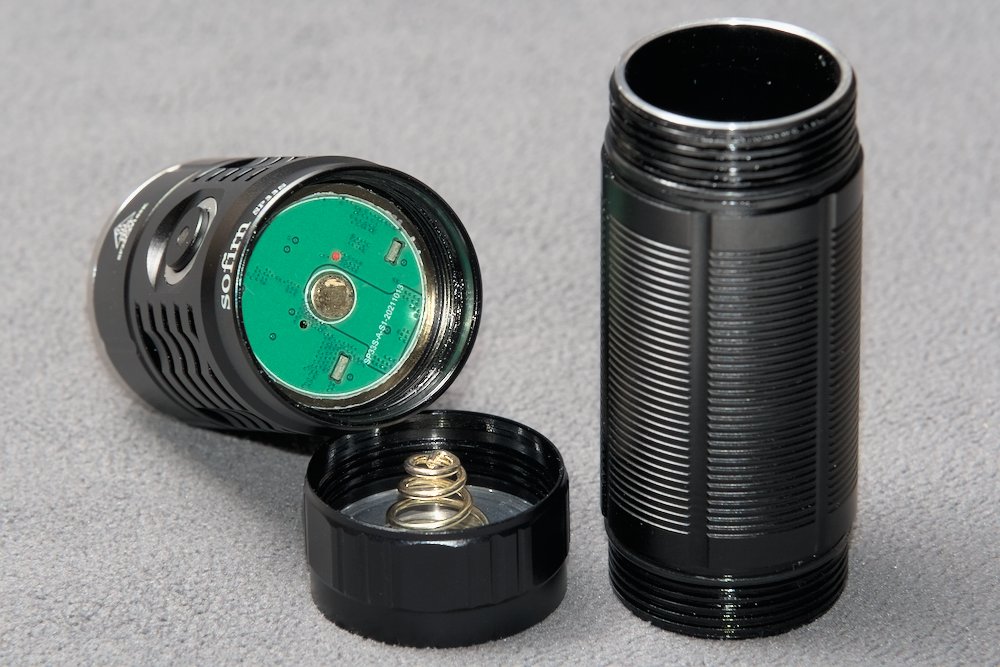 Unfortunately Sofirn replaced the spring at the driver side with a brass button. This causes the SP33S to turn off on strong vibrations or when you hit it.
User interface
| | | |
| --- | --- | --- |
| State | Action | Function |
| Off | 1C | Turn on |
| Off | 1H | Eco |
| Off | 2C | Turbo |
| Off | 3C | Strobe |
| Off | 4C | Lockout |
| Off | 5C | Configure switch backlight (off/on/blinking) |
| On | 1C | Turn off |
| On | 1H | Change brightness: Low/Med/High or smooth ramping |
| On | 2C | Turbo |
| On | 3C | Strobe |
| On | 4C | Change ramping mode (steps/smooth) |
| Turbo | 1C | Previous brightness (or off) |
| Turbo | 2C | Eco |
| Lockout | 1H | Momentary Eco |
| Lockout | 4H | Exit lockout and return to memorized brightness |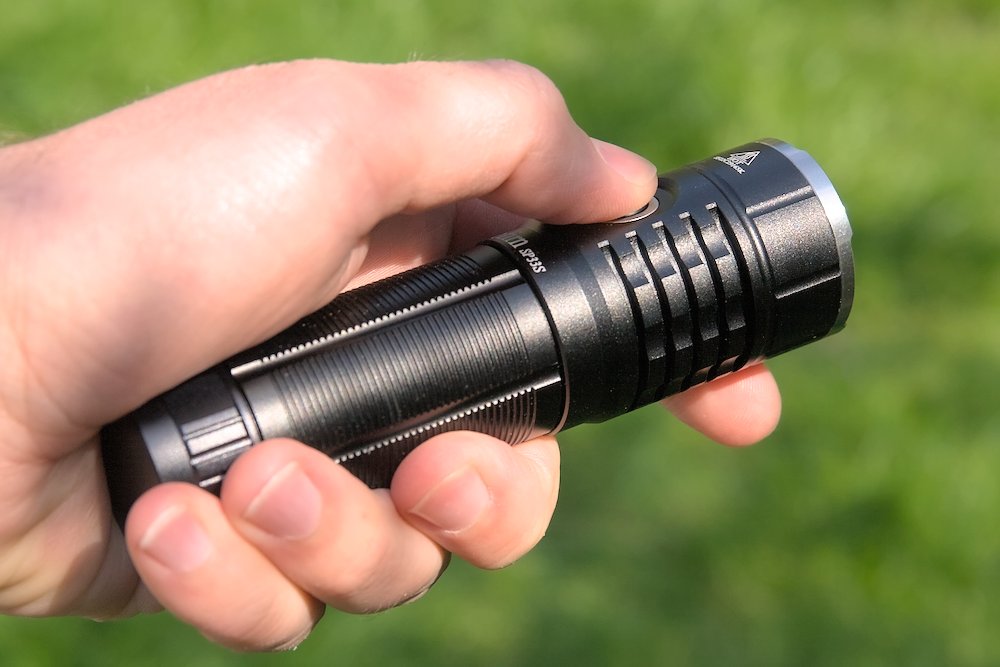 A new feature of the SP33S is that you can change the switch backlight while the light is off. It's either off, on or blinking.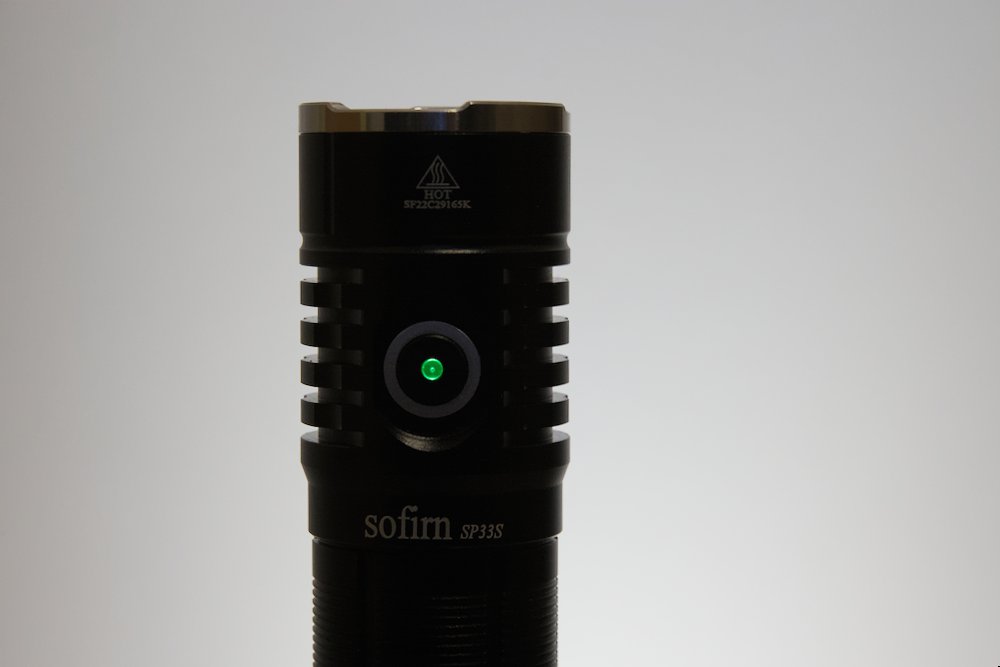 In the first five seconds after turning the light on the LED indicates the battery level (green > 30%, red < 30%, red blinking = empty).
Illumination
One of the biggest differences between the SP33 V3.0 and the SP33S is the LED:
SP33 V3.0 with Cree XHP50.2: Smaller

LED

, thus smaller spot, slightly more throw, lower brightness.
SP33S with Cree XHP70.2: Larger

LED

, more floody, slightly less throw, higher brightness.
Differences in throw are theoretical because the SP33S has a much better driver, see below.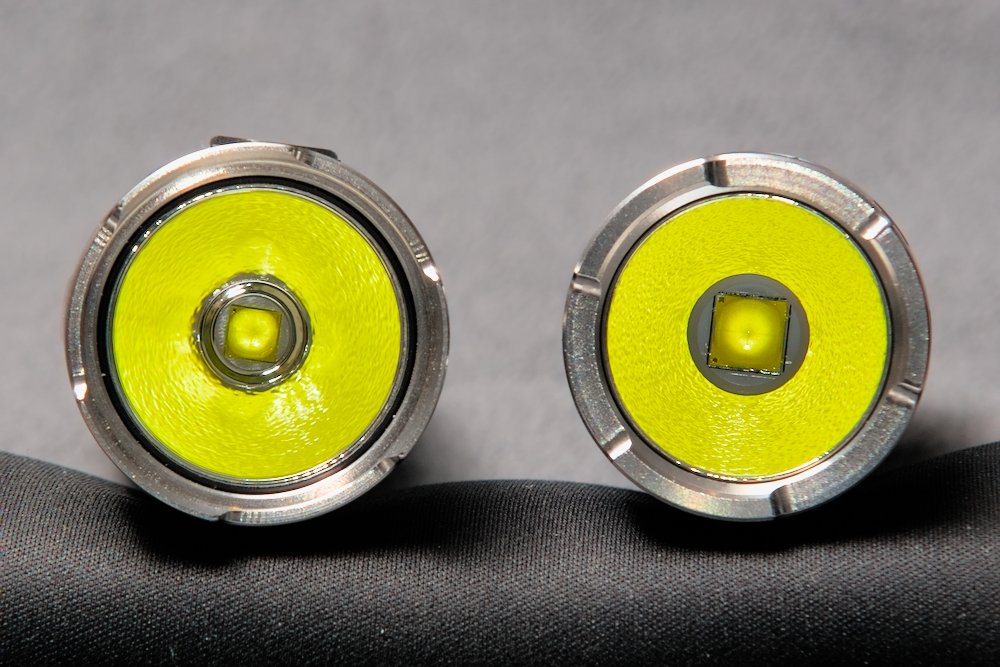 My version has 6000 – 6500 K and probably a CRI of around 70. Not great, but lots of light. There's also a 5000 K variant. Both lights have an orange peel reflector. While the SP33S still has a tintshift, it is less noticeable than the one of the SP33 V3.0.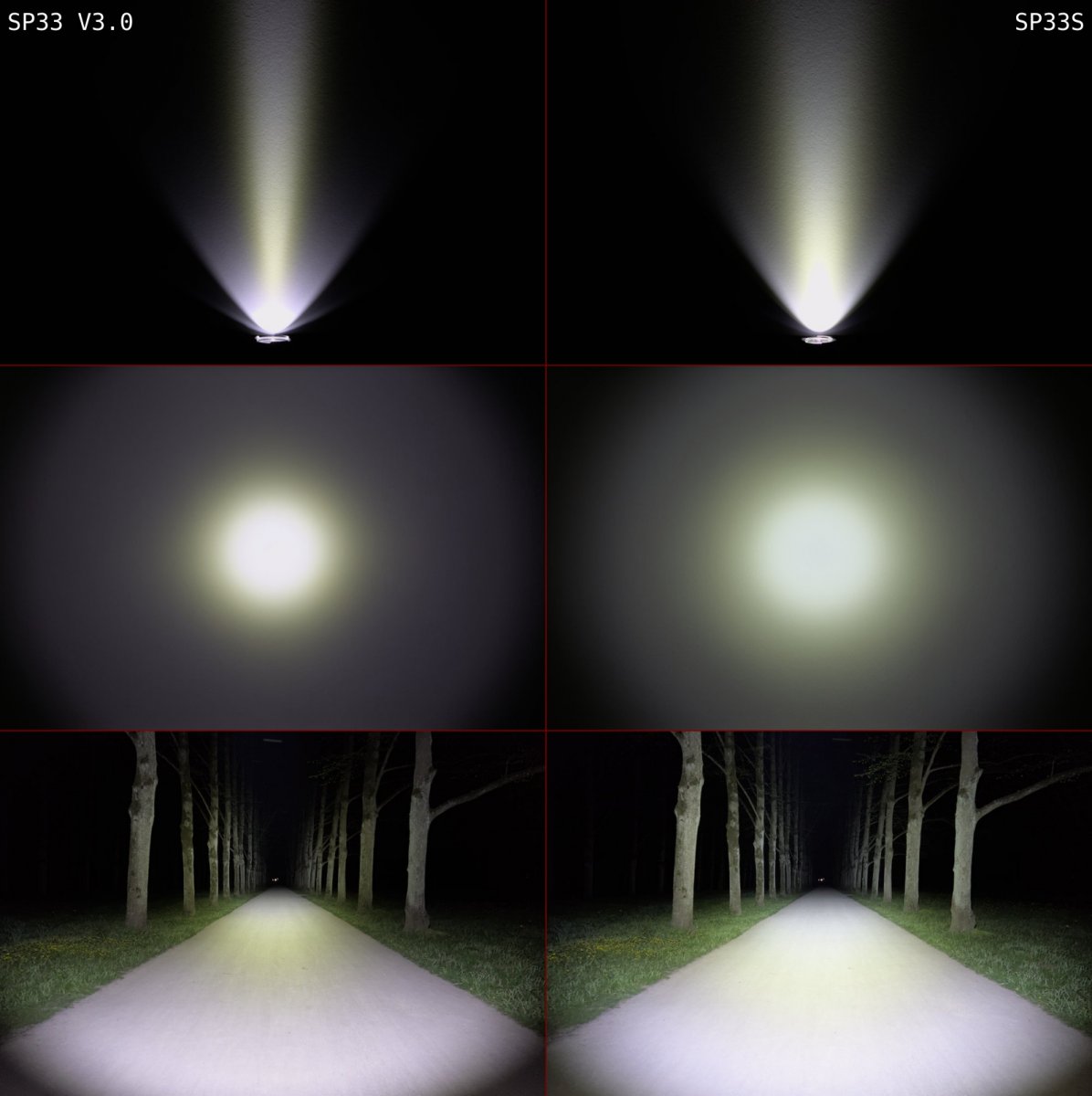 Driver and runtime
While the first generation of the SP33 came with a FET driver, the second had a boost driver, then the V3.0 had a FET driver again. And now the SP33S got a boost driver again! This allows the flashlight to keep a more stable output independent of the battery voltage.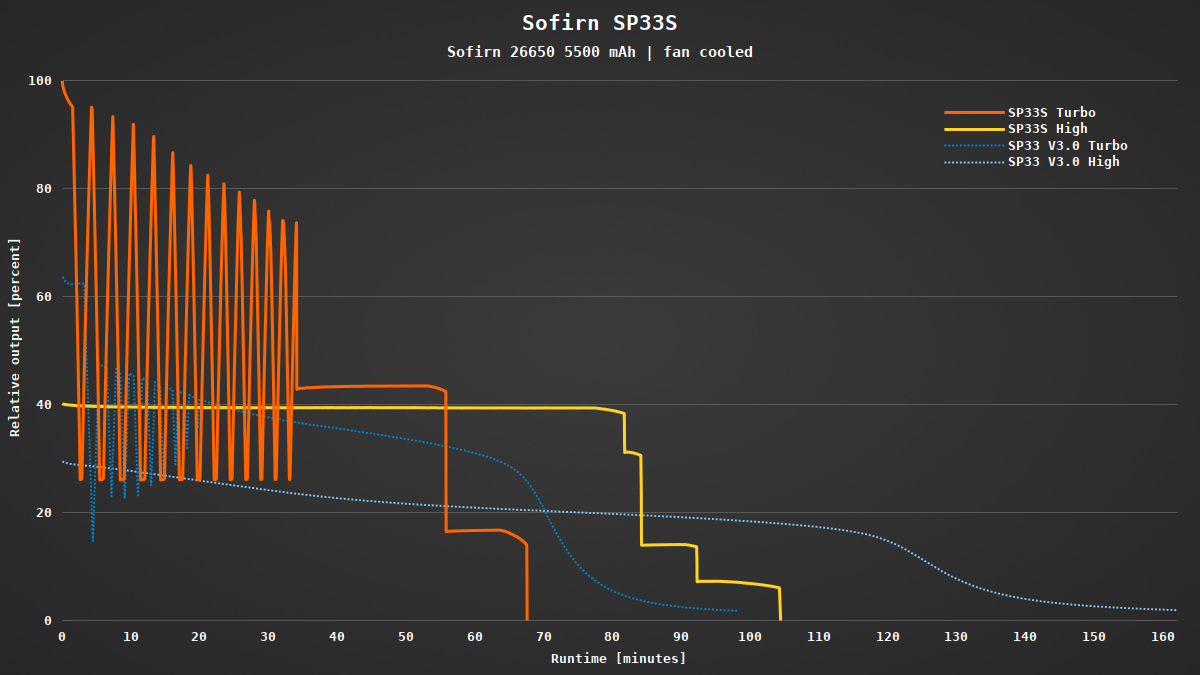 On turbo the output still ramps up and down due to the bad thermal regulation. On High it is able to keep the output stable and even higher than turbo of the SP33 V3.0 for most of the time and for a longer time.
The runtime mentioned in the manual (3:40 h for high) is not achieved, but 1:40 h is more realistic and what I expected.
After my runtime tests the battery voltage was around 3.3 V and slowly climbing. I guess the higher current requirement on lower voltage was a bit too much for the batteries.
Here is the relative output for all of the five steps. The spacing is good, but the lowest level could be a bit lower in my opinion. The ramping appears visually mostly linear. There is no PWM at any level, great!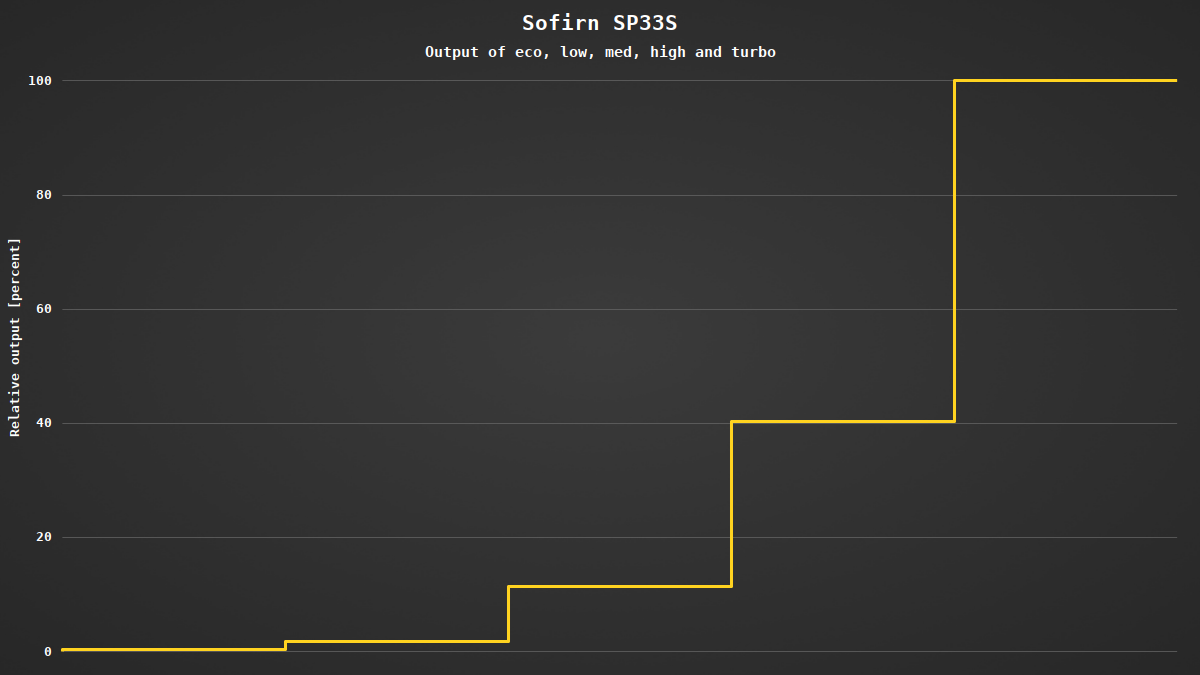 Higher current was measured with a clamp meter directly after turning on with a full battery. Standby current was measured with an oscilloscope via a 100 Ω shunt resistor.
| | | |
| --- | --- | --- |
| Mode | Brightness (specification) | Current |
| Turbo | 5000 lm | 12.0 A |
| High | 2000 lm | 3.0 A |
| Med | 600 lm | 0.7 A |
| Low | 100 lm | 0.1 A |
| Eco | 10 lm | 0.03 A |
| Off | | 150 µA |
| Off (switch blinking) | | 2.1 mA |
| Off (switch on) | | 3.3 mA |

At around 3.0 V the indicator LED starts blinking red when the light is on and at 2.7 V it turns off.
Conclusion
The SP33S is a very good upgrade to the SP33 V3.0. The boost driver allows constant output, it is brighter and the design was improved. Not the nicest beam, but it's bright. With a coupon the SP33S doesn't cost much more than the SP33 V3.0, but is worth every cent you have to pay more!
You can get it directly from Sofirn or via AliExpress.