The
XTAR

SC1 Plus
charger was sent to me directly by XTAR for review.
For features and purchase:
https://bit.ly/3kTqlQb
Main Features:
- Portable power bank
- Up to 26800 and size D
- USB-C input
- 3A quick charge
- The 0V activation function revives excessively discharged batteries.
- TC / CC / CV three-stage charging maximizes battery life.
- Stop precisely when the battery is fully charged.
- Current buffer technology protects batteries from violent currents.
- Reverse polarity / short circuit / overload overheat protection.
- Made of fireproof material.
- You will get the battery (5000mAh) charged to 90% in just 90 minutes with a maximum fast charge of 3A.
For use with 3.6V / 3.7V Li-ion rechargeable batteries in the following format:
18650/18700/20700/21700/22650/25500/26650/26800 and 1.2V Ni-MH C / D
Note: 26800 protected batteries can be charged. It is also capable of charging batteries longer than 80mm. As a power bank, it provides a maximum of 24.48 Wh with a 6800 mAh 26800 battery.
Technical specifications
- Model: SC1 Plus
- Input: 5V-3A Max.
- Constant electric current: 4.2V-3A x 1 Max. / 1.45V- 2A x 1 Max.
- USB output: 5V-2A
- Voltage limit: 4.20 ± 0.05V / 1.45 ± 0.1V
- Current limit: ≤150mA
- Operating temperature: 0-40 ° C
- 10W Power Bank
Dimensions and weight (measured by me):
Length 125mm, width 38mm and height 33mm.
Weight: 47gr.
Warranty:
The XTAR team offers a 12 month warranty for the SC1 PLUS battery charger (excluding batteries) worldwide.
.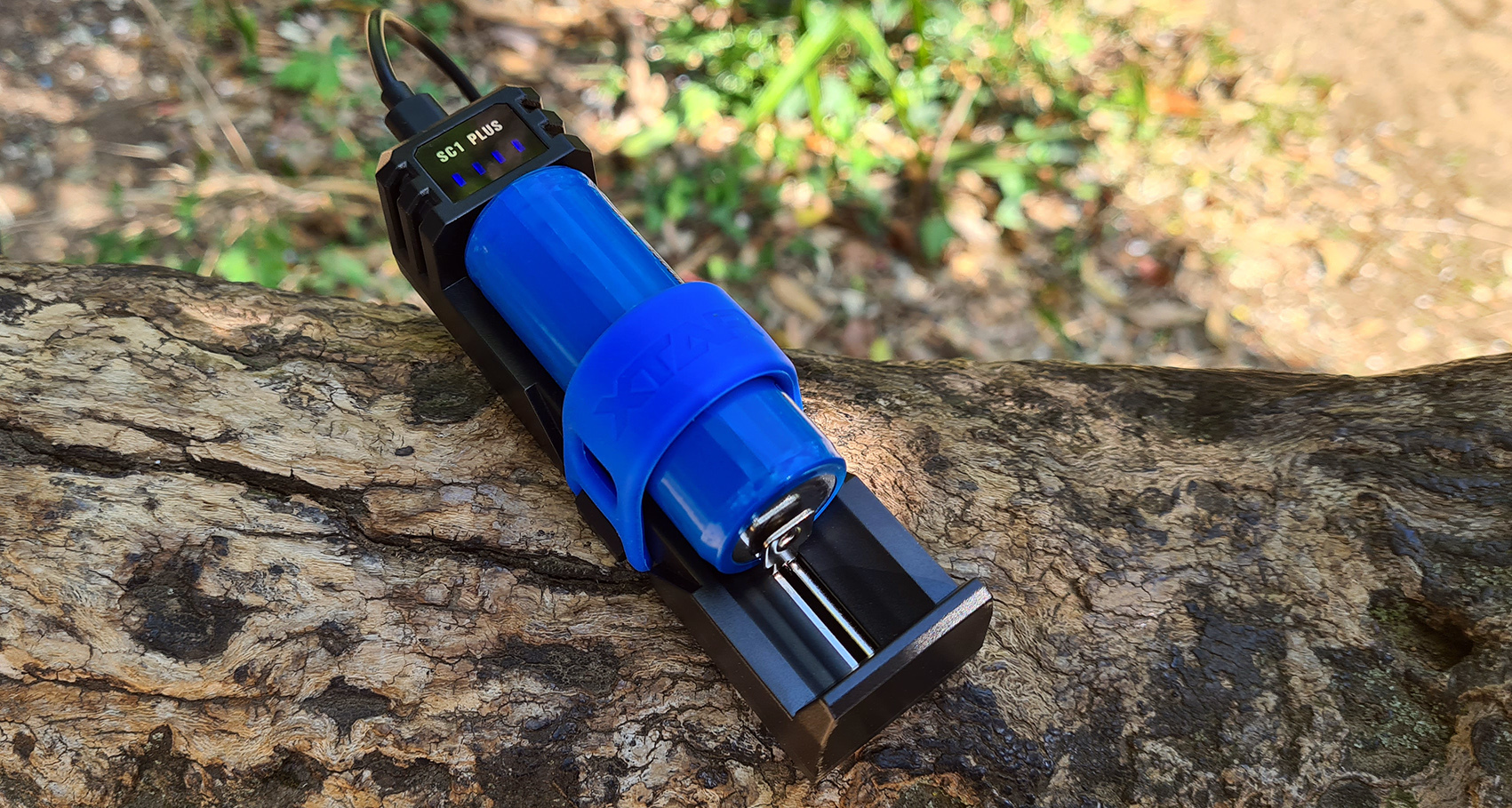 The
XTAR SC1 Plus
arrives in a transparent plastic blister. Inside we find the
XTAR SC1 Plus battery charger
, the
silicone strap
, the
USB-C cable
and the
multilingual manual
.
Together with the SC1 Plus battery charger, XTAR also sent me an 18W
Quick Charge 3.0 (DBS15Q) power supply
:
https://www.xtar.cc/product/QC3.0-Fast- ... r-124.html
• Quick Charge 3.0 technology for fast and safe charging of any device
• Charges up to 75% faster than conventional charger
• Output: 1 x QC3.0: 5V - 3A / 9V - 2A / 12V - 1.5A
• total power: 18W
• input voltage: 100-240V ~ 50 / 60Hz
For a detailed test of the DBS15Q:
https://lygte-info.dk/review/USBpower%2 ... %20UK.html
The XTAR SC1 Plus charger:
XTAR
has stood out in recent years for having produced excellent battery chargers that have followed market trends. With the SC1 Plus XTAR updates the SC1 single slot battery charger with a new more performing model.
The XTAR SC1 Plus is a
battery charger
and also a
Power bank
, is equipped with QC and PD fast charging and is particularly suitable for charging modern batteries such as
26800/21700
; it is very useful to take with you when you are out and about, when traveling or in an emergency to recharge electronic gadgets such as flashlights, field lights, cell phones etc.

SC1 Plus is compatible with Li-ion 3.7V 26800/26650/25500/22650/21700/20700/18700/18650 and NIMH C / D 1.2V rechargeable batteries.
The
XTAR SC1 Plus
supports
3A fast charging
. It is equipped with a small display that indicates, through four indicator bars, the progress of the charging in progress (25% each bar). XTAR SC1 Plus has protection against short circuit, overload and overheating. It is built with fireproof, fire
resistant ABS materials
. It is also possible, with the SC1 Plus, to
reactivate excessively discharged low voltage batteries
.
Charging takes place in 3 stages in an optimal manner for battery life.
SC1 Plus is built well
. The sled, where the battery to be recharged is housed, has a smooth ride and the right resistance. This battery charger is long enough to accommodate and charge even
protected 26800
batteries. I measured the minimum and maximum length available to accommodate the battery to be charged; minimum length about 57mm and maximum length about 90mm. The battery design is printed on the battery compartment, with the positive and negative poles, and higher up the maximum charging current which reaches 3A Max. At the top side we find the
Type-C input
port and the
USB output
port.
For ventilation, we find slots on the SC1 Plus on the sides of the small display, which help to dispose of the heat produced during charging with the support base slightly raised by four plastic feet.
The
lower part
shows the plate data of the XTAR SC1 Plus battery charger.
The SC1 Plus is
supplied with a silicone strap
to block the battery being charged or in particular when used as a power bank, allowing the use of the battery charger in any position.
Operation:
Battery charge:
Connect the power and insert the battery which will
automatically start charging
. It is not possible to set the charging current.
Type-C to Type-C
cables can also be used for connection.
The charger analyze the battery type by selecting the suitable charging current for the batteries based on their
different IR
and status.
For example if the lithium ion battery is relatively new, you will get the battery (5000 mAh) charged to 90% in just 90 minutes, with a max 3A fast charge. For a NiMh D, 10000 mAh battery, it will reach a maximum charge of 2A.
If the battery to be charged is less than 3V, the SC1 Plus starts with a few A (to me it marked 0.2A) of charge until 3V is exceeded.
I did some tests with rechargeable lithium batteries in 18650, 26650 and 21700 format.
The batteries are all with many discharge cycles and quite dated. The
performance of the XTAR SC1 Plus is good
, I recharged, for example, a 4000mAh Samsung INR 21700 40T in about 2 hours and 10 min at 2.5A max, and a 3000mAh Samsung 30Q in 2 hours and 30 min at 2.2A max. At the end of the charge both showed 4.19V.
I did a test with a thermal imager to see the temperature of the SC1 Plus while charging.
The view is from above and from the side.
USB output function
(with Power-Path Management):
To use SC1 Plus as a power bank just use the
USB-A
(output) port located near the Type-C. It is possible to charge the USB device and the battery at the same time, or disconnect the power supply and insert the lithium-ion battery to charge the USB device as a power bank. In my test, using a 21700 Samsung 40T battery, my smartphone's charging stopped when the battery read 3.12V.
Note: Power path management allows the USB device to charge directly from the power supply rather than the battery, extending battery life.
0V activation function:
Insert the battery; the resettable battery will begin charging within 10 minutes.
Meaning of the battery icon:
Battery icons flashing: charging / activating
Full battery icons: standby / fully charged
Full battery icons flashing: reversed polarity
Note: When the battery is 75% -99% charged, the LED1-3 are always on, the LED4 icon flashes.
When the power supply is insufficient, the battery charger will reduce the charging current accordingly.
Video Unboxing

Conclusions:

XTAR SC1 Plus
is a practical and performing single slot battery charger. I think it's the only single slot to charge large batteries like the
protected 26800
. SC1 Plus can also be used as a
Power bank
and is equipped with QC and PD fast charging for a maximum current intensity of
3A
. XTAR SC1 Plus has minimal dimensions, it is easy to find the space to carry it with you when traveling or when you are out and about so as not to be left without the ability to recharge the devices we need most. The selling price on the manufacturer's website is
$8.90
(€ 7.84) which is definitely worth the purchase. Advised.