ThruNite has sent me one of their small EDC lights, the ThruNite Archer Mini, which I'd like to show to you.
This review is also available in German on my website: https://www.sammyshp.de/betablog/post/130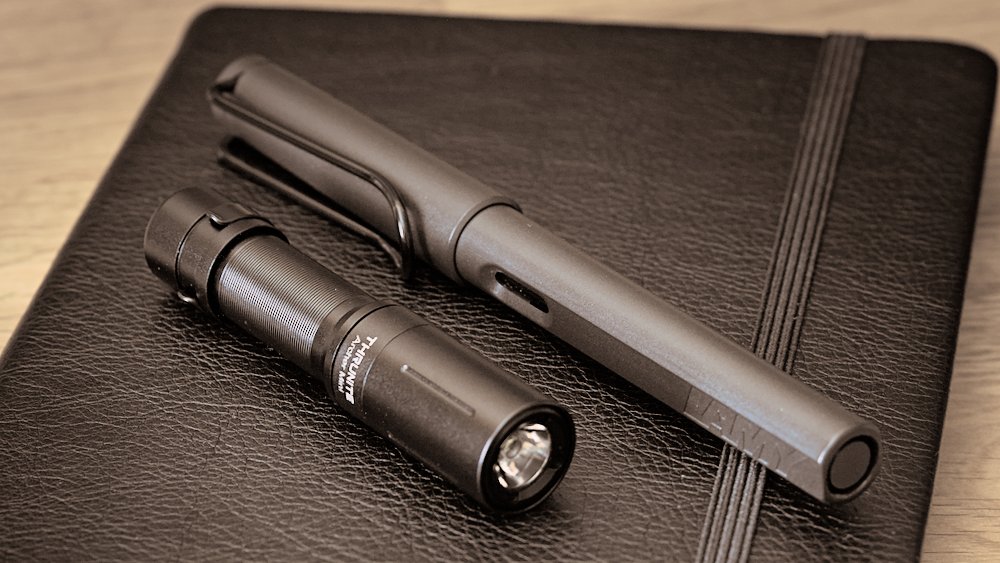 Supplied parts and hardware
The Archer Mini comes in an unexpectedly small box and includes only the flashlight itself with a clip, a manual and a USB-C charging cable.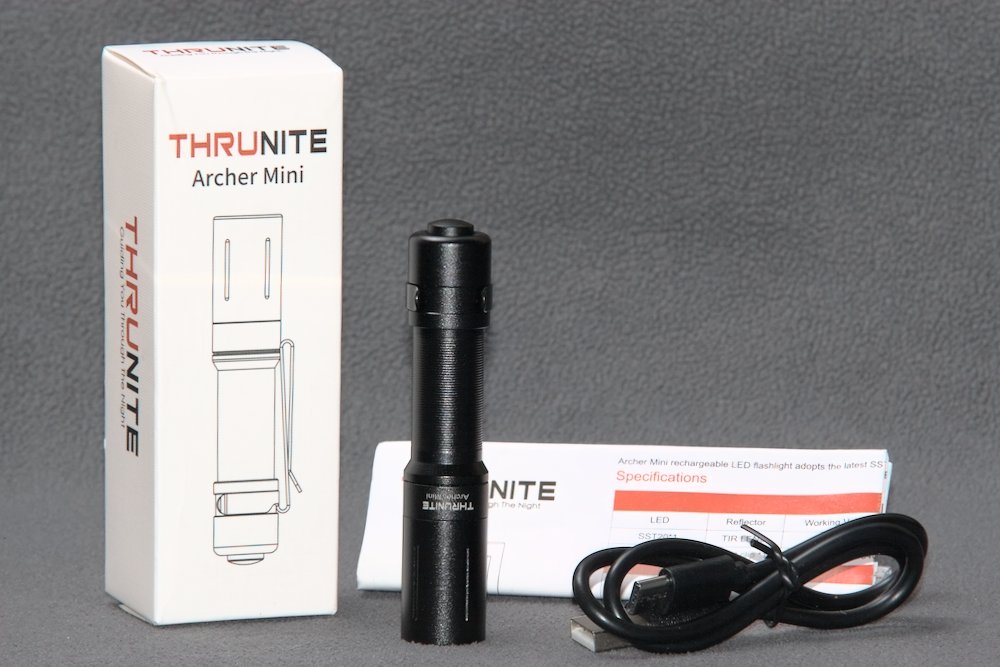 For a better grip the battery tube has lots of small rings. Together with the step at the tailcap this allows for a good handling with two fingers. There's not much more: No hole for a lanyard and without the clip the flashlight tends to roll away. Build quality is excellent with no sharp edges at all.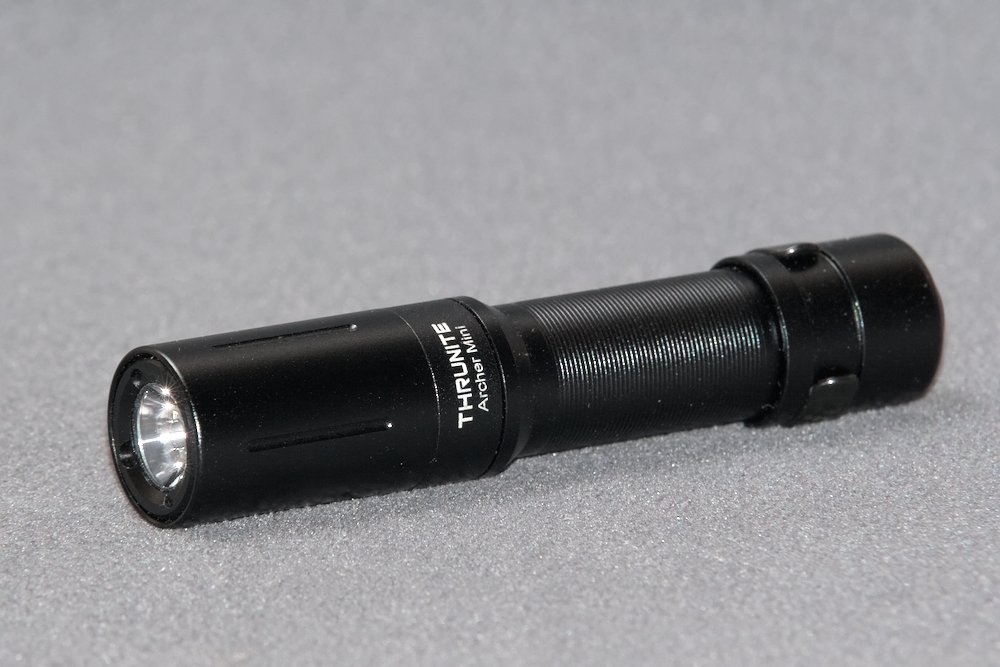 In a direct comparison with other flashlights it's easy to notice the compact format of the Archer Mini. It has a length of 83 mm, a diameter of 16.7 mm and weights only 36 g (including clip).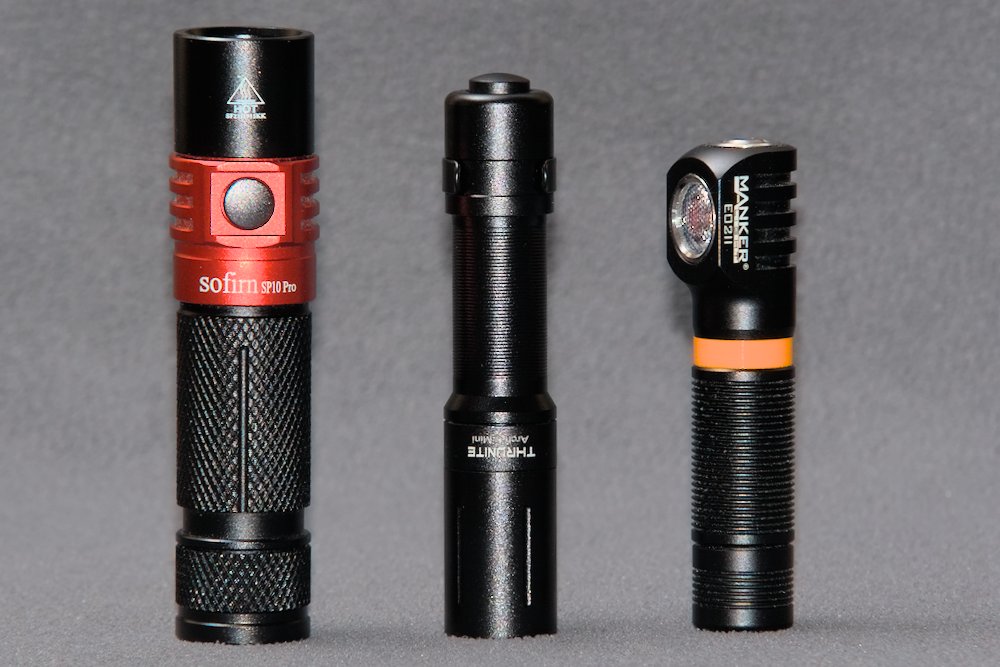 Because the battery is built-in, the flashlight can be charged directly via a USB-C port which is located behind a sleeve that can be unscrewed from the head. A very good protection against water. Apropos water: The Archer Mini is described as IPX8 (2m).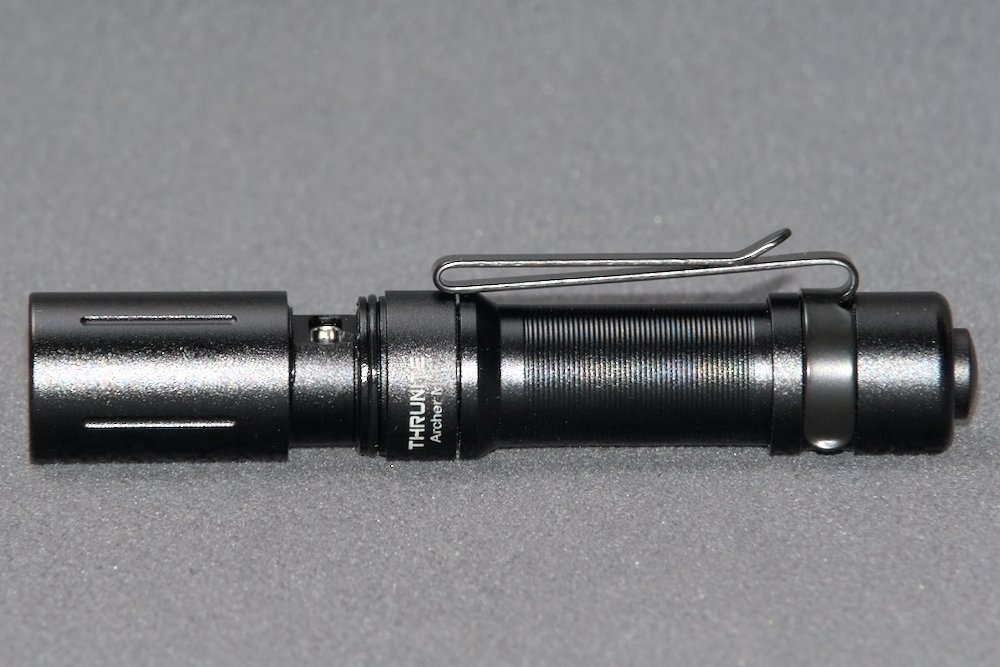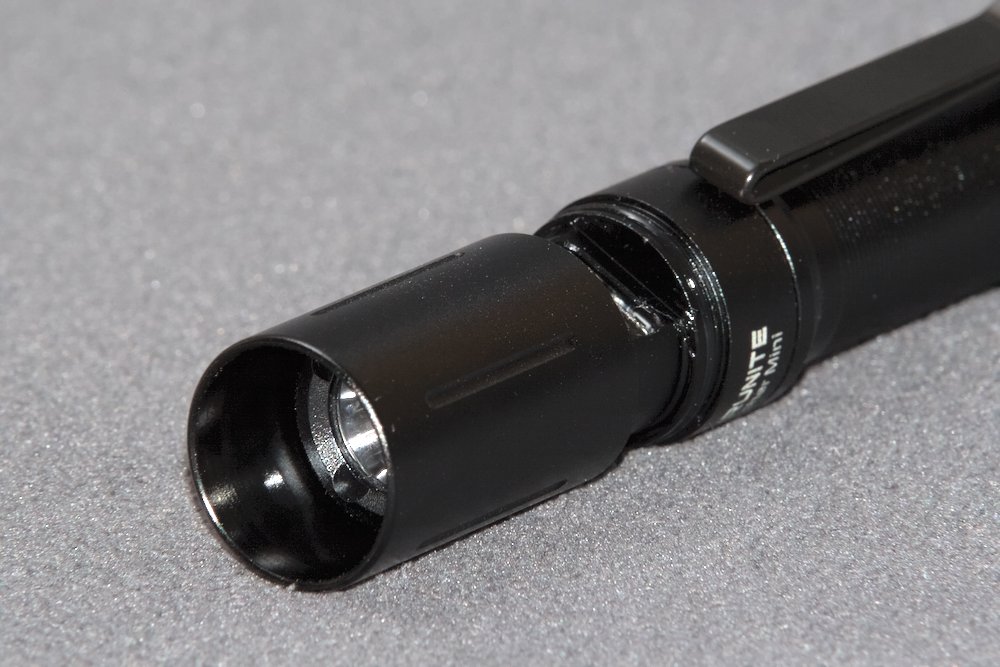 During charging an LED lights up in red, and blue when charging has finished.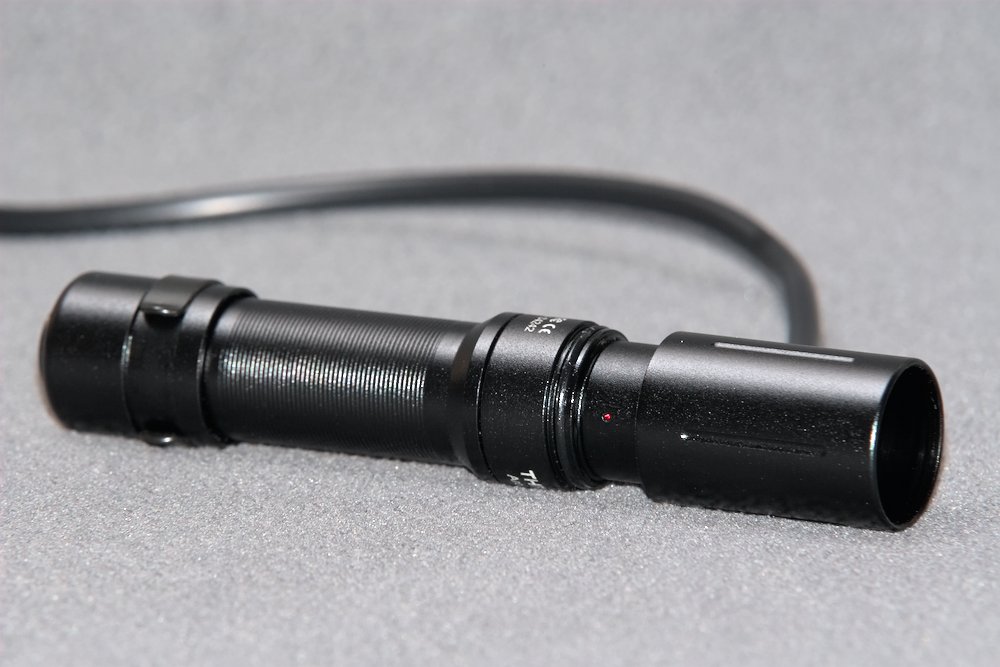 Charging takes 1:18 h and should work on any USB port as it requires only 320 mA (which is already much for the small 320 mAh battery).
User interface and handling
There's a smooth, rounded button at the tailcap. First you think it's a mechanical switch because of the feeling (springy travel, then a firm click), but it's an electronic switch. No tailstand possible, of course.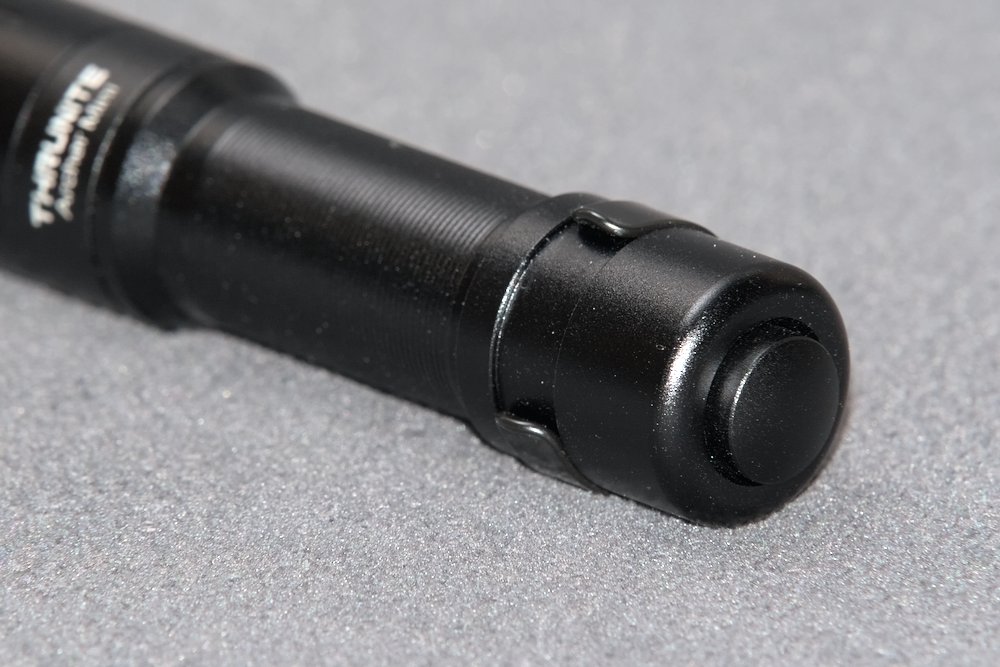 ThruNite has limited the functionality to the bare minimum which allows a very easy user interface:
| | | |
| --- | --- | --- |
| State | Action | Function |
| off | 1C | low |
| off/on | 2C | high |
| off/on | 3C | strobe |
| on | 1C | off |
| on | 1H | lockout |
| lockout | 1H | low |
Almost all functions are accessible from every state, except low which can be accessed only from off. Also lockout works only from low by holding the switch for at lesat 0.5 s. Another 0.5 s unlocks to low. This could be longer for my taste, maybe 1-2 seconds.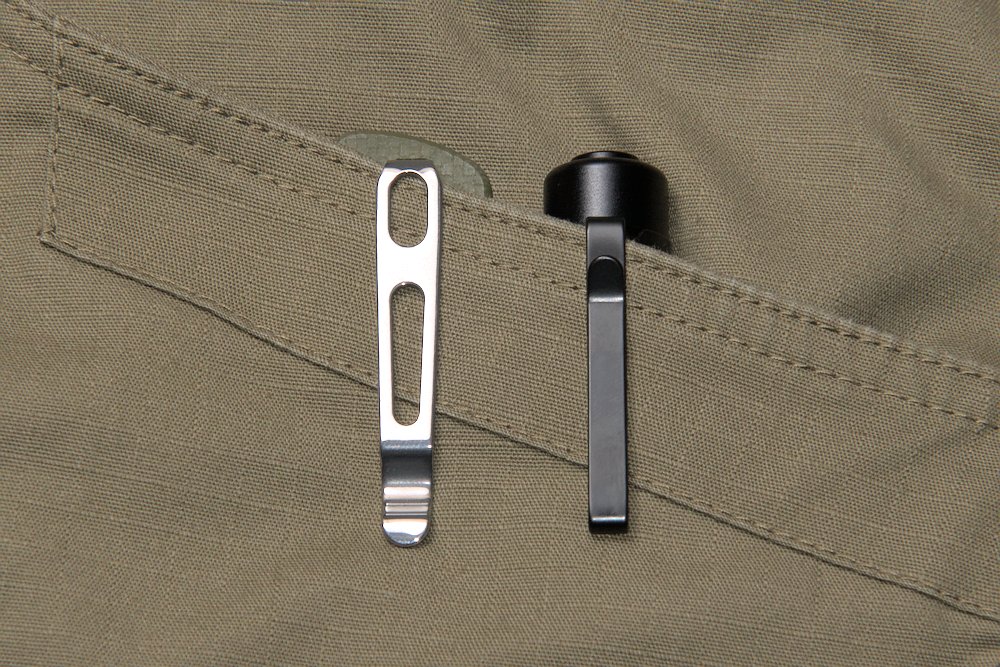 The dual-way clip allows to clip the light onto a cap and use it as a simple headlamp. This works quite good because the light is so lightweight.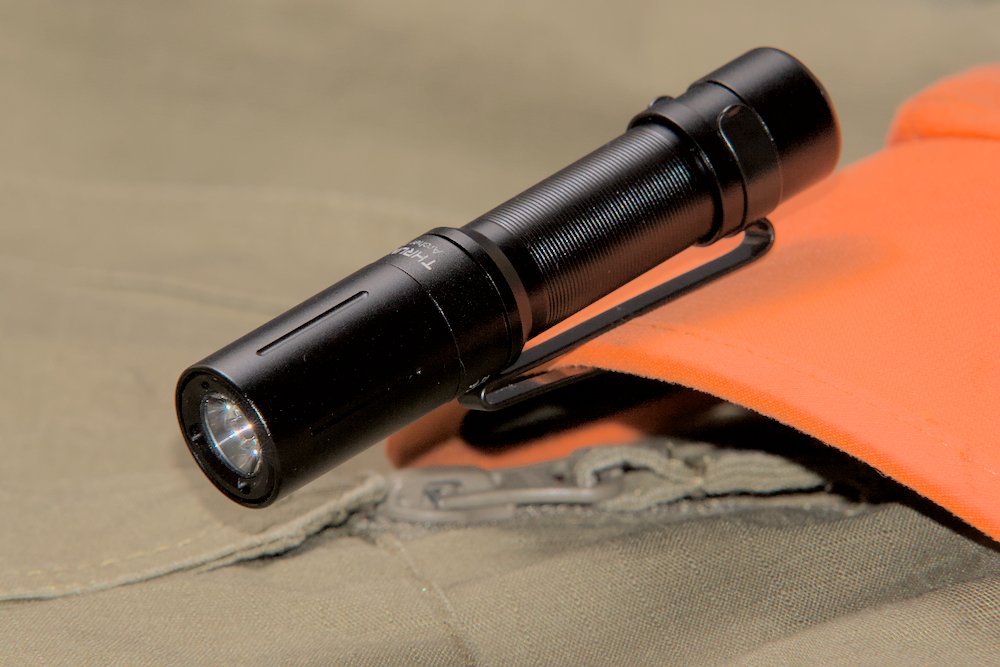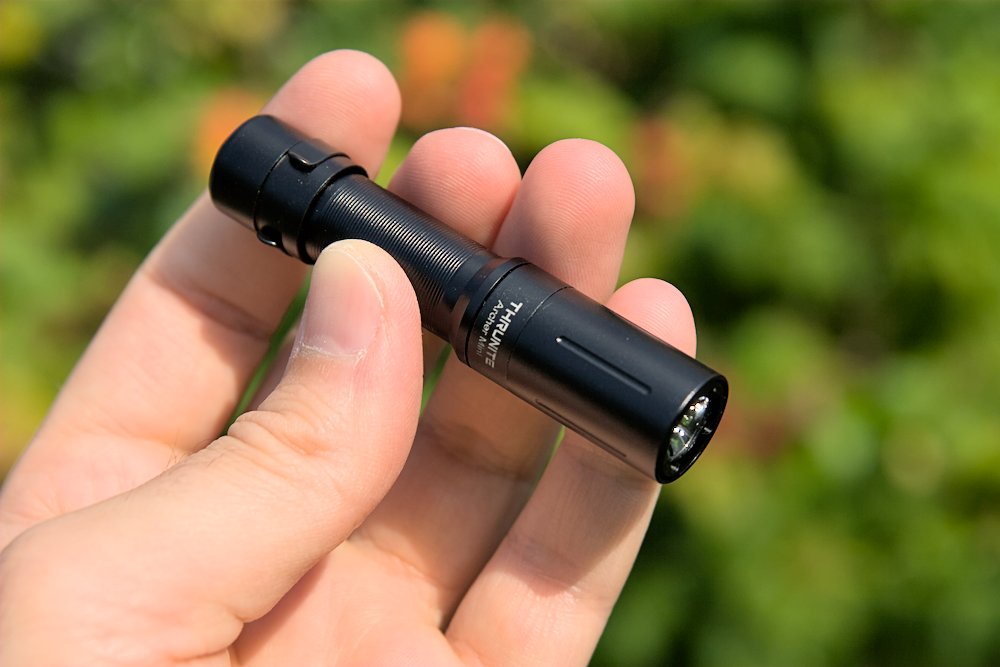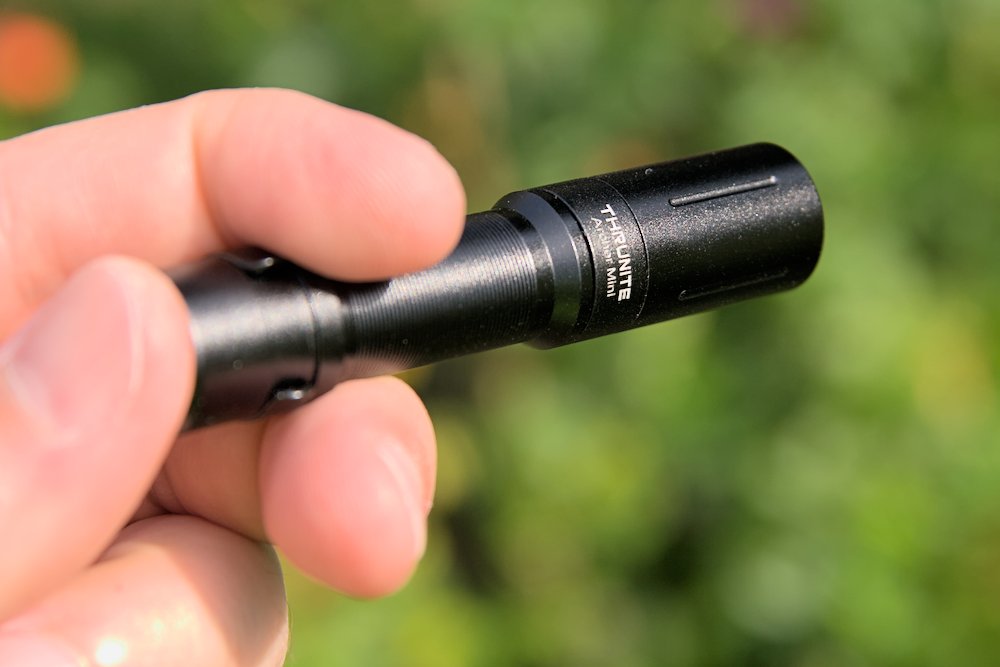 Illumination
The Archer Mini has a Luminus SST-20. It is labeled as "CW", but it's more around 5500 K – and quite greenish, as you'd expect from SST-20 above 4000 K. Also the CRI is nothing special. The LED sits behind a small TIR with a visible diameter of 10 mm.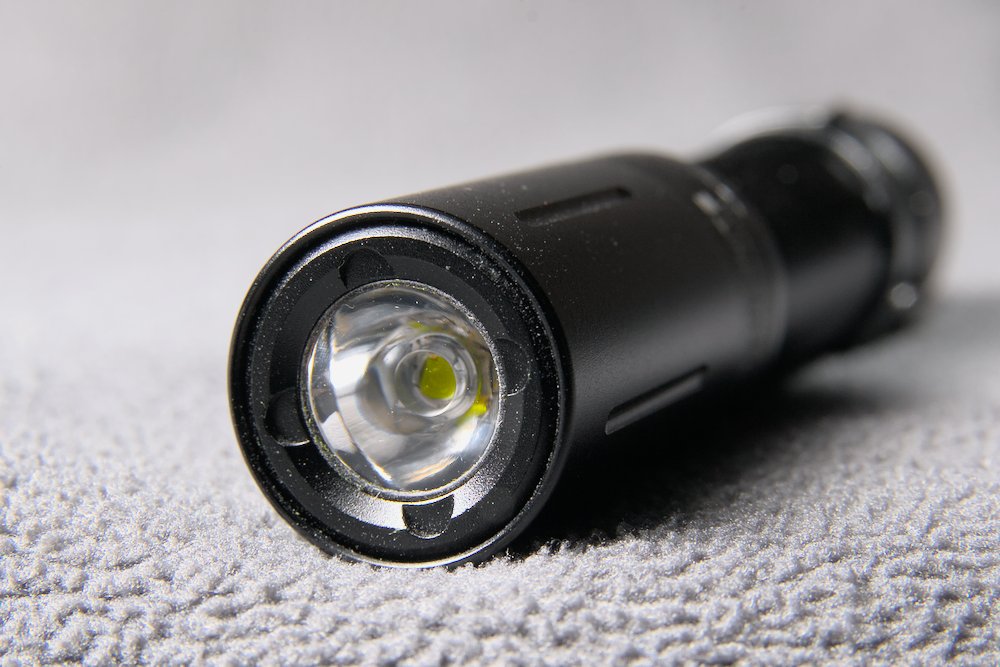 The beam has a large, smooth spot with even illumination. This is a good combination to get a usable throw from the limited brightness, but still usable at short distance.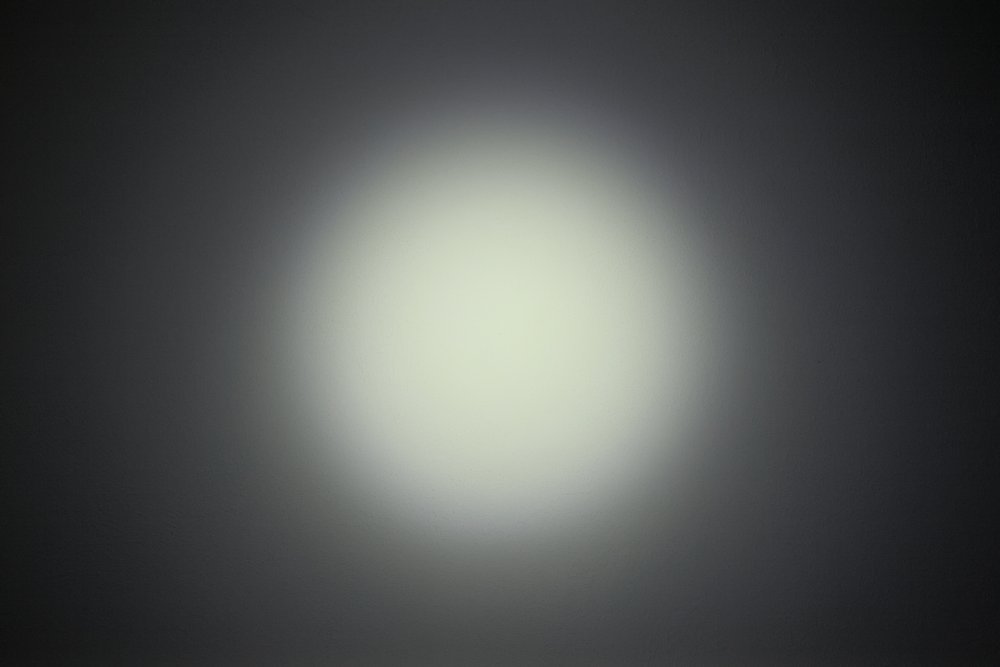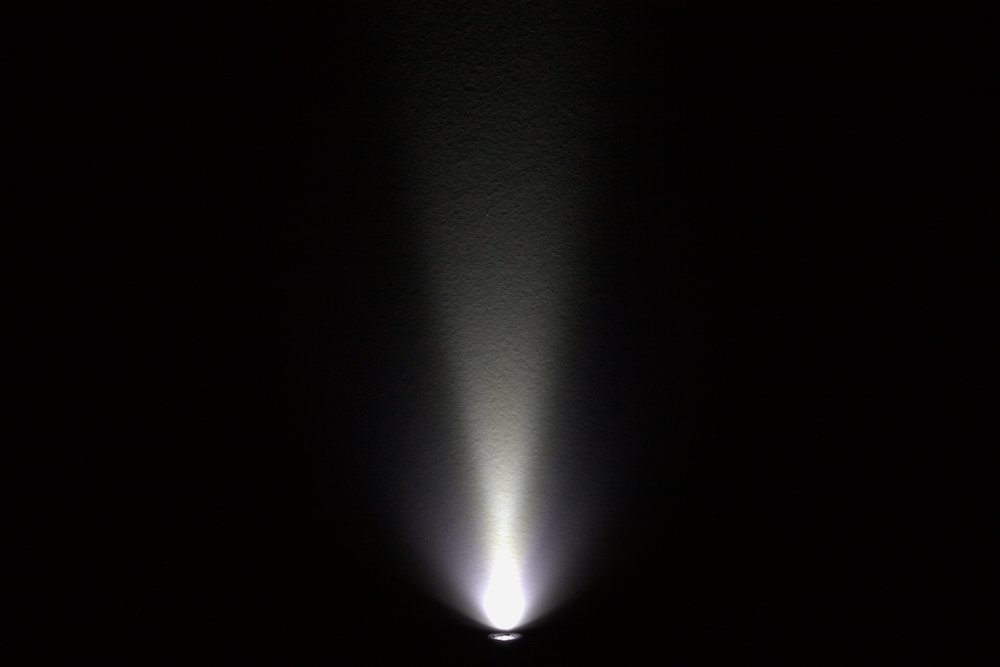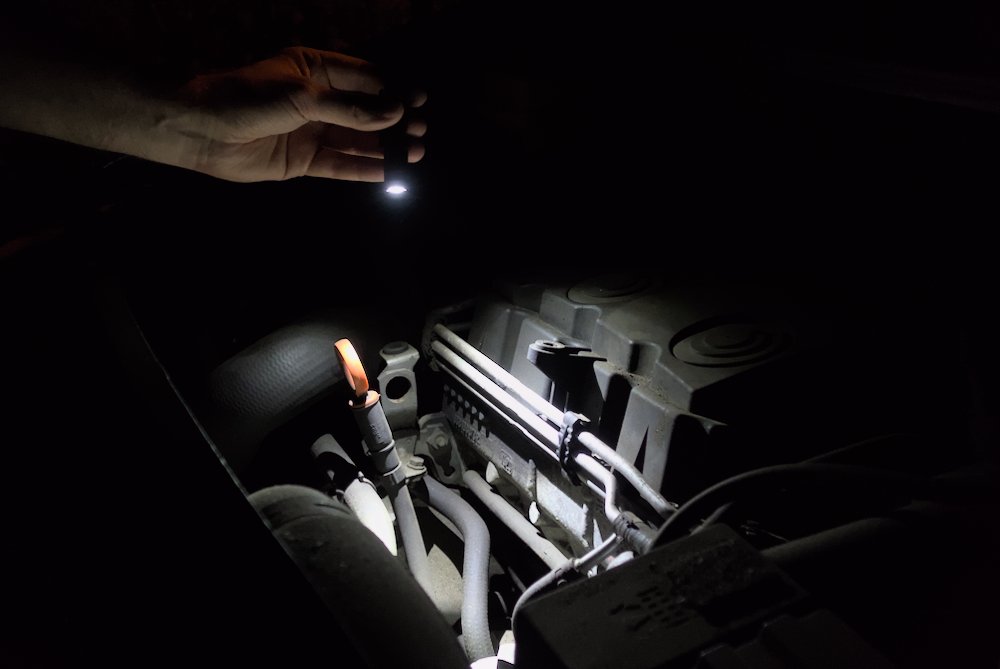 Driver and runtime
For a flashlight of this size the runtime is very good. The high level has a stepdown after two minutes to 45% and stays there constant for almost 50 minutes. The low level has a constant brightness of almost 8 hours! Values of the manufacturer:
| | | | |
| --- | --- | --- | --- |
| Mode | Brightness | Runtime | Throw |
| Low | 18 lm | 7,5 h | |
| High | 405 lm / 157 lm | 2,5 + 52 min | 1880 cd (87 m) |
| Strobe | 355 lm | 110 min | |
Once the output drops, the flashlight starts blinking every ten seconds to signal an empty battery. I couldn't notice any form of low voltage protection in my tests with differs from other reviews.
Sadly there's no way to see the current state of charge. Because of the constant output you don't know whether it will run for another minute or 50 minutes. This only leaves the option to charge it regularly and keep a powerbank nearby.
The runtime chart indicates that this might be a buck regulator. It gives a constant current for the high level, while other levels are controlled via PWM at 4 kHz. This is not visible, but slightly audible if you keep the flashlight close to your ear.

There's nothing more to say about the driver as this light is glued together. This might be a problem when the internal 10400 Li-ion battery is worn out. Before you throw the flashlight away you could try it with force. I'll add current measurements when I decided to open mine.
Conclusion
The ThruNite Archer Mini is a compact EDC flashlight which stands out due to its slick design and easy user interface. But there's also room for improvement: swappable battery, state of charge indicator and a SST-20 in 4000 K with much better CRI. But overall this is a very nice flashlight.