A wonderful update in the line of Sofirn C8 flashlights. Built-in charging, increased brightness, additional tactical UI. Sofirn C8L turned out to be a pleasant flashlight. Let me show you a comparison between Sofirn C8L and Sofirn C8G, the most popular budget long range flashlight.
➤ AMAZON
➤ ALIEXPRESS
Declared characteristics:
Dedomed Cree XHP50.3 LED
Maximum brightness 3100lum, maximum range 531m (70500cd)
1*21700 \ 1*18650
Active thermoregulation with cut-off at 50℃
Side and tail buttons
5v3A built-in Type-C charging
Size 156*46.5 mm
IP-X waterproof
Package and appearance
The same check but reliable beige cardboard box. Nothing new.

There is no external charger included (it is built-in flashlight, finally). The rest is unchanged: the flashlight itself, 21700 5000mah battery and adapter 18650-21700, Type-C charging cable, o-rings, manual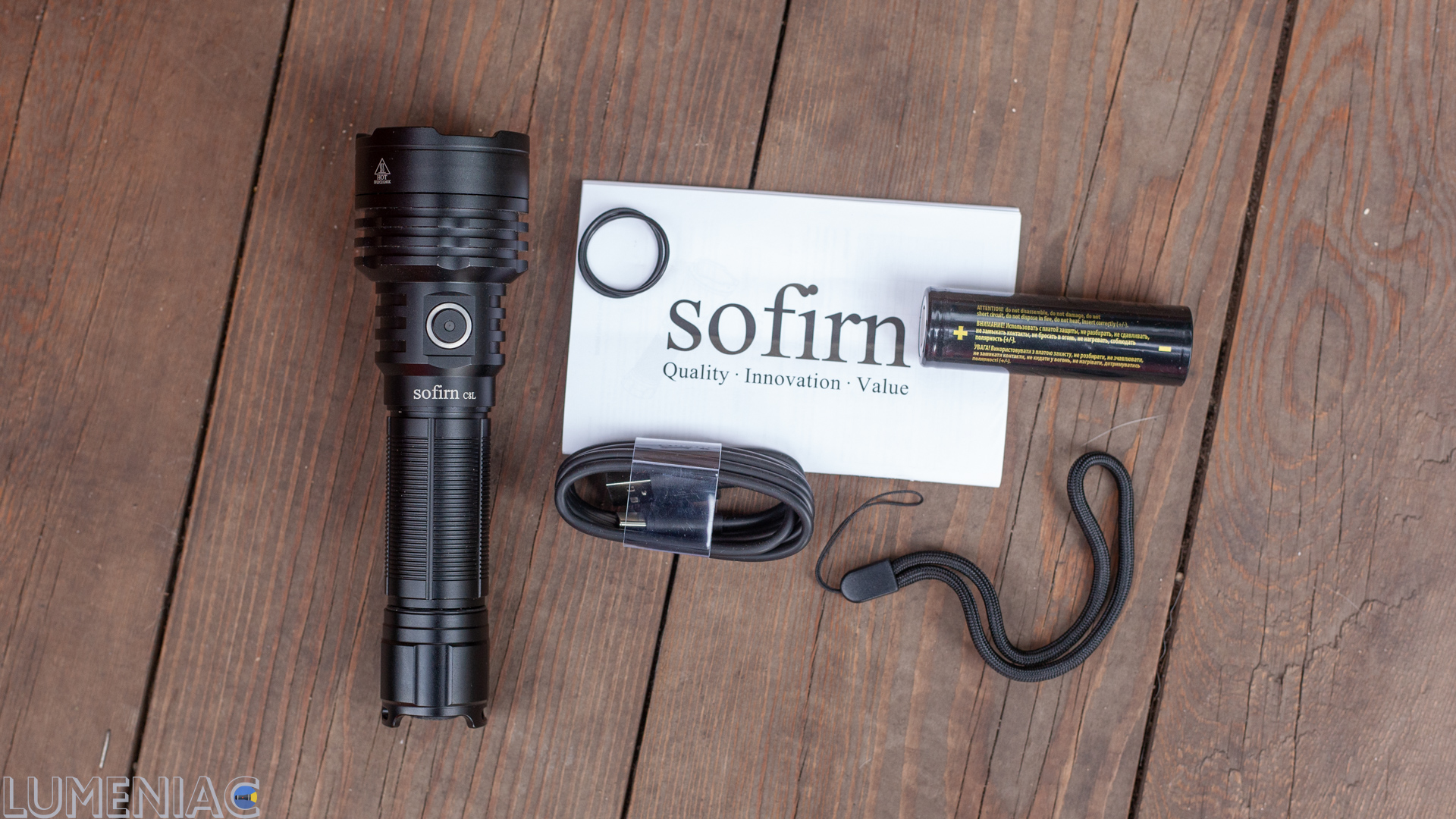 And here is the flashlight itself. The design is still the same Sofirn-style. That is, modestly, neatly and completely faceless.
_- "Oh, damn, man, these pics are good, flashlight looks way more expensive than it is."
- "Oh, thanx, thanx, i did my best…"_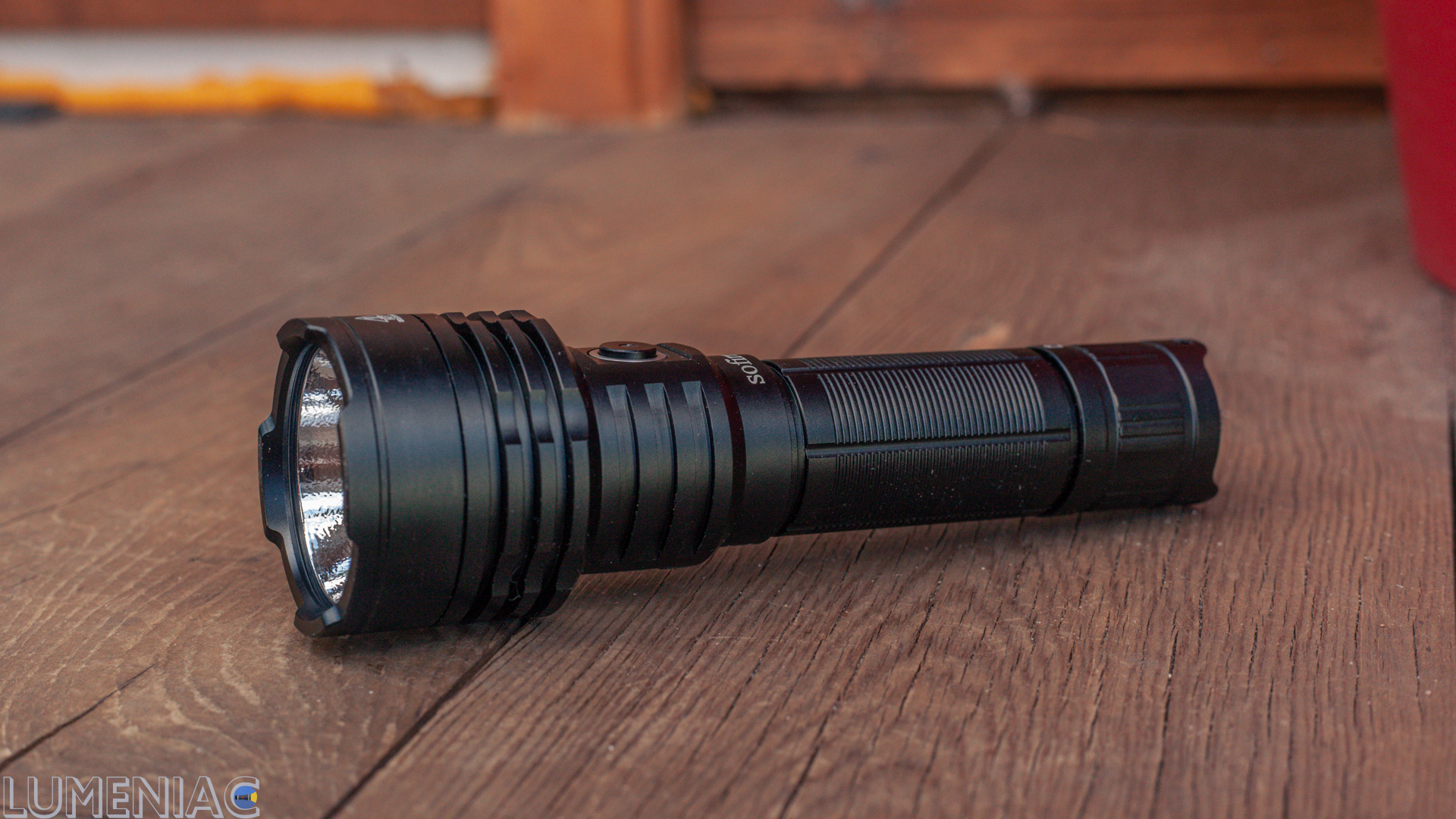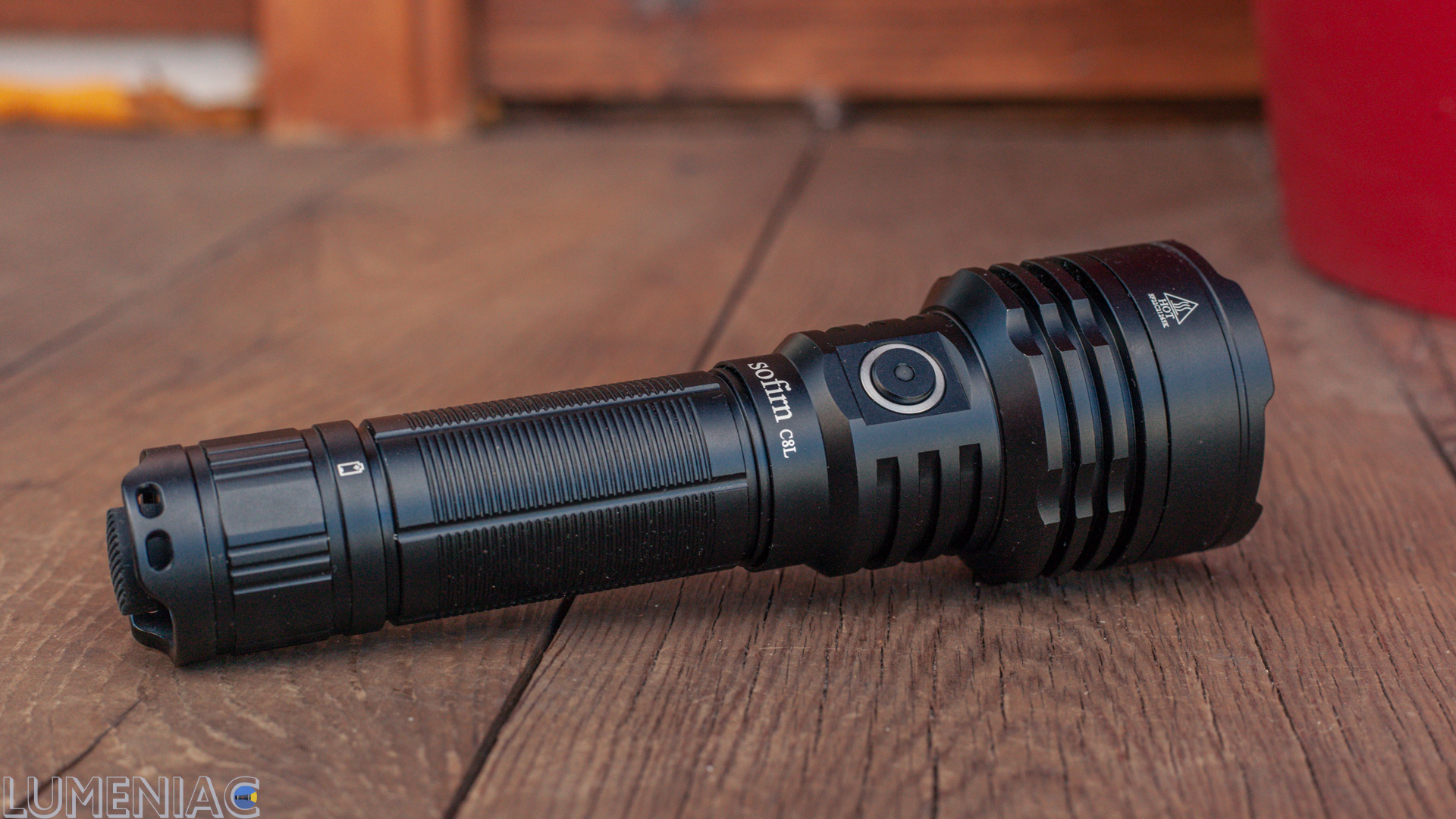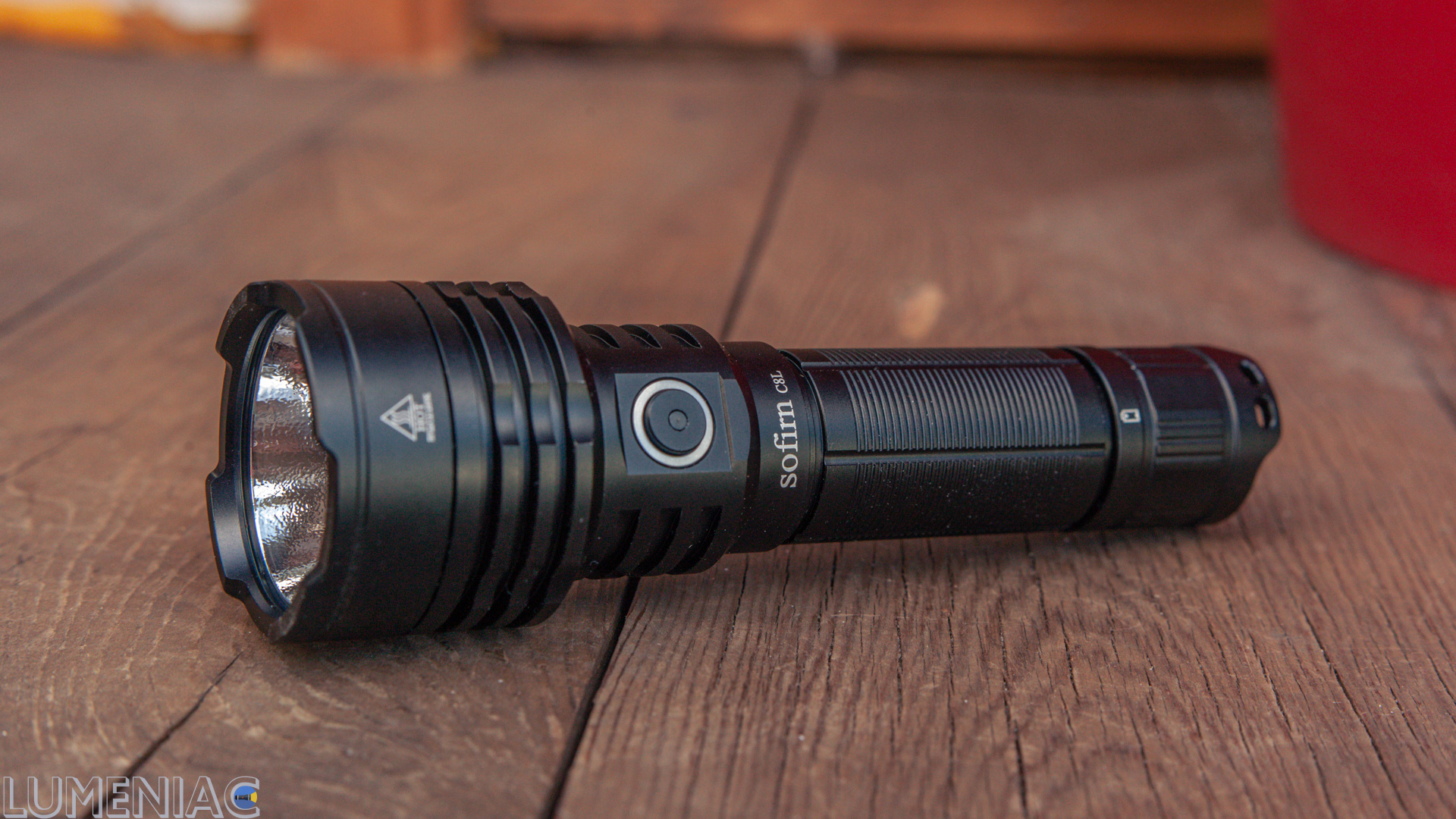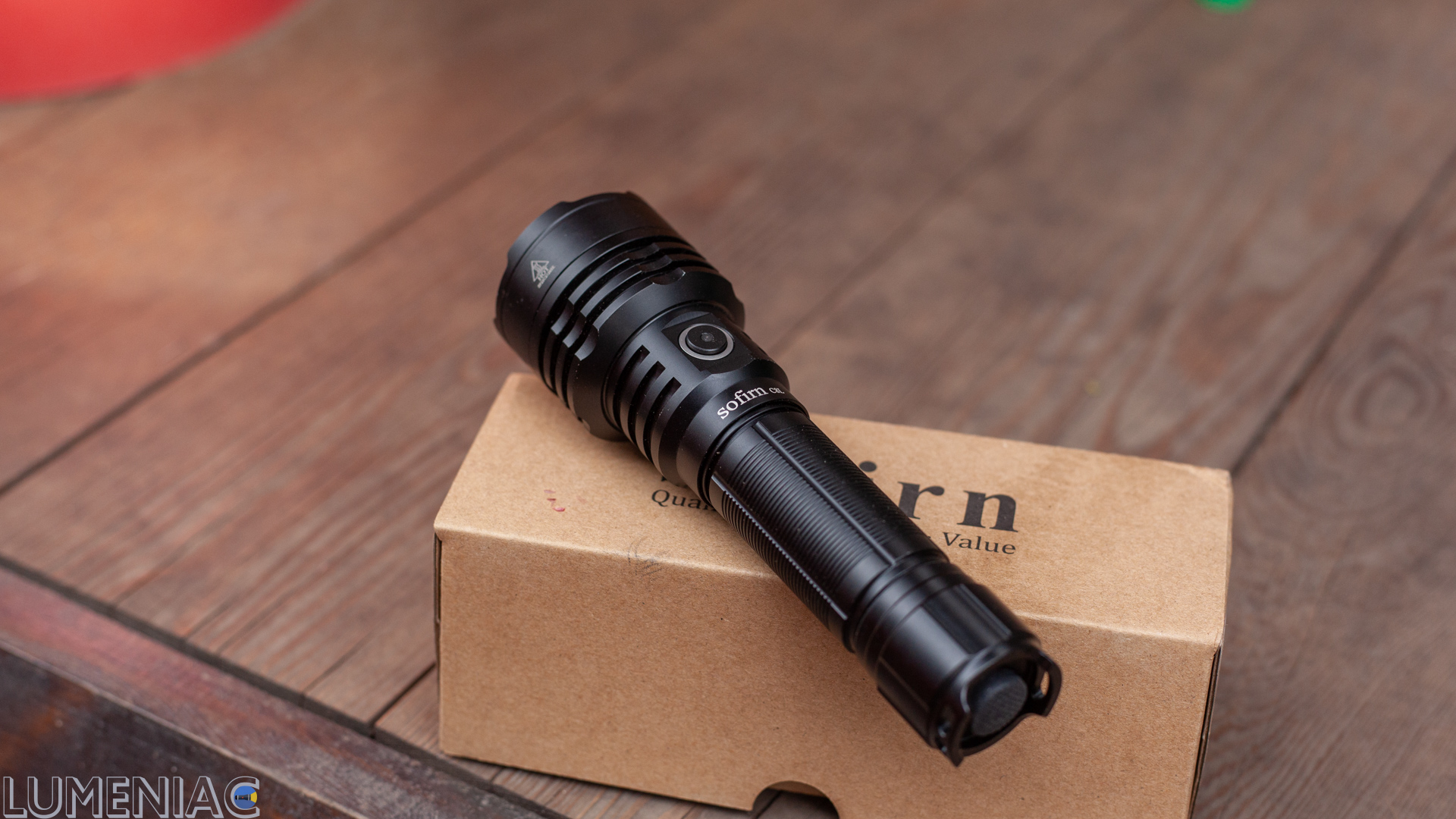 You pay a little, but in terms of appearance, you get exactly this modest price tag.
Nearby, in order to assess the size, another modest workaholic Wurkkos TS21, a longtime inhabitant of my pocket, lit up. And to compare the design, the Acebeam L19.2 (about it in the next review) is thoroughbred, expensive and super-long-range. Review of this flashlight will be very soon. What prevents Sofirn from making at least a matte knurling? The flashlight will look much more attractive and stylish.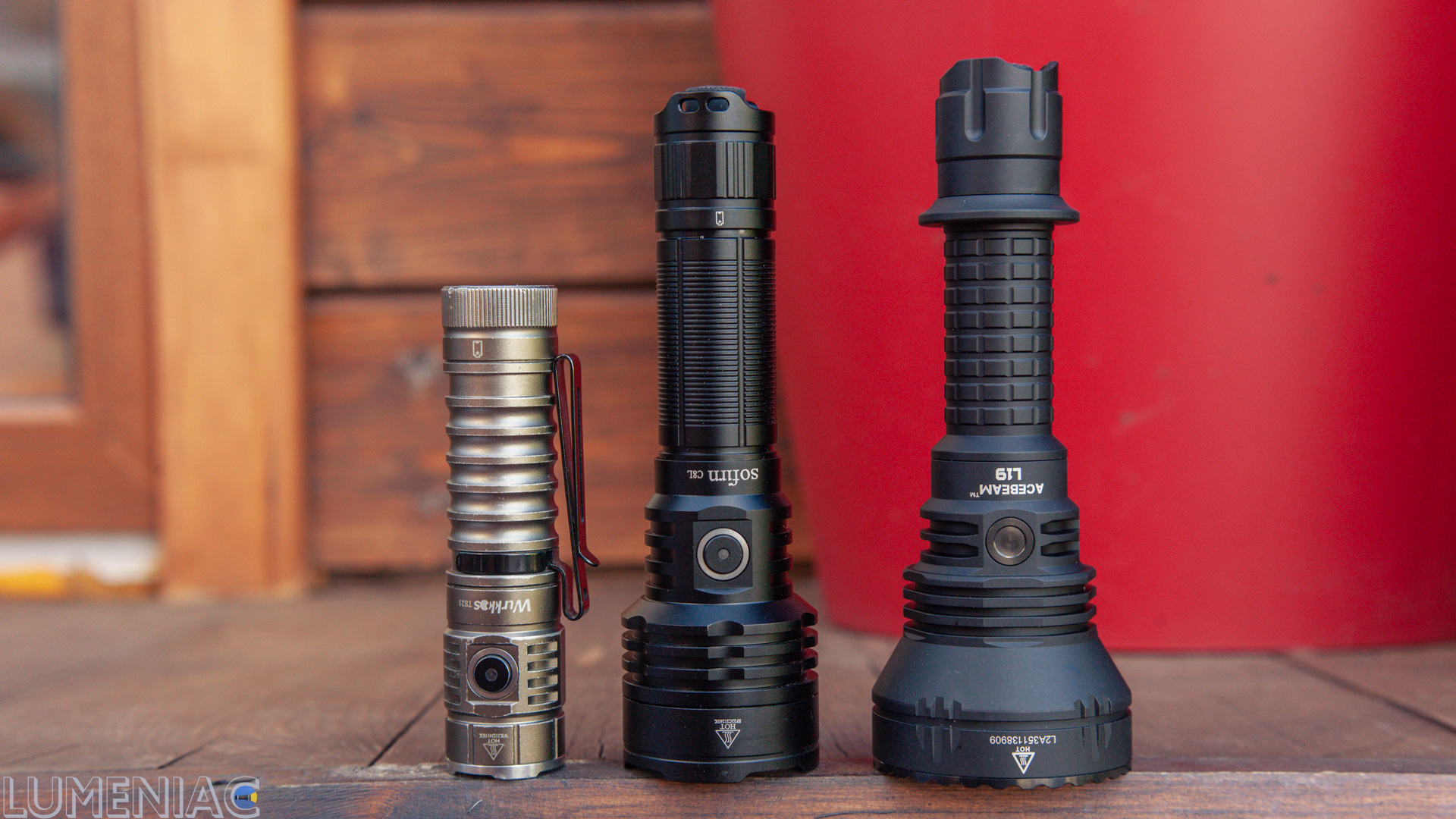 However, it would be correct to compare Sofirn C8L with Sofirn C8G. And until I took the last one out of the box, I was sure that the flashlights looked the same. So yes, they look the same, equally faceless. But there is a difference in this facelessness. See for yourself.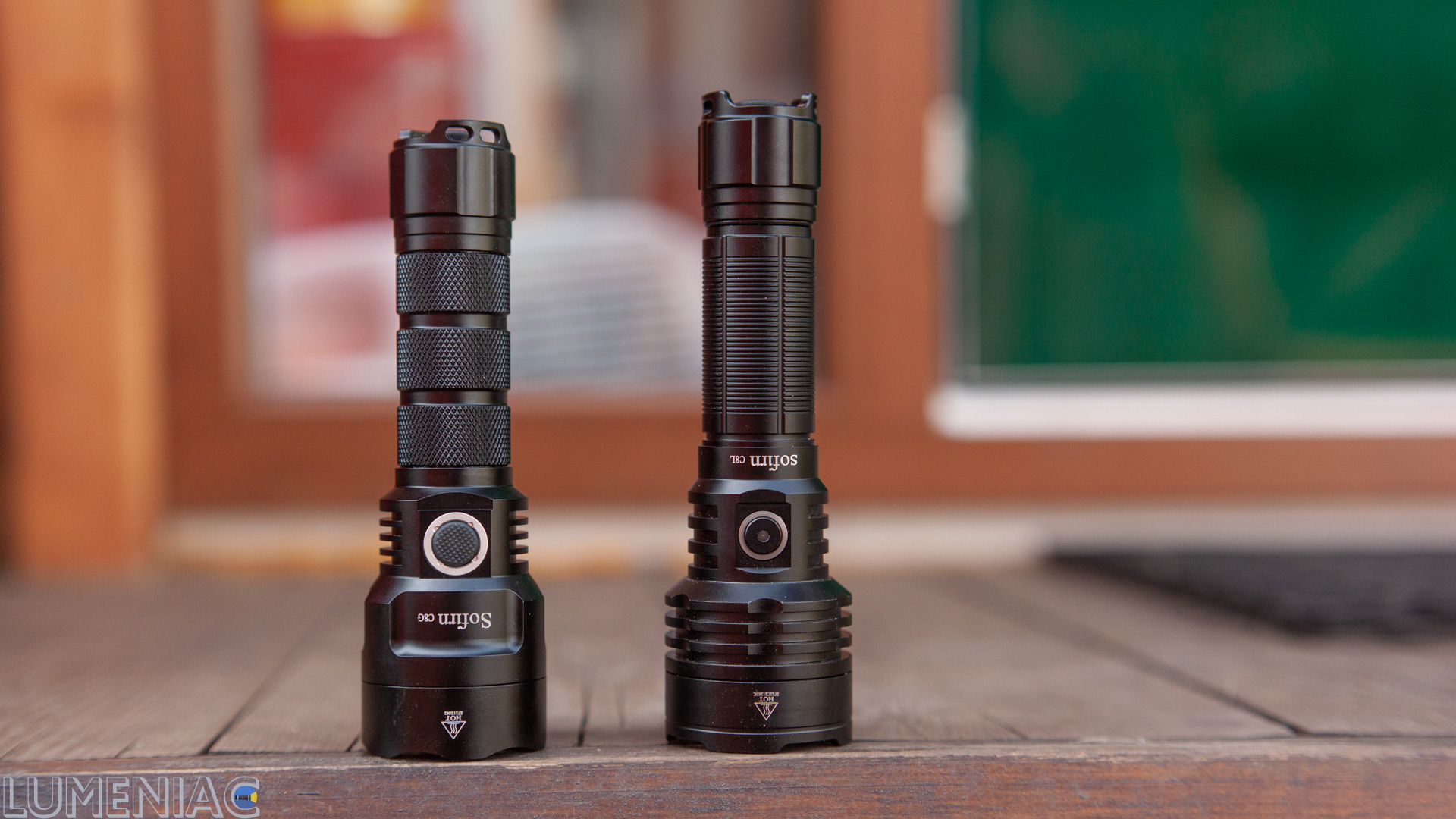 By the way, someone wrote that the flashlight has no tailstand. It does, there are no problems with this at all.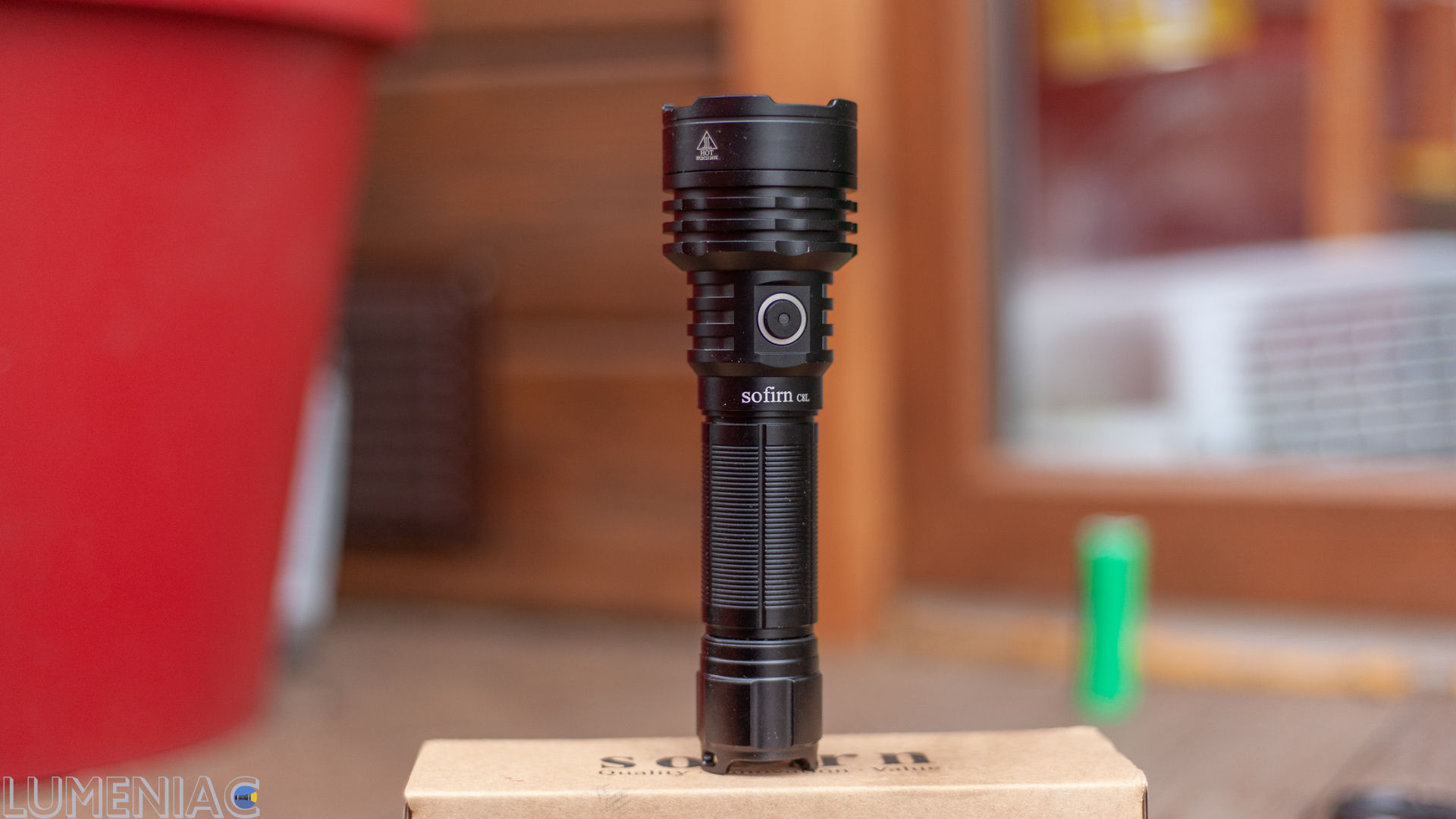 The knurling has changed dramatically, I think that C8G`s one is more tenacious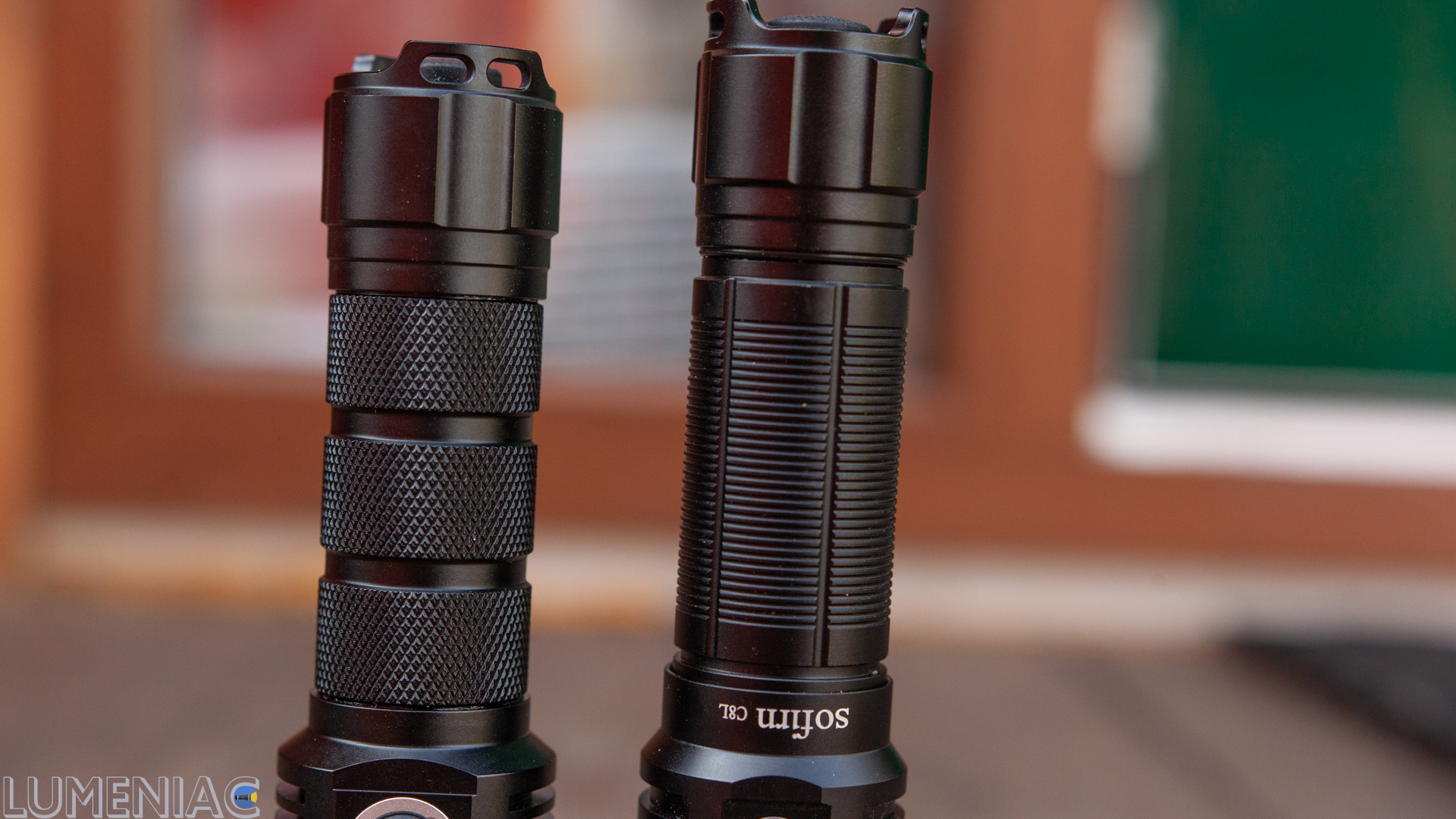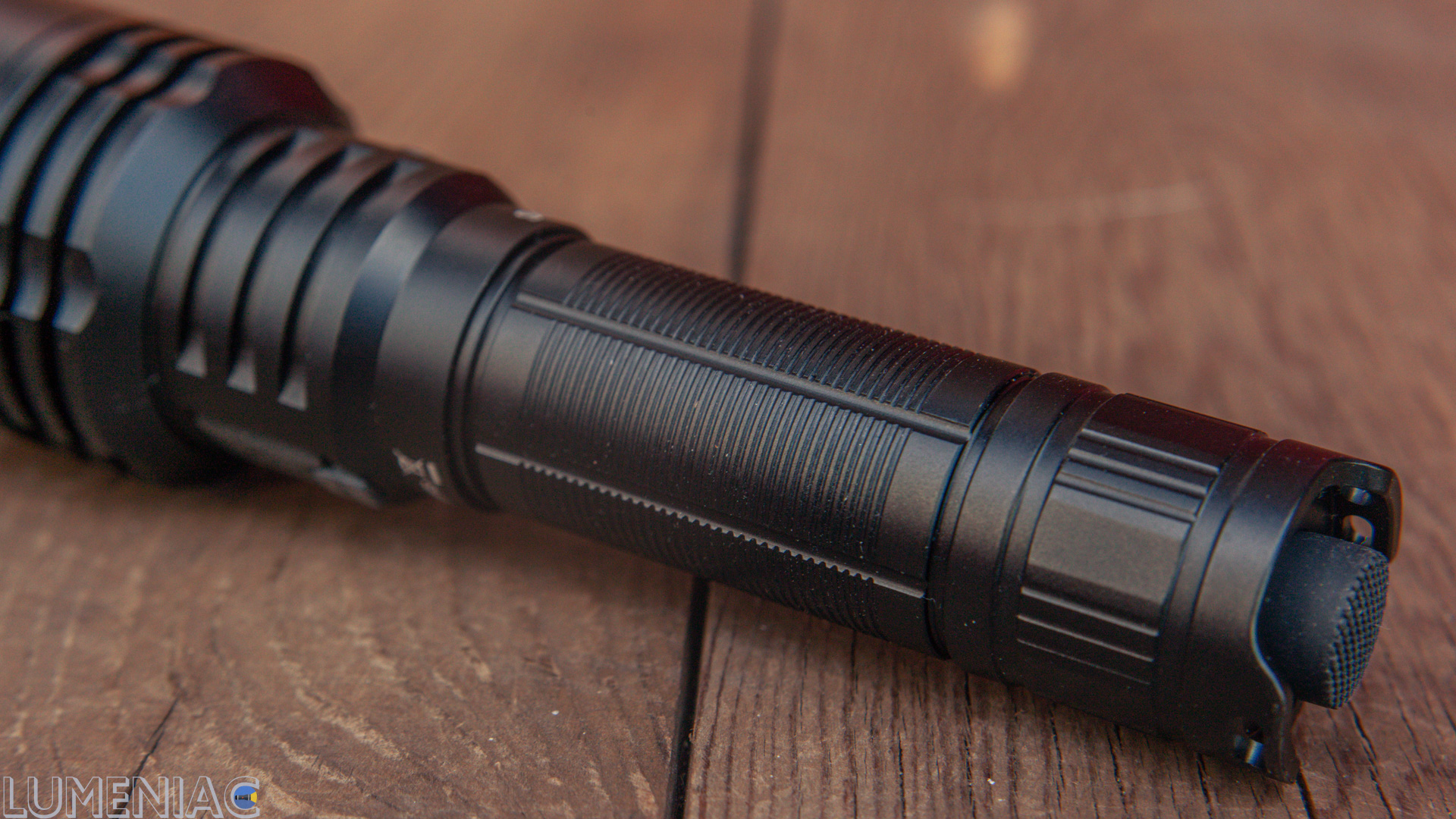 As before, the flashlight is disassembled into 3 parts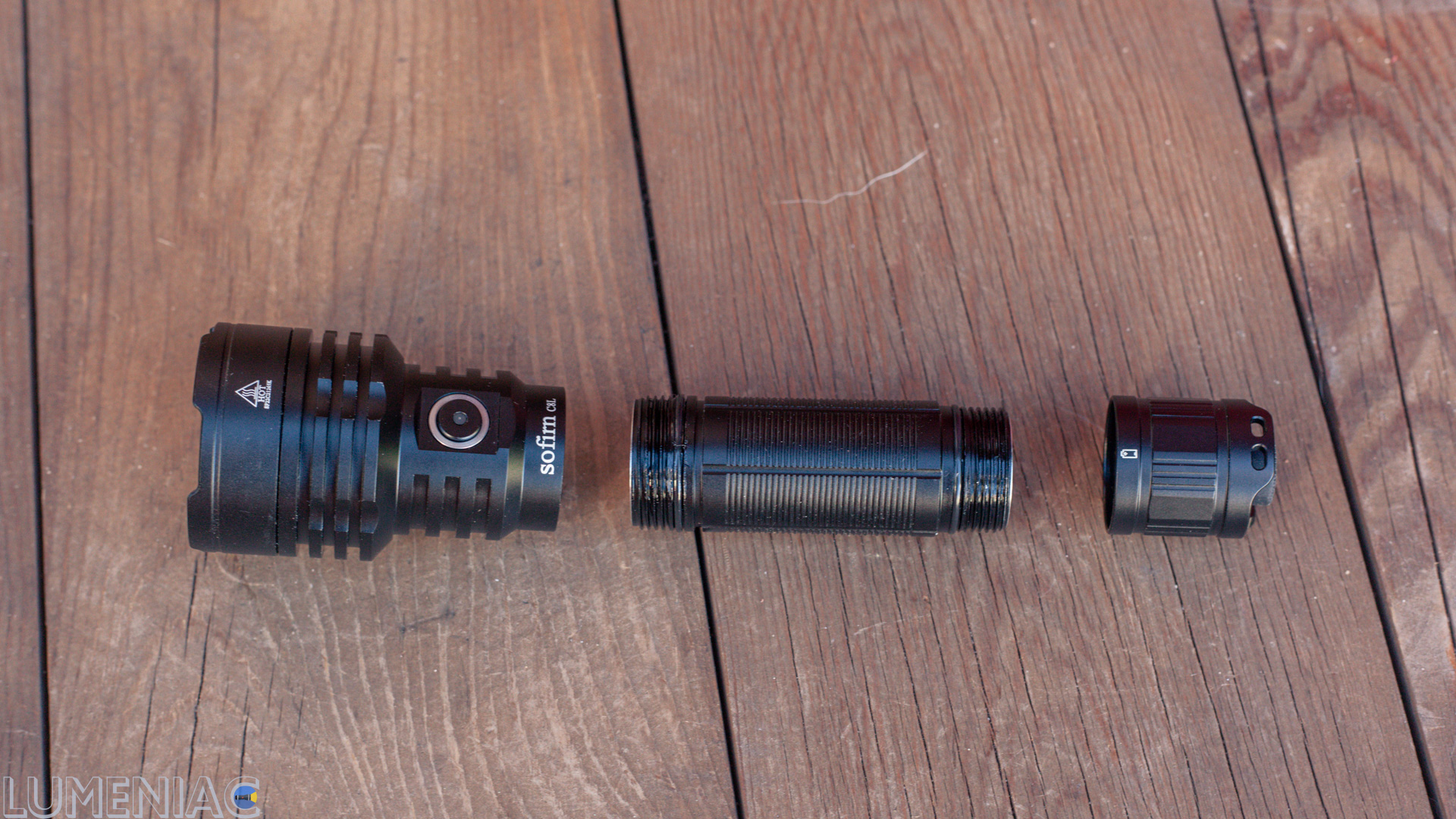 Again, you contol flashlight via tail and side buttons.
The design of the side button changed. Perhaps that the old rough is better for use in winter with gloves. Although I can't seem to criticize access to the new button. It is embossed and can be found with absolutely no effort.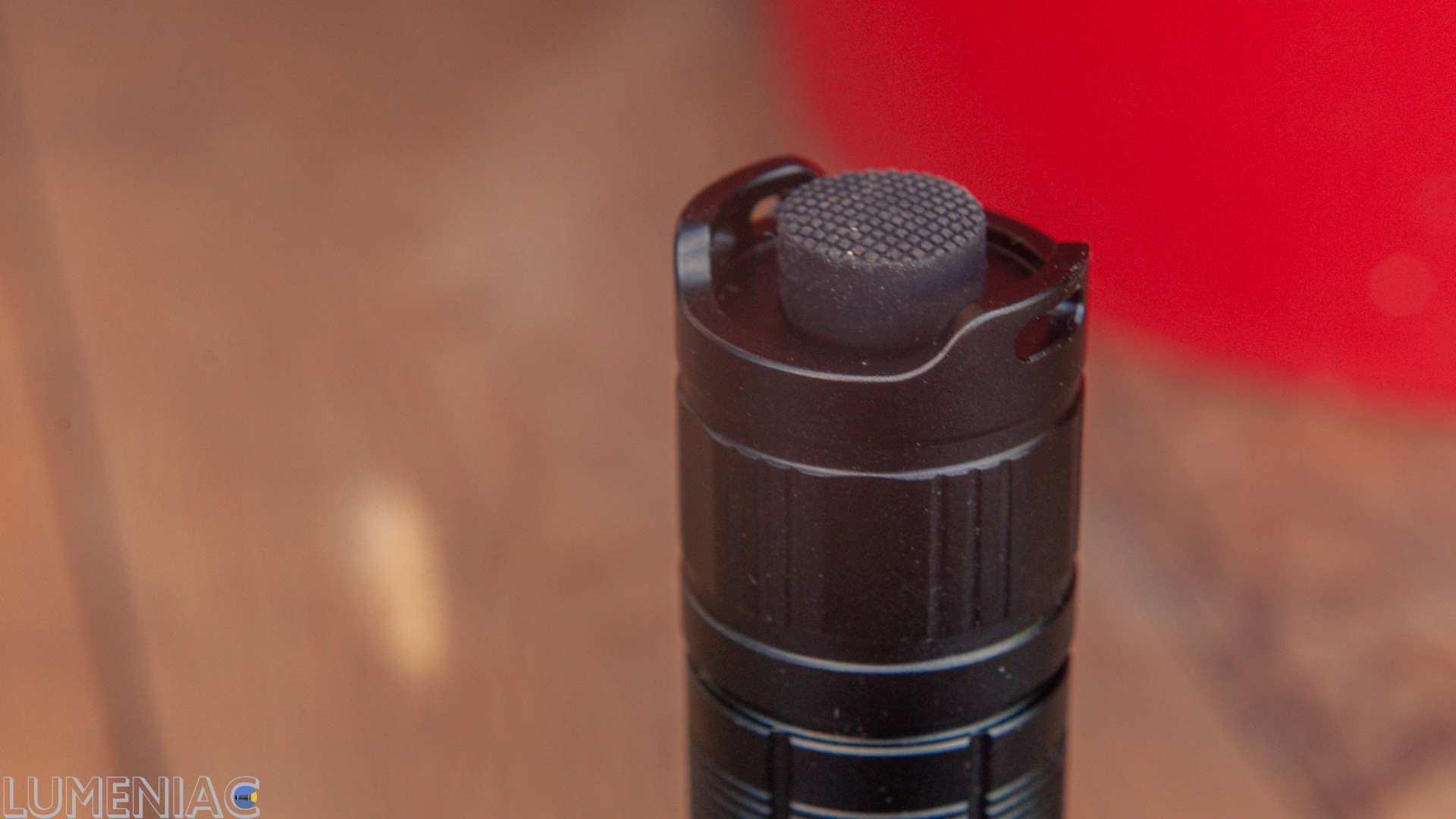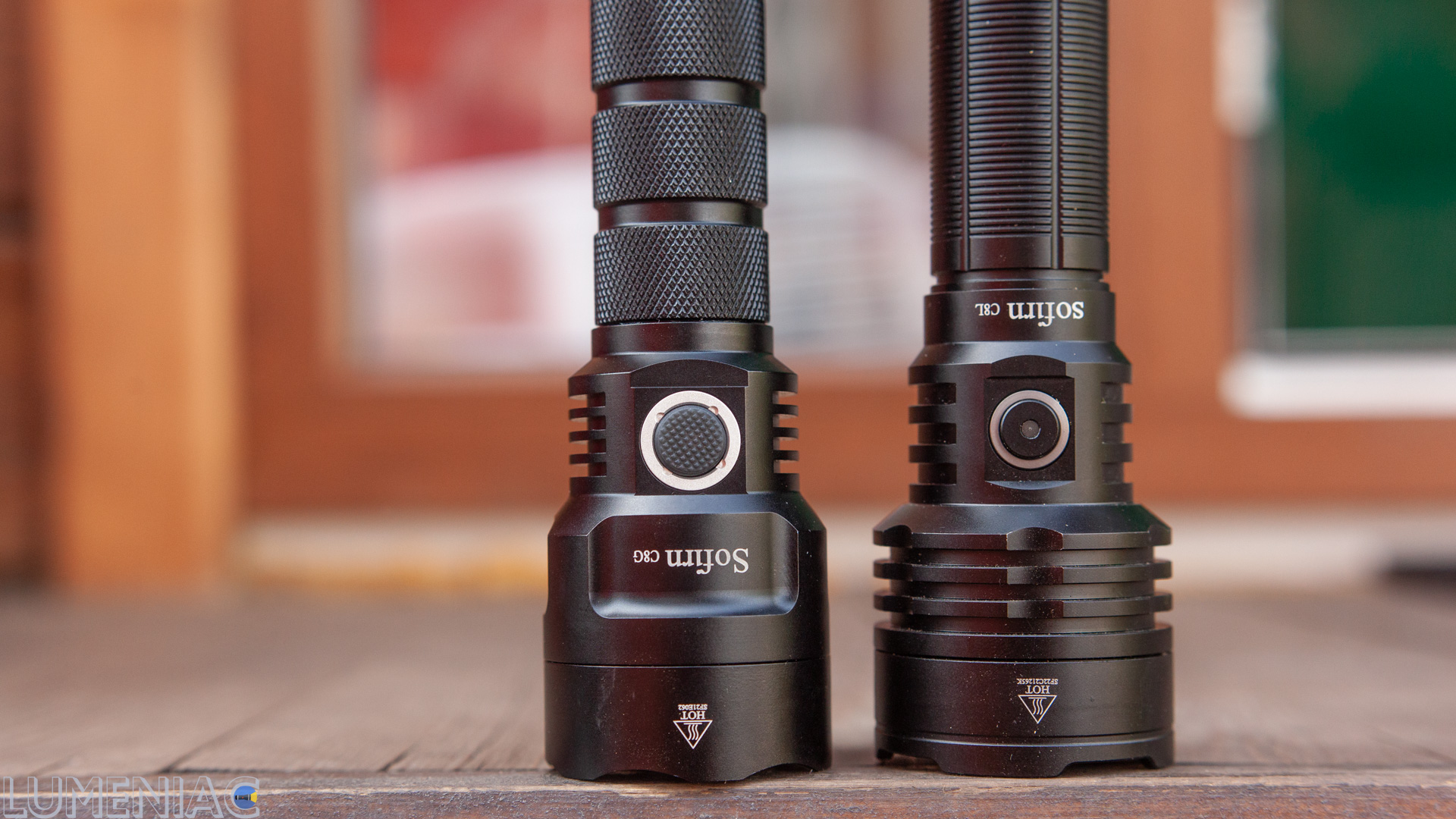 The backlight remained the same.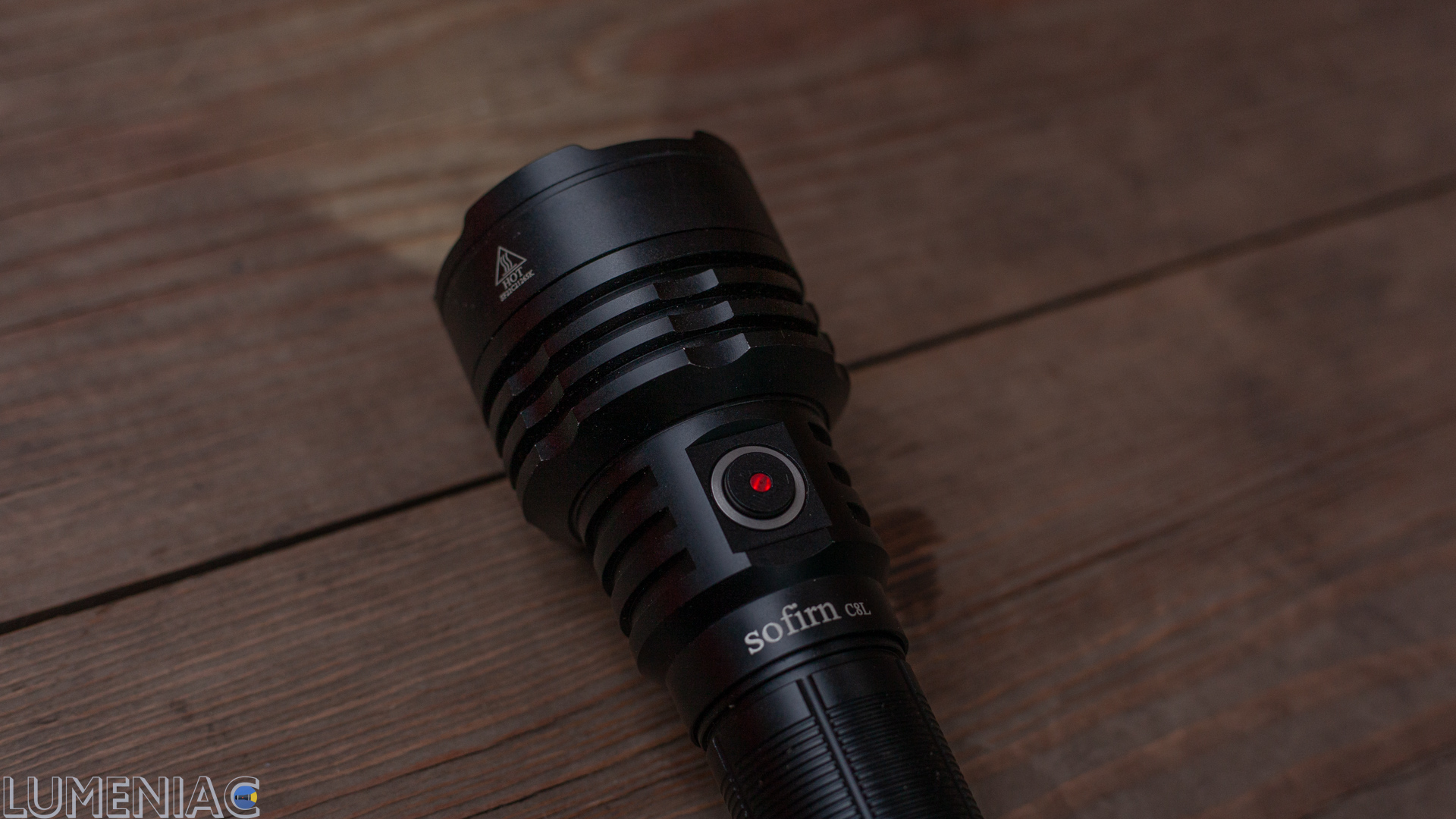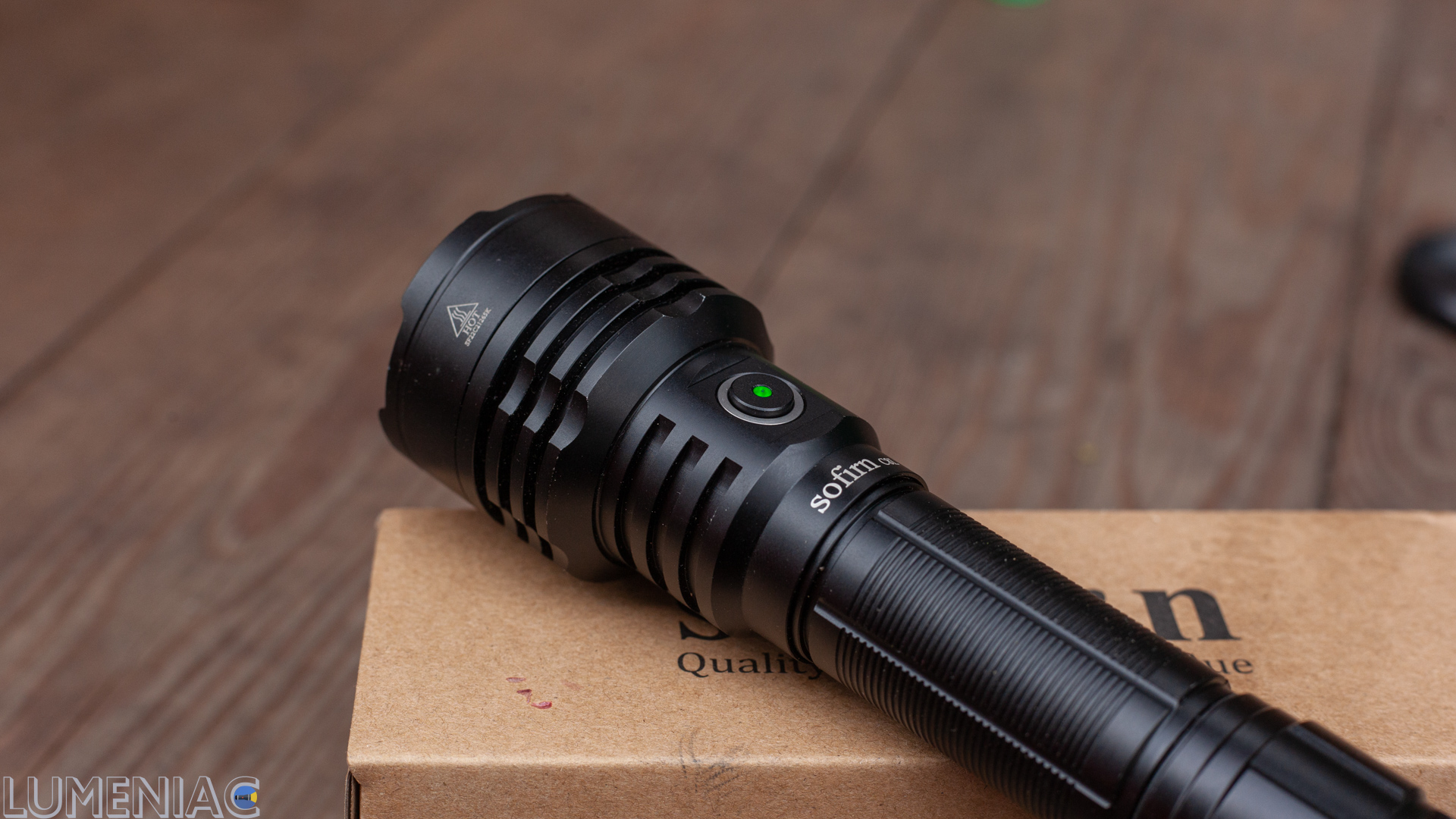 The springs also remained unchanged. Everything is as it was – one in the tail, the other in the head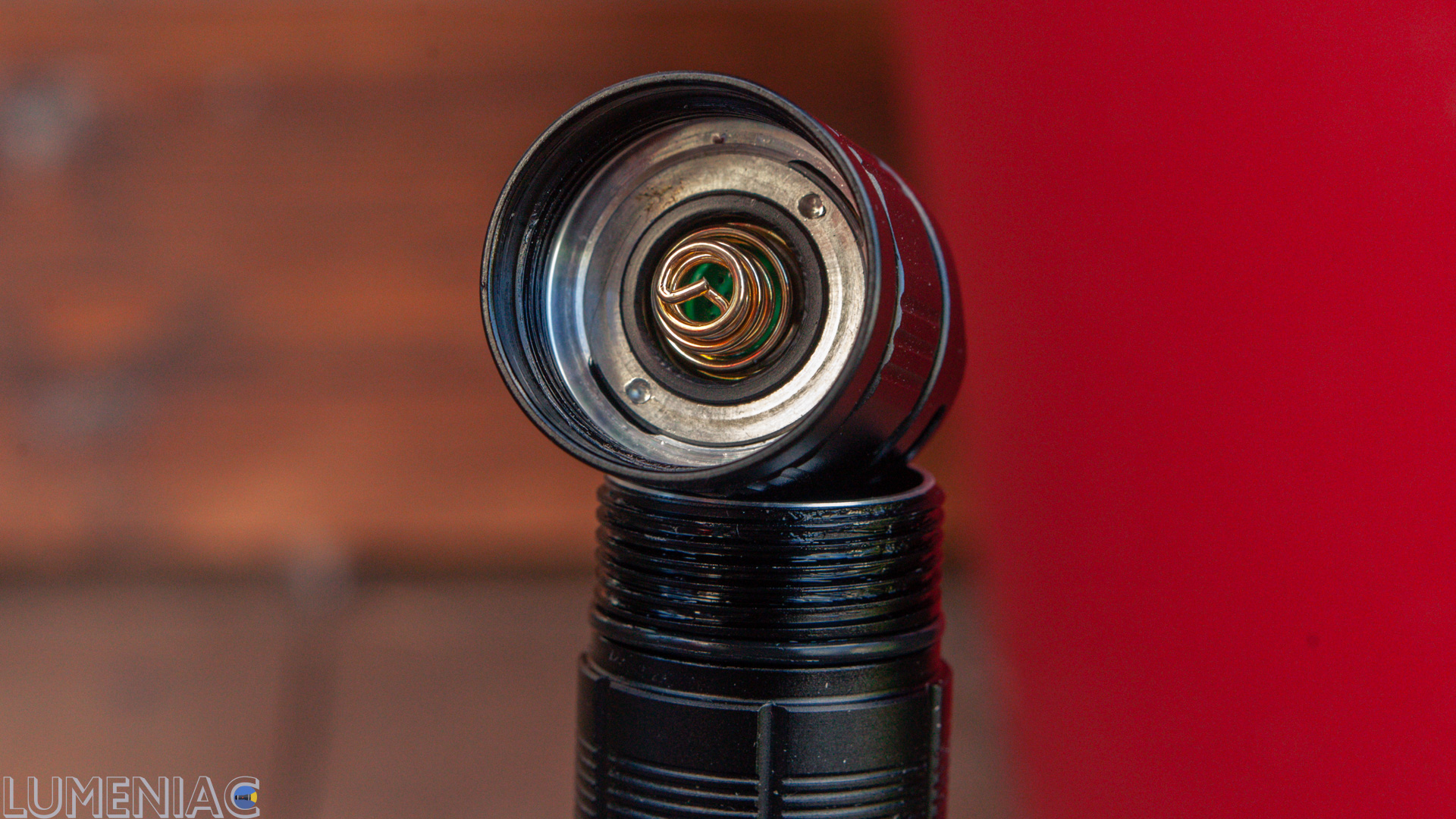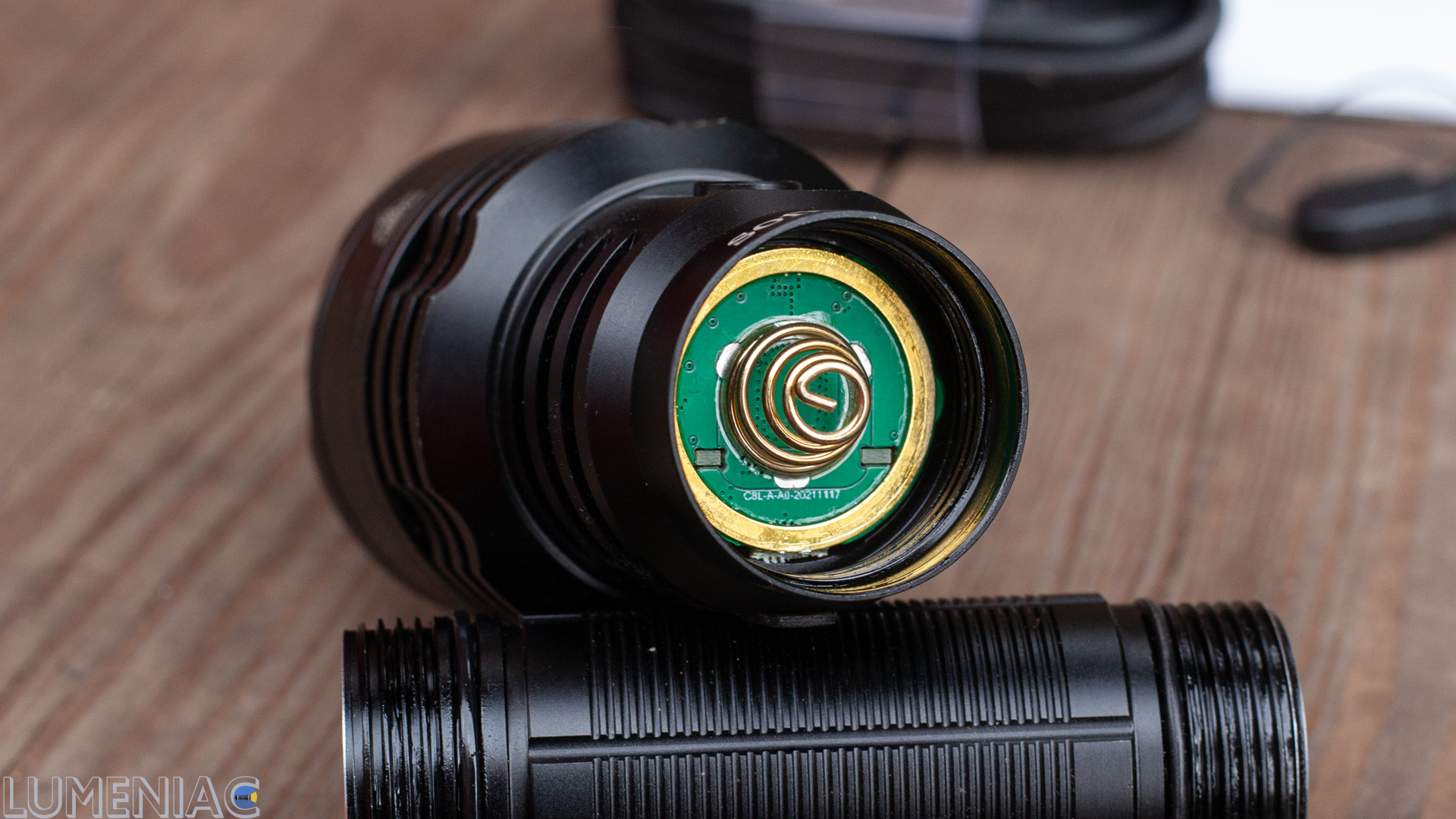 And here is the first really serious change. The flashlight received a built-in charger, which, in my opinion, was very lacking.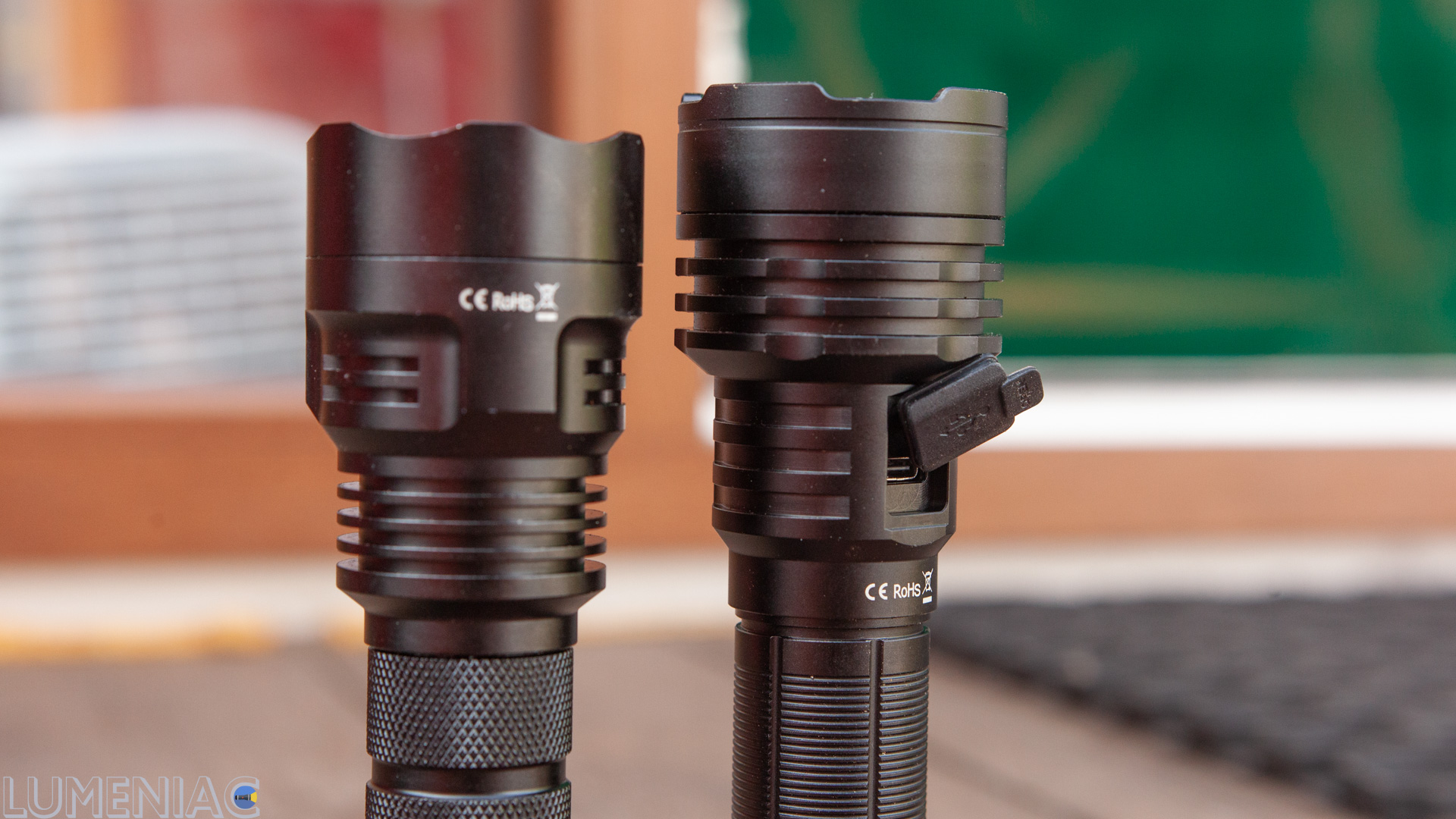 The cap is thick and remarkably secure. I deliberately tried to accidentally open it – no chance at all.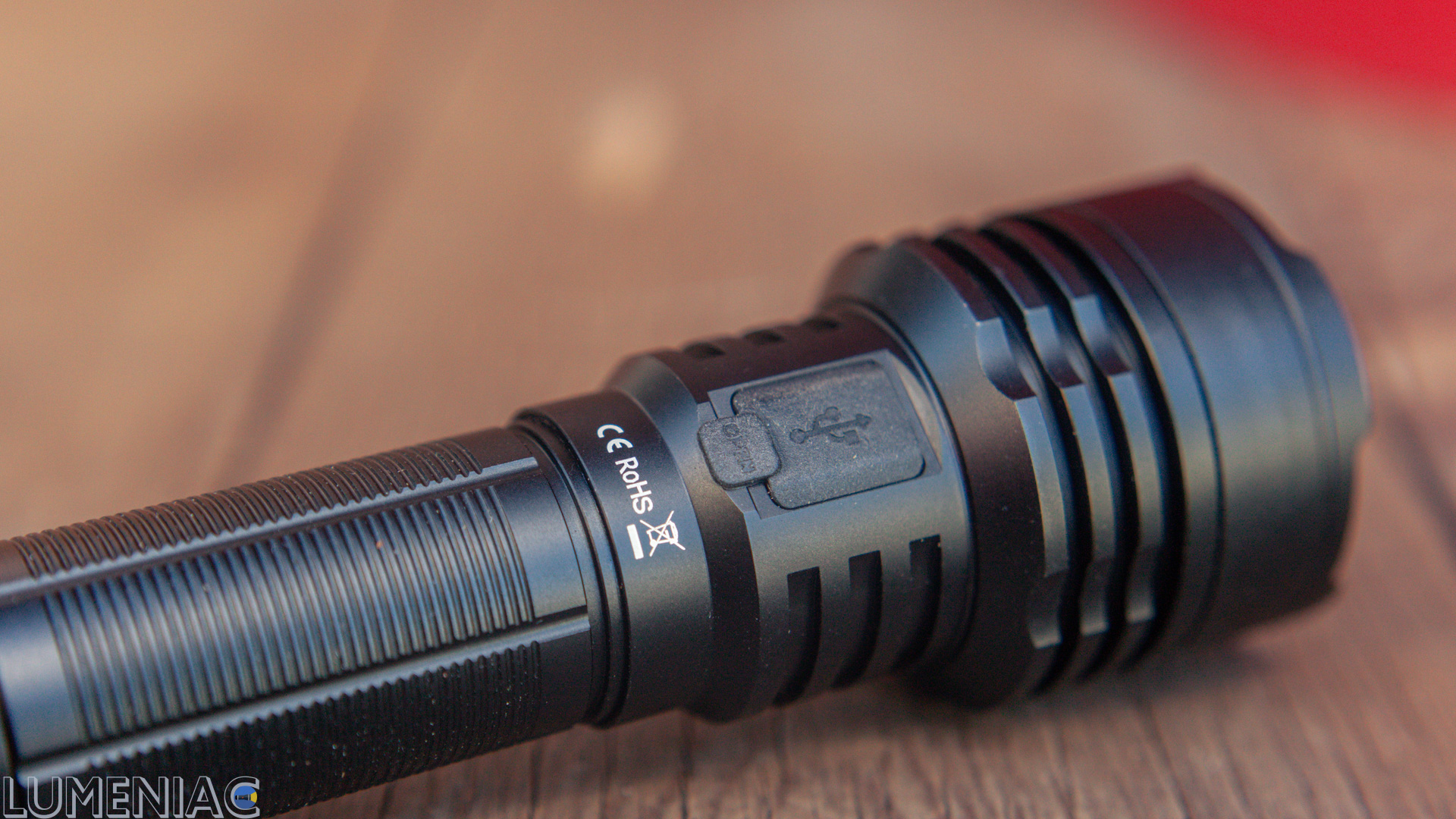 5v3a give a very decent charging speed, 5000mah battery is fully charged in exactly 3 hours.
The rest of the changes on the outside of the head are more design:
The cooling fins have become deep at the top of the head and decorative at the bottom, it used to be a set of
The bezel has become more pronounced.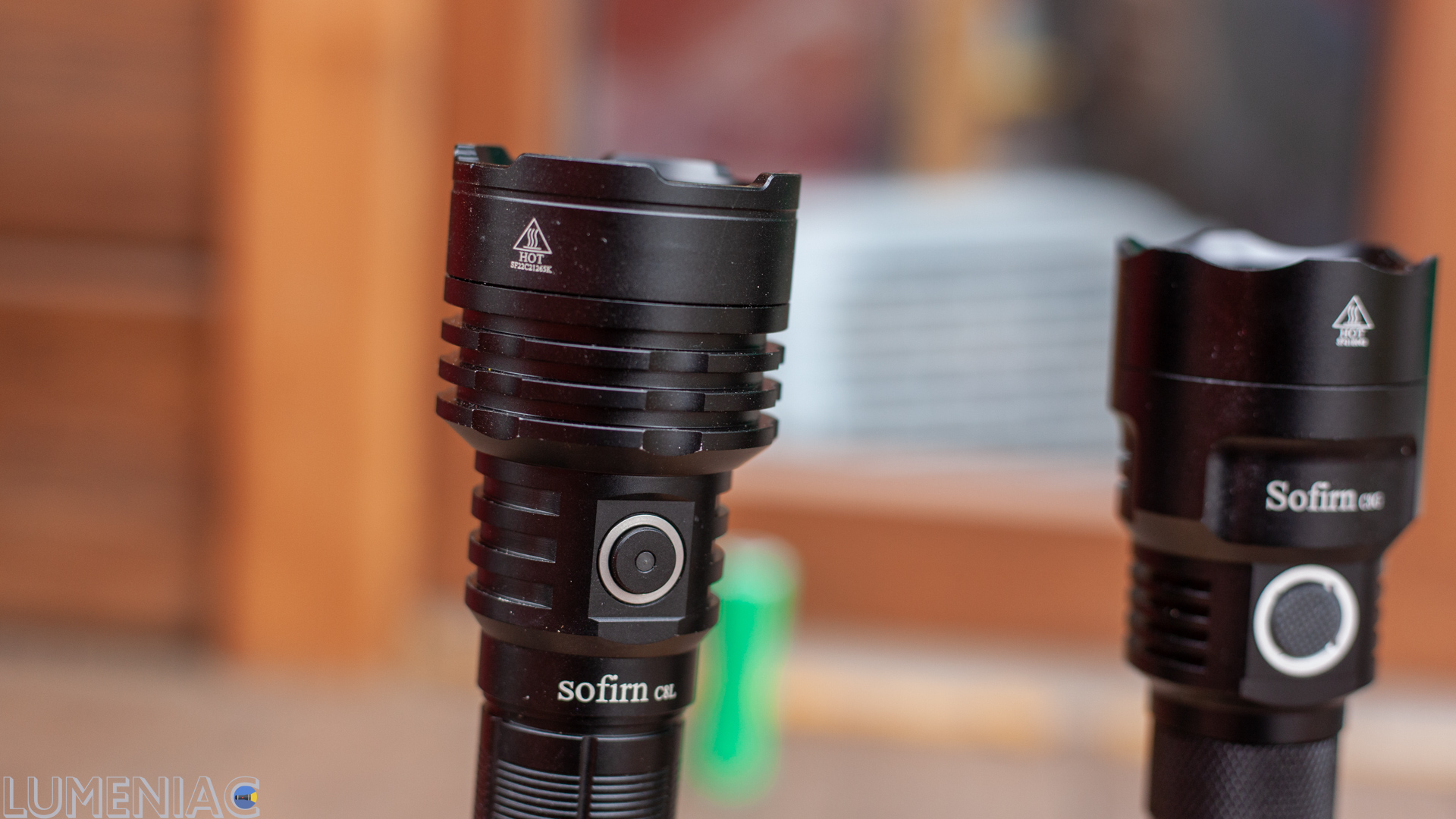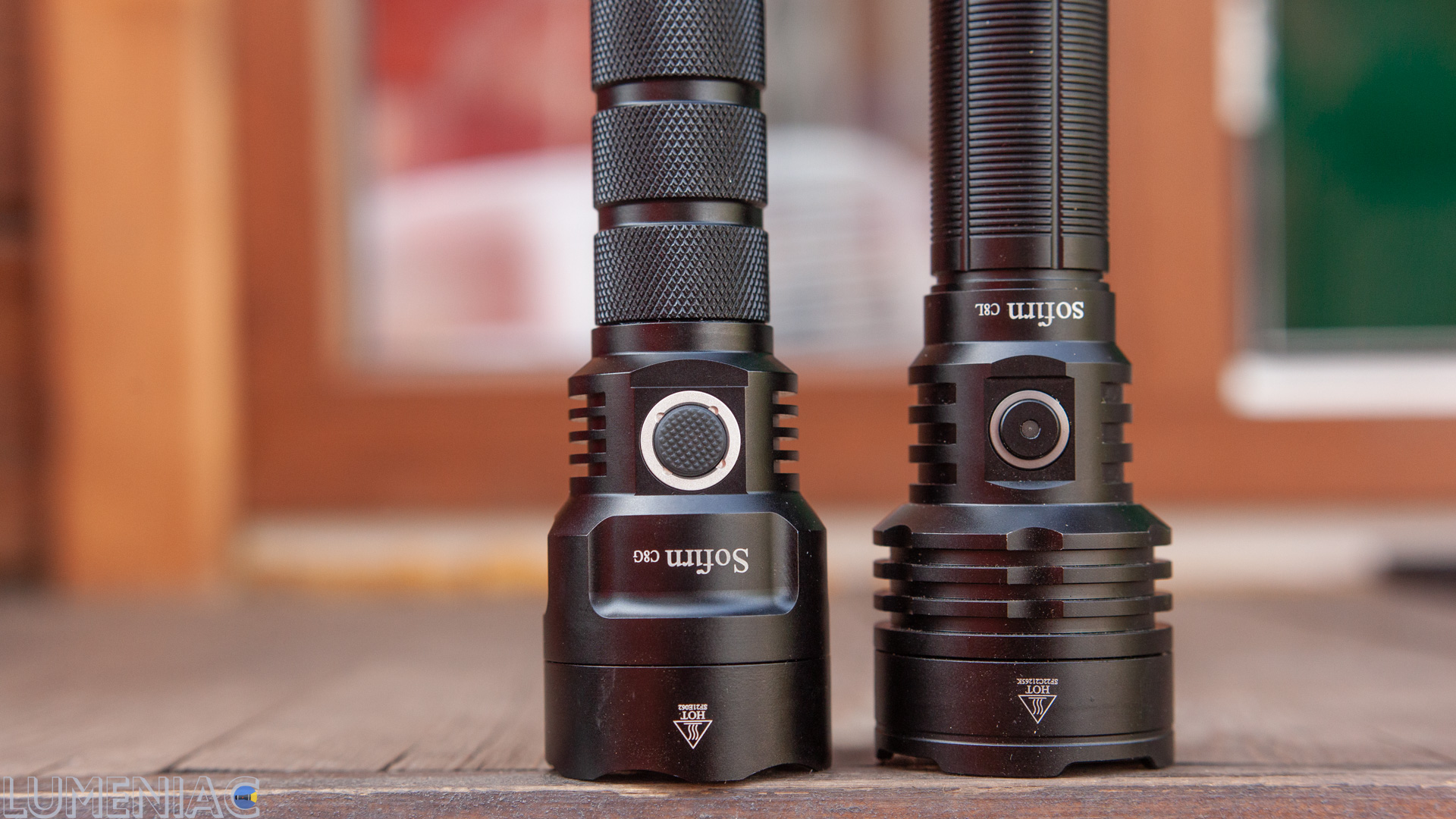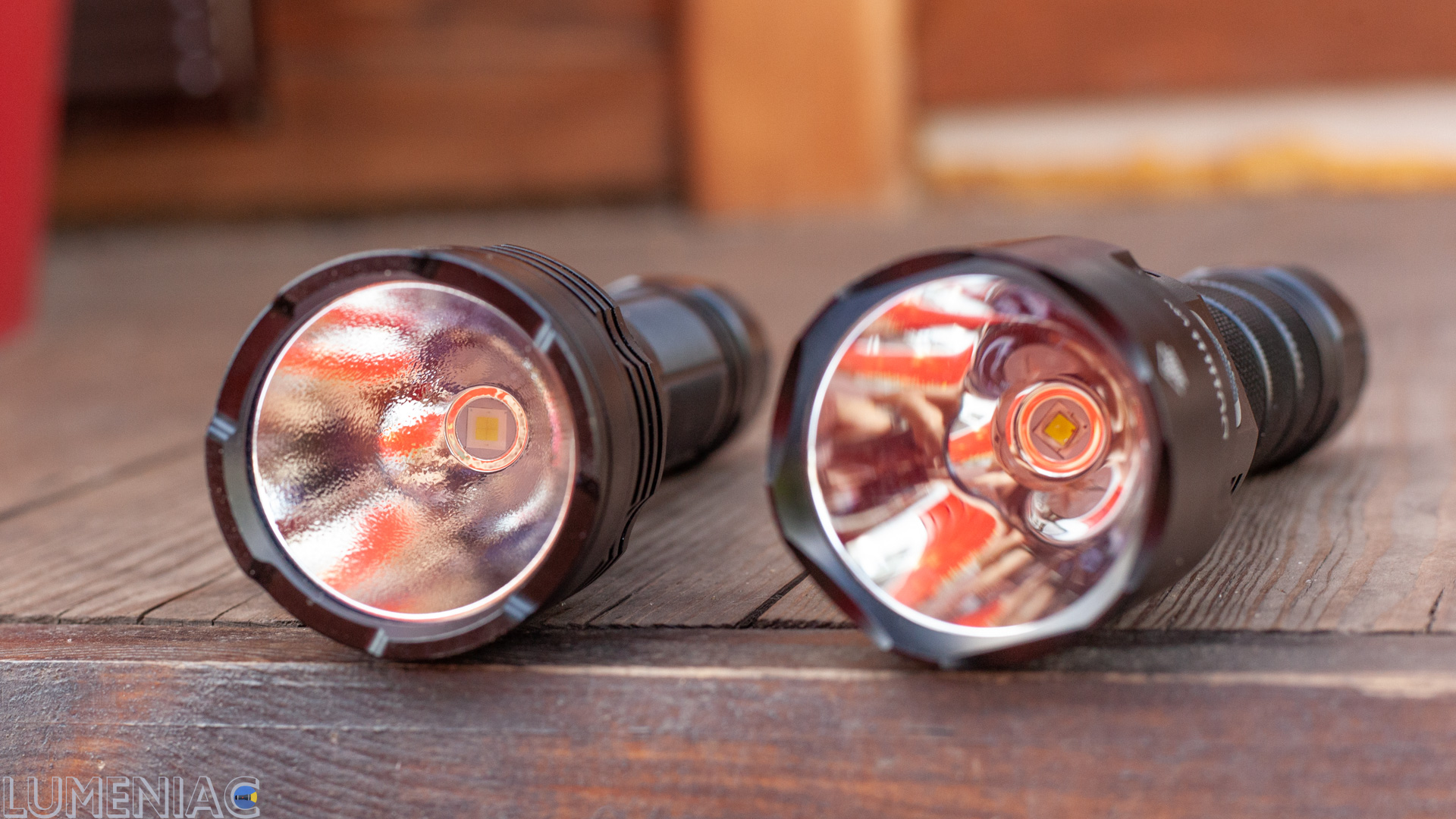 But everything is completely different inside. The reflector became textured, and the SST40 LED was replaced with a modern dedomed (i.e. without a silicone dome) Cree XHP50.3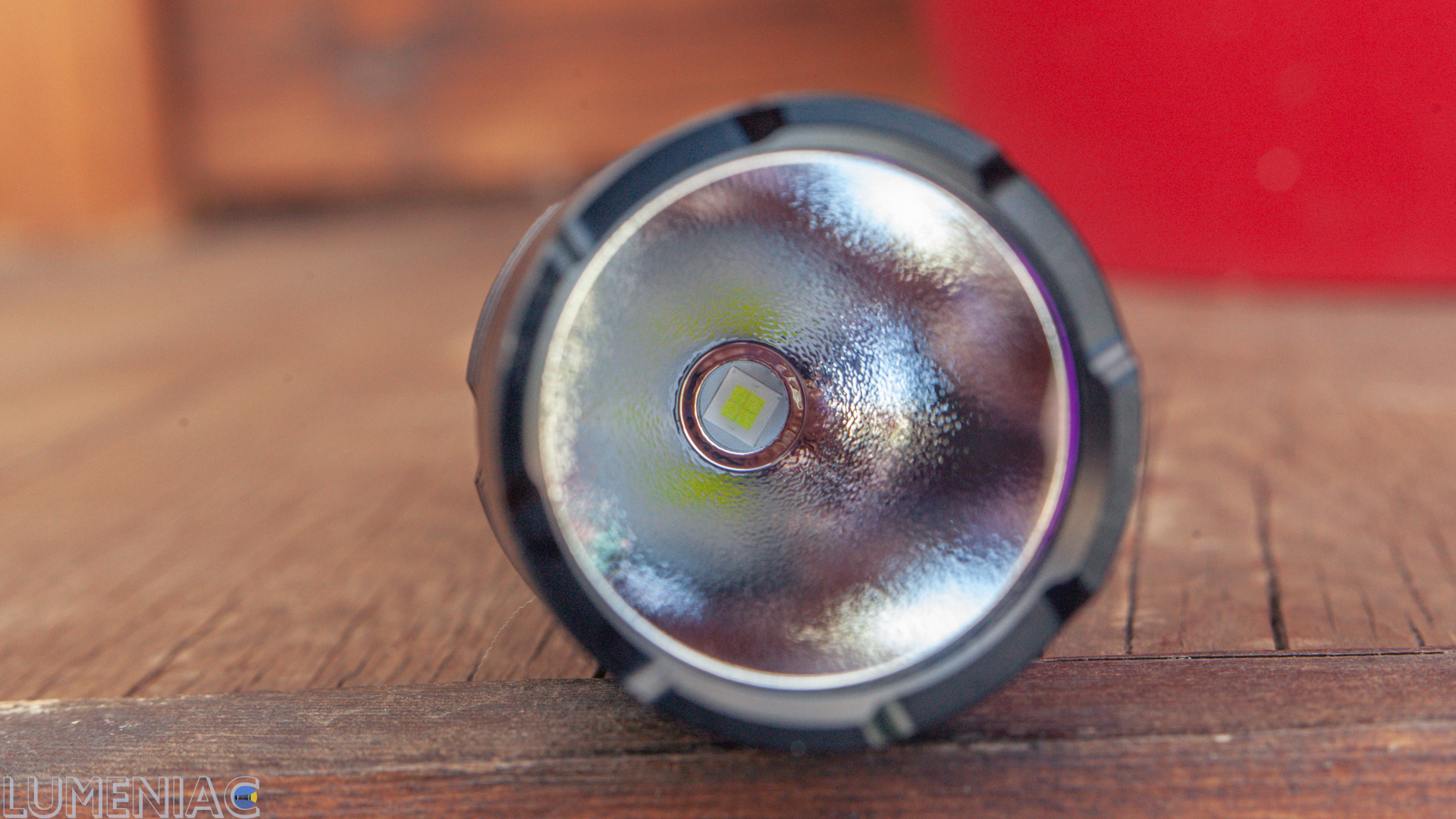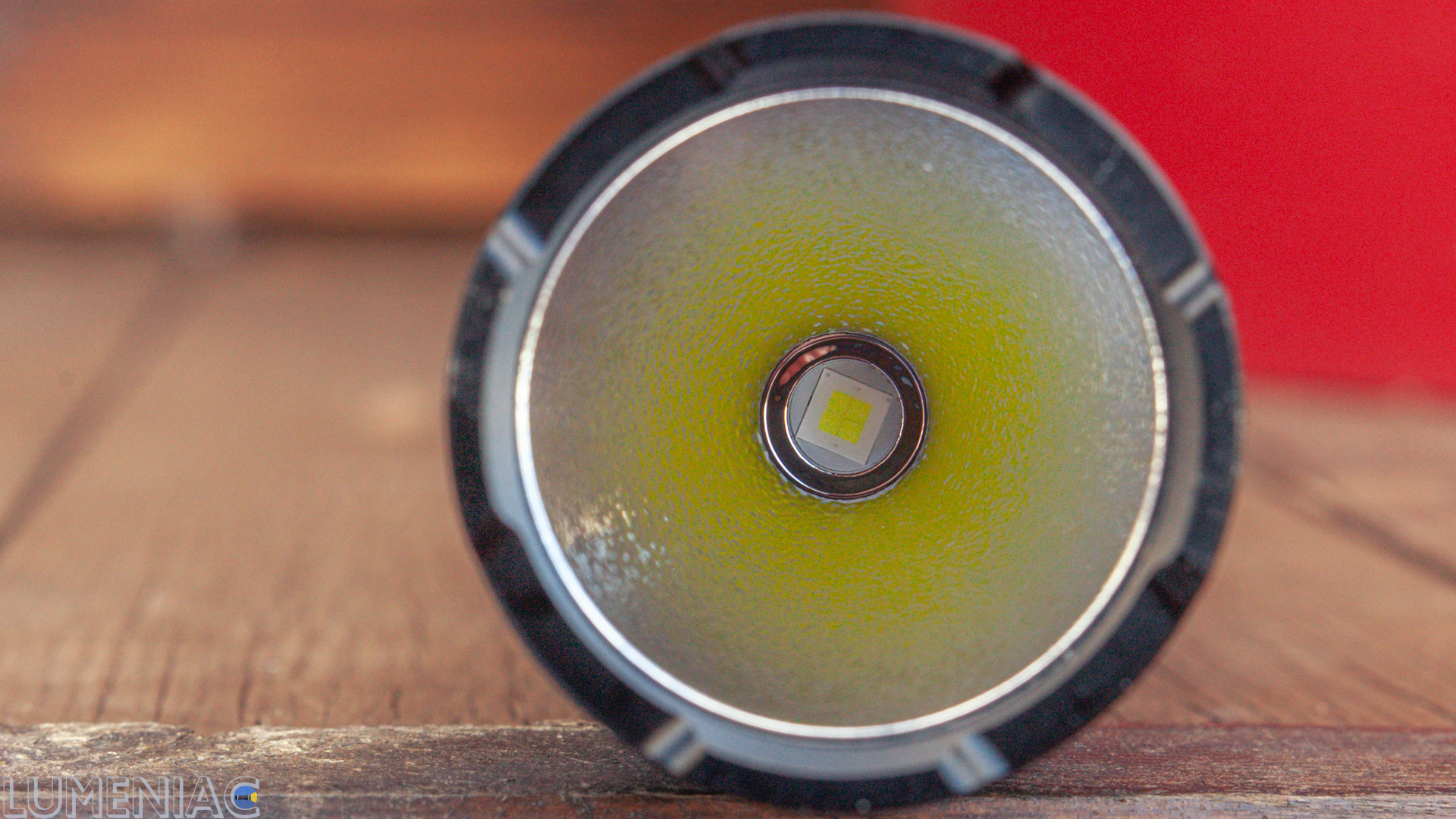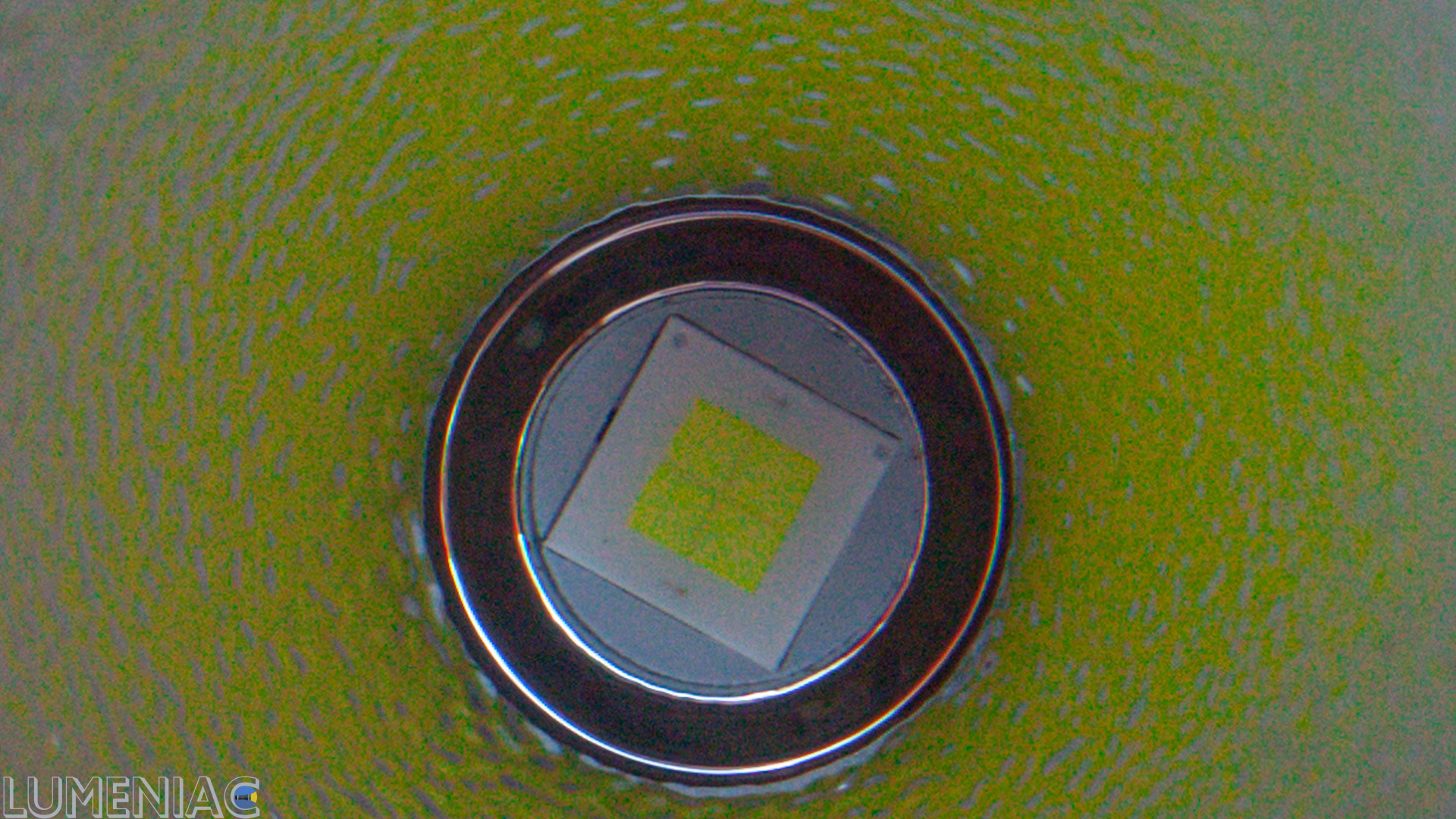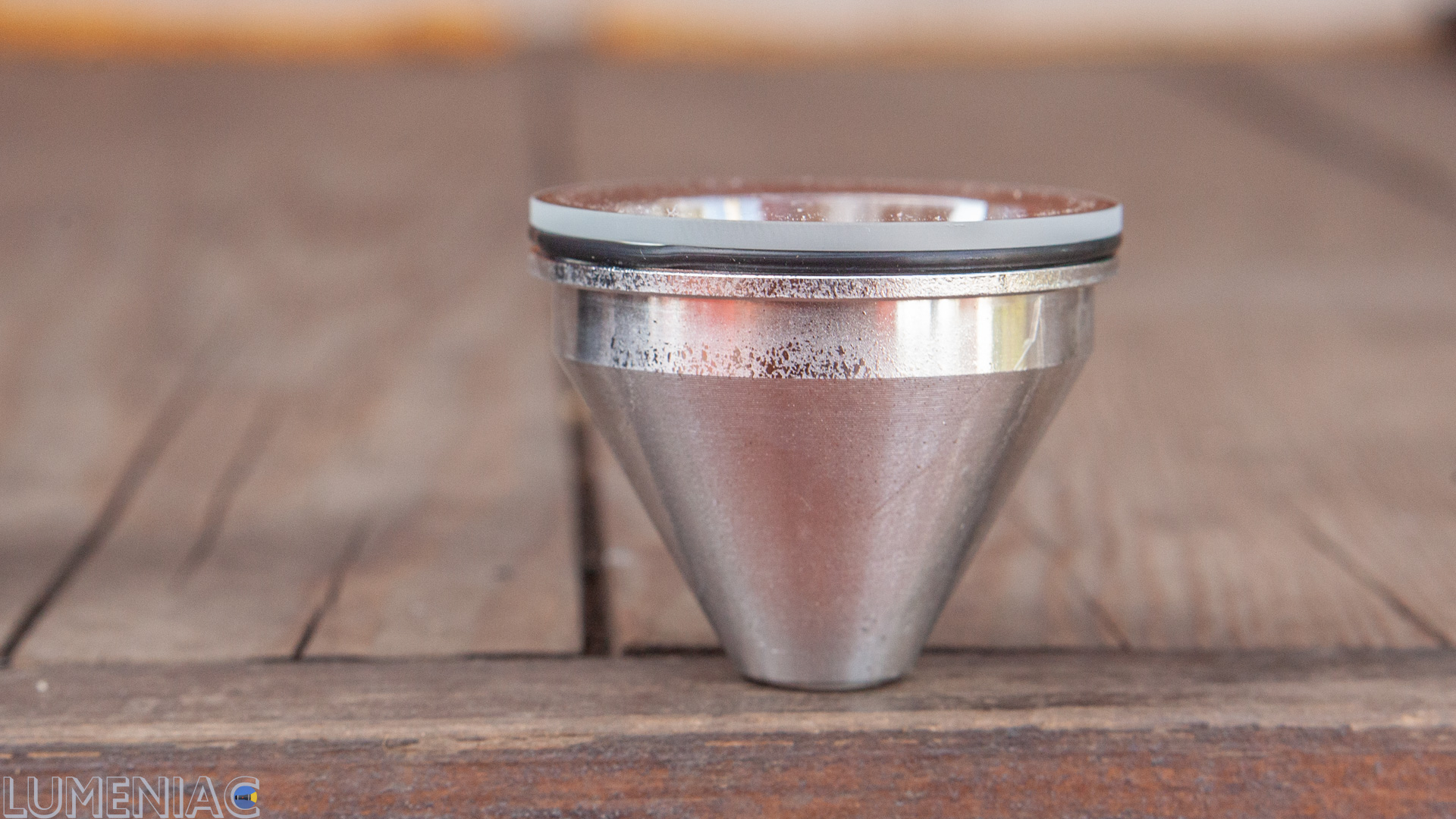 Although, even so, the flashlight for its price was head and shoulders better than the mass of radically more expensive models from fat brands.
Actually, everything is here. As usual, modest design, as usual good workmanship.
UI
It, I think, is a huge trump card of Sofirn. Their interface is usually convenient and practical in itself, and if you add the ability to switch to smooth brightness control …
It's just that the last one is gone. Instead, tactical UI.
Common for both flashlights – instant access to Eco: holding the side button, press the one in tail
Conventional UI
OFF-ON tail click (turns on the last used brightness)
Rewind modes 1 side button click
2 clicks – turbo
3 clicks strobe
Holding the side button – switching to tactical control
Tactical UI
OFF-ON tail click. Always on in Turbo
Only two modes, Low and Turbo, switching by clicking the side button
2 clicks – strobe
How Sofirn C8L illuminates
The flashlight has a quite long-playing turbo. 4 and a half minutes is an excellent result.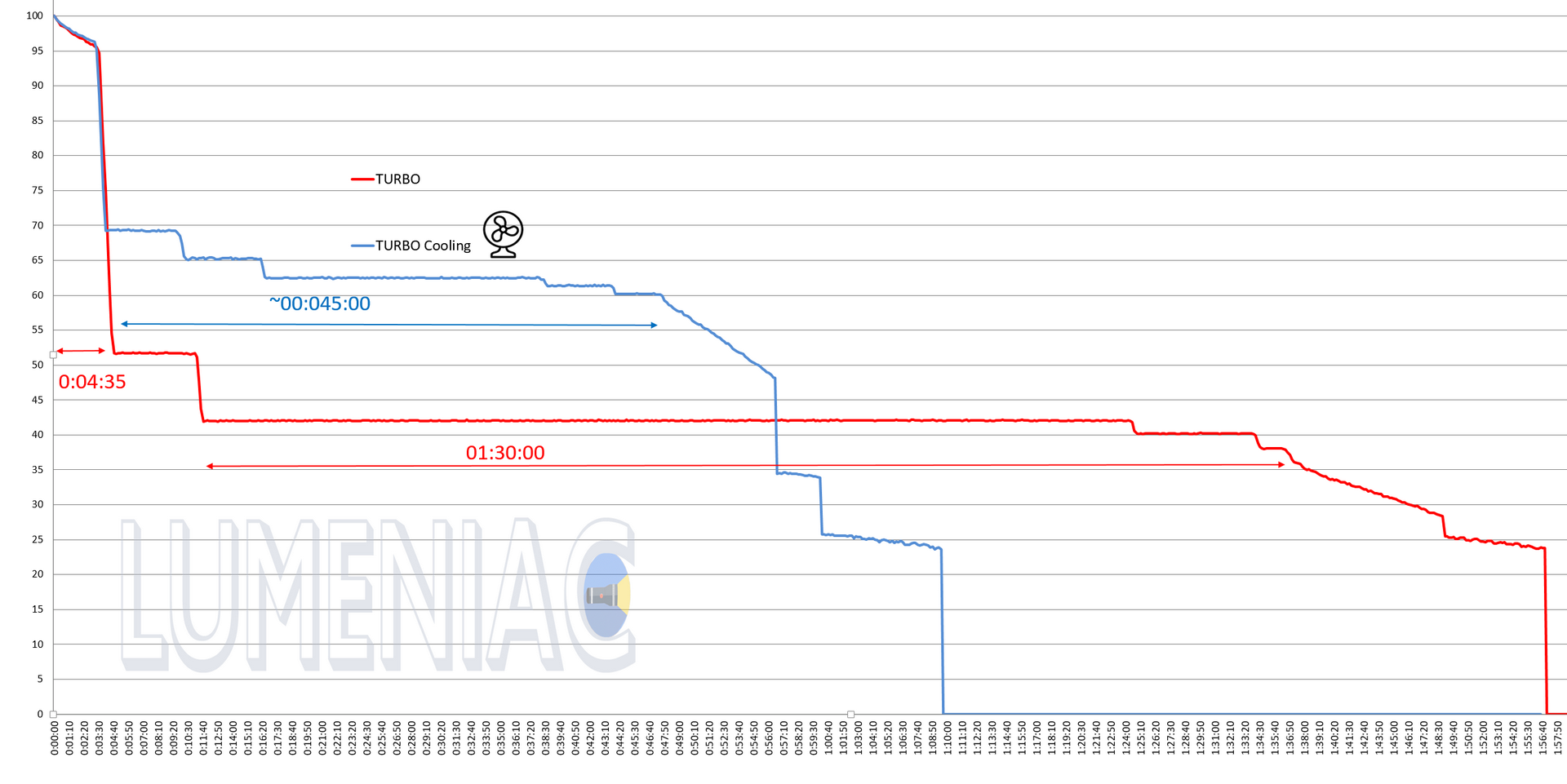 No less pleasing is the clearly visible effect of cooling, in which the brightness from the turbo drops to a radically different level.
Oh, by the way, stabilization, stabilization has become complete. Not that with her beforethere were some problems. But now everything is in perfect order: both stabilization and the absence of a thermoregulation saw. As for the latter, I had a fair amount of misgivings, sofirn a couple of times got along great with her.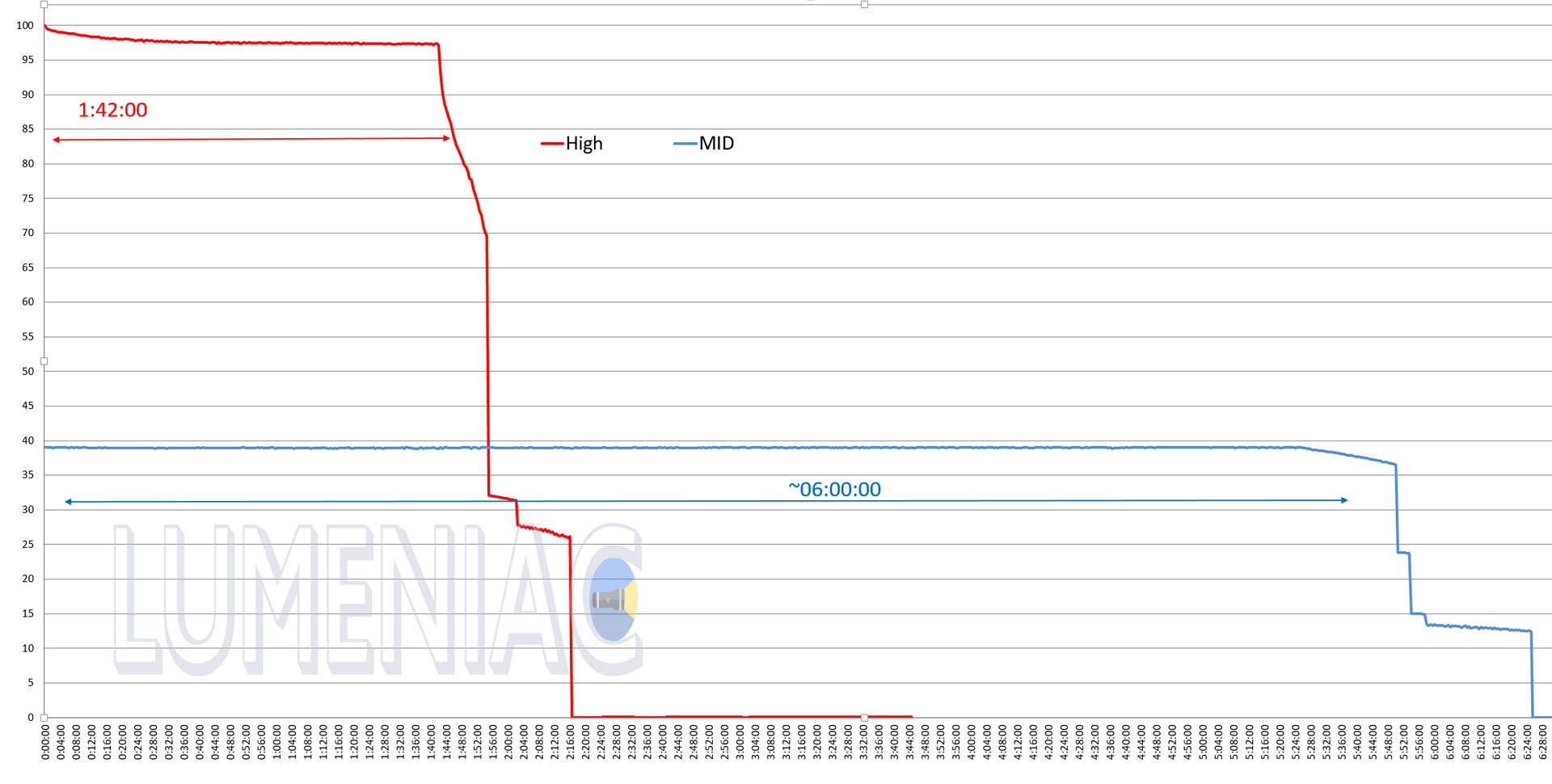 Just for clarity, this is how the stabilization looks like for Sofirn C8G of both versions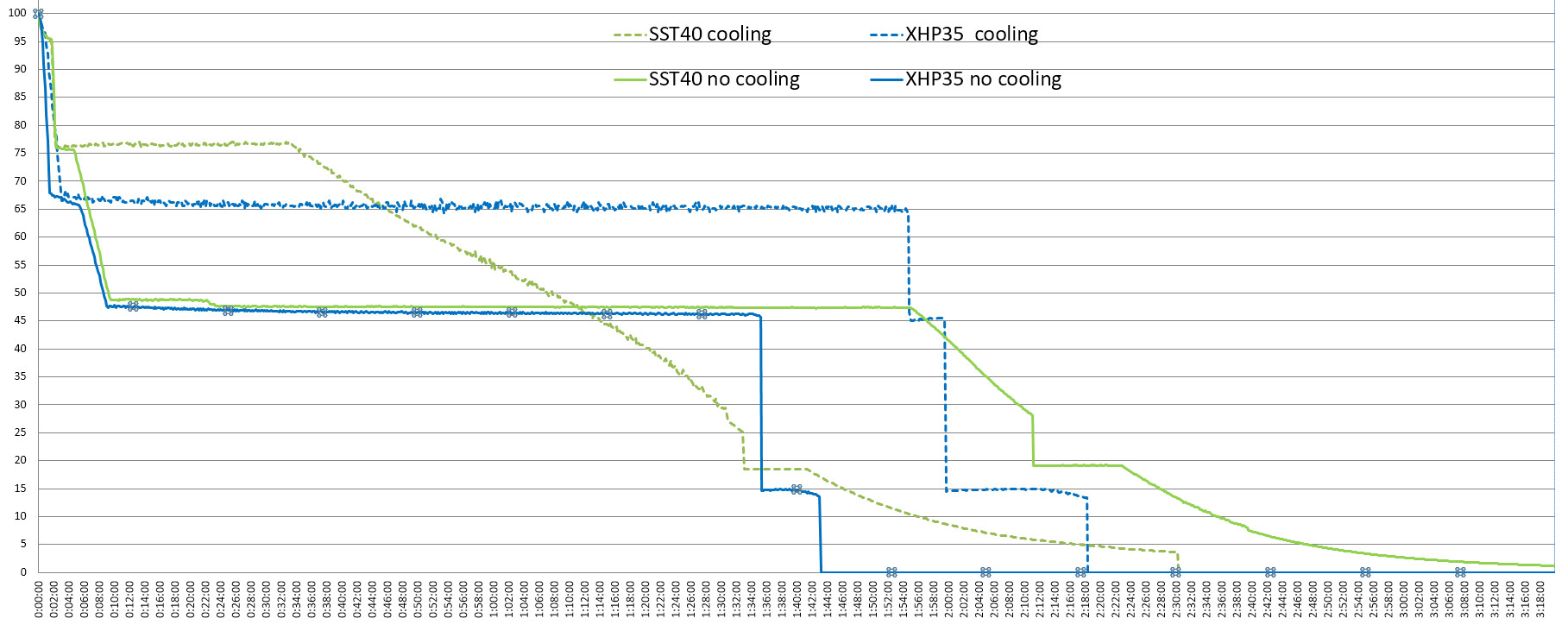 Such a changeof the LED and the reflector could affect the light in the most serious way.
The flashlight has a wider hotspot and some brighter sidelight. Range, of course, decreased. But due to a noticeable increase in brightness, the flashlight still makes it possible to work within that hundreds of three meters.
But, I think, Sofirn C8L will show itself best at a distance of 50-200 meters. This is not a classic Sofirn SP33S-type medium shot, it still shines much further. Just a flashlight will be quite comfortable at this distance.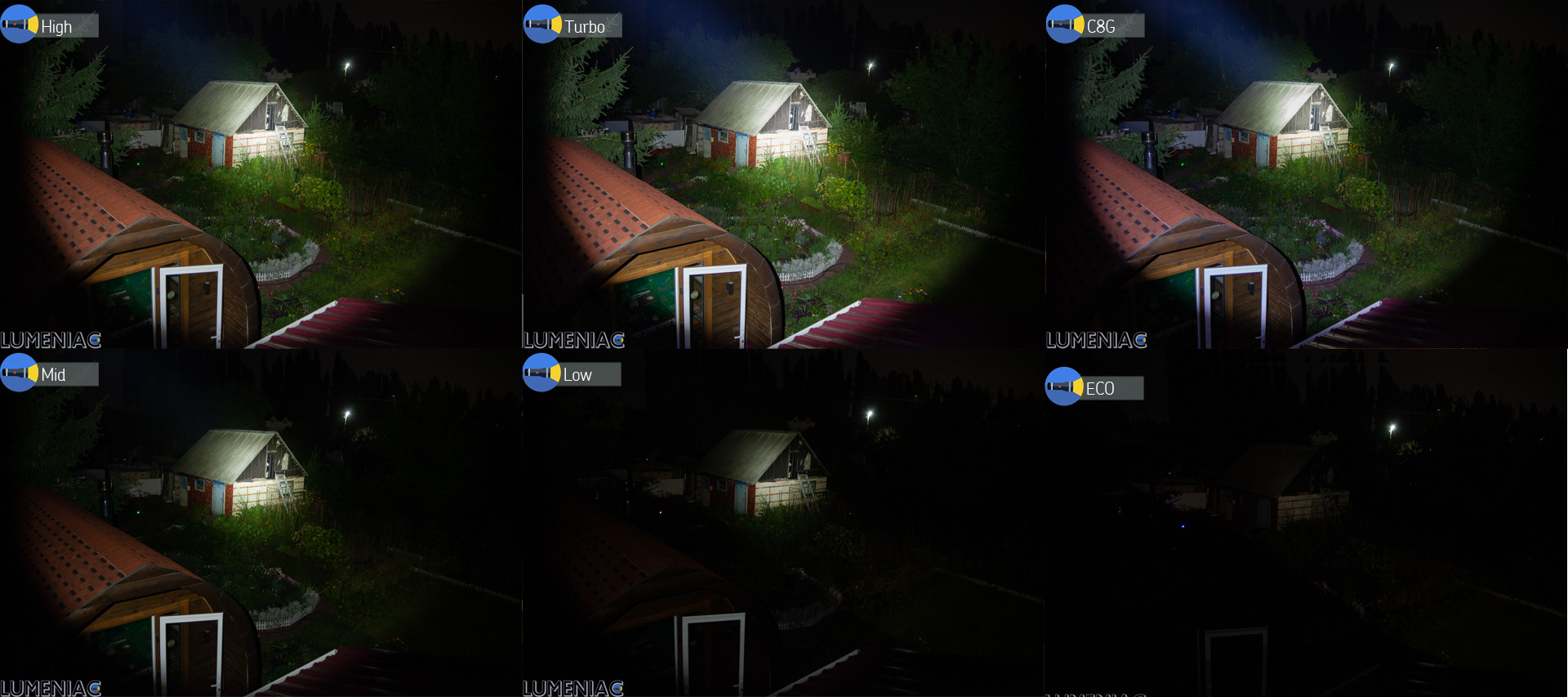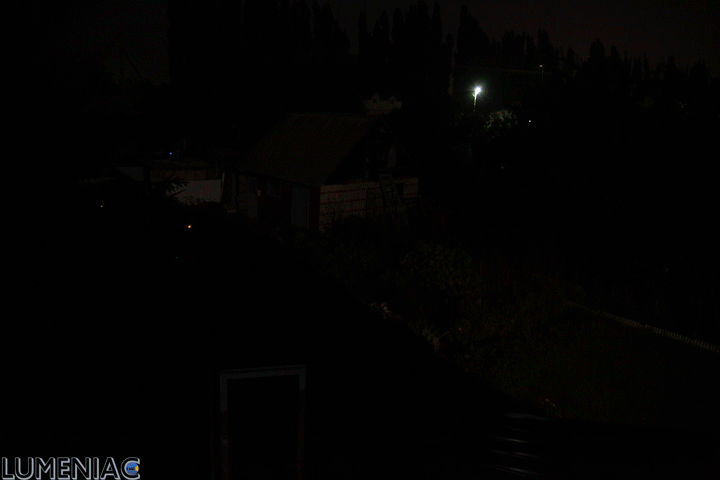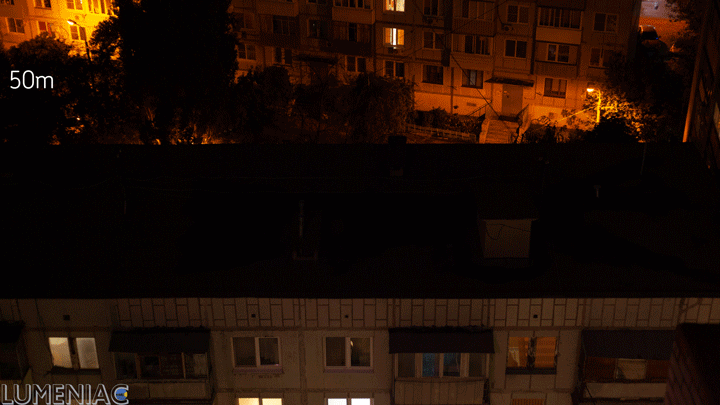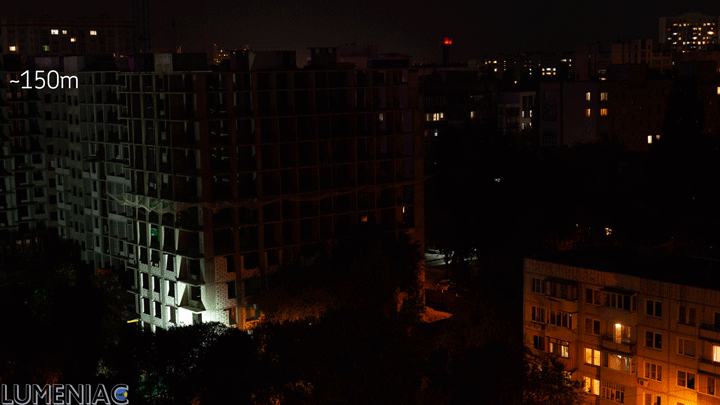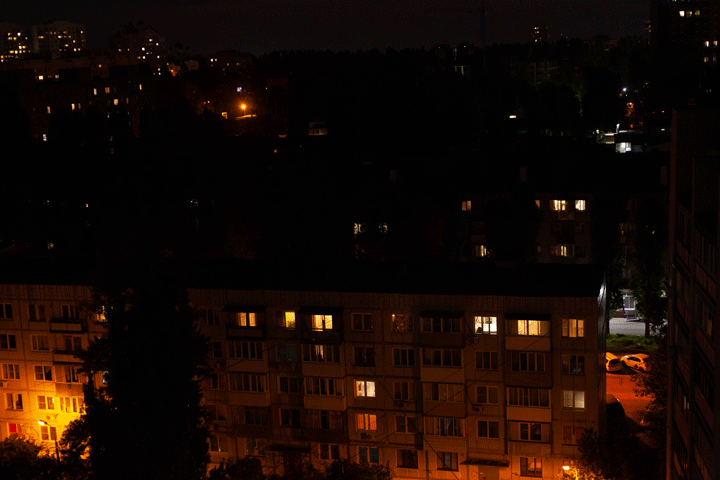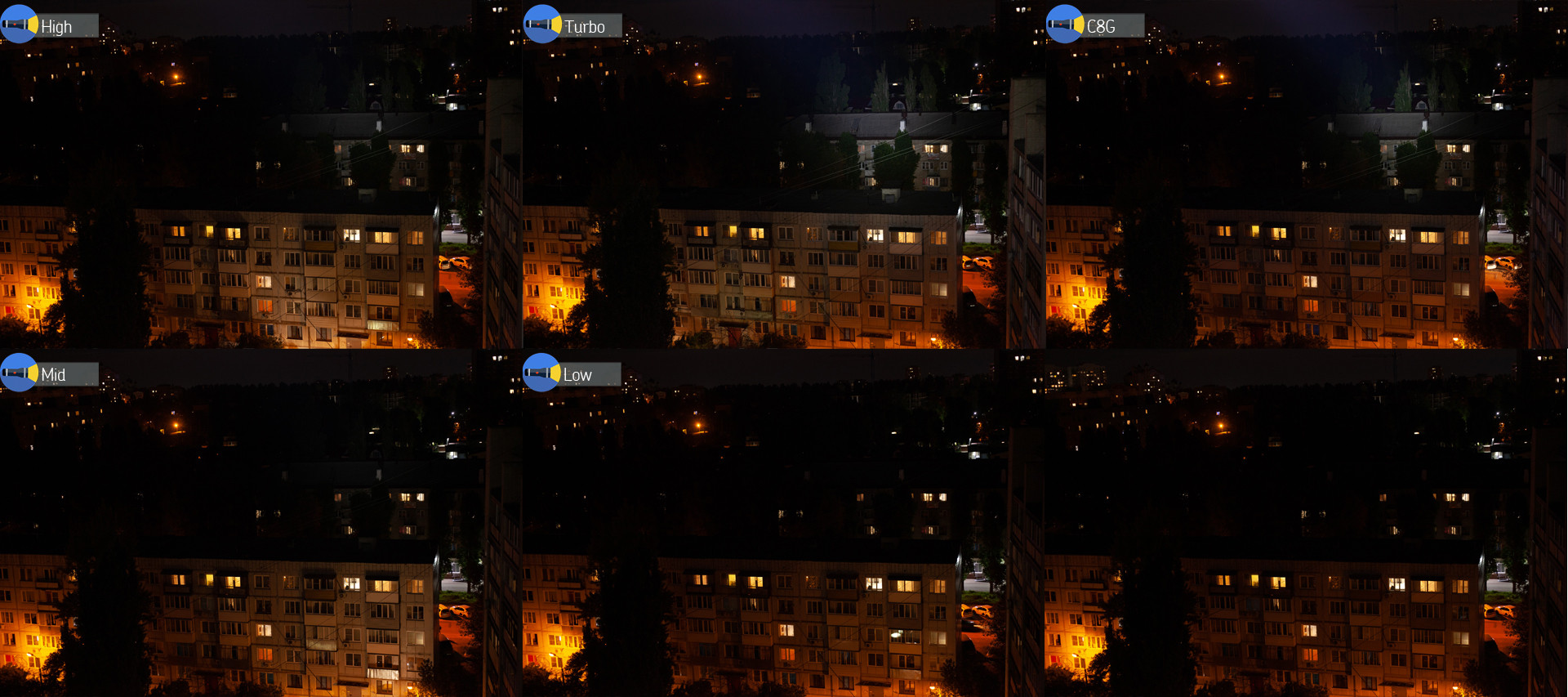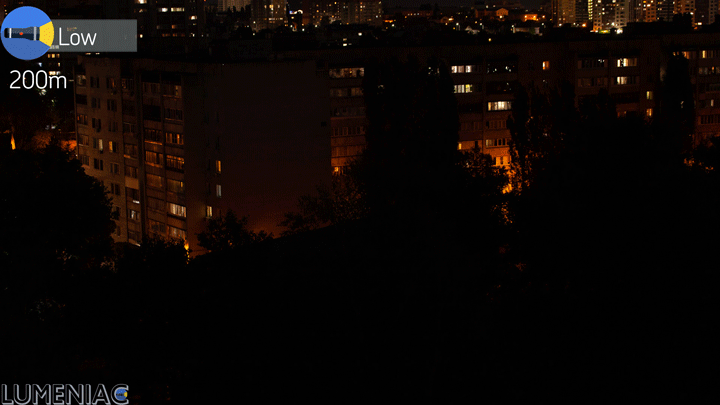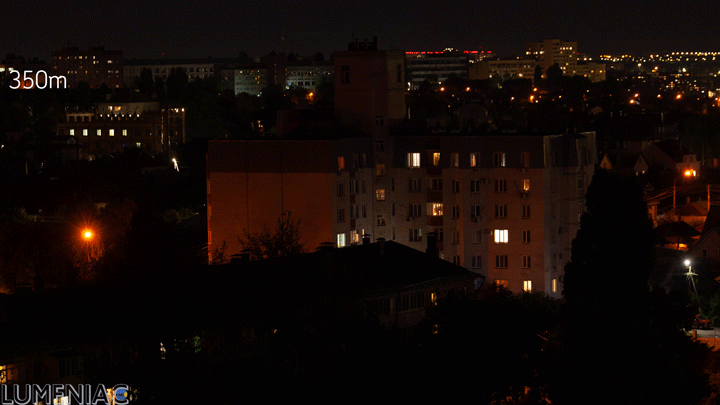 Something seems to be visible here, but for real use it will be at the level of relic radiation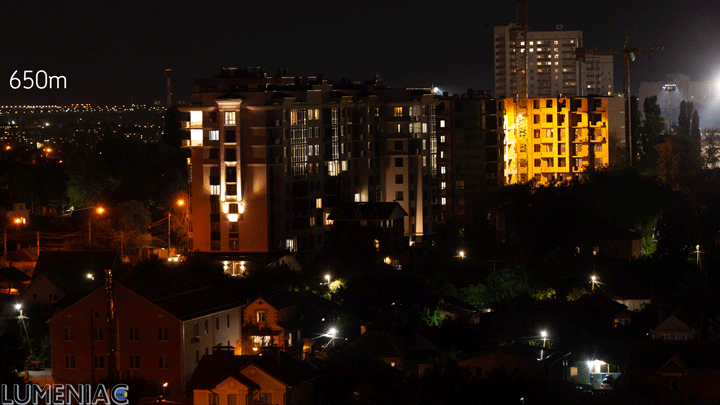 Video review will be a little later
OVERALL IMPRESSIONS
Sofirn C8L is a wonderful addition to the good old Sofirn C8 line. If we consider it as an update of Sofirn C8G, then I evaluate the design changes as insignificant (one facelessness was changed to another), and the functional ones are undoubtedly noticeable. In this regard, the flashlight was undoubtedly a success.
The flashlight finally got built-in charging, and this is what, I'm sure, many have been waiting for.
The flashlight received a fresh and good bright (and moderately long-range in the dedominated version) LED, which, with a textured reflector, gives the flashlight the ability to both shoot well into the distance and comfortably work at medium distances. It was the latter, as far as I know, that hunters lacked, who put textured reflectors in the Sofirn C8G SST40 to make the side illumination brighter for working at medium distances. Now there are no problems with this.
The light, alas, is cold, but for the XHP50.3 there is simply no option with a neutral color temperature.
The stabilization is complete, the flashlight works in turbo for a long time and responds perfectly to cooling with a regular USB fan, without falling into crazy zigzags of active thermal control.
UI changed ramping mode for tactical settings. This is matter of choice, i dont need tactical UI, but really like ramping.
But I also have comments. They do not relate to any problems of Sofirn C8L, I do not see them, and rather refer to the general policy of the manufacturer.
a) The thread for the tailcap is different for the models. And here is the potential problem.
I have been convincing Sofirn to make a remote button for the C8G for a long time and frankly I don't understand why they haven't made it yet. Now they promised to think about it. And with different threads, they will have to make different models of remote buttons. I don't understand why it was impossible to use the same thread, as in the case of the wonderful Sofirn SP40 \ Wurkkos HD15 headlamps.
b) Sofirn SF47T was Sofirn's longest range flashlight. Now its production has been stopped and Sofirn does not have any truly long-range flashlight by modern standards. In such a situation, the dedomed XHP50.3 could show itself well with a smooth reflector (hope 3rd gen doesnt have doughnut of death). I suggest Sofirn sell this version as well, as well as try to put a textured reflector on the C8G.
Although the version with Osram PM1 would be really long-range, such a flashlight would be a real pocket awl, easily covering 500m. And then the Sofirn C8 series would have covered all distances in general.
c) Sofirn C8G SST40 is a *really *budget flashlight available in a complete set for frank pennies. Sofirn C8L costs half as much, and, it seems to me, for only one reason – so as not to hit sales of C8G. Built-in charging and another LED cannot lead to such a sharp jump in prices. Now everything is standard: if you want more brightness and built-in charging, if you please, pay more. However, even so, Sofirn C8L costs significantly less than what you would pay for something similar from a major brand. And along the way, they would also lose the wonderful convenient Sofirn control.