As some of you may have seen i have modified my Maglite to run an SST-50, I now need to look at an alternate power source as the trustfire 18650 cells only last a few mins before the protection circuits kick in.
So what would be the best alternative AM IMR cells over here they cost £10 each
Or 6AA adaptor which are around $24 and i have enough AA to run it.
Thanks for your input..
—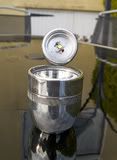 http://i776.photobucket.com/albums/yy41/charlestt225/Sig/A1200023-1.jpg" width="159" he