Hi everyone! I have some stuff that I rarely use and figured it would make a nice EDC bundle to sell. 
For sale is the following:
Xtar WPII charger  (latest version) with US plug  ($20.80 at manafont) - Charger has put only 4 batteries through one charge cycle each. 
Romisen RC-29 14500 and AA version ($15.00 at DX)- Light has only been turned on and used for about 4 minutes of use, and has sat collecting dust the rest of the time. It is mint, and very bright on 14500. Very nice compact flood-throw. Comes with holster!
Fandyfire HD2011 (bought for ~$14 at DX) - Just received this light today. It was an impulse buy and don't see myself using it. It is BRIGHT. Draws 3.0A on my blue trustfire 18650's. Works flawlessly, comes with holster and lanyard. 
Lighter ($5.39 at DX) - This light looks almost exactly like a zippo, has a nice grippy matte black finish and works great! I just don't smoke and have a different lighter I use for camping so this one sits and does nothing.
CRKT MyTighe knife ($80.00 in Canada, $70 in USA @ cabelas) - Assisted opening, CRKT quality. This knife has no clip, and has been carried a fair bit. It shows some minor signs of wear but overall is very nice!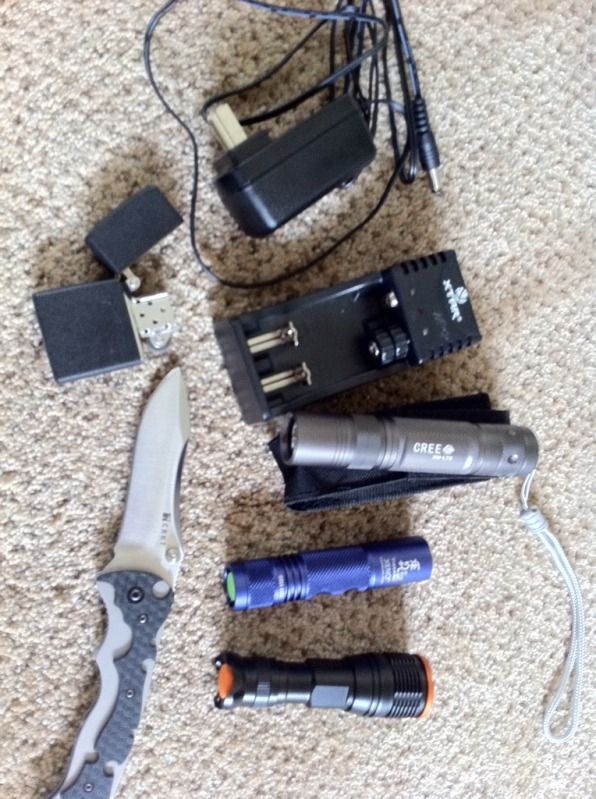 Total value is over $140 after taxes. 
I am selling this whole bundle for $85 shipped to Canada and USA (less than I paid for the knife alone).
For $25  $20(shipped) more, I'll throw in my mint condition Xeno E03 CW in blue!
So for $110   $105 You'll get all of the above plus the Xeno E03 shipped to you!
Thanks BLF'ers!
Mike