This is another beauty I acquired several days ago from Ric at CNQualitygoods.com.  Available at both of Ric's websites, CNQ and Fancyflashlights.com
http://www.cnqualitygoods.com/goods.php?id=1545
The package arrived well protected and the flashlight comes in a great little magnetic display box.  Within the box is the flashlight and the lanyard pictured below.
These are a few of the specs listed:
F12 Desert Yellow Mini 1x18650 CREE XM-L T6 Straight Tube Flashlight
800 Lumens
3 (Lo-Mid-Hi) ; 10%>40%>100% (
Only available as a 3-Mode
)
7*7135 2.5A
Aluminum Alloy Mill/OP Reflector
CREE XM-L T6-1A CW OR XM-L T6-3C NW
Tail-Cap readings were as follows:
It should also be noted no PWM was detected on any mode
Fit and finish and HA ll anodizing were top notch flawless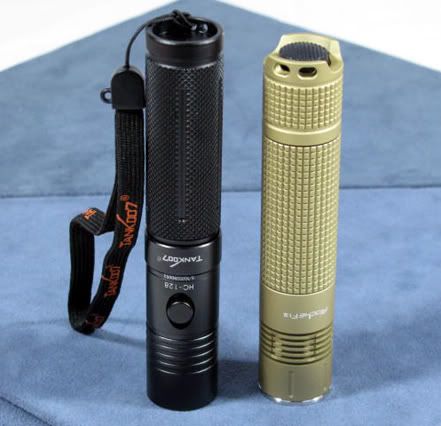 For scale next to my Tank007 HC-128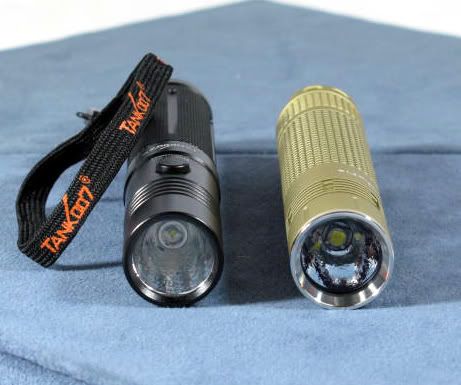 The F12 lens was perfectly clear, but I did notice it had a finger print on the reflector.  As of this writing, I haven't been able to remove the bezel to attempt cleaning it. 
My example worked perfectly with button tops and flat top 18650's.
NOTE: As Ric mentioned on his website, certain diameter 18650's will NOT fit the battery tube.  My Redilast 2900 & 3100's will not work.  My Redilast 2600's are excellent.
Threads were all triangular cut and perfect and O-rings of the correct size.  Threads and O-rings were bone dry and in desperate need of lube.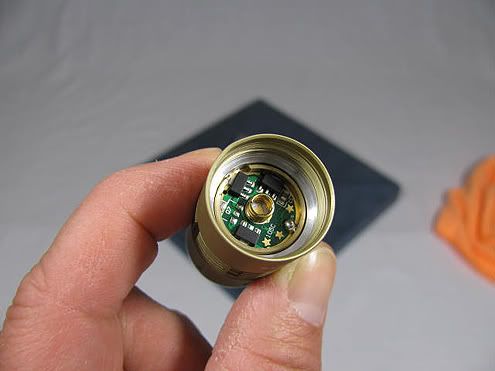 3-Mode 7*7135 2.5A Driver.  The flashlight head gets HOT quickly on HIGH mode.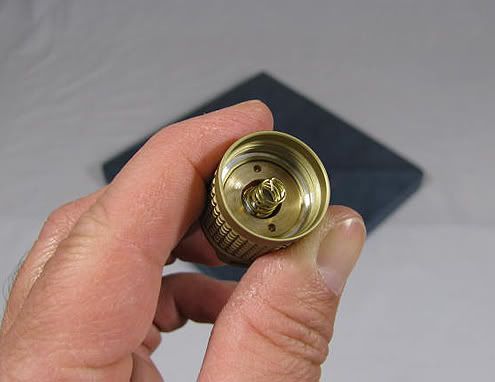 Tailcap components appeared excellent.
Also purchased a Yezl Cow Hide holster for it.  Ric verified for me that the fit was correct before sending it.  All ready to be used as an EDC.
Here are some beam shots taken on a more appropriate camera setting.  I think I got it set right on the money this time.  Just to be clear, this is not a shoot-out of any kind.  Besides the F12, only the Yezl M6X has an XM-L operating at the same current.  The others are identified in their respective photos simply for reference.  All flashlights had fully charged batteries and run only on HIGH mode.
Photos were adjusted for posting size only, no other manipulation was done to them.
If you want to see why the Roche F12 runs hot on HIGH mode, take a look at the photos
Roche F12 NW Tint, Rated 800 lumens, 1x18650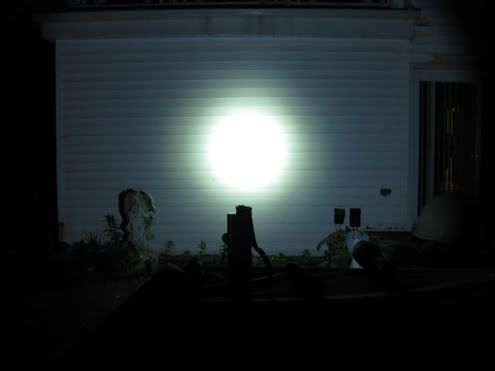 Yezl M6X XM-L T6 CW Tint, Rated 800 lumens, 1x18650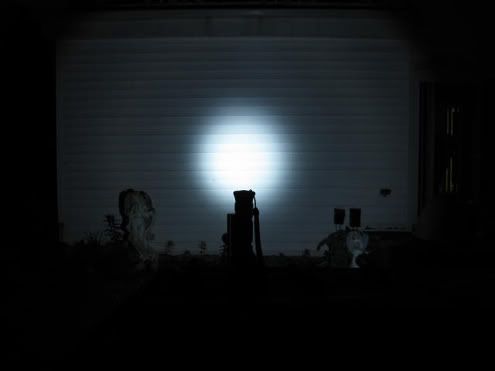 Tank007 HC-128, 7090XR-E, Rated 220-Lumen, 1x18650
Meritline Stainless Steel, CREE Q3 Warm Tint LED, Rated 180 lumens, 3 x "AAA"
http://www.meritline.com/k71-stainless-aluminum-cree-q3-led-flashlight---p-42968.aspx
Some longer distance about 40 feet to shrubs.
Roche F12
Yezl M6X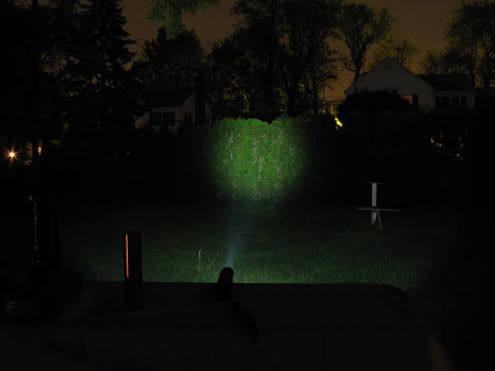 Tank007 HC-128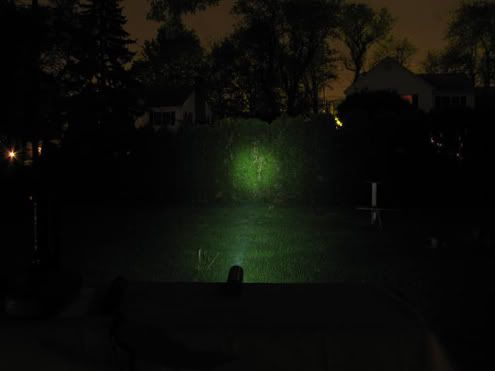 Meritline Stainless Steel Cree
Hope this give you all some idea how much light comes out of this little light from Roche.  I'd have to say it's a bit over powered running at 2.46a+ for such a small light, but hey, that's what medium mode is for..LOL.