Warning! page is superheavy! if you pay for mobile traffic, open it at home.
Is that possible to creat super-bright soda-can flashlight? Yeah. Acebeam X50.2 proves this, being, perhaps, the world's brightest flashlight in it`s class. This is a real killer of darkness, a pocket supernova.
Changes relative to the first version are not that completely cardinal, but not decorative either.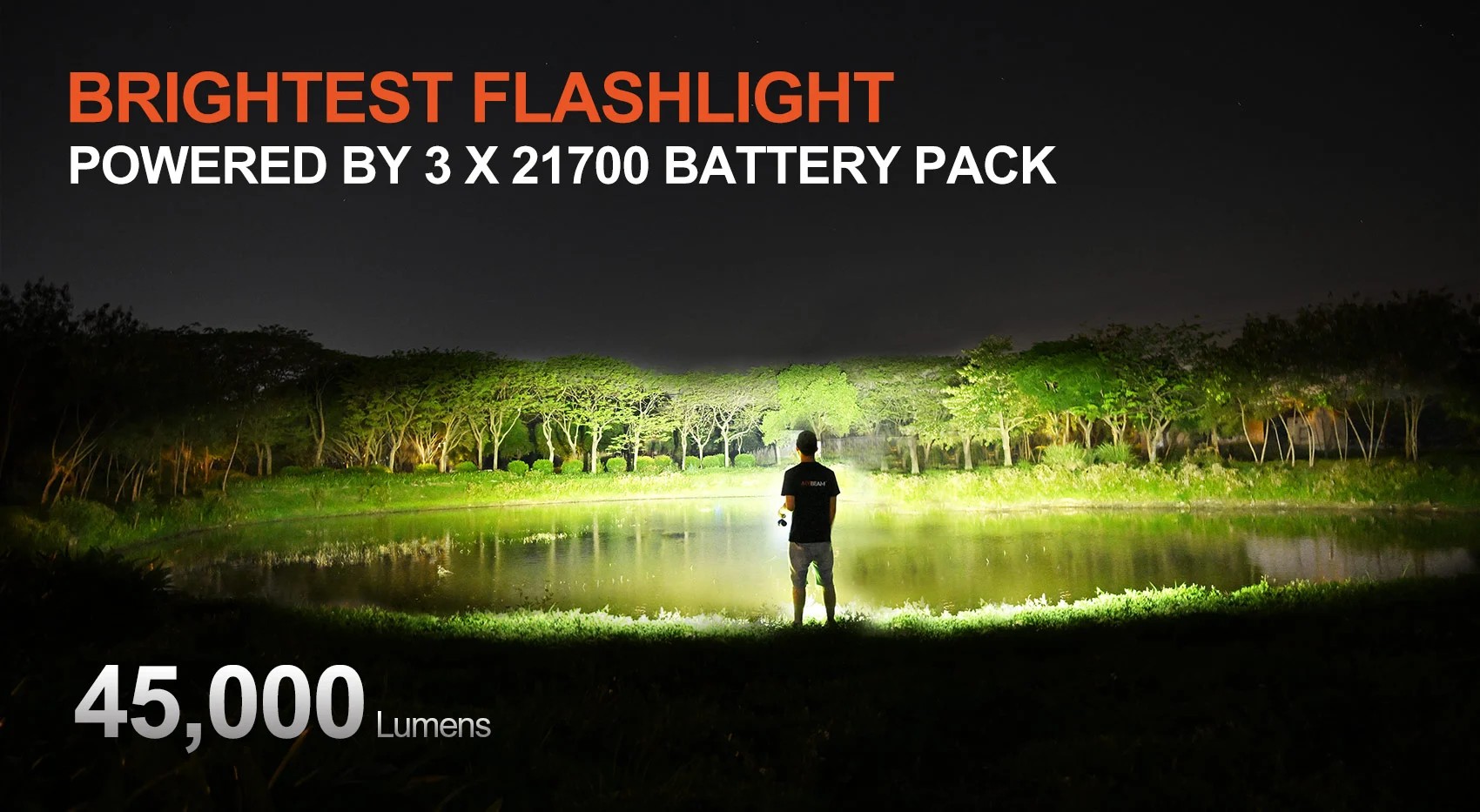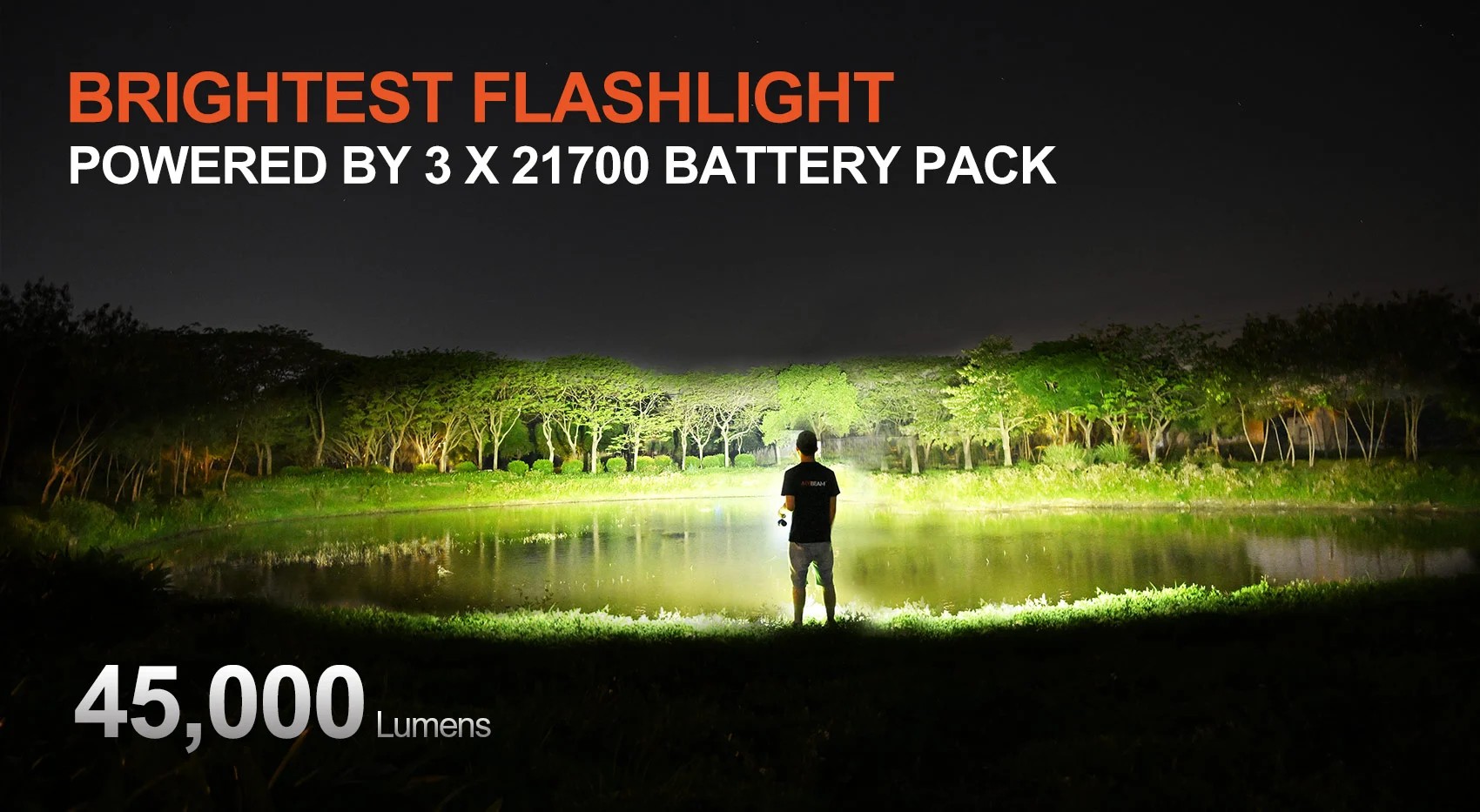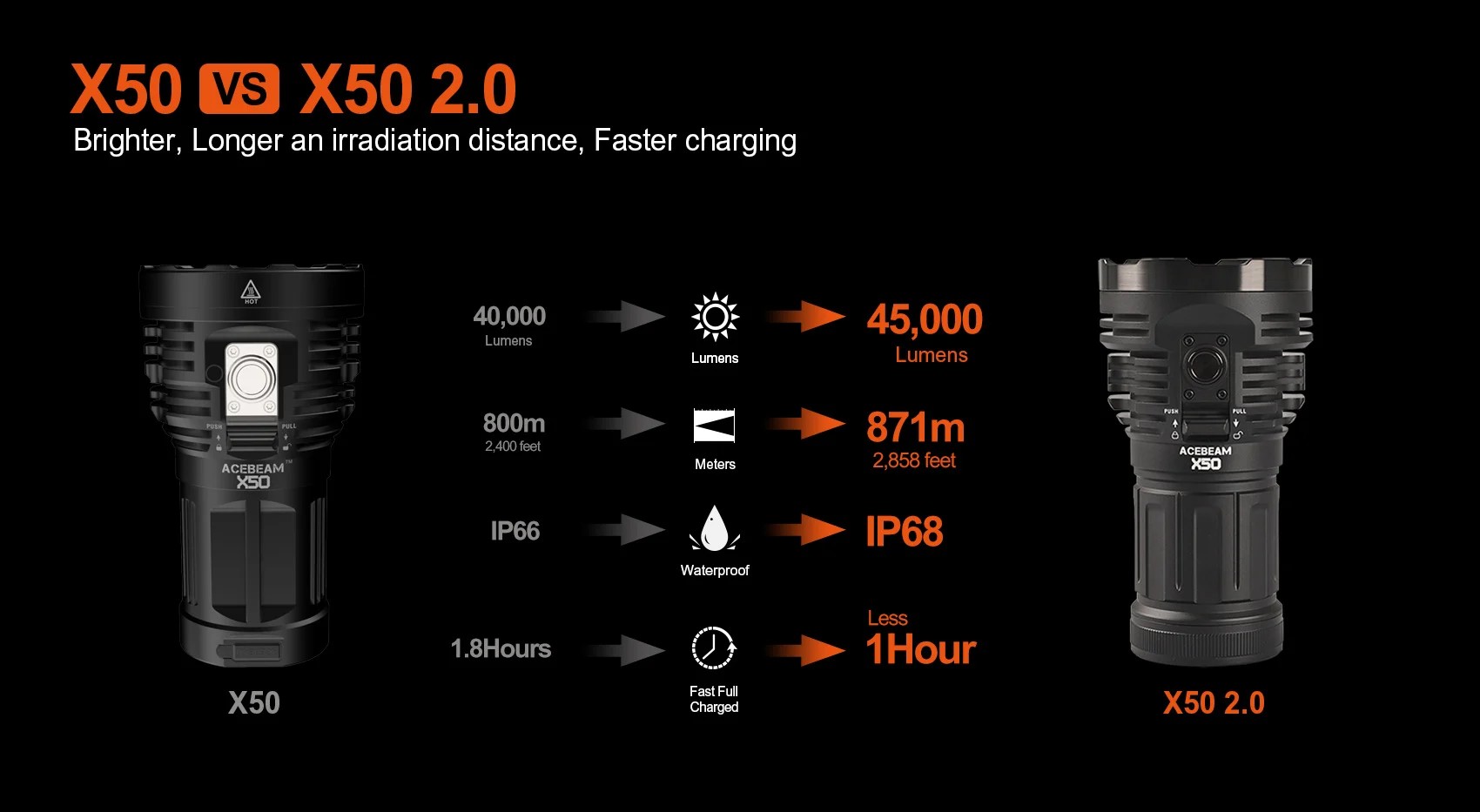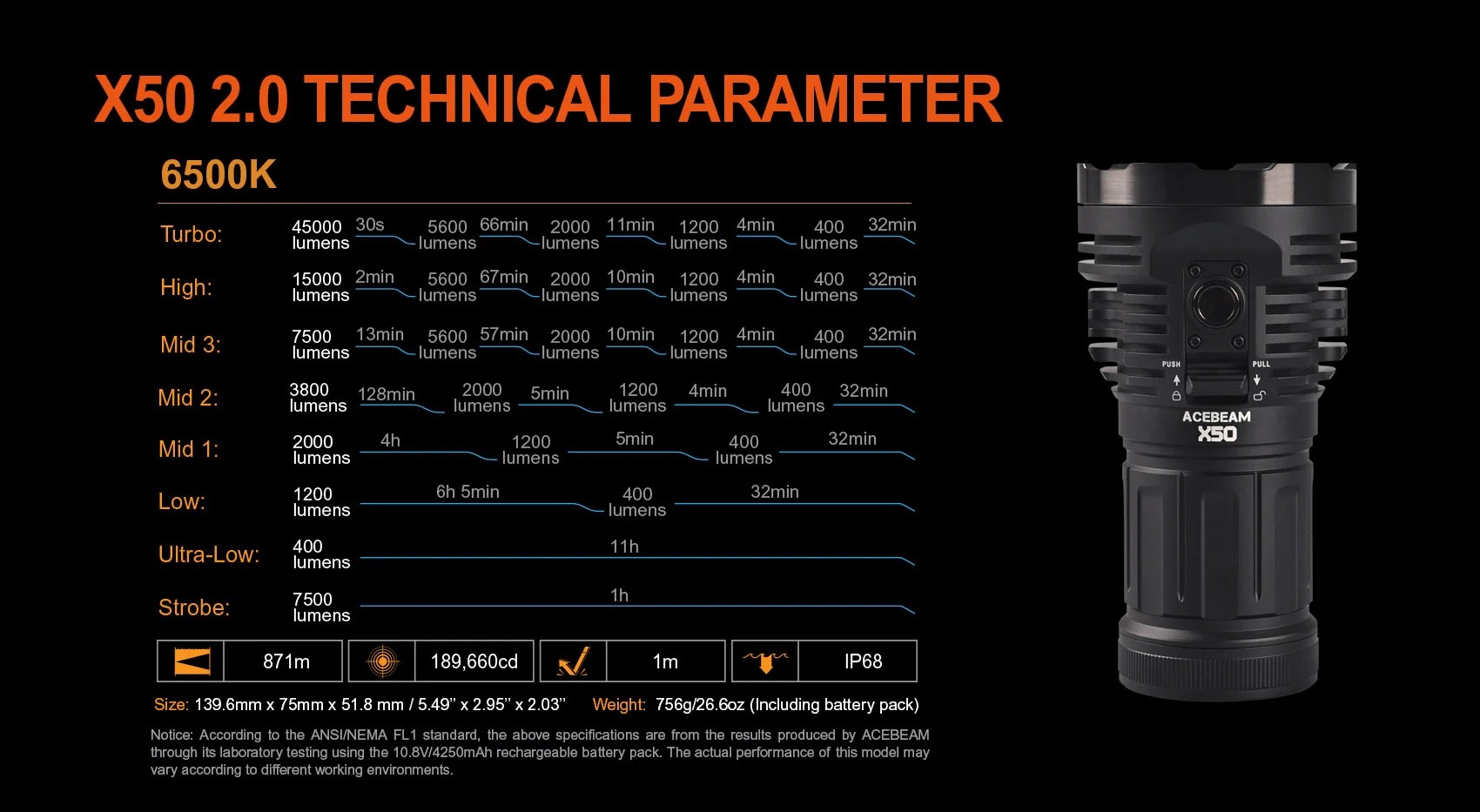 You can buy ACEBEAM X50.2 at:
➤ Acebeam official store 10% off code LMNC10. Code is valid for all the flashlights in store.
➤ Amazon
➤Aliexpress
Specification
Model Name: Acebeam X50 v2
LED: 8x Cree XHP70.2
Maximum brightness: 45000lum (6500K version) \ 42000 (5000K version) Maximum range: 871m
Power: 3 batteries 21700 4250 mAh in built-it rechargeable battery pack 10.8V, 4250mAh
Built-in charger: USB-C 65w with power bank mode
Reflector: textured.
Stabilized brightness
Mode memory
Existence of a socket under a tripod of the UNC1/4'–20 standard
Shock protection: from drops from a height of up to 1.2 meters.
Waterproof: IPX-68.
Dimensions: 139 x 75 x 51.8mm
Weight: 756g
Packaging and appearance
Acebeam flashlights have never been cheap: neither the price tag nor the appearance. So if you decide to open your wallet for Acebeam, you get the maximum for your money.
So it is with the Acebeam X50.2
The flashlight looks representative already at the level of the box.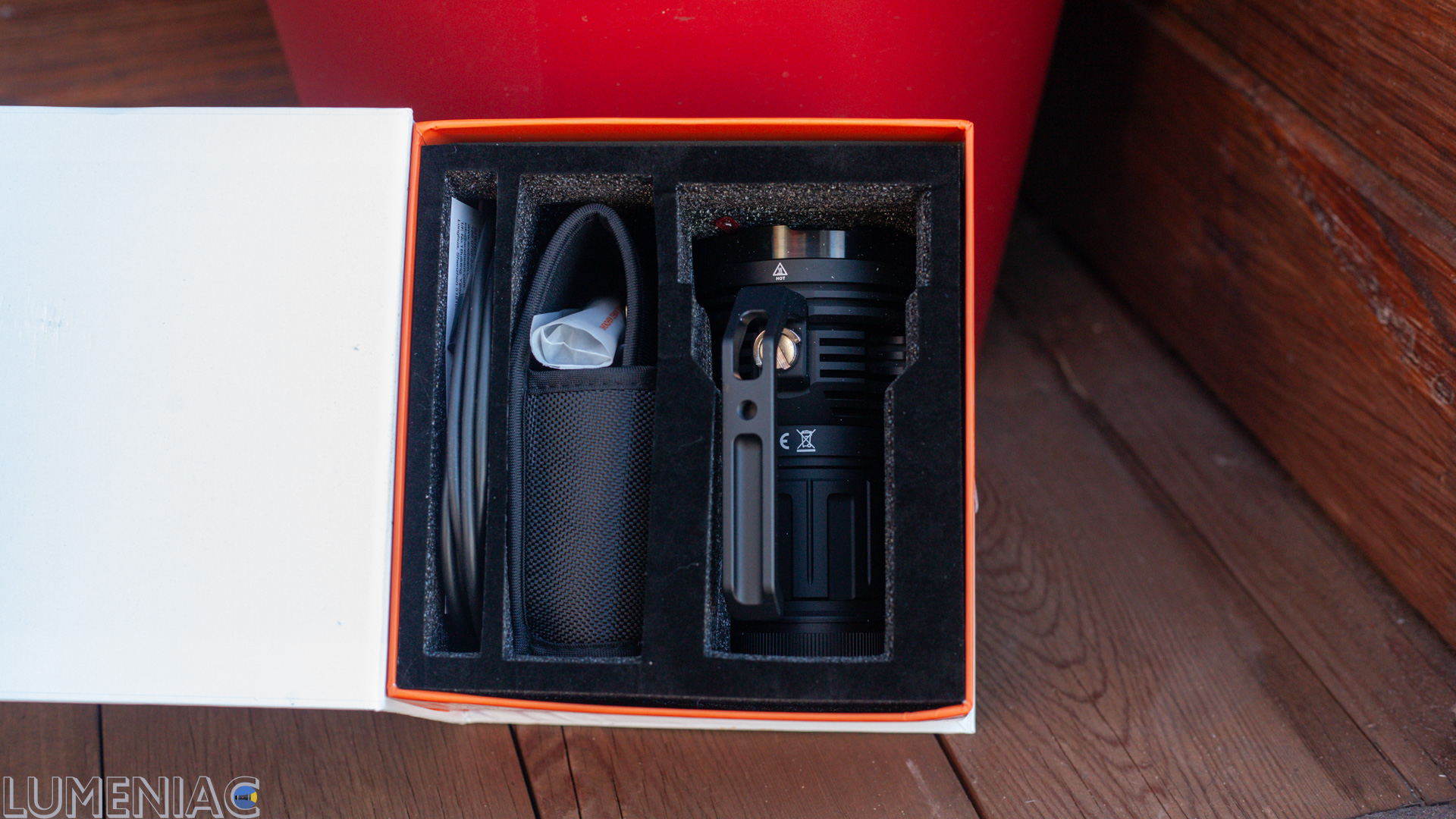 !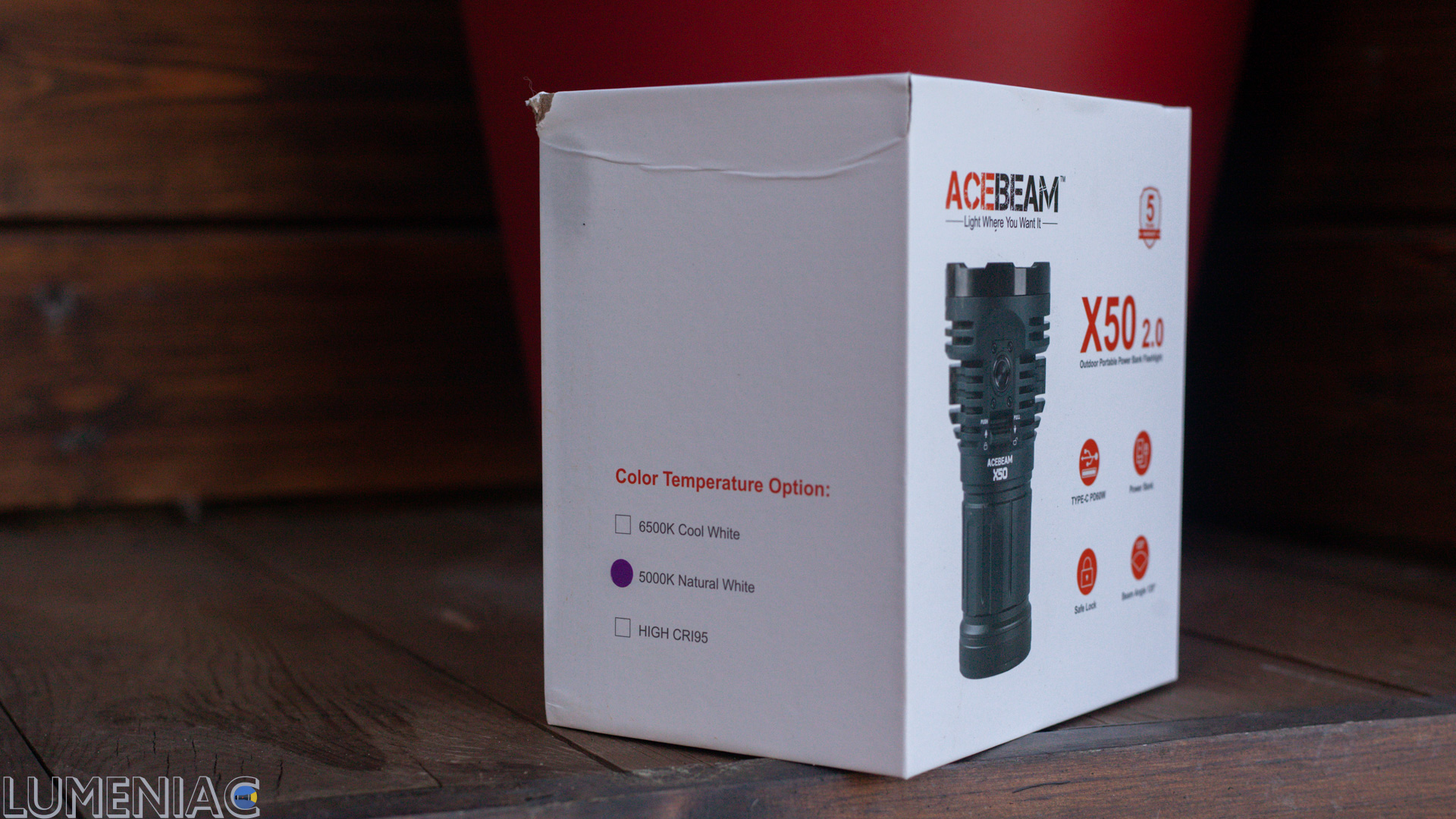 In addition to the flashlight itself, the kit includes a removable handle, a holster, a lanyard, a power supply, a charging cable, a pair of o-rings, a manual and a warranty card.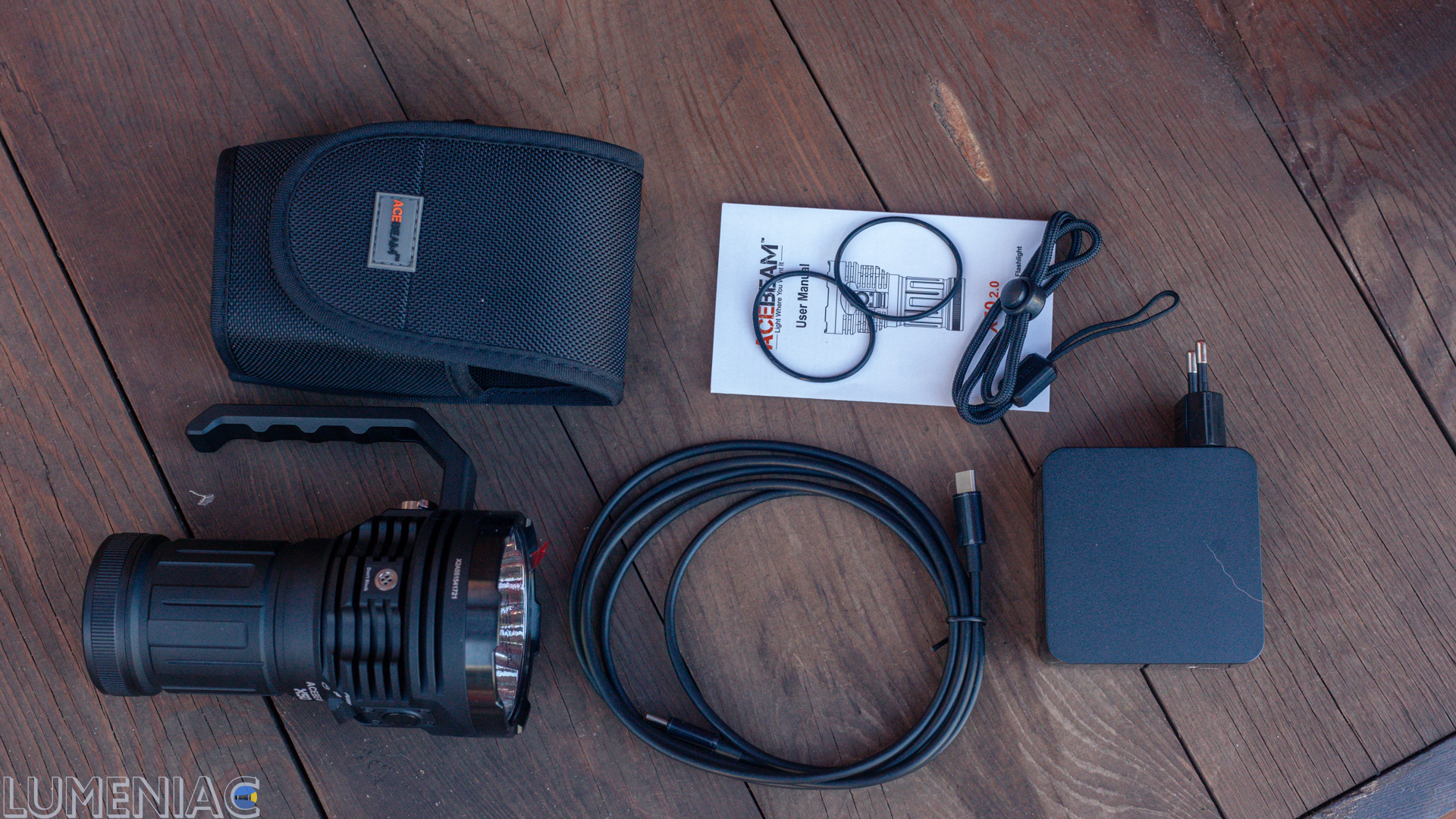 The holster is comfortable and good quality. Usual Acebeam holster.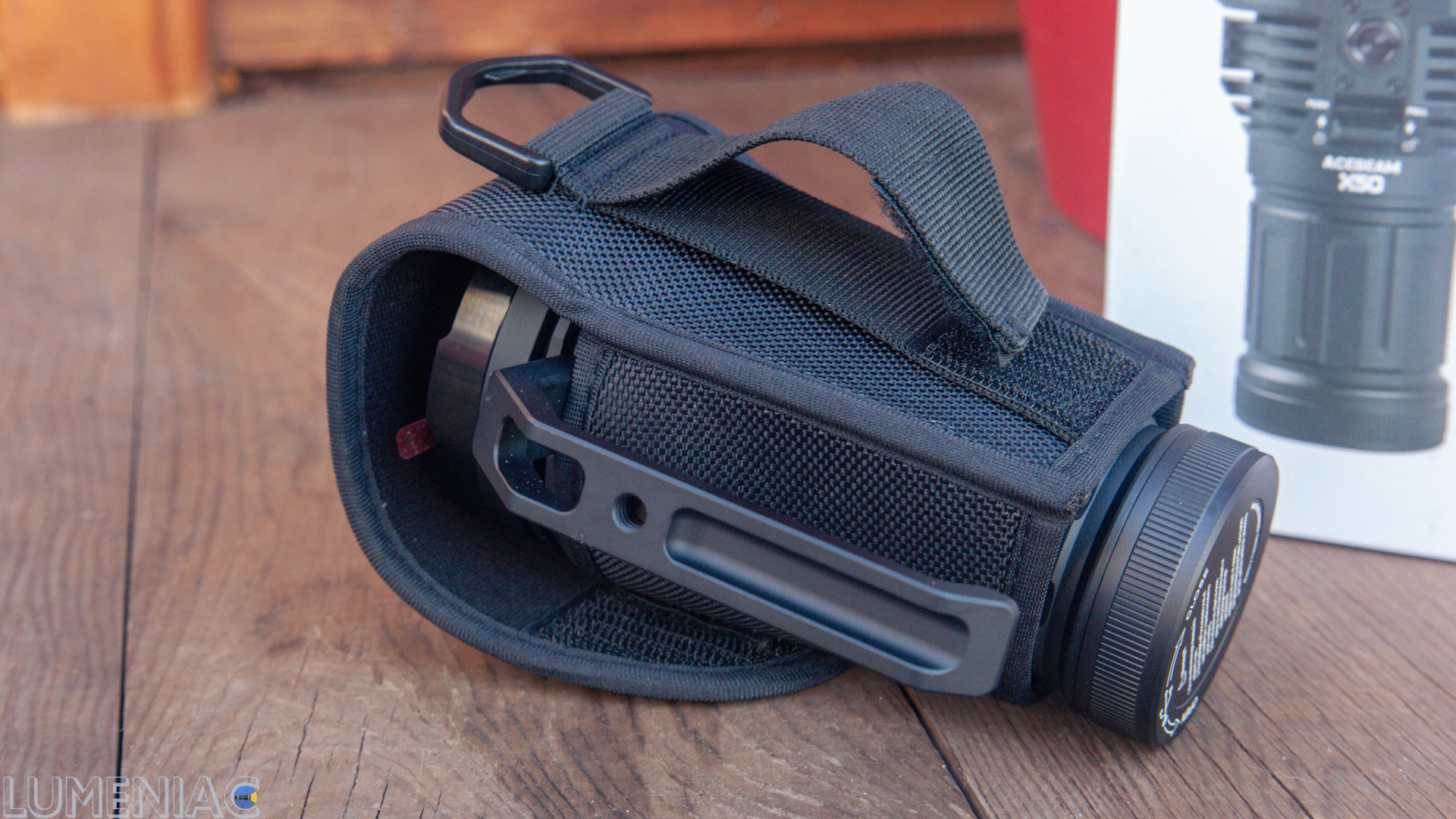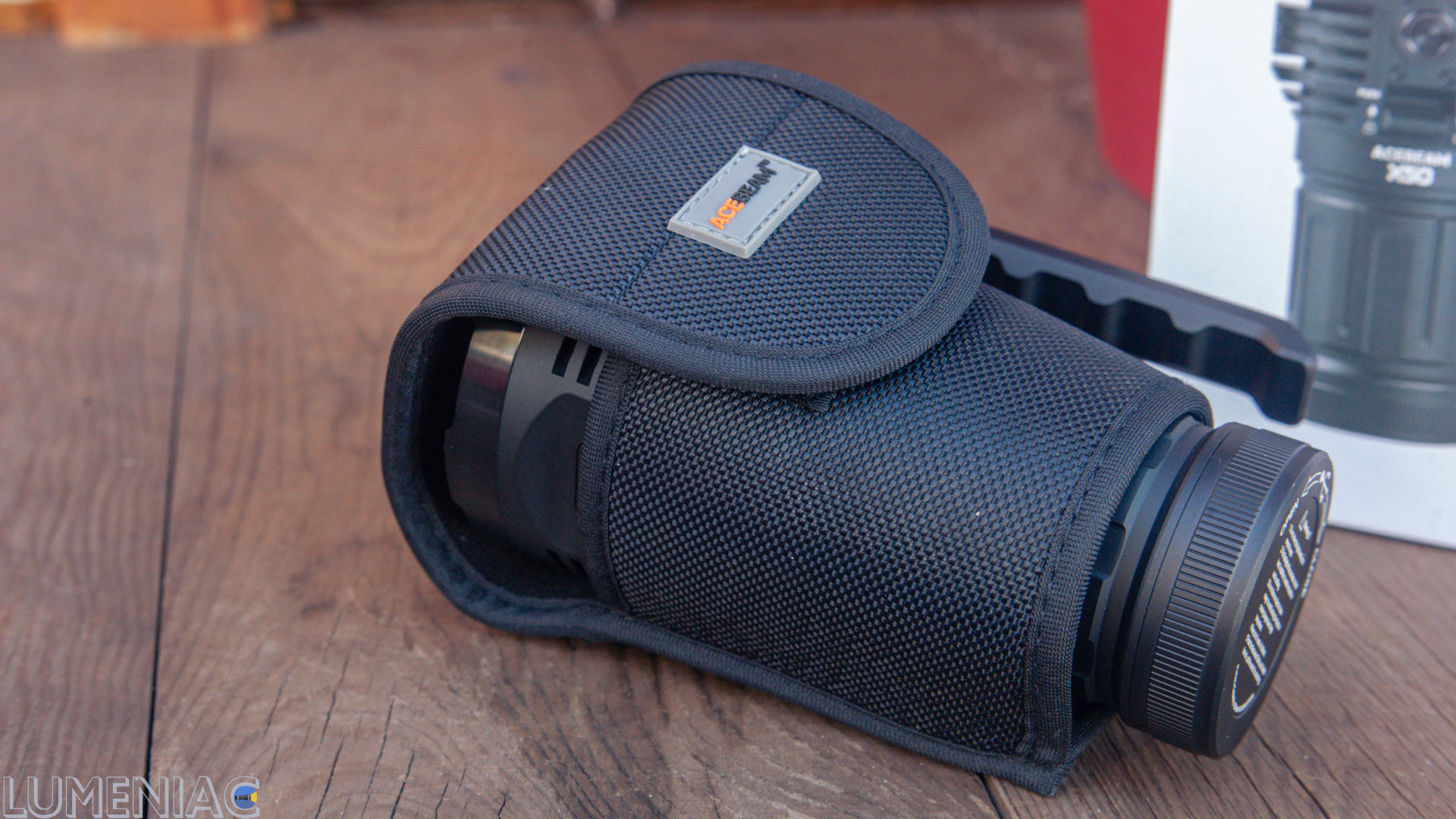 I did not like that the lanyard can only be attached to the handle. I think that there may be those who want to use a flashlight without handle. Though, of course, the handle is much, much more comfortable.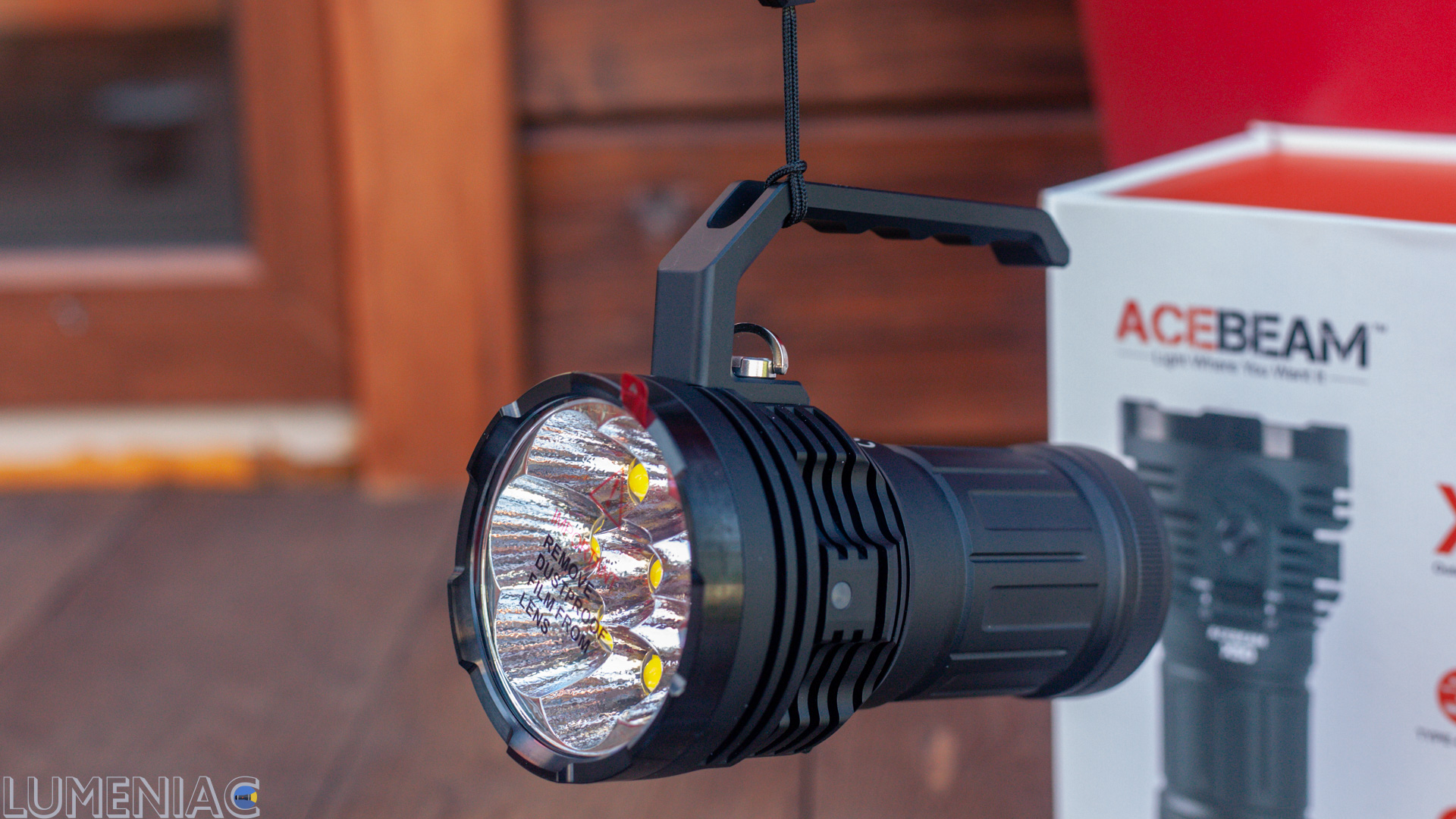 Attention to detail is maximum, there is even a thread for a tripod mount in the handle.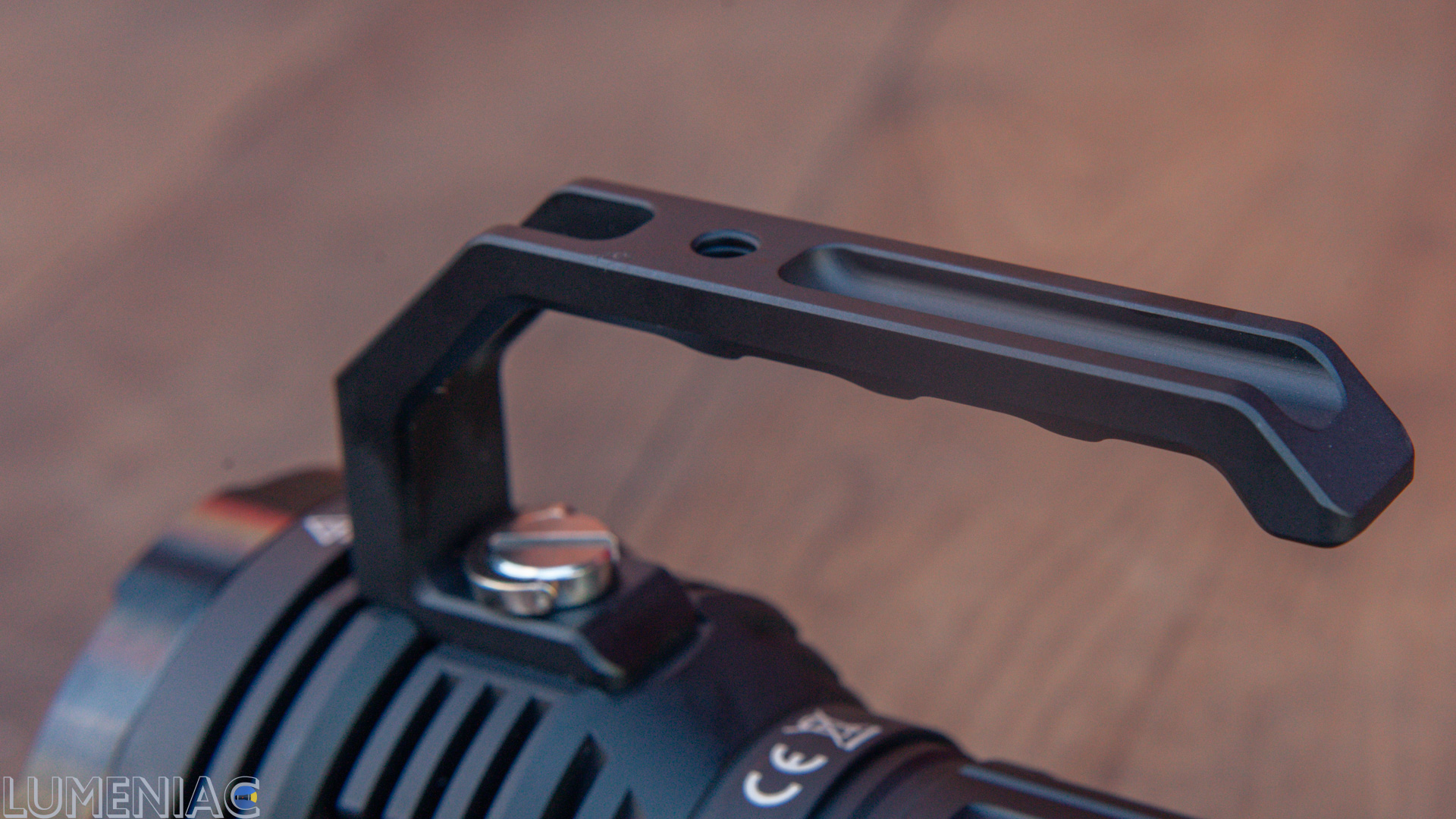 Acebeam X50.2 has soda-can size, and this is a certainly very tempting small size for the maximum declared brightness. Because there are godzilla sized flashlights, like mt90 plus.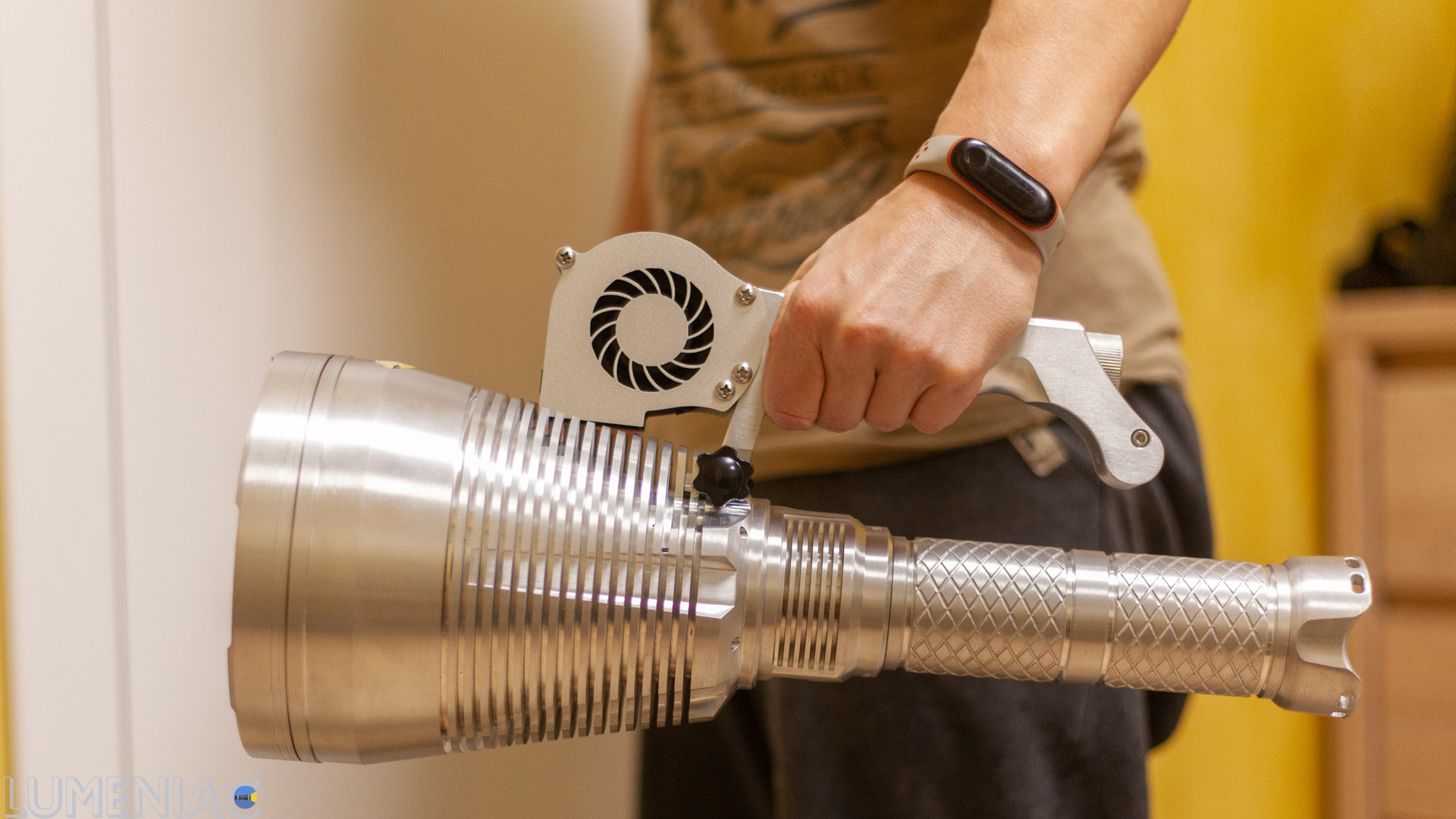 Here is good pic, that will help you evaluate Acebeam X50.2 size


The disadvantage, however, is also obvious - small flashlight should heat up quickly, so don't expect long runtime in high modes. But my runtime charts in final part of this review will show suprisingly good results.
As usual for Acebeam, the design here is impeccable. The mass of other models of this class looks much simpler. Someone may say that the design is secondary here, as long as the flashlight works well. But if you're paying such a hefty price, it's reasonable to expect everything to be perfect.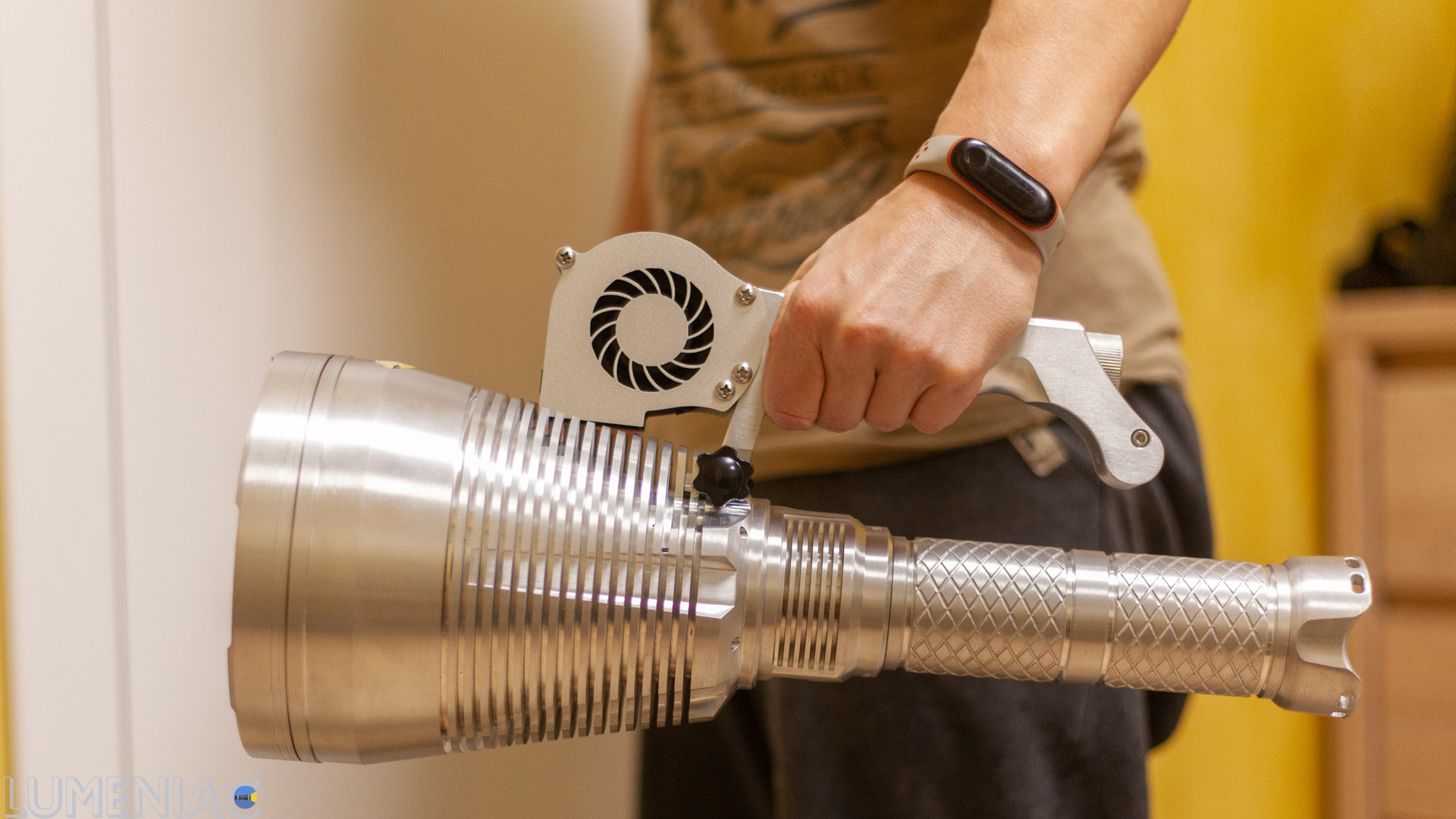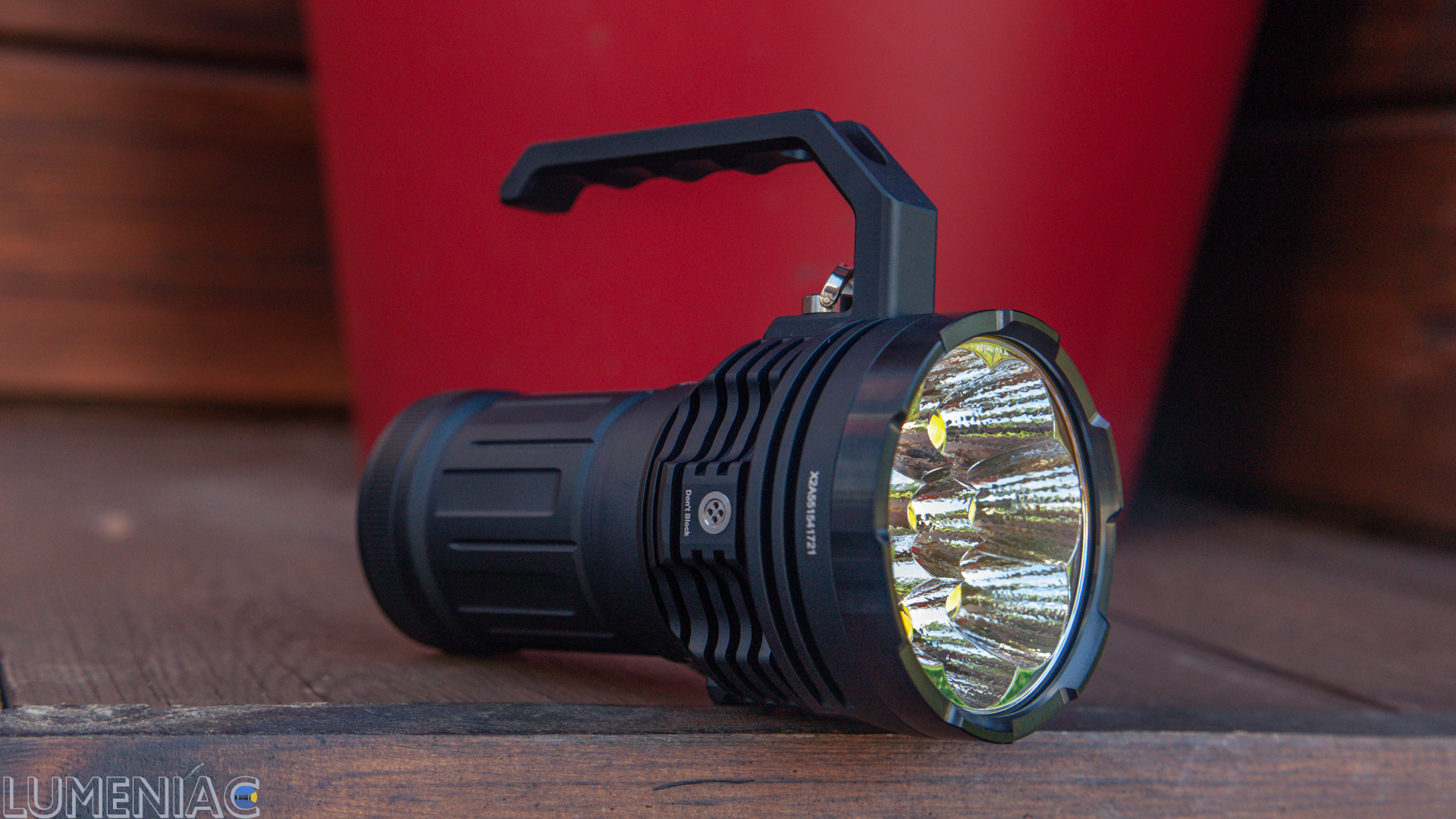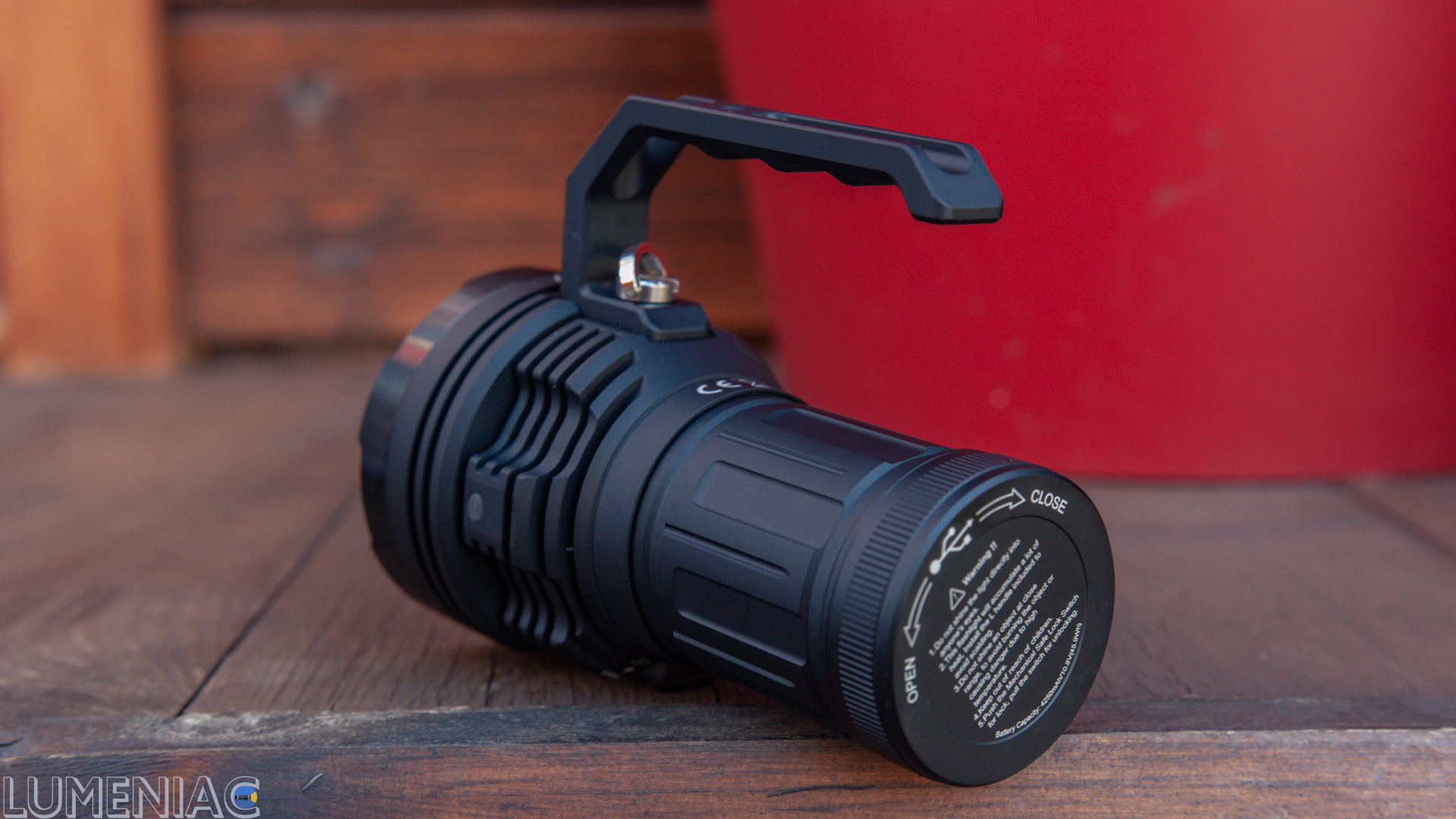 The only other soda can flashlight i have now is Wurkkos TS32 (I will tell you about it soon). The difference in design here is frankly visual.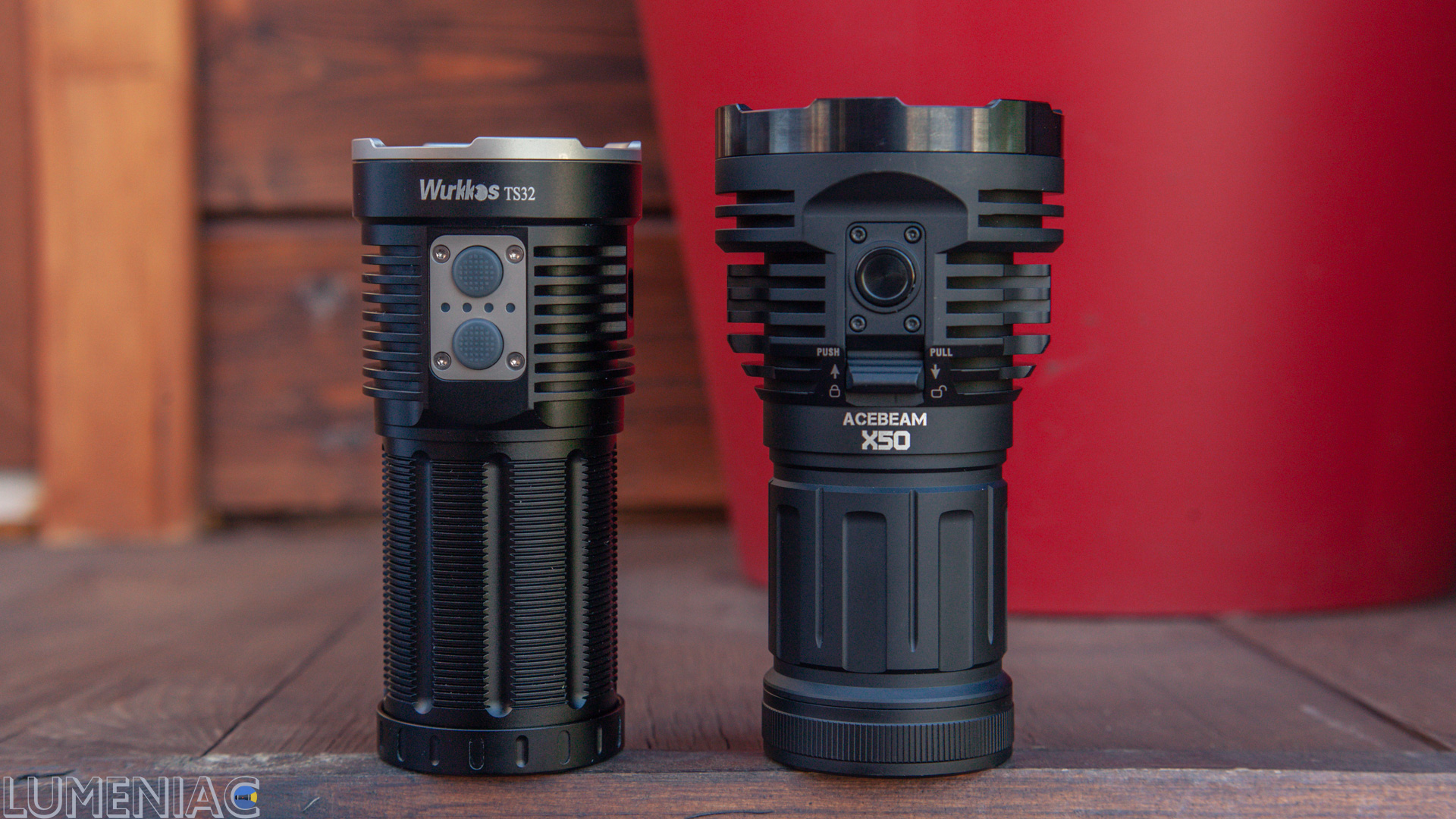 I think that matte anodizing look great for the brutal design of Acebeam X50.2.
Flashlight looks more like a tool, not a light source. However, this is a matter of taste and someone may find the design quite ordinary.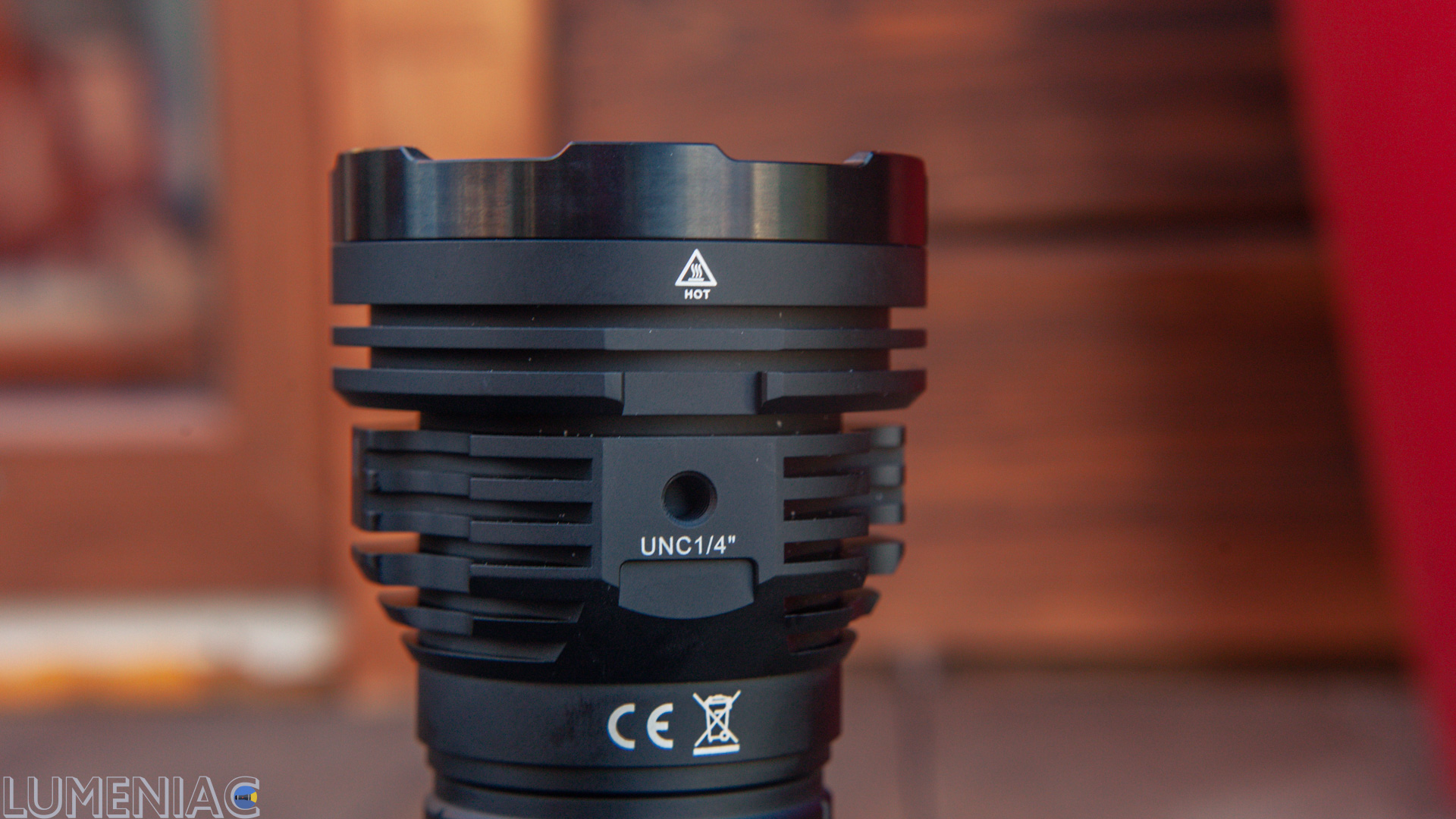 Acebeam X50.2 has firm tail-stand, so you easily illuminate the whole room with reflected light.
Also, if desired, it can be mounted on a tripod. It will be of interest to those photographers who are looking for a portable source of bright light. Acebeam also released HiCRI (a high color rendering index) version especially for them.
Acebeam installed a button on the opposite side of the case from the handle. If you decide to mount the flashlight on a tripod, then you will like this solution - the button will be right on top.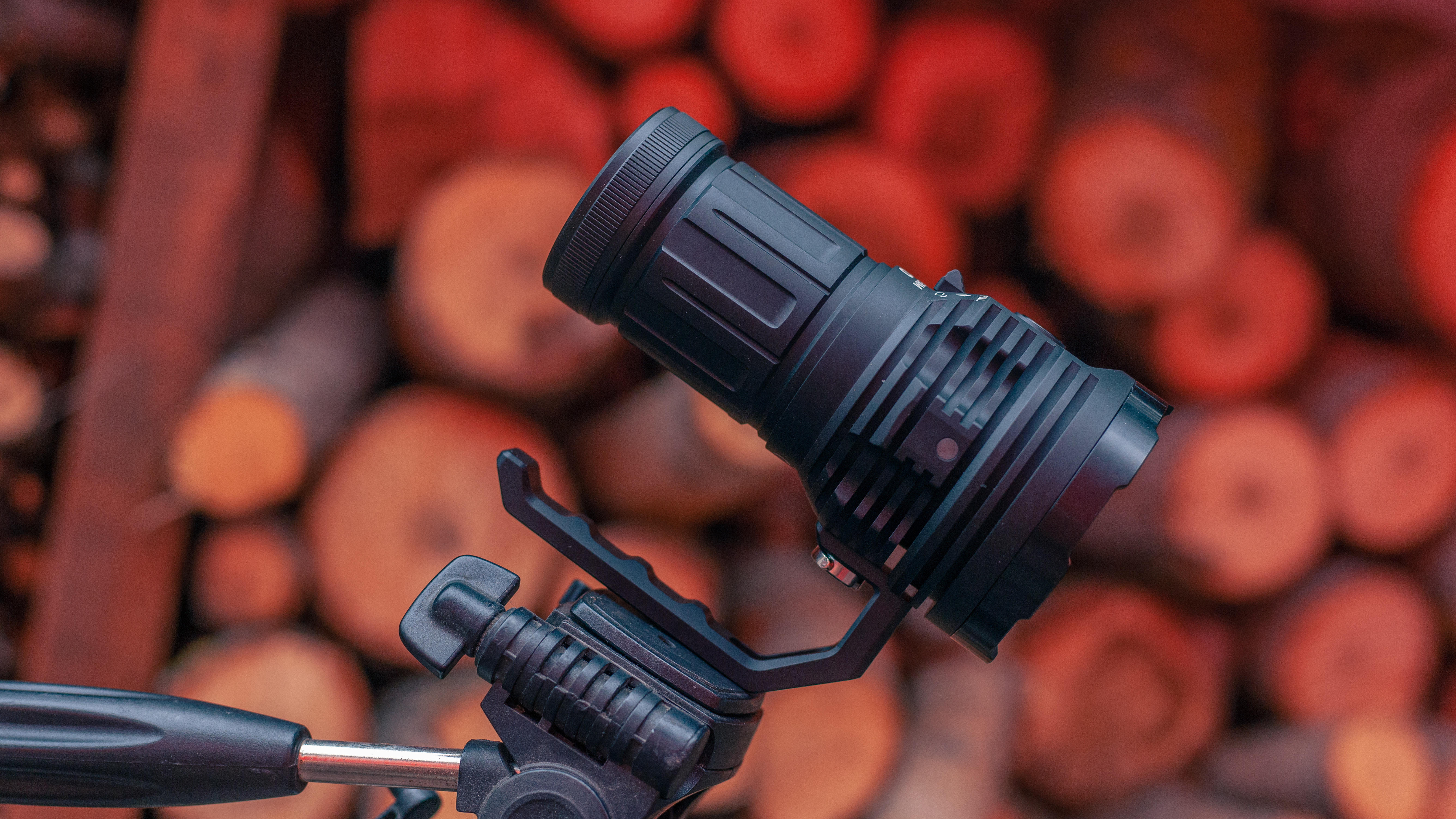 The length and diameter of the part of the body reserved for the grip is enough to make it comfortable. Although powered by 3 * 21700, a truly comfortable grip will be only for guys with large palms. And they, too, should not neglect the lanyard.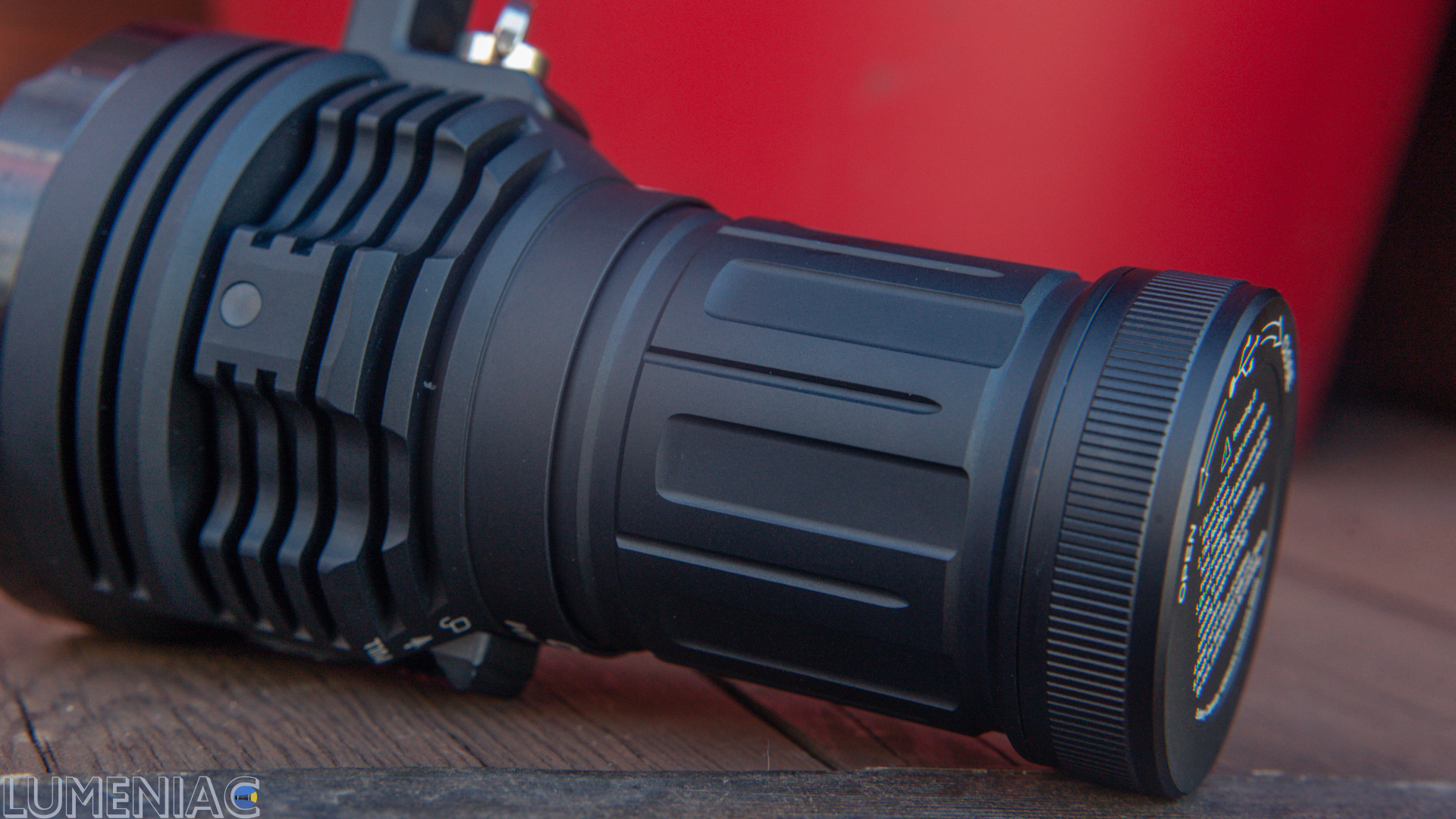 But, again, using Acebeam X50 with a handle is much more convenient. And the body of the flashlight will quickly cross the threshold, beyond which it will be frankly painful to hold the flashlight with your bare hands.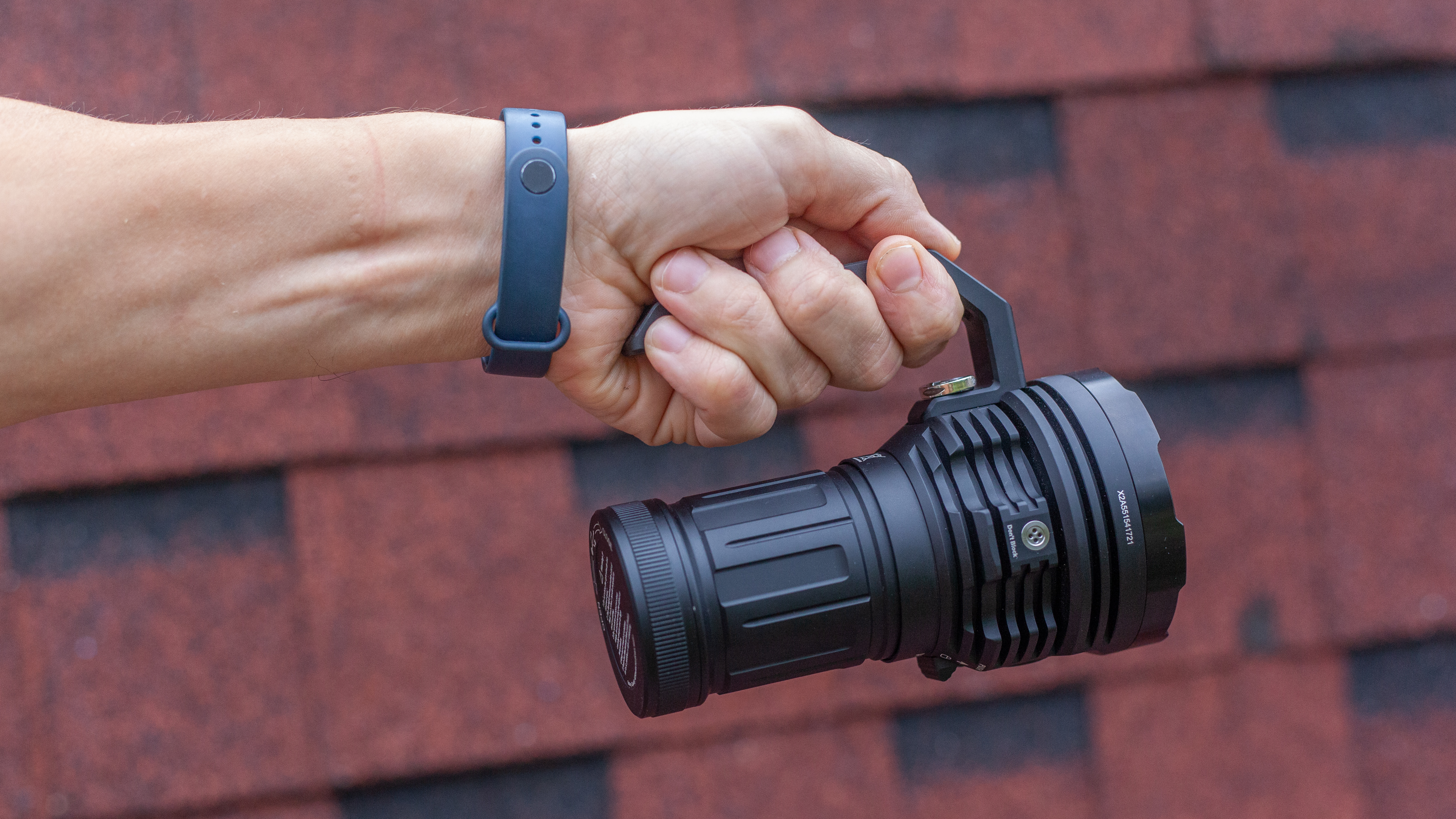 The flashlight can be divided into two parts.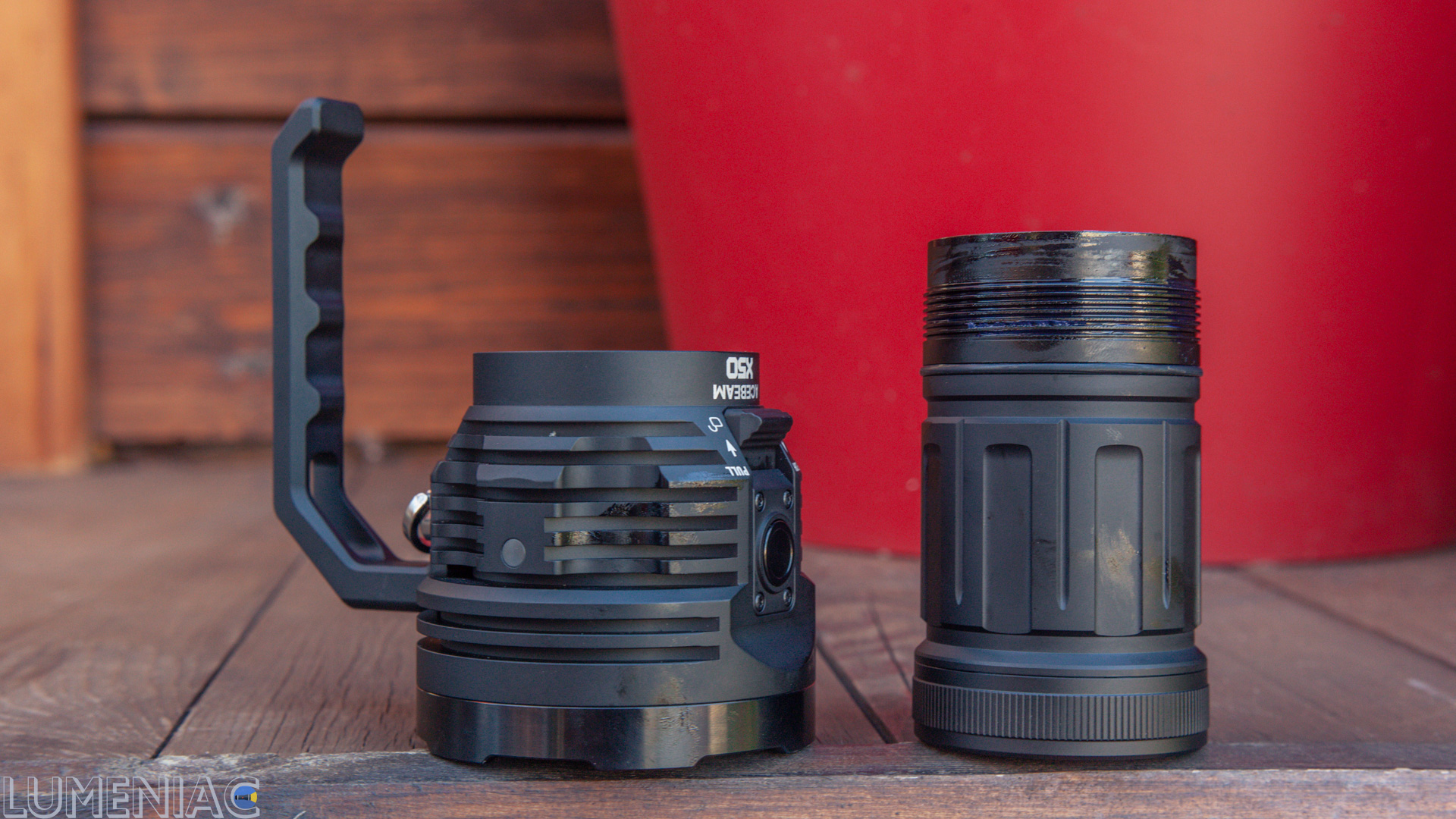 For the sake of safety and in order to draw such a colossal brightness from only three 21700 batteries, Acebeam had to solder them them into built-in battery. This provides the best possible contact and protection against installing some cheap low-power 21700 cells.
Unfortunately, as usually with built-in battery packs, charging the flashlight will be problematic when you are far away from any source of electricity, you simply cannot insert fresh batteries in flashlight.
But, of course, if you found money for X50.2, you can also afford extra spare battery pack. Or take some capacious high-power powerbank and charge from it. But powerbankl is extra weight and time to charge. Replaceable batteries here, of course, would be far more convenient.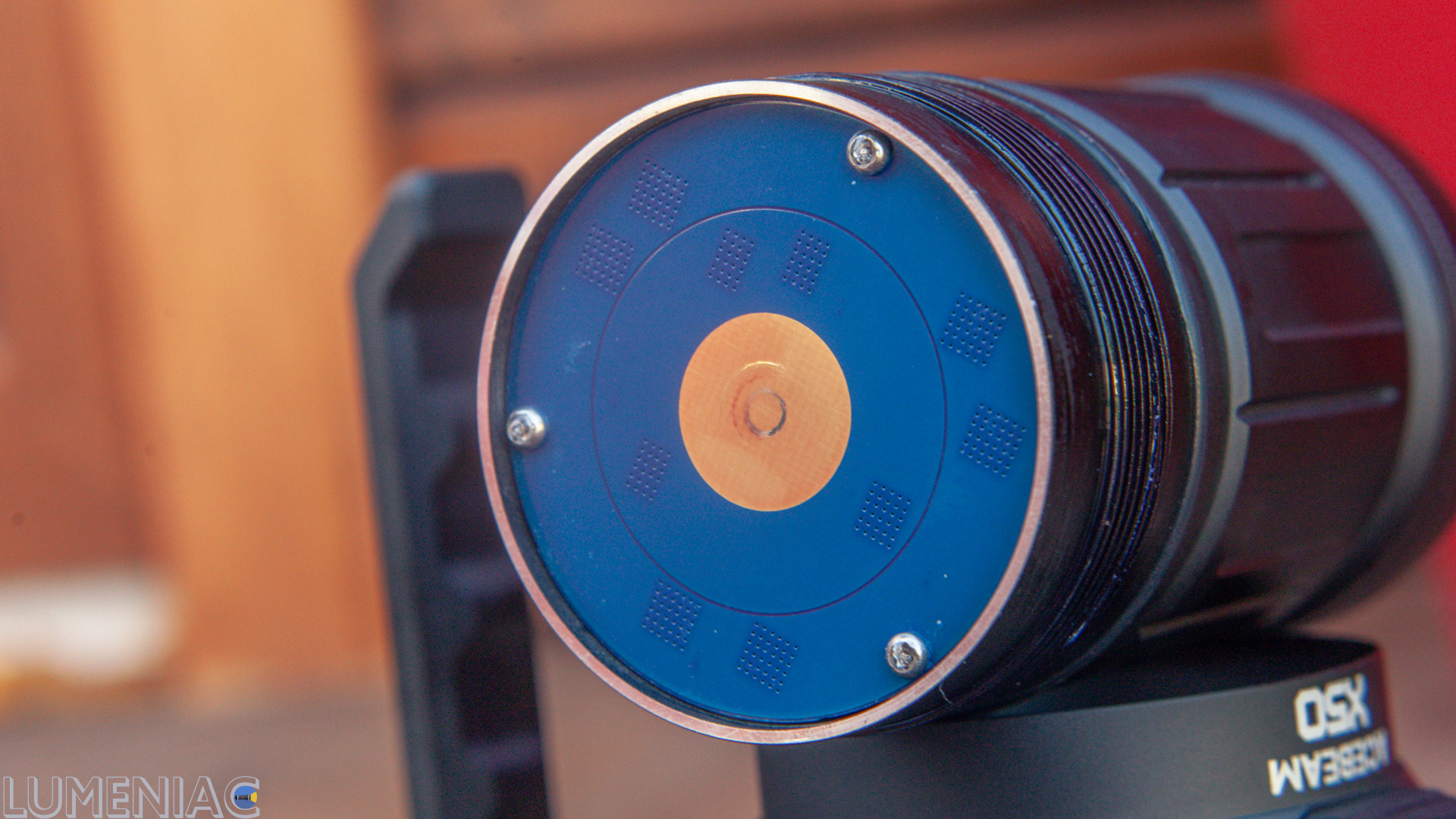 Turn off cover to get access to Type-C charging connector, which is located near the base of the flashlight.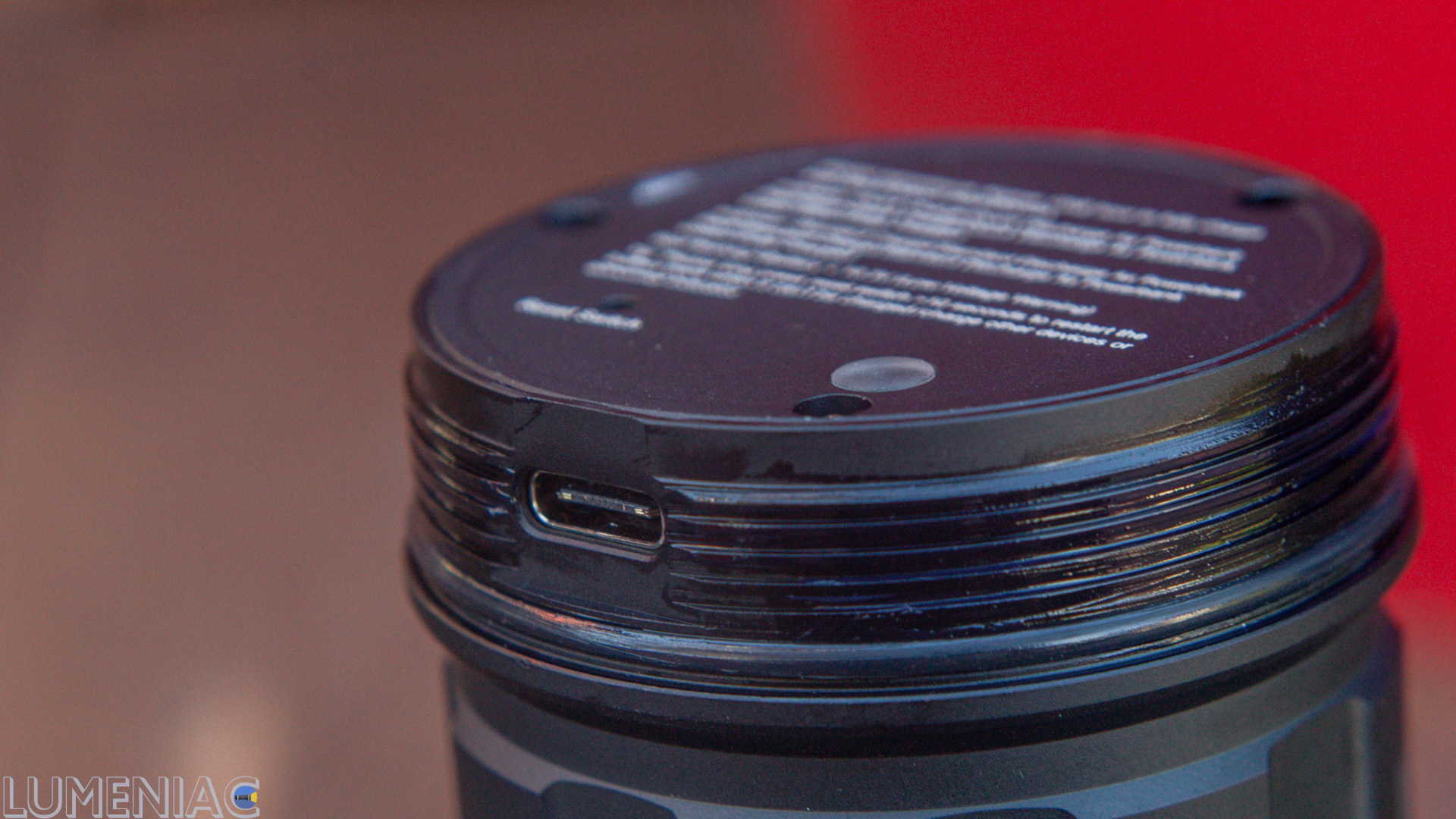 There is also a charge indicator and tiny reset button in case something goes wrong with charging. Never seen this in flashlights.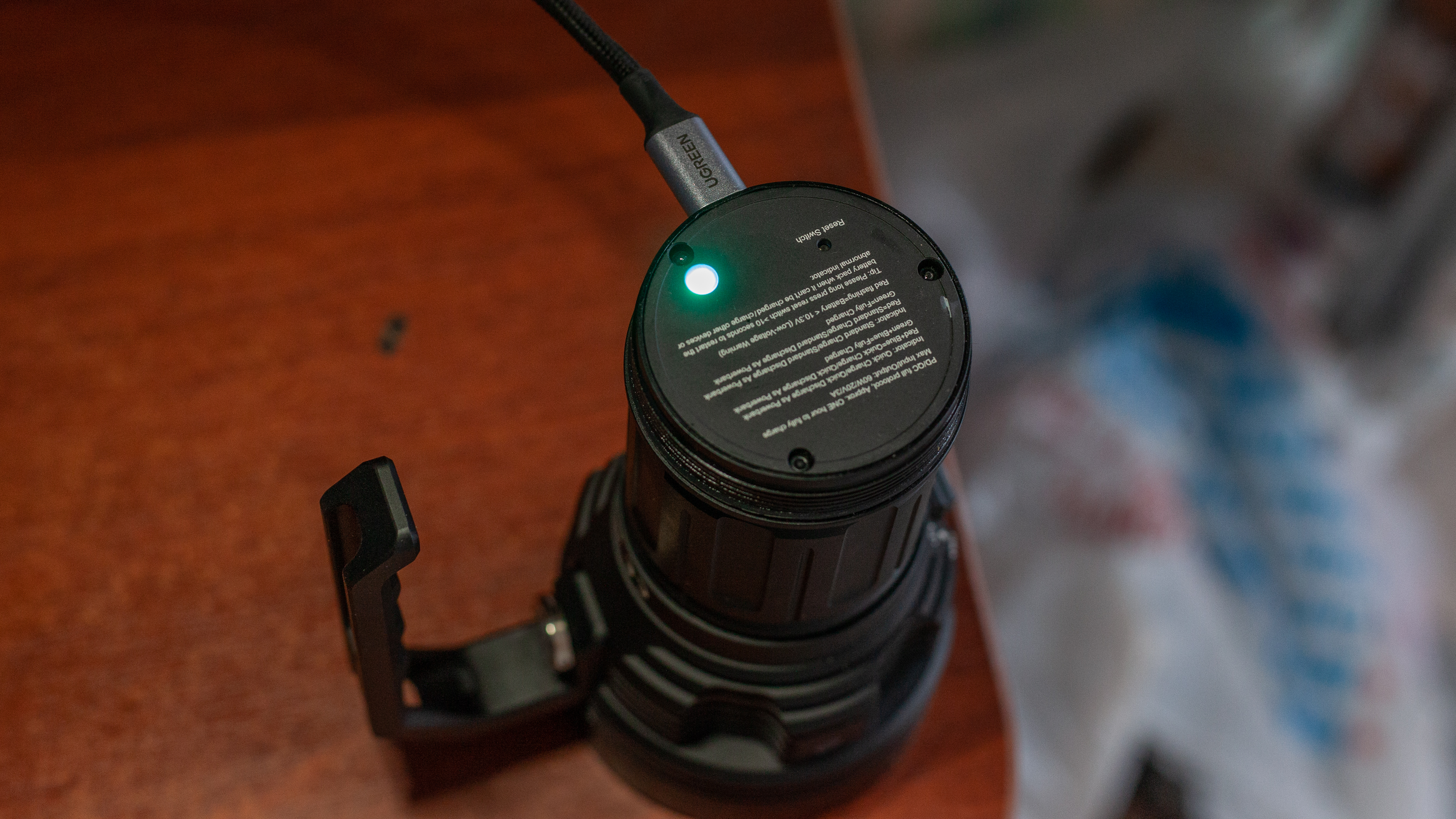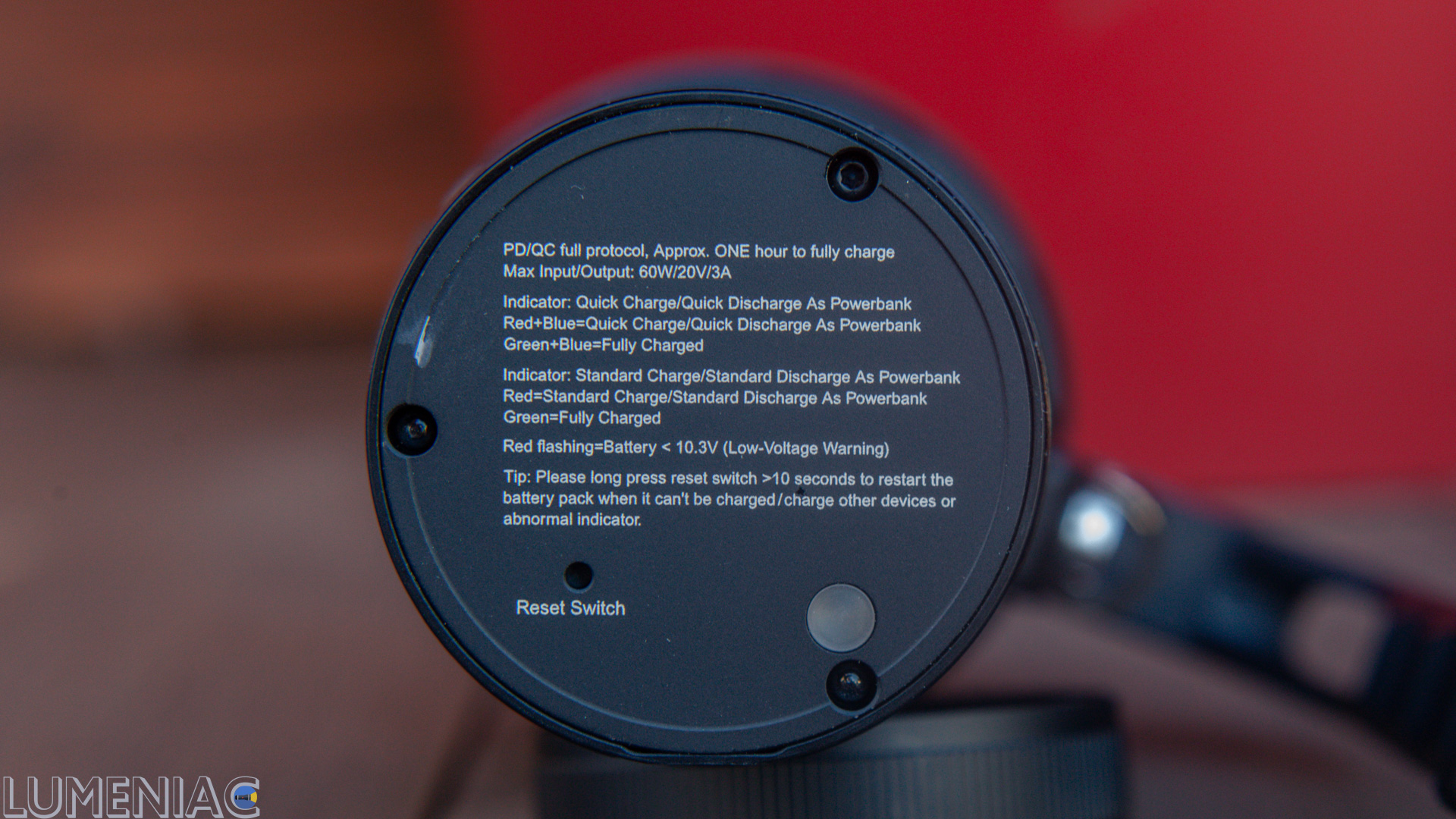 X50.2 has light speed charge. Incredibly fast. 1 hour for a pack of track 21700 batteries, that's amazingly fast. specs promise "less then hour". I measured more, but this is still unbelievably fast charge. Of course, you should understand that when such a power is applied to cells inside, that it too much for them, ultrafast charge reduce battery life. so i`d recommend 20w charge, cells will be ok with this.

In case of need, the flashlight can work as a power bank, giving as much as a standard 10000mah external battery. In other words, the charge is enough for two smartphones with a regular-sized battery. The flashlight supports all major fast charging protocols, honestly delivering 60w. Here in the photo a little less, because I took a picture too late, but you can see that 60w is real , just watch my video review.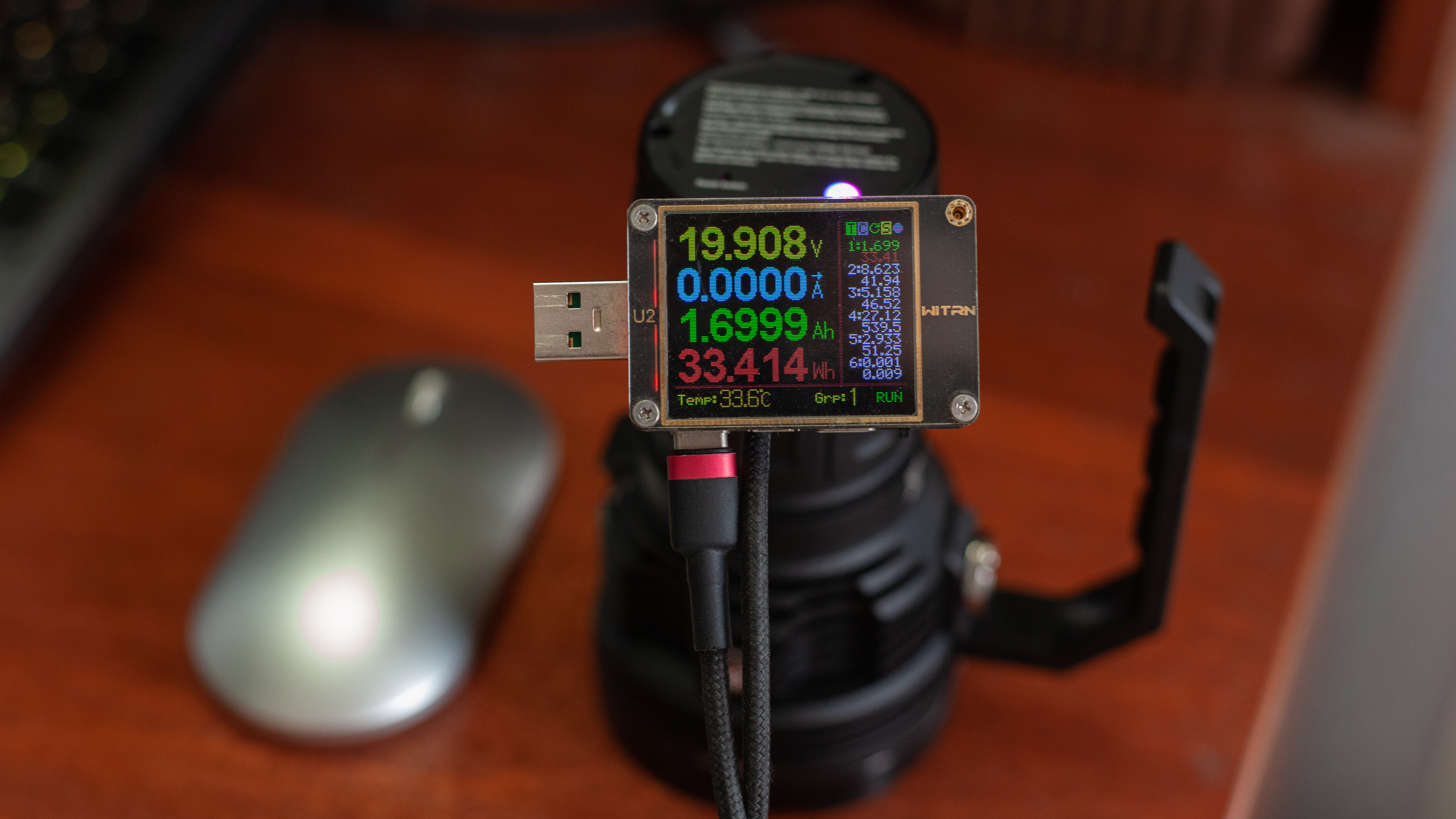 For thos who like looking into the circuitry, here are couple of pics of Acebeam X50.2 driver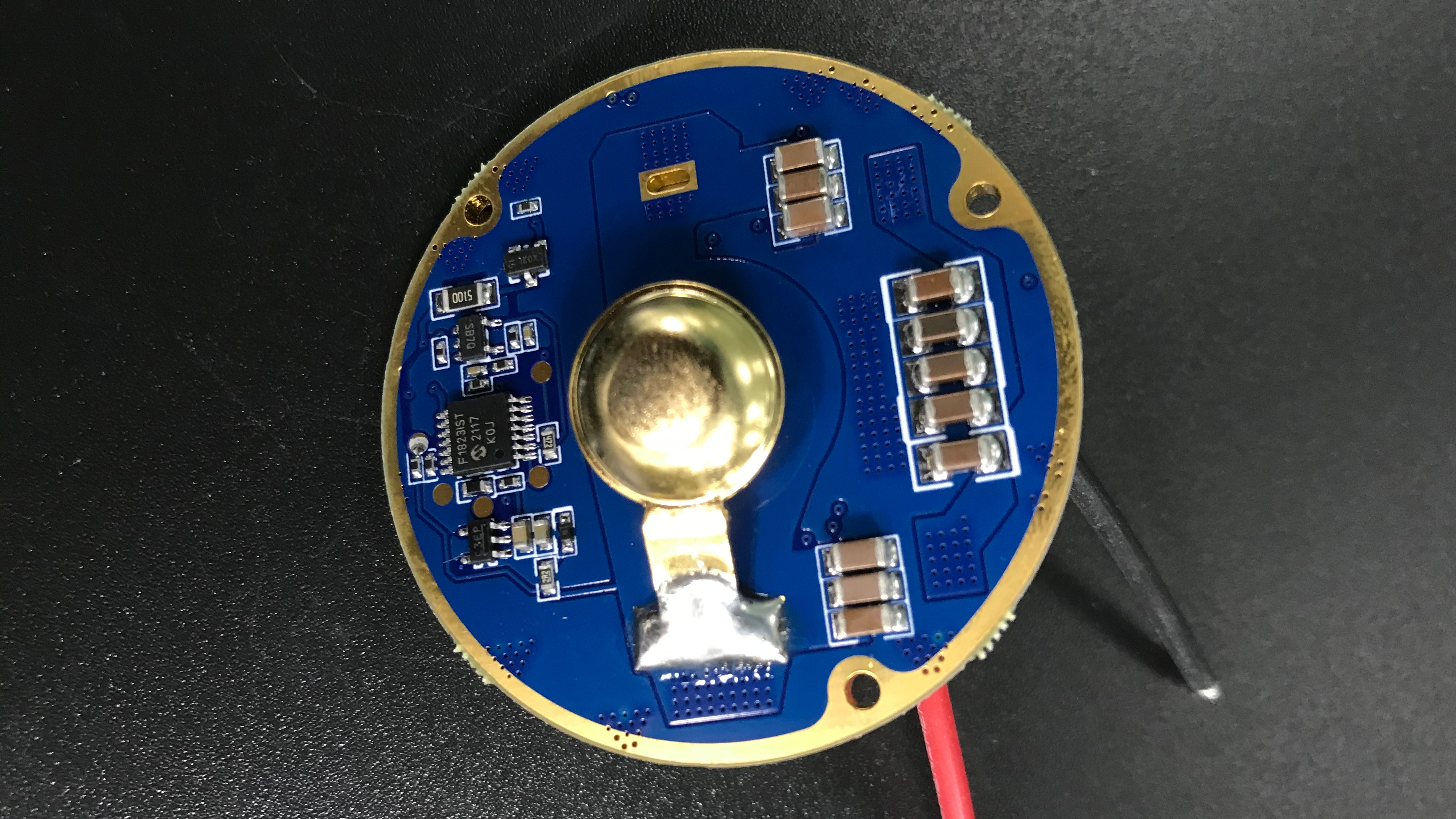 The head is quite massive, the cooling fins are deep. All this shold have positive effect on heat dissipation.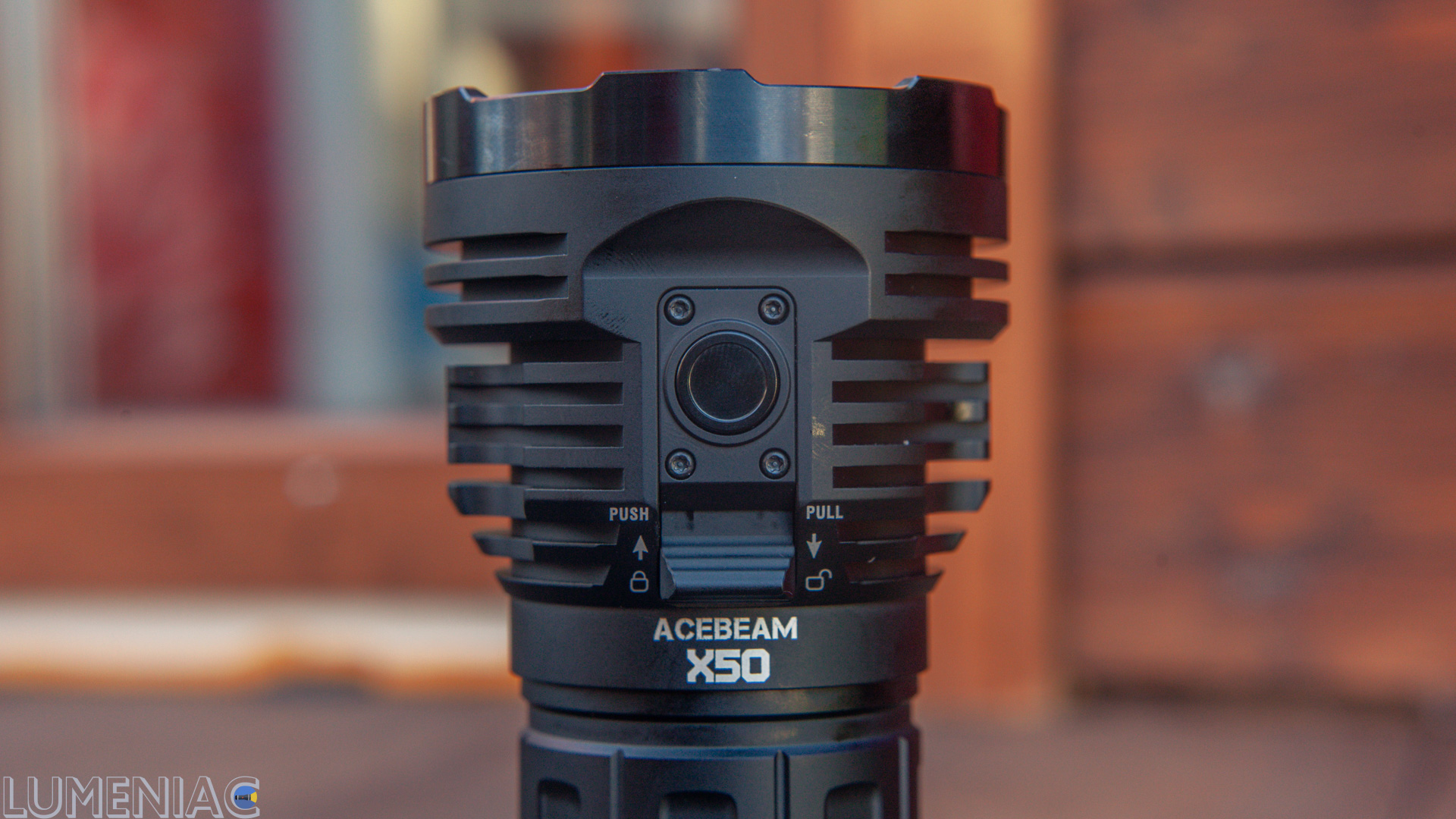 I really like how they made the button here. Access is easy, blindly you can find it with lightning speed, without having to shine another flashlight on it, as is the case with Imalent's monstrously inconvenient buttons.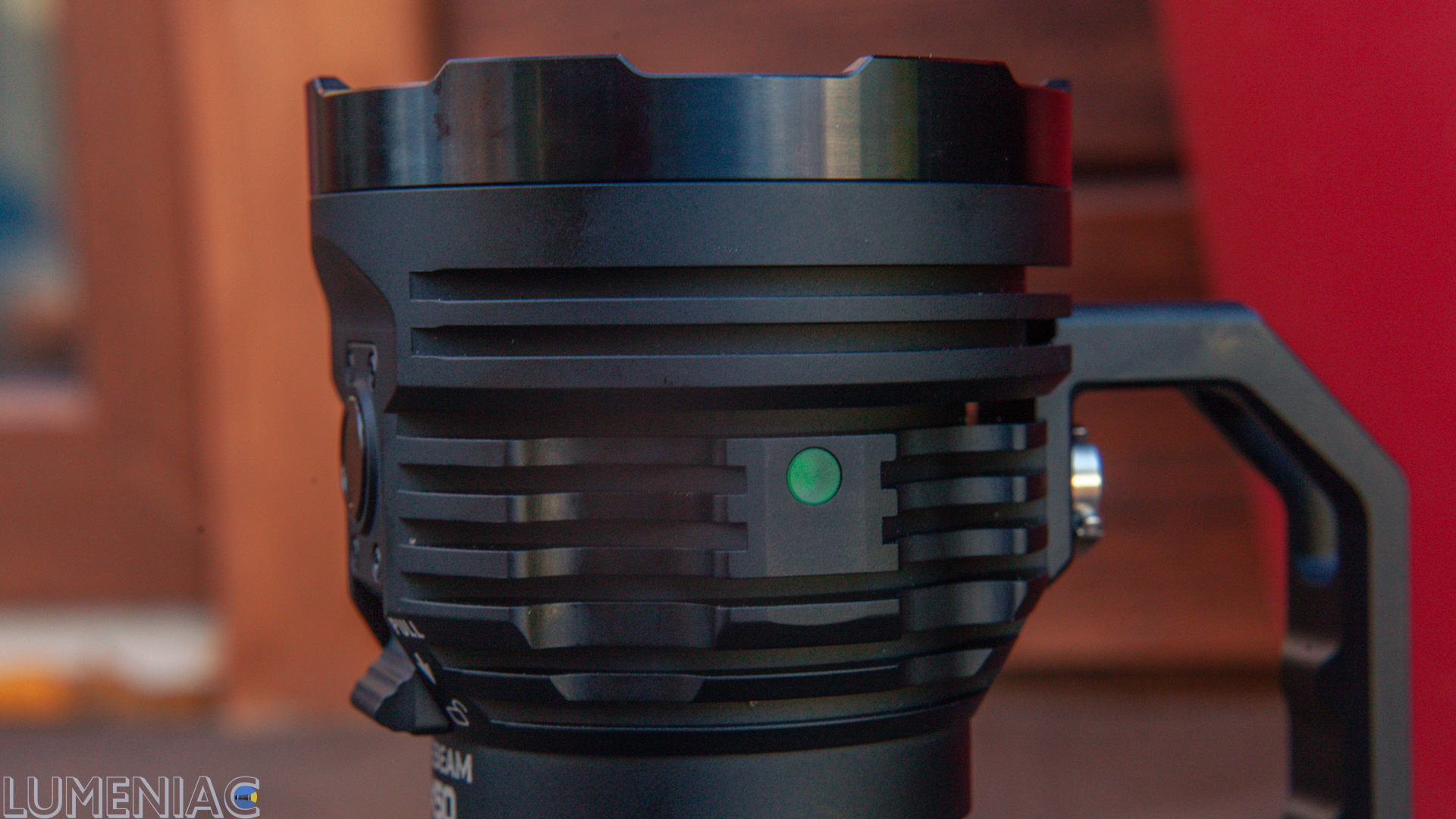 LED indicator is located on the side, not in or under button, as button look down when you hold handle, so you simply wouldnt see iundicator there.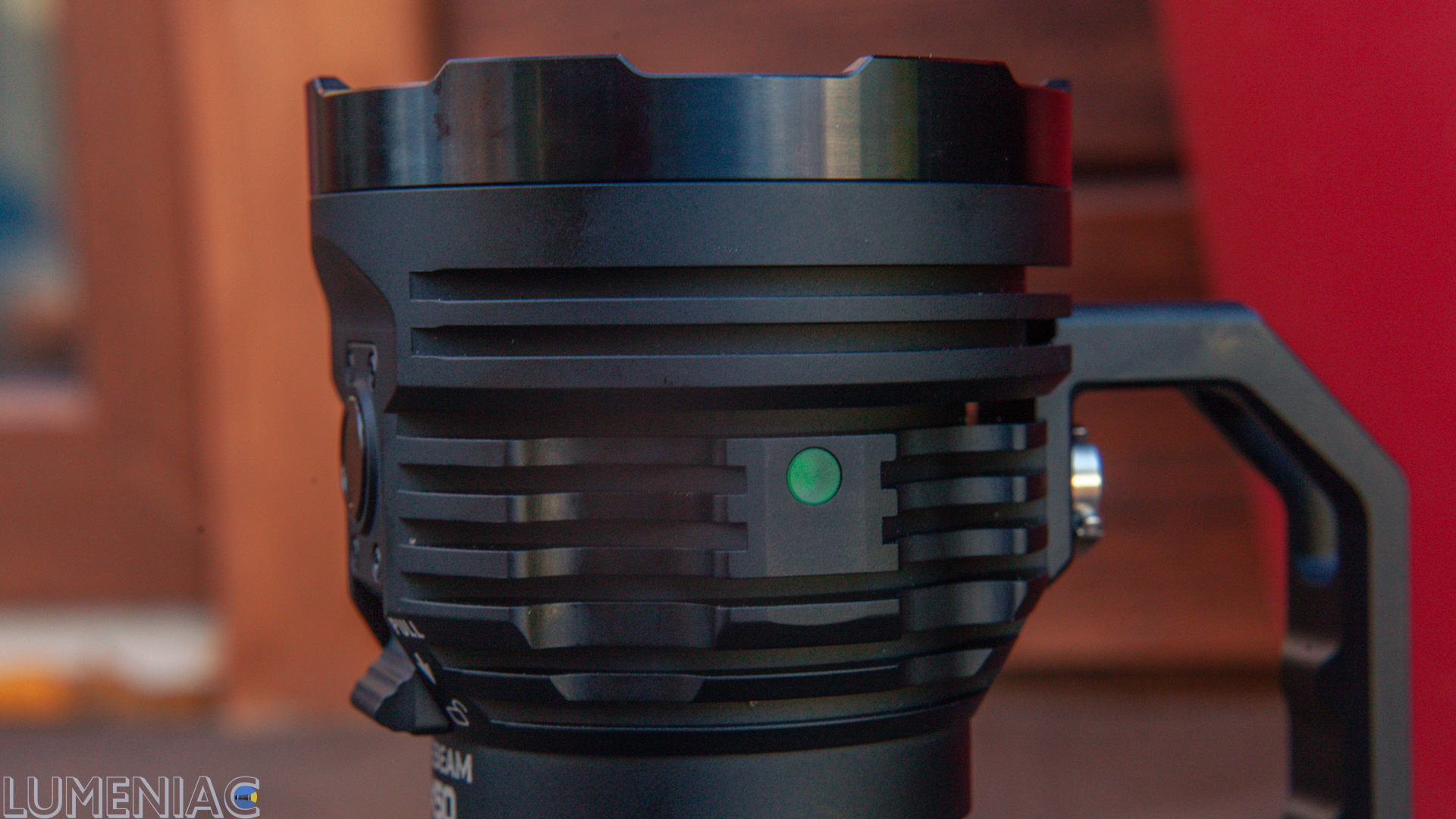 It is worth noting an extremely rare solution - a mechanical lock switch. I don't see any reason why Acebeam abandoned usual electronic blocking. However, I really like this switch. It is stylish and convenient in use.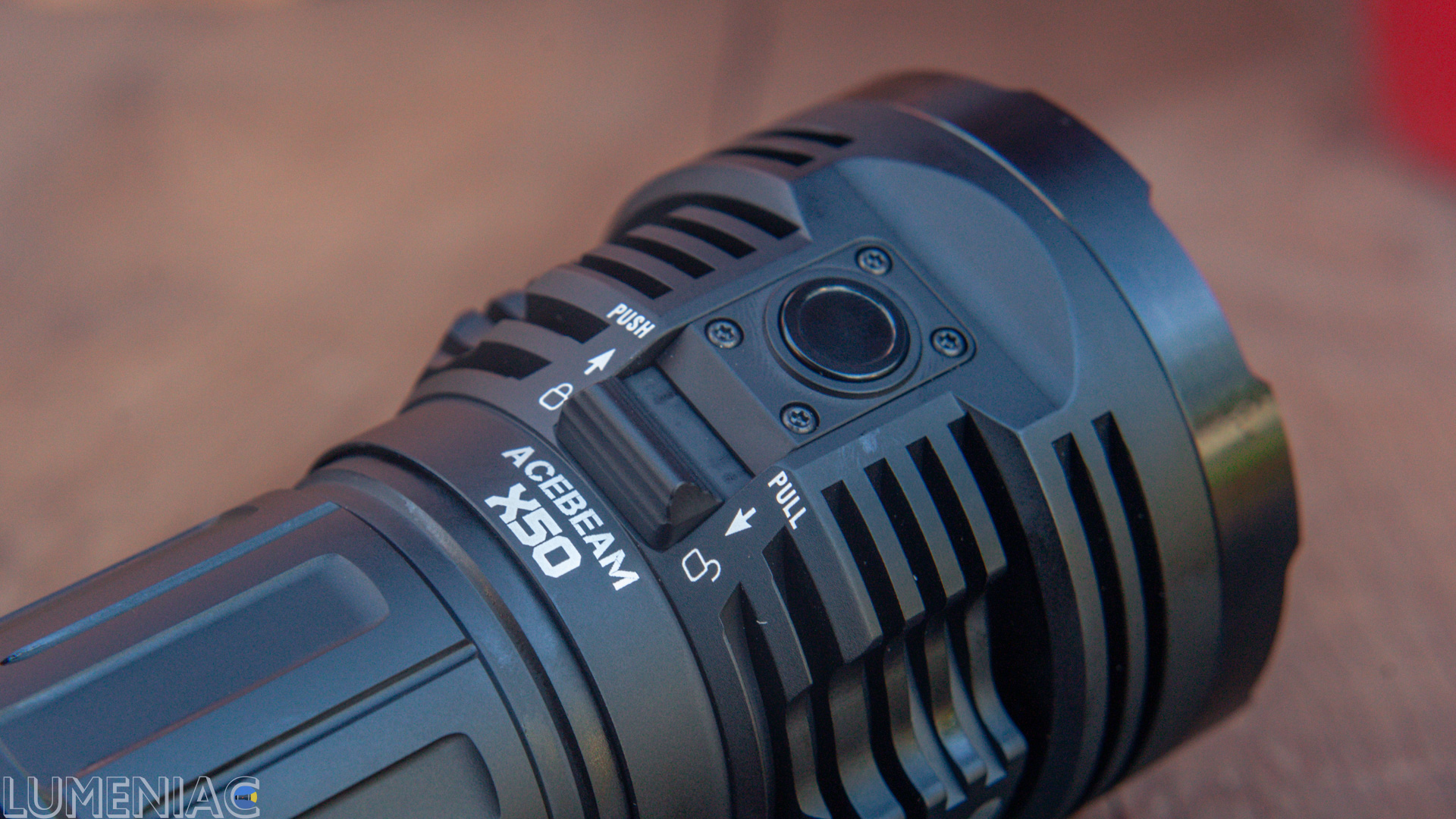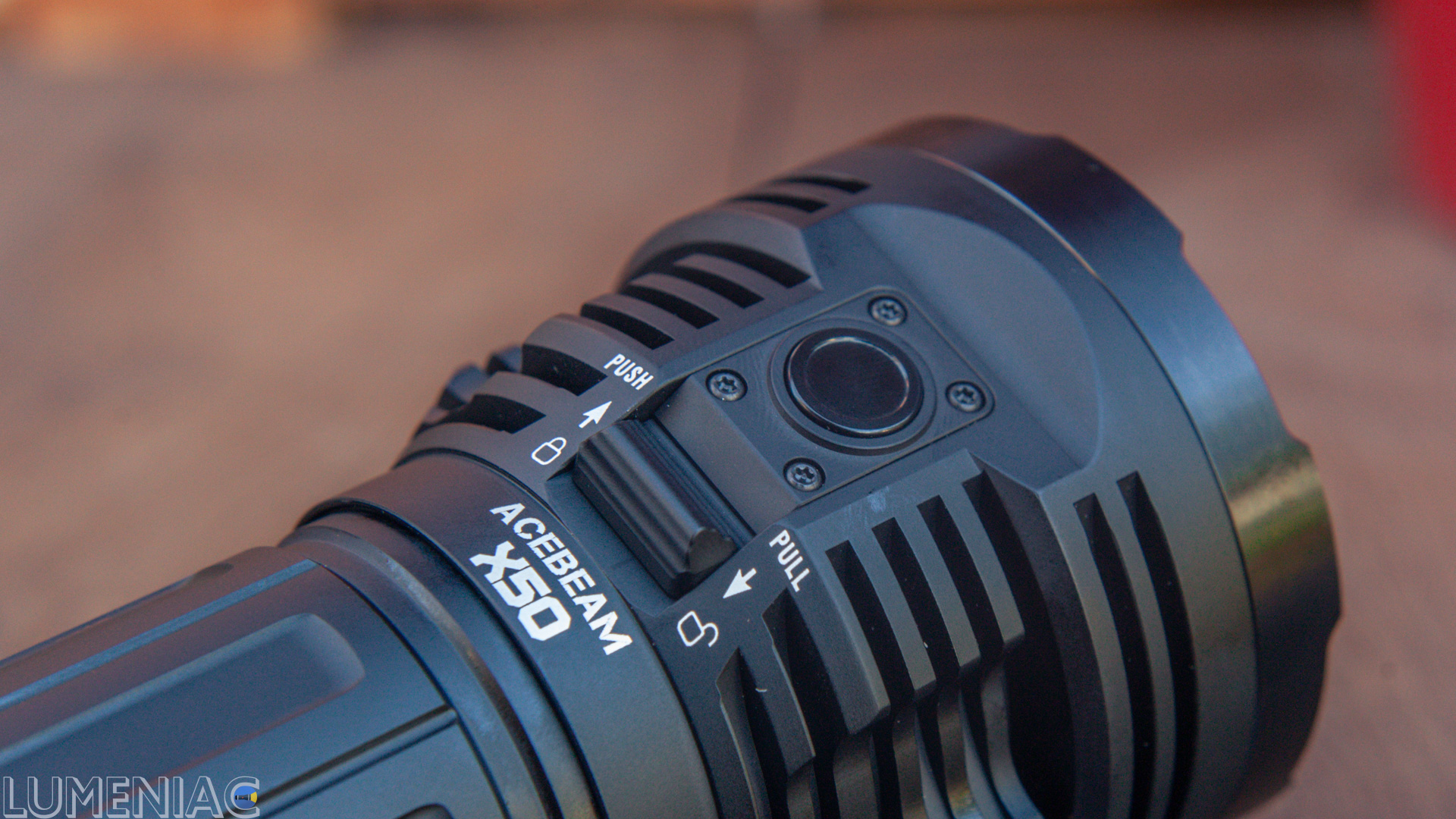 The bezel is shallow, with wide teeth.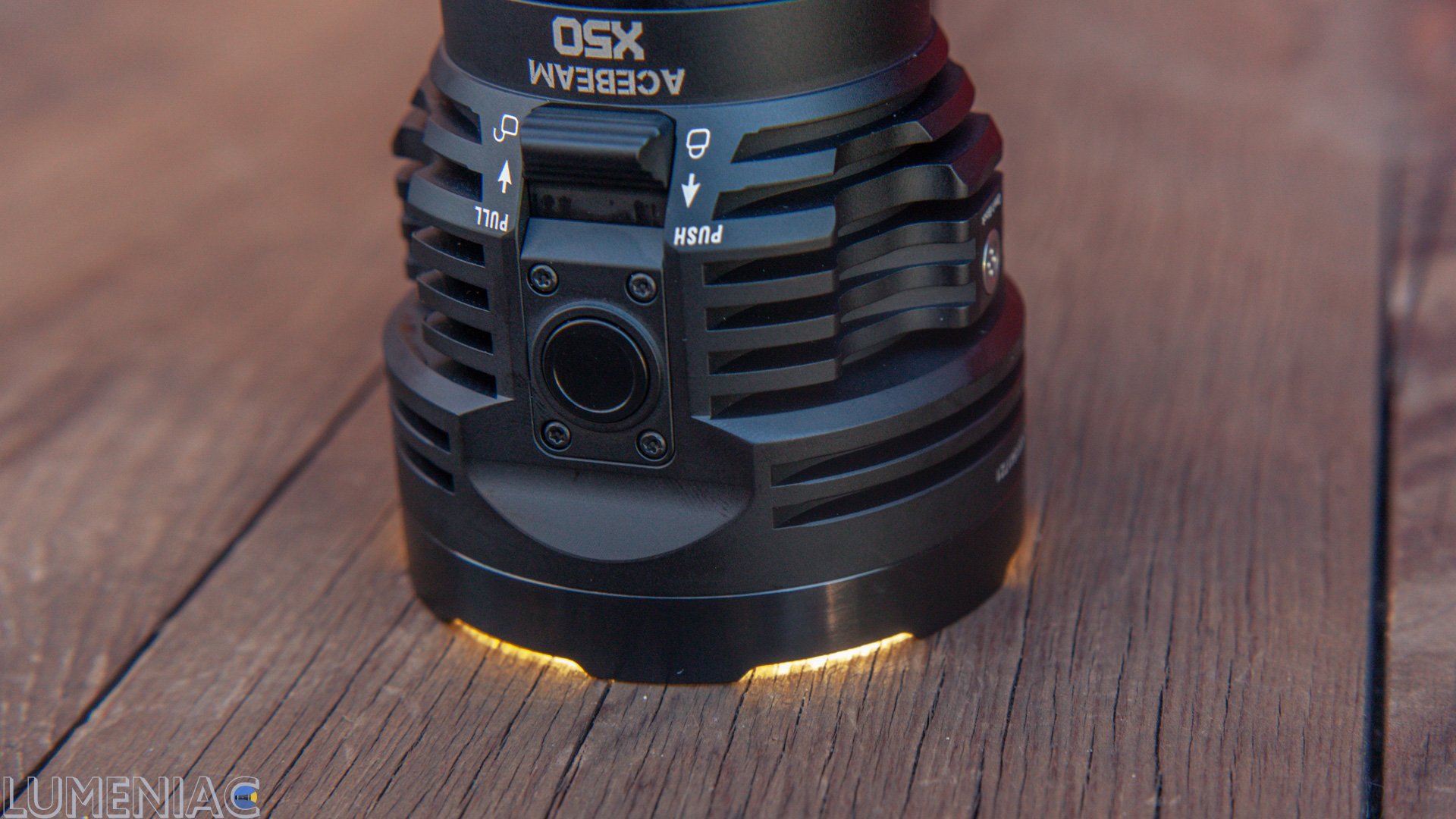 A small metal round with holes is designed to release excess gas pressure from battery pack.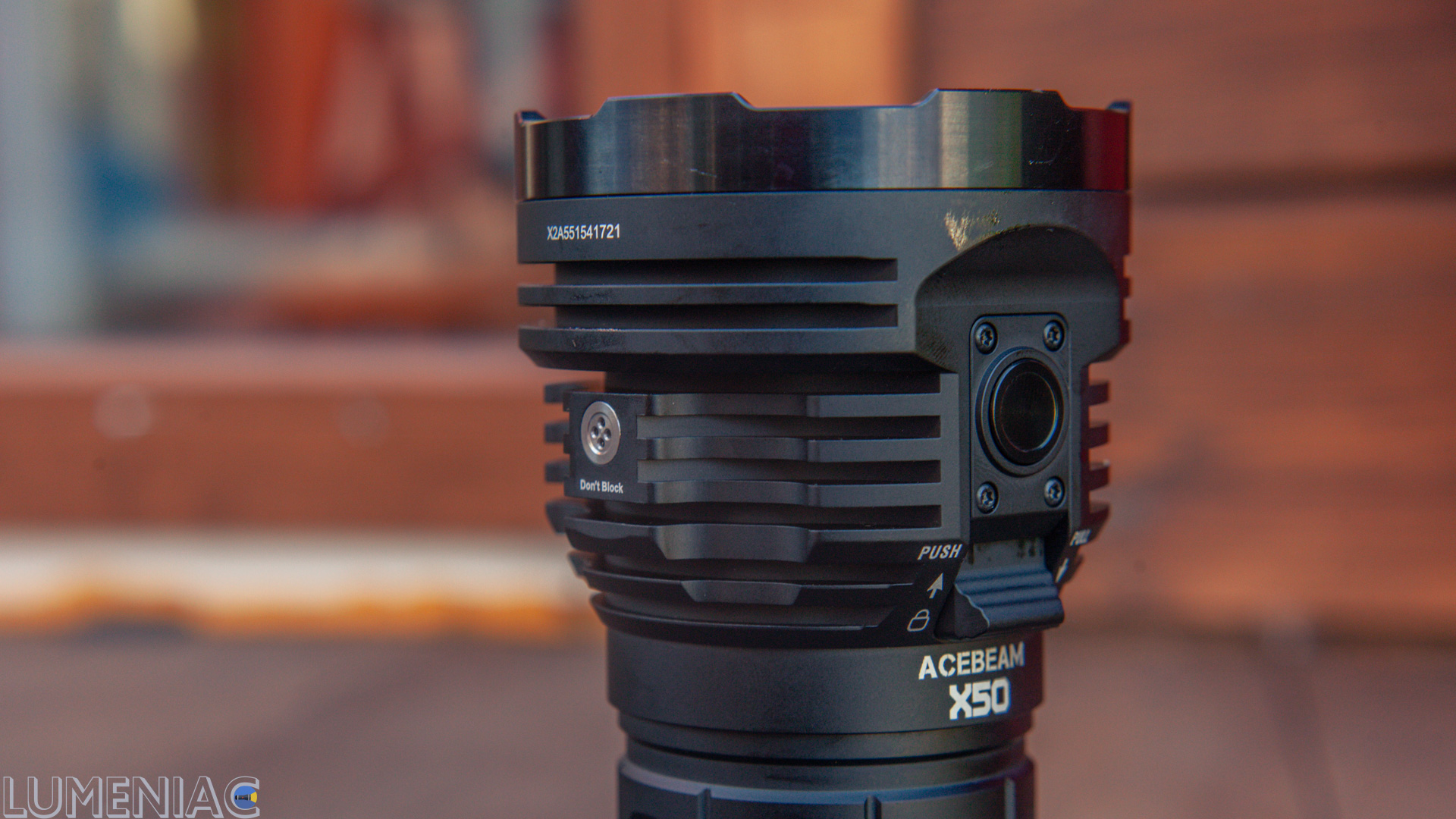 Acebeam's previous super bright flashlight used 18* XHP50.2 LEDs. Here we`ve got goode olde Cree XHP70.2 in a set of 8 pieces in small textured reflectors.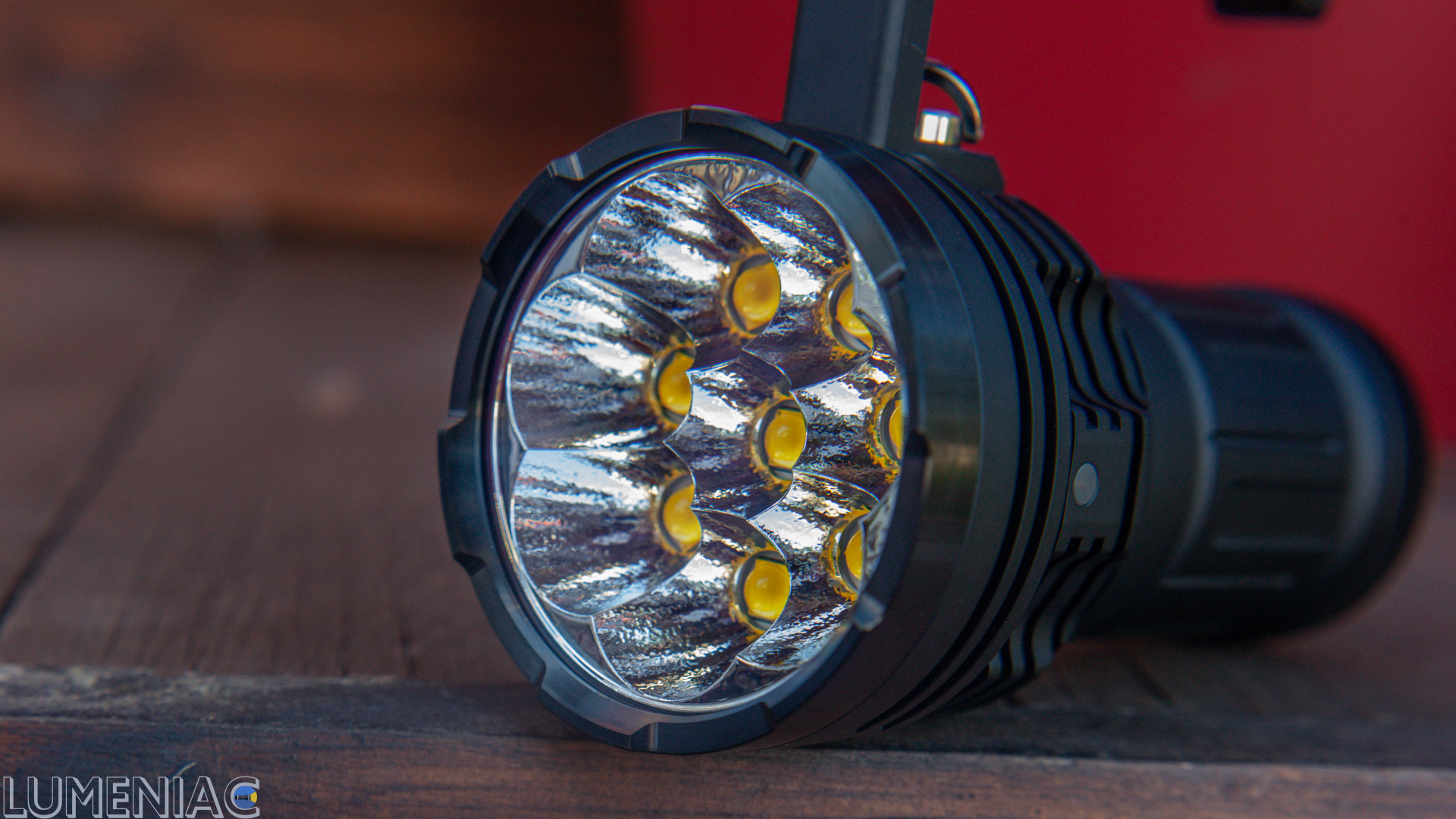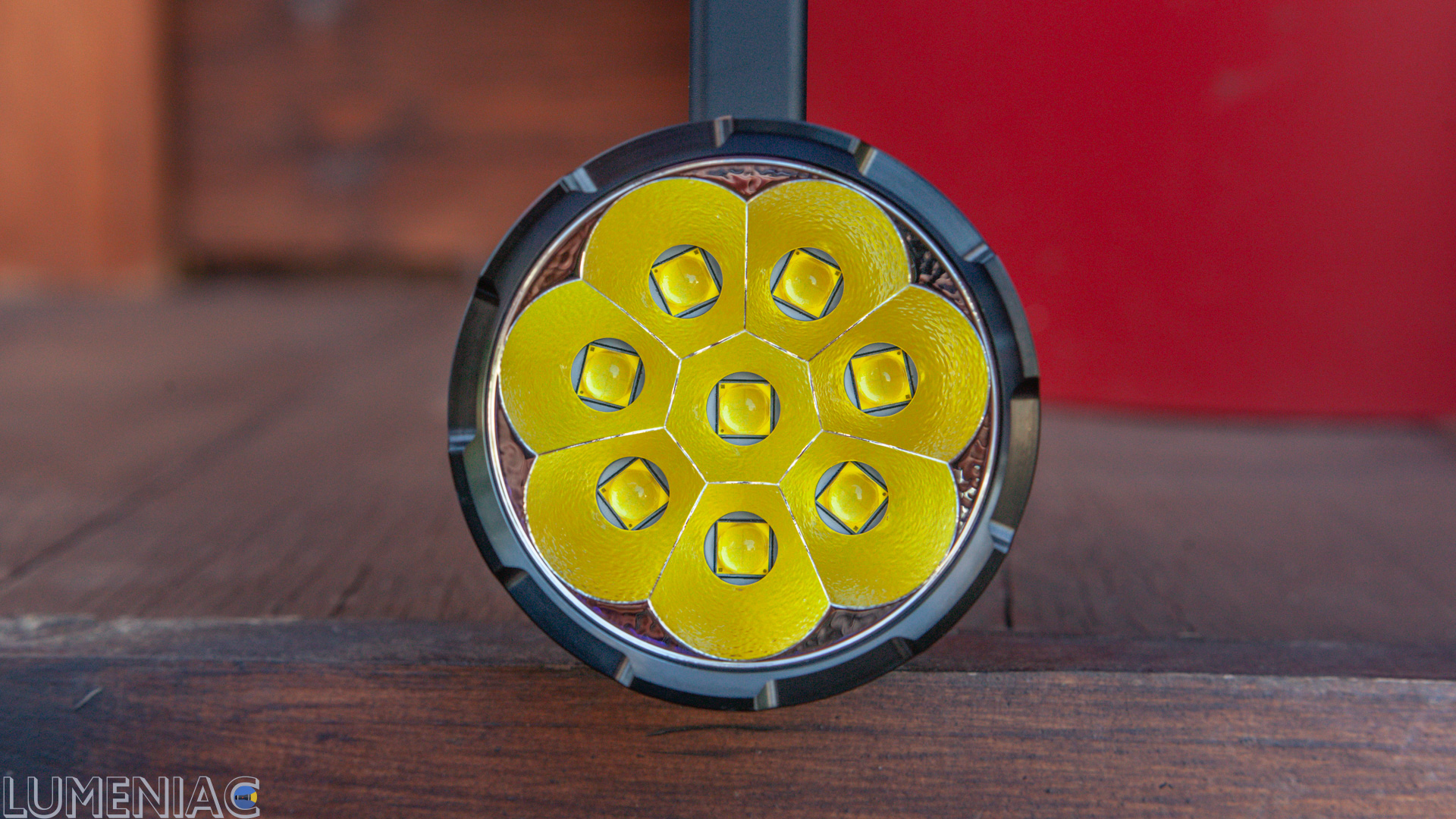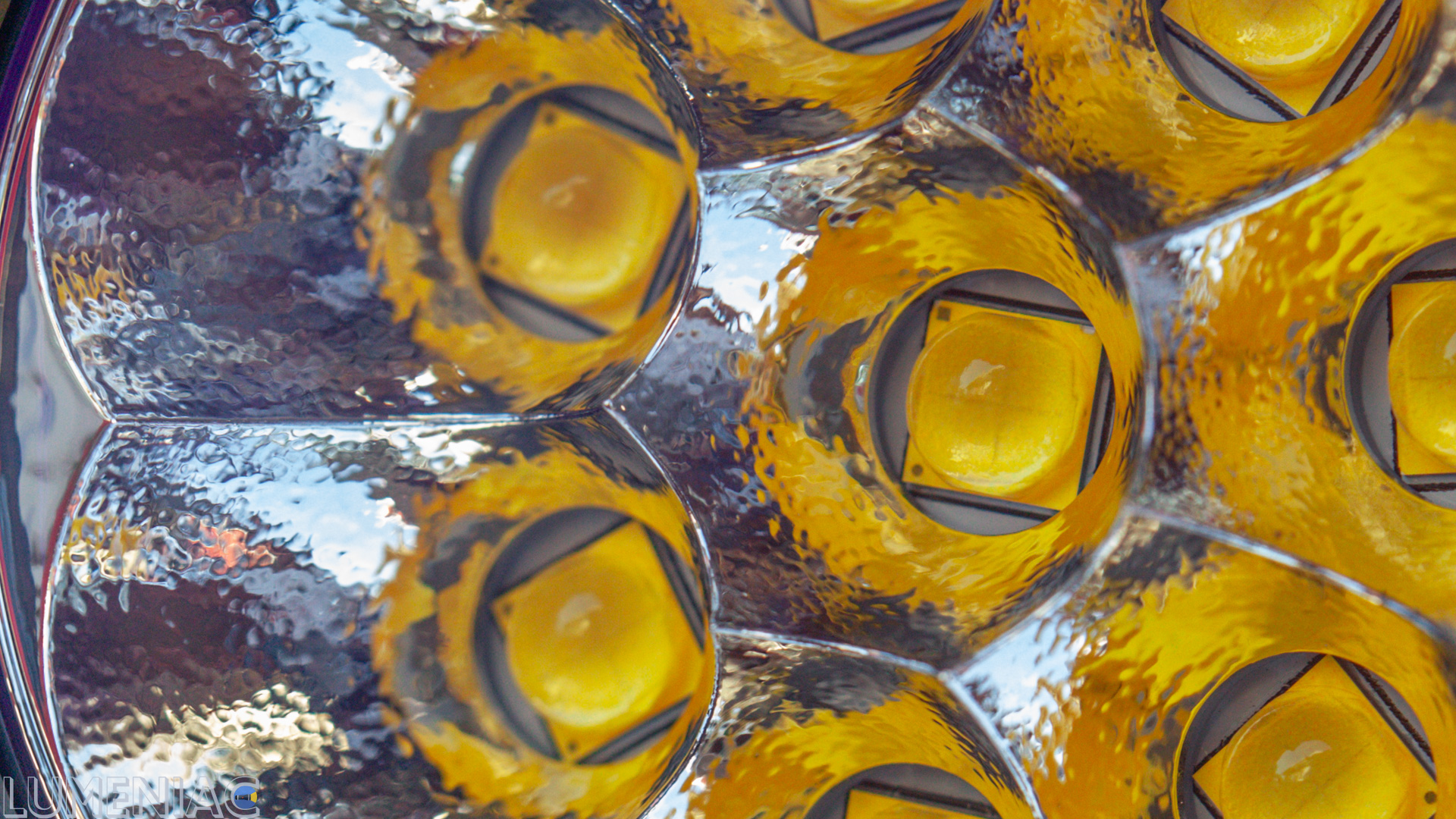 Warning for newbies!
Just in case, it's worth clarifying - Ali is full of flashlights with crazy declared brightness numbers and LEDs like XHP90 \ 160 \ 199. Origin of all these LEDs is unknown to anyone. They have nothing to do with the original Cree LEDs and in my experience do not give out more than a thousand and a few lumens. In short, if Cree is not indicated in the name of the LED, you are brazenly being sucked into some outbred game. However, nothing prevents from specifying Cree for the same basement-nameless LEDs. Just be careful.
All is well at this stage. The flashlight looks great, you should expect the traditionally highiest build quality. I do not like the built-in charging, but I completely understand why Acebeam uses this solution here.
UI
Convenient, familiar and not overcomplicated UI
From OFF:
1 click - ON on the last used mode.
2 clicks - turbo
3 clicks - strobe
Hold - firefly
From ON
1 click - OFF
2 clicks - turbo
3 clicks - strobe
Hold - rewind modes in ascending order
How Acebeam X50 illuminates
Acebeam promises stabilized brightness - and you get it. There is another brand, which is all about big figures in specs. This brand claims every new model of their flashlights to have stabilzied brightness, but none of the ones I've gotten in my hands on in recent years have had it. Not rocket science, but but one manufacturer promises and does, and the second only promises.
OK. It makes no sense to long lasting turbo for such a ratio of size and maximum brightness. But, nevertheless, Acebeam X50.2 gives quite acceptable runtime time in turbo from a cold start.
But in a real situation, when the flashlight has already warmed up, the turbo will be very transient. Although this is enough to briefly glance around or cause admiring cursing of others viewers.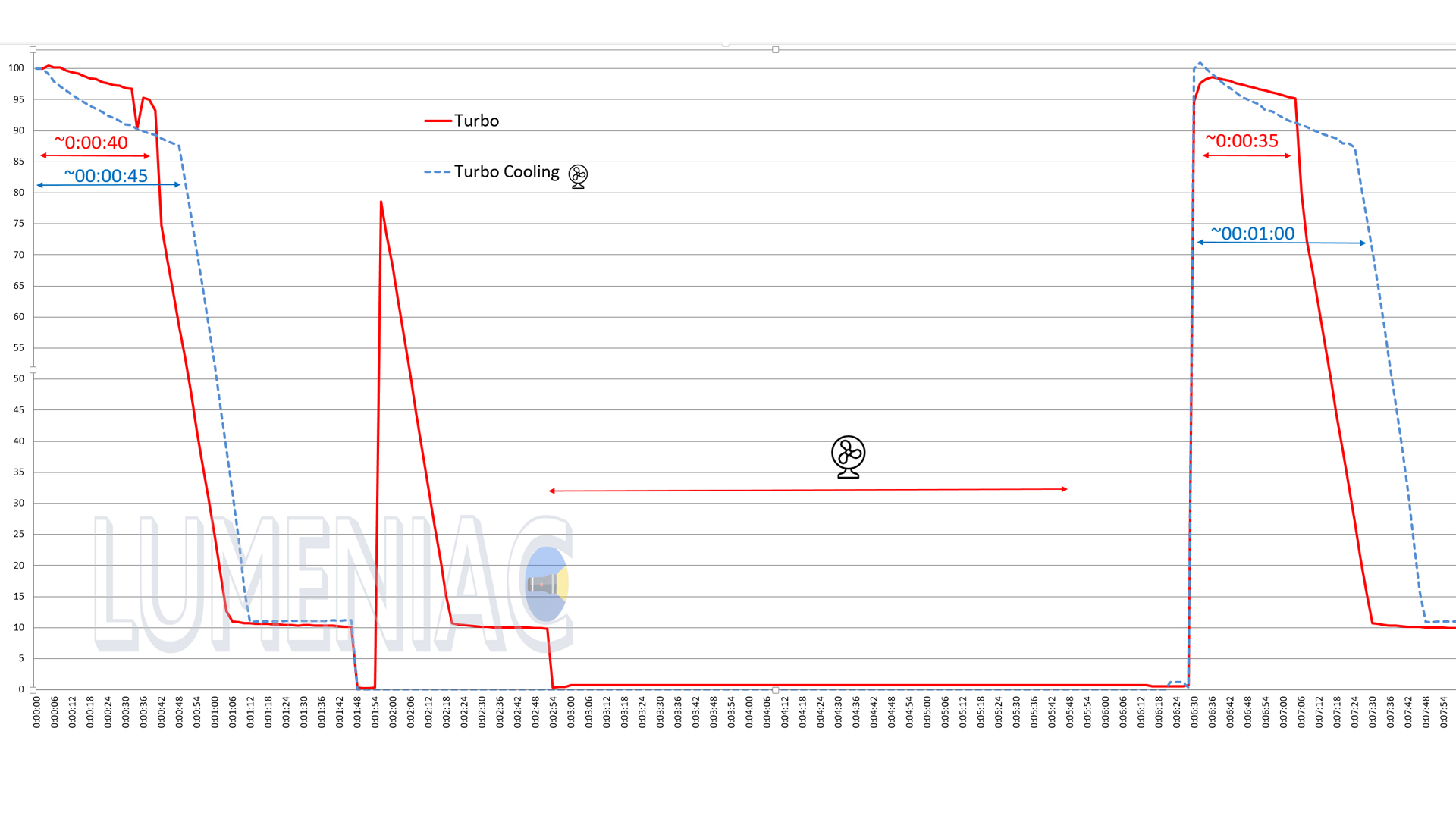 I was frankly surprised to see that the cooling starts to affect even the very bright High mode.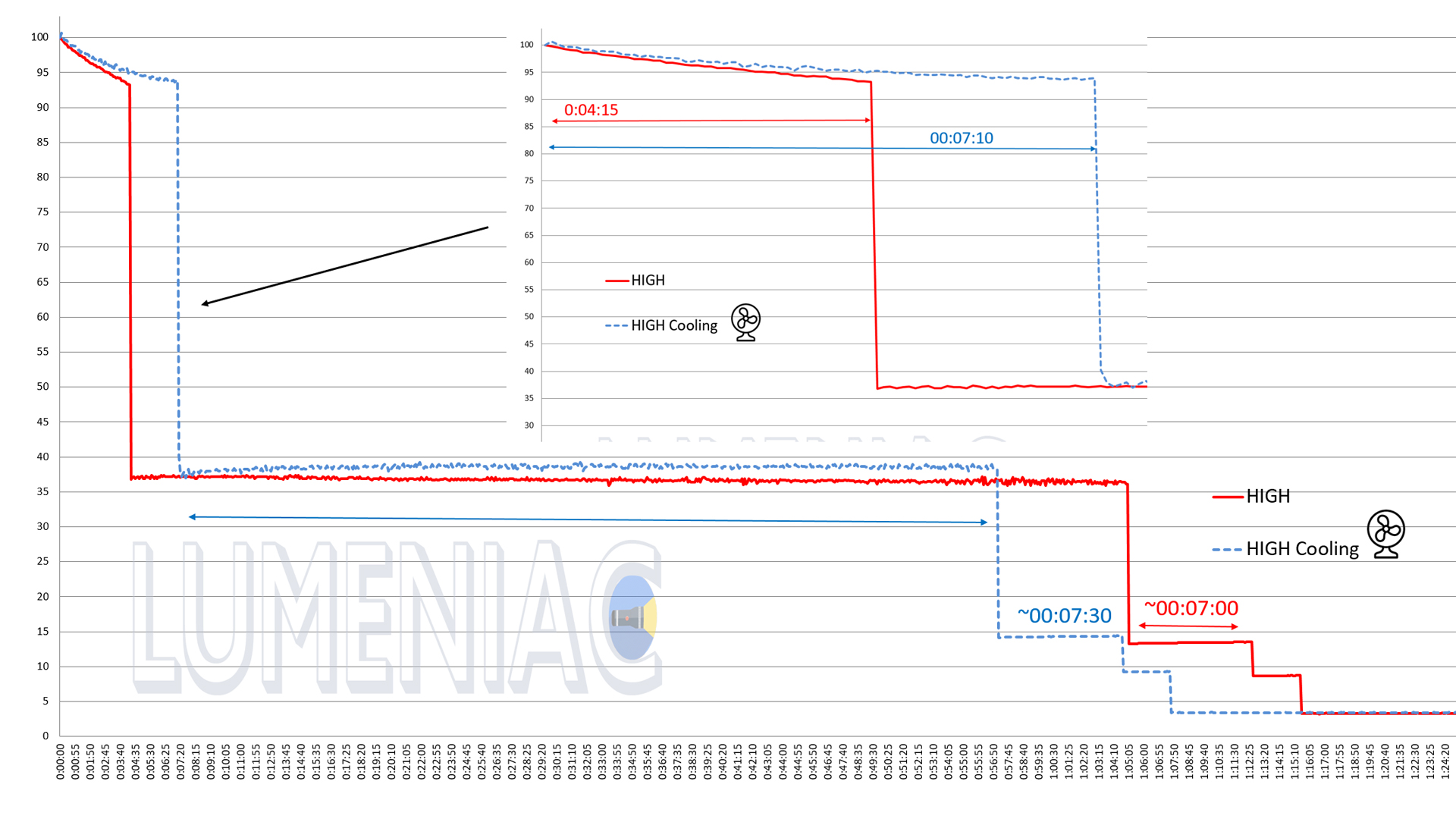 But most of all, I was surprised to see that when cooled with an ordinary usb fan, the flashlight maintains MID3 mode with 7500 lumens. Of course, you can't do without a handle when working full-fledged in higher modes, flashlight body gets very hot.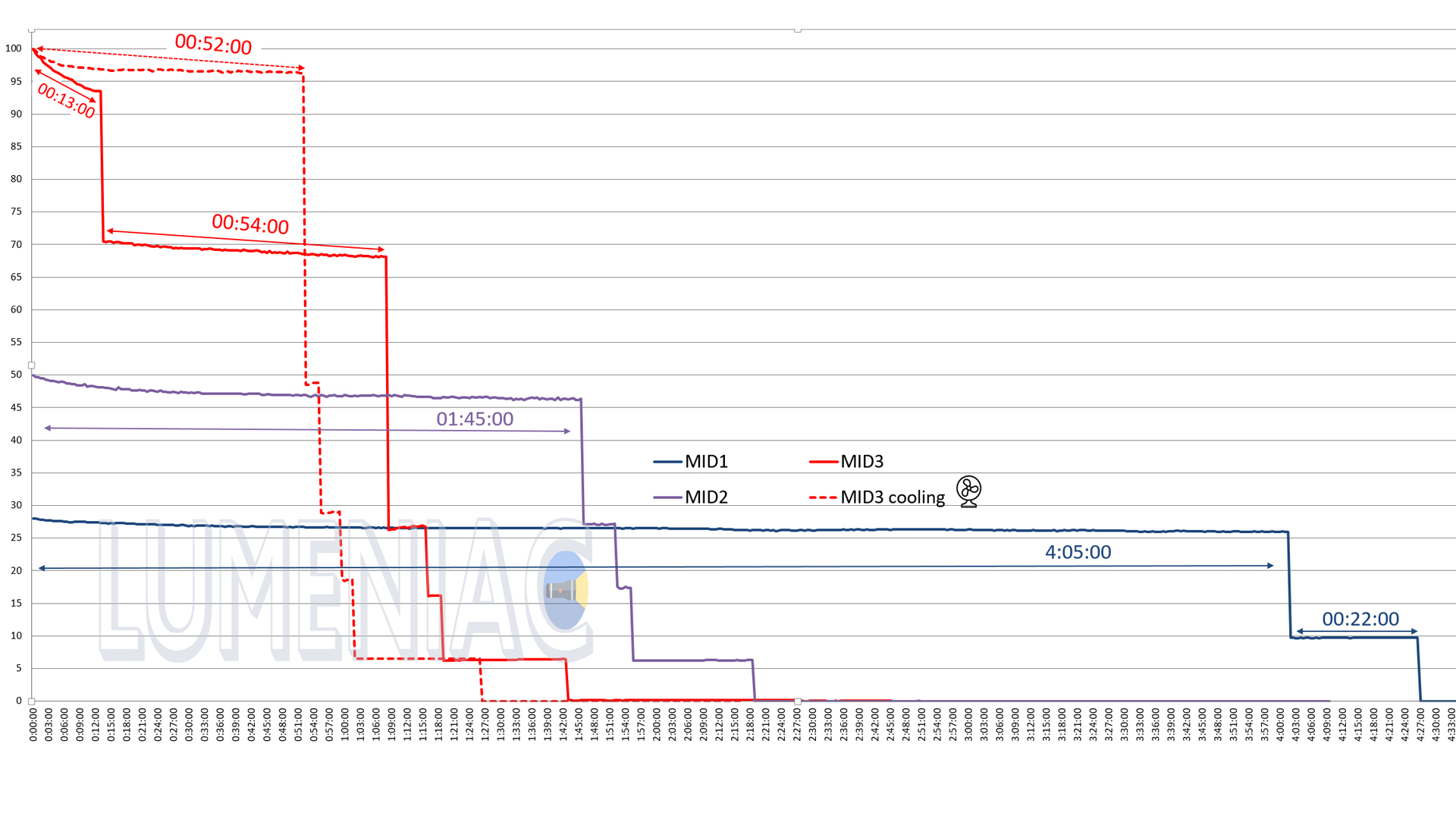 In short, 3 * 21700 batteries give a good run time. If you do not abuse the higher brightness, then you can quite stretch the battery charge for the whole night.
In terms of light, you get a quite expected near-mid flashlight, the brightness margin of which is enough to illuminate everything around at a distance of a 2-3 hundreds meters in case of urgent need. Literally everything around, you don't even have to turn the flashlight, it will be a real wall of light. Sometimes owners of big parts of land, farms, for example, ask me about kind of flashlight that can illuminate everything at once. Well, here's one - Acebeam X50.2.
I think that examples of light are the most interesting thing in the review of flashlights. And for such a super-powerful flashlight, you need to show it in all its glory, so there will be a lot of photos here.
For an ordinary suburban area, ultralow-low modes will be enough for you, which will work all night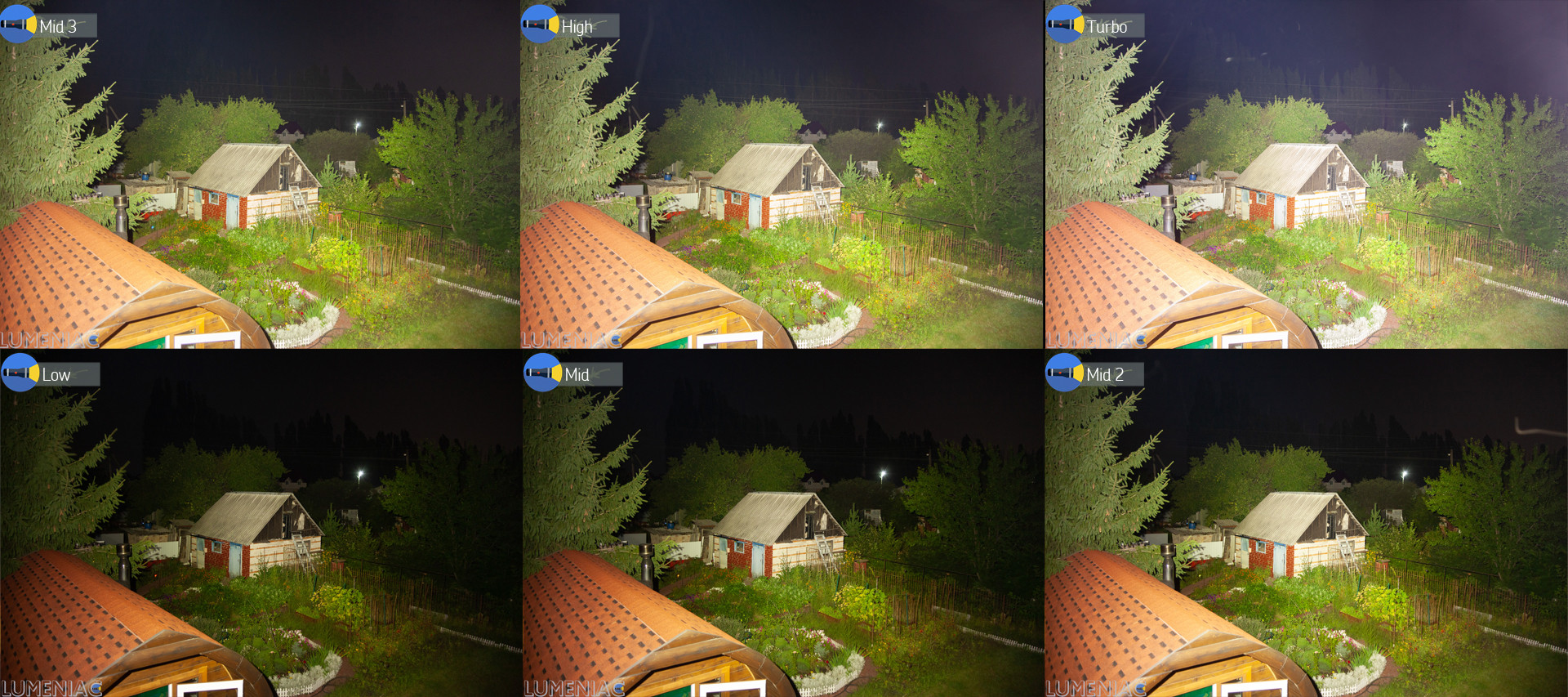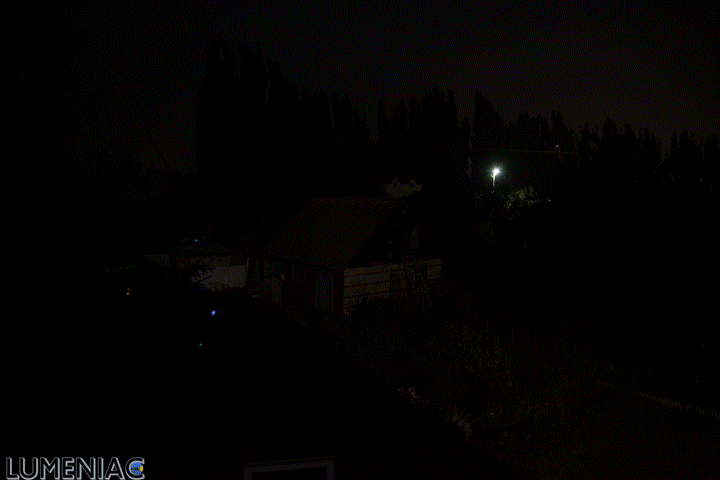 !https://s4.gifyu.com/images/720_x50_trees.gif
150m to the construction site.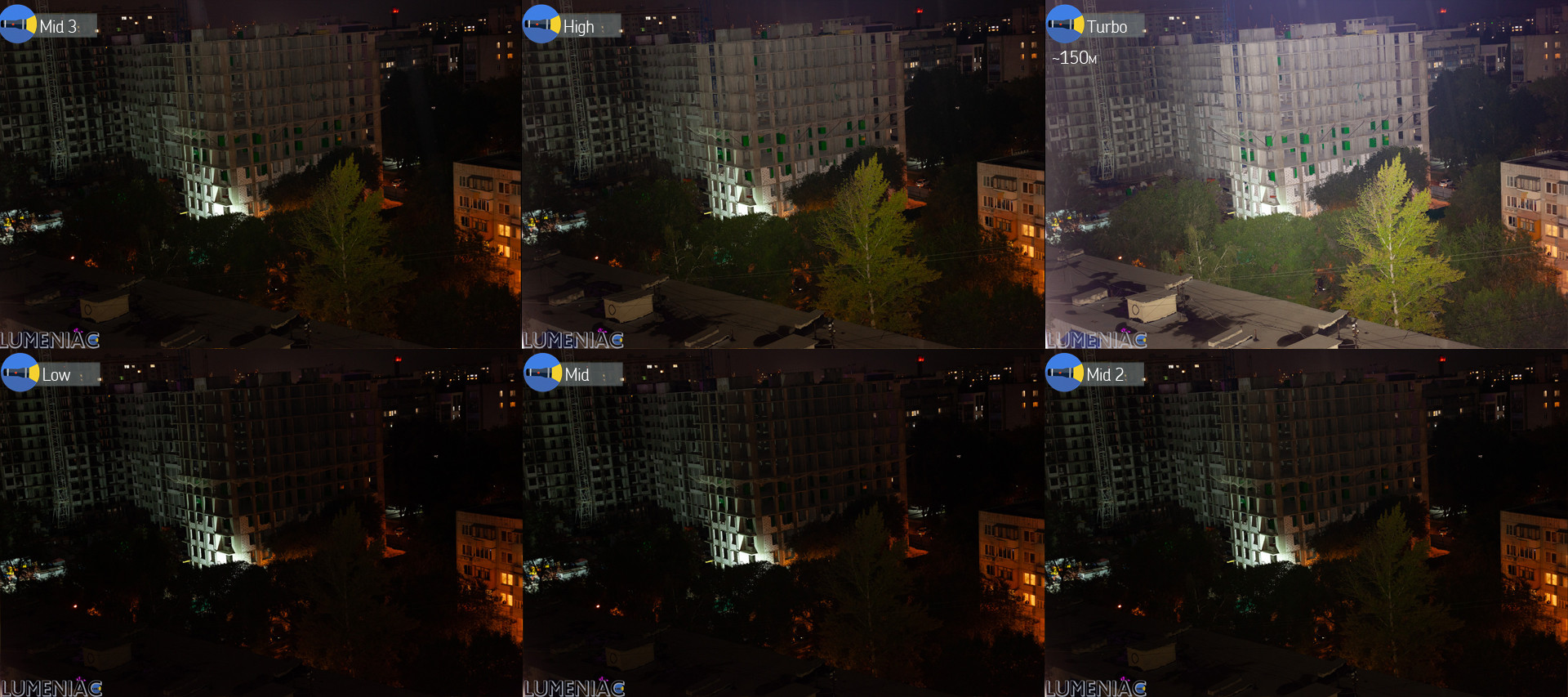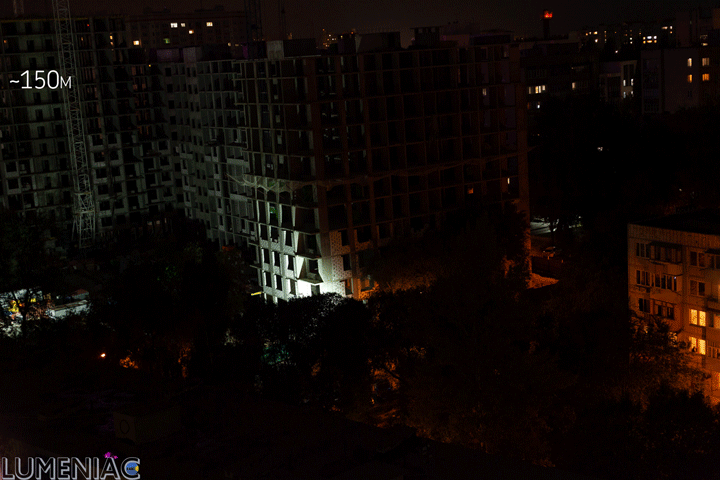 200m distance, here you need to start working from medium modes.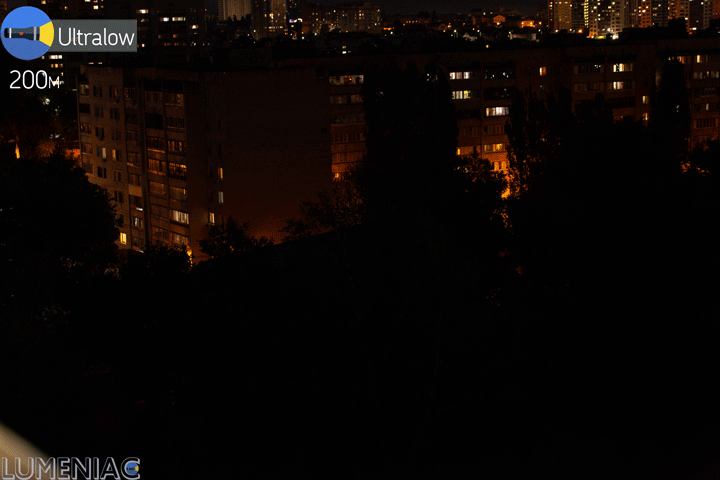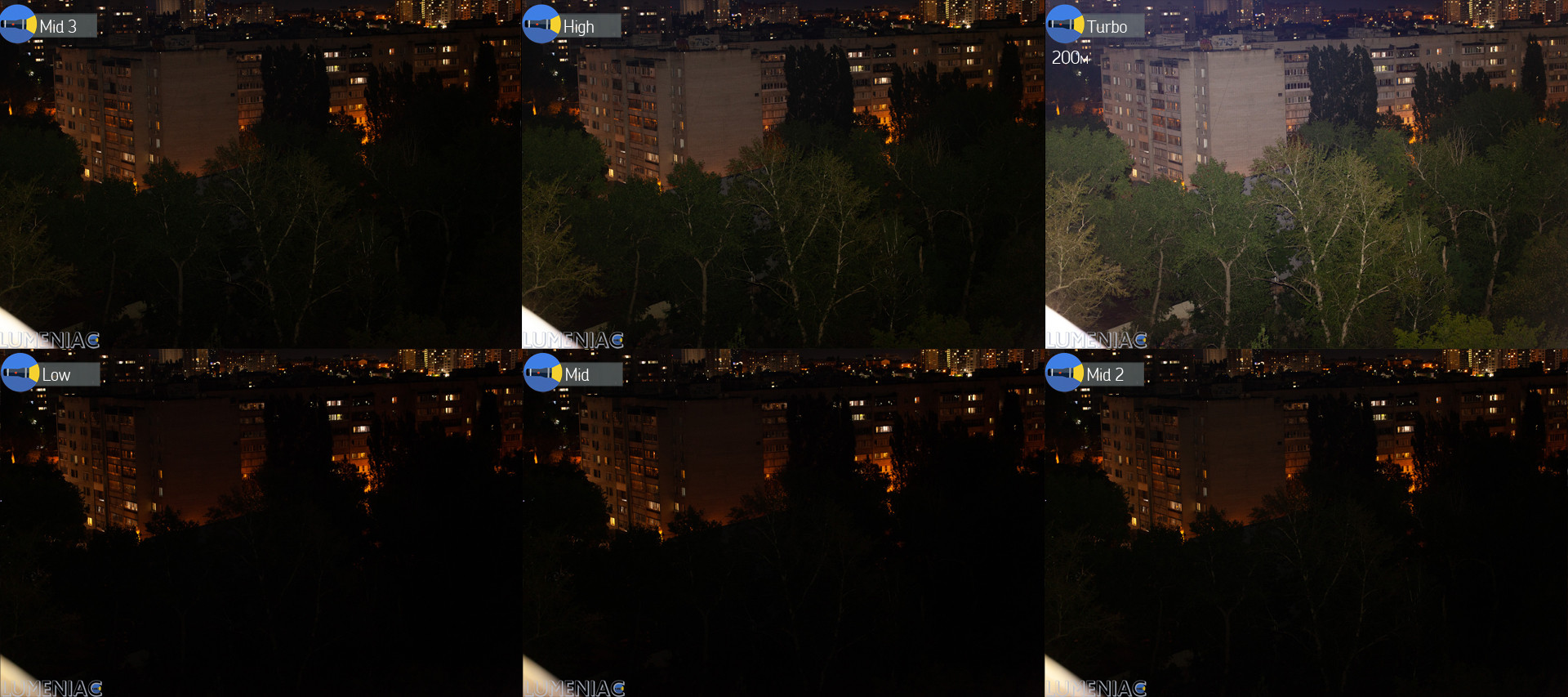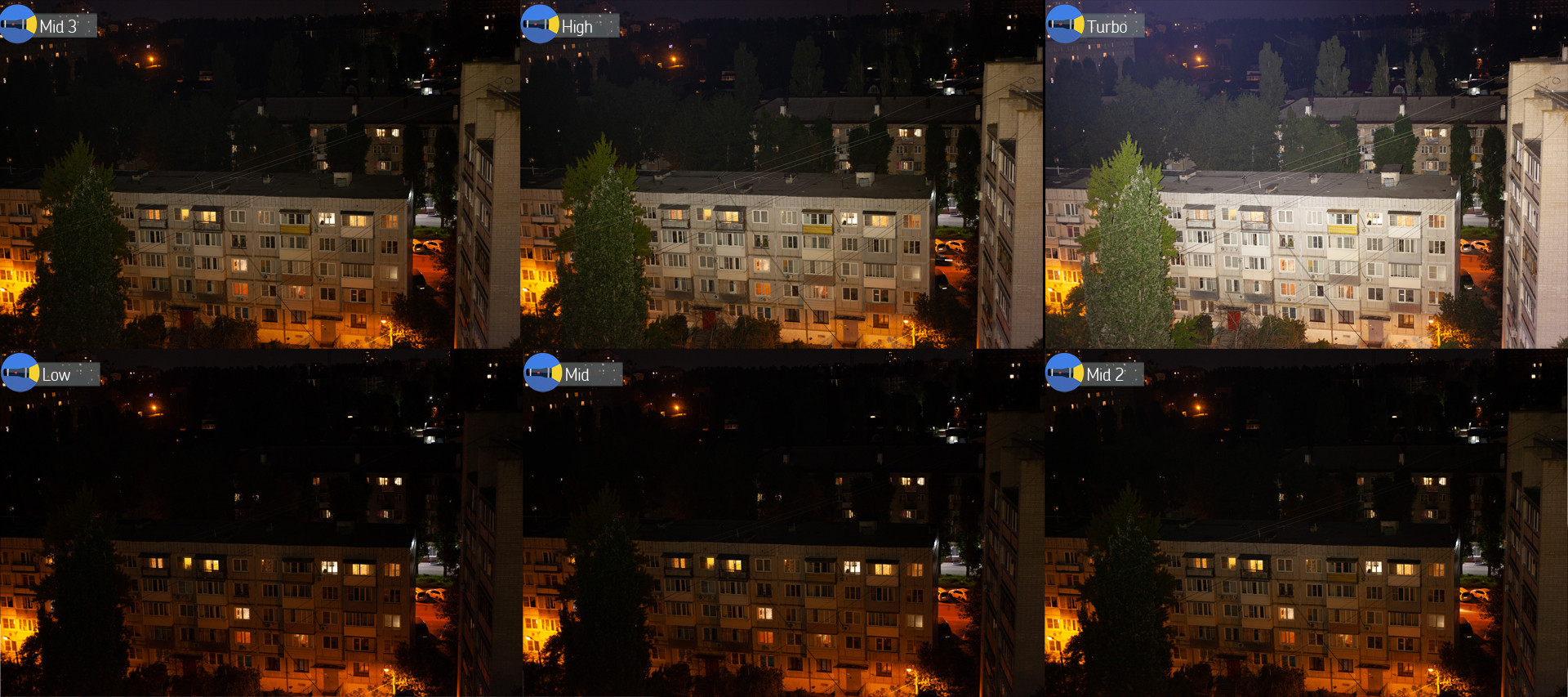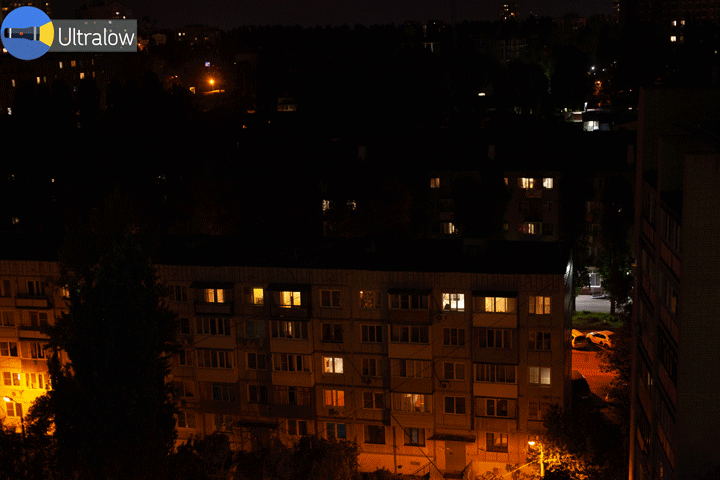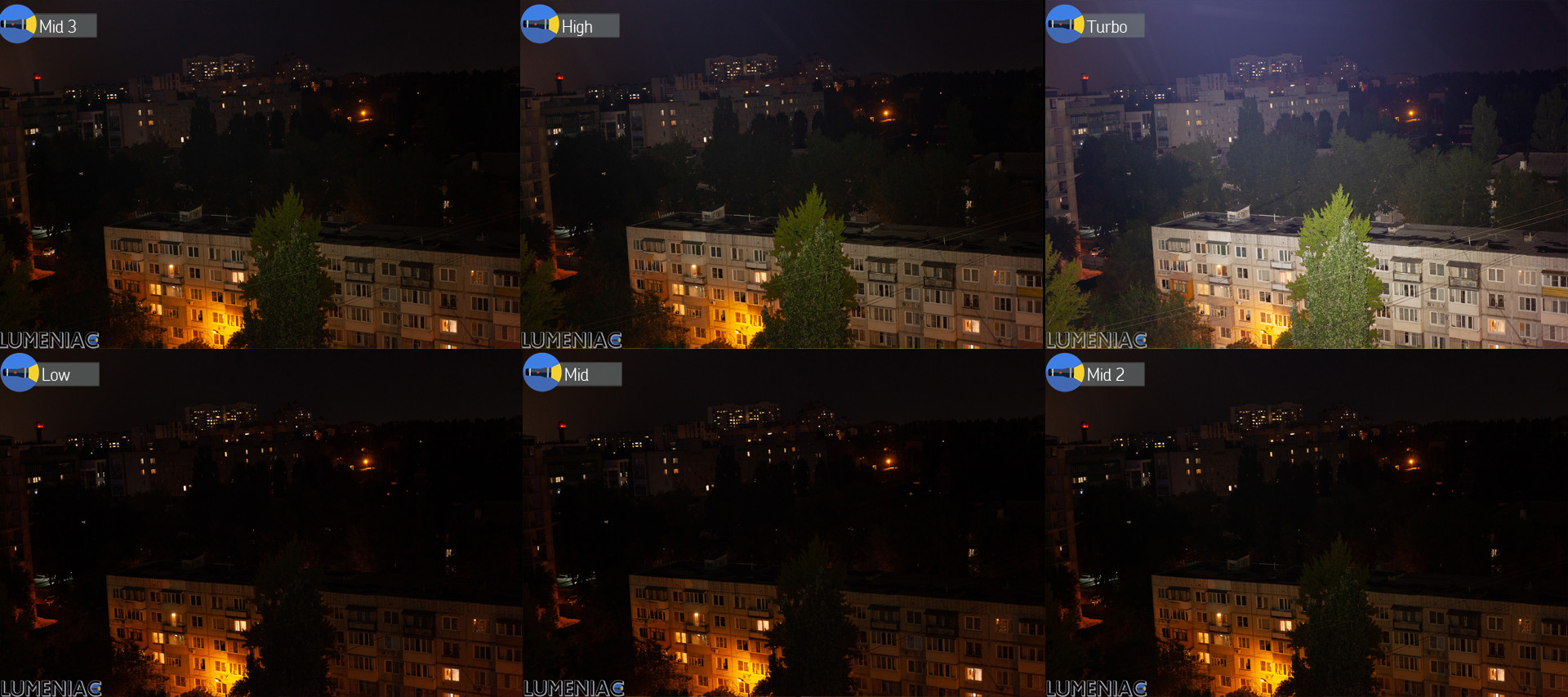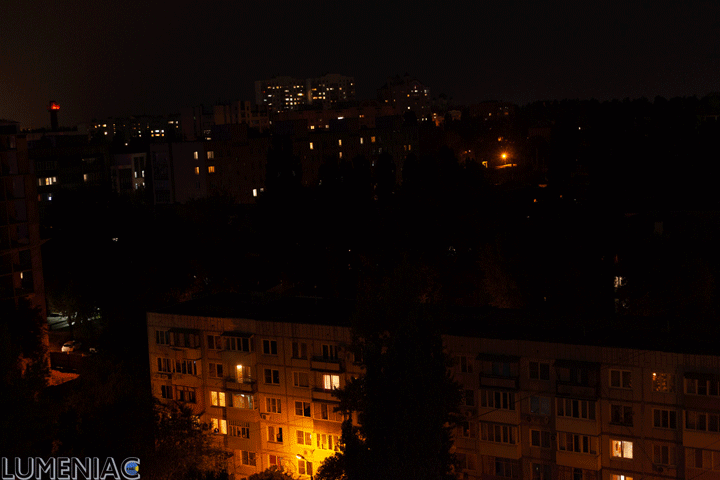 There is some use only from High and Turbo at larger distances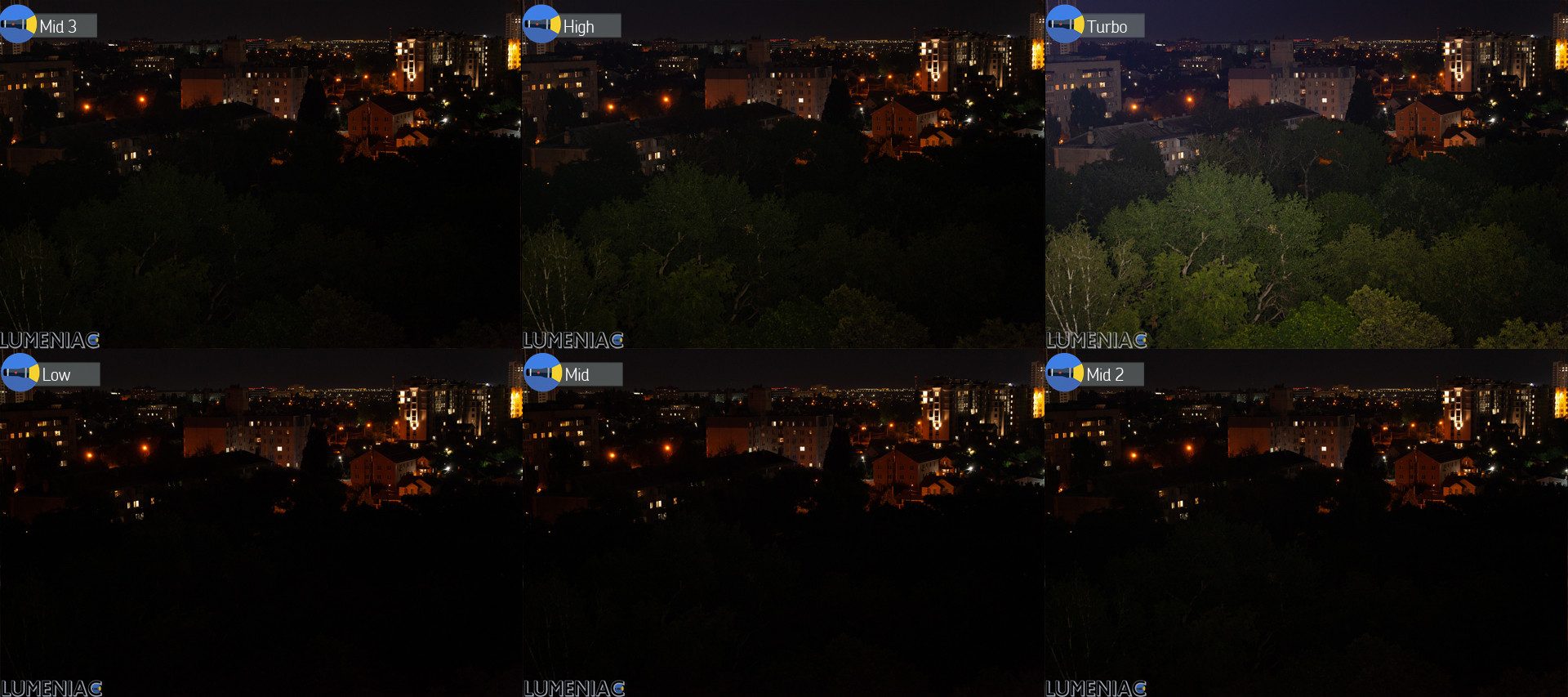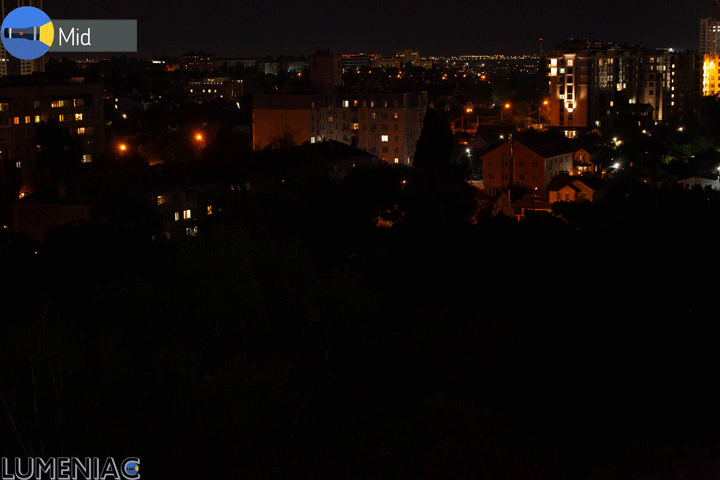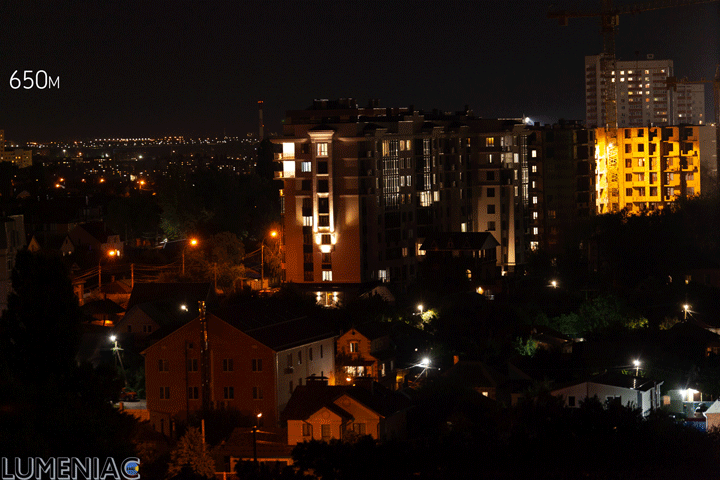 and here is Acebeam X50.2 video review
OVERALL IMPRESSIONS
I have an really warm attitude to Acebeam. With almost every new flashlight (there are exceptions, however), the manufacturer shows what happens if you create a new model based on logic and convenience, and not on stupid marketing obsessed with numbers,so usual and so is harmful to the user. And almost every time happens a good and convenient flashlight. Good looking and bright. And I'm sure, creating
such a flashlight, is no more difficult than some other nonsense. It's enough just to want and, I suspect, to force the development participants to use flashlights themselves and read the flashlight forums. It is a mystery to me why for Acebeam this is an easy task, but for many others it is an overwhelming challenge. In short, what Acebeam does usually fully meets my requests for flashlight functionality and appreciate almost everything they have released.
Acebeam X50.2 is no exception. The flashlight looks great. It has convenient UI and lightning-fast charging. It you expect this flashlight to be bright, you would be wrong. It is so damn bright. Incredibly bright. And this is photo-blitz in higher modes as well - all they they are definetely useful. And brightness of Acebeam is stabilized, it does not fall down with discharge.
Separately, I appreciated the choice of 5000K version, sacrificing a little quantity of light for the sake of its quality. Photographers can also take the HiCRI version.
Due to the form factor and, first of all, the price, Acebeam X50.2 is, of course, a frankly niche flashlight for a small circle of flashlight enthusiasts or people how can say "i earn this money, i can buy the thing i want". The flashlight is not cheap at all, but Acebeam products are generally no more expensive than flashlights from other major brands.
But if you are not limited with money, if you just want to choose the best and most powerful soda can flashlight on the market, then the Acebeam X50 v2 review, I hope, proved to you that it deserves such a title. This is a great example of a WOW product that is not just a disposable WOW, this flashlight is convenient and fun to use. In addition to practicality, Acebeam X50.2 has a wonderful gift potential. If you are looking for a gift for a person who thinks that nothing will surprise him - Acebeam X50.2 will show that such things still exist. Believe me, such brightness in this size will simply shock and your gift will be remembered