Actually, it will be the first of two separate ones here. And what better way to celebrate 1,000 BLF posts? Well, this is at least one of the better ones, I'd say.
First up, the working items…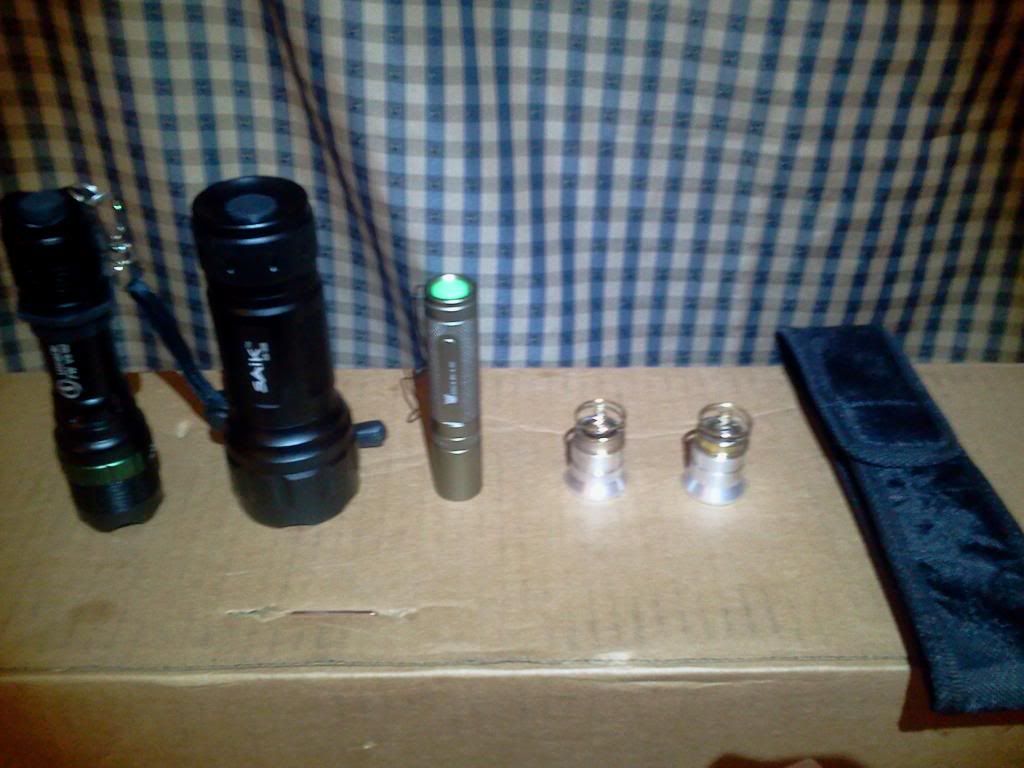 1. UltraOK SAIK SA-9 Clone, 3-mode zoomie: I bought it in a pack of 10 units to sell. This one (the clone) was the odd one out, with different badging and no mode memory . I guess they ran out of the real thing. There is also a knick on the front telling me I can't sell it (or at least shouldn't). This little guy is brighter than my real SAIK SA-9s zoomies. Maybe over 300 lumens.
2. SAIK SA-305, 3-mode: Very nice little fatty light. I just don't dig it like I thought I would. It's not ergonomic, and I just don't like how the batteries re-adjust every time I reposition it in my hand. Not a bad light at all. An honest 180 lumens and throws very well indeed. Tiny beam, though. I could sell this one, but I know it would make a great host and thought someone would appreciate it.
3. Trustfire F20 1 x AA, 5-mode: A great little light, just not as satisfying or as bright as a Sipik SK68. A great gift or tool with maybe 95 lumens on a good nimh cell. So, here it is.
4. U3 XM-L 1C P60 drop-in, 5-mode: Works fine, although it isn't driven to its potential. But someone oughta enjoy it.
5. T6 XM-L KD P60 drop-in, 1-mode (3 to 18 volt): I just don't have a need for this little powerhouse anymore since I'm not upgrading any r123-only hosts. I have run this thing at length with 4 x RC123s and it has done fine. AT LEAST 770 lumens on the ole' "Rusty's eye" meter. Cool white tint with a hint of yellow. Very floody. OP reflector (looks better with one). It has been used quite a bit, but as good as the day I got it.
6. Black UF holster: Made for 2 x 18650 zoomie or other 2-cell C8-styled light. It is a holster with snap and velcro. Is made for a tool belt and doesn't fit standard belt well, but a police duty belt will do nicely. Pretty strong material. Only taken out and used once for 1 hour. Shelved after that.
---
And now, the not working items…
7. Original UF 980L: It died, as some may remember, and while I was going to have an XML2 dropped in that thing, I decided it would more easily make a great mod project for someone else.
8. UF 501B P60 host: Very new and clean, but the tailcap switch is history and I can't fix it, which is why it is all swollen and such.
---
Any questions, just ask.
This is a giveaway, preferably CONUS, but overseas is an option if shipping will be paid by you up front. The way I am doing things this time around is I will ship the item CONUS just as is with an option to paypal me whatever I spend on shipping if you want. But of course, paying shipping is NOT required for CONUS. The only reason I even ask at all is due to having more than usual medical expenses and such this time around. It is entirely up to you.
Friday, Jan 18th, at 9:30 pm (central standard time), the winners will be announced as chosen by random.org. There will be 8 winners who will be those who pick numbers closest to the one selected by random.org. First winner announces their choice, and each one on down, as they each get their pick of what they want. If anyone jumps out, the next closest winner will be selected until this stuff is gone.
To be eligible…
#1) Have registered no later than 1/1/13.
#2) Have made at least one introductory post at any point after registration on said date.
#3) Have made one post in this thread saying something to the affect of "I'm in!" and giving your lucky number.
NOTE: Numbers must be between 1 and 4900. Multiple posts or number entries will not count, and your selected number cannot be changed. No sock puppets or multiple account entries, obviously.
And that's it.